New Age Islam News Bureau
18 September 2020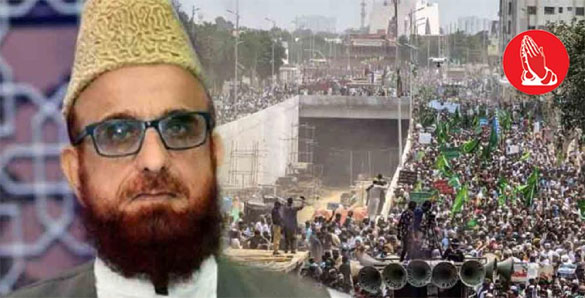 Mufti Muneeb-ur-Rehman
----
• 'Acquit All in Babri Case in The Larger Interest of Hindu-Muslim Unity: Muslim Litigant
• White House Says Five More Countries Seriously Considering Israel Deals
• UK School Where ISIS Fanatic Tried To Recruit 'Army Of Children' For Terror Attacks Given Official Warning
• Talks Must Ensure Protection of Minorities, Says Afghan Only Known Jewish
• Peace TV Founder Zakir Naik Barred from Involvement with The Channel's Charitable Foundation
• Iranian Speaker Blasts UAE, Bahrain for Kissing Bloodthirsty Zionists' Hands
• West Cannot Hide Crimes Against Syria With Humanitarian Allegations: Syrian Envoy To UN
• Nigeria: 'Boko Haram, Bandits On the Rampage in Northeast, Northwest Daily'
Pakistan
• Pakistan Census Form Should Declare One's Preferred Way of Being Lynched: Grand Mufti of Pakistan
• Pakistan Plans A Change in Gilgit-Baltistan Status
• Pakistan political party head rejects deals with Israel
• 18 markets to be set up along borders with Iran, Afghanistan
• Pakistan's mission in London gets warrants for Nawaz
• Money taken from corrupt to be spent on education: PM
• 'All Religions Will Be Equal Under Taliban Rule,' Says Khawaja Asif
--------
India
• 'Acquit All in Babri Case in The Larger Interest of Hindu-Muslim Unity: Muslim Litigant
• Not Against Muslims In Bureaucracy: Sudarshan TV Defends Programme 'UPSC Jehad' In SC
• 'Regulate Digital Media First': Centre Tells Supreme Court in Sudarshan News 'UPSC Jihad' Case
• SC Shoots Down Channel's Argument, Stays Telecast of Show on Muslims
• Pakistani 'Madamji' Lures MES Cleaner to Share Army Info
• Quran, Gold Cases: NIA Quizzes Kerala Mantri
• ED Charges Kashmiri Separatist Leader's Wife in Terror-Funding Case
--------
North America
• White House Says Five More Countries Seriously Considering Israel Deals
• US imposes sanctions on several Iranian entities and individuals
• Trump plans executive order to punish arms trade with Iran
• US citizen is charged with providing support to ISIS
--------
Europe
• UK School Where ISIS Fanatic Tried To Recruit 'Army Of Children' For Terror Attacks Given Official Warning
• No Lasting Peace in Middle East Without Resolving Palestinian Issue: Russia's Foreign Ministry
• UK police make terror arrest at Luton airport
• Jewish Students Aid Owners of Kebab Shop Hit in Synagogue Attack
--------
South Asia
• Talks Must Ensure Protection of Minorities, Says Afghan Only Known Jewish
• Intra-Afghan Talks to Lead Gov't to Tough Decisions: Abdullah
• Hindu jailed in Bangladesh for insulting Prophet Mohammed
• Shafi loses control over Hathazari madrasa giving in to two days of protests
• Discussion on Intra-Afghan Talks 'Very Promising': Gen. Miller
• Taliban's Key 'Red Unit' Commander Killed
• Taliban Attacks Continue as Peace Negotiations Progress
--------
Southeast Asia
• Peace TV Founder Zakir Naik Barred from Involvement with The Channel's Charitable Foundation
• Survey: Malaysians Say Religious Worship Is Personal; Politicians Should Stay Out of It
• Putra dismisses Syed Saddiq's new party
--------
Mideast
• Iranian Speaker Blasts UAE, Bahrain for Kissing Bloodthirsty Zionists' Hands
• Caricature on Leader's Website Satirizes Arab-Israel Peace Deals
• Iran's history of executing athletes
• Hezbollah has explosives stored across Europe, says US official
• Israel demolishes Palestinian village in Negev desert for 178th time
• Yemen under attack by Saudi Arabia due to firm anti-Israel stance: Ansarullah
--------
Arab world
• West Cannot Hide Crimes Against Syria With Humanitarian Allegations: Syrian Envoy To UN
• UAE FM reaffirms support for Palestine during meeting with US Secretary Pompeo
• Lebanon's Hezbollah says US obstructed government formation efforts
• Lebanon football player Mohamad Atwi dies from stray bullet injury to head
• Hezbollah setting up caches of the same Beirut explosion chemicals across Europe: US
• US sanctions Hezbollah-linked companies, official as new Lebanon govt on hold
• Bahrain witnesses 6th straight night of protest at normalization with Israel
• Hezbollah censures US administration for obstructing Lebanon's government formation
--------
Africa
• Nigeria: 'Boko Haram, Bandits On the Rampage in Northeast, Northwest Daily'
• Somalia: Somali Army Kills 7 Militants in Southern Somalia
• Sudan busts terror cell with explosive materials
• UN agency says 2 dozen migrants presumed dead after boat capsizes near Libya
• Libya's Prime Minister Sarraj says will resign by end of next month
• Jihadists Kill 11 Villagers in Northeast Nigeria
Compiled by New Age Islam News Bureau
URL: https://www.newageislam.com/islamic-world-news/pakistan-census-form-declare-ones/d/122885
--------
Pakistan Census Form Should Declare One's Preferred Way of Being Lynched: Grand Mufti of Pakistan
September 18, 2020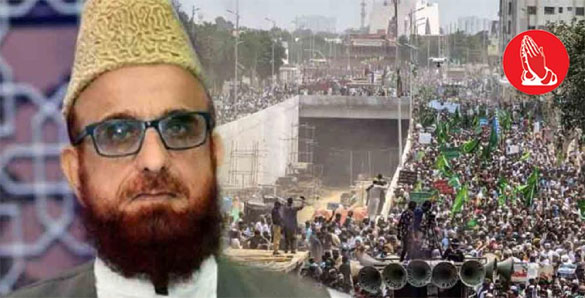 Mufti Muneeb-ur-Rehman
----
KARACHI: After orchestrating back-to-back rallies for peace, where chants calling for up to 20 percent of the population being encourage to rest in peace echoed profoundly, Mufti Muneeb-ur-Rehman has reiterated his demand to make certain changes to the census forms.
Talking to The Dependent, Mufti Muneeb, who during the rally suggested that sects should also be declared in the national census forms, has called for the need to add a whole new questionnaire altogether to be asked to those identifying as Muslim.
"For decades we already have the clause that requires us to earn divine rewards by cursing at an ideology and an individual, but I think now is the time to expand on that," Mufti Muneeb said while talking to The Dependent.
"For starters, after we include the sects for those identifying as Muslim, we must add a list of beliefs they must hold sacred before they are allowed to tick the Muslim box. And just for official paperwork we should ask all citizens of Pakistan—Muslim or non-Muslim—what their preferred way of being lynched to death would be. That would clear a lot of things," he added.
The detailed questionnaire proposed by Mufti Muneeb, available exclusively with The Dependent, will also ask the citizens of Pakistan which Ruet-e-Hilal Committee moon sighting announcement, according to them, carried the most swag.
"Personally, if you ask me, this year's Eid-ul-Azha announcement had the most swag. Pure thug life, I tell you," said Mufti Muneeb.
"And speaking of thugs, much of the questionnaire which we'll include in the national census will be based on thuggery of the religious kind."
https://www.pakistantoday.com.pk/2020/09/17/census-form-should-declare-ones-preferred-way-of-being-lynched-mufti-muneeb/
--------
'Acquit All in Babri Case in The Larger Interest of Hindu-Muslim Unity: Muslim Litigant
Sep 17, 2020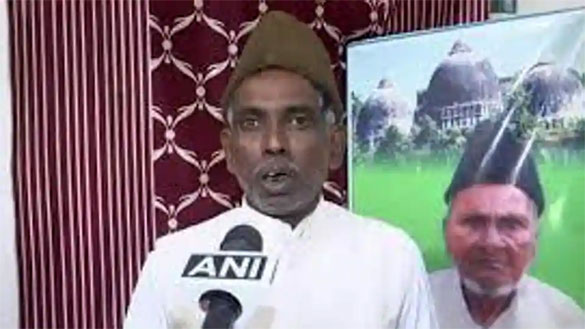 On November 9 last year, the apex court had paved the way for construction of the Ram temple at what was known as the disputed site till then. The court also ordered the government to allot land for the construction of a mosque elsewhere in Ayodhya. (HT Photo)
------
Iqbal Ansari, who was one of the litigants in the Ayodhya title suit in the Supreme Court, on Thursday appealed to the special CBI court to acquit all 32 accused in the Babri Masjid demolition case in the larger interest of Hindu-Muslim unity.
The special CBI court in Lucknow will deliver its verdict in the Babri demolition case on September 30, in which veteran Bharatiya Janata Party (BJP) leaders LK Advani, Murli Manohar Joshi, Kalyan Singh and Uma Bharti, among others, are the accused.
"The Supreme Court has resolved the Ayodhya dispute. Now, both Ram temple and mosque are being constructed in Ayodhya (at separate locations). Several accused in the (Babri demolition) case have died. It is my personal opinion that the CBI court must acquit all 32 accused to end the dispute and pave the way for Hindu-Muslim unity," said Ansari.
On November 9 last year, the apex court had paved the way for construction of the Ram temple at what was known as the disputed site till then. The court also ordered the government to allot land for the construction of a mosque elsewhere in Ayodhya.
"When the Supreme Court has resolved the dispute (Ayodhya title suit), the CBI court (Lucknow) must also end the dispute and acquit all accused in the larger interest of the nation," added Ansari.
The Shri Ram Janmabhoomi Teerth Kshetra Trust had invited three Muslims for the Ram temple bhoomi pujan on August 5 – Iqbal Ansari, Mohammad Sharif, both from Ayodhya, and Uttar Pradesh Sunni Central Waqf Board chairman Zufar Ahmed Farooqui of Lucknow. But only Ansari attended the ceremony.
Ansari was also against the All India Muslim Personal Law Board's decision to file a review petition in the Supreme Court against the top court's Ayodhya verdict. The Supreme Court dismissed all review petitions in December last year.
https://www.hindustantimes.com/india-news/acquit-all-in-babri-case-for-unity-muslim-litigant-iqbal-ansari/story-X7icC4k3QALOUSWJi6g1iO.html
--------
White House Says Five More Countries Seriously Considering Israel Deals
18 September 2020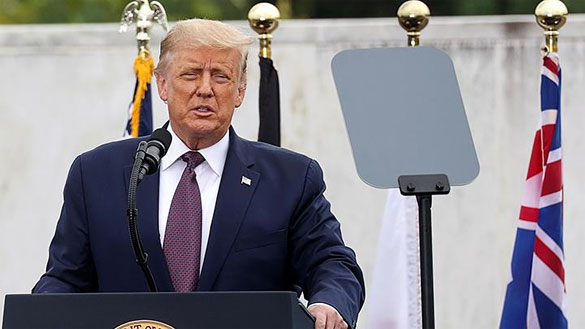 White House Chief of Staff Mark Meadows said on Thursday, Sept. 17, that five more countries are seriously considering striking a normalization deal with Israel
-----
White House Chief of Staff Mark Meadows said on Thursday that five more countries are seriously considering striking a normalization deal with Israel after the United Arab Emirates and Bahrain signed accords this week.
Meadows, speaking to reporters on Air Force One on the flight that carried President Donald Trump to a campaign rally in Wisconsin, would not identify the five nations.
For all the latest headlines follow our Google News channel online or via the app.
But he said three were in the region. He would not comment further.
Trump has spoken optimistically about more countries agreeing to a normalization of relations with Israel following the UAE and Bahrain deals.
One possibility is Oman, whose ambassador attended the White House ceremony on Tuesday. Trump predicted on Tuesday that Saudi Arabia would eventually agree to a deal.
https://english.alarabiya.net/en/News/middle-east/2020/09/18/White-House-says-five-more-countries-seriously-considering-Israel-deals
--------
UK school where ISIS fanatic tried to recruit 'army of children' for terror attacks given official warning
Nicky Harley
Sep 17, 2020
A UK school where an ISIS fanatic tried to recruit an 'army of children' to commit terror attacks has been given an official warning by the British regulator.
The charity watchdog has issued the warning to the Lantern of Knowledge Educational Trust, which runs the independent fee-paying Islamic private school Lantern of Knowledge Boys Secondary School in in Waltham Forrest, north-east London.
Former Islamic studies teacher Umar Haque was jailed for life in 2018 after using his position to show ISIS propaganda videos, including beheadings, to children as young as 11 as he tried to recruit them into a mini militia.
Haque, 27, who also taught at a mosque in east London, staged training exercises during Islamic studies classes to prepare children for ISIS-inspired attacks in London.
After a long investigation the UK's Charity Commission has issued an official warning to the trust which operates the school and found the trustees guilty of misconduct for allowing the children to be exposed to Haque's radicalisation.
"Umar Haque's action at this charity was appalling," said Tim Hopkins, Assistant Director for Investigations and Inquiries at the Commission.
"It is completely unacceptable for any charity to be associated with terrorism and we are concerned by the corrosive effect this might have on public confidence in this and other charities.
"Charities should lead the way in taking public expectations seriously and be distinct from other types of organisations in their attitude and behaviour, their motivations and methods. We expect the trustees of this charity to learn from the failings set out in our report, and to comply with the required actions to strengthen the charity's administration. We will closely monitor the trustees' compliance with these actions."
Some 35 children have required long-term supervision as a result of the attempted indoctrination by Haque at the school and mosque, according to police. It emerged that he was working daily with children aged five to 15.
The grooming only came to light after Haque's passport was revoked after he attempted to board a flight to Istanbul en route to Syria, with the apparent aim of joining ISIS.
After his failure to fly to Syria, he turned his attentions to targets in the UK, including Heathrow Airport and a plot to mow down pedestrians outside the UK parliament.
"The Commission finds that Haque "grossly abused" the position of trust he held at the charity and exploited an opportunity to show children in the charity's care the video," it said.
"The report notes that the public rightly expect charities, particularly those working with children and young people, to be safe places, free from abuse or harm, and that, in light of Haque's actions, this was not the case within this charity. The Commission concluded that there was therefore misconduct and/or mismanagement in the charity's administration.
"To address the mismanagement and/or misconduct set out in the inquiry's report, the Commission issued the trustees with an Official Warning and has also directed the trustees, by order, to take specified actions. These include complying with the independent school standards, and undertaking a review of its governing document."
The school was rated as inadequate by government inspectors last year after discovering a book in its library that advocated death for anyone who committed adultery.
In a statement the Trust said the school is against "radicalisation".
"The Trustees of Lantern of Knowledge Educational Trust denounce any attempts at radicalisation," it said.
"Whilst the actions of Haque at our school were limited, Trustees undertook a deep review of all our safeguarding and operational processes. Safeguarding is of paramount importance to the Trustees and shall remain so, without compromise.
Trustees have ensured significant investment has been put into the charity's school to ensure safeguarding remains robust and excellent educational outcomes for pupils are achieved."
https://www.thenational.ae/world/uk-school-where-isis-fanatic-tried-to-recruit-army-of-children-for-terror-attacks-given-official-warning-1.1079239
--------
Talks Must Ensure Protection of Minorities, Says Afghan Only Known Jewish
By Mohammad Arif Sheva
18 Sep 2020
KABUL, Afghanistan – The country's only known Jewish, Zablon Simintov, said the future political system in Afghanistan should ensure the protection of all minorities in the country and their humanitarian rights, according to sources.
He believes maintaining the current political system is the best way to ensure protection of the gains the country reached to over the past two decades, calling on peace negotiators in Doha to prioritize a comprehensive ceasefire in the country.
"We are thirsting for peace, but first we want a ceasefire," said Simintov as quoted by TOLOnews.
Meanwhile, a number of Afghan Sikh and Hindus said everyone is tired of war in Afghanistan, saying the ongoing efforts for peace should lead the country towards prosperity.
"We do not want more war, we should join hands, our Taliban brothers should come and join us to rebuild our country and get self-reliance so that our next generations can live in peace and stability," said Narendra Singh Khalsa, a member of the Afghan Parliament.
"The outcomes of the talks should help those who left the country to repatriate to their homeland," said Soni Singh, an Afghan Sikh in Kabul, according to the report.
This comes months after dozens of Afghan Sikh migrated to India, leaving their home and country behind, for protection from the ongoing war. The Indian government last month provided them with shelters and essential.
https://www.khaama.com/talks-must-ensure-protection-of-minorities-says-afghan-only-known-jewish-2343/
--------
Peace TV founder Zakir Naik barred from involvement with the channel's charitable foundation
Nicky Harley
Sep 17, 2020
Zakir Naik, a television personality whose Peace TV stations have been fined for hate speech in the UK, has been excluded from the charity that has bankrolled the troubled broadcasting operation.
Britain's charity watchdog has appointed an interim manager to run Islamic Research Foundation International due to an investigation over its funding of television channels which have been fined by the country's media regulator Ofcom.
Mr Naik, who founded the charity, ran two television stations, Peace TV and Peace TV Urdu, which were fined £300,000 (Dh1.4 million) in May by the media regulator, for broadcasting hate speeches and incitement to commit murder.
Both stations surrendered their licences last November and no longer broadcast in Britain.
Mr Naik was barred from the UK in 2010 but continued to operate the channels until last year.
The Charity Commission launched an investigation in April to examine the operations of IRFI.
This week it announced all its trustees would be excluded from its management.
"The Commission opened a statutory inquiry into the charity in April to examine concerns about its administration and governance, including trustee decision-making around continuing to fund Peace TV channels despite breaches of Ofcom's Broadcasting Code," it said.
"The regulator continues to have serious concerns about the administration of the charity. It therefore exercised its powers under the Charities Act 2011 to appoint an interim manager, Virginia Henley, in July.
"Her role will be to take on the running of the charity to the exclusion of its trustees including acting as manager of the charity's property and affairs. She will also be tasked with considering the future viability of the charity."
The watchdog appoints interim managers as a temporary and protective measure when it has identified misconduct or mismanagement in the administration of a charity.
The Commission's inquiry is focusing on why the charity has continued to fund Peace TV channels following repeated broadcasting breaches due to hate speeches and hosting radicals and extremist speakers in the past four years.
The satellite channels, which had claimed to reach two million viewers, were funded by the IRFI, which made appeals to the Muslim audience to contribute to fundraising.
Mr Naik, who is based in Malaysia, has been excluded from travel to the UK, India and Bangladesh and is accused by the Indian government of laundering £23m (Dh109.3m).
Britain barred him from entering the country in 2010, citing "unacceptable behaviour", although officials have never spelled out the nature of the behaviour.
In June the UK's counterextremism tsar, Sara Khan, called on the British government to urgently overhaul its terrorism legislation to ensure extremists cannot exploit gaps in the law.
The Commission for Countering Extremism cited Mr Naik's actions as an example of the current laws failing to tackle Islamist extremism.
It has led to a review of the powers available to the authorities to take action against acts of hate.
https://www.thenational.ae/world/peace-tv-founder-zakir-naik-barred-from-involvement-with-the-channel-s-charitable-foundation-1.1079362
--------
Iranian Speaker Blasts UAE, Bahrain for Kissing Bloodthirsty Zionists' Hands
Sep 17, 2020
"What is happening in the region and on TV and election shows is nothing new to the people of the world, specially the Muslim Ummah, the Arab youth and the oppressed people of Palestine," Qalibaf said in his statement.
For many years, many governments in the region have been passionately kissing the bloodthirsty hands of the Zionists, he added.
Iranian Parliament Speaker Mohammad Baqer Qalibaf
Qalibaf noted that what happened between some Arab rulers and the Zionist regime was simply putting on paper the stigma and ugliness of years of enmity between the rulers of some countries and the Palestinian people.
The Iranian speaker stressed that as Supreme Leader of the Revolution Ayatollah Khamenei has repeatedly stressed, there will be no solution without the Palestinian people, and that is an everlasting position.
He said that the day that the recent agreements with Israel were signed should be named as 'the second Youm al-Nakba'.
US President Donald Trump tweeted the news of the Israel-Bahrain normalization deal on Friday after he spoke by phone to Bahrain's King Hamad bin Isa Al Khalifa and Israeli Prime Minister Benjamin Netanyahu.
Following the announcement at the White House, Palestinian officials condemned the Israel-Bahrain normalization deal announced by Trump as another "stab in the back" by an Arab state.
Friday's accord normalizing diplomatic ties between Israel and Bahrain comes one month after the United Arab Emirates (UAE) agreed to normalize ties with Israel under a US-brokered deal.
On August 13, President Trump announced a deal brokered by his government between Israel and the UAE which he said would lead to full normalization of ties between the two.
Critics see the deal as the latest attempt by Trump to save his presidential campaign against the Democrat Joe Biden.
In relevant remarks on Tuesday, Iranian Government Spokesman Ali Rabiyee said normalization of ties with Israel is a strategic mistake, stressing that any kind of insecurity in the region will be seen from now on by Tehran as to be the outcome of this compromise deal.
"It is a strategic mistake to normalize ties with Israel and the responsibility for all the consequences of the action falls on the Bahraini government and any government that has compromised," Rabiyee said.
"Iran considers the Zionist regime's interference in the region as a threat," he noted.
"The oppressed people of Palestine and Muslims who have lived with the Palestinian cause will not allow any normalization of relations," the spokesman continued.
https://en.farsnews.ir/newstext.aspx?nn=13990627000511
--------
West cannot hide crimes against Syria with humanitarian allegations: Syrian envoy to UN
17 September 2020
Syrian Ambassador to the United Nations Bashar al-Ja'afari says the West's crimes, including economic terrorism, against Syria cannot be hidden by humanitarian claims and allegations.
Speaking at a UN Security Council session on the humanitarian situation in Syria via a video link, Ja'afari said the Western states, which have introduced coercive economic measures against the Arab country, would not be able to cover up the repercussions of their economic terrorism against Syrians.
He also stressed that the humanitarian allegations against Syria made by the West would not be able to hide its horrible crimes in exerting more pressure on the Arab nation and hampering the reconstruction process in the war-ravaged country and the return of the displaced Syrians.
Ja'afari noted that some Western countries, which have slapped Syria with persisting illegal sanctions, are telling outright lies in claiming that they are not targeting Syrians and that they are trying to provide humanitarian and medical exemptions to assist the Syrians.
The Syrian envoy also lambasted claims by the Western states that Damascus had deprived COVID-19 Syrian patients of due treatment, stressing that Syrian citizens are in fact suffering greatly from the disastrous effects of Western coercive measures.
"Since 1978, the US successive administrations have imposed coercive measures on the Syrian economy and its vital sectors, such as civil aviation, petroleum, energy, telecommunications, technology, banking, import and the export, including the import and manufacturing of food, medicines and basic medical equipment, to dissuade Syria from its stances in rejection of the hegemony and occupation policies," Ja'afari added.
Elsewhere in his remarks, the Syrian envoy demanded the withdrawal of all Turkish troops and their allied militant groups from northern and northwestern parts of the Arab country.
He also stressed the need for ending the US occupation of the areas northeast of the Arab country and holding Washington and its allies and separatist militias and terrorist groups affiliated to it responsible for prolonging the suffering of the displaced in al-Hawl and al-Rukban camps.
In conclusion, Ja'afari referred to a recent report by the Guardian, which cited US research centers and academics as saying that the US, since 2001, has displaced 37 million persons in Iraq, Afghanistan, Syria, Libya, Yemen and elsewhere under the slogan of the so-called "war on terrorism."
https://www.presstv.com/Detail/2020/09/17/634321/Syria-West-Ja%E2%80%99afari-UN-crimes-humanitarian-sanctions-COVID-19-US-Turkey
--------
Nigeria: 'Boko Haram, Bandits On the Rampage in Northeast, Northwest Daily'
17 SEPTEMBER 2020
By Idowu Isamotu
The Coalition of Northern Groups says Boko Haram insurgents and bandits are still on the rampage in the Northeast and Northwest killing people and destroying property.
At a press briefing in Abuja on Wednesday, the spokesperson of the coalition, Abdul-Azeez Suleiman, urged the Federal Government to show courage in arresting and prosecuting the "criminals" and their sponsors.
He said the fight against the current security challenges in the north must be isolated from partisan influence.
"Despite repeated claims by the government that federal troops have decimated the capacity of the armed insurgents in the Northeast, the group (insurgents) has continued to show the capacity to launch attacks and overrun military formations, seize equipment and vandalise local communities," Suleiman said.
https://allafrica.com/stories/202009170094.html?utm_source=iterable&utm_medium=email&utm_campaign=1532181_
--------
Pakistan
Pakistan plans a change in Gilgit-Baltistan status
Imtiaz Ahmad
Sep 18, 2020
The Pakistan government plans to make Gilgit-Baltistan the country's fifth province, two years after powers of the Islamabad-controlled council for the region were transferred to a local assembly.
The government's plans were outlined by the federal minister for Kashmir and Gilgit-Baltistan affairs, Ali Amin Gandapur, during an interaction with a group of journalists in Islamabad on Wednesday. He said the region will be accorded the status of a full-fledged province with constitutional rights such as representation in both houses of Parliament.
Prime Minister Imran Khan is expected to visit the region soon and make a formal announcement about the change, Gandapur was quoted as saying in reports in the Pakistani media.
"After consultation with all stakeholders, the federal government has decided in principle to give constitutional rights to Gilgit-Baltistan," he said. "Our government has decided to deliver on the promise it made to the people there."
There was no immediate reaction to the minister's remarks from Indian officials, though New Delhi has consistently opposed changes made in the disputed region by the Pakistan government. India claims Gilgit-Baltistan as part of the erstwhile state of Jammu and Kashmir.
Gandapur also said that subsidies and tax exemptions for the region wouldn't be withdrawn after the grant of constitutional rights. "Until the people there stand on their feet, they will continue to enjoy this facility," he said.
People familiar with developments said the Pakistani military establishment had been in touch with political parties regarding the changes. Khan's ruling Pakistan Tehreek-e-Insaf (PTI) party is backing the changes with an eye on upcoming elections in Gilgit-Baltistan so that it can make political gains and form the next government in the region.
Gandapur said the elections were likely to be held in mid-November. Preparations had been completed and the distribution of tickets by the PTI will begin soon, he added.
He contended that the "deprivation" faced by the people of Gilgit-Baltistan for 73 years would end with the change. Besides constitutional rights and a provincial setup, important steps are being taken for developing the region, he said.
This includes work on Moqpondass special economic zone under the China-Pakistan Economic Corridor (CPEC), and steps to improve health care, tourism, transport and education, he said.
In 1999, Pakistan's Supreme Court ruled that the people of Gilgit-Baltistan are Pakistani citizens and directed the federal government to start appropriate administrative and legislative measures.
In 2009, the Gilgit-Baltistan Empowerment and Self-Governance Order was introduced, whereby the Northern Areas were renamed as Gilgit-Baltistan and the region was given province-like status but without representation in Parliament.
In 2015, a committee constituted by the federal government proposed giving Gilgit-Baltistan the status of a province, and three years later, a new order transferred all powers of the local council to the local assembly.
The people cited above said any move to give the region the status of a full-fledged province would be welcomed by local residents. Some stakeholders had suggested the region should be provisionally given the status of a province and it should be made a full province only after the Kashmir issue is resolved, the people said.
Though the proposal made by the committee in 2015 didn't go through because it didn't have the blessings of the security establishment, it appears that the Pakistan Army has had a change of heart in view of the changes in Jammu and Kashmir since August last year, the people further said.
https://www.hindustantimes.com/india-news/pak-plans-a-change-in-gilgit-baltistan-status/story-jxshC3dBmBsUgP9FPWjvUK.html
--------
Pakistan political party head rejects deals with Israel
Islamuddin Sajid
16.09.2020
ISLAMABAD, Pakistan
The head of Pakistan's main religious political party on Wednesday strongly rejected recent normalization deals between Bahrain, the United Arab Emirates and Israel.
Sirajul Haq of Jamaat-e-Islami characterized the agreements as against the principles of Islam and called them "an act of betrayal" against Palestinians.
"According to a fatwa [religious ruling] issued by the international union of Muslim scholars, any agreement to normalize relationship with Israel is offense, false and forbidden," said Haq, who is also a senator in parliament.
"Therefore, we reject the normalization deals between UAE, Bahrain and Israel," he said, because they are "dishonesty with Allah Almighty and His Messenger."
"It is act of betrayal against Muslim Ummah, particularly Palestinians," he said.
"The Pakistani nation will continue to support the struggle of Palestinians against the Israeli occupation in the light of the vision of the founder of [our] nation, Quaid-i-Azam," Haq vowed.
His view was similar to Pakistan Prime Minister Imran Khan who said last month that his country would not recognize Israel until the Palestine issue is resolved.
"Our stand about Israel is very clear. It is the same that the founder of nation, Quaid-I-Azam had," he said during an interview with local television station, Dunya News,
Khan was referring to Mohammad Ali Jinnah who advocated unwavering support for Palestinians.
"We cannot recognize Israel until Palestinians get their right, which should be in line with the two-state solution," he said. "If we recognize Israel, then we should give up Kashmir as well. Both issues have a similar background."
Israel formally signed agreements Tuesday with representatives of Bahrain, the UAE and Israel during a White House ceremony presided over by US President Donald Trump.
Bahrain became the fourth Arab country to establish diplomatic relations with Israel last week after Egypt in 1979, Jordan in 1994 and the UAE in August.
Palestinians staged a series of rallies Tuesday in the West Bank and Gaza Strip against the controversial agreements.
https://www.aa.com.tr/en/asia-pacific/pakistan-political-party-head-rejects-deals-with-israel/1975743
--------
18 markets to be set up along borders with Iran, Afghanistan
18 Sep 2020
ISLAMABAD: The government has decided to establish 18 markets along Pak-Afghan and Pak-Iran borders with a view to boosting trade with the two countries and curbing the menace of smuggling.
The decision was taken at a meeting chaired by Prime Minister Imran Khan on Thursday. He also gave the nod to a plan for setting up three border markets as a pilot project — two in Balo­chistan and one in Khyber Pakhtunkhwa. These three markets will start operation by February next year.
The meeting decided that stern steps would be taken to check smuggling. Chief of the Army Staff Gen Qamar Javed Bajwa and other high officials attended the meeting.
The prime minister was apprised that an ordinance had been promulgated to curb smuggling of basic food items and currency as it empowered law enforcement agencies to take action against such illegal activities at the country's airports and borders.
In another meeting of the National Coordination Committee on housing construction and development, the prime minister stressed the need for revising the master plan of Karachi in a shortest possible time so that the metropolis could be protected from basic civic problems like dilapidated drainage and sewerage system, shortage of water and poor transport facilities etc.
Emphasising the need for urban forestry, the prime minister directed the provinces to protect green areas, rather increase them, in major cities.
He urged the chief secretaries of four provinces to promote digitilisation of land record to eliminate corruption and Patwari culture in the society.
The chief secretary of Punjab informed the meeting about approval of applications regarding construction and housing through an online portal. His counterparts from Khyber Pakhtunkhwa, Balochistan and Sindh informed the prime minister that online portals had been introduced in their provinces also.
The chief secretary of Sindh told the prime minister that master plans of 17 major cities in the province were being revised. He said master plans of three cities had been improved and those of six other cities would be revamped by December this year.
The chief secretary of KP said master plans of Peshawar and Mardan were being revised in the first phase. He said a master plan for erstwhile Federally Administered Tribal Areas was also being improved.
Austrian World Summit
Later, Prime Minister Imran Khan addressed the Austrian World Summit on climate change through video link and urged the world community to make a joint effort to save climate.
He apprised the world that Pakistan was making all out efforts to protect climate and the government was implementing a plan to plant 10 billion trees in the country.
"Our glaciers are melting fast and we realised it a decade ago when our government in Khyber Pakhtunkhwa planted one billion trees. Now we have decided to plant 10 billion trees," he added.
https://www.dawn.com/news/1580291/18-markets-to-be-set-up-along-borders-with-iran-afghanistan
--------
Pakistan's mission in London gets warrants for Nawaz
Atika Rehman
18 Sep 2020
LONDON: The Pakistan High Commission in London on Thursday received arrest warrants sent by the government for former prime minister Nawaz Sharif.
The high commission did not make an official comment on the development but sources confirmed that the mission had received the paperwork to serve the arrest warrants on Mr Sharif.
The sources added that all legal formalities and procedures would be followed in this regard.
The assistant registrar of the Islamabad High Court (IHC) directed the foreign secretary to ensure production of the former prime minister before the court on September 22.
The secretary has been told to "cause the production of appellant (Mr Sharif) through High Commission of Pakistan in United King­dom" by 11am on Sept 22.
Mr Sharif would also have to appear on any other dates that might be fixed by the court, the letter added. A copy of the order issued earlier in the week was attached to the letter.
In 2017, the high commission received bailable arrest warrants for Hasan, Hussain, Maryam Nawaz and Captain Mohammad Safdar in NAB cases.
The IHC earlier this week had issued non-bailable arrest warrants for Mr Sharif while dismissing his application seeking exemption from personal appearance in the hearing of appeals against his conviction in the Al-Azizia and Avenfield properties references.
The former prime minister has been in the UK since November 2019, after getting bail from the court on medical grounds and securing permission from the Pakistan Tehreek-i-Insaf government. His doctors said he is suffering from complicated cardiac disease and an immune system disorder that resulted in a dangerously low platelet count.
Last week, a medical report submitted to the LHC by his legal team said doctors have advised him against travel due to the coronavirus outbreak as he is suffering from diabetes, high blood pressure and diseases of the kidney and heart. The report stated that as a heart patient, he is vulnerable to contracting Covid-19.
His lawyers contend that his treatment that was paused due to the Covid-19 outbreak in the UK would resume soon. Prior to the pandemic, Mr Sharif had been visiting St Guys' and St Thomas' Hospital as well as Royal Brompton and Harefield Hospital for check-ups, which would help doctors determine next steps in his treatment.
https://www.dawn.com/news/1580292/pakistans-mission-in-london-gets-warrants-for-nawaz
--------
Money taken from corrupt to be spent on education: PM
Syed Irfan Raza | Muhammad Sadaqat
18 Sep 2020
ISLAMABAD / HARIPUR: Prime Minister Imran Khan on Thursday vowed to take back looted national wealth from corrupt people and invest the money thus recovered in education sector.
"I am thinking of introducing a law envisaging that the money being recovered by the Asset Recovery Unit is invested in education because the future of our children will improve considerably if we spend on their education," Mr Khan said while inaugurating the Pak-Austria Fachhochschule Institute of Applied Sciences and Technology (PAF-IAST) at Mang, Haripur.
He stressed the need for getting rid of what he called "dependency syndrome caused by colonialism" and said the time had come for the nation to follow the path of Quaid-i-Azam Mohammad Ali Jinnah and Allama Mohammad Iqbal.
"The mindset of depending on the West and not relying on our own potential prevails. Why can't we produce our own scientists and make inventions and patents?"
The prime minister said Pakistanis should make their own inventions. "This can be done only through science and technology, knowledge economy and education."
Inaugurates institute set up with Austrian government's cooperation
He said the country is in dire need of treading its own path. Pakistan has two big advantages — its young population and the talent it has.
"The performance of Pakistani students in O' and A' levels is ample proof of that," he said.
"Knowledge economy is the best option for Pakistan to capitalise on its large youth pool and immense talent for scientific innovation and technical productivity.
"Now is the time for the country to discover its own path, leading to a system based on scientific and technical production to ensure economic growth."
He said: "Singapore boasts $330 billion worth of exports compared to Pakistan's $25bn… Malaysia made an imprint in electronics as encouraged by its leader Dr Mahathir Mohamed."
Established with the assistance of government of Austria, the Pak-Austria Fachhochschule Institute of Applied Sciences and Technology is aimed to help develop Pakistan's industrial and higher education sectors.
It also aims to set up an integrated technology park equipped with business incubation centres and units for small and medium-sized enterprises.
On the occasion Prime Minister Khan also referred to tech giants Microsoft and Facebook, which boast revenues greater than entire countries like Pakistan. "Only one Microsoft is worth $2,000bn, while our total annual budget is $60bn," he said.
He expressed the hope that the newly established institute would prove to be a scientific and technological hub and provide a platform for Pakistani youths to excel in these areas.
He said that China's collaboration with Pakistan had been transformed into industrial cooperation as the two countries had entered the second phase of the China-Pakistan Economic Corridor.
Campuses of five Chinese and three Austrian universities would be opened in Pakistan as the country had set its eyes on excelling in the areas of artificial intelligence and big data processing, he said.
Mr Khan lauded the cooperation extended by the Khyber Pakhtunkhwa government in turning the Pakistan-Austria project into a reality.
The premier also thanked the Austrian government for the cooperation it extended in setting up the new institute. He was of the opinion that the institute would prove its worth in days to come.
Khyber Pakhtunkhwa Governor Shah Farman, Chief Minister Mahmood Khan, prominent scientist Dr Atta-ur-Rehman and federal and provincial ministers were present on the occasion.
https://www.dawn.com/news/1580252/money-taken-from-corrupt-to-be-spent-on-education-pm
--------
'All Religions Will Be Equal Under Taliban Rule,' Says Khawaja Asif
September 18, 2020
ISLAMABAD: Pakistan Muslim League-Nawaz (PML-N) stalwart Khawaja Asif has said that the constitution of the Taliban provides equal rights to all citizens irrespective of their caste, creed, and religion, as he condemned critics for opposing the Taliban caliphate in Afghanistan.
Speaking to The Dependent, the uncompromisingly progressive Khawaja Asif said the people who were against the Taliban caliphate belong to a group that should be labeled 'kafir-e-Azam'.
"No religion will be superior to the other in the Taliban rule. As representatives of the Taliban, it is incumbent upon the Taliban leaders to promote the Taliban ideology, which promotes diversity and coexistence in the society," said Asif.
Further condemning the critics of the Taliban, Asif said that those opposing the true caliphate are infidels who must be treated in accordance with the Taliban's pluralistic and progressive sharia.
"These people are also against the true teachings of Quaid-e-Azam. They are against the creation of Jinnah's Afghanistan," the PML-N leader added.
Asif further informed The Dependent that as soon as the expected Taliban rule is implemented he is moving to the caliphate to help create a truly exemplary society governed by the uncompromising secularity of the peaceful Taliban regime, which will ensure that any detractors rest in everlasting peace.
https://www.pakistantoday.com.pk/2020/09/14/all-religions-will-be-equal-under-taliban-rule-says-khawaja-progressive/
--------
India
Not against Muslims in bureaucracy: Sudarshan TV defends programme 'UPSC Jehad' in SC
17th September 2020
NEW DELHI: Sudarshan TV on Thursday defended in the Supreme Court its programme on alleged "infiltration of Muslims in civil services", saying it was not against their entry but has used the term 'UPSC Jehad' based on information that 'Zakat Foundation' received funds from various "terror-linked organisations".
The top court had restrained the channel on Tuesday from telecasting the episodes of 'Bindas Bol' for two days saying that "the intent" of the episodes "prima facie" appeared to "vilify" the Muslim community.
In an affidavit, Suresh Chavhanke, Editor-in-Chief of the channel, sought lifting of the stay from airing the remaining six episodes and said that there was "no justification to continue the pre-telecast/prior restraint direction".
The affidavit said: "The Answering Respondent (Chavhanke) has used the words "UPSC Jehad" because it has come to the knowledge. through various sources that Zakat Foundation has received funds from various terror-linked organizations."
"It is not that all contributors to the Zakat Foundation are terror-linked. However, some of the contributors are linked to organizations or are organizations that fund extremist groups."
"The funds received by the Zakat Foundation, in turn, are used to support aspirants for IAS, IPS or UPSC".
Zakat Foundation provides training and study materials to Muslim students who aspire to join civil services.
"When it comes to light through various sources that funds contributed by tainted organizations are being used to facilitate people joining UPSC, there is a serious issue requiring public debate, discussion and scrutiny."
"There is no statement or message in the four episodes broadcast that members of a particular community should not join UPSC. UPSC is an open competitive examination and members of every community may participate in the entrance examination and qualify," the journalist said in his 91-page affidavit.
In the response to the plea filed by lawyer Firoz Iqbal Khan, seeking banning of the programmes, the channel said the thrust of its episodes was that there appeared to be a conspiracy which needed "to be investigated by NIA or CBI" as the "terror linked organizations" were apparently funding the Foundation in India, which in turn has been supporting Muslim UPSC aspirants.
"Terrorism is a global menace. There are several international organizations that provide monetary support to extremists. The spread of extremist philosophy is undesirable and it is imperative that cross border funding that could encourage the spread of extremism should be stamped out," the affidavit said and referred to the offshore organizations which are funding the foundations.
Referring to records including the FCRA papers of the Ministry of Home Affairs, the affidavit said that the Zakat Foundation has received donations from various organizations such as 'Muslim Aid (UK)' and moreover it has links with Zakir Naik as well.
"Zakir Naik's Islamic Research Foundation has been banned under Unlawful Activities (Prevention) Act, 1967, (UAPA). The Cabinet note regarding the ban said that Zakir Naik has been promoting enmity between religious groups and inspiring Muslim youth in India and abroad to commit terrorist acts," the reply affidavit said.
Calling himself an investigative journalist, Chavhanke referred to various documents and said that it appeared that Zakat Foundation of India has received funds from "terror tied Zakat Foundation of America (Khalil Demir) who has a direct/indirect link with Benevolence International Foundation (BIF) and Turkish Humanitarian Relief Organization (IHH) both of which have terror links.
"Reports also stated that Turkish Humanitarian Relief Organization (IHH) distributed aid to the Salafist group Ahrar al Sham, which fought alongside ISIS and the al-Qaida affiliate Jabhat al-Nusra."
The journalist said that the minority community has been taking quota benefits of the OBC and he minority scheme simultaneously and the same being a "political and social issue" can be debated in the media.
The top court would hear on Friday the plea which has raised grievance over the programme whose promo had claimed that the channel would show the 'big expose on conspiracy to infiltrate Muslims in government service'.
Meanwhile, the Centre has also filed an affidavit in the matter and said if the apex court decides on the issue of media regulation then such an exercise should be undertaken with the digital media first as it has faster reach and information has the potential to go viral due to applications like WhatsApp, Twitter and Facebook.
The government has told the apex court that sufficient framework and judicial pronouncements exist for the electronic and the print media.
https://www.newindianexpress.com/nation/2020/sep/17/not-against-muslims-in-bureaucracy-sudarshan-tv-defends-programme-upsc-jehad-in-sc-2198258.html
--------
'Regulate digital media first': Centre tells Supreme Court in Sudarshan News 'UPSC Jihad' case
September 17, 2020
New Delhi: The Centre told the Supreme Court that if it considers regulating the media, such an exercise should be first undertaken with the digital media as news on it spreads quicker and has the potential to go viral due to applications such as WhatsApp, Twitter and Facebook.
The government told the apex court that sufficient framework and judicial pronouncements already exist for the electronic and the print media.
"Considering the serious impact and the potential, it is desirable that if this court decides to undertake the exercise, it should first be undertaken with regard to digital media as there already exists sufficient framework and judicial pronouncements with regard to electronic media and print media," said the counter-affidavit, filed by the Ministry of Information and Broadcasting.
"It is submitted that while in a mainstream media (whether electronic or print), the publication telecast is a one-time act, the digital media has faster reach from wider range of viewership/ readership and has the potential to become viral because of several electronic applications like Whatsapp, Twitter, Facebook," it said.
The affidavit was filed in a pending matter in which the top court is hearing a petition over Sudarshan TV's 'Bindas Bol' programme whose promo had claimed that channel would show the ''big expose on conspiracy to infiltrate Muslims in government service".
A bench headed by Justice DY Chandrachud had on 15 September restrained the channel from telecasting its programme, saying "the intent" of aired episodes "prima facie" appears to "vilify" the community.
The bench had suggested that a committee of apolitical experts of distinguished citizens or former judges may be appointed to help in self-regulating the electronic media.
In its affidavit, the Centre has said that "subject matter of the present petition namely balancing between journalist freedom and responsible journalism is a field already occupied either by the statutory provisions made by the Parliament or by the judgments of this court".
"It is respectfully submitted that in view of the issue having already received attention of the Parliament, as well as, of this court, the present petition be confined to only one channel namely Sudarshan TV and this court may not undertake the exercise of laying down any further guidelines with or without appointment of an amicus or a committee of persons as amicus," the affidavit said.
It said that situation in each case shall have to be decided on a case-to-case basis and a broader exercise "which is too general in nature is neither warranted nor permissible".
The affidavit said, "Even if this court considers it appropriate to undertake the said exercise, there is no justification to confine this exercise only to mainstream electronic media. The media includes mainstream electronic media, mainstream print media as well as a parallel media namely digital print media and digital web-based news portal and You Tube channels as well as 'over the top' platforms (OTTs)."
Referring to earlier verdicts delivered by the apex court, the affidavit said it lays down the correct legal proposition requiring no general exercise to be undertaken merely based upon one episode or few episodes of a channel.
Separately, Sudarshan TV has also filed an affidavit in the apex court claiming that it has no ill-will against any community or any individual and the programme concerns a matter of grave national interest.
The channel claimed that it has used words like 'UPSC jihad' in its programme as an institute for Muslim UPSC aspirants has received foreign funds, also from those linked to organisations that allegedly fund extremist groups.
https://www.firstpost.com/india/regulate-digital-media-first-centre-tells-supreme-court-in-sudarshan-news-upsc-jihad-case-8825101.html
--------
SC shoots down channel's argument, stays telecast of show on Muslims
Sep 18, 2020
NEW DELHI: Seeking resumption of its Supreme Court stalled programme alleging that Muslims were "infiltrating UPSC", Sudarshan TV told the SC on Thursday that its serialised investigative documentary was attempting to flag the threat posed to national security by foreign funding from terror linked organisations for the purpose of preparing Muslims for the civil services.
Reacting angrily to the alleged "insidious content" of the programme which it said was capable of hurting India's traditional image as a "melting pot of cultures", a bench headed by Justice D Y Chandrachud had on Tuesday stayed further telecast of the 10-episode programme. Petitioner Firoz Iqbal Khan had sought a ban on the programme terming it as nothing but "hate speech" aimed at causing communal tension and enmity between Hindus and Muslims.
The channel said it had used the words "UPSC Jihad" as it became aware through various sources that Zakat Foundation had been receiving funds from various foreignbased terror linked organisations. "It is not that all contributors to Zakat Foundation are terror linked. However, some of the contributors are linked to organisations or are organisations that fund extremist groups. The funds received by Zakat Foundation, in turn, are used to support aspirants for IAS, IPS or UPSC," the channel said in its affidavit filed through advocate Vishnu Jain.
"This is a matter of grave public interest. It is also a matter of national security. ...It is the debate and discussions arising from the subject programme which may cause the government to re-examine its policy with respect to such funding," it said.
It said from 2009 to 2019, 119 Zakat Foundation fellows had joined the civil services as per their website. In 2020 alone, 27 out of 40 Muslim candidates selected by UPSC were products of Zakat Foundation. As per FCRA records available with the home ministry, Zakat Foundation received over Rs 65 lakh in donations from Madina Trust UK and Rs 35 lakh from Muslim Aid (UK) between 2007-19.
The petitioner said the programme was based on hearsay and was far from facts.
https://timesofindia.indiatimes.com/india/sc-shoots-down-channels-argument-stays-telecast-of-show-on-muslims/articleshow/78178585.cms
--------
Pakistani 'madamji' lures MES cleaner to share Army info
Sep 18, 2020
GURGAON/LUCKNOW: A civilian employee of the Military Engineering Services (MES), Jaipur was arrested by Haryana Police's special task force (STF) in Rewari for allegedly passing on classified information to a Pakistani military intelligence unit after getting honey-trapped on Facebook.
The STF said it acted on a specific input from military intelligence (MI) to detain Mahesh Kumar (28) from Dharuhera bus stand on Wednesday. Kumar was about to board a bus for Jaipur when he was nabbed. The STF said it had received an alert that Kumar was in touch with a Pakistani intelligence operative and was passing classified information through WhatsApp and Facebook.
Kumar, whose official job description is a cleaner, allegedly took snapshots of classified content in files. He deleted the photos from his phone after sending them to the Pakistani operative, the STF said. Police said Mahesh had received a friend request from an account named Harman Kour run by Pakistani intelligence operatives. Kumar used to address her as "madam ji", police said, adding Kumar had allegedly received money twice — Rs 5,000 each — over the last 5-6 months from his Pakistani handlers via Kerala.
https://timesofindia.indiatimes.com/india/pakistani-madamji-lures-mes-cleaner-to-share-army-info/articleshow/78178520.cms
--------
Quran, gold cases: NIA quizzes Kerala mantri
Sep 18, 2020
KOCHI: The National Investigation Agency questioned Kerala higher education and minority welfare minister K T Jaleel for eight hours on Thursday regarding the consignment of Qurans brought in through the UAE's diplomatic baggage and for his alleged links to some of the main accused in the Thiruvananthapuram gold smuggling case. Jaleel was questioned about the same issues by the ED last week, especially discrepancies in the documentation and weight of the Quran consignment.
On Thursday, the minister was questioned based on statements provided by the gold case accused as well as data recovered from devices belonging to the accused. The NIA had retrieved two terabytes of data from gold case prime accused Sandeep Nair and Swapna Suresh alone, while 4 TB was retrieved overall from five accused people.
NIA sleuths remained tight-lipped on whether Jaleel was a suspect or if he would formally be made a witness in the case in the later stages.
"I was summoned as a witness in the case. They wanted information to cross-check the statements of the accused in the gold smuggling case. They asked me about my dealings with the UAE consulate as a state minister," he told a website, "The Federal", soon after his questioning.
https://timesofindia.indiatimes.com/india/quran-gold-cases-nia-quizzes-kerala-mantri/articleshow/78178511.cms
--------
ED Charges Kashmiri Separatist Leader's Wife In Terror-Funding Case
Sep 18, 2020
NEW DELHI: The Enforcement Directorate (ED) has filed a chargesheet against Dr Bilquis Shah, wife of Kashmiri separatist leader Shabir Shah, in an alleged terror funding and money laundering case. Shah, who was arrested by ED in 2017, has been accused of receiving more than Rs 2 crore from LeT chief Hafiz Saeed and Pakistani intelligence agency ISI through hawala dealers in Delhi.
Last year in March, the ED had attached Shah's properties located in Rawalpora, Srinagar being held in the name of his wife and daughters. A supplementary chargesheet was filed against his wife on Thursday in the special Patiala House court in Delhi.
A prosecution complaint (chargesheet) against Shabir Shah and his associate Aslam Wani was earlier filed in September 2017 where the agency had accused his wife Bilquis Shah for her role in money laundering.
The ED said its investigation revealed that Shah was in touch with the global terrorist and Lashkar-e-Taiba chief Hafiz Saeed and received money for carrying out separatist activities in J&K. He used part of the terror funds to acquire various properties through 'a maze of dubious transactions'.
https://timesofindia.indiatimes.com/india/ed-charges-shabir-shahs-wife-in-terror-funding-case/articleshow/78178548.cms
--------
North America
US imposes sanctions on several Iranian entities and individuals
17 September 2020
The United States has imposed fresh sanctions on a number of Iranian entities and individuals over alleged attempts to launch a malware campaign.
The US Treasury Department said on Thursday the sanctions target two Iranian entities and 45 individuals allegedly linked with Iran's Ministry of Intelligence.
The Treasury claimed the companies -- called Advanced Persistent Threat 39 and Rana Intelligence Computing Company (Rana) -- are owned or controlled by Iran's Ministry of Intelligence and Security (MOIS).
The Treasury said the 45 individuals were employees at Rana.
"Today, the U.S. Department of the Treasury's Office of Foreign Assets Control (OFAC) imposed sanctions on Iranian cyber threat group Advanced Persistent Threat 39 (APT39), 45 associated individuals, and one front company. Masked behind its front company, Rana Intelligence Computing Company (Rana), the Government of Iran (GOI) employed a years-long malware campaign that targeted Iranian dissidents, journalists, and international companies in the travel sector. Concurrent with OFAC's action, the U.S. Federal Bureau of Investigation (FBI) released detailed information about APT39 in a public intelligence alert," the Treasury said in a statement on its website.
"Rana advances Iranian national security objectives and the strategic goals of Iran's Ministry of Intelligence and Security (MOIS) by conducting computer intrusions and malware campaigns against perceived adversaries, including foreign governments and other individuals the MOIS considers a threat," it added.
Treasury Secretary Steven Mnuchin said in a statement, "The United States is determined to counter offensive cyber campaigns designed to jeopardize security and inflict damage on the international travel sector."
This comes amid Washington's attempts to trigger a snapback mechanism in the 2015 Iran nuclear deal that would restore all UN sanctions on Tehran.
Iranian President Hassan Rouhani has called the move a great strategic mistake, which has been rejected by the international community.
Rouhani said all US attempts to put pressure on Iran have failed. He stressed that Washington's anti-Iran policies will not stop Tehran from moving toward further development.
Iran has been under a series of economic sanctions imposed by the United States since 2018, when President Donald Trump withdrew the US from the Iran deal, known as the Joint Comprehensive Plan of Action (JCPOA).
The Trump administration has unleashed its "toughest ever" sanctions to bring Iran's economy to its knees, but it keeps humming and is getting back on its feet.
Washington has resisted international calls to relax the bans to help Iran amid the coronavirus pandemic.
https://www.presstv.com/Detail/2020/09/17/634339/US-imposes-sanctions-on-Iranian-entities-and-individuals
--------
Trump plans executive order to punish arms trade with Iran
Sep 18, 2020
US President Donald Trump plans to issue an executive order allowing him to impose US sanctions on anyone who breaches a conventional arms embargo against Iran, sources said on Thursday.
They said the executive order was expected to be issued in coming days and would allow Mr Trump to impose secondary sanctions on those who breach it, depriving them of access to the US market.
A UN arms embargo on Iran is due to expire in October and the US is seeking to warn foreign entities and people that if they trade in arms with Iran, they will face US sanctions.
Under a 2015 nuclear deal that Iran signed with world powers, the UN conventional arms embargo is to set to expire on October 18, shortly before the November 3 US election.
The US, which withdrew the nuclear deal in May 2018, says it has initiated a "snap back", or reimposition, of all UN sanctions on Iran, including the arms embargo, which would take effect at 8pm on Saturday night or midnight on Sunday.
Other parties to the nuclear deal and most of the UN Security Council say they do not believe the US has the right to trigger the snapback, which is part of the deal from which it withdrew.
A European diplomat said the executive order would strengthen Washington's ambition to keep the UN embargo in place beyond October.
Under secondary sanctions, a country punishes another for trading with a third by barring access to its own market, a powerful tool for the US because of the size of its economy.
Most foreign companies do not wish to risk being excluded from the US market in order to trade with smaller countries such as Iran.
The executive order may be more symbolic than practical because so many Iranian entities and people are already subject to the secondary penalties, said Doug Jacobson, a sanctions lawyer.
"It's essentially piling on," Mr Jacobson said. "It's designed to send a message on this particular issue that the US is unhappy that the other parties did not agree to a snapback of arms sanctions."
Speaking on Wednesday, US special representative for Venezuela and Iran, Elliott Abrams, said Washington planned to impose sanctions on those who breached the UN arms embargo.
Also on Wednesday, US Secretary of State Mike Pompeo hinted at the coming action by stressing the power of US sanctions restored since it abandoned the Iran nuclear deal two years ago to deter foreign trade with Iran.
"We'll do all the things we need to do to ensure that those sanctions are enforced," he said.
Mr Pompeo said many experts argued that US unilateral sanctions imposed after it abandoned the nuclear deal would fail.
"We've been very successful in spite of what the world said would happen," he said.
Mr Pompeo said US sanctions had drastically reduced Iran's financial resources.
https://www.thenational.ae/world/the-americas/trump-plans-executive-order-to-punish-arms-trade-with-iran-1.1079391
--------
US citizen is charged with providing support to ISIS
Sep 17, 2020
Prosecutors in Washington have brought charges against a US citizen who joined ISIS in Syria, the Justice Department said on Wednesday.
Lirim Sylejmani is accused of conspiring to provide and providing material support to ISIS, which the United States has classified as a terrorist organisation, between 2015 and 2019.
The department also claimed he received military training from the self-styled caliphate.
"The accused is a US citizen who abandoned the country that welcomed him to join ISIS in Syria," acting US Attorney Michael Sherwin said. Sylejmani, who was born in Kosovo, "will now be held accountable for his actions in an American courtroom".
Sylejmani was captured by the US-backed Syrian Democratic Forces last year and faced investigation by the FBI's Washington Field Office Joint Terrorism Task Force.
The question of how to handle captured foreign ISIS fighters has vexed western governments, with the US vying for European countries to repatriate and try their own citizens.
Nations such as France and Britain reject the return of battle-hardened supporters of the violent group, which has claimed responsibility for attacks against civilians.
Some European governments, including Britain, have revoked the citizenship of a number of citizens over alleged ISIS links.
But the US has pushed back against these approaches.
"Leaving them in the desert is not an effective solution. It makes it more likely they're going to find their way back to the battlefield, and accepting that risk is not being tough on terrorism," the US State Department's counterterrorism co-ordinator Nathan Sales told a meeting in Brussels last year.
It could also put an undue burden on Middle East countries already dealing with their own former ISIS-fighter citizens, according to the US.
The EU-backed Genocide Network advocated that returning ISIS foreign fighters should be charged with war crimes under international law – such as genocide or crimes against humanity – in addition to whatever terrorism charges they may face at home.
As of May, about 2,000 fighters were still detained by Syrian forces and another 1,000 were in detention in Iraq, many of them European citizens mainly from France, Britain and Germany.
https://www.thenational.ae/world/the-americas/us-citizen-is-charged-with-providing-support-to-isis-1.1078981
--------
Europe
No lasting peace in Middle East without resolving Palestinian issue: Russia's Foreign Ministry
17 September 2020
The Russian Foreign Ministry says it would be a "mistake" to think lasting peace in the Middle East region could be secured without resolving the Israeli-Palestinian conflict, saying the Palestinian issue remains "acute" despite normalization agreements between Israel and a number of Arab countries.
"Taking into account the ongoing progress in the process of normalizing relations between Israel and a number of Arab countries, we state that the Palestinian problem remains acute," the ministry said in a statement released on Thursday.
"It would be wrong to think that without its settlement it will be possible to achieve reliable stabilization of the Middle Eastern region," it added.
Moscow urged regional and global players to "ramp up coordinated efforts" to solve the issue.
"In this regard, we call on regional and international partners to intensify coordinated efforts in this important area. Russia is ready for such joint work, including in the framework of the [so-called] Quartet" on the Middle East, comprising the US, Russia, the EU and the United Nations, and "in close coordination with the Arab League," it added.
Israeli Prime Minister Benjamin Netanyahu signed agreements with Emirati Foreign Minister Sheikh Abdullah bin Zayed Al Nahyan and Bahrain's Foreign Minister Abdullatif Al Zayani in a US-brokered event hosted by President Donald Trump at the White House.
Palestinians, who seek an independent state in the occupied West Bank and Gaza, with East Jerusalem as its capital view the deals as betrayal of their cause.
Palestinian President Mahmoud Abbas protested the normalization deals with Israel on Tuesday, saying they will be fruitless as long as the United States and the Israeli regime do not recognize the rights of the Palestinian nation and refuse to resolve the issue of Palestinian refugees.
He reiterated that there will be no peace, security or stability for anyone in the region unless the Israeli regime ended its occupation of Palestinian land, and Palestinians could restore their full rights as stipulated in international resolutions.
Abbas also warned against attempts to bypass the Palestinian people, emphasizing that the US administration and the Tel Aviv regime bear full responsibility for serious repercussions of such bids.
https://www.presstv.com/Detail/2020/09/17/634335/Mistake-to-think-lasting-peace-in-Middle-East-without-resolving-Palestinian-issue-Russia
--------
UK police make terror arrest at Luton airport
Sep 16, 2020
British police have arrested a man on suspicion of terrorism offences after his arrival at Luton airport.
The 24-year-old man, who had flown in from Turkey, was detained on Monday as part of an investigation by the Metropolitan Police's Counter Terrorism Command.
The man was suspected of being part of a banned organisation, police said.
The suspect was taken into police custody and subsequently released, the Met police said, but remains under investigation.
https://www.thenational.ae/world/europe/uk-police-make-terror-arrest-at-luton-airport-1.1078819?utm_source=iterable&utm_medium=email&utm_campaign=1532181_
--------
Jewish Students Aid Owners of Kebab Shop Hit in Synagogue Attack
By Melissa Eddy
Sept. 16, 2020
BERLIN — When a heavily armed, far-right extremist tried to storm a synagogue in eastern Germany a year ago, the failed attack revived the worst fears of anti-Semitism. Thanks to clumsily built explosives and a locked door, the congregation inside narrowly escaped a massacre.
The thwarted gunman then trained his weapons on other targets of his hatred in the city of Halle, killing a young man having lunch at a nearby kebab shop, where he presumed he would find Muslims.
Since then, that kebab shop and the Turkish brothers who own it have fallen on hard times. But their plight recently drew the attention of several young Jews who also survived the Oct. 9 attack, and they decided to try to help, launching a GoFundMe campaign that immediately surpassed their expectations.
"We wanted to do something that would draw attention" to the owners' struggles, "but would also provide concrete financial support," said Ruben Gerczikow, vice president of the Jewish Student Union in Germany, which opened the drive last week.
"We were surprised by the positive reaction," Mr. Gerczikow said. "We never dreamed that we could raise so much so quickly." They passed their goal of collecting 5,000 euros, or $5,940, within days, and decided to extend the campaign until Yom Kippur, which falls on Sept. 28 this year.
That show of solidarity provides a hopeful counterpoint to a building trend of hate crimes in Germany, even as a far-right political fringe does its best to revive old demons. The fund-raiser has quietly demonstrated that many Germans still prize the country's widening diversity and the postwar ethos of generosity that has long been part of Germany's broader atonement for the Nazi crimes of last century.
This week Chancellor Angela Merkel decried the rise in anti-Semitism in Germany, warning in a speech to the Central Council of Jews that it is a reality "that many Jews don't feel safe and respected in our country."
"Racism and anti-Semitism never disappeared, but for some time now they have become more visible and uninhibited," the chancellor said.
In particular, she cited the attack in Halle — the most severe of 2,032 anti-Semitic crimes recorded in Germany last year — as an example of "how quickly words can become deeds."
The man arrested in the attack, Stephan Balliet, 28, is now facing trial and has spoken openly in court about his hatred not only of Jews but also of Muslims and other foreigners, and of being influenced by a far-right extremist attack against two mosques in Christchurch, New Zealand, that killed 51 people.
He said he regretted that the two people he fatally shot, a 40-year-old woman outside the synagogue and a 20-year-old man in the kebab shop, were white Germans, not members of any ethnic minority. He also shot and wounded two others.
With their funding drive, the organizers hope to raise awareness of the threat that white supremacists pose to all minorities, Mr. Gerczikow said.
"We, the Jewish Student Union in Germany believe in a multicultural society in this country," they wrote on the campaign page. "We believe in a peaceful coexistence, regardless of religion, nationality or skin color. We believe in solidarity."
The Halle attack was just one in a recent string against minorities in Germany that has worried the authorities as they belatedly grapple with far-right networks and sympathies in Germany that have been given new energy by more esoteric movements like QAnon.
In little more than a year, in addition to the attack in Halle, far-right extremists have also assassinated a politician near the central city of Kassel and shot dead nine people of immigrant descent in the western city of Hanau.
A month after the Halle attack, the original owner of the kebab shop gave it to Ismet and Rifat Tekin, brothers who had worked for him. At a public ceremony he described it as a gesture of support for the men, who were working at the shop the day of the attack. The event drew widespread support from the community and beyond, with regional politicians pledging that they would not let the place founder.
"It is very important that the kebab shop reopens, because it is part of Halle," Reiner Haseloff, governor of Saxony Anhalt state, said at the reopening. "It is part of the cultural identity."
But the months since have been marked by hardship and pain for the brothers and their business as the stigma of the attack lingered over the shop.
"Since it happened, everything is difficult and these difficulties make it even harder for us to process what happened on that day," Ismet Tekin, a Turkish citizen who has lived in Germany for 12 years, said in an interview with Radio Corax before the trial began in July. "It is not something simple that we can just say, 'It's over.'"
Then, in March, the measures to slow the spread of the coronavirus forced residents to remain largely at home and reduced all restaurants to offering only pickup or delivery service, forcing the brothers to close their doors for weeks. After they reopened, many customers stayed away.
Running the business also left them little time to process the trauma of the attack. In particular, Rifat Tekin, who witnessed the fatal shooting inside the shop, has suffered psychologically, said Onur Ozata, an attorney who is representing Ismet Tekin in court.
Ismet desperately wanted to take part in the trial as a co-plaintiff, but because he was outside of the shop when the gunman entered, the court initially did not immediately recognize him as a victim of the attack. Only days before the trial opened on July 21 did the court reverse that decision, allowing him to take part. He has not missed a session, Mr. Ozata said.
"It is very important for him to be there every day," Mr. Ozata said. "He wants to understand who the attacker is and how he could have done something like this."
Mr. Balliet is charged with two counts of murder and 68 counts of attempted murder and other crimes. If convicted of murder, he faces life in prison.
The other co-plaintiffs, some of whom belong to the union of Jewish students, helped provide the brothers with the support, even before they launched the funding campaign, Mr. Ozata said. "They are a very tight-knit group. "
Rabbi Jeremy Borovitz, who was in the synagogue at the time of the attack and is also a co-plaintiff, appealed over Twitter for his friends to support the kebab shop, calling Ismet Tekin "an incredibly decent human being in a world gone mad."
"For me, it was important to support this campaign because, as a survivor of the Halle attack, I am aware of the severe emotional toll of this experience," Rabbi Borovitz said in an interview.
"I can't imagine what it must be like to go back to that shop every day," he said.
https://www.nytimes.com/2020/09/16/world/europe/jewish-students-kebab-halle.html?utm_source=iterable&utm_medium=email&utm_campaign=1532181_
--------
South Asia
Intra-Afghan Talks to Lead Gov't to Tough Decisions: Abdullah
By Mohammad Arif Sheva
18 Sep 2020
KABUL, Afghanistan – Chairman of the High Council for National Reconciliation Abdullah Abdullah said Thursday the talks between the Afghan government and the Taliban will be difficult, as Afghan team will face issues tough to decide upon.
But Abdullah exclaimed the rights of the Afghan people, including women's and minorities' rights, will be protected during the negotiations, according to sources.
"I don't say that these talks will be very simple, these talks will be very hard. We will face issues that will need hard decisions to be made," he said as quoted by TOLOnews. "But the delegation of the Islamic Republic of Afghanistan has gone to Qatar with the support of the Afghan government and the Afghan politicians."
"Citizens' rights, women's rights, human rights, victims' and minorities' rights, justice and freedoms that were achieved through many sacrifices, will be preserved in these talks," Abdullah said.
While many government officials, including international allies, are considering the ongoing peace process "very promising", some politicians believe the primary demand of a ceasefire by Afghan government and a possible proposal of interim government by Taliban could lead the talks to a deadlock.
"The Afghan government will certainly offer a ceasefire proposal, and the Taliban are likely to propose an interim government; these are the first issues that could push the talks into a deadlock," said Mohammad Ismail, a former Mujahideen leader.
Meanwhile, Acting Foreign Minister Mohammad Haneef Atmar said Kabul considers ceasefire a "fundamental step" that could potentially lead to lasting peace, which is by overserving the past achievements.
"To achieve a lasting peace, we consider the ceasefire a fundamental step, and peace can be secure when it guarantees the preservation of the country's independence and territorial integrity," said Atmar.
Friday draws the sixth day to an end since the Afghan and Taliban representatives came together in Doha on Saturday, September 12, to formally launch the implementation of intra-Afghan talks. But, both parties yet have to decide on talks' mechanism and overall agenda to officially begin the first round of negotiations.
https://www.khaama.com/intra-afghan-talks-to-lead-govt-to-tough-decisions-abdullah-4355345/
--------
Hindu jailed in Bangladesh for insulting Prophet Mohammed
September 17, 2020
DHAKA: A Hindu has been jailed for seven years in Muslim-majority Bangladesh for insulting the Prophet Mohammed on Facebook, a prosecutor said Thursday.
Although Bangladesh is officially secular, criticism of Islam is taboo in the conservative nation of 168 million people and violent protests have previously erupted over social media posts deemed blasphemous.
Jibon Krishna Roy, a security guard, was found guilty late Wednesday of posting "obscene, derogatory and objectionable comments on Prophet Mohammed", prosecutor Nazrul Islam Shahim said.
The offence falls under the country's controversial internet laws.
"The judge of the cybercrime tribunal in Dhaka sentenced him to seven years in jail," Shamim told AFP.
Last year four people were killed and nearly 50 injured after police fired on thousands of Muslims protesting against a Facebook post by another Hindu man.
He was charged with inciting religious tension in a case still being heard in court.
In 2016, angry Muslims attacked Hindu temples over a Facebook post they said mocked one of Islam's holiest sites.
In 2012, meanwhile, Muslim mobs torched Buddhist monasteries, houses and shops in coastal Cox's Bazar district after a photo of the Koran that was considered defamatory was posted online by a young Buddhist.
https://www.arabnews.com/node/1735931/world
--------
Shafi loses control over Hathazari madrasa giving in to two days of protests
18 Sep 2020
Hifazat-e Islam chief Shah Ahmed Shafi has stepped down as director general of the madrasa in Chattogram's Hathazari in the wake of protests dragging on for two days.
The institution's governing body, Shura Committee, made the decision in a meeting on Thursday night, ending Shafi's long reign in one of the largest and oldest madrasas in Bangladesh.
Five members of the 12-strong committee and senior teachers attended the meeting, said Salahuddin Nanupuri, a member of the panel.
"Baro Hujur (Shafi) has resigned on his own volition citing illness, but he will remain Sadre Muhtamim (advisor) for life. He has tasked the Shura Committee with running the madrasa and selecting a new Muhtamim (director general)," Salahuddin told bdnews24.com.
The committee also sacked his son Anas Madani as assistant director and loyalist teacher Maulana Nurul Islam.
Shafi, believed to be 98, was sent to a hospital in Chattogram by an ambulance after the meeting.
Al Jamiatul Ahlia Darul Uloom Moinul Islam, known as the Hathazari Baro Madrasa, has more than 7,000 students who learn lessons on the basis of the principles of Deoband school of Islam.
Shafi, the Muhtamim or director general of the madrasa, is also president of Bangladesh Qawmi Madrasa Board – Befaqul Madrisil Arabia Bangladesh.
Called the 'Baro Hujur' by Qawmi madrasa students, he is respected by a section of Muslims as one of the top Islamic scholars in Bangladesh.
His radical views on some issues such as secular bloggers, statues and clothing of women, however, drew criticism on a number of occasions.
Tension rose in the Hathazari madrasa in recent months over a leadership struggle as Shafi has fallen ill several times.
The government finally shut down the madrasa earlier on Thursday amid roiling tensions following the protests.
It cited the institution's "failure" to meet the conditions for the resumption of some activities amid the coronavirus outbreak.
Qawmi madrasas are allowed to hold undergraduate and master's examinations by following the health protocols while the other institutions have remained shut since mid-March due to the pandemic.
The protest for the removal of Anas followed a row between Shafi's followers and the supporters of former assistant director Junayed Babunagri.
The dispute between supporters of Shafi and Babunagri came out in the open when the Shura Committee replaced Babunagri with Sheikh Ahmed in June.
Hundreds of students demonstrated on Chattogram-Khagrachhari Road and vandalised the offices of Anas and Sheikh inside the madrasa on Wednesday demanding removal of Anas.
Locals said the demonstration was a result of the dispute between supporters of Shafi and Babunagri.
Police later cleared the students off the road and moved outside the campus on Thursday saying tensions simmered inside.
https://bdnews24.com/bangladesh/2020/09/18/shafi-resigns-as-hathazari-madrasa-chief-giving-in-to-two-days-of-protests
--------
Discussion on Intra-Afghan Talks 'Very Promising': Gen. Miller
By Mohammad Arif Sheva
18 Sep 2020
KABUL, Afghanistan – Gen. Scott Miller, commander of the US and NATO forces in Afghanistan, speaking during a visit to the eastern province of Laghman, called the ongoing negotiations in Doha "very promising" yet include some rising concerns about civilian casualties.
"Discussions in Doha are very promising and important for the Afghan people, we also know the Taliban violence has to go down," said Miller as quoted by TOLOnews.
"Personally I am a little concerned about the civilian casualties…the results of bombs that civilians keep striking, and we need to bring the violence down, that is the will of the people," he said.
Meanwhile, Acting Minister of Defense Asadullah Khalid said, "We are hopeful about a ceasefire in the coming days."
The remarks came at a time Afghan and Taliban delegations are debating in Doha to finalize an agenda for the intra-Afghan talks that will determine a political settlement in Afghanistan, as well as, the achievement of the past two decades.
Peace talks between the Afghan representative and the Taliban delegations began in Qatar on Saturday, September 12, with officials from different nations and international organizations attending or speaking virtually at the opening ceremony.
https://www.khaama.com/discussion-on-intra-afghan-talks-very-promising-gen-miller-45345/
--------
Taliban's Key 'Red Unit' Commander Killed
By Mohammad Haroon Alim
18 Sep 2020
In a government operation in the Surobi district of Kabul City, the Taliban's assigned red unit deputy commander was killed.
Police HQ in Kabul told the press, that security forces conducted an operation in Surobi district killing Mullah Sangeen, assigned deputy commander for Taliban's red unit on Thursday.
Salahuddin Sadiq, another insurgent suspect was also amongst the dead, and 10 other Taliban affiliated members were also eliminated.
According to reports, Mullah Sangeen had plotted serious deadly attacks over the city.
https://www.khaama.com/talibans-key-red-unit-commander-killed-987876/
--------
Taliban Attacks Continue as Peace Negotiations Progress
By Ayesha Tanzeem
September 16, 2020
ISLAMABAD - Multiple Taliban attacks in three provinces across northern Afghanistan since Tuesday killed at least 17 people, including six civilians, and wounded scores of others even as a Taliban political team was negotiating peace with Afghan government representatives in Doha, Qatar.
According to local officials, Taliban fighters targeted security checkpoints or outposts of local anti-Taliban militias that operate with government support.
In Balkh province, the chief of Char Kent district, Salima Mazari, confirmed two separate Taliban attacks, one on a local force outpost and the other near the district center. She said three local fighters and six civilians were killed and multiple others wounded. This was in addition to a third attack the previous day that killed two security personnel.
In nearby Kunduz province, Taliban attacks killed six security personnel, according to Esmatullah Muradi, a spokesman for the provincial governor. The head of the provincial council, Mohammad Yosouf Ayubi, said the death toll was higher.
Meanwhile, in Takhar province, two civilians were killed and 12 wounded from a blast caused by an improvised explosive device. Police said the device was hidden on a motorcycle.
The spate of violence accompanied historic peace negotiations that started Saturday in Doha. Both sides acknowledge ending four decades of conflict would be difficult and require patience.
Welcoming the start of the negotiations, Zalmay Khalilzad, a senior United States official who was paramount in bringing the Taliban to sign a deal with the U.S. in February, reminded both sides that they would have to compromise and share power for a lasting solution.
"Recent Afghan history shows that seeking a monopoly of power and enforcing one's ideology by force leads to conflict and makes the country vulnerable to interference by others," Khalilzad tweeted.
Both the Afghan team and Taliban indicated Wednesday that the negotiation process was progressing, and the two sides had agreed on procedural matters.
The two sides shared the same details of the Tuesday meeting with the media, indicating an effort to show forward movement and minimize discussion on disagreements, at least at the start of the crucial process.
Nader Naderi, the spokesman for the Afghan team, said they had decided to "finalize the remaining part ASAP."
The start of negotiations Saturday was welcomed inside and outside Afghanistan; however, Afghan activists have warned against sacrificing human rights, particularly the rights of women and freedom of speech, in the name of ending the war.
Sediqullah Tawheedi, the deputy head of the Afghan Journalist Safety Committee, said the government's negotiation team should defend freedom of the press and freedom of speech in the Doha talks.
https://www.voanews.com/south-central-asia/taliban-attacks-continue-peace-negotiations-progress?utm_source=iterable&utm_medium=email&utm_campaign=1532181_
--------
Southeast Asia
Survey: Malaysians say religious worship is personal; politicians should stay out of it
17 Sep 2020
BY THASHA JAYAMANOGARAN
KUALA LUMPUR, Sept 17 — A recent survey titled "Malaysia Temperature Check" revealed that 68 per cent of its respondents agreed that religious practice is a personal choice, while 78 per cent agreed that political parties should stop playing the race card and focus on formulating fair policies.
The survey, led by youth electoral advocacy group Undi18 with youth non-profit Architects of Diversity and pollster Vase.ai, also showed that 32 per cent of the 1,027 respondents agreed that non-Muslims should not be required to convert to Islam in order to marry a Muslim.
However, in a contrast to the responses on abovementioned religious policies in Malaysia, 54 per cent disagreed that Malaysians should be allowed to choose their gender identity, while 20 per cent remained undecided on this.
Similarly, 44 per cent of respondents also believed apostasy should not be allowed in Malaysia.
On Malay rights, 55 per cent of those surveyed agree that the majority ethnic group deserves special rights, citing its purported native status.
Meanwhile, 26 per cent of respondents agreed that other ethnic minorities deserve less of a say in Malaysia.
This survey was conducted on September 3 and involved 1,027 respondents among Vase.ai's online panel that was selected using active quota-sampling method.
All respondents aged 18 years old and above were quota-sampled according to census statistics by race, gender, age and region of residence. There were no open ended questions in this survey.
Individuals aged 65 and above are under-represented, likely due to lower rates of Internet usage among those above 60, the survey said.
The organisers said this survey was commissioned in order to understand the Malaysians' opinion on contemporary social and economic issues, as well as understudied opinions.
https://www.malaymail.com/news/malaysia/2020/09/17/survey-malaysians-say-religious-worship-is-personal-politicians-should-stay/1904072
--------
Putra dismisses Syed Saddiq's new party
17 Sep 2020
BY SOO WERN JUN
KUALA LUMPUR, Sept 17 — Parti Bumiputera Perkasa Malaysia (Putra) president Datuk Ibrahim Ali has dismissed the chances of Syed Saddiq Abdul Rahman's new political party.
In a statement today, he said the people did not care if a party catered to the young or old.
"This sentiment is merely a capital for politics just like how some use Islam for self-political gains, Malay race to get the Malay's support or similarly for other.
"That is why there is MCA for the Chinese, MIC for the Indians and many other parties like in Sabah and Sarawak although they are multi-racial, but they are still raced-based," he said.
Ibrahim was commenting on Syed Saddiq's announcement that he will register his party, Malaysian United Democractic Alliance or Muda, with the Registrar of Societies (RoS).
Ibrahim claimed the development would lead to parties representing all minorities.
"What more those who are liberal and have no appreciation of Islam," he said.
Despite this, Ibrahim said he ultimately welcomed the formation of Muda and Tun Dr Mahathir Mohamad's Pejuang party as signs of increasing democracy in the country.
Syed Saddiq had been the head of Bersatu's youth wing but lost his party membership in May.
https://www.malaymail.com/news/malaysia/2020/09/17/putra-dismisses-syed-saddiqs-new-party/1904107
--------
Mideast
Caricature on Leader's website satirizes Arab-Israel peace deals
17 September 2020
The official website of Leader of the Islamic Revolution Ayatollah Seyyed Ali Khamenei has published a caricature satirizing the recent controversial Israeli-Arab normalization deals mediated by the United States.
Leader's website (Khamenei.ir) on Wednesday posted the cartoon which shows that Israeli prime minister Benjamin Netanyahu waiting for US President Donald Trump to put a medal around his neck.
Trump is seen walking on the back of the Arab rulers to get to Netanyahu, who is standing on the bodies of the Palestinian people massacred by the Tel Aviv regime.
The cartoon is depicting an earlier statement by Ayatollah Khamenei, who lashed out at certain Arab states for committing the "biggest treachery" against Arabs and Muslims in history by supporting Israel.
"The betraying Arab govts should know the US is not trustworthy. The US looks at them as tools for protecting the Zionist regime," reads a line on the cartoon.
The US president presided over the signing ceremony of the normalization agreements between Israel, the United Arab Emirates (UAE) and Bahrain at the White House on Tuesday.
However, Palestinians and other Muslim states rejected the peace treaties with Israel, as a betrayal of the Palestinian cause against the Israeli occupation.
https://www.presstv.com/Detail/2020/09/17/634312/Ayatollah-Khamenei-website-cartoon--Arab-Israel-normalization
--------
Iran's history of executing athletes
Yaghoub Fazeli
September 18, 2020
Iran's execution of Navid Afkari – an athlete – was not the first of its kind. Since its inception in the late 1970s, the Iranian regime has executed numerous athletes for their political beliefs.
Iran executed 27-year-old champion wrestler Afkari on Saturday, drawing widespread condemnation, including from the United States and the European Union.
For all the latest headlines follow our Google News channel online or via the app.
Iran accused Afkari of killing a security guard during anti-government protests in 2018 – a charge the executed wrestler and his family had rejected.
Afkari and his family had also said he was tortured into making false confessions.
But Afkari is not the first athlete Iran has executed. Below are some of the sportsmen and sportswomen Iran has executed in politically charged casers over the years.
Volleyball player Foruzan Abdi
Foruzan Abdi was the captain of Iran's women's national volleyball team. She was arrested in 1981 while in her early 20s on charges of supporting the opposition group Mojahedin-e Khalq (MEK) and was sentenced to five years in prison.
Abdi was not released after completing her five-year sentence and was hanged in Tehran's notorious Evin prison in the summer of 1988.
Iran executed thousands of political prisoners – mostly members and supporters of MEK – in the late 1980s.
Footballer Habib Khabiri
Habib Khabiri was a member of Iran's men's national football team.
He was arrested in 1983 on charges of membership in MEK and executed by firing squad the following year.
Khabiri is one of 282 people named in a 1985 United Nations report on the state of human rights in Iran. The report lists the 282 as "persons who were allegedly summarily and arbitrarily executed in the Islamic Republic of Iran: 1984-1985."
Footballer Mahshid Razaghi
Mahshid Razaghi was a member of Iran's national Olympic football team. He was arrested in 1980 for selling anti-government newspapers and was sentenced to one year in prison.
Razaghi was not released after completing his sentence and was imprisoned until his execution in 1988.
His brother Ahmad was also executed days later.
Wrestler Hooshang Montazeralzohoor
Hooshang Montazeralzohoor was a champion wrestler who was arrested in the summer of 1981 and executed by firing squad along with 29 others later the same year.
At the time, the Iranian judiciary said the 30 were members of MEK.
Montazeralzohoor had represented Iran in the 1976 Summer Olympics in Montreal as well as in the 1977 Summer Universiade in Bulgaria.
Kickboxer Majid Jamali-Fashi
Majid Jamali-Fashi was a professional kickboxer who was arrested in 2010 on charges of working for the Israeli Mossad and assassinating a nuclear scientist in Tehran. He was hanged in 2012.
Iran's state TV had shown Jamali-Fashi confessing to his charges, but Iranian activists and rights groups believe he, like many others, was tortured into making false confessions.
State TV had also shown what it said was Jamali-Fashi's Israeli passport, which turned out to be a poorly edited image of an Israeli passport taken from Wikipedia.
https://english.alarabiya.net/en/features/2020/09/18/Iran-s-history-of-executing-athletes
--------
Hezbollah has explosives stored across Europe, says US official
Joyce Karam
Sep 17, 2020
Hezbollah has smuggled explosives, including ammonium nitrate, to Europe where it has a network of stores, a senior US State Department official disclosed on Thursday evening.
The stores, established by the Iran-backed group across Europe since 2012, included ammonium nitrate – the same chemical that caused the devastating August 4 explosion in Beirut, which killed at least 190 and wounded more than 6,500.
"Today the US government is unveiling new information about Hezbollah's presence in Europe," said Nathan Sales, co-ordinator for counter-terrorism in the US State Department.
"Since 2012, Hezbollah has established caches of ammonium nitrate throughout Europe by transporting first aid kits that contain the substance.
"Today, I can reveal that such caches have been moved through Belgium to France, Greece, Italy, Spain and Switzerland."
Ammonium nitrate is commonly used in industry and agriculture as a fertiliser and a low-grade explosive.
But in large quantities, such as in the Beirut port explosion, it can cause devastation.
The 2,750 tonnes of ammonium nitrate caused what was believed to be the world's strongest non-nuclear blast.
"I can also reveal that significant ammonium nitrate caches have been discovered or destroyed in France, Greece and Italy," Mr Sales said.
"We have reasons to believe that this activity is still under way.
"As of 2018, ammonium nitrate caches were still suspected throughout Europe, possibly in Greece, Italy and Spain."
The US senior official did not reveal how the information was obtained but appeared confident that Hezbollah has stored this material across Europe and even the United Kingdom.
"We know that Hezbollah has stored massive amounts of ammonium nitrate across Europe...according to the information I revealed today, those sorts of caches have been found in a number of countries, including the UK, Greece, France, Italy, and a number of others," he said. "The United States has called for a full, open, and transparent and thorough investigation of the explosion in Beirut, and we hope to see the results of that shortly."
He said Hezbollah stored the substance for any future terrorist attack.
"It stores these weapons in place so it can conduct major terrorist attacks whenever its masters in Tehran deem necessary," Mr Sales said.
"It is not what you would expect from a political organisation but it's exactly what you would expect from a terrorist organisation."
The US government has been urging European governments to end the distinction between Hezbollah's political and military wings and designate the whole party as a terrorist group.
The UK, Germany, the Netherlands and Lithuania have already done so, while the EU and France still differentiate between the two.
"We continue to regard Hezbollah as a threat, not just to the United States but to our European allies as well," Mr Sales said.
"And that is why we renew our call for more countries to designate its entirety, and for the EU to expand its 2013 designation of the so-called military wing to reach the entire organisation."
Mr Sales said the August 4 explosion in Beirut was a horrific and vivid reminder of how lethal ammonium nitrate can be.
He urged the Lebanese government to carry out an impartial and transparent investigation into the port explosion.
Hezbollah, the Lebanese authorities and European governments have not commented on the US revelations.
https://www.thenational.ae/world/europe/hezbollah-has-explosives-stored-across-europe-says-us-official-1.1079375
--------
Israel demolishes Palestinian village in Negev desert for 178th time
17 September 2020
Israeli forces have raided and razed the Bedouin village of al-Araqib in the Negev region for the 178th time, displacing hundreds of desperate villagers as the Tel Aviv regime presses ahead with its expropriation of Palestinian lands for the expansion of Israeli settlements.
According to a report by the Palestinian Information Center, Israeli bulldozers, heavily guarded by police forces, on Thursday morning destroyed all tents and makeshift homes of the Bedouin al-Araqib village for the 178th time, making its inhabitants, including children and elderly people, homeless.
Israel's so-called Negev development authority refuses to recognize the ill-fated village, which is under constant threat of displacement and eviction.
Al-Araqib, populated by about 220 members of the al-Turi Arab Bedouin tribe, is only one of dozens of Bedouin villages in the Negev desert, which are "unrecognized" by the Israeli regime.
Since the beginning of the current year, Israeli forces had demolished the village, some eight kilometers north of Beersheba, six times, the last of which was on August 27.
Israeli authorities have been demolishing al-Araqib since 2000 in an attempt to push the villagers to frustration and despair and displace them from their lands. Villagers and activists are challenging Israel's repeated attempts to uproot the villagers from their native land.
"Israeli authorities are increasing the village inhabitants' suffering, and continue to demolish their tents and this time as several times before, they left them homeless," said local official Aziz al-Turi.
Israel razes agricultural structure in West Bank
Separately on Thursday, Israeli forces demolished an agricultural warehouse in Tarqumiyah town west of al-Khalil (Hebron) in the occupied West Bank, the Palestinian Information Center reported.
Local sources said that Israeli troops raided Khilat al-Zeitoun area of the town and knocked down the warehouse, which has been used for agricultural purposes.
The report further said that Israeli forces also blocked several secondary roads in Farsh al-Hawa area in western al-Khalil. It added that the forces further confiscated a number of cargo containers belonging to Palestinian citizens during their presence at the northern entrance to the city.
Over half a million Israeli settlers live in more than 230 settlements built since the 1967 occupation of the West Bank and East Jerusalem al-Quds. Built on the occupied land, the settlements are internationally condemned as illegal.
Palestinians want the West Bank as part of their future independent state with East Jerusalem al-Quds as its capital.
https://www.presstv.com/Detail/2020/09/17/634336/Palestine-al-Araqib-Negev-demolition-West-Bank-al-Khalil
--------
Yemen under attack by Saudi Arabia due to firm anti-Israel stance: Ansarullah
17 September 202
The Houthi Ansarullah movement reaffirms Yemen's firm support for the Palestinian cause, adding that the Saudi-led war on Yemen is in fact the price the Arab nation is paying for taking a firm stance against the Israeli occupation.
Israelis are involved in most of the conflicts plaguing the region, including the Riyadh-led aggression against Yemen, Mohammed Abdul-Salam, spokesman for the Houthi movement, said on Thursday, al-Masirah reported.
The Yemeni people have in fact been under attack by the Saudi regime merely because of taking a proper stance against the Zionist regime in Israel, he said.
He further censured the recent US-brokered normalization agreements signed between the United Arab Emirates (UAE), Bahrain and Israel.
The agreements were inked on Tuesday at the White House, where US President Donald Trump hosted Israeli Prime Minister Benjamin Netanyahu along with Emirati and Bahraini foreign ministers, Sheikh Abdullah bin Zayed Al Nahyan and Abdullatif bin Rashid Al Zayani.
Abdul-Salam said such normalization deals are nothing new and cannot change anything in reality since the Arab regimes had already provided the Israeli regime with whatever it wished in the course of their long-running clandestine ties.
"It is false and misleading that they are promoting an agreement with the enemy for the sake of 'peace' and 'stability' in the region at a time when they are fighting wars in the region, most notably the aggression on Yemen, in which they are united with the Zionist enemy," he said.
Abdul-Salam further reiterated Yemen's firm stance on supporting the Palestinian cause, rejecting any normalization with Israel.
The participation of the Arab regimes in the ceremony of "betrayal" only served propaganda purposes for the American and the Israeli enemy, said the Yemeni official in reference to the recent much-publicized signing ceremony at the White House.
The Yemeni official said that Washington's attempts to broker normalization deals between the Arab governments and Israel were in fact aimed at promoting Trump's re-election campaign.
Addressing the Arab regimes standing by Israel, the Yemeni official said, "you are today with the Zionist entity and you are now against the Islamic nation and its cause."
Ansarullah has been defending Yemen against a 2015-present invasion led by Saudi Arabia, one of the Arab states that have been trying rapprochement with Israel.
The Saudi-led coalition launched the war on Yemen with the goal of bringing the government of former president Abd Rabbuh Mansur back to power.
The US-based Armed Conflict Location and Event Data Project (ACLED), a nonprofit conflict-research organization, estimates that the war has claimed more than 100,000 lives for more than the past five years.
https://www.presstv.com/Detail/2020/09/17/634301/Yemen-Ansarullah-spokesman-Abdul-Salam-Saudi-Arabia
--------
Arab world
UAE FM reaffirms support for Palestine during meeting with US Secretary Pompeo
17 September 2020
The newly signed UAE-Israel peace deal will advance regional peace and stability by halting Israeli annexation of Palestinian territory, the Emirati foreign minister told the US secretary of state in a meeting, UAE state news agency WAM reported on Saturday.
The UAE announced last month that it would normalize ties with Israel under the new the Abraham Accord, and Bahrain followed suit last week with its own deal with Israel. The US-brokered peace deals were signed in Washington, DC on Tuesday.
UAE Minister of Foreign Affairs Sheikh Abdullah bin Zayed Al Nahyan and US Secretary of State Mike Pompeo in a meeting discussed bilateral relations between the UAE and the US, "reaffirming a shared commitment to cooperate on efforts to prevent the spread of COVID-19, promote peace and security in the Arabian Gulf, counter extremism and deter threats to regional stability."
With the deal signed, the UAE foreign minister also reaffirmed the country's commitment to the Palestinian people.
For all the latest headlines, follow our Google News channel online or via the app.
Pompeo praised "monumental accomplishment of the Abraham Accords" during the meeting.
The officials also discussed the need to work to "continue countering Iran's malign influence in the region," a statement from Pompeo's office said.
Sheikh Abdullah also spoke about the importance of UAE-American bilateral ties during the meeting, noting that the UAE is the largest export market for US goods and services in the Middle East, WAM reported.
Tuesday's deal means that four Arab states now recognize Israel after Egypt and Jordan signed peace treaties in 1979 and 1994.
https://english.alarabiya.net/en/News/gulf/2020/09/17/UAE-FM-reaffirms-support-for-Palestine-during-meeting-with-US-Secretary-Pompeo
--------
Lebanon's Hezbollah says US obstructed government formation efforts
Lauren Holtmeier
17 September 2020
Lebanon's Hezbollah on Thursday said the US Trump administration is responsible for obstructing government formation efforts.
Where French President Emmanuel Macron gave Lebanese Prime Minister-designate Mustapha Adib two weeks to form a government, the deadline has now passed, and sectarian squabbling over Cabinet seats persists in the country.
Specifically, heavy debate has focused around who would win the coveted Ministry of Finance. Hezbollah's parliamentary bloc has insisted the block go to a Shia party. Iran-backed Hezbollah and Amal are the main Shia parties in Lebanon.
Hezbollah's parliamentary bloc said it affirmed the importance of the French initiative in Lebanon but added the US administration "is the one responsible for obstructing the efforts to form the government."
In a statement, the bloc indicated it still saw the chance to agree on a cabinet, saying it "still sees the opportunity available to renew that which was wrecked by those who handling, in the shadows, the operation of forming the new government."
Earlier this month, the US sanctioned former Finance Minister Ali Hasan Khalil, who is also the top political aide to Lebanon's Parliament Speaker Nabih Berri, and the country's former Public Works Minister Youssef Fenianos for corruption and for their support to Iran-backed Hezbollah.
For all the latest headlines follow our Google News channel online or via the app.
The last government, headed by Hassan Diab, resigned in the wake of the Beirut Port explosion on August 4 that left at least 190 dead and destroyed entire sections of the capital city.
Macron arrived in Lebanon shortly after the blast to put forth its roadmap for reform that included forming a cabinet of independent ministers within two weeks. Typically government formation in Lebanon takes months.
Adib has said he does not want to deviate from his mission of forming a government of specialist
ministers, a source close to him said on Thursday, as efforts to form the new cabinet continue to flounder, Reuters reported.
Political sources say Adib has been working on proposals to switch control of ministries, many of which have been held by the same factions for years.
The country is currently in the grips of an unprecedented economic crisis and the government must pass long overdue and much needed reforms to attract foreign aid promised by France and other donors. US officials have also stressed that aid will not be delivered unless serious reforms are undertaken, but pledged over $17 million in disaster aid after August's explosion.
However, the government, which is currently limited by its caretaker status, has little ability to actually introduce legislation.
https://english.alarabiya.net/en/News/middle-east/2020/09/17/Lebanon-s-Hezbollah-says-US-obstructed-government-formation-efforts
--------
Lebanon football player Mohamad Atwi dies from stray bullet injury to head
Lauren Holtmeier
September 18, 2020
Lebanese football player Mohamad Atwi passed away early Friday morning from injuries sustained when a stray bullet hit him in the head a month earlier, Lebanese outlet Al Jadeed reported.
Atwi was was accidentally shot in the head August 21 after festive gunfire from a funeral for one of the victims of the Beirut explosion that left at least 190 dead.
For all the latest headlines follow our Google News channel online or via the app.
Atwi was in Beirut's Al Cola area as mourners shot off rounds of bullets during the funeral of firefighter Joe Bou Saab, who died during the massive explosion at Beirut's port on August 4, Al Arabiya English previously reported.
At the time of the injury, he suffered internal bleeding.
Born in 1987, Atwi was a professional footballer who played as a midfielder for the national team and played for numerous clubs in the Lebanese Premier League's first division.
A few days prior to the shooting incident, he signed a new contract to rejoin the Lebanese football club Tadamon Sour.
https://english.alarabiya.net/en/News/middle-east/2020/09/18/Lebanon-football-player-Mohamad-Atwi-dies-from-stray-bullet-injury-to-head
--------
Hezbollah setting up caches of the same Beirut explosion chemicals across Europe: US
17 September 2020
Hezbollah is moving the same explosive chemicals across Europe that resulted in the deadly Aug. 4 explosion at the Port of Beirut, a senior US official revealed Thursday.
US Coordinator for Counterterrorism Nathan Sales also told reporters that the Iran-backed group was the cause of Lebanon's problems and that the European Union needed to expand its designation to cover the group in its entirety.
For all the latest headlines, follow our Google News channel online or via the app.
Sales revealed that since 2012, Hezbollah had established caches of ammonium nitrate in Europe using first aid kits.
"I can reveal that such caches have been moved through Belgium to France, Greece, Italy, Spain and Switzerland. I can also reveal that significant ammonium nitrate caches have been discovered or destroyed in France, Greece and Italy, have reason to believe that this activity is still underway," Sales told reporters during a phone call.
Sales said this proved the threat Hezbollah poses to Washington's European allies. "And that is why we renew our call for more countries to designate Hezbollah in its entirety, and for the European Union to expand its 2013 designation of the so-called military wing to reach the entire organization," he said.
Lebanon's problem is Hezbollah
As for Lebanon, Sales said the group was a terrorist organization in its entirety.
"The solution [in Lebanon] is that Hezbollah is not a political organization. It's a terrorist organization to shed blood around the world and act at the behest of its master in Tehran,"
Sales called on the European Union, which currently differentiates between Hezbollah's political and military wing, to "call it for what is and marginalize and isolate Hezbollah."
France has been at the forefront of efforts to try to help Lebanon exit its unprecedented financial, economic and political crisis. However, Paris is coordinating with Hezbollah as part of its ongoing discussions with various political parties in Lebanon.
"We have to recognize that we have some pretty substantial disagreements on how to achieve that goal," of forming a new government, Sales said.
Sales said that French engagement with Hezbollah only serves to legitimatize "what is, in fact, a terrorist organization."
https://english.alarabiya.net/en/News/middle-east/2020/09/17/Hezbollah-setting-up-caches-of-the-same-Beirut-explosion-chemicals-across-Europe-US-
--------
US sanctions Hezbollah-linked companies, official as new Lebanon govt on hold
Joseph Haboush
17 September 2020
The United States issued more sanctions against Hezbollah Thursday as efforts to form a new government in Lebanon were further hindered by the Iran-backed group and its allies insisting on maintaining hold of the Finance Ministry portfolio.
Arch Consulting Company, based out of the Hezbollah-stronghold in the southern suburbs of Beirut, was designated for being linked to Hezbollah. Meamar SARL, in Lebanon, was also designated for its links to the group.
For all the latest headlines, follow our Google News channel online or via the app.
Sultan Asaad, a senior Hezbollah Executive Council official, was designated as well. He is reportedly the deputy to Executive Council Chairman Hashem Saffieddine.
The US said that Asaad also serves as the senior official for Hezbollah's central municipal portfolio.
"As of early 2019, Asaad was responsible for dozens of companies subordinate to the Executive Council, including Arch and Meamar. He provided project guidance to these companies and was involved in their financial and legal issues," the Treasury Department said.
Thursday's move came days after two senior politicians close to Hezbollah were sanctioned for their support to the group and for corruption.
Former Finance Minister Ali Hasan Khalil and former Public Works Minister Youssef Fenianos were hit with sanctions, arguably the most aggressive step taken by the US against high-level politicians outside of Hezbollah's official circle.
Following the sanctions, Parliament speaker Nabih Berri who has been in his role since 1992, took the move personally and refused to allow a finance minister to be named by someone other than his Amal Movement and Hezbollah.
Khalil is also Berri's top political aide and has been active in the attempts to form a new government under Prime Minister-designate Mustapha Adib. Adib vowed to form a government of independent ministers and remained adamant about not allowing political parties to name ministers.
US Secretary of State Mike Pompeo said Thursday that Hezbollah exploits Lebanon's corrupt system "just like other parties, as today's designations and our September 8 designation of former ministers demonstrate.
"The Lebanese people deserve better, and the United States will continue to support their calls for an end to corruption and more responsive governance," he added.
https://english.alarabiya.net/en/News/middle-east/2020/09/17/US-sanctions-Hezbollah-linked-companies-individual-as-new-Lebanon-govt-on-hold
--------
Bahrain witnesses 6th straight night of protest at normalization with Israel
18 September 2020
Bahrainis rally in their hundreds for a sixth straight night against the ruling regime's recent United States-enabled normalization with Israel.
Defying trigger-ready security forces, the protesters took to the streets throughout the kingdom on Thursday night, Bahrain's Lulu TV satellite channel reported.
They carried signs that read, "Down with US and Israel" and "No to normalization with the occupying regime" as well as placards that condemned any facilitation of the Israeli regime's intervention in the Persian Gulf region.
Others carried Palestinian flags, asserting that Manama's stance towards Tel Aviv and the ongoing favorable coverage of the rapprochement by some media outlets did not serve to represent the Bahraini public's opinion.
"The protesters say they stand by the Palestinian nation and are against all instances of treachery" targeting them such as acts of normalization with the occupying entity, the channel said.
Bahrain and the United Arab Emirates signed official agreements at the White House on Tuesday enabling full normalization of their relations with Israel. The deals had been announced by US President Donald Trump respectively earlier in September and last month.
During the event, Trump claimed "five or six" more Arab countries were poised to agree to follow suit.
"We're very far down the road with about five countries, five additional countries," Trump said as he was hosting Israeli Prime Minister Benjamin Netanyahu, Emirati Foreign Minister Sheikh Abdullah bin Zayed Al Nahyan, and Bahrain's FM Abdullatif bin Rashid Al Zayani.
All Palestinian factions, Bahrain's opposition groups, and numerous independent Muslim circles have roundly denounced the normalization trend as a stab in the back of the Palestinian nation and sheer betrayal of their cause of liberation from the Israeli occupation and aggression.
Observers say the wave of Arab-Israel détente serves to both woo the US-based Zionist lobby's votes for Trump in the upcoming presidential election and deflect attention from a political and legitimacy crisis that Netanyahu is grappling with.
https://www.presstv.com/Detail/2020/09/17/634354/Bahrain-protests-normalization-Israel-United-States
--------
Hezbollah censures US administration for obstructing Lebanon's government formation
17 September 2020
The Lebanese Hezbollah resistance movement has denounced the United States over blocking efforts to establish a new government in the Arab country, which is grappling with its worst economic crisis in decades.
Hezbollah's parliamentary bloc said in a statement on Thursday that US President Donald Trump's administration "is the one responsible for obstructing the efforts to form the government."
The Loyalty to the Resistance Bloc, however, said it still saw the chance to agree on a cabinet, saying, it "still sees the opportunity available to renew that, which was wrecked by those who [are] handling, in the shadows, the operation of forming the new government."
The United States on September 8 slapped sanctions on two former cabinet ministers in Lebanon over support for Hezbollah as it vowed to isolate the resistance movement amid the country's political turmoil.
The Treasury Department targeted former finance minister Ali Hassan Khalil and former transport minister Youssef Fenianos, freezing any assets they hold in the United States. The sanctions also make any financial transactions with them liable to criminal penalties.
"We categorically refuse that anyone on our behalf names ministers that represent us in the government," Hezbollah's parliamentary bloc pointed out.
Efforts to form a new government in Lebanon have hit an impasse with Parliament Speaker and Amal Movement leader Nabih Berri insisting that the Finance Ministry, along with Defense, Interior and Foreign ministries, must be excluded from the proposed shake-up of the leadership.
While Berri insists on assigning the position of finance minister to a Shia candidate, Prime Minister-designate Mustapha Adib is in favor of switching control of the ministries.
Political pundits say many of the ministries have been held by same factions for years.
French President Emmanuel Macron, whose country was Lebanon's former colonial overseer, has called on the Arab country's political leaders to swiftly form a government to lead the crisis-hit country, and to persuade donors to release billions of dollars in aid. He is pushing for a revamped cabinet.
The French president has visited Beirut twice since the August 4 port explosion, which killed 191 people, to try to forge a working consensus for a new government, warning he will block recovery funds from donors if no progress is made in his favor.
Adib has been seeking to appoint ministers so they can begin work on a French road map.
But major Shia Muslim and Christian players in the sectarian power-sharing system have complained that the prime minister-designate has not been consulting them.
On September 13, Berri announced his strong opposition to the manner Adib is forming a new cabinet, saying his Amal Movement will not participate in the next administration.
The senior legislator, however, stressed that his party would cooperate with the next Lebanese government for the sake of the country's stability.
Additionally, the president of the Free Patriotic Movement (FPM), Gebran Bassil, stated that his party would not be part of the next cabinet, but would support it.
He argued that "a single camp" is seeking to form the new Lebanese government "without consultations" with other political parties.
With its economy devastated by a financial crisis, the Lebanese pound continues to plummet against the US dollar. The currency has lost more than 80 percent of its value over the last weeks while sources of foreign currency have dried up.
https://www.presstv.com/Detail/2020/09/17/634328/Hezbollah-censures-US-administration-over-obstructing-Lebanon-government-formation
--------
Africa
Somalia: Somali Army Kills 7 Militants in Southern Somalia
16 SEPTEMBER 2020
At least seven al-Shabab fighters were killed in fierce fighting with Somali National Army (SNA) in the southern town of Awdhigle in Lower Shabelle, a military commander said on Wednesday.
SNA commander for section 66 Ahmed Maslah said the army clashed with the militants, injuring several of them during the gun battle.
"We have killed seven al-Shabab militants in the fighting. We also removed landmines which the militants placed along Awdhigle road," Maslah said.
The commander added the forces later pursued other militants who ran towards the forest.
The government forces have intensified security operations in the recent past against al-Shabab extremists in the southern regions.
https://allafrica.com/stories/202009170203.html?utm_source=iterable&utm_medium=email&utm_campaign=1532181_
--------
Sudan busts terror cell with explosive materials
September 17, 2020
Samir Salama
Abu Dhabi: Sudanese security forces have busted a terrorist cell with explosive materials that posed threat to Sudan and neighbouring countries, Sudan's public prosecutor Taj Al Sir Ali Al Hebr said on Wednesday.
Al Hebr said at a press briefing in capital Khartoum that the terrorist cell consists of 41 members, pointing out that investigations are still underway to disclose the details.
Meanwhile, Jamal Jumma Adam, spokesman of Sudan's Rapid Support Forces (RSF), said at the press briefing that the RSF forces have also seized 3,594 blasting caps, 1,000 detonating cord, and four bags of aluminium nitrate.
He noted that the terrorist cell was pursued from August 19 to September 13.
Adam further warned that large quantities of explosives could possibly leak into countries neighboring Sudan.
Analysts say the busting of this terrorist cell could help expedite the lifting of the terrorism designation.
Last month, the Trump administration reached an agreement in principle with Sudan's new transitional government to settle a series of long-standing claims by American terrorism victims, laying the groundwork for the country's removal from the US list of states that sponsor terrorism, officials and congressional aides familiar with the matter told Foreign Policy.
The deal—which has yet to be finalised—requires Sudan's fledgling civilian-led government to deposit $335 million in an escrow account for the families of victims of terrorist attacks that the former Sudanese regime played a role in supporting two decades ago. The attacks covered in the agreement are the 1998 embassy bombings in Kenya and Tanzania and the 2000 terrorist attack against the USS Cole. It would not address claims of families of victims of the 9/11 terrorist attacks in Washington and New York.
If finalised, the arrangement would help restore Sudan's standing in the international community and allow for outside investment and aid for the country's ailing economy. It would also pave the way for further normalisation of US relations with Sudan and amount to a political victory for Sudanese Prime Minister Abdalla Hamdok, whose fragile transitional government faces mounting pressure since the 2019 revolution that ousted Omar Al Bashir.
But officials in Washington caution that other significant hurdles remain before the deal can be finalised. The settlement proposal and directive to lift Sudan's terrorism designation would have to be approved by Pompeo and then President Donald Trump before being sent to Congress for review. Lawmakers would have to agree to formally remove Sudan from the list of state terrorism sponsors and pass legislation that would restore the country's sovereign immunity before US courts.
The preliminary pact caps months of grueling legal and political discussions aimed at boosting the political prospects of Sudan's civilian leader, Hamdok, who is leading the country's difficult transition from decades of military dictatorship to civilian rule.
One sticking point was how US citizens versus foreign nationals would be compensated by the Sudanese government. In the two decades since the attacks, some foreign nationals have become US citizens, raising questions on whether they should be compensated based on their current or former citizenship.
The agreement calls on Sudan to pay up to $10 million for each U.S. government official killed in the U.S. Embassy bombings and $800,000 for foreign nationals who worked at the embassies and were killed, according to US officials and congressional aides familiar with the matter. Americans injured in the attack could get anywhere from $3 million to $10 million in compensation, while foreign nationals injured would receive up to $400,000.
https://gulfnews.com/world/mena/sudan-busts-terror-cell-with-explosive-materials-1.73912385?utm_source=iterable&utm_medium=email&utm_campaign=1532181_
--------
UN agency says 2 dozen migrants presumed dead after boat capsizes near Libya
15 September 2020
The UN migration agency said Tuesday that a boat carrying migrants bound for Europe capsized in the Mediterranean Sea off Libya, leaving at least two dozen people drowned or missing and presumed dead, the latest shipwreck off the North African country.
Safa Msehli, a spokesperson for the International Organization for Migration, told The Associated Press that Libya's coast guard intercepted three boats on Monday, and one of them had capsized.
For all the latest headlines, follow our Google News channel online or via the app.
She said the coast guard retrieved two bodies, and survivors reported 22 others were missing and presumed dead.
At least 45 survivors on the three boats were returned to the shore. All migrants were men, with a majority from Egypt and Morocco, she said.
"This new tragedy signals yet again the need for increased search and rescue capacity in the Mediterranean. Instead, we are seeing restrictions on NGOs and long, unnecessary stand-offs," Msehli said.
The shipwreck was the latest maritime disaster involving migrants seeking a better life in Europe.
In August, a boat carrying dozens of migrants capsized leaving at least 45 people drowned or missing and presumed dead, marking the largest number of fatalities in a single shipwreck off the coast of the North African country.
Libya, which descended into chaos following the 2011 uprising that toppled and killed longtime dictator Muammar Gaddafi, has emerged as a major transit point for African and Arab migrants fleeing war and poverty to Europe.
https://english.alarabiya.net/en/News/north-africa/2020/09/15/UN-agency-says-2-dozen-migrants-presumed-dead-after-boat-capsizes-near-Libya
--------
Libya's Prime Minister Sarraj says will resign by end of next month
17 September 2020
Prime Minister Fayez al-Sarraj of Libya's internationally-recognized government says he will step down by the end of next month, amid efforts to find a solution to the North African country's years-long political conflict.
"I declare my sincere desire to hand over my duties to the next executive authority no later than the end of October," Sarraj said in a televised speech on Wednesday.
The 60-year-old prime minister cited the work of United Nations (UN)-brokered peace talks in Geneva and said progress had been made in efforts to unify Libya's fragmented state and prepare for elections.
Since 2014, two rival seats of power have emerged in Libya, namely the internationally-recognized government led by Sarraj, and another group based in the eastern city of Tobruk, supported militarily by Libyan rebels under the command of a military strongman named Khalifa Haftar.
International attempts to bring about peace between the two warring sides have repeatedly failed. But the rivals agreed during talks in Geneva earlier this month to hold elections within 18 months and restructure the government.
Sarraj did not explain why he had decided to resign, but his government has been under pressure amid protests against deteriorating living standards, in large part caused by a rebel blockade of energy exports since the beginning of the current year. The blockade has cost the Libyan government 6.5 billion dollars in lost revenue.
In the capital, the unrest fed tensions between Sarraj and the influential interior minister, Fathi Bashagha, whom the prime minister briefly suspended last month over his alleged poor handling of the protests before restoring him to the post.
On Tuesday, Bloomberg had cited unnamed officials as saying that Sarraj would be announcing his resignation by the end of the week.
Protests, meanwhile, have also been staged in rebel-held territory.
Sarraj's resignation could potentially lead to infighting among other senior government figures, and between armed groups from the capital and from Bashagha's coastal city of Misrata, who wield control on the ground.
Libya, which sits atop the largest oil reserves in Africa, initially plunged into chaos in 2011, when a popular uprising and a NATO intervention led to the ouster of long-time dictator Muammar Gaddafi.
https://www.presstv.com/Detail/2020/09/17/634284/Libya-Prime-Minister-Sarraj-says-will-resign-by-end-of-next-month
--------
Jihadists Kill 11 Villagers in Northeast Nigeria
September 16, 2020
KANO, NIGERIA - Fighters from the Islamic State West Africa Province (ISWAP) in several pickup trucks opened fire on Wasaram, 90 kilometers (55 miles) from regional capital Maiduguri on Tuesday, killing eight villagers and injuring 20, they said.
Three villagers were also killed in a separate attack in Auno earlier that day.
"We recovered 11 bodies from the two attacks which occurred yesterday in Kaga district," militia leader Ibrahim Liman told AFP.
The insurgents had accused the villagers of alerting troops about their movement on their way to rob traders in the nearby town of Ngamdu, he said.
Soldiers intercepted the jihadists and engaged them in a gun battle, forcing them to retreat, said militiaman Umar Ari, who gave the same death toll.
"They (ISWAP) attacked the village on their way back, accusing residents of informing soldiers about their movement to rob local traders at the weekly market", Ari told AFP.
Earlier on Tuesday, ISWAP fighters slaughtered three farmers that they seized as they worked on their fields outside Auno village, 65 kilometers away, the militia leaders added.
ISWAP, which split from Boko Haram in 2016 and initially focused on attacking the military, has increasingly been targeting civilians, in particular abducting and killing motorists at bogus checkpoints on highways.
Meanwhile, eight people were injured late Tuesday when gunmen from a rival Boko Haram faction ambushed a civilian convoy under military escort outside the town of Banki near the border with Cameroon, security sources told AFP.
"Four of the victims were taken to a hospital in Mora on the Cameroonian side because of the severity of their injuries," said a security source, who asked not to be identified.
The decade-old jihadist insurgency in mainly-Muslim northern Nigeria has claimed 36,000 lives and forced two million others to flee their homes.
The conflict has spilled over to Cameroon, Chad and Niger, prompting a regional military force to be formed to fight off the insurgents.
https://www.voanews.com/africa/jihadists-kill-11-villagers-northeast-nigeria?utm_source=iterable&utm_medium=email&utm_campaign=1532181_
--------
URL: https://www.newageislam.com/islamic-world-news/pakistan-census-form-declare-ones/d/122885
New Age Islam, Islam Online, Islamic Website, African Muslim News, Arab World News, South Asia News, Indian Muslim News, World Muslim News, Women in Islam, Islamic Feminism, Arab Women, Women In Arab, Islamophobia in America, Muslim Women in West, Islam Women and Feminism