New Age Islam News Bureau
24 Feb 2018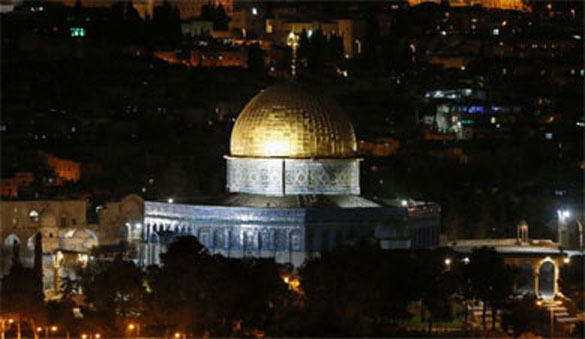 The US announces a May date for the relocation of its embassy to Jerusalem, a disputed city holy to three major religions (AFP Photo/AHMAD GHARABLI)
----
• Pakistan Back On Terror Financing Watchlist As China Stays Silent
• Nobody Can Change Their Religion without the Court's Orders: IHC
• Shun Materialism, Politicians, Sultan of Sokoto Urges Islamic Clerics
• France Unveils 60 Point Plan to Combat Radicalization As Muslim Jihadists Return From ISIS
• US To Open Jerusalem Embassy In May, Marking Israel's 70th Anniversary
Pakistan
• Pakistan Back On Terror Financing Watchlist As China Stays Silent
• Nobody Can Change Their Religion without the Court's Orders: IHC
• JuD Being Punished For Uniting Nation against US: Hafiz Saeed
• IHC to Continue Hearing Plea against Amends in Khatm-e-Nabuwwat Oath
• Gulalai announces her own political party PTI-G
• 'Pakistan, US should join hands to achieve peace in Afghanistan'
• KP govt to approve Rs277m grant for Darul Uloom Haqqania
• Senior US official says Pakistan should evict, rather than kill, militants
--------
Africa
• Shun Materialism, Politicians, Sultan of Sokoto Urges Islamic Clerics
• Al-Shabab Twin Bomb Attacks Kill 18 In Somali Capital Mogadishu
• Police launch manhunt for Kenyan al-Shabaab commander, five others
• Boko Haram: Red Cross opens up on interventions
--------
Europe
• France Unveils 60 Point Plan to Combat Radicalization As Muslim Jihadists Return From ISIS
• Isis Tells Muslims to Kidnap and Murder Christians in Russian-Occupied Areas
• France to create 1500 places in prison to isolate jihadist inmates
• European leaders boost Sahel anti-extremist funding
• Thousands to attend Brussels rally for Afrin operation
--------
North America
• US To Open Jerusalem Embassy In May, Marking Israel's 70th Anniversary
• US Spokesperson Says Some Allied Forces Going To Afrin
• D.C. Metro Cop Sentenced for Islamic State Support
• Trump not satisfied with progress in Pakistan against terrorism: White House
• Canada condemns escalating situation in Syria
--------
South Asia
• National Security Adviser: 55,000 Terrorists Present in Afghanistan
• Suicide Attack in Kabul City Leaves 7 Dead, Wounded
• Myanmar MPs pass $15mn for Rakhine border fence amid crackdown on Rohingya
• 3 Bombs Hit Capital of Myanmar's Rakhine State
• Ghani insists on policy of 'connectivity' ahead of TAPI works inauguration
--------
Arab World
• Assad Regime Parliament Member Describes People of Eastern Ghouta as 'Lice and Rats'
• Strikes Pound Syria Enclave As World Fumbles For Response
• Fates vary of foreign terrorists arrested in Iraq and Syria
• Syria: Terrorist Groups Battling over Western Aleppo Towns
• Syrian Army Grants Amnesty to Tens of Militants in Homs, Aleppo
• Tens of Terrorists Killed in Heavy Infighting in Northern Syria
• Kurdish Fighters to Deliver Key Town in Northern Aleppo to Syrian Army
--------
Mideast
• Could Little-Known Turkish Party Offer Islamist Alternative To Erdogan's AKP?
• Turkey Raps Dutch Envoy over Armenian 'Genocide' Vote
• Arab Coalition intercepts two Houthi ballistic missiles targeting Marib
• Yemeni army gains control over Qaeda strongholds in Hadhramaut
• Turkish military not avoiding civilians in strikes against Syria's Afrin: HRW
• Palestinian protesters throw eggs at US politicians visiting Ramallah
--------
India
• India-Bound TAPI Gas Pipeline Breaks Ground On Afghan Section
• India, Canada on same page on Maldives, Afghanistan
--------
Southeast Asia
• AFP Honing Urban Warfare Skills as Jihadists Seek New PH Base
• Government troops ready to battle extremists
• South Korea's SK group to open regional base in Malaysia
Compiled by New Age Islam News Bureau
URL: https://www.newageislam.com/islamic-world-news/pakistan-back-terror-financing-watchlist/d/114401
--------
Pakistan back on terror financing watchlist as China stays silent
Indrani Bagchi
Feb 24, 2018
NEW DELHI: China stayed neutral as Pakistan was put back on an international terrorism financing "grey list", three years after it was removed from that list. As the plenary meeting of the Financial Action Task Force (FATF) closed in Paris on Friday, Pakistan's fortunes plunged — from June, Pakistan will be under what is officially known as "direct ICRG reporting" which will place it under greater international scrutiny, make it more difficult to access overseas funding and directly hit its already ailing economy in an election year.
Pakistan will get on to the list from June 2018. They have time until then to make changes in their actions against terror groups. That is why, sources said Pakistan is not mentioned in the final statement by FATF today but will be put on the list at the next plenary which is in June.
The final decision was a big victory for the US, UK, France and Germany who had co-sponsored the move back in January, complaining that Pakistan's money laundering and terror finance infrastructure remained on paper, while big terror groups like JuD, LeT and Taliban continued to flourish inside Pakistan. The US under Trump has taken a tougher line against Pakistan, which apparently found resonance at the FATF meetings, particularly because there was no Indian presence here.
India however has reason to be particularly pleased, because it has embarked on a huge diplomatic exercise to shame Pakistan on his support to terrorism. Pakistan's presence back in the grey list will continue to focus international attention on its terror activities. Pakistan was on the watch list between 2012 and 2015 for money laundering. In this FATF meeting, India stayed away from the frontlines.
However, the US reintroduced the motion after the Pakistan minister breached confidentiality with that tweet. Hectic negotiations were on in Washington for the past couple of days, as China was persuaded to stand down, as were GCC and Turkey. Turkey in fact, remained the last country blocking it. The US persuaded GCC to lift their opposition. Russia was also tilting towards Pakistan but were persuaded by India. As for China, it was a tough call, given its ties with Pakistan. But China is lobbying for a top position in the FATF and will need support from the sponsor countries. India and US pledged support to China in return for China's neutrality on Pakistan.
Earlier this week, Pakistan's foreign minister Khawaja Asif had tweeted from Moscow that Pakistan had been let off the hook+ for three months, with a US-led motion at FATF being "defeated". The resolution was blocked by China, Turkey and the GCC, which was acting on instructions of Saudi Arabia, Pakistan's staunch supporter. (Pakistan has just deployed troops for Saudi Arabia's anti-terror coalition which is widely seen as an anti-Iran body, something it had refused to do earlier).
China's action is significant, not only because it has invested over $60 billion in CPEC and to build Gwadar port — but China too has been plagued by Pakistan's terrorists, losing workers to terror violence. Last week, reports said China had begun direct talks with Baloch nationalists who have every reason to sabotage the CPEC. The FATF listing may not affect China's investment inside Pakistan which is a sovereign strategic decision by Beijing and not directed by international trends. But it does send a strong message to Pakistan that it needs to roll up its terror infrastructure if China is to stay invested. In addition, a decision like this by China also indicates a "deal" being struck with one or more of the sponsor countries.
Pakistan made a strong pitch for itself, showing that it had seized assets belonging to LeT JuD and Falah-Insaniyat Foundation (FIF) just weeks before the meeting. That apparently did not cut much ice, because the final deicsion is taken unanimously.
Financial agencies said Pakistan may be staring at a risk downgrade by IMF, World Bank, and other multilateral lenders, in addition to making it difficult to source funding from international markets. However, it must be remembered that during its previsou listing period, Pakistan received an IMF bailout, largely because it was supported by the US.
According to news reports, Pakistan has three months to convince the body that it has acted against terror organizations, but it will be difficult, particularly as elections loom in the country.
https://timesofindia.indiatimes.com/india/pakistan-back-on-terror-finance-watch-list-as-china-supports-us-move-at-fatf-meeting/articleshow/63048953.cms
--------
Nobody Can Change Their Religion without the Court's Orders: IHC
Feb 24, 2018
ISLAMABAD: Islamabad High Court (IHC) on Friday expressed annoyance over the details filed by National Database and Registration Authority (NADRA) pertaining to the amendment of Khatam-e-Nabuwat clause in Election Act 2017 case.
A single bench of IHC presided over by Justice Shaukat Aziz Siddiqui took up the case for hearing.
At the beginning of the hearing, NADRA filed the record regarding Qadyanis who were registered in Pakistan.
According to the record, 1, 67,473 Qadyanis were registered in Pakistan and 10,205 out of them had adopted the status of Qadianis after having changed their national identity card status to Muslim.
The data of the persons who got the status of Qadyanis was filed in a sealed envelope in the court during the hearing of the case.
The judge asked that could Nadra change the religion of any Pakistani Muslim possessing a national identity card.
NADRA acting chairman replied that no such option was available in the system.
The judge, while expressing annoyance, said that it was a big fraud with the state and Muslim Ummah because nobody could change their religion without the permission of the court. People show their religion as Islam by lying in order to seek government job and they convert to their original religion after retirement, he added.
The court, while issuing stay orders, ordered that nobody could change their religion in the future without the permission of the court.
The court adjourned the hearing of the case till Monday.
https://www.pakistantoday.com.pk/2018/02/23/nobody-can-change-their-religion-without-the-courts-orders-ihc/
--------
Shun Materialism, Politicians, Sultan of Sokoto Urges Islamic Clerics
By Sardauna Francis
February 24, 2018
Katsina – Dr. Muhammad Abubakar III, the Sultan of Sokoto and President General Supreme Council for Islamic Affairs, on Friday, urged Islamic clerics to shun materialism and politicians, saying they have no basis in Islam and against the tenets of Islam. The Sultan, who made the appeal during the opening ceremony of the 32nd national Qur'anic recitation competition, in Katsina, said clerics who pursue materialism would find it difficult to preach the true message of the Qur'an.
It would be recalled that the national Qur'anic recitation competition was initiated in 1986 by the centre for Islamic Studies, Usmanu Danfodiyo University, Sokoto, aimed at enhancing the knowledge of Qur'an on the younger generations.
The Sultan, represented at the occasion by Dr. Abdulmumini Usman, the emir of Katsina, challenged Muslim clergies to eschew acts that are inimical to the propagation of Islam and find legitimate means of earning a living rather than depending on politicians.
"It is unfortunate that today most of our Imams have shun the true teaching of Islam. They are busy pursuing materialism which has no basis in Islam. It only generates more harm than good among the society.
"Don't allow materialism to overshadow you. Islam has always been the pillar for any societal development so we need to do more in encouraging and supporting its propagation in order to yield a better society," he said.
Dr. Abubakar, however, commended Governor Aminu Masari for sponsoring and hosting the programme in the state, calling for the sustainability of the tempo.
https://independent.ng/shun-materialism-politicians-sultan-urges-islamic-clerics-2/
--------
France Unveils 60 Point Plan to Combat Radicalization As Muslim Jihadists Return From ISIS
February 23, 2018
PARIS — France unveiled a wide-ranging new program on Friday to counter radicalization, as French Jihadis return from the battlefields of Syria and Iraq and the watch list grows of people showing risk signs.
The plan, announced by Prime Minister Edouard Philippe, is made up of 60 measures and puts the accent on prevention, notably aimed at trying to catch danger signals within society.
It is France's third effort in less than four years to try to prevent and control a phenomenon that numerous nations are grappling with. France got a late start on the issue even though home-grown Islamic extremists set off deadly bombs in France in the 1990s and more French Jihadis went to Syria and Iraq to support the Islamic State group or al-Qaida than other Europeans.
The new plan targets prisons, schools and even sports clubs, and involves specialists and ordinary people on both local and national levels.
"This is a plan of mobilization. It's a battle that the state alone can't fight," Philippe said in Lille, north of Paris, where a prison that holds the most dangerous radicalized prisoners is located.
The plan to counter radicalization includes measures announced by the justice minister to end an unprecedented strike last month by French prison guards, which was triggered by a radicalized prisoner's attack on a guard. The measures include doubling the number of prisoners evaluated for radicalization to 250 per year and increasing to 1,500 the number of cells devoted to radicalized inmates, held in closed-off areas. By the end of this year, 450 such places will be created. All will have trained staff and high security.
There are currently more than 500 inmates convicted of or awaiting trial for terrorism, and some 1,150 under watch for radicalization, according to the Prison Administration.
While prisons are now known as potential breeding grounds for radicalization, the French government also plans to better regulate and standardize private schools, most of which are run by religious organizations. Many private schools are run by Muslim organizations and "the state cannot lead the fight without the Muslims of France," Philippe said.
"Radicalization is a durable threat to our society," the plan's authors say.
Radicalization has been spotted in the sports world and within the police, the military and civil servants, and mobilizing those sectors to detect the phenomenon is part of the plan, Philippe said.
French cities are to have prevention plans against radicalization by June, he said.
Two decrees will make it possible to remove radicalized soldiers and police from their jobs and a study is examining how to remove radicalized civil servants — not an easy task in France's heavily regulated labour force.
The plan also has measures to reintroduce into French society minors returning from the battle zone amid the collapse of the Islamic State group in Iraq and Syria. The prime minister says 68 minors, mostly under 13, have returned so far. They will receive long-term care and psychological follow-ups
Philippe rejected the term "deradicalization" to undo the radicalization process because, he said, no one knows how to deprogram an individual caught up in an evolving and little-understood phenomenon. A group of researchers will be charged with trying to understand radicalized individuals.
http://torontosun.com/news/world/france-unveils-60-point-plan-to-combat-radicalization-as-muslim-jihadists-return-from-isis/wcm/e6a88922-10d7-4759-8eb4-10f0f1e76c4e
--------
US to open Jerusalem embassy in May, marking Israel's 70th anniversary
February 24, 2018
WASHINGTON - The United States will relocate its embassy in Israel to Jerusalem in May, coinciding with Israel's celebration of the 70th anniversary of its independence, US officials said Friday.The decision sparked a furious reaction from Palestinians, who object to the US recognition of the disputed city as Israel's capital and call May 14 - which in 2018 marks 70 years since Israel's declaration of independence - Naqba, their "day of catastrophe."The choice of the date, a year earlier than originally forecast, is likely to further cloud efforts to restart peace talks between the Israelis and Palestinians, putting in greater doubt the traditional US role as an "honest broker.""We are planning to open the new US Embassy to Israel in Jerusalem in May.
The Embassy opening will coincide with Israel's 70th anniversary," a State Department spokesperson said.In December, President Donald Trump broke with decades of policy to announce US recognition of Jerusalem as Israel's capital, drawing near global condemnation, deeply angering the Palestinians and sparking days of unrest in the Palestinian territories. Until now, the US embassy has been located in Tel Aviv.The new embassy will be located temporarily in a US consular building in Jerusalem's Arnona neighborhood, the US official said, while Washington seeks a permanent location.
It will initially consist of the ambassador and a "small team," the official added.The Palestine Liberation Organization decried Washington's decision as a "provocation to all Arabs.""The American administration's decisions to recognize Jerusalem as Israel's capital and choose the Palestinian people's Naqba as the date for this step is a blatant violation of international law," PLO number two Saeb Erekat told AFP. He said the result would be "the destruction of the two-state option, as well as a blatant provocation to all Arabs and Muslims."
The US move to recognize Jerusalem as Israel's capital broke with generations of international consensus that the city's status should be settled as part of a two-state peace deal between Israel and the Palestinians.Israel claims all of Jerusalem as its capital, while the Palestinians see the eastern sector as the capital of their future state.Trump said his defiant move - making good on a 2016 presidential campaign pledge - marked the start of a "new approach" to solving the Israeli-Palestinian conflict.Israelis and Palestinians alike interpreted Trump's move as Washington taking Israel's side in the conflict - a view reinforced by the White House's recent decision to withhold financing for the UN agency for Palestinian refugees (UNRWA).Palestinian leader Mahmud Abbas delivered a rare address to the UN Security Council on Tuesday, calling for an international conference to be held later this year to launch a new, wider Middle East peace process and pave the way to Palestinian statehood.The revised schedule on the embassy move comes after US Vice President Mike Pence pledged only last month to move the embassy to Jerusalem by the end of 2019 in a speech to Israel's parliament that saw Arab lawmakers expelled after they shouted in protest.
https://nation.com.pk/24-Feb-2018/us-to-open-jerusalem-embassy-in-may-marking-israel-s-70th-anniversary
--------
Pakistan
JuD being punished for uniting nation against US: Hafiz Saeed
Feb 24, 2018
LAHORE: Jamat-ud-Dawa (JuD) Chief Hafiz Saeed on Friday criticised the rulers for silencing each and every voice raised in favour of Kashmiris instead of helping Kashmiris. He said, "Kashmir freedom movement has been severely damaged due to their inconsistent policies."
He said this while addressing the Friday sermon at Masjid Al-Qadsia. He termed 'Pakistan a land of hopes' while adding that we assume it as our duty to defend every nook and corner of this country.
He maintained that a presidential ordinance has been passed to cripple JuD's patriotic work because several external forces are not happy about JuD volunteers working for Pakistan through their educational institutes, ambulances, and hospitals.
If Pakistani authorities will keep surrendering to their demands, the time is not far when these forces will put pressure on Pakistan to roll-back its nuclear programme and downsize its armed forces, he warned.
He alleged the US behind the whole 'plot' against JuD.
"After 9/11, when Pakistani rulers decided to compromise their sovereignty, US forces started shedding Muslims' blood by using Pakistan's soil. Grand protests and gatherings were also organised by JuD after the attack on Salala Checkpost and the NATO supply routes were closed due to our countrywide campaign. We united the nation against America, that's why America seems unwilling to further tolerate JuD's effective role in the country," JuD chief asserted.
He urged rulers to raise Kashmir issue at international forums reminding them that India did not implement UN resolutions on Kashmir till today.
"Why is India massacring Kashmiris by using its army?" he concluded by asking.
https://www.pakistantoday.com.pk/2018/02/23/jud-being-punished-for-uniting-nation-against-us-hafiz-saeed/
--------
IHC to continue hearing plea against amends in Khatm-e-Nabuwwat oath
February 24, 2018
ISLAMABAD - The Islamabad High Court Friday continued its proceedings in a petition challenging the amendment in the oath of Khatm-e-Nabuwwat in the Election Act 2017.A single bench of IHC comprising Justice Shaukat Aziz Siddiqui conducted hearing of the petition and appointed Advocate Muhammad Akram Sheikh, Advocate Babar Awan and Advocate Aslam Khaki as amicus curiae in this matter.During the hearing , Advocate Hafiz Arfat, counsel for the petitioner completed his arguments while Acting Director General NADRA submitted the record of registered Ahmadis in the country.According to NADRA report, there are 1,67,473 Ahmadis are registered with the authority while there were 10,205 people who got changed their religion from Islam to Qadiani.Justice Siddiqui asked from the acting director general NADRA that if the Authority76 was empowered to change religion on Computerised National Identity Cards (CNICs). At this, he said, there is no such option in NADRA's system. He added that in the past, people submitted fake affidavits to have their religion changed on CNICs. Then, the IHC bench directed the authority not to change religion of any person on CNIC without its permission till further orders. Justice Siddiqui remarked that Qadianis in order to secure government employment used to change their religion to Islam on CNICs and when the purpose was served, they reverted back to their original religion after retirement.Earlier, the IHC bench had appointed Professor Dr Hafiz Hassan Madni, Institute of Islamic Studies University of Punjab Lahore, Dr Mohsin Naqvi, ex-member of Council of Islamic Ideology, Professor Dr Sahibzada Sajid-ur-Rehman, Member of Council of Islamic Ideology and Mufti Muhammad Hussain Khalil Khel from Karachi as amicus curiae to render their assistance on the following points.The points are whether an Islamic state can frame a law which identifies or deems a non-Muslim as Muslim directly or indirectly; whether a non-Muslim could be permitted in an Islamic state that they show or present themselves as Muslims; whether it is tantamount to deceive the state if a non-Muslim dubs himself as a Muslim; what is the responsibility of the state if the answer of abovementioned question is in positive; whether it is not obligatory for an Islamic state to have fully aware of religion and religious creed of all of its citizens and formulate an effective and comprehensive procedure in this regard and whether it falls in the domain of violation of basic human rights to get information about the religion or religious faith of a citizen.–Staff Reporter
https://nation.com.pk/24-Feb-2018/ihc-to-continue-hearing-plea-against-amends-in-khatm-e-nabuwwat-oath
--------
Gulalai announces her own political party PTI-G
Feb 24, 2018
ISLAMABAD: The dissident Pakistan Tehreek-e-Insaaf (PTI) leader Ayesha Gulalai, after waiting a long time, has announced her own political party, Pakistan Tehreek-e-Insaaf Gulalai (PTI-G) on Friday.
Addressing a press conference here she went on a tirade against PML-N and the former prime minister, Nawaz Sharif, stating that Nawaz wanted to wage civil war in the country.
"After his disqualification from SC Nawaz Sharif has lost popularity across the country including Punjab," she said adding that the entire nation will stand with the judiciary against the Sharif's movement for justice.
Lashing out Pakistan People's Party (PPP) she said that the leaders of PPP were pursuing their personal interests rather than the country's interests as most of them have become a prey of inferiority.
Full report at:
https://www.pakistantoday.com.pk/2018/02/23/gulalai-announces-her-own-political-party/
--------
'Pakistan, US should join hands to achieve peace in Afghanistan'
FEBRUARY 24, 2018
ISLAMABAD: Interior Minister Ahsan Iqbal said that since both Pakistan and the United States were stakeholders in peace and stability in Afghanistan hence they should join hands to achieve this goal.
Expressing Pakistan's commitment to peace and stability in Afghanistan, he said, this called for Pakistan and the US to work together as if they failed even for a day such a situation will translate into a "big bonus" for the elements who were trying to destabilise the region.
Ahsan Iqbal was speaking at a formal ceremony held at the US embassy to celebrate the US National Day and the President's Day on Thursday.
He said both Pakistan and the US had a special relationship and geo-politics of the region had made them both inseparable, therefore they needed to cooperate for peace and stability in the region.
The minister said if there was peace in Afghanistan, Pakistan would get dividends and if there was instability there, it would suffer.
Iqbal said that Pakistan and the US needed to work for strengthening the longstanding relationship.
He said that trade between the two countries was now at the highest level because the private sectors from the two sides had done a good job. Now it was for the diplomats of the two countries to achieve such a level of cooperation in other fields as well, he added.
The Interior Minister appreciated US role in giving scholarships to Pakistani students under the Fulbright Programme, adding that he wanted more students from Pakistan to be in the best American universities.
US Ambassador David Hale in his remarks on the occasion said that America had built roads, dams, hospitals and schools in Pakistan and wanted it to be a safe and prosperous country both for Pakistanis and the Americans.
He said the US had spent billions of dollars for development and upkeep of Afghan refugees in Pakistan.
The Interior Minister also joined the US ambassador in cutting the cake to mark the day.
Among others, the ceremony was attended by a large number of people including ambassadors of various countries, politicians and members of the parliament.
Full report at:
https://dailytimes.com.pk/206768/pakistan-us-join-hands-achieve-peace-afghanistan/
--------
KP govt to approve Rs277m grant for Darul Uloom Haqqania
Ali Akbar
February 23, 2018
The provincial government of the Khyber Pakhtunkhwa (KP) is set to approve a Rs277 million grant for Darul Uloom Haqqania, DawnNews learnt on Friday.
A summary for the grant to be given to the madressah headed by Maulana Samiul Haq from the chief minister's discretionary funds has been sent to Pervez Khattak, religious affairs minister Habibur Rehman disclosed.
The funds are being disbursed on special directives of chief minister Khattak himself.
This is not the first time that the madressah would be on the receiving end of a gracious grant from Pakistan Tekhreek-i-Insaf (PTI) led KP government as Rs300m were allocated for it in the budget for financial year 2016-17.
Defending the move, PTI chief Imran Khan had said that the funds and support would help the seminary students assimilate in our society, bring them in to the mainstream and keep them away from radicalisation.
"The same Darul Uloom was supported and financed by ANP, even the late Wali Khan went there," the PTI chief had said.
Full report at:
https://www.dawn.com/news/1391213/kp-govt-to-approve-rs277m-grant-for-darul-uloom-haqqania
--------
Senior US official says Pakistan should evict, rather than kill, militants
Feb 24, 2018
A senior US official says Pakistan should push members of the Haqqani militant network across the border with Afghanistan rather than kill or capture them.
"They don't have to arrest them or kill them ... just get them into Afghanistan, disrupt some of the infrastructure that exists, make it harder for them," Reuters quoted an unnamed senior US official as saying on Friday.
However, the official did not elaborate on how the US would guarantee that the militants who could be arrested or killed in Pakistan will be neutralized after eviction from the country.
The comments made by the top US official came a month after US President Donald Trump ordered major cuts in military aid to Pakistan over what Washington views as Islamabad's failure to crack down on militants. The aid cuts angered Pakistan and triggered multiple anti-US protests across the country.
Washington has long accused Islamabad of allowing the Haqqani network, which is an affiliate of the Taliban militant group, to operate relatively freely in Pakistan's porous border regions to carry out operations in Afghanistan.
Islamabad, however, denies the accusations, saying the White House is overlooking Pakistan's sacrifices in its fight against terrorism. It further rejects allegations that it sponsors Taliban militants battling US forces in neighboring Afghanistan, and insists that Islamabad is doing all it can to combat regional militancy.
The US official added that since the aid suspension - which US officials later said could affect as much as about $2 billion - Washington has not seen any sustained effort on the part of Pakistan against the militants.
The official also dismissed suggestions that pressure from Washington may backfire, saying Islamabad might start by taking smaller, tactical steps, including forcing such outfits into Afghanistan before the spring fighting season begins.
"I don't think Pakistan is feeling its oats. I think it's feeling pressure. We have their attention," the official said, adding, "We are about two months away from the fighting season, so now is the time to do some of this."
Full report at:
http://www.presstv.com/Detail/2018/02/24/553395/Pakistan-US-Haqqani-network-cuts-Afghanistan-Taliban
--------
Africa
Al-Shabab twin bomb attacks kill 18 in Somali capital Mogadishu
Feb 23, 2018
At least 18 people have been killed and 20 others sustained injuries when a pair of car bombings, carried out by the al-Qaeda-linked al-Shabab terrorist group, hit the Somali capital of Mogadishu, police say.
Both attacks were carried out almost simultaneously in two different parts of the capital on Friday afternoon, police said, adding that the first explosives-laden car went off after militants breached a checkpoint near the president's residence, the Villa Somalia, by shooting at security guards.
"The militants got off when they neared the palace, the … car bomb exploded outside the palace where there were many military soldiers who guarded the street adjacent to the palace," said Major Omar Abdullahi.
The second blast took place when another explosives-ridden vehicle, parked in front of a hotel away from the palace, detonated.
"Another car loaded with explosives went off close to a recently opened hotel," said police officer Ibrahim Mohamed.
The al-Shabab terror group, in a statement posted online, claimed responsibility for the attack shortly after the blasts rocked Mogadishu, further claiming that its militants had killed 15 soldiers in the process, but this could not be confirmed.
Meanwhile, Security Minister Mohamed Abukar Islow said the security forces had managed to subdue the terrorists and killed five of them.
"The security minister confirmed the operation was concluded and that the five militants who launched the attack were shot dead," the state news agency quoted him as saying.
The explosions follow weeks of relative calm in the capital.
Back in October last year, more than 500 people lost their lives in twin bomb blasts in Mogadishu. The bomb attacks were the deadliest since al-Shabab started an insurgency in 2007. The government blamed the al-Shabab for the carnage, but the terror group did not claim responsibility for that incident.
The Takfiri militant group was forced out of the capital by African Union troops in 2011 but still controls large parts of the countryside and carries out attacks against government, military, and civilian targets in Mogadishu and regional towns.
The group, which wants to overthrow the Somali government, has already claimed the lives of hundreds of civilians across East Africa and thousands of Somalis in a decade-long insurgency. The extremist outfit is just one of the challenges facing the new Somali government, which is still struggling to expand its authority beyond the capital and other selected areas.
A 22,000-strong multinational African Union force in Somalia is expected to pull out and hand over the country's security to the Somali military by the end of 2020.
http://www.presstv.com/Detail/2018/02/23/553385/Somalia-bomb-attacks-alShabab-Mogadishu
--------
Police launch manhunt for Kenyan al-Shabaab commander, five others
2018-02-24
NAIROBI, Feb. 23 (Xinhua) -- Kenyan police on Friday launched a major manhunt for an al-Shabaab commander and five other key terror suspects behind a series of attacks in northeastern Kenya.
The police have offered 20,000 U.S. dollars each for any information that could lead to the arrest of the six suspected al-Shabaab militants believed to be planning terror attacks in the east African nation
Authorities have circulated a photo of a woman and five men, including Issack Alio Mohammed, a Kenyan al-Shabaab commander and an improvised explosive device (IED) expert.
Other terror suspects being sought by the police include Abdiwhab Osman, Hareth Hillow, Kusow Yarrow and Mumina Erobe.
Alio, an al-Shabaab operative who hails from Mandera County in northeast Kenya, is believed to be behind a series of attacks along the Somalia border.
His main targets have been security personnel and telecom cell towers in Kenya's northeast and coastal regions.
The police called on the public to be vigilant and report the whereabouts of the suspects.
Full report at:
http://www.xinhuanet.com/english/2018-02/24/c_136995228.htm
--------
Boko Haram: Red Cross opens up on interventions
February 23, 2018
By Wale Odunsi
International Committee of the Red Cross (ICRC) has given an insight into its involvement in the release of the Chibok girls and others taken hostage by the Boko Haram.
Head of Delegation of ICRC, in Abuja, Mr. Eloi Fillion, said this in a chat yesterday.
"We are not involved in negotiations or how the deals are reached. Our role starts when the deal is reached", Fillion explained.
"As a humanitarian organization, we focus on the implementation of deals between parties in an armed conflict.
"We are not part of the negotiations that bring about the release. Our role is to act as an intermediary to help when deals are reached between the fighting parties.
"We have been called to play this role three times. The deal is reached without us. When we are called, what the ask of us is the space and time to implement the deal.
"We do this when we get assurances that we can cross the frontlines in and out with our team.
"We follow-up on those who have been released in order to give them psychological support, through direct discussions with abductees who have been released."
"We don't have the mandate to resolve conflicts. It requires competences and capabilities that humanitarian organizations like ours don't have.
"But they are organizations that have that and in some cases sovereign governments play that role."
Full report at:
http://dailypost.ng/2018/02/23/boko-haram-red-cross-opens-interventions/
--------
Europe
Isis Tells Muslims To Kidnap And Murder Christians In Russian-Occupied Areas
By Cristina Maza
2/23/18
The Islamic State has urged its followers to kidnap and murder Christians in "Russian-occupied Muslim areas," according to a letter published by an intelligence group that monitors the terrorist organization's online communications.
Chechnya, Ingushetia and Dagestan are all Muslim-majority republics in Russia. ISIS says Russian rule there is an occupation.
The letter, titled "Strike Their Necks and Strike Each One of Their Sons," claims that Russia has intentionally occupied Muslim-majority areas in the Caucasus and Central Asia to convert Muslims to Christianity or forcibly displace them. SITE Intelligence Group published the document Thursday.
Five women were killed when a man fired at a church in Dagestan on Monday. ISIS later claimed responsibility for the attack, although the group often claims responsibility for terror attacks even when there is no evidence.
In its letter released Thursday, ISIS cited the church attack in Dagestan as an example of what its followers should do. The killer, who the ISIS letter describes as an "extraordinary mujtahid," used a hunting rifle to kill people attending the Russian pre-Lent festival Maslenitsa. The man reportedly donned a beard and yelled, "Allahu akbar."
"Allah permitting, this will be the spark for more bloody attacks that will destroy a larger number of the Christian combatants in all the Russian-occupied Muslim areas," the letter reads. "Many of them will be killed as a punishment for their disbelief in Allah the Great, and it will plant fear and horror inside the hearts of hundreds of thousands of their brothers and make them flee with fear."
The letter also calls for Muslims to kidnap and kill Christians living in Russia, and to use extortion.
"Let every Muslim know that the blood of those combatant Christians and their money is permissible and that taking any of them as hostages for ransom or to swap with a Muslim prisoner is also permissible. So let the good deed be for everybody," the letter reads.
Russia rules a handful of Muslim-majority republics in addition to Dagestan, Chechnya, Ingushetia and Kabardino-Balkaria. The former Soviet Union, governed from Moscow, also included areas that today are independent Muslim-majority countries, such as Azerbaijan, Turkmenistan and Uzbekistan, among others. This history is mentioned in the ISIS letter as an example of Russia's "crusade" against Muslims.
Russia is currently fighting alongside Syrian President Bashar al-Assad, whose troops have fought against the Islamic State. Human rights groups have accused Russia of killing thousands of civilians in Syria with airstrikes. The letter from ISIS did not mention Russia's activities in Syria.
http://www.newsweek.com/kidnap-and-murder-christians-russian-occupied-areas-isis-tells-muslims-818371
--------
France to create 1500 places in prison to isolate jihadist inmates
By Rory Mulholland
24 February 2018
Paris: France will create 1500 prison places for Islamist extremists in order to isolate and prevent them from converting other prisoners as part of a plan to stop young people becoming terrorists.
"This Islamist radicalisation threatens our society," Édouard Philippe, the French prime minister, said on Friday as he unveiled the plan.
It includes measures for dealing with the hundreds of French men, women and their children who have returned from the battlefields of Syria and Iraq or are expected to do so.
Schoolteachers will get training on how to spot signs of radicalisation, and local authorities will be told to improve their scrutiny of the growing number of private Islamic schools.
Mr Philippe travelled to the northern city of Lille to present the programme which includes 60 measures and puts the emphasis on prevention.
It is the third programme in fewer than four years to try to prevent and control the phenomenon - which many other European states are also grappling with - of disaffected young people turning to radical Islam and sometimes to terror.
It aims to draw lessons from past failures, after a three-year wave of terror attacks claimed by Islamic State of Iraq and the Levant (ISIL) across France that killed more than 2450 people and injured hundreds more.
"This is a plan of mobilisation," said the prime minister. "It's a battle the state alone cannot fight."
Full report at:
https://www.theage.com.au/world/europe/france-to-create-1500-places-in-prison-to-isolate-jihadist-inmates-20180224-p4z1kj.html
--------
European leaders boost Sahel anti-extremist funding
24 February 2018
BRUSSELS: European leaders on Friday doubled their funding for a force tackling extremist militants in the Sahel, but African leaders warned the money must come quickly if it is to be effective.
The EU announced an extra $61 million for the G5 Sahel force at a conference in Brussels with heads of state from Burkina Faso, Chad, Mali, Mauritania and Niger, taking total pledges by international donors to over $504 million.
But just a fraction of that money is currently available to spend and Niger President Mahamadou Issoufou, the current chair of the G5 Sahel group, said it was needed urgently to deal with an influx of Daesh fighters driven out of Libya and Syria.
The chaos in Libya, where rival militias, tribes and terrorists are vying for influence, is fueling instability in the Sahel, Issoufou and African Union Commission chairman Moussa Faki Mahamat warned, calling for an international push to bring peace to the oil-rich state.
"The Libyan crisis has been, we know, the detonator of the degradation of the security situation in the Sahel, and day after day, it contributes to its amplification," said Issoufou.
"We must put an end to this chaos by restoring the authority of the Libyan state to the whole of its territory."
Friday's meeting was attended by 32 leaders including French President Emmanuel Macron and German Chancellor Angela Merkel.
Foreign Minister Adel Al-Jubeir also took part, after Saudi Arabia pledged $100 million to the G5 force in December.
"We are ready to provide anti-terrorism assistance in the African Sahel region," he said later, in a speech in Brussels.
The meeting observed a minute's silence in honor of two soldiers from France's counter-terror force in West Africa who were killed in a mine blast on Wednesday.
It was the latest in a surge of attacks underscoring the challenge facing the five countries, among the poorest in the world, which are on the frontline of a war against Islamist militants.
Europe hopes that spending money to improve the security and economic situation in the region will help stem the flow of migrants seeking a better life across the Mediterranean and prevent the Sahel becoming a springboard for extremist attacks on the West. The G5 force aims to train and equip 5,000 local troops to patrol hotspots and restore authority in lawless areas. As well as fighting militants, the force also tackles smuggling and illegal immigration networks that operate in the vast, remote areas on the margins of the Sahara.
"Daesh fighters driven out of Libya and Syria are taking refuge in the Sahel, especially from Libya, so it's urgent the pledged funds are mobilized as quickly as possible," Mahamadou said.
The force has so far set up a headquarters and command structure and carried out two operations, with French support, in the troubled "tri-border" area where Mali, Niger and Burkina Faso meet.
It is intended to become fully operational in mid-2018, and to operate alongside France's 4,000 troops in the area as well as the UN's 12,000-strong MINUSMA peacekeeping operation in Mali.
Mahamat said extremist groups would likely step up attacks in Mali as the G5 force geared up, warning "they're not going to sit back with their arms crossed."
Recent operations against militants in northern Mali have left around 30 rebels dead, Macron said, vowing "total determination" to defeat the threat.
Opening the conference, European Commission President Jean-Claude Juncker said "security and development must go hand in hand" in the Sahel, an area almost as big as the EU where a fifth of the population do not have reliable food supplies.
The bloc has budgeted nearly $9.8 billion for development assistance in the Sahel from 2014 to 2020, while France pledged $1.5 billion over the next five years and Germany $2 billion.
Full report at:
http://www.arabnews.com/node/1253176/world
--------
Thousands to attend Brussels rally for Afrin operation
23 February 2018
Thousands of Turks from across Europe are expected to attend a rally in Belgium's capital Brussels on Sunday, which is being held to express solidarity with Turkey's ongoing Afrin operation.
The Union of European Turkish Democrats (UETD) will stage the solidarity rally at Schuman Square, according to Basir Hamarat from the union's Belgium office.
Hamarat said the objective of the rally was to demonstrate support of Turks living in Europe.
"If Belgium was surrounded by terror groups how would it react? Terror groups have encircled Turkey and we believe the ongoing operation is the right response."
The rally will be attended by the ruling Justice and Development (AK) Party Deputy Chairman, Mehdi Eker, and Zafer Sirakaya, the head of the union.
The rally is set to start Sunday afternoon.
Since the launch of the operation on Jan. 20, the Turkish military and the FSA liberated 97 targets -- including one district center -- plus 69 villages, 20 strategic mountains and hills, and one YPG/PKK-ISIL base.
Turkey launched Operation Olive Branch to remove YPG/PKK-ISIL terrorists from Afrin.
According to the Turkish General Staff, the operation aims to establish security and stability along Turkey's borders and the region as well as protect Syrians from oppression and cruelty of terrorists.
Full report at:
http://www.worldbulletin.net/europe/199128/pay-more-or-get-less-eu-leaders-told-at-summit
--------
North America
US Spokesperson says some allied forces going to Afrin
23 February 2018
The U.S. State Department Spokesperson Heather Nauert on Thursday said, "some of the forces [YPG/PKK] that we're working with in the east, we are seeing starting to go to Afrin".
Speaking at a press conference, Nauert said those forces that the U.S. was working with "have familial relations, familial ties there, perhaps that's part of the reason why."
Reiterating a previous statement, Nauert said, "What is going on in Afrin is taking away from the fight against ISIL," and said the U.S. was in Syria "to fight ISIL".
The U.S. has called the PYD/PKK a "reliable ally" in its fight against ISIL, despite strong protests by Turkey, which has highlighted the PYD/PKK's continuing terrorist threat to both Syrians and Turkey's border regions.
On Jan. 20, Turkey launched Operation Olive Branch to clear PYD/PKK and ISIL terrorists from Afrin, northwestern Syria.
According to the Turkish General Staff, the operation aims to establish security and stability along Turkey's borders and the region as well as to protect Syrians from terrorist oppression and cruelty.
The operation is being carried out under the framework of Turkey's rights based on international law, UN Security Council resolutions, its self-defense rights under the UN charter, and respect for Syria's territorial integrity, it said.
http://www.worldbulletin.net/america-canada/199112/us-spokesperson-says-some-allied-forces-going-to-afrin
--------
D.C. Metro Cop Sentenced for Islamic State Support
23 Feb 2018
Nicholas Young, the disgraced D.C. Metro Transit Police Department officer convicted of providing support for the Islamic State (ISIS) in December, was sentenced to 15 years in prison Friday.
Judge Leonie M. Brinkema of the U.S. District Court for the Eastern District of Virginia handed down the sentence on federal charges of attempting to provide material support to a designated foreign terrorist organization and obstruction of justice.
Young was fired in 2016 after coming under surveillance in 2010 for associations with other terrorism suspects. In 2011, he traveled to Libya and allegedly pursued links with the Jihadists fighting dictator Moammar Gadhafi. Court documents allege Young traveled with "body armor, a kevlar helmet and several other military-style items" and told the FBI he had been with rebels in Libya.
Eventually, Young was arrested in July 2016 when FBI informants, posing as U.S. military reservists of Middle Eastern descent who supported ISIS, got him to send them gift card codes for use to bolster the brutal terror group's jihad. At trial, prosecutors revealed that, in addition to Islamist ties, the Muslim-convert Young also sought out Nazi materials and links online.
The obstruction charges stem from him advising the informant on how to avoid detection as he went to the Middle East to join ISIS. It was after an informant was supposedly with ISIS overseas that he requested Young send money through the gift cards.
Young was convicted in a jury trial in Alexandria, Virginia, in December. At the time, prosecutor Dana J. Boent said, "Nicholas Young swore an oath to protect and defend, and instead violated the public's trust by attempting to support ISIS."
According to the Justice Department (DOJ) press release, The U.S. Attorney's Office for the Eastern District of Virginia teamed up with prosecutors from Main DOJ's National Security Division Counterterrorism Section to pursue the case against Young.
Full report at:
http://www.breitbart.com/big-government/2018/02/23/d-c-metro-cop-sentenced-for-isis-support/
--------
Trump not satisfied with progress in Pakistan against terrorism: White House
February 23, 2018
WASHINGTON: US President Donald Trump is "not satisfied" with the progress made by Pakistan in its fight against terrorism , the White House said on Thursday .
The White House also said that for the first time, the US is holding Pakistan accountable for its actions. "I know that we have restored some clarity in our relationship with Pakistan. For the first time we're holding Pakistan accountable for its actions," White House deputy press secretary Raj Shah told reporters during a press conference.
"We've seen modest progress in terms of Pakistan's actual acknowledgement of these concerns, but the President is not satisfied with progress when it comes to Pakistan," Shah said.
He was responding to a question on the progress made in President Trump 's South Asia policy which was announced in August last year.
"The US is working closely with our partners in Afghanistan. We've made significant progress against ISIS, reducing their presence and eliminating hundreds of fighters. We've eliminated their top leaders, and we're working relentlessly to target their leadership and bases wherever they emerge," Shah said.
In another news conference, the Pentagon said that the South Asia policy offers an opportunity to Pakistan. "The secretary believes that Pakistan has an opportunity to do more with respect to regional security, and that it's in its interests to do more with respect to regional security.
Full report at:
https://nation.com.pk/23-Feb-2018/trump-not-satisfied-with-progress-in-pakistan-against-terrorism-white-house
--------
Canada condemns escalating situation in Syria
23 February 2018
Canada's Foreign Minister Chrystia Freeland Thursday strongly condemned the escalating situation unfolding in Syria's Eastern Ghouta district, a besieged suburb of Damascus.
At least 250 civilians were reportedly killed there within the last three days.
In a statement, Freeland said, "Canada strongly condemns the deliberate and increasing attacks against civilians in Eastern Ghouta, including medical professionals, first responders and humanitarian workers."
Since Tuesday, regime forces have stepped up attacks on Eastern Ghouta using barrel bombs, artillery fire and other types of weapons, according to an Anadolu Agency correspondent based in the area.
Over a three-day period, the regime has reportedly carried out 260 separate attacks in Eastern Ghouta, killing more than 250 civilian residents of the district.
''These attacks are reprehensible. Targeting civilians is a violation of international humanitarian law. We call for the immediate de-escalation of violence in the area and for the Syrian regime to allow for full access for humanitarian assistance and to respect basic human decency," Freeland added.
At peace talks held in the Kazakh capital Astana in May of last year, Turkey, Russia and Iran designated Eastern Ghouta as a "de-escalation zone" in which acts of aggression would be expressly prohibited.
Nevertheless, Russia -- one of the agreement's three guarantor-states -- has failed to prevent the Assad regime from repeatedly violating the terms of the truce.
U.S. State Department Spokesperson Heather Nauert in a press briefing said more than 400 civilians have been "horrifically killed" by the Syrian regime in support of Russia and Iran.
"Russia bears a unique responsibility for what is taking place there. Without Russia backing Syria the devastation and the deaths would certainly not be occurring," Nauert noted, adding that this shows the failure of the Astana process.
Stating that the Assad regime was able to survive with the support of Russia in 2015, Nauert said that they saw reports of Russia giving the regime military supplies.
Home to some 400,000 civilian residents, Eastern Ghouta has remained under a crippling regime siege for the last five years, which has brought the district to the verge of a humanitarian catastrophe.
Syria has been locked in a devastating conflict since early 2011 when the Assad regime cracked down on demonstrators with unexpected ferocity.
Full report at:
http://www.worldbulletin.net/america-canada/199115/canada-condemns-escalating-situation-in-syria
--------
South Asia
National Security Adviser: 55,000 Terrorists Present in Afghanistan
23 February, 2018
Afghanistan's National Security Adviser, Mohammed Hanif Atmar, said there were more than 55,000 terrorists in his country, mainly divided into four categories: local terrorists (30,000-40,000), militants from Pakistan (6,000-7,000), members of regional terrorist organizations (2,000-3,000) and members of international extremist groups such as ISIS (around 3,000) and Al-Qaeda (200-400).
In an interview with Asharq Al-Awsat, Atmar noted that terrorists were benefiting from three sources of funding which are terrorist organizations located in different parts of the world, governmental organizations in some countries that have personal agendas in the region, and drugs; a major source of income for terrorist organizations.
"I don't want to blame Pakistan or say that they cause the problem, but we hope that Pakistan will help us block the sources of terrorism and the places where terrorists are hiding," he stated.
Commenting on statements by the Pakistani Foreign Minister to Asharq Al-Awsat earlier this week, in which he said that the security of Afghanistan was that of Pakistan and that his country had no interest to destabilize its neighbor, Atmar said: "We are very happy to hear this from the Pakistani minister, but we will be happier and will thank them a thousand times if they can close the terrorists' haven in their country."
The Afghan official said his government was keen to see Saudi Arabia, in its capacity as the leader of the Islamic world, engaging in reconciliation efforts between the disputing Afghan parties.
"Saudi Arabia plays a major and pivotal role in the stability of the region. Afghanistan is suffering from terrorism and the Kingdom of Saudi Arabia has a leading role in fighting terrorism. We want to benefit from the Saudi capabilities and expertise in this field to promote Afghan reconciliation," Atmar said.
"Therefore, we look forward to seeing the Kingdom, as the leader of the Islamic nation, assume a significant role in bringing peace to Afghanistan," he added.
Atmar underlined that reconciliation in his country depended on several important factors, mainly honest cooperation between regional countries on this matter.
"In the absence of cooperation in drying up the sources of terrorism in countries neighboring Afghanistan, efforts of reconciliation will not succeed," he stated.
"One of the main reasons for my trip to Saudi Arabia is to get support for the process of reconciliation in Afghanistan; we believe that the participation of Saudi Arabia will lead to tangible and positive results," Atmar remarked.
https://aawsat.com/english/home/article/1184736/mohammed-hanif-atmar-55000-terrorists-present-afghanistan
--------
Suicide attack in Kabul city leaves 7 dead, wounded
Feb 24 2018
A suicide attack rocked Kabul city earlier today leaving at least seven people dead or wounded, according to security officials.
The Ministry of Interior confirmed the incident took place in the vicinity of the 9th police district in Shash Darak area.
According to the Ministry of Interior officials, at least one person was killed and six others were wounded in the attack.
The Ministry of Interior spokesman Najib Danish confirmed that a suicide bomber detonated explosives packed in his body in Shash Darak area leaving one dead and six others wounded.
He said a number of civilians are also among the victims of the incident but he did not elaborate further in this regard.
No individual or group has so far claimed responsibility behind the incident.
Full report at:
https://www.khaama.com/suicide-attack-in-kabul-city-leaves-7-dead-wounded-04533
--------
Myanmar MPs pass $15mn for Rakhine border fence amid crackdown on Rohingya
Feb 24, 2018
Myanmar's legislators have passed a military budget of nearly $15 million to erect a fence along its border with Bangladesh in Rakhine State, which has been used by the country's minority Rohingya Muslims to flee the military's state-sponsored ethnic cleansing campaign underway in the area.
Legislator Myo Zaw Aung confirmed on Friday that the bill was introduced to the parliament by the Home Affairs Ministry, the Defense Ministry and the Border Affairs Ministry, all of which are controlled by the country's infamous military -- widely blamed for the brutal crackdown on Myanmar's minority Muslim population in Rakhine.
The military crackdown, which intensified last August, has forced nearly 700,000 of them to Bangladesh since August.
The development came after the country's Deputy Home Affairs Minister Gen. Aung Soe testified on Thursday, the same day the budget was passed, that the construction of fences covering 202 kilometers of the 293-kilometer border has already been completed.
The fence project has reportedly raised fears that the persecuted Rohingya will no longer be able to seek refuge in neighboring Bangladesh and would likely face more violence, indefinite suffering and death.
The ethnic minority has faced widespread prejudice since they are regarded by the majority Buddhist nation as illegal immigrants from Bangladesh despite being long-time settlers.
Most Rohingya Muslims remain stateless and commonly subjected to prevalent social and official discrimination.
The military had reportedly received $5 million in late October 2017 from private Buddhist donors to fund the border fence.
Myanmar's military forces stand accused of not just of torching Muslim villages, but of carrying out massacres, rapes and widespread looting.
While UN-sponsored negotiations are underway to have the Rohingya return to Myanmar, there are extreme worries that their safety and well-being are in no way guaranteed as many do not even have homes to return to since their villages were burned down by military forces and Buddhist mobs.
Full report at:
http://www.presstv.com/Detail/2018/02/24/553405/Myanmar-parliament-Rakhine-state-border-fence-military-budget-Rohingya-Muslims
--------
3 bombs hit capital of Myanmar's Rakhine state
February 24, 2018
Three bombs exploded in different locations around Rakhine's state capital Sittwe early Saturday morning, including at the home of a high ranking official, Myanmar police told AFP, adding that no deaths were reported.
It is the latest violence to hit Rakhine, which is festering with ethnic tensions and has been roiled by communal violence in the north against the Rohingya and insurgencies in other parts of the state.
Bombings in the state capital are rare however.
"Three bombs exploded and three other unexploded bombs were found. A police officer was injured but not seriously," a senior officer told AFP on condition of anonymity.
The blasts took place around 4:00am (2130 GMT Friday), the officer said.
One exploded in the compound of the state government secretary's home, while the two others hit in front of an office in the city and on a road leading to a beach.
A local official from the state government also confirmed the explosions.
The extent of the damage was not immediately clear.
"Some streets are being blocked by police already because of the bomb blasts," Zaw Zaw, a local resident of Sittwe, told AFP by phone.
In recent months unrest in Rakhine has been concentrated in the state's northern wedge, where a sweeping military crackdown on the Rohingya Muslim community last August pushed nearly 700,000 refugees across the border to Bangladesh.
The state capital Sittwe lies around 100 km south of the epicentre of that conflict.
The explosions come almost exactly six months to the day since northern Rakhine was plunged into crisis on August 25 when Rohingya rebels raided police posts, killing at least a dozen officials.
Myanmar's military responded with a ruthless campaign that the UN says amounts to ethnic cleansing of the Rohingya population, who are now overwhelmingly based in refugee camps in Bangladesh.
Myanmar authorities deny committing any atrocities but have blocked UN investigators from investigating the conflict zone, where thousands of Rohingya are believed to have been killed.
Sittwe was once home to a sizeable Rohingya population but most were forced to abandon their homes by deadly communal violence in 2012.
Today a small community of Rohingya are confined to a Muslim enclave in the city while more than 100,000 others are still living in squalid displacement camps outside the capital.
In a separate conflict in Rakhine state last month, seven people were killed and a dozen injured when police opened fire on a crowd of ethnic Rakhine Buddhists who were trying to seize a government office in the town of Mrauk U.
The violence prompted an ethnic Rakhine rebel group in the state to promise "serious" retaliation for the deaths of the protesters.
Full report at:
http://www.thedailystar.net/world/south-asia/3-bombs-hit-capital-myanmars-rakhine-state-1539373
--------
Ghani insists on policy of 'connectivity' ahead of TAPI works inauguration
Feb 23, 2018
President Mohammad Ashraf Ghani insisted on Afghan government's policy of 'connectivity' as the construction work of the TAPI gas pipeline project is due to be inaugurated in Afghanistan today.
In his speech at the inauguration of the TAPI gas pipeline project in Turkmenistan, President Ghani said South Asia is being connected with Central Asia via Afghanistan after a long period of time.
He said the TAPI project shows that Afghanistan, Turkmenistan, Pakistan, India, and other nations look at economic development as key topic of discussion.
President Ghani further added that he is hopeful that the coming generations should understand that the foundation of a major perspective that could end poverty and extremism.
According to President Ghani, South Asia aims to find ways to Central and North Asia insisting that Afghanistan plays a key role as connective point.
This comes as a delegation of high level Afghan officials led by President Mohammad Ashraf Ghani left for Herat on Thursday evening to participate in the second leg of the inauguration project of TAPI gas pipeline.
Full report at:
https://www.khaama.com/ghani-insists-on-policy-of-connectivity-ahead-of-tapi-works-inauguration-04531
--------
Arab World
Assad regime parliament member describes people of eastern Ghouta as 'lice and rats'
23 February 2018
Nabil Saleh, a member of the Syrian parliament representing an area in the port city of Latakia, described the people of eastern Ghouta as "lice and rats" promising to "clean it up from the enemies of Islam and freedom".
Saleh said on his official Facebook page that Damascus "can no longer tolerate the lice of Ghouta", and that they will force the "Ghouta rats to return to where they belong".
Saleh's statements come amidst a wave of air strikes by Russia and the Assad regime targeting Ghouta the past few days, which caused the death of more than 400 people, including women and children.
Saleh discredited all the pictures and reports of death and destruction saying that they're fabricated, and that they are actually pictures of "Palestinian victims in occupied territories".
He called for the prosecution of all those who are against the entry of Assad regime forces into eastern Ghouta, calling it treason.
Saleh received a lot of backlash following his statements. People replied to his comment claiming that the pictures are from Palestine saying, "What you have done to Syrians is much worse than what the Zionists have done to the Palestinians".
https://english.alarabiya.net/en/News/middle-east/2018/02/23/Assad-regime-parliament-member-describes-people-of-eastern-Ghouta-as-lice-and-rats-.html
--------
Strikes pound Syria enclave as world fumbles for response
February 24, 2018
DOUM - A Syrian regime air strikes and artillery fire hit the rebel-held enclave of Eastern Ghouta for a sixth straight day Friday killing 38 civilians, as the world struggled to reach a deal to stop the carnage.More than 460 civilians, including over 100 children, have been killed in nearly a week of bombardment that has been one of the seven-year Syrian conflict's bloodiest episodes - and rescuers were searching for more bodies buried in the rubble.
The leaders of France and Germany urged Russian President Vladimir Putin, whose airforce is also striking Eastern Ghouta near Damascus, to back a 30-day truce at a UN Security Council vote.The council delayed the crunch vote by over three hours to 1930 GMT, as negotiations went into high gear to avoid a veto from Syrian regime ally Moscow, which has been calling for "guarantees" that the ceasefire would be respected by rebel fighters. "We are still working on the language, on some of the paragraphs, but we are almost there," said Kuwait's Ambassador Mansour al-Otaibi, who holds the presidency this month.Few of Eastern Ghouta's nearly 400,000 residents - mostly living in a scattering of towns across the semi-rural area east of the capital - ventured out on Friday.
An AFP correspondent in Douma, the enclave's main town, saw a handful of people stealthily crossing rubble-strewn streets to assess damage to their property or look for food and water.He said rescuers carried a young boy wounded in the eye, blood trickling down his face, to one of the town's hospitals. "Will I see again?" he asked a doctor.Death has fallen from the sky relentlessly since government and allied forces intensified their bombardment on Sunday and rocket fire soon forced everybody to run for cover.Exhausted and famished families cowered in cramped and damp basements, exchanging information on the latest casualties of the government's blitz.
Some of the only people braving the threat of more bombardment were medical staff in those hospitals still standing and rescuers sifting through the wreckage of levelled buildings.Trapped bodiesFresh strikes on Friday, by the Syria regime and its Russian ally, killed at least 38 civilians, including 11 children, the Syrian Observatory for Human Rights said. Rami Abdel Rahman, head of the Britain-based war monitor, said the strikes targeted different areas of Eastern Ghouta.The latest deaths brought to 468 the number of people killed - including 108 children - since the regime and Russia intensified their bombardment of the besieged area on February 18. More than 2,000 people have been wounded.Rebels have been firing back into the capital Damascus, where on Friday a hospital was hit, the official Syrian news agency SANA said.Diplomats at the United Nations failed to clinch Russian approval late Thursday on a resolution calling for a 30-day truce to allow for humanitarian aid and medical evacuations. They then announced that a vote would take place on Friday, but it was delayed twice amid staunch Russian resistance.Negotiations were continuing to avoid a Russia veto of the text that would establish a truce to allow humanitarian aid deliveries and medical evacuations.German Chancellor Angela Merkel and French President Emmanuel Macron wrote to Putin to ask him to back the ceasefire.
The latest text softens language in a key provision to say that the council "demands" a ceasefire instead of "decides".It also specifies that the ceasefire will not apply to "individuals, groups, undertakings and entities associated" with Al-Qaeda and the Islamic State group. A previous version simply mentioned the two groups.World leaders have expressed outrage at the plight of civilians in Eastern Ghouta, which UN chief Antonio Guterres called "hell on earth", but have so far been powerless to halt the bloodshed."The UN says it is concerned and calls for a ceasefire, France condemns, but they have given us nothing," said Abu Mustafa, one of the few civilians on the streets of Douma Friday morning."Every day we have strikes , destruction.
This would draw tears from a rock," said the 50-year-old, who was escorting a wounded person to hospital.Toothless responseThe enclave has been controlled by Islamist and militant groups since 2012. The main rebel groups in Eastern Ghouta rejected in a statement released Friday any deal that would see them or other residents relocated."We categorically reject any initiative providing for inhabitants to leave their homes and be transferred towards any other location," they said in a letter addressed to Guterres.
Full report at:
https://nation.com.pk/24-Feb-2018/strikes-pound-syria-enclave-as-world-fumbles-for-response
--------
Fates vary of foreign terrorists arrested in Iraq and Syria
24 February 2018
QAMISHLI, Syria: Iraq and Syria's Kurds have netted foreign terrorists by the thousands but while the former is expediting trials, the latter would rather send them home.
A Baghdad court on Monday sentenced Frenchwoman Melina Boughedir to seven months in prison, a term she had already served by the time she was tried.
The authorities only found her guilty of entering Iraq illegally and she will soon be able to return to France, a country which was one of the Daesh group's main suppliers of foreign fighters.
The 27-year-old is one among the thousands of foreigners suspected of having fought for or supported terrorist groups, more or less directly, over the past years.
Iraq, which has detained at least 560 women, as well as 600 children identified as terrorist or relatives of suspected Daesh fighters, is wasting no time in putting them on trial.
In January, a court sentenced a German woman to death on charges of providing logistical support to Daesh and on Sunday a Turkish woman was also handed the death penalty.
France so far has ignored appeals by families and lawyers advocating repatriations and said it supported the idea of its nationals detained in Iraq and Syria being tried there.
Paris has said it would only intervene if death penalties were handed down. Iraq is one of the countries in the world that carries out the most executions.
Most countries, especially in Europe where a string of deadly attacks has had a major impact on public opinion, do not want to see those detained nationals return on their soil.
There appears to be little ambivalence in Iraq over the fate of the foreign fighters and their families.
"These people have killed, put women into slavery... They have committed war crimes on Iraqi soil, and Iraqi law prevails," said the main spokesman of Iraq's judiciary, Abdel Sattar Bayraqdar.
Across the border, the Syrian Kurds have more misgivings.
"We have arrested thousands of foreign jihadists and we still capture some every day," Redur Khalil, a senior spokesman, told AFP in the Kurdish region of Syria.
Khalil is an official in the People's Protection Units, a group which formed the backbone of an outfit that was the US-led coalition's main ground partner in the fight against Daesh in Syria.
"We want foreign jihadists to be tried in their home countries," he said.
The Kurdish forces have more immediate priorities, such as fending off a Turkish military offensive on the enclave of Afrin.
The Kurdish administration in northeastern Syria is self-proclaimed, which leaves many legal question marks hanging over its dealing with foreign states over such an issue.
The semi-autonomous region is led by a de facto government and elections are due for its Parliament but its fledgling institutions are not recognized internationally.
"According to which law can we sentence them?" Khalil asked, adding: "We don't have big prisons."
Abdul Karim Omar, a senior official in one of the three cantons of the autonomous Kurdish territory, said a bilateral deal had been reached with Indonesia and Russia, calling for others to follow suit.
"We wish to deliver these prisoners to their countries," he told AFP.
But after being held up as the heroes of the war against Daesh, Syria's Kurds face the risk of isolation on the international scene and appear ready to accommodate some of the states least willing to take back their terrorists.
"If it's not possible to deliver them, we will put them into court here," Omar said.
Sentences in Syrian Kurdish courts go up to 20 years in jail for terrorism-related charges but can be reduced.
The families of and lawyers of some of the detained foreign terrorists have voiced concern that these foreign detainees will turn into bargaining chips in geopolitical horse-trading.
Full report at:
http://www.arabnews.com/node/1253191/middle-east
--------
Syria: Terrorist Groups Battling over Western Aleppo Towns
Feb 23, 2018
According to pro-opposition activists, the Syrian Tahrir Front launched an attack on Tahrir Al-Sham Hay'at's positions in Kafr Naha in Western Aleppo.
The attack resulted in a series of fierce clashes between the terrorist groups, but with no change in the ground situation.
The two terrorist groups also clashed near the town of Dar al-Izzah, with Syria's Tahrir Front also leading the attack against Tahrir Al-Sham Hay'at.
Earlier reports said that at least 40 terrorists were killed and several more were wounded in fierce cashes between two main groups in the provinces of Aleppo and Idlib.
Syria's Tahrir Front stormed the positions of Tahrir al-Sham Hay'at and captured the towns of al-Naqir, Abedin, Harash al-Habit and al-Qasabiyah and several villages in Jabal al-Zaviyeh and Jabal Shahshahbo regions.
In the meantime, Tahrir al-Sham drove the rival terrorist group out of the towns of Batbo and Kafr Naseh in Western Aleppo and kept its gunmen on alert near the towns of Dar al-Izzah, Khan al-Asal and Tadil to launch attack on the positions of Syria's Tahrir Front.
Full report at:
http://en.farsnews.com/newstext.aspx?nn=13961204000828
--------
Syrian Army Grants Amnesty to Tens of Militants in Homs, Aleppo
Feb 23, 2018
A sum of 135 militants that had handed over their weapons to relevant officials received government amnesty in the towns of Talbiseh and al-Rastan and in some regions in Homs City's outskirts
In the meantime, Damascus granted amnesty to over 150 gunmen that left their positions in regions near the town of Manbij in Northeastern Aleppo.
Dissident-affiliated websites reported earlier this month that reconciliation talks were underway between Damascus and representatives of militant groups over affiliation of more regions in Eastern Qalamoun region to the nationwide peace plan.
The news websites reported that preliminary agreement was reached for the implementation of a peace plan in Eastern Qalamoun after the representatives of militants, the Syrian Army commanders and a sum of civilians met in the town of al-Rahibeh.
Full report at:
http://en.farsnews.com/newstext.aspx?nn=13961204000533
--------
Tens of Terrorists Killed in Heavy Infighting in Northern Syria
Feb 23, 2018
Syria's Tahrir Front, formed after the merger of Ahrar al-Sham and Nouralddeen al-Zinki terrorist groups, stormed the positions of Tahrir al-Sham Hay'at (the Levant Liberation Board or the Al-Nusra Front) and captured the towns of al-Naqir, Abedin, Harash al-Habit and al-Qasabiyah and several villages in Jabal al-Zaviyeh and Jabal Shahshahbo regions.
In the meantime, Tahrir al-Sham drove the rival terrorist group out of the towns of Batbo and Kafr Naseh in Western Aleppo and kept its gunmen on alert near the towns of Dar al-Izzah, Khan al-Asal and Tadil to launch attack on the positions of Syria's Tahrir Front.
Field sources said that at least 40 militants from both warring sides, including Commander of Tahrir al-Sham Hay'at Abu Moslem Souran, were killed and several more were wounded in the infighting.
In a relevant development on Thursday Syria's Tahrir Front, formed after the merger of Ahrar al-Sham and Nouralddeen al-Zinki terrorist groups, stormed massively the positions of the Tahrir al-Sham Hay'at in al-Sa'adiyeh near the town of Orum, Boyouti region and al-Mahmoud checkpoint in Western Aleppo.
They further said that Syria's Tahrir Front managed to drive rival groups out of the town of Batbo in Western Aleppo and the town of Tarmala in Southern Idlib, heading towards Dar al-Izzah region.
Full report at:
http://en.farsnews.com/newstext.aspx?nn=13961204000516
--------
Kurdish Fighters to Deliver Key Town in Northern Aleppo to Syrian Army
Feb 23, 2018
The Arabic-language website of Sputnik quoted a security source as saying that the Syrian Army will enter the town of Tal Rifat in Northern Aleppo in coming hours.
It went on to say that according to an agreement between the Damascus forces and the Kurdish People's Protection Units (YPG), the Kurds will hand over Tal Rifat to the army men.
The Arabic-language al-Mayadeen news channel reported on Thursday that the Kurdish People's Protection Units (YPG) delivered control of the Eastern districts of Aleppo, including Sheikh Maqsoud, al-Halak and Bustan Pasha, after coordination with the Syrian army.
Also, certain Syrian sources reported that the Syrian army units have entered Sheikh Khazar, al-Ashrafiyeh and al-Heidariyeh neighborhoods.
They added that the Syrian flag has been hoisted above those neighborhoods, adding that delivering control of the East Aleppo districts to the army was in line with implementing the agreement between the Kurds and the Syrian government on Afrin.
The Syrian and Kurdish officials have not confirmed the reports yet.
The development came after a YPG spokesman underlined that the Syrian army forces have been called to Afrin to end the Turkish army occupation and aggression.
"Deployment of a part of the Syrian army forces in Afrin is aimed at confronting the Turkish government attacks," Nouri Mahmoud was quoted as saying by the Kurdish media on Wednesday.
He stressed that the world admitted the Syrian army's high capabilities, and said, "They are responsible for protecting the Syrian territories and therefore, their presence is aimed at defending Syria's territorial integrity."
Mahmoud confirmed that a number of Syrian army forces were deployed in Afrin on Tuesday at the Kurds' demand.
Meantime, pro-Damascus popular forces entered the Kurdish-held town of Afrin, as Ankara said its forces have prevented the popular forces from entering Afrin in Northwestern Aleppo.
Al-Mayadeen TV reported that the Damascus-affiliated popular force have entered the town of Afrin via the Ziyareh passageway after leaving the towns of Nubl and al-Zahra.
It went on to say that the Turkish army's artillery units and Air Force pounded the movements and positions of the popular forces in Kafin region to prevent them from entering Afrin, adding that the popular forces launched retaliatory attack on the Turkish troops and destroyed one of their drones.
Full report at:
http://en.farsnews.com/newstext.aspx?nn=13961204000391
--------
Mideast
Could little-known Turkish party offer Islamist alternative to Erdogan's AKP?
Mustafa Akyol
February 23, 2018
For outside observers, Turkey's Saadet (Felicity) Party is hardly a matter of interest. Since the Islamist party's founding in 2001, its mandate has never risen above 2% of the national vote. However, in Turkey's ever fluid politics, Saadet is gaining a new importance that may prove politically significant. It could present a more moderate Islamic alternative to President Recep Tayyip Erdogan and his ruling Justice and Development Party (AKP).
The idea may sound odd, because in the early 21st century, it was not Saadet but the AKP that was the more moderate face of Turkey's political Islam. Both parties were rooted in Turkey's old school Islamism, which was led for decades by the late Necmettin Erbakan. Erbakan had always promoted a pan-Islamic foreign policy and a "just order" at home with Islamist themes such as an "interest-free" economy. When Erbakan's coalition government was forced from power by the military in 1997, however, the reformist wing of his party broke up and founded the Justice and Development Party in 2001. It came to power only a year later and dominates Turkish politics to date. Meanwhile, Erbakan loyalists gathered in the Felicity Party, which survived as a small and dull vestige of the old Islamist line.
However, things have changed in Turkey quite dramatically in the past few years. The AKP abandoned the reformism of its early years, clung to power and began to establish an authoritarian regime, particularly after the failed coup of June 2016. Saadet, to its credit, did not join this drive. Quite the contrary, especially under its new leader Temel Karamollaoglu — a 77-year-old, mild-tempered, smiling engineer turned politician — Saadet began to voice a mild opposition, with Islamic references, to Erdogan and his government.
One the themes Karamollaoglu repeatedly emphasizes is the blatant injustice of the post-coup crackdown. "Foundations are being closed down, scholars are being arrested," he recently tweeted. He added, "What is their crime? To be in the opposition, to criticize the government." Over the past year, Karamollaoglu has raised many similar criticisms toward the government's authoritarianism and intentional deepening of the polarization of society, giving him sympathetic ears in the mainstream media and even secularist newspapers such as Sozcu.
Another rising Saadet star is Ali Aktas, a lawyer from Antalya who heads the party's political affairs. He recently became famous for a legal case in which he freed more than 1,000 people from jail. All these people had been arrested because of using a coded online chat application called ByLock. The government claims that the app was specifically designed and used by followers of exiled cleric Fethullah Gulen for covert communications about various crimes, including the failed military coup. Aktas proved that more than 11,000 people had downloaded the ByLock app to their phones inadvertently, rendering the accusations against them invalid, even by Turkey's current legal standards. This incident, which attracted little notice outside of Turkey, was hailed in the Turkish media as a legal victory against at least some of the excesses of the nationwide purge.
Since then, Aktas has become one of the public faces of Saadet, emphasizing that the party stands for justice and virtue rather than revenge and power. His calls include themes like making peace with secularists, ending Turkey's toxic polarization and establishing freedom and justice for all.
One should be clear: Saadet is not a party with a liberal worldview, and it certainly has very conservative values about social life. It is suspicious toward the West and is coming from a political tradition with unmistakably anti-Semitic tones. But the party ideology seems to be changing for the moderate. More importantly, it has the potential to appeal to a broader segment of religious conservatives and give them a new political language.
This is a crucial matter, because the continued electoral successes of Erdogan and his AKP are made possible mainly by their unbreakable bond with Turkey's religious conservatives, which make up at least half of society. Before the AKP, this religious majority was often marginalized, ridiculed and at times oppressed by Turkey's old elite, the secularists who followed the footsteps of Turkey's founder, Mustafa Kemal Ataturk. Erdogan is the only leader in a century to successfully overthrow the old guard and win his base power, wealth, glory and even revenge. Many conservatives are now intoxicated with this newfound power, and they are devoted to supporting the leader who made this possible.
Yet some religious conservatives are discontent with becoming just like the elite they defeated and worry that Turkey's growing isolation from the West will cost it economically. According to various observers, this more educated segment of conservatives explains why Erdogan got far fewer votes than he hoped for in the April 2017 referendum for sweeping constitutional amendments.
These disaffected religious conservatives may be wary of the AKP, but they will never vote for its secular rivals, such as the main opposition Republican People's Party. But Saadet may be the venue to attract them and sway the 2019 elections, suggested Mehmet Ali Kulat, a religious conservative himself who runs a polling company.
There is even speculation that former President Abdullah Gul may ally himself with Saadet and run against Erdogan in 2019 as Saadet's presidential candidate. It could be a game-changer, for Gul is still very prestigious among moderate religious conservatives as well as other segments in society.
In any case, "the end of history" has not yet come for Turkey, and there are new possibilities on the horizon. Saadet seems to have major potential to become a pivotal actor, if used wisely.
https://www.al-monitor.com/pulse/originals/2018/02/turkey-felicity-party-moderate-islamic-opposition-erdogan.html
--------
Turkey raps Dutch envoy over Armenian 'genocide' vote
February 24, 2018
ANKARA (AFP): Turkey on Friday summoned the Dutch charge d'affaires to condemn the vote by lawmakers in the Netherlands to recognise as "genocide" the massacre of Armenians under the Ottoman Empire.The Dutch diplomat was called to the foreign ministry in Ankara, which "condemned" the parliament's vote, a ministry official told AFP. Thursday's vote saw MPs voting 142 to 3 in favour of the proposal that the parliament refer to the massacre as "the Armenian genocide".
Armenians have long sought recognition that some 1.5 million of their people were killed in a genocidal campaign in World War I by Ottoman forces - ordered by Minister of War Enver Pasha and other top officials - to wipe them out in Anatolia. But Turkey insists similar numbers of Muslims and Armenians were killed in a collective tragedy during the conflict and has always strongly resisted pressure to recognise that any genocide took place.
Acting Dutch Foreign Minister Sigrid Kaag quickly tempered the motion, saying even though the ruling four-party coalition voted for the motion, the government will "restrain" itself.Ankara "strongly" condemned the move, with Foreign Minister Mevlut Cavusoglu on Friday noting the "populist" decision was "not binding in any way" and saying it was a reflection of the increasing "racism, anti-Turkish sentiment and Islamophobia" in Europe.Cavusoglu said the decision was "very, very wrong" and based on "limited information".Turkey's EU Affairs Minister Omer Celik also condemned the decision, describing it as "null and void" but adding, like Cavusoglu, that Ankara "took note" of the Dutch government's position.
Full report at:
https://nation.com.pk/24-Feb-2018/turkey-raps-dutch-envoy-over-armenian-genocide-vote
--------
Arab Coalition intercepts two Houthi ballistic missiles targeting Marib
23 February 2018
The Arab Coalition defense systems intercepted two ballistic missiles fired by the Houthi militia towards Marib on Friday, an Al Arabiya reporter confirmed.
In the past few days, the coalition carried out air raids in Saada targeting Houthi checkpoints which caused the death and injury of tens of militiamen, including field commanders.
Coalition raids also destroyed other Houthi checkpoints in the city of Saqen and in southern Saada which lead to the death of 15 militiamen including the checkpoint commander, Taha Tawus.
Full report at:
https://english.alarabiya.net/en/News/gulf/2018/02/23/Arab-Coalition-intercepts-two-Houthi-ballistic-missiles-targeting-Marib.html
--------
Yemeni army gains control over Qaeda strongholds in Hadhramaut
23 February 2018
With the help of the Arab Coalition, the Yemeni national army has gained full control of an al-Qaeda stronghold, Wadi al-Misini, west of Mukalla city in Hadhramaut governorate.
The army killed nearly 20 armed members from the organization and arrested several others during the operation.
The commander of the elite brigade, Brigadier Mounir Karama al-Tamimi, said on Thursday that the armed forces found large quantities of ammunition, IEDs and explosives in the terrorist organization's hideouts.
Full report at:
https://english.alarabiya.net/en/News/gulf/2018/02/23/Yemeni-army-gains-control-over-Qaeda-strongholds-in-Hadhramaut.html
--------
Turkish military not avoiding civilians in strikes against Syria's Afrin: HRW
Feb 23, 2018
Human Rights Watch has criticized the Ankara government's ongoing cross-border offensive in Syria's northwestern region of Afrin against the Kurdish People's Protection Units (YPG), stating that the Turkish military has failed to adopt necessary measures to avoid civilian casualties.
The New York-based group, in a statement released on Friday, pointed to three attacks in the Afrin region in late January, stating that they claimed the lives of 26 civilians, including 17 children.
It also called upon Turkey to thoroughly investigate these strikes, and then publicize the findings.
Also on Friday, the YPG accused Turkish military forces of bombing a convoy of civilians crossing into Afrin to protest Turkey's offensive.
The US-backed Kurdish militants said the attack left scores of people wounded, who were taken to hospitals in Afrin for treatment.
Syria's state-run television reported late on Thursday that Turkish artillery units had hit an Afrin-bound aid convoy, inflicting casualties.
Ankara views the YPG as the Syrian branch of the militant Kurdistan Workers' Party (PKK) that has been fighting for an autonomous region inside Turkey since 1984.
Turkish President Recep Tayyip Erdogan has repeatedly said that Afrin should be cleared of "terrorists," and demanded the deployment of Turkish troops there during a speech back in November 2016.
This is while US officials regard the YPG as the most effective fighting force against the Daesh Takfiri terrorist group in northern Syria, and have substantially increased their weaponry and technology support to the terrorist group.
The controversy over a possible Syria border force first started on January 14 when a report emerged on Reuters saying that the military coalition led by the United States in Syria was planning to set up a large border force of up to 30,000 personnel with the aid of its militia allies.
The Syrian government has already condemned the "brutal Turkish aggression" against Afrin, rejecting Ankara's claim about having informed Damascus of the operation.
Damascus "strongly condemns the brutal Turkish aggression on Afrin, which is an inseparable part of Syrian territory," Syria's official news agency, SANA, cited a Syrian Foreign Ministry source as saying on January 20.
Full report at:
http://www.presstv.com/Detail/2018/02/23/553344/Turkey-Afrin-civilians-Syria
--------
Palestinian protesters throw eggs at US politicians visiting Ramallah
Feb 23, 2018
Palestinian demonstrators have pelted a group of US politicians visiting the occupied West Bank with eggs to show their anger at Washington's hostile policies against their nation and in favor of the Israeli regime.
On Thursday, dozens of Palestinians gathered outside a research and polling center near Ramallah, where an American delegation, including New York City Council members and civil society groups, was visiting.
"America is the head of the snake" and "Americans are not welcome in Palestine," the protesters chanted as they tried to force their way into the offices of the center. Others chanted, "Jerusalem (al-Quds) is the capital of Palestine."
Upon leaving the venue, the visitors were pelted with eggs and vegetables by the crowd of protesters, who also chased their bus. The delegation had to be evacuated from the city by Palestinian police forces.
The demonstrators were waving Palestinian flags and holding anti-American signs that read, "The US is part of the problem, not the solution."
Other banners called for the removal of Israeli settlements from occupied territories and used the slogan "#HandsOffJerusalem."
Palestinians are angry at a US decision last December to recognize Jerusalem al-Quds as the "capital" of Israel.
Since then, Ramallah-based Palestinian officials have been refusing to meet with representatives of US President Donald Trump's administration.
Trump's pro-Israel policy shift on Jerusalem al-Quds also promoted President Mahmoud Abbas to officially announce that Palestinians would no longer accept Washington as an honest mediator in any future Israeli-Palestinian talks on a so-called two-state solution to their decades-long conflict.
One of the protesters, Salah al-Khawaja, said he had come to show his opposition to Trump's declaration on Jerusalem al-Quds.
"Today there was a reaction from the Palestinian people and popular activists, a reaction to this dishonorable and awful reception" by the polling company, Khawaja said.
Jamal Juma'ah, one of the organizers, also said the rally is meant to send a message to the Americans that they are "unwelcome in Palestine."
He slammed the US administration for "publicly endorsing the Zionist project," stressing, "There's no place for Americans in Palestine."
A similar incident occurred in Bethlehem last month, in which demonstrators disrupted a meeting between US diplomats and the chamber of commerce in the city of Bethlehem.
Demonstrators protesting Trump's policy on Jerusalem al-Quds threw tomatoes at the representatives of the US consulate in Jerusalem al-Quds.
Israel occupied the West Bank and East Jerusalem al-Quds during the Six-Day War in 1967. In a move not recognized by the international community, the regime later annexed East Jerusalem al-Quds, which is sought by Palestinians as the capital of their future state.
Palestinians want the resolution of the conflict with Tel Aviv based on the so-called two-state solution along the pre-1967 boundaries.
Full report at:
http://www.presstv.com/Detail/2018/02/23/553312/Palestine-protest-US-delegation-West-Bank-Ramallah-US-President-Donald-Trump-Jerusalem-alQuds
--------
India
India-bound TAPI gas pipeline breaks ground on Afghan section
Feb 23, 2018
SERKHETABAT (Turkmenistan): Turkmenistan, Afghanistan, Pakistan and India on Friday ceremonially broke ground on the Afghan section of an ambitious, multi-billion dollar gas pipeline expected to help ease energy deficits in South Asia.
Afghan President Ashraf Ghani and Turkmen counterpart Gurbanguly Berdymukhamedov joined Pakistani premier Shahid Khaqan Abbasi and India's minister of state for external affairs MJ Akbar for the ceremony at gas-rich Turkmenistan's border with Afghanistan. Dignitaries including diplomats from the foreign missions in Turkmenistan were greeted by Turkmen national songs and traditional nomadic tents serving up food on an overcast day at the border post of Serkhetabat, once the southernmost tip of the Soviet Union.
Speaking at the ceremony, Ghani said the pipeline would "unite (the) countries" in quotes translated into Russian for reporters at the ceremony.
"There were pessimistic voices, but now we are witnessing the construction of the TAPI gas pipeline," said Ghani, using the acronym for the conduit which takes its name from the four countries.
The quartet aims to complete the 1,840-kilometre (1,143-mile) pipeline and begin pumping natural gas from Turkmenistan's giant Galkynysh gas field by the beginning of 2020.
While the pipeline will traverse war-wracked Afghanistan, raising security concerns, the bulk of the 33 billion cubic metres of gas to be pumped annually through the conduit will be purchased by South Asian rivals Pakistan and India.
Turkmen strongman Berdymukhamedov, whose country currently depends heavily on China as a market for its natural gas exports, called diversification of gas deliveries an "important part of the politics" of the isolated Central Asian country.
And he said work on the Turkmen section of the pipeline was still ongoing.
India's commitment to the pipeline has previously been questioned over its relationship with Pakistan and easy-access to liquified natural gas markets seen as potential stumbling blocks.
But MJ Akbar hailed the project as "a symbol of our goals" and "a new page in cooperation" between the four countries in a speech at the ceremony today.
The overall funding picture for the mammoth gas pipeline remains unclear, with commercial energy giants such as France's Total failing to follow up on reported interest in the project.
Turkmenistan sits on the world's fourth-largest gas reserves but lost a major buyer in Russia after Russian energy giant Gazprom wound down imports of Turkmen gas and then ceased purchases completely in 2016.
Heavy security will guard the pipeline construction through war-weary Afghanistan, AP quoted Jelani Farhad, spokesman for the Herat provincial governor's office as saying.
"It's a golden day for Afghanistan today," Farhad said. "It will help our economy and create thousands of jobs."
The United States has advocated the pipeline as a source of much needed gas to all three countries over an alternative pipeline, which is also being negotiated, bringing gas from Iran through Pakistan and into India.
Security has been a leading concern leading up to the inauguration but Farhad said Afghanistan has devised a detailed security plan to protect the pipeline construction as well as the pipeline.
Taliban spokesman Zabihullah Mujahid told the AP in a telephone interview that the religious movement was ready to guarantee the pipeline's security. "We are ready to protect TAPI. It is good and important and vital for the economy of Afghanistan," he said, noting the pipeline had been under consideration during the Taliban rule that ended in 2001.
The pipeline will carry gas from Turkmenistan to Pakistan and India through Afghanistan's Herat, Farah, Helmand and Nimroz provinces.
Afghan president Ghani said the next big project being readied is the laying of Afghanistan's first railway tracks, from the Turkmenistan border to Iran. He added he hoped the pipeline would signal the start of better regional cooperation.
https://timesofindia.indiatimes.com/india/india-bound-tapi-gas-pipeline-breaks-ground-on-afghan-section/articleshow/63049786.cms
--------
India, Canada on same page on Maldives, Afghanistan
Feb 23, 2018
NEW DELHI: The political crisis in Maldives, the Afghanistan situation and the freedom of navigation in the Indo-Pacific was discussed during talks between Prime Minister Narendra Modi and Canadian counterpart Justin Trudeau, with the two sides having a convergence of views on these issues.
A joint statement, issued after wide-ranging talks between Modi and Trudeau, said the two leaders expressed "strong concern"over the recent developments in Maldives and their implications for a free society.
They also "deplored the degradation" in Maldives of judicial independence and authority and of democratic institutions, as well as respect for fundamental freedoms, including those of speech and Assembly, constitutional rights and obligations under international law.
"The Government of Maldives was urged to ensure early resumption of the political process after revoking the state of emergency and to allow democratic institutions, including the judiciary, to function independently in a fair and transparent manner," the statement said.
Modi, at a joint press event after his extensive talks with visiting leader, said he discussed with Trudeau pressing regional and global issues.
The two sides were on the same page on the need to restore independence of democratic institutions in Maldives, freedom of navigation in the Indo-Pacific and issues of non-proliferation related to North Korea, he said.
Yesterday, the Maldivian Parliament accepted President Abdulla Yameen's recommendation to extend the state of emergency by another 30 days.
Ever since the declaration of emergency in the island nation on February 5, the archipelago has plunged into a political crisis. Many leaders and even the chief justice have faced arrest.
India has been critical of the emergency declared by Maldives.
Modi and Trudeau also welcomed the continuation of uranium exports from Canada for peaceful use of civil nuclear power. In 2015, Canada had signed an agreement with India to supply nuclear fuel for a period of five years, the statement said.
The two sides agreed to expand the ongoing "mutually-beneficial civil nuclear cooperation" by developing collaboration in nuclear science and technology.
The leaders welcomed the signing of an agreement between the Department of Atomic Energy and the Department of Natural Resources Canada.
The leaders also expressed their strong concern over the prevailing security situation in Afghanistan and noted that terrorist activities pose a grave threat to peace, security and stability of Afghanistan and the region.
They called for immediate cessation of violence, renunciation of links with international terrorism and dismantling of infrastructure of support to terrorism from across borders of Afghanistan, the statement said.
"Both sides reaffirmed their support to the government and the people of Afghanistan in their efforts to achieve an Afghan-led, Afghan-owned and Afghan-controlled national peace and reconciliation process and build a peaceful, secure, united, democratic, prosperous and pluralistic nation," it said.
Modi and Trudeau reaffirmed the importance of lawful commerce and the freedom of navigation and over-flight throughout the Indo-Pacific region, in accordance with international law, including the rights and jurisdiction of states under United Nations Convention on the Law of the Sea (UNCLOS).
Canada is a Pacific rim country while India is prominent player in the Indian Ocean.
The leaders supported bolstering regional connectivity through transparent development of infrastructure and use of responsible debt financing practises, while ensuring respect for sovereignty and territorial integrity, the rule of law and environment, the statement said, in a veiled reference to the One Road One Belt initiative of China.
Modi also thanked Trudeau for Canada's support for India's accession to the Missile Technology Control Regime (MTCR), Wassenaar Arrangement and the Australia Group.
Trudeau also reaffirmed Canada's strong support for India's membership bid for the Nuclear Suppliers Group.
Trudeau and Modi also discussed the humanitarian and security crisis in the Rakhine state of Myanmar and across the border in Bangladesh.
India and Bangladesh have been facing an influx of the Rohingya refugees from Myanmar ever since the escalation of violence in the Rakhine state.
Canada and India called for the voluntary, safe and sustainable return of the people displaced, while stressing the importance of ensuring law and order and respect for human dignity in this process.
The joint statement said the two leaders recognised that North Korea's continued enhancement of its nuclear and ballistic missile programme poses a "grave threat to regional security and global peace".
Modi and Trudeau also called on North Korea to abide strictly by its international obligations and commitments.
Full report at:
https://timesofindia.indiatimes.com/india/india-canada-on-same-page-on-maldives-afghanistan/articleshow/63047716.cms
--------
Southeast Asia
AFP Honing Urban Warfare Skills As Jihadists Seek New PH Base
February 24, 2018
Months after being routed from Marawi City, jihadists are waging a fresh and deadly bid to set up a Southeast Asian caliphate in the same region, the military warned Friday.
The gunmen have mustered a force of about 200 and fought a series of skirmishes with the security forces this year after government forces retook Marawi last October, Colonel Romeo Brawner told AFP.
"They have not abandoned their objective to create a caliphate in Southeast Asia," said Brawner, deputy commander of Joint Task Force Ranao that has since been protecting Marawi.
"Mindanao is the most fertile ground," he said, referring to the Philippine southern region. "Our countrymen are more vulnerable (to recruitment)."
Struggling with widespread poverty and armed Muslim insurgencies seeking independence or self-rule, Mindanao must improve poor supervision of Islamic schools or madrasas where most young gunmen are recruited, he added.
He said the armed forces are retooling to meet the challenge of the Maute group, which occupied Marawi over five months and has pledged allegiance to Islamic State group.
Gunmen who escaped during the early days of the US-backed operation to recapture Marawi are leading the recruitment effort, flush with cash, guns and jewelry looted from the city's banks and private homes, Brawner said.
The recruits are mostly locals, but an unspecified number of Indonesians, some with bomb-making skills, have recently arrived there, he said.
Honing skills
Maute gunmen murdered three traders in the town of Piagapo, near Marawi, in November. The military killed three jihadists in Pantar, another neighboring town on February 8, while police last month arrested three suspects over the Piagapo merchant killings.
The military also reported skirmishes with Maute gunmen in the towns of Masiu and Pagayawan near Marawi last month.
"From our experience from the Marawi siege, we are preparing for another urban warfare. In the eventuality that something similar to Marawi City happens, we should be ready," Brawner told a Palace news briefing.
"So from the lessons that we learned, we are now rewriting our doctrines. We are now reorganizing our units. We are reequipping and retraining. From the side of the Armed Forces, handa kami (we are ready) for another Marawi siege whether it happens in Marawi or elsewhere," he added.
Brawner appealed to groups including the Moro Islamic Liberation Front (MILF) to cooperate with government efforts to combat terrorism and violent extremism.
'We are banking on the MILF to help us with this. They said they do not believe in violent extremism so we hope we'll work together in the advocacy against violent extremism, terrorism and radicalism," he said.
Martial law very effective
Brawner said the rebuilt Maute forces currently "do not as yet have the capability to launch another attack like what they did in Marawi," though he added this could change.
In May last year, President Duterte placed Mindanao under martial law following the Marawi siege. It has since been extended until December, 2018, a move which the Supreme Court ruled as constitutional to thwart lingering security threats.
Brawner said Marawi City is considered relatively "safe and secure" since the Marawi battle ended.
He said the martial law implementation has been "very effective" to help keep peace and order in Marawi City and nearby areas. "There are almost no cases of murder, homicide or other killings within Marawi City and Lanaodel Sur. Of course, that is not including the rido," he said.
Brawner said only 60 percent of the city has been cleared of unexploded ordnance and other improvised bombs left by the rebels.
He said they hope to complete the clearing operations by April when the massive development of the city would begin.
https://news.mb.com.ph/2018/02/24/afp-honing-urban-warfare-skills-as-jihadists-seek-new-ph-base/
--------
Government troops ready to battle extremists
February 23, 2018
Government troops ready to battle extremists | SunStar Skip to main content SunStar MANILA Sat, February 24, 2018 HOME LOCAL NEWS BUSINESS OPINION SPORTS FEATURE LIFESTYLE ENTERTAINMENT HOME / MANILA / LOCAL NEWS / GOVERNMENT TROOPS READY TO BATTLE EXTREMISTS Time to read 1 minute Share 30 0 Print a- a+ Read so far 54% Government troops ready to battle extremists Friday, February 23, 2018 By RUTH ABBEY GITA GOVERNMENT troops are prepared to battle extremists, who are purportedly plotting to stage another attack in another southern Philippine city, a military official assured the public on Friday, February 23. Joint Task Force deputy commander Colonel Romeo Brawner said in a press conference that they were not discounting the possibility that terrorists who survived the war in Marawi last year might launch another offensive against the state forces. "From our experience from the Marawi siege, we are preparing for another urban warfare. In the eventuality that something similar to Marawi City happens, we should be ready," he told Palace reporters. "So from the lessons that we learned, we are now re-writing our doctrines, we are now reorganizing our units. We are re-equipping and re-training. So from the side of the armed forces, we are ready for another Marawi siege. Whether it happens in Marawi or elsewhere," he added. Moro Islamic Liberation Front (MILF) chief Al-Hajj Murad Ebrahim earlier said Jihadist fighters inspired by the Islamic State (IS) terrorist organization tried but failed to lay siege to either Iligan or Cotabato City after failing to establish a caliphate in Marawi City, an Islamic city in Lanao del Sur that was left in ruins following the five-month armed conflict between the Maute group and government forces. Brawner admitted that the defeated terrorists are finding ways to recruit new members to enable them to carry out another deadly siege similar to that in Marawi. He also said that while Marawi City is "relatively safe and secure," areas outside the war-ravaged city are being targeted by remnants of the Maute Group. Based on military assessment, however, the militants are not yet capable of infiltrating another city, the military official said. "As far as Marawi City is concerned, it is relatively safe and secured. But outside Marawi City, especially around Lanao Lake, since January, we have had three encounters already. All of these [are] against believed members of the Maute-ISIS," Brawner said. "As of now, based on our assessment on the ground, they cannot carry out another attack like what they did in Marawi City," he added. Following Murad's warning, Brawner expressed hoped that the MILF chief's group would continue helping the government in its advocacy to counter violent extremism and radicalism. "Of course, we are banking on the MILF to help us with this. They said that they do not believe in violent extremism. So we hope that they can help us in our campaign or advocacy against violent extremism, terrorism, and radicalism," he said. President Rodrigo Duterte has placed the entire Mindanao under martial law until December 31, 2018 to allow the Philippine government troops to "completely quell and put an end to the ongoing rebellion in Mindanao and prevent the same from escalating to other parts of the country." (SunStar Philippines) Read more: http://www.sunstar.com.ph/manila/local-news/2018/02/23/government-troops-ready-battle-extremists-590433 Follow us: @sunstaronline on Twitter | SunStar Philippines on Facebook
http://www.sunstar.com.ph/manila/local-news/2018/02/23/government-troops-ready-battle-extremists-590433
--------
South Korea's SK group to open regional base in Malaysia
February 23, 2018
KUALA LUMPUR -- South Korea's SK group will set up a regional headquarters in the Malaysian capital as a springboard to expansion in Southeast Asia, India and the Middle East.
The group, which controls top South Korean wireless carrier SK Telecom, on Friday signed a memorandum of understanding with the Malaysian government on exploring investment opportunities in fields including fifth-generation wireless communications, oil and gas, green technology and smart cities.
The Kuala Lumpur base will be the group's second regional head office, after one in Beijing.
"It is the first step to show our intention and ambition," SK group Chairman Chey Tae-won told reporters after the signing.
The memorandum is valid for a year but actual investments could come through sooner, a Malaysian government official hinted.
SK Telecom holds a minority stake in Telekom Malaysia's mobile service operator webe, while other group companies have established long-term relationships in Malaysia, buying crude oil and liquefied natural gas from state-run Petronas.
Unlike its office in Beijing, which was opened in 2004 specifically for investment in China, SK group said its Kuala Lumpur headquarters will pursue opportunities not only in Malaysia but other markets as well. The group sees the Muslim-majority country as a gateway to the Islamic world.
The expansion drive is seen as an attempt to overcome a major setback in China, which came as diplomatic relations between Seoul and Beijing soured. In 2016, China excluded electric vehicles loaded with SK Innovation and other South Korean batteries from a subsidy program, apparently in retaliation for the South Korean government's deployment of the U.S. anti-missile system known as Terminal High Altitude Area Defense, or THAAD.
SK group did not reveal its investment target for the new endeavors but suggested it could exceed the $10 billion in asset value accumulated in China.
SK Telecom and another unit, SK Holdings, also sealed a deal with Cyberview, a Malaysian state-owned technology company. The South Korean side is looking at ways to improve infrastructure in the Malaysian town of Cyberjaya, a tech hub spearheading the country's development of big data analytics and artificial intelligence. The SK companies have said they are prepared to share their latest technologies, including 5G wireless and self-driving vehicles.
'Chaebol' seeks growth beyond China after setback during THAAD spat
CK TAN, Nikkei staff writer
SK group will also look into investments in Rapid, a local refinery and petrochemical complex being built by Petronas.
South Korea was Malaysia's fifth-largest source of foreign direct investment in 2016, pouring 2.2 billion ringgit ($564 million) into the manufacturing sector. The push by SK group -- South Korea's second-largest conglomerate by market capitalization -- also comes as doubts build over its own country's growth prospects.
Full report at:
https://asia.nikkei.com/Business/Companies/South-Koreas-SK-group-to-open-regional-base-in-Malaysia
--------
URL: https://www.newageislam.com/islamic-world-news/pakistan-back-terror-financing-watchlist/d/114401
New Age Islam, Islam Online, Islamic Website, African Muslim News, Arab World News, South Asia News, Indian Muslim News, World Muslim News, Women in Islam, Islamic Feminism, Arab Women, Women In Arab, Islamophobia in America, Muslim Women in West, Islam Women and Feminism