New Age Islam News Bureau
19 Jun 2014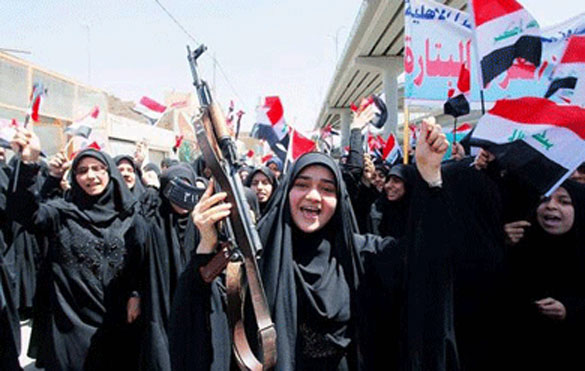 Iraqi Shia women shout slogans supporting the Iraqi army in Najaf
---------
Pakistan
• Pakistan: 1 Lakh Flee Tribal Belt As Military Operation Continues
• Zarb-i-Azb Operation: 23 Militants Killed In Fresh Strikes
• Operation Zarb-i-Azb Requires National Unity: PM
• SC orders formation of national council for minorities' rights
• Maulana Fazl ur Rehman calls on PM to discuss Lahore clash and N Waziristan
• Twitter unblocks controversial content in Pakistan
• Imran to support Dr Qadri's push against 'fascism'
Arab World
• Iraq Officially Asks US to Carry Out Air Strikes on Sunni Jihadists
• 6 ISIL elements killed northern Baquba
• Official: 150 Australians fighting in Syria, Iraq
• Assad says 'terror' will strike West
• Egypt court sentences 12 Morsi supporters to death
• Iraq forces regain control of main refinery: officials
• Egypt's foreign ministry decries Israeli military operations in West Bank
• Urgent intervention sought to save Syria: Prince Saud Al-Faisal
• UN, Arab League support for Iraq motivated by danger to members – Iraqi Islamic Council
South Asia
• Pakistani Ahmadis find refuge in China
• Maldives Minister Calls for Muslim Self-Assessment over Negative Image of Islam
• Muslims demand UN probe into Sri Lankan violence
• Myanmar rights festival cancels anti-Muslim unrest film
Europe
• UK police: slain Saudi student may have been 'targeted' for being a Muslim
• Azerbaijan shuts down 'Gülen-linked' schools
• Rights group: Kurds committed abuses in Syria
• Denmark's first 'real' mosque opens, bankrolled by Qatar
'• Islamic Militants In Iraq Planning To Attack Us: UK PM Warns MPs Of Terror Threat
• EU alarmed by anti-Muslim violence in Sri Lanka
India
• Abducted Indian workers in Iraq 'promised freedom'
• ISIS has designs on India: Experts
• For Kashmir solution, Geelani echoes Vajpayee
• Govt says abducted Indian workers in Iraq located
North America
• U.S. Walks a Fine Line As Iraq Sinks Into Mayhem
• US Muslim Groups Drive for Better World
• US, Pakistan forces maintaining coordination, says Pentagon
• US must not be Iraq's 'air force for Shia militias', says General Petraeus
• US Flying F-18 Surveillance Missions over Iraq
• Biden calls Iraqi PM, stresses on need for national unity
Africa
• 'Fluent English' Speaking White Man In Charge Of Al-Shabaab Attacks
• US violated sovereignty with Benghazi suspect capture: Libya
Mideast
• US unlikely to launch military operation in Iraq: Turkish PM Erdoğan
• Tehran rules out Iranian troops in Iraq
• Iran army chief accuses Israel of creating ISIS
• Twitter account associated with Iran leader warns of 'war in Muslim world'
Southeast Asia
• Malaysia not Islamic or secular, says former PM
• Bible seizure: Selangor Sultan orders Jais to act in accordance with the law
• Current laws allow for uniteral conversion of kids, says Jamil
• Hundreds of Entertainment Venues in Jakarta to Shut Down During Ramadan
Compiled by New Age Islam News Bureau
URL: https://newageislam.com/islamic-world-news/pakistan-1-lakh-flee-tribal/d/87637
-----------
Pakistan
Pakistan: 1 lakh flee tribal belt as military operation continues
Press Trust of India | Peshawar | June 19, 2014
About 100,000 people have fled the troubled North Waziristan tribal region as curfew was relaxed in the area where the Pakistan Army has launched an all-out offensive against the Taliban, officials said on Wendesday.
The Pakistan Army has launched a ground and air offensive in the area known for having hideouts of the al-Qaeda-linked militants. Armed forces have so far killed more than 200 militants in the operation.
About 100,000 people have fled the troubled region since the start of operation on Sunday with the relaxation of a curfew of six days to let civilians move out of the conflict areas, officials said.
The curfew imposed on Sunday was relaxed from 7 am to 5 pm (local time) on Tuesday, allowing thousands of trapped civilians to leave the area, a security official said.
"The people were allowed to leave after through checking and verification in order to prevent the militants escaping in the garb of civilians," he said.
Chief of FATA Disaster Management Authority Arshad Khan said that more than 92,000 people have already left North Wazirisitan.
"Some 30,000 have reached in Bannu city where arrangements have been made for their temporary settlement," he said.
Khyber-Pakhtunkhwa Chief Minister Pervez Khattak said at a press conference in Peshawar that over 70,000 displaced people were registered while more were coming.
"We expect more internally displaced persons in the next two days," he said.
Federal minister Qadir Baloch, who was appointed by the government as chief of relief activities for displaced people, said 2,000 vehicles were arranged to transport the people from North Waziristan to Bannu.
Still thousands of people are waiting for transport to leave the area.
There are also confirmed reports from Afghanistan that over 3,000 of people have shifted to its border provinces.
Some leading Taliban commanders along with their dozens of fighters have also shifted to Afghanistan, sources said.
Taliban are roaming in the Khost bazaar and some other border areas of Afghanistan with their weapons, the source said.
"Mufti Sadiq Noor, well-known North Waziristan militant commander and affiliate of Commander Hafiz Gul Bahadur shifted along with family to Khost from North Waziristan," the source said.
The feared Haqqani militant outfit has already crossed to the other side of the border.
The Khost governor's spokesman Mubariz Zadran told Dawn News that 3,000 families had been registered by Tuesday.
"There are reports that thousands of people have crossed into Khost after Pakistani authorities lifted curfew in North Waziristan. These people are without food and other basic needs," he said.
Zadran said the Afghan government was trying to help the refugees while the United Nations refugee agency, UNHCR, had also dispatched relief items for 500 families.
The government needs massive funds to deal with exodus of people from the war zone.
Officials said so far no decision has been made to appeal for international support as the government was making all out efforts to deal with the emergency through mobilisation of domestic resources.
The displaced people are facing problems as they prefer to live in private houses than camps as these tribesmen are extremely conservative. Their women wear traditional veils, covering from head to foot.
Rents of private accommodations have shot up due to shortages, forcing the people to put up at camps, media
reports said.
Local media has reported some harrowing tales of displaced people.
A man named Azizur Rehman, a 42-year-old schoolteacher, fled Mirali riding on the bonnet of a truck.
"They start the day with artillery shelling early in the morning. Helicopters come for shelling during the day and jets strike at around 2-2:30 in the night," said Rehman.
Many have streamed into Bannu carrying their possessions — quilts, buckets, mats, water coolers, even livestock and pets.
http://indianexpress.com/article/world/asia/pakistan-1-lakh-flee-tribal-belt-as-military-operation-continues/99/
-----------
Zarb-i-Azb operation: 23 militants killed in fresh strikes
June 19, 2014
ISLAMABAD: At least 23 more suspected militants were killed in the ongoing Zarb-i-Azb operation launched by the Pakistan Army in North Waziristan tribal region, according to a statement issued by the Inter Services Public relations (ISPR) on its website.
At least 15 suspected militants were killed in Zartatangi mountain heights, east of Miramshah are in North Waziristan tribal region late on Wednesday when one of the main suspected communication centers of militants was targeted by Cobra gunship helicopters of the Pakistan Army.
Meanwhile, eight Uzbek militants who were planting improvised explosive devices (IEDs) on Miramshah-Mirali road were also killed near Miramshah by military snipers.
Security forces were also cordoning off residential areas sheltering suspected militants in North Wazirstan tribal region.
The military also claimed that several attempts by militants to flee from the cordoned off areas were foiled.
The ISPR statement further said that the evacuation of civil population from Miramshah and Ghulam Khan areas of the region had begun today, adding that check points had been established at various places where internally displaced persons IDPs were being provided all administrative support incl food items and medicine by security forces.
Moreover, an IDP camp was established at Bannu while the number of registration points at Saidgai post were increased to 20, including 10 for men and women, for speedy and organised evacuation.
The army launched its long-awaited major operation 'Zarb-i-Azb' in the tribal region a week after an attack on the airport in Karachi, deploying troops, tanks and jets to the area in the crackdown on the Taliban and other militants.
http://www.dawn.com/news/1113781/zarb-i-azb-operation-23-militants-killed-in-fresh-strikes
-----------
Operation Zarb-i-Azb requires national unity: PM
June 19, 2014
ISLAMABAD: Under the supervision of Prime Minister Nawaz Sharif, the leadership of Pakistan Muslim League – Nawaz (PML-N) met on Thursday to discuss the ongoing military operation 'Zarb-i-Azb' and the Lahore Model Town episode.
The prime minister said that operation 'Zarb-i-Azb' requires national unity and added, "A peaceful environment in the country would benefit the soldiers fighting in the North Waziristan tribal area."
He expressed confidence that militants would lose this war and added that the internally displaced persons from North Waziristan would be provided with every facility in Khyber-Pakhtunkhwa.
Meanwhile Punjab Chief Minister Shahbaz Sharif's briefing on the Lahore Model Town tragedy also came under discussion. The chief minister instructed the attendees not to compromise on justice.
During the meeting, it was expected that the names of those responsible for carrying out orders to open fire at the Pakistan Awami Tehreek (PAT) supporters would be disclosed, but no such details emerged.
However, the PML-N leadership collectively condemned the episode that resulted in the death of PAT supporters.
Chief Minister Shahbaz said the provincial government would investigate the incident and those responsible for it would be brought to justice.
http://www.dawn.com/news/1113776/operation-zarb-i-azb-requires-national-unity-pm-nawaz
-----------
SC orders formation of national council for minorities' rights
June 19, 2014
ISLAMABAD: The Supreme Court of Pakistan (SC) on Thursday ordered for the constitution of a national council of minorities' rights.
The function of the said council should be to monitor the practical realisation of the rights and safeguards provided to the minorities under the constitution and law, stated the decision.
The council would also be mandated to frame policy recommendations for safeguarding and protecting minorities' rights by the provincial and federal governments.
The apex court also ordered the formation of a special task force to protect minorities' worship places, saying, "Special Police Force [to] be established with professional training to protect the places of worship of minorities."
The proposed task force would devise a strategy to ensure protection of minorities' rights.
In a detailed 32-page decision, Chief Justice Tassaduq Hussain Jilani ordered federal and provincial governments to ensure a quota of minorities in employments in all services.
The order further stated that law enforcement agencies should swiftly take action on cases pertaining to the rights of minorities.
"In all cases of violation of any of the rights guaranteed under the law or desecration of the places of worship of minorities, the concerned Law Enforcing Agencies should promptly take action including the registration of criminal cases against the delinquents," said the chief justice.
Lives and possessions of minorities are to be protected as per law, it said.
The federal government was also ordered to take notice of negative propaganda in this regard on social media.
"The federal government should take appropriate steps to ensure that hate speeches in social media are discouraged and the delinquents are brought to justice," mentioned the decision.
The apex court also ruled that social and religious tolerance is needed to be taught on school and college levels. There should be no discrimination in educational institutes on religious basis.
"Appropriate curricula be developed at school and college levels to promote a culture of religious and social tolerance," said the CJ.
The said rulings were made in the detailed decision on a suo moto case pertaining to the suicide bomb attack on a church in Peshawar in 2013 that had claimed 80 lives and regarding threats being given to Kalash tribe and Ismailies in Chitral.
http://www.dawn.com/news/1113777/sc-orders-formation-of-national-council-for-minorities-rights
-----------
Maulana Fazlur Rehman calls on PM to discuss Lahore clash and N Waziristan
June 19, 2014
ISLAMABAD- Jamiat Ulema-i-Islam-Fazl (JUI-F) president Maulana Fazlur Rehman today called on Prime Minister Nawaz sharif and discussed the overall political situation in the country.
"Maulana Fazlur Rehman had a meeting with PM Nawaz Sharif and urged him to look after internal displaced persons (IDPs) of North Waziristan (NW)," a spokesman for JUI-F Jan Achakzai said.
The spokesman said during the meeting that the situation in North Waziristan and the Lahore incident came under discussion and that Fazlur Rehman urged the PM to hold an independent inquiry into the Model Town deaths.
http://www.nation.com.pk/national/19-Jun-2014/fazl-calls-on-pm-to-discuss-lahore-clash-and-n-waziristan
-----------
Twitter unblocks controversial content in Pakistan
June 19, 2014
NEW YORK - Twitter, an American online microblogging service, has restored access to content that was last month blocked in Pakistan at the request of the government, in a review of its decision.
The content, including tweets and accounts, had been blocked last month using a Country Withheld Content tool that Twitter announced in 2012. The tool gives it the ability to withhold content from users in a specific country, while keeping it available in the rest of the world.
"We have reexamined the requests and, in the absence of additional clarifying information from Pakistani authorities, have determined that restoration of the previously withheld content is warranted. The content is now available again in Pakistan," Twitter said in a statement.
Full report at:
http://www.nation.com.pk/national/19-Jun-2014/twitter-unblocks-controversial-content-in-pakistan
-----------
Imran to support Dr Qadri's push against 'fascism'
June 19, 2014
LAHORE: Pakistan Tehreek-e-Insaf's chairman vowed on Wednesday to come out on roads and support Pakistan Awami Tehreek against what he called "the fascism of the present government".
Condemning the attack on PAT workers on Tuesday, Imran Khan said that instead of doing its duty impartially, Punjab police has become a wing of the PML-N.
Imran claimed that the government had taken the step only to terrorise workers who intended to gather to welcome the PAT chief Dr Tahirul Qadri. The PAT leader is due to return to Pakistan on June 23.
"Acts of such brutality where women were shot weren't even carried out during the time dictators ruled the country," Imran said while talking to the media outside Minhajul Quran's Secretariat in Model Town, Lahore.
Full report at:
http://tribune.com.pk/story/723888/in-solidarity-imran-to-support-dr-qadris-push-against-fascism/
-----------
Arab World
Iraq officially asks US to carry out air strikes on Sunni jihadists
June 19, 2014
Iraq asked the United States Wednesday to carry out air strikes on Sunni jihadists, who attacked the country's main oil refinery and seized more territory in the north.
The appeal came as fighters from the Islamic State of Iraq and the Levant (ISIL) were pressing a week-long offensive that has brought them close to the capital, and as Prime Minister Nuri al-Maliki pledging to face down "terrorism."
"Iraq has officially asked Washington to help under the security agreement (between the two countries), and to conduct air strikes against terrorist groups," Zebari told reporters in Saudi Arabia.
However, Zebari said "a military approach will not be enough. We acknowledge the need for drastic political solutions."
The United States spent millions of dollars over several years training and arming a new Iraqi army after disbanding the Sunni-led force created by the late dictator Saddam Hussein.
Washington has already deployed an aircraft carrier to the Gulf and sent marines to bolster security at its embassy in Baghdad, but President Barack Obama has insisted a return to combat in Iraq for US soldiers is not on the cards.
Full report at:
http://www.middle-east-online.com/english/?id=66631
-----------
6 ISIL elements killed northern Baquba
June 19, 2014
Diyala (IraqiNews.com) Six elements of the Islamic State in Iraq and Levant were killed by the security forces of northern Baquba.
Security source stated to IraqiNews.com "The security forces within Dijla Operations Command killed six ISIL elements in Atheem area of northern Baquba."
http://www.iraqinews.com/iraq-war/isil-elements-killed-northern-baquba/
----------
Official: 150 Australians fighting in Syria, Iraq
19 June 2014
Around 150 Australians have fought with radical militants in Syria and Iraq, raising fears of a terrorist threat to Australia if the fighters return home, the foreign minister said on Thursday.
Foreign Minister Julie Bishop said she had canceled a number of passports on the advice of security agencies in a bid to reduce the security threat to Australia. She did not say whether the passports were canceled to prevent Australians leaving or returning.
"Our best estimate is that there about 150 Australians ... who have been or are still fighting with opposition groups in Syria and beyond," Bishop told Australian Broadcasting Corp.
In Syria, she said it seems that had moved from supporting the more moderate opposition groups to the more extreme ones and that includes the brutal group ISIS, or the Islamic State of Iraq and Syria - the al-Qaeda splinter group leading Sunni militants in Iraq.
Iraq's ambassador to Australia, Mouayed Saleh, said that Australians who fight for ISIS should be stripped of their citizenship.
Full report at:
http://english.alarabiya.net/en/News/2014/06/19/Official-150-Australians-fighting-in-Syria-Iraq.html
-----------
Assad says 'terror' will strike West
June 19, 2014
DAMASCUS: Syrian President Bashar al-Assad said on Wednesday terrorism will strike back against the West and other countries that "supported" attacks in Syria and elsewhere in the Middle East.
Ever since a revolt broke out in March 2011, Assad has blamed all violence in Syria on a foreign-backed "terrorist" plot.
"The West and countries that support extremism and terrorism in Syria and the region... must realise that this growing threat will strike the whole world, especially the countries that support terrorism and that allowed it to grow," Assad told a North Korean delegation visiting Damascus.
Full report at:
http://www.dawn.com/news/1113680/assad-says-terror-will-strike-west
-----------
Egypt court sentences 12 Morsi supporters to death
June 19, 2014
CAIRO - An Egyptian court sentenced 12 supporters of ousted president Mohamed Morsi to death on Wednesday on charges connected to the fatal shooting of a police general last year.
Eight of them, including the man convicted of firing the fatal bullet, are in custody, while the other four are on the run and were tried in absentia. The officer was killed during a police raid on an extremist stronghold in the capital on September 19, part of bloody crackdown in the wake of the army's overthrow of Morsi in July.
The accused were also charged with "membership of a jihadist organisation" and attempted murder of police while resisting the raid. In all, 23 defendants stood trial, 12 of them in custody.
Full report at:
http://www.nation.com.pk/international/19-Jun-2014/egypt-court-sentences-12-morsi-supporters-to-death
-----------
Iraq forces regain control of main refinery: officials
June 19, 2014
Iraqi government forces regained full control Thursday of the country's biggest oil refinery after heavy fighting with Sunni militants attempting to seize it, officials said.
Sunni Arab insurgents had stormed the complex in Baiji, south of Iraq's militant-held second city Mosul, on Wednesday, setting fire to several storage tanks for refined products in a move that sent jitters through world oil markets.
"The security forces are in full control of the Baiji refinery," Lieutenant General Qassem Atta, Prime Minister Nuri al-Maliki's security spokesman, said in televised remarks.
A refinery employee told AFP that the militants had withdrawn, as did other witnesses, who said the assailants quit the sprawling complex in the face of a heavy fightback by security forces.
Full report at:
http://www.hurriyetdailynews.com/iraq-forces-regain-control-of-main-refinery-officials.aspx?pageID=238&nID=68006&NewsCatID=352
-----------
Egypt's foreign ministry decries Israeli military operations in West Bank
June 19, 2014
Egypt's Ministry of Foreign Affairs has condemned the latest Israeli military operations against Palestinians in the West Bank, state-owned MENA news agency reported.
The ministry said that the operations, that vary from bombings to house demolitions to arrests and military prosecutions, will increase tensions and thus hinder efforts of the Palestinian Authority working to stabilise the security situation.
The foreign ministry renewed calls for Israeli authorities to exercise maximum self-restraint. The ministry also expressed its support for Palestinian President Mahmoud Abbas, in his efforts to minimise the security deterioration in order to start working on the needs of the Palestinian people.
Full report at:
http://english.ahram.org.eg/NewsContent/1/64/104147/Egypt/Politics-/Egypts-foreign-ministry-decries-Israeli-military-o.aspx
-----------
Urgent intervention sought to save Syria: Prince Saud Al-Faisal
June 19, 2014
Foreign Minister Prince Saud Al-Faisal has called on the international community to intervene in Syria and end the suffering and displacement of its people.
Speaking at the 41st session of the Council of Foreign Ministers of the Organization of Islamic Cooperation (OIC) in Jeddah on Wednesday, he said the Syrian crisis has taken a turn for the worse after the failure of the Geneva 2 meeting.
"The failure (of Geneva 2) has resulted in an upsurge of violence and genocide, perpetrated by the Syrian regime against its defenseless population," he said.
The deliberations took place at Qasr Al-Motamarat or Conference Palace, which overlooks the Red Sea. The serene Red Sea was in sharp contrast to the churning and turmoil in the Muslim world under discussion by delegates.
Full report at:
http://www.arabnews.com/news/588601
----------
UN, Arab League support for Iraq motivated by danger to members – Iraqi Islamic Council
June 19, 2014
Baghdad (IraqiNews.com) The leader within the Supreme Iraqi Islamic Council, Humam Hamoudi, stated that the danger of the security situation in Iraq helped in getting the UN and Arab League's support to Iraq.
Hamoudi stated in his Facebook account "It is important to take into consideration that the latest crisis in Iraq showed the danger of the situation in Iraq and therefore resulted in getting the international support by the UN and the Arab League."
http://www.iraqinews.com/baghdad-politics/hamoudi-danger-of-security-crisis-resulted-in-getting-un-arab-league-s-support-to-iraq/
----------
South Asia
Pakistani Ahmadis find refuge in China
June 19, 2014
SANHE: Fleeing discrimination and violence, Ahmadis have abandoned their homes in Pakistan to find an unlikely refuge in China.
"Every day I heard the sound of guns," said a 37-year-old surnamed Saeed of his former home Lahore.
"We prayed every day, because we felt something could happen to us at any time."
He is one of hundreds of people who have sought asylum in China in recent years, often from conflict and violence-stricken countries including Iraq and Somalia.
The government tolerates their presence but provides almost no support, while human rights groups have for years condemned Beijing for deporting tens of thousands of asylum seekers who enter it to escape oppression in North Korea and Myanmar.
Around 35 of the almost 500 UN-registered asylum seekers and refugees currently in China are Ahmadis. They are among the most persecuted minorities in Pakistan.
In 2010, militants stormed two Ahmadi prayer halls, killing 82 worshippers in gun and grenade attacks, before targeting a hospital where victims were being treated. Ahmadi places of worship and graveyards are regularly desecrated.
Full report at:
http://tribune.com.pk/story/724068/ahmadis-find-refuge-in-china/
-----------
Maldives Minister Calls for Muslim Self-Assessment over Negative Image of Islam
By Ahmed Rilwan | June 19th, 2014
Minister of Foreign Affairs Dunya Maumoon has called for a thorough self-assessment to identify the reason Islam is being associated with intolerance, terrorism, violence, and backwardness.
Speaking at the 41st session of the Council of Foreign Ministers of the Organisation of Islamic Cooperation (OIC), Dunya suggested that although Muslims could blame the West and Western media, Muslim societies must make a self-assessment as to why Islam is being tarnished by images linked to terrorism.
"Muslims were once the pioneers of science and technology. Today, we have to accept the reality that Muslim societies are on the brink of falling into an abyss for creativity," said the foreign minister in Jeddah.
"It is beyond imagination, or within the realm of belief, to think that we can overcome these dark times? Let us recommit ourselves to work together to overcome our challenges. United and strong we can once again become the standard bearers of tolerance and innovation," she said.
Full report at:
http://minivannews.com/politics/foreign-minister-calls-for-muslim-self-assesment-over-negative-image-of-islam-87217
-----------
Muslims demand UN probe into Sri Lankan violence
June 19, 2014
BERUWALA: The main Muslim party in Sri Lanka's ruling coalition Wednesday demanded a UN probe into one of the country's worst-ever religious riots, as President Mahinda Rajapakse toured the violence-hit resort region.
The Sri Lanka Muslim Congress (SLMC) said it was also boycotting Parliament Wednesday as a protest against Colombo's failure to rein in a hard-line Buddhist group widely accused of sparking the clashes.
Justice Minister and SLMC leader Rauf Hakeem told reporters Rajapakse's administration was at fault for letting the bloodshed escalate. "We are convinced that the government did not do anything to prevent the violence against the Muslims," said Hakeem, who is the most senior Muslim in Rajapakse's Cabinet.
Full report at:
http://www.arabnews.com/news/588816
-----------
Myanmar rights festival cancels anti-Muslim unrest film
June 19, 2014
YANGON: Citing fears of fuelling sectarian tensions, Myanmar's human rights film festival said it had cancelled the screening of a documentary about a friendship that crossed religious divides during deadly anti-Muslim violence.
Organisers of the Human Rights Human Dignity International Film Festival, which is in its second year and counts opposition leader Aung San Suu Kyi among its patrons, said they had decided to pull the film after hearing of criticism on social media.
"Some people are looking for a cause to create conflicts -- we do not want to be their excuse," said the festival's founder Min Htin Ko Ko Gyi of the film "Open Sky" which was due to be screened on Monday and Tuesday in Yangon.
Full report at:
http://www.dailystar.com.lb/Culture/Film/2014/Jun-19/260722-myanmar-rights-festival-cancels-anti-muslim-unrest-film.ashx#ixzz3586Cfjg3
-----------
Europe
UK police: slain Saudi student may have been 'targeted' for being a Muslim
19 June 2014
Nahid al-Manea, a 32-year-old Saudi student who was found bleeding to death on Tuesday in a park in the UK town of Colchester, may have been targeted because she was a Muslim, British police say.
Her distinctive clothing - reportedly an Abaya (a black cloak worn by some Muslim women) and a headscarf - have led police to investigate the possibility that her murder was religiously motivated, UK newspaper The Telegraph reported on Thursday.
However, despite detaining one suspect so far - a 52-year-old man - UK authorities still have no "firm evidence" of the motivation behind her murder.
"We are conscious that the dress of the victim will have identified her as likely being a Muslim and this is one of the main lines of the investigation but again there is no firm evidence at this time that she was targeted because of her religion," said Detective Superintendent Tracy Hawkings, the Daily Mail reported.
Full report at:
http://english.alarabiya.net/en/perspective/features/2014/06/19/UK-police-slain-Saudi-student-may-have-been-targeted-for-being-a-Muslim.html
-----------
Azerbaijan shuts down 'Gülen-linked' schools
June 19, 2014
Azerbaijan's government-run energy company has announced that private schools run by affiliates of the movement led by U.S.-based Islamic scholar Fethullah Gülen have been closed down.
From February to April, the State Oil Company of the Azerbaijan Republic (SOCAR) took over dozens of private high schools, university exam preparation centers and universities run by a Turkish education company called Çağ Ögretim, which is thought to be linked to the Gülen movement.
OCAR announced on June 18 that it had decided to close the schools, which were operated by the company now known as Azerbaijan International Education Center, due to "high maintenance costs and difficulties in project management."
Full report at:
http://www.hurriyetdailynews.com/azerbaijan-shuts-down-gulen-linked-schools------.aspx?pageID=238&nID=67988&NewsCatID=355
-----------
Rights group: Kurds committed abuses in Syria
19 June 2014
Kurds in parts of northern Syria have carried out arbitrary arrests and failed to investigate the killings and disappearance of political opponents, Human Rights Watch said on Thursday in a report documenting rights abuses.
The Democratic Union Party (PYD), an offshoot of the Kurdistan Workers' Party (PKK) in neighboring Turkey, has run three Kurdish enclaves in northern Syria since 2012, when Syrian government forces withdrew from the areas.
The PYD, which runs a local administration with courts, prisons, and police, could not be immediately reached by Reuters for comment on the report, which said the party had denied holding political prisoners.
Full report at:
http://english.alarabiya.net/en/News/2014/06/19/Rights-group-Kurds-committed-abuses-in-Syria-.html
-----------
Denmark's first 'real' mosque opens, bankrolled by Qatar
June 19, 2014
Denmark's largest purpose-built mosque, including the country's first minaret, opens on Thursday in Copenhagen's gritty northwest district after receiving 20.1 million euros ($27.2 million) endowment from Qatar.
The longstanding political influence of the anti-immigrant Danish People's Party (DPP), as well as the row over Prophet Mohammed cartoons that led to deadly protests in Muslim countries have strained relations between Denmark's largest religious minority and the majority population.
After years of political wrangling and "not in my backyard" protests, Copenhagen's Muslim community is cheering the opening of the 6,700 square metre (72,118 square feet) complex that will house a mosque, a cultural centre, a television studio and a fitness centre.
But sandwiched between a car dealership and a self storage firm in a low income district, it is not quite the symbol of mainstream acceptance that many of Denmark's 200,000 Muslims had hoped for.
Full report at:
http://www.hurriyetdailynews.com/denmarks-first-real-mosque-opens-bankrolled-by-qatar.aspx?pageID=238&nID=67993&NewsCatID=351
-----------
'Islamic Militants In Iraq Planning To Attack Us: UK PM Warns MPs Of Terror Threat
June 19, 2014
Islamic terrorists fighting in Iraq are 'planning to attack us here at home in the United Kingdom', David Cameron said today.
The Prime Minister told MPs that the crisis in the Middle East must not be dismissed as 'nothing to do with us'.
He said the jihadist insurgents in Iraq, Syria, Somalia and Nigeria would 'come back and hit us at home' if the UK did not help defeat them.
The damning warning came after former security minister Baroness Neville-Jones claimed Britain was sending more Islamic extremists to Syria and Iraq than any other country in Europe.
Full report at:
http://www.dailymail.co.uk/news/article-2661159/Former-spy-chief-warns-young-men-leave-UK-jihadis-Europe-Iraqs-ambassador-U-S-claims-thousand-bin-Ladens-emerge-Isis.html#ixzz358ByAiEz
-----------
EU alarmed by anti-Muslim violence in Sri Lanka
June 19, 2014
COLOMBO: The Eu­ro­pean Union expressed alarm on Wednesday at recent violence against Muslims in Sri Lanka in which three people died and more than 50 were injured, and urged the government to ensure that the rule of law is upheld.
"Incitement of communal violence and hatred can only be counter-productive to Sri Lanka's stability," the EU delegation in Colombo said in a statement.
Hardline Buddhists hurled gasoline bombs and looted homes and businesses in attacks on Sunday evening in several towns in southwestern Sri Lanka.
The attacks were led by a mob from Bodu Bala Sena, or Buddhist Power Force, which rails against the country's Muslim minority.
Full report at:
http://www.dawn.com/news/1113667/eu-alarmed-by-anti-muslim-violence-in-sri-lanka
---------
India
Abducted Indian workers in Iraq 'promised freedom'
AFP | Jun 19, 2014
NEW DELHI: Families of 40 Indian construction workers abducted in strife-torn northern Iraq say they have spoken with the abducted men, whose captors claim they will be freed unharmed, reports said on Thursday.
Ministry of external affairs had announced on Wednesday that the 40 workers had been abducted in recent days in the Iraqi city of Mosul, which Sunni militants have overrun in a deadly ongoing insurgency.
The ministry said no demands for ransom had been made and the workers' whereabouts, along with who was responsible for the abductions, were not known.
But Charanjit Singh said his brother called him on Wednesday "for a couple of minutes" to tell him the workers were safe and that their captors had claimed they would be released if someone from the government made contact.
"He said he and his co-workers from India were all safe and not held hostage," Singh told The Hindu newspaper from his home in Punjab.
"They say (the militants) will release them if someone responsible from the Indian military or government comes to collect them," Singh added.
Full report at:
http://timesofindia.indiatimes.com/india/Abducted-Indian-workers-in-Iraq-promised-freedom/articleshow/36808909.cms
-----------
ISIS has designs on India: Experts
Deeptiman Tiwary,TNN | Jun 19, 2014
NEW DELHI: The rise of al-Qaida offshoot Islamic State of Iraq and Syria (ISIS) may look like a distant problem affecting the Middle East with Indians merely caught in the crossfire. But it's a danger far closer home than it appears.
Security establishment sources said ISIS, which is being suspected to be behind the kidnapping of 40 Indians in Mosul, has global ambitions and aims to create an Islamic World Dominion of which even India would be a part. A recently released world dominion map by the outfit had parts of north-west India, including Gujarat, shown as part of the Islamic state of Khorasan, a caliphate that the outfit aims to achieve.
Sources said there were inputs of jihadists from India fighting in both Iraq and Syria and some of these would eventually return. They would then become the link between the Middle East outfits and the Indian subcontinent. That is a time, sources said, India needs to prepare for. Already, the outfit is being touted as the most efficient, organized, dangerous and ambitious terror outfit in the world.
Full report at:
http://timesofindia.indiatimes.com/india/ISIS-has-designs-on-India-Experts/articleshow/36795859.cms
-----------
North America
U.S. Walks A Fine Line As Iraq Sinks Into Mayhem
19 June 2014
The escalation of violence in Iraq has placed the United States in yet another unenviable position, walking on a fine line between the obligation to support its regime ally in Baghdad and its responsibility to keep the country unified.
After having lost large swathes of the mainly Sunni heartland to Islamist militants and tribal forces, the embattled government of Prime Minister Nouri al-Maliki sent Wednesday a request to the Obama administration requesting military help to regain full control of the lost areas.
Iraqi Foreign Minister Hoshyar Zebari told reporters Wednesday that Iraq had requested U.S. airpower "to break the morale" of ISIS, which has threaten to march into the capital Baghdad.
Gen. Martin Dempsey, the chairman of the U.S. army's Joint Chiefs of Staff, confirmed during a Congressional hearing having received the Iraqi request but could not say if the Pentagon would honor it.
Full report at:
http://english.alarabiya.net/en/News/2014/06/19/U-S-walks-a-fine-line-as-Iraq-sinks-into-mayhem.html
-----------
US Muslim Groups Drive for Better World
June 19, 2014
CAIRO – A number of American Islamic and interfaith organizations have been included in a list published by Huffington Post as examples of how faith-based groups are doing good in the world today and how their belief is a major vehicle for service to the world and peace promotion.
"Religion has made its way into many global conflicts, and there is no doubt that religion can be divisive and cause harm," Huffington Post wrote on Tuesday, June 17.
The paper added that "countless religious groups, congregations and individuals around the world offer daily demonstrations that faith can offer deep spiritual wisdom, be a major vehicle for service to the world and promote peace."
Putting those names in a list of 100 groups, the paper included some of the major US Islamic organization in recognition of their efforts in the American community.
The list recognized the Council on American-Islamic Relations (CAIR) over its role in "combating stereotypes about Islam to promote equality".
Full report at:
http://www.onislam.net/english/news/americas/473941-us-muslim-religious-groups-drive-for-good.html
-----------
US, Pakistan forces maintaining coordination, says Pentagon
June 19, 2014
WASHINGTON: There is daily and constant communication between the US-led forces in Afghanistan and the Pakistani military as Pakistan continues its operation against militants in North Waziristan, says the US Defence Department.
At a regular news briefing at the Pentagon, Press Secretary Admiral John Kirby said that the Zarb-i-Azb offensive was also "a testament to the degree to which Pakistan, the United States and Afghanistan have a shared threat and a shared challenge to deal with."
So far, the US administration has been very cautious in commenting on the operation which began last week amidst fears that a strong US interest in the offensive could prove counter-productive.
Full report at:
http://www.dawn.com/news/1113696/us-pakistan-forces-maintaining-coordination-says-pentagon
----------
US must not be Iraq's 'air force for Shia militias', says General Petraeus
June 19, 2014
LONDON/ DOHA: The man who led the US troop surge that preceded Washington's exit from Iraq after a costly eight-year war says there should not even be US air support without major change in Baghdad.
The comments from General David Petraeus, who commanded US troops in Mosul, Iraq's second city which fell to jihadists last week, during a long military and intelligence career, came as the Shia-led government in Baghdad formally asked for air support.
Petraeus made a name for himself during the Sunni Arab insurgency that followed the US-led invasion of 2003 for questioning policies that he said risked fanning the resentment of the minority community that dominated Saddam Hussein's regime and all previous governments in Baghdad.
Full report at:
http://tribune.com.pk/story/724081/us-must-not-be-iraqs-air-force-for-shia-militias-says-petraeus/
-----------
US Flying F-18 Surveillance Missions over Iraq
June 19, 2014
The United States is flying F-18 surveillance missions over Iraq from an aircraft carrier in the Persian Gulf, officials confirm to Fox News.
F-18The Fox News said the surveillance missions are being launched from the USS George HW Bush. It was already known that the Obama administration had authorized "manned and unmanned" surveillance flights, but F-18's are not traditional surveillance aircraft -- they are attack aircraft.
While officials say no decisions have been made, one senior official told Fox News that the president appears to be leaning toward sending roughly 100 special forces into the region. Such a contingent presumably would be sent to help train the Iraqi military and boost intelligence available to the Iraqis.
The Associated Press reported Wednesday that U.S. intelligence analysts are working to track the movements of key figures in the Islamic State of Iraq and Syria. They are sifting through data provided by Jordanian, Saudi, Turkish and other intelligence services, as well as their own human sources, satellites, drones and communications intercepts by the National Security Agency, U.S. intelligence officials say.
http://www.almanar.com.lb/english/adetails.php?eid=157298&cid=18&fromval=1&frid=18&seccatid=56&s1=1
-----------
Biden calls Iraqi PM, stresses on need for national unity
June 19, 2014
US Vice-President, Joe Biden has called the top Iraqi leadership including Prime Minister, Nouri al-Maliki, and emphasised the need for national unity in response to the violent insurgency sweeping through the war-torn country.
Iraq has been thrown into a crisis after militants captured swathes of territory including a major oil refinery, as the country battles challenges posed by the Islamic State of Iraq and the Levant (ISIL) group.
"In each call, the Vice President also stressed the need for national unity in responding to the ISIL threat against all Iraqi communities, for coordination on security issues going forward, and for moving forward with urgency in forming a new government under the constitution," the White House said.
Full report at:
http://www.thehindu.com/news/international/biden-calls-iraqi-pm-stresses-on-need-for-national-unity/article6129412.ece
-----------
Africa
'Fluent English' Speaking White Man In Charge Of Al-Shabaab Attacks
White man speaking 'fluent English' was in charge of Kenya al-Shabaab attacks which left more than 60 dead
June 19, 2014
A white man speaking 'fluent English' was in charge of an Somali Islamist group al-Shabaab which gunned down at least 60 people in a Kenyan coastal town on Sunday evening, according to witnesses.
Several residents in Mpeketoni reported that they saw a pale-skinned man who spoke English and Arabic giving orders to the gunmen.
The eyewitness accounts support the theory that the men were sent by al-Shabaab by a seasoned foreign Jihadi unit now working with the Somali Islamists.
'I saw a white man who was speaking in fluent British English commanding the rest of the attackers,' said Mary Gachoki, a teacher who lives in Mpeketoni and speaks good English told The Telegraph.
Full report at:
http://www.dailymail.co.uk/news/article-2661254/White-man-speaking-fluent-English-charge-Kenya-al-Shabaab-attacks-left-60-dea.html
-----------
US violated sovereignty with Benghazi suspect capture: Libya
June 19, 2014
US commandos violated Libya's sovereignty when they seized the suspected ringleader of a deadly 2012 attack on the American consulate in Benghazi, the foreign ministry said on Wednesday.
Special forces carried out Sunday's stealth operation under cover of night, capturing Ahmed Abu Khatallah near Benghazi and spiriting him out of the country.
"The government condemns this regrettable infringement on Libya's sovereignty," foreign ministry spokesman Said Lassoued said in a statement, adding that Tripoli had not been informed in advance.
In announcing the operation, Pentagon spokesman Rear Admiral John Kirby would not say whether Washington gave Libya advance notice.
Also on Wednesday, Justice Minister Salah al-Marghani told a news conference that there is already an outstanding arrest warrant for Abu Khatallah.
But he said Libyan security forces had not been able to arrest him because of the security situation in the flashpoint eastern city of Benghazi.
Full report at:
http://english.ahram.org.eg/NewsContent/2/8/104094/World/Region/US-violated-sovereignty-with-Benghazi-suspect-capt.aspx
------------
Mideast
US unlikely to launch military operation in Iraq: Turkish PM Erdoğan
June 19, 2014
U.S. military intervention in Iraq is unlikely at the moment, as such a move could make Iraqi citizens even more vulnerable to attacks by Sunni rebels, Turkish Prime Minister Recep Tayyip Erdoğan has said.
"Taking into account the statements and stance of the U.S., they do not favor such an attack. Any military operation could lead to the killing of civilians since elements of the Islamic State of Iraq and the Levant [ISIL] are engaged with [Iraqi] people," Erdoğan told reporters on June 19.
The prime minister said that the Iraqi military's abandonment to leave some regions under the control of ISIL was "meaningful."
The case has gone beyond an issue between the Iraqi military and elements of the ISIL, as the situation has turned into an "interdenominational civil war," according to Erdoğan.
"We don't approve of this. Our values do not include sectarian bigotry. One Muslim cannot kill another saying 'Allahuekber," he said.
Full report at:
http://www.hurriyetdailynews.com/us-unlikely-to-launch-military-operation-in-iraq-turkish-pm-erdogan.aspx?pageID=238&nID=68002&NewsCatID=510
-----------
Tehran rules out Iranian troops in Iraq
June 19, 2014
Iran will not dispatch troops to neighboring Iraq, the country's chief of staff said on June 18.
"There is no need for the presence of Iranian soldiers in Iraq, as Iraqi people are capable of solving their own problems," Major General Hassan Firouzabadi said according to Iran's state news agency IRNA.
Firouzabadi also ruled out any cooperation between Iran and the U.S., describing it as "meaningless."
The possibility of U.S.-Iran cooperation has been making headlines since Monday, when U.S. Secretary of State John Kerry said Washington was "open" to working with the Iranian's against the growing tide of Sunni insurgency in Iraq.
Full report at:
http://www.hurriyetdailynews.com/tehran-rules-out-iranian-troops-in-iraq.aspx?pageID=238&nID=67994&NewsCatID=352
-----------
Iran army chief accuses Israel of creating ISIS
June 19, 2014
Iranian Army Chief of Staff Gen. Hassan Firouzabadi claimed Wednesday that Israel created and supports the terrorist Islamic State of Iraq and Syria.
"ISIS is Israel's cover up for distancing the revolutionary forces from Israeli borders and creating a margin of security for the Zionists, and the Zionist media have also admitted this fact," he said, Fars News Agency reported.
ISIS recently took areas in northern Iraq.
"The only way for the Iraqi people to overcome this problem is unity, resistance, and suppression of these modern-day ignorance fighters," added Firouzabadi.
Meanwhile, the commander of Iran's Basij force, Brig.-Gen.
Mohammed Reza Naqdi, said on Wednesday that recent attacks by ISIS are part of a new US plot.
Full report at:
http://www.jpost.com/Middle-East/Iran-army-chief-accuses-Israel-of-creating-ISIS-359875
-----------
Twitter account associated with Iran leader warns of 'war in Muslim world'
19 June 2014
A Twitter account Iran experts believe is run by the office of Supreme Leader Ayatollah Ali Khamenei, in comments apparently inspired by Iraq's turmoil, accused militants on Thursday of wanting to bring about a war in the Muslim world.
Shi'ite Iran has been alarmed by rapid territorial gains made in Iraq by the militants of the 'Islamic State of Iraq and Syria' (ISIS), which seeks a caliphate ruled on mediaeval Sunni Muslim precepts in Iraq and Syria.
ISIS's advances pose a threat to the survival of Shi'ite-majority Iraq as a united country. Iraqi Prime Minister Nuri al-Maliki's Shi'ite-led government, an ally of Tehran, has called for military help from the United States, Iran's longtime foe.
A message posted in English on the Twitter account @khamenei_ir said the Sunni militants wanted to foment distrust between Sunni and Shi'ite Muslims, a goal they shared with "arrogant" powers - normally an Iranian code word for the United States and its Western and Israeli allies.
Full report at:
http://english.alarabiya.net/en/media/digital/2014/06/19/Twitter-account-associated-with-Iran-leader-warns-of-war-in-Muslim-world-.html
---------
Southeast Asia
Malaysia not Islamic or secular, says former PM
June 19, 2014
PUTRAJAYA: Malaysia is neither an Islamic state nor a secular state; it's just an ordinary state that recognises Islam as the official religion of the country. So says former Prime Minister Tun Dr Mahathir Mohamad.
"We have declared ourself as an Islamic state before, but that does not mean that we have to do all kinds of other things to make it Islamic.
"There are so many Islamic states that don't even declare they are Islamic and they don't practise many of the things that are supposed to be associated with Islamic states," he told The Star after deli­vering an executive talk at the Women, Family and Community Development Ministry headquarters here yesterday.
However, Dr Mahathir was quick to add that this did not mean Ma­lay­sia could be considered a secular state, as it was not mentioned in the Federal Constitution.
"We never said this is a secular state either. We are just an ordinary state that recognises Islam as the official religion of the country, and we practise things that are not against the religion of Islam," he said.
http://www.thestar.com.my/News/Nation/2014/06/19/Malaysia-not-Islamic-or-secular-says-Dr-M/
-----------
Bible seizure: Selangor Sultan orders Jais to act in accordance with the law
June 19, 2014
PETALING JAYA: The Sultan of Selangor has ordered the Selangor Islamic Affairs Authority (Jais) to refer the matter of the bibles seized from the Bible Society of Malaysia (BSM) to the public prosecutor, so the courts can determine if they should be returned or disposed of.
"The current law procedures provide that in disposing any case items which was seized during raids or investigation can be referred by the public prosecutor to the Court by either obtaining a disposal or return order.
"This decree is in line with the minutes issued by the Attorney-General's Chambers that 'Jais has to act in accordance to the law on the issue of the seized bibles'," according to a statement issued by the Selangor Sultan's private secretary Datuk Mohamad Munir Bani, on behalf of the palace.
Full report at:
http://www.thestar.com.my/News/Nation/2014/06/19/Selangor-sultan-bible-seizure/
-----------
Current laws allow for uniteral conversion of kids, says Jamil
June 19, 2014
KUALA LUMPUR: Another controversy involving religion is brewing after Minister in the Prime Minister's Department Datuk Seri Jamil Khir Baharom claimed current laws allowed unilateral conversion of minors into Islam.
Jamil Khir, who is in charge of Islamic affairs, said the Government had no plans to amend any law over the matter.
He said Article 12(4) of the Federal Constitution provided that either the father, mother or guardian could determine the religion of a child who is below the age of 18.
Earlier in the week, Jamil Khir's statement that Malaysia is not a secular state sparked off debate among groups, individuals and lawmakers on the country's actual status. Jamil Khir claimed the country was not secular as Malaysia was historically set up based on an Islamic Malay Sultanate government.
Full report at:
http://www.thestar.com.my/News/Nation/2014/06/19/Another-controversy-brewing-Current-laws-allow-for-uniteral-conversion-of-kids-says-Jamil/
----------
Hundreds of Entertainment Venues in Jakarta to Shut Down During Ramadan
Jun 19, 2014
Jakarta. More than 400 entertainment establishments across Indonesia's capital will stop operating while hundreds of others will be operating in limited hours as Muslims in the city observe the fasting month of Ramadan this year.
"There are 446 entertainment venues that must be closed for a whole month," Jakarta Tourism Office chief Arie Budhiman said on Thursday, adding that 915 other venues will see a restricted operational hours.
The month of Ramadan is set to start on June 28, while Idul Fitri, the day that marks the end of the fasting month, will be celebrated one month after on July 28.
Establishments required to temporarily shut their operations include night clubs, massage parlours and saunas, while karaoke venues and live music bars will only be allowed to operate from 8.30 p.m. to 1.30 a.m.
Full report at:
http://www.thejakartaglobe.com/news/jakarta/hundreds-entertainment-venues-jakarta-shut-ramadan/
-----------
URL: https://newageislam.com/islamic-world-news/pakistan-1-lakh-flee-tribal/d/87637