New Age Islam News Bureau
6 Nov 2013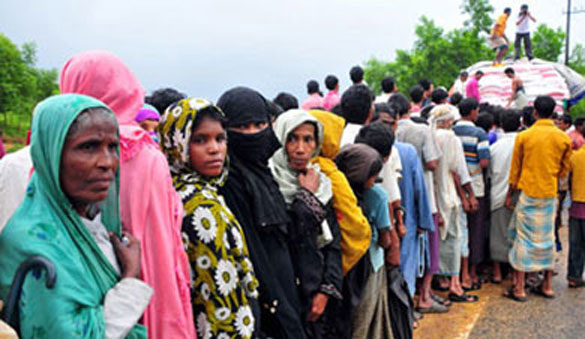 CDs preach hate against Rohingya Muslims, (File Photo)
--------------
Arab World
• Syrian rebels use faces of the dead to recruit new fighters
• Saudi spy chief Bandar condemned for meeting with Mossad
• Iraq attacks kill 13 people as 2013 death toll crosses 5,500
• Syria Kurds oust jihadists from Turkey border area
• Bomb blast kills 8 in central Damascus: SANA
• Egypt's Muslim Brotherhood loses appeal against ban on their activity
• International Muslim scholars denounce Morsi trial
South Asia
• CDs preach hate against Rohingya Muslims
• Singapore PM meets Malay-Muslim MPs over headscarf debate
• Suicide blast kills four on Afghan side of Chaman border
• Afghan police find bodies of seven abducted soldiers
• President Waheed invites presidential candidates to discuss election issues
• Bangladesh defends mutiny verdicts, denies use of torture
• 1,102 on death row after BDR sentences
• Worried relatives crowd Alia Madrasa to watch the verdict on BDR carnage case
• Maldives crisis: Candidates 'agree to 9 November vote'
Africa
• Tunisian president says will free jailed Prophet Cartoonist
• Gaddafi's jailed son appears on Libya TV
• S. Africa accused of being anti-Semitic for curtailing its relations with Israel
India
• President: Worrying bout of communal violence
• Burqa-clad women being brought to Modi's rallies: Shiv Sena
• Agencies claim threat from Khalistanis, IM
• Missing 'IM men' were studying for IPS exam
Mideast
• Hamas puts 'resistance' on Gaza school's curriculum
• 'Death to America' concert at site of former U.S. embassy in Tehran
• Israeli negotiators at odds over Al-Quds
• Turkish PM aims to end mixed sex education: Main opposition leader
• Netanyahu tells Kerry he is 'concerned' about talks with Palestinians
• No talks with Israel while settlement grows, Palestinian official says
Europe
• Burqua Escape Not Facilitated By Mosque, Says Founder
• International aid for Syrian refugees falls short, says French first lady
• Human rights: 'Average marriage age for girls 13 in some rural areas'
• Iran's 840,000 Afghan refugees not forgotten: UNHCR
• UK sets up group to monitor Islamic finance trends, issues
North America
• Haqqani network losing goodwill, support turning into resentment: New York Times
• US official: Syria may try to hide chemical weapons
• US gives $75 million more in aid to Palestinians
Southeast Asia
• Indonesia extradites son of suspected terrorist mastermind to Singapore
• Indonesian Plotted on Facebook to Attack Myanmar Embassy
• Philippines seeks Sudan help for death row inmate
Pakistan
• Islamic Ideology Body Okays Test Tube Babies, Terms Sex-Change Operations 'Un-Islamic'
• Maulana Fazl ur Rehman: 'Strike on Mehsud made with mala fide intent'
• Pakistani opposition holds own 'session' outside parliament
• Taliban chief's death spells trouble for Sharif govt
• Pakistan renews appeal to resolve Kashmir dispute
• Saudi beheads Pakistani drug trafficker
Compiled by New Age Islam News Bureau
URL: https://newageislam.com/islamic-world-news/pakistan's-islamic-ideology-body-okays/d/14322
----------
Pakistan's Islamic Ideology Body Okays Test Tube Babies, Terms Sex-Change Operations 'Un-Islamic'
By APP
November 6, 2013
ISLAMABAD: The Council of Islamic Ideology (CII) Pakistan on Tuesday declared that human cloning and sex change as un-Islamic acts while conditionally approving test tube babies.
Addressing a press conference in Islamabad, Chairman CII Maulana Muhammad Ali Sherani said the council had discusses various issues in its 193rd meeting.
He said research, and new innovations were welcome, as long as they were within Islamic limits.
Sherani said gender change was un-Islamic for both males and females. However, a person could be operated upon if they displayed characteristics of both sexes. The procedure should be done within Islamic injunctions.
The chairman said test tube babies were allowed within certain conditions. He said that gender selection was not prohibited in Islam as long as it stayed inside the limits of Shariah.
Sherani qualified, though, that it must not become a common practice.
The council further ruled that the use of secret recordings for court cases should not be part of a general policy, but may be done in selected cases.
Evidence gained from secret recordings should be used only as support for other evidence, as secret recordings cannot be considered permissible by Shariah law, he added.
Maulana Sherani observed that the CII's recommendations were not being presented in the parliament and provincial assemblies; however, he said that ever since he became chairman of the council, the recommendations were being sent to the parliament.
He informed that the council that the next meeting will take up issues relating Christian and Hindu marriage and divorce, the decision of the Federal Shariah court regarding Zakat deduction, Shariah veil, status of installing statues in museums and public places and report on national and international agreements.
http://tribune.com.pk/story/627636/islamic-ideology-body-okays-test-tube-babies-terms-sex-change-operations-un-islamic/
------------
Arab World
Syrian rebels use faces of the dead to recruit new fighters
November 6, 2013
The Saudi man had been killed in fighting, and his corpse, with its beatific smile, was photographed and displayed in a Twitter posting inviting others to celebrate his martyrdom.
He is one of hundreds of Islamist veterans of the Syrian conflict whose deaths are heralded in Web postings, many of which feature bloody — and, occasionally, smiling — portraits of the newly deceased. Although the images may strike many Westerners as macabre, they have become one of the rites of service among Syrian jihadists, as well as a popular recruiting tool.
"These guys are celebrated, and to young people back in the neighborhoods, they are heroes," said Steven Stalinsky, executive director of the Middle East Media Research Institute, a Washington nonprofit group that monitors Web sites and news media in the region. "They look at the photos and they say, 'I can be this guy.' "
To some Syrian rebels and their supporters, Twitter is not just a communications tool but also an online cash machine, useful for soliciting donations or even running auctions for donated cars and jewelry. Others use Skype accounts to conduct interviews with potential recruits or to share advice on military tactics.
The sites' growing popularity among the more extremist Syrian rebel groups — including some with ties to al-Qaeda — has prompted calls for more stringent policing by the US companies that own them. A handful of accounts have been blocked, but the vast majority continue to operate.
Since the arrival of the first foreign jihadists in Syria more than two years ago, rebel volunteers have used Facebook and Twitter accounts to keep their friends and relatives updated about their experiences, just as US troops stationed in war zones do.
When fighters are killed, the same Web sites offer a way to spread the news to family and friends and pay tribute to the fallen, researchers say.
Many of the postings include images and allusions intended to resonate with the Muslim faithful. In some photos, bodies with grievous wounds are posed so that they appear to be smiling or, in some cases, pointing to heaven.
Groups in Kuwait that support the Syrian rebels have used Twitter to run increasingly elaborate fundraising drives, including online auctions that accept cash bids for donated luxury goods, including Land Rover SUVs, diamond necklaces and resort properties.
http://voiceofrussia.com/news/2013_11_05/Syrian-rebels-use-faces-of-the-dead-to-recruit-new-fighters-3553/
------------
Saudi spy chief Bandar condemned for meeting with Mossad
World Bulletin / News Desk
6 November 2013
Saudi Arabia's Crown Prince Salman bin Abdulaziz has called his nephew Prince Bandar 'careless', and is reportedly said to be furious with him for meeting with the Israeli Mossad chief Tamir Bardo.
The meeting, which is said to have taken place in Jordan, has likewise outraged many other members of the Saudi royal family.
Prince Bandar bin Sultan bin Abdulaziz, the head of Saudi intelligence, is now believed to be under supervision as his competency in his position is being reviewed.
http://www.worldbulletin.net/?aType=haber&ArticleID=122273
--------
Iraq attacks kill 13 people as 2013 death toll crosses 5,500
AFP | Nov 6, 2013
MOSUL: Attacks in Iraq killed 13 people Tuesday, most of them security personnel, officials said, the latest casualties in a country-wide spike in violence that the government has failed to stem.
Iraq is mired in its worst violence since 2008, with more than 5,500 people killed this year despite several major military operations and tightened security measures.
In the northern province of Nineveh, two separate roadside bombs targeting army patrols killed three soldiers and wounded four others. In Mosul, a policeman and a militant were killed in a shootout at a checkpoint, and a policeman was shot dead in a separate incident, police and a doctor said.
And a car bomb targeting a police patrol in west Mosul wounded five people, including a policeman. A suicide bomber also detonated a vehicle rigged with explosives near a police checkpoint on the outskirts of Fallujah, killing three policemen and wounding three others, according to officials.
Just north of Baghdad, the local head of an anti-Qaida militia and his son were killed by gunmen, officials said.
From late-2006 onwards, Sunni tribal militias, known as the Sahwa, turned against their co-religionists in al-Qaida and sided with the US military, helping to turn the tide of Iraq's insurgency.
But Sunni militants view them as traitors and frequently target them.
In the disputed northern city of Kirkuk, a car bomb near Iraq's main Turkmen television station killed a civilian and wounded five others, while an off-duty policeman was shot dead while driving in the capital.
Iraq's mounting unrest has coincided with demonstrations by Sunni Muslims against alleged ill-treatment at the hands of the Shia-led government and security forces.
Violence so far this year has left more than 5,500 people dead, the country's worst bloodshed since 2008, when it was emerging from a sectarian war in which tens of thousands were killed.
In addition to major security problems, the government has failed to provide adequate basic services such as electricity and clean water, and corruption is widespread.
Political squabbling has paralysed the government, while parliament has passed almost no major legislation in years.
http://timesofindia.indiatimes.com/world/middle-east/Iraq-attacks-kill-13-people-as-2013-death-toll-crosses-5500/articleshow/25276789.cms
--------
Syria Kurds oust jihadists from Turkey border area
6 November 2013
Kurdish militia in northern Syria have expelled Al-Qaeda-linked fighters from the majority Kurdish area of Ras al-Ain on the Turkish border, a monitoring group said on Tuesday.
"The Committees for the Protection of the Kurds (YPG) have taken over the Manajeer area, scene of battles with the Islamic State of Iraq and the Levant (ISIL), Al-Nusra Front and other rebel groups," the Syrian Observatory for Human Rights said.
The capture of Manajeer left the whole of the area around the strategic border town of Ras al-Ain in Kurdish control, the group said.
The advance came a day after reports that Kurdish fighters had driven jihadists out of 19 towns and villages across northeastern Syria, and a week after they captured the key Iraqi border crossing at Yaarubiyeh.
The jihadists "have now lost their last remaining positions in the countryside of Ras al-Ain," the Observatory said.
The Al-Qaeda loyalists withdrew to the city of Raqa in the Euphrates valley to the southwest, the only provincial capital outside government control, and now dominated by ISIL.
Near the capital, the army pressed its offensive against rebel enclaves, hitting the town of Mleiha east of Damascus with a ground-to-ground missile, the Observatory said.
Amateur video posted online by activists showed a huge cloud of grey smoke rising above the town.
Southeast of Damascus, rebels shelled the majority Christian-Druze suburb of Jaramana, a government-held area that has come under repeated rebel attack, the Observatory said.
In the central province of Hama, ISIL fighters captured a rebel commander and more than 20 fighters in the latest infighting between the jihadists and mainstream rebels, the group added.
http://www.hurriyetdailynews.com/syria-kurds-oust-jihadists-from-turkey-border-area.aspx?pageID=238&nID=57449&NewsCatID=352
----------
Bomb blast kills 8 in central Damascus: SANA
6 November 2013
Eight people were killed and another 50 wounded in a bomb blast in Hijaz square at the heart of the Syrian capital, state news agency SANA said.
"Eight citizens including two women were killed in an explosion caused by a bomb placed by terrorists at the entrance to the Hijaz railroad company," SANA said, using the regime's term for rebels
http://english.ahram.org.eg/NewsContent/2/8/85771/World/Region/Bomb-blast-kills--in-central-Damascus-SANA.aspx
----------
Egypt's Muslim Brotherhood loses appeal against ban on their activity
6 November 2013
An Egyptian court on Wednesday dismissed a request by the Muslim Brotherhood for an injunction on a court ruling banning the Islamist movement and ordering its assets seized, judicial sources said.
A court in September had banned the Islamist movement from operating amid a fierce crackdown on the Brotherhood following the July ouster of Islamist president Mohamed Morsi.
The urgent appeals court in its ruling on Wednesday dismissed a request from the Brotherhood to suspend the ban. The leftist Tagammu party had issued a counter suit asking the court to dismiss the Brotherhood's motion.
Full report at:
http://www.hurriyetdailynews.com/egypts-muslim-brotherhood-loses-appeal-on-group-ban.aspx?pageID=238&nID=57451&NewsCatID=352
----------
International Muslim scholars denounce Morsi trial
6 November 2013
A group of prominent Muslim scholars has denounced the trial of Egypt's deposed president Mohamed Morsi and called on the country's interim leaders to restore "legitimacy."
The International Union of Muslim Scholars (IUMS), headed by cleric Yusuf Al-Qaradawi, said in a statement on Tuesday that Morsi supporters should continue their protests until he is reinstated.
"[The union] calls upon the Egyptian army and its civil associates who led the coup to restore legitimacy and the constitutional institutions that were elected by the people," the statement said.
Full report at:
http://english.ahram.org.eg/NewsContent/1/64/85732/Egypt/Politics-/International-Muslim-scholars-denounce-Morsi-trial.aspx
----------
South Asia
CDs preach hate against Rohingya Muslims
November 6, 2013
Speakers gathered in Washington to promote awareness about the systematic targeting of Rohingya Muslims in Arakan, Myanmar.
The panel of international non-governmental organizations included human rights activist Dr. Holly Atkinson, the head of the Organization of Rohingya Muslims in the UK Maugn Tun Khin, and photographer Greg Constantine.
Dr. Atkinson shared her eye-witness account of human rights abuses in March 2012, saying entire Muslim villages had been burned down, mosques demolished and businesses destroyed. She mentioned that even children were not spared in the violence while many Burmese people applauded the killings. She accused the Myanmar government of allowing the violence to continue and not allowing aid to reach the Rohingya Muslims.
Full report at:
http://www.worldbulletin.net/?aType=haber&ArticleID=122238
------------
Singapore PM meets Malay-Muslim MPs over headscarf debate
6 November 2013
Singapore Prime Minister Lee Hsien Loong yesterday met Malay-Muslim Members of Parliament from the ruling People's Action Party over the issue of allowing the wearing of the Islamic headscarf, or Hijab, among Muslim women in the public sector.
The Straits Times reported that several groups in the city-state have recently called for Muslim women in public sector professions that require a uniform, to be allowed to wear the Hijab.
Full report at:
http://www.themalaysianinsider.com/malaysia/article/singapore-pm-meets-muslim-mps-over-muslim-headscarf-debate
----------
Suicide blast kills four on Afghan side of Chaman border
2013-11-05
QUETTA: At least four people were killed Tuesday when a suicide bomber rammed an explosive-laden vehicle into an Afghan security checkpost near the Pakistan-Afghanistan border-crossing at Chaman, Afghan police said.
The explosion occurred near Wesh Mandi area on the Afghan side of the border, injuring over a dozen other people, Afghan police officials said.
"The strength of the blast smashed window panes and glasses of nearby shops and houses," said a low-level Afghan official, who requested not to be named.
Security was beefed up and the border crossing was shut down for all kinds of traffic following the incident.
Full report at:
http://www.dawn.com/news/1054295/suicide-blast-kills-four-on-afghan-side-of-chaman-border
----------
Afghan police find bodies of seven abducted soldiers
2013-11-06
KANDAHAR: Afghan police say they have found the bodies of seven soldiers, believed to have been killed by their Taliban captors in a southern province.
The police say the bodies were found on Wednesday on the outskirts of the provincial capital of southern Zabul province.
Police chief Ghulam Sakhi says the seven Afghan National Army soldiers disappeared while travelling from southern Kandahar province to their homes in neighboring Zabul a week ago.
Afghan forces have taken over the security of the country ahead of the 2014 withdrawal of US and Nato combat troops.
Full report at:
http://www.dawn.com/news/1054514/afghan-police-find-bodies-of-seven-abducted-soldiers
----------
President Waheed invites presidential candidates to discuss election issues
By Ahmed Naish | November 5th, 2013
President Dr Mohamed Waheed has invited the three presidential candidates for a meeting at the President's Office to "discuss important issues regarding the presidential election."
All three candidates have reportedly accepted the invitation for the meeting due to take place at 11:30am on Wednesday (November 6).
The President's Office has informed local media that discussions will focus on "a political solution" for interim arrangements in the absence of a president-elect at the end of the current presidential term on November 11.
Full report at:
http://minivannews.com/politics/president-waheed-invites-presidential-candidates-to-discuss-election-issues-70859
----------
Bangladesh defends mutiny verdicts, denies use of torture
2013-11-06
DHAKA: Bangladesh has defended the death sentences handed to 152 soldiers for mutiny, insisting Wednesday that those convicted would have an opportunity to appeal and denying claims that confessions were extracted through torture.
"The convicts have at least two tiers of appeal," Law Minister Shafique Ahmed said, the day after a court in Dhaka delivered its verdicts against 823 soldiers who were on trial over a bloody mutiny nearly five years ago.
"No death sentence will be carried out unless they are confirmed in the higher courts," Ahmed added.
As well as the death sentences, the special court jailed more than 400 people on Tuesday at the end of the largest trial in the country's history since independence in 1971.
Full report at:
http://www.dawn.com/news/1054523/bangladesh-defends-mutiny-verdicts-denies-use-of-torture
----------
1,102 on death row after BDR sentences
6 November 2013
The number of convicts on death row rose to 1,102 after a court on Tuesday sentenced 152 members of the former Bangladesh Rifles (BDR) to capital punishment in connection with the Pilkhana carnage.
Meanwhile, all of the accused in the carnage have been kept at the Dhaka Central Jail with special security arrangements taken by the prison authorities and police.
Apart from the death penalties to 152 BDR men, the court also sentenced 161 others to life imprisonment and 263 to different terms, while acquitting 267.
A total of 74 people, including 57 army officers, were killed in Pilkhana in 2009.
Zahir Uddin Babar, assistant inspector general of the prisons, told the Dhaka Tribune that apart from the 152 BDR members, the number of detained convicts on death row totals 950.
"As we are yet to receive the court orders, the official number of the death row convicts will be 950 until November 5. After the court orders come, the number will rise to 1,102 officially," he said.
Full report at:
http://www.dhakatribune.com/law-amp-rights/2013/nov/06/1102-death-row-after-bdr-sentences#sthash.MKPlIszt.dpuf
----------
Worried relatives crowd Alia Madrasa to watch the verdict on BDR carnage case
6 November 2013
The Bakshi Bazar Alia Madrasa ground on Tuesday was teeming with people who came to watch the verdict on the much-talked-about BDR carnage case.
An unusual crowd of several hundred people had gathered on the ground since early in the morning. Around 9am almost half the field was buzzing with members of law enforcement agencies, lawyers, journalists and observers.
Security was beefed up on the court premises with several contingents of police, Rapid Action Battalion and intelligence agencies.
The Alia Madrasa road and Bakhshi Bazar intersections were blocked with barricades and people's movement was restricted there.
Full report at:
http://www.dhakatribune.com/law-amp-rights/2013/nov/06/worried-relatives-crowd-alia-madrasa#sthash.ZPDhdYfE.dpuf
----------
Maldives crisis: Candidates 'agree to 9 November vote'
6 November 2013
The Maldives' three presidential candidates have agreed to take part in elections on Saturday as planned, the president's office has told the BBC.
Media Secretary Masood Imad said they were doing all they could to prevent the country "falling into limbo".
It will be the third attempt at holding polls, after the first round was annulled and a rerun stopped by police.
The opposition have accused the government of trying to prevent their candidate from winning.
Full report at:
http://www.bbc.co.uk/news/world-asia-24831318
------------
Africa
Tunisian president says will free jailed Prophet Cartoonist
6 November 2013
Tunisia's President Moncef Marzouki said Wednesday he would free a young Tunisian man jailed last year for posting cartoons of the Prophet Mohamed online once tensions in the country had eased.
Jabbeur Mejri was sentenced at a closed hearing in March 2012 to seven and half years in jail for posting caricatures of the Prophet on his Facebook page.
He petitioned the president for a pardon earlier this year, saying he regretted his actions.
"I will have him freed. I am just waiting for the political situation to calm down," Marzouki said in an interview with French radio station France Info.
Full report at:
http://english.ahram.org.eg/NewsContent/2/8/85759/World/Region/Tunisian-president-says-will-free-jailed-Prophet-c.aspx
----------
Gaddafi's jailed son appears on Libya TV
6 November 2013
Slain Libyan leader Muammar Gaddafi's son Seif al-Islam, wanted by the International Criminal Court, has appeared on television from his cell in a prison southwest of the capital.
He gave brief answers to three questions from a journalist for Alassema television late Tuesday, confirming that he was allowed to receive visitors and was in good health.
Asked if he wanted to be tried in Tripoli or Zintan, 180 kilometres (110 miles) from the capital, he said: "Zintan is in Libya. There's no difference between Zintan and Tripoli."
The broadcaster said he had at first declined to be interviewed through his lawyer, but had then agreed to answer just three specific questions.
Full report at:
http://english.ahram.org.eg/NewsContent/2/8/85766/World/Region/Gaddafis-jailed-son-appears-on-Libya-TV.aspx
----------
S. Africa accused of being anti-Semitic for curtailing its relations with Israel
Abdurrahman Aydın / World Bulletin
6 November 2013
Maite Nkoana-Mashabane, the International Relations Minister of South Africa, told South African ministers last week to not visit Israel, although she did not officially order them to cut diplomatic relations with Israel.
She stated at a Cosatu international relations committee meeting "Ministers of South Africa do not visit Israel currently. Even the Jewish Board of Deputies that we engage with here, they know why our ministersare not going to Israel."
Responding to her statement, Avidgor Lieberman, Israel's former foreign minister, accused her and South Africa of "anti-Semitism."
He wrote on his Facebook page "The comments by the South African foreign minister at the weekend, that South African government ministers will no longer visit Israel as an expression of solidarity with the Palestinians, are a combination of hypocrisy and classic anti-Semitism."
Full report at:
http://www.worldbulletin.net/?aType=haber&ArticleID=122271
----------
India
President: Worrying bout of communal violence
Press Trust of India
Nov 06 2013
Hyderabad: Expressing concern in the wake of clashes in Muzaffarnagar, President Pranab Mukherjee on Tuesday said parts of the country had experienced a "worrying bout" of communal violence and stressed on strengthening local administration for quickly containing such situations.
"There has been a worrying bout of communal violence in some parts of our country, accompanied by deterioration in inter-community relations. There is a need to strengthen the ability of our district and local administration to notice such tensions in their initial stages and take necessary measures to contain them quickly," Mukherjee said.
Full report at:
http://www.indianexpress.com/news/pranab-worrying-bout-of-communal-violence/1191310/
-----------
Burqa-clad women being brought to Modi's rallies: Shiv Sena
PTI | Nov 6, 2013
MUMBAI: In a veiled attack on ally BJP and its prime ministerial candidate Narendra Modi, the Shiv Sena on Wednesday said issues like Ram temple at Ayodhya and uniform civil code are being ignored for the sake of gaining power.
In an apparent barb at Modi, the Sena said, "Special efforts are being made to bring in Burqa-clad women faces to (Modi's) public rallies. Everyone is in a hurry to appease minorities. Rather than opposing the Congress, all are getting in the race of appeasing minorities," an editorial in Sena mouthpiece "Saamna" said here.
Full report at:
http://timesofindia.indiatimes.com/india/Burqa-clad-women-being-brought-to-Modis-rallies-Shiv-Sena/articleshow/25318730.cms
-----------
Agencies claim threat from Khalistanis, IM
November 06, 2013
The counter-terror agencies have conveyed to the UPA government that BJP's prime ministerial candidate Narendra Modi is under serious security threat from pro-Khalistani terrorist groups and Indian Mujahideen jihadists in the run-up to 2014 Lok Sabha elections. Modi has decided not to attend the December 8 Mega rally in Punjab on chief minister Parkash Singh Badal's birthday apparently due to a clash with the forthcoming state assembly election results on that day.
Full report at:
http://www.hindustantimes.com/india-news/agencies-claim-threat-from-khalistanis-im/article1-1147648.aspx
-----------
Missing 'IM men' were studying for IPS exam
Alok K N Mishra, TNN | Nov 6, 2013
RANCHI: Mujibul Ansari (22) and his friend Salim Ansari (23) told other boarders at Iram lodge at Hindpidhi that they were preparing for IPS examination.
At least, this was the alibi that the duo used to stay away from other boarders, mostly Muslim students preparing for competitive examinations.
Police recovered nine powerful bombs and other materials from room No. 8 of Iram lodge in the city, which was occupied by the two students, suspected to be Indian Mujahideen (IM) operatives.
Full report at:
http://timesofindia.indiatimes.com/india/Missing-IM-men-were-studying-for-IPS-exam/articleshow/25278652.cms
---------
Mideast
Hamas puts 'resistance' on Gaza school's curriculum
AFP, Gaza, Gaza City
6 November 2013
The Gaza Strip's Hamas government said on Tuesday it had added studies to encourage "resistance to Israel" to the territory's public schools curriculum.
Courses to "strengthen Palestinian rights, update programs and add studies on human rights" would be introduced at three levels in secondary schools, Education Minister Muetassem al-Minaui told AFP.
They were intended to instill "faith in the role of the resistance to win rights and to raise awareness of the importance of effective preparations to face the enemy," he said.
The new material, seen by AFP, tells of Israel's winter 2008-2009 and November 2012 military offensives into the Gaza Strip and shows photos of dead Palestinians and of buildings destroyed by Israeli strikes.
Full report at:
http://english.alarabiya.net/en/News/middle-east/2013/11/05/Hamas-puts-resistance-on-Gaza-schools-curriculum-.html
----------
'Death to America' concert at site of former U.S. embassy in Tehran
6 November 2013
A group of Iranian hardliners organized Tuesday a concert at the site of former U.S. embassy in Tehran chanting "death to America" to mark the anniversary of the 1979 seizure of the U.S. embassy staff.
Iran's elite Revolutionary Guards had said that "Death to America" will remain their slogan, regardless of signs of detente between the Islamic republic and United States.
"Death to America is the manifestation of our nation's determination and resistance against the dominance of oppressive and untrustworthy America," it said on its sepahnews.com website.
Full report at:
http://english.alarabiya.net/en/News/middle-east/2013/11/06/-Death-to-America-concert-at-site-of-former-U-S-embassy-in-Tehran.html
----------
Israeli negotiators at odds over Al-Quds
6 November 2013
RAMALLAH – Israeli negotiating team in peace talks with Palestinian Authority (PA) has been at odds over the issue of Al-Quds, a report said on Tuesday.
The Israel Radio said that Justice Minister Tzipi Livni, who heads the Israeli negotiations team and Prime Minister Benjamin Netanyahu's representative, Yitzhak Molcho, came to loggerheads on issues relating to the size of the area designated for the free movement of Israelis and Palestinians in Al-Quds.
The report said that the two negotiators recently differed over the size of a proposed "neutral zone" in Jerusalem between Israel and a potential Palestinian state, an area which would have open access to citizens from both countries.
Full report at:
http://www.saudigazette.com.sa/index.cfm?method=home.regcon&contentid=20131106185884
----------
Turkish PM aims to end mixed sex education: Main opposition leader
6 November 2013
Prime Minister Recep Tayyip Erdoğan's latest remarks opposing mixed-sex student accommodation actually hint toward his intention to abolish mixed-sex education, according to main opposition Republican People's Party (CHP) leader Kemal Kılıçdaroğlu.
"Male and female students do not even live in the same dormitories, they are already separated. But his [Erdoğan's] main concern over this issue is not mixed sex dormitories; his real intention is to abolish mixed-sex education," Kılıçdaroğlu said on Nov. 5 in his address to his party's parliamentary group meeting.
Full report at:
http://www.hurriyetdailynews.com/turkish-pm-aims-to-end-mixed-sex-education-main-opposition-leader-.aspx?pageID=238&nID=57419&NewsCatID=338
----------
Netanyahu tells Kerry he is 'concerned' about talks with Palestinians
6 November 2013
Prime Minister Binyamin Netanyahu said bluntly alongside visiting US Secretary of State John Kerry on Wednesday morning that he was "concerned" about the negotiations with the Palestinians.
"I'm concerned about their progress, because I see the Palestinians continuing with incitement, continuing to create artificial crisis, continuing to avoid historic decisions that are needed to make a genuine peace," he said. "I hope your visit can steer them back to a place where we can achieve the historic peace we seek and that our people deserve." Netanyahu said that Israel, the Palestinians and the US agreed to certain terms three months ago that led to a resumption of the negotiations.
Full report at:
http://www.jpost.com/National-News/PM-tells-Kerry-he-is-concerned-about-talks-with-Palestinians-330767
----------
No talks with Israel while settlement grows, Palestinian official says
AFP | Nov 6, 2013
RAMALLAH (Palestinian Territories): The Palestinians cannot continue peace talks with Israel if Jewish settlement on the occupied West Bank keeps expanding, a senior Palestinian official told AFP on Tuesday.
"The Israeli side is determined to continue its settlement and we cannot continue negotiations under these unprecedented settlement attacks," he said on condition of anonymity after a stormy meeting of Israeli and Palestinian negotiators.
"The Palestinian-Israeli negotiations broke down during the session on Tuesday night," the official said, as US secretary of state John Kerry arrived in Jerusalem to try to revive the fragile peace process.
Full report at:
http://timesofindia.indiatimes.com/world/middle-east/No-talks-with-Israel-while-settlement-grows-Palestinian-official-says/articleshow/25283012.cms
-----------
Europe
Burqua Escape Not Facilitated By Mosque, Says Founder
6 November 2013
The escape of terror suspect Mohammed Ahmed Mohamed under a burka on Monday was not facilitated by the mosque from which he fled, according to the institution's founder.
When questioned about its role, Khalid Rashad, who runs the West London mosque from where Mohamed evaded police, told Channel 4 that the institution was not involved, adding: "I completely refute that, because I do not understand why we, as the management of this institution, would condone such a thing."
Mohamed is believed to have received terror training from Somali group al-Shabaab and though police have not confirmed that members of the mosque helped him escape surveillance, Mayor Boris Johnson said he was sure that the suspect had managed to contact friends at the mosque to help him escape.
Full report at:
http://www.huffingtonpost.co.uk/2013/11/05/burka-mosque-escape_n_4220825.html?utm_hp_ref=uk
----------
International aid for Syrian refugees falls short, says French first lady
6 November 2013
The partner of French President Francois Hollande, Valerie Trierweiler, visited on Tuesday a Syrian refugee camp in Lebanon to urge for more help to deal with the refugee influx.
Trierweiler went to to the camp located in Tell Delhamiya, near the town of Zahle, in the Bekaa Valley of Lebanon.
"We know Lebanon is paying a heavy price in the reception of refugees as quarter of the population today is made up of Syrian refugees, and I think the whole international community should address this issue today.
Full report at:
http://english.alarabiya.net/en/News/middle-east/2013/11/06/International-aid-for-Syrian-refugees-falls-short-says-French-first-lady.html
----------
Human rights: 'Average marriage age for girls 13 in some rural areas'
November 6, 2013
LAHORE: Sixteen civil society organisations formally launched the Alliance against Child Marriages (AACM) Punjab on Tuesday to try and bring up the average age of marriage for girls, which is as low as 13 in some rural areas.
Almost half of Pakistani women are married by the age of 19 and half have delivered their first child by the age of 21, according to various studies conducted by women's rights group Shirkat Gah, its communications director Fauzia Waqar said at the launch.
Waqar said that child marriages were a violation of basic human rights and the law. She said: "Our Constitution terms marriage as a legal contract between two adults. How can there be a marriage when an individual doesn't even qualify to be an adult?"
The average age of marriage and first delivery, as well as the mortality rate, are much worse in rural areas, said Waqar. Early marriages often resulted in serious health risks for the girl. Full report at:
http://tribune.com.pk/story/627511/human-rights-average-marriage-age-for-girls-13-in-some-rural-areas/
------------
Iran's 840,000 Afghan refugees not forgotten: UNHCR
2013-11-06
TEHRAN: The UN High Commissioner for Refugees has "not forgotten" the 840,000 Afghan refugees in Iran, an official from the body said on a visit to Tehran on Tuesday.
"The whole world is at the moment very much focused on the Syria crisis, it is also important that UNHCR show we have not forgotten the Afghan refugees," UNHCR Assistant High Commissioner for Operations Janet Lim said.
Lim was ending a three-day visit to the Islamic republic, home to the world's largest community of Afghan refugees, some of whom first fled fighting in their homeland in the 1980s.
Full report at:
http://www.dawn.com/news/1054496/irans-840000-afghan-refugees-not-forgotten-unhcr
----------
UK sets up group to monitor Islamic finance trends, issues
Mushtak Parker
6 November 2013
LONDON – Another sign that the British government has stepped up its Islamic finance proposition to a potentially important new level is the establishment by the UK government of the Global Islamic Finance and Investment Group (GIFIG), comprising financial regulators and chief executives from the OIC countries.
UK Financial Secretary to the Treasury Sajid Javid who was promoted to this new position in Prime Minister David Cameron's mini cabinet reshuffle in October, said on the sidelines of the World Islamic Economic Forum that GIFIG will meet regularly to identify and address the critical factors that will drive the global Islamic finance market over the next five years.
Full report at:
http://www.saudigazette.com.sa/index.cfm?method=home.regcon&contentid=20131106185852
----------
North America
Haqqani network losing goodwill, support turning into resentment: New York Times
Nov 06 2013
New York : upport for the dreaded Haqqani network across the militant group's historical stronghold in eastern Afghanistan is gradually turning into "resentment" as local leaders say the Haqqani supremo's war is for "Pakistani rupees and power" and they cannot follow him "blindly".
"Murmurs of discontent have broken out on the Haqqanis' home turf. As the Haqqanis themselves, Jalaluddin and Sirajuddin, his son, who now leads the group shelter across the border in Pakistan, support has turned to resentment in some corners," the New York Times reported.
Full report at:
http://www.indianexpress.com/news/haqqani-network-losing-goodwill-support-turning-into-resentment-report/1191480/
------------
US official: Syria may try to hide chemical weapons
6 November 2013
UN envoy Power: US skeptical of Syria WMDs declaration; agreed in September to destroy chemical weapons program by mid-2014.
The United States is reviewing intelligence suggesting Syrian President Bashar Assad's government may try to keep some chemical weapons instead of turning them all over for destruction, a US official said on Tuesday.
Under a Russian-US proposal, Syria agreed in September to destroy its chemical weapons program by mid-2014, averting a threat of missile strikes by Washington following an August 21 sarin gas attack in Damascus that killed hundreds of people.
Full report at:
http://www.jpost.com/Middle-East/US-official-Syria-may-try-to-hide-chemical-weapons-330739
---------
US gives $75 million more in aid to Palestinians
AP | Nov 6, 2013
BETHLEHEM, West Bank: US secretary of state John Kerry has said that the United State will provide an additional $75 million in aid to create Palestinian jobs and help them improve roads, schools and other infrastructure.
US officials say the aid is intended to boost Palestinian public support for faltering peace talks with Israel by showing them tangible benefits from the process.
Kerry announced the aid on Wednesday in Bethlehem, where he is meeting Palestinian leader Mahmoud Abbas. Kerry met the Israeli Prime Minister Benjamin Netanyahu in Jerusalem earlier on Wednesday.
Full report at:
http://timesofindia.indiatimes.com/world/us/US-gives-75-million-more-in-aid-to-Palestinians/articleshow/25323659.cms
-----------
Southeast Asia
Indonesia extradites son of suspected terrorist mastermind to Singapore
November 05, 2013
JAKARTA, Indonesia – Muhammad Hanif bin Mas Selamat, also known as Masyhadi, the son of Singaporean alleged terrorist Mas Selamat bin Kastari, was extradited to Singapore, police said Monday (November 4th) according to the Jakarta Globe.
Masyhadi was arrested October 20th at his own wedding for suspected immigration violations. He was extradited Wednesday, National Police Spokesman Ronny F. Sompie said.
Ronny said the arrest was made at the request of Singapore police and carried out through Interpol but said he does not know what Masyhadi is wanted for in Singapore.
Full report at:
http://khabarsoutheastasia.com/en_GB/articles/apwi/articles/newsbriefs/2013/11/05/newsbrief-05
----------
Indonesian Plotted on Facebook to Attack Myanmar Embassy
6 November 2013
A suspected Indonesian extremist plotted with other Islamic militants on Facebook to bomb the Myanmar embassy to avenge the deaths of Rohingya Muslims in Myanmar, a court heard Wednesday at the start of his trial.
Separiano, 29, is accused of planning to attack the mission in Jakarta in May as anger grew in Muslim-majority Indonesia at persecution of the Rohingya in predominantly Buddhist Myanmar.
Full report at:
http://www.thejakartaglobe.com/news/indonesian-plotted-on-facebook-to-attack-myanmar-embassy/
----------
Philippines seeks Sudan help for death row inmate
6 November 2013
MANILA — The Philippines said Tuesday it is seeking help from Sudan to commute the death sentence of a Filipino facing execution in Saudi Arabia. Foreign Secretary Albert del Rosario said officials were trying to contact the family of the Sudanese man killed by Filipino laborer Joselito Zapanta in Saudi Arabia in 2009, resulting in his death sentence.
Zapanta was given until November 3 to raise more than $1 million to pay the family of the Sudanese landlord, who he killed in a rent dispute.
Full report at:
http://www.saudigazette.com.sa/index.cfm?method=home.regcon&contentid=20131106185875
-----------
Pakistan
Maulana Fazl ur Rehman: 'Strike on Mehsud made with mala fide intent'
November 6, 2013
PESHAWAR: Jamiat Ulema-e-Islam (JUI-F) chief Maulana Fazl ur Rehman said killing the Tehreek-e-Taliban Pakistan (TTP) chief in a US drone strike has brought talks to a standstill. However, Fazl added, engagement for peace will be pursued.
At a membership drive at the party's provincial headquarters on Tuesday, Fazl lauded the federal government's efforts to establish negotiations following the all-parties conference (APC). Various attacks over the past few months in the province dragged down the peace process; there was a lobby in the country against the talks, claimed Fazl. Now the break in pace has come from the Taliban side after the death of Hakimullah Mehsud, something which has dented the Taliban's trust, he added. According to Fazl, the attack on Mehsud was made with mala fide intent.
Full report at:
http://tribune.com.pk/story/627694/process-disrupted-strike-on-mehsud-made-with-mala-fide-intent/
----------
Pakistani opposition holds own 'session' outside parliament
PTI | Nov 6, 2013
ISLAMABAD: Pakistani opposition lawmakers on Wednesday held their own "session" outside parliament to protest a disparity in figures for civilian casualties in US drone attacks and terror strikes.
Despite a request from minister of state for water Chaudhry Abid Sher Ali, the opposition refused to enter the Senate or upper house of parliament and chanted "Shame, shame, shame".
The opposition lawmakers said they would discuss a 10-point agenda during their "session" outside parliament, including interior minister Chaudhry Nisar Ali Khan's "attitude", a power tariff hike, inflation and the law and order situation in the financial hub of Karachi.
Full report at:
http://timesofindia.indiatimes.com/world/pakistan/Pakistani-opposition-holds-own-session-outside-parliament/articleshow/25321870.cms
-------------
Taliban chief's death spells trouble for Sharif govt
Imtiaz Ahmad, Hindustan Times
November 06, 2013
The death of Hakimullah Mehsud in a drone attack comes at a time when there are internal divisions in the Tehreek-e-Taliban Pakistan (TTP) over whether to talk peace with the Nawaz Sharif government or not.
The killing of Mehsud — who most threatened peace — has implications not just for the TTP, but also for Pakistan and its newly-elected government.
Ironically, Pakistan is mourning the death of a man who was responsible for killing hundreds of its own citizens. Islamabad has protested strongly against the United States' move, which it believes can scuttle peace talks with the militant outfit, and has even threatened to 'review' its relationship with the Obama government.
Full report at:
http://www.hindustantimes.com/world-news/taliban-chief-s-death-spells-trouble-for-sharif-govt/article1-1147635.aspx
----------
Pakistan renews appeal to resolve Kashmir dispute
2013-11-06
UNITED NATIONS: Pakistan made an impassioned appeal to the United Nations on Monday to resolve the decades-old Kashmir dispute with India by allowing people in the valley to exercise their right to self-determination.
Addressing the UN General Assembly, Pakistan's Permanent Representative Masood Khan said it was regrettable that decades after adoption of UN resolutions, the people of Jammu and Kashmir remained deprived of their fundamental right.
"They continue to face widespread repression and gross and consistent violations of human rights, which have been documented by independent international human rights organisations," he added.
Full report at:
http://www.dawn.com/news/1054492/pakistan-renews-appeal-to-resolve-kashmir-dispute
----------
Saudi beheads Pakistani drug trafficker
November 6, 2013
RIYADH: Saudi authorities beheaded a Pakistani man Wednesday in the eastern Qatif province after he was convicted of drug trafficking in the kingdom, the interior ministry announced.
Jaafar Ghulam Ali was "arrested as he was smuggling a large amount of heroin," said the ministry statement quoted by the official SPA news agency.
His beheading brings to 71 the number of people executed in Saudi Arabia so far this year, according to an AFP count.
In 2012, the kingdom carried out 76 executions, according to a tally based on official figures. Human Rights Watch put the number at 69.
Rape, murder, apostasy, armed robbery and drug trafficking are all punishable by death under the oil-rich Gulf state's law.
http://tribune.com.pk/story/627921/saudi-beheads-pakistani-drug-trafficker/
----------
URL: https://newageislam.com/islamic-world-news/pakistan's-islamic-ideology-body-okays/d/14322