New Age Islam News Bureau
4 May 2013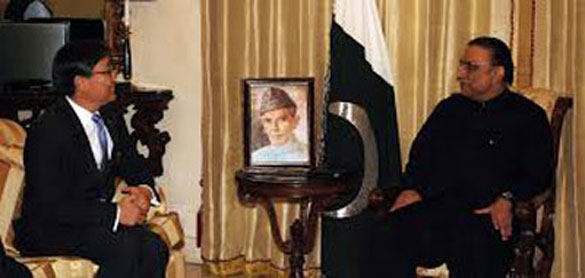 Pak President Confers Hilal-I-Quaid upon Chinese Ambassador
-----------
Pakistan
• Pak President confers Hilal-i-Quaid upon Chinese Ambassador
• Firing in Orangi Town, Karachi kills five
• Taliban bullets kill ANP candidate, son in Karachi
• One soldier, four militants killed in clash
• Sunni leader killed in Lahore drive-by shooting
• Musharraf files bail in judges' detention case
• Nawaz, Zardari are 'kings' of corruption, says Imran
• Musharraf League to boycott polls
• Pakistan court extends Pervez Musharraf's remand by 14 days
• Was it Taliban behind MQM office blast?
• Bilawal Bhutto out of Pak, not to return before polls
• Pakistan prisoners segregated in Jammu's Kot Bhalwal prison
------------
Arab world
• Assad troops execute 50 in Sunni village
• Egypt Islamic official: 'Permissible to kill Christians today'
• Al-Jamaa al-Islamiya collects funds to arm Syria's rebels
• Hamas rebuffs Arabs for softening Israeli-Palestinian peace plan
• Palestine's Abbas, Israel's Netanyahu head to China
• Search engine Google recognises Palestine
• Syria opposition slams village 'massacre'
• Deaths in Baghdad mosque bomb attack
• Muslim scholars condemn civil marriage approval
• Canada accuses Qatar of trying to buy UN agency
• Hundreds flee Syrian city after sectarian killings
------------
Mideast
• Muslim, Jewish, Christian Chefs Cook for Peace in Jerusalem
• Israel frees Palestinian hunger-strikers
• Japan, Turkey sign $22bn nuclear deal
• Israeli warplanes bomb Syrian weapons convoy to Lebanon, say officials
------------
Southeast Asia
• Sikhs in Malaysia angry at tonsuring act
• Police starts crackdown on 'Malaysian Spring' ahead
• Myanmar Embassy Bomb Plotter Used Facebook to Recruit Followers: Police
• Tight race expected for Malaysia elections
------------
India
• Indians, Pakistanis demand UN-supervised probe into Sarabjit's killing
• Mumbai police fixed three Indian teens in a fabricated case of being Bangladeshi
• Pakistani in Dubai seeks acquittal in Indian's death case
• Indian workers to be regularised: Saudi Arabia
• Attack in Jammu jail: Pak prisoner's condition remains critical
• Pakistan pilgrims advised against Ajmer visit
• Pakistan High Commission officials visit Sanaullah at PGI Chandigarh
• 3 Pakistan prison officials suspended over attack on Sarabjit
• Indians demand wider role in Indian Community Welfare Fund, Riyadh and Jeddah
• Cattle import from Pak: Process began 6 months back
• Hate-speech case: Court cancels non-bailable warrant, asks Akbaruddin Owaisi to appear
------------
North America
• Struggle to find grave site stymies Boston bombing suspect's burial
• Poll: U.S. Muslims more moderate than Muslims worldwide
• US lifts more sanctions on Myanmar to support reforms
• Washington calls for shutting down Iran, North Korea arms networks
• U.S. believes Israel has conducted an airstrike into Syria
------------
South Asia
• Hefazat should not use religion for flouting a new political party
• Muslims in Myanmar barricade village as attacks spread
• Hefazat rejects Bangladesh PM's call
• 3 Jamaat leaders arrested in Dhaka
• Hasina renews talks call to Opp. leader
------------
Africa
• Libyan rights activist attacked after interview with Al Arabiya
• Tunisian army presses hunt for jihadists
• 100 dead, rescuers trapped in Darfur disaster
------------
Europe
• Russia blocks probe into Syrian refugee camps
Compiled by New Age Islam News Bureau
URL: https://newageislam.com/islamic-world-news/pak-president-confers-hilal-i/d/11424
------------
Pakistan
Pak President confers Hilal-i-Quaid upon Chinese Ambassador
May 04, 2013
KARACHI: President Asif Ali Zardari decorated Chinese Ambassador to Pakistan Liu Jian with the award of Hilal-i-Quaid-i-Azam in recognition of his pivotal role in further cementing and expanding the already existing strategic friendship between Pakistan and China
The award was conferred during a special investiture ceremony held at Bilawal House on Friday. President bestowed Liu Jian for his untiring efforts to enhance mutual cooperation between the two countries in diverse fields. The investiture ceremony was attended by Chief Minister Sindh Justice (retd) Zahid Kurban Alvi, Senator Farhatullah Babar, foreign secretary Jalil Abbas Jillani, ministers, members of diplomatic community, senior officials of Chinese embassy and other senior officials.
The citation read on the occasion said that that Liu Jian has played a pivotal role in strengthening and expanding the strategic collaboration between the two countries during his three years tenure of duty and that the ambassador devoted his energies to forge ties in the field of defense, strategic relations, culture, sports and people-to-people contacts. Gwadar Port Project, which is a hall mark of Pak-China Strategic Partnership, was handed over to Chinese Company during the ambassador's tenure, the citation said. Liu Jian being a great friend of Pakistan would be remembered for his commitment to strengthen the bilateral relations in diversified fields, the citation added.
Later, Chinese Ambassador also called on the President and discussed matters relating to Pak-China bilateral relations. Spokesperson to the President Senator Farhatullah Babar said that the President while congratulating the Chinese ambassador on the conferment of the award of Hilal-i-Quaid-i-Azam, appreciated the invaluable contributions made by him during his three years tenure as ambassador in Pakistan.
The President said that the high level visits and frequent interaction between the leadership of the two countries were a testimony of Liu Jian's untiring efforts to further enhance the close and brotherly ties between our two countries. Lauding the role of Chinese ambassador for more investment in Pakistan, the President said that Liu Jian was instrumental in fetching Chinese investment in various sectors including infrastructure, energy, communications and agriculture, which, the President said are closely related to people's livelihood.
The President said that Pakistan was proud of its time tested and all weather friendship with China and expressed satisfaction over the current level of bilateral trade that reached $12.4 billion in 2012 with three times increase in Pakistan's exports to China since 2008 reaching $3.14 billion in 2012. President also appreciated China's economic support and assistance to the socio- economic development of Pakistan and said that Pakistan desires to promote closer collaboration in agriculture, irrigation, security, energy, railways and infrastructure development.
President said that the people and Government of Pakistan highly valued fraternal relations with China demonstrated by the fact that the government and people of China have always stood by us in times of distress. He said that the two countries will always stand together under all circumstances. President further urged the need for investing in the Pak- China friendship by enhancing interaction between the people of two countries.
http://www.dailytimes.com.pk/default.asp?page=2013\05\04\story_4-5-2013_pg7_24
------------
Firing in Orangi Town, Karachi kills five
2013-05-04
KARACHI: At least five people were killed including three women and a child in a firing incident in Karachi's Orangi Town area on Saturday, DawnNews reported.
According to Superintendent Police (SP) Orangi Chaudhry Assad, bullet riddled bodies of five people were found at a house in Faridabad Colony, area of Orangi Town.
Initial reports suggest that it was a case of personal enmity, said police
The bodies were shifted to the Abbasi Shaheed Hospital and police started their investigation.
The incident has created fared in the locality and large number of people had gathered at the site of the incident.
http://beta.dawn.com/news/812051/firing-in-orangi-town-kills-five
------------
Taliban bullets kill ANP candidate, son in Karachi
May 04, 2013
Mansoor Khan
Karachi - Awami National Party (ANP) candidate Sadiq Zaman Khattak, contesting for NA-254 Karachi, was gunned down along with his four-year-old son by the Tehreek-e-Taliban Pakistan in Bilal Colony on Friday.
Following the killing, the Election Commission postponed polls in the constituency while the ANP gave a mourning call in the port city for today.
Spokesperson for outlawed Tehreek-e-Taliban Pakistan (TTP) Ehsanullah Ehsan claimed the responsibility of the killing.
Sadiq Zaman Khattak and his son Ahmed Saddiq were shot dead by four motorcyclists near a mosque in Bilal Colony area of Korangi when they were going back after offering Friday prayers.
Seven persons including another son of Sadiq Khattak were injured in the attack and were taken to the hospital for medical aid.
Following the incident, markets were shut in the area.
TheNation received an email by the TTP spokesperson that states: "The so called general elections are going to be held under the secular democratic system in a country which came into being under the banner of Islamic doctrine, which is contrary to the secularism. We cannot prefer human beings on our LORD the merciful and mighty. A man cannot be secular and Muslim at a time. These are two different doctrines.
"The first reason for the political parties being under attack by the TTP is their secular doctrine and the other main and basic reason is that these are the main responsible for the Burning-FATA, Swat and KPK. They are responsible for displacement of millions of people, for the plight of Pashtoon Nation, for their abandoned villages, for the destroyed mosques for military operations and for the blood game since years.
"Now they are suffering for their sins, Tehreek Taliban Pakistan will always avenge for the oppressed."
Some 28 people have been killed in attacks on secular parties in Karachi that crippled their election campaigns.
Staff Reporter from Islamabad adds: ANP spokesman Senator Zahid Khan, while condemning the murder of his party election candidate, Sadiq Zaman Khattak, announced to register a case against Interior Minister, caretaker Chief Minister Sindh and Election Commission of Pakistan (ECP).
According to media reports, the spokesman said that FIR of the killing would be registered against the caretaker CM Sindh, ECP and Interior Minister as they have taken back security from ANP candidates.
Moreover, the ECP admitted that security of candidates is the primary responsibility of government and terrorists are acting freely but government is doing nothing against them.
Meanwhile, Prime Minister Justice (retd) Mir Hazar Khan Khoso has strongly condemned the firing incident in Karachi resulting in the killing of ANP candidate Sadiq Zaman Khattak and his son on Friday. He expressed shock and grief over the incident.
The Prime Minister directed the provincial government to submit a comprehensive report regarding the incident and track those responsible for this heinous crime and bring them to book.
The Prime Minister also directed the provincial authorities to beef up the security of the candidates.
http://www.nation.com.pk/pakistan-news-newspaper-daily-english-online/national/04-May-2013/taliban-bullets-kill-anp-candidate-son-in-karachi
------------
One soldier, four militants killed in clash
May 04, 2013
One security personnel and four militants were killed in a clash when militants ambushed a security check post in Ladha area of South Waziristan tribal region on Friday.
According to security sources, one security personnel was killed during the attack whereas retaliatory action by security forces killed four militants in the area.
http://www.nation.com.pk/pakistan-news-newspaper-daily-english-online/national/04-May-2013/one-soldier-four-militants-killed-in-clash
------------
Sunni leader killed in Lahore drive-by shooting
May 04, 2013
A leader of the Sunni Tehrik was killed in a drive-by shooting in the Tibbi City area on Friday, police said.
Khurum Raza Qadri, 45, was on his way home in an auto-rickshaw after leading Friday prayers at the Begum Shahi Masjid Moti Bazaar when two gunmen riding on a Honda-125 motorcycle intercepted the three-wheeler near Food Street in the limits of Tibbi City police station.
"The gunmen pumped five bullets into the body of Qadri, who died on-the-spot because of excessive bleeding," replied Faheem, an on-duty police official at the Tibbi City police station when contacted.
The motorcyclists, said to be masked men, ensured his on-the-spot death and fled away instantly. Police sources said that the killers only targeted Qadri with automatic weapons and did not even threaten or harm the rickshaw driver.
Fear and terror gripped the entire locality as the gun assault in broad daylight forced many people to run towards safer place.
A good number of followers of the religious leader gathered outside his Samanabad residence soon after the incident and staged protest demonstration against the killing, demanding immediate arrest of the killers. Investigators believe that the motive behind the brazen and preplanned gun attack could be sectarian though the police are investigating the killing keeping in view various aspects of the happening.
http://www.nation.com.pk/pakistan-news-newspaper-daily-english-online/lahore/04-May-2013/sunni-leader-killed-in-lahore-drive-by-shooting
------------
Musharraf files bail in judges' detention case
2013-05-04
ISLAMABAD: A bail application was filed on behalf of former military ruler Pervez Musharraf in the Anti-terrorism court (ATC) in Islamabad on Saturday.
During the judges' detention case hearing, Musharraf's counsel Imran Feroz and Zia ur Rehman filed a bail application on which the court issued notice to the parties for May 6.
This was followed by a directive of the Chief Commissioner of Islamabad, Jawad Paul, according to which the trial Musharaf would be held at his sub-jail Chak Shahzad due to security reasons.
The case is one of three against Musharraf in Pakistani courts. He is also accused of involvement in a conspiracy to murder Benazir Bhutto in 2007 and over the 2006 killing of Baloch nationalist leader Akbar Khan Bugti.
Judges' detention case
Full report at:
http://beta.dawn.com/news/812043/musharraf-files-bail-in-judges-detention-case
------------
Nawaz, Zardari are 'kings' of corruption, says Imran
Nisar Ahmad Khan
2013-05-04
MANSEHRA: Pakistan Tehrik-i-Insaf chairman Imran Khan on Friday said his party would make a new Pakistan after winning the May 11 elections where the former corrupt rulers would be taken to task.
"I assure you that PTI is going to make a new Pakistan, where corrupt rulers will be taken to justice. I will hold (Pakistan Muslim League-Nawaz) Nawaz Sharif and (Pakistan People's Party leader) Asif Zardari accountable after coming to power as these kings of corruption won't hold each other accountable," he told an election rally here.
Mr Imran declared himself a lion-hunter and said enthusiasm of youths would wash away PML-N in Punjab.
He said after coming to power, PTI would break the partnership between Zardari and Nawaz Sharif as the people wanted to get rid of the two corrupt politicians.
The PTI chief said the last government was not sincere in addressing energy crisis in the country and that Chashma Canal alone could generate more than 50,000 megawatts electricity.
He said construction of roads couldn't put the country on the way to prosperity.
"This country will get the real prosperity and development when justice is dispensed to the people without discrimination and the philosophy of Quaid-i-Azam Mohammad Ali Jinnah is implemented in letter and spirit," he said.
Mr Imran said Nawaz Sharif had a double standard as he on one hand talked about the freedom of judiciary but on the other, had tried to bribe the Supreme Court judges for a favourable verdict through former president Mohammad Rafiq Tarrar during his term as the prime minister.
Full report at:
http://dawn.com/2013/05/04/nawaz-zardari-are-kings-of-corruption-says-imran/
------------
Musharraf League to boycott polls
May 04, 2013
Imran Mukhtar
ISLAMABAD - In a move to have a safe exit from Pakistan, General (r) Pervez Musharraf's All Pakistan Muslim League announced on Friday boycott of the elections, alleging 'partial' attitude of the Election Commission and judiciary.
After Dr Tahirul Qadri's Pakistan Awami Tehreek (PAT), the APML is the second 'political party' whose head landed in Pakistan under the illusion that 'millions' of Pakistanis would shower petals on him.
APML Secretary General Dr Amjad, after the emergency meeting of party's core in Islamabad, said: "Keeping in view the partial and unjust attitude of the ECP and judiciary towards the APML, its president Pervez Musharraf and other election contestants, the party has decided to boycott the 2013 general elections". Talking to the media, he said that he got the approval of the decision to boycott elections from his party president during a meeting in Chak Shahzad Sub-jail on Friday.
The APML secretary general said that the party would hold countrywide sit-ins in front of ECP offices and courts in protest against the disqualification of Pervez Musharraf. He said that the APML strongly protested over the unjust, hostile and partial attitude of the ECP and courts towards Pervez Musharraf and other workers of the APML. "We protest over the bad treatment given to party president and it will continue until the end of this attitude and injustice," he added.
Full report at:
http://www.nation.com.pk/pakistan-news-newspaper-daily-english-online/national/04-May-2013/musharraf-league-to-boycott-polls
------------
Pakistan court extends Pervez Musharraf's remand by 14 days
May 04, 2013
Islamabad: A Pakistani anti-terrorism court on Saturday ordered former military ruler Pervez Musharraf to remain in custody for a further two weeks ahead of his trial for unlawfully sacking judges during his rule, officials said.
"Pervez Musharraf's remand is extended for judicial lock-up for 14 days, he should be presented before the court on May 18," Judge Kausar Abbas Zaidi, ordered.
Police had asked the judge to grant the custodial extension saying the investigation into Musharraf's activities was still under way.
Lawyers for Musharraf, who is locked in his own home, which has been declared a sub-jail while he is awaiting trial, filed a bail application in the court and the judge fixed a hearing for May 6.
The court was also asked if Musharraf's trial could be held inside his plush villa, citing security reasons, but the matter was left pending.
"It has been brought into my notice that the Chief Commissioner of Islamabad issued a notification for the jail trial, but approval from Islamabad high court is needed in this regard," the judge said.
Musharraf was placed in police custody at his home following his arrest on April 19, in an unprecedented move against a former army chief of staff ahead of key elections.
He was arrested for making a decision to sack judges when he imposed emergency rule in November 2007 -- a move that hastened his downfall.
He also faces charges of conspiracy to murder opposition leader Benazir Bhutto in 2007 and over the death of a rebel leader during a 2006 military operation.
Full report at:
http://www.ndtv.com/article/world/pakistan-court-extends-pervez-musharraf-s-remand-by-14-days-362724
--------------
Was it Taliban behind MQM office blast?
May 04, 2013
KARACHI: Investigators trying to ascertain if the Taliban were really behind the Burns Road blast, that rattled a sector office of Muttahida Qaumi Movement (MQM) on Thursday, or some third party took advantage of the situation. Following the orders of IG Police to apprehend culprits behind Burns Road blast, three suspects were held on Friday. According to police, two of the detainees were injured in the blast and the third one was arrested with the help of geo-fencing. The police further said that the three suspects were being interrogated on the basis of circumstantial evidence against them.
Full report at:
http://www.dailytimes.com.pk/default.asp?page=2013\05\04\story_4-5-2013_pg12_2
------------
Bilawal Bhutto out of Pak, not to return before polls
May 4, 2013
Pakistan People's Party chief Bilawal Bhutto Zardari has left on a foreign trip and will not be present in the country when it goes to polls on May 11, according to a media report.
Mr. Bilawal, 24, will not address any rallies or meetings ahead of the general election due to threats to his life, sources in the PPP were quoted as saying in the report on the website of the Dawn newspaper.
Senior PPP leader Taj Haider confirmed that consensus had been reached within the party and Mr. Bilawal had been advised not to lead the poll campaign due to serious security threats.
"We have already lost Benazir Bhutto and will not risk losing Mr. Bilawal. The threats to his life are very real," Mr.Haider said on Friday.
Former premier Benazir Bhutto was killed in 2007 by a suicide bomber, just before the last general elections.
Mr.Haider did not say where Mr. Bilawal was at the moment.
However, the report quoted sources in PPP as saying that he had left Pakistan earlier this week and would not be returning before May 11.
In a video message released on April 23, the scion of the influential Bhutto family and son of President Asif Ali Zardari said he would join the PPP's election campaign but not lead it.
"I wanted to contest polls living amongst you; I wanted to launch the election campaign in the streets of my country alongside my workers... but we are at war against (a) mindset," Mr. Bilawal told PPP workers in the video that marked the launch of the party's campaign.
He claimed the murderers of his grandfather Zulfiqar Ali Bhutto and mother wanted to "eliminate" him as well.
Full report at:
http://www.thehindu.com/news/international/south-asia/bilawal-bhutto-out-of-pak-not-to-return-before-polls/article4683194.ece
------------
Pakistan prisoners segregated in Jammu's Kot Bhalwal prison
May 04, 2013
Jammu: After the murderous attack on a Pakistani prisoner in the Kot Bhalwal Jail here, the 17 other Pakistani prisoners have been moved to separate barracks although all Indian and Pakistani inmates work together under strict vigil, an official said on Saturday.
"They are now kept in segregated barracks. But since they have to undergo rigorous imprisonment they have to put in labour. So while working, all of them, whether Indians Pakistanis and Bangladeshis, are together, but we are now keeping a strict vigil on them," the Deputy Inspector General (DIG) of Prisons, Mohammad Sultan Lone, told reporters.
Full report at:
http://ibnlive.in.com/news/pakistan-prisoners-segregated-in-jammus-kot-bhalwal--prison/389594-3-245.html
------------
Arab world
Assad troops execute 50 in Sunni village
4 May 2013
BEIRUT: The Syrian opposition yesterday denounced a "large-scale massacre" by troops and militiamen in a Sunni village in the northwest after a watchdog said at least 50 people, mostly civilians, were killed.
The Syrian National Coalition called for international action, citing witness reports of civilians being stabbed to death in Bayda, a Sunni village outside the port of Banias.
"The Coalition calls on the Arab League and the UN to act rapidly to save the civilians of Bayda, Banias and other villages across Syria," a statement said, accusing the regime of "war crimes and genocide."
"Several sources in the village say at least 50 people were killed in summary executions and shelling in Bayda village," a southern suburb of the Alawite-majority city, Syrian Observatory for Human Rights chief Rami Abdel Rahman told AFP.
He was speaking after fierce clashes erupted in the area.
The official SANA news agency said troops killed "terrorists" — the regime term for insurgents — and seized arms in an operation targeting rebels.
An Observatory statement said some people "were summarily executed, shot to death, stabbed or set on fire."
Full report at:
"Heavy gunfire has been heard, and we fear there may be a new sectarian massacre."
http://www.arabnews.com/news/450310
------------
Egypt Islamic official: 'Permissible to kill Christians today'
By Cheryl K. Chumley
May 3, 2013
The secretary-general of Egypt's Islamic Jihad Party said that it's OK to kill Christians because they threw the first punch.
"Those who came out with weapons, their blood is allowed for us [to spill]. As a fighter, [it's] not considered dhimmi," said Mohamed Abu Samra, according to the Christian Post.
Dhimmi is an Islamic law that says those of non-Muslim faith who live in Islamic states are supposed to be protected if they pay taxes.
But Christians at a recent funeral "brought the [Koran] and urinated on it," Mr. Samra said. "They also came out in demonstrations to destroy Muslim places, chanting 'We'll bring Islam down by any means possible.'"
Full report at:
http://www.washingtontimes.com/news/2013/may/3/egypt-islamic-official-ok-kill-some-christians/
------------
Al-Jamaa al-Islamiya collects funds to arm Syria's rebels
May 03, 2013
By Mohammed Zaatari
SIDON, Lebanon: Al-Jamaa Al-Islamiya collected funds Friday in the coastal city of Sidon to help arm rebels fighting the regime in Syria.
Some 120 members at 30 mosques around the city carrying boxes and holding scarves, asked people to donate "to support the free rebels" in Syria.
Standing outside Zaatari Mosque, one man called on worshippers departing after Friday prayers to fight the regime of President Bashar Assad and held a banner that read: "Pay for one bullet that kills a criminal."
Preachers in various mosques spoke about "crimes committed by Bashar Assad against his people" with one sheikh recalling the Hama massacre during the reign of Bashar's father, former President Hafez Assad.
Full report at:
http://www.dailystar.com.lb/News/Local-News/2013/May-03/215913-al-jamaa-al-islamiya-collects-funds-to-arm-syrias-rebels.ashx#axzz2SFVyHEbM
------------
Hamas rebuffs Arabs for softening Israeli-Palestinian peace plan
3 May 2013
In meetings this week in Washington, Arab states appeared to soften their 2002 peace plan, acknowledging that Israelis and Palestinians may have to swap land in any eventual peace deal.
The United States and the Palestinian leadership in the West Bank praised the move. But speaking to hundreds of worshippers in a Gaza mosque, senior Hamas official Ismail Haniyeh said it was a concession that other Arabs were not authorized to make.
"The so-called new Arab initiative is rejected by our people, by our nation and no one can accept it," said Haniyeh, prime minister of the Hamas government in the coastal enclave.
"The initiative contains numerous dangers to our people in the occupied land of 1967, 1948 and to our people in exile."
He was referring to the partition of British-mandate Palestine in 1948 when the United Nations voted to divide the territory into a Jewish state and an Arab state, and to the 1967 war when Israel captured the West Bank, East Jerusalem and Gaza.
Hamas refuses to recognize Israel's right to exist and claims all the territory between the Mediterranean and the Jordan river as rightfully Palestinian. It never accepted the Arab plan which was first presented in 2002.
RARE SPAT
The modified version was announced by Qatar's prime minister on Monday and Haniyeh's comments represented a rare public disagreement between Hamas and one of its main supporters.
The rich Gulf state has pledged over $400 million to fund housing projects in the Gaza Strip, which Hamas seized from the rival Palestinian Fatah faction in a brief civil war in 2007.
"To those who speak of land swaps we say: Palestine is not a property, it is not for sale, not for a swap and cannot be traded," Haniyeh said.
Haniyeh said the rival Palestinian Authority, headed by Western-backed Palestinian President Mahmoud Abbas, was to blame for inspiring the softer Arab position because it accepted the need for land swaps with Israel.
Full report at:
http://english.ahram.org.eg/NewsContent/2/8/70648/World/Region/Hamas-rebuffs-Arabs-for-softening-IsraeliPalestini.aspx
------------
Palestine's Abbas, Israel's Netanyahu head to China
4 May 2013
China will host Israeli Prime Minister Benjamin Netanyahu and Palestinian President Mahmoud Abbas next week for separate bilateral talks as it tries to shore up its role in a region where its diplomatic influence is limited.
Netanyahu's visit -- the first trip by a top Israeli leader to China since former prime minister Ehud Olmert visited in 2007 -- will be focused on trade, though experts have also said he is likely to discuss Iran's nuclear programme with China.
China, Iran's top oil customer and a permanent member of the U.N. Security Council, has opposed unilateral sanctions on Tehran such as those imposed by Washington and the European Union and has called repeatedly for talks to resolve the stand-off over Iran's nuclear programme.
Netanyahu's visit comes as a U.S. official said Israel has conducted an airstrike in Syria, apparently targeting a building, a development that is likely to worry Beijing.
Netanyahu is set to arrive on Monday in China's commercial capital of Shanghai, where he will meet business leaders, and fly to Beijing after for talks with Chinese leaders. Abbas will arrive in Beijing on Sunday.
It is unclear whether Netanyahu and Abbas will meet in China. China's foreign ministry said the country "is willing to offer necessary assistance if the leaders of Palestine and Israel have the will to meet in China".
China has traditionally had a low profile in Middle East diplomacy, but is keen to assert its role as a key player in international politics. It has tried on and off over the years to mediate in the Israeli-Palestinian issue but with little apparent success.
The visits by Netanyahu and Abbas come nearly a month after U.S. Secretary of State John Kerry and Abbas discussed reviving Israeli-Palestinian peace talks.
China believes that "strengthening its relationship with Jerusalem would be a sign that it gradually is coming to possess a foothold in the region, while somewhat offsetting, and perhaps even undermining, American political influence there", the Institute of National Security Studies (INSS), a top Israeli think-tank, said in a paper on Thursday.
Beijing has maintained close relations with the Palestinians for decades. In recent years, it has also cultivated good ties with Israel, especially in the field of defence.
In an interview with China's state news agency Xinhua on Friday, Abbas said he will let the Chinese leaders know the barriers currently rooted in the Palestinians' talks with Israel, as he "expects Beijing's contribution to the stalled peace process".
Full report at:
http://english.ahram.org.eg/NewsContent/2/8/70654/World/Region/Palestines-Abbas,-Israels-Netanyahu-head-to-China.aspx
------------
Search engine Google recognises Palestine
03 May 2013
Internet search giant, Google, has recognised the Palestinians' upgraded UN status, placing the name "Palestine" on its search engine instead of "Palestinian Territories".
The domain name www.google.ps, Google's search engine for the territories, now brings up a homepage with "Palestine" written underneath the Google logo.
The move on Wednesday follows the UN nation decision last year to recognise Palestine as a "non-observer state".
"We're changing the name 'Palestinian Territories' to 'Palestine' across our products. We consult a number of sources and authorities when naming countries. In this case, we are following the lead of the UN ... and other international organisations," Google spokesman Nathan Tyler said.
Full report at:
http://www.aljazeera.com/news/middleeast/2013/05/20135314456368291.html
------------
Syrian president visits Damascus university
May 04, 2013
BEIRUT: Syrian state TV says President Bashar Assad has visited a Damascus campus, his second public appearance in a week.
The report says Assad inaugurated on Saturday a statue dedicated to "martyrs" from Syrian universities who died in the country's two-year-old uprising and civil war.
A photograph posted on Assad's Facebook page showed him surrounded by bodyguards as young men, who appeared to be students, waved at him.
Assad normally appears rarely in public. But on Wednesday, Assad visited a Damascus power station to mark May Day, according to the media.
Full report at:
http://www.dailystar.com.lb/News/Middle-East/2013/May-04/216009-assad-makes-appearance-at-damascus-university-sana.ashx#axzz2SFVyHEbM
------------
Deaths in Baghdad mosque bomb attack
03 May 2013
A roadside bomb has killed a Sunni cleric and five worshippers when they left a mosque in Baghdad after Friday prayers, police and medics said.
A further 31 people were wounded in Friday's blast outside Al-Ghufran mosque in al-Rashidiya district of Baghdad, medics said. It was not clear who was behind the attack.
In Al-Amil in south Baghdad, a magnetic "sticky bomb" blast wounded a police captain, while a roadside explosion wounded three more police in Taji, north of the capital, sources said.
Elsewhere on Friday, nine police and four gunmen were also killed when mortar rounds were fired at checkpoints in fierce fighting that also left another seven police wounded, police and a doctor said.
Iraq has become increasingly volatile as the civil war in neighbouring Syria strains volatile relations between Sunnis and Shia.
Sunnis have been protesting since December against the Shia-led government, which they accuse of marginalising them and monopolising power since US-led troops toppled Saddam Hussein in 2003.
The violence comes a day after the United Nations said April was the deadliest month for Iraq in almost five years.
Full report at:
http://www.aljazeera.com/news/middleeast/2013/05/2013532029584191.html
------------
Muslim scholars condemn civil marriage approval
May 03, 2013
BEIRUT: The Committee of Muslim Scholars condemned the decision by caretaker Interior Minister Marwan Charbel to approve a couple's civil marriage, arguing Friday that such a move was a blatant challenge to Islam.
The committee also asked preachers to inform the public of the "dangers" of the minister's decision.
"[Charbel's registration of the marriage] is a clear violation of the Constitution and rules governing personal status as well as rules of the religious courts," a statement by the group said.
"To assert that the law to be applied on those who have married in civil manner is the one they choose; which is the French law and not the Islamic Shariah is a blatant challenge to Islam, Muslims and the general system," it added.
Last week, Charbel approved the marriage of Kholoud Succariyeh and Nidal Darwish who wed last November before a public notary, on the condition that they retain their sectarian affiliation and abide by personal status laws. The approval was heralded as a positive step against sectariansim by many civil society activists who often criticize Lebanon's religious court system control of marriages.
The approval's conditions were criticized by lawyers including caretaker Justice Minister Shakib Qortbawi, who said conditions on the newlyweds' marriage was not part of the minister's prerogative given that Succariyeh and Darwish erased their religions from their identification cards and the civil register.
The committee called on the caretaker minister to immediately retract what it described as Charbel's "false" decision "because it constitutes a threat to the Muslim family and a legal contradiction given that the public notary does not have the legal power to approve the marriage."
Full report at:
http://www.dailystar.com.lb/News/Local-News/2013/May-03/215907-muslim-scholars-condemn-civil-marriage-approval.ashx#axzz2SFVyHEbM
------------
Canada accuses Qatar of trying to buy UN agency
May 03, 2013
By Rob Gillies
TORONTO: A bid by Qatar to relocate the United Nations' civil aviation agency from Montreal to the tiny emirate has angered Canada, where officials vowed Friday to fight the move "tooth and nail."
The International Civil Aviation Organization, which sets international standards for civil aviation, has been in Montreal since it first opened in 1946. Out of the blue last month, Qatar presented ICAO with an offer to serve as the new permanent seat of the organization beginning in 2016. It included construction of new premises, paying to move materials and staffers, and paying for all expenses resulting from staff terminations and severance packages, according to the U.N. agency. Making matters worse, Qatar did not tell Canadian Foreign Minister John Baird about it when he visited the Gulf nation last month.
"They didn't do us the courtesy of raising this with us directly when the Minister was in Qatar last month," Foreign Affairs spokesman Rick Roth said. He noted that the way Qatar has gone about it "demonstrates why they are not a suitable host for a United Nations organization."
Qatar, one of the world's richest countries with vast oil and gas reserves, has been pushing to become a major player on the global stage in the last few years. It shocked the sporting world by beating out the United States and others to host the World Cup in 2022 and is looking to host the 2020 summer Olympic games. It also has taken an active role in Mideast politics, providing weapons and funding to the Syrian rebels fighting the government, promoting peace in Sudan's conflict-wracked Darfur region and pushing for a resumption of Israeli Palestinian peace talks.
ICAO said the offer must be considered at the agency's triennial assembly meeting Sept. 24-Oct 4, where 60 percent of its 191 member states must vote in favor of it for Qatar's proposal to become reality. Foreign Affairs Minister John Baird said he's made more than 20 calls this week in an effort to hold on to the U.N. agency's headquarters.
"I've talked to at least two Arab countries who are very positive and supportive," Baird said. "There is no doubt Qatar will fight to get the votes from each and every one of its neighbors and we'll fight hard for votes in that part of the world."
He told reporters Thursday that Qatar "is offering a lot of money to bring this headquarters to Doha" and said it should not be for sale.
Full report at:
http://www.dailystar.com.lb/News/Middle-East/2013/May-03/215941-canada-accuses-qatar-of-trying-to-buy-un-agency.ashx#axzz2SFVyHEbM
------------
Hundreds flee Syrian city after sectarian killings
May 04, 2013
BEIRUT: Activists say thousands of Sunni Muslims are fleeing a city on Syria's Mediterranean coast following the alleged mass killing of Sunni villagers by regime troops and pro-government militiamen.
The Britain-based Syrian Observatory for Human Rights says around 4,000 Sunnis were leaving the city of Banias early Saturday.
The exodus comes two days after government forces and gunmen from President Bashar Assad's Alawite sect allegedly killed more than 50 people in the Sunni village of Bayda outside of Banias.
Full report at:
http://www.dailystar.com.lb/News/Middle-East/2013/May-04/215996-hundreds-of-families-flee-syrias-banias-after-massacre-activists.ashx#axzz2SFVyHEbM
------------
Mideast
Muslim, Jewish, Christian Chefs Cook for Peace in Jerusalem
By: Saideh Jamshidi
3 May 2013
A group of Muslim, Jewish and Christian chefs from Chefs for Peace, along with American celebrity chef Art Smith, gathered on April 28 in Jerusalem to cook vegetarian dishes for a group of 60 guests, including US diplomats and alumni and students from various universities in the United States.
The ceremony took place in one of the best-known restaurants in Jerusalem, Eucalyptus, owned by award-winning chef Moshe Bassam, who is known for including ingredients mentioned in the Bible in his dishes and for his love of the history behind foods. "Moshe is a living treasure of Israel," said Smith. "We went to the countryside to pick up wild thyme, asparagus and wild mushrooms [before the event]."
Bassam is not the only person who takes pride in using homegrown herbs and vegetables. "I brought grapes from the [US] South to use in my dish during the weekend," said Smith.
Each of the five chefs — four from Chefs for Peace plus Smith — prepared their dishes in front their guests. Smith's dish, not surprisingly, was made of wild mushrooms, grapes and local herbs. Johnny Goric, another chef and the organizer of the event, made a Mediterranean lentil salad.
Smith and the group have one important goal: to create healthy and peaceful dishes. Chefs for Peace consists of 13 chefs, including founder Kevork Alemian, who cook all over the world, adhering to a few strict rules. First, every event must include at least one Muslim, one Christian and one Jewish chef. Second, there is no alcohol in any of the dishes. Third, everything is both kosher and halal.
"[The] kitchen can be a dangerous place," said Alemian. "There are all kinds of sharp knives or smoke, and flames are everywhere, but we do not stab each other!"
The idea for Chefs for Peace first occurred to Alemian while at the Slow Food Festival in Italy about 12 years ago. He observed three chefs — a Christian, a Jew and a Muslim — working together to create different dishes for the festival.
Upon his return to Jerusalem in 2001, he gathered his chef friends to explain his idea for a nonprofit, non-political organization called Chefs for Peace. "[I] said, 'Hey guys, listen, I have this crazy idea that is coming from a crazy Armenian chef,'" he explained. "Everything looked like a joke at the beginning."
They launched their organization that year and have since traveled to numerous countries to cook for diverse groups of people. They understand the power of food as a bond between different peoples and religions, and they see peace as a delicious possibility.
One recent activity for Chefs for Peace was to cook for six days for a municipal council in the West Bank. The group had a commitment to travel to Nablus and then to Natalia in Israel to meet with different municipalities on both sides.
"These people couldn't meet in the same place at the same time because the wall separated Israel from Palestine," Goric explained. Chefs for Peace organized a special menu and gala dinner at an ancient chapel in Jerusalem. "You would feel all the holiness in the place," Goric said.
Full report at:
http://www.al-monitor.com/pulse/originals/2013/05/muslim-jewish-christian-chefs-peace-jerusalem.html#ixzz2SMk7M0r1
------------
Israel frees Palestinian hunger-strikers
May 04, 2013
RAMALLAH :? An Israeli military appeals court on Thursday ordered the release of two Palestinian prisoners held without trial since November, who had staged a three-month hunger strike, a prisoners' rights group and Israeli authorities said.
Sarahna Amani, a spokesman for the Ramallah-based Palestinian Prisoners' Club told AFP that Jaafar Ezzeddine and Tariq Qaadan would be freed on May 8.
Israeli authorities confirmed the early release due Wednesday.
Addameer, a Jerusalem-based Palestinian non-governmental institution offering support for Palestinian prisoners and torture victims said one more Palestinian, Ayman Abu Daud who has been sentenced to 36 years in jail, was also occasionally going on a hunger strike in an Israeli prison.
Full report at:
http://www.nation.com.pk/pakistan-news-newspaper-daily-english-online/international/04-May-2013/israel-frees-palestinian-hunger-strikers
------------
Japan, Turkey sign $22bn nuclear deal
2013-05-04
ANKARA: Japan and Turkey on Friday signed a long-awaited deal to build a major nuclear power plant on Turkey's Black Sea coast, a milestone for the Japanese nuclear industry as it recovers from the 2011 Fukushima disaster.
Turkish Prime Minister Recep Tayyip Erdogan hailed the $22 billion contract as a "very important step" that would transform bilateral relations with Japan into a "strategic partnership."
A Japanese-French consortium won the giant contract to build Turkey's second nuclear plant, Japan's first successful bid on an overseas nuclear project since a tsunami wrecked the power station in Fukushima.
Turkey weathered criticism for teaming up with Japan in light of the catastrophe, but "despite that, we have taken this step," Erdogan said.
"What happened at Fukushima upset all of us. But these things can happen. Life goes on. Successful steps are being taken now with the use of improved technology," the Turkish premier added.
Like Japan, Turkey lies in a part of the world that is prone to earthquakes, making it essential that nuclear plants are designed to resist the effects of such events.
Japanese Prime Minister Shinzo Abe, who arrived in Turkey as part of a larger Middle Eastern tour, said that Japan had learnt important lessons from the 2011 catastrophe.
"Japan will share its experience and the lessons it has learnt and will contribute to the improvement of nuclear security at the highest level," Abe said in comments translated into Turkish.
Full report at:
http://dawn.com/2013/05/03/japan-turkey-sign-22bn-nuclear-deal/
------------
Israeli warplanes bomb Syrian weapons convoy to Lebanon, say officials
4 May 2013
Israeli warplanes have bombed a convoy carrying missiles from Syria to Hezbollah militia in Lebanon, Israeli officials said.
The air strike, which is understood to have been carried out from Lebanese airspace, took place on Friday after the prime minister, Benjamin Netanyahu, and his security cabinet approved the attack in a secret meeting on Thursday night.
The target was a convoy carrying a shipment of advanced long-range ground-to-ground missiles to Hezbollah and not a Syrian chemical weapons facility, according to unnamed Israeli officials.
The attack was first reported in the US media on Friday, with US officials claiming the Israelis had hit a building.
The US president, Barack Obama, reiterated on Friday that he does not foresee deploying US forces on the ground in the Syrian civil war. But the New York Times reported that US officials were on Friday considering military options, including carrying out their own air strikes.
The details of the Israeli strike remain vague but Netanyahu has repeatedly warned in recent weeks that Israel would be prepared to take military action if chemical weapons or other advanced arms were to reach Hezbollah from Syria.
Unnamed officials told CNN that the strike took place "in the Thursday-Friday time frame" and the Israeli jets did not enter Syrian airspace.
The Israeli air force is equipped with "standoff" bombs that coast dozens of kilometres to their targets, which could allow them to strike Syria from Israel or Lebanon, Reuters reported.
A Lebanese security source said he understood that Israeli aircraft were monitoring potential arms shipments between Syria and Lebanon, possibly to Hezbollah.
"We believe that it is linked to Israel's concerns over the transfer of weapons, particularly chemical weapons, from Syria to its allies Lebanon," the unnamed official told Reuters.
A Syrian rebel commander, Qassim Saadedine, a defected colonel, told Reuters: "Our information indicates there was an Israeli strike on a convoy that was transferring missiles to Hezbollah. We have still not confirmed the location."
The Syrian government has yet to confirm the strike. Bashar Ja'afari, the Syrian ambassador to the United Nations, told Reuters: "I'm not aware of any attack right now."
But earlier this week Hassan Nasrallah, the leader of Hezbollah, confirmed for the first time that members of the powerful Lebanese Shia organisation are helping the Syrian president, Bashar al-Assad, fight the uprising against his rule and will stand by him.
Hezbollah fighters have been seen in Syria helping the government from early on in the 25-month uprising but their presence, long formally denied, has become much both more open and large-scale in recent weeks, and funerals of fighters killed there are now a regular occurrence in Lebanon.
Full report at:
http://www.guardian.co.uk/world/2013/may/04/israel-syria-weapons-lebanon
------------
Southeast Asia
Sikhs in Malaysia angry at tonsuring act
May 4, 2013
SINGAPORE: Sikhs in Malaysia are angry at members of the Democratic Action Party (DAP) for shaving their heads ahead of the country's May 5 general elections in protest against what they called money politics.
The leaders of the multi-racial DAP had tonsured their heads at the Goddess of Mercy Pavilion at Kek Lok Si temple in Georgetown, the capital of the Malaysian state of Penang, on Friday, the New Straits Times reported Saturday.
However, members of the Sikh community in that country have expressed outrage at the act, describing it as a political gimmick.
Among those who shaved their heads was Jagdeep Singh, the DAP candidate for the Datuk Keramat state seat.
Stating that DAP should not drag religion into politics, lawyer Baljit Singh said: "This is purely a political gimmick, a desperate move to undermine their political opponents."
Saying that Jagdeep Singh has forgotten the fundamentals of his religion - cutting hair is forbidden - Gurdwara Sahib Kangar president Pritpal Singh said Jagdeep Singh had insulted his religion.
Full report at:
http://timesofindia.indiatimes.com/world/rest-of-world/Sikhs-in-Malaysia-angry-at-tonsuring-act/articleshow/19882151.cms
---------
Police starts crackdown on 'Malaysian Spring' ahead
May 04, 2013
Kuala Lumpur: Ahead of Sunday's General Elections, Malaysian police on Saturday identified a group trying to organise an Arab Spring-like revolution in the country aimed at creating chaos and toppling the government.
Deputy Inspector general of police Khalid Abu Bakar said based on intelligence gathered, police have found that a group is trying to invite people to cause chaos during the election by triggering 'Malaysian Spring'.
Some 16,000 multi-coloured mini flags were first planted inside the Jalan Tempinis roundabout in Lucky Garden in Kuala Lumpur on April 14.
Since then, the movement has spread to nearby suburbs such as Damansara Heights, Sri Hartamas and even to other states like Perak and even further afield to Barcelona and London.
Khalid said that the police have started removing the coloured flags ahead of tomorrow's polling.
Full report at:
http://zeenews.india.com/news/world/police-starts-crackdown-on-malaysian-spring-ahea_846485.html
-----------
Myanmar Embassy Bomb Plotter Used Facebook to Recruit Followers: Police
May 4, 2013
One of the terrorist suspects who allegedly planned to bomb the Myanmar Embassy on Thursday is believed to have used Facebook to recruit fellow bombers.
"We have been able to track down some names because of their activities on Facebook," an official with the National Police's anti-terror detachment, Densus 88, who wished to remain anonymous, told the Jakarta Globe on Saturday.
The source declined to name those who have been found out since investigators are still in the process of tracing names connected with the bomb plot.
"We managed to uncover the case after a deep analysis of some Facebook account content. We also tracked down IP addresses," he said.
The police arrested two terrorists on Thursday after they allegedly wanted to exact revenge on the Myanmar government for its treatment of the country's Rohingya Muslim population.
National Police spokesman Brig. Gen. Boy Rafli Amar said on Friday that the suspects were arrested on Jalan Sudirman in Bendungan Hilir with five bombs.
Both suspects were picked up carrying two bags containing clothes and cables, as well as a backpack containing the five pipe-bombs.
A third suspect, Sigit Indragit, who the police source identified as the mastermind behind the scheme, remains at large.
"They did not plan a suicide attack. The bomb was timed and would have been detonated with a remote control," the source explained.
Another police source revealed that the terrorist network that the suspects are associated with was uncovered after an arrest was made in Madiun last October. Authorities picked up a man named Agus Anton Figin, who supposedly had links to terrorist organizations in Jakarta, Bogor and Solo.
Additionally, a woman, believed to be the wife of one of the men, had also been detained to be questioned as a witness over the planned attack
Full report at:
http://www.thejakartaglobe.com/news/myanmar-embassy-bomb-plotter-used-facebook-to-recruit-followers-police/
------------
Tight race expected for Malaysia elections
04 May 2013
Large numbers of Malaysian voters are still undecided and the elections are too close to call just a day before voting begins, a new survey says.
The survey, released on Friday by the Merdeka Centre, said the upstart opposition led by Anwar Ibrahim looked set to win at least 89 of parliament's 222 seats in Sunday's vote, compared to 85 for the ruling coalition of Najib Raza, the current prime minister.
But the polling organisation added that its analysis of all 222 constituencies indicated another 46 seats were up for grabs, with the final two likely going to independent candidates. At least 112 seats are required to form a government.
"The numbers point to neither side having a clear advantage. Whoever controls the majority of those [undecided] seats will win the country's elections on Sunday," Ibrahim Suffian, the centre's director, told the AFP news agency.
Malaysians have eagerly awaited the election ever since 2008 polls in which a newly united opposition made unprecedented inroads against the once-invincible ruling bloc that has tightly controlled the country since independence.
The Merdeka Centre also said a survey found that 42 percent of respondents believed the opposition Pakatan Rakyat (People's Pact) alliance "should be given the chance to govern the country", while 41 percent said "only Barisan Nasional can govern".
The rest of those polled were undecided or refused to respond.
Full report at:
For the survey, Merdeka Centre polled 1,600 voters between April 28 and May 2.
http://www.aljazeera.com/news/asia-pacific/2013/05/2013545201182891.html
------------
India
Indians, Pakistanis demand UN-supervised probe into Sarabjit's killing
2013-05-04
LAHORE: Pakistani and Indian civil society activists have expressed sorrow on the death of convicted Indian spy Sarabjit Singh as a result of an attack on him in the Kot Lakhpat jail in Lahore by some fellow inmates.
"We the citizens of India and Pakistan are pained by the sad demise of Mr Sarabjit Singh as a result of a dastardly attack on him in the Kot Lakhpat jail in Lahore. ... We express our deep and heartfelt condolences for the family of the deceased," a statement issued by PILER on Friday read. It said that given the statements by most Indian prisoners in Pakistan jails of good and humane treatment, "this unusual and inexplicable attack on Sarabjit Singh and the allegations of torture in the recent death of Chamel Singh in Pakistan jail indicate some conspiracy by vested interests to destabilise relations between India and Pakistan that were showing marked improvement in recent times".
The statement further said, "Hence we demand a thorough and complete investigation under the supervision of the UN or any independent international body. Prisoners anywhere are the responsibility of the governments and the government of Pakistan should immediately take strict and exemplary actions against all those responsible for the attack as well as the planners and conspirators. Pakistan and India should especially ensure that all steps are taken for complete protection and safeguarding all human rights of the prisoners of other country in their jails."
Full report at:
http://www.dailytimes.com.pk/default.asp?page=2013\05\04\story_4-5-2013_pg7_16
------------
Mumbai police fixed three Indian teens in a fabricated case of being Bangladeshi
May 4, 2013
MUMBAI: Three teenagers arrested as illegal Bangladeshi immigrants are actually Indian, the department of Health and Family Welfare in government of West Bengal said. The three, aged between 17 and 19, were arrested by the Govandi police after the special branch conducted a joint operation with the latter.
In a letter to Munaf Hakeem, chairman of state minorities' commission, the department stated that the three youngsters were wrongly arrested as illegal Bangladeshi immigrants. The youths—Bilal Shaikh (19), Saeedul Shaikh (19) and Rehmand Sopiwal Shaikh (16)— are all from Rampur village in Midnapur district,WB. "The three belong to a village in WB and can't speak Hindi. They can communicate only in Bengali. The Mumbai police fixed them in a fabricated case of being Bangladeshis without any inquiry," H S Janubasar, an officer of the WB department stated. He said the boys were tourists.
Full report at:
http://timesofindia.indiatimes.com/city/mumbai/Three-Bangla-teens-are-Indian-WB/articleshow/19875789.cms
------------
Pakistani in Dubai seeks acquittal in Indian's death case
May 4, 2013
DUBAI: A Pakistani student, charged with running over and killing an Indian teenager here, will take his case to Dubai's highest court to seek his acquittal.
The Dubai Appeal Court had held the Pakistani, a 22-year-old aviation student, partly responsible for the 15-year-old Indian girl's death, the Gulf News reported on Saturday.
But the defendant now says he will move the highest court in the city for acquittal claiming that the girl was attempting to commit suicide and was jaywalking.
The appellate court had also fined the Pakistani 8,000 dirhams (about $2,180) and ordered him to pay 120,000 dirhams, his share of the blood money, to the girl's family.
But the court cancelled the suspension of the defendant's driving licence.
Meanwhile, the Khaleej Times reported that drivers, who are caught not stopping for pedestrians in designated areas and zebra crossings, will be fined 500 dirhams and given six black points.
Full report at:
http://timesofindia.indiatimes.com/world/middle-east/Pakistani-in-Dubai-seeks-acquittal-in-Indians-death-case/articleshow/19882212.cms
----------
Indian workers to be regularised: Saudi Arabia
May 04, 2013
ndian workers who have travelled to Saudi Arabia legally will be allowed to regularise their visa status, get new jobs or to return home if they register voluntarily with the Saudi authorities during the three months grace period announced by the Kingdom, according to officials. This
was among the issues discussed at the joint group meeting held this week at the Saudi ministry of labour. The group will continue their discussions next week, said a statement issued from the Indian embassy in Riyadh.
The joint group was set up during the discussions between Saudi labour minister Adel Fakeih and Indian delegation led by overseas affairs minister Vayalar Ravi in Jeddah on April 28.
The Group is mandated to discuss all issues pertaining to the welfare of the Indian community in Saudi Arabia including immediate issues pertaining to implementation of Nitaqat programme and overstaying Indian workers.
The 'Nitaqat' law makes it mandatory for local firms to hire one Saudi national for every 10 migrant workers. There has been widespread perception that the new policy will lead to denial of job opportunities for a large number of Indians.
Over two million Indians are currently working in Saudi Arabia. The Saudi government was implementing the Nitaqat law to cut unemployment in the country.
The Joint Group also discussed re-employment of those overstaying Indian workers in Saudi by availing the facilities offered by the ministry of labour including services of the newly set up mega-recruiting companies, the statement said.
It asked all Indians affected by the Nitaqat programme and those overstaying in Saudi Arabia to register their names at the Labour Ministry website www.redyellow.com.sa.
Full report at:
http://www.hindustantimes.com/world-news/RestOfAsia/Indian-workers-to-be-regularised-Saudi-Arabia/Article1-1054731.aspx
------------
Attack in Jammu jail: Pak prisoner's condition remains critical - See more at: http://www.indianexpress.com/news/attack-in-jammu-jail-pak-prisoners-condition-remains-critical/1111430/#sthash.QCRCckCK.dpuf
May 04 2013,
The condition of Pakistani prisoner Sanaullah Ranjay, who was injured in a scuffle with another inmate in Jammu jail, remained critical today.
Sanaullah is on a "ventilator, remains unconscious and is on dopamine and noradrenaline infusions to maintain his blood pressure", sources at the Post Graduate Institue of Medical Education and Research (PGIMER) said.
Sanaullah was brought to PGIMER last evening from Jammu after being airlifted from there.
The 52-year-old prisoner had been first rushed to Jammu's Government Medical College and Hospital.
Upon his arrival here, the PGIMER said Sanaullah was checked by neurosurgeons at the Jammu hospital, "who detected head injuries with a large fracture. CT scan showed multiple contusions with severe brain edema (brain capillaries damaged due to head injury)."
He is being looked after by a team of neurosurgeons and other doctors at PGIMER's trauma ICU, where security has been tightened with attendants of some patients complaining about inconvenience being faced by them.
Full report at:
http://www.indianexpress.com/news/attack-in-jammu-jail-pak-prisoners-condition-remains-critical/1111430/
------------
Pakistan pilgrims advised against Ajmer visit
May 4, 2013
AJMER: Rajasthan police's intelligence department has raised serious concerns over the security of 640 Pakistan pilgrims, who are slated to visit Ajmer during Khawaja Moinuddin Chishti's urs amid anger over Sarabjit Singh's death.
Sources said intelligence officials have listed several threats to the Pakistani pilgrims and recommended cancellation of their visit. An intelligence report has warned it would be difficult to arrange security for the pilgrims. "The report mentions several memorandums and reports of recent protests over Sarabjit's death and threats given by some organizations,'' said a source. The report states that in such a situation the Pakistani pilgrims may "become victim of anger" over Sarabjit's death.
Full report at:
http://timesofindia.indiatimes.com/india/Pakistan-pilgrims-advised-against-Ajmer-visit/articleshow/19874444.cms
------------
Pakistan High Commission officials visit Sanaullah at PGI Chandigarh
May 4, 2013
NEW DELHI: A team of Pakistani High Commission officials today visited Sanaullah Ranjay, who was injured in a scuffle with another inmate in Jammu jail, at PGI Chandigarh after India granted consular access to them last night.
"Pakistan High Commission officials visited the injured prisoner Sanaullah in Chandigarh hospital at 03:30 hours in the morning. They also met the attending doctor," a spokesperson in the ministry of External Affairs said.
India had granted the consular access to Pakistani High Commission officials last night. They had also given travel permission to three officials and a driver.
Ranjay was injured during a scuffle with another inmate in Jammu jail where he was serving life term after being convicted under TADA provisions. He was arrested in 1999.
Full report at:
http://timesofindia.indiatimes.com/india/Pakistan-High-Commission-officials-visit-Sanaullah-at-PGI-Chandigarh/articleshow/19877266.cms
------------
3 Pakistan prison officials suspended over attack on Sarabjit
May 4, 2013
LAHORE: Pakistani authorities have suspended three senior prison officials over the fatal attack on Indian national Sarabjit Singh inside a jail, a week after the brutal incident.
The Home Secretary of Punjab province suspended the three officials from service yesterday for alleged negligence that led to the brutal attack on Sarabjit within Kot Lakhpat Jail.
The three officials are Kot Lakhpat Jail superintendent Mohsin Rafique, additional superintendent Ishtiaq Gill and Deputy Superintendent Ghulam Sarwar Sumra, official sources told PTI.
Kamran Anjum, Raza Mahmood Zeman and Noor Hasan replaced them as superintendent, additional superintendent and deputy superintendent, respectively, the sources said.
Sarabjit, 49, died in the wee hours Thursday after being comatose for nearly a week since the attack by other prisoners on April 26. Two death row prisoners have been booked on murder charges for the assault.
Full report at:
http://timesofindia.indiatimes.com/world/pakistan/3-Pakistan-prison-officials-suspended-over-attack-on-Sarabjit/articleshow/19878572.cms
------------
Indians demand wider role in Indian Community Welfare Fund, Riyadh and Jeddah
MD RASOOLDEEN
4 May 2013
RIYADH: A group of Riyadh-based Indian organizations have urged India's Minister of Overseas Affairs Vayalar Ravi to enhance services offered by the Indian Community Welfare Fund (ICWF) through the missions in Riyadh and Jeddah.
Representatives from the Federation of Kerala Associations in Saudi Arabia (FOKASA) and Pravasi Legal Aid Cell presented a petition to the visiting minister at the state guest palace in Riyadh during his visit to the capital. They also presented the Right to Information (RTI) reports about the collection and disbursement of the ICWF from both missions along with the comptroller and auditor general's report.
FOKASA President R. Muraleedharan told Arab News that only 41 percent of the fund has been utilized for the welfare of distressed Indian expatriates.
ICWF's primary aim is to provide food and shelter to distressed overseas Indian workers in domestic sector and unskilled laborers, extend emergency medical care to those in need, provide air passage to stranded overseas Indians, provide initial legal assistance to deserving cases and bear the expenditure on airlifting the mortal remains to India or local cremation/burial of the deceased Indians.
They said that overseas Indian workers duped by unscrupulous intermediaries in the host countries, runaway housemaids, those who become victims of accidents, deserted spouses of overseas Indians or undocumented overseas Indian workers in need of emergency assistance or any other overseas Indian citizens who is in distress should be the main beneficiaries of the fund.
Full report at:
http://www.arabnews.com/news/450379
------------
Cattle import from Pak: Process began 6 months back
May 04, 2013
Patiala: The process of importing cattle from Pakistan commenced about six months back much before the relations between the two neighbours witnessed a low, Punjab Chief Minister Parkash Singh Badal on Saturday said.
He was responding to questions by media asking him about importing cattle from Pakistan at a time when bilateral relations between India and Pakistan took a hit following the death of Indian prisoner Sarabjit Singh in Lahore jail.
"The process of importing animals from Pakistan began about six months back. I wrote to the Centre, seeking permission to import 'Neeli Ravi' buffaloes and bull from Pakistan for improving the breed of the milch animals.
"As these breeds were not available in India. I obtained clearances from all the concerned departments (in this regard) and paid full amount of (custom) duty whichever was applicable on it," Badal said.
He was here to attend death anniversary of mother of Punjab Rural Development and Panchyats Minister Surjit Singh Rakhra.
Notably, animals meant for Punjab Chief Minister Parkash Singh Badal and his son and Deputy Chief Minister Sukhbir Singh Badal crossed over to India from Pakistan via the Attari border on Friday evening.
All animals including twelve meant for Parkash Singh Badal and one for his son Sukhbir Badal have been sent to the Kapashera animal quarantine centre in New Delhi in special enclosures.
The animals will be kept at the Kapashera centre for a month and subject to fulfilment of norms, will be sent to the Badals.
Full report at:
http://zeenews.india.com/news/punjab/cattle-import-from-pak-process-began-6-months-bac_846479.html
--------------
Hate-speech case: Court cancels non-bailable warrant but asks Akbaruddin Owaisi to appear
May 4, 2013
A magistrate's court in Hyderabad on Saturday cancelled a non-bailable warrant against MIM leader Akbaruddin Owaisi in a 'hate speech' case, but said he must appear before it on May 9.
The court had issued the warrant against Owaisi, an MLA of Majlis-e-Ittehadul Muslimeen (MIM), on Friday, following a complaint filed by advocate Kashimshetty Karunasagar. The court had directed the police to produce Owaisi on May 9.
Seeking a recall of the warrant, Akbaruddin's lawyer advocate Mohd Azim today argued that his client was not given the opportunity to appear before the court, and the NBW was issued on the same day the court took cognisance of the complaint.
"The court allowed the recall petition and cancelled the NBW," Azim told reporters later.
Karnunasagar argued that Akbaruddin had no privilege which entitled him not to appear before the court though he is an MLA.
Full report at:
http://www.dnaindia.com/india/1830458/report-hate-speech-case-court-cancels-non-bailable-warrant-but-asks-akbaruddin-owaisi-to-appear
---------
North America
Struggle to find grave site stymies Boston bombing suspect's burial
4 May 2013
A Massachusetts funeral home owner said he is struggling to find a graveyard willing to accept the body of Boston Marathon bombing suspect Tamerlan Tsarnaev, killed in a shootout with police four days after an attack that left three dead and 264 injured.
Peter Stefan, owner of the funeral home in Worcester, Massachusetts, said he would turn to government officials for help if he cannot find a resting place for Tsarnaev soon.
"Everyone deserves a burial. It doesn't matter who it is," Stefan said in a telephone interview with Reuters on Friday. "I can't pick and choose."
Stefan said he had faced criticism for his decision to accept the body of Tsarnaev, and was prepared for protests outside his business, the Graham, Putnam and Mahoney Funeral Parlors.
Tamerlan's wife, Katherine Russell, declined to pick up Tsarnaev's body from the Massachusetts Medical Examiner's office, allowing his relatives to claim the remains and arrange for a funeral. His body, released on Thursday, was initially taken to another funeral home.
Full report at:
http://english.alarabiya.net/en/News/world/2013/05/04/Struggle-to-find-grave-site-stymies-Boston-bombing-suspect-s-burial.html
------------
Poll: U.S. Muslims more moderate than Muslims worldwide
May 03 2013
Muslims in America are much less inclined to support suicide bombing than other Muslims abroad, and are more likely to believe that people of other faiths can attain eternal life in heaven, according to a new report released this week by the Pew Forum on Religion & Public Life.
"The World's Muslims" report looks at Muslim views across seven categories: Islamic law; religion and politics; morality; women; relations among Muslims; interfaith relations; and religion, science, and pop culture. There is also a special section on U.S. Muslims.
Of the countries surveyed, only a majority of Muslims in America — 56 percent — believe people of other faiths can go to heaven; by contrast, that figure among U.S. Christians is about 64 percent. U.S. Muslims are also less likely than Muslims abroad to believe in evolution, sharing views that are closer to those of U.S. Christians.
On suicide bombing, 81 percent of U.S. Muslims said it was never justified, 7 percent said it was justified to "defend Islam," and 1 percent said it was "sometimes justified."
Globally, most Muslims also reject suicide bombing, although significant minorities in several countries say such acts are at least sometimes justified, including 26 percent of Muslims in Bangladesh, 29 percent in Egypt, and 39 percent in Afghanistan.
At least half the Muslims in most countries surveyed say they worry about religious extremists in their own country, including two-thirds or more of Muslims in Egypt, Tunisia, Iraq and Indonesia.
Full report at:
http://www.sltrib.com/sltrib/lifestyle/56241747-80/muslims-percent-countries-islamic.html.csp
------------
US lifts more sanctions on Myanmar to support reforms
2013-05-04
WASHINGTON: The United States on Thursday lifted another set of sanctions against Myanmar to support reforms in the formerly army-ruled country, while retaining visa and investment bans against individuals accused of human rights abuses. The Obama administration decided that a 1996 ban on granting U.S. entry visas to the former Burma's military rulers, their business partners and immediate families was no longer necessary after two years of reforms, the State Department said in a statement. "Since 2011, the civilian-led Government of Burma has taken important steps toward significant social, political, and economic reform that demonstrate substantial progress on areas of concern," the statement said.
Full report at:
http://www.dailytimes.com.pk/default.asp?page=2013\05\04\story_4-5-2013_pg14_2
------------
Washington calls for shutting down Iran, North Korea arms networks
4 May 2013
The United States said yesterday that Iran and North Korea were trying to obtain high-tech materials linked to their nuclear programs in violation of U.N. sanctions.
Iran was also sending weapons and ammunition to Syrian government forces despite a ban, said Thomas Countryman, Assistant Secretary for International Security and Nonproliferation.
"Both Iran and North Korea have developed channels that enable them to continue to export and continue to procure the items they need for their weapons industry," he told a news briefing in Geneva.
In comments to Reuters, he made clear he was referring to high-tech materials related to nuclear and other program, including conventional weapons.
Iran and North Korea are under U.N. sanctions banning sales of nuclear, missile and related high-tech material to them as well as the export of any military material, Countryman said.
There was a determined international effort to enforce the U.N. sanctions and prevent such trade, he said.
Regarding Iran's alleged efforts, he said: "Certain Iranian procuring agents in high-tech places like China push very hard."
Asked about any cooperation between Iran and North Korea in nuclear matters, a U.S. official, speaking on condition of not being identified, said: "They have contacts. We are watching it.
Western experts say the two countries have cooperated on ballistic missile development and there is concern that cooperation may extend to the nuclear field, though no such link has been proven.
North Korea, which conducted a third nuclear test in February, continues development of nuclear technology and long-range ballistic missiles that will move it closer to its stated goal of being able to hit the United States with an atomic weapon, a Pentagon report said on Thursday.
Full report at:
http://english.alarabiya.net/en/News/world/2013/05/04/Washington-calls-for-shutting-down-Iran-North-Korea-arms-networks.html
------------
U.S. believes Israel has conducted an airstrike into Syria
May 4, 2013
The United States believes Israel has conducted an airstrike into Syria, two U.S. officials first told CNN.
U.S. and Western intelligence agencies are reviewing classified data showing Israel most likely conducted a strike in the Thursday-Friday time frame, according to both officials. This is the same time frame that the U.S. collected additional data showing Israel was flying a high number of warplanes over Lebanon.
One official said the United States had limited information so far and could not yet confirm those are the specific warplanes that conducted a strike. Based on initial indications, the U.S. does not believe Israeli warplanes entered Syrian airspace to conduct the strikes.
Syria's Orthodox Christians are worried
Full report at:
http://edition.cnn.com/2013/05/03/world/meast/israel-airstrike-syria/index.html
-----------
South Asia
Hefazat should not use religion for flouting a new political party
MAY 04, 2013
Shirin Akhter, president of Karmojibi Nari, yesterday urged Hefazat-e Islam to stop their design for creating another religion-based political party like Jamaat-e-Islami and Islami Chhatra Shibir.
She further asked them not to interfere in the ongoing war crimes trial to save the accused and convicted.
Shirin Akhter was addressing a rally organised before Chittagong Press Club protesting the 13-point demand of Hefajat.
The rally organised by Sammilita Nari Samaj, Chittagong and joined by hundreds of females.
Meanwhile, Islamic scholars demanded exemplary punishment of both "atheist" bloggers and leaders of Hefajat who are instigating attacks on shrines and mosques. They demanded halting the practice of militancy in madrasas in the name of Islam.
Full report at:
http://www.thedailystar.net/beta2/news/hefajat-should-not-use-religion-for-flouting-a-new-political-party/
------------
Muslims in Myanmar barricade village as attacks spread
May 04, 2013
Three Muslim men peered over a bamboo fence built recently to fortify their village in centralMyanmar. They gazed across dry rice paddies towards a nearby Buddhist community, looking for rising dust, a sign of an approaching mob.
It was a false alarm. But a day earlier, on Wednesday, about 100 Buddhists armed with sticks had gathered outside the fence, threatening to burn the village and kill them, said the villagers of Win Kite, about a two-hour drive fromMyanmar's largest city,Yangon.
Police foiled that attack. But Muslims were taking no chances after four days of mob violence led by Buddhist monks in Meikhtila in March killed 44 people, mostly Muslims, and touched off a wave of unrest in centralMyanmarthat threatens to derail the country's nascent economic and political reforms.
"We have a plan to defend ourselves if they come and attack us," said Kin So, adding that many in Win Kite had armed themselves with clubs and swords as a precaution for when troops and police patrolling the area pull out.
The five-foot fence encircling Win Kite is a vivid illustration of divisions betweenMyanmar's Muslims and majority Buddhists that are beginning to cause problems elsewhere inSoutheast Asia.
In April, eight people died when Muslim and Buddhist refugees clashed at an Indonesian immigration centre.
On April 30, one man was killed in riots in Oakkan and nearby villages just 100 km north ofYangon, when a Muslim woman bumped into an 11-year-old novice monk, who dropped his alms bowl, damaging it.
The authorities are aware that such mundane incidents can spiral out of control in the present environment. A district officer said a measure that stops crowds from gathering had been imposed in Taikkyi, a town near Oakkan, as a precaution.
Presidential spokesman Ye Htut said in a Facebook statement the authorities had averted trouble in the city ofMandalaywhen three motorcyclists rode through a Muslim neighbourhood shouting that Buddhist monks had come to burn down their houses.
"Security personnel went to the site immediately and explained that it was not true," Ye Htut said. "They assured the people of security. An investigation is going on to expose and detain these instigators."
Officials in Indonesia said on Friday that anti-terrorist police had detained two men suspected of planning a bomb attack on the Myanmar embassy as radicals rallying in the Jakarta called for 'jihad in Myanmar' to avenge Muslim deaths.
The incidents highlight the growing anger in Muslim-majority Indonesia over a string of religious clashes in largely-Buddhist Myanmar that have rendered tens of thousands displaced.
ARRESTS
Yangon's deputy police commissioner, Thet Lwin, told Reuters 18 people had been arrested in connection with the Oakkan riots, including the woman who inadvertently started them, charged with "deliberate and malicious acts" that insult religion.
"According to our practice, we need to send her for trial since she was involved in the root cause of the incident," he said, adding that although she had bumped into the monk by accident, it was up to the court to decide her fate.
Full report at:
http://www.nation.com.pk/pakistan-news-newspaper-daily-english-online/international/04-May-2013/muslims-in-myanmar-barricade-village-as-attacks-spread
------------
Hefazat rejects Bangladesh PM's call
MAY 04, 2013
Hefajat-e Islam on Saturday rejected the prime minister's call for withdrawing its May 5 Dhaka siege programme, saying that she failed to give any guideline regarding its 13-point demand.
"In her speech, there was an effort to confuse the nation through contradictory and wrong interpretations (of the demands)," said Mufti Fayzullah, joint secretary general of Hefajat-e Islam.
"That's why, we have decided to continue with the May 5 Dhaka blockade programme," he said.
He was reading out a written statement while addressing a press briefing at Lalbagh Madrasa in the capital.
Any activities related to the rescue operation at the collapsed Savar building, Rana Plaza, will remain out of the purview of Hefajat programme, said Mufti Fayzullah.
The organisation demanded compensation for those who laid their lives during the ongoing Hefajat-e Islam movement for the fulfillment of its 13-point demands and better treatment for the injured.
It also demanded release of the organisation's members arrested during the movement.
Party secretary Junaid Babunagari, who was also present at the briefing, said they sought permission from Dhaka Metropolitan Police for holding a rally in front of Baitul Mukarram National Mosque for 3:00pm Sunday.
Full report at:
http://www.thedailystar.net/beta2/news/hefajat-rejects-pms-call/
------------
3 Jamaat leaders arrested in Dhaka
MAY 04, 2013
Rapid Action Battalion personnel arrested three Jamaat-e-Islami leaders in the capital and seized 22 hand bombs, a revolver and a huge number of jihadi books from their possession early Saturday.
The arrestees are Nazrul Islam, 53, Jamaat ameer of Chapainawabganj district unit and the principal of a school, Phulkuri Islamic Academy, in the district; Abdul Latif, 48, baitul maal (finance) secretary of the unit and also a teacher of local Birshreshtha Captain Mohiuddin Jahangir College; and Md Abu Bakar, 42, nayeb-e-ameer of Feni district unit.
Acting on a tip-off, Rab personnel conducted a drive at a house at Uttara sector-4 around 2:30am and arrested Nazrul and Latif along with 10 hand bombs, one foreign-made revolver, three bullets and Jihadi books, said Lt Col Ziaul Ahsan, director of intelligence wing of Rab.
A team of Rab-3 arrested Abu Bakar conducting a drive at Hotel Asia International in Motijheel of the capital around 3:00am. They also recovered 12 hand bombs and books of jihad from his room, he said.
Full report at:
http://www.thedailystar.net/beta2/news/3-jamaat-leaders-arrested-in-capital/
------------
Hasina renews talks call to Opp. leader
MAY 04, 2013
Prime Minister Sheikh Hasina on Saturday invited Leader of the Opposition in the Parliament Khaleda Zia again to sit for talks to resolve the prevailing political stalemate.
Hasina reiterated the call hours before the BNP-led 18-party opposition is set to hold a rally in the capital's commercial hub Motijheel and announce the next course of its anti-government demonstration.
The premier made the call while talking to a delegation of Awami League's Barguna district unit at the Gono Bhaban in the capital around 11:00am.
Hasina also urged her political arch rival to stop the politics of bloodshed.
She said the BNP's "plan" to thwart the war crimes trial by staging such types of demonstrations would not be fulfilled.
Full report at:
http://www.thedailystar.net/beta2/news/hasina-renews-talks-call/
------------
Africa
Libyan rights activist attacked after interview with Al Arabiya
4 May 2013
Libyan human rights activist Abdulsalam Al-Mesmari was reportedly attacked by anonymous individuals after his interview with Al Arabiya last week, the channel's Libya correspondent reported Friday.
The activist, who appeared on Al Arabiya's program "Panorama" on Wednesday, criticized armed groups who had besieged Libyan ministries during the week.
Mesmari said the groups were attacking a "legitimate government."
In the interview, Mesmari criticized political movements who he said used armed gangs to surround official administration buildings to impose pressure on the government.
Mesmari claimed that these parties failed at achieving their demands through Libya's National Congress and other democratic tools, referring to the fact this may be the reason why they resorted to armed gangs.
Full report at:
http://english.alarabiya.net/en/News/africa/2013/05/04/Libyan-rights-activist-attacked-after-interview-with-Al-Arabiya-.html
------------
Tunisian army presses hunt for jihadists
4 May 2013
Tunisia's army on Friday pressed its hunt for a jihadist group hiding out in a border region with Algeria, an operation in which 15 security force members have been wounded, the interior ministry said.
"The search operations by the defense forces and the national guard are continuing on Mount Chaambi," ministry spokesman Mohamed Ali Aroui told AFP.
He refused to give further details on the search or comment on ongoing operations in the Kef region further north, also close to the Algerian border, where another jihadist cell is being targeted by the security forces.
On the ground, troops have formed a security barrier around Mount Chaambi and set up checkpoints at the entrance to the provincial capital Kasserine, with reinforcements arriving on Thursday, an AFP journalist reported.
Tunisian forces have been hunting in the mountainous western region for the armed group since it attacked a border post in December killing a member of the National Guard, or auxiliary police.
Full report at:
http://english.alarabiya.net/en/News/middle-east/2013/05/04/Tunisian-army-presses-hunt-for-jihadists.html
------------
100 dead, rescuers trapped in Darfur disaster
May 04, 2013
Around 100 miners are estimated to have died inside a collapsed gold mine in Sudan's Darfur region and nine rescuers trying to free them are now trapped, a miner said on Friday.
"Nine of the rescue team disappeared when the land collapsed around them yesterday (Thursday)," said the miner, who had visited the scene and asked to remain anonymous. On Monday the unlicensed desert gold mine began to collapse in Jebel Amir district, more than 200 kilometres northwest of the North Darfur state capital El Fasher. The stench of death is now seeping out of the baked earth, the miner said. "Yesterday eight bodies have been found and still they are looking for the others," he said. "According to a count by people working in the mine, the number of people inside is more than 100."
On Thursday the Jebel Amir district chief, Haroun al-Hassan, said "the number of people who died is more than 60", but it was unclear whether anyone might still be alive. He said rescuers were using hand tools out of fear that machinery would cause a further collapse. But the ground fell around some of the rescuers anyway. "We are still searching for the bodies," the district chief said on Saturday, adding it was unclear how many victims there might be. "We are having difficulty to reach them."
Production from unofficial gold mines has become a key revenue source for the cash-strapped government in Khartoum.
It is also a tempting but dangerous occupation for residents of Sudan's poverty-stricken western region of Darfur which has been devastated by a decade of civil war. A humanitarian source said earlier this year that close to 70,000 people were digging for gold in Jebel Amir.
Sudan is trying to boost exports of the precious metal and other non-petroleum products after the separation of South Sudan two years ago left Khartoum without three-quarters of its crude oil production.
Full report at:
http://www.nation.com.pk/pakistan-news-newspaper-daily-english-online/international/04-May-2013/100-dead-rescuers-trapped-in-darfur-disaster
------------
Europe
Russia blocks probe into Syrian refugee camps
03 May 2013
Russia and China have rejected UN Security Council plans to inspect Syrian refugee camps in Jordan, citing it as a potential attempt to prepare for "foreign intervention" in Syria, where government forces are trying to crush a two-year-old uprising.
Russian Foreign Minister Sergei Lavrov said that Moscow and Beijing opposed the move on Friday, a day after 15 Security Council member nations discussed the possibility of sending a delegation to visit the camps.
The UN High Commissioner for Refugees (UNHCR) "is competent for [organising] visits of refugee camps that have been set by the UN, the Security Council has no competence for that," Lavrov said in Slovenia.
He added: "If there was an attempt to use the Syrian refugee situation to push forward some ideas about no-fly zones, then we and China might have seen in it an attempt to prepare a foreign intervention."
Full report at:
http://www.aljazeera.com/news/middleeast/2013/05/201353164716956408.html
------------
URL: https://newageislam.com/islamic-world-news/pak-president-confers-hilal-i/d/11424