New Age Islam News Bureau
23 Jul 2013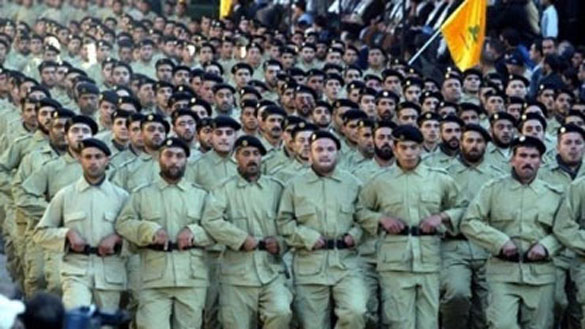 Hezbollah members hold a rally in Baalbek, eastern Lebanon. (File photo: AFP)
-----------
Pakistan
• Pak Man Goes to Court Claiming Presidential Oath Is 'Un-Islamic'
• Secret govt document reveals scores of civilians killed in US drone strikes
• Malala scheme: 70% of education fund earmarked for Pakistan
• Saudi labour amnesty 'humanitarian,' says Pakistan official
• MQM files Rs5bn defamation suit against Imran Khan
• Tit for tat: PTI to file Rs10b libel suit against MQM
• Pakistani authorities foil plot to target Prime Minister Nawaz Sharif
• Syrian proxy war being turned into sectarian conflict: Fazl
• Seven killed in Balochistan violence
• World Punjabi Congress declares 2014 year of peace, tolerance
• Two killed in Chaman blast
• Another two Hazaras slain in Quetta
• Bomb attack destroys Mosque wall in Peshawar
• Pakistan set to reintroduce capital punishment
Arab World
• Al Qaeda claims Iraq prison raids, says 500 inmates freed
• World Assembly of Muslim Youth chief calls for greater charity work
• Egypt crisis: Nine killed in Cairo clashes
• Faithful urged to register for Etikaf at Madinah mosque
• Egypt's president hails ex-military presidents on 1952 revolution anniversary
• Hezbollah TV says EU bowed to Israel in blacklisting
• Family blames Brotherhood leaders for death of man at pro-Morsi sit-in
South Asia
• 'New wave' of Maldivian psychedelic art growing despite religious restrictions
• Three NATO soldiers killed in Afghan suicide blast
• Myanmar's radical monk blames bombing on Muslims
• Joint Chiefs' Head Hopeful on Afghan Security Pact
• Afghans See Their Army Woo Them with Piety
• Maldives Bar Association for suspension of SC Justice pending sex video investigation
North America
• 'Act of war': U.S. general gives options for Syria military intervention
• New Haven's Masjid Al-Islam invites its neighbors to help break the Ramadan fast
• U.S. congressional hurdles lifted on arming Syrian rebels
• Minority groups protest nomination of NYPD's Kelly to lead Homeland Security
• U.S. lawmakers consider $1 billion in aid to Jordan
• Kerry finalizes negotiations team in Middle East peace push
Africa
• Islamic and secular laws clash in Nigeria's senate
• Boko Haram has killed 400 Immigration Officers; 11 jailbreaks recorded in one year – Senat
• Libya inaugurates panel to draft statute in Beida
• Tunisia prime minister hits out at 'Tamarod' movement
Mideast
• Islamic Jihad Spokesman Rules Out Negotiation with Israel
• Iran slams 'Zionist' EU blacklisting of Hezbollah military wing
• Iran cell apologizes for 'insulting' the Prophet's companion Umar
• Israel's PM sees Morsi fall as sign of political Islam's weakness
• Hamas reeling from Egyptian crackdown on Gaza tunnels
• Turkey's dilemma with Syrian Kurdish forces
• Israel to free 'around 80' Palestinian prisoners
Europe
• EU Adds Military Wing of Hezbollah to List of Terrorist Organizations
• Paris backs veil ban, police after 'unacceptable' violence
• Abdulatipov Crackdown Emulates Soviet-Era Methods in Dagestan
• Ukraine's Air Defense: Balancing Between CSTO and NATO
• EU calls on Egyptians to release Morsy
• 71% of Egyptians unsympathetic with pro-Morsi protests: Poll
• Russia 'committed' to delivering S-300 missiles to Damascus
• Russia Says Assad Is Ready for Peace Talks
Southeast Asia
• Nazi-themed cafe in Indonesia to reopen sans swastikas
• Malaysian Education Ministry to stop forcing non-Muslims pupils to eat in shower room
• Central Java Muslim clerics condemn FPI clashes with locals
India
• The Islamic Society Kargil Condemned Desecration of Holy Shrine of Hazrat Zainab at Syria
• Hyderabad Rubat holds draw for free stay during Haj amid controversy
• Top Jaish-e-Muhammed terrorist killed in J&K
• India, Bangladesh agree on Chetia's deportation
• Bodh Gaya 'bomber' caught on CCTV cameras could be of Assamese origin
• Indian Mujahideen a banned outfit: Home Ministry
Compiled by New Age Islam News Bureau
URL: https://newageislam.com/islamic-world-news/pak-man-goes-court-claiming/d/12725
-----------
Pakistan
Pak Man Goes to Court Claiming Presidential Oath Is 'Un-Islamic'
July 23, 2013
KARACHI: The Sindh High Court issued a notice to the federal law officer on a plea seeking a stay against the upcoming presidential elections until the oath pledged by the head of the state is made Islamic.
The division bench headed by Justice Ghulam Sarwar Korai adjourned the hearing till August 5. At a preliminary hearing, a public interest litigant, Haji Gul Ahmed, pleaded the court to grant a stay on the upcoming presidential elections. The president's post is of the highest authority in the country, however, the oath pledged by the elected candidates as head of the state is not made in accordance with the Holy Quran and Sunnah, he argued.
He claimed that oaths pledged by the candidates elected to National Assembly and Senate, federal ministers, and the president are all un-Islamic and unlawful, as the oath is not taken in the name of Allah. He urged that any candidate, who pledges such an oath, violates the Islamic teachings as well as the articles 31, 62 (d)(e)(f), 2-A and 227 of the Constitution.
Ahmed pleaded to the court to declare that the oath should be made in the name of Allah. "Till then the process of presidential election should be stayed," he requested the court.
After the hearing, the two judges issued notices to the Election Commission of Pakistan, Council of Islamic Ideology, deputy attorney general and others for August 5.
http://tribune.com.pk/story/580515/man-goes-to-court-claiming-presidential-oath-is-un-islamic/
-----------
Secret govt document reveals scores of civilians killed in US drone strikes
July 23, 2013
A classified Pakistani government document has revealed that scores of civilians died in dozens of CIA-led drone strikes between 2006 and late 2009 in Pakistan's Federally Administered Tribal Areas (Fata) and that Pakistani officials were "aware of those deaths for many years".
The secret government document was quoted by the London Bureau of Investigative Journalism (LBIJ) in a report and reveals for the first time the Pakistani government's evaluation of numerous drone strikes. It was prepared through field research by government officials and field agents stationed in Fata.
"Of 746 people listed as killed in the drone strikes outlined in the document, at least 147 of the dead are clearly stated to be civilian victims, 94 of those are said to be children," the LBIJ said in its report.
The 12-page summary paper prepared by the officials, titled Details of Attacks by Nato Forces/Predators in FATA, outlines 75 separate CIA drone strikes between 2006 and late 2009 and contradicts claims by the United States which has repeatedly rejected allegations of high numbers of civilian casualties in drone attacks on Pakistani territory.
The US has claimed that "no more than 50 to 60 'non-combatants' have been killed during the entire, nine-year-long drone campaign.
The period defined in the report fell in the presidential term of George W. Bush for the most part. However, drone strikes also increased significantly when Barack Obama took oath of office.
The Government of Pakistan has consistently maintained that drone strikes are counter-productive, entail loss of innocent civilian lives and have human rights and humanitarian implications and that such strikes also set dangerous precedents in relations between Pakistan and United States.
The statement was issued by Pakistan's Ministry of Foreign Affairs in condemnation to the US drone strike that had killed two suspected militants in Mir Ali Tehsil of North Waziristan tribal region on July 13.
Moreover, the statement said that drone strikes have a negative impact on the mutual desire of both countries to forge a cordial and cooperative relationship and to ensure peace and stability in the region.
http://dawn.com/news/1031326/secret-govt-document-reveals-scores-of-civilians-killed-in-us-drone-strikes
-----------
Malala scheme: 70% of education fund earmarked for Pakistan
July 23, 2013
ISLAMABAD: Up to 70 per cent of the $10 million 'Malala Fund for Girl's Right to Education' throughout the world and Pakistan, announced by President Asif Ali Zardari in December 2012, will be used in Pakistan, whereas the remainder is earmarked for Afghanistan. With the support of the international community, Pakistan and Unesco signed the historic memorandum of understanding (MoU) to establish this fund with $10 million as seed money.
Qian Tang, assistant secretary general (education) of the United Nations Educational, Scientific and Cultural Organisation (Unesco) met Minister of State for Education, Trainings and Standards in Higher Education Balighur Rehman on Monday and discussed the modalities for the operationalisation of the fund.
The MoU was signed earlier between the then education minister Sheikh Waqas Akram and Unesco director general Irina Bokova at the UN's Paris headquarters.
The Malala fund will be disbursed in two categories: special fund and fund in trust. The special fund of $7 million will be used in Pakistan and the remainder $3 million will be used by Unesco in Afghanistan under the fund in trust category.
80 per cent of the special fund in Pakistan would be used for formal education whereas the remainder will be used to support non formal education like Basic Education Community Schools and National Commission for Human Development.
The state minister proposed that the $3 million fund be used for Afghan refugee girls studying in Pakistan. The Unesco chief said that his agency would look into the matter for future consideration.
The representatives proposed that improvement in the quality of education of girls should be the central focus of activities undertaken by Unesco from this fund. They proposed that some model schools and technical and vocational training centres for girls can be established under this fund.
Rehman underscored the need for attracting more donors globally for pooling more funds and drawing attention towards girls' education. He also emphasised the need for reduction in operational and transactional costs. He added that the global fund be used in line with the current government policy on education, the National Action Plan which has been finalised by the federal government and sent to the provinces, Federally Administered Tribal Areas and Gilgit Baltistan.
A special Quality and Assurance Committee would implement the plan across the country. Unesco, government of Pakistan and selected civil society members will be represented in the committee.
http://tribune.com.pk/story/580660/malala-scheme-70-of-education-fund-earmarked-for-pakistan/
-----------
Saudi labor amnesty 'humanitarian,' says Pakistan official
23 July 2013
A Saudi announcement and extension of an amnesty period allowing illegal expatriate workers to fix their status is a humanitarian gesture, Pakistan's Consul General Aftab Ahmad Khokher told the Saudi Gazette.
"It is great that expatriates can easily transfer their sponsorship, in addition to changing profession free of cost," he said.
Saudi Arabia launched a campaign to capture and deport illegal expat workers, most of whom are from Asian countries including India, Pakistan, Bangladesh and the Phillipines.
A three-month grace period was declared in April; allowing workers to rectify their illegal status in the country, and to travel to their home countries without being banned from entering the kingdom in the future.
Just before the deadline on July 3, King Abdullah extended the amnesty until Nov. 3, reported the Saudi Press Agency.
Legal action is to be taken against those who miss the deadline.
The Pakistani embassy in Saudi Arabia is organizing job fairs to help their nationals correct their status and find employment opportunities, reported Arab News
About 1,200 Pakistanis participated in the second fair, which was held this month.
The kingdom launched a program in late 2011 demanding that companies hire Saudi nationals along with expats.
The required number of Saudi employees depends on a company's size and its total number of workers. Fines and other penalties, including the withdrawal of work permits, have been set to ensure compliance.
http://english.alarabiya.net/en/business/2013/07/22/Saudi-labor-amnesty-humanitarian-says-Pakistan-official.html
-----------
MQM files Rs5bn defamation suit against Imran Khan
July 23, 2013
KARACHI:The Muttahida Qaumi Movement (MQM) on Tuesday filed a Rs 5 billion defamation suit against Pakistan Tehreek-i-Insaf (PTI) chairman Imran Khan at the Sindh High Court for issuing statements against MQM chief Altaf Hussain, DawnNews reported.
Talking to media persons at the SHC premises on the occasion of filing the libel suit, MQM leader Dr Farooq Sattar said that half an hour after senior PTI leader Zehra Shahid Husain was killed on the eve of re-polls in Karachi's NA-250 constituency, the bed-ridden PTI chief had levelled allegations against Altaf Hussain.
Full report at:
http://dawn.com/news/1031331/mqm-files-rs5bn-defamation-suit-against-imran-khan
-----------
Tit for tat: PTI to file Rs10b libel suit against MQM
July 23, 2013
ISLAMABAD: A few hours after the Muttahida Quami Movement (MQM) filed a defamation suit against Pakistan Tehreek-e-Insaf (PTI) Chairman Imran Khan, PTI announced it will file a suit against MQM, Express News reported on Tuesday.
The PTI spokesperson said that the party will file a Rs10 billion defamation suit against MQM.
However, the final decision will be taken once Imran comes back to Pakistan from London.
MQM leaders Farooq Sattar and Senator Farogh Naseem personally filed the suit today in the Sindh High Court for MQM Chief Altaf Hussain's alleged character assassination in the wake of PTI leader Zahra Shahid Hussain's murder.
Imran had held Hussain responsible for Zahra's murder and accused him of inciting violence through his public broadcasts.
http://tribune.com.pk/story/580796/tit-for-tat-pti-to-file-rs10b-libel-suit-against-mqm/
-----------
Pakistani authorities foil plot to target Prime Minister Nawaz Sharif
PTI | Jul 23, 2013
ISLAMABAD: Pakistani authorities claimed to have foiled a plot to target Prime Minister Nawaz Sharif by busting a terror network planning to launch a suicide attack on his residence in Raiwind on the outskirts of Lahore.
The plot was unearthed by a Joint Investigation Team of police and intelligence officials probing into the abduction of Ali Haider Gilani, son of former premier Yousuf Raza Gilani, who was kidnapped during election campaign in May.
The Express Tribune reported that officials while probing the case of Gilani traced a North Waziristan-based militant group operating in Lahore and plotting to target Sharif at his residence in Raiwind.
Full report at:
http://timesofindia.indiatimes.com/world/pakistan/Pakistani-authorities-foil-plot-to-target-Prime-Minister-Nawaz-Sharif/articleshow/21271440.cms
-----------
Syrian proxy war being turned into sectarian conflict: Fazl
July 23, 2013
ISLAMABAD - Jamiat Ulema-e-Islam (Fazl) Chief, Maulana Fazlur Rahman, has said that efforts are under way in Syria to turn proxy war for a regime change into a sectarian conflict.
Maulana Fazlur Rahman on Monday also strongly condemned attacks on holy shrines. Proxy war is increasingly being turned into wider sectarian conflict, sucking elements from other countries. Targeting holy shrines of the two sects are part of this conspiracy, Fazl said in a press statement. Fazl said that on one hand, the US and regional allies are fanning civil war by arming rebels to pave way for regime change, while on the other, Russia and Iran are trying to counter US-led coalition and keep strategic influence over Bashar- Al-Assad regime.
Full report at:
http://www.nation.com.pk/pakistan-news-newspaper-daily-english-online/islamabad/23-Jul-2013/syrian-proxy-war-being-turned-into-sectarian-conflict-fazl
-----------
Seven killed in Balochistan violence
July 23, 2013
QUETTA: At least seven people were killed and nine others injured in three different acts of violence in Balochistan on Monday.
Fayyaz Sumbal, the Deputy Inspector General Police Quetta told Dawn.com armed militants opened fire on a yellow cab in Qandahari Bazar area of Quetta.
He said two persons from the Hazara community were killed on the spot, whereas one passerby sustained wounds.
"The militants sped away from the spot," Sumbal said. He said the incident was an act of sectarian targeted killing.
Full report at:
http://dawn.com/news/1031097/seven-killed-in-balochistan-violence
-----------
World Punjabi Congress declares 2014 year of peace, tolerance
July 23, 2013
LAHORE: World Punjabi Congress (WPC) Chairman Fakhar Zaman has returned from Europe where he had detailed meetings with the presidents of the International Sufi Councils of various countries.
It was decided that 2014 would be the year of peace and tolerance. It was further decided that international conferences on peace would be held throughout 2014 in Sweden, Denmark, Holland, Austria, UK, Norway, France, Finland, Poland and India.
Full report at:
http://www.dailytimes.com.pk/default.asp?page=2013\07\23\story_23-7-2013_pg7_21
-----------
Abbasi wants restoration of 1994 PCB Constitution
2013-07-23
LAHORE: Asserting that restoring the 1994 Constitution will prove crucial in steering the Pakistan Cricket Board (PCB) of the current administrative crisis, former chief executive of the PCB Arif Ali Khan Abbasi on Monday warned failing to do so will leave Pakistan cricket in a disastrous situation.
"Under the current circumstances I believe restoring the 1994 Constitution will prove decisive in swift resolution of all the crises as this Constitution is more democratic. This constitution can help solve the current problems faced by our cricket system, besides also meeting the demands of the International Cricket Council (ICC) about setting up a democratic system [in the PCB]," Abbasi told Dawn while commenting on the situation prevailing in the PCB.
Full report at:
http://dawn.com/news/1031127/abbasi-wants-restoration-of-1994-pcb-constitution
-----------
Peace in Lyari remains 'top priority', says Wassan
July 23, 2013
KARACHI: Sindh Minister for Prisons, Enquires and Anti-corruption, and Mines and Minerals Manzoor Hussain Wassan has said that restoring peace in Lyari remains among Sindh Government's top priorities.
"We are ready to take all steps in order to restore peace in Lyari," said Wassan while talking to a group of media persons here on Monday.
He added that Kutchi and Baloch communities living in Lyari are the 'sons of this soil' and peaceful citizens, who have always supported the PPP. He asserted that Sindh Government is functioning under the able leadership of Sindh Chief Minister Syed Qaim Ali Shah, and categorically denied the presence of 'any militant wing' of the ruling party.
Full report at:
http://www.dailytimes.com.pk/default.asp?page=2013\07\23\story_23-7-2013_pg12_3
-----------
Two killed in Chaman blast
July 23, 2013
QUETTA: At least two persons were killed and several others injured in an IED blast near Custom House in the border town of Chaman, on Monday. According to details, a man whose body was blown up into pieces in the explosion was apparently planting a bomb close to a mosque adjacent to the Immigration and Custom offices at the Pak-Afghan border when it went off. As a result one person was killed while four others received injuries. The injured were taken to the district headquarter hospital where one of them succumbed to his injuries. When contacted, Killa Abdullah Assistant Commissioner Mohammad Ibrahim Baloch said the civil administration was yet to investigate and confirm whether the person whose body was badly damaged was a saboteur or a passerby.
http://www.dailytimes.com.pk/default.asp?page=2013\07\23\story_23-7-2013_pg7_5
-----------
Another two Hazaras slain in Quetta
July 23, 2013
QUETTA - Two men from the Hazara community were gunned down in targeted killing while two passersby also got injured here on Monday.
Two armed persons riding a motorcycle opened indiscriminate firing on a cab when the driver and passenger were boarding it.
As a result, both driver and passenger received fatal bullet injuries and died before being shifted to hospital.
Full report at:
http://www.nation.com.pk/pakistan-news-newspaper-daily-english-online/national/23-Jul-2013/another-two-hazaras-slain-in-quetta
-----------
Bomb attack destroys Mosque wall in Peshawar
July 22, 2013
PESHAWAR: An explosion took place near a mosque late on Monday in Afghan Colony, Peshawar in the jurisdiction of Faqiarabd police station.
Initial reports suggest that the bomb was a low intensity one and damaged the walls of Mian Ahmad Jan's house located nearby.
Police reports initially claimed that the explosion was caused by a gas pipeline blast but a Bomb Disposal Squad (BDS) investigation confirmed that one kilogram worth of explosives had been used in the attack.
"The purpose of the blast was to cause panic instead of causing physical damage. There were no casualties in the attack," said a police official.
http://tribune.com.pk/story/580412/bomb-attack-destroys-wall-of-peshawar-mosque/
-----------
Pakistan set to reintroduce capital punishment
Imtiaz Ahmed
July 23, 2013
Pakistan is set to lift a moratorium on the death penalty, a move that is feared, to lead to the summary execution of at least 400 people out of a total of 8,000 people currently on death row.
Prime minister Nawaz Sharif's interior minister Chaudhry Nisar Ali Khan says that those who need to be punished "should be punished". The PML-N, the party that is in power, is in support of the capital punishment, according to its manifesto.
There had been a stay on the death penalty since 2008 as the previous government, led by the Pakistan Peoples Party, was against capital punishment. "This is because the leader of our party (Zulfikar Ali Bhutto) was hanged by General Zia and in principle we are against the punishment," Raza Rabbani, a party spokesman explained.
Full report at:
http://www.hindustantimes.com/world-news/pakistan/Pakistan-set-to-reintroduce-capital-punishment/Article1-1096727.aspx
-----------
Arab World
Al Qaeda claims Iraq prison raids, says 500 inmates freed
Jul 23, 2013
(Reuters) - Al Qaeda claimed responsibility for simultaneous raids on two Iraqi prisons and said more than 500 inmates had been set free, in a statement posted on militant forums on Tuesday.
The Islamic State of Iraq and the Levant, which was formed earlier this year through a merger between al Qaeda's affiliates in Syria and Iraq, said it had carried out the attacks on Abu Ghraib and Taji jails after months of preparation.
http://in.reuters.com/article/2013/07/23/iraq-violence-alqaeda-idINDEE96M07620130723
---------
World Assembly of Muslim Youth chief calls for greater charity work
23 July 2013
There is an increasing need for humanitarian work due to natural and man-made disasters, Saleh Al-Wohaibi, secretary-general of the World Assembly of Muslim Youth (WAMY), said here on Sunday.
Al-Wohaibi was addressing members of the diplomatic corps and government officials at the 11th annual iftar party held at the Riyadh Intercontinental Hotel.
Ambassadors and deputy heads of missions were present at the function concluded with a dinner banquet.
"The need of the modern-day man for humanitarian work and charitable organizations has increased as a result of the increase in man-made problems and also due to frequenting natural disasters such a floods and earthquakes," Al-Wohaibi said.
Full report at:
http://www.arabnews.com/news/458889
-----------
Egypt crisis: Nine killed in Cairo clashes
Jul 23, 2013
Nine people have died in Cairo in overnight clashes between supporters and opponents of ousted President Mohammed Morsi, officials say.
Most of the victims were killed at a sit-in held by pro-Morsi demonstrators near Cairo University.
Mr Morsi's family earlier accused the military of abducting him.
He has been held at an undisclosed location without charge since army chief General Abdul Fattah al-Sisi announced his removal on 3 July.
Mr Morsi's Muslim Brotherhood movement has refused to recognise the new military-backed administration and continues to hold almost daily street protests.
Demonstrators, many of them from the Muslim Brotherhood, have been staging large rallies across Egypt.
Full report at:
http://www.bbc.co.uk/news/world-middle-east-23417025
---------
Faithful urged to register for Etikaf at Madinah mosque
23 July 2013
The Presidency of the Two Holy Mosques has urged Muslim faithful intending to perform Etikaf (spiritual retreat) inside the Prophet's Mosque in Madinah to register their names through its website.
"The presidency has set out certain conditions for the Etikaf as the applicants should preserve the mosque's cleanliness, should not cause problems to other worshippers and end etikaf soon after Isha prayer on the night of Eid Al-Fitr," said Abdul Wahid Al-Hattab, its spokesman in Madinah.
Full report at:
http://www.arabnews.com/news/458887
-----------
Egypt's president hails ex-military presidents on 1952 revolution anniversary
23 July 2013
Egypt's interim President Adly Mansour heaped praise Monday on three former Egyptian presidents from the armed forces in a speech marking the 61st anniversary of the 1952 revolution.
In a televised speech, Mansour, who took office on 4 July as part of an armed forces roadmap that also saw the ouster of elected president Mohamed Morsi, said that Mohamed Naguib, Anwar El-Sadat and Gamal Abdel-Nasser were instrumental in pulling off the 1952 revolution.
"I salute the great men who opened the door of freedom and hope to Egypt and all people in the region," he said.
Full report at:
http://english.ahram.org.eg/NewsContent/1/64/77133/Egypt/Politics-/Egypts-president-hails-exmilitary-presidents-on--r.aspx
-----------
Hezbollah TV says EU bowed to Israel in blacklisting
23 July 2013
Lebanon's Hezbollah-run Al-Manar television accused the European Union on Monday of bowing to Israeli demands in blacklisting the Shiite militant group's armed wing.
"The European Union has surrendered to the wishes of Israel in adding Hezbollah to its blacklist," the television said.
It accused Britain of taking the lead in efforts to impose the sanction, which was swiftly welcomed by both Israel and its US ally.
Full report at:
http://english.ahram.org.eg/NewsContent/2/8/77124/World/Region/Hezbollah-TV-says-EU-bowed-to-Israel-in-blacklisti.aspx
-----------
Family blames Brotherhood leaders for death of man at pro-Morsi sit-in
23 July 2013
A man has been found dead at a pro-Morsi sit-in outside Rabaa Al-Adawiya Mosque in Cairo's Nasr City.
The dead man, Amr Kamel, 30, had been tortured, according to his relatives, Al-Ahram Arabic news website reported.
An official forensic report said Kamel's toenails had been removed and he had wounds to the head, chest and back.
Full report at:
http://english.ahram.org.eg/NewsContent/1/64/77067/Egypt/Politics-/Family-blames-Brotherhood-leaders-for-death-of-man.aspx
--------
South Asia
'New wave' of Maldivian psychedelic art growing despite religious restrictions
By Donna Richardson | July 22nd, 2013
Handfuls of sand are sprinkled are carefully onto glass, and a single finger pokes the grains to magically morph them into a moving painting as an animation unfolds telling important narratives about the survival of a nation, against the soundtrack of haunting music.
The form of an old man takes shape, holding a cane in his hand. All around him a street scene of buildings is developed under the sleight of a single hand sprinkling sand, as the other creates perfectly drawn images. Behind the old man is a wall of people, and one of them is brandishing a Maldivian flag. Suddenly the music tempo changes. On the other side of the road a brace of helmeted police officers appear all brandishing riot shields and shaking their batons at the old man and the people. Suddenly, these images of the people are "wiped out" and in their place, a single menacing bulbous face appears.
Full report at:
http://minivannews.com/politics/new-wave-of-maldivian-psychedelic-art-growing-despite-religious-restrictions-61369
-----------
Three Nato soldiers killed in Afghan suicide blast
July 23, 2013
GHAZNI: A suicide bomber rode a donkey Tuesday into an Afghan and Nato military convoy, killing three Western soldiers and their Afghan interpreter, officials said.
Nato's International Security Assistance Force (Isaf) confirmed three casualties in a bombing in eastern Afghanistan but gave no details.
Afghan authorities said the attack happened in Wardak province, a hotbed of the Taliban insurgency just south of the capital Kabul.
Full report at:
http://dawn.com/news/1031336/three-nato-soldiers-killed-in-afghan-suicide-blast
-----------
Myanmar's radical monk blames bombing on Muslims
July 22, 2013
A radical Buddhist monk blamed Muslim extremists on Monday for a small bomb that detonated in Myanmar just a few meters from where he was delivering a sermon, though police said it was too early to speculate.
Five people were injured, but only slightly. The blast, which occurred at 9 p.m. Sunday during a religious ceremony on the outskirts of Mandalay, comes as the predominantly Buddhist nation of 60 million struggles to contain religious violence that has claimed more than 250 lives in the last year.
Full report at:
http://www.hindustantimes.com/world-news/myanmar/Myanmar-s-radical-monk-blames-bombing-on-Muslims/Article1-1096477.aspx
---------
Joint Chiefs' Head Hopeful on Afghan Security Pact
By AZAM AHMED
Jul 23, 2013
KABUL, Afghanistan — Though Afghan-American relations have been badly strained, Gen. Martin E. Dempsey, the chairman of the Joint Chiefs of Staff, expressed optimism on Monday about the prospects for a long-term security agreement between the two countries, saying he would like to see it signed no later than October.
General Dempsey made the remarks in Kabul, where he met with President Hamid Karzai and other Afghan leaders after an especially tense month of accusations and recriminations between the two countries. Mr. Karzai's office was more guarded about the talks, saying that while the Afghans were ready to sign a security agreement, it would have to be one that would bring "peace and security, strengthen the security forces and create a united and strong Afghanistan."
Full report at:
http://www.nytimes.com/2013/07/23/world/asia/joint-chiefs-head-hopeful-on-afghan-security-pact.html
-------
Afghans See Their Army Woo Them With Piety
By AZAM AHMED
Jul 23, 2013
CHAWKE, Afghanistan — Dozens of local herders waited on the cold concrete steps of an abandoned school building, warily watching the Afghan soldiers gathered nearby. The tribesmen had been searched twice already, their shawls unraveled and turbans probed for weapons.
Days earlier, a local mullah had declared that it was the duty of Afghans to attack soldiers and policemen as infidels. Col. Hayatullah Aqtash, a small army officer with smoky blue eyes, had come to Chawke District with his men to offer a counterpoint. He strode through the barren courtyard, greeted the men with a prayer and began.
Full report at:
http://www.nytimes.com/2013/07/22/world/asia/afghans-see-their-army-woo-them-with-piety.html?pagewanted=all
-------
Maldives Bar Association calls for suspension of Supreme Court Justice pending sex video investigation
By Neil Merrett | July 22nd, 2013
The Maldives Bar Association (MBA) has called for the suspension of Supreme Court Justice Ali Hameed pending an investigation into his alleged sexual misconduct.
In a statement, the MBA challenged the independence and transparency of any Judicial Service Commission (JSC) investigation without the suspension of the judge in question.
Hameed is under investigation by both the police and JSC over the circulation of at least three sex videos apparently depicting him fornicating with unidentified foreign women.
Four members of the JSC voted in support of a motion last Wednesday (July 17) against suspending Justice Hameed due to "lack of evidence", despite recommendations that he be taken off the bench until investigations were concluded.
Full report at:
http://minivannews.com/politics/maldives-bar-association-calls-for-suspension-of-supreme-court-justice-pending-sex-video-investigation-61388
-----------
North America
'Act of war': U.S. general gives options for Syria military intervention
23 July 2013
The top U.S. general has set out five options for military intervention in Syria in a non-classified letter made public Monday.
Despite outlining the options, Chairman of the Joint Chiefs of Staff General Martin Dempsey stressed that the decision of whether to go to war was one for civilian leaders.
In his July 19 letter, he pointed out that the use of the options would be a political decision that should not be carried out lightly and would be, "no less than an act of war."
The options range from nonlethal intelligence and weapons training to a boots-on-the-ground plan to "assault and secure" the Syrian regime's chemical weapons.
His letter was addressed to Senate Armed Services Committee chairman Carl Levin, included him being mindful of ongoing deliberations over whether to intervene militarily against President Bashar al-Assad's regime.
Full report at:
http://english.alarabiya.net/en/News/middle-east/2013/07/23/Dempsey-outlines-options-for-U-S-military-intervention-in-Syria-.html
---------
New Haven's Masjid Al-Islam invites its neighbors to help break the Ramadan fast
July 22, 2013
NEW HAVEN >> With joy in their hearts and a buffet in their future, members of Masjid Al-Islam ended their daily Ramadan fast Thursday with a special evening of prayer and interfaith fellowship.
This was the George Street mosque's second annual fast-breaking meal. Tables set up outside the building brimmed with couscous, baked vegetables, dates and meats catered by a pair of downtown restaurants.
"We are a small, but, thank God, growing community here," said Imam Hafiz Abdul Hannan, who arrived in New Haven from Massachusetts last month. "This is part of Ramadan, to share food with our neighbors. This is a special time for us."
Full report at:
http://www.nhregister.com/articles/2013/07/19/news/new_haven/doc51e8af8b88e32365661653.txt?viewmode=fullstory
-----------
U.S. congressional hurdles lifted on arming Syrian rebels
23 July 2013
President Barack Obama will move forward with a plan for the United States to arm the struggling Syrian rebels after some congressional concerns were eased, officials said on Monday.
"We believe we are in a position that the administration can move forward," House of Representatives Intelligence Committee Chairman Mike Rogers told Reuters.
The White House announced in June that it would offer military aid to vetted groups of Syrian rebels after two years of balking at directly sending arms to the opposition.
"We have been working with Congress to overcome some of the concerns that they initially had, and we believe that those concerns have been addressed and that we will now be able to proceed," a source familiar with the administration's thinking told Reuters on condition of anonymity.
Full report at:
http://english.alarabiya.net/en/News/middle-east/2013/07/23/U-S-congressional-hurdles-lifted-on-arming-Syrian-rebels.html
-----------
Minority groups protest nomination of NYPD's Kelly to lead Homeland Security
July 22, 2013
Black and Latino law enforcement groups are protesting the prospect of having NYPD commissioner Raymond Kelly head the Department of Homeland Security, citing his controversial stop-and-frisk policy and the Muslim surveillance program.
At a rally in front of the New York Police Department headquarters on Sunday, law enforcement groups criticized Kelly for his work at the NYPD, accusing him of legalizing civil rights violations, the New York Daily News reports.
Full report at:
http://rt.com/usa/kelly-obama-nomination-nypd-dhs-426/
-----------
U.S. lawmakers consider $1 billion in aid to Jordan
23 July 2013
U.S. lawmakers are mulling a $1 billion aid package to Jordan, a third of which would defray costs of regional instability, including huge refugee flows from neighboring Syria.
A subpanel of the House Appropriations Committee will review the aid during a markup of a broader bill committing some $34.1 billion in overall State Department and foreign operations for fiscal year 2014, which begins October 1.
While the overall figure is about 19 percent less than the current year's amount, owing to efforts to reduce the U.S. deficit, the funding request for Jordan, a close ally, was fully met.
If approved, Washington would provide Jordan with $360 million in economic support, $300 million for military financing, and an additional $340 million for overseas contingency operations including the global war on terrorism.
Full report at:
http://english.alarabiya.net/en/News/middle-east/2013/07/23/U-S-lawmakers-consider-1-billion-in-aid-to-Jordan-.html
-----------
Kerry finalizes negotiations team in Middle East peace push
23 July 2013
Secretary of State John Kerry is finalizing his team to help shepherd Middle East peace talks and take on the heavy lifting on a day to day basis, a U.S. official said Monday.
State Department spokeswoman Jen Psaki would neither confirm nor deny reports that a former U.S. ambassador to Israel, Martin Indyk, has been chosen to head up the American negotiating team.
In Amman on Friday -- at the end of his sixth trip to the region -- Kerry announced that Israeli and Palestinian leaders have agreed in principle to return to talks that have been frozen for three years.
Full report at:
http://english.alarabiya.net/en/News/middle-east/2013/07/23/Kerry-finalizes-Middle-East-negotiations-team-in-peace-push.html
-----------
Africa
Islamic and secular laws clash in Nigeria's senate
23 July 2013
Enraged Nigerians are using petitions, protests and social networks to demand the Senate revisit a constitutional amendment on the age of consent.
The country's secular and Islamic laws clashed last week when a senator notorious for marrying a 14-year-old girl forced a re-vote on a bill about the age at which a person can renounce citizenship. Currently the constitution only says a person must be of "full age" to renounce citizenship. A proposed amendment was to set the age at 18, to bring the clause in line with other laws setting the age of consent for marriage and voting.
But Sen. Sani Ahmed Yerima opposed the age limit, saying that it goes against Islamic law. He said that a female can marry at any age.
http://mtstandard.com/news/world/africa/islamic-and-secular-laws-clash-in-nigeria-s-senate/article_07538fc3-3a19-5a32-8af4-abfcf6890116.html
-----------
Boko Haram has killed 400 Immigration Officers; 11 jailbreaks recorded in one year – Senat
July 23, 2013
No fewer than 400 Nigeria Immigration Service officers have been killed by the dreaded Boko Haram since it began it's violent campaigns against the nation.
Chairman, Senate Committee on Interior, Senator Bagudu Atiku, who made this disclosure on Monday in a chat with newsmen at the National Assembly complex in Abuja, said the figure was gotten from the Immigration and Prisons Services during the committee's oversight functions.
Full report at:http://dailypost.com.ng/2013/07/23/boko-haram-has-killed-400-immigration-officers-11-jailbreaks-recorded-in-one-year-senate/
----------
Libya inaugurates panel to draft statute in Beida
July 23, 2013
TRIPOLI – There was a ceremony in the old Parliament building in Beida in Cyrenaica to inaugurate the new commission to draft the constitution, approved by Congress last Tuesday. The law and the planned elections to the commission was a major development, the head of the General National Congress (GNC), Nuri Abu Sahmain, said in a speech at the event. For it to succeed would require all Libyans to participate in the elections to it, he stressed.
The commission is widely known as "the 60 Committee" because it has 60 members, 20 each from Libya's three historic provinces – a reflection of the similarly-based 60 Committee that devised Libya's 1951 Independence Constitution.
Full report at:http://www.saudigazette.com.sa/index.cfm?method=home.regcon&contentid=20130723174479
---------
Tunisia prime minister hits out at 'Tamarod' movement
23 July 2013
Tunisia's Tamarod movement, which has called for the dissolution of the National Constituent Assembly, is endangering the country's democratic process, Islamist Prime Minister Ali Larayedh said on Monday.
"This copycat group which calls itself Tamarod is clear, and I think it represents a danger to the democratic process, an attempt to make it fail in Tunisia," Larayedh said in a radio interview.
Full report at:
http://english.ahram.org.eg/NewsContent/2/8/77126/World/Region/Tunisia-prime-minister-hits-out-at-Tamarod-movemen.aspx
-----------
Mideast
Islamic Jihad Spokesman Rules Out Negotiation with Israel
23 July 2013
TEHRAN (FNA)- A senior Palestinian Islamic Jihad leader underlined that the revival of the so-called "peace talks" between Israel and the Palestinian groups is doomed to failure.
Speaking to FNA on Monday, Islamic Jihad Spokesman Davoud Shahab warned against the resumption of the talks, and called on Arab and Muslim nations to unite against the Israel.
Shahab noted that the Palestinian Authority negotiators sit at the negotiating table with Israel under the US threat and without the support of Arab and Muslim countries.
The Islamic Jihad official noted that the agreement of the Palestinian Authority to hold talks with Israel would be a repetition of previous defeats that the Palestinians have experienced in the recent years.
Earlier this week, US Secretary of State John Kerry claimed that he finally "convinced Israeli and Palestinian officials to return to the negotiating table." This is while the prospects for peace appear just as unlikely as before.
http://english.farsnews.com/newstext.aspx?nn=13920431000456
-----------
Iran slams 'Zionist' EU blacklisting of Hezbollah military wing
23 July 2013
Iran on Tuesday denounced the European Union for its decision to blacklist Hezbollah's armed wing as a terror group, Iranian media reported Tuesday.
Iranian Foreign Minister Ali Akbar Salehi accused the EU's move of acting in Israel's interests,
Iran "strongly denounces the (EU) decision... and believes (it) is in line with the illegitimate interests of the Zionist regime," Salehi said, according to AFP news agency, citing official media.
"The European Union, due to lack of correct judgement about the regional crisis, took this wrong decision," Salehi said.
The action, he added, is "against the Lebanese people since Hezbollah has put up a legitimate defence against the Zionists' aggressions," he added.
Full report at:
http://english.alarabiya.net/en/News/middle-east/2013/07/23/Iran-slams-Zionist-blacklisting-of-Hezbollah-s-military-wing-.html
-----------
Iran cell apologizes for 'insulting' the Prophet's companion Umar
23 July 2013
Iran cell has apologized to Sunni Muslims for a mobile phone competition seen as insulting to Muslim caliph and the Prophet Mohammad's companion Umar bin al-Khattab.
The second largest mobile operator in Iran had sent its subscribers a quiz question deemed offensive to Sunni Muslims, Iran Daily Brief website reported Monday.
The telecom operator asked its subscribers: "Which judge was deceived by the Devil during the time of (the first Shiite Imam) Imam Ali?"
The two answer options given were: A) Sharih Qazi, the Sunni arbiter of Kufa city, in the first century of Islam. B) Umar bin al-Khattab, the second Muslim caliph.
A Sunni Friday prayer imam in the city of Zahedan, Mowlavi Abdolhamid Esma'ilzehi, said Irancell "had insulted one of the greatest men of Islam," according to the website of Iran Daily Brief.
Full report at:
http://english.alarabiya.net/en/News/middle-east/2013/07/23/Irancell-apologizes-for-insulting-the-Prophet-s-companion-Umar.html
--------
Israel's PM sees Morsi fall as sign of political Islam's weakness
23 July 2013
In rare remarks on Egypt's government crisis, Israeli Prime Minister Benjamin Netanyahu has suggested that the fall of the president, Mohamed Morsi, demonstrates the weaknesses of political Islamist movements.
"I believe that over the long haul these radical Islamic regimes are going to fail because they don't offer the adequate enfranchisement that you need to develop a country economically, politically and culturally," Netanyahu told the German weekly Welt am Sonntag.
Full report at:
http://english.ahram.org.eg/NewsContent/2/8/77062/World/Region/Israels-PM-sees-Morsi-fall-as-sign-of-political-Is.aspx
-----------
Hamas reeling from Egyptian crackdown on Gaza tunnels
23 July 2013
Palestinians in the Gaza Strip are reeling from another devastating blockade but this time they are blaming Egypt, the neighbouring Arab power they once hoped would end their isolation, rather than their old foe Israel.
In a few weeks of digging, dynamiting and drenching, Cairo's troops have destroyed many of the smuggling tunnels that ran under the Egypt-Gaza border and which had provided the cramped coastal enclave with commercial goods as well as weaponry.
Full report at:
http://english.ahram.org.eg/NewsContent/2/8/77071/World/Region/Hamas-reeling-from-Egyptian-crackdown-on-Gaza-tunn.aspx
-----------
Turkey's dilemma with Syrian Kurdish forces
23 July 2013
Turkey has been watching with deep concern as Kurdish militants have been slowly consolidating power in areas bordering Turkey in northern Syria and preparing to declare their own autonomous state.
To mark the one year anniversary of the capture of northern Syria, the Kurdish Democratic Union Party (PYD) – a Syrian offshoot of the Kurdistan Workers' Party (PKK) – is preparing to declare an autonomous state in northern Syria, ringing alarm bells among officials in Ankara. As part of this plan, forces loyal to the PYD staged attacks on strategic Syrian town of Ras al-Ain on the Turkish border, just opposite to Turkey's Ceylanpinar, and largely took control of the town following days of fierce fighting with al-Qaeda affiliate radical groups.
Full report at:
http://english.alarabiya.net/en/views/2013/07/22/Turkey-s-dilemma-with-Kurds-in-Syria.html
-----------
Israel to free 'around 80' Palestinian prisoners
23 July 2013
JERUSALEM: Israel is poised to decide on the release of around 80 long-serving Palestinian prisoners ahead of renewed peace talks, an Israeli official said on Monday.
US Secretary of State John Kerry announced on Friday that Israeli and Palestinian negotiators had agreed to meet to prepare a resumption of direct peace talks, stalled since 2010.
"The prisoner releases will start when talks commence," the Israeli official said on condition of anonymity. "We're talking about releasing them in stages."
Full report at:
http://www.arabnews.com/news/458875
-----------
Europe
EU Adds Military Wing of Hezbollah to List of Terrorist Organizations
By JAMES KANTER and JODI RUDOREN
2013/07/22
BRUSSELS — The military wing of Hezbollah, the powerful Lebanese Shiite group, was blacklisted by European Union ministers as a terrorist organization on Monday in a policy shift that reflected their concern about Hezbollah's suspected involvement in Europe-based bombings and its growing role in the Syria war.
The blacklisting designation was welcomed by the United States and Israel, which have long regarded Hezbollah as a terrorist organization. Hezbollah and Iran, the group's biggest ally, denounced the designation as a capitulation to United States and Israeli pressure. "It appears that the decision was written with an American hand in Zionist ink," Hezbollah said in a statement from Beirut.
The immediate practical effects of the new designation were not clear, but symbolically at least they were an embarrassment to Hezbollah, the most important political organization in Lebanon. Many Lebanese expressed concern the designation would damage Lebanon's international relations and worsen internal tensions, and Lebanon's president, Michel Suleiman, asked the European Union to "re-examine its decision," Lebanese media reported..
The sanctions that result from the European Union designation are expected to include asset freezes and possible travel bans on some individuals. But some sanctions experts said the policy shift set a precedent that over time could compromise Hezbollah's fund-raising operations.
Full report at:
http://www.nytimes.com/2013/07/23/world/middleeast/european-union-adds-hezbollah-wing-to-terror-list.html
-----------
Paris backs veil ban, police after 'unacceptable' violence
AFP | Jul 23, 2013
TRAPPES (France): The French government on Tuesday condemned as "unacceptable" weekend violence in a Paris suburb triggered by the country's ban on full-face veils and strongly defended the controversial law.
Two senior members of the government, Prime Minister Jean-Marc Ayrault and interior minister Manuel Valls, spoke following the violence in the suburb of Trappes.
The unrest erupted after a man was detained for allegedly attacking a police officer who had stopped his wife over her full-face veil -- a practice that is banned in France, outraging some in the Muslim community.
Full report at:
http://timesofindia.indiatimes.com/world/europe/Paris-backs-veil-ban-police-after-unacceptable-violence/articleshow/21268695.cms
----------
Abdulatipov Crackdown Emulates Soviet-Era Methods in Dagestan
Valery Dzutsev
23 July 2013
Experts have warned that the Dagestani authorities are opting for more heavy-handed measures in their efforts to resolve security issues in the republic in contrast to the previous republican leadership. On July 16, a roundtable on the remaking of Dagestani politics after the appointment of Ramazan Abdulatipov as head of the republic was held in Moscow. According to Yekaterina Sokiryanskaya, the head of the International Crisis Group (ICG) in Russia and a member of the council of the Memorial Human Rights Center, the head of Dagestan has achieved some positive results, as the republic's government has made efforts to improve its financial situation and municipal governance. "People have started to hope that the situation in the republic will improve," Sokiryanskaya said. At the same time, the chief of the ICG branch in Russia said that Abdulatipov had cut short the nascent dialogue between the adherents of various Islamic teachings in Dagestan. "The Commission for Adaptating Militants, which dealt with 46 people who had surrendered, was disbanded," she said. "The Republican Peacemaking Commission was set up instead, but who the members of the new commission are and what its activities are is unclear."
Full report at:
The Jamestown Foundation
-----------
Ukraine's Air Defense: Balancing Between CSTO and NATO
Maksym Bugriy
23 July 2013
Ukraine is preparing to take part in air defense exercises with Russia and Belarus and a multilateral air force exercise in Kazakhstan, all to be held by November 2013 (http://zakon4.rada.gov.ua/laws/show/200/2013). Minsk and Astana are key Russian allies in the Collective Security Treaty Organization (CSTO), and Moscow has been seeking to develop a common CSTO air and space defense system. Among post-Soviet countries, Ukraine boasts fairly developed air defense capabilities, yet it technically and financially depends on cooperation with Russia. Using sticks and carrots of air defense cooperation, Kremlin hopes to bring Ukraine closer to the CSTO. Such rapprochement, however contradicts President Viktor Yanukovych's non-aligned security policy.
Full report at:
The Jamestown Foundation
-----------
EU calls on Egyptians to release Morsy
Jul 23, 2013
European Union foreign ministers are calling for the release of ousted Egyptian President Mohamed Morsy.
The ministers called in a joint statement Monday for "the release of all political detainees, including Mohamed Morsy" and listed it among their key priorities for the new leadership in Cairo.
Mr Morsy's relatives have accused the country's military generals of "kidnapping" him, and say that they hold the army responsible for his "safety and security."
Mr Morsy's family has had no contact with him since his July 3 ouster by the army, which came on the heels of massive popular protests against the rule of the Muslim Brotherhood-affiliated president.
The 28 EU ministers insisted Egypt must quickly move to an "inclusive democratic transformation process," including elections at the earliest possible time.
http://www.thehindu.com/news/international/world/eu-calls-on-egyptians-to-release-morsy/article4941201.ece
-----------
71% of Egyptians unsympathetic with pro-Morsi protests: Poll
23 July 2013
Egyptians are by and large unsympathetic to protests calling for the reinstatement of Egypt's toppled Islamist president Mohamed Morsi.
71 percent of Egyptians voiced their disapproval of the Brotherhood-led protests which have been taking place for three weeks, according to a poll conducted by the Egyptian Centre for Public Opinion Research (Baseera).
Baseera's July opinion poll found that 20 percent of those polled were in support of the pro-Morsi demonstrations, while 9 percent remained uncertain about how to view the matter.
The report stated that residents of urban governorates seem less sympathetic to the pro-Morsi protests than those of rural areas. Urban residents polled at 17 percent approval, 77 percent disapproval, whereas the numbers were 21 and 67 percent, respectively, for rural residents.
Full report at:
http://english.ahram.org.eg/NewsContent/1/64/77085/Egypt/Politics-/-of-Egyptians-unsympathetic-with-proMorsi-protests.aspx
-----------
Russia 'committed' to delivering S-300 missiles to Damascus
23 July 2013
In an attempt to bolster Syria's war-battered economy, Russia is considering extending a loan to Damascus and is still committed to delivering S-300 missiles in defiance of the West, a top Syrian official said Monday.
Visiting Syrian Deputy Prime Minister Qadri Jamil said after meeting Foreign Minister Sergei Lavrov in Moscow that the issue of a Russian credit was discussed at the talks and Damascus hoped for an agreement by the end of the year.
"We discussed it, although it is still early to talk of concrete figures," Jamil said, quoted by Russian news agencies. "We hope that the question will be solved by the end of the year, experts are now discussing it."
Full report at:
http://english.alarabiya.net/en/News/middle-east/2013/07/22/Syrian-deputy-PM-set-for-Russia-talks-as-violence-rages.html
---------
Russia Says Assad Is Ready for Peace Talks
By DAVID M. HERSZENHORN
Jul 23, 2013
MOSCOW — The Russian foreign minister, Sergey V. Lavrov, said on Monday that the government of President Bashar al-Assad of Syria was ready to engage in peace negotiations without preconditions and he urged the United States and other Western nations to bring Syrian opposition groups to the table for a new round of talks.
Mr. Lavrov, who met here on Monday with the Syrian deputy prime minister, Qadri Jamil, blamed opposition groups for the lack of progress in peace efforts. He and Mr. Jamil said that they had discussed the possibility of additional economic aid for Syria, in the form of a loan from Russia, with terms to be finalized later this year.
Full report at:
http://www.nytimes.com/2013/07/23/world/middleeast/russia-says-assad-is-ready-for-peace-talks.html?_r=0
--------
Southeast Asia
Nazi-themed cafe in Indonesia to reopen sans swastikas
July 23, 2013
A controversial Nazi-themed cafe in Indonesia would be reopened with a broader World War II theme -- without the swastika symbols but retaining images of Adolf Hitler, the owner's lawyer said on Tuesday.
The SoldatenKaffee (The Soldiers' Cafe) -- ornamented with Nazi-related memorabilia -- was voluntarily shut down on Friday following death threats to the owner Henry Mulyana, who is accused of inciting racial hatred.
The cafe, which has operated in the western Javanese city of Bandung since 2011, has prompted a groundswell of anger from foreigners as well as Indonesians following recent exposure in the English-language media.
Mulyana has met city tourism officials, who said the 35-year-old had done nothing unlawful, his lawyer Rohman Hidayat told AFP.
The cafe will retain its photographs of Adolf Hitler and other Nazi-era memorabilia, Hidayat said, adding that Mulyana sought to relocate within Bandung and start a broader World War II cafe. He did not say when the cafe would be reopened.
Full report at:
http://www.hindustantimes.com/world-news/restofasia/Nazi-themed-cafe-in-Indonesia-to-reopen-sans-swastikas/Article1-1096980.aspx
-----------
Malaysian Education Ministry orders school to stop forcing non-Muslims pupils to eat in shower room
JULY 23, 2013
The Education Ministry has ordered a Sungai Buloh school to stop ordering its non-Muslims pupils to have their recess meals in the school's shower room.
Deputy Education Minister P. Kamalanathan in a tweet said he had requested SK Seri Pristana in Sungai Buloh to immediately make a more suitable place available.
Expressing shock over the incident, Kamalanathan told The Malaysian Insider that while the holy month of Ramadan was to be observed with respect by Muslims, non-Muslims should be given the space to meals as usual.
Full report at:
http://www.themalaysianinsider.com/malaysia/article/education-ministry-orders-school-to-stop-forcing-pupils-to-eat-in-shower-ro
-----------
Central Java Muslim clerics condemn FPI clashes with locals
July 23, 2013
A group of Muslim clerics from various regions in Central Java have condemned a series of sweeps conducted by the Islam Defenders Front (FPI) in several regions, such as those in Sukorharjo and Kendal regencies last week that led to clashes with locals.
"Don't take over the police's duty to tackle crime," head of Mashitoh Islamic Boarding School Nasir Azhari said on Monday.
Full report at:
http://www.thejakartapost.com/news/2013/07/22/central-java-muslim-clerics-condemn-fpi-clashes-with-locals.html
-----------
India
The Islamic Society Kargil Condemned Desecration of Holy Shrine of Hazrat Zainab at Syria
23 July 2013
Kargil, July 22 (Scoop News)- Anjuman Jamiyat Ulema (The Islamic Society Kargil) and the Ulema Council Kargil organized a Protest Rally against the Terror Attack and the Desecration of the Holy Shrine of Hazrat Zainab s.a the granddaughter of Prophet Mohammad p.b.u.h and his progeny at Syria and the rally was arranged by Youth Wing I.S.K after the Noon Prayer.
The rally starting from Islamia School Chowk Kargil after that passing through Main Bazaar, Lal Chowk concluded at Islamia School Chowk with a gathering.
The main speakers who spoke on this occasion includes, Murtaza Khalili Member youth wing, Sheikh Nazir Mehdi, Sheikh Ali Elmi Member Ullama Council and others.
The speakers strongly condemned these attacks on the minorities in Syria and also condemned and protested against the Taget and Desecration of the Holy Shrine of Hazrat Zainab. The speaker also condemned all those target to the minorities whether it be the Bhod Gaya Attack, or Ramban incident, there is a need to protect the minorities and the protection of holy places belonging to any religion.
Later Imam Jumma Wal Jamait Sheikh Hussain Muqaddas concluded the programme with universal prayer for the peace and prosperity and communal harmony in the world in general and in the country in particular.
MORE AT http://scoopnews.in/det.aspx?q=30676
http://groundreport.com/isk-condemned-desecration-of-holy-shrine-of-hazrat-zainab-at-syria/
-----------
Hyderabad Rubat holds draw for free stay during Haj amid controversy
23 July 2013
A prize draw to accommodate pilgrims coming from the southern Indian city of Hyderabad free of charge during Haj this year was held by the Nizam's Rubat on Sunday.
The draw, which is being held for the first time ever in Saudi Arabia, selected 408 pilgrims from the Nizam's home state for free accommodation at the Rubat. The draw was held in the presence of Dr. Shaikh Osama Al-Siddiqui from the Saudi Ministry of Islamic Affairs, Endowments, Dawah and Guidance and visitors from the southern state of Andhra Pradesh.
Hussain Mohammed Al-Shareef, caretaker of Rubat, told Arab News, "Rubat received a total of 3,505 applications through the online system from India and 408 have been selected in the draw. They are entitled to stay free of charge during their Haj pilgrimage to Makkah this year."
Full report at:
http://www.arabnews.com/news/458881
-----------
Top Jaish-e-Muhammed terrorist killed in J&K
PTI | Jul 23, 2013
SRINAGAR: A top self-styled commander of Jaish-e-Muhammed terrorist outfit was killed in an encounter with security forces in Kupwara district of Kashmir, police said on Tuesday.
"Qari Yasir, top most Jaish commander, was gunned down by police with the assistance of Army at village Garewad in Lolab area of Kupwara this morning," a police spokesman said.
Further details of the incident are awaited, he added.
http://timesofindia.indiatimes.com/india/Top-Jaish-e-Muhammed-terrorist-killed-in-JK/articleshow/21265001.cms
-----------
India, Bangladesh agree on Chetia's deportation
TNN | Jul 23, 2013
NEW DELHI: Even as Bangladesh on Monday denied a 'deal' in its decision to hand over ULFA leader Anup Chetia to India, the deportation will indeed be part of a 'swap' in which New Delhi will match the neighbouring country's gesture by transferring two Bangladeshi criminals — Subrata Bain and Sajjad Hossain — who are in Indian jails.
Besides, New Delhi also assured Dhaka of coordination with the latter's agencies to track, arrest and hand over the killers of Bangabandhu Sheikh Mujibur Rahman.
Though it was a reiteration of India's stand, New Delhi promised to act vigorously on the matter by processing every input from Dhaka on the whereabouts of those who killed Sheikh Mujib. Riasaldar Mosleuddin and another person, wanted for the killing of Sheikh Mujib and several of his family members on August 14-15, 1975, are suspected to be hiding in India.
Full report at:
http://timesofindia.indiatimes.com/india/India-Bangladesh-agree-on-Chetias-deportation/articleshow/21259959.cms
-----------
Bodh Gaya 'bomber' caught on CCTV cameras could be of Assamese origin
Deeptiman Tiwary, TNN | Jul 22, 201
NEW DELHI: Even though Indian Mujahideen (IM) and its Bihar module have been put under scanner in connection with the Bodh Gaya blasts, investigations indicate that the suspected bomber caught on CCTV cameras may be of Assamese origin.
The National Investigation Agency (NIA), which is investigating the July 7 terror attacks at the Buddhist shrine, has got some clues that point in the direction of the north-east state. "Although there is a suspicion on a module from Bihar being involved, there are indications that the bomber could be Assamese. Witnesses, who saw him, have told us so. However, investigations are still on and the bomber could turn out to be from anywhere, including Bihar," said an NIA officer.
Full report at:
http://timesofindia.indiatimes.com/india/Bodh-Gaya-bomber-caught-on-CCTV-cameras-could-be-of-Assamese-origin/articleshow/21250417.cms
-----------
Indian Mujahideen a banned outfit: Home Ministry
Jul 23, 2013
Refusing to be dragged into the controversy over Congress leader Shakeel Ahmed's statement that Gujarat riots led to the creation of Indian Mujahideen, the Home Ministry on Tuesday said the NIA chargesheet and its position on the banned terror outfit are clear.
Minister of State for Home RPN Singh said like 34 other organisations, IM has been declared as banned under the Unlawful Activities (Prevention) Act.
"What the Home Ministry thinks on the Indian Mujahideen, it is there in our website. Under UAPA, these are all banned organisations. Our position is very clear. The Home Ministry is not tweeting on these kind of things," he told reporters here.
Full report at:
http://www.thehindu.com/news/national/indian-mujahideen-a-banned-outfit-home-ministry/article4945063.ece
-------
URL: https://newageislam.com/islamic-world-news/pak-man-goes-court-claiming/d/12725