New Age Islam News Bureau
22 May 2014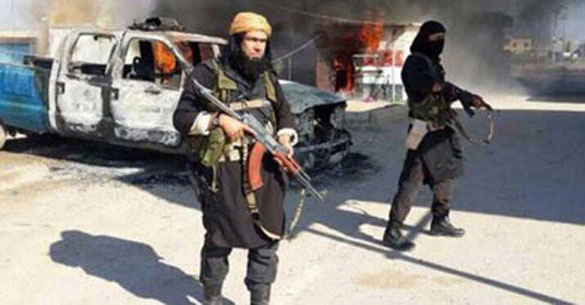 This undated image posted on a militant website on Jan. 4, 2014 shows Shakir Waheib, a senior member of ISIL. The ISIL said it wants to carve out an Islamic state from the border areas of Iraq and Syria. (AP)
---------
Pakistan
• Pak Islamic Ideologues Endorse Underage Marriage 'If Signs of Puberty Visible'
• Pakistan army starts North Waziristan ground offensive
• Sheikh Rasheed asks PM to resign over wrong NA-68 results
• Nawaz Sharif mulls attending Modi's swearing-in ceremony
• Modi can end plights of prisoners and bring peace in the region: Pakistan's former minister
• Pakistani Hindu lawmaker demands law against forced conversion
Africa
• Libyans Don't Want 'Military Ruler' Says Pressured PM
• Appeals Court Orders Qaddafi Son Tried in Hague, Not Libya
• Tunisia arrests Islamists from Libya, says were planning attacks
• Tuareg rebels kill Mali soldiers, seize northern town
• Somalia's Shebab chief say war 'shifting to Kenya'
• CAR's seleka rebels sign pact with French to avert clashes
• Prominent Libyans Vow Support for General
Arab World
• ISIL seeks Islamic state on Syria-Iraq border
• Syrian Fighting Gives Hezbollah New but Diffuse Purpose
• 54 Muslim Brotherhood members sentenced to life imprisonment
• Agnad Misr officially labelled a terrorist group
• Dutch Syria fighter arrested planning 'jihad heist'
• Syrian al-Qaida reaches foothills of Golan Heights
• Ex-Syria opposition chief says direct talks best way out
• Arab League to meet on Libya's crisis: Egypt
• First foreign monitoring of Egyptian elections might herald better relations with Europe
North America
• Lawmakers urge US to shun Brunei in trade talks over Sharia law
• U.S. Sends Troops to Chad to Aid Hunt for Nigerian Schoolgirls
• Tweeting At Terrorists: Inside America's Social Media Battle with Online Jihad
• US support increased engagement between Pakistan and India: State Dept
• US: We're seeking new ideas from Israelis and Palestinians
• US-Egypt military ties will depend on Egypt's actions: US general
• CAIR: Christian Mother Sentenced to Die in Sudan 'Should Be Immediately Released'
• Vigilance Urged for N.Y.U. After Abuses in Abu Dhabi
• Muslim and anti-Muslim groups go to war in bus, print ads
South Asia
• Taliban kidnaps 27 Afghan police officers
• Ahmad Zia Massoud endorses Ghani in the second round of election
• Democracy means more than a poll: Says Haoliang Xu
• Maldives must empower Anti-Corruption Commission, says Transparency International
India
• Kashmiri separatist Mirwaiz hails Modi's invitation to Nawaz Sharif
Mideast
• Netanyahu threatened to fire Livni after Abbas meeting
• Iran president says nuclear talks at tough juncture, deal possible
• Pope's Mideast programme refers to "State of Palestine"
• Turkish Parliament to debate censure motion against PM
Southeast Asia
• Malaysian Deputy PM: Liberalism, religious pluralism threat to Islam
• Brunei Christians Fear Harsh Islamic Law
• Indonesia's Yudhoyono speaks out against Islamic statehood
• Recognised abroad, but punished in Malaysia, lawyer tells court on transmen and women
• Dyana is 'cheap candy' to bait Muslims, says Isma
Europe
• U.N Will Weigh Asking Court to Investigate War Crimes in Syria
• EU demands 'immediate' ceasefire in northern Mali town
• The Islamic Encyclopedia to Be Translated Into Russian by Turkey
• Azerbaijan's Jehovah's-Witnesses-Jihad and Other High Jinks
• Kazakhstan: Atheist Faces Seven Years for Stoking Religious Tension
• U.N. vote on Syria faces Russian veto
Compiled by New Age Islam News Bureau
URL: https://newageislam.com/islamic-world-news/pak-islamic-ideologues-endorse-underage/d/87148
------------
Pakistan
Pak Islamic Ideologues Endorse Underage Marriage 'If Signs of Puberty Visible'
May 22, 2014
ISLAMABAD: Amid criticism from various quarters, including some of its own members, the Council of Islamic Ideology (CII), endorsed its earlier ruling that girls as young as nine years old were eligible to be married, "if the signs of puberty are visible".
The CII meeting, chaired by Maulana Mohammad Khan Sheerani of the Jamiat Ulema-i-Islam-Fazl (JUI-F), also said that most of the clauses of the existing Muslim Marriage Law, 1961, were un-Islamic.
Talking to reporters after the conclusion of a two-day CII meeting, Sheerani criticised the Sindh Assembly, the media and 'some other segments of society' for not taking the council's decisions seriously.
On March 31, the Sindh Assembly passed a resolution demanding dissolution of the CII and on April 28, the Sindh Child Marriage Restraint Bill, 2013, was enacted, which stipulates strict penalties for all parties that compel underage individuals to enter into marriage.
"The primary responsibility of the council is the 'Islamisation' of the country's laws and those opposing our decisions need to reconsider their position," Sheerani said.
Concern expressed over plight of vulnerable groups
The CII chief said marriages that were solemnised at a time when both individuals were minors were only binding if they were arranged by the wali (father or grandfather) of the two individuals. In cases where marriages were solemnised by someone other than the wali, both individuals had the option to refuse or reconsider upon achieving adulthood.
Clarifying the decision, Sheerani said that a Nikah could be performed at any age, but the bride could only start living with the groom after reaching puberty.
He said laws that defined a minimum age for marriage were not Islamic and should be repealed, adding that the council would recommend that parliament amend these laws to bring them in accordance with Islamic principles.
Sheerani also said that section 6 of the Muslim Marriage Law, 1961, which required men to seek permission from their wives before contracting another marriage – was not in accordance with Islamic principles.
The CII had taken up the issue in an earlier meeting held on March 11, 2014, and after detailed deliberations, the points under discussion were finally endorsed on Thursday.
These decisions came even as other council members voiced serious concerns. "Who wants to know when a young girl can be married or not," a CII member asked rhetorically. "Anybody who wants to marry a second or third time could manage to get permission. This is not an issue of public interest," he told Dawn on condition of anonymity.
Another member said some of the more serious issues pending before the council were ignored. "We have to discuss a code of conduct to end sectarianism, the Protection of Pakistan Ordinance, the conduct of the electronic media and so many other issues, but this marriage law business has been a waste of time," he said.
Under the Constitution, the CII chairman is the decision-making authority and he is entitled to overrule wishes of all members, if he so chooses. The CII's decisions are not binding on parliament, but are treated as the guiding principles around which policy is generally framed.
In the same meeting, the council called for a complete ban on the sale of alcoholic beverages in the country. "Since alcohol is prohibited even by other religions, it should be banned for other religious minorities too," Sheerani said.
On Wednesday, CII also unanimously approved a resolution presented by Maulana Tahir Ashrafi, calling upon the judiciary to look into family law matters as per the dictates of the religious beliefs of both parties.
Civil society condemns
The CII diktat drew the ire of civil society and human rights activists.
"Women and children are the most vulnerable groups in the country – if such legal cover as a minimum age prohibiting child marriages are done away with, then exploitation of women and children will increase," Human Rights Commission of Pakistan Chairperson Zohra Yousuf told Dawn.
The head of the National Commission on the Status of Women (NCSW) was of the view that the Muslim Marriage Law had been successful and that it needed to be implemented in the true sense, instead of being quashed.
"The law was formulated after two years of research and deliberation by the scholars of all sects – so if any cleric wants to change the law, he is essentially challenging the wisdom of these ulema," said NCSW Chairperson Khawar Mumtaz.
http://www.dawn.com/news/1107849/cii-endorses-underage-marriage
--------------
Pakistan army starts North Waziristan ground offensive
World Bulletin/News Desk
May 22, 2014
Pakistani forces on Thursday launched their first major offensive in years against Taliban fighters near the Afghan border after several rounds of government-led talks aimed at ending a rebel in the remote region failed.
The offensive targeted the Matchis Camp near the capital of North Waziristan, an area set up to house Afghan refugees but now a hub for local and foreign rebels, Siraj Ahmed, the highest government official in the region, told Reuters by telephone.
Residents said helicopter gunships flattened houses and compounds in Matchis Camp while ground forces surrounded the area.
Pakistani-made surveillance drones also hovered over the area all morning, the first time the country has launched unmanned aircraft.
Disagreements over how to handle the Taliban has soured relations between Prime Minister Nawaz Sharif and Pakistan's powerful army, which has been pushing for a major military offensive.
Speculation that the army might launch an offensive in the frontier tribal areas has been building as the government's attempts to engage the Pakistani Taliban in peace talks have floundered in recent months.
There has also been a surge in attacks on military outposts recently.
"We announced yesterday that people should leave the area," Ahmed said. "This morning, tanks moved in and helicopter ships began demolishing houses in the Matchis camp area."
The Pakistan government signed an unofficial non-aggression pact with pro-government rebels in the area in 2007 and there has been no ground offensive in the area since.
In the last few months, the army has intermittently used aircraft to target rebels hideouts, and on Wednesday Pakistani fighter jets bombed suspected rebels hideouts in North Waziristan, killing dozens of people.
On Wednesday, an officer of the Pakistan army was killed in a gun battle with Taliban fighters in the Mir Ali area of the tribal belt, the army said.
The military's media wing could not be immediately reached for comment on Thursday's ground offensive but intelligence and government officials said troops were moving from three directions and some clashes had erupted with Taliban.
"The offensive could be the army's toughest test in years," a senior military official said.
Foreign fighters from various places including Central Asia have long been known to be based in the region.
Pakistani authorities imposed a curfew in the area on Tuesday and residents said many people had fled their homes anticipating shelling and raids by helicopter gunships.
Hafiz Gul Bahadur, a powerful leader in Pakistan's North Waziristan border region, criticized the offensive and told Reuters the council of militant groups he heads was meeting to decide to suspend the 2007 peace deal.
Bahadur is known to have links with rebel groups in tribal North Waziristan, including the Haqqani network, the most high-profile threat to U.S. forces in Afghanistan.
http://www.worldbulletin.net/headlines/137034/pakistan-army-starts-north-waziristan-ground-offensive
------------
Sheikh Rasheed asks PM to resign over wrong NA-68 results
May 22, 2014
ISLAMABAD- The Awami Muslim League (AML) Chief, Sheikh Rasheed called for Prime Minister Nawaz Sharif to resign after it was established that there was discrepancy in NA-68 election results.
"There is difference of thousands of votes in NA-68, where Prime Minister Sharif had won," Rashid said. He demanded the Prime minister step down from his office. The ECP said that the difference in vote count at a polling station could be due to typing error. ECP's Additional Secretary Sher Afgan said that 7,000 ballot papers were not even available at the polling station. "It seems to be a typing error," he said.
http://www.nation.com.pk/national/21-May-2014/sheikh-rasheed-asks-pm-to-resign-over-wrong-na-68-results
------------
Nawaz Sharif mulls attending Modi's swearing-in ceremony
PTI | May 22, 2014,
ISLAMABAD: Pak PM Nawaz Sharif is still considering attending Narendra Modi's swearing-in ceremony and a final decision will be taken by this evening, officials said on Thursday.
Foreign office has confirmed that formal invitation has been received but any decision by the Prime Minister to attend the ceremony on May 26 in New Delhi has not been taken as yet.
Sources within Sharif's Pakistan Muslim League-Nawaz (PML-N) said that Prime Minister wanted to normalize ties with India to promote commercial and business activities.
"He is keen to improve ties which is also the official policy of the party but he needs to take various aspects of the relations into consideration," a top PMLN leader told PTI.
He said the invitation has come at a short notice and the premier needs time to accept it.
He also said that any decision about going to India will be made by the evening after consultations with the civil and military leaders.
Diplomatic sources said that unexpected move by India's Prime Minister-designate has left Sharif with difficult choices.
"If he skipped the invitation it will send a very negative message to India and the world but the acceptance may bring backlash from the hardliners and hawks who consider Modi as anti-Pakistani," said a diplomat.
http://timesofindia.indiatimes.com/world/pakistan/Nawaz-Sharif-mulls-attending-Modis-swearing-in-ceremony/articleshow/35470610.cms
-----------
Modi can end plights of prisoners and bring peace in the region: Pakistan's former minister
May 22, 2014
AMRITSAR: With Narendra Modi ready to be sworn in as Prime Minister of India, the hopes of right activist and Pakistan's former federal minister for Human Rights Ansar Burney to bring justice to thousands of prisoners languishing in jails of respective countries after completion of their jail sentences have strengthened .
While talking to TOI over phone from Karachi on Wednesday, Burney, who is also chairman, Ansar Burney Trust International said ''For some or other reasons the plights of these people went unheard but now I am hopeful with Modi in power in India, he would assertively take up the issue which would be beneficial for prisoners of both countries". Burney who plans to visit India in near future to meet Modi said not only the prisoners who have completed their jail sentences have to be released but both nations have to abolish death penalties.
Full report at:
http://timesofindia.indiatimes.com/india/Modi-can-end-plights-of-prisoners-and-bring-peace-in-the-region-Pakistans-former-minister/articleshow/35444557.cms
------------
Pakistani Hindu lawmaker demands law against forced conversion
May 22, 2014
ISLAMABAD: A leading Hindu parliamentarian in Pakistan today demanded a legislation against forced conversion of girls from the minority community on the pretext of marriage, as the country's parliament is set to discuss the proposed Hindu Marriage Act.
Dr Ramesh Kumar Vankwani, who is also the patron of the Pakistan Hindu Council, was talking to media after briefing Council of Islamic Ideology (CII) in Islamabad about the proposed Hindu Marriage Act which he recently presented in the National Assembly.
The CII is constitutional body which assists the parliament on matters pertaining to religion.
Vankwani said he asked the CII to formulate effective laws to discourage the forced conversion of Hindu girls on the pretext of marriage.
"The main issue faced by our community is forced conversions as the kidnapped girls ultimately submit to the key demand of the kidnappers 'convert and marry a Muslim'," he said.
"There is currently no law regarding Hindu marriage, as a result, our marriages are not registered anywhere," the lawmaker said.
Full report at:
http://timesofindia.indiatimes.com/world/pakistan/Pakistani-Hindu-lawmaker-demands-law-against-forced-conversion/articleshow/35442634.cms
------------
Africa
Libyans don't want 'military ruler' says pressured PM
World Bulletin / News Desk
May 22, 2014
Libya's new Prime Minister Ahmed Maiteeq on Wednesday said that the Libyans do not want a new military ruler of their country.
"Libya is going through an ordeal," Maiteeq told a press conference in capital Tripoli.
He said that the current turmoil in his country is the results of developments in the past three years following the ouster of strongman Muammar Gaddafi.
Fears have mounted recently that Libya is slipping towards civil war after renegade army general Khalifa Haftar took up arms against militia groups serving as part of Libya's regular army.
Haftar says the campaign, dubbed "Operation Dignity," is aimed at "purging" Libya of "extremists."
The Libyan government, for its part, has described Haftar's operation as a "coup" against electoral "legitimacy."
But Maiteeq denied that the "revolutionaries" – who fought against Gaddafi – were the country's problem.
"They are the solution as they support the army and police," he said, going on to call on the Libyans to close ranks to build their country's institutions.
Full report at:
http://www.worldbulletin.net/headlines/136970/libyans-dont-want-military-ruler-says-pressured-pm
-----------
Appeals Court Orders Qaddafi Son Tried in Hague, Not Libya
By MARLISE SIMONS
May 22, 2014
PARIS — In the extended legal dispute over who has the right to prosecute a son of the former Libyan dictator Muammar el-Qaddafi, an appeals court ruled on Wednesday that the case should be tried, as planned, at the International Criminal Court in The Hague.
The 4-to-1 decision may well find a place in the legal footnotes of postrevolutionary Libya. But lawyers familiar with the case agreed that it would have little bearing on the fate of the son, Seif al-Islam el-Qaddafi.
The Libyan authorities have always insisted that Mr. Qaddafi, a man of considerable authority as well as his father's heir apparent, must be tried in his own country by Libyan judges.
His case has already been joined to a trial that recently opened in Tripoli, Libya's capital. More than 30 defendants, most of them former officials in the Qaddafi government, face an array of charges including murder, torture, violence against peaceful demonstrators and economic crimes. Mr. Qaddafi's younger brother Saadi and the former intelligence chief Abdullah al-Senussi are among the other defendants.
Full report at:
http://www.nytimes.com/2014/05/22/world/africa/appeals-court-orders-qaddafi-son-tried-in-hague-not-libya.html
------------
Tunisia arrests Islamists from Libya, says were planning attacks
May 22, 2014
May 22 (Reuters) - Tunisia on Wednesday arrested eight Islamists arriving from its troubled neighbour Libya and said they were planning attacks in Tunisia.
"This group of eight extremists came from Libya ... planning to assassinate security officials and mount attacks against government institutions," the Interior Ministry said without giving details of their nationality.
The ministry added that the detainees had been trained in explosives and weapons in Libya.
With the rise in violence in its neighbor Libya, Tunisia has tightened security in anticipation of possible infiltration of armed groups.
Tunisian security forces have been battling militants from the banned Islamist movement Ansar al-Sharia, one of the most hardline groups to emerge after the 2011 ouster of autocrat Zine El-Abidine Ben Ali.
Full report at:
http://in.reuters.com/article/2014/05/22/tunisia-islamists-idINL6N0O75P320140522
------------
Tuareg rebels kill Mali soldiers, seize northern town
AFP | May 22, 2014
BAMAKO: Tuareg militants killed several Malian soldiers during clashes in the rebel bastion of Kidal on Wednesday, a United Nations source told AFP, as the insurgents claimed to have taken control of the town.
The fighting shattered an uneasy calm, which had held since the National Movement for the Liberation of Azawad (MNLA) took 32 civil servants hostage during a battle that left eight Malian soldiers and 28 rebels dead.
"The noise of gunfire has stopped ... There are prisoners and deaths among the Malian army's ranks," a source from the MINUSMA, the United Nations peacekeeping mission in Mali, told AFP, adding that the rebels appeared to have the upper hand.
Full report at:
http://timesofindia.indiatimes.com/world/rest-of-world/Tuareg-rebels-kill-Mali-soldiers-seize-northern-town/articleshow/35447150.cms
-----------
Somalia's Shebab chief say war 'shifting to Kenya'
May 22, 2014
Somalia's Al-Qaeda linked Shebab vowed Thursday to move their war to neighbouring Kenya, in a broadcast by a top commander urging fighters to rise up against Nairobi.
Kenyan troops are battling the hardline Islamists inside Somalia and the insurgents have already launched scores of bombings and killings in revenge, but the Shebab threat comes amid fresh security warnings of the risk of attacks in Kenya.
"The war will be shifting to Kenya, if they kill a Somali girl we kill a Kenyan girl," Fuad Mohamed Khalaf, one of the Shebab's most senior commanders, said in a radio broadcast.
"We are urging all the Muslims in Kenya... to fight the government of Kenya inside that country, because Kenyans killed your people including children," Khalaf said in a speech broadcast on the Shebab's Radio Andalus.
Full report at:
http://english.ahram.org.eg/NewsContent/2/9/101952/World/International/Somalias-Shebab-chief-say-war-shifting-to-Kenya.aspx
------------
CAR's seleka rebels sign pact with French to avert clashes
World Bulletin / News Desk
May 22, 2014
Joesph Ousmane Zoundeko, the new chief-of-staff of the largely Muslim seleka rebel group, has signed a pact with French peacekeepers with a view to averting clashes with the Christian anti-balaka militia.
Dubbed "Confidence Measures," the new deal will go into effect starting from Wednesday in Bambari, 350km northeast of Bangui, the capital of the troubled Central African Republic (CAR).
"We have reached an agreement to apply confidence measures in ways that suit the situation in Bambari," Zoundeko told Anadolu Agency late Tuesday.
"We, however, want to reserve the right to defend ourselves without returning to the French peacekeepers in case of an anti-balaka attack," he added.
A military source told AA that the confidence measures had been approved on December 10, 2013, adding that the measures called for all armed groups in CAR to suspend their activities.
A French diplomatic source, meanwhile, told AA on Tuesday that a commission – including French Ambassador in Bangui Charles Malinas, French peacekeeping force commander Gen. Soriano, two ministers from CAR's transitional government and representatives of the U.N. and the African Union – would visit Bambari later on Wednesday in hopes of easing tensions between the seleka and the anti-balaka.
Full report at:
http://www.worldbulletin.net/headlines/136975/cars-seleka-rebels-sign-pact-with-french-to-avert-clashes
-----------
Prominent Libyans Vow Support for General
May 22, 2014
TRIPOLI, Libya — A Libyan general who has led a violent campaign against Islamist militias and lawmakers drew prominent new supporters to his cause on Wednesday, including the country's air force commander and its ambassador to the United Nations.
Libya's largest non-Islamist political alliance also said in a statement that it was supporting the general, Khalifa Hifter, who began his campaign on Friday by leading an assault on Islamist militias in Benghazi.
What began as a fairly isolated attack against Islamist bases in one corner of the country appears to be growing into a national political movement. General Hifter has won support from a disparate band of allies, including some Libyans angered by the outsize influence of militias, which have been accused of assassinations and other political violence.
Full report at:
http://www.nytimes.com/2014/05/22/world/africa/prominent-libyans-vow-support-for-general.html
------------
Arab World
ISIL seeks Islamic state on Syria-Iraq border
May 22, 2014
BEIRUT: Jihadists have launched a fresh bid to take over the Syria-Iraq border area and set up a so-called Islamic state they can control, rebels, activists and a monitoring group say.
"Their name is the Islamic State of Iraq and the Levant (ISIL). Their goal is to link together the two areas (Syria, Iraq) to set up their state and then to continue spreading," said activist and citizen journalist Abdel Salam Hussein.
Speaking from Albu Kamal on the Iraq border, Hussein said ISIL seeks to crush Al-Nusra Front, Al-Qaeda's Syria affiliate, and control the eastern, energy-rich province of Deir Ezzor bordering Iraq.
"ISIL are trying to end Al-Nusra Front's power in the area, and if they do they will take over" the whole province, he said.
ISIL's long-time ambition of creating an area under its control stretching across Syria and Iraq was undermined by a massive January offensive against it by rival Islamist rebels.
The campaign cornered ISIL fighters in Raqa province, its bastion in northern Syria.
Once welcomed into the rebellion against President Bashar Assad, ISIL's aim to dominate and its horrific abuses of civilians and rival fighters sparked the wrath of much of Syria's opposition, including former ally Al-Nusra.
Full report at:
http://www.arabnews.com/news/574871
------------
Syrian Fighting Gives Hezbollah New but Diffuse Purpose
May 22, 2014
HERMEL, Lebanon — For many months, Shiite communities across Lebanon lived in fear as car bombs tore through their neighborhoods, punishing Hezbollah and its supporters for sending fighters to aid President Bashar al-Assad in the civil war in neighboring Syria.
But Hezbollah succeeded on the Syrian battlefield in chasing rebels from the border towns where many of the attacks originated. The bombings have since stopped, leaving Lebanon's Shiites grateful for Hezbollah's intervention and luring a new wave of aspiring young fighters to the group's training camps.
"The situation here has changed 180 degrees," said Saad Hamade, a scion of one of largest clans here. "The whole story is over for us."
While the civil war in Syria remains a grinding battle of attrition, for Hezbollah more than a year of combat has produced a new sense of purpose that extends beyond battling Israel to supporting its allies and Shiite brethren across the Middle East. And although its victories have come at a great cost in lives and resources, it has also gained the rare opportunity to display its military mettle and earn new battlefield experience.
Full report at:
http://www.nytimes.com/2014/05/21/world/middleeast/syrian-fighting-gives-hezbollah-new-but-diffuse-purpose.html
------------
54 Muslim Brotherhood members sentenced to life imprisonment
May 22, 2014
Mansoura governorate's criminal court sentenced Wednesday 54 members of the Muslim Brotherhood to life imprisonment on conviction of incitement to violence and murder, Al-Ahram Arabic news website reported.
Meanwhile, another court in Mansoura sentenced 24 university students to between two and five years in jail on conviction of protesting illegally, being members of a banned organisation, destroying public property and assaulting police personnel.
Last December, Egypt`s interim government headed then by Hazem El-Beblawi labeled the Muslim Brotherhood a terrorist organisation.
The decision was backed by a ruling from Cairo's Court of Urgent Matters in February.
In March, 529 Egyptians were handed death sentences for murdering a police officer, attacking a police station, and rioting. The vast majority of sentences were commuted to life imprisonment.
Full report at:
http://english.ahram.org.eg/NewsContent/1/64/101901/Egypt/Politics-/-Muslim-Brotherhood-members-sentenced-to-life-impr.aspx
------------
Agnad Misr officially labelled a terrorist group
May 22, 2014
The Court for Urgent Matters has officially labelled Agnad Misr (Soldiers of Egypt) a terrorist organization.
Lawyer Ahmed Soliman, who filed the lawsuit that led to the decision, said the group had claimed responsibility for a number of terrorist attacks in Egypt.
They include a bombing near Cairo University, shootings of police officers and two bombings against police targets in Giza.
According to a government tally, almost 500 people, mostly policemen and soldiers, have been killed in suicide attacks, bombings, and shootings since the ouster of Islamist president Mohamed Morsi in July last year.
Full report at:
http://english.ahram.org.eg/NewsContent/1/64/101949/Egypt/Politics-/Agnad-Misr-officially-labelled-a-terrorist-group.aspx
------------
Dutch Syria fighter arrested planning 'jihad heist'
May 22, 2014
THE HAGUE: Dutch police have arrested a 21-year-old man who fought in Syria as he was allegedly about to commit an armed robbery "to finance jihad." The man spent six months in Syria last year "taking part in jihad" fighting the Syrian regime, the prosecutor said in a statement.
As part of an undercover operation upon his return, he told police that he could obtain weapons and acquired a shotgun, a Magnum revolver and a small handgun. Police arrested him on May 15 as he was allegedly on his way to carry out a robbery at a yacht marina in Scheveningen, a coastal suburb of The Hague. He has been remanded in custody and faces charges of planning a terrorist attack.
http://www.arabnews.com/news/574706
------------
Syrian al-Qaida reach foothills of Golan Heights
By REUTERS
May 22, 2014
AMMAN - Atop the hill of Tel Ahmar just a few kilometers from Israeli forces on the Golan Heights, Syrian Islamist fighters hoist the al-Qaida flag and praise their mentor Osama bin Laden.
One of the men, a leader of al-Qaida's Nusra Front, compares their battlefield - a lush agricultural region where dead soldiers lie on the ground near a charred Soviet-era tank - with the struggle their comrades waged years ago in Afghanistan.
"This view reminds us of the lion of the mujahideen, Osama bin Laden, on the mountains of Tora Bora," he can be heard saying in a video posted by the group, which shows the fighters in sight of Israeli jeeps patrolling the fortified frontier.
Last month's capture of the post was followed days later by the seizure of the Syrian army's 61 Infantry Brigade base near the town of Nawa, one of the biggest rebel gains in the south during the three years of Syria's war.
Full report at:
http://www.jpost.com/Middle-East/Syrian-al-Qaida-reach-foothills-of-Golan-Heights-353017
------------
Ex-Syria opposition chief says direct talks best way out
21 May 2014
Direct negotiations between the Syrian regime and the opposition will save the warring parties in Syria further losses and speed up reaching a settlement to the three-year-old civil war, Moaz al-Khatib, the former president of the opposition National Coalition, said in an interview published Wednesday.
"The political action might be a longer path but it is much less costly, and I believe that direct negotiation will solve many political problems," Khatib told the Global Arab Network.
He said the stubbornness of both parties and their refusal to make major concession could prolong the war and deepen the people's suffering.
Full report at:
http://english.alarabiya.net/en/News/middle-east/2014/05/21/Ex-Syria-opposition-chief-says-direct-talks-best-way-out.html
------------
Arab League to meet on Libya's crisis: Egypt
May 22, 2014
Egypt's representative to the Arab League, Ambassador Tarek Adel, said the organisation will hold a meeting Thursday to discuss ongoing political developments in Libya.
Representatives of the Arab League's member-states will send their suggestions to Arab foreign ministers after the meeting. According to Al-Ahram Arab news website, Libya's representative, Naser Al-Kodwa, will attend the meeting.
Adel added that Egypt's foreign minister, Nabil Fahmy, had contacted the Arab League's secretary general, Nabil El-Arabi, "several times" throughout the last two days over the Libyan issue.
On Monday, Egypt's foreign ministry announced its rejection of foreign intervention in Libya, calling on domestic parties to "end the division and stop bloodshed."
Full report at:
http://english.ahram.org.eg/NewsContent/2/8/101950/World/Region/Arab-League-to-meet-on-Libyas-crisis-Egypt.aspx
------------
First foreign monitoring of Egyptian elections might herald better relations with Europe
May 22, 2014
European diplomats in Egypt say they are hoping that the decision of the Egyptian government to facilitate a European Union (EU) observer mission monitor the presidential elections scheduled for Monday and Tuesday, 26-27 May, across the nation is an indication of a new inclination on the side of authorities to accommodate some the basics of democracy and political freedoms.
They add that the more commitment Egypt shows in this direction, following the expected election of former army chief Abdel-Fattah El-Sisi, the more openness the EU will show towards Egypt and the more support it can grant the presidency of El-Sisi.
"We think it is a very positive thing that the Egyptian government acted promptly to accommodate the concerns and the obstacles that had nearly forced us to downgrade the mandate of our mission from observing to assessment," said one Cairo-based European diplomat.
Full report at:
http://english.ahram.org.eg/NewsContent/1/64/101906/Egypt/Politics-/First-foreign-monitoring-of-Egyptian-elections-mig.aspx
------------
North America
Lawmakers urge US to shun Brunei in trade talks over sharia law
May 22, 2014
A group of lawmakers wants the United States to press Brunei to revoke Islamic criminal laws that they say jeopardize human rights under threat of being kicked out of Pacific free trade talks.
Brunei is phasing in Islamic laws that will impose fines or jail terms for offenses such as pregnancy outside marriage and failure to perform Friday prayers in the East Asian nation. The sharia laws will ultimately punish sodomy and adultery with the death penalty, including by stoning.
The United States and Brunei are members of a proposed 12-nation trade pact, the Trans-Pacific Partnership (TPP), that seeks to establish common standards on issues from labor to intellectual property and cut tariffs on traded goods.
Democratic Representative Mark Pocan of Wisconsin is circulating a draft letter on Capitol Hill that his office says 20 other lawmakers have pledged to sign, mainly other House Democrats. The letter will be open for signatures until mid-June.
Full report at:
http://english.ahram.org.eg/NewsContent/2/9/101941/World/International/Lawmakers-urge-US-to-shun-Brunei-in-trade-talks-ov.aspx
------------
U.S. Sends Troops to Chad to Aid Hunt for Nigerian Schoolgirls
By ERIC SCHMITT
WASHINGTON — The United States has sent 80 troops to Chad in Central Africa to support a growing international effort in neighboring Nigeria to help find and rescue the schoolgirls who were abducted by an Islamist extremist group last month, the White House said on Wednesday.
The American military personnel are not ground troops. They are mostly Air Force crew members, maintenance specialists and security officers for unarmed Predator surveillance drones that will help search for the more than 260 Nigerian girls seized by the group, Boko Haram.
"These personnel will support the operation of intelligence, surveillance and reconnaissance aircraft for missions over northern Nigeria and the surrounding area," the White House said in a statement formally notifying Congress about the deployment.
Full report at:
http://www.nytimes.com/2014/05/22/world/africa/us-sends-troops-to-aid-hunt-for-nigerian-schoolgirls.html?_r=0
------------
Tweeting At Terrorists: Inside America's Social Media Battle with Online Jihad
May 22, 2014
The U.S. State Department has launched an experimental unit to fight al-Qaeda ideologists on Twitter across the web. But can it actually stop terrorism?
The jihadist pauses briefly from his snowball fight to address the camera.
"It's not a horror movie here," he says gleefully. Behind him his comrades sling their AK-47s as they laugh in the snowy Syrian grove. "We are not those so-called 'evil Salafist'. We can also have fun."
The fighter is Denis Cuspert, a German rapper who went by the stage name Deso Dogg until he turned to Islamism and moved to Syria to take up jihad.
Cuspert is the kind of extremist who keeps Western security agents up at night: a charismatic convert who makes terrorism look glamorous and speaks in German as he exhorts fellow Europeans to take up arms.
"Look my dear brothers and sisters, this is jihad," he shouts, gesturing at the carefree scene around him. "I invite you to join jihad!"
But the Youtube video ends on an unexpected note. Cuspert is lying on the floor, soaked in blood, as others try desperately to resuscitate him. The final frame is of the American flag and the Statue of Liberty.
Full report at:
http://www.telegraph.co.uk/news/worldnews/al-qaeda/10829355/Tweeting-at-terrorists-inside-Americas-social-media-battle-with-online-jihad.html
------------
US supports increased engagement between Pakistan and India: State Dept
May 22, 2014
Washington- The United States has said that it supports increased dialogue between Pakistan and India as well as other leaders in the South Asian region. Asked to comment on the Indian government's invitation to Pakistan Prime Minister to attend the inauguration of new Prime Minister Narendra Modi,
state department spokesperson Jen Psaki said that the US welcomes increased engagement between Pakistan and India.
Asked if the US would encourage Pakistani leaders to attend the swearing in ceremony, she said the US would not get into that level of engagement but they support increased dialogue.
Ms Psaki said "increased engagement between India and Pakistan is a positive step, so we'll see what happens".
http://www.nation.com.pk/international/22-May-2014/us-supports-increased-engagement-between-pakistan-and-india-state-dept
------------
US: We're seeking new ideas from Israelis and Palestinians
May 22, 2014
The United States wants the Israelis and Palestinians to come up with new ideas to arrive a two state solution to the conflict and to refrain from "unhelpful" action in the interim, State Department spokeswoman Jen Psaki told reporters in Washington on Wednesday.
It is for this reason, she explained, that when the Middle East Quartet met in Brussels on Monday with the US envoy Martin Indyk it did not publish any statement following the meeting.
"This was a regularly scheduled session and provided an opportunity for Ambassador Indyk and other envoys to assess where things stand and consult on the way ahead," she said.
"Obviously, at this stage, we're clearly in a hiatus from the talks," Psaki said.
"Consistent with the approach of President [Barack] Obama and [US] Secretary [Secretary of State John] Kerry, the focus of these discussions and of the effort overall is on getting the two sides to come up with new ideas and avoid unhelpful steps. Hence there wasn't a statement that came out," Psaki said.
Full report at:
http://www.jpost.com/Diplomacy-and-Politics/US-Were-seeking-new-ideas-from-Israelis-and-Palestinians-353016
------------
US-Egypt military ties will depend on Egypt's actions :US general
May 22, 2014
The future of US military ties with Egypt, curtailed after a crackdown on opponents by the interim leaders, will depend on the actions of the future government, the top US military officer said ahead of Egyptian elections next week.
"I think we should maintain a relationship with the US military and Egyptian military. I think that that relationship will be affected by their actions and whether they make progress on their political transition," said General Martin Dempsey, chairman of the US Joint Chiefs of Staff.
"I think that [the military-to-military] relationship should largely be defined by our common interests. We have a lot of common interests in particular in countering terror," Dempsey told a small group of reporters during a visit to Brussels for talks with NATO officials.
Although presidential elections on Monday and Tuesday could provide the country's leaders new legitimacy, many Obama administration officials question whether Egypt should again become the premier US partner in the Arab world.
Full report at:
http://english.ahram.org.eg/NewsContent/1/64/101927/Egypt/Politics-/USEgypt-military-ties-will-depend-on-Egypts-action.aspx
------------
CAIR: Christian Mother Sentenced to Die in Sudan 'Should Be Immediately Released'
May 22, 2014
(CNSNews.com) -A spokesman for the Council on American-Islamic Relations (CAIR) told CNSNews.com that the pregnant Christian woman who has been sentenced to death for apostasy in the Sudan should be "immediately released."
"If [apostasy's] the only charge they have against her, of course she should be immediately released," Ibrahim Hooper, national communications director for CAIR, replied when CNSNews.com asked him: "Does CAIR believe that the Sudanese authorities should immediately release Meriam Yahia Ibrahim Ishag from prison?"
Hooper added that the adultery charge against Ishag was "based on the apostasy (charge)."
Last Thursday, the 27-year-old Ishag, who is married to a Christian man, was sentenced to death by hanging for apostasy after refusing to recant her Christian faith within the proscribed three days.
Full report at:
http://cnsnews.com/news/article/lauretta-brown/cair-christian-mother-sentenced-die-sudan-should-be-immediately-released
------------
Vigilance Urged for N.Y.U. After Abuses in Abu Dhabi
By ARIEL KAMINER
May 22, 2014
Following a report this week about mistreatment of workers who built New York University's new Abu Dhabi campus, N.Y.U. apologized and said it would work with its partner to investigate. The next day, the partner, the Abu Dhabi government, confirmed it would participate.
N.Y.U. has declined to specify how such an investigation might proceed, or what remedies it might pursue. But experts on labor conditions in the region warn that while looking into past abuses is an important first step, preventing further abuses on the campus — which former President Bill Clinton is set to inaugurate on Sunday — will be no small matter, given the laws currently in place.
Full report at:
http://www.nytimes.com/2014/05/22/nyregion/vigilance-urged-for-nyu-after-abuses-in-abu-dhabi.html
------------
Muslim and anti-Muslim groups go to war in bus, print ads
May 22, 2014
WASHINGTON — A public opinion war on Middle East politics is playing out this spring in new advertising campaigns on public buses and in newspapers.
It began when the American Muslims for Palestine (AMP) launched bus ads during the April Cherry Blossom Festival condemning U.S. aid to Israel because of that country's continuing occupation of Palestinian territories.
Then on Monday (May 19), Pamela Geller's American Freedom Defense Initiative countered by deploying 15-foot-long ads on 20 buses in the Washington, D.C., system that equate opposition to Israel's policies with Nazism. One ad shows the grand mufti of Jerusalem meeting Hitler during World War II.
"The bus system is considered public space, so speech has First Amendment protections," said Caroline Laurin, a spokeswoman for the Washington Metropolitan Area Transit Authority. "We have no grounds to refuse ads due to their content."
Full report at:
http://www.washingtonpost.com/national/religion/muslim-and-anti-muslim-groups-go-to-war-in-bus-print-ads/2014/05/21/ad062448-e114-11e3-9442-54189bf1a809_story.html
-----------
South Asia
Taliban kidnaps 27 Afghan police officers
May 22, 2014
An official in Afghanistan says Taliban fighters have kidnapped 27 police officers during an attack in a northeastern province.
Gen. Fazeluddin Ayar Faziluddin Hayar, the police chief in Badakhshan province, said Thursday that the 27 officers were hiding in a cave during the Taliban attack on Wednesday in Yamgan district.
The Taliban have claimed responsibility for the attack in a message to journalists.
The fighting in the district started late on Tuesday and lasted into Wednesday. The Taliban said its fighters had raised the movement's white flag above the district headquarters in an attack that authorities said killed at least six officers.
The violence comes as the Taliban has launched its annual spring offensive, promising to step up attacks as foreign combat troops prepare to withdraw by the end of the year.
http://www.thehindu.com/news/international/south-asia/taliban-kidnaps-27-afghan-police-officers/article6036314.ece
------------
Ahmad Zia Massoud endorses Ghani in the second round of election
May 22 2014
Ahmad Zia Massoud, leader of the National Front of Afghanistan on Thursday announced his support for Dr. Ashraf Ghani Ahmadzai for the second round of election.
Massoud was contesting in the first round of presidential election as the first vice president of Zalmai Rassoul who joined Abdullah Abdullah's team for the election runoff.
The announcement was made during a gathering attended by hundreds of supporters of Ashraf Ghani as electoral campaigns for the election runoff formally kicked off on Thursday.
Massoud said he supports Ashraf Ghani Ahmadzai in the second round of election and they have agreed to form an inclusive government after winning the election.
Full report at:
http://www.khaama.com/ahmad-zia-massoud-endorses-ghani-in-the-second-round-of-election-8134
------------
Democracy means more than a poll: Says Haoliang Xu
May 22, 2014
Democracy does not mean only elections but what happens afterwards and how accountably the system functions, UNDP Regional Director for Asia and the Pacific Haoliang Xu said yesterday.
"There is a need to improve governance and institutions, especially the local government--how they can play a constructive role and promote development at local levels," he told a press conference at the capital's Sonargaon Hotel, wrapping up a five-day visit to Bangladesh.
During his stay, Xu visited various UNDP projects, including those at Korail slum in Dhaka, Dacope in Khulna, and Chittagong Hill Tracts.
Full report at:
http://www.thedailystar.net/city/democracy-means-more-than-a-poll-25146
------------
Maldives must empower Anti-Corruption Commission, says Transparency International
By Lucy Lovell | May 22, 2014
The Maldives must empower anti-corruption agencies to investigate and prosecute cases in order to fight corruption, says Transparency International.
"Maldives and Sri Lanka must ensure that their anti-corruption agencies are granted 'suo motto' powers to instigate both corruption investigations and prosecutions on their own initiative without prior government approval," suggested the Fighting Corruption in South Asia (FCSA) report released today.
At present, the Maldives Anti Corruption Commission (ACC) can only initiate investigations, but not prosecutions. Instead, it has to forward cases to the Prosecutor General for any further action to be taken.
Full report at:
http://minivannews.com/politics/maldives-must-further-empower-anti-corruption-commission-concludes-transparency-international-85318
----------
India
Kashmiri separatist Mirwaiz hails Modi's invitation to Nawaz Sharif
M Saleem Pandit,TNN | May 22, 2014
SRINAGAR: Kashmiri separatist Mirwaiz Umar Farooq on Wednesday hailed Narendra Modi's invitation to Pakistan Prime Minister, Nawaz Sharif, to attend his swearing-in ceremony.
He said the bonhomie "should not be confined to invitations only'' and the two countries "need to take concrete measures to facilitate resolution of the Kashmir issue''. The Mirwaiz said Modi's invitation is a "good beginning and an encouraging message''.
http://timesofindia.indiatimes.com/india/Mirwaiz-hails-Modis-invitation-to-Nawaz-Sharif/articleshow/35459283.cms
------------
Mideast
Netanyahu threatened to fire Livni after Abbas meeting
May 22, 2014
Prime Minister Binyamin Netanyahu threatened to fire chief negotiator Tzipi Livni after she met with Palestinian Authority President Mahmoud Abbas in London last week behind Netanayhu's back, official sources told Ben Caspit of Ma'ariv.
According to the report, Netanyahu swore to fire Livni for her insubordination, but Yesh Atid Chairman Yair Lapid warned the prime minister that sacking Livni would be a major political mistake that would bring about the dissolution of the government, and prompted Netanyahu to reconsider.
Netanyahu was not involved in the planning of the meeting, but found out through independent channels only after it was arranged, Ma'ariv reported.
The prime minister had been on a flight back to Israel from his official visit to Japan, and found out about the get-together after he landed.
Full report at:
http://www.jpost.com/Diplomacy-and-Politics/Netanyahu-threatened-to-fire-Livni-after-Abbas-meeting-353020
------------
Iran president says nuclear talks at tough juncture, deal possible
May 22, 2014
SHANGHAI - Iranian President Hassan Rouhani said on Thursday talks over Tehran's nuclear program had reached an important and tough juncture, but an agreement was still possible by a July deadline.
The lack of progress in talks in Vienna that ended last week between Iran and United States, Russia, China, France, Britain and Germany had raised doubts over the prospects for a breakthrough by the self-imposed July 20 deadline.
"I think the negotiations have reached a very important and sensitive and tough juncture," Rouhani told a news conference through an English interpreter. He was speaking in Shanghai where he attended a regional summit this week and held talks with Chinese President Xi Jinping.
Full report at:
http://www.jpost.com/Iranian-Threat/News/Iran-president-says-nuclear-talks-at-tough-juncture-deal-possible-353034
----------
Pope's Mideast programme refers to "State of Palestine"
World Bulletin/News Desk
May 22, 2014
With a Rabbi and a Muslim leader in tow, Pope Francis makes his first visit to the Middle East on Saturday, a delicate mission to push his vision of inter-religious dialogue as a vehicle for peace in the region.
But, in a region where religion and politics are inextricably intertwined, the three-day trip to Jordan, the Palestinian Territories and Israel will set the leader of the world's 1.2 billion Catholics on a diplomatic tightrope.
All of his actions and words - from his meetings with Palestinian and Syrian refugees, to his encounters with Christians whose numbers are dwindling in the Holy Land, to his talks with national leaders - will be closely watched for their political significance.
Even the pope's official programme touches on the raw sensitivities that pervade Middle East politics. It calls the second leg of his trip, a six-hour stop in Bethlehem, a visit to the "State of Palestine", a terminology Israel rejects.
Full report at:
http://www.worldbulletin.net/todays-news/137039/popes-mideast-programme-refers-to-state-of-palestine
-----------
Turkish Parliament to debate censure motion against PM
World Bulletin / News Desk
May 22, 2014
A censure motion proposal against the Turkish prime minister and two ministers claiming that the Soma mining disaster rescue mission was "conducted irresponsibly" will be debated by Turkish MP's on Thursday but is expected to be rejected by the ruling AK party who has the majority in the General Assembly.
Turkish main opposition Republican People's Party (CHP) and People's Democratic Party (HDP) brought the censure motions against Prime Minister Recep Tayyip Erdogan, Turkish Energy Minister Taner Yildiz and Labor and Social Security Minister Faruk Celik.
The Soma coal mine disaster last week claimed the lives of 301 miners making it the worst mining disaster in Turkey's history.
Full report at:
http://www.worldbulletin.net/headlines/137021/turkish-parliament-to-debate-censure-motion-against-pm
-----------
Southeast Asia
Malaysian Deputy PM: Liberalism, religious pluralism threat to Islam
May 22, 2014
KUALA LUMPUR: Deputy Prime Minister Tan Sri Muhyiddin Yassin has expressed concern about the spread of liberalism and religious pluralism in the country.
He said groups promoting liberalism and religious pluralism threatened Islam.
Muhyiddin said in Malaysia, the spread of the two ideologies was significant with the emergence of groups questioning the authority of Islamic religious bodies, fatwa institutions and the courts.
"These groups claim they are championing freedom and human rights.
"They questioned Islamic rules, which were decided according to the principles of qat'i (based on the Quran and the Sunnah of Prophet Muhammad), restricting its followers from consuming alcohol drinks, close proximity, apostasy and same-sex marriage.
"There are also groups that want the Islamic legal system, which has long been implemented in the country, to be scrapped as they claim that it is against the principles of human rights," he said in his speech during a Tasawwur seminar for Ahli Sunnah Wal Jamaah at the Federal Territory Mosque here yesterday.
Full report at:
http://www.nst.com.my/nation/general/dpm-liberalism-religious-pluralism-threat-to-islam-1.601946
------------
Brunei Christians Fear Harsh Islamic Law
May 22, 2014
BANDAR SERI BEGAWAN, BRUNEI (BosNewsLife)-- Brunei's devoted Christians face a potential crackdown after the sultan introduced harsh Islamic punishments, including flogging and stoning to death, but Western nations appear reluctant to intervene.
"I place my faith in and am grateful to Allah the Almighty to announce that [since] Thursday May 1, 2014, we will see the enforcement of Sharia law phase one, to be followed by the other phases," said Sultan Hassanal Bolkiah, leader of the country's absolute monarchy government for nearly 47 years.
It is not clear when and if the law will impact commercial relations with key trading partners Netherlands and Britain, despite concerns raised within the United Nations.
The two countries have a lion's share of Brunei's foreign direct investment from the European Union, totalling $1.2 billion in 2011, according to official estimates.
Full report at:
http://www.bosnewslife.com/32859-brunei-christians-fear-harsh-islamic-law
------------
Indonesia's Yudhoyono speaks out against Islamic statehood
May 22, 2014
Indonesia must ward off efforts to turn the nation into an Islamic state, outgoing President Susilo Bambang Yudhoyono said recently.
A movement to abolish Indonesia's secular government and impose sharia law nationwide would go against the constitution, Yudhoyono warned May 7th in Gianyar, Bali as he received the Soekarno Prize for statesmanship.
"Indonesia is a secular country and that is an important legacy that we have inherited from Soekarno and other Indonesian founding fathers," Yudhoyono said during his acceptance speech at the Soekarno Centre.
Keeping Soekarno's legacy of secularism intact is crucial to safeguarding religious plurality, he added.
"Soekarno's call is not only relevant for the past, but also to answer all of today's questions about religious tolerance in Indonesia," Yudhoyono said.
Respect the constitution: PKB leader
The comments come as the country prepares to elect a new president July 9th and after five Islam-based parties combined for 33% of the vote in last month's legislative elections.
Full report at:
http://khabarsoutheastasia.com/en_GB/articles/apwi/articles/features/2014/05/21/feature-02
------------
Recognised abroad, but punished in Malaysia, lawyer tells court on transmen and women
May 22, 2014
While transgender people are recognised elsewhere, the country here punishes them without realising they are actually suffering from a "gender identity disorder", a lawyer told the Court of Appeal today.
Aston Paiva Phillip said wanting to be recognised as a woman and to be in female attire was a manifestation of that disorder.
"According to psychiatrists, they are actually female in spirit, trapped in a male body and so they cross dress," he added.
He said medical studies also revealed that this group of people always desired to be female even during their childhood days.
Phillip said this was not the choice of his clients and that the disorder would remain until the rest of their lives.
Full report at:
http://www.themalaysianinsider.com/malaysia/article/recognised-abroad-but-punished-in-malaysia-lawyer-tells-court-of-transmen-a
------------
Dyana is 'cheap candy' to bait Muslims, says Isma
May 22, 2014
DAP is using its Teluk Intan by-election candidate Dyana Sofya Mohd Daud as "cheap candy bait" to fool Muslims into believing that the party will safeguard their interests, Muslim group Ikatan Muslimin Malaysia (Isma) said.
Isma vice-president Abdul Rahman Mat Dali said Dyana was chosen as the candidate to "pull the wool over the eyes" of Muslims, adding that only those who were immature would "eat such a candy".
"Those who are smart and mature would not be duped with the 'small picture' but will understand the 'big picture' of the games DAP is playing," Abdul Rahman said in a comment piece on the Isma website.
Full report at:
http://www.themalaysianinsider.com/malaysia/article/dyana-is-cheap-candy-to-bait-muslims-says-isma
------------
Europe
U.N Will Weigh Asking Court to Investigate War Crimes in Syria
May 22, 2014
UNITED NATIONS — The Security Council is scheduled to vote Thursday on a resolution that would ask the International Criminal Court to investigate war crimes in Syria.
Russia is certain to veto the resolution. Its Western rivals are equally certain to seize on that veto in an attempt to isolate the Kremlin diplomatically. Supporters of the resolution, which was drafted by France, have spent days drumming up support from more than 50 countries.
Syria has undertaken its own countercampaign, distributing a letter castigating France for promoting what the Syrian ambassador, Bashar Jaafari, called a "biased draft resolution in order to sabotage any chance of peaceful settlement of the Syrian crisis led by the Syrians themselves."
France said the resolution was necessary to send a message to Russia, the Syrian government's most important backer, even in the face of a veto.
"What happened in Syria is beyond simple fighting," said France's ambassador, Gérard Araud. "You have torture on an industrial scale. You have barrel bombs, missiles, chemical weapons." He added: "There are rules. We have common values we must stick to."
Full report at:
http://www.nytimes.com/2014/05/22/world/middleeast/un-will-weigh-asking-court-to-investigate-war-crimes-in-syria.html
------------
EU demands 'immediate' ceasefire in northern Mali town
May 22, 2014
The European Union on Thursday condemned renewed fighting in Mali's desert town of Kidal, a day after Tuareg rebels claimed control, and demanded the "immediate implementation" of a truce.
The army and Tuareg separatists of the National Movement for the Liberation of Azawad (MNLA) had breached a ceasefire signed under a "preliminary peace accord of June 18, 2013", the EU's diplomatic service said in a statement.
"The immediate implementation of a ceasefire is an indispensable step in light of the reopening of negotiations in the framework of a process of dialogue and reconciliation as planned," the statement said.
Full report at:
http://english.ahram.org.eg/NewsContent/2/9/101957/World/International/EU-demands-immediate-ceasefire-in-northern-Mali-to.aspx
------------
The Islamic Encyclopedia to Be Translated Into Russian by Turkey
May 22, 2014
ANKARA — A new project by the Turkish Religious Foundation aims to translate the Islamic Encyclopedia into Russian to provide more information to Muslims residing in the Russian Federation
The Turkish Religious Foundation under the Presidency of Turkish Religious Affairs started a new project to enhance the Quranic background of the Muslims residing in Russia. The Islamic Encyclopedia is currently being translated into Russian and the project intends to present proper information about the prophets, well-known Islamic leaders and daily religious practices.
The Islamic Encyclopedia covers the main issues of the modern age from an Islamic perspective, by transferring its message in an explicit way. The Turkish Religious Foundation aims to contribute to the knowledge of Muslims of different cultures and races around the world. The translated encyclopedia will include 1,500 articles and will be presented in five or six volumes.
Full report at:
http://www.dailysabah.com/books/2014/05/20/the-islamic-encyclopedia-to-be-translated-into-russian-by-turkey
------------
Azerbaijan's Jehovah's-Witnesses-Jihad and Other High Jinks
May 22, 2014
The Azerbaijani government has never been celebrated for its sense of irony. Yet even as it settles into its chair at the Council of Europe's Commission of Ministers and assures the world that it's got that democracy thing down pat, Baku appears to be busy cracking the whip.
Most recently, with a demand for lengthy prison sentences for three imprisoned civil-rights activists -- deemed political prisoners by international human-rights groups -- and by the May 19 arrest of three Jehovah's Witnesses.
How this jives with Baku's recent pledge to uphold rule of law and promote "intercultural dialogue" during its six-month CoE tenure is open to interpretation.
But perhaps Council of Europe Secretary-General Thorbjørn Jagland got the full story. Jagland spent May 20-21 in Baku for the official kickoff of an "action plan" intended to help Azerbaijan meet its CoE obligations and "address some fundamental human rights and rule of law issues," as the document states.
Full report at:
http://www.eurasianet.org/node/68391
------------
Kazakhstan: Atheist Faces Seven Years for Stoking Religious Tension
May 22, 2014
Mild-mannered pensioner Aleksandr Kharlamov does not look like a typical rabble-rouser – but this bespectacled sexagenerarian stands at the center of a furor over freedom of conscience in Kazakhstan.
Throughout the post-Soviet era, President Nursultan Nazarbayev's administration has cast Kazakhstan as a bastion of religious tolerance. Yet, Kharlamov, a staunch atheist, is accused of stoking religious tensions in a Kafkaesque case which could see him jailed for seven years.
Kharlamov has already spent six months behind bars, some of it in a psychiatric ward, broadening the controversy over religious freedom into a row over the alleged misuse of psychiatry.
Full report at:
http://www.eurasianet.org/node/68375
------------
U.N. vote on Syria faces Russian veto
22 May 2014
The U.N. Security Council faces a dramatic vote Thursday on referring the Syrian crisis to the International Criminal Court for investigation of possible war crimes, with dozens of countries signing on to embarrass Russia which vowed to kill the measure that demands a path to justice.
Russia's U.N. ambassador, Vitaly Churkin, said Wednesday his country will veto the French-drafted resolution, calling it a "publicity stunt" that will hurt efforts to find a political solution to a crisis that activists say has killed more than 160,000 and sent millions fleeing.
France's U.N. Ambassador Gerard Araud retorted that Churkin can't say the resolution will undermine a political process "because there is no political process." He challenged Russia to explain why it's really casting a veto.
Full report at:
http://english.alarabiya.net/en/News/middle-east/2014/05/22/U-N-vote-on-Syria-faces-Russian-veto.html
------------
URL: https://newageislam.com/islamic-world-news/pak-islamic-ideologues-endorse-underage/d/87148