New Age Islam News Bureau
14 Oct 2018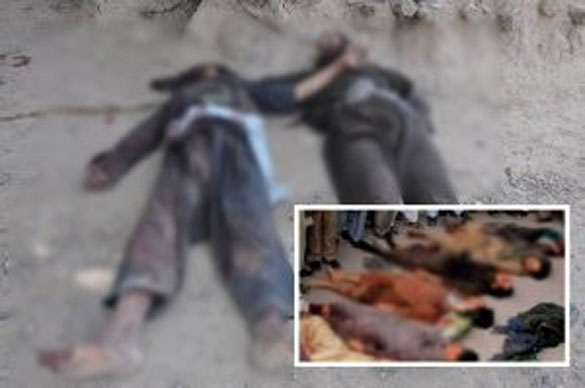 Photo: The Afghan Military in the Southeast claims that more than 50 Taliban militants have been killed or wounded after launching a coordinated attack on Khoshamand district.
--------
• UP: In a message for communal harmony, Muslim man observes Navaratri fast
• Trump vows 'severe punishment' if Saudi Arabia killed journalist
• Imran Khan vows to make Pakistan 'cleaner than Europe'
South Asia
• Over 50 Taliban militants killed, wounded after attacking a district in Paktika
• Death toll rises to 22 in election rally bomb blast in N Afghan province
• Clear definition of jihadi books needed before arrest: Experts
• New political alliance formed in Bangladesh ahead of election
• Taliban release details of the meeting with the U.S. delegation in Qatar
• Afghan Taliban give 'peace a priority'
--------
India
• UP: In a message for communal harmony, Muslim man observes Navaratri fast
• Tehreek-ul-Mujahideen urges Kashmiri youths to stay away from 'armed struggle'
• After two students accused of sedition, Kashmiris threaten to leave AMU if charges not dropped
• Day before poll code, Rajasthan govt relaxed land rules for Pakistani Hindu migrants
• State government to help operators in promoting Islamic tours
• Carrying Knife, Muslim Cleric Offers Namaz Outside Yogi Adityanath's Office, Raises Slogans Against PM
• Hizbul Mujahideen terrorist killed in encounter in J&K
• Muslims seek equal rights, protest discrimination
--------
North America
• Trump vows 'severe punishment' if Saudi Arabia killed journalist
• US bolstering military presence in Afghanistan
• The false, but persistent, rumor that Neil Armstrong converted to Islam
• Khalilzad holds direct talks with Afghan Taliban in Qatar
• Freed US pastor thanks Trump, who hails 'tremendous step' with Turkey
--------
Pakistan
• Imran Khan vows to make Pakistan 'cleaner than Europe'
• Pakistan warns of '10 surgical strikes' against India
• Aasia Bibi's family fears for safety if court sets her free
• SC censures police over child's imprisonment for 11 years
• Censorship detrimental to fundamental rights, panelists say at Asma Jahangir Conference
• Canadian immigration minister to visit Pakistan next month
• US, Taliban hold talks in Qatar to end conflict in Afghanistan
--------
Europe
• ANALYSIS - France's desperate endeavors to design a 'French Islam'
• UK: Man admits posting 'Punish a Muslim Day' letter
• Hillsborough Candidates Speak With Muslim Community Ahead of November Election
• Demo for justice in case of Muslim killed by French cops
• Turkish group breaks ground for mosque in Germany
• Russia preparing for long-term Syria role
--------
Southeast Asia
• The Leaders Who Unleashed China's Mass Detention of Muslims
• Fresh from Port Dickson win, Anwar seen pushing reforms on road to Putrajaya
• Their Land Defiled, Forest People Swap Flower Worship for Quran and Concrete
• Malaysia's Anwar wins parliamentary by-election
--------
Arab World
• Saudi Arabia deliberately targeting Yemen's food supply: Report
• Deal signed to enrich culture in Muslim world
• US Sends 500 Trucks of Arms to PKK/YPG Militants in Northern Syria in One Week
• ISIL Kidnaps Tens of Civilians in Eastern Syria
• Terrorists Continue Fortifying Positions, Attacking Syrian Army in Lattakia Province
• No extremists seen exiting Syria buffer on eve of deadline
• Muqtada al-Sadr to Iraq's Sunnis: Stay away from dagger of treason
• US envoy to UN: Israel, Syria to reopen Golan crossing on Monday
• Bahrain elected among 18 countries to join the Human Rights Council by UN General Assembly
• New Syria law expands state regulation of religious affairs
--------
Mideast
• Iran Warns of Spread of Terrorism in Afghanistan
• Yemen's information minister warns of Houthi curriculum in schools
• Thousands in Gaza mourn seven Palestinians killed in border clashes
• Yemeni missile hits gathering of Saudi-backed forces
• Gazans to keep up anti-occupation rallies until end of Israeli siege: Haniyeh
• Saudi jets attack buses in Yemen's Hudaydah, kill civilians
• Saudis yet to cooperate in Khashoggi probe: Turkish foreign minister
--------
Africa
• 16 dead in Somalia suicide bombings
• Egypt's 'most wanted terrorist' Ashmawy exposes ISIS, al-Qaeda hideouts in Libya
• Police Warn of Al Shabaab Movements Along Kenyan Border in Mandera
• Nigerian troops foil Boko Haram attack on base
Compiled by New Age Islam News Bureau
URL: https://www.newageislam.com/islamic-world-news/over-50-taliban-militants-killed/d/116624
--------
Over 50 Taliban militants killed, wounded after attacking a district in Paktikan
Oct 13 2018
The Afghan Military in the Southeast claims that more than 50 Taliban militants have been killed or wounded after launching a coordinated attack on Khoshamand district.
The 203rd Thunder Corps of the Afghan Military in the Southeast in a statement said the armed forces of 203rd Thunder Corps responded jointly with the other security personnel to a coordinated Taliban attack, leaving more than 50 militants dead or wounded.
The statement further added that the Afghan forces also confiscated 15 landmines and vehicle were also seized following the attack.
According to 203rd Thunder Corps, the dead bodies of at least 18 militants are still left in the area where the clash took place.
No further details have been regarding the possible casualties of the Afghan armed forces during the clashes.
In the meantime, the 203rd Thunder Corps said at least 11 militants were killed and 6 others were wounded in separate clashes that took place in Sultan Bagh of Andar, Sahibzada of Qarabagh, and Tasang of Deh yak district in Ghazni province.
https://www.khaama.com/over-50-taliban-militants-killed-wounded-after-attacking-a-district-in-paktika-06147/
--------
UP: In a message for communal harmony, Muslim man observes Navaratri fast
Oct 14, 2018
Setting an example of communal harmony, a Muslim man keeps fast for nine days during Navaratri and worships Goddess Durga in Uttar Pradesh's Siddharthnagar district.
Mohammed Shafiq, the head of the village, has been celebrating Navaratri from past five years.
Talking about the same, he said, "I am celebrating this festival from past five years. Hindus and Muslim both take part in it with zeal. We celebrate all the festivals in the same way."
He further gave a message of harmony and said that people of every community should maintain peace and unity.
The nine-day festival of Goddess Durga began on October 10 and would go on till October 19.
Nine forms of Goddess Durga are worshipped during these days.
https://www.siasat.com/news/message-communal-harmony-muslim-man-observes-navaratri-fast-1420070/
--------
Trump vows 'severe punishment' if Saudi Arabia killed journalist
Oct 13, 2018
US President Donald Trump has vowed "severe punishment" if Saudi Arabia is proven to be behind the purported assassination of dissident Saudi journalist Jamal Khashoggi.
Trump made the remarks in an interview with CBS's "60 Minutes" set to be aired on Sunday.
The US president, however, stopped well short of blaming the Saudi monarchy for the disappearance of Khashoggi, who is suspected of being killed during a visit to the Saudi consulate in Istanbul on October 2.
He said that "we don't know yet" if Khashoggi was murdered, but that the situation is "being looked at very very strongly."
Trump on Thursday said he is not willing to throw away billions of dollars in military deals with Saudi Arabia over the suspected murder of Khashoggi.
"What good does that do us?" Trump asked. "This took place in Turkey and to the best of our knowledge, Khashoggi is not a United States citizen."
Saudi Arabia is currently facing a growing chorus of criticism from global leaders over the disappearance and alleged murder of Khashoggi inside Riyadh's consulate in Istanbul on October 2.
The 59-year-old Saudi journalist's disappearance and an explosive New York Times story alleging that he was dismembered inside the Saudi consulate, has raised concerns over the safety of Saudi dissidents inside the monarchy and abroad.
Khashoggi was known for his critical views on Riyadh. He lived in self-imposed exile in the US since September 2017, when he left Saudi Arabia amid a crackdown on dissident voices.
The New Yorker said in a recent article that the journalist had told it in August that he was worried about his life. Khashoggi also opposed Riyadh's aggression on Yemen.
In the latest interview, Trump was hesitant to draw a link between the Khashoggi controversy and a $110 billion arms deal with Riyadh.
"Everybody in the world wanted that order," he said of the arms deal. "Russia wanted it, China wanted it, we wanted it. We got it… I don't want to hurt jobs, I don't want to lose an order like that. There are other ways of punishing."
In recent days, Democrats and Republicans in Congress have said that if Saudi Arabia is behind the disappearance of Khashoggi, there should be severe consequences for the kingdom.
Trump said that Khashoggi "was a reporter, you'll be surprised to hear me say that, there's something really terrible and disgusting about that if that were the case."
There is widespread speculation – specially among Turkish officials -- that Khashoggi has been assassinated by as many as 15 Saudi operatives who took him into the consulate. The journalist's dismembered body is also reported to have been flown back to Saudi Arabia in two jets.
Adding another twist to the already complicated puzzle, The Washington Post reported Tuesday that Muhammad bin Salman had personally ordered the assassination.
This is while Riyadh had denied being behind Khashoggi's disappearance. However, it has so far failed to provide any evidence to back its claims.
https://www.presstv.com/Detail/2018/10/13/576888/Trump-vows-severe-punishment-if-Saudi-Arabia-killed-journalist
--------
Imran Khan vows to make Pakistan 'cleaner than Europe'
Oct 13, 2018
ISLAMABAD: Prime Minister Imran Khan on Saturday vowed to make Pakistan "cleaner than Europe" as he formally launched a campaign aimed at improving sanitary conditions in the country.
Khan planted a sapling and participated in the 'Clean and Green Pakistan' drive at the Model College for Girls in Islamabad, according to Radio Pakistan.
Speaking on the occasion, the prime minister urged the students and youth to lead the campaign as it is connected with the future of the country.
Khan vowed to make the country "cleaner than Europe" in five years.
"For this to happen, we will also have to bring a change in our mindset," he said.
He pointed out that "plantation is imperative to protect the environment and check global warming".
He said Pakistan is the seventh most vulnerable country to global warming. He mentioned that Lahore is among the cities where the pollution level is very high.
Khan claimed his party's government had planted a billion trees in Khyber Pakhtunkhwa province.
He said his government has now set a target of planting 10 billion trees across the country which he said will change the weather pattern.
Khan said under the cleanliness drive, sewerage and sanitation systems will be improved not only in cities but also in slums and villages. He said as part of integrated solution, dumping sites would be identified from village to tehsil level for disposal of solid waste.
Khan said the country requires efforts from students to make Pakistan clean and green.
https://timesofindia.indiatimes.com/world/pakistan/imran-khan-vows-to-make-pakistan-cleaner-than-europe/articleshow/66195815.cms
--------
South Asia
Death toll rises to 22 in election rally bomb blast in N Afghan province
October 14, 2018
The death toll has risen to 22, wheile 36 others wounded in a bomb blast on an election gathering organized by a female candidate, Nazifa Big Yusufi, in northern province of Takhar, a provincial government spokesman said Sunday.
"The latest figures by provincial authorities indicated that 22 people were killed and 36 others wounded in Saturday's bomb blast in Rustaq district of Takhar province," Mohammad Jawad Hejri told Xinhua.
The initial information by the provincial police department also showed that the blast was not a suicide bombing but the explosion was occurred after an improvised explosive devices (IEDs) attached to a motorcycle was detonated by a time device, he said.
The long-delayed parliamentary and district council elections are expected to be held on October 20.
More than 2,500 candidates from 33 out of 34 provinces, excluding Ghazni, will stand for the parliament's 249 seats.
Nearly 9 million registered voters, including 3 million women, will cast their ballots to elect the lawmakers for a five-year term while they will also vote to elect members of the district councils.
No group has claimed responsibility for the attack so far.
https://nation.com.pk/14-Oct-2018/death-toll-rises-to-22-in-election-rally-bomb-blast-in-n-afghan-province
--------
Clear definition of jihadi books needed before arrest: Experts
OCTOBER 14, 2018
Dhaka, Oct 14 (UNB) – As law enforcers often arrest 'suspected militants' with books they call 'jihadi' ones, experts think such a title is 'inappropriate and misleading' whatever contents these books may have.
They said a book having contents of distorted interpretations of the holy Quran and Hadiths to inspire people to involve in extremism should be called as a book on militancy instead of 'jihadi' one.
The experts also think that law enforcers should be very cautious in arresting people with books having Islamic contents so that no innocent person is subjected to harassment.
Contacted, Prof Abul Barkat of Dhaka University's Economics department said if a book is written misinterpreting the Quran and Hadiths to motive people to carry out fight against the social system and indulge in violent activities to grab state power should be branded as a book on militancy.
Barkat, also the writer of a book titled 'Bangladesh-e Moulobad' (Fundamentalism in Bangladesh), said even reading books on militancy is not an offence, unless any person engages in such acts. "Law enforcers should be very careful about arresting people with Islamic books."
He said a social movement involving the young generation needs to be launched to tackle fundamentalism.
Supreme Court senior lawyer Subrata Chowdhury said the arrest of people with 'jihadi' books is a 'suspicious and mysterious' matter since there is no clear definition of such books.
"I think law enforcers are overenthusiastic over the arrest of people with such books. In many cases, police exaggerate the matter which creates confusion in public mind," Subrata said.
He said police cannot arrest anyone with any book which is not banned. "If police raid people's houses, they'll find such books that they call 'jihadi' ones, in many cases. So, they can't arrest all of them for keeping such books unless they engage in anti-state or terror acts."
Subrata said police should maintain transparency regarding their drives against militants and extremism so that no question arises over the matter.
Shahidul Islam, an associate professor at Dhaka University's Arabic department, said Islam said the concept of militants about jihad is contradictory to Islam.
"Jihad is a vast concept that includes various ranges of activity for the betterment of self and society. Frightening people or killing them in the name of religion can never be called jihad. If any book is written to encourage people to indulge in such acts, should be called as book on extremism or terrorism, not jihadi one."
Additional DIG of Police Headquarters (Intelligence and Special Affairs) Md Moniruzzaman said the books written with an intention of inspiring people to terrorism, militancy and extremism are in the current sense known as jihadi ones. "Publication and distribution of such books are prohibited by law."
Replying to a question, he said, "So far, as I know, no such book has officially been banned. Despite our strong monitoring, some jihadi books are still available in the country. If we find any book which can inspire people to engage in militancy and terrorism, we seize those."
Mufti Mahmud Khan, Director (Legal Wing and Media) of the Rab headquarters said, though the real context of jihad is different, they call jihadi books that have distorted contents in the name of Islam to inspire people to join in so-called jihad.
Additional Commissioner and Chief of Counter Terrorism and Transnational Crime Unit (CTTC) of Dhaka Metropolitan Police (DMP) Monirul Islam said 'jihadi' is a religious term. "I also think any book shouldn't be called as jihadi one. We shouldn't describe the books that have contents for instigating people to carry out terror acts as jihadi books. It should be called as book on extremism."
A top official of the Intelligence Branch, requesting anonymity, said books on extremism are usually printed secretly faking the addresses of publication houses.
He said there are a number of books, written by arrested or executed top leaders of different militant outfits, carry the contents on extremism. "We unusually arrest people with those books."
Full report at:
http://www.unb.com.bd/category/Special/clear-definition-of-jihadi-books-needed-before-arrest-experts/4205
--------
New political alliance formed in Bangladesh ahead of election
October 13, 2018
Some political parties in Bangladesh, including the main opposition BNP, formed an anti-government alliance on Saturday to force the ruling quarter to form an all-party caretaker government ahead of the general election in December, according to media reports.
Gono Forum President Kamal Hossain unveiled the new political alliance 'Jatiya Oikya Front' with former prime minister Khaleda Zia's Bangladesh Nationalist Party and two other parties, saying it was for the greater interest of the country, Daily Star reported.
"The newly floated alliance started its journey with a vow to force the ruling quarter to resign from the state power before the announcement of the schedule of the upcoming general election,"Kamal, a prominent lawyer, said at a press confrence.
An all-party acceptable election-time government will have to be formed after the dissolution of the current parliament, Kamal said in the press conference.
He also demanded the immediate release of all political prisoners including BNP chairperson Zia, who has been in jail since February after a court sentenced her over the alleged embezzlement of foreign funds meant for an orphanage trust.
BNP leaders allege she was being denied proper medical treatment in the jail.
During the press conference, Nagorik Oikya Convener Mahmudur Rahman Manna announced seven-point demands and 11-point goals of the newly formed political alliance, the report said.
"We have been hatching efforts to form such national unity and at last, we became successful today," Manna said.
Earlier, differences emerged between Kamal and Bikalpadhara Bangladesh chief and former president Badrudoza Chowdhury over the inclusion of fundamentalist Jamaat-e-Islami and the BNP in the alliance.
The two leaders held separate media briefings instead of their planned joint appearance before the press.
Later, Kamal formed the alliance with the BNP, leaving out Chowdhury.
Bangladesh is set to hold election in December.
Zia, 72, and Prime Minister Sheikh Hasina, 70, the country's two formidable leading women are known as the 'Battling Begums' for their bitter rivalry that has poisoned the Bangladeshi politics for nearly three decades.
'Begum' refers to a high-ranking Muslim woman.
Between 1991 and 2006 Zia became the prime minister for three terms and Hasina for one.
Since 2009, Hasina's party has been in power.
When the Hasina-led government refused to hand over power to a caretaker government before the 2014 national elections, BNP boycotted the poll.
Full report at:
https://www.business-standard.com/article/pti-stories/new-political-alliance-formed-in-bangladesh-ahead-of-election-118101300694_1.html
--------
Taliban release details of the meeting with the U.S. delegation in Qatar
Oct 13 2018
The Taliban militants released the details of the recent meeting between the U.S. delegation led by U.S. Special Adviser for Afghanistan reconciliation Ambassador Zalmay Khalilzad and the Taliban political leaders in Qatar.
Taliban spokesman Zabiullah Mujahid in a statement said the Taliban political delegation consisting of the head of Qatar office Alhaj Sher Mohammad Abbas Stanikzai, deputy chief of the political office of Taliban Mawlavi Abdul Salam Hanafi, members of the political office Sherikh Shahabudin Delawar, Qari Din Mohammad Hanif, Alhaj Mohammad Zahid Ahmadzai, and Mohamamd Sohail Shaheen met with the U.S. delegation led by Ambassador Zalmay Khalilzad on Friday.
The statement further added that the two sides discussed the prospects regarding an end to the presence of the foreign forces in Afghanistan and peaceful approach to end the issues of Afghanistan.
According to the statement released by Taliban, the political leaders of the group have told the U.S. delegation that the presence of the foreign forces is a major barrier on the way to resolve the issues and for the return of lasting peace in Afghanistan.
Full report at:
https://www.khaama.com/taliban-release-details-of-the-meeting-with-the-u-s-delegation-in-qatar-06146/
--------
Afghan Taliban give 'peace a priority'
October 13, 2018
KABUL: Signaling a thaw in the frozen Afghan peace process, the Taliban on Saturday confirmed reports that they had held talks with US' newly-appointed envoy for the reconciliation process.
Zalmay Khalilzad met with representatives of the group to kickstart negotiations and address their concerns that the presence of US-led foreign troops was the main deterrent in achieving peace and stability in the country.
The meeting was the first of its kind since Khalilzad took office as the US' special envoy for Afghanistan reconciliation last month and marks the first time a high-ranking US official has held talks with the militant group after they were ousted from power in late 2001.
Last week, Khalilzad flew into Kabul to discuss measures that could set the wheels of negotiations in motion, by trying to bring President Ashraf Ghani's government and the Taliban on the same table. He later visited Pakistan, Saudi Arabia, the UAE and finally Qatar where he met with Taliban's emissaries on Friday.
He returned to Kabul on Saturday to brief President Ghani and other authorities about his meetings. Palace officials in Kabul confirmed the meeting but did not provide further details on the discussions.
In a statement sent to the media, Zabihullah Mujahid, a Taliban spokesman, said that both sides agreed to hold further talks, specifically on the issue of the "occupation" of Afghanistan and to work towards a peaceful solution to the war. "The representatives of the Islamic Emirate (Taliban) called the presence of foreign troops as the main hindrance for solution of the problems and for restoration of genuine peace," Mujahid said.
Terming the talks and Khalilzad's return to Kabul "as progress", Nazar Mohammad Mutmaen, an analyst familiar with Taliban leaders, said: "It is the first high-level meeting of US officials with the Taliban and shows that both sides are giving peace a priority," he told Arab News.
He said Khalilzad's meeting, set for last month, was delayed because US officials had insisted that President Ghani's government be represented in the talks and the issue of occupation removed from the agenda – conditions that were opposed by the Taliban. The meeting comes a week ahead of crucial parliamentary elections that have faced a delay of more than three years and in which President Ghani has vowed to get re-elected. During Khalilzad's meeting with government leaders last week, the Taliban – breaking months of silence – had warned against the elections, with threats to derail it.
Full report at:
http://www.arabnews.com/node/1387176/world
--------
India
Tehreek-ul-Mujahideen urges Kashmiri youths to stay away from 'armed struggle'
Oct 13, 2018
SRINAGAR: Tehreek-ul-Mujahideen (TuM) - a constituent of United Jehad Council (UJC), an amalgam of terrorist organisations active in Kashmir – on Saturday urged students from Kashmir Valley to stay away from "armed struggle" and concentrate on their studies.
"TuM appeals to students to concentrate more on their studies and stay away from armed struggle till the completion of their studies as youth are our valuable asset," TuM chief Sheikh Jameel-ur-Rehman, who is also the general secretary of UJC, said in a statement in Srinagar.
"Militant commanders should desist from giving arms training to the students," he said.
"I request the students to concentrate on their technical and professional studies first as they are the ones who have to run this ongoing freedom movement," Rehman said.
https://timesofindia.indiatimes.com/india/tehreek-ul-mujahideen-urges-kashmiri-youths-to-stay-away-from-armed-struggle/articleshow/66197787.cms
--------
After two students accused of sedition, Kashmiris threaten to leave AMU if charges not dropped
October 14, 2018
A day after two Kashmiri students from the Aligarh Muslim University (AMU) were booked for sedition, students from the state have threatened to leave the campus on October 17 if the charges against them aren't dropped, a university official said on Saturday.
The threat was conveyed through a letter, signed by "students of Jammu and Kashmir", was delivered to the Proctor Mohsin Khan. "I have spoken to the Proctor who confirmed receiving a letter," AMU public relation in-charge M Shafey Kidwai said. When The Sunday Express asked Kidwai if the letter could be considered authentic, written by Kashmiri students, he responded that he "believed it was". He said there were 950 students from the state.
Earlier, Waseem Ayub Malik and Abdul Haseeb Mir were suspended after they allegedly attempted to offer funeral prayers in the campus after security forces killed militant Kupwara resident Mannan Bashir Wani in North Kashmir last week. Wani was a former PhD student from AMU until he was expelled after a photograph of him appeared on social media with a message claiming he had joined the militant group Hizbul Mujahideen. Aligarh police has slapped sedition charges against Malik, Mir and several unnamed students.
"The students at the university, in panic, were discussing the situation emerging in the valley at the Kennedy Hall Lawn and were peacefully talking among each other," the letter read. "No prayers or any relevant activity was observed, and the directions of the AMU proctor were duly followed. Meanwhile some non-Kashmiri people armed with lathis attacking the students. However, the Kashmiri students dispersed immediately and no protest or law and order violation took place."
They added that the Kashmiri students fraternity at AMU strongly condemned the "fabricated allegations and systematic vilification campaign" them. "In case the suspension and showcause notices (against students) are not revoked immediately, and sedition and relevant charges are not withdrawn then we, the students from the state of Jammu and Kashmir at AMU will be forced to leave the campus en-masse on Sir Syed Day (October 17) for reasons of safety and security," read the letter.
Full report at:
https://indianexpress.com/article/india/after-two-students-accused-of-sedition-kashmiris-threaten-to-leave-amu-if-charges-not-dropped-5401078/
--------
Day before poll code, Rajasthan govt relaxed land rules for Pakistani Hindu migrants
Oct 13, 2018
A day before the model code of conduct came into effect in poll-bound Rajasthan, the BJP-led state government relaxed its policy for allotting residential plots to Pakistani Hindu migrants.
The Urban Development and Housing department had rolled out a policy on allotment of land to Pakistani Hindu migrants in May, and a fresh circular was issued on October 5 to amend it. Under the amended policy, Hindu migrants from Pakistan would be able purchase land at a concessional rate anywhere in the state.
"The state government will conduct a lottery to allot residential plots. It will benefit 200-250 Pakistani Hindu migrants. Land will be allotted to them after a 25 per cent concession on reserved prices," Urban Housing and Development (UDH) Minister Srichand Kriplani told PTI.
The department amended the policy after it received several memorandums seeking changes in it. UDH Joint secretary Rajendra Singh Shekhawat said the condition that residential plots would be allotted in only those districts where Pakistani Hindu migrants have been living at the time of acquiring citizenship has been relaxed. The latest amendment allows eligible Pakistani Hindu migrants to apply for purchasing residential plots at concessional rates in any district.
"The head of the family will have to cite reasons like close relatives reside in a different district, that the person or his family is engaged in a business in another district or he intends to set up a business there," reads the circular.
The amendment also enables Pakistani Hindu migrants with Indian citizenship living in Rajasthan for a minimum of two years to apply for residential land.
Full report at:
https://www.hindustantimes.com/india-news/day-before-poll-code-rajasthan-govt-relaxed-land-rules-for-pakistani-hindu-migrants/story-I6Kgkhz1Cffn6yTLI1GGFN.html
--------
State government to help operators in promoting Islamic tours
Oct 14, 2018
MUMBAI: The state government may collaborate with tour operators, hoteliers and other service providers to boost Islamic travel. Inaugurating the first Islamic Travel Mart in Mumbai on Saturday, minister for education, minority department and wakf Vinod Tawde said the state would support the efforts of every agency engaged in boosting not just Haj and Umrah to Saudi Arabia but religious tours to other destinations too.
"We will collaborate and ensure that this sector's potentials are tapped," Tawde said, endorsing the views of Haj Committee of India CEO Dr M A Khan who said that the B2B mechanism being promoted through the two-day (October 13-14) exhibition would substantially reduce the cost of travel and would benefit pilgrims.
"India has the third largest Muslim population in the world and it sends 1, 75000 Haj pilgrims and over 600,000 Umrah pilgrims to Saudi Arabia annually. The Islamic and Halal tourism sector is untapped, "said Islamic Travel Mart's MD and chief managing officer Ghazanfar Ibrahim. Over 25 PTOs, several agents from across the country are participating in the exhibition.
Tour operator Al Khalid Tours and Travel's Yusuf Ahmed Kherada said the proposed plan to allow Umrah pilgrim to see more than two cities (Mecca and Medina) on Umrah visas would boost the industry and revenue of the Saudi government.
Full report at:
https://timesofindia.indiatimes.com/city/mumbai/state-government-to-help-operators-in-promoting-islamic-tours/articleshow/66201912.cms
--------
Carrying Knife, Muslim Cleric Offers Namaz Outside Yogi Adityanath's Office, Raises Slogans Against PM
October 13, 2018
Lucknow: A local Muslim cleric was arrested for offering namaz in the middle of a road, outside the UP secretariat while chief minister Yogi Adityanath was presiding over a meeting. Identified as Rafiq Ahmed, the man carried a knife and also raised slogans against Prime Minister Narendra Modi, reports claimed. The incident triggered a severe traffic jam on the VVIP road leaving several vehicles stranded for over 20 minutes.
Despite the secretariat being a high-security building with a large contingent of a police force, nobody could stop the man from conducting the prayers and preventing the chaos on the road. Following the incident, the Lucknow police chief suspended a couple of constables present at the spot for not stopping the man from offering namaz.
Speaking to Hindustan Times, Hazratganj circle officer Abhay Mishra said, "The police personnel deployed at the CM's secretariat said that the person started offering namaz, so they did not take any action or tried to forcibly remove him from the busy road." Furthermore he added that security has been tightened so that such incidents are not repeated.
Muslim cleric Khalid Rashid also condemned the incident and called the man mentally challenged.
Full report at:
https://www.india.com/news/india/lucknow-muslim-cleric-offers-namaz-outside-yogi-adityanaths-office-raises-slogans-against-pm-modi-3379157/
--------
Hizbul Mujahideen terrorist killed in encounter in J&K
Oct 13, 2018
SRINAGAR: A Hizbul Mujahideen terrorist was killed in an encounter with security forces in Pulwama district of Jammu and Kashmir on Saturday, police said.
The security forces launched a cordon and search operation in the Babgund area of south Kashmir district at night based on inputs about the presence of militants there, a police official said.
He said the search operation turned into an encounter after the militants fired at the forces.
In the ensuing gunfight, a terrorist was killed this morning, the official said.
He said the slain terrorist has been identified as Sabir Ahmad Dar of the Hizbul Mujahideen.
Some arms and ammunition were recovered from the encounter site, the official said, adding the operation has been called off.
He said no collateral damage occurred in the operation.
Full report at:
https://timesofindia.indiatimes.com/india/hizbul-mujahideen-terrorist-killed-in-encounter-in-jk/articleshow/66197871.cms
--------
Muslims seek equal rights, protest discrimination
Anshuman Gupta
OCTOBER 13, 2018
As part of a nationwide protest held in over 50 cities on Saturday, members of the Muslim community held a rally at Azad Maidan, alleging discrimination against minority communities in the country.
The rally was mainly held to protest the encounter of two Muslim men in Aligarh last month by the Uttar Pradesh Police. The protesters claimed there was no inquiry set up or evidence gathered before the encounter was conducted, and that no compensation was given to the families of the deceased, nor was any action taken by the government against the police.
They further said that when a Hindu man from Lucknow was shot dead by two U.P. Police constables just a few days later, his family was amply compensated and the two constables arrested.
"We are happy to see that action is being taken against the wrongdoing of those policemen and that the family has been taken care of, but when it came to people from our community, none of this was done. Not even an inquiry was set up. This is clearly discrimination against us," Abdus Salam Khan, president, Jamiat Ulema-e-Hind Foundation, Mumbai, said.
Dr. Abdur Rehman Anjaria, convenor, Islamic Counter Terrorism Council, said that the community has lately felt that the government is not ensuring equal rights for all as prescribed in the Constitution. "The administration should take note and provide all of us with all the opportunities in every field, and rights regardless of caste, gender or religion."
Referring to the suspension of three Aligarh Muslim University students for allegedly paying tributes to slain militants, Dr. Anjaria said, "We also condemn any malicious act done towards our country by any individual, regardless of their religion or political standing."
Full report at:
https://www.thehindu.com/news/cities/mumbai/muslims-seek-equal-rights-protest-discrimination/article25217303.ece
--------
North America
US bolstering military presence in Afghanistan
13.10.2018
By Servet Gunerigok
WASHINGTON
The U.S. is deploying a contingent of 148 soldiers to Afghanistan in a move that will boost its military presence in the country.
The soldiers are members of the 42nd Clearance Company at Fort Knox, an army base in Kentucky.
According to media reports, a ceremony was held Wednesday for the soldiers, who will be leaving in a few weeks for their mission.
They are scheduled to return in August of next year.
The U.S. has been fighting in Afghanistan since it invaded in 2001, shortly after the September 11 terrorist attacks of that year.
The war in Afghanistan is the U.S.'s longest-running conflict.
https://www.aa.com.tr/en/americas/us-bolstering-military-presence-in-afghanistan/1280449
--------
The false, but persistent, rumor that Neil Armstrong converted to Islam
October 13, 2018
The story told in "First Man," the new Neil Armstrong biopic, is by now a familiar part of American history: a tale of the early Apollo program's obsessive drive to win the space race and get to the moon.
A less familiar story for most viewers is a persistent urban legend about the first human to reach the lunar surface. I first encountered it in Yogyakarta, Indonesia, in the 1990s, when I was travelling alone for the first time. A Somali named Abdullah, who had come to Indonesia to purchase sarongs to sell in his store back in Mogadishu, was staying at the same guesthouse as I was. As we chatted one late afternoon, the muezzin's call pierced the air, and I told Abdullah that I found it a very beautiful sound. He replied with barely constrained enthusiasm: "Is it true? Is it true about Mr. Neil Armstrong?"
Space fever had long quelled in the United States. I hadn't even heard Armstrong's name in years, so the inquiry struck me as coming from a distant left field. My response was, "Umm, is what true about Neil Armstrong?"
He told me, matter of factly, that when Armstrong was visiting the Middle East several years after his Apollo flight, he heard the call of the muezzin and asked what it was. Upon being informed of the sound's source, the story went, Armstrong said he had heard the very same sound on the moon. In the legend, he converted to Islam on the spot.
That was my first exposure to an urban legend that held sway in parts of the world for decades. Armstrong even addressed it in "First Man," the biography by James R. Hansen that the new movie is based on: "I have found that many organizations claim me as a member, for which I am not a member, and a lot of different families – Armstrong families and others – make connections, many of which don't exist. So many people identify with the success of Apollo. The claim about my becoming a Muslim is just an extreme version of people inevitably telling me they know somebody whom I might know."
Over the years, Armstrong was inundated by requests to appear at Islamic religious observances around the world. He was so deluged that he worked with the State Department in 1983 to send a rejection of the claim to embassies and consulates throughout the Middle East, North Africa and Asia. It states: "While stressing his strong desire not to offend anyone or show disrespect for any religion, Armstrong has advised Department that reports of his conversion to Islam are inaccurate. . . . If Post receives queries on this matter, Armstrong requests that they politely but firmly inform querying party that he has not converted to Islam and has no current plans or desire to travel overseas to participate in Islamic religious activities."
Though the joint State Department statement helped kill the story in actual newspapers, the myth lived on through word of mouth and was then amplified on Internet message boards, with new embellishments added as the legend continued to circumnavigate the globe. It didn't help still the rumor mill that Armstrong's denial was sent from Lebanon, Ohio, where he lived at the time. Some purveyors of the legend ignored the rebuttal aspect, and instead added a thread that Armstrong was so devoted to Islam that he had immigrated to Lebanon (the other one). Online posts even falsely claim that declassified NASA tapes made during the Apollo 11 mission recorded Armstrong and the other astronauts discussing seeing something that appears to be an open book just above the Sea of Tranquillity, which proponents of the legend have taken to represent the Koran.
I have always been enchanted by the legend. Not because I believed the conversion story, but because it underscores the essence, for me, of Armstrong's mythic place in our collective imaginations – a sense of awe and wonder at the beauty and mystery of the universe, coupled with a belief in the power of science to help unlock those mysteries. It also serves as a testament to the attraction that Armstrong's actual exploits hold for the mere earthbound, who can only look skyward and ponder the bravery necessary to literally soar into the unknown, as well as the sheer exhilaration that must have been its reward. Everyone loves a winner, and it is a universal trait to want to claim a winner as one of our own. Perhaps, if a little bit of the winner is in us, then maybe we too might one day soar.
We are told that sound does not travel on the surface of the moon, but if you could hear a song on the moon, what would it sound like? That's a question I probably would have never pondered had I not been on the island of Java that day sharing a conversation with a Somali traveler. It's an illustration of the serendipity afforded by travel and I will always be grateful for having heard the story from someone who wanted to believe it.
Full report at:
https://torontosun.com/opinion/columnists/guest-column-the-false-but-persistent-rumor-that-neil-armstrong-converted-to-islam
--------
Khalilzad holds direct talks with Afghan Taliban in Qatar
Anwar Iqbal
October 14, 2018
WASHINGTON: The Trump administration held their second direct talks with the Afghan Taliban in Qatar this week as the US State Department underlined the desire to push forward the Afghan peace process.
Zalmay Khalilzad, a top American diplomat appointed recently to find a way to end the Afghan war, led the US team at the talks with six Taliban representatives in Doha, Qatar, on Friday.
Mr Khalilzad left Washington earlier this week on a mission to promote the Afghan peace process. Diplomatic sources in Washington said the talks in Doha were a part of his itinerary, which included visits to South Asia and the Middle East. He has already visited Islamabad, Kabul and Riyadh.
"The purpose of this entire trip is to talk about the peace and reconciliation progress," US State Department's spokesperson Heather Nauert told a news briefing in Washington. "Any time we're there on the ground we're making headway."
She noted that the US administration had appointed Mr Khalilzad a special envoy for Afghanistan whose main job was "to fight for this issue every single day" and to "work hard on this issue with his team".
Taliban officials confirmed the meeting in an email sent to various media outlets, adding that the talks would continue. The Wall Street Journal reported that "a personal familiar with the gathering" also confirmed the meeting independently.
Taliban spokesman Zabihullah Mujahid told The New York Times (NYT) on Saturday that six Taliban representatives and Mr Khalilzad "talked about the end of occupation and a peaceful resolution for the Afghan issue".
He said, "Both sides agreed to continue their meetings in the future".
Qatar has served as a meeting place for US-Taliban talks since 2011.
The Trump administration also held its first talks with the Taliban in Qatar, when Deputy Assistant Secretary Alice Wells met them in Doha in July.
NYT noted that the White House ordered direct talks with the Taliban this summer to jump-start the peace process and Mr Khalilzad was "seeking to inject new energy into the long-stalled Afghan peace process".
On Saturday, Mr Khalilzad flew to Kabul to meet Afghan President Ashraf Ghani for fulfilling a US pledge of keeping the Kabul government involved.
The Taliban have long demanded direct talks with Americans, instead of coming via Kabul but the Trump administration has assured the Afghan government that they will not be sidelined.
"This is something that will be Afghan led, Afghan owned, but supported by the US government," Ms Nauert clarified. She said that before returning to Washington, Mr Khalilzad "will give the Afghan government a complete readout of his entire travels".
She also noted that the US special envoy was meeting a wide range of people in Afghanistan — from President Ghani to Chief Executive Abdullah Abdullah, political groups, the High Peace Council, Afghan media, and civil society.
The US media noted that Mr Khalilzad, an Afghanistan-born former US ambassador to Iraq and the United Nations, will have to perform a difficult balancing act between the Taliban and the Afghan government.
The New York Times noted that the Taliban "have long stipulated that an agreement to withdraw remaining American troops from Afghanistan is essential to negotiating an end to the war". Other media outlets speculated that Washington may not accept this demand.
A Taliban source told NYT that Friday's meeting was exploratory and that the discussion had included an "end to the occupation" as well as removing Taliban leaders from sanctions lists.
The meeting in Doha came days after the Taliban put out a statement calling on Afghans to boycott parliamentary elections next week.
Before meeting the Taliban representatives, Mr Khalilzad stopped in Riyadh, Saudi Arabia, and met Crown Prince Mohammed bin Salman.
Afghan officials have long appealed to Saudi Arabia to persuade the Taliban to enter into talks.
Full report at:
https://www.dawn.com/news/1438880/khalilzad-holds-direct-talks-with-afghan-taliban-in-qatar
--------
Freed US pastor thanks Trump, who hails 'tremendous step' with Turkey
13 October 2018
President Donald Trump said on Saturday the release of US pastor Andrew Brunson after two years in Turkey's custody was a "tremendous step" toward improved relations with Turkey, but he denied cutting a deal with Ankara.
Trump, who met with Brunson at the White House on Saturday, did not pledge to lift the sanctions but said he welcomed an end to the "harsh relationship" the countries had over the past two months.
In front of US Secretary of State Mike Pompeo, Trump's national security adviser John Bolton, US lawmakers and Brunson's family, the pastor knelt beside Trump on the floor of the Oval Office, placed a hand on his shoulder, and prayed for God to give him "supernatural wisdom."
Brunson thanked President Trump for his efforts to facilitate his release after two years in detention in Turkey on terror-related charges, in a hero's welcome at the White House.
Trump called Brunson's return home a "remendous step" forward in relations with Ankara. The two NATO allies suffered a major diplomatic rift over the detention of Brunson, an evangelical Presbyterian minister.
Earlier on Saturday Trump had thanked his Turkish counterpart Recep Tayyip Erdogan for his help in the case of American pastor Andrew Brunson, who was freed by a Turkish court after two years in detention.
Trump also announced that he would meet with Brunson in the Oval Office at 2:30 pm (1830 GMT).
"It will be wonderful to see and meet him. He is a great Christian who has been through such a tough experience. I would like to thank President @RT_Erdogan for his help!" Trump tweeted.
Brunson was flown out of Turkey after a court freed him from two years of detention, in a step that could improve US-Turkish ties strained by disputes over Syria and Iran.
Trump has said there was no deal to lift sanctions on Turkey in exchange for Brunson's release.
Erdogan to Trump: Court issued Brunson verdict 'independently'
President Erdogan on Saturday told Donald Trump that the court's decision to free the US pastor was taken "independently", after the US president thanked the Turkish strongman for his efforts in securing the release.
Full report at:
https://english.alarabiya.net/en/News/world/2018/10/13/Trump-thanks-Turkey-s-Erdogan-for-help-in-release-of-US-pastor-.html
--------
Pakistan
Pakistan warns of '10 surgical strikes' against India
Oct 13, 2018
ISLAMABAD: Pakistan on Saturday warned of "10 surgical strikes" against India in response to a single such attack, in the latest war of words between the two estranged nuclear-armed neighbours.
Major General Asif Ghafoor, spokesperson of the military's Inter Services Public Relations, stated this while talking to the media in London, where he is accompanying Pakistan Army Chief Gen Qamar Javed Bajwa on a visit.
"If India dares to launch a surgical strike inside Pakistan, it will face 10 surgical strikes in response," Ghafoor was quoted as saying by Radio Pakistan.
He also said "those who think of any misadventure against us should have no doubt in their minds on Pakistan's capabilities".
The military spokesman said the Pakistan army was the custodian of the $50 billion China Pakistan Economic Corridor (CPEC) and that the mega project will strengthen the economy of the country.
Ghafoor said the army wanted strengthening of democracy in Pakistan, and claimed that the general election in July was the most transparent in the history of the country.
"If anyone has evidence of rigging then it should be brought forward," he remarked.
He also rejected reports of restriction on the media and said there was "complete freedom of expression" in the country.
He said there were more good developments in Pakistan than bad and that the international media should also highlight the good things.
https://timesofindia.indiatimes.com/world/pakistan/pakistan-warns-of-10-surgical-strikes-against-india/articleshow/66198278.cms
--------
Aasia Bibi's family fears for safety if court sets her free
October 14, 2018
LONDON: The family of Aasia Bibi, a Christian mother who faces the prospects of becoming the first person to be executed for blasphemy in the country, said they hoped the Supreme Court would free her.
But in any case they feared for their future living in Pakistan under the blasphemy laws, they told AFP.
Bibi, who has been on death row since 2010, is at the centre of the high-profile case that has divided Pakistan and drawn prayers from the Vatican.
On Monday, the Supreme Court heard her last appeal and said it had reached a judgement, which it has yet to reveal.
"We are hopeful that whatever the court proceedings are it will come out as positive for us," her husband Ashiq Masih said.
Her daughter Eisham Ashiq added: "I will be very happy the day my mother will be released. I will hug her and will cry meeting her and will thank God that he has got her released."
Bibi's family are in London on a visit organised by Aid to the Church in Need, a charity.
But her family said that if Bibi is released, it would be difficult to stay in her homeland.
"Pakistan is ours: we were born there, raised there," Masih said.
Full report at:
https://www.dawn.com/news/1438888/aasia-bibis-family-fears-for-safety-if-court-sets-her-free
--------
SC censures police over child's imprisonment for 11 years
Nasir Iqbal
October 14, 2018
ISLAMABAD: The Supreme Court has expressed displeasure over an inept police investigation that led to imprisonment of a child for eleven years, with the child ultimately attaining majority in prison.
"Police appeared to be more interested in protecting the perpetrators of the crime," said Justice Qazi Faez Isa while commenting on the case during a hearing on an appeal taken up by a three-judge bench headed by Justice Gulzar Ahmed.
The appeal was filed by Muhammad Adnan (who was once a child) against the March 24, 2014 order of the Lahore High Court that had upheld the Sept 15, 2010 decision of the Juvenile Court, Sheikhupura, of convicting him and sentencing him to life imprisonment under the Control of Narcotics Substance Act 1997.
The appellant was arrested while he was driving a motorcycle rickshaw from which a huge quantity of narcotics was recovered, including four maunds and three kilograms of charas and 180 grams of heroin.
The leave to appeal was moved before the Supreme Court against the high court judgement in 2014, which was granted by the apex court under Article 185(3) of the Constitution last year. Though the trial court convicted the appellant for life, its judge observed that the case was poorly investigated and police furnished challan of the case after a gap of two years, and that too following specific directives issued by the court. The court also overlooked Section 10(7) of the Juvenile Justice System Ordinance 2000, which holds that if the trial is not concluded within a year the accused should be released on bail, especially when (s)he is not responsible for the delay.
Moreover the nominated co-accused who later absconded were not proceeded against, one of whom was a police constable. Who owned the rickshaw was also not ascertained.
The Supreme Court regretted that the appellant was not even a teenager when the narcotics were seized from the rickshaw. "Can a child of such a tender age be the owner, or be deemed to be the owner, of the huge quantity of narcotic drugs which had been seized?" Justice Isa asked.
He also asked if the appellant could be considered the owner of the rickshaw.
"None of these matters were investigated by police," said Justice Isa and added that the juvenile court, according to section 4 of the said ordinance, was required to ensure that the interest of the under-trial child was fully protected.
However, the trial court did not consider many questions that it should have and rather treated the appellant as an adult. It thought the child had full understanding of the situation, Justice Isa regretted.
The high court, which exercised the appellate jurisdiction, "perpetuated the error" and its judges also treated the appellant as an adult offender as they too did not consider the questions which should have been among the "points to be determined", he said.
The prosecution's case against the appellant was that police had received prior information that a huge quantity of drugs was going to be transported in a rickshaw, Justice Isa observed. As a result, a police picket was set up, but the co-accused slipped through and security personnel instead arrested the appellant who did not try to run away.
Inspector Arshad Latif — who had set up the picket, apprehended the appellant and also was the complainant in the case — had stated that the appellant was driving the rickshaw, but admitted when cross-examined that he made no attempt to determine the ownership of the rickshaw nor sought its registration book nor wrote to the authority concerned to determine in whose name it was registered. The inspector added that the narcotics belonged to one Muhammad Riaz.
"We, therefore, without any hesitation can state that the prosecution completely failed to establish its case against the appellant, let alone establishing it beyond reasonable doubt," said Justice Isa.
Considering the provisions of the ordinance and keeping in mind that the Constitution envisages the protection of women and children it would be appropriate to order that trial of juveniles be concluded by juvenile courts without delay and appeals against conviction be expeditiously decided, said the apex court.
Thus the chief justices of the provinces and the Islamabad High Court through their respective registrars should issue necessary directives to prioritise the hearing of appeals filed by juvenile convicts and also direct that appeals by such convicts are so highlighted on the file covers of the appeals.
Requisite instructions by the chief justices should also be issued to juvenile courts to ensure expeditious conclusion of the trials.
Full report at:
https://www.dawn.com/news/1438887/sc-censures-police-over-childs-imprisonment-for-11-years
--------
Censorship detrimental to fundamental rights, panelists say at Asma Jahangir Conference
BY SAMIULLAH RANDHAWA
Oct 14, 2018
LAHORE: The participants of the Asma Jahangir Conference on Saturday resolved that the imposition of censorship in the name of national interests must end as it is detrimental to the fundamental rights.
The two-day conference to pay a tribute to late Asma Jahangir kicked off on Saturday in a local hotel which was attended by lawyers, politicians, journalists, and human right activists from Pakistan and abroad. Thousands of participants, including students and people from every walk of life, were among the attendees.
Among the guest speakers for the inaugural ceremony were Supreme Court (SC) Chief Justice (CJ) Mian Saqib Nisar, IA Rehman, former secretary general of the Human Rights Commission of Pakistan (HRCP) Ahsan Bhoon, SC Advocate Anwarul Haq Pannu, Lahore High Court (LHC) Bar Association President Pir Kaleem Khurshid, SC Bar Association President Kamran Murtaza, Pakistan Bar Council Vice Chairman Kamla Bhasin, Afghan activist and scholar Orzala Nemat, Ambassador of the European Union to Pakistan Jean-François Cautain, former Australian high court judge Michael Kirby, Pakistan Bar Council member Azam Nazir Tarar, former LHC Bar Association president Abid Saqi, and Jahangir's daughter Sulema Jahangir were among the moderators. Minister of Information and Broadcasting Fawad Chaudhry also participated in the event.
The participants expanded their great gratitude to the vision and legacy of Jahangir while discussing the rule and law situation in the country. They devised strategies for the promotion of justice by strengthening the rule of law and democracy, protection of fundamental rights, ensuring the independence of judiciary and mainstreaming gender-related issues.
Nine different sessions were held where speakers shared ideas.
CJ Saqib Nisar, during his address to the participants, said that Asma Jahangir was his mentor in the field. "I learnt a lot from her and tried to utilise my expertise in my profession," he said.
Renowned journalist IA Rehman was of the view that the whole nation has become silent with the silence of Jahangir. While throwing light on her life, he admitted that she had great courage which could not be measured. "She was a voice of every voiceless. She was committed to defending democracy and rule of the law in the country," Rehman added.
Former prime minister Shahid Khaqan Abbasi said that he had never seen such a courageous person in his whole life. "Today, the leadership deficit prevails in the country but Asma was a leader who fulfilled her commitments. She not only raised her voice but also took practical steps," he said while adding that even dictators, politicians and judges were frightened of her determination.
During his address, Abbasi also lashed out at the National Accountability Bureau's (NAB) "selective" anti-corruption derive in the country. He was of the view the NAB had no mechanism to hold a person accountable. "The current NAB law is trash as it was designed to prosecute politicians alone," he said, suggesting that the only solution to make a politician accountable is through polling.
Awami National Party (ANP) leader Bushra Gohar, in her speech during "Strengthening Democracy and Rule of Law" session, said that true democracy could not prevail in the country since the military had intervened throughout history either directly or indirectly. While criticising the Pakistan Tehreek-e-Insaf (PTI) government, she said that the situation has become worst for democracy in the country. "Chief justice and Imran Khan have become sandbags and there is a need to know who is behind them," she added.
Information Minister Fawad Chaudhary said that Pakistan has come on the right track where there is no direct threat to the rule and law. While criticising Gohar, he said that during ANP's five-year tenure in Khyber Pakhtunkhwa, Asfand Yar Wali stayed in Dubai. He also alleged that the ANP government procured substandard bullet-proof jackets for police personnel who were fighting against terrorists. "Democracy comes under threat when there is an absence of accountability while corruption also threatens the rule of law," he concluded.
Panelists from Pakistan and those from across the globe, including India, Sri Lanka, the Maldives, Nepal, and the United States (US) discussed cybercrime awareness, suggesting the need of improvement in the current data protection laws. Furthermore, the panelists also concluded that a distinction should be drawn between cybercrime and cyber-terrorism. "Academic Freedom and Freedom of Expression for Youth and Students" session concluded that there is a dire need to give importance to the autonomous academic freedom.
Speakers at the "Freedom of Expression and Shrinking Spaces for Dissent" session discussed the oppression and forced disappearances of journalists in Pakistan and around the world. The panel also concluded to empower Article 19 in its true letter and spirit.
The "Justice for Empowerment" session included a panel discussion on the outdated and discriminatory labour laws and its effects on the working women.
At the end of the first day of the conference, the attendees unanimously passed several resolutions. It was resolved that the independence of judiciary does not mean to abuse the suo motu powers and there must be some limitations. It was further resolved that women need to be empowered in the criminal justice system while family laws must be reformed; judicial activism must be curtailed; and Article 184/3 should be reviewed.
Full report at:
https://www.pakistantoday.com.pk/2018/10/13/censorship-detrimental-to-fundamental-rights-panelists-say-at-asma-jahangir-conference/
--------
Canadian immigration minister to visit Pakistan next month
Mateen Haider
OCTOBER 14, 2018
Canadian Minister for Immigration, Refugees and Citizenship Ahmed Hussen is expected to undertake his first-ever official visit to Pakistan next month.
Pakistan High commissioner to Canada Tariq Azeem confirmed to Daily Times on phone that dates for the visit of the Canadian minister were being worked out by both governments.
This would be the first-ever visit by any Canadian immigration minister to Pakistan during which issues related to Pakistani immigrants in Canada and tight Canadian visa regime for Pakistan would be the focus of talks. "There is over 300,000 Pakistanis living across Canada and they are contributing to the development of Canada and also act as a bridge between Ottawa and Islamabad," Pakistan high commissioner told Daily Times from Ottawa.
A diplomatic source in the Pakistani Foreign Office told Daily Times that Pakistan would take up the issue of tight visa rules for Pakistani citizens, particularly for students, patients, businessmen and family visas with the immigration minister.
The Canadian government has extraordinarily tightened visa rules for Pakistani citizens, and original time duration of six weeks sometimes goes to six months, while passports of applicants are also kept by the High Commission in Islamabad. Furthermore, visa processing system has been moved out of Pakistan, which is yet another reason for the delay.
Even visas for diplomatic passport holders are also delayed over which Pakistan has officially conveyed its concern through diplomatic channels to Ottawa, a source said.
Full report at:
https://dailytimes.com.pk/310084/canadian-immigration-minister-to-visit-pakistan-next-month/
--------
US, Taliban hold talks in Qatar to end conflict in Afghanistan
Tahir Khan
OCTOBER 14, 2018
ISLAMABAD: Afghan Taliban Saturday said their political representatives had held talks with Americans led by special envoy Zalmay Khalilzad in Qatar to explore ways for negotiated settlement of the Afghan conflict.
Daily Times had reported on October 7 that a meeting between Taliban political representatives and Khalilzad was possible during the latter's visit to the oil-rich Gulf state.
A Taliban statement confirmed that a team of the Taliban office in Qatar met an American delegation led by US Special Representative for Afghanistan Reconciliation Zalmay Khalilzad to discuss end to "invasion and peaceful solution to the Afghan problem"
The meeting was held on October 12, which was the second meeting between the two sides in three months. The US deputy secretary, Alice Wells, had the Taliban officials in July. The Taliban, however, confirmed direct talks with the Americans for the first time.
"The representatives of the Islamic Emirate described the presence of foreign forces as the major hurdle in solution to the problems and restoration of real peace," a Taliban statement from the political office said.
"Afghanistan is an Islamic country and has its own culture and values and there should be efforts for an Afghan inclusive solution," the statement further said.
"Both sides decided at the conclusion of the meeting to continue talks in the future."
The Taliban delegation was led by head of Taliban political office Sher Abbas Stanekzai and members Shahab ud Din Dilawar, Qari Deen Muhammad, Muhammad Zahid Ahmadzai and Suhail Shaheen.
Khalilzad returned to Kabul and met President Ashraf Ghani on Saturday to brief him about his talks with the Taliban.
Ghani's palace said on Saturday Khalilzad presented a report to the president on his visits to countries.
He told President Ghani that the US was ready for all kind of cooperation for peace under the leadership of the Afghan government and that his efforts would continue in this regard, a statement from the presidential palace said.
"Thanking US envoy for his efforts for peace, President Asharf Ghani said he respects and thanks for all effort and step for durable peace in Afghanistan," according to the statement.
Chief Executive Dr Abdullah Abdullah and Vice President Sarwar Danish also attended the meeting.
The State Department earlier said Khalilzad had been leading an interagency delegation to Afghanistan, Pakistan, the United Arab Emirates, Qatar, and Saudi Arabia from October 4-14. "Special Representative Khalilzad's mission is to coordinate and lead US efforts to bring the Taliban to the negotiating table. He will do so in close coordination with the Afghan government and other stakeholders, exploring how best to reach a negotiated settlement to the conflict," a State Department statement said last week. The trip is his first visit following his appointment as the special representative by US Secretary Mike Pompeo and reflects the administration's intent to support, facilitate, and participate in a peace process in Afghanistan, the statement said.
Earlier, a Taliban political source had told Daily Times that they were ready for the second round of talks with the US.
July's meeting between the both sides was seen as a major shift in the US policy to sit face-to-face with the Taliban to explore ways for political solution to the Afghan conflict.
Taliban sources said a second meeting was expected in September but could not take place as Americans were waiting for Khalilzad to take charge.
The appointment of Khalilzad as special envoy for Afghan reconciliation is seen a major step by the US to press negotiations with the Taliban.
Full report at:
https://dailytimes.com.pk/310097/us-taliban-hold-talks-in-qatar-to-end-conflict-in-afghanistan/
--------
Europe
ANALYSIS - France's desperate endeavors to design a 'French Islam'
13.10.2018
In Sept. 2018, "Institut Montaigne", a French think tank close to French President Emmanuel Macron's government, published a report that calls for a stronger regulation of Muslim religious practices by the state in order to better counter "Islamism".
Entitled "Islamism Factory", the report triggered a turmoil among French Muslim communities since it conflates regular Muslim practices, such as wearing the headscarf (for women), the five daily prayers, consuming halal food etc., with Islamism and extremism threats.
Yet, the Islamism threat remains the strongest argument for the French state to intervene in Muslim affairs, and thus contradicting the very principle of French secularism, mainly defined by the 1905 law, which imposes a strict separation between the state and religious affairs. In fact, Macron's government is currently planning to introduce a tax on halal products and pilgrimage in order to finance French imam schools and oversee mosque-building projects.
This interventionist approach to Muslim affairs is not a new trend, however. From 1990 to 2016, French governments, be they left or right wing, created several official structures in order to organize (i.e. nationalize), to control (i.e. secure), and to "modernize" (i.e. enlighten) Islam in France. Although these different policies do not constitute a monolithic and coherent organization of Islam, they produced an intertwined set of mechanisms, all aimed at controlling and influencing the way Muslims practice their faith in France.
On the one hand, this complex system seems to have been first conceived as an answer to what is called the "consular Islam", a policy of delegating the management of Islam to the countries of origin of the post-1945 migrant workers, especially those from Algeria, Morocco, and Turkey. On the other hand, the policies of 'organizing', 'controlling' and 'modernizing' Islam stem from the old colonial discourse that promotes the domestication of the "good Arab".
The French state's attempts at 'regulating' Islam have been taking place in the wider context of the creation of a "Muslim problem". Indeed, when we look at the 1980s, we can see a clear correlation between the rise of Arab-origin French visibility in the public sphere and the rise of the far right. The pressure on immigrant communities further increased with the far-right "Front National" getting historic results in consecutive elections: the 1984 European elections (11 percent), the 1986 Parliamentary elections (10 percent) and the 1988 Presidential elections (14,4 percent).
It is in this context that what had hitherto been perceived as an "Arab immigration problem" suddenly became a "Muslim problem" at the end of the 1980s, particularly following the Islamic Salvation Front's (FIS) victory in the Algerian elections and the consequent civil war (1990-1991), the expulsion of three hijab-wearing girls at the secondary school of the Northern city of Creil (Oct. 1989), Iran's Supreme Leader Ayatollah Khomeini's fatwa against Salman Rushdie and his Satanic Verses.
This "Muslim problem" is rooted in an old, and still persisting, French post-colonial disposition towards North African workers and families with established lives in France. It is a range of segregating discourses materialized in law, urbanism and symbols that lead to the relegation of the targeted population to subaltern jobs, to the city's periphery (suburbs), to limited social rights and to poor civic participation. The discourse of "Muslim problem" legitimizes official measures and statements defining the North-African population as the "other": those who are unlike the French and whose existence in France can never be fully justified.
This asymmetrical relation of power between the French state and Arab-Muslim communities also led to the creation of state-sponsored organizations from 1990 to 2003 with the purpose of reframing and reshaping the representation of Islam in France. The goal was also to regulate the training of imams and their speeches, mosque-building projects and the Islamic discourse at large. Yet, until the establishment of the French Council of the Muslim Faith (CFCM) in 2003 on Nicolas Sarkozy's impulsion, none of these attempts had a significant impact on Muslim practices.
Despite its unpopularity among ordinary French Muslims, the CFCM became the main official interlocutor of the French state on every issue related to Islam and the Muslim rites of worship in France through a national council and regional councils.
In parallel to the CFCM structure, the same government launched "the Foundation for the works of Islam of France" (Fondation pour les oeuvres de l'Islam de France) under an initiative by the Gaullist Prime Minister Dominique de Villepin in 2005. The project had the aim of organizing fundraisers to finance mosques under the supervision of the state. However, this foundation has never become a reality. In 2015, the then interior minister, Bernard Cazeneuve, tried to launch it once again under the name of "Foundation for Islam of France" (Fondation de l'islam de France).
It is a consultative council that aims at imposing an "autonomous and Republican" Islam particular to France. Surprisingly enough, the interior minister chose to nominate another former interior minister, Jean-Pierre Chevènement, to be the head of the foundation, which demonstrates the French state's lack of confidence toward French Muslim actors.
The foundation's website presents the aim of the project through a statement of the French orientalist Jacques Berque: "I don't want for France a 'French Islam' but an 'Islam of France', which is a Gallic Islam; I mean an Islam aware of modern societies' issues, an Islam that resolves problems that it never had to resolve in the past. Imagine the repercussions of this kind of Islam in the rest of the Islamic world!"
This continual state intervention in Muslims' affairs did enable the state to impose its agenda upon Muslim federations, i.e. its concerns for identity, security and a modern Islam. Yet, French policies on Islam has failed to reach its most important objectives: they have not succeeded in representing the French Muslim communities, proposing clear policies that realistically reflect the religious needs of Muslims (imam training, halal certification, financing of mosques etc.), and in taking over the role the countries of origin played (as part of "the consular Islam") in the French Muslim affairs.
Indeed, the difficulties experienced by the CFCM -- the biggest and most elaborate structure to have come out of all the mentioned attempts -- reflect an ongoing competition between foreign countries and organizations as well as egos. A number of French Muslim activists, such as Marwan Muhammad, the former president of the CCIF (Initiative against Islamophobia in France), attribute this failure to state interventionism, which is perceived as an attempt to impose top-down policies upon Muslim communities.
This is the reason why Marwan Muhammad organized, with a group of scholars -- among them French sociologists, anthropologists and activists -- a tour of the mosques in France and Muslim organizations in order to assess Muslims' needs and to federate French Muslim communities from the bottom. This wide consultation led, in Sept. 2018, to the creation of a national platform, "L.E.S Musulmans", which is already able to bring together hundreds of local mosques and organizations under its roof.
Yet, Macron's government does not give too much attention to this initiative. On the contrary, the French Interior Minister Gerard Collomb officially praised the report on Islamism published by the "Institut Montaigne" (mentioned above), which proposes that the state impose new taxes on halal food, pilgrimage, and a number of other Muslim activities.
For nearly three decades, French governments, regardless of their positions on the political spectrum, have attempted to design a "French Islam" resorting to top-down policies while neglecting the needs and opinions of the main group of people involved: French Muslim communities. Mostly motivated by security reasons, these governments have tried to assume the official representation of French Muslims; an "obedient" kind of representation that is fully in line with the state's directives.
As for Emmanuel Macron, he has postponed, several times already, his reform on policies on Islam since it is a highly contentious issue. Yet, in many statements Macron has repeated the objectives of security, control and integration, which are the main elements of the French official approach to Muslims. In fact, the constant production of laws targeting Muslim citizens with a colonial mindset, the increase of terror attacks in the last five years as well as the use of a hard discourse on laïcité do not encourage Macron's government to change this security approach.
* Opinions expressed in this article are the author's own and do not necessarily reflect the editorial policy of Anadolu Agency.
https://www.aa.com.tr/en/analysis-news/analysis-france-s-desperate-endeavors-to-design-a-french-islam-/1280799
--------
UK: Man admits posting 'Punish a Muslim Day' letter
13.10.2018
By Ahmet Gurhan Kartal
LONDON
A man admitted Friday that he was responsible for posting a hate letter earlier this year targeting Muslims in the UK.
David Parnham, a 35-year-old white supremacist, pleaded guilty to 15 offenses relating to hundreds of racist hate letters written between June 2016 and June 2018, including the so-called 'Punish a Muslim Day' letter, which caused an outcry.
The other offenses included sending letters and white power to the Queen, Prime Minister Theresa May and Muslim Tory peer Lord Ahmad.
Parnham, who is from Lincoln, was arrested in June on suspicion of soliciting to murder and sending a hoax noxious substance and threatening letters, according to a statement from the Lincolnshire Police.
He also pleaded guilty to encouraging murder, making hoaxes involving noxious substances and bombs, sending letters with intent to cause distress and encouraging offenses.
-Hate letter
The letter, which announced a so-called "Punish a Muslim Day" on April 3, called on people to attack Muslims in the form of verbal abuse, removing a woman's hijab or headscarf, physical assault, or using acid on them.
It was posted to various addresses in March and was also circulated on messaging service WhatsApp as well as social media platforms.
The letter showed a scale of "points" based on the action taken against Muslims.
The hate letter urged terrorist acts, including 'butchering a Muslim using gun, knife, vehicle or otherwise' and 'burning or bombing a mosque'.
Tell MAMA, a group tracking anti-Muslim hate crimes in the UK, said it had been sent several reports of the letter from Muslims in London, the Midlands and Yorkshire.
"This has caused quite a lot of fear within the community," said Iman Atta, director of Tell MAMA.
"They are asking if they are safe, if their children are safe to play outdoors. We have told them to keep calm and to phone the police if they receive one of these letters."
British counter-terrorism police launched a probe into the hate letter shortly after the reports in March, and Parnham was caught through DNA, handwriting and fingerprints on the letters.
Full report at:
https://www.aa.com.tr/en/europe/uk-man-admits-posting-punish-a-muslim-day-letter/1280447
--------
Hillsborough Candidates Speak With Muslim Community Ahead of November Election
Oct 14, 2018
The Muslim community in the Tampa Bay area is one of the largest in the state, and local politicians got the opportunity to make their pitches to them on Saturday.
More than 300 residents and nearly 30 candidates attended the first-ever candidate forum at the Islamic Society of Tampa Bay Area.
The tens of thousands of local Muslims area are politically diverse, so candidates' support for affordable housing and charter schools received equal applause.
But organizer Nadia Ghabin said an overarching issue for the community is the rise of Islamophobia.
"Some of the rhetoric that's coming from the conservatives is very concerning to our community," Ghabin said. "Some people run their entire platform on hatred and bigotry."
That concern was clear in the questions asked of the candidates. Some people running for school board were asked about what they would do to address religious bullying in schools and judicial candidates were asked how they would ensure equal treatment in their courtrooms.
Gary Pruitt, a former Tampa Police corporal running against incumbent Hillsborough County Sheriff Chad Chronister, was a hit with the crowd when he said he opposed the county's cooperation with the federal Immigrations and Customs Enforcement Agency (ICE).
"Should I become your elected sheriff, I will not partner with a federal agency or any other agency whose sole purpose is to victimize honest, hardworking citizens ever," Pruitt told the crowd.
Candidates also fielded questions about charter schools, healthcare and the state minimum wage.
Organizer and moderator Ahmed Bedier said it was important for the Muslim community to hear from the politicians on a wide range of views so that they could vote for who would best represent all residents, not just Muslims.
"The issues that are important to us as Muslims, are also the same issues that are important to all Floridians," Bedier said.
A number of Republican candidates attended the candidate forum, many of whom had long-standing relationships with the Muslim community in Tampa. They likewise spoke out against hate and promised to fight for equality in their respective positions of power.
Hillsborough County Commissioner Victor Crist is defending his seat against Democratic challenger Mariella Smith and Independent Joe Kotvas. He told the audience about the childhood years he spent in Pakistan and his time in the state senate fighting for tougher penalties for hate crimes.
Crist said the prejudice expressed by some politicians on the national level shouldn't bias the way people think about local representatives.
"At the local level, our issues really aren't partisan," Crist said. "Our issues are about storm water and roads and sidewalks."
Crist also said the event was one of the most well-run and well-attended candidate forums he has ever attended.
Full report at:
http://news.wjct.org/post/hillsborough-candidates-speak-muslim-community-ahead-november-election
--------
Demo for justice in case of Muslim killed by French cops
Oct 13, 2018
Allegations of police brutality continue to spark regular protests in France. Activists against the conduct of the police were shocked to know that officers involved in the 2016 death of a young Muslim man were all cleared of any wrongdoing. French cops are rarely convicted in cases of excessive force, but the victim's family members say they will continue to fight for justice. Ramin Mazaheri reports from Paris.
https://www.presstv.com/Detail/2018/10/13/576930/Demo-for-justice-in-case-of-Muslim-killed-by-French-cops-
--------
Turkish group breaks ground for mosque in Germany
13.10.2018
By Mesut Zeyrek
BERGHEIM, Germany
Ground was broken on Saturday for a new mosque in Bergheim, Germany spearheaded by an organization founded by local Turkish migrants.
The Bergheim Mosque and Culture Center will be constructed by the Turkish-Islamic Union for Religious Affairs (DITIB).
Ceyhun Erciyes, Turkey's consul general in Cologne, and Bergheim Deputy Mayor Herrmann Rossler were among participants at the groundbreaking ceremony.
Speaking to the crowd, Erciyes said that the mosque will be important not only for the local Turkish community but also for the city itself.
Construction of the mosque is expected to last some two years.
The three-story project will be built over a 1,850-square-meter area and will have a capacity of 700 people.
The DITIB, a Muslim organization founded by Turkish migrants in Germany, runs more than 900 mosques across the country.
Full report at:
https://www.aa.com.tr/en/europe/turkish-group-breaks-ground-for-mosque-in-germany/1280853
--------
Russia preparing for long-term Syria role
October 14, 2018
Russia will use Syria as a military training ground for years to come as part of President Vladimir Putin's quest to cement his position at the head of a growing global power, according to new analysis published on Sunday.
Moscow's dominant reason for involving itself in Syria is to gather influence and prestige at the centre of one of the great geopolitical disputes between major powers, a new paper released by London-based think-tank the Royal United Services Institute (Rusi) said.
Mr Putin first announced that Russia would send ground forces to Syria in 2015 in support of long-term ally Bashar Al Assad. He cited attempts to prevent the spread of extremism to Russia but the intervention has contributed to the sharpening tensions with the United States and its allies amid a struggle for influence in the country.
Both Russia and Iran are now seeking to parlay their military support for the regime into shaping the future of the country as Assad-backed forces close in on victory, according to a second Syria report published last week by the international affairs think-tank Chatham House.
"The Syrian state has become hostage to the regime's external patrons, Iran and Russia," the report said. "Russia is seeking to reshape Syrian state institutions to guarantee long-lasting loyalty to Moscow."
The Russian military strategy of harnessing air power and small teams of special forces has proved effective in achieving Moscow's aims without a serious loss of Russian lives that would have affected Mr Putin's personal standing, said the author of the Rusi report Professor Rod Thornton, of King's College London.
War in Syria has enabled the Russian military to gain valuable military experience and allowed Moscow to hold considerable diplomatic sway in the region, without falling out with regional power-brokers Saudi Arabia and Iran. The mission has also allowed its navy to take up position in the Eastern Mediterranean vacated by Nato as Washington turns to Asia.
Russia is upgrading its naval base at Tartus, on Syria's western coast, to allow more of its ships to dock after securing a 49-year extension on its lease. "That agreement indicates that Moscow will seek to maintain, for an extended period into the future, its military commitment not only to Syria but also to the wider Eastern Mediterranean region," wrote Prof Thornton in the Rusi Journal.
"Indeed, it is a commitment that will, as Putin himself has made clear, be 'permanent' in nature.
Full report at:
https://www.thenational.ae/world/mena/russia-preparing-for-long-term-syria-role-1.780277
--------
Southeast Asia
The Leaders Who Unleashed China's Mass Detention of Muslims
By Chris Buckley
Oct. 13, 2018
BEIJING — Rukiya Maimaiti, a local propaganda official in China's far west, warned her colleagues to steel themselves for a wrenching task: detaining large numbers of ethnic Uighurs and other Muslim minorities.
The Chinese government wanted to purge the Xinjiang region of "extremist" ideas, she told her co-workers, and secular Uighurs like themselves had to support the campaign for the good of their people.
"Fully understand that this task is in order to save your relatives and your families," wrote Ms. Maimaiti, a Communist Party functionary who works on the western edge of Xinjiang, in a message that was preserved online. "This is a special kind of education for a special time."
Her warning is one piece of a trail of evidence, often found on obscure government websites, that unmasks the origin of China's most sweeping internment drive since the Mao era — and establishes how President Xi Jinping and other senior leaders played a decisive role in its rapid expansion.
In a campaign that has drawn condemnation around the world, hundreds of thousands of Uighurs and other Muslim minorities have been held in "transformation" camps across Xinjiang for weeks, months or years at a time, according to former inmates and their relatives.
Beijing says the facilities provide job training and legal education for Uighurs and has denied carrying out mass detentions.
But speeches, reports and other documents online offer a clearer account than previously reported of how China's top leaders set in motion and escalated the indoctrination campaign, which aims to eradicate all but the mildest expressions of Islamic faith and any yearning for an independent Uighur homeland.
Mr. Xi has not publicly endorsed or commented on the camps, but he ordered a major shift in policy soon after visiting Xinjiang in 2014 to weaken Uighurs' separate identity and assimilate them into a society dominated by the Han majority, according to the documents.
Later, amid official reports warning the results were insufficient, Mr. Xi reassigned Chen Quanguo, 62, the hard-line party chief in neighboring Tibet, to act as the chief enforcer of the crackdown in Xinjiang. Mr. Chen was also promoted to the 25-member Politburo, the party leadership council that governs China.
"What is happening in Xinjiang is the leading edge of a new, more coercive ethnic policy under Xi Jinping's 'new era' of Chinese power," said James Leibold, an expert on Xinjiang at La Trobe University in Australia who has monitored the campaign.
The Trump administration is weighing sanctions against Chinese officials and companies involved in the indoctrination camps, a move that would extend the friction between Washington and Beijing over trade and military disputes to human rights. A bipartisan commission has singled out Mr. Chen and six other officials as potential targets.
Last week, apparently stung by the international criticism, the Xinjiang government issued revised rules on "deradicalization" that for the first time clearly authorized the indoctrination camps.
Worried about Muslim extremism and ethnic nationalism, Beijing has long maintained tight control of Xinjiang, where nearly half the population of 24 million are Uighurs. In the decade up to 2014, the security forces struggled with a series of violent antigovernment attacks for which they blamed Uighur separatists.
Mr. Xi made his first and only visit as national leader to Xinjiang in April 2014. Hours after his four-day visit ended, assailants used bombs and knives to kill three people and wound nearly 80 others near a train station in Urumqi, the regional capital. The attack was seen as a rebuff to Mr. Xi, who had just left the city and vowed to wield an "iron fist" against Uighurs who oppose Chinese rule.
"That seems to have been taken by Xi Jinping as an affront," said Michael Clarke, a scholar at the Australian National University who studies Xinjiang.
A month later, Mr. Xi called for a vigorous push to make Uighurs loyal members of the Chinese nation through Chinese-language instruction, economic incentives and state-organized ethnic intermingling. The leadership also approved a directive on establishing tighter control of Xinjiang that has not been made public.
"Strengthen public identification of every ethnic group with the great motherland, with Chinese nationhood and with Chinese culture," Mr. Xi said at a meeting on Xinjiang at the time. "There must be more ethnic contact, exchange and blending."
In the year after Mr. Xi's visit to Xinjiang, the documents show, the party began building "transformation through education" camps to warn Muslim minorities of the evils of religious zealotry and ethnic separatism.
The camps were relatively small back then; many detainees were held for just a few days or weeks, official speeches and reports show. But there were no public guidelines for how they should operate.
By taking a harder line in Xinjiang, Mr. Xi effectively endorsed a group of Chinese scholars and officials advocating an overhaul of the party's longstanding policies toward ethnic minorities.
For decades, the party kept Uighurs, Tibetans and other groups under tight political control while allowing some room for preserving each nationality's language, culture and religion. The mosaic approach was copied from the Soviet Union and made Xinjiang an "autonomous region," where, in theory, Uighurs enjoyed greater rights and representation.
But in the 1990s, Chinese academics advising the government began arguing that these policies had contributed to the breakup of the Soviet Union by encouraging ethnic separatism. To avoid similar troubles, they argued, China should adopt measures aimed unapologetically at merging ethnic minorities into a broader national identity.
"So-called 'ethnic elites' must never be given an opportunity to become the leaders of the pack in splitting the country," said Hu Lianhe, a researcher in this group, in a paper he co-wrote in 2010.
Mr. Hu is now a powerful voice setting policy for Xinjiang as a senior official in the United Front Work Department, a Communist Party agency that has claimed a growing say over the region.
He has been identified as a potential target of American sanctions. In August, he categorically denied reports of abuses in Xinjiang during a United Nations hearing. "There is no 'de-Islamization,'" he said.
By 2016, the Communist Party's main newspaper declared that the "deradicalization" campaign was succeeding; no serious acts of antigovernment violence had been reported since Mr. Xi's visit to Xinjiang.
But officials gave grimmer assessments in less prominent forums. Some said that young Uighurs were more alienated from China than their elders; others warned that Uighurs who had traveled to the Middle East, sometimes to fight in Syria, were bringing back extremist ideas and fighting experience.
Such warnings appeared to persuade Mr. Xi and other leaders to back tougher measures. In August 2016, they brought in Mr. Chen from Tibet to run Xinjiang. He became the first party official to have served as the leader of both territories.
In Tibet, another frontier region experiencing ethnic strife, Mr. Chen had expanded the security forces, sent party officials to live in villages and tightened control of Buddhist monasteries and temples.
Less than three weeks after his arrival in Xinjiang, he announced a "remobilization" plan to ramp up security, citing orders from Mr. Xi.
Officials in Xinjiang were told to prepare for a multiyear offensive, according to one official report.
In March 2017, the regional government issued "deradicalization" rules that gave a vague green light to expanding the internment camps, but the national parliament never enacted a law authorizing the detentions as would be required by the Chinese constitution. . Local officials soon began reporting growing numbers of Uighurs arrested or detained for indoctrination.
"Since the strike-hard began in 2017, there have been many detainees, including many ultimately convicted," an official assigned to Hotan, an area in southern Xinjiang, wrote last year. "The numbers sent to transformation-through-education centers are also quite high."
As the camps and surveillance efforts expanded, Beijing directed new funds to Xinjiang, where spending on security nearly doubled in 2017 from the year before, to $8.4 billion, according to data released early this year.
"The central level ultimately pays for all of it, so some kind of consent was certainly given," said Adrian Zenz, a scholar at the European School of Culture and Theology in Germany who has studied the camps.
The scale of detentions across Xinjiang may have gone further than initially expected. "They were having to use train stations and other random places to hold people because they weren't expecting to have so many," said Jessica Batke, a former State Department analyst.
A broad definition of "religious extremism" — which included behavior as simple as trying to persuade people to quit alcohol and smoking, as well as more serious transgressions — gave the authorities wide leeway to punish even mildly pious Muslims.
Local officials like Ms. Maimaiti had little incentive to hold back; those found dragging their feet in the crackdown have been named and punished.
The public has been told to prepare for a long offensive, which one local official last week called a "campaign of intellectual emancipation." The Xinjiang government decreed late last year that the security drive would last five years before achieving "total stability."
https://www.nytimes.com/2018/10/13/world/asia/china-muslim-detainment-xinjang-camps.html
--------
Fresh from Port Dickson win, Anwar seen pushing reforms on road to Putrajaya
14 OCTOBER, 2018
KUALA LUMPUR — Datuk Seri Anwar Ibrahim's emphatic victory in Saturday's (Oct 13) Port Dickson by-election has set him firmly on the path to becoming Malaysia's eighth prime minister, but what type of administration can one expect in future?
While there are clues from his previous stint in government — when he had reached the post of deputy prime minister before his falling out with Tun Dr Mahathir Mohamad — analysts told Malay Mail that the Parti Keadilan Rakyat (PKR) president-elect is now a much different leader.
Although Mr Anwar had been known previously for his affiliation with the Muslim Youth Movement of Malaysia (Abim), Universiti Sains Malaysia's Professor Sivamurugan Pandian said he did not see the prime minister-in-waiting revisiting the ideals he had espoused at the time.
Instead, he expected the man who inspired the Reformasi movement to raise the banner for reforms, minus the racial and religious baggage.
"Anwar's background as a Malay-Muslim reformist comes naturally to him and there is nothing wrong with that. He cannot remove that from himself, but all that is history.
"We can see that he has adapted to changes and when he takes over from Tun Dr Mahathir Mohamad, I am certain there will be continuity to those changes," Prof Pandian said.
He pointed out that Mr Anwar took a clear multicultural approach to the Port Dickson campaign, eschewing the usual race and religion cards usually trotted out in such contests.
Prof Pandian also predicted that Anwar will continue championing the centrist politics that had allowed him to serve as the proverbial glue that bound the previous Pakatan Rakyat coalition.
The pact collapsed within months of Mr Anwar's imprisonment for his second sodomy conviction and was eventually replaced by the ruling Pakatan Harapan (PH), where Prof Pandian said Mr Anwar would be expected to continue in the same role.
"If he was such a radical Malay-Muslim leader, he would not have been able to gel with other parties. He knows that if he wants to be a popular prime minister among the people, he has to move out from that mindset and think of how to nurture 'Bangsa Malaysia'," he said.
Geopolitical expert Azmi Hassan said Mr Anwar's vast political experience will direct him to continue with the ideology and policies that propelled PH to unexpected victory rather than be tempted to return to his former ways.
He anticipated that Mr Anwar as the next prime minister will usher in a new era that will see an even more inclusive Malaysia.
While he foresaw a smooth transition from Dr Mahathir to Mr Anwar, he said Cabinet members now should not presume they will keep their positions once the latter comes to power.
Among others, he said some in the present Cabinet were not a good fit with Mr Anwar's style of governance, especially his demand for high performance that Mr Azmi said certain ministers have shown they will not be able to deliver.
"Anwar, as I observed, is a strong believer in merit and capability. In this respect, his style of governance is merit-based. I am sure he wants ministers who can produce results that are beneficial to the nation," he said.
Also known for his skills in navigating complex foreign relations, Mr Azmi said the PKR leader will be able to foster stronger ties between Malaysia and the world's major powers.
Prior to his ouster from the government in 1998, Mr Anwar had built up firm relationships with many world leaders, some of which have lasted to this day.
With the world about to plunge headlong into a worrying United States-China trade war, Malaysia will need a deft operator such as Mr Anwar to avoid being caught in the middle.
"I think Anwar will be very friendly towards Beijing even though he is very close to Washington. He is well received and respected in foreign diplomatic circles, so I think this is good for Malaysia, both economically and geopolitically," Mr Azmi offered. At home, he noted that Mr Anwar was a respected leader within the Malay community and maintained warm ties with the individual state Rulers, which Mr Azmi said will be a boon when dealing with the country's royalty.
Mr Anwar made a point of touring the country and visiting the various Malay Rulers upon his release from prison after he was granted a royal pardon.
"It is always beneficial for the government to have a cordial relationship with the Rulers," he said.
Mr Anwar won the Port Dickson by-election by a landslide on Saturday, vindicating PKR's decision to controversially force a poll expressly for him to contest.
He won with a majority of 23,635 votes, easily eclipsing the 17,710 majority that Mr Danyal Balagopal Abdullah secured in the 14th general election and cornering 71 per cent of the popular vote.
Mr Anwar's feat was made more impressive as he recorded the bigger margin despite a significantly lower turnout of just 58.3 per cent versus the 83.6 per cent on May 9.
With Parliament resuming on Monday, Mr Anwar will be sworn in and back in active politics by then.
Full report at:
https://www.todayonline.com/world/fresh-port-dickson-win-anwar-seen-pushing-reforms-road-putrajaya
--------
Their Land Defiled, Forest People Swap Flower Worship for Quran and Concrete
By Hannah Beech
Oct. 14, 2018
JAMBI, Indonesia — When the flowers could no longer summon the gods, the healer knew it was time to leave the forest.
As a traditional healer of the Orang Rimba, or forest people, here on the Indonesian island of Sumatra, Temenggung Tarip had long depended on jungle blooms to conjure the divine for his seminomadic indigenous community. An offering of colorful petals would bring the elephant god, skilled at curing toothaches, or the tiger god, helpful for those who had lost their way.
But timber, rubber, paper and palm oil plantations have encroached on the forests of Indonesia. Since 2000, about 15 percent of the nation's tree cover has disappeared. In Jambi, the central Sumatran province that is home to a few thousand Orang Rimba, the amount of deforestation is even higher, at 32 percent since the turn of the century, according to Global Forest Watch.
With the land defiled, the flowers no longer worked their magic, Mr. Tarip said. The gods did not come. Toothaches remained unhealed.
"We didn't protect the forest, so the forest didn't protect us," he said.
Over the past decade, most of the forest people of Jambi, Mr. Tarip included, have emerged from the jungle, driven both by the rampant deforestation and an Indonesian government policy to settle these tribes of hunter-gatherers and farmers.
A court ruling five years ago was supposed to protect the right of indigenous peoples to live undisturbed in their native habitat, but corporate farming continued to encroach on the national park the Orang Rimba called home.
Last month, President Joko Widodo of Indonesia signed a moratorium on new palm oil plantation development throughout the country for the next three years.
Now, only about 1,000 Orang Rimba families still live in the rain forest. Particularly destructive to their way of life were the fires agro-industrialists set to clear the forests for plantations. Choking fumes drifted over Orang Rimba land. The wild animals that formed the backbone of their diet, along with wild yams, could not survive among the monoculture plantations. Hunger stalked the Orang Rimba.
Since leaving the forest eight years ago, Mr. Tarip, who estimates that he is about 60, has converted to Islam, the dominant religion of Indonesia. On national identity cards, a necessity for life outside the jungle, all Indonesians must select one from among six faiths. Animist flower worship is not among the choices.
Today, Mr. Tarip lives with his wife, Putri Tija Sanggul, in a concrete shell in Sarolangun, a three-day walk from the wilderness that used to be their home. The only reminder of nature in their new house is a bunch of purple orchids that cascades down a wall. The flowers are plastic.
Missionaries, both Muslim and Christian, have tried to ease the transition to what the Orang Rimba call "the outside." Beyond the obvious differences — concrete walls, processed food, brightly colored plastic — the outside is confounding in other ways. The forest was cool, sunlight barely penetrating the dense foliage. Concrete, by contrast, holds the heat. Sleeping in the stuffy confines of his home is something to which Mr. Tarip is still not accustomed.
Ms. Sanggul, Mr. Tarip's wife, often claws at the veil around her head and hitches up her dress to air her legs. She is a princess of her Orang Rimba tribe, and her noble lineage meant she could conjure the forest spirits with ease until one day, she said, she couldn't. "The gods took away my gift," Ms. Sanggul said.
As a community leader, one who lives in a proper concrete house with plastic flowers, Mr. Tarip was hailed by a former governor of Jambi as a role model for the Orang Rimba. He has ridden in an elevator and in an airplane, which took him to Mecca for an all-expenses-paid pilgrimage.
The Saudi desert, sere and brown, was about as different from the verdant rain forest as Mr. Tarip could imagine. But it confirmed his faith, even if several of his grandchildren are Christian. "Mecca is real," he said. "The rest is just stories."
Nevertheless, Mr. Tarip still respects indigenous traditions. Four of his daughters and three of his sons remain in the jungle, and he knows that by visiting them he could compromise their communion with nature. The list of Orang Rimba taboos is long and includes soap, fried chicken and certain clothes like the Muslim prayer cap Mr. Tarip now wears. Perfume is also prohibited.
"The gods don't like artificial smells," Mr. Tarip said.
Mr. Tarip's conversion was facilitated by his son-in-law, Rahmat, who is from the outside. The child of a family of transmigrasi — settlers from crowded parts of Indonesia who were given government incentives to work the land in remote places like Sarolangun — Mr. Rahmat said he grew up not certain whether the Orang Rimba were human or not. "They stole fruit from us," he said. "So we taught them the Quran and they learned how to be better."
Mr. Rahmat, who goes by one name, married Mr. Tarip's daughter in 2012. He is a member of the Islamic Defenders Front, a professed morality force that has raided nightclubs and other places deemed un-Islamic.
Dressed in white robes, members of the Islamic Defenders Front lead mass conversions of the forest people and march through villages of settled Orang Rimba to remind them to pray five times a day.
But piety is a cheap commodity in some villages where the Orang Rimba now live. "I don't know why I am a Muslim but I am," said Rokima, an elderly Orang Rimba woman who lives in a wooden shack.
A picture of Mecca decorated one of her walls but Ms. Rokima, who also goes by one name, said she had no idea what the photograph, a gift from a local official, meant. "I had my own gods in the forest but I cannot go back to the forest because there is no forest left anymore," she said, of her birthplace by a river.
Even Mr. Rahmat, Mr. Tarip's son-in-law, admitted his own wife was an imperfect convert. She maintains a preference for wild pig, a forbidden meat in Islam. Mohammed Asrul, a transmigrasi village chief from Nyogan village in Jambi, is also married to an Orang Rimba woman. More forest people should follow his wife's path, he said. "They will only make progress if they marry outsiders," he said.
To survive on the outside, Mr. Tarip has planted rubber and oil palm on some of his customary land, which he owns because of his indigenous status, even though he knows the crop is responsible for destroying his old way of life.
Full report at:
https://www.nytimes.com/2018/10/14/world/asia/indonesia-sumatra-orang-rimba.html
--------
Malaysia's Anwar wins parliamentary by-election
13 October 2018
Anwar Ibrahim won an overwhelming mandate in a parliamentary by-election on Saturday, setting the stage for his return to frontline Malaysian politics and sealing the once-jailed opposition figure's remarkable resurrection.
Figures from the Election Commission showed he got more than 71 percent of the total votes cast in a seven-way contest that included a former aide who lodged the sodomy charges that landed Anwar in prison for a second time in 2014.
https://english.alarabiya.net/en/News/world/2018/10/13/Malaysia-s-Anwar-wins-parliamentary-by-election.html
--------
Arab World
Saudi Arabia deliberately targeting Yemen's food supply: Report
Oct 13, 2018
Saudi Arabia has deliberately impaired Yemen's food supply by systematically targeting the war-torn country's fishing installations, fishermen, agricultural sites and other food related infrastructure, according to a report.
The revealing report, named "Strategies of the Coalition in the Yemen War", has been recently published by the Tufts University affiliated World Peace Foundation after conducting a comprehensive review of data received from several organizations within the country.
The study underlines an extensive Saudi Coalition campaign to combine "economic war" with "physical destruction to create a mass failure in basic livelihoods," highlighting what it describes as a clear war crime based on the Geneva Conventions and Additional Protocol I.
"If one places the damage to the resources of food producers (farmers, herders, and fishers) alongside the targeting of food processing, storage and transport in urban areas and the wider economic war, there is strong evidence that Coalition strategy has aimed to destroy food production and distribution in the areas under the control of Sana'a," concludes the report.
Furthermore, the study ultimately challenges the legality of the Coalition's operations, urging other United Nations Security Council member states to step in and halt the blatant "war crimes".
"Other forces and institutions will need to call into question the blanket 'legitimacy' accorded the Coalition to date by the world's highest legal body, the UN Security Council."
Numerous UN and rights groups have repeatedly pointed at grave human rights violations happening as a result of the Saudi onslaught. A UN child rights panel urged the Saudi kingdom to halt strikes against civilian targets on October 11.
Saudi Arabia and some of its allies, including the United Arab Emirates, Morocco, and Sudan, launched the brutal war in an attempt to reinstall former president Abd Rabbuh Mansur Hadi and crush the country's popular Houthi Ansarullah movement, which has played a significant role, alongside the Yemeni army, in defending the nation.
Some 15,000 Yemenis have so far been killed and thousands more injured as a result of the bloody campaign which has also left a record 22.2 million Yemenis in a dire need of food, including 8.4 million threatened by severe hunger, according to UN statistics.
Yemeni Health authorities announced last week that 1 in 3 Yemeni children suffer from severe malnutrition and that 8,000 dialysis patients may face death if the Saudi blockade persists in the war-torn country.
https://www.presstv.com/Detail/2018/10/13/576893/Saudi-Arabia-War-Crimes-in-Yemen
--------
Deal signed to enrich culture in Muslim world
October 14, 2018
RIYADH: The King Faisal International Prize (KFIP) has signed an agreement with the Islamic Educational, Scientific and Cultural Organization (ISESCO) to enrich culture and knowledge in the Muslim world.
The three-year agreement will "put in place a cultural program featuring a number of scientific and knowledge initiatives in the Islamic world," the KFIP said.
Its Secretary-General Dr. Abdul Aziz Al-Sebail said: "The partnership with ISESCO comes within the KFIP strategy to strengthen cultural knowledge channels in the Arab and Islamic region by expanding partnerships with leading institutions around the world."
Under the agreement, the KFIP and ISESCO will arrange meetings to discuss the contribution of Muslim scientists and entities in the progress of humanity.
KFIP laureates will lead lectures and seminars at universities and scientific research centers. The two organizations will also work together to publish the works of the winners of the KFIP.
The agreement was signed during the opening ceremony of the 13th session of the ISESCO General Conference, which began on Thursday in Rabat, Morocco, with the participation of education ministers from ISESCO member states.
Education Minister Ahmad Al-Isa, who led the Saudi delegation at the conference, said: "ISESCO's initiatives and projects… are one of the cornerstones of creating a bright and prosperous future for the Islamic world."
Full report at:
http://www.arabnews.com/node/1387351/saudi-arabia
--------
US Sends 500 Trucks of Arms to PKK/YPG Militants in Northern Syria in One Week
Oct 13, 2018
The Manbij roadmap between Turkey and the US was agreed upon in June this year on the withdrawal of YPG/PKK from the town of Manbij to stabilize the region, which is in the Northeast of the Aleppo province in Northern Syria, the Turkish Yeni Safak paper reported.
The US forces in Syria's Manbij have provided the YPG/PKK group with new construction equipment, allowing the militants to continue digging up trenches and build embankments around the town center.
As the US troops continue military and logistic transportation from Northern Iraq into Northeastern Syria, despite a deal between Ankara and Washington on the withdrawal of the terror group from the city, local sources told Anadolu Agency that the US also sent aid to YPG/PKK in the region.
Trucks, carrying four construction vehicles, were transported to Manbij. The US soldiers escorted the transfer of the construction machinery, which included 3 bulldozers and one excavator.
The YPG/PKK uses bulldozers and excavators to dig up trenches and embankments in the area.
Full report at:
http://en.farsnews.com/newstext.aspx?nn=13970721000497
--------
ISIL Kidnaps Tens of Civilians in Eastern Syria
Oct 13, 2018
SOHR reported that ISIL terrorists broke into a refugee camp in Southeastern Deir Ezzur and captured a sum of 130 families.
In the meantime, militant-affiliated Orient news website reported that ISIL attacked a camp of civilian refugees near the town of Hajin controlled by the Syrian Democratic Forces and kidnapped tens of civilians.
It further said that the ISIL later transferred the entire kidnapped civilians to their regions in the town of al-Sha'afah.
On Wednesday, several civilians, including women and children, were killed in the US-led coalition's airstrikes on a region in Southeastern Deir Ezzur.
Local sources in Southeastern Deir Ezzur reported that the US-led coalition fighter jets targeted the town of al-Souseh, killing at least 4 members of a family.
Full report at:
http://en.farsnews.com/newstext.aspx?nn=13970721000760
--------
Terrorists Continue Fortifying Positions, Attacking Syrian Army in Lattakia Province
Oct 13, 2018
SOHR reported that Tahrir al-Sham, Turkistani Islamic Party, Horas al-Deen, Ansar al-Deen and other terrorist groups that are included in the Sochi Agreement, endorsed by Russia and Turkey, have not thus far withdrawn fighters and weapons from the zone that stretches from Northeastern Lattakia to Northwestern Aleppo.
In the meantime, the Arabic-language website of Sputnik reported that Tahrir al-Sham and Turkistani Islamic Party launched missile attacks on army positions in Northeastern Lattakia and also the army's strongholds in a region near Idlib province on Thursday.
It further said that the army units detected terrorists' positions for launching Grade missiles in Qala al-Maziq in Jabal al-Zaviyeh and in the town of Bedama in Lattakia province that are controlled by Tahrir al-Sham.
It went on to say that the terrorists have continued reinvigoration of positions on a daily basis to intensify provocative measures in the region.
SOHR reported last week that the Turkey-backed terrorists who had claimed that they started transfer of heavy weapons from the demilitarized zone in Northern Syria were hiding their arms in Northern Lattakia, pro-opposition media sources reported.
SOHR reported that there was no clear indication of a retreat by militant groups from the weapons-free zone after the Sochi agreement between Russia and Turkey, adding that 70% of the demilitarized region was still under the occupation of militants.
It said that Ahrar al-Sham, Faylaq al-Sham and the Coastal Regiments 1 and 2, affiliated to the National Liberation Front (NFL), have not retreated from Northern and Northeastern Lattakia, noting that they have only concealed their heavy weapons in tunnels.
Full report at:
http://en.farsnews.com/newstext.aspx?nn=13970721000670
--------
No extremists seen exiting Syria buffer on eve of deadline
14 October 2018
Hardline fighters have yet to begin withdrawing from a planned buffer zone in northwestern Syria, a monitor and an AFP correspondent said Sunday on the eve of the pullout's deadline.
Regime ally Russia and rebel backer Turkey agreed last month to set up a demilitarized zone around the northwestern region of Idlib to prevent a bloody regime assault on the region.
Under the deal the horseshoe-shaped area was to be free of heavy arms by October 10 with "radical fighters" pulling out by Monday.
While the deadline for withdrawing heavy weapons was met on time, there has been no indication that the second condition is being implemented.
"We have not monitored any withdrawals by extremist fighters at all from areas falling in the planned buffer zone," said the Britain-based Syrian Observatory for Human Rights monitoring group.
An AFP correspondent in Idlib also said no hardline factions had moved any of their units in recent days.
The agreement
Idlib and surrounding rebel zones are held by a complex array of factions.
Less than half is controlled by the Ankara-backed National Liberation Front (NLF), the main rebel conglomerate there.
But the lion's share is held by Hayat Tahrir al-Sham (HTS), an alliance led by former Al-Qaeda members, as well as more hardline extremists like Hurras al-Deen and Ansar al-Islam.
Those fighters also control more than two-thirds of the planned buffer zone and are supposed to leave it by Monday.
Hurras al-Deen has publicly rejected the agreement.
HTS, widely considered the most powerful force in the area, has not publicly commented on the accord but quietly abided by its first deadline and re-stationed its heavy arms elsewhere.
Observers have said that getting it to execute the deal's second half would be much more challenging.
In a recent report for the Turkey-based Omran Center, expert Nawar Oliver described HTS's approval as the deal's ultimate "test".
Full report at:
https://english.alarabiya.net/en/News/middle-east/2018/10/14/No-extremists-seen-exiting-Syria-buffer-on-eve-of-deadline.html
--------
Muqtada al-Sadr to Iraq's Sunnis: Stay away from dagger of treason
Oct 14, 2018
In a statement directed at the Iraqi Sunnis and Sunni politicians, Sadrist movement leader Muqtada al-Sadr said that public interests should precede party interests, and that quotas should be avoided while forming the next government headed by newly elected Prime Minister Adel Abdul-Mahdi.
On his official Twitter account, Sadr called on Sunnis to provide independent qualified technocrats "to live together safely away from the treasonous dagger and corruption."
Iraqi media had reported that Sunni parties have identified the ministries that they wanted to control with Abdul-Mahdi, which included the ministries of justice, higher education and labor.
Meanwhile, the number of nominees for the position of minister have reached 15,184 according to the prime minister's office.
According to a source, many nominees were eliminated, as they did not meet the legal and technical conditions, and that after preliminary assessments, only 600 candidates were selected after a thorough study of their applications.
Full report at:
https://english.alarabiya.net/en/News/middle-east/2018/10/14/Muqtada-al-Sadr-to-Iraq-s-Sunnis-Stay-away-from-dagger-of-treason.html
--------
US envoy to UN: Israel, Syria to reopen Golan crossing on Monday
14 October 2018
The National Society for Human Rights in Saudi Arabia on Saturday issued a statement stressing the importance of speeding up the investigation into disappearance of journalist Jamal Khashoggi through a joint effort between the Saudi and Turkish governments.
The statement read: "We deeply regret the efforts of some regional, international and human rights bodies to politicize this case, with the aim of serving some agendas and attitudes against the Kingdom's policies, without any consideration for justice or consideration of the feelings of his family and relatives."
The head of the association, Dr. Mufleh al-Qahtani, stressed that the matter should be left to the Saudi-Turkish joint investigation team, and wait for the probe's results, stressing that the Kingdom's position on the issue was clear from the beginning when it demanded the need to reveal the truth.
Full report at:
https://english.alarabiya.net/en/News/gulf/2018/10/14/Human-rights-group-Khashoggi-case-should-be-left-to-investigators-not-media.html
--------
Bahrain elected among 18 countries to join the Human Rights Council by UN General Assembly
October 13, 2018
JEDDAH: Bahrain has been elected to the United Nations Human Rights Council after receiving 165 out of 192 votes.
The UN General Assembly voted on Friday to give Bahrain a seat on the council from 2019 until 2022.
Foreign Minister Sheikh Khalid bin Ahmed said this victory for the Kingdom was the culmination of the wise policies of King Hamad in consolidating rights and freedoms.
He added that Bahrain's recognition also reflects the Kingdom's awareness of the importance of human rights in achieving sustainable development.
There are 47 seats in the UNHRC and elections are held annually for one third of the seats.
Full report at:
http://www.arabnews.com/node/1387296/middle-east
--------
New Syria law expands state regulation of religious affairs
13 October 2018
Syrian President Bashar al-Assad has signed into law a new bill expanding the powers of a government ministry overseeing religious affairs and limiting the term of the country's top Muslim cleric.
The draft, which state media reported Assad had signed into law Friday, had been amended by parliament this month after sparking controversy among Syrians at home and abroad.
The new legislation grants additional powers to the ministry of religious endowments, or "waqf", which already oversees Islamic affairs in Syria.
Specifically, the waqf minister will have a role in naming the next mufti.
The mufti had previously been appointed by the president, as was the case with current mufti Ahmed Badreddin Hassoun, appointed by Assad in 2004.
The new law also sets the mufti's term, previously unlimited, at a renewable period of three years.
The waqf minister will now oversee religious schools, head the Council on Islamic Jurisprudence, and regulate religious programming on media outlets.
The new law also stipulates that Muslim imams are not allowed to travel outside of Syria or attend any conference even inside the country without the waqf minister's permission.
It forbids preachers and religious instructors from "stoking sectarian strife" or "taking advantage of religious platforms for political purposes."
Syria's pre-war population was overwhelmingly Sunni Muslim, with smaller numbers of Shiite Muslims and Alawites, the sect from which Assad's family hails.
Christian and Druze minority communities are also scattered across the country. It appears that non-Muslim communities are not affected by the new law.
The legislation had sparked controversy this month, with many saying it was state overreach into religious affairs.
Others said it was a way to regulate religious discourse in order to "fight extremism."
In a recent television interview, current waqf minister Mohammad Abdulsattar al-Sayyed described it as a "huge achievement".
"This is the first time there's a law that issues controls and standards for religious work and conditions for appointing imams and preachers," he said.
But a Syrian lawyer told AFP that the law was a worrying expansion of state control.
Full report at:
https://www.france24.com/en/20181013-new-syria-law-expands-state-regulation-religious-affairs
--------
Mideast
Iran Warns of Spread of Terrorism in Afghanistan
Oct 13, 2018
Sarmadi made the remarks in a meeting with Chief Executive of the Islamic Republic of Afghanistan Abdullah Abdullah on the sidelines of the Shanghai Cooperation Organization (SCO)'s 17th summit in Dushanbe on Friday.
During the meeting, the two high-ranking officials studied the latest developments in bilateral ties, stressing the need to strengthen them.
Sarmadi referred to the security situation of the region and transfer of terrorists from Iraq and Syria to Afghanistan, and said, "We consider Afghanistan's security as our own security and we will not spare any assistance to confront them (the terrorist groups)."
Elsewhere, he underscored Iran's resistance against the sanctions imposed by the US President Donald Trump's administration, dismissing unilateralism in the world.
The US and certain regional states have been witnessed attempting to transfer the terrorists from Iraq and Syria to Afghanistan after their failures in the two countries.
In relevant remarks in February, Iranian Defense Minister Brigadier General Amir Hatami in a phone conversation with his Afghan counterpart Tariq Shah Bahrami warned that Washington was implementing plots to transfer the ISIL terrorist group to Afghanistan.
During the conversation, General Hatami voiced regret over the death of hundreds of innocent Afghan people in the recent terrorist attacks, stressing, "Iran has always been concerned about foreign plots against the Afghan people."
He said that the Americans had created the ISIL to use them in Iraq and Syria, and added, "The US attempted to take the ISIL out of the battlefield after its heavy defeats in the two countries and transfer them to Afghanistan to justify its presence in Afghanistan with their shameless crimes."
General Hatami warned that the US was pursuing plans to increase military forces in Afghanistan, and said establishment of security in Afghanistan was possible only through the regional states' positive approach and use of their common capacities to fight against terrorism.
http://en.farsnews.com/newstext.aspx?nn=13970721000346
--------
Yemen's information minister warns of Houthi curriculum in schools
13 October 2018
Yemen's Information Minister Muammar al-Iryani warned of the dangers of Houthi militias' manipulation of school curriculums in the areas under their control that could lead to a generation of extremist leaders.
Al-Iryani said in a tweet that the curriculum the Houthi militia is enforcing on Yemeni children conflicts with the country's ideas and culture, a plot by the militias to dismantle the social fabric from within.
The minister pointed out that the continued control of the militias in Sanaa and a number of other provinces, along with the imposition of Iranian-influenced ideas in the curriculum, will give rise to a new generation of Yemenis who have strayed from the country's ideals.
Al-Iryani added that the militia has changed the school curriculum in the areas under their control, where they added articles about the Iranian-backed group and others that serve the Shiite ideology. The new curriculum includes a booklet about the founder Hussein al-Houthi, as well as forcing students to chant Houthi slogans in school and the militias' events.
Full report at:
https://english.alarabiya.net/en/News/middle-east/2018/10/13/Yemen-s-Information-Minister-warns-of-Houthi-curriculums-in-schools-.html
--------
Thousands in Gaza mourn seven Palestinians killed in border clashes
13 October 2018
Thousands of Palestinians attended funerals Saturday for seven young men shot dead a day earlier by Israeli troops during fresh demonstrations along the Gaza border, an AFP correspondent said.
Mourners, including leaders of the enclave's rulers Hamas, chanted slogans condemning Israel for shooting civilians and called on the international community to deliver justice.
The Israeli army said five Palestinians had been killed during the protests on Friday after they broke through the heavily-guarded border fence and attacked an army post.
Army spokesman Jonathan Conricus said around 20 Palestinians had crossed the border in an "organised attack" after an explosive device destroyed a portion of the fence.
About five of those who got through the fence assaulted an Israeli army position and were "repelled", he wrote on Twitter.
The enclave's health ministry said seven Palestinians were killed by Israeli fire as thousands of protesters approached the heavily-guarded Israeli border.
On Saturday, the ministry named the victims as: Ahmed al-Taweel, 27, Mohammed Ismail, 29, Ahmed Abu Naim, 17, Abdullah Daghma, 25, Afifi Atta Afifi, 18, Tamer Abu Armaneh, 25 and Mohammed Abbas, 21.
The army said approximately 14,000 "rioters and demonstrators" took part in Friday's protests.
At least 205 Palestinians have been killed by Israeli fire in Gaza since protests began on March 30.
The majority were killed during border demonstrations, though others have died in airstrikes and tank shelling.
One Israeli soldier has been killed.
The protesters are demanding to be allowed to return to land now inside Israel, from which their families fled or were displaced during the 1948 war surrounding the creation of the Jewish state.
They are also calling for Israel to end its crippling blockade of the strip.
Israel accuses Hamas of leading the protests and using them as a cover for attacks.
There had been hopes the protests would ease after a UN-brokered agreement to ease the strip's energy crisis took effect this week.
But thousands gathered once again on Friday at sites along the border, AFP correspondents said.
Full report at:
https://english.alarabiya.net/en/News/middle-east/2018/10/13/Thousands-in-Gaza-mourn-7-killed-in-border-clashes-.html
--------
Yemeni missile hits gathering of Saudi-backed forces
Oct 14, 2018
A ballistic missile fired by Yemen's Army and popular Houthi Ansarullah movement has hit a gathering of Saudi-backed militants in Sana'a province, the country's Military Information Center said on Sunday.
The Zelzal-2 missile was fired at a military base in the Harib area of Nihm District early Sunday, "precisely" hitting its target.
"A number of militias were killed or injured and some of their military vehicles were destroyed in the missile attack," the Military Information Center said.
The missile attack came a day after Saudi warplanes targeted two buses in the town of Jabal Rass in Yemen's al-Hudaidah Province.
Yemen's Health Ministry put the death toll at 19, including women and children, up from 15 reported earlier by Yemen's al-Masirah television network.
Thirty others were reported wounded after the attack hit the vehicles, which were carrying refugees.
Saudi Arabia has launched thousands of airstrikes on Yemen in the past three years, some of which have hit hospitals, schools and markets, killing hundreds of civilians while bringing Riyadh little closer to military victory.
Hundreds of Saudi soldiers have been killed in Yemen's retaliatory mortar and missile attacks across the rugged southern border.
As many as 15,000 people have died in the conflict so far, and millions face potential famine and disease because of disruption to food and medical supplies as a result a Saudi-led blockade.
Around 22 million civilians, or 75 percent of Yemen's population, require humanitarian aid, according to latest UN data. The conflict has caused the worst cholera outbreak in modern history, with over 1 million reported cases.
The Houthi movement and its allies in the Army that control northern Yemen have vowed to fire more missiles into Saudi Arabia unless it stops bombing the impoverished country.
Last year, the Houthis fired missiles at Riyadh in retaliation. Saudi Arabia responded by shutting Yemen's airports and ports, a blockade that the United Nations said raised the prospect of mass starvation.
The Houthis and their allies control the north of Yemen, including the capital Sana'a. Saudi Arabia and its proxies have been fighting on behalf of a former government with a foothold in the south.
Full report at:
https://www.presstv.com/Detail/2018/10/14/576945/Yemen-missile-counterattack-Saudibacked-militants
--------
Gazans to keep up anti-occupation rallies until end of Israeli siege: Haniyeh
Oct 13, 2018
The leader of the Palestinian resistance movement of Hamas, Ismail Haniyeh, says weekly anti-Israel rallies will continue as long as the Gaza Strip remains under siege.
Haniyeh said on Saturday that Palestinians will not stop the Great March of Return protests until a decade-long Israeli blockade on Gaza is lifted completely.
He was speaking at a funeral of Palestinians who were killed by Israeli forces along the border fence between the besieged Gaza Strip and the occupied territories a day earlier.
Palestinian mourners across the Gaza Strip held funerals for seven protesters killed by Israeli forces during the weekly rallies on Friday.
Funeral processions
Elsewhere in Khan Younis and at Nuseirat refugee camp in central Gaza, hundreds of people held funeral ceremonies for Ahmad al-Tawil as well as 17-year-old Ahmed Abu Naim who lost their lives during anti-occupation rallies east of al-Bureij refugee camp on Friday.
Gaza health officials said seven Palestinians were killed and 140 people wounded by Israeli forces on Friday.
Tensions have been running high near the fence since March 30, which marked the start of a series of protests dubbed "The Great March of Return." Palestinian protesters demand the right to return for those driven out of their homeland.
The clashes in Gaza reached their peak on May 14, the eve of the 70th anniversary of Nakba Day, or the Day of Catastrophe, which coincided this year with Washington's relocation of the US embassy from Tel Aviv to occupied Jerusalem al-Quds.
Around 200 Palestinians have so far been killed and over 20,000 others wounded in the renewed Gaza clashes, according to the latest figures released by the Gaza Health Ministry.
Gaza has been under Israeli siege since June 2007, causing a decline in living standards as well as unprecedented unemployment and poverty.
Full report at:
https://www.presstv.com/Detail/2018/10/13/576887/Palestine-Hamas-leader-Haniyeh-Gaza-rallies-israel-siege
--------
Saudi jets attack buses in Yemen's Hudaydah, kill civilians
Oct 13, 2018
At least 15 Yemenis have been killed in a Saudi airstrike in Hudaydah that has become a flashpoint of a war being waged by Riyadh and its allies against the Arab world's poorest nation.
The fatalities occurred when Saudi planes targeted two buses that were carrying civilians fleeing Hudaydah on Saturday, according to a report by Yemen's al-Masirah television network.
The attack also injured an unspecified number of others, with the number of fatalities most likely to rise, al-Masirah reported.
No further details about the incident have come out as of yet.
In August, a Saudi air raid hit a school bus as it drove through a market in the town of Dhahyan in Sa'ada Province in northwestern Yemen, killing a total of 51 people, among them 40 children, and injuring 79 others, mostly children.
Saudi Arabia began its invasion in March 2015 to restore power to Yemen's former Riyadh-allied officials. Around 15,000 people have died since the war began, says Yemen's Health Ministry.
The invasion has pushed the country close to the brink of famine.
Hudaydah came under a concerted invasion by Saudi Arabia and the UAE in June. The offensive has raised the prospect that the nation could be tipped over the edge of famine as the port city takes in the bulk of Yemen's vital imports.
Full report at:
https://www.presstv.com/Detail/2018/10/13/576875/Yemen-Saudi-warplanes-kill-15-Hudaydah
--------
Saudis yet to cooperate in Khashoggi probe: Turkish foreign minister
Oct 13, 2018
Turkish Foreign Minister Mevlut Cavusoglu says Saudi Arabia is not cooperating with the investigation into the disappearance of Jamal Khashoggi, a dissident Saudi journalist who is suspected of being killed during a visit to the Saudi consulate in Istanbul earlier this month.
"We have not yet seen cooperation on this subject and we want to see it," Cavusoglu told reporters during a visit to London on Saturday.
He said that the Saudi government must allow Turkish officials to enter its Istanbul consulate to probe Khashoggi's disappearance.
The Turkish foreign minister said that there was a consensus on forming a joint working group with Saudi officials over the case of Khashoggi, who has not been seen since entering the Saudi Consulate in Istanbul on October 2.
He made the remarks two days after a Saudi delegation including senior royal Prince Khaled al-Faisal arrived in Turkey for a joint investigation into the case.
International pressure mounts on Saudi Arabia as Riyadh has failed to prove it is not behind the disappearance of the government supporter-turned-critic.
Turkey's investigation into the disappearance of Khashoggi has revealed recordings made on his Apple Watch, which synced with his iPhone being carried outside the consulate by Khashoggi's fiancée.
The recordings purportedly indicated that the prominent Saudi journalist was tortured and killed at the kingdom's consulate in Istanbul, according to the Turkish Sabah daily.
Senior Turkish officials have previously been quoted as saying that Khashoggi was wearing a black Apple watch when he entered the consulate and that it was connected to a mobile phone he left outside.
Sabah cited "reliable sources in a special intelligence department" as saying that Khashoggi is believed to have turned on the recording feature on the phone before entering the consulate.
According to the paper, Saudi intelligence agents had realized after the killing that the phone was recording and they used Khashoggi finger print to unlock it, deleting some files but not all of them.
The recordings were subsequently found on his phone, the paper said.
Khashoggi, a Virginia-based critic of Saudi Crown Prince Mohammed bin Salman's policies, entered the Saudi consulate in Istanbul on October 2 for some paperwork regarding his divorce, but never exited the mission.
News of his disappearance broke out after Khashoggi's Turkish fiancée, who was waiting outside the diplomatic building, called the police.
The Washington Post, to which Khashoggi contributed as a columnist, has said the Turkish government had told US officials it had audio and video recordings showing how Khashoggi was "interrogated, tortured and then murdered" by a 15-member Saudi security team inside the consulate before his body was dismembered.
Full report at:
https://www.presstv.com/Detail/2018/10/13/576906/Turkey-Cavusoglu-Saudi-Khashoggi
--------
Africa
16 dead in Somalia suicide bombings
October 14, 2018
MOGADISHU - At least 16 people were killed in Somalia on Saturday in suicide bombings that targeted a restaurant and coffee shop, police said.
Suicide bombers walked into the two locations in the southwestern city of Baidoa and detonated their vests within minutes of each other, according to witnesses.
The blasts came a day before the first anniversary of a truck bombing that left more than 500 dead in Mogadishu, the worst ever attack in Somalia which was blamed on Islamist group Al-Shabaab.
"The number of the dead we have confirmed from the two blasts is 16 and nearly twenty others were wounded some of them seriously, nine people died in the second blast and seven in the first," said Abudulahi Mohamed, a police official in Baidoa. "The targeted locations are populated by innocent civilians so that all of the victims were civilians, and the number of the dead can increase anytime because of the wounded," he added.
Mohamed Adam, another police official, gave the same toll.
"I saw fifteen dead bodies at the hospital all of them collected from the scene of the attacks, many worried people poured into the hospital looking for their relatives" Abdi Hassan, a relative of a patient who was wounded in the blast.
Shabaab, an Al-Qaeda affiliate, is fighting to overthrow the internationally backed Somali government in Mogadishu.
The Shabaab were forced out of the capital by African Union troops in 2011 but still control parts of the countryside and carry out attacks against government, military and civilian targets seemingly at will in Mogadishu and regional towns.
https://nation.com.pk/14-Oct-2018/16-dead-in-somalia-suicide-bombings
--------
Egypt's 'most wanted terrorist' Ashmawy exposes ISIS, al-Qaeda hideouts in Libya
14 October 2018
Less than a week after he was arrested in Libya, Hisham al-Ashmawy – one of Egypt's most wanted terrorists – has admitted to knowing the number of terrorists still fighting in central and eastern Libya, along with their locations.
Ashmawy was a former Egyptian special forces officer wanted by Cairo for suspected Islamist militant activities.
He headed the Ansar al-Islam network, which claimed responsibility for a deadly desert ambush against Egyptian police last October. Egyptian officials also accuse the network, which they link to al-Qaeda, of an assassination attempt on a former interior minister in 2013.
He was arrested last week by eastern Libyan forces, and his bodyguard was later captured too.
During interrogation, Ashmawy said that around 50 ISIS militants, led by a man named Abu al-Baraa al-Libi, were holed up in central Libya, while more than 56 terrorist groups operated in the underground areas of a number of buildings inside the old town of Derna, in eastern Libya.
Ashmawi also said that a militant identified as the "Mufti of al-Qaeda," named Abu Hafs al-Mauritani is still present within Derna, while terrorist leader Omar Rifai Sorour died of injuries in clashes with the Libyan army.
Full report at:
https://english.alarabiya.net/en/News/middle-east/2018/10/14/Egypt-s-most-wanted-terrorist-Ashmawy-exposes-ISIS-al-Qaeda-hideouts-in-Libya-.html
--------
Police Warn of Al Shabaab Movements Along Kenyan Border in Mandera
October 13, 2018
Police have revealed the movement of Al Shabaab militants along the Kenya Somali border between Mandera and Elwak.
This follows the latest developments across the border for the last two weeks in where the militants have been converging.
The build-up has been evident in areas of Hola, Dura, Jidahaley, Juma, and Ilkabere.
The current movement towards the Kenyan border has been attributed to the ongoing purge on their bases in Somalia by AMISOM and allied forces.
"Our officers are on high alert, monitoring their movements so as to counter any attempts by these criminals to cross over to the country to cause fear and despondency" reads the press release.
The police have called upon members of the public, particularly those living along the border, to remain vigilant and report any suspicious movement by individuals or groups to any nearest security personnel.
In September 2018, two blasts in El Wak town left 2 people dead and several others seriously injured.
The statement further reveals that they have identified Hassan Hodey, a Somali national from Damasa, as the suspect behind the murder of two teachers at Arabia High School.
Security agencies are now pursuing the culprit and have vowed not to relent until he is brought to justice.
Full report at:
https://www.kenyans.co.ke/news/33917-police-warn-al-shabaab-movements-along-kenyan-border-mandera
--------
Nigerian troops foil Boko Haram attack on base
2018-10-13
Nigerian troops have foiled an attempt by Boko Haram fighters to overrun a military base in the restive northeast leaving six soldiers wounded, the army said on Saturday.
Troops "successfully repelled (a) Boko Haram terrorist attack" on a base in the town of Arge in Borno state on Friday, army spokesperson Texas Chukwu said in a statement.
"Several members of the Boko Haram terrorists were neutralised while others fled with gunshot wounds during the encounter," he said.
"Unfortunately, six soldiers sustained various degrees of injuries and are currently receiving medical attention at the military facility."
Chukwu said three Boko Haram trucks were destroyed and one other vehicle recovered in the latest attack in the area.
On August 29, IS-affiliated Boko Haram jihadists claimed to have killed "several" Nigerian soldiers in mortar strikes on the Arge military base. The claim could not be independently verified.
Boko Haram's Islamic State group-backed faction - known as the Islamic State West Africa Province (ISWAP) - operates in the Lake Chad region and has in recent months intensified attacks on military bases in Borno and nearby Yobe state.
The attacks are seen as a sign of a hardline takeover in ISWAP by more radical lieutenants who executed the group's de facto leader because of his opposition to indiscriminate killings and willingness to hold peace talks with the government.
Scores of soldiers have been killed, injured or missing in attacks but the military have repeatedly denied or played down losses to the jihadists.
On Monday, the Islamists attacked a military base in Metele near the border with Niger, leaving seven soldiers dead, according to the military.
But civilian militia sources said 18 soldiers were killed in that attack and several weapons stolen or destroyed by the jihadists.
Full report at:
https://www.news24.com/Africa/News/nigerian-troops-foil-boko-haram-attack-on-base-20181013
--------
URL: https://www.newageislam.com/islamic-world-news/over-50-taliban-militants-killed/d/116624
New Age Islam, Islam Online, Islamic Website, African Muslim News, Arab World News, South Asia News, Indian Muslim News, World Muslim News, Women in Islam, Islamic Feminism, Arab Women, Women In Arab, Islamophobia in America, Muslim Women in West, Islam Women and Feminism