New Age Islam News Bureau
4 Nov 2015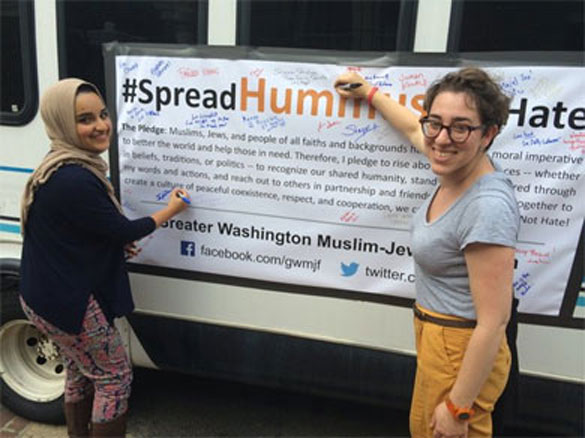 "Spread Hummus Not Hate" organizer Symi Rom-Rymer signs a pledge of peace with a Muslim student from the University of Maryland. COURTESY OF WALTER RUBY
--------
Arab World
• Over 40 Terrorists, Including Senior Commanders, Killed in Aleppo
• 7 Al-Qaeda Affiliated Commanders Killed by Syrian Army in One Day
• ISIS attack kills four in Kurdish-held Iraq town
• Syrian Army Targets Militants' Last Military Site in Al-Samadi in Damascus Province
• Syrian Army Regains Parts of Harasta in Damascus Countryside
• Final March Starts on Kuweires Airbase in Aleppo
• Syrian Forces Recapture over 200 Square Kilometres of Aleppo in Last 30 Days
• Syrian Forces, Hezbollah Hit ISIL Hard on Khanasser-Ithriya Road
• Russian Warplanes Use Bunker Buster Bombs in Airstrikes in Syria
• Syrian Deputy Minister: Saudi Officials Need Psychotherapy
• Eight Senior FSA Commanders Killed in Aleppo in October
• At least three Egypt police killed in Sinai bombing
• Promoting education in Muslim world is need of time: Prince Matab
• IS jet claim is 'propaganda': Sisi
-------
North America
• Spiritual Leaders Meet in Guelph to Tackle the Issue of Radicalization in Faiths
• A Vision of Peace as Muslims, Jews 'Spread Hummus Not Hate'
• Toronto council wants tax break for Aga Khan Museum
• US counter-terrorism chief takes fresh stab at closing Guantanamo
• US: Russian invite to warring Syrian parties 'premature'
---------
Europe
• Sweden Expresses Support for Iraqi Kurdistan Region against Daesh
• Egypt's Sisi Entourage 'Could Be Arrested In UK'
• Morocco, Algeria Hope to Form 'Arab Maghreb Union'
• Russian top official calls Islamic State's ideology and policy type of fascism
• Russia's stance on Assad suggests divergence with Iran
• Austrian government moves to tighten rules on asylum
• EU urged to 'divide burden' of refugees with Turkey
• Three ISIL suspects arrested in Spain
--------
Mideast
• Yemeni Forces Kill Dozens of Saudi Troops
• Al-Qaida Leader Endorses Violence in Jerusalem
• Israeli army raids, shuts down Palestinian radio station
• Turkey charges magazine journalists with 'coup plot'
• Palestinians say videos back claims of Israeli abuse
• Iran arrests U.S.-Lebanese man in espionage probe
• Turkish warplanes bomb Kurdish rebel bases: army
• Iran rejects foreign military buildup in Syria
-------
Pakistan
• Religious Leaders Asked To Speak Up Against Extremism
• Agencies Told to Watch Mumtaz Qadri's Sympathisers
• Sunni Tehreek Leader for Crushing ISIS
• Nawaz assures business delegates of safe working environment in Pakistan
• Gag order on Altaf final, govt tells SC
• Pak-India relations need human touch: diplomats
• Bomb kills anti-Taliban tribal leader
• Four death-row prisoners executed
• Taliban kill journalist in Tank
• Ready for dialogue with India: Fatemi
-------
South Asia
• Fear and Silence in Bangladesh as Militants Target Intellectuals
• Wedding Revellers in Afghan Village Exult Over Taliban Rout
• Death Sentence Sought For Alamyar Allegedly Responsible For Over 1,000 Lives
• Hundreds attend Bangladesh rally in defiance of attacks on secularists
• India wants to deny Pakistan strategic depth in Afghanistan: US report
• China's vice president pledges support in rare Afghanistan visit
• Russia says request of military assistance from Afghanistan is at final stage
• NDS detain Taliban shadow governor for Laghman province
• Burma Elections: Muslim Population Kept In the Dark Ages by Being Denied the Vote
------
India
• 'SC, Steer Clear Of Muslim Personal Law'
• Hafiz Saeed to SRK: Facing discrimination for being Muslim, come to Pak
• Govt Says Swamy's Book Promotes Hatred between Hindus and Muslims
• India slams Pak at UN for supporting terror groups in J&K
• Afghan NSA, foreign minister headed to Delhi as Kabul's outreach to Pak backfires
------
Southeast Asia
• 'Red-Shirt' Demonstrators Didn't Play Up Race and Religious Issues At All, Parliament Told
• More Non-Muslims Using Islamic Finance in Malaysia
• Sultan Nazrin urges Islamic finance reforms to address humanitarian aid gap
• Indian VP Visits Indonesian Parliament, Meets Muslim Society Representatives
------
Africa
• 41 Killed As Cargo Plane Crashes in South Sudan
• South Sudan, Rebels Agree On Key Steps in Peace Deal
• Egypt calls for NATO support in Libya 'vacuum'
• Gunmen kidnap Tripoli government minister in Libya
• Tunisia needs time to build democracy: Nobel Prize winner
Compiled by New Age Islam News Bureau
URL: https://www.newageislam.com/islamic-world-news/new-age-islam-news-bureau/over-40-terrorists,-including-senior-commanders,-killed-in-aleppo/d/105162
-------
Arab World
Over 40 Terrorists, Including Senior Commanders, Killed in Aleppo
Nov 03, 2015
The terrorist groups said on their social media pages that 42 terrorists, including 4 senior commanders, were killed in army operations in the Southern countryside of Aleppo.
The military commander of Ahrar al-Sham Movement, Abu Ali al-Noua'imi, a senior commander of Omar al-Farouq brigade, affiliated to Ahrar al-Sham Movement, Oqba Abu Ahmad, the military commander of Aleppo brigade, Saleh Sandeh, and the field commander of al-Jabha al-Shamiyeh, Abdullah al- Ramleh, were identified among the dead terrorists.
Earlier reports said the Syrian army, backed by the country's warplanes and Russian airstrikes, killed at least eight senior commanders of the so-called Free Syrian Army in Northern Syria in the last one month.
Reports said the senior FSA commanders were killed in the Northern Province of Aleppo in October. Tens of other ranking commanders of the terrorist groups have been killed in different parts of Aleppo since the start of the new operations by the Syrian army, NDF and Hezbollah forces.
english.farsnews.com/newstext.aspx?nn=13940812001337
----------
7 Al-Qaeda Affiliated Commanders Killed by Syrian Army in One Day
Nov 03, 2015
Sources said that the Syrian Army killed the following militant commanders in the last 24 hours: Abu Ali Al-Na'imi (Harakat Ahrar Al-Sham), Abu Mu'az Al-Shami (Al-Nusra Front), Saleh Sindah (Jeish Al-Islam), Uqaba Abu Ahmad (Liwaa 'Umar Al-Farouq), Abu Abdo Saqr (Jeish Al-Islam), Abu Ahmad Khalil (Liwaa 'Umar Al-Farouq), and Ashraf Jami'ah Al-Muhayr (Harakat Ahrar Al-Sham).
In addition to the heavy losses to their leadership, the militant groups have also sustained significant losses to their military personnel, as social media activists from militant groups like "Jeish Al-Islam" revealed images of their fighters mourning the death of 80 of their recently killed members.
Overall, in the month of October, 56 field commanders from the militant groups and the ISIL were killed by the Syrian army and/or the National Defense Forces (NDF).
english.farsnews.com/newstext.aspx?nn=13940812001326
----------
ISIS attack kills four in Kurdish-held Iraq town
3 November 2015
Militants from ISIS killed four people and wounded 15 on Tuesday in a relatively rare attack behind Kurdish lines in northern Iraq, officials said.
A suicide bomber detonated explosives near the entrance to a police building in the town of Dibis in Kirkuk province, and a second attacker was killed by security forces, police officers said.
Two more militants entered the police building and the local government headquarters, but were also subsequently killed, an officer and a local official said.
Dibis is located near the Bai Hassan oilfield northwest of the Kirkuk provincial capital, far from the areas of the province held by IS which overran large parts of Iraq last year.
Iraq's autonomous Kurdish region, which wants to incorporate Kirkuk, solidified its control over parts of the province after federal forces fled a sweeping IS offensive in June 2014, but the jihadists hold areas in southwest Kirkuk.
Attacks in Kurdish-held areas of Kirkuk province that are behind the front lines have decreased compared with before the offensive, and Dibis had not been attacked for more than a year.
english.alarabiya.net/en/News/middle-east/2015/11/03/Militants-stage-rare-attack-behind-Kurdish-front-line-in-northern-Iraq.html
----------
Syrian Army Targets Militants' Last Military Site in Al-Samadi in Damascus Province
Nov 04, 2015
The Syrian army's operation against the only operative military site of the Takfiri militants in al-Samadi region killed scores of the terrorists and caused the remaining ones to withdraw.
The army also announced that the militant group suffered heavy death toll in the attack.
On Tuesday, the Syrian warplanes launched air raids on terrorists' positions in a city of strategic importance near Damascus.
The Syrian army, backed by Syrian warplanes, stormed Takfiri terrorists' positions in Darayya city in Damascus.
There were no immediate reports about possible casualties and the extent of the damage caused.
english.farsnews.com/newstext.aspx?nn=13940813000388
----------
Syrian Army Regains Parts of Harasta in Damascus Countryside
Nov 04, 2015
The army said the agricultural arboretum hill, the quarries and a number of buildings in Harasta fell into the hands of the government forces, after the militant groups' positions in Harasta came under massive attacks of the army soldiers.
The sources added that scores of the terrorists were killed or wounded in the army offensives in Harasta battles.
On Tuesday, the Syrian warplanes launched air raids on terrorists' positions in a city of strategic importance near Damascus.
The Syrian army, backed by Syrian warplanes, stormed Takfiri terrorists' positions in Darayya city in Damascus.
There were no immediate reports about possible casualties and the extent of the damage caused.
english.farsnews.com/newstext.aspx?nn=13940813000338
----------
Final March Starts on Kuweires Airbase in Aleppo
Nov 3, 2015
The Syrian army, National Defense Forces (NDF) and Hezbollah fighters backed up by Russian warplanes started the operation early Tuesday morning and have already come almost half a mile closer to the Kuweires airport in a region where advance in every inch has taken days.
The pro-government forces marched on ISIL positions in the region and advanced to the rural district of Sheikh Ahmad after taking full control of the railway crossing. Early reports from the battlefield said tens of Takfiri terrorists have been killed this morning.
The Syrian army and Hezbollah forces are now deployed in a region only 2 kilomteres away from the airbase.
Full report at: english.farsnews.com/newstext.aspx?nn=13940812000422
----------
Syrian Forces Recapture over 200 Square Kilometers of Aleppo in Last 30 Days
Nov 03, 2015
Military sources announced on Tuesday that the Syrian Army and its allies managed to regain an area as large as 223 square kilometers in their massive operations in the different parts of Aleppo.
On Monday, the al-Hadher region, including a major part of al-Hadher city in the Southern parts of Aleppo fell into the hands of the government forces after the Syrian Army and Hezbollah fighters pushed the militant groups back from the region.
Also on Monday, sources said that the Syrian army, popular forces and Hezbollah fighters forced the militant groups to retreat from Aleppo-Hama border and seized full control over Ahad mountainous region.
Simultaneous with the advances on the ground, the Syrian and Russian fighter jets carried out many sorties and hit the militants' defense lines hard.
Battlefield sources informed also added on Monday that most militant positions, mainly those of ISIL, have come under large-scale operations of the Syrian army, popular forces and Hezbollah in Northeast, East and Southeast Aleppo.
Full report at: english.farsnews.com/newstext.aspx?nn=13940812000975
----------
Syrian Forces, Hezbollah Hit ISIL Hard on Khanasser-Ithriya Road
Nov 03, 2015
The Syrian Army and Hezbollah forces launched the large-scale attack on ISIL positions along the strategic Khanasser-Ithriya highway, and killed and wounded at least 15 Takfiri terrorists.
On Saturday, the Syrian army seized control over a 10-kilometer segment of the highway after heavy clashes with ISIL in the region.
The Syrian army launched a military operation against the ISIL terrorists earlier on Saturday, and regained control of 4 checkpoints and a 10-kilometer segment of Khanasser-Ithriya Highway, a field commander told FNA.
Earlier on Saturday the Army had informed that its forces alongside the Lebanese Hezbollah fighters were only one kilometer away from the strategic road, reminding that control over the strategic road would cut off the terrorists' supply line in Aleppo province.
The source said that the army troops and Hezbollah forces, backed by the Russian fighter jets, stormed the Takfiri militants' positons near the road in Khanasser countryside and killed scores of them.
Full report at: english.farsnews.com/newstext.aspx?nn=13940812000405
----------
Russian Warplanes Use Bunker Buster Bombs in Airstrikes in Syria
Nov 03, 2015
"Today, Russian strike aircraft used two BETAB-500 bunker buster bombs weighing 500 kilograms [over 1,000 pounds] each against ISIL targets [in Syria]," Col. Igor Klimov told journalists in Syria.
Klimov said the bombs were delivered by Russian Su-24 Fencer attack jets, Sputnik reported.
"BETAB-500 bombs are used to destroy extremely protected and fortified underground bunkers, they are not dropped on cities," Klimov noted.
Full report at: english.farsnews.com/newstext.aspx?nn=13940812001035
----------
Syrian Deputy Minister: Saudi Officials Need Psychotherapy
Nov 03, 2015
"The Saudis are not living at the present time and they also want to take Syria back to the middle ages; Saudi officials need psychotherapy before advising others on what to do," Salman told FNA on Tuesday.
He said that the Al Saud family supposes that they can buy the people of the world with their petrodollars, but they have forgotten that they can only build palaces with their money and not humanity.
Full report at: english.farsnews.com/newstext.aspx?nn=13940812001368
----------
Eight Senior FSA Commanders Killed in Aleppo in October
Nov 03, 2015
Reports said the senior FSA commanders were killed in the Northern Province of Aleppo in October. Tens of other ranking commanders of the terrorist groups have been killed in different parts of Aleppo since the start of the new operations by the Syrian army, NDF and Hezbollah forces.
Meanwhile, Syrian Army Spokesman General Ali Muaeeb said that ISIL's centers have been targeted hard by the Syrian Ground and Air Forces in various parts of the Northern province of Aleppo.
General Muaeeb said that the ISIL terrorist group's strongholds in Deir Hafer, Um Arjeleh, Ramouseh, Karm Maiser, Ma'aret al-Artiq, Sousan, Tadef and Rasm al-Abd came under heavy attacks of the Syrian fighter bombers, which not only claimed the lives of tens of militants, but also destroyed their sites' infrastructures.
Full report at: english.farsnews.com/newstext.aspx?nn=13940812000980
----------
At least three Egypt police killed in Sinai bombing
4 November 2015
At least three Egyptian policemen were killed when a suicide bomber rammed his vehicle into a police club in the Sinai Penisula on Wednesday, state media reported, as the Islamic State group claimed the attack.
State television said there were also wounded in the bombing in North Sinai provincial capital El-Arish.
The Islamic State group's affiliate in the Sinai said one of its militants drove an explosives-laden vehicle into a police club in the town.
The jihadists have carried out a string of attacks in or around the provincial capital in recent months after the army launched a sweeping campaign in the peninsula bordering Israel and the Gaza Strip.
Full report at: english.alarabiya.net/en/News/middle-east/2015/11/04/At-least-3-Egypt-police-killed-in-Sinai-bombing-state-TV.html
----------
Promoting education in Muslim world is need of time: Prince Matab
Nov 4, 2015
Waqar Naseem Wamiq
RIYADH — Prince Matab Bin Thiniyan Bin Muhammad Al Saud has joined hands with Knowledge Core Education System (Canada) to formally support an initiative to set up schools, colleges and a university in line with International standards in Riyadh.
"This initiative has been launched to resolve the education problems of expatriates living in Saudi Arabia.
A formal agreement was signed between Prince Matab and Shahzad Alam, chairman Knowledge Core, to design the overall framework Knowledge Core Director Tanveer Mian said.
Prince Matab and Pakistani Ambassador to the Kingdom were the chief guests. A formal ceremony was held at Knowledge Core Academy in Riyadh for this announcement. The event was conducted by Naseem Pasha.
Full report at: saudigazette.com.sa/saudi-arabia/promoting-education-in-muslim-world-is-need-of-time-prince-matab/
----------
IS jet claim is 'propaganda': Sisi
November 04, 2015
MOSCOW - Egypt's president has dismissed claims that a Russian passenger jet was downed by a branch of Islamic State as propaganda, after the airline said the crash which killed all 224 people on board was due to "external" factors.
Analysis of the "black boxes", which could solve the mystery of what happened to the doomed jet, is expected to begin on Tuesday according to Egyptian officials. Russia's government commission overseeing the crash probe is also due to meet.
President Abdul Fattah al-Sisi's remarks came as a top US intelligence official said it was "unlikely" IS was involved in the crash of the Kogalymavia Airbus A-321 over the Sinai peninsula on Saturday.
Full report at: nation.com.pk/international/04-Nov-2015/is-jet-claim-is-propaganda-sisi
----------
North America
Spiritual leaders meet in Guelph to tackle the issue of radicalization in faiths
Guelph Mercury
By Chris Seto
Nov 4, 2015
GUELPH — The radicalization of men and women of all faiths has become one of the most significant threats of international terrorism in the world today, says Lal Khan Malik, a religious leader.
Speaking at the 35th annual World Religions Conference at the River Run Centre on Sunday morning, the national president of Ahmadiyya Muslim Jama'at Canada outlined the importance of this year's conference. The theme of the event was how to tackle radicalization in faiths.
The conference was open and free for the public to attend. Guelph has hosted the annual conference for the past three years.
Full report at: guelphmercury.com/news-story/6076046-spiritual-leaders-meet-in-guelph-to-tackle-the-issue-of-radicalization-in-faiths/
----------
A Vision of Peace as Muslims, Jews 'Spread Hummus Not Hate'
11/03/2015 04
Hummus is a signature dish of Middle Eastern cuisine -- a delicious spread made from mashed chickpeas, tahini, olive oil and seasonings.
On Thursday, hummus will become a symbol of peace as 15 Muslim and Jewish activists break bread together and participate in an all-day bus tour of Maryland, Washington D.C. and Virginia with a message of reconciliation. Bearing trays of homemade hummus and pita bread, the activists hope to spread the message that Muslims and Jews refuse to be enemies.
The activists will share hummus and pita with people they meet during the day and invite members of the public to sign a "Stand Up for the Other Pledge" created by Dr. Ali Chaudry, President of the Islamic Society of Basking Ridge, New Jersey.
The pledge states: "While interacting with members of my own faith or ethnic community, or with others, if I hear hateful comments from anyone about members of any other community, Full report at: huffingtonpost.com/entry/spread-hummus-not-hate_5638fc4ae4b079a43c04d291?section=india&adsSiteOverride=in
----------
Toronto council wants tax break for Aga Khan museum
By: David Rider
Nov 03 2015
The Aga Khan Museum and Ismaili Centre, an architectural marvel in suburban Don Mills, should be exempt from $331,700 in annual property taxes, city council has decided.
Council voted 34-1 on Tuesday to endorse the museum's request that the province add it to a list of tax-exempt cultural institutions including the Royal Ontario Museum and Art Gallery of Ontario.
City staff recommended that council not approve the exemption. Chief financial officer Rob Rossini told council staff make that recommendation so as not to encourage other facilities to make similar requests
"This is fair, equitable, transparent, appropriate treatment for this facility," Mayor John Tory told council.
Full report at: thestar.com/news/city_hall/2015/11/03/toronto-council-wants-tax-break-for-aga-khan-museum.html
----------
US counter-terrorism chief takes fresh stab at closing Guantanamo
Nov 4, 2015
WASHINGTON: A new US plan to close the military prison in Guantanamo Bay, Cuba, is likely to be unveiled in the coming days, with much at stake not only for President Barack Obama but also his counterterrorism chief, Lisa Monaco.
As a top Justice Department official in 2009, Monaco was summoned to the White House Situation Room in the first weeks of Obama's tenure to discuss how to fulfill his campaign promise to shutter a facility that had drawn condemnation worldwide.
Nearly seven years later, most of those who were present at that first meeting have left the government, but Monaco is still there and charged with completing the unfinished task.
The new plan, which will follow previous attempts that have failed, would mothball a prison that Obama views as a damaging symbol of detainee abuse and detention without charge that he inherited from Republican President George W. Bush.
Full report at: dawn.com/news/1217423/us-counter-terrorism-chief-takes-fresh-stab-at-closing-guantanamo
----------
US: Russian invite to warring Syrian parties 'premature'
04 November 2015
An invitation to the Syrian regime and opposition delegates to talks in Moscow is "premature" before an international consensus can be established from meetings in Vienna, a U.S. official said Tuesday.
Russian Deputy Foreign Minister Mikhail Bogdanov told Russian media Tuesday that Russia would make the invitation for a consultation meeting.
Full report at: worldbulletin.net/america-canada/165966/amazon-opens-its-first-bookstore
----------
Europe
Sweden expresses support for Iraqi Kurdistan region against Daesh
Nov 3, 2015
The Swedish defense and foreign ministers have expressed their country's support for Iraq's Kurdistan Regional Government (KRG) in its fight against the Daesh Takfiri terrorist group.
During a meeting with KRG President Massoud Barzani in the Kurdish region's capital Erbil on Tuesday, Swedish Foreign Minister Margot Wallström and Defense Minister Peter Hultqvist reiterated Stockholm's commitment to back the Kurdistan region until the elimination of Daesh.
The senior Swedish officials, who arrived in the city on Monday to hold talks on boosting mutual ties and defeating the terror group, also stressed that Sweden intends to increase the number of its 35 military trainers in the region, Erbil-based Rudaw online newspaper reported.
Full report at: presstv.ir/Detail/2015/11/03/436202/Sweden-Iraq-KRG-Barzani-Wallstrm-Hultqvist-Erbil-Daesh-Peshmerga
----------
Egypt's Sisi entourage 'could be arrested in UK'
03 November 2015
Leading members of Abdel Fattah el-Sisi's entourage could be liable for arrest during the Egyptian president's visit to London, a leading international lawyer has said.
Rodney Dixon QC said that the human rights violations seen in Egypt over the last two years meant that Sisi should not be welcome in the U.K., much as Syrian president Bashar al-Assad would not be.
Speaking at a press conference in London on Tuesday held by the Egyptian Revolutionary Council in protest of the upcoming visit, he said that while Sisi enjoyed diplomatic immunity, some of his colleagues did not.
Dixon said: "There are many people in the entourage and others who've come who don't benefit from immunity, including military persons, security persons. It's only a very small group that under international law may benefit from immunity.
"So all of those persons and all of that conduct is part of the police investigation. If there is evidence we are urging the police to act to arrest.
Full report at: worldbulletin.net/europe/165962/egypts-sisi-entourage-could-be-arrested-in-uk
----------
Morocco, Algeria hope to form 'Arab Maghreb Union'
04 November 2015
Moroccan King Mohamed IV has called on Algerian President Abdelaziz Bouteflika to form the Arab Maghreb Union, the Anadolu Agency reported.
In a letter to Bouteflika sent on the occasion of 60th anniversary of the start of the liberation revolution against the French occupation, the Moroccan King expressed his hope that efforts to strengthen the bond between the two nations would be consolidated.
Full report at: worldbulletin.net/africa/165991/morocco-algeria-hope-to-form-arab-maghreb-union
----------
Russian top official calls Islamic State's ideology and policy type of fascism
November 02, 2015
MOSCOW, November 2. /TASS/. The activities of the Islamic State (IS) terrorist organization banned in Russia is a different type of fascism, Federation Council Speaker Valentina Matviyenko said on Monday.
"I am confident that ISIL [Islamic State of Iraq and the Levant — former name of IS], its ideology and policy are nothing else but a different kind of fascism," Matviyenko told News.am information portal ahead of her official visit to Yerevan. According to the lawmaker, "ideological, religious and cultural intolerance, striving to establish global dominance and relying on violent methods, totalitarian rule and enslaving peoples" serve as evidence of IS' fascist tendencies. "Thus I do not rule out that the international community will have to consider setting up a tribunal similar to the Nuremberg trials," she added.
Full report at: tass.ru/en/politics/833514
----------
Russia's stance on Assad suggests divergence with Iran
Nov 4, 2015
MOSCOW: Russia does not see keeping Bashar al-Assad in power as a matter of principle, the Foreign Ministry in Moscow said on Tuesday in comments that suggested a divergence of opinion with Iran, the Syrian president's other main international backer.
Fuelling speculation of Russian-Iranian differences over Assad, the head of Iran's Revolutionary Guard Corps suggested on Monday that Tehran may be more committed to him than Moscow was.
While Russia and Iran have been Assad's foremost foreign supporters during Syria's four-year-old war, the United States, its Gulf allies and Turkey have insisted the president must step down as part of any eventual peace deal.
Talks in Vienna on Friday among the main foreign players involved in diplomatic efforts on Syria failed to reach agreement on Assad.
Full report at: dawn.com/news/1217260/russias-stance-on-assad-suggests-divergence-with-iran
----------
Austrian government moves to tighten rules on asylum
Nov 4, 2015
The government in Austria has moved to tighten the country's asylum rules amid huge inflow of refugees mostly from the Middle East.
The EU state proposed a controversial bill on Tuesday to reassess refugee cases three years after asylum is first granted.
The refugees will be sent back home if their countries of origin are then deemed safe in three years' time.
According to the bill, asylum seekers will only be allowed to be joined by family members after three years, an increase from the current one-year requirement.
The bill is due to go before parliament in December and is hoped to deter people from going to Austria.
Austrian Chancellor Werner Faymann said the legislation is a "signal that asylum is something which is temporary."
Full report at: presstv.ir/Detail/2015/11/04/436236/Austria-asylum-seekers-EU-UNHCR-
----------
EU urged to 'divide burden' of refugees with Turkey
04 November 2015
German Chancellor Angela Merkel has called on Europe to "divide the burden" of the refugee crisis with Turkey.
"We must divide the burden on Turkey, caused by harboring more than two million refugees, between Turkey and Europe," Merkel told reporters on Tuesday before a parliamentary group meeting with Horst Seehoferher, chairman of her coalition government's Bavarian partner, the Christian Social Union.
Merkel also highlighted that close partnerships, especially with countries like Turkey, were needed to legalize the status of asylum seekers.
Last week, the German chancellor described cooperation with Turkey as vital to tackling the refugee crisis and said that she hoped for intensified talks after Turkey's general election.
"After these elections, we can also intensify our bilateral visits," she said. "I firmly believe that the refugee influx can only be diminished by the collective action of the EU, Greece and Turkey."
Full report at: worldbulletin.net/europe/165968/eu-urged-to-divide-burden-of-refugees-with-turkey
----------
Three ISIL suspects arrested in Spain
03 November 2015
Spanish authorities said Tuesday they had arrested three Moroccans suspected of links to the ISIL group, who were aiming to carry out terror acts in Spain.
The three suspects, who are legal residents of Spain, were arrested in two neighbourhoods of the capital Madrid in the early hours, authorities said in a statement.
Interior Minister Jorge Fernandez Diaz said that, unlike in other cases of suspected extremists arrested in recent months in the country, the suspects were "not devoted to attracting, indoctrinating, radicalising, recruiting" people to travel to Syria or Iraq to join the ISIL.
Full report at: worldbulletin.net/europe/165953/three-isil-suspects-arrested-in-spain
----------
Mideast
Yemeni forces kill dozens of Saudi troops
Nov 4, 2015
Yemen's Houthi Ansarullah fighters, backed by allied army units, have killed dozens of Saudi soldiers in a retaliatory attack in the southwestern Yemeni province of Ta'izz.
According to a Tuesday report by Yemen's official Saba Net news agency, Yemeni forces also seized a military base used by Saudi forces in Ta'izz and killed a senior Saudi commander.
Saudi troops later tried to take back the base; however, their struggle resulted in failure and the destruction of a number of their vehicles, the report said.
Ansarullah fighters also launched missile attacks on a base in Saudi Arabia's southwestern border region of Jizan.
Full report at: presstv.ir/Detail/2015/11/04/436245/Yemen-Ansarullah-Saudi-Taizz-Jizan
----------
Al-Qaida Leader Endorses Violence in Jerusalem
Nov. 3, 2015
In a new audio message, Ayman al-Zawahri, the Egyptian leader of al-Qaida, has strongly endorsed the Palestinian attacks on Israelis with knives and called on Muslims everywhere to follow the Palestinian example, especially by attacking Americans at home. It's classic al-Qaida strategy: Jump on a bandwagon you didn't start and ride it to garner support. It's been a winning formula for over a decade.
Zawahri issued a 16-minute audiotape from his hideout in Pakistan or Afghanistan over the weekend titled "Let us unite to liberate Jerusalem." He begins by lauding the series of attacks in Jerusalem, Hebron and elsewhere by individual Palestinians with knives on Jews, saying these martyrdom operations are a "new epic of jihad" that should be emulated by Muslims everywhere. The goal should be to wear down the Israeli economy by inducing fear among Israelis and visitors to Israel. Exhaustion is the objective.
Full report at: usnews.com/news/articles/2015/11/03/zawahri-and-jerusalem
----------
Israeli army raids, shuts down Palestinian radio station
November 04, 2015
JERUSALEM - The Israeli army on Tuesday raided and shut down a Palestinian radio station, confiscating equipment and causing significant damage, after the military accused it of celebrating attacks on Israelis.
Dozens of soldiers barged into the offices of the Al-Hurria station in Hebron in the occupied West Bank in the early hours of Tuesday morning, the station's executive director said in a video posted online. The army said the station was shut down and that its coverage "glorifies attacks against Israelis". Ayman al-Qawasmi, Al-Hurria's director, said soldiers approached the building around 2:00 am (0000 GMT).
"We thought it was related to the campaign of arrests but were surprised to see they were targeting the radio's premises," he said. "Unfortunately they destroyed everything inside the building, there is nothing left... They confiscated broadcasting equipment, microphones."
Israel's lawmakers have voted to impose a minimum three-year jail sentence on stone throwers, the Knesset website said, weeks after the premier vowed "war" on those who pelt security forces with rocks.
Full report at: nation.com.pk/international/04-Nov-2015/israeli-army-raids-shuts-down-palestinian-radio-station
----------
Turkey charges magazine journalists with 'coup plot'
November 04, 2015
ANKARA - Turkish prosecutors on Tuesday charged two opposition journalists with plotting a coup over a magazine cover criticising President Recep Tayyip Erdogan's election win.
"Nokta editor-in-chief Cevheri Guven and managing editor Murat Capan were arrested on charges of attempting to overthrow the government by force," the magazine wrote on Twitter. Police on Monday had raided the Istanbul offices of the left-wing Nokta and detained the two editors over the cover that read: "The start of civil war in Turkey".
An Istanbul court later ordered that the magazine's latest edition be withdrawn from the shelves, accusing it of inciting the public to commit a crime. Turkey launched new air strikes on Kurdish rebels and rounded up rivals of President Recep Tayyip Erdogan on Tuesday, an early hint of the hardline tactics his party intends to pursue after its surprise election win.
The West has voiced deep concerns about the vote Sunday that returned Erdogan's Justice and Development Party (AKP) to power, amid escalating fears that its landslide victory will lead to increasingly authoritarian rule in the Muslim-majority state.
Full report at: nation.com.pk/international/04-Nov-2015/turkey-charges-magazine-journalists-with-coup-plot
----------
Palestinians say videos back claims of Israeli abuse
4 November 2015
Recent videos show Israeli troops shooting a wounded Palestinian at close range, pepper-spraying Palestinian medics, ramming a Palestinian with a jeep and threatening refugee camp residents with tear gas "until you die" unless they stop throwing stones.
Palestinians and Israeli human rights groups contend the images, many captured by amateur smartphone users, buttress long-standing allegations of excessive force — particularly amid a wave of Palestinian stabbing attacks in which top Israeli politicians and security commanders have encouraged forces to shoot to kill suspected assailants.
"There is a very clear message sent by those politicians and military commanders that this is how law enforcement should behave," said Sarit Michaeli of the Israeli group B'Tselem, which documents rights abuses.
Full report at: english.alarabiya.net/en/News/middle-east/2015/11/04/Palestinians-say-videos-back-claims-of-Israeli-abuse.html
----------
Iran arrests U.S.-Lebanese man in espionage probe
3 November 2015
Iranian authorities have arrested an American-Lebanese man who they say was linked to the U.S. military and intelligence agencies, state broadcaster IRIB said on Tuesday.
It named the man as Nizar Zakka, an IT expert who Lebanese media reported last week had disappeared on Sept. 18 after attending a conference in Tehran.
The report, which cited informed sources, is the first official confirmation of his arrest.
Full report at: english.alarabiya.net/en/News/middle-east/2015/11/03/Iran-arrests-U-S-Lebanese-man-in-espionage-probe.html
----------
Turkish warplanes bomb Kurdish rebel bases: army
3 November 2015
Turkish warplanes have bombed bases of the outlawed Kurdistan Workers' Party (PKK) in Turkey and northern Iraq and also killed three Kurdish militants during clashes in the restive southeast , the army and security sources said on Tuesday.
A 22-year-old suspected member of the Kurdistan Workers' Party (PKK) was killed in the Silvan district of Diyarbakir province, the local governor's office said, after a curfew had been imposed in the area.
Full report at: english.alarabiya.net/en/News/middle-east/2015/11/03/Turkish-warplanes-bomb-Kurdish-rebel-bases-army-.html
----------
Iran rejects foreign military buildup in Syria
Nov 3, 2015
A senior Iranian official has reiterated Tehran's opposition to military intervention in Syria, saying that would further complicate the tumultuous situation in the conflict-stricken Arab country.
"Five years of conflict in Syria has showed that the country's problem has no military solution," Ali Akbar Velayati, a top adviser to Leader of the Islamic Revolution Ayatollah Seyyed Ali Khamenei, said in a Tuesday meeting with Ilse Aigner, the Minister for Economic Affairs, Media, Energy and Technology of Germany's Bavaria State.
Full report at: presstv.ir/Detail/2015/11/03/436184/Iran-Germany-Syria-Bavaria-Velayati-Aigner
----------
Pakistan
Religious leaders asked to speak up against extremism
Nov 4, 2015
ISLAMABAD: Islamic scholars and clerics from different schools of thought on Tuesday said that only religious leaders can play a serious role in curbing extremism and terrorism.
"It is the responsibility of ulema and mashaikh to educate the youth on the nefarious designs of the self-styled Islamic Sate, Al-Qaeda, Tehreek-i-Taliban Pakistan and other terrorist organisations and eliminate extremism," said Hafiz Mohammad Tahir Mehmood Ashrafi, the chairperson of the Pakistan Ulema Council (PUC).
He was speaking at an 'Ulema convention' organised by the PUC.
The participants of the convention noted that issues faced by the Islamic world should be addressed on a priority basis to eliminate extremism and terrorism across the globe.
Full report at: dawn.com/news/1217363/religious-leaders-asked-to-speak-up-against-extremism
----------
Agencies Told to Watch Mumtaz Qadri's Sympathisers
MOHAMMAD ASGHAR
Nov 4, 2015
RAWALPINDI: The Punjab government has asked for a list of religious leaders expected to hold demonstrations if Mumtaz Qadri is hanged.
Qadri gunned down former governor Punjab Salman Taseer in 2011 for seeking blasphemy law reforms and later confessed to killing him.
He was the slain governor's body guard.
The Supreme Court upheld his death sentence last month, though Qadri is still to file an appeal with the president of Pakistan against his sentence.
According to a senior security officer, intelligence agencies have been asked to prepare a list of religious leaders, especially those belonging to Pakistan Sunni Tehreek, who have held rallies across Punjab since Qadri was convicted.
Full report at: dawn.com/news/1217376/agencies-told-to-watch-qadris-sympathisers
----------
Sunni Tehreek Leader for Crushing ISIS
November 04, 2015
Rawalpindi - The Islamic State of Iraq and Syria (ISIS) should be crushed with full force in Pakistan.
"The war on terror has become the issue of sovereignty, integrity and survival of the country.
Daesh should be crushed before it gets strength in Pakistan," said Sunni Tehreek (ST) Umela Board District President Allama Sahibzada Khalid Mehmood Zia while addressing a thinker's forum at Dhamial yesterday.
Full report at: nation.com.pk/islamabad/04-Nov-2015/st-leader-for-crushing-isis
----------
Nawaz assures business delegates of safe working environment in Pakistan
Nov 4, 2015
ISLAMABAD: Prime Minister Nawaz Sharif on Tuesday inaugurated the Pakistan Investment Conference in Islamabad and assured business delegations from 29 countries of a safe working environment in Pakistan.
In his speech to the business community, the premier told businessmen that Pakistan is committed towards eliminating the menace of terrorism from its soil in order to attract direct foreign investment.
He said that successes achieved by the armed forces in operation Zarb-i-Azb is proof of Pakistan's commitment in this regard.
Related: China lauds successes achieved in Zarb-i-Azb operation
While talking about government's achievement in attracting foreign investment, the PM cited the landmark China Pakistan Economic Corridor (CPEC) project and said that the project will not only connect South and Central Asia but will also create a number of employment opportunities and a favourable environment for economic progress.
Full report at: dawn.com/news/1217426/nawaz-assures-business-delegates-of-safe-working-environment-in-pakistan
----------
Gag order on Altaf final, govt tells SC
NASIR IQBAL
Nov 4, 2015
ISLAMABAD: After working so hard to coax its legislators back to parliament, the government managed to irk the Muttahida Qaumi Movement with a law officer telling the Supreme Court on Tuesday that the gag order on Altaf Hussain was not an interim order, but a final one.
Also on Tuesday, the court asked Mr Hussain to consider approaching the Lahore High Court (LHC) — where the case is still pending — to obtain an interpretation on whether the Sept 7 ban on airing his speeches in the media still stands.
A Supreme Court bench, consisting of Justice Ejaz Afzal and Justice Qazi Faez Isa, had taken up a plea moved by the MQM chief, who resides in London, seeking the suspension of the LHC order because it violated his right to freedom of speech and expression, guaranteed under Article 19 of the Constitution.
Take a look: SC seeks legal assistance over LHC ban on Altaf's speech
The LHC had ordered authorities to ban all kinds of media coverage of the MQM chief, accepting the petitioner's contention that "objectionable speeches and anti-state slogans" are not protected under the ambit of free speech.
Court asks MQM to approach HC to find out if the order still holds
Full report at: dawn.com/news/1217381/gag-order-on-altaf-final-govt-tells-sc
----------
Pak-India relations need human touch: diplomats
PEERZADA SALMAN
Nov 4, 2015
KARACHI: A variety of opinions, backed by anecdotes and incidents from personal experiences, were given by a group of distinguished diplomats from India and Pakistan at a seminar titled "India-Pakistan – emerging realities" organised by the Karachi Council on Foreign Relations at a hotel here on Tuesday morning.
Former foreign minister Khurshid Mahmud Kasuri expressed his optimism on the state and future of Indo-Pak relations. He made the point that even in worst of times common sense was exhibited from both sides, which was why he had faith in the common sense of the people of the two countries.
Referring to the current situation in India, he said Prime Minister Narendra Modi was a pragmatist and if he wished to succeed he should not ignore lessons of history because no country could progress if there wasn't harmony within that country. "We should not despair, and look at positive examples such as the ones of writers in India who are returning their awards in protest against the wave of extremism."
Flip-flop approach
Full report at: dawn.com/news/1217395/pak-india-relations-need-human-touch-diplomats
----------
Bomb kills anti-Taliban tribal leader
November 04, 2015
BAJAUR AGENCY - Senior tribal elder and leader of Salarzai Peace Committee Malik Mohammad Younis Khan was killed while his two sons sustained injuries in a roadside bomb blast in Bajaur Agency on Tuesday.
Officials said Malik Younas was going from his Tali village to Raggan in a car along with his sons when the vehicle was hit by a remote controlled bomb in Gallushah area in Khar tehsil.
According to the officials, the tribal elder died on the spot while his two sons sustained critical injuries in the blast.
The injured were taken to agency headquarters hospital in Khar where condition of one was stated to be critical.
Soon after the blast, residents of the area and members of peace committee rushed to the blast site but the assailants managed to escape.
Later, officials of the local administration accompanied by personnel of Levies force also reached the site and mounted a hunt for the attackers.
According to the officials, Malik Younas was actively involved in organising local people against militants in Salarzai tehsil.
Full report at: nation.com.pk/national/04-Nov-2015/bomb-kills-anti-taliban-tribal-leader
----------
Four death-row prisoners executed
November 04, 2015
LAHORE - Four death row prisoners were hanged early Tuesday morning in the jails of Kasur and Gujrat. The bodies of the prisoners were handed over to their families. Death row prisoner, Akram, was hanged in District Jail Kasur. Akram was executed for killing a man named Asif of Sabzazar, Lahore in 1998. Three death row convicts were executed in the District Jail Gujrat. Death row prisoners Nisar, Ghazanfar and Annar had killed two real brothers over an old enmity in 2000.
nation.com.pk/national/04-Nov-2015/four-death-row-prisoners-executed
----------
Taliban kill journalist in Tank
November 04, 2015
PESHAWAR: Senior journalist Zaman Mehsud, who was a former president Laddah Press Club, South Waziristan Agency, was gunned down when Taliban gunmen opened fire on him in Tank district yesterday.
Hailing from Manotai village in South Waziristan Agency, Zaman Mehsud, 40, was working with a Karachi-based Urdu daily Ummat. Besides, he was also a coordinator for Human Rights Commission of Pakistan (HRCP). Zaman Mehsud was going to Tank from his home at Narsis Gomal when he was targeted by the attackers in Dibra area near Afghan refugees' camp. Zaman was riding his bike when the gunmen opened fire on him as a result of which he was critically injured and taken to District Headquarters Hospital Dera Ismail Khan where he succumbed to his wounds. He is survived by a widow, two daughters and three sons.
Full report at: nation.com.pk/national/04-Nov-2015/taliban-shoot-dead-journalist-in-tank
----------
Ready for dialogue with India: Fatemi
November 04, 2015
KARACHI - Minister of State and Special Assistant to Prime Minister on Foreign Affairs Syed Tariq Fatemi on Tuesday said that Pakistan is ready to hold dialogue with India on all outstanding issues.
He called upon the members of civil society to continue nudge and push the leadership of both the countries to hold talks.
He was addressing at a seminar on "Pakistan India Relations -Emerging Relatives" organised by the Karachi Council of Foreign Relations (KCFR), at a hotel here.
He recalled that it was Prime Minister Mian Muhammad Nawaz Sharif who took initiative, when after taking the charge of the office of Prime Minister, he met his Indian counterpart, Manmohan Singh on the sidelines of UN General Assembly at New York.
It is a reality that Prime Minister Mian Muhammad Nawaz Sharif desires cordial relations with India, he added.
Full report at: nation.com.pk/national/04-Nov-2015/ready-for-dialogue-with-india-fatemi
----------
South Asia
Fear and Silence in Bangladesh as Militants Target Intellectuals
By ELLEN BARRY
NOV. 3, 2015
DHAKA, Bangladesh — Fear has wormed its way into the mind of Mithila Farzana, who hosts two talk shows on a Bangladeshi television news channel.
These days, she is so alert to the sensation of men coming up behind her that when she walks the halls of the university in Dhaka where she teaches, she will step aside, heart racing, to let students pass. Her husband will no longer allow her to take a car service to work, reasoning that in a city that is home to well-resourced radical networks, "a driver can sell himself easily," she says. He drives her himself.
In the past, Ms. Farzana could survey the danger from a professional distance, reporting the facts each time militants murdered one of the bloggers campaigning against fundamentalist Islam.
Full report at: nytimes.com/2015/11/04/world/asia/bangladesh-terrorism-ansar-al-islam.html
----------
Wedding revellers in Afghan village exult over Taliban rout
November 04, 2015
Anuj CHOPRA
Ankle bells chimed as male dancers shimmied beneath chandeliers in midnight wedding revelry that drew together an entire frontline Afghan village just days after its residents humiliatingly routed the Taliban.
The village of Khoja Paytakht, on the outer fringes of Maimana, was the first line of defence that beat back the Taliban last month as insurgents sought to capture the northern city.
When Afghan security forces appeared to have abandoned their posts on the night of October 4, villagers were forced to snatch up butchers' knives and homemade firearms, mobilising what they call a civilian "uprising force" to stave off the insurgents.
Just days after the overnight battle, a sumptuously colourful wedding unwittingly morphed into a twin celebration of the terror and triumph against the Taliban.
After a feast of mutton pilaf, eggplant and platters of freshly peeled pomegranates, hundreds of male guests lounged on soft Persian rugs and silk bolster cushions for the highlight of the gender-segregated wedding.
Full report at: nation.com.pk/international/04-Nov-2015/wedding-revellers-in-afghan-village-exult-over-taliban-rout
----------
Hundreds attend Bangladesh rally in defiance of attacks on secularists
November 3, 2015
About 1,000 Bangladeshi authors and teachers marched through the streets of the capital, Dhaka, on Tuesday, asserting their right to free speech days after a hard-line religious group attacked writers and publishers critical of fundamentalist beliefs and its impact on secular society.
Bangladesh is in the throes of a violent struggle between groups bent on turning the Muslim-majority nation into one based on their interpretation of Islamic law, on the one hand, and Prime Minister Sheikh Hasina, determined to root out violent ideologies, on the other.
On Saturday men hacked a publisher to death in his office in Dhaka, hours after similar attacks on two writers and another publisher.
Despite the climate of fear caused by the attacks that follow the killings of four secularist bloggers this year, writers turned out in large numbers for the rally in Dhaka.
"No one is safe. First they killed bloggers. Now they are targeting publishers. Soon they will attack anyone who is progressive-minded," said Khaledur Rahman, an author who is facing death threats.
Full report at: america.aljazeera.com/articles/2015/11/3/bangladesh-writers-stage-rally-despite-fear-of-attack.html
----------
India wants to deny Pakistan strategic depth in Afghanistan: US report
ANWAR IQBAL
Nov 4, 2015
WASHINGTON: India's goals in Afghanistan are to deny Pakistan strategic depth and the ability to block India from trade and other connections to Central Asia and beyond, says US congressional report.
The report by the Congressional Research Service also notes that US-Pakistan relations, which deteriorated after the 2011 Abbottabad raid, had since "improved somewhat."
The report on Afghanistan, which is prepared as research and reference material for US lawmakers, includes a brief description of India's Afghan policies.
It notes that India also wants to prevent militants in Afghanistan from attacking Indian targets in Afghanistan.
While India wants to prevent Pakistan from regaining "preponderant" influence in present day Afghanistan, "it does not want to be saddled with the burden of helping secure Afghanistan" after the US departure, the report adds.
The report points out that India saw the Afghan Taliban's hosting of Al Qaeda during 1996-2001 as a major threat because of Al Qaeda's association with Pakistani groups fighting in Kashmir.
Full report at: dawn.com/news/1217416/india-wants-to-deny-pakistan-strategic-depth-in-afghanistan-us-report
----------
China's vice president pledges support in rare Afghanistan visit
November 04, 2015
KABUL - China's vice president pledged infrastructure and security support for Afghanistan on Tuesday, signing several deals during a rare high-level Chinese visit to Kabul.
China says it does not seek to fill a void left by a drawdown of most foreign troops in Afghanistan at the end of last year, but has promised to play a "huge" commercial role in helping rebuild the country, where the Taliban seek to re-establish their Islamist regime.
Some experts, however, argue that the benefits of Chinese aid and investment in Afghanistan have yet to fully materialise amid the deteriorating security situation there. Chinese Vice President Li Yuanchao told Afghan President Ashraf Ghani that Beijing would provide 500 million yuan ($79 million) this year to help build housing in the capital Kabul.
"China is willing to help Afghanistan formulate infrastructure plans to strengthen interconnectedness and intercommunication with surrounding countries," Li said in a speech that was broadcast on Afghan state television.
Full report at: nation.com.pk/international/04-Nov-2015/china-s-vice-president-pledges-support-in-rare-afghanistan-visit
----------
Russia says request of military assistance from Afghanistan is at final stage
Nov 04 2015
Russian Federation says that the request of military assistance from Afghanistan is at final stage.
"Your government had requested some military assistance free of charge… we promised to provide such types of assistance free of charge. Now it is under consideration of almost on final stage," said Russian ambassador Alexander Mantytskiy during a press conference on Tuesday.
Mantytskiy added that Afghan forces should be supplied with equipment and training they need to defend their country.
He rejected speculations that Afghanistan may become a battle ground between Russia and the United States.
"There are so many speculations that Afghanistan is becoming the place of some kind of rivalry between Russian Federation, United States and Western Countries," Mantytskiy said. "It is just speculation, you should understand…we do not have any hidden goals. We do not want to fight with America for Afghanistan…We want to continue cooperation".
Full report at: khaama.com/russia-says-request-of-military-assistance-from-afghanistan-is-at-final-stage-4078
----------
NDS detain Taliban shadow governor for Laghman province
Nov 04 2015
The National Directorate of Security (NDS) – Afghanistan's intelligence agency has arrested the shadow governor of Taliban militant group for eastern Laghman province.
Aminullah Kocha was on his way to Pakistan when arrested with two of his bodyguards in Samarkhil area of Nangarhar's Behsood District, a statement released by NDS on Tuesday states. "He had come to Laghman province about a month ago for a number of destructive activities."
Full report at: khaama.com/nds-detain-taliban-shadow-governor-for-laghman-province-4078
----------
Burma elections: Muslim population kept in the dark ages by being denied the vote
Peter Popham
Nov 4, 2015
In Mingala Taungnyunt township in central Rangoon, where Muslims account for 70 per cent of the local population, a homeopathic doctor called San Tin Kyaw, a 49-year-old Muslim, is running for election this weekend.
He decided to stand when Aung San Suu Kyi's National League for Democracy – an avowedly non-sectarian party, with Muslims among its founders – announced in September that it would field no Muslim candidates. "We have qualified Muslim candidates," admitted U Win Htein, a founder member of the NLD, "but we can't select them for political reasons."
Full report at: independent.co.uk/news/world/asia/burma-elections-muslim-population-kept-in-the-dark-ages-by-being-denied-the-vote-a6720041.html
----------
India
'SC, Steer Clear Of Muslim Personal Law'
Priyangi Agarwal
Nov 3, 2015
BAREILLY: Clerics of the Barelvi School here have decided that they will use the annual Urs of Dargah Aala Hazrat in December to campaign against the decision by the Supreme Court to examine Muslim Personal Law.
On October 28, a bench of justices AR Dave and AK Goel asked Chief Justice HL Dattu to constitute a bench that could examine Muslim Personal Law so it could be brought in line with provisions of the Constitution that bar discrimination on grounds of gender, so Muslim women can be safeguarded against arbitrary divorce.
Full report at: timesofindia.indiatimes.com/city/bareilly/SC-steer-clear-of-Muslim-Personal-Law/articleshow/49650113.cms
----------
Hafiz Saeed to SRK: Facing discrimination for being Muslim, come to Pak
November 4, 2015 | Edited by Liu Chuen Chen
Bollywood superstar Shah Rukh Khan, who was attacked by right wing groups for his comments against intolerance, has now been invited by 2008 Mumbai terror attacks mastermind Hafiz Saeed to Pakistan. In a series of tweets, the Jama'at-ud-Da'wah (JuD) chief invited the actor to make Pakistan his new abode.
Hafiz tweeted, "Any such Muslim, even Shah Rukh who is facing difficulty and discrimination in India because of Islam are invited to stay in Pakistan".
Speaking during a question-answer session with Twitter users hosted by India Today's Rajdeep Sardesai, Shah Rukh pointed out that the biggest mistake a patriot can make was to go against secularism in India.
"Yes there is intolerance, there is growing intolerance. People put words in the air even before thinking. We keep talking about new India, but if this country is not secular, happy in its approach and allowing people to be... the youngsters are not going to stand for it. It's stupid to be intolerant," the actor said.
Full report at: indiatoday.intoday.in/story/facing-discrimination-come-to-pakistan-hafiz-saeed-to-shah-rukh/1/514899.html
-----
Govt says Swamy's book promotes hatred between Hindus and Muslims
Bhadra Sinha
Nov 03, 2015
The Narendra Modi-led government has accused senior BJP leader Subramanian Swamy of promoting enmity and hatred between Hindus and Muslims in his book 'Terrorism in India', saying it contained "hate speech" against a community.
The Centre sought the dismissal of Swamy's plea challenging the constitutional validity of penal provisions on speeches and writings that could cause enmity and hatred among communities.
Responding to Swamy's petition challenging the constitutional validity of section 153A of the Indian Penal Code (IPC) that criminalises hate speech, the ministry of home affairs (MHA) told the Supreme Court that the provision was needed to deal with offences related to hate speech.
Full report at: hindustantimes.com/india/govt-says-swamy-s-book-promotes-hatred-between-hindus-and-muslims/story-SGy9Qblsd0UnkKKpHXA1iJ.html
----------
India slams Pak at UN for supporting terror groups in J&K
Nov 4, 2015
UNITED NATIONS: Reacting sharply to Pakistan raking up Kashmir issue at the UN, India has asserted that Islamabad's unabated support for terror groups operating in Jammu and Kashmir is the main challenge to safeguard human rights of its citizens in the state.
"Pakistan's continued support for terror groups operating in Jammu and Kashmir is the main challenge to protecting the human rights of our citizens in the State," first secretary in the Indian Mission to the UN Mayank Joshi said in the Right of Reply here on Tuesday.
"In spite of this, India remains committed to resolving all outstanding issues with Pakistan in an atmosphere free from terror and violence," he said.
Full report at: timesofindia.indiatimes.com/india/India-slams-Pak-at-UN-for-supporting-terror-groups-in-JK/articleshow/49655520.cms
----------
Afghan NSA, foreign minister headed to Delhi as Kabul's outreach to Pak backfires
Indrani Bagchi
Nov 4, 2015
NEW DELHI: Hanif Atmar, Afghanistan's national security adviser (NSA) will be in Delhi later this week for talks with his counterpart Ajit Doval, a visit seen as a sign that the Ashraf Ghani government wants to re-engage with India after their outreach to Pakistan ended in failure. He will be accompanied by Hekmat Karzai, deputy foreign minister.
India, which had been sidelined by the Ghani government since 2014, is also prepared to show it remains committed to Afghanistan. For the first time since India and Afghanistan signed the strategic partnership agreement in 2012, India will give four MI-25 attack helicopters to Afghan security forces. This is significant, coming in the midst of a bruising campaign against the Taliban in Afghanistan as well as deteriorating relations between Afghanistan and Full report at: timesofindia.indiatimes.com/india/Afghan-NSA-foreign-minister-headed-to-Delhi-as-Kabuls-outreach-to-Pak-backfires/articleshow/49652857.cms
----------
Southeast Asia
'Red-shirt' demonstrators didn't play up race and religious issues at all, Parliament told
BY YISWAREE PALANSAMY
November 4, 2015
KUALA LUMPUR, Nov 4 — Home Minister Datuk Seri Ahmad Zahid Hamidi told the Dewan Rakyat today that the "red-shirt" protesters did not play up either race or religious issues during the #Merah169 rally in September.
In his ministry's 2016 Budget winding-up speech, Ahmad Zahid instead blamed the rally's detractors as being responsible for editing the banners used in the rally on social media platforms, to make it look like a racist gathering.
Full report at: themalaymailonline.com/malaysia/article/red-shirt-demonstrators-didnt-play-up-race-and-religious-issues-at-all-parl
----------
More non-Muslims using Islamic finance in Malaysia
Neville Spykerman
Nov 4, 2015
KUALA LUMPUR - More non-Muslims are using Islamic finance than Muslims in Malaysia and that is an indication of how widespread the support and acceptance for it is, said Prime Minister Datuk Seri Najib Tun Razak.
Najib said the popularity of Islamic finance around the world was bolstered by the global financial crisis in 2008.
He said the crisis resulted in a sharp demand for alternative economic and business models, specifically financial models which reduced the level of speculation.
Najib said unlike the inherent weakness in the conventional model, Islamic finance offered a genuine partnership where both risk and profit is shared.
Full report at: business.asiaone.com/news/more-non-muslims-using-islamic-finance-malaysia
----------
Sultan Nazrin urges Islamic finance reforms to address humanitarian aid gap
November 3, 2015
KUALA LUMPUR, Nov 3 — Islamic countries must explore reforms to its Shariah-compliant financial sector to help provide funds needed to address humanitarian crises that primarily come from Muslim nations, Sultan Nazrin Muizzuddin Shah said today.
Speaking during his keynote address at the gala dinner of the World Islamic Economic Forum, the Perak Sultan said it was no longer an option to ignore the social problems and risks that stem from the strife within Islam's heartland in the Middle East.
"More than 60 million people are now displaced by conflicts. Of the ongoing humanitarian crises in the world today, 90 per cent are in OIC (Organisation of Islamic Cooperation) countries.
"Of the 33 active conflicts today, 31 are in Muslim-majority countries. Yet the majority of humanitarian funding comes from OECD (Organisation for Economic Co-operation and Development) countries," Sultan Nazrin said in his speech.
The OIC represents 57 Islamic member states and professes to be the "collective voice of the Muslim world" while the OECD is a grouping of 34 developed Western countries. The memberships of the two are mutually exclusive save for Turkey, which is a part of both groups.
Full report at: themalaymailonline.com/malaysia/article/sultan-nazrin-urges-islamic-finance-reforms-to-address-humanitarian-aid-gap
----------
Indian VP Visits Indonesian Parliament, Meets Muslim Society Representatives
November 3, 2015
Jakarta, Nov.3 (ANI): Vice President Mohammad Hamid Ansari rounded up his two-and-a-half day visit in Indonesian capital Jakarta on Tuesday with a visit to the Parliament of Indonesia, where he met with the Speaker of the MPR (People's Consultative Assembly) Zulkifli Hasan and the Speaker of the DPD (Regional Representative Council) Irman Gusman this morning.
Full report at: business-standard.com/article/news-ani/ansari-visits-indonesian-parliament-meets-muslim-society-representatives-115110300686_1.html
----------
Africa
41 killed as Cargo plane crashes in South Sudan
Nov 4, 2015
At least 41 people have been killed in an incident during which a Russian-built cargo plane crash-landed shortly after takeoff in South Sudan.
The casualties were caused when a Russian-built cargo plane crash-landed Wednesday shortly after taking off from the international airport in South Sudan's capital city of Juba.
The chartered Antonov, heading to Paloch oil fields in the state of Upper Nile, went down about one mile (1.6 kilometers) from the airport's runway on Wednesday morning, the United Nations-funded radio station Radio Miraya reported.
Full report at: presstv.ir/Detail/2015/11/04/436256/south-sudan-cargo-plane-crash-land-russian
----------
South Sudan, rebels agree on key steps in peace deal
Nov 4, 2015
South Sudan's army and rebels have agreed to deploy joint military units in the capital, Juba, as tensions continue in the poverty-stricken country.
The agreement, a key stage of a late August peace deal, was signed Tuesday in the presence of chief mediator, Seyoum Mesfin, from the regional eight-nation IGAD bloc.
On August 26, South Sudan's President Salva Kiir signed a peace deal with rebels in neighboring Ethiopia to end the conflict in the country.
The Tuesday agreement seeks to fix key military sections of the August deal, including how many troops each side will have in the capital. It came despite the two sides' continued fighting and constant trading of blame for breaking the peace deal, the eighth such agreement.
Full report at: presstv.ir/Detail/2015/11/04/436259/South-Sudan-Salva-Kiir
----------
Gunmen kidnap Tripoli government minister in Libya
3 November 2015
Gunmen have kidnapped a minister in Libya's Tripoli-based government, parliament said on Tuesday, and accused a group linked to its own interior minister of being behind the abduction.
The security and defence commission of the General National Congress (GNC) said in a statement that it "strongly condemned" the kidnap of Mohamad al-Gaddar, Tripoli's planning minister, by "an armed group linked to the interior minister".
Full report at: english.alarabiya.net/en/News/africa/2015/11/03/Gunmen-kidnap-Tripoli-government-minister-in-Libya.html
----------
Tunisia needs time to build democracy: Nobel Prize winner
04 November 2015
A current Nobel Peace Prize winner said Tuesday that Tunisia needs time to establish social stability before beginning reforms.
Houcine Abassi said his country has made progress since a revolution that began in 2010 led to the overthrow of then-President Zine El Abidine Ben Ali, but social and economic stability were needed in order to achieve a complete democracy.
Full report at: worldbulletin.net/africa/165972/russian-cargo-plane-crashes-in-ssudan
URL: https://www.newageislam.com/islamic-world-news/new-age-islam-news-bureau/over-40-terrorists,-including-senior-commanders,-killed-in-aleppo/d/105162
New Age Islam, Islam Online, Islamic Website, African Muslim News, Arab World News, South Asia News, Indian Muslim News, World Muslim News, Women in Islam, Islamic Feminism, Arab Women, Women In Arab, Islamophobia in America, Muslim Women in West, Islam Women and Feminism