New Age Islam News Bureau
15 Aug 2015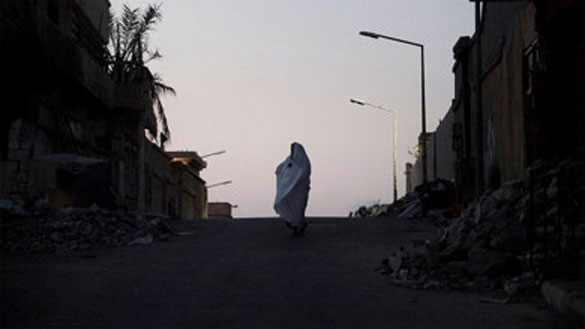 A Libyan woman walks through the ruins in Sirte, Libya. Sirte is the hometown of the country's late dictator Muammar Qaddafi. (File photo: AP)
---------
Arab World
• Over 120 ISIL Terrorists Killed in Iraqi Air Strikes
• Syrian Army Kills 3 Turkish Terrorists in Lattakia, Strikes ISIL Hideouts in Homs
• Iraqi Kurds say Islamic State attacked them with chemical weapons
• Iraqi Forces Kill Two Top ISIL Leaders
• Infighting Intensifies among Rival Groups in Aleppo
• Takfiri Terrorists Violate Ceasefire, Kill Civilians in Northern Syria
• Iraqi effort to retake Ramadi gains momentum
• Lebanon arrests fugitive cleric Ahmad al-Assir
• Syrian Army Recaptures Tal Za'tar in West Dara'a
• Syrian Fighter Jets Pound Rebel Positions near Aleppo
• Rebels Sustain Heavy Losses in Syrian Army Operations in Lattakia Province
• Saudi Arabia issues tough warning to pilgrim smugglers
----
South Asia
• Ministry of Defense says 199 insurgents killed, wounded in two days
• Couple brutally killed by Taliban gunmen in Badakhshan
• NDS foils Haqqani attacks planned for Kabul
• Mullah Mansoor welcomes Zawahiri's pledge of loyalty
• MD-530 makes successful combat debut in Nangarhar
• 'Bangladesh is using the camera as a tool for social causes'
----
Africa
• ISIS in Libya kills senior cleric of rival group among unconfirmed 13 to 49 people in Sirte
• Imam killed by suspected jihadists in Mali for refusing to Join them
----
Pakistan
• Jamaat-i-Islami urges govt to end efforts at friendship with India
• Pakistan to hang Peshawar school massacre plotters
• PM Nawaz must end good cop, bad cop routine: PTI Leader
• PM Nawaz, Modi exchange Independence Day felicitations
• KP, Fata celebrate Independence Day with traditional zeal
• Senator Mushahid tenders resignation following ISI plot claims
• Senator Mushahidullah's bombshell upsets PML-N's apple cart
• Pemra calls for responsible reporting on Kasur child abuse case
• Govt, MQM yet to break the ice
• Crisis brewing within PPP as its KP cabinet likely to resign
• Unprecedented celebrations on Karachi streets
• Criminals linked to MQM arrested in Karachi's Landhi, Rangers say
------
India
• No place for casteism, communalism, says PM Modi
• Unsung Heroes: 10 Names from the Indian Freedom Struggle You Might Not Know, but You MUST
----
Mideast
• Iran expects petrochemical exports surge after sanctions lifted
• Pro-govt forces retake south Yemen province
• Iran nuclear deal backers plan worldwide 'peace' marches
---
Europe
• Shia-Sunni divide growing among British Muslims: Report
• Russia denies U.N.-sanctioned Iran general in Moscow 'last week'
• U.N. rights experts to Iran: Immediately release U.S. reporter
------
North America
• DNA test reveals 'truth' about ex-US president, Warren G. Harding
• US flag raised in Cuba after 54 years
----
Compiled by New Age Islam News Bureau
URL: https://www.newageislam.com/islamic-world-news/new-age-islam-news-bureau/over-120-isil-terrorists-killed-in-iraqi-air-strikes/d/104280
------
Arab World
Over 120 ISIL Terrorists Killed in Iraqi Air Strikes
Aug 15, 2015
TEHRAN (FNA)- The Iraqi air force conducted several airstrikes against positions of the ISIL Takfiri terrorists in the province of Salahuddin, and killed at least 125 of them.
The Takfiri militants were killed after Iraqi warplanes carried out precision strikes against ISIL positions in the town of al-Shirqat, about 250 kilometers (155 miles) North of the capital, Baghdad, a security source, speaking on condition of anonymity, said on Friday.
The source further said that six arms depots belonging to the terrorists were completely destroyed in the air raids.
Commander of the Federal Police Forces Lieutenant General Raed Shaker Jawdat also said Iraqi police troopers have engaged ISIL militants in the city of Husaybah, which lies seven kilometres (4.5 miles) East of Anbar's provincial capital city of Ramadi, killing 29 terrorists in the operation.
He added that a large amount of munitions and equipment, including rocket launchers and heavy machine guns, were destroyed in the operation.
Meanwhile, Iraqi troops backed by fighters from allied Popular Mobilization units have regained control of al-Mal'ab region in the province of Anbar. Ten terrorists were killed and three booby-trapped houses destroyed during the operation.
The ISIL Takfiri terrorists currently control shrinking swathes of Syria and Iraq. They have threatened all communities, including Shiites, Sunnis, Kurds, Christians, Ezadi Kurds and others, as they continue their atrocities in Iraq.
Senior Iraqi officials have blamed Saudi Arabia, Qatar, and some Persian Gulf Arab states for the growing terrorism in their country.
The ISIL has links with Saudi intelligence and is believed to be indirectly supported by the Israeli regime.
http://english.farsnews.com/newstext.aspx?nn=13940524000405
------
Syrian Army Kills 3 Turkish Terrorists in Lattakia, Strikes ISIL Hideouts in Homs
Aug 15, 2015
TEHRAN (FNA)- The Syrian army killed 3 Turkish terrorists in the Northern countryside of Lattakia and struck hard the ISIL Takfiri terrorists' hideouts in Palmyra countryside, military sources said Saturday.
The sources said that the Syrian army destroyed 5 cars of terrorists and killed 3 Turkish terrorists during its operations against al-Nusra Front hideouts in the Northern countryside of Lattakia.
The agency added that Syrian warplanes bombed the ISIL hideouts in Palmyra countryside, killing many terrorists.
The sources also confirmed the death of at least 33 terrorists affiliated to the so-called Jaish al-Fateh during the country's army men operations in Idlib and Hama.
http://english.farsnews.com/newstext.aspx?nn=13940524000717
------
Iraqi Kurds say Islamic State attacked them with chemical weapons
Reuters | Aug 15, 2015
BAGHDAD: Kurdish authorities in Iraq said on Friday they believe their Peshmerga forces have been attacked with chemical weapons, possibly chlorine gas, by Islamic State militants.
The Kurdistan Region's Security Council said it was investigating multiple attacks by Islamic State insurgents against Peshmerga positions, including in Makhmour, southwest of Erbil, the capital of the autonomous Kurdish region, earlier this week.
It was the third report of suspected chemical weapons use on the Iraqi battlefield this year.
"Initial reporting indicates chemical agents were fired in the form of projectiles, possibly mortar rounds," the council said in a statement.
"Several Peshmerga officers were treated for dizziness, vomiting and general weakness, while some are receiving treatment for burns."
Chlorine's use as a weapon is prohibited under the 1997 Chemical Weapons Convention. If inhaled, chlorine gas turns to hydrochloric acid in the lungs and can kill by burning lungs and drowning victims in the resulting bodily fluids.
Chemical weapons stockpiles in Iraq and Syria have been destroyed by the Organisation for the Prohibition of Chemical Weapons in The Hague.
http://timesofindia.indiatimes.com/world/middle-east/Iraqi-Kurds-say-Islamic-State-attacked-them-with-chemical-weapons/articleshow/48489060.cms
------
Iraqi Forces Kill Two Top ISIL Leaders
Aug 15, 2015
TEHRAN (FNA)- Iraqi security forces killed two top ISIL leaders in the province of Anbar on Saturday.
Al-Jazeera and AL-Badiya operations command killed two ISIL leaders in al-Jiba area in Baghdadi district in Anbar, a security source said.
The ISIL Takfiri terrorists currently control shrinking swathes of Syria and Iraq. They have threatened all communities, including Shiites, Sunnis, Kurds, Christians, Ezadi Kurds and others, as they continue their atrocities in Iraq.
Senior Iraqi officials have blamed Saudi Arabia, Qatar, and some Persian Gulf Arab states for the growing terrorism in their country.
The ISIL has links with Saudi intelligence and is believed to be indirectly supported by the Israeli regime.
http://english.farsnews.com/newstext.aspx?nn=13940524001140
-----
Infighting Intensifies among Rival Groups in Aleppo
Aug 15, 2015
TEHRAN (FNA)- Infighting intensified among the Takfiri terrorist groups in the countryside of Aleppo after their recent defeats in the war with the Syrian army.
The bloody clashes erupted between the ISIL and Ahrar al-Sham Takfiri terrorist groups in the Northern parts of Aleppo countryside.
The infighting erupted after the ISIL had attacked the headquarters of Ahrar al-Sham in Idlib countryside with two bomb-laden vehicles.
Also in the past 24 hours, tens of Takfiri terrorists were killed in militants' repeated raids on the Western parts of Aleppo city in the last few days.
Aleppo has been the scene of heavy clashes between the terrorists and the Syrian troops in the last several weeks.
Elsewhere, hundreds of foreign-backed militants surrendered to the government troops in Al-Qalamoun region in Damascus countryside.
Over 1,200 terrorists laid down arms and surrendered to the Syrian authorities late Thursday, the Syrian local sources also confirmed.
The militants also turned over their cache of ammos to the authorities, both sources added.
The development came after President Bashar al-Assad in a televised address in July pardoned all soldiers who have fled the army, saying that his words served as a general decree to relevant officials.
Assad said even those who have fought the Syrian army will be pardoned. This was the third general amnesty declared by President Assad in the last four years.
Meantime, sources in the Southwestern province of Quneitra said militants have retreated from several battlefields following the Syrian Army's offensives in various parts of the province.
The sources said that the army troops' operations in al-Tuloul al-Homr, Trinjeh and Abo Shabta have resulted in the killing and wounding of several insurgents.
Also, military sources said that the Syrian Army carried out massive operations against the rebel groups' centers in the Southern province of Dara'a, and pushed them back from their positions.
The sources said that the militants sustained heavy losses in the Syrian army men's operations in al-Ghariyeh, Nawa, al-Yadoudeh, al-Nueimeh, Khrab al-Shahm, Bosra al-Harir and al-Sheikh Miskin.
Meantime, the Takfiri terrorists violated the 48-hour ceasefire they had earlier signed with the Syrian Army in the two towns of Kafria and Fouah in Idlib countryside.
The terrorists affiliated to Jeish al-Fath group led by the al-Nusrah Front and the Syrian army inked a ceasefire deal which started at 6 am Wednesday but it was violated by the Takfiri terrorists.
The terrorist groups resumed firing mortar shells and missiles at the residential areas in Fouah and Kafaria towns which killed 7 civilians and injured 24, some of them in critical conditions.
Elsewhere, the Syrian air raids targeted positions of the foreign-backed militants in several areas across Hama and Idlib.
The Syrian warplanes killed a number of terrorists in Tal Wasit, al-Ziara, Tal Zajram, al-Zaka, Kafar Zita and al-Bahsa in Hama countryside.
Meantime, large groups of the Takfiri militants were killed in Syrian military operations in several areas across Aleppo.
The army targeted hideouts of the ISIL terrorists in the vicinity of the air force academy, Balat and Assafiyra to the East of Aleppo city.
http://english.farsnews.com/newstext.aspx?nn=13940524000342
-----
Takfiri Terrorists Violate Ceasefire, Kill Civilians in Northern Syria
Aug 15, 2015
TEHRAN (FNA)- Takfiri terrorist groups violated their ceasefire with the Syrian army and the Hezbollah troops in the Northwestern parts of Syria once again on Saturday after they fired mortar shells at two towns in Idlib province and killed several civilians.
A 48-hour ceasefire which began at 6 a.m. (03:00 GMT) Wednesday in the city of Zabadani and the towns of Fuaa and Kafraya in Northwestern parts of Syria along the border with Lebanon was extended for another two days on Friday. The truce had been agreed in advance between the Syrian government and Hezbollah forces and militant groups.
But, Ahrar al-Sham terrorists fired tens of mortal shells on the residential areas of Fuaa and Kafraya towns on Saturday.
At least 2 civilians were killed and 12 others wounded in Ahrar al-Sham's mortar attack.
The location of the ceasefire included the town of Zabadani and two Shiite villages of Fuaa and Kafraya in Idlib province.
Since it came into force on Wednesday, the Ahrar al-Sham terrorists have violated the ceasefire terms repeatedly.
The insurgent group Ahrar al-Sham, an ally of the Al-Qaeda-linked Nusra Front, has been leading the negotiations for the insurgents.
The Syrian forces have been calling for food and medical supplies to be allowed to enter Fuaa and Kafraya.
Local ceasefires happen from time to time in parts of Syria to allow humanitarian aid to be delivered.
Since March 2011, when the Syrian civil war started, more than 240,000 people have died and millions have been forced to flee their homes.
http://english.farsnews.com/newstext.aspx?nn=13940524001151
------
Iraqi effort to retake Ramadi gains momentum
By David Alexander | Reuters, Washington, 15 August 2015
Iraqi troops are more than halfway through an operation to encircle ISIS militants in Ramadi, after which they will launch a final offensive to retake the Iraqi city, a U.S. military spokesman said on Friday.
Air Force Colonel Pat Ryder, a U.S. Central Command spokesman, said Iraqi forces were making progress in the fourth week of their effort to isolate and cut off ISIS fighters, who captured Ramadi three months ago in their biggest victory this year.
"The objective here is to cut off ISIS's lines of communications to prevent or limit their resupply and reinforcement," Ryder, using an acronym for the militant group, said in a telephone briefing with Pentagon reporters.
He said Iraqi troops were engaged in "tough, dangerous work" to encircle the city and then prevent ISIS from bringing in more troops or supplies.
The militants were trying to slow or stop Iraqi forces with hidden explosive devices, improvised explosives in vehicles, suicide bombers and fighters, Ryder said. The Iraqis have used armoured bulldozers and other specialised equipment to remove explosives.
"The Iraqis are continuing to move forward, executing this complex operation as they had planned it," Ryder said. "They have ... a good plan. They're executing that plan at the timeline they have set for themselves."
He said the aim was to completely encircle Ramadi before the operation's next phase: retaking the city, which is the capital of Anbar province.
Ryder said the U.S.-led coalition had supported the Iraqi military with air strikes and by providing military officials to offer advice and assistance at joint operations centres. He said air strikes had targeted vehicles, weapons and equipment as well as enemy fighters.
Central Command is based in Tampa, Florida.
https://english.alarabiya.net/en/News/middle-east/2015/08/15/Iraqi-effort-to-isolate-retake-Ramadi-advancing-U-S-military.html
---------
Lebanon arrests fugitive cleric Ahmad al-Assir
By Agencies | Beirut, 15 August 2015
Lebanese authorities have detained a hardline Sunni Islamist leader wanted for militant activity, including attacks on the Lebanese army, a senior security official told Reuters on Saturday.
The Lebanese National News Agency reported that Ahmad al-Assir was detained at Beirut airport as he was trying to leave the country.
Security sources added that Assir was using a fake passport and was trying to fly to Egypt, according to Agence France-Presse.
The firebrand cleric had been on the run since June 2013, after he and his supporters engaged in a deadly two-day battle with the Lebanese army in the southern city of Sidon.
The army seized his headquarters after 48 hours of clashes that killed 18 soldiers, but Assir was able to escape with several of his followers.
He continued to issue audio statements while on the run, and various rumors circulated as to where in Lebanon he was hiding.
In 2014, a military judge recommended prosecutors seek death sentences for Assir and 53 others, including singer-turned-fundamentalist Fadel Shaker.
He and his associates were accused of "having formed armed groups that attacked an institution of the state, the army, killed officers and soldiers, took explosive materials and light and heavy weapons and used them against the army."
Assir was a virtual political unknown until the outbreak of Syria's civil war.
He began making headlines after the conflict erupted by criticizing Lebanon's powerful Hezbollah movement and its ally Syrian President Bashar al-Assad.
Although he was born to a Shiite Muslim mother, his discourse was highly sectarian and he often accused Lebanon's army of failing to protect Sunnis and being beholden to Hezbollah.
He encouraged his supporters to join Syria's mainly Sunni rebels and to rise up against Hezbollah. (AFP and Reuters)
https://english.alarabiya.net/News/middle-east.html
------
Syrian Army Recaptures Tal Za'tar in West Dara'a
Aug 15, 2015
TEHRAN (FNA)- The Syrian Army's 132nd Brigade of the 5th Armored Division – in coordination with the National Defense Forces (NDF) – launched a counter-assault against the Liwaa Thawar Souriya in the strategic hilltop of Tal Za'tar and retook full control over the area, military sources said.
The sources said that the Syrian army recaptured Tal Za'tar from the rebel group before 4:30 p.m. (Damascus Time) on Friday, forcing the rebels to retreat from the area towards the town of Yadouda in order to evade the aerial assault from the Syrian Air Force.
Tal Za'tar is strategically located to the West of Dara'a City; its proximity to the provincial capital's Western suburbs makes it an imperative military endeavor for the rebel forces that are attempting to besiege the city of Dara'a from three different flanks (West, South, and East).
Inside Dara'a City, clashes between the 132nd Brigade of the Syrian army and the so-called Free Syrian Army's "Southern Front Brigades" were reported at the Al-Manishiyah-Dara'a Al-Balad axis; however, there was no change in the ground situation as a result.
http://english.farsnews.com/newstext.aspx?nn=13940524000758
-----
Syrian Fighter Jets Pound Rebel Positions near Aleppo
Aug 15, 2015
TEHRAN (FNA)- Syrian warplanes hit the rebel centers hard in the nearby areas of the Northern city of Aleppo, inflicting heavy losses upon them, sources said.
The sources said that the rebel groups' gathering centers in the surrounding areas of the Air Force Academy, al-Bab, and Ballat were massively targeted by the country's air force which resulted in the killing or wounding of several militants.
On Thursday, large groups of the Takfiri militants were killed in Syrian military operations in several areas across Aleppo.
The army targeted hideouts of the ISIL terrorists in the vicinity of the air force academy, Balat and Assafiyra to the East of Aleppo city.
During the army operations, a large group of terrorists were killed and their weapons were destroyed.
The army targeted positions of the Takfiri militants in Bani Zaid, old Aleppo, Sheikh Said and al-Ramoseh in Aleppo city, leaving a group of them dead.
http://english.farsnews.com/newstext.aspx?nn=13940524000497
-----
Rebels Sustain Heavy Losses in Syrian Army Operations in Lattakia Province
Aug 15, 2015
TEHRAN (FNA)- The Syrian Army launched massive operations against the militants' gathering centers in the coastal province of Lattakia, and pushed them back from their positions in different areas, the military sources said.
The sources said that the militants' strongholds were massively stormed by the Syrian army men in Karfous, the nearby areas of Dair Hanna and Katef al-Ghanameh, which forced the rebels to retreat from their positions.
On Wednesday, a military source said that the army carried out operations against terrorists' hideouts and concentration centers in Dweir al-Akrad, Jeb al-Ahmar and Abu Risheh, killing scores of terrorists and destroying a number of their vehicles, an armored vehicle, and a weapons depot.
http://english.farsnews.com/newstext.aspx?nn=13940524000592
------
Saudi Arabia issues tough warning to pilgrim smugglers
By Saudi Gazette | Riyadh, 15 August 2015
The Saudi Ministry of Interior has issued a stern warning to motorists transporting people who intend to perform Hajj without permit to Makkah and the holy sites.
It said any driver found transporting illegal pilgrims would be arrested, imprisoned for 15 days and his vehicle seized.
The illegal pilgrim, whether he is a Saudi or an expatriate, faces a fine of SR10,000. If the driver repeats the offense, he will be jailed for two months and will have to pay a fine of SR25,000 for every pilgrim he transported.
If the driver repeats the violation again after he was punished for a second time, the prison term will be raised to six months and the amount of fine to SR50,000.
Expatriate violators will be deported upon release from prison and will be barred from entering the Kingdom for a specified period. The ministry said the decision would be enforced during this Hajj season.
https://english.alarabiya.net/en/News/middle-east/2015/08/15/Saudi-Arabia-issues-tough-warning-to-pilgrim-smugglers-.html
------
South Asia
Ministry of Defense says 199 insurgents killed, wounded in two days
By KHAAMA PRESS - Sat Aug 15 2015
Afghan National Army Ministry of Defense says that 199 militants have been killed and wounded in newest military operations across the country, the ministry's spokesman announced this morning.
General Zahir Azimi, said in a twitter post that 123 insurgents were killed, 76 wounded and 13 others arrested during military operations in past 48 hours.
The statement further states that 13 soldiers from the Afghan National Army also embraced martyrdom during these operations.
This comes as Afghan National Security Forces (ANSF) have been conducting several large-scale military operations in parts of the country.
These independent operations started after ANSF took full responsibility of security from NATO-led coalition forces at the beginning of this year.
Afghan security forces have great achievements during this period.
According to the defense ministry, thousands of militants have been killed since then and some areas that were under the control of Taliban for years have been retaken by the security forces.
http://www.khaama.com/ministry-of-defense-says-199-insurgents-killed-wounded-in-two-days-3760
-----
Couple brutally killed by Taliban gunmen in Badakhshan
By KHAAMA PRESS - Sat Aug 15 201
Taliban 2Taliban have brutally killed a wife and her husband in front of their children in Badakhshan province.
Sakhidad Haidari, deputy police chief of Badakhshan province said that the woman was working at the police headquarters of Shuhada District.
He identified the policewoman as 'Amina'.
Abdul Marouf Khairkhwa, police chief of Shuhada District said that Taliban militants went to Amina's house in Lab Dara village and carried out the horrific murder around 09:30 pm last night.
He said that the dead bodies contained several knife marks when checked during investigation.
The couple left nine children behind.
This comes less than a week after a woman was thrown into river in Wardoj District of Badakhshan province.
Asadullah Hakimi, police chief of Wardoj District said that the woman was executed for allegedly having links with government.
Although, officials hold Taliban responsible for both of these incidents but Taliban spokesman has not yet commented on these reports.
http://www.khaama.com/couple-brutally-killed-by-gunmen-in-badakhshan-3760
-----
NDS foils Haqqani attacks planned for Kabul
By KHAAMA PRESS - Sat Aug 15 2015
The National Directorate of Security (NDS) – Afghanistan's intelligence agency has foiled plot to carry out suicide and other coordinated attacks in capital Kabul.
A statement issued by the NDS on Saturday states that a group of militants belonging to the Haqani terrorist network was busted in Niazi village of Pul-i-Alam, provincial capital of Logar, that planned to carry out these attacks.
Nine insurgents were scheduled to take part in these attacks, four of them were killed and five arrested in a clash erupted during the raid, the statement adds.
Those arrested include Mohammad Ishaq S/O Abdul Baqi – planner of suicide and coordinated attacks, Shabir alias Gulzar and Hamid S/O Zabto Khan – two suicide bombers, Sayed Agha and Hamidullah – were sheltering the suicide bombers.
The press release further adds that several heavy and light weapons were recovered from the militant hideout during this operation.
In the initial investigation, the five detained terrorists have confessed that they had received a month long training for combat and suicide bombing in Faruqi Madrasa (seminary) located in Tal area of Miranshah, administrative headquarters of the North Waziristan Agency, before being sent to Logar province.
They have further said that they were told to enter Kabul from Logar and target busy parts of the city.
http://www.khaama.com/nds-foils-haqani-attacks-planned-for-kabul-3765
------
Mullah Mansoor welcomes Zawahiri's pledge of loyalty
AFP, 15 08 15
KABUL: The Taliban's new leader, Mullah Akhtar Mansoor on Friday, welcomed Al Qaeda chief, Ayman al-Zawahiri's pledge of allegiance which could bolster his accession amid a bitter power struggle within the Afghan militant movement.
Mullah Akhtar Mansoor takes charge as the Islamic State group makes gradual inroads into Afghanistan, challenging the Taliban on their home turf.
Zawahiri's declaration on Thursday came with Al Qaeda also facing a growing rivalry for global jihadist preeminence with IS, which has seized control of large parts of Syria and Iraq.
"I... accept the pledge of allegiance of the esteemed (Zawahiri)... and thank him for... his pledge and pledge of all mujahideen under him," Mansour said in a statement Friday.
Mansour was announced as the new Taliban chief on July 31, after the movement confirmed the death of Mullah Omar, who led the Islamist group for some two decades.
But splits immediately emerged in the Taliban following the appointment, with some top leaders including Omar's son and brother, refusing to pledge allegiance to Mansour.
The Taliban have suffered a string of recent defections to IS, which has been trying to establish itself in the eastern regions of the country.
The recent confirmation of Mullah Omar's death and the growing internal divisions within the Taliban could spur an increase in such defections, analysts say.
The Taliban have repeatedly warned IS against expanding its operations in Afghanistan.
And in a sign of growing rivalry between the groups, the Taliban on Wednesday condemned a "horrific" video that appears to show IS fighters blowing up bound and blindfolded Afghan prisoners with explosives.
The video described the prisoners as "apostates aligned with the Taliban or the Afghan government. But the Taliban said they were "innocent civilians".
http://www.dawn.com/news/1200614/mullah-mansoor-welcomes-zawahiris-pledge-of-loyalty
-------
China favours role in Afghan peace talks, appreciates Pakistan's efforts
DAWN.COM 15.08 15
BEIJING: A Chinese foreign ministry spokesperson on Friday said that the country is in favour of playing a constructive role in Afghanistan's peace and reconciliation process, said a report on the government news service Xinhua.
The statements by spokesperson Hua Chunying come after recent terrorist attacks in Afghanistan which may put a damper on reconciliation efforts.
Hua said that China is consistent in its support for the "Afghan-led and Afghan-owned" reconciliation process, mentioning China's support for peace talks between the Afghan Taliban and Afghan government.
The spokesperson also noted Pakistan's significant role in the peace talks and said that China hopes that those involved in the talks continue to make efforts to ensure peace in Afghanistan.
Pakistan last month hosted inaugural talks between the Afghan government and the Taliban, who are fighting to re-establish hard-line Islamist rule more than 13 years after the US-led military intervention that toppled their regime.
Many in Afghanistan accuse Pakistan of being host to Taliban bases that are used to plan attacks such as the bombings over the weekend. Pakistan, which faces its own Taliban insurgency, denies that it has actively allowed its territory to be used in this way.
"Our priority of course is reconciliation," Adviser to the Prime Minister on Foreign Affairs and National Security Sartaj Aziz had said.
Three attacks last week shocked Kabul in their scope and brutality. A truck bomb exploded early Friday morning, flattening a city block and killing 15 people and wounding 240 as they slept, authorities said.
Hours later, a suicide bomber killed at least 20 cadets outside a police academy, while another 10 people died in an attack on a military camp used by US Army Special Forces. On Monday, an attack near Kabul's airport killed five people.
The Taliban claimed responsibility for most of the attacks.
Meanwhile, fighting in Baghlan between Afghan forces and the Taliban has killed two police officers, said Jaweed Basharat, the provincial police spokesman. He said the fighting in the Dahana-I-Ghori district began on Tuesday.
The Taliban, who regularly exaggerate their claims, issued a statement, claiming a much higher police casualties figure.
http://www.dawn.com/news/1200627/china-favours-role-in-afghan-peace-talks-appreciates-pakistans-efforts
-----
MD-530 makes successful combat debut in Nangarhar
By KHAAMA PRESS - Sat Aug 15 2015
Afghan-Air-Force-MD-530aThe MD-530 Warrior, locally known as "Jengi" has made a successful combat debut against militants in eastern Nangarhar province.
Capt. Cory Fale, helicopter pilot and MD-530 advisor at Train, Advise, Assist Command-Air (TAAC-Air) of NATO's Resolute Support mission said that MD-530 was the number one concern for insurgents during the Nangarhar mission.
"The MD-530 was the insurgent's number one concern in Nangarhar," he said, adding that, "It was great seeing the pride beaming from the Afghan aircrews as they climbed out of their helicopters from their first combat mission."
MD-530 Warrior is a close-air attack aircraft and it has been newly added to the arsenal of the Afghan Air Force. It is designed for high altitude and hot weather operations.
"The addition of armed MD-530s to the Afghan Air Force is pivotal following the January 2015 reduction in coalition airpower," Capt. Fale added.
Afghanistan received six MD-530 aircrafts at the first quarter of current year and it will have a total of 16 of them by early 2016.
http://www.khaama.com/md-530-makes-successful-combat-debut-in-nangarhar-3761
-------
'Bangladesh is using the camera as a tool for social causes'
ECONOMICTIMES.COM | Aug 14, 2015
Faizal Azim from Bangladesh recently stood second in the 'National Geographic Traveler Photo contest 2015'. Earlier, the 31-year-old from Chittagong had won 25 national and international awards for his photographic talent. In an e-mail interview, he tells Rohan Laik of the Economic Times.com on his win, photography and the freedom of expression across the border.
Congratulations on your win! How do you feel about the achievement and how did the National Geographic contest happen? Do you participate in such contests often?
Thank you. Frankly, it was beyond my expectation. Little did I know that this win will eventually become one of the most celebrated achievements of my photography career.
I'm delighted to have made my country proud. All of a sudden I felt so important. I have always liked travel photography, so, National Geographic was always a dream. I found out about the contest on their website and enrolled my name almost immediately, as I often do for such contests. And the rest is history!
Tell us a little about yourself.
I presently live in Chittagong where I was born and raised. I have been teaching photography at the 'Photoart Institute' for the past three years. At the moment, am working for an agency, 'Photobank Gallery', in Bangladesh, which was founded by my uncle Shoeb Faruquee.
How supportive has your family been about photography?
My mother and my younger sister Shakila have been the two inspirational pillars in my life. They are both culturally aware and thus understanding art has never been a concern. I had lost my father right after I had completed my graduation.
My maternal grandfather Mia Faruquee was an active part of the Bangladesh Awami League and a close associate of our 'Father of the Nation', Shekh Mujibur Rahman. He was a photo lover too. My uncle Shoeb Faruquee is a renowned photographer. So, maybe I was born with some of it! I have also been very lucky to have some close friends and relatives who have always supported my ambitions.
How and when did you start photography? Who influenced you?
Shoeb Faruquee, my uncle, is a 'World Press Photo' winner and the founder of the 'Photobank Gallery' in Bangladesh and has been my direct inspiration. His photographs have been published in prestigious magazines and journals around the world including Stern, Geand Telegraph. I did not start early, but his enthusiasm for photography turned out to be infectious for me.
Have you won other competition before?
Till date, I have already won more than 25 international and national awards. The 2nd Prize in National Geographic Traveler Photo contest 2015 is definitely one of the most-prized ones. Apart from that, I won the 'Atkins City Scape Award', a gold medal award at the 'Special Prize' category in the '75th Japan Asahi', '7th Emirates Photography Competition', 'Special Award- Photo-Fest Medal' in the '4th International Bursa photograph festival'- Turkey, hourly winner at 'CBRE Urban Photographer of the Year'- U.S.A, finalist in 'HIPA 2014-2015' photo contest among others.
My photos have also been exhibited at different galleries around the world including the U.S.A, Germany, London, Australia, U.A.E. Turkey, India, and Malaysia.
How photo-enthusiastic are young people in Bangladesh? What are the challenges that you have faced?
I think Bangladesh is a dream-land for photographers. We have a diverse culture, heritage, nature, and most importantly, a variety of people - everything a photographer craves for.
Photography is really thriving among the youth of the country. There's a lot of participation in contests as a result. People are also using the camera as a tool for social causes.
After my M.B.A from the Chittagong University, I took up a job like anyone else would do in a public firm. But soon I realized that I was never meant for it and I started missing photography. Within a few months, I had a camera in my hand and no job. But I was happy.
I started with wedding photography and after leaving the job, I went back to it. To be honest, I am pretty popular in the country as a wedding photographer.
I just heard what my mind was saying and I did that. So I don't want to say about challenges. Challenges are everywhere and it will be the part of our whole life. It's more important that to hear what is your heart saying.
Who is your favorite photographer?
Raghu Rai. I love the way he visualizes things. I feel that is the pivotal thing about photography, the vision.
What is the camera you are using? What is your dream device?
I have always been a Nikon enthusiast. I started with the Nikon F55 film camera which isn't the quite professional equipment but certainly good for beginners.
Then with the years and my ever- growing passion for photography, I started trying out professional cameras. Presently I have two cameras in my arsenal. A Nikon D700 and D800. With that, I am using three lenses Nikon 14-24 mm, Nikon 24-120 mm, Nikon 70-200 mm. But I dream of using a professional 'Leica' camera at some point in my life.
However, though my present equipment is fancy, I have acquired it recently. I had won prizes prior to using such professional gadgets too. So to the newbie's -expensive cameras do not guarantee good photography. Your eyes are the lens and the camera is an extension of your body. Keep using it!
After decades, the border dispute surrounding 162 Indian and Bangladeshi enclaves has finally got closure. Do you want to capture the moods there through your lens?
This was a monumental occasion for both nations. I would seize any opportunity to go and photograph there if the situation arose.
This year, particularly, has been a volatile one for Bangladesh when it comes to freedom of Expression. Bloggers, artists, and free thinkers have faced censorship and death. Your view?
Bangladesh is a land of peace and I believe it always will be. Yes, few incidents have happened in the recent past to suggest otherwise, but these dark times will fade and prosperity will prevail.
As much as I appreciate the technological boom that has connected people globally, I think that we should be more conscious and respectful to each others' thoughts and beliefs. I firmly believe that only art can show us the light in such troubled times and give peace a chance.
http://timesofindia.indiatimes.com/world/south-asia/Bangladesh-is-using-the-camera-as-a-tool-for-social-causes/articleshow/48480595.cms
-------
Africa
ISIS In Libya Kills Senior Cleric Of Rival Group Among, Unconfirmed, 13 To 49 People In Sirte
By Rami Musa | AP, Benghazi, 14 August 2015
Libya's Islamic State of Iraq and Syria (ISIS) affiliate is battling a rival Islamist group in the central city of Sirte, killing one of its senior clerics and besieging and shelling a residential area housing its supporters, officials and witnesses said Thursday.
The clashes have killed between 13 and 49 people, with officials giving different casualty counts. The officials spoke on condition of anonymity because they were not authorized to brief reporters.
The ISIS affiliate last week called on residents of a northern Sirte neighborhood working in the police, the judiciary and the financial sector to pledge allegiance to the group or face death, local journalist Ezzeldin Ahmed said.
In response, a group of ultraconservative Muslim clerics in the area refused to pledge allegiance to ISIS and urged residents to rise up against it. One of the clerics was found dead Monday, setting off the clashes, he said.
Libya has slid into chaos since the 2011 overthrow and killing of longtime dictator Muammar Qaddafi. It is now divided between an elected parliament and government in the east, and an Islamist militia-backed government based in Tripoli.
ISIS affiliate gained a foothold in Sirte in March, and has fought with rival militant groups and forces loyal to both governments.
The internationally recognized government, based in the far eastern town of Tobruk, and the Tripoli-based government both claim to have launched airstrikes against ISIS in Sirte.
But the head of the Tobruk-allied crisis committee in the city, Mohamed Hadia, pleaded for intervention.
"No one is doing anything to help the people of Sirte," he said. "The roofs of houses are falling on (people's) heads.
https://english.alarabiya.net/en/News/africa/2015/08/14/ISIS-in-Libya-kills-senior-cleric-of-rival-group.html
------
Imam Killed By Suspected Jihadists In Mali For Refusing To Join Them
AFP | Aug 15, 2015
SEVARE, MALI: Jihadists killed a village imam in central Mali who had refused their repeated attempts to recruit him, a local official told AFP Friday.
Gunmen with suspected links to radical Islamic preacher Amadou Koufa killed the imam of Barkerou village, Aladji Sekou, on Thursday night, the official said on condition of anonymity.
The two men arrived by motorbike, leaving it on the edge of the village before approaching the imam's home on foot where they shot him, he said, adding that the assailants appeared to be familiar with the area.
"In recent months, the jihadists have tried without success to get the imam of Barkerou to back their cause," he said.
The 63-year-old imam's nephew Oumar Sekou also confirmed his death, adding that he had been killed "because, for them, he is their opponent".
Security sources say that Koufa has linked with the Macina Liberation Front (FLM), a new group that emerged earlier this year and has claimed responsibility for a number of attacks, some targeting security forces in central Mali.
The FLM draws its support from the Fulani people of central Mali, where Koufa is also from, and is also linked to Ansar Dine -- Arabic for "defenders of the faith" -- one of the groups that took control of Mali's vast arid north in April 2012.
Washington added Ansar Dine to its terror blacklist in 2013, accusing it of close ties to Al-Qaeda and of torturing and killing opponents in the north.
Investigators have found evidence linking the FLM to a deadly raid on a hotel in Sevare on August 7 that killed four foreign UN employees.
Three suspects arrested so far were supporters of Koufa, a security source said.
http://timesofindia.indiatimes.com/world/middle-east/Imam-killed-by-suspected-jihadists-in-Mali/articleshow/48492646.cms
------
Pakistan
Jamaat-i-Islami urges govt to end efforts at friendship with India
By Our Correspondent: August 15, 2015
LAHORE: The Jamaat-i-Islami general secretary suggested on Friday that the federal government abandon the idea of friendship with India. He said national interests alone should guide the foreign policy.
He was speaking at a flag hoisting ceremony at JI headquarters in Mansoora.
He said India had never reconciled to the establishment of Pakistan. He said the United States and India wanted to destabilise the country.
He said Pakistan should seek support from Iran and Afghanistan to foil their designs.
The JI leader urged the United States to stop patronising terrorist outfits and opt for peaceful resolution of its conflicts in the region.
Baloch said Jammu and Kashmir was an integral part of Pakistan. He said India had occupied the territory in violation of international agreements. He said rallies and processions held across Indian held Kashmir to celebrate the Independence Day of Pakistan should serve as a lesson for Indian government. He praised the services of Huriyyat Conference leader Syed Ali Gilani for the cause of Kashmir's independence from India.
He urged JI members to continue their struggle for the establishment of an Islamic welfare state in the country. He said enemies of the nation wanted to divide it along sectarian lines. He said JI members should not be misled by the enemy's propaganda.
JI amir Sirajul Haq and deputy amir Hafiz Muhammad Idrees were also present at the ceremony. PPI
Scores of PTI workers dance to the beat of patriotic music
Pakistan Tehreek-i-Insaf's Lahore chapter organised a Parcham-i-Pakistan rally from Gaddafi Stadium till Charing Cross in front of the Punjab Assembly.
Scores of party workers on motorcycles, cars, jeeps and rickshaws left the Gaddafi Stadium for Charing Cross and were joined by Shafqat Mehmood and other party leaders when they reached the Shah Abdul Latif Bihtai Underpass on Ferozepur Road.
As Mehmood took the lead of the procession, the participants parked their vehicles, cranked up the volume of the music and started dancing on the road. Mehmood addressed the participants there for a short while.
Hundreds more joined the rally as it crossed the Canal Road and made its way to The Mall.
The crowd had swelled to a point where the procession would stop every other minute as participants would break into a dance.
They reached Charing Cross at around 6pm where Dr Yasmeen Rashid, Mian Mehmood-ur-Rasheed and others were already present.
Addressing the rally, Mehmood said he admired the efforts of party workers in organising the rally even though it had been planned on a short notice. "Quaid's vision for Pakistan was to make it a prosperous country but, unfortunately, exploiters and plunderers hijacked it…our mission is to rid this country of thieves and to build a prosperous nation."
http://tribune.com.pk/story/938375/independent-day-celebrations-ji-urges-govt-to-end-efforts-at-friendship-with-india/?utm_source=Daily+Roundup+Newsletter&utm_campaign=1cdbf6309c-Daily_Roundup_5pm&utm_medium=email&utm_term=0_19961368d8-1cdbf6309c-65338937
------
Pakistan to hang Peshawar school massacre plotters
IANS | Aug 14, 2015
ISLAMABAD: Six militants who plotted and aided Pakistan's worst ever terrorist attack at a Peshawar school are set to be hanged after Army Chief General Raheel Sharif confirmed their death sentences.
The men, belonging to the Tehrik-e-Taliban Pakistan, were convicted late Thursday for their role in the December 2014 massacre at Peshawar's Army Public School (APS) that claimed the lives of 151 people, including 141 children, The Nation reported.
They harboured and drove the killers who stormed into the school, raked the assembly hall with machinegun fire and stalked the corridors, shooting children and teachers cowering in their classrooms.
The gunmen were killed by the security forces but the attack left Pakistan in deep shock and provoked international outrage.
Those who aided and abetted them were convicted for their role in this and other attacks in special military courts, established in the wake of the massacre to fast-track terrorist cases, earlier this year.
Their death sentences, however, were delayed following a legal challenge to the constitutional amendment under which the military courts were established.
That challenge was rejected last week when the Supreme Court upheld the 21st Amendment and the military courts created under the Pakistan Army (Amendment) Act 2015.
Its ruling cleared the way for trying suspected terrorists in the new courts but said they must be given fair trails and the right to appeal.
Inter Services Public Relations, late Thursday, said the men were given fair trials. All legal formalities, following their convictions, were completed as well and Raheel Sharif confirmed their sentences.
Those facing the gallows include Hazrat Ali, who was found guilty of killing members of the security forces, kidnappings and raising funds for the APS attack; and Mujeebur Rehman, who abetted an attack on the Pakistan Air Force base in Peshawar and helped transport suicide bombers to the APS.
Others include Sabeel, who supported both attacks, and Maulvi Abdus Salam who was convicted of harbouring the suicide bombers prior to the attacks.
Taj Muhammad was convicted of harbouring the APS suicide bombers.
The sixth terrorist to face execution is Ateequr Rehman.
A seventh Taliban terrorist, Kifayat Ullah, who supported the APS massacre and carried out IED attacks, was jailed for life.
http://timesofindia.indiatimes.com/world/pakistan/Pakistan-to-hang-Peshawar-school-massacre-plotters/articleshow/48479477.cms
------
PM Nawaz must end good cop, bad cop routine: PTI Leader
DAWN.COM 15 August 2015
ISLAMABAD: Pakistan Tehreek-i-Insaf (PTI) leader Asad Umar on Saturday pressed on Prime Minister Nawaz Sharif to take a clear stance and appropriate action in wake of the allegations levelled by Senator Mushahidullah Khan against former Inter Services Intelligence (ISI) chief Lt Gen Zaheerul Islam Abbasi.
In an interview to BBC Urdu, Mushahidullah, Minister for Climate Change, had alleged that the "former head of ISI had devised a conspiracy to remove the elected government." The senator's allegations were denied by both the government and military hours after the interview went live.
PTI's Asad Umar took to twitter to term the denial by the government insufficient, saying if the allegations levelled by Mushahidullah proved to be true, the former DG ISI and his accomplices should be tried for "planning and encouraging an act of treason."
Umar said if the accusations against the former ISI chief turned out to be false, Mushahidullah should be sacked from his job as the minister and ousted from the party.
In another tweet, Umar said similar allegations had been earlier levelled against DG ISI by the Defence Minister Khwaja Asif and hence it was time this trend was put to rest.
The PTI leader then stressed that the prime minister could not continue the "good cop bad cop drama" and said he should clear his stance by taking action against his ministers for levelling false allegations if he disagrees with them.
Mushahidullah in his interview to BBC highlighted that the plan to overthrow the government was made when the two marches — the 'Azadi March' by PTI and the Inqilab March by Pakistan Awami Tehreek — entered Islamabad in August 2014.
In his interview to the BBC, one year after the two marches set forth from Lahore towards Islamabad, the minister claimed that the plan made by the then head of ISI General Zaheerul Islam was aimed at creating unrest and chaos.
"Telephone discussions of the former intelligence head have been recorded in which he was giving directions on how to create chaos and take over the PM's house," Senator Mushahidullah claimed in the interview.
He then added that these telephone conversations were recorded by the civil intelligence agency, the Intelligence Bureau (IB), which reports to the interior ministry.
"The conspiracy was not only to target the civil government led by Nawaz Sharif but it was even against the army chief," he said, "The action plan was to create a deep rift between the PM and the army chief so that the prime minister may take action against Gen Raheel Sharif and then some people would come into action."
Within hours of Mushahidullah's remarks having hit the airwaves of the news channels, the Prime Minister's Secretariat (PMS) and then the ISPR, the military's media wing, issued statement denying the existence of the conspiracy in statements that snubbed the minister as well as others.
The statement from the Prime Minister's Secretariat also added that Senator Mushahidullah had been asked to clarify his position over his statement.
After that the minister as well as the information minister spoke to television channels to deny the interview. Senator Mushahidullah went so far to say that he simply repeated rumours he had heard from here and there.
The PTI had staged a 126-day sit-in in Islamabad last year to press for its demand for a judicial inquiry into the rigging allegations.
A judicial commission — constituted under a presidential ordinance in April earlier this year to probe PTI's allegations of rigging in the 2013 general election — concluded in its report that polls were in large part "organised and conducted fairly and in accordance with the law".
PTI chairman Imran Khan had last year alleged that the Prime Minister Nawaz Sharif paid the IB Rs270 crore to sabotage his protest movement.
http://www.dawn.com/news/1200613/pm-nawaz-must-end-good-cop-bad-cop-routine-asad-umar
------
PM Nawaz, Modi exchange Independence Day felicitations
IRFAN HAIDER15 08 15
ISLAMABAD: Prime Minister Nawaz Sharif on Saturday, in an exchange of letters with his Indian counterpart Narendra Modi, extended felicitations on the occasion of India's Independence Day.
PM Nawaz extended his wishes to the Indian premier today. Whereas yesterday on Pakistan's Independence Day, Modi extended his felicitations to Pakistanis through Twitter.
The Indian premier in a tweet had also extended his good wishes to Pakistanis.
The exchange between the two leaders comes in the midst of tension between India and Pakistan due to recent skirmishes along the Line of Control.
Earlier in this month, 3 people were killed and at least 22 injured as Indian and Pakistani security forces exchanged fire in across the Working Boundary in Sialkot.
A border ceasefire agreement signed by the neighbours in 2003 has largely held, but both frequently accuse each other of breaching it.
Adviser to the Prime Minister on Foreign Affairs and National Security Sartaj Aziz will visit New Delhi for security talks on August 23, he said on Thursday, in India's first attempt in months to restart talks.
"I can confirm that I will be going to India on August 23," Sartaj Aziz told a news conference.
Aziz had said his visit was "not a breakthrough in terms of composite dialogue and all the issues but at least it is an ice breaking on some issues.. and let's hope it will lead to further more comprehensive dialogue on the other issues between the two countries".
Prime Minister Nawaz Sharif and his Indian counterpart Narendra Modi, in their meeting at Ufa (Russia) in July, had agreed that a meeting of the National Security Advisers (NSAs) would be convened to "discuss all issues connected to terrorism".
http://www.dawn.com/news/1200610/pm-nawaz-modi-exchange-independence-day-felicitations
------
KP, Fata celebrate Independence Day with traditional zeal
BUREAU REPORT — 15 08 15
PESHAWAR: The country's 69th Independence Day was celebrated in Khyber Pakhtunkhwa and Federally Administered Tribal Areas with traditional zeal and zest on Friday.
The people paid tribute to leaders of freedom struggle and prayed for the country's integrity and prosperity.
In Peshawar, the day opened with the 21 guns salute.
The main event of the day was the flag hoisting ceremony on the lawn of the Khyber Pakhtunkhwa Assembly.
Chief Minister Pervez Khattak, who was the chief guest on the occasion, hoisted national flag.
Rose petals were showered on participants from the air by a helicopter, while the police band played musical compositions of national songs.
Children of Peshawar Municipal School sang national songs. The chief minister joined them. He later awarded them cash prize for good performance.
A cultural troupe of Frontier Constabulary performed traditional Mehsud dance.
The participants prayed for integrity and prosperity of country as well as for the policemen, army official and children of Army Public School, who laid down their life in the fight against terrorism.
Also in the day, the Khyber Pakhtunkhwa Chamber of Commerce and Industry held a flag hoisting ceremony at the Chamber House.
KPCCI president Faud Ishaq hoisted the national flag, while senior KPCCI members and businessmen were also present on the occasion.
A band of FC played national anthem and national songs.
The Rescue 1122 also held a flag hoisting ceremony at its provincial headquarters where its director general, Asad Ali Khan, was the chief guest.
The Pakistan Tehreek-i-Insaf women's wing arranged an Independence Day ceremony at its provincial secretariat. A musical event was also arranged by PTI youth and student wings.
The culture department arranged an Independence Day at Nishtar Hall, which was attended by scores of people.
Besides, Shabab-i-Milli also took out a 'Geo Pakistan' rally from Nishtarabad to Firdous Chowk.
Flag hoisting ceremonies also took place at all government universities in the city.
People stepped out of their houses to celebrate Independence Day in
large numbers due to improvement in security situation.
In Charsadda, too, rallies and functions were held to mark Independence Day.
Students, social activists, political workers and people from other walks of life observed the day with zeal and zest and expressed solidarity with the families of terrorism victims.
Schoolchildren paid tribute to students and staff of APS Peshawar during a function at the Hayatullah Shaheed High School in Rajjar.
Also, private schools, rights organisations and district administration organised the Independence Day ceremonies.
In Mansehra, federal minister Sardar Mohammad Yousaf addressed an Independent Day function at the Scout Cadet College Batrasi and urged students to study science and technology wholeheartedly to help the country overcome challenges.
In Swabi, the main Independence Day function was held on the lawn of the Ghulam Ishaq Khan Institute of Engineering Sciences and Technology auditorium.
Faculty members, teachers, students and employees of the institute participated in the function.
Deputy Commissioner Mattiullah Khan attended an Independence Day function at the Government High School Swabi.
In Buner, rallies were held in schools and offices of the district administration to observe Independence Day.
Deputy commissioner Khaista Rehman was the chief guest at the main function, which was held in district headquarters, Daggar.
Functions also took place at the DHQ Hospital, press club and district prison.
In Nowshera, scores of people attended a ceremony at the Government High School to observe the Independence Day. Deputy commissioner Zakaullah Khattak was the chief guest on occasion.
The schoolchildren delivered speeches, sang national songs and performed skits to highlight the importance of the day.
In Upper Dir, the main flag hoisting function was held at Dir Stadium, where deputy commissioner Imran Hameed Sheikh was the chief guest.
Students of government and private schools sang national songs and delivered speeches on the occasion.
In Timergara, the district administration, Dir Levies, Pakistan army, educational institutions, student wings of political parties and youth organisations arranged colourful events to mark the Independence Day.
The speakers paid tribute to leaders of freedom struggle and urged students and youths to come forward and help turn Pakistan into a modern welfare state.
In Mardan, the main Independence Day function was the flag hoisting ceremony at the Pakhtunkhwa House, where commissioner Khalid Hussain Khan was the chief guest. A function also took place on Garden Campus of Abdul Wali Khan University Mardan, where Vice Chancellor Professor Ihsan Ali and faculty members were present.
National song and speech competitions were organised on the occasion.
In Karak, the main Independence Day ceremony took place at Khushal Khan Khattak University.
Vice Chancellor Professor Ibrahim Khattak hoisted the national flag.
Later, a speech competition took place among students.
In various parts of Khyber Agency, including Landi Kotal, security forces and political administration organised special ceremonies to mark the Independence Day with fervor.
Functions also took place in schools and government offices, where speakers paid tribute to security forces for their resolve to eliminate terrorism.
Display of fireworks was also held on the eve of Aug 14.
In Lakki Marwat, the 69th Independence Day was celebrated with zeal and zest. The Pakistan army Tajazai base camp commander, Brigadier Abdul Hamid, hoisted national flag at a grand function held in the Lt Adnan Shaheed Sports Complex.
The army, police and levy personnel saluted the national flag, while national anthem was also played.
In Ghalanai, headquarters of Mohmand Agency, the Independence Day was marked with traditional fervor.
Khyber Pakhtunkhwa Governor Mahtab Ahmad Khan was the chief guest at the flag-hoisting ceremony at the Ghalanai Sports Stadium.
In Khar, the headquarters of Bajaur Agency, the main Independence Day function took place at Levies Lines in Civil Colony.
Political agent Mohammad Yahya Akhunzada, who was chief guest on the occasion, hoisted the national flag.
Tribal elders, members of peace committees, political and religious activists, senior administration officials and levies force personnel attended the ceremony.
http://www.dawn.com/news/1200569/kp-fata-celebrate-independence-day-with-traditional-zeal
----
Senator Mushahid tenders resignation following ISI plot claims
By Our Correspondent: August 15, 2015
ISLAMABAD: Senator and senior minister of the Pakistan Muslim League-Nawaz Musahidullah Khan has tendered his resignation over a comment he made claiming the Inter-Services Intelligence (ISI) plotted to topple the civil and military leadership during the PTI sit-ins last year.
In an interview to BBC Urdu at the first anniversary of the sit-ins, Federal Minister for Climate Change Mushahidullah Khan said the conspiracy was foiled after a civilian intelligence agency, Intelligence Bureau (IB), intercepted a call of then ISI chief Lieutenant General Zaheerul Islam who was allegedly giving instruction to create chaos during the sit-ins and take control of the PM House.
In a statement released on Saturday, Information Minister Pervez Rashid said Khan, who is currently in the Maldives, has sent his resignation to the prime minister.
Rashid added that the minister, on his return, will furnish his resignation and provide an explanation in person to the premier.
On Friday, Prime Minister Nawaz Sharif asked Mushahidullah to explain the basis of his remarks.
Later during the day, the army's spokesperson General Asim Bajwa also termed any reports about a "tape" as baseless rumours.
"The story about any tape recording as being discussed in media is totally baseless, unfounded and farthest from truth," Bajwa said, adding, "Such rumours are irresponsible and unprofessional."
http://tribune.com.pk/story/938606/senator-mushahid-tenders-resignation-following-isi-plot-claims/?utm_source=Daily+Roundup+Newsletter&utm_campaign=1cdbf6309c-Daily_Roundup_5pm&utm_medium=email&utm_term=0_19961368d8-1cdbf6309c-65338937
-----
Senator Mushahidullah's bombshell upsets PML-N's apple cart
KALBE ALI 15 08 15
ISLAMABAD: The ruling party, Pakistan Muslim League-N, has shot itself in the foot once again.
On the evening of Independence Day, when the celebrations were still ongoing, a federal minister's remark have thrown the ever fragile civil-military relations into a tail spin, compelling the government to deny the cabinet member's remarks and the military to issue a denial as well.
The strongly worded denial of the military is not going to be a good omen for the PML-N government, which is far from stable.
It was an old plot though some of the characters were new.
The culprit was Senator Mushahidullah, Minister for Climate Change, who told the BBC that the "former head of ISI had devised a conspiracy to remove the elected government."
Within hours of his remarks having hit the airwaves of the news channels, the prime minister's secretariat and then the ISPR, the military's media wing, denied the existence of the conspiracy in statements that snubbed the minister as well as others.
Interview that set the ball rolling
The minister highlighted that the plan was made when the two marches — the 'Azadi March' by Pakistan Tehreek-i-Insaf and the Inqlab March by Pakistan Awami Tehreek — entered Islamabad in August 2014.
In his interview to the BBC, one year after the two marches set forth from Lahore towards Islamabad, the minister claimed that the plan made by the then head of ISI General Zaheerul Islam Abbasi was aimed at creating unrest and chaos.
"Telephone discussions of the former intelligence head have been recorded in which he was giving directions on how to create chaos and take over the PM's house," Senator Mushahidullah claimed in the interview.
He then added that these telephone conversations were recorded by the civil intelligence agency, the Intelligence Bureau (IB), which reports to the interior ministry.
Senator Mushahidullah also told the BBC that Prime Minister Nawaz Sharif played the telephone recordings for the Chief of Army Staff, Gen Raheel Shareef, during their meeting on August 28, 2014.
After this, the minister claimed, the horrified army chief made his director general of ISI listen to the tapes. In his interview the minister further elaborated that after listening to the audio recording the army chief called in the head of the intelligence agency and got the tape played.
"General Abbasi was asked by the army chief if the voice was his or not? And receiving the confirmation from him, the head of the intelligence agency was asked to leave the meeting," Senator Mushahidullah stated in his interview.
The minister even said that the government had received several other reports that the conspiracy prepared at that time in this connection would have a "bloody and destructive outcome".
"The conspiracy was not only to target the civil government led by Nawaz Sharif but it was even against the army chief," he said, "The action plan was to create a deep rift between the PM and the army chief so that the prime minister may take action against Gen Raheel Sharif and then some people would come into action."
Unsurprisingly, the interview caused immediate controversy.
What had preceded the interview?
In order to understand the attention the interview garnered, it is important to point out that such rumours had been doing the rounds since last year -- about then DG ISI General Zaheerul Islam being behind the sit-in by PTI and PAT; how the conspiracy was nipped in the bud by a democracy loving General Raheel Sharif; and how the government of PML-N was saved.
These rumours had died down as other events took place but they appeared to have made a comeback since the judicial commission's report was announced, declaring the elections free and fair.
Shortly after the report came out, Defence Minister Khawaja Asif, who is known to say the "wrong thing at the wrong time" where the army is concerned, caused a small storm when he named General Zaheerul Islam and others of having been behind the sit-ins. This was the first time a government official had identified an army official instead of simply pointing the finger at unknown generals.
Later, the prime minister's brother and chief minister Punjab also called for an inquiry into the factors behind the sit-in.
This set more alarm bells ringing.
Observers and commentators pointed out that the PML-N government was deliberately gunning for the retired army officials including General Zaheerul Islam. The combined statements of the defence minister and the chief minister were seen as a party policy that enjoyed the prime minister's approval.
In addition, some news reports also once again referred to these audio tapes that proved the DG ISI's guilt. A PTI member said in one interview that the plan was to make the prime minister so nervous that he would try and remove the army chief (as he had tried in 1999) and thus 'provoke' the military to carry a coup.
The unease in Pindi
There is no doubt that the military was deeply uncomfortable with such statements.
As more than one observer pointed out, if these statements were being made and there was no response from the military, it strengthened the perception that General Raheel Sharif and General Zaheerul Islam were not on the same page. Why else would the military allow multiple statements accusing a retired general of instigating a coup?
When a senior military officer was asked about the institution's silence in the wake of the statement by the defence minister, he argued that any reaction from the military would not serve the democratic set-up well.
He, however, hinted that the some within the federal government had been informed of the unease in the military.
However, on Friday, it seems as if the PML-N Senator caused far too much unease.
The denials begin
It was the government that swung into action first.
The media wing of prime minister's secretariat denied Mushahidullah's statements including the notion that the PM played any tape in front of anybody.
It also added that Senator Mushahidullah had been asked to clarify his position over his statement.
After that the minister as well as the information minister spoke to television channels to deny the interview. Senator Mushahidullah went so far to say that he simply repeated rumours he had heard from here and there.
But clearly, their efforts did not satisfy the military because at midnight, the DG ISPR took to his preferred social media platform, twitter, and tweeted that "The story about any tape recording as being discussed in media is totally baseless and farthest from truth...Such rumours are irresponsible and unprofessional".
While this will stop some of the rumour mongering for the time being, the more important question about the state of the civil- military relations will continue to be discussed. And the prime minister has his ministers to thank for that.
http://www.dawn.com/news/1200581/mushahidullahs-bombshell-upsets-pml-ns-apple-cart
------
Pemra calls for responsible reporting on Kasur child abuse case
MATEEN HAIDER15 08 15
ISLAMABAD: The Pakistan Electronic Media Regulatory Authority (Pemra) on Saturday directed TV channels to exercise caution while reporting about the Kasur sex abuse scandal.
In a statement issued by Pemra's headquarters in the capital, the regulatory body advised TV channels to report about the scandal in a responsible manner saying, "The faces of the victims and the parents should not be shown and neither should their identities be revealed."
Pemra said in the statement it has asked TV channels not to give graphic details of what happened in the serial child abuse scandal.
The media regulatory body said the "victims have been through enough trauma already and their wounds should not be scratched further by media instead of healing them".
Details of the child sex abuse scandal were reported by local media, with some reports saying that 280 children were molested by a gang, which also made around 400 videos of children, later using them to blackmail families and receiving money from them.
A property dispute allegedly brought the issue to the surface.
While the Punjab government downplayed the scandal, protestors were out on the streets in Kasur, demanding that the culprits, some of whom they say are at large, be apprehend immediately.
http://www.dawn.com/news/1200624/pemra-calls-for-responsible-reporting-on-kasur-child-abuse-case
------
Govt, MQM yet to break the ice
KHAWAR GHUMMAN15 08 15
ISLAMABAD: The government continued its efforts on Friday to persuade the MQM leadership to review its decision of resigning from the two houses of parliament and Sindh Assembly.
But the two sides have yet to break the ice. Instead, the MQM described the arrest of party workers in Karachi's Landhi area on the eve of Independence Day as "throwing a spanner in whatever efforts are being made to resolve the crisis".
Finance Minister Ishaq Dar told Dawn that he had a meeting with JUI-F chief Maulana Fazlur Rehman, who had been requested by Prime Minister Nawaz Sharif to hold talks with the MQM leadership.
"I have been informed by the JUI-F chief that he has talked to MQM's parliamentary leader Farooq Sattar and conveyed to him the government's desire that Mutta­hida lawmakers withdraw their resignations, but has yet to receive a response," he said.
According to the JUI-F chief, Senator Dar said, Mr Sattar had informed Altaf Hussain about a consensus reached between the government and parliamentary parties during a mee­t­ing on Thursday that "MQM must come back and play its role in the parliament house".
Asked what the government could offer to address the MQM's grievances against Rangers and other law enforcement agencies, he said: "Anything which the government can offer within the law of the land."
Asked for a more precise answer, the minister said the setting up of an oversight com­­mi­ttee on the ongoing Karachi operation was a fair demand.
But in the same breath, Senator Dar, who had played a key role in reaching a consensus with the PTI on the constitution of a poll inquiry commission and bringing Imran Khan's party back to the National Assembly, said: "Whatever the MQM dema­nds and the government off­ers in response, due process of law must take its course."
Despite repeated attempts neither Maulana Fazl nor his spokesperson was available for comment on the matter. But talking to Dawn, Dr Farooq Sattar sounded worried and complained about arrest of MQM workers.
"The arrest of 12 MQM workers, of them seven from Landhi area, by law-enforcers on the day of independence sends a very clear message to us that there is no change of heart on the government side towards my party," he said. "I have informed Senator Dar about the arrest of my workers and the consequences it can have on the government's efforts to woo my party back to the parliament house."
The arrest of MQM workers clearly suggests who actually is calling the shots in Karachi.
In reply to a question about demands the party intended to attach to the decision of withdrawal of resignations, Mr Sattar said 19 reasons that he had explained on the floor of the house as cause of resignations also carried his party's demands. "The main issues for the MQM at the moment are disappearances and extra-judicial killings of its workers," he said.
A high-powered judicial commission, constitution of a monitoring committee to oversee the Karachi operation and assurances that "excesses against Muttahida workers" won't be repeated were some of the steps Dr Sattar listed that could lead to "meaningful talks" with the government.
Senator Dar made it clear that there would be no compromise as far as the Karachi operation was concerned.
http://www.dawn.com/news/1200584/govt-mqm-yet-to-break-the-ice
------
Crisis brewing within PPP as its KP cabinet likely to resign
ALI HAZRAT BACHA — 15 08 15
PESHAWAR: Internal wrangling within the Pakistan Peoples Party, Khyber Pakhtunkhwa, has intensified to the extent that most of its cabinet members have stopped cooperating with the provincial president and are making efforts for his early replacement.
Reliable sources within the party told Dawn that the disgruntled leaders were holding the provincial president, Senator Khanzada Khan, responsible for the party's dismal performance in the recent local government elections and were hopeful that the party high-ups would replace him in the near future.
They said that the provincial cabinet members had made up mind to resign to record their protest against the attitude of the provincial president. They said that the members believed that Mr Khanzada was unable to run the party affairs successfully while he was also not allowing the rest of leaders to reorganise it.
A party insider said that the provincial level office-bearers held a meeting at the residence of Liaquat Shabab in Nowshera on Friday and agreed to present their resignations to the provincial president, probably on Saturday (today) in Mardan.
Cabinet members stop cooperating with party's provincial president
"After he (Khanzada) managed to become senator he stopped working for the party which lost the LG elections. He, in fact, has tarnished the image of the entire party cabinet," the source said and added that the office-bearers were morally bound to resign over the defeat in LG elections.
"For the time being, resignation is the only option with us," the source said.
Mr Khanzada had replaced Anwar Saifullah Khan in Nov 2013 as provincial president and he was given the agenda to reorganise the party by activating the disgruntled workers and removing internal differences. The source said that since then the provincial president did nothing for the welfare of party. During his tenure the party lost its past position which can easily be judged from the results of the May 30 LG elections.
"Instead of reorganising the party he removed many of the office-bearers without looking for their substitutes in various districts. As a result, the senior party leaders stopped working for the party and the candidates in the LG elections faced a crushing defeat," the source said.
The source revealed that leg pulling in the party was at peak and a new group of some influential people comprising former MNAs from KP and Fata had managed to establish cordial relations with the central leadership through MNA Faryal Talpur and Senator Sherry Rehman and were trying to get the key seats.
Prominent among the influential people, the source said, included Noor Alam Khan of Peshawar, Faisal Karim Kundi of Dera Ismail Khan and Akhunzada Chattan of Bajaur Agency. He said that that these party people were posing themselves to be young and suitable persons to compete other parties, especially Pakistan Tehreek-i-Insaf.
This scribe tried to get the version of Mr Khanzada on issues related to the party, but he avoided attending phone calls. However, when contacted PPP secretary information Liaquat Shabab said that every office-bearer should fulfil the responsibilities with honesty. He admitted that the last over two years of PTI-led rule in the province was a good opportunity for the PPP to work hard and ensure access to its annoyed workers, but it failed to do so. He said that the Awami National Party, meanwhile, managed to stage a comeback in several districts in the recent LG elections.
Mr Shabab said that PPP chairman Bilawal Bhutto Zardari would soon start visiting different provinces to hold meetings with senior leaders and devise a strategy for strengthening the party. However, he said that Bilawal Bhutto might avoid attending public meetings owing to security reasons.
In a related development, some disgruntled leaders also held a meeting in Peshawar and decided to seek time from Bilawal Bhutto to apprise him of the party's internal situation in Khyber Pakhtunkhwa.
"Yes, we have held a meeting and will try to hold a meeting with the party chairman in the best interest of the party," Syed Ayub Shah told Dawn on Friday.
http://www.dawn.com/news/1200549/crisis-brewing-within-ppp-as-its-kp-cabinet-likely-to-resign
------
Unprecedented celebrations on Karachi streets
THE NEWSPAPER'S STAFF REPORTER —15 08 15
KARACHI: An air of festivity swept through the streets of the coastal city with the national flag fluttering on top of public and private buildings and vehicles on Friday, as many youngsters danced on roads and moving trucks to the tunes of national songs.
The unusual enthusiasm was also witnessed on the green lawns of the Quaid-i-Azam mausoleum and many other public places which were filled by huge crowds, mostly comprising the youth, as political parties also took out rallies which all concluded at the mausoleum after passing through various parts of the city.
In an early morning visit to the Quaid-i-Azam mausoleum, Pakistan Peoples Party chairman Bilawal Bhutto-Zardari accompanied by Sindh Chief Minister Syed Qaim Ali Shah and senior party leaders paid homage to the Father of the Nation and offered Fateha.
PPP pays tribute to personnel of the Pakistan Army, Pakistan Rangers and policemen
Strict security measures were in place then as the public was not allowed to visit the mausoleum till the departure of Mr Bhutto-Zardari.
A statement later issued by the Sindh PPP media cell said: "The people of Karachi are celebrating this year's Independence Day in an absolutely different and peaceful atmosphere due to the ongoing operation led by Pakistan Rangers and initiated by the government.
"The City of Lights has different significance of this year's celebrations. The PPP pays tribute to soldiers of Pakistan army, Pakistan Rangers and policemen whose sacrifices have ensured this freedom and prosperity to the country."
The Jamaat-i-Islami organised more than 12 rallies in different districts, while a flag-hoisting ceremony was held at the party headquarters, Idara Noor-i-Haq, where a large number of workers and party leaders turned up.
"The spirit which we are witnessing today reminds us of the one which was witnessed during the Pakistan movement," the statement quoted JI Karachi chief Hafiz Naeem-ur-Rahman as saying.
"The same spirit is required to implement the philosophy of Pakistan and fulfill the dreams of Quaid-i-Azam Mohammad Ali Jinnah and other leaders of the nation."
The Muttahida Qaumi Movement (MQM) had organised a musical programme in Jinnah Ground near the party headquarters. Later, MQM senior leader Dr Farooq Sattar spoke to a rally in Landhi No 6.
Dozens of Jamaat-ud-Dawa workers led by senior leader Muzammil Hashmi rallied from Safari Park to the Mazar-i-Quaid.
Pakistan Tehreek-i-Insaf said "thousands of people" attended the rallies organised in all districts of the metropolis and all the participants later converged on the Mazar-i-Quaid.
A cake ceremony was organised by the Majlis-i-Wahdat-i-Muslimeen at its camp near the Mazar-i-Quaid.
"It was a 68-pound cake and the ceremony was attended by senior MWM leaders, including Nasir Shirazi, Allama Anwar Ali and Allama Sadiq Jafri. The leaders later visited the Mazar-i-Quaid and offered Fateha," said an MWM statement.
At Nagan Chowrangi, Ahle Sunnat Wal Jamaat held a rally which was addressed by senior leaders, including Taj Muhammad Hanfi and Maulana Khalid Mahmood.
Earlier, some 50 children aged between 12 and 15 years took part in a programme organised to celebrate Independence Day at the British deputy high commission.
British acting deputy high commissioner Gill Atkinson said: "Seeing these children here today – representing the future of Pakistan – enjoying themselves and celebrating the independence day with us reflects the close ties between the UK and Pakistan. It is partnership that is set to become even stronger and more important as we continue to work together for mutual prosperity."
The children participated in many fun activities such as making pizza and cup cakes, musical chairs, a magic show, and face painting.
On Thursday night, a mushaira was organised at the Karachi Press Club, where Amjad Islam Amjad, Fahmida Riaz, Ejaz Rehmani, Prof Inayat Ali Khan, Alauddin Hamdam Khanzada, Fazil Jamili, Rashid Noor and others recited their poetry.
http://www.dawn.com/news/1200514/unprecedented-celebrations-on-karachi-streets
------
Criminals linked to MQM arrested in Karachi's Landhi, Rangers say
DAWN.COM — 15 08 15
KARACHI: Pakistan Rangers Sindh on Friday claimed to have arrested multiple alleged criminals including target killers in a surgical operation conducted in the city's Landhi-VI area on Thursday.
According to the Rangers press release, a precise raid was conducted on Thursday night in Landhi-VI after information was obtained about the presence of wanted criminals taking shelter in the area.
According to the paramilitary force's spokesman, those arrested are activists of Muttahida Qaumi Movement (MQM), and there details are as follows.
Aqil, unit incharge of MQM unit 84, was arrested for carrying out target killings and is said to be a close associate of Saleem Inqlabi and Manzoor Lamba, according to Rangers.
Nasiruddin, joint unit in-charge MQM unit 84, was arrested over charges of multiple murders and other heinous crimes.
Rangers also arrested Sajid, an active worker of MQM, on charges of smuggling weapons, said the Rangers news release.
Another individual, Ghayas Uddin, who was arrested will be freed because he has no criminal record, said the spokesman.
Karachi Corps Commander Lt Gen Naveed Mukhtar earlier last week had reiterated his trust in Rangers and other law enforcement agencies leading the 'Karachi operation', which he said, was "apolitical, indiscriminate and free of any compromise" aimed at bringing the violence-hit city back to normality.
"Karachi operation is apolitical. It is indiscriminate and free of any compromise and pressure. Terrorists, their aides and facilitators are targets of the operation. We will not leave any stone unturned to achieve these targets," he had said.
It is pertinent to mention here that the MQM on Wednesday resigned from Parliament in protest against the Rangers-led operation in Karachi. The political party claims it is being targeted under the garb of the Karachi security operation, whereby its workers are being detained and killed illegally.
http://www.dawn.com/news/1200453/criminals-linked-to-mqm-arrested-in-karachis-landhi-rangers-say
-------
India
No Place for Casteism, Communalism, Says PM Modi
ANI | Aug 15, 2015
NEW DELHI: Addressing the nation on the occasion of its 69th Independence Day from the ramparts of the 17the century-built Red Fort, Prime Minister Narendra Modi on Saturday said there is no place for casteism or communalism in India, and added that these two menaces that bedevil society would not be tolerated at all.
"Be it casteism or communalism, there is no place for them. In no way can they be tolerated. If the unity of India is destroyed, then the dreams of the people are also destroyed," he said.
Re-emphasing on the need to keep the nation united, Prime Minister Modi said, "This is Team India, a team of 125 crore Indians. This is the team that makes the nation and takes our nation to new heights."
Before the unfurling of the national flag from the ramparts of the Red Fort, Prime Minister Modi first went to Rajghat to pay homage to Mahatma Gandhi, the Father of the Nation. Thereafter, he was received at the Red Fort complex by Defence Minister Manohar Parrikar, Minister of State for Defence Rao Inderjit Singh, Defence Secretary G. Mohan Kumar and the commanding officer of the Delhi area.
He then reviewed a tri-services guard of honour before moving the venue from where he has begun to address the nation.
http://timesofindia.indiatimes.com/india/No-place-for-casteism-communalism-says-PM-Modi/articleshow/48491557.cms
------
Unsung Heroes: 10 Names from the Indian Freedom Struggle You Might Not Know, but You MUST
TBI Team August 15, 2015
We remember and honour our freedom fighters as best as we can. But there are many people and their contributions that we have not even heard of. Here is remembering them too and applauding their immense sacrifice in helping us live in a free country.
The remembrance of our freedom struggle involves a lot of nostalgia – romanticized and commemorated by the country as best as possible. But there are a few names which have been lost over the years. Names which do not enter the hyped mainstream media responses on freedom fighters; which are subaltern and marginalized. Here is a list of some of those names, of people who formed a very important part of our freedom struggle and are yet, not as well known as a few others.
1. Rani Gaidinliu
She was a Naga spiritual and political leader who led a revolt against the British rule in India and was also staunchly against the conversion of Naga religious practitioners to Christianity. At the age of 13, she joined the Heraka religious movement that her cousin had initiated, which later turned into a political movement that tried to drive the British away from Manipur and nearby Naga regions. She was 16 at the time of her arrest, and was put into life imprisonment by the British. Five years later, in 1937, Nehru visited and promised to get her out and gave her the title 'Rani'. She was released in 1947 after which she continued to work for the community. She was also awarded a Padma Bhushan.
2. Tirot Sing
He was one of the chiefs of Khasi people in early 18th century and fought against British attempts to take over control of the Khasi hills. He died on 17 July, 1835, fighting the British.
3. Alluri Sitarama Raju
He led the ill-fated "Rampa Rebellion" of 1922–24, during which a band of tribal leaders and other sympathizers fought against the British Raj. He was referred to as "Manyam Veerudu" (Hero of the Jungles) by the local people. Born into a prosperous Kshatriya family in Andhra Pradesh, he gave up everything for the freedom struggle. He took up the cause of the tribal people in the Agency areas, who were being harassed by British officials under the Forest Act, and led an armed rebellion against the British forces.
4. Pingali Venkayya
He was a devout follower of Mahatma Gandhi and was also known as Diamond Venkayya for his knowledge on diamond mining. He was an authority in geology, agriculture and also an educationalist. His major contribution to the movement was the design of the national flag of India, which was first modified and adopted as the flag of Indian National Congress and later modified again to be the national flag of India.
5. Tanguturi Prakasam
A politician and a freedom fighter, he was first the Chief Minister of the Madras Presidency and then the Chief Minister of the Andhra state. He started his career as a lawyer, but gave up his practice in 1921 and was drawn to the freedom movement. One of his most famous acts was in 1928 during the protests against Simon Commission in Madras. The police had imposed a ban on protests in some areas, and had warned of shooting people who violated orders. He faced the police, tore open his shirt, bared his chest and dared them to shoot if they could. This singular act of defiance won him the title of Andhra Kesari (Lion of Andhra).
6. Veerapandiya Kattabomman
He was a courageous Palyekar chieftain from Tamil Nadu in the 18th century. He waged a war with the British sixty years before the Indian War of Independence (the 1857 rebellion) occurred in the Northern parts of India. He was captured and hanged in 1799 CE. His fort was destroyed and his wealth was looted by the British army. He basically protested against the sovereignty of the East India Company and refused to pay their taxes.
7. The Trio: Benoy, Badal & Dinesh
The trio is mostly remembered together for their attack on the Dalhousie Square in Kolkata. Their full names are Badal Gupta, Dinesh Gupta and Benoy Basu and all of them hailed from Bengal. Col N.S. Simpson, the Inspector General of Prisons, was infamous for brutally oppressing prisoners. The revolutionaries decided not only to murder him, but also to strike terror among British officials by launching an attack on the Secretariat Building – the Writers' Building in Dalhousie Square, Kolkata. The three of them were dressed as Europeans when they went and killed Simpson, but they did not wish to get arrested. So, Badal consumed poison, while the other two shot themselves using revolvers. The Dalhousie Square was renamed as the B.B.D. Bagh after them.
8. Surya Sen
He led the Chittagong Armoury Raid to prove that an armed uprising against the mighty British was possible. In his leadership, a group of sixty-four other revolutionaries captured the Police Armory, destroyed the telephones and telegraph lines and dislocated the railway lines to and from Chittagong. After capturing the town. they declared it as Gandhi's Raj by hoisting the tricolor. They were eventually surrounded as they were greatly outmatched and overpowered by the British forces. Also, they could not find any ammunition. Sen was captured, tried and hanged. He used to be a school teacher before he became a revolutionary.
9. Surendra Sai
The man died in obscurity despite protecting Western Orissa from the British rule along with a few other comrades. Eligible as the next in line to the throne of Sambalpur after the death of Maharaja Sai in 1827, he helped the lower caste tribal people in Sambalpur against the British by encouraging their language and culture development. Affectionately called Bira by the local people because of his swordsmanship, he began protesting from the age of 18 and spent some 17 years in jail after that. But he continued the protest till 1862, when he surrendered and went to jail. He spent 20 years in prison after his surrender. Also, Sambalpur was the last patch of land to be occupied by the British except for the princely state, and it is said that it was largely due to the efforts of Sai.
10. Potti Sreeramulu
He is often called the Amarjeevi – a devout follower of Gandhi and even Gandhi praised him for his fasting abilities and dedication. He spent most of his life doing humanitarian work and working for the Dalit community. He died during the fast demanding a separate linguistic state of Andhra from the Madras Presidency.
There are so many others whose names have been lost to obscurity. Let us make an effort to recognize our freedom fighters and remember their contributions. A few other names that we would like to add to the list include Kanak Lata Barua, Kushal Konwar, Piyali Phukan, Veerangana Jhankar Bai, Acharya N. G. Ranga, K. Kelappan, among so many others. Tell us who you think should be commemorated in the comments
www.thebetterindia.com/23959/unsung-heroes-freedom-fighters-india/?utm_source=The+Better+India+Newsletter&utm_campaign=1d54f8742f-RSS_EMAIL_CAMPAIGN&utm_medium=email&utm_term=0_cd579275a4-1d54f8742f-73844649#sthash.4X2vpEpc.dpuf
-----
Mideast
Iran expects petrochemical exports surge after sanctions lifted
By Sam Wilkin | Reuters, Dubai, 15 August 2015
Iran expects to increase petrochemical exports by up to a quarter by the end of 2016 after sanctions are lifted, a senior official was quoted as saying on Saturday.
Sanctions against Iran, due to be lifted in coming months after a July deal between Tehran and six world powers to curb its nuclear program, do not specifically target the petrochemical sector, but exports have slumped since banking and shipping restrictions were introduced in early 2012.
"We expect our exports of petrochemical products to increase by 20 to 25 percent in a short time, between a year and a year and a half," Mehdi Sharifi Niknafs, managing director of the Iran Petrochemical Commercial Company, was quoted as saying by state news agency IRNA.
"When banking, insurance and shipping restrictions are lifted, it will become easier to export and the costs will decrease," he added.
Iran, one of the world's top oil and gas producers, exported around $14 billion of petrochemical products in 2014, the Fars news agency reported in April, down from more than $18 billion in 2011.
Iran reached a deal on July 14 to limit its nuclear program in exchange for relief from international sanctions, which will be lifted when United Nations inspectors confirm Iran is complying with the nuclear restrictions.
https://english.alarabiya.net/en/business/energy/2015/08/15/Iran-expects-petrochemical-exports-surge-after-sanctions-lifted-IRNA.html
-----
Pro-govt forces retake south Yemen province
By AFP | Aden, 15 August 2015
Arab-supported forces loyal to Yemen's exiled government on Saturday retook a fifth province in the country's south, military officials said, as they continued their advance against Iran-backed militias.
The militias "withdrew" and "handed over" Shabwa to the pro-government forces after they were promised a safe route out of the province, a military official told AFP.
Other army officials confirmed the militia pull-out.
"The province was handed over" to the Southern Movement, a secessionist group whose militants have been fighting in loyalist ranks, said Salem al-Awlaqi, a political activist in Shabwa.
Loyalist forces in the south launched an offensive last month against the militias, forcing them out of main southern city Aden in mid-July.
They later advanced retaking the provinces Daleh, Lahj, and Abyan, in addition to Shabwa -- which has substantial oil reserves.
Complaining of marginalization, the Houthi militias descended from their northern stronghold last year and seized capital Sanaa unopposed before advancing on second city Aden in March.
Renegade troops still loyal to deposed president Ali Abdullah Saleh, who resigned in 2012 following a year-long popular uprising against his rule, have joined the Houthis.
On the other side, the southern secessionists have joined ranks with pro-government troops as well as local Sunni tribes to form what they have dubbed Popular Resistance Committees.
The conflict has cost nearly 4,300 lives since March, half of them civilians, according to UN figures, while 80 percent of Yemen's 21 million people need aid and protection.
The five provinces retaken by pro-government troops, along with Mahra and Hadramawt, which the militias never entered, comprise what was formerly known as the independent South Yemen.
It was its own state between the end of British colonial rule in 1967 and its union with the north in 1990.
A secession attempt four years later sparked a brief civil war that ended with northern forces occupying the region.
rebels "withdrew" and "handed over" Shabwa to the pro-government forces after they were promised a safe route out of the province, a military official told AFP.
https://english.alarabiya.net/en/News/middle-east/2015/08/15/Pro-govt-forces-retake-south-Yemen-province-.html
------
Iran nuclear deal backers plan worldwide 'peace' marches
By AFP | Tehran, Iran, 14 August 2015
Thousands of people are expected to march in cities across the globe on Saturday in support of Iran's deal with world powers over its controversial nuclear programme, activists said.
The "global day of peace", as organisers describe it on Facebook, is aimed at showing support for the deal, which must be approved by U.S. lawmakers before being implemented.
The call to mobilise comes as the historic deal reached last month is under fire from U.S. and Iranian hardline politicians.
Activists said the marches, organised partly by Iranians living abroad, will be a show of solidarity with Iran against "pro-war lobbies" in the U.S..
Organisers say they have no affiliation with any group or political party.
The agreement reached in Vienna provides for a progressive and conditional lifting of crippling international sanctions on Iran, in exchange for guarantees that the Islamic republic will not develop a nuclear bomb.
The deal has been publicly and vocally opposed by many members of the US Congress as well as by Israel, and has raised concerns among U.S. allies in the Gulf.
A Facebook page supporting the deal has already advertised marches on Saturday in around 80 cities, including Melbourne, Tokyo, Paris, Ottawa and New York.
A U.S. State Department spokeswoman acknowledged the campaign this week on social media.
"I have no idea who is doing this, but it's kind of awesome," said Marie Harf, re-tweeting a photo of a bike in Washington with a paper tag reading "Support #IranDeal", the campaign's name.
One of Iran's vice presidents also shared a link to "the voluntary campaign" on her Facebook page.
Supporters of the deal "know that this agreement matters in reaching peace and a more secure and tranquil world," said Masoumeh Ebtekar, President Hassan Rouhani's deputy on environmental protection.
O'Brien told the Security Council last month that the crisis was worsening in Syria and that a political solution was more urgent than ever.
A tragic milestone was recorded last month when the number of Syrian refugees fleeing to neighboring countries rose to more than four million, making it the biggest exodus from war in a generation.
An additional 7.6 million are displaced inside the country, uprooting more than half of Syria's pre-war population.
The humanitarian crisis now tops the U.N. list of global emergencies, with 12.2 million people in need of aid, including more than 5.6 million children.
O'Brien will travel to Lebanon and Syria from August 14-17 for a first-hand look of the humanitarian impact of the war, in which 240,000 people have died.
His predecessor Valerie Amos last visited Syria in January 2014.
O'Brien's job title is Under-Secretary-General for Humanitarian Affairs and Emergency Relief Coordinator.
https://english.alarabiya.net/en/News/world/2015/08/14/Iran-nuclear-deal-backers-plan-worldwide-peace-marches-.html
------
Europe
Shia-Sunni divide growing among British Muslims: Report
PTI | Aug 14, 2015
LONDON: Radical preachers within the UK's minority Shia and majority Sunni communities have caused growing religious sectarianism within the country's Muslim community, according to a media report.
Almost a third of UK school pupils believe 'Muslims are taking over our country', study claims
Majority of Britons see Muslims as a threat — Poll
Of the 3 million Muslims in the UK, about 2.3 million identify as Sunni, compared with 300,000 Shias, or 5 per cent of the total.
According to an investigation by 'The Times' newspaper, the divide is being widened by radical preachers on both sides.
"Our faith doesn't condone takfir [excommunication] of another. It is against Prophetic tradition and if we follow the same path as the Middle East, where sectarianism has fuelled conflict, we are in trouble," Qari Muhammad Asim, a leading Sunni voice and imam at the Makkah mosque in Leeds, told the newspaper.
Sayed Ammar Nakshwani, one of the world's leading Shia clerics, said that he recently left the UK for the US after enduring years of intimidation from hardline Sunnis who allegedly threatened his life, followed his parents and vandalised his car.
Sheikh Ahmed Haneef, a Shia imam in London, called for 24-hour police protection for Shia mosques.
Most British Shias have roots in Iran, Iraq, Azer-baijan or Bahrain.
Sunnis make up the vast majority of Muslims worldwide. The sectarian atmosphere in the UK is being fuelled by propaganda that depicts the war in Syria as a battle between Sunni rebels and the Shia-led Assad regime.
The regional power struggle between the Sunni kingdom of Saudi Arabia and the Shia republic of Iran has been identified as another factor.
Superintendent Paul Giannasi, the UK's national police spokesperson, urged victims to report incidents: "We know that many hate crimes are not reported to the police and our communities say that this type of hate crime is among the least likely to come to our attention."
http://timesofindia.indiatimes.com/world/uk/Shia-Sunni-divide-growing-among-British-Muslims-Report/articleshow/48486758.cms
------
Russia denies U.N.-sanctioned Iran general in Moscow 'last week'
By AFP | Moscow, 14 August 2015
Russia said Friday that a UN-sanctioned Iranian general was not in Moscow "last week" and said it was surprised at U.S. criticism regarding an alleged visit.
U.S. Secretary of State John Kerry called his Russian counterpart Sergei Lavrov on Thursday to express concern about the alleged visit of General Qassem Suleimani, head of the Iranian Revolutionary Guards Corps' foreign operations.
Suleimani reportedly visited Russia late last month despite being subject to UN-backed international sanctions.
Russia's deputy foreign minister Sergei Ryabkov denied that the general had been in Moscow "last week" but did not say whether he had visited before then.
"We were honestly very surprised by these reports, given that we had told our American colleagues last week we did not have such information," Russian news agencies quoted deputy foreign minister Sergei Ryabkov as saying on Friday.
"Suleimani was not in Moscow last week."
A U.S. State Department spokesman said Wednesday the United States had confirmed a trip had taken place and said US officials would raise their concerns with Russia at an upcoming New York meeting on violent extremism.
Suleimani is one of several Iranian officials targeted by a 2007 United Nations travel ban because of their alleged links to Iran's nuclear or ballistic missile programmes.
He is also considered a key figure in the provision of military support to Syrian President Bashar al-Assad's regime, which is embroiled in a four-year-old conflict with various rebel groups, and to the Lebanese Shiite armed movement Hezbollah.
Despite the recent deal struck by Iran and world powers on its nuclear programme the targeted sanctions against Suleimani and many of his colleagues remain in effect.
In an apparent attempt to dispel U.S. criticism of Russia's ties with Suleimani, Ryabkov accused the United States of having violated UN Security Council resolutions.
"The Americans themselves have committed actions in the past that did not comply with the requirements of the resolution," Ryabkov said.
"Last year they released four Taliban members from Guantanamo, who were on a UN sanctions list, and handed them over to a Middle Eastern country. This is a direct violation of UN Security Council requirements."
Iran's Foreign Minister Mohammad Javad Zarif is expected in Moscow next week for an official meeting with Russian officials.
https://english.alarabiya.net/en/News/world/2015/08/14/Russia-denies-UN-sanctioned-Iran-general-in-Moscow-last-week-.html
-----
U.N. rights experts to Iran: Immediately release U.S. reporter
By The Associated Press | United Nations , 14 August 2015
U.N. human rights experts are calling on Iran to immediately release a Washington Post reporter who has been detained for more than a year on charges including espionage. A verdict on Jason Rezaian's case could come as early as next week.
Friday's statement says the detention and closed-door trial violate Rezaian's rights and serve to intimidate journalists in Iran.
It says his solitary confinement and full-day interrogation sessions "caused significant physical and psychological strain."
The statement was issued by the special Rapporteur for freedom of expression and human rights in Iran and by the head of the working group on arbitrary detention.
Washington Post Executive Editor Martin Baron says the statement "comes at a critical moment" and upholds the newspaper's stance that Iran's conduct in the case has been illegal.
https://english.alarabiya.net/en/media/television-and-radio/2015/08/14/U-N-rights-experts-to-Iran-Immediately-release-U-S-reporter.html
------
North America
DNA test reveals 'truth' about ex-US president, Warren G. Harding
ANWAR IQBAL —
WASHINGTON: Tests based on DNA are rewriting history. At times they prove what many doubt and, at others, disprove what many thought was true.
One DNA test, revealed on Friday, shows that a former US president, Warren G. Harding, fathered a child out of wedlock with his long-rumoured mistress, Nan Britton.
According to AncestryDNA, a division of Ancestry.com, genetic analysis has confirmed Ms Britton's claim.
She set off a scandal when she went public nearly 90 years ago with her tale of forbidden love in the White House.
The findings — based on DNA results from Ms Britton's grandson and descendants of President Harding — are 99.9 per cent certain, AncestryDNA claimed.
Warren Harding (1865-1923) was president from March 1921 to Aug '23. He was a senator from Ohio when the affair began. It ended with Mr Harding's sudden death during his presidency in 1923.
Ms Britton published her story in a 1927 best-selling autobiography, "The President's Daughter". But historians have long questioned her claims.
http://www.dawn.com/news/1200518/dna-test-reveals-truth-about-ex-us-president
-------
US flag raised in Cuba after 54 years
PTI | Aug 14, 2015
WASHINGTON: In a historic moment, the US raised its national flag at its new Embassy in Cuba after a gap of over five decades on Friday, marking the end of one of the last vestige of the Cold War.
The US and Cuba officially restored their diplomatic ties last month with reopening of the Cuban Embassy in Washington.
US Secretary of State John Kerry, who specially flew for this occasion became the first top American diplomat to visit Cuba after 1945, described as another historic moment.
"This truly is a memorable occasion, a day for pushing aside old barriers and exploring new possibilities and it is in that spirit that I say on behalf of my country," Kerry said.
In his remarks, Kerry said despite restoration of diplomatic ties, leaders in Havana and the Cuban people should also know that the US always remain a champion of democratic principles and reforms.
"Like many other governments in and outside this hemisphere, we will continue to urge the Cuban government to fulfil its obligations under the UN and Inter-American human rights covenants, obligations shared by the United States and every other country in the Americas," he said.
"And indeed, we remain convinced the people of Cuba would be best served by genuine democracy, where people are free to choose leaders, express their ideas, practice faith with a commitment to economic and social justice, is realized more fully where institutions are answerable to those they serve, and where civil society is independent and allowed to flourish," Kerry said.
However, the Republicans slammed the Obama administration for its Cuba policy.
"US policy has changed, but Cuba has not. It remains an unyielding dictatorship, a tragic example of the folly of communism, and an affront to the conscience of the free nations of the western hemisphere," said Jeb Bush, a Republican presidential candidate.
If elected as the president, Bush said he will reverse Obama's strategy of accommodation and appeasement and commit to helping the Cuban people claim their freedom and determine their future, free from tyranny.
"The accommodation of the Castro regime comes at the expense of the freedom and democracy that all Cubans deserve, but Secretary Kerry's visit is especially insulting for Cuba's dissidents," Bush said.
Senator Ben Cardin, Ranking Member of the Senate Foreign Relations Committee, described this as a significant milestone in the restoration of the US-Cuban relationship that is long overdue.
On December 17 last year, Obama and Cuban President Raul Castro announced the beginning of a process of normalizing relations between Cuba and the US, which had been severed in 1961 during the Cold War.
http://timesofindia.indiatimes.com/world/us/US-flag-raised-in-Cuba-after-54-years/articleshow/48486832.cms
-------
URL: https://www.newageislam.com/islamic-world-news/new-age-islam-news-bureau/over-120-isil-terrorists-killed-in-iraqi-air-strikes/d/104280