New Age Islam News Bureau
25 Jul 2015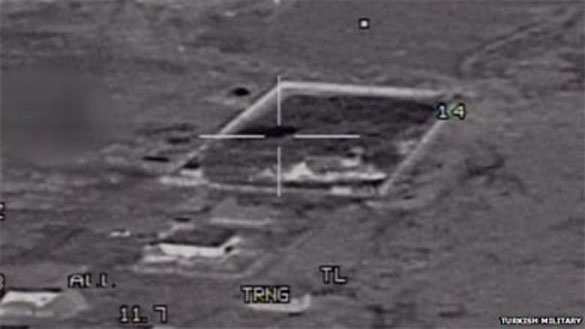 Turkey has released video of the first night of anti-IS air strikes
----------
Arab World
• Over 100 Civilians Killed in Saudi Air Raids against Taiz
• Istanbul Bans Planned Anti-IS 'Peace March': Official
• New Turkish Airstrikes under Way Against Islamic State, Kurdistan Workers • Party: PM Ahmet Davutoglu
• Turkish bombing of Islamic State marks end of tacit truce
• Turkey's air force hits IS and PKK in Syria and Iraq
• Saudi Fighter Jets Kill Four Civilians in Yemen
• Yemeni Troops Retaliate Against Saudi Air Strikes
• Spokesman: Volunteer Forces Cut ISIL's Supply Routes in Fallujah
----
Mideast
• Israeli MP: Arabs who won't sing national anthem can't be judges
• Hamas armed wing gives 25,000 Gazans combat training
• Peshmerga hailed as 'model' for fighting ISIS
• Assad announces amnesty for Syrian army deserters
-------
Europe
• Foreign Office to face inquiry into role played by UK in Libya's collapse
• US defence chief meets with Kurds in Iraq to build strategy against Isis
--------
South Asia
• Afghan forces rescue wounded prisoners but Taliban tortures and kills
• Afghan intelligence arrest Taliban group commander in Helmand
• Iranian Official Asks Arab States to Learn from Turkey's ISIL Experience
• Explosion rocks Taluqan city in north-eastern Takhar province
• Zarif Calls on Kerry to Give up Language of Threat against Iran
-------
Pakistan
• Justice at risk as Pakistan rushes convicts to the gallows
• Rights group urges Pakistan not to hang mentally ill man
• Altaf suspends Karachi Rabita Committee
• CPEC to be completed at all costs: Army chief
• Rains, flood kill 36 in Pakistan
---------
India
• 'Peace proposal' in place, Jamiat Ulema-i-Hind factions seek to reunite soon
• No tampered meters, no extra fare: Salaam Autos in Bangalore shows the way
--------
Africa
• Suspected Islamists Kill 'At Least 21' in Northeast Nigeria
• Tunisia parliament passes new anti-terror law
• Somalia's al-Shabab loses Dinsor stronghold
• Burundi elections: Pierre Nkurunziza wins third term
• Tunisia Restores Diplomatic Ties with Syria
-------
Australia
• Australian Islamic State group nurse arrested on terrorism-related charges in Sydney
• Australian Adam Brookman returns from IS Syria conflict
-------
Southeast Asia
• Malaysia Suspends 2 Newspapers Covering Scandal at State-Owned Fund
------
North America
• President Obama in Kenya: 'Africa is on the move'
------
Compiled by New Age Islam News Bureau
URL: https://www.newageislam.com/islamic-world-news/new-age-islam-news-bureau/over-100-civilians-killed-in-saudi-air-raids-against-taiz/d/104031
------
Arab World
Over 100 Civilians Killed in Saudi Air Raids against Taiz
Jul 25, 2015
TEHRAN (FNA)- Saudi Arabia conducted air strikes against residential areas in the province of Taiz, killing 120 people.
Local sources, speaking on the condition of anonymity, said Saudi fighter jets struck 200 residential units, housing the families of electrical engineers and technicians, in al-Mukha district of the province, situated 346 kilometers (214 miles) South of the capital, Sana'a, late on Friday, leaving 120 people dead and over 150 others injured, al-Masirah satellite television network said.
Reports coming out of the area also said most of the dead bodies, including women, children and elderly, were burnt beyond recognition in the flames caused by strikes.
Members of rescue teams as well as ambulances had difficulty reaching the area due to incessant bombardment, and were even at times targeted by Saudi military aircraft.
Earlier in the day, several people were killed or injured as Saudi fighter jets pounded a residential neighborhood in al-Ashah district of the Province of Amran, located 53 kilometers (32 miles) Northwest of Sana'a.
Saudi planes also targeted passenger buses and a popular market in Yemen's province of Lahij. There were no immediate reports of fatalities and the extent of damage inflicted.
Also on Friday, Saudi fighter jets carried out ten air raids against various areas in the Dhi Na'im district of the province of Bayda, leaving four civilians dead.
There were no reports about the extent of damage that the strikes inflicted.
Saudi warplanes also bombed the provinces of Dhamar and Sa'ada.
Saudi Arabia has been striking Yemen for 122 days now to restore power to fugitive president Mansour Hadi, a close ally of Riyadh.
Hadi stepped down in January and refused to reconsider the decision despite calls by Ansarullah revolutionaries of the Houthi movement.
Despite Riyadh's claims that it is bombing the positions of the Ansarullah fighters, Saudi warplanes are flattening residential areas and civilian infrastructures.
The Monarchy's attacks have so far claimed the lives of at least 5,302 civilians, mostly women and children.
http://english.farsnews.com/newstext.aspx?nn=13940503000472
------
Istanbul Bans Planned Anti-IS 'Peace March': Official
World | Agence France-Presse July 25, 2015
ISTANBUL, July 25, 2015: The Istanbul authorities on Saturday banned a planned anti-jihadist "peace march" scheduled to take place in the Turkish metropolis this weekend, citing security and traffic congestion.
The pro-Kurdish Peoples' Democratic Party (HDP) has hoped to rally thousands on Sunday for the protest to condemn violence by Islamic State (IS) jihadists following a suicide bombing on Monday that killed 32.
But the Istanbul governor's office said in a statement that the rally had been banned due to "intense traffic" expected in the city and also "provocations" endangering security.
The HDP confirmed in a statement that it had been forced to cancel the rally but vowed that "our struggle for peace and democracy will continue."
There are been several anti-IS protests in Istanbul and other cities since Monday's bombing, often gathering hundreds of people. But many have been dispersed by police using water cannon, rubber bullets and tear gas.
Demonstrators have also been bitterly critical of the Turkish government's policies on IS, accusing President Recep Tayyip Erdogan of allowing the group to gain a foothold in the country.
It remains possible that protesters will try to defy the official ban and hold a march Sunday.
http://www.ndtv.com/world-news/istanbul-bans-planned-anti-is-peace-march-official-1200511
-----
New Turkish Airstrikes under Way against Islamic State, Kurdistan Workers Party: Pm Ahmet Davutoglu
World | Agence France-Presse
ISTANBUL: July 25, 2015. Turkish forces on Saturday unleashed a third wave of airstrikes and ground attacks on targets of the Islamic State (IS) group in Syria and Kurdish militants in northern Iraq, Prime Minister Ahmet Davutoglu said.
"We have given instructions for a third series of strikes in Syria and Iraq. Air and ground operations are under way," Davutoglu told reporters in Ankara.
"No one should doubt out determination," he added. "We will not allow Turkey to be turned into a lawless country."
Turkey had early Saturday carried out a second wave of the air strikes it says are aimed at extinguishing terror threats, this time hitting not just IS targets in Syria but also Kurdistan Workers Party (PKK) targets in northern Iraq.
Its ground forces had also carried out artillery strikes on PKK targets in northern Iraq and IS targets in Syria.
Davutoglu said he had earlier Saturday spoken to Massud Barzani, the president of the Kurdish-ruled autonomous region in northern Iraq, to explain the attacks on the PKK.
He said that Barzani had agreed Turkey had a right to undertake an operation against the PKK and had expressed his "solidarity".
Davutoglu said a total 590 suspected members of IS, PKK and other militant groups had also been arrested in raids across Turkey that began on Friday morning and continued Saturday.
He said they were being held in custody on the grounds of links to terror groups and presenting a threat to the state.
http://www.ndtv.com/world-news/new-turkish-airstrikes-under-way-against-islamic-state-kurdistan-workers-party-pm-ahmet-davutoglu-1200501
-------
Turkish Bombing Of Islamic State Marks End Of Tacit Truce
AP | Jul 25, 2015
ISTANBUL: Last month, the first edition of the Islamic State group's Turkish-language magazine contained not a word of criticism of the Turkish government. This week, the second edition calls Istanbul occupied territory and blasts president Recep Tayyip Erdogan as a tyrant.
The difference? Turkey has started to crack down on the group under Western pressure and Islamic State now sees Turkey as the enemy, raising the stakes in the struggle against the extremist network. And Turkey's decisive response on Friday airstrikes on Islamic State targets and 290 arrests nationwide _ show how seriously the nation is now taking a threat it had long downplayed.
The abrupt shift in Islamic State's Turkish propaganda magazine shows just how quickly a tacit truce has come apart.
But the underlying changes have not happened overnight. Islamic State _ also known by acronyms ISIS and ISIL _ has spent years building its network inside Turkey, even as Turkish security services monitored the group to glean valuable intelligence.
''There is significant evidence that ISIS has built a network and an infrastructure in Turkey to support its operations in both Syria and Iraq,'' said Andreas Krieg, an analyst at King's College London. ``Turkey has never thought that these jihadists would ever become a problem for Turkey itself. Quite on the contrary, they were under the impression that jihadists who wanted to go to Syria are embarking on a local not a global jihad.''
While Turkey was early to brand IS a terrorist group, the two largely refrained from attacking each other. Turkey took a soft line on Islamic State because it was fighting the Syrian regime of president Bashar Assad Turkey's arch-enemy and Ankara has actively supported other Islamist groups trying to bring down Assad. That gave Islamic State cover to continue building its network in the country.
Now, Turkey faces questions about whether its policy of restraint has backfired finding itself facing an extensive, well-funded and organized extremist group threatening it from within.
This week's suicide bombing that killed 32 people in the border city of Suruc forced Turkey's hand, causing it to beef up anti-IS efforts with Washington. Then came a big escalation.
On Thursday, as Turkey's government tried to counter criticism over the suicide bombing, Islamic State struck again, this time in an ambush along the border that left a Turkish soldier dead.
Turkish police then carried out simultaneous raids in Istanbul and 12 provinces on Friday, detaining 290 people before lunch, compared with about 500 in recent months. Officials say the mass arrests reflect careful monitoring of IS's followers over a long time, but the scale of detentions also underscores how broad Turkey has allowed the Islamic State network to become.
The IS web in Turkey even extended into the jailhouse, according to court documents for a Spanish woman detained in Turkey and accused of recruiting for Islamic State.
Islamic State hired a lawyer linked to the group to represent the woman. Samira Yerou was granted repeated phone calls that allowed her to be ``duly informed, by at least two members of ISIL, of the passage of female recruits joining the group from Turkey to Syria, changes in hiding places, etc., even from within the detention centre,'' according to the court documents.
In one chilling episode, Yerou, who was jailed along with her 3-year-old son, had a freewheeling phone call with a Saudi emir for Islamic State, telling the child what to say.
'Tell him, `I will behead the police,''' she ordered. The boy repeated her words and both she and the Saudi emir laughed after the child spoke. The documents do not indicate how authorities obtained the transcript, but make clear that communications and information were freely available in the jail and that recruitment continued apace behind bars.
Authorities and analysts say Turkish citizens are a relatively small proportion of IS fighters and supporters, but they are crucial for shepherding supplies and recruits from the West and North Africa safely across the border to Syria or Iraq.
According to Omer Ozdemir, a researcher at Sakarya University, most of the IS supply network in Turkey is contracted out to large tribes that have worked as smugglers on both sides of Turkey's borders for generations. He said the government could work to put pressure on the tribes to end the relationships and significantly squeeze IS.
While Turkey appears to have a close eye on IS operations in Turkey, this week's suicide bombing shows that Turkish authorities can't afford to miss one IS operative.
http://timesofindia.indiatimes.com/world/middle-east/Turkish-bombing-of-Islamic-State-marks-end-of-tacit-truce/articleshow/48210607.cms
------
Turkey's air force hits IS and PKK in Syria and Iraq
25 07 2015
Turkey's air force is attacking Islamic State (IS) positions in Syria and Kurdish PKK militants in northern Iraq to defend the country's security, Turkish PM Ahmet Davutoglu says.
Mr Davutoglu added that 590 suspected IS and PKK members had been arrested.
It follows a week which saw a bomb attack blamed on IS kill 32 people in the Turkish town of Suruc.
Subsequent clashes with IS fighters on the Turkey-Syria border led to the death of a Turkish soldier.
The PKK's military wing said it had killed two Turkish police officers on Wednesday, claiming they had collaborated with IS in the bombing in Suruc, which targeted left-wing activists.
Within a week, Turkey has gone from reluctant observer of the coalition against IS to military strikes, opening up its bases to warplanes and bombing of PKK positions. What changed?
Partly it's months of negotiations between Washington and Ankara. General John Allen, the US envoy for the anti-IS coalition, has paid several visits here to twist arms. The Turkish government pushed for a no-fly area to be implemented inside Syria. It appears Washington gave some ground, accepting a "buffer zone" to clear IS militants from close to the Turkish border, patrolled by US and Turkish warplanes.
The suicide bomb last week in Suruc, which killed 32 people and was blamed on IS, was a catalyst.
But it seems Turkey insisted that strikes against IS go hand-in-hand with those against the PKK. That complicates matters: the coalition is working with Kurdish forces against IS and a fragile ceasefire with the PKK may now end, raising fears of renewed Kurdish violence in Turkey. President Recep Tayyip Erdogan has one eye on possible new elections in the autumn, hoping to court nationalist voters. A hard line against the PKK would help that.
A government statement on Saturday morning said the air force had hit PKK shelters, bunkers, storage facilities and other "logistic points" in northern Iraq, including the Qandil mountains where the PKK's high command is based.
It did not give details of what the jets had targeted in their attacks on IS in Syria.
Turkey's military had also shelled Islamic State and PKK positions from across the Turkish border, the statement said.
Speaking to reporters on Saturday, Prime Minister Davutoglu said: "Unfortunately Turkey is surrounded by a ring of fire.
"In such an atmosphere, Turkey tries to keep her democracy and development alive... these operations have carried a message to the countries in the region and to international circles: whatever happens in Syria and Iraq, in our border regions, we will not allow them to threaten Turkey's security and will not hesitate to take necessary measures."
Turkish Foreign Minister Mevlut Cavusoglu said areas of northern Syria cleared of IS fighters would become natural "safe zones".
Turkey has also said it will let the US use a key airbase to attack IS targets.
'Truce has no meaning'
The overnight air strikes in northern Iraq were the first time Turkey had attacked the PKK (Kurdistan Workers' Party) since a 2013 truce.
The group has been fighting Turkey for an autonomous homeland for the Kurds for decades.
In a statement on its website quoted by Reuters news agency, the PKK said: "The truce has no meaning any more after these intense air strikes by the occupant Turkish army."
The Turkish government has faced criticism at home and abroad for not doing enough against IS, despite being part of the international coalition fighting it.
The first round of anti-IS air strikes on Friday marked the first time Turkey had confirmed air strikes against targets in Syria since IS began its advance through Iraq and Syria in 2013.
The agreement to let the US use the Incirlik airbase, following months of negotiations, was made in a phone call between President Barack Obama and Turkish President Recep Tayyip Erdogan - but has yet to be approved by the Turkish cabinet.
It could allow the US to step up air strikes against IS, as it is closer to northern Syria and Iraq than the Gulf, which currently serves as a launch-pad for bombing missions.
http://www.bbc.com/news/world-europe-33663005
-------
Saudi Fighter Jets Kill Four Civilians in Yemen
Jul 25, 2015
TEHRAN (FNA)- Saudi warplanes bombed several areas across Yemen, killing at least four civilians.
On Friday, Saudi fighter jets carried out ten air raids against various areas in the Dhi Na'im district of the province of Bayda, leaving four civilians dead, the Arabic-language al-Masirah satellite television network reported.
There were no reports about the extent of damage that the strikes inflicted.
Saudi warplanes also bombed the provinces of Dhamar, Ta'izz and Sa'ada.
Meanwhile, heavy exchanges of gunfire continue close to the al-Anad air base, located near the city of al-Houta in Lahij Province, as Yemeni army troops are attempting to retake the area from the militants.
There are also reports of fierce clashes between Yemeni soldiers supported by Popular Committees and militants loyal to fugitive former President Abd Rabbuh Mansour Hadi in the country's strategic port city of Aden.
Saudi Arabia has been striking Yemen for 122 days now to restore power to fugitive president Mansour Hadi, a close ally of Riyadh.
Hadi stepped down in January and refused to reconsider the decision despite calls by Ansarullah revolutionaries of the Houthi movement.
Despite Riyadh's claims that it is bombing the positions of the Ansarullah fighters, Saudi warplanes are flattening residential areas and civilian infrastructures.
The Monarchy's attacks have so far claimed the lives of at least 5,182 civilians, mostly women and children.
http://english.farsnews.com/newstext.aspx?nn=13940503000421
-------
Yemeni Troops Retaliate Against Saudi Air Strikes
TEHRAN (FNA)-Jul 25, 2015, Yemen's army and Ansarullah fighters fired missiles at Saudi military bases on the border in retaliation for the kingdom's ongoing air raids against their country that have claimed the lives of thousands of civilians.
The Yemeni forces launched several missiles at military bases in Jizan and Dhahran regions on Friday night. There were no immediate reports of casualties in the latest attacks.
The forces fired several mortar rounds at Jalah, al-Khanjar and al-Mattan military bases in Saudi Arabia's South-western Jizan region, which is located near the border with Yemen.
A blaze broke out at al-Muharraqa base in the same Saudi region when 37 missiles reportedly slammed into the military site.
Meanwhile, Al-Qaeda-affiliated militants decapitated a Muslim preacher, identified as Abdelrahman al-Suleimani, in al-Abdiyah district of the Province of Ma'rib. There are reports that the cleric had condemned Saudi onslaught on Yemen in his sermons.
Saudi Arabia has been striking Yemen for 122 days now to restore power to fugitive president Mansour Hadi, a close ally of Riyadh.
Hadi stepped down in January and refused to reconsider the decision despite calls by Ansarullah revolutionaries of the Houthi movement.
Despite Riyadh's claims that it is bombing the positions of the Ansarullah fighters, Saudi warplanes are flattening residential areas and civilian infrastructures.
The Monarchy's attacks have so far claimed the lives of at least 5,302 civilians, mostly women and children.
http://english.farsnews.com/newstext.aspx?nn=13940503000647
-------
Spokesman: Volunteer Forces Cut ISIL's Supply Routes in Fallujah
Jul 25, 2015
TEHRAN (FNA)- Spokesman of Iraq's Volunteer Forces Karim al-Nouri announced that ISIL's strategic supply routes to Al-Anbar province have been cut.
"The initial stage of operations for winning back the city of Fallujah (in al-Anbar province) has resulted in cutting off the most important supply routes to the ISIL Takfiri terrorist group in the city," al-Nouri told FNA on Saturday.
He noted that the Iraqi volunteer forces backed by the army are engaged in heavy clashes with the ISIL terrorists in the surrounding areas of Fallujah city
"The Iraqi volunteer forces are now in the Northwestern parts of Fallujah after seizing back many strategic regions of the city," Al-Nouri said.
On July 13, the Iraqi forces made gains in different parts of Fallujah and broke ISIL's front line by cutting Fallujah-Karama line of supply.
The Iraqi army and volunteer forces took back several areas in Fallujah city from ISIL control after breaking the siege of the Takfiri terrorists.
The army seized back al-Bu Hamud al-Aziz, al-Davieh al-Gharbieh and al-Mouleheh areas in the Northern parts of Fallujah.
Fallujah, 69 kilometers West of Baghdad, has been under the ISIL control since last summer. It has been besieged by the Iraqi Army.
The ISIL seized control of Ramadi in mid-May, sending Iraqi forces racing out of the city in a major loss.
A day after the ISIL's advance on Ramadi, Iraqi Prime Minister Heider al-Abadi ordered forces not to abandon their positions across Anbar. There were fears the extremists could capture the entire vast Sunni province, which saw intense fighting after the 2003 US-led invasion of the country.
http://english.farsnews.com/newstext.aspx?nn=13940503000540
-------
Mideast
Israeli MP: Arabs who won't sing national anthem can't be judges
By Staff Writer | Al Arabiya News, 25 July 2015
Robert Iliatov, who is part of the Israeli committee that chooses the country's judges has sparked controversy by suggesting that anyone unwilling to sing the Israeli national anthem would not be allowed to judge, reported The Independent.
"For me, a judge who does not want to sing 'Hatikva' cannot be a judge in the state of Israel, the Jewish nation state," the right-wing MP told Army Radio. "I will not appoint someone who opposes on basic principle the state of Israel as a Jewish state."
However, Aida Suleiman, an Arab MP, hit back, telling the newspaper: "This is Iliatov's way of saying clearly that he won't support the appointment of any Arab judge.
"Instead of saying he's looking to appoint professional judges who want to protect justice and democracy he is looking for reasons to discriminate against Arabs who would be suitable professionals and be able to be good judges.
"This was not an isolated declaration but part of a way of thinking and a policy led by racist approaches," she said. "We have been hearing ministers and vice ministers saying even worse things than this."
In 2012, an Arab Supreme court judge abstained from singing the national anthem at an official ceremony and caused a lot of controversy.
https://english.alarabiya.net/en/News/middle-east/2015/07/25/Arabs-who-won-t-sing-National-anthem-cant-be-judges-claims-right-wing-MP.html
-----
Hamas armed wing gives 25,000 Gazans combat training
By AFP |
Gaza City, 25 July 2015: The military wing of Hamas opened its Gaza summer camp on Saturday, aimed at providing basic combat training for 25,000 Palestinians in the embattled strip.
Hamas, the de facto power in Gaza, is currently engaged in indirect contacts with Israel to try to reach a long-term truce, but a year after last summer's devastating 50-day war the militant movement has kept up the fighting talk.
"The goal of these military training camps is to train the vanguard for liberation -- spiritually, intellectually and physically -- to be ready and able to play its role in liberation," said a statement by the Ezzedine al-Qassam Brigades, Hamas' military wing.
It said that participants, aged 15-60, would spend two weeks being "trained in military techniques and in firing live ammunition" as well as "first aid and rescue techniques."
As with all the brigades' activities the camps will be conducted out of public and media sight.
Rescue squads dealt with thousands of local victims during the war of July-Agust 2014, the third in Gaza in six years.
Hamas has long run summer camps devoted to sport and study of the Koran in Gaza but over the winter the al-Qassam brigades launched a new kind of camp, giving military training to 15 to 20-year-olds.
Human rights activists condemned it as a forced militarisation of Gazan society and a violation of children's rights.
Brushing off the criticism, the brigades are repeating the exercise with the summer camp, while raising the upper age limit to 60.
https://english.alarabiya.net/en/News/middle-east/2015/07/25/Hamas-armed-wing-gives-25-000-Gazans-combat-training-.html
------
Peshmerga hailed as 'model' for fighting ISIS
By Phil Stewart | Reuters,
Erbil 24 July 2015: U.S. Defense Secretary Ash Carter called Iraq's Kurdish fighters a model for the kind of force needed to defeat Islamic State of Iraq and Syria (ISIS) as he made an unannounced visit on Friday to the capital of Iraq's Kurdistan region.
While Iraq's army has struggled, the Kurdish region's security forces, or Peshmerga, have rolled back ISIS militants in northern Iraq and expanded the formal boundary of their semi-autonomous region.
"Here the Peshmerga are pretty far along in their capabilities, so they can win on the ground here with our help," Carter said in Erbil, noting coalition support, including training, arms, intelligence and air strikes.
Carter met the Kurdistan region's President Massoud Barzani, a veteran guerrilla leader who fought Saddam Hussein for decades. He also spoke with U.S. and coalition troops advising and training the Peshmerga.
Carter's visit to Erbil came a day after the Pentagon chief travelled to Baghdad to meet Iraqi leaders as they advance plans to recapture the city of Ramadi which fell to ISIS in May.
The loss of Ramadi was the Iraqi army's worst defeat since the radical Sunni militants swept through northern Iraq last summer. It came despite a daily campaign of U.S.-led coalition air strikes meant to bolster Iraqi forces on the ground.
Carter noted that some parts of Iraq's security forces were just as capable as the peshmerga, as well as some Kurdish forces in Syria.
"We are trying to build up a force throughout the territory of Iraq, and then some day ... in Syria," Carter told coalition troops in Erbil. Here (in) Kurdistan ... the Peshmerga is the model of what we're trying to achieve."
Kurdish help may be key to Iraq's hopes of winning upcoming battles in Iraq. The U.S. military has estimated that eventually Iraq will need three brigades from the Kurdish region, as well as six from the Iraqi army, to recapture Mosul from ISIS.
https://english.alarabiya.net/en/News/middle-east/2015/07/24/Pentagon-chief-flies-into-Iraqi-Kurdistan-to-meet-Barzani.html
--------
Assad announces amnesty for Syrian army deserters
By Reuters
Beirut, 25 July 2015, Syrian President Bashar al-Assad issued a decree announcing a general amnesty for military deserters who violated the country's compulsory military conscription law, state television said on Saturday.
The decree, which was announced on state television, said the law that would lift legal penalties against thousands of army deserters, applied to those outside and inside Syria.
The Syrian army, one of the region's largest, has been overstretched by a four-year long insurgency where it is battling on several major fronts Islamist rebels and ultra-hardline jihadist militants who have seized large swathes of territory. Many young men have fled the country or find ways to avoid conscription.
https://english.alarabiya.net/en/News/middle-east/2015/07/25/Assad-announces-amnesty-for-Syrian-army-deserters.html
-----
Europe
Foreign Office to face inquiry into role played by UK in Libya's collapse
24 July 2015 15
The Foreign Office is to face questions over Libya's descent into a failed state, following the launch of an inquiry by an influential committee of MPs into Britain's role in the overthrow of Muammar Gaddafi and the troubled aftermath.
Launching the inquiry, the Tory chairman of the foreign affairs select committee, Crispin Blunt, told the Guardian that the intervention and subsequent breakdown of the state had proved disastrous for Libya and posed a global security threat.
He said: "It has turned out to be a catastrophe for the people of Libya. And now it is a growing problem for us, with our undoubted enemy Isis beginning to establish control of areas of Libya. Plus the migration crisis – any area where state authority collapses obviously poses problems for us all over the world."
It may be true that the collapse of the post-Gaddafi Libyan state is a key reason for the current crisis, but the UK is not the only guilty party
He said: "I want to examine the quality of the analysis that underpinned the decision to intervene in Libya. Had we reasonably thought through the consequences of the action? If we hadn't, that begs questions about the scale of resources inside the Foreign Office to have that capability."
Blunt asked: "We may wish to be a global player and as member of the P5 [of permanent UN Security Council members] think we have a duty to global security, but do we have the means?"
The former army officer voted in favour of the imposition of a no-fly zone over Libya in 2011, but rebelled against the government's threat to intervene in Syria two years later.
He said the inquiry would look at whether the intervention in Libya went beyond the mandate of UN security council resolution 1973, as many have claimed, including those in the Russian government.
He said: "The committee is going to look at how the UN security resolution was interpreted and implemented."
Half a million refugees gather in Libya to attempt perilous crossing to Europe
He said: "It has very strongly reinforced the sense in Russia of western exceptionalism, which has made negotiating with them on Syria and Crimea very difficult. When we say to them, you have got to stick to the rules of the road, they can point to areas where they think we have bent the rules. Have we created a much more difficult relationship with the Russians?"
The Libya inquiry will be the first under Blunt's chairmanship of the committee and seen as statement of intent to ask to difficult questions. He said: "I hope all our inquiries will be awkward for the government – that's rather the point of House of Commons oversight to the government.
"We could conduct inquiries into thoroughgoing success, but what would be the point? I'm not sure there is anyone who regards the intervention in Libya as a thoroughgoing success."
Asked whether he regretted voting for the no-fly zone over Libya, Blunt said: "Only John Barron on our committee had the wisdom to vote against the no-fly zone over Libya. We need to look at that decision and circumstances facing people in Benghazi ... Faced with the imminent slaughter of a large number of people in Benghazi, what is the international community supposed to do?"
Earlier this month, Blunt criticised the government's involvement in bombing Islamic State in Iraq as "unnecessary".
Commenting on the Libya inquiry, Chris Doyle, the director of the Council for Arab-British Understanding, said: "It has the potential to be awkward, because Libya has not been a success and neither has the government's policy in Iraq, Syria or Yemen. We are not in a good place in the whole region. So it is difficult not to be critical.
"I don't think any MP would say they are happy with the way Libya has turned out. It is timely, because Libya is still potentially a failed state and it does pose security risks in Europe."
http://www.theguardian.com/politics/2015/jul/24/libya-gaddafi-uk-foreign-affairs-select-committee-inquiry
------
US defence chief meets with Kurds in Iraq to build strategy against Isis
Associated Press in Irbil, Iraq
Friday 24 July 2015
Defense secretary Ash Carter held talks on Friday with Iraqi Kurdish leaders in their regional capital of Irbil, seeking insights into their military successes against Islamic State.
Afterward, he told US and coalition troops that the Kurdish armed forces, known as the peshmerga, were "the model of what we are trying to achieve" with a strategy of enabling capable and motivated local forces in northern and western Iraq to take the ground combat lead.
He said US ground and air forces could defeat Isis on their own, but the success would not last.
"We're trying to get a defeat that sticks," he told a group of several dozen troops. "And that can be delivered only by the people that live here."
He added: "That's the secret sauce."
Carter arrived on a military flight from Amman, Jordan, where he spent the night after holding meetings and giving a pep talk to US troops in Baghdad on Thursday.
In Irbil, Carter met Masoud Barzani, president of the Kurdish regional government, and other government and military officials. The US is helping train and equip Kurdish armed forces in battles against Isis fighters.
The Kurdish forces, generally more experienced and more effective on the battlefield than their counterparts in the Iraqi army, have played a vital role in containing Isis in north-eastern Iraq.
They hold mostly defensive positions across large parts of northern Iraq and would be expected to play a key role in an eventual Iraqi campaign to retake Mosul, which fell to Isis in June 2014.
The US military works closely with the Kurds, providing arms, training and advice. The Obama administration has resisted calls by some in Congress to bypass the Iraqi government in Baghdad and provide weapons directly to the Kurds. The administration instead has sent arms through the central government, reasoning that this preserves the hope of avoiding a final division of the country into sectarian and ethnic enclaves.
The Islamic State takeover of much of northern Iraq last year, including the city of Mosul, triggered a Kurdish push south and west to take control of the disputed city of Kirkuk, which is key to Iraq's northern oil fields.
After his Irbil visit, Carter was returning to Washington, concluding a weeklong Middle East tour that started Sunday in Israel and included visits to Jeddah, Saudi Arabia, and Amman, Jordan.
It was Carter's first visit to Iraq since he took office in February.
http://www.theguardian.com/world/2015/jul/24/ash-carter-isis-defense-kurds-us-military
---------
South Asia
Afghan forces rescue wounded prisoners but Taliban tortures and kills
By MIRWAIS ADEEL - Sat Jul 25 2015
Deputy spokesman for the Ministry of Defense of Afghanistan (MoD) Dawlat Waziri said the main difference between the Afghan National Security Forces (ANSF) and the Taliban militants is the way they deal with the wounded prisoners.
Speaking during a press conference in Kabul, Waziri said the Afghan National Security Forces are not allowed to torture or execute prisoners, specifically the wounded individuals captured during the battle.
He said the anti-government armed militants however torture and kill the members of the Afghan National Security Forces when they are captured by them.
Waziri further added that the Afghan forces have been prohibited to execute the prisoners and have been instructed to hand them over the relevant judiciary institutions.
The remarks by Waziri comes as the Taliban militants carried out barbaric acts against the Afghan security forces after over running their security check posts during the recent clashes.
One of the most barbaric act by the Taliban militants was carried out against the members of the Afghan Local Police (ALP) forces in Jalrez district of central Maidan Wardak province where the check posts were overrun and ALP forces were brutally killed and their corpses were humiliated.
This comes as at least 4,100 service members of the Afghan National Army (ANA) and the Afghan National Police (ANP) forces have lost their lives during the first six months of the year 2015.
The latest statistic regarding the Afghan National Security Forces casualties was disclosed by an official with the American-led coalition which shows a 50% increase as compared to the first six months of the year 2014.
The data also revealed at least 7,800 service members of the Afghan National Security Forces were wounded during the same period.
The considerable growth in Afghan forces casualties comes as the Taliban-led insurgency has also been rampant with Afghan commanders and officials in key battleground areas saying that while Afghan forces nominally hold key areas, they are often penned in by Taliban forces.
http://www.khaama.com/afghan-forces-rescue-wounded-prisoners-but-taliban-tortures-and-kills-1328
-------
Afghan intelligence arrest Taliban group commander in Helmand
By KHAAMA PRESS - Sat Jul 25 2015
The Afghan Intelligence – National Directorate of Security (NDS) said Saturday that a Taliban group was arrested following a military operation by the Afghan intelligence operatives.
A statement by NDS said the Taliban commander was identified as Mullah Agha who was also famous as Haji Aka and was arrested along with three others.
The statement further added that the other militants were identified as Mullah Faizullah also kown as Faizi, Mullah Sardar and Mohammad Ikhlas.
According to the NDS, the group was invovled in terrorist related activities in Lashkargah, the capital city of Helmand and Nahr-e-Saraj district.
The detained militants confessed that they were involved in a roadside Improvised Explosive Device (IED) attack in Lashkargah city which left two police officers wounded.
The anti-government armed militant groups have not commented regarding the report so far.
http://www.khaama.com/afghan-intelligence-arrest-taliban-group-commander-in-helmand-1326
-------
Iranian Official Asks Arab States to Learn from Turkey's ISIL Experience
Jul 25, 2015
TEHRAN (FNA)- The Deputy Chief of Staff of the Presidential Office for Political Affairs Hamid Aboutalebi referred to Turkey's Friday airstrikes against the ISIL positions in Syria, and said the Arab states which support the terrorist group should take a lesson from Ankara.
"The ISIL is a threat to Turkey's national security and the dimensions of this threat are expanding every day," Aboutalebi wrote on his tweeter page on Saturday.
Voicing regret that certain Arab countries are supporting the ISIL, he said, "If they don't learn their lesson from Turkey, they will be forced to fight terrorism in their capitals."
"Terrorism is not a puppet to be played the way you want; playing with fire ends in fire."
Turkey has been criticized in recent years for its support for the ISIL terrorists in Syria and the fury increased inside the country after it was revealed that the suicide bomber who killed at least 32 people at a cultural centre in South-eastern Turkey earlier this week was identified as a Turkish citizen who is believed to have had ties to the ISIL.
The bomber, Seyh Abdurrahman Alagoz, a 20-year-old university student who had recently returned from Syria, was identified through DNA testing, according to reports in the Turkish news media.
"The investigation is ongoing, but we have evidence that the suspect was linked to Daesh (ISIL)," the official said, speaking on the condition of anonymity in line with government protocol.
After the suicide blast, Turkish fighter jets bombed the ISIL positions in neighboring Syria for the first time in a pre-dawn attack Friday, the Turkish government announced.
In another sign of Turkey's new aggressive stance against the ISIL, President Recep Tayyip Erdogan confirmed Friday that his country had agreed to allow manned aircraft and drones from a US-led coalition to use the Incirlik Air Base in Southern Turkey to launch airstrikes against the militants. The government said in a statement that the Turkish Air Force would join the coalition's campaign for the first time.
http://english.farsnews.com/newstext.aspx?nn=13940503000542
-------
Explosion rocks Taluqan city in northeastern Takhar province
By KHAAMA PRESS - Sat Jul 25 2015
Explosion in TarkharA relatively heavy explosion rocked Taluqan city in northeastern Badakhshan province this afternoon leaving at least 10 people wounded.
The incident took place near the provincial criminal investigation department with eyewitnesses in the area saying at least 10 people including policemen, women and children were injured.
Officials in provincial hospital confirmed that two policemen, a child and a woman were taken to the hospital for treatment following the incident.
The type of the explosion is not clear so far as the local security officials have not commented regarding the incident yet.
No group including the Taliban militants has so far claimed responsibility behind the incident.
http://www.khaama.com/explosion-rocks-taluqan-city-in-northeastern-takhar-province-1329
------
Zarif Calls on Kerry to Give up Language of Threat against Iran
Jul 25, 2015
TEHRAN (FNA)- Iranian Foreign Minister Mohammad Javad Zarif in a statement blasted US officials' recent comments against Tehran after the country and the world powers reached a nuclear agreement earlier this month, calling on them to kick the bad habit of threatening Iran.
Zarif issued the statement after his US counterpart John Kerry threatened to use military action against Tehran if it fails to respect a historic nuclear deal sealed on 14 July.
"Unfortunately, the US secretary of state has spoken of the worn-out rope of 'the US capability to use military force'," Zarif said on Friday.
Noting that Kerry knows such words are empty threats and was told during the nuclear negotiations between Iran and the world powers that the Iranian nation stands up and resists against such moves, he said, "Such comments are related to the past century and he (Kerry) and other US officials have admitted many times that such threats don't affect the Iranian people's resolve and will change the situation to their (the Americans') disadvantage."
"Therefore, it is better for the Americans to forget their old habit and leave the language of threats and sanctions against this great people once and for all," Zarif said.
He also referred to Kerry's remarks on the Iranian people's "Death to the US" slogan, and said Washington should find the root cause of such slogans in its hostile policies in the past decades.
The Iranian top diplomat also responded to Kerry's statement on Tehran's support for its regional allies, and said the Joint Comprehensive Plan of Action (JPCOA) is different from the UN Security Council Resolution 2231 and "the Islamic Republic of Iran will use all its possibilities to fight terrorism and extremism in the region".
He also underlined the Iranian officials' united stance on different issues, including relations with the US within the framework of the guidelines specified by Supreme Leader of the Islamic Revolution Ayatollah Seyed Ali Khamenei, and said the US had better avoid repeating its past mistake of sowing discord among the Iranian officials.
Iran and the world powers reached a final agreement in Vienna on July 14 to end a 13-year-old nuclear standoff.
After the agreement, the UN Security Council on Monday unanimously endorsed a draft resolution turning into international law the Joint Comprehensive Plan of Action (JCPOA) reached between Iran and the 5+1 (the US, Russia, China, Britain and France plus Germany) group of countries over the Islamic Republic's nuclear program.
All 15 members of the UNSC voted for the draft UN resolution in New York, setting the stage for the lifting of Security Council sanctions against Iran.
The text of the draft UN resolution calls for the "full implementation" of the Vienna agreement "on the timetable established," and urges UN member countries to facilitate the process.
http://english.farsnews.com/newstext.aspx?nn=13940503000347
------
Pakistan
Justice at risk as Pakistan rushes convicts to the gallows
By Shaimaa Khalil, BBC News
Islamabad: 25 December 2014
After a daylong meeting with the country's main political parties, Prime Minister Nawaz Sharif said military courts would be set up for the speedy trial of suspected terrorists.
Speaking in a television broadcast, Mr Sharif said Pakistan was in an "extraordinary situation" that needed "extraordinary actions".
The Taliban attack on the Army Public School in Peshawar which left 152 people dead, most of them children, shocked the nation and put the political and military leadership in a very tough spot.
A day after the massacre, the military intensified its offensive in North Waziristan. The prime minister lifted a moratorium on the death penalty. Six militants have already been hanged.
Pakistan's interior minister has said 500 people are due to be executed in the next few weeks.
One of them is a man who was convicted as a minor in 2004. Shafqat Hussain was 14 when he was allegedly tortured into confessing to murder, and sentenced to death by an anti-terrorism court.
Shafqat, who is the youngest of seven children, comes from a poor family from Kail sector on the Line of Control with Indian-administered Kashmir.
He left home for Karachi in search of a job more than a decade ago. His parents have not seen him since.
Sobbing, Shafqat's mother said they could not afford to go to Karachi to visit him. His sister, Sumaira, told BBC Urdu's Haroon Rashid that she had borrowed the clothes she was wearing to the interview.
"I can't imagine that my obedient and humble brother can commit a crime. He was so young," she said, tears rolling down her cheeks.
She said the family had only one request: "Please, please let's redo the trial."
"Police took three of his fingernails out. He still has cigarette marks on his body," he says.
"When I asked him about torture in custody, he started shivering and wet his pants. He put both his hands on his head and starting crying, saying, 'Don't ask, I can't tell you what they did'."
"This is how they made him confess a crime he says he never committed."
I met Shafqat's devastated family in Muzaffarabad, the main town of Pakistan-administered Kashmir. The news that hangings were to be resumed after the Peshawar school attack has started giving them sleepless nights again.
Shafqat's 80-year-old mother Makhni Begum, his sister Sumaira, and brother Manzoor, wept throughout the hour that I spent with them.
Makhni Begum said she has not met her youngest son since he left for Karachi in search of a job. "I have almost lost my eyesight because of crying, I have lost my mind because of my son's ordeal," she said. "My life is ruined."
Opponents of the revival of the death penalty say grave injustices could be committed in the rush to punish
Shafqat's lawyer is Sarah Belal, a barrister and director of Justice Project Pakistan, a non-profit human rights law firm.
She said his case was "a perfect example of how the Anti-Terrorism Act and the subsequent terror courts have failed to punish the people they were formed to target".
"Instead, people like Shafqat, too poor and vulnerable to defend themselves, bear the brunt," she added.
'Act of vengeance'
Shafqat's case is not the only one. Lawyers here say that of the 500 people set to be executed in the next few weeks, at least 200 are not terror-related cases.
Both the political and military leadership are under huge pressure to stand up to militants but there are worries that in this wave of executions, the proper legal measures are not being followed.
Soldier next to board for victims of Peshawar school attack
The government has been accused of a knee-jerk reaction to the Peshawar school attack
Human rights watch have criticised the move, saying it will not combat terrorism and will only perpetuate a cycle of violence.
The EU regretted Pakistan's decision to lift the moratorium and expressed hopes it would be reinstated at the earliest opportunity.
"It's a kneejerk reaction by the government to appease the masses," Shahzad Akbar, a legal fellow at the human rights organisation, Reprieve, said.
"But it doesn't do anything about terrorism," he added. "Instead, those who've been victims of miscarriages of justice are now on execution lists."
"The government is trying to tell people that they are fighting terrorism, but I think this is just an act of vengeance."
http://www.bbc.com/news/world-middle-east-30602157
-------
Rights group urges Pakistan not to hang mentally ill man
24 July 2015
Pakistan has executed 176 people since December, rights groups say
Human Rights Watch has urged Pakistan not to execute a mentally ill man who is scheduled to be hanged on Tuesday.
The charity said Khizar Hayat, who was sentenced to death 12 years ago for killing a colleague, suffers from severe paranoid schizophrenia.
Authorities in Pakistan are about to resume executions after a break for the Muslim holy month of Ramadan.
According to Human Rights Watch (HRW), the country has executed 176 people since lifting a moratorium in December.
Phelim Kine, deputy Asia director at HRW, said executing people with mental illnesses was "a barbarous affront to decency" that "serves no criminal justice purpose".
"Pakistan's president should immediately commute Khizar Hayat's execution and prevent a ghastly infringement of basic rights," Mr Kine said.
"The Pakistani government should take this opportunity to reaffirm its human rights commitments and explicitly reject the odious practice of executing people with psychosocial disabilities."
'Delusional'
The UN Commission on Human Rights adopted resolutions in 1999 and 2000 urging countries not to impose the death penalty "on a person suffering from any form of mental disorder".
Mr Hayat, a former policeman, was arrested in 2001 for allegedly killing a colleague and in 2003 he was sentenced to death.
In 2008, he was diagnosed with paranoid schizophrenia and he has been taking antipsychotic medication since.
According to his lawyers, by 2012 Mr Hayat had become so delusional that he was moved to the prison hospital where he has spent the past five years.
Pakistan suspended executions for seven years until December 2014, when they were resumed in the wake of the Peshawar school massacre.
There are more than 8,000 people on death row in the country, according to HRW. About 1,000 have lost their appeals and had clemency petitions rejected.
Supporters of the death penalty in Pakistan argue that fast-track executions are needed to rein in militant attacks.
http://www.bbc.com/news/world-asia-33650972
------
Altaf suspends Karachi Rabita Committee
DAWN.COM July 25, 2015
LONDON: Muttahida Qaumi Movement (MQM) chief Altaf Hussain has suspended the party's Karachi Rabita Committee (Coordination Committee) for what he called its members inability to fulfill their responsibilities despite continual assurances, a press release on the MQM's website said. Hussain is hoping to constitute a new coordination committee in Karachi, the positions for which he has invited senior party members to apply.
In the statement that was published on the website on Saturday, Hussain said a decision would be made on the future of the coordination committee in London either today or tomorrow.
The MQM chief has moreover invited senior party officials from different zones and sectors to apply for positions for a new coordination committee that he is hoping to constitute.
He said senior party officials who believe themselves to be capable of taking on the responsibility should submit their information at the party's Nine-Zero headquarters in Azizabad.
Hussain said Kaiful Warah, Abdul Haseeb and Advocate Abdul Arif Khan would continue to be part of the Karachi coordination committee, adding that other committee members who have been dismissed should no longer bother to visit the party's headquarters.
Late Wednesday night, the MQM leader had directed the closure of all party offices, only to withdraw his decision a few hours later.
Sources in the party had told Dawn that Hussain was "extremely angry" with the coordination committee over certain organisational matters. The anger came out with Hussain phoning members of the committee and directing them to close all offices and hanging up without listening to their responses.
Sources said after Hussain's directive to close the offices, the committee's members, parliamentarians and other office-bearers immediately stopped work.
They had then converged outside Hussain's Azizabad residence in a bid to calm him down by extending an apology, following which the party chief changed his mind.
http://www.dawn.com/news/1196296/altaf-suspends-karachi-rabita-committee
------
CPEC to be completed at all costs: Army chief
By Web Desk: July 25, 2015
"We are acutely aware of our rivals' campaign against CPEC but the armed forces have vowed to pay any price to turn this cherished dream into a reality," the army chief was quoted as saying by the Inter Services Public Relations (ISPR).
The army chief inspected five roads under construction as part of the project in Panjgur, Balochistan and was told that 502 of 870 kilometres of the road network project have been completed.
"Roads will link Gwadar to the rest of the country and yield the envisioned dividend of the port and corridor to transform people's lives and bring prosperity," General Raheel added.
"The port and corridor are being built as the most strategic deep seaport in the region," he said. Further, General Raheel commended the workers and soldiers of Frontier Organisation Works for their bravery and ability to maintain quality in the construction of the project.
He also applauded Frontier Constabulary and police for bringing about a noticeable change in the overall security situation of the province.
Paying rich tributes to the valiant people of the province, the army chief expressed gratitude for their unconditional support.
"Balochistan's potential will only be realised through the entire nation's support for its security; a secure and peaceful environment is a must for the project," the army chief stressed.
Lauded LEAs for noticeable change in overall security of Bln.Commended FC&police for recent successful op vs foreign funded terrorists-8
Bln's potential will only be realised through whole of nation apch 4 its security&dev.Secure&peaceful Envmt was must to push planned work-7
The Frontier Works Organisation, the construction arm of Pakistan Army, has completed 502 kilometres of the 870 kilometre road network project for linking Gwadar Port with the rest of the country.
The project encompasses construction of 870 kilometres of road. Deployment was approved in February 2014 and FWO units were mobilised on sites in March 2014. Presently 11 units were employed on various road projects in Balochistan. To date 502 kilometres of road has been completed in less than one-and-a-half year.
FWO has faced armed attacks from insurgents many times. Construction of these roads will link Gawadar Port with upcountry by multiple routes including Chaman through N-25, Dera Ismail Khan through N-50 and Indus Highway N-55.
http://tribune.com.pk/story/926344/cpec-to-be-completed-at-all-costs-army-chief/
-------
Rains, flood kill 36 in Pakistan
By AFP Published: July 25, 2015
ISLAMABAD: Torrential rains and floods in Chitral have left 36 dead and affected more than 250,000 people, disaster management officials said on Saturday, with swollen rivers and water channels damaging hundreds of villages.
Severe weather has caused havoc in the north and south of the country, sweeping away dozens of roads and bridges in Chitral district in Khyber-Pakhtunkhwa while floods have inundated villages in south Punjab, according to government authorities.
Livestock and people have also been swept away in Balochistan and Kashmir, officials said.
"According to the reports we have received until now, 26 people have been killed in Chitral, three in Punjab and seven in Balochistan," Ahmed Kamal, a spokesman for the National Disaster Management Authority (NDMA), told AFP.
"Up to 350 villages have been damaged in Khyber-Pakhtunkhwa province and 422 in Punjab. An overall population of 250,000 has been affected due to floods," he said.
At least eight members of the same family were killed on Friday night in Chitral when their house was swept away in the gushing floodwaters, an official in Khyber Pakhtunkhwa said.
Another family of four were killed when their car was carried off by a water channel in Khuzdar district in Baluchistan, according to the disaster management authority there.
The NDMA has forecast more rain across the country in the coming days.
A warning on its website said that the severe weather is likely to persist in the northern Gilgit Baltistan and Chitral over the next four to five days, and has the potential to produce more flooding.
Every year since 2010, which saw the worst floods in Pakistan's history, severe weather in the country has killed hundreds and wiped out millions of acres of prime farmland, harming the heavily agrarian economy.
http://tribune.com.pk/story/926346/rains-flood-kill-36-in-pakistan/
------
India
'Peace proposal' in place, Jamiat Ulema-i-Hind factions seek to reunite soon
By Abantika Ghosh , Mohd Faisal Fareed
New Delhi/lucknow: Seven years after the split, there are indications that the two factions of Jamiat Ulama-i-Hind — led by uncle-nephew duo Arshad Madani and Mahmood Madani, a former Rajya Sabha member — could unite. Mahmood Madani and Dhubri MP Badruddin Ajmal, who is also a senior Jamiat functionary, met Arshad Madani on Wednesday with a "peace proposal". The two sides will now work on the contours of the reconciliation. The peace overtures were formally approved by the Jamiat working committee on the same day. Later in the evening, Mahmood Madani and some of his associates attended an Eid Milan hosted by Arshad Madani in Delhi. Sources said Mahmood Madani embraced his uncle Arshad Madani. "This is a serious attempt at reconciliation. Jamiat general secretary Maulana Mahmood Madani, Maulana Badruddin Ajmal who is a member of our working committee, our president Maulana Qari Usmani and others met Maulana Arshad Madani and told him that they wanted the differences to end. Maulana Arshad Madani told them that he was willing to accept the peace offer provided the reconciliation happens as per the constitution of Jamiat Ulama-i-Hind. We agree to that. There will now be future meetings to chalk out the contours," said Niaz Farooqui, a senior functionary of the Mahmood Madani faction. Arshad Madani, who is travelling to London, was not available for comment. "It was a very good meeting between Maulana Arshad Madani and Bhai Mahmood. Maulana sahab told them that the peace proposal is welcome but the reconciliation will have to be as per the laid down rules and procedures," said his spokesman Fazlur Rehman. While Farooqui ruled out any political connotations of the possible reunion, Samajwadi Party chief Mulayam Singh Yadav is reported to have deputed MLC Ashu Malik to resolve the differences between the two factions. The SP has the support of Arshad Madani, but not Mahmood Madani. "We have been trying to get the two factions to come together… I held talks with both the clerics… It is only a matter of time now," said Malik. Differences between Arshad Madani, who has considerable influence in Assam, and Ajmal, whose All India United Democratic Front is the second largest party in the Assam assembly, are widely believed to be rooted in politics. Arshad Madani is perceived to be close to the ruling Congress party. Despite repeated calls and messages, Ajmal was not available for comment. This is not the first time that attempts have been made to unite the two Madanis who belong to the most influential family of Deoband. Arshad Madani is a senior teacher at Darul Uloom Deoband and Mahmood has had dalliances with political parties in the past — he was sent to the Rajya Sabha by RLD. The main contention between the two factions is likely to be the post of Amir-e-Jamiat — president of the organisation. Currently, Arshad Madani heads his unit while Mahmood's unit is headed by Qari Mohammad Osman Mansoorpuri.
http://indianexpress.com/article/india/india-others/peace-proposal-in-place-jamiat-factions-seek-to-reunite-soon/#sthash.UNPais1e.dpuf
------
No tampered meters, no extra fare: Salaam Autos in Bangalore shows the way
Bengaluru, July 23, 2015: Haggling with auto drivers over extra fare and tampered meters is part of the routine for many commuters. A City-based NGO has now introduced autos with a service motive.
Though small in number, these autos come with an assurance of untampered meters and promise not to charge one-and-a-half times the meter before 10 pm. They would also not charge any extra money for luggage carried by passengers. This apart, they would even provide a 50 per cent concession on fares for the differently-abled.
Named Salaam Autos, the City-based Salaam Centre has introduced these three-wheelers which have been plying now for a month. The service provider states that customers would get all their belongings safely in case they forgot them in the auto.
Explaining the concept, Syed Hamid Mohsin, founder-chairman, Salaam Centre, said, "We often witness auto drivers unnecessarily asking for extra money, especially in busy locations such as MG Road and Brigade Road. Through Salaam Autos, we hope to change the precedent."
There are eight such autos plying in the city at present. These autos mostly operate around the Shivaji Nagar, RT Nagar areas. "They mostly ply in Bangalore North," Mohsin added. He plans to introduce more such autos next year.
Mohsin told Deccan Herald that he got the idea ahead of Ramzan this year. "I was making plans to go on a pilgrimage to Mecca. However, I then thought that I could put the money to better use if I could serve people."
Mohsin then utilised the Rs 15 Lakh he had set aside for the trip, to facilitate the autos. "Drivers were selected based on their behaviour and consistency," he said.
The organisation has several programmes that strive for religious harmony. Salaam Autos too has been introduced with the same principle. These autos will carry booklets in seven languages, that seek to dispel myths shrouding Islam. Passengers could browse through the books during their journey.
http://www.deccanherald.com/content/491168/no-tampered-meters-no-extra.html
-------
Africa
Suspected Islamists Kill 'At Least 21' in Northeast Nigeria
World | Agence France-Presse
MAIDUGURI, NIGERIA: July 25, 2015, At least 21 people were killed in a new attack by suspected Islamists in a village in north-eastern Borno state, causing many to flee, residents said Saturday.
"The terrorists stormed Maikadiri around 9:00 am (0800 GMT Friday) and opened fire on hapless citizens," said resident Simon Templer.
"They laid siege in daylight because there are no soldiers or police nearby," said another resident, Markus Ali, adding: "We counted 21 corpses."
A police officer in the Borno state capital Maiduguri confirmed the attack while requesting anonymity.
Templer added: "My aged mother is currently in the bush. Most of our people have fled and many houses and shops have been burnt."
Maikadari is in southern Borno near the vast Sambisa forest, a longstanding hideout of the Islamist group Boko Haram.
The Nigerian army has led a series of raids against them in recent months, succeeding in freeing several dozen women and children from the hands of Boko Haram.
But several state governors in the region have said this week that the group continues to occupy the forest.
The Boko Haram insurgency and efforts to quell it have claimed more than 15,000 lives and displaced 1.5 million people since 2009.
A new wave of violence has already killed more than 800 since Nigeria's new President Muhammadu Buhari took office in May pledging to stamp out the Islamists.
http://www.ndtv.com/world-news/suspected-islamists-kill-at-least-21-in-northeast-nigeria-1200516
-------
Tunisia parliament passes new anti-terror law
25 July, 2015
Tunisia's parliament has adopted a new anti-terror law which seeks to counter the threat posed by Islamist militants.
The move follows two deadly attacks on tourism sites - a beach and hotel at Sousse in June and the Bardo Museum in Tunis in March.
Under the new law, those convicted of terrorism could face the death penalty and expressions of support for terrorism are a jailable offence.
However, rights groups have criticised the new measures as draconian.
MPs passed the law overwhelmingly after three days of debate.
Mohamed Ennaceur, president of the assembly, called it a "historic" moment and said the new law would "reassure" Tunisians.
The law will also make it easier for investigators to tap suspects' phones.
Advocacy groups have warned that the law's definition of terrorist crimes is too vague and they say it fails to safeguard the rights of defendants.
The new powers allow authorities to detain suspects for 15 days without access to a lawyer or appearance before a judge.
Critics have also condemned the return of capital punishment after a lengthy moratorium on executions.
A gunman killed 38 people in Sousse on 28 June in an attack claimed by the jihadist group Islamic State (IS).
In March, 21 tourists died when gunmen stormed the Bardo museum in the capital, Tunis.
IS later said it was behind the raid.
http://www.bbc.com/news/world-africa-33662633
-------
Somalia's al-Shabab loses Dinsor stronghold
24 July 2015
Somali forces backed by African Union (AU) troops have retaken another key stronghold from Islamist militants' al-Shabab as part of a renewed offensive.
Residents told the BBC's Somali service that militants withdrew on Thursday from south-east Dinsor town, which the group had held since 2008.
Al-Shabab used Dinor as a hideout to launch attacks on other parts of Somalia, a BBC correspondent says.
The group is battling Somalia's government for control of the country.
On Wednesday, al-Shabab admitted it had lost control of the strategic town of Bardere in the same area.
It has not commented on the loss of Dinsor, which lies 270km (170 miles) west of the capital Mogadishu.
The continuing loss of territory means al-Shabab is being cornered into a smaller area, surrounded by Somali and regional forces, BBC Somali analyst Abdinur Mohamed says.
It is highly unlikely that the group will be able to retake any of the towns it has lost in the latest offensive, he adds.
"The insurgents have fled after losing the battle... the troops are now conducting security operations to clear the town," Somali Defence Minster, Gen Abdulkadir Sheikh Ali Dini told the AFP news agency, despite residents reporting that the town was taken without a fight.
Last week, the AU and Somali forces launched "Operation Jubba Corridor", an offensive aimed at flushing the al-Qaeda-linked group out of the largely rural areas of southern Somalia it controls.
map showing who controls which parts of Somalia
AU troops have been in the country since 2007 helping various UN-backed governments fight al-Shabab - and there is now a force of more than 21,000 in the country.
Over the last four years, the militants have been driven from most of the key towns they once held but they still control rural areas in the south.
Somalia has seen clan-based warlords, rival politicians and Islamist militants battle for control since the fall of long-serving ruler Siad Barre in 1991.
http://www.bbc.com/news/world-africa-33656129
------
Burundi elections: Pierre Nkurunziza wins third term
24 July 2015
Burundi's President Pierre Nkurunziza has won a controversial third term, taking nearly 70% of the vote, according to provisional results from the country's electoral commission.
Opposition leader Agathon Rwasa won 19% of the vote after his name was left on the ballot paper, despite a boycott.
At least 70 people have been killed since Mr Nkurunziza announced in April he would run for a third term.
Turnout was more than 73%, higher than many analysts predicted, although it was significantly lower in the capital Bujumbura, where most of the protests have been.
Burundi opposition leader Agathon Rwasa speaks during an interview in the capital Bujumbura on 22 July 2015
Opposition leader Agathon Rwasa accuses Pierre Nkurunziza of presiding over corruption and extrajudicial killings
In an interview with the BBC after the declaration, Mr Rwasa described the elections results as "a joke".
"These are results set up in the electoral commission... not those expressed by the voters," he said.
Regional and international bodies have already said the conditions for credible and free elections were not met.
The US State Department has joined critics saying the election lacks credibility.
Who is Pierre Nkurunziza?
Born in 1964
Rebel leader-turned president
Born-again Christian
Former sports teacher
Cycles and plays football
Married with two children
Father killed in ethnic violence in 1972
Profile: Pierre Nkurunziza
Why Burundi poll matters
"Ten years of dictatorship is too much", Mr Rwasa told the BBC, citing alleged corruption and extrajudicial killings as reasons why many Burundians now want change.
Mr Rwasa would not confirm whether he or other members of his opposition coalition Amizero y'Abarundi would be taking up the 30 seats they had been awarded in the parliamentary election, despite boycotting the vote.
The African Union (AU) did not send observers - the first time it has taken such a stance against a member state.
The US state department and the European Union expressed concern that the elections were not free and fair.
In May, army generals opposed to President Nkurunziza's continuing rule failed to overthrow him in a coup attempt.
An election official tallies ballots during counting for Burundi's presidential elections in the capital Bujumbura, July 21, 2015.
Mr Nkurunziza's victory was widely predicted
Residents line up prior to casting their vote in the village of Buye
The election took place in a country rocked by unrest since April
Woman mourns death of man killed in a police operation in Bujumbura
Dozens of people have been killed in unrest
Tensions between Burundi's ethnic Hutu majority - comprising some 85% of the 10.5 million population - and Tutsi minority have flared up regularly since independence from Belgium in 1962.
Mr Nkurunziza led a Hutu rebel group fighting the Tutsi-dominated army until a peace deal led to him becoming president in 2005.
The Constitutional Court backed his argument that his first term in office did not count towards the two-term limit, as he was elected by MPs.
http://www.bbc.com/news/world-africa-33658796
-----
Tunisia Restores Diplomatic Ties with Syria
Jul 25, 2015
TEHRAN (FNA)- Tunisia has recommenced diplomatic relations with Syria at a consular level after a three-year hiatus in Tunis-Damascus ties, a report said.
Tunisian authorities have appointed Ibrahim al-Fawri as the North African state's consul general to Syria, according to the report released on Friday by the Tunisian Press Agency, quoting unidentified Foreign Ministry sources as saying.
Back in April, Tunisian Foreign Minister Taieb Baccouche announced his country's decision to reestablish relations with Syria, acknowledging that the diplomatic freeze between the two states has been hard on the estimated 6,000 Tunisian nationals living in Syria, press tv reported.
Former Tunisian President Mohamed Moncef Marzouki cut ties with the government of Syrian President Bashar al-Assad in February 2012, one year after the beginning of the crisis in the Arab country.
Syria has been battling foreign-sponsored militancy since March 2011. Estimates by the United Nations show that the violence fuelled by Takfiri terrorist groups has so far left over 230,000 people dead and another seven million displaced.
http://english.farsnews.com/newstext.aspx?nn=13940503000309
------
Australia
Australian Islamic State group nurse arrested on terrorism-related charges in Sydney
By: AP
Sydney: Jul 25, 2015
An Australian nurse who says he was forced by Islamic State militants to work as a medic in Syria will appear in a Sydney court on Saturday on terrorism-related charges, police said.
Adam Brookman, 39, was arrested on arrival at Sydney International Airport on Friday night on a Victoria state warrant relating to his alleged involvement in the conflict in Syria, Australian Federal Police said in a statement.
He will appear in the Parramatta Local Court on Saturday, where members of the Melbourne city Joint Counter Terrorism Team will seek his extradition to Victoria.
Police did not detail his charges.
Brookman surrendered to Turkish officials in Turkey on Tuesday. He voluntarily flew back to Australia with a police escort.
Brookman, a Muslim convert and father of five children who live in Melbourne, told Fairfax Media in May that he went to Syria last year to do humanitarian work for civilians caught in the war. He said he was innocent of any crime.
Brookman said he was forced to join Islamic State militants after being injured in an airstrike and taken to a hospital controlled by the group.
"After I recovered, they wouldn't let me leave," he told Fairfax.
He won the militants' trust by working as a medic and was able to escape to Turkey in December.
Brookman told Fairfax that he opposed the violent and extreme actions of the militants, including the beheading of their captives.
"Of course there will be an investigation. That is fine. Hopefully things don't look that bad," Brookman told Fairfax.
It is not clear whether Brookman was still in Syria on Dec. 4, when Australia made a presence in the Islamic State stronghold of al-Raqqa province in Syria a crime punishable by 10 years in prison. If charged, the onus would be on Brookman to prove he had a legitimate reason to be in the terrorist hotspot.
http://indianexpress.com/article/world/world-others/australian-islamic-state-group-medic-arrested-in-sydney-on-terrorism-related-charges/#sthash.TfEHhPcL.dpuf
-----
Australian Adam Brookman returns from IS Syria conflict
24 July 2015
Under Australian law it is a crime to be involved with proscribed militant groups
An Australian nurse suspected of helping the so-called Islamic State is returning home under police escort.
Muslim convert Adam Brookman, who is returning voluntarily, says he travelled to Syria to do humanitarian work but was forced to work with IS.
Justice Minister Michael Keenan said he was entitled to return but would be investigated.
The nurse will be the first Australian to return from Syria or Iraq since the country brought in new terror laws.
The laws made it a crime to assist militant groups in the Middle East.
Mr Brookman - who has not at this stage been charged - told Fairfax Media in May that he travelled to Syria to use his nursing skills in the civil conflict, which he believed was being ignored by the international community.
But he said he was forced to join IS after being injured in an airstrike and taken to a hospital controlled by the militants.
'Legally entitled to return'
Mr Keenan told Australia's ABC News all returning Australians were subject to the law. "The issue is if somebody has involved themselves in the conflict in Iraq and Syria," he said.
"If they've supported or fought alongside a terror organisation, what is it that we're going to do with them if they return to Australia as they're legally entitled to do?"
A spokesperson for the Australian Federal Police (AFP) said: "If there is evidence an Australian has committed a criminal offence under Australia law while involved in the conflict in Syria and Iraq, they will be charged and put before the courts."
Police said the nurse's return from Syria, via Turkey, was being managed "in co-operation with relevant local authorities". He was reportedly met in Turkey by Australian police, who accompanied him on a flight to Sydney.
Foreign Fighters
Under Australia's new Foreign Fighters legislation, it may be enough to simply have travelled to Syria or Iraq to face charges.
Australian Prime Minister Tony Abbott
Prime Minister Tony Abbott has toughened Australia's terrorism laws
The legislation has also strengthened the offences of training with, recruiting for and funding terrorist organisations and made it easier to prosecute foreign fighters by making it illegal to travel to a declared area overseas.
In December, 2014, Australia specifically proscribed travel to Syria's Raqqa province, which is held by IS.
According to the government, at least 100 Australians are fighting with terror groups in the Middle East, and another 150 people in Australia are known to be supporting such groups.
Kurdish fighter
Meanwhile, the body of an Australian man killed fighting with a Kurdish group in Syria will be returned to Australia on Friday.
According to the Australian Broadcasting Corporation, 23-year-old Reece Harding travelled to the Middle East in May to fight against IS militants and was killed after he stepped on a land mine.
A funeral for Mr Harding is expected to be held on Sunday.
http://www.bbc.com/news/world-australia-33647183
------
Southeast Asia
Malaysia Suspends 2 Newspapers Covering Scandal at State-Owned Fund
By AUSTIN RAMZYJULY 24, 2015
HONG KONG — The Malaysian authorities have ordered two newspapers to suspend publishing for three months over their reporting on a financial scandal that has embroiled Prime Minister Najib Razak and other members of the country's elite, the outlets' parent company said Friday.
Print publication by The Edge Weekly and The Edge Financial Daily will be suspended beginning Monday by order of the Ministry of Home Affairs, according to the newspapers' parent company, Edge Media Group.
Edge Media said the order was in response to coverage of an investigation into possible wrongdoing at 1Malaysia Development Berhad, also known as 1MDB, a heavily indebted, government-owned development fund.
Prime Minister Najib Razak of Malaysia.Malaysia Investigates Leaks Claiming to Show Transfers to Najib RazakJULY 13, 2015
Jho Low, left, a Malaysian investor, with Paris Hilton at a nightclub in St.-Tropez, France, in 2010.Towers of Secrecy: Jho Low, Well Connected in Malaysia, Has an Appetite for New YorkFEB. 8, 2015
"We don't see how exposing the scam to cheat the people of Malaysia of billions of ringgit can be construed as being detrimental to public and national interest," said Edge Media Group's publisher and chief executive, Ho Kay Tat, according to an article posted on the group's main website. "This is nothing more than a move to shut us down in order to shut us up."
Mr. Ho said that the outlets would continue to publish online and that the company would fight the closure of the print editions in court. Malaysia has strict publishing laws that give the government the authority to close newspapers, which advocates of press freedom say puts undue restrictions on critical reporting.
Malaysian government officials could not immediately be reached for comment.
Edge Media outlets have published a series of stories on the development fund, including a story on Monday alleging that 1MDB executives, the Saudi oil company PetroSaudi International and investors including Jho Low, a prominent financier, had conspired to defraud the country out of more than $1.8 billion.
In February, The New York Times published an examination of the relationship between Mr. Low and Mr. Najib and his family, as well as Mr. Low's ties to 1MDB.
The Wall Street Journal reported in early July that documents from the investigation showed nearly $700 million of 1MDB funds had been deposited into accounts said to be controlled by Mr. Najib, the prime minister, who heads the development fund's board. Mr. Najib and 1MDB have denied wrongdoing, and the prime minister has called the allegations a smear orchestrated by his political opponents.
Edge Media ran into trouble with the authorities earlier this year. In March, Mr. Ho was arrested along with the chief executive and three editors of another Edge Media outlet, the website The Malaysian Insider, over an article about a proposal to allow strict enforcement of Islamic law.
Press freedom groups characterized that action against Edge Media as the latest in a series of troubling moves by the Malaysian government to intimidate critical publications.
http://www.nytimes.com/2015/07/25/world/asia/malaysia-suspends-2-newspapers-covering-scandal-at-state-owned-fund.html
------
North America
President Obama in Kenya: 'Africa is on the move'
25 July, 2015
US President Barack Obama has praised Africa's economic and business potential in a speech in Nairobi on the first full day of his visit to Kenya.
"Africa is on the move... People are being lifted out of poverty, incomes are up (and) the middle class is growing," he told a business summit.
He is due to visit a memorial to the 1998 US embassy bombing, before talks on security with Kenya's president.
The trip has been described as a "homecoming" by Kenyan media, and crowds cheered Mr Obama's motorcade as it travelled from the airport.
In Nairobi on Saturday morning, the US president presided over the opening of a Global Entrepreneurship Summit.
Africa needed to be a "future hub of global growth", Mr Obama told young entrepreneurs and businesspeople, adding that governments had to ensure that corruption was not allowed to flourish.
Mr Obama said Kenya had made "incredible progress" since his last visit.
"When I was here in Nairobi 10 years ago, it looked different from what it looks today," he said.
Later, Mr Obama is scheduled to visit the memorial park on the site of the US embassy attack.
More than 200 people, including 12 Americans and 34 local embassy staff, died in the blast which was blamed on al-Qaeda.
A simultaneous attack on the US embassy in Dar es Salaam, Tanzania, killed 11 people and wounded 70.
Later, Mr Obama is expected to hold bilateral talks with Kenyan President Uhuru Kenyatta.
The BBC's Karen Allen in Nairobi says it is security and Kenya's counter-terrorism efforts that are likely to dominate the talks.
Kenya has been targeted by the militant Somalia-based Islamist group al-Shabab which killed at least 67 people in an attack on Nairobi's Westgate shopping complex in 2013.
The group also staged an attack on the university in Garissa, northern Kenya, earlier this year in which 148 people died.
Although trade and security are featuring strongly in Mr Obama's visit, he has also pledged to deliver a "blunt message" to African leaders about gay rights and discrimination.
Security is tight for Mr Obama's visit with about 10,000 police officers deployed in Nairobi, major roads closed and US military planes patrolling overhead.
On his arrival at Kenyatta International Airport in Nairobi, he was hugged by his half-sister Auma and later, at dinner, the president was joined by more relatives including "Mama Sarah", who helped to raise his late father.
Our correspondent says Mr Obama's visit would have been diplomatically impossible three years ago when President Kenyatta faced charges at the International Criminal Court in The Hague.
The case against Mr Kenyatta has since been dropped and the way seems clear for a restoration of ties, she adds.
After his visit to Kenya, Mr Obama will travel on to Ethiopia where he will become the first US leader to address the African Union.
US-Africa ties
"I'll be the first US president to not only visit Kenya and Ethiopia, but also to address the continent as a whole, building off the African summit that we did here which was historic and has, I think, deepened the kinds of already strong relationships that we have across the continent."
Giving the young opportunities
"A while back, when we started looking at strategies to reach out to the Muslim world, to reach out to developed countries, a common theme emerged, which was people are not interested in just being... patronised. And being given aid. They're interested in building capacity."
On China
"We welcome Chinese aid into Africa. I think we think that's a good thing. We don't want to discourage it. As I've said before, what I also want to make sure though is that trade is benefiting the ordinary Kenyan and the ordinary Ethiopian and the ordinary Guinean and not just a few elites."
On discrimination
"As somebody who has family in Kenya and knows the history of how the country so often is held back because women and girls are not treated fairly, I think those same values apply when it comes to different sexual orientations."
http://www.bbc.com/news/world-africa-33662230
------
URL: https://www.newageislam.com/islamic-world-news/new-age-islam-news-bureau/over-100-civilians-killed-in-saudi-air-raids-against-taiz/d/104031