New Age Islam News Bureau
25 Jul 2018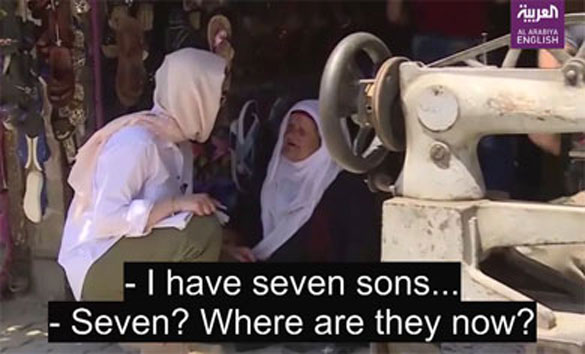 Inside Raqqa
----
• Open To Personal Law Changes within Islam Tenets: AIMPLB
• Pakistan Set For Historic Election amid Charges of Army Meddling
• Inside Raqqa: Elders Recount Life and Death Moments under ISIS Rule
• US: Middle East States Not Doing Enough for Palestinians
• Erdogan Calls Israel World's 'Most Fascist, Racist' State
• In Western Europe, Familiarity with Muslims Is Linked To Positive Views of Muslims and Islam
India
• Open To Personal Law Changes within Islam Tenets: AIMPLB
• Muslims Should Stop Eating Beef, Cow Meat 'Haram' In Islam: Shia Waqf Board Chief
• Muslim Man Attacked Outside Indian Court for 'Love Jihad'
• When I Was Asked Just Like That: 'Are You A Muslim?'
• David Headley, 26/11 attack convict, neither in Chicago nor in hospital, says his lawyer
• CRPF jawan killed, another hurt in Srinagar terror attack
• HUM Commander Pledges Allegiance to Islamic State, Says ISI Threatening Him
--------
Pakistan
• Pakistan Set For Historic Election amid Charges of Army Meddling
• Blast Kills More Than 28 in Pakistan On Election Day, Hospital Says
• 3 Allahu Akbar Tehreek Candidates Directed To Submit CNIC, Passport Copies
• Military's shadow looms as Pakistan goes to the polls
• Hindus and Other Minorities Face Big Challenge in Pakistan Elections
• Sindh CM reviews arrangements at polling stations, asks authorities to stay alert
• Six of an Afghan family shot dead in Pesahwar of Pakistan
• Pakistan's army deploys thousands of troops ahead of elections
--------
Arab World
• Inside Raqqa: Elders Recount Life and Death Moments under ISIS Rule
• Dozens Dead in ISIS Suicide Attacks on Southern Syria
• Qatar starts expanding already largest US military base in Mideast
• Tel Aviv Warned by Moscow against Provocative Acts in Region
• People Continue Rebellion against Turkey-Backed Militants in Northern Syria
• Syrian Fighter Jet Downed by Israel over Western Dara'a
• More Regions under Gov't Troops' Control in Southern Syria
• Order of King Abdulaziz awarded to Saudi students who died saving US children
--------
North America
• US: Middle East States Not Doing Enough for Palestinians
• Michigan Candidate Hopes to Become First Muslim American Governor
• Trump says US ready to make a 'real deal' on Iran's nuclear program
• US seeking to Balkanize Iran, Muslim nations: Analyst
• American captured in Syria charged in US with supporting Islamic State
• US commanders say Afghan strategy boosting peace hopes
--------
Mideast
• Erdogan Calls Israel World's 'Most Fascist, Racist' State
• Young Yemenis Recount Forced Recruitment, Life under Houthis
• Suicide attack kills two in south Yemen
• Yemeni snipers shoot dead 7 Saudi mercenaries in Hudaydah, Jizan
• Israel shoots down Syrian warplane as Golan frontier heats up
• Turkey says rejected US call to abide by anti-Iran sanctions
• In letter to UN, Iran urges end to 'illegal' US support for MKO terrorists
• Houthi militants killed and wounded in clashes in Yemen's Taiz
--------
Europe
• In Western Europe, Familiarity with Muslims Is Linked To Positive Views of Muslims and Islam
• Dutch Muslim Parties: A New Development in Islamisation
• UK Cabinet Needs to Stop Making Britain Haven for Extremists
• OIC blasts Prophet Muhammad cartoon competition
• Activists' stage anti-Saudi protest in London as Qatari emir arrives for talks
• US will have no military cooperation with Russia in Syria: Mattis
• OIC blasts Prophet Muhammad cartoon competition
--------
South Asia
• Taliban Militants Suffer Casualties during the Ongoing Operations in Helmand
• UNSC urges Myanmar to ease Rohingyas' safe return
• Bangladesh cafe siege: Briton Hasnat Karim to be freed
• Eight Islamic terrorists indicted for Dhaka massacre
--------
Southeast Asia
• Kuala Lumpur Plans Bill To Curb Racial and Religious Hatred
• Lokman Claims Malays Angry Because Special Position and Islam Threatened
• Indonesia passes anti-terrorism law after suicide attacks on churches
• No chance in Sungai Kandis without PAS' support, says Lokman
• Malaysia can learn about religious harmony from Singapore, says foreign minister
--------
Africa
• FG To Embark On Religious Education to Checkmate Boko Haram Insurgency
• Armed group frees officials abducted in central Libya
• Boko Haram faction chief reappears after health questions
Compiled by New Age Islam News Bureau
URL: https://www.newageislam.com/islamic-world-news/open-personal-law-changes-islam/d/115934
--------
Open to personal law changes within Islam tenets: AIMPLB
Jul 25, 2018
NEW DELHI: While the Centre's triple talaq Bill is yet to clear the Opposition's hurdle in the Rajya Sabha and see the light of day, in a softening of stand, the All India Muslim Personal Law Board is likely to agree to codification of Muslim personal laws.
ET has learnt that as part of nation-wide consultations undertaken by the Law Commission to pave the way for the implementation of the Uniform Civil Code, the board is expected to agree to codification of personal laws related to the issues of adoption and inheritance as laid out in the Sharia. The commission is looking at codifying and reviewing personal laws with a 'gender justice' lens and the board is expected to meet the commission on July 31, sources said.
On the issue of minimum age of marriage, the board is also expected to tell the commission that it is open to reforms or 'tweaks' provided they are well within the tenets of Islam. While the Prohibition of Child Marriage Act, 2006 stipulates 18 and 21 years as minimum age for marriage for girls and boys, respectively under the Islamic law, marriage as per Islam is permitted after puberty. The board will however, reiterate its stand against the implementation of Uniform Civil Code, as was expressed in its firt meeting with the commission in April last year.
"We are okay with codification of laws as per the Quran. But will continue to oppose the UCC as we are a country of many religious identities and cultures that need to be respected," a member said.
As part of a meeting held with the members of the personal law board in May, the law commission had sought a response on why women could only get half a share in property. The AIMPLB will make its opposition clear over the issue of adoption. In Islam, adoption is prohibited for the fear of sexual relations between the adoptive parents and child, the board claimed. The commission made it clear that it will not examine the issues of nikah halala and polygamy among Muslims since the matters are sub-judice.
https://economictimes.indiatimes.com/news/politics-and-nation/open-to-personal-law-changes-within-islam-tenets-aimplb/articleshow/65126805.cms
--------
Pakistan set for historic election amid charges of army meddling
July 24, 2018
Pakistanis will go to the polls tomorrow to elect a new prime minister, transferring power from one civilian government to another for only the second time in the nation's 70-year chequered history amid accusations of manipulation by the powerful military and concerns over the participation of Islamic hardliners in large numbers.
According to the Election Commission of Pakistan (ECP), 3,459 candidates are contesting from 272 general seats of the National Assembly, while 8,396 candidates are running for 577 general seats of the four provincial assemblies.
There are 105.96 million registered voters in the country.
The run up to the July 25 elections have seen a massive crackdown on the media and allegations that the military has secretly backed the campaign of former cricketer Imran Khan while targeting his political opponents.
The military has ruled Pakistan through various coups for nearly half of the country's history since independence in 1947. Even during the civilian rule, the country's generals have wielded enormous power, setting the agenda for the country's foreign and security policies.
Questions were raised about the role of the military after reports that it was given magisterial powers. The ECP was also criticised for deploying the Army both inside and outside of polling stations.
Army chief General Qamar Bajwa, however, assured that military personnel deployed for election duties would strictly comply with the code of conduct given by the ECP.
He also said the Army will only perform a facilitative role in the elections and that the polling process is to remain under the control and authority of the ECP.
Former prime minister Nawaz Sharif, the supremo of the Pakistan Muslim League-Nawaz (PML-N) who was jailed this month after being convicted in a corruption case also accused the military of pressuring the judiciary to convict him. Both institutions deny the charge.
The independent Human Rights Commission of Pakistan said there were "ample grounds to doubt" the legitimacy of the elections and criticised the "blatant, aggressive and unabashed attempts to manipulate the outcome of the upcoming elections."
Controversy has also arisen over allowing militant groups to participate in the poll.
Some of the infamous Pakistani extremist leaders, accused of spreading religious hatred and instigating sectarian violence, are among hundreds of candidates contesting the elections.
The leading among them are Mumbai-terror attack mastermind Hafiz Saeed-led banned Jamat-ud Dawah's candidates who are fighting with an aim to make Pakistan a "citadel of Islam." Saeed's son and son-in-law are contesting the elections.
In the run up to the elections, the country witnessed a series of attacks on candidates and campaign rallies, including one that killed 151 people in Balochistan province.
A fierce battle is expected between Sharif's PML-N and Khan's Pakistan Tehreek-i-Insaf (PTI) in Punjab, the most populous province often known for deciding the next government in the country.
For the first time in 2013, a civilian government in Pakistan completed its five-year term.
As the second democratic transition of power is just around the corner, the ECP has taken elaborate measures to ensure that elections are held peacefully and in a fair and transparent manner.
More than 1.6 million polling staff will perform duties on the election day. About 400,000 police officers and 371,000 army troops have been deployed across the country.
More than 85,000 polling stations have been set up. The voting will start at 8.00 am and will continue till 6.00 pm.
The counting will be done on the spot and results will be announced within 24 hours after the polling. The election campaign concluded at midnight yesterday after about two months. All parties have claimed that they will grab most of the seats.
While several polls put Khan's Pakistan Tehreek-e-Insaf marginally ahead of rivals other surveys suggest the result is too close to call.
Khan has pledged to break the decades-old two party "status quo" of PML-N and its historical rival the Pakistan People's Party (PPP) -- led by Bilawal Bhutto -- which is expected to finish third place.
Shahbaz Sharif, the president of the PML-N, said that his party would not only win at the centre but would also form the government in Punjab and Khyber-Pakhtukhwa provinces.
Despite a massive electoral exercise, there is a big question if the election would bring much needed political and economic stability in the country.
Babar Sattar, a lawyer and political analyst -- says it is unclear if the elections will end the rift between the elected civilian government and unelected but powerful military establishment.
"The bottom line is that experiment 2018 will fail just like all previous experiments," he said, referring to the uneasy relations between the elected government and the military establishment in the past.
Political analyst Dr Syed Farooq Hasnat said that this year's elections are going to be one of the most interesting ones in the country's history.
https://www.indiatvnews.com/news/world-pakistan-set-for-historic-election-amid-charges-of-army-meddling-454381
--------
Inside Raqqa: Elders recount life and death moments under ISIS rule
25 July 2018
Less than a year after recapturing the city from ISIS militants, Raqqa's residents - especially the elderly - say signs normalcy is slowly returning.
But scars and signs of the brutal life under ISIS remain and for some of the city's elderly who were not able to leave the city with their grown children, return to normal life will take some time.
"If there was an unveiled woman, they (ISIS) would murder her husband. Husbands began to slowly hate their wives. I was one of them. I told my wife that if she even went outside, I would abandon her," one elderly Syrian man told Al Arabiya English.
https://english.alarabiya.net/en/features/2018/07/25/Inside-Raqqa-Elders-recount-life-and-death-moments-under-ISIS-rule.html
--------
US: Middle East states not doing enough for Palestinians
JULY 25, 2018
US ambassador to the United Nations Nikki Haley on Tuesday criticized Middle Eastern countries for not doing enough to help Palestinians and move the peace process forward, saying that they need to "step up."
"It is time for the regional states in particular to step up and really help the Palestinian people, instead of just making speeches thousands of miles away," Haley said at a monthly meeting of the UN Security Council on the Middle East.
"Where are the Arab countries when it comes to encouraging reconciliation between Palestinian factions, which is essential to peace? Where are the Arab countries when it comes to denouncing Hamas terrorism? Where are the Arab countries when it comes to supporting compromises that are necessary for peace?" she said.
Haley highlighted American assistance to the Palestinians, saying that in addition to aid to the UN agency for Palestinian refugees (UNRWA), Washington provided $300 million in bilateral aid last year, and "over six billion — with a B — dollars in bilateral assistance to Palestinians" since 1993.
"How much have the Arab countries — some of whom are wealthy countries — how much have they given to the Palestinians?" she asked.
"Last year, Iran's contribution to UNRWA was zero. Algeria's contribution to UNRWA was zero. Tunisia's contribution to UNRWA was zero," Haley said, without mentioning the significant reduction in the US contribution to the agency this year.
Her French counterpart Francois Delattre asked the US to reconsider that decision, calling on Washington "to shoulder its responsibilities and maintain its commitments on this crucial issue" to help fill the estimated $200 million gap in UNRWA.
Olof Skoog of Sweden, the current president of the council, let his frustration with US policy show, saying: "Everyone is waiting for a credible peace plan."
"We haven't seen that yet. It is now about a year since we were informed about a plan and we have not seen it yet. It is a problem that there is no credible plan on the table," Skoog said. Israel's ambassador, Danny Danon, meanwhile demanded international condemnation of militant group Hamas, while his Palestinian counterpart Riyad Mansour denounced the law recently passed by the Israeli parliament defining the country as the nation state of the Jewish people.
https://dailytimes.com.pk/272718/us-middle-east-states-not-doing-enough-for-palestinians/
--------
Erdogan calls Israel world's 'most fascist, racist' state
July 25, 2018
ANKARA - Turkish President Recep Tayyip Erdogan on Tuesday branded Israel the "most fascist, racist state" in the world after Israel's parliament passed a new law defining the country as the nation state of the Jewish people.
"This measure has shown without leaving the slightest room for doubt that Israel is the world's most Zionist, fascist and racist state," Erdogan said in a speech to his ruling party.
In one of his toughest recent onslaughts against Israel, Erdogan claimed there was "no difference between Hitler's obsession with the Aryan race and Israel's understanding that these ancient lands are meant only for Jews."
"The spirit of Hitler, which led the world to a great catastrophe, has found its resurgence among some of Israel's leaders," he added.
Netanyahu hits back
Israel's Prime Minister Benjamin Netanyahu said Tuesday Turkey was becoming a "dark dictatorship".
"Erdogan is massacring Syrians and Kurds and has imprisoned tens of thousands of his citizens," Netanyahu said in a statement. "Turkey under Erdogan is becoming a dark dictatorship, while Israel is meticulously maintaining equal rights for all its citizens, before and after the law." Around six million Jews were killed in the Holocaust by the Nazis during World War II. The legislation, adopted after a tumultuous Knesset session, makes Hebrew the national language and defines the establishment of Jewish communities as being in the national interest. Arabic, previously considered an official language, was granted only special status. The issue is the latest source of tension between Israel and Turkey, one of the Jewish state's few key Muslim partners.
Ankara ordered out Israel's ambassador in May over the killing of protestors along the border with the Gaza Strip.
The strains have threatened a 2016 deal on normalising ties after the crisis sparked by the May 2010 deadly storming of a Turkish ship by Israeli commandos.
Erdogan regards himself as a champion of the Palestinians and has twice recently held summits of Muslim states to denounce the recognition by the United States of Jerusalem as Israel's capital.
But analysts note that behind the rhetoric economic ties remain strong, with trade robust and both sides interested in the export of Israeli energy resources to Turkey.
Arab citizens account for 17.5 percent of Israel's more than eight million population. They have long complained of discrimination.
https://nation.com.pk/25-Jul-2018/erdogan-calls-israel-world-s-most-fascist-racist-state
--------
In Western Europe, Familiarity with Muslims Is Linked To Positive Views of Muslims and Islam
JULY 24, 2018
BY SCOTT GARDNER AND JONATHAN EVANS
Across Western Europe, people who say they personally know a Muslim are generally more likely than others to have positive opinions of Muslims and their religion, according to a recent Pew Research Centre study in 15 countries. However, knowing something about Islam – as opposed to personally knowing a Muslim – is less associated with these positive feelings.
This pattern is evident across several different questions the Center asked of non-Muslim Europeans to gauge attitudes toward Muslims, including whether they think Islam is compatible with their country's culture and values and whether they would be willing to accept a Muslim as a member of their family.
One question asked non-Muslim Western Europeans if they agree or disagree with the statement "In their hearts, Muslims want to impose their religious law on everyone else in the country." In Switzerland – which has a relatively large Muslim population (about 6% of the total population) – those who say they personally know a Muslim are 37 percentage points more likely than those who do not to disagree with this statement. More than eight-in-ten (85%) of those who say they know a Muslim disagree with the statement, compared with just 48% of those who do not know a Muslim.
Large gaps also exist in the UK (37 percentage points), Austria (35 points), Germany (34 points), Ireland (29 points), Italy (27 points), Denmark (26 points) and France (24 points).
By contrast, there is less of a difference on this question between those who say they know "a great deal" or "some" about Islam and those who know "not very much" or "nothing at all." Regardless of their level of knowledge about Islam, similar shares of people in most surveyed countries disagree with the statement that Muslims "want to impose their religious law on everyone else in the country." Swiss adults who know a great deal or some about Islam, for example, are only 4 percentage points more likely to disagree with the statement than those who know less about Islam.
Regionally, more people say they personally know a Muslim than say they know a great deal or some about Islam (medians of 67% and 36%, respectively). In France, which has the highest percentage of Muslims in Western Europe (9%), nearly twice as many adults say they personally know a Muslim as say they have at least some knowledge of Islam (79% and 40%, respectively).
While knowing a Muslim is prevalent in most countries across Western Europe, it is less common in the United States, where 45% of adults know someone who is Muslim, according to a separate Pew Research Center study.
The survey in Western Europe was fielded amid ongoing political debates across the region about the role that Islam and Muslims should play in society. In the past year alone, the issue has played a prominent role in national elections in a number of Western European countries, including the 2017 elections in Austria and Germany and the 2018 election in Italy.
http://www.pewresearch.org/fact-tank/2018/07/24/in-western-europe-familiarity-with-muslims-is-linked-to-positive-views-of-muslims-and-islam/
--------
India
Muslims Should Stop Eating Beef, Cow Meat 'Haram' In Islam: Shia Waqf Board Chief
Jul 24, 2018
NEW DELHI: Senior leader of the Rashtriya Swayamsevak Sangh (RSS) Indresh Kumar who said that cases of mob lynching will stop when people stop killing cows, got an unlikely support from Shia Waqf Board chief Waseem Rizvi.
The chief of the Muslim body said that Muslims should stop eating beef. "Killing of cows should stop. The meat of cows is 'Haram' in Islam as well. You can't stop mob lynching, security can't be deployed everywhere. So a law should be made awarding strict punishment to those killing cows," Rizvi said.
"I think Indresh Ji's statement has a point. Religious sentiments should not be hurt. If law is made to stop killing of cows, lynching will stop. You can't kill someone who is given the status of a mother by a community," Rizvi added.
Responding to the recent incident of mob lynching in Alwar in Rajasthan, the RSS leader had said that no religion allows slaughtering of cows. "Kisi bhi mob ki hinsa, wo aapke ghar ki, mohalle ki, jaati ki, party ki ho, wo kabhi bhi ahinandaniya nahin ho sakti. Parantu, duniya ke jitne bhi dharm hain, unke kisi ek dharam sthal par bata do ki gaye ka vadh hota hai (Violence by mob, whether that be your own home, neighbourhood, party, is not praiseworthy. But, tell me one religion which permits the killing of cows)," he said.
"Isha dharti par gaushala mein aaye, isliye waha mother cow bolte hain. Mecca Madina mein gaye ka vadh apradh maante hain. Kya hum sankalp nahi kar sakte ki dhara ko,manavta ko is paap se muqt karaein. Agar muqt ho jaayegi to aapki samasya (mob lynching) ka hal ho jaayega (It is called 'mother cow' in Christianity because Jesus was born in a cowshed. It is a sin to kill cows is banned in Mecca-Madina. Can't we commit that we will free the world and humanity from this sin? If it is free, then the problem (mob lynching) will be solved)," he added.
http://zeenews.india.com/india/muslims-should-stop-eating-beef-cow-meat-haram-in-islam-shia-waqf-board-chief-waseem-rizvi-2127298.html
--------
Muslim man attacked outside Indian court for 'love jihad'
July 24, 2018
Dubai: A young Muslim man was beaten up earlier on Tuesday in India for allegedly wanting to marry a Hindu woman. In an incident that left many Twitter users shocked, a mob attacked the man on Monday afternoon outside the Ghaziabad court, Uttar Pradesh (UP).
The video of the incident shared by Indian journalist @saurabh3vedi went viral on social media, with Twitter users condemning the act.
News agency Asian News International shared details of the incident.
@ANINewsUP tweeted: "Ghaziabad: Muslim man from Madhya Pradesh beaten at Marriage registrar office allegedly because he went there to marry a Hindu girl from Bijnor. The couple works at a company in Noida. Police took suo-motu cognisance and registered case against two known and several unidentified persons."
@saurabh3vedi added: "For the safety reason, they preferred Ghaziabad court instead of Noida."
According to reports, the couple decided to proceed with a court marriage since their parents were against their marriage. Subsequently, they went to a marriage registrar's office in the Ghaziabad court. There they were talking with an advocate about official procedures, when suddenly, a group of men arrived who alleged that the man has conned the woman to marry him.
Twitter users could not believe that mob attacks and lynchings have become normal in the country.
Tweep @AbdulkaderMB posted: "The courts in India must close. The lynching terrorists are performing justice themselves."
Many said that the government needed to take immediate action to punish those who were a part of this violent mob.
@cognitivedin wrote: "These people bring us shame. This is against the constitution and #treason seeking strict action from @myogiadityanath to set things right or else he is supporting polarising politics."
Tweep @pbhushan1 added: "Muslim man assaulted in Ghaziabad by Adityanath's 'Romeo squad' when he went to court to marry a Muslim woman! This is UP's goonda raj (thug rule)..."
Some highlighted that under the rule of India's Prime Minister Narendra Modi and the Bharatiya Janata Party, such crimes were on an increase. Twitter user @mat_jane_de_yar posted: "This is ridiculous... The way it is growing soon they will be number one terrorists group in the world. Thanks to Modi and his Govt for ruining whole India and its cultural and moral values just in four years. But don't forget Karma (destiny as a result of actions) comes back."
According to media reports, the police managed to reach in time to rescue the couple who were taken to Sihani police station.
The couple didn't want to register any case. However, the police filed a case suo-motu under IPC (Indian Penal Code) section 147 (rioting), 323 (causing hurt), 504 (intentional insult with intent to provoke breach of the peace) and 506 (punishment for criminal intimidation).
This is not an isolated case of people being beaten up for marrying out of their religion.
On Saturday, Khetaram Bheel, a 22-year old Dalit man was allegedly beaten to death by a man over a relationship with a Muslim woman, near a police station in Barmer district. The police reportedly said that the accused tied up the victim's hands and legs, and then started beating him.
@shahid_siddiqui tweeted: "This lynching of a Dalit man for having an affair with a Muslim girl is as heinous and horrible as any other lynching taking place in the country. We can't allow mobs to take law and order in their hands. Lynching is a threat to the nation and society."
Full report at:
https://gulfnews.com/news/asia/india/muslim-man-attacked-outside-indian-court-for-love-jihad-1.2256411
--------
When I was asked just like that: 'Are you a Muslim?'
by Shantanu Datta
July 25, 2018
It was yesterday. Just another Tuesday. The day had begun, well, decently – I went off to sleep by 5 am, which is earlier than usual after my night shifts; even given the wife's early-morning shift, and what seems doorbells going off every 20 minutes, thanks to all sorts of everyday handypersons coming to collect things from your doorstep, I slept well; got up just before my daughter was to return from school; read the newspapers in time for her to tell me her tales and play shadow-wrestling on bed; and discuss her homework, etc, before she sat down for lunch
(late, nearly every day, I admit, for a kid of six and four months; but do not tell her mother that).
It was time to get ready for work, and I had seen the mail from her school. I had to get stuff for her projects the next day. On way to work. There was no other way. Some stuff to be had for a storytelling session at school, and five images each for Hindi letters 'a', 'aa', 'chhoti e', and 'badee ee'.
Cut to the chase, and quite a chase it was. Five stationery shops, and not one had a booklet where you could get multiple images of words formed by the same letter. They all had 'a' to 'ah', and 'sa' to 'ha' charts.
Nope. Will not do.
Other items bought, I also had a masking tape to get.
Already late for work, I tried one last shop. In Mayur Vihar Phase-III, in east Delhi. A fairly big shop – bigger than the five I had been to thus far. Including two in my local market, which were closed. Being Tuesday.
Masking tape roll in hand, I asked the man manning the store – a young, fair, bucktoothed man, appearing to be in his late-twenties – whether he had the said charts, or booklet, of Hindi alphabets.
No, as expected.
"But you can get prints from here," he said, indicating a printer.
Well, I was in no mood. Was getting quite late as well.
Have to download from the internet and get it from office, it seems, I told him. Only problem is, my Hindi is sort of lousy; and I have to look up even the given five words each. On the Net.
Smiling, he asked me, "Where do you come from (kidhar ke ho aap)?"
Delhi, I said, emitting a deep sigh, Bengali (Dilli se hi hoon; Bangali).
"Aap Musalmaan ho (Are you a Muslim)?"
Bang. Just like that. Without any warning.
I am 42-years-old, and shorn of 10 of those years in four other cities (give or take a year or so), I have lived in Delhi-NCR all my life, the last 10 years being in Vaishali, Ghaziabad, which is 1.5 km from Delhi border, and hardly 7 km from where we were standing on Tuesday late-afternoon, both him and I, and we call it NCR. And I have given that reply – "Dilli Bangali", as opposed to Bengal Bangali, since I have only been a visitor to the state where I was born, and where my parents came/come from – a thousand times and more.
Never did I get a return question about my religion. This is my city, not some mofussil area. And I thought I knew it like the back of my hand.
Taken aback, I took a good 15-20 seconds — if not more; I remember my mouth puckering for a reply, which I did not eject — to reply: My grandparents were Hindus, my parents did not/does not believe in religion, and I am agnostic – "naastik" is the word I used, although that in effect means atheist, I presume. So, there, you have the details. Just short of my aadhaar card. Now, why do you want to know?
"Arre sir, nothing. Aise hi poochha (just like that)."
The man was still smiling, just as disarmingly. Two other men, sipping tea from thermocol glasses, smiled the same arre-sir-just-aise-hi smile.
I was running late, quite late, by then. I paid for the masking tape, told the man that 'that' question did not make any sense ("yeh poochhne ka matlab kya hai?"), and left.
Truth be told, I did not at that moment think of lynching incidents (that man, and the two others, apparently his friends, looked quite friendly and nice anyway), or how or what it would have felt like if I was a Muslim, or whether Bengalis face a khatra (danger), as the next targeted community.
I was getting late. And I had to get to work, fast (this last line is for the bosses, as the appraisal time is still around).
…
Epilogue
Story narrated in office, one colleague tells me: It's an image they have, a narrative being established, about Bengalis. Reason and logic be damned. Someone asked my husband the other day, after learning that he, and we, are Bengalis, whether everyone in Bengal eats beef.
Colleague two: (casually) Bengalis, being always the 'other' from 'their' brand of Hindutva, will have it coming. Sooner or later. I was asked questions (the guy lives in south Delhi) about buying eggs during Durga Puja, when the Navratras are celebrated, and supposed to be vegetarian.
Colleague three: Good you did not get into an argument. You just never know these days…
Wife: What? You did not give them a piece of your mind? (when told that I had said naastik, and etc,) I told you (hints at example of some friends), we should have moved to Canada when you had time.
I am 42. I am not a senior citizen. At least not numerically. For logic's sake, I have not list time. And I do not want to go some place that I do not know, in search of something I have not yet known.
And that's why I took a day to register it, have the feeling sink in, and then react. Now. A day on.
…
Epilogue 2
Which brings me to the phrase "I have NOT YET KNOWN".
# Why would you ask the religion of a man buying masking tape, even if he admits being a Bengali with not much knowledge of Hindi (and even if he has not shaved for a few days? OK, nearly 15 days, I admit. I am lazy.)
# Will I ever know it, given that I have the purported security of my surname, which was handed down to me?
# How will I react, otherwise (and that "otherwise" is a huge field)?
# How, more importantly, will I react if someone of a different – DIFFERENT – surname is asked the same question in my presence? Aise hi poochha, will I say?
# Am I overthinking? But, then again, why? Why would you want to know my religion, as I get back to the original question?
Full report at:
https://indianexpress.com/article/opinion/when-i-got-asked-are-you-a-muslim-5274759/
--------
David Headley, 26/11 attack convict, neither in Chicago nor in hospital, says his lawyer
July 25, 2018
Dismissing reports of 26/11 attacks convict David Headley being attacked by prison inmates inside a US detention centre, his lawyer confirmed that the Pakistani-American terrorist is neither in Chicago nor in a hospital. Media reports earlier suggested that Headley, the prime accused in the 2008 Mumbai terror attack case, was battling for his life in ICU after being beaten up by inmates at a Chicago prison earlier this month.
"Although I cannot disclose his location, he is neither in Chicago nor in a hospital," John Theis, Headley's lawyer, told PTI. "I am in regular communication with Mr Headley. There is no basis for the report in the Indian press," he added.
A news report claimed that Headley was attacked on July 8 by two inmates inside the facility and was rushed to North Evanston hospital. He reportedly suffered serious injuries and was admitted to the critical care unit. Authorities in the US and India, both refused to comment on the reports."We are not able to locate information about this individual," the Metropolitan Correctional Center in Chicago said in a brief email response to PTI when asked about the reported prison incident.
Full report at:
https://indianexpress.com/article/india/26-11-mumbai-attack-david-headley-neither-in-chicago-nor-in-hospital-says-his-lawyer-5274615/
--------
CRPF jawan killed, another hurt in Srinagar terror attack
Jul 24, 2018
SRINAGAR: One CRPF jawan was killed and another injured in a terror strike close to the Srinagar city police headquarters in Batamaloo on Tuesday. Terror outfit Hizbul Mujahideen claimed responsibility for the attack, which comes 40 days after journalist Shujaat Bukhari was gunned down near Lal Chowk area on June 14.
"Terrorists opened fire at the on-duty security personnel near the fire services department in Batamaloo, in which two CRPF jawans were injured. They were rushed to a hospital where Constable Shanker Lal of CRPF's 23 Batallion succumbed," said a police spokesperson. Taking advantage of the crowded vicinity, the assailants managed to escape, the spokesperson added.
The attack, a first of its kind, took place near the civil secretariat where Jammu and Kashmir governor N N Vohra, his advisors and dozens of other bureaucrats run the state administration. Several top cops, including ADGP (law and order) Munir Khan, IG (Kashmir range) S P Pani and SSP (Srinagar) Imtiyaz Parray also function from the Batamaloo police headquarters.
"Police have registered a case and are probing into the attack. Check-posts have been installed across the city and vehicles are being searched," said a senior police officer. Shortly after the attack, security forces cordoned off the area and launched a search operation, but no arrests have been made so far. Security has been stepped up at the civil secretariat and other places in the region following the strike.
Full report at:
https://timesofindia.indiatimes.com/india/crpf-jawan-killed-another-hurt-in-srinagar-terror-attack/articleshow/65124231.cms
--------
HUM commander pledges allegiance to Islamic State, says ISI threatening him
Jul 24, 2018
NEW DELHI: Indian intelligence agencies have been informed that Umar Khalifa, commander of Harkat-Ul-Mujahideen in Kashmir, has announced his exit from the outfit and pledged allegiance to Islamic State.
In audio and text message posted on Telegram channels, Khalifa aka Ishfaq Ahmed Sofi also denounced the ISI calling them as Murtad (apostate). He has accused the ISI of threatening his family and demanding ransom for his exit.
While the development is being seen as a setback to Pakistan and ISI, it is also expected to have significant impact on the war against jihad in Kashmir as it could further bolster the presence of IS in the valley, sources said.
HUM was founded by a former Osama Bin Laden aide, Maulana Fazlur Rehman Khalil, and Maulana Masood Azhar in late nineties.
Khalifa belongs to Sopore in Baramulla area of Kashmir. Khalifa and his aide Sameer had thrown a grenade at the 82 CRPF battalion in Srinagar in November 2015 and injured 13 soldiers, ahead of prime minister Narendra Modi's visit.
He and four others (see pic) had been arrested in 2016 while trying to resurrect the group which had been wiped out from the valley in 2012. At that time, Khalifa's handler was identified as Sajjad Shaheen aka Ahmad Afghani, an Afghan war veteran who had been handling the outfits operation in Pakistan.
In the message released through its Telegram channels, Khalifa says, "Alhamdulillha.. I am ishfaq ahmed Sofi aka Umar Khalifa, son of mushtaq ahmed.. resident of Sopore Kashmir.. I am fortunate enough that after proper research and my thirst to seek the truth I made barra (disassociation ) from all the organizations specially the militant organistaions of Kashmir and rest of the world. I am fortunate enough to become one of the soldiers of Islamic state."
"Today I publicly announce my disassociation from the Harkatul Mujahideen, organization run by Murtad ISI and establishment of taghoot of democratic Pakistan. I publicly announce that Sheikh Abu bakr Al Baghdadi. Al qureshi is my commander and khalif," he further says.
He also warns that ISI and others are threatening him and his family and demanding ransom but he is not worried.
"I am sure the organization and salves of Pakistani ISI will threaten your families and relatives, just like the people from Hizb tried to threaten the family of Firdous bhai ( May Allah accept ). These days the group Harkatul mujahideen is not only threating my family but also demanding ransom from them. This is nothing but their show of character which inshaallah will be revealed in front of everyone."
Full report at:
https://timesofindia.indiatimes.com/india/hum-commander-pledges-allegiance-to-islamic-state-says-isi-threatening-him/articleshow/65123388.cms
--------
Pakistan
Blast kills more than 28 in Pakistan on election day, hospital says
25 July 2018
A blast targeting a police van killed more than 28 people in Pakistan's northwestern city of Quetta, and wounded at least 40 on Wednesday, a hospital spokesman said, as the South Asian nation goes to the vote to choose a new government.
The blast happened near a polling station, said a Reuters witness in Quetta, capital of Pakistan's province of Baluchistan, but it was unclear if voting had been disrupted.
"Over 20 bodies and 28 injured have been shifted to civil hospitals," Dr Waseem Baig, a spokesman for a Quetta hospital, told Reuters.
Television images showed a charred police vehicle, cordoned off by security officials.
Samaa TV, which put the death toll at 20, said a "suicide attacker" was responsible for the attack. Rival Geo TV said 22 people had been killed.
https://english.alarabiya.net/en/News/world/2018/07/25/Blast-kills-at-least-18-in-Pakistani-city-on-election-day-.html
--------
3 Allahu Akbar Tehreek candidates directed to submit CNIC, passport copies
JULY 24, 2018
LAHORE: The Election Commission of Pakistan (ECP) on Tuesday directed 3 Allahu Akbar Tehreek (AAT) candidates to submit CNIC and passport copies after it was revealed that their names were on the United States terror watch list.
Mohammad Ashraf, who is running for NA-149 constituency in Sahiwal, Zafar Iqbal, contesting from PP-113 in Faisalabad and Ehsan Ranjha from PP-67 in Mandi Bahauddin appeared before a three-member ECP bench earlier today.
The AAT candidates were directed to present their identity documents before the bench, while they were also told to submit a written response. The hearing was adjourned till August 29.
The candidates will still be allowed to contest elections to be held on Wednesday (July 25), but the ECP can de-notified any of the concerned individuals if it decides against their eligibility.
Full report at:
https://dailytimes.com.pk/272470/3-allahu-akbar-tehreek-candidates-directed-to-submit-cnic-passport-copies/
--------
3 Allahu Akbar Tehreek candidates directed to submit CNIC, passport copies
JULY 24, 2018
LAHORE: The Election Commission of Pakistan (ECP) on Tuesday directed 3 Allahu Akbar Tehreek (AAT) candidates to submit CNIC and passport copies after it was revealed that their names were on the United States terror watch list.
Mohammad Ashraf, who is running for NA-149 constituency in Sahiwal, Zafar Iqbal, contesting from PP-113 in Faisalabad and Ehsan Ranjha from PP-67 in Mandi Bahauddin appeared before a three-member ECP bench earlier today.
The AAT candidates were directed to present their identity documents before the bench, while they were also told to submit a written response. The hearing was adjourned till August 29.
The candidates will still be allowed to contest elections to be held on Wednesday (July 25), but the ECP can de-notified any of the concerned individuals if it decides against their eligibility.
Full report at:
https://dailytimes.com.pk/272470/3-allahu-akbar-tehreek-candidates-directed-to-submit-cnic-passport-copies/
--------
Military's shadow looms as Pakistan goes to the polls
by Asad Hashim
8 hours ago
Lahore, Pakistan - Pakistanis will go to the polls on Wednesday, after a campaign that has seen allegations against the military of tampering, but would nonetheless be the second civilian-to-civilian handover of power in the country's history.
Voting will open at more than 85,000 polling stations at 8am (03:00 GMT) and close at 6pm.
Results are expected to trickle in several hours later, the election commission says.
On Tuesday, ballot boxes, papers and other election paraphernalia was transported to the stations, under armed guard.
The military has deployed more than 371,000 personnel to provide security inside and outside every station.
"We are trying our best to deliver free, fair and unbiased elections in Pakistan," said Sardar Muhammad Raza, the chief election commissioner, in a video message on Tuesday.
"On July 25, I ask that you leave your homes and use your vote correctly to fulfil your national responsibility."
Votes will be cast for 272 members of the lower house of parliament, as well as for the country's four provincial assemblies.
Shadow of military 'engineering'
The campaign season has seen a slew of allegations traded between the country's top three parties, Pakistan Muslim League-Nawaz (PML-N), Pakistan Tehreek-e-Insaf (PTI) and Pakistan Peoples Party (PPP).
Leaders of the PML-N and Bilawal Bhutto Zardari's PPP have accused the country's powerful military of intimidating supporters and forcing candidates to switch allegiances.
At least 20 PML-N members left the party in the weeks leading to the vote, either joining the PTI or choosing to run as independents.
On July 13, PML-N chief Nawaz Sharif was arrested after being convicted by an anti-corruption court following a 10-month trial.
Nawaz's brother Shehbaz is contesting the election as the party's presumptive nominee for prime minister.
The PTI, led by cricketer-turned-politician Imran Khan, has dismissed allegations that the military has been intervening on its behalf, terming the charges "a foreign conspiracy".
The military also denies it has any direct role in politics.
The Human Rights Commission of Pakistan (HRCP), an independent watchdog, has however described the election as "the dirtiest in the country's history".
In a statement earlier this month, it said it was concerned over "blatant, aggressive and unabashed attempts" to manipulate the outcome of the elections.
"While it is critical that the polls are held as scheduled, there are now ample grounds to doubt their legitimacy," the statement said.
Bloody campaign season
Accurate polling data is scant. The country's most populous province of Punjab - also the PML-N's heartland - is expected to determine who comes into power.
There has also been concern over the so-called "mainstreaming" of armed groups into politics, with the far-right Ahle Sunnat Wal Jammat and Milli Muslim League, both deemed fronts for armed groups by the United Nations, fielding hundreds of candidates in the polls.
Security will be tight across the country, after a bloody campaign season saw more than 179 people killed in a series of suicide attacks targeting election rallies.
Full report at:
https://www.aljazeera.com/news/2018/07/military-shadow-looms-pakistan-polls-180724211621287.html
--------
Hindus and other minorities face big challenge in Pakistan elections
Jul 24, 2018
As Pakistan heads into parliamentary elections this week, the country's minorities are looking for better representation and a voice that will speak up for them in what rights groups warn is in an increasingly intolerant atmosphere in this Muslim-majority nation.
It's an uphill struggle for Pakistani Christians, Sikhs, Ahmadis and others. Minority religions make up just 4 percent of Pakistan's 200 million people; Shiites account for about 15 to 20 percent of the Muslim population.
The country's complicated electoral system allots minorities and women a small number of "reserved" seats, based on their parties' gains at the polls.
But for the rest of the seats — both in the 342-seat National Assembly, the law-making lower house of parliament, and the four provincial legislatures — members of minority groups are increasingly choosing to run as independent candidates, without affiliation to any political party.
The minorities' major concern ahead of Wednesday's vote has been the plethora of radical religious and sectarian groups that have resurrected themselves under new names and fielded candidates for the polls — including Sunni extremists who promise to rid Pakistan of Shiite Muslims.
Other radical parties have campaigned on promises to enforce Pakistan's controversial law on blasphemy, which carries the death penalty and which has allowed for the prosecution of anyone deemed to offend Islam. Frenzied mobs have killed at the mere suggestion that an act of blasphemy was committed.
Pakistan "is becoming more and more intolerant of minority rights," said rights activist I.A. Rehman, a founding member of the independent Human Rights Commission of Pakistan.
He is urging the government to "make sufficient effort to ensure minorities can cast their votes."
The Christians
Garbage is piled by the roadside and cinderblock homes have flimsy curtains instead of doors in Rimshah, a squatters' settlement on the outskirts of Islamabad.
Years ago, scores of Christian families settled here when a mob of Muslim men, enraged over an alleged act of blasphemy by an 11-year-old Christian girl, tried to kill her and drove them out of their homes.
They named the slum Rimshah, for the 11-year-old girl with Down's syndrome who was eventually cleared of charges of tearing up pages of an Islamic religious book.
Michael Rose, an outspoken advocate of the Christian community, which numbers about 3 million in Pakistan, campaigns in Rimshah for Asif Shahzada, an independent Christian candidate.
Rose says that independent minority candidates are the best hope of getting Christian grievances heard. Minority representatives chosen on the "reserved" seat system tow the party line and rarely raise their community's legitimate concerns, he says.
"I jumped into this race only for my community," says Shahzada, looking around the slum. "We have so many problems, no education, no health care, no jobs. We don't even have enough water."
The Sikhs
Radesh Singh is one of about 200,000 Sikhs living in Pakistan, mostly in the conservative Khyber Pakhtunkhwa province along the border with Afghanistan. The Sikhs are easily identifiable because of their tightly wound and often colorful turbans, and because they share the surname Singh.
Singh said attacks by the Taliban and lately also the Islamic State group have forced thousands to leave the province, including his son. The radicals, Singh says, are killing both fellow Muslims and members of minority groups.
He is campaigning as an independent candidate in Peshawar, the provincial capital, and refuses to leave.
"I wanted to show that a poor man can fight, run his own campaign and compete against these rich candidates ... who take the poor people's votes but then give them nothing in return," said Singh.
On a street lined with small shops in his neighborhood, he stops at each store, run by his Muslim neighbors, and is greeted with a smile. An elderly neighbor, Allah Mir, gave Singh a gentle hug, shook his hand and promised him his vote.
"I don't care about his religion," Mir said. "I care only that he is a good man."
The Hindus
Hindus make up Pakistan's second-largest minority, with more than 2 million, living mainly in southern Sindh province where they are among the poorest.
Many live as indentured slaves on the estates of some of Pakistan's largest landowners, working on the farms.
The Hindus also suffer widespread discrimination because of the decades-old rivalry between Pakistan and neighboring India, a majority Hindu nation.
Whenever relations between the two countries deteriorate, the treatment of Pakistani Hindus gets worse. Rights activist also routinely raise concerns about forced conversions of Hindu girls to Islam.
Veeru Kohli was born a slave but fled bondage, walking for three days until she found offices of the Human Rights Commission of Pakistan to help her. She then returned to the landowner to recover her children and free eight other families.
Kohli is now running as an independent candidate.
If she wins, she will become the second Hindu woman in parliament in Pakistan. In March, Krishna Kumari, a member of Pakistan People's Party, was elected to the 104-seat Senate, the upper house of parliament — becoming the first Hindu woman elected, albeit in a vote by parliament members and not a popular election.
The Shiites
Though Muslim, Pakistan's Shiites have suffered enormous losses, with hundreds slaughtered at the hands of radical Sunni Muslims who consider Shiites heretics and believe it is their religious duty to kill them.
However, unlike other minorities, Shiites in Pakistan are not allocated any special seats in parliament and can run either on their party's ticket or as independents.
The Ahmadis
Ahmadis revere the 19th century founder of their Muslim sect, Mirza Ghulam Ahmad, as a messiah, challenging the basic tenet of Islam that Mohammad is the final prophet.
Since Pakistan declared them non-Muslims in 1974, their numbers are difficult to gauge; they are believed to number several hundred thousand. Hundreds have been killed by zealots and their places of worship have been targeted; thousands more have fled Pakistan.
Full report at:
https://www.cnbctv18.com/politics/hindus-and-other-minorities-face-big-challenge-in-pakistan-elections-365071.htm
--------
Sindh CM reviews arrangements at polling stations, asks authorities to stay alert
July 25, 2018
KARACHI: Sindh Caretaker Chief Minister Fazal-ur-Rehman reviewed the arrangements and facilities being made at the polling stations in a high-level meeting held here at the CM House on Tuesday.
The meeting was attended by Chief Secretary Major (r) Azam Suleman, Inspector General Police (IGP) Amjad Javed Saleemi, Board of Revenue (BoR) Senior Member Iqbal Durrani, Principal Secretary to CM Sohail Rajput and Home Secretary Mohammad Haroon, said a statement.
The chief secretary in his briefing said that on the instructions of the chief minister, he along with IGP, BoR senior member and Home secretary visited almost all the districts and all the most sensitive and improvised polling stations and made all the necessary arrangements as per requirement of the Election Commission of Pakistan (ECP).
He said that there were 5673 most sensitive polling stations all over Sindh in which 20165 booths have been set up. As per the decision of the cabinet CCTV cameras have been installed there, he said and added that overall 21,000 cameras installed at polling stations have been tested for smooth and sound functioning. He said they were working perfectly.
Talking about 307 improvised polling stations, Azam Suleman said that they have been provided mobile washroom facilities, generators, UPS, LEDs and such other facilities.
Brushing aside the impression of lack of facilities of water at the polling stations, he said that the arrangements of water, refreshment and such other facilities were more than enough at all polling stations.
He also said that the transport arrangements have also been made to transport polling staff and election material to the polling stations.
Divisional commissioners and deputy commissioners were giving full support to the process of holding free, fair and transparent election, he told.
IGP told the chief minister that there was zero tolerance for miscreants and those who were trying to disrupt electioneering process.
Police have arrested 2185 troublemakers so far and this intolerance would further aggravate if anyone tried to take law in their own hands, he said.
All the polling stations, polling staff and their supporting staff have been provided the best security and these security arrangements would be continued till the staff is returned to their respective homes.
The chief minister directed the district administration and police to remain vigilant and alert all over Sindh.
Full report at:
https://www.pakistantoday.com.pk/2018/07/24/sindh-cm-reviews-arrangements-at-polling-stations-asks-authorities-to-stay-alert/
--------
Six of an Afghan family shot dead in Pesahwar of Pakistan
Jul 25 2018
Gunmen have shot dead six members of an Afghan family in the outskirts of Peshawar city, the provincial capital of Khyber Pakhtunwa province of Pakistan, it has been reported.
The incident has reportedly taken place late on Monday evening, apparently involving a brawl among an Afghan and a Pakistani family.
"An exchange of fire took place between two rival groups. One was led by Bashir and another by Abdul Ghaffar. Resultantly, Bashir group killed six members from the family of Abdul Ghafar and also shot dead own one person to cross the case," Shaukat Khan, the superintendent of Saddar Police, quoted by The News said.
"Two pistols, one Kalakov, and one Kalashnikov rifles have been recovered. Two accused have been arrested while efforts are being made to arrest the remaining ones," Shaukat Khan added.
The officials also added that two other family members of the Afghan family were also wounded during the clash.
Full report at:
https://www.khaama.com/six-of-an-afghan-family-shot-dead-in-pesahwar-of-pakistan-05666/
--------
Pakistan's army deploys thousands of troops ahead of elections
Jul 24, 2018
Pakistan's military has deployed hundreds of thousands of troops to oversee polling stations across the country ahead of the July 25 elections.
Armed soldiers watched closely as election officials in the capital Islamabad on Tuesday distributed ballot boxes and voting materials for polling stations across the city.
The military stationed over 370,000 personnel nationwide to ensure the elections are held smoothly. It has said the soldiers will work with local law enforcement officials to ensure "a safe and secure environment" for voting.
Election officials say an additional 450,000 police officers have also been assigned to provide security.
"With the grace of God, we want to see a peaceful election tomorrow," Election Commission secretary Babar Yaqoob said, but warned that there were security challenges and threats.
Nadeem Khokhar, a counterterror police official in the eastern city of Lahore, said, "There are terrorism threats in some areas of Pakistan and its very unfortunate, but Lahore Police are quite capable and we are trying to do our best to prevent any such attacks."
"Our main challenge is basically to keep the election campaigns as well as the security on election day, to keep it safe for the public who will come out of their houses for voting."
A string of bloody militant attacks have killed more than 180 people across Pakistan over the past few days.
On Sunday, a candidate and his driver were killed in a bomb attack in northwestern Pakistan. The bombing was the latest in a number of attacks targeting politicians campaigning ahead of the elections.
On July 13, a blast in the southwestern province of Balochistan killed nearly 150 people.
At least 22 people were killed in a bombing on an anti-Taliban political event held in northwestern Pakistani city of Peshawar on July 10.
Nearly 106 million Pakistanis will be eligible to cast their ballots in the elections.
The run-up to the elections has been marred by accusations that the military is meddling in politics and muzzling the media to help put into power cricketer-turned-politician Imran Khan's Pakistan Tehreek-e-Insaf (PTI) party. Khan has denied colluding with the military.
During his final campaign rally held in Lahore Khan told supporters he would wipe out corruption from the top of government.
His main opponent, the three-time former Prime Minister Nawaz Sharif, was arrested on corruption charges when he landed in Lahore from London earlier this month.
Full report at:
https://www.presstv.com/Detail/2018/07/24/569155/Pakistan-elections
--------
Arab World
Dozens dead in ISIS suicide attacks on southern Syria
25 July 2018
At least 40 people including civilians were killed in a string of ISIS suicide attacks against a regime-held area of southern Syria, a war monitor said Wednesday.
"Three bombers with explosive belts targeted Sweida city alone, while the other blasts hit villages to the north and east," said the Syrian Observatory for Human Rights.
Rami Abdel Rahman, the head of the Britain-based Observatory, said the group then followed up with further attacks in the province.
The assault, which the Observatory said also wounded more than 30 people, was the estremists' most deadly in Syria for several months.
Despite pro-government forces ousting ISIS from urban centers in eastern Syria last year, surprise raids in recent months have killed dozens of regime and allied fighters.
The regime of President Bashar Al-Assad controls almost all of Sweida province.
Jihadist group Jaish Khaled bin al-Walid, which has pledged allegiance to ISIS, has around 1,000 fighters based in nearby Daraa province.
Hayat Tahrir al-Sham, a group made up mostly of ex-members of the former Al-Qaeda affiliate in Syria, also has a few hundred men in the region.
https://english.alarabiya.net/en/News/middle-east/2018/07/25/Suicide-attack-hits-Syrian-city-of-Sweida-causes-fatalities.html
--------
Qatar starts expanding already largest US military base in Mideast
Jul 25, 2018
Qatar and the United States have launched a project to expand Washington's already largest military base in the Middle East region, with both sides discussing "permanent" American presence in the emirate.
The countries "laid the foundation stone for expanding" the al-Udeid air base, located 35 kilometers (20 miles) southwest of the Qatari capital of Doha, on Tuesday, the official Qatar News Agency (QNA) reported.
The project includes "the construction of barracks and service buildings to support joint security efforts, as well as improving the quality of life of the troops stationed at the airbase," it said.
The QNA said the expansion project "underscores Qatar's commitment to deepening its strategic military relations with the United States."
"The State of Qatar, along with its strategic US ally, is working on drawing up a roadmap for the future of bilateral relations, including the addition of al-Udeid Air Base to the list of US permanent military bases," it said.
American Chargé d'Affaires Ryan Gliha also called Qatar as an "indispensable partner for the United States," addressing a press conference that followed the launch of the project.
"We saw today the opening of a new construction project… what we hope to see in the coming years and months is [the] strengthening" of the bilateral ties.
"Billions of dollars have been spent already at al-Udeid over the last 15 years to support our operations… These are essential to the fight against Daesh and our ability to lead the coalition," he noted.
He was referring to the aerial military campaign against what is claimed to be Daesh targets in Iraq and Syria by a US-led coalition comprising scores of Washington's allies.
The facility houses some 10,000 US forces. It also houses American warplanes, equipment, and ammunition, also provides services to other coalition members.
The expansion project went underway amid a bitter diplomatic crisis between Qatar and a Saudi Arabia-led quartet of countries.
The foursome cut their diplomatic ties with Qatar and placed it under a trade embargo last June, accusing it "supporting terrorism." Doha roundly rejects the accusation.
US President Donald Trump initially backed the Saudi-led bloc, but later advised that the crisis be resolved.
According to various reports, the about-face came after Trump's aides, who were wary about the future of the US's military involvement in Qatar, convinced him to approach the issue more moderately.
Full report at:
https://www.presstv.com/Detail/2018/07/25/569187/Qatar-United-States-base-Udeid-Persian-Gulf-Saudi-Arabia-blockade
--------
Tel Aviv Warned by Moscow against Provocative Acts in Region
Jul 24, 2018
"Undoubtedly, Russian President Vladimir Putin understands that any war between Iran and Israel in Syria will turn into a regional war," Atwan wrote on Tuesday.
He said that the provocative Israeli missile attacks against Syria have increased in recent days.
"No doubt the Russian officials have understood the danger of Tel Aviv's provocative moves and have traveled to Israel to issue unprecedented warnings to the regime or make decisions about using S-300 missile defense system. If important issues were not involved, Putin would not have personally ordered the Russian military chief to pay this visit," Atwan said.
Russian Foreign Minister Sergey Lavrov and Russian military chief Valery Gerasimov made a surprise visit to Israel on Monday.
Israel launched a missile strike on Syrian Army position in Western Hama on Monday to support the terrorist front collapsing under the government forces' heavy offensives in Southern Syria.
Syria's state-run news agency, SANA, reported that an army position in Masyaf region in Western Hama came under Israeli jets' missile attack on Sunday evening.
It further added that the army position sustained minor damage in the attack.
In the meantime, the Arabic-language website of Sputnik quoted a source in the Syrian Defense Ministry's Industries as reporting that an institution of the defense industries in the town of al-Zawi near the town of Masyaf in Western Hama came under ten guided missiles fired by the Israeli fighter jets flying over Lebanon.
It further said that the Syrian Air Defense Units intercepted four of the fired missiles, adding that six of the missiles targeted one of the small buildings in the defense industries' institution, leaving eight people with minor injuries.
Full report at:
http://en.farsnews.com/newstext.aspx?nn=13970502000958
--------
People Continue Rebellion against Turkey-Backed Militants in Northern Syria
Jul 24, 2018
Tens of civilians in the town of Jandaris took to the streets and demonstrated against the Ankara-backed militants, urging release of the civilians captured or abducted by Faylaq al-Sham militants.
In the meantime, the Turkish troops and Ankara-backed militants arrested two brothers from Amirat tribe and executed the brothers after torturing them.
Field sources, meantime, said that the terrorists had transferred the kidnapped brothers to an Idlib jail and had called on their family to pay a hefty amount of money in return for their release.
The Kurdish-language Hawar news reported on Saturday that Ahrar al-Sharqiyeh and Katibeh al-Farouq affiliated to the Turkish troops exchanged heavy fire in Jandaris region over their share of properties and assets looted from residential areas in the village of Kouran.
A number of gunmen from both sides were killed or wounded in the clashes, Hawar news reported.
Full report at:
http://en.farsnews.com/newstext.aspx?nn=13970502001018
--------
Syrian Fighter Jet Downed by Israel over Western Dara'a
Jul 24, 2018
SANA reported that the Syrian Sukhoi was shot down by Israeli Air Defense while flying over terrorists-held regions in Southern Dara'a, refuting Israeli Army Spokesman Avichay Adraee's claims that the Syrian warplane had entered 2km deep into the occupied Golan that is now under the Israeli army's control.
"The Israeli enemy reaffirmed its backup for terrorist groups and downed out fighter jet that was pounding terrorists' positions and movements in Saida region near Wadi al-Yarmoiuk inside the Syrian airspace," SANA further quoted a military source as reporting.
The Israel Defense Forces (IDF) claimed in a statement earlier today that it has fired interceptor missiles at a Syrian Sukhoi warplane, adding that the aircraft had penetrated Israeli-controlled airspace.
"Two Patriot missiles were launched at a Sukhoi fighter plane. The plane was under (Israeli) surveillance, it penetrated about two kilometers into Israeli territory and was intercepted," the Israel Defense Forces wrote on Twitter.
Full report at:
http://en.farsnews.com/newstext.aspx?nn=13970502001054
--------
More Regions under Gov't Troops' Control in Southern Syria
Jul 24, 2018
The army forces engage in heavy fighting with the remaining pockets of the terrorists in Dara'a and Quneitra and captured the villages and towns of al-Mahir, Rasm al-Hassan, Heiran Shamali, Heiran Janoubi, Rasm al-Ezra'eil, Rasm al-Bonyan, Rasm Ra'aroureh, Abu Qali'eh, Abu Tineh, al-Ma'alaqeh, al-Jabileh, al-Modawareh and Abu al-Khashan.
Other units of the army managed to free al-Bakar, al-Bakar Sharqi, Um al-Lowqas, al-Mahyoubeh and al-Mashideh.
Terrorists suffered heavy casualties in the attacks and their remaining pockets were forced to pull back from the battlefield to other regions.
Earlier reports said that the army forces engaged in fierce clashes with ISIL in Tal al-Jamou'a, Libi Company and Qadir al-Bustan in Hawz Yarmouk in Southwestern Dara'a.
In the meantime, the army's artillery units and aircraft pounded ISIL's positions and movements in Tal al-Jomou'a region, the small town of Taslin and Jalin region in Hawz Yarmouk at the border with the Israeli-occupied Golan Heights.
Full report at:
http://en.farsnews.com/newstext.aspx?nn=13970502000852
--------
Order of King Abdulaziz awarded to Saudi students who died saving US children
24 July 2018
Saudi Arabia's King Salman bin Abdulaziz Al Saud has awarded students Jasser bin Daham Al-Yami and Theeb bin Manea Al-Yami who drowned in the state of Massachusetts in the United States while trying to save two American children from drowning.
The King Abdulaziz Medal of First Class is considered one of the highest honors in Saudi Arabia. An amount of one million riyals was also given to the heirs of each of the students in appreciation of their heroic action.
This came during the King's reception of the families of the students at Al-Salam Palace in Jeddah where he expressed his condolences.
Full report at:
https://english.alarabiya.net/en/News/gulf/2018/07/24/Order-of-King-Abdulaziz-awarded-to-Saudi-students-who-died-saving-US-children.html
--------
North America
Michigan Candidate Hopes to Become First Muslim American Governor
July 24, 2018
Abdul El-Sayed grew up in the American state of Michigan. This year, he is hoping to be nominated as the Michigan Democratic Party's candidate for governor.
But he did not always think that such a goal was possible.
"When I graduated college, Bill Clinton asked me why I was going to med(ical) school, and he asked if I ever considered running for office. And at that time, I thought that was off limits to me."
El-Sayed is Muslim America. He remembered facing anger after the September 11, 2001, terrorist attacks against the United States.
"I was the captain of my football team, and I was a junior in high school. And the week after 9/11 the games were canceled that week, but the week after, we were back on the field. And I remember that football game. For the first time, people were calling me names that I would hear for the rest of my life: 'Raghead,' … 'Osama.' Funny thing is, my brother's name is Osama. And I used to say, 'You've got the wrong El-Sayed.'"
Now, he is trying to make history as the first Muslim American governor in the country.
El-Sayed told VOA his religion and ethnic roots have been important in his life. Yet both have fueled attacks by some of his political opponents.
More Muslims seeking office across the country
El-Sayed is seeking the Democratic gubernatorial nomination in a state that helped to elect Donald Trump president. Trump was the Republican Party's candidate in 2016.
This year, about 90 Muslim Americans are seeking elected office throughout the United States. Many political observers are using the term mid-term elections because the 2018 vote comes halfway through the president's four-year term.
Americans will be electing a new U.S. Congress, as well as state and local officials in November.
El-Sayed is one of 13 Muslim candidates running for office in Michigan. The state's large and growing Arab American community has welcomed his candidacy and the change in politics.
Osama Siblani is the publisher of Arab American News. He said that, "in the past 10 years, things have changed dramatically for Arab Americans." But he notes that El-Sayed's chances depend on whether he can appeal to a majority of voters in November.
Siblani compared the chances of a Muslim candidate to John F. Kennedy, who was the first Catholic to serve as president, and Barack Obama, the first African-American president.
Abdul El-Sayed said that he is not thinking about history. El-Sayed said he just wants to give back to the community that supported him.
He notes that he has received much more education than members of his extended family, who drive taxis in Egypt.
"That's not my life, because of the opportunities I had here. And I'm watching as we have leaders, whether it be at the city level in Detroit or at the state level, who are making decisions that are taking away access to those basic goods and services from people," he said.
From medical student to public health official
El-Sayed gained public recognition after he was appointed as Detroit's top health official. Public health grew into an important issue in Michigan after the discovery of polluted water supplies in the city of Flint in 2014.
El-Sayed told VOA, "The responsibility is to promote justice…That has been the work that I've committed myself to as a doctor, as an epidemiologist, as a public health practitioner and now as a public servant."
The former health official is among several candidates seeking the Democratic Party's nomination for governor in Michigan.
He has won the support of many Michigan voters who supported Vermont Senator Bernie Sanders in his presidential campaign in 2016.
During the summer, another candidate getting a lot of attention is expected to offer her help to El-Sayed. Democratic New York congressional candidate Alexandria Ocasio-Cortez will appear in Michigan at several campaign events for him.
But if El-Sayed is to compete against the state's Republican governor, El-Sayed must first win the nomination of his own party.
https://learningenglish.voanews.com/a/michigan-candidate-hopes-to-become-first-muslim-american-governor/4495207.html
--------
Trump says US ready to make a 'real deal' on Iran's nuclear program
25 July 2018
US President Donald Trump on Tuesday kept open the possibility of negotiating an agreement to denuclearize Iran, two days after he rattled his saber at the nation on Twitter.
"We'll see what happens, but we're ready to make a real deal, not the deal that was done by the previous administration, which was a disaster," he said during a speech to the Veterans of Foreign Wars.
Iran on Monday dismissed Trump's angry warning that Tehran risked dire consequences "the like of which few throughout history have suffered before" if it made threats against the United States.
Trump's defense secretary, Jim Mattis, declined to directly answer a question about whether he was concerned that Trump's rhetoric might ratchet up tensions in the region, increasing the chances of miscalculation.
But Mattis, speaking at a news conference in California, listed his many concerns about Iranian actions in the Middle East, including Tehran's support for President Bashar al-Assad in Syria's civil war and for Houthi militants fighting the internationally recognized government in Yemen.
"It's time for Iran to shape up and show responsibility as a responsible nation. It cannot continue to show irresponsibility as a revolutionary organization that is intent on exporting terrorism, exporting disruption, across the region," said Mattis, a retired Marine general.
Full report at:
https://english.alarabiya.net/en/News/world/2018/07/25/Trump-says-US-ready-to-make-a-real-deal-on-Iran-s-nuclear-program.html
--------
US seeking to Balkanize Iran, Muslim nations: Analyst
Jul 24, 2018
The administration of US President Donald Trump is attempting to Balkanize and destabilize Iran and other Islamic countries in the Middle East by fomenting unrest and fragmentation in the region, says an American political analyst.
The US government "does not have the best interest of the Iranian people, but instead the Balkanization and disassembly of the Iranian nation and government into a chaos, of factions and infighting and ethnic division," said Scott Bennett, a former US military psychological warfare officer.
Washington will also "do any other thing that may be exploited that will turn Iran from a solid, coherent, productive country into one of squabbling smaller tribes and factions," Bennett told Press TV on Monday.
"That's what they have tried to do to Syria…and it has ended with the failure of that attempt," he added.
On Sunday, Trump threatened Iran with hardship "the likes of which few throughout history have ever suffered before" as the United States launched a campaign meant to foment unrest in the Islamic Republic.
Trump's pugnacious Tweeter message in all capital letters came following Iranian President Hassan Rouhani's warning to him not to "play with the lion's tail" after the US unveiled a series of measures which amount to a declaration of war.
NEVER, EVER THREATEN THE UNITED STATES AGAIN OR YOU WILL SUFFER CONSEQUENCES THE LIKES OF WHICH FEW THROUGHOUT HISTORY HAVE EVER SUFFERED BEFORE," Trump wrote.
"WE ARE NO LONGER A COUNTRY THAT WILL STAND FOR YOUR DEMENTED WORDS OF VIOLENCE & DEATH. BE CAUTIOUS!" he added.
Also on Sunday, US Secretary of State Mike Pompeo announced in a speech that the Trump administration had launched a "maximum pressure campaign" targeting Iran and its economy.
The US will pursue a "diplomatic and economic pressure campaign" on Iran, Pompeo said as he appealed to Iranians who fled the country after the 1979 Islamic Revolution, including MKO terrorists.
Iran's Foreign Ministry spokesman Bahram Qassemi on Monday hit back at Pompeo's "foolish and baseless" remarks, saying they are a clear example of US interference in the Islamic Republic's internal affairs.
Full report at:
https://www.presstv.com/Detail/2018/07/24/569111/US-Trump-Iran-Balkanize-Scott-Bennett
--------
American captured in Syria charged in US with supporting Islamic State
July 25, 2018
A Michigan man seized overseas by a US-backed Syrian militia has been charged with providing material support to Islamic State militants, the US Justice Department said on Tuesday.
Ibraheem Izzy Musaibli, 28, of Dearborn, Michigan, provided support to the group from 2015 until last month, the department said in a statement. Musaibli, a natural-born US citizen, will be arraigned in federal court in Detroit on Wednesday, it said.
US prosecutors in Indiana said Musaibli was transferred from the custody of the Syrian Democratic Forces along with a US woman, Samantha Elhassani, who has been charged with making false statements to the FBI.
Elhassani was accompanied by her four minor US citizen children, who were placed in the care of the Indiana Department of Child Services, the US Attorney's Office for the Northern District of Indiana said in a statement.
Both defendants arrived in Indiana on Tuesday. Musaibli was transferred to Michigan, and Elhassani, also known as Samantha Sally, will appear in federal court in Hammond, Indiana, at a later date, according to the statement.
The New York Times said last week that Musaibli was captured by the Syrian Democratic Forces in northern Syria earlier in July as he tried to escape the Middle Euphrates River Valley, where the group has been working to drive Islamic State militants from one of the last areas they control.
The man's younger brother said he believed Musaibli was innocent, the Detroit News reported on Tuesday.
"I don't just believe he's innocent. I KNOW he's innocent," Abdullah Musaibli said via Facebook Messenger, according to the newspaper. Musaibli will have a court-appointed lawyer, the brother said.
Full report at:
https://indianexpress.com/article/world/american-captured-in-syria-charged-in-us-with-supporting-islamic-state-5274616/
--------
US commanders say Afghan strategy boosting peace hopes
July 24, 2018
Increasing prospects of peace talks with the Taliban show the US strategy in Afghanistan is working, despite continuing violence and insurgent control of wide areas of the countryside, top US commanders in Afghanistan said on Monday.
The comments came as speculation has grown that talks to end 17 years of war in Afghanistan may be closer after last month's ceasefire over the Eid holiday brought scenes of unarmed fighters and soldiers mingling on the streets.
"The advancement toward the reconciliation goal in President Trump's strategy has seen progress in the last year that we haven't seen in the previous 17 years and that is significant," General John Nicholson, commander of the NATO-led Resolute Support mission, told reporters.
"I believe this advancement toward peace is extremely relevant and in a way is perhaps more important than some of these other metrics that we've been using," he said.
CIVILIAN DEATHS
Almost a year after US President Donald Trump sent more troops to Afghanistan and gave commanders greater authority to use air strikes against the Taliban, thousands of civilians are still being killed and wounded and the government holds no more than two-thirds of the country.
However, General Joseph Votel, the top US regional commander who was visiting Kabul, expressed "cautious optimism" about the progress made. He said the strategy, which set no deadline for U.S. forces to leave Afghanistan, had squeezed the Taliban and created the space for diplomatic and social pressure for peace to build.
Amid growing diplomatic activity behind the scenes, President Ashraf Ghani has offered the Taliban peace talks without conditions and the United States has offered to support and participate in the talks, while insisting they would remain Afghan-led.
The Kabul government has also said it is considering offering another ceasefire during next month's Eid al-Qurban holiday, an offer Nicholson endorsed, despite the "tactical risk" that fighters could use it to gain an advantage.
He said a serious threat remained from Islamic State fighters, who have claimed a series of high-profile attacks in Kabul and who control some areas in the eastern provinces of Nangarhar and Kunar as well as in the northern province of Jawzjan, where they have been fighting the Taliban recently.
"We are very concerned about ISIS and we are going fully at ISIS and we also note that the Taliban are fighting ISIS and we encourage that because ISIS needs to be destroyed," he said.
Full report at:
https://nation.com.pk/24-Jul-2018/us-commanders-say-afghan-strategy-boosting-peace-hopes
--------
Mideast
Young Yemenis recount forced recruitment, life under Houthis
23 July 2018
Houthi militias have continued to recruit children and young people for the battlefields, with a large number of them having been forcibly taken away from their families.
In some cases, elder tribesmen were forced to agree to give away children to appease the Houthi militias.
Most of them were abducted around the age of 14 and were forced to serve the militias' domestic and external agendas, including in battleground fights against the Yemeni Army.
Once coerced into joining the militias, these children were left to fend for themselves in the battlefields without access to food or water.
Additionally, some were not given any form of income or compensation even though their lives were put at risk.
Hundreds of young recruits are now under the protection of Yemeni and coalition army and are shared their stories of captivity under the Houthi militias with Al Arabiya English.
https://english.alarabiya.net/en/News/gulf/2018/07/23/WATCH-Young-Yemenis-tell-tales-of-forced-recruitment-life-under-the-Houthi-militia-.html
--------
Suicide attack kills two in south Yemen
July 25, 2018
ADEN - Two people were killed Tuesday and six, including a security commander loyal to Yemen's government, wounded in a suicide attack in Aden, a security source said. The attacker blew himself up while riding a motorbike near a vehicle carrying the commander of a battalion of UAE-backed forces, the source told AFP. The explosion killed a female passerby and a soldier driving the vehicle that was carrying the commander, who was among four wounded passengers, the source said. Two civilians were also wounded, added the source, who is loyal to Yemen's internationally recognised government.
https://nation.com.pk/25-Jul-2018/suicide-attack-kills-two-in-south-yemen
--------
Yemeni snipers shoot dead 7 Saudi mercenaries in Hudaydah, Jizan
Jul 24, 2018
At least seven Saudi-backed militiamen loyal to resigned president Abd Rabbuh Mansur Hadi have been killed when Yemeni army soldiers and fighters from allied Popular Committees launched separate attacks in Yemen's strategic western coastal province of Hudaydah and Saudi Arabia's southwestern border region of Jizan.
An unnamed military source, speaking on condition of anonymity, told Arabic-language al-Masirah television network that Yemeni forces and their allies fatally shot four Saudi mercenaries in an area west of the al-Durayhimi district in Hudaydah province on Tuesday.
Three other Saudi-sponsored militiamen were killed when Yemeni troops and Popular Committees fighters targeted them in the mountainous Jabal al-Doud area of Jizan.
Also on Tuesday, a civilian lost his life and two women sustained injuries when Saudi mercenaries lobbed a mortar round at a bridge south of the Hays district of Hudaydah.
Separately, four Hadi loyalists were killed and six people, including a woman, injured when a powerful explosion ripped through Enma neighborhood in the southern Yemeni city of Aden.
The Yemeni Ministry of Human Rights announced in a statement on March 25 that the Saudi-led war had left some 600,000 civilians dead and injured since March 2015.
The United Nations says a record 22.2 million Yemenis are in need of food aid, including 8.4 million threatened by severe hunger.
A high-ranking UN aid official has warned against the "catastrophic" living conditions in Yemen, stating that there was a growing risk of famine and cholera there.
Full report at:
https://www.presstv.com/Detail/2018/07/24/569148/Yemeni-snipers-shoot-dead-7-Saudi-mercenaries-in-Hudaydah-Jizan
--------
Israel shoots down Syrian warplane as Golan frontier heats up
24 July 2018
Israel said it shot down a Syrian warplane that crossed into the Israeli-occupied Golan Heights on Tuesday, but Damascus said the jet was fired on as it took part in operations against rebels on Syrian territory.
The incident added new fuel to weeks of tensions over the Golan, a strategic plateau between the two old enemies and where Israel has been on high alert as Syrian government forces, supported by Russia, close in to regain rebel-held ground.
For the second time in as many days, Israeli sirens sounded on the Golan and witnesses saw the contrails of two missiles flying skyward. The military said it fired Patriot interceptor missiles at a Syrian Sukhoi jet that crossed 2 km into Israeli-controlled airspace, after first trying to warn it off.
"It was shot down and it crashed...most likely in the southern part of the Syrian Golan Heights," Israeli military spokesman Lieutenant-Colonel Jonathan Conricus said.
"We do not have any information so far about the pilots. I do not know of any reports of parachutes being spotted, and we do not know if any pilots have been retrieved." Syrian state media said, however, that a Syrian warplane had been targeted by Israel and hit while conducting raids in Syrian airspace.
Support for terror outfits
"The Israeli enemy confirms its support for the armed terrorist groups and targets one of our warplanes, which was striking their groups in the area of Saida on the edge of the Yarmouk Basin in Syrian airspace," the official news agency SANA quoted a military source as saying.
An Israeli military statement appeared to acknowledge that its mission was related to the civil war next door. "Since morning hours, there has been an increase in the internal fighting in Syria, including an increase in the activity of the Syrian Air Force," the statement said.
It said Israel would "continue to operate against" any breach of a 1974 UN armistice deal that established buffer zones on the Golan. Israel worries that Syrian President Bashar al-Assad might try to defy the demilitarization regime or allow his Iranian and Lebanese Hezbollah reinforcements to deploy near the Golan.
The raised Israeli-Syrian tensions have prompted intercession by Moscow, which sent its foreign minister, Sergei Lavrov, and top general on Monday for talks with Israeli Prime Minister Benjamin Netanyahu. Israeli officials said Netanyahu rebuffed as insufficient a Russian offer to keep Iranian forces 100 km from the Golan lines.
Also on Monday, Reuters witnesses on the southern edge of the Israeli-occupied Golan saw numerous warplanes and helicopters in the skies over Syrian territory. The aircraft were dropping bombs, apparently as part of a Russian-backed Syrian government push into areas previously held by anti-government forces.
Anti-aircraft fire could also be seen, targeting the warplanes. In February, an Israeli F-16 jet was brought down by Syrian anti-aircraft fire.
Full report at:
https://english.alarabiya.net/en/News/middle-east/2018/07/24/Israel-shoots-down-Syrian-warplane-as-Golan-frontier-heats-up.html
--------
Turkey says rejected US call to abide by anti-Iran sanctions
Jul 24, 2018
Turkish Foreign Minister Mevlut Cavusoglu has described Washington's sanctions against Iran as inappropriate, saying Ankara has told US officials that it will not abide by the bans.
Cavusoglu said on Tuesday that Turkish authorities had conveyed the message to a delegation of US Treasury and State Department officials during a visit to Ankara last week.
"A US delegation visited Ankara. We have told them we will not join these sanctions," he said. "We buy oil from Iran and we purchase it in proper conditions. What is the other option?"
"While we are explaining why we will not obey these sanctions, we have also expressed that we do not find these US sanctions appropriate," the top Turkish diplomat added.
Following the US delegation's visit to Ankara, Turkey's Foreign Ministry said in a statement that the country's officials are working to prevent Ankara from being negatively affected by the re-imposition of US nuclear sanctions against Iran.
The ministry further emphasized that Iran was an important neighbor for Turkey and that Ankara would continue to monitor the US sanctions within this framework.
On May 8, President Donald Trump unilaterally withdrew the US from a 2015 multilateral nuclear deal with Iran over the objections of Europe as well as Russia and China — the other parties to the deal, which is officially known as the Joint Comprehensive Plan of Action (JCPOA).
The withdrawal entailed not only the re-imposition of sanctions on Iran but also the so-called secondary sanctions on third countries. Some of those sanctions will take effect after a 90-day wind-down period ending on August 6, and the rest after a 180-day wind-down period ending on November 4.
Most recently, the Trump White House has announced that it seeks to supposedly bring Iran's oil sales down to "zero."
Full report at:
https://www.presstv.com/Detail/2018/07/24/569107/Turkey-Iran-sanctions
--------
In letter to UN, Iran urges end to 'illegal' US support for MKO terrorists
Jul 24, 2018
The Iranian ambassador to the United Nations has called for an end to the US unlawful support for terrorists Mujahedin Khalq Organization (MKO), saying Washington is responsible for the crimes perpetrated by the notorious anti-Iran group.
In a letter addressed to the UN Security Council, Gholamali Khoshroo denounced the participation of some American political figures and government officials, including President Donald Trump's personal lawyer Rudy Giuliani, in an MKO gathering in Paris, France, on June 30.
He enumerated the terror outfit's many atrocities ranging from the massacre of thousands of Iranians to collaboration with the enemies' spy agencies in the assassination of Iranian nuclear scientists in 2010-2015 and assistance to the former Iraqi regime in its war on Iran and carnage of its own citizens in 1980s.
The notorious anti-Iran group, he wrote, had bribed American political lobbies in 2012 to facilitate its removal from the US State Department's list of designated terrorist organizations, adding that this shows Washington's "dual and selective" approach to fighting terrorism.
The letter added that Washington bears the responsibility for the international crimes committed by the MKO.
Iran strongly condemns the US government's illegal measures against the Iranian people such as supporting and funding the MKO as a terrorist group, the letter read. This illegal move violates international law, the principles of the UN Charter and international rules on fighting terror, it added
The US government should abandon these policies and end such illegal measures, the letter emphasized.
The MKO is listed as a terrorist organization by much of the international community. Its members fled Iran in 1986 for Iraq, where it enjoyed the support of former Iraqi dictator Saddam Hussein.
The MKO has carried out numerous attacks against Iranian civilians and government officials over the past three decades.
Full report at:
https://www.presstv.com/Detail/2018/07/24/569091/Iran-MKO-Gholamali-Khoshroo
--------
Houthi militants killed and wounded in clashes in Yemen's Taiz
July 25, 2018
DUBAI: Fierce clashes erupted between the Yemeni army and Houthi militia in western Taiz on Wednesday leaving several militants dead and wounded, Saudi state-news channel reported.
"Intermittent clashes took place between forces of the National Army and the Houthi militia on several fronts," Yemen's Defense Ministry said in a statement issued on its official website September Net.
Elsewhere, fighting erupted between troops and the militants on several fronts in Al-Baydah province.
Full report at:
http://www.arabnews.com/node/1345136/middle-east
--------
Europe
Dutch Muslim Parties: A New Development in Islamisation
By Manfred Gerstenfeld
July 25, 2018
EXECUTIVE SUMMARY: The emergence of Muslim political parties in the Netherlands is a new facet of Islamization. One of these parties, Denk, has three seats in parliament and is also represented at the local level, as are other Muslim parties. They usually oppose integration and do not accept Dutch culture as the country's dominant culture. Anti-Semitism is a regular attribute, often disguised as hate speech against Israel.
New facets of Islamization keep emerging in Western Europe. An important one is the emergence of Muslim political parties, a development that has occurred primarily in the Netherlands so far. These parties exist on both the local and national levels. While identity politics in the Netherlands has greatly decreased, the full impact of this new development is not yet understood.
The main Muslim party in the Netherlands is called Denk (Think). It came into being after two Turkish-born parliamentarians, Tunahan Kuzu and Selçuk Öztürk, were expelled from the Labour (PvdA) faction at the end of 2014. They had opposed the integration policy for immigrants of then PvdA Deputy Prime Minister Lodewijk Asscher. Shortly before his expulsion from the party, Öztürk said to Ahmed Marcouch, another Labour Muslim parliamentarian, "May Allah punish you."
As long as Kuzu and Öztürk represented Labour, they could not speak outside their assigned areas of competence; nor could they make statements contradicting the party line. Now that they have their own party, they are free to take far more radical positions.
In the 2017 parliamentary elections, Denk won three seats of a total 150. Besides Kuzu and Öztürk, the Moroccan Farid Azarkan was also elected. An estimated 1.2 million Muslims live in the Netherlands, of whom 500,000 are Turks and 400,000 are Moroccans. Recent polls indicate that if elections were held now, Denk would increase its number of seats.
Many Turks hold dual Dutch and Turkish nationality, and 115,000 Turks in the Netherlands voted in the 2017 Turkish constitutional referendum. Of these, 71% backed Erdoğan's proposal. About the same number of voters participated in the 2018 Turkish parliamentary elections. Of these, 62% voted for Erdoğan's AKP. In Turkey, that party received 53% of the vote.
There are several other Muslim parliamentarians in the established Dutch parties, but Kuzu and Öztürk are viewed as the only loyal Erdoğan supporters in the Dutch parliament. This is worthy of note, as under Erdoğan's presidency the democratic character of Turkey has been greatly eroded.
Denk participated in the 2018 municipal elections, where it won council seats in 13 out of the 14 municipalities where it had candidates – mainly in larger cities. Several other Muslim parties gained seats in municipal councils, such as in Rotterdam and The Hague.
The Denk program is a lengthy document. It doesn't accept Dutch culture as the dominant culture of the Netherlands. It states that not only do the immigrants have to listen to the Dutch, but also the reverse. One example of such a statement goes as follows: "When I think about the Netherlands I dream about a healthy Netherlands where Nurse Thea takes into account the desires and demands of Aunt Latifa." This could include discriminatory attitudes. For instance, a Muslim woman may refuse to be treated by a male doctor. A Muslim may also be an anti-Semite who doesn't want to be attended by a Jewish nurse. Both scenarios have occurred.
So far, elected representatives of Muslim parties have not been part of ruling municipal coalitions. In Rotterdam before the 2018 municipal elections, three left-wing parties – PvdA, Green Left (GL), and the Socialist Party (SP) – intended to cooperate with the Muslim party Nida. It then became known that Nida had called Israel a terror state in 2014 and would not refute this. PvdA and GL backed out of the agreement, but SP remained.
Muslim parties' attitudes towards Israel and Jews are often hostile. Earlier this year, almost all parties in the Amsterdam municipal council signed, at the request of the Jewish community, a document entitled the "Amsterdam Jewish Accord." It states that Jews have a right to security paid for by the city government, that anti-Semitism needs to be fought, and that the Jewish elements of Amsterdam's history should be taught to the general population. Two parties refused to sign the agreement: Denk and BIJ1, a party comprised mainly of black immigrants. A candidate in the Amsterdam elections claimed on behalf of Denk that Israel and the West had played a role in establishing ISIS.
The pro-Israel organization CIDI has stated that Denk's parliamentary questions and promotion on Facebook are riddled with anti-Semitic symbols, suggestions, and insinuations, hidden as criticism of Israel.
Some representatives of other Muslim parties make extreme anti-Semitic remarks. In The Hague, a Dutch councilman who converted to Islam, Arnoud van Doorn, blamed Zionism for the failed 2016 coup in Turkey. On May 4, National Memorial Day, when the more than 100,000 Dutch Jews murdered in the Holocaust were remembered, he said the Palestinians were equal to the victims of the Holocaust. He has also tweeted, "May Allah exterminate the Zionists."
Last year Israeli schoolchildren visited the Dutch parliament. Another Muslim council member in The Hague, Abdoe Khoulani, called the students "Zionist terrorists in training" and "future child murderers and occupiers." A Dutch judge dismissed a court case against Khoulani, saying his remarks did not constitute incitement to hate.
Belgium is another country where Muslims are politically organized, though on a much smaller scale. The Islam party has two representatives in municipal councils. Its program includes the introduction of sharia and a 100% Islamic state in Belgium. The party also promotes separation between men and women on public transport. Islam has announced that it will contest 28 municipalities in the October elections. If the phenomenon of Muslim parties spreads elsewhere in Western Europe, incitement and societal tensions are likely to increase further.
https://besacenter.org/perspectives-papers/dutch-muslim-parties/
--------
UK Cabinet Needs to Stop Making Britain Haven for Extremists
July 24th, 2018
By Imam Tawhidi and Dhafir Shammery
In recent years, the United Kingdom has fallen victim to Islamic extremism, which in turn has led to terrorist attacks across the nation. The government on the other hand tries its best to maintain healthy relations with the greater Muslim community, and unfortunately, it has learned the hard way that enjoying healthy relations with Muslim clerics does not necessarily mean that you can prevent an Islamic extremist from committing a terrorist attack.
The British government continues to fund Muslim Communities through community grants in order to enhance education and to support activities such as sport and art, hoping that this will direct the activities of Muslims in a better direction. Yet, the never-ending chain of Islamic terrorism in the UK has proven that the government's plans to end domestic terror have failed miserably.
According to reports conducted by the UK Government, the majority of terrorist attacks on British soil during the 21st Century were either linked to or carried out by extremist Islamic Fundamentalists. Within the last two decades alone, Britain has witnessed over 100 terrorist-related deaths, with the vast majority being a direct result of Islamic Jihad.
Moreover, Jihadists and Islamic extremists have taken pride in their terrorist activities and claim responsibility whenever they occur. Therefore, why is it that Islamic Extremists have infested London, and how did we end up with such a situation? Has the west become weak, or have terrorists become stronger?
Extremists operating freely
Islamic governments along with Muslim-majority nations have raced to place a complete ban on extremist and other Islamist organisations. Saudi Arabia for example, has designated the Muslim Brotherhood, Hizb Al Tahrir and Hezbollah as extremist and terrorist organisations. However, the UK government has granted them the freedom of political activity and proselytization under its democratic laws, even though none of the groups believe in democracy, and instead have issued charters which demand Sharia law and a global Islamist Caliphate.
The Saudi Press Agency states that The Kingdom of Saudi Arabia, the Arab Republic of Egypt, the United Arab Emirates and the Kingdom of Bahrain have declared a war on extremist groups within their countries, by "drying up their sources of funding, combating their extremist ideology, along with the tools of its dissemination and promotion. They have joined forces to work together to eradicate it, and immunize societies against it. However, the United Kingdom is yet to take such a stance against ALL Islamic Extremist groups.
Even though each of the aforementioned Muslim governments have been accused of promoting extremist ideologies in the past, none of the promotion happened within their own countries. Muslim majority nations comprehend the risk of allowing extremist ideologies to infest its societies, beginning with schools, universities and eventually finding its way into vulnerable families.
While we are busy debating the seriousness of this threat, extremist organisations are developing and working on an hourly basis. A clear threat to Britain's national security is Hizb-ut-Tahrir of Britain, an extremist Islamist organisation that is calling for the establishment of a global Islamic Caliphate. HT is unbelievably active in recruiting and radicalizing Muslim youth.
Among the individuals radicalised by HT Britain are Omar Khan Sharif and Asif Hanif, whom were responsible for the Mike's Place Suicide Attack in 2003. While then-leader of the opposition David Cameron urged for the extremist group to be banned in 2007, Jeremy Corbyn argued that "it would "end up entrapping the innocent and preventing legitimate debate."; failing to explain why Islamic governments have raced to ban the extremist organisation from their countries, if that was truly the case.
Welcoming ISIS Jihadists Back Home
Now that the "Caliphate" they dreamed of establishing has collapsed, thousands of ISIS Jihadists are returning home. A study by the Soufan Center and the Global Strategy Network has tracked 5,600 fighters who have returned to their home countries.
In an interview with Piers Morgan on Good Morning Britain, Mayor of London Sadiq Khan testified that over 200 ISIS fighters have returned to London alone, and that he does not know where they are or what they are doing. Yet no Islamic Regime has welcomed any ISIS Jihadists back home. These facts are not only extremely alarming, but also reveal the direction in which the West is heading in.
Returned ISIS Jihadists are celebrated as heroes by local fundamentalists and extremists. They are not condemned nor denounced by everyone within their Muslim community, and always find an opportunity to preach their Jihadi ideology and training throughout London.
This very month, a returned Jihadist and 'Taliban Bomb maker', Khalid Ali, was captured before he conducted a terrorist attack in London's Westminister. In his own words, he wanted to "deliver a message to British leaders" that "I would consider myself as a mujahid [Islamic warrior],". He continued by assuring the world that "Jihad is what we do … and I am here to let you know the reason why I have come with the message, for you to make the right decisions, if not … we have a lot of time. UK is next on the list."
Notice how terrorists such as Khalid always use plurals, "we" instead of 'I'. That is because there are hundreds of extremists like him in London, and their development is aided by certain factors, mainly the Jihadi atmosphere which surrounds them; influenced by weekly hate-filled Friday sermons and a similar daily dose on social media.
Islamic terrorism is merely a tactic to implement and give life to the extremist ideologies terrorists adhere to. They believe that Islam must be placed at the centre of an individual's identity, as either the overriding or the only source of that identity. Their view divides this world into two distinct spheres: 'Muslims' and 'the rest'.
End of Terrorism
There are many State and non-State actors influencing Islamic extremism, such as Iran and the international media, that are playing a vital role in feeding terrorism to achieve political goals. Wahhabism and Salafism Madrasas throughout the United Kingdom still teach the ideology of "Takfir" and "Infidelity", through teachers and scholars who have been trained, educated and financed by Iran and Saudi Arabia. A country such as Britain used to be an idol country for the majority of countries around the globe, however today, it is struggling in its battle against the spread of Islamic extremism, due to its incomplete understanding of the matter.
Terrorism will not end by long range missiles nor by occupying rogue states, as such tactics will increase hatred towards the West and will increase sympathy towards extremists among the general population. Terrorism will end when the West adopts severe measures to change their educational systems to nurture a peaceful generation, and to prevent "fatwas" of "Takfir" and "infidelity". Islamic terrorism has to be defeated in an ideological battle, rather than by force. Simply because what we define as 'terrorism', is considered a 'noble duty' by the extremists.
The views expressed in this piece reflect on those of the authors and not of Al Bawaba.
Imam Tawhidi is an Australian Muslim Scholar, Thinker, and one of the main leading voices of Islamic reform who has dedicated his life to ideologically tackling the spread of Islamic Extremism. He is the President of the Islamic Association of South Australia, and is heavily involved in interfaith diplomacy.
Full report at:
https://www.albawaba.com/news/uk-cabinet-needs-stop-making-britain-haven-extremists-1163604
--------
OIC blasts Prophet Muhammad cartoon competition
July 24, 2018
JEDDAH: The Organization of Islamic Cooperation (OIC) condemned a cartoon competition to depict the Prophet Muhammad (peace be upon him).
The contest was announced by the Dutch far-right Party for Freedom (PVV), headed by anti-Islam politician Geert Wilders.
"While the whole world faces religious extremism and terrorism and needs peace, dialogue and tolerance, it is time to put in place internationally binding legal instruments to prevent incitement, racism, discrimination (and) religious hatred," said OIC Secretary-General Dr. Yousef bin Ahmed Al-Othaimeen.
Full report at:
http://www.arabnews.com/node/1344796/world
--------
Activists' stage anti-Saudi protest in London as Qatari emir arrives for talks
Jul 24, 2018
As the Qatari emir visits the UK, a group of activists have staged a protest rally to condemn the Saudi-led blockade of Qatar as well as the Riyadh regime's deadly war against impoverished Yemen.
The rally was held on Monday as Qatari Emir Sheikh Tamim bin Hamad al-Thani arrived in the UK capital, London, for talks with British Prime Minister Theresa May and other government officials.
The protesters, who were holding anti-Saudi placards, also called on the British government to halt its weapons sales to Riyadh, which has been leading the war against Yemen since 2015.
The protest came amid tensions in the Persian Gulf region, which erupted after Saudi Arabia, Bahrain, Egypt and the UAE severed their diplomatic relations with Qatar on June 5 last year, accusing it of sponsoring "terrorism" and destabilizing the region, an allegation strongly denied by Doha.
The quartet of boycotters has also barred Qatari aircraft from using their airspace. Qatar's only land border with Saudi Arabia has also been blocked as a result.
The Saudi-led bloc then presented Qatar with a list of demands, among them downgrading ties with Iran, and gave it an ultimatum to comply with them or face consequences.
Doha, however, refused to meet the demands and said that they were meant to force the country to surrender its sovereignty.
Qatar has also said it had too many financial resources at its disposal to be afraid of the financial assault.
Meanwhile, a report says Extra People, a casting agency for supporting artists, walk-ons, extras and crowd for the movie industry, has been offering actors money to take part in an "anti-Qatar event" outside Downing Street during a meeting between May and Sheikh Tamim.
The UK-based independent media corporation has offered £20 per person to participate in the protest from 11 a.m. local until 12.30 p.m. on Tuesday, just before Sheikh Tamim's arrival.
The agency said it was "contacted by an individual" to "source people" for the event, but refused to reveal the identity of the client.
"The company is looking for a large group of people to fill space outside Downing Street during the visit of the president of Quatar (sic). This is an ANTI-Qatar event – You will not have to do or say anything, they just want to fill space. You will be finished at 12:30," the casting agency said in an email to its actors.
At 8.15 p.m., shortly after media reports first began to circulate about the job offer, Extra People sent another mass email to its extras saying "on reflection" it would not be involved "in such a project."
A spokesperson said the agency decided to cancel the project as it came "to understand what the hirer was asking of our artistes and the event involved" after "receiving further information."
Full report at:
https://www.presstv.com/Detail/2018/07/24/569112/London-protest-Saudi-blockade-Qatar-Yemen-war
--------
US will have no military cooperation with Russia in Syria: Mattis
Jul 25, 2018
Defense Secretary James Mattis says the United States will have no cooperation with the Russian military in Syria at least for now.
His remarks come after Moscow last week proposed plans to Washington to cooperate on the safe return of refugees to Syria following a meeting between President Donald Trump and his Russian counterpart Vladimir Putin in Helsinki.
On Friday, Secretary of State Mike Pompeo confirmed the issue had been discussed by the two presidents.
However, US defense officials are shocked at the prospect of coordinating with Russia in Syria, where the two countries are conducting two separate military campaigns.
Russia is in Syria at the request of the government of Bashar al-Assad to help fight Daesh, while Washington and its allies have been launching attacks on Syria since 2014, claiming they seek to root out the terrorist group, but they are also aiding militants fighting the government.
Now, the Pentagon, which blames Russia for conditions that caused refugee flows in the first place, says coordination between the two countries requires special permission from Congress.
Presently, the only coordination between the US-led coalition with Russia in Syria is through a special hotline to insure there are no mishaps involving the two sides' ground forces or planes.
"We will not be doing anything additional until the Secretary of State and the president have further figured out at what point we are going to start working, alongside our allies, with Russia in the future," Mattis said at a press conference in California on Tuesday.
"That has not happened yet. And it would be premature for me to go into any more detail at this point, because we're not doing any more than this," he added.
Meanwhile, General Joe Votel, the top commander overseeing US military involvement in Syria, said on Thursday no new instructions were issued regarding cooperation with Russians since Trump's summit with Putin.
Congress passed a law banning military-to-military cooperation following the rejoining of Crimea with Russia in 2014.
Full report at:
https://www.presstv.com/Detail/2018/07/25/569180/US-Russia-military-cooperation-Syria
--------
OIC blasts Prophet Muhammad cartoon competition
July 24, 2018
JEDDAH: The Organization of Islamic Cooperation (OIC) condemned a cartoon competition to depict the Prophet Muhammad (peace be upon him).
The contest was announced by the Dutch far-right Party for Freedom (PVV), headed by anti-Islam politician Geert Wilders.
"While the whole world faces religious extremism and terrorism and needs peace, dialogue and tolerance, it is time to put in place internationally binding legal instruments to prevent incitement, racism, discrimination (and) religious hatred," said OIC Secretary-General Dr. Yousef bin Ahmed Al-Othaimeen.
Full report at:
http://www.arabnews.com/node/1344796/world
--------
South Asia
Taliban militants suffer casualties during the ongoing operations in Helmand
Jul 25 2018
The Taliban militants have suffered heavy casualties during the ongoing operations in Greshk and Nad-e-Ali districts of Helmand province.
The provincial government media office in a statement said at least seven militants were killed during the operations in Dagian and Syedan areas of Greshk district.
The statement further added that three militants also sustained injuries and the Afghan forces have made progress in clearing up to five kilometers of the area from the presence of the militants.
The Afghan forces have also confiscated a RPG rocket launcher, 2 Ak-47 rifles, 2 radio sets, 7 kilograms of opium, and some munitions.
The governor's office also added that five militants were killed during the airstrikes conducted in Nad-e-Ali district as part of the ongoing clearance operations.
The Afghan forces also confiscated a motorcycle and some munitions during the operations, the provincial government said, adding that the Afghan forces also defused 38 improvised explosives in Sangin, Nad-e-Ali, and Greshk districts.
https://www.khaama.com/taliban-militants-suffer-casualties-during-the-ongoing-operations-in-helmand-05665/
--------
UNSC urges Myanmar to ease Rohingyas' safe return
July 25, 2018
UNITED NATIONS - The United Nations Security Council has urged Myanmar to step up efforts for Rohingya refugees to return to the country safely and voluntarily.
During a closed-door meeting, the 15 council members called for more social and economic development aid and facilitating the return of Rohingya refugees and internally displaced persons to their homes in Rakhine state.
"The members of the Security Council continued to stress the importance of undertaking independent and transparent investigations into allegations of human rights abuses and violations," a statement read.
The UN envoy for Myanmar, Christine Schraner Burgener, said the government was favorable toward a return to Rakhine for the hundreds of thousands of Rohingyas who fled the area.
Government authorities "declared really openly that they want to bring them back," Burgener said.
But she noted that tensions remain in Rakhine between Rohingyas - a Muslim minority - and the Buddhist majority.
"So they want to bring them back but they have to come back voluntarily, safe, in dignity and in a sustainable manner," said Burgener.
Talks with Myanmar leader Aung San Suu Kyi were "very constructive, very open, very friendly," the envoy added.
Burgener said that Suu Kyi, who has been criticized internationally for her handling of the crisis, "is aware about the difficulties and challenges."
The envoy has traveled to Myanmar twice since taking office two months ago and is set to visit the country again in September, with plans to travel to other states in the country.
In late August 2017, rebels from the Rohingya Muslim community took up arms, denouncing the ill-treatment of this stateless minority in Myanmar.
Full report at:
https://nation.com.pk/25-Jul-2018/unsc-urges-myanmar-to-ease-rohingyas-safe-return
--------
Bangladesh cafe siege: Briton Hasnat Karim to be freed
24 July 2018
A British man detained in Bangladesh following a deadly cafe siege two years ago is to be released from custody.
Hasnat Karim was celebrating his daughter's 13th birthday at the Holey Artisan cafe in Dhaka in July 2016 when it was targeted by Islamist militants.
Police said an investigation had cleared him of any involvement in the attack.
Twenty-two people, mostly foreigners, were killed during the 12-hour siege, Bangladesh's deadliest terror attack.
Eight other suspects have been charged.
Mr Karim, who is in his late 40s and has dual British-Bangladeshi citizenship, was taken hostage when gunmen stormed the cafe.
Witnesses at the time said he became a police suspect because he agreed to become a human shield during the siege.
Human rights group Amnesty International had campaigned for Mr Karim's release.
The head of the police's counterterrorism and transnational crime unit, Monirul Islam, said Mr Karim faced no charges in connection with the attack.
"None of those arrested alive named Hasnat Karim. His involvement was not found during any stage of the investigation. That's why we have not included his name in the charge sheet," Mr Islam was quoted as saying by news site bdnews24.com.
Mr Karim's wife told BBC Bengali on Tuesday that he had yet to be released.
The attack was claimed by the Islamic State group, although Bangladesh disputed this and said a local militant group was responsible.
Full report at:
https://www.bbc.co.uk/news/world-asia-44933131
--------
Eight Islamic terrorists indicted for Dhaka massacre
07/24/2018
Dhaka (AsiaNews) - Bangladesh police formally indicted eight Islamic terrorists who were held responsible for the attack on the Dhaka foreign bar on July 1, 2016. Monirul Islam, head of the anti-terrorism unit to Contrast Transnational Crime in Bangladesh (Cttc), gave the news yesterday, presenting the results of two years of investigations and interrogations at a press conference.
Many express satisfaction with the work of the investigators. Commenting to AsiaNews, Liton Gomes, a young Catholic, said: "I am pleased that the police have closed investigations quickly. This is a good example for our country and will help protect it from the activities of Islamic fundamentalists ".
The attack on the Holey Artisan Bakery Cafè in the capital, a meeting place for numerous foreigners and business people who live in the Gulshan district, home to several embassies, was the bloodiest in the recent history of the Asian country.
On the evening of 1 July 2016, armed with rifles and other weapons, five Islamist militants broke into the bar and took their customers hostage. Those who knew how to recite the verses of the Koran by heart, were let go; the others, murdered without hesitation.
Throughout the night, the bombers engaged a gun battle with the special police departments. At the end of the 12-hour siege, 20 victims were counted, including 17 foreigners; of these, nine were Italian. Added to these are the killed terrorists, the material executors of the attack, all of them from wealthy families.
Monirul Islam said that 21 people were found guilty of the massacre: the five militants killed in the police blitz; eight terrorists murdered in the following months when a real manhunt was conducted, including the one who is considered the "mastermind" of the attack; the eight radical Muslims against whom the formal accusations were presented.
The head of the anti-terrorist unit released the names of the eight suspected members of the New Jama'atul Mujahideen Bangladesh. They are: Rakibul Islam Regan, Hadisur Rahman Sagor, Jahangir Hossain Rajeeb aka Rajeeb Gandhi, Aslam Hossain Rashed aka Rash, Abdus Sabur Khan aka Sohel Mahfuj, Mizanur Rahman aka Baro Mizan, Mamunur Rashid aka Ripon and Shariful Islam Khaled, former student of the faculty English at Rajshahi University. "The first six - added the policeman - are in prison, while the last two are on the run. [For the fugitives] we will ask for an arrest warrant ".
Full report at:
http://www.asianews.it/news-en/Eight-Islamic-terrorists-indicted-for-Dhaka-massacre-44504.html
--------
Southeast Asia
Kuala Lumpur plans Bill to curb racial and religious hatred
July 25, 2018
The Malaysian government is moving to curb racial and religious hatred in the country amid the growing number of such cases, particularly on social media.
Minister in the Prime Minister's Department (Religion) Mujahid Yusof Rawa told Parliament yesterday that a Bill would be tabled soon.
He was replying to a question from opposition Umno MP Ismail Mohamed Said, who asked about the measures the authorities planned to take against those who insult Islam on social media.
"The Pakatan Harapan (PH) government intends to table a Bill in Parliament towards enacting the Religious and Racial Hatred Act... not just to deal with incidences when Islam is insulted, but also when non-Muslim faiths are insulted," Datuk Mujahid said.
"This is to ensure that our multi-religious and multiracial society is protected from being insulted and belittled," he added. Datuk Mujahid, who is in charge of Islamic Affairs, also said he would meet religious scholars this month on the matter.
In recent years, concern has grown in Malaysia about rising intolerance and exclusivist views on religious issues, especially among the Muslims.
Last year, a human rights organisation, Pusat Komas, released the Malaysia Racial Discrimination report which highlighted this issue.
"The rise of religious extremism in Malaysia, with the notion of protecting one's religious purity, has led to discriminatory actions that have impeded the rights of Malaysians from different ethnic groups," the report said. The new trend was not only worrying but highlighted the "inherent danger of the overreach of bureaucratic Islamic institutions", it added.
Malaysia's Unity Minister P. Waytha Moorthy was taken aback by netizen comments about a close friend, a Hindu scholar named Arunachalanandaji, in the latest case of what is being regarded as racial insensitivity. The disparaging remarks related to the scholar's appearance, with many comments about his "ghostly" appearance, long braided hair and thick beard.
"In the spirit of a new Malaysia, people must change their perceptions," Mr Waytha Moorthy said.
https://www.straitstimes.com/asia/se-asia/kl-plans-bill-to-curb-racial-and-religious-hatred
--------
Lokman claims Malays angry because special position and Islam threatened
25 Jul 2018
KLANG: Umno supreme council member Datuk Lokman Noor Adam is hoping to ride on the "people's grouses" against the Pakatan Harapan government to a victory in the Sg Kandis by-election.
Lokman, who is the Barisan Nasio­nal candidate, claimed that locals in the constituency, especially the Malays, are fed up with Pakatan.
"The Malay voters I meet are very angry with Pakatan mainly because the special position of the Malays and Islam are currently under threat.
"For instance, they are concerned that some strategic ministerial and government-linked company (GLC) positions are going to non-Malays,'' said Lokman, who is also president of the pro-Umno NGO Pemantau Malaysia Baru.
Lokman added some were also unhappy with the way former prime minister Datuk Seri Najib Tun Razak was being treated.
"I visited an elderly lady on Monday and brought her some food aid.
"She told me that she has stopped watching television because she cannot tolerate how badly Najib was being portrayed by the media,'' he said.
Lokman added the woman then handed him an envelope with money in it and told him it was her contribution to Najib.
"Of course I refused to accept it on Najib's behalf but her gesture had deeply touched my heart,'' he added.
As for the non-Malays, said Lokman, their main grouse was Pakatan not being able to fulfil its election manifesto.
Earlier in the day during his walk­about in the constituency, Lokman said he was confident of winning the seat with a narrow margin if PAS members and supporters came forward to help Barisan.
PAS had opted out of the race as a mark of support for Barisan but the Islamist party has not made any indication that it will help campaign against Pakatan.
Lokman, 45, will face off with Pakatan candidate tahfiz head Zawawi Ahmad Mughni in the Aug 4 polls.
The Sungai Kandis state seat fell vacant after the death of the constituency's incumbent assemblyman Mat Shuhaimi Shafie on July 2.
Full report at:
https://www.thestar.com.my/news/nation/2018/07/25/hoping-for-antipakatan-sentiment-lokman-claims-malays-angry-because-special-position-and-islam-threa/
--------
Indonesia passes anti-terrorism law after suicide attacks on churches
Jul 24, 2018
JAKARTA, INDONESIA — Weeks after a radicalized Muslim family committed suicide attacks on churches in the city of Surabaya, Indonesia, the country passed an anti-terror law meant to prevent more attacks and foster the majority-Muslim country's tolerant culture.
The May 13 attack, which killed 13 churchgoers and a security officer and took place days before the start of Ramadan, was the deadliest terrorist attack in Indonesia since a 2002 bombing in Bali. Then, the target was foreign tourists. This time it was Indonesian Christians, a minority who make up about 10 percent of the population, according to the 2010 census. Many feared that the attacks were a sign that the country's religious diversity is under threat.
"Indonesia prides itself on its tradition of moderation, but intolerance is growing in a way that is making some fear for their hard-won democracy," said Sidney Jones, director of the Institute for Policy Analysis of Conflict, based in Jakarta.
President Joko "Jokowi" Widodo — a moderate Muslim who campaigned for the presidency with an image of a clean, populist politician — responded swiftly to the attacks, vowing a tough crackdown on terrorists. Key to that was his strong call for the passing of an anti-terror law.
"President Widodo promoted the importance of a stronger state capacity to respond to radicalism," said Rafiqa Qurrata A'yun, a lecturer in the department of criminal law at the University of Indonesia. "One of his statement(s) in the media indicated the attacks were a result of the weak coercive power and preventive measures in countering terrorism."
The anti-terror law expands the power of Indonesia's military and police to take further actions against potential terrorists and those spreading radical ideology. Under the law, the Indonesian National Police can conduct pre-emptive arrests and detain people for being members of a group declared a terrorist organization. The law makes it an official offense to join a militant group overseas, such as the so-called Islamic State. It also expands the role of the Indonesian armed forces into domestic security.
In the weeks following Surabaya, government forces used their expanded power under the new bill to arrest dozens of suspected terrorists across the country. On June 22, Aman Abdurrahman, an Indonesian recruiter for the Islamic State, was sentenced to death for his role in inspiring the Surabaya bombers. The country last conducted a terror-related execution a decade ago. Days later, the police said they foiled two planned terrorist attacks, killing three suspects.
So far, Jokowi's crackdown seems to be working politically. In regional elections on June 26, after both the attacks and the passing of the bill, Jokowi's coalition defeated Islamist candidates in four of the country's five most populous provinces, putting him in a strong position ahead of presidential elections in April 2019. Jokowi enjoys strong support from many of Indonesia's religious minorities, some of whom told Religion News Service that things are back to normal and that they feel safe attending church.
Jokowi has worked tirelessly to brandish his Islamic credentials while also tackling the rise of right-wing Islamism, which he has called anti-Indonesian. Last July, he issued a government regulation that expands the power of the Ministry of Law and Human Rights to disband groups that have ideologies deemed threats to national security and unity. The regulation was used to disband Hizbut Tahrir Indonesia, an organization with ties to the Islamic State.
The anti-terror bill was introduced in Parliament more than two years ago, after an attack in a Jakarta shopping area, but it stalled for various reasons, including concerns by human rights watchers that the bill could be used to suppress peaceful activists. Some human rights groups do not support the new law.
"It is obviously an overreaction to the Surabaya attacks," said Andreas Harsono, Indonesia researcher for Human Rights Watch. "The quick deliberation … allowed a definition of terrorism that could be used to target peaceful political activities of indigenous groups, environmental advocates and religious or political organizations."
The concerns are ones Indonesia knows only too well. It was just 20 years ago that the country became a democracy, after the strongman rule of Suharto, a general who was in power for more than three decades. Empowering the military and having a loose definition of terror could put too much power in the hands of those who perpetuated atrocities in the not-so-distant past, said Harsono.
"Indonesia has many areas with deep roots of violence and impunity," said Harsono. "We still have not sought the truth of the 1965-66 massacres (nor what happened in) Aceh, Papua and East Timor."
Others believe that the new law mostly addresses the concerns of human rights groups, but worry about its focus on security.
"The passed law seems to be more receptive to human rights principles compared to the first draft bill," said Abdil Mughis Mudhoffir, a Ph.D. candidate in politics at the University of Melbourne's Asia Institute. "Unfortunately, this new law still promotes the security approach that will not be effective and even counterproductive in addressing religious radicalism."
For Jones, the key to reducing terrorist attacks in Indonesia and stemming rising intolerance will be the efficacy of deradicalization efforts, which need to be reformed due to the fact that women and children participated in the most recent attacks — something unprecedented in Indonesian history.
Full report at:
https://www.ncronline.org/news/world/indonesia-passes-anti-terrorism-law-after-suicide-attacks-churches
--------
No chance in Sungai Kandis without PAS' support, says Lokman
Adam Abu Bakar
July 25, 2018
KLANG: Barisan Nasional (BN) has admitted that it would need the support from PAS to win the Sungai Kandis by-election next month.
"There is no way I can win if PAS members do not help me. Impossible," BN candidate Lokman Noor Adam, who is contesting against a religious teacher representing PKR in this Malay-majority state seat, told FMT.
Lokman said while PAS had increased BN's chances by staying out of the race, a victory in the by-election – seen as the first litmus test of Malay support for the Pakatan Harapan (PH) government – could only come if supporters from the Islamist party vote for BN.
Lokman, a former PKR leader who led the reformasi protests of the late 1990s, is confident of that support in the run-up to polling day on Aug 4.
"There is a good chance but I need to get that added support from our PAS friends, as well as old comrades from the reformasi era," said the Umno Supreme Council member, who is among the more vocal leaders from the party in the aftermath of its defeat in the 14th general election.
Sungai Kandis is seen as a PKR stronghold, with the party having won the seat in the past three general elections. The seat fell vacant after the death of PKR assemblyman Mat Shuhaimi Shafie on July 2
PKR is represented by religious teacher Zawawi Mughni, while a third candidate, Murthy Krishnasamy is not expected to dent support for either BN or PKR.
Some 72% of the 50,800 voters here are Malays, while Chinese and Indians make up the rest.
Sungai Kandis, formerly known as Seri Andalas, is part of Kota Raja, the federal constituency won by Amanah president and Defence Minister Mohamad Sabu.
PAS has said it is staying away from the by-election to avoid splitting opposition votes, although it stopped short of urging its members to vote for BN.
But in an indirect message to party members on how to vote, PAS secretary-general Takiyuddin Hassan said they should choose the party which represents "Islam and Malays".
"Islam and Malays" has been the battlecry of both Umno and PAS, who frequently accuse the PH government of undermining the position of Islam and Malay special privileges.
For Lokman, the same slogan was central to the Sungai Kandis by-election.
He plans to raise issues such as the status of Islam, the Malay language and the Yang Di-Pertuan Agong.
"Many are not aware that 50% of the present government is made up of non-Muslims. So this is not a Muslim-majority government, unlike the previous BN administration," he said.
Full report at:
http://www.freemalaysiatoday.com/category/nation/2018/07/25/no-chance-in-sungai-kandis-without-pas-support-says-lokman/
--------
Malaysia can learn about religious harmony from Singapore, says foreign minister
25 July 2018
KUALA LUMPUR, July 25 — Malaysia could take a cue on maintaining religious harmony among its multiracial, multireligious citizens from its neighbour Singapore, Datuk Saifuddin Abdullah said.
The foreign minister praised the island republic for having done well in that aspect despite differences in the issues it faced, Singapore daily Straits Times reported today.
"I think they have done a good job.
"We have our issues, they have their issues, but to a certain extent, they have done quite well and we can emulate, if not all, at least the spirit behind the experience that they have gone through," the Indera Mahkota MP was quoted saying.
Race and religion have been trigger points in Malaysia over the years. The use of "Allah" for God beyond the Islamic context and religious conversions, especially of minors, to Islam, have led to court disputes that have also created tensions in the public sphere.
Minister in the Prime Minister's Department in charge of religious affairs, Datuk Mujahid Yusof Rawa, announced yesterday a proposal for the set up of a national harmony and reconciliation commission to safeguard communal and interreligious interests in the face of rising extremism and bigotry.
He also said the government plans to introduce a law to address religious and racial hatred.
Mujahid said both the commission and the proposed law will incorporate elements of the defunct National Unity Consultative Council, of which he used to be chairman.
Full report at:
https://www.malaymail.com/s/1655695/malaysia-can-learn-about-religious-harmony-from-singapore-says-foreign-mini
--------
Africa
FG to embark on religious education to checkmate Boko Haram insurgency
Jul 24 2018
The Federal Government has said that it would embark on massive religious education in the North East region, to create awareness on the dangers and consequences of insurgency, as a way of curbing the menace.
The Minister of Interior, Lt. Gen Dambazau (rtd), made the declaration when the UN Under-Secretary on Counter Terrorism, Vladimir Voronkov led a delegation to his office in Abuja on Tuesday.
The Minister noted that the greatest challenge of the region is ignorance of what the religion and the law stipulates, adding that the perpetrators of evil capitalize on it to influence the youth in the Zone to carry out their evil motives and ambition, thus making them to maim and kill at the slightest opportunity.
Gen. Dambazau said further that the land degradation as a result of desertification in the Zone makes the rural farmers, a prey as they are easily recruited into the terrorism group, having no serious business to hold onto especially when the dry season sets in.
The Minister who stressed that terrorism was a global issue deserving global attention, called for the cooperation of all countries, even in the fight to stamp it out, adding that technological innovation was needed both to cover the ground as well as air because of the porous nature of the borders.
He added that in Nigeria, more efforts are being made to check the menace through the provision of identity number on the national ID cards, biometric capturing of migrants as well as insertion of security features on the nation's international passport.
Speaking earlier, the UN-Under Secretary on counter terrorism, Vladimir Voronkov said that the purpose of the visit was to explore possible areas of collaboration and intervention with Nigerian Government, so as to find possible ways of addressing the threat of insurgency in the region.
He called for constant dialogue among member-border countries, emphasizing that inter-Agency collaboration would also accelerate the efforts towards curbing the menace.
https://www.dailytrust.com.ng/fg-to-embark-on-religious-education-to-checkmate-boko-haram-insurgency-262502.html
--------
Armed group frees officials abducted in central Libya
24 July 2018
Unidentified gunmen on Tuesday released four hostages after having abducted them two days earlier in Libya's central Jufra district.
Speaking via Facebook, Ismail al-Sharif, a member of Libya's Tobruk-based parliament, confirmed that all four hostages had been released.
Earlier Tuesday, he said, the hostages were brought by the gunmen to the city of Sirte, where they were handed over to local military officials.
Al-Sharif also thanked the local authorities for helping to secure the hostages' release.
On Sunday, an unidentified armed group abducted four individuals in Jufra, including a local judge and a prosecutor and two police officers.
http://www.worldbulletin.net/africa/204361/armed-group-frees-officials-abducted-in-central-libya
--------
Boko Haram faction chief reappears after health questions
2018-07-24
Boko Haram factional leader Abubakar Shekau has re-emerged in a new video after a long absence that fuelled speculation about his health and ability to lead the Islamist militants.
In a 36-minute message, seen by AFP on Tuesday, Shekau wore a white robe and skull cap, and held an assault rifle as he sat in front of a military camouflage canvas.
He appeared unwell but made no direct mention of his health or reports from last month that he had high blood pressure, failing eyesight and diabetes-related complications.
The jihadist leader used to appear frequently on camera but was last seen in a 14-minute video message on February 6, in which he claimed responsibility for attacks in northeast Nigeria.
He is widely believed to be aged in his late 40s. The US justice department lists 1965, 1969 and 1975 as possible years of his birth.
He said the latest message was recorded on July 12 at the request of his supporters "as a kind of Eid greetings... to show that their brethren are well, in view of all sorts of things infidels are saying (about us) which we have ignored".
The end of the Muslim holy month of Ramadan was celebrated in Nigeria on June 15. It was not possible to obtain independent verification of the claimed date, and there was no explanation about the apparent delay in recording or publishing the message.
In May 2017, Shekau looked frail and appeared to have difficulty reading from a prepared speech, which he held close to his face in an apparent indication of vision problems.
Two well-placed sources told AFP last month that Shekau's health was failing and he was "too weak to be in charge" of the jihadists.
His lieutenants were said to be in talks about the situation.
Boko Haram, whose insurgency has left at least 20 000 dead since 2009, split in mid-2016 over ideological differences about the targeting of civilians in the conflict.
One faction, headed by Abu-Mus'ab Al-Barnawi, whose father Mohammed Yusuf founded Boko Haram, won the support of the Islamic State group.
The Barnawi faction has been blamed for a spate of attacks in recent days against the military northeast Nigeria.
Full report at:
https://www.news24.com/Africa/News/boko-haram-faction-chief-reappears-after-health-questions-20180724
--------
URL: https://www.newageislam.com/islamic-world-news/open-personal-law-changes-islam/d/115934
New Age Islam, Islam Online, Islamic Website, African Muslim News, Arab World News, South Asia News, Indian Muslim News, World Muslim News, Women in Islam, Islamic Feminism, Arab Women, Women In Arab, Islamophobia in America, Muslim Women in West, Islam Women and Feminism