New Age Islam News Bureau
13 Feb 2018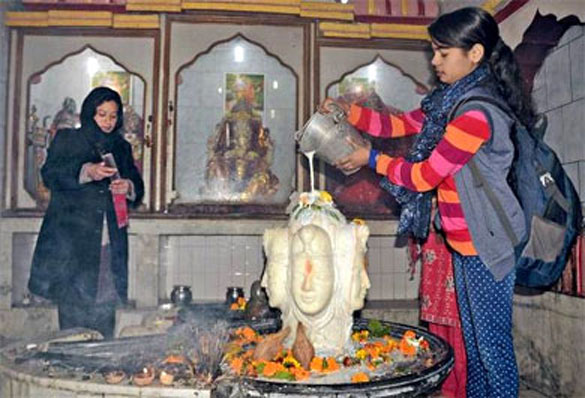 Holy day: Devotees offering prayers on the occasion of Shivratri at the Hanuman Mandir in Srinagar on Friday.
-----
• On Shivratri, Jammu and Kashmir Muslims Wash Temple, Organise Puja
• Religious, Cultural Diversity Must Be Respected By All, Says MWL Chief
• Macron Faces Big Challenge in Defining Islam's Place in France
• Israel, US Committing 'Land Theft' In Occupied West Bank: PLO
• Myanmar Minister Threatens Rohingya Refugees to Return or Face 'Consequences'
• Washington Not to Contribute Funds to Iraq's Reconstruction: US Officials
India
• On Shivratri, J&K Muslims Wash Temple, Organise Puja
• Notice To Centre On Plea Seeking Independent Muslim Body for Haj
• Terror Strike Foiled At Srinagar CRPF Camp, Jawan Killed In Firefight
• China Rubbishes 'Land-Grab' Allegations as Maldives Ex-President Seeks India Aid
• Narendra Modi's Ramallah Visit Shows India's Foreign Policy Is Little More Than Virtue-Signalling Impulses
• NIA takes over probe into LeT terrorist's escape from Srinagar hospital
• Tripura: After We Joined BJP, Mosque Turned Us Out, Says Group of Villagers
• Nirmala Sitharaman On Jammu Attack: 'Pakistan Will Pay… Demography Suggests Local Help to Terrorists'
--------
Arab World
• Religious, Cultural Diversity Must Be Respected By All, Says MWL Chief
• Saudi Crown Prince Promises A Return to Moderate Islam
• Iraq Says Reconstruction after War on Islamic State to Cost $88 Billion
• 300 Kurdish Fighters Killed in US Green-on-Blue Air Attack in Eastern Syria
• Egypt continues Sinai crackdown as 28 militants killed, 126 arrested
• Rifts Widening among Terrorist Groups Reported in Northwestern Syria
• ISIS's Abu Bakr al-Baghdadi is 'alive but wounded' in Syria hideout
• Intake of Saudi students in international schools expected to rise
--------
Europe
• Macron Faces Big Challenge in Defining Islam's Place in France
• Paris Terror Meet Set to Turn Screws on Pakistan over Funding Of Militants
• Isis dilemma: should 800 UK jihadists return home for trial?
• Morocco Leads Foreign Funding for French Mosques
• Foreign jihadists should face trial at home, US tells Britain and allies
--------
Mideast
• Israel, US Committing 'Land Theft' In Occupied West Bank: PLO
• Hezbollah: Israeli Aggression No More Remains Unanswered
• US And Turkish Officials in Talks As Relations Reach 'Crisis Point'
• Palestinian leader seeks Russia's backing over Jerusalem
• Yemeni army foils attack by Houthis off Jazan
• Coalition: Houthis fired 95 missiles toward Saudi Arabia so far
--------
South Asia
• Myanmar Minister Threatens Rohingya Refugees to Return or Face 'Consequences'
• Pope Praises Bangladesh for Interreligious Harmony in Meeting with Hasina
• Thousands protest jailing of Bangladesh opposition leader Khaleda Zia
• Two ethnic groups sign up to Myanmar's 'broken' peace process
• ISIS militant in charge of logistics supplies arrested in Jalalabad city
• New video shows massive airstrike on ISIS compound in East of Afghanistan
• UN to take part in Rohingya repatriation, says Bangladeshi minister
--------
North America
• Washington Not to Contribute Funds to Iraq's Reconstruction: US Officials
• Activist Wants to Stop Muslims from Participating In Minnesota's GOP
• US Secretary of State says Washington backs Egypt in fight against terrorism
• Spend Afghan war money at home: Paul to Trump
--------
Pakistan
• Pak-Saudi Ties Getting Stronger With Each Passing Day: Prince Jalwi
• No Decision on Further Talks With Islamabad: Kabul
• Imran Khan Envisions Pakistan as 'Islamic Welfare State'
• Pakistan Bans UN-Designated Terror Groups: Report
• JIT formed to probe Intizar killing
--------
Southeast Asia
• Violent Extremists May Be Deradicalised With Social Services, Says Jakarta-Based Think Tank
• Duterte draws fire for ordering troops to shoot female rebels in the vaginas
• Israeli officials attended UN conference in Malaysia last week - reports
• Indonesia to do more to help others
--------
Africa
• Security Forces Retake Somali Villages from Al-Shabaab
• Gambia president invites Turkish investors
• Turkey, Africa vow to boost ties at Istanbul conference
• Somalia: Three Al-Shabaab Militant Bodies Found in Northeast Kenya After Foiled Attack
Compiled by New Age Islam News Bureau
URL: https://www.newageislam.com/islamic-world-news/on-shivratri-jammu-kashmir-muslims/d/114265
--------
On Shivratri, Jammu and Kashmir Muslims Wash Temple, Organise Puja
Peerzada Ashiq
SRINAGAR, FEBRUARY 25, 2017
'We want them to perform Puja with all reverence and without any sense of insecurity'
From Muslims cleaning up and organising Puja at a temple to 1,000 specially-designed 'Herath' greeting cards, this Shivratri Kashmiri Pandits and Muslims bonded and reached out to each other, with social media providing a rare platform to relive past memories.
Pandits' migration
For perhaps the first time since hundreds of Pandit families migrated outside the Valley in the face of raging militancy in the 1990s, villagers, young and old, of Sumbal village in Bandipora, 30 km away from Srinagar, converged on the Nand Kishore temple, located under the shade of mighty chinar trees early in the morning. They were carrying brooms and water containers in hand.
"We have decided to clean up the premises of the temple for the Pandits. We want them to perform puja with all reverence and without any sense of insecurity," said Rashid Dar, a local.
Several locals were seen carrying placards. "Let's celebrate next Herath (a term used by Kashmiri Pandits for shivratri) together in the valley," the placards read, an apparent reference to the return of Pandits to their native places.
The Sumbal area has witnessed growing militancy this year, with around six encounters already reported.
Scores of Valley-based Muslim netizens greeted Pandits on the occasion as social media provided a rare platform to recall old memories.
"I miss water-soaked walnuts that Pandits would offer to Muslims in neighbourhood. For 'salam', I would visit Pandits the next day after herath," recalled Ashraf Kishoo on Facebook.
The tradition
Those Pandits who stayed back followed the tradition of keeping water-soaked walnuts for Muslim neighbours. More than 3,000 families decided to stay back despite the militancy.
The Kashmiri Pandits' herath is different from the rest of the country. Unlike Hindus elsewhere, Pandits here would cook both fish and meat dishes on the occasion.
"For the first time in my living memory, I heard that some Kashmiri Pandits elsewhere will not celebrate it a day before. I am not sure whether this is about the lunar calendar being uniquely erratic this year or about the reinvention of tradition to eventually erase the differences between Kashmiri Pandits and Indian Hindus," said Nitasha Kaul, a Pandit novelist who authored Residue.
In another gesture, the government mailed through post offices specially-designed herath greeting cards.
Greeting cards
"Around 1,000 greeting cards were delivered to Pandit families. The card highlights the poetry of Lal Ded, equally revered by Muslims and Pandits. It carries the picture of a stone temple of Mansbal that was restored with the help of locals. The idea is highlight the rich culture the State has nurtured for centuries," Works Minister and government spokesman Nayeem Akhtar said.
Source: thehindu.com/news/national/other-states/on-shivratri-jk-muslims-wash-temple-organise-puja/article17363225.ece
-----
Religious, Cultural Diversity Must Be Respected By All, Says MWL Chief
MOHAMMED AL-SULAMI
13 February 2018
JEDDAH: We live in a world that lacks awareness, neutrality, initiative and cooperation, the secretary-general of the Muslim World League (MWL), Mohammed bin Abdul Karim Al-Issa, said when he met with US counter-extremism officials in Washington on Monday.
The answer, he said, lies in the true values of Islam, which call for coexistence, tolerance and peace.
Douglas Padgett, senior policy adviser for countering violent extremism at the US State Department, and other advisers attended the meeting.
They discussed many issues related to combating extremism, violence and hatred committed in the name of religion, as well as the phenomenon of Islamophobia.
Al-Issa explained that the MWL is concerned with shedding light on the true values of Islam, which have nothing to do with terrorism or extremism.
"The MWL is also on a mission to raise awareness about diversity and differences, promote love and happiness for all, and explain the truth of suspicions surrounding some concepts, whether these were caused by people inside or outside the Islamic world," he said.
He stressed that "Islam has guaranteed legitimate freedoms, which should at the same time respect and abide by constitutions and laws. Otherwise, they would be infringing the freedoms of nations.
"Religious, intellectual, and cultural diversity and differences are universal facts that must be accepted by all," he added. "By doing so, we reflect a high level of awareness and respect for everyone's rights and freedoms."
The MWL chief also pointed out that passion should be directed toward religious, intellectual, and cultural convictions that form identities and civilizations, especially when guided by the wisdom and awareness of influencers and religious leaders.
http://www.arabnews.com/node/1245196/saudi-arabia
--------
Macron faces big challenge in defining Islam's place in France
February 12, 2018
President Emmanuel Macron's plans to deliver a keynote speech on Islam in France is the latest in a long line of initiatives to deal with the tangled history of relations with Europe's largest Muslim population.
Determined to assert himself as a boldly reforming head of state, Mr Macron's declared aim is to find accommodation between different religions but also between those who worship and non-believers.
At the same time, the centrist president believes, France must tackle real or perceived issues with fundamental strands of Islam.
As Mr Macron will quickly discover, the success or failure of his mission may depend on how well he performs a delicate balancing act.
He must somehow reassure the majority of French people attached to the country's secular principles without alienating followers of France's biggest religion after Catholicism and making them feel like "the enemy within".
In recent history, leaders of the traditional left and right parties rejected by voters in last year's presidential and parliamentary elections have stumbled in their search for a viable twin approach.
The centre-right Nicolas Sarkozy, president from 2007 to 2012, offended French Muslims with his bans on face-covering headwear in public.
After his departure from office, his policy had its logical sequel as mayors in Mediterranean and other coastal resorts banned the so-called burqini in the summer of 2016. This led to unedifying images of police confronting Muslim women on Riviera beaches, though the bans were later overturned by the courts.
Mr Sarkozy also created, when interior minister in 2002, the French Muslim Council (CFCM) as a representative body. But its work has been hampered by internal disputes and the council has not won the respect of significant numbers of Muslims.
Even less successful among Mr Sarkozy's initiatives was a public debate on national identity launched in 2009. Opponents suspected a thinly disguised attempt to court voters from France's anti-immigration extreme right by exploiting fears about immigration and insecurity.
His socialist successor, Francois Hollande, also struggled to make meaningful advances, forced instead to react with emergency powers and hardline measures to a succession of murderous ISIL attacks in Paris, Nice and elsewhere.
Outlining his own intentions in the French Sunday newspaper Le Journal du Dimanche, Mr Macron promised a major speech in the first half of this year on the place of Islam in France.
He said he would consult Islamic scholars and also prominent figures from other faiths "because I consider we must be strongly inspired by our history, the history of Catholics and that of Protestants".
The centre-left news magazine Marianne, named after the French national symbol, said the "floor-to-ceiling" restructuring Mr Macron envisages can hardly avoid reform of the CFCM, "a cumbersome body [that is] supposed to be representative of Muslims in France but has become became the guardian of orthodoxy and never managed to represent their plurality".
As well as considering new representative bodies, Mr Macron will examine the funding of mosques and the training of imams, again familiar territory in France. With terminology that might have come from Mr Sarkozy's lips, a Macron aide told Le Journal du Dimanche that the challenge was to "reduce the influence of Arab countries, which prevents the French Islam from embracing modernity".
Whatever he does, Mr Macron is unlikely to please the far-right, anti-immigration and – many believe – anti-Islam Front National.
Its leader Marine Le Pen was soundly beaten by Mr Macron in the run-off for the presidency last year but still won 10.6 million votes, a third of those cast. She told Europe 1 radio his statements so far were "blurred to say the least" but already betrayed "unbearable, unacceptable" elements, such as the idea of a new, undefined "concordat" with Islam and possible tampering with the cornerstone of French secularism, the law of 1905 separating church and state.
In his dealings with restless trade unions and British Brexiteers, Mr Macron has shown himself up for a fight. But community relations are a minefield he will need to tread carefully.
There is no official figure for French Muslim citizens and calculations vary widely, with five million the most commonly quoted estimate.
Encouragingly for those championing harmony between Muslims and non-Muslims, a recent poll found 56 per cent of those questioned considered Islam compatible with French values - the exact reverse of findings in 2016.
https://www.thenational.ae/world/europe/macron-faces-big-challenge-in-defining-islam-s-place-in-france-1.703978
--------
Israel, US committing 'land theft' in occupied West Bank: PLO
Feb 12, 2018
Israel is committing "land theft" in the occupied territories as Israeli Prime Minister Benjamin Netanyahu with the "complicity" of the US government is trying to pass a legislation that would effectively annex West Bank settlements, a top Palestinian official says.
"Netanyahu's latest statement ... confirms US complicity with Israeli colonial plans," said Saeb Erekat, the secretary general of the Palestine Liberation Organization (PLO), on Monday, denouncing the Israeli moves as "land theft."
Earlier in the day, Netanyahu told Israel's 120-seat parliament (Knesset) that he had been discussing legislation with Washington that would effectively annex Jewish settlements in the occupied West Bank.
"On the subject of applying sovereignty, I can say that I have been talking to the Americans about it for some time," Netanyahu was quoted by a spokesman of his right-wing Likud party as telling a meeting of its legislators.
Netanyahu was referring to enforcing Israeli law to the settlements, a step tantamount to annexation. They are currently under the jurisdiction of the Israeli military that occupied the West Bank in a 1967 war.
There was no immediate confirmation from the White House on whether discussions on the subject had been held.
However, US President Donald Trump has already said that the settlements were something that very much complicated and always had complicated making peace. "So I think Israel has to be very careful with the settlements."
Meanwhile, Nabil Abu Rdainah, a spokesman for Palestinian President Mahmoud Abbas said, "No-one has the right to discuss the situation of the occupied Palestinian land." He added that any annexation would ruin all efforts to try and save the so-called peace process.
About 600,000 Israelis live in over 230 settlements built illegally since the 1967 occupation of the Palestinian territories.
The continued expansion of Israeli settlements is one of the major obstacles to the establishment of peace in the Middle East.
In recent months, Tel Aviv has stepped up its settlement construction activities in the occupied Palestinian lands in a blatant violation of international law and in defiance of United Nations Security Council Resolution 2334.
European nations and the United Nations, among others, maintain their strong opposition to settlement building in the Palestinian territories.
http://www.presstv.com/Detail/2018/02/12/552178/Palestine-Israel-Netanyahu-US-West-Bank-annexation--PLO
--------
Myanmar minister threatens Rohingya refugees to return or face 'consequences'
Feb 12, 2018
A Myanmar government official has been caught on camera threatening Rohingya Muslims living in a makeshift refugee camp on the Bangladeshi border to accept a government offer and return home or face dire"consequences."
"If the Rohingya refuse the proposal put forward by the Myanmar government through this delegation, it will not bode well for the Rohingya living in no man's land," Aung Soe, Myanmar's deputy minister for home affairs, told some 7,000 refugees on a video circulated on social media cited by Reuters news agency on Monday.
In the video, he tells them they must return or "suffer the consequences," and that the area they were living in was under Myanmar's jurisdiction.
The minister's threats were directed at the refugees living in Tombru, an area of no man's land between Myanmar and Bangladesh.
Bangladesh security forces in the border area confirmed the incident.
Local Border Guard Bangladesh (BGB) commander Manzurul Hasan Khan said Myanmar authorities had been using loudhailers since Friday to ask the refugees to leave.
"He kept telling the refugees to move away from Myanmar land, or they would face problems," said police officer Mohammad Rashid by phone from the area.
Rohingya living there told media that soldiers had recently put up tents near a barbed wire fence set up around the area.
"They (Myanmar army) often fire blank rounds to create panic. We've heard they also set fire to nearby villages recently," said Dil Mohammad, one of the refugees.
Since August, a military crackdown on the Rohingya Muslim minority in Myanmar has forced nearly 700,000 members of the one-million-plus-strong community to flee their homes in Rakhine and head to Bangladesh.
The United Nations has described the military campaign -- including mass rape, killing, torture, torching and threats of violent "consequences" -- as textbook example of ethnic cleansing and possibly amounting to genocide in a court of law.
Despite the campaign against the Rohingya, the two governments of Myanmar and Bangladesh agreed late last year to repatriate all the newly-arrived refugees.
The implementation of that agreement was supposed to begin last month, but it was postponed, with no new date set, amid fears that the refugees may be coerced into leaving.
However, Myanmar does not recognize the Rohingya as their nationals even though they have been there for generations and refrains to give them citizenship.
http://www.presstv.com/Detail/2018/02/12/552117/Myanmar-Minister-Rohingya
--------
Washington not to contribute funds to Iraq's reconstruction: US officials
Feb 12, 2018
The United States will be a main absentee from plans to contribute to Iraq's finances, US officials say as Baghdad seeks to rebuild the country following a devastating battle against the Daesh Takfiri terrorist group.
US officials at a donors' conference held for Iraq's reconstitution in Kuwait said Monday that the White House did not plan to pledge funds at the event.
This came despite announcements by officials in the conference that Baghdad would need more than $88 billion to rebuild Iraq following more than three years of war on Daesh that left many parts of the Arab country in ruins.
The US, which has been leading a military coalition purportedly fighting Daesh, claims it has played a major role in Iraq's war against terrorists.
This comes as independent monitors have time and again challenged the claim and revealed that the US-led military campaign has significantly inflicted more civilian casualties.
The US also occupied Iraq for eight years after its invasion of the country in 2003, which led to the fall of former strongman Saddam Hussein. Many blame Washington's presence in the country for the failure of Iraq's efforts to make economic and political progress.
The United Nations has warned that the failure of the international community and major powers in the West to help Iraq could lead to renewed instability.
"If the international community doesn't help the government of Iraq to stabilize these areas (devastated by the war) the gains against Daesh could be at risk," said Lise Grande, UN Humanitarian Coordinator for Iraq, at the Kuwait conference.
The Kuwait International Conference for the Reconstruction of Iraq kicked off Monday in Kuwait City, Kuwait's capital, with the focus on post-war reconstruction of Iraq and vital issues concerned. The three-day meeting brings together several economic powers as well as regional and international organizations.
uwait's state news agency, KUNA, reported a pledge of providing Iraq with $330 million in humanitarian aid by non-governmental organizations at a parallel NGO conference.
However, the figure would be far shy of Iraq's estimates for funds needed to press ahead with post-Daesh reconstruction efforts.
Planning Minister Salman al-Jumaili said during the conference that those ignoring Iraq's pleas for financial help were forsaking the security of the entire Middle East region.
"Rebuilding Iraq is restoring hope to Iraq, and restoring the stability of Iraq is stabilizing the states of the region and the world," said al-Jumaili.
Other Iraqi authorities said that a bulk of the funds was urgently needed for rebuilding the houses destroyed during the Daesh militancy, which are estimated at around 147,000 units.
The director general of Iraq's Planning Ministry, Qusay Adulfattah, said the country would need some $23 billion in the short term and more than $65 billion in the medium term.Daesh controlled almost a third of Iraq at the peak of its devastating campaign.
Authorities declared a full victory over the terrorist group in December 2017.
http://www.presstv.com/Detail/2018/02/12/552171/US-Iraq-reconstruction-conference
--------
India
Notice to Centre on plea seeking independent Muslim body for Haj
FEBRUARY 13, 2018
The Delhi High Court on Monday asked the Centre to examine grievances raised in a petition seeking an independent Muslim body to look into arrangements for Haj pilgrims.
Noting it as an important issue, a Bench of Acting Chief Justice Gita Mittal and Justice C. Hari Shankar said the authorities needed to look into the matter and take a view "expeditiously", and asked the Centre to communicate its decision to the petitioner, Delhi-based advocate Shahid Ali.
The plea referred to a recent notification of the Centre scrapping a subsidy for cheaper flights for the pilgrimage. Since the subsidy has been scrapped, the plea said there was no need for a government-controlled panel to manage its affairs and the Haj Committee Act, 2002, was also liable to be quashed. The Centre had in 1959 introduced a subsidy for air travel between Bombay and Jeddah.
"Pass order quashing the present constitution of the Haj committee and further allowing Muslim citizens of India to formulate their own body…," the plea stated.
Pointing out that Sikhs in India were allowed to set up their own body to manage their minority affairs under the Sikh Gurudwara Act, 1925, the plea said an independent agency without any control of the government should deal with issues faced by the Muslim community. It said the question of whether the government should continue to look at the affairs of the Haj Committee, right from inviting applications for Haj till the return from pilgrimage, had acquired importance after the Centre scrapped the subsidy.
The plea also sought directions to the Civil Aviation Ministry to either float tenders inviting bids from all existing airlines flying between India and Saudi Arabia or allow pilgrims to purchase tickets directly for their Haj flights.
http://www.thehindu.com/news/cities/Delhi/notice-to-centre-on-plea-seeking-independent-muslim-body-for-haj/article22735648.ece
--------
Terror strike foiled at Srinagar CRPF camp, jawan killed in firefight
M Saleem Pandit
Feb 13, 2018
JAMMU: One Central Reserve Police Force (CRPF) jawan was killed by suicide squad terrorists, or fidayeen, after their bid to attack a CRPF camp in Srinagar's Karan Nagar area was foiled by an alert sentry on Monday morning.
Pakistani terror outfit Lashkar-e-Taiba has claimed responsibility for the attack, which comes just two days after the attack at the Sunjuwan military station in which six people — including five Army personnel — were killed.
Upon noticing two armed terrorists trying to sneak into the 23-Battalion camp around 4.30am, CRPF sentry Raghunath Ghait opened fire, forcing the terrorists to hide in a nearby under-construction building. Forces immediately cordoned off the area and launched an operation to kill the holed-up terrorists. In the ensuing gunfight, CRPF jawan Mujahid Khan got injured and later succumbed, CRPF inspector general Ravideep Sahi said. Khan belonged to Bihar.
Full report at:
https://timesofindia.indiatimes.com/india/terror-strike-foiled-at-srinagar-crpf-camp-jawan-killed-in-firefight/articleshow/62891486.cms
--------
China Rubbishes 'Land-Grab' Allegations as Maldives Ex-President Seeks India Aid
February 12, 2018
New Delhi: Amid the raging political crisis in the Maldives, China on Monday refuted allegations made by former Maldives President Mohammed Nasheed that Beijing is engaging in grabbing land in the Indian Ocean archipelago nation. "Recently, former Maldivian President Nasheed made a lot of false remarks in the Indian media.
"He pointed fingers at the practical cooperation between China and Maldives and alleged that China engaged in so-called 'land grabbing' of Maldivian islands, which undermines the security of the Indian Ocean region," Ji Rong, spokesperson of the Chinese Embassy here, said in a statement.
"These allegations are apparently groundless with no regard to facts." In an interview to an Indian newspaper, Nasheed sought India's help saying that the Maldives is currently faced with two problems: radical Islam and China's attempts at land grabbing.
He said that China now has 17 islands in that country and talking about investing $40 million but the purpose for this was not known. He said that this problem was a not a bilateral one but multilateral and sought India's intervention.
Nasheed's comments come amid the current political crisis and after Maldives President Abdulla Yameen rushed through Parliament a free trade agreement with China last year, which raised eyebrows in New Delhi as it went against Male's "India First" policy. India has traditionally held influence in the Indian Ocean atoll nation where China has been trying to make inroads because of the country's strategic location. Experts say the Maldivian crisis could well become a new power struggle between India and China.
Ji, in his statement, said that in recent years, "on the basis of mutual respect, equality and mutual benefit, China and the Maldives have been cooperating on infrastructure and livelihood projects, which has played a positive role in transforming and upgrading the latter's economy and improving its people's livelihood" and these measures have been "widely welcomed" by the Maldivian people".
"As a matter of fact, when Nasheed was the President, China and Maldives have already launched relevant cooperation projects. The 'land grabbing' allegation by Nasheed is apparently meant to serve certain political purposes of him."
The Maldives has plunged into a crisis with President Yameen declaring a state of emergency and arresting the Chief Justice and a former head of state, after the Supreme Court termed as unjust the imprisonment of nine MPs and Nasheed who is in exile.
Yameen sent special envoys to China, Pakistan and Saudi Arabia even as New Delhi politely declined to host the Maldivian Foreign Minister.
Full report at:
http://www.news18.com/news/world/china-rubbishes-land-grab-allegations-as-maldives-ex-president-seeks-india-aid-1658805.html
--------
Narendra Modi's Ramallah visit shows India's foreign policy is little more than virtue-signalling impulses
Sreemoy Talukdar
Feb 13, 2018
Narendra Modi's "landmark" visit to Ramallah, the first-ever by an Indian prime minister, is reflective of the muddle that is Indian foreign policy.
It is tempting to contextualise the visit as an attempt to "de-hyphenate" and "delink" India's relationship with Israel and Palestine. It is tempting also to speculate that a pro-Arab outreach will help India in booking a United Nations Security Council (UNSC) seat. But that is little more than fanciful thinking. In reality, these symbolisms never work, and carry little meaning without an overarching foreign policy framework.
For reasons proximate and divorced, Modi's Ramallah visit and laying of a wreath on Yasser Arafat's grave are gestures pregnant with intended and unintended consequences. While Modi may feel that the outcomes could be controlled and harnessed for regional peace and stability and rise of India's stature as a global power, such assumptions are misleading when it comes to a continuous, corrosive and complex dispute that has resisted all global attempts at reconciliation.
It is unclear whether this so-called de-hyphenation will deliver tangible benefits for India, or as some optimists have argued, "go a long way in establishing peace between Israel and Palestine." What it will doubtlessly do, however, is send a series of confusing signals about the direction of our foreign policy which under Modi appears directionless: A set of disconnected virtue-signalling impulses.
The prime minister is hard at work to elevate India's status as a regional heavyweight and an aspiring superpower with an increasing say in global comity of nations, but these objectives will never be met as long as our policy-making is based on 'morality' instead of realpolitik. The fulcrum of a successful foreign policy is self-interest, not grandstanding.
There was simply no need for Modi to include Ramallah as a stop in his West Asia trip. There is very little economic, geopolitical or strategic logic. This isn't to argue against Modi's larger West Asia outreach, however. Since assuming office in 2014, the prime minister has visited UAE, Saudi Arabia Qatar and Israel. Coinciding with Modi's ongoing trip, External Affairs Minister Sushma Swaraj was in Saudia Arabia where India was the 'guest of honour' at the annual Janadriyah festival.
As professor Harsh V Pant writes in DNA, "Iranian president Hassan Rouhani is also expected to be in India this month and Saudi king Salman bin Abdulaziz Al Saud later this year. Israeli prime minister Benjamin Netanyahu had a high profile visit to India last month. Clearly, the region is engaging New Delhi with a degree of seriousness not evident in the past."
India's engagement with the Arab world is independent of its stance on the Palestinian conflict: Driven by historical ties, well-manicured positions, enduring people-to-people connect and commercial realities. India's stand on the two-nation theory is consistent and clear. We voted against the US and Israel at the UN on Jerusalem. Therefore, it is not as if keeping Palestine out of the itinerary would have jeopardised India's interests in West Asia.
It does seem as if through his trip to West Bank, Modi felt the need to 'balance' India's growing proximity with Israel. The question is, why this need for a 'balance'? Was it an assurance? If so, whom was it aimed at?
It has been speculated that Modi's Palestine trip is to reassure the Muslim population back home that India's recent bonhomie with the US and Israel isn't an 'anti-Muslim alliance'. Scholar Shairee Malhotra writes in Israeli newspaper Haaretz that if India and Israel's proximity is aimed at boosting "a shared narrative of extreme nationalism, exclusion and defining Muslims as the enemy, we, in India, must discredit it."
Such a reactionary approach is the bane of policy-making. Just as Indian Muslims are unlikely to feel threatened by India and Israel's convergence in a number of areas including but not limited to terrorism, they are similarly unlikely to be impressed by Modi's trip to Ramallah. Domestic politics is not driven by foreign policy choices, though the former frequently shapes the latter. If Muslims in India have their reasons in not voting for the BJP, those reasons won't go away just because Modi flew to West Bank in a chopper from Jordan.
It is also improbable to find strategic logic in Ramallah trip. It won't get us a seat on the UN high table. As Institute of Peace and Conflict Studies senior fellow Abhijit Iyer-Mitra writes in The Quint, "The only thing that will ensure India's UNSC seat is a powerful economy: Not support for a lost cause that even Arabs have no time for, while treating their own Palestinian émigrés poorly and forming 'secret alliances with Israel against Iran'."
While the upsides of the trip are not clear, the downsides are many and specific. In laying a wreath on Arafat's grave and visiting a mausoleum "in honour of the departed leader", Modi showered fulsome praise on Arafat.
The encomiums to describe a leader who remains at best controversial and whose legacy is questionable do little to enhance India's position as a key player in the international arena with a clear set of strategic and geopolitical objectives. The comments were widely covered by Israeli media and perhaps raised more than a few eyebrows (Indian PM lays wreath on arch-terrorist Yasser Arafat's grave); (In Historic Palestine Visit, India's Modi Hails Arafat as 'One of World's Greatest Leaders') but it is not about India-Israel relationship alone.
For a country plagued with the menace of cross-border terrorism, Modi's praise of Arafat considerably dilutes India's non-negotiable stance on terrorism. Despite being a Nobel Laureate, which according to some commentators was bestowed on him to propagate a "western myth" to justify the so-called peace process, the PLO founder's rule has been adjudged to be "a disaster for Palestinians, for Israel, and for US policy in West Asia."
As James Phillips, senior research fellow for West Asia at The Heritage Foundation writes, "Arafat leaves Palestinians much worse off than when he returned to Gaza in July 1994. Under Arafat's leadership the Palestinian Authority became corrupt, unaccountable, and dedicated to protecting Arafat's interests, rather than those of the Palestinian people. His refusal to end terrorism has poisoned the peace negotiations, led Israel to re-occupy Palestinian areas and close its borders to Palestinian workers, and crippled the Palestinian economy. Palestinian parents have been horrified to find their children brainwashed into becoming suicide bombers and cannon fodder for Arafat's revolutionary pipe-dreams."
Arafat's obituary in the London-based The Telegraph described him as "the instantly recognisable face of Palestinian nationalism but failed in both war and peace to achieve his dream of an independent Palestinian state".
To shower praise on such a troublesome figure (ironically coinciding with a spate of attacks on Indian army from Pakistan-sponsored terror assets) is to jeopardise India's stance on the intersectionality of global terrorism. After all, one cannot justifiably argue against differentiating between "good and bad terrorists" and then praise to the high skies a figure described as the Father of Modern Terrorism".
As Hudson Institute senior fellow Lee Smith pointed out, Arafat's "1974 UN speech promising either an olive branch or a freedom fighter's gun was clear: If I don't have peace on my terms, there will be death. This was two years after the massacre of Israeli athletes at the Munich Olympics and only months after he'd personally ordered the assassination of American diplomats in Sudan. What was Arafat's peace? He was always clear about this—it meant Israel's destruction."
The problem with virtue-signalling in foreign policy is that it is essentially a cop-out, the easiest of all options undertaken by leaders in democracies who shy away from bearing the consequences of their actions.
To quote from Nikolas Gvosdev in The Perils of Virtue Signaling in Foreign Policy, "Virtue signaling assumes that there is always an easily-accessible best course of action and ignores the prudential realist observation, as summed up by Amitai Etzioni, that real-world policymakers rarely are choosing between great options and instead are trying to choose the least worst approach from what is otherwise an undesirable menu of policies."
This is important: India's foreign policy choices in striking a strategic partnership with the US and highlighting convergence of interests with Israel — in areas of terrorism, defence, cyber security, big data, water, food security, etc — are aimed at achieving a set of objectives. To achieve these objectives, it is imperative that Indian foreign policy doesn't get lost in the maze of virtue-signalling or remains tied to the bootstraps of 'non-alignment'.
Full report at:
http://www.firstpost.com/india/narendra-modis-ramallah-trip-reflects-foreign-policy-muddle-is-little-more-than-set-of-virtue-signalling-impulses-4347517.html
--------
NIA takes over probe into LeT terrorist's escape from Srinagar hospital
Feb 12, 2018
SRINAGAR: The National Investigation Agency on Monday took over the probe into Lashkar-e-Taiba terrorist Mohammed Naveed Jhatt's escape from the SMHS hospital here, the agency spokesperson said.
The NIA has registered a case related to Jhatt's escape from SMHS hospital in Srinagar where he was brought on February 6 for treatment, the NIA spokesperson said.
An FIR was registered by the local Police at Karan Nagar in Srinagar district, the NIA said.
In this incident, two police personnel Mushtaq Ahmed and Babar Ahmed were killed, it said.
The NIA team is proceeding to Srinagar on Tuesday for the investigation of the case, the spokesperson said.
The Pakistani terrorist staged the daring escape from the SMHS hospital, killing the two policemen with a pistol handed to him by his LeT accomplices who ambushed the police team escorting him.
The attack by the LeT to free "hardcore" terrorist Jhatt took place inside the busy Shri Maharaja Hari Singh (SMHS) hospital complex in a high security area of Jammu and Kashmir's summer capital.
Full report at:
https://timesofindia.indiatimes.com/india/nia-takes-over-probe-into-let-terrorists-escape-from-srinagar-hospital/articleshow/62890226.cms
--------
Tripura: After We Joined BJP, Mosque Turned Us Out, Says Group of Villagers
by Esha Roy
February 13, 2018
Moidatila is a small village of farmers in Shantibazar constituency in South Tripura. It can be reached by dusty untarred roads surrounded by paddy fields. For nearly two years now, the village has been split down the middle. The village has just over 100 families, 83 of these Muslim. After 25 of these Muslim families decided to go with the BJP — they say they are party members — Moidatila now has two mosques, one in which the BJP supporters pray, and the original mosque that holds congregations of the non-BJP families.
"We joined the BJP 16 months ago. Soon after, people at the mosque told us we could no longer pray there," said Babul Hossain, 35. "They said since we are supporting a Hindu-vadi party, there is no longer any need to come to the mosque and we could go with the Hindus."
Hossain grows potato and sells it in the open market to support his family that includes two sons in school. The 25 families shut out of the mosque have made a makeshift mosque with a tin roof and bamboo. The group has engaged a separate imam and pay him through collections.
"We don't know about the BJP being a Hindutva party," says Hossain. "I don't believe they have been involved in attacks against Muslims in other parts of the country. This is just something the Congress and the CPM has been saying. If there are Muslims who have been killed, they must have been done something wrong. Why would anyone attack a good person?"
Hossain used to be a Congress voter. "The Congress is finished, muche gecha (wiped out). But we want this government to go. It's been 25 years and we have got nothing from them [Left Front]. If the BJP comes, we hope to get fertiliser subsidies and water," he says.
Of the Muslim families who have become BJP supporters, most were formerly Congress supporters and a few CPM loyalists. Farooq Islam, 27, whose family supported the CPM for years, says they decided to switch to the BJP to see "if we get anything in return". "As you can see, we have nothing in the village," he says. "There is no power, not even clean drinking water. The BJP says it can bring us all this. Besides, CPM leaders and their workers had become arrogant, they were oppressing us. We wanted the mosque upgraded and repaired but two CPM workers here, who are in charge of the mosque, opposed it. So we collected money ourselves to do the job and they got angry. It had become unsafe for us here. When we wanted to raise the salary of the imam and decided to take collections, they wanted a cut out of it."
Bhanu Bibi, 38, had contested the last panchayat elections on a Congress ticket and says she lost by one vote. She expressed her disillusionment: "This year I didn't even get paid for 35 days of work under MNREGA. Also, Congress workers are regularly oppressed, attacked by CPM workers. Our families don't get jobs, water or any other basic services."
The BJP's minority wing state president, Mohammad Jasmuddin, who facilitated the "joining" of the Muslim voters, belongs to neighbouring Karmibazar, another village with a large Muslim population. He says that out of the 150 families there, 40 Muslim families have moved to the BJP. "I joined the BJP right after the 2013 elections. I was with the Congress but realised there was no point remaining. They couldn't protect workers from CPM musclemen. It was a good idea to join the BJP at that point because it wasn't considered a threat, so we weren't prosecuted. I never thought the BJP would become the main opponent," Jasmuddin says. "As far as minority affairs are concerned, there is no problem for a Muslim joining the BJP."
The Left Front's candidate for Shantibazar is Minister for Home and Tribal Welfare Manindra Reang, who belongs to the CPI. Workers at the Shantibazar office claim that at least 25 RSS workers from Assam are now camping in this semi-rural constituency. "We have been told that they are giving the voters money. Whenever they hear of a financial problem in somebody's home, they visit the family and help them out financially," CPI worker said.
Reang is confident of victory in a constituency where Muslims constitute 4% of the vote and tribal voters over 40%.
Full report at:
http://indianexpress.com/article/north-east-india/tripura/tripura-after-we-joined-bjp-mosque-turned-us-out-says-group-of-villagers-5061500/
--------
Nirmala Sitharaman on Jammu attack: 'Pakistan will pay… demography suggests local help to terrorists'
by Arun Sharma
February 13, 2018
Blaming Masood Azhar's Jaish-e-Mohammad for the attack on the Sunjuwan military station in Jammu and warning Pakistan that it "will pay for this misadventure", Defence Minister Nirmala Sitharaman on Monday said "the demography of the cantonment and adjoining areas indicates the possibility of local support to the terrorists".
"All evidences which have been collected are now being compiled and, definitely, these will be given, as always, to Pakistan. Yet Pakistan, in spite of being given dossier after dossier, has not taken any action," Sitharaman told reporters in Jammu. "On the contrary, we find that people who were directly responsible for the Mumbai attack and many others, particularly Mumbai attack, are free, and are happily roaming in Pakistan," she said. Also Read: Paris terror meet set to turn screws on Pakistan over funding of militants
"The terrorists belonged to the Jaish-e-Mohammad tanzeem, sponsored by Azhar Masood, residing in Pakistan and deriving support from therein. The terrorists had chosen to attack a military station which housed both troops and families of the Indian Army. The cantonment is located on the outskirts of Jammu, approximately 30 km from the International Boundary, in a semi-urbanised environment with densely populated civilian localities, adjacent to the cantonment's perimeter fence," she said.
While Sitharaman did not elaborate on "the demography of the cantonment" and "the possibility of local support to the terrorists", her party MLA and J&K Assembly Speaker Kavinder Gupta, speaking a few hours after the terrorists entered the military station on February 10, had named migrants from two countries, holding them responsible for such attacks — his remarks on the communities and countries were expunged later.
The Defence Minister said "we will be providing evidence to prove that the handlers are back in Pakistan and they are the mastermind, influencing all this". When a reporter asked her what purpose would a dossier serve given that Pakistan had not acted on previous dossiers, she said: "That does not deny us our right to respond adequately and at a time we think fit. I state that Pakistan will pay for this misadventure." Also Read: Security in J&K: In review meeting, Rajnath Singh advises caution
Asked whether there was a timeframe, she said: "I wouldn't certainly state the timeline. But as I already said, Pakistan will pay for this misadventure. I repeat, Pakistan will pay for it." On the FIR against Major Aditya Kumar in connection with the death of civilians in firing by troops in Shopian, Sitharaman said the Supreme Court had stayed proceedings. And if in the call of duty, if they have performed something, subject to verification, the Ministry of Defence, she said, will also have to respond to the registry of the court.
"Ministry of Defence, me as Raksha Mantri, the Government of India under the leadership of our Prime Minister will stand by the Army. We will not let anybody down," she said, when she was told that the FIR was registered against the troops only after the Chief Minister had spoken to her. "We are in Jammu and Kashmir, in a situation where there is an elected government led by the Honourable Chief Minister. And we from Delhi, the Government of India, will have to work together to make sure that the Army is taken care of because they are fighting a very, very severe struggle," she said.
Full report at:
http://indianexpress.com/article/india/nirmala-sitharaman-on-jammu-attack-pakistan-will-pay-demography-suggests-local-help-to-terrorists-5061545/
--------
Arab World
Saudi Crown Prince Promises A Return to Moderate Islam
Feb 13, 2018
BRUSSELS: Saudi Arabia has agreed to give up control of Belgium's largest mosque in a sign that it is trying to shed its reputation as a global exporter of an ultra-conservative brand of Islam. Belgium leased the Grand Mosque to Riyadh in 1969, giving Saudi-backed imams access to a growing Muslim immigrant community in return for cheaper oil for its industry.
But it now wants to cut Riyadh's links with the mosque, near the European Union's headquarters in Brussels, over concerns that what it preaches breeds radicalism. The mosque's leaders deny it espouses violence, but European governments have grown more wary since Islamist attacks that were planned in Brussels killed 130 people in Paris in 2015 and 32 in the Belgian capital in 2016.
Belgium's willingness to put its demands to oil-producing Saudi Arabia, a major investor and arms client, breaks with what EU diplomats describe as the reluctance of governments across Europe to risk disrupting commercial and security ties. Riyadh's quick acceptance indicates a new readiness by the kingdom to promote a more moderate form of Islam – one of the more ambitious promises made by Crown Prince Mohammed bin Salman under plans to transform Saudi Arabia and reduce its reliance on oil.
The agreement last month coincides with a new Saudi initiative, not publicly announced but described to Reuters by Western officials, to end support for mosques and religious schools abroad blamed for spreading radical ideas. The move towards religious moderation – and away from the extreme interpretation of Islam's Salafi branch that is espoused by modern jihadist groups – risks provoking a backlash at home and could leave a void that fundamentalists try to fill.
But Saudi Arabia's recent moves on religion are seen by Belgian diplomat Dirk Achten, who headed a government delegation to Riyadh in November, as a "window of opportunity". "The Saudis are disposed to dialogue without taboos," he told Belgium's parliament last month after the mission was hastily put together after the assembly urged the government to break Saudi Arabia's 99-year, rent-free lease of the mosque. But he also cautioned: "Some do not, or barely, admit that this form of Salafism leads to jihadism."
Details being finalized
Details of the mosque's handover are still being negotiated but will be announced this month, Belgian Interior Minister Jan Jambon said. The diplomatic contacts, led by the countries' foreign ministers, were intended by Belgium to prevent what Jambon called an "exaggerated response" from Saudi Arabia-indicating the Belgian government had sought to ensure there was no diplomatic backlash. This, he said, was "under control" following a visit to Belgium last month by Saudi Foreign Minister Adel Al-Jubeir. Before Saudi Arabia took control in the late 1960s, the Grand Mosque was a disused relic of the Great Exhibition of 1880 – an Oriental Pavilion.
Saudi money converted it to cater to migrants from Morocco invited to work in the country's coal mines and factories. It is run by the Makkah-based Muslim World League (MWL), a missionary society mainly funded by Saudi Arabia. Concerns about the mosque grew as militant groups such as Islamic State started recruiting among the grandchildren of those migrants, many of whom say they still feel they do not belong in Belgian society, opinion polls show.
Belgium has sent more foreign fighters to Syria per capita than any other European country. Belgian officials now suggest the Muslim Executive of Belgium, a group seen as close to Moroccan officialdom, should run the Grand Mosque. Although the Saudi government has denied any role in the Sept. 11, 2001 attacks against the United States which killed more than 3,000 people, 15 of the 19 airplane hijackers who carried them out were from Saudi Arabia and linked to late Al Qaeda leader Osama bin Laden, the plot's Saudi-born mastermind.
Bin Laden was a follower of Wahhabism, the original strain of Salafism which has often been criticized as the ideology of radical Islamists worldwide. Yet many of Islamic State's positions are far more radical than Wahhabism, the ultra-conservative branch of Islam dominant in Saudi Arabia and founded by 18th century cleric Mohammed ibn Abd al-Wahhab. A classified report by Belgian security agency OCAD/OCAM in 2016 said the Wahhabi branch of Islam promoted at the mosque led Muslim youth to more radical ideas, sources with access to the report said.
"The mosque has influence to spread this hateful 'software'," a senior Belgian security source said. "Nobody paid attention for decades." Belgium's parliament said what it preached was "a gateway or even a predisposition to a more combative Islam that is violent", calling in October for an end to the Saudi lease. The same month, immigration minister Theo Francken tried to expel the Grand Mosque's Egyptian imam of 13 years, calling him "dangerous", but a judge reversed that decision. But Belgian security sources say there is no proof imams at the Grand Mosque preached violence or have had links to attacks.
Some who went to fight in Syria had studied there but men are more prey to recruiters for militant groups online and on the streets of underprivileged boroughs such as Molenbeek, in Brussels, where some of the Paris attackers lived, they say. Tamer Abou El Saod, who was appointed director of the Grand Mosque in May, says there are problems over the way it is perceived but denies it espouses a fundamentalist version of Islam. He says he is ready to work with Belgian officials. "There are changes happening already and there are even more changes coming in the very near future," he told Reuters.
'European Islam'
Belgian leaders say they want the mosque to preach a "European Islam" better aligned with their values – a familiar refrain across Europe following the Islamic State attacks of the last few years. But it is unclear who will operate the sprawling mosque complex, which receives about 5 million euros ($6 million) a year through the MWL which has for decades promoted a hardline interpretation of Islam at dozens of institutions worldwide.
The MWL has recently adopted a more conciliatory tone. In just over a year since being appointed, its secretary-general, Mohammad bin Abdul Karim Al-Issa, has met with Pope Francis and taken a public stance against Holocaust denial. Issa told Reuters in November the organization's new mission was to annihilate extremism. For Saudi Arabia, the mosque is a chance to prove it is turning over a new leaf after years of accusations it turned a blind eye to – if not actively endorsed – extremist ideology.
Crown Prince Mohammed has already taken some steps to loosen ultra-strict social restrictions, scaling back the role of religious morality police, permitting public concerts and announcing plans to allow women to drive this summer. The changes, however, may be too late since most militant groups that emerged at some point from Saudi networks have grown independent, says Stephane Lacroix, a scholar of Islam in Saudi Arabia. "That this is going to solve the problem of radical Islam because if the Saudis change, everything's going to change: It's not the case," he said.- Reuters
http://news.kuwaittimes.net/website/saudi-crown-prince-promises-return-moderate-islam/
--------
Iraq Says Reconstruction After War on Islamic State to Cost $88 Billion
Feb. 12, 2018
KUWAIT (Reuters) - Rebuilding Iraq after three years of war with Islamic State will cost more than $88 billion, with housing a particularly urgent priority, Iraqi officials told an international donors' conference on Monday.
Donors and investors have gathered in Kuwait this week to discuss efforts to rebuild Iraq's economy and infrastructure as it emerges from a devastating conflict with the hardline militants who seized almost a third of the country.
Iraq declared victory over Islamic State in December, having taken back all the territory captured by the militants in 2014 and 2015. The fighters have also been largely defeated in neighboring Syria.
About $23 billion will be needed in the short term and more than $65 billion in the medium term, the director-general of Iraq's planning ministry, Qusay Adulfattah, told the conference.
"Rebuilding Iraq is restoring hope to Iraq, and restoring the stability of Iraq is stabilizing the states of the region and the world," said Planning Minister Salman al-Jumaili.
The seven provinces attacked by the militants suffered $46 billion in direct damage, including the destruction of 147,000 housing units, and the security forces took $14 billion in losses. Tens of billions more were lost indirectly through damage to the wider economy and years of lost growth, the planning ministry said.
Iraq has published a list of some 157 projects for which it is seeking investment.
They include rebuilding destroyed facilities such as Mosul airport and new investments to diversify the economy away from crude oil sales, developing transport, agriculture and oil-related industry including petrochemicals and refining.
Rebuilding homes, hospitals, schools, roads, businesses and telecommunications will be key to providing jobs for the young, ending the displacement of hundreds of thousands of people and putting an end to decades of political and sectarian violence.
GAINS AT RISK
Nations could help by acting as guarantors with lenders, allowing Iraq to take out soft loans to fund infrastructure projects, Mahdi al-Alaq, Secretary-General of Iraq's Council of Ministers, told the conference.
U.S. officials said the United States, which occupied Iraq from 2003-2011 and now leads an international coalition that provided air support against Islamic State, does not plan to pledge funds at the Kuwait conference.
Lise Grande, U.N. Humanitarian Coordinator for Iraq, said failure to help Iraq could lead to renewed instability.
"If the international community doesn't help the government of Iraq to stabilize these areas (devastated by the war) the gains against Daesh could be at risk," she said, using the Arabic acronym for Islamic State.
Non-governmental organizations pledged $330 million in humanitarian aid at a parallel NGO conference, Kuwait's state news agency KUNA reported.
Baghdad has said it is determined to tackle the red tape and corruption that hamper investment. Iraq is viewed by investors as the 10th most corrupt country in the world, according to Transparency International.
Iraq reopened to foreign investment after 2003, with most spent on increasing its oil and natural gas production.
Full report at:
https://www.usnews.com/news/world/articles/2018-02-12/iraqs-reconstruction-will-cost-882-billion-planning-ministry-says
--------
300 Kurdish Fighters Killed in US Green-on-Blue Air Attack in Eastern Syria
Feb 12, 2018
The Turkish-language Daily Sabah reported that the warplanes pounded mistakenly a main position of the YPG, killing a sum of 300 Kurds.
The Daily further said that wrong peculiarities provided by the field sources were the cause behind the US careless air raid on the YPG.
In the meantime, the Arabic-language al-Manar TV also confirmed that the coalition's warplanes bombed mistakenly the Kurdish militants' positions northeast of the town of al-Souseh Southeast of Deir Ezzur.
Sources said last week that 17 civilians were killed in the US warplanes' heavy bombardment near the village of al-Sha'afah in Eastern Deir Ezzur.
The sources in Southeastern Deir Ezzur had also reported on Wednesday that a number of civilians were killed or wounded in the US-led collation airstrikes.
The sources said that the US fighter jets conducted heavy bombardment on the village of al-Bahara in Eastern Deir Ezzur, killing three civilians and wounding several more.
Full report at:
http://en.farsnews.com/newstext.aspx?nn=13961123001294
--------
Egypt continues Sinai crackdown as 28 militants killed, 126 arrested
12 February 2018
Egyptian security forces killed 28 militants and arrested 126 in a continuing crackdown in Sinai, the army said in a statement carried by State TV on Monday.
Egypt's air force also destroyed 60 militant targets, the statement said, part of a campaign to crush Islamist insurgents blamed for a string of attacks.
President Abdel Fattah al-Sisi, who is seeking re-election in March, ordered the armed forces in November to defeat militants within three months after an attack on a mosque killed more than 300 people, the deadliest such incident in the Arab world's most populous country.
https://english.alarabiya.net/en/News/middle-east/2018/02/12/Egypt-army-crackdown-in-Sinai-continues-12-militants-killed.html
--------
Rifts Widening among Terrorist Groups Reported in Northwestern Syria
Feb 12, 2018
The sources reported that Hamad Bin Hamid al-Shayesh, a commander of Idlib Free Army affiliated to the Free Syrian Army, was killed by unknown assailants' gun fire near the town of Hazano in Northern Idlib.
In the meantime, the Al-Nusra Front (Tahrir al-Sham Hay'at or the Levant Liberation Board) engaged in heavy fighting with the rival group of Jeish al-Ahrar in the village of Shalakh North of the town of Taftnaz in Northeastern Idlib, inflicting several casualties on both warring sides.
Also, a group of Al-Nusra terrorists stormed position of Nouralddeen al-Zinki in the village of Deir Hassaan in Northern Idlib.
The Arabic-language al-Manar TV network reported on Friday that a fresh wave of tensions and differences erupted among the main terrorist groups in Idlib province after they handed over the body of the Russian pilot whose jet was downed by the Al-Nusra Front.
It said that the Al-Nusra put a large number of its forces on alert in Idlib countryside, adding that the Al-Nusra was planning to attack Faylaq al-Sham that reportedly had handed over the body of the Russian pilot.
Full report at:
http://en.farsnews.com/newstext.aspx?nn=13961123000984
--------
ISIS's Abu Bakr al-Baghdadi is 'alive but wounded' in Syria hideout
13 February 2018
An Iraqi interior ministry official said ISIS's head Abu Bakr al-Baghdadi is alive and being treated at a field hospital in Syria after being wounded in an air strike.
"We have irrefutable information and documents from sources within the terrorist organization that al-Baghdadi is still alive and hiding" in Syria's northeastern Jazira region, said intelligence and counterterrorism department head Abu Ali al-Basri, quoted today in the government daily As-Sabah.
ISIS retains a significant presence in the desert plains of northeastern Syria's Hasakeh province despite having lost most of its cross-border "caliphate" which once also covered a third of neighboring Iraq. Basri said that Baghdadi was suffering from "injuries, diabetes and fractures to the body and legs that prevent him from walking without assistance".
The militant chief had been wounded in "air raids against ISIS strongholds in Iraq". Iraqi authorities last week published a list of "internationally wanted terrorist leaders" headed by the self-proclaimed ISIS "caliph", born in 1971, under the name Ibrahim Awad Ibrahim Ali al-Badri al-Samarrai.
Full report at:
https://english.alarabiya.net/en/News/middle-east/2018/02/13/ISIS-s-Abu-Bakr-al-Baghdadi-is-alive-but-wounded-in-Syria.html
--------
Intake of Saudi students in international schools expected to rise
12 February 2018
A leading educationist in Riyadh said interest among Saudi students in foreign education has increased by 30 percent especially after they have been allowed to join international schools.
Sahar Bint Hamad Al-Marzouki, owner and director general of Al-Faris International Schools Group, pointed out that the number of parents following up with their children's education has also increased significantly.
"They are always keen to create the best education channels and environments that perfectly prepare the children for the job market by involving them in foreign education — American, British and French systems. These systems qualify them to cope with the changes in general and to keep up with the goals of Saudi Arabia's Vision 2030," she said.
Al-Marzouki expected the number of Saudis in international schools to increase to 60 percent by the end of 2018. There will also be an increase in the number of foreign schools, she added.
Al-Marzouki says religion and Arabic language curricula, under the direction of the Ministry of Education, are never ignored as they form the foundation of good education in all schools.
"This concept is completely adopted in Al-Faris School. Accordingly, the ratio of Saudi students in Al-Faris School nowadays is 70 percent against 30 percent foreign students," Al-Marzouki said.
She pointed out that her teaching staff, working in both Saudi and international education systems, were very efficient and professional. The teachers in the international schools are selected based on certain criteria and they are continuously asked to attend professional development courses.
Clarifying the role and impact of the international schools in the Kingdom, Al-Marzouki said: "Certainly they do have a notable role, which encouraged Al-Faris School to go through this unique, educational IB experience, especially in economic terms, where it facilitates the rights of communities to choose the culture and institution where their children attain their education."
As for the success of these schools and their performance, Al-Marzouki said: "It is a success and its role is clearly visible."
She continued: "Teaching the practical subjects in a foreign language has become, as I believe and I hope I am not mistaken, a need that goes beyond the desires of foreign communities. It has become a need for Saudi citizens as well."
Full report at:
https://english.alarabiya.net/en/features/2018/02/12/Intake-of-Saudi-students-in-international-schools-expected-to-rise-.html
--------
Europe
Paris terror meet set to turn screws on Pakistan over funding of militants
by Sushant Singh
February 13, 2018
Pakistan is likely to be "grey-listed" for terrorist financing and money laundering by the multi-national Financial Action Task Force (FATF) at its plenary meeting in Paris early next week. This will put Islamabad under stringent checks in conducting international financial transactions and affect foreign investments and commercial lending to Pakistan.
The three-day FATF meeting, which starts on Sunday, will consider technical compliance to the requirements of the FATF recommendations agreed upon by Pakistan. Pakistan has fallen short of the requirements by not promulgating legislation to stop money laundering and terrorist financing. It has also not taken action against "proscribed groups" under UN Security Council Resolution 1267, such as the Jamaat-ud-Dawa, Lashkar-e-Taiba, and the Falah-e-Insaniat Foundation which continue to operate freely and raise funds openly within Pakistan. Also Read: Nirmala Sitharaman on Jammu attack: Pakistan will pay… demography suggests local help to terrorists
The FATF is an inter-governmental body established in 1989 that monitors the progress of various countries in implementing necessary measures, reviews money laundering and terrorist financing techniques and counter-measures, and promotes the adoption and implementation of appropriate measures globally.
Pakistan, which had earlier been on the FATF "grey list" from 2012 to 2015, has now been co-nominated for grey listing by the United States, United Kingdom, France and Germany in the 37-member grouping. This follows a compliance report submitted by Islamabad on the assurances and promises made after the last FATF meeting in Buenos Aires after India and the US raised the issue of terror financing by Pakistan.
China was the only member country which opposed the FATF's consensus against Pakistan at the Buenos Aires plenary meeting. Beijing is expected to oppose Pakistan's nomination to the "grey list" even at Paris but FATF rules require at least three full member countries to block a nomination. The FATF meeting at Buenos Aires noted: "Pakistan made some progress to implement UNSCR 1267. However, concerns related to UNSCR 1267 remain, specifically that designated individuals and entities of concern continue to receive and disperse funds without controls being applied by the competent authorities".
Sources said Pakistan had been lobbying strongly to garner more support from FATF members like Russia, Gulf Coordination Council, and Turkey at Paris but the outcome of its attempts will only be known next Tuesday at the end of plenary meeting. Significantly, India, which is a full member of FATF, is not among the countries that have nominated Pakistan. The process for nominating Pakistan, sources said, had been led by the US Treasury department which reflects the Trump administration's hardening position on Pakistan in recent months.
In April, Pakistan is due for a full-scale extensive review or Mutual Evaluation Report (MER) of its financial system by the FATF. This is a detailed process which takes more than 18 months of review, followed by 12 months of analysis. Pakistan will be again in the spotlight at FATF after the completion of MER which will recommend a firm action plan to Islamabad to curb terrorist financing.
The "grey list" has countries FATF regards as having inadequate provisions in place to combat money laundering and terror financing and are subject to the FATF's monitoring process. The black list includes either countries which have "strategic deficiencies" with respect to these provisions (Bosnia and Herzegovina, Ethiopia, Iraq, Sri Lanka, Syria, Trinidad and Tobago, Tunisia, Vanuatu, Yemen) or "high-risk and non-cooperative jurisdictions" such as North Korea and Iran.
http://indianexpress.com/article/india/paris-terror-meet-set-to-turn-screws-on-pakistan-5061553/
--------
Isis dilemma: should 800 UK jihadists return home for trial?
Feb 12, 2018
The US has called on allied nations to do more to help deal with the growing number of foreign fighters being held by the West-backed Syrian Democratic Forces (SDF).
An estimated 30,000 foreign fighters joined Islamic State before the self-proclaimed caliphate began to crumble last year. Around 800 of them came from the UK, reports the BBC, and there is concern that these individuals will return home, or move elsewhere, and carry out further attacks.
Around a dozen members of the US-led coalition fighting Isis will meet for talks this week in Rome, where US Defence Secretary Jim Mattis will emphasise the need for countries to take back foreign Isis detainees.
"We are working with the coalition on foreign fighter detainees, and generally expect these detainees to return to their country of origin for disposition," said Katie Wheelbarger, a US defence official.
However, most nations "would be unwilling to take back detainees unless they have the evidence to prosecute them, and that often is difficult to collect in such battlefield captures", according to The Washington Post.
The issue has come to the fore following the capture of two British IS fighters, Alexanda Kotey and El Shafee Elsheikh - the final members of a four-man terror cell known as 'The Beatles'. UK Defence Minister Tobias Ellwood told newspapers including The Times it was important that "terrorists from any origin are transparently and fairly held account for their actions".
Ellwood suggested it was the UK's wish that the two fighters were tried at an international criminal court, according to the BBC. The news site says the pair are believed to have been stripped of their British citizenship.
Questions remain over whether returning Isis fighters may be sent to Guantanamo Bay, the notorious US prison in Cuba. President Donald Trump issuing an executive order last month that keeps the prison open, prompting speculation that additional detainees could be brought in.
"Guantanamo Bay created a new combatant status that bypassed the Geneva convention, used torture and failed to address a wider global jihadist insurgency that continues today," Ellwood said.
He added: "Given the scale of foreign fighters, we should consider an agreed international process involving The Hague, which ensures terrorists from any origin are transparently and fairly held account for their actions."
A number of countries "have openly criticised the use of Guantanamo, where detainees have been held for years without trial", says The Washington Post. Experts have argued that the facility serves as a recruiting tool for extremist groups.
"Only a well designed and implemented Disengagement, Deradicalisation, Rehabilitation and Reintegration (DDRR) programme can defeat terrorism," writes David Otto, a counterterror advisor for security consultancy firm Global Risk, in an article for Newsweek.
"Designed and implemented effectively, these programmes have the potential to kill terrorism and turn returning jihadist fighters into a valuable source of information that may lead to the final eradication of Islamic State."
US officials have told Reuters that there are hundreds of foreign fighters, and thousands of Syrian Islamic State militants, in SDF hands. "At one point, SDF forces were capturing 40 to 50 IS fighters, including Syrians, a day," the news site says.
In October UK government minister Rory Stewart said that they only way to deal with converts who leave Britain to fight for Isis was to kill them "in almost every case".
Full report at:
http://www.theweek.co.uk/91562/isis-dilemma-should-800-uk-jihadists-return-home-for-trial
--------
Morocco Leads Foreign Funding for French Mosques
By Sana Elouazi
February 12, 2018
The report finds that between 2011 and 2016, the Moroccan government allocated EUR 6 million, including wages to imams, to help finance mosques in France, where the secularism forbids the state from funding the establishment of any places of worship, according to a French law issued in 1905.
Morocco ranks just ahead of Saudi Arabia–whose financing is estimated at about EUR 3.8 million–and Algeria, whose contribution amounted to some EUR 2 million.
These foreign investments represent only about 20 percent of financing for mosques in France, the remaining 80 percent came from the French Muslim community.
Whereas private donations from members of France's Muslim community fund the majority of small mosques, big mosques are usually funded by other Muslim states especially Morocco, Saudi Arabia, Algeria, Kuwait, Qatar, the UAE, and Turkey.
The report states that there are about 2,450 mosques in France, mainly located in major cities. Sixty-four percent of these mosques are less than 150 square meters.
Islam, 2nd largest religion in France
The report notes that there are between 3 and 6 million Muslims in France, among whom almost 2 million are practicing; this figure makes Islam the second largest religion in France.
A just-released opinion survey by Institut Français d'Opinion Publique (IFOP) reveals that 56 percent of French people believe that Islam is compatible with the values of their country, while 43 percent believe the opposite.
This indicator that illustrates that the integration of French Muslims within France is still a work in progress.
On the other hand, this same survey reveals that 70 percent of the population would not be in favor of creating a tax on halal products whose revenues would be used to finance French Muslim organisations.
In an interview with the French weekly newspaper Le Journal Du Dimanche (JDD), president Emmanuel Macron said that he will lay the foundations for the organization of Islam in France in the first half of this year.
"We are working on structuring Islam in France and also on how to explain it," said Macron.
Full report at:
https://www.moroccoworldnews.com/2018/02/240510/morocco-leads-foreign-funding-for-french-mosques/
--------
Foreign jihadists should face trial at home, US tells Britain and allies
12 FEBRUARY 2018
The US has said it wants Britain and other allies to try their Islamic State jihadists captured on the battlefield, which could set them on a collision course over the fate of the two "Beatles".
The US is urging the UK and other members of the coalition fighting Isil to help deal with the growing number of foreign fighters that are being held by Syrian Democratic Forces partners, saying the militants should be turned over to face justice in their home countries.
The US-backed SDF is currently holding hundreds of foreign fighters, including Alexanda Kotey, 34, and El Shafee Elsheikh, 29, from London, and British-Canadian Muslim convert Jack Letts.
"We're working with the coalition on foreign fighter detainees, and generally expect these detainees to return to their country of origin for disposition," said Kathryn Wheelbarger, a senior Pentagon official.
"Defense ministers have the obligation and the opportunity to really explain to their other ministers or their other Cabinet officials just the importance to the mission, to the campaign, to make sure that there's an answer to this problem."
The comment has been read as a direct response to Gavin Williamson, the Defence Secretary, who said last week that the jihadists should not be allowed home.
"I don't think they should ever set foot in this country again," he said. "They turned their back on Britain, our values and everything we stand for — they are the worst of the worst."
Jim Mattis, US Defense Secretary, is expected to press the issue during a meeting in Rome tomorrow with his European counterparts.
The thorny subject of what to do with foreign Isil suspects has sparked intense debate in the West, with France saying they should be tried in situ by their captors.
The pair, who are thought to have had their British citizenship stripped, were arrested last month by the SDF as they tried to flee across the Syrian border to Turkey among refugees.
Together they make up half of an Isil cell commonly dubbed "The Beatles" because of the British accents, which tortured and beheaded Western hostages in a prison near the Syrian city of Raqqa.
US officials admitted that putting the two in the Guantanamo Bay, Cuba, detention facility is not an option. And British leaders have suggested they do not want the two men returned to to the UK.
The legal issues are daunting. Most nations, including the US, would be unwilling to take back detainees unless they have the evidence to prosecute them, and that often is difficult to collect in such battlefield captures.
The US could try to build a case around evidence gathered from Elsheikh and Kotey over the Beatles' torture and killing of American hostages James Foley, Peter Kassig and Steven Sotloff. Britain has made no suggestion they plan to do so for the British victims, aid workers David Haines and Alan Henning.
If Washington fails to do so, the pair's fate becomes uncertain.
The SDF has no internationally recognised legal status to try the suspects themselves and it is unclear what will happen to the hundreds of foreign suspects in their custody.
An SDF official confirmed to the Telegraph that they are currently holding the men in northern Syria and have not yet received any extradition appeal.
"Judging by the words of the British Defence Secretary I don't think the UK wants them back. He already said he wants all these fighters in Syria dead," Sherin Abdullah said. "We haven't heard anything from Britain at all."
The commander of the SDF said on Monday that they were overwhelmed by the number of foreigners in their detention and bemoaned how "no one wants to take them back".
"The capacity problem is very real," Ms Wheelbarger said, noting that at one point the SDF was capturing as many as 40 militants a day. "Success in the campaign means you get more people off the battlefield. ... These facilities are eventually going to be full."
Elsheikh and Kotey have already been interrogated at length by the CIA to extract intelligence about Isil's current operational capacity. They have also questioned them on the location of the burial sites of the Western hostages executed by fellow Beatle Mohammed Emwazi, known as "Jihadi John".
Full report at:
http://www.telegraph.co.uk/news/2018/02/12/foreign-jihadists-should-face-trial-home-us-tells-britain-beatles/
--------
Mideast
Hezbollah: Israeli Aggression No More Remains Unanswered
Feb 12, 2018
"Shooting down the Israeli fighter jet means that the the era of unanswered attacks has ended and Israel can no more use this rule in clashes and move in its desired path to attain its goals," Sheikh Qassem said, addressing a ceremony at the Lebanese parliament in Beirut on Sunday afternoon.
He underlined that from now on, the Israeli targets will be attacked from different regions in reaction to the regime's possible future aggressions.
Syria's Air Defense Units targeted an Israeli warplane after it raided the Syrian Army positions in the Central part of Syria.
The state-run SANA news agency quoted a field source as saying that an Israeli warplanes embarked on targeting a military base of the Syrian Army in Central part of the country on Saturday morning, adding that the Syrian air defense units tracked the warplanes and targeted more then one of them.
In the meantime, an Israeli media source reported that one of the Israeli jets was downed in al-Jalil region in Northern occupied Palestine by the Syrian air defense units' fire in the occupied Golan region.
In relevant remarks on Sunday, Secretary of Iran's Supreme National Security Council (SNSC) Ali Shamkhani rejected Israeli claims that the F16 fighter jet downed by the Syrian army was on a mission to target an Iranian drone, stressing that Damascus move contained a vital message to Israel.
"There is an important point in the recent events and in targeting an Israeli fighter jet: the Syrian army showed to the Zionists that the era of hit-and-run has ended," Shamkhani told FNA in Tehran during the nationwide rallies to commemorate the anniversary of the victory of the Islamic Revolution in Iran in 1979.
Asked about Israeli officials' claims that they had flown the F16 fighter jet, which was downed by the Syrian army, to intercept an Iranian drone flying over the occupied territories, he said, "It is an irrational claim as no F16 fighter takes off to target a drone."
Shamkhani also dismissed the Zionists' claim that they have attacked a Syrian-Iranian base in Syria, and said, "We play an advisory role in Syria."
The Arabic-website of Russia's Sputnik quoted Spokesman for the Israeli Army Avikhai Adra'ei as saying that the Syrian air defense units targeted an Israeli F16 fighter jet in Northern part of Palestine, adding that the downed warplane's pilots are alive and in good health condition.
The Israeli spokesman further claimed that an Iranian drone entered airspace of the occupied Palestine, but an Israeli combat helicopter targeted it. Iranian officials have rejected the claim.
The Joint Operations Room run by the allied forces of Syria, Hezbollah, Iran, and Russia said the drone never crossed the border into Israel, adding that Israel has raided its drone base at the T4 airbase in Central Homs province in Central Syria far away from the Israeli border. The operations room said the drones operating at the base are tasked with collecting vital intel on ISIL in Syrian territories. It also warned that the incident crossed the border of its tolerance, implying that it would reciprocate any further aggression by Israel.
In the meantime, other sources said that the two pilots of the down Israeli jet were injured and one of them is in critical condition.
Some sources reported that the badly inured pilot was wounded before ejecting form the warplane.
Damascus stressed on Thursday that the repeated Israeli attacks on Syria are a continuation of Israel's aggressive approach represented by supporting terrorist groups to prolong the crisis in Syria and to raise the morale of the terrorists.
In a letter sent to the United Nations Secretary General Antonio Guterres and the UN Security Council, Syria's Foreign Ministry stressed that the continuation of Israel's attacks only serves to support terrorist groups and to prolong the crisis in Syria.
"The government of the Syrian Arab Republic reiterates its warning to Israel on the serious repercussions of its attacks on Syria, its continued support for armed terrorist organizations, and its continued occupation of the Arab territories, including the occupied Syrian Golan, and it holds Israel fully responsible for that," it said.
It further went on to condemn the Tel Aviv regime's latest attack in which Israeli aircraft launched missiles from the Lebanese airspace on an area in Damascus countryside.
The letter noted that the attack coincides with "the launching of more than 1,000 rockets and mortar rounds during the past few days on neighborhoods, suburbs, diplomatic missions, service facilities, and churches in Damascus and other cities, where dozens of civilians were killed and hundreds others were wounded, most of them women and children."
The letter concluded by calling on the UN and the Security Council to condemn such actions and to take firm and immediate measures to halt those attacks.
During the past few years, Israel has frequently attacked military targets in Syria in what is considered as an attempt to prop up terrorist groups that have been suffering heavy defeats against Syrian government forces.
On several occasions, the Syrian army has confiscated Israeli-made arms and military equipment from militants fighting pro-Damascus forces. Israel has also been providing medical treatment to the extremist militants wounded in Syria.
http://en.farsnews.com/newstext.aspx?nn=13961123000788
--------
US and Turkish officials in talks as relations reach 'crisis point'
13 February 2018
ANKARA: Senior officials from the US and Turkey are holding urgent meetings as the strategic relationship between the two countries reaches breaking point over the war in Syria.
US Secretary of State Rex Tillerson will arrive for talks in Ankara later this week amid fears that troops from the two NATO allies could clash if Washington continues to back Kurdish rebels in the long-running conflict.
His visit is scheduled to take place just days after US National Security Adviser Herbert McMaster met an adviser to Turkish President Recep Tayyip Erdogan to discuss the growing tensions. US Defense Secretary James Mattis is also set to meet his Turkish counterpart Nurettin Canikli in Brussels this week.
The talks will take place as Turkish soldiers push deeper into northern Syria as part of a major offensive aimed at dislodging Kurdish guerrillas armed and supported by American forces in the fight against Daesh.
With the two sides refusing to back down, analysts told Arab News that US and Turkish officials are acutely aware of the need to find a diplomatic solution to the dispute before it is damaged beyond repair.
Mehmet Ali Tugtan, an expert on transatlantic relations at Istanbul Bilgi University, said, "For both parties, the least desirable outcome is a military confrontation. No matter who comes out on top, the result would be devastating, not just for Turkey and the US, but also for the NATO alliance."
On Jan. 20, Turkey launched Operation Olive Branch, a ground and air offensive targeting Syrian Kurdish People's Protection Units (YPG) in the Afrin region of northwestern Syria. It claims to have killed, injured or captured hundreds of militants in the campaign, while 31 Turkish soldiers have so far died.
However, the UN reported that an estimated 5,000 people were displaced in the first three days of fighting alone. The operation is now due to be extended east, to the area around the town of Manbij, bringing a sharp rebuke from US forces stationed there.
Turkey considers the YPG a threat to its sovereignty due to the group's links with the Kurdistan Workers Party (PKK), which it regards as a terrorist organization.
The US and EU also formally list the PKK as a terrorist organization, but Washington has relied heavily on the YPG in its military campaign against Daesh. This has led to increasingly heated exchanges between the two NATO members.
Yesterday Turkish Foreign Minister Mevlut Cavusoglu, claimed US troops were deliberately letting Daesh fighters hold pockets of territory to justify their continued partnership with the YPG. Speaking in Istanbul, he said ties between the two countries "are at a very critical point" and will "break completely" if they are not fixed soon.
The US acknowledges that Turkey has legitimate security concerns regarding its southern border, but has urged Ankara to show restraint in its operations against the Kurdish guerrillas. About 2,000 American troops are stationed in northern Syria, and Washington so far has refused to end its military and logistical support for the YPG.
Megan Gisclon, a researcher on US-Turkey relations at the Istanbul Policy Center, said that tensions were particularly high over the future of Manbij.
American commanders had been seen flying the US flag in the area, she said, and Turkish officials are worried that Washington is trying to establish a long-term military presence there.
"For Turkey, the only way to rebuild trust would be for the US to uphold its original promise to exit Manbij, taking the YPG with it. For the US, the best option would be to convince Turkey to ext directly from Afrin after its operation has ended," she said.
"Whether or not both sides are either capable or willing to compromise is the central question."
Tillerson's latest stopover comes as part of a wider diplomatic tour that will take in Kuwait, Lebanon and Jordan. He was in Egypt on Monday.
On Sunday, McMaster and Erdogan's spokesman, Ibrahim Kalin, met in Istanbul to discuss the growing acrimony between the two countries.
Full report at:
http://www.arabnews.com/node/1245281/middle-east
--------
Palestinian leader seeks Russia's backing over Jerusalem
February 12, 2018
Palestinian president Mahmud Abbas visits Russia on Monday in a bid to secure Russian President Vladimir Putin's support following Washington's recognition of Jerusalem as Israel's capital.
The Palestinian leader was set to visit Moscow two weeks after a visit by Israeli Prime Minister Benjamin Netanyahu.
Abbas has refused any contact with US President Donald Trump's administration since Washington's recognition of Jerusalem as the Israeli capital at the end of last year. Abbas is due to speak at the United Nations Security Council on February 20.
Palestinians see the US decision, which broke with years of international diplomacy, as a denial of their claim to East Jerusalem as the capital of an eventual Palestinian state.
Israel took control of East Jerusalem in the 1967 Six-Day War, annexed it and later declared it the indivisible capital of Israel.
The US Ambassador to the UN, Nikki Haley, has accused Abbas of lacking the courage needed to forge a peace deal with Israel.
Abbas in turn has rejected any mediation by Washington in the Israeli-Palestinian conflict and has promised his people to work towards full recognition of a Palestinian state by the United Nations.
Alexander Shumilin, a Middle East scholar at the Institute for US and Canadian Studies, called Abbas's visit "an attempt to cosy up to Russia , a consistent ally, and to stop Netanyahu leading Moscow astray during an improvement in Russia-Israeli ties".
Netanyahu visited Russia on January 29 and along with Putin attended a memorial ceremony at the Jewish museum in Moscow for the victims of Nazi camps. He took the opportunity to accuse Iran of wanting to "destroy" the Jewish state.
In turn, the Russian president likened antisemitism to "Russophobia" and said Russia and Israel were "cooperating closely", particularly against "attempts to falsify history".
Chances 'close to zero'
For Shumilin, Monday's visit "is a necessary political gesture for Abbas but can do little in the practical sense".
"It is also definitely not worth expecting a breakthrough from this visit," he added.
In 2016 Russia offered to host one-on-one talks without preconditions between Abbas and Netanyahu but these never materialised.
In January, Russian Foreign Minister Sergei Lavrov estimated that chances of resuming direct talks between the two sides in the current situation were "close to zero".
Lavrov also said "we understand the emotions" Palestinians feel towards Trump.
"We keep hearing in recent months that the US is about to publish some 'major deal' that... will satisfy everyone," he said. But he added that Russia "has not seen or heard of such a document or even any statement".
With relations between Washington and Moscow at a record low for the post-Cold War era, Abbas may be expecting that "Russia-US relations will get even worse and then Russia could do something to spite the US", Shumilin said.
On November 29, 2012, the United Nations designated Palestine as a non-member observer state after a vote by the General Assembly.
That enabled the Palestinians to join international organisations and the International Criminal Court, though they did not become a full UN member state.
Full report at:
https://nation.com.pk/12-Feb-2018/palestinian-leader-seeks-russia-s-backing-over-jerusalem
--------
Yemeni army foils attack by Houthis off Jazan
13 February 2018
Yemen's national army forces foiled on Monday an attack by the Houthis in Razih district off Jazan region in Saudi Arabia.
Al Arabiya correspondent reported that the Houthis tried to advance towards positions controlled by the National Army close to Fallaj mountain and al-Rakhum uplands, but this attempt was thwarted with the support of the Arab coalition.
The commander of the sixth brigade of the border guards, Brigadier General Hussein al-Amri told al Arabiya, that at least seven Houthis were killed, some wounded and others managed to run off following this operation.
Saudi forces also stopped an attack by the Houthis off Najran, on Sunday.
Houthi militants attempted to infiltrate across the Saudi border to carry out a military operation according to Al Arabiya correspondent.
A source told Al Arabiya that the Saudi forces confronted the militia immediately with arms and artillery.
Full report at:
https://english.alarabiya.net/en/News/gulf/2018/02/13/Yemeni-army-foils-attack-by-Houthis-off-Jazan.html
--------
Coalition: Houthis fired 95 missiles toward Saudi Arabia so far
12 February 2018
The spokesman for the Arab coalition forces in Yemen said that the Houthi militias targeted Saudi Arabia with 95 ballistic missiles since the beginning of the war.
Coalition spokesman Colonel Turki al-Maliki said at a press conference on Monday also that the militias were burning fuel trucks which belongs to the Yemeni citizens and accused the Houthis of targeting public property in Yemen.
Maliki presented on a screen in the conference hall, pictures and videos of operations against the Houthis at the border.
The coalition spokesman further said that coalition operations in recent weeks have resulted into deaths among the militias, including six Houthi leaders.
He added that the coalition is working with the international community to stop the recruitment of children, referring that the Houthis have also begun resorting to the recruitment of non-Yemeni children to fight their battles.
The spokesman also said that the coalition seeks to increase the number of those who benefit from the humanitarian aids in Yemen.
He added that all land and sea ports are open to Yemen, announcing that three agreements would be signed tomorrow between the King Salman Center and ISNAD Center and international organizations concerned with Yemen.
Full report at:
https://english.alarabiya.net/en/News/gulf/2018/02/12/Coalition-Houthis-fired-95-missiles-toward-Saudi-Arabia-so-far.html
--------
South Asia
Pope praises Bangladesh for interreligious harmony in meeting with Hasina
2018-02-13
Pope Francis, the leader of the Roman Catholic Church, has praised Bangladesh for interreligious harmony in a meeting with Prime Minister Sheikh Hasina in the Vatican City.
In the meeting on Monday, the pontiff also hailed Hasina for sheltering the Rohingya refugees who have fled persecution and violence in Myanmar.
Besides the pope, the prime minister met Vatican City Secretary of State Cardinal Pietro Parolin.
Foreign Secretary Md Shahidul Haque and Bangladesh Ambassador to Vatican Shameem Ahsan briefed the media in Rome after the meetings.
Shahidul said Pope Francis, during his visit to Bangladesh two and a half months ago, felt that interreligious harmony is in a good state in the country.
"It is assumed that the religious minorities are in bad condition in a Muslim-majority country. I don't know what the pope's idea was about Bangladesh. Now he thinks highly of Bangladesh," the secretary said.
Hasina was given a guard of honour when she reached the Vatican City from Hotel Parco Dei Principi Rome, the Prime Minister's Press Secretary Ihsanul Karim said.
Ambassador Shameem said Cardinal Parolin told Hasina Bangladesh has set an example by sheltering the Rohingya refugees.
When Cardinal Parolin asked about the progress in solving the crisis, Hasina said the solution lies in Myanmar, where it had stemmed from.
"Myanmar must create an environment in which the Rohingyas will agree to return there. Myanmar bears more responsibilities than we do in this regard," the ambassador quoted Hasina as saying.
She also urged the Vatican to create more pressure on Myanmar to implement the proposals she placed in the UN General Assembly.
She noted her five-point proposal including implementations of the recommendations by the commission headed by former UN chief Kofi Annan to resolve the crisis.
She will present the keynote at the opening session of the conference.
Hasina is expected to join a civic reception organised for her by expatriate Bangladeshis in Rome on Tuesday evening and return home on Friday.
https://bdnews24.com/bangladesh/2018/02/13/pope-praises-bangladesh-for-interreligious-harmony-in-meeting-with-hasina
--------
Thousands protest jailing of Bangladesh opposition leader Khaleda Zia
February 12, 2018
Thousands of Bangladeshi opposition supporters staged rallies across the country on Monday demanding the release of their jailed leader Khaleda Zia and free and fair elections.
Zia, twice prime minister in the Muslim-majority nation of 160 million, was imprisoned for five years last week for embezzlement, sparking riots from supporters who rejected the verdict as politically motivated.
The leader of the Bangladesh Nationalist Party (BNP) is expected to appeal but the conviction may affect her ability to stand in a general election slated for December.
Thousands of BNP activists in cities across Bangladesh joined hands in a march calling for Zia's immediate release from a prison in Dhaka.
"We want her immediate release and a free and fair election," BNP secretary general Fakhrul Islam Alamgir told AFP outside the national press club in Dhaka where more than 5,000 gathered.
Zia, 72, is expected to be freed on bail once the appeal has been lodged but her supporters fear Bangladesh 's ruling party will try and keep her detained on other charges.
She is accused of dozens of other criminal violations including corruption and violence.
One of her lawyers, Zainul Abedin, said authorities were attempting on Monday to hold Zia in connection with an arson attack in 2015.
Alamgir said at least 4,300 opposition officials had been arrested in the past fortnight as police sought to offset resistance ahead of Zia's sentencing.
A party vice chairman and two former ministers were among those detained, he added. Police have not commented on the arrests.
Zia is a former ally-turned-archrival of Prime Minister Sheikh Hasina.
The BNP boycotted the general election in 2014 that saw Hasina return to power, but Zia is expected to contest the upcoming poll in December.
Her son Tarique Rahman, who lives in exile in London, has been named as the acting opposition chief, despite being convicted and jailed in absentia for ten years on the same charges as Zia.
Last month prosecutors sought the death penalty over his alleged role in a deadly 2004 grenade attack that injured Hasina.
Full report at:
https://nation.com.pk/12-Feb-2018/thousands-protest-jailing-of-bangladesh-opposition-leader-khaleda-zia
--------
Two ethnic groups sign up to Myanmar's 'broken' peace process
February 13, 2018
The two groups have not actively clashed with the army for some time but were part of a bloc of powerful rebel armies that resisted signing the NCA under the former military
Two armed ethnic groups will sign on to a ceasefire in Myanmar on Tuesday in a ceremony the government hopes will showcase a significant victory for a peace process derided as "broken" by critics.
World attention has recently focused on the desperate plight of the some 700,000 Rohingya Muslims forced over the border into Bangladesh in western Myanmar by a violent military campaign.
But this is just one of some two dozen conflicts festering around the country's restive fringes, where ethnic minorities have been locked in decades-long battles with the state for more autonomy.
State Counsellor Aung San Suu Kyi announced that securing peace was her top priority when her civilian administration took office in 2016, ending five decades of military domination.
But there has been little to show for the effort, with swathes of the borderlands still embroiled in often drug-fuelled unrest that has displaced tens of thousands of people.
On Tuesday, the government can claim a symbolic victory after the New Mon State Party (NMSP) and Lahu Democratic Union (LDU) ink the National Ceasefire Agreement (NCA) in Naypyidaw, joining eight other militias who had signed onto the pact before Suu Kyi took office.
The two groups have not actively clashed with the army for some time but were part of a bloc of powerful rebel armies that resisted signing the NCA under the former military-backed government.
"We believe in Daw Aung San Suu Kyi but we'll have to see what happens on the road ahead because the government and the military are not very united," LDU chairman Kya Khun Sar told AFP ahead of the signing.
Powerful military
Myanmar's powerful army has stepped down from junta rule but still controls the key home affairs, borders and defence ministries as well as a quarter of parliamentary seats.
This effectively gives it carte blanche to conduct whatever military operations it wants around the country.
Many are therefore sceptical of success for Suu Kyi's "21st Century Panglong" peace talks, named after the agreement signed by her independence hero father that promised autonomy to major ethnic groups ahead of the country's independence from Britain in 1948.
"Regardless of the theatre and pageantry of the NCA signing for the Mon and Lahu, the peace process is broken and only the state counsellor's office seems unaware of this reality," political analyst David Mathieson told AFP, saying that the military has been the "main actor derailing the peace process".
Mai Win Htoo, a Taaung National Party MP, said peace negotiations have yet bear fruit in his community in restive northern Shan state.
"Since it started, there has been more fighting in my area. People have had to run away. They lose their jobs, their homes. It has brought war on our area."
Myanmar's diverse patchwork of ethnic groups make up around a third of the population, but the government and military have long been dominated by the majority Bamar ethnicity, to which Suu Kyi belongs.
Full report at:
http://www.dhakatribune.com/bangladesh/foreign-affairs/2018/02/13/two-ethnic-groups-sign-myanmars-broken-peace-process/
--------
ISIS militant in charge of logistics supplies arrested in Jalalabad city
Feb 13 2018
A key ISIS group member, who was in charge of the logistics supplies for the terror group in eastern Nangarhar and Kunar provinces, was arrested during an operation of the Afghan intelligence operatives.
The Nangarhar governor's office in a statement said the detained individual has been identified as Zabiullah and was arrested from the 8th police district of Jalalabad city.
The statement further added that Zabiullah was involved in providing logistics support to the terror group in Nangarhar and Kunar provinces.
According to the provincial government, Zabiullah was mainly operating between the two provinces and supporting the ISIS militants in Kunar province by arranging their logistics needs.
Zabiullah has confessed that he was mainly transferring arms and ammunition to the militants from Nangarhar to Kunar province.
He has told the intelligence operatives that he was involved in this work for the past one year and was using various routes to supply weapons to terror group's fighters in Kunar.
In the meantime, the provincial government said another militant who was supplying arms and ammunition to the Taliban group from Laghman to Nangarhar province was also arrested by the security.
The detained individual has been identified as Obaidullah who was also famous as Jabir, the statement said.
Full report at:
https://www.khaama.com/isis-militant-in-charge-of-logistics-supplies-arrested-in-jalalabad-city-04480
--------
New video shows massive airstrike on ISIS compound in East of Afghanistan
Feb 12 2018
A new video released by the US military in Afghanistan shows massive airstrike on a compound of the ISIS terrorist group in eastern Nangarhar province of Afghanistan.
The latest airstrikes were reportedly carried out last week in the vicinity of the restive Achin district amid ongoing air campaign against the terror groups.
There are no reports regarding the casualties inflicted on ISIS terrorists in the particular raid but the US military says "An airstrike destroys an ISIS-K fighting position during Afghan Commando offensive operations in Mohmand Valley, Nangarhar province. Over the winter, Commandos pushed ISIS-K seven kilometers from Afghan civilian centers positions in Mohmand Valley."
This comes as the Afghan and US forces have launched a series of new airstrikes against the terror groups across the country during the recent weeks.
Over the past 96 hours, U.S. forces conducted air operations to strike Taliban training facilities in Badakhshan province, preventing the planning and rehearsal of terrorist acts near the border with China and Tajikistan by such organizations as the East Turkistan Islamic Movement and others, according to a report by NATO-led Resolute Support Mission.
The strikes also destroyed stolen Afghan National Army vehicles that were in the process of being converted to vehicle-borne improvised explosive devices.
Full report at:
https://www.khaama.com/new-video-shows-massive-airstrike-on-isis-compound-in-east-of-afghanistan-04476
--------
UN to take part in Rohingya repatriation, says Bangladeshi minister
Feb 12, 2018
Bangladesh has signed a deal to involve the United Nations in the controversial process of returning persecuted Rohingya refugees to Myanmar's state of Rakhine, the country's junior foreign minister says.
Shahriar Alam told reporters at a Rohingya refugee camp in Bangladesh's southeastern border district of Cox's Bazar on Monday that the Dhaka government was involving the UN refugee agency so that it could not be accused of sending anyone from the stateless Muslim minority back against their will.
He said refugees would be asked to fill out repatriation forms in the presence of UN officials.
"We have repeatedly said this repatriation process is very complex," media outlets quoted Alam as saying.
"We want to fill up the (repatriation) forms in their (UN) presence so that no one can say they [have] been forced by someone or sent back against their will," he added.
Elsewhere in his remarks, Alam urged patience and said Bangladesh did not want to send back the refugees only to have them returned, as has happened after past rounds of repatriation.
Bangladesh "wants to make sure the situation in Myanmar is safe and secure," he noted.
There was no immediate comment from the UN, which has said previously that any repatriation must be voluntary.
Since August, a military crackdown on the Rohingya Muslim minority in Myanmar has forced nearly 700,000 members of the one-million-plus-strong community to flee their homes in Rakhine and head to Bangladesh.
Despite the campaign against the Rohingya, Myanmar and Bangladesh agreed late last year to repatriate all the newly-arrived refugees.
The implementation of that agreement was supposed to begin last month, but it was postponed, with no new date set, amid fears that the refugees may be coerced into leaving.
Refugees are still entering Bangladesh with harrowing tales of abuses, including mass rapes, executions and torture, by Buddhist mobs and the military. Many have lost their homes to arson attacks in their native Rakhine state, where rights groups say entire Rohingya settlements have been burned to the ground.
The UN has described the campaign against the Rohingya as textbook example of ethnic cleansing, saying it possibly amounts to genocide in a court of law.
The Rohingya want guarantees of citizenship before returning to Myanmar, which views them as illegal immigrants from Bangladesh.
Full report at:
http://www.presstv.com/Detail/2018/02/12/552143/Myanmar-Bangladesh-Shahriar-Alam-Rohingya
--------
North America
Activist Wants To Stop Muslims From Participating In Minnesota's GOP
13/02/2018
A conservative activist in Minnesota introduced a resolution last week to "minimize and eliminate the influence of Islam" in the state's Republican Party.
Jeff Baumann, a notorious anti-Muslim activist in Minnesota's Senate District 36, also urged in the resolution that "no Islamic leader, religious or otherwise, shall ever be allowed to deliver the invocation at any Republican convention or event."
The resolution further called for "legislation, policies, and educational programs [to] be implemented... so as to evermore minimize and eliminate the influence of Islam within Minnesota, including Minnesota schools."
Baumann presented the resolution at a caucus meeting in Coon Rapids, a suburb of Minneapolis. It's unclear whether the resolution will pass there, but it appears to have failed in other districts, according to Jaylani Hussein, executive director of the local Minnesota chapter of the Council on American-Islamic Relations.
Reached by phone Monday, Baumann argued that "there is a natural tension" between Islam and the U.S. Constitution, calling the religion a "collective" where there is "very little room for Muslims to have independent thought." He also said Muslim-Americans currently involved in politics are "dishonest."
"I believe that what I am saying is correct. I believe what I'm saying is not hateful, not ignorant and not bigoted," Baumann told HuffPost. "It is my job to help persuade you to come over to my way of thinking."
Baumann claimed that Muslims have a "fundamentally different vision for how society and governments should be organized," and that the future of Muslim-Americans in leadership positions would be one of "civil war, genocide, concentration camps and other horrible, horrible things."
Jennifer Carnahan, chair of the Minnesota Republican Party, did not immediately respond to a request for comment.
"We believe this is the resurgence to the hoodless KKK," Hussein told HuffPost. "This is not acceptable behavior. Him and others really are a threat to our democracy. If unchecked, these individuals can sway individual members of [the] party."
In the past, Baumann has spoken against building mosques in Minnesota, describing it as "treason" and "aiding the enemy."
His resolution comes at a moment of acute prejudice against Muslims in the North Star State. Recently, two Republican state lawmakers and a local GOP official in Minnesota came under fire for reportedly sharing a Facebook post that accused Muslims of preparing to "infiltrate" the party's caucuses, after a group of Muslims had attended a caucus training session held at a local mosque.
Jeff Johnson, a leading Republican candidate for Minnesota governor, defended the GOP lawmakers in a conservative podcast earlier this month. "There are some here who are trying to change what America is," he said. "And we can't allow that."
Phillip Parrish, another Republican candidate for governor in Minnesota, claimed earlier this year that the Islamic State militant group was "the true representation of Islam," and that the religion of more than 1.6 billion people is "ultimately not a faith" and "fundamentally incompatible with U.S. law."
Anti-Muslim activists often depict Sharia, or Islamic law, as a brutal judicial system that Muslims want to institute in place of the U.S. Constitution. In reality, though, no national Muslim organization has ever called for Sharia to supercede American courts, nor have American Muslims demanded such a change.
As it happens, one of the two Muslims currently serving in Congress, Democratic Rep. Keith Ellison, is from Minnesota. (The other, Democratic Rep. Andre Carson, is from Indiana.)
As of Monday afternoon, there had been no reports of civil war, genocide or concentration camps in Ellison's district.
http://www.huffingtonpost.in/entry/minnesota-gop-muslims_us_5a81d2e8e4b08dfc9306adf8
--------
US Secretary of State says Washington backs Egypt in fight against terrorism
12 February 2018
US Secretary of State Rex Tillerson said on Monday the United States supports Egypt's fight against Islamic State but reiterated that it advocated free and fair elections in the Arab country.
Speaking at a joint news conference with his Egyptian counterpart, Tillerson also said that Washington remained committed to achieving a lasting peace between Israel and the Palestinians, despite President Donald Trump's decision to recognize Jerusalem as Israel's capital.
Tillerson arrived in Egypt at the start of a regional tour amid heightened tensions between Israel and Syria after an Israeli F-16 aircraft was shot down. It also follows a major security operation by the Egyptian military to crush Islamist militants who have killed hundreds of people since 2013.
"We agreed we would continue our close cooperation on counterterrorism measures," Tillerson said.
"The Egyptian people should be confident that the US commitment to continue to support Egypt in fight against terrorism and bringing security to Egyptian people is steadfast."
The Egyptian military campaign comes ahead of presidential election in March, in which President Abdel Fattah al-Sisi is seeking a second term in office.
Asked about the Tillerson said the United States supports a credible, transparent election in Egypt and Libya.
"We have always advocated for free and fair elections, transparent elections not just in Egypt but in any country," Tillerson said.
Full report at:
https://english.alarabiya.net/en/News/middle-east/2018/02/12/US-Secretary-of-State-says-Washington-backs-Egypt-in-fight-against-terrorism.html
--------
Spend Afghan war money at home: Paul to Trump
Feb 12, 2018
US Republican Senator Rand Paul has called on President Donald Trump to scrap his plans for extending years-long American military presence in Afghanistan and spend the Afghan War funding at home instead.
"I think the Afghan war is long past its mission," Paul told CBS on Sunday, referring to the 2001 invasion and the following occupation of Afghanistan by American forces.
"I think now it's a nation building exercise. We're spending 50 billion dollars a year. And if the president really is serious about infrastructure, a lot of that money could be spent at home," he argued.
The Kentucky senator, who bowed out of the 2016 Republican presidential primary after failing to compete with Trump, said the US had no business rebuilding the war-ravaged country or build bridges and buildings in Pakistan.
On August 21, Trump announced that he would increase US troops in the country, prolonging a 17-year war which he had once described as a "complete waste."
Since Trump took office, the number of troops has nearly doubled in Afghanistan – from 8,500 in early 2017 to 14,000 today.
US officials have estimated that the military presence in the war-torn country will cost taxpayers more than $45 billion this year.
Paul said Trump was one of "the least interventionist" US presidents but he was surrounded with people who kept telling him there was a military solution to the Afghanistan debacle.
"The generals who surrounded him with don't want to admit that there isn't a military solution. And so the war goes on and on and on," Paul argued. "And really I think after 15 years and a trillion dollars that the Afghan it's time for them to take over their country."
The second longest war in the US history, which has killed over 2,000 American soldiers and injured 20,000 more, has cost the US economy more than $714 billion dollars, according to the Pentagon's Special Inspector General for Afghanistan Reconstruction (SIGAR) July report.
Paul said in his interview that American voters wanted Congress to have a say in governments' plans for invading other countries.
Full report at:
http://www.presstv.com/Detail/2018/02/12/552107/Rand-Paul-trump-Afghanistan-war-SIGAR
--------
Pakistan
Pak-Saudi ties getting stronger with each passing day: Prince Jalwi
Feb 13, 2018
ISLAMABAD: Pakistan is a blessing by the Almighty and Pak-Saudi relations are exemplary and are getting stronger with each passing day.
This was stated by Prince Jalwi Bin Saud Bin Abdul Aziz Monday during his visit to International Islamic University, Islamabad (IIUI). He was accompanied by Saudi Ambassador to Pakistan Nawaf Saeed Al-Malki.
The prince along with his delegation members was received by IIUI Rector Dr Masoom Yasinzai and IIUI President Dr Ahmed Yousif Al-Draiweesh along with other high-ups of the university at the new campus.
"Islam is recognition of Muslims, it's the umbrella which makes them all a body," said the prince while delivering his speech in a meeting with IIUI leadership. He added that he had heard about the services and scope of IIUI, but now he witnessed that the institution was a hub of Muslim unity which was providing best minds to the Muslim world.
He reiterated his resolve that Saudi Arabia would keep cooperating with IIUI for academic excellence and in other projects. He also prayed for the prosperity of Pakistan and the university.
Dr Masoom Yasinzai told the prince in the briefing about the university that it was focusing on providing quality education to the youth of more than 4o countries, integrated with the teachings of Islam. He told that IIUI was also working to provide a solution of the contemporary challenges and bring a well-balanced human resource in the field according to the societal needs.
IIUI president briefed the delegation about the nine faculties and foreign faculty members at IIUI, which he said hailed from Egypt's Al-Azhar university, Umul Qura university, Madinah University and Imam Ibn Saud University of Saudi Arabia.
Later, Prince Jalwi inaugurated a centre for youth engagement and de-radicalization at Iqbal Institute for Research and Dialogue and an international studio at Dawah academy of the university.
https://www.pakistantoday.com.pk/2018/02/12/pak-saudi-ties-getting-stronger-with-each-passing-day-prince-jalwi/
--------
No decision on further talks with Islamabad: Kabul
February 13, 2018
KABUL - The Ministry of Foreign Affairs of Afghanistan has said that no decision has been taken regarding the continuation of talks with Pakistan in the framework of Afghanistan-Pakistan Action Plan for Peace and Solidarity (APAPPS). According to Khaama Press, Afghan Foreign Ministry spokesman Ahmad Shekib Mostaghani said that no improvements have been made on issues critical to Afghanistan during the second round of the talks . Mostaghni further said the Afghan delegation did not receive clear answers regarding the subjects that are important for Afghanistan and therefore no decision has been made so far to continue the talks .
https://nation.com.pk/13-Feb-2018/no-decision-on-further-talks-with-islamabad-kabul
--------
Imran Khan envisions Pakistan as 'Islamic welfare state'
Feb 13, 2018
ISLAMABAD: Pakistan Tehreek-e-Insaf (PTI) Chairman Imran Khan said on Monday that he envisioned Pakistan as an Islamic welfare state which would get the country rid of feudalism.
"I strongly oppose the feudal system and believe in transforming Pakistan into an Islamic welfare state based on the ideology of Allama Iqbal–my ideological role model," Imran told an inauguration ceremony of a lawyers' club.
It is important to note that Imran has often been criticised for having feudal political leaders by his side, such as disqualified parliamentarian Jahangir Khan Tareen and Shah Mehmood Qureshi.
He also said that he would strengthen state institutions if he were elected in the next general election, adding that accountability is essential in institutions in a democratic setup.
He also claimed that for a single ticket of the Senate, he was offered Rs 400 million.
Responding to Pakistan Muslim League – Nawaz's (PML-N) allegation that the PTI was lying about the plantation of a billion trees in Khyber Pakhtunkhwa (KP), he said that his government had planted more than a billion trees and the project had been audited by World Wildlife Fund twice.
Full report at:
https://www.pakistantoday.com.pk/2018/02/12/islam-envisions-pakistan-as-islamic-welfare-state/
--------
Pakistan bans UN-designated terror groups: report
Feb 13, 2018
ISLAMABAD: Pakistan has promulgated an ordinance to ban outfits that the United Nations (UN) has designated as terrorist organisations. The ordinance amends the Anti-Terrorism Act of 1997 and enables authorities to freeze the assets of 27 such outfits, including Lashkar-e-Taiba and Jamaat-ud-Dawa, according to a local English daily.
President Mamnoon Hussain signed the ordinance last week, but it was made public on Monday. It goes into effect immediately.
The UN Security Council had banned these groups, and the ordinance will enable Islamabad to seal the offices of these groups. The anti-terror funding wing of Pakistan's National Counter-Terrorism Authority will now work with relevant authorities and recommend possible courses of action, India Today reported.
The Securities and Exchange Commission of Pakistan had already banned these organisations and individuals involved in them from collecting donations in the country.
Full report at:
https://www.pakistantoday.com.pk/2018/02/13/pakistan-bans-un-designated-terror-groups-report/
--------
JIT formed to probe Intizar killing
February 13, 2018
KARACHI - Provincial Home Department Monday formally constituted a Joint Interrogation Team (JIT) ahead of one month long pending investigations into a murder case of a Malaysia return student in Karachi's posh locality by the personnel of the Sindh police's specialised unit.
A JIT was formed following an order issued by Sindh Chief Minister Syed Murad Ali Shah about to probe into Intizar murder case. This was decided following Intizar's father Ishtiaq Ahmed called on chief minister and expressed serious reservations over the investigation.
According to notification issued on Monday, Additional IG Counter Terrorism Department Sanaullah Abbasi will be head of JIT while Zone South police chief DIG Azad Khan and one each representative from Inter Services Intelligence (ISI), Intelligence Bureau (IB), Pakistan Rangers, special branch of Sindh police will be members of JIT . "The JIT shall investigate the matter within 15 days and submit its report to home department," the notification said.
"On the recommendation of IGP Sindh and with the approval of Sindh chief minister, a JIT is hereby constituted in FIR No 16/18 under Section 302/34 registered with Darakshan police station regarding the killing of Intizar Ahmed," reads a notification issued by secretary to government of Sindh, home department. "Focus, aspects and framework notified under the home department's order shall strictly be adhered to."
A 19-year-old Malaysia return student Intizar Ahmed was shot dead in DHA on January 13 by officials and personnel of a specialised unit of Sindh police - the Anti Car Lifting Cell. Initially, the police termed the incident as an act of targeted killing while later it was discovered that Intizar was shot dead by a team of ACLC comprised on at least nine members including two inspector ranked officers and two personal security guards of the former ACLC chief SSP Muquddus Haider. All the nine cops were later arrested after they were booked in a murder case of Intizar Ahmed.
However, the IGP Sindh later also suspended the then ACLC chief SSP Muquddus Haider.
SSP Haider was also included in the investigations following demand and allegations made against him by Intizar father over his alleged involvement.
The Intizar killing remained in pending since it occurred. Initially, District South Investigations SP Farooq Awan was appointed as an investigation officer, however, later the IGP Sindh appointed CTD DIG Amir Farooqui as an investigation officer of the case, who in his initial investigations found the ACLC cops guilty and formed a JIT headed by CTD SSP Pervez Chandio.
This was the second JIT formed by Counter Terrorism Department of the Sindh police regarding the murder case of Intizar Ahmed as earlier JIT formed about to probe a murder case of Intizar Ahmed had stopped working last week following a controversy arose and questions raised on the authenticity of the Joint Interrogation Team (JIT) as this was the first time when the JIT was formed by CTD instead of home department despite the previous JIT had been recorded the statements of all the people related to the killing of Intizar murder case.
Full report at:
https://nation.com.pk/13-Feb-2018/jit-formed-to-probe-intizar-killing
--------
Southeast Asia
Violent extremists may be deradicalised with social services, says Jakarta-based think tank
12 Feb 2018
JAKARTA: Violent extremist groups in Indonesia that are influenced by the Islamic State ideology may be rehabilitated if the government can provide them with social services, the Institute for Policy Analysis of Conflict (IPAC) based in Jakarta said in a report released on Monday (Feb 12).
It said groups such as the Seventh Regional Command (KW7) based in Bandung, West Java have resisted extremist teachings for a long time due to the social services, such as health and education benefits provided to its members. However, the group then became convinced of IS' ideology and formed the Bandung branch of the Jamaah Ansharul Daulah (JAD), a terrorist group that pledges allegiance to IS.
IPAC now believes there's a chance that members of the group can be reformed.
"One model to explore for communities with histories of extremism might be to focus on social service delivery through leaders who themselves have disengaged from violence," said IPAC Director Sidney Jones in the report.
The report said that influential teachers have the ability to recruit large numbers of followers into extremist groups, and they can possibly influence them to quit the groups as well.
Members of the JAD Bandung were responsible for the double suicide attacks at the Kampung Melayu bus terminal in East Jakarta in May 2017 that left three police officers dead.
The IPAC report said that by now, most of the members of JAD Bandung were inactive, in prison or dead.
"There are now more than 30 members of this group in detention, including some 20 in the detention centre at paramilitary police headquarters in Kelapa Dua, south of Jakarta," said Ms Jones.
She added that some of the members are reportedly having second thoughts about the IS ideology, following the militant group's defeats in the Middle East.
"The chances of their disengaging from further violence are high, as long as they are not detained with other IS militants and further radicalised," said Ms Jones.
https://www.channelnewsasia.com/news/asiapacific/violent-extremists-may-be-deradicalised-with-social-services-9952648
--------
Duterte draws fire for ordering troops to shoot female rebels in the vaginas
By FELIPE VILLAMOR
13 FEBRUARY, 2018
MANILA — President Rodrigo Duterte, the Philippine strongman who has earned a reputation for dirty tactics and language, has now been criticised for having boasted that he had ordered soldiers to shoot female communist guerrillas in the genitals.
"Tell the soldiers, 'There's a new order coming from the mayor,'" the president said in a speech, recalling a directive he said he had given when he was mayor of Davao City. "'We will not kill you. We will just shoot you in the vagina,'" he added.
"We will just shoot your [genitals], so that if there are no more [genitals], you would be useless."
Mr Duterte made the remarks in a speech to former rebels last week, but the comments went largely unreported because he was speaking in his native Visayan language.
He expressed exasperation that some women preferred joining the New People's Army, a communist rebel force that has been waging an insurgency since 1969, to raising children.
An official government translation of the speech on Feb 7 replaced the word vagina with a dash.
The transcript says the audience laughed in response.
Since Mr Duterte's remarks began circulating more widely, the criticism of his choice of words has been fierce.
It "is just the latest in a series of misogynist, derogatory and demeaning statements he has made about women," said Carlos Conde, the Philippines researcher for Human Rights Watch.
"It encourages state forces to commit sexual violence during armed conflict, which is a violation of international humanitarian law."
Representative Emmi de Jesus of the Gabriela Women's Party denounced Mr Duterte's "nasty remark," saying that the President had, in effect, given the green light for soldiers to violate women's rights.
"He has further presented himself as the epitome of misogyny and fascism terribly rolled into one," she said.
This is not the first time Mr Duterte had been criticised for crude remarks about women. During the presidential campaign in 2016, he made a joke about the rape and murder of an Australian missionary by inmates during a prison riot in 1989 in Davao City.
Recalling his reaction on seeing the woman's body, he told a crowd: "I was angry because she was raped. That's one thing. But she was so beautiful. The mayor should have been first."
In November, Mr Duterte told soldiers fighting militants in Marawi that they could rape up to three women without getting punished.
He was most recently criticised in late January for telling Indian businessmen that he would make virgins a "come-on" to foreign investors and visitors to the Philippines.
He made this point during a meeting with the businessmen on the last day of his official visit to India on Jan 26 when criticised the ideology of the Islamic State terror group.
"And the come-on is that if you die a martyr, you go to heaven with 42 virgins waiting for you. I'd like to have the virgins here, not in heaven. God may not allow it," he said.
"Well, if I could just make it a come-on also for those who would like to go to my country," the President added, to laughter from the mainly male audience.
He has also used sexual jokes and rumours to attack women who have questioned his contentious and bloody war on drugs, including Leila de Lima, a senator and former justice minister who has been a vocal critic of his.
Ms De Lima is in prison awaiting trial on what she says are trumped-up bribery charges.
At hearings before her arrest, embarrassing details were disclosed of a romantic affair between her and the driver and bodyguard accused of collecting bribes on her behalf; the senator has described this as part of a campaign by the Duterte administration to harass and silence her.
Last Wednesday, presidential spokesman Harry Roque defended Mr Duterte's string of sexist comments, saying critics should lighten up.
Full report at:
http://www.todayonline.com/world/duterte-draws-fire-ordering-troops-shoot-female-rebels-vaginas
--------
Israeli officials attended UN conference in Malaysia last week - reports
Feb 13, 2018
TEL AVIV - Officials from Israel including a former Cabinet minister and a former deputy ambassador attended a conference in Kuala Lumpur last week and met up with Malaysian officials, Tel Aviv's foreign ministry told Israeli media.
The Israeli officials used their Israel passports to enter Malaysia to attend the week-long World Urban Forum (WUF 9) in Kuala Lumpur that started on Feb 7, according to a report in the Times of Israel news site on Monday (Feb 12).
The conference was hosted by the United Nations Human Settlements Program, known as UN-Habitat.
Malaysia is a Muslim-majority country with no diplomatic ties with Tel Aviv, and is a staunch supporter of the Palestinian cause.
"Malaysia was compelled to host the Israelis, since it was required to grant visas to all delegations in order to hold the international conference", the report quoted Israel's Hadashot TV as saying.
The Israeli delegation, described by Times of Israel in a " first-of-its-kind visit", was headed by David Roet, who has served as Israel's deputy ambassador to the UN.
The report in Hadashot TV said other delegation members included a former Cabinet minister Ofir Pines and other senior Foreign Ministry officials.
Israel's Foreign Ministry spokesperson Emmanuel Nahshon was quoted as saying that Mr Roet "entered Malaysia with an Israeli diplomatic passport, participated in the conference with other Israeli representatives and also met Malaysian officials".
The news site noted that while Israel and Malaysia have no diplomatic relations, official data published in 2014 by the Israeli Central Bureau of Statistics showed a "booming, but very discreet" trade relationship totaling some US$1.5 billion (S$2 billion) per year.
Mr Roet posted a series of tweets with photos from the visit, and expressed hope that relations between the countries improve in the future.
"Proud to have led Israel's official delegation to the UN's international WUF 9 meeting in Kuala Lumpur," he wrote on Twitter.
He called it a "unique experience for an Israeli diplomat to visit Malaysia."
He added: "I have great hopes for good relations between our two countries in the future."
He said he found "many similarities between Israelis and Malaysians. A Multifaceted society of people from different backgrounds working together for a better future."
He also wrote that the Israeli-developed app Waze is popular in Malaysia. "It's a global phenomenon. Taxi drivers in Malaysia use Waze to get around Kuala Lumpur's traffic."
In 2015, Malaysia raised sporting controversy after it refused the entry of two Israeli windsurfers to compete in the Youth Sailing World Championships in Langkawi island.
Malaysia in 1997 allowed the Israeli cricket's team to participate in the International Cricket Council Trophy in Kuala Lumpur.
Full report at:
http://www.straitstimes.com/asia/se-asia/israeli-officials-attended-un-conference-in-malaysia-last-week-reports
--------
Indonesia to do more to help others
Feb 13, 2018
Indonesian President Joko Widodo said yesterday it was time his country stopped receiving aid, and instead lend a hand to help others.
To this end, Jakarta is setting up an agency to manage its international aid programmes, starting with a budget of 1 trillion rupiah (S$97 million).
It has also contributed to peacekeeping efforts in Afghanistan and is campaigning for a non-permanent seat on the United Nations Security Council for 2019-20.
As home to more than 260 million people and the country with the largest Muslim population, Indonesia has a responsibility to be part of the solution to global issues, Mr Joko told a gathering of top Indonesian diplomats, with Foreign Minister Retno Marsudi present.
"I have asked the Foreign Minister... to continue to ensure Indonesia's contribution to world peace," the President added.
Mr Joko's call to his ambassadors to step up Indonesia's contributions on the global stage comes two weeks after his five-nation visit to Afghanistan, Bangladesh, India, Pakistan and Sri Lanka.
Analysts noted the trip helped Indonesia revive strategic and economic links, and signalled Mr Joko was prepared to be a world leader - a role his predecessor Susilo Bambang Yudhoyono sought to play in his 10 years in office.
Mr Joko, who took office in October 2014, was largely preoccupied with domestic issues such as ensuring economic growth and infrastructure developments during the initial years of his administration.
Centre for Strategic and International Studies' executive director Philips Vermonte saw Mr Joko's remarks as a move to establish Indonesia as a middle power.
"It is true that Indonesia is still struggling for the welfare of its own people, but this is not hindering its contribution to the rest of the world," he told The Straits Times.
Indonesia has recently tried to do its part to help resolve conflicts in Palestine and Myanmar's Rakhine state, and Mr Joko visited a refugee camp for displaced Rohingya in Bangladesh last month. Yesterday, Mr Joko said he saw how rebuilding efforts in Afghanistan, which Indonesia supported, had led to renewed unity there, while efforts against injustice and oppression in places like Palestine must continue.
"The Palestinian President calls Indonesia a true friend, the President of Afghanistan expressed appreciation for Indonesia's contribution to peacekeeping," he said. "Indonesian diplomacy has also facilitated communication between Myanmar and Bangladesh on issues at their borders."
Mr Joko also told his envoys more needs to be done to help the country fulfil its economic potential.
For instance, although Indonesia is a member of the Group of 20 nations, its exports still lag behind its neighbours, he added.
"Indonesia's economic growth in 2017 was 5.07 per cent, we are targeting 5.4 per cent in 2018," he said. "If we are consistent we can raise our GDP, and in 2045 become the fourth largest economy."
But to continue its progress as a global player, Indonesia must shake off an inferiority complex against other nations, Mr Joko said.
Full report at:
http://www.straitstimes.com/asia/se-asia/indonesia-to-do-more-to-help-others
--------
Africa
Security forces retake Somali villages from al-Shabaab
12 February 2018
Security forces backed by African Union's peacekeeping mission AMISOM on Monday captured villages from al-Shabaab armed group during an operation in Lower Shabeelle region, according to a regional deputy governor.
The villages of Awdhigle and Mubarak in Lower Shabeelle region were cleared of al Shabaab during the operation, Lower Shabeelle Deputy Governor Abdifitah Hajji Abdulle said.
The troops also cleared Darasalam and Malable neighborhoods in Lower Shabeelle province.
"With the help of AMISOM, we have captured four main areas; the operation is still ongoing; we have destroyed security checkpoints, al-Shabaab's wing Radio now is off air and they are running away from the area," Abdulle added.
The deputy governor also said only al-Shabaab targets were being destroyed and "utmost care" was being taken to avoid harm to civilians.
http://www.worldbulletin.net/africa/198767/gambia-president-invites-turkish-investors
--------
Gambia president invites Turkish investors
12 February 2018
Gambian President Adama Barrow on Monday promised a conducive environment for Turkish investors as he met Turkish officials in Istanbul.
''The Gambia is a country governed by the principles of democracy and it offers a favorable geographical position and a better system for Turkish investors,'' he said.
Speaking at a meeting organized by Turkey's Foreign Economic Relations Board (DEIK) in Istanbul, Barrow said: "Being in this wonderful country is a great honor for us."
He also praised Turkey for being a great country from ancient times to present.
"The Gambia has a history of a 22-year-old democracy, we need support from a great country like Turkey to do better as a nation. We, therefore, want to sign a new beginning between the Gambia and Turkey," Barrow added.
He said Turkey could support the Gambia in many sectors. "Especially aviation, tourism, agriculture, and health sectors are great opportunities to invest in the Gambia."
"With plans of infrastructural improvements to be done in a near future, we believe Turkey is among the best candidates to invest and work in these areas of my country," he added.
Full report at:
http://www.worldbulletin.net/africa/198774/gambia-president-invites-turkish-investors
--------
Turkey, Africa vow to boost ties at Istanbul conference
12.02.2018
Turkey and African countries on Monday agreed to have "a streamlined and focused African Union-Turkey partnership, a statement said.
The Turkey-Africa 2nd Ministerial Review Conference was held in Istanbul with 19 African countries in attendance.
In a statement -- titled The Second Ministerial Review Conference of African Union-Turkey Partnership -- the member states said they discussed "further steps in order to enhance the cooperation between the African Union and Turkey".
The African Union welcomed an increase in the diplomatic representation between the African countries and Turkey.
Turkey currently has 41 embassies in African countries, up from only 12 in 2009. There are 33 African embassies in Ankara. Turkey aims to open embassies in all 54 African countries.
The importance of trade and investment between African countries and Turkey was also noted in the statement.
"We reiterated our desire to further strengthen economic and commercial relations through examining possibilities of removing tariffs and non-tariff barriers to trade by way of potentially concluding Trade and Economic Partnership Agreements."
The statement said the member states also agreed to organize biennially forums such as Turkey-ECOWAS (Economic Community of West African States) Economic and Business Forum, which will be organized next week in Istanbul.
Arab-Israeli conflict
The member states also reaffirmed their support for a "peaceful resolution of the Arab-Israeli conflict in accordance with the principles of international law and all relevant United Nations resolutions to ensure the establishment of an independent Palestinian State on the borders of the June 1967 with East Jerusalem as its capital."
Jerusalem remains at the heart of the Israel-Palestine conflict, with Palestinians hoping East Jerusalem -- which has been occupied by Israel since 1967 -- might eventually serve as the capital of an independent Palestinian state.
U.S. President Donald Trump last December recognized Jerusalem as the capital of Israel, and by doing so triggered international outcry.
The ministerial meeting in Istanbul is a precursor to next year's Third Turkey-Africa Summit, setting the tone and agenda of deliberations for that meeting.
Since 2004, Turkish President Recep Tayyip Erdogan has paid official visits to 24 African countries accompanied by ministers, bureaucrats, and businessmen and spearheaded the signing of many bilateral pacts between Turkey and African countries.
Since 2009, Turkey has also provided the African Union annual support of $1 million.
Full report at:
http://aa.com.tr/en/turkey/turkey-africa-vow-to-boost-ties-at-istanbul-conference/1061297
--------
Somalia: Three Al-Shabaab Militant Bodies Found in Northeast Kenya After Foiled Attack
12 FEBRUARY 2018
Kenyan police confirmed Sunday they discovered three Al-Shabaab militants' bodies in a thicket after a foiled attack on a police camp in Wajir county in northeast region on Thursday.
Wajir County Police Commander Stephen Ngetich said the three bodies were discovered after the militants had attempted to attack an Administration Police Special Forces Camp in Kutulo on Thursday evening, resulting into two-hour gun battle that ended with the assailants retreating in the thicket.
"Three of them were killed. We are still near the border patrolling to see if there are more," Ngetich said.
The force is a combination of elite officers drawn from the Administration Police, mainly the Rapid Deployment Unit and the Rural Border Patrol unit.
The police believe that militants who have staged several attacks in the northeast region in the recent past seem to have moved from Mandera area to Wajir where there have been persistent attacks in the recent months.
They have been targeting communication masts destroying them in a series in Wajir. So far five have been attacked in less than a month. Officials attribute the fall of incidents in Mandera to the construction of a security wall in parts of the county.
The wall is manned by the Kenya Defence Forces soldiers who are already on the ground in Mandera County. A surveillance road is also being built, running parallel with the barrier, for easier monitoring of the border.
Kenya began constructing a security wall which runs to the coastal town of Lamu in April 2015 to help prevent Somali militants from crossing into Kenya to carry out terror attacks.
Full report at:
http://allafrica.com/stories/201802120678.html
--------
URL: https://www.newageislam.com/islamic-world-news/on-shivratri-jammu-kashmir-muslims/d/114265
New Age Islam, Islam Online, Islamic Website, African Muslim News, Arab World News, South Asia News, Indian Muslim News, World Muslim News, Women in Islam, Islamic Feminism, Arab Women, Women In Arab, Islamophobia in America, Muslim Women in West, Islam Women and Feminism