New Age Islam News Bureau
14 May 2020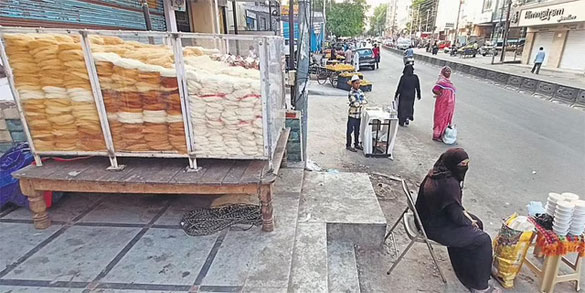 A woman selling Iftar delicacies amid the lockdown in Hyderabad on Wednesday | RVK Rao
--------
• Offer Namaz of 'Chaasht' Or 'Shukrana' At Home During Eid, Suggest Muslim Scholars and Avoid Any Sort of Congregation
• Muslim Youths Come To Hindu Family's Rescue, Help With Funeral In Sealed Containment Zone
• Painting by Hassan Ruholamin Depicts Imam Ali (AS) In A Kufa Alley at Night, Bearing A Bag of Foods for The Poor
• Indonesian Ulema Council issues Fatwa on Eid Prayer at Home as Mosques Off Limits
• Facebook Names Ex-Member of Muslim Brotherhood-Linked Party to New Board
• Minya's Copts Collect Charity Funds to Help Muslim And Christian Villagers
• UK Government Says Churches, Mosques, Gurdwaras And Synagogues Could Re-Open For Private Prayer
• Borno Suspends Lockdown, Asks Churches, Mosques to Reopen
• Five Civilians Injured by Shelling in Muslim Villages in Rakhine
--------
India
• Offer Namaz of 'Chaasht' Or 'Shukrana' At Home During Eid, Suggest Muslim Scholars and Avoid Any Sort of Congregation
• Muslim Youths Come To Hindu Family's Rescue, Help With Funeral In Sealed Containment Zone
• C M Ibrahim, Cong Leader Seeks Karnataka Govt Nod for Muslims To Congregate, Offer Namaz On Id-Ul-Fitr
-----
Mideast
• Painting by Hassan Ruholamin Depicts Imam Ali (AS) In A Kufa Alley at Night, Bearing A Bag of Foods for The Poor
• Palestinian Scholars Issue Fatwa, Ban Watching Saudi TV Series
• Iran Names Palestine Most Significant Issue in Muslim World
• Hamas, Islamic Jihad to boycott Ramallah meeting to discuss 'annexation'
• Iran's Embassy to Afghanistan condemns terrorist attacks in Kabul
• Israel expands settlement projects around Hebron's mosque
• Erdogan Wishes Diab A Blessed Month Of Ramadan
------
Southeast Asia
• Indonesian Ulema Council issues Fatwa on Eid Prayer at Home as Mosques Off Limits
• Blood shortage common in Ramadan, but COVID-19 makes matters worse: PMI
• A crate idea: Indonesian architects reuse plastic boxes to build mosque
• CMCO: Johor Allows Friday, Aidilfitri Prayers at Mosques
• Mah Sing partners Maybank Islamic to offer "HouzKEY" financing solution
• Police reports lodged against Islamic affairs minister for breaching MCO
• Indonesian officials praise QC's Ramadan projects
------
North America
• Facebook Names Ex-Member of Muslim Brotherhood-Linked Party to New Board
• Norway's Top Military Official in Iraq Says Virus Helps Islamic State
• Catholics, Muslims Call for World to Pray Together Thursday For Rescue from The Pandemic
• Is This a Photo of Trump with Osama bin Laden?
• Ramadan Lights to pick Detroit area's best-decorated homes
• Dave Daubenmire Says 'Communist Muslim Freak' Barack Obama 'Must Go to Jail'
--------
Arab world
• Minya's Copts Collect Charity Funds to Help Muslim And Christian Villagers
• Saudi Arabia Resumes Work on Grand Mosque in Mecca Amid Coronavirus Closure
• Nineveh Reopens Mosques to Perform Tarawih Prayers
• Qatar Islamic Bank supports Qatar Charity's food basket project
• Festival City opens Ramadan-themed virtual art gallery
• Diplomatic Quarter: Saudi Islamic guidance minister meets UK envoy
------
Europe
• UK Government Says Churches, Mosques, Gurdwaras And Synagogues Could Re-Open For Private Prayer
• Mosques Reopened in Guinea by Anti-Lockdown Protesters
• Coventry man takes on 260km run Ramadan charity challenge
• UK Muslim charity calls for end to statutory inquiry after police return seized funds
-------
Africa
• Borno Suspends Lockdown, Asks Churches, Mosques to Reopen
• Nigeria: 'Boko Haram Was Funded and Inspired By bin Laden' – Zenn
• 'Lockdown Made Everything Gloomy': Ramadan In Nigeria's Kano
• The imperative of Ramadan in a time of COVID-19
• Shun Makinde's Iftar invitation, group tells imams, alfas
• Djibouti Ambassador Praises Custodian of Two Holy Mosques Programs for Ramadan Iftar and Distribution of Dates
------
South Asia
• Five Civilians Injured by Shelling in Muslim Villages in Rakhine
• Airstrikes kill, wound 36 Taliban militants in Balkh
• Death toll from Kabul maternity ward attack rises to 24: MoPH
• Russia reacts to President Ghani's order to Afghan forces for offensive operations
• Afghanistan records 259 new cases of coronavirus in past 24 hours
• PM launches disbursement of cash aid for 50 lakh poor households
-----
Pakistan
• Lawmakers Play Blame Game in NA Over Covid-19
• Shahbaz's 10 front firms found: PM's aide
• NAB opposes Raja Pervez Ashraf's acquittal plea
• PHC stopped from issuing orders in cases of military courts convicts
• IO asked to file proper report in female SHO attack case
Compiled by New Age Islam News Bureau
URL; https://www.newageislam.com/islamic-world-news/offer-namaz-chaasht-shukrana-home/d/121846
------
Offer Namaz of 'Chaasht' Or 'Shukrana' At Home During Eid, Suggest Muslim Scholars and Avoid Any Sort of Congregation
14th May 2020
HYDERABAD: Several Muslim scholars from Hyderabad, cutting across various schools of thoughts, on Wednesday appealed to Muslims to offer 'chaasht' or 'shukrana' prayers instead of Eid prayers at their homes and avoid any sort of congregation in view of the lockdown.
Scholars from All India Muslim Personal Law Board, Jamia Nizamia, Jamia-e-Ulema and other seminaries, in a joint statement, asked Muslims to offer namaaz-e-chaast and namaaz-e-shukrana. These are optional prayers, as opposed to the five obligatory prayers in Islam — Fazr, Zohr, Asar, Maghrib and Isa.
The statement said, "These measures are necessary in view of the prevailing conditions in the State and due to the lockdown. No one should visit eidgahs or mosques and prayers should be offered from homes."
Meanwhile, the historic Charminar procession that is annually taken out on the 20th day of Ramzan has been postponed to next year.
The procession is taken out from Charimnar to commemorate the martyrdom of Hazrat Ali. A directive by the All India Shia Conference, Hyderabad, said, "Due to the pandemic, the historic procession 'QadeemQoumiMatamiJuloos' from Charminar, has been postponed."
https://www.newindianexpress.com/cities/hyderabad/2020/may/14/offer-chaasht-or-shukrana-at-home-during-eid-suggest-muslim-scholars-2143101.html
------
Muslim youths come to Hindu family's rescue, help with funeral in sealed containment zone
13th May 2020
By Devaraj B HirehalliExpress News Service
TUMAKURU: When 60-year-old H S Narayana Rao died a sudden death at the sealed Zone-II here in the wee hours of Tuesday, his impoverished family of four, including his wife, two sons and a daughter, struggled to come to terms with the loss.
But a team of Muslim youths came to their rescue by presenting them Rs 5,000 to boost their morale and helping with the funeral arrangements.
As no relative could enter the zone, these youths shouldered the responsibility by turning into the bereaved family's temporary kin.
Although they too could not go outside the zone, they ensured that all the materials including flowers were brought through the area corporator, Nayaz Ahmed. With the help of the incident commander of the zone appointed by the administration, they got the hearse at the deceased person's place. Finally, the body was cremated with a few relatives taking part.
Since Rao was staying in the containment zone, his sample had been collected but it tested negative for COVID-19 four days ago.
Living in a rented house at the LIG area of KHB colony, the deceased had lost one of his limbs to diabetes. His 36-year-old son Puneeth had inherited his tailoring job but his earnings had dwindled. His other son Manjunath used to deliver milk at doorsteps but had stopped after the area was sealed. The daughter is studying in SSLC.
"As we knew they were in distress, we treated them as our family. Moreover, Manjunath used to supply milk to our children for years and had been on good terms with us," said Mohammed Khalid, a resident.
His friends Imran, Tippu, Sheru, Sharuq, Thofiq, Saad, Khatib and Mansoor joined hands with him to help the family in their time of need.
https://www.newindianexpress.com/states/karnataka/2020/may/13/muslim-youths-come-to-hindu-familys-rescue-help-with-funeral-in-sealed-containment-zone-2142938.html
-------
Painting by Hassan Ruholamin Depicts Imam Ali (AS) In A Kufa Alley at Night, Bearing A Bag of Foods for The Poor
May 13, 2020
TEHRAN – Painter Hassan Ruholamin, who is famous for his epic drawings, has created a painting in honour of Imam Ali (AS), the first Imam of the Shia.
The painting depicts Imam Ali (AS) in an alley in Kufa, Iraq at night, carrying a bag of food for the poor. The painting refers to a story about the Imam who disguised himself as a stranger to help the poor by distributing food for them at night.
He published the painting on his Instagram page on Ramadan 19, which marks the anniversary of the night, at which Imam Ali (AS) was stabbed in the head with a poisoned sword in 661 CE.
In addition, the 19th, 21st and 23rd nights of the holy month of Ramadan, are called the Laylat al-Qadr (The Grand Nights), during one of which the entire Quran was sent down to the Prophet Muhammad (S).
A large painting depicting the last moments in the life of Imam Hussein (AS) in the Ashura event has also been created by Ruholamin.
His other paintings include "The Apocalyptic Companion of Aba Abdillah", a painting in memory of Quds Force commander Lieutenant General Qassem Soleimani who was martyred in a U.S. air raid in Baghdad in January.
https://www.tehrantimes.com/news/447847/Hassan-Ruholamin-creates-painting-in-honor-of-Imam-Ali-AS
------
Indonesian Ulema Council ssues Fatwa on Eid Prayer at Home as Mosques Off Limits
14 May 2020
TEMPO.CO, Jakarta - The Indonesian Ulema Council (MUI) released an edict or fatwa allowing Muslims to perform Eid al-Fitr prayer at home during the enforcement of the social restrictions on a large scale in the wake of the Covid-19 pandemic.
"Eid prayer can be offered in a congregation with family members at home, especially those living in areas where the virus spread remains uncontrolled (red zones)," as quoted from the press release of the MUI's Fatwa Commission on Wednesday, May 13.
The guidelines note that the annual prayer held after the fasting month of Ramadan ends can be performed in a congregation or individually.
The Fatwa Commission Head stated there should be a congregation of at least four people – one acts as an imam or the worship leader and the other three are the followers. The prayer should be performed in the same procedure as it is done in mosques.
https://en.tempo.co/read/1342078/mui-issues-fatwa-on-eid-prayer-at-home-as-mosques-off-limits
-----
Facebook names ex-member of Muslim Brotherhood-linked party to new board
May 13, 2020
Among the first 20 members Facebook announced last week to its new and independent oversight board is Yemeni Peace Nobel Laureate Tawakkol Karman, a former member of the Muslim Brotherhood-linked Al Islah Party in Yemen.
Nicknamed by some as Facebook's "Supreme Court," the independent oversight body has been tasked with making decisions on controversial content issues, including online extremism, hate speech, harassment, and user privacy and security related to Facebook and Instagram, which is owned by the former.
"We are all committed to freedom of expression within the framework of international norms of human rights," wrote the four co-chairs of the board in a May 6 New York Times opinion piece.
According to the Middle East Media Research Institute (MEMRI), Karman said in a Sept. 15, 2013, BBC Arabic interview: "The most important achievement of the January [2011] Revolution [in Egypt] was the abolishment of the emergency law. Unfortunately, the July 3 [2013] coup reinstated that law. The Muslim Brotherhood and its supporters, who oppose the military rule, are engaged in a legendary struggle, which they are waging with their blood, their resolute steadfastness, and their belief that they will restore the revolution to its true path."
When asked if she supports the Muslim Brotherhood, Karman said, "You can hear it from me: Yes, at this stage, I am partial towards the Muslim Brotherhood … "
A year ago, Karman posted on Facebook, "The Muslim Brotherhood movement will remain an anti-tyranny and a freedom fighting movement, despite [U.S. President Donald] Trump's nose and Trump's agents and it is one of the victims of tyranny and official terrorism in the region, for which Trump provides all support and support."
In a statement, Facebook said, "The members announced today reflect a wide range of views and experiences. They have lived in over 27 countries, speak at least 29 languages and are all committed to the mission of the Oversight Board. We expect them to make some decisions that we, at Facebook, will not always agree with—but that's the point: they are truly autonomous in their exercise of independent judgment.
"We also expect that the board's membership itself will face criticism. But its long-term success depends on it having members who bring different perspectives and expertise to bear."
"We cannot be removed by Facebook," they wrote in The New York Times. "Facebook's chief executive, Mark Zuckerberg, has also personally committed to this arrangement."
New York-based human-rights lawyer and national security analyst Irina Tsukerman tweeted, "Why, out of 1.7 billion Muslims in the world, is FB putting an Islamist on its Supreme Court?"
There is no wonder as long as she is one of Qatar's mercenaries. Qatar is not the only the central of Muslim brotherhood but the hub terrorism .
One of the most intriguing stories of the sudden Coronavirus crisis is the role of the internet. With individuals forced into home quarantine, most are turning further online for information, education and social interaction.
JNS's influence and readership are growing exponentially, and our positioning sets us apart. Most Jewish media are advocating increasingly biased progressive political and social agendas. JNS is providing more and more readers with a welcome alternative and an ideological home.
During this crisis, JNS continues working overtime. We are being relied upon to tell the story of this crisis as it affects Israel and the global Jewish community, and explain the extraordinary political developments taking place in parallel.
Our ability to thrive in 2020 and beyond depends on the generosity of committed readers and supporters. Monthly donations in particular go a long way in helping us sustain our operations. We greatly appreciate any contributions you can make during these challenging times. We thank you for your ongoing support and wish you blessings for good health and peace of mind.
https://www.jns.org/facebook-names-ex-member-of-muslim-brotherhood-linked-party-to-new-board/
------
Minya's Copts collect charity funds to help Muslim and Christian villagers
Al-Masry Al-Youm
May 13, 2020
Coptic Christians from Minya governorate's Kafr al-Mahdy village collected the Zakat al-Fitr (Ramadan charity funds) funds from the village and donated the money towards the "al-Bar and al-Taqwa" (Righteousness and Piety) association to distribute food bags to the village's neediest people.
According to the donators, this charity work benefits both Muslims and Copts in the village alike.
The chairman of the "al-Bar and al-Taqwa" association Mohammed al-Omda said that the Copts helped collect the donations to show their love to their Muslim neighbors and make a positive impact.
And the Copts said that Muslims and Christians have always been together in holidays, weddings and funerals
https://www.egyptindependent.com/minyas-copts-disperse-charity-funds-to-christians-and-muslims-alike/
-----
UK Government Says Churches, Mosques, Gurdwaras And Synagogues Could Re-Open For Private Prayer
ByJonathan Walker
13 MAY 2020
Churches, mosques, gurdwaras and synagogues could "potentially" open for private prayer, Communities Secretary Robert Jenrick has revealed.
Mr Jenrick said: "I have been speaking to faith leaders and will convene later this week a taskforce to establish when and how places for worship can open safely for some of the practices where social distancing can take place, such as private prayer."
The Government's plan for ending the coronavirus lockdown, published on Monday, named a number of venues that would open "no earlier than 4 July". They included hairdressers and beauty salons, pubs and restaurants, cinemas and places of worship. But Mr Jenrick has now said places of worship could open in a limited fashion earlier than this.
This newsletter will bring you a brief round-up of the best, most important or simply quirky stories that have been hitting the headlines over the past few days in the world of politics across Birmingham and the West Midlands.
Use outdoor sports facilities such as tennis or basketball courts or golf courses - with members of your household OR one other person outside your household
Meet more than one person outside your household, with a few specific exceptions such as going to work or attending a funeral
Figures announced today by the Department of Health show that a total of 33,186 people had died in hospitals, care homes and the wider community after testing positive for coronavirus in the UK as of 5pm on Tuesday, up by 494 from 32,692 the day before.
https://www.birminghammail.co.uk/news/midlands-news/local-government-secretary-robert-jenrick-18246825
------
Borno suspends lockdown, asks churches, mosques to reopen
May 14, 2020
KINDLY SHARE THIS STORY
But in a statement on Wednesday night, the Deputy Governor and state Chairman, COVID-19 Response Committee, Usman Kadafur, said the purpose of ordering a lockdown had been achieved.
He said, "The lockdown is being suspended indefinitely to study the situation for the time being, however, where the situation escalates, the government should revert to the status quo.
"Government, traditional rulers, religious leaders, community leaders, and opinion leaders should enforce social distancing, especially in public gatherings/worship places.
"Henceforth, Juma'at prayers and five daily prayers shall be observed in all mosques as recommended by Borno State Council of Ulamas in strict adherence with the social distancing and the face mask.
"All churches shall conduct church services as recommended by the Christian Association of Nigeria, Borno Chapter in strict adherence to social distancing and use of facemasks."
Other conditions were given for public transportation, sales of liquor, amongst others while civil servants from grades 1-12 are asked to continue to work from home expect they are directed otherwise.
https://punchng.com/borno-suspends-lockdown-asks-churches-mosques-to-reopen/
------
Five Civilians Injured by Shelling in Muslim Villages in Rakhine
13 May 2020
By MIN AUNG KHINE
SITTWE, Rakhine State—Five civilians were injured by shelling in two Muslim villages in Rakhine State's Kyauktaw Township on Monday evening.
Two women and a 16-year-old teenager from Pike The Village and two men from Let SaungKauk Village were injured when artillery shells landed in their villages, according to local residents.
"A Mawlawi [Muslim religious scholar] and a school teacher were injured when the artillery shells hit our village at around 5 p.m. on Monday," U Maung Phyu, a lower-ranking village administrator of Let SaungKauk Village, told The Irrawaddy.
"Two women and a young man were also injured in Pike The Village. I didn't see the shelling, but villagers said government troops fired from Kissapanadi Bridge [over the Kaladan River]," he added.
According to residents living near Kissapanadi Bridge, Myanmar military soldiers fired artillery after an explosion was heard while a military truck drove over the bridge.
The two civilians from Let SaungKauk Village were seriously injured and were transferred from a local hospital to Sittwe Hospital, according to villagers.
Myanmar military spokesman Brigadier General Zaw Min Tun claimed that the Arakan Army (AA) attacked Myanmar military troops with remote-detonated mines near Kissapanadi Bridge while they were transporting medical supplies for COVID-19 prevention.
"There was no clash around Kyauktaw on Monday. Pike The Village is close to Kissapanadi Bridge. We transported COVID-19 medical supplies to Kyauktaw Public Hospital and Kan Kyi Shin Pagoda. As the medical and security troops returned, the AA attacked them with two remote-detonated mines to the west of the bridge," the military spokesperson told The Irrawaddy. He added that there were no injuries from the mine blasts.
Last Friday, a primary school teacher and a girl were injured when an artillery shell hit TaungBwe Village, also in Kyauktaw Township. On April 3, three civilians were injured in a shooting around Kisspanadi Bridge, near the entrance to Kyauktaw.
On April 1, five civilians were killed and seven were injured in shelling and shooting in urban areas of Kyauktaw. On Feb. 3, a woman was killed and three men were injured when artillery shells hit residential wards in Kyauktaw.
On Dec. 28 of last year, four civilians were injured during fighting between the Myanmar military and the AA at the entrance of Kyauktaw. On Dec. 6, a 3rd grade student died and a Muslim woman was injured during shooting between the two sides in urban Kyauktaw.
The clashes between the Myanmar military and the AA in northern Rakhine State have forced hundreds of thousands of people from their homes since November 2018.
https://www.irrawaddy.com/news/burma/five-civilians-injured-shelling-muslim-villages-rakhine.html
------
India
C M Ibrahim, Cong Leader Seeks Karnataka Govt Nod For Muslims To Congregate, Offer Namaz On Id-Ul-Fitr
May 14, 2020
BENGALURU: Amid the Covid-19 pandemic, former Union minister and Congress Karnataka MLC, C M Ibrahim has, in a letter to chief minister BS Yediyurappa, sought permission for the Muslim community to congregate at Idgah grounds and mosques to offer namaz together on the occasion of Id-ul-Fitr later this month.
"The Id-ul-Fitr festival in the state may be celebrated on the 24th or 25th May 2020, during which Muslims have to offer special prayers. On behalf of the entire community. I would suggest that the Government may take a decision by having due consultation with medical experts to grant permission for Muslims on the day of Id to offer prayers in the Idgahmaidans or masjids from morning till 1 pm with all precautionary measures and safety norms," the letter states.
"In this regard. I request you to kindly look into the matter and after consulting the medical experts, take a suitable decision enabling Muslims all over the state to offer ld prayers at ldgahMaidans or Masjids in their respective localities," the letter added.
As part of its Covid-19 guidelines, the Ministry of Home Affairs had earlier directed states and Union territories to prevent social gatherings and religious congregations and ensure lockdown measures were strictly followed.
https://timesofindia.indiatimes.com/india/cong-leader-seeks-karnataka-govt-nod-for-muslims-to-congregate-offer-namaz-on-id-ul-fitr/articleshowprint/75730594.cms
-----
Mideast
Palestinian Scholars Issue Fatwa, Ban Watching Saudi TV Series
May, 13, 2020
TEHRAN (Tasnim) – The Association of Religious Scholars in Palestine issued a fatwa (religious edict) that bans the watching of Saudi television programs which encourage and praise the normalizing of ties with Israel.
May, 13, 2020 - 13:52 World Comments
"The Association looks with great doubt at the series which encourage and hail the normalization of ties with the Israeli occupation," said Dr. Marwan Abu Ras, the group's lead official, the Middle East Monitor reported.
"We condemn the frenzied campaign of the TV channels run by Arabs and Muslims, and subsidized by Muslim money, against Islamic values and culture."
Such channels, added the Sheikh, are the mouthpiece of the Zionist entity and are dedicated to fighting against virtue and spread vice. "Watching these series is haram (forbidden) and boycotting them is a religious duty because they oppose the real principles of the Muslims, Arabs and the Palestinians."
The remarks come in response to the airing of a string of media productions by certain Persian Gulf countries promoting ties with Israel.
The new "Umm Haroun" television series is one of such programs produced by the Dubai-based Saudi-owned Middle East Broadcasting Center (MBC).
The series directed by Egypt's Ahmed Gamal el-Adl in the United Arab Emirates stars a Kuwaiti actress who plays the role of a Jewish midwife of Turkish origin living in the Persian Gulf country before settling in the occupied Palestinian territories.
Hebrew-language outlet N12 reported on Sunday that many believe Saudi Crown Prince Mohammed bin Salman is involved in the series as he is interested in closer relations between the kingdom and Israel.
The Palestinian resistance movement Hamas in Gaza denounced the TV series as a "political and cultural attempt to introduce the Zionist project to Persian Gulf society."
Critics regard the show as an invitation to normalized ties with Israel. The show has consequentially provoked a storm in the Arab world.
https://www.tasnimnews.com/en/news/2020/05/13/2265332/palestinian-scholars-issue-fatwa-ban-watching-saudi-tv-series
------
Iran names Palestine most significant issue in Muslim World
May 14, 2020
TEHRAN, May 14 (MNA) – Iran's Foreign Ministry has released a statement on the occasion of the Nakba Day, which marks the anniversary of the establishment of the illegitimate Zionist regime of Israel, naming Palestine the most important issue in the Muslim world.
The Palestinian land witnessed one of the most tragic incidents in the history of Islam and the world on May 14, 1948. Ever since the people of this territory have not savored the taste of tranquility and calm. Seventy-two years ago this day, zionist immigrants, relying on racist and deviant ideas and thoughts, murdered the native people of Palestine, including innocent men and women, young and old, as well as children or forced them to quit their land and houses. Zionists started ruling Palestinian land, the incident with terrible consequences for West Asia, the statement said.
The Islamic Republic of Iran reannounces its support and unity for Palestinians and once against rejects the so-called 'Deal of Century'. It regards Palestine as the first and most significant issue in the Muslim World, it underlined.
While expressing its full solidarity with the cause of the Palestinian people, Iran once again reiterates the key responsibility of the international community, especially the United Nations, to put an end to the organized occupation of the Palestinian territory and holy al-Quds and to help the people of this land determine their destiny, return to their homeland and establish an independent Palestinian state with al-Quds as its capital, it added.
May 15, known as the Nakba Day, marks the establishment of the Israeli regime in 1948 and the forcible expulsion of about 700,000 Palestinians from their lands and their scattering across refugee camps in the West Bank, Gaza, and neighboring countries.
https://en.mehrnews.com/news/158693/Iran-names-Palestine-most-significant-issue-in-Muslim-World
-----
amas, Islamic Jihad to boycott Ramallah meeting to discuss 'annexation'
MAY 13, 2020
By KHALED ABU TOAMEH
Hamas and Palestinian Islamic Jihad (PIJ) announced on Wednesday that they would not attend a meeting of the Palestinian leadership in Ramallah this coming Saturday to discuss Israel's plan to apply sovereignty to parts of the West Bank.
On Tuesday, Palestinian officials said that representatives of the two groups have been invited to attend the meeting. According to the officials, the PLO's Popular Front for the Liberation of Palestine (PFLP) has also been invited to attend the meeting.
However, it was not clear whether the PFLP would participate in the meeting. On Wednesday, the PFLP again called on the Palestinian leadership to implement previous decisions by PLO and Fatah institutions to renounce all agreements with Israel and halt security coordination between the Palestinian security forces and the IDF in the West Bank.
Hamas and PIJ have also called on the Palestinian leadership to cut all ties with Israel in response to the policies and measures taken by the Israeli government and the US administration in the past few years.
Hamas said in a statement that it has not received an official invitation to participate in the meeting. The statement said that Hamas was ready to participate in a "serious meeting that is capable of bringing about the needed change."
Hamas said that it believes that "confronting the Zionist project through a meeting in Ramallah, would be a waste of precious time and a repetition of experiences that have proven unsuccessful."
Hamas called on PA President Mahmoud Abbas to convene an emergency meeting of leaders of all Palestinian factions to discuss an "effective national strategy" to confront the Israeli plan.
Denouncing the plan as a "dangerous Zionist-American conspiracy," Hamas expressed confidence that the Palestinians would be able to thwart the plan by agreeing on a comprehensive vision and strategy."
In a separate statement, PIJ also announced its decision to boycott the planned meeting of the Palestinian leadership. It said that PIJ has received an invitation to attend the meeting, scheduled to take place in Ramallah on Saturday.
"We affirm our support for every constructive and sincere effort to restore unity in order to confront the occupation," PIJ said. "But we believe that the way to achieve this would be by convening a meeting of the leaders of all Palestinian factions to discuss the challenges to the Palestinian national cause and confront [US President Donald] Trump's plan [for Mideast peace]."
The group expressed hope that the upcoming meeting would come out with "serious decisions that contribute to restoring unity and confronting annexation and settlements."
https://www.jpost.com/arab-israeli-conflict/hamas-islamic-jihad-to-boycott-ramallah-meeting-to-discuss-annexation-627874
------
Iran's Embassy to Afghanistan condemns terrorist attacks in Kabul
May 13, 2020
Iran's Embassy to Afghanistan in a statement strongly condemned the terrorist attacks in Kabul on Tuesday.
Iran's Embassy in Kabul strongly condemns the terrorist attacks in Kabul, Nangarhar and Laghman, which resulted in martyrdom and wounding of dozens of innocent Afghans, and expresses sympathy and solidarity with the people and government of Afghanistan, the statement said.
Undoubtedly, the escalation of violence at a time when coronavirus has created many difficulties for the noble people of Afghanistan and it is also necessary for everyone to show compassion and kindness to Muslims during the holy month of Ramadan based on the good traditions of Islam is very reprehensible and international community must react resolutely to such actions.
On Tuesday, terrorists attacked mosque, maternity hospital and a funeral ceremony, killing and injuring at least 60 people.
https://en.abna24.com/news//irans-embassy-to-afghanistan-condemns-terrorist-attacks-in-kabul_1036605.html
------
Israel expands settlement projects around Hebron's mosque
May 13, 2020
Ahmad Melhem
RAMALLAH, West Bank — Israeli Defense Minister Naftali Bennett issued an expropriation order May 12 for a portion of the Ibrahimi Mosque in Hebron, in the southern West Bank, part of a project to build an elevator to facilitate access to the mosque.
In response, head of the General Authority of Civil Affairs of the Palestinian Authority Hussein al-Sheikh tweeted that Bennett's decision "to confiscate and annex parts of the Ibrahimi Mosque in Hebron abolishes the Hebron protocol and puts an end to the agreement signed between the PLO and Israel, as well as constitutes a continuation of the annexation project in the West Bank and Jerusalem."
Israel's Defense Minister Naftali Bennett approved a settlement project in the southern West Bank city of Hebron May 3. The project involves the seizure of Palestinian lands to building a corridor and an elevator to facilitate access to Ibrahimi Mosque.
According to Maariv, Bennett instructed Israeli military liaison to the Palestinian territories Maj. Gen. Kamil Abu Rokon to take all necessary measures to implement the project without delay. Israel's judicial authorities and Prime Minister Benjamin Netanyahu had endorsed the project.
On April 21, Attorney General AvichaiMandelblit approved the Ibrahimi Mosque land expropriation, justified as part of a development and expansion project.
Israel will expropriate land of a size yet to be determined in the vicinity of Ibrahimi Mosque, owned by the Islamic Waqf or religious endowment in Jerusalem. The measure is another step in Israel's quest to take over the mosque, located in Area H2 in Hebron, which falls under Israel's full control.
The Israeli ambitions for the Ibrahimi Mosque started to clearly emerge in 1994, after settler BarokhGoldestein massacred 29 Palestinian worshippers. Israel then seized the back part of the mosque that includes the shrines and tombs of prophets and historical figures.
Three years after the massacre, in 1997, the Palestinian Authority and Israel signed the Hebron Protocol, giving the PA parts of the city of Hebron, known as Area H1, some 80% of the city's total area. Israel took control of the remaining area, where the Old City and the mosque are located.
With its external courtyards, the mosque extends over 4,750 square meters. Israel controls 63%, while the remainder is entrusted to the Waqf, according to Hafthi Abu Sneineh, director of religious endowments in Hebron.
Abu Sneineh told Al-Monitor that Palestinian visitors and worshipers must pass through several Israeli military gates and barriers inside the Old City to access the mosque.
The Israeli project's approval comes in the midst of Israel's annexation scheme for parts of the West Bank, including the Jordan Valley and settlements, and parts of the city of Hebron in the coming weeks, in implementation of the US peace plan for the Middle East. On May 6, US Ambassador David Friedman to Israel said his country was "ready to recognize" the annexation.
Abu Sneineh described the new project as an attack on the sanctity of the 2,000-year-old mosque. "The Israeli authorities did not notify the Islamic Waqf in charge of managing the mosque of the details of the project. The settlement project will facilitate the Judaization of Ibrahimi Mosque. It will change its features so as to satisfy the settlers and consecrate occupation."
He noted that Israel is taking advantage of the world's preoccupation with the coronavirus pandemic to implement its settlement projects in the city.
The new plan is one of several projects targeting the Ibrahimi Mosque and Hebron's Old City. It is the practical implementation of Israeli plans to annex the area and impose sovereignty over it. Netanyahu had made similar promises when he visited the mosque Sept. 4, 2019. He vowed to keep settlers in Hebron. On Sept. 16, 2019, he declared for the first time his intention to annex KiryatArba settlement and Jewish areas in Hebron, in case he remained prime minister.
The recent Israeli approval of the project in Hebron sparked Palestinian condemnation. The Palestinian Ministry of Endowments and Religious Affairs said in a statement May 4, "The Israeli policy regarding the Ibrahimi Mosque is provocative and filled with greed and hypocritical intentions. Israel is trying to take over the mosque gradually, yet completely, after having seized most of it."
PA President Mahmoud Abbas has repeated on several occasions, most recently during his meeting with Fatah's Central Commission May 5, that the PA will end all its agreements with Israel if the latter attempts to annex any Palestinian territories.
Meanwhile, the Palestinian Ministry of Endowments and Religious Affairs said in a May 7 report that Israeli authorities banned calls to prayer at the Ibrahimi Mosque 56 times during the month of April.
Several settlement projects have been looming over Hebron. On Dec. 1, 2019, Bennett approved a plan to build a new settlement neighborhood near Hebron's fruit and vegetable market. The neighborhood project requires destroying existing buildings in the area to build shops and 70 new residential units for settlers, according to Haaretz.
For his part, Suhail Khalilia, head of the settlement monitoring unit at the Applied Research Institute - Jerusalem, said that the project in the mosque area is part of an Israeli plan to completely take over the H2 area of some 8,000 dunums, 20% of Hebron. He added that Israel plans to connect the settlement outposts in the H2 area to each other so that they surround the mosque. Then, it intends to connect them to the settlement of KiryatArba, which is the beating heart of settlements in Hebron.
Khalilia noted, "The settlement projects in Hebron's Old City coincide with real measures to segregate citizens from their towns to forcibly displace them." He asserted that hundreds of Palestinian families have left the Old City and closed their stores in recent years, and Israel has found a golden opportunity for its main quest to annex the area.
It was not surprising that Israel approved a new settlement project around the mosque, as it has been treading in this direction since US President Donald Trump announced his peace plan and with the Knesset's approval of a national unity government between Netanyahu and Blue and White leader Benny Gantz.
Read more: https://www.al-monitor.com/pulse/originals/2020/05/israel-settlement-annex-hebron-palestinian-mosque.html#ixzz6MOf22NKW
------
ERDOGAN WISHES DIAB A BLESSED MONTH OF RAMADAN
13 May 2020
NNA - In a response letter to Prime Minister, Dr. Hassan Diab, the President of the Republic of Turkey Recep Tayyip Erdogan hoped that the Holy month of Ramadan will bring goodness to the entire Islamic world during this difficult time.--PM Press Office
http://nna-leb.gov.lb/en/show-news/115430/Erdogan-wishes-Diab-blessed-month-of-Ramadan
-----
Southeast Asia
Blood shortage common in Ramadan, but COVID-19 makes matters worse: PMI
SausanAtika
May 14, 2020
Blood supplies across the country are dwindling as a result of fewer people participating in blood drives during the fasting month of Ramadan and the COVID-19 outbreak.
During Ramadan, when Muslims refrain from eating and drinking from dawn to dusk, a decline in blood supplies is common -- mainly because fasting saps people's energy and because of a common conception that donating blood nullifies fasting.
But the outbreak of the coronavirus, which has infected 15,438 people across the country and killed 1,028 patients, and physical distancing have further discouraged people from giving blood.
During Ramadan, the Indonesian Red Cross (PMI) typically records a 40 percent decrease in blood donations in each region compared to regular months, said PMI's Lilis Wijaya.
This Ramadan, which coincides with the outbreak, the PMI saw a decline in blood donors by 60 percent in each region so far, with only about 400 bags collected per day, a significant drop from the 1,000 bags on normal days.
"Ever since the first COVID-19 cases were reported in March, followed by social distancing policies, many people, institutions and communities have canceled appointments for blood donation due to fears of contracting the virus from crowds during blood drives," PMI's blood transfusion unit head Linda LukitaWaseso said on Tuesday.
Many hospitals suspend elective surgeries -- or scheduled and nonemergency procedures which also often require blood transfusions -- due to the outbreak, but demand for blood remains high, particularly for people with thalassemia and haemophilia, who require regular transfusions, as well as mothers bleeding while giving birth.
The Health Ministry's director for vector-borne and zoonotic diseases, Siti Nadia Tarmizi, acknowledged that dengue fever cases kept rising. The ministry has recorded more 50,000 dengue cases so far this year, and 322 deaths, as of Friday.
The Meteorology, Climatology and Geophysics Agency (BMKG) issued warnings of extreme weather in several parts of Indonesia as the rainy season, initially predicted to end in April, is stretching to June.
As a consequence, dengue fever cases would likely remain common until next month, Siti said. The country recorded around 20 cases a day in May last year, but this year, the daily average in May has been around 50 cases so far.
Short supplies of blood have been reported across the country, including in Jakarta, with a decline of 80 percent, or only 200 bags collected per day compared to 1,000 bags per day in regular months.
The suspension of elective surgeries in many hospitals in the capital helped reduce blood demand to 600 bags per day, but that is still three times the supply, according to PMI Jakarta's blood transfusion unit deputy head Niken Ritchie.
To ensure sufficient blood supplies nationwide, the PMI has intensified blood drives in many neighborhoods at night after Muslims break their fast and continuously promoted blood donation on social media and television. It has also teamed up with the Indonesian Military (TNI), the police and government institutions to encourage blood donations among civil servants, military and police officers.
PMI chairman and the country's former vice president, Jusuf Kalla, has appealed to healthy people to donate blood during the pandemic.
The PMI is implementing protocols to ensure social distancing at its facilities and uses sterile tools. Donors are now required to provide additional medical information, such as whether they are persons under monitoring (ODPs) for COVID-19, patients under surveillance (PDPs) or have a travel history involving affected countries.
Linda was aware that some potential donors were afraid of either catching or spreading the coronavirus through blood donations, despite there being no evidence that the virus can be transmitted by blood transfusion.
Private sector employee Indra Bagoes, 30, from Cilegon, Banten, a regular blood donor for more than eight years, said he did not hesitate to donate blood at PMI Cilegon last week despite advice from his company to avoid places with a high risk of COVID-19 transmission, such as health facilities.
As a frequent donor, Indra said he believed the PMI had implemented health standards to prevent COVID-19 transmission, for the safety of both donors and recipients.
https://www.thejakartapost.com/news/2020/05/14/blood-shortage-common-in-ramadan-but-covid-19-makes-matters-worse-pmi.html
------
A crate idea: Indonesian architects reuse plastic boxes to build mosque
May 13, 2020
Under normal circumstances, the small mosque on the outskirts of Jakarta constructed from 1,208 used plastic bottle crates would have been abuzz with the sound of people praying and reciting the Quran during Ramadan.
It would be the first Ramadan since the 42-meter-square mosque was built in late 2019, following the establishment of Kebun Ide (Garden of Ideas) — a restaurant with a back-to-nature theme — which houses the facility.
The coronavirus pandemic might have prevented communal prayers, but the mosque's plastic recycling design is still attracting attention.
"Since we have this prayer room, many residents around here have expressed interests to organize gatherings such as group Quran recitations there. But unfortunately, we cannot do that now as we have to close the restaurant due to social distancing rules," HandokoHendroyono, the owner of Kebun Ide, told Arab News.
A worshipper prayed inside Kotakrat, a praying room that can accommodate nine worshippers and constructed of 1,208 reused plastic bottle crates built in late 2019 in Bintaro township on the southern outskirts of Jakarta. Photo: Instagram @psastudio
"The project concept was good because it reused discarded material, and there was a need for a praying room for our guests and employees, so I agreed to have the Kotakrat to be constructed in our space. Now we have a very good place to pray. Many visitors didn't realize that it is actually a prayer room," he added.
Designed and constructed by architect firm PSA Studio, Kotakrat is part of an architectural project to build a multi-purpose "space of kindness" to meet the community's social needs.
"This space of kindness can be in the form of a kiosk, place of worship, shelter, bus stop, security post, and many other places. It is built from plastic crates that we can easily find and install to form a space for various architectural shapes and purposes. The crates can be arranged to function as a roof, a partition, and a wall," ArioWirastomo, a principal architect in the firm, told Arab News.
This construction used 1,208 used plastic bottle crates to form the prayer room's walls and roof, and benches for the visitors to remove their shoes before entering.
The mosque has two separate entrances for men and women, although it does not separate men and women in the 8.64-meter-square praying space that can accommodate three rows of nine worshippers. The first row is for the imam, while the other two rows are for men and women respectively.
"As a prayer room is a public place that Muslims would look for to perform the five daily prayers everywhere they go, we expect the Kotakrat space would be durable and functional for a long time," Wirastomo said.
Despite reusing discarded material, Wirastomo said he could not claim this project was environmentally friendly but he hoped people would be more aware of recycling waste.
Indonesia is one of the world's top plastic waste producers with 5.05 million tonnes of plastic rubbish generated annually, out of which 81 percent is mismanaged and contributes 10 percent to the global total of mismanaged plastic waste. Our World In Data projected that Indonesia would contribute almost 11 percent of global mismanaged plastic waste by 2025.
The country's chief maritime affairs and investment minister, LuhutPandjaitan, recently said that Indonesia has come up with an action plan that aims to reduce 70 percent of its plastic pollution by 2025, hoping to be free of plastic waste by 2040.
https://theparrot.co/2020/05/13/a-crate-idea-indonesian-architects-reuse-plastic-boxes-to-build-mosque/
-----
CMCO: Johor allows Friday, Aidilfitri prayers at mosques
13 May 2020
JOHOR BARU, May 13 — The Johor government has allowed the Friday and Aidilfitri prayers as well as the 'akad nikah' (marriage solemnisation) ceremonies to be held during the conditional movement control order (CMCO) period.
State Islamic Religious Affairs Committee chairman TosrinJarvanthi said the Sultan of Johor, Sultan Ibrahim Almarhum Sultan Iskandar has issued a decree to allow the matter to be implemented statewide.
However, he said, the implementation must be in compliance with the standard operating procedures set by the Johor Islamic Religious Department (JAINJ) and Ministry of Health including only 12 persons will be allowed to perform Aidilfitri prayers at mosques in the state.
"The committee at district levels will ensure strict adherence with the help of security personnel as we are concerned that once Aidilfitri prayers are allowed, despite being restricted to 12 individuals, people will still rush to the mosque.
"We will make sure this does not happen but if it does, there will be no Aidilfitri prayer to be held at the mosque," he said at a press conference here today.
He said for Friday prayers at the mosques, it would only be allowed from May 15 onwards, with the number of congregation being limited to only 12 people, similar to the Aidilfitri prayers.
"The district Kadi office will get help from the security personnel to ensure the congregation has only 12 people as it is feared that civilians or foreigners will rush to the mosque," he said.
Tosrin said as for the 'akad nikah' ceremony, it could be held from May 17 onwards but only at the district Kadi offices and attendees must be limited to six people including the bride, her guardian and witnesses.
He said 872 couples were expected to hold their marriage solemnisation ceremonies as they have already obtained the approval prior to the implementation of the movement control order (MCO) on March 18.
https://www.malaymail.com/news/malaysia/2020/05/13/cmco-johor-allows-friday-aidilfitri-prayers-at-mosques/1865832
------
Mah Sing partners Maybank Islamic to offer "HouzKEY" financing solution
May 14,2020
KUALA LUMPUR,-- Mah Sing Group Bhd has entered into a strategic partnership with Maybank Islamic Bhd to offer HouzKEY, Maybank's inventive home financing solution, which enhances Mah Sing's "Eazy to Own" home ownership campaign.
In a statement today, founder and group managing director, Tan Sri Leong Hoy Kum said the partnership with Maybank Islamic is another testament to the group's commitment as a market-driven developer to offer alternative solutions to make home ownership easier.
"The 'Eazy to Own' campaign is in response to what the buyers want, which is in line with our growth strategy to be flexible and quick to adapt to the rapid change in the market.
"The campaign is rolled-out in collaboration with Maybank Islamic'sHouzKEY for a few selected projects, and we will be increasing the number of projects on offer in the next phase," he said.
Commenting on the partnership, Maybank's managing director of Real Estate Ventures, Group Global Banking, Sally Lye Saw Im said HouzKEY offers 100 per cent financing and lower monthly instalments.
"In keeping with Maybank's mission to humanise financial services, we are committed in being at the heart of the community by serving their interest to the best of our ability.
"Hence, we believe that our product combined with Mah Sing's properties can create a great opportunity for Malaysians to kick-start their home ownership journey," she added.
https://www.bernama.com/en/business/news.php?id=1841487
-----
Police reports lodged against Islamic affairs minister for breaching MCO
14 May 2020
KUALA LUMPUR, May 14 — At least five police reports have been made against Minister in the Prime Minister's Department Datuk Seri Zulkifli Mohamad Al-Bakri for allegedly violating the movement control order.
According to Malaysiakini, the reports were lodged against the Islamic affairs minister after he allegedly invited several people to his Putrajaya office for a meeting during the MCO.
The reports were filed in Kelantan, Johor, and Selangor at the start of the month. Zulkifli is said to have met with Umno Supreme Council member Datuk Fathul Bari Mat Jahya, along with university lecturers Rozaimi Ramli and Ahmad KamilinJamilin, and several others
It is understood the meeting was to discuss the planned translation of a holy book, with the meeting's photos uploaded by Zulkifli on social media.
One anonymous complainant when contacted urged the authorities to investigate the matter as the minister's action directly violated the MCO, claiming that based on the photos the meeting occurred without any social distancing and that the people meeting him went beyond 10km for the meeting.
When contacted by Malay Mail, Kajang police chief ACP Mohd Zaid Hassan confirmed the police received two reports against Zulkifli, and that an inquiry paper has been opened for preliminary investigations.
"For the time being, only the verbal recording of the complainants was taken. Statements from the other parties will be taken after instructions have been received from the Selangor Contingent Police Headquarters," he said.
Several prominent individuals have recently been charged in court and fined for breaking the MCO, including Deputy Health Minister I Datuk Dr Noor Azmi Ghazali and Perak exco Razman Zakaria late last month, who were fined RM1,000 after sharing a meal with a group of people at a tahfiz school in Lenggong, Perak.
On May 5, Umno president Datuk Seri Ahmad Zahid Hamidi's daughter Datuk Nurulhidayah Ahmad Zahid and her husband Datuk Saiful Nizam MohdYusoff pleaded guilty to violating the MCO after the former posted photos on social media of their meeting with Environment and Water Deputy Minister Datuk Ahmad Masrizal Muhammad. They were subsequently fined RM800 each.
https://www.malaymail.com/news/malaysia/2020/05/14/police-reports-lodged-against-islamic-affairs-minister-for-breaching-mco/1865997
-----
Indonesian officials praise QC's Ramadan projects
14 May 2020
Doha: Indonesian local officials and underprivileged beneficiaries praised Qatar Charity (QC) for distributing food baskets, thorough its office in Jakarta, as part of its Ramadan campaign.
The beneficiaries extended thanks to benefactors in Qatar for their support that contributed to meeting their food needs in the blessed month of Ramadan, especially at a time when the coronavirus (COVID-19) has brought further difficulties to the vulnerable.
The mayor of Banda Aceh, Aminullah Usman, said: "On behalf of the local authorities in the city of Banda Aceh, and in the name of its residents, I thank the benefactors in Qatar for their generous donations, and Qatar Charity for distributing food baskets in Ramadan, which have benefited 4,500 families of orphans and needy families in the city.
The mayor noted that the coronavirus pandemic has contributed to increasing the suffering of these weaker sections of society, and they are need of more assistance to lighten their hardship.
Haji Sami Weil, another local official in Indonesia, has praised Qatar Charity for distributing 6,500 Ramadan baskets in his area to those affected by the coronavirus pandemic, noting that this aid from Qatar reflects the deep brotherly ties between the Indonesian and Qatari people
For his part, the president of the Cleaners Association Eddy in South Jakarta expressed his thanks and appreciation to the philanthropists in the State of Qatar for the food baskets, adding that this assistance will support the cleaners to meeting their families' food needs in Ramadan.
Qatar Charity has distributed 12,750 food baskets in many Indonesian provinces and regions during the holy month of Ramadan, benefiting nearly 70,000 people, and is expected to distribute Zakat Al Fitr and the Eid clothing to its sponsored children soon.
https://thepeninsulaqatar.com/article/14/05/2020/Indonesian-officials-praise-QC%E2%80%99s-Ramadan-projects
-----
North America
Norway's top military official in Iraq says virus helps Islamic State
May 13, 2020
COPENHAGEN, Denmark — Islamic State militants hide in sparsely populated farmlands in Iraq from where they stage attacks on Iraqi forces scrambling to curb the spread of the coronavirus in the country, the head of the 70-man Norwegian contingent in this Mideast nation was quoted as saying Wednesday.
Iraq is not just facing the global pandemic but also a resurgence of attacks by the Islamic State group and a financial crunch as oil prices plummet to historic lows — a crisis for a nation depending on crude exports to fund 90% of its state expenditures.
The militants "reside in agricultural areas and are thus not particularly susceptible to the virus infection," Lt. Col. Stein Grongstad told Norway's VG newspaper. In recent weeks, they have been targeting Iraqi forces "that are not currently coordinated to the same extent as before the virus struck."
The assessment is in line with Associated Press reporting that the militant group is taking advantage of governments absorbed in tackling the coronavirus pandemic and the ensuing slide into economic chaos to stage more brazen attacks across Iraq and Syria.
In Iraq, the militants are also exploiting security gaps coinciding with a pullout of U.S.-led coalition forces from bases in western Iraq, Nineveh and Kirkuk provinces in line with a drawdown conceived in December.
Grongstad described the situation as a "paradox," that at a time when the world is grappling with the pandemic, ISIS attacks are on the rise.
"The Islamic State group has been moving the fighting from Syria to Iraq ... (and ) is strengthening, both financially and militarily," he said.
Since 2017, a Norwegian contingent has been based in western Iraq's vast and mostly desert Anbar province, where it trains and advises Iraqi security forces.
https://www.stripes.com/news/middle-east/norway-s-top-military-official-in-iraq-says-virus-helps-islamic-state-1.629549
------
Catholics, Muslims call for world to pray together Thursday for rescue from the pandemic
May 13, 2020
SALT LAKE CITY — Catholics and Muslims are inviting other believers worldwide to join together with them Thursday in a day of prayer "to implore God to help humanity overcome the coronavirus pandemic."
The call to joint prayer and supplication originated on May 2 with the Higher Committee of Human Fraternity, established last fall after Pope Francis signed an agreement on world peace and coexistence with the Sheikh Ahmed el-Tayeb, grand imam of the al-Azhar Mosque in Cairo.
The day of prayer comes one month after Catholics, members of The Church of Jesus Christ of Latter-day Saints, evangelicals and people of many other religious faiths joined in prayer and fasting on Good Friday, April 10, to seek divine relief from the pandemic's effects.
"Each one, from wherever they are and according to the teachings of their religion, faith or sect, should implore God to lift this pandemic off us and the entire world, to rescue us all from this adversity," the Higher Committee of Human Fraternity said last week.
The committee suggested May 14 as the date of the prayer day. On May 3, Pope Francis added his voice to the call to "believers of all the religions to unite together spiritually on May 14 in a day of prayer and fasting, to implore God to help humanity overcome the coronavirus pandemic," according to America Magazine.
The pope called for works of charity and said it is important that efforts to produce a vaccine be conducted in "a transparent and disinterested way" and "the essential technologies be made universally available."
Good Friday is a regular day of fasting and prayer for the world's 1.3 billion Catholics, but this year they and millions of people of other faiths fasted and prayed together that day for relief and comfort.
President Russell M. Nelson of The Church of Jesus Christ of Latter-day Saints invited all people to fast and pray that day "that the present pandemic may be controlled, caregivers protected, the economy strengthened and life normalized."
Pope Francis and Sheikh Ahmed el-Tayeb met in February 2019 and signed the Document on Human Fraternity in Abu Dhabi, United Arab Emirates. It was the first time a pope had visited the Arabian Peninsula.
In September, nine Catholic and Muslim leaders formed the Higher Committee for Human Fraternity. Those leaders include the president of the Pontifical Council for Interreligious Dialogue, the president of Al-Azhar University, the personal secretary to Pope Francis and the adviser to Sheikh Ahmed el-Tayeb.
"We believe humans' capacity for dialogue and understanding is vital to harmonious coexistence," the committee's website says. "In an increasingly fragmented world that continues to suffer from extremism and intolerance, nurturing and cultivating this capacity is essential for future generations to thrive and prosper together."
https://www.deseret.com/faith/2020/5/13/21257703/catholics-muslims-mormons-latter-day-saints-prayer-day-coronavirus-covid-19-pope-christians-god-pray
------
Is This a Photo of Trump with Osama bin Laden?
DAVID MIKKELSON
14 MAY 2020
Digitally manipulated images seemingly showing prominent U.S. political figures posing with Osama bin Laden have popped up multiple times here on Snopes.com, including versions picturing the late terrorist mastermind in the company of former Secretary of State Hillary Clinton, the late Senator John McCain, and former Secretary of State Condoleezza Rice.
Predictably enough, President Donald Trump got his turn in the spotlight with this picture of him shaking hands with bin Laden, which was shared via social media in May 2020 accompanied by the putative Trump quote, "I knew Osama bin Laden. People loved him. He was a great man that died for a worthy cause":
Even among this class of digital manipulations, this item is one of the more improbable entries, as Osama bin Laden was not known for taking time off from training volunteers to fight agains the Soviet-backed regime in eastern Afghanistan in order to pop over to New York to attend black tie affairs.
This image is in fact an altered version of a photograph of Donald Trump and publisher S.I. Newhouse, Jr. attending a Trump book party at Trump Tower in New York City in December 1987:
https://www.snopes.com/fact-check/trump-with-osama-bin-laden/
-----
Ramadan Lights to pick Detroit area's best-decorated homes
By MIKE HOUSEHOLDER
13-05-2020
DEARBORN, Mich. (AP) — Detroit-area Muslims who've had to socially distance themselves from the more communal aspects of Ramadan because of the coronavirus pandemic are instead celebrating the holy month in lights.
During last year's iteration of Ramadan, in which worshippers fast daily from dawn through dusk, pharmacist Hassan Chami organized the Ramadan Suhoor Festival. The middle-of-the-night celebration drew thousands who collectively engaged in suhoor, the meal consumed before Muslims begin their daily fasting.
But while Muslims nationwide struggle during the pandemic to celebrate Ramadan — a time when believers commonly gather for late-night meals and nightly prayers — Michigan's stay-home order makes typical celebrations impossible.
So, Chami and some friends have teamed up to host the inaugural Ramadan Lights contest, calling attention to the local house-decorating practices that make the area's Muslim community so visible during the holy season that runs for another week-and-a-half.
A number of homes in Dearborn, Dearborn Heights and other Michigan communities feature light-up crescent moons, lanterns and oversized lawn signs with the holiday greetings "Ramadan Mubarak" and "Ramadan Kareem."
"The short-term goal is to uplift everyone's spirits during this tough time. But there's a long-term goal, and the long-term goal is to create this festive spirit of Ramadan," Chami said.
Residents are invited to nominate their own or their neighbor's houses by sharing the address and a photo of their handiwork. Representatives from the three groups that organized the contest — Ramadan Suhoor Festival, Halal Metropolis and the Michigan Muslim Community Council — and a nominating committee will narrow down the submissions to the top 10 houses from each district. The judges then will visit and evaluate the homes in person. They will pick the most creative and interesting light displays from each district and award them a certificate.
"It's like something that's been in the air anyway, circulating — this idea that there should be some sort of celebration of how many people are decorating their houses and how big a tradition this has become in Dearborn and sort of commemorating this in some way, recognizing it," said Halal Metropolis' Sally Howell, who directs the Center for Arab American Studies at the University of Michigan-Dearborn.
"But the timing of this year when Ramadan is otherwise sort of very muted and quiet. Those two things coincided very, very neatly for us," she said.
https://apnews.com/8a61a9999c26b28a844df260ee5b127b
------
Dave Daubenmire Says 'Communist Muslim Freak' Barack Obama 'Must Go to Jail'
May 13, 2020
By Kyle Mantyla
Radical right-wing activist Dave Daubenmire declared on his "Pass The Salt Live" program yesterday that former President Barack Obama "must go to jail" and should probably be hanged for treason.
Daubenmire, who last year made multiple trips to Chappaqua, New York, to protest outside the home of Bill and Hillary Clinton and demand the latter's arrest, said that Obama must be held accountable for supposedly using his office to destroy both Michael Flynn and President Donald Trump.
"He must go to jail," Daubenmire said. "There's no doubt that Barack Obama knew what was being done to Donald Trump. He knew it. He knew what was being done to Michael Flynn. Barack Obama knew it. We have the evidence. He knew it."
"The buck stops at the top," he continued. "If we think [James] Comey and [James] Clapper—getting those little peons—if we think that's it, no, no, no. In order for justice to be restored to America, Barack Hussein Obama, the communist Muslim freak, must be put in jail."
"The president of the United States destroyed Michael Flynn," Daubenmire declared. "That in itself in my opinion is a hangable offense."
https://www.rightwingwatch.org/post/dave-daubenmire-says-communist-muslim-freak-barack-obama-must-go-to-jail/
-----
Arab world
Saudi Arabia resumes work on Grand Mosque in Mecca amid coronavirus closure
Tommy Hilton
14 May 2020
Saudi Arabia is continuing work on the expansion of the Grand Mosque of Mecca, one of Islam's holiest sites, after granting licenses to the agency responsible, reported Saudi Press Agency (SPA) on Wednesday.
The Grand Mosque of Mecca, known as al-Masjid al-Haram in Arabic, surrounds the Kaaba in Mecca and is the site of the Hajj pilgrimage that all Muslims should complete once in their lifetime. It is the largest mosque in the world and has been expanded twice, between 1955-1973 and again between 1982-1988.
According to SPA, the area of the third expansion includes the Masaa expansion, which has already been opened, and a range of flyovers, stairs, tunnels, security buildings, stations, bridges, power infrastructure and a hospital.
On Wednesday, SPA announced that the Agency for Projects and Engineering at the General Presidency for the Affairs of the Grand Mosque and the Prophet's Mosque has issued licenses for the remaining works for the third expansion.
The works include work on the main gates, the installation of artificial stone ceilings, and the completion of architectural arches overlooking the courtyard.
The announcement comes as restrictions aimed at slowing the ongoing coronavirus pandemic have limited access to the mosque for pilgrims. Authorities had closed the Islamic holy sites to the public as the virus spread to the region.
Worshippers at the Grand Mosque in #SaudiArabia's Mecca maintain social distancing in group Taraweeh prayers during the holy month of #Ramadan to prevent the spread of the #coronavirus.https://english.alarabiya.net/en/coronavirus/2020/04/24/Video-Mecca-from-the-skies-on-the-first-day-of-Ramadan-amid-coronavirus-restrictions.html …
Authorities closed the areas covered by the third expansion on March 25 to help contain the spread of the virus, following a range of measures aimed at sterilizing the mosque and making it safe for pilgrims in the future.
Earlier this month, General Presidency of the Affairs of the Grand Mosque and the Prophet's Mosque launched self-sterilization gates at the entrance of the Grand Mosque.
https://english.alarabiya.net/en/News/gulf/2020/05/14/Saudi-Arabia-resumes-work-on-Grand-Mosque-in-Mecca-amid-coronavirus-closure.html
------
Nineveh Reopens Mosques To Perform Tarawih Prayers
2020/05/14
Shafaq News / The local government of Nineveh Governorate decided on Wednesday to reopen mosques to worshipers to perform Tarawih prayers (refers to additional ritual prayers performed by Muslims at night after the Isha prayer during the holy month of Ramadan).
"The head of the crisis cell, Governor of Nineveh Najm al-Jubouri, instructed to allow opening mosques to establish Tarawih prayers exclusively from today," a statement issued by the governorate said to Shafaq News Agency.
This decision comes despite the increase in cases of coronavirus infection in the country, as Iraq recorded 119 new cases of corona virus on Wednesday, which is the highest daily outcome recorded by the country since the emergence of the pandemic, in addition to three new deaths.
https://www.shafaaq.com/en/iraq-news/nineveh-reopens-mosques-to-perform-tarawih-prayers/
-----
Qatar Islamic Bank supports Qatar Charity's food basket project
14 May 2020
As part of its Corporate Social Responsibility (CSR) program, focused on benefiting the society, Qatar Islamic Bank (QIB) is sponsoring Qatar Charity's project to distribute food baskets to families and workers with limited incomes during these difficult times. MashaalAbdulaziz Al Derham, Assistant General Manager for Corporate Communications & Quality Assurance at QIB, commented: "Ramadan is the month of giving, generosity, solidarity, and tolerance.
We are extremely pleased that our partnership with Qatar Charity helps families and workers with limited incomes in our society receive food baskets, based on the government's health instructions, amid the current COVID-19 pandemic."
Mohamed Rashid Al Kaabi, Assistant CEO for Communication and Resource Development Sector at Qatar Charity thanked Qatar Islamic Bank for its support towards charitable programs and projects, which reflects their keenness to provide help within the framework of their social responsibility and humanitarian work. He said: "Collaboration between all sectors in the country is very important, especially during Ramadan and this global pandemic (COVID-19). Qatar Charity, with support, can reach the greatest number of people in need and help them during the Holy Month of Ramadan."
Supporting low-income members of the society during the blessed month of Ramadan is part of QIB's CSR program, reflecting the Bank's adherence to Islamic values and Qatari traditions concerning social solidarity and cohesion. The Bank supports such programs every year as an embodiment of its commitment towards the community.
As a pioneer of Islamic Banking and an active partner providing continuous support to community activities, QIB places social responsibility at the very top of its priorities. This is reflected in substantial contributions for supporting human, health, educational, and sports activities as part of QIB's social responsibility programs.
https://thepeninsulaqatar.com/article/14/05/2020/Qatar-Islamic-Bank-supports-Qatar-Charity%E2%80%99s-food-basket-project
-----
Festival City opens Ramadan-themed virtual art gallery
May 14 2020
By Joey Aguilar
Doha Festival City (DHFC) officially opened its virtual art gallery yesterday (May 13), showcasing a number of Ramadan-themed artworks by established and up-and-coming artists in the country.
In a statement, DHFC said a total of 50 exclusive art pieces such as Eman al-Sulaiti's 'Alshghab', Jennifer Joyce Borillo's 'Florals', Ferin Gafoor's 'Calligraphy of Islam', and DureidYaghi's 'Bread Composition' have been selected from nearly 200 submissions, ranging from paintings, photographs, digital arts and calligraphy.
The virtual art gallery initially uploaded nine artworks yesterday, including Silvana Nader's 'Arabesque Azuro Vase', Shanza Shahid's 'Art in Motion', Athya Ansari's 'Beauty of Allah', Lina al-Ali's 'Hand by Hand We're Together', and Ahmad al-Hajri's 'Inheritance of Faith'.
"DHFC believes that art in all its forms can bring communities together. In support of Qatar Museum's and Fashion Trust Arabia's Stand with Creatives campaign, our initiative aims to provide artists in Qatar the opportunity to showcase their works and we are more than happy to support the community in doing this through our hugely followed digital platforms", said DHFC general manager Robert Hall in a statement.
"It never ceases to amaze me the individual talent and expression in our community that is Qatar. From the outset of our Qatar Unites Us campaign last year, I realised just how individualistic and yet united we are in Qatar, both nationals and expats alike," he added.
The virtual art gallery on DHFC's website (www.dohafestivalcity.com) provides an opportunity for art enthusiasts in Qatar and around the world to view the works of local artists amid the coronavirus (Covid-19) pandemic.
'Alshghab', meaning 'gold' in Qatari slang, is among al-Sulaiti's 'Meshkhas' collection, which she said contains "four other portraits that demonstrate other pieces of well-known jewellery used by our mothers and grandmothers along with their names to make them more memorable and known by the younger generation."
Yaghi, meanwhile, selected bread as his focus since it has been the main and basic food for rich and poor people globally for thousands of years.
Nader's creativity is reflected on her 100% hand-painted work, 'The Arabesque Azuro Vase', a fine high-end porcelain. Its Arabic design was "derived from ancient artistic authentic era of blue themes and background."
Other artworks which will be displayed soon include Maia Sano's 'Reflection in Isolation', a piece symbolising the simplicity yet the importance of Ramadan for all Muslims, especially in Qatar; and 'Spiritual Isolation', which outlines the personal experience of each Muslim during this pandemic.
https://www.gulf-times.com/story/663166/Festival-City-opens-Ramadan-themed-virtual-art-gal
------
DiplomaticQuarter: Saudi Islamic guidance minister meets UK envoy
May 14, 2020
The UK ambassador to Saudi Arabia, Neil Crompton, on Wednesday called on the minister of Islamic affairs, dawah and guidance, Dr. Abdullatif Al-Asheikh.
A number of issues of mutual concern were discussed during the meeting, the Saudi Press Agency reported.
Crompton wished for the successful consolidation and further enhancement of bilateral relations and joint cooperation in all fields.
The envoy also recently met Dr. Abdullah Al-Rabeeah, supervisor general of the King Salman Humanitarian Aid and Relief Center (KSRelief). The two men discussed a range of humanitarian matters, as well as the coronavirus pandemic.
"Good conversation with Dr. Al-Rabeeah about our shared COVID-19 and humanitarian agenda, particularly Yemen," Crompton tweeted after meeting the KSRelief chief. "As co-hosts of the Coronavirus Global Response Summit, I expressed the UK's thanks for Saudi Arabia's $0.5 billion assistance to international health organizations."
The two countries are key strategic partners in the Kingdom's Vision 2030 reform plan, and both reaffirmed their commitment to building and developing trade and investment, in addition to achieving shared prosperity for citizens of both countries.
Andrew Murrison, who is minister of state at the Department for International Development and minister for the Middle East at the Foreign Office, has described the bilateral relationship as "warm, cordial and positive."
"Saudi Arabia is extremely important to the UK and we have ties that have gone back for many, many years, and I am confident that that will continue in the course of the new government," Murrison told Arab News last year.
Crompton was appointed ambassador to the Kingdom in February 2020. Prior to that he led the Middle East and North Africa directorate from 2015 to 2019.
https://www.arabnews.com/node/1674351/saudi-arabia
-------
Europe
Mosques reopened in Guinea by anti-lockdown protesters
14 May 2020
Anti-lockdown protesters in Guinea on Wednesday forced open a handful of mosques that had been shut for weeks, according to witnesses, demonstrators and a local official.
It came a day after seven people were killed in clashes with police during protests against roadblocks set up during the pandemic and frequent power cuts in the impoverished West African country.
The mosques had been closed since late March as part of measures to control the spread of the deadly disease in a nation that is around 80 percent Muslim.
Dozens of worshippers in the eastern town of Kamsar entered a mosque and thoroughly cleaned it before praying there, a witness said.
As they did so, the group comprised of women, young people and children chanted "Allahu akbar", meaning "God is Greatest", the witness added.
"The government is unable to protect us from the virus, so we are leaving it to God alone. How can markets stay open, but mosques be closed?" one young protester said on condition of anonymity.
Politician Karamoko Bangoura described the scene as local media reported that around four or five mosques had been reopened under similar circumstances near the capital Conakry.
"We saw a crazed crowd go to the mosques and reopen their doors," he said, adding that "it wasn't violent at all, they just broke the padlocks".
The head of one reopened mosque said he "thanked God" for the events, because "we were worried that we wouldn't be able to pray with the end of Ramadan approaching", referring to the holy month of fasting.
Guinea is one of the countries in the region worst-hit by the virus crisis and its poor sanitation system has raised fears of a severe epidemic.
Jamal Bangoura, Guinea's secretary of state for religious affairs, on Wednesday called for "calm and restraint", emphasising that the places of worship had been closed as part of the fight against the virus.
https://www.dailymail.co.uk/wires/afp/article-8318045/Mosques-reopened-Guinea-anti-lockdown-protesters.html
-----
Coventry man takes on 260km run Ramadan charity challenge
5 hours ago
A man is running 260km (161.5 miles) during Ramadan - covering 10km each night after a 16-hour fast.
Haroon Mota, 34, from Coventry, had planned to run four major world marathons in five weeks until the lockdown made that impossible.
Mr Mota, who began his challenge at the start of the holy month, at the end of April, has about 130km (80 miles) still to complete.
He had originally planned to run the city marathons in Berlin, London, Chicago and New York, but had to postpone that ambition when the coronavirus pandemic saw international travel, mass gatherings and sporting events ruled out.
Mr Mota is head of challenge events for the Penny Appeal, a poverty relief charity, and was inspired to take on the 260km distance as part of the 2.6 challenge, which was set up to raise money for charities that have lost fundraising opportunities due to the cancellation of major events.
Help me raise £25,000 for @pennyappeal to help people facing crisis, war and displacement in places like Syria, Gaza & Yemen. http://www.justgiving.com/runmotarun Plz RT & Donate 🙏 #RunMotaRun #TwoPointSixChallenge
Mr Mota has been running at about 19:00 GMT each night to coincide with sunset so he can enjoy his iftar, evening meal, once the run has been completed.
"So many people have been supporting me from all over the world, which has been really encouraging me," he said.
"I can't wait for it to be over, I am looking forward Eid when I can put my feet up and feast."
https://www.bbc.com/news/uk-england-coventry-warwickshire-52639067
------
UK Muslim charity calls for end to statutory inquiry after police return seized funds
13 May 2020
A UK-based Muslim charity has called on the Charity Commission to end its statutory inquiry into the organisation after police confirmed that funds confiscated from it last year were donations and perfectly legitimate.
The money was seized by UK Border Police at Heathrow Airport on 9 July 2019 from Human Aid UK's workers while they were en route to the besieged Gaza Strip.
Nur Choudhury, the organisations's chair, said: "Human Aid UK has worked hard to pursue the funds entrusted to it and we are pleased to have finally retrieved the donations after 10 months.
In a statement on Wednesday, a spokeswoman for the Charity Commission told Middle East Eye: "Any questions regarding the seizure of funds in July 2019, under the Proceeds of Crime Act, from individuals carrying them on behalf of the charity are a matter for the police, not the commission."
Human Aid UK has previously warned of a larger pattern of harassment of Muslim charities at UK borders and prolonged scrutiny of them by the commission, which launched its inquiry into the organisation on 2 August.
At the time, the commission said the inquiry would examine: the trustees' management and administration of the charity, including their compliance with both charity law and the law as it relates to the charity and its administration; and the charity's governance, adherence to policies and procedures, use of partners and monitoring and verification of overseas expenditure.
'The people of Gaza were deprived of this life-saving charitable contribution whilst hundreds of hours of police time and charity time was wasted'
"Now that all public funds seized have finally been returned, we need to question the basis of the statutory inquiry launched at the time," said Choudhury.
"The people of Gaza were deprived of this life-saving charitable contribution whilst hundreds of hours of police time and charity time was wasted," said Choudhury.
"Moreover, the Charity Commission took the very serious step of initiating a statutory inquiry into Human Aid mainly on the basis of the seizure.
"We will be writing to the commission seeking answers and hope that this inquiry, which has already lasted more than 10 months, can now be brought to a close."
In its statement on Wednesday, the commission told MEE that the inquiry remained open and that it had yet to receive a request from Human Aid UK to end it.
'The commission's statutory inquiry into Human Aid UK remains open and ongoing and we refer to our public statement announcing the opening of the inquiry which sets out the issues the inquiry is examining," the spokeswoman said.
"If the trustees of the charity wish to request that the commission concludes its inquiry, it is open to them to request this and for the commission to consider any such request. To date, no such request has been made."
Human Aid UK, which supplies aid to war-torn areas across the Middle East, said its aid workers were stopped last year under Schedule 7 of the UK's Terrorism Act.
The powers do not require officers to have any reason for suspicion. Individuals have to answer questions posed by police during these stops and risk arrest if they refuse to respond.
"During these stops, our aid workers are searched, interrogated under terrorism laws and their fingerprints and DNA samples are taken.
"There seems to be no way to stop this harassment and criminalisation of aid work. One begins to wonder if it is a crime to care for other others."
Among various activities this year, Human Aid says it has supplied thousands of items of personal protective equipment to UK hospitals, distributed infant formula in Yemen, and provided food, education and other forms of support to refugee orphans and widows from Syria.
Human Aid UK has previously had its bank accounts frozen and was investigated by the UK Charity Commission over the course of five years.
The report concluded in 2017 that there had been "no misapplication of charity funds" by Human Aid, but according to the charity, the investigation led to "significant financial loss" for the organisation.
"The Charity Commission does important work in ensuring public funds are used for charitable purposes and we continue to cooperate with them. They are there to enable and empower charities," Choudhury told MEE last year.
"They should not, however, become a tool for intelligence agencies and counterterrorism police to conduct investigations under the radar exploiting the Charity Commission's extensive powers."
In its statement on Wednesday, the commission said: "We are confident that there is no bias in the way that we assess concerns or make decisions about our regulatory case work.
"In addition, we undertake regular analyses of our inquiries, which provides additional assurance that there do not appear to be any areas of significant over or under-representation in the charities into which inquiries are opened."
https://www.middleeasteye.net/news/uk-muslim-charity-calls-end-statutory-inquiry-after-police-return-seized-funds
------
Africa
Nigeria: 'Boko Haram was funded and inspired by Bin Laden' – Zenn
13 May 2020
The Algerian civil war, Sahelian camps, Saudi networks; an American academic describes a Nigerian jihad with a regional focus, long before the emergence of the Islamic state in West Africa.
Was Boko Haram a local and Nigerian jihadist movement? Or has it been foreign-oriented from the outset, particularly in West Africa?
American academic Jacob Zenn, a specialist in West African jihadism at Georgetown University, traces the origins of the "sect" back to those now affiliated with the Islamic state armed group.
In an 30 April book, Unmasking Boko Haram: Exploring Global Jihad in Nigeria, Lynne Rienner Publishers Inc., Zenn describes the foreign influence that helped forge Boko Haram, from Sudan to Algeria's GIA to Osama bin Laden's al-Qaida. He answers our questions.
Jacob Zenn: The founders of the Nigerian jihadist movement developed their movement through interactions with Algerian jihadists and the first representatives of Al Qaeda in Sudan in the 1990s. It was these outside influences and fighters that they then brought back to Nigeria.
Moreover, it should not be forgotten that jihadist ideology is inherently transnational. It seeks to eliminate so-called "Westphalian" borders in favour of expanding Islamic states without borders.
Algerian jihadists arrived in Nigeria from 1994 onwards to buy arms. They were welcomed by local Salafists and recruited students, who became their militants. Similarly, we know today that one of the founders of the group that later became Boko Haram met Osama Bin Laden's lieutenants in Sudan.
https://www.theafricareport.com/27750/nigeria-boko-haram-was-funded-and-inspired-by-bin-laden-zenn/
------
'Lockdown made everything gloomy': Ramadan in Nigeria's Kano
by Fidelis Mbah
18 hours ago
It is 4.42am of day 16 of the Muslim holy month of Ramadan, and Ismaila Alhassan wakes up by the call to prayer broadcasted by loudspeakers outside.
Rather than heading to his local mosque metres away from his house in Kano, Nigeria's second-most populous city, the 47-year-old and his four sons walk to their prayer spot inside their home. They will repeat this throughout the day as they perform their five mandatory daily prayers.
Alhassan's decision to carry out the religious obligations at home is in line with strict measures put in place on Kano state to curtail the spread of the coronavirus pandemic.
"This Ramadan is clearly different from previous ones. We can't go to the mosques again, we can't break our fast with friends, hand gifts out to the needy. We are locked inside our houses, almost like prisoners, but we have to comply with the government directives," Alhassan told Al Jazeera.
"We pray for Allah's intervention because this coronavirus [pandemic] has to end soon so that we can live our normal life and move about freely," he said on Monday.
Kano, the commercial hub of northern Nigeria with an estimated population of some 13 million, was placed on lockdown by President Muhammadu Buhari on April 27 following the "unexplained deaths" of 640 people within two weeks.
It came as local reports quoted gravediggers at cemeteries in the city as saying that they were burying a bigger-than-usual number of bodies in recent weeks, prompting concerns among residents.
The state government denied claims the deaths were related to the coronavirus pandemic, while the federal government deployed a fact-finding team to Kano to investigate the "rapid increase in mortality" as authorities enforced the lockdown.
Under the measures, schools, mosques and offices were closed while public gatherings were banned and residents were ordered to remain in their houses.
On May 2, state Governor Abdullahi Ganduje announced a partial easing of the measures for two days of the week, every Monday and Thursday from 10am to 4pm, "to enable people move out and make some purchases".
However, places of worship in the Muslim-majority city remained closed. Islamic scholar Umar Bawa told Al Jazeera this was not received well by some worshippers during Ramadan.
"So many complaints, particularly with the lifting of the lockdown on some days," he said, adding that some worshippers were asking him, "Why not open the mosques for only 30 minutes for Jumaat prayers?"
Ramadan is a period when Muslims are encouraged to support the less privileged with donations and charity work - but this year this is a tough task.
"People use this opportunity to distribute alms but now they are scared," said Rabiu Bashir, a 23-year-old banker in Kano. "No communal relationships and exchanges like before," he told Al Jazeera. "The lockdown has made everything gloomy."
Still, the two-day easing of restrictions has opened a window for people to rally support for those in need, according to Bawa. "Gifts and contributions are being collected on the days when the lockdown is lifted," he said.
Traditional performers during the annual Durbar festival held at the end of Ramadan in Nigeria's northern city of Kano [File: Akintunde Akinleye/Reuters]
This time of the year is also when Kano residents would usually be looking forward to the Durbar festival marking the end of Ramadan, one of the most colourful cultural events in Nigeria that attracts hundreds of thousands of people.
This year's event, however, may not take place due to the coronavirus containment measures - less than two weeks before its supposed start, preparations have yet to commence.
"A lot will be missed about the Durbar - from the extravagant display to the huge turnout of people," Bashir said. "It's one that makes spending Eid [-al Fitr] in Kano special."
The festival is usually overseen by the influential emir of Kano, who is seen as the second most senior Islamic ruler in Nigeria. On March 11, Aminu Ado Bayero was installed as the new traditional ruler following the removal of the former Emir Lamido Sanusi after a running argument with the state government.
"I'm sure a lot of people will want to see how the newly-installed emir will perform his own Durbar, which is something we have to wait a bit longer to see," Bashir said.
A woman wearing a protective face mask walks past a public bus in Lagos, the epicentre of the crisis in Nigeria [File: TemiladeAdelaja/Reuters]
Lagos remains the epicentre of the virus in the country, with 1,990 registered cases, while Kano state has the second-highest number, with 693 recorded infections.
"The only thing on our minds is to dress up, take pictures, eat and spend time as a family," Bashir said, referring to his family's celebration plans.
"This is just a temporary setback," he said. "We will soon gather again for prayers in mosques, share food, visit families and hold another Durbar next year Insha Allah," he said.
https://www.aljazeera.com/news/2020/05/gloomy-ramadan-nigeria-kano-200511120705414.html
-------
The imperative of Ramadan in a time of COVID-19
By M. OmorovieIkeke
14 May 2020
Some persons will wonder why a Catholic Priest should write in positive regard of the celebration of Ramadan. The world has been challenged by religious fanaticism. Religious fanatics accept only the fundamentals of their religions. These fundamentals they have misconstrued, and misrepresented. They are filled with unrestrained and misdirected zeal. They can kill and engage in violence to keep their understandings of their religion "pure." The world will be a better place, if there is total respect for the rights to religious freedom and conscience. Each of us should be open to the fact that there are values in other religions that we can learn from. If you don't respect other people's faiths, why do you want them to respect your own faith? For many of us, the faith we uphold is often a product of our background or place of origin. We were born into a place; we became adherents of the religion of that place, and became convinced of it. I agree with Malcolm Muggeridge who writes concerning Jesus that his coming into the world is the most stupendous event in human history. But he notes that perhaps had he been born in Mecca or Bangkok his position could have been different.
There is too much religious intolerance in our country. We should be persuaded of the catholic position that is open to appreciating the values of other religions. Pope Francis in his Angelus Message in 2013 rightly notes that what the world needs today is not a culture of confrontation or conflict, but encounter and dialogue that builds harmony and peace among people. In Nostra Aetate (Declaration on the Relation of the Church to Non-Christian Religions), the Catholic Church affirms regarding other religions that she "looks with sincere respect upon those ways of conduct and of life, those rules and teachings which, though differing in many particulars from what she holds and sets forth, nevertheless often reflect a ray of that Truth which enlightens all men" (no 2). Elsewhere in number 16 of Lumen Gentium, the church teaches that: "But the plan of salvation also includes those who acknowledge the Creator. In the first place amongst these there are the Muslims, who, professing to hold the faith of Abraham, along with us adore the one and merciful God, who on the last day will judge mankind." In furtherance of the profound admiration offered in Nostra Aetate, she teaches: "The Church regards with esteem also the Moslems. They adore the one God, living and subsisting in Himself; merciful and all-powerful, the Creator of heaven and earth, who has spoken to men; they take pains to submit wholeheartedly to even His inscrutable decrees, just as Abraham, with whom the faith of Islam takes pleasure in linking itself, submitted to God. Though they do not acknowledge Jesus as God, they revere Him as a prophet. They also honor Mary, His virgin Mother; at times they even call on her with devotion. In addition, they await the day of judgment when God will render their deserts to all those who have been raised up from the dead. Finally, they value the moral life and worship God especially through prayer, almsgiving and fasting" (no 3).
Therefore, it is standing on solid ground that we wish all Muslims a holy/peaceful season of Ramadan. Aljazeera in "Ramadan 2020: Why is it so important for Muslims?" on 20th April 2020 rightly notes that: "Ramadan is the ninth month in the Muslim lunar calendar. Healthy adult Muslims fast in Ramadan from dawn until dusk. This includes abstaining from drinking, eating, immoral acts and anger. Other acts of worship such as prayer, reading the Quran and charity are also encouraged during the holy month. Muslims also believe the Quran was revealed in Ramadan."
Muslims are our brothers and sisters. We should share in solidarity with them as they fast/pray. Fasting is a discipline that is observed in many other religions. Fasting in any religion should be linked with right living and humanitarian love. Ramadan calls for a closer walk with Allah, the most gracious and merciful. To fast and not display the graciousness and mercy of Allah is an aberration. It calls for living an authentic human life free from corruption, violence against others, religious discrimination, etc. As the giving of the Qur'an to Prophet Muhammad is celebrated, it behoves the people of the holy book to challenge all aberrations and distortions of the holy book by so-called Islamists, religious terrorists, and extremists. Muslims should retrieve afresh the authentic teachings of Islam. They should not allow religious extremists/ fanatics hijack the holy book from them.
This Ramadan is being celebrated as the world is passing through the COVID-19 scourge. All humanity should strive to galvanise resources to help conquer COVID-19. This Ramadan is an opportunity for Muslims all over the world to continue to use more than ever before their enormous wealth to aid humanity overcome this pandemic. Muslim scientists should not relent in their efforts to conquer this virus. In the place cited above, Aljazeera states further that: "it is common for mosques to host large iftars, especially for the poor and needy. Nightly prayers called Tarawih are also held in mosques after iftar. Different cultures have different traditions during Ramadan, whether it is a special food they must cook, or eating iftar with the extended family. Islamic tenets such as generosity inspired most of these traditions, including sharing food and inviting guests over for iftar." There is an imperative to give help especially the poor/needy. The poor are suffering. Palliatives meant for the vulnerable are not getting to many of them. Muslims and all of us who share in solidarity with them can break the bottlenecks denying food and resources to the poor/ needy. Through this Ramadan may peace return to all nations; and may our rulers truly become servant-leaders. Amen.
https://guardian.ng/opinion/the-imperative-of-ramadan-in-a-time-of-covid-19/
-----
Shun Makinde's Iftar invitation, group tells imams, alfas
May 14, 2020
An Islamic group, Joint Action Committee for the Preservation of the Rights and Honours of Imams in Oyo State, has urged Imams and Alfas in the state to shun the Ramadan Iftar invitation by Governor SeyiMakinde.
It described the invite as a gross violation of the social distancing directives of the Federal Government in view of the COVID-19 pandemic.
The group, in a statement signed by one of its executive members, Abu Aisha Muhammad, expressed shock that the governor's action contradicted his position on social distancing directive.
The statement partly read, "Our attention has been drawn to a letter of invitation to a Ramadan Iftar by the Governor of Oyo State, SeyiMakinde.
"We have sought jurisprudential opinions and advice of the Islamic scholars on the said Iftar, which some scholars described as an Iftar of violations and contraventions of the Federal Government Law by the Oyo State Government, which has a penchant for going against anything by the Federal Government.
"As much as this group is not holding brief for the Federal Government, neither is it acting as the mouthpiece of the National Centre for Disease Control, we view with dismay and indignation the non-statesmanship conduct of the state governor who, in spite of the pandemic, organised an Iftar for the League of Imams and Alfas in Oyo State."
It said in accordance with the dictates of the Shariah to obey constituted authority, the group would not want the clerics to attend the programme as it was in contravention of Federal Government's directives, "and for fear of our imams contracting the coronavirus and transmitting it, we ask our imams and alfas to boycott it.
"Some of the scholars and leaders cited the ravaging COVID-19 pandemic as one of the reasons. Secondly, the day fixed for the Iftar falls within the day the search for lailatulqodr begins and no one could say if the night of that day is exactly the lailatulqodr. If this happens, then substantial number of the Imams, who would attend, would have missed the majesty and magnificent benefits of that night.
https://punchng.com/shun-makindes-iftar-invitation-group-tells-imams-alfas/
-----
Djibouti Ambassador Praises Custodian of Two Holy Mosques Programs for Ramadan Iftar and Distribution of Dates
2020/05/13
Djibouti Ambassador to the Kingdom of Saudi Arabia Dya-Eddine Said Bamakhrama, who is also the Dean of the Diplomatic Corps accredited to the Kingdom, praised the Custodian of Two Holy Mosques Programs for Ramadan Iftar (breakfast) and the distribution of fine dates implemented by the Ministry of Islamic Affairs, Call and Guidance in 18 countries around the world, including the Republic of Djibouti, noting that the implementation of these two projects in Djibouti has garnered a good effect, which is greatly appreciated.
The Ambassador thanked and praised the Custodian of the Two Holy Mosques King Salman bin Abdulaziz Al Saud and His Royal Highness the Crown Prince for the service they offer to Islam and Muslims.
https://www.spa.gov.sa/viewfullstory.php?lang=en&newsid=2086174
------
South Asia
Airstrikes kill, wound 36 Taliban militants in Balkh
13 May 2020
A series of airstrikes killed or wounded at least 36 Taliban militants in two districts of Balkh province, the Afghan military said.
The 209th Shaheen Corps in a statement an airstrike targeted a gathering of Taliban militants in Chahal Bolak district of Balkh at around 7:30 am today.
In a separate statement, the 209th Shaheen Corps said an airstrike in Balkh district at around 1:30 pm local time which killed at least 17 Taliban militants.
However, the 209th Shaheen Corps rejected the claims and said only militants were killed in the raid who were busy destroying a road.
https://www.khaama.com/video-airstrikes-kill-wound-36-taliban-militants-in-balkh-07814/
-----
Death toll from Kabul maternity ward attack rises to 24: MoPH
13 May 2020
The death toll from a coordinated attack on a maternity ward in West of Kabul city has climbed to at least 24, the public health officials said.
Wahid Majroh, a spokesperson for the Ministry of Public Health, confirmed Wednesday that the death toll from yesterday's attack has risen to 24 people.
A group of armed men attacked the maternity ward of a 100-bed hospital in Dasht-e Barchi area in West of Kabul city early on Tuesday.
No individual or group has so far claimed responsibility for the attack although reports indicate the offshoot of ISIS terrorist group has claimed responsibility.
https://www.khaama.com/death-toll-from-kabul-maternity-ward-attack-rises-to-24-moph-07813/
------
Russia reacts to President Ghani's order to Afghan forces for offensive operations
14 May 2020
Moscow reacted to President Mohammad Ashraf Ghani's latest order to the Afghan forces in which he ordered the national defense and security forces to resume offensive operations against the militants, including Taliban.
Russian Special Presidential Envoy for Afghanistan and Director of the Russian Foreign Ministry's Second Asia Department Zamir Kabulov told TASS that President Ghani's order to launch an offensive against the Taliban (outlawed in Russia) and the suspension of the release of Taliban prisoners will halt the process of launching intra-Afghan negotiations
"This is regrettable, because by his actions the head of the Kabul administration actually stalls the process of moving towards the launch of intra-Afghan negotiations," he said, adding that "Such actions clearly indicate that Kabul is not much interested in the early launch of intra-Afghan talks," the diplomat added.
Kabulov stressed that the Taliban's combat activities against government forces did not violate the agreements reached by the Taliban and the US in Doha.
President Ghani on Tuesday ordered the Afghan forces to go offensive against the Taliban militants while reacting to the recent deadly attacks which killed dozens of people.
In a televised speech, Ghani said the Taliban militants have increased their attacks despite the repeated calls by the Afghan people, the Afghan government and international community to reduce violence and declare a ceasefire.
Ghani further added that Kabul and Nangarhar once again witnessed attacks by Taliban and ISIS, which killed or wounded many civilians, children and security personnel.
https://www.khaama.com/russia-reacts-to-president-ghanis-order-to-afghan-forces-for-offensive-operations-07816/
------
Afghanistan records 259 new cases of coronavirus in past 24 hours
13 May 2020
The Ministry of Public Health (MoPH) on Wednesday that the public health authorities recorded 259 new positive cases of the novel coronavirus (COVID-19) in various provinces in the past 24 hours.
Deputy Public Health Minister Wahid Majroh said a total of 5 people infected with the virus lost their lives during the same period and 42 others recovered.
Majroh further added that a total of 132 people have so far lost their lives across the country since the outbreak of the virus while a total of 648 people have fully recovered.
According to Public Health Ministry, the public health authorities have recorded 5,226 positive cases of coronavirus since the spread of the disease.
https://www.khaama.com/afghanistan-records-259-new-cases-of-coronavirus-in-past-24-hours-07815/
-----
PM launches disbursement of cash aid for 50 lakh poor households
May 14, 2020
Prime Minister Sheikh Hasina today launched the disbursement of over Tk 1,200 crore cash aid for 50 lakh poor families hit hard by the coronavirus pandemic.
Each family will get Tk 2,500 cash through mobile financial services (MFSs) so that they get the money directly, she said.
The prime minister inaugurated the disbursement programme from her official residence Gono Bhaban today.
The prime minister also launched a stipend programme for meritorious students of honours and equivalent courses.
About the surge of deaths due to coronavirus, she said, "Although the shutdown has been relaxed on a limited scale for the sake of ensuring livelihood, we will be able to contain the virus."
https://www.thedailystar.net/country/pm-hasina-launches-disbursement-taka-1200cr-cash-aid-50-lakh-poor-people-1902514
-----
Pakistan
Lawmakers Play Blame Game In NA Over Covid-19
Amir Wasim
May 14, 2020
ISLAMABAD: Lawma­kers on Wednesday turned the National Assembly debate on the Covid-19 pandemic into a political point-scoring match as members on both sides of the aisle kept on hurling allegations and counter-allegations during more than six-hour-long proceedings of the house.
While sticking to their respective party positions, almost all lawmakers delivered political speeches in which they even targeted each other's leadership and passed some personal rem­arks forcing Deputy Speaker Qasim Suri to expunge them from the proceedings.
The house witnessed ruckus on a couple of occasions when members of the MuttahidaQaumi Movement (MQM) protested against Pakistan Peoples Party (PPP) MNA Raja Pervez Ashraf's remarks terming them "rented soldiers" and later when the PPP members protested over the use of objectionable words against party chairman Bilawal Bhutto-Zardari by Pakistan Tehreek-i-Insaf (PTI) MNA from Karachi Faheem Khan.
The PTI MNA actually responded to similar remarks passed by PPP MNA Abdul Qadir Patel about PM Khan and Communications Minister Murad Saeed.
"Yesterday, you were sitting with us and speaking for us. Today, you are part of the present government. You are rented soldiers," said Mr Ashraf prompting a noisy protest by MQM lawmakers.
The treasury members lashed out at the opposition parties for their "undue criticism" of Prime Minister Imran Khan and the PTI government whereas opposition lawmakers accused government members of intentionally spoiling the atmosphere through their provocative speeches to hide their "incompetence and failure" in handling the Covid-19 pandemic.
Mr Ashraf took exception to the opening speech of Foreign Minister Shah Mehmood Qureshi in the house on Monday and termed his outburst against the PPP and the Sindh government uncalled for.
When the opposition targeted the prime minister for not attending the session, the treasury members reminded them that Opposition Leader Shahbaz Sharif came back to the country from the UK to take part in the nation's war against coronavirus, but now he was unwilling to come out of his home on the pretext of medical grounds.
The opposition members were of the view that the government had failed to come out with a "national strategy" to fight the pandemic and it did not even have the required data to make a policy.
"We don't know the actual number of cases. We are only focusing on those in hospitals or travel history," PML-N leader Dr Nisar Ahmed Cheema said while calling for random testing in the country.
"Give us some statistics to gauge the situation. The government has imposed the lockdown without revealing the data and lifted the lockdown in the same way," declared another PML-N MNA from Gujranwala Khurram Dastagir Khan.
"The data is wrong. The country's Covid-19 testing capacity is the bare minimum. The government has no idea how many people have been affected with the virus or how many are dying," said another PML-N lawmaker Khawaja Saad Rafique.
PPP leader Raja Pervez Ashraf and PML-N leader Shahid Khaqan Abbasi challenged the government over its claim regarding the announcement of Rs1.2 trillion relief package.
Mr Abbasi said it seemed that the government considered the 18th Amendment as the main cause of spread of Coronavirus and it believed that the pandemic could be eliminated if this amendment was repealed.
He said the government had not developed any strategy to deal with the current health crisis. He said though the government had launched websites, it did not run an effective awareness campaign. He also raised questions over the ambiguity of the government's lockdown plan as well as protocols designed for testing and treatment of patients.
Amir Haider Hoti of the Awami National Party (ANP) expressed concerns over lack of awareness about the novel coronavirus noting that there were many people who had refused to get tested because of the stigma attached to the virus.
Independent lawmaker from erstwhile federally administered tribal areas Mohsin Dawar questioned the effectiveness of the lockdown, claiming that the police and law-enforcement personnel were not even aware of the concept.
The PashtoonTahaffuz Movement (PTM)-backed MNA also raised the issue of the recent killing of Arif Wazir in a terrorist attack. When the chair asked him only to talk about the pandemic, he said they could not allow human rights violations in the garb of coronavirus. He also said that taking advantage of the coronavirus situation, terrorists were regrouping in tribal areas.
Education Minister Shafqat Mehmood dismissed claims that the centre had not helped provinces. On the one hand, he said, they were making hue and cry over the issue of 18th Amendments and on the other they were exceeding their jurisdiction under 18th Amendment. He asked the opposition not to politicise every issue and advised them to have a balanced approach.
https://www.dawn.com/news/1556948/lawmakers-play-blame-game-in-na-over-covid-19
-----
NAB opposes Raja Pervez Ashraf's acquittal plea
May 14, 2020
Malik AsadU
ISLAMABAD: The National Accountability Bureau (NAB) on Wednesday opposed the acquittal plea of Pakistan Peoples Party (PPP) leader Raja Pervez Ashraf in two rental power projects cases.
The PPP leader is seeking acquittal under an ordinance the Pakistan Tehreek-i-Insaf government recently promulgated to amend the NAB law which redefined the offence "misuse of authority" and also defined NAB's jurisdiction.
In his petition, Mr Ashraf requested the court that he should be acquitted in cases pertaining to Reshma Rental Power Project and Gulf Rental Power Project under the new amendments to the NAB law.
The bureau on the other hand opposed the acquittal of Mr Ashraf saying that NAB had sufficient evidence to link the PPP leader to the offence.
Mr Ashraf contended in the petition that there was no evidence with NAB regarding taking any financial benefits or kickbacks for these Rental Power Projects (RPPs) therefore as per the presidential ordinance, the procedural loopholes could not be called corruption and corrupt practice.
Though the ordinance under which Mr Ashraf is seeking acquittal from the court has lapsed, the court continued hearing of the case as the PPP leader had filed the petition when the ordinance did not lapse.
The NAB prosecutor said that witnesses and evidence would be produced in the court during trial proceedings in the cases.
https://www.dawn.com/news/1556952/nab-opposes-raja-pervez-ashrafs-acquittal-plea
-----
PHC stopped from issuing orders in cases of military courts convicts
Nasir Iqbal
May 14, 2020
ISLAMABAD: The Sup­reme Court on Wednesday restrained the Peshawar High Court (PHC) from issuing interlocutory orders, which include grant of bail to appellants convicted by military courts on terrorism charges.
A two-judge Supreme Court bench comprising Justice MushirAlam and Justice Qazi Mohammad Amin Ahmed asked the PHC that it could proceed on merits of the cases it was seized with, but should not issue any order piecemeal.
The directions came on the federal government's plea through 71 appeals against the November 2018 order of the PHC that set aside military courts' convictions.
Attorney General for Pakistan Khalid Jawed Khan on Wednesday argued that PHC's order gave rise to apprehensions that the high court was contemplating grant of interim bails to the convicts.
"These are not ordinary convicts but charged with committing terrorism by the military courts," the AG argued, adding that a lot many people had sacrificed their lives to get these convicts behind bars and there was every apprehension that in case of bail, they might be enlarged.
The AG also highlighted that around 296 petitions were pending with the PHC against the convictions awarded by the military courts. He argued that different benches of the high court had taken varied and conflicting views. For this reason, he added, the federal government was seeking uniform directions to be followed by the high courts in such situations.
Though the court also issued notice to the respondents who were convicts in the case, it observed that serious questions of the jurisdiction of the high court was under consideration of the Supreme Court, therefore, in these circumstances piece meal orders by the high court was not conducive.
While dictating the order, Justice Alam observed that it was the duty of the high court to do justice and the apex court had no cavil if the cases were decided by the PHC on merits. He also made it clear that the Supreme Court would not encourage a bad precedence to emerge that may load the apex court with petitions seeking restraining orders against the high courts in every other case.
The AG, however, referring to the Khyber Pakhtunkhwa Workers Welfare Board case, said the Supreme Court had restrained the PHC to proceed with the matter until the cases with which the apex court was seized with was not exhausted. Also, he said, the SC had partly heard the federal government in the military court conviction matter.
During the hearing, Justice Amin observed that it was the constitutional duty of the high court to do justice and the Supreme Court could not restrain them by issuing an omnibus order. The federal government had the remedy available to come in appeal in case the high court concluded that the conviction awarded by the military courts were not sustainable, Justice Amin observed, adding it was difficult for the apex court to bar a high court from proceeding with a matter in exercise of its constitutional jurisdiction.
Justice Amin said at times miscarriage of justice was done or the ends of justice were not met but for these wrongs there were remedies. However, he observed, there was no remedy if the entire judicial system collapsed.
Through its November 2018 judgement, the PHC had ruled that the convictions by the military courts on the charges of terrorism were wrongful and were based on ill-will.
Earlier, the apex court had stayed the high court with a direction to the concerned jail superintendent to halt the release of the accused who had received different sentences, including death, in a number of cases.
In its 173-page judgement, the high court had rejected confessional statements of the convicts after highlighting flaws. The court also questioned whether the right to fair trial under Article 10-A of the Constitution was extended to the convicts or not.
The PHC had observed that the entire judicial confessional statements recorded in Urdu were 'in one and the same handwriting and in one specific tone/style'.
Moreover, the questions put to all accused were one and the same with exactly the same answers in all cases and even for the purpose of engaging private counsel, the same format would reflect there were planned proceedings in all the said three courts, the verdict had stated.
The perusal of the entire record in each and every case would show that none of the convicts was ever, by name mentioned or nominated in any of the report, so formulated or registered by the prosecution. In majority of the cases, there was no FIR or any authentic report of the Pata/ Fata authorities in this respect, the PHC had contended.
https://www.dawn.com/news/1556949/phc-stopped-from-issuing-orders-in-cases-of-military-courts-convicts
-------
IO asked to file proper report in female SHO attack case
May 14, 2020
KARACHI: An antiterrorism court on Wednesday directed an investigating officer to submit a proper report of his investigation against three clerics booked for allegedly attacking a woman police officer and others and violation of the ban on congregational Friday prayers.
Haqqani Jamia Masjid's prayer leader Abdul Rehman and mosque committee members Maulana Qavi Khan and Maulana Zareen Khan along with 20 to 25 others have been booked for allegedly inciting violence, attacking police and violating the ban on religious congregations imposed to control the spread of coronavirus.
Sharafat Khan, the female SHO of the Pirabad police station, intelligence officer Hayat Gul and Constable Abdul Salam were reportedly wounded by an enraged mob on April 10.
On Wednesday, the trio's applications seeking confirmation of their interim bail came up for hearing when the IO of the case filed an investigation report recommending disposal of the case in 'A' class — such reports pertain to the cases in which accused persons are either unknown or untraceable.
However, the judge found that the A-class report lacked proper authorisation by the senior police officer concerned. The court returned the same and directed the IO to submit a proper report on June 1.
In the bail pleas, defence counsel Mushtaq Jahangiri had submitted that his clients had nothing to do with the alleged offence of violating the government ban since the prayer leader and mosque administrative committee members were permitted to offer prayers in the mosque as per the standard operating procedure agreed between the government and ulema.
The counsel claimed that the police falsely booked the applicants in the present case. They apprehended their arrest and pleaded to grant them pre-arrest bail so that they could join the investigation.
According to the contents of the FIR, on receiving information about the presence of several people to offer prayers at the Haqqani Jamia Masjid, the Pirabad SHO along with two policemen reached the place and tried to persuade the mosque administration members that violation of the lockdown would result in the spread of the coronavirus.
The complainant, Sub-Inspector Mohammad Ashraf Arain stated that the prayer leader and the administrative committee's president and secretary along with 20 to 25 other people attacked the police officers and resorted to violence.
An additional contingent was called in to disperse the violent protesters, who could not be arrested on the spot and were booked later.
https://www.dawn.com/news/1556884/io-asked-to-file-proper-report-in-female-sho-attack-case
-----
URL: https://www.newageislam.com/islamic-world-news/offer-namaz-chaasht-shukrana-home/d/121846
New Age Islam, Islam Online, Islamic Website, African Muslim News, Arab World News, South Asia News, Indian Muslim News, World Muslim News, Women in Islam, Islamic Feminism, Arab Women, Women In Arab, Islamophobia in America, Muslim Women in West, Islam Women and Feminism