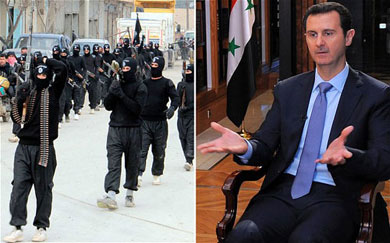 Fighters of al-Qaeda linked Islamic State of Iraq and the Levant parade at Syrian town of Tel Abyad, left, and Syria's Preisdent Bashar al-Assad Photo: REUTERS/AFP
North America
Obama-Backed Syrian Rebels Train Islamists to Wage UK Jihad
U.S. suspends some sanctions as Iran halts sensitive nuclear activities
US getting 'messages' from inside Syrian regime to end war
Africa
Central African Republic Priest Shelters Muslim Refugees In His Church
Nigerian Islamists kill 18, burn houses in northeast
Nine Ugandan soldiers killed in South Sudan
Tunisian constitution finds no place for Sharia
South Sudan President Salva Kiir hits out at UN
Mideast
Turkey Issue Suicide Attack Warning amid Syria Talks, After Tip on Al-Qaeda Linked Group
Turkish people upset that democratic progress is being reversed: Islamic scholar Gülen
13-year-old Gezi protester facing 16 year prison-time for graffiti-painting acquitted
UN withdrew Syria talks invite 'under pressure': Iran
Gunmen kill leading figure of Houthi group in Yemen
Israel PM threatens to teach Hamas lesson 'very soon'
Human Rights Watch report slams Turkey over growing intolerance
Arab World
Iraq hangs 26 convicted on terror charges
Syria jihadists impose Taliban-style music, smoking ban
Syria's Assad accused of boosting Al-Qaeda with secret oil deals
Inventions 1001 Celebrate Contributions by Muslims
Thanks to Syria, global jihad is experiencing a revival
Syria's duplicity over al-Qaeda means West will not trust Assad
Sharia law imposed in Syria's Raqqa
Syria's opposition split over peace talks after Iran excluded
Deadly bomb strikes Shia suburb of Beirut
Syria accused of torture and 11,000 executions
Pakistan
Pakistan jet fighters kill 20 militants: Officials
Majlis-e-Wahdat-ul-Muslimeen leader demands action against Taliban
Supporters of terrorists are enemies of Pakistan: Asma Jahangir
Three suspects arrested in Islamabad with 100kg explosives
Opposition wants army action against Taliban
Shia scholar gunned down in Peshawar: police
Pakistan dismayed over $33 million withheld over Dr. Afridi
Europe
Sharia in action in the UK: Man arrested for ripping up pages of Qur'an at soccer match
Irish convert to Islam beheads his mother in honour killing: "for his belief in the Qur'an"
Russians study Islamic video threatening Sochi Winter Olympics
Booting Iran out of Syria talks 'mistake' but 'not disaster': Russia
We must remember Christians in the Middle East, says Archbishop of Birmingham
British lawmaker's tweets on Israel spark controversy in U.K.
Jihadists construct the Atomium bomb: YouTube video threat to Belgian tourist attraction
Southeast Asia
Indonesian police arrest 2 suspected Islamist extremists on terrorist charges
Global rights group says Malaysia's human rights marked by 'two Najibs'
DAP wants PKR rep to apologise over kangkung stunt to prevent any violence
Spoils of Saddam Plot Defrauds Flores Nun of Thousands, 9 Arrested
South Asia
No diplomat can make political changeover: Awami League General Secretary
Razakars yelled 'Yusuf Bhai Zindabad' after killings, torching of houses
Jamaat-e-Islami hints at new strategy
More than 60 deminers abducted in mass Afghan kidnapping
Senior Taliban leader among 3 killed in Ghazni clashes
Government reveals foreign policy for next five years: President Abdulla Yameen
India
Jamaat-e-Islami questions Geelani over property donation to an autonomous trust
Pakistan Sikh Gurdwara Committee chief spews venom against India
Six militants arrested in Kashmir
2002 Naroda Patiya massacre: Gujarat HC allows state govt to move petition seeking enhancement of punishment for convicted
Compiled by New Age Islam News Bureau
URL:
-----------
North America
Obama-Backed Syrian Rebels Train Islamists to Wage UK Jihad
Jan 21, 2014
President Barack Obama, at the request of Sen. John McCain (R.-Az.), has publicly financed Al-Qaeda to train Syrian rebels to prepare for global jihad and target the United Kingdom for future deadly attacks.
According to the Daily Telegraph of London, "British people fighting in Syria are being trained as "jihadists" and then encouraged to return to the UK to launch attacks on home soil, an al-Qaeda defector and western security sources have told the Telegraph."
Sen. McCain is calling for the overthrow of the Syrian government (Bashar Assad's regime) by any means necessary. Accordingly, President Obama has deployed US Special Forces and CIA operatives to provide financial support and training for Al-Qaeda.
As reported by the Telegraph, "In a rare interview on Turkey's border with Syria, the defector from the Islamic State of Iraq and al-Sham (ISIS) said that recruits from Britain, Europe and the US were being indoctrinated in extremist anti-Western ideology, trained in how to make and detonate car bombs and suicide vests and sent home to start new terror cells."
Many British Muslims have moved to Syria to receive proper suicide bomber training.
To read the entire article from the Daily Telegraph of London, link here:
Tmcgregordallas@yahoo.com
http://www.dallasblog.com/201401191010029/dallas-blog/obama-backed-syrian-rebels-train-islamists-to-wage-uk-jihad.html
-----------
U.S. suspends some sanctions as Iran halts sensitive nuclear activities
Jan 21, 2014
The U.S. Treasury suspended some of its sanctions against Iran, after the Islamic Republic began halting its most sensitive nuclear activity as part of a groundbreaking agreement with Western powers.
The confidential report by the International Atomic Energy, obtained by Reuters, said Iran had begun diluting its stockpile of uranium enriched to the fissile concentration of 20 percent - a level that took it closer to the capability of producing fuel for an atom bomb.
The U.S. Treasury said hours following news of the Iranian move that it has suspended sanctions on foreigners engaged in transactions related to Iran's oil exports, and some trade in gold and precious metals.
The IAEA report to member states said: "The Agency confirms that, as of 20 January 2014, Iran ... has ceased enriching uranium above 5 percent U-235 at the two cascades at the Pilot Fuel Enrichment Plant (PFEP) and four cascades at the Fordow Fuel Enrichment Plant (FFEP) previously used for this purpose."
It was referring to Iran's two enrichment plants, at Natanz and Fordow. Cascades are interlinked networks of centrifuge machines that enrich uranium. Iranian state television earlier said Iran had suspended 20 percent enrichment at Natanz and that inspectors were heading to Fordow.
"The suspension of 20 percent enrichment has started at the Natanz plant and the International Atomic Energy Agency inspectors are going to the Fordow plant," state TV quoted the deputy head of Iran's Atomic Energy Organization, Behrouz Kamalvandi, as saying.
The IAEA report also listed other measures Iran had agreed to under the interim accord with the six world powers - the United States, France, Britain, Germany, China and Russia.
Those included an undertaking that Iran would not build any more enrichment sites during the six-month agreement, a step meant to buy time for negotiations on a final settlement of Tehran's decade-old nuclear dispute with the six powers.
Enriched uranium can have both military and civilian purposes. Iran denies Western allegations that it has been seeking to develop the capability to make nuclear bombs, saying it wants only civilian atomic energy.
Meanwhile, UN Secretary General Ban Ki-moon announced late Sunday in New York that he had invited Iran to attend this week's international peace talks in Switzerland on the Syrian conflict. The participation of Tehran, a close ally of Syrian President Bashar Assad, has been a sticking point in the long-delayed peace conference.
http://www.haaretz.com/news/middle-east/1.569466
-----------
US getting 'messages' from inside Syrian regime to end war
2014-01-20
WASHINGTON: The United States has received messages from members of the Syrian regime who "want a way out" of the current brutal fighting, a senior US official said Monday.
"There are elements inside the regime itself, among its supporters, that are anxious to find a peaceful solution, and we've gotten plenty of messages from people inside, they want a way out," the State Department official told reporters on a conference call.
He was speaking ahead of planned peace talks aimed at bringing together the Syrian regime of President Bashar al-Assad and the opposition for the first time.
The talks were in disarray Monday after the United Nations invited Assad ally Iran to join the peace conference opening Wednesday in the Swiss city of Montreux, and Assad ruled out handing power to the opposition.
The US official said he hoped the talks would provide "an impetus to finding a way forward whereby Syrians understand that the issue is not the entire state of Syria, the issue is a ruling family, rapacious, incredibly brutal."
That would make it make it "possible with persistence to drive that point home and isolate a brutal, warring family."
He refused to go into details about who had contacted Washington for fear of putting people's lives at risk, saying " they would be killed, it's a very brutal regime."
But he said the United States was "regularly getting messages."
He stressed that the Alawite sect, an offshoot of Shia Islam to which Assad belongs, was taking some of the heaviest casualties.
"Frequently at funerals for Alawite soldiers that are killed ...there are not infrequent demonstrations against the regime. So that in some cases the regime has actually delayed transferring bodies home because they don't want to trigger political unrest in the regime's own heartland," the State Department official said.
The official said this created an opportunity for the political opposition to present a way out.
"I think they will get a lot of resonance inside Damascus," the official said.
http://www.dawn.com/news/1081531/us-getting-messages-from-inside-syrian-regime-to-end-war
-----------
Africa
Central African Republic priest shelters Muslim refugees in his church
Jan 21, 2014
FRANCE 24's special correspondent in the Central African Republic has met a priest who sheltered hundreds of Muslim refugees in his church as sectarian violence raged throughout the weekend in the town of Boali, northwest of the capital Bangui.
Muslim families fleeing south towards the capital last week were targeted by armed members of the anti-balaka ("anti-machete") Christian militias, forcing them to head back to Boali and ask French troops for protection. In Boali alone, at least four people died in the violence and twenty others were injured.
The sight of anti-Balaka militiamen chasing local Muslims with knives and machetes prompted the abbot, Xavier Fagba, to offer them shelter inside his church. "I am not going to let anyone hurt the people inside my church, it doesn't matter whether they are Christians or Muslims", Xavier Fagba told FRANCE 24.
Around 70 French troops are guarding the church, where some 700 terrified Muslims have taken refuge. An AFP journalist at the scene reported that sanitary conditions were deteriorating after the refugees, mostly women and children, spent two nights inside the church.
The presence of 1,600 French troops and nearly 5,000 African Union peacekeepers has so far failed to stop sectarian violence between Muslim former rebels and the Christian majority.
"This embed with the French military in the northern part of the country shows just how tricky it is to secure the Central African Republic. Everywhere we stop the military finds people with guns, machetes, and even hand grenades", said Ben Barnier, FRANCE 24's special correspondent in CAR.
Watch FRANCE 24's exclusive video report by clicking on the picture above.
http://www.france24.com/en/20140120-video-car-priest-shelters-muslims-refugees-church-boali/
-----------
Nigerian Islamists kill 18, burn houses in northeast
January 21, 2014
(Reuters) - Islamist militants stormed a village in remote northeast Nigeria on Monday, torching houses and spraying them with bullets in an attack that killed 18 people, witnesses said.
The latest Boko Haram assault, on Sunday night, came hours before Nigeria's four top military chiefs handed over to fresh commanders in a ceremony on Monday.
President Goodluck Jonathan announced the reshuffle of his entire military leadership last week in a bid to reinvigorate the fight against the insurgents.
"Most of those who survived the attack have fled the village as they do not know if they will be attacked again," said Bulama Ibrahim, the chief of Alau Ngawo village, which was attacked sometime after 10 p.m. on Sunday. He said he had counted 18 bodies after the shooting and many houses burned.
A former local councilor, Mustapha Galtimare, who was on the scene after the attack, concurred with the numbers of dead.
The village lies in remote northeastern Borno state, the epicenter of the insurgency and relic of Nigeria's oldest medieval Islamic caliphate, which once prospered from trans-Saharan trade routes passing though the largely Muslim north.
Boko Haram is fighting to re-establish an Islamic kingdom in northern Nigeria, breaking away from the largely Christian south. Its fighters have killed thousands of people since they launched an uprising in mid-2009.
"They had been in the village for nearly two hours without any security personnel coming to the aid of the villagers," Ibrahim said.
A military spokesman in Borno state, Colonel Muhammadu Dole, said he was aware of the attack but had no details.
Jonathan declared a state of emergency in the northeast last May and ordered in extra troops and air strikes on Islamist bases. It appeared to quell the violence at first, but as is often the case, the insurgents reemerged from the shadows and are now more open in their targeting of civilians.
Boko Haram remains the most serious security headache to Africa's top oil producer and second biggest economy, although the military offensive has squeezed them into smaller pockets along the Cameroon border.
On December 2 Boko Haram gunmen stormed the air force base and military barracks around the airport of the northeastern city of Maiduguri. The group was also blamed for a car bomb in the city this week that killed 29 people.
http://www.reuters.com/article/2014/01/20/us-nigeria-violence-idUSBREA0J13720140120
-----------
Nine Ugandan soldiers killed in South Sudan
AFP | Jan 21, 2014
KAMPALA: Nine Ugandan soldiers have been killed and 12 others wounded during a month fighting in South Sudan, the army said on Tuesday, dismissing rebel claims to have killed scores.
Ugandan President Yoweri Museveni confirmed last week that troops had been killed during combat in the war-ravaged young nation in support of President Salva Kiir.
However, army spokesman Paddy Ankunda said Tuesday that nine had died in a single rebel ambush.
"Let there be no speculation any more," Ankunda said. "Uganda has lost nine soldiers and 12 injured in South Sudan."
Ugandan troops deployed in South Sudan five days after fighting began last month, and have a taken a key role in the combat, including the recapture of the strategic town of Bor on Saturday.
Full report at:
http://timesofindia.indiatimes.com/world/rest-of-world/Nine-Ugandan-soldiers-killed-in-South-Sudan/articleshow/29162928.cms
----------
Tunisian constitution finds no place for Sharia
Jan 21, 2014
Three years after the so-called 'Arab Spring' started in Tunisia, the country's National Constituent Assembly is close to passing a new constitution which rejects Islam as the "main source of law", but states it is the State's duty to "protect the sacred".
The new constitution, which has taken two years to conclude, comes almost three years to the day since the fall of President Zine El Abidine Ben Ali, itself 10 days after the death of a Tunisian vegetable seller, which began the movement that would sweep across North Africa and into the Middle East.
Full report at:
http://www.christiantoday.com/article/tunisian.constitution.finds.no.place.for.sharia/35465.htm
---------
South Sudan President Salva Kiir hits out at UN
Jan 21, 2014
South Sudan President Salva Kiir has accused the UN peacekeeping mission of acting like a "parallel government" in his country.
His comments come after his government accused the UN of hiding rebels and guns at their camps.
More than 70,000 civilians are seeking shelter at UN bases across South Sudan after fighting broke out last month.
The UN says both government soldiers and rebels have committed atrocities in one of the world's poorest countries.
What started out as a political dispute between Mr Kiir and his former deputy Riek Machar on 15 December has escalated into full-scale conflict, with reports of ethnic killings.
Around 500,000 people have been displaced and the UN estimates that considerably more than 1,000 have been killed.
Full report at:
http://www.bbc.co.uk/news/world-africa-25826598
-----------
Mideast
Turkey Issue Suicide Attack Warning amid Syria Talks, After Tip on Al-Qaeda Linked Group
Jan 21, 2014
Authorities have issued a bomb warning in Istanbul, Ankara and the southern province of Hatay, following a tip off that an al-Qaeda linked group was preparing to organize a suicide attack, Doğan News Agency reported on Jan. 21.
Turkish intelligence reached information that 20 militants of the Islamic State in Iraq and the Levant (ISIL) were planning attacks to disrupt this week's Geneva II peace talks, the report said.
The militants were particularly planning to target hotels and meeting rooms where members of the Syrian opposition and the Free Syrian Army stay were staying or holding meetings.
Intelligence units have informed the Police Department and the Gendarmerie General Command to take extraordinary security measures.
Full report at:
http://www.hurriyetdailynews.com/turkish-authorities-issue-suicide-attack-warning-amid-syria-talks-after-tip-on-al-qaeda-linked-group.aspx?pageID=238&nID=61350&NewsCatID=341
----------
Turkish people upset that democratic progress is being reversed: Islamic scholar Gülen
Jan 21, 2014
The Turkish people are upset that democratic progress has gone into reverse over the last two years, Islamic scholar Fethullah Gülen has said, speaking in his first interview since the graft probes that have damaged the government and widened the rift between his movement and the ruling Justice and Development Party (AKP).
Gülen emphasized that his movement had the same values as when it lent its support to the AKP, suggesting that it was the latter that had "changed."
In the interview, published in The Wall Street Journal on Jan. 20, he also hinted that members of his Hizmet (Service) Movement - often referred to as "Cemaat" in Turkey - may like to see a political alternative.
"When the opportunities come, Cemaat participants, just like any other citizen, make their choices based on their values," the reclusive scholar said in the interview, which was conducted via e-mail.
Full report at:
http://www.hurriyetdailynews.com/turkish-people-upset-that-democratic-progress-is-being-reversed-islamic-scholar-gulen.aspx?pageID=238&nID=61337&NewsCatID=338
----------
13-year-old Gezi protester facing 16 year prison-time for graffiti-painting acquitted
Jan 21, 2014
A thirteen-year old boy, the youngest indicted of the investigations into the Gezi Park protesters, was acquitted Jan. 21 after facing up to 16 year jail sentence for a graffiti-painting during the demonstrations in the Western province of Çanakkale.
The secondary school student was facing charges of "damaging public property" for writing "Government resign, death to fascism" on the pavement during protests on June 3, 2013.
He attended the hearing on his case for the first time, as he had missed the previous one due to exams.
Members of the Taksim Solidarity Platform, which initiated the protests against the destruction of the now-iconic park in Istanbul, and main opposition Republican People's Party (CHP) deputies also attended the hearing in the Çanakkale courthouse.
Full report at:
http://www.hurriyetdailynews.com/13-year-old-gezi-protester-facing-prison-time-for-graffiti-painting-acquitted.aspx?pageID=238&nID=61358&NewsCatID=341
----------
UN withdrew Syria talks invite 'under pressure': Iran
2014-01-21
TEHRAN: Iranian Foreign Minister Mohammad Javad Zarif said on Tuesday the United Nations had abruptly withdrawn Tehran's last-minute invitation to highly anticipated peace talks on Syria "under pressure".
"We regret that Secretary General Ban Ki-moon has withdrawn the invitation under pressure," Zarif told reporters in Ashgabat before flying back to Tehran, the ISNA news agency reported.
Ban withdrew the invitation to Iran, the Damascus regime's main regional ally, less than 24 hours after it was issued despite reservations from the United States and Syrian opposition groups.
Full report at:
http://www.dawn.com/news/1081701/un-withdrew-syria-talks-invite-under-pressure-iran
-----------
Gunmen kill leading figure of Houthi group in Yemen
January 21, 2014
SANAA: Unknown assailants shot and killed a leader of the Yemeni Shia Houthi group in Sanaa on Tuesday while he was on his way to attend reconciliation talks in the Yemeni capital, officials at the talks said.
They said the gunmen opened fire on Ahmad Sharafeddin, a former dean of the school of law at Sanaa University, and he died immediately.
It was not immediately clear who was behind the assassination, but another Houthi leader, Abdulkarim al-Khiwani, accused Sunni militants of carrying out the attack.
Full report at:
http://tribune.com.pk/story/661434/gunmen-kill-leading-figure-of-houthi-group-in-yemen/
---------
Human Rights Watch report slams Turkey over growing intolerance
Jan 21, 2014
The Turkish government is demonstrating a growing intolerance of political opposition, public protest and critical media, Human Rights Watch (HRW) said in an annual report Jan. 21.
"Harsh police crackdowns on protesters, a muzzled press, unfair trials, and a deeply flawed criminal justice system have marked Prime Minister [Recep Tayyip] Erdoğan's government's human rights record in 2013," said Emma Sinclair-Webb, senior researcher for Turkey at the New York-based organization.
"The crackdown overshadowed efforts toward peace with the Kurds, but unless the government is prepared to uphold everyone's right to assembly, association, and free speech, the chances of solving the Kurdish issue are remote," she said.
Full report at:
http://www.hurriyetdailynews.com/human-rights-watch-report-slams-turkey-over-growing-intolerance.aspx?pageID=238&nID=61349&NewsCatID=339
----------
Israel PM threatens to teach Hamas lesson 'very soon'
Jan 21, 2014
Israeli Prime Minister Benjamin Netanyahu on Tuesday threatened to teach Gaza's ruling Hamas movement a lesson "very soon" following a surge in militant rocket attacks on the Jewish state.
"We foil terrorist attacks when we identify that they are in the making and we respond against those who attack us," Netanyahu told reporters in Jerusalem at a joint press conference with his Canadian counterpart Stephen Harper. "If Hamas and the other terror organisations forgot this lesson, they will learn it again the hard way and very soon," he said. His warning was issued shortly after Hamas said it had deployed forces in Gaza to "preserve the truce" following an uptick of rocket fire on Israel.
Full report at:
http://www.hurriyetdailynews.com/israel-pm-threatens-to-teach-hamas-lesson-very-soon.aspx?pageID=238&nID=61357&NewsCatID=352
----------
Arab World
Iraq hangs 26 convicted on terror charges
Jan 21, 2014
Iraq's Justice Ministry says 26 prisoners convicted of terrorism-related charges have been executed, all of them Iraqi nationals.
A statement posted on the ministry's website on Tuesday says that all the executions were carried out on Sunday.
It says the suspects were found guilty of carrying out "ugly terrorist attacks" against the Iraqi people.
The statement quoted the justice minister, Hassan al-Shimari, as saying those executed included Adel-al-Mashhadani, a former anti-al-Qaeda Sunni leader in Baghdad who was sentenced to death in late 2009 for murder and kidnapping.
The Iraqi government defends the death penalty as a weapon against insurgents bent on destabilizing the country.
http://www.thehindu.com/news/international/world/iraq-hangs-26-convicted-on-terror-charges/article5601932.ece
----------
Syria jihadists impose Taliban-style music, smoking ban
January 21, 2014
Beirut: The jihadist Islamic State of Iraq and the Levant (Isil) has banned music and smoking in Syria's Raqa, days after taking control of the northern city following battles with rebel groups.
Isil said it had decided to "ban the sale of music CDs, music players, and playing songs in cars and buses and in shops and all places," in a statement posted on jihadist websites and signed the "Wali [governor] of Raqa".
The group added they had taken the step because musical instruments and singing are "proscribed in Islam because they distract from remembering God and the Quran".
In a second statement, Isil said that as part of efforts to "apply Sharia [Islamic] law ... it is completely forbidden to sell cigarettes or water pipes in any place".
Such bans are reminiscent of those the Taliban imposed on television, cinema and music in Afghanistan when in power up until 2001.
Full report at:
http://gulfnews.com/in-focus/syria/syria-jihadists-impose-taliban-style-music-smoking-ban-1.1279909
-----------
Syria's Assad accused of boosting Al-Qaeda with secret oil deals
Jan 21, 2014
The Syrian regime of President Bashar al-Assad has funded and co-operated with al-Qaeda in a complex double game even as the terrorists fight Damascus, according to new allegations by Western intelligence agencies, rebels and al-Qaeda defectors.
Jabhat al-Nusra, and the even more extreme Islamic State of Iraq and al-Shams (ISIS), the two al-Qaeda affiliates operating in Syria, have both been financed by selling oil and gas from wells under their control to and through the regime, intelligence sources have told The Daily Telegraph.
Rebels and defectors say the regime also deliberately released militant prisoners to strengthen jihadist ranks at the expense of moderate rebel forces. The aim was to persuade the West that the uprising was sponsored by Islamist militants including al-Qaeda as a way of stopping Western support for it.
Full report at:
http://www.telegraph.co.uk/news/worldnews/middleeast/syria/10585391/Syrias-Assad-accused-of-boosting-Al-Qaeda-with-secret-oil-deals.html
-----------
Inventions 1001 Celebrate Contributions By Muslims
Jan 21, 2014
JEDDAH — While Europe was grappling through the "Dark Ages," the Muslims were thriving and experiencing what was for them, "the Golden Ages."
They made groundbreaking discoveries and inventions in areas of astronomy, mathematics, medicine, mechanics, and more; they greatly influenced the lives of people and served as a foundation for educating generations for years to come.
How many people are aware that the camera was first invented by a Muslim or that the very first clock was designed by a Muslim?
The world today is unaware of the Muslim heritage which is rich in scientific discoveries.
Centuries later, scientists from around the world built their knowledge on the basis laid down by these ancient civilizations and they made their own inventions that left their mark on our world.
Full report at:
http://www.saudigazette.com.sa/index.cfm?method=home.regcon&contentid=20140121193132
-----------
Thanks to Syria, global jihad is experiencing a revival
Jan 21, 2014
The arrest of two men last week on terrorism charges relating to Syria reveals just how serious the issue of foreign fighters has become. Estimates suggest that up to 366 young Muslims from the UK might now be participating in the Syrian conflict.
There is a multiplicity of problems here. Aside from the obvious fears about young men training with terrorist organisations, the global jihadist movement is currently enjoying an unprecedented rebirth. Its membership is being replenished and it is not overstating the case to suggest al-Qaeda affiliates now control greater territory than they ever have in the past.
It is tempting to turn a Nelsonian eye to the phenomenon. There is a view in some parts that radicalised young men should simply be allowed to leave the country and die in Syria. This misunderstands the problem. Most of those who leave won't fight until the end. Many will return and it will be impossible to detect them all.
Full report at:
http://blogs.spectator.co.uk/shiraz-maher/2014/01/thanks-to-syria-global-jihad-is-experiencing-a-revival/
-----------
Syria's duplicity over al-Qaeda means West will not trust Assad
Jan 21, 2014
Assad regime's offer to 'resume co-operation' with the West over al-Qaeda is being given short shrift by intelligence officials
How one of Osama bin Laden's personal envoys, Mohammed Bahaiah, ended up in an Assad regime dungeon is a long story with several details missing. How he came to be free to run al-Qaeda's errands again is simpler: he was released in 2011, on the orders of the Syrian president.
From the start of the uprising against him, President Bashar al-Assad claimed he was facing a terrorist insurrection. It might seem odd, then, that at the same time he would free an important al-Qaeda operative.
Full report at:
http://www.telegraph.co.uk/news/worldnews/middleeast/syria/10585394/Syrias-duplicity-over-al-Qaeda-means-West-will-not-trust-Assad.html
-----------
Sharia law imposed in Syria's Raqqa
Reuters
Jan 21, 2014
Beirut - A group linked to al Qaeda, emboldened by its recent victory over rival rebels in Syria, has imposed sweeping restrictions on personal freedoms in the northern province of Raqqa as it seeks to consolidate control over the region.
Reuters obtained copies of four statements issued on Sunday by the Islamic State in Iraq and the Levant (ISIL) prohibiting music from being played in public and photographs of people being posted in shop windows.
The sale of cigarettes and shisha water pipes are banned, women must wear the niqab, or full face veil, in public and men are obliged to attend Friday prayers at a mosque.
The directives, which cite Koranic verses and Islamic teaching, are the latest evidence of ISIL's ambition to establish a Syrian state founded on radical Islamist principles.
Full report at:
http://www.iol.co.za/news/world/sharia-law-imposed-in-syria-s-raqqa-1.1634058#.Ut1x3dLTn4Y
-----------
Syria's opposition split over peace talks after Iran excluded
Jan 21, 2014
Syria's main opposition group confirmed late Jan. 20 it would take part in peace talks this week after the United Nations withdrew an invitation for Iran - the main ally to Damascus.
But the biggest bloc in Syria's opposition-in-exile, the Syrian National Council (SNC), said late Jan. 20 it was quitting the umbrella Syrian National Coalition in protest over the Geneva II peace talks with the government in Damascus .
The SNC said taking part in the talks would renege on its "commitments" to not enter negotiations until Syrian President Bashar al-Assad left power - something he refuses to do.
Full report at:
http://www.hurriyetdailynews.com/syrias-opposition-split-over-peace-talks-after-iran-excluded.aspx?pageID=238&nID=61329&NewsCatID=359
----------
Deadly bomb strikes Shia suburb of Beirut
Jan 21, 2014
An attack by a suspected suicide car bomber has reportedly killed four people in a Hezbollah stronghold in a Shia-dominated suburb of Beirut.
Flames were seen pouring from the facade of a multi-storey building, along with large plumes of smoke.
The blast, in Arid Street in the southern Haret Hreik district, left at least 20 injured, reports say.
There has been a spike in sectarian tension in Lebanon blamed on the conflict in neighbouring Syria.
Hezbollah forces have been fighting in support of President Bashar al-Assad in Syria, while Lebanese Sunni Muslims tend to back the Syrian opposition.
Hundreds of people gathered at the scene as Hezbollah's emergency services worked to extinguish the blaze. It is not clear what the target was, though there are Hezbollah offices close by.
Full report at:
http://www.bbc.co.uk/news/world-middle-east-25825225
----------
Syria accused of torture and 11,000 executions
Jan 21, 2014
There is clear evidence that Syria has systematically tortured and executed about 11,000 detainees since the start of the uprising, a report by three former war crimes prosecutors says.
The investigators examined thousands of still images of dead prisoners reportedly smuggled out by a defector.
The report says the evidence implicates "agents of the Syrian governments". Damascus has denied claims of abuse.
The report comes a day before peace talks are due to begin in Switzerland.
The talks, known as "Geneva II", open in Montreux, and continue in Geneva two days later.
It is seen as the biggest diplomatic effort yet to end the three-year conflict which has left more than 100,000 dead and millions displaced.
Full report at:
http://www.bbc.co.uk/news/world-middle-east-25822571
----------
Pakistan
Pakistan jet fighters kill 20 militants: Officials
Jan 21, 2014
Pakistani jet fighters and helicopter gunships began airstrikes in a northwestern tribal district Tuesday, killing more than 20 militants in retaliation for two recent bombings targeting the military, officials said.
The bombardment came a day after a suicide attack in a market next to Pakistan's military headquarters that killed 13 people including eight soldiers and three children.
On Saturday, a vehicle-borne suicide bomb in the restive northwestern city of Bannu killed 39 people including eight soldiers and 26 paramilitaries, the deadliest attack on Pakistan's military in several years.
Both attacks were claimed by Tehreek-e-Taliban Pakistan (TTP).
The focus of Tuesday's air strikes was North Waziristan tribal district, a stronghold for Taliban and Al-Qaeda linked militants.
Jet fighters began pounding targets around 12:30am (1930 Monday GMT), an official said, and were later joined by helicopter gunships.
Full report at:
http://english.ahram.org.eg/NewsContent/2/9/92102/World/International/Pakistan-jet-fighters-kill--militants-Officials.aspx
----------
Majlis-e-Wahdat-ul-Muslimeen leader demands action against Taliban
January 21, 2014
LAHORE : Majlis-e-Wahdat-ul-Muslimeen (MWM) General Secretary Allama Nasir Abbas Jaferi on Monday condemned the brutal attack of terrorists in Rawalpindi and accused Prime Minister Nawaz Sharif and PTI chief Imran Khan of misleading the nation on the issue of Taliban. A cording to a statement issued on Monday, Allama Nasir said that both the leaders should confess openly that they were frightened of Taliban. He said that whole nation was anxious and was looking at its leaders for salvation from terrorists. "But the rulers are hoping someone else to do their part", he said. He underscored that leaders of political and religious parties did not speak against Taliban despite all brutalities and massacre and what they had done to the security officials. M M leader demanded of Chief of Army Staff General Raheel Sharif to break the silence in the pretext of recent attacks on the Pakistani military. He also demanded of the government to begin military action against Taliban immediately and to restore peace in the country.
http://www.nation.com.pk/islamabad/21-Jan-2014/mwm-leader-demands-action-against-taliban
-----------
Supporters of terrorists are enemies of Pakistan: Asma Jahangir
January 21, 2014
LAHORE - Asma Jahangir, former President Supreme Court Bar Association (SCBA), has said if we failed to unravel the issue of terrorism it will allow foreign powers to further intervene into our internal affairs.
Talking to media persons at Lahore High Court premises on Monday, she strongly criticised PTI chief Imran Khan for having sympathy for the terrorists. She said all such persons who support terrorists are enemies of Pakistan.
She said protest rallies were staged on the killing of Taliban leader but no one raised voice over the death of our own people.
She said if Talibans were being considered as misguided people then what is the fault of people languishing in jails. They should also be freed after holding dialogue with them.
She said security policy should be based on security of citizens instead of chalking out methods to hold talks with the Taliban.
http://www.nation.com.pk/lahore/21-Jan-2014/supporters-of-terrorists-are-enemies-of-pakistan-asma
-----------
Three suspects arrested in Islamabad with 100kg explosives
2014-01-21
ISLAMABAD: Police have arrested three men and seized 100 kilograms of explosives in a raid in the capital Islamabad, officers said Tuesday, following two deadly Taliban attacks on military targets.
The swoop on Monday at a house in Tarnol, in the city's southwest, also recovered fuses, detonators, wires and other bomb-making material, police said.
News of the raid came as jets and helicopters bombarded suspected militant positions in Pakistan's lawless tribal districts in retaliation for two major Taliban attacks targeting the army.
"They had several bags filled with explosives. They had wires and a complete system which can detonate the explosive," a police official told AFP, requesting anonymity.
"All three men belong to the tribal areas."
Full report at:
http://www.dawn.com/news/1081725/three-suspects-arrested-in-islamabad-with-100kg-explosives
-----------
Opposition wants army action against Taliban
2014-01-21
ISLAMABAD: A clear divide between the liberal and conservative elements was witnessed in the Senate on Monday during a debate on two major attacks on security forces by the Taliban over the past two days and functioning of the Council of Islamic Ideology (CII).
Senators from the Pakistan People's Party (PPP), Awami National Party (ANP) and the Muttahida Qaumi Movement (MQM) lashed out at the government for its inaction and asked it to order an army operation against Taliban in the wake of terror attacks on security forces in Bannu and Rawalpindi.
The opposition senators asked the government to take the nation and parliament into confidence about progress in talks with Taliban, alleging that Taliban were regrouping because of "unclear and confused policies" of rulers.
Full report at:
http://www.dawn.com/news/1081676/opposition-wants-army-action-against-taliban
-----------
Shia scholar gunned down in Peshawar: police
Jan 21, 2014
PESHAWAR: Gunmen killed a Shia Muslim scholar in the restive northwestern Pakistani city of Peshawar on Monday, police and hospital officials said.
Allama Alim Al-Musvi was shot while walking to the mosque in the historic Kissa Khwani market of Peshawar, the capital of the Khyber Pakhtukhwa province that borders Afghanistan, police said.
"Two gunmen opened fire on the scholar and escaped in the narrow streets when he came out of his house and walked towards the mosque," local police official Fazal Jan told AFP.
Al-Musvi was a locally respected scholar and used to deliver sermons at special Shia gatherings, he added.
Full report at:
http://www.dawn.com/news/1081525/shia-scholar-gunned-down-in-peshawar-police
-----------
Pakistan dismayed over $33 million withheld over Dr. Afridi
MEENA MENON
Jan 21, 2014
Arresting and jailing Dr. Shakil Afridi who helped the CIA track Osama bin Laden in 2011 has proved costly for Pakistan.
The Ministry of Foreign Affairs spokesperson in a statement on Monday expressed disappointment that the Consolidated Appropriations Bill 2014, approved by the U.S. Congress which was signed into law by the President on January, 17, 2014 proposes to withhold $33 million from assistance on account of Dr. Afridi's detention.
The statement said that Dr. Afridi, a citizen of Pakistan, is accused of having violated the country's laws. Consequently, any linkage of U.S. assistance to this case is not in keeping with the spirit of cooperation between the two countries, it said.
Full report at:
http://www.thehindu.com/news/international/south-asia/pakistan-dismayed-over-33-million-withheld-over-dr-afridi/article5598187.ece
-----------
Europe
Sharia in action in the UK: Man arrested for ripping up pages of Qur'an at soccer match
Jan 21, 2014
Police have arrested a Boro fan on suspicion of inciting racial hatred after allegedly ripping up pages of the Koran at an away match
A boro fan has been arrested on suspicion of inciting racial hatred after allegedly ripping up pages of the Koran at a match.
And six people have been suspended from attending Middlesbrough Football Club matches as the probe continued.
A 25-year-old man who has been arrested is accused of tearing up pages from the holy text of Islam and throwing them during Boro's clash against Birmingham City last month.
The fan has been bailed while police continue to investigate the incident.
He is also banned from attending football matches and must not visit any city where Middlesbrough Football Club are playing.
The incident happened during the club's 2-2 draw, on December 7 at Birmingham's St Andrew's ground.
The alleged incident was reported to police by a match steward.
West Midlands Police is investigating the incident and confirmed that a man, from Shrewsbury, has been arrested.
Full report at:
http://www.gazettelive.co.uk/news/teesside-news/police-race-hate-probe-leads-middlesbrough-6525349
-----------
Irish convert to Islam beheads his mother in honour killing: "for his belief in the Qur'an"
Friend claims James Dunleavy murdered mum in 'honour killing' because he felt she'd shamed family
Jan 21, 2014
EVIL James Dunleavy beheaded his mother in an "honour killing" as he believed she had shamed the family, a former friend claims.
Irishman Dunleavy, 40 – a Muslim convert – was last week found guilty of killing 66-year-old Philomena, cutting up her body and burying her in a shallow grave.
He was ordered to be detained in the State Hospital at Carstairs before he returns to court for sentencing in April.
It has now emerged that Dunleavy may have misinterpreted the Koran and slaughtered his mother in an honour killing after she split from his dad.
Mohammed Razaq, who ran the shop below Dunleavy's Edinburgh flat, befriended him after he moved to Scotland and helped him convert to Islam.
Razaq believes the killer felt his mother had betrayed the family by leaving his dad and going to live with another man. He said: "It's a tragic event, I feel gutted.
Full report at:
http://www.dailyrecord.co.uk/news/scottish-news/friend-claims-james-dunleavy-murdered-3040157
---------
Russians study Islamic video threatening Sochi Winter Olympics
Jan 21, 2014
Russia's counter-terrorism agency says it's studying a video posted by an Islamic militant group that asserted responsibility for suicide bombings that killed 34 people last month and is threatening to strike the Winter Olympics in Sochi.
Security experts say the Russians are right in taking the threat seriously.
The video was posted online Sunday by a militant group in Dagestan, a predominantly Muslim republic in Russia's volatile North Caucasus. The Olympic host city of Sochi lies only 500 kilometers (300 miles) west of Dagestan.
Two Russian-speaking men featured in the video are identified as members of Ansar al-Sunna, the name of a Jihadist group operating in Iraq. It was unclear whether the men in the video had received funding or training from that group or only adopted its name.
Full report at:
http://indianexpress.com/article/world/europe/russians-study-islamic-video-threatening-sochi-winter-olympics/2/
-----------
Booting Iran out of Syria talks 'mistake' but 'not disaster': Russia
Jan 21, 2014
Russia said on Jan. 21 that an unprecedented decision by the United Nations to bar Iran from taking part in this week's Syria peace conference was a "mistake" that cast a shadow on the reputation of the global body.
At the same time the Russian Foreign Minister Sergei Lavrov downplayed the move, saying the conference in the Swiss town of Montreux on Jan. 22 was a "one-day event."
"Of course this is a mistake," Lavrov told reporters. "But no disaster has happened," he added.
"In any case we are talking about a one-day event on January 22 to which some 40 foreign ministers of various states including from the most remote regions have been invited." "Of course, despite the largely ceremonial nature of this event, Iran's absence from a list of 40 states cannot but cause questions." "The symbolism is still important," he added.
Full report at:
http://www.hurriyetdailynews.com/booting-iran-out-of-syria-talks-mistake-but-not-disaster-russia.aspx?pageID=238&nID=61334&NewsCatID=359
----------
We must remember Christians in the Middle East, says Archbishop of Birmingham
Jan 21, 2014
The Archbishop of Birmingham spoke of the importance of remembering "our brothers and sisters of the suffering Church in the Holy Land and the Middle East" during an address at Coventry Cathedral yesterday.
Archbishop Bernard Longley's remarks came at the beginning of the annual Week of Prayer for Christian Unity, which traditionally runs between the ancient festival of the Chair of St Peter on the 18th and the Conversion of St Paul on January 25.
The week hopes to address and go some way to repair the "scandal" of disunity between the Anglican and Catholic Churches.
"To suggest that disunity is something acceptable is declaring that Christ himself is divided – and that really is a scandal," the team behind the week say.
Full report at:
http://www.christiantoday.com/article/we.must.remember.christians.in.the.middle.east.says.archbishop.of.birmingham/35454.htm
-----------
British lawmaker's tweets on Israel sparks controversy in U.K.
Jan 21, 2014
British lawmaker David Ward has raised Jewish ire again with a tweet following the death of Ariel Sharon.
"Sharon's death makes you think. The brutal, genocidal treatment of Jews must never be forgotten but … the Palestinians were not responsible," Ward tweeted on January 13, two days after Sharon's death.
One tweet in response to Ward, by British Jewish gay rights activist Benjamin Cohen, read, "I'm not sure who has implied the Palestinians were, other than you of course."
"We are disappointed to see David Ward tweeting about sensitive issues in such a way," read a joint statement from the Jewish Leadership Council and Board of Deputies of British Jews, the London Jewish News reported. "It raises questions about his motives and his real intentions."
Full report at:
http://www.haaretz.com/jewish-world/jewish-world-news/.premium-1.569669
-----------
Jihadists construct the Atomium bomb: YouTube video threat to Belgian tourist attraction
Jan 21, 2014
The video clip posted on the YouTube account of Belgian teenager Brian De Mulder was brief, but the threat to one of Belgium's biggest tourist attractions was chilling and clear.
Over the black-and-white flag of one of Syria's Islamist rebel groups, a voice chants: "Bombs are falling. Atomium, I hear a bang. Body parts are everywhere."
Mr De Mulder, 19, is one of hundreds of Europeans currently in Syria and believed to be fighting alongside the rebel groups trying to topple President Bashar al-Assad.
While it is not clear if he himself posted the threat against the Atomium, a huge monument of stainless steel spheres built for the 1958 World Fair, the video reflects the worst fears of law-enforcement agencies and governments across Europe.
Full report at:
http://www.independent.co.uk/news/world/middle-east/jihadists-construct-the-atomium-bomb-youtube-video-threat-to-belgium-tourist-attraction-9070640.html
-----------
Southeast Asia
Indonesian police arrest 2 suspected Islamist extremists on terrorist charges
Jan 21, 2014
Indonesian police arrested two suspected Islamist extremists who they allege were poised to launch a bomb attack on officers, the force said on Tuesday.
The arrests late Monday in the east Javanese city of Surabaya, highlight the continued threat posed by extremists in Indonesia despite a sustained crackdown by authorities.
Militants acting in coordination with al-Qaida carried out a series of large attacks on western targets in the 2000s. Less professional groups now make up the main threat, mostly targeting police to avenge deadly raids on fellow extremists.
Full report at:
http://www.thejakartapost.com/news/2014/01/21/indonesian-police-arrest-2-terrorist-charges.html
---------
Global rights group says Malaysia's human rights marked by 'two Najibs'
Jan 21, 2014
An international rights watchdog has accused Putrajaya of backtracking on its human rights promises after its electoral setback in the 13th general election last May, despite unveiling a slew of reforms before the polls.
"Malaysia in 2013 was marked by a 'tale of two Najibs' – promising legal reforms before the election and restoring repressive laws after it," said Human Rights Watch (HRW) deputy Asia director Phil Robertson, referring to Prime Minister Datuk Seri Najib Razak.
In its World Report 2014, HRW highlighted key issues that plagued Malaysia in 2013, noting that the Barisan Nasional (BN) government stepped up repressive laws after the May 5 polls.
HRW noted that after BN lost the majority vote, Putrajaya passed new repressive laws, arrested opposition activists and further repressed political speech, bringing an "end to Prime Minister Najib Tun Razak's proclaimed reform agenda".
Full report at:
http://www.themalaysianinsider.com/malaysia/article/global-rights-group-says-malaysias-human-rights-marked-by-two-najibs
-----------
DAP wants PKR rep to apologise over kangkung stunt to prevent any violence
Jan 21, 2014
DAP has urged PKR assemblyman Lee Khai Loon to apologise for stuffing the effigy of the prime minister with kangkung, so that extremist groups will not use the incident to incite more racial hatred.
Its adviser Lim Kit Siang said Lee should "consider an apology" as there are certain quarters, including him, who see the latter's actions as "excessive, offensive and insensitive".
"But an even more important consideration is not to allow irresponsible quarters to look for excuses to distort and manipulate incidents to escalate racial and religious hatred to create another May 13 in the country," he said in a statement today.
"Lee has to decide whether to apologise, which hopefully will start a virtuous circle for all political leaders and activists to be extraordinarily sensitive to the current inflamed political situation."
Full report at:
http://www.themalaysianinsider.com/malaysia/article/dap-wants-pkr-rep-to-apologise-for-kangkung-flash-mob-says-it-could-lead-to
-----------
Spoils of Saddam Plot Defrauds Flores Nun of Thousands, 9 Arrested
Jan 21, 2014
Jakarta Police have arrested nine people for a scam that appears to have tricked a Filipino nun working in Flores to part with tens of thousands of dollars to purchase loot from Saddam Hussein's Iraq over the internet.
Sister Enhambre Maribel Guso told police she had wanted to use the resale profit to support an orphanage.
"They pretended that they had spoils of wars in Iraq from the era of Saddam Hussein," Jakarta Police spokesman Sr. Comr. Rikwanto said in Jakarta on Monday.
Four Indonesian nationals and five Nigerian passport holders were detained on Sunday at the Mall of Indonesia in Kelapa Gading, North Jakarta.
Full report at:
http://www.thejakartaglobe.com/news/spoils-of-saddam-plot-defrauds-flores-nun-of-thousands-9-arrested/
-----------
South Asia
No diplomat can make political changeover: Awami League General Secretary
Jan 21, 2014
Awami League General Secretary Syed Ashraful Islam today said no diplomat in the world has power to make political changeover in Bangladesh.
"The world has changed. Today's world is not a bipolar world. The world in which the Soviet Union and America were in the two sides does not exist now. This is a democratic world," he said.
Speaking at a press briefing at the AL chief's Dhanmondi office this afternoon, Ashraf lambasted BNP Chairperson Khaleda Zia for depending on foreign diplomats for going to power.
Full report at:
http://www.thedailystar.net/no-diplomat-can-make-political-changeover-ashraf-7785
-----------
Razakars yelled 'Yusuf Bhai Zindabad' after killings, torching of houses
Jan 21, 2014
Another prosecution witness yesterday corroborated the May 13, 1971 murders and arson carried out in Ranjitpur village under Bagerhat sadar upazila by Razakar forces, historically known to have been founded by Jamaat-e-Islami leader AKM Yusuf.
The 22nd witness, Jugal Krishna Das of Ranjitpur, who lost his paternal uncle that day, said after killing 50 to 60 people and torching scores of houses, the attackers left chanting "Pakistan Zindabad, Yusuf Bhai Zindabad".
"For the first time, today I revealed Yusuf's name," said Jugal. When the International Crimes Tribunal (ICT)-2 asked why he had not done so, he replied, "Where should I tell this?"
The 21st witness, Dilip Das, also a freedom fighter, gave his deposition on Sunday, stating that 60 to 65 people, mostly Hindus, had been killed and their houses torched by the force Yusuf formed.
Full report at:
http://www.thedailystar.net/city/razakars-yelled-yusuf-bhai-zindabad-after-killings-torching-of-houses-7707
-----------
Jamaat-e-Islami hints at new strategy
Jan 21, 2014
Jamaat-e-Islami's were not seen at BNP's rally at Suhrawardy Udyab yesterday. Despite having been prominent contributors at BNP-led 18-party alliance rallies in the past.
Leaders of three other alliance partners known for having close ties with Hefazat-e-Islam were also absent from the rally.
For the first time since the emergence of the BNP-led 18-party alliance, the BNP held a public rally alone yesterday, keeping its distance from key ally Jamaat-e-Islami and three other religion-based alliance partners.
Jamaat leaders told the Dhaka Tribune their men had participated in the rally, but without the usual banners and festoons demanding the release of their leaders who were convicted for war crimes. This was part of their "strategy," they said, but refused to disclose any further details.
Full report at:
http://www.dhakatribune.com/politics/2014/jan/21/jamaat-hints-new-strategy#sthash.ShCq2uya.dpuf
---------
More than 60 deminers abducted in mass Afghan kidnapping
2014-01-21
KABUL: Unknown gunmen on Tuesday abducted more than 60 Afghan workers clearing Soviet-era anti-tank mines in western Herat province, the largest mass kidnapping undertaken in an economically important area now beset by security problems.
Herat, which borders Iran, has long been plagued by kidnappings. But a sharp downturn in security in the traditionally safe province would be a worrying sign ahead of the departure of most foreign forces by the end of this year.
More than 60 Afghans working for the British demining group The Halo Trust had arrived at a village in Pashtun Zarghun district before 8 am to begin clearing anti-tank mines let over from the 10-year Soviet occupation of the 1980s.
"When they arrived, armed people on motorbikes came and forced them to get into their vehicles and made them drive to a nearby village," The Halo Trust's country director, Farid Homayoun, told Reuters.
Full report at:
http://www.dawn.com/news/1081744/more-than-60-deminers-abducted-in-mass-afghan-kidnapping
-----------
Senior Taliban leader among 3 killed in Ghazni clashes
Jan 21, 2014
A senior Taliban was among three militants who were killed following clashes in eastern Ghazni province of Afghanistan, local officials said.
The militants were killed in restive Andar district of Ghazni province following clashes with the Afghan security forces, Andar district chief Qasim Desiwal said.
He also added that the senior Taliban leader was recognized as Mullah Shuja, who was among the senior Taliban leaders and was involved in major attacks against the Afghan security forces.
Full report at:
http://www.khaama.com/senior-taliban-leader-among-3-killed-in-ghazni-clashes-3329
-----------
Government reveals foreign policy for next five years: President Abdulla Yameen
By Ahmed Rilwan | January 20th, 2014
President Abdulla Yameen has revealed his government's foreign policy today, stating that the most important objective was to increase economic self-sufficiency, describing this as a requirement of independent foreign policy.
"The foreign policy of my government will be based, just as those firm policies of President Maumoon, on the principle of mutual respect between countries, respect for the sovereignty of countries," Yameen said.
He said that a well-thought foreign policy is necessary "for a small Maldives to travel safely amidst the turbulent political currents".
"The foreign policy of Maldives will protect and sustain Maldives' selfhood and Islam. [It is] a policy that will sustain the independence, security and sovereignty of the the Maldives. A policy that will open opportunities abroad for Maldivians to benefit from," Yameen said.
Full report at:
http://minivannews.com/politics/government-reveals-foreign-policy-for-next-five-years-75562
-----------
India
Jamaat-e-Islami questions Geelani over property donation to an autonomous trust
Jan 21, 2014
The Jamaat-e-Islami, the parent body of hard-line separatist leader Syed Ali Geelani, Monday questioned the octogenarian leader's right to donate his property to an autonomous trust.
The Jamaat said in a statement that its central advisory council met Monday with its chief, Muhammad Abdullah Wani, in chair. The meeting was attended by all the Kashmir Valley-based members of the council besides district presidents and others.
"The meeting asserted that the property at Rehmatabad Hyderpora in Srinagar currently used by Syed Ali Geelani for residential and official purposes actually belongs to the Jamaat-e-Islami Jammu and Kashmir.
Full report at:
http://www.business-standard.com/article/news-ians/jamaat-questions-geelani-over-property-donation-114012001040_1.html
-----------
Pakistan Sikh Gurdwara Committee chief spews venom against India
Yudhvir Rana,TNN | Jan 20, 2014
AMRITSAR: A controversial video has appeared on social networking site Facebook showing Pakistan Sikh Gurdwara Parbandhak Committee (PSGPC) president Sham Singh patting the back of Kashmiri separatists and stating that PSGPC has always been extending warm welcome to Kashmiri Sikhs.
"Muslims of Kashmir may or may not vote for Pakistan but Kashmiri Sikhs will first vote for Pakistan, we have worked hard for past 11 years , ever since the formation of PSGPC," said Sham Singh in the video that has gone viral on the net. Sham Singh whose credentials of being a Sikh have always been questioned has been shown addressing a meeting.
In the video, he has said that Pakistan High Commission in India had cancelled visa of 500 Kashmiri Sikhs who wanted to visit Pakistan on the occasion of birth anniversary of Guru Nanak Dev, Sikh's first master. He said there have been talks of giving Most Favoured Nation status to India by Pakistan. "Because of this reason Kashmiri Sikhs had been denied visa," he said.
Full report at:
http://timesofindia.indiatimes.com/india/Pakistan-Sikh-Gurdwara-Committee-chief-spews-venom-against-India/articleshow/29117339.cms
-----------
Six militants arrested in Kashmir
PTI | Jan 21, 2014
SRINAGAR: Six militants have been arrested in central Kashmir's Budgam district in separate operations during the past two weeks, police said on Tuesday.
The militants, identified as Rafiq Ahmad, Javed Ahmad, Muzaffar Ahmad, Mohammad Yaseen, Altaf Mir and Bilal Ahmad Rather, were arrested in the district during the last two weeks in separate operations, police said.
Some of these militants could have been involved in the killing of the station head officer (SHO) Chadoora on December 2 last year, police sources said.
They said the militants were also planning to carry out attacks at vital installations around Budgam and Chadoora towns of the district.
Some arms and ammunition have also been recovered from their possession, police said.
http://timesofindia.indiatimes.com/india/Six-militants-arrested-in-Kashmir/articleshow/29156141.cms
-----------
2002 Naroda Patiya massacre: Gujarat HC allows state govt to move petition seeking enhancement of punishment for convicted
Jan 21, 2014
Gujarat High Court (HC) allowed Gujarat Government to move petition seeking enhancement of punishment of Babu Patel alias Babu Bajrangi and 15 others in the 2002 Naroda Patiya Massacre case by allowing its application that sought condonation of delay of 369 days in moving the appeal. A division bench of HC comprising Justices Jayant Patel and Z K Saiyed passed an order in this regard.
In August 2012, a special trial court conducting trial of the 2002 Naroda Patiya Massacre case convicted 32 persons while acquitting 29 others in the case. Those convicted included former BJP MLA and state minister Dr Maya Kodnani and Bagrangi. While Kodnani was awarded life imprisonment and sent to jail for 28 years, Bajrangi was sentenced to life imprisonment till death.
Full report at:
http://indianexpress.com/article/india/gujarat/2002-naroda-patiya-massacre-gujarat-hc-allows-state-govt-to-move-petition-seeking-enhancement-of-punishment-for-convicted/
---------
URL: http://www.newageislam.com/islamic-world-news/new-age-islam-news-bureau/obama-backed-syrian-rebels-train-islamists-to-wage-uk-jihad/d/35372