New Age Islam News Bureau
12 Apr 2013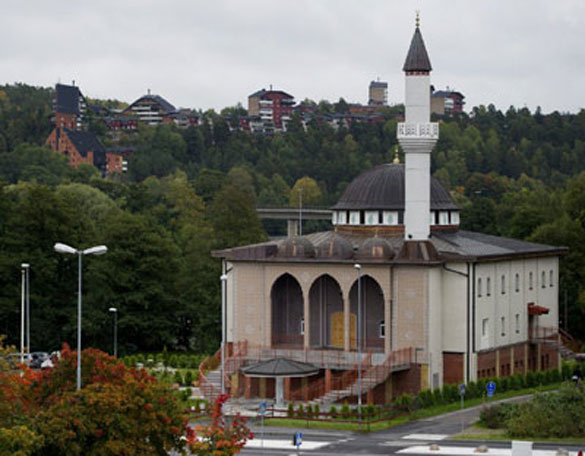 Photo: Swedish police OK prayer calls from mosque
---------
India
• Now Cases of Kidnapping and Forcible Conversion of Poor Muslim Girls to Hinduism Come To Light
• Minorities' Panel Asks Muslim Leaders To Move Court Over Child Marriage
• Muslims want protection, curbs on processions
• Arabic Islamic Calligraphy Exhibition kicks off at the Indian Consulate in Jeddah
• Blitz editor Karanjia was 'on the take' from Shah of Iran: WikiLeaks
• India, Bangladesh to produce mega film on 1971 War of Liberation
• NIA files charges against 3 for raising terror funds for Hizb ul Mujahideen
• Pakistani teen undergoes liver transplant in India
Pakistan
• Pakistanis should abide by Saudi Kingdom's laws, says Pak diplomat
• Pervez Musharraf admits deal with US on drone strikes
• Minorities: Voting cautiously, or not at all
• SC to study utility of Balochistan uplift schemes
• ECP mulls plan to give voting rights to expats in 10 countries
• Islamabad High Court grants interim bail to Musharraf
• JUI-F pledges to make Pakistan an Islamic welfare state
• 'Different minority groups face the same problems in Pakistan'
• Pak Taliban rejects reports of Mangal Bagh's appointment as Khyber militant chief
Arab World
• Rebel Keeps Kurds' Guns Close at Hand in Peace Talks With Turkey
• Saudi executes Pakistani for rape, murder
• Egyptian Protesters Operated on Without Anaesthetic: Report
• Bishop thanks Muslims for protecting Christians in Egypt's Al-Khosous
• Killing of Christians helped bring down Mubarak: Brotherhood's El-Erian
• Bomb near Iraq mosque kills seven
• Death toll in Egypt sectarian clashes reaches 8
• Egypt Preacher Says He Would Hang Judges If He Were President
• Kuwaiti minister accused of signing contracts with Israel
• Syria says UN should class Nusra as Qaeda-linked
• West aims to strengthen 'moderate' rebels in fight against Assad
• Syrian troops battle rebels near Lebanon border
• Egypt's top religious authority approves Islamic bonds law
South Asia
• Civil war is the price Afghans will pay for the criminals the west installed
• Taliban attack kills 13 Afghan soldiers
• New Indian High Commissioner emphasises "unshakable" relationship with the Maldives
• Police investigating 'Xpress Money' transfer fraud in Maldives
• Hindu alliance urges Khaleda not to call Hartal on Apr 17-18
• Afghan Refugees: In support of host communities
Southeast Asia
• BN manifesto theme used in Friday sermon, Muslims told to be grateful
• PAS secretary-general's lawyer says not his client in sex video
• Indonesia's Mari among Final Five for WTO Head
• Embassy tells Filipinos to rectify status during grace period in line with Saudi Labour Law
Europe
• Swedish police OK prayer calls from mosque
• Uzbekistan warns population of extremist activity
• WUC Stages International Conference in Geneva
• Russia condemns Iran's uranium expansion: Report
• DR Congo suspends 12 army officers over notorious rapes: UN
• Nearly 400 People, mainly Muslim North Caucasus Detained in Immigration Raid in Russia
Africa
• Three Chadian Soldier Killed in North Mali Suicide Bombing
• Sudan's Bashir visits South Sudan as tensions ease
• Tunisia recovers $28m from wife of deposed president
• Fresh violence flares in Libya's town of Kufra
• Mali prime minister urges French troops to stay
• Morsi's visit to Sudan prompts speculation over historical dispute
• Sudan frees 4 political prisoners after 8 years: Opposition
• Nigeria: Death penalty for rapists mooted
North America
• Rebel Victory in Syria Might Not Stop Conflict, U.S. Officials Say
• Suit says Muslim's firing was based on religious bias
• Oklahoma Governor Asked Not to Sign Anti-Muslim Bill
• John Kerry sends 'Poila Baisakh' greetings to Bengalis
• U.S. Blacklists an Iranian and Businesses over Violation of Sanctions
• U.S. Embassy in Turkey Said to Be Targeted
Mideast Asia
• Gaza-based Hamas says anti-collaboration drive a success
• Turkey police foils Al-Qaeda plot against US embassy
• Iranian 'time machine' can 'predict' oil prices and wars
• Turkey adopts reform to anti-terror laws
• Israel Offers to Deport Frail Palestinian Prisoner
Compiled by New Age Islam News Bureau
URL: https://newageislam.com/islamic-world-news/now-cases-kidnapping-forcible-conversion/d/11116
-------------
India
Now Cases of kidnapping and forcible conversion of poor Muslim girls to Hinduism come to light
A report in Inqilab Urdu Daily by Mohammad Anwar Siddiqi
Translated by New Age Islam News Desk
12 April 2013
Padrauna, a small town and district headquarters of Kushi Nagar in Uttar Pradesh is in the news for all the wrong reasons. Well trained members of Hindu Yuva Vahini are luring and kidnapping poor Muslim girls of the area only to convert them to Hinduism. Nine such cases have come to light during the week 1st to 8th of March 2013. Latest incident of kidnapping of Zubaida Khatton, 13, d/o Mohammad Sabir, who was residing with her maternal uncle at Padrauna and pursuing her studies there is also related to the same thread of conversion to Hinduism by force.
Poor parents of the victim girls are being threatened with dire consequences in case they reported it to police.
Arvind s/o Rameshwar who is a trained member of Hindu Yuva Vahini eloped with Zubaida Khatoon. After some days he returned with the girl to the village to his house. Hindus of the area are now saying that the girl has converted to Hinduism and has married Arvind on her own; therefore no one dare interfere in the matter, otherwise they will be responsible for the dire consequences.
Both, the Pradhan and the Police are pressurising the family of the girl to keep quite.
Rubina Khatoon, 13, of Mohammad Madhopur, Gauri Shriram, P. O Bishanpur was also kidnapped and kept in the house of a member of Hindu Yuva Vahini. When the family of the victim went to the local police to complain, they were rebuked and fled. No FIR was lodged.
The family members managed to contact the S P of the area with the help of some local people and lodged their written complaint but no action has been taken so far. They are poor people; hence not in a position to visit any senior police officer time and again.
This kidnapping and conversion of teenaged Muslim girls to Hinduism is being done in an organised manner. Muslim minority of the area is not in a position to raise its voice against this atrocity. They are poverty ridden people bereft of any platform which can raise their voice. Local leaders do not seem to be concerned. All of them are divided into S P, B S P and Congress. They are being informed of the happenings but to no avail; thus communal Hindu Yuva Vahini's atrocity is increasing with every passing day.
------------
Minorities' Panel Asks Muslim Leaders To Move Court Over Child Marriage
G. SATHYAMOORTHY
April 10, 2013
State Minorities Commission chairman Bishop M.Prakash on Tuesday asked leaders of Muslim organizations to move the High Court or Supreme Court if they were aggrieved over the Perambalur district administration preventing child marriages.
The Commission visited Perambalur on Tuesday.
Bishop Prakash was responding to Mohammed Haneefa, co-coordinator of 24 Muslim Organizations, who contended that the District Collector had no power to stop the marriages of Muslim girls once they attained puberty. He said, "This is Muslim Personal Law and Muslims are not bound by any other law." Besides, by preventing the marriages, the administration had caused immense pain to the families concerned. Only the organizers of the marriage could be arrested and not the girl who was about to be married, he argued.
However, District Collector Darez Ahmed contended that as per Indian Child Marriage Act 2006, any marriage below the age of 18 was illegal. "We have prevented 164 child marriages (including three of the Muslims) in the district and of them 148 girls are now studying in schools."
He also explained that Perambalur had a very high maternal mortality rate in 2011 because of such early marriages as the girl is in no position to deliver the child. As the nutrition level in the district is very poor, this results in mortality of the girl. "Physiologically, it is a very severe strain on the girl," he explained.
Besides, he said the entire process was done as per law. The moment the district administration came to know of a wedding suspected to be a "child marriage", the District Social Welfare Officer was informed, who inquired into it before preventing the same. The child was produced before Child Welfare Committee and the Judicial Magistrate gave an injunction. "After that, if any one feels that the district administration is in the wrong, they are free to move the higher courts", he asserted. When Mr.Haneefa cited a judgment of the Delhi High Court, the Collector said that it related to an issue six months after solemnization of marriagem whereas whatever had been done in Perambalur district was well before the solemnization of marriage.
District Social Welfare Officer K. Pechiammal dismissed the allegation that the girls, whose marriage was stopped, were arrested.
http://www.thehindu.com/todays-paper/tp-national/tp-tamilnadu/minorities-panel-asks-muslim-leaders-to-move-court-over-child-marriage/article4600833.ece
---------
Muslims want protection, curbs on processions
G. SATHYAMOORTHI
April 11, 2013
SP denies "witch hunting" and "kangaroo court"
The State Minorities Commission was witness to a poignant scene involving the Muslims and the Hindus of V.Kalathur, a village in Perambalur district, on Tuesday. When the commission headed by Bishop M. Prakash had a sitting at the Perambalur collectorate, the president of the Jamaat of V.Kalathur demanded that the Muslims be given protection from the "deliberate" actions of the police. He pointed out that four streets in the village had a predominantly Muslim population and hence all that they wanted was that the Hindu processions avoid these streets.
"Almost once in 15 days some festival or other is organised by the Hindus and procession is taken through our streets. We are afraid that something untoward against us could take place then." When there was a complaint, 103 Muslims, including those studying and those about to leave abroad for jobs, were arrested, while it was only three persons on the Hindus' side who were taken into custody.
Ramaswamy, speaking on behalf of the Hindus at V.Kalathur, lamented that "Hindus have become minorities at V.Kalathur and our fundamental rights are trampled upon when we are not allowed to take our processions through the routes through which we have been traditionally taking our processions. But for the protection offered by the district administration, we will find it difficult to live in the village and I am in half a mind to get myself converted."
Superintendent of Police T.K.Rajasekaran said there had been no problem at all between the two communities living in for ages. It all started only when a section of the Muslim community objected to the Hindus taking out processions through "their streets". They even moved the High Court. "All that the police did was to ensure smooth movement of the procession without any untoward incidents and we have conducted a number of peace meetings as well." The police started working out the number of processions taken out per annum and how the religious processions could be avoided through these streets. "But even as the discussions were going on, a marriage procession of Hindus was stopped by the Muslims. Then the police were left with no other option but to arrest 70 Muslims as it apprehended serious unrest."
When hardly half a dozen policemen are required for bandobust, why police should seek the presence of an IG, a DIG and two SPs, but for the situation turning grave, he asked. The SP also said that though invitations were sent to Muslims nine times for talks, none responded.
He dismissed the allegation that the police were indulging in "witch hunting" of Muslims and running a "kangaroo court" (katta panchayat).
The Muslims said that they were prepared to live in harmony with other communities, but there was an attempt to drive a wedge.
http://www.thehindu.com/todays-paper/muslims-want-protection-curbs-on-processions/article4604879.ece
-----------
Arabic Islamic Calligraphy Exhibition kicks off at the Indian Consulate in Jeddah
April 12, 2013
JEDDAH — For the first time ever a four-day Arabic Islamic calligraphy exhibition by Shamim Qureshi kicked off Wednesday at the Indian Consulate here.
The exhibition comprised two parts: display of calligraphic art and a lecture on "Arabic/Islamic calligraphy in India" by Prof. Dr. Shafiq Ahmad Khan Nadwi, former head department of Arabic Jamia Millia Islamia, New Delhi.
Indian national Qureshi is an internationally renowned calligrapher who is exhibiting more than 30 masterpieces at the expo.
Full report at:
http://www.saudigazette.com.sa/index.cfm?method=home.regcon&contentid=20130412160959
----------
Blitz editor Karanjia was 'on the take' from Shah of Iran: WikiLeaks
TNN | Apr 12, 2013
NEW DELHI: The US embassy here suspected that R K Karanjia of Mumbai-based Blitz tabloid was on the payrolls of Shah of Iran and had taken money from then railway minister L N Mishra to defame his Congress colleague and home minister, Uma Shankar Dikshit.
According to a cable sent from New Delhi's US Embassy discussing the serious rifts within the Congress party in 1973, "Rail minister Mishra, who had clashed with home minister Dikshit over Bihar politics, is reliably reported to have paid "Blitz" editor Karanjia to launch its anti-Dikshit campaign." The cable was sent on July 27, 1973.
Full report at:
http://timesofindia.indiatimes.com/india/Blitz-editor-Karanjia-was-on-the-take-from-Shah-of-Iran-WikiLeaks/articleshow/19504300.cms
----------
India, Bangladesh to produce mega film on 1971 War of Liberation
TNN | Apr 12, 2013
NEW DELHI: A mega film on the historic Bangladesh War of Liberation, honours for the deceased Indian soldiers and possible waiver of the ban on theatrical release of Indian films are some of the proposals that will be examined by India and Bangladesh in the coming months.
India and Bangladesh on Thursday agreed to work on a proposal for jointly producing a mega film depicting Bangladesh's struggle for independence which will also highlight the sacrifices made by Indian soldiers.
Full report at:
http://timesofindia.indiatimes.com/india/India-Bangladesh-to-produce-mega-film-on-1971-War-of-Liberation/articleshow/19503885.cms
----------
NIA files charges against 3 for raising terror funds for Hizb ul Mujahideen
TNN | Apr 12, 2013
NEW DELHI: The National Investigation Agency (NIA) has filed charge sheet against three more persons, including a Bangladeshi national, for allegedly raising terror fund for the banned outfit Hizb ul Mujahideen (HM) through circulation of fake Indian currency notes (FICN) in Jammu & Kashmir.
The charge sheet against the three accused — Badal Sheikh and Fayaz Ahmed (both Indians) and Shafiq-ul (Bangladeshi) — was filed in the NIA Special Court in Jammu under various sections of the Ranbir Penal Code and the central anti-terror Act on Wednesday.
The Court subsequently issued a non-bailable warrant against absconding Shafiq-ul who was key point person of the Indian accused for supplying FICN through a trans-border cattle smuggler - Badal Sheikh -- of West Bengal's Malda district.
Full report at:
http://timesofindia.indiatimes.com/india/NIA-files-charges-against-3-for-raising-terror-funds-for-Hizbul-Mujahideen/articleshow/19503288.cms
----------
Pakistani teen undergoes liver transplant in India
April 12, 2013
Madhia Tariq, 16, had no hope of survival when she slipped into a coma after collapsing in her Lahore school in January due to acute liver failure. An air ambulance from Delhi brought the young Pakistani student to India - and back to life.
Madhia underwent a liver transplant at the capital's Indraprastha Apollo hospital where a team of 18 doctors operated upon her. Her brother Rizwan donated almost half his liver to her on February 3.
Madhia had developed acute liver failure due to Hepatitis A. She was off the ventilator within 24 hours after the surgery and started eating the next day. Over the following weeks, her condition improved and she is now ready to fly home to Pakistan.
Full report at:
http://www.hindustantimes.com/world-news/pakistan/Pakistani-teen-undergoes-liver-transplant-in-India/Article1-1043296.aspx
-----------
Pakistan
Pakistanis should abide by Saudi Kingdom's laws, says Pak diplomat
April 12, 2013
JEDDAH — Pakistan's consul general has praised Custodian of the Two Holy Mosques King Abdullah for ordering a three-month grace period for expatriate workers employed illegally to rectify their situations.
Aftab A. Khokher also urged Pakistani nationals to abide by the Kingdom's laws.
He was addressing, as a guest of honor, a reception jointly organized by the Engineers Welfare Forum (EWF) and the Institution of Engineers Pakistan (IEP) in honor of Dr. Samar Mubarak and, a world-renowned Pakistani scientist, in Jeddah.
He said he has had several meetings with the Ministry of Labor, who he said promised to help in the easy transfer of sponsorship, changing of professions according to qualifications and safe handling of overstayers and Umrah visitors.
Full report at:
http://www.saudigazette.com.sa/index.cfm?method=home.regcon&contentid=20130412161035
-------------
Pervez Musharraf admits deal with US on drone strikes
Apr 12 2013
Islamabad : Former President Pervez Musharraf has acknowledged his regime secretly cleared US drone strikes, becoming the first serving or retired Pakistani official to publicly admit that the country had a deal on attacks by the CIA-operated spy planes.
Musharraf said there was no blanket agreement with the US on the controversial drone campaign and that his regime had cleared missile strikes "only on very few occasions where the target was absolutely isolated and (the drone strike) had no chance of collateral damage".
The drone strikes were discussed "at the military (and) intelligence level" and cleared only if "there was no time for our own (special operations task force) and military to act", he said.
"That was...maybe two or three times only," he told CNN in an interview. Sometimes, he said, "you couldn't delay action". He added: "These ups and downs kept going...It was a very fluid situation, a vicious enemy...mountains, inaccessible areas".
Full report at:
http://www.indianexpress.com/story-print/1101501/
-----------
Minorities: Voting cautiously, or not at all
April 12, 2013
KARACHI: The influence of faith-based minorities on the outcome of the elections must not be underestimated – many are enrolled as voters with the Election Commission of Pakistan (ECP).Aamir Mehmood, 37, has never been to any political jalsa, nor does he intend to in the coming days as the season of election rallies begins. It's not that he is scared of a bomb blast or a suicide attack. It's because as a member of the Ahmadi community, he feels completely disenchanted and sees no reason to be part of the milling crowd. The four million-strong community will not be casting its votes in the upcoming polls. "We are Pakistanis, but we are separated and discriminated from the mainstream on the basis of religion," says Saleemuddin, spokesperson of the community in Pakistan, who goes by his first name only. "This is against the very spirit of democracy," he adds.
Full report at:
http://dawn.com/2013/04/11/minorities-voting-cautiously-or-not-at-all/
-------------
SC to study utility of Balochistan uplift schemes
Nasir Iqbal
April 12, 2013
ISLAMABAD: Irregularities allegedly committed by the previous Balochistan government in development programmes forced the Supreme Court on Thursday to consider examining the usefulness of such schemes under which funds doled out to legislators were sometimes misused.
However, after deliberations the court decided to re-appropriate funds for the ongoing uplift schemes.
"We have to give a judgement after examining whether allocating funds to the legislators is permissible, especially in view of the state of affairs in Balochistan," Chief Justice Iftikhar Muhammad Chaudhry said before asking Attorney General Irfan Qadir to assist the bench on the matter.
Full report at:
http://dawn.com/2013/04/12/sc-to-study-utility-of-balochistan-uplift-schemes/
-------------
ECP mulls plan to give voting rights to expats in 10 countries
April 12, 2013
ISLAMABAD: The Election Commission of Pakistan (ECP) has told the Supreme Court that it is evolving an effective mechanism to ensure that overseas Pakistanis in ten different countries can exercise their right to vote in the upcoming general elections.
A three-member bench of the court, headed by Chief Justice Iftikhar Muhammad Chaudhry, on Thursday expressed confidence that the ECP and other government departments would finalise the procedure to facilitate overseas Pakistanis so that they could exercise their right of vote. ECP Director General Syed Sher Afgan told the bench that a meeting was convened in the ECP, which was attended by him, attorney general of Pakistan and other relevant government departments' functionaries.
Full report at:
http://www.dailytimes.com.pk/default.asp?page=2013\04\12\story_12-4-2013_pg1_4
-------------
Islamabad High Court grants interim bail to Musharraf
April 12, 2013
ISLAMABAD: Islamabad High Court (IHC) Justice Shaukat Aziz Siddiqui granted interim bail to former president Pervez Musharraf till April 18 in the confinement of judges' case, Express News reported on Friday.
The court questioned the former president as to why he decided to come directly to the high court.
"You should have contacted the session court and later appealed in the high court," Justice Shaukat said.
Full report at:
http://tribune.com.pk/story/534603/islamabad-high-court-grants-interim-bail-to-musharraf/
-------------
JUI-F pledges to make Pakistan an Islamic welfare state
April 11, 2013
QUETTA: Jamiat Ulema-e-Islam (JUI-Fazl) announced its 22-point party manifesto in Quetta on Thursday, pledging to make Pakistan an Islamic welfare state.
JUI-F General Secretary Maulana Abdul Ghafoor Haideri, announcing the manifesto, said that Islam will be made the official religion of the state and a comprehensive system of Islamic laws will be evolved for the country.
Reflecting upon the foreign policy, he said that they would establish relations with all the countries on the basis of equality.
Full report at:
http://tribune.com.pk/story/534177/party-manifesto-jui-f-pledges-to-make-pakistan-an-islamic-welfare-state/
-------------
'Different minority groups face the same problems in Pakistan'
April 12, 2013
KARACHI: Scholars and civil society discussed the deteriorating situation of the minorities and threats posed by the religious extremists and society's outdated customs. Speakers at the closing ceremony of the two-day South Asian conference on 'Religious Minorities and Human Rights:
Challenges and Opportunities' stressed the need for making use of modern technology and social media for countering the threats.
The conference was organised by the Pakistan Institute of Labour Education and Research (PILER) at the Regent Plaza Hotel.
Full report at:
http://tribune.com.pk/story/534425/different-minority-groups-face-the-same-problems-in-pakistan/
-------------
Pak Taliban rejects reports of Mangal Bagh's appointment as Khyber militant chief
April 12, 2013
The Pakistan Taliban, also known as Tehrik-i-Taliban Pakistan (TTP), has denied reports of militant warlord Mangal Bagh being appointed the supreme leader of the Lashkar-i-Islam (LI) and TTP in northwestern Khyber tribal region. Ehsanullah Ehsan, a spokesman for the Hakimullah Mehsud-led
TTP, said the TTP had 'cordial relations' with the Lashkar-i-Islam chief and the group as a whole, but denied reports that he had been made chief of both militant groups, reports The Dawn.
Full report at:
http://www.hindustantimes.com/world-news/pakistan/Pak-Taliban-rejects-reports-of-Mangal-Bagh-s-appointment-as-Khyber-militant-chief/Article1-1043127.aspx
-----------
Arab World
Rebel Keeps Kurds' Guns Close at Hand in Peace Talks With Turkey
By TIM ARANGO
April 12, 2013
ZARGALI, Iraq — In a safe house made of cinder blocks and surrounded by grazing goats and sheep, nestled high in the remote mountains of northern Iraq, a Kurdish fighter who has waged a guerrilla war against Turkey for nearly three decades remains defiant in the face of peace.
"Our forces believe they can achieve results through war," said the fighter, Murat Karayilan, who commands the thousands of fighters of the Kurdistan Workers' Party, or the P.K.K.
For all the costs of the long war, Mr. Karayilan, his fighters and millions of Kurds believe it helped them achieve something they never would have without armed struggle: a recognition of Kurdish identity and more democratic rights.
Now, as the P.K.K. negotiates peace with Turkey to end one of the Middle East's most intractable conflicts, it is clinging to its guns despite demands by Recep Tayyip Erdogan, Turkey's prime minister, that it lay them down as a condition of talks. This defiance suggests that the peace process, despite the hope it has engendered on both sides, could be longer and more arduous than at first anticipated.
Full report at:
http://www.nytimes.com/2013/04/12/world/middleeast/rebel-kurd-karayilan-defiant-in-
---------
Saudi executes Pakistani for rape, murder
AFP | Apr 12, 2013
RIYADH: Saudi authorities executed on Friday a Pakistani man convicted of rape and murder, in the north-western town of Tabuk, the interior ministry said.
Amjad Ali Kol was convicted of raping and strangling a woman, before stealing her money, the ministry said in a statement carried on official news agency SPA.
His beheading brings to 33 the number of people executed in Saudi Arabia since the beginning of the year, according to an AFP tally.
In 2012, the kingdom executed 76 people, according to an AFP tally based on official figures. The US-based Human Rights Watch put the number at 69.
Rape, murder, apostasy, armed robbery and drug trafficking are all punishable by death under Saudi Arabia's strict version of sharia, or Islamic law.
http://timesofindia.indiatimes.com/world/middle-east/Saudi-executes-Pakistani-for-rape-murder/articleshow/19514221.cms
-------------
Egyptian Protesters Operated on Without Anaesthetic: Report
April 12, 2013
London. The Egyptian military ordered senior doctors to operate without anaesthetic on protesters injured during demonstrations against military rule, according to extracts of a leaked report published in the Guardian newspaper on Friday.
The report into military and police malpractice since 2011, commissioned by President Mohamed Morsi, also found evidence that medical staff and soldiers attacked demonstrators inside the same Cairo hospital, the British newspaper reported.
Earlier leaks of the report accused the military of torture and forced disappearances during the uprising against the rule of long-time leader Hosni Mubarak in 2011.
Full report at:
http://www.thejakartaglobe.com/international/egyptian-protesters-operated-on-without-anesthetic-report/585225
-------------
Bishop thanks Muslims for protecting Christians in Egypt's Al-Khosous
Bishop Moussa of the Coptic Orthodox Church says local Muslims who protected Christians during sectarian riots showed the true meaning of religion and love
11 Apr 2013
A senior Coptic bishop has praised Muslims in Al-Khosous who attempted to protect Christians during a recent bout of sectarian violence that left five people dead.
"The loving Muslims who protected Christians and the church during the deadly clashes in Al-Khosous highlighted the mistakes of the fanatics and showed the true meaning of religion and love," Bishop Moussa, who is in charge of youth affairs at the Coptic Orthodox Church, said in a statement on Wednesday.
Full report at:
http://english.ahram.org.eg/NewsContent/1/64/68979/Egypt/Politics-/Bishop-thanks-Muslims-for-protecting-Christians-in.aspx
-------------
Killing of Christians helped bring down Mubarak: Brotherhood's El-Erian
Freedom and Justice Party Vice-Chairman Essam El-Erian cites Two Saints Church bombing, which killed 23 people on 31 December 2010, as one of three major reasons for fall of Mubarak regime
11 Apr 2013
Muslim Brotherhood heavyweight Essam El-Erian has cited the killing of Christians as one of three major reasons for the demise of the Mubarak regime in 2011.
In comments posted on Facebook, El-Erian, vice-chairman of the Brotherhood's Freedom and Justice Party (FJP), described the bomb attack on the Two Saints Church in Alexandria, which killed 23 people on 31 December 2010, as a "disaster."
The "scandalous" rigging in the 2010 parliamentary election by Hosni Mubarak's National Democratic Party, which led the FJP and the liberal Wafd Party to withdraw from the second round, was another major mistake by the Mubarak regime, he said.
Full report at:
http://english.ahram.org.eg/NewsContent/1/64/68990/Egypt/Politics-/Killing-of-Christians-helped-bring-down-Mubarak-Br.aspx
-------------
Bomb near Iraq mosque kills seven
AFP | Apr 12, 2013
BAQUBA (Iraq): A bomb exploded near a Sunni mosque north of Baghdad today, killing seven people, a police colonel and a doctor said, the latest in an uptick in violence in the runup to elections next week.
The bomber struck after prayers at the Omar bin Abdul Aziz mosque, south of Baquba, and also wounded another 25 people the sources said.
Iraq is to hold provincial elections on April 20, its first polls since 2010.
Attacks on candidates have left at least a dozen election hopefuls dead, according to an AFP tally. That, and the fact that only 12 of Iraq's 18 provinces will vote due to a government postponement has drawn the credibility of the elections into question.
Violence killed 271 Iraqis last month, the highest monthly figure since August, according to an AFP tally.
http://timesofindia.indiatimes.com/world/middle-east/Bomb-near-Iraq-mosque-kills-seven/articleshow/19513344.cms
-----------
Death toll in Egypt sectarian clashes reaches 8
AP | Apr 11, 2013
CAIRO: An Egyptian security official says a Coptic Christian has died of burns sustained during sectarian clashes, raising the death toll to eight since the weekend.
The official says attackers doused Saber Helal, 26, with gasoline and set him on fire during clashes over the weekend between Muslims and Christians in Khosoos, a town north Cairo. Four other Christians and a Muslim were killed at the time.
The official said Helal died Thursday. He was speaking on condition of anonymity because he was not authorized to speak to the media.
More clashes broke out Sunday at Cairo's main Coptic Cathedral after funerals for the Christians killed in Khosoos. The church was attacked and two more people were killed, one of them a Christian, in the worst sectarian violence since last year.
http://timesofindia.indiatimes.com/world/rest-of-world/Death-toll-in-Egypt-sectarian-clashes-reaches-8/articleshow/19498051.cms
-----------
Egypt Preacher Says He Would Hang Judges If He Were President
Friday, 12 April 2013
A popular Egyptian Islamist preacher said in an online video Thursday that he would kill the country's judges if he were president because they refused to shut down the comic television program of Bassem Youssef.
"Bassem Youssef is a fool and all what he does is foolishness, ignorance and incivility," said outspoken television presenter Sheikh Abdullah Badr.
"A respected court or judge, yet, comes and tells you: I will not shut down the channel or the program; this is a purposeful program that presents constructive criticism," he added.
"I swear to god, if I were ruling Egypt I would execute them, I swear I would execute them," he said.
Full report at:
http://english.alarabiya.net/en/News/middle-east/2013/04/12/Egypt-preacher-says-he-would-hang-judges-if-he-were-president.html
-------------
Kuwaiti minister accused of signing contracts with Israel
Ahmad Al-Humoud Al-Sabah, Kuwait's interior minister, to face special tribunal following accusations he had financial dealings with an Israeli company
11 Apr 2013
The Kuwaiti public prosecution referred Ahmad Al-Humoud Al-Sabah, the interior minister, to a special tribunal after he was accused of signing contracts with Israel.
Al-Sabbah is charged with signing contracts with a Canadian company owned by an Israeli firm, the Kuwait Times reported on Thursday.
The allegation, according to the newspaper, came following a request filed in March by Member of Parliament Faisal Al-Duwaisan against Al-Sabah.
Full report at:
http://english.ahram.org.eg/NewsContent/2/8/68991/World/Region/Kuwaiti-minister-accused-of-signing-contracts-with.aspx
-------------
Syria says UN should class Nusra as Qaeda-linked
11 Apr 2013
The regime of Syrian President Bashar al-Assad on Thursday called on the UN Security Council to class the jihadist Al-Nusra Front as an Al-Qaeda-linked group, state news agency SANA said.
In a letter to the United Nations, the Syrian foreign ministry said it "expects the Security Council to fulfil its role and preserve global security," the agency added.
http://english.ahram.org.eg/NewsContent/2/8/69028/World/Region/Syria-says-UN-should-class-Nusra-as-Qaedalinked.aspx
-------------
West aims to strengthen 'moderate' rebels, against Assad
April 11, 2013
By providing them with extra aid, Western powers at the G8 summit are hoping to keep moderate forces at the heart of the Syrian rebel movement, as radical religious groups threaten to take over the uprising against President Bashar Assad.
Imminent increases in non-lethal aid – which can, however, include items such as body armor, hi-tech battlefield gadgets and uniforms - were much-discussed at the two-day London meeting of foreign ministers from the world's leading nations.
"Our assistance has been on an upward trajectory, and the president has directed his national security team to identify additional measures so that we can increase assistance," a senior White House source told the New York Times.
Full report at:
http://rt.com/news/syria-hague-al-nusra-summit-london-717/
-------------
Syrian troops battle rebels near Lebanon border
April 12, 2013
Syrian forces battled rebels in the central province of Homs near the border with Lebanon on Friday as part of a counter-offensive aimed at regaining control of territory around the country and along strategic border areas.
With a fresh influx of weapons, Opposition fighters have made significant gains in the past weeks, particularly in the southern province of Daraa, where rebels have been advancing in the region between the Jordanian border and the capital, Damascus.
The province of Homs and its capital of the same name were the scenes of some of the heaviest fighting during the first year of Syrian conflict. The violence has escalated there in recent weeks, with Syrian war planes hitting the city daily. On Friday, troops clashed with rebels on the edges of the province along the Lebanese border.
Full report at:
http://www.thehindu.com/news/international/world/syrian-troops-battle-rebels-near-lebanon-border/article4610362.ece
-----------
Egypt's top religious authority approves Islamic bonds law
11 April 2013
Egypt's top religious authority on Thursday approved a law that would allow the Arab country struggling with a soaring budget deficit to issue Islamic bonds but said some articles passed by parliament must be amended.
The parliament led by the Muslim Brotherhood's Freedom and Justice Party approved the law in March and referred it to President Mohamed Mursi. Al-Azhar, the country's leading Islamic authority, protested, saying its top scholars should have been consulted, as stated in the new, Islamist-tinged constitution.
The scholars have now agreed to the bill on Islamic bonds, also known as sukuk, on condition that certain articles are amended, according to a statement from the Senior Scholars Authority, part of al-Azhar.
http://english.alarabiya.net/en/business/banking-and-finance/2013/04/11/Egypt-s-top-religious-authority-approves-Islamic-bonds-law.html
-------------
South Asia
Civil war is the price Afghans will pay for the criminals the west installed
12 April 2013
This week the defence select committee published a report which concluded that civil war in Afghanistan is likely when international forces leave next year. If the predictions of Securing the Future of Afghanistan are correct, the Foreign Office and Ministry of Defence share much of the blame.
When I returned to Kabul in January and asked an American journalist I'd known in 2001 his view of the situation, he said: "When you look at the facts on the ground, it is hard to believe that civil war is not inevitable."
The facts on the ground include the militias the west has set up in the countryside in a desperate attempt to shore up the barely legitimate Karzai regime. Sadly, these militias, plus the many Afghan private security companies, have contributed to a proliferation of armed groups that will be roaming the country after 2014. Ironically, in the MPs' report, the Foreign Office acknowledges the need to disarm the Taliban, yet omits to mention the problems of re-arming these groups, presumably because they are "the good guys".
Full report at:
http://www.guardian.co.uk/commentisfree/2013/apr/12/civil-war-price-afghans-criminals-west
-------------
Taliban attack kills 13 Afghan soldiers
April 12, 2013
KABUL: The Defense Ministry says Taliban militants have attacked an army outpost near the border with Pakistan, killing 13 soldiers.
Ministry spokesman Gen. Mohammad Zahir Azimi says the fighting began around dawn Friday in the Nari district of Kunar province.
The Taliban have claimed responsibility for the attack and say they have captured the outpost.
http://dawn.com/2013/04/12/taliban-attack-kills-13-afghan-soldiers/
-------------
New Indian High Commissioner emphasises "unshakable" relationship with the Maldives
By Minivan News | April 11th, 2013
The new Indian High Commissioner to the Maldives Rajeev Shahare has emphasised the "unshakable" long-standing relationship between between both countries during a meeting with local media yesterday (April 10).
The new commissioner, who speaks fluent Arabic, previously served in Saudi Arabia, Bahrain, Egypt, Yemen, Geneva, Mauritius, as well as held the position of Joint Secretary in the Indian Ministry of External Affairs', West Asia North Africa division.
Shahare presented his credentials to President Mohamed Waheed Hassan Manik yesterday morning, before later discussing his initial observations on the country with local media.
Full report at:
http://minivannews.com/politics/new-indian-high-commissioner-emphasises-unshakable-relationship-with-the-maldives-56060
-------------
Police investigating 'Xpress Money' transfer fraud in Maldives
By Ahmed Nazeer | April 11th, 2013
Police have launched a fraud investigation concerning the transfer of MVR388, 000 (US $25,162) out of the Maldives after a service called 'Xpress Money' was alleged to have been hacked by thieves.
According to local newspapers, individuals are suspected of stealing the money by hacking into the Xpress Money website and transferring the funds overseas.
Xpress Money, which is operated in association with Maldives Post Limited (MPL), provides money transfer services to Pakistan, Bangladesh, Nepal and the Philippines, according to Maldives Post Limited's own website.
Full report at:
http://minivannews.com/society/police-investigating-xpress-money-transfer-fraud-56066
-------------
Hindu alliance urges Khaleda not to call hartal on Apr 17-18
April 12, 2013
Leaders of Bangladesh National Hindu Grand Alliance yesterday urged BNP Chairperson Khaleda Zia not to enforce hartal on April 17-18 as the traditional Hindu festival Langalbandh Snan (a holy bath) will be observed on the two days.
Millions of devotees from across the country visit the Langanbandh in Narayanganj to participate in the festival. But they will not be able to do so if hartal is called, said a press release.
Full report at:
http://www.thedailystar.net/beta2/news/hindu-alliance-urges-khaleda-not-to-call-hartal-on-apr-17-18/
-------------
Afghan Refugees: In support of host communities
April 12, 2013
An agreement to support the communities hosting refugees was signed by the German government and the UNHCR here on Thursday. The agreement will provide 100 million euros for the Refugee Affected and Hosting Area (RAHA) initiative, said a press release.
The support given through the German Development Bank Kreditanstalt für Wiederaufbau (KFW), is earmarked for the execution of projects in the second phase of the RAHA initiative, and will benefit the six districts of Peshawar.
Full report at:
http://tribune.com.pk/story/534392/afghan-refugees-in-support-of-host-communities/
-------------
Southeast Asia
BN manifesto theme used in Friday sermon, Muslims told to be grateful
April 12, 2013
KUALA LUMPUR, April 12 ― Muslims were told to be loyal and grateful to the current leaders of the country, in the federal government's official Friday sermon today that carried the same theme as Barisan Nasional's (BN) political manifesto for Election 2013.
Prepared by the Islamic Development Department (JAKIM), today's sermon was entitled "Menepati Janji, Membawa Harapan (Fulfilling promises, carrying hope)", which are the exact words used by BN for its manifesto launched last week.
But the sermon, uploaded onto JAKIM's official website for use at mosques nationwide, did not explicitly endorse any political party or leader.
Using the theme, the sermon pointed out that "fulfilling promises and speaking the truth are proof of a leader's perfection and fairness."
Muslims were told in the sermon that what has been done by the leaders and rulers of the country has been based on public and national interests.
Full report at:
http://www.themalaysianinsider.com/malaysia/article/bn-manifesto-theme-used-in-friday-sermon-muslims-told-to-be-grateful/
-------------
PAS secretary-general's lawyer says not his client in sex video
April 12, 2013
KUALA LUMPUR, April 12 — Datuk Mustafa Ali has denied he was caught on any sex video, the PAS secretary-general's lawyer said today, adding that the clip that has gone viral on the Internet is the work of political foe, Umno.
"This is a pure slander campaign by Umno. We do not suspect anyone else but the work of Umno," Asmuni Awi, who heads the Awi & Co law firm, was quoted saying by news portal Malaysiakini.
"My client denies it. The video suddenly appeared," he reportedly said.
The Perak-based lawyer also said Mustafa (picture) would take legal action once the identity of its producer has been ascertained.
Full report at:
http://www.themalaysianinsider.com/malaysia/article/pas-sec-gens-lawyer-says-not-his-client-in-sex-video/
-------------
Indonesia's Mari among Final Five for WTO Head
April 12, 2013
Geneva. The field of candidates to lead the World Trade Organization shrank to five on Thursday and narrowed the race to two regions, triggering a potential scramble for Africa's support after the first of three rounds of competition.
A diplomatic source said the race now includes two Latin Americans ­­— Mexico's Herminio Blanco and Brazil's Roberto Azevedo — and three candidates from the Asia-Pacific: New Zealand's Tim Groser, South Korea's Taeho Bark and Indonesia's Mari Elka Pangestu, the only woman still under consideration.
Full report at:
http://www.thejakartaglobe.com/home/indonesias-mari-among-final-five-for-wto-head/585260
-------------
Embassy tells Filipinos to rectify status during grace period in line with Saudi Labor Law
April 12, 2013
RIYADH — The grace period instituted by the Saudi government is meant for violations of the Saudization policy (nitaqat) — specifically those foreign workers who work for employers who are not their sponsors, and those employers who do not employ enough Saudi nationals.
Those who fall under this category have violated the Saudi labor law. The Saudi government will go after the erring original sponsor, the current employer and the illegal worker if they do not correct their papers once the grace period is over.
The Filipino community is strongly urged to read the FAQ prepared by the embassy with regard to this grace period.
Full report at:
http://www.saudigazette.com.sa/index.cfm?method=home.regcon&contentid=20130412161032
-------------
Europe
Swedish police OK prayer calls from mosque
12 April 2013
STOCKHOLM: A mosque in suburban Stockholm could become the first in Sweden to sound prayer calls from its minaret after getting permission from police.
A Turkish Islamic Association in the suburb of Fittja wants to use loudspeakers to sound the Islamic call to prayer at midday on Fridays.
Stockholm police yesterday approved the group's application, but said it must inform residents living within a 1-km (0.6-mile) radius of the mosque before it starts to use the loudspeakers. The decision can be appealed by local residents.
Though there are mosques in all major cities in Sweden, the one in Fittja, where many residents are immigrants from Muslim countries, was the first to request permission for prayer calls.
http://www.arabnews.com/news/447817
----------
Uzbekistan warns population of extremist activity
The authorities have defined measures to further prevent propagation of extremism in the country, they say.
By Maksim Yeniseyev
2013-04-11
TASHKENT – Uzbekistan is turning up the heat on extremists.
After recent extremist activity within its borders, the general prosecutor's office, other state organisations, and non-governmental entities have stepped up their anti-extremist information campaign.
Acting on a tip in February and March, the Interior Ministry (MVD) and general prosecutor's office discovered and arrested members of two extremist groups – Hizb ut-Tahrir (HT) and the Islamic Movement of Uzbekistan (IMU) – for conducting illegal activities, the MVD told Central Asia Online.
Full report at:
http://centralasiaonline.com/en_GB/articles/caii/features/main/2013/04/11/feature-01
-------------
WUC Stages International Conference in Geneva
April 12, 2013
Whilst the 22nd Session of the UN Human Rights Council was taking place, the World Uyghur Congress hosted a conference along with the Society for Threatened Peoples, the Unrepresented Nations and People's Organization (UNPO) and financial support from the National Endowment for Democracy (NED). The Conference was held between 11 and 13 March 2013, and was entitled: "China's New Leadership: Challenges for Human Rights, Democracy and Freedom in East Turkestan, Tibet and Southern Mongolia". In attendance were a wealth of leading experts from these communities and farther afield, including Sheng Xue, Yang Jianli, Harry Wu, Paul Z. Šeparovic , Penpa Tsering, Lobsang Nyima, Rebiya Kadeer, Erkin Alptekin, Alim Seytoff, Louisa Coan-Greve, Prof. Yitzhak Shichor, among others. The participants discussed the past, present and future of human rights in China with the new leadership in mind, and the differing perspectives among the peoples. The participants concluded the conference with an action-orientated, declaration, which can be found here. In the declaration, the participants agreed to present a more united front on the common issues, in addition to finding ways to work more closely together at the local, national, regional and continental levels. Following the conclusion of the conference, most of the participants went to the UN Human Rights Council for a side-event on the issue of enforced disappearances in China.
-------------
Russia condemns Iran's uranium expansion: Report
AFP | Apr 12, 2013
MOSCOW: Russia condemned Iran's unveiling of a new uranium production facility, warning the move could hurt progress in negotiations with world powers over Tehran's contested nuclear programme, a report said today.
An unnamed source in the Russian foreign ministry told Interfax that Iran's announcement does not actually breach its obligations under various international nuclear agreements.
"At the same time, in our opinion, the expansion of Iran's nuclear programme activities does not promote the achievement of an atmosphere of mutual understanding between the (P5+1) international negotiating nations and Iran, which is so necessary for the successful continuation of the negotiating process," the foreign ministry source said.
Full report at:
http://timesofindia.indiatimes.com/world/europe/Russia-condemns-Irans-uranium-expansion-Report/articleshow/19510138.cms
-----------
DR Congo suspends 12 army officers over notorious rapes: UN
AFP | Apr 12, 2013
UNITED NATIONS: The Democratic Republic of Congo army has suspended 12 senior officers over mass rapes in the strife-torn east of the country, a UN spokesman said Thursday.
The action follows pressure from the United Nations which had threatened to withdraw cooperation with units implicated in 126 rapes in the eastern town of Minova in November as the army retreated from a rebel advance.
"The Congo military has suspended the commanding officers and deputy commanding officers of two units," UN peacekeeping department spokesman Kieran Dwyer told AFP.
"They have suspended the commanding officers of eight other units," Dwyer added.
The DR Congo government informed the United Nations of the action after the UN mission in the country, MONUSCO, gave the government one week from March 25 to act over the Minova rapes. Earlier UN deadlines set in February were ignored.
Full report at:
http://timesofindia.indiatimes.com/world/rest-of-world/DR-Congo-suspends-12-army-officers-over-notorious-rapes-UN/articleshow/19504442.cms
----------
Nearly 400 People, mainly Muslim North Caucasus Detained in Immigration Raid in Russia
By ANDREW ROTH
April 12, 2013
MOSCOW — Russian security services and immigration police raided a market in the center of St. Petersburg on Thursday and detained 378 people, many of them migrants from Central Asia and the mainly Muslim North Caucasus.
The arrests followed an armed melee at the gates of the market early Thursday morning in which one man died of a knife wound. Local news reports said he was from the Kabardino-Balkaria Republic of the North Caucasus.
Full report at:
http://www.nytimes.com/2013/04/12/world/europe/hundreds-detained-in-immigration-raid-in-russia.html?ref=europe&gwh=83A8A086C284EF83DB609C8F792E3E55
---------
Africa
Three Chadian Soldier Killed in North Mali Suicide Bombing
April 12, 2013
GAO (Reuters) - A suicide bomber killed three Chadian soldiers on Friday morning at a market in the northern Mali town of Kidal, a Chadian military official and three witnesses said.
Chadian and French soldiers have been stationed in the desert town since late January to fight Islamist rebels hiding in the region's mountainous borderlands.
"He blew himself up next to a group of Chadian soldiers. Three were killed in the blast and several others were wounded," resident Ag Waerzagane Assikadaye told Reuters by telephone.
The Chadian military official confirmed the death toll and added that four other soldiers were hurt.
Full report at:
http://www.nytimes.com/reuters/2013/04/12/world/africa/12reuters-mali-
---------
Sudan's Bashir visits South Sudan as tensions ease
AFP | Apr 12, 2013
JUBA: Sudan's President Omar al-Bashir arrived in South Sudan on Friday, for the first time since his 2011 visit for the country's independence; a sign of easing tensions after bloody border battles last year.
South Sudanese President Salva Kiir, Bashir's former civil war foe and an ex-rebel commander, welcomed his counterpart at Juba airport, as a military band struck up their respective national anthems.
Bashir was accompanied by several high-ranking officials, including defence minister Abdelrahim Mohammed Hussein, interior minister Ibrahim Mahmoud Hamed, oil minister Awad Ahmad al-Jaz and intelligence chief General Mohamed Atta al-Moula, according to Sudan's official news agency SUNA.
Full report at:
http://timesofindia.indiatimes.com/world/rest-of-world/Sudans-Bashir-visits-South-Sudan-as-tensions-ease/articleshow/19511431.cms
----------
Tunisia recovers $28m from wife of deposed president
State news agency says money was in Lebanese bank account belonging to Leila Trabelsi, wife of Zine al-Abidine Ben Ali
11 April 2013
Tunisia has recovered $28.8m of "looted assets" from the wife of the deposed president, Zine al-Abidine Ben Ali.
The state news agency, TAP, said a cheque had been handed to President Moncef Marzouki by Ali bin Fetais al-Marri, appointed by the United Nations to lead efforts to recover money from leaders overthrown in the Arab Spring.
Full report at:
http://www.guardian.co.uk/world/2013/apr/11/tunisia-28m-wife-deposed-president
-------------
Fresh violence flares in Libya's town of Kufra
April 12, 2013
TRIPOLI — Fresh violence has broken out on the southeastern town of Kufra, scene earlier last year of heavy communal fighting between its Zway and Tebu residents. Two people are reported to have been killed and a number of others wounded in three days of mortar firing and shooting.
According to Ahmed Zway, a member of the local hospital staff, the clashes occurred outside the university campus near the town's Shura district. He blamed them on "armed Chadian militias" whom he said were attacking the town with mortars and targeting residential areas. Full report at:
http://www.saudigazette.com.sa/index.cfm?method=home.regcon&contentid=20130412160972
-------------
Mali prime minister urges French troops to stay
Diango Cissoko, Mali's PM, calls French troops to remain in the war-torn state
11 Apr 2013
Mali's prime minister urged France Thursday to maintain a military presence in its former colony, as troops began an early withdrawal three months after ousting armed Islamists from the country's north.
Diango Cissoko made the plea on a tour of Gao, the first visit to the battle-scarred northern city by a head of government since it was overrun by Al Qaeda-linked militants more than a year ago.
Full report at:
http://english.ahram.org.eg/NewsContent/2/9/69009/World/International/Mali-prime-minister-urges-French-troops-to-stay.aspx
-------------
Morsi's visit to Sudan prompts speculation over historical dispute
The longstanding dispute between Egypt and its southern neighbour over the Halayeb Triangle – raised in the wake of President Morsi's recent Khartoum visit – is far from over
Ahmed Eleiba
12 Apr 2013
The Muslim Brotherhood dream of reviving the Islamic Caliphate has led many to question the group's attitudes toward the concept of the Egyptian nation state and its commitment to its territorial boundaries and national sovereignty.
Under the Ottomans, territorial boundaries were little more than administrative divisions between provinces that were directly subordinate to Istanbul, the last seat of the Caliphate. Some Brotherhood and other Islamist ideologues may hark further back than that, to the time when the most meaningful boundary was that separating the Islamic state – the 'house of peace' – from the rest of the word that was open to conquest – the 'house of war.'
Full report at:
http://english.ahram.org.eg/NewsContent/1/64/69029/Egypt/Politics-/Morsis-visit-to-Sudan-prompts-speculation-over-his.aspx
-------------
Sudan frees 4 political prisoners after 8 years: Opposition
Sudanese authorities free four opposition prisoners after spending eight years in prison
11 Apr 2013
Four members of Sudan's opposition Popular Congress Party have been released under a presidential amnesty after more than eight years in prison, the party said on Thursday.
"They have been freed today after spending 103 months in prison," said Kamal Omer, the chief of political affairs for the party led by Sudan's veteran Islamist Hassan al-Turabi.
He said the four -- Mousa Eshag, Ibrahim Adam, Ali Ahmed and Abdelhalim Adam -- had been sentenced in 2003 to 15 years in prison over a "coup" plot.
Full report at:
http://english.ahram.org.eg/NewsContent/2/8/69031/World/Region/Sudan-frees--political-prisoners-after--years-Oppo.aspx
----------
Nigeria: Death penalty for rapists mooted
April 12, 2013
Nigeria should consider imposing the death penalty on convicted rapists, the women's affairs minister has said.
Rape had reached an alarming level, with seven to 10 cases reported weekly in Nigeria, Zainab Maina said.
The BBC's Chris Ewokor in the capital, Abuja, says poor communities are worst affected by rape and there are few successful prosecutions.
The death penalty exists in Nigeria for crimes such as murder, but it is rarely implemented, he says.
Mrs Maina said her ministry was determined to tackle rape.
"It is also trying to make the police set up a gender desk in every police station to handle such cases so that serious punishment, perhaps death sentence would be handed to culprits," she is quoted by Nigeria's This Day newspaper as saying.
Full report at:
http://www.bbc.co.uk/news/world-africa-22107631
---------
North America
Rebel Victory in Syria Might Not Stop Conflict, U.S. Officials Say
By MARK LANDLER and ERIC SCHMITT
April 12, 2013
WASHINGTON — As it cobbles together additional aid for rebel fighters there, the Obama administration believes Syria could face a protracted, bloody conflict, even if the rebels succeed in ousting President Bashar al-Assad, several officials said Thursday.
The top American intelligence official, James R. Clapper Jr., said that even if Mr. Assad's government fell, sectarian fighting would most likely engulf the country for a year or more. The American ambassador to Syria, Robert S. Ford, warned that without a negotiated political transition, supporters of the Assad government, "fearing death, would fight to the death."
Those bleak assessments, delivered in separate hearings before the House and the Senate, underscore the grinding nature of the conflict in Syria and the administration's pessimism that outside intervention will avert further humanitarian tragedy.
Full report at:
http://www.nytimes.com/2013/04/12/world/middleeast/rebel-victory-in-syria-might-not-
---------
Suit says Muslim's firing was based on religious bias
By JoAnne Viviano
April 11, 2013
A North Side man has filed a federal lawsuit that says a Westerville-based logistics company fired him after he sought permission to attend weekly Muslim worship services that conflicted with overtime shifts.
The lawsuit was filed Tuesday on behalf of Yusuf Sufi, 23, by the Columbus chapter of the Council on American-Islamic Relations. It says Exel Inc. used religious discrimination and retaliation, and wrongfully terminated him. Exel is a subsidiary of Deutsche Post DHL.
Sufi was hired in April 2011 at a Northeast Side warehouse and subsequently given permission to use vacation and other time-off hours to attend Friday afternoon worship, according to the suit filed in U.S. District Court in Columbus. Several months later, he was given permission to combine his breaks to attend the services.
Full report at:
http://www.dispatch.com/content/stories/local/2013/04/11/suit-firing-based-on-religious-bias.html
-------------
Oklahoma Governor Asked Not to Sign Anti-Muslim Bill
04/11/2013
(OKLAHOMA CITY, OK, 04/11/2013) -- The Oklahoma chapter of the Washington-based Council on American-Islamic Relations (CAIR-OK) today called on Muslims and all other Americans who value civil liberties to contact Governor Mary Fallin to ask that she not sign a bill, the sponsors of which admit is designed to attack the religious principles of Islam.
The bill, HB 1060, is one of dozens of similar pieces of discriminatory and unconstitutional legislation that have been introduced in state legislatures nationwide. These legislative initiatives are promoted by those who seek to marginalize American Muslims and demonize Islam.
Full report at:
-------------
John Kerry sends 'Poila Baisakh' greetings to Bengalis
Apr 12 2013
Washington: US Secretary of State John Kerry has sent his 'Poila Baisakh' or New Year greetings to the Bengali speaking people across the world, in particularly those living in Bangladesh and West Bengal.
"On behalf of President Obama, I convey my warm greetings to all Bengali-speaking people around the world as you celebrate Poila Baisakh. The American people wish you all happiness and prosperity in the New Year," Kerry said in a statement.
Full report at:
http://www.indianexpress.com/news/john-kerry-sends-poila-baisakh-greetings-to-bengalis/1101384/
---------
U.S. Blacklists an Iranian and Businesses Over Violation of Sanctions
By RICK GLADSTONE
April 12, 2013
The United States blacklisted an affluent Iranian business executive and what it described as his multibillion-dollar money laundering network on Thursday, accusing them of selling oil for Iran in violation of the Western economic sanctions imposed over Iran's disputed nuclear program.
The Treasury Department, which administers the government's Iran sanctions, said the executive, Babak Morteza Zanjani, had conspired with First Islamic Investment Bank of Malaysia and what the department called an international network of front companies stretching halfway around the world "for moving billions of dollars on behalf of the Iranian regime."
Full report at:
http://www.nytimes.com/2013/04/12/world/us-blacklists-an-iranian-and-businesses-over- ---------
U.S. Embassy in Turkey Said to Be Targeted
By SEBNEM ARSU
April 12, 2013
ISTANBUL — Turkish police said Thursday that they had found evidence of a plot linked to Al Qaeda to bomb the United States Embassy in Ankara, a synagogue in Istanbul and other targets, from a raid on two houses in February, according to news reports.
The reports said the police had seized nearly 50 pounds of plastic explosives with detonation systems attached, as well as six laptop computers and other evidence. Twelve people were detained during the operation — two Chechens, two Azeris and eight Turks.
Full report at:
http://www.nytimes.com/2013/04/12/world/europe/turkish-police-say-us-embassy-was-
---------
Mideast Asia
Gaza-based Hamas says anti-collaboration drive a success
Palestinian resistance outfit Hamas says one-month campaign aimed at combatting Palestinian collaboration with Tel Aviv regime has achieved 'number of goals'
11 Apr 2013
Gaza-based Palestinian resistance faction Hamas claimed success on Thursday in its month-long campaign to encourage people accused of collaborating with Israel to turn themselves in.
"The campaign to combat espionage achieved a number of goals, and from this evening the deadline for Israeli collaborators to turn themselves in has ended," said interior ministry spokesman Islam Shahwan.
"Successes were achieved," he said, adding that the number of people now believed to be working on behalf of Israel was "low."
On March 12, Hamas, which is blacklisted as a terror group by the United States and the European Union, set a one-month ultimatum for alleged collaborators to turn themselves in in return for leniency.
Full report at:
http://english.ahram.org.eg/NewsContent/2/8/69049/World/Region/Gazabased-Hamas-says--anticollaboration-drive-a-su.aspx
-------------
Turkey police foils Al-Qaeda plot against US embassy
April 12, 2013
ANKARA: Turkish police have uncovered and foiled an alleged plot by Al-Qaeda to bomb the US embassy in Ankara, as well as a synagogue and other targets in Istanbul, Turkish media reported on Friday.
As a result of a February raid in Istanbul and the northeastern city of Corlu, police had arrested 12 people, including eight Turks, two Azeris and two Chechens, and seized 22 kilogrammes of explosives, CNNTurk reported.
Full report at:
http://dawn.com/2013/04/12/turkey-police-foils-al-qaeda-plot-against-us-embassy/
----------
Iranian 'time machine' can 'predict' oil prices and wars
April 11, 2013 19:42
An Iranian inventor claims to have created a 'time machine' that can predict a person's future. He boasts that the device is relatively cheap, but says he has not built one yet because he fears that the Chinese will steal his idea.
Ali Razeghi, 27, has submitted his invention to the state-run Centre for Strategic Inventions for registration.
The device is called "The Aryayek Time Traveling Machine," FARS news agency reported. Razeghi said he worked on his creation for the last 10 years, resulting in a desktop-computer-sized machine that can "predict five to eight years of the future life of any individual, with 98 percent accuracy."
Full report at:
http://rt.com/news/iranian-time-machine-prediction-692/
-------------
Turkey adopts reform to anti-terror laws
April 12, 2013
ANKARA: Turkey's parliament on Thursday passed long-awaited legislation to bring its widely criticised anti-terror laws level with European standards, and which could see the release of thousands of prisoners suspected of having ties to the outlawed Kurdistan Workers' Party (PKK).
The new package of laws passed by the ruling Justice and Development Party (AKP) is aimed at stopping freedom violation cases from piling up before the European Court of Human Rights (ECtHR).
Full report at:
http://dawn.com/2013/04/12/turkey-adopts-reform-to-anti-terror-laws/
-------------
Israel Offers to Deport Frail Palestinian Prisoner
April 12, 2013
JERUSALEM (AP) — An official says Israel has offered to deport a hunger-striking Palestinian prisoner to Europe or a U.N. member country in an effort to reach a compromise over the case.
However, Samer Issawi's lawyer, Jawad Bulous, says he refuses to be deported.
The Israeli official says the prime minister's office made the offer after E.U. and U.N. officials expressed concern about Issawi's health. The official spoke on condition of anonymity in line with regulations.
A spokesman for the E.U. in Israel, David Kriss, says it didn't receive an official offer.
Issawi was sentenced to 26 years prison for attacks on Israelis. He was released as part of a 2011 deal, but Israel later accused him of militant activity and rearrested him.
Israel has reached similar deals before to deport prisoners.
http://www.nytimes.com/aponline/2013/04/12/world/middleeast/ap-ml-israel-palestinians.html?ref=middleeast&gwh=1483EFA468110F2D3F45ED2D691F9382
---------
URL: https://newageislam.com/islamic-world-news/now-cases-kidnapping-forcible-conversion/d/11116