New Age Islam News Bureau
15 Apr 2013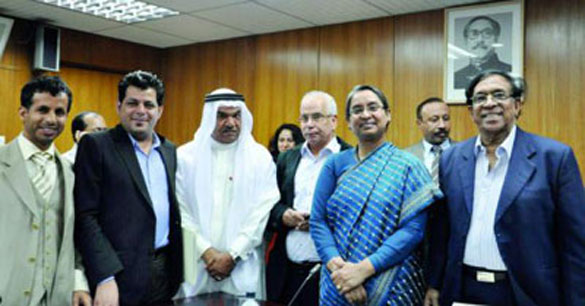 Photo: Bangladesh Foreign Minister Dipu Moni with foreign journalists at her office in Dhaka on Wednesday. (AN photo)
---------------
North America
• North Carolina Lawmaker, Links Islamic Prayer to Terrorism: Report
• Israel arrests 14-year-old US citizen
• Mira Nair's Political thriller focuses on Islamic fundamentalism
India
• Talk of Rift among Bohras over Syedna's Successor
• India backs Nitaqat: Removal of illegals to help genuine workers
• Riot-hit Rohingya Muslims take refuge in Hyderabad
• India, Tajikistan to hold wide ranging talks on terror, trade
• India-Pak trade at its peak, exports see a 15% jump
• It's Nitish way of sending message to Muslims: Congress
• BSF repatriates inadvertent Pak national
• Mulayam connived with Advani to demolish Babri Masjid, Beni Prasad Verma says
Africa
• Suicide raid, car bomb kill 34 civilians in Mogadishu
• Chad says Islamist leader Belmokhtar 'blew himself up'
• Shebab claim responsibility for Mogadishu attack
• Sudan ready for rebel talks, despite deadly attack
• Peacekeepers say denied access to Darfur conflict zone
• Chad says troops unsuited to guerrilla war, quitting Mali
Mideast Asia
• Hamas tells Gaza's boys and girls to pull up their pants and get to separate schools
• End of Palestinian Power Play Muddles the Peace Process
• Israel says November killing of 12 civilians in Gaza lawful
• Yemenis protest deportation of workers from Saudi Arabia
• Gaza Analyst Says Fayyad's Resignation a Failure for Kerry
• Hamas Tightens Ties with Iran in 'Sister City' Agreement
• Israel rules out criminal charges over Dalou family deaths
• Film-maker captures Israeli spy chiefs' doubts over covert killing operations
• Turkish pianist Fazil Say gets suspended jail term for blasphemy
Arab World
• Syria Muslim Brotherhood Denies Seeking Power Grab
• Hezbollah-backed Lebanese Shiites fight in Syria
• Speech crimes are mark of totalitarian regimes: Egypt's Bassem Youssef
• Two Iraqi Sunni Muslim candidates slain before local vote
• String of attacks across Iraq kills 31
• Organ donation gaining wide acceptance among Saudis
• Mubarak released by court in killings' case, but to remain in custody for other charges
• 11 more terror suspects receive varying jail terms in Riyadh
• Ex-Iraqi official: Saddam was 'mentally ill' during Kuwait invasion
• Syria dismisses "unfounded" British report on chemical weapons
• UAE says female artists sparked cop incident in Saudi
• Family accused of sparking Al-Khosous religious violence turn themselves in
Pakistan
• Fair process: Blasphemy trials in high courts suggested
• Pakistan beats India in research, not in innovation
• Election Tribunal verdicts: Sharif brothers in, Musharraf out
• Indefinite suspension: Pakistan stops release of Afghan Taliban prisoners
• Sharjeel says 'Nawaz Sharif behind Taliban threats'
• Musharraf responsible for Balochistan unrest: Mushahidullah
• Pak election tribunal rejects Musharraf's appeal
• Pakistan strongly condemns US drone attack in N Waziristan
• Tensions rise over Afghan, Pakistan border dispute
South Asia
• Afghan commandos kill 22 insurgents
• Dhaka issues smart cards for workers in Saudi Kingdom
• Opium Production in Afghanistan Increases for 3rd Year
• Nobel Laureate Yunus of Bangladesh to receive highest US civilian award
• Eight killed in bomb blast in Afghanistan
• Military consolidation expected to dominate Maldives Defence Minister's India visit
• Pan-Muslim body urges Myanmar to allow OIC delegation
• Court case could deprive Maldivians of Hajj pilgrimage, Islamic Ministry warns
• Rohingyas 'using fake passports to reach KSA'
• Rohingyas seek help from China
• Nepal, India & Bangladesh to make most of Ganga water, hydropower
• Afghan Interpreters for the U.S Are Left Stranded and at Risk
Southeast Asia
• Pakatan not targeting 'radical change' like Arab Spring, says Anwar
• West Java Governor: Little Intolerance Here
• Jakarta Police Arrest 158 Ultranationalists during a Gang Raid
• Filipino Troops Attack Abu Sayyaf Hideout, Kill 7
• BN ready to battle on multiple fronts, says Najib
• PKR wins over Perlis mufti to contest Kangar seat
Europe
• Libyan arms controlled by non-state actors: UN
• Uzbek strongman warns Putin on rare Kremlin visit
• Syria daily slams peace envoy Brahimi
Compiled by New Age Islam News Bureau
URL: https://newageislam.com/islamic-world-news/north-carolina-lawmaker,-links-islamic/d/11151
------------
North America
North Carolina Lawmaker, Links Islamic Prayer to Terrorism: Report
The Huffington Post
04/10/2013
North Carolina state Rep. Michele Presnell (R-Burnsville) linked Islamic prayer to terrorism in an email sent to a constituent, the News & Observer reported Tuesday.
In an email exchange obtained by the Raleigh newspaper, Presnell was asked by a constituent if she would support an Islamic prayer being said before a state legislative meeting.
"No, I do not condone terrorism," Presnell responded, according to the report. "We just need to start taking a stand on our religious freedom or it will be whisked away from us."
The email exchange between Presnell and the constituent, Britt Kaufmann, began over Presnell's support for House Resolution 494, a bill that would allow North Carolina to declare an official state religion. Presnell was a co-sponsor of the bill, which was killed by the legislature's Republican speaker last week. Kaufmann wrote to Presnell to express opposition to the proposal.
The Huffington Post's John Celock reported on the North Carolina bill last week:
The bill, which was drafted by state Reps. Carl Ford (R-China Grove) and Harry Warren (R-Salisbury), was intended to address an issue in Rowan County, where the ACLU has filed a lawsuit against the county commission in an attempt to block commissioners from having a Christian prayer at the beginning of meetings.
The North Carolina measure responds to the ACLU suit by declaring that each state is "sovereign" and no federal court can prevent a state from "from making laws respecting an establishment of religion." Though Warren, one of the bill's authors, told HuffPost Live that the measure was not seeking to create a state religion, the drafted legislation would clearly allow for such an action.
http://www.huffingtonpost.com/2013/04/10/michele-presnell-islamic-prayer_n_3051951.html
------------
Israel arrests 14-year-old US citizen
Mohammad Khaleq is one of more than 8,000 Palestinian children held by Israel since the year 2000.
Linah Alsaafin
15 Apr 2013
Ramallah, occupied Palestinian territories - On April 11, in one of the trailer caravans that house the Israeli military courtrooms at Ofer prison, three boys sat in the brown Israeli Prison Service shabas uniform. Their feet shackled, their eyes darting between the judge, their lawyers, and their families.
The youngest was 14-year-old Mohammad Khaleq, a short, skinny boy with a light brown birthmark under his right eye and a heart murmur since birth. Mohammad was arrested from his home in the village of Silwad, near Ramallah, in a 2:00am raid on Friday April 5. Eight heavily armed soldiers burst in to the modest home, waking the Khaleq family - the two parents and six children, the youngest just six years old - and gathered them in one room.
"The soldiers thought they had come to arrest me," Mohammad's father, 46-year-old Abdelwahab, told Al Jazeera. "When they saw that Mohammad was just a kid they felt embarrassed, but they still took him away."
Mohammad, who was born in New Orleans and holds US citizenship, was reportedly beaten up inside the Israeli military jeep and taken to an illegal Israeli settlement named Ofra, where he says he spent twelve hours blindfolded, handcuffed, and shackled at the legs. Israeli soldiers would roughly move him from one area to the next, and in one instance he says, pushed him so hard he fell on a rock and broke his dental braces.
At 2:00pm, he was taken to the Benyamin police detention centre, where he was interrogated for a further two hours without the presence of a lawyer or his parents. By that time, Abdelwahab had arrived at the detention centre and was demanding to see his son. Mohammad heard his father's voice, and told Al Jazeera that Israeli interrogators "tricked him" into confessing to throwing rocks in exchange for being able to see his father. Mohammad says he confessed, but was not allowed to see his father.
A Israeli military spokesman said no abuse complaints had been filed at the time of his detention, according to the Associated Press news agency.
Legal aid?
It wasn't until two days later that a lawyer had access to Mohammad, who was moved to Ofer prison in Betunia, northwest of Ramallah. Four days after his arrest, a representative from the United States consulate saw Mohammad. The US official later called Mohammed's father. "There is not much we can do," Abdelwahab was told.
"What do you expect from the US government?" asked Abdelwahab, who moved to the occupied Palestinian territories in 1999. "They're obligated to do something for a US-born child with American citizenship, but they won't."
The US State Department confirmed the arrest of the US citizen by the Israeli authorities in the West Bank. "We expect any government that arrests a US citizen to ensure the US citizen is treated fairly," read a statement issued the day before Mohammad's first hearing. "Our role in an arrest case generally includes monitoring cases with a view to whether US citizens are treated properly, ensuring that they have access to a list of attorneys, and facilitating communication with family and friends."
Arresting children
Mohammad Khaleq, an honours student in the ninth grade, is one of 236 Palestinian children in Israeli jails, according to UNICEF. Having a foreign passport in addition to his Palestinian identity papers does not grant Mohammad any special treatment, and he is set to be tried in a military court that does not fully differentiate between children and adults.
An estimated 700 children are arrested by Israel every year, according to a recent report [PDF] released by UNICEF, where many suffer beatings, verbal abuse, psychological intimidation and sleep deprivation. Since the year 2000, more than 8,000 children have been arrested, with the Israeli military court conviction rate standing at 99.74 percent.
The most common reason for arresting Palestinian children is for throwing rocks, yet Defense for Children International lists other purposes, such as to recruit future collaborators and informers for the Israeli government, to obtain information that could incriminate others, to threaten and intimidate those who actively resist the Israeli occupation, and to use the children as bargaining chips to pressure communities or politicians.
Under Israeli military order 1644 (2009), a military juvenile court was established. This followed international criticism of Israel over children as young as 12 being tried in adult courts for the previous 40 years. The changes are largely cosmetic, say analysts, as children are still tried in military courts and are subjected to four days' incarceration without seeing a (military) judge. They can be held for 60 days in detention without being charged, and up to 90 days without seeing a lawyer.
"Under Military Order 1651, children aged 14-15 years old are classified as 'young adults' and therefore minors," explained Randa Wahbeh, an advocacy officer with Addameer, a prisoner rights organisation.
"They can serve a maximum sentence of 12 months in prison, unless the offence carries a maximum penalty of five years or more. So, in the case of Mohammad, who is being charged with throwing stones at a moving vehicle, the maximum penalty is 20 years - so, theoretically, he can be sentenced to the maximum penalty of 20 years."
Stone throwing
Firas Sabbah, Mohammad's lawyer, said that the 14-year-old was being charged with throwing rocks between September 2012 until April 2, 2013.
"It's impossible to release him on bail," Sabbah said. "The best case is to cut a deal. The problem is that Mohammad himself confessed to throwing rocks five times a week at [yellow-licensed Israeli] cars on Route 60, and on April 2 on Israeli military jeeps as they entered Silwad."
His father says that is not possible.
"There's no way he threw rocks that frequently," argued Abdelwahab, who studied a pre-medical programme at the University of Colorado. "Either I or his mother pick him up after school and take him home. Throwing rocks will not do anything against the Israeli occupation except burying the kid six feet under. Resisting in my opinion should be through knowledge and college."
Mohammad's case, first adjourned to Sunday, April 14, was again deferred to Wednesday, April 17 as the Israeli prosecutor requested an extension to examine the boy's case further. As Mohammad got up to leave, he flashed a small smile in the direction of his father, who advised him to organise his time well in prison, to keep reading, and to stay away from the inmates who smoke, which might aggravate his heart murmur.
"Do not under any circumstances take any medicine from them," his father warned. "I don't trust them. Take care of yourself, son."
http://www.aljazeera.com/indepth/features/2013/04/2013415102838772219.html
-----------
Mira Nair's Political thriller focuses on Islamic fundamentalism
Sheldon Kirshner
April 14, 2013
Mira Nair's The Reluctant Fundamentalist contains all the ingredients of a first-rate political thriller: exotic locales, espionage and intrigue, as well as violence.
Scheduled to open in local theatres on April 24, it is based on Mohsin Hamid's eponymous novel about a smart and ambitious Muslim man from Pakistan whose dogged pursuit of the American dream is abruptly upended by the Arab terrorist attack on the United States on Sept. 11, 2001.
The Pakistani, Changez (Riz Ahmed), is so radicalized by these events that he must choose between the allure of his upwardly mobile career or the siren call of his homeland. The tension inherent in this agonizing choice endows this crackling movie with much of its vigour and elan.
The Reluctant Fundamentalist gets under way with the abduction of an expatriate American academic in Lahore, Pakistan. As it shifts to an atmospheric outdoor café in the same city, Changez relates his experiences in the United States to Bobby (Liev Schreiber), an American journalist who moonlights as a spy.
"Looks can be deceiving," says Changez as the film flashes back a decade to his early days in America.
Nair draws a well-rounded portrait of a Princeton University graduate with a taste for the finer things in life whose post-9/11 disillusionment with the United States drives him back to Pakistan and Islam and away from the western values he appears to have internalized.
The first segment moves at an almost frantic pace as Changez becomes a high-flying financial analyst and valuator at a reputable Wall Street management consulting company. His all-American mentor, Jim Cross (Kiefer Sutherland), is impressed by Changez's smarts, energy and work ethic and sends him off on missions around the world.
But in an ominous harbinger of the future, Changez predicts that he will be the dictator of an Islamic republic with a nuclear capability.
Shades of contemporary Pakistan, a virtually dysfunctional nation riven by the poison of sectarian politics.
As Changez makes his mark on his bosses, he falls for Erica (Kate Hudson), the demure niece of one of the principals of the firm that employs him. These scenes unfold in seamless fashion, enveloping a viewer in Changez's relentless quest for success.
In the second segment, Changez undergoes a wholesale transformation that tears him away from his American roots. As he confides to Bobby, 9/11 was a turning point. As the Twin Towers in Manhattan came crashing down, he recalls, waves of awe and pleasure rolled over him.
But for Changez, glee soon turns to anger as America embarks on the war against international terrorism. At an airport, he is racially profiled, and much to his indignation, he is treated like an enemy of the state: detained, strip-searched and interrogated.
Having been sorely disappointed by what he describes as U.S. arrogance and xenophobia, he grows a beard and modifies his views of the world. This transformation affects his relationship with Erica. As his life unravels, Changez decides to "live in the truth." Retreating to his Pakistani identity, he is recruited by an Islamic extremist group in Pakistan, where he has taken a new job.
With a haunting Urdu soundtrack defining its mood, The Reluctant Fundamentalist, filmed in Lahore, New York City, Atlanta, Istanbul and New Delhi, generally moves along briskly. But at times, it is somewhat disjointed and bogs down in confusion.
The performances, however, are first-rate, and Ahmed and Sutherland are especially effective.
http://www.cjnews.com/index.php?q=node/105368
------------
India
Talk of Rift among Bohras over Syedna's Successor
Mugdha Variyar
April 15, 2013
Mohammad Hasan (name changed), a Dawoodi Bohra from Godhra, has been having serious discussions with some fellow community members over the past six months on joining a newly emerging group within the community.
Rumours are rife within the one-million-strong community that some members, who are loyal to the Mazoon Qutbuddin, the half-brother of the Bohras' spiritual leader Syedna Mohammed Burhanuddin, have formed a separate sect and refer to themselves as the Qutbi Bohras. They want the Mazoon to be the 53rd Dai-al-Multaq after the Syedna.
Dawoodi Bohras are the sub sect of the Shia Muslim community and are originally traders from Gujarat.
According to historical precedence, the Mazoon is the next in line to take the position as leader of the community.
However, after the Syedna suffered a stroke and was hospitalised in London two years ago, he is said to have named his second son, Maulaya Muffadil Bhaisaheb Saifuddin, as the heir apparent.
"I will follow the Mazoon, as my parents had told me that he is the successor. I know of about 15 families within the community who have also decided to follow him," said Hasan.
"While we are not ready to declare this now, it will definitely come out in the open once it is time for the successor to take over," he said
The rumour has been rampant on online forums, particular on the website of the progressive Dawoodi Bohras, which split from the community in the 1970s following allegations of suppression by the Syedna.
Some of the discussions on the forum read: "Currently there is a rumour going around in the Bohra circles of mumbai, that the followers of Mazoon Saheb are intending to form a new sect declaring the current Mazoon as Dai after Syedna Mohammed Burhanuddin.
"The rumour also has it that the sources from within Saifee Mahal are spilling this news out. This is compounded by the fact that no one has heard Syedna saheb utter Nass in his own words in front of common bohras…. I dont know how far the above is true but it is catching fire amongst bohras (sic)."
Nass is the official declaration of the successor of the Syedna.
There has been strong opposition to the posts. The administration team of the forum clarified saying that these were just rumours and the source could not be ascertained.
Some reformist Bohra leaders indicated that while the transformations were happening internally, it will be some time before it comes out in the open.
"While people are internally calling themselves Qutbi Bohras, it is not likely that there will be an open declaration of the sect as long as there is no power balance within the community," said Saifuddin Insaf, one of the founders of the progressive sect within the community.
"While the Mazoon has declared on record that he is the Syedna's successor, there is no clarity on how much support he has," he said.
While several community members confirmed they had heard the rumours, no one wished to comment on it.
However, family members of the Syedna dismissed the news as "baseless".
"There is no such dispute within the family or the community. The Mazoon himself wished the Syedna and his son after he was named the successor," said Abdulqadir Bhaisaheb, son of the Syedna's third daughter Husena Bensaheba.
"While the Syedna had declared his son as the successor in the hospital in London, he also openly declared it to the community at the Raudat Tahera [a mausoleum in Bhendi Bazaar] in front of 5,000 people," he said.
Members of the Mazoon's family refused to comment on the issue.
http://www.hindustantimes.com/India-news/mumbai/Talk-of-rift-among-Bohras-over-Syedna-s-successor/Article1-1044475.aspx
----------
India backs Nitaqat: Removal of illegals to help genuine workers
15 April 2013
The Kingdom's Nitaqat drive targeting illegals has received support from India.
India's External Affairs Minister Salman Khurshid said the new Saudi labor policy would affect only illegal immigrants and not genuine workers employed in the Kingdom.
Speaking to IANS here, he said: "Genuine workers need not worry. It will impact only those who don't have proper work permit."
Khurshid said Saudi Arabia needs Indian labor. "Removal of illegal immigrants will open the doors for genuine workers."
Khurshid said the new law was not just for Indians and it would also affect thousands of illegal immigrants from countries such as Pakistan, Bangladesh, Sri Lanka and the Philippines. "For genuine workers it will open up opportunities," he said.
Full report at:
http://www.arabnews.com/news/448203
--------
Riot-hit Rohingya Muslims take refuge in Hyderabad
Bushra Baseerat, TNN | Apr 15, 2013
HYDERABAD: Looking at least 10 years older than his age, 27-year-old Mohammed Shaker can pass off as a north Indian settled in Hyderabad but for his broken Hindi. Shaker is actually a Rohingya Muslim who fled Myanmar for safety and sought refuge in Hyderabad four months ago to escape the sectarian violence and bloodshed that is rocking the Southeast Asian nation.
Ask him how he landed in Hyderabad, and Shaker recalls his three-day long arduous journey on foot through a rough mountain terrain in the dead of the night to reach the Myanmar border from where he was made to board a boat run by smugglers to reach the Bangladesh border. Hours later, he reached the shore and was stowed in a truck to be finally dropped near the West Bengal border. And it took him 9 days to finally land in Hyderabad.
Full report at:
http://timesofindia.indiatimes.com/city/hyderabad/Riot-hit-Rohingya-Muslims-take-refuge-in-Hyderabad/articleshow/19551921.cms
-----------
India, Tajikistan to hold wide ranging talks on terror, trade
Apr 15, 2013
DUSHANBE: Vice president Hamid Ansari will hold high-level talks with top Tajik leadership today during which the issue of terrorism emanating from Pakistan and Afghanistan and trade ties are likely to top the agenda.
The two countries will also discuss ways to boost trade ties, cooperation in capacity building in areas of information technology enabled services and entrepreneurship development during the wide-ranging talks.
"One area of common interest between two of us and of high priority is the problem of terrorism emanating from the territory between us and them - which means Pakistan and Afghanistan. Tajikistan has enormous interest in the stability of Afghanistan. We have the same kind of interests, same kind of concerns," Ansari said yesterday.
Full report at:
http://timesofindia.indiatimes.com/world/rest-of-world/India-Tajikistan-to-hold-wide-ranging-talks-on-terror-trade/articleshow/19554287.cms
----------
India-Pak trade at its peak, exports see a 15% jump
Apr 15 2013
New Delhi : Despite tensions, India's exports to Pakistan increased by almost 15 per cent in 2012-13 even as exports to the rest of the world fell by 4 per cent. Imports from Pakistan too showed a rise, by 30 per cent.
While India's exports to Pakistan added up to nearly $1.6 billion between April 2012-February 2013, up from $1.4 billion in the corresponding period last year, imports rose to $488 million from $375 million.
A government official said these were the highest-ever figures for India-Pakistan trade.
In the SAARC region, the growth rate as well as the absolute numbers are reaching the level of trade India has with Bangladesh and Sri Lanka.
Full report at:
http://www.indianexpress.com/news/indiapak-trade-at-its-peak-exports-see-a-15--jump/1102584/
----------
It's Nitish way of sending message to Muslims: Congress
SMITA GUPTA
April 15, 2013
The Congress does not believe, even for a moment, that the Janata Dal (United) has any intention of severing its ties with the Bharatiya Janata Party, notwithstanding its virtual veto of the Gujarat Chief Minister as the NDA's prime ministerial candidate. The party sees it, instead, as Bihar Chief Minister Nitish Kumar's way of sending a message to his Muslim constituency.
So, the authoritative view is that the Congress will tie-up with Lalu Prasad's Rashtriya Janata Dal and the Lok Jan Shakti Party in Bihar for the next general elections, though opinion in the party has always been divided on whether it should continue with the RJD as its ally or make a bid for the JD (U)'s affections through administrative ploys such as declaring the State backward to make a case for more funds.
Full report at:
http://www.thehindu.com/news/national/its-nitish-way-of-sending-message-to-muslims-congress/article4617603.ece
----------
BSF repatriates inadvertent Pak national
Yudhvir Rana, TNN | Apr 14, 2013
AMRITSAR: Border Security Force (BSF) on Sunday repatriated a Pak national Mohammad Afzail Latif, 32, who had inadvertently entered in the Indian Territory from near Kakkar Border Out Post.
BSF DIG, RPS Jaiswal informed on Sunday evening that Latif, resident of Village Bamti , near Serpur in Kasur district of Pakistan was apprehended ahead of border security fence in the alignment of boundary pillar number 90/07 at a distance of about one kilometre from Indo Pak international boundary.
Full report at:
http://timesofindia.indiatimes.com/india/BSF-repatriates-inadvertent-Pak-national/articleshow/19543575.cms
----------
Mulayam connived with Advani to demolish Babri Masjid, Beni Prasad Verma says
Ashish Tripathi, TNN | Apr 15, 2013
LUCKNOW: Union minister Beni Prasad Verma has once again attacked Mulayam Singh Yadav, now accusing the Samajwadi Party of conniving with BJP leader LK Advani in the run up to the demolition of Babri mosque.
"Advani started a rath yatra stating that shilanyas was to be performed at the disputed structure on October 30, 1990. The intention was not to perform shilanyas but to demolish the disputed structure in connivance with the then chief minister of Uttar Pradesh (UP) Mulayam Singh Yadav," Beni said on Monday.
Suggesting the police firing in Ayodhya in November 1990 when Yadav was the chief minister was unnecessary, Verma claimed that Yadav later visited the guest house where Advani, Vinay Katiyar and others were under detention.
At the meeting, he claimed, it was decided that karsewaks would be permitted to perform darshan (at the disputed site).
Full report at:
http://timesofindia.indiatimes.com/india/Mulayam-connived-with-Advani-to-demolish-Babri-Masjid-Beni-Prasad-Verma-says/articleshow/19561001.cms
------------
Africa
Suicide raid, car bomb kill 34 civilians in Mogadishu
AFP | Apr 15, 2013
MOGADISHU: A nine-man suicide commando blasted its way into Mogadishu's main court complex Sunday, some blowing up their explosives vests while others sprayed gunfire in a rampage that left 29 civilians dead, while a separate bomb attack killed five more.
The al-Qaida-linked Shebab militant group claimed responsibility for the courthouse attack, from which Somalia's chief justice escaped unharmed.
It was the worst day of violence the capital has seen in months.
"The African Union force, the Somalia national army and local police have cleared the building. The latest figures indicate that there are 29 killed civilians, nine dead Shebab militants and 58 people injured," a security officer told AFP on condition of anonymity.
Full report at:
http://timesofindia.indiatimes.com/world/rest-of-world/Suicide-raid-car-bomb-kill-34-civilians-in-Mogadishu/articleshow/19550890.cms
----------
Chad says troops unsuited to guerrilla war, quitting Mali
Reuters | Apr 15, 2013
DAKAR: Chad will withdraw its troops from Mali where they risk being bogged down in guerrilla war after helping to drive Islamists from northern towns, President Idriss Deby said in comments broadcast on Sunday.
His words came days after a suicide bomber killed three Chadian troops in the northern town of Kidal, demonstrating how al-Qaida-linked Islamists are still able to strike in the heavily-defended towns they once controlled.
Some 2,000 Chadians have fought alongside French troops in the heaviest fighting to drive Islamists from remote northern towns, mountains and deserts they previously occupied.
"Face-to-face fighting with the Islamists is over. The Chadian army does not have the skills to fight a shadowy, guerrilla-style war that is taking place in northern Mali," Deby told French media, including TV5 Monde, RFI and Le Monde.
Full report at:
http://timesofindia.indiatimes.com/world/rest-of-world/Chad-says-troops-unsuited-to-guerrilla-war-quitting-Mali/articleshow/19550581.cms
----------
Shebab claim responsibility for Mogadishu attack
Somalia's Al Qaeda-linked Shebab claim responsibility for earlier raid in court complex that left at least 16 dead
14 Apr 2013
Somalia's Al Qaeda-linked Shebab claimed responsibility for a suicide raid on Mogadishu's main court complex Sunday that left at least five civilians and several attackers, a spokesman for the group said.
"This was a holy action which targeted non-believers who were in a meeting within the court complex. We will continue until Somalia is liberated from invaders," Shebab spokesman Sheikh Ali Mohamed Rage told AFP.
http://english.ahram.org.eg/NewsContent/2/9/69231/World/International/UPDATE-Shebab-claim-responsibility-for-Mogadishu-a.aspx
------------
Sudan ready for rebel talks, despite deadly attack
Sudanese government ready to hold talks with the Sudan People's Liberation Movement-North (SPLM-N), a rebel group in South Kordofan known for carrying out anti-government attacks
14 Apr 2013
Sudan is still willing to talk with rebels in South Kordofan, the government said on Sunday, despite the deadly weekend bombardment of the state's capital.
The Sudan People's Liberation Movement-North (SPLM-N) told AFP on Sunday it carried out the Friday afternoon shelling after being "provoked" by the government.
The attack came as President Omar al-Bashir held talks in the South Sudanese capital Juba with his counterpart Salva Kiir in a symbol of easing tensions, particularly over the South's alleged support for SPLM-N.
Full report at:
http://english.ahram.org.eg/NewsContent/2/8/69233/World/Region/Sudan-ready-for-rebel-talks,-despite-deadly-attack.aspx
------------
Peacekeepers say denied access to Darfur conflict zone
14 April 2013
Sudanese authorities have blocked international peacekeepers from an area of western Darfur, where at least 50,000 people have fled tribal fighting, the mission said on Sunday.
It is the latest of numerous access restrictions cited by the African Union-United Nations Mission in Darfur (UNAMID).
"The mission is not in a position to provide detailed information about the situation in the Umm Dukhun area as a UNAMID verification patrol, which attempted to gain access on 10 and 11 April, was not allowed to do so by the government of Sudan authorities," UNAMID spokeswoman Aicha Elbasri said.
Full report at:
http://english.alarabiya.net/en/News/africa/2013/04/14/Peacekeepers-say-denied-access-to-Darfur-conflict-zone-.html
------------
Chad says Islamist leader Belmokhtar 'blew himself up'
15 April 2013
Mokhtar Belmokhtar, a one-eyed Islamist militant leader who Chad claimed was killed in Mali last month, died by setting off explosives in despair over the death of another militant, Chad's President Idriss Deby said in an interview broadcast on Sunday.
"We have proof of his death. We couldn't film it because he blew himself up after the death of (Abdelhamid) Abou Zeid. He wasn't the only one. Three or four other jihadists (also) blew themselves up in despair," he told French media outlets TV5 Monde, Radio France International and Le Monde in a joint interview recorded in N'Djamena on Saturday.
Belmokhtar, an Algerian Al-Qaeda veteran, was the mastermind of the brazen January assault on an Algerian gas plant that left 37 foreign hostages dead.
Full report at:
http://english.alarabiya.net/en/News/africa/2013/04/15/Chad-says-Islamist-leader-Belmokhtar-blew-himself-up-.html
-------
Mideast Asia
Hamas tells Gaza's boys and girls to pull up their pants and get to separate schools
April 15th, 2013
By Iman Jomaa
A draft law approved by Hamas will soon enforce gender segregation at all Gaza schools for students above the age of nine. This comes after the Islamic movement has already tightened its grip on Gaza's streets, prohibiting the use of excessive hair gel and sagging pants.
"I love the school atmosphere and my friends in school. Every day, I go to school happy. We spend half the day together. But today I am afraid, after hearing that the government made a new law for education and wants to separate the guy and girl students. Why is that? I won't be happy if I go to class and can't find my friends."
With these words, Nariman al-Rayess, a 9-year-old pupil at the Holy Family private school in Gaza, tries to make sense of the situation. Under the pretext of protecting Gaza's Islamic identity, the Hamas government is planning to institute gender segregation in schools.
Full report at:
http://www.albawaba.com/editorchoice/hamas-gaza-school-484605
------------
End of Palestinian Power Play Muddles the Peace Process
By ISABEL KERSHNER
April 15, 2013
JERUSALEM — Salam Fayyad, the internationally respected Palestinian politician and economist, is widely credited with ending the chaos in the West Bank and putting things in order in his six years as prime minister. But his resignation over the weekend, the result of internal power struggles, has left the Palestinian Authority suspended in political ambiguity and confusion.
Analysts said Sunday that by accepting Mr. Fayyad's resignation, the president of the Palestinian Authority, Mahmoud Abbas, has put himself in a political bind just as the Obama administration has been trying to restart long-stalled Israeli-Palestinian peace talks.
Full report at:
http://www.nytimes.com/2013/04/15/world/middleeast/fayyads-resignation-means-
----------
Israel says November killing of 12 civilians in Gaza lawful
Israel refuses to open an investigation into an Israel-led air strike that killed an entire family of 10 in Gaza late last year
14 Apr 2013
Israel has said it will not open a criminal investigation into the death of 12 Palestinian civilians in a November air strike on a house in the Gaza Strip during its war with Hamas.
The Nov. 18 attack on the three-storey home of the Dalu family was the bloodiest of the eight days of fighting between the Jewish state and Gaza's Islamist Hamas-led armed factions, in which around 170 Palestinians and six Israelis died.
Full report at:
http://english.ahram.org.eg/NewsContent/2/8/69236/World/Region/Israel-says-November-killing-of--civilians-in-Gaza.aspx
------------
Yemenis protest deportation of workers from Saudi Arabia
Yemenis continue to protest the deportations of an estimate of 20,000 Yemeni workers from Saudi Arabia
14 Apr 2013
Ezzeldin Abdullah says he sold many of his valuables to raise 16,000 Saudi riyals ($4,300) for a Saudi Arabian visa, hoping work in the biggest oil-producing country in the world would repay his investment many times.
But less than three weeks after arriving, he was arrested in a crackdown on workers lacking proper papers and deported back to Yemen.
"All is lost now," said the father of three, sitting outside the ministry of expatriate affairs in the Yemeni capital Sanaa.
Full report at:
http://english.ahram.org.eg/NewsContent/2/8/69237/World/Region/Yemenis-protest-deportation-of-workers-from-Saudi-.aspx
----------
Gaza Analyst Says Fayyad's Resignation a Failure for Kerry
Tzvi Ben-Gedalyahu
April 14th, 2013
The resignation of Palestinian Authority Prime Minister Salam Fayyad marks a failure for U.S. Secretary of State John Kerry, according to Tawfiq Abu Showmer, a Gaza-based political analyst.
Fayyad, educated as an economist in the United States, where he was on the staff of the Federal Reserve Bank, was hand-picked by the United States to head PA Chairman Mahmoud Abbas's government.
His moves to end corruption in the Palestinian Authority distanced him further from Fatah, the faction headed by Abbas, who accepted the resignation against the wishes of the United States. American influence may have been severely weakened by Fayyad's' resignation.
Full report at:
http://www.jewishpress.com/news/breaking-news/gaza-analyst-says-fayyads-resignation-a-failure-for-kerry/2013/04/14/
------------
Hamas Tightens Ties with Iran in 'Sister City' Agreement
Jewish Press News Briefs
April 14th, 2013
Hamas-controlled Gaza and Iran have strengthened ties with a "sister-city" agreement linking Tabriz, located in north-western Iran, with Gaza City, according to the Fars News Agency, controlled by the Islamic Republic.
Tabriz Mayor Ali Reza Novin and Gaza Mayor Refik Salem Mekki Novin said, "The sisterhood of the two cities was approved by Tabriz Islamic City Council after last year's savage attacks by the Zionist regime on the Gaza Strip.
"The grounds for the sisterhood of Tabriz as the first capital city of the Shiite world and the Gaza city as a symbol of resistance and sacrifice came on our agenda when Gazans where experiencing the second Israeli war in 2012."
http://www.jewishpress.com/news/breaking-news/hamas-tightens-ties-with-iran-in-sister-city-agreement/2013/04/14/
------------
Israel rules out criminal charges over Dalou family deaths
Military finds no basis for a criminal inquiry into the killing of 10 members of Dalou family in Gaza air strike in November
Harriet Sherwood in Jerusalem
14 April 2013
Israeli military authorities have closed their investigation into the killing of 10 members of one family in an air strike during November's eight-day war in Gaza, saying no criminal offence was suspected.
The home of the Dalou family was destroyed the conflict, resulting in the biggest single incident of civilian deaths. Among the 12 victims were four Dalou siblings aged between one and seven, and five women, including one aged 80; two of the dead were neighbours of the family. Images of the children's corpses, squashed together on a morgue tray and covered in dust and debris, were shown around the world.
Full report at:
http://www.guardian.co.uk/world/2013/apr/14/israel-criminal-charges-dalou-family
------------
Film-maker captures Israeli spy chiefs' doubts over covert killing operations
Director rejects charge that Oscar-nominated secret services documentary is one-sided
Harriet Sherwood in Jerusalem
14 April 2013
By the time Dror Moreh had finished filming more than 70 hours of interviews with six former chiefs of Israel's shadowy Shin Bet secret service agency, the director knew he had "dynamite in my hands".
The result, The Gatekeepers, a 97-minute documentary which has just opened in the UK, is indeed explosive. The Oscar-nominated film has played to packed audiences in Israel, many of whom emerged stunned at what they had seen and heard.
"I thought if I could manage to get all [six] to speak openly about their experience in the Israeli-Palestinian conflict, it will create a shockwave," Moreh told the Observer. "I was right – it created a huge storm."
Full report at:
http://www.guardian.co.uk/world/2013/apr/14/israeli-spy-chiefs-covert-film
------------
Turkish pianist Fazil Say gets suspended jail term for blasphemy
15 Apr 2013
An Istanbul court on Monday slapped world-renowned pianist Fazil Say with a 10-month suspended jail term for blasphemy in what the musician has said was a political case instigated by Turkey's ruling party.
The court handed down the sentence after finding Say guilty of "insulting religious values of a part of the population" in a series of tweets that critics said insulted Islam and Muslims. The pianist was not present in court during the sentencing.
Full report at:
http://english.ahram.org.eg/NewsContent/2/9/69264/World/International/Turkish-pianist-Fazil-Say-gets-suspended-jail-term.aspx
------------
Arab World
Syria Muslim Brotherhood Denies Seeking Power Grab
April 15, 2013
BEIRUT (AP) — The leader of Syria's Muslim Brotherhood has denied accusations the group is seeking to impose its will on other members of the opposition.
Mohamamad Riad al-Shaqfa says allegations from other pro-rebel political factions that the Syrian National Coalition opposition umbrella group is a front for the Muslim Brotherhood are "lies and fabrications."
Al-Shaqfa was speaking Monday at a rare press conference in Istanbul where he is based.
He says the Muslim Brotherhood does not seek gains for itself nor is it looking to grab power should President Bashar Assad's regime fall.
Several other factions of Syria's opposition regularly accuse the Islamist group of trying to control and influence the course of the uprising.
http://www.nytimes.com/aponline/2013/04/15/world/middleeast/ap-ml-syria
-------------
Hezbollah-backed Lebanese Shiites fight in Syria
April 15, 2013
By Bassem Mroue
AL QASR, Lebanon: Masked men in camouflage toting Kalashnikov rifles fan out through a dusty olive grove, part of a group of Hezbollah-backed fighters from Lebanon who are patrolling both sides of a porous border stretch with Syria.
The gunmen on the edge of the border village of al-Qasr say their mission is to protect Shiites on the Syrian side who claim their homes, villages and families have come under attack from Sunni rebels.
Hezbollah chief Sheik Hassan Nasrallah, leader of many of Lebanon's Shiites and a staunch ally of Syrian President Bashar Assad, has said his group is supporting the cadres of fighters who call themselves Popular Committees.
Full report at:
http://www.dailystar.com.lb/News/Politics/2013/Apr-15/213745-hezbollah-backed-lebanese-shiites-fight-in-syria.ashx#ixzz2QY0YLKDX
----------
Speech crimes are mark of totalitarian regimes: Egypt's Bassem Youssef
Bassem Youssef speaks to Al Arabiya TV channel revealing that he wants to host President Morsi in his show
14 Apr 2013
In an interview on private Saudi television channel to be broadcast Monday, popular television host and satirist Bassem Youssef criticised the Egyptian government and spoke out against the decision to prosecute him on charges related to offensive speech.
Sitting down with satellite news channel Al-Arabiya, the Egyptian satirist and television host spoke frankly, saying that if the Egyptian regime considers him to be a clown, why do they fear him?
According to Youssef, the charges he is currently facing do not exist except under "totalitarian regimes."
Youssef, 39, was charged with insulting the president, blasphemy and spreading hateful rumours two weeks ago. He posted 15,000 LE bail and was not detained.
The interview will be aired on Monday, but excerpts were shown on Sunday, and the transcript was published on Al-Arabiya's website.
Full report at:
http://english.ahram.org.eg/NewsContent/1/64/69241/Egypt/Politics-/Speech-crimes-are-mark-of-totalitarian-regimes-Egy.aspx
------------
Two Iraqi Sunni Muslim candidates slain before local vote
Two Iraqi candidates were killed a week ahead of provincial elections amid a wave of similar killings targeting politicians
14 Apr 2013
Two Iraqi Sunni Muslim candidates were killed less than a week before local elections that are considered a major test of the country's political stability after U.S. troops left more than a year ago.
The election on Saturday to select provincial council members will measure Prime Minister Nuri al-Maliki's political muscle against Shi'ite and Sunni rivals before the parliamentary election in 2014.
Full report at:
http://english.ahram.org.eg/NewsContent/2/8/69226/World/Region/Iraq-election-candidates-slain-before-local-vote.aspx
-----------
String of attacks across Iraq kills 31
AP | Apr 15, 2013
BAGHDAD: Insurgents launched what appeared to be a highly coordinated string of attacks in several parts of Iraq on Monday morning, killing at least 31 and wounding more than 200, according to officials.
The attacks, many involving car bombs, erupted less than a week before Iraqis in much of the country are scheduled to vote in the country's first elections since the 2011 US troop withdrawal, testing security forces' ability to prevent bloodshed.
There was no immediate claim of responsibility, but coordinated attacks are a favorite tactic of al-Qaida's Iraq branch.
Full report at:
http://timesofindia.indiatimes.com/world/middle-east/String-of-attacks-across-Iraq-kills-31/articleshow/19558099.cms
----------
Organ donation gaining wide acceptance among Saudis
14 April 2013
Families are increasingly embracing the concept of organ transplants by overcoming cultural and religious concerns as Saudi Arabia expands its program to reduce the wait for patients in desperate need of organs.
Dr. Faisal Shaheen, director general of the Saudi Center for Organ Transplantation (SCOT), said transplant operations have increased with 92 percent of the families of brain dead patients consenting to donation when they know that it was the choice of the deceased.
About 40 percent of families give their consent if have they have no knowledge of the patient's opinion on organ donation.
Full report at:
Crown Prince Salman established a center to coordinate organ donation two years later.
http://www.arabnews.com/news/448090
----------
Mubarak released by court in killings' case, but to remain in custody for other charges
AFP | Apr 15, 2013
CAIRO: An Egyptian court on Monday ordered the release of former president Hosni Mubarak over the deaths of protesters but he will remain in custody pending investigation into fraud charges, state media reported.
The Cairo court of appeal ordered Mubarak's release after the expiry of the maximum temporary detention of two years, the reports said. He had been granted a retrial in the murder case, appealing against a life sentence.
http://timesofindia.indiatimes.com/world/middle-east/Mubarak-released-by-court-in-killings-case-but-to-remain-in-custody-for-other-charges/articleshow/19559621.cms
---------
11 more terror suspects receive varying jail terms in Riyadh
15 April 2013
A special court in Riyadh yesterday sentenced 11 terror suspects to a combined jail term of 20 years.
The defendants were charged with recruiting young men to fight in a number of countries, as well as raising funds to support terrorist activity. The defendants also received travel restrictions for periods equivalent to their jail terms.
This was the second group of suspects sentenced in the case.
The first defendant was convicted of communicating with members belonging to illegal organizations and recruiting men to fight in Afghanistan, in addition to raising SR 50,000 to fund violence.
Full report at:
http://www.arabnews.com/news/448196
----------
Ex-Iraqi official: Saddam was 'mentally ill' during Kuwait invasion
Sunday, 14 April 2013
An interview conducted by the former spokesperson of the Iraqi government, Ali Dabbagh, with the ex-Iraqi official and strongman during the Saddam era, Tariq Aziz, will be broadcast exclusively on Al Arabiya on Thursday April 18.
The former foreign minister and deputy premier said in the three-hour interview that late Iraqi President Saddam Hussein was mentally unstable when he decided to invade Kuwait in 1990. He also addressed accusations that his country possessed Weapons of Mass Destruction.
Aziz also talked about his rocky relationship with the Saddam family and described Hussein Kamel – Saddam's defected son-in-law – as a "cancer" that wanted to topple the late president.
Full report at:
http://english.alarabiya.net/en/News/middle-east/2013/04/14/Saddam-was-mentally-ill-when-he-invaded-Kuwait-says-ex-Iraqi-official-.html
------------
Syria dismisses "unfounded" British report on chemical weapons
Monday, 15 April 2013
The Syrian information minister dismissed on Sunday a recent British report that a soil sample from Syrian territory has proven the use of chemical weapons in the war-torn country.
"The testing of Syrian soil, if not performed by an official and international organization and done without the consent of the Syrian government, has no political or legal value," Omran al-Zoubi said, adding that the report was unfounded.
Zoubi accused Turkey, Britain and France of supplying the Syrian rebels with chemical weapons.
Full report at:
http://english.alarabiya.net/en/News/middle-east/2013/04/15/Syria-dismisses-unfounded-British-report-on-chemical-weapons.html
------------
UAE says female artists sparked cop incident in Saudi
Report says three "handsome" Emiratis were expelled by Saudi religious police
By Staff
April 15, 2013
The UAE stand at an annual culture festival in Saudi Arabia has issued a statement clarifying why a religious police man had stormed the stand before he was forced out by members of the Gulf Kingdom's national guards. It said the cop was attracted by the presence of an Emirati female artist at the stand.
Also at the festival in the capital Riyadh, several Saudi religious police men stormed the UAE pavilion on Sunday and evicted three Emirati young men because "they are too handsome," according to the Saudi news website Elaph.
Full report at:
http://www.emirates247.com/crime/region/uae-says-female-artists-sparked-cop-incident-in-saudi-2013-04-15-1.502650
-----------
Family accused of sparking Al-Khosous religious violence turn themselves in
Three members of Christian family accused of actions that triggered sectarian violence in Al-Khosous hand themselves over to police, citing fear for life
15 Apr 2013
The relatives of two Christians detained in Al-Khosous following an outbreak of sectarian violence have handed themselves over to police in fear of reprisal attacks, state news agency MENA has reported.
Two Christians and 30 Muslims were arrested in early April for their alleged involvement in sectarian clashes in Al-Khosous in Qalioubiya governorate.
MENA quoted a source from Qalioubiya security directorate saying Nessim Farouk, Samir Iskandar and his son Naguib had turned themselves over to the police and were being transferred to the prosecution for questioning.
Full report at:
http://english.ahram.org.eg/NewsContent/1/64/69273/Egypt/Politics-/Family-accused-of-sparking-AlKhosous-religious-vio.aspx
------------
Pakistan
Fair process: Blasphemy trials in high courts suggested
April 15, 2013
LAHORE: The Human Rights Commission of Pakistan has recommended that the first trial in a blasphemy charge should be heard at a high court and that no case should be registered without investigation by a senior police officer and endorsement by a senior prosecution authority.
The recommendation is part of the report State of Human Rights in 2012.
The HRCP believes that the blasphemy-related provisions of the law need to be withdrawn. It also recommended changes to the procedure of blasphemy cases on priority.
The report states that 23 cases were registered against 27 Muslims, including two women, in 2012 for offences related to religion. Eight of them, it says, were charged under the blasphemy provision 295-C of the Pakistan Penal Code (PPC) and the rest under other sections.
Full report at:
http://tribune.com.pk/story/535688/fair-process-blasphemy-trials-in-high-courts-suggested/
-----------
Pakistan beats India in research, not in innovation
April 14, 2013
It would be interesting to compare India and Pakistan in the world of science and innovation. Everybody would think that India with its high economic growth rate and world class information technology industry is miles ahead. That may not be completely true.
A recent United Nations study finds that Pakistan has more researchers for a million people than India. Pakistan has 162 researchers for a million people as compared to 135 in India.
But, when it comes to taking research to a logical and innovative end through patent registration, Pakistan is not even close to the south-Asian economic power. India has five patents for a million people, five times more than the Pakistanis.
Full report at:
http://www.hindustantimes.com/India-news/newdelhi/Pakistan-beats-India-in-research-not-in-innovation/Article1-1044367.aspx
----------
Election Tribunal verdicts: Sharif brothers in, Musharraf out
April 15, 2013
KARACHI: Pakistan Muslim League (PML-N) chief Nawaz Sharif and his brother Shahbaz Sharif have been allowed to run for upcoming elections after respective election tribunals accepted their review appeals on Monday, reported Express News.
Nawaz will run for NA-120 Lahore seat and Shahbaz for NA-129 Lahore.
The review appeal filed by former president Pervez Musharraf over the rejection of his nomination papers in NA-250 Karachi was rejected.
His nomination papers for NA-250 Karachi were rejected on charges of violating the constitution and sacking top judges.
Full report at:
http://tribune.com.pk/story/535794/disappointment-continues-tribunal-rejects-musharrafs-appeal-to-review-decision-in-na-250/
-----------
Indefinite suspension: Pakistan stops release of Afghan Taliban prisoners
By Kamran Yousaf
April 15, 2013
ISLAMABAD: The process of releasing Taliban prisoners currently in Pakistani custody has been suspended indefinitely due to renewed tensions between Islamabad and Kabul, The Express Tribune has learnt.
According to officials, talks between the two neighbours on the fate of the remaining Taliban detainees have come to a halt ever since Afghanistan accused Pakistan of sabotaging the fragile peace process.
"The focus at the moment is on de-escalating tensions. It has been a while since we last discussed the issue of Taliban releases," said a senior Pakistani official familiar with the development. The official, who asked to remain anonymous, insisted that the delay was not on the part of Pakistan.
Full report at:
http://tribune.com.pk/story/535710/indefinite-suspension-pakistan-stops-release-of-afghan-taliban-prisoners/
-----------
Sharjeel says 'Nawaz Sharif behind Taliban threats'
15 April 2013
HYDERABAD: Pakistan People's Party (PPP) leader Sharjeel Memon Sunday alleged that Pakistan Muslim League-N president Nawaz Sharif stood behind the threats being issued by the Taliban to attack political rallies.
Addressing a press conference here, Sharjeel Memon said 'the contacts between Nawaz Sharif and Taliban are no secret to anyone'.
He said in order to topple the government of Benazir Bhutto in 1988 a no-confidence move was invoked and in this context reports of a meeting between Nawaz Sharif and Osama Bin Laden were carried by the media.
Sharjeel Memon alleged that the threats by the Taliban to attack political rallies were being issued on the directives of Nawaz Sharif.
He appealed to the Supreme Court to take a suo moto notice of 'links between Nawaz Sharif and terrorist outfits'.
http://www.thefrontierpost.com/article/5705/
------------
Musharraf responsible for Balochistan unrest: Mushahidullah
2013/04/15
QUETTA: Central Secretary Information Pakistan Muslim League-Nawaz (PML-N), Senator Mushahidullah Khan has held former military ruler Pervez Musharraf responsible for the prevailing unrest in Balochistan province.Speaking to reporters in Quetta on Monday, the senator said the former military ruler's policies had worsened the situation in Balochistan.
Full report at:
http://dawn.com/2013/04/15/musharraf-responsible-for-balochistan-unrest-mushahidullah/
-----------
Pak election tribunal rejects Musharraf's appeal
PTI | Apr 15, 2013
ISLAMABAD: A Pakistani election tribunal on Monday rejected former president Pervez Musharraf's appeal against the rejection of his nomination papers for a parliamentary constituency in the southern port city of Karachi.
Musharraf's nomination papers for parliamentary constituency number 250 were rejected after another candidate challenged them on the grounds that the former military ruler had violated the Constitution and sacked members of the superior judiciary during the 2007 emergency.
Full report at:
http://timesofindia.indiatimes.com/world/pakistan/Pak-election-tribunal-rejects-Musharrafs-appeal/articleshow/19556879.cms
----------
Pakistan strongly condemns US drone attack in N Waziristan
2013/04/15
ISLAMABAD: Pakistan has strongly condemned the US-led drone strike in North Waziristan tribal region which killed at least four people on Sunday.
According to a statement issued by Pakistan's Ministry of Foreign Affairs on Monday such unilateral attacks are in contravention of international law and counter-productive to the stability of this country. The Government maintained its position that drone strikes violate its territorial integrity and sovereignty.
Full report at:
http://dawn.com/2013/04/15/pakistans-foreign-office-strongly-condemns-us-drone-attack-in-n-waziristan/
-----------
Tensions rise over Afghan, Pakistan border dispute
2013/04/15
KABUL: Hundreds of Afghan university students in the eastern city of Jalalabad took to the streets on Monday to protest the building of a Pakistani military gate in what the Afghan defence ministry says is inside Afghanistan.
The incident is the latest in rising tensions between the two sides, whose attempts to lure the Taliban to the peace table have stalled amid their feuding.
Pakistani support for the Afghan peace process is considered essential because of the two countries' long, porous border.
Full report at:
http://dawn.com/2013/04/15/tensions-rise-over-afghan-pakistan-border-dispute/
-----------
South Asia
Afghan commandos kill 22 insurgents
April 15, 2013
By Amir Shah
KABUL: Afghan commandos killed 22 insurgents on Monday during an operation to capture a Taliban commander in eastern Afghanistan, police and the U.S. military said.
The raid was carried out in the Bati Kot district of Nangarhar when a team of commandos raided a village looking for the Taliban leader, the U.S.-led Combined Joint Special Operations Task Force said in an announcement.
During the raid, insurgents opened fire on the soldiers and 22 of the Taliban were killed, the task forces said.
Masoum Khan Hashimi, the deputy police chief of Nangarhar province, said there were no casualties among the security forces or civilians. He said the Taliban commander, Jamal Faroqi, was killed in the pre-dawn raid and 10 insurgents were captured.
Full report at:
http://www.dailystar.com.lb/News/International/2013/Apr-15/213805-afghan-commandos-kill-22-insurgents.ashx#ixzz2QXhszM4h
-----------
Dhaka issues smart cards for workers in Kingdom
14 April 2013
To counter fraud in the recruitment of overseas workers, the Bangladesh government is issuing smart cards with the names, photographs and fingerprints of workers heading to Saudi Arabia and other countries.
Bangladesh Foreign Minister Dipu Moni told Arab News here this week that Dhaka is currently streamlining its processes to suit the employment policies and needs of the Kingdom. There are currently two million Bangladeshi workers in the Kingdom, out of eight million working abroad.
Full report at:
http://www.arabnews.com/news/448089
----------
Opium Production in Afghanistan Increases for 3rd Year
By ROD NORDLAND
April 15, 2013
KABUL, Afghanistan — For the third year in a row, opium cultivation has increased across Afghanistan, reversing earlier gains from a decade-long international and Afghan government effort to combat the drug trade, according to a United Nations report released on Monday.
The report by the United Nations Office on Drugs and Crime increased concerns among international law enforcement officials that if the trend continues, opium would be the country's major economic activity after the departure of foreign military forces in 2014, raising the specter of what one referred to as "the world's first true narco-state." Afghanistan is already the world's largest producer of opium, and last year had accounted for 75 percent of the world's heroin supply.
Full report at:
http://www.nytimes.com/2013/04/16/world/asia/afghanistan-opium-production-increases- ----------
Nobel Laureate Yunus of Bangladesh to receive highest US civilian award
Honoured for lifetime achievements in poverty alleviation
April 15, 2013
Nobel Laureate Dr Muhammad Yunus will receive Congressional Gold Medal, the United States' highest civilian award, on Wednesday, according to the Yunus Centre.
The Bangladeshi microcredit pioneer will be given the honor at a joint session of the US Congress in its capital, Washington DC. John Boehner, Speaker of the US Congress, will hand over the award.
Prof Yunus is currently in the USA to receive the prestigious US award.
US President Barack Obama earlier awarded Yunus the President's Gold Medal.
According to sources at the Yunus Centre, the Nobel Laureate is scheduled to deliver a speech afterwards on issues like social business and poverty elimination.
In a short statement from New York, Dr Yunus dedicated this honor to the people of Bangladesh.
Full report at:
http://www.thedailystar.net/beta2/news/yunus-to-receive-highest-us-civilian-award/
----------
Eight killed in bomb blast in Afghanistan
April 15, 2013
Eight civilians were killed and four injured in a roadside bomb explosion in southern Afghanistan on Monday, officials said.
"A tractor carrying villagers to Souri district struck the roadside bomb near Qalat city," Sharifullah Naseri, government spokesman for Zabul province, said.
"Four of the dead were members of a single family," he said. The Interior Ministry confirmed the incident, saying seven were killed in an "anti-vehicle mine" explosion.
It blamed the Taliban for the attack. Spokesmen for the insurgents were not immediately available for comment.
http://www.thehindu.com/news/international/south-asia/eight-killed-in-bomb-blast-in-afghanistan/article4620046.ece
----------
Military consolidation expected to dominate Maldives Defence Minister's India visit
By Neil Merrett | April 15th, 2013
Defence Minister Mohamed Nazim is expected to commence talks today with his Indian counterpart on strengthening military ties between the two nations. The talks will be the most senior meeting of ministers between the two countries since reports of bilateral tensions earlier this year, according to the Times of India.
As part of his visit to India, Nazim is expected to meet with Indian Defence Minister Shri A K Anthony to discuss establishing further defence collaboration, as well as the possibility of extending Indian coastal radar systems across the Maldives.
Full report at:
http://minivannews.com/politics/military-consolidation-expected-to-dominate-defence-minister-nazims-india-visit-56261
----------
Pan-Muslim body urges Myanmar to allow OIC delegation
The Organisation of Islamic Cooperation, the world's top pan-Islamic body, pushes for a delegation to investigate violence against Muslims in Myanmar
14 Apr 2013
The Organisation of Islamic Cooperation Sunday urged authorities in Myanmar to allow a ministerial delegation to visit the country to discuss deadly violence against Muslims.
The world's top Islamic body, in a statement following a meeting in the Saudi Red Sea city of Jeddah, also urged the UN Human Rights Commission to dispatch a fact-finding mission to Myanmar.
Full report at:
http://english.ahram.org.eg/NewsContent/2/8/69228/World/Region/PanMuslim-body-urges-Myanmar-to-allow-OIC-delegati.aspx
----------
Court case could deprive Maldivians of Hajj pilgrimage, Islamic Ministry warns
By Ahmed Nazeer | April 14th, 2013
Islamic Ministry Permanent Secretary Mohamed Didi has expressed concern that Maldivians might not be able to make the Hajj pilgrimage this year if a court case contesting the choosing of eight groups authorised to transport pilgrims is not resolved in time.
The Civil Court issued a stay order or temporary injunction (Dhivehi) on Thursday (April 11) instructing the Islamic Ministry not to proceed with the chosen Hajj groups pending a ruling on the legality of the selection process.
Full report at:
http://minivannews.com/society/court-case-could-deprive-maldivians-of-hajj-pilgrimage-islamic-ministry-warns-56210
----------
Rohingyas 'using fake passports to reach KSA'
15 April 2013
Some of the Muslim Rohingya refugees in Bangladesh come to the Kingdom for employment with fake Bangladeshi passports, a senior Dhaka government official claimed.
Information Minister Hasanul Haq Inu told a group of visiting foreign journalists here that some of these refugees, who were trained in militancy, have been sent to countries such as the UK, India and to some Middle Eastern countries such as Dubai and Saudi Arabia for various purposes.
Full report at:
http://www.arabnews.com/news/448201
----------
Rohingyas seek help from China
15 April 2013
Waqaruddin, director general of the Rohingya Arakan Union, called on the Organization of Islamic Cooperation (OIC) Contact Group to persuade China to put pressure on the Myanmar government to stop acts of violence and targeted killings of the Rohingya Muslim minority in Myanmar.
"It is well-known that China has strong relations with the Myanmar government and has big economic and political interests there. So we asked Chinese officials to try to persuade Myanmar to stop violence against and acts of systematic killing of the peaceful Rohingya Muslim minority," Waqaruddin told Arab News.
Full report at:
http://www.arabnews.com/news/448194
----------
Nepal, India & Bangladesh to make most of Ganga water, hydropower
SUJAY MEHDUDIA
April 15, 2013
According to a note prepared by the Ministries of Power, Water Resources and External Affairs, the Ganga Basin has tremendous potential for development of water resources and hydropower.
In a significant development indicating a sub-regional strategic alliance, Nepal, India and Bangladesh (NIB) have decided to join hands to cooperate and exploit the hydropower sector and use water resources management for mutual advantage, including jointly developing and financing projects in the Ganga river basin.
Full report at:
http://www.thehindu.com/news/international/south-asia/nepal-india-bangladesh-to-make-most-of-ganga-water-hydropower/article4617600.ece
----------
Afghan Interpreters for the U.S Are Left Stranded and at Risk
By AZAM AHMED
April 15, 2013
KABUL, Afghanistan — The first time the Taliban tried to kill him, Sulaiman was driving to his base when his truck was hit by a rocket, knocking him down a cliff.
The insurgents knew his vehicle, its license plate number and, most important, his occupation: a high-value combat interpreter for United States Special Operations troops in Afghanistan.
They left him for dead in that attack, in July 2011, but he got out with a broken collarbone, two broken ribs and a new sense of caution. Since then, he has survived two more attacks.
Sulaiman's American supervisor no longer lets him travel by car when he leaves his military base to visit his family. But no one feels that is protection enough, given the premium that the Taliban put on killing Afghans who help American forces.
Full report at:
http://www.nytimes.com/2013/04/15/world/asia/american-visa-delays-put-safety-out-of- ----------
Southeast Asia
Pakatan not targeting 'radical change' like Arab Spring, says Anwar
2013/04/15
KUALA LUMPUR, April 15 — Pakatan Rakyat (PR) is not aiming to create "radical change" in Malaysia should it win Election 2013, but is pushing for good governance instead, Datuk Seri Anwar Ibrahim said today.
The opposition leader said PR would eliminate corruption by promoting the independence of institutions like the judiciary, the police and the Malaysian Anti-Corruption Commission (MACC), besides making them answerable to Parliament.
"It's not about getting entire radical change to the existing system," Anwar said in an interview on US business channel CNBC this morning.
"What we require is good governance to strengthen institutions of democracy. So democratic transition is done through elections. So you can't compare this to turbulence in the Middle East and the Arab Spring," he added.
Full report at:
http://www.themalaysianinsider.com/malaysia/article/pakatan-not-targeting-radical-change-like-arab-spring-says-anwar/
-------------
West Java Governor: Little Intolerance Here
Sandra Siagian & Yuli Krisna | April 15, 2013
While Indonesia grapples with the rise in acts of violence against religious minorities across the country, several rights groups have pointed to West Java as a significant hotspot for intolerance.
In the past four months, a Christian minister from Sumedang was jailed, a church building was demolished in Bekasi, an Ahmadiyah mosque in Pondok Gede was sealed with 30 congregation members still inside and three Ahmadiyah mosques were shut down and damaged in Cianjur.
The Wahid Institute recorded 102 cases of intolerance and violations against religious minorities in 2012, with 40 incidents occurring in West Java.
Full report at:
http://www.thejakartaglobe.com/home/west-java-governor-ahmad-heryawan-little-intolerance-here/585657
----------
Jakarta Police Arrest 158 Ultranationalists During a Gang Raid
Jakarta Globe | April 15, 2013
Jakarta Police on Monday arrested dozens of mass organization members for obstructing justice during a raid to eliminate thuggery in the capital.
"We have arrested 158 members of the Red and White Troops [Laskar Merah Putih], and they were brought to the police office," Adj. Comr. Hengki Haryadi, chief of the West Jakarta Police detectives unit, told Indonesian news portal Detik.com on Monday.
The members of the organization known for aggressive behavior were arrested when they were trying to stop police officers who were sealing a building in West Jakarta for reasons that were not immediately clear.
Full report at:
http://www.thejakartaglobe.com/home/jakarta-police-arrest-158-ultranationalists-during-a-gang-raid/585795
----------
Filipino Troops Attack Abu Sayyaf Hideout, Kill 7
April 15, 2013
MANILA, Philippines (AP) — More than 100 Filipino troops attacked a mountainous stronghold of two al-Qaida-linked Abu Sayyaf commanders, including one on the FBI's list of most-wanted terrorists, sparking clashes Monday that killed at least seven militants in the country's south.
The offensive targeted Abu Sayyaf commanders Isnilon Hapilon and Puruji Indama in the outskirts of Tipo Tipo town on Basilan Island, but it was not clear if the two were hit or managed to escape during the main assault after dawn and two clashes that erupted afterward, army brigade commander Col. Carlito Galvez said.
At least three soldiers were wounded in the clashes with about 30 Abu Sayyaf gunmen, the military said.
Full report at:
http://www.nytimes.com/aponline/2013/04/15/world/asia/ap-as-philippines-terror-
----------
BN ready to battle on multiple fronts, says Najib
2013/04/15
KUALA LUMPUR, April 15 — Barisan Nasional (BN) chairman Datuk Seri Najib Razak said the alliance was ready to face multi-dimensional fights in the 13th General Election.
The caretaker prime minister noted that the polls would take place against the backdrop of non-conventional settings, given technology advances and the advent of new media such as Twitter.
"The cyberspace will be more important than before and the BN is ready for that," he told reporters after handing out nomination documents to BN component party chiefs and state chairmen here today.
Full report at:
http://www.themalaysianinsider.com/malaysia/article/bn-ready-to-battle-on-multiple-fronts-says-najib/
----------
PKR wins over Perlis mufti to contest Kangar seat
2013/04/15
KUALA LUMPUR, April 15 — Perlis Mufti Dr Juanda Jaya will contest the Kangar parliamentary seat in PKR colours for the general election on May 5 if the party is chosen to contest under Pakatan Rakyat (PR).
Juanda (picture), a Sarawakian, had earlier been reported to being wooed by both Barisan Nasional (BN) and PR coalitions, with PAS and PKR also racing to recruit him as their candidate within the opposition.
Full report at:
http://www.themalaysianinsider.com/malaysia/article/pkr-wins-over-perlis-mufti-to-contest-kangar-seat/
----------
Europe
Libyan arms controlled by non-state actors: UN
UN Security Council sounds the alarm that weapons are spreading from Libya to other regional territories
15 Apr 2013
The proliferation of weapons from Libya has continued at a worrying rate and spread into new regional territories, such as West Africa, the Levant and the Horn of Africa, the UN Security Council reveals in a report published on 9 March.
The report added that most "Libyan stockpiles" remained under the control of non-state actors as the state security apparatus is currently being reconstructed following of the ouster of Muammar Gaddafi's regime in 2011.
"Cases of illicit transfers from Libya, both proven and under investigation include trafficking by land and sea to more than 12 countries. Illicit flows from the country are fuelling existing conflicts and enriching the arsenals of a range of non-State actors in the region and beyond," the UN document stated.
Full report at:
http://english.ahram.org.eg/NewsContent/2/8/69257/World/Region/Libyan-arms-controlled-by-nonstate-actors-UN.aspx
-----------
Uzbek strongman warns Putin on rare Kremlin visit
April 15, 2013
MOSCOW: Uzbekistan President Islam Karimov on Monday warned Russian President Vladimir Putin over the growing dangers of extremism in Central Asia, his first trip abroad since claims from the exiled opposition sparked rumours about the Uzbek strongman's health.
The talks marked a rare visit to the Kremlin for Uzbekistan's first and only post-Soviet leader, whose country has fallen into increasing isolation not only with strained relations with the West but also testy ties with former Soviet master Moscow.
Karimov, who has sought to distance Uzbekistan from both its Soviet past and Western culture, last visited Moscow for a bilateral visit back in April 2010, although he attended a regional summit in the Russian capital in May 2012.
Full report at:
http://www.dailystar.com.lb/News/International/2013/Apr-15/213796-uzbek-strongman-warns-putin-on-rare-kremlin-visit.ashx#ixzz2QXjJ5El6
-----------
Syria daily slams peace envoy Brahimi
April 15, 2013
DAMASCUS: Syrian ruling party mouthpiece Al-Baath daily lashed out at UN-Arab League envoy Lakhdar Brahimi on Monday, accusing him of "not listening to the Syrian people" and suggesting he may resign soon.
The newspaper questioned ongoing support for Brahimi's mission "while discussions over plans for a no-fly zone (in Syria) are being carried out behind the scenes at the UN with the participation of Western countries."
"Why should we support Brahimi while the UN and Arab League continue to try and impose one group (the opposition) on the Syrian people?", Al-Baath said.
Full report at:
http://www.dailystar.com.lb/News/Middle-East/2013/Apr-15/213789-syria-daily-slams-peace-envoy-brahimi.ashx#ixzz2QXjQz4r7
-----------
URL: https://newageislam.com/islamic-world-news/north-carolina-lawmaker,-links-islamic/d/11151