New Age Islam News Bureau
13 June 2022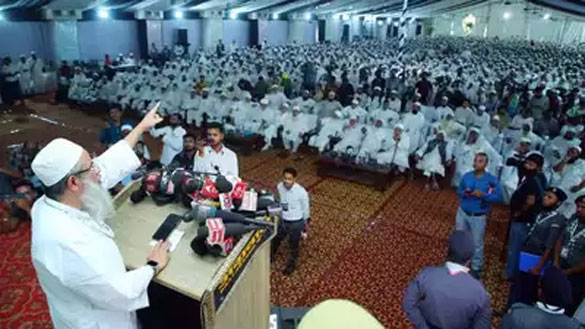 Muslim clerics associated with Delhi based 'Jamaat Ulama-e-Hind/ Photo: The Times of India
------
• Website Of Indian Govt's Nagpur Institute Of Science Hacked By 'DragonForce Malaysia' 'On Insult of Prophet'
• Outcast Those from Islam Who Indulged In Friday's Violence: Muslim Rashtriya Manch
• 'No Compromise on Honour of Prophet': Minister Explains Bangladesh Stand on Row
• Bilawal Discusses Persecution of Muslims in India with OIC Secretary-General
India
• Prophet Remarks Row: Islam Says Nupur Sharma Should Be Forgiven, Says Jamaat Ulama-e-Hind
• Bengal's Muslim Cleric's Body Urges CM Mamata Banerjee Not To Allow Rallies or Protests
• Indian Officials Demolish Several Houses after Protests Over Anti-Islam Remarks
• Prophet row: BJP Bengal chief holds demonstration in Kolkata
• Maulana Asad National Urdu University Students to Organize Protest against Bulldozing Of Muslim Houses
• Prophet row: 20 Muslims held in Gujarat for protesting without permission
• Ironic as India improving ties with Muslim countries: Shashi Tharoor on Prophet remark row
• J&K BJP Chief Recites Islamic Verse on Harmony
--------
Southeast Asia
• Muslim Groups In Indonesia Caution India Over Islamophobia, Call For Interfaith Dialogue
• Embrace Open-Mindedness about Religion and Culture, Says PM
• Johor Has Embraced Comprehensive Approach to Islam: MB
• From Sojourners to Mosque Builders, Book Documents History of Singapore's Indian Muslims
--------
South Asia
• Four 'key' Islamic State militants killed in northern Afghanistan: Taliban
• The Taliban Claims Killing 8 ISIS Militants in Taloqan City
• Armed Attack on Balkh Airport Staff Leaves Two Dead and Six Wounded
• Explosion in Kunar Province Kills One Taliban Member and Wounds Six Other
• Afghanistan: One Taliban member killed, six others, including civilians injured in blast
• Bangladesh treads cautiously on support from China
--------
Pakistan
• Fear for democracy in Pakistan as ISI gets power over civil service
• Pakistan military: Soldier killed in shootout with militants
• Khan Slams Pak-American Visiting Israel, Linking to Alleged U.S. Plot
• Bilawal forms body to discuss TTP's ceasefire in parliament
• Shia Body Demands Judicial Commission on Dua Marriage Issue
--------
Arab World
• Saudi Arabia, China Defence Officials Discuss Relations At Shangri-La Dialogue
• UN in Lebanon demands security guarantees after troops 'threatened'
• Iraqi Shia Sadrist lawmakers resign from parliament
• Saudi Arabia, France defence forces hold joint military drill: Report
• Egypt notifies Interpol about Muslim Brotherhood leaders
• Russia blasts Israeli attack on Damascus airport, urges Tel Aviv to stop its aggression
--------
Africa
• Play Politics by Democracy Tenets, Nigerian Islamic Group Tells Politicians
• Lagos charges Muslim pilgrims on good conduct in Saudi Arabia
• Osun: Muslims protest incessant ritual killings in Iwo
• 8 killed in terrorist attack in Mali
• Terrorists release 11 kidnapped victims from train attack in northwest Nigeria
• UN envoy urges Libyan rivals to end differences 'in a week'
--------
Mideast
• Erdogan Escalates Rhetoric against Greece and Mobilizes Imams in His Re-Election Bid
• Iranian President Calls Israel's Assassination of IRGC Officer a Desperate Move
• Supreme Leader: Resistance Only Way to Stand against US Pressures
• Iran's IRGC says airspace fighter died in 'car accident' while on mission
• UN agency urges Iran to resume stalled nuclear talks 'now'
• Israel says foiled Iran's attack against Israelis in Turkey as Tehran seeks 'revenge'
• Israel court ruling leaves thousands of Palestinians at risk of forced displacement
• Norway to label products from Israeli settlements
--------
Europe
• Pope Francis Praises Iranians' Bravery in Global Debates
• Türkiye's concerns over Finnish, Swedish NATO bids legitimate: Alliance chief
• Terror group YPG/PKK supporters hold demonstrations in Finland, Sweden
• Imprisoned Azerbaijani Muslim leader goes on hunger strike over profanity
--------
North America
• 10 Pro-Israel Members of US Congress Propose Anti-Iran Alliance
• Biden says a visit to Saudi Arabia would focus on more than energy
Compiled by New Age Islam News Bureau
URL: https://newageislam.com/islamic-world-news/violent-protests-prophet-jamaat-ulema-hind/d/127238
--------
No Violent Protests in Prophet's Name: Muslim Outfit, Jamaat Ulema e Hind National President Maulana Sohaib Qasami, To Issue Fatwa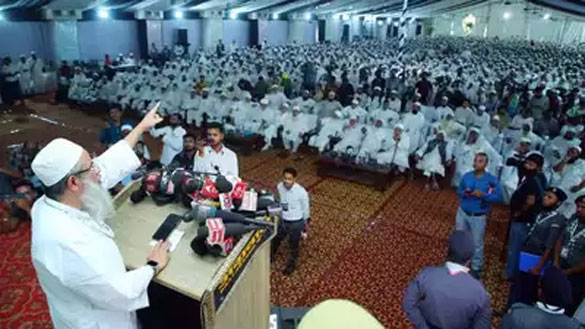 Muslim clerics associated with Delhi based 'Jamaat Ulama-e-Hind/ Photo: The Times of India
------
Jun 13, 2022
NEW DELHI: Muslim clerics associated with Delhi based 'Jamaat Ulama-e-Hind' on Sunday claimed that they would soon issue a fatwa backed by at least a 1,000 prominent signatories, urging Muslims to refrain from joining any violent protests in the name of Prophet Muhammad. They said while no insult to the Prophet will be tolerated, peaceful dialogue was the only way to a solution as the Prophet's teachings profess love and peace.
Talking to reporters, Maulana Sohaib Qasami, head of the outfit that was launched in 2015, accused Maulana Arshad Madani and Mahmood Asad Madani, who are steering the rival factions of prominent Muslim organisation Jamiat Ulama-i-Hind, members of the All India Muslim Personal Law Board (AIMPLB), and AIMIM president Asaduddin Owaisi of "instigating Muslims to take to protests", which ended up seeing violence.
This comes in the backdrop of the ongoing controversy and incidents of violent protests in different parts of the country following anti-Prophet remarks by two BJP members — one recently expelled and the other suspended after a backlash from many Islamic nations.
Asked about the appeal of the Mahmood Madani faction for peaceful protests, Qasami said it had not been heeded and those indulging in violent protests should be called out.
Source: Times Of India
Please click the following URL to read the text of the original story:
https://timesofindia.indiatimes.com/city/delhi/no-violent-protests-in-prophets-name-muslim-outfit-to-issue-fatwa/articleshow/92168208.cms
--------
Website Of Indian Govt's Nagpur Institute Of Science Hacked By 'DragonForce Malaysia' 'On Insult of Prophet'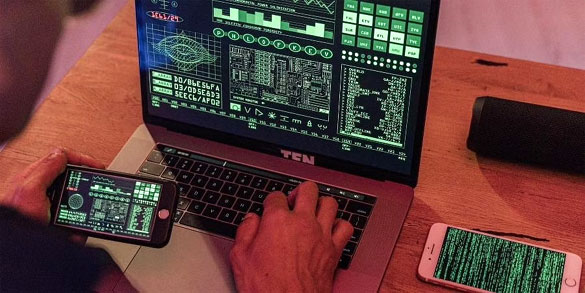 Representational Image. (File Photo) New Indian Express
----
12th June 2022
NAGPUR: The website of the Institute of Science, Nagpur was found hacked on Sunday with the hackers identifying themselves as 'DragonForce Malaysia' whose message on its home page read that "it is a special operation on the insult of our Prophet Mohammad", police said.
The restoration work of the website is going on, they said.
The hacking of the website occurred amid protests in parts of the country over the objectionable remarks made on Prophet Mohammad by now-suspended BJP spokesperson Nupur Sharma and expelled party leader Naveen Kumar Jindal.
Several countries, including Saudi Arabia, United Arab Emirates (UAE), Indonesia, Pakistan, Afghanistan, Jordan, Bahrain, Maldives, Malaysia, Oman, Iraq and Libya, have denounced their comments.
"The home page of the website carried a message in which people were urged to unite and start a campaign against India. The website was hacked through a malware. The hackers identified themselves as 'DragonForce Malaysia'," police inspector (Cyber) Nitin Phatangare said.
The message posted on the website's home page read: "It is a special operation on the insult of our Prophet Mohammad. We witnessed that you guys had abused Muslim people publicly."
Police have launched an investigation, the official said.
"A similar case was reported in Mumbai on Saturday. Since then, we were on alert," Phatangare added.
Established in 1906, Institute of Science, Nagpur, is one of the oldest science colleges in Nagpur.
It is the oldest pure science higher educational institute in central India and is affiliated to Rashtrasant Tukadoji Maharaj Nagpur University.
Source: New Indian Express
Please click the following URL to read the text of the original story:
https://www.newindianexpress.com/nation/2022/jun/12/website-of-nagpurs-institute-of-science-hacked-by-dragonforce-malaysia-on-insult-of-prophet-2464824.html
--------
Outcast Those from Islam Who Indulged In Friday's Violence: Muslim Rashtriya Manch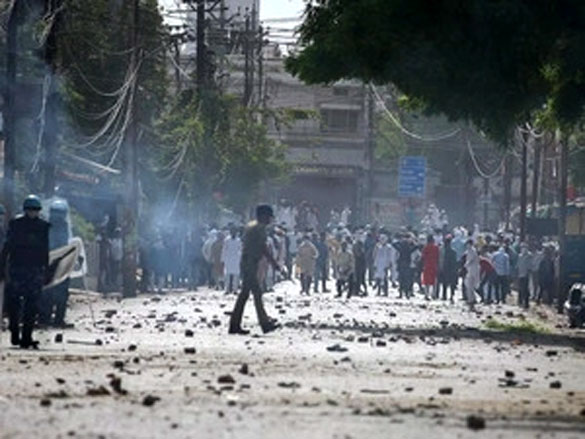 It also noted that Islam is recognized as a peaceful religion, but the Friday's incidents of stone-pelting and rioting in different parts of the country indicates that it has gone into the clutches of "Satan", the RSS-linked Muslim Rashtriya Manch added
----
June 12, 2022
New Delhi: The RSS-linked Muslim Rashtriya Manch (MRM) on Sunday condemned the Friday violence and demanded that those participated in it be outcast from Islam, saying the incidents of stone-pelting, arson and rioting did not only brought disrepute to the religion but also ashamed the Muslims.
In a statement, the outfit, led by its founder and RSS national executive member Indresh Kumar, called the incidents of violence "a conspiracy" to create unrest in India and malign its image abroad, and urged the Muslims to stay calm and do not get misled by anyone.
The Muslim forum demanded that all the state governments take swift action against such rioters to maintain law and order as well as peace, and asked the non-BJP political parties including TMC, AAP, Samajwadi Party, Shiv Sena, Congress to take action against their leaders "who indulge in insulting Hindu deities and religion."
"In wake of the the incidents of violence, an emergency online meeting of the all key office bearers of the Manch (forum) was held on Saturday. The meeting, presided over by national convenor Mohammad Afzal, strongly condemned the incidents of stone pelting, arson and rioting that took place in different parts of the country on Friday," the MRM said.
The meeting noted that the incidents of Friday violence did not not only brought disrepute to Islam, but ashamed the Muslims, the outfit said.
It also noted that Islam is recognized as a peaceful religion, but the Friday's incidents of stone-pelting and rioting in different parts of the country indicates that it has gone into the clutches of "Satan", the outfit added.
"The Manch demands that all those who indulged in stone pelting, arson violence on Friday and made hate speeches be outcast from Islam. It is Manch's appeal to all Ulema and Maulvis to consider this demand," the MRM said.
"The MRM demands that the TMC, AAP, Samajwadi Party, Shiv Sena, Congress and other parties also take strict action against their leaders who indulge in insulting Hindu deities and religion as well as incite violence," it added.
The outfit alleged that the Friday violence was part of "a conspiracy to create unrest in India and malign its image abroad in the name of protest against certain remarks made by two BJP functionaries against Prophet Mohammad.
Noting that the BJP has already taken action against its functionaries for their remarks, the outfit appealed to the Muslim community to "remain calm and do not get misled by anyone."
"The MRM requests the Muslim society to understand that violence and hatred are not the solution to any problem. Violence only leads to destruction. Prophet Mohammad Saheb has also given the message of patience and love," it said.
Underlining that the Constitution of the country does not allow anyone take the law into one's hands, the MRM demanded that the state governments take "swift action against those who indulged in violence to maintain law and order as well as peace."
Source: Firstpost
Please click the following URL to read the text of the original story:
https://www.firstpost.com/india/outcast-those-from-islam-who-indulged-in-fridays-violence-muslim-rashtriya-manch-10786681.html
--------
'No Compromise on Honour of Prophet': Minister Explains Bangladesh Stand on Row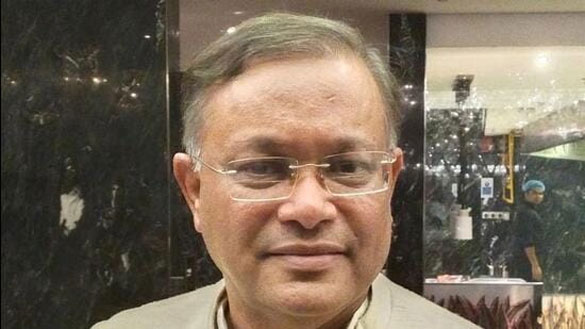 Bangladesh information minister Hasan Mahmud
----
Jun 12, 2022
By Rezaul H Laskar
DHAKA: Bangladesh will not compromise on any issue involving the honour of Prophet Mohammed, though the controversy triggered by remarks by two former BJP spokespersons is largely an "external issue", Bangladesh information minister Hasan Mahmud has said.
The Bangladesh government welcomes the action taken by Indian authorities against the BJP spokespersons and has no intention to "instigate the matter", Mahmud told a group of visiting Indian journalists late on Saturday.
Mahmud, a senior leader of the ruling Awami League party, is the first member of the government to speak out on the controversy over the remarks against Prophet Mohammed by the two former BJP spokespersons Nupur Sharma and Naveen Kumar Jindal. Formal complaints have been registered against the spokespersons for allegedly spreading hate in Delhi and Maharashtra..
Muslim-majority Bangladesh stood out for the silence of the country's government on the issue, especially after Iran, Kuwait and Qatar summoned the Indian envoys to protest and more than a dozen countries, including Indonesia, Saudi Arabia, the United Arab Emirates and Turkey, condemned the remarks.
"We are not compromising [on] the honour of the Prophet," Mahmud said. "Wherever [something] happens against the Prophet, we condemn it. But we congratulate the Government of India at the same time [for taking] legal action against those who said [something] against Prophet Mohammed."
He added: "First of all, this is an external issue, this is not an internal issue. This is an issue of India and I don't think that we have to say many things about this... It has not got much attention here, not like in the Middle East, Indonesia, Pakistan or the Maldives."
Cities across Bangladesh, from the capital Dhaka to the border region of Teknaf, witnessed protests over the issue after the Friday prayers on June 10. In Dhaka, thousands joined the protest near the Baitul Mukarram national mosque and shouted slogans against the Indian government. They also called for a boycott of Indian products.
The protests were largely organised by hardline groups such as Jamiat Ulema Bangladesh, Khelafat Majlis and Islam Oikyajot, which frequently accuse the Awami League – under whose government ties with India have dramatically improved in areas such as trade and connectivity – of selling out Dhaka's interests to New Delhi.
People familiar with the matter said the Bangladesh government adopted a low-key approach to the controversy in order not to give Islamic groups a handle to beat the Awami League.
"If the government had taken a tough position publicly, the hardline groups would have pressured to do more. If nothing was done by the Indian side, the Islamic groups would have said the Bangladesh government is doing nothing to push India on the issue," one of the people said.
The people said Bangladeshi authorities also worked overtime to ensure the matter was not blown up by the local media or by religious groups as it had the potential to be misused by Islamic fundamentalists to target the country's minorities.
Mahmud noted he condemned the controversial remarks at a public meeting, and that the legal process in India will take due course against the BJP spokespersons. "An FIR has been registered...Then, afterward the action will follow. But why should I instigate the issue here?" he said.
He brushed aside a question about controversial remarks made by home minister Amit Shah regarding alleged illegal infiltration from Bangladesh, saying such comments are usually an outcome of "domestic politics".
"Because of domestic politics, he has said so. We have very good relationship. For domestic politics, politicians sometimes say many things. You don't need to give attention [to such remarks] all the time," he said.
Mahmud said his government has worked overtime to resolve issues involving Bangladesh's Hindu minority, which accounts for a little more than 10% of the population of around 170 million. Referring to sectarian attacks targeting Durga Puja pandals in Comilla, Chittagong and Rangpur areas last October, he said he personally led efforts to protect Hindus in the Pirganj sub-district, the hometown of Wazed Miah, the late husband of Prime Minister Sheikh Hasina.
Source: Hindustan Times
Please click the following URL to read the text of the original story:
https://www.hindustantimes.com/world-news/no-compromise-on-honour-of-prophet-minister-explains-bangladesh-stand-on-row-101655048280681.html
--------
Bilawal Discusses Persecution of Muslims in India with OIC Secretary-General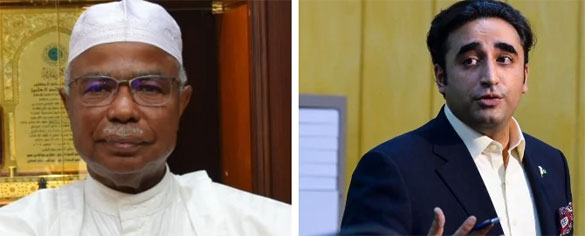 Secretary-General of the Organisation of Islamic Cooperation (OIC) Hissein Brahim Taha and Foreign Minister Bilawal Bhutto-Zardari. — Twitter/AFP/File
-----
June 12, 2022
Foreign Minister Bilawal Bhutto-Zardari shared on Sunday that he discussed the persecution of Muslims in India with the Secretary-General of the Organisation of Islamic Cooperation (OIC) Hissein Brahim Taha.
Taking to Twitter, Bilawal wrote: "Spoke to OIC SG HE Hissein Brahim Taha on the totally unacceptable and condemnable remarks by Indian BJP officials towards the Holy Prophet PBUH. Shared concerns on rising Islamophobia and persecution of Muslims in India and the need to address that through collective efforts."
Earlier today, Prime Minister Shehbaz Sharif requested the National Assembly Speaker Raja Pervez Ashraf to hold a debate, and subsequently adopt a resolution to condemn BJP leaders' blasphemous remarks against Prophet Muhammad (PBUH) in the upcoming session of the assembly on Monday.
In a statement issued on Twitter, the premier denounced the violation of Prophet Muhammad's (PBUH) honour and said that the sacrilegious remarks have hurt the sentiments of 1.25 billion Muslims across the world.
"We want to send out a clear message to the entire world by passing a resolution that we are ready to render any sacrifice for the honour of Hazrat Muhammad (PBUH)," Shehbaz wrote.
Last week, two senior officials of India's ruling party BJP issued derogatory remarks against the Holy Prophet (PBUH), inviting severe condemnation and backlash from Muslims in India and abroad.
Source: The News
Please click the following URL to read the text of the original story:
https://www.thenews.com.pk/latest/965609-bilawal-discuss-persecution-of-muslims-in-india-with-oic-secretary-general
--------
India
Prophet remarks row: Islam says Nupur Sharma should be forgiven, says Jamaat Ulama-e-Hind
12th June 2022
NEW DELHI: Jamaat Ulama-e-Hind president Suhaib Qasmi on Sunday said that former Bharatiya Janata Party (BJP) leader Nupur Sharma, who allegedly made controversial remarks on Prophet Muhammad, should be forgiven as per Islam. He added that the organisation of Muslim scholars disagreed with the nationwide protests in wake of her remarks.
Jamaat Ulama-e-Hind called a press conference in Delhi today over Sharma's remarks and nationwide protests after Friday prayers.
Qasmi said, "Islam says Nupur Sharma should be forgiven. We disagree with the protest that started across the country after Friday prayers against Nupur Sharma and her derogatory remarks."
Apart from this, Jamaat Ulama-e-Hind also welcomed the decision of the Bharatiya Janata Party (BJP) to suspend Sharma. "We are welcoming the decision of the law because India is the law of the land and we are not going to take the law into our hands. The law does not allow to come on the road and break the rule," Qasmi said at the press conference.
Jamaat Ulama-e-Hind has decided to issue a 'fatwa' through which it will urge people not to support any kind of violence in connection with Nupur Sharma and her remarks. "The fatwa will come against Asaduddin Owaisi and Mohammad Madani," the Jamaat said.
Jamaat Ulama-e-Hind also appealed to the government to investigate several Muslim organizations and their funding and said it will not allow other Muslim organizations to incite violence.
Protests erupted in various parts of the country over the controversial remarks by suspended BJP spokesperson Nupur Sharma and expelled leader Naveen Jindal. The protest turned violent in Uttar Pradesh, West Bengal and Jharkhand. In Ranchi, two people died during the violent protest.
Notably, some Gulf nations also expressed outrage against the controversial remarks against the Prophet.
Meanwhile, the Ministry of Home Affairs (MHA) on Friday asked the police heads of states and Union Territories to be prepared and alert as they will be on target.
On Friday, MHA issued a statement to all state and Union Territory police after several incidents of violence were reported from different parts of the country over the controversial remarks of suspended BJP leader Nupur Sharma and expelled leader Naveen Jindal against Prophet Muhammad.
Source: New Indian Express
Please click the following URL to read the full text of the original story:
https://www.newindianexpress.com/nation/2022/jun/12/prophet-remarks-row-islam-says-nupur-sharma-should-be-forgiven-says-jamaat-ulama-e-hind-2464792.html
--------
Bengal's Muslim Cleric's Body Urges CM Mamata Banerjee Not To Allow Rallies or Protests
13 JUN 2022
An association of Muslim clerics, on Sunday night, urged West Bengal Chief Minister Mamata Banerjee not to grant permission to any more rallies to protest against controversial comments on Prophet Mohammad by two BJP leaders. The association also mentioned that people cannot be held to ransom by violence,
The Bengal Imams Association also asked members of the community not to fall into the traps of vested interests and indulge in violence. President of the association, Md Yahia, said in a video statement that violence, arson and attacking properties and police personnel by a section of minority community members in the name of agitation have hurt the economy and caused great hardships to the general public.
"While the comments of Nupur Sharma and another BJP leader are unacceptable and we are awaiting administrative action, we cannot hold people of the state to ransom by violent protests that are taking place in pockets of Howrah, Murshidabad, and Nadia districts. Setting on fire properties and pelting the police with stones and being lathi-charged by the police cannot boost the image of a devoutly religious man or his icon," he said.
Source: Outlook India
Please click the following URL to read the full text of the original story:
https://www.outlookindia.com/national/bengal-s-muslim-cleric-s-body-urges-cm-mamata-banerjee-not-to-allow-rallies-or-protests-news-201953
--------
Indian officials demolish several houses after protests over anti-Islam remarks
June 13, 2022
Authorities in India's Uttar Pradesh state have demolished the homes of several people accused of involvement in riots last week triggered by derogatory remarks made by ruling party figures about Islam's Prophet Mohammad, officials said on Sunday.
In Indian Kashmir, police arrested a youth for posting a video threatening to behead the ruling party's former spokeswoman who had made some of the remarks, officials said. The video, circulated on YouTube, has been withdrawn by authorities.
Muslims have taken to the streets across India in recent weeks to protest against the anti-Islamic comments by two members of Prime Minister Narendra Modi's Hindu nationalist Bharatiya Janata Party (BJP).
Clashes have broken out between Muslims and Hindus and in some cases between protesters and police in several areas. Police in Uttar Pradesh arrested more than 300 people in connection with the unrest.
Some in India's minority Muslim community see the comments as the latest instance of pressure and humiliation under BJP rule on issues ranging from freedom of worship to the wearing of hijab head scarves.
The BJP has suspended its spokeswoman Nupur Sharma and expelled another leader, Naveen Kumar Jindal, for the comments, which have also caused a diplomatic row with several Muslim countries.
Police have filed cases against the two and the government has said the comments do not reflect its views.
Muslim groups have demanded their arrest, while some hardline Hindu groups label them as brave and nationalist politicians.
Over the weekend the chief minister of Uttar Pradesh state, Yogi Adityanath, ordered officials to demolish any illegal establishments and homes of people accused of involvement in riots there last week, the BJP's state spokesperson said.
The house of an alleged mastermind of the riots, whose daughter is a female Muslim rights activist, was demolished amid a heavy police presence on Sunday. Properties of two more people accused of throwing stones after Friday prayers were also demolished in the state.
Mrityunjay Kumar, Adityanath's media adviser, tweeted a photo of a bulldozer demolishing a building and said, "Unruly elements remember, every Friday is followed by a Saturday."
Opposition leaders said Adityanath's government was pursuing an unconstitutional method to silence protesters.
On Sunday, Jindal said his family faced continuous threats and some of his followers said a crude bomb was defused near his residence in capital New Delhi.
Prime Minister Narendra Modi has so far not commented on the communal unrest.
In the eastern state of West Bengal, authorities enforced an emergency law prohibiting public gatherings in the industrial district of Howrah until June 16.
BJP's West Bengal president on Sunday staged a sit-in protest and accused neighboring Bangladesh, a mainly Muslim nation, of inciting violence in the state.
On Friday, two teenagers were killed in clashes between Hindus and Muslims in eastern India, police said on Saturday. Police opened fire to break up the violence in the city of Ranchi in Jharkhand state but it was not clear if the two victims were killed by the police or by rioters.
Senior police official Surendra Kumar Jha said at least 14 police officials were injured in the incident in Ranchi and other areas. A curfew was imposed and Internet services suspended to stop the unrest escalating.
Source: CNN
Please click the following URL to read the full text of the original story:
https://edition.cnn.com/2022/06/12/asia/india-demolish-houses-islam-remarks-intl-hnk/index.html
--------
Prophet row: BJP Bengal chief holds demonstration in Kolkata
Jun 12, 2022
KOLKATA: West Bengal BJP president Sukanta Majumdar on Sunday held a sit-in before the statue of Mahatma Gandhi here protesting against the alleged failure of the West Bengal government to contain violence in Howrah district. The Gandhi statue at the Mayo Road-Dufferin Road crossing in central Kolkata has been witness to numerous protests.
Majumdar, who started his agitation around noon, also flayed the alleged attempt of the TMC-run government to stop opposition leaders from meeting people, hit by the recent violence.
Widespread violence broke out in Howrah district on Friday over inflammatory comments by now-suspended BJP functionaries Nupur Sharma and Naveen Jindal.
The BJP leader alleged that the police had not taken prompt action to prevent the violence from spiralling in Panchla, Uluberia, Dhulagarh in Howrah district, and Beldanga in Murshidabad district at the outset.
Majumdar and his supporters were arrested on Saturday while trying to visit Howrah district where several saffron party offices were attacked, as the district was under prohibitory orders and gatherings of five or more people were banned there.
The BJP leader and his companions were, however, later released.
Source: Times Of India
Please click the following URL to read the full text of the original story:
https://timesofindia.indiatimes.com/india/prophet-row-bjp-bengal-chief-holds-demonstration-in-kolkata/articleshow/92165085.cms
--------
Maulana Asad National Urdu University Students to Organize Protest against Bulldozing Of Muslim Houses
13th June 2022
Hyderabad: Students of Maulana Asad National Urdu University (MANUU) have called for a protest on Monday against the demolition of Muslim houses in various states.
The protest titled "Stop Attack on Muslims Down with Bulldozer RaJ" will commence at 7:15 PM from OAT to Bab-e-Ilm. In order to support the protest online, one may use the hashtag "#StandwithAfreenFatima". MANUU students have called for the protest to register dissent against anti-Muslim violence in different states and buldozing of Muslim houses.
The protest comes at a time when Muslim activists are being targeted for protesting against former Bhartiya Janata Party spokesperson Nupur Sharma, who made a derogatory remarks against Prophet Muhammad.
Student activist Afreen Fatima's house demolished
The Prayagraj Development Authority (PDA) on Sunday demolished the house of Javed Ahmad, alias Pump, the alleged mastermind of the June 10 violence in Prayagraj, amid heavy police deployment. Ahmad is Fatima's father.
Source: Siasat Daily
Please click the following URL to read the full text of the original story:
https://www.siasat.com/manuu-students-to-organize-protest-against-bulldozing-of-muslim-houses-2347778/
--------
Prophet row: 20 Muslims held in Gujarat for protesting without permission
12th June 2022
Ahmedabad: As many as 20 Muslim leaders, including women were arrested by the police on Sunday afternoon after they gathered in the Juhapura area in Ahmedabad to organise a march without permission, to protest against BJP's former spokesperson Nupur Sharma's statement on Prophet.
Police tried to convince them to return home, but when they did not agree and tried to proceed, police had to resort to a mild lathi-charge to disperse the mob.
Ahmedabad Zone-7 Deputy Commissioner of Police B.U. Jadeja told the media, "Since Saturday evening, fake messages were in circulation on social media about a protest march to be organised in the Juhapura area. To ensure that no untoward incident occurs, police were deployed well in advance in the area."
Police were expecting that large numbers of women would join the march, and women police too were deployed in the area. In the afternoon, when they attempted to march, police stopped them and some leaders were arrested while rest were convinced to return home, said the officer. Heavy police deployment has been made in the area.
The arrested Muslim leaders were taken to Vejalpur police station in Ahmedabad.
In another development, Surat police have arrested five persons for printing and circulating posters of Nupur Sharma. These posters were posted in Kadarshani Nal Road area in Surat city, they had even circulated video of posters on social media.
Source: Siasat Daily
Please click the following URL to read the full text of the original story:
https://www.siasat.com/prophet-row-20-muslims-held-in-gujarat-for-protesting-without-permission-2347637/
--------
Ironic as India improving ties with Muslim countries: Shashi Tharoor on Prophet remark row
Jun 12, 2022
Congress MP Shashi Tharoor on Sunday said it is ironic that the India government took "impressive steps" to strengthen its relations with Islamic countries in the past few years but the proliferation of hate speech threatens those ties gravely. In an interview to news agency PTI, the Congress MP said PM Modi should break his silence on the Islamophobic incidents in the country as his silence is being interpreted by some as condoning what has been happening. Also Read: 'If Prophet Muhammad was...': Taslima Nasreen amid row over controversial remark
The comment comes after India faced a huge backlash from Muslim countries over former BJP spokesperson Nupur Sharma's comment on Prophet Muhammad. Following the uproar, the BJP suspended Nupur Sharma from the primary membership of the party, while the government clarified that the opinion of Nupur Sharma, a 'fringe element', is not reflective of the government's opinion.
Protests, some of them violent, took place in several states demanding Nupur Sharma's arrest.
"Exemplary action against any and all offenders will have a salutary effect in reducing such cases in future," Shashi Tharoor said adding that he never considered any need for blasphemy laws in the country. "The existence of a blasphemy law tends to encourage both excessive frivolous litigation and mob misconduct by those who take the law into their own hands. I think our current hate speech laws and Section 295A are quite adequate to deal with such misbehaviour," Tharoor said, as quoted by PTI.
Source: Hindustan Times
Please click the following URL to read the full text of the original story:
https://www.hindustantimes.com/india-news/ironic-as-india-improving-ties-with-muslim-countries-shashi-tharoor-on-prophet-remark-row-101655024938833.html
--------
J&K BJP chief recites Islamic verse on harmony
13th June 2022
By Fayaz Wani
SRINAGAR: After the controversial remarks on Prophet Muhammad by now suspended BJP leaders, Jammu and Kashmir BJP chief Ravindra Raina on Sunday recited the Islamic verse of Prophet Muhammad about respecting religions, and said some mischievous persons want to disturb the peace by poisoning the society.
Addressing a rally of party workers at the border district of Rajouri on the occasion of the joining of the saffron party by Congress leader Mohammad Qayoom Mir, Raina said this country belongs to all. "It belongs to Hindus, Muslims, Sikhs and Christians. It belongs to every Indian," he said.
The Hindus and Muslims, he said, gave sacrifices for the freedom of the country. "If Chander Shekhar Azad, Bhagat Singh, Sukhdev, Rajguru, Jhansi Ki Rani, Lal Lajpat Rai sacrificed their lives for freedom of India, then Bahadur Shah Zafar and Ashfaqulla Khan and others also gave their lives for Independence. It was due to their sacrifices that India got freedom".
Indirectly referring to the recent controversial remarks by BJP leaders Nupur Sharma and Navin Jindal, Raina said, "Every person should respect every religion. Every religion teaches giving respect and honour to others". Talking about Prophet Muhammad, he recited an Islamic verse about respecting religions, which says, "To you be your religion, and to me my religion".
Later, talking to reporters, Raina said some mischievous persons want to disturb the peace and communal harmony by poisoning society. "No religion preaches hatred. Every religion preaches and teaches humanity, love compassion. We all should live in communal harmony and respect one another".
Source: New Indian Express
Please click the following URL to read the full text of the original story:
https://www.newindianexpress.com/nation/2022/jun/13/jk-bjp-chief-recites-islamic-verse-on-harmony-2464949.html
--------
Southeast Asia
Muslim Groups In Indonesia Caution India Over Islamophobia, Call For Interfaith Dialogue
12 Jun 2022
JAKARTA, June 12 (Jakarta Post/ANN): Muslim groups in Indonesia are calling for India to be careful and to not condone Islamophobia while urging interfaith dialogue amid the recent controversy over offhand remarks by members of India's ruling party that appeared to target Islam.
Earlier this week, Indonesia joined the chorus of Muslim majority countries condemning politicians from India's ruling Bhartiya Janata Party (BJP) whose remarks were deemed to have insulted the Prophet Muhammad.
BJP national spokesperson Nupur Sharma reportedly made the controversial remarks during a recently televised debate. Separately, the BJP's chief spokesperson Naveen Kumar Jindal also reportedly uploaded a social media post about Islam that was later deleted.
Muhammadiyah secretary-general Abdul Mu'ti said that Indonesia's second largest Muslim organization lauded the government for condemning the two BJP politicians' derogatory remarks about Islam.
However, it also urged that significant steps be taken at the international level.
"The statements by the two BJP politicians are against the anti-Islamophobia declaration endorsed by the United Nations," Mu'ti told The Jakarta Post on Thursday.
Mu'ti went on to say that India should not condone Islamophobia and urged the ruling regime take significant steps to prevent "primordial actions" that could lead to further divisions.
Meanwhile, Nahdlatul Ulama chairman Yahya Cholil Staquf called the BJP politicians' moves "improper" and that the party should be held responsible for the actions of its politicians.
The leader of the largest Muslim organization said the incident should be a lesson to all religious groups because it was neither the first nor the last time that a group was targeted for its beliefs.
He underlined that any group could become either victims or perpetrators of intolerance at different points in the history of interfaith relations.
"We need honest dialogue that lead to universal consensus on the norms of interreligious relations and the common values that are held by different groups so we can live together in peace and harmony," Yahya told the Post.
The Indonesian Ulema Council (MUI) released a statement earlier that condemned the BJP politicians' remarks, saying that they should be focusing on finding solutions instead of creating conflicts that fueled hate against Islam.
Source: The Star
Please click the following URL to read the full text of the original story:
https://www.thestar.com.my/aseanplus/aseanplus-news/2022/06/12/muslim-groups-in-indonesia-caution-india-over-islamophobia-call-for-interfaith-dialogue
--------
Embrace open-mindedness about religion and culture, says PM
June 12, 2022
JOHOR BAHRU: Prime Minister Ismail Sabri Yaakob has urged members of Keluarga Malaysia (Malaysian Family) to adopt the concept of 'tasamuh', an Arabic term meaning tolerance or open-mindedness.
Speaking at the opening ceremony of the national Quran recital contest, he said there should be an attitude of acceptance and mutual respect for the various religions and cultures practised in the country.
He said the diversity of cultures and customs in Malaysia was a unique characteristic that should be celebrated, thus creating a peaceful and prosperous society.
"Any culture that is not against the Islamic faith can be accepted without any stigma and discrimination," he said, adding that tasamuh was the main basis of uniting a multi-religious and multicultural society.
He also urged Muslims to benefit from technological advances that allowed them to easily read the Quran or listen to readings of the Quran.
Johor menteri besar Onn Hafiz Ghazi said the state had embraced a comprehensive approach to Islamic teachings which covers all aspects, including administration and education.
He said Islamic values were also nurtured consistently through various Quran-related programmes organised by the state government over the years.
"Johor is not regressive when it comes to defending Islam," he said.
Source: Free Malaysia Today
Please click the following URL to read the full text of the original story:
https://www.freemalaysiatoday.com/category/nation/2022/06/12/embrace-open-mindedness-about-religion-and-culture-says-pm/
--------
Johor has embraced comprehensive approach to Islam: MB
06- 13- 2022
JOHOR BAHRU: Johor has embraced a comprehensive approach to Islamic teachings which covers all aspects, including in its administration and education, said Menteri Besar Datuk Onn Hafiz Ghazi.
He said Islamic values were also nurtured consistently through various Quran-related programmes organised by the state government over the years.
"Johor is not regressive when it comes to defending Islam, Islam is the state religion and this must last forever.
"The state administration also ensures that children in Johor receive religious education by providing Quran learning and the Johor religious school system is now over 100 years," he said when speaking at the opening of the National Al-Quran Recitation and Memorisation Competition (MTHQK) at the Iskandar Islamic Centre, here yesterday.
The ceremony was officiated by Prime Minister Datuk Seri Ismail Sabri Yaakob.
Meanwhile, Onn Hafiz said he was proud and grateful that Johor was selected to be the host for the MTHQK after a two-year hiatus due to the Covid-19 pandemic.
The last time Johor hosted the event was in 2012 when the event was held at the Persada Johor International Convention Centre.
The six-day event which began yesterday features 110 participants.
Source: The Sun Daily
Please click the following URL to read the full text of the original story:
https://www.thesundaily.my/local/johor-has-embraced-comprehensive-approach-to-islam-mb-BX9321715
--------
From sojourners to mosque builders, book documents history of Singapore's Indian Muslims
Ng Wei Kai
12 Jun 2022
SINGAPORE - A number of Indian Muslims here face a dilemma: To hold on to the languages and customs of their forefathers or to embrace a "practical assimilation" into the wider Muslim community. This issue is raised in the new book Indian Muslims In Singapore: History, Heritage And Contributions, which documents the history, heritage and contributions of the community.
It is authored by Dr Ab Razak Chanbasha and published by the Centre for Research on Islamic and Malay Affairs (Rima). Launched by President Halimah Yacob on Saturday (June 11), the book traces the community's transition from groups of sojourners who came to colonial Singapore to make a living into a settled community forming a sizeable minority within both the Indian and Muslim populations.
Rima is a subsidiary of AMP Singapore, which raised more than $250,000 for the benefit of the community in conjunction with the book launch.
As at 2020, Indian Muslims constituted about 23 per cent of the Indian community and 13 per cent of the Muslim community.
Speaking to an audience of about 140 at the Islamic Religious Council of Singapore, President Halimah said that while the contributions of some Indian Muslim pioneers like writer Munshi Abdullah are well documented, others have only been remembered in word-of-mouth accounts and are not sufficiently researched and codified.
"This book therefore strives to fill this gap for the Indian Muslim community, so that we can better appreciate the significance of their contributions," she said. "Let us emulate the pioneers who never viewed their circumstances as limiting, but instead focused on how they could do better for the community and their children; always looking at the possibilities ahead."
The book begins by tracing the ethnic and geographical origins of the community and the trades they came to work in the growing port city that was Singapore in the 1800s.
Muslims of various ethnicities migrated here from British India, including Tamils from the south and Gujeratis from the west. Some set down roots and began building mosques, including Angullia Mosque and Bencoolen Mosque.
The book details the history of these mosques, the families, institutions and personalities behind them, and the religious and civic contributions of the community, many of whom donated generously to social causes. There is a chapter on prominent figures, including former MP Mohamed Kassim Abdul Jabbar and Singapore's first attorney-general, Professor Ahmad Ibrahim.
In an interview before the launch, Prof Ahmad Ibrahim's grandson, Mr Ibrahim Tahir, 48, said he is happy his grandfather's life and achievements have been recorded in the book.
Mr Ibrahim, who owns bookstore Wardah Books, said: "It is good not just for the community and the family but because stories like his can lift young people's aspirations. He was at the centre of things, and operating in a multiracial country and system, he was a minority without being marginal and held a seat at the table."
Dr Razak, 63, who is a physicist by training and a board member at Rima, said the book is meant for the general reader.
"The book is by no means exhaustive or complete, but I hope it can serve as a starting point for more research into the community."
Source: Straits Times
Please click the following URL to read the full text of the original story:
https://www.straitstimes.com/singapore/community/from-sojourners-to-mosque-builders-book-documents-history-of-singapores-indian-muslims
--------
South Asia
Four 'key' Islamic State militants killed in northern Afghanistan: Taliban
12 June, 2022
The Taliban has announced the deaths of four leaders of the Islamic State in an operation in the Taloqan district in northern Afghanistan.
Taliban spokesperson Zabihullah Mujahid announced the news via Twitter, saying in Pashto that "Four key figures, including Younis Uzbekistani, a key Khawarij commander, were killed during the operation."
'Khawarij' is the term the Taliban use for the Islamic State's Afghanistan branch, usually called the Islamic State of Khorasan Province by most western media outlets.
Afghan news outlet The Khaama Press News Agency reported that eight insurgents were killed during this operation.
Source: The New Arab
Please click the following URL to read the full text of the original story:
https://english.alaraby.co.uk/news/four-islamic-state-militants-killed-afghanistan-taliban
--------
The Taliban Claims Killing 8 ISIS Militants in Taloqan City
By Saqalain Eqbal
12 Jun 2022
According to the Taliban spokesman Zabihullah Mujahid, the group's forces killed eight ISIL members during a special operation in Taloqan, Takhar province's capital.
He announced on his Twitter handle that the operation was carried out this Saturday evening, 11th of June, in Taloqan's fourth district.
He stated the special operation was carried out to target an ISIS training center in Taloqan, and that eight ISIS militants were killed in the operation, including the group's senior commander, Younes Uzbekistani.
At the same time, Taliban forces are said to have clashed in Taloqan, while local sources in Takhar province claim an armed clash between supporters of Mawlawi Qadir Hami and other Taliban members.
Source: Khaama Press
Please click the following URL to read the full text of the original story:
https://www.khaama.com/the-taliban-claims-killing-8-isis-militants-in-taloqan-city-77586/
--------
Armed Attack on Balkh Airport Staff Leaves Two Dead and Six Wounded
By Saqalain Eqbal
12 Jun 2022
Unidentified gunmen assaulted a car carrying Mazar-e-Sharif airport personnel in Balkh province, killing two employees and wounding six others, according to the Taliban security officials.
The incident took place at 3:00 p.m. on Sunday, June 12, in the 10th district of Mazar-e-Sharif, the provincial capital, according to Mohammad Asif Waziri, the spokesman for the Taliban police office in Balkh.
According to Waziri, on the way to the airport, the car carrying technical department employees was attacked. Waziri, on the other hand, certainly did not state whether the Taliban members were killed in the incident.
The attack has yet to be claimed by any group or individual.
Due to security concerns and the safety of the staff, foreign airlines have not resumed flights from Kabul and other Afghan cities since the Taliban retook control of Afghanistan.
Source: Khaama Press
Please click the following URL to read the full text of the original story:
https://www.khaama.com/armed-attack-on-balkh-airport-staff-leaves-two-dead-and-six-wounded-76875/
--------
Explosion in Kunar Province Kills One Taliban Member and Wounds Six Other
By Saqalain Eqbal
12 Jun 2022
According to local sources in Kunar province, an explosion in Asadabad, the provincial capital, killed a Taliban member and injured six others, including two civilians.
The explosion happened on Sunday, June 12, at around 9:00 p.m. in Kunar province's center, Asadabad.
The explosion, which was reported to be caused by a landmine, was said to have targeted a former security forces Ranger vehicle which is now in the hands of the Taliban.
The injured were rushed to Asadabad Government Hospital, where at least two of them were regarded to have critical health condition according to the provincial health officials.
Officials from the Taliban in the province have yet to comment on the occurrence, and no group or individual has claimed responsibility.
Meanwhile, two more explosions were reported in the provincial capitals of Kunduz and Badakhshan. Both bombings, according to local informants in the two provinces, were targeted on Taliban forces.
Source: Khaama Press
Please click the following URL to read the full text of the original story:
https://www.khaama.com/explosion-in-kunar-province-kills-one-taliban-member-and-wounds-six-other-574843/
--------
Afghanistan: One Taliban member killed, six others, including civilians injured in blast
June 12, 2022
At least one Taliban member was killed and six others, including a civilian, sustained injuries in a blast explosion that rocked Afghanistan's Kunar.
The blast took place in the city of Kunar's centre Assadabad on Sunday when a mine, which was planted in the vehicle of Taliban forces exploded, according to Tolo News citing local security officials.
"A blast today in Kunar's centre Assadabad killed an Islamic Emirate forces member & injured 6 others, including a civilian, said local security officials, adding that a mine was placed in a vehicle of the Islamic Emirate. Eyewitnesses said multiple civilians were harmed," TOLO News tweeted.
The cases of blast in Afghanistan is not new. Earlier, on Saturday, several people were injured after a blast took place in Afghanistan's Kabul.
The blast took place at Batkhak Square in the 10th district of Kabul, Tolo News said in a Tweet.
Citing a spokesman for the Kabul police, the Afghan media outlet said that many people had been killed while many were injured in the explosion. According to him, the blast was caused by an improvised explosive device planted in a passenger car.
A similar case was reported on Thursday, where five Taliban members and one civilian were killed in an IED blast in the Spin Boldak district of Afghanistan.
Taking to Twitter, Reporterly, a local media outlet in Afghanistan said, "Five Taliban members and a civilian were killed and another member of this group was wounded in a roadside IED blast in Spin Boldak district of #Kandahar, local sources reported. According to sources, the blast took place at around 0800hrs on Thursday morning June 09."
Earlier, on June 6, a blast took place in Police District-4 of Kabulfrom with explosives carried on a bicycle, the Kabul security department said.
Security forces have arrived in the area to investigate the matter, reported TOLO News.
Previously, on May 25, three explosions rocked the capital of Balkh province, leaving at least 9 people killed and 15 others injured. Meanwhile, on the same day, a blast at Masjid Sharif Hazrat Zakaria mosque in Kabul City left at least two worshippers dead, according to officials.
In response to the attacks in Balkh and Kabul, the US Special Envoy for Women and Human Rights in Afghanistan, Rina Amiri said that the Taliban must ensure people's security and prevent atrocities.
Source: Free Press Journal
Please click the following URL to read the full text of the original story:
https://www.freepressjournal.in/world/afghanistan-one-taliban-member-killed-six-others-including-civilians-injured-in-blast
--------
Bangladesh treads cautiously on support from China
Jun 12, 2022
NEW DELHI: Even as Bangladesh PM Sheikh Hasina prepares to inaugurate later this month the landmark China-built Padma bridge, which promises to transform the country's economy, Dhaka is treading cautiously on economic assistance from China.
The Hasina government, according to an official source in Dhaka, has nixed a proposal for a high-speed Dhaka-Chittagong railway line that China was aggressively pursuing.
According to Indian authorities, Bangladesh has been mindful of India's security interests while allowing Chinese companies to implement projects in the country.
Bangladesh is one of the few Muslim-majority countries that have not officially lodged a protest with India over the remarks by BJP spokespersons against the Prophet.
Bangladesh information minister Hasan Mahmud told a visiting Indian media delegation on Saturday Dhaka's thankful to the Indian government for the action against those who insulted the Prophet.
Significantly, while a Chinese firm has built the multi-purpose bridge on the Padma river, Bangladesh is proud of the fact that its government financed the construction without any loan assistance from China or any other country or entity.
The 6-km bridge built on the choppy waters of the Padma is expected to provide a major fillip to trade and commerce in Bangladesh's southwest region and, according to official estimates, increase the country's GDP by 1.2 percent.
While India didn't have any role in the construction of the bridge, for Indian authorities it's still a source of satisfaction that it will bring Bangladesh closer to India by reducing the rail travel time from Dhaka to Kolkata by almost 3 hours.
"There's no impact so far on India's security from China's involvement in economic projects. As for loans, Bangladesh has a great debt-to-GDP ratio and has much more exposure to loans from ADB or even Japan," said a source.
To many, Bangladesh is a lot more organised about what it wants than perhaps Sri Lanka. This possibly could be the reason why, as an official source said, Dhaka believes investment in a $10-billion high-speed train for linking the capital to Bangladesh's second-largest city might be unnecessary for now.
The decision to not go ahead with the proposal, after carrying out a feasibility study, is still significant given that China had been pushing Dhaka to sign an MoU to carry forward the proposal. Chinese ambassador Li Jiming was last week reported to have written to the Bangladesh government last week for an early signing of the MoU.
Bangladesh also saw street protests last week in Dhaka and other places against the remarks by BJP spokespersons targeting the Prophet. When asked why Bangladesh had not officially condemned the comments, Mahmud said Bangladesh condemns such insults to the Prophet "wherever it happens" and that Bangladesh "congratulates" India for taking legal action.
According to diplomatic sources, Hasina is also expected to visit India in a few months. The visit will probably be the last high-level contact between the 2 governments before the elections in Bangladesh next year. How fair or credible the elections will be is debatable though as the main opposition party, jailed Khaleda Zia's BNP, insists it will participate only if the elections are held under a caretaker government.
Source: Times Of India
Please click the following URL to read the full text of the original story:
https://timesofindia.indiatimes.com/world/south-asia/mindful-of-indias-interests-bangladesh-treads-cautiously-on-china-support/articleshow/92165827.cms
--------
Pakistan
Fear for democracy in Pakistan as ISI gets power over civil service
12 Jun 2022
Pakistani politicians and activists have raised fears about the military increasing its control over the country's public life after the new prime minister, Shehbaz Sharif, gave the ISI spy agency vetting power over civil service appointments.
The move has placed the verification and screening of government officials in charge of postings, appointments and promotions in ISI hands, leading to concerns of a shrunken civilian space.
Pakistan's powerful military, which ruled the country directly for three decades, and its premier intelligence agency have a long history of meddling in politics and controlling politicians.
It is widely perceived in Pakistan that politicians need the military's backing to come to power, but many now fear that bureaucrats could also need the same support for their appointment and postings.
"If we keep in mind Pakistan's history of takeovers and the sway that military has over our politics, this decision will weaken civil bureaucracy and compromise their independence," said senator Mustafa Nawaz Khokhar. "We have shot ourselves in the foot and it's a decision worth reconsidering."
Raza Rabbani, the former chair of the senate, called Sharif's decision an attack on the constitution. "The concept of civilian supremacy is tarnishing," he said.
Before ousting the former prime minister, Imran Khan, in a no-confidence vote in April, opposition parties now in power had criticised the military for its meddling in politics, rigging elections and bringing Khan into office.
Ayesha Siddiqa, an author and expert on military affairs of Pakistan, said it was depressing that none of the senior leadership of the major political parties had condemned Sharif's move.
"The government's notification has legalised military intelligence's power over other institutions," she said. "At the same time [it has] sown seeds for a long-term disempowerment of the political class to strengthen its position and that of the parliament to weaken the military's control over politics."
Maryam Nawaz, the leader of Pakistan Muslim League-Nawaz (PML-N) and daughter of the former prime minister Nawaz Sharif, defended the prime minister's decision.
"ISI works with the government and it directly works under the prime minister," she told local media. "If the prime minister has taken such a step, he knows very well how to assign responsibilities and tasks to which organisation and at what time."
Siddiqa disputed her reading of the situation, saying a Pakistani prime minister could only dream about controlling the ISI. "ISI is theoretically under the prime minister's office but in reality, it has never been controlled by the head of government.
"In the last decade, the ISI chief has become almost as powerful an officer as the army chief due to power to intervene in politics and society … Maryam Nawaz's statement is nothing but a wish to control the ISI."
The military has always refuted allegations that it meddles in politics and rigs elections.
The Human Rights Commission of Pakistan, an NGO, has also expressed concern over the prime minister's decision. "Even if this practice was already in place, it goes against democratic norms," it said. "The role of the military in civilian affairs needs to recede if Pakistan is to move forward as a democracy."
Pervaiz Rasheed, a former information minister, said there were already laws governing the appointment and promotion of bureaucrats and that if the government wanted to adopt another system it should have amended the constitution via parliament rather than issuing an executive order.
Source: The Guardian
Please click the following URL to read the full text of the original story:
https://www.theguardian.com/world/2022/jun/12/fear-for-democracy-in-pakistan-as-isi-gets-power-over-civil-service
--------
Pakistan military: Soldier killed in shootout with militants
Jun 12, 2022
ISLAMABAD: A Pakistani soldier was killed during an exchange of fire with militants in the tribal district of North Waziristan near the Afghan border, the military said Sunday.
The shootout took place in the Datta Khel area and security forces quickly started a search-and-clearance operation to locate militants who fled, the military said in a statement.
No militant group immediately claimed responsibility. The militant Pakistani Taliban recently extended a cease-fire agreement and are holding talks with Pakistani authorities.
Source: Times Of India
Please click the following URL to read the full text of the original story:
https://timesofindia.indiatimes.com/world/pakistan/pakistan-military-soldier-killed-in-shootout-with-militants/articleshow/92160533.cms
--------
Khan Slams Pak-American Visiting Israel, Linking to Alleged U.S. Plot
By Arif Ahmadi
13 Jun 2022
ISLAMABAD, Pakistan – Former Prime Minister Imran Khan criticized the Pakistani-American's visit to Israel in a desperate reaction, according to sources, linking the visit to the alleged American conspiracy to destabilize his government.
A group of 15 Pakistani-Americans recently visited Israel, shocking the country who do not maintain diplomatic relations with Jerusalem and do not allow its citizens to visit the country for whatsoever reason.
Naila Ali, the head of the Pakistan-American interfaith delegation that visited Israel, responded to Khan's criticism of the visit by telling him to stop exploiting Muslim women peacemakers to give your authority lost.
"Stop using Muslim women peacemakers to yield your lost power", as she asked Imran to stop maligning women, reported Islam Khabar.
Pakistan that claims to be the citadel of Islam, does not have diplomatic relations with Israel – the reason paving the way for so much hue and cry over the Israel visit of Pakistani Americans.
Although, the 2020 accord United Arab Emirates (UAE) and Bahrain signed with Israel was named Abraham Accord to emphasize the commonality of the fatherhood of Jews and Muslims, but it seems the time has yet to pass to determine the outcome of such a historical move.
Earlier, Former Prime Minister Imran Khan once again has pointed finger at the United States for his downfall, according to sources, reclaiming that Washington had orchestrated his ouster.
Speaking with CNN journalist, Khan called for a huge rally to protest his downfall on Wednesday, exclaiming he would still run for the office at the next election due in October 2023.
"Whenever the next elections take place, not only will we run, but I can predict that this will be the biggest party in Pakistan's history, because people are so incensed and feel insulted that these criminals have been foisted upon us," Khan told CNN, referring to Pakistan's new government.
When asked to provide evidence for his claims, Khan said there were note takers on both the US and Pakistani sides at the meeting, but did not answer directly when asked whether he would make any notes publicly available.
However, the US government has repeatedly denied involvement in Khan's ouster, saying the allegations are not true.
"There is no truth to these allegations," a US State Department spokesperson told CNN, having previously and repeatedly denied involvement in Khan's ouster.
Source: Khaama Press
Please click the following URL to read the full text of the original story:
https://www.khaama.com/khan-slams-pak-american-visiting-israel-linking-to-alleged-u-s-plot/
--------
Bilawal forms body to discuss TTP's ceasefire in parliament
June 13, 2022
ISLAMABAD: Following ceasefire announced by Tehreek-i-Taliban Pakistan (TTP), Foreign Minister and Pakistan Peoples Party (PPP) chairman Bilawal Bhutto-Zardari on Sunday formed a committee to engage other political parties for taking up the issue in parliament.
According to the PPP secretariat, the party chairman in continuation of the party meeting on Saturday discussed the issue of terrorism in the country, particularly in the light of recent developments in Afghanistan involving Afghan Taliban and the banned TTP.
The three-member committee formed by Mr Bhutto-Zardari comprises Qamar Zaman Kaira, Sherry Rehman and Farhatullah Babar.
It may be mentioned that after an in-depth discussion on the issue on Saturday, the party had reiterated its position that the parliament alone was the best forum for a conversation on the issue.
In the first week of this month, the banned TTP formally announced an indefinite ceasefire with Pakistan following two days of talks with a grand tribal jirga in Kabul. The group has set a major condition of reversal of the merger of the Federally Administered Tribal Areas (Fata) with Khyber Pakhtunkhwa to cut any peace deal with Pakistan.
The PPP meeting discussed questions like the purpose of the entire exercise, the forces behind it and the desired objectives.
In a related development, speakers at a consultation here were of the opinion that Pakistan needed to be "assertive" and should negotiate with the TTP from a "position of strength".
Lawmakers, academicians, former diplomats, retired army officers and experts on security and Afghan affairs participated in the discussion on 'Afghan peace and reconciliation: Pakistan's interests and policy options' organised by Islamabad-based Pak Institute for Peace Studies (PIPS).
Former corps commander and inspector general (IG) of Frontier Corps retired Lt Gen Tariq Khan was not in favour of talks with the banned group. "If we have to talk to them, we should only negotiate on the terms of surrender," he said.
Referring to the condition of the TTP about reversal of Fata's merger, he showed surprise and questioned how a militant group can demand to govern a part of Pakistani territory.
Source: Dawn
Please click the following URL to read the full text of the original story:
https://www.dawn.com/news/1694548/bilawal-forms-body-to-discuss-ttps-ceasefire-in-parliament
--------
Shia body demands judicial commission on Dua marriage issue
June 13, 2022
KARACHI:
A representative body of the Shia community has demanded a judicial commission to probe into the controversy surrounding the marriage of Dua Zehra, daughter of Syed Mehdi Ali Kazmi, with Zaheer Ahmed.
Shia Ulema Council of Pakistan Central Additional General Secretary Allama Nazir Abbas Naqvi told a press conference at Imambargah Azakhana Zahra that the case of Dua Zehra's so-called free-will marriage with Zaher Ahmed is becoming very sensitive. "We do not want to influence court decisions or the investigative agencies, however, we demand that to set up a transparent Judicial Inquiry Commission."
Allama Qazi Noorani, Allama Razi Haider, Allama Nisar Qalandari, Allama Waqar Somani, Askari Dev Jani were present.
Source: Tribune Pakistan
Please click the following URL to read the full text of the original story:
https://tribune.com.pk/story/2361299/shia-body-demands-judicial-commission-on-dua-marriage-issue
--------
Arab World
Saudi Arabia, China Defence Officials Discuss Relations At Shangri-La Dialogue
11 June, 2022
Saudi Arabia's assistant minister of defense for executive affairs Khaled bin Hussein al-Biyari, met with China's Defense Minister Wei Fenghe on the sidelines of the Shangri-La Dialogue, the official Saudi Press Agency (SPA) reported on Saturday.
The officials discussed bilateral relations in the defense and military sectors as well as topics of mutual interest.
Al-Biyari led the Kingdom's defense ministry delegation to the Shangri-La Dialogue which kicked off in Singapore on Friday.
The Shangri-La Dialogue, which concludes on June 12, involves top-level military officials, diplomats, and weapons makers from around the globe.
It is the first time the event has been held since 2019 after it was postponed twice because of COVID-19.
Source: Al Arabiya
Please click the following URL to read the full text of the original story:
https://english.alarabiya.net/News/gulf/2022/06/11/Saudi-Arabia-China-defense-officials-discuss-relations-at-Shangri-La-Dialogue
--------
UN in Lebanon demands security guarantees after troops 'threatened'
12 June, 2022
The UN's mission in Lebanon called Sunday for the country's military to guarantee the security of its peacekeepers, alleging personnel were "threatened" by armed men the day before.
The United Nations Interim Force in Lebanon (UNIFIL) has long been deployed in the country's south -- a stronghold of the powerful Shia movement Hezbollah -- to maintain a barrier with Israel, as the two countries technically remain at war.
A routine UNIFIL patrol was confronted on Saturday by "a group of men in civilian clothes" near the Arab al-Louaize district in southern Lebanon, force spokesperson Andrea Tenenti said in a statement.
The men "threatened the soldiers and tried to take their weapons", he said.
"Attacks, threats and acts of intimidation against UNIFIL peacekeepers... are a matter of serious concern, and we call on the Lebanese armed forces to guarantee the safety, security and freedom of movement" of the UN force, he said in a statement.
Lebanese authorities have not commented on Saturday's incident.
UNIFIL was beefed up after a devastating month-long war in 2006 between Israel and Hezbollah.
Hezbollah was the only faction allowed to keep its arms after the end of Lebanon's 1975-1990 civil war, and tensions between its supporters and UN peacekeepers are far from rare, although usually quickly contained.
Source: Al Arabiya
Please click the following URL to read the full text of the original story:
https://english.alarabiya.net/News/middle-east/2022/06/12/UN-in-Lebanon-demands-security-guarantees-after-troops-threatened-
--------
Iraqi Shia Sadrist lawmakers resign from parliament
12 June, 2022
Lawmakers from the Sadrist bloc in Iraq's parliament resigned on Sunday after their leader, powerful Shia Muslim cleric Moqtada al-Sadr, asked them to step down amid a prolonged stalemate over forming a government.
Sadr's party was the biggest winner in an October general election, increasing the number of seats it holds in parliament to 73. But political disagreement among parties have hindered the parliament from electing a president and forming a government.
Sadr, a populist who has positioned himself as a staunch opponent of both Iran and the US, said in a handwritten statement that his request to lawmakers to resign was "a sacrifice from me for the country and the people to rid them of the unknown destiny".
Soon after, the parliamentary speaker accepted the resignations.
Source: Al Arabiya
Please click the following URL to read the full text of the original story:
https://english.alarabiya.net/News/middle-east/2022/06/12/Iraqi-Shia-cleric-Sadr-asks-his-party-s-lawmakers-to-resign-from-parliament
--------
Saudi Arabia, France defence forces hold joint military drill: Report
11 June, 2022
Saudi Arabia's and France's defense forces kicked off a joint military exercise in the northwest part of the Kingdom, the official Saudi Press Agency reported on Thursday.
Titled 'Santol 2,' the Royal Saudi Land Forces (RSLF) and the French Armed Forces trained together to "raise combat readiness, gain more field experience and work to unify military concepts," SPA reported.
The Assistant Commander of the Northwest area for Operational Affairs, Major General Khalid bin Mohammed al-Khashrami said that the multi-day exercise "aims to strengthen the bonds of cooperation and joint action, and exchange experiences in the military fields, which contribute to raising the military combat capability and increasing coordination between the Saudi armed forces and the friendly French armed forces."
The teams reportedly used both live ammunition and simulators for the exercise.
Both countries share strong diplomatic ties. French President Emmanuel Macron has previously worked with Saudi leaders to cooperate on solving the economic crisis in Lebanon.
He visited the Kingdom as part of a Gulf tour in December, becoming the first major Western leader to do so since 2018.
Saudi Arabia and Red Sea coastal countries including Djibouti, Egypt, Jordan, Somalia, Sudan and Yemen recently concluded a joint military drill earlier in June, according to SPA.
The mission, similar to Santol 2 "raised combat preparedness" and contributed to "upgrading the security abilities to protect the seas and regional and international water passages and guarantee maritime navigation in the Red Sea."
Late last month, the Saudi Air Force took part in a drill with F-15 C/SA jets while the US Air Force brought the F-16 and F-18 fighters.
Source: Al Arabiya
Please click the following URL to read the full text of the original story:
https://english.alarabiya.net/News/gulf/2022/06/11/Saudi-Arabia-France-defense-forces-hold-joint-military-drill-Report
--------
Egypt notifies Interpol about Muslim Brotherhood leaders
MOHAMMED ABU ZAID
June 12, 2022
CAIRO: The Egyptian judiciary has issued a notification to Interpol to include six Muslim Brotherhood leaders on a "red notice" for smuggling funds abroad to finance terrorism.
The Supreme State Security Criminal Court decided to notify Interpol in order to track the leaders, arrest them and hand them over to Egyptian authorities.
The list includes former Secretary-General Mahmoud Hussein and Medhat Ahmed Al-Haddad, a former official of the Brotherhood in Turkey.
The court accused the defendants of "taking the leadership of a terrorist group, the Brotherhood, and joining that group knowing its purposes."
The referral order stated that between 2015 and 2021 they joined a terrorist group, smuggled funds abroad and possessed inflammatory publications.
A red notice obligates all police agencies in all Interpol member states to respond immediately to the request, work to implement what it says and deport the wanted persons to their countries.
Source: Arab News
Please click the following URL to read the full text of the original story:
https://www.arabnews.com/node/2101896/middle-east
--------
Russia blasts Israeli attack on Damascus airport, urges Tel Aviv to stop its aggression
13 June 2022
Russian Ambassador to Syria Alexander Efimov has strongly condemned the latest Israeli missile attack on the Damascus International Airport, calling on the Tel Aviv regime to put an end to its vicious acts and naked aggression or await serious repercussions.
Speaking in an exclusive interview with Arabic-language al-Watan daily, Efimov stated that such irresponsible moves pose great dangers to civilian aircraft and civil aviation, and that the Israeli regime must stop such wicked actions straight away.
The airport was targeted by a volley of missiles fired from the Israeli-occupied Golan Heights at approximately 4:20 a.m. local time (01:20 GMT) on Friday, state media reported.
The Syrian Ministry of Transport said in a statement on Saturday that runways remained out of service at the airport following the attack.
"Landing and departing flights were suspended today till further notification as a result of the Israeli aggression, since it caused heavy damage to the airstrips in several localities and to the navigation lights in addition to the damage [that] occurred in the airport lobby," the statement read.
The ministry added that flights are expected to resume in cooperation with air carriers as soon as repair work is concluded.
The Russian ambassador to Damascus also denounced the Turkish military operation as "a flagrant violation of Syria's national sovereignty and territorial integrity," blaming Turkish offensives for the escalation of tensions and insecurity in the northern part of the war-ravaged country.
The Russian diplomat stressed that the deployment of Syrian government forces along the Turkish-Syrian border can only guarantee security in the region, arguing that the Turkish military campaign inside Syria comes despite the Ankara government's official statements in which it claims to be respectful of its neighbor's sovereignty.
Efimov also dismissed reports of disagreements between Russia and Iran over Syria, saying Moscow and Tehran are cooperating closely with each other to work out an effective solution to the ongoing Syrian conflict.
He underscored that the presence of Iranian and Russian military advisors on Syrian soil follows a request from the Damascus government.
The Russian ambassador further noted that Moscow and Tehran are working in close cooperation with each other and are carrying out various missions without any competition.
High time Israelis left Palestinian lands: Abbas
Meanwhile, Palestinian President Mahmoud Abbas said Palestinians will never compromise one iota of their lands, stressing that it is high time for the Tel Aviv regime to leave the occupied territories.
He made the remarks at a meeting with a US delegation headed by the Assistant Secretary of State for Near East Affairs Barbara Leaf in the central West Bank city of Ramallah on Saturday.
Abbas said the existing status quo cannot be tolerated in the absence of a political mechanism aimed at the international protection of the Palestinian people, as well as Israel's failure to fulfill its obligations under international agreements and resolutions.
"Our goal is to get rid of the occupation on the basis of international resolutions. East al-Quds is and will remain the eternal capital of the State of Palestine," the Palestinian president pointed out.
Abbas noted that mass incursions by extremist Jewish settlers into al-Aqsa Mosque in the occupied Old City of al-Quds, the ongoing expulsion of Palestinians from al-Quds, demolition of their homes, and targeted killings of Palestinians have become daily realities under Israel's military occupation.
"We will not compromise on our national principles and we will remain steadfast in our land. It is time for the Occupation to leave," he underlined.
Source: Press TV
Please click the following URL to read the full text of the original story:
https://www.presstv.ir/Detail/2022/06/13/683812/Russia-blasts-Israeli-attack-on-Damascus-airport,-calls-on-regime-to-stop-its-aggression
--------
Africa
Play Politics By Democracy Tenets, Nigerian Islamic Group Tells Politicians
By Rauf Oyewole
13 June 2022
Ahead of the 2023 general elections, Hilaquz Zikir Association of Nigeria has called on politicians to play politics in line with tenets of democracy.
The Islamic organisation also urged Nigerians to intensify prayers for the peace and unity of the country to overcome the myriad of challenges facing it.
The association, during its 11th National Zikir and special prayers for sustainable peace in Nigeria, yesterday, in Bauchi, admonished politicians to fear their creator.
National Education Secretary of the association, Dr. Aminu Abdullahi, said that only prayers could save the country from collapse, adding that Nigeria would sure overcome the security issues.
According to Abdullahi, for peace to reign, as Nigerians elect their leaders in 2023, the citizens must continue to pray for the right leadership to be enthroned.
He urged politicians to play politics devoid of bitterness and sentiments, pointing out that politics should not be a do-or-die affair, but to accept God's will.
"Politicians should adhere to tenets of democratic rules and play politics devoid of rancour. It is possible to do politics in a clean way; it must not be a do-or-die affair. You cannot have what God has not destined for you, no matter how hard you try. So, I advise politicians to fear God in all they do, especially now that we are approaching the 2023 general elections," he said.
Governor Bala Mohammed of Bauchi State commended the association for its prayers for the peace of the country and the state, urging it to always educate its followers on the need to live in peace with everyone, irrespective of religious differences.
Source: Guardian Nigeria
Please click the following URL to read the full text of the original story:
https://guardian.ng/news/play-politics-by-democracy-tenets-islamic-group-tells-politicians/
--------
Lagos charges Muslim pilgrims on good conduct in Saudi Arabia
By Sunday Aikulola
13 June 2022
Deputy Governor Obafemi Hamzat has urged Lagos State pilgrims for this year's hajj to be of good conduct during stay in Mecca, Saudi Arabia.
He gave the charge, yesterday, at one-day seminar and special prayers for the intending pilgrims, organised by Lagos State Pilgrims Welfare Board in Ikeja.
Hamzat admonished them to represent Nigeria well in the holy land.
Source: Guardian Nigeria
Please click the following URL to read the full text of the original story:
https://guardian.ng/news/lagos-charges-muslim-pilgrims-on-good-conduct-in-saudi-arabia/
--------
Osun: Muslims protest incessant ritual killings in Iwo
June 12, 2022
By Sikiru Obarayese
Muslim faithful in Iwo, Osun State protested incessant ritual killings in the town and the tagging of perpetrators as Islamic clerics.
The Muslims led by some religious leaders from different organisations, staged the protest on Sunday in Iwo, Ola Oluwa Local Government of Osun State.
The clerics were carrying placards that read, "Islam against rituals," "Ritualists are not among Alfas," and "No more ritualists in Iwoland," among others.
One of the religious leaders, who spoke with journalists during the protest, Missioner of NASFAT in Iwo, Sheikh Tajudeen Bilal, ritual killing is rampant "among the wolves in dog's skin, who people are calling alfas".
The perpetrators, according to him are not Muslims but are bad people who have covenant with the devil.
"Because Al-Qur'an has made us to know that every form of killing is a sin. It also made us to know that whoever kills a soul, it is as if he kills the whole world.
"This is a gathering of Muslims groups, we are a coalition of NASFAT, Salaf, Taqomunu, Quwwatulahi Haq and a host of other in Iwoland.
Source: Daily Post
Please click the following URL to read the full text of the original story:
https://dailypost.ng/2022/06/12/osun-muslims-protest-incessant-ritual-killings-in-iwo/
--------
8 killed in terrorist attack in Mali
Fatma Esma Arslan
13.06.2022
DAKAR, Senegal
At least eight people were killed Sunday in a terrorist attack in southern Mali.
The attack was carried out by unidentified gunmen at a checkpoint in the city of Koutiala, local authorities told an Anadolu Agency correspondent.
Eight others were wounded and one person went missing.
In May this year, an Italian family and a Togolese citizen were abducted by unidentified individuals near Koutiala.
The Liptako-Gourma region bordering Burkina Faso, Mali and Niger has become the target of terrorist groups affiliated with Al-Qaeda and Daesh/ISIS in recent years.
Source: Anadolu Agency
Please click the following URL to read the full text of the original story:
https://www.aa.com.tr/en/africa/8-killed-in-terrorist-attack-in-mali/2612116
--------
Terrorists release 11 kidnapped victims from train attack in northwest Nigeria
Olarewaju Kola
12.06.2022
MAIDUGURI, Nigeria
Eleven of 61 passengers have been released after they were abducted by terrorists more than two months ago in a train attack in northwest Kaduna State in Nigeria, officials said Saturday.
Spokesman for the negotiator, Tukur Mamu, said, "six females and five males" were freed after being abducted March 28 on a Abuja-Kaduna bound passenger train.
The release came after intense negotiations led by one of the leading Islamic clerics in the country, Sheikh Ahmad Gumi, and the terrorists.
Source: Anadolu Agency
Please click the following URL to read the full text of the original story:
https://www.aa.com.tr/en/africa/terrorists-release-11-kidnapped-victims-from-train-attack-in-northwest-nigeria/2611571
--------
UN envoy urges Libyan rivals to end differences 'in a week'
Moataz Wanees
12.06.2022
TRIPOLI, Libya
UN Special Adviser on Libya Stephanie Williams on Sunday urged the country's rivals to establish a constitutional framework within one week for holding elections in the conflict-ridden nation.
"This final round comes at a critical juncture for your country. After eleven long years of division, dysfunction, conflict, chaos and polarization, the Libyan people are exhausted," Williams said at the opening session of the third and final round of talks in Cairo, Egypt, between Libya's House of Representative (parliament) and the High Council of State, which acts as a senate.
"Your Libyan compatriots look at you, expecting anxiously tangible results: a firm and consensual constitutional basis that will pave the way for holding transparent elections within the shortest timeframe possible," she added.
Williams also urged Libyans to "put down weapons," adding that there are "spoilers" who will look to distrust the talks.
The final round of talks is expected to address 30% of the conflicting points, while the other 70% were addressed in the past rounds of the discussions.
For more than three months, there have been two governments in Libya: the national unity government in Tripoli led by Abdul Hamid Dbeibeh and the one granted confidence in early March by the Tobruk-based House of Representatives headed by former Interior Minister Fathi Bashagha.
Source: Anadolu Agency
Please click the following URL to read the full text of the original story:
https://www.aa.com.tr/en/middle-east/un-envoy-urges-libyan-rivals-to-end-differences-in-a-week-/2611917
--------
Mideast
Erdogan escalates rhetoric against Greece and mobilizes Imams in his re-election bid
13 June 2022
Turkish President Recep Tayyip Erdogan, who has led Turkey for the past 20 years, announced during a speech in Izmir on June 9 that he will seek re-election in next year's elections.
As Turkey is facing a serious economic crisis, Erdogan, seeing his popularity falling rapidly in repeated opinion polls, is trying to win votes by escalating his rhetoric against Greece and by mobilizing the big network of imams to persuade Turkish expatriates to vote for him.
Speaking after watching military exercises in Izmir, on the same day he confirmed that he will run in the June 2023 elections, Erdogan increased tensions with Turkey's neighbour Greece, warning Athens to stop arming Aegean islands that do not have a military status.
In Turkey's view, the Aegean islands were given to Greece under the 1923 Lausanne Treaty and the 1947 Paris Treaty on the condition that they would not be armed. Ankara accuses Greece of having military units and weapons systems mainly on the Dodecanese islands in East Aegean.
"I warn Greece to avoid dreams, acts and statements that will result in regret. Come to your senses, " Erdogan said and added that Turkey will not renounce its rights in the Aegean and will not back down from using rights that are established by international agreements when it comes to arming islands."
Erdogan's coalition partner and leader of the ultra-nationalist MHP Party Devlet Bahceli also accused Greece of escalating tensions and said that the Greeks are playing with fire.
"The question of the Dodecanese islands, which is the continuation of Anatolia, is a wound that has not yet closed," declared Bahceli and ominously added: "The stolen items must be returned to the owner, whether voluntarily or by force."
Furthermore, Bahceli claimed that the nine military bases that the US has set up in Greece are a threat to Turkey's national identity. "Greece's request for F-15 and F-16 aircraft from the US is not an invitation to peace, but to polarization, " he said.
The response of the Greek Government is that Turkey deliberately misinterprets the treaties regarding armed forces on these Greek islands and insists that it has legal grounds to defend itself in the face of Ankara's hostile actions.
Ankara has recently launched a barrage of violations of Greek airspace. Greek aircraft always identify and intercept the Turkish fighter jets.
It is noted that in the summer of 2020, the ongoing dispute between Athens and Ankara over significant gas deposits in the eastern Mediterranean almost led to a military conflict after Turkish research ships had been crossing Greek waters for many days.
Erdogan in the past few weeks has kept lashing out at Greece, trying to "put it in its place", threatening it with severe consequences. He does this because, on the one hand, he sees Athens as a soft and easy target, and, on the other, he increases tensions with NATO ally Greece as a leverage on the United States regarding his plans to invade northern Syria and to get recognition of his demands on the energy resources of Eastern Mediterranean.
The Turkish President and his ultra-nationalist ally Bahceli have seen their popularity falling in opinion polls and fear a voter backlash, as Turkey's inflation keeps soaring at 73 per cent, while energy and food prices are reaching unprecedented heights, unemployment keeps rising and the value of the Turkish Lira is declining rapidly.
That is why on March 31, the Turkish Parliament, where Erdogan's AKP and Bahceli MHP currently control the majority, voted to lower the election threshold from 10 to 7 per cent, because polls showed that MHP will remain under the 10 required per cent threshold in a possible election.
Erdogan is also greatly worried about the declining popularity of his own party AKP, because the latest opinion polls show that the support it enjoys has fallen to 27.7 per cent, from the 42.6 per cent it scored in the 2018 elections. So, Erdogan needs every single vote he can get to narrow the gap with the opposition parties.
As in the 2018 presidential election, Erdogan won almost 60 per cent of the ex-pat votes, he is quite aware that the votes of the Turkish diaspora have become extremely important and to this end uses government-appointed imams to communicate messages to voters in mosques.
To achieve this, the President of Turkey relies on the Diyanet (the Religious Affairs Directorate) which is run by Ali Erbas, somebody he personally chose, to propagate political Islam and AKP's positions and ideology.
In less than a decade, Diyanet's budget quadrupled to $ 1 billion, and it employs over 120,000 people, making it one of Turkey's largest state institutions - bigger than the Ministry of Interior. Diyanet has become a giant government bureaucracy for the promotion of Sunni Islam.
Diyanet offers Qur'an courses, especially summer courses for children, issues fatwas on demand, but also comments on political affairs and has extensive financial interests. Some people call it the "Diyanet holding".
Earlier this month, most probably acting on Erdogan's orders, Ali Erbas organized in Ankara a big meeting of Diyanet's most important cadres in Europe as well as attaches and consuls and reportedly asked them to canvass the diaspora to vote for Erdogan.
Later participants were taken to the presidential palace for a private audience with Erdogan. What was said at the meeting remains unknown, as the Presidential Palace did not issue any press release on the meeting.
Source: Catch News
Please click the following URL to read the full text of the original story:
https://www.catchnews.com/world/erdogan-escalates-rhetoric-against-greece-and-mobilizes-imams-in-his-re-election-bid-235306.html
--------
Iranian President Calls Israel's Assassination of IRGC Officer a Desperate Move
2022-June-12
President Rayeesi made the comments on Sunday in a meeting with family members of martyred Colonel Hassan Sayyad Khodayee, who was assassinated in a terrorist attack in Tehran on May 22 after two motorcyclists shot him five times before fleeing the scene.
The IRGC officer was dismounting his car to enter his home in an eastern neighborhood of the capital when three bullets hit him in the head and two bullets in the hand.
"The fact that the enemies of the Islamic Republic, instead of confronting on the battlefield, carry out such cowardly assassinations, is a sign of their desperation and despair while (indicative of) triumph and power of the Islamic Republic," Rayeesi said.
He lauded the sacrifices of the martyred IRGC membe,r and wished patience and blessings to the bereaved family of Colonel Khodayee.
The New York Times on May 25 cited an intelligence official as saying that Israel had informed American officials that it was behind the assassination.
President Rayeesi said at the time that "the global arrogance" was behind the terrorist act, vowing "definite revenge" for the blood of the martyr.
Source: Fars News Agency
Please click the following URL to read the full text of the original story:
https://www.farsnews.ir/en/news/14010322000712/Iranian-Presiden-Calls-Israel's-Assassinain-f-IRGC-Officer-a-Desperae
--------
Supreme Leader: Resistance Only Way to Stand against US Pressures
2022-June-12
During the meeting in Tehran on Saturday, Ayatollah Khamenei referred to the US's enormous pressure campaign and hybrid warfare against both Iran and Venezuela, and noted, "The successful experience of the two countries showed that resistance is the only way to counter such pressures."
He lauded the victory of the Venezuelan government and nation in a tough struggle against the US and a hybrid and all-out war it has waged against Caracas, and stated, "Your resistance and that of the people of Venezuela is very valuable because it enhances the value, status and merits of a nation and a country as well as its leaders."
"Today, the US views Venezuela in a different (manner) compared to the past," the Leader said.
Ayatollah Khamenei praised the progress Iran has made in science and technology in the face of US sanctions, and said, "Such major steps have been taken under the circumstances that the heaviest and most unprecedented sanctions and pressures have been imposed on the Iranian nation, and the Americans themselves called it the 'maximum pressure' (policy)."
In his remarks, the Leader also welcomed a 20-year partnership agreement signed between Tehran and Caracas aimed at bolstering bilateral cooperation in various fields, and emphasized that the Iranian and Venezuelan governments must further strengthen their relationship.
In order to have long-term cooperation, it is necessary to pursue and implement agreements, Ayatollah Khamenei pointed out.
He referred to cordial ties between Iran and Venezuela, and stated, "The two countries do not have such close relations with any (other) country, and the Islamic Republic of Iran has shown that it takes risks in times of danger and offers a helping hand to its friends."
Ayatollah Khamenei also commended Maduro's anti-Zionism stance as "very genuine and brave".
During the meeting, which was also attended by Iranian President Ebrahim Rayeesi, the Venezuelan president thanked Iran's support for the people of his country in their hard battle against US pressure.
He pointed to the dire economic situation that Venezuela has been facing in recent years, and said the US has started a gradual war of attrition and multi-dimension warfare against Caracas.
However, Venezuela has succeeded in fully confronting the US aggression through resistance and making use of the opportunities arisen as a result of sanctions, Maduro said, adding that the South American country is now facing better conditions in comparison with previous years.
He also noted that Venezuela is drawing up a precise roadmap for improving cooperation with Iran in various fields, particularly science and technology.
Elsewhere in his remarks, the Venezuelan president voiced support for Palestinians, and said that is why the Zionist regime has been hatching plots against Caracas through Israeli spy agency Mossad.
Source: Fars News Agency
Please click the following URL to read the full text of the original story:
https://www.farsnews.ir/en/news/14010322000265/Spreme-Leader-Resisance-Only-Way-Sand-agains-US-Pressres
--------
Iran's IRGC says airspace fighter died in 'car accident' while on mission
12 June, 2022
Iran's Islamic Revolutionary Guard Corps (IRGC) said an airspace fighter died in a "car accident" while he was on a "mission" in the city of Khomein, semi-official news agency Tasnim reported on Sunday.
The report said Ali Kamani, identified as a fighter of the aerospace unit, died in a car accident in the town of Khomein, southwest of the capital Tehran. The report described him as a "martyr" who died "defending the homeland during the mission."
The report did not provide further details as to the nature of the "mission" or what led to the "car accident."
Kamani's death comes three weeks after the assassination of Iran's Islamic Revolutionary Guard Corps (IRGC) Colonel Sayad Khodai.
Khodai was shot dead in his car by two assailants on a motorcycle in Tehran on May 22.
Iranian President Ebrahim Raisi vowed to avenge Khodai's death and Iranian officials pointed to Israel being the culprit for the attack.
Source: Al Arabiya
Please click the following URL to read the full text of the original story:
https://english.alarabiya.net/News/middle-east/2022/06/12/Iran-s-IRGC-says-airspace-fighter-died-in-car-accident-while-on-mission-in-country
--------
UN agency urges Iran to resume stalled nuclear talks 'now'
12 June, 2022
The International Atomic Energy Agency on Sunday urged Iran to resume talks "now" to avoid a crisis that could make it "extremely more difficult" to salvage the 2015 nuclear accord.
Iran this week disconnected some cameras allowing international inspectors to monitor its nuclear activities in response to a Western resolution passed June 8 in which the UN agency denounced Tehran's lack of cooperation.
Twenty-seven surveillance cameras "have been removed," IAEA Director General Rafael Grossi said in an interview broadcast Sunday by CNN, calling it a "very serious move."
"Recent history tells us that it is never a good thing to start saying to international inspectors, go home... things get much more problematic," he added.
For the latest headlines, follow our Google News channel online or via the app.
The 2015 deal, known as the Joint Comprehensive Plan of Action, gave Iran relief from crippling economic sanctions in exchange for curbs on its nuclear activities.
But in 2018, then-US president Donald Trump unilaterally pulled out of the pact and reimposed sanctions, prompting Iran to begin rolling back on its own commitments.
Talks to revive the deal have stalled since March.
In the CNN interview, Grossi said he was telling his Iranian counterparts, "We have to sit down now, we have to redress the situation, we have to continue working together.
"The only way for Iran to get the confidence, the trust they so badly need in order to move their economy forward... is to allow the inspectors of the IAEA to be present."
Without the surveillance cameras, Grossi said, his agency will soon be unable to declare whether the Iranian nuclear program is "peaceful" -- as Tehran has repeatedly insisted -- or whether Iran is developing an atomic bomb.
Even if the Iranians reconnect the cameras in a few months, Grossi said, whatever work they do in the meantime will remain secret, possibly rendering useless any agreement.
Therefore, he said, the recent Iranian action makes "the way back to an agreement extremely more difficult."
While Trump pulled the US out of what he said was a badly flawed accord, his successor Joe Biden has said he is ready to again embrace the deal so long as Iran also respects its own commitments.
But negotiators have met with repeated frustration, and the possibility of failure appears closer than ever.
Source: Al Arabiya
Please click the following URL to read the full text of the original story:
https://english.alarabiya.net/News/middle-east/2022/06/12/UN-agency-urges-Iran-to-resume-stalled-nuclear-talks-now-
--------
Israel says foiled Iran's attack against Israelis in Turkey as Tehran seeks 'revenge'
12 June, 2022
Israeli security officials foiled an Iranian attack targeting Israelis in Turkey last month, Israeli public broadcaster Kan radio reported on Sunday.
The Israeli officials coordinated with their Turkish counterparts to thwart the attack planned by an "Iranian network" in Turkey.
Israel had issued last month a warning to its citizens against travel to Turkey amid fears that Israelis would be targeted in a "revenge attack" for the assassination of Iran's Islamic Revolutionary Guard Corps (IRGC) Colonel Sayad Khodai.
Khodai was shot dead in his car by two assailants on a motorcycle in Tehran on May 22.
Iranian President Ebrahim Raisi vowed to avenge Khodai's death and Iranian officials pointed to Israel being the culprit for the attack.
Iranian media reported at the time that members of an Israeli intelligence service network had been discovered and arrested by the IRGC.
Source: Al Arabiya
Please click the following URL to read the full text of the original story:
https://english.alarabiya.net/News/middle-east/2022/06/12/Israel-says-foiled-Iran-s-attack-against-Israelis-in-Turkey-as-Tehran-seeks-revenge-
--------
Israel court ruling leaves thousands of Palestinians at risk of forced displacement
12 June, 2022
Some 1,200 Palestinians in the occupied West Bank region of Masafer Yatta face the risk of forced removal to make way for an army firing zone after a decades-long legal battle that ended last month in Israel's highest court.
The ruling opened the way for one of the largest displacements since Israel captured the territory in the 1967 Middle East war. But residents are refusing to leave, hoping their resilience and international pressure will keep Israel from carrying out the evictions.
"They want to take this land from us to build settlements," said Wadha Ayoub Abu Sabha, a resident of al-Fakheit, one of a group of hamlets where Palestinian shepherds and farmers claim a historic connection to the land.
"We're not leaving," she said.
In the 1980s, Israel declared the area a closed military zone known as "Firing Zone 918."
It argued in court that these 3,000 hectares (7,400 acres) along the Israel-West Bank boundary were "highly crucial" for training purposes and that the Palestinians living there were only seasonal dwellers.
"It has been a year of immense grief," said Abu Sabha, her voice breaking as she sat in one of the few tents left standing, lit by a single light bulb.
The communities in this part of the South Hebron Hills traditionally lived in underground caves. Over the past two decades, they have also started building tin shacks and small rooms above ground.
Israeli forces have been demolishing these new constructions for years, Abu Sabha said, but now that they have the court's backing, the evictions are likely to pick up.
Steps away, her family's belongings were reduced to a pile of rubble after soldiers arrived with bulldozers to raze some of the structures. She lamented the significant losses - the dwindling livestock even more than the destroyed furniture.
Much of the argument during the protracted case centered on whether the Palestinians who live across the area are permanent residents or seasonal occupants.
The Supreme Court concluded that the residents "failed to prove their claim of permanent habitation" before the area was declared a firing zone. It relied on aerial photos and excerpts from a 1985 book that both sides cited as evidence.
The book, titled "Life in the Caves of Mount Hebron," was authored by Israeli anthropologist Yaacov Havakook, who spent three years studying the lives of Palestinian farmers and shepherds in Masafer Yatta.
Havakook declined to comment and instead referred Reuters to his book. But he said he had tried to submit an expert opinion on behalf of the residents following a request from one of their lawyers, and was prevented from doing so by the Israeli defense ministry, where he was employed at the time.
International criticism
The United Nations and European Union condemned the court ruling and urged Israel to stop the demolitions and evictions.
"The establishment of a firing zone cannot be considered an 'imperative military reason' to transfer the population under occupation," the EU spokesperson said in a statement.
In a transcript of a 1981 ministerial meeting on settlements uncovered by Israeli researchers, then-Agriculture Minister Ariel Sharon, who later became prime minister, suggested the Israeli military expand training zones in the South Hebron Hills to dispossess the Palestinian residents of their land.
"We want to offer you more training zones," Sharon said, given "the spread of Arab villagers from the hills toward the desert."
The Israeli military told Reuters the area was declared a firing zone for "a variety of relevant operational considerations" and that Palestinians violated the closure order by building without permits over the years.
According to the United Nations, the Israeli authorities reject most Palestinian applications for building permits in "Area C," a swathe of land making up two-thirds of the West Bank where Israel has full control and where most Jewish settlements are located. In other areas of the West Bank, Palestinians exercise limited self-rule.
UN data also showed that Israel has marked nearly 30 percent of Area C as military firing zones. The designations have put 38 of the most vulnerable Palestinian communities at increased risk of forced displacement.
Meanwhile, settlements in the area have continued to expand, further restricting Palestinian movement and the space available for residents to farm and graze their sheep and goats.
"All of these olives are mine," said Mahmoud Ali Najajreh of al-Markez, another hamlet at risk, pointing to a grove in the near distance. "How can we leave?"
The 3,500 olive trees he planted two years ago - he counted each one - were beginning to bud.
Source: Al Arabiya
Please click the following URL to read the full text of the original story:
https://english.alarabiya.net/News/middle-east/2022/06/12/Israel-court-ruling-leaves-thousands-of-Palestinians-at-risk-of-forced-displacement
--------
Norway to label products from Israeli settlements
12 June, 2022
Israel on Saturday condemned Norway's decision to label products from Israeli settlements with their place of origin.
A statement from Israel's foreign ministry said the position "will adversely affect bilateral relations between Israel and Norway, as well as Norway's relevance to promoting relations between Israel and the Palestinians."
The ministry was referring to Norway's longstanding role as a mediator in the Israeli-Palestinian conflict.
Norway's social democrat government announced its new policy on Friday, saying it was not enough to label products coming from the occupied territories as Israeli.
The measure mainly concerns imports of wine, olive oil, fruits and vegetables, and will apply to products from the occupied West Bank "including East Jerusalem" and occupied areas of the Golan Heights, Oslo said.
Foreign Minister Anniken Huitfeldt stressed in an interview with Norwegian news agency NTB that this in no way constituted a boycott of Israel.
"Norway has good relations with Israel," she added. "That must continue."
The European Commission recommended its member states follow this practice in 2015, a decision confirmed by the European Court of Justice in 2019.
Norway said that the principle behind its decision, as set out in the 2019 ruling, is that consumers should not be deceived by misleading labelling on the origin or products.
During the Trump administration, the United States announced that goods made in Israeli settlements in the occupied territories could be labelled Israeli.
Source: Al Arabiya
Please click the following URL to read the full text of the original story:
https://english.alarabiya.net/News/middle-east/2022/06/12/Norway-to-label-products-from-Israeli-settlements
--------
Europe
Pope Francis praises Iranians' bravery in global debates
June 13, 2022
Director of Iranian seminary schools' affairs presenting a report on his visit to Vatican, said here on Sunday that the Pope has told him in a meeting he praises the Iranians' bravery in global debates.
Ali-Reza Aarafi quoted Pope Francis as saying in that visit that he respected the Iranians from three different points of the view, the first of which is because he has read the Iranian history deeply, and found it praiseworthy, secondly, the fact that the Iranians are faced with lots of difficulties and hardships, but are still the only country with a religious political system, and thirdly, the Iranians' bravery in international negotiations.
Source: ABNA24
Please click the following URL to read the full text of the original story:
https://en.abna24.com/news//pope-francis-praises-iranians%e2%80%99-bravery-in-global-debates_1266300.html
--------
Türkiye's concerns over Finnish, Swedish NATO bids legitimate: Alliance chief
Selen Temizer
12.06.2022
BRUSSELS
Türkiye's security concerns about the NATO membership bids of Sweden and Finland are legitimate, the alliance's chief reiterated on Sunday.
"These are legitimate concerns. This is about terrorism, it's about weapons exports," Secretary General Jens Stoltenberg told a joint news conference during a visit to Finland alongside Finnish President Sauli Niinisto.
"We have to remember and understand that no NATO ally has suffered more terrorist attacks than Türkiye," he added, referring to attacks by the PKK, Fetullah Terrorist Organization (FETO) – the group behind a 2016 defeated coup – and Daesh/ISIS, among other terror groups.
Stressing that Türkiye has been a key ally for the alliance owing in part to its strategic location on the Black Sea between Europe and the Middle East, Stoltenberg pointed to its support for Ukraine since Russia launched its war on Feb. 24.
He furthermore praised the Turkish contribution to the war against the terrorist group Daesh/ISIS and work to get Ukrainian grain exports to world markets.
When a critical ally like Türkiye shares our concerns on terrorism, we should take this into serious consideration, Stoltenberg said.
Niinisto, for his part, stressed the importance of keeping dialogue channels open with Türkiye to reach a solution.
Arguing that Finland's stance on Türkiye's concerns over terrorism is no different from other NATO allies, he said he said he was having a hard time understanding why Finland was "picked out."
Russia's war on Ukraine prompted Finland and Sweden to formally apply to join NATO on May 18.
But Türkiye, a longstanding member of the alliance, has voiced objections to their membership bids, criticizing the countries for tolerating and even supporting terrorist groups such as the PKK/YPG, as well as for weapons embargos against Türkiye.
Source: Anadolu Agency
Please click the following URL to read the full text of the original story:
https://www.aa.com.tr/en/europe/turkiye-s-concerns-over-finnish-swedish-nato-bids-legitimate-alliance-chief/2611907
--------
Terror group YPG/PKK supporters hold demonstrations in Finland, Sweden
Atila Altuntas
11.06.2022
STOCKHOLM, Sweden
Even as Finland and Sweden's continued support for the terrorist group YPG/PKK has held up their NATO membership bids, supporters of the terror group took to the streets of the countries' capitals and openly held protests Saturday.
YPG/PKK sympathizers gathered before the Finnish parliament and called on Helsinki to reject Turkish demands that it cease supporting and tolerating the terrorist group.
The protest stretched on for about two hours, with participants carrying banners and symbols of the terror group.
In Sweden, carrying posters showing the convicted YPG/PKK ringleader, who is serving a life sentence in Türkiye, supporters of the YPG/PKK met in Norra Bantorget Square in the capital Stockholm and called on the government to impose an arms embargo on Ankara.
Sweden is under pressure from Türkiye to end its support for the YPG/PKK terror group if it wants to join NATO, with Ankara saying the bloc is a security alliance and that any potential members must take a clear stance against terrorism.
Source: Anadolu Agency
Please click the following URL to read the full text of the original story:
https://www.aa.com.tr/en/europe/terror-group-ypg-pkk-supporters-hold-demonstrations-in-finland-sweden/2611425
--------
Imprisoned Azerbaijani Muslim leader goes on hunger strike over profanity
12 June 2022
The imprisoned leader of Azerbaijan's Movement for Muslim Unity (MMU) has reportedly gone on an open-ended hunger strike in protest at blasphemous remarks by members of the country's Office for Combating Organized Crime (BMCMI).
Sheikh Taleh Bagirzade took the action, dubbed "Strike Till Martyrdom", a few days ago after learning that BMCMI agents – affiliated with the Azerbaijani Ministry of Internal Affairs, had offended God and made profane comments during the interrogation of a group of Muslim activists who had made an appeal for mercy in a detention center of the Office for Combating Organized Crime, commonly known as bandotdel.
Baqirzade has called on Azerbaijani authorities to put all those responsible for the profanity on trial, emphasizing that he will not abandon his hunger strike until all perpetrators are handed out fitting punishment.
Meanwhile, a group of imprisoned young Muslim activists has gone on hunger strike in solidarity with Baqirzade.
Jabbar Jabarov, a prisoner from the town of Nardaran, jailed journalist Polad Aslanov, who ran the independent news websites Xeberman and Press-az, and Abbas Hussein, another MMU member have followed suit.
Lately, a number of Azerbaijani clerics were detained by Baku police forces outside court during the hearing of Razi Hemmatov another MMU member.
"Bandotdel interrogators took off my clothes and ripped off my underwear as they drew their batons to assault me. It was when I appealed for mercy. The officers, however, paid no attention to my appeals, kept using foul language and beating me all over the body," Mayel Karimov, a Muslim activist who was among those arrested, recounted.
He added, "The interrogators finally agreed to stop the torture after I signed a written pledge that I will not participate in anti-government protests anymore. But, they threatened to show no restraint if I appeared outside the court once again."
In December 2016, the Baku Court of Serious Crimes sentenced Baqirzade and 17 other defendants to life imprisonment on charges of plotting to overthrow the Azerbaijani government.
Human rights activists, however, say they are prisoners of conscience.
They were arrested in late 2015 after Azerbaijani forces carried out a raid on a gathering of people in the eastern town of Nardaran.
The attack took place as Shias had gathered for a religious ceremony to mark Arbaeen, the 40th day since the martyrdom anniversary of Imam Hussein (AS), the third Shia Imam, and his followers in the Battle of Karbala.
Following the raid, in which four people were killed by security forces, the town's residents staged a number of demonstrations.
Source: Press TV
Please click the following URL to read the full text of the original story:
https://www.presstv.ir/Detail/2022/06/12/683761/Imprisoned-Azerbaijani-Muslim-leader-goes-on-hunger-strike-over-remarks-by-BMCMI-officials-insulting-God
--------
North America
10 pro-Israel members of US Congress propose anti-Iran alliance
11 June 2022
A group of pro-Israel members of Congress has called on the United States to support the Israeli regime and nine Arab countries in establishing an integrated missile system to counter Iran, in what is an acknowledgment of the Islamic Republic's growing military might in the region.
The proposal has been dubbed the Deterring Enemy Forces and Enabling National Defenses (DEFEND) Act. It would authorize the Pentagon to cooperate with Israel, Bahrain, Egypt, Iraq, Kuwait, Jordan, Qatar, Oman, Saudi Arabia, and the United Arab Emirates to develop and deploy integrated air and missile defenses against the alleged threat posed by Iran, RT website reported on Saturday.
Democrats Jacky Rosen (Nevada), Cory Booker (New Jersey), Joni Ernst (Iowa), and James Lankford (Oklahoma) have introduced it in the Senate. Meanwhile, Democrats Brad Schneider (Illinois), David Trone (Maryland), and Jimmy Panetta (California) joined forces with Republicans Cathy McMorris Rodgers (Washington), Ann Wagner (Missouri), and Don Bacon (Nebraska) in the House of Representatives support the bill.
All 10 lawmakers are members of the Abraham Accords Congressional Caucus, established earlier this year.
The Abraham Accords refer to a series of secret deals brokered by the administration of former US President Donald Trump in 2020 that normalized relations between Israel and four Arab countries – the United Arab Emirates, Bahrain, Sudan and Morocco.
The accords broke a longstanding consensus in the Arab world that normalization with Israel would only come with major concessions for Palestinians.
Observers have warned that the move by some Arab countries to establish relations with the Zionist regime will not only fail to ensure their protection and security but will also double the problems of these states and those of the region and [other] Arab countries.
The news of deals signed by a few Arab dictatorships to normalize diplomatic relations with Israel under intense US pressure has sparked widespread anger in other Islamic countries.
Meanwhile, the commander of Iran's Islamic Revolution Guards Corps (IRGC) Navy has warned neighboring countries against allowing Israelis into the Persian Gulf, saying such a move would bring nothing but chaos and instability to the region.
In a visit to the Persian Gulf island of Greater Tunb on Saturday, Rear Admiral Alireza Tangsiri hailed the Persian Gulf's "good security," which he attributed to cooperation and synergy among neighboring countries.
However, he said, if a country allows "the miserable child-killer regime" in Tel Aviv to establish a foothold in this region, that country and the entire region will be inflicted with insecurity, chaos, and instability.
The warning came two days after Israeli Prime Minister Naftali Bennett visited the United Arab Emirates (UAE), marking his second official trip to the Persian Gulf country since the two sides formally normalized their relations in 2020.
Bahrain, Morocco, and Sudan were other Arab countries that normalized their ties with Israel. The normalization deals have been a "stab in the back" for the Palestinians while exposing an increasing level of apathy on the part of the Muslim-majority countries toward the Palestinian people's sufferings.
Recent reports suggest that Saudi Arabia is also moving in the same direction, even though the kingdom has so far refrained from officially normalizing with Israel due to domestic considerations.
Source: Press TV
Please click the following URL to read the full text of the original story:
https://www.presstv.ir/Detail/2022/06/11/683726/10-pro-Israel-members-of-US-Congress-propose-anti-Iran-alliance
--------
Biden says a visit to Saudi Arabia would focus on more than energy
12 June, 2022
US President Joe Biden said on Saturday he has "not yet" made a decision about visiting Saudi Arabia, but a visit to the Kingdom would include an agenda that focused on more than discussing energy.
Asked what if there are commitments Washington is waiting for from Riyadh, Biden said: "The commitments from the Saudis don't relate to anything having to do with energy. It happens to be a larger meeting taking place in Saudi Arabia."
He added: "That's the reason I'm going. And it has to do with national security for them — for Israelis. I have a program — anyway. It has to do with much larger issues than having to do with the energy piece."
The White House plans to announce as early as Monday a Biden trip to Saudi Arabia, the Wall Street Journal reported, citing two US officials with direct knowledge of the plans.
The WSJ report said Biden will travel to the Kingdom next month as part of a broader trip to the region that includes a stop in Israel.
Source: Al Arabiya
Please click the following URL to read the full text of the original story:
https://english.alarabiya.net/News/gulf/2022/06/12/Biden-says-a-visit-to-Saudi-Arabia-would-focus-on-more-than-energy
--------
URL: https://newageislam.com/islamic-world-news/violent-protests-prophet-jamaat-ulema-hind/d/127238
New Age Islam Islam Online, Islamic Website, African Muslim News, Arab World News, South Asia News, Indian Muslim News, World Muslim News, Women in Islam, Islamic Feminism, Arab Women, Women In Arab, Islamophobia in America, Muslim Women in West, Islam Women and Feminism