New Age Islam News Bureau
14 Apr 2017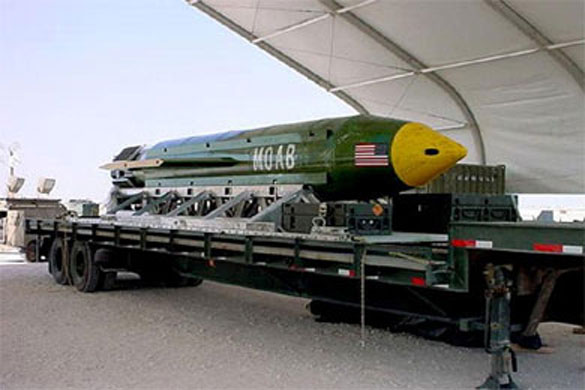 The GBU-43/B Massive Ordnance Air Blast (MOAB) bomb is pictured in this undated handout photo. Elgin Air Force Base/Handout via REUTERS
---
• No Temporary Beards in Islam: Fired Indian Cop Rejects SC's Advice to Shave for Rejoining Force
• Bangladesh: Islamic Groups Protest Bengali New Year's Festivities
• Syrian Army Launches Operations to Separate Northern, Western Aleppo
• Afghanistan Bombing Sends Clear Message to ISIS: US Lawmakers
• Israel Orders Demolition of Palestinian Mosque in Al-Quds
India
• No Temporary Beards in Islam: Fired Indian Cop Rejects SC's Advice to Shave for Rejoining Force
• Trouble for Zakir Naik, Court Issues Non-Bailable Warrant against Controversial Preacher
• Muslims Support CJI on Ayodhya
• Adityanath Govt to Hold Mass Weddings of Poor Muslim Girls
• Killer past: Pak spy in MP doesn't want to go home
• Pakistan promoting 'civil resistance' in Kashmir through radicalisation: Union home ministry
• Turkish President Erdogan to visit India on April 30: NSG, terror on table
--------
South Asia
• Bangladesh: Islamic Groups Protest Bengali New Year's Festivities
• Afghan Govt Was In the Loop When GBU-43 Was Dropped On ISIS Target
• Karzai angrily reacts after US drops 'Mother of All Bombs' on ISIS in Afghanistan
• US military drops largest non-nuclear bomb in Afghanistan
• Hefazat demands withdrawal of Mongol Shobhajatra
• 89 insurgents killed in Afghan forces operations in past 24 hours: MoD
--------
Arab World
• Syrian Army Launches Operations to Separate Northern, Western Aleppo
• Russian Airstrikes on Idlib Leave 22 Terrorist Commanders Dead
• Assad Says Chemical Attack '100pc Fabrication'
• US-Led Coalition Airstrike Blows Up ISIL Chemical Weapons' Cache in Deir Ezzur, Kills Scores of Civilians
• Syrian Army Starts New Phase of Operations in Eastern Aleppo
• Dara'a: Army Repels Al-Nusra Offensive, Destroys Terrorists' TOW Missile Bases
• Civilians About to Leave Fua'a, Kafraya after 3-Year-Long Siege
• ISIL Fails Again in Massive Attack in Eastern Homs
• Residents, fighters evacuate from four besieged Syria towns
• Amnesty launches public campaign in support of Bahraini opposition leader
--------
North America
• Afghanistan Bombing Sends Clear Message to ISIS: US Lawmakers
• Al-Islam Students Association Throws Make America Just Again Lecture
• Calling Islamophobia A Bad Thing Shouldn't Be Hard. Canada Did It, Yet Congress Still Can't.
• Meet the Muslim from Trump's party running for US congress
--------
Mideast
• Israel Orders Demolition of Palestinian Mosque in Al-Quds
• Yemen's Houthis Appoint New Mufti Educated in Iran
• Rebel court sentences Yemen journalist to death
• US sanctions Iran military chief's brother over prison abuses
• Yemeni army storm Khalid Bin Walid Camp in the west of Taiz
• Iran's foreign minister to join trilateral Syria talks in Moscow
--------
Pakistan
• Afghan Religious Leaders Assail Pakistani Counterparts for Legitimizing Afghan Militancy
• TOR of Saudi alliance to be unveiled next month: Asif
• FIR registered against 20 suspects in Mardan student lynching
• No compromise on anti-state acts: Army
• Pak-China strategic ties bedrock for regional peace: Marriyum
--------
Southeast Asia
• Study: In Malaysia, religious controls tighter than in Saudi Arabia, Brunei
--------
Africa
• Africa: 20 Killed In Fire at Muslim Spiritual Retreat in Senegal
• Boko Haram insurgency weighs on minority Christians three years after Chibok
• Hate preaching breeds acrimony among Nigerians, cleric warns
• Africa: Can South Africa Risk Going Back Into CAR?
--------
Europe
• Detained 'Islamist' Cleared Over Dortmund Blasts
• Lavrov: Russia, US agree US strikes on Syria should not be repeated
• United against the Muslims: The Israeli flirtation with Europe's extreme right
Compiled by New Age Islam News Bureau
URL: https://www.newageislam.com/islamic-world-news/no-temporary-beards-islam-fired/d/110768
--------
No Temporary Beards in Islam: Fired Indian Cop Rejects SC's Advice to Shave for Rejoining Force
Apr 14, 2017
A Muslim policeman from Maharashtra who lost his job because he insisted on keeping a beard rejected the Supreme Court's advice on Thursday to shave temporarily so that he could work until his petition challenging the dismissal was decided.
"There is no concept of a temporary beard in Islam," Mohammed Irshad Hanif, lawyer for the Maharashtra Reserve Police Force cop told a bench headed by Chief Justice JS Khehar, which said it can let him join back for now on sympathetic grounds.
"We feel sorry for you. Why don't you join?" the CJI said when Hanif pressed for an early hearing of the dismissed cop's appeal. Justice Khehar also said that the court shall allow him to keep a beard during the festivities. But, after the lawyer's response the CJI rejected his prayer.
Zahiroddin Shamsoddin Bedade had approached the top court in 2013 after the Bombay high court disallowed him to sport a beard while working in the force. In its order the HC said the force was a secular agency and discipline required him to stick to secular rules.
The HC had ruled that keeping a beard was not a fundamental right as it was not a fundamental tenet of Islam.
The Supreme Court had granted leave in the case, which meant the matter would be heard at length to be decided on merit. During Thursday's hearing Bedade wanted the apex court to expedite the hearing of his petition.
Bedade said he was initially allowed to sport a beard, provided it was trimmed and kept neat and tidy. His commandant later withdrew the permission as it was against the rules and disciplinary proceedings were initiated against him. The top court had stayed the inquiry proceedings.
In the Supreme Court, Bedade relied upon a 1989 circular for the armed forces to argue that the rules spoke of permitting a beard provided the person kept it for the rest of his service. Keeping a beard was obligatory under Islam's Hadith law narratives about the life mandated by Prophet Mohammed, he stated in his petition.
http://www.hindustantimes.com/india-news/muslim-cop-fired-for-growing-beard-rejects-sc-s-advice-to-shave-to-rejoin-force/story-8gWcjjXSgZQpAKCCTZujfO.html
--------
Bangladesh: Islamic Groups Protest Bengali New Year's Festivities
2017-04-13
Bangladesh is preparing to kick off the Bengali New Year with a colorful parade deemed by UNESCO as part of the world's heritage, but fundamentalists in the Muslim-majority nation are calling for the festival's cancelation, saying it promotes non-Islamic values.
Unease over the encroachment of hardline Islam ideology on Bengali culture has been deepened by what many see as concessions made to fundamentalist groups in recent days by Bangladesh Prime Minister Sheikh Hasina.
Mangal Shobhajatra, the parade that starts the new year's festival known as Pohela Boishakh, is a long-standing tradition that brings together thousands of people of all faiths and backgrounds and celebrates Bangladesh's cultural richness and diversity. This year's Mangal Shobhajatra procession will take place on Friday.
"Symbols of non-Muslims are used in Mangal Shobhajatra. It is not acceptable to make the majority people observe this kind of event, which are performed by infidels," Maulana Abdul Latif Nejami, chairman of the conservative group Islami Oikkyojot, told BenarNews.
The Mangal Shobhajatra, an integral part of Pohela Boishakh, was introduced by fine arts students at Dhaka University in the 1980s to add a colorful procession to the first day of the Bengali year. The celebration has spread to other cities, as well.
In 2016, the U.N. Educational, Scientific and Cultural Organization (UNESCO) added the Mangal Shobhajatra to its Representative List of the Intangible Cultural Heritage of Humanity.
But just five months after the UNESCO listing, Islamic groups are demanding a ban, saying the celebration contradicts the tenets of their religion and is not part of their country's culture.
Government officials have responded by imposing a series of restrictions on celebrations across Bangladesh, citing security concerns.
Among those restrictions is a directive from Dhaka Metropolitan Police to conclude new year's celebrations by 5 p.m. During the past week Police Commissioner Asaduzzaman Mia has been warning that all people who participate will be subject to a body search by police, and that festive masks and horns will not be allowed.
The restrictions caused Sammilito Sangskritik Jote, an alliance of cultural organizations, to drop its programs at Rabindra Sarobar in the capital Dhaka, even as members plan to celebrate the Bengali new year.
"We will defy their threats and celebrate Pohela Boishakh with more festivity and enthusiasm this year," Sammilito Sangskritik Jote's Ramendu Majumder told BenarNews.
Concerns over religion
Secular groups have criticized recent moves by government officials, including a statement made this week by Prime Minister Hasina to a group of Qwami madrassa members that she does not like the new Statue of Justice that stands in front of the Supreme Court, because it is "not Islamic enough." She said she would meet with the chief justice to discuss its removal.
Conservative Muslim groups had been staging streets protests in recent weeks demanding that the statue of the woman wearing a sari and holding the Scales of Justice be removed.
"The woman's statue holding the scales cannot be the sign of justice. Allah is the sign of justice and the Quran is the rule of justice. Erecting a scale-holding Greek or Roman statue at the Supreme Court premises in a Muslim majority country like Bangladesh is in no way acceptable to the people," Mohiuddin Ruhi, the joint secretary of Hefazat-e-Islam, a national organization of teachers and students at madrassas, told BenarNews in February.
Government officials also recently agreed to recognize the madrassas' Dawra-e-Hadith degree as equivalent to a master's degree. Professor Emeritus Serajul Islam Choudhury questioned the move, telling The Daily Star the education system implemented by the madrassas – Islamic boarding schools – is not comparable to mainstream education.
Previously, educators expressed concerns over changes being made in textbooks following demands from Hefazat-e-Islam, whose influence is coveted by the ruling Awami League and opposition parties to win votes.
Violence
Previous Pohela Boishakh celebrations have been met with violence, including in 2001 when a bombing by Islamic militants killed at least 10 and injured 50 people. Other terror attacks in different venues over the years have also targeted cultural activists, secular writers and publishers and people of different faiths.
More recently, someone defaced a Pohela Boishakh mural at Chittagong University on Wednesday. That same day someone partially erased the description from the Dhaka University monument "Memory Eternal," consisting of names of university teachers, students and staff who died while fighting for Bangladesh's independence from Pakistan in 1971.
Islami Tradition Protection Committee, an alliance of Islam based political parties, has been carrying on protests against the new year's celebration.
"Mangal Shobhajatra is not any part of Bengali culture," committee member Maulana Sultan Mohiuddin told BenarNews. "Symbols of the deities of a particular religion are carried in Mangal Shobhajatra. This cannot be continued in a Muslim majority country."
The minister of cultural affairs defied any threats.
"The celebration will be more jubilant this year," Asaduzzaman Nur said. "To curb militancy is a priority for this government. Political movements are not enough to resist militancy, so cultural movement is a must."
http://www.benarnews.org/english/news/bengali/new-year-04132017170749.html
--------
Syrian Army Launches Operations to Separate Northern, Western Aleppo
Apr 13, 2017
A military source reported that the Syrian soldiers have launched heavy attacks on terrorists' positions in the Northwestern parts of Aleppo city near al-Yarmoun industrial halls, the Western parts of al-Zahra district and near the Family House region and Shuwaiheneh hills.
He underlined that if the Syrian army retakes control of Tal Shuwaiheneh hills, the Western parts of Aleppo province will be separated from its North and the terrorists' supply routes from the towns in Northern Aleppo will be cut off. The army is busy now to ready for launching an assault to capture the town of Anadan in the same region.
The army units also targeted the terrorists' positions in the Southern parts of al-Tamoureh village in Northern Aleppo with missile and artillery fire, destroying one of the militants' bases in Tal al-Ma'askar and killing and wounding several of them.
On Wednesday, the Syrian army soldiers continued their anti-terrorism offensive in Northern Aleppo and managed to deploy forces in positions very close to one of the main bastions of the terrorists after killing 60 militants and destroying their equipment, well-informed sources said.
The sources said that following liberation of the village of Khirbet Anadan on Tuesday, the army forces continued their operation from two directions to take back the strategic town of Anadan, killing 60 terrorists and forcing the rest of them to retreat towards their main base, Anadan.
They added that the army soldiers have gained military control over Anadan from the direction of the town of al-Tamoureh and Khirbet Anadan.
In the meantime, the army's artillery and missile unis pounded the positions of the terrorists in Anadan, killing a number of them.
Also, the army units targeted and downed two imaging drones of the terrorists South of al-Tamoureh in Northern Aleppo.
http://en.farsnews.com/newstext.aspx?nn=13960124000420
--------
Afghanistan bombing sends clear message to ISIS: US lawmakers
Apr 14, 2017
WASHINGTON: American lawmakers have applauded the Trump administration after the US military dropped its largest non-nuclear bomb+ on Islamic State targets in eastern Afghanistan, saying that "it sends a clear message" to terror groups in the region.
The US military yesterday dropped a GBU-43/B Massive Ordnance Air Blast Bomb (MOAB), nicknamed as "Mother Of All Bombs" on a tunnel complex of ISIS-Khorasan, a regional affiliate of the terror group, in Achin district of Afghanistan's Nanagarh province, close to the Pakistani border.
The Afghanistan-Pakistan border area has tunnel complexes known to be used by ISIS and other terrorist groups operating in and out of Afghanistan.
This was the first time a MOAB was used in combat though it was developed in 2003.
According to General John Nicholson, commander of US Forces in Afghanistan: "As ISIS-Khorasan's (ISIS-K) losses have mounted, they are using IEDs, bunkers and tunnels to thicken their defence, this is the right munition to reduce these obstacles and maintain the momentum of US offensive against ISIS-K.
"The decision to drop the MOAB in eastern Afghanistan sends a clear message that the US is committed and determined to defeating ISIS and other terrorist organisations in Afghanistan," said Senator Jim Inhofe, senior member of the Senate Armed Services Committee.
"I spoke to President Ghani and our coalition partners about this same commitment when I visited Kabul this February. This strike supports our Afghan partners and their fight against these terrorist groups," he said.
Inhofe applauded US President Donald Trump's commitment to the fight against terror, giving his military commanders and the authorities the need to defeat US enemies and sending a clear message to both enemies and allies of the US.
Congressman Kevin said Trump has sent a strong message to the Islamic State that will be heard in Russia, North Korea, Iran and around the world.
"I applaud our brave men and women in uniform who put their lives on the line every day to keep our country safe," he said.
Congressman Matt Gaetz said Trump's decision to drop the GBU-43 shows his deep commitment to eradicating ISIS worldwide.
"This message was part of his campaign, and eliminating ISIS is critical to the long-term security of the US. The President's actions also send a clear message that we will no longer tolerate attacks on our troops -- and that those who do so can expect a swift and strong response," he said.
However, Democratic lawmakers questioned the intentions behind the use of such a bomb. Congresswoman Barbara Lee said the unprecedented use of a MOAB, which is considered the 'Mother of All Bombs,' marks a new front in the almost 16 year war in Afghanistan.
"President Trump owes the American people an explanation about his escalation of military force in Afghanistan and his long-term strategy to defeat ISIS," she said.
"No president should have a blank check for endless war, especially not this president, who is acting without any checks or oversight from the Republican-controlled Congress," she said.
Lee urged House Speaker Paul Ryan to call Congress back into session, to can immediately repeal the 2001 Authorization for the Use of Military Force and "put real restraints on Trump's warmongering."
She was the only member of Congress to vote against the 2001 Authorization for the Use of Military Force.
Congressman Seth Moulton said the US needs a comprehensive, integrated political-military strategy to ensure the peace after the American military actions are complete.
Indian-American Republican leader Puneet Ahluwalia said this is a clear message of Trump leadership and his administration to terrorist organisations and American adversaries.
"We will not hesitate to use what ever is in our arsenal to defeat our enemies. Our NATO partners and allies can count on US leadership on the world stage again," he said in a statement.
http://timesofindia.indiatimes.com/world/us/afghanistan-bombing-sends-clear-message-to-isis-us-lawmakers/articleshow/58174891.cms
--------
Israel orders demolition of Palestinian mosque in al-Quds
Apr 14, 2017
Israel has issued an order to demolish a mosque in the occupied East Jerusalem al-Quds claiming that the building has not obtained construction permit.
The order for demolition of Abdullah l-Sanawi Mosque in Silwan neighborhood was issued on Thursday.
According to Fakhri Abu Diab, a member of the Committee for the Defense of Silwan, the mosque was built several years ago on Waqf land using donations from the people to serve 4,000 residents of the area.
Abdullah Al-Sanawi Mosque is among six Palestinian mosques threatened with demolition in the area, he added.
In late December, the UN Office for the Coordination of Humanitarian Affairs (OCHA) announced that Israel's demolition campaign against Palestinian homes and structures across the West Bank and East Jerusalem al-Quds had reached the most unprecedented level in the past seven years.
Israeli demolitions of Palestinian homes and structures have raised alarm among diplomats and human rights groups over what they regard as the Tel Aviv regime's continued violation of international law.
Palestinian children cry following the demolition of their houses in the Bedouin village of Umm al-Hiran on January 18, 2017.
On April 5, the Israeli parliament, known as the Knesset, approved a controversial law targeting what are said to be illegal constructions amid criticisms that the legislation will disproportionately affect Palestinians and Arab communities.
The legislation increases the maximum imprisonment for those convicted of building without permits to three years from the current two-year term.
The legislation, which further hikes fines and reduces the powers of courts to postpone the date of demolition orders, will also target 300,000 Palestinians living in the occupied East Jerusalem al-Quds.
Tel Aviv has accelerated its land grab and settlement construction activities in the occupied Palestinian lands after pro-Israel US President Donald Trump took office earlier this year. Human rights groups say Israel's sustained demolitions of Palestinian homes are aimed at uprooting Palestinians from their native territories and expropriating more land for the expansion of settlements.
Israeli forces have demolished over 48,000 Palestinian homes and buildings since the 1967 occupation of the Palestinian lands, according to the Israeli Committee Against House Demolitions.
http://www.presstv.ir/Detail/2017/04/14/517944/Israel-Palestine-alQuds-mosque
--------
India
Trouble for Zakir Naik, court issues non-bailable warrant against controversial preacher
Apr 13, 2017
MUMBAI: A special PMLA court on Thursday issued non-bailable arrest warrant against controversial preacher Zakir Naik on a plea by the Enforcement Directorate.
Seeking a non-bailable warrant, the Enforcement Directorate (ED) had said the founder of Islamic Research Foundation (IRF) was "directly involved in activities of funding and provocative speeches."
The special court that presides over cases under the Prevention of Money Laundering Act (PMLA) accepted submissions of ED counsel Hiten Venegaonkar who also said, "The Government of India has banned the organization in 2016 and National Investigation Agency (NIA) lodged its prosecution against him under the Unlawful Activities Prevention Act (UAPA)."
"As the foundation is illegal and against the interest of the country and social and communal harmony, funds it receives from India and abroad are tainted," Venegaonkar had argued.
"Companies were used to camouflage diversion of funds received by Zakir Naik through his illegal activities of provocative speeches," said the ED application.
While ED concluded its submissions on Wednesday Naik's lawyer Taraq Sayed had requested special Judge P R Bhavke that he be heard before any orders are passed on Thursday.
Naik's confidant, Aamir Gazdar was earlier arrested in a money laundering case. The ED feels that Naik's non-appearance despite repeated summons was a hindrance to the investigation.
The ED application against Naik said that during its probe it found that "Zakir Naik was fully controlling all the affairs of the Trust as well as companies created by him. It was found that he had created various dummy companies in India as well as abroad, where he nominated dummy directors, who were not aware of activities of these entities."
The ED said, "In almost six companies Gazdar was appointed director. He said that he had no idea of its operations and he was merely a front in these firms and that Dr Naik retained control over these firms through him.''
http://timesofindia.indiatimes.com/india/trouble-for-zakir-naik-court-issues-non-bailable-warrant-against-controversial-preacher/articleshow/58169642.cms
--------
Muslims support CJI on Ayodhya
Apr 14, 2017
MUMBAI: Days after Chief Justice of India J S Khehar suggested to solve the the Ayodhya dispute through dialogue, a section of Muslims have welcomed the idea, but with a condition.
They have said that Muslims should forgo the claim on the disputed land in Ayodhya provided the Hindu organizations give an undertaking in the Supreme Court that the status quo of all the religious sites across the country be maintained as on August 15, 1947.
The new thinking in the community is driven by a desire to settle the dispute once and for all and enter a new era of Hindu-Muslim unity. "Muslims should put forward a proposal through, which they renounce their claim on the site. Muslims should also ask the government to give them a separate piece of land in Ayodhya where a new university campus can be built. The same campus can also have a massive mosque," said M A Khalid, general secretary of All India Milli Council (Maharashtra).
The community favours negotiations under the supervision of the Supreme Court. "To promote peace, we need to move on. This gesture by Muslims will win the hearts of moderate Hindus," said Zafar Sareshwala, vice-chancellor of Maulana Azad National Urdu University.
Full report at:
http://timesofindia.indiatimes.com/city/mumbai/muslims-support-cji-on-ayodhya/articleshow/58169238.cms
--------
Adityanath govt to hold mass weddings of poor Muslim girls
Apr 13, 2017
LUCKNOW: The Yogi Adityanath government in Uttar Pradesh is planning to organise mass weddings for poor Muslim girls in the state.
"Chief minister Yogi Adityanath has given his consent to mass weddings of poor girls belonging to minority communities and we have included it in the 100 days' programme of the state government," Minister of State for Minorities Affairs Mohsin Raza said told PTI on Thursday.
Muslims account for nearly 20 per cent of the state's population and a lion's share of the scheme will go to girls from that community.
A proposal for the same is being prepared, the MoS said, adding that besides extending monetary assistance of Rs 20,000 to each girl, the government will bear other expenses for the mass wedding.
Full report at:
http://timesofindia.indiatimes.com/india/adityanath-govt-to-hold-mass-wedding-of-poor-muslim-girls/articleshow/58167510.cms
--------
Killer past: Pak spy in MP doesn't want to go home
P Naveen
Apr 14, 2017
BHOPAL: Unlike other spies who try to survive and (hopefully, one day) go back home, Pakistani spy Mohammad Sajeed Muneer, alias Sameer Kumar, wants to spend the rest of his life in Bhopal. Not because he likes the hospitality at Bhopal's detention home or is scared to face the wrath of ISI, but because of his killer past.
Muneer says that if he is deported, he would be arrested by Pakistan police and "dumped in dark prisons" for many years over a murder that he committed 13 years ago. His name in Pakistan government records is Abdul and he is a native of a small town bordering Rajasthan. The Pakistani agent is being fed, clothed and sheltered by Bhopal Police since his release from jail 10 months ago.
Muneer had told interrogators that his brother was murdered by a local youth. He killed the murderer to settle scores, said officials who interrogated him. He was on the run from Pakistan police when the ISI approached him in 2003, with an offer he couldn't refuse. Bhopal police claim ISI trained him for three months (May 2003 onwards) at a safe house in Karachi and he was sent to India in October that year.
Within a few days in Bhopal, Muneer befriended an elderly man named Abdul Salam, who was almost blind, and convinced him to adopt him as his son. After a month, Muneer found himself a job as a data entry operator.
Police arrested him on May 25, 2004, just hours before his wedding to a local girl. During interrogation he narrated how he was roped in by ISI to spy on Army bases.
Full report at:
http://timesofindia.indiatimes.com/india/killer-past-pak-spy-in-mp-doesnt-want-to-go-home/articleshow/58174130.cms
--------
Pakistan promoting 'civil resistance' in Kashmir through radicalisation: Union home ministry
Apr 13, 2017
NEW DELHI: Pakistan has changed its strategy of "superimposition" of militancy onto Jammu and Kashmir by promoting "civil resistance" through radicalisation, the Union home ministry has said in its annual report.
The ongoing militancy in the state is intrinsically linked to infiltration of terrorists from across the border, both through the International Border as well as the Line of Control, the report for 2016-17 released on Wednesday said.
"The year 2016 has seen a change in Pakistani tactics following a strategy of superimposition of militancy over civilian resistance through radicalisation by vested interest groups and social media (sic)," it said.
The home ministry said 2016 saw a significant increase in terrorist violence and casualties suffered by security forces in comparison to the year before. However, civilians casualties have decreased in comparison to 2015.
"The year 2016 witnessed a 54.81 per cent increase and a 110.25 per cent increase in the number of terrorist incidents and fatalities of security forces in comparison to the corresponding period of 2015," it said.
However, there is a 11.76 per cent decrease in civilians casualties in comparison to the corresponding period of 2015. During 2016, 38.89 per cent more terrorists have been neutralised.
In 2016, 322 incidents of violence were reported in Jammu and Kashmir in which 82 security forces personnel, 150 terrorists and 15 civilians were killed.
In 2015, 208 incidents of violence occurred in the state in which 39 security forces personnel, 108 terrorists and 17 civilians were killed.
The home ministry's report said there has been a spurt in infiltration attempts from Pakistan during 2016. The state government and security forces have also responded, as a result of which infiltrating terrorists were increasingly neutralised.
"During 2016, both infiltration attempts and net estimated infiltrations have been increased in comparison to 2015," the report said.
Full report at:
http://timesofindia.indiatimes.com/india/pakistan-promoting-civil-resistance-in-kashmir-india/articleshow/58165900.cms
--------
Turkish President Erdogan to visit India on April 30: NSG, terror on table
April 14, 2017
DAYS AHEAD of a historic referendum in Turkey over presidential powers, the country's powerful President, Recep Tayyip Erdogan, has conveyed his willingness to visit New Delhi on April 30-May 1, top sources have confirmed to The Indian Express. Erdogan — who is set to hold a massive referendum in Turkey on April 16 to bring in constitutional change, turning Turkey from a parliamentary to a presidential republic, scrapping the post of prime minister and consolidating his hold on the country — is likely to meet Prime Minister Narendra Modi on May 1.
Confirming the visit, a source said: "If the Turkish President wins, it will be among his first bilateral trips overseas after the referendum." Erdogan is scheduled to arrive in Delhi on April 30. Erdogan had visited India in 2008, when he was Turkey's Prime Minister. After 11 years as Prime Minister, he was elected President in 2014. This will be his first visit to India as President. Erdogan will also meet President Pranab Mukherjee and Vice President Hamid Ansari during his two-day visit. "It will be a short, but an important high-profile visit from the region," said an official involved with planning the visit.
Officials said Modi and Erdogan have met each other on the sidelines of the G-20 summits. At the G-20 summit in Antalya (Turkey) on November 15-16 2015, they held bilateral talks on the margins of the summit. It was one of three or four bilateral meetings Modi had during the summit. Shortly after the failed coup bid last year, Modi had called up Erdogan on August 29 and expressed solidarity with Turkey and its leadership. They again met in Hangzhou (China) on September 5 last year, on the sidelines of the G20 summit.
During his visit to India, one of the major focus areas will be India's application for becoming a member of the Nuclear Suppliers Group (NSG). Turkey, which has not given unqualified support to India, has insisted on "criteria-based approach". New Delhi has perceived this as tacit support to Pakistan's application. "This will be a good opportunity to put India's perspective to Erdogan and obtain his support," said a source.
India will also make "common cause" with Turkey on combating terrorism — a menace faced by both countries. "Erdogan understands the threat from terrorist groups, including the Islamic State, and it would be an important element in the conversation. Turkey has been seen to be supportive of Pakistan's position on Kashmir. India will raise the issue of its battle with Pakistan-based terrorism groups, and there will be discussions on intelligence-sharing on terrorist threats," sources said.
Full report at:
http://indianexpress.com/article/india/erdogan-to-visit-india-on-april-30-nsg-terror-on-table-4612327/
--------
South Asia
Afghan govt was in the loop when GBU-43 was dropped on ISIS target
Apr 14 2017
The Afghan government has confirmed it was in the loop when the 'Mother of All Bombs' was dropped in Nangarhar province to target the hideouts of ISIS terrorist group.
The Office of the President, ARG Palace, said the loyalists of the terror group have suffered heavy casualties in the airstrike as it insisted on close coordination between the Afghan forces and the foreign based in Afghanistan.
A statement by ARG Palace said the Afghan forces will continue to their fight to eliminate terrorism and to maintain peace and stability in the country, the region, and around the world as they are in the front line against the terrorist groups.
The statement further added that the Afghan forces continue to their fight against the terrorist groups and in close coordination with the foreign forces based in the country.
The US Forces in Afghanistan (USFOR-A) in a statement said "At 7:32 pm local time today, US Forces-Afghanistan conducted a strike on an ISIS-K tunnel complex in Achin district, Nangarhar province, Afghanistan, as part of ongoing efforts to defeat ISIS-K in Afghanistan in 2017."
Full report at:
http://www.khaama.com/afghan-govt-was-in-the-loop-when-gbu-43-was-dropped-on-isis-target-02565
--------
Karzai angrily reacts after US drops 'Mother of All Bombs' on ISIS in Afghanistan
Apr 14 2017
The former Afghan President Hamid Karzai angrily reacted at the US forces move for dropping 'Mother of All Bombs' on the hideouts of the Islamic State of Iraq and Syria (ISIS) terrorist group in Afghanistan.
"I vehemently and in strongest words condemn the dropping of the latest weapon, the largest non-nuclear #bomb, on Afghanistan by US military," Karzai said in a Twitter post.
He said "This is not the war on terror but the inhuman and most brutal misuse of our country as testing ground for new and dangerous weapons. It is upon us, Afghans, to stop the #USA."
The US Forces in Afghanistan (USFOR-A) in a statement said "At 7:32 pm local time today, US Forces-Afghanistan conducted a strike on an ISIS-K tunnel complex in Achin district, Nangarhar province, Afghanistan, as part of ongoing efforts to defeat ISIS-K in Afghanistan in 2017."
The statement further added that the strike used a GB-43 bomb dropped from a US aircraft. "The strike was designed o minimize the risk to the Afghan and US forces conducting clearing operations in the area while maximizing the destruction of ISIS-K fighters and facilities."
The commadner of the US forces in Afghanistan General John Nicholson said "As ISIS-K's losses have mounted, they are using IEDs, bunkers and tunnels to thicken their defense. This is the right munitio to reduce these obstacles and maintian the momentum of our offensive against ISIS-K."
Full report at:
http://www.khaama.com/karzai-angrily-reacts-after-us-drops-mother-of-all-bombs-on-isis-in-afghanistan-02564
--------
US military drops largest non-nuclear bomb in Afghanistan
Apr 14, 2017
US forces in Afghanistan on Thursday struck a militant Islamic State (IS) tunnel complex in eastern Afghanistan with "the mother of all bombs," the largest non-nuclear weapon ever used in combat by the US military, Pentagon officials said.
The bomb, known officially as a GBU-43B, or massive ordnance air blast weapon, unleashes 11 tons of explosives.
When it was developed in the early 2000s, the Pentagon did a formal review of legal justification for its combat use.
The US military headquarters in Kabul said in a statement that the bomb was dropped at 7:32 p.m. local time Thursday on a tunnel complex in Achin district of Nangarhar province, where the Afghan affiliate of the IS group has been operating.
The target was close to the Pakistani border.
The US estimates 600 to 800 IS fighters are present in Afghanistan, mostly in Nangarhar. The US has concentrated heavily on combatting them while also supporting Afghan forces battling the Taliban.
Just last week a US Army Special Forces soldier, Staff Sgt. Mark R. De Alencar, 37, of Edgewood, Maryland, was killed in action in Nangarhar.
In its 2003 review of the legality of using the bomb, the Pentagon concluded that it could not be called an indiscriminate killer under the Law of Armed Conflict.
"Although the MOAB weapon leaves a large footprint, it is discriminate and requires a deliberate launching toward the target," the review said, using the acronym for the bomb.
Adam Stump, a Pentagon spokesman, said the bomb was dropped from a U.S. MC-130 special operations transport. He said the bomb had been brought to Afghanistan "some time ago" for potential use.
Full report at:
https://www.dawn.com/news/1326738/us-military-drops-largest-non-nuclear-bomb-in-afghanistan
--------
Hefazat demands withdrawal of Mongol Shobhajatra
April 14, 2017
'Muslims only seeks blessings to Allah. The Muslims who will take part in the Mongol Shobhajatra procession will not remain Muslims'
Hefazat-e-Islam on Thursday called for the withdrawal of the government's order of mandatory Mongol Shobhajatra procession in educational institutions, calling it "anti-Islamic".
Azizul Haque Islamabadi, the central organising secretary of the radical Islamist platform, made the demand in a press release. He claimed that Mongol Shobhajatra is a part of Ganesh worship and therefore "goes against the fundamental tenets of Islam".
"Muslims only seeks blessings to Allah. The Muslims who will take part in the Mongol Shobhajatra procession will not remain Muslims," he said.
"Therefore, we demand the withdrawal of the government's order immediately," the press release read.
Full report at:
http://www.dhakatribune.com/bangladesh/2017/04/14/hefazat-demands-withdrawal-mongol-shobhajatra/
--------
89 insurgents killed in Afghan forces operations in past 24 hours: MoD
Apr 13 2017
At least eighty nine insurgents belonging to the various militant groups including the Taliban insurgents group were killed during the counter-terrorism operations in the past 24 hours, the Ministry of Defense (MoD) said Thursday.
A statement by MoD said the operations were conducted in the various parts of the country and as a result at least 47 insurgents were also wounded and at least 8 others including local commanders of the Taliban group were arrested.
The statement further added that the operations were conducted with the support of the Afghan Air Force and the artillery units of the Afghan army.
According to MoD, at least 37 of the militants comprising the ISIS loyalists were killed in the vicinity of Achin district of Nangarhar, including the brother of the former top ISIS leader Hafiz Saeed.
At least five Taliban commander identified as Shahwali, Malang Jan, Ata-ur-Rehman, Mohammad Akbar, and Toran Ismail were arrested in the vicinity of Nari district of Kunar, MoD said, adding that at least 7 Taliban insurgents were killed and 14 others were wounded in the vicinity of Nawa district of Helmand.
MoD also added that 11 militants were killed and around 10 others were wounded in the vicinity of Sayad district of Sar-e-Pul, and 9 militants were eliminated along with their 2 vehicles in Dasht-e-Archi district of Kunduz.
Full report at:
http://www.khaama.com/89-insurgents-killed-in-afghan-forces-operations-in-past-24-hours-mod-02563
--------
Arab World
Russian Airstrikes on Idlib Leave 22 Terrorist Commanders Dead
Apr 13, 2017
The military source was quoted by Ruskaya Vesna newspaper as saying that "intel showed Ahrar al-Sham terrorist group commanders were due to hold a meeting in Jisr al-Shughour region of Idlib province on April 10".
"After gathering the needed intel for operation, they were provided to the Russian air force in Syria and the Russian fighter jets launched a massive assault on the gathering, and killed 22 of terrorist commanders," he added.
Media sources had also reported on April 9 that the Syrian Air Force in a crushing response to the US missile attack on Shayrat airbase in Southwestern Homs launched massive airstrikes on terrorists' depot of US-made arms and ammunition in Idlib.
The Arabic language al-Hadath news website reported that as a first massive response to the Thursday missile strikes, the Syrian warplanes took off from Shayrat airbase and targeted a huge depot of American arms and munitions of the Al-Nusra (Fatah al-Sham) Front in al-Qasaniyeh settlement in Jisr al-Shughour region in Southern Idlib, destroying the entire weapons stocked in there and killing a number of militants at and around the depot.
Well-informed sources in Northern Syrian reported earlier today that the Syrian Army troops have opened heavy fire at an American reconnaissance plane in Northern Hasaka, forcing the US plane to leave the country's airspace.
The sources said that the intense fire of the special forces forced an American reconnaissance plane to leave the region after approaching the army troops' positions in Qamishli border city.
http://en.farsnews.com/newstext.aspx?nn=13960124000266
--------
Assad says chemical attack '100pc fabrication'
Apr 14, 2017
DAMASCUS - Syrian President Bashar al-Assad said a suspected chemical weapons attack was a "fabrication" to justify a US military strike, as Moscow digs in to defend its ally despite increasing strains with Washington.
In an exclusive interview with AFP in Damascus - his first since the alleged April 4 attack prompted a US airstrike on Syrian forces - Assad said his army had given up all its chemical weapons and that Syrian military power was not affected by the US strike.
"Definitely, 100 percent for us, it's fabrication," he said in the interview on Wednesday in reference to the alleged chemical weapons attack.
"Our impression is that the West, mainly the United States, is hand-in-glove with the terrorists. They fabricated the whole story in order to have a pretext for the attack."
Western leaders including US President Donald Trump have accused Assad of being behind last week's attack in the rebel-held town Khan Sheikhun, saying his forces unleashed a chemical weapon during an airstrike.
The suspected attack killed at least 87 people, including many children, and images of the dead and of suffering victims provoked global outrage.
Syria denied any use of chemical weapons and Moscow said the deaths had been the result of a conventional strike hitting a rebel arms depot containing "toxic substances".
The US-led coalition against Islamic State on Thursday denied a Syrian army report it had carried out an airstrike that had hit poison gas supplies belonging to IS and caused the deaths of hundreds of people.
Responding to Thursday's Syrian army claim, US Air Force Colonel John Dorrian, a spokesman for the coalition, said it had carried out no airstrikes in the area of Deir al-Zor at the time. "The Syrian claim is incorrect and likely intentional misinformation," Dorrian said in an email to Reuters.
In the interview, Assad insisted it was "not clear" whether an attack on Khan Sheikhun had even happened.
"You have a lot of fake videos now," he said. "We don't know whether those dead children were killed in Khan Sheikhun. Were they dead at all?"
He insisted several times that his forces had turned over all chemical weapons stockpiles in 2013, under a deal brokered by Russia to avoid threatened US military action. "There was no order to make any attack, we don't have any chemical weapons, we gave up our arsenal a few years ago," Assad said. He said his forces had not been diminished by the US strike.
"Our firepower, our ability to attack the terrorists hasn't been affected by this strike."
Denouncing a "very barbaric" attack, Trump ordered a strike that saw 59 Tomahawk cruise missiles slam into the airbase in central Syria from where Washington accused Assad's forces of launching the attack.
It was the first direct US military action against Assad's forces since the start of Syria's civil war six years ago and led to a quick downward spiral in ties between Washington and Moscow.
Russia accused the United States of breaking international law with the strike against the Syrian regime, a key ally that Moscow has supported with airstrikes since 2015.
Trump gave such criticism short shrift on Wednesday, saying: "I felt we had to do something about it. I have absolutely no doubt we did the right thing."
On Thursday Trump expressed confidence that US-Russia ties would improve.
"Things will work out fine between the USA and Russia," Trump said in a tweet. "At the right time everyone will come to their senses & there will be lasting peace!"
The strains in ties were clear as US Secretary of State Rex Tillerson received a frosty reception Wednesday on a visit to Moscow, where he said there was now "a low level of trust" between the two countries.
The polarised positions were evident too at the UN Security Council on Wednesday, when Russia vetoed a Western-drafted resolution that would have required Syrian cooperation in an investigation into the suspected chemical attack.
It was the eighth time that Russia has used its veto power to block action directed at Damascus.
In a show of continued support for the regime, Moscow was to host Syrian Foreign Minister Walid Muallem for talks with Foreign Minister Sergei Lavrov on Thursday.
On Friday the two will join a three-way meeting with Foreign Minister Mohammad Javad Zarif of Iran, another key ally of the Assad regime.
Since breaking out with mass protests in March 2011, Syria's conflict has spiralled into a devastating civil war that has left more than 320,000 people dead and forced millions from their homes.
Full report at:
http://nation.com.pk/international/14-Apr-2017/assad-says-chemical-attack-100pc-fabrication
--------
US-Led Coalition Airstrike Blows Up ISIL Chemical Weapons' Cache in Deir Ezzur, Kills Scores of Civilians
Apr 13, 2017
The statement explained that after the attack a white cloud was formed on the ground which later turned yellow, adding that these and other signs show a large cache of toxic materials was exploded in the attack.
After the airstrike, hundreds of people, including the militants and a large number of civilians, suffocated to death after inhaling toxic gases.
The statement also said the incident showed that the terrorist groups, headed by the ISIL and the Al-Nusra Front (also known as Fatah al-Sham Front or the Levant Liberation Board) are in hold of chemical weapons and can access, transfer, store and use them with the help of certain regional states.
Stressing that the Syrian army has no chemical weapons and has not used any chemical arms, the statement warned of the dangers of continued chemical attacks by the terrorist groups against the civilians.
The General Command of the Army and Armed Forces had categorically denied allegations and claims circulated by media outlets about the use of chemical substances in the town of Khan Shaikhoun in Idlib countryside last week.
"The armed terrorist groups used to accuse the Syrian Arab Army of using toxic gases against them or against civilians at anytime they fail to implement the targets of their sponsors and operators or when they are unable to achieve any advantages on the ground in an desperate attempt to justify their failure and to maintain the support of their masters," the Army's general command said in a statement last week.
It categorically denied any use of chemical or poisonous materials in the town of Khan Shaikhoun in Idlib countryside, affirming that it didn't and will never use those materials in any place or time, nor in the future.
Full report at:
http://en.farsnews.com/newstext.aspx?nn=13960124000767
--------
Syrian Army Starts New Phase of Operations in Eastern Aleppo
Apr 13, 2017
The army forces attacked ISIL bases near the strategic town of al-Mahdoum and engaged in heavy clashes with the terrorists.
The army's artillery and missile units also pounded ISIL positions in al-Mahdoum, al-Zakiyeh and Kishish villages and towns as well as areas near al-Jarrah military airport.
Meantime, fierce clashes erupted between the Syrian army and ISIL forces in al-Zakiyeh village. No further report is available on the al-Zakiyeh battle yet.
In a relevant development in the same province on Wednesday, the Syrian army soldiers continued their anti-terrorism offensive in Northern Aleppo and managed to deploy forces in positions very close to one of the main bastions of the terrorists after killing 60 militants and destroying their equipment, well-informed sources said.
The sources said that following liberation of the village of Khirbet Anadan on Tuesday, the army forces continued their operation from two directions to take back the strategic town of Anadan, killing 60 terrorists and forcing the rest of them to retreat towards their main base, Anadan.
They added that the army soldiers have gained military control over Anadan from the direction of the town of al-Tamoureh and Khirbet Anadan.
Full report at:
http://en.farsnews.com/newstext.aspx?nn=13960124000794
--------
Dara'a: Army Repels Al-Nusra Offensive, Destroys Terrorists' TOW Missile Bases
Apr 13, 2017
The Syrian army units engaged in fierce clashes with al-Nusra terrorists who had attacked a number of military positions near al-Manshiyeh district in Dara'a from the direction of al-Khansa school and al-Bajabejeh district, and repulsed their offensive.
During the clashes, the army soldiers also blew up 2 TOW missile bases of the terrorists, 2 tanks and a military vehicle and killed and wounded a large number of militants.
Meantime, the Syrian army units launched heavy artillery and missile attacks on al-Nusra Front bases in al-Sad district, al-Talabiyeh square, the Southern parts of Basari square and areas near the refugees camp in Dara'a, inflicting several losses on the militants and smashing their weapons and ammunition.
The Syrian army launched an offensive against the positions and moves of the al-Nusra Front terrorists in Dara'a on Tuesday, destroying a missile base and killing two high-ranking commanders.
The army units targeted the al-Nusra's hideouts and positions near the old customs office by artillery and missile fire, destroying a TOW missile base and the militants' weapons and equipment.
Full report at:
http://en.farsnews.com/newstext.aspx?nn=13960124000494
--------
Civilians About to Leave Fua'a, Kafraya after 3-Year-Long Siege
Apr 13, 2017
The development came in line with an agreement between the Syrian army and the terrorist groups to transfer civilians from Fua'a and Kafraya in exchange for the militants' exit from Damascus province.
A sum of 99 buses and 20 ambulances of the Syrian Red Crescent Society entered Fua'a and Kafraya in Northern Idlib on Thursday morning to transfer the civilians from the two towns after three years.
Based on the agreement, 8,000 civilians are due to leave Fua'a and Kafraya and 3,800 militants along with their family members will be transferred from the towns of Zabadani, Madhaya, Baqin and al-Jabal al-Sharqi in the outskirts of Damascus.
In late March, the army and militants groups inked an agreement on the evacuation of all the citizens of Kafraya and Fua'a in the aftermath of a ceasefire agreement, in lieu of the evacuation of militants and their family members from al-Zabadani and Madhaya.
According to media reports implementation of the agreement would begin on April 4th after a ceasefire began on 28 of March that would be processed in two phases in order to end the simultaneous evacuation in the two regions.
According to reports, in the first phase, eight thousand civilians would leave the militant-besieged towns of Kafraya and Fua'a and the same number of militants would be evacuated from al-Zabadani and Madhaya along with their families.
The second phase that was expected to start in two months would include evacuation of 8 thousand people from Kafraya and Fua'a in return for the relocation of a similar number of militants from Yarmouk camp.
Full report at:
http://en.farsnews.com/newstext.aspx?nn=13960124000614
--------
ISIL Fails Again in Massive Attack in Eastern Homs
Apr 13, 2017
The army units opened heavy fire on ISIL terrorists who intended to enter several military points in Saniyeh al-Mazibeleh hills in Eastern Homs from the direction of the Fatha al-Mahsa region, Sawaneh al-Mahsa mountain and al-Quaryatayn dam with continued artillery and missile fire.
During the operations, tens of ISIL militants were killed and wounded and several of their military vehicles and equipment were smashed.
In a relevant development on Wednesday, the Syrian army forces, backed up by the country's air force, continued their attacks on ISIL positions in the Southern parts of the ancient city of Palmyra (Tadmur) and drove terrorists out of more positions.
The army soldiers that had previously captured al-Abtar mountain Southwest of Palmyra, engaged in fierce clashes with ISIL and managed to take full control over several key positions Northeast of al-Abtar mountain, 15km away from Palmyra.
In the meantime, the army men pushed ISIL back from cattle raising center, the power station South of Palmyra and the road that connects Palmyra to al-Sawaneh.
Full report at:
http://en.farsnews.com/newstext.aspx?nn=13960124000525
--------
Residents, fighters evacuate from four besieged Syria towns
14 April 2017
Civilians and fighters began evacuating four towns besieged by rebels and government forces Friday under a deal brokered by opposition backer Qatar and regime ally Iran, an AFP correspondent and a local source said.
An AFP correspondent in rebel-held Rashidin, west of Aleppo city, said at least 80 buses arrived in the region from government-held Fuaa and Kafraya in Idlib province. A rebel source in Idlib told AFP "the implementation of the deal started in the morning".
The Syrian Observatory for Human Rights confirmed the beginning of the evacuation. Madaya resident Amjad al-Maleh, who spoke to AFP on the phone from one of the buses leaving opposition-controlled Madaya and Zabadani at around 6:00 am (0300 GMT), said: "We just left now, around 2,200 persons in around 65 buses".
More than 30,000 people are expected to be evacuated under the deal, which began on Wednesday with an exchange of prisoners between rebels and government forces.
Full report at:
https://english.alarabiya.net/en/News/middle-east/2017/04/14/Residents-fighters-evacuate-from-four-besieged-Syria-towns.html
--------
Amnesty launches public campaign in support of Bahraini opposition leader
Apr 14, 2017
Amnesty International has launched a public campaign, which calls on the Bahraini regime to "immediately" and "unconditionally" release prominent Shia opposition leader Sheikh Ali Salman.
The campaign's statement, posted on Amnesty's website on Thursday, said the Manama regime must be pressured to rescind the conviction of Sheikh Salman, who is a "prisoner of conscience."
The statement further said the Shia cleric, who is the leader of the dissolved al-Wefaq National Islamic Society, has been imprisoned "solely for peacefully exercising his right to freedom of expression."
The opposition chief has been in jail since 2014 for what the regime has called "insulting" government officials and "inciting" unrest through his speeches targeting the authorities during the uprising.
The Amnesty has accused Manama of subjecting Salman to "unfair" trial and using only excerpts of the speeches as evidence during the legal proceedings.
The UN Working Group on Arbitrary Detention has likewise called for Salman's immediate release and for him to receive adequate compensation. The campaign demanded that Manama respect the plea.
A key action needed to be taken by Bahraini rulers is to "repeal or amend all laws that criminalize the peaceful exercise of the rights to freedom of expression, association and peaceful assembly," the campaigns statement further said.
Full report at:
http://www.presstv.ir/Detail/2017/04/14/517955/Bahrain-Amnesty-International-Salman
--------
North America
Al-Islam Students Association Throws Make America Just Again Lecture
April 13, 2017
The Al-Islam Students Association organized a lecture titled Make America Just Again, which was presented by a Muslim-American lawyer with Pakistani roots.
AISA tries to host a seminar like this every year, but felt it was especially pertinent and timely given the rise in hate crimes and anti-Muslim rhetoric that has been seen in the media, said President of AISA Naseer Nasseem.
Amjad Khan is a lawyer who specializes in asylum and refugee law and earned his J.D. from Harvard Law. He is currently a professor at UCLA, said Vice President of AISA Will Robertson.
Khan began by speaking about his own personal journey and explained that though there were occasional awkward moments, he did not feel much different from the kids he was surrounded by.
"I liked Nintendo, The Lakers and Casio watches, just like any other normal L.A. kid."
Khan said he wrote his senior thesis on combating Islamic extremism in April of 2001. He said his professors asked him how much of a threat that extremism posed to Americans. Later that year, after the 9/11 attacks, Khan said he was filled with horror and disgust.
"My first thought was, 'how could these people do this in the name of my faith?'"
The events of 9/11 were motivation to convey what he loves about America, Khan said.
Religious freedom was Khan's main subject of his lecture, and he made this claim, which he said he hoped to proved by the end of the talk: "It has never been a better time for religious minorities to be more proud of the country they live in."
In comparison to European countries such as France and Belgium that have banned the headscarf entirely, there is no law in America that bans headscarves nor the worship practices of Muslim-Americans, Khan said.
"Objectively, it appears that Muslim-Americans can practice their faith more freely than any other country in the world," Khan said.
The "Make America Great Again" slogan assumes that at some point, America stopped being great. However, the definition of great may be different, and some may think great means homogenous and uneroded by immigrants, Khan said.
"These people betray America's founding principles and history by failing to celebrate religious pluralism as a democratic principle that makes America great," Khan said
The rigid view of who is American and who is the other is allowing the ground to become more fertile for hate crimes, Khan said.
Full report at:
http://www.uatrav.com/news/article_c654160e-20c6-11e7-a0c8-ab671049a937.html
--------
Calling Islamophobia A Bad Thing Shouldn't Be Hard. Canada Did It, Yet Congress Still Can't.
14/04/2017
Christopher Mathias
Two resolutions condemning Islamophobia died quietly in the U.S. House of Representatives at the beginning of January, neither having made it out of committee. In their year-and-a-half lifespans, they drew only a few headlines, no debates on the House floor, no protests in the streets.
The next month there was no such silence in Canada.
The author of another anti-Islamophobia resolution stood before the House of Commons in Ottawa and read aloud a sampling of the thousands of bigoted messages and death threats she'd received online.
"We will burn down your mosques, draper head Muslim," said one message read by Iqra Khalid, a member of the Liberal Party who represents an Ontario district. Khalid is a Muslim who was born in Pakistan and immigrated to Canada as a child.
"Kill her and be done with it," read another message. "I agree, she is here to kill us. She is sick, and needs to be deported."
"I'm not going to help them shoot you, I'm going to be there to film you on the ground crying," said another.
The messages didn't exactly feel like empty threats. Just a month before, a white supremacist had opened fire on a mosque in Quebec, killing six people praying there.
As she read the messages, Khalid politely replaced curse words by saying "blank."
"Blank you gently with a chainsaw, you camel-humping terrorist incubator blank."
"Shoot this blank."
The horrifying messages, sent to Khalid after she introduced the M-103 resolution in the House of Commons, seemed to prove its premise: that anti-Muslim hate in Canada was real and scary, and that the government needed to take a stand.
M-103 called on all members of Parliament to condemn Islamophobia, collect information about hate crimes, and create a committee to investigate how best to combat religious discrimination in Canada. It was not a bill and did not create a new law.
Still, its introduction precipitated heated debates, with some Conservative Party lawmakers taking issue with the word "Islamophobia" itself and arguing that the resolution would somehow stifle free speech.
"If I think of myself, I am afraid that if ISIS jihadists came over, they might cut my head off and rape me. Is that Islamophobia?" Conservative MP Marilyn Gladu said. "I do not know."
Gladu and other Conservatives pushed for a different resolution, one that condemned all forms of bigotry.
Khalid defined Islamophobia clearly for the House as "the irrational hate of Muslims that leads to discrimination." Liberal MP Mélanie Joly, the minister of Canadian heritage, called the Conservatives' new resolution "weakened and watered down."
"The Conservatives have brought this motion forward in a cynical attempt to serve their political purposes and avoid addressing the real issue concerning Islamophobia," Joly said.
Anti-Muslim websites were apoplectic over M-103, claiming that it would both criminalize criticism of Islam and lead to the implementation of Sharia law in Canada. Such falsehoods fueled tense anti-M-103 protests across the country.
Meanwhile, the press churned out over 1,000 news articles about the resolution in the space of just a few months, according to a search on Lexis-Nexis.
Finally, in March, the House of Commons, led by its Liberal majority, passed M-103 by a vote of 201 to 91. Although it was still just a nonbinding resolution, Khalid had accomplished something significant: a big, messy, very public discussion about Islamophobia in Canada.
That's the discussion that former Rep. Mike Honda (D-Calif.) wanted here in the United States.
Honda, who lost his bid for re-election in November, was a co-sponsor of House Resolution 569, which denounced "in the strongest terms the increase of hate speech, intimidation, violence, vandalism, arson, and other hate crimes targeted against mosques, Muslims, or those perceived to be Muslim."
He chose to sponsor the resolution out of personal experience. He and his family were among some 120,000 Americans of Japanese ancestry incarcerated in so-called internment camps during World War II, where they lived behind barbed wire under the watch of armed guards.
Honda argued last year that what had happened to his family "could happen again" — this time to Muslim Americans, who were increasingly scapegoated and targeted for hateful speech in the wake of the 2015 terror attacks in Paris and San Bernardino, California. Hate crimes against Muslims rose 67 percent in 2015. While the FBI hasn't released hate crime statistics for 2016 yet, media reports show Muslims are still being targeted.
Honda was especially horrified in November, when Carl Higbie, a retired Navy SEAL and prominent surrogate for then President-elect Donald Trump, cited the World War II prison camps as "precedent" for a Muslim registry ― which was one of Trump's campaign proposals.
The important lesson of his family's story, Honda told The Huffington Post, is that "what they did to us was unconstitutional and they made it legal." HR 569, he said, could have sparked "a debate about Islamophobia in the bright sunlight" ― like M-103 did in Canada ― and might have been a step toward defending Muslim Americans from future persecution.
Rep. Eddie Bernice Johnson (D-Texas) also had an anti-Islamophobia resolution ― HR 413 ― die in the House at the end of the last Congress. HR 413 sought to recognize and honor "the victims of hate crimes of Islamophobia and anti-immigrant sentiment, in the aftermath of September 11, 2001." It specifically cited nine murders of Muslims or those perceived to be Muslim in the five weeks after 9/11.
In a statement to HuffPost this week, Johnson said she wrote HR 413 as a rebuke to years of Islamophobic speech and government policy since the U.S. launched its "War on Terror."
"A general climate of fear and anger toward Muslims and those who appear to be Muslim was fomented," Johnson said. "Politicians kept using [such] terms as 'Islamic jihadism' in their speeches. This climate of fear has manifested itself for the past 16 years in institutional policies that view American Muslims as a threat. This climate of fear is unjust."
She also said her Muslim constituents are worried.
"There is a vibrant, active Muslim community in my congressional district and not a day passes that I don't hear from Muslim American constituents in North Texas about their concerns, fears or well-being for themselves or their families," Johnson said.
Half of all resolutions introduced in the House of Representatives are never passed, many falling between the cracks during a busy legislative schedule. And the two anti-Islamophobia resolutions in the 114th Congress faced an especially uphill battle: They were introduced and sponsored by Democrats in a Republican-controlled chamber.
Still, resolutions condemning hate and violence against millions of Americans would seem like an easy "yes" vote for any member of Congress.
Robert McCaw, national government affairs director at the Council on American-Islamic Relations, would put the blame in part on the rise of Trump.
"The fear among Republicans," McCaw told HuffPost last year, "is that if they stand up to Islamophobia, they are going to be challenged by the 70 percent of the GOP that wants to ban Muslims entering the U.S." ― another one of Trump's campaign proposals. "There's a lack of moral backbone in the Republican Party to stand up to Islamophobia and that's what needs to be addressed," he said.
The failure of the two resolutions to even get out of committee suggests how deeply anti-Muslim sentiment is entrenched in the House, with or without Trump. Among the committee members responsible for denying the resolutions a vote were three of the most Islamophobic congressmen: Reps. Trent Franks (R-Ariz.), Steve King (R-Iowa) and Louie Gohmert (R-Texas).
Franks once endorsed a virulently anti-Muslim film titled "The Third Jihad: Radical Islam's Vision for America" and spoke at a conference called "The Enemy of Freedom: Islam."
Gohmert once claimed that Muslim terrorists were sending pregnant women to the U.S. to give birth to "future terrorists" who would "help destroy our way of life."
And King ― who recently made headlines for tweeting a white nationalist message ― has said that the government should spy on mosques and that Muslims should have to renounce Sharia before entering the U.S.
"I don't know if we as a nation are at the point yet where we'll have a [Congress] condemning Islamophobia," McCaw said this week. "America right now is facing its highest uptick of hate crimes in years, and we have a presidency unwilling to address its own anti-Muslim bias or the hate crimes happening on the streets," he added.
While Canada transitioned from a Conservative government under former Prime Minister Stephen Harper to a Liberal one under Prime Minister Justin Trudeau in its last federal election, America did essentially the opposite.
"The resolution in Canada addresses the systemic anti-Muslim bias that was seen to culminate in the Harper government," McCaw said, "and under Trudeau's leadership, the Canadian people are acknowledging the harmful effects of Islamophobia in their society."
McCaw sees one bright spot in Congress with the April 5 passage of Senate Resolution 518, which condemns all hate crimes targeting "religious, racial, and ethnic minorities," including Muslims. It also calls on federal law enforcement to expedite hate crime investigations.
Full report at:
http://www.huffingtonpost.in/entry/islamophobia-united-states-canada_us_58ef93b3e4b0bb9638e1fc40
--------
Meet the Muslim from Trump's party running for US congress
By Jason Lemon
2017-04-13
Dr. Mohammad Ali Bhuiyan is a Muslim, a member of the Republican party – the political party of U.S. President Donald Trump – and he's running for Congress in the state of Georgia.
If he's elected in a special election next week, Dr. Bhuiyan will become the first-ever Muslim Republican congressman in the U.S., and only the third-ever Muslim elected to the U.S. Congress.
But just because he's allied with Trump's political party, that doesn't spare him from facing Islamophobic questions.
In a recent debate, a reporter told Bhuiyan that "some people are, frankly, uncomfortable with the notion of a Muslim in office." She then asked if he has, "publicly denounced terror attacks committed by Muslims?"
Dr. Bhuiyan responded in the best way possible
Dr. Bhuiyan's response was perfect and totally on point. First, he clarified that he was competing against an Orthodox Jew, Baptist Christians and candidates from other religions.
"None of the other religions are mentioned but I get this question all the time," he said.
"I lived [here] for 30 years, I've been vetted multiple times: when I became resident, citizen, global card, entry card. The question, I denounce any forms of violence or extremism anywhere in the world, here, anywhere, by anybody, not just one religion—any religion."
He went on to lay out the double standard in the West, saying that when a Christian commits a terrorist act, people never say all Christians are terrorists.
A "few Muslim bad apples" do not make all Muslims terrorists, Dr. Bhuiyan explained.
Other candidates in the race have faced Islamophobic attacks
Jon Ossoff, a Democrat running against Dr. Bhuiyan and 16 other candidates in the race, isn't a Muslim but he has produced films for Al Jazeera, which is owned by Qatar.
Republican competitor Bob Gray jumped on this and tried to use it as a campaign smear. An ad attacking Ossoff included the words: "HE EVEN WORKED FOR AL JAZEERA," flashing across the screen.
Ossoff responded, saying he "condemns partisan attacks that appeal to fear and stands by his work as a journalist and businessman," in an official statement, according to the Atlanta Journal Constitution.
The statement said that his "company has produced films and video content for multiple clients and news organizations around the world, including Al Jazeera." Company productions have also "appeared on or have been acquired by the BBC (UK), RTL (Netherlands), DR (Denmark), TVN (Poland), SVT (Sweden), and TIM (Italy)."
Dr. Bhuiyan is a testament against Islamophobia and xenophobia in a number of ways
Not only is Dr. Bhuiyan a Muslim, he is also an immigrant.
Full report at:
http://stepfeed.com/meet-the-muslim-from-trump-s-party-running-for-us-congress-6438
--------
Mideast
Yemen's Houthis appoint new Mufti educated in Iran
14 April 2017
Houthi militias have appointed Beraas Shams al-Din Muhammad Sharaf al-Din as a new Mufti to be the leading authority in issuing fatwas in Sanaa, a decision reflects a sectarian ideological orientation of the militia and could create sectarian division in Yemen.
Sharaf al-Din, who was educated in Iran, replaced Judge Mohammed bin Ismail Al-Omrani as the Mufti.
The newly appointed mufti is believed to be one of the most important links between Iran and the Houthi rebellion movement. He is a political activist with the Houthi movement and was a member of the political delegation of the militias that went to Moscow last year to persuade Russia to recognize the power of the Houthis in Sanaa.
The decision has been widely rejected by Yemenis in the capital.
https://english.alarabiya.net/en/News/gulf/2017/04/14/Yemen-s-Houthis-appoint-new-Mufti-educated-in-Iran.html
--------
Rebel court sentences Yemen journalist to death
Apr 14, 2017
SANAA : A Yemeni court in the rebel-held capital has sentenced a veteran journalist to death on charges of spying for neighbouring Saudi Arabia, the press union and rebel media said Thursday.
Since March 2015, oil-rich Saudi Arabia has been leading a deadly military intervention against the rebels and their allies in the kingdom's impoverished neighbour.
Yahya al-Jubaihi, 61, was convicted of establishing "contact with a foreign state" and providing Saudi diplomats in Sanaa with "reports that posed harm to Yemen militarily, politically and economically," the rebel-controlled Saba news agency reported.
Prosecutors alleged that Jubaihi had been receiving a monthly salary of 4,500 Saudi riyals ($1,200) from Riyadh since 2010, four years before the rebels overran the capital, Saba added. The Yemeni press union condemned the "arbitrary" sentence, accusing the rebels of "targeting the freedom of the press."
It said Jubaihi was a "veteran journalist with a long record of professional work across Yemen."
He was seized from his home on September 6, it added.
The rebels and their allies - renegade troops loyal to former president Ali Abdullah Saleh - have controlled all government institutions in Sanaa since they overran the capital in September 2014.
Rival bodies loyal to internationally recognised president Abedrabbo Mansour Hadi operate out of second city Aden or from exile in Saudi Arabia.
The Aden-based information ministry said Jubaihi's trial was a "farce" and accused the rebels of looking to "settle political accounts... through a politicised judiciary."
Jubaihi wrote regular columns in Saudi dailies Okaz and Al-Madina, as well as in Yemeni newspapers.
He served at the government's press department in the 1990s and 2000s when Saleh was president and Hadi was his deputy.
Press watchdogs and human rights groups have been deeply critical of the rebels' treatment of journalists as the conflict in the Arabian peninsula country has escalated over the past two years.
Full report at:
http://nation.com.pk/international/14-Apr-2017/rebel-court-sentences-yemen-journalist-to-death
--------
US sanctions Iran military chief's brother over prison abuses
13 April 2017
The United States on Thursday added the brother of Iran's most high-profile military chief Qassem Soleimani to its sanctions list, accusing him of overseeing torture and other abuses at Tehran's Evin Prison.
The measure from the US Treasury Department targets both Sohrab Soleimani and the Tehran Prisons Organization.
Soleimani is the younger brother of Major General Qassem Soleimani, who runs the foreign operations arm of Iran's Revolutionary Guards and who has been photographed visiting Iranian-led fighting forces in Syria and Iraq. Qassem Soleimani is already subject to US sanctions.
Sohrab Soleimani is the supervisor of the Office of the Deputy for Security and Law Enforcement of the State Prisons Organization, according to a US Treasury statement. He used to be the director general of the Tehran Prisons Organization.
A US-Iranian man and his wife were formally charged last month with holding social gatherings deemed illicit under Iran's Islamic laws.
"The sanctions against human rights abusers in Iran's prison come at a time when Iran continues to unjustly detain in its prisons various foreigners including US citizens," White House Press Secretary Sean Spicer said a news briefing.
"We join recent calls by international organizations and UN human rights experts for the immediate release of all US citizens unjustly detained or missing in Iran."
In a statement announcing the new sanctions, the Treasury Department said the Tehran Prisons Organization oversees Evin Prison, where political prisoners have been subject to harsh interrogation, forced confessions, psychological and physical torture and denial of access to medical care.
Full report at:
https://english.alarabiya.net/en/News/middle-east/2017/04/13/US-sanctions-Iran-military-chief-s-brother-over-prison-abuses.html
--------
Yemeni army storm Khalid Bin Walid Camp in the west of Taiz
13 April 2017
The Yemeni army stormed the strategic camp of Khalid bin Walid from the western side of the city of Taiz.
The army engaged in violent clashes with Houthi and Saleh militias inside the camp, Al Arabiya sources reported.
The legitimate forces approached from the north-west of the camp, reinforced by artillery and missiles cover. They were also supported by Arab coalition aircrafts and warships that were located near the port of al-Mocha.
According to the same sources, after the intensive shelling, several Houthi militias fled towards the south. Thus, the army and resistance forces seized control of Jabal al-Nar, and the region surrounding the camp.
On the other hand, the coalition forces intensified their raids targeting militia hubs and gatherings in the districts of Lehya and al-Dhahi in the north of Hodeidah, as well as other districts in Durayhimi in the south of Hudaydah.
Full report at:
https://english.alarabiya.net/en/News/gulf/2017/04/13/Yemeni-army-storming-Khalid-Bin-Walid-Camp-in-the-west-of-Taiz.html
--------
Iran's foreign minister to join trilateral Syria talks in Moscow
Apr 14, 2017
Iran's foreign minister has traveled to Moscow, where is set to join trilateral talks on the situation in Syria with his Russian and Syrian counterparts.
Mohammad Javad Zarif headed for the Russian capital on Friday at the invitation of his Russian opposite number Sergei Lavrov.
Upon arrival, he is to meet with Lavrov before the two start discussions with Syria's Foreign Minister Walid al-Muallem.
The talks are to focus on the latest developments in the Arab country as well as convergent approaches towards resolving the deadly crisis there.
Last October, the three top diplomats held similar talks in the Russian capital.
During the previous round, the trio emphasized the need for unyielding fight against terrorism, endeavor towards resumption of United Nations-brokered Syria talks on Geneva, which had started earlier last year but was broken off at the time.
Iran's Foreign Minister Mohammad Javad Zarif (L), and Russia and Syrian counterparts, Sergei Lavrov (C) and Walid al-Muallem
In December 2016, Moscow also hosted a meeting of foreign and defense ministers of Russia, Iran and Turkey on the Syria crisis.
The Moscow talks resulted in more concerted cooperation against terrorists in Syria and laid the groundwork for intra-Syrian talks in the Kazakh capital of Astana.
There have been three rounds of the Astana talks where the Syrian government has talked with the country's political and armed opposition with Iran, Russia, and Turkey as mediators.
Full report at:
http://www.presstv.ir/Detail/2017/04/14/517965/Iran-Russia-Syria
--------
Pakistan
Afghan Religious Leaders Assail Pakistani Counterparts for Legitimizing Afghan Militancy
April 13, 2017
Noor Zahid
Afghan religious leaders on Thursday strongly refuted pro-Taliban remarks by a top Pakistani religious and political leader, classifying them as an "intelligence spin."
In response to recent remarks by Maulana Fazl-ur-Rahman, leader of Pakistani's Jamiat Ulema-e-Islam (JUI-F), a conservative religious party accused of maintaining links with various militant groups, the Islamic Scholars Council of Afghanistan called for an Islamic conference to be held in Kabul to debate the religious legitimacy of the Taliban insurgency in Afghanistan.
"Genuine and pious clerics from Pakistan, along with renowned Islamic scholars from the Muslim world, should convene for a religious debate with Afghan religious scholars to assess the situation in Afghanistan, based on the book of Allah [Quran] and teachings of the Prophet [Muhammad]," the Afghan clerics council said.
The statement added that the Pakistani cleric has attempted to legitimize the "inhumane and heinous" actions of militants who have targeted schools, hospitals and mosques throughout the country in their bloody insurgency, killing tens of thousands of innocent Afghan civilians over the last decade.
U.S., NATO presence cited
The JUI-F leader last week linked the Afghan Taliban's insurgency to the presence of U.S. and NATO forces in Afghanistan, in an effort to justify the Taliban's continued violence in the country.
Rahman said peace in Afghanistan would not be achieved as long as foreign troops were in the country.
"International forces must withdraw from Afghanistan for stability and peace in the region," said Rahman, while speaking at a formal gathering where more than a quarter-million people, including foreign guests, celebrated the 100th anniversary of the establishment of the conservative party.
The JUI-F is an offshoot of a Muslim Sunni clerics' political movement founded in former British India by the Deobandi madrassa, or religious school, in 1919.
Rahman's father, Mufti Mahmoud, was one of the leading members who parted ways with the movement in 1945 and established what was originally known as JUI after the creation of Pakistan in 1947. The party has been an adamant supporter of the Afghan Taliban, a majority of whom have been educated in hundreds of religious seminaries run by the party across Pakistan.
The Islamic Scholars Council of Afghanistan argues that the JUI-F leader lacks the credentials to issue jihadi verdicts (fatwa) legitimizing the insurgency in Afghanistan.
'A hostile stance'
"We do not recognize Fazl-ur-Rahman as a religious scholar, but rather he is closely associated with Pakistan's military establishment," Mohammad Qasem Haleemi, the spokesman for the Islamic Scholars Council of Afghanistan, told VOA's Afghan service last week. "It is a hostile stance against Afghanistan."
Haleemi said that ironically, Fazl-ur-Rahman and his party want peace in Pakistan but instigate people against a legitimate government in Afghanistan.
Last week, the JUI-F secretary general, Abdul Ghafoor Haidari, who was denied a U.S. visa in February, called on the Pakistani Taliban (TTP) to lay down their arms and join his Islamist political party to pursue its objectives through political means.
Analysts charge that several religious groups like JUI-F are actively helping achieve Pakistani military policy goals in the region.
Full report at:
https://www.voanews.com/a/afghan-relligious-leaders-assail-pakistani-counterparts-afghan-militancy/3809305.html
--------
TOR of Saudi alliance to be unveiled next month: Asif
Apr 14, 2017
ISLAMABAD: Defence Minister Khawaja Asif on Thursday assured the National Assembly that Pakistan would not become part of any alliance against a Muslim state.
Responding to a calling attention notice, he said that the terms of reference (TOR) of the Saudi-led military alliance would be unveiled by Saudi authorities next month.
He said that the TOR of the alliance, which is to be led by former Chief of the Army Staff Gen Raheel Sharif, and its aims and objectives will be presented in parliament before formally deciding whether Pakistan should become part of it or not.
"We have committed to safeguarding Saudi Arabia's soil for the safety and sanctity of the two holy sites — Makkah and Medina — but we will not become part of any conflict against any Muslim state, including Iran," the defence minister said, responding to the notice moved by Pakistan Tehreek-i-Insaf (PTI) MNA Dr Shireen Mazari.
Besides Ms Mazari, other PTI leaders, including Asad Umar, Ghulam Sarwar Khan, Ayesha Gulalai and Dr Arif Alvi, also spoke on the issue and expressed concern over Pakistan's membership of the alliance without complete knowledge of its TOR, aims and objectives.
The PTI was the only party that remained vocal on the issue after the Pakistan Peoples Party (PPP) staged a walkout and no other opposition leaders spoke on the matter.
The defence minister informed the house that the Saudi government would hold a grand meeting in May, where it would unveil the TOR. "Prime Minister Nawaz Sharif and former COAS Gen Raheel Sharif will attend the event," he said. He termed it a 'ceremonial alliance', saying that it could be called the Saudi Arabia or Pakistan-led alliance of 41 Muslim states, since there was an understanding between both countries that Gen Raheel Sharif would lead the alliance whenever it is formed.
He said that after the TOR was made public, the former COAS would formally apply for an NOC, required by any retired government officer if he intended to serve anywhere within two years after his retirement. "The NOC is issued to retired armed forces personnel under a laid-down procedure," he added.
Mr Asif recalled that a joint session of parliament had unanimously passed a resolution last year on the issue of Yemen-Saudi Arabia conflict, directing that Pakistan would not join any alliance against any Muslim country. "We will follow this resolution in the case of Saudi-led alliance of Muslim states too," he added.
"Rather, we will act as a mediator in case the alliance is used against any other Muslim country," he assured the house.
But before he could continue, PPP's Dr Shazia Sobia pointed out a lack of quorum, preventing the defence minister from explaining further.
Earlier, Dr Mazari asked why Pakistan was joining the alliance without knowing its TOR.
Dr Mazari was of the view that Pakistan should avoid joining any military alliance because the country had already paid a heavy price for becoming a part of past military alliances, such as the one against Russia when it tried to invade Afghanistan, or the Nato alliance in Afghanistan following the 9/11 attacks.
Full report at:
https://www.dawn.com/news/1326857/tor-of-saudi-alliance-to-be-unveiled-next-month-asif
--------
FIR registered against 20 suspects in Mardan student lynching
ALI AKBAR
Apr 14, 2017
A First Information Report (FIR) was registered by police on Friday against members of a lynch mob that brutally assaulted two university students ─ killing one and injuring another ─ over alleged blasphemy in Mardan a day earlier.
The FIR has been lodged in Sheikh Maltoon police station against 20 suspects, of which eight have been arrested, Mardan District Police Officer Dr Mian Saeed said.
The suspects were identified through video footage of the incident, while the police have formed three teams to arrest the remaining suspects, Dr Ahmed stated.
On April 13, Abdul Wali Khan University students Mashal and Abdullah were targeted by a violent mob on campus premises, that killed Mashal and injured Abdullah for allegedly "publishing blasphemous content online", according to police.
Full report at:
https://www.dawn.com/news/1326921/fir-registered-against-20-suspects-in-mardan-student-lynching
--------
No compromise on anti-state acts: Army
April 14, 2017
ISLAMABAD - Following the death sentence awarded to Indian intelligence operative, Kulbhushan Jadhav, Pakistan Army's top brass Thursday expressed firm resolve that there would be no compromise on such anti-state acts.
The 201st Corps Commanders' Conference chaired by Chief of Army Staff General Qamar Javed Bajwa upheld the decision after a thorough briefing on Kulbhushan Sudhir Jadhav.
"The forum concluded that no compromise shall be made on such anti-state acts", military's media wing Inter Services Public Relations (ISPR) Directorate said in a statement.
ISPR said the forum reviewed at length the national security environment and recent developments in the region. The forum reviewed progress of operation Radd-ul-Fasaad and provision of support to the sixth census being undertaken across the country.
The army chief appreciated formations, intelligence agencies and law-enforcement agencies for successful execution of operations.
Indian intelligence operative Kulbhushan Jadhav was arrested on March 3, 2016, through a counter-intelligence operation in Balochistan's Mashkel area for his involvement in espionage and sabotage activities against Pakistan, the Inter-Services Public Relations (ISPR) said in a statement on Thursday.
Although the accused had been provided with a defending officer as per legal provisions, according to ISPR, Pakistan had turned down India's request seeking consular access to Jadhav last year due to his involvement in subversive activities in the country.
Jadhav was tried by the FGCM under Section 59 of the PAA and Section 3 of the official Secret Act of 1923, the statement said.
Jadhav confessed before a magistrate and court that he was tasked by Indian spy agency, Research and Analysis Wing, (RAW) to plan coordinate and organise espionage and sabotage activities to destabilise and wage war against Pakistan through impeding the efforts of law-enforcement agencies for the restoration of peace in Balochistan and Karachi, the ISPR said.
Following the announcement, New Delhi summoned Pakistan High Commissioner Abdul Basit on Monday and handed over a demarche. It said, "If this sentence against an Indian citizen, awarded without observing basic norms of law and justice, is carried out, the government and people of India will regard it as a case of premeditated murder."
However, the Pak high commissioner dismissed New Delhi's concerns, saying Jadhav's death sentence was lawful and Pakistan followed all procedures as per the law.
Defence Minister Khawaja Asif has said that the death sentence of Kulbhushan Jadhav is according to the law. He said the sentence of the Indian spy was a warning for all the forces conspiring against Pakistan. He said Indian government was behind the activities of Kulbhushan Jadhav.
Khawaja Asif rejected the Indian stance of terming death sentence to the Indian spy a premeditated murder. He said Kulbhushan Jadhav was involved in carrying out terrorist activities in Pakistan and all legal formalities were met during his trial.
He said India had been committing premeditated murder of the innocent people of Kashmir for last seven decades. He said New Delhi's stubbornness was the biggest hindrance in the way of the relationship between the two countries.
Khawaja Asif made it clear that the law would take its course if anyone posed a threat to the security and integrity of Pakistan.
He averred India was habitual in levelling baseless and unfounded allegations against Pakistan. He asserted India had not fulfilled its legal and moral obligations in brining perpetrators of Samjhauta Express train blasts and massacre of minorities, especially Muslims, in Gujarat to justice.
Full report at:
http://nation.com.pk/national/14-Apr-2017/no-compromise-on-anti-state-acts-army
--------
Pak-China strategic ties bedrock for regional peace: Marriyum
April 14, 2017
ISLAMABAD - Minister of State for Information Marriyum Aurangzeb Thursday said ever-growing strategic relations between Pakistan and China are the bedrock of regional peace and stability.
She said this during a meeting with Director Information Office of the State Council of China Jiang Jianguo, who called on her along with a high-level delegation in Islamabad.
She said Pakistan and China had exemplary friendship which had withstood the vicissitudes of time due to the fact that they were based on mutual trust, deep harmony, love and respect.
The minister said that the people of both countries were tied together in an eternal connect, steeped in emotions of affinity. She further emphasised that the relationship between the two states was deeper than oceans, higher than Himalayas and stronger than steel.
She added that China-Pakistan Economic Corridor, a flagship project of China's "One belt One Road" initiative, would bring prosperity to the people of China, Pakistan, South Asia, Central Asia and Middle East.
The CEPEC, not only entails greater connectivity and trade linkage between Pakistan and China through a network of roads, rail, fibre optic cable, energy pipelines and industrial clusters but will also prove to be a game-changer that benefits the entire region, she said.
Marriyum Aurangzeb said that cultural exchanges and people-to-people contacts were one of the essential ingredients of maintaining and enhancing friendly bilateral ties between the two countries. She said various modes of mass media could be instrumental to promoting and projecting each other's culture, heritage and values.
She also underscored the need for stronger collaboration in the field of film production and broadcast industry, adding that the films are a very strong medium for strengthening cultural ties between the two friendly states.
The minister also apprised Jiang Jianguo about the recent launch of film club with the Chinese film show "Postman in the Mountains" under the auspicious of Pakistan National Council of Arts and stressed the need for paying more attention to entertainment industry as it was a very powerful tool for global connectivity and outreach to the people at large.
Jiang Jianguo said that China enjoyed special relationship with Pakistan and believed that this unique bond would further deepen with every passing day. Felicitating Pakistan on the eve of its independence celebrations, he said: "We are really honoured to visit Pakistan on the occasion when it is celebrating its 70th year of independence".
The guest further stated that China-Pakistan Economic Corridor would pave the way to open new vistas of opportunities for the people of the two nations as well as the entire region.
Full report at:
http://nation.com.pk/national/14-Apr-2017/pak-china-strategic-ties-bedrock-for-regional-peace-marriyum
--------
Southeast Asia
Study: In Malaysia, religious controls tighter than in Saudi Arabia, Brunei
April 14, 2017
KUALA LUMPUR, April 14 — Malaysia continues to strictly control religious practices, with an annual study grouping it together with other Muslim-majority countries practising "very high" restrictions, such as Saudi Arabia, Brunei, and Turkey.
The study, published on Tuesday by US-based think tank Pew Research Centre, found that Malaysia's religious controls worsened in 2015, scoring 8.0 out of 10 points on the Government Restriction Index (GRI) compared to 7.0 the previous year.
Topping the 2015 list was Egypt, China, Iran and Russia, followed by Uzbekistan and Malaysia which shared the same score.
A total of 198 countries were surveyed in the study.
Pew said government restrictions on religion and social hostilities involving religion increased in 2015; the first time it has done so in three years.
"The increase in government restrictions was linked to a surge in government harassment and use of force against religious groups, two of the specific indicators used to measure government restrictions on religion in the analysis," said the report, referring to the global situation.
The GRI comprises 20 measures of restrictions, including efforts by government to ban particular faiths, prohibit conversion, limit preaching or giving preferential treatment to one or more religious groups.
Malaysia was also placed in the "high" group on the Social Hostilities Index, which measures acts of religious hostility by private individuals, organisations or groups in society.
The two indices were based on international reports on religious freedom from the United States, European and United Nation bodies, and independent NGOs across the world.
Muslims make up 61.3 per cent of the Malaysian population, followed by Buddhists at 19.8 per cent, and Christians at 9.2 per cent, according to the latest census data from 2010.
In Malaysia, only the Sunni denomination of Islam and its Shafie school of jurisprudence are considered official.
Full report at:
http://www.themalaymailonline.com/malaysia/article/study-in-malaysia-religious-controls-tighter-than-in-saudi-arabia-brunei
--------
Africa
Africa: 20 killed in fire at Muslim spiritual retreat in Senegal
Apr 13, 2017
Dakar: Senegal's government says at least 20 people have been killed in a fire while attending a Muslim spiritual retreat in the eastern part of the country.
Government spokesman Seydou Gueye said on Thursday that several others were wounded in the fire on Wednesday in Medina Gounass village.
President Macky Sall offered condolences to victims' families. He said the interior ministry would visit the site on Thursday.
Senegalese national TV reported that strong winds and makeshift shelters allowed the fire to spread, though the cause of the fire was not immediately known.
Thousands of Muslim men from Senegal, Guinea and other West African countries meet annually in Medina Gounass for the spiritual retreat.
http://www.deccanchronicle.com/world/africa/130417/africa-20-killed-in-fire-at-muslim-spiritual-retreat-in-senegal.html
--------
Boko Haram insurgency weighs on minority Christians three years after Chibok
13.04.2017
Adrian Kriesch
Oliver Dashe Doeme is the Catholic Bishop of Maiduguri, Borno State, in northeastern Nigeria. Borno State has a population of some five million of which approximately 2 percent are Catholic. DW has been talking to Bishop Doeme about the Islamist insurgency and relations with majority Muslims.
Three years have elapsed since the kidnapping of the Chibok girls. How difficult is it to ensure that their friends and families don't lose hope?
We had been hoping that within this period - or even less than one year - that the girls would have been found and brought back. But up to now many of them have not been released. But we are hoping and praying that they will be eventually be released and will come back to their families, just as it happened last year when 21 of those girls came back and were welcomed and embraced by their families.
The Chibok girls are not the only ones missing. There are many others. Do you have any idea how many are missing and is enough being done to bring them back?
I have really no idea of the number. But I know that many thousands of our women and girls have been taken away by the Boko Haram members, especially from many communities here in northeastern Nigeria. Happily enough, a lot of them have come back, have been released, but they are some who are still in the custody of Boko Haram members. The number we do not know but there are still many of them.
Both the current president Muhammadu Buhari and his predecessor Goodluck Jonathan have made a lot promises with regard to the release of the Chibok girls, not all of which have been fulfilled. Has the leadership let the people down here in the northeast?
One of the greatest problems we have here in this country is corruption. Corruption is a major problem. Boko Haram is not invincible. They are a sect. But this sect has overpowered the whole military of a nation and it has a lot to do with corruption. In Goodluck Jonathan's time, money was given for the purchase of arms to crush Boko Haram but many of the top military officers secreted that money into their private pockets. The arms were not purchased and the soldiers in the field were being overpowered by Boko Haram from one place to another. There have, however, been changes. But since Boko Haram has become very powerful, the war cannot end in one day. But I am very sure that gradually they will be defeated, crushed completely.
Tell us a little bit about the Christian community in [mainly Muslim] northeastern Nigeria. How strong is it and how much has it suffered because of the insurgency over the past years?
The Christians have been badly affected by this insurgency. For no reason. They are innocent and yet because of their faith, they have suffered severely at the hands of Boko Haram members. Because these sect members after capturing many communities, they will drive our people away. They will send them packing, leaving their ancestral homes. They destroy their animals, their vehicles, their houses. And some of their family members have been killed. Over 500 Catholics have been killed. That is not all of the Christians, just the Catholics that have been killed in this insurgency. And some of our youth have been taken away. Because of this, our people are really devastated. They are traumatized.
A lot of churches were destroyed in the region. Has the church received any compensation from the government?
The federal government has not compensated us. The state government in Borno has started rebuilding some of the church so we have to acknowledge that and thank the state governor. Two Catholic churches have been rebuilt.
There have been many attacks on Christians in recent years. What has been the impact on relations between the Muslim and Christian communities in this part of the country?
Full report at:
http://www.dw.com/en/boko-haram-insurgency-weighs-on-minority-christians-three-years-after-chibok/a-38415778
--------
Hate preaching breeds acrimony among Nigerians, cleric warns
14 April 2017
The National President, Anwar-ul Islam Movement of Nigeria, Alhajj Mubashir Adekunle Ojelade, has enjoined religious leaders and clerics across board to desist from hate preaching. This according to him has wreaked much havoc on the society by turning citizens against themselves.
Ojelade made this call during a press briefing in Lagos to usher in the 101st yearly conference of the association slated for Anwar-ul Islam Model College, Agege, from Friday, 14th to Sunday, 16th April, 2017.
The Anwar-ul Islam Movement of Nigeria formerly Ahmadiyya Movement in Islam was founded in Lagos in 1916 and duly incorporated under the Companies and Allied Matters Act, LFN.
Ojelade said: "Those who preach hatred and violence in religion are doing their own work not the work of God. Insurgency is an anathema to Islam as such Boko Haram and others who pretend to advance Islam through violence or compulsion are on their own and do not act for or represent Muslims.
"Anybody or group who commits a crime or precipitates violence under the guise of religion should be dealt with under the laws of the land. Our challenges in Nigeria is that religious leaders have not been as mature and circumspect as they ought to be in reacting to religious issues by making uncomplimentary and inciting speeches which can only compound issues to serve as inspiration for further violence. The unholy activities of terrorists and insurgents who use Islam as motivation for violence is giving the religion a wrong and unfortunate label," he said.
However, he urged the Federal Government to take urgent steps to curb ethno-religious clashes and killing across the country. "A proactive multi dimensional and multi- disciplinary approach that will involve security agencies, the legislature, the judiciary and community leaders must be adopted to enable the government to deal with and manage such crisis effectively," he advised.
Full report at:
https://guardian.ng/features/hate-preaching-breeds-acrimony-among-nigerians-cleric-warns/
--------
Africa: Can South Africa Risk Going Back Into CAR?
13 APRIL 2017
By Peter Fabricius
On an official visit to South Africa last week, Central African Republic (CAR) President Faustin-Archange Touadéra promised his counterpart Jacob Zuma that his country would build a monument to honour 15 South African soldiers at the place on the outskirts of the capital Bangui where they were killed by Seleka rebels four years ago.
Touadéra expressed his condolences to Zuma for the deaths of the soldiers and thanked him for the support South Africa had given CAR during its crisis in 2013. South African defence minister Nosiviwe Mapisa-Nqakula told the national broadcaster SABC that her government would help the families of the fallen soldiers to visit the monument in Bangui to pay respects to their loves ones.
But four years later, it's still not generally clear why those 15 brave soldiers died. What exactly were they doing there in the first place? In January 2013 Zuma had sent an understrength force of about 225 troops to reinforce the handful of soldiers who had been in CAR since 2006 - ostensibly training the presidential guard of former president, François Bozizé. The reinforcements could only slow the huge advance of Seleka, which toppled Bozizé a few hours later.
The mainly-Muslim Seleka then made matters worse, imposing a bloody reign of terror, which provoked an equally bloody retaliation from a Christian militia group anti-Balaka.
Regional, French and finally United Nations troops then sufficiently suppressed the warring militias to allow relatively peaceful elections in February last year which brought Touadéra - a former prime minister of Bozizé - to power.
But violence continues and the ex-Seleka and ex-anti-Balaka, although in different guises, are still terrorising the wretched central Africans and threatening to topple Touadéra's very fragile government.
And so part of Touadéra's mission to Pretoria was to seek South Africa's help in strengthening his state against these forces of chaos, both directly and indirectly. He sought the government's help in encouraging investment, mainly in sorely-need infrastructure, transport, mining and construction. He also sought assistance in improving the technical capacity of the CAR public service, including diplomats, the police and - especially - the army.
Most of this would be easy for South Africa which is eager to invest in CAR and several South African companies have already been approached by CAR to do so. South Africa has also established a tradition of providing civil service training to post-conflict countries, like South Sudan (although with mixed results) and so Zuma readily agreed to provide most of the help Touadéra sought, an official said.
The South African government is also well-disposed to a request from Touadéra for help in launching a major, countrywide reconciliation process to consolidate the country's fragile peace. Pretoria appreciates Touadéra's efforts so far to establish an inclusive and diverse government but says he needs to go further by embracing the rest of society, including the churches, in a wider reconciliation effort.
Important decisions remain to be taken, perhaps most critically, the usual post-conflict dilemma of how to get the balance right between amnesty and justice. Both inside CAR and among the various elements of the international community, the debate continues to rage. And there are reported divisions within Touadéra's inner circle about whether the exiled Bozizé should be allowed to return to play a role in politics.
Pretoria stands ready to dispatch its experts to share their experience of the reconciliation process in South Africa, as they have already done many times in other post-conflict countries.
But, officials say, the one request of Touadéra which Zuma is still 'applying his mind to' is that for help in training up an army.
Pretoria is mindful that establishing a professional, national army is probably Touadéra's highest priority. The government's monopoly of the use of legitimate force hardly extends to the city limits of the capital, let alone into the hinterland where various predatory forces - including illegal miners and the remnants of the Lord's Resistance Army, not just the Seleka and anti-Balaka offshoots - hold sway.
The ex-Seleka and anti-Balaka militias remain the main problem though. They are supposed to be submitting to disarmament, demobilisation and reintegration, as laid down in an agreement reached in Angola in December. But they are reportedly still holding their many guns to Touadéra's head, making unrealistic demands for high positions in the national army and the cabinet, before they make peace.
Mediation efforts by Angola - and even the African Union (AU), according to the journal Africa Confidential - and pleas to Chadian President Idriss Deby, to use his purported influence over Seleka to persuade them to stop fighting, have so far not born fruit.
The South African official said that in any case, these ragtag killers were the last people Touadéra needed to incorporate if he intended to create a professional, neutral army to extend legitimate order over the whole country. 'He already has the manpower, he just needs the training,' one said. He praised the European Union for its help in training 200 CAR soldiers for this army but added that the pace was too slow as a total of 8 000 soldiers was needed and so more training was required.
Mapisa-Nqakula, though, told the SABC during Touadéra's visit quite categorically that South Africa would definitely not be sending troops to CAR again. A senior official nonetheless told ISS Today, that 'we might consider lending a hand.' He explained the apparent contradiction with what Mapisa-Nqakula had said by insisting that if South Africa did provide training, it would take place outside CAR. 'Certainly we have no plans to send troops soon into CAR, in any capacity,' he underscored.
Pretoria is clearly still painfully conscious of how that seemingly-innocent training Full report at:
http://allafrica.com/stories/201704130677.html
--------
Europe
Detained 'Islamist' cleared over Dortmund blasts
Apr 14, 2017
DORTMUND, Germany : German federal prosecutors said Thursday they had cleared the sole suspect in custody for a bomb attack against the Borussia Dortmund football team bus of involvement.
The announcement marked a setback for investigators, who described the three blasts late Tuesday as a "terrorist" act and said they are focusing on suspects in the "Islamist spectrum". "The investigation has not found evidence that the suspect took part in the attack," the prosecutors office said in a brief statement.
It said it was nevertheless seeking an arrest warrant for a 26-year-old Iraqi national, identified only as Abdul Beset A., for alleged ties to the Islamic State group.
Investigators had zeroed in on two suspects believed to belong to the large militant scene in the Ruhr region, after three identical letters claiming responsibility for the attack were found at the scene. Only Abdul Beset A. was detained.
The letter demanded that Germany stop its Tornado reconnaissance missions in the international anti-IS coalition and close the US air base at Ramstein in western Germany.
The daily Bild newspaper said that police had placed Abdul Beset A. under surveillance for several months and believed, based on tapped telephone conversations, that he might be hiding explosives in his flat.
However a raid on his home Wednesday drew a blank, the report said, adding that investigators were still pursuing leads in the extreme-right and far-left scenes.
Bild also quoted a security expert, Peter Neumann, raising doubts about an IS link to the letter found at the scene because some of its formulations were atypical for the group.
Even as the probe appeared to be in the preliminary stages, Dortmund officials criticised the decision to play its postponed Champions League match just 24 hours after the attack, with the perpetrator or perpetrators still at large.
The roadside blasts left Dortmund's Spanish international Marc Bartra and a policeman injured, with the bombs "containing metal pieces" detonating minutes after the team bus set off to a planned game against Monaco.
The quarter-final, first leg match was held in Dortmund 24 hours later in a packed stadium with tight security, with Monaco winning 3-2.
Dortmund coach Thomas Tuchel angrily accused UEFA of treating the bomb attack as if a "beer can" had been thrown and claimed they were informed by text message that they would have to play their Champions League game.
Former German international Lothar Matthaeus said it was "irresponsible" to get the players to go through with the game so soon after the attack.
"From what I heard from team sources, many players didn't want to play today. But UEFA put on pressure and politicians urged Borussia Dortmund to counter terror," he told Sky News, referring to the European football federation.
Chancellor Angela Merkel said Wednesday she was "horrified" by the "repugnant act", which Dortmund city's police chief described as a "targeted attack" against the team.
Germany has been on high alert since a series of militant attacks last year, including a Christmas market truck rampage in Berlin.
Merkel said Thursday that "highly varying" laws for each region under Germany's federalist system were undermining the country's fight against terrorism.
She cited differing policies on surveillance as one weakness and called for their harmonisation, in an interview with the Funke media group.
"We know that we are threatened like many other countries and will do everything in our power to ensure security in freedom for our citizens, in close consultation between the federal government and the states," she said.
Before the match began Wednesday, fans chanted "Bartra! Bartra!", in support of the injured defender.
Dortmund's chief executive Hans-Joachim Watze vowed that his side would "play not only for ourselves today. We will play for everyone... we want to show that terror and hate can never determine our actions".
Interior Minister Thomas de Maiziere, who attended the match, said the "fascination" surrounding football drove terrorists to try to disrupt it. "That's why it's right that we do as much as we can to protect it, and not allow criminals to take the fascination away from us."
http://nation.com.pk/international/14-Apr-2017/detained-islamist-cleared-over-dortmund-blasts
--------
Lavrov: Russia, US agree US strikes on Syria should not be repeated
14 April 2017
Russia and the United States have a shared understanding that US air strikes on Syria should not be repeated, Russian Foreign Minister Sergei Lavrov told his Syrian counterpart Walid al-Moualem in Moscow on Thursday, Interfax news agency reported. He said this was "concluded" during Wednesday's visit of US Secretary of State Rex Tillerson to Moscow.
But in Washington, the US State Department said Tillerson did not eliminate the possibility the United States may undertake future strikes. "The secretary explained there were no subsequent targets after the missile strike, but he did not rule out any future action," State Department acting spokesman Mark Toner said in a statement.
"He stressed that Russia is in a position to use its influence over the Assad regime to ensure it is never again necessary for the US to act," Toner said.
Chemical attack was 'war crime'
The Syrian government's suspected chemical weapons attack on civilians last week amounts to a "war crime," the US State Department said Thursday. It also ridiculed comments by President Bashar al-Assad in an interview with AFP to the effect that the alleged attack was fabricated by the United States to justify an American military strike.
"Sadly, it's vintage Assad. It is an attempt by him to throw up false flags, create confusion," said department spokesman Mark Toner, alluding to what Assad said in the interview Wednesday. It was Assad's first since the alleged April 4 chemical weapons attack prompted a US cruise missile strike on a Syrian air base.
"Frankly, it's a tactic we've seen on Russia's part as well in the past," Toner told a daily press briefing.
Full report at:
https://english.alarabiya.net/en/News/middle-east/2017/04/14/Lavrov-Russia-US-agree-US-strikes-on-Syria-should-not-be-repeated.html
--------
United against the Muslims: The Israeli flirtation with Europe's extreme right
13 April 2017
The attack on Friday in Stockholm, in which four people were killed in what the Swedish police described as an act of terror by a supporter of the Islamic State (IS) group, was not covered widely in the Israeli press, maybe because Sweden is not a place which Israelis visit often. Or maybe because the Israeli press has grown used to these kinds of attacks, but the comments in the largest news sites rarely showed sympathy to the victims.
"If only Sweden would stop the occupation, these attacks would stop," was a typical reaction, mocking the allegedly false connection – in the eyes of most Israelis – between Israel's occupation and attacks against it.
As attacks such as the one in Stockholm become more common – from Charlie Hebdo to the Bataclan to Nice, Berlin and London – so most Israelis become more convinced that Europe is now learning the hard way what we, Israelis, allegedly have known for so many years: that the war with Islam and Islamism is inevitable and that Israel is the vanguard outpost in the eternal clash of civilisations.
A great example of this kind of approach comes from the popular television commentator Tzi Yehezkeli, an expert on "Arab issues" for Israel's Channel 10. In his four-chapter series, "Allah Islam", aired in 2012, Yehezkeli portrayed a Europe under the threat of an ever-growing and willfully segregated Muslim minority, bent on changing its liberal and Christian character and creating a Sharia state. The bloody attacks in Paris and elsewhere, which came only later, were seen as a confirmation of Yehezkeli's prediction, turning him into a local prophet.
The 'Muslim danger'
This attitude stems, of course, from the growing anti-Arab and anti-Muslim discourse in Israel in recent years. But it has also another aspect: if Europe would just see the importance of the "Muslim danger", goes this line of thinking, then it would also understand – and be grateful for - Israel's pivotal role in the war against "radical Islam". Through this common enemy, Israel could be relieved from its isolation.
This may explain why the Israeli press follows every incident which may corroborate this "Muslim danger" closely. As a consequence, it also follows every achievement of right-wing leaders and parties who base their rhetoric on anti-immigration and anti-Islamic propaganda in Europe and elsewhere.
Brexit was viewed favourably in Israel, because of its anti-immigration message. The victory of Donald Trump, with his promised ban on Muslim immigration and his emphasis on "Islamic terror" was hailed in almost messianic terms. Special coverage was also given to the latest Dutch election in which Geert Wielders and his Freedom Party was predicted to come first, after promising to close down mosques and ban teaching of Quran. His failure to do was a disappointment to many in Israel.
Special focus on France
In this framework, France occupies a special place in Israeli public opinion and politics. Its Jewish community, around 500,000-strong, is the largest in Western Europeand many of them, especially those who migrated to France from North Africa, have strong family ties in Israel and visit it regularly. It is more orthodox than other Jewish communities in Western Europe and tends to adopt more right-wing positions, at least in regard to the Israeli-Palestinian conflict.
The impression in Israel is that France is a dangerous place for Jews, if not a full-blown battlefield between Jews and Muslims
France also has the largest Muslim community in Western Europe and relations between these two communities have deteriorated in recent years. Incidents of harassment of Jews by Muslim youth are reported extensively in the Israeli press and, in a recent article in an Israeli website, France was portrayed as "the most anti-Semitic country in Europe". The bloody attacks on a Jewish centre in Toulouse in 2012 and on the Jewish supermarket in Paris in 2015 were seen as an immediate threat to the Jewish presence in France.
Reports about a tide of French Jews who want to immigrate to Israel have filled the Israeli media. Immigration to Israel did jump to some 8,000 Jews in 2015. In 2016, it dropped to 5,000 and, in the first months of 2017, it dropped even further (third place after Russia and Ukraine), but the general impression in Israel is that France is a dangerous place for Jews, if not a full-blown battlefield between Jews and Muslims.
The shared battle
Against this backdrop, the political battle against the so-called "Islamisation" of France is perceived in Israel almost as a shared battle. The restrictions on wearing hijab in public places, for example, were welcomed warmly in Israel. Although Israel is far from being a secular state with secular values, most Israelis vehemently support safeguarding these same values in France or in Europe in general, because they are seen as tools to stop the "Muslim invasion" of Europe, a term widely used in Israeli press.
A collapse of the EU would make many Israelis happy
In this respect, the ideas promoted by Marine Le Pen and her National Front are viewed favourably. This also applies to her sharp opposition to the European Union. The EU is viewed negatively in Israel not only because of its positions on the Israeli-Palestinian conflict, certainly compared to the pro-Israeli positions coming from Washington, but also because the very idea of a transnational union where nationalism is supposed to play a lesser part runs contrary to the very nationalistic mood in Israel. A collapse of the EU would make many Israelis happy.
Yet despite all these common features, so far Israel has refrained from aligning with Le Pen, Wilders or other extreme-right Europeans leaders. This has to do, of course, with their anti-Semitic past, and present. Jean-Marie Le Pen was officially boycotted by Israel after remarks he made denying the holocaust.
Marine Le Pen has worked hard to shave off her father's legacy and even met with the Israeli ambassador to the UN a few years ago. Her vice president Louis Aliot visited Israel back in 2011 and Nicolas Bay, the National Front's secretary general, visited this January, but she is still not welcome.
Coincidence of interests
But thing are changing even in this regard. Israel has a much less intransigent position towards anti-Semitic phenomena than before, which became evident after Trump's victory. Israel's ambassador to the US, Ron Dermer, went out of his way to defend Steve Bannon, Trump's close adviser who is accused of holding anti-Semitic positions.
Israel was also very slow to comment on the desecrations of Jewish cemeteries in the US which many in American Jewish community blamed on the anti-Semitic atmosphere promoted by elements in Trump's political camp. When Trump was asked about this alleged wave of anti-Semitism during a news conference with the Israeli Prime Minister Benjamin Netanyahu, Netanyahu rushed to defend him.
Anti-Semitism is viewed as almost a positive feature: when the interests of Jewish communities abroad and Israel collide, Israel's interests come first
Israeli right-wing columnists rejected the idea that the desecration could be linked to Trump's camp and claimed instead that they were part of "a false narrative" forged by liberal Jews, together with left-wing Israelis.
Even when faced with the possibility that measures against Muslims in France and in Europe, such as bans on wearing religious symbols or clothes, might also hurt Jews, Israeli nationalist leaders are undeterred in their support for extreme right-wing parties in Europe.
A ban on wearing kipa "would be good" said Professor Aryeh Eldad, a right-wing pundit, ex-parliamentarian and a personal friend of Geert Wilders. "Jews immigrated to Israel only when they were persecuted," he said. Anti-Semitism is viewed, therefore, as almost a positive feature: when the interests of Jewish communities abroad - such as wearing a kipa and leading free communal life - and Israel collide, it is clear that Israeli interests have the upper hand.
Full report at:
http://www.middleeasteye.net/columns/israeli-flirtation-europes-extreme-right-1577739745
--------
URL: https://www.newageislam.com/islamic-world-news/no-temporary-beards-islam-fired/d/110768
New Age Islam, Islam Online, Islamic Website, African Muslim News, Arab World News, South Asia News, Indian Muslim News, World Muslim News, Women in Islam, Islamic Feminism, Arab Women, Women In Arab, Islamophobia in America, Muslim Women in West, Islam Women and Feminism