New Age Islam News Bureau
26 Jan 2014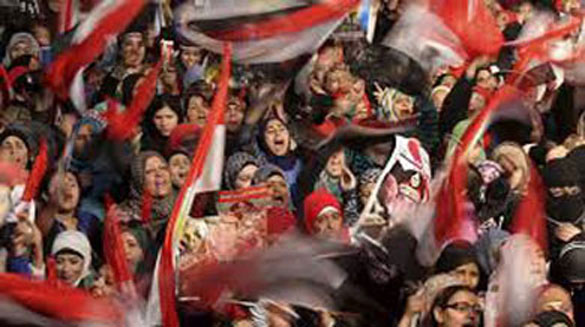 Supporters of Egypt's army and police gather at Tahrir square in Cairo, on the third anniversary of Egypt's uprising, January 25, 2014 (Reuters/Mohamed Abd El Ghany)
------------
Pakistan
• 'No Shariah through Suicide Attacks, No Peace through Airstrikes': Jamaat-e-Islami
• Grisly find: Suspected mass grave discovered in Khuzdar
• Fazl ur Rehman lambasts K-P government for following 'western agenda'
• Most favoured nation status for India on the cards: Pak daily
• Attacks near MQM-H chief's house kill six policemen in Karachi
• Trade cannot be delinked from other issues: Pakistan
• Six children killed in Hangu blast
• Thousands flee North Waziristan fearing military action
Arab World
• Egypt: Nearly 50 Killed On Third Anniversary of 2011 Uprising
• Lebanon militant pledges allegiance to Al Qaida
• Car bombs, shootings kill 6 in Iraq
• Four soldiers killed, 13 injured in Sinai ambush
• Hariri says Lebanon Sunnis 'refuse' to join Hezbollah-Qaeda war
• Saudi man asked to pay one riyal in dowry
• Riyadh gives $100M for UN counterterrorism
North America
• Cuba to freeze funds linked to Qaeda, Taliban
• Home-grown terrorists' main concern of US
• More than 1,000 Saudi scholarship students graduate from Canada
South Asia
• Taliban rule north of Kabul despite military efforts
• 3 Taliban militants killed, 23 others detained in Afghan operations
• Three Islamists shot dead in Bangladesh security crackdown
• Explosion kills 2 police officers in Khost province
• Adhaalath fears exclusion from coalition's Majlis election plan
• Assassination of young athletes continue in Afghanistan
• Karzai to US: Start talks with Taliban or leave
Europe
• Lifting the veil on Irish Islam
• Britain to lift turban ban at high-risk workplaces
• UK 'working on' Syria refugee plan, Hague says
• Maldives must stop "retrograde" step towards death penalty: Amnesty International
• UN documents new war crimes in Syria
• Amnesty for Muslim fighters under Philippine peace deal
India
• Military precision, culture blend at Republic Day parade
• 'Respond positively' to India's peace moves: J&K governor to Pakistan
• Pak troops violate ceasefire on Republic Day
Southeast Asia
• 'Allah' rings out in Malaysian churches despite ban
• Sarawak BN warns of fallout from Najib's stand on use of Allah
• Ungku Aziz dismisses Malay unity, says community should focus on improving self
Mideast
• Netanyahu says West has 'no chance' of striking final nuclear deal with Iran
• Bennett: No ties between Israeli actions and rise of anti-Semitism
• Yemen marks end of thorny national dialogue
• Turkey publishes Islamic Encyclopedia on the internet
Africa
• Algeria's Muslim Brotherhood to boycott presidential polls
• Prominent Muslim ex-leader killed in Central African Republic
• Sudan warplanes hit rebel-held town: Kordofan insurgents
• 154 dead in two weeks of Libya clashes: Hospital
• Mall shooting in Columbia, Maryland, leaves three dead
Compiled by New Age Islam News Bureau
URL: https://www.newageislam.com/islamic-world-news/new-age-islam-news-bureau/'no-shariah-through-suicide-attacks,-no-peace-through-airstrikes'--jamaat-e-islami/d/35450
------------
Pakistan
'No Shariah through Suicide Attacks, No Peace through Airstrikes': Jamaat-e-Islami
January 26th, 2014
LAHORE: Taking a slightly different position from their traditional view point, Jamaat-i-Islami (JI) chief Syed Munawar Hasan said that neither bombings (airstrikes) can help restore peace nor suicide attacks could pave way for the enforcement of Islamic Shariah.
Addressing the congregation of Friday prayers at Mansoora mosque – the JI headquarters – he said that religious forces, especially Deobandi clerics should step forward and pave way for dialogue to save the country and also to prevent the emergence of a wrong image of Islam.
The JI chief alleged that the Pakistan Muslim League-Nawaz (PML-N) did not hold peace talks with Tehrik-i-Taliban Pakistan (TTP) upon pressure asserted by the United States.
Defending the Pakistani Taliban's ideology, he said the notion that Taliban do not comply with law and constitution was propaganda that was being spread for some 'special purpose'.
"The government was fulfilling a longstanding wish of the US by destroying North Waziristan."
Hasan said if the religious forces did not rise at this moment, they would be driven to a blind alley and would have no way out.
He claimed the religious parties had played a key role in framing the 1973 constitution, and it was their duty at this juncture to protect the country and the constitution.
"A charge sheet has been issued against the religious parties and they would have to answer that."
The JI chief said that enemies had always used the differences between the Islamic sects and schools of thought as a weapon.
"The need of the hour is that the Ulema (clerics) of Deobandi school of thought sit down with the Shias, the Ahle Hadith, and Ahle Sunnah to evolve an effective strategy to counter the current campaign against Islam."
Therefore, he added, it was the duty of the religious forces to go ahead with the talks with the Taliban.
"Since a majority of the Taliban belongs to the Deobandi school of thought, it was for the Deobandi Ulema to take up this responsibility," he said.
http://www.dawn.com/news/1082440/no-shariah-through-suicide-attacks-no-peace-through-airstrikes
------------
Grisly find: Suspected mass grave discovered in Khuzdar
January 26, 2014
QUETTA: Provincial authorities on Saturday discovered a suspected mass grave containing an unspecified number of bodies in Khuzdar district of Balochistan. Most of the bodies — which appear to be a month old — are decomposed beyond recognition.
"The Balochistan Levies received information about the presence of human remains in the Tutak area of Khuzdar," Assistant Commissioner Afzal Sarpara told The Express Tribune. "A levies unit was sent to the area which found human remains."
photo 44_zpsc044801e.jpg
The Levies personnel searched the area and discovered a suspected mass grave. "There could be eight to nine bodies in the grave," said Khuzdar Deputy Commissioner Waheed Shah, adding that the law enforcement personnel had cordoned off the area and had begun exhuming the bodies.
Balochistan Levies official Gulam Nabi said two bodies were shifted to the District Headquarters Hospital (DHQ).
"The bodies are decomposed beyond recognition. DNA tests can help identify them," he told The Express Tribune. Medics at the DHQ said the bodies were a month old and have been partly mauled by wild animals.Deputy Commissioner Shah said that they would dig around for more human remains at the mass grave site on Sunday.
"We do not know who they are and who killed them," he said of the bodies. "It's inhuman. We have started investigations."
Relatives of the missing persons speculated that the bodies could be of their loved ones.
photo 45_zps51907a3a.jpg
"We fear these bodies are of the missing persons. The superior judiciary and rights activists should press the government to carry out a transparent investigation," said Nasrullah Baloch, the chairman of the Voice for Baloch Missing Persons.
Khuzdar is one of the worst militancy-wracked districts of Balochistan where a deteriorating security situation has forced several families to migrate to safer areas.
http://tribune.com.pk/story/663587/grisly-find-suspected-mass-grave-discovered-in-khuzdar/
------------
Fazlur Rehman lambasts K-P government for following 'western agenda'
January 26, 2014
PESHAWAR: The Khyber-Pakhtunkhwa government is a representative of western ideas, Jamiat-Ulema-e-Islami Fazl (JUI-F) chief Fazlur Rehman claimed on Sunday.
Rehman was addressing a protest rally in Peshawar against the K-P government. He accused the PTI-led government of furthering the "West's agenda".
The JUI-F chief also said that the K-P government was a product of massive rigging in the last year's general elections.
"The US and Jewish agents in K-P are chanting anti-west slogans but behind the scenes, they are working on western ideas," he added.
Rehman further accused the current rulers in the province of destroying the culture of K-P and spreading immorality.
http://tribune.com.pk/story/663655/fazlur-rehman-lambasts-k-p-government-for-following-western-agenda/
------------
Most favoured nation status for India on the cards: Pak daily
IANS | Jan 26, 2014
ISLAMABAD: Pakistan is ready to offer India the most favoured nation (MFN) status from next month, provided New Delhi announces lower duties on 250-300 Pakistani items, a report said on Sunday.
The government offer to New Delhi was made recently, a high-ranking commerce ministry official told the Dawn. The MFN status means abolishing the negative list of 1,209 items.
In 2012, the Pakistan People's Party government opened up the Pakistani market for Indian products, but the deal could not be closed fully in view of last year's general elections.
"Now that India itself is going for elections, the PML-N ( Pakistan Muslim League-Nawaz) government thinks it is a good time for closing the deal with the Congress-led government," it said.
Now, any progress would depend on New Delhi's response, the official added.
The change of heart in the Pakistani government on the MFN issue was "mostly because of domestic factors", it said.
Dawn said interviews with relevant people reveal that the trade deal would only enhance Punjab-to-Punjab trade.
Commerce minister Khurram Dastagir Khan said the Wagah border in Punjab would be declared a dry port by the end of February.
http://timesofindia.indiatimes.com/world/pakistan/Most-favoured-nation-status-for-India-on-the-cards-Pak-daily/articleshow/29402364.cms
------------
Attacks near MQM-H chief's house kill six policemen in Karachi
January 26th, 2014
KARACHI: At least six policemen were killed and several people injured when police vehicles came under attack near the residence of Muhajir Qaumi Movement-Haqiqi (MQM-H) chief Afaq Ahmed in Karachi's Landhi neighbourhood on Saturday night, DawnNews reported.
TV reports suggest that the first attack occurred in Landhi number 6 area when unidentified miscreants hurled a hand grenade inside a police mobile positioned outside Afaq Ahmed's house. Three policemen were killed in the incident.
Full report at:
http://www.dawn.com/news/1082641/attacks-near-mqm-h-chiefs-house-kill-six-policemen-in-karachi
------------
Trade cannot be delinked from other issues: Pakistan
January 26, 2014
Pakistan on Sunday indicated trade cannot be delinked from other contentious issues in the composite dialogue with India as it sought an "uninterrupted and uninterruptible" process to make peace more sustainable.
"You cannot deal with the situation in isolation. Even if there is a strong desire on both sides to move faster on one track, (like the) trade track…we have seen if something happens, if there is a snag or some incident happens, everything comes to a standstill," Foreign Office spokesperson Tasnim Aslam told PTI.
She was responding to a question on whether trade could be delinked from other issues that have hit bilateral ties since independence.
"That is why Pakistan has been for a long time now talking about a process on all tracks (that is) uninterrupted and uninterruptible," she said.
Full report at:
http://indianexpress.com/article/india/india-others/trade-cannot-be-delinked-from-other-issues-pakistan/2/
------------
Six children killed in Hangu blast
January 26, 2014
HANGU: Six children were killed in a blast outside a house in Babar Mela, Hangu, Express News reported on Sunday.
Five young brothers and their sister were killed in the blast.
Explosive material had reportedly been placed in a heap of garbage outside a house in the area.
The house was owned by resident Haji Gul, whose children were killed in the blast.
Police officers secured the scene of the blast while the Bomb Disposal Squad (BDS) combed the area for more explosives.
http://tribune.com.pk/story/663650/five-children-killed-in-hangu-blast/
------------
Thousands flee North Waziristan fearing military action
January 26, 2014
MIRANSHAH: Thousands of people have fled their homes in North Waziristan fearing a military offensive against Taliban insurgents is imminent, residents and officials said on Sunday.
Residents said some 1,500 families or about 13,000 people left their villages around the towns of Mir Ali and Miranshah, to migrate to relatively safer areas outside the tribal areas in Bannu, Dera Ismail Khan and Peshawar.
The exodus began last week when Pakistan Air Force fighter jets bombarded the area following a series of militant attacks on security forces and civilians which killed more than 100 people in a week.
Full report at:
http://tribune.com.pk/story/663657/thousands-flee-north-waziristan-fearing-military-action/
------------
Arab World
Egypt: Nearly 50 Killed On Third Anniversary of 2011 Uprising
Press Trust of India | Cairo | January 26, 2014
Nearly 50 people have been killed in deadly violence during rival rallies in Egypt as the Arab nation marked the anniversary of the 2011 revolution that led to the ouster of long-time dictator Hosni Mubarak.
Rival demonstrations of supporters and opponents of the military-backed government took place in Cairo on Saturday. But police quelled anti-government protests, and arrests were reported in Cairo and Alexandria as violence broke out. Forty-nine people were killed, the ministry said, in 24 hours of fighting across Egypt as police and supporters of the military-installed government clashed with Islamist backers of President Mohamed Morsi, who was deposed in July after a single turbulent year in power.
Most of the deaths were in Cairo and its suburbs, and others in Alexandria and Minya, while 247 were injured, the health ministry said on Sunday. Hundreds have died since July when the army deposed Morsi, the country's first democratically elected president of the Muslim Brotherhood.
Full report at:
http://indianexpress.com/article/world/world-others/egypt-nearly-50-killed-on-third-anniversary-of-2011-uprising/
------------
Lebanon militant pledges allegiance to Al Qaida
January 26th, 2014
Beirut: A Lebanon-based militant pledged allegiance to an Al Qaida-linked group, calling on Sunni soldiers to quit the Lebanese army he claimed is controlled by Christians and Shiites.
Abu Sayyaf Al Ansari made the pledge to the Islamic State in Iraq and the Levant (Isil) in a recording posted online and broadcast on major television stations, including leading private channel LBC, which said it obtained it from online jihadi forums.
It comes after months of increasing violence in the country, where at least five suicide attacks in predominantly Shiite areas and against Lebanese troops have left scores dead and wounded.
Full report at:
http://gulfnews.com/news/region/lebanon/lebanon-militant-pledges-allegiance-to-al-qaida-1.1282296
---------
Car bombs, shootings kill 6 in Iraq
January 26th, 2014
Car bombs and shootings killed six people across Iraq on Sunday, authorities said, as clashes between security forces and al-Qaida-linked militants continued west of the capital.
In the ethnically divided city of Kirkuk, three car bombs exploded simultaneously in separate residential neighborhoods, deputy police chief Maj. Gen. Torhan Abdul-Rahman Youssef said. Youssef says four people were killed and 14 wounded.
Arabs, Kurds and Turkomen all stake competing claims to Kirkuk, some 290 kilometers (180 miles) north of the capital, Baghdad.
Near the capital, police and medical officials say gunmen killed a former army officer and his wife in a drive-by shooting in Baghdad's northeastern suburbs.
Also in Baghdad, police found three bodies in different areas. All were killed by what appeared to be close-range gunshots and had their hands and feet tied.
Full report at:
http://english.ahram.org.eg/NewsContent/2/8/92631/World/Region/Car-bombs,-shootings-kill--in-Iraq.aspx
------------
Four soldiers killed, 13 injured in Sinai ambush
January 26th, 2014
Four soldiers died and 13 were injured when militants attacked their bus in the Sinai Peninsula on Sunday morning, an army spokesperson announced.
The injured soldiers were taken to Suez military hospital.
The ambush took place 50 metres from a security checkpoint, Al-Ahram Arabic news website said.
The terrorsit attack comes a day after militant group Ansar Bayt Al-Maqdis claimed responsibility for bringing down a military helicopter in a rocket attack in North Sinai.
http://english.ahram.org.eg/NewsContent/1/64/92594/Egypt/Politics-/Four-soldiers-killed,--injured-in-Sinai-ambush.aspx
------------
Hariri says Lebanon Sunnis 'refuse' to join Hezbollah-Qaeda war
January 26th, 2014
BEIRUT: Former Lebanese premier Saad Hariri said Saturday the country's Sunni Muslims "refuse" to be a part of any conflict between Al-Qaeda and Shiite movement Hezbollah, denouncing sectarian attacks on civilians anywhere in Lebanon.
The war in neighboring Syria has inflamed sectarian tensions in Lebanon, with Hezbollah backing President Bashar Assad and many Sunnis supporting the rebellion against him.
Hariri's statement came a day after a jihadist group warned all areas where Hezbollah operates are "legitimate targets" for attack, telling Sunnis to avoid them.
Full report at:
http://www.arabnews.com/news/515111
------------
Saudi man asked to pay one riyal in dowry
January 26th, 2014
Manama: Saudi social media users have heaped praise on a father who asked a young man asking for his daughter's hand in marriage to pay only one Saudi riyal (Dh0.98) as dowry.
The father's decision is unusual as dowries in Saudi Arabia and the rest of the Middle East are among the highest in the world and have often been an obstacle to marriages.
The father was moved after hearing that the groom, having withdrawn the money he planned to give as dowry, had been involved in an accident on his way to his future father-in-law's house, 100km north of the capital Riyadh.
Full report at:
http://gulfnews.com/news/gulf/saudi-arabia/saudi-man-asked-to-pay-one-riyal-in-dowry-1.1282216
------------
Riyadh gives $100M for UN counterterrorism
January 26th, 2014
Riyadh: A state-linked news website in Saudi Arabia says the kingdom has donated $100 million (Dh367 milliom) to the United Nations International Centre for Counterterrorism.
There was no immediate response from the UN centre about whether the funds had been received. However, the Saudi pledge of $100 million initially was announced in August.
The Arab News reported Thursday that UN Secretary-General Ban Ki-moon thanked Saudi Arabia for its support to the centre during a meeting with Foreign Minister Saud Al Faisal in Switzerland just before the start of peace talks over the Syrian civil war.
Saudi Arabia is a staunch supporter of Syria's opposition and funds Islamist rebel movements that Syrian President Bashar Al Assad accuses of supporting Al Qaida-linked militants.
The UN counterterrorism centre was established in 2011.
http://gulfnews.com/news/gulf/saudi-arabia/riyadh-gives-100m-for-un-counterterrorism-1.1281443
------------
North America
Cuba to freeze funds linked to Qaeda, Taliban
January 26, 2014
HAVANA : The Cuban government adopted legislation to immediately freeze funds from foreign banks linked to terror groups, including Al-Qaeda and the Taliban, officials said Friday.
The decree, signed by President Raul Castro, stresses that the sanctions are part of Cuba's legal framework demonstrating its "commitment in the fight against money laundering, financing terrorism and the proliferation of weapons."
"Funds or other derived or generated assets that belong to or are directly or indirectly controlled by persons or entities linked to Al-Qaeda or the Taliban will be frozen immediately and without notice," it said.
Full report at:
http://www.nation.com.pk/international/26-Jan-2014/cuba-to-freeze-funds-linked-to-qaeda-taliban
------------
Home-grown terrorists main concern of US
Oinam Sunil,TNN | Jan 26, 2014
Washington/LOS ANGELES: As India fights home grown Indian Mujahideen (IM) and transnational terror group Lashkar-e-Taiba (LeT), security experts in US recognise the useful role New Delhi plays in the fight against global terrorism. India is an active member of the Global Counter Terrorism Forum (GCTF).
Justin Siberell, deputy coordinator for regional affairs and programs in US state department's bureau of counter-terrorism, said, "Indian government is very vigilant against IM, which has been designated by US as a foreign terrorist group". The US and India have increased counter-terrorism capacity building efforts and cooperation with both countries sharing perspectives and policies.
Full report at:
http://timesofindia.indiatimes.com/world/us/Home-grown-terrorists-main-concern-of-US/articleshow/29397910.cms
------------
More than 1,000 Saudi scholarship students graduate from Canada
January 26th, 2014
Minister of Higher Education Khaled Al-Anqari sponsored the graduation ceremony of 1,043 male and female scholarship students under the fourth graduating class of the King Abdullah Foreign Scholarship Program in Ottawa, Canada.
The ceremony was attended by Osama Al-Sanusi, undersecretary for the Ministry of Foreign Affairs; Nayef Al-Sudairi, Saudi ambassador to Canada; and senior officials. Al-Sudairi applauded the vision of Custodian of the Two Holy Mosques King Abdullah in boosting education.
Full report at:
http://www.arabnews.com/news/515481
------------
South Asia
Taliban rule north of Kabul despite military efforts
January 26th, 2014
CHARIKAR, Afghanistan — A scandal over civilian deaths in a recent US airstrike is a stark reminder of how the Afghan war is raging just a short drive from Kabul, with a NATO-Afghan offensive failing to recapture districts under Taliban control.
The operation earlier this month to flush out the insurgents in Parwan province — near the capital's northern outskirts — left 12 civilians dead including women and children, according to the Afghan government.
Two days after the airstrike the Taliban launched a suicide attack on a restaurant in Kabul killing 21 people, including 13 foreigners, in a massacre that drew worldwide condemnation and underlined the increasing threat to the capital itself.
Full report at:
http://www.saudigazette.com.sa/index.cfm?method=home.regcon&contentid=20140126193691
------------
3 Taliban militants killed, 23 others detained in Afghan operations
Jan 26 2014
At least three Taliban militants were killed and two others were injured during military operations by Afghan national security forces.
The interior ministry of Afghanistan following a statement, said the operations were conducted during the past 24 hours in Nangarhar, Laghman, Kandahar, Zabul, Ghazni and Helmand provinces of Afghanistan.
Interior ministry confirmed that 3 Taliban militants were killed, 2 militants were injured and 23 others were arrested during the operations conducted by Afghan police, Afghan army and Afghan intelligence – National Directorate of Security (NDS) operatives.
Full report at:
http://www.khaama.com/3-taliban-militants-killed-23-others-detained-in-afghan-operations-3346
------------
Three Islamists shot dead in Bangladesh security crackdown
2014-01-26
DHAKA: Bangladesh police shot dead three activists from the country's largest Islamist party in clashes on Sunday, officers said, amid allegations security forces are targeting opposition supporters for execution.
Police said the three were killed during two separate gunbattles with bomb-throwing activists from the Jamaat-e-Islami party in two southeastern towns, clashes that also left several officers injured.
"They threw bombs at us and the joint forces opened fire in self-defence. A gunfight ensued," a local police chief, Shahjahan Ali, told AFP.
Jamaat said the men were instead arrested and taken to remote places where they were shot dead execution-style. The party said the deaths were the latest in a series of such killings.
Prime Minister Sheikh Hasina announced a crackdown on opposition unrest after her victory in a January 5 general election, which was marred by deadly violence and an opposition boycott.
Jamaat, blamed for much of the violence in the run-up to the election, said at least 59 opposition activists and party officials have now been shot dead since December 12 when it says the killings started.
Full report at:
http://www.dawn.com/news/1082846/three-islamists-shot-dead-in-bangladesh-security-crackdown
------------
Explosion kill 2 police officers in Khost province
Jan 26 201
At least two Afghan police officers were killed following an explosion in eastern Khost province of Afghanistan on Sunday.
A spokesman for the provincial security commandment, Habibullah, said the incident took place in Karwan Sara area of Khost province on Sunday morning.
Mr. Habibullah further added that a remote controlled improvised explosive device (IED), which was planted in a police vehicle was detonated, which left two police officers dead.
He also added that two other police officers were also injured following the explosion.
No group including the Taliban militants has so far claimed responsibility behind the incident.
Khost is among the relatively restive provinces in eastern Afghanistan, where militants from the Taliban group and Haqqani Network are operating in a number of its districts.
http://www.khaama.com/explosion-kill-2-police-officers-in-khost-province-3350
------------
Adhaalath fears exclusion from coalition's Majlis election plan
By Mariyath Mohamed | January 26th, 2014
The religious conservative Adhaalath Party has voiced concerns that, despite it's assistance in the presidential elections of 2013, the government coalition is failing to include the party in its allocation of constituencies for the upcoming parliamentary elections.
A senior council member of Adhaalath Party (AP) – who wished to remain unnamed – told Minivan News that the party has been excluded from seat allocation discussions currently being held between the Progressive Party of Maldives (PPM) and its coalition partners the Jumhooree Party (JP) and the Maldives Development Alliance (MDA).
A representative of the PPM has explained that discussions are first being held with those parties engaged in official agreements with President Yameen's party before considering electoral arrangements with the religious party.
Full report at:
http://minivannews.com/politics/adhaalath-fears-exclusion-from-coalitions-majlis-election-plan-76042
------------
Assassination of young athletes continue in Afghanistan
Jan 26 2014
Unknown gunmen shot dead two young men while they were returning from a sports complex in north-eastern Takhar province of Afghanistan.
According to local security officials in Takhar province, the two young men were shot dead by unknown gunmen in Cha'ab district.
Santullah Temori, spokesman for the provincial police commandment, confirming the report, said Afghan security forces have launched investigations to arrest those involved behind the incident.
Full report at:
http://www.khaama.com/assassination-of-young-athletes-continue-in-afghanistan-3347
------------
Karzai to US: Start talks with Taliban or leave
January 26, 2014
KABUL: Afghanistan's President Hamid Karzai appeared to stiffen his resolve on Saturday not to sign a security pact with Washington, saying the United States should leave Afghanistan unless it could restart peace talks with the Taliban.
"In exchange for this agreement, we want peace for the people of Afghanistan. Otherwise, it's better for them to leave and our country will find its own way," Karzai told a news conference. The president said pressing ahead with talks with the Taliban was critical to ensure that Afghanistan was not left with a weak central government.
No group including the Taliban militants has so far claimed responsibility behind the incident.
Khost is among the relatively restive provinces in eastern Afghanistan, where militants from the Taliban group and Haqqani Network are operating in a number of its districts.
http://tribune.com.pk/story/663502/karzai-to-us-start-talks-with-taliban-or-leave/
---------
Europe
Lifting the veil on Irish Islam
January 26, 2014
Islam is Ireland's fastest-growing religion, with the number of Muslims recorded in the 2011 Census – 48,130 – expected to reach 100,000 by 2020. In a country where only 34pc of approximately 3.8 million Catholics attend Mass, many people are drifting away from religion. But a small number are finding that Islamic beliefs and practices, which allow for a peaceful and community-oriented life, fit their spiritual needs.
It is estimated that up to 500 Irish people convert to Islam every year. There is no official register and no baptism – to convert you simply have to recite the testimony of creed in front of two Muslim witnesses.
While more women convert than men, and most conversions are for marriage, people can have very personal reasons for converting – or reverting as it is known in the Islamic faith, in which it is believed that everyone was born Muslim.
Full report at:
http://www.independent.ie/lifestyle/lifting-the-veil-on-irish-islam-29941427.html
------------
Britain to lift turban ban at high-risk workplaces
PTI | Jan 26, 2014
LONDON: Britain is set to scrap a ban on turbans at high-risk workplaces next week, a move that some Sikh groups see as a "sweetener" to deal with the fallout of the Margaret Thatcher government's alleged role in Operation Bluestar in 1984.
The Department for Work and Pensions is to announce that Sikhs will no longer be forced to wear hard hats inside factories and warehouses.
British Sikhs have complained about the law since it was introduced in 1989 as it allows them to wear turbans on building sites but has required hard hats in other high-risk areas.
Full report at:
http://timesofindia.indiatimes.com/world/uk/Britain-to-lift-turban-ban-at-high-risk-workplaces/articleshow/29384304.cms
------------
UK 'working on' Syria refugee plan, Hague says
January 26th, 2014
The British government is "working on" a plan to allow some Syrian refugees to come to the UK, Foreign Secretary William Hague has said.
He said Home Secretary Theresa May was looking at how to help "particularly vulnerable" people trapped in Syria.
He did not comment on particular groups to be helped, but said more details would be given "in the coming days".
Mr Hague added there was a "serious danger" of radicalisation among people returning to the UK from Syria.
Full report at:
http://www.bbc.co.uk/news/uk-25903598
------------
Maldives must stop "retrograde" step towards death penalty: Amnesty International
January 26th, 2014
Amnesty International has called upon the Maldives government to halt any plans to end the current moratorium on the death penalty, calling such moves a "retrograde step and a serious setback for human rights in the country".
The statement follows Home Minister Umar Naseer's decision to order correctional authorities to begin preparations for implementation of death sentences by lethal injection.
"There is no such thing as a 'humane' way to put someone to death, and no evidence that the threat of execution works as a deterrent to crime. Maldives should put an immediate end to such plans now, and instead abolish the death penalty in law once and for all," said Amnesty International's Maldives Researcher Abbas Faiz
Full report at:
http://minivannews.com/politics/maldives-must-stop-retrograde-step-towards-the-death-penalty-amnesty-international-75991
------------
UN documents new war crimes in Syria
January 26th, 2014
GENEVA – UN war crimes experts have documented more torture and killings by both sides in Syria and are confident they can build a case that could be taken up by the International Criminal Court, a leading member of the team said on Friday.
They are drawing up a fourth confidential list of suspects, either individuals or units linked to crimes committed since July, Karen Koning AbuZayd, an American expert serving on an independent commission of inquiry set up by the United Nations in 2011, said in an interview.
UN human rights chief Navi Pillay said in December that evidence collected by the investigators implicates President Bashar Al-Assad, later denying that she had direct knowledge of their secret lists.
AbuZayd said the lists went up to "higher levels" of the Syrian government, declining to be more specific in the interview in Geneva, where the first talks involving the warring parties are expected over the coming week.
Full report at:
http://www.saudigazette.com.sa/index.cfm?method=home.regcon&contentid=20140126193711
------------
Amnesty for Muslim fighters under Philippine peace deal
January 26th, 2014
MANILA: The Philippine government will grant amnesty to Muslim guerrillas who are facing or have been convicted on rebellion-related charges under a newly signed peace pact, which calls for the 11,000-strong rebel force to be deactivated, an official said Sunday.
Presidential peace adviser Teresita Deles said the amnesty, which still need congressional approval, would only cover fighters of the Moro Islamic Liberation Front (MILF) and exclude guerrillas who broke off from the group and continue to endanger peace.
According to the pact that was signed by Philippine government and rebel negotiators in Kuala Lumpur, Malaysia on Saturday, the granting of the amnesty and pardon was aimed at facilitating "the healing of the wounds of conflict and the return to normal life."
Full report at:
http://www.arabnews.com/news/515566
----------
India
Military precision, culture blend at Republic Day parade
IANS | Jan 26, 2014
NEW DELHI: India's powerful military punch and its rich cultural heritage were showcased at the 65th Republic Day parade on a bitterly cold Sunday, with chief guest and Japanese Prime Minister Shinzo Abe keenly watching the 90-minute proceedings.
It was the coldest Republic Day in a decade at a minimum of 9.9 degrees celsius, forcing spectators - commoners and dignitaries alike - to swathe themselves in layers of protective clothing.
Be it the Army tanks, a scaled down naval submarine, the indigenous air force fighter jet, the marching contingents of the armed forces, the 162 riders of the Border Security Force performing a series of manoeuvres on 30 motorcycles, the diverse tableaux and folk dances by enthusiastic students, the spectators were definitely spoiled for choice as the parade unfolded.
Full report at:
http://timesofindia.indiatimes.com/india/Military-precision-culture-blend-at-Republic-Day-parade/articleshow/29404755.cms
------------
'Respond positively' to India's peace moves: J&K governor to Pakistan
PTI | Jan 26, 2014
JAMMU/SRINAGAR: Amid ceasefire violations by Pakistan, Jammu and Kashmir governor NN Vohra on Sunday asked it to "respond positively" to India's peace initiatives and said security forces would continue their close vigil along the frontiers.
"It is hoped that our neighbour shall respond positively to the initiatives which have recently been taken by the Government of India to once again urge it to maintain calm," he said without naming Pakistan.
The governor, who hoisted the national flag in Jammu, said, "Needless to say, till a peaceful environment emerges, our security forces shall continue to enforce vigil along the frontiers without lowering their guard.
Full report at:
http://timesofindia.indiatimes.com/india/Respond-positively-to-Indias-peace-moves-JK-governor-to-Pakistan/articleshow/29411380.cms
------------
Pak troops violate ceasefire on Republic Day
PTI | Jan 26, 2014
SRINAGAR: Pakistani troops violated the ceasefire along the Line of Control in Kashmir on the morning of the 65th Republic Day on Sunday by resorting to unprovoked firing for three hours, Army said.
"Today morning at 6:15am, when it was dark, there was unprovoked firing from Pakistani side. They fired about three RPG rounds and small arms on to the Kaman post (in Uri sector) on the Indian side," General Officer Commanding of 19 Infantry Division Major General Anil Chauhan told reporters.
He said the aim of the firing was apparently to disrupt the peace and tranquillity along the Line of Control.
"Actually, it (the scene of firing) is adjacent to where the Pakistani posts are. So, it could be speculated that elements inimical to the interests of welfare of people, rather I would say cross-LoC trade or for maintenance of peace and tranquillity along LoC (opened the firing)," he said.
Full report at:
http://timesofindia.indiatimes.com/india/Pak-troops-violate-ceasefire-on-Republic-Day/articleshow/29403207.cms
------------
Southeast Asia
'Allah' rings out in Malaysian churches despite ban
2014-01-26
KUALA LUMPUR: Malaysian churches defiantly continued to use the word "Allah" to refer to the Christian God in Sunday services despite the Muslim-majority country's leader saying they must obey rules against it.
Malay-speaking Christians prayed and sang hymns using the Arabic word, a practice they have observed for hundreds of years but now the focus of an increasingly tense religious row in the Southeast Asian nation.
"They all contain the word 'Allah'," a pastor at a church near the capital Kuala Lumpur said of the songs sung by his congregation.
"(The Malay-language Bible) contains the word 'Allah'. When we preach we have to read the text. It's a really difficult situation," he added, speaking on condition of anonymity due to the passions surrounding the issue.
Full report at:
http://www.dawn.com/news/1082839/allah-rings-out-in-malaysian-churches-despite-ban
------------
Sarawak BN warns of fallout from Najib's stand on use of Allah
January 26th, 2014
The prime minister may have sounded the death knell for Barisan Nasional (BN) in Sarawak with his stand on the Allah controversy and the 10-point solution, warned a component party in the ruling coalition.
Charging that Datuk Seri Najib Razak's "spineless" stand on the 10-point solution had rendered it worthless, Sarawak People's Democratic Party (SPDP) Youth wing leader James Guang said the BN would lose the state election if it were held today.
"Christians in Sarawak will teach Najib a lesson," he told The Malaysian Insider.
"I think most people in Sarawak that I know, or those around me, just want the state election to be conducted as soon as possible.
Full report at:
http://www.themalaysianinsider.com/malaysia/article/sarawak-bn-warns-of-fallout-from-najibs-stand-on-use-of-allah
--------
Ungku Aziz dismisses Malay unity, says community should focus on improving self
January 26th, 2014
Malay academic Ungku Abdul Aziz Ungku Abdul Hamid has dismissed frequent calls for Malay unity as a dream, saying that it was something the community must accept.
The royal professor said instead of focusing on the unachievable, Malays should spend their energy on self-improvement.
"To me, Malay unity is but a dream. We must accept that. But if Malays are smart, then they will become more united," he told the Malay-language Berita Minggu, the weekend edition of Umno-linked Berita Harian today.
"Malays are like the Arabs who can't unite and mix. That's the difference between Malays and the Japanese."
Ungku Aziz said the Japanese, unlike the Malays, shared many values, such as a common history.
Full report at:
http://www.themalaysianinsider.com/malaysia/article/ungku-aziz-dismisses-malay-unity-says-community-should-focus-on-improving-s
------------
Mideast
Netanyahu says West has 'no chance' of striking final nuclear deal with Iran
January 26th, 2014
Prime Minister Binyamin Netanyahu told his cabinet ministers in Jerusalem on Sunday that continued negotiations between Iran and the Western powers are pointless.
"No final status agreement with Iran will work," the premier said hours after returning from his trip to Davos, where he took part in the World Economic Forum.
The premier cited the remarks made during the event by Iranian President Hassan Rouhani, who vowed that Iran sought peaceful relations "with countries that it already recognized."
"Rouhani spoke of being in favor of recognizing all countries in the Middle East, yet he refused to answer sharp questions that were asked of him regarding recognition of Israel," the premier said. "He said that Iran would not disarm its nuclear program, and it would not even dismantle one centrifuge."
Under these circumstances, any agreement with Iran "cannot succeed," according to the premier.
http://www.jpost.com/Diplomacy-and-Politics/Netanyahu-says-West-has-no-chance-of-striking-final-nuclear-deal-with-Iran-339393
------------
Bennett: No ties between Israeli actions and rise of anti-Semitism
January 26th, 2014
There is no correlation between Israel's actions and the rise of anti-Semitism, Jerusalem and Diaspora Affairs Minister Naftali Bennett said over the weekend.
"Anti-Semitism [has been] gaining momentum at a regular pace over the past few years and has no connection with regional developments or our policies," Bennett asserted.
"Like the efforts to delegitimize Israel, anti-Semitism is both a disgrace and a blot on every society. Trying to understand their 'causes' legitimizes them. There is no reason or justification for anti-Semitism."
Bennett is scheduled to present a report on anti-Semitism to the cabinet on Sunday that will include a European Union Agency for Fundamental Rights' poll indicating that a quarter of European Jews refrain from visiting sites or wearing clothing and symbols that identify them as Jews, for fear of anti-Semites.
Full report at:
http://www.jpost.com/Jewish-World/Jewish-News/Bennett-No-ties-between-Israeli-actions-and-rise-of-anti-Semitism-339350
------------
Yemen marks end of thorny national dialogue
January 26th, 2014
SANAA: Yemen's feuding factions wrapped up months of national dialogue Saturday aimed at drafting a new constitution and establishing a federal state in a country where southerners are clamouring for independence.
Secessionists boycotted the talks launched in March 2013 as part of a UN-backed transition that saw president Ali Abdullah Saleh step down after 33 years in power following massive Arab Spring-inspired protests in the region's poorest country.
Saleh's successor, President Abdrabuh Mansur Hadi, pledged at a ceremony on Saturday to form commissions to draft the new constitution and thrash out the details of the promised new federation.
Full report at:
http://www.arabnews.com/news/515121
------------
Turkey publishes Islamic Encyclopedia on the internet
World Bulletin / News Desk
The Turkish Religious Affairs Foundation's Islamic Encyclopedia, arguably one of the most important collections of Islamic knowledge published in contemporary times, is now available on the internet.
The encyclopedia project, which was first started in 1983 and released its first volume in 1988, was completed in December, having produced a total of 44 volumes. It was collected with the help of over 2000 experts and scholars on Islam.
Covering a wide range of topics from Islamic sciences, history, geography, culture and civilizations, the encyclopedia contains 15,226 titles, quoting around 500 sources. When sub-headings are including, the number of titles increase to 16,855.
Full report at:
http://www.worldbulletin.net/?aType=haber&ArticleID=127642
-----------
Africa
Algeria's Muslim Brotherhood to boycott presidential polls
January 26th, 2014
Algeria's largest Islamist party announced boycotting the upcoming presidential elections, scheduled for April 17, citing "lack of any opportunity for political reform through the polls."
In a statement following a meeting of its Shura Council, the Movement of Society for Peace - Algeria's Muslim Brotherhood - asserted linked the decision to "the authorities' monopoly of the presidential elections in total disregard of the opposition's demands for guarantees for fair polls."
Full report at:
http://www.worldbulletin.net/?aType=haber&ArticleID=127664
---------
Prominent Muslim ex-leader killed in Central African Republic
World Bulletin / News Desk
January 26th, 2014
Christian militiamen killed a prominent Muslim former government minister who supported last year's rebellion, officials said.
Dr. Joseph Kalite, a former health minister who had supported coup leader Michel Djotodia, was assassinated on Friday, according to El-Hadj Wananga Kabara, an official at the Central Mosque in Bangui.
Witnesses said Kalite died from machete wounds after his car was attacked by Christian fighters.
News of Kalite's death sent waves of fresh fear through Bangui's Muslim community and prompted several religious authorities to condemn international peacekeeping forces for failing to sufficiently protect Muslims.
Full report at:
http://www.worldbulletin.net/?aType=haber&ArticleID=127672
------------
Sudan warplanes hit rebel-held town: Kordofan insurgents
January 26th, 2014
Sudanese warplanes have launched air strikes against a key rebel-held town in war-torn South Kordofan state, the insurgents said on Sunday, but there were no reports of casualties.
"Two Sukhoi jet fighters attacked Kauda town," the Sudan People's Liberation Movement-North said in a statement.
The military's spokesman could not be immediately reached.
SPLM-N has previously reported bombings of Kauda, including in December 2012.
Nuba Reports, a website based in South Kordofan, said one of its "citizen reporters" witnessed Saturday's attack on the town about 100 kilometres (60 miles) east of the state capital Kadugli.
Full report at:
http://english.ahram.org.eg/NewsContent/2/8/92624/World/Region/Sudan-warplanes-hit-rebelheld-town-Kordofan-insurg.aspx
------------
154 dead in two weeks of Libya clashes: Hospital
January 26th, 2014
Two weeks of clashes in western and southern Libya have killed at least 154 people and wounded 463, the health ministry said on Saturday.
It said the toll included those killed in ethnic clashes in the main southern city of Sebha and in Wershefana, west of the capital.
Security sources said they had launched a military operation this week against "armed gangs", allegedly including supporters of slain dictator Moamer Kadhafi, in Wershefana, seen as a bastion of loyalists to the former regime.
Earlier, the director of the hospital in Sebha in the south had said that 88 people had died and more than 130 wounded in the ethnic violence in the region.
"Between the outbreak of the fighting on 11 January and Friday evening, the number of dead totalled 88," Abdallah Ouheida told AFP.
Full report at:
http://english.ahram.org.eg/NewsContent/2/8/92571/World/Region/-dead-in-two-weeks-of-Libya-clashes-Hospital.aspx
------------
Mall shooting in Columbia, Maryland, leaves three dead
January 26th, 2014
A gunman opened fire at a shopping centre in Maryland in the US, killing two people before apparently taking his own life, police say.
The incident took place at a mall in the Baltimore suburb of Columbia.
The man opened fire at a store in the mall, killing a man and a woman, both employees at the shop, Zumiez, which sells skate accessories and clothing.
Police have named the victims as 21-year-old Brianna Benlolo and 25-year-old Tyler Johnson.
The man believed to be the shooter, who has not been identified, was found dead near a gun and ammunition. A further five people were injured in the incident.
Full report at:
http://www.bbc.co.uk/news/world-us-canada-25898567
------------
URL: https://www.newageislam.com/islamic-world-news/new-age-islam-news-bureau/'no-shariah-through-suicide-attacks,-no-peace-through-airstrikes'--jamaat-e-islami/d/35450