New Age Islam News Bureau
3 Dec 2016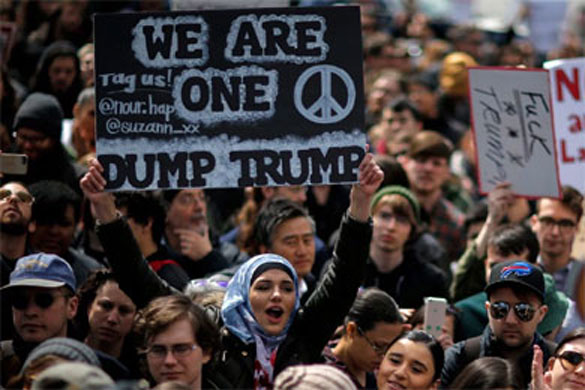 People take part in a protest against Republican presidential candidate Donald Trump in New York City, on March 19, 2016.
--------
• No Scope for Interference with Muslim Personal Law: Jamiat Ulema-i-Hind to SC
• Hate toward Muslims Is Growing and its Donald Trump's Fault
• British Muslims Are Loyal, Patriotic and Law-Abiding but Tend To Believe In Conspiracy Theories
• Myanmar's Violence against Muslim Rohingya Minority Is 'Ethnic Cleansing': Malaysia
India
• No Scope For Interference With Muslim Personal Law: Jamiat Ulema-iHind To SC
• Hindu Mother of Man, Who Was Killed Over Religious Conversion, Adopts Islam
• Shortage of dollars sparks diplomatic war between India and Pakistan
• Burhan Wani had sought LeT chief Hafiz Saeed's blessings to fight a common enemy, reveals tape
• Stop Dalit & Muslim genocide: Wara Wara Rao
• Energy cooperation top on agenda as PM Modi to hold talks with Qatar counterpart
• Will be in touch with India on Azhar ban issue: China
• India gained by not retaliating post-26/11: Chidambaram
--------
North America
• Hate toward Muslims Is Growing and its Donald Trump's Fault
• Canada: Let's Not Turn Our Schools into Mosques
• Donald Trump Muslim Plan: What San Bernardino Terror Attack Survivors Say About His Registry, Travel Ban Proposa
• Kerry on Libya: we will not intervene in Libya
--------
Europe
• British Muslims Are Loyal, Patriotic and Law-Abiding but Tend To Believe In Conspiracy Theories
• France Sees Sharp Drop in Anti-Semitic and Anti-Muslim Acts Over Ten Months
• Denmark to withdraw F-16 jets from anti-IS mission
• Trump Team Eyes Proposed New Non-Nuclear Sanctions on Iran
• UK foreign minister: 'Millions will not accept Assad'
• Russia sends demining team to Syria to clear Aleppo's liberated areas
--------
South Asia
• Myanmar's Violence against Muslim Rohingya Minority Is 'Ethnic Cleansing': Malaysia
• Taliban Kill 23 Civilians in Afghanistan, Say Police
• Civilians suffer heavy casualties in Afghan forces, Taliban clashes in Kandahar
• Taliban publicly execute university student in Wardak province
• Trump speaks with Ghani, vows to work closely to counter terrorism threats
• Magnetic bomb explosion leaves 3 wounded in Kabul city
--------
Pakistan
• 'Complicated' Ties Prevented Obama from Visiting Pakistan
• Pakistan Sending Envoy to Meet Trump Team
• Pakistani-origin Muslim teen in Canada brutally assaulted in suspected hate crime
• Another death-row convict acquitted after 11 years in jail
• Achakzai wants peace talks between Pakistan, Afghanistan
• Blast targets DSP's vehicle in Peshawar, cop remains unhurt
• To protest against corruption is our political right: Imran
• Bill for journalists' safety, security next year, says Marriyum
--------
Southeast Asia
• Najib Awed Muslim World, Hence Arab Donation, Says Delegate
• Non-Muslims against Shariah Upgrade Because They Want Malays to 'Live In Sin'
• Indonesia says foiled plot to exploit Muslim protest
• Don't marginalise HIV patients, Muslims told in World AIDS Day sermon
• C.Java protesters demand Ahok's immediate incarceration
• Singapore minister sees increased threat of extremist attack
• Tens of thousands protest against Christian governor in Indonesia
--------
Africa
• Nigerian Court Orders Release of Shiite Leader, Zakzaky, Detained For A Year
• Somalia: Al Shabaab Claims Killing 11 Soldiers in Bakool Fight
• Gambia's Jammeh loses to Adama Barrow in shock election result
• After OSU attack, worried Somalis talk of love of America
• Nigeria's Boko Haram crisis: 'We survived militants but face starvation'
• KDF receives six Bell Huey helicopters for war on al Shabaab
--------
Arab World
• Formation of 'Army of Aleppo' Ploy to Shield Nusra Terrorists: Lavrov
• Kurdish Fighters Vow to Stand against Turkish Incursion into Syria' Al-Bab
• Half of rebel Aleppo falls to Syrian forces
• Aleppo army break siege and ready for urban warfare
• Civil society groups urge UN General Assembly action on Syria
• Iraqi forces liberate two more neighborhoods in eastern Mosul
• Syrian Army Troops Impose Control over Key Road East of Aleppo City
• Military Source: Syrian Gov't Forces to Free Aleppo City in Early Days of 2017
• Militants Evacuate another Key Town in Damascus
• Syria: Last Group of Militants Leaves Western Damascus
• Saudi labor minister changed; top religious body, Shoura reshuffled
--------
Mideast
• Obama to Sign Iran Sanctions Act Extension into Law
• Turkish call to drop Gaza ship case against Israelis
• US curbs revival violates N-deal: Iran
• Why is Iran backing Syria's Bashar al-Assad?
--------
Australia
• Revealed: the new face of Neil Prakash, Australia's most wanted Isis member
Compiled by New Age Islam News Bureau
URL: https://www.newageislam.com/islamic-world-news/new-age-islam-news-bureau/no-scope-for-interference-with-muslim-personal-law--jamiat-ulema-i-hind-to-sc/d/109273
--------
No Scope For Interference With Muslim Personal Law: Jamiat Ulema-i-Hind To SC
December 2, 2016
Prominent Islamic organisation Jamiat Ulema-i-Hind on Friday told the Supreme Court there is no scope for interference with the Muslim Personal Law in which triple talaq, 'nikah halala' and polygamy are well rooted and stand on much higher pedestal as compared to other customs. In its counter affidavit, the Jamiat stated that the Muslim Personal Law has an element of certainty and is not local or regional in operation.
"There is no scope for interference with the Muslim Personal Law, which is based on primarily the Holy Quran and the Sunnah of Prophet Muhammad, explained and applied by various scholars of great antiquity and authority after thorough research," it said.
"The protection of peculiarities in personal laws is necessary for securing freedom of religion and bringing uniformity by removing those peculiarities shall be enforcement of Uniform Civil Code by the judicial process, which shall be against the constitutional bar," it said.
Relying on various apex court judgements, it said that Fundamental Duties as in the Constitution does not not touch upon the personal laws of the parties.
"In personal laws, new concepts of modern times should not be evolved by the courts and it should enforce the law as derived from recognised and authoritative sources of personal laws except where such law is altered by any usage or customs or is modified or abrogated by statute," the Jamiat said.
In its counter affidavit, the Jamiat has also said "the Muslim Personal Law stands on a much higher pedestal when compared to customs or practices because the former has element of certainty and is not local or regional in operation."
Referring to Muslim Personal Law (Shariat) Application Act, 1937, the affidavit said that it has highlighted that Muslim women should be allowed to be governed by Muslim Personal Law instead of local customs and practices because the Muslim Personal Law treats "women with greater dignity".
The Muslim body further said women who have approached the apex court on the issue should approach regular civil courts seeking adjudication of validity of divorce granted to them in the light of the law already settled by the Supreme Court.
The affidavit further said, 'nikah halala', which is surrounded by various misconceptions and when the talaq becomes absolute and irrevocable then the former husband and wife immediately fall in prohibited degree and they cannot remarry each other.
"However, if subsequently she enters into marriage with another man and the said marriage is also dissolved by any mode prescribed by Islam only then she can marry her former husband by way of fresh nikah," it said.
The affidavit said, "Muslim women enjoy greater freedom as there is no compulsion on the wife to remarry the same man or to contract any further marriage at all".
Earlier, All India Muslim Personal Law Board (AIMPLB) had rubbished the stand taken by the Centre that the apex court should re-look these practices as they are violative of fundamental right like gender equality and the ethos of secularism, a key part of the basic structure of the Constitution.
Government, for the first time, had opposed the practice in the apex court and said, "The issue of validity of triple talaq, nikah halala and polygamy needs to be considered in the light of principles of gender justice and the overridin principle of non-discrimination, dignity and equality."
http://indianexpress.com/article/india/no-scope-for-interference-with-muslim-personal-law-jamiat-ulema-i-hind-to-sc-4407528/
--------
Hate toward Muslims Is Growing and its Donald Trump's Fault
Negar Katirai
Dec. 2, 2016
Negar Katirai is an Assistant Clinical Professor, the Director of the Community Law Group at the University of Arizona's James E. Rogers College of Law and a Tucson Public Voices Fellow with The OpEd Project
He should rule out the Muslim registry
A series of letters was recently sent to mosques throughout California threatening genocide against Muslims. At least one of the letters read: "There's a new sheriff in town — President Donald Trump. He's going to cleanse America and make it shine again. And, he's going to start with you Muslims."
This rhetoric is emboldening hate crimes against Muslims and is making many Muslims in the U.S. fearful. Donald Trump and his advisers have only stoked the sentiment. The President-elect must rule out his campaign idea of creating a Muslim registry.
My family and I fled Iran in 1980 because we were fleeing the revolution and its aftermath, including the Iran-Iraq war. My father was worried we would be targeted by the Islamic regime newly in power because of his work representing American and European companies as a lawyer.
My mother was disturbed by the prospect of raising a daughter in an Iran she did not recognize, where groups of religious men called komitehs (committees in Persian) patrolled the streets enforcing a strict interpretation of the Islamic dress code that required all women to cover their hair as well as their arms and legs.
My parents came to the U.S. because they believed that their religion or their devotion to religion would not matter—that they would be treated equally regardless of whether we were devout Muslims like my grandmothers, or the lapsed Muslims my parents were and continue to be.
In my public school education, I learned that America stands for treating everyone equally, with respect, generosity, and an open mind, regardless of where they come from, what they look like or their religion. In law school, I learned how these values are reflected in our laws.
The idea of a Muslim registry goes against these American ideals.
Kansas Secretary of State Kris Kobach, who is reported to be a key member of President-elect Trump's transition team, said in a November 15 interview with Reuters that Trump's policy advisers have discussed a registry for immigrants from Muslim countries. Incoming White House Chief of Staff Reince Priebus refused to rule out such a registry when speaking on NBC's "Meet The Press".
These officials are not just talking about a registry; they are attacking an entire faith. Trump has named Mike Flynn, a man who has said that a fear of Muslims is rational, as his National Security Advisor.
When ABC's Martha Raddatz asked Preibus whether the President-elect agrees with Flynn's statements that Islam is not a real religion, but a political ideology masked behind a religion, Preibus said "clearly there are some aspects of that faith that are problematic."
On Tuesday, Trump selected Katherine Gorka, a national security analyst who has been very outspoken against Islam, as part of his Department of Homeland Security (DHS) "landing team" to manage the handoff of DHS to new leadership. Gorka is known for her position that Islam itself is the problem, including her columns for Breitbart News where she has criticized Presidents Obama and George W. Bush for stating that Islam is a religion of peace. Her husband, Sebastian Gorka, also a columnist for Breitbart and a former advisor for Trump, has said that religious profiling of Muslims is "a synonym for commonsense."
This is a huge departure from the approach America has taken since that tragic day on Sept. 11, 2001. Up until now, Republicans and Democrats alike have made it clear that the fight is against terrorism, not Islam itself.
After 9/11, President Bush distinguished between terrorists and Muslims. "The terrorists are traitors to their own faith, trying, in effect, to hijack Islam itself," Bush said in an address to Congress on Sept. 20, 2001.
Eight days later, when meeting with the King of Jordan, Bush said: "There are thousands of Muslims who proudly call themselves Americans, and they know what I know — that the Muslim faith is based upon peace and love and compassion."
But the Bush administration took steps that betrayed this wisdom. In 2002, they established the National Security Entry-Exit Registration System (NSEERS) that required men and boys 16 years of age and older with temporary visas from 25 specific countries—all but one with predominantly Muslim populations—to register for fingerprinting, photographs and invasive interviews.
The program was so unsuccessful it did not even result in a single terrorism conviction. But it did break up families as many men were either deported or fled out of intimidation.
America has been down this road before, and it did not go well. The internment of Japanese Americans during World War II is a black mark on our history that is remembered with shame.
Recently a friend of mine told me that her 7-year-old son asked why people of our faith are hated. Despite her desire to shield him from these truths, she found she had no choice but to explain that there are those who commit acts of terror in the name of Islam, but we know they are not Muslims because Islam preaches against any sort of violence. She found herself telling him that it is our duty to set those who confuse terrorists with Muslims straight.
Muslim-Americans throughout the country are having these conversations with their children. I am thankful that my son is too young for them, but often find myself tearing up when listening to the news.
Today, hearing talk that paints all Muslims with the same terrorist brush, I worry that we are abandoning American values and heading down a path that feeds right into the hands of the terrorists.
Let's not repeat the darker pages of our history. We all must speak out against the idea of a Muslim registry regardless of our faith, creed or color. Call your elected officials or speak out to say #RegisterMeFirst.
http://time.com/4587915/donald-trump-muslim-registry/
--------
British Muslims are loyal, patriotic and law-abiding but tend to believe in conspiracy theories
2 DEC 2016
A major survey of British Muslims has shown they are "amongst the country's most loyal, patriotic and law-abiding citizens", according to a Birmingham MP.
The nationwide poll found that most British Muslims want to "fully integrate with non-Muslims in all aspects of life", and Muslims were opposed to terrorism
However, the study also found that a small minority of Muslims want to lead separate lives - and many believed conspiracy theories about the 9/11 attacks in the USA, such as the theory that America orchestrated the attacks itself.
Birmingham Perry Barr MP Khalid Mahmood helped organise the survey, working with think tank Policy Exchange.
He said: "In an era in which intolerance and bigotry pose a growing challenge to our society, it cannot be stressed enough that most British Muslims want to integrate with their non-British neighbours."
But he also warned that a "readiness to believe in conspiracy theories and the mentality of victimhood" was holding British Muslims back.
The study found that Muslims are more opposed to terrorism than the population as a whole, with 89 per cent of Muslims saying it is wrong to use violence for political purposes while 81 per cent of British people in general agreed.
And 93 per cent of British Muslims said they felt either a fairly strong or very strong attachment to Britain
A majority of respondents, 53 per cent, wanted to fully integrate with non-Muslims in all aspects of life, with a further 37 per cent wanting to integrate on most things.
However, the study also found that a small minority of Muslims want to lead separate lives. Six per cent, around one in 20, said they wanted integration "on some things", whilst leading "a separate Islamic life as far as possible", and one in a hundred were in favour of a "fully separate Islamic area in Britain, subject to Sharia Law and government".
And there was a high number who believed in conspiracy theories about the 9-11 terrorist attacks in the USA in 2001.
When asked who was responsible for 9-11, a majority of respondents, 52 per cent, said that they did not know. And 31 per cent of Muslim respondents, almost a third, said the American government was behind the attack.
Seven per cent blamed "Jews", while just four per cent said al-Qaeda or a similar group were to blame.
Among the population as a whole, ten per cent of people claimed the American government was behind 9-11 and just one per cent blamed the Jews, while 71 per cent of respondents said that al-Qaeda or a similar group was responsible.
Other key findings
Asked about their TOP priorities, Muslims said they were most concerned about the NHS , jobs, immigration and getting more police on the streets to fight crime.
British Muslims are more likely to take part in our democratic system than the population as a whole, with 72 per cent saying they voted in an election in the past year compared to 54% of people generally.
Most Muslims believe children should be taught about Islam at home or in mosques, with 24 per cent, about a quarter, saying faith should be taught in schools. And 78 per cent of respondents backed government regulation to prevent "anyone unsuitable from being able to tutor in madrasses", the Muslim equivalent of the Christian Sunday school.
When asked whether Muslims should do "more" to tackle the causes of extremism, almost half of respondents, 49 per cent, agreed while 39 per cent felt existing efforts were "about right".
However, 26 per cent of Muslim respondents said that "extremist VIEWS do not exist".
Belief in conspiracy theories is holding British Muslims back, says MP
Mr Mahmood said: "In an era in which intolerance and bigotry pose a growing challenge to our society, it cannot be stressed enough that most British Muslims want to integrate with their non-British neighbours.
"It was with this in mind that I was keen to work with Policy Exchange to build the most extensive survey to-date of British Muslim opinion.
"I was driven by the conviction – based on my experience in my local community – that it would show Muslims to be upstanding members of society, who share many of the same ambitions and priorities as their fellow non-Muslim Britons. And so it proved."
But he added: "British Muslims are, on a whole range of issues, no different in their VIEWS and priorities than their non-Muslim neighbours. This simple fact will come as no surprise to some people – but to many others, I think it cannot be emphasised enough.
"And yet, alongside that, as this report also makes clear, there are some issues on which the views of British Muslims do give pause. Nowhere is this more evident than with regards to the troubled question of 'extremism'. It is obviously a cause for concern that so many within our communities should doubt the very existence of this phenomenon, even as we face a severe and on-going terrorist threat.
"Even more startling is the fact that so many British Muslims seem ready to entertain wild and outlandish conspiracy theories about the way the world works, believing that dark forces are at work to 'do us down' as Muslims.
"From the attacks of 9-11, down to the more recent conflict in Syria, too many people seem ready to believe that these events are being deliberately organised and manipulated – whether by the American Government, Jews, or some other force – with the express intention of damaging Muslims.
"Of course, there is no denying that for many British Muslims, problems of racism, harassment and Islamophobia – are a serious cause of worry.
"But it is deeply troubling that this seems to have led a not-insignificant-minority to believe that the world is at the mercy of the machinations of dark, anti-Muslim forces.
"This readiness to believe in conspiracy theories and the mentality of victimhood to which it speaks is having a pernicious effect on British Muslims and the way they see the world.
"It is holding us back – as a community – and ensuring that we remain locked in a paranoid and at times fearful worldview. As other results from our polling show, there is much of which we, as British Muslims, can be confident and proud."
http://www.birminghammail.co.uk/news/midlands-news/british-muslims-loyal-patriotic-law-12262742
--------
Myanmar's violence against Muslim Rohingya minority is 'ethnic cleansing': Malaysia
December 3, 2016
Malaysia described the violence against Myanmar's Muslim Rohingya minority as "ethnic cleansing" on Saturday, ahead of a planned solidarity march in Kuala Lumpur expected to be led by Prime Minister Najib Razak.
The strongly-worded statement came after Myanmar said on Friday that Malaysia should respect sovereign affairs and follow Association of Southeast Asian Nations' (ASEAN) policy of non-interference in other member countries' internal affairs.
"The fact that only one particular ethnicity is being driven out is by definition ethnic cleansing," Malaysia's foreign ministry said in a statement.
"This practice must stop, and must be stopped immediately in order to bring back security and stability to the Southeast Asian region."
Muslim-majority Malaysia has been increasingly critical of Myanmar's handling of violence in northern Rakhine state that has sent hundreds of people fleeing across the border to Bangladesh, amid allegations of abuses by security forces.
The violence is the most serious bloodshed in Rakhine since communal clashes in 2012 that killed hundreds.
Persecution and poverty led thousands of Rohingya to flee Myanmar following the violence between Buddhists and Muslims there four years ago. Many of them were smuggled or trafficked to Thailand, Malaysia and beyond.
The Rohingya issue posed a threat to Malaysia's own security, Malaysia's foreign ministry said, adding that the high number of Rohingya in Malaysia and other neighbouring countries made this an "international matter".
Myanmar's deputy director general of the President's Office U Zaw Htay told the Myanmar Times on Friday that Malaysia should respect sovereign affairs.
Malaysia summoned Myanmar's ambassador last week over the crackdown on Rohingya. It also cancelled the national soccer team's friendly under-22 matches with Myanmar in protest. Senior government leaders, led by Najib, are expected to participate in the solidarity march on Sunday.
http://indianexpress.com/article/world/world-news/myanmars-violence-against-muslim-rohingya-minority-is-ethnic-cleansing-malaysia/
--------
India
Hindu mother of man, who was killed over religious conversion, adopts Islam
December 2, 2016
In October this year, Faisal, a man in Malappuram district of Kerala who had converted to Islam earlier this year, was given a piece of advice by a local Muslim cleric: Seek protection from the community. Faisal, who was earlier known as Anil Kumar, had then told him, "After embracing Islam, I have entrusted everything to Allah (God). If they want to kill me, let them." On November 19, Faisal was hacked to death by a gang of unidentified men on his way to the local railway station to pick up his parents-in-law. Police sources had then said that Faisal could have been targeted for embracing Islam.
A report in The News Minute said Faisal's mother Meenakshi (56) has also now converted to Islam taking the name of Jameela. She told the website that her religious conversion was a way of getting even with Faisal's killers.
The Indian Express had reported earlier how Faisal, who had converted to Islam earlier this year while he was in Riyadh in Saudi Arabia, wanted to convert his mother as well. Faisal belongs to an upper-caste Hindu Nair family. When he came to Kerala in August, he had converted his wife and three children, all below the age of 10. Years ago, his uncle's family had also taken on the new faith.
"He became a Muslim by choice. No one compelled him. It was his decision. But he was not allowed to live.'' Faisal's father Krishnan Nair had then told the Indian Express. Some of their relatives were apparently not happy with the decision to convert to Islam.
In Malappuram, where Muslims constitute 70 per cent of the population, Faisal's death is the second case of a convert to Islam being killed. In 1998, Ayyappan, a part-time temple priest, had been hacked to death, allegedly by workers of the RSS, after he converted to Islam and took on the name Yasir.
http://indianexpress.com/article/india/hindu-mother-of-man-who-was-killed-over-religious-conversion-adopts-islam-4406311/
--------
Shortage of dollars sparks diplomatic war between India and Pakistan
Dec 3, 2016
NEW DELHI: In this season of demonetisation+ , Pakistan high commission here is trying to stave off a cash crunch of an entirely different kind. The mission has written to MEA to protest against the policies of the bank where Pakistan officials' salaries are deposited.
According to Pakistan, the bank has imposed additional conditions for withdrawal of the salaries which Pakistan mission officials receive in dollars. Several senior diplomats have refused to withdraw their salaries protesting against the new conditions.
These conditions, which came into effect only last week, make it mandatory for Pakistan officials to fill up additional forms specifying their expenditures and also that they exchange their dollars with the same bank. The officials are upset because the exchange rate is much lower then that offered by the bank.
Full report at:
http://timesofindia.indiatimes.com/india/Pakistan-mission-threatens-cash-tit-for-tat/articleshow/55763936.cms
--------
Burhan Wani had sought LeT chief Hafiz Saeed's blessings to fight a common enemy, reveals tape
Bharti Jain
Dec 2, 2016
NEW DELHI: Days before he was killed in an encounter in Anantnag, Hizbul Mujahideen militant Burhan Wani had spoken to Lashker-e-Taiba chief and "most-wanted" terrorist Hafiz Mohammad Saeed, seeking his "blessings" to fight a "common enemy" and reaching out to the Pakistan-based outfit for funds and operational coordination with the Hizbul Mujahideen.
According to an audiotape of the conversation between Wani and Pakistani-based Saeed put out by the CNN-News 18, Saeed can be heard praising Wani for his "great work and sacrifices" and offering all help to Hizbul militants fighting for the Kashmir cause and religion.
Wani, on the other hand, sounds in awe of Saeed, saying how he was keen to talk to him for long and how, by the grace of God, his wish had finally been granted.
It is apparent from the transcript released by the channel that Saeed's call to Wani followed a message sent by the latter, possibly through LeT commander in Kashmir Abu Dujana. It also shows that Wani was in regular touch with Lashker cadres based in Jammu & Kashmir, and wanted Hizbul and LeT to put up a united fight.
LeT and Hizbul have for long worked with each other in J&K, what with their top leaderhsip and patrons based in Pakistan/PoK. Hizbul cadres arrange the logistics and local resoures for their LeT operations in the Valley state, while LeT has offered support to Hizbul's fight to "liberate" Kashmir.
A senior intelligence officer, when asked to analyse the conversation, told TOI that it pointed to Wani's initiative to reach out to LeT. "It shows his attempt to project himself as a big Hizbul leader, who is willing to go into any fold," said the officer. Sources added that in one of their other conversations not yet in the public domain, Wani requests Saeed not to mention to his top leadership, particularly Hizbul chief Syed Salahuddin, that he had independently got in touch with him.
"Wani was more into religion-based jihad and believed in khilafat, shahadat and rule of Sharia, rather than fighting purely for the Kashmir cause. There were times he differed with the Hizbul leadership...for instance, Salahuddin and company had disapproved of his plan to kill J&K police personnel. It seems that in conversations with Saeed, he was speaking as Burhan Wani rather than for his outfit," the intelligence officer told TOI.
Though LeT believes in religion-based jihad, Hizbul comprises mostly local J&K leaders who seek to "free" Kashmir. However, considering that both groups are patronised by Pakistan, they do end up coordinating with each other on the ground in J&K, said an intelligence functionary.
Full report at:
http://timesofindia.indiatimes.com/india/Burhan-Wani-had-sought-LeT-chief-Hafiz-Saeeds-blessings-to-fight-a-common-enemy-reveals-tape/articleshow/55757753.cms
--------
Stop Dalit & Muslim genocide: Wara Wara Rao
December 3, 2016
Hyderabad: Revolutionary writer Wara Wara Rao accused state governmentsof killing Dalits and Muslims in Malkangiri and Bhopal encounters in the name of naxalism and terrorism. Addressing a protest meeting held by Civil Liberties Committee (Telangana) here at Sundarayya Vignana Kendram, Wara Wara Rao said Dalit and Muslim genocide in the name of terrorism and naxalism should stop. He said no religion of the world teaches terrorism, especially Islam never teaches that; despite that Muslim youth are implicated in wrong cases. It is a deliberate plan to kill them in encounter. Wara Wara Rao said Maoists took up arms only after justice was denied to them by the governments.
Full report at:
http://www.siasat.com/news/stop-dalit-muslim-genocide-wara-wara-rao-1078279/
--------
Energy cooperation top on agenda as PM Modi to hold talks with Qatar counterpart
December 3, 2016
New Delhi [India]: Qatar Prime Minister Sheikh Abdullah bin Nasser bin Khalifa Al Thani, who arrive here yesterday on a two-day official visit, will today hold talks with his Indian counterpart Narendra Modi on bilateral, regional and multilateral issues of mutual interest.
Both sides are expected to sign agreements in various fields after the meeting to be held at the Hyderabad House here.
"Will hold talks with Qatar's Prime Minister and Minister of Interior, Sheikh Abdullah bin Nasser bin Khalifa al-Thani today," tweeted Prime Minister Modi.
This is the first visit of Sheikh Abdullah to India and the third high-level bilateral engagement between the two countries in the past two years, which underlines India's growing ties with Qatar.
Full report at:
http://www.siasat.com/news/energy-cooperation-top-agenda-pm-modi-hold-talks-qatar-counterpart-1078286/
--------
Will be in touch with India on Azhar ban issue: China
December 3, 2016
Beijing: China today said it will remain in touch with India and "relevant parties" on Beijing blocking India's bid for a UN ban on Pakistan-based JeM chief Masood Azhar, as it mulled further options after its technical hold on the ban expires this month. "On the issue of listing in the UNSC 1267 Committee, I have already explained China's position many times," Chinese Foreign Ministry spokesman Geng Shuang told PTI here.
"China will continue to keep in touch with relevant parties including India on this issue," he said in a written response to Minister of State for External Affairs M J Akbar's comments that India has urged China to reverse its technical hold on New Delhi's request.
Akbar said in the Rajya Sabha yesterday that India's request on Azhar's ban is co-sponsored by several prominent countries.
Akbar said China has often repeated its concern on the spread of terrorism and its desire to cooperate with India on the issue.
Geng's response to Akbar's comments came as the second technical hold put by China in October following the Uri terrorist attack which was also blamed on the JeM, is due to expire later this month.
Full report at:
http://www.siasat.com/news/will-touch-india-azhar-ban-issue-china-1078151/
--------
India gained by not retaliating post-26/11: Chidambaram
December 3, 2016
New Delhi: India "gained enormously" by not retaliating against Pakistan after the November 2008 Mumbai terror attacks that claimed more than 160 lives, former Union Minister of Home and Finance P. Chidambaram said on Friday.
"India gained enormously in esteem in the world for not retaliating after the attacks," Chidambaram said at a panel discussion here after former Prime Minister Manmohan Singh officially released a new book "Choices: Inside the Making of India's Foreign Policy" written by former National Security Advisor and Foreign Secretary Shivshankar Menon.
At least 166 people were killed when 10 members of the Pakistan-based terror outfit Lashkar-e-Toiba carried out attacks across multiple locations in India's commercial capital Mumbai from the night of November 26, 2008, till the dawn of November 29, 2008. Chidambaram said that after he was made Home Minister on December 1, 2008, he realised that retaliation was "not an option, it was not feasible".
Full report at:
http://www.siasat.com/news/india-gained-not-retaliating-post-2611-chidambaram-1078111/
--------
North America
Canada: Let's Not Turn Our Schools into Mosques
DECEMBER 02, 2016
Mississauga, now Canada's sixth-largest city, is home to one of the largest concentrations of Muslim students in Canada.
This is why in seventeen out of Mississauga's nineteen high schools; Muslim students associations are demanding autonomy on holding congregational prayers on Friday and on choosing who delivers the sermons.
The Peel Board of Education has recently ruled that only six approved sermons could be delivered during Friday prayers, ones that are consistent with the board's values of honesty, cooperation and inclusion. But the students now wish to regain control.
Currently these efforts in Mississauga are being partially led by Shahmir Durrani, who in fact is not in high school but reportedly attends the University of Toronto at Mississauga. They insist on the sermon being drafted by the students.
One of the imams who is on the Peel Board's Faith Leaders Network, Omar Subedar, has even previously condoned wife battery, even though he now claims to advocate equality for Muslim WOMEN.
School prayers began cropping up about ten years ago, ironically around the same time when former premier Dalton McGuinty banned sharia courts from Ontario. The Toronto Sun first reported on prayer services happening at Valley Park Middle School in east Toronto in 2011, but the practice has proliferated since then.
Now the Peel Board will have to decide by December 12 whether to permanently change these rules so the students have greater control of the content of the sermons and the imams.
This raises many concerns. School boards must treat all religions equally. However, these very strident Islamist demands for communal religious practice create inequality, as other faiths do not insist on such public displays of religiosity. By default, a political and orthodox form of Islamism is taking root within our schools.
Some of the activists pursuing this cause show no loyalty to Canada, a nation they say practices systematic Islamophobia. At a recent Mississauga school board meeting on the topic, an online video shows a number of these attendees even refused to stand for O Canada.
A typical congregational prayer would have WOMEN at the back, and menstruating women would be excluded outright. This would violate board gender policies, not to mention Canadian values.
MSAs may tout this as a broad religious rights issue, but congregational prayer is best observed at the mosque. No religion should be allowed to mobilize itself in such a political way on school property. Schools should be free of the kind of religious preferences that by default are happening in Mississauga and potentially in other parts of Canada.
No one is stopping Muslims from praying at their mosques, and protocol allows great flexibility of time and venue in observing prayers. It is not as if these students will be barred from discharging their religious obligations if they are not allowed to pray together on Friday. Their insistence on organizing themselves in this FASHION on school property shows the political nature of this issue.
Canada justifiably proscribes school-sponsored prayer for reasons of freedom of conscience. Although the MSA's prayer services would not qualify as school-sponsored, they would certainly be seen as sanctioned by the boards. Many Muslim students unwilling to participate in Friday prayers or sermons may indeed feel pressured to do so, which again violates the board's policy of ensuring freedom of conscience.
It is this policy which overrides all other considerations, and it is what the Peel Board must bear in mind when making its decision about MSA prayer demands.
http://www.torontosun.com/2016/12/02/lets-not-turn-our-schools-into-mosques
--------
Donald Trump Muslim Plan: What San Bernardino Terror Attack Survivors Say About His Registry, Travel Ban Proposa
12/03/16
A year ago, Mandy Pifer and Shannon Johnson were preparing to tell their families that they were getting married. Instead, Johnson was shot dead along with 13 other coworkers in a brutal assault carried out by his San Bernardino Department of Public Health coworker Syed Farook and his wife, Tashfeen Malik. Johnson died shielding his co-worker from a hail of bullets.
Johnson, who Pifer describes on social media as her "soulmate," was a Christian interested in Hinduism who often discussed religion with Farook, his Muslim coworker and eventual killer. But Pifer said attempts to blame Islam for her partner's death are inappropriate. She criticized President-elect Donald Trump, who has called for a ban on Muslims traveling to the U.S., and his political ally, former New York City Mayor Rudolph Giuliani, of instigating "hate" toward Muslims.
"I think [Trump]'s a big bully who, with his ignorant attitude and fear based tactics, will get more innocent people killed. Guiliani is a hot-headed, fear-based, has-been who needed San Bernardino to happen in ORDER to stay relevant. Hate begets Hate," Pifer told International Business Times.
A year after Farook and Malik opened fire at an office Christmas party, killing 14 of his coworkers and injuring 22 others in one of the deadliest acts of violence by militants since Sept. 11, 2001, a heated debate over how to stop future incidents of terror and mass shootings has rattled the nation. But in San Bernardino, the policy discussion isn't merely abstract. It's a conversation that some believe could have prevented unnecessary deaths, while others say blaming Muslims dishonors the victims, many of whom supported religious tolerance.
During the presidential election that culminated in Trump's victory in November, the Republican business mogul routinely described Muslims as anti-American and won in part because of his vow after the San Bernardino massacre to crack down on Muslims both coming to and already living in the U.S. As a candidate, Trump repeated the disputed claim that Farook's neighbors saw the bombs that ultimately failed to detonate during the attack and did not report them to authorities.
More recently, as president-elect, he and his potential cabinet members, including Guilani, have said they will consider implementing a Muslim registry to keep track of anyone associated with Islam. After an attack this week carried out by a Muslim student at Ohio State University, Trump tweeted: "ISIS is taking credit for the terrible stabbing attack at Ohio State University by a Somali refugee who should not have been in our country."
President Barack Obama and civil liberities activists have warned that blaming all Muslims for the violence carried out by a few violates the First Amendment and will only further alienate some Americans. Critics also cite the need to protect the civil rights of the nation's many law-abiding, peaceful Muslims.
Ayman Taleb, 31, is the director of the Islamic Center of Riverside, a nearby mosque once attended by San Bernardino attack survivor Anies Kondoker and the two killers. He rejects the idea of Islam as a security threat and called Trump's efforts "shameful."
Taleb was born and raised in Dallas and called himself "a rootin-tootin son-of-a-gun" proud of both his Muslim and American identities. Taleb, a second-generation alumnus of the University of North Texas, moved to Riverside in March to be closer to his in-laws and became director of the religious center in August.
"In America, if you're anything other than a WASP, then you're defined as the 'other,' and whenever a few select individuals do something outside the law, the entire community is associated. No community should have to bear the responsibility, no community should have to apologize or be asked to apologize," Taleb said in a telephone interview, using an acronym used to describe individuals who are Protestant and of white, Anglo-Saxon descent.
Taleb, who released an Independence Day-themed, religious music video earlier this year, emphasized that his values as a Muslim and a U.S. citizen were identical. Those beliefs, he said, vehemently oppose the mass shooting carried out by Farook, 28, and Malik, 29. The couple died in a police shootout hours after the bloody assault.
Full report at:
http://www.ibtimes.com/donald-trump-muslim-plan-what-san-bernardino-terror-attack-survivors-say-about-his-2453548
--------
Kerry on Libya: we will not intervene in Libya
03 December 2016
US Secretary of State John Kerry said on Friday that there would be no foreign military intervention in Libya and called for a diplomatic solution as violence flared in the capital Tripoli.
"Our TOOLS are diplomacy. We are not looking at other options," Kerry told journalists alongside his Italian counterpart Paolo Gentiloni following a summit in Rome on the future of countries in the Mediterranean region.
"I don't think any country is prepared to engage in military action."
"There has been a significant shift in the last month of efforts diplomatically to bring general (Khalifa) Haftar to the table... and create a series of meetings to try to resolve some differences," said Kerry, referring to the military strongman who has refused to support a UN-backed unity government.
He instead supports a parallel authority, based in eastern Libya near the border with Egypt, that controls much of the country's oil production.
Full report at:
http://www.worldbulletin.net/america-canada/181114/kerry-on-libya-we-will-not-intervene-in-libya
--------
Europe
France sees sharp drop in anti-Semitic and anti-Muslim acts over ten months
12/02/2016
Interior minister praises measures like anti-racism program launched in 2015
Anti-Semitic and anti-Muslim acts in France dropped by 61 and 52 percent, respectively, in the first ten months of 2016 compared to the same period in 2015, Interior Minister Bernard Cazeneuve said on Friday.
"It is intolerable that in our country, men may be assaulted because they wear the kippah, WOMENbecause they wear headscarves, just as it is intolerable to set churches on fire or desecrate cemeteries," he said.
Authorities are therefore "systematically" pursuing justice for "any anti-Semitic, anti-Muslim or anti-Christian acts of which they are aware."
Furthermore, the government launched in 2015 an inter-ministerial program "of unprecedented SCALE" to fight racism and anti-Semitism, budgeted at 100 million euros.
"These measures are now taking effect, as the number of anti-Semitic acts decreased by 61 percent in the first ten months of 2016 compared to the same period of the previous year," said Cazeneuve. "The decline is 52 percent for anti-Muslim acts, despite the climate of tension created by the attacks," he said, referring to terror attacks by Islamists that have sent shock waves through France and collectively killed hundreds.
Last year, 808 anti-Semitic acts and 429 anti-Muslim acts were recorded.
Nearly 2,800 churches and temple, over 1,000 mosques, and almost 800 Jewish sites have been placed under the protection of security forces and troops, said Cazeneuve, who on Friday visited a Jewish school to examine security measures.
Nine million euros of public funds have been made available for security EQUIPMENT – particularly video surveillance – for sites of worship and schools seen as vulnerable to attacks.
Cazeneuve's comments came days after Germany's first official national analysis of xenophobic attacks found that attacks on Jews grew threefold between 2014 and 2015, and soon after Britain's Home Secretary Amber Rudd vowed to set aside $17 million to be used for the protection of Jewish sites.
http://www.i24news.tv/en/news/international/europe/131607-161202-france-sees-harp-drop-in-anti-semitic-and-anti-muslim-acts-over-ten-months
--------
Denmark to withdraw F-16 jets from anti-IS mission
December 03, 2016
COPENHAGEN - Denmark said on Friday it would not extend a six-month mission for seven F-16 jets taking part in a US-led coalition focused on attacking Islamic State group targets in Syria and Iraq.
The decision came three days after the Pentagon said a September air strike in Syria by American, Australian, British and Danish planes - that reportedly killed some 90 regime forces, instead of IS fighters - was caused by a string of miscommunications, intelligence shortcomings and human errors.
"We have decided to withdraw the Danish fighter jets as planned," Danish Foreign Minister Anders Samuelsen told journalists after a meeting with parliament's Foreign Policy Committee.
Full report at:
http://nation.com.pk/international/03-Dec-2016/denmark-to-withdraw-f-16-jets-from-anti-is-mission
--------
Trump team eyes proposed new non-nuclear sanctions on Iran
December 02, 2016
Donald Trump's transition team is examining proposals for new non-nuclear sanctions on Iran, the Financial Times reported on Friday, citing congressional sources who have been in contact with the Republican President-elect's team.
Full report at:
http://nation.com.pk/international/02-Dec-2016/trump-team-eyes-proposed-new-non-nuclear-sanctions-on-iran
--------
UK foreign minister: 'Millions will not accept Assad'
02 December 2016
British foreign secretary Boris Johnson accused Syrian President Bashar al-Assad of being responsible for the "overwhelming majority" of 400,000 deaths during the five-year "slaughter" in Syria.
"There are millions in that country, who in our VIEW, will not accept rule by him again," Johnson added.
During a speech delivered Friday at the Chatham House think tank in London, Johnson said a new way of moving away from the Syrian president should be found.
Underlining that the future of Syria should mean a united country, Johnson said he could not "see that happening under Assad".
The British foreign secretary also reiterated the U.K.'s commitment to NATO.
"Our resolve to fulfill NATO's obligations will be unbreakable," he said.
Johnson added it could not be justified that 70 percent of the alliance's expenses be met by only one member state -- the U.S. -- and added that every member should allocate 2 percent of their GDP for NATO expenditure.
Johnson emphasized that the U.K. was "prepared to be tough with Russia" but added that this did not mean there was a contradiction between deterrence and dialogue.
"We can't normalize relations with Russia and go back to business as usual," Johnson said, because of situations in Ukraine, Crimea and Syria.
Full report at:
http://www.worldbulletin.net/europe/181074/merkel-to-rally-party-members-for-2017
--------
Russia sends demining team to Syria to clear Aleppo's liberated areas
Dec 3, 2016
Russia has dispatched a bomb disposal unit to Syria to help demine the liberated eastern parts of the flashpoint city of Aleppo, the Russian Defense Ministry says.
"An advance unit of the international anti-mining center of the Russian Armed Forces has flown to Syria to participate in the humanitarian demining of districts in eastern Aleppo liberated from the militants," the ministry said in a statement, RT reported on Friday.
The statement further said that the bomb disposal unit "is fully autonomous and is EQUIPPED with the most advanced demining tools and means of protection."
According to Chief of the Main Operational Directorate of the General Staff of the Russian Armed Forces Lieutenant General Sergei Rudskoi, more than 200 servicemen and 47 units of combat and SPECIALequipment would be involved in clearing the newly-liberated areas of the city from mines and booby traps.
The former commander of the Russian engineering troops, Colonel-General Nikolai Serdtsev, described the bomb disposal mission in Aleppo as much more "complicated" than the one carried out in Palmyra city, in the central province of Homs, back in April and May.
He added that Russian sappers in Aleppo could not use unmanned ground VEHICLES, such as the Uran-6 bomb disposal robots, which were employed in Palmyra.
"Robots work on search of metal, and there the whole [city] is inundated with armature. Spoons, forks, everything will be indicated and it will be extremely problematic to operate for mine detectors," Serdtsev told the Interfax news agency on Wednesday.
According to the Russian military, around 18,000 explosive objects were defused, and over 8,500 booby-trapped houses were cleared by the Russian demining troops in Palmyra. In addition, over 800 hectares of territory, 23 kilometers of roads and 10 sites of historic heritage were cleared of explosives during the mission.
Aleppo, Syria's second largest city, remains divided between government forces in the west and foreign-backed terrorists in the east, making it a frontline battleground.
Full report at:
http://www.presstv.ir/Detail/2016/12/03/496202/Russia-demine-sappers-Syria-Aleppo-Palmyra-alNusra-Front
--------
South Asia
Taliban kill 23 civilians in Afghanistan, say police
Dec 03, 2016
Taliban insurgents killed 23 civilians after they lost 29 of their fighters in an abortive attack on police in southern Afghanistan, police sources said on Friday.
"Taliban insurgents have launched coordinated attacks on police checkpoints in Nesh district of Kandahar yesterday, and they faced resistance from Afghan forces," Kandahar police said in a press statement.
"Following the taliban attack, 29 taliban fighters were killed and a number of others sustained injuries, and large numbers of weapons and ammunition were confiscated from them," the statement added.
"The brutal enemy after suffering defeat against Afghan forces, took their revenge by killing 23 civilians including five children and two women," it said.
The police statement said the taliban had sought refuge in the homes of civilians and killed them after they opposed the insurgents.
According to Nesh district police commander Niaz Mohammed the attacks occurred on Wednesday and Thursday.
"After their defeat, the taliban wanted to hide in the houses and when the civilians showed their opposition, the taliban killed them," he told AFP.
"Six members of a policeman's family were among the victims. In total 23 people (civilians) were killed." said Taliban spokesman Qari Yousuf Ahmadi rejected the claims as false.
While Nesh district borders Uruzgan province, which is a major opium producer and has a high taliban presence, its population is considered pro-government and Islamists insurgents rarely intervene there.
During the last taliban offensive in October on Kunduz, the economic capital of northeast Afghanistan, civilians who had fled the fighting accused the insurgents of hiding in their houses or seeking to establish their positions there. As in Nesh, they told AFP that those who resisted were killed.
The security situation has eased on most fronts in recent weeks with the coming of winter after a particularly brutal fighting season in which nearly 2,600 civilians were killed and another 5,800 wounded in the first nine months of the year, according to the UN.
Afghan military has also suffered at least 2,000 deaths since January, according to a security source, while a record half million people have been displaced by fighting.
http://www.dawn.com/news/1300063/taliban-kill-23-civilians-in-afghanistan-say-police
--------
Civilians suffer heavy casualties in Afghan forces, Taliban clashes in Kandahar
Dec 03 2016
The civilians in southern Kandahar province suffered heavy casualties during a 4-day clash that ended on Thursday night.
According to the local government officials, the clashes took place in Nish district between the Afghan forces and the Taliban insurgents.
Provincial police spokesman Zia Durani said the Taliban insurgents were forced to leave the district after around 100 additional forces were deployed to the area.
He said at least 29 Taliban insurgents were also killed during the clashes along with 4 policemen.
The Taliban militants group has not commented regarding the report so far.
This comes as the United Nations Assistance Mission in Afghanistan (UNAMA) said late in October that the mission has documented 8,397 conflict-related civilian casualties (2,562 deaths and 5,835 injured) between 1 January and 30 September, representing a one per cent decrease compared to the same period in 2015. Ground engagements remained the leading cause of civiliancasualties, followed by suicide and complex attacks, and improvised explosive devices (IEDs).
Full report at:
http://www.khaama.com/civilians-suffer-heavy-casualties-in-afghan-forces-taliban-clashes-in-kandahar-02413
--------
Taliban publicly execute university student in Wardak province
Dec 03 2016
The Taliban insurgents have publicly executed a university student in Maida Wardak province, located near capital Kabul in central parts of the country.
The student was reportedly hanged to death after accusing him of working for the government.
According to reports, the university student was on his way to meet his family when he was captured by Taliban.
The group has not commented regarding the execution of the student so far.
This is not the first time the group has abducted and executed innocent civilians on charges of working for the government.
Full report at:
http://www.khaama.com/taliban-publicly-execute-university-student-in-wardak-province-02412
--------
Trump speaks with Ghani, vows to work closely to counter terrorism threats
Dec 03 2016
The US President-elect Donald Trump spoke with the Afghan President Mohammad Ashraf Ghani to discus issues of bilateral interest, including the joint fight against terrorism, it has been reported.
The Trump transition team informed regarding the discussions between President Ghani and President-elect Trump, according to Reuters.
"The two men discussed the grave terrorism threats facing both countries and pledged to work more closely together in ORDER to meet these growing threats," the Trump transition team said in a statement.
The Presidential Palace, ARG, has not commented regarding the report so far.
President Ghani congratulated Trump for his victory in the US presidential election earlier last month, expressing hopes that the relations between the nations will further improve under his administration.
The Office of the President, ARG Palace, in a statement said the United States is one of the key strategic partners of the Afghan government in the fight against terrorism and in the development of the country.
Full report at:
http://www.khaama.com/trump-speaks-with-ghani-vows-to-work-closely-to-counter-terrorism-threats-02410
--------
Magnetic bomb explosion leaves 3 wounded in Kabul city
Dec 02 2016
At least 3 people were wounded in a magnetic bomb explosion in West of Kabul city earlier this evening, security officials said.
The officials further added that the incident took place in the 3rd police district of the city after a magnetic bomb planted in a police VEHICLE went off in Golayi Dawa Khana area of the city.
No group including the Taliban insurgents has so far claimed responsibility behind the incident.
This comes as two rockets landed in the vicinity of key diplomatic area in Shashdarak area of the city late on Wednesday night.
The officials confirmed Thursday that the rocket attack did not incur any casualties to the local residents or security forces.
Full report at:
http://www.khaama.com/magnetic-bomb-explosion-leaves-3-wounded-in-kabul-city-02409
--------
Pakistan
'Complicated' ties prevented Obama from visiting Pakistan
December 03, 2016
WASHINGTON - United States' "complicated relationship" with Pakistan over the last eight years prevented President Barack Obama from visiting Pakistan, the White House has said, but expressed confidence that Donald Trump would certainly consider undertaking a trip to the South Asian country when the President-elect assumes office next month.
Speaking about President Obama, White House Press Secretary Josh Earnest told reporters that at one point in his Presidency, he did express a desire to travel to Pakistan.
"For a variety of reasons, some of them relating to the complicated relationship between our two countries at certain times over the last eight years, President Obama was not able to realize that ambition."
Earnest was replying to questions over Pakistan govt statement that Trump in his telephonic conversation with Prime Minister Mian Muhammad Nawaz Sharif had said that he would love to visit the country.
"I can't speak to the accuracy or to the tone of that phone call," the White House Press Secretary said.
"I'd refer you to the President-elect's team for more of a description of what the President-elect may have communicated to the Prime Minister of Pakistan."
The White House Press Secretary added, "Obviously, President Obama's conversations with his counterpart in Pakistan have been an important priority. The US relationship with Pakistan is one that's quite complicated, particularly when you consider our overlapping national security interests. The relations between our two countries, particularly over the last eight years, have not been smooth -- consistently smooth, particularly in the aftermath of the raid on Pakistani soil that President Obama ordered to take Osama bin Laden off the battlefield.
"But one thing we do know is that it sends apowerful message to the people of a country when the President of the United States goes to visit. That's true whether it's some of our closest allies, or that's also true if it's a country like Pakistan, with whom our relationship is somewhat more complicated.
"But ultimately, when President Trump begins planning his overseas travel, he'll have a range of places to consider, and Pakistan would certainly be one of them."
Noting that this obviously is an important relationship, Earnest said that there have been areas where the US and Pakistan have been able to effectively coordinate their efforts.
Earnest said that Obama benefitted from the professionalism and expertise of career diplomats at the State Department who were able to offer him good advice about engaging with world leaders.
"President Obama benefited enormously from the advice and expertise that's been shared by those who serve at the State Department. And I'm confident that as President-elect Trump takes office, those same State Department employees will stand ready to offer him advice as he conducts the business of the United States overseas. Hopefully he'll take it," he said.
http://nation.com.pk/national/03-Dec-2016/complicated-ties-prevented-obama-from-visiting-pakistan
--------
Pakistan sending envoy to meet Trump team
Dec 03, 2016
WASHINGTON: The prime minister's special assistant for foreign affairs, Tariq Fatemi, is coming to the United States this weekend to meet officials of the Trump transition team.
"Besides meeting members of the transition team, Mr Fatemi will meet officials of the outgoing Obama administration," said Pakistan's Ambassador to the United States Jalil Abbas Jilani.
US President-elect Donald Trump is scheduled to take the oath on Jan 20 but he has already set up a provisional team, encouraging foreign leaders and officials to visit his headquarters in New York for familiarisation meetings.
Mr Fatemi, who is coming on a two-week official visit, is also expected to meet some members of this team and in Washington, "he will also meet new US lawmakers elected last month," Mr Jilani told a news briefing at the embassy.
"This is a very important visit as much has happened in Washington since the Nov 8 elections," Mr Jilani said.
The visit follows a telephone conversation between Prime Minister Nawaz Sharif and Mr Trump on Wednesday during which the US leader expressed his desire to continue a productive relationship with Pakistan.
The Trump-Sharif conversation has generated much int­erest in the US capital where the opposition Democrats and the media are both criticising the president-elect for "talking to foreign leaders… without consulting US officials''.
On Thursday afternoon, the White House suggested that the State Department might have briefed Mr Trump before his call to PM Sharif.
Full report at:
http://www.dawn.com/news/1300180/pakistan-sending-envoy-to-meet-trump-team
--------
Pakistani-origin Muslim teen in Canada brutally assaulted in suspected hate crime
Dec 03, 2016
A Pakistani-origin Muslim teenager in Canada was brutally beaten by two men with a baseball bat, leaving him with a cracked skull as his family fear the assault may be a hate crime, CBC reported.
Noah Rabbani, 15, was walking home from a friend's house last weekend late at night in Hamilton, Ontario, when two men got out of a car next to where he was walking. One of the men was holding a baseball bat, a police press release quoted by CBC said.
"The males approached the boy and struck him with the bat several times causing serious injuries... The suspects ran back to the car and left in an unknown direction," the police said.
Hamilton Police Constable Asif Khokhar said an investigation is ongoing and that detectives are "looking at all aspects."
The Saltfleet District High School student was shifted to an intensive care unit and had to undergo surgery to repair a crack in his skull which has left him with impaired movement on the right side of his body.
The teenager was able to reach his grandmother's house a few doors away and provide a brief description of the attackers.
Rabbani's aunt Huma Aslam said the assault came as 'a total shock'.
"Here we are in Canada, the greatest country in the world. I'm just really in shock," Aslam said.
Full report at:
http://www.dawn.com/news/1300036/pakistani-origin-muslim-teen-in-canada-brutally-assaulted-in-suspected-hate-crime
--------
Achakzai wants peace talks between Pakistan, Afghanistan
SALEEM SHAHID
Dec 03, 2016
PISHIN: Chairman of the Pakhtunkhwa Milli Awami Party (PkMAP) Mehmood Khan Achakzai said on Friday that for the establishment of a durable peace in the region it was necessary that Pakistan and Afghanistan resolve their outstanding issues.
Addressing a public meeting held in the Taj Lala Football ground of the town to mark the 43rd death anniversary of Abdus Samad Khan Achakzai, he said peace was essential for the success of the China-Pakistan Economic Corridor (CPEC) and other development projects.
Mr Achakzai said the region was facing a serious crisis and resolving issues between Pakistan and Afghanistan was the need of the hour. Pakistan should initiate a dialogue process with Afghanistan for resolving all outstanding issues, he said, adding that it was necessary for both the countries.
He said his party was not against Pakistan, but wanted equal rights for Pakhtuns. The PkMAP was the only party which always stood against atrocities and injustices and never compromised on the rights of Pakhtun people, he added.
He said there should be constitutional guarantees for the equal rights of people of all parts of the country and added that only this way Pakistan could be made a true federation.
He said his party would continue its struggle for a Pakhtun province from Bolan to Chitral.
He said the Constitution of the country should be supreme and all institutions, including the army, judiciary and executive, should work according to their constitutional roles.
He said the PkMAP believed in democracy and it had always struggled for the strengthening of democratic institutions in the country. The party had no lashkar or militant group and believed in a peaceful struggle, he added.
Full report at:
http://www.dawn.com/news/1300188/achakzai-wants-peace-talks-between-pakistan-afghanistan
--------
Blast targets DSP's vehicle in Peshawar, cop remains unhurt
ALI AKBAR
Dec 03, 2016
A police officer remained unhurt in a roadside blast targeting his vehicle in Peshawar's Chamkani area on Friday, police said.
Deputy Superintendent of Police (DSP) Chamkani Abdul Salam was on a routine patrol when the remote-controlled bomb exploded near his vehicle on the Northern Bypass, Superintendent of Police (SP) rural Furqan Bilal said.
However, the police official remained unhurt, Police Control Peshawar said. His vehicle suffered minor damage in the blast in which 5 kilograms of explosives had been used.
A second remote-controlled bomb exploded in Peshawar's Karkhano Market earlier in the day moments after a police vehicle passed nearby. No loss of life was reported in this blast however, a passenger bus was partially damaged.
Full report at:
http://www.dawn.com/news/1300029/blast-targets-dsps-vehicle-in-peshawar-cop-remains-unhurt
--------
To protest against corruption is our political right: Imran
03-Dec-16
SWAT: Pakistan Tehreek Insaf Chairman Imran Khan has said that staging a demonstration against corruption is our political right.
"Corruption is a cancer of our society that deteriorated it. No one invested in Pakistan due to corruption. If the government is honest, investment comes," he said while addressing a gathering after inaugurating an 84-megawatt hydropower project in Swat on Friday.
Speaking on the occasion, Imran said that the government's corruption of millions of rupees had been unearthed in the Panama Papers but no one held them accountable. "On the other hand, if a poor man is accused of a robbery, he is caught and put behind the bars."
He said that it was a system of injustice at the hands of which the nation was suffering. "Therefore, we have made a system that holds accountable the poor as well as the rich."
He said that the National Accountability Bureau (NAB) chairman only held accountable small ministers but not Nawaz, as he was involved in 13 cases. "The NAB chairman is a corrupt leader and gets transferred Rs 250 million to Dubai every month. All state institutions have become slaves of the Sharif family."
The PTI chief said that the Punjab Police had made illegal appointments without any merit and the Punjab Police inspector general was "sitting in the feet of Punjab Chief Minister Shahbaz Sharif". He said that fake cases had been registered in police stations, and added that three to four cases were also registered against him. "If government took illegal favours from the police then how will the police work honestly?" He said due to politicising of the police, the crime rate had been increasing in Punjab with each passing day.
Full report at:
http://dailytimes.com.pk/pakistan/03-Dec-16/to-protest-against-corruption-is-our-political-right-imran
--------
Bill for journalists safety, security next year, says Marriyum
December 03, 2016
KARACHI - Minister of State for Information, Broadcasting and National Heritage Marriyum Aurangzeb on Friday said that legislative process for the security and safety of journalists was underway and a bill to this effect would be tabled in the Parliament early next year in consultation with CPNE and other stakeholders.
Talking to the office-bearers and members of the Council of Pakistan Newspaper Editors (CPNE) at the CPNE head-office here, she underlined the need for joint efforts for a democratic and stable Pakistan.
CPNE President Zia Shahid, Secretary General Ijaz-ul-Haq and other office-bearers and members were present in the meeting.
She said that PML-N government believed in media freedom, but journalism with responsibility was need of the hour.
The Minister said that print media had played an important role for democracy and democratic norms.
Marriyum Aurangzeb informed that the Academy of Information Ministry was being activated for offering training to journalists at the government-level.
The first model for the training of journalists was under preparation, she added.
She said that the government wanted to strengthen institutions, adding the role of media was vital in the development of a civilised society.
The Minister stressed that editorial committees needed to be activated in the electronic media.
She said that strengthening of Press clubs across the country was among the government's priorities.
Several programmes for women journalists were also under consideration, she added.
Marriyum Aurangzeb said that the operation launched by the present government against terrorism in the country, and the action to restore law and order in Karachi city, had produced positive results.
Full report at:
http://nation.com.pk/national/03-Dec-2016/bill-for-journalists-safety-security-next-year-says-marriyum
--------
Southeast Asia
Najib awed Muslim world, hence Arab donation, says delegate
December 3, 2016
Prime Minister Najib Abdul Razak has done Malaysia proud in the eyes of the Muslim world, which is why the Arabs donated MONEY to the prime minister, said an Umno delegate.
Full report at:
https://www.malaysiakini.com/news/365053
--------
Non-Muslims against Shariah upgrade because they want Malays to 'live in sin', Umno GA told
BY MELATI A. JALIL
December 3, 2016
KUALA LUMPUR, Dec 3 — A Terengganu Umno delegate claimed today that non-Muslims opposed a Bill to enhance the Shariah courts' punitive powers because they desired the Malay-Muslim community to continue "living in sin".
"When the non-Muslim Opposition opposes the upgrade of the punishments, they see that as an opportunity to let Malays to continue living in sin, then they can take over.
"If we let the Bill be passed, they [Malays] will revert to the true teaching of Islam," Setiu Umno representative Mohd Iskandar Jaafar said when debating the religion and education motion at the 2016 Umno General Assembly here.
Mohd Iskandar said further that current punishments were insufficient to curb social problems among the Malays.
As an example, he said there were 153,000 babies born out of wedlock to Muslim parents.
"They are afraid that if the punishments are upgraded, Muslims will be protected from making mistakes," he said.
Malays in the country are automatically classed as Muslims by law.
Mohd Iskandar said the party has always been consistent in upholding Islam, as Umno MPs were instrumental in passing the Shariah Courts (Criminal Jurisdiction) Act in 1965.
On the first day of the assembly, Umno president Datuk Seri Najib Razak said Putrajaya would take up the private member's Bill initiated by PAS president Datuk Seri Abdul Hadi Awang.
Hadi's Bill now proposes to increase Shariah punishment caps to a maximum 30 years' imprisonment, RM100,000 fine and 100 lashes of the cane.
Full report at:
http://www.themalaymailonline.com/malaysia/article/non-muslims-against-shariah-upgrade-because-they-want-malays-to-live-in-sin
--------
Indonesia says foiled plot to exploit Muslim protest
December 2, 2016
Indonesian police on Friday said they had detained eight people before dawn, thwarting a plot hatched to take advantage of a demonstration by tens of thousands of Muslims and lead an uprising against President Joko Widodo's government. The detentions followed weeks of tension, during which Widodo said "political actors" had fanned violence at a November 4 protest and the country's police chief warned that "certain groups" might try to occupy parliament during Friday's rally.
The group had been under surveillance for at least three weeks, and the move against it came hours before the start of a rally in central Jakarta to protest against the city's governor, a Christian accused of insulting the Koran. Police spokesman Boy Rafli Amar described the plan as attempted subversion of Widodo's government, which has strong support from the military.
"The suspicion is that among other things there was a link to plans to attempt subversion, and to take advantage of conditions today," Amar said. "They had another agenda aside from prayers."
A sea of white-clad protesters surged around Jakarta's National Monument on Friday morning. Police estimated their number at about 150,000, many having come from towns and cities across the island of Java.
They chanted and carried banners demanding that the city's governor, Basuki Tjahaja Purnama, be jailed.
Purnama is being investigated over comments about his opponents' use of the Koran during political campaigning. He denies wrongdoing, but has apologised for the remarks.
Police on Thursday handed a dossier on their investigation of his comments to prosecutors, who are expected to take the case of alleged blasphemy to court in coming weeks.
Purnama, a long-time ally of Widodo, is running for re-election in February against two Muslim candidates.
POLITICAL TENSION HIGH
The contest for the governorship has sent political tension soaring, with rumours of plots to undermine Widodo and scupper his chances of winning a second term in 2019.
Police spokesman Rikwanto said altogether 10 people were detained between 3 a.m. and 6 a.m. Eight were being investigated under the conspiracy and treason provisions of the criminal code, and the other two for hate speech.
"They are being accused of subversion," said Yusril Ihza Mahendra, a lawyer for two of the eight.
He said the group included Rachmawati Sukarnoputri, a politician and sister of former president Megawati Sukarnoputri. Their father was independent Indonesia's first president.
The group also included rock musician Ahmad Dhani and retired army general Kivlan Zen, who had both supported one of Widodo's rivals for the presidency in 2014, the lawyer said. Dhani faced public criticism in 2014, when he appeared wearing a German Nazi-like uniform in a music video while campaigning for his candidate.
Full report at:
http://indianexpress.com/article/world/world-news/indonesia-says-foiled-plot-to-exploit-muslim-protest-4406876/
--------
Don't marginalise HIV patients, Muslims told in World AIDS Day sermon
December 2, 2016
KUALA LUMPUR, Dec 2 — Federal Territories Islamic Department (Jawi) has urged Muslims not to marginalise those who have been diagnosed with HIV, calling them to provide help and support instead.
In this week's Friday sermon distributed to mosques in the territories, Jawi said all Muslims must shoulder the responsibilities in preventing HIV from spreading.
"The question is, how do we as Muslims, act when faced with a person with AIDS? This is where our attitudes and behaviour will be tested.
"We need to realise that, there are among them, who are truly sorry and repentant, and want to start a new life. There are also among them victims of unavoidable circumstances.
"Therefore, we should not marginalise them. Always provide help, support and motivation, as well as assist and guide them to live a more meaningful life," said the sermon in conjunction with World AIDS Day yesterday.
Despite that, Jawi had blamed "rampant" zina, or illicit sex, for the spread of AIDS by citing prominent Egyptian theologian Yusuf al-Qaradawi.
"This is why the wisdom of Islam has chosen to prohibit illicit sex itself, in comparison to efforts of mere prevention based on a technical nature without banning such actions," it claimed.
Full report at:
http://www.themalaymailonline.com/malaysia/article/dont-marginalise-hiv-patients-muslims-told-in-world-aids-day-sermon
--------
C.Java protesters demand Ahok's immediate incarceration
December 2, 2016
Around 2,000 people called for the immediate incarceration of non-active Jakarta Governor Basuki "Ahok" Tjahaja Purnama during a rally in Semarang, Central Java, on Friday.
Rallying in front of the Central Java Prosecutor's Office on Jl. Pahlawan, the protesters insisted that Ahok was guilty of blasphemy.
Islamic organization Majelis Akhir Zaman chairman Farid Prianggono said Muslims must defend Islam. "[...] Allah says said in the Quran that if you help the religion of Allah, then Allah will help you and strengthen your position on Earth," he said during his oration.
Farid is one of the ustadz (Islamic lecturers) who made a speech and gave a sermon during the rally. Started after the Friday prayer, the rally ran orderly and peacefully. Members of Islamic organizations joined with the Semarang Muslim Forum and ended the rally by holding Asr (afternoon) prayers.
Full report at:
http://www.thejakartapost.com/news/2016/12/02/c-java-protesters-demand-ahoks-immediate-incarceration.html
--------
Singapore minister sees increased threat of extremist attack
December 02, 2016
A Singapore minister said on Friday the threat of an extremist attack was higher now than earlier this year as hardline Islamists are increasingly pushing their agenda in neighboring Indonesia.
Law and Home Affairs Minister Kasiviswanathan Shanmugam, speaking to the Foreign Correspondents Association in Singapore, did not specify whether the threat had increased just in the city state or in Southeast Asia generally.
But he made specific reference to last year's events in Indonesia, where authorities were on high alert and made several arrests but could not stop an attack.
His comments came as tens of thousands of Muslims poured into central Jakarta on Friday to protest against the city's governor, a Christian accused of insulting the Koran.
"The threat if anything, I think, has increased, compared to last year and earlier this year," said Shanmugam.
"We see an increasing tempo in terms of the news that is coming out of Indonesia... So I will take the news coming out of Indonesia very seriously. We are in close touch with them," he said.
Multi-ethnic Singapore, a major commercial, banking and travel hub that is home to many Western expatriates, has never seen a successful attack by Islamist militants. But in recent months, the government has warned the population that a militant attack is a matter of "when", not "if".
Full report at:
http://nation.com.pk/international/02-Dec-2016/singapore-minister-sees-increased-threat-of-extremist-attack
--------
Tens of thousands protest against Christian governor in Indonesia
December 03, 2016
JAKARTA - More than 200,000 Indonesian Muslims prayed in unison on Friday in the second major demonstration against Jakarta's Christian governor, as conservative groups push for his arrest for allegedly insulting Islam.
People in white Islamic robes and skullcaps packed out a massive park in the capital, with over 20,000 security personnel deployed to prevent a repeat of violence that erupted at the last protest against Basuki Tjahaja Purnama.
Purnama, known by his nickname Ahok, is being prosecuted for blasphemy over election campaign comments he made about the holy Quran, which have sparked widespread anger in the world's most populous Muslim-majority country. The case is seen in part as a test of religious tolerance in Indonesia, where a reputation for pluralism has been eroded by a surge in attacks on minorities, but critics say it is also about politics as the governor's foes whip up anger to reduce his support.
The decision to prosecute Purnama, Jakarta's first non-Muslim governor for half a century and a member of the country's tiny ethnic Chinese minority, has not been enough to quell anger and conservative groups are now demanding his arrest.
Protesters waved banners that read "jail Ahok" as they marched en masse through the city's streets in the early hours to converge on the park, which surrounds the National Monument, a tall tower that looms over downtown Jakarta.
"Let's defend our religion," Rizieq Shihab, leader of hardline group the Islamic Defenders' Front (FPI), told the crowd as he delivered a fiery sermon.
"Stop all forms of religious blasphemy and put all violators on trial."
President Joko Widodo, an ally of Purnama who has been meeting with Islamic and political leaders in recent days to calm tensions, joined the mass prayer, thanking the protesters for being peaceful and urging them to return home.
Jakarta police spokesman Raden Prabowo Argo Yuwono said more than 200,000 joined Friday's rally, dwarfing the last protest on November 4.
Full report at:
http://nation.com.pk/international/03-Dec-2016/tens-of-thousands-protest-against-christian-governor-in-indonesia
--------
Africa
Nigerian Court Orders Release Of Shiite Leader, Zakzaky, Detained For A Year
12/2/16
A Nigerian court has ordered the release of the leader of the country's main Shiite Muslim group, who has been detained since mass clashes with the army in December 2015, a spokesman for the group confirmed to Newsweek.
A division of the Federal High Court in the Nigerian capital Abuja also awarded 25 million naira ($80,000) in damages to Sheikh Ibrahim Zakzaky, the head of the Islamic Movement in Nigeria (IMN), according to Abdulmumin Giwa, an IMN spokesman who attended the court hearing in the capital Abuja on Friday. Giwa adds that the court ordered the release of Zakzaky's wife as well, who has also been held in detention for almost a year, and awarded her 25 million naira ($80,000) in damages.
Nigerian security forces arrested Zakzaky after clashes erupted in the northern city of Zaria, Kaduna state, in December 2015. The Nigerian army accused Zakzaky's followers of attempting to assassinate the chief of army staff, which the IMN denied. A judicial commission found that the army killed at least 347 members of the Shiite group in the clashes, while one soldier also died.
The court's judge, Justice Gabriel Kolawole, rejected the claim by the counsel to Nigeria's intelligence agency, the State Security Service (DSS), that Zakzaky was being held in protective custody. Kolawole cited the case of Mohammed Yusuf—the founder of Boko Haram, whose death in Nigerian police custody in 2009 provided the spark for the Islamist group's deadly insurgency—as a dangerous precedent. Boko Haram has gone on to kill thousands of people and displace millions, mostly in northeast Nigeria.
"If the applicant dies in custody, which I do not pray for, it could result in many needless deaths," Kolawole stated, according to the Nigerian news site Premium Times.
The judge ordered the Nigerian federal government to provide secure accommodation for Zakzaky and his family in Kaduna state or another suitable part of northern Nigeria. The DSS are due to release the cleric within 45 days, the judge said.
Newsweek contacted two spokesmen for Nigerian President Muhammadu Buhari to enquire as to how the government would ensure Zakzaky's safety upon his release, but received no immediate reply.
Related: Is the Nigerian government trying to ban Shiite Islam?
Human rights groups, including Amnesty International, accused the Nigerian military of carrying out "mass slaughter" in Zaria, using excessive force and burying the dead in mass graves. A Nigerian military spokesman told Newsweek that Amnesty's report was "one-sided."
The Zaria conflict has led to several further confrontations between the IMN and Nigeria's security apparatus. On October 12, which marked the Shiite feast of Ashura, security forces clashed with Shiites gathered for religious processions in various parts of Nigeria, killing at least 11 people. On November 14, police officers clashed with Shiite Muslims carrying out a procession near the northern city of Kano, with at least 10 people being killed.
Following the publication of a Kaduna state judicial commission of INQUIRYinto the Zaria clashes in July, the state banned the IMN, saying it was an unregistered organization that promoted radical views among its followers. Several other northern Nigerian states have followed suit. Nigerian Shiites have decried the bans as an attempt to prohibit the practice of their religion.
Nigeria is home to almost equal numbers of Muslims and Christians, with a mostly Christian south and a mostly Muslim north. The majority of Nigerian Muslims are Sunni; the number of Shiite Muslims is not clear, but Human Rights Watch estimated it to be around 3 million.
Zakzaky is an Iranian-trained cleric who founded the IMN in the 1980s. He was arrested several times under previous military regimes in Nigeria and critics say his movement is trying to establish a state within a state, but the IMN maintains that it is a law-abiding and peaceful organization.
http://europe.newsweek.com/nigerian-court-orders-release-shiite-leader-detained-year-527648?rm=eu
-------
Somalia: Al Shabaab Claims Killing 11 Soldiers in Bakool Fight
2 DECEMBER 2016
At least 11 government soldiers were killed, and three others wounded in a heavy fighting between Al shabaab fighters and Somali troops in Bakool region, south west of Somalia. Al shabaab claimed it killed 11 soldiers in the combat which erupted when Somali federal government forces attacked militants in Dhuraay area located in the outskirts of Wajid town.
Full report at:
http://allafrica.com/stories/201612020634.html
--------
Gambia's Jammeh loses to Adama Barrow in shock election result
2 December 2016
Yahya Jammeh, The Gambia's authoritarian president of 22 years, has suffered a surprise defeat in the country's presidential elections.
He will be replaced by property developer Adama Barrow, who won more than 45% of the vote. After his win, Mr Barrow hailed a "new Gambia".
Mr Jammeh, who came to power in a coup in 1994, has not yet spoken publicly.
The West African state has not had a smooth transfer of power since independence from Britain in 1965.
Electoral commission chief Alieu Momar Njie appealed for calm as the country entered uncharted waters.
"I am very, very, very happy. I'm excited that we won this election and from now hope starts," Mr Barrow told the BBC's Umaru Fofana, adding that he was disappointed not to have won by a larger margin.
From estate agent to Gambian president
Behind The Gambia's smile
The man in charge for 22 years
Mr Barrow won 263,515 votes (45.5%) in Thursday's election, while President Jammeh took 212,099 (36.7%), according to the electoral commission. A third party candidate, Mama Kandeh, won 102,969 (17.8%).
Who is Adama Barrow?
Born in 1965 in a small village near the eastern market town of Basse, Mr Barrow moved to London in the 2000s where he reportedly used to work as a security guard at an Argos catalogue store, while studying for real estate qualifications.
He returned to The Gambia in 2006 to set up his own property company, which he still runs today.
The 51-year-old won the presidential nomination in 2016 to lead an opposition coalition of seven parties - the largest alliance of its kind since independence, according to the AFP news agency.
On the electoral campaign, Mr Barrow - who has never held public office - promised to revive the country's economy, which has forced thousands of Gambians to make the perilous journey to Europe.
He has criticised the lack of a two-term limit on the presidency and says he would introduce a three-year transitional government made up from members of the opposition coalition.
How has the current president reacted?
The president has yet to give a public statement on the result, but he has spoken to his successor on the phone, according to the president-elect.
Mr Barrow told the BBC that President Jammeh had accepted his defeat and congratulated him.
Full report at:
http://www.bbc.com/news/world-africa-38183906
--------
After OSU attack, worried Somalis talk of love of America
December 2, 2016
COLUMBUS — Hassan Omar hurriedly removed the framed painting proclaiming in bold red letters, "I ♥ Somali" from the back wall of his small office.
He didn't want it to serve as a backdrop in pictures the newspaper photographer was taking.
The image, like much in these days after the Ohio State University attack, might be misunderstood or taken out of context, said the Somali Community Association of Ohio president as he tucked the painting under his desk and out of sight.
But it was hardly out of mind.
"I am American,'' said Omar, who has worked with the U.S. military and was granted political asylum in the U.S. from his homeland of Somalia. "What some believe about us is not who we are.
"We love this country. We don't separate ourselves,'' Omar said. "We are not Somali-Americans.
"We are Americans."
"We are Ohioans."
"We are Columbus."
Omar, like many of his Somali friends, spent this past week painstakingly explaining their country, their Muslim faith and the economic and social impact they've had here in central Ohio to anyone who would listen. Simultaneously, he and others vehemently denounced the erratic actions of the 18-year-old who carried out car-and-knife attacks at OSU Monday morning that left him dead and 13 others injured.
Federal authorities said the attacker, Abdul Razak Ali Artan, might have been inspired by Anwar al-Awlaki, an al-Qaeda recruiter and propagandist, or by the Islamic State terrorist group. The FBI continues to probe Artan's whereabouts before the attacks, his associates and his online life. Shortly before the attacks, Artan posted a rant on Facebook calling al-Awlaki a "hero." He also wrote that the U.S. could stop "lone wolf attacks" by making peace with ISIS.
But Mohamed Diini, an imam in Columbus, said he knows one thing: Artan was not acting as a Muslim or in the name of Islam.
"The Muslim faith, Islamic theology is quite clear about this: He who tries to take the life, or takes the life, of one human being, it would be, in the sight of God as if he had taken the life of all of humanity,'' Diini said at a gathering of Somali men Tuesday evening who gathered to talk to the media. "What happened at OSU was un-Somali, un-American, un-Islamic, inhumane."
And, he added, criminal.
"I know our neighbors know better than to judge us by the actions of one lone, deviant individual,'' he said.
Facts and fear
However, a tweet by President-elect Donald Trump crystallized their worst fear — even if few said it aloud to strangers here last week.
"ISIS,'' Trump tweeted early Wednesday, "is taking credit for the terrible stabbing attack at Ohio State University by a Somali refugee who should not have been in our country."
As of Friday, however, there was no known proof that Artan was part of any terrorist group. ISIS often takes credit for lone wolf attacks.
Officials have confirmed Artan was a permanent legal resident of the United States, having fled war-ravaged Somalia in 2007 with his family to a refugee camp in Pakistan. He and at least six family members entered the U.S. in 2014, first moving to Dallas and then to Columbus. Many Somalis move to Columbus to be close to family and friends because the city has a much lower cost of living than Minneapolis and Seattle, where many Somalis have resettled.
Full report at:
http://www.cincinnati.com/story/news/2016/12/02/after-osu-attack-worried-somalis-talk-love-america/94657334/
--------
Nigeria's Boko Haram crisis: 'We survived militants but face starvation'
2 December 2016
Kawu Ashe is just one of up to 120,000 people facing starvation in north-eastern Nigeria, which has been ravaged by the Boko Haram Islamist insurgency.
Last month, she made the life-and-death decision to flee her village after militants delivered a chilling message: "We are coming back to take your son."
The insurgents killed her husband, a cattle trader, two years ago and were now insisting that the couple's two-and-a-half-year-old son Abdullahi belonged to them.
Ms Ashe knew she had to act - even if the penalty for trying to escape could be execution.
Under the cover of darkness, she and her two children and a younger sister walked through the bush for nine hours to safety.
But although Abdullahi survived the militants, he now faces another deadly threat - starvation.
He is among the estimated hundreds of thousands of children in north-eastern Nigeria currently suffering from severe acute malnutrition.
The UN describes it is as the "greatest crisis on the continent" and is appealing to the international community for more than $1bn (£793m) to deliver life-saving humanitarian assistance to almost seven million people in the region.
Abdullahi is skeletal. His body weight at 7kg (15lb) is around half of what it should be at his age.
"There was barely any food or clean drinking water in the village," said Ms Ashe, speaking at a Unicef malnutrition clinic set up in the region's main city, Maiduguri.
"Even if we did get some food the militants would take it away. Things are little better here. But I'm still struggling to feed my children."
'It starts with the kids'
Last month, medical charity Medecins Sans Frontieres (MSF) said thousands of children had already died of starvation during the crisis.
The seven-year-long Boko Haram insurgency has laid waste to this region - killing thousands and forcing millions to flee their homes in north-east Nigeria and the neighbouring countries of Chad, Cameroon and Niger.
But as the Nigerian military pushes the insurgents from territory they once controlled, the sheer scale of the hunger and devastation is being revealed.
Frequent Boko Haram attacks mean farmers have been unable to plant anything in their fields for the third year in a row and aid convoys are ambushed on insecure roads.
There are allegations of wide-spread aid theft, which are being investigated by Nigeria's senate.
The military has also closed down markets because of security concerns but it means people have nowhere to buy food or to make a living.
The UN says millions are now reliant on food aid and there is simply not enough to go around.
"Without more international assistance, many more people are going to die" says John Ging, operations director for the UN Office for the Co-ordination of Humanitarian Affairs.
"It starts with kids because their parents have no means to actually take care of them," he says.
"We can do better than that in 2016 - it's a rich world. We need a very small fraction of those riches for international humanitarian action. At the moment we're not getting that small fraction."
'Bloated' with hunger
The city of Maiduguri is now the centre of the aid efforts. Its population is swollen by the hundreds of thousands of civilians who fled the violence and are now living in make-shift camps.
The worst cases of children suffering from starvation are brought to the MSF medical facility in the city.
In the intensive care unit, around a dozen severely emaciated children lay on beds.
They were hooked up to oxygen. Some had drips attached to their skulls as that was the only place the nurses could find a vein.
Full report at:
http://www.bbc.com/news/38168086
--------
KDF receives six Bell Huey helicopters for war on al Shabaab
Dec. 02, 2016
The Kenyan military has received six of eight Bell Huey helicopters, valued at $106 million (Sh11 billion), for the war on al Qaeda-linked terror group al Shabaab.
Defence Cabinet Secretary Rachel Omamo received the aircraft on Friday.
The versatile war-tested choppers have the capacity to operate in hot conditions and at high altitude.
They will assist troops who are part of the African Union Mission in Somalia, that has been conducting operations against terror group al Shabaab.
The helicopters will be used in evacuation and/or deployment of troops, delivery of supplies and air assaults, amid efforts to secure Kenya and the region.
The other two will be delivered to the Kenya Defence Forces in May 2017.
Read: US donates Sh1.5 billion to fight terror in Kenya
Also read: Westgate memorial: Joint terror war continues, US tells Kenya
US ambassador Robert Godec said Kenya has made good progress in strengthening security and that his country will continue giving support.
Full report at:
http://www.the-star.co.ke/news/2016/12/02/kdf-receives-six-bell-huey-helicopters-for-war-on-al-shabaab_c1466687
--------
Arab World
Formation of 'Army of Aleppo' ploy to shield Nusra terrorists: Lavrov
Dec 3, 2016
Russia says the formation of the so-called Army of Aleppo in the east of the Syrian city is an attempt to disguise and shield the al-Nusra Front terrorist group.
"I do not rule out that this is just another attempt to rebrand al-Nusra Front and shield it from righteous retaliation," Russian Foreign Minister Sergei Lavrov said in Rome on Friday.
Lavrov stressed that nearly all the militant groups in the eastern part of the flashpoint Syrian city, where the "Army of Aleppo" was recently formed, are under the control of al-Nusra Front.
"As I have already mentioned, according to our intelligence,… practically all armed opposition groups in eastern Aleppo report to al-Nusra Front. Nusra has some 1,500 militants there, while other groups under its command have up to 6,000 militants," he said.
Al-Nusra Front is an affiliate of al-Qaeda that has recently renamed itself Jabhat Fateh al-Sham and has claimed to have broken up with al-Qaeda in what has largely been interpreted as a decoy attempt.
Russia has long been pressing for the designation of al-Nusra as a terrorist group at the United Nations Security Council. Such attempts have, however, been hindered by the United States.
Lavrov also said his country had supported an initiative by UN SPECIAL Envoy for Syria Staffan de Mistura on the exit of militants from eastern Aleppo.
"De Mistura proposed allowing all terrorists to leave eastern Aleppo, we, despite the idea's controversy, supported it and were ready to cooperate with it," he said, adding the proposal "was blocked by those who, we are convinced, are interested in eastern Aleppo remaining under the control of terrorists." He did not elaborate.
The Syrian government holds and defends the city's western side and has been purging its east of militants.
Meanwhile, a monitoring group said on Friday that Syrian troops had taken control of half of the militant-held areas in eastern Aleppo.
Rami Abdel-Rahman, the head of the so-called Syrian Observatory for Human Rights, said the government forces "consolidated their control" over two eastern districts on Friday, adding they are now "comfortably in control of half" of the militant-controlled areas in Aleppo's east.
He added the Syrian forces were advancing toward the recapture of the rest of the areas under the militants' control in the east of the city.
The Russian Defense Ministry had already announced on Tuesday that the Syrian army had extended its control to half of those areas.
Russia has been OFFERING military support to the Syrian government.
Elsewhere in his Friday remarks, Lavrov blamed the foreign-backed opposition for the stall of the intra-Syrian peace talks for more than six months, saying they "put forward ultimatums in the form of an absolute precondition to oust President [Bashar] Assad."
The conflict in Syria, which flared up in March 2011, has claimed the lives of more than 400,000 people, according to an estimate by UN SPECIAL Envoy for Syria Staffan de Mistura.
http://www.presstv.ir/Detail/2016/12/03/496217/Russia-Army-of-Aleppo-ploy-Nusra
--------
Kurdish Fighters Vow to Stand against Turkish Incursion into Syria' Al-Bab
Dec 02, 2016
"Al-Bab is a strategic town for us, so, we do no allow the Turkish soldiers to continue their advances in Syria," Co-Chairman of Syria's Democratic Council Elham Ahmad underscored.
He further lashed out at the US' dual track policies and said, "Turkey has sent its troops to Northern Syria after receiving Washington's green LIGHT."
"Now, every body knows that war on ISIL was only a pretext and was aimed at sending Turkish troops to Syria to occupy the country and annihilate Kurds," Ahmad said.
"Saudi Arabia and Turkey are the root causes of all violent acts in Syria," the commander said.
"The Turkish soldiers, using its affiliated terrorist groups, tried hard to advances towards Manbij town, but forces of Manbij military council clashed with them and killed nearly 37 terrorists," Elham Ahmad said.
"Terrorists are backed up by Turkish army's armored units," he added.
The Turkish units shelled the village of Olasha on their way towards Manbij, destroying villagers' houses.
Clashes have intensified between Syria's Kurdish forces and the Turkish army in Northern Syria after the Turkish President announced on Tuesday that his country's military forces entered Syrian territories to overthrow government of Syrian President Bashar al-Assad.
Recep Tayyip Erdogan said on Wednesday that the Turkish Army entered Syria to overthrow the Syrian President Bashar Assad, and accused the Syrian government of terrorism.
"We entered Syria to end the rule of al-Assad. We didn't enter for any other reason," the Turkish president said at the first Inter-Parliamentary Jerusalem Platform Symposium in Istanbul, RT reported.
Erdogan said that Turkey had no territorial claims in Syria, but instead wanted to hand over power to the Syrian population, adding that Ankara was seeking to restore "justice."
"Why did we enter? We do not have an eye on Syrian soil. The issue is to provide lands to their real owners. That is to say we are there for the establishment of justice," he said.
He went on to say that "in his estimation" almost 1 million people died in the conflict in Syria, although no monitoring group provided any similar figures. The latest UN estimate stands at 400,000 people killed in the five-year conflict.
Erdogan said that Turkey "had to enter Syria together with the Free Syrian Army."
The Turkish leader also accused the UN of inability to influence the situation in Syria and said that the organization iwas ineffective in its current state.
"The world is bigger than five," he said, referring to the number of permanent members on the UN Security Council, as reported by Hurriyet.
Turkish troops entered Syria on August 24, launching operation Euphrates Shield. Turkey deployed ground troops and air power to Northern parts of its neighboring country, with the stated goal of retaking areas held by ISIL.
Full report at:
http://en.farsnews.com/newstext.aspx?nn=13950912000443
--------
Half of rebel Aleppo falls to Syrian forces
December 03, 2016
ALEPPO - Syrian government forces have recaptured half the former rebel stronghold of east Aleppo, a monitor said Friday, in an offensive that has left bodies in streets and sparked global outrage.
Rebels put up fierce resistance in the southeastern outskirts of the battered city, but government forces closed in on opposition territory from the east.
President Bashar al-Assad's forces have made swift gains since their offensive against Aleppo - once Syria's commercial powerhouse - began on November 15. Tens of thousands of civilians have streamed out of the city's east, and Russia has renewed calls for humanitarian corridors so aid can enter and desperate residents can leave.
On Friday, regime forces "consolidated their control" over two eastern districts and were pushing further to squeeze the shrinking rebel enclave, said Syrian Observatory for Human Rights head Rami Abdel Rahman.
"After the recent advances, the regime is comfortably in control of half of former rebel territory in the city's east," he told AFP.
The loss of east Aleppo - a rebel stronghold since 2012 - would be the biggest blow to Syria's opposition in more than five years.
Earlier Friday, anti-government fighters had successfully rolled back regime gains in Sheikh Saeed on Aleppo's southeastern outskirts.
Sheikh Saeed borders the last remaining parts of Aleppo still in rebel hands - a collection of densely populated residential neighbourhoods where thousands have sought refuge from advancing regime forces.
In preparation for street-by-street fighting in these districts, hundreds of fighters from Syria's elite Republican Guard and Fourth Division arrived in Aleppo Friday, the Observatory said.
It said four civilians were killed in rebel rocket fire on government-held areas, bringing to 59 the civilian toll in the city's west.
More than 300 civilians, including dozens of children, have been killed in east Aleppo since the offensive began, according to the Observatory.
Intermittent clashes on Friday rocked residential buildings on Aleppo's eastern edges, as advancing regime forces seek to secure the road towards the airport.
AFP's correspondent in east Aleppo said ferocious clashes could be heard in the Tariq al-Bab district, where regime forces advanced on Thursday.
Civilians had already totally emptied the adjacent neighbourhood of Al-Shaar, where a few rebels manned positions in front of shuttered shops and bakeries.
Vegetable stalls - empty for months because of a devastating government siege - now lay shattered by heavy artillery fire.
The escalating violence has been met with international outrage, including a UN warning that east Aleppo could become "a giant graveyard".
Moscow has proposed setting up four humanitarian corridors into east Aleppo. "We have informed the UN in New York and Geneva that there is no longer a problem with the delivery of humanitarian cargo to eastern Aleppo," Russia's Foreign Minister Sergei Lavrov told reporters in Rome, according to a RIA Novosti news agency transcript. He said the UN was still coming up with a possible plan, and that approval from Syrian authorities remained essential.
Moscow has announced several humanitarian pauses in Aleppo to allow civilians to flee, but until the recent escalation, only a handful did so.
East Aleppo's residents have been wary of previous such offers because of Russian support for Assad, including its bombing campaign in support of his forces launched in September 2015.
Dozens of families trickled out Friday, adding to the more than 50,000 people who have poured from east Aleppo into territory controlled by government forces or local Kurdish authorities, the Observatory said.
Full report at:
http://nation.com.pk/international/03-Dec-2016/half-of-rebel-aleppo-falls-to-syrian-forces
--------
Aleppo army break siege and ready for urban warfare
2 December 2016
Rebels in Aleppo have agreed to form a new military alliance headed by "Abu AbdulRahman Nour," to protect the city they control from the brutal assaults by the regime and its allies.
The new alliance would be called the Aleppo Army and would be led by the commander of the Jabha Shamiya rebel faction, one of the major groups fighting in northern Syria under the Free Syrian Army.
A commander at the Jabha Shamiya told Reuters that the new coalition will help in the centralization of the decision-taking process.
The situation in Aleppo is escalating, with the regime forces seizing more than 40% of Eastern Aleppo, 15 days after the eruption of the massive assault to restore the second biggest city in Syria.
The UN had said that Russia is working on setting up four humanitarian corridors to evacuate the wounded victims and provide medical and food supplies for the trapped civilians in East of Aleppo.
Full report at:
https://english.alarabiya.net/en/News/middle-east/2016/12/02/Aleppo-army-break-siege-and-ready-for-urban-warfare.html
--------
Civil society groups urge UN General Assembly action on Syria
2 December 2016
More than 200 humanitarian and human rights groups called Thursday for the UN General Assembly to address Syria's deadly conflict, citing the Security Council's paralysis in dealing with the crisis.
In a declaration published in New York, the 223 signatories said the Security Council "has failed Syrians" and particularly pointed out its inability to stop the Syrian regime's offensive against east Aleppo.
They called for the 193 member nations of the United Nations "to request an emergency special session of the UN General Assembly to demand an end to all unlawful attacks in Aleppo and elsewhere in Syria, and immediate and unhindered humanitarian access" to besieged civilians.
Full report at:
https://english.alarabiya.net/en/News/middle-east/2016/12/02/Civil-society-groups-urge-UN-General-Assembly-action-on-Syria.html
--------
Iraqi forces liberate two more neighborhoods in eastern Mosul
Dec 2, 2016
Iraqi SPECIAL Operations Forces have retaken full control of two more neighborhoods in Mosul as they try to drive Daesh Takfiri militants out of their last urban stronghold in the country in joint operations with army soldiers and pro-government fighters. Lieutenant Colonel Muhanad al-Timimi said the SPECIAL forces recaptured the densely populated neighborhood of Zohour on Friday, more than a week after they first marched into the area.
He added that government forces were also in complete control of Qadissiyah-2 neighborhood, bringing to 23 the number of neighborhoods that Iraqi Special Operations Forces have liberated ever since the Mosul liberation operations got underway on October 17.
The remarks come as government forces are heading toward al-Mishraq district in the eastern quarter of Mosul, located some 400 kilometers north of the capital Baghdad.
Additionally, fighters from Popular Mobilization Units, better known by the Arabic name Hashd al-Sha'abi, thwarted a Daesh CAR bomb attack against their position west of Mosul.
The pro-government forces intercepted and precisely targeted the explosives-rigged VEHICLE as it was driving at high speed towards them.
Daesh terms use of instant messaging apps 'cardinal sin'
Meanwhile, the Takfiri Daesh militant group has warned its extremist members against the use of instant messaging applications, describing the practice as "a cardinal sin."
The terror network announced in its Arabic-language al-Naba newsletter that the use of instant messaging services, namely Telegram and WhatsApp, would enable Western enemies to locate the exact location of its bastions, and carry out precise strikes against them.
Daesh abducts 55 civilians in Hawijah district
Meanwhile, Daesh terrorists have also abducted 55 civilians in al-Hawija district of the oil-rich northern province of Kirkuk on charges of attempting to shift the local residents out of areas under their control to government-held territories.
Full report at:
http://www.presstv.ir/Detail/2016/12/02/496182/Iraqi-special-forces-retake-neighborhoods-Mosul-Zohour-Qadissiyah2
--------
Syrian Army Troops Impose Control over Key Road East of Aleppo City
Dec 03, 2016
After capturing the Youth Housing Complex, the army men and the Lebanese Hezbollah fighters continued the raid on Jeish al-Fatah terrorists in al-Sha'ar and al-Halwaniyeh districts and managed to free the road connecting al-Halwaniyeh to al-Bab.
Meantime, a field sources said on Saturday the army plans to corner the terrorists in isolated districts after it drove a wedge between the Northern and Southern parts of the city.
After the government forces took control of the Northern part of the Eastern districts, the terrorist groups dispatched their forces to other fronts in the city, including al-Halwaniyeh, al-Sakan al-Shababi (Youth Housing Complex) and al-Sha'ar to station their defense lines there. The army and popular forces raided their defense lines and captured the Youth Housing Complex. War is still underway in al-Halwaniyeh and al-Sha'ar districts.
Full report at:
http://en.farsnews.com/newstext.aspx?nn=13950913000236
--------
Military Source: Syrian Gov't Forces to Free Aleppo City in Early Days of 2017
Dec 03, 2016
"We (Syrian government forces) want to liberate the entire Aleppo city by January 20," the Russian Izvestia paper quoted the unnamed source as saying.
"The Syrian army is now carrying out heavy attacks on terrorists' positions. We are capable of materializing our objectives (in Aleppo city)," the source told the paper.
The Syrian army units started SPECIAL operations in Aleppo after several humanitarian pauses declared by Damascus and Moscow to give a chance to the civilian population as well as the militants to leave the Eastern parts of the city through 8 corridors.
Full report at:
http://en.farsnews.com/newstext.aspx?nn=13950913000515
--------
Militants Evacuate Another Key Town in Damascus
Dec 03, 2016
"In line with the trend of peace in Damascus province, nearly 1,800 militants were evacuated from al-Tal on 46 buses on Friday afternoon," the source said, and reiterated, "The town is now completely empty of the militants who had applied for evacuation." The source further added that the cases of those militants who intended to remain in al-Tal is under study, promising that they would soon receive amnesty based on the presidential decree.
The Russian Reconciliation Center for Syria in Humeimim announced that the first group of militants, who had joined the peace agreement with the government this week, left the town of al-Tal towards militant-held regions in Idlib province on Friday morning.
"A 400-member group of militants and their families have been evacuated from al-Tal on several buses heading towards Idlib province," the Russian center said.
Some 1,400 more left the city in the afternoon.
The center also said that 1846 militants and 1164 members of their families left Khan al-Sheih from November 28 till December 1, adding that the militants and their families were also sent to Idlib.
The center added that 1005 more militants along with 300 family members are also expected to leave Khan al-Sheih in coming days.
Militants handed over two tanks, several VEHICLES, four anti-aircraft canons, three dragon anti-tank missile launcher-pads and over 400 personal weapons to the Syrian army before leaving Khan al-Sheih.
"Khan al-Sheih and 13 other towns have come under the army's control since December 1," the center added.
Full report at:
http://en.farsnews.com/newstext.aspx?nn=13950913000284
--------
Syria: Last Group of Militants Leaves Western Damascus
Dec 02, 2016
A major part of the last group of militants that comprise of 2,100 militants left the towns of Khan al-Sheih and Zakiya, leaving Western Damascus evacuated from terrorists.
The militants left Khan al-Sheih towards the terrorist-held regions in Idlib.
Based on field sources, Khan al-Sheih and its surroundings have been evacuated from militants, pushing Western Damascus one step more closer to sustainable security.
A major part of 2,100 local militants and their families were transferred from Khan al-Sheih and Zakiyeh to Idlib on Friday and the remaining militants are due to move to Idlib on Saturday.
65 government's green buses with 35 seats transferred the last group of militants from Western Damascus to Idlib.
The first group of militant left the region with 29 buses towards Idlib on Tuesday.
Arabic-language Anab Baladi news website reported that with the evacuation of militants from Khan al-Sheih and Zakiyeh, Western Ghouta has been practically emptied of militants, while two months ago the towns of Darayya and al-Mo'adhamiyeh al-Sham were emptied from the terrorists.
Officials and locals said on Thursday that hundreds of terrorists in Damascus countryside left several regions in Western Ghouta for Idlib province in the last several days.
Nearly all the terrorists who had demanded to leave Western Ghouta were relocated together with their families from Khan al-Sheih, Zakiyeh, al-Moqilbeh and al-Tayeba towns to Idlib province.
Full report at:
http://en.farsnews.com/newstext.aspx?nn=13950912000259
--------
Saudi labor minister changed; top religious body, Shoura reshuffled
3 December 2016
RIYADH: Custodian of the Two Holy Mosques King Salman has replaced the Saudi labor minister and reshuffled the Kingdom's TOP consultative body, SPA reported on Friday.
In a royal decree, the king also reshuffled the Council of Senior Scholars.
King Salman had appointed Ali bin Nasser Al-Ghafis as labor minister to replace Mufrej Al-Haqabani.
The Council of Senior Scholars, headed by Grand Mufti Sheikh Abdul Aziz Al-Asheikh, will be re-structured, according to the decree.
King Salman also ORDERED extensions for dedicated sheikhs who are members at the Permanent Committee for Ifta, which is affiliated with the council.
As per the decree, Mohammad Al-Amr, Shoura's secretary-general, has been relieved of his post.
The new formation of the council will see Abdullah bin Mohammad Al-Sheikh as speaker, Mohammad bin Amin Ahmad Al-Jafry as deputy speaker, and Yahia bin Abdullah Al-Samghan as assistant speaker.
Of the new Shoura appointments, 29 members are females. One of them is Lina K. Almaeena, a popular figure in Jeddah who has assiduously PROMOTED sports among young people, especially women.
Full report at:
http://www.arabnews.com/node/1018831/saudi-arabia
--------
Mideast
Obama to sign Iran Sanctions Act extension into law
3 December 2016
US President Barack Obama is expected to sign US legislation extending sanctions against Iran for 10 years into law, the White House said on Friday.
"We believe the Iran Sanctions Act extension is not necessary, but we also believe it won't interfere with the Iran deal," spokesman Eric Schultz told reporters at a daily press briefing. "I would expect the president to sign this piece of legislation."
The US Senate passed a 10-year extension of existing sanctions against Iran on Thursday. It passed the House of Representatives nearly unanimously in November, and congressional aides said they expected Obama would sign it when it reached his desk.
Iran's Foreign Ministry said on Friday that the US Senate's vote violated a historic nuclear deal reached between the country and six major powers in 2015.
https://english.alarabiya.net/en/News/middle-east/2016/12/02/Obama-to-sign-Iran-Sanctions-Act-extension-into-law.html
--------
Turkish call to drop Gaza ship case against Israelis
December 03, 2016
ISTANBUL - A Turkish prosecutor called Friday called for charges related to a deadly Israeli raid on a Gaza-bound ship to be dropped following diplomatic reconciliation between Turkey and Israel, state media reported.
Nine Turkish activists died when Israeli marines stormed the Mavi Marmara as it headed to the Gaza Strip in 2010, and a 10th died in hospital in 2014.
The raid triggered a crisis in relations, with both countries withdrawing their respective ambassadors from the country capitals, though diplomatic ties were never fully severed.
The bitter rift came to an end in June this year after they held long-running secret talks in third countries with Israel offering an apology over the raid and $20 million in compensation.
Israel also agreed to allow Turkish aid to reach Gaza as part of the agreement.
Under the terms of the deal, both sides also agreed individual Israeli citizens or those acting on behalf of the Israeli government would not be held liable - either criminally or financially - for the raid.
Full report at:
http://nation.com.pk/international/03-Dec-2016/turkish-call-to-drop-gaza-ship-case-against-israelis
--------
US curbs revival violates N-deal: Iran
December 03, 2016
ANKARA - Iran threatened on Friday to retaliate against the US Senate's vote to extend the Iran Sanctions Act (ISA) for 10 years, saying it violated last year's deal with six major powers that curbed its nuclear programme.
The ISA was first adopted in 1996 to punish investments in Iran's energy industry and deter its pursuit of nuclear weapons. The extension was passed unanimously on Thursday.
US officials said the ISA's renewal would not infringe on the nuclear agreement, under which Iran agreed to limit its sensitive nuclear work in return for the lifting of financial sanctions that harmed the country's economy.
But senior Iranian officials took odds with that view. Iran's nuclear chief, Ali Akbar Salehi, who played a key role in reaching the nuclear deal, described it as a "clear violation" of the 2015 deal if implemented.
"We are closely monitoring the developments," state TV quoted Salehi as saying. "If they implement the ISA, Iran will take action accordingly."
The extension risks deepening hostilities between Iran and the United States ahead of the inauguration of US President-elect Donald Trump, who said during his election campaign that he would abandon the deal.
Iran's most powerful authority Supreme Leader Ayatollah Ali Khamenei had already warned in November that an extension would be viewed in Tehran as a violation of the accord.
"Iran has shown its commitment to its international agreements, but we are also prepared for any possible scenario. We are ready to firmly protect the nation's rights under any circumstances," Foreign Ministry spokesman Bahram Ghasemi said in comments reported by state news agency IRNA.
The US senate vote will be a blow for Iran's pragmatist President Hassan Rouhani and may embolden his hardline rivals ahead of Iran's 2017 presidential election.
Khamenei and his hard-line loyalists, drawn from among Islamists and Revolutionary Guards, have criticised the deal and blamed Rouhani for its failure to deliver swift improvements in living standards since lifting of sanctions in January. It was not immediately clear what form any eventual retaliation might take.
One lawmaker quoted by the semi-official Tasnim news agency said Iran's parliament planned to discuss a bill that would prevent the government purchasing "American products".
Meanwhile, Donald Trump's transition team is examining proposals for new non-nuclear sanctions on Iran, the Financial Times reported on Friday, citing congressional sources who have been in contact with the president-elect's team. Officials with Trump's team have been in touch with fellow Republicans in Congress, where they hold the majority, to discuss possible sanctions separate from last year's Iran nuclear deal that could focus on its ballistic missile program or human rights, the sources told the FT.
Full report at:
http://nation.com.pk/international/03-Dec-2016/us-curbs-revival-violates-n-deal-iran
--------
Why is Iran backing Syria's Bashar al-Assad?
02 Dec 2016
In this week's UpFront, Mehdi Hasan speaks to Iranian Vice President and Head of Iran's Environmental Protection Organisation, Masoumeh Ebtekar, on her country's support for Bashar al-Assad in Syria, and Iran's advances in the fight against climate change.
In the Reality Check, we look into how the president of newly democratic Myanmar, Aung San Suu Kyi, is turning a blind eye to the violence against the country's Muslim Rohingya population.
And in the Arena, cultural critic and philosopher Slavoj Zizek defends his stance on the European refugee crisis.
Headliner - Iran VP: Syria war images 'bother me'
Since the Arab Spring began in 2011, Iran has declared support for the uprisings in Egypt, Libya and Bahrain.
But in Syria, hundreds of thousands have been killed and millions displaced, yet Iran continues to support President Bashar al-Assad.
Iranian Vice President Masoumeh Ebtekar says the "people of Syria" have the "right to decide", and blames "foreign powers arming terrorist groups" in the war-torn country.
"This is something that has to be addressed," says Ebtekar. "I think the people of Syria should be supported in terms of their struggle against terrorism."
In this week's Headliner, Mehdi Hasan talks to the Iranian vice president and head of Iran's Environmental Protection Organisation.
Reality Check - Aung San Suu Kyi's shameful silence on Rohingya
In Myanmar, violent attacks on the Muslim Rohingya have left hundreds dead and hundreds of thousands displaced.
Is Myanmar's de facto leader, Aung San Suu Kyi, turning a blind eye to the violence?
In this week's Reality Check, Mehdi Hasan shows how Myanmar's leadership is in denial when it comes to recognising the Rohingya.
Arena - Slavoj Zizek on a 'clash of civilisations'
Europe is home to more than 1.3 million refugees, mostly from Africa and the Middle East, with thousands more coming every month.
Full report at:
http://www.aljazeera.com/programmes/upfront/2016/12/iran-backing-syria-bashar-al-assad-161202082853119.html
--------
Australia
Revealed: the new face of Neil Prakash, Australia's most wanted Isis member
2 December 2016
The first photographs have emerged of Australian senior Isis member, Neil Prakash, following his capture and imprisonment in Turkey.
The photographs obtained by the Guardian show the accused terrorist with a face that has thinned noticeably since he appeared more than six months ago in publicity material as one of the extremist group's chief recruiters.
Prakash, whom the Australian government believed had been killed in an airstrike in Iraq's second city, Mosul, in May, was arrested by Turkish border guards on 24 October, in the southern village of Inali, the Guardian has confirmed.
At first, Australia's most wanted man claimed to be a Cambodian national named Piseth Doung. However, Turkish officials said they recognised Prakash's Australian accent and formally charged him with terrorism the following day.
Since then, he has been held in a prison in southern Turkey, where officials from both the Turkish and Australian governments have interviewed him.
Prakash featured prominently in propaganda videos exhorting Australians to join Isis – an ultra hardline group that proscribes as apostates anyone who does not share its hardline read of Islamic tenets.
He was believed to have been killed during a US-led attack on central Mosul. At the time, Iraqi officials said Prakash had been in one of the city's banks, which Isis had commandeered and was using to sort cash to be distributed around its so called Caliphate.
Prakash was one of three senior Australian members of the group who was thought to have been killed, alongside Mohammed Elomar and Khaled Sharrouf. Australian security officials believe dozens of Australians have been killed fighting in Iraq and Syria.
After carving a swath of influence in both countries, Isis is now on the back foot militarily with a sustained US-led campaign of airstrikes and gains by forces on the ground shrinking the so called caliphate by more than 60% in the past year.
The loss of territory has seen the group's command and control slowly disintegrate and led its leaders to focus more on controlling populations than geography.
The switch in tactics has seen Isis send senior figures to Europe and beyond where they have been tasked with staging spectacular attacks like those seen in Paris and Brussels, as well as lone-wolf strikes like the truck rampage in Nice.
Prakash's reported demise in May was at the time heralded by the Australian government as a major victory against Isis. Australia's attorney general, George Brandis, said: "His death disrupts and degrades Isil's ability to recruit vulnerable people in our community to conduct terrorist acts."
Full report at:
https://www.theguardian.com/world/2016/dec/03/neil-prakash-new-images-isis-member-arrest-turkey-australia
--------
URL: https://www.newageislam.com/islamic-world-news/new-age-islam-news-bureau/no-scope-for-interference-with-muslim-personal-law--jamiat-ulema-i-hind-to-sc/d/109273
New Age Islam, Islam Online, Islamic Website, African Muslim News, Arab World News, South Asia News, Indian Muslim News, World Muslim News, Womens in Islam, Islamic Feminism, Arab Women, Womens In Arab, Islamphobia in America, Muslim Women in West, Islam Women and Feminism, Moderate Islam, Moderate Muslims, Progressive Islam, Progressive Muslims, Liberal Islam