New Age Islam News Bureau
30 Sept 2019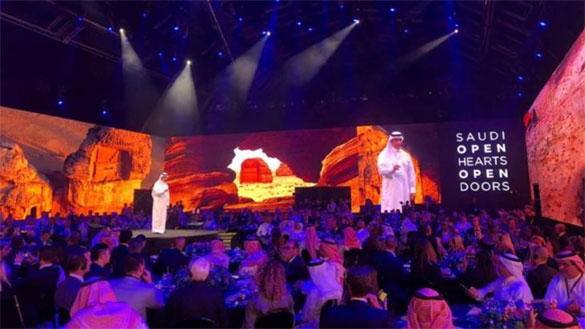 Ahmed Al Khateeb, Chairman of the Saudi Commission for Tourism and National Heritage announces the launch of a new tourist visa regime. (Photo: Reuters)
----
• Saudi Crown Prince Warns Of "Unimaginably High" Oil Prices
• Abu Dhabi to Have a Mosque, Church and Synagogue in One Location
• Assam: Spreading Message of Peace and Harmony with His Infallible Service to a Centuries-Old Shrine of Lord Shiva This Muslim Man Wins Hearts
• 'Repression of People under Occupation Gravest Form of Terrorism': Pakistan Responds To India at UNGA
• Bangladesh Rejects Turkey's Offer Due To Erdoğan's Support for Jamaat-e-Islami
• Rohingya Support Bangladeshi Leader's Proposal to End Crisis
• China Harvesting Organs from Minorities, Including Uighur Muslims: Activists Tell UN
• Extremists Everywhere, Why Pinpoint Islam, Says Former Malaysian Minister
• More Than 300 Men and Boys Shackled In Chains And Baring Brutal Scars From Beatings 'In • The Name Of Teaching Them The Quran' Are Freed After Police Raid In Nigeria
• Website Releases 'Never Before Seen' Photo Of Leader, Gen. Soleimani, Nasrallah
Arab World
• No Kissing, Short Clothes or Alcohol: Saudi Arabia Offers Tourist Visas but Conditions Apply
• Saudi Crown Prince Warns Of "Unimaginably High" Oil Prices
• Abu Dhabi To Have A Mosque, Church And Synagogue In One Location
• Jamal Khashoggi Murder Happened Under My Watch: Saudi Crown Prince Tells PBS
• Saudi crown prince says war with Iran would gut world economy
• Saudi Whistle-Blower Underlines MbS Role in Assassination of Al-Fagham
• Saudi Media Activists Voice Suspicion over King Salman Bodyguard's Death
• Egypt says security forces kill 15 militants in Sinai
• Saudi Crown Prince: Kingdom's laws 'must be respected, until they're reformed'
• Saudi military filled with cronies, not competent: Analyst
• Egyptian authorities re-arrest leading rights activist
• Al-Azhar launches child abuse campaign after young girl's death sparks outrage in Egypt
--------
India
• Assam: Spreading Message of Peace and Harmony with His Infallible Service to a Centuries-Old Shrine of Lord Shiva This Muslim Man Wins Hearts
• SC Sets Up 5-Judge Constitution Bench to Hear Pleas Challenging Centre's Move on Article 370
• India moves to assuage Sikhs derail Pakistan's Khalistan and Kashmir plan
• Surveillance, area domination operations intensified in Kashmir
• After Attacking ASI Report, Muslim Parties Tell SC That Chronicles in Books about Ayodhya Temple Are Hearsay, Myth
• Protect 'persecuted' non-Muslim minorities from Pakistan, Bangladesh: RSS
• At least 4 civilians injured, two trapped as Pak resorts to heavy shelling in Poonch
• Pak Infiltrators pick new moon, 2-5am bands to sneak in: Report
--------
Pakistan
• 'Repression of People under Occupation Gravest Form of Terrorism': Pakistan Responds To India at UNGA
• PM Imran Says Islamic TV Channel Will Be Like BBC
• Imran Khan thanks nation, wife Bushra Bibi for his 'Kashmir performance' at UNGA
• It is a 'jihad', says Imran on Kashmir after returning from US
• Ulema Mashaikh Convention: PM's speech at UNGA widely praised
• Tourist traffic witnesses sharp increase in five years
• Govt, Opp 'united like a rock' on Kashmir, says Shehbaz
• Balochistan remains shut after JUI-F killed in blast
--------
South Asia
• Bangladesh Rejects Turkey's Offer Due To Erdoğan's Support for Jamaat-e-Islami
• Rohingya Support Bangladeshi Leader's Proposal to End Crisis
• More than 70 militants killed, wounded in Afghan-U.S. forces operations: Thunder Corps
• Airstrikes in 7 provinces kill 24 Taliban militants, destroy a car bomb
• Prominent Taliban leader Mawlavi Abdul Hanan killed in Ghazni airstrike
• Afghan protesters claim US strikes kill five civilians
• Millions of Afghans boycott elections for fear of Taliban
--------
Southeast Asia
• China Harvesting Organs from Minorities, Including Uighur Muslims: Activists Tell UN
• Extremists Everywhere, Why Pinpoint Islam, Says Former Malaysian Minister
• Malaysia Joined Turkey and China In Raising the Kashmir Issue At The UNGA
• Cherish and preserve racial and religious harmony, Sarawakians told
• Primary school in Penang probed for refusing Islamic 'doa' recital in school program
• Daesh presence at 'infant stage' in Malaysia
--------
Africa
• More Than 300 Men and Boys Shackled In Chains And Baring Brutal Scars From Beatings 'In The Name Of Teaching Them The Quran' Are Freed After Police Raid In Nigeria
• Kenyan police orders al-Shabab suspect to surrender
• Ongoing Crises in Somalia Impede Progress toward Stability
• Nigeria warned it risks humanitarian disaster by expelling charities
• Nigerian Army arrests man accused of supplying materials to Boko Haram
--------
Mideast
• Website Releases 'Never Before Seen' Photo Of Leader, Gen. Soleimani, Nasrallah
• Palestinians in Gaza mark 19 years since al-Aqsa Intifada
• Yemeni Army releases footage of "Victory from God Almighty" op against Saudi forces
• Netanyahu, Gantz trade blame over breakdown in Israel coalition talks
• Former Iran prisoner Nizar Zakka: I was released due to US efforts, not Hezbollah
• Saudi Arabia says it supports Egypt's counter-terror efforts after Sinai attack
• Yemeni FM slams Iran, Houthi militia during UN General Assembly address
• Iran's foreign minister slams Europe for taking similar stance as US against Iran
• Iran, Italy explore shipping route between Chabahar and Venice
• Palestinian prisoner severely tortured by Israeli interrogators: Rights group
• NGO accuses Israel of torturing Palestinian bombing suspect
--------
North America
• Harvard Poll Reveals Most US Voters Support Sending Troops to Saudi Arabia
• Impeachment movement aims to force Trump to pursue Israeli agenda: Analyst
• Amid tensions with Iran, US shifts Middle East command from Qatar to S Carolina
• US travel restrictions on Iran FM result of Israel lobby control: Analyst
--------
Europe
• Shamima Begum: British Home Secretary Says 'No Way' ISIS Member Can Return To UK
• Jacques Chirac Was Bribed By Saddam Hussein, Former MI6 Head Claims
• Turkey's insistence on Syria safe zone raises fears for refugees
Compiled by New Age Islam News Bureau
URL: https://www.newageislam.com/islamic-world-news/no-kissing-short-clothes-alcohol/d/119874
--------
No Kissing, Short Clothes or Alcohol: Saudi Arabia Offers Tourist Visas but Conditions Apply
September 29, 2019
Saudi Arabia said on Saturday it would issue fines for 19 offences related to public decency, such as immodest dress and public displays of affection, as the Muslim kingdom opens up to foreign tourists.
The Interior Ministry decision accompanies the launch of a visa regime allowing holidaymakers from 49 states to visit one of the world's most closed-off countries. Till now, most visitors have been Muslim pilgrims and business people.
Violations listed on the new visa website also include littering, spitting, queue jumping, taking photographs and videos of people without permission and playing music at prayer times. Fines range from 50 riyals ($13) to 6,000 riyals ($1,600).
"The regulations are meant to ensure that visitors and tourists in the kingdom are aware of the law relating to public behaviour so that they comply with it," a government media statement said.
It said Saudi police had the sole responsibility for monitoring offences and imposing fines, a comment that appeared to marginalize the kingdom's religious anti-vice squads whose authority to pursue suspects or make arrests was curbed in 2016.
The religious force, known as the mutawa, used to ensure people prayed five times a day in line with Muslim teachings and that women covered their heads. They also enforced bans on music, alcohol, gender-mixing and women driving cars.
Alcohol remains illegal, which could deter some tourists. It also remains unclear if unmarried foreign men and women would be permitted to share a hotel room.
Saudi moves towards social reform
But the ban on women driving has been lifted and public entertainment, including once banned cinemas, has flourished. Many restaurants and cafes have removed physical barriers separating genders and no longer stop serving customers at prayer times.
Some women now wear more colourful abayas, the loose-fitting robes worn over their clothes that are usually black, or no longer wear the robes at all.
Crown Prince Mohammed bin Salman, who has spearheaded the social opening and reforms to diversify the economy away from oil, said last year that women in Saudi Arabia did not need to wear a headcover or abaya as long as they dressed respectfully.
The changes have been viewed at home and abroad as proof of a progressive trend, although constraints remain and there have been no moves towards opening up a system that has kept the ruling Al Saud family firmly in control of political power.
The authorities have detained women's rights activists for the past year amid a broader crackdown on dissent. The crown prince's image abroad has also been tarnished by last year's murder of journalist Jamal Khashoggi inside the kingdom's Istanbul consulate, and a devastating war in Yemen.
The Gulf country, which shares borders with Iraq to the north and Yemen to the south, boasts vast tracts of the desert but also verdant mountains, pristine beaches and historical sites including five UNESCO World Heritage Sites.
https://www.indiatoday.in/world/story/no-kissing-short-clothes-or-alcohol-saudi-arabia-offers-tourist-visas-but-conditions-apply-1604462-2019-09-29
--------
Saudi Crown Prince Warns Of "Unimaginably High" Oil Prices
September 30, 2019
Saudi Arabia's crown prince warned in an interview broadcast on Sunday that oil prices could spike to "unimaginably high numbers" if the world does not come together to deter Iran, but said he would prefer a political solution to a military one.
Speaking to the CBS program "60 Minutes," Mohammed bin Salman, the kingdom's de facto ruler, also denied that he ordered the killing of journalist Jamal Khashoggi by Saudi operatives nearly a year ago, but said he ultimately bears "full responsibility" as the leader of his country.
While Khashoggi's death sparked a global uproar and tarnished the crown prince's reputation, the Trump administration's tense standoff with Iran, Saudi Arabia's arch-foe, has more recently dominated U.S. policy toward Riyadh, especially after the Sept. 14 attacks on the heartland of the Saudi oil industry.
"If the world does not take a strong and firm action to deter Iran, we will see further escalations that will threaten world interests," the crown prince said. "Oil supplies will be disrupted and oil prices will jump to unimaginably high numbers that we haven't seen in our lifetimes."
The crown prince, in an interview conducted on Tuesday in Saudi Arabia, said he agreed with U.S. Secretary of State Mike Pompeo that the Sept. 14 attacks, which damaged the world's biggest petroleum-processing facility and knocked out more than 5% of global oil supply, were an act of war by Iran.
But he said he preferred a peaceful resolution because a war between Saudi Arabia and Iran would collapse the global economy.
The United States, European powers and Saudi Arabia have blamed the attacks on Iran. Tehran has denied any involvement. Instead, the Iran-aligned Yemeni Houthi rebel group claimed responsibility.
"The political and peaceful solution is much better than the military one," he said.
The crown prince also said U.S. President Donald Trump should meet with Iranian President Hassan Rouhani to craft a new deal on Tehran's nuclear program and influence across the Middle East.
Efforts to bring the two together last week at the United Nations General Assembly failed. Tensions between Washington and Tehran have escalated over the U.S. withdrawal from an Iranian nuclear deal and its reinstatement of sanctions against Tehran.
'ABSOLUTELY NOT'
Days before the anniversary of the killing of Khashoggi in a Saudi consulate in Turkey, the crown prince said: "Absolutely not," when asked if he ordered the murder.
But he said he took full responsibility for the killing, "since it was committed by individuals working for the Saudi government."
"This was a mistake. And I must take all actions to avoid such a thing in the future," the crown prince said of the killing, which he called "heinous."
The CIA and some Western governments have said they believe he ordered it, but Saudi officials have repeatedly said he had no role.
After initial denials, the official Saudi narrative blamed the murder on rogue operatives. The public prosecutor said the then-deputy intelligence chief ordered the repatriation of Khashoggi, a royal insider who became an outspoken critic, but the lead negotiator ordered him killed after discussions for his return failed.
Asked how the killing could have happened without him knowing about it," the crown prince said: "Some think that I should know what 3 million people working for the Saudi government do daily? It's impossible that the 3 million would send their daily reports to the leader or the second-highest person in the Saudi government."
He insisted that "the investigations are being carried out, and once charges are proven against someone, regardless of their rank, it will be taken to court, no exception made."
Eleven Saudi suspects have been put on trial in secretive proceedings but only a few hearings have been held. A U.N. report has called for Prince Mohammed and other senior Saudi officials to be investigated.
Khashoggi, a Washington Post columnist, was last seen at the Saudi consulate in Istanbul on Oct. 2, where he was to receive papers ahead of his wedding. His body was dismembered and removed from the building, according to reports, and his remains have not been found.
Asked about criticism of the Saudis in the U.S. Congress over the Khashoggi killing and the Saudi-led military campaign in Yemen, which has taken a huge civilian toll, the crown prince said: "The (U.S.-Saudi) relationship is much larger than that."
Trump has resisted congressional efforts to block U.S. arms sales to Saudi Arabia.
The crown prince also repeated a Saudi call for Iran to halt its support for Houthi forces in Yemen and said he was open to "all initiatives for a political solution" to end the war there.
https://www.ndtv.com/world-news/saudi-crown-prince-mohammed-bin-salman-warns-of-unimaginably-high-oil-prices-2109308?stky
--------
Abu Dhabi to have a Mosque, Church and Synagogue in one location
September 23, 2019
A historic project
The Year of Tolerance maybe approaching the end, but the UAE will always be a place for interfaith harmony. Embracing its diversity, the Emirates announced the The Abrahamic Family House project on Friday in New York.
So what is this new project? The Abrahamic Family House, which will be located in the capital, bringing a mosque, a church, and a synagogue together. It is a physical manifestation of the Document on Human Fraternity, which was signed by Pope Francis and Dr Ahmed Al Tayeb, the Grand Imam of Al Azhar during the pontiff's visit to Abu Dhabi in February.
Highlighting Islam, Christianity and Judaism, the three Abrahamic religions, the house will be located on Saadiyat Island in Abu Dhabi. The Abrahamic Family House is expected to be completed by 2022, and is named after revered prophet Abraham. The project is designed by renowned British architect, Sir David Adjaye.
The three main buildings, a mosque, a church and a synagogue – will each lead to a central garden, which will include a museum and centre for education. The places of worship are all set to be the same height, however, they will each differ when it comes to exterior and interior design, reflecting each religion.
"There has never been a building that has the three faiths in one form. I wanted to see if we could make a building that has the unique experience of each of the faiths but to connect them all with the one device. And that is the garden," Sir David Adjaye told The National.
As expected, the mosque will be built facing towards the Kaaba in Makka, while the church's altar will point east towards the sun, and the synagogue's podium and Torah will face Jerusalem. Each building will have its separate street entrance, but visitors of the site will be able to look into all three buildings from the garden.
https://emirateswoman.com/abu-dhabi-mosque-church-synagogue-one-location/?fbclid=IwAR1FPSsuvM26HpBoGmwqL7v8astmvjNa8oInrQ5v10N2JASe69LT3mK0ws8
--------
Assam: Spreading Message of Peace and Harmony with His Infallible Service to a Centuries-Old Shrine of Lord Shiva This Muslim Man Wins Hearts
September 29, 2019
At a time when the country is grappling with communal conflicts, a Muslim man in north Guwahati is spreading the message of peace and harmony with his infallible service to a centuries-old shrine of Lord Shiva, across the mighty Brahmaputra river.
For generations, members of Motibar Rahman's family here have been looking after the upkeep of the temple in Rangmahal area of the city. Rahman, now in his mid-70s, makes it a point to sweep the floors of the shrine every morning, light candles and incense sticks, before paying obeisance to his 'nana' (grandfather), as he fondly calls the Lord.
"People from the Hindu community come here to offer prayers, sing naam-kirtan (local religious songs). Many Muslims, too, visit the temple. Nana (Lord Shiva) likes it very much," he said.
"He also wants his surrounding to be clean. Without His permission, nothing can be taken from here. Even a branch of a tree cannot be taken without His permission," Rahman, dressed in a pristine white long kurta, lungi and topi, said.
People in this land of Sankardeb and Azan Fakir believe in peace and brotherhood, he insisted.
Assam is often referred to "Sankar-Ajan'or Dexh (land)" after Assamese polymath of the 15th-16th century Sankardeb, and Sufi preacher from Baghdad Azan Fakir, as both had devoted their entire lives uniting the people of the Brahmaputra valley.
Explaining the significance behind the family tradition, the septuagenarian said, "My ancestor Borhansa had a dream of Lord Shiva, who told him that he wanted to live here. The Lord had also bestowed on us the responsibility to look after his place of stay."
Rahman is confident that his sons, too, will take forward this tradition, which started in the family around 500 years ago.
"When I had gone to Mecca on Haj in 2006, my sons took care of the place, though not as well as I do. They tried their best" he added.
https://www.indiatoday.in/india/story/assam-muslim-man-tale-temple-upkeep-wins-hearts-1604488-2019-09-29
--------
'Repression of people under occupation gravest form of terrorism': Pakistan responds to India at UNGA
September 29, 2019
Pakistan, in a strongly worded rebuke to the Indian response following Prime Minister Imran Khan's speech at the United Nations General Assembly, called out the Indian government for its continued repression of people in occupied Jammu and Kashmir, which it said "amounts to the gravest form of terrorism".
"May I remind the Indian delegation of the position of 120 members of the non-aligned movement that repression of the people under occupation amounted to the gravest form of terrorism and should be denounced as such," said Zulqarnain Chheena, representing Pakistan at the forum, on Saturday.
"It is obvious that India neither wants to face up to the truth about its abominable policies and actions nor does it want others to see it.
"It is strange that a country that has been engaged in the state's terrorism in occupied Jammu and Kashmir for over 30 years has the temerity to accuse others of terrorism," said Cheena.
Earlier on Saturday, India had responded to the prime minister's UNGA address, by accusing Pakistan of "building an industry of terrorism from the ideology of hate".
Take a look: PM Imran minces no words at UN, calls out Modi govt for oppression of Kashmiris
In today's rebuttal to the Indian statement, the Pakistan representative said such statements were "rather rich" coming from a country whose "serving naval officer commander Kulbhushan Jadhav was caught red-handed for espionage, sabotage and terrorism". He questioned how such a country could "have the gumption to term the victim as the perpetrator".
"A country which is in the iron grip of the fascist RSS, which was thrice banned in India for terror-related charges, has the audacity to point fingers towards others," he added.
In the statement by the Indian representative yesterday, accusations were also hurled at Pakistan about its treatment of minorities.
Pakistan, in its response today, reminded the forum that India, instead of directing its questions at Pakistan, should "seek answers from the perpetrators of the Samjhota terrorist attack who were acquitted earlier this year".
"India should seek answers from the killers of Pehlu Khan who was killed in cold blood for transporting cattle by a violent cow vigilante mob in 2017," said Chheena, reading out the response.
"India should seek answers from the masterminds of the Gujrat pogram in 2002 whose political fortunes have bloomed while the innocent victims flinch in pain and misery."
The Pakistan representative told the forum that "the common threat behind these and countless other incidents is that the victim has had the misfortune of finding himself against the might of the all-encompassing Hindutva onslaught".
Pakistan also called attention to the fact that India, despite touting claims that it had "removed an outdated and temporary provision" (Article 370 of its constitution), and proclaiming its "millenia-old heritage of diversity, pluralism and tolerance", had failed to include even a cursory mention of the plight of the people of occupied Kashmir.
"The Indian representative deliberately did not mention the complete and cruel communications blackout in the occupied territory. Neither did she mention the plight of the innocent Kashmiris who have been forced to live for the last 53 days without essential food or supplies. 53 days without the information of the well-being of family and friends. 53 days of total darkness and a biding fear of the unknown with no end in sight.
"We were instead treated to a fable that illegal Indian annexation of the occupied territory was meant to remove hindrances to the development of the occupied territory."
Pakistan questioned such a "novel model" where the stakeholders to the so-called development are locked up.
"If indeed, the actions taken are so well-meaning to the people of Jammu and Kashmir, I ask the Indian representative: Why does the Indian state not allow the Kashmiri people to come out and express their feeling? Why is India so afraid?" asked the Pakistan representative.
"Does India have the moral courage to respond to the findings of the United Nations Office of the High Commission of Human Rights (UNOHCHR) reports on occupied Jammu and Kashmir that have documented a litany of barbaric Indian oppression in the occupied territory?" he further inquired.
"If not, the creaking Indian defense is nothing but a self-perpetuating farce.
"The central reality of all this, Mr President, is the dire human rights and humanitarian situation in occupied Jammu and Kashmir and the denial of the fundamental right of self determination pledged to Kashmiris by India, Pakistan and the international community as enshrined in the 11 Security Council resolutions," he concluded.
https://www.dawn.com/news/1508030/repression-of-people-under-occupation-gravest-form-of-terrorism-pakistan-responds-to-india-at-unga
--------
Bangladesh rejects Turkey's offer due to Erdoğan's support for Jamaat-e-Islami
September 29, 2019
Bangladesh has rebuffed Turkey's repeated requests to set up a large camp in its territory for refugees over concerns that the Islamist government of Recep Tayyip Erdoğan may exploit the refugee issue to aid and abet the Jamaat-e-Islami (JI) group, Nordic Monitor has learned.
On the sidelines of the 74th United Nations General Assembly (UNGA), Bangladesh convened a high-level meeting on the Rohingya humanitarian crisis on September 24, attended by Turkish President Recep Tayyip Erdoğan and Foreign Minister Mevlüt Çavuşoğlu. Despite the fact that Çavuşoğlu reiterated Turkey's proposal to establish new shelters on allocated land in Cox's Bazar, Prime Minister Sheikh Hasina implicitly denied Turkey's plan and revealed her country's four-point strategy on Rohingya.
Hasina's proposal includes a demand to return the refugees to Myanmar, an end to "state propaganda" that labels the ethnic group as "Bengalis," full implementation of the recommendations made by the Kofi Annan Commission and creating a safe zone for Rohingya people. In her speech Hasina urged the international community to find a permanent solution to the ongoing Rohingya crisis as she stressed the need to repatriate the forcibly displaced people to their homeland of Myanmar. Furthermore, Hasina underlined that "the root of the Rohingya problem lies in Myanmar, and the solution has to be found in Myanmar," adding, "While humanitarian assistance and other support for the Rohingyas address their immediate needs, it is important to achieve a long-term solution in Myanmar to the protracted Rohingya crisis."
According to Turkey's state-run Anadolu news agency, Foreign Minister Çavuşoğlu asked Prime Minister Hasina once again to provide enough land to build camps for Rohingya refugees in her country. However, the agency did not share any details with regards to the prime minister's response to Turkey's request, which has been repeatedly conveyed since 2017.
In the meeting Malaysian Prime Minister Mahathir Mohamad also called on the international community to urgently resolve the Rohingya crisis and defined the Myanmar violence as genocide.
According to Human Rights Watch, Bangladesh has been hosting 1.1 million forcibly deported Rohingya refugees, among whom 750,000 entered the country following a crackdown by the Myanmar army in August 2017. The UN described the atrocities perpetrated on the Rohingyas as "ethnic cleansing." The Myanmar government refused to allow independent investigators access to Rakhine State and punished local journalists for reporting on military abuses.
Erdoğan always had in mind a sort of leadership of the Sunni Muslim world and wants to be active in South Asia with the help of the Rohingya crisis. Today he is fairly isolated and is trying to take every opportunity to change his image into a positive one and to appear to be internationally respected. But the UNGA meeting revealed how Turkey's support for radical groups and political Islamist parties abroad undermines even its humanitarian policy.
In 2017 the Turkish Red Crescent launched a community center in Cox's Bazar and announced its intent to build shelters for Rohingya refugees in the region. However, it failed to implement its plan due to the deteriorating diplomatic and political relations between the two countries. Turkish-Bangladeshi bilateral relations experienced their worst in 2016, when Turkey withdrew its ambassador in Dhaka following the execution of Bangladeshi JI leader Motiur Rahman Nizami. Erdoğan publicly rebuked Prime Minister Hasina in a speeches delivered at public rallies in Turkey's election campaign to woo Islamist voters.
Bangladesh accuses Turkey of exporting radical Islam into South Asia and sponsoring JI, the Muslim Brotherhood's ideological cousin in the region, and its affiliated organizations. According to some experts, Bangladesh believes the camps that would be established by Turkey might become an incubator for JI and radical Islamist groups.
Nordic Monitor previously reported that Yasin Aktay, chief advisor to party leader Erdoğan, highlighted in a video interview JI's role in advancing the Islamist agenda of Turkey's ruling Justice and Development Party (AKP). JI and the Muslim Brotherhood are "soft power proxies" that helped bolster Turkey's role as leader of a global caliphate "defending oppressed and victimized Muslims," Aktay told the pro-government Hilal TV.
In the video Aktay also complained about the lack of an international political body that represents all Muslims since the abolishment of the caliphate in Turkey in 1924 and said Turkey under the Erdoğan government was playing this role in practice by defending oppressed and victimized Muslims. Aktay was deputy chairman of the ruling AKP responsible for managing the AKP's foreign relations and served as party spokesperson.
JI was founded in 1941 in British India by Islamist theologian Maulana Syed Abdul Ala Maududi. The party split into separate independent organizations in India and Pakistan in 1947, and then other groups related to JI developed in Bangladesh, Kashmir and Afghanistan. In 2013 Bangladesh's high court declared the registration of JI to be illegal and banned it from competing in general elections.
https://www.nordicmonitor.com/2019/09/bangladesh-rejects-turkeys-offer-due-to-erdogans-support-to-jamaat-e-islami/
--------
Rohingya Support Bangladeshi Leader's Proposal to End Crisis
Arafatul Islam
28.09.2019
In Bangladesh's annual address to the UN General Assembly, Prime Minister Sheikh Hasina on Friday urged the international community to "understand the untenability of the situation" surrounding the Rohingya refugees from Myanmar, who are fleeing persecution by the military there.
More than 700,000 Rohingya fled what has been called an ethnic cleansing campaign involving mass rapes, killings and the burning of thousands of their homes in 2017. They have been living in overcrowded makeshift camps in the Bangladeshi coastal city of Cox's Bazar since then.
While the Muslim-majority country has provided shelter to the refugees, very little has been done by the international community to repatriate them to Myanmar. Meanwhile, tensions have been growing between the refugees and local communities, as many Bangladeshi citizens fear the Rohingya might not ever return to the country they came from.
A four-point proposal
At the General Assembly, Hasina presented a four-point plan to end the crisis, of which her country has borne the main burden despite not causing it. Her proposal includes the following points:
Myanmar must manifest clear political will supported by concrete actions for the sustainable return and reintegration of the Rohingya to Myanmar.
Myanmar must build trust among the Rohingya by discarding discriminatory laws and practices and allowing "go and see" visits to northern Rakhine by Rohingya representatives.
Myanmar must guarantee the security and safety of the Rohingya by deploying civilian monitors from the international community in Myanmar's Rakhine state.
The international community must ensure that the root causes of the Rohingya problem are addressed and the violation of human rights and atrocities committed against the Rohingya are accounted for.
"I would request the international community to understand the untenability of the situation," Hasina said on Friday, adding: "The crisis is now going beyond the camps. Despite all our efforts to contain it, the crisis is now becoming a regional threat."
Rohingya welcome the proposal
Rohingya activists around the world have hailed the plan by the Bangladeshi prime minister to resolve a mess that has continued now for more than two years. However, they fear that Myanmar might not accept the proposal, as it lacks any interest in taking back the refugees.
Nay san Lwin, a Germany-based Rohingya activist, feels that Hasina's proposal echoes the demands made by the Rohingya community for its safety in Rakhine state.
"To repatriate the Rohingya survivors to Myanmar, justice, international protection and full citizenship are very much required. Sheikh Hasina has included those in her proposal," he said.
However, the activist also pointed out that it's the third time Sheikh Hasina has made those proposals to the international community since the Rohingya exodus began in August 2017.
"The world leaders have listened to her proposals but never helped her by putting pressure on Myanmar to implement them," he said.
Tun Khin, president of the Burmese Rohingya Organisation UK, also expressed a similar opinion. He thinks that the international community has not been doing enough to pressure Myanmar to recognize the Rohingya as one of the country's legitimate ethnic communities.
"Although a million Rohingya have fled Myanmar over the past few years, nearly 600,000 still live in Rakhine state. They have been facing a serious risk of genocide," he said, adding: "The Myanmar government needs to build trust among the Rohingya community by providing citizenship and safety to those who are still in the country."
'Strong actions' needed
A recent report by UN investigators suggests that 600,000 Rohingya still inside Myanmar's Rakhine state remain in deteriorating and "deplorable" conditions.
"Myanmar continues to harbor genocidal intent, and the Rohingya remain under serious risk of genocide," the investigators said in their final report, which was presented to the UN Human Rights Council in Geneva on September 17, 2019.
The country is "denying wrongdoing, destroying evidence, refusing to conduct effective investigations and clearing, razing, confiscating and building on land from which it displaced Rohingya," the report stated.
Imran Mohammed, a former Rohingya leader, says that since Myanmar has caused the crisis, it bears the responsibility for bringing it to an end.
"Myanmar reacts as if the Rohingya crisis is not their problem. I strongly agree with Sheikh Hasina, who said at the UN that as the Buddhist-majority country has created this crisis, it has to solve it," he told DW.
"Rohingya have been kept away from the light of education and segregated from mainstream society by the Myanmar government. The community stuck in the cycle of violence for several decades," he said, adding: "Strong actions are needed by the international community to ensure a normal life for the minority community in the country."
Bangladesh to fence refugee camps
Bangladesh's prime minister spoke to the UN as her government plans to erect barbed-wire fencing around Rohingya camps to stop their expansion. Dhaka has been tightening the screws on the Rohingya refugees since a repatriation drive failed last month. Internet networks have been blocked in the camps, and some Rohingya refugees have been killed in alleged gunfights with security forces since then.
"There are three large camps. We'll fence them with barbed wire," the country's interior minister, Asaduzzaman Khan, said, adding: "Watchtowers and CCTV cameras will also be set up to monitor activity in the Cox's Bazar district settlements."
A rights activist, who asked to remain anonymous, condemned the planned move and said the fencing would "transform the camps into a big prison."
Tun Khin urged the Bangladeshi authorities to show some empathy with the Rohingya community as genocide victims.
"The Bangladeshi government should not restrict the refugees' freedom of movement and internet access. They have taken shelter there temporarily and will return to the country they belong to once their demand for safety and security are met," he said.
https://www.dw.com/en/rohingya-support-bangladeshi-leaders-proposal-to-end-crisis/a-50624711
--------
China Harvesting Organs from Minorities, Including Uighur Muslims: Activists Tell UN
SEP 29, 2019
Washington D.C. [USA]: China was accused of harvesting organs from prosecuted minority groups, during a United Nations Human Rights Council meeting earlier this week.
The charge was brought by the China Tribunal, an independent global group initiated by the International Coalition to End Transplant Abuse in the Communist country, The Hill reported.
Hamid Sabi, a lawyer for the Tribunal, told the United Nations on Tuesday that Beijing was taking hearts, kidneys, lungs and skin from minority groups, including Uighur Muslims and members of the Falun Gong religious group.
"Forced organ harvesting from prisoners of conscience, including the religious minorities of Falun Gong and Uighurs, has been committed for years throughout China on a significant scale," Sabi said in a video published on the group's website.
Sabi told the United Nations Human Rights Council that the efforts involved "hundreds of thousands of victims," describing it as "one of the worst mass atrocities of this century."
The China Tribunal, in a previous report, released in July, had found that a "very substantial number" of prisoners were killed after an order by the Chinese government. Beijing has repeatedly denied accusations by human rights researchers and scholars that it forcibly takes organs from prisoners of conscience and said it stopped using organs from executed prisoners in 2015. (ANI)
https://economictimes.indiatimes.com/news/international/world-news/china-harvesting-organs-from-minorities-including-uighur-muslims-activists-tell-un/articleshow/71361765.cms
--------
Extremists Everywhere, Why Pinpoint Islam, Says Former Malaysian Minister
September 29, 2019
PETALING JAYA: Radicalism or extremism should never be associated with Islam, as there are radicals and extremists in all societies, while the faith itself never propagates violence, says a former federal minister.
Salleh Said Keruak, a former communications minister, said that in fact, Islam teaches that there is no compulsion in religion.
However, Salleh said that there were many radicals who use Islam as a camouflage for their extremist or terrorist activities, noting that terror group, Islamic State has 40,000 fighters and 60,000 supporters.
"But then there are more than two billion Muslims in 232 countries all over the world. How can a mere 100,000 out of more than two billion be said to represent Islam, or are regarded as the voice of Islam?" he wrote in a a personal blog posting.
Salleh was responding to an announcement by Pakistan's President Imran Khan that Pakistan, Malaysia and Turkey are to start an English-language news channel to confront the challenges posed by Islamophobia.
Last week, Prime Minister Dr Mahathir Mohamad had lamented, in an address to the United Nations General Assembly, that Muslims were accused of terrorism even if they did nothing.
He said the creation of Israel was partly the cause of enmity towards Muslims and Islam.
https://www.freemalaysiatoday.com/category/nation/2019/09/29/extremists-everywhere-why-pinpoint-islam-says-salleh/
--------
More Than 300 Men And Boys Shackled In Chains And Baring Brutal Scars From Beatings 'In The Name Of Teaching Them The Quran' Are Freed After Police Raid In Nigeria
27 September 2019
An Islamic boarding school has been revealed as a 'house of torture' after authorities raided the building to find its students were being detained and raped by staff.
Police discovered over 300 men and boys were being housed in the school in Rigasa area of Kaduna in northern Nigeria, and were regularly subjected to torture, sexual abuse, and starvation.
Students, who were of 'different nationalities', were chained, hung from the ceiling and beaten in a 'torture chamber' inside the school, authorities said.
Shocking images from the Islamic school show rows of the male students wearing ankle shackles, while some also have their hands chained together. Other photos show the torture victims with horrific scars on their backs.
One victim described how previous students had died from being tortured.
Parents have since been reunited with some of the children rescued by police at the Hajj transit camp in Kaduna.
Kaduna state's chief of police Ali Janga said it was a case of 'human slavery' and they raided the house after an anonymous tip-off on Thursday.
He told the BBC it was a 'house of torture' with men and boys from Burkina Faso, Mali and other African countries.
Police said the detainees were from Burkina Faso, Mali and other African countries.
The victims, including adults and minors, were kept in 'the most debasing and inhuman conditions in the name of teaching them the Quran and reforming them', Kaduna state police spokesman Yakubu Sabo said.
The school, which has been operating for a decade, enrolled students brought by their families to learn the Quran and be rehabilitated from drug abuse and other illnesses, police said.
The proprietor of the school and six staff were arrested during the raid.
'We found around 100 students including children as young as nine, in chains stuffed in a small room, all in the name of reforming them and making them responsible persons,' Sabo said.
'The victims were abused. Some of them said they were sodomised by their teachers.'
Bello Hamza, 42, told The Nigerian Tribune: 'I have spent three months here with chains on my legs. I am supposed to be pursuing my Masters in University Pretoria South Africa. I got admission to study Applied Mathematics, but here I am chained.
'They claim to be teaching us Quran and Islam, but they do a lot of things here. They subject the younger ones to homosexuality.
'This is supposed to be an Islamic centre, but trying to run away from here attracts severe punishment; they tie people and hang them to the ceiling for that, but engaging in homosexuality attracts no punishment.'
He also said he has seen people die from the torture during his time there.
Police had been tipped off by complaints from local residents who became suspicious of what was happening inside the school.
During the raid on the school, police said they found a 'torture chamber' where students were chained, hung and beaten.
Sabo said the victims were of different nationalities and that 'two of them said during interrogation they were brought by their parents from Burkina Faso'.
The identities of the rescued victims were being documented to determine where they came from and to contact their families.
Parents of some of the victims from within the city, contacted by police were 'shocked and horrified' when they saw the condition of their children, as they had no idea what was happening inside the school.
Parents were allowed to visit their children every three months, but only in select areas of the premises.
'They were not allowed into the house to see what was happening... the children are only brought to them outside to meet them,' Sabo said.
'All they thought was their children are being taught the Quran and good manners as they looked subdued,' he added.
Private Islamic schools are common in mainly Muslim northern Nigeria, where government services are often lacking.
The owner of the school said all they do is teach people Islam and said the allegations of torture and sexual assault are false, despite acknowledging people were in chains.
He said: 'They don't do anything other than recitation of Qur'an, pray and worship God.
'Those chained are the stubborn ones who attempt running away. Those who don't attempt running away are not chained. Some were chained before and after settling down, they were freed.'
They were taken to a stadium to be looked after while police make attempts to find their families.
Authorities said the freed captives will be given medical and psychological examinations.
https://www.dailymail.co.uk/news/article-7513249/Inside-house-torture-Islamic-boarding-school-students-tortured-sodomised.html
--------
Website releases 'never before seen' photo of Leader, Gen. Soleimani, Nasrallah
Sep 29, 2019
The website of Leader of the Islamic Revolution Ayatollah Seyyed Ali Khamenei has published a photo of the Leader alongside Major General Qassem Soleimani and Hezbollah chief Sayyed Hassan Nasrallah.
The picture shows the trio in front of what appears to be a door covered by a curtain and surrounded by shelves stacked with books.
The website did not detail the date or place where the photo was taken.
It said the "never before seen" picture will make the inaugural cover of a new magazine, dubbed Massir (The Path), which will soon be launched by the office for preservation and dissemination of the works of Ayatollah Khamenei.
The issue, it added, will publish a five-hour interview with Nasrallah and the first interview with General Soleimani, who commands the Quds Force of Iran's Islamic Revolution Guards Corps (IRGC).
Massir will also publish for the first time images of meetings between Nasrallah and Ayatollah Khamenei, the website said.
It also published photos of the Lebanese national resistance movement's chief taken during an exclusive discussion with officials from the Leader's office.
Iran's support for resistance movements such as Hezbollah is an enduring feature of the Islamic Republic's foreign policy.
That support is the target of US President Donald Trump's "maximum pressure" campaign which also seeks to stop Iran's nuclear and missile programs and curb the country's influence in the Middle East.
Earlier this month, Nasrallah hailed Iran as "the center" of a "major camp" against the US and Israel headed by Ayatollah Khamenei, saying the resistance front is now in the middle of a campaign against the two enemies.
https://www.presstv.com/Detail/2019/09/29/607425/Iran-Leader-Qassem-Soleimani-HassanNasrallah
--------
Arab World
Jamal Khashoggi murder happened under my watch: Saudi crown prince tells PBS
September 26, 2019
Saudi Arabia's crown prince said he bears responsibility for the killing of journalist Jamal Khashoggi last year by Saudi operatives "because it happened under my watch," according to a PBS documentary to be broadcast next week.
Mohammed bin Salman, the kingdom's de facto ruler, has not spoken publicly about the killing inside the Saudi consulate in Istanbul.
The CIA and some Western governments have said he ordered it, but Saudi officials say he had no role.
The death sparked a global uproar, tarnishing the crown prince's image and imperiling ambitious plans to diversify the economy of the world's top oil exporter and open up cloistered Saudi society. He has not since visited the United States or Europe.
"It happened under my watch. I get all the responsibility, because it happened under my watch," he told PBS' Martin Smith, according to a preview of a documentary, "The Crown Prince of Saudi Arabia," set to air on Oct. 1, ahead of the one-year anniversary of Khashoggi's death.
After initial denials, the official Saudi narrative blamed the murder on rogue operatives. The public prosecutor said the then-deputy intelligence chief ordered the repatriation of Khashoggi, a royal insider who became an outspoken critic, but the lead negotiator ordered him killed after discussions for his return failed.
Saud al-Qahtani, a former top royal adviser whom Reuters reported gave orders over Skype to the killers, briefed the hit team on Khashoggi's activities before the operation, the prosecutor said.
Asked how the killing could happen without him knowing about it, Smith quotes Prince Mohammed as saying: "We have 20 million people. We have 3 million government employees."
Smith asked whether the killers could have taken private government jets, to which the crown prince responded: "I have officials, ministers to follow things, and they're responsible. They have the authority to do that."
Smith describes the December exchange, which apparently took place off-camera, in the preview of the documentary.
A senior US administration official told Reuters in June the Trump administration was pressing Riyadh for "tangible progress" toward holding to account those behind the killing ahead.
Eleven Saudi suspects have been put on trial in secretive proceedings but only a few hearings have been held. A UN report has called for Prince Mohammed and other senior Saudi officials to be investigated.
Khashoggi, a Washington Post columnist, was last seen at the Saudi consulate in Istanbul on Oct. 2, where he was to receive papers ahead of his wedding. His body was reportedly dismembered and removed from the building, and his remains have not been found.
https://www.indiatoday.in/world/story/jamal-khashoggi-murder-happened-under-my-watch-saudi-crown-prince-tells-pbs-1603582-2019-09-26?utm_source=recengine&utm_medium=web&referral=yes&utm_content=footerstrip-3
--------
Saudi crown prince says war with Iran would gut world economy
September 30, 2019
Saudi Arabia's crown prince said in an interview aired on Sunday that war with Iran would devastate the global economy and he prefers a non-military solution to tensions with his regional rival.
"If the world does not take a strong and firm action to deter Iran, we will see further escalations that will threaten world interests," Saudi Crown Prince Mohammed bin Salman ─ known as MBS for short ─ told the CBS program "60 Minutes".
"Oil supplies will be disrupted and oil prices will jump to unimaginably high numbers that we haven't seen in our lifetimes," the crown prince said.
MBS said a war between Saudi Arabia and Iran would be catastrophic for the world economy.
"The region represents about 30 per cent of the world's energy supplies, about 20 per cent of global trade passages, about four per cent of the world GDP. Imagine all of these three things stop," he said.
"This means a total collapse of the global economy, and not just Saudi Arabia or the Middle East countries."
MBS said a September 14 attack on Saudi oil facilities, which his country and the US blamed on Iran, had been senseless.
"There is no strategic goal. Only a fool would attack five per cent of global supplies. The only strategic goal is to prove that they are stupid and that is what they did," said the crown prince.
He was asked point-blank if he ordered the killing and dismemberment of journalist Jamal Khashoggi in October last year.
"Absolutely not. This was a heinous crime. But I take full responsibility as a leader in Saudi Arabia, especially since it was committed by individuals working for the Saudi government," he said.
Read: I get all the responsibility because it happened under my watch: MBS on Khashoggi murder
"When a crime is committed against a Saudi citizen by officials, working for the Saudi government, as a leader I must take responsibility. This was a mistake."
Body never found
MBS, the kingdom's de facto ruler, has come under huge international pressure after the US-based writer was killed and dismembered in the Saudi consulate in Istanbul.
Khashoggi's body was never found.
The crown prince has said the killing was carried out without his knowledge.
Riyadh has repeatedly denied that the crown prince was behind the murder of Khashoggi — a royal family insider turned critic and a US resident — who was killed in what Saudi authorities have described as a rogue operation.
Full report at:
https://www.dawn.com/news/1508179/saudi-crown-prince-says-war-with-iran-would-gut-world-economy
--------
Saudi Whistle-Blower Underlines MbS Role in Assassination of Al-Fagham
Sep 29, 2019
The media spokesman of the Makkah Province Police confirmed on Saturday evening that the personal bodyguard of the Saudi king was shot dead during a personal dispute.
The spokesman claimed that Maj. Gen Abdul Aziz bin Badah al-Fagham was visiting a friend's house when he was shot.
The Arabic-language al-Nashrah news website quoted Mujtahid as saying that al-Fagham was in the palace at the time of murder and not at a friend's residence as claimed by the government.
"The MbS was not confident about al-Faghan's loyalty to the crown prince and he had several times voiced willingness to omit him," he added.
Meantime, Mohammed al-Moaseri, a Saudi dissident residing in London, had warned 5 months ago about the possibility for al-Fagham's assassination by the MbS.
He had cautioned al-Fagham that bin Salman would one day take him and his team out to replace them a group of Colombian Blackwater agents.
Social media activists have voiced suspicion about al-Fagham's death, describing it as assassination.
Full report at:
https://en.farsnews.com/newstext.aspx?nn=13980707000598
--------
Saudi Media Activists Voice Suspicion over King Salman Bodyguard's Death
Sep 29, 2019
The state TV report on Sunday said Maj. Gen. Abdulaziz al-Fagham was killed in a shooting in the Red Sea city of Jeddah.
The Saudi social media activists wrote on their pages that the death of al-Fagham seems suspicious given the presence of security forces outside his house and their immediate killing shots given to his killer which could be an attempt to close the case immediately.
Also, Ali al-Ahmad, a Saudi journalist, wrote on his twitter page that al-Fagham was fired from his job a few days ago which makes his death even more suspicious.
He added that the bodyguard was witnessed several days ago while he was walking alone in Jeddah which is strange, given his rank and position, and given the fact that he should have been right beside King Salman.
A social media activist described al-Fagham's death as similar to the brutal killing of Saudi journalist Jamal Khashoggi who was killed upon a direct order by Saudi Crown Prince Mohammed bin Salman.
Khashoggi was killed and his body dismembered after he entered the Saudi consulate in Istanbul, Turkey, to collect documents related to his planned wedding.
After initially offering contradictory statements, Saudi Arabia confirmed its agents killed Khashoggi, but denied its senior leaders were involved.
Full report at:
https://en.farsnews.com/newstext.aspx?nn=13980707000521
--------
Egypt says security forces kill 15 militants in Sinai
29 September 2019
Egypt said on Sunday its police forces have killed 15 suspected militants in a raid in the restive northern part of the Sinai Peninsula.
An Interior Ministry statement said security forces exchanged fire with the militants as they stormed their hideout in the Mediterranean coastal city of al-Arish.
No casualties were reported among the police. The statement did not say when the raid took place.
The statement came three days after an ISIS attack on a checkpoint in the town of Bir al-Abd killed eight troops and a civilian. Security forces killed at least 15 militants in that attack.
Full report at:
https://english.alarabiya.net/en/News/middle-east/2019/09/29/Egypt-says-security-forces-kill-15-militants-in-Sinai.html
--------
Saudi Crown Prince: Kingdom's laws 'must be respected, until they're reformed'
30 September 2019
Saudi Arabia's Crown Prince Mohammed bin Salman said the laws in the Kingdom must be respected, even some of which he might disagree with personally.
"Saudi Arabia is a country governed by laws. Some of these laws I might disagree with personally, but as long as they are now existing laws, they must be respected, until they are reformed," the Crown Prince said during a television interview with CBS' "60 Minutes" program with Norah O'Donnell.
The CBS presenter then asked the Saudi Crown Prince about allegations that Saudi female activist Loujain al-Hathloul had been tortured in prison.
"If this is correct, it is very heinous. Islam forbids torture. The Saudi laws forbid torture. Human conscience forbids torture. And I will personally follow up on this matter," he said.
CBS' "60 Minutes" then the Saudi Crown Prince on his reaction on the perception that he "does not support women's rights and human rights."
"This perception pains me. It pains me when some people look at the picture from a very narrow angle. I hope that everybody comes to the Kingdom of Saudi Arabia and sees the reality, and meets women and Saudi citizens, and judges for themselves," Crown Prince Mohammed bin Salman said.
Full report at:
https://english.alarabiya.net/en/features/2019/09/30/Saudi-Crown-Prince-Kingdom-s-laws-must-be-respected-until-they-re-reformed-.html
--------
Saudi military filled with cronies, not competent: Analyst
Sep 29, 2019
Saudi Arabia's failure to defend itself against recent retaliatory attacks by Yemeni forces is proof that the Saudi military is in no way competent and just a "fraud," says an American political analyst.
The remarks by Brian Downing, a US journalist and political commentator, on Press TV came in the wake of audacious attacks on the kingdom's southern border region of Najran and Aramco oil refining facilities.
"The Saudi military is pretty much a fraud, the house of cards spends a lot of money but it's not a competent military at all," he told "The Debate" program Saturday night.
"The Saudi military is filled with cronies. You don't get to be a colonel or a general by passing professional tests and showing your medal. You get it by being related to someone in the royal family or a friend thereof," Downing said.
"Furthermore, there are a lot of tribal factions within the Saudi military. They don't work side by side together very well, they don't trust one another and that's going to hurt the unit combat ferocity," he added.
Yemeni armed forces announced on Saturday that three Saudi military brigades were completely destroyed after they mounted a large-scale military offensive in Najran.
Speaking at a press conference in the capital Sana'a, Brigadier General Yahya Sare'e described the God's Victory operation as the biggest ever since Saudi Arabia and some of its allies embarked an atrocious military campaign on Yemen more than four years ago.
Among those captured by Yemeni troops and their Houthi allies were a number of Saudi commanders, officers and soldiers, Sare'e said.
Yemen's Houthi Ansarullah movement also said in a statement that the operation inflicted dramatic losses – both in terms of military hardware and personnel – upon the enemy.
The operation came less than two weeks after Yemen's Ansarullah movement and their allies in the Yemeni army deployed as many as 10 drones to bomb the Abqaiq and Khurais oil facilities run by the Saudi state-owned oil company, Aramco.
The unprecedented attack knocked out more than half of the Saudi crude output, or five percent of global supply, prompting Saudi and US officials to claim without any evidence that it probably originated from Iraq or Iran.
In his remarks, Downing ruled out the possibility of the US intervention in a war between Saudi Arabia and Yemeni forces after more than four and a half years of failure.
"The American generals don't want another war in the Middle East; they are bogged down in Syria, Iraq and Afghanistan; they have advisers here and there in the region. I don't think they want it [the war]," the American commentator said.
Scott Rickard, former American intelligence linguist, was the other panelist on the program and said Yemen's retaliatory attacks on the Saudis came as a shock to the kingdom in Riyadh since they had up until that time "underestimated" the capacity of the Yemeni forces.
"Obviously, everyone underestimated the Houthi forces as well as the Ansarullah; these forces have shown incredible vigilance," Rickard said.
Saudi Arabia and a number of its regional allies launched a devastating campaign against Yemen in March 2015, with the goal of bringing the government of Hadi back to power and crushing Ansarullah.
The US-based Armed Conflict Location and Event Data Project (ACLED), a nonprofit conflict-research organization, estimates that the war has claimed more than 91,000 lives over the past four and a half years.
Full report at:
https://www.presstv.com/Detail/2019/09/29/607427/Saudi-military-fraud-Yemeni-forces-retaliatory-attacks-Najran
--------
Egyptian authorities re-arrest leading rights activist
Sep 29, 2019
A prominent Egyptian pro-democracy activist who was released on probation earlier this year has been re-arrested in Cairo, his family says.
Alaa Abdel Fattah's family said he was detained as he was preparing to leave a police station in the capital on Sunday morning.
"I arrived at the police station and I found the place where he spends the probation empty. I asked them where Alaa was... The chief detective came out and told me that Alaa is at the national security prosecution," media outlets quoted his sister, Mona, as saying.
Abdel Fattah, a blogger and software engineer, was released in March after serving a five-year sentence for taking part in a peaceful protest against military trials for civilians. Under the terms of his release, authorities required the activist to report to the police station and spend every night there for the next five years.
Security sources said Abdel Fattah had been taken for an investigation over accusations of publishing false news and inciting people to protest.
Mohamed al-Baqer, a lawyer representing the activist, was also detained late on Sunday while waiting for the interrogation of his client to start at the national security prosecutor's office.
Another lawyer, Amr Imam, who witnessed the incident, said, "This is a blatant violation against lawyers. Lawyers are immune while working, just like judges and prosecutors. As a lawyer, I am afraid about getting arrested right now."
An influential blogger, Abdel Fattah hails from a family of political activists, lawyers, and writers. He was a leading voice among the youths who initially led the 2011 uprising that ended the 30-year rule of autocrat Hosni Mubarak.
Security forces in Egypt have recently boosted their presence across the country, amid calls for protests against President Abdel Fattah el-Sisi over corruption allegations.
Egypt was rocked by unusual demonstrations on September 20 following calls for protests that were made after allegations of corruption against Sisi and the country's powerful military were made by the self-exiled contractor and actor Mohamed Ali.
Since the protests last Friday, Egyptian authorities have arrested nearly 2,000 people, including prominent writers, activists, and opposition figures, according to rights monitors.
The Geneva-based International Commission of Jurists urged the release of those "detained for exercising their fundamental freedoms." Human Rights Watch has also urged the Egyptian authorities to "protect the right to peaceful protest."
Full report at:
https://www.presstv.com/Detail/2019/09/29/607462/Egypt-activist-Alaa-Abdel-Fattah
--------
Al-Azhar launches child abuse campaign after young girl's death sparks outrage in Egypt
September 29, 2019
CAIRO: The case of a four-year-old girl tortured to death by her grandmother has triggered widespread anger in Egypt.
Reports said Jana, who lived in a village in Mansoura province, died on Saturday, days after she was admitted to hospital with severe burns.
The case has sparked outcry and drawn attention to the levels of child abuse in Egypt.
The police report said Jana was tortured using an iron "by her maternal grandmother" who inflicted burns on her body that led to blood poisoning, a severe drop in blood circulation and collapse of her respiratory systems, Al-Masry Al-Youm newspaper reported.
Her injuries were so severe that her leg had to be amputated three days before her death.The girl's aunt claimed in police investigations that Jana told her that the grandmother had burnt her around the genitalia.
The grandmother, now in police custody, denies the allegations, the reports said.
Sheikh Ahmed Al-Tayeb, the Grand Imam of Al-Azhar, said he had been deeply hurt to hear of the "brutal crime committed against the innocent girl Jana."
"What she experienced from torture and burning is a humanitarian disaster by all means."
Full report at:
https://www.arabnews.com/node/1561606/middle-east
--------
India
SC sets up 5-judge Constitution Bench to hear pleas challenging Centre's move on Article 370
Krishnadas Rajagopal
SEPTEMBER 28, 2019
Justice N.V. Ramana to head the Constitution Bench
A five-judge Bench led by Justice N.V. Ramana is learnt to have been formed to start hearing from October 1 petitions challenging the Centre's move render Article 370 inoperative that stripped Jammu and Kashmir people of their special privileges, which led to the bifurcation of the State to two union territories of Jammu and Kashmir, and Ladakh.
A Presidential Order on August 5 read down Article 370, through which special rights and privileges were given to the people of Jammu and Kashmir since 1954 in accordance with the Instrument of Accession.
The special status was bestowed on Jammu and Kashmir by incorporating Article 35A in the Constitution by an order of President Rajendra Prasad in 1954 on the advice of the Jawaharlal Nehru Cabinet. Parliament was not consulted.
Chief Justice of India Ranjan Gogoi has also separately given the nod for the setting up of three other Special Benches, one of which will deal with death penalty cases. The composition of the Benches is not yet known.
Justice Ramana is the third senior-most judge of the Supreme Court. Both the CJI and Justice S.A. Bobde, the second senior-most judge of the apex court, are part of the Bench hearing the Ayodhya case, which is expected to continue till October 18 at least.
A three-judge Bench led by the CJI referred the Article 370 petitions to the Constitution Bench on August 28.
The various petitions include ones by advocate M.L. Sharma and the National Conference, which had challenged the Centre's "unilateral" move to impose curfew and unravel the unique federal structure of India by dividing Jammu and Kashmir "without taking consent from the people."
Restrictions were imposed in the entire Valley on August 4. A new law was also passed, dividing the State into two Union Territories.
The petitions have questioned the Centre's sudden decision to "unilaterally unravel the unique federal scheme, under cover of President's Rule, while undermining crucial elements of due process and the rule of law".
A separate petition by detained politician Shah Faesal and Shehla Rashid Shora, among others, has contended that the August 5 order and the Jammu and Kashmir Reorganisation Act of 2019 were arbitrary. They also challenged the proclamation of President's Rule in the State in December 2018.
The petitions said what happened to Jammu and Kashmir "goes to the heart of Indian federalism".
"National integration is best served by a pluralistic federal model. Under this model, one size need not always fit all," the petition filed by the National Conference said.
The petitions said the Presidential Order of August 5 substituted the concurrence of the Governor for that of the State government to change the very character of a federal unit.
They said the Presidential Order took cover of a temporary situation, meant to hold the field until the return of the elected government, to accomplish a fundamental, permanent and irreversible alteration of the status of the State of Jammu and Kashmir without the concurrence, consultation or recommendation of the people of that State, acting through their elected representatives.
They argued that the August 5 order used Article 370 to demolish Article 370. It amounted to the overnight abrogation of the democratic rights and freedoms guaranteed to the people of Jammu and Kashmir upon its accession.
The basic purpose of Article 370 was to facilitate the extension of constitutional provisions to the State in an incremental and orderly manner, based upon the needs and requirements, without dismantling the State Constitution.
The August 5 order, by replacing the recommendation of the 'Constituent Assembly' with that of the 'Legislative Assembly' in order to alter the terms of Article 370, assumed that the Legislative Assembly of the State of Jammu and Kashmir had a power that its own Constitution, under Article 147, denied to it. Thus, the August 5 order was ineffective, the petitions alleged.
https://www.thehindu.com/news/national/sc-sets-up-5-judge-constitution-bench-to-hear-pleas-challenging-abrogation-of-article-370/article29541386.ece
--------
India moves to assuage Sikhs derail Pakistan's Khalistan and Kashmir plan
Shishir Gupta
Sep 30, 2019
The decision to release eight Sikh prisoners and commute the death sentence of Balwant Singh Rajoana, the main conspirator in the 1995 assassination of former Punjab CM Beant Singh, is the culmination of various key steps taken by the Union government to assuage the sentiments of the Sikh community and derail Pakistan's "K2" (Kashmir & Khalistan) plan, according to senior officials in the government and security community.
India announced late on Saturday that eight Sikh prisoners housed in Indian jails – Lal Singh, Davindar Pal Singh Bhullar, Harjinder Singh, Gurdeep Singh Khera, Waryam Singh, Subheg Singh, Nand Singh and Balbir Singh – would be prematurely released in a special exemption coinciding with the 550th birth anniversary of Guru Nanak. It also said that the death sentence handed to Rajoana, of the Babbar Khalsa International group, was being commuted to a life sentence.
Officials said that this follows close on the heels of the virtual eradication of a 35-year-old "black list" that prevented 312 members of the Sikh community holding foreign passports from travelling to India due to their alleged role during the militant Khalistan movement in Punjab.
The officials cited above said the moves were in the pipeline since 2015, and were accelerated soon after the Narendra Modi government returned to power this year. Its objectives: "heal the wounds of the Sikh community", and "wean away hardliners living abroad" from a conspiracy by Pakistan's spy agency, ISI, to revive militancy in Punjab.
This, they added, is part of the ISI's "K2" plan to exploit sentiments in Kashmir and Punjab. "The Indian government has responded by the nullification of Article 370 to put Kashmir on the path to development, and assuaging the sentiments of the Sikh community with confidence-building measures," said an official familiar with the matter. Apart from Prime Narendra Modi and home minister Amit Shah, it was effected by foreign minister S Jaishankar in conjunction with the chiefs of the Intelligence Bureau and the Research & Analysis Wing.
"The process of healing the wounds of the Sikh community began with the meeting of Prime Minister Modi with Sikh groups in London on November 12, 2015. In that meeting, the demand to facilitate the return of radicalised Sikh elements was raised," said a second official.
He added that not only has the government announced the release of Sikh prisoners, it has fast-tracked the 1984 riots cases, removed the names of people from the black list, and persuaded Pakistan to allow pilgrims with OCI (Overseas Citizenship of India) cards to travel on the soon-to-be-completed Kartarpur Corridor.
The officials said that the outreach to the community by the Modi government was an effort to not allow Pakistan's ISI to influence Sikh hardliners -- particularly in the US, Canada and the UK -- working in tandem with the Sikhs For Justice (SFJ) group.
SFJ has been pushing for "Referendum 2020", a campaign launched with an objective of seeking a separate homeland for Sikhs in Punjab.
The decision has been hailed by prominent members of the Sikh groups.
Full report at:
https://www.hindustantimes.com/india-news/india-moves-to-assuage-sikhs-derail-k2/story-hrJqr7QGb7BHEA9qL6FlpL.html
--------
Surveillance, area domination operations intensified in Kashmir
September 29, 2019
Security forces have intensified surveillance and area domination operations in Kashmir following Saturday's militancy-related incidents, including a grenade attack on security forces in old city, a senior security official said.
Anti-insurgency operations were intensified as part of a proactive strategy to foil any plans of militants to stage any attacks on security forces in the valley, the official said.
The official said while the operations were ongoing even after the August 5 decision of the Centre to revoke special status of Jammu and Kashmir, maintaining law and order to ensure peace in the valley had become the priority of law enforcement agencies.
"As the situation has more or less normalised on the law and order front, the anti-terrorist operations have been intensified to ensure ultras do not stage any attacks," he said.
As part of the drill, security has been beefed up around vital installations including the Srinagar airport and police offices.
Additional security bunkers are being constructed in the city and elsewhere in the valley to prevent militants from moving from one place to another, the official said.
Extended security perimeters have been established around district police offices and other vital installations by creating 'prohibited zones' with the use of concertina wires, he said.
Meanwhile, normal life remained disrupted for the 56th consecutive day in Kashmir on Sunday.
While main markets and other business establishments remained closed, some vendors had set up roadside stalls at the weekly flea market, locally known as 'Sunday market'.
Public transport was off the roads in most parts of the valley but private cars and some passenger cabs on inter-district routes could be seen plying, officials said.
While landline telephony services have been restored across the valley, mobile telephone services in most parts of Kashmir and all Internet services continue to remain suspended.
Full report at:
https://indianexpress.com/article/india/surveillance-area-domination-operations-intensified-in-kashmir-6038712/
--------
After Attacking ASI Report, Muslim Parties Tell SC That Chronicles in Books About Ayodhya Temple Are Hearsay, Myth
September 29, 2019
New Delhi: After attempts to discredit the archaeological report, the Muslim side in the Ayodhya title dispute case has now termed as "hearsay" and "myths" the chronicles in the books and gazetteers that spoke about the possibility of a Hindu temple where the Babri Masjid was later erected.
Senior advocate Meenakshi Arora, arguing on behalf of the Muslim parties in the case, has contended that while it would be too dangerous to rely upon the 2003 report of the Archaeological Survey of India (ASI) that had talked about the pre-existence of a Hindu religious structure at the disputed site, any credence to similar accounts in books and gazetteers from 18th and 19th centuries would be equally fallacious.
"The accounts recorded in these books and gazetteers are not personal experiences of the authors themselves but based on hearsay," read Arora's note before a Constitution Bench, headed by Chief Justice of India Ranjan Gogoi.
The note has added: "None of the authors personally witnessed a Ram temple on the site or the demolition thereof by Muslims. Rather, their writing are, at best based on myths and stories that they heard from the local populace, which are completely subjective, and would also not constitute direct or substantial evidence so as to corroborate the ASI report."
Brought on record in the bunch of civil suits, travelogue of William Finch, an English merchant of the East India Company in the 17th century, mentions worship of Lord Ram in Ayodhya but did not talk about the existence of any mosque there.
Similarly, travelogues of Jesuit missionary Joseph Teifenthaler, from 1740-1770, also spoke about several buildings on the south bank of the Sarayu river built in the memory of Lord Ram. This book also mentions the belief in a 'cradle' of Lord Ram in Ayodhya.
Montgomery Martin survey report, 'History, antiquities, topography and statistics of Eastern India' from 1838, also stated about the belief that Fort of Ramghar and the Ram Janmabhoomi temple were reconstructed by King Vikrama, whose genealogy had links to Rama's dynasty. The destruction of the fort and temple were attributed to the invasion of Babur by local Hindus.
Some of the gazetteers of Territories of the East India Company from 1854 onwards had also noted that Hindus believed that on the banks of the River Sarayu are ruins of the court of Rama, King of Ayodhya, hero of the Ramayana and highly celebrated in the mythological and romantic traditions of India.
The Muslim side, however, has now submitted before the court that all these were not reliable evidence but were based on hearsay. Earlier, they argued that archaeology is a "social science", not verifiable and cannot be trusted as conclusive evidence.
Full report at:
https://www.news18.com/news/india/after-attacking-asi-report-muslim-parties-say-chronicles-in-books-about-ayodhya-temple-are-hearsay-myth-2326983.html
--------
Protect 'persecuted' non-Muslim minorities from Pakistan, Bangladesh: RSS
Sep 30, 2019
SILCHAR: RSS chief Mohan Bhagwat has asked Assam CM Sarbananda Sonowal to ensure that non-Muslims who fled religious persecution in Bangladesh and Pakistan on or before December 31, 2014, are exempted from the provisions of the Foreigners Act in accordance with a Union home ministry notification issued on September 7, 2015.
Bhagwat, who is visiting the Barak Valley, had a closed-door meeting with Sonowal at the RSS office in Silchar on Saturday. Their 25-minute discussion centred on the Centre's proposal to reintroduce the Citizenship (Amendment) Bill, 2016, to protect Hindu, Sikh, Christian, Jain, Parsi and Buddhist refugees excluded from the National Register of Citizens, sources said.
RSS, BJP and various Sangh Parivar affiliates have taken up cudgels on behalf of around 19 lakh people left out of the NRC, saying they are mostly Bengali Hindu migrants whose families fled the erstwhile East Pakistan to escape religious persecution.
Full report at:
https://timesofindia.indiatimes.com/india/protect-persecuted-non-muslim-minorities-from-pakistan-bangladesh-rss/articleshow/71366767.cms
--------
At least 4 civilians injured, two trapped as Pak resorts to heavy shelling in Poonch
Sep 29, 2019
JAMMU: At least four civilians, including two women and a 12-year-old boy, were injured while two construction workers remained trapped near the Zero Line on Sunday as Pakistan violated ceasefire along the Line of Control (LoC) in J&K's Poonch district for the second time in the last 24 hours, resorting to heavy firing and mortar shelling targeting forward Indian Army posts and civilian areas in the region.
The four were hospitalised with splinter injuries while the construction workers — who were operating a JCB machine near the Zero Line when the firing began — were awaiting rescue amid intense shelling till the filing of this copy. Poonch SSP Romesh Angral confirmed the injuries.
Full report at:
https://timesofindia.indiatimes.com/india/at-least-4-civilians-injured-two-trapped-as-pak-resorts-to-heavy-shelling-in-poonch/articleshow/71365332.cms
--------
Pak Infiltrators pick new moon, 2-5am bands to sneak in: Report
Sep 29, 2019
SRINAGAR: A detailed investigation report on inflitration bids and seven subsequent terror attacks in Jammu and Kashmir has observed that Pakistani infiltrators use new moon nights and typically use the 2am-5am time band — when night vision devices (NVDs) are not fully activated — to enter India via the 202-km long international border (IB).
The report, prepared by National Investigation Agency (NIA) and shared with Jammu and Kashmir Police, has studied some three dozen terror attacks or encounters with security forces. It has used call detail records (CDRs), recovery of ICOM VHF sets and statements by the accused in terror cases.
The report says both Jaish-e-Muhammed and Lashkar-e-Taiba in Pakistan would share GPS locations of points with their contacts in the Valley before arriving at the IB.
Both JeM and LeT have used Samba-Jammu-Udhampur and Samba-Mansa-Udhampur national highways (NH) to either travel to Kashmir or launch attacks in Nagrota and Jhajjar Kotli in Jammu in 2016 and 2018, in which more than 20 securitymen were killed, says the report.
It adds that overground workers (OGWs) from the Valley used trucks to pick up from Samba, Dayalchak and Bein River bridge to transport them to their locations.
"Bein River and Tarna Nala on NH 44 is where militants were received on seven different ocassions in the last terror attacks," the report says, adding that "time of pick from the rendeveous point on national highway generally used to be in early morning hours before sunrise. For instance, on intervening night of May 13-14, 2018, the 173 battalion of BSF spotted suspicious movement of five persons in Tarna Nala near Bobiya rear post. On the same day five militants were received at Bein River Bridge on NH 44 by one Ashaq Ahmad Nengroo and Mohammad Iqbal Rather."
The report says local JeM and LeT cadres would arrive at the location two days prior to "new moon day". This was observed in both the 2016 Nagrota Army camp and 2018 Jhajjar Kotli attacks.
The report also says that terrorists were in contact with their JeM handlers in Pakistan through wireless VHF sets and not Internet.
Full report at:
https://timesofindia.indiatimes.com/india/pak-fidayeen-use-new-moon-2-5am-bands-to-infiltrate-report/articleshow/71365318.cms
--------
Pakistan
PM Imran says Islamic TV channel will be like BBC
Sep 30 2019
ISLAMABAD: Prime Minister Imran Khan on Monday shared a picture of his meeting with Turkish President Recep Tayyip Erdogan and Malaysian Prime Minister Mahathir Mohamad in which the three leaders decided to set up a TV Channel to fight Islamophobia.
Taking to Twitter, the prime minister shed further light on the project saying the English language TV Channel will be like BBC which will highlight the issues faced by the Muslim world.
The decision to launch a TV channel was taken in a trilateral meeting on the sidelines of recent UN General Assembly session in New York.
Imran Khan
✔
@ImranKhanPTI
Our meeting in which we decided to set up a BBC type English language TV Channel that, apart from highlighting Muslim issues, will also fight Islamophobia.
View image on Twitter
38.1K
8:18 AM - Sep 30, 2019
Twitter Ads info and privacy
13.1K people are talking about this
"President Erdogan, Prime Minister Mahathir and myself held a meeting today in which we decided our three countries will jointly start an English language TV channel dedicated to confronting challenges posed by Islamophobia and setting the record straight on our great religion – Islam," PM Imran had announced in a series of tweets last week.
"Misperceptions which bring people together against Islam would be corrected; issue of blasphemy would be properly contextualized; series and films would be produced on Muslim history to educate/inform our own people & the world; Muslims would be given a dedicated media presence," he went on to say.
PM Imran, President Erdogan and Malaysian PM Mahathir Mohamad have been very vocal about the issued the Muslims facing amid rising trend of Islamophobia across the world.
They also raised this issue in their speeches at the UNGA.
Speaking of hatred towards Muslims in his landmark address, PM Imran said Islamophobia had grown apace after the September 11, 2001 attacks in the United States.
"There are 1.3 billion Muslims in the world. It is creating a division," he said. "Muslim women wearing Hijab has become an issue in some countries. It started after the 9/11 [attacks]."
He maintained that terrorism had nothing to do with any religion. He said Muslims were being marginalised in Europe.
"We all know marginalization leads to radicalism," the prime minister said. "We must address this issue. No religion preaches radicalism."
https://www.geo.tv/latest/249355-pm-imran-says-islamic-tv-channel-will-be-like-bbc
--------
Imran Khan thanks nation, wife Bushra Bibi for his 'Kashmir performance' at UNGA
Sep 29, 2019
ISLAMABAD: Prime Minister Imran Khan arrived in Pakistan on Sunday and thanked the nation as well as his third wife Bushra Bibi for praying for him to well present the case of Kashmir before the United Nations General Assembly (UNGA).
"First of all, I thank my nation. The way you prayed for me, for us to be able to present Kashmir's case before the UN," Khan told a large number of his party workers and supporters, who had gathered at the airport in Islamabad to welcome him.
"I especially thank Bushra Bibi because she prayed a lot for us," Khan said ahead of speaking about Kashmir, the only issue he has been harping on since India stripped J&K of its special status+ on August 5. "Even if the world does not stand with Kashmir, Pakistan will always stand with them. We stand with them because we want to please Allah," he said.
"I want to tell you not to lose hope. There are good times and bad times — ghabrana nahi hai (don't worry). Because the people of Kashmir are looking towards you, and God willing, they will win, they will get independence," Khan said.
"All Kashmiris, their women and children, are looking to Pakistan and its people. We will expose this fascist (Narendra) Modi government, this Muslim-hating government, on every platform," he vowed.
The country's opposition parties, however, criticized Khan and his government for failing to address the real issues faced by the people in Pakistan. "The speech (Khan's UNGA one) didn't address the problems of hiking prices and failing economy. The concern of a common Pakistani is how to support his family under the failed policies of the current government," said Maulana Fazlur Rehman, Khan's staunch political rival and chief of opposition Jamiat Ulema-e-Islam-Fazl (JUI-F) party.
Pakistan People's Party (PPP) chairman Bilawal Bhutto-Zardari said that Khan did not properly present the Kashmir issue at the international forum.
"When PM Imran Khan was talking about imprisonment of political workers and human rights violations in Jammu and Kashmir, his own countrymen were thinking about his double standards as he himself was responsible for such violations inside Pakistan," Bilawal said.
"I wish the PM would have visited the whole world 50 days ago and raised the issue of Kashmir," he added.
Full report at:
https://timesofindia.indiatimes.com/world/pakistan/imran-thanks-nation-wife-bushra-for-his-kashmir-performance-at-unga/articleshow/71365345.cms
--------
It is a 'jihad', says Imran on Kashmir after returning from US
Sep 29, 2019
ISLAMABAD: Prime Minister Imran Khan on his return from the US on Sunday said that those standing by Kashmiris were doing "jihad" and Pakistan will support Kashmiris even if the world does not.
Prime Minister Khan, who focused on the Kashmir issue in his maiden address to the UN General Assembly, told his party workers at the airport here that "whether the world is with the Kashmiris or not, we are standing with them."
"It (standing by Kashmiris) is jihad. We are doing it because we want Allah to be happy with us," he said.
"It is a struggle and do not lose heart when the time is not good. Do not be disappointed as the Kashmiris are looking towards you," he said.
He said "Kashmiris would win if the Pakistani people stood by their side".
Khan on Friday raised the Kashmir issue in his address to the UNGA and demanded that India must lift the "inhuman curfew" and release all "political prisoners".
In his speech that went on for about 50 minutes, far exceeding the 15-minute limit for UN speeches during the General Debate, Khan devoted half of his address to the Kashmir issue, warning that if there's face-off between two nuclear-armed neighbours, the consequences would be far beyond their borders.
His war rhetoric was in sharp contrast to Prime Minister Narendra Modi's peace message from the same podium few minutes earlier in which he said India is a country that has "given the world, not war, but Buddha's message of peace."
Full report at:
https://timesofindia.indiatimes.com/world/pakistan/it-is-a-jihad-says-imran-on-kashmir-after-returning-from-us/articleshow/71362975.cms
--------
Ulema Mashaikh Convention: PM's speech at UNGA widely praised
September 30, 2019
LAHORE: More than 28 political and religious organisations of the country termed speech of Prime Minister Imran Khan at UN's General Assembly voice of Pakistan, Kashmiris and Muslim Ummah.
Representatives of different religious and political organisations addressing "Ulema Mashaykh Convention" which held here Sunday under the aegis of Pakistan Ulema Council stated that Prime Minister Imran Khan in his speech at UN made it explicitly clear on world community with reality of sanctity and Finality of Prophethood, Islamophobia and Kashmir issue.
The Convention underlined that Ulema and Mashaykh of Pakistan would not become part of any movement aimed at creating anarchy and instability in Pakistan. The Convention also stated that confronting challenges of Muslim Ummah relating Kashmir, Palestine and sanctity of Harmain Al Sharifain would be resolved with unity of the Muslim world. Islam is a religion of peace, security and harmony and teachings of Quran-o-Sunnah ensured protection of the rights of non-Muslims and minorities living in Muslim society.
Pakistan Ulema Council Chairman Hafiz Muhammad Tahir Mehmood Ashrafi chaired the Ulema Mashaykh Convention here in Faisalabad and more than 1,000 noted scholars from different leading seminaries of Faisalabad Division attended this convention.
A joint declaration issued at the Ulema Mashaykh Convention lauded efforts of Prime Minister Imran Khan for presenting stance of Pakistan, Muslim world and Kashmir in his compact address at General Assembly. The way Premier Imran Khan presented stance of Islam on Hijab, Sanctity of Prophethood and moderate message of Islam was appreciated and lauded by all over the Muslim world. Imran Khan presented stance of Pakistan on Kashmir issue and urged the world community to play its effective role in ending atrocities of Indian forces on the oppressed people of Kashmir. The prime minister warned anti-Pakistan forces that Pakistan would go for defence of Pakistan and Kashmir until last sigh and last bullet.
The joint declaration added that Prime Minister Imran Khan dispelled all the rumours and impressions being propagated on the issue of Finality and Sanctity of Prophethood. Pakistan can't tolerate any chaos on account of religious confrontation. It is first time in the history of Pakistan that seminaries' education in the country has been given credit equivalent to conventional school-college education. Chief of Army Staff invited students of seminaries at GHQ and honoured them, which is very boastful for seminaries.
The joint declaration also demanded the world leadership lift lockdown of Kashmir with immediate effect. Criminal silence on part of world security institutions on prevailing atrocities at people of Kashmir will not be tolerated anymore.
The joint declaration also condemned drone strikes at oil facilities in Saudi Arabia and demanded the OIC and UNO to take action to resolve confronting challenges of Muslim Ummah.
Full report at:
https://www.thenews.com.pk/print/533942-ulema-mashaikh-convention-pm-s-speech-at-unga-widely-praised
--------
Tourist traffic witnesses sharp increase in five years
Ikram Junaidi
September 30, 2019
ISLAMABAD: Tourist traffic at cultural sites in Pakistan has seen a massive increase of 317 per cent over the past five years with Punjab's contribution being nearly 95pc, according to a report.
The report Cultural Heritage and Museum Visits in Pakistan by Gallup Pakistan, a research organisation affiliated with Gallup International Association, indicates that tourism could be a potential game changer that could revitalise the struggling economy of the country.
According to data presented in the report, available with Dawn, tourism at cultural sites has experienced a massive increase since 2014. From approximately 1.6 million visits in 2014, the tourist traffic at cultural sites rose to 6.6m visits in 2018, a 317 per cent increase in a span of five years. Punjab, as the largest and most populated province, contributed approximately 95pc whereas tourist traffic in Sindh and Khyber Pakhtunkhwa fluctuated over the years.
The tourist traffic at museum sites increased by approximately 50pc with the number of visits increasing from 1.7m in 2014 to around 2.7m in 2018. The tourist traffic in KP and Balochistan has also experienced a similar trend at its museum sites, whereas in Punjab and Sindh, the number of visits at museum sites fluctuated over the years. But overall, the provinces recorded maximum number of visits in 2018.
Total visits by foreigners increased by more than two folds for both cultural and museum sites in Pakistan. Over the past five years the percentage of foreign visitors to museums rose by approximately 130pc whereas foreign visitors to cultural sites rose by 100pc. Museums remained more popular among foreign visitors by receiving on average 50pc more visits than cultural sites. The trend among all four provinces for total foreign visits saw a gradual increase, with the highest increase in KP where the number of museum visits in 2018 rose by 250pc.
The Pakistan Monument Museum in Islamabad, Khewra Mines Museum in Chakwal and Lok Virsa Heritage Museum in Islamabad were the top three most popular museums from 2016 to 2018, with Taxila and Lahore museums in fourth and fifth positions.
Speaking to Dawn, Bilal Ghani of Gallup Pakistan said, "We have observed 15 to 20pc increase in local and foreign visitors. Interest in museums is continuously increasing," adding that the report was based on number of visits by local and foreign visitors to cultural and museum sites maintained by federal and provincial governments.
The report states that the Shahi Qila in Lahore was the most popular cultural site. The Shalimar Garden, Lahore, was the second most popular site in 2016 and 2018, and the Hiran Minar in Sheikhupura was the second most visited site in 2017. The third most popular site in 2016 was Jehangir's tomb, Lahore. In 2017 it was the ancient Buddhist monastic complex Takht-i-Bahi in Mardan that was the most visited and in 2018 it was the Hiran Minar.
Among foreigners the Lahore Museum was the most popular in 2016 and 2017. But, in 2018 Taxila Museum was most visited. From 2016 to 2018, Taxila was the most liked cultural site for foreign tourists. The Shahi Qila was the second most well-liked site. The third most visited site by foreigners in 2016 was Moenjodaro, Larkana, Jehangir's Tomb in 2017 and the Shalimar Garden in 2018.
Full report at:
https://www.dawn.com/news/1508132/tourist-traffic-witnesses-sharp-increase-in-five-years
--------
Govt, Opp 'united like a rock' on Kashmir, says Shehbaz
September 30, 2019
LAHORE: Days after Prime Minister Imran Khan's speech at the United Nations General Assembly (UNGA), Leader of the Opposition in the National Assembly Shehbaz Sharif on Sunday said warned the world against the "fascist" policies of Indian Prime Minister Narendra Modi, saying the government and opposition are "united like a rock" on the Kashmir issue.
In a series of tweets, the Pakistan Muslim League-Nawaz (PML-N) president warned the Indian premier against any misconception he had regarding the relationship between the government and the opposition, and appreciated the efforts of the armed forces for bringing peace in different parts of the country.
"When it comes to Occupied Kashmir, we, the government and Opposition, are united like a rock, and unwavering in our moral, diplomatic and political support to the oppressed Kashmiris. Mr Modi must make no mistake about it!" he said.
"Pakistan's contributions to world peace are well-documented. We have been one of the largest troop contributors to the UN peacekeeping missions. Our armed forces have fought valiantly against terrorists. We are a responsible nuclear state. The world must beware of fascist Modi," he said in another tweet.
Full report at:
https://www.pakistantoday.com.pk/2019/09/29/govt-opp-united-like-a-rock-over-kashmir-says-shehbaz/
--------
Balochistan remains shut after JUI-F killed in blast
September 30, 2019
QUETTA: On the call of Jamiat Ulema-e-Islam Fazal (JUI-F) chief Maulana Fazalur Rehman, the businesses and market places in Balochistan observed a shutter down strike to protest the death of Maulana Muhammad Hanif in the Chaman blast.
As per details, all the business sectors and public transport in the province remained closed.
At least three people, including a leader of the Jamiat Ulema-e-Islam-Fazl (JUI-F), were killed and more than a dozen others injured in an explosion that rocked Chaman in Balochistan's Qilla Abdullah district on Saturday.
According to police, the bomb was an improvised explosive device (IED) which was planted in a motorcycle parked on the roadside.
Thousands attended the funeral prayers for the slain JUI-F leader today, including provincial leaders ameer of JUI-F's Balochistan chapter Maulana Abdul Wasay, Senator Usman Khan Kakar, provincial president of Awami National Party Asghar Khan Achakzai and MNA Salahuddin Ayubi. Commandant of the Frontier Corps Chaman Scouts wing Col Khurram Javed, Chaman Deputy Commissioner Bashir Khan and District Police Officer Shaukat Mohammad also participated in the funeral prayers.
DC Khan said that the suspects would be arrested, adding that all security agencies were on high alert in order to maintain the law and order situation.
Full report at:
https://www.pakistantoday.com.pk/2019/09/29/balochistan-observes-shutter-down-strike-over-chaman-blast/
--------
South Asia
More than 70 militants killed, wounded in Afghan-U.S. forces operations: Thunder Corps
29 Sep 2019
A series of airstrikes and ground operations killed or wounded more than 70 Taliban militants in the Central and South-eastern parts of Afghanistan.
The 203rd Thunder Corps said in a statement the U.S. forces conducted airstrikes in Jalrez district of Wardak province which killed 20 Taliban militants, wounded 8 others and destroyed a Dshk machine gun, a vehicle and 11 motorcycles.
The statement further added the Afghan army pounded Taliban positions with artillery strikes in Nerkh district of Wardak which killed 2 Taliban militants and wounded 3 others.
Furthermore, the Afghan Air Force conducted airstrikes in Qala area of Ghazni city and Haji area of Khwaja Omari districts which killed 22 Taliban militants, wounded 6 others and destroyed 11 motorcycles.
The Thunder Corps also added that the U.S. airstrikes killed 9 Taliban militants, destroyed a 82mm mortar and 3 motorcycles in Qarabaghi and Liwan areas in Ghazni city.
The Afghan army artillery units also conducted artillery strikes in Deh Yak district of Ghazni which killed a Taliban militant and destroyed a 82mm mortar, the Thunder Corps added.
https://www.khaama.com/more-than-70-militants-killed-wounded-in-afghan-u-s-forces-operations-thunder-corps-04156/
--------
Airstrikes in 7 provinces kill 24 Taliban militants, destroy a car bomb
29 Sep 2019
A series of airstrikes killed at least 24 Taliban militants in seven provinces and destroyed a Taliban car bomb.
The military officials said Sunday an airstrike killed 9 Taliban militants in Dowlatyar district of Ghor province.
The officials further added that similar airstrikes killed 5 Taliban militants in Takhar province and 3 militants in Shindand district of Herat.
Another airstrike killed 2 Taliban militants in Jalrayz district of Wardak, the officials said, addig that a similar air raid killed 2 more militants in Pashtun Kot district of Faryab.
The officials also added airstrikes in Pul-e Alam and Baraki Barak districts of logar killed 2 Taliban militants and destroyed a Taliban car bomb.
Full report at:
https://www.khaama.com/airstrikes-in-7-provinces-kill-24-taliban-militants-destroy-a-car-bomb-04157/
--------
Prominent Taliban leader Mawlavi Abdul Hanan killed in Ghazni airstrike
29 Sep 2019
An airstrike in South-eastern Ghazni province killed a prominent Taliban leader, the Ministry of Defense announced Sunday.
According to a statement released by Ministry of Defense, the airstrike in Khogyani district killed Mawlavi Abdul Hanan, one of the most famous leaders of Taliban.
The statement further added that Mawlavi Hanan was also a member of the military commission of Taliban in Ghazni.
Full report at:
https://www.khaama.com/prominent-taliban-leader-mawlavi-abdul-hanan-killed-in-ghazni-airstrike-04153/
--------
Afghan protesters claim US strikes kill five civilians
29 September 2019
An airstrike by US-led forces overnight in eastern Afghanistan killed at least five civilians, local villagers said on Sunday.
The villagers carried the bodies of the dead to the province's capital of Ghazni, chanting, "Death to Ashraf Ghani, death to America."
The day before, President Ashraf Ghani had called on Afghans to participate in presidential elections, despite widespread violence and political uncertainty following the collapse of US-Taliban peace talks earlier this month to end America's longest war.
Ahmad Khan Serat, spokesman for Ghazni province's police chief, said dozens of people marched from the Khoja Omari district to bring the five bodies to local authorities in the regional capital.
Shakaruddin Khan, who lost a son and a brother in the attack, described a drone attack the previous night. Five civilians were immediately killed, he said, with another dying in hospital from wounds soon after.
The US military in Kabul confirmed on Sunday that airstrikes in the nearby Khoja Omari and Khogyani districts killed 11 Taliban fighters, but did not confirm civilian casualties.
Saturday's vote was marred by violence, Taliban threats and widespread allegations of mismanagement and abuse.
Full report at:
https://english.alarabiya.net/en/News/world/2019/09/29/Afghan-protesters-claim-US-strikes-kill-five-civilians-in-east.html
--------
Millions of Afghans boycott elections for fear of Taliban
SAYED SALAHUDDIN
September 30, 2019
KABUL: Millions of people cast their votes in Afghan presidential elections on Saturday although the turnout indicates a drastic drop from the nearly 7 million who voted in 2014, officials told Arab News on Sunday.
"We have counted ballots of 2,597 centers from total of 4,905," Abdul Aziz Ibrahimi, a spokesman for the Independent Election Commission (IEC) told Arab News.
Millions of people came out to vote despite repeated warnings by the Taliban that they would target election centers, calling it "the sham process under US occupation."
The threat forced many from taking part in polls which also saw a series of irregularities, depriving hundreds of thousands of their votes. Although incidents of violence were lower than during previous elections, dozens of civilians and security forces lost their lives in Taliban attacks on Saturday.
Over 9.6 million people had registered to vote, but predictions suggest turnout may not go beyond 2.2 million.
One prominent newspaper, the Daily Weesa, reported: "The nation practically boycotted the polls."
Another newspaper, Etalaat Roz, termed the irregularities and people being prevented from voting as "unjustifiable" while Mandegar Daily said that the low turnout had increased the level of fraud and violations.
The Afghan Analyst Network, a foreign funded thinktank, concluded after thorough research that the turnout was poor, saying: "The number suggests a low level of turnout in a country where more than 9 million people are registered to vote."
The front-runners are incumbent President Ashraf Ghani and Afghan Chief Executive Dr. Abdullah Abdullah, who have both shared power after the deeply contentious polls of 2014 under a US-brokered deal.
Some candidates have complained of fraud committed by supporters of Ghani and Abdullah.
The British Embassy in Kabul urged nominees to avoid claims of victory and accusations of fraud without solid proof.
"All candidates and their supporters should refrain from premature claims of victory or unsubstantiated allegations of fraud," it said in a statement.
The election, the fourth set of presidential campaigns since the fall of the Taliban, cost nearly $150 million and was largely covered by Afghan tax payers in a poor country that relies on foreign troops for its security and economy.
Some lawmakers and politicians complained about the irregularities that occurred during the voting day, having twice been postponed over poor management and because of ongoing talks between Taliban and US diplomats in Doha.
Full report at:
https://www.arabnews.com/node/1561701/world
--------
Southeast Asia
Malaysia Joined Turkey And China In Raising The Kashmir Issue At The UNGA
September 30, 2019
Malaysia joined Turkey and China in raising the Kashmir issue at the United Nations General Assembly (UNGA), with its Prime Minister Mahathir Mohamad accusing India of "invading and occupying the country" of Jammu and Kashmir.
In his address to the 74th UNGA, Mohamad said: "Now, despite the UN resolution on Jammu and Kashmir, the country has been invaded and occupied." "There may be reasons for this action but it is still wrong. The problem must be solved by peaceful means. India should work with Pakistan to resolve this problem. Ignoring the UN would lead to other forms of disregard for the UN and the Rule of Law," said Mahathir.
Prime Minister Narendra Modi had met Mahathir in Russia earlier this month on the sidelines of the Eastern Economic Forum, when India raised the issue of extradition of controversial Islamic preacher Zakir Naik, and Kuala Lumpur discussed the issue of Kashmir. According to Malaysian media, Kashmir was the 'main topic' during the bilateral meeting between Mahathir Mohamad and Modi on September 5.
Malaysian Foreign Minister Datuk Saifuddin Abdullah told reporters later, "PM Modi took time to clarify the position of Jammu and Kashmir while Mahathir Mohamad explained Malaysia's stand that all parties should meet and adhere to United Nations resolutions.
Saifuddin said Mahathir did not pledge support for or against any parties but hoped "the conflict would be settled and it would not escalate in a war". Mahathir had also suggested bringing in a "third party if necessary or to bring the case to international court".
Saifuddin told reporters that, "Malaysia as an Islamic country with its own position among Islamic countries can explain the actual situation if the matter is brought up at any international platform".
On the issue of Zakir Naik, he said: "Zakir Naik was mentioned by Prime Minister Modi in passing and he (Modi) said the matter was being discussed by officers of both countries.
"That was how he (Modi) presented it. Then, Mahathir did not respond as most of the time was used to discuss Kashmir. However, Indian Foreign Secretary Vijay Gokhale had said then that the two leaders discussed the extradition of Naik. Later, Mahathir had rejected the claim that Modi had asked for Naik to be extradited. During his press conference in Delhi, External Affairs Minister S. Jaishankar had said that India has put in an extradition request for Zakir Naik.
Mahathir, who had met Zakir Naik in July last year, had told media that Naik would not be deported since he has Permanent Residency, as long as he does not create any problems.
On the sidelines of the UNGA, Pakistan, Turkey and Malaysia held a trilateral meeting during which they decided to jointly launch an English language TV channel dedicated to confronting Islamophobia and removing "misperceptions" about Islam.
Pakistani Prime Minister Imran Khan announced the decision on Thursday after his meeting with Turkish President Recep Tayyip Erdogan and Malaysian Prime Minister Mahathir Mohamad. The three-nation channel would offer Muslims a dedicated media presence to help in "setting the record straight" on Islam and fighting the phenomenon of Islamophobia internationally.
At the UNGA, China, a good friend of Pakistan, had raised the Kashmir issue, with its Foreign Minister Wang Yi in his address repeating Beijing's stated position on Kashmir.
He had termed Kashmir as a "dispute left from the past" and called for its resolution based on UN Security Council resolutions and bilateral agreements. "No actions that would unilaterally change the status quo should be taken," Wang had said.
Turkey's Erdogan had in his address said that despite the UN resolutions, "eight million people are stuck" in Kashmir. He had called for the Kashmir issue to be solved through dialogue rather than conflict and criticised the international community for failing to pay attention to the issue. India is Malaysia's 10th largest trading partner, where the total bilateral trade target of $15 billion set for 2020 was achieved in 2018/2019.
http://www.nagalandpost.com/after-imran-malaysia-pm-flays-india/204464.html
--------
Cherish and preserve racial and religious harmony, Sarawakians told
30 September 2019
BY SULOK TAWIE
KOTA SAMARAHAN, Sept 30 — Deputy Chief Minister Datuk Amar Douglas Uggah has called on all Sarawakians to continue to zealously preserve their strong racial unity and religious harmony as a model state in Malaysia.
He reminded that racial and religious tensions are harmful for the state's development.
"We have these trying times elsewhere where people are having problems living together," he said at the consecration of the St Francis' Church here last night, referring to Peninsular Malaysia where racial and religious issues have often been raised.
"We in Sarawak are very fortunate because of our tradition of strong racial and religious unity and harmony.
"In Sarawak, people of different faiths have no qualms sitting down together to have dinner," he said, pointing out that the Stakan state assemblyman Datuk Sri Mohammad Ali Mahmud as an example of a Muslim joining the celebration of the completion of St Francis' Church building.
"He is a Muslim, sitting with us and he used to call me often to request for funds to build or upgrade churches, chapels and other houses of worship in his area," he said, adding that such requests from a Muslim state lawmaker only happen in Sarawak.
Uggah, who is also the Second Minister of Finance and Economic Planning, said the Unit For Other Religions (UNIFOR) has received 667 applications from all non-Islamic religions for financial assistance since its establishment in April 2017.
"I will have to appeal to the state government to make available even more funds," Uggah, who is the minister in charge of UNIFOR, said.
He added for the years 2017 to 2018, the unit approved 373 applications for church construction, renovation or upgrading works amounting to RM50 million.
He said for this year, an allocation of RM60 million has been approved by the state govermnent, including the amount approved by Chief Minister Datuk Patinggi Abang Johari Openg in his tours of the state.
Full report at:
https://www.malaymail.com/news/malaysia/2019/09/30/preserve-racial-and-religious-harmony-in-sarawak-as-model-state-in-malaysia/1795589
--------
Primary school in Penang probed for refusing Islamic 'doa' recital in school program
30 September 2019
BY KENNETH TEE
KUALA LUMPUR, Sept 30 — Police have launched an investigation into a primary school in Penang for refraining its students from reciting Muslim prayers and only allowing Christian prayers during its Outstanding Students 2019 ceremony here last week.
Bukit Aman Criminal Investigation Department (CID) prosecution and legal division principal assistant director Senior Assistant Commissioner Mior Faridalathrash Wahid said an Investigation Paper was opened following numerous reports lodged against the school, Sekolah Kebangsaan Methodist, Pulau Pinang.
"Police have received multiple reports from the students' parents over the incident.
"Until today, the police have called and recorded the statements of those who were present during the ceremony including the school's management and parents," he said in a press conference at the federal police headquarters here.
The school is currently being investigated under Section 505(C) of the Penal Code, for intent to incite any class or community of persons to commit any offence against any other class or community of persons.
Following the incident, Education director general Datuk Dr Amin Senin said yesterday the ministry was also considering disciplinary action if necessary.
Full report at:
https://www.malaymail.com/news/malaysia/2019/09/30/primary-school-in-penang-probed-for-refusing-islamic-doa-recital-in-school/1795619
--------
Daesh presence at 'infant stage' in Malaysia
September 30, 2019
KUALA LUMPUR: The presence of Daesh in Malaysia remains small as the country continues to restrict the group's recruitment drive and terror plots across the country and southeast Asia, officials told Arab News on Sunday.
"There are pockets of them here and there, most of which are at the infant stage," Abdul Hamid Bador, Malaysia's inspector general of police, said in light of the recent arrest of 15 alleged Daesh-linked terrorists by the Royal Malaysia Police on Friday.
The alleged terrorists comprised three Malaysians and 12 Indonesians. They were captured between July 10 and Sept. 25 this year in seven states: Sabah, Selangor, Johore, Kuala Lumpur, Sarawak, Penang and Pahang.
Bador said that the presence of Daesh-inspired elements in Malaysia is small and that only one group is reported to have a link with the Indonesian chapter.
One of the counterterrorism operations targeted one Malaysian and 10 Indonesians, including an Indonesian woman aged between 22 and 36, who were suspected of establishing a "new Daesh branch" by engaging members on social media with their ideology.
Malaysian authorities managed to crack down on the alleged online recruitment drive, as well as several planned attacks in Malaysia and Indonesia.
"They were planning to launch attacks in Malaysia and Indonesia once they had recruited enough members," a statement released by the Royal Malaysia Police read.
Another arrest involved a 25-year-old Indonesian palm oil estate worker in Sabah who had "pledged his allegiance" to Daesh leader Abu Bakar Al-Baghdadi, officials said.
The Indonesian suspect, with two Malaysians aged between 21 and 26, had allegedly also facilitated an Indonesian family to carry out a suicide attack on a church in Jolo, southern Philippines in December 2018.
Furthermore, they were suspected of raising funds for Maute, a terror group based in southern Philippines, as well as planning to fight in Syria.
All of the suspects were detained under Malaysia's anti-terrorism laws, with local media reporting that Daesh terrorists in Malaysia were enticing new members using extremist teachings.
"I don't know about Indonesia, but for Malaysia, the motive is to avenge its defeat in Iraq and Syria and thus to prove that Daesh is not dead," Bador said.
Growing radicalism and attempted attacks in Malaysia reflect the current trend among local terrorists looking to commit acts of terrorism in their home country.
Full report at:
https://www.arabnews.com/node/1561691/world
--------
Africa
Kenyan police orders al-Shabab suspect to surrender
September 30, 2019
Kenyan police on Sunday ordered an al-Shabab suspect to surrender to the nearest police station with immediate effect.
The police who also circulated a photo of Abdiwaahid Khalif Abdi alias Ise Tarabuun said the Somali national arrived in the country on Sept. 24 from neighboring Somalia.
The police have called on the public to be vigilant and report the whereabouts of the suspect to the nearest police station.
"Any person who has seen him or has information about him should also do the same immediately or contact us by calling our toll free lines 999,911,112," said the police in a statement.
Security officials said Abdi is reported to be a former top al-Shabab Amniyat in charge of Mogadishu until 2017 when he was arrested by authorities and later released in unclear circumstances.
The official said the Somali national who comes from Habargidir clan left Mogadishu via Salaam Airline heading towards Nairobi.
He was briefly interrogated at Mogadishu airport while waiting for his flight before he was allowed to travel.
The East African nation has been on the receiving end of al-Shabab terror attacks since October 2011 when its troops entered Somalia to fight the militant group.
https://africa.cgtn.com/2019/09/30/kenyan-police-orders-al-shabab-suspect-to-surrender/
--------
Ongoing Crises in Somalia Impede Progress Toward Stability
By Lisa Schlein
September 29, 2019
GENEVA, SWITZERLAND - A U.N. Human Rights Expert warns a host of natural and man-made disasters is impeding Somalia's efforts to stabilize the country and improve conditions for its population. The U.N. human rights council examined the expert's report this past week.
This is the independent expert's last report to the Council before his mandate expires.
Bahame Nyanduga said a number of changes have taken place in Somalia over the past six years, many for the better. He said there has been considerable progress in the security, political, socio-economic and human rights situation in the country.
Unfortunately, he said during that period, the conflict with the militant al-Shabab group has continued. He said the clampdown on freedom of expression and other rights, and the failure to hold perpetrators of crimes accountable have continued.
"Somalia has suffered grave human rights violations, in particular the endemic loss of lives due to improvised terrorist bombs by al-Shabab, inter clan violence, and the absence of the rule of law. Violations of the rights of women, through conflict related gender-based violence, and other sexual offenses such as rape…Violations of children's rights, including abduction and forced recruitment by al-Shabab," he said.
Besides the man-made disasters, Nyanduga notes Somalia has had to contend with climatic and natural disasters, which have displaced 2.6 million people. He said climate change has exacerbated the competition for pastures and water, which are critical for pastoralism in Somalia.
"Access to water is a fundamental human right. Addressing the problem of water scarcity will contribute significantly to the peace and the reconciliation among clans, because it has been identified as one of the problems creating inter clan conflicts," said Nyanduga.
Full report at:
https://www.voanews.com/africa/ongoing-crises-somalia-impede-progress-toward-stability
--------
Nigeria warned it risks humanitarian disaster by expelling charities
29 Sep 2019
Nigeria has been warned it risks a humanitarian disaster if the government goes ahead with its threat to throw aid agencies out of the north-east of the country, claiming they are in league with extremist Islamic groups.
A spate of aid offices have been forcibly shut after unproven claims they have been acting as conduits for cash that has ended up with Boko Haram, or Islamic State West Africa Province (Iswap).
The Nigerian army is stepping up its 10-year effort to drive out extremists and claims that despite several warnings, agencies continue to provide aid to terrorist groups.
Two aid agencies have had offices closed in the past few days, and there are fears in the charity sector that Nigeria is targeting as many as 10 independent humanitarian organisations. Talks are under way to try to defuse the breakdown in relations, and the charities say they often avoid transporting cash by road to avoid the risk of seizure.
The reprisals came at the same time as the execution of a kidnapped Nigerian aid worker last Wednesday by extremists. The charity worker was among six aid workers employed by the Paris-based charity Action Against Hunger captured in July by Boko Haram during an ambush on a convoy close to the border with Niger.
Action Against Hunger is the biggest NGO involved the international humanitarian response in the region. On 18 September, its office in Maiduguri, the capital of Borno state, was forcibly shut by the Nigerian army without warning or notice.
The army claimed it had credible intelligence the charity was one of a number involved in subversive activities and was aiding and abetting terrorists, including by supplying drugs and food to extremist groups.
In an angry rebuttal, Action Against Hunger said it strongly rejected the accusation. "Action Against Hunger delivers neutral, impartial and independent humanitarian aid to millions of people in Borno and Yobe states by providing basic services to the most vulnerable people, especially women and children," the charity said.
Action Against Hunger said it was ready "to support any investigation, and will work tirelessly with the Nigerian authorities to allay any concerns they may have about our operations in the region".
Another international aid agency, Mercy Corps, also said it had suspended operations in the north-eastern Borno and Yobe states, two of the worst affected by the violence. The Nigerian army had closed five of its offices, initially not providing any official explanation.
Boko Haram effectively runs four of the 10 zones inside Borno, near Lake Chad, but the army and the government are reluctant to admit the counter-insurgency is failing.
Mercy Corps' head of media and communications, Amy Fairbairn, confirmed the organisation was seeking to work with the Nigerian army to resolve the position.
In December 2018, the army also suspended Unicef from operating in the north-east over claims it was training "spies" who supported Boko Haram – only to lift the ban later the same day after a meeting with the aid agency.
Iswap is a splinter faction of Boko Haram that swore allegiance in 2016 to the Islamic State leader, Abu Bakr al-Baghdadi. It has repeatedly attacked military bases and targeted aid workers in north-east Nigeria.
The UN humanitarian coordinator in Nigeria, Edward Kallon, said he was appalled by the killing of the aid workers and "extremely concerned by the increasingly dangerous and restrictive operating environment for humanitarian assistance".
In remarks aimed at the Nigerian army, he insisted the humanitarian community was working in line with the agreement reached between the government and aid workers, in place until 2021, to provide assistance to 6.2 million of the most vulnerable people.
The army has announced a fresh nationwide crackdown, starting on 7 October, designed to find and arrest criminals and terrorists.
Jeremy Hunt, the then foreign secretary, visited the area earlier this year, where he was briefed by a small British military team helping to advise the Nigerian army, but the degree of the UK military's day-to-day influence over the Nigerian army's strategy can be exaggerated.
One worker from an aid agency based in Nigeria that could not be named for fear of reprisals said: "If humanitarian agencies are kicked out of north-east Nigeria then thousands of Nigerian civilians will needlessly die, including many children – it will be a humanitarian disaster.
"Someone needs to ask the Nigerians and the UN some serious questions about how the government of Nigeria is getting away with this while it sits on stage in New York, presiding over the UN general assembly and preaching about ending conflict and fighting poverty in the drive to reach the sustainable development goals."
The war with Boko Haram has devastated the population in rural north-east Nigeria, one of the poorest regions on earth. More than 2 million people have fled their homes, tens of thousands have been killed, and many more injured, abducted and conscripted to join the fight.
Full report at:
https://www.theguardian.com/world/2019/sep/29/nigeria-warned-it-risks-humanitarian-disaster-by-expelling-charities
--------
Nigerian Army arrests man accused of supplying materials to Boko Haram
September 29, 2019
The Nigerian Army on Sunday arrested a suspected Boko Haram insurgents' logistics supplier and seized a car stacked with motorcycle used tyres in Borno.
A.K. Ibrahim, the Acting General Officer Commanding (GOC) 7 Division, made the disclosure while parading the suspect at the Gubio Super Camp in Maiduguri.
Mr Ibrahim disclosed that the suspect, Samuel Chukwudon, was arrested on September 27, by a joint team of troops of Operation Lafiya Dole (OPLD) and personnel of the Nigeria Custom Service (NCS), while travelling along Baga-Monguno Road.
He said that the troops seized items which included a car, 136 used motorcycle tyres, 200 new tubes and a number of rubber gum.
"The arrest is based on the subsisting ban on motorcycles in the theater of operation due to the security challenges.
"We know that the insurgents use motorcycles in their operations; nobody is allowed to ride a motorcycle, the suspect is arrested with the banned items heading toward Lake Chad basin.
"Boko Haram insurgents are around the area and we felt that something was fishy. He made several attempts to bribe our men at the time of the arrest and during interrogation," Ibrahim said.
The officer said that the seized car and items would be destroyed and warned people in the area against trading in motorcycles and motorcycle spare parts.
The suspect, however, told journalists that he sells used motorcycle tyres to cart pushers such as water vendors and firewood sellers in Monguno.
Full report at:
https://www.premiumtimesng.com/regional/nnorth-east/355082-nigerian-army-arrests-man-accused-of-supplying-materials-to-boko-haram.html
--------
Mideast
Palestinians in Gaza mark 19 years since al-Aqsa Intifada
Sep 30, 2019
Ruba Shabit
Palestinians in the Gaza Strip marked the 19th anniversary of the second Intifada.
Back in September 2000, the then-Israeli opposition leader Ariel Sharon made a provocative visit to Haram al-Sharif or Temple Mount in Jerusalem al-Quds along with hundreds of Israeli forces, in a move widely denounced by Palestinians.
The visit triggered a popular uprising against Israel where several thousands of Palestinians were killed and many more were injured before the uprising ended in February 2005 following a truce.
On Sunday, Palestinian political figured took part in a seminar to remember the intifada. Palestinians believe the intifada is still ongoing as they are not hesitant about sacrificing their lives defending Palestine.
They say resistance is the only means for Palestinians to protect Jerusalem al-Quds from Israeli violations.
Palestinians say they are determined to defend Jerusalem al-Quds by all means and at all costs. In Gaza, people stage weekly rallies to demand their right of return to their homeland.
Israeli forces have killed hundreds of protesters during the weekly rallies so far and injured many more.
People here say Israel's violations and its use of excessive force against peaceful protesters won't stop them from speaking out against Israeli crimes. They say intifada is still alive in their hearts and minds and they will continue to defend their rights.
https://www.presstv.com/Detail/2019/09/30/607476/Palestinians-in-Gaza-mark-19-years-since-alAqsa-Intifada
--------
Yemeni Army releases footage of "Victory from God Almighty" op against Saudi forces
Sep 29, 2019
Yemeni Army has released the footage of a large-scale military offensive carried out by Yemeni soldiers and allied fighters from Popular Committees in Saudi Arabia's southern border region of Najran, where three Saudi military brigades were completely destroyed and thousands of militiamen were taken into captivity.
Speaking at a press conference in the capital Sana'a on Sunday afternoon, the spokesman for Yemeni Armed Forces Brigadier General Yahya Saree termed the operation, dubbed Victory from God Almighty, as the biggest ever since Saudi Arabia and some of its allies embarked on an atrocious military campaign on Yemen more than four years ago.
The military official said Yemeni forces had killed some 200 Saudi-backed mercenaries and took 2,000 others prisoner in the offensive.
"More than 200 were killed in dozens of (missile and drone) strikes while trying to escape or surrender," Saree said, adding that over 2,000 Saudi-backed mercenaries were also taken prisoner.
The footage released by Yemeni forces starts with a description of the geographic location of the operational theater, showing Yemeni forces firing shells at the positions of Saudi forces and Saudi-sponsored Yemeni militiamen loyal to Yemen's former pro-Saudi president, Abd Rabbuh Mansur Hadi.
It then shows Saudi soldiers and their mercenaries fleeing the area on board pickup trucks and armored personnel carriers. Yemeni soldiers and allied fighters from Popular Committees do not hesitate to target the fleeing Saudi forces and mercenaries, setting a number of their military vehicles ablaze.
The video then shows several armored vehicles overturned, and dozens of Saudi troopers surrendering to Yemeni forces with both their hands raised in air.
There were dozens of bodies strewn everywhere.
Some captured Saudi-backed militiamen said they had been paid and lured by the kingdom in order to participate in battles against Yemeni army soldiers and Popular Committees fighters, other owned up to having been forced to fight in Yemen.
The video footage went on to show captured Saudi-paid Yemeni militiamen and Saudi soldiers walking in droves, as Yemeni paramedics provided first aid to the injured prisoners of war while cleansing and dressing their wounds.
Elsewhere in his remarks, Saree said the Saudi army employs child soldiers in violation of international conventions.
In another part of the video, Saudi military aircraft are seen hovering in the skies over the area, firing a barrage of missiles.
The spokesman for Yemeni Armed Forces highlighted that almost 200 Saudi troops lost their lives as a result of the operation in Najran.
The footage concluded with showing considerable amounts of various munitions and weapons, including assault rifles and cartridge boxes, seized from Saudi soldiers and their mercenaries.
Saudi Arabia and a number of its regional allies launched a devastating campaign against Yemen in March 2015, with the goal of bringing the government of Hadi back to power and crushing the Houthi Ansarullah movement.
The US-based Armed Conflict Location and Event Data Project (ACLED), a nonprofit conflict research organization, estimates that the war has claimed more than 91,000 lives over the past four and a half years.
Full report at:
https://www.presstv.com/Detail/2019/09/29/607432/Yemeni-Army-release-footage-of-Victory-from-God-Almighty-offensive-against-Najran
--------
Netanyahu, Gantz trade blame over breakdown in Israel coalition talks
September 29, 2019
JERUSALEM: Israeli Prime Minister Benjamin Netanyahu and his rival Benny Gantz traded blame Sunday over the failure so far of efforts to reach a unity government deal following deadlocked elections.
A new round of negotiations between Netanyahu's right-wing Likud and Gantz's centrist Blue and White broke down Sunday and the two sides appeared far from reaching a compromise.
Likud said Netanyahu would make a "last effort" to reach a deal before informing President Reuven Rivlin he is unable to form a government.
That would leave Rivlin to decide whether to ask Gantz to try to do so or call on parliament to agree on a candidate for prime minister by a vote of at least 61 out of 120 members.
Netanyahu "will make a last effort to realize the possibility of forming a government at this stage, before returning the mandate to the president," Likud said in a statement.
It called the latest round of negotiations a "big disappointment."
Blue and White accused Likud of "throwing around slogans with the sole aim of generating support in preparation for dragging Israel into another round of elections at the behest of Netanyahu."
This month's poll was the second this year, after Netanyahu failed to form a coalition following April polls.
Israel marks the two-day Rosh Hashanah holiday beginning Sunday night and serious negotiations are not expected during that time.
Likud wants to negotiate on the basis of a compromise set out by Rivlin to form a unity government, which takes into account the possibility of Netanyahu being indicted for corruption in the weeks ahead.
The proposal could see Netanyahu remain prime minister for now, but step aside if indicted.
Gantz would step in as acting premier under such a scenario.
Netanyahu also says he will not abandon the smaller right-wing and religious parties supporting him in parliament, giving him a total of 55 seats backing him for prime minister.
Blue and White says Gantz must be prime minister first under any rotation arrangement, since it finished with the most seats in September 17 elections.
Blue and White won 33 seats, just ahead of Likud's 32, but neither have a clear path to a majority coalition.
Gantz has 54 parliament members backing him for prime minister, but 10 are from Arab parties who say they will not serve in the ex-military chief's government.
Rivlin tasked Netanyahu with trying to form a government Wednesday and he has 28 days to do so, with a two-week extension possible.
Full report at:
https://www.arabnews.com/node/1561516/middle-east
--------
Former Iran prisoner Nizar Zakka: I was released due to US efforts, not Hezbollah
29 September 2019
Lebanese IT expert Nizar Zakka, who was detained in Iran for around four years and freed in June 2019, said that his release was a "US deal," denying Lebanese Hezbollah's role in the process and deeming it a cover for the Iranian regime to "save face."
In a statement to Asharq al-Awsat, the permanent US resident pointed out that Iran's move of handing him over to Hezbollah and the Lebanese President Michel Aoun was intended to "save face" for the regime not to look like it adhered to the US's demands of freeing him.
"My release was due to American efforts - there were five American detainees in Iranian prisons. Iran released me under American pressure, and it put out the story of Hassan Nasrallah's efforts and that I was released because I'm Lebanese just so that it doesn't show that it kneeled to American pressure," he said.
Iran's Fars News Agency had reported that the decision was taken "only upon the request and mediation of Hezbollah Secretary-General Hassan Nasrallah."
"This is done solely because of the respect and dignity the Islamic Republic has for Hassan Nasrallah," the Fars News Agency had reported citing an unknown source.
Convicted of spying and sentenced to 10 years in prison along with a $4.2 million fine, Zakka said: "They detained me as a way to tell the Americans that there's a difference between signing the nuclear deal and opening up to the world."
He also accused the Iranian Revolutionary Guard Corps (IRGC) of physically and psychologically torturing him for a year and a half, adding that he met the son of the late Iranian President Ali Akbar Hashemi Rafsanjani, the vice-president of the late Iranian President Mahmoud Ahmadinejad, a number of Iraqi detainees, and Princeton graduate student Xiyue Wang, who were all in a small IRGC cell that held 24 people.
There are now 12 to 14 foreign detainees in Iranian prisons from Austria, the UK, France, and the US.
Full report at:
https://english.alarabiya.net/en/News/middle-east/2019/09/29/Former-Iran-prisoner-Nizar-Zakka-I-was-released-due-to-US-efforts-not-Hezbollah.html
--------
Saudi Arabia says it supports Egypt's counter-terror efforts after Sinai attack
29 September 2019
Saudi Arabia says it supports Egyptian efforts to fight terrorism after a recent deadly militant attack in northern Sinai, the Saudi Press Agency reported citing a foreign ministry source.
"The source affirmed the Kingdom's full solidarity and support to the sisterly Arab Republic of Egypt in its fight against terrorism and extremism, offering condolences and sympathy to the families of the victims, the government and the brotherly Egyptian people," the statement on SPA read.
On Friday, security officials and medical sources said militants attacked a security checkpoint, killing eight troops and a civilian and wounding three troops and a civilian in restive northern Sinai Peninsula.
Security sources said the militants attacked with automatic rifles and grenades in the small town of Dir el Abd. Officials said warplanes hunted down the militants and struck their vehicles and motorcycles, leaving at least 15 dead.
Egypt's President Abdel Fattah al-Sisi condemned the attack, saying on Facebook that Egypt will triumph in the "battle against terrorism."
Full report at:
https://english.alarabiya.net/en/News/middle-east/2019/09/29/Saudi-Arabia-says-it-supports-Egypt-s-counter-terror-efforts-after-Sinai-attack.html
--------
Yemeni FM slams Iran, Houthi militia during UN General Assembly address
29 September 2019
In just a few years, the Houthi militia group has destroyed the dreams of all Yemenis for freedom, Yemeni Foreign Minister Mohammed al-Hadrami said during his address to the UN General Assembly.
"Today we are gravely wounded as a consequence of the war imposed by the Houthi militia, a sectarian army is exercising torture, exclusion and marginalizing and perpetrating a myriad of crimes to achieve their end," al-Hadrami said during his speech in New York on Saturday.
"Iran and its military branches in the Arab region, including the Houthis and Hezbollah, represent a grave threat to our international security. Iran is a rogue state which fails to respect international law, honors its obligations as a member of the United Nations," al-Hadrami added.
Full report at:
https://english.alarabiya.net/en/News/gulf/2019/09/29/Yemeni-FM-slams-Houthi-militia-during-UNGA-speech.html
--------
Iran's foreign minister slams Europe for taking similar stance as US against Iran
Sep 29, 2019
Iran's Foreign Minister Mohammad Javad Zarif has lambasted Germany, France and Britain -- three of the European signatories to the 2015 Iran nuclear deal -- for echoing statements and claims made by the United States regarding the Islamic Republic.
The Iranian top diplomat made the remarks on Sunday night, during a layover in the German city of Frankfort on his way to Tehran from New York, where he attended the 74th UN General Assembly (UNGA).
Zarif said when in Europe he had talked with the president of a permanent member of the United Nations Security Council, whose country is nuclear-armed, he told the Iranian foreign minister that he could not do anything without a permission from US President Donald Trump.
"If these days you see that the Europeans are getting a little closer to the US and becoming its allies, it's not because they saw us in a weak spot, but because they have failed to withstand the US," Zarif said, addressing Iranian officials, their families and a group of Iranians living in the German city.
Tensions have been running high between Iran and the US since May 2018, when Trump unilaterally pulled out his country from the multilateral nuclear deal with Iran, officially known as the Joint Comprehensive Plan of Action (JCPOA), and unleashed the "toughest ever" sanctions against the Islamic Republic.
The American president is a stern critic of the deal, which was clinched in July 2015 by Iran and the P5+1 group of countries, including the US, France, Britain, China, Russia, and Germany.
Ever since quitting the JCPOA, Trump has been trying to force Iran into accepting a more wide-ranging alternative that curbs Tehran's missile program and regional influence.
"For the past five months, Europe has been trying to give us credit in return for the sale of the Iranian crude oil to make the country stay in the JCPOA, but it has not been able to do even this little job because it is not even allowed by its master to spend its own money for its own security," Zarif further said.
Back in January, Britain, France, and Germany announced the establishment of a mechanism aimed at enabling non-dollar trade between the 28-nation bloc and Iran, officially called the Instrument in Support of Trade Exchanges (INSTEX).
The apparatus is supposed to circumvent the sanctions that Washington began re-imposing against Iran after leaving the JCPOA. But in reality not much has been achieved. Trade with Iran has not surged via INSTEX, and Europe has not stood up to the US over its illegal sanctions against Iran.
Full report at:
https://www.presstv.com/Detail/2019/09/29/607473/Iran-Zarif-US-JCPOA-Germany-France-Britain-JCPOA-sanctions
--------
Iran, Italy explore shipping route between Chabahar and Venice
Sep 29, 2019
Iran and Italy are exploring possibilities for launching a key shipping route that could help increase trade between the port of Chabahar, in southeastern Iran, and Venice, in northern Italy.
A Sunday report on the website of the Ports and Maritime Organization of Iran (PMO) said a visiting delegation representing a major Italian transportation group had met officials from the organization earlier in the day to discuss plans for the shipping route.
PMO chief Mohammad Rastad said the Iranian government would support plans for the route as it seeks to frequent Chabahar as a key trade hub on the mouth of the Sea of Oman.
Rastad said load and unload capacity in Chabahar, a port where India is also making considerable investment, would reach 50 million tonnes a year from the current 8.5 million tonnes.
He said a railway project connecting the port to Zahedan, near the Iranian-Afghan border, would significantly boost trade between the Indian Ocean and countries in the Central Asia region.
The Venice Maritime Cluster, a major transportation group based in Italy, is behind plans for setting up the sea route connecting Chabahar to the major Italian port.
Secretary General of the group Paolo Malaguti told Iranian authorities on Sunday that there was a high potential in Chabahar and its adjacent special economic zone, saying both Iran and Italy would benefit from establishing the shipping route connecting the port to Venice.
He said Iran and other countries in the region could use the shipping route to export their products to countries across Europe as a railway that connects Padua, near Venice, to other parts of the continent would provide huge facilities for trade groups operating on the route.
Full report at:
https://www.presstv.com/Detail/2019/09/29/607447/Iran-Chabahar-shipping-route-Venice-Italy
--------
Palestinian prisoner severely tortured by Israeli interrogators: Rights group
Sep 29, 2019
The Addameer Prisoner Support and Human Rights Association, which advocates the rights of Palestinian inmates, says prisoner Samer al- Arbeed has been taken to hospital in a critical condition as a result of brutal torture at a detention center in the occupied territories.
Addameer said on Sunday that the 44-year-old father of three was arrested on September after a special unit of the Israeli forces raided the central occupied West Bank city of Ramallah.
During the arrest, Samer was harshly beaten by Israeli forces using their guns. He was then taken to Mascobiyya interrogation center in Jerusalem al-Quds and an order was issued immediately, banning him from meeting his lawyer.
The Palestinian man has had a court session the following day without his lawyer in attendance. Samer told the judge that he suffers from severe pain in his chest and that he cannot eat anything and throws up continually.
He was not transferred immediately to the hospital, and in fact his interrogation continued using torture and ill-treatment techniques.
Finally, Addameer's lawyer was informed on Saturday morning by a phone call from one of the interrogators at al-Mascobiyya that Samer had been transferred to Hadassah Medical Center in Jerusalem al-Quds.
The lawyer was also told that the Palestinian prisoner's health is in critical situation, and that he is unconscious and dependent on the ventilator.
Samer had in fact been transferred to the hospital the previous day, though his family and lawyer were not informed until Saturday.
Addameer called on Israeli authorities to immediately release Samer, saying confessions taken under torture and ill-treatment were illegal.
It also urged Israeli officials to instantly investigate the circumstances surrounding Samer's torture, and to hold those responsible to account.
The Palestinian prisoners' rights group then called on the International Committee of the Red Cross (ICRC) to from a medical committee aimed at investigating the torture and ill-treatment.
Addameer also asked the UN Secretary General Antonio Guterres and the international community to take all necessary measures to stop the Israeli practice of torture and ill-treatment in the occupied Palestinian territories.
Moreover, the Palestinian Health Ministry has appealed to international human rights organizations, the ICRC and the international community to intervene immediately and save Samer from the "systematic killing" being practiced by Israeli authorities against him.
The ministry said in a statement that information received from inside Israeli prisons is very appalling, and that Arbeed was subjected to severe torture, which plunged him into a critical condition as a result.
It called on the international community to intervene immediately to save Palestinian prisoners from torture and deliberate medical negligence at Israeli detention facilities, holding the Tel Aviv regime fully responsible for the lives of Palestinian inmates.
More than 7,000 Palestinians are reportedly held at Israeli jails. Hundreds of the inmates have apparently been incarcerated under the practice of administrative detention, a policy under which Palestinian inmates are kept in Israeli detention facilities without trial or charge.
Some Palestinian prisoners have been held in administrative detention for up to eleven years.
Palestinian inmates regularly stage hunger strikes in protest at the administrative detention policy and their harsh prison conditions in Israeli jails.
Full report at:
https://www.presstv.com/Detail/2019/09/29/607455/Palestinian-prisoner-severely-tortured-by-Israeli-interrogators-Rights-group
--------
NGO accuses Israel of torturing Palestinian bombing suspect
September 29, 2019
JERUSALEM: An NGO accused Israeli security forces Sunday of torturing a Palestinian arrested on suspicion of leading a cell allegedly behind a West Bank bomb attack that killed an Israeli teenager.
Israeli police and the Shin Bet domestic security agency said late Saturday they had arrested three members of the Popular Front for the Liberation of Palestine several weeks ago for the August 23 bombing.
The explosion near a spring close to the Jewish settlement of Dolev, northeast of Ramallah in the occupied West Bank, killed 17-year-old Rina Shnerb and wounded her father and brother.
Shin Bet identified the cell leader as Samer al Arbeed. It said the cell "was preparing other attacks when the arrests occurred, notably gun attacks and a kidnapping."
On Sunday, Palestinian prisoner support group Addameer said that Arbeed was hospitalized after suffering a "serious health deterioration due to torture and ill-treatment during interrogations."
According to a statement by Addameer, Arbeed was "harshly beaten" by the Israeli police who arrested him.
Shin Bet investigators "continued using torture and ill-treatment," the NGO alleged.
Arbeed suffered several broken ribs as well as "severe kidney failure," according to his lawyer, cited by Addameer.
Both Shin Bet and Addameer gave Arbeed's age as 44.
Police refused to comment on the nature of Arbeed's arrest, while the Shin Bet said that during his interrogation he said "he did not feel well."
"In accordance with procedures, he was transferred to medical examination and care at a hospital," the security agency said in a statement.
Shin Bet refused to provide further details since "the investigation of the terror cell was still ongoing."
Full report at:
https://www.arabnews.com/node/1561671/middle-east
--------
North America
Harvard poll reveals most US voters support sending troops to Saudi Arabia
30 September 2019
Most Americans support sending US troops, as well as air and missile defenses to Saudi Arabia following the September 14 attacks on Saudi Aramco oil facilities, a Harvard poll released on Thursday revealed.
According to the poll, which surveyed 2,009 registered US voters from September 22 to 24, 58 percent of the participants said they would back such a move following the attacks that the US and other European countries blamed on Iran, while 42 percent opposed it.
The poll also revealed that 72 percent of Americans support the sanctions imposed by the Trump administration on Iran, while 71 percent supported further economic and political pressure on Tehran.
Last week, the US Department of Defense confirmed in a statement that it will be deploying a Patriot battery, four Sentinel RADARs, and nearly 200 support personnel to Saudi Arabia in response to the recent attack on Saudi Aramco oil facilities.
US President Donald Trump had earlier approved sending American troops to bolster Saudi Arabia's air and missile defenses. The Pentagon said the deployment would involve a moderate number of troops - not numbering thousands - and would be primarily defensive in nature. It also detailed plans to expedite delivery of military equipment to both Saudi Arabia and the United Arab Emirates.
According to the survey, 64 percent of the respondents opposed US-led military engagement in the Middle East, however, 73 percent said they would back a US-led strike against Iran only if Tehran were to target US military objects.
For months, Iranian officials issued veiled threats, saying that if Tehran were blocked from exporting oil, other countries would not be able to do so either.
Following the Saudi Aramco attacks, which took offline 5.7 million barrels per day (bpd) of the company's crude oil production, which is about 50 percent of the Kingdom's recent output of around 9.85 million bpd, US officials fingered southwest Iran as the staging ground for the attack. The assessment was based in part on still-classified imagery showing Iran appearing to prepare an aerial strike.
However, Iran has denied any role in a series of attacks in recent months, including bombings of tankers in the Gulf and strikes claimed by the Houthis.
In a recent interview with CBS Evening News, Saudi Crown Prince Mohammed bin Salman said that the response to Iran after the latest strikes must be well-calculated.
"Because the political and peaceful solution is much better than the military one," the Crown Prince said.
https://english.alarabiya.net/en/News/world/2019/09/30/Harvard-poll-reveals-Americans-support-sending-troops-to-Saudi-Arabia-Report.html
--------
Impeachment movement aims to force Trump to pursue Israeli agenda: Analyst
Sep 30, 2019
Pro-Israel conservatives like Republican Senator Lindsey Graham "are covertly sparking the impeachment movement" against President Donald Trump to force him to pursue Israel's agenda, says a political analyst.
Kevin Barrett, an author, journalist and radio host with a Ph.D. in Islamic and Arabic Studies, made the remarks in an interview with Press TV on Sunday.
"Why is Lindsey Graham defending Donald Trump against impeachment? To understand this, we have to look at the background," Barrett said.
"Lindsey Graham is a fanatical pro-Israel new conservative," whose "job is to push the Israeli agenda in the US government," he added.
"Israel ordered Lindsey Graham to befriend Trump as soon as Trump was elected and since then Lindsey Graham has been one of Trump's Israeli handlers along with Jared Kushner," Trump's son-in-law and advisor.
"He (Graham) and Kushner, as part of this hardcore new conservative pro-Israeli team that is trying to steer Trump, is angry at Trump and Israel is angry at Trump for backing off on Iran."
"Interestingly, this impeachment thing comes up, it may not just be the "liberal democrats" who are pushing the impeachment movement against Trump, it may also be pro-Israel or Israeli agent new conservatives like Lindsey Graham who in fact are also covertly sparking the impeachment movement in order to try to pressure Trump into pursuing Israel's agenda."
On September 24, House Speaker Nancy Pelosi announced the launch of a formal impeachment inquiry into the president.
Pelosi made the announcement after meetings with Democratic congressional leaders and working out plans to move toward impeachment proceedings against Trump over his July 25 phone call with Ukrainian President Volodymyr Zelenskyy.
During the phone call, Trump allegedly sought Ukraine's help to smear the former vice president and current front-runner for the 2020 Democratic presidential nomination, Joe Biden.
"The actions of the Trump presidency revealed the dishonorable fact of the president's betrayal of his oath of office, betrayal of our national security, and betrayal of the integrity of our elections," Pelosi said in a televised address.
"Therefore, today I'm announcing the House of Representatives is moving forward with an official impeachment inquiry," Pelosi added. "The president must be held accountable; no one is above the law."
Full report at:
https://www.presstv.com/Detail/2019/09/30/607484/US-Donald-Trump-Lindsey-Graham-Israel-
--------
Amid tensions with Iran, US shifts Middle East command from Qatar to S Carolina
Sep 30, 2019
The United States Air Force temporarily shifts its command center from Qatar to South Carolina amid US President Donald Trump's escalation of tensions with Iran.
The unannounced operation marked the first time in 13 years that the US command and control was moved out of the region, reported The Washington Post, which had been invited to observe the measure.
As a result, the Combined Air and Space Operations Center at al-Udeid Air Base in Qatar was left empty on Saturday and Shaw Air Force Base in South Carolina was put in charge of controlling US operations from 7,000 miles away.
"The functions that the CAOC provides for air power are so critical and so essential that we can't afford to have a single point of failure," said Major General B. Chance Saltzman, using an acronym for the center.
Colonel Frederick Coleman, the commander of the 609th Air and Space Operations Center, also claimed that, "Iran has indicated multiple times through multiple sources their intent to attack US forces."
"Frankly, as the war against ISIS winds down and as we continue to work through a potential peace process in Afghanistan, the region is calming down and potentially more stable than it has been in decades, except for Iran," he alleged.
This is while the Trump administration has been playing the key role in potentially bringing instability to the region by withdrawing Washington from the internationally backed Iran nuclear deal as well as re-imposition of illegal sanctions on Tehran.
Douglas Barrie, a senior fellow specializing in aerospace at the International Institute for Strategic Studies in London, stressed the importance of the command center, saying that, "It doesn't take a whole heap of imagination to look at it and think, if push came to shove and it was a full blown conflict, it would be one of the priority targets."
Full report at:
https://www.presstv.com/Detail/2019/09/30/607475/US-shifts-MidEast-command-from-Qatar-to-S-Carolina-amid-Iran-tensions
--------
US travel restrictions on Iran FM result of Israel lobby control: Analyst
Sep 29, 2019
The US' rejection of a request by Iranian foreign minister to visit Tehran's ambassador to the UN who is in hospital in New York is "the outcome of" Israel lobby's control of US foreign policy, says an American writer and former professor.
Mohammad Javad Zarif had planned to visit Majid Takht-Ravanchi, who is being treated for cancer in a hospital in New York, but the US State Department announced Friday that Zarif could only visit his ill colleague if Tehran released one of the several American citizens detained in Iran.
Due to US sanctions and travel restrictions placed on Zarif in July, the foreign minister can only travel between the John F. Kennedy airport and a limited area surrounding the UN building in New York where he is to take part in the 74th session of the United Nations General Assembly.
"What we're seeing here is the outcome of the Jewish control of our foreign policy, this is a group of people who do not understand logos, okay, the order of the universe, they do not understand limits, they do not understand that there is a fundamental human law that all civil law has to be based on," E Michael Jones, the current editor of Culture Wars magazine, told Press TV on Saturday.
He went on to say that this shows the "degradation of America's current foreign policy."
People in "Israel lobby that control (US) foreign policy" are "now overturning some type of fundamental understanding of human behavior, in other words, the need to visit the sick when they are in need of our assistance, of our company, of our support, this shows you the ultimate degradation of America's current foreign policy."
Travel restrictions targeting Iran's top diplomat have also been imposed on other Iranian diplomats and their families in New York.
Full report at:
https://www.presstv.com/Detail/2019/09/29/607416/US-Israel-lobby-Mohammad-Javad-Zarif
--------
Europe
Shamima Begum: British home secretary says 'no way' ISIS member can return to UK
Callum Paton
Sep 29, 2019
Shamima Begum, who left Britain at the age of 15 in 2015 to join ISIS in Syria, will not be allowed to return to the UK.
British Home Secretary Priti Patel said she rejected Ms Begum's request to return to the UK.
Ms Patel said the teenager, who married Dutch-born ISIS militant Yago Riedijk, was told there was "no way" she would be allowed to return after more than three years of living under the rule of the extremists.
"We don't need people who have done harm and left our country to be part of a death cult and to perpetrate that ideology," the Home Secretary told The Sun newspaper.
"We cannot have people who would do us harm allowed to enter our country, and that includes this woman.
"Everything I see in terms of security and intelligence, I am simply not willing to allow anybody who has been an active supporter or campaigner for [ISIS] in this country."
The teenager from east London made headlines when she left for Syria through Turkey with two friends.
Ms Begum drew public attention in recent months after she was found heavily pregnant in a refugee camp in Syria in February.
Since the death of a son she gave birth to in March, Ms Begum has repeatedly asked to return to the UK, despite a decision by Ms Patel's predecessor, Sajid Javid, to strip her of citizenship.
Ms Begum has said that after the deaths of three children, she has suffered mental health problems and now deeply regrets joining ISIS.
Meanwhile, another ISIS member from the UK asked to be allowed to return.
Tooba Gondal, 25, left her home in London to join ISIS the same year as Ms Begum.
During her time in Syria, Ms Gondal was married three times to ISIS militants, all of whom died.
She gave birth to two children who survived the escape from ISIS's diminishing territory.
Ms Gondal told The Sunday Times that other members of the militant group were "criminals" and she asked to be allowed to return home with her children.
https://www.thenational.ae/world/europe/shamima-begum-british-home-secretary-says-no-way-isis-member-can-return-to-uk-1.916839
--------
Jacques Chirac was bribed by Saddam Hussein, former MI6 head claims
Sep 30, 2019
Jacques Chirac, the former French president who died last week, was a "rogue" who accepted briefcases of money from Saddam Hussein, the former head of MI6 has claimed.
Sir Richard Dearlove said that when he was in charge "there were indications that Chirac had received funding from Hussein".
Mr Dearlove said the former Iraqi president had given "cash in a briefcase" for Chirac's successful French presidential campaigns in 1995 and 2002.
"He was a rogue," he told the Cliveden Literary Festival in south east England. "Or, let's say, he had roguish characteristics."
Mr Dearlove said British and French intelligence officials had agreed that Iraq was trying to secretly buy "yellowcake", the substance from which uranium is refined, from mines in Guinea owned by a French nuclear company.
He said that several weeks later, a senior French intelligence official contacted him to say: "we do not want you to use the material [on the uranium]."
"This was very peculiar indeed," Mr Dearlove said. "Subsequently it became clear when the Iraq situation evolved that the French were not keen [on supporting the US and UK at the UN]."
The former MI6 head said that evidence emerged of Chirac's briefcase payments about the same time, making American and British intelligence officials suspicious of the former French leader's motives.
Mr Dearlove told the Daily Mail said that Chirac was bribed millions to publicly oppose the US-Iraq war.
"His recent obituaries are saying that Chirac got it right on Iran and the rest of us got it wrong," he said.
"But I am saying that Chirac's motive for getting it right may not appear to be what it was."
This is not the first time that the late French president has been embroiled in controversy around Hussein. Chirac called Saddam "a personal friend" in the 1970s, when he was president.
And after receiving an invitation from Saddam to visit Baghdad in 1975, Iraq approved a deal granting French oil companies privileges plus a 23 per cent share of Iraqi oil.
As part of the agreement, France sold Iraq the Osirak MTR reactor to allow it to test nuclear material.
Meanwhile, in France today, hundreds gathered in the Les Invalides in Paris to see the late leader's coffin.
Full report at:
https://www.thenational.ae/world/europe/jacques-chirac-was-bribed-by-saddam-hussein-former-mi6-head-claims-1.916867
--------
Turkey's insistence on Syria safe zone raises fears for refugees
Tom Rollins
Sep 29, 2019
There are growing concerns about Turkey's proposal to send millions of Syrian refugees to a supposed "safe zone" across the border in north-eastern Syria, outlined by President Recep Tayyip Erdogan at the UN General Assembly last week.
"If this safe zone can be declared, we can resettle confidently somewhere between one to two million refugees," the Turkish president told the UN on September 24. "Whether with the US or the coalition forces, Russia and Iran, we can walk shoulder to shoulder, hand in hand so refugees can resettle, saving them from tent camps and container camps."
Mr Erdogan said previously that if a safe zone was not in place by the end of September, then Turkey would take action – including a possible military operation against Kurdish groups on the other side of the border.
The proposed zone stretches nearly 500 kilometres from the eastern banks of the Euphrates River near Jarablus to the junction of Syria's borders with Turkey and northern Iraq in the far north-east.
The area has been under the control of the US-backed Syrian Democratic Forces (SDF), a Kurdish-majority force led by the People's Protection Units (YPG). The SDF was the main US-allied force fighting ISIS in Syria, and declared victory over the extremist group earlier this year.
However, Turkey considers the YPG to be an extension of the Kurdistan Workers' Party (PKK), the Turkey-based Kurdish insurgent group designated as a terrorist organisation by both the US and Turkey.
The US and Turkey reached a limited agreement on a safe zone on August 7, but without stipulating how far into Syria it should extend. The US has sought to keep Turkey at the negotiating table while conducting joint border patrols with Turkish forces in some areas of the safe zone. The SDF has also pulled back 14 kilometres from the frontier.
"We believe continued US-Turkey dialogue and co-ordinated action is the only way to secure the border area in a sustainable manner … and limit any unco-ordinated military operations that would undermine this shared interest," Col Myles Caggins, a spokesman for the US-led coalition against ISIS, told The National.
Ibrahim Muslem, a journalist and analyst in Tel Abyad, a city that sits barely one kilometre from the Syrian-Turkish border in the middle of the proposed safe zone, said the SDF "welcomes this agreement, because it guarantees the region's protection from the offensive that Turkey was threatening."
According to Muslem, YPG fighters in Tel Abyad had withdrawn 14km from the border as an SDF-affiliated military council took their place. That appears to have been acceptable to Turkish forces located across the border.
Even so, Turkey is demanding that the safe zone extend 30km from the border, a proposal unlikely to sit well with the SDF. An SDF-affiliated delegation to Washington recently warned of a possible repeat of Turkey's Operation Olive Branch, which drove the YPG from the Kurdish-majority city of Afrin, west of the Euphrates, and replaced it with Turkey-friendly Islamist rebel groups that stand accused of abuses against civilians.
In parallel with Turkey's push for the safe zone, Mr Erdogan has repeatedly proposed the "return" of large numbers of Syrian refugees into areas of northern Syria. Last week, Turkey unveiled plans for facilities such as housing, hospitals and schools to cater for the million or so Syrians that officials are proposing to return.
Turkey's plans are being viewed with alarm by rights groups who, along with refugee law experts, have tended to agree that safe zones are rarely truly safe, and often introduced with ulterior motives.
After the First Gulf War, the US-led coalition and Turkey imposed a safe zone in northern Iraq that ultimately prevented hundreds of thousands of Iraqi Kurds, fleeing Saddam Husein's forces, from entering Turkey. About 1,500 people died in the cold of the mountainous border region as Turkey repeatedly refused calls from UN refugee agency to let in the refugees.
That safe zone also contributed to the rise of the autonomous Kurdish region in northern Iraq, where the PKK set up bases. President Erdogan said earlier this year that he was looking for a safe zone in north-eastern Syria "against terrorists", not an "arrangement similar to [what happened] in northern Iraq".
Bill Frelick, director of the Human Rights Watch refugee rights programme, said Turkey's goals for the latest safe zone proposal were "obvious": to limit Kurdish ambitions across the border, and also create a space to return some of the 3.6 million Syrian refugees on its soil.
"With Turkey hosting the largest number of refugees of any country in the world," the safe zone gives Turkey the opportunity "to contain the flow of additional refugees coming into Turkey from Syria…and have an area [used for] dumping refugees that are currently in Turkey," Mr Frelick told The National.
Some observers also suggest that the safe zone could allow Turkey to relieve pressure from a pro-government offensive attempting to retake swathes of territory in neighbouring Idlib province. Idlib is already home to more than a million Syrians internally displaced from cross the country, and Turkey wants to avoid another major influx of refugees from the embattled rebel-held pocket.
Turkey may seek to build on a wave of deportations that began earlier this summer with a crackdown on unregistered Syrians and informal labourers in Istanbul. City authorities framed it as a campaign against "illegal immigration".
More than 1,000 Syrian refugees were deported to Syria in the following weeks, in violation of Turkish and international law, according to rights groups and accounts given to The National by deported refugees.
Interior Minister Suleyman Soylu denied that Turkey was deporting Syrians, saying that refugees "who voluntarily want to go back" were given help to return to "safe areas".
Mr Frelick said the deportations set a dangerous precedent.
"The number of refugees actually deported is relatively small, but this threat of deportations will be so high that it will coerce many more thousands of Syrian refugees to agree to be returned to what purports to be a safe area," he said.
"You combine the promise of safety in Syria with coercive measures—preventing people from getting work authorisation, or not being able to re-register for temporary protection or educate their children—and then watching other Syrians actually being deported.
"That [dynamic] will leverage far more returns," Frelick said.
Despite the promise of a safe zone, few Syrians in Turkey are thinking about heading back across the border.
Full report at:
https://www.thenational.ae/world/mena/turkey-s-insistence-on-syria-safe-zone-raises-fears-for-refugees-1.916838
--------
URL: https://www.newageislam.com/islamic-world-news/no-kissing-short-clothes-alcohol/d/119874
New Age Islam, Islam Online, Islamic Website, African Muslim News, Arab World News, South Asia News, Indian Muslim News, World Muslim News, Women in Islam, Islamic Feminism, Arab Women, Women In Arab, Islamophobia in America, Muslim Women in West, Islam Women and Feminism