New Age Islam News Bureau
11 November 2021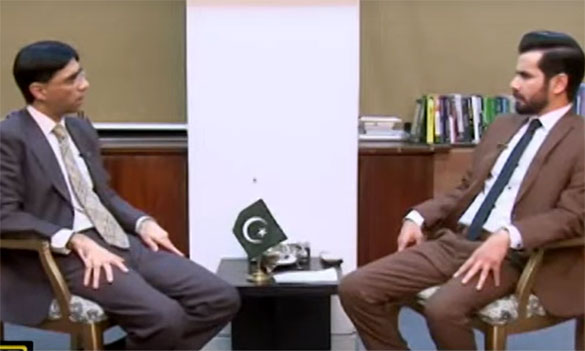 National Security Adviser Mooed Yusuf speaks to DawnNewsTV anchorperson Adil Shahzeb. — DawnNewsTV
------
• Bahrain Lawmaker, Abdulrazzaq Hattab, Condemns Violence against Muslims in India, In Bahrain's Parliament; Threatens Trade Boycott
• Bangladeshi Author Taslima Nasreen 'Shocked' that Malala Married a Pakistani rather than a Handsome Progressive English Man
• Operation Luxor: Austria Is Targeting Innocent Muslims for Nefarious Purposes
• Indonesia, Malaysia Leaders Urge End to Myanmar Violence
Pakistan
• Human Rights Minister Mazari Urges Muslim Nations to Unite Against Rights Abuse
• Judiciary's performance comes under scrutiny in NA
• EU, UK envoys meet COAS; pledge to play role in further improving cooperation with Pakistan
--------
India
• Regional Countries Ask For Inclusivity in Afghanistan, Not A Safe Haven For Terrorism: Delhi Declaration
• 'More than Muslims, Hindus are flag-bearers of Urdu' Oncologist and Right-Wing Activist • Booked Over 'Inciting Speech' Against Muslim Community in Gujarat
• Zakia Jafri Seeks Fresh Probe into Political-Police Complicity In 2002 Gujarat Riots
• Drugs from Pakistan worth Rs 300 crore seized in Gujarat's Dwarka district
• Muslim youth dies in custody in UP's Kasganj; Cops say suicide, kin differs
--------
South Asia
• Taliban's growing proximity with China is an opportunity ISKP is trying to leverage
• Herat Shia scholars urge restoring security committees to protect Mosques, religious centres
• Taliban urge ex-Afghan military pilots to stay, serve nation
• Taliban must cut off umbilical cord with Pak for Afghanistan to survive
• 600 ISIS-K affiliates arrested since mid-August: Mujahid
--------
Europe
• Facing fierce protest, Israeli ambassador rushed from London event
• France handed executed journalist Zam to Iran in swap deal, claims ex-intel officer
--------
Southeast Asia
• Indonesia, Malaysia Leaders Urge End to Myanmar Violence
• Teraju survey: 65,660 Bumiputera individuals ventured into p-hailing service during pandemic
• Give us funds to spread Islam in Sarawak, PAS man urges party
--------
North America
• No Specific Reaction to Pakistan-TTP Talks, Says US
• US doesn't need Israel's permission to open consulate: Palestine
• 70 aid truck drivers contracted by UN detained in Ethiopia
--------
Arab World
• UAE's Renewed Diplomacy with Syria Could Lead To More Arab Overtures
• Turkish strike kills three in Kurdish-run Syria
• UN sanctions three Houthi militants over Marib offensive
• UN Security Council permanent members condemn Yemen's Houthi attacks on Saudi Arabia
• Egypt's President Sisi to attend Libya conference in Paris, meet President Macron
--------
Mideast
• Iran Blames US Occupation for Increase in Terrorism, Poverty, Drug Trafficking in Afghanistan
• Iran's Membership in UN Scientific Committee on Effects of Atomic Radiation Approved
• Iranian commander threatens to destroy Israel if it makes 'any mistake' with Tehran
• IRGC Releases US-Provoked Vietnamese Vessel Seized While Stealing Iranian Oil
• Iran Lead Negotiator: Vienna Talks Only Aimed at Removal of US Sanctions
• Iran-backed Houthis detain 25 Yemenis working for US
--------
Africa
• Sudan's Civilian Coalition Rejects Negotiations with Military
• Algeria welcomes 'respectful' French comments amid row
• Gunmen kill 11 in NW Nigeria
• Somali military kills 9 al-Shabaab terrorists
• UN Security Council sanctions 3 more rebel leaders in Yemen
Compiled by New Age Islam News Bureau
URL: https://www.newageislam.com/islamic-world-news/amnesty-tehreek-taliban-pakistan/d/125752
--------
No Decision Taken Yet On Granting Amnesty to the Banned Tehreek-i-Taliban Pakistan Members: Pakistan NSA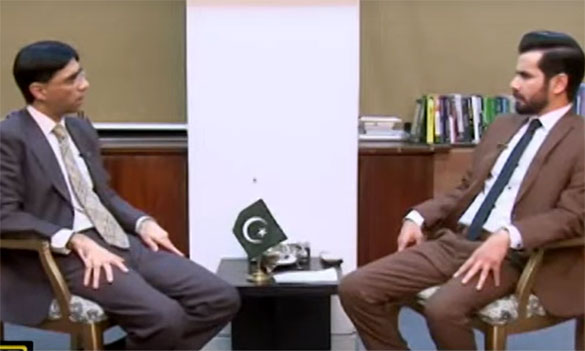 National Security Adviser Mooed Yusuf speaks to DawnNewsTV anchorperson Adil Shahzeb. — DawnNewsTV
------
Riazul Haq
November 11, 2021
National Security Adviser (NSA) Moeed Yusuf said on Wednesday that no decision had been taken yet to grant amnesty to members of the banned Tehreek-i-Taliban Pakistan (TTP), emphasising that the state was "very clear and sensitive" on the issue.
He made the comment in an interview on DawnNews programme Live with Adil Shahzeb.
At the outset, Yusuf talked about the government's decision to hold talks with the TTP, saying the militant group had been receiving support from India and Afghan intelligence for the last 10-15 years.
Pakistan had repeatedly told the international community that the Pakistani Taliban had fled to Afghanistan following the Zarb-i-Azb military operation, received sanctuary and were launching attacks from the neighbouring country, the NSA said.
"We gave the whole dossier last year containing [details] of which attack, from where, how much money was spent, pictures of receipts, everything," he said, referring to the report revealed by the government in November 2020 containing proofs of India's involvement in terrorism in Pakistan.
"When the situation changed [after the Taliban's takeover] ... the Afghan Taliban are not as antagonistic towards Pakistan as former president Ashraf Ghani. Now the discussion started that the TTP does not have the support base that they (Ghani's government) and India provided.
"You talk from a position of strength and try to reason. If any Pakistani has strayed from the path and if he [wants to become] a law-abiding citizen according to the laws of Pakistan and the Constitution [...] It means if you have committed a crime or terrorism in Pakistan, you will follow the due process of the law."
When the host asked him whether he was referring to an amnesty, the NSA responded by saying that no such decision had been taken yet.
"I don't know where this talk started from — that a decision has been made. There is no such decision [of a general amnesty]."
He said the government was aware that agreements with the TTP in the past had not held, adding that at the present stage, talks were being held and the government would see if the TTP was serious.
"The state's job is to defend its public and not to go with the kinetic option — using bullets — until it becomes impossible to avoid it," he stressed.
"This is an emotional issue. No Pakistani is left who has not been directly or indirectly affected by terrorism."
In response to another question about opposition lawmakers not being satisfied with the security briefing given last week, Yusuf said: "It is their choice. The state can only inform.
"This is a decision of the entire nation. These processes [of talks] will continue."
Talking about the need to hold talks with the TTP, Yusuf said world history, data and statistics showed that an overwhelming majority of conflicts ended with dialogue.
"If you take the position to look at their past, then talks cannot be held. You have to fight till the end," he added.
Govt-TLP agreement
Yusuf also defended the controversial agreement between the government and the Tehreek-e-Labbaik Pakistan (TLP), saying avoiding bloodshed was the foremost priority of the government.
"The state always has several options besides the use of bullet, but it is the responsibility of the state to save its citizens," he maintained.
The NSA said he was sure that the TLP had Indian support but that did not mean there was direct funding or persons directly involved with them in Pakistan. "It is the age of hybrid war and everything is possible," he said.
Afghan Taliban
On the subject of Afghanistan's new rulers, Yusuf said Pakistan did not hold much control over the Afghan Taliban, unlike the common belief. "We do not hold much sway over Afghan Taliban," he stated, adding that Afghanistan was an independent country and its government had its own way of running affairs.
The NSA warned the international community that a humanitarian crisis in Afghanistan would not hurt just the Taliban but also the common man, whom the United States and the West wanted to save and rescue.
"So the world must come to help Afghans beyond the rhetoric of the international community recognising Afghanistan," he remarked.
Yusuf also said any crisis in Afghanistan would mean the first and foremost impact would be on Pakistan.
Answering a question, he said whatever was agreed with the United States related to Afghanistan would be transparent unlike in the past.
"We will share everything with the public and not hide anything unlike the past and keep it transparent," he stressed.
When asked about airspace and other logistical support the US had sought from Pakistan, the NSA said "the US is confused as there are lots of goings-on so it is unclear what they are up to." But he added that Pakistan was in talks with Washington on different issues including health and climate change.
Source: Dawn
Please click the following URL to read the text of the original story:
https://www.dawn.com/news/1657351/no-decision-taken-yet-on-granting-amnesty-to-ttp-members-moeed-yusuf
--------
Bahrain Lawmaker, Abdulrazzaq Hattab, Condemns Violence against Muslims in India, In Bahrain's Parliament; Threatens Trade Boycott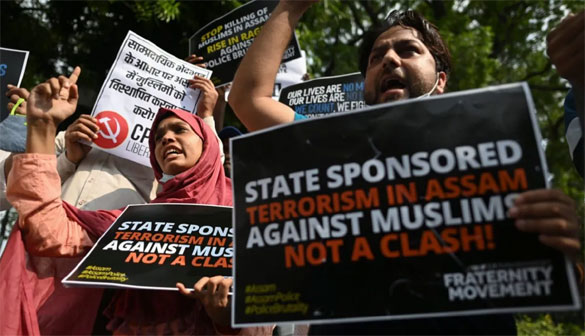 A protest against an eviction drive by Assam's state government on September 23 of Muslim families in Assam, which turned violent with the killing of two men when hundreds clashed with police, in New Delhi on September 25, 2021 [SAJJAD HUSSAIN/AFP via Getty Images]
------
November 10, 2021
Bahraini lawmaker, Abdulrazzaq Hattab, has issued a scathing condemnation of India for the violence against Muslim which has increased in the country over the years, threatening to start a boycott of trade between the two countries.
In a speech he gave in Bahrain's parliament recently, Hattab spoke against the deliberate targeting of Muslims by right-wing Hindu nationalists in India. "These practices are against international laws and Abrahamic religions, and also contradict with humanity and the country's obligation to provide safety to its citizens and their freedom, regardless of their religion and beliefs," he said.
State-sanctioned and vigilante actions against Muslims have increased significantly over the years under the current Indian government headed by President Narendra Modi and his Hindu nationalist support base. According to Hattab, that is especially seen in states like Assam and occupied Jammu and Kashmir.
The lawmaker added that "we strongly stand with respect to Islam and the 150 million Muslims in India," and announced that if attacks against Indian Muslims continue, "we will undergo severe action, including trade boycott."
TWITTER TRENDS: 'Please sir mention India', Hindutva Twitter reacts to Netanyahu snub
Such a boycott is predicted to have a significant impact, as trade between Manama and New Delhi exceeds $105 billion annually.
Hattab also revealed that he and others "tried multiple times to meet with the Indian ambassador in Bahrain to send our message to his government; however, he was making unjustified excuses."
The condemnation and the threat of a boycott by the Bahraini lawmaker come two months after Kuwaiti lawmakers also condemned atrocities committed against Muslims by India and Hindu extremists.
Both of those direct vocal condemnations are a stark contradiction to their neighbours' stances in the Gulf, with Saudi Arabia cooperating with Modi's government by deporting Indians critical of New Delhi's anti-Muslim register and conducting naval exercises with India. The United Arab Emirates (UAE) also shares that stance, signing deals for infrastructure projects in occupied Kashmir.
Source: Middle East Monitor
Please click the following URL to read the text of the original story:
https://www.middleeastmonitor.com/20211110-bahrain-lawmaker-condemns-violence-against-muslims-in-india-threatens-trade-boycott/
-------
Bangladeshi Author Taslima Nasreen 'Shocked' that Malala Married a Pakistani rather than a Handsome Progressive English Man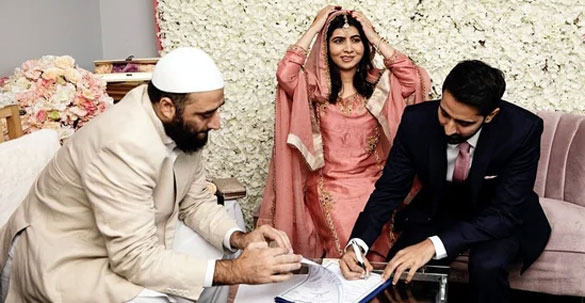 Malala Yousafzai tied the knot with the Pakistan Cricket Board official Asser Malik in a small ceremony on Tuesday..
----
Nov 11, 2021
Bangladeshi author Taslima Nasreen said she is shocked to learn about activist Malala Yousafzai's wedding to Pakistan Cricket Board official Asser Malik. "Quite shocked to learn Malala married a Pakistani guy. She is only 24. I thought she went to Oxford University for study, she would fall in love with a handsome progressive English man at Oxford and then think of marrying not before the age of 30. But..," the author tweeted.
As the author was trolled for her view and as social media users told her that it is wrong to assume that all Pakistan men are regressive, the author put out another tweet. This time on Pakistan Prime Minister Imran Khan. "Imran Khan was the most progressive free-thinking man from Pakistan. He fell in love with a Jewish girl. Then what? Then he made her convert to Islam, defended religious fanatics, divorced and married again, divorced again & finally ended up with a burqawali ghost. Toxic masculinity!" Taslima wrote.
Quite shocked to learn Malala married a Pakistani guy. She is only 24. I thought she went to Oxford university for study, she would fall in love with a handsome progressive English man at Oxford and then think of marrying not before the age of 30. But..
— taslima nasreen (@taslimanasreen) November 9, 2021
In several other tweets, Taslima put forward her opinion and said "some misogynist Taliban" are happy with Malala because "she married a Muslim, a Pakistani and she married when she is very young".
She was more matured in July. pic.twitter.com/fGOPGZU8my
— taslima nasreen (@taslimanasreen) November 10, 2021
Taslima then shared the screenshot of Malala's old interview to Vogue where she said she does not understand why people have to get married. "If you want to have a person in your life, why do you have to sign marriage papers, why can't it just be a partnership?" Malala was quoted in that July interview. "She was more matured in July," Taslima wrote.
Taslima, however, was not alone in criticising Malala's decision to get married as the old screenshot of the interview was doing the rounds on social media, being shared by Pakistanis.
Malala shared the photos of a homely wedding in her home in Birmingham on Tuesday and said the day marks a "precious day" in her life. "We celebrated a small nikkah ceremony at home in Birmingham with our families. Please send us your prayers. We are excited to walk together for the journey ahead," Malala wrote.
At the age of 15, Malala was shot at in the head by the Taliban in October 2012. She was flown to the UK to receive treatment. In 2014, she won the Nobel Peace Prize at the age of 17, becoming the youngest laureate of the prize. Last year, she graduated from Oxford University with a degree in Philosophy, Politics and Economics.
Source: Hindustan Times
Please click the following URL to read the text of the original story:
https://www.hindustantimes.com/india-news/taslima-nasreen-shocked-that-malala-married-a-pakistani-says-taliban-are-happy-101636561750633.html
--------
Operation Luxor: Austria Is Targeting Innocent Muslims for Nefarious Purposes
November 10, 2021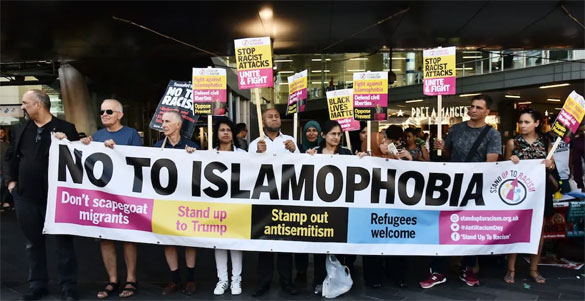 Protesters hold a banner reading 'No To Islamophobia' in London, UK on 5 July 2017 [Ray Tan/Anadolu Agency]
------
Anyone wishing to try to understand the logic and strategy of Western governments and their security agencies in the open-ended and deliberately undefined war against their Muslim communities, will find Operation Luxor: Unravelling the myths behind Austria's largest-ever peacetime police raids essential reading.
The ground-breaking report is authored jointly by CAGE and Vienna-based ACT (Assisting Children Traumatised by Police), two prominent NGOs campaigning on behalf of communities affected by the war on terrorism. It details how the Austrian government used a terror attack in Vienna carried out by Daesh in November last year as a ploy to clamp down on its Muslim community. Police officers raided the homes of 70 innocent Muslim families — often terrorising and traumatising their children in the process — under the false pretext of them being part of a terror-financing ring. Following this, and despite the Graz Higher Regional Court declaring that at least nine of the raids were completely unjustified as there were zero grounds for suspicion, draconian anti-terror legislation was passed, very deliberately, at a time when Austrian society was in shock due to the attack and while its anti-Islamic media was in overdrive.
It is well documented that the passing of this legislation was actually pre-planned, and that the terror attack served as a convenient opportunity to introduce it. To make matters worse, so focused was Interior Minister Karl Nehammer on the raids, that, "In the ensuing weeks and months [post-attack], the Austrian state exploited the tragedy to legitimise its crackdown on Muslims in Austria. A catalogue of failures on the part of the government in relation to the shootings have since come to light, and it has emerged that… Nehammer failed to act on the intelligence provided to him, in order to focus on Operation Luxor."
Ali, a victim of the police raids, related in his testimony to CAGE and ACT that when he asked a police officer why he had been targeted instead of real criminals and terrorists, the officer replied, "We want extremism, because we are going after the moderates, which keeps the moderates weak and mute and gives room to the extremists." It's an answer perfectly in sync with the actions of Nehammer.
This looks like an insane policy introduced by the Austrian government, but the report lays bare why it has taken this path: the scapegoating of a minority community is a small price to pay to cover fraud, corruption and mismanagement, and when there is an election to be won, of course, nothing wins votes like fear and xenophobia. It's not difficult to conclude that this is a repeat of Austria's policies against another of its minorities a century ago.
An important tool for achieving this aim was the Austrian government's use of specific language and terminology. Defining the enemy as "political Islam" made every Muslim fair game, and everything from the hijab to the Qur'an and the movements a Muslim makes in prayer were all scrutinised and taken as signs of radicalisation and a possible path to terrorism. The report provides details of how beliefs and practices that are universal to all Muslims were selected for such scrutiny. When the Austrian government faced a backlash in the courts due to its lazy definition of "political Islam", it revised it into the more generic "criminal offence" of "religiously motivated extremism", which actually served to widen the net and criminalise even more innocent actions and beliefs.
There is also a foreign connection: much of the anti-terror legislation being introduced was inspired by the notorious Prevent strategy that the British government has used in recent years, while there are also reports of close coordination with the government of Egypt, itself no stranger to brutal crackdowns on citizens.
"Operation Luxor is an extension of actions coming from the Arab region to erase any kind of Islamic identity," explained Bilal, another victim of the police raids. "It is all about targeting active actors and minds that spread a correct Islamic understanding, and to smash them just so that later you can do anything you want to do with Muslims at large." Knowing this, the name that the Austrian government gave to the operation looks like a sick joke.
The report also describes how politicians have manipulated the media and endeavoured to exert undue influence over the justice system, as well as detailing the role of government-funded organisations such as Islam Map. This listed names and addresses of Muslim organisations and individuals and served to whip up anti-Muslim sentiment, helping to create the conditions under which the Austrian government's policies would be tolerated and even welcomed by large sections of society.
Farid Hafez, another victim of the operation and a prominent Austrian Muslim academic, summed up his views on the report by saying: "For the Austrian public, instigated by critical media discourse that had initially reproduced state propaganda and then largely turned into critically covering this investigation, the first-year anniversary of the still ongoing Operation Luxor could be a welcoming opportunity to reflect critically upon the state of the rule of law, human rights and the role of politics vis-à-vis Muslims, especially by the current corruption-tossed political circles."
Anyone interested in living in a harmonious society would be shocked at the findings of this report as it shows how many of the Muslims who were victims of the police raids could not in any way be described as isolationist. These were upstanding members of society – academics, doctors and other professionals — and very much into community action and political participation. In a healthy democracy this should be praised, promoted and protected, whereas the Austrian government labelled it cynically as an attempt to effectively take over the world.
The report contains valuable lessons and recommendations for Muslim organisations, a key one being that there should be no cooperation in or backing for programmes such as Prevent or Operation Luxor, or any acceptance that the state should define who is a good Muslim and who is "problematic". As Operation Luxor shows, all this can lead to is greater misery for the entire community.
Source: Middle East Monitor
Please click the following URL to read the text of the original story:
https://www.middleeastmonitor.com/20211110-austria-is-targeting-innocent-muslims-for-nefarious-purposes/
--------
Indonesia, Malaysia Leaders Urge End To Myanmar Violence
November 11, 2021
(Representational purpose)
-----
Jakarta: The leaders of Malaysia and Indonesia on Wednesday urged military-ruled Myanmar to resolve its internal conflict and help stem the flow of Rohingya refugees fleeing to Malaysia.
Malaysian Prime Minister Ismail Sabri Yaakob, on an official visit to Indonesia, expressed concern about the emergency situation" in Myanmar following the Feb 1 military takeover that has led more minority Muslim Rohingya to leave the country. More than 200,000 Rohingya have resettled in Malaysia in recent years.
If the Rohingya could settle peacefully in Myanmar, it would "definitely decrease the number of Rohingya refugees leaving Myanmar for Malaysia, Yaakob said after meeting with Indonesian President Joko Widodo in Jakarta.
More than 700,000 Rohingya have fled Myanmar since August 2017, when the military launched a clearance operation in response to attacks by a rebel group. The security forces have been accused of mass rapes, killings and the burning of thousands of homes. Most of those who fled went to neighbouring Bangladesh.
Indonesia and Malaysia, both Muslim-majority nations, expressed concern about the Rohingya after the Myanmar army seized power in February.
All three countries are members of the Association of Southeast Asian nations, which called for an immediate end to the violence in Myanmar between the military-installed government and opposition forces, and the start of a dialogue to be mediated by a special ASEAN envoy.
But the military has repeatedly refused to allow the envoy to meet Aung San Suu Kyi, Myanmar's democratically elected leader who was overthrown by the military, and other political detainees.
Since Suu Kyi's ouster, Myanmar has been wracked by unrest, with peaceful demonstrations against the ruling generals morphing first into a low-level insurgency in many urban areas and then into more serious combat in rural areas, especially in border regions where ethnic minority militias have been engaging in heavy clashes with government troops.
In October, Southeast Asian leaders held their annual meeting without Myanmar's military leader, Senior General Min Aung Hlaing, who was not invited to the summit.
Yaakob's Indonesia visit is his first overseas trip since taking office in August.
The Malaysian and Indonesian leaders also agreed to reopen their borders and create a travel corridor between the two countries to help support an economic recovery as COVID-19 infections slow in both countries. The arrangement will begin by reopening flights from Kuala Lumpur to Jakarta and from Kuala Lumpur to Bali.
Source: East Mojo
Please click the following URL to read the text of the original story:
https://www.eastmojo.com/neighbourhood-watch/myanmar/2021/11/11/indonesia-malaysia-leaders-urge-end-to-myanmar-violence/
--------
Pakistan
Human Rights Minister Mazari Urges Muslim Nations to Unite Against Rights Abuse
November 10, 2021
ISTANBUL: Divisions in the Muslim world are "unfortunate" and countries like Pakistan and Turkey can push for a united stance against oppression of Muslims across the world, said Human Rights Minister Shireen Mazari.
"We need to have stronger voices coming from the Muslim world on these [human rights] issues," said Mazari, calling on the Organization of Islamic Cooperation (OIC) to do more in this regard.
She said the government was "moving towards a welfare state" by reforming the justice system and ensuring basic rights of the people.
On war-torn Afghanistan where Taliban are now leading an interim government, the human rights minister urged the international community to step forward and help avert the evolving humanitarian crisis.
She added Pakistan will gear up its policy on Kashmir.
"In coming months, you will see a more offensive diplomacy on Kashmir," Mazari said. "In illegally occupied Kashmir, India is committing war crimes and doing a slow genocide," she added.
'Dialogue makes Taliban flexible'
Urging support from the international community on war-torn Afghanistan, she said: "We want the Taliban government to live up to the commitments that they made when they came into Kabul. And we think that it's better to cooperate with the Taliban and have dialogue with them, rather than to take punitive measures."
Taliban regained power in August after complete withdrawal of foreign forces and breakdown of the US-backed government.
"Because if you talk and negotiate, you make them more flexible. If you push them in a corner, they will take a much harder position," Mazari argued.
"And the most important thing right now is for the international community to provide humanitarian aid because there is a humanitarian crisis in Afghanistan," she said.
She said the 20 years of foreign invasion in Afghanistan had left behind "nothing."
"When the US suddenly left, what happened, the infrastructure was not there… it just collapsed. The Afghan National Army melted away. Ashraf Ghani ran away, I believe, newspapers say with money. And there was no government structure, there was no social welfare structure, nothing," she added.
The Taliban-led interim government is facing a financial crunch as the US has frozen Afghanistan's foreign reserves worth $9 billion.
Redefining Kashmir policy
Mazari said Prime Minister Khan had "redefined the whole narrative on Kashmir when he went to the UN."
"Imran Khan challenged the Indian narrative and showed the link between BJP and fascism, and how they were exterminating Kashmiris and then after the 5th August 2019 move, Pakistan is active at different forums, I myself have been raising the Kashmir issue and writing to UN Human Rights rapporteurs and so on, on different aspects of the Kashmir issue," she said.
"And in the next few months, you will see more developments on Kashmir… you will see a much more multi-layered diplomatic offensive on Kashmir.
"Because for us, Kashmir is extremely critical. And our prime minister has constantly said: 'there can be no dialogue with India unless there is first dialogue on resolution of the Kashmir issue'," said Mazari.
"Pakistan's commitment to Kashmir has never wavered and whatever solutions that we would want would be in keeping with the UN Security Council resolutions because the country's position as a party to the dispute rests on the UN Security Council resolutions," she said.
Mazari said she raised the Kashmir issue with a EU delegation that recently visited Pakistan.
"We'll be writing letters to them. The EU itself has now a policy where they put sanctions on countries that illegally annex a territory. And they've put sanctions on Russia, for what is illegal annexation of Crimea. So, I told the Europeans, why are you discriminating? If you don't implement policies that you yourselves have declared, then they lose credibility," she said.
Mazari said her government will also take up Kashmir issue with the EU. "Because after 5th August 2019, India tried to annex, illegally occupied Jammu and Kashmir," the minister added.
Ensuring human rights Pakistani state's responsibility
Mazari, an alumna of the London School of Economics and Columbia University, said Pakistan is committed to ensuring human rights because they are enshrined in the country's Constitution.
"And because it's our responsibility to see the commitments we have made under the seven human rights conventions that Pakistan has signed, that we live up to them," she said.
She said the government has brought various bills to criminalise enforced disappearances and ensure protection of journalists, besides reducing the number of crimes for which the death penalty is applicable.
"Because of those commitments, we have moved forward. We are moving because we believe in those issues. And our commitments are in our party manifesto also," she said, referring to election promises made by the ruling Pakistan Tehreek-e-Insaf (PTI).
"Now for the first time, in fact, the Cabinet has approved in principle, a complete overhaul of revamping of the criminal justice law," she said.
She said by the end of this year Pakistan "should have completely revamped the criminal justice system."
Mazari said the country now also has minorities commission which is "headed by a minority person, and the majority of the members are from the minority communities."
"We're the first country in South Asia and third in Asia where our government has approved business and human rights National Action Plan. It's a big development which has now business in human rights as part of the UN Human Rights Council's agenda."
Pakistan's social net, Ehsaas programme
Mazari said during the pandemic, Pakistan started the Ehsaas programme which provides financial assistance to people who are living below the poverty line.
"We are basically committed to our manifesto that aims to create a welfare state. So, we are moving in that direction of creating that welfare state, and providing a social net," she said.
The PTI government, she said, has also started a programme under which "children from very poor families are given nourishment."
"We opened what is known as Panahgah (Shelter homes) and langers (free meals) where workers, daily wage earners and people who come from far off places to big cities for work, can have shelter for the night… that they can have two free meals," she said.
"We have moved a lot in the last three years to altering the social dynamics and moving towards creating a proper welfare state," the minister said.
She added that child domestic labour has been outlawed for the first time in the country.
"We approved for the first time implementing the Child Protection Units where we have established Child Protection centres, where children are often taken off the street or they come to us. We focus especially on gender-based violence besides, we have got a law for senior citizens' welfare," she added.
"It is now illegal in Pakistan not to have proper ramps or structures, toilets, for people with special needs," she said.
Fake news is a challenge
On the allegation of suppressing voices of dissent, the human rights minister said: "If we were choking the voices of dissent, you wouldn't be hearing about it. The fact that you're hearing about dissent means that dissent is allowed."
"Pakistan has massive, free electronic media, 40, 50 plus channels now. And they all do what they want," she claimed.
She, however, said the country was facing the challenge of fake news.
"Our issue is with fake news. The EU DisInfo Lab revealed how the Indians were using fake news. That is the problem," she said, referring to a massive network of websites, NGOs, think tanks working for past 15 years hurting Pakistan's interests at the UN, EU parliament and Geneva.
The expose was made by the Brussels-based digital lab in late 2019.
Referring to the failed coup of 2016 in Turkey, Mazari said Turkey was itself a victim of this fake news.
"Turkish government has seen that happen also with the supporters of the failed military coup in 2016, and how the US supported them. The so-called leader of the coup is in America. This is the problem that yes, some dissenters, if their agenda is that of the powers who give them money, give them shelter, then they will," she added.
Need for people-to-people contact
Mazari, who was in the Turkish metropolis to attend the 7th Istanbul Security Summit, said Pakistan and Turkey are in constant touch on key issues.
"There are constant consultations especially on issues like Islamophobia, and even on Afghanistan due to the humanitarian aspect," she said.
Referring to cultural and religious ties between the two countries, the minister said "more consultation between the civil society organisations of the countries."
Mazari also advocated for "more cooperative ventures between the media houses in Pakistan and in Turkey."
Division against Muslim nations unfortunate
She stressed the need for Muslim nations to bury differences and "be more active diplomatically."
Source: Pakistan Today
Please click the following URL to read the full text of the original story:
https://www.pakistantoday.com.pk/2021/11/10/mazari-urges-muslim-nations-to-unite-against-rights-abuse/
--------
Judiciary's performance comes under scrutiny in NA
November 11, 2021
ISLAMABAD: On the day the Supreme Court summoned Prime Minister Imran Khan during the hearing of the APS attack case, the performance of the judiciary came under scrutiny in the National Assembly when members expressed their concern over the country's "low performance in the field of providing justice to the common man" and regretted that the judiciary was not responding to questions being asked by them.
Parliamentary Secretary for Law and Justice Maleeka Bokhari admitted that despite repeated attempts, the ministry had failed to get replies to some of the questions asked by members.
The issue was raised by Pakistan Muslim League-Nawaz (PML-N) MNA Tahira Aurangzeb during the question hour when she drew the attention of the house towards a written reply to her question about the number of model courts functioning in the country which says that "the information is not available in the ministry as setting up of model courts is not the initiative of the federal government".
Lawmakers voice concern over lack of response to questions asked by them
Ms Aurangzeb regretted that she had submitted this question in Febr­uary last year and each time when it came on the agenda, she received the same reply that "the model courts are administered by the Supreme Court and, therefore, the SC registrar, and the Federal Judicial Academy have been requested to provide the requisite information".
She said that according to the reply, the ministry had written at least 15 letters to the SC registrar, but there had been no response. She criticised the government for its failure to seek reply from the SC to a simple question.
While responding, Ms Bokhari said the government wanted to give a reply to the question, but at the same time they could neither force the Supreme Court to give a reply nor could it issue any directives to the court. She said the law ministry officials had been in contact with the SC registrar over the issue and the reply would be submitted as soon as it was received.
The house witnessed a verbal clash between the treasury and opposition members when Abdul Qadir Mandokhel of the Pakistan Peoples Party (PPP) alleged that they were not getting the reply as they had an "inefficient" law minister.
Terming the PPP lawmaker's remarks "insulting", Ms Bokhari said she could also spoil the atmosphere of the house by using the same tone and language.
Source: Dawn
Please click the following URL to read the full text of the original story:
https://www.dawn.com/news/1657305/judiciarys-performance-comes-under-scrutiny-in-na
--------
EU, UK envoys meet COAS; pledge to play role in further improving cooperation with Pakistan
November 10, 2021
ISLAMABAD: British and European Union envoys met with Chief of Army Staff (COAS) General Qamar Javed Bajwa on Wednesday and assured full support and offered future cooperation.
British High Commissioner to Pakistan Christian Turner on Wednesday called on Chief of Army Staff General Qamar Javed Bajwa at the General Headquarters in Rawalpindi, a statement issued by Inter-Service Public Relations (ISPR) said.
Per the military's media wing, during the meeting, matters of mutual interest and regional security situation, including the recent developments in Afghanistan, came under discussion.
The COAS said that Pakistan values UK's role in global and regional affairs and "we look forward to enhancing our bilateral relationship."
Per the statement, General Bajwa reiterated the need for global convergence on Afghanistan for avoiding humanitarian crisis and coordinated efforts for the economic uplift of the Afghan people.
The visiting dignitary appreciated Pakistan's role in Afghan situation, efforts for regional stability and pledged to play their role for further improvement in diplomatic cooperation with Pakistan at all levels.
Separately, Chief of Army Staff (COAS) General Qamar Javed Bajwa has reiterated that Pakistan values its relations with the EU countries and earnestly looks forward to enhancing mutually beneficial multi-domain relations based on common interests.
The army chief said this during a meeting with Ambassador of European Union (EU) Androulla Kaminara who called on him at the General Headquarters (GHQ).
During the meeting, matters of mutual interest, the regional security situation — including the current situation of Afghanistan — and bilateral cooperation with the EU were discussed, said the ISPR.
Speaking on the occasion, the visiting dignitary appreciated Pakistan's role in the Afghan situation and efforts for regional stability, and pledged on behalf of the EU that it will play its role for further improvements in diplomatic cooperation with Pakistan at all levels, the ISPR said.
Source: Pakistan Today
Please click the following URL to read the full text of the original story:
https://www.pakistantoday.com.pk/2021/11/10/uk-pledges-to-play-role-in-further-improving-cooperation-with-pakistan/
--------
India
Regional countries ask for inclusivity in Afghanistan, not a safe haven for terrorism: Delhi Declaration
11 Nov 2021
Participants of the third Regional Security Dialogue on Afghanistan ended and all the participants unanimously agreed that Afghanistan should not be safe haven for terrorism and that an all-inclusive government should be established in the country.
The participants also called for collective cooperation against the threat of radicalism, extremism, separatism, and drug trafficking.
The Dialogue that was conducted on Wednesday, November 10 was not attended by the two archrivals of India namely China and Pakistan.
Indian National Security Advisor Ajit Doval who was chairing the NSA-level dialogue said that the Taliban should form an inclusive government that comprises all ethno-political parties in Afghanistan and added that such a setup is imperative for national reconciliation in the country.
"Delhi Declaration" also expressed concern over the socio-economic situation in Afghanistan and called on the international community to provide the people of Afghanistan with humanitarian aids.
The declaration has also emphasized the protection of human and women's rights and that the lives of minorities should be protected in Afghanistan.
Source: Khaama Press
Please click the following URL to read the full text of the original story:
https://www.khaama.com/regional-countries-ask-for-inclusivity-in-afghanistan-not-a-safe-haven-for-terrorism-delhi-declaration-678586/
--------
'More than Muslims, Hindus are flag-bearers of Urdu' Oncologist and Right-Wing Activist Booked Over 'Inciting Speech' Against Muslim Community in Gujarat
November 10, 2021
Police in Anand lodged a case against city-based oncologist Dr Shailesh Shah and a right-wing activist Pinkal Bhatiya for allegedly delivering inciting speeches against the Muslim community during a protest against the inauguration of a hotel.
According to police, the incident occurred on October 24 when a group of 40-50 persons staged a "protest" outside Hotel Blue Ivy which was scheduled to be inaugurated on the same date.
The Indian Express had reported that during the protest demonstration, abusive comments were made against the minority community and the road outside the hotel was "washed" in order to "purify" it. According to police, the protest was organised by Dr Shah and Pinkal Bhatiya was invited as the chief guest of the event.
The Blue Ivy hotel which is co-owned by Hindu and Muslim partners is currently under a dispute at the Gujarat High Court between the owners and their neighbour Dr Shailesh Shah, who had earlier alleged illegal construction at the hotel premises.
Days after the protest demonstration, police on Tuesday night lodged an FIR against Dr Shah and Bhatiya at Anand Town police station under IPC sections 295a for deliberate and malicious acts intended to outrage religious feelings of any class and 114 for crime committed when abettor present.
The complainant in this case is Shakeel Vohra (37), an Imam at a mosque near Fatima Royal Plaza in Anand, who stated, "On October 24, I saw in a local news channel that a protest sabha had been called adjacent to the newly made Hotel Blue Ivy where Pinkal Bhatiya, who was invited as the chief guest, is heard making objectionable and inciting comments against the Muslim community in order to create rift between the communities. Similarly, Dr Shah who had organised the protest was also heard making objectionable comments against the community."
The FIR happened in the wake of a protest warning by Minority Coordination Committee (MCC), a rights group in Ahmedabad, which threatened to launch an agitation if there was no police action in the Anand case.
Source: Indian Express
Please click the following URL to read the full text of the original story:
https://indianexpress.com/article/cities/ahmedabad/oncologist-right-wing-activist-booked-over-inciting-speech-against-muslim-commuity-7617212/
--------
Zakia Jafri seeks fresh probe into political-police complicity in 2002 Gujarat riots
Dhananjay Mahapatra
Nov 11, 2021
NEW DELHI: More than nine years after the Supreme Court appointed SIT absolved then Gujarat CM Narendra Modi and others from the alleged larger conspiracy behind 2002 post-Godhra riots, murdered Congress MP's wife Zakia Jafri on Wednesday attempted to revive the case by seeking fresh probe into the conspiracy and saying that accountability will reaffirm faith in rule of law.
The SC had asked the SIT in 2009 to look into Jafri's 2006 complaint alleging larger conspiracy involving politicians, bureaucrats and police leading to a free run to rioteers after 59 kar sevaks were killed in the burning down of Sabarmati express at Godhra. The riots raged for three days leading to loss of hundreds of lives before the Army was called to bring order. The SIT headed by former CBI Director R K Raghavan in 2012 had submitted a report to the SC saying there was no prosecutable evidence against Modi.
Appearing before a bench of Justices A M Khanwilkar, Dinesh Maheshwari and CT Ravikumar, senior advocate Kapil Sibal made a spirited presentation traversing the nook and corners of voluminous evidence on record and said, "the most disconcerting part of the investigation is that the SIT did not even take into account the Tehelka sting operation which gave clear indication of a possible larger conspiracy. The sting report was authenticated by the CBI on orders of NHRC. The same was used to convict accused in other riot cases. But, the SIT did not consider this as evidence to probe a larger conspiracy."
"The SIT did not arrest people. It did not record the statement of the accused. Whatever was told to it by the accused was believed as gospel truth and further investigation was not taken up. Was the SIT part of the conspiracy to gloss over the investigation to give clean chit," Sibal asked.
He drew a parallel between the 1984 anti-Sikh riots in Delhi to the 2002 Gujarat riots. "Because of the shoddy investigation carried out by Delhi police, even after 37 years the prosecution in the anti-Sikh riot cases is still going on. When no proper investigation is carried out, then such a situation arises. This is a test case for the Supreme Court to tell the world that India's secular credentials as well as its faith in rule of law is intact," he said.
He said when the 56 bodies of the Godhra train carnage incident reached Ahmedabad, it was natural that communal passion would be on the high. "Why did the administration and police not declare curfew and allow enraged mobs to take the law into their own hands? Why was the post-mortem of the bodies conducted on Godhra railway platform? Why were the bodies handed over to a VHP strongman? Who was making these decisions? Why was the Army called in after allowing rioteers two full days to run amok? Why were the police not pressed into action despite repeated messages from the ground? All these questions needed to be asked by the SIT. But, it believed the accused persons and did not carry out any further probe. The entire chain of events, recorded meticulously in various riot cases, needs to be investigated thoroughly," Sibal said. Arguments would continue on Thursday.
Source: Times of India
Please click the following URL to read the full text of the original story:
https://timesofindia.indiatimes.com/india/zakia-jafri-seeks-fresh-probe-into-political-police-complicity-in-2002-gujarat-riots/articleshow/87638036.cms
--------
Drugs from Pakistan worth Rs 300 crore seized in Gujarat's Dwarka district
Nov 11, 2021
RAJKOT: In a massive haul, police in Gujarat's Devbhumi Dwarka district seized banned narcotic substances, whose value is expected to be over Rs 300 crore, on Wednesday.
As many as 19 packets of drugs worth Rs 88 lakh were seized in the morning while another 47 packets were found later. The drugs were brought from the sea route from Pakistan to be smuggled into Gujarat from the coastal areas of Dwarka, a police officer said.
Police sources said that based on specific information, they detained Sajjad Dhosi (44), a resident of Mumbra of Thane district in Maharashtra and found drug packets concealed in his bags. He was carrying 6.6 kg methamphetamine and 11.4kg heroin in three bags, including luggage and school bag. This seizure is valued at Rs 88.2 crore.
During interrogation, Dhosi, a vegetable vendor, said he got drugs from Salim Yakub Kara and Ali Yakub Kara, both natives of Salaya town near Jamnagar. When police raided their residences, they found another 47 packets of drugs, contents of which were being verified by the forensic team.
Source: Times of India
Please click the following URL to read the full text of the original story:
https://timesofindia.indiatimes.com/india/drugs-from-pakistan-worth-300-crore-seized-in-gujarats-dwarka-district/articleshow/87636990.cms
--------
Muslim youth dies in custody in UP's Kasganj; Cops say suicide, kin differs
Nov 10, 2021
A 22-year-old youth belonging to the minority community, who was summoned for questioning at Kasganj police station in Uttar Pradesh in a kidnapping case, has reportedly died in custody.
A PTI report said that while the youth's family members have alleged that he was killed by personnel on duty, police said the deceased strangulated himself using a string from his jacket hood in the washroom of the lock-up.
A senior officer also said that at least five personnel on duty have been suspended for negligence in the wake of the incident.
"One Altaf (of Nagla Syed locality) was called for questioning in Kasganj police station in a case related to IPC section 363 (kidnapping) and 366 (kidnapping, abducting or inducing a woman to compel her marriage) on Tuesday morning," said Rohan Pramod Botre, Kasganj superintendent of police.
"During interrogation, he requested the policemen to go to the washroom and was allowed to use the washroom inside the lockup. He was wearing a black coloured jacket. He tried to strangulate himself with a string on the (jacket) hood that he tied to the tap of the toilet. When he did not return for some time, the policemen went inside and found him unconscious. He was rushed to the community health centre, Ashok Nagar in Kasganj, where he died," the SP said.
Botre said the post mortem of the deceased is being conducted, adding punishment would be meted out in case laxity was found on the part of officers on duty.
Source: Hindustan Times
Please click the following URL to read the full text of the original story:
https://www.hindustantimes.com/cities/lucknow-news/muslim-youth-dies-in-custody-in-up-s-kasganj-cops-says-suicide-kin-differs-101636545752577.html
--------
South Asia
Taliban's growing proximity with China is an opportunity ISKP is trying to leverage
Saikiran Kannan
November 11, 2021
If the Taliban thought their coming to power was going to be as smooth as it was during the first time, they have a host of challenges staring at them. The world has changed a lot since 1996. For starters, there was not much technology back then. Now, the Taliban must deal with the permeation of technology along with a generation of youngsters that has not seen much of the Taliban since 2001. Back in 1996, the Taliban was welcomed on the streets of Kabul. It is not quite the same now.
Apart from the geopolitical changes since 2001, the role of China, too, is different today. China will look to be the closest ally of the Taliban after Pakistan. China will also prove to be the biggest spender and investor in Afghanistan, but at a price.
We are already seeing Taliban members regularly meeting Chinese officials. Their meetings are aimed at expediting the resumption of direct air-trade links between the nations and the first of it saw a large cargo plane, carrying 45 tons of pine nuts from Kabul to China on October 31, marking the restoration of the commercial corridor.
Reports also indicated that China is already in the process of investing a lot in mining activities in Afghanistan, adding parts of it to the China-Pakistan Economic Corridor(CPEC) project. With China having already announced more than $35 million worth of humanitarian aid for Afghanistan, and the US continuing to block Afghanistan's access to close to $10 billion in Afghan assets parked largely with the US Federal Reserve, it is natural for Afghanistan to sway towards its northeastern neighbours.
In return for all the support China is offering to Afghanistan, it expects the Taliban to return the favour by clamping down on the Uyghurs. The Uyghurs have a short, but crucial history with respect to their presence in Afghanistan and the bordering areas. There are also outfits in this region that propagate views like separating the region of Xinjiang from China and freeing the oppressed Uyghurs from China's grasp.
This has proven to be a key opportunity for Islamic State Khorasan Province (ISKP), which has come out of its shell ever since the Taliban took over. The ISKP is now, by far, the key opposition to the Taliban in Afghanistan. They are maximizing their reach to attract more Uyghurs to join their forces.
India Today spoke exclusively with ex-Director of Afghanistan's state-run Bakhtar News Agency and Secretary-General of the Afghan National Commission for UNESCO Khalil Minawi and Deputy Director of ITCT and key observer of terror-related events in the region Faran Jeffrey.
ISKP'S MODUS OPERANDI
The Islamic State was founded in 2014 and since then, it has seldom been soft on China. The ISKP, more interestingly, has constantly targeted China's treatment of Uyghurs and other Muslims in the Xinjiang region in its publications. This has made it a tricky path ahead for the Taliban after coming to power.
China has hosted the Taliban since 2014 and the Taliban is hoping for continued support from the country. More importantly, Chinese Foreign Minister Wang Yi had hosted the Taliban in July 2021, weeks before they came to power. During the meeting, he had commented that China expected the Taliban to "deal resolutely with Uyghur militants in Afghanistan and the border areas". There have been multiple reports from Afghanistan that talk about the systematic targeting of Uyghurs by the Taliban. A recent report by the NPR (National Public Radio) mentioned that Afghan Uyghurs were being systematically harassed by the Taliban government, apparently at Beijing's behest.
This has reinvigorated ISKP's recruitment as they now look to add more members, including Uyghur Muslims, into their fold by exploiting China's ties with the Taliban. They intend to discredit the Taliban for negotiating with the US first and then currently dealing with China and not defending the Xinjiang Muslims.
Faran Jeffrey added: "When we mention Uyghurs in Afghanistan, we are mainly talking about two kinds of people: civilians and militants. The Taliban has given assurances to China that it won't allow Uyghur militants to operate from Afghanistan and China also seems somewhat content with those assurances for now. But Beijing still wants the Taliban to either evict these Uyghurs or hand them over to Beijing. There's a chance that down the road, the Taliban may expel some Uyghur militants as part of a deal with Beijing. There's a pragmatic group within the Taliban that would support such an initiative. But there are also those hardcore ideological Talibs who will oppose such a thing."
"At the same time, there's little to no chance that the Taliban will expel Uyghur civilians or families of Uyghur militants. If the Taliban does decide to expel some of these Uyghur militants, there are groups like ISKP that would offer them space and an opportunity to take revenge on the Taliban."
ISKP's STRENGTHENING RANKS
ISKP has been escalating things for quite some time now. On October 8, they were involved in a high-profile attack involving an ethnic Uyghur, who ended up blowing up himself outside a Shiite mosque in Kunduz. The incident killed close to 50 people. It is expected that the ISKP will carry out more such attacks in the near future and will continue to pose a threat to China by influencing Uyghur fighters in its ranks.
The Amaq News Agency, Islamic State's official outlet, acknowledged the suicide bomber "Muhammad al-Uyghuri" and claimed that the Taliban had pledged to expel and oust Uyghurs at the request of China. Subsequently, The Voice of Hind, an English magazine published by an IS group, called Muhammad al-Uyghuri "a knight of Allah from China" and accused the Taliban of prioritising the protection of Buddhist statues over protecting Uyghurs at China's behest.
Other publications close to the IS have also vowed to take revenge on China for oppressing Uyghurs in Xinjiang and "licking the boots of the crusaders (US) first and now Russia and China as well". In the past, the Islamic State in Iraq and Syria had released propaganda videos of Uyghur fighters threatening Beijing. Now, China may have to face the music closer to home.
SYSTEMATIC TARGETING OF UYGHURS IN AFGHANISTAN
Uyghur Muslims started fleeing China's Xinjiang region in the late 1950s. They mostly fled their homes by loading their bags onto their yaks and horses and crossing the Pamir mountains on foot. This was basically to escape religious and political persecution under the then Chinese government. Hence, they reached the borders of Afghanistan to settle and start afresh. During the Soviet invasion, some Uyghurs fled to Pakistan. During the Taliban's first tenure between 1996 and 2001, some Uyghurs, because of having remained a minority even for so long, started facing threats from the local militants and took refuge along the Afghanistan-Pakistan border areas. After 2001, they returned to Afghanistan to set up businesses and settle down.
Now, they face an existential threat yet again with the Taliban cosying up to China — one, they may have to flee the country again if they face threats; two, they may not be able to flee the country that easily, after all.
Khalil Minawi commented: "The Taliban, at the behest of Pakistan's ISI, claims to be supporting Muslim minorities across the world, including Kashmiris. But when the issue of Uyghur Muslims being massacred by China is raised, the Taliban ignore this and term it as a domestic issue of China. The Taliban has reportedly agreed to China's request to prevent Uyghur Muslims from attacking Chinese territory. It is also expected that captured Uyghur militants will be handed over to China, and in return, the Chinese will recognize the Taliban government and provide financial and material assistance to the Taliban."
Khalil reminds us of the statement from Ahmed Yusuf, a leader of the Uyghurs currently near the Badakhshan border, which reads: "One of China's conditions for recognizing the Taliban is to cut their relationship with us the Uyghurs and get them out of Afghanistan".
DEPORTATION THREAT TO UYGHURS
Reports indicated that Uyghurs are facing the threat of deportation to China. The NPR recently reported unidentified Uyghurs complaining that the new Taliban government officials have started harassing the Uyghurs in Afghanistan. One man commented that "The Taliban is coming to my relative's house and asking about her daughters. That's why they are very afraid to live there." The report also quotes one of the Uyghur respondents as saying that close to 500 Uyghurs want to leave Afghanistan for destinations like Turkey, Pakistan or anywhere that would take them, but it has become increasingly difficult for them to leave the country.
Ever since the return of the Taliban, the Uyghurs in Afghanistan have become very anxious. They have been following the series of meetings China has convened with the Taliban and it is a fact that China will want to control the narrative on Uyghurs. Even Uyghur militants from an area near Afghanistan's border with China have been removed by the Taliban at China's request. These militants are alleged to be predominantly from the Turkestan Islamic Party (TIP). It is a Uyghur extremist group that Beijing blames for unrest in its western province of Xinjiang and refers to by its former name, the East Turkestan Islamic Movement (ETIM).
TALIBAN'S RELATIONS AND HISTORY WITH UYGHURS AND THE ETIM
The Taliban has always allowed space for the ETIM and Uyghur militants since the late nineties. But their decision to now remove Uyghur militants from border areas is a positive move for their relations with China. This will encourage deeper cooperation between the two. The TIP militants were in Badakhshan, a province in northeast Afghanistan along the country's 76-kilometre border with China, and have since been moved to other areas, including in the eastern province of Nangarhar, as reported by Radio Free Europe. It is, however, unclear if the Taliban will hand over these fighters to Chinese authorities.
This is what the ISKP is looking to leverage. The ETIM is a longstanding ally of the Taliban. Their relationship spans nearly three decades. The TIP has a monopoly over recruiting and controlling the Uyghur jihadist network in Afghanistan. If the Taliban indeed dumps the ETIM and the TIP for China, this hegemony could be broken by ISKP.
Source: India Today
Please click the following URL to read the full text of the original story:
https://www.indiatoday.in/news-analysis/story/taliban-china-relation-afghanistan-india-pakistan-threat-to-uyghur-muslims-1875479-2021-11-11
--------
Herat Shia scholars urge restoring security committees to protect Mosques, religious centres
November 11, 2021
The Council of Shia Scholars in Herat, Afghanistan, called on the Taliban to restore security committees to protect mosques and Shia religious centers against Daesh (ISIL or ISIS) attacks.
The council in a statement urged the Taliban to return weapons to the youths serving at security committees of mosques.
It said that there have been deep worries about lack of security after the Taliban seized the youths' weapons.
The council noted that since the Taliban came to power in Afghanistan back in August, there have been many mosques targeted in terrorist attacks carried out by Daesh.
Last month, a large explosion claimed by Daesh hit a Shia mosque in Afghanistan's southern city of Kandahar. More than 60 people were killed and scores of others wounded in the attack.
Source: ABNA24
Please click the following URL to read the full text of the original story:
https://en.abna24.com/news//herat-shia-scholars-urge-restoring-security-committees-to-protect-mosques-religious-centers_1197434.html
--------
Taliban urge ex-Afghan military pilots to stay, serve nation
Nov 10, 2021
KABUL: A top Taliban official on Wednesday urged former Afghan military pilots to remain in the country, saying they were protected by a national amnesty and would not face arrest.
Government spokesman Zabihullah Mujahid's assurances came after dozens of US-trained Afghan pilots left Tajikistan in a US-brokered evacuation Tuesday, three months after they sought refuge there from a Taliban takeover of Afghanistan.
Afghan air force pilots played a key role, alongside their US counterparts, in the 20-year war against Taliban insurgents that ended with the departure of foreign troops in late August. The airstrikes inflicted heavy casualties among the Taliban and repeatedly drove them from positions they had seized in different parts of the country.
As the US-backed Afghan government collapsed and the Taliban took over in mid-August, dozens of Afghan pilots fled to Central Asian countries, including Tajikistan and Uzbekistan.
It's not clear how many military pilots and crew members remain in Afghanistan, what level of risk they face or to what extent Taliban assurances can be trusted. Over the past three months, there have been some reports of revenge killings by the Taliban, but not on a large, organized scale.
A US defense official confirmed Wednesday that about 140 pilots, along with other personnel, were flown from Tajikistan to the United Arab Emirates on Tuesday. It is likely that the evacuees will eventually come to the United States, said the official, who spoke on condition of anonymity to discuss operations not yet public.
Tajik media reported that in all, 191 Afghans, including 143 pilots, were flown to the Emirates.
Asked about the airlift, Mujahid said that Afghanistan needs pilots and that all is forgiven.
"My message is, there is no security problem for them (Afghan pilots) in Afghanistan, there is no plan of arresting them, national amnesty is announced,'' he said. He said the pilots, whether in the military or in civil aviation, ``can be at the service of their country.''
"It is regrettable that a number of pilots have gone, or they are going,'' he added.
Separately, a spokesman for the Taliban intelligence service told the news conference that the agency has arrested close to 600 members of the militant Islamic State group in connection with violent attacks over the past three months.
The spokesman, Khalil Hamraz, said that among the detainees are key IS figures, including financial supporters.
Source: Times of India
Please click the following URL to read the full text of the original story:
https://timesofindia.indiatimes.com/world/south-asia/taliban-urge-ex-afghan-military-pilots-to-stay-serve-nation/articleshow/87632360.cms
--------
Taliban must cut off umbilical cord with Pak for Afghanistan to survive
By Shishir Gupta
Nov 11, 2021
After a day-long deliberations on Afghanistan by National Security Advisors (NSAs) of eight neighboring countries here on Wednesday, it has become quite evident that the Taliban will continue to hold the reins of power in Kabul.
It has also become clear that apart from Afghan people themselves or any rival Sunni Salafists like the Islamic State of Khorasan Province (ISKP) or al Qaida, no one can remove the Taliban from power as global powers neither have the intentions, energy nor the mind space to tackle humongous problems of Afghanistan.
Now that the global community has mentally accepted the Taliban regime in Kabul, it is time that the Sunni Pashtun force came out of the shadows and started governing the Islamic Emirates of Afghanistan in the earnest and not wait for acceptance in UN. Since the Taliban occupied Kabul on August 15, its Supreme leader Mullah Haibatullah Akundzada has only been heard not seen, giving rise to the very physical existence of the cleric. According to Kabul watchers, none could confirm the physical presence of the Emir-ul-Momim when he was said to have made his first public appearance in Kandahar on October 31. He was perhaps last seen at the Pakistan Army cantonment in Karachi earlier this year.
While secrecy surround Mullah Akhundzada in Afghanistan, there are reports that Pakistan deep state backed Interior Minister Sirajuddin Haqqani frequently moves to and fro on Durand Line even as he contests with Defence Minister Mullah Yaqoob, son of first Emir-ul-Momin Mullah Omar, for political power in Kabul. The Taliban may be good in wielding the gun and asymmetric warfare, but governance is definitely not their forte as the country moves towards virtual ventilator state.
If the Taliban have real desire to provide governance even under the Islamic Sharia law to Afghanistan, then the answer lies within the country and not across in the ISI Headquarters in Rawalpindi. With Taliban's acting Foreign Minister Mullah Amir Khan Muttaqi in Islamabad today for first bilateral talks with Pakistan after seizing power and the ISI chief making frequent trips to Kabul as it was just another intelligence station, the beginning is surely not good but on expected lines.
Even though Pakistan ISI is gloating over its success in making the mighty US run away empty-handed from Kabul, it is only a matter of time that the chaos spill across the Durand Line. It is said that Taliban Deputy Prime Minister Mullah Baradar told the ISI chief Gen Faiz Hameed that if Islamic Emirates is good for Afghanistan, the same holds good for Pakistan. The threat in Barader's statement is understood by Pakistan Army but not by the civilian leadership in Islamabad. For a country where retail sugar is more costly than petrol, the chances of sustaining a neighboring perpetually strife torn country are simply non-existent. It is only a matter of time when Pakistan gets dragged down by its own creation.
Source: Hindustan Times
Please click the following URL to read the full text of the original story:
https://www.hindustantimes.com/world-news/taliban-must-cut-of-umbilical-cord-with-pak-for-afghanistan-to-survive-101636603944269.html
--------
600 ISIS-K affiliates arrested since mid-August: Mujahid
10 Nov 2021
Spokesperson of General Directorate of Intelligence (GDI) Khalil Hamraz in a press conference said that they have arrested 600 ISIS-K affiliates and have killed 33 more in the past three months.
This was his first press conference that was held in Kabul on Wednesday, November 10.
Khalil Hamraz claimed that the overall security situation has been better and is getting better day by day.
"82 suspects of kidnapping arrested, 12 hostages released, 76 people accused of fabricating documents arrested in the past three months" added Hamraz.
In the meantime, the spokesperson of the Taliban Zabiullah Mujahid who also attended the press conference said that the ISIS-K affiliates in Afghanistan are not the real ISIS fighters from Iraq and Syria.
Like always, Mujahid again underestimated the ISIS-K fighters in Afghanistan and claimed that this is a small group that is impressed by the ideology of ISIS.
Source: Khaama Press
Please click the following URL to read the full text of the original story:
https://www.khaama.com/600-isis-k-affiliates-arrested-so-since-mid-august-mujahid-456457/
--------
Europe
Facing fierce protest, Israeli ambassador rushed from London event
Ahmet Gürhan Kartal
10.11.2021
LONDON
Israel's ambassador to the UK was rushed into a diplomatic car from an event at the London School of Economics (LSE) Tuesday night as protesters amassed outside booed the diplomat.
Footage on social media shows Tzipi Hotovely being evacuated from the building with tight police protection as a group of pro-Palestinian protesters gathered outside.
Protesters shouted pro-Palestinian slogans, chiding the ambassador "aren't you ashamed!" They also chanted: "Israel is a terrorist state."
They urged her to be "no-platformed," a British term for denying a venue to speak to persons whose views are beyond the bounds of decency.
British Foreign Secretary Liz Truss blasted the incident, writing: "The treatment of Israeli Ambassador Tzipi Hotovely last night and the attempt to silence her was unacceptable."
"We in Britain believe in freedom of speech," she added.
British Home Secretary Priti Patel and Education Secretary Nadhim Zawahi also condemned the incident.
The Israeli ambassador was invited by LSE student union to take part in a debate forum.
Controversial appointment
According to various Israeli media, including The Times of Israel, Hotovely was targeted because she had "advocated for settler colonialism, engaged in Islamophobic rhetoric and has perpetuated anti-Palestinian racism."
The online Israeli outlet described Hotovely's appointment to London last year as "controversial."
Her appointment to the British capital sparked a backlash from left-wing British Jews, who called on their government to reject her posting in a petition which attracted as many as 2,000 signatures.
"Hotovely has an appalling record of racist and inflammatory behavior from throughout her political career," the petition said, according to the outlet.
Source: Anadolu Agency
Please click the following URL to read the full text of the original story:
https://www.aa.com.tr/en/europe/facing-fierce-protest-israeli-ambassador-rushed-from-london-event/2417199
--------
France handed executed journalist Zam to Iran in swap deal, claims ex-intel officer
11 November ,2021
Iranian journalist Ruhollah Zam, who Iran executed in 2020 after being captured the previous year, was handed over to the Islamic Republic by France in exchange for a French spy, a former Iranian intelligence officer has claimed.
In an interview published on Tuesday with with Iran-based news site Rouydad 24, the former Iranian intelligence officer, Akbar Khoshkushk, claimed that France agreed to hand over Zam, who had been based in Paris, in exchange for a French spy masquerading as an ISIS member who had been captured by Iran-backed militants in Syria.
Iran executed Zam in December 2020 after convicting him of inciting violence during anti-government protests in late 2017.
From Paris, Zam ran Amadnews, a channel on popular messaging app Telegram, which had over a million followers.
Iranian agents reportedly captured Zam during a visit to Iraq in 2019. Iran's Islamic Revolutionary Guard Corps (IRGC) said at the time they had "trapped" Zam in a "complex operation using intelligence deception."
Agents from the Directorate-General for External Security, France's foreign intelligence agency, had accompanied Zam to Iraq on the pretext of protecting him, claimed Khoshkushk.
Source: Al Arabiya
Please click the following URL to read the full text of the original story:
https://english.alarabiya.net/News/middle-east/2021/11/11/France-handed-executed-journalist-Zam-to-Iran-in-swap-deal-claims-ex-intel-officer
--------
Southeast Asia
Teraju survey: 65,660 Bumiputera individuals ventured into p-hailing service during pandemic
11 Nov 2021
KUALA LUMPUR, Nov 11 — It is estimated that more than 65,660 Bumiputera individuals have ventured into the p-hailing (food delivery) service industry, mostly during the Covid-19 pandemic, according to the Bumiputera Agenda Steering Unit (Teraju) survey findings.
The survey found that the number of Bumiputera food delivery riders — most of whom are young, Muslim and single Malays, Bumiputera of Sabah and Sarawak as well as Orang Asli — made up 93.8 per cent of the total 70,000 food delivery riders in Malaysia.
The survey involving 503 respondents in the Klang Valley also found that 51.7 per cent of them ventured into the sector during the first movement control order (MCO), 20.5 per cent during the MCO 2.0 and 18.5 per cent during MCO 3.0.
However, 77 per cent of the respondents only ventured into the p-hailing to earn a side income, while 23 per cent treated it as their main source of income, the majority of whom were self-employed, students and private employees.
The Survey on Job Opportunities in P-Hailing (Food Delivery) Service Industry Among the Bumiputera During Covid-19 Pandemic was conducted by Teraju between April 26 and May 21.
The respondents agreed that time was the main factor that lured them to venture into food delivery service, followed by other factors namely income, survival, economy and qualifications.
The survey also found that 72 per cent of them were school leavers, 27 per cent were degree holders and one per cent was postgraduate degree holders.
Over 70 per cent of the respondents admitted to having been involved and injured in accidents, but less than half of them were covered by personal insurance.
What's worse is that 86.4 per cent of the respondents said that they get no help from the p-hailing companies if they were involved and or injured in any kind of accident.
The respondents strongly agreed that contributions such as to the Employees' Provident Fund (EPF) and Social Security Organisation (Socso), as well as insurance coverage, medical card, sick leave and death benefits, should be provided by the companies.
Meanwhile, Teraju had held a two-day focused group online discussions on July 29 and 30 involving 43 stakeholders including the Ministry of Transport, Ministry of Domestic Trade and Consumer Affairs, Royal Malaysia Police, EPF, Socso, Road Transport Department, Malaysian Institute of Road Safety Research (Miros) and p-hailing companies.
Through the discussions, various recommendations for improvement were presented, covering aspects of p-hailing companies, legislation, application system, vendors and customers, as well as safety.
Among the recommendations are establishing a system of evaluation, certification and accreditation for the p-hailing platforms; formulating a road safety law for p-hailing riders; and creating a transparent application display system for customers to see the real-time status of their orders.
Source: Malay Mail
Please click the following URL to read the full text of the original story:
https://www.malaymail.com/news/malaysia/2021/11/11/teraju-survey-65660-bumiputera-individuals-ventured-into-p-hailing-service/2020110
--------
Give us funds to spread Islam in Sarawak, PAS man urges party
Predeep Nambiar
November 6, 2021
KUALA TERENGGANU: A PAS delegate today urged the party's leaders for more funds for its Sarawak grassroots members to support the preaching of Islam in the state.
Bintulu PAS chief Abdul Halim Abdul Kadir said many people in Sarawak were ready to accept Islam and be led by Islamist parties such as PAS.
He however lamented that without proper funding and the presence of party leaders, PAS risked being labelled as a peninsular party by Sarawakians.
Halim said the party could start by getting its leaders to visit the state more often, in person or virtually.
"Sarawak Darul Hana is as big as the peninsula. We really need more funds to strengthen PAS in the state to ensure that our dakwah activities can carry on," he said at the party's muktamar here today.
Halim said PAS had carried on fighting for its cause in Sarawak despite losing all the parliamentary and state seats it had contested since 1999.
Source: Free Malaysia Today
Please click the following URL to read the full text of the original story:
https://www.freemalaysiatoday.com/category/nation/2021/11/06/give-us-funds-to-spread-islam-in-sarawak-pas-man-urges-party/?__cf_chl_jschl_tk__=x2Oya1Pk3gbpuVRKTxZcrrD7h4myJxpVD8ryMgeSzog-1636622498-0-gaNycGzNDCU
--------
North America
No specific reaction to Pakistan-TTP talks, says US
November 11, 2021
WASHINGTON: The United States has refused to give any "specific reaction" to Islamabad's decision to start a dialogue with the banned Tehreek-i-Taliban Pakistan (TTP) adding that the two countries still had "alignment of interest" on Afghanistan.
US media reports noted that on Monday Pakistan and the TTP agreed on a "complete cease-fire" as the two sides negotiated an end to years of militancy in the country.
The US media also noted that Afghanistan's acting Foreign Minister Amir Khan Muttaqi arrived in Islamabad on Wednesday on a three-day visit — the first to Pakistan by an Afghan minister since the Taliban seized control of Kabul on Aug 15.
The issue was also raised at an afternoon briefing at the US State Department where a journalist reminded Spokesperson Ned Price that Washington still considered the TTP a terrorist outfit and asked for official US reaction to the dialogue.
"If we have a specific reaction on the Pakistani dialogue with the Pakistani Taliban, we'll, of course, let you know," said Mr Price, adding, "We have been in regular contact with the Pakistani leadership regarding the question of Afghanistan, regarding our approach to Afghanistan and the approach that we have seen expressed by the international community."
The US government, he said, had discussed this issue with Pakistani officials in the past as well.
"We have heard both publicly and privately from our Pakistani counterparts that they too have an interest in seeing to it that the gains, including among Afghanistan's minorities, including among its women and girls, over the past 20 years not be squandered," the US official added.
"And so, there is quite a bit of alignment of interest when it comes to Afghanistan, and we're continuing to have those conversations," said Mr Price, pointing out that Tom West, the new special representative for Afghanistan, would be in Islamabad soon to "continue some of these discussions in the days ahead."
Source: Dawn
Please click the following URL to read the full text of the original story:
https://www.dawn.com/news/1657315/no-specific-reaction-to-pakistan-ttp-talks-says-us
--------
US doesn't need Israel's permission to open consulate: Palestine
10 November ,2021
The United States does not need Israel's "permission" to reopen its consulate for the Palestinians in Jerusalem, the Palestinian prime minister said Wednesday, urging Washington to honor its diplomatic pledges.
President Joe Biden's administration has said it would reopen the diplomatic mission historically responsible for Palestinian affairs that was closed by his predecessor Donald Trump, who recognized Jerusalem as Israel's "undivided capital."
The mission was based in west Jerusalem but included a consular services office in Israeli-annexed east Jerusalem, which the Palestinians claim as the capital of their future state.
Briefing foreign reporters in the occupied West Bank city of Ramallah, Palestinian PM Mohammed Shtayyeh said "the United States does not need the permission of anybody" to reopen its mission.
The comments came after Israel's right-wing Prime Minister Naftali Bennett told reporters Saturday that "there's no room for another American consulate in Jerusalem," clearly stating his government would resist moves by Washington to restore the Palestinian mission.
Foreign Minister Yair Lapid told the same news conference Israel would have no objection to the US opening a mission in Ramallah, the seat of the Palestinian Authority (PA).
"Ramallah is not Jerusalem, and Ramallah is not the capital of Palestine," Shtayyeh said.
"It is our hope that what (the US) promised will be fulfilled," he said.
Bennett is a hawk who opposes Palestinian statehood.
In addition to his ideological opposition to Palestinian diplomacy in Jerusalem, the reopening of a US mission would also create a political headache for the Israeli premier.
If he allowed the US consulate plan to go ahead, it would be seen to strengthen Palestinian claims to the contested holy city -- a position that would alienate his right-wing allies, possibly unsettling his ideologically disparate eight-party coalition.
Shtayyeh also called for tougher US action against settlement expansion in the West Bank, a territory now home to some 475,000 Jews living in communities widely regarded as illegal under international law.
Source: Al Arabiya
Please click the following URL to read the full text of the original story:
https://english.alarabiya.net/News/middle-east/2021/11/10/US-doesn-t-need-Israel-s-permission-to-open-consulate-Palestine
--------
70 aid truck drivers contracted by UN detained in Ethiopia
Servet Gunerigok
10.11.2021
WASHINGTON
Ethiopia has detained at least 70 truck drivers carrying humanitarian aid on behalf of the UN and international NGOs, a UN spokesman said Wednesday.
Stephane Dujarric, spokesman for UN Secretary-General Antonio, said at his daily news conference that nine UN aid staff are still being held by the Ethiopian government.
"We are calling for their release," he said.
On Tuesday, Dujarric said 16 UN national staff were detained in Ethiopia, while six others have been released and the UN was "actively working" with the government to secure their immediate release.
No explanation was given to the international body why the staffers were detained, said Dujarric.
Ethiopia declared a state of emergency last week as the Tigray People's Liberation Front (TPLF) made military gains in the Amhara region, adjacent to the Tigray region.
The TPLF said it had controlled the strategic cities of Disi and Kombolcha in the northern state of Amhara.
Source: Anadolu Agency
Please click the following URL to read the full text of the original story:
https://www.aa.com.tr/en/americas/70-aid-truck-drivers-contracted-by-un-detained-in-ethiopia-/2417552
--------
Arab World
UAE's renewed diplomacy with Syria could lead to more Arab overtures
11 November ,2021
A visit by the United Arab Emirates' top diplomat this week may have turned a page for Syria's embattled autocratic president, enabling more Arab countries to re-engage with Bashar Assad.
That would be a major shift in a region that for a decade ostracized Assad, supported his adversaries and worked with the US to seek a negotiated settlement of the Syria conflict.
Syria's civil war has displaced half of its population, killed hundreds of thousands and driven the country's economy into the ground.
Following his surprise four-hour trip to Syria's capital of Damascus on Tuesday, the Emirati foreign minister headed to Jordan, which has also reopened channels with Syria after a decade-long rupture.
In Amman, Sheikh Abdullah bin Zayed Al Nahyan met Wednesday with Jordan's King Abdullah II and the two discussed "efforts to reach political solutions to the crisis in the region," a royal court statement said.
Jordanian Foreign Minister Ayman Safadi later told CNN that the kingdom, which had hosted Assad's armed opposition for years, needed to be practical and consider its national interests, at a time when a resolution to the Syria conflict seems elusive.
Jordan has been hosting hundreds of thousands of Syrian refugees and is experiencing a sharp economic downturn, including rising unemployment. It recently reopened its borders with Syria, exchanged state visits and restored flights between Amman and Damascus.
If such contacts between Syria and some of the Arab nations lead to formal reconciliation, it would be a boon for Syria's struggling economy, including a tanking national currency and dried up government coffers. Syria will also require massive investments in reconstruction.
Rapprochement would also mean an Arab push into Syria, where Iran — the main rival of Arab Gulf nations — has had a presence on the ground through proxy militias for years.
As Washington appears to be disengaging from the region, withdrawing troops from Iraq and Afghanistan and reorienting its focus toward the strategic challenges posed by a rising China, Arab players are stepping up their game in the conflict-ridden region.
"Everyone is talking to everyone," said one Arab diplomat based in the Middle East, speaking on condition of anonymity in line with regulations. For example, Iraq has been hosting talks between Iran and Saudi Arabia, its regional archival.
Now the Emirates' embrace of Syria is a test for whether re-engaging Syria's strongman could possibly lead to some concessions that years of sanctions and boycott have failed to realize.
Bringing Syria back into the Arab fold could reduce Iranian and Turkish influence. Dealing with Assad, whose forces have been blamed for most of the war's atrocities, appears to be a risk worth taking as the Emiratis seek to hedge their bets in the region.
"If we can have peace with various countries, Syria should be one of the most significant and important ones in the Middle East," said Amjad Taha, an Emirati analyst. "Syria should not be left alone. If the Iranians are there and if the Russians are there, so should the Arabs."
The Emirates are pursuing high-stakes foreign policy, normalizing relations with Israel, taking steps to engage Qatar and Turkey diplomatically after years of a political standoff, vitriol and support for opposing sides in regional conflicts.
Syria's ruling party mouthpiece hailed the visit of the Emirati foreign minister as a "genuine pan-Arab step" after what it described as years of illusions that Assad and his government could be replaced through war.
The Emirates have been lobbying in international forums such as the World Health Organization for more aid for Syria and could expand such calls. The UAE could also encourage Syrian-Emirati businesses if there are no threats of the use of sanctions to block it.
Arab countries will be watching to see what the Emirates get out of this resumption of relations before rushing in.
There are already Emirati-led efforts to lobby Arab countries to bring Syria back into the Arab League, said Taha, the analyst, calling it a major effort despite few Arab objections. The next summit is in Algeria early next year.
Damascus could offer gestures that indicate a reduction in Iranian influence.
Russia, another major Syrian ally, has already expanded its presence in some areas of Syria at the expense of Iran, either to assuage Israel or the US but mostly in the interest of improving its grip on affairs in Syria.
Source: Al Arabiya
Please click the following URL to read the full text of the original story:
https://english.alarabiya.net/News/gulf/2021/11/11/UAE-s-renewed-diplomacy-with-Syria-could-lead-to-more-Arab-overtures
--------
Turkish strike kills three in Kurdish-run Syria
10 November ,2021
The Kurdish administration in northeastern Syria said Wednesday that a Turkish drone strike targeting a car in the border city of Qamishli killed three civilians.
The strike, which was carried out on Tuesday, "killed three members of a single family", including an 82-year-old man, a statement released by the autonomous administration said.
Nuri Mahmoud, a spokesman for the Kurdish security forces, named the dead as "national figure Yusuf Kello and his two grandsons Mazloum and Muhammad."
"The treacherous targeting of the patriots of northeastern Syria by the Turkish occupation will not discourage us," the spokesman said on Twitter.
Turkey, which considers the Kurdish movement that dominates the administration to be a terrorist organization, has thousands of troops deployed across northern Syria.
The army and its Syrian opposition proxies have seized swathes of territory in successive military operations since 2016, most of them targeting Kurdish forces.
Source: Al Arabiya
Please click the following URL to read the full text of the original story:
https://english.alarabiya.net/News/middle-east/2021/11/10/Turkish-strike-kills-three-in-Kurdish-run-Syria
--------
UN sanctions three Houthi militants over Marib offensive
11 November ,2021
The United Nations has added three leading Houthi militants to its list of people sanctioned in Yemen, the British mission to the world body said Wednesday.
The sanctions were imposed following persistent Houthi cross-border attacks into Saudi Arabia which have killed and wounded civilians, and the ongoing Houthi offensive on oil-rich Marib, the last loyalist stronghold in the war-torn country.
As part of the offensive, the Houthis are seeking to cut off access to humanitarian aid and are making widespread use of child soldiers, the British mission said in a statement.
Source: Al Arabiya
Please click the following URL to read the full text of the original story:
https://english.alarabiya.net/News/gulf/2021/11/11/UN-sanctions-three-Houthi-militants-over-Marib-offensive
--------
UN Security Council permanent members condemn Yemen's Houthi attacks on Saudi Arabia
10 November ,2021
The permanent members of the United Nations Security Council condemned Yemen's Houthi attacks on Saudi Arabia after a meeting with the Kingdom's ambassador to Yemen, state news agency SPA reported on Wednesday.
"On November 10, the ambassadors of the five permanent members of the Security Council met with the ambassador of Saudi Arabia to Yemen, Mohammed al-Jaber. They discussed support for the current efforts of the United Nations Special Envoy and the need for a political solution under the auspices of the UN, as well as support for the legitimate government," SPA cited the statement as saying.
"They condemned the Houthi cross-border attacks against Saudi Arabia, and stressed the need for de-escalation, including an immediate halt to the escalation in Marib."
The UNSC permanent members, China, France, Russia, the UK and the US also urged all Yemeni parties to "engage in genuine dialogue to reach a comprehensive political solution to end the crisis in Yemen and alleviate the suffering of its people."
Source: Al Arabiya
Please click the following URL to read the full text of the original story:
https://english.alarabiya.net/News/gulf/2021/11/11/UN-Security-Council-permanent-members-condemn-Yemen-s-Houthi-attacks-on-Saudi-Arabia
--------
Mideast
Iran Blames US Occupation for Increase in Terrorism, Poverty, Drug Trafficking in Afghanistan
2021-November-10
Shamkhani made the remarks, addressing the third edition of the Regional Security Dialogue on Afghanistan in New Delhi, India, on Wednesday.
He said that the US and its coalition allies should be held accountable for the myriad of crises Afghanistan is facing today, adding the "least responsibility" they bear is to compensate for all the damage they have inflicted on the Afghan people over the past two decades.
"Twenty years ago, the United States occupied Afghanistan under the pretext of confronting the Taliban and al-Qaeda, claiming to be fighting terrorism and preaching that they want to turn Afghanistan into a role model and a source of inspiration."
However, instead of acting on such a claim, it made the situation in Afghanistan even worse, he said. "Terrorism, poverty and misery, as well as drug cultivation and trafficking and migration, increased while a large number of innocent people in Afghanistan were massacred by American fighter jets at weddings and mourning ceremonies for vague reasons. The state- and nation-building claimed by the United States ground to a halt."
Shamkhani said the US turned out to be a failure even in its "most basic role, i.e. the establishment of the army and security system", which quickly collapsed after Washington and its allies left Afghanistan and the Taliban group took over.
Having faced a "humiliating defeat," the US was forced to escape from Afghanistan, after inflicting huge damage on the country, most significantly the carnage of thousands of innocent men, women, and children, Shamkhani added.
He said the US eventually "became a lesson to all those who seek their survival in resorting to fake powers like the United States instead of relying on their own resources."
The Iranian official said the Americans "acted deceitfully" even in the issue of peace in Afghanistan and had no plans to promote peace in the country contrary to its claims. Washington, he added, was only after finding a way out of the crisis of its own making and chose to cause trouble for the region and the entire world due to its "hegemonic nature and superiority complex."
"That is why the Islamic Republic of Iran did not take part in any so-called peace or dialogue format or process that the United States would create" during the occupation period, Shamkhani said.
On the contrary, he said, Iran "tried, through cooperation with internal and external players in Afghanistan, to move toward plans which would truly serve the interests of our oppressed brothers and sisters in Afghanistan and those of the neighbors and the entire region, as well as [plans] that would establish broad-based, lasting peace and stability in Afghanistan that would meet the common interests of us all".
Shamkhani also stressed the need for the UN to play a role in the consultations and efforts to assist the Afghan people.
"Today, Afghanistan is left with a pile of problems and we are all duty-bound to drive the country to safety," the top security official said.
"The focus should now be for the US and its partners in the 20-year-long occupation of Afghanistan to accept responsibility. Compensating for the losses of life and material damage inflicted to the people of Afghanistan is the least responsibility of the occupiers."
He said everyone knows, however, that a great portion of the damage was "irreparable", adding, "Is it possible to compensate for the lost lives or the damage inflicted to the human body and soul, or to restore the lost time to build a nation and a country? On the contrary, we see that the United States, in a hostile and arrogant act, has banned the Afghan people's access to their small assets", referring to the sanctions the US imposed on the country after its exit.
Shamkahni also pointed to the threats posed by the growth of the ISIL and other Takfiri terrorist groups in Afghanistan to the country's neighbors and those states in the region that have no common borders with it.
He further highlighted three issues of concern in Afghanistan that should be resolved through regional cooperation, namely the involvement of some countries in transferring Takfiri terrorists to Afghanistan, the spread of poverty and humanitarian crisis, and the migration crisis.
He enumerated the "important duties" that Afghanistan's neighbors need to fulfill in the process to help settle the crises unfolding in the South Asian state, including efforts "to hold to account the countries behind the current situation in Afghanistan", "establish an inclusive government comprised of all ethnicities" there, and tackle the humanitarian crisis gripping the war-torn country.
"The Islamic Republic of Iran declares its readiness to offer all the facilities at its disposal, such as roads and ports, to help resolve this [humanitarian] crisis," the top security official said.
Shamkhani said regional countries should also "exert pressure on the United States to unblock the financial resources of the oppressed Afghan nation so it can benefit from its own resources and facilities".
Furthermore, he added, the participants in the summit should work to confront the ISIL and Takfiri terrorists operating Afghanistan, identify the channels through which they are financed, and cut those lines.
The neighbors should likewise address the migration crisis and help the countries hosting Afghan refugees, according to him.
Shamkhani elaborated on the case of Iran and said the country had been hosting over three million Afghan migrants and paying around 96 percent of the costs on its own, while international institutions had only provided for four percent only.
He warned that Iran "we will not be able to host a new influx [of refugees] due to the unjust sanctions imposed against our people. In case other countries and relevant international institutions fail to offer assistance with this issue, we won't be able to manage [the situation] and the Western states, like it or not, will be affected".
Source: Fars News Agency
Please click the following URL to read the full text of the original story:
https://www.farsnews.ir/en/news/14000819000371/Iran-Blames-US-Occpain-fr-Increase-in-Terrrism-Pvery-Drg-Trafficking
--------
Iran's Membership in UN Scientific Committee on Effects of Atomic Radiation Approved
2021-November-10
The decision to admit Iran as a full member of the UNSCEAR was declared after several rounds of intensive negotiations on a draft resolution submitted by Australia. The resolution was approved by a unanimous vote on Tuesday.
Before full membership, Iran had observer status in the scientific committee.
Iran launched its bid to join the UNSCEAR in 2011, and, despite some serious opposition, could gain an observer membership six years later.
The Islamic Republic then planned to get full membership and conducted intensive diplomatic consultations in order to obtain the approval of the UN General Assembly (UNGA). It managed to do so, irrespective of stiff opposition from Israel and the US stonewalling on the issue.
Iran's Permanent Ambassador to the UN Majid Takht Ravanchi later praised the country's full membership in the UNSCEAR, stressing the increasing effectiveness of the UN scientific body.
"The Islamic Republic of Iran attaches great importance to the work of the United Nations Scientific Committee on the Effects of Atomic Radiation," he said, noting that his country has valuable contributions to further expansion of knowledge and understanding of levels, effects and risks of exposure to ionizing radiation.
"Nowadays and with the rapid increase in use of nuclear technology for peaceful purposes in many areas, including power production, health, agriculture, bio-technology, pharmacology and industry, the Committee's role is becoming increasingly imperative," Takht Ravanchi said.
He reiterated Iran's full support for and cooperation with the UNSCEAR in order to enhance its scientific growth and training of the personnel and protect public and environmental health against harmful effects of atomic radiation.
UNSCEAR was set up by a resolution of the United Nations General Assembly in 1955. It was established solely to "define precisely the present exposure of the population of the world to ionizing radiation".
Source: Fars News Agency
Please click the following URL to read the full text of the original story:
https://www.farsnews.ir/en/news/14000819000486/Iran%E2%80%99s-Membership-in-UN-Scienific-Cmmiee-n-Effecs-f-Amic-Radiain
--------
Iranian commander threatens to destroy Israel if it makes 'any mistake' with Tehran
11 November ,2021
A top Iranian commander said on Thursday that if Israel starts a war, Iran will be the one to end it.
"Any mistake by Israel in dealing with Tehran will accelerate its destruction," IRGC Commander of Aerospace Force Amir Ali Hajizadeh was reported as saying by semi-official media Tasnim.
Source: Al Arabiya
Please click the following URL to read the full text of the original story:
https://english.alarabiya.net/News/middle-east/2021/11/11/Iranian-commander-threatens-to-destroy-Israel-if-it-makes-any-mistake-with-Tehran
--------
IRGC Releases US-Provoked Vietnamese Vessel Seized While Stealing Iranian Oil
2021-November-10
After draining Iran's oil from the tanker, the seized vessel, Sothys, was released in Bandar Abbas on the Southern coast of Iran, in the Persian Gulf waters, the IRGC announced.
A ceremony was held on Wednesday to honor the brave IRGC forces who thwarted an attempt by the US to steal Iran's oil.
The ceremony was held in the presence of IRGC Commander Major General Hossein Salami and IRGC Navy Commander Rear Admiral Alireza Tangsiri as well as other IRGC forces and commanders.
Addressing the ceremony, General Salami appreciated the IRGC Navy for creating such a great epic.
He stressed that IRGC forces adopted a professional measure in confrontation with the US naval fleets.
"With your mastery and vigilance, you showed that the awe of the enemy is hollow and has only a geometric aspect", General Salami stressed.
According to him, the IRGC forces strengthened the position of the Iranian nation against the US terrorist regime which is close to decline.
On October 24, the IRGC naval forces fought off a US attempt to steal an Iranian oil cargo in the Sea of Oman in a flagrant violation of international rules, seen as yet another move to escalate tensions against Tehran. The US seized a tanker carrying Iranian oil for exports in the waters of the Sea of Oman and transferred its crude shipment to another tanker, voyaging towards an unknown destination. The IRGC naval forces took immediate action to surround the tanker and landed troops on the deck of the vessel in heliborne operations and directed it towards the territorial waters of Iran.
Source: Fars News Agency
Please click the following URL to read the full text of the original story:
https://www.farsnews.ir/en/news/14000819000572/IRGC-Releases-US-Prvked-Vienamese-Vessel-Seized-While-Sealing-Iranian
--------
Iran Lead Negotiator: Vienna Talks Only Aimed at Removal of US Sanctions
2021-November-10
No talks on nuclear issues will be held in Vienna as the issue has already been resolved completely within the framework of the 2015 nuclear deal, also known as the Joint Comprehensive Plan of Action (JCPOA), Baqeri Kani said on Wednesday.
The main question in the talks in the Austrian capital is removal of the illegitimate sanctions and the aftermath resulted from the US unilateral withdrawal from the deal, he added.
Referring to consultations with his French counterpart in Paris, Baqeri Kani said that France can play a leading role in regional interactions and the process of talks as the country will be the president of the European Union (EU) next year.
The talks in Vienna with participation of the G4+1 (Britain, France, China and Russia plus Germany) will start as of November 29, he added.
Baqeri Kani further described the talks with his French counterpart as serious, blatant, and constructive.
His comments came after France's foreign minister told his Iranian counterpart on Tuesday that when talks with world powers on reviving a nuclear accord resume at the end of November, they must continue where they left off in June, the French foreign ministry said.
In a call with Iranian Foreign Minister Hossein Amir Abdollahian, France's Jean-Yves Le Drian "stressed the importance and the urgency of resuming the negotiations interrupted on June 20 by Iran, on the basis negotiated up to that date, with the objective of a rapid return (to the accord)", a ministry spokesperson said.
Meantime, according to a statement by the Iranian foreign ministry, during his phone talks with Le Drian, Amir Abdollahian pointed to the silence of the European troika towards the US extensive demands, describing the US as responsible for the current situation of the nuclear deal.
Iran wants to reach a good agreement, but this requires some conditions, including the other Joint Comprehensive Plan of Action (JCPOA) members should fulfill their commitments, and sanctions should be lifted effectively, he added.
Amir Abdollahian called Iran's defense program a sovereign right of any country, adding that regardless of US unconstructive behavior on imposing sanctions, Iran will continue to improve its defense power with all might.
Le Drian, for his part, said that Paris supports the return of all parties to the JCPOA, adding that his country will make any efforts to do so.
He also expressed the hope that the forthcoming talks in Vienna would achieve rapid progress.
Amir Abdollahian had also on Monday night in a phone conversation with his German counterpart Heiko Maas blamed Washington for the problems and non-implementation of the nuclear deal.
The US government is the main culprit in creating current situation in JCPOA-related issues, Amir Abdollahian said during the phone talks initiated by Maas.
The US government's withdrawal from the JCPOA in May 2018 and the inaction of three European countries involved in nuclear talks, including Britain, France and Germany, has increased distrust significantly, he added.
Source: Fars News Agency
Please click the following URL to read the full text of the original story:
https://www.farsnews.ir/en/news/14000819000458/Iran-Lead-Negiar-Vienna-Talks-Only-Aimed-a-Remval-f-US-Sancins
--------
Iran-backed Houthis detain 25 Yemenis working for US
11 November ,2021
At least 25 Yemenis working for the US in Sanaa have been detained in recent weeks by the Iran-backed Houthi militia who controls the capital, according to two people familiar with the matter.
Those rounded up include Yemenis working for the US embassy and USAID, the international development arm of the American government, according to the people, who declined to be named as they weren't authorized to discuss the detentions.
The motivation for the arrests, which took place over the past three weeks, wasn't clear but they come as the US and Saudi Arabia push for an end to the war in Yemen. The US embassy was shut in 2015 after the
Houthis took the capital, but some local staff continue to work from home or as security guards for the premises.
Source: Al Arabiya
Please click the following URL to read the full text of the original story:
https://english.alarabiya.net/News/middle-east/2021/11/11/Iran-backed-Houthis-detain-25-Yemenis-working-for-US
--------
Africa
Sudan's civilian coalition rejects negotiations with military
10 November ,2021
Sudan's main civilian political coalition rejected any negotiation with the military on Wednesday, holding to its position at its first press conference since a coup on Oct. 25 led by General Abdel Fattah al-Burhan.
A statement read at the press conference attributed to spokesman Alwathiq Elbereir said the Forces of Freedom and Change, which had signed a 2019 power-sharing agreement with the military following the ouster of dictator Omar al-Bashir, rejected the coup and had not met with the military.
For the latest headlines, follow our Google News channel online or via the app.
The coalition said it supported Prime Minister Abdalla Hamdok, who is under house arrest, but had not met with him, and joined him in demanding a return to pre-coup conditions.
"We did not break the partnership ... and we must return to the constitutional document," said another FFC spokesman, adding that the coup happened after civilians brought certain contentious issues to the table.
"The coup does not represent the military institution," the spokesman added, saying the coalition would not accept the return of Burhan in the head of state position he held before the coup.
Several civilian politicians and officials were arrested following the coup, and Elbereir said they were facing pressures that were endangering their lives.
Mediation attempts since the takeover have stalled, and while lower-level appointments have been made, neither a cabinet or head of state Sovereign council have been named.
Burhan has said he is committed to the democratic transition and elections in July 2023.
Burhan is under international pressure to reverse his actions. The UN Security Council will be briefed on Sudan by UN special envoy Volker Perthes during a closed-door meeting on Thursday, diplomats said.
Resistance committees have called for "marches of millions" on Nov. 13 and 17 which the FFC said it supported. The committees are organizing under the slogan: No negotiations, no partnership, no legitimacy.
Source: Al Arabiya
Please click the following URL to read the full text of the original story:
https://english.alarabiya.net/News/middle-east/2021/11/10/Sudan-s-civilian-coalition-rejects-negotiations-with-military
--------
Algeria welcomes 'respectful' French comments amid row
10 November ,2021
Algeria on Wednesday welcomed comments from the office of French President Emmanuel Macron expressing regret over a row sparked by his criticism of the former French colony.
Foreign Minister Ramtane Lamamra also confirmed Algerian officials would attend a conference on Libya in Paris, although not President Abdelmadjid Tebboune himself.
For the latest headlines, follow our Google News channel online or via the app.
The statement from Macron's office "contained reasonable ideas that respect Algeria, its history, past and present, and respect Algeria's sovereignty," Lamamra told Algerian diplomats.
Macron had in October accused Algeria's ruling system of rewriting history and fomenting anti-French hatred, but his office on Tuesday stressed his "greatest respect" for the North African country.
The exchange comes as France prepares for a high-level summit Friday on Algeria's war-torn neighbor Libya, aimed at ensuring elections go ahead in December.
Macron had invited Tebboune to the conference.
Relations between France and Algeria have been strained for much of the six decades since the former French colony won its independence after a brutal war.
Since his election in 2017, Macron has gone further than his predecessors in owning up to French abuses during a 130-year occupation, but ties deteriorated again in October after he accused Algeria's "political-military system" of rewriting the country's history to foment "hatred towards France."
In remarks to descendants of independence fighters reported by Le Monde, Macron also questioned whether Algeria had existed as a nation before the French invasion in the 1800s.
That sparked a fierce reaction from Algiers, coming after Paris's decision a month earlier to sharply reduce the number of visas it grants to citizens of Algeria, Morocco and Tunisia.
Algiers withdrew its ambassador and banned French military planes from its airspace, which they regularly use to carry out operations in West Africa.
Source: Al Arabiya
Please click the following URL to read the full text of the original story:
https://english.alarabiya.net/News/north-africa/2021/11/10/Algeria-welcomes-respectful-French-comments-amid-row
--------
Gunmen kill 11 in NW Nigeria
Adam Abu-bashal
11.11.2021
ABUJA, Nigeria
At least 11 people were killed and 13 others injured in an armed attack in northwestern Nigeria, police said Wednesday.
Katsina state Police Chief Gambo Isa told reporters that gunmen opened fire on people in the Batsari local government area.
Several houses were gutted in the attack spreading fear among the public, he said.
The injured were taken to hospital, while a police team was dispatched to the area to investigate the situation on the ground, he added.
The region has witnessed sporadic clashes between Fulani people -- one of the largest ethnic groups widely dispersed across West Africa -- who are engaged in rearing animals, and some other tribes who live on farming.
Source: Anadolu Agency
Please click the following URL to read the full text of the original story:
https://www.aa.com.tr/en/africa/gunmen-kill-11-in-nw-nigeria/2417681
--------
Somali military kills 9 al-Shabaab terrorists
Mohammed Dhaysane
10.11.2021
MOGADISHU, Somalia
The Somali military killed nine terrorists and wounded 13 others in a military operation against terrorist group al-Shabaab in lower Shabelle, southwestern Somalia, the army announced on Wednesday.
Somali National Army (SNA) radio said they "conducted a planned operation in the villages of Shaamagare and Rayaqle located between the towns of Awdhegle and Bariire," adding that the army also seized weapons.
The operation came a day after the army liberated two strategic villages in the Gedo region.
The al-Qaeda-affiliated terrorist group has yet to comment on the army's claim.
Source: Anadolu Agency
Please click the following URL to read the full text of the original story:
https://www.aa.com.tr/en/africa/somali-military-kills-9-al-shabaab-terrorists/2417049
--------
UN Security Council sanctions 3 more rebel leaders in Yemen
Mohammed Alragawi
10.11.2021
The United Nations Security Council on Wednesday imposed sanctions on three Houthi rebel leaders in Yemen.
The list of sanctions include rebel leaders Muhammad Abd Al-Karim Al-Ghamari, Yusuf Al-Madani, and Saleh Mesfer Saleh.
In a statement, the Sanctions Committee said the three personnel were listed for their "involvement in and leadership of Houthi military campaigns that threaten the peace, security, and stability of Yemen."
According to the committee, Al-Ghamari, as a military chief of the Houthi General Staff, plays a leading role in orchestrating rebel military efforts that are directly threatening the peace, security and stability of Yemen, as well as cross-border attacks against Saudi Arabia.
He most recently took charge of the large-scale Houthi offensive against Yemeni government-held territory in Marib province.
Al-Madani, meanwhile, is a prominent leader of Houthi forces and the commander of rebel fighters in the provinces of Hudaydah, Hajjah, Al Mahwit, and Raymah, the committee said.
Saleh Mesfer Saleh Al Shaer serves as an assistant to the Houthi Minister of Defense for Logistics. He assisted Houthi rebels in acquiring smuggled arms and weapons, the committee said.
According to the committee, Al Shaer is listed in connection with his direct involvement since early 2018 in the widespread and unlawful appropriation of assets and entities owned by private individuals under arrest by the Houthis or forced to take refuge outside of Yemen.
The new sanctioned leaders bring to nine the number of Houthis on the sanctions list of the UN Security Council.
In March, the US Treasury Department listed Houthi leaders Mansur Al-Sa'adi and Ahmad Ali Ahsan al-Hamzi to its sanctions list.
Source: Anadolu Agency
Please click the following URL to read the full text of the original story:
https://www.aa.com.tr/en/africa/un-security-council-sanctions-3-more-rebel-leaders-in-yemen/2417029
--------
URL: https://www.newageislam.com/islamic-world-news/amnesty-tehreek-taliban-pakistan/d/125752
New Age Islam, Islam Online, Islamic Website, African Muslim News, Arab World News, South Asia News, Indian Muslim News, World Muslim News, Women in Islam, Islamic Feminism, Arab Women, Women In Arab, Islamophobia in America, Muslim Women in West, Islam Women and Feminism