New Age Islam News Bureau
12 Aug 2018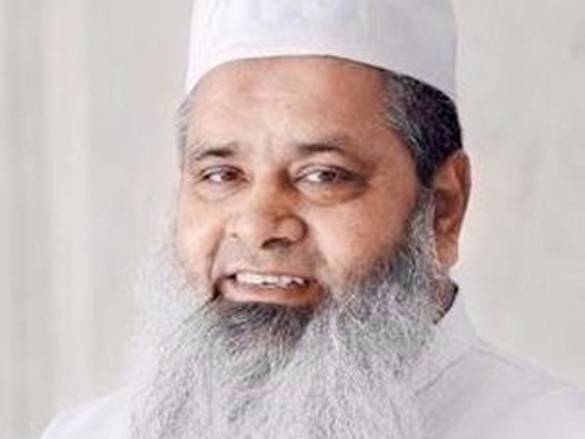 File image of Maulana Badruddin Ajmal. Twitter@BadruddinAjmal
--------
• Nikah Halala Challenges Husband's Manhood, Punishes Him For Instant Divorce, Says AIUDF Leader
• West Bengal: Will Take out Rallies of Muslims If BJP Gives Me Money, Says Imam
• Imran Khan Assures Religious Freedom, Welfare for Non-Muslim Pakistanis
• Muslim Fundamentalists of Tunisia Protest Proposed Law on Sexual Equality
• Arab Coalition: 86 Child Soldiers Recruited By Houthis Return to Families
• Dying German Man Accepts Islam in Emotional Video
India
• Nikah Halala Challenges Husband's Manhood, Punishes Him For Instant Divorce, Says AIUDF Leader Badruddin Ajmal
• West Bengal: Will Take out Rallies of Muslims If BJP Gives Me Money, Says Imam
• 'Terror Is Terror': Chidambaram Targets BJP, RSS after Maharashtra ATS Arrests Three with Links to Hindu Outfits
• National Investigation Agency Gets Indian Scholars To Understand IS Radicalisation
• AIMPLB to Go 'Online', To Set Up Social Media Desk
• Muslim Man Attacked By Members of His Own Community at Mosque for Bringing Kanwar from Haridwar
• Never Thought CM Who Compared Muslims with Puppy Can Be PM: Aiyar
• 1 cop killed, 3 security personnel injured in encounter with terrorists in J&K
• BJP's 'Niyat' Not 'Saaf' On Triple Talaq Bill, Says Congress Mocking Govt's Slogan
• This Muzaffarnagar school celebrates Diwali and Eid with equal gusto
--------
Pakistan
• Imran Khan Assures Religious Freedom, Welfare for Non-Muslim Pakistanis
• Pakistan's First Elected Non-Muslim MP: Won Due To Party, Religion Played No Role, Says Mahesh Kumar
• Three policemen martyred, two terrorists killed in attack on Gilgit checkpost
• PTI chief picks economy aide as team takes shape
• Military officers to get training in Russia
• PTI nominates Sheikh for opposition leader in Sindh PA
• 3 Chinese nationals among 5 injured in Dalbandin suicide attack
• JUI-F to celebrate Independence Day with fervour
--------
Africa
• Muslim Fundamentalists of Tunisia Protest Proposed Law on Sexual Equality
• Mali's 'Highway of Death' Highlights Extremist Peril
• Four Jordanian security men killed during a police raid on terrorist cell
• Jordan says explosive device behind blast that killed policeman
• South Africa mourns death of Muslim scholar
• New al-Shabaab leader labels Turkey Somalia's 'enemy'
--------
Mideast
• Arab Coalition: 86 Child Soldiers Recruited By Houthis Return to Families
• Iran Slams US Sanctions on Turkey, Vows Full Support
• Iran's IRGC disbands terror team on Iraq border, kills 11 members
• Israeli soldier attacks anti-occupation activist filming him: Video
• Yemeni army advances in Saada, liberates villages on Al-Malahid front
--------
Europe
• Dying German Man Accepts Islam in Emotional Video
• Muslim Group Joins Condemnation of Boris Johnson Burqa Remarks
• UK Muslim Convert Admits Plotting Carnage With Oxford Street Attack
--------
Arab World
• Syrian Militants Build an Army with Turkish Help, Face Challenges
• Fierce Syria Bombardment Kills 53 Civilians
• Syrian Army Launches Heavy Artillery Attacks on Terrorists in Aleppo Province
• More Bodies of Civilians Killed in US Air Raids Found in Northeastern Syria
• Syrian Army Restores Security to Strategic Regions in Sweida
• Syrian Army Sends Largest Military Convoy to North for Idlib Operation
• Syrian Army Repels ISIL's Offensive in Deir Ezzur
• Egypt security forces thwart a suicide attack at church near Cairo
• Egypt prosecutors order ex-monk detained over Abbot's death
• ISIS militants in Iraq kill five people from same family
--------
South Asia
• Ershad Is A True Defender Of Islam: Khilafat Majlish
• Bangladeshi Delegation Visits Myanmar's Rakhine State
• Gov't has a responsibility to respond to nation's demands for peace, ceasefire: Atmar
• US airstrike target ISIS Khurasan hideout in Nangarhar province
• Afghan Taliban hold talks in Uzbekistan to discuss peace prospects
--------
Southeast Asia
• All Religions Should Abide by China's Laws, Says State Media on Mosque Standoff
• Thai Child Bride Returns From Malaysia After Outcry
• China Holds Million Ethnic Uighurs in Secret Political Camps: UN Report
• Expert: Hard approach still needed to tackle terrorism
--------
North America
• Alleged 'Insider Attack' Raises Fears Among US Troops Training Militants In Syria
• Investigators find ammo, dirty diapers at squalid 'extremist Muslim' compound in New Mexico
• Trump, France's Macron Discuss Iran, Middle East and Trade
Compiled by New Age Islam News Bureau
URL: https://www.newageislam.com/islamic-world-news/nikah-halala-challenges-husband-manhood/d/116107
--------
Nikah halala challenges husband's manhood, punishes him for instant divorce, says AIUDF leader
Kangkan Acharyya
Aug 12, 2018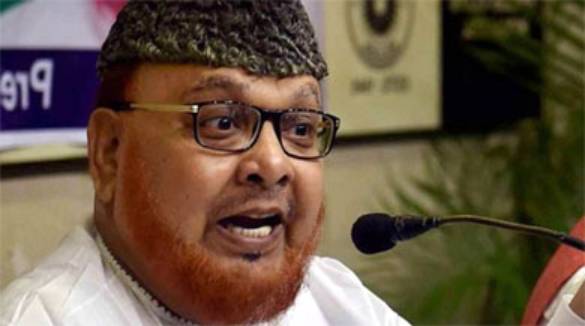 Shahi Imam Noor-ur Rehman Barkati of Kolkata. (Source: PTI Photo)
------
Nikah halala is a measure to punish Muslim men who indulge in instant and arbitrary divorce, says Maulana Badruddin Ajmal, a Muslim leader and Lok Sabha MP from Assam. Ajmal says that the nikah halala system punishes the man by hurting his masculinity and the fear of that prevents him from arbitrarily divorcing their wives.
"Some Muslim men divorce their wives hastily without thinking about the consequence. Later they repent their decision and want their wives back. The practice of nikah halala prevents Muslim men from resorting to hasty and arbitrary divorces," he said.
Interpreting his view, Ajmal, who is one of the most influential leaders among Bengali Muslims in Assam, says that the very idea of having to let his wife sleep with another man challenges and hurts the manhood of the husband and traumatises him, and this fear prevents him from divorcing his wife arbitrarily.
"Muslim men know that if they indulge in instant divorce or unnecessarily divorce their wives, then a day might come when they will have to allow their wives to marry another man and also let her consummate that marriage in order to get her back. This is the biggest challenge for a man. So, the very fear of having to go through this ordeal prevents them from estranging their wives without giving themselves enough time to review the decision to divorce and also to reconcile with their spouses."
Ajmal's interpretation of nikah halala has come at a time when Nida Khan, a Muslim woman who claims herself to be a victim of nikah halala, has joined BJP in order to carry forward her struggle against triple talaq and nikah halala. The Lok Sabha MP, who heads the All India United Democratic Front (AIUDF), a popular political party among Bengali Muslims in Assam, was declared as ruling BJP's prime enemy by Himanta Biswa Sarma, a leader in the saffron party.
Nikah halala has been a subject of much heated debates after BJP threw its weight behind the women rights activist fighting against the practice even though the Islamic clergy continues to support the practice.
As per Islamic law, a husband and wife cannot unite after divorce until the wife marries another man and consummates the marriages, gets a divorce from the second and observes a period of separation period called 'iddat', or if the second husband meets death.
Special marriages are arranged to reunite divorced Muslim couples where the wife marries another person under the condition that he would divorce her after which she would reunite with her first husband. This kind of marriage is known as nikah halala.
According to The Indian Express, "Nikah halala requires a woman to marry and sleep with another man in order to return to her first husband. There have been instances where the husband regrets divorcing his wife through triple talaq and in the hope of reconciliation hands over his wife to another man for marriage, under the condition that the latter would divorce the woman the next day."
The case of Khan, who is from Bareilly, Uttar Pradesh, and a crusader against triple talaq, Muslim polygamy and nikah halala brought the issue to the forefront as she claimed that she was subjected to triple talaq and both nikah halala.
At present a case is also being heard at the Supreme Court against nikah halala, in which the Government of India is also a party. The government has decided to incriminate nikah halala.
But Ajmal questions as to why only the issues of Muslim women are singled out by some politicians and not the issues related women of other communities.
"I want to question the politicians who want to pass law against nikah halala that what about the issues faced by Hindu women? What about the issues faced by Assamese women? I will support these politicians if they also take up the issues faced by women from other communities," he asserted.
Ajam informs that instant divorce is looked down upon in Shariah and by the Prophet, and that nikah halala was introduced to prevent such sinful practice.
https://www.firstpost.com/india/nikah-halala-challenges-husbands-manhood-punishes-him-for-instant-divorce-says-aiudf-leader-badruddin-ajmal-4946671.html
--------
West Bengal: Will Take out Rallies of Muslims If BJP Gives Me Money, Says Imam
by SWEETY KUMARI
August 12, 2018
Once a close associate of West Bengal Chief Minister Mamata Banerjee, Shahi Imam Noor-ur Rehman Barkati on Saturday said he could rally for the BJP as long as the party "gives money to leaders like us (Muslim leaders)".
The Shahi Imam spoke with The Sunday Express after a sting operation was carried out by Times Now and aired on Friday. In the video, the Imam was heard saying, "The Muslim vote can change with money. In Bengal, the sentiment has changed. Andar hi andar Muslim log BJP ko pyaar karne lage hai (Muslims have started loving the BJP)… The BJP is aiming for 22 seats. I'm telling you they'll get 28. If the Muslims had not voted for her (Mamata) in the last election, what would she have done… I will take out rallies of Muslims if BJP gives me the money…"
Speaking to The Sunday Express on Saturday, Barkati reiterated his stand, saying, "The biggest Imam is money. BJP has money. If they spend that money in Bengal, you will see how Muslim votes turn in their favour. Nothing comes for free."
The Muslim leader predicted that the BJP would get 10 per cent of Muslim vote in 2019, but if the party wants all 30 per cent of the minority vote, they would have to spend money. "I can rally for BJP and can easily influence people to vote for them," he added.
Barkati, who was once known as Mamata's "rakhi brother", said Mamata had gradually sidelined him.
"On every July 21 (Martyr's Day rally), I used to get an invitation. My presence was vital for Mamata and TMC then. This was the first time I wasn't invited. It is obvious that TMC no more wants to be branded as the party of Muslims. They don't want to give BJP the grounds to get sympathy votes from Hindus," he said.
Barkati, who once issued a fatwa against PM Narendra Modi, said, "The sentiments in Bengal have changed, Muslims in Bengal are no more anti-BJP. They are just waiting for their leaders to tell them who they should vote for. If I am approached and they consider our conditions, I may issue a fatwa asking people to vote for BJP in 2019, like I had issued a fatwa in favour of Mamata Banerjee before the 2011 election."
https://indianexpress.com/article/india/west-bengal-will-take-out-rallies-of-muslims-if-bjp-gives-me-money-says-shahi-imam-noor-ur-rehman-barkati-5302633/
--------
Imran Khan assures religious freedom, welfare for non-Muslim Pakistanis
August 12, 2018
ISLAMABAD: Pakistan Tehreek-e-Insaf (PTI) Chairman Imran Khan on Saturday said August 11 was a day to renew the pledge for welfare and well-being of non-Muslims living in Pakistan.
In a message on the National Minorities Day, Imran Khan said the love of minorities for Pakistan was exemplary and beyond any doubt.
He said from the creation of Pakistan till today, the non-Muslim Pakistanis had played an exemplary role in national life.
Imran said Quaid-e-Azam laid down policy of Pakistan regarding minorities.
He said that the PTI was determined to take steps for the welfare of minorities, adding, "We will keep our promise of complete religious freedom and equal opportunities for minorities to ensure their progress and development."
https://www.pakistantoday.com.pk/2018/08/11/imran-khan-assures-religious-freedom-welfare-for-non-muslim-pakistanis/
--------
Muslim Fundamentalists of Tunisia Protest Proposed Law on Sexual Equality
August 12, 2018
BARDO, Tunisia — Thousands of Muslim fundamentalists protested Saturday in front of the nation's parliament to decry proposals in a government report on gender equality that they claim are contrary to Islam.
Men and veiled women marched under a blazing sun from Tunis to Bardo, outside the capital where the parliament is located, to protest the report by the Commission of Individual Liberties and Equality. The report, among other things, calls for legalizing homosexuality and giving the sexes equal inheritance rights.
Security was heavy during the protest, which remained calm despite the anger the report has triggered. The crowd, who came from towns around Tunisia, cried out "Allahu akbar (God is great)" as they marched.
The protest was organized by the National Coordination for the Defense of the Quran, the Constitution and Equitable Development.
The commission was put in place a year ago by President Beji Caid Essebsi, who is expected to speak about it on Monday, Women's Day in Tunisia. It was not immediately clear whether the proposals would eventually be put before parliament.
The North African nation has, since its independence from France in 1956, been a standard-bearer in the Muslim world for women's rights. But the proposals in the 300-page report, known as the Colibe report, would take human rights, including women's rights, to another level. It proposes to end the death penalty and legalize homosexuality, which the current penal code outlaws and punishes with three years in prison.
The equal inheritance proposal is an abrupt change from current practices, which see males in a family receiving double the inheritance of females.
The topics touching on sensitive areas have riled Muslims who embrace a literal reading of the Quran, the Muslim holy book.
"I'm here to defend the word of God and oppose any projects that harm the Islamic identity of our people," said Kamel Raissi, a 65-year-old retiree.
"We totally reject the Colibe report which contains an underhanded hate for Islam," said Abdellatif Oueslati, a nurse from Jendouba, 155 kilometers (95 miles) west of Tunis.
The authors of the report say the proposals conform with the nation's 2014 Constitution and international human rights obligations.
"They in no way contravene Islamic precepts, but embody an enlightened reading of these precepts, which put them in step with the evolution of society," said Abdelmajid Charfi, a university professor who is one of the report's authors.
Protesters at Saturday's rally were not convinced.
Tarek Azouz worried that the proposals amounted to a "wish to destroy moral values" by legalizing homosexuality. If acted upon, he said, "we'll end up with gay marriage." /cbb
http://newsinfo.inquirer.net/1020212/news-muslims-islam-tunisia-sexual-equality-gender-equality-colibe-report-homosexuality
--------
Arab Coalition: 86 child soldiers recruited by Houthis return to families
11 August 2018
The Arab Coalition said in a statement on Saturday that 86 children have been handed over to their families after they were recruited as child soldiers by the Houthi militia in Yemen.
The Coalition expressed concern over the abuse and recruitment of children by the Iran-backed militia.
The statement said that the militia were continuing its campaign of child recruitment for fighting in the Yemen war.
Arab Coalition spokesman Col. Turki al-Malki told Al Arabiya on Saturday that the Houthi militia takes advantage of poor living conditions in Yemen to recruit child soldiers.
The Coalition stressed that the safety of Yemeni children was a priority, as well as ensuring that they were not affected by the war.
The King Salman Center for Relief and Humanitarian Action has continued to rehabilitate Yemeni children who were recruited by the Houthi militia to counter the psychological damage they suffered in order to return them to their families.
A rehabilitation course for 27 children is currently under way in Maarib governorate. A total of 161 children have so far been rehabilitated by the center.
These children receive psychoogical, social and educational rehabilitation. The program aims to rehabilitate the estimated 2,000 children recruited by the Houthi militias, who deprived them of their childhood and rights to education.
A group of doctors, psychologists, social workers and educators are part of the teams working to get the children out of a bad mental state after being subjected to a process of forced recruitment for battle.
The rehabilitation programs include recreational and cultural activities and meaningful competitions.
https://english.alarabiya.net/en/News/gulf/2018/08/11/Arab-Coalition-Houthi-militia-continues-to-recruit-abuse-children.html
--------
Dying German Man Accepts Islam in Emotional Video
August 12, 2018
He recites the Shahada in viral video on his deathbed.
A 75-year-old German man's video has gone viral recently after he converted to Islam - on his deathbed.
According to reports, the ailing man in the video was gravely ill when he decided to accept Islam.
In the viral video, a Muslim man helps the German recite the Shahada (testimony):"There is no God but Allah, and Muhammad (PBUH) is His messenger."
After the testimony, the man recording the video recites the call to prayer (azan) in his ear.
It is not known when and where the video was recorded, but it has garnered thousands of views online over the weekend, with netizens praying for the old convert.
https://www.khaleejtimes.com/international/europe/dying-/german-man-accepts-islam-in-emotional-video
--------
India
'Terror is terror': Chidambaram targets BJP, RSS after Maharashtra ATS arrests three with links to Hindu outfits
August 11, 2018
Former finance minister P Chidambaram on Saturday took a dig at the ruling BJP over the arrest of three men affiliated to radical Hindu outfits, by the Maharashtra Anti-Terrorism Squad (ATS), and asked if the party planned to condemn those who are plotting terror attacks.
Taking to Twitter, the senior Congress leader said "terror is terror" irrespective of religion and that "there is no purpose in burying one's head". "Maharashtra ATS announced the arrest of three men affiliated to radical Hindu outfits. Who rules Maharashtra?" he asked.
The former Union minister then said, "The BJP. Hindu, Muslim or any other religion, radicalism is radicalism. Terror is terror. There is no purpose in burying one's head in the sand."
"Will the RSS and BJP condemn those who are plotting and planning terror attacks?" he added.
On Friday, the Maharashtra ATS had announced the arrest of the men and claimed to have averted major terror attacks with the recovery of a huge cache of explosives, including live crude bombs and gelatin sticks.
Among the arrested is Vaibhav Raut (40), allegedly a member of the Hindu Govansh Raksha Samiti who is also said to be a sympathiser of the right wing Sanatan Sanstha. Suspects allegedly linked to the Sanatan Sanstha were involved in the murders of three rationalists – Narendra Dabholkar, Govind Pansare and MM Kalburgi – and the killing of journalist Gauri Lankesh.
Another accused, Sudhanwa Gondhalekar (39) from Satara, is a member of the Shri Shivapratishthan Hindustan, whose chief is Sambhaji Bhide. Bhide has been booked in two criminal cases in connection with violence near Bhima Koregaon on January 1 by the Pune Police. The third accused, Sharad Kasalkar (25) was arrested along with Raut from Raut's Nallasopara residence. Sources said that the ATS recovered a note on making bombs from Kasalkar and that Gondhalekar had knowledge of explosives and trained the other two men on assembling them.
The three have been arrested under the stringent Unlawful Activities (Prevention) Act and sections of the Indian Penal Code and Explosives Act. According to the ATS, they have recovered 22 items including 20 crude bombs, two gelatin sheets, a note on how to prepare bombs, one six-volt battery, a few loose wires, transistors and glue from the arrested.
Sources said that the bombs recovered from Raut's house were "ready" for use. "They were up to something sinister and the bombs were active and ready to be used. Such a huge cache recovered before Independence day and Bakrid is reason enough to worry. Our probe is now focusing on the purpose behind assembling so many bombs, were they planning a coordinated attack or otherwise, who trained them and related questions," an official had said.
https://indianexpress.com/article/india/p-chidambaram-maharashtra-ats-arrests-hindu-groups-bjp-rss-terror-attacks-5302416/
--------
National Investigation Agency Gets Indian Scholars To Understand IS Radicalisation
Aug 11, 2018
The National Investigation Agency (NIA) has roped in scholars from prestigious institutes like New Delhi's Jawaharlal Nehru University to study interrogation reports of Islamic State (IS)-inspired accused under its arrest to understand reasons for radicalism.
"These researchers are graduates and post-graduates in subjects like criminology or psychology and they have been working with our counter-radicalism cell for the past one month,'' said an official of the federal anti-terrorism agency. "They have been given interrogation reports of over five dozen persons arrested on the charges of being IS-inspired." The NIA official spoke on condition of anonymity.
Some of the accused were either arrested trying to leave the country to allegedly join the IS or were held after returning to India. Some are behind bars for allegedly trying to carry out terror strikes in India at the IS's behest.
"The researchers, mostly females, will try to find a pattern in these cases in terms of the socio-cultural and financial background of the families the accused persons belong to and also what were the early indicators or causes of radicalism in them," the official added.
The agency has asked the researchers to prepare a report to suggest ways of countering radicalisation.
"At a later stage, we may allow these researchers to sit in interrogation sessions as well to get first hand information from the subjects," said the official quoted earlier in the story.
As of now, the agency has hired the researchers for a year. The Union home ministry had last year formed a Counter Terrorism and Counter Radicalisation division to prepare a de-radicalisation strategy and to keep a check on activities of domestic and international terror outfits.
The government had informed Parliament last year that 75 people had been arrested on the charges of having links with the IS or being inspired by it to form terror modules.
Officials said the IS threat continues despite the group's rout in Syria and Iraq. The NIA last week questioned eight people in Hyderabad for their suspected links with an IS handler. The questioning took place in connection with a case registered two years back.
Former Uttar Pradesh police chief Prakash Singh called the move to rope in the researchers an honest effort in countering the problem.
Full report at:
https://www.hindustantimes.com/india-news/nia-gets-scholars-to-understand-is-radicalisation/story-PvKH9GnkbJxtpaHG0q6XEM.html
--------
AIMPLB to go 'online', to set up social media desk
Aug 11, 2018
BHOPAL: For the first time, All India Muslim Personal Law Board (AIMPLB) announced to set up of a social media desk to counter rising anti-Islam rhetoric, create a narrative counter stereotypes about the Muslim way of life and reclaim secular ground, here on Saturday.
AIMPLB's youngest secretary to date, 31-year-old Maulana Mohammed Umrain Mahfooz Rehmani, "AIMPLB has been slow to respond to narrative set forth in the national discourse. Changes in media policy were first proposed three years ago. Recently, it has been endorsed by the board. Social media would provide space for counter narrative and quell fake news." He cited recent instance of Halala controversy and the online narrative. "Halala is not part of Islam," he said.
The more than 45-year-old organisation, AIMPLB announced formation of 'Islah-e-Muashra' committee, that besides addressing reforms within Muslims, would also develop a social media strategy. Around 60 information technology experts would monitor social media and recommend response online narrative.
Ishah means to restore oneself or to reconcile people with one another, to make peace. 'Muashra' means reform of society, he explained.
For some AIMPLB move it is taking forward, recent #TalkToAMuslim an online campaign aiming to ascertain Muslims are not intrinsically different from any other Indian.
AIMPLB is to consult with 60 information technology experts during four hours meeting planned in Bhopal on Sunday.
For long, AIMPLB's primary role has been to adopt suitable strategies for the protection and continued applicability of Muslim Personal Law in India. Indications are the board is diversifying, adjusting with changing times.
"There was a time when mass gatherings were the only way to communicate with people. In the age of social media we need to innovate," said Bhopal-based AIMPLB member, Arif Masood.
It has not been easy for clerics to make peace with technology. Especially references that throws open many versions of a point of view. Some board members have urged to personally take up conversations with Muslims, instead of relying on the narrative set forth in the national discourse, said sources.
For starters social media interaction would be in English, Hindi and Urdu.
Full report at:
https://timesofindia.indiatimes.com/city/bhopal/aimplb-to-go-online-to-set-up-social-media-desk/articleshow/65369894.cms
--------
Muslim Man Attacked By Members of His Own Community at Mosque for Bringing Kanwar from Haridwar
Aug 11, 2018
MEERUT: A Muslim man in a Baghpat village was allegedly attacked by members of his own community when he went to the local mosque to offer namaz late on Friday night. His crime: he had participated in the Kanwar Yatra and had even brought a kanwar containing Ganga water from Haridwar.
The incident happened in Ranchhad village under Binauli police station, from where a farmer named Babu Khan had gone on Kanwar Yatra. After he returned on Thursday, a section of his own community turned against him. This reached a flashpoint on Friday night when he went to the mosque. He was allegedly abused, attacked and driven away.
Khan told TOI on Saturday, "My purpose was to just live the experience of a Kanwar Yatra pilgrim, to understand what they go through in this strenuous exercise of walking all the way from Haridwar carrying all that water. I even went to Pura Mahadev Temple in Baghpat and offered Ganga water there. I don't see anything wrong in it. I am still a devout Muslim, but some people abused me and on Friday night tried to attack me, but I slipped away."
However, the opposing group defended its decision not to allow Khan to enter the mosque and provided an altogether different reason for their opposition. "Ideally we do not approve of what he has done. But the matter was not as big as it has been made out to be. We confronted him and he became abusive. And the primary reason for stopping him was because he was drunk. He has added the Kanwar Yatra angle only to exaggerate things to gain sympathy," said Haroon Ahmad, a resident of the village.
Now Devender Singh, husband of the village pradhan Sharmili Devi has stepped in and is trying to arrive at a compromise between Babu Khan and the rest of his community. "The matter definitely pertains to religion and some people are irked by Khan bringing a kanwar and eventually going to a temple. We are trying to arrive at a compromise by initiating discussion between both sides, although a police complaint has been given to Binoli police station as a precautionary measure."
Full report at:
https://timesofindia.indiatimes.com/city/meerut/muslim-man-attacked-at-mosque-for-bringing-kanwar-from-haridwar/articleshow/65370005.cms
--------
Never thought CM who compared Muslims with puppy can be PM: Aiyar
August 11, 2018
Delhi: Suspended Congress leader Mani Shankar Aiyar on Saturday came up with a fresh comment that may soon evoke strong reactions from the Bharatiya Janata Party (BJP). Speaking at the inauguration of 'Enough With intolerance National Campaign' event at India International Centre, Aiyar said he could never imagine that any person who called Muslims as puppy can become Prime Minister of India.
"Before 2014, I would have never thought, that a Chief Minister thinks of Muslims as puppy. The individual, who was when asked about whether you have any regrets that so many Muslims lost their lives in 2002, had said that even if a puppy comes under a car, I will feel the pain. I have thought over this statement. He never visited any Muslim refugee camp for 24 days (after Gujarat riots) and reached Shah Alam mosque in Ahmadabad only when (then) Prime Minister Atal Bihari Vajpayee came, as it was the necessity of the protocol. I had never thought that any such individual can become Prime Minister," Aiyar said.
He went on to mention former Prime Minister Jawaharlal Nehru's contribution in promoting secularism. "Our first Prime Minister Jawahar Lal Nehru taught us the real definition of nationalism. I learned from him that majority communalism is worst than minority communalism. He taught us that we can either be secular or cannot remain one single country," Aiyar added.
He further said: "I am proud of Hindus, Buddhists, Jains, Christians and I am very proud of Muslims. Muslims ruled India for 666 years from the throne of Delhi. From Muhammad Ghori in 1152 to Bahadur Shah Zafar in 1858 — Muslims ruled India but we remained a large nation.
During this vast period, only 24 percent Hindus converted to Islam and 76 percent did not." Interestingly, years from 1152 to 1858 total to 706 years and not 666 as mentioned by Aiyar.
Full report at:
https://www.siasat.com/news/never-thought-cm-who-compared-muslims-puppy-can-be-pm-aiyar-1391150/
--------
1 cop killed, 3 security personnel injured in encounter with terrorists in J&K
Aug 12, 2018
SRINAGAR: A policeman was killed while four security forces personnel were injured during an encounter with militants in the Batmaloo area here today, police said.
Two suspects have been detained from the encounter site, a police spokesman said.
Security forces launched a cordon and search operation at Diyarwani in Batmaloo area of the city early morning following information about the presence of terrorists in the area, Central Kashmir Range Deputy Inspector General (DIG) V K Birdi told reporters.
He said the search operation turned into an encounter as the terrorists fired upon the forces who retaliated.
In the initial burst of fire, five jawans sustained injuries and were evacuated to the hospital for medical attention. However, one of them succumbed to his injuries, the DIG said.
A police spokesman identified the slain policeman as selection grade constable Parvaiz Ahmad.
Birdi said a terrorist has also suffered injuries and managed to flee the encounter site, but the security forces have maintained the cordon of the area and the searches were underway.
He said, "Two accomplices of the terrorists have been detained."
Earlier, Director General of Police (DGP) S P Vaid wrote on Twitter that one personnel belonging to the special operations group (SOG) of the Jammu and Kashmir Police was killed in the encounter.
"On a specific information about the presence of terrorists in a hideout, an operation was launched in Batmaloo Srinagar leading to exchange of fire, one SOG boy martyred, one JKP & (and) 2 (two) CRPF Jawans sustained injuries, operation continues," the DGP tweeted.
The spokesman said security forces exercised maximum restraint in retaliation considering the residential population and other civil establishments around the area.
He said incriminating material was recovered from the encounter site.
Police have registered a case and investigation has been initiated in the matter, the spokesman said.
Full report at:
https://timesofindia.indiatimes.com/india/1-cop-killed-3-security-personnel-injured-in-encounter-with-militants-in-jk/articleshow/65371366.cms
--------
BJP's 'niyat' not 'saaf' on triple talaq bill, says Congress mocking govt's slogan
August 11, 2018
The Congress on Saturday alleged that the government's motive behind the triple talaq bill was not to protect Muslim women, but to play politics over the issue. Senior Congress leader Jairam Ramesh said if the NDA government was so keen on introducing the bill, it could have done so on Thursday "instead of targeting Friday, which is a non-Bill day". His remarks come a day after the BJP held Congress president Rahul Gandhi responsible for the triple talaq bill not getting the parliamentary nod in the Monsoon Session, saying his party supported it in the Lok Sabha but not in the Rajya Sabha for its vote bank politics.
Attacking Gandhi, Parliamentary Affairs Minister Ananth Kumar on Friday said that the government till the last moment tried to ensure the passage of the bill, but Congress stalled it. Accusing the government of playing politics over the issue, Ramesh told reporters on Saturday at the AICC headquarters in New Delhi, "The favourite word of Shri Modi, 'niyat' (intention) is not 'saaf' here. The 'niyat' is something else, motive is something else. The motive is not protecting Muslim women. The motive is to paint the Congress and other parties into a corner and why they have not explained till today, why did they… make it a prestige issue on the criminal provision, why suddenly they have removed this. Why? It is a welcome removal, but why? What prompted them to change their mind?"
The Modi government had come out with a new slogan few months ago, 'Saaf Niyat, Sahi Vikas' (Clean intent, right development), to mark its four years in power at the Centre. Ramesh said that the government could have allowed the bill to go to a Select Committee, given it one month, and they would come back with the same amendments. "The whole thing is a political game," he alleged.
Asked if the Congress' demand that Triple Talaq bill be referred to Select Committee was a late realisation, Ramesh said it was not so. Leader of the opposition in the Rajya Sabha Ghulam Nabi Azad had made it very clear in the last session of Parliament when the bill came out that there is no provision for triple talaq in Islamic norms, a certain section practices it, a strong law is needed to deal with it, and while making the law, it should not be criminalised, Ramesh said.
He asserted that all political parties — the Congress, TMC, Left, Samajwadi, BSP, BJD, NCP, Anna DMK — had said that it should referred to a Select Committee. Seeking to allay fears that the proposed law which makes the practice of instant triple talaq illegal and imposes a jail term of up to three years on the husband could be misused, the government on Thursday had approved certain safeguards in it such as adding a provision of bail for the accused before trial.
"The government at first did not agree to the amendments then suddenly. Two days ago, they passed the very amendments that Azad was suggesting," Ramesh said. "What prompted them to change the mind, I do not know. And they did not take opposition into confidence. They did not have a meeting but they passed. "They came up with this new revised Triple Talaq Legislation but yesterday Chairman of the Rajya Sabha…said we will take up after Private Members Bill, we will take Insolvency Code and we will take up Commercial Courts," he said.
Full report at:
https://indianexpress.com/article/india/bjps-niyat-not-saaf-on-triple-talaq-bill-says-congress-mocking-govts-slogan-5302435/
--------
This Muzaffarnagar school celebrates Diwali and Eid with equal gusto
AUGUST 11, 2018
Ishita Mishra
Founded for riot victims, over a dozen Hindu students have joined the school this year
Sir Syed National School, part of an under-construction building that also houses a small mosque, stands at the junction of two narrow lanes in Muzaffarnagar's Jaula village. It looks nondescript. Yet it is remarkable in many ways — founded in 2016 as a primary school especially for the Muzaffarnagar riot victims, the school has 300-plus students today. That's not all. This year, over a dozen Hindu students took admission here.
The school is quite state-of-the-art: equipped with computers, audio-visual classrooms, and a well-stocked library. The campus has Wifi, solar power connectivity, and CCTV with night vision. The building was constructed using a ₹51 lakh donation from the staff and alumni of Aligarh Muslim University (AMU) for the riot victims.
Studying in harmony
When Lt. Gen. Zameeruddin Shah (retd.), former vice-chancellor of AMU, founded the school two years ago, almost all the students were Muslim boys from nearby villages. Now there are girls too, wearing hijabs over their sky blue-and-grey uniforms. "The school has students till Class V now, but plans to upgrade by one class every year till Class XII. It charges students a minimum fee and runs on a 'no-profit-no loss' basis," Shah tells me.
The school gets the full support of both Muslim and Hindu communities, with students celebrating all festivals — from Independence Day to Rakshabandhan, Diwali and Eid with zeal. Prayers are recited in both Hindi and English; and Hindu students get moral science lessons when Muslim students are taking Quran classes.
The teachers — all with B.Ed degrees — stay on campus in quarters equipped with kitchen, dining hall and common room.
The day I visit the school, Shah is there too on inspection. "I have especially come to meet Razia," says Shah, entering the kindergarten class of about 50 children.
The class is headed by 28-year-old Razia Naseem, who hails from Bhajanpura in Delhi. Razia drives to the school in Muzaffarnagar, some 120 km from Delhi, on a scooter. She is the only differently-abled teacher of Sir Syed National School.
Missionary zeal
She tells me that the only reason she joined a school in a a remote and communally sensitive town, in spite of her disability, is because she wanted to do something for the kids who lost everything in the Muzaffarnagar riots.
"It was obviously a challenge to convince my parents. All the female staff members have this problem — nobody wants to send their girls to live all alone here. But it's okay. I am happy here," says Razia.
The eight teachers also teach around 50 kids from very poor families in a three-hour shift that starts at 3:30 p.m. after school hours. "The second shift is 'Roshni' — the 'academic intensive care unit' — for kids who cannot afford even the nominal fee charged here. Our teachers go from door to door to convince labourers and poor farmers living nearby to send their kids to the afternoon shift so that they can help their families while continuing their studies," says Salman Jafri, one of the members of the school management committee.
Teachers work with missionary zeal in spite of the constraints of living and working in a remote rural region. No student takes extra tuitions. Almost all the students are on a Whatsapp group, something unusual in rural schools. And they are all set to launch a school app on August 15 with the punchline 'Truly local, amazingly global'. "The school has succeeded in its aim of becoming a secular institution," says Jafri.
Zoya, who is in Class V, was very happy when Vaishnavi, a friend from her previous school, joined her here. The two come to school and leave together. Maria, who is in Class IV, doesn't like wearing the hijab — she says the teachers never ask her to wear it for the entire day.
Full report at:
https://www.thehindu.com/society/this-muzaffarnagar-school-celebrates-diwali-and-eid-with-equal-gusto/article24643825.ece
--------
Pakistan
Pakistan's First Elected Non-Muslim MP: Won Due To Party, Religion Played No Role, Says Mahesh Kumar
by Sushant Singh
August 12, 2018
55-year old Mahesh Kumar Malani from the Pakistan Peoples Party's (PPP) has become the first non-Muslim to win a general seat in Pakistan's National Assembly. Malani — who is a Hindu — contested and won the NA-222 (Tharparkar-II) seat, where he held his ground against 14 candidates. He received 106,630 votes while his opponent, Arbab Zakaullah of the Grand Democratic Alliance, got 87,251.
In 2013, Malani was also the first non-Muslim lawmaker to win a general seat in the Sindh Assembly. Non-Muslims were declared eligible to vote and contest on general seats in 2002 under an amendment introduced by then president Pervez Musharraf. Besides, non-Muslims also have reserved seats in the Senate, national and provincial assemblies.
Q: Congratulations on your historic win. How does it feel to be the first Hindu to win a general National Assembly seat in Pakistan's history?
I'm very happy that I have won from a general seat for the National Assembly. I had won the general seat from the same constituency in 2013, but for the (Sindh) provincial assembly. In 2018, it is for the National Assembly and I am very happy.
Q: What is the significance of your win? Does it signify a change in society or polity?
Not really, my win is due to my party. I am a humble worker of the Pakistan People's Party, and the party has undertaken extensive work in this district and in my constituency. It is on the basis of that work and performance that we got these votes. I have given time here (in Tharparkar); I am also an office-bearer of the party, so the win is due to that.
Q: People say religion plays an important role in politics. How is it that you were able to win a seat where only 5 per cent of the electorate is Hindu?
Actually, 5 per cent is the total percentage of non-Muslims in Pakistan. In Tharparkar, 40-45 per cent of people non-Muslims. But my win has nothing to do with religion…This is a win because the party has a votebank, and track-record and performance. There is no concept of religion involved in this.
Q: Have you been to India recently? What do you make of the politics here?
I came to India 3-4 years ago for 8-10 days. I had come to attend a wedding, besides meeting some distant relatives and visit places of worship, but I have no concern with anything here.
Q: But what about Indian politics?
See, I love my country, and our relations with all neighbouring countries should be good, based on equality. My country wants to move forward on the basis of equality. India should also think in the same manner.
Q: There have been forceful conversions in Pakistan. Hindus there have sought asylum in India in recent years. India has also given them expedited citizenship. What is your view?
I can say with authority that forceful conversions have stopped. Nearly 5-10 years ago, there was an issue with the law and order situation here, and some people went to India. But for the past five years, there is no law and order issue, no discrimination, we are treated as equals, we have had no feeling (of being unwanted). My win is a message that we stay here as equals with equal rights. Our Muslim brethren also vote for us based on performance. The situation is good and forceful conversions is not a major issue.
Q: What should India expect from Imran Khan as PM?
India should move forward to build better relations on the basis of equality. That should be the priority and as PM, Imran Khan would also want that.
https://indianexpress.com/article/pakistan/pakistans-first-elected-non-muslim-mp-won-due-to-party-religion-played-no-role-says-mahesh-kumar-5302554/
--------
Three policemen martyred, two terrorists killed in attack on Gilgit checkpost
August 12, 2018
GILGIT: Three policemen were martyred while two terrorists were killed in an attack on a check post in Kargah Nullah area of Gilgit-Baltistan on Saturday.
According to sources, a group of five terrorists attacked a police check post in the Kargah area. As a result, three policemen embraced martyrdom; however in retaliatory firing, two terrorists were also killed, while their accomplices fled the scene. Police said that the terrorists were involved in recent attacks on schools in Diamer.
Soon after the incident, Police called the addition contingent and started a search operation in the area.
The bodies and injured were shifted to the District Headquarters Hospital Gilgit for autopsies and treatment, respectively.
GB government spokesperson Faizullah Faraq paid tribute to the martyred personnel and said that security has been put on high alert across the province.
There will be no compromise on the government's writ, he added.
A number of terrorist attacks have been reported in Gilgit-Baltistan in past few days.
ATTACK ON GIRLS' SCHOOLS, SESSION JUDGE:
Earlier this month, 13 schools for girls were attacked and torched in Chilas, which is 130 kilometers away from GB. It was also reported that militants set off bombs in two of them.
After the attacks, the police search operations were launched in the region during which 16 suspects were arrested, the GB government said.
On August 5, a district and sessions judge also came under attack after assailants fired shots at the judge's vehicle in Daryal area of Diamer district.
Police said that the assailants fired at district and sessions judge Malik Inayat's vehicle. Although the car was badly damaged, the judge escaped unharmed. The judge had reportedly not been alerted of the security threat by police.
Talking to a private media outlet, the judge denied reports that he was accompanied by his family at the time of the attack and said that he was alone in the car at the time.
Judge Malik said, "My car was fired at different spots over a distance of two kilometers. But instead of stopping my car, I kept driving really fast."
MILITARY OPERATION ON CARDS:
On August 6, a meeting of local authorities, police and army officials was held and it was briefed on a possible operation against miscreants as the forces commanders agreed to apprehend all suspects involved in the schools' ransack.
Sources at Tanger said that the area had virtually become a no-go area for the civilian administration. Though GB Spokesman Faizullah Faraq said that the CM would visit the violence-hit areas soon, he did not give a date for the same, reflecting the gravity of the situation on the ground.
Full report at:
https://www.pakistantoday.com.pk/2018/08/11/three-policemen-martyred-two-terrorist-killed-in-attack-on-gilgit-checpost/
--------
PTI chief picks economy aide as team takes shape
August 12, 2018
ISLAMABAD: With the incoming government of the Pakistan Tehreek-i-Insaf (PTI) gradually taking shape, party chairman Imran Khan on Saturday gave approval to a couple of more appointments after a meeting with his would-be future aides.
Prominent businessmen Aqeel Karim Dhedi and Abdul Razzaq Dawood called on Imran Khan. Former Inspector General of Police and ex-tax ombudsman Shoaib Suddle also met the PTI chairman.
According to an official announcement, Mr Dawood will be appointed adviser to the prime minister on economic affairs.
Shah Mehmood Qureshi is likely to be chosen as the minister for foreign affairs.
The party also decided to appoint Imran Ismail as governor of Sindh. It was also decided that Imran Khan will retain his National Assembly seat from Mianwali and vacate NA seats he won from Islamabad, Karachi, Lahore and Bannu.
The PTI will invite Pakistan Muslim League-N president Shahbaz Sharif and Pakistan Peoples Party chairman Bilawal Bhutto-Zardari to the oath-taking ceremony of Imran Khan as prime minister. In this connection, PTI leaders Shafqat Mehmood, Asad Qaiser and Fawad Chaudhry will meet opposition party leaders on Sunday.
"We will also assure them that their grievances regarding alleged rigging in the July 25 general elections will be addressed," PTI spokesman Fawad Chaudhry told Dawn.
Media reports said the PTI had decided to appoint Shah Farman as governor of Khyber Pakhtunkhwa. However, there was no official confirmation.
Sources in the party said PTI leader Shireen Mazari was also eyeing the ministry of foreign affairs, but Imran Khan insisted that Mr Qureshi would be the most suitable person for the slot.
Arif Alvi was also said to be annoyed and he did not attend the party meeting at Banigala on Friday. It was learnt earlier that Mr Alvi and Shafqat Mehmood were being considered for the post of National Assembly speaker but Asad Qaiser was nominated as PTI candidate for the post. It is expected that Mr Alvi will be made president as the term of President Mamnoon Hussain will end next month.
Shehryar Afridi was eyeing the post of NA deputy speaker, but after the nomination of Asad Qaiser as speaker it will be difficult for the PTI to nominate another leader from KP for a key position.
The post of deputy speaker may be given to Munazza Hassan.
Insiders said Imran Khan had decided to appoint Babar Awan as the prime minister's adviser on law and justice despite opposition within the party.
Talking to media, PTI leader Imran Ismail, who has been nominated as governor of Sindh, said he would make efforts to take all parties of the province on board, especially the Muttahida Qaumi Movement and the Grand Democratic Alliance.
Full report at:
https://www.dawn.com/news/1426553/pti-chief-picks-economy-aide-as-team-takes-shape
--------
Military officers to get training in Russia
August 12, 2018
ISLAMABAD: Pakistani military officers will receive training in Russian Federation military institutes under a recent agreement signed between the two countries.
The deal underscores Pakistan's increasing reliance on Russia for its military needs amid strained relations with the US. It was signed earlier this week during a visit by Russian Deputy Defence Minister Col Gen Alexander Fomin.
The agreement comes as local media reported the US has stopped financing military training in the US for Pakistani soldiers — a step that Senator Mushahid Hussain Sayed called "wrong and counterproductive."
Full report at:
https://www.dawn.com/news/1426557/military-officers-to-get-training-in-russia
--------
PTI nominates Sheikh for opposition leader in Sindh PA
August 12, 2018
KARACHI: Pakistan Teh­reek-i-Insaf on Saturday nom­inated Haleem Adil Sheikh as its candidate for leader of the opposition in the Sindh Assembly, who within hours of the anno­uncement won support from party allies Muttahida Qaumi Movement (MQM) and Grand Democratic Alliance.
After the party decision, Mr Sheikh met leaders of the MQM and GDA at their offices, who pledged to support the PTI leader unconditionally. At the MQM-Pakistan's office, Mr Sheikh said that the Sindh Assembly would experience the strongest opposition it had seen over the last 15 years.
"We want this partnership and understanding to continue at the provincial level as well," he said.
"I am grateful to the leadership of MQM-Pakistan and GDA, who came up with supportive and positive reactions. I have already met Pir Pagara and other leaders of GDA. This alliance would be for the betterment of Sindh and democracy," the PTI leader said.
Full report at:
https://www.dawn.com/news/1426559/pti-nominates-sheikh-for-opposition-leader-in-sindh-pa
--------
3 Chinese nationals among 5 injured in Dalbandin suicide attack
Syed Ali Shah
August 11, 2018
A bus carrying a team working on the Saindak Copper-Gold Mine project was attacked by a suicide bomber near Dalbandin bypass in Dalbandin, Balochistan, levies sources said on Saturday.
The team, which included Chinese employees working on the project, was on its way to Dalbandin from Saindak district in Chaghi when it came under attack.
According to security sources, the bomber attacked using a Zamyad truck, an Iranian-manufactured vehicle commonly used to transport oil. The area where the attack took place is close to Pakistan's eastern border with Iran.
At least three foreigners and two FC soldiers were injured when the attacker detonated his explosives.
Full report at:
https://www.dawn.com/news/1426367/3-chinese-nationals-among-5-injured-in-dalbandin-suicide-attack
--------
JUI-F to celebrate Independence Day with fervour
AUGUST 12, 2018
Jamiat Ulema-e-Islam-Fazl (JUI-F) has announced to celebrate Independence Day with national zeal and fervour.
The announcement was made by JUI-F leaders, including Maulana Abdul Ghafoor Haidri, Maulana Ameer Zaman and Zabid Ali, while addressing a joint press conference at the Parliament Lodges on Saturday.
They said that the JUI-F would mark August 14 with full national zeal and fervour. "JUI-F chief Maulana Fazalur Rehman has never restrained anyone from celebrating Independence Day of the country," he clarified. The JUI-F leaders also announced to hold demonstrations and issue a white paper against alleged rigging in general elections.
Speaking on the occasion, Haidri said that he had never launched any campaign despite having reservations against the results of the last two general elections, but it could not be tolerated anymore.
He said that 120 martyrs of Mastung tragedy belonged to his constituency and that was why he could not launch election campaign there.
The JUI-F leader alleged that worst rigging during general election was witnessed in Balochistan where party's polling agents were expelled out of polling stations and were told that they would be informed about the results later.
Full report at:
https://dailytimes.com.pk/282020/jui-f-to-celebrate-independence-day-with-fervour/
--------
Africa
Mali's 'Highway of Death' highlights extremist peril
August 12, 2018
DORO, Mali: "Hotspot ahead!"
The curt message comes over the radio, warning troops aboard the eight-vehicle UN peacekeeping convoy to check their weapons one more time and go on maximum alert.
A grim sight greets the Germans as their armored contingent approaches the village of Doro in the savannah south of Mali's broiling desert: a line of burned-out fuel tankers, pickup trucks and military vehicles.
They have been destroyed by homemade bombs and armed raiders — a reminder of the extremist threat that hangs over northern Mali like a leaden pall.
The scorched, dusty north has been in the grip of an extremist uprising since 2012. The following year, intervention by French troops drove the extremists out of key northern towns, but the insurgency was displaced rather than crushed.
Conflict spread to the center of the vast Sahel state and spilled into Burkina Faso. But extremism is just one factor in a mosaic of violence that includes ethnic clashes and gangster activity.
The RN15 — the highway that leads from Gao, the main town in the north, and reaches down into Mopti, in the center — has seen dozens of attacks over the past three years.
A map used by the German paratroopers in the UN operation MINUSMA is studded with markers of attacks since 2016 between Gao and Doro: "IED," or improvised explosive devices, "holdups," "armed attacks" and "complex attacks," or combined operations.
"This part is called the 'Highway of Death'," a UN official said, speaking on condition of anonymity.
"Recently, there have been lots of bus holdups," the official added. "The bandits rob all the passengers — they even order people to transfer them money with their mobile phones."
Such incidents led road transporters to use the highway only in convoys on a dangerous stretch of 150 kilometers (about 95 miles), but that is still not sufficiently safe and UN forces decided to patrol, looking for IEDs.
"Today we want to collect data for the roadbook, because we have to know what are the vulnerable points of the road," German Lt. Col. Mickael Weckbach told AFP.
The convoy rolled cautiously into Doro, where the main street doubles as the local market and sidestreets are a de-facto parking lot for camels. The village of mud huts also has a detachment of the Malian army.
Peasant farmers, stock breeders, traders and children mill around in a crush of buses and lorries, while the heavily-armed UN vehicles weave their way through.
As the convoy pulls out, highway watchfulness returns.
"We're approaching a place where there have already been four attacks," a slightly nervous observer warns on the radio.
"A motorbike's coming with an AK," adds a soldier riding atop one of the armored personnel carriers, referring to an AK47 assault rifle. But the two men on the bike, one wearing battledress, rode past the UN troops with a thumb's-up.
"Was that a Malian soldier or a militiamen?" asks a sergeant manning a 12.7 mm machine gun.
The German UN convoy reaches the scene of the four past ambushes, but troops on the site order all the vehicles to back off while ordnance experts inspect a small bridge next to the crater left by a bomb blast.
Half an hour later, the specialists declare the route clear and the convoy moves on.
With the spread of unrest from the north of the country to central regions, an average of three explosive devices goes off each day in Mali, according to MINUSMA.
Finally, after 14 hours on the road, the German soldiers have found nothing abnormal, but they have gathered a quantity of data for analysis. The main threat during the mission came from the heat, which killed the engine of one of the vehicles. It had to be towed back to base.
"To be honest, we didn't expect to find IEDs. But it's also important to show our strength," Weckbach said, summing up the patrol.
http://www.arabnews.com/node/1354976/world
--------
Four Jordanian security men killed during a police raid on terrorist cell
11 August 2018
Jordan said on Saturday four security personnel were killed during a police raid on a house sheltering militants suspected of being behind a bomb attack on a police van a day earlier.
Security forces stormed a building in the city of As-Salt where suspects behind the planting of the home-made bomb that killed one policeman on Friday were believed to be hiding.
Government spokeswoman Jumana Ghunaimat told the state news agency Petra that three suspects had been arrested so far in an operation that was still underway against a cell hiding in a building in the centre of hillside As-Salt city, about 30 km west of Amman.
The suspects had refused to hand themselves over to the security forces and blown up part of the hilltop building, Ghunaimat added.
Later Ghunaimat said security forces were moving to seize the site and see if there were any civilians held hostage.
Latest reports said explosions were heard in the vicinity of operation in in As-Salt, a hillside town near Amman, after the raid entered its second phase of an ongoing operation.
Witnesses heard several strong explosions near the site which a security source said were explosives being detonated by the police as they closed in on the militants.
Police had earlier blamed a gas canister for Friday's blast near the site of a music festival in the town of Fuheis.
Ambulances were seen rushing to the main city hospital from near the building in a residential area of As-Salt that was sealed off by police.
The terrorist cell was responsible for the bomb blast in the town of Fuheis outside Amman that killed one policeman and injured six others on Friday.
During Saturday's raid, 20 persons were injured in the collapse of the building in As-Salt.
Security personnel killed
The three suspects were held during the operation by ecurity forces during which four security personnel were killed.
Earlier, Jordanian police investigations showed that a home made explosive device planted near a police van was behind a blast on Friday that killed the policeman and injured six others.
Police said on Friday a gas canister stored in the van was behind the blast near a gendarmerie parking lot close to the site of a music festival in the town of Fuheis outside Amman.
Full report at:
https://english.alarabiya.net/en/News/middle-east/2018/08/11/Jordan-arrests-terrorists-after-raiding-cell-in-As-Salt-following-blast-in-Fuheis-.html
--------
Jordan says explosive device behind blast that killed policeman
11 August 2018
Jordanian police said on Saturday investigations showed a home made explosive device planted near a police van was behind a blast that killed one policeman and injured six others the day before.
Police said on Friday a gas canister stored in the van was behind the blast near a gendarmerie parking lot close to the site of a music festival in the town of Fuheis outside Amman.
"This cowardly act will only increase the determination to do our job to protect people," the interior ministry statement said.
Full report at:
https://english.alarabiya.net/en/News/middle-east/2018/08/11/Jordan-says-explosive-device-behind-blast-that-killed-policeman.html
--------
South Africa mourns death of Muslim scholar
12 August 2018
South Africans on Saturday mourned the death of a Muslim scholar and former anti-apartheid activist Moulana Ihsaan Hendricks.
Hendricks, 54, was the former President of the Muslim Judicial Council (MJC) and a leading activist for the Palestinian cause.
"He dedicated his life to the fight for the liberation of people of Palestine," South Africa's ruling African National congress (ANC) said in its condolence message.
The ANC described him as a "comrade" and an anti-Aparthied activist.
"Moulana was a known visionary with outstanding leadership abilities, oratory skills and a passion and willingness to serve the community," said MJC president Shaykh Irfaan Abrahams.
Western Cape Premier Helen Zile also extended her condolences to the bereaved family and the Muslim community.
She said Hendricks death is a tremendous loss to the Muslim community and the western Cape Province.
The scholar who died on Friday was laid to rest on Saturday.
At the time of his death, Hendricks was executive member of the International Union of Muslim Scholars and national director of the Al-Quds foundation's South African chapter.
He was also chairman of the MJC Halaal trust board and head of the World Assembly of Muslim Youth in southern and central Africa.
Full report at:
http://www.worldbulletin.net/todays-news/204902/south-africa-mourns-death-of-muslim-scholar
--------
New al-Shabaab leader labels Turkey Somalia's 'enemy'
8/11/2018
The leader of Somalia's al-Shabaab terrorist group, Ahmed Diriye, described Turkey as "the enemy of the nation" and accused foreign peacekeeping forces of plundering the country in an audio message published Tuesday. In his first such message since taking control of the al-Qaeda affiliate following the death of his predecessor in a U.S. drone strike in September 2014, Diriye said Turkish interests in the country were "looting Somali resources more than they help."
"The Turkish government is the enemy of the nation; today Somalia's economy is in total collapse because of their intervention. … Turkey has invaded this country economically. … They have taken control of the Somali economy and all they want is to keep the nation in poverty."
Turkey's engagement in Somalia has made visible changes to the country in many areas from health to infrastructure. Bilateral agreements have also been signed, including treaties to train the Somali national army, and Turkish Airlines has started flights to the capital of Mogadishu. Turkey's efforts have paid off, and the increasing relationship between the two states has brought attention to the region, and many have started to question Turkey's involvement in Somalia.
Turkey also provided Somalia with over $400 million in the biggest aid campaign to the country in its struggle to fight starvation. Turkey is set to open its first military base in Africa at which Turkish military officers will train Somali soldiers and troops from other African countries to fight al-Shabaab, military sources said in January. President Recep Tayyip Erdoğan visited Mogadishu in June, inking several development deals and opening the largest Turkish Embassy in the world. The group is fighting to overthrow Somalia's internationally backed government and regularly claims attacks in Mogadishu and elsewhere in the country.
In the 44-minute recorded message published on social networking sites and broadcast by an al-Shabaab radio station, Diriye also accused foreign peacekeeping forces of widespread human rights violations against Somali civilians, including rape.
"Somalia is under the occupation of invading Christian crusaders. The so-called international community deceived Somali society to accept that the Ethiopian and other AMISOM [African Union Mission in Somalia] forces are peacekeepers while their aim is to conquer Somali territories to plunder its resources," he added.
AMISOM troops were deployed to Somalia in 2007 to defend the internationally backed government against al-Shabaab attacks.
Full report at:
https://menafn.com/1097284502/New-alShabaab-leader-labels-Turkey-Somalias-enemy
--------
Mideast
Iran slams US sanctions on Turkey, vows full support
Aug 11, 2018
Amid a worsening dispute between the United States and Turkey, Iran says it will always stand by its neighboring country and provide it with any required help.
In an interview with IRIB on Saturday, Iranian Foreign Ministry Spokesman Bahram Qassemi slammed a new wave of US sanctions against Turkey, saying such approaches would prove ineffective.
"We hope that the Turkish government and people will manage these conditions and pressure imposed from outside Turkey's borders and … they will definitely do that because others cannot change the willpower of nations through coercion and threats," Qassemi said.
He also expressed hope that wisdom would prevail in the world and relations among countries would be expanded based on prudence and goodwill.
Relations between Ankara and Washington have sunk to their lowest point in decades over a number of issues, including the detention of American pastor Andrew Brunson on terror-related charges, and the depreciation of the Turkish lira to hit record lows against the dollar.
US President Donald Trump wrote on Twitter late last month that his country "will impose large sanctions on Turkey for their long time detainment of Pastor Andrew Brunson."
Turkish President Recep Tayyip Erdogan responded by announcing to freeze the assets in Turkey of US ministers of "justice and interior," in tit-for-tat response to US sanctions.
On Friday, the US president announced to double steel and aluminum tariffs on Turkey, saying relations between Washington and Ankara are "not good."
"I have just authorized a doubling of Tariffs on Steel and Aluminum with respect to Turkey as their currency, the Turkish Lira, slides rapidly downward against our very strong Dollar!" Trump said on Twitter.
"Aluminum will now be 20 percent and Steel 50 percent. Our relations with Turkey are not good at this time!" he added.
A day after Trump's announcement, the Turkish president warned that his country's partnership with the US might be in "jeopardy."
"Unless the United States starts respecting Turkey's sovereignty and proves that it understands the dangers that our nation faces, our partnership could be in jeopardy," Erdogan said in an op-end published in The New York Times.
Elsewhere in his interview, Qassemi said both Iran and Turkey, as two neighboring countries, must respect mutual rights in order to help promote stability, security and peace in the region.
Full report at:
https://www.presstv.com/Detail/2018/08/11/570882/Qassemi-Iran-Turkey-US-sanctions
--------
Iran's IRGC disbands terror team on Iraq border, kills 11 members
Aug 11, 2018
Iran's Islamic Revolution Guards Corps (IRGC) says it has disbanded a team of terrorists on the country's border with Iraq, killing 11 of its members.
The IRGC announced in a statement that servicemen from its Hamzah Seyyed al-Shuhada's base had performed the operation on Friday.
The terrorists were ambushed as they were trying to infiltrate the country from the West Azerbaijan Province's Oshnaviyeh county, the statement added.
The IRGC described the team as a well-equipped one which it said was associated with "the global arrogance and foreign intelligence services" seeking to "cause insecurity and carry out acts of sabotage."
An unidentified number of terrorists were also wounded during the operation, the statement noted, adding that a considerable number of weapons, ammunition, and communication equipment were also seized during the operation.
Earlier in the year, the Corps prevented a similar infiltration attempt from Iraq's Kurdistan region. The IRGC subsequently warned the northern Iraqi territory to stay wary about terrorist movements within its borders to prevent potential spillover into the Islamic Republic.
Full report at:
https://www.presstv.com/Detail/2018/08/11/570844/Iran-IRGC-border-terrorists-Iraq
--------
Israeli soldier attacks anti-occupation activist filming him: Video
Aug 12, 2018
A new video shows an Israeli soldier attacking an activist from the left-wing anti-occupation Ta'ayush organization in the occupied West Bank.
Israeli rights group B'Tselem released the video showing the soldier taking pictures of the activists who had gathered near the settlement of Pnei Hever to help Palestinians tend to their orchards and plow their land.
The soldier suddenly hit one of the activists who was filming him with his camera.
Another footage of the incident showed the Israeli soldier hitting the activist in the shoulder.
The Israeli army said its preliminary investigation into the incident revealed that the soldier "was operating beyond what's required."
"This incident will be handled by the command chain after the evidence and interrogation of the soldier are reviewed," it added.
In recent months, Israeli troops have, on numerous occasions, been caught on camera brutally killing Palestinians, with the videos going viral online and sparking condemnations.
Back in June, a controversial Israeli bill, which criminalizes any photographing, recording or filming of the regime's soldiers while on duty, passed its first reading in the Israeli parliament.
Under the measure, those found photographing, recording or filming Israeli troops "with the intention of undermining the spirit" of the army "shall be liable to five years of imprisonment" and those "intending to harm" Israel's security could be given 10 years in jail.
It also prohibits the publication of photos or video content in the media or social networks.
Full report at:
https://www.presstv.com/Detail/2018/08/12/570921/Israel-BTselem-activists
--------
Yemeni army advances in Saada, liberates villages on Al-Malahid front
August 12, 2018
DUBAI: Yemen's national army advanced in the country's north-western Saada province after launching attacks on Houthi militia positions, Saudi state-news channel Al-Ekhbariya reported.
A top military official confirmed the progress in a statement issued to the Yemeni army's media center.
The official said — with the support of the Saudi-led coalition – the Yemeni army killed several Houthi militants in clashes.
http://www.arabnews.com/node/1355001/middle-east
--------
Europe
Muslim group joins condemnation of Boris Johnson burqa remarks
11 Aug 2018
Conservative MPs' support for Boris Johnson over his comments comparing Muslim women in burqas to bank robbers has "shone a light on the underbelly of Islamophobia" within the party, the Muslim Council of Britain (MCB) has said.
Harun Rashid Khan, MCB's secretary general, said the former foreign secretary's comments, which have attracted criticism and divided opinion since appearing in the Daily Telegraph on Monday, had had a "real and worrying" impact on the Muslim community.
He also said the MCB received Islamophobic hate mail off the back of the furore, some describing Muslims as "barbarians".
Khan's comments came as fellow Conservative MP Jacob Rees-Mogg said the party's investigation into Johnson had been set up as a "show trial" in an attempt to derail any long-held ambitions the former cabinet minister may have for Tory party leadership.
In a statement, Khan said: "The impact of Boris Johnson's comments are real and worrying and indicate the importance of a full, transparent and independent investigation into his conduct, in particular given the lack of action in previous cases of Islamophobia in the party.
"The comments and belief by a number of Conservative MPs that not even an apology is required has shone a light on the underbelly of Islamophobia that is present within the party – one that can only be tackled by sincerely changing course and positively responding to calls for an independent inquiry into Islamophobia in the party."
Further condemnation came from Andrew Cooper, the Conservative peer and former Downing Street aide to David Cameron.
Rees-Mogg, a prominent Eurosceptic suggested may be driven by Theresa May's "personal rivalry" with her former foreign secretary.
Johnson, who is holidaying abroad, has yet to respond to the furore sparked by his article on Monday, in which he opposed a ban on the burqa or niqab, but said the face-covering veils were "ridiculous" and "oppressive" and compared Muslim women wearing them to letter boxes or bank robbers.
Writing in the Daily Telegraph on Saturday, Rees-Mogg suggested the attacks on Johnson's comments were a reflection of envy felt towards him because of "his many successes, popularity with voters and charisma".
He said the outrage directed at the former figurehead of the leave campaign was suspect and the motivations of those attacking him dubious.
"Could it be that there is a nervousness that a once and probably future leadership contender is becoming too popular and needs to be stopped?" he asked.
"This may explain the attempt to use the Conservative party's disciplinary procedures, but it has been handled so ham-fistedly that it brings only sympathy and support for Mr Johnson."
He said that when Margaret Thatcher was leader, she and Michael Heseltine were "hardly soulmates", but she would not have allowed personal rivalry to take the heat off the Labour party, "whose own deep internal divisions are buried in other news now, nor would she have countenanced any attempt to have a show trial".
He said attacking Johnson merely helped the opposition. "It is time for good sense to assert itself, free speech to be encouraged and, as the summer rain falls, for hot-headed action to be cooled down."
Rees-Mogg's remarks follow those of the former Conservative party leader Iain Duncan Smith, who said the party's disciplinary system should not be used to "shut down" Johnson. It has been reported that letters have been sent to the party complaining about the chairman, Brandon Lewis, whose demand for an apology from Johnson provoked an escalation of the row earlier this week.
However, critics continue to maintain that Johnson's comments contributed to hatred and abuse. Conservative sources have insisted the investigation was triggered automatically after a number of complaints were received, including one which is understood to have come from the founder of the Conservative Muslim Forum, Mohamed Sheikh.
Social media users retweeted a comment by a woman who claimed she was called a "f*****g letter box" by someone in London.
But while Johnson's comments were described as "inflammatory and divisive" by the Equality and Human Rights Commission (EHRC), the watchdog made clear it was not launching its own investigation.
It said a complaint received from a member of the public did not prompt an inquiry because it did not fall within its remit of investigating breaches of equality law, such as the denial of a service on the grounds of race or religion.
The chief executive, Rebecca Hilsenrath, said: "The effectiveness of our democratic society depends on freedom of expression, and the expression of offensive and intolerant opinions is generally not unlawful.
"Boris Johnson's use of language in this instance, which risks dehumanising and vilifying Muslim women, is inflammatory and divisive.
"Political figures should lead by example, conducting debates in a responsible manner, and language such as this can inhibit legitimate dialogue."
A panel which includes one independent figure, one representative of the voluntary party and one nominated by the backbench 1922 Committee, will look into complaints that Johnson's comments breached the Conservative code of conduct.
Under party rules, the head of the panel may dismiss the complaints if they are found to be obviously trivial, lacking in merit or unable to be fairly investigated.
Disciplinary action could lead to Johnson being suspended or expelled from the Tories, but would risk igniting civil war in a party in which many members see Johnson as the best option to succeed May as leader.
There have also been suggestions he could be ordered to attend a diversity training course.
On Saturday, the chairman of the Conservative Muslim Forum, Mohammed Amin, said he heard a "consistent message" from members of Britain's Islamic community that "they think the Conservative party is anti-Muslim".
Amin told BBC Radio 4's Today programme: "[Johnson's] remarks were simply improper for a senior British politician. The fact that he's been called on to apologise by the party chairman and prime minister is a positive development. He should repent."
Amin said he was horrified that some of Johnson's Conservative supporters were claiming he was being targeted for his views on Brexit.
"This is not a Brexit issue, this is about Boris Johnson choosing to upset … not just women who wear niqab, but virtually every Muslim in the country," he said.
But the Conservative MP Andrew Bridgen said Johnson's critics were showing "huge hypocrisy".
"There's one rule for Boris Johnson and another rule for everyone else, and it's not fair," Bridgen said.
https://www.theguardian.com/politics/2018/aug/11/boris-johnson-islamophobia-inquiry-a-show-trial-rees-mogg
--------
UK Muslim Convert Admits Plotting Carnage With Oxford Street Attack
August 12, 2018
London. A Muslim convert has admitted plotting to kill more than 100 people by driving a truck into pedestrians on London's Oxford Street, the capital's major shopping thoroughfare.
Lewis Ludlow, 26, had planned to rent the vehicle and plow it into shoppers in the bustling retail district, which attracts large numbers of tourists, during the busiest time of the week, prosecutors said.
He had also considered attacking London's Madame Tussauds wax museum and St Paul's Cathedral.
"Lewis Ludlow considers himself a soldier fighting for Daesh [Islamic State] in the UK," Deb Walsh from the Crown Prosecution Service (CPS) said in a statement on Friday (10/08).
"To that end, he planned to drive a van into shoppers at Oxford Street hoping to kill over 100 people. He is a serious danger to the public and accepted his guilt when faced with the prosecution's case against him."
The CPS said Ludlow's mobile phone was found in the storm drain of his home in Rochester, southeast of London, which had photographs showing he had carried out hostile reconnaissance in central London. There was also a picture of a handwritten oath of allegiance to Islamic State (IS).
It also had videos in which Ludlow called himself "the Eagle," and spoke of his hatred of non-believers.
He was under 24-hour armed police surveillance when he was arrested and a number of torn-up notes which were found suggested Ludlow was actively involved in preparing an attack, with information about the cost of hotels near Oxford Street and renting a truck, prosecutors said.
Full report at:
http://jakartaglobe.id/international/uk-muslim-convert-admits-plotting-carnage-oxford-street-attack/
--------
Arab World
Syrian militants build an army with Turkish help, face challenges
August 12, 2018
AZAZ: A "National Army" being set up by Syrian militants with Turkey's help could become a long-term obstacle to President Bashar al Assad's recovery of the northwest–if they can end factional rivalries that have long blighted the opposition.
The effort is at the heart of plans by the Turkish-backed opposition to secure and govern a strip of territory that forms part of the last big rebel stronghold in Syria. The presence of Turkish forces on the ground has helped to shield it from government attack.
Assad, backed by Russia and Iran, has vowed to recover "every inch" of Syria, and though he has now won back most of the country, the Turkish presence will complicate any government offensive in the northwest.
Turkey's role has gone beyond supporting allied Syrian forces to rebuilding schools and hospitals. At least five branches of the Turkish post office have opened in the area. Colonel Haitham Afisi, head of the National Army, says setting up the force has been no easy task over the last year.
"We are at the beginning. We face many difficulties but we are working to overcome them," Afisi told Reuters in an interview in the town of Azaz near the Turkish border. Recently, he had to issue an order instructing fighters to stop "randomly opening fire", wear uniforms and cooperate with a newly established military police that represents "the force of law and justice and not a rival to any other faction".
Factions have also been banned from operating their own jails and courts and from carrying out extra-judicial arrests. The project has also faced attack: a number of recruits were wounded on Aug. 5 when their graduation ceremony in the city of al-Bab was shelled. Afisi said it was the work of an "enemy of the revolution, be they internal or external". The perpetrator had been identified, but he declined to say it who was.
Idlib expansion?
The National Army compromises some 35,000 fighters from some of the biggest factions in the war that has killed hundreds of thousands of people and forced some 11 million people from their homes over the last seven years. Many previous efforts to unite the militants have failed, obstructed by local rivalries and at times by the competing agendas of foreign states that once backed many of the militant in the Syrian war.
The National Army could be different because of Turkey's presence on the ground. The Turkish military pushed into the northwest in two campaigns. The first, "Euphrates Shield", which got underway in 2016, drove Islamic State from territory between Azaz and Jarablus.
The second, "Olive Branch", captured the adjoining Afrin region from the Kurdish YPG militia earlier this year. The area is important to Turkey because of what it views as the national security threat posed by the YPG, which it sees as an extension of the Kurdistan Workers Party (PKK), which has waged a three-decade militancy in Turkey. Assad says Turkey is illegally occupying Syrian land.
"All the support for the National Army is from Turkey, there are no other states partnering in this matter," Afisi said. The Turkish foreign ministry did not respond to questions from Reuters. Turkish support includes fighters' wages, logistical support "and weapons if necessary".
He listed three enemies: Assad, the PKK and Islamic State. Turkey has also set up 12 military posts in Idlib province and adjoining areas which are located southwest of Afrin, under an agreement with Russia and Iran.
The stated aim is to observe a 'de-escalation' agreement in the Idlib area. Assad has indicated Idlib could be his next target. Afisi said the National Army could be quickly merged with Turkish-backed rebels in Idlib if necessary. The situation in Idlib is complicated by the presence of well-armed militants that have fought with the other groups.
"We are ready and extend our hand to all groups that represent the goals of the revolution," he said.
https://nation.com.pk/12-Aug-2018/syrian-militants-build-an-army-with-turkish-help-face-challenges
--------
Fierce Syria bombardment kills 53 civilians
August 12, 2018
BEIRUT - At least 53 civilians including 28 children, have been killed in fierce bombardment Friday that targeted rebel-held areas of northern Syria, a war monitor said updating an earlier toll.
The air strikes and barrel bombs targeted the key opposition-held province of Idlib and a rebel town in the adjacent province of Aleppo, said the Britain-based Syrian Observatory for Human Rights.
In a new toll Saturday, the war monitor said 41 civilians, including 25 children, were killed in the rebel town of Orum al-Kubra in Aleppo province while 12 civilians, three of them children, died in Idlib. Late Friday the Observatory had given a combined toll of around 30 dead.
"The toll rose after the discovery of new victims under the rubble and the death of some of those who had been wounded," Observatory director Rami Abdel Rahman.
The Observatory said it was not clear if the Syrian regime or its Russian backers were responsible for the bombardment of Aleppo, but blamed the allies for pounding Idlib.
Abdel Rahman said Friday's bombardment was the most intense since Idlib was declared a "de-escalation zone" last year.
He said the death toll in rebel-held areas of Aleppo was the highest since the beginning of 2018.
Idlib contains the largest chunk of territory still in rebel hands, and President Bashar al-Assad has warned it will be his next target after seizing opposition bastions near Damascus and in the country's south.
Rebels have lost swathes of the territory they once controlled in Syria to regime forces over the last few months, including three areas designated as "de-escalation zones". The Observatory said regime reinforcements, including troops and equipment, had been amassing around the southwestern part of Idlib for several days.
A full-fledged assault would be devastating for the estimated 2.5 million people living in Idlib, many of them rebels and civilians bussed out of other areas that came back under regime control.
Around 60 percent of Idlib is held by Hayat Tahrir al-Sham (HTS), which is led by Al-Qaeda's former Syria affiliate. Rival factions control most of the rest, but Syrian troops have carved out a small southeastern part. The United Nations appealed Thursday for talks to avert "a civilian bloodbath" in the province, which borders Turkey. Jan Egeland, head of the UN's humanitarian taskforce for Syria, said the war "cannot be allowed to go to Idlib".
Full report at:
https://nation.com.pk/12-Aug-2018/fierce-syria-bombardment-kills-53-civilians
--------
Syrian Army Launches Heavy Artillery Attacks on Terrorists in Aleppo Province
Aug 11, 2018
The terrorists launched missile attacks on the towns of Nubl and al-Zahra in Northern Aleppo and on the neighborhoods of al-Hamdaniyeh, Jam'eiyat al-Zahra, Share'eh al-Nile and Halab Jadida West of Aleppo city, killing and wounding a number of civilians.
The army's artillery and missile units, in response, targeted terrorists' centers and movements in the towns of Hayan, Andan and Haraytan in Western Aleppo.
Other artillery and missile units targeted terrorists' positions and movements in Bayanoun and al-Tamoureh in Northern Aleppo and in the village of al-Homeireh in Southern Aleppo.
Army reports said terrorists sustained major losses in the attack.
Field sources reported on Thursday that the Syrian army sent a military convoy, consisting of forces and equipment, to the town of al-Hazer in Southwestern Aleppo.
They referred to the recent intensified attacks launched by the terrorists against the army points in Western Aleppo, saying that a large number of Syrian army forces were sent to Northern Syria, including Jabal Azan, after the end of military operations in the Southern parts of the country.
Meantime, the Syrian army's artillery and missile units returned fire to the terrorists in the towns of Jazraya and Zamar in Southern Aleppo after their missile strikes against Share' al-Nil district in Aleppo city and Talat al-Raham and al-Mahabah regions in the South.
Full report at:
http://en.farsnews.com/newstext.aspx?nn=13970520000845
--------
More Bodies of Civilians Killed in US Air Raids Found in Northeastern Syria
Aug 11, 2018
The sources said that a mass grave with several bodies of the civilians killed in the US air attacks has been found behind a garage in al-Badu neighborhood.
They further said that a sum of 20 bodies of civilians have been taken out of debris in different areas in al-Badu in the last three days.
In the meantime, another mass grave was found in Panorama district South of Raqqa city.
A media outlet reported last month that a sum of 1,236 bodies of the victims killed by US-led coalition air raids and Washington-backed militias were discovered from three other mass graves in Raqqa city in Northeastern Syria.
The Arabic-language al-Watan news website reported that a sum of 1,236 bodies of civilians that had been killed in the US air raids and SDF attacks were unearthed from mass graves in Panorama, al-Rashid Sports Stadium and the Zoo in Raqqa.
Full report at:
http://en.farsnews.com/newstext.aspx?nn=13970520000924
--------
Syrian Army Restores Security to Strategic Regions in Sweida
Aug 11, 2018
The army men managed to drive ISIL out of several key points near Beir al-Hasa region after imposing control over Khirbet al-Ambashi and al-Hiberiyeh in the Eastern Badiyeh of Sweida.
Other units of the army restored security to regions around Khalkhaleh military airport in Northwestern Sweida.
They further advanced 40 km in some flanks in the depth of Badiyeh and restored security to more villages and towns in the region.
Field sources pointed to the army's advances in Taloul al-Safa, and said government forces have thus far imposed control over more than 2,000 sq-km of land in Sweida Badiyeh.
The sources further said that a group of ISIL terrorists were killed in the army attack in Arz al-Kara'a region, adding that at least 13 ISIL terrorists were killed and tens more were wounded after the army's artillery fire destroyed a hideout of the terrorists in Ba'ar al-Hossein East of Khirbet al-Ambashi.
On Thursday, the Syrian army forces continued clashes with the terrorists in Razamiyeh Sharqiyeh and Rami regions in Northeastern Sweida, regaining control of several regions towards Mehrat Rashid and Tal Salim al-Lahouf.
Meantime, the Syrian army's artillery and missile units pounded ISIL's positions and moves in the depth of Eastern Badiyeh of Sweida, cutting a number of their supply routes.
Also, field sources said that the army has advanced towards Taloul al-Safa, adding that several military vehicles, weapons and ammunition caches and positions of the terrorists were destroyed during the army attacks.
Full report at:
http://en.farsnews.com/newstext.aspx?nn=13970520000575
--------
Syrian Army Sends Largest Military Convoy to North for Idlib Operation
Aug 11, 2018
The sources said that the army has dispatched one of the largest military convoys of the government forces, including a large number of infantries, military vehicles and heavy equipment to Northern Hama in line with preparing for an imminent operation to drive terrorists out of Idlib province, parts of Northern Hama, Southern Aleppo and al-Ghaab Plain.
The entire Syrian army units, including special forces, will take part in the upcoming operation.
Military experts say that the army will kick off its operation by liberating the two key towns of Kafr Zita and al-Latamina in Northern Hama that are located along the Damascus Highway to Aleppo.
The army soldiers will also push their way to al-Ghaab Plain in order to retake the historical town of Qal'at al-Madiq.
From Qal'at al-Madiq, the army men will make their way North towards the Jisr Al-Shughour region for the first time since they withdrew from the area in May of 2015.
Local sources reported on Friday that the army's helicopters dropped thousands of leaflets over the town of Taftnaz in Northeastern Idlib, calling on militants to surrender to the government forces.
They further said that Tahrir al-Sham Hay'at (the Levant Liberation Board or the Al-Nusra Front) restarted arresting pro-peace people in the villages and towns of Barisa, Ma'ardebsi, Kana'esh, Tal Toqan, Ra'as al-Ein, Samka, al-Barasa, Farvan, Ma'asaran and Hazan in Southeastern Idlib.
Full report at:
http://en.farsnews.com/newstext.aspx?nn=13970520000637
--------
Syrian Army Repels ISIL's Offensive in Deir Ezzur
Aug 11, 2018
The army units, backed up by the artillery and missile units' heavy fire, engaged with ISIL near the town of Albu Kamal in Southeastern Deir Ezzur, and managed to fend off the terrorists' heavy attack.
ISIL suffered heavy casualties and further pulled back the remaining pockets of gunmen from the battlefield.
On Monday, the army men engaged in fierce clashes with ISIL in the town of al-Sayal in Eastern Deir Ezzur and managed to fend off their attack after inflicting major casualties on them.
In the meantime, the army's artillery units opened heavy fire on terrorists' positions and movements in the region.
According to a report from the National Defense Forces (NDF), the ISIL attempted to enter regions near the town of Albu Kamal.
Full report at:
http://en.farsnews.com/newstext.aspx?nn=13970520000705
--------
Egypt security forces thwart a suicide attack at church near Cairo
11 August 2018
Egypt security forces thwarted an attack targeting a church near Cairo on Saturday, state television said.
According to media outlets, the security forces on Saturday thwarted a suicide attack near a Coptic Orthodox church in Shubra al-Khaimah, in Qalyubiya, near Cairo, Egyptian media reported.
The terrorist, who was wearing an explosive belt was trying to infiltrate through worshipers who were celebrating the occasion of Virgin Mary day at the church of the "Blessed Virgin Mary".
The security forces could spot him and thwart his attempt to blow himself up among the large crowd of Christian Coptic.
He was killed instantly while to two civilians were wounded.
ISIS have claimed several attacks on Egypt's large Christian minority in recent years, including two deadly bombings on Palm Sunday in April 2017 and a blast at Cairo's largest Coptic cathedral in December 2016 that killed 28 people.
The most recent attack came last December, when a gunman fired on worshippers at a Coptic Orthodox church in a Cairo suburb, killing 11 in an attack claimed by ISIS.
Full report at:
https://english.alarabiya.net/en/News/middle-east/2018/08/11/Egypt-security-forces-thwart-a-suicide-attack-at-church-near-Cairo.html
--------
Egypt prosecutors order ex-monk detained over Abbot's death
11 August 2018
Prosecutors on Saturday ordered a recently defrocked monk to be detained for four days pending an investigation into his alleged involvement in the death of the abbot of a prominent monastery in the desert northwest of Cairo, Egypt's state news agency said.
The defrocked monk, identified by his monastic name of Isaiah, confessed to collaborating with others to kill Bishop Epiphanius, abbot of St. Macarius Monastery in Wadi al-Natroun, prosecutors said.
The abbot's mystery killing took place July 29. His funeral was attended by Pope Tawadros II, the spiritual leader of Egypt's Coptic Orthodox Christians, one the world's oldest Christian communities.
The Alexandria appeals court in northern Egypt on Saturday decided to imprison the monk Isaiah for four days as part of the investigation into the killing of Bishop Epiphanius, according to Egyptian media.
The accused Wa'el Saad was intimidated by the monastery of St. Macarius in Wadi al-Natroun in 2010 on behalf of the monk Isaiah who was stripped of the monastic order by the church on Sunday (August 5) because of his behavior, which constituted grave violations of monastic and monastery laws.
The accused confessed to the criminal investigation team and explained the crime instrument, an iron bar found in a scrap warehouse in the monastery, which was used to kill the bishop with a single blow over the head.
The prosecution continued its investigations and heard witnesses after downloading CCTV camera footage and summoning the driver who works with him to listen to his testimony.
The 60-strong investigation team various sections of the Beheira and the Public Security and National Security and Public Prosecutor's Office. The criminal evidence, the surveillance cameras, the combing of the monastery and its surroundings were searched for any traces of the murderer, some of the monks' cages were searched, the monastery was closed, Person.
Investigations inside the monastery confirmed to the police team that the killer was fully aware of the place of the Bishop and the timing of his departure and the way to the church.
The public prosecution heard the testimonies of monks and convent workers, and the monk Isaiah, who had already been tried by the bishop several times for offenses against the monastic law.
In a statement, the church said Isaiah has a record of failing to abide by the monastery's rules and that an investigation committee had previously decided to keep him out of the monastery for three years, but other monks had signed a petition calling for him to be pardoned and pledged to help him change his "wrong course."
Isaiah failed to change his conduct which resulted in his defrocking, the church added.
The monk's testimony to the investigating team seemed contradictory, especially the timing of his presence in the monastery during the murder. He was spotted by the main gate of the monastery with another monk and someone else at a time contrary to what he said in his testimony.
When the monk was released to return to the monastery, he tried to commit suicide by drinking an insecticide.
On the same day, August 5, after the monk was defrocked, he was taken by the security forces to a security headquarters in Damanhour to begin extensive interrogaion and to confront him with the evidence, and the statements of the witnesses. He could not withstand his lies until long. He openly admitted his crime, guided the team to the crime instrument. The weapon was indeed found based on his confession, a rectangular iron rod in the scrap warehouse of the monastery.
The next day, the monk Velathoob, who was among those investigated, attempted suicide by severing his arteries and throwing himself from the fourth floor of the monastery. The seriously injured monk was taken to the Anglo American Hospital, with fractures in the pelvis, leg and vertebrae.
The prosecution did not disclose the nature of his statements.
Following Epiphanius' death, the church took a series of measures aimed at instilling discipline into monastic life. Among them was to halt accepting new novices in monasteries nationwide for a year and giving monks across Egypt one month to close their social media accounts arguing that keeping them is incompatible with monastic life.
Full report at:
https://english.alarabiya.net/en/News/middle-east/2018/08/11/Egypt-prosecutors-order-ex-monk-detained-over-abbot-death.html
--------
ISIS militants in Iraq kill five people from same family
11 August 2018
ISIS militants killed five members of the same family at a checkpoint on the edge of their village north of Baghdad early on Saturday, a police official said.
The killings took place in Baiji district, around 200 kilometers north of the capital, the official said.
"A group of Daesh (ISIS) fighters came from the Hamrin mountains, crossed the Tigris river after midnight and attacked the checkpoint at the entrance to the village of Albu Juwari, north of Baiji," he said.
Five members of the family were killed and a sixth was in a critical condition, he said.
All were members of a tribal militia operating under the umbrella of the Hashed al-Shaabi (Popular Mobilization) paramilitary force that has fought the jihadists.
ISIS, which once controlled swathes of Iraq and neighboring Syria, has been pushed back by multiple offensives and ousted from all of Iraq's towns and cities, including the capital of its self-declared "caliphate", Mosul.
Full report at:
https://english.alarabiya.net/en/News/middle-east/2018/08/11/ISIS-militants-in-Iraq-kill-five-members-of-one-family-.html
--------
South Asia
Ershad is a true defender of Islam: Khilafat Majlish
2018-08-11
Both parties held a joint press conference after signing a partnership deal at a programme in Dhaka on Saturday. Ershad and Khilafat Majlish chief Habibur Rahman were present at the programme.
"Ershad is the only soldier defending Islamic values in Bangladesh. We cannot entrust a woman with the responsibility of saving Islam," said Ismail Noorpuri, senior secretary general of Khilafat Majlish.
The deal came ahead of the general election due in December.
Khilafat Majlish opposes women's leadership in government. The Jatiya Party is an ally of the government led by a woman and is also playing the role of the opposition in parliament. Not only that, Ershad has also been appointed as a special envoy to Prime Minister Sheikh Hasina.
After the agreement, Ershad said, "Islam is now at the risk of ruination. Muslims are fighting against each other in parts of the world. On the other hand, the West is getting rich by churning wealth from the Middle East. There is no-one to protest this." Ershad pledged that the new political alliance would continue to fight against the 'anti-Islamic' activities carried out by the West.
Ershad said his party will be included in the 'Combined National Alliance' thanks to the election alliance with the Khilafat Majlish.
In May 2016, the Jatiya Party announced the formation of the United National Alliance or UNA aiming to uphold Islamic values.
https://bdnews24.com/politics/2018/08/11/ershad-is-a-true-defender-of-islam-khilafat-majlish
--------
Bangladeshi delegation visits Myanmar's Rakhine state
11.08.2018
Bangladesh Foreign Minister AH Mahmood Ali on Saturday visited Myanmar's restive Rakhine state, where security forces have been accused of committing crimes against humanity on the minority Rohingya Muslim community.
A high-profile delegation led by Bangladesh Foreign Minister AH Mahmood Ali has toured transit camps as well as newly-built houses in the resettlement areas for the returnees, said Win Myat Aye, Myanmar's minister of social welfare, relief and resettlement.
Since Aug. 25, 2017, more than 750,000 refugees, mostly children and women, have fled Myanmar and crossed into Bangladesh after Myanmar forces launched a crackdown on the minority Muslim community, according to Amnesty International.
At least 9,400 Rohingya were killed in Rakhine from Aug. 25 to Sept. 24 last year, according to Doctors Without Borders.
In a report published recently, the humanitarian group said the deaths of 71.7 percent or 6,700 Rohingya were caused by violence. They include 730 children below the age of 5.
"The delegation visited the area as they wanted to see themselves what we had prepared for the returnees," said the minister, who was accompanying the visiting delegation.
The delegation began four-day visit to Myanmar on Thursday to discuss matters on Rohingya repatriation with Myanmar government.
According to a press release issued by Bangladesh's Foreign Ministry, the visiting foreign minister emphasized on the need for accelerating efforts for conductive environment in the Rakhine state and building houses and villages for the returnees.
The Rohingya, described by the UN as the world's most persecuted people, have faced heightened fears of attack since dozens were killed in communal violence in 2012.
The UN documented mass gang rapes, killings -- including of infants and young children -- brutal beatings, and disappearances committed by security personnel.
In a report, UN investigators said such violations may have constituted crimes against humanity.
On Friday, the Bangladeshi foreign minister met with Kyaw Tint Swe, minister of Myanmar's State Counselor Office in Nay Pyi Taw.
Full report at:
https://www.aa.com.tr/en/asia-pacific/bangladeshi-delegation-visits-myanmar-s-rakhine-state/1228639
--------
Gov't has a responsibility to respond to nation's demands for peace, ceasefire: Atmar
Aug 12 2018
The National Security Adviser Afghanistan Mohammad Hanif Atmar says the government has a responsibility to respond to the nation's demands for peace and ceasefire.
He made the remarks during a meeting with the Russian Ambassador to Kabul Alexander Mantytskiy, the Office of the National Security Council (ONSC) said.
Atamr further added that the government will take necessary steps to respond to the expectations and demands of the nation for a peaceful and ceasefire.
According to a statement released by ONSC, the two sides also held talks on ways to expand security cooperation between Kabul and Moscow as well as economic relations.
The statement further added that Mr. Atmar and Mr. Mantytskiy held also exchanged views regarding the developments in peace and reconciliation process and explored ways on bilateral cooperation in this regard.
Full report at:
https://www.khaama.com/govt-has-a-responsibility-to-respond-to-nations-demands-for-peace-ceasefire-atmar-05750/
--------
US airstrike target ISIS Khurasan hideout in Nangarhar province
Aug 11 2018
A US airstrike targeted a hideout of the Islamic State of Iraq and Syria Khurasan (ISIS-K) in eastern Nangarhar province of Afghanistan, leaving at least two militants dead.
The provincial security commandment in a statement said the airstrike was carried out in the vicinity off Nazian district.
The statement further added that the US forces carried out an airstrike on a hideout of the ISIS Khurasan group in Do Khole area of the district, using unmanned aerial vehicles.
According to the provincial security commandment, the airstrike left at least two ISIS Khurasan militants dead.
The airstrike did not inflict casualties on the local residents and the security personnel involved in counter-terrorism operations, the statement added.
Nangarhar has been among the relatively calm provinces since the fall of the Taliban regime in 2001 but the anti-government armed militants have been attempting to expand their foothold in this province during the recent years.
Full report at:
https://www.khaama.com/us-airstrike-target-isis-khurasan-hideout-in-nangarhar-province-05748/
--------
Afghan Taliban hold talks in Uzbekistan to discuss peace prospects
Tahir Khan
AUGUST 12, 2018
ISLAMABAD: Political representatives of Afghan Taliban have held talks with Uzbek officials to discuss peace prospects in the war-torn Afghanistan, Uzbek Foreign Ministry and the Taliban said Saturday.
The Uzbek Foreign Ministry said that a delegation of the political office of Taliban in Doha, led by its head Sher Mohammad Abbas Stanikzai, "exchanged views on peace prospects" at the Ministry of Foreign Affairs. The Taliban political office also confirmed the visit in a statement. The delegation visited Uzbekistan from August 6 to August 10 on the invitation of Uzbek officials.
"The delegation exchanged views with Uzbek officials on the withdrawal of foreign troops and also explored ways for reconciliation in Afghanistan," Suhail Shaheen, spokesman for the Taliban political office said in a statement.
The delegates met Uzbek Foreign Minister Abdulaziz Kamilov and presidential envoy for Afghanistan Ismatilla Irgashev and discussed the security of current and future development projects of Uzbekistan in Afghanistan.
The development came months after Uzbek President Shavkat Mirziyoyev offered to host talks between the Afghan government and the Taliban.
"We stand ready to create all necessary conditions, at any stage of the peace process, to arrange direct talks between the government of Afghanistan and Taliban movement," President Mirziyoyev had told an international peace conference in the Uzbek capital of Tashkent on March 28.
The conference on the 'Peace Process, Security Cooperation and Regional Connectivity', which endorsed the National Unity Government's offer of direct talks with the Taliban without any preconditions with the ultimate goal of reaching a comprehensive peace agreement, was backed by the international community.
The 'Tashkent Declaration' issued at the conference called upon the Taliban to accept the offer for a peace process in accordance with the relevant resolutions of the United Nations General Assembly and the Security Council.'
However, the Taliban are reluctant to talk to the Kabul administration on the plea that they do not recognise what they call the "powerless" government.
Last month, Taliban political representatives met senior American officials in Doha in first direct talks. Sources revealed to Daily Times that the next meeting was likely to be held next month.
A Taliban official, privy to the July 23 meeting between the US Principal Deputy Assistant Secretary of State for South and Central Asian Affairs, had earlier told Daily Times that the talks were "useful".
Uzbekistan is seen as a possible peace broker as it enjoys good relations with Afghanistan and contacts with the Taliban political office.
The Central Asian country had previously been involved in peace talks between the Taliban and its rival northern alliance.
Full report at:
https://dailytimes.com.pk/282008/afghan-taliban-hold-talks-in-uzbekistan-to-discuss-peace-prospects/
--------
Southeast Asia
All religions should abide by China's laws, says state media on mosque standoff
Aug 11, 2018
Chinese state media has said the Communist Party of China's (CPC) authority should prevail over religion, after a rare standoff between the Hui Muslim community and police delayed the planned demolition of a mosque in north-central China's Ningxia region. Hundreds of ethnic Hui Muslims – who make up nearly 50% of China's 23 million Muslims – staged peaceful sit-in protests after authorities had moved in earlier this week to pull down the grand mosque in Weizhou town, reports said.
Local authorities then agreed to delay their plan to pull down the illegal structures and hold discussions on a reconstruction plan. It's unlikely, however, that the government would allow the illegal structures to remain.
"Demolishing the mosque is sure to earn the ire of local religious followers. However, if the local government does not react to the illegal act, it will fuel the idea that religions are superior over China's laws. Thus, it might set up a dangerous precedence and other religious sites could follow suit," Global Times, the nationalist tabloid said in an opinion piece.
The state-controlled media hasn't reported on the mosque standoff and this opinion piece is the only article published about it.
Officials said permission to renovate the mosque was given in 2015 but upon completion, it was noticed that a number of illegal structures had been added.
The mosque, with numerous domes and minarets in a Middle Eastern style, had not received proper permits before construction, town officials said in a notice on August 3, Reuters reported on Friday.
The Global Times piece said: "Chinese people enjoy religious freedom protected by the Constitution of China, the country under the leadership of the CPC. No religion shall have the privilege over laws and regulations of the country. All religious activities should abide by the country's laws and all religions shall be treated equally."
"Local authorities need to make religious people aware that China respects religious freedom, but it also needs to educate its citizens on the fact that improving the management of religious activities is an indispensable part of state governance," it added.
China's constitution guarantees religious freedom but the freedom to practice religion is restricted by the government.
"It's clear that the Chinese government's hostility towards Muslims in China is not only limited to Uyghurs (of Xinjiang)," Patrick Poon, China researcher at rights group, Amnesty International, told the BBC.
"Hui Muslims are generally considered less vulnerable to crackdowns, but this incident proves that the government is determined to use a holistic and heavy-handed approach towards all Muslim ethnic minorities in China."
https://www.hindustantimes.com/world-news/all-religions-should-abide-by-china-s-laws-says-state-media-on-mosque-standoff/story-F2vmWqV7w3BrnHdvRQmuTN.html
--------
Thai child bride returns from Malaysia after outcry
August 11, 2018
An 11-year-old child bride returned to Thailand this week after widespread outcry over her marriage to a Malaysian man 30 years her senior, an official told AFP on Saturday.
Malaysian Muslims below the age of 16 are allowed to wed with the permission of religious courts but the union between the girl and the 41-year-old trader went viral on social media and reignited calls to end child marriage.
The ceremony took place in June over the border in Thailand's Muslim-majority south in Narathiwat province, where the girl returned to Wednesday after "immense pressure from Malaysian media", the provincial governor Suraporn Prommool said.
The 11-year-old is believed to be the trader's third wife.
Suraporn said she is undergoing mental health counselling because of the intense level of attention.
He added that the marriage was not recognised under Buddhist-majority Thailand's civil law but it took place under the auspices of an Islamic council in Narathiwat and that her parents gave consent.
"We cannot do anything (to annul the marriage) because they married under the religious law," he said.
The trader, however, could face six months in jail if it is found that he did not get permission in Malaysia.
The 11-year-old was born in Thailand to parents who labour in Malaysia's vast rubber plantations and Suraporn said she does not speak Thai well.
Malaysian activists in the multiethnic and predominantly Muslim country say some 16,000 girls below the age of 15 are already married.
Full report at:
https://nation.com.pk/11-Aug-2018/thai-child-bride-returns-from-malaysia-after-outcry
--------
China holds million ethnic Uighurs in secret political camps: UN report
Aug 11, 2018
GENEVA: A United Nations human rights panel said on Friday that it had received many credible reports that 1 million ethnic Uighurs in China are held in what resembles a "massive internment camp that is shrouded in secrecy."
Gay McDougall, a member of the UN committee on the elimination of racial discrimination, cited estimates that 2 million Uighurs and Muslim minorities were forced into "political camps for indoctrination" in the western Xinjiang autonomous region.
"We are deeply concerned at the many numerous and credible reports that we have received that in the name of combating religious extremism and maintaining social stability (China) has changed the Uighur autonomous region into something that resembles a massive internship camp that is shrouded in secrecy, a sort of 'no rights zone'," she told the start of a two-day regular review of China's record, including Hong Kong and Macao. China has said that Xinjiang faces a serious threat from Islamist militants and separatists who plot attacks and stir up tensions between the mostly Muslim Uighur minority who call the region home and the ethnic Han Chinese majority.
A Chinese delegation of some 50 officials made no comment on her remarks at the Geneva session that is scheduled to continue on Monday.
The US mission to the United Nations said on Twitter that it was "deeply troubled by reports of an ongoing crackdown on Uighurs and other Muslims in China."
"We call on China to end their counterproductive policies and free all of those who have been arbitrarily detained," the US mission said.
We remain deeply troubled by reports of an ongoing crackdown on Uighurs and other Muslims in China. We call on
Chin… https://t.co/bHggSuqs3H
— US Mission to the UN (@USUN) 1533933552000
The allegations came from multiple sources, including activist group Chinese Human Rights Defenders, which said in a report last month that 21 percent of all arrests recorded in China in 2017 were in Xinjiang. Earlier, Yu Jianhua, China's ambassador to the United Nations in Geneva, said it was working toward equality and solidarity among all ethnic groups.
But McDougall said that members of the Uighur community and other Muslims were being treated as "enemies of the state" solely on the basis of their ethno-religious identity.
More than 100 Uighur students who returned to China from countries including Egypt and Turkey had been detained, with some dying in custody, she said.
Fatima-Binta Dah, a panel member, referred to "arbitrary and mass detention of almost 1 million Uighurs" and asked the Chinese delegation, "What is the level of religious freedom available now to Uighurs in China, what legal protection exists for them to practice their religion?"
Panelists also raised reports of mistreatment of Tibetans in the autonomous region, including inadequate use of the Tibetan language in the classroom and at court proceedings.
Full report at:
https://timesofindia.indiatimes.com/world/china/china-holds-million-uighurs-in-secret-camps-un-report/articleshow/65362471.cms
--------
Expert: Hard approach still needed to tackle terrorism
Soo Wern Jun
August 12, 2018
KUALA LUMPUR: Countering terrorism differs from one country to another, but there are times the hard approach is needed, a counter-terrorism expert said.
Andrin Raj, who is the SEA regional director for the International Association of Counterterrorism and Security Professionals with the Centre for Security Studies, said soft approaches might not necessarily be sufficient.
He was responding to former defence minister Hishamuddin Hussein's statement on using the soft approach to tackle violence and terrorism instead of military options.
Hishammuddin, in his comments on Putrajaya's decision to shut down the King Salman Centre for International Peace (KSCIP), had said that its sole purpose was to explore soft approaches in countering violence and terrorism since the hard approach seemed unfruitful.
While some have viewed the shutting down of the KSCIP as a 'great loss' to Malaysia, Andrin said there should not be any adverse impact from the government's decision.
"Saudi Arabia has no reason to be offended as it's the decision of a sovereign state and the government of today.
"There is little indication that the Saudi-initiated centre had been effective in addressing radicalisation and extremism in Saudi Arabia," he told FMT.
Andrin said the radicalisation process in the Middle East was different and the KSCIP might not be able to tackle violence and terrorism in the SEA region as the communities were multiracial and multireligious.
"Hence, interfaith and counter-terrorism experts within the region are needed to neutralise the threat here in Malaysia and within the region.
"Malaysia currently engages the two-pronged system which is the soft and hard approaches to address the threats nationwide.
"In countering terrorism the situation differs from country to country but sometimes the hard approach is an alternative as you cannot only counter the threats with a soft approach.
"The soft approach has not yielded a fair stand to address the threat and there is no data provided by the former administration to prove this," he said.
When asked whether the Malaysia Institute of Defence and Security (Midas) will be able to play the role of the KSCIP, Andrin said it must include counter-terrorism and counter-narrative experts who would know how to counter the threats.
As for Universiti Utara Malaysia (UUM) security expert Mohamad Faisol Keling, he said Midas should be expanded to make it more productive and effective, in order to ensure that the country's security was not compromised.
"The government's decision reflects its confidence in tackling these threats and this would have been based on the consideration offered by defence advisers and senior officers of the armed forces.
"Among the issues that need to be addressed are militancy (invasion) and monitoring of subversive movements which are sponsored by foreign countries and the involvement of Malaysians in terrorism activities," he said.
Faisol also agreed that violence and terrorism threats needed both soft and hard approaches.
"By right there should be a combination of both soft and hard approaches.
"But the soft approach is deemed more effective, as it deals also with the fundamentals.
"If this approach is applied at earlier stages, it will be able to prevent threats from worsening.
"As Malaysia has been the role model for the Organisation of Islamic Cooperation (OIC) countries and recognised by the United Nations Security Council, in this context, I think Malaysia definitely must have its own approach in addressing these threats," he said.
The KSCIP began operations in May 2017 in a bid to correct perceptions of the world community towards Islam.
Its operations involved Islamic scholars, academicians, intelligence agencies and certain centres at the regional and international levels.
During its operation, KSCIP focused not only on military aspects, but also on academic elements, with the main role to combat terrorist threats and the spread of propaganda and ideologies bandied about by the extremists and the terrorists.
Full report at:
http://www.freemalaysiatoday.com/category/nation/2018/08/12/expert-hard-approach-still-needed-to-tackle-terrorism/
--------
North America
Alleged 'insider attack' raises fears among US troops training militants in Syria
Aug 11, 2018
An alleged 'insider attack' shooting of a US Marine in Syria by a member of an allied, American-trained militants earlier this year has raised fears among US troops illegally deployed in the war-ravaged country on whether they can trust the anti-Damascus militants they're working to train and protect.
Although the team tasked with probing the February 17 incident was unable to determine whether the shooting in the leg of Marine Sergeant Cameron Halkovich was in fact an insider-attack case, other US troops in the victim's unit said they believed the gun discharge had been intentional, prompting fear and mistrust of militants tied to the so-called Syrian Democratic Forces (SDF), according to a Friday news release by the US Central Command (CENTCOM), which oversees American military operations across the Middle East.
"The incident was investigated by a team led by a US Marine colonel who was unable to conclusively determine if a US Marine was shot intentionally by a Syrian Democratic Forces guard, or if he was shot as the result of a negligent discharge," said the release as quoted in a report published by the US-based news outlet Military.com.
According to the CENTCOM statement, separate investigation conducted by "unnamed partners" supported the team's findings.
Halkovich, a combat engineer attached to the seventh Marines second Battalion, was shot twice in the leg by a SDF militant as he and another Marine – identified as Kane Downey -- were conducting a nighttime perimeter check on an Army-led base at the time of the shooting.
The wounded Marine was awarded a Purple Heart medal for his injuries in April, and Downey, who immediately shot dead what he believed to be the shooter, received the Joint Service Commendation Medal for his actions.
Despite expressing doubts about details of the incident, the investigating team verified Downey's actions, insisting that he "acted appropriately and proportionally to the threat he perceived," according to the CENTCOM statement.
"Those actions in the face of the perception of imminent danger, and the second Marine's life-saving response to a fellow Marine's injuries, led the lead investigator to recommend the second Marine to be commended for his actions," the news release added. The statement followed reporters' questions to CENTCOM Commander Army Gen. Joseph Votel after earlier reports on the incident. Votel further asserted on Wednesday that he was not aware of other insider attacks in Syria, where a US military contingent is deployed to train a foreign-backed terrorist force that has been engaged in a massive terror campaign aimed at overthrowing the government of President Bashar al-Assad.
According to the report, US forces deploying to Iraq and Afghanistan routinely train to deal with insider threats. Following a pattern of attacks in those countries, armed American officers sometimes observe training or patrol camps in case local troops attempt an attack when US forces are not wearing protective gear.
https://www.presstv.com/Detail/2018/08/11/570897/US-Marines-Syria-conflict-CENTCOM-insider-attack-Syrian-Democratic-Forces
--------
Investigators find ammo, dirty diapers at squalid 'extremist Muslim' compound in New Mexico
August 12, 2018
Investigators found dirty diapers, shotgun shells, broken bicycles and a DVD about killing techniques in close combat at the ramshackle New Mexico compound of a "extremist Muslim" where 11 children were found hungry and living in squalor.
The makeshift living quarters were also littered with diesel cans, household garbage and Qurans, according to reports.
Siraj Ibn Wahhaj, 39, has been accused of conducting weapons training on the compound. He was wanted for questioning in the abduction of his 3-year-old son, Abdul-ghani Wahhaj, a boy with severe medical issues. The boy went missing from Georgia in December. His remains were found on the property Monday.
The settlement sprung up on the outskirts of tiny Amalia, New Mexico, last winter — as authorities searched for the Wahhaj in his son's kidnapping.
The empty dwelling, without running water or a drainage system, is arranged around a rickety camper that is half submerged in a dirty pit and surrounded by 7-foot berms of used tires, sections of adobe wall topped with broken glass, a junked refrigerator and other odd supplies.
An alcove shaped out of wooden shipping pallets hides a makeshift bathroom — with a toilet seat suspended above a blue plastic bucket. A pair of underpants dangled from a pole overhead.
To one side of the camper, an underground tunnel — big enough to crawl through — led in and out of the compound, which was flanked by an apparent target range. Dozens of spent casings were left behind there.
Wahhaj, Lucas Morton and three other adults have been accused of training children to use firearms in preparation for future school shootings. Prosecutors have also charged them with child abuse.
Refuse at the compound included standard ammunition as well as fake cartridges designed to help people safely learn how to load and fire a weapon.
The owner of the property, Jason Badger, on Friday prodded through a left-behind satchel of ammunition — fit for rifle, shotgun and handgun — and discarded garbage bags holding crumpled grade-school textbooks and journals lined with notes in neat cursive and the primitive doodles of children.
He said he informed local authorities of Wahhaj's whereabouts in the spring.
"If they knew about it, and then that kid died in that timeframe, when they knew, somebody has to be held accountable," Badger said.
A Taos County Sheriff's Department spokesman defended the probe and said investigators had to follow certain restrictions.
"Mr. Badger doesn't have to adhere to those same restrictions," spokesman Steve Fullendorf said. "He wants to have his 15 minutes of fame and that's fine."
Full report at:
http://www.foxnews.com/us/2018/08/11/investigators-find-ammo-dirty-diapers-at-squalid-extremist-muslim-compound-in-new-mexico.html
--------
Trump, France's Macron Discuss Iran, Middle East and Trade
August 12, 2018
US President Donald Trump spoke on Friday (10/08) with French President Emmanuel Macron and they discussed trade, Iran and the Middle East, the White House said.
"Had a very good phone call with @EmmanuelMacron, President of France. Discussed various subjects, in particular Security and Trade," Trump, who is vacationing at his New Jersey golf club, said on Twitter.
The two leaders discussed "a broad range of trade and security issues, including the situation in Iran and the broader Middle East," the White House said in a statement.
The Elysee Palace said in a brief statement the two leaders discussed Syria, Iran and the Israel-Palestinian conflict, but did not mention trade.
Trump and Macron last met at a NATO summit in Brussels in July, where the US president chastised members of the alliance that have not met its defense spending targets.
At the summit, Macron said France would met the NATO goal of spending 2.0 percent of GDP on defense by 2024. Trump caused an uproar when he pressed alliance members to reach the target by January.
On trade, the United States and the European Union are embroiled in a spat after Trump imposed tariffs on imports of aluminum and steel from France and other countries. The EU responded with retaliatory tariffs on some US goods.
Trump had also threatened to impose tariffs on EU auto imports but reached an agreement to hold off on taking action after meeting with European Commission President Jean-Claude Juncker at the White House last month.
Macron and Trump are at odds over the US decision to withdraw from the Iran nuclear deal and reimpose sanctions on Tehran. Trump tweeted this week that companies doing business in Iran will be barred from doing business in the United States.
Among large European companies that have suspended plans to invest in Iran after the U.S. action are France's oil major Total and its big carmakers PSA and Renault.
Full report at:
http://jakartaglobe.id/international/trump-frances-macron-discuss-iran-middle-east-trade/
--------
URL: https://www.newageislam.com/islamic-world-news/nikah-halala-challenges-husband-manhood/d/116107
New Age Islam, Islam Online, Islamic Website, African Muslim News, Arab World News, South Asia News, Indian Muslim News, World Muslim News, Women in Islam, Islamic Feminism, Arab Women, Women In Arab, Islamophobia in America, Muslim Women in West, Islam Women and Feminism