New Age Islam News Bureau
2 Jun 2014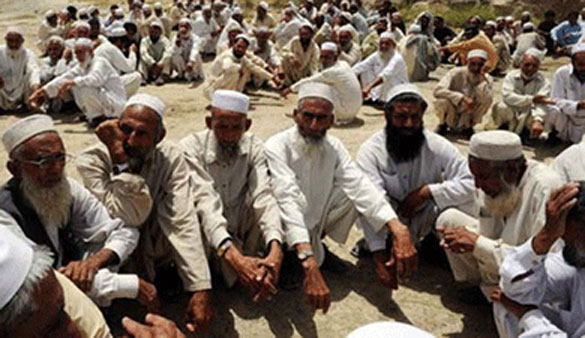 Bajaur elders threaten to target militant hideouts in Afghanistan, - File Photo
-----------
Africa
• Nigeria Schools Walk Line between Islamic and Western Traditions
• Cameroon troops kill 40 Boko Haram militants
• Bombing At Northeast Nigeria Football Match Kills At Least 40: Police
• Fierce fighting kills 16 in Libya's Benghazi
• Islamic Preacher Faces Probe for Praising Chibok Abduction
India
• Shahi Imam Punjab Slams Minority Affairs Minister Najma Heptullah
• Reinstated Gujarat top cop helped abduct, got weapons, said CBI
• Article 370 debate intended to change discourse: Yasin Malik
South Asia
• 74 Taliban militants killed, 36 others injured in Afghan operations
• 30 Bangladeshi students caught in Russia-Ukraine fight
• 3 Turks killed in suicide bombing in Afghanistan
• Trial of Jamaat-e-Islami as a political party for war crimes suffers setback
• Taliban threaten Afghan election, warn voters to stay away
• War crimes: Mobarak Hossain verdict any day
• Freed Taliban prisoners dangerous will rejoin fighting, warn Afghans
Mideast
• Mahmoud Abbas swears in Palestinian unity government
• Evolution of education: Middle schools in Israel to begin teaching Darwin's theory
• Al Qaeda executes four 'spy' trackers for Yemen drone hits
• Turkish court issues arrest warrant for al-Shabaab leaders
• Iran's Khamenei warns supporters of Sunni extremists
• Hamas hails unity government 'of all Palestinians'
Arab World
• 27 Killed in Attacks in Syria's Aleppo
• Attacks across Iraq kill at least 15 people
• Saudi Arabia under suspicion of supporting 9/11 attackers
• Egyptian court defends death sentences, calls Morsi supporters 'Jewish demons'
• Syrian Soldiers Target Militants in Several Areas
• NGO: ISIS kills 102-year-old man, family in Syria
• Egypt arrests militant snipers targeting security forces in Sinai
• Islamic Ministry bans imams from delegating others to lead prayers
• Saudis travelling to Iraq, Thailand to be penalized
Pakistan
• Bajaur elders threaten to target militant hideouts in Afghanistan
• Taliban members and a cop amongst 10 killed in Karachi
• Fazullah will never negotiate with government: Taliban commander
• Majlis-i-Wahdat-i-Muslimeen protests against targeted killings in Karachi
• Bilawal warns PML-N against victimisation
• Imran trying to pit institutions against each other: Sher
• Jamaat-i-Islami demands Rs100b package for Fata uplift
North America
• Taliban Declare: Fury at Release of Hardened Terrorists for Last US POW
• Hagel: 'new opening' for U.S.-Taliban talks possible
• Prisoner swap may herald peace breakthroughs: US
Southeast Asia
• Malaysia finds no pork DNA in Cadbury products
• Residents, Muslim groups attack Yogyakarta church
• Civil service out to oppress non-Muslims, says Hindu group
Europe
• Russia Supports Assad's Popularly-Elected Gov't
• Universities are urged to cut their links with Sultan over Islamic law
• Britain may soon have Muslim bank holidays
• Persecution in Iranian universities: Amnesty International
• UK plans to 'brainwash' schools over Islamic plot
• Snowden 'has left Britain wide open to attack by revealing how GCHQ spies on Al Qaeda'
• French suspect who made video confession to Jewish museum killings had been fighting in Syria
Compiled by New Age Islam News Bureau
URL: https://www.newageislam.com/islamic-world-news/new-age-islam-news-bureau/nigeria-schools-walk-line-between-islamic-and-western-traditions/d/87320
-----------
Africa
Nigeria Schools Walk Line between Islamic and Western Traditions
By Will Ross
Jun 2, 2014
For Muslim children in northern Nigeria, memorising and reciting the holy Quran is an integral part of growing up.
Down an alleyway in central Kano, I find one of the many Quranic schools which have changed little in generations.
About 800 boys are sitting on mats chanting verses of the Quran, which they have written out on wooden tablets with short sharpened sticks, dipped in ink.
They do this for hours each day. For most of these boys, this is the only education they get.
Many come from villages far away. They board at the school where conditions are basic, to put it mildly.
Across northern Nigeria, it is estimated that about 11 million children get no access to mainstream education.
But there is a growing belief that reforms are long overdue and a broader education is essential.
"When I was growing up I didn't get any Western education. I only attended a Quranic schools like this one," says Abdurrahman Muhd, the mallam, or religious teacher, as he shows the students how to write the Arabic script.
"But we have to change to compete with the challenges of modern society."
When they return from afternoon prayers, about 30 of his students are given lessons in maths, Hausa, English and social sciences.
"Some of my own children have finished secondary school and are going to the next level after studying the Koran alongside Western education," says Abdurrahman Muhd, mentioning the word "boko" in the local Hausa language.
Boko Haram, meaning "Western education is forbidden", is the nickname of the extremist group which has killed thousands of people in recent years during a brutal campaign of violence.
'Good for the community'
It has attacked many schools in north-east Nigeria - including the boarding school in Chibok, from where hundreds of girls were abducted, and in Buni Yadi, where dozens of boys were killed in their dormitory.
The group wants a strictly Islamic education and for boys only.
Boko Haram used to be extremely active here in Kano. Security has improved in what is the largest city in the north, although a suicide bombing on 18 May was an ominous warning that the threat persists.
The relative peace offers a chance to make improvements to the quality of education.
"Those children who don't go to school only stay at home and then they go out to sell things on the streets," Fatima, 12, tells me as we chat outside her community-based Islamiyya school in a suburb of Kano.
"If they are asked to write something short and simple, they can't. But I can read and write now," she says, beaming proudly.
"I stay with my grandfather but when I go home every weekend, I teach my younger siblings how to read and write and my mother is happy about that," Fatima says, before heading back to her English class.
It is a short walk to the home of her grandfather, Al Haji Sani Jibril. He is convinced that Fatima's education is good news for the whole community.
"I believe sending Fatima to school is like educating our whole society, because my granddaughter will influence her peers to go to school," he says.
"During my time, we did not have this opportunity to learn. I wouldn't want my children to suffer from the experiences I had," he says, adding that educated people are the only ones who have a say in today's society.
Path to peace?
British taxpayers are helping fund improvements to Nigeria's long-neglected education system, including these reforms to the religious schools.
Oil-rich Nigeria is not short of cash, but by offering technical expertise the goal is to improve the quality of education for both boys and girls.
There is a fear that more uneducated youth could end up as recruits for groups like Boko Haram.
The Kano state governor, Rabiu Musa Kwankwaso, has thrown his support and financial clout behind educational reforms, including the modernisation of Koranic schools.
"I believe it is important to engage them to make sure that they are employable, so we can reduce the challenges we are facing today," says Mr Kwankwaso.
His government has now introduced a law banning parents from sending their children away for religious education without offering them financial support.
"We are all aware that there is certainly a correlation between illiteracy, poverty and conflict," he says.
I asked if he was worried about the reforms, given Boko Haram's view on Western education.
"What we are doing here in Kano is to say that Western education is very relevant, Islamic education is very relevant and of course they have to go side by side," he says.
"That is the only way we can really make progress in this part of the country."
Colonial link
Controversy over education is not new here. Islam came to northern Nigeria more than 1,000 years ago. But secular education is a relatively recent arrival.
British forces, using mainly African troops, captured Kano in 1903. Since then, there has been a degree of resistance to "Western education" because of the link to colonialism and a perception that Islam was under threat.
So for those keen to see the old and the new integrated in the religious schools, there was initially some nervousness.
"From the beginning, some people thought the programme was going to be small in terms of numbers," says educationist Yardada Maikano.
"But the demand has been huge as more and more mallams are calling for basic education to be integrated in their schools. So this demand is now a challenge.
"I feel overwhelmed, I feel elevated and I feel happy," she adds.
"And that is why I continue with the struggle to make sure that those that have not been enrolled are given a chance to have religious and secular education at the same time."
Improving education in northern Nigeria was already an immense task, even before Boko Haram started its campaign of violence.
But every day, people are working hard here to give all children a fighting chance of fulfilling their dreams.
Fatima already has high hopes. "I want to be a doctor or a lawyer - that is my goal," she says. "I will not get married until I achieve this goal."
http://www.bbc.com/news/world-africa-27658382
------------
Cameroon troops kill 40 Boko Haram militants
June 02, 2014
YAOUNDE: Cameroon security forces killed some 40 Boko Haram militants in clashes in the country's far north, state radio said on Sunday, shortly after the release of two Italian priests and a Canadian nun suspected to have been held by the Islamist group.
A presidency source confirmed the clashes, which took place west of the town of Kousseri, in the region bordering Nigeria and Chad. Cameroon, which has been criticised by Nigeria for not doing enough to fight the Nigeria-based Boko Haram, deployed some 1,000 troops to the far north this week as it steps up the fight against the Islamist militants. Moreover,
In Brussels, NATO spokeswoman Oana Lungescu said NATO defence ministers would on Tuesday review measures the alliance had taken given Russia's actions towards Ukraine.
She said this could include "enhanced air patrols over the Baltic states, AWACS surveillance planes over Poland and Romania, more exercises, and an enhanced naval presence by NATO allies from the Baltic to the Black Sea." "Defence ministers will also discuss the longer-term implications of the crisis and consider a readiness action plan in preparation for the Wales summit in September," she added.
In April Poland's defence minister said Russia's military intervention in Ukraine's Crimea peninsula made it vital that NATO station significant numbers of troops in eastern Europe and ignore any objections Russia might have. Russia says deployment of significant NATO forces close to Russia would violate the 1997 Founding Act, an agreement between Moscow and the alliance. Eastern European states are nervous about Russia after it annexed Ukraine's Crimea region and massed 40,000 troops on Ukraine's borders. NATO is trying to provide reassurance with temporary deployments of military forces and exercises.
http://www.nation.com.pk/international/02-Jun-2014/cameroon-troops-kill-40-boko-haram-militants
--------------
Bombing At Northeast Nigeria Football Match Kills At Least 40: Police
AFP | Jun 2, 2014
KANO: A bombing at a football pitch in Nigeria's restive northeast killed at least 40 people on Sunday in an area previously attacked by Boko Haram Islamists, a police officer and a nurse said.
The blast hit the town of Mubi in Adamawa state, one of three in the northeast which has been under a state of emergency for more than a year as Nigeria's military has tried to crush Boko Haram's five-year extremist uprising.
"There has been a bomb explosion at a football field this evening and so far more than 40 people have been killed," said the officer in Mubi who requested anonymity.
The policeman's account was confirmed by a nurse at the Mubi General Hospital, who also requested anonymity, as the health worker was not authorised to discuss the attack with the media.
Adamawa has been hit by far fewer Boko Haram attacks than other parts of the northeast, but the town was the site of a gruesome October 2012 massacre at a post-secondary technical college.
Scores of students were killed in their dorms, including many whose throats were slit.
Mubi is just a few kilometres from Nigeria's border with Cameroon and near the area where two Italian priests and a Canadian nun were seized by suspected Boko Haram gunmen in April.
The three were released earlier on Sunday and flown out on board a military aircraft from the town of Maroua, heading for the Cameroon's capital.
The policeman in Mubi said the bomb exploded at roughly 6:30 pm (1730 GMT) at the pitch in Mubi's Kabang area and targeted fans who were trying to leave the field after watching a local club match.
It was not immediately clear if players were among the casualties, but the officer and the nurse said it appeared most of the victims were fans.
Muhammad Hassan, a Mubi resident who was at the match, said the blast appeared to come from within the crowd of people who were walking across the pitch and heading home after the final whistle.
"Women and children were caught up in the blast," he said. Boko Haram has carried out scores of attacks on targets it says are a product of Western influence, including sports venues and schools teaching a secular curriculum.
The group has killed thousands during its battle against the government since 2009, but the conflict has received unprecedented global attention over the last six weeks following the Islamists' mass kidnapping of more than 200 schoolgirls.
The girls were seized on April 14 from Chibok in Borno state, which shares a border with Adamawa.
Nigeria's response to the kidnapping has been fiercely criticised as inept and the crisis has piled intense pressure on President Goodluck Jonathan's government to do more to end the uprising.
The United States, Britain, France and Israel are providing varying levels of support to Nigeria's rescue mission for the 219 girls being held by the extremists.
While early suspicion for the latest attack fell on the Islamist insurgents, the eastern part of Nigeria has also seen sectarian violence at football pitches not thought to be linked to Boko Haram.
In Taraba state, just south of Adamawa, scores of people were killed last year in fighting between supporters of a nominally Muslim club and mostly Christian fans of a rival club.
http://timesofindia.indiatimes.com/world/rest-of-world/Bombing-at-northeast-Nigeria-football-match-kills-at-least-40-Police/articleshow/35925885.cms
------------
Fierce fighting kills 16 in Libya's Benghazi
Jun 2, 2014
Fierce fighting between Islamists and a rogue Libyan general killed 16 people in Benghazi on Monday, triggering fears of an all-out war as hospitals urged citizens to donate blood.
Officials at two hospitals in the eastern city, the birthplace of the NATO-backed uprising that toppled dictator Moamer Kadhafi in 2011, said at least 11 soldiers and five civilians were killed, and 26 people wounded.
An air force commander said the clashes erupted when three Islamist groups, including Ansar al-Sharia, attacked a base of elite forces who support the renegade general, Khalifa Haftar.
Images posted on the Internet showed army assault helicopters firing missiles at suspected Islamist targets.
The fighting was the bloodiest since 76 people were killed in mid-May when Haftar unleashed an offensive dubbed "Operation Dignity" to purge Libya of Islamists he brands "terrorists".
It triggered panic in Benghazi, Libya's second city where hospitals appealed to people to donate blood and doctors called on the combatants to spare the lives of civilians.
"Benghazi is suffering, people are fed up, spare them," the head of the Benghazi Medical Centre, Doctor Leila Buigiguis, said in remarks broadcast on television.
The education ministry closed schools, forcing the postponement of scheduled final exams.
Residents cowered indoors and many shops and businesses were closed as gunfire rang out and explosions shook Benghazi, witnesses said.
They said some families were trapped in the western neighbourhood of Sidi Freij, a stronghold of Ansar al-Sharia.
Haftar spokesman Mohamed al-Hijazi called on residents in combat zones across Benghazi to evacuate, in an apparent warning that the fighting could escalate.
Colonel Saad al-Werfelli, who commands the Benghazi air force base, said the jihadists "bombarded base 21 early on Monday, killing and wounding soldiers (from the elite unit) who were trapped inside".
The air force retaliated by launching strikes on the assailants, added Werfelli, who along with the elite forces backs Haftar's campaign against Islamists accused of repeated violence in Benghazi.
The latest bloodshed comes a day after Haftar's forces launched fresh air raids on Islamists in Benghazi, with one strike targeting a meeting of Ansar al-Sharia, one of his aides said.
Al-Qaeda in the Islamic Maghreb has urged Libyans to fight Haftar and his so-called National Army, labelling the ex-army general an "enemy of Islam".
Authorities have denounced Haftar as an outlaw, but after thousands of Libya rallied for his support he said he has a mandate from the people to pursue his offensive to crush "terrorism".
Since the 2011, Libya has been rocked by lawlessness with near-daily attacks blamed on radical Islamists targeting security forces in Benghazi.
The interim authorities, caught in their own power struggle, have been unable to stamp out the violence in the absence of a strong army and police force.
Ansar al-Sharia, classified as a terrorist group by the United States, was backed by the February 17 Brigades of ex-rebel leader Rafallah al-Sahati and the Libya Shield Force Islamist groups, said Werfelli.
The powerful February 17 group of ex-rebels denied any involvement in Monday's fighting, in a statement posted on Facebook.
The group of ex-rebels is suspected of having strong ties with Ansar al-Sharia, which has threatened Haftar that he could end up like Kadhafi, killed by rebels eight months after the 2011 uprising.
Haftar, 71, lived in exile in the United States before returning home to command ground forces in the uprising.
Last week he said in a statement read on a private television that he would not rest until he has purged Libya of Islamists.
"No steps backwards until the country is liberated, security and stability restored and freedom and democracy established," he said.
But many in Libya doubt that he will have any impact on the Islamists and question his real intentions, with his detractors claiming on social media forums that he "speaks more than he shoots".
http://english.ahram.org.eg/NewsContent/2/8/102746/World/Region/Fierce-fighting-kills--in-Libyas-Benghazi.aspx
------------
Islamic Preacher Faces Probe for Praising Chibok Abduction
Jun 2, 2014
A United Kingdom-based Islamic preacher, Mizanur Rahman, is being investigated by police after a video showed him praising Boko Haram for kidnapping over 200 schoolgirls.
The 31-year-old of Palmers Green, north London, claimed in the video-recording posted online that killing non-Muslims was 'not necessarily a bad thing.'
The sect had abducted the pupils from Government Girls' Secondary School, Chibok, Borno State since April 14.
A report by a UK tabloid, Daily Mail, said Rahman also praised the terror group for its activities.
He said in the video, "People want to make it out as though history began on the day these girls were taken from – sorry I should say these women – were taken from this high school in Nigeria.
http://www.nigerianbulletin.com/threads/islamic-preacher-faces-probe-for-praising-chibok-abduction.78310/
------------
India
Shahi Imam Punjab Slams Minority Affairs Minister Najma Heptullah
TNN | Jun 2, 2014
LUDHIANA: Coming down heavily on minority affairs minister Najma Heptullah for her remark that Muslims are not a minority in India, Shahi Imam Punjab on Saturday asked the minister to resign on moral grounds.
Addressing media persons, Shahi Imam Punjab, Maulana Habib-ur-Rehman Saani Ludhianvi said that while making such a derogatory statement, Heptullah seems to have forgotten that she became the minority affairs minister because she is a Muslim. He added that if she, in her capacity as minister, can't talk of the rights of Muslims, she has no right to lead the minorities.
He claimed that Heptullah was opposing the Waqf property and Sachar committee report to just pay back the Modi government for giving her a cabinet berth. He added that Najma is speaking the language of the Rashtriya Swayamsevak Sangh (RSS) and the BJP and said that it won't be tolerated. He asked the home minister and BJP president Rajnath Singh to clear the air on the statement made by his colleague.
http://timesofindia.indiatimes.com/india/Shahi-Imaam-Punjab-slams-Heptullah/articleshow/35940614.cms
------------
Reinstated Gujarat top cop helped abduct, got weapons, said CBI
Written by Ujjwala Nayudu , Muzamil Jaleel | New Delhi | June 2, 2014
Justifying its decision to reinstate senior Gujarat Police officer G L Singhal, 48, who was suspended when he was arrested in February 2013 for his alleged role in the killing of Ishrat Jahan, the state government said the officer is out on bail and, therefore, cannot be kept permanently under suspension.
June 15 will mark 10 years since 19-year-old Khalsa college girl Ishrat Jahan, her associate Pranesh Pillai alias Javed Shaikh, and Pakistani nationals Jishan Johar and Amjad Ali Akbar Ali Rana, were killed in a fake police encounter on Ahmedabad's outskirts.The four were branded Lashkar-e-Toiba (LeT) fidayeen assigned to kill the then chief minister Narendra Modi.
A close scrutiny of the CBI's charges against him shows that Singhal is accused of being complicit at every stage of the alleged plot to kill them — right from the abduction of the victims, their confinement, planning their murder, their execution and planting of weapons.
Singhal is also the police officer in "Snoopgate", purportedly on tape speaking with Amit Shah, the then Gujarat MoS Home, on keeping tabs on a young woman. These tapes were believed to be part of the 267 voice recordings submitted by Singhal to the CBI as evidence.
In March 2013, Singhal sent a resignation letter to the government, saying he felt "the government had failed to protect him from victimisation", which was invalidated since he was already deemed suspended.
Full report at:
http://indianexpress.com/article/india/india-others/reinstated-gujarat-top-cop-helped-abduct-got-weapons-said-cbi-2/2/
------------
Article 370 debate intended to change discourse: Yasin Malik
Jun 2, 2014
JKLF chief Yasin Malik, claiming that the design behind the article 370 debate raked up by a union minister was to change the Kashmir discourse from independence to centre-state relations, Saturday said his party would soon start a "Quit Kashmir" movement.
"There is a design behind the Indian junior minister's statement that article 370 would be revoked. There is a storm of debate over this in India and also in Kashmir. Everywhere in Kashmir people are discussing the fate of article 370," said the Jammu and Kashmir Liberation Front chairman.
"In the forefront of this debate are the pro-India political parties. (Chief Minister) Omar Abdullah has said Kashmir will cease to be a part of India if article 370 is scrapped," he said.
Malik contended that the Indian government or parliament does not have the legal power to revoke article 370.
Full report at:
http://www.siasat.com/english/news/article-370-debate-intended-change-discourse-yasin-malik
-----------
South Asia
74 Taliban militants killed, 36 others injured in Afghan operations
Jun 02 2014
At least 74 Taliban militants were killed following military operations conducted by Afghan national security forces in various provinces of Afghanistan.
The interior ministry of Afghanistan following a statement said the militants were killed in the past 24 hours during operations conducted by Afghan national army, Afghan national police and Afghan intelligence – national directorate of security (NDS) operatives.
The statement further added that the operations were conducted in Kunar, Nangarhar, Baghlan, Helmand, Sar-e-Pul, Kunduz, Kapis, Kandahar, Zabul, Ghazni, Paktia and Ghor provinces.
Interior ministry also added that 36 Taliban militant were injured and 5 others were detained during the operations.
Full report at:
http://www.khaama.com/74-taliban-militants-killed-36-others-injured-in-afghan-operations-8193
------------
30 Bangladeshi students caught in Russia-Ukraine fight
Jun 2, 2014
At least 30 Bangladeshi medical students have been stranded in Ukraine's Lugansk city ahead of a planned government offensive against pro-Russian militias, who are occupying several important buildings.
Talking to the Dhaka Tribune over phone from the embattled eastern city yesterday, one of the students at Lugansk State Medical University expressed concerns about their safety as there is no Bangladesh mission in the country to arrange their evacuation.
"We come to know that the Ukrainian forces have encircled the city and plan to carry out a military offensive against pro-Russian militias. They have occupied the government buildings. Thirty of us (from Bangladesh) are in the middle of the war zone," Liton Chandra Bhowmick, a student, said. "Please save us."
Full report at:
http://www.dhakatribune.com/bangladesh/2014/jun/02/30-bangladeshi-students-caught-russia-ukraine-fight#sthash.pM1Pp54c.dpuf
-----------
3 Turks killed in suicide bombing in Afghanistan
AP | Jun 2, 2014
KABUL, Afghanistan: An Afghan official says a suicide bomber has targeted a minibus with workers from a Turkish construction company, killing three Turkish engineers.
The spokesman for the governor in eastern Nangharhar province says the attack happened on Monday morning as the Turkish workers were travelling to work in the district of Behsud.
Ahmad Zia Abdulzai says the bomber drove a motorcycle. The explosion killed three Turkish engineers and wounded a fourth. The team was working on a construction project in Behsud.
No one claimed responsibility for the attack and officials at the Turkish embassy in Kabul could not immediately be reached for comment.
http://timesofindia.indiatimes.com/world/south-asia/3--killed-in-suicide-bombing-in-Afghanistan/articleshow/35938495.cms
------------
Trial of Jamaat-e-Islami as a political party for war crimes suffers setback
HAROON HABIB
Jun 2, 2014
'No provision in the International Crimes [Tribunals] Act, 1973 to try and punish any political party'
The trial of Jamaat-e-Islami as a political party for war crimes may suffer a set back as the Sheikh Hasina government now believes the existing laws lack provisions for such trial.
At the height of the controversy, Prime Minister Sheikh Hasina backed her Law Minister's position that the Jamaat cannot be tried as a party for war crimes. Law Minister Anisul Huq is already under fire from various quarters for having said that there was no provision in the International Crimes [Tribunals] Act, 1973 to try and punish any political party.
Apparently raising a question about the necessity of the trial, the Law Minister explained the bigwigs of the party [Jamaat] had already been brought to the book for war crimes. The Minister however ruled out any negotiations between the government and Jamaat.
Full report at:
http://www.thehindu.com/news/international/south-asia/trial-of-jamaat-for-war-crimes-suffers-setback/article6072597.ece
------------
Taliban threaten Afghan election, warn voters to stay away
Jun 2, 2014
KABUL: Taliban insurgents threatened Monday to attack Afghanistan's run-off presidential election, warning voters to stay away from polling stations for fear of injury or death.
Afghans are due to go to the polls on June 14 to choose whether Ashraf Ghani or Abdullah Abdullah should succeed President Hamid Karzai.
The militants, ousted from power in Kabul by a 2001 US-led invasion, threatened to attack the first round of voting on April 5 but the day passed off with a high turnout and no major security incidents.
In a statement in English on their website, the Taliban said their fighters "are once again fully prepared to operate against the workers and polling stations in the second phase of these counterfeit elections".
Full report at:
http://www.dawn.com/news/1110114/taliban-threaten-afghan-election-warn-voters-to-stay-away
------------
War crimes: Mobarak Hossain verdict any day
Jun 2, 2014
The verdict on the war crimes accused Mobarak Hossain will be delivered any day.
The International Crimes Tribunal 1 has passed the order as the trial procedure of the case ended on Monday morning.
On May 20, the defence closed their factual arguments.
The prosecution ended their closing arguments on May 19, seeking death for the alleged Razakar commander from Brahmanbaria for his crimes against humanity during the Liberation War.
Full report at:
http://www.dhakatribune.com/law-rights/2014/jun/02/mobarak-verdict-any-day#sthash.m853TnNw.dpuf
------------
Freed Taliban prisoners dangerous, will rejoin fighting, warn Afghans
Reuters | Kabul | June 2, 2014
The release of five Taliban prisoners in exchange for a US soldier has drawn criticism from some Afghans, who say the detainees are dangerous and will rekindle ties with terrorist networks to resume fighting, just as most foreign troops leave.
The men had been held at the US naval base at Guantanamo Bay, Cuba since 2002 and were classed by the Pentagon as "high-risk" and "likely to pose a threat".
They were released in a swap with US army sergeant Bowe Bergdahl, the sole American prisoner of war held in Afghanistan who was flown to a US military hospital in Germany on Sunday.
Full report at:
http://indianexpress.com/article/world/americas/freed-taliban-prisoners-dangerous-will-rejoin-fighting-warn-afghans/
------------
Mideast
Mahmoud Abbas swears in Palestinian unity government
Jun 2, 2014
RAMALLAH: Palestinian President Mahmoud Abbas on Monday swore in a Palestinian unity government, taking a major step toward ending a crippling territorial and political split among the Palestinians but also setting the stage for new friction with Israel.
The brief ceremony at Abbas's West Bank headquarters was preceded by last-minute haggling over the makeup of the 17 member Cabinet of technocrats, signaling the continued tensions between the longtime rivals.
The Islamic militant Hamas group, which seized the Gaza Strip from Abbas in 2007, had demanded that he reverse a decision to remove the position of minister on prisoner affairs from the government.
Full report at:
http://www.dawn.com/news/1110117/mahmoud-abbas-swears-in-palestinian-unity-government
------------
Evolution of education: Middle schools in Israel to begin teaching Darwin's theory
Jun 2, 2014
The Israeli education system has joined the majority of the Western world in introducing the theory of evolution to middle-school pupils beginning in the next academic year, it was announced on Sunday.
The professional committee in the Education Ministry made the decision to introduce the theory of evolution to seventh grade through ninth grade pupils across the education system – in secular stateschools, state-religious schools and Arab schools.
"For years, since the 1980s, evolution was only touched upon in some middle schools, depending on if the teacher felt comfortable tackling such a heavy subject," committee chairwoman Prof. Nava Ben-Zvi told The Jerusalem Post on Sunday.
To date, the Education Ministry has not officially incorporated Darwin's theory in its middle-school sciences curriculum; only high school students pursuing a matriculation certificate in biology, a small fraction of the student population, were exposed to the subject.
The decision would introduce the theory of evolution to pupils as part of the general science and technology curriculum and not as an "anchor subject," but rather through the study of ecology. "Studying the theory is the basis for a better understanding of ecology, the study of different species and the interactions between them," Ben-Zvi explained, adding that the committee discussed how to best incorporate the subject area, methodology and teacher training into the curriculum.
Full report at:
http://www.jpost.com/National-News/Evolution-of-education-Middle-schools-in-Israel-to-begin-teaching-Darwins-theory-355046
------------
Al Qaeda executes four 'spy' trackers for Yemen drone hits
Jun 2, 2014
DUBAI: Al Qaeda in the Arabian Peninsula announced on Sunday it has executed four people accused of placing tracking devices on vehicles to help US drones target jihadists.
In a video posted online by AQAP, four suspects described as "spies" say they placed tracking devices on the vehicles of jihadists killed in drone attacks two years ago in the southern Shabwa province.
An AQAP security official named Abu Islam al-Muhajer said in the video that US and Yemeni authorities were behind the drone attacks.
Full report at:
http://www.dawn.com/news/1109969/al-qaeda-executes-four-spy-trackers-for-yemen-drone-hits
------------
Turkish court issues arrest warrant for al-Shabaab leaders
Jun 2, 2014
An Ankara court has ruled to issue an arrest warrant for five Ethiopian al-Shabaab leaders as part of an investigation into a suicide attack on the Turkish Embassy that killed an embassy personnel in Mogadishu in July last year.
The Ankara public prosecutor will also apply to INTERPOL to issue a red alert on the suspects after determining that the attack was carried out upon their leaders' instructions.
On July 28, 2013, al-Qaeda linked al-Shabaab militants staged a suicide attack on a Turkish Embassy annex, killing one Turkish guard and wounding three others.
Full report at:
http://www.hurriyetdailynews.com/turkish-court-issues-arrest-warrant-for-al-shabaab-leaders-----.aspx?pageID=238&nID=67278&NewsCatID=510
------------
Iran's Khamenei warns supporters of Sunni extremists
Jun 2, 2014
Iran's supreme leader Ayatollah Ali Khamenei on Monday warned regional countries of the "high price" they would eventually pay for supporting extremist Sunni Muslim groups fighting Tehran's key ally Syria.
Shiite Iran is a staunch supporter of President Bashar al-Assad's regime in its struggle against mostly Sunni rebels backed by Arab nations and Western powers.
Khamenei made the comments during a meeting with the visiting Kuwaiti Emir Sheikh Sabah al-Ahmad Al-Sabah whose trip to Tehran has been widely seen as an attempt to warm up the frosty ties between Iran and Sunni-ruled monarchies in the Gulf.
"Unfortunately, some regional countries do not take heed of the danger of Takfiri groups which will threaten them in future and they are still backing these groups," the leader's website khamenei.ir reported.
Full report at:
http://english.ahram.org.eg/NewsContent/2/8/102737/World/Region/Irans-Khamenei-warns-supporters-of-Sunni-extremist.aspx
------------
Hamas hails unity government 'of all Palestinians'
Jun 2, 2014
Gaza's Hamas rulers hailed the establishment of a national unity government for all Palestinians after a new cabinet took its oath Monday in the West Bank city of Ramallah.
"We hail the national consensus government, which represents all the Palestinian people," Hamas spokesman Sami Abu Zuhri told AFP.
http://english.ahram.org.eg/NewsContent/2/8/102740/World/Region/Hamas-hails-unity-government-of-all-Palestinians.aspx
-----------
Arab World
27 Killed in Attacks in Syria's Aleppo
Jun 2, 2014
At least 27 people were killed in a shelling carried out by foreign-backed militants in the Northern Syrian city of Aleppo.
Some 80 more people were also injured on Monday after the militants fired more than 50 shells into al-Jamiliyah, al-Meridian and Sa'adallah al-Jabiri neighborhoods in Aleppo, press tv reported.
The recent attacks brought to 50 the number of the people who have been killed in Aleppo over the past three days.
On Saturday, 20 people were killed after militants fired 40 mortar shells on several neighborhoods of the flashpoint city.
According to some sources over 150,000 people have been killed since the Syrian crisis erupted in March 2011.
Full report at:
http://english.farsnews.com/newstext.aspx?nn=13930312000689
------------
Attacks across Iraq kill at least 15 people
Jun 2, 2014
Attacks across Iraq have killed at least 15 people and wounded dozens, officials said.
Police officials said a parked car bomb ripped through a commercial area in the southern city of Najaf on Monday, killing six civilians and wounding 13.
A suicide car bomber struck an Army checkpoint in the town of Mishahda, killing three soldiers and two civilians, and wounding 14 people.
Attacks on busy commercial areas in the city of Nasiriyah and the towns of Iskandariyah and Mahmoudiyah killed four people and wounded 31.
Medical officials confirmed the causality figures.
http://www.thehindu.com/news/international/world/attacks-across-iraq-kill-at-least-15-people/article6075025.ece
------------
Saudi Arabia under suspicion of supporting 9/11 attackers
Jun 2, 2014
The Kingdom of Saudi Arabia is not immune from liability for the 9/11 terrorist attacks, since there is detailed evidence in the record showing its material support for, and assistance to the hijackers, asserts a legal brief filed with the U.S. Supreme Court on May 21.
The brief was filed in opposition to the appeal filed by the Kingdom, following the ruling by the U.S. Court of Appeals for the Second Circuit last December, reinstating the Kingdom and related Saudi "charities," as defendants in a multi-million dollar lawsuit brought by 9/11 victims and their families, as well as insurance companies seeking recovery for damages paid.
The Obama Administration has not yet indicated whether it will intervene on behalf of the Saudis, as it did in the lower courts.
In their brief, the plaintiffs mock the Kingdom of Saudi Arabia as "a supposed 'ally' of the United States," saying, "The Kingdom is alleged to have provided material support and assistance through its officials and agents to al-Qaeda, including assistance that enabled it to develop the network and capabilities that would ultimately carry out the September 11th attacks. It allegedly did so through: (a) individual government agents operating in the United States and Germany in support of the September 11th hijackers; (b) its charities that worked closely with al-Qaeda for years leading up to the attacks, including in certain cases through actions undertaken in the United States...."
Full report at:
http://www.tehrantimes.com/middle-east/116078-saudi-arabia-under-suspicion-of-supporting-911-attackers
------------
Egyptian court defends death sentences, calls Morsi supporters 'Jewish demons'
Jun 2, 2014
37 Islamists sentenced to death, while hundreds more handed life sentences, accused of preaching Jewish Talmud by court.
After Egyptian courts sentenced dozens of supporters of ousted president Mohamed Morsi to death and sentenced hundreds to life , the court defended its verdict by calling the men "demons" who preached Jewish scripture, according to AFP.
Earlier this year, the Egyptian court sentenced 529 members of the outlawed Muslim Brotherhood to death for the murder of a police officer and other offenses. The court eventually upheld the death sentences for 37 of the Islamist defendants while the remainder had their sentences commuted to life in prison.
Full report at:
http://www.jpost.com/Egypt/Egyptian-court-defends-death-sentences-calls-Morsi-supporters-Jewish-demons-355126
------------
Syrian Soldiers Target Militants in Several Areas
Jun 2, 2014
Army soldiers tightened grip on militants after a series of operations against their concentration camps and hideouts in several areas around Syria on Monday.
Army units killed numbers of militants and injured many others in the villages of Haddadin, Rasem Bakro, Jabal al-Saharij, al-Khanat and al-Dabbaghat in Aleppo, a military source said.
The source added that militants' concentration camps were targeted in Bustan al-Basha, al-Sakhour, Qobtan al-Jabal, Hreitan and Bani Zed, killing many of the militants, injuring others and destroying their vehicles in Handarat Camp, Hanano, Mare', Tal Jabin, al-Mislmeih, al-Hader, Ainjara and Arom.
http://english.farsnews.com/newstext.aspx?nn=13930312001100
------------
NGO: ISIS kills 102-year-old man, family in Syria
Jun 2, 2014
The most radical jihadist group fighting in Syria on Sunday killed a 102-year-old man along with his whole family in the heart of the country, a monitoring group said.
The 102-year-old was shot dead in his sleep, with the Islamic State of Iraq and the Levant (ISIS) also killing his son, his grandson, his great-granddaughter and her mother, said the Syrian Observatory for Human Rights.
All the victims were Alawites, members of the same offshoot of Shiite Islam as Syria's President Bashar al-Assad.
Rooted in al-Qaeda in Iraq, ISIS is the most extremist group fighting in Syria's war.
Initially welcomed by rebels seeking Assad's overthrow, their systematic abuses and quest for hegemony turned the rest of the opposition against them.
ISIS killed the family while attacking Zanuba village in Hama, said the Observatory.
"Some members of the family were burned alive, others killed in their sleep," it added.
Loyalist strikes
Full report at:
http://english.alarabiya.net/en/News/middle-east/2014/06/01/NGO-ISIS-kills-102-year-old-man-family-in-Syria-.html
------------
Egypt arrests militant snipers targeting security forces in Sinai
Jun 2, 2014
Egyptian authorities have arrested a cell of snipers targeting security forces in the Sinai Peninsula, where an Islamist insurgency is growing.
A security source told state news agency MENA late on Sunday that three Islamist militants who formed a cell targeting security forces in the area with sniper arms were arrested in the North Sinai town of Al-Arish.
Since the ouster of Islamist president Mohamed Morsi last summer and an ensuing crackdown on his supporters, violence has spiralled in the underdeveloped peninsula bordering Israel. Government figures place the number of police and troops killed in militant attacks since then at approximately 500.
Full report at:
http://english.ahram.org.eg/NewsContent/1/64/102704/Egypt/Politics-/Egypt-arrests-militant-snipers-targeting-security-.aspx
------------
Islamic Ministry bans imams from delegating others to lead prayers
Jun 2, 2014
MAKKAH — The Ministry of Islamic Affairs has banned imams from deputizing others to lead worshippers in prayer, a practice that has led to many disputes.
Many people believe that deputizing others is a necessity in the event an imam has another matter to attend. These people point to the Prophet (peace be upon him), who deputized Abu Bakr Al-Siddiq (may Allah be pleased with him) when he fell ill and could not lead the prayers.
Others, however, believe that deputizing other people amounts to relinquishing responsibilities that the imams themselves have asked and are paid for.
Ali Al-Shehri said deputizing is not banned in Islam and imams may experience circumstances that sometimes prevent them from leading the prayers. He added that an imam should only deputize someone who has memorized the Qur'an and can properly recite it.
Full report at:
http://www.saudigazette.com.sa/index.cfm?method=home.regcon&contentid=20140602207107
------------
Saudis traveling to Iraq, Thailand to be penalized
Jun 2, 2014
Citizens caught traveling to either Iraq or Thailand will face a SR10,000 fine and a three-year travel ban, Col. Salman Al-Muhaya, director of the Saudi travel section at the Passport Department, has told the media.
"There are exceptional cases where Saudis may be allowed to travel to these countries based on specific regulations," he said. "In Iraq, for instance, certain procedures must be followed by Saudis that have to be cleared by ad hoc committees in certain areas."
For Thailand, exceptional cases include relatives of Saudi Embassy staff who are in the first category and citizens with verifiable health problems who must seek treatment there, he said.
Full report at:
http://www.arabnews.com/news/580176
------------
Pakistan
Bajaur elders threaten to target militant hideouts in Afghanistan
Jun 2, 2014
KHAR: Expressing concern over the growing cross-border attacks, the elders of Mamond tribe on Sunday asked the Afghan government to take concrete steps to stop infiltration of militants from its Kunar province into Pakistani territory.
The tribal elders were addressing a jirga, held here on Sunday a day after militants from the across the border attacked Nawo Top area of the tribal region.
They threatened to target militant hideouts inside Afghanistan if the cross-border attacks continued.
The jirga was attended by tribal elders and heads and members of various village defence committees. They discussed law and order situation in the tribal region, anti-militants activities and the recent cross-border attacks.
The participants of the jirga expressed great concern over cross-border attacks by militants. The Afghan government and people of Kunar province who are our brothers should play their role to stop cross-border attacks as such incidents are against the interests of the people of both the countries," they said.
Full report at:
http://www.dawn.com/news/1109987/bajaur-elders-threaten-to-target-militant-hideouts-in-afghanistan
------------
Taliban members and a cop amongst 10 killed in Karachi
June 02, 2014
KARACHI- Ten people including a police officer and seven Taliban members was killed in firing and violent incidents across Karachi.
According to Police, bodies of seven Tehreek-e-Taliban – Swati group members were found from Ijtemahgah Road at Manghopir early today morning.
Three of the deceased were identified as Yousuf, Shoaib and Khan Saeed. Police added that all of the killed people were in contact with commander of an outlawed group Abid Muchhar. Another body was found at Jummah Goth area of Korangi. The corpse was shifted to hospital for identification. A Sub-Inspector named Saleem was shot dead at Bilal Colony in Korangi. Ahmad Ali was gunned down near Liaquatabad flyover whereas another man identified as Imtiaz was killed by firing in the jurisdiction of Rizvia Police Station.
Source: The Nations
------------
Fazullah will never negotiate with government: Taliban commander
June 02, 2014
Peshawar- Tehreek-e-Taliban Pakistan (TTP) leader Maulvi Fazlullah would chair a high-level meeting soon with the heads of different tribal agencies and groups to discuss the situation after separation of Sajna group, operation in North Waziristan and the possible future course of action, local media quoting sources said today.
All the decisions taken by Maulvi Fazlullah in the meeting will be informed to the media via video message. Darra Adam Khel Taliban commander has also confirmed the news of meeting.
While talking on phone from an undisclosed location, the commander told that TTP would never agree on negotiations under Maulvi Fazlullah's leadership. He also revealed that TTP chief commander Omar Mansoor Dara's video message would be released soon to the media.
http://www.nation.com.pk/national/02-Jun-2014/fazullah-will-never-negotiate-with-government-taliban-commander
------------
Majlis-i-Wahdat-i-Muslimeen protests against targeted killings in Karachi
Jun 2, 2014
KARACHI: The Majlis-i-Wahdat-i-Muslimeen (MWM) on Sunday staged a rally near Shaheen Complex in protest of targeted killings in Karachi after police restricted demonstrators from marching towards the Chief Minister's House.
A large number of members of the Shia community, including women and children, were present at the demonstration just outside the city's Red Zone, which had been sealed shut with large shipping containers and barbed wires.
A large number of police was present inside the Red Zone to prevent any untoward incident.
The MWM had previously announced that it would stage the rally and sit-in in front of Chief Minister's House on Sunday in what it described as the second phase of its protest against unending killings on sectarian grounds.
Full report at:
http://www.dawn.com/news/1109921/mwm-protests-against-targeted-killings-in-karachi
------------
Bilawal warns PML-N against victimisation
June 02, 2014
KARACHI - Denouncing the ill-treatment meted out to PPP leaders Yousuf Raza Gilani, Raja Pervaiz Ashraf and Makhdoom Amin Fahim by the centre, Pakistan People's Party Patron-in-Chief Bilawal Bhutto Zardari has asked the PML-N government to think twice before revisiting the era of political victimisation.
Bilawal said PPP leaders and workers had faced valiantly many tyrant dictators in the past and fabricated and fake cases, jails and courts were not new to them.
"Characters who initiated false cases and references against the PPP leaders in the past apologised later when they relinquished power," he pointed out and demanded Prime Minister Nawaz Sharif to come out openly if he had shunned the policy of reconciliation initiated by Shaheed Mohtarma Benazir Bhutto and pursued by the PPP government.
Full report at:
http://www.nation.com.pk/editors-picks/02-Jun-2014/bilawal-warns-pml-n-against-victimisation
------------
Imran trying to pit institutions against each other: Sher
June 02, 2014
FAISALABAD - Minister of State for Water and Power Abid Sher Ali on Sunday lashing out at Imran Khan, suggesting that the PTI chief must be tried under Article 6 of the Constitution for treason with the nation.
Speaking to media persons here, the state minister said that PTI Chief Imran Khan was trying to create rift among state institutions. Abid Sher Ali said that Imran Khan should be tried under Article 6 of the Constitution, adding Khan was trying to create rift between the government and the army.
He said Khan was using defence institutions for coming into power.
Criticizing the political parties protesting against the government, the State Minister termed the PML-Q leader Pervaiz Elahi the root cause of the problem, saying that 'used cartridges' could no more hoodwinked the masses.
Full report at:
http://www.nation.com.pk/national/02-Jun-2014/imran-trying-to-pit-institutions-against-each-other-sher
------------
Jamaat-i-Islami demands Rs100b package for Fata uplift
June 02, 2014
LAHORE - Jamaat-i-Islami chief Sirajul Haq has impressed upon the government to announce special package of Rs 100 billion each for Karachi and Tribal Areas for the rehabilitation of the people affected by terrorism.
Talking to the media men after a meeting of the JI central executive at Mansoora on Sunday, he also urged the Prime Minister to expose the forces who wanted to sabotage the peace talks with the Taliban.
JI Secretary General Liaquat Baloch besides the four deputy chiefs of the JI were also present on the occasion.
The JI chief said that the Prime Minister's evading reference to the Kashmir and river water issues during his New Delhi visit and avoiding meeting with the Hurryiat Conference leadership there had sent a negative message to the Kashmiris struggling for freedom.
Full report at:
http://www.nation.com.pk/lahore/02-Jun-2014/ji-demands-rs100b-package-for-fata-uplift
----------
North America
Taliban Declare: Fury at Release of Hardened Terrorists for Last US POW
Jun 2, 2014
The Taliban have declared 'victory' and Barack Obama has been accused of endangering Western lives by exchanging five 'hardened terrorists' for the last American prisoner-of-war in Afghanistan.
Obama's decision to free five top Taliban figures - including a friend of Osama Bin Laden, an opium drug lord and a warlord responsible for hundreds of deaths - in return for Sergeant Bowe Bergdahl has already attracted fierce criticism from opponents.
But a gloating victory message issued by the fugitive Taliban leader today is sure to ramp up the pressure on the president.
Omar said: 'I extend my heartfelt congratulations to the entire Afghan Muslim nation, all the Mujahideen and to the families and relatives of the prisoners for this big victory.'
Bergdahl, who was held for almost five years by Islamic militants, was freed on Saturday after the US agreed to free the five most important Taliban prisoners in the Guantanamo Bay detention centre.
Full report at:
http://www.dailymail.co.uk/news/article-2645354/A-mass-killer-Bin-Ladens-friend-opium-drug-lord-Anger-grows-release-hardened-terrorists-Americas-POW-Hagel-insists-Bergdahls-life-danger.html
------------
Hagel: 'new opening' for U.S.-Taliban talks possible
Jun 2, 2014
U.S. Defense Secretary Chuck Hagel expressed hope Sunday the release of U.S. Army Sergeant Bowe Bergdahl would lead to direct U.S. talks with the Taliban.
"It could, it might and we hope it will present an opening," Hagel said in an interview from Bagram Air Base in Afghanistan with NBC's "Meet the Press."
Hagel noted that the United States had engaged in talks with the Taliban before, until they were broken off in 2012, and that it strongly supported an Afghan-led effort to reach a peace agreement with the Taliban.
"So maybe this will be a new opening that can produce an agreement," he said.
Bergdahl, 28, was released Saturday near the Afghan-Pakistani border after nearly five years in Taliban captivity, in a surprise development that came as the United States days is winding down its 13-year intervention in Afghanistan.
Full report at:
http://english.alarabiya.net/en/News/middle-east/2014/06/01/Hagel-new-opening-for-U-S-Taliban-talks-possible.html
------------
Prisoner swap may herald peace breakthroughs: US
June 02, 2014
BAGRAM AIRBASE - US Defence Secretary Chuck Hagel said he hoped the successful prisoner exchange deal might lead to breakthroughs in reconciliation with the militants.
"We had been ... working to find ways to open up some possibilities with the Taliban to try to get Sergeant Bergdahl back. This didn't just start," Hagel told reporters travelling with him on a routine visit to Afghanistan.
"This has been an ongoing effort that our government has been involved in at every level ... We found some openings ... that made sense to us," he added. "The timing was right, the pieces came together."
Hagel later met with more than a dozen special operations soldiers at the giant Bagram military base outside Kabul and thanked them for their part in operations to recover Bergdahl. Addressing a larger gathering of troops in a hangar at the base, Hagel said, "This is a happy day for our country, because we got one of our own back."
Full report at:
http://www.nation.com.pk/national/02-Jun-2014/prisoner-swap-may-herald-peace-breakthroughs-us
-----------
Southeast Asia
Malaysia finds no pork DNA in Cadbury products
2 June 2014
New tests conducted by Malaysian authorities found that two varieties of chocolate made by British confectioner Cadbury do not contain pig DNA, contrary to a previous finding, the country's Islamic affairs agency said on Monday.
Cadbury withdrew the chocolate bars from sale in Muslim-majority Malaysia last week after government tests found traces of pork in them, leading some Islamic groups to call for a boycott on all of its products.
Malaysia's Islamic Development Department (Jakim) said none of the 11 samples it tested of Cadbury's Dairy Milk Hazelnut and Cadbury Dairy Milk Roast Almond from the company's factory had shown positive results for porcine DNA.
Jakim said in a statement that Cadbury's halal certification for the two products would remain suspended pending further tests and investigations of its supply chain.
Full report at:
http://english.alarabiya.net/en/News/asia/2014/06/02/Malaysia-says-Cadbury-products-found-not-to-contain-pig-DNA.html
------------
Residents, Muslim groups attack Yogyakarta church
June 02 2014
On the anniversary of the introduction of the state ideology Pancasila on June 1, an act of intolerance occurred in Yogyakarta as residents and members of Ormas (mass organizations) attacked a Pentecostal church in Pangukan, Sleman regency, on Sunday.
The group stoned the church, which had been vacated by its congregation after Sunday Service, destroying the building's glass windows.
Police and military officers were powerless to stop the violent act. The regency's public order officers installed zinc fences after the police inspected the area.
Turmudzi, board member from the Islamic study group, Majelis Ta'lim Al Huda said that local residents, along with members of the Islamic Jihad Front (FJI) and Islamic People's Forum (FUI) were responsible for damaging the church.
Full report at:
http://www.thejakartapost.com/news/2014/06/02/residents-muslim-groups-attack-yogyakarta-church.html
------------
Civil service out to oppress non-Muslims, says Hindu group
Jun 2, 2014
Hindraf has accused the civil service of oppressing non-Muslims and urged lawmakers to enact a law to protect the religious freedom of non-Muslims following the raid by the Selangor Islamic Affairs Department (Jais) to stop a wedding at a Hindu temple yesterday on suspicion that the bride was a Muslim.
Hindu Rights Action Force (Hindraf) chairman P. Waytha Moorthy (pic) said problems related to the religious status of those who claimed they have been converted without their knowledge and the reluctance of the National Department to have a remedy was the reason why such problems still persist.
"We have a serious problem in this country. The civil service is dominated by Malay and Muslim-centric officers who bulldoze their personal belief in the supremacy of their religion in the government administration.
Full report at:
http://www.themalaysianinsider.com/malaysia/article/civil-service-out-to-oppress-non-muslims-says-hindu-group#sthash.YVDErLWn.dpuf
------------
Europe
Russia Supports Assad's Popularly-Elected Gov't
Jun 2, 2014
Moscow's Ambassador to Tehran Levan Djagarian said Russia continues strong support for Syrian President Bashar al-Assad because his government is legal and enjoys popular support.
"Bashar Assad's government is a legal government elected through people's vote," Djagarian told FNA on Monday.
He noted that Russia is against those governments that are engaged in activities against Bashar Assad.
The Russian envoy pointed to a series of meetings held in Geneva to resolve the Syrian crisis, and reiterated that his country did not play any role in the failure of those meetings.
"Russia and Iran have always tried to stop the attacks in Syria and establish peace in that country," Djagarian said.
The Russian ambassador indicated the positive role of the Friends of Syria Conference held in Tehran on Sunday, and said his country's representative was present in the meeting.
Djagarian said that the countries which support the opponents of the Syrian government are the main cause of war and lack of tranquility in Syria through their financial and arms supports.
Full report at:
http://english.farsnews.com/newstext.aspx?nn=13930312000760
------------
Universities are urged to cut their links with Sultan over Islamic law
Jun 2, 2014
Leading British universities and medical organisations are facing demands to strip the Sultan of Brunei of a string of honours after he ordered the implementation of Sharia.
The strict Islamic law will lead to gay men and adulterers in the former British colony being sentenced to death by stoning, and anyone who criticises Islam being executed. Under the new regime thieves will have their limbs amputated and unmarried pregnant woman will be jailed.
Full report at:
http://www.thetimes.co.uk/tto/education/article4106379.ece
------------
Britain may soon have Muslim bank holidays
Jun 2, 2014
An online petition urging politicians to create a bank holiday for Hindu festival Diwali and Muslim celebration Eid has attracted more than 119,000 signatures and could be debated in the House of Commons.
If applied, it would be the first non-Christian religious holidays in Britain and could lead to calls from other faiths for their events to also be recognised.
As the e-petition has reached 100,000 signatures it has to be considered in parliament under rules set up in 2011.
Nationalists have complained that St George's Day and St David's Day are not holidays but an e-petition calling for these days to be marked has only 34 signatures.
Diwali is described as the 'Festival of Lights' and is celebrated by Hindus in the Autumn while Eid is held at the end of Ramadan when Muslims break their fast.
Details of the petition are said to have been passed to the Backbench Business Committee, which will ­consider its suitability for debate.
Full report at:
http://www.dailymail.co.uk/news/article-2645282/Parliament-petition-urges-MPs-consider-having-bank-holiday-Hindu-Muslim-celebrations.html#ixzz33Vs1DMro
------------
Persecution in Iranian universities: Amnesty International
Jun 2, 2014
The Iranian authorities have waged a ruthless campaign of repression over the past three decades against students and academics who are routinely harassed, detained or barred from studying or teaching because of their peaceful activism, views or beliefs, said Amnesty International in a report released today.
Silenced, Expelled, Imprisoned: Repression of students and academics in Iran also highlights widespread discrimination, particularly against women and religious minorities, in the country's higher education system.
"Universities in Iran have long been perceived as a breeding ground for dissent. The authorities have consistently displayed zero tolerance of dissenting voices in universities, promptly dismissing, arresting, torturing and locking up students and academics merely for peacefully expressing their views or supporting opposition politicians," said Hassiba Hadj Sahraoui, Deputy Director of the Middle East and North Africa Programme at Amnesty International.
Full report at:
http://www.amnesty.org/en/news/persecution-universities-iran-squeezes-life-out-academic-freedom-2014-05-30
------------
UK plans to 'brainwash' schools over Islamic plot
Jun 2, 2014
London: Britain's schools watchdog is planning to announce specialised training programmes to protect students from radicalisation following purported attempts of Islamic radicals trying to wrest control of secular schools, reports PTI.
The Office for Standards in Education, Children's Services and Skills (OFSTED) will present its inspection reports to a number of schools in Birmingham, which were believed to be at the centre of a plot by Islamic radicals. OFSTED chief, Sir Michael Wilshaw, will report to UK education secretary Michael Gove over allegations around the so-called "Operation Trojan Horse" next week.
According to reports in the Sunday Times, they reportedly have found evidence of some governing bodies being dominated by individuals intent on changing the character of schools and that the vetting and scrutiny of governors has been too weak.
A Department for Education (DfE) source told the newspaper, some of the schools will be asked to accept training programmes designed to help them combat radicalisation and extremism.
Full report at:
http://freepressjournal.in/uk-plans-to-brainwash-schools-over-islamic-plot/
------------
Snowden 'has left Britain wide open to attack by revealing how GCHQ spies on Al Qaeda'
Jun 2, 2014
Edward Snowden has revealed so much about how British spies work he has left the UK wide open to ­Al Qaeda attacks, it was reported today.
Intelligence chiefs believe terrorists have changed their methods after the whistleblower exposed how GCHQ was listening in on them.
Britain's spy bosses have already warned he put agents' lives at risk by passing secrets to Russian president Vladimir Putin in return for sanctuary.
But now Government sources say MI5 and MI6 have lost their digital advantage, which allowed them to detect and foil terror plots.
A senior Whitehall source told the Sunday People: 'Parts of the radar have gone dark and that is very worrying. Snowden has ­committed the worst kind of treachery.'
Snowden, 30, became one of the world's most wanted men last June when he broke cover as the civilian CIA worker who stole classified documents from the U.S. National Security Agency.
Full report at:
http://www.dailymail.co.uk/news/article-2645347/Edward-Snowden-left-Britain-wide-open-attack-revealing-GCHQ-spies-Al-Qaeda.html#ixzz33VrnQPI3
------------
French suspect who made video confession to Jewish museum killings had been fighting in Syria
Jun 2, 2014
A jihadist who went to fight in Syria after being radicalised in a French prison has been arrested on suspicion of shooting three people dead at the Jewish museum in Brussels.
Mehdi Nemmouche, 29, was captured by chance at Marseille coach station on Friday during a routine customs check.
His bag was found to contain a Kalashnikov assault rifle of the sort used in the Brussels attack on May 24, a revolver and a wearable video camera.
On it was a short video showing the two guns and a voiceover in which an unseen man claims responsibility for the killings and expresses regret that the device had failed to record the shootings.
Nemmouche, who has barely said a word since his arrest, was known to have spent much of last year fighting in Syria, but had been left free to travel around Europe.
Full report at:
http://www.dailymail.co.uk/news/article-2645672/Suspect-held-Jewish-museum-killings-three-shot-dead-fighting-Syria.html#ixzz33VtesIlP
------------
URL: https://www.newageislam.com/islamic-world-news/new-age-islam-news-bureau/nigeria-schools-walk-line-between-islamic-and-western-traditions/d/87320