New Age Islam News Bureau
22 Nov 2016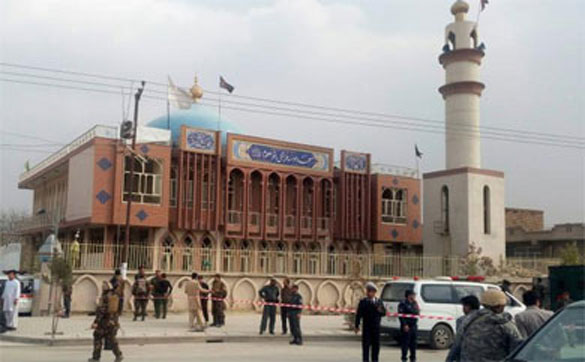 Afghan security forces keep watch in front of a mosque where an explosion happened in Kabul, Afghanistan November 21, 2016. REUTERS/Omar Sobhani
-------
• NIA Starts Removing Online Contents of Zakir Naik's Islamic Research Foundation
• ISIS Claims Attack That Kills Dozens at Shi'ite Mosque in Kabul
• Fears Grow For Aleppo Civilians as Syria Regime Advances
• In Islamabad, a Mosque for Transgender Community
• China Willing To Consider Turkish Membership of Security Bloc
India
• NIA Starts Removing Online Contents of Zakir Naik's Islamic Research Foundation
• Indian Immigrant Arrested 'For Insult to Kaaba' In Saudi Arabia
• AIMPLB Launched Mobile APP for Signature Campaign against UCC
• Tinkering with Muslim personal laws would be like desecrating Indian Constitution: AIMPLB
• Indian-American Felicitated With Interfaith Leadership Award
• J-K: Security forces kill 2 militants in Bandipora, combing operations underway
• Unprovoked ceasefire violation continues in J-K's Naushera
--------
South Asia
• ISIS Claims Attack That Kills Dozens at Shi'ite Mosque in Kabul
• Prominent Taliban leader 'Zarqawi' killed in East of Afghanistan
• Sri Lanka Constitutional Panel Recommends Postponing Muslim Personal Law Amendment
• US reaffirm strong support to Afghanistan after deadly Kabul attack
• Kabul Attack: Modi says 'India stands with Afghanistan in its fight against terrorism'
• Sar-e-Pul governor, intelligence chief escape suicide bomber attack
• Hundreds more Myanmar Rohingya flee to Bangladesh
• 3 militants arrested in Laghman disguised as refugees returning from Peshawar
--------
Arab World
• Fears Grow For Aleppo Civilians as Syria Regime Advances
• Syrian UN Envoy: Saudis Exported Terror to Syria
• Nusra Terrorists Preparing To Hand Over Key Town Southwest Of Damascus
• Egypt confiscates assets of 46 Muslim Brotherhood members
• Syria: Terrorists Fail to Capture Gov't-Held Key Heights East of Aleppo
• ISIL's Centers in Eastern Aleppo Receive Sever Blow in Syrian Army Attacks
• Civilians Massacred in Air Raids of US-Led Coalition, Turkish Warplanes in Northern Syria
• One-third of Mosul liberated from Daesh: Iraqi FM
• Egypt court quashes one of Mursi life sentences
• Lebanon builds wall near Palestinian refugee camp
• Iraq lauds progress on Mosul, expects Trump to continue support
• Saudi Deputy Crown Prince in ISIS combat talks
• Syrian Army Starts Fresh Round of Offensives against Terrorists South of Aleppo City
• Official Slams Western Media for Spreading Terrorists' Lies about Syrian Army
• Syrian Army on Threshold of Striking Victory in Eastern Aleppo
• Syrian Army's Artillery Fire Inflicts Major Losses on Terrorists near Kuweires Airbase
• Syrian Army Extending Chain of Security in Damascus province
--------
Pakistan
• In Islamabad, a Mosque for Transgender Community
• Fazl 'Waxes Humorous' About Imran's wedding
• Three FC men killed in blast at funeral in Peshawar
• Imprisoned MQM worker dies in Karachi's Central Jail
• Man killed, three hurt in Chaman blast
• Passer-by killed in Quetta blast
• SC approached to make Gen Raheel a field marshal
• Bilawal launches campaign to mobilise party workers
• Seen as a face-saving move, MQM boycotts NA-258 by-election
• China reiterates support for Pakistan's sovereignty
• 100 young men victim of human traffickers from Turkey, two members held
--------
Mideast
• China Willing To Consider Turkish Membership of Security Bloc
• Yemeni Army Forces, Allied Fighters Seize Two Saudi Bases In Najran
• Terrorism Will Backfire On Sponsors Sooner Or Later: Iranian Foreign Ministry
• Controversy on campus as Erdogan handpicks Turkey rectors
• Iran's Guards using Trump victory to claw back power
• Rivals blame each other as Yemen ceasefire ends
• Yemeni charged in US with trying to support ISIS
• Ex-consultant to Iran's UN mission pleads guilty to US charges
• Yemeni army resumes military operations
• Slovenia president arrives in Iran for talks to enhance ties
--------
Southeast Asia
• Malaysia Accused of 'Abuse of Law' In Rally Crackdown
• DPM to Brief All Muslim MPs on Hadi's Shariah Bill Today
• Politics complicate blasphemy investigations in Indonesia and around the world
• Banyuwangi pledges to uphold Islamic values amid tourism boom
• Bill aims to end unilateral conversion of kids in Malaysia
• Barring unilateral conversions good for Islam, says Nazri
• Indira, lawyers hail proposed law against unilateral child conversions
• Malaysians seeking asylum in Australia 'more than doubled' this year – report
• Christians, Muslims meet to talk about shariah
• Indonesia's police chief warns protesters against treason ahead of planned rallies
--------
Africa
• Libya Unity Forces Closing On Sirte Militants
• Militant Attacks Kill Five Soldiers, Civilian In Mali
• Three children killed in blast in east Libya's Benghazi
• Magal in Touba: Senegalese trek to Muslim festival
• Nigeria denies Sheikh Zakzaky proper medical treatment: Cleric's brother
--------
North America
• Trump's Top Adviser Says No Plans For American Muslim Registry
• Have You Heard? Canadian Lawmakers Pass Anti-Islamophobia Law
• US man abuses Muslim driver, calls him terrorist
• A Tiny Minority of a Million Muslims in America
• US Man Abuses Muslim Driver, Calls Him 'Terrorist'
• Anti-Muslim sentiment growing in Halifax due to Trump, say Dal students
--------
Europe
• France to Help ICC Prosecute ISIS Militants In Syria
• Mosques, Muslim Brotherhood Call for Juppé Vote in French Primaries
• Nearly one million Syrians living under siege: UN aid chief
• German court acquits 'sharia police' members
• France says it has foiled another attack, arresting seven
• Prevent strategy failing to rein in rise of UK's far right, says Diane Abbott
Compiled by New Age Islam News Bureau
URL: https://www.newageislam.com/islamic-world-news/new-age-islam-news-bureau/nia-starts-removing-online-contents-of-zakir-naik's-islamic-research-foundation/d/109167
--------
NIA starts removing online contents of Zakir Naik's Islamic Research Foundation
November 21, 2016
The National Investigation Agency on Monday began the process of removing the online contents of banned Islamic Research Foundation, including alleged hate speeches by its founder Zakir Naik, even as it continued searches at the IRF's premises, an official said. "As part of investigation, all actions that need to be taken against a proscribed organisation, including banning of its online activities, are being undertaken," an NIA spokesperson told PTI.
After the Centre recently banned IRF for five years, its website was blocked by authorities. "We have started our process to remove online content which is available on internet, social media sites related to IRF which includes hate speeches of its founder and Islamic preacher Dr Zakir Naik," the official said.
Search operation is still going on at the IRF offices and premises as well as that of Harmony Media Pvt Ltd, from where the programmes were being aired on Naik's Peace TV, the official said.
However, he declined to divulge further details. The NIA had on Saturday (November 19) carried out searches on 10 premises of the IRF in Mumbai after registering a case against Zakir Naik and others under an anti-terror law.
The agency had seized Rs 12 lakh cash and incriminating documents, files as well as electronic storage devices, during searches on various premises, including IRF's head office.
The NIA had earlier registered an offence against IRF founder-president and controversial Islamic preacher Zakir Naik and his associates for "promoting" enmity and hatred between religious groups through his public speeches and lectures on various platforms.
As per a statement released earlier, Naik and his associates were responsible for inciting Muslim youths and terrorists in India and abroad to commit unlawful activities and terrorist acts.
http://indianexpress.com/article/india/india-news-india/nia-starts-removing-zakir-naik-ngo-islamic-research-foundations-online-contents-4387906/
--------
ISIS Claims Attack That Kills Dozens at Shi'ite Mosque in Kabul
Nov 21, 2016
By Mirwais Harooni | KABUL
Islamic State claimed responsibility for a suicide attack on a crowded Shi'ite mosque in Kabul on Monday that killed more than 30 people and wounded dozens in its third major attack on minority Shi'ites in the Afghan capital since July.
Officials said the attacker entered the Baqir-ul-Olum mosque shortly after midday as worshippers gathered for Arbaeen, a Shi'ite ritual marking the end of a 40-day mourning period for the 7th century death of Imam Hussein, grandson of the Prophet Mohammad.
A statement in Arabic from Islamic State's Amaq news agency said one of its fighters had targeted the mosque.
Bloody sectarian rivalry between Sunni and Shi'ite Muslims has been relatively rare in Afghanistan, a majority Sunni country, but the attack underlines the deadly new dimension that growing ethnic tension could bring to its decades-long conflict.
Fraidoon Obaidi, chief of the Kabul police Criminal Investigation Department, said at least 27 people were killed and 35 wounded, while the United Nations said at least 32 had been killed and more than 50 wounded, including many children. It described the attack as "an atrocity".
"I saw people screaming and covered in blood," one survivor told Afghanistan's Ariana Television, adding that around 40 dead and 80 wounded had been taken from the building before rescue services arrived at the scene.
Another witness said he had helped carry 30-35 bodies from the mosque.
Islamic State, based mainly in the eastern state of Nangarhar on the border with Pakistan, has gradually expanded its reach since emerging in Afghanistan last year with a reputation for hardline fundamentalism and brutality.
Prior to Monday's attack, it had claimed responsibility for two major attacks on Shi'ite targets in Kabul, including a suicide bombing which killed more than 80 people at a demonstration by the mainly Shi'ite Hazara community, the worst single attack on civilians since 2001.
Last month, it also claimed an attack in which 18 people were killed when a gunman in police uniform opened fire on worshippers gathered at a shrine in Kabul for Ashura, one of the holiest occasions in the Shi'ite calendar.
In addition, at least 14 people were killed in an attack on a Shi'ite mosque in northern Balkh province, for which no group has so far claimed responsibility.
The Taliban, itself fiercely opposed to Islamic State, had already denied any involvement.
"We have never attacked mosques as it's not our agenda," said the movement's main spokesman, Zabihullah Mujahid.
Officials said the attack was a deliberate attempt to stoke sectarian tensions.
Any resurgence of sectarian or ethnic violence could threaten the fragile stability of the government headed by President Ashraf Ghani, who described the mosque blast as an attempt "to sow seeds of discord".
Government Chief Executive Abdullah Abdullah said Afghanistan should not fall victim to "enemy plots that divide us by titles".
"This attack targeted innocent civilians - including children - in a holy place. It is a war crime & an act against Islam & humanity," he said in a message on his Twitter account.
Thousands of civilians have been killed in Afghanistan in the 15 years since the Taliban government was brought down in the U.S.-led campaign of 2001.
In July, the U.N. Assistance Mission in Afghanistan reported that 1,601 civilians had been killed in the first half of the year alone, a record since it began collating figures in 2009.
(Additional reporting by Jibran Ahmad in Peshawar and Ahmed Aboulenein in Cairo; Writing by James Mackenzie; Editing by Nick Macfie and Mike Collett-White/Richard Balmforth)
http://www.reuters.com/article/us-afghanistan-blast-idUSKBN13G0OS
--------
Fears grow for Aleppo civilians as Syria regime advances
November 22, 2016
ALEPPO - Syrian regime forces advanced quickly in rebel-held areas of Aleppo on Monday, pressing a new offensive in defiance of international concern over the fate of the city and its residents.
Both US President Barack Obama and the UN's Syria envoy expressed pessimism about the future of the city, where more than 250,000 people are besieged in the rebel-held east.
More than 100 civilians have been killed in the east since the regime's latest offensive began on Tuesday, according to the Syrian Observatory for Human Rights monitor.
The group said government forces backed by Iranian and Russian troops and fighters from Lebanon's Hezbollah had captured the eastern part of the Masakan Hanano neighbourhood.
"It is the most important advance inside the eastern neighbourhoods that the regime has made so far," said Observatory director Rami Abdel Rahman.
"If they take control of Masakan Hanano, the regime will have line of fire control over several rebel-held neighbourhoods and will be able to cut off the northern parts of rebel-held Aleppo from the rest of the opposition-held districts."
Abdel Rahman said the advance had both strategic and symbolic significance, because Masakan Hanano was the first neighbourhood to fall to rebels in 2012.
Syria's Al-Watan daily, which is close to the government, described the neighbourhood as the "biggest and most important stronghold of the gunmen" in Aleppo.
Once Syria's economic powerhouse, Aleppo has been ravaged by the conflict that began with anti-government protests in March 2011 before spiralling into a brutal war that has killed more than 300,000 people.
The city has been divided between government control in the west and rebel control in the east since mid-2012.
In mid-July, the regime surrounded the east, subsequently announcing an operation to recapture it completely.
Despite international outrage, including over the bombing of hospitals and rescue worker facilities, there has been little sign that foreign powers or the UN can stop the fighting in Aleppo.
Obama said Sunday he was "not optimistic about the short-term prospects in Syria".
"Once Russia and Iran made a decision to back (Bashar al-) Assad in a brutal air campaign... it was very hard to see a way in which even a trained and committed moderate opposition could hold its ground for long periods of time," he added.
Washington has long backed the uprising against Assad, but has not committed military resources like Iran, and particularly Russia, which last year began a aerial campaign in support of Damascus.
Moscow says it is not carrying out strikes on Aleppo, though last week it announced a "major operation" in neighbouring Idlib and central Homs provinces.
On Sunday, Syria's Foreign Minister Walid Muallem rebuffed a proposal from UN envoy Staffan de Mistura to halt fighting in Aleppo and allow the opposition to administer the east of the city.
Under the proposal, jihadist forces would have left east Aleppo, and both sides would cease fire.
But Muallem said the proposal would "reward terrorists". "We told him that we reject that completely," Muallem said after meeting De Mistura in Damascus. "The institutions of state must return to east Aleppo," he added.
The top UN diplomat warned that time was "running out" for eastern Aleppo, adding that there was concern "instead of a humanitarian or a political initiative" there would be "an acceleration of military activities" in the city and elsewhere.
"By Christmas... due to military intensification, you will have the virtual collapse of what is left in eastern Aleppo; you may have 200,000 people moving towards Turkey - that would be a humanitarian catastrophe," he warned.
The UN has also proposed a humanitarian plan for east Aleppo, involving the delivery of aid, evacuation of sick and wounded civilians and the entry of doctors to help treat residents.
De Mistura said Sunday the government had not agreed to that plan either, while rebel groups in Aleppo said they were in favour of the proposal.
The World Health Organization says there are no more functioning hospitals in east Aleppo, although it was impossible to confirm that independently.
The agency said some health services were available through small clinics, but there was no longer access to trauma care or major surgery.
The UN Security Council is scheduled to meet later Monday in New York to discuss humanitarian efforts in Syria.
http://nation.com.pk/international/22-Nov-2016/fears-grow-for-aleppo-civilians-as-syria-regime-advances
--------
In Islamabad, a mosque for transgender community
By Sehrish Wasif
November 21, 2016
ISLAMABAD: If you are a transgender person in Pakistan, everything is a fight. They must even fight for the right to be represented on their national identity cards, and be recognised in census forms, and, due largely to cultural rather than religious reasons, they are told that they are not allowed in mosques.
But that may soon change, as a group of transgender activists are trying to build a mosque on the outskirts of the capital, where they would be able to pray without falling prey to social stigmas.
Transgender candidate throws up rare challenge in Jhang
"We are Muslims, but we are not allowed to enter a mosque," said a transgender woman who is currently raising funds for the Rehmatul Alameen mosque in the Bari Imam area.
"In our society, people only think of transgender women to be sex objects, so they don't want to allow us to enter mosques to offer prayers," she lamented.
Once complete, transgender people would be free to join the congregation at the mosque, especially for Friday prayers. Furthermore, the mosque would also serve as a seminary.
Nadeem Kashish, the founder of the Shemale Association for Fundamental Rights (Safar), explained that they were building the mosque as a safe place for transgender people to offer prayers.
"The main reason for building this mosque is to convey a message to our society that people who are transgender are also Muslim, they too have a right to offer prayers in a mosque, to recite or teach the Holy Quran, and to preach Islam," said Kashish.
Shafqat Shah, a transgender employee of Lucky Irani Circus, is excited about the mosque being built and is helping the community raise money for it.
"I do not feel ashamed if I have to beg for money for this project," Shah says, referring to the stigma of beggary.
Attempt to set transgender person's house ablaze failed
"But when I do tell people that the money is for the construction of a mosque, they make fun of me and pass offensive comments such as 'how can you people build a mosque," said Shah.
Explaining the root of the problem, Shah said that whenever they enter a mosque to offer prayers – especially for Taraveeh's during Ramazan or for Eid prayers — "people make fun of us, pass insulting comments and question us about our religion."
Shah said they are often asked to recite the Shahada or describe the procedure for performing ablution to 'prove' that they are Muslims.
Aslam, a transgender person who is part of the fundraising team, recounted an incident that occurred at a mosque before Friday prayers.
Decked out in a brand new shalwar kameez, Aslam went to a mosque in Rawalpindi to offer prayers in congregation, only to be mocked by other prayers.
"Most people would stare at me and I was told that 'people like me' are not allowed inside the mosque," Aslam recalled.
"It was a sin, they told me, and then asked me to leave the mosque, stand in a corner, or go into the women's prayer section."
Kashish, however, shares an even harsher experience, saying that people often do not even allow transgender people to stand outside a mosque and would call the police on them.
"Such kind of discrimination makes us ashamed of ourselves, and we curse the moment we were born."
Kashish felt that this attitude was more prevalent among Muslims, explaining that Christian and Hindu transgender people do not face the same discrimination at churches and temples.
"We know our religion is against of all kinds of discrimination and hatred and teaches us lessons of unity, love and peace," Kashish added.
Ameer Khusro, a transgender man who has joined the Tablighi Jamaat, is working to teach and spread Islam.
"I knew it was not easy for a transgender person to be a part of Tablighi Jamaat, but I took it on as a challenge. When I go house to house to preach Islam, people taunt and mock me, and some even grab my beard to check if it is real," he said.
"It is sad that in our country we have to face such religious discrimination," he said.
http://tribune.com.pk/story/1237797/transweek-islamabad-mosque-transgender-community/
--------
China willing to consider Turkish membership of security bloc
November 22, 2016
BEIJING - China said Monday it was willing to consider any application from Nato-member Turkey to join a Russian and Chinese-led security bloc, after Turkish President Tayyip Erdogan said his country could join.
China, Russia, Kazakhstan, Kyrgyzstan, Tajikistan and Uzbekistan formed the Shanghai Cooperation Organisation (SCO) in 2001 to fight threats posed by radical Islam and drug trafficking from neighbouring Afghanistan.
Chinese Foreign Ministry spokesman Geng Shuang said Turkey was already a "dialogue partner" of the regional bloc and had for a long time closely cooperated with it. China attached great importance to Turkey's wish to strengthen that cooperation, he told a news briefing.
"We are willing, together with other members of the Shanghai Cooperation Organisation and in accordance with the rules of its legal documents, to seriously study it on the basis of consensus consultation," Geng added, without elaborating. Erdogan was quoted on Sunday as saying that Turkey did not need to join the European Union "at all costs" and could instead become part of the SCO. Turkish government spokesman Numan Kurtulmus said Monday that closer ties with the SCO would not mean Turkey turning its back on other allies. "Turkey, with its history, culture, geopolitics and potential, is one of the few countries in the world that can cooperate with every corner of the world simultaneously," he told a news conference in the capital Ankara.
"A step taken (with the SCO) does not mean it will end Turkey's relations with another country."
Turkish membership of the bloc would nonetheless be likely to alarm Western allies and fellow Nato members.
Having long been critical of Turkey's record on democratic freedoms, European leaders have been alarmed by Erdogan's crackdown on opponents since a failed coup attempt in July, and Turkey's prospects of joining the EU look more remote than ever after 11 years of negotiations.
The EU is treading a fine line as it needs Turkey's help in curbing a huge flow of migrants, especially from Syria, while Ankara has grown increasingly exasperated by what it sees as Western condescension.
Kazakhstan, Kyrgyzstan and Uzbekistan speak Turkic languages, and Ankara signed up in 2013 as a "dialogue partner" saying it shared "the same destiny" as members of the bloc.
Mongolia, India, Iran, Pakistan and Afghanistan are observers, while Belarus, like Turkey, is a dialogue partner.
http://nation.com.pk/international/22-Nov-2016/china-willing-to-consider-turkish-membership-of-security-bloc
--------
India
Indian immigrant arrested 'for insult to Kaaba' in Saudi Arabia
November 22, 2016
Riyadh: Saudi police arrested an Indian immigrant who allegedly disrespected Islams holy Kaaba site on Facebook, covering it with an image of Buddha, a local report said Monday.
"The region's investigative department were able to capture and arrest a suspect, in his forties and who works in agriculture, who insulted our holy site," said a Riyadh police spokesman cited by the Al-Arabiya TV network.
"He superimposed a picture of the Buddha on the Kaaba and posted on social media," Al-Arabiya quoted the spokesman as adding.
Police were able to identify and arrest the unnamed Indian at a farm in Al Majmaah city in the province of Riyadh, he said.
The Kaaba, an ancient monument at the centre of the Al-Masjid al-Haram mosque in Mecca, is Islam's most sacred place.
http://zeenews.india.com/news/india/indian-immigrant-arrested-for-insult-to-kaaba-in-saudi-arabia_1952107.html
--------
AIMPLB launched Mobile APP for signature campaign against UCC
November 21, 2016
New Delhi: The All India Muslim Personal Law Board (AIMPLB) has launched a mobile application to facilitate the signature campaign against the Central Government's move to introduce the Uniform Civil Code in the country.In a media statement, AIMPLB General Secretary Hazrath Moulana Mohammed Wali Rahmani said that there has been overwhelming response to the call for signature campaign against the UCC from across the country. He said so far, one crore signatures against the UCC have reached AIMPLB Delhi office. Those who have not signed the form yet he asked to do it as early as possible.
Signature forms are scanned and emails are being sent to the President of India, Prime Minister, Law Minister and Law Commission.The signature campaign is still on and crores of Muslims are filling the forms whose proforma was sent by the AIMPLB.Those forms are being collected at the AIMBPL offices in Baroni, Samastipur, Patna, Malegaon, Bhopal, Hyderabad and Mumbai.
Full report at:
http://www.siasat.com/news/aimplb-launched-mobile-app-signature-campaign-ucc-1070244/
--------
Tinkering with Muslim personal laws would be like desecrating Indian Constitution: AIMPLB
November 22, 2016
Kolkata: The Union Government's intent to subtly foist Uniform Civil Code (UCC), and tinker with the Shariah (Muslim personal laws) in matters of triple Talaaq (divorce), polygamy etc. remained the main point of focus amongst a host of other issues during the 3-day 25th All India Muslim Personal Board, (AIMPLB), conference which concluded here in Kolkata on Sunday evening marked by a massive public meeting.
The AIMPLB members, special invitees to the conference along with executive committee members all in unison passed a resolution saying Triple Talaaq is sacrosanct as per the Shariah laws which have their origin in the Holy Quran and the Sunnah. These Shariah laws are divine laws and cannot be modified, changed or altered by any person or authority under any circumstances.
A six-point "Kolkata Declaration" was released at the conclusion of the 25th AIMPLB conference which was read out by the secretary Maulana Mohammad Fazlurrahim Mujaddadi. The proceedings of the AIMPLB conference were held at Myrah Banquet, Prasad Square 164, AJC Bose Road, Kolkata.
The resolution on Sharia laws said that it is binding as per the Shariat Application Act 1937; Dissolution of Muslim Marriages Act, 1939; Cutchi Memons Act 1938 and Waqf Act 2013 are applicable on Muslims and Muslim Waqfs. Along with this according to the Articles 25, 26 and 29 of the Constitution of India every citizen of the country belonging to any religion or cultural group has the right to maintain his religious and cultural identity. Thereby, Muslims have the fundamental right to follow their Shariah laws without any inhibition which the court of law of the country also accede. Thus, Muslims cannot agree to any changes in their personal laws as it would be like desecrating the Constitution.
Another resolution said that the Uniform Civil Code cannot be implemented in a country like India inhabited by people of multi-religion, faith and multi-culture. The Muslims and other minorities along with tribals and Adivasis cannot accept UCC at any cost. The country's hallmark is Unity in Diversity. The resolution pointed out that Govt. of India while trying to bring back many rebellious groups, who had taken up arms against the nation, in the mainstream signed accords with them on the laid down condition that their traditional laws will not be meddled with and will be even above India Parliament's purview.
Thus, UCC under Article 44 is highly inflammable issue, which divides the nation, creates discomfort among citizens, creates a sense of insecurity among law abiding Muslim citizens and also alienates them from National mainstream. What have been totally forgotten conveniently is, nationally more important Art. 45 (free and compulsory education for all children until 14 years of their age) and Art.47 (total Prohibition in the country). Both these articles are totally disregarded by both the rulers and the public.
Two resolutions on women's rights
Two other resolutions were about women rights. In one the AIMPLB demanded the government to seriously work for women rights which does not affect the identity of any group. The long winding process of dissolution of marriage through courts which also entails much cost should be time bound and affordable. Similarly, women are not given their share in agriculture properties in some states while Islamic Shariah laws grants them their piece. For this laws of such states should be amended according to Shariah laws to get them relief. Widows and divorced women should be encouraged for re-marriage by providing them incentives as it will solve not only their monetary problems but also grant them family security.
The other resolution said that Waqf boards from their income should be directed to pay maintenance allowance to the divorced and needy Muslim women. If Waqf income is not sufficient then government agencies occupying prime and valuable Waqf properties and Minority Welfare Ministry should back up the deficit.
Meanwhile, during the conference it was also explained that Deen-o-Dastur Bachao movement has yielded good results across the countries and the Adivasis, Dalits, Christians, Sikhs, Buddhists, Ambedkarites and other oppressed classes have appreciated the moves by the Board and have extended their cooperation for the protection of the Constitution of India. The Board strongly feels that any interference in the fundamental rights enshrined in the constitution to the Minorities, Adivasis, Scheduled Castes, Buddhists, Jains and other religious units will harm the integrity of the country and we as Muslims have the duty to protect the values of our country.
AIMPLB announces formation of Women's Wing
Taking a historic decision the AIMPLB has decided to form a Women's Wing under the convenor ship of Dr. Asma Zehra to look into issues such as women issues such as talaaq, family issues, education and other issues. The social reform activities among women will be expanded across India through this wing. It has also been decided to launch an ALL India Muslim Women Helpline, a toll free call centre in Urdu, English and 8 regional languages to counsel and guide Muslim women having family disputes to go to the Darul-Qaza. The women's participation in the affairs of the Personal Law Board Meeting was extraordinary this time. More than 75 women delegates and 50 women members participated in the meeting and gave their valuable suggestions and proposals.
Later a joint Press conference was held wherein it was informed that during the general session the detailed agenda was discussed at length. The Board explained in detail its position on Shariah Laws relating to marriage, divorce, inheritance, adoption, etc. The Press conference was addressed by Member of Parliament Sultan Ahmed, chairman, Reception Committee; Zafaryab Jeelini, Secretary, AIMPLB; Kamal Farooqui, Member Executive Committee, AIMPLB and Dr. Asma Zahra, Convener Women's Wing, AIMPLB.
Zafaryab Jeelini, Secretary, AIMPLB, told newspersons that the point of view of AIMPLB has been explained in detail through the affidavit filed before the Supreme Court in the Triple Talaaq and polygamy case. The moment Board came to know that the central government is going to file the affidavit in the Supreme Court, it approached the PM and five Cabinet Ministers through the registered post to have the point of view of the board which represents all Masaliks (school of thoughts) in the country. Unfortunately, the authorities with their predetermined mind did not think it fit to know the AIMPLB point of view.
He said the Board explained that it is competent to take up issues with the Supreme Court and is hopeful that the constitutional guarantees to all the religious units in the country would not be disturbed.
Full report at:
http://www.siasat.com/news/tinkering-muslim-personal-laws-desecrating-indian-constitution-aimplb-1070744/
--------
Indian-American felicitated with interfaith leadership award
Nov 22, 2016
WASHINGTON: Azamgarh-born Indian-American entrepreneur and philanthropist Frank Islam has been felicitated with the Interfaith Leadership Award for his contributions towards the arts and higher education and support of interfaith dialogue.
"Americans of all faiths and background need to come together and redouble our efforts to reject hate and bigotry in all forms," Islam said in his address to the gathering after receiving the award at the Interfaith Leadership Award Concert here over the weekend.
"We must continue to fight for a fairer and stronger America. We are stronger together. And, together, we can help shape a better future," he said.
Full report at:
http://timesofindia.indiatimes.com/nri/Indian-American-felicitated-with-interfaith-leadership-award/articleshow/55553439.cms
--------
J-K: Security forces kill 2 militants in Bandipora, combing operations underway
ANI, Srinagar
Nov 22, 2016
Security forces early Tuesday neutralised two militants in an encounter in Bandipora, Jammu and Kashmir.
The army and the police in a joint operation had cordoned off the area to smoke out the two militants who were holed up and had opened fire, thus engaging in a heavy gunbattle early in the morning.
A combing operation is underway to ensure no untoward elements are still present in the area.
Another suspicious Pakistani national was gunned down by the Border Security Force (BSF) troops in RS Pura sector in Jammu and Kashmir, after he crossed the International Border early on Tuesday morning.
Full report at:
http://www.hindustantimes.com/india-news/jk-encounter-security-forces-gun-down-two-terrorists-in-bandipora/story-wetTcKR3Ia2QeQwfsAnSQO.html
--------
Unprovoked ceasefire violation continues in J-K's Naushera
November 21, 2016
Rajouri/Poonch (Jammu and Kashmir): Unprovoked ceasefire violation by Pakistani troops continues in Naushera sector of Rajouri district, though it has stopped in Krishna Ghati sector of Poonch district at 4.30 p.m. on Monday.
Pakistani forces again resorted to heavy shelling and firing along the Line of Control in Poonch district today.
As per report, Pakistani troops started unprovoked firing in Krishna Ghati sector targeting border posts and civilian areas around 8:30 am this morning.
Full report at:
districts that left a BSF jawan martyred and seven security personnel injured. (ANI)
http://www.siasat.com/news/unprovoked-ceasefire-violation-continues-j-ks-naushera-1070279/
--------
South Asia
Prominent Taliban leader 'Zarqawi' killed in East of Afghanistan
Nov 22 2016
A prominent Taliban leader identified as Majid Zarqawi was killed during an operation by the Afghan security forces in eastern Laghman province of Afghanistan.
According to the local security officials, Zarqawi was killed along with his two companions during a clash in Alisheng district.
Provincial governor's spokesman Sarhadi Zwak confirmed that Zarqawi was killed during an operation that led to clash between the Taliban insurgents and Afghan security forces.
Zwak further added that Zarqawi was one of the key Taliban leaders in Laghman province whose fighters were occasionally setting up check points on the main highways to abduct the passengers besides his group was involved in other terrorist activities.
The anti-government armed militant groups have not commented regarding the report so far.
This comes as the Ministry of Defense (MoD) said Monday that 15 Taliban insurgents were killed during separate airstrikes in this province.
According to MoD, the airstrikes were conducted in Alishen and Alingar districts of Laghman province to target the militants of the Taliban group.
MoD further added that 5 militants were also wounded during the same airstrikes.
http://www.khaama.com/prominent-taliban-leader-zarqawi-killed-in-east-of-afghanistan-02333
--------
Sri Lanka constitutional panel recommends postponing Muslim personal law amendment
21st November 2016
COLOMBO: The Sri Lankan Constitutional Assembly's sub-committee on Fundamental Rights has recommended that within three months of the enactment of the new constitution, the President should appoint a five member commission to go into the constitutional validity of the existing written and unwritten laws (including personal laws) and submit a report to him within a year.
The President shall table the report in the parliament at the earliest thereafter, the panel said.
The sub-committee recommended that the proposed commission should have representatives from various communities and people who have distinguished themselves in the field of human rights.
Until a decision is taken to amend any of the existing written or unwritten laws or personal laws, the existing laws will remain.
This recommendation helps postpone the task of amending the controversial Muslim Marriage and Divorce Act (MMDA) of 1951.
While many Muslim women's groups have been seeking an amendment of the MMDA to ensure Muslim women's rights as guaranteed by the country's constitution, Muslim men, Muslim political parties and the Ulemas have been opposing any amendments under external pressure or duress.
They maintain that some of the amendments sought could go against the Madhabs (religious orders) practiced by Sri Lankan Muslims and would therefore have to have the explicit sanction of the Ulemas.
Issues on which Muslim women's groups are agitating are: the age of marriage of girls; the girls' consent to marriage; and the gender-bias in the Quazi court system.
Full report at:
http://www.newindianexpress.com/world/2016/nov/21/sri-lanka-constitutional-panel-recommends-postponing-muslim-personal-law-amendment-1541071.html
--------
US reaffirm strong support to Afghanistan after deadly Kabul attack
Nov 22 2016
The United States reaffirmed strong support to Afghanistan following a deadly attack in Kabul which left at least 32 people dead.
The State Department spokesman John Kirby told reporters " The United States condemns in the strongest possible terms the attack this morning on a Shia mosque in Kabul – an attack that killed more than 30 innocent worshippers and wounded what looks to be more than 50 people."
Kirby further added "We extend our deepest condolences to the families and the friends, obviously, of all those killed, injured and affected by this attack. We will continue to stand shoulder to shoulder with the people of Afghanistan, and we remain firmly committed to helping build a secure, peaceful, and prosperous future in Afghanistan which is free of sectarian violence."
The loyalists of the Islamic State of Iraq and Syria (ISIS) terrorist group claimed responsibility behind the deadly attack on Baqir-ul-Olum mosque in Kabul city yesterday.
According to the Afghan officials, at least 32 people were killed and over 80 others were wounded in the attack.
The latest attacks by ISIS loyalist in capital Kabul comes despite the terror group received major setbacks during the counter-terrorism operations of the Afghan security forces and the US forces based in Afghanistan.
Full report at:
http://www.khaama.com/us-reaffirm-strong-support-to-afghanistan-after-deadly-kabul-attack-02335
--------
Kabul Attack: Modi says 'India stands with Afghanistan in its fight against terrorism'
Nov 22 2016
The Indian Prime Minister Narendra Modi condemned the deadly attack on a mosque in Kabul that left at least 32 people dead.
Reaffirming India's support to Afghanistan in fight against terrorism, Modi said "We strongly condemn the heinous terrorist attack today on a Shia shrine in Kabul & condole loss of innocent lives."
Modi further added "For regional peace and security, all sanctuaries, safe havens and support to such terrorists must end."
The Indian Prime Minister joined the international community to condemn the attack which the loyalists of the Islamic State of Iraq and Syria (ISIS) terrorist group claimed responsibility for.
Full report at:
http://www.khaama.com/kabul-attack-modi-says-india-stands-with-afghanistan-in-its-fight-against-terrorism-02334
--------
Sar-e-Pul governor, intelligence chief escape suicide bomber attack
Nov 21 2016
A suicide bomber was shot dead before he manage to target the top government officials in northern Sar-e-Pul province of Afghanistan.
According to the local security officials, the suicide bomber was looking to target the provincial governor and intelligence chief during an official visit to the city.
Provincial governor's spokesman Zabiullah Amani said the suicide bomber was shot dead seconds before he detonate his explosives.
Amani further added that the suicide bomber was identified as he was attempting to get close to provincial governor and intelligence chief.
Full report at:
http://www.khaama.com/sar-e-pul-governor-intelligence-chief-escape-suicide-bomber-attack-02332
--------
Hundreds more Myanmar Rohingya flee to Bangladesh
Nov 21, 2016
By Mohammad Nurul Islam and Wa Lone
COX'S BAZAR, Bangladesh/YANGON Hundreds of Rohingya Muslims from Myanmar crossed the border to Bangladesh over the weekend and on Monday, aid workers said, seeking shelter from escalating violence in the northwest that has killed at least 86 people and displaced some 30,000. An official from the International Organization for Migration (IOM), the United Nations' migration agency, who did not want to be identified, said he had witnessed more than 500 people enter its camps in the hills near the border on Monday.Aid workers from other United Nations agencies and Reuters reporters in the IOM camps also reported seeing Rohingyas who said they had recently fled the fighting in Myanmar. The UN workers did not give specific numbers, but expressed concern about a sudden influx of people.The bloodshed is the most serious since hundreds were killed in communal clashes in the western Myanmar state of Rakhine in 2012, and is posing the biggest test yet for the eight-month-old administration of Nobel Peace Prize winner Aung San Suu Kyi.Soldiers have poured into the area along Myanmar's frontier with Bangladesh, responding to coordinated attacks on three border posts on Oct. 9 that killed nine police officers.Moulavi Aziz Khan, 60, from a village in northern Rakhine, said he left Myanmar last week, after the military surrounded his home and set fire to it. "At that time, I fled with my four daughters and three grandsons to a nearby hill ... later, we managed to cross the border," he said.Myanmar's military and the government have rejected allegations by residents and rights groups that soldiers have raped Rohingya women, burnt houses and killed civilians during the military operation in Rakhine.
New York-based Human Rights Watch said at the weekend satellite images taken on Nov. 10, 17 and 18 showed 820 destroyed buildings in five villages in northern Rakhine, bringing the total number it says it has documented to 1,250.CHECKING REPORTS
Myanmar's government has also rejected previous reports of Rohingya civilians trying to escape to Bangladesh.
Zaw Htay, presidential spokesman and member of the newly-formed information taskforce on Rakhine, said the government continued to investigate such reports, but had not so far been able to substantiate any of them."We checked with the military and police about people fleeing to Bangladesh since Oct. 9. Some people fled from their villages, but we put them back to their villages," he said. "If something like that happened, we are concerned and we will continue to investigate. We are not rejecting all allegations...our government always checks all the allegations, and some were found to be untrue."Myanmar's army has declared an "operations zone" in mainly Muslim northern Rakhine, where it says it is battling Islamist-inspired Rohingya insurgents, and it is not possible for international reporters to enter the area to verify claims.
Full report at:
http://www.firstpost.com/world/hundreds-more-myanmar-rohingya-flee-to-bangladesh-aid-workers-reuters-3117802.html
--------
3 militants arrested in Laghman disguised as refugees returning from Peshawar
Nov 22 2016
A group of three militants disguised among the refugees returning from Peshawar were arrested in eastern Laghman province of Afghanistan.
The Ministry of Interior (MoI) said the militants belonged to Taliban group were on their way to Laghman for coordinating attacks.
MoI further added that a Laptop computer, a thumb drive, a CD, and over 100 documents were confiscated from the detained militants.
The Taliban militants group has not commented regarding the report so far.
This comes as the Afghan officials have long been criticizing Pakistan for allowing the anti-government armed militant groups to use its soil for planning and coordinating attacks in Afghanistan.
Full report at:
http://www.khaama.com/3-militants-arrested-in-laghman-disguised-as-refugees-returning-from-peshawar-02336
--------
Arab World
Syrian UN envoy: Saudis exported terror to Syria
Nov 21, 2016
Syria's envoy to the UN says that Saudi Arabia has gathered terrorists from all over the world and exported them to his country.
"They have exported their terror to us. They brought terrorists to us from all over the world," said Bashar al-Ja'afari (seen below) while addressing the United Nations Security Council on Monday.
Saudi Arabia and its regional allies, particularly Turkey and Qatar, are widely reported to be supporting the militants fighting the government of Syrian President Bashar al-Assad since March 2011.
"The terrorists are the Takfiris, the Takfiri terrorists that are influenced by the Saudi Wahabi thinking. What Daesh and al-Nusra do corresponds exactly to the very same ideas prevailing in Saudi Arabia," he added.
Ja'afari also condemned allegations made by the US's UN envoy Samantha Power that Syrian jets had heavily bombed eastern Aleppo and dropped leaflets over the city, warning civilians to leave or die.
Aleppo, Syria's second largest city, remains divided between government forces in the west and foreign-backed terrorists in the east, making it a frontline battleground.
On September 22, Syria announced the start of a new military operation in Aleppo aimed at driving out the terrorists occupying the eastern part of the strategic city.
Stressing that such allegations are purely fictional, Ja'afari condemned the US's hypocrisy while noting that on Monday alone US airstrikes had claimed the lives of a number of civilians in Raqqah.
"More than ten civilians lost their lives in raid by said airplanes of the United States against the village of Salehia in northern rural Raqqah. The war planes of the coalition targeted a cotton mill in the same area which led to the death of three workers and an entire family that was displaced from another area whom were living in the village," he said.
One million living under siege in Syria: UN
Also on Monday, UN Emergency Relief Coordinator Stephen O'Brien said that the number of people living under siege in Syria has reached around one million.
While addressing the UNSC, O'Brien stressed that most of these people are in need of humanitarian aid and medical attention.
He noted that over 350 mortars and missiles have been launched indiscriminately into western Aleppo since the beginning of the month and that reportedly 60 people had been killed and 350 injured.
The so-called Syrian Observatory for Human Rights and United Nations Special Envoy for Syria Staffan de Mistura have put the death toll from the conflict at more than 300,000 and 400,000, respectively. This is while the UN has stopped its official casualty count in the Arab country, citing its inability to verify the figures it receives from various sources.
http://www.presstv.ir/Detail/2016/11/21/494605/un-syria-jaafari-unsc-saudi
--------
Nusra Terrorists Preparing to Hand Over Key Town Southwest of Damascus
Nov 21, 2016
"Nearly 1300 militants along with their families have registered to leave Khan al-Sheih in Western Ghouta; meantime, cases of those militants willing to give up fight to remain in the town is under investigation in accordance with President Bashar Al-Assad's general amnesty decree," the Arabic-language Hadath news reported.
The terrorists of mainly al-Nusra Front (that recently renamed to Fatah Al-Sham Front) were forced to accept the terms of a truce after they lost over 100 fighters in the Syrian army's recent anti-terrorism operations in Khan al-Sheih that ended up in the army's tightening siege of the town.
Hadath news quoted some sources as saying that relevant officials are studying the cases of the militants to allow them to start evacuating the town to start defusing bombs and landmines planted by the terrorists in the region.
The Syrian Army's devastating attacks and advances in Western Ghouta have forced the terrorist groups in Khan al-Sheih region to ask the government forces for a revival of the negotiations after they pushed the last round of peace talks into failure.
As ceasefire talks was in final stages to give the terrorist groups an opportunity to surrender in return for amnesty or relocate to Idlib province similar to other militant groups in Damascus province, the militants, mainly from the Al-Nusra Front, launched attacks to lift the army siege of Khan al-Sheih town irrespective of the truce and pushed the talks into failure. The army soldiers in response intensified attacks on terrorists and advanced against them in and outside Khan al-Sheih town.
Full report at:
http://en.farsnews.com/newstext.aspx?nn=13950901001157
--------
Egypt confiscates assets of 46 Muslim Brotherhood members
Nov 21, 2016
A committee affiliated with Egypt's Justice Ministry has ordered the confiscation of assets belonging to 46 members and supporters of the Muslim Brotherhood, the latest in a widening government crackdown on the banned movement.
The committee issued the order on Monday, seizing companies involved in trade, construction, and pharmaceuticals.
Reports said notable individuals were among the owners of the companies and businesses confiscated, including Mohammed Abdel-Gawad, who served as the head of Egypt's pharmacists' union during the rule of Mohamed Morsi, a senior Brotherhood leader and former Egyptian president who was ousted in a coup in 2013.
The Muslim Brotherhood was once Egypt's largest opposition group and still enjoys a huge public support. However, the government of current president Abdel Fattah el-Sisi outlawed the movement when the former army chief took power more than two years ago. Thousands of Brotherhood members and supporters have been jailed while key figures have been sentenced to death or life in prison.
Full report at:
http://www.presstv.ir/Detail/2016/11/21/494576/Egypt-Muslim-Brotherhood-Morsi-Sisi
--------
Syria: Terrorists Fail to Capture Gov't-Held Key Heights East of Aleppo
Nov 22, 2016
Tens of fighters from the Free Syrian Army and Nouralddeen al-Zinki attacked government forces' positions in the district of Jabal Badrou to recapture al-Zohour heights, but their attack was repelled by army soldiers.
The terrorist groups suffered a large number of casualties in a pursuing army counterattack.
Al-Zohour Heights overlook Hananou and other quarters in the Eastern part of Aleppo city and its capture by the Syrian army has brought a number of strategic positions of the terrorists under the direct fire of the Syrian army.
Jabal Badrou is adjacent to Sheikh Najjar industrial zone and Aleppo airport and the battle in this warfront would play a decisive role in the fate of war in Eastern Aleppo.
Army soldiers and popular forces also scored limited victories against militants in the flank of Old Sheikh Najjar factories and Jababl Badrou.
Full report at:
http://en.farsnews.com/newstext.aspx?nn=13950902000459
--------
ISIL's Centers in Eastern Aleppo Receive Sever Blow in Syrian Army Attacks
Nov 22, 2016
The army's artillery units targeted ISIL's gatherings in the 'Reclamation of Lands' region near the town of Deir Hafer, while fighter jets bombed ISIL's movements in the region several times, destroying ten military vehicles and killing a number of terrorists.
The warplanes also struck ISIL's movements in Tal (hill) al-Sous region East of the Air Defense Academy near Kuweires airbase, destroying at least seven military vehicles and killing a number of militants.
Similar attacks were carried out on ISIL centers on Monday.
Military sources had disclosed last week that a large number of fresh army soldiers were dispatch to Eastern Aleppo to take part in an imminent military operation against ISIL's positons in the towns of al-Bab and Deir Hafer to establish large security zone around Kuweires airbase.
After liberation of the town of Manbij in Raqqa province, Deir Hafer and al-Bab have been turned into the largest bases of the ISIL in Aleppo.
Experts believe that the Syrian army's operations in Deir Hafer and al-Bab, which are two entrance gates towards Raqqa province, are the sign of army's fresh offensives to liberate the self-proclaimed capital of ISIL via using a new flank, while the Kurdish-Led Syrian Democratic Forces (SDF) started Euphrates Rage Operation to free Raqqa from ISIL around three week ago.
Full report at:
http://en.farsnews.com/newstext.aspx?nn=13950902000366
--------
Civilians Massacred in Air Raids of US-Led Coalition, Turkish Warplanes in Northern Syria
Nov 22, 2016
The US-led coalition's fighter jets bombed a spinning workshop in the village of al-Salehiyeh in Raqqa, killing three workers and seven residents of the village.
Several villagers were also wounded and their houses sustained major damage in the air raid.
Elsewhere, Turkish warplanes in cooperation with the US drones attacked the town of al-Sheikh Naser Northeast of the town of al-Bab in Syria's Aleppo province, leaving seven civilians dead and ten more wounded.
Earlier this month, over 20 civilians were killed and many more were wounded in the US-led coalition airstrikes in two villages North of Raqqa.
The US-led coalition's fighter jets bombed the ISIL-villages of al-Hisheh and Khaniz, while backing the Kurdish-led Syrian Democratic Forces' (SDF) offensive there.
At least 20 civilians were killed and more villagers were injured in the air raids.
Full report at:
http://en.farsnews.com/newstext.aspx?nn=13950902000257
--------
One-third of Mosul liberated from Daesh: Iraqi FM
Nov 21, 2016
Iraqi Foreign Minister Ibrahim al-Jaafari says around one-third of Mosul has been liberated since operations began to retake the city from the Daeshi occupiers.
Jaafari made the announcement after a meeting with German Foreign Minister Frank-Walter Steinmeier in Berlin on Monday.
Adding that over 1,000 Daesh terrorists had also been killed and that some 650 had been captured, he stressed that operations were making progress. "Those are very good signs for the positive results of the operations. It's going better than we expected." After months of preparation, Iraqi army soldiers, backed by pro-government fighters from Popular Mobilization Units and Kurdish Peshmerga forces, launched an operation to retake the strategic city of Mosul from the Daesh terrorists on October 17.
Full report at:
http://www.presstv.ir/Detail/2016/11/21/494606/Iraq-mosul-Jaffair-daesh
--------
Egypt court quashes one of Mursi life sentences
22 November 2016
An Egyptian appeals court on Tuesday quashed one of two life sentences handed down against ousted president Mohamed Morsi since his 2013 overthrow, his lawyer and a judicial source said.
The sentences against several officials of his now outlawed Muslim Brotherhood, who stood trial alongside him on charges of spying for Iran and Palestinian militant group Hamas, were also overturned by the Court of Cassation, lawyer Abdel Moneim Abdel Maqsoud told AFP.
On November 27, the same court is to start reviewing a second life sentence handed down against Morsi in a separate trial on charges of stealing documents relating to national security and handing them over to Qatar, a longstanding supporter of the Brotherhood.
Full report at:
https://english.alarabiya.net/en/News/middle-east/2016/11/22/Egypt-court-quashes-one-of-Mursi-life-sentences.html
--------
Lebanon builds wall near Palestinian refugee camp
22 November 2016
Lebanon is building wall near the country's largest Palestinian refugee camp to prevent extremists from infiltrating, a military source said Monday.
The overcrowded and impoverished Ain al-Hilweh camp near the southern coastal city of Sidon has gained notoriety in recent years as a refuge for Muslim extremists and fugitives.
It also saw deadly fighting last year between the Jund al-Sham Islamist group and members of Palestinian president Mahmud Abbas's Fatah movement.
And in September the army said security forces had arrested a Palestinian refugee suspected of links to the Islamic State group who was in the camp.
"The construction of the wall began some time ago and the aim is to stop the infiltration of terrorists inside Ain al-Hilweh from nearby orchards," the military source told AFP.
"It's a security measure" that was taken after the arrest of "fugitive terrorists" who had taken shelter in the camp, he said.
Pictures were posted online showing cranes lifting huge concrete blocks on the western side of Ain al-Hilweh then setting them side by side, as well as watchtower.
Social media users compared the wall to a controversial separation barrier which Israel has been building in the occupied West Bank since 2002.
"Soon, the children of Ain al-Hilweh will draw pictures depicting Palestine and freedom on the wall of shame," one person said online.
A camp official, Fuad Othman, called the wall a "provocation".
Major General Mounir al-Maqdah, the head of the Palestinian security forces in Lebanon, criticised the construction of the wall.
Full report at:
https://english.alarabiya.net/en/News/middle-east/2016/11/22/Lebanon-builds-wall-near-Palestinian-refugee-camp.html
--------
Iraq lauds progress on Mosul, expects Trump to continue support
22 November 2016
Iraq's foreign minister said on Monday that the fight to wrest back control of Mosul from ISIS was making progress, citing what he called better-than-expected cohesion within Iraqi security forces and the US-led coalition.
Ibrahim Al-Jaafari said it was difficult to predict how long the battle would take, but more than 1,000 ISIS fighters had been killed, 650 had been taken prisoner, and about one-third of the area had been freed.
"Those are very good signs for the positive results of the operations. It's going better than we expected," al-Jaafari told reporters after a meeting with German Foreign Minister Frank-Walter Steinmeier.
"Of course the fight must continue. But it's clear that the cohesion of the forces and the coalition played a significant role up to now," he said.
Al-Jaafari told reporters that he expected US President-elect Donald Trump to continue to support Iraq in its battle against ISIS, as well as urgently needed reconstruction efforts once Mosul was liberated.
He said Iraq would need a program much like the Marshall Plan under which the United States helped Germany rebuild its infrastructure and economy after World War Two.
"We don't have agreements with individual administrations. We have agreements with countries," he said. Strategic support for Iraq had continued despite the transition in power from former President George W. Bush to Barack Obama, and he expected the same during the coming change at the White House.
"These strategies don't change with the presidents. Agreements are signed and then they are binding for all involved," he said.
Al-Jaafari said Iraq would not accept any intervention by Turkey in the border region.
Turkey is worried that Shi'ite militias who are supporting Iraqi forces could seek revenge against Sunni Turkmen in the city of Tal Afar, which sits on the main road between Mosul and Full report at:
https://english.alarabiya.net/en/News/middle-east/2016/11/22/Iraq-lauds-progress-on-Mosul-expects-Trump-to-continue-support.html
--------
Syrian Army Starts Fresh Round of Offensives against Terrorists South of Aleppo City
Nov 21, 2016
The army soldiers engaged in heavy fighting with the terrorists in several flanks in Sheikh Saeed.
In the meantime, army's missile and artillery units opened heavy fire at terrorists' concentration centers in Sheikh Saeed this morning.
After the missile and artillery attacks, ground troops stormed Jeish al-Fatah's positions from the Western flank.
Tough battle is now underway between the army men and terrorists in this flank, according to several army reports.
Army's missile units also shelled heavily terrorists' centers in Aqarib neighborhood in Southern Aleppo.
Pro-government forces also clashed with terrorists in Sawq al-Jebes, taking control of a main part of the neighborhood after hours of heavy fighting.
Army's artillery units also kept shelling terrorists' bases in the neighborhoods of al-Rashedeen 4 and 5.
After capturing the Air Defense Battalion and its nearby hills, Housing Project 1070 and al-Hikmah School, the Syrian army now plans to open its way further into Southern Aleppo in order to win back key town of Khan Touman.
The army, the Lebanese Hezbollah and Iraqi al-Nujaba have now deployed hundreds of their fighters in the Southern part of Aleppo to start jointly a fresh round of offensives to liberate Khan Touman right after capturing al-Rashedeen 4 and 5 and Sheikh Saeed and its surrounding reigns.
On Saturday, Syrian Army troops and Quds Devotees popular fighters stormed the positions of Jeish al-Fatah terrorists from three different flanks to take back militant-held districts in Eastern Aleppo.
Syrian government forces used the Southern side of Tal (hill) Seifan in the first flank to attack the positions of Nouralddeen al-Zinki terrorists.
Army forces also stormed militants' defense lines via the second flank in Ba'abadin neighborhood towards Ba'eidin square.
Full report at:
http://en.farsnews.com/newstext.aspx?nn=13950901001242
--------
Official Slams Western Media for Spreading Terrorists' Lies about Syrian Army
Nov 21, 2016
"The targeting of the country's government buildings and infrastructure, specially hospitals and schools, by the Syrian army is impossible," al-Ahmad said on Monday.
Al-Ahmad underlined that whatever the western media propagate about the destruction of Aleppo hospitals by the Syrian army is sheer lie by the West in a bid to help the terrorist groups.
In relevant remarks in early October, Syrian President Bashar Assad said allegations that his government is targeting hospitals and civilian infrastructure in Syria are "untrue".
Assad said, in an interview with Denmark's TV 2 channel, that the Syrian government does not issue orders to target hospitals, schools and other civilian infrastructure or to kill civilians, and insisted that allegations about such attacks are untrue as such actions are not in the interest of the government more than others.
Full report at:
http://en.farsnews.com/newstext.aspx?nn=13950901001094
--------
Syrian Army on Threshold of Striking Victory in Eastern Aleppo
Nov 21, 2016
The army's missile and artillery units opened heavy fire at terrorists' centers in Bostan al-Pasha, while other pro-government troops engaged in fierce clashes with the militants and pushed them back from more positions.
The army soldiers have the Central part as well as a large part of Western Bostan al-Pasha under their control, while terrorists have maintained control over a small area of land in the Northern part of the district.
Syrian army and popular forces are advancing towards the Old Sheikh Najjar district from the direction of al-Zohour heights, taking back several workshops.
Pro-government forces also are advancing against militants in Jabal Badrou strategic district from the al-Zohour heights flank.
The operations in these regions is of paramount importance since al-Zohour Heights overlook Hananou and other quarters in the Eastern part of Aleppo city.
Full report at:
http://en.farsnews.com/newstext.aspx?nn=13950901000705
--------
Syrian Army's Artillery Fire Inflicts Major Losses on Terrorists near Kuweires Airbase
Nov 21, 2016
The army's artillery units shelled terrorists' concentration centers and movements in a region between Air Force Academies (South of Kuweires) and the town of Deir Hafer (East of Kuweires), claiming the lives of at least 17 militants and destroying their vehicles.
Military sources disclosed on Thursday that a large number of Syrian soldiers are deployed at Kuweires airbase to start military operations against the terrorists in al-Bab Northeast of Aleppo province.
"Hundreds of Syrian soldiers are now in Kuweires airbase 40 kilometers to the east of Aleppo city to start al-Bab military operations against the ISIL terrorist group," the Arabic-language media quoted an unnamed military source as saying.
The source said that the Syrian army has sent around 1,000 reinforcement troops to the Eastern countryside of Aleppo to start the operation that aims to create a safe zone in areas in the vicinity of Kuweires airbase, including al-Bab.
Full report at:
http://en.farsnews.com/newstext.aspx?nn=13950901001289
--------
Syrian Army Extending Chain of Security in Damascus province
Nov 21, 2016
The army soldiers attacked Faylaq al-Rahman terrorists' positions in Jobar East of Damascus province, killing and wounding the entire militants who had gathered in the positions.
Army soldiers also targeted militants' centers and gatherings in the towns of Harasta, Douma, Hamouriyeh, Kafr Batna and Saqba.
The army men also engaged in fierce clashes with Jeish al-Islam terrorists in the town of Arbin, killing a number of them.
The Syrian fighter jets also launched heavy airstrikes on terrorists' gatherings in Arbin, inflicting a heavy death toll on the militants.
After capturing the towns of al-Reihan and al-Shifouniyeh, the army men are now approaching Douma, the main stronghold of the terrorists in the region.
With the capture of Hawsh Nasri, Hawsh Farah, Tal (hill) Kurdi and Tal Sawan by the army in Eastern Ghouta, the terrorist groups lost more fighters as are about to hand over more regions in Western Ghouta to the government forces.
Full report at:
http://en.farsnews.com/newstext.aspx?nn=13950901000990
--------
Pakistan
Fazl 'waxes humorous' about Imran's wedding
November 22, 2016
LAHORE: Chief of his own faction of Jamiat Ulema-i-Islam Maulana Fazlur Rehman says the media is more anxious about the marriage of Imran Khan than his.
At the residence of PPP leader Jahangir Badar, where he had gone to condole with the bereaved family on Monday, the JUI-F leader told a questioner that he would not advise the PTI chairman about his third wedding plans.
"Wherever I go the question of Khan Sahib's wedding is asked but none bothers to ask about mine," he chuckled.
About the appointment of new army chief, he said the prime minister wielded discretionary powers to make the appointment and he (PM) knew better whom to assign the post.
Published in Dawn, November 22nd, 2016
http://www.dawn.com/news/1297845/fazl-waxes-humorous-about-imrans-wedding
--------
Three FC men killed in blast at funeral in Peshawar
November 22, 2016
PESHAWAR: At least three officers of the Frontier Constabulary were killed and three others injured when an improvised explosive device (IED) exploded during a funeral in Bashirabad area, Peshawar on Tuesday.
"Three officials were killed and three others were injured in the blast," SSP Operations Sajjad Khan told The Express Tribune. The IED was planted on the road, he said.
Three FC men killed in Peshawar gun attack
Full report at:
http://tribune.com.pk/story/1239163/three-fc-men-killed-blast-funeral-peshawar/
--------
Imprisoned MQM worker dies in Karachi's Central Jail
IMTIAZ ALI
November 22, 2016
An imprisoned worker of Muttahida Qaumi Movement-Pakistan died in Central Jail Karachi, said the party and police officials on Monday.
"MQM worker Naeem Faqir died during treatment in the prison on Sunday," said New Town SHO Ejaz Khan.
The officer quoting the jail administration claimed that Naeem Faqir died due to heart attack on Sunday.
Full report at:
http://www.dawn.com/news/1297821/imprisoned-mqm-worker-dies-in-karachis-central-jail
--------
Man killed, three hurt in Chaman blast
November 22, 2016
QUETTA: A person was killed and three others, including two security personnel, were injured in a remote-controlled bomb attack on Monday in the Boghara Road area of Chaman, a town near the Pak-Afghan border.
Official sources said the intended target had been an army vehicle that was passing through the area when the bomb exploded. The improvised explosive device had been planted under a causeway near Boghara Road.
It went off as an army truck carrying security personnel was crossing the causeway.
A 25-year-old man died on the spot and three others were injured. "The man killed in the blast was passing through the area on a motorcycle," a senior police officer said, adding that the injured include two security personnel and a passerby. The security personnel travelling in the army vehicle received minor injuries.
Full report at:
http://www.dawn.com/news/1297854/man-killed-three-hurt-in-chaman-blast
--------
Passer-by killed in Quetta blast
22-Nov-16
CHAMAN: A passerby was killed and two security men injured in bomb attacks here on Monday. A bomb was planted under a bridge in Killi Haji Habib in Boghra area when security force vehicles were moving towards the Pak-Afghan border. As a result of explosion one passerby died and two security forces personnel were injured.
Full report at:
http://dailytimes.com.pk/balochistan/22-Nov-16/passer-by-killed-in-quetta-blast
--------
SC approached to make Gen Raheel a field marshal
November 22, 2016
ISLAMABAD: The Supreme Court has been asked to order conferring the title of field marshal on Army Chief Gen Raheel Sharif for rendering services to protect national security and safeguarding the frontiers of Pakistan by successfully launching Operation Zarb-i-Azb against militants.
The petition is an appeal moved by Sardar Adnan Saleem Khan Mazari — an executive member of the District Bar Association Rawalpindi — against the Oct 18 judgement of the Lahore High Court Rawalpindi bench which had rejected the same plea.
According to the appeal, the high court's judgement was "unlawful and unconstitutional as it was rendered without taking into consideration the merit of the post which was globally recognised and Pakistan was no exception among the comity of nations".
In the appeal, Sardar Mazari traced the history of field marshals and stated that the late President Muhammad Ayub Khan had also served at the same post, which showed that such posts existed in Pakistan.
The federal government through the cabinet division, Prime Minister Nawaz Sharif and the defence ministry were named as respondents in the petition.
Sardar Mazari pleaded that Gen Raheel had "demonstrated visionary leadership to the people of Pakistan as well as the security forces by setting an example as a trailblazer and role model for others by giving new direction and hope for the nation in consonance with the constitutional frontiers of Pakistan".
He contended that Operation Zarb-i-Azb had countered extremist designs of terrorist organisations with a proactive and prudent approach but was still going on and had yet to be completed.
Moreover, "the initiation and formulation of the National Action Plan (NAP) to safeguard the frontiers of Pakistan and geographical boundaries of Pakistan and the China-Pakistan corridor project was also in progress and negatives forces were creating hurdles for such projects — an instant threat to our beloved country".
He contended that Gen Raheel's exemplary, outstanding and professional performance during "peace and war with dedication and devotion by attaining the highest standards and mastery in battlefield suggested the army chief should be appreciated nationally by awarding and recognising his services".
"It is a universal and divine law that whosoever rendered his services for the nation and humanity at a larger scale in an extraordinary, exemplary and selfless manner should be elevated to the highest level of military hierarchy," the appeal said.
Thus, the high court's order was arbitrary, misconceived against the law and principle of good governance, Sardar Mazari argued.
Full report at:
http://www.dawn.com/news/1297913/sc-approached-to-make-gen-raheel-a-field-marshal
--------
Bilawal launches campaign to mobilise party workers
November 22, 2016
LAHORE: The Pakistan People's Party has decided to show its political power in the Punjab capital as party Chairman Bilawal Bhutto-Zardari has kicked off a campaign to mobilise workers here.
The young PPP leader on Monday morning chaired a meeting of the organising committee he had set up a day ago for holding the party's foundation day, falling on Nov 30, in Lahore in a befitting manner.
The committee comprises leaders from all the four provinces. They included Qamar Zaman Kaira, Aitzaz Ahsan, Makhdoom Ahmed Mahmood, Nitasha Daultana, Chaudhry Manzoor, Sameena Ghurki, Humayun Khan, Najmuddin Khan and Sardar Fateh Muhammad Husni.
The participants were reportedly asked to set targets for their respective areas for bringing maximum number of activists to the Nov 30 event for making it a major political show.
In the afternoon, Bilawal began his drive to motivate and mobilise workers demoralised by the part defeat in the last elections amid long absence of the leadership from the political scene.
He went to the outhouse of party ticket-holder Ashraf Bhatti close to the Defence Housing Authority after attending a Chehlum gathering in a nearby Imam Bargah. Dozens of workers took selfies with their leader at the Bhatti's house amid slogans of "jiaye Bhutto".
Talking to reporters, the PPP chairman said the decision on homecoming of co-chairperson and his father Asif Ali Zardari had been taken. "[Former] president Zardari would definitely return. But the day and city for the purpose is yet to be decided."
He hinted that Lahore and Rawalpindi, other than Karachi, could also be chosen as the venue for the co-chairperson's landing.
Full report at:
http://www.dawn.com/news/1297840/bilawal-launches-campaign-to-mobilise-party-workers
--------
Seen as a face-saving move, MQM boycotts NA-258 by-election
AZFAR-UL-ASHFAQUE
November 22, 2016
KARACHI: Faced with a serious internal crisis after it dissociated itself from the London-based supremo, the Dr Farooq Sattar-led Muttahida Qaumi Movement-Pakistan announced on Monday boycott of the Nov 24 by-election on a National Assembly seat (NA-258) in Karachi's Malir district.
The NA-258 seat fell vacant after the resignation of Abdul Hakeem Baloch, who quit the Pakistan Muslim League-Nawaz and joined the Pakistan Peoples Party. He is now contesting the by-election from the same constituency on a PPP ticket.
While the MQM-P put the blame of their boycott on the Sindh government for its 'misuse of government resources', sources said the party took the decision in view of some recent incidents in which they faced stiff resistance from loyalists of MQM founder Altaf Hussain.
First, Mr Hussain's loyalists outnumbered MQM-P leaders and workers in Azizabad a few days ago when Mayor Waseem Akhtar reached there in a procession to pay his respect to the Yadgar-i-Shuhada.
Then there was thin attendance at a party's public meeting in Mehmoodabad and a video was circulating on social media showing empty chairs while Dr Sattar was making a speech. Mr Hussain's loyalists also routinely challenge the MQM-Pakistan's leadership by raising pro-Altaf slogans in their public meetings.
The sources said the party knew it could not win the by-election as a majority of voters in the constituency were not Urdu-speaking and it had never won the seat since the 2002 general election.
However, they said that in this situation the MQM-P leadership feared that if contested, the number of votes it would get in the by-election might expose its claim that its support base was still intact and the people actually supported their actions, including dissociation from Mr Hussain.
Full report at:
http://www.dawn.com/news/1297817/seen-as-a-face-saving-move-mqm-boycotts-na-258-by-election
--------
China reiterates support for Pakistan's sovereignty
22-Nov-16
ISLAMABAD: Assistant Foreign Minister of the Peoples Republic of China, Kong Xuanyou, reiterated his government's continued support towards the sovereignty, independence and territorial integrity of Pakistan.
Acknowledging the sacrifices rendered by Pakistan in fighting terrorism and extremism, he assured China's full support against these menaces. During talks with the Adviser to the Prime Minister on Foreign Affairs, Sartaj Aziz, both sides expressed satisfaction at the continued expansion and deepening of bilateral relations.
The adviser emphasised the importance that Pakistan attaches to its relations with China and the need to hold regular high-level exchanges. Xuanyou thanked Pakistan for its consistent and strong support on issues of vital interest to China.
In a bilateral meeting between Foreign Secretary, Aizaz Ahmad Chaudhry, and the visiting Chinese dignitary, the entire spectrum of bilateral relations, including the China-Pakistan Economic Corridor (CPEC) came under discussion.
The two sides agreed to remain engaged and strengthen cooperation for the mutual benefit of the two countries. The foreign secretary briefed the assistant minister on the latest situation in Afghanistan. He highlighted the imperatives of reaching sustainable and lasting peace in Afghanistan through reconciliation and dialogue.
Full report at:
http://dailytimes.com.pk/pakistan/22-Nov-16/china-reiterates-support-for-pakistans-sovereignty
--------
100 young men victim of human traffickers from Turkey, two members held
November 21, 2016
LAHORE: At first it was not clear to me as to whose picture it was on what's app message. I was trying to figure it out when the cell phone bell rang. It all became clear to me because the man at the other end was demanding Rs. 360,000 otherwise he would amputate the hand and feet of my nephew Shahid Ali and his friend Noubahar. It was torture photo of my nephew. Both had gone to Turkey for employment.
Muhammad Ali Azad, resident of Hanjarwal, Lahore, told the FIA officials about how the human traffickers were robbing him. "You have so far deposited only Rs. 175,000 and if you do not arrange Rs. 350,000 more we will amputate their hands and feet. Then they made me hear the screams of my nephew who was being tortured," leader of the human traffickers gang Haider Shah's voice boomed on the phone. He was calling from Turkey.
Ali moved an application to Director FIA against the human smugglers who had taken his nephew and his friend to Turkey and now were demanding ransom money. The victims had been trapped by one Yasin (operating with Haider from Turkey) and his wife Taj Bibi, a resident of Sheikhupura. They convinced Shahid and Noubahar to go to Turkey promising lucrative jobs there. After passage of six weeks the call for ransom came. Haider Shah, who is operating a human smuggling ring from Turkey, his brother Saqlain Shah from Sheikhupura, Muhammad Nawaz and Nazir from Lahore and one Rana have been identified as the accused.
"Due to fear of torture I handed over Rs. 175,000 and a newly purchased motorcycle to Taj Bibi. After two days accused Yasin called from Turkey. "You have deposited amount for safety of one person. Now deposit Rs. 350,000 if you want to keep the other person safe as well and to ensure safety of my nephew. I implored him to have some mercy on us as we could not arrange such a huge amount. Then he told me to arrange RS 200,000 instead," Ali said in his application. Saqlain Shah put pressure on applicant and his family members through phone calls and demanded agreed amount of Rs. 200,000. Haider Shah called from Turkey and demanded that Ali should deposit the said amount in bank account, 0330233105668 of his real brother Saqlain Shah.
Full report at:
http://nation.com.pk/lahore/21-Nov-2016/100-young-men-victim-of-gang-operating-from-turkey-two-members-held
--------
Mideast
Yemeni army forces, allied fighters seize two Saudi bases in Najran
Nov 21, 2016
Yemeni army forces and allied fighters from Popular Committees have taken control of two military bases in Saudi Arabia's southwestern border region of Najran in retaliation for Riyadh's military campaign against their country.
The Yemeni forces took control of the bases in the mountainous northern part of the region, located 844 kilometers south of the capital, Riyadh, on Monday afternoon, Arabic-language al-Masirah television network reported.
Shortly afterwards, Yemeni soldiers and Popular Committees fighters fired a number of Katyusha rockets at a gathering of Saudi forces at Najran Regional Airport. There was no immediate report on the extent of damage inflicted and the number of casualties among Saudi forces.
Abu Hamdan and al-Sadis military bases in the same Saudi region also came under missile attacks by Yemeni forces.
The developments came on the same day that Yemeni artillery units pounded a position of Saudi-backed militiamen loyal to resigned president Abd Rabbuh Mansur Hadi in the Khabb wa ash Sha'af district of the country's northern province of al-Jawf.
Meanwhile, Saudi fighter jets struck an area in the Kitaf wa Al Boqe'e district of Yemen's northwestern province of Sa'ada, but no casualties were reported.
Saudi warplanes also carried out two separate airstrikes against Baqim district in Sa'ada Province, though no immediate reports of casualties were available.
Earlier on Monday, Saudi military aircraft bombarded a power station in the As Salif district of Yemen's western coastal province of Hudaydah.
Saudi Arabia has been engaged in a deadly campaign against Yemen since March 2015 in an attempt to bring back the former Yemeni government to power and undermine the Houthi Ansarullah movement.
The impoverished Arab country is grappling with the scarcity of food supplies and outbreak of diseases amid Saudi Arabia's atrocious airstrikes.
The United Nations International Children's Fund (UNICEF) says 7.4 million Yemeni children are in dire need of medical help, and 370,000 run the risk of severe acute malnutrition.
http://www.presstv.ir/Detail/2016/11/21/494586/Yemen-military-bases-Najran-Saudi-Arabia-airstrikes-Jawf-Saada-Hudaydah
--------
Terrorism Will Backfire On Sponsors Sooner Or Later: Iranian Foreign Ministry
Nov 21, 2016
The Iranian Foreign Ministry has strongly condemned a terrorist attack on a crowded Shia mosque in Afghanistan's capital of Kabul, stressing that sponsors of terrorism will be engulfed by the backlash of their actions "sooner or later."
"The spread and growth of terrorism in the region has taken on a concerning trend," Iranian Foreign Ministry Spokesman Bahram Qassemi said on Monday.
He added that terrorism would be uprooted in the region only through international resolve and consensus.
The Iranian spokesperson also extended his sympathy to the Afghan government and nation over the bloody terrorist attack.
Qassemi said the covert and overt support by certain countries for Takfiri-terrorist groups and their deployment as a means to achieve short-term goals have escalated acts of terror.
About 30 people were killed and dozens wounded after a bomber detonated his explosives at the Baqir ul Olum mosque in Kabul on Monday as mourners gathered to hold religious rituals commemorating Arba'een, the 40th day after the martyrdom anniversary of Imam Hussein (PBUH), the third Shia Imam.
The Chief of the Kabul police Criminal Investigation Department, Fraidoon Obaidi, said at least 27 people were killed and 35 wounded but the United Nations said at least 32 had been killed and more than 50 wounded, including many children.
It described the attack as "an atrocity."
Daesh terrorist group claimed responsibility for the fatal attack.
Full report at:
http://www.presstv.ir/Detail/2016/11/21/494581/Iran-Afghanistan-Kabul-Bahram-Qassemi-mosque-Daesh
--------
Controversy on campus as Erdogan handpicks Turkey rectors
November 22, 2016
Fulya OZERKAN
The direct appointment of university rectors by President Recep Tayyip Erdogan since July's failed coup has stirred up tensions on campus and prompted claims of political interference in the education sector.
The state-run Bosphorus University in Istanbul is one of the most prestigious in the country. With its green lawns reminiscent of the Ivy League or Oxbridge, it is the traditional starting point for the Turkish elite.
But beneath the gilded surface, tensions are simmering after Erdogan this month appointed Professor Mehmed Ozkan in place of the popular Gulay Barbarosoglu as the university rector.
He made the appointment under a measure allowed by the state of emergency which was imposed by the government following the failed bid by a rogue army faction to oust him.
Elections for rectors in Turkey's 181 universities - 111 of them state-run - were suspended after the July 15 coup, with Erdogan picking winners from a pool of candidates selected by the education authority YOK.
If Erdogan doesn't pick one of the candidates proposed by YOK within a month, he can choose the rector directly.
'Shocked and frustrated'
Outgoing rector Barbarosoglu won 86 percent of the vote among Bosphorus University academics in the July 12 election, held just three days before the coup. Ozkan, an academic at the university's biomedical engineering department and brother of a ruling party MP, did not run in the race.
After Ozkan's appointment, Barbarosoglu said she was stepping down from her academic career.
"I bid farewell to our university where I have contributed for over 40 years at various levels, as student, academic and administrator, and finalise my academic career."
The government has defended the new system, with Deputy Prime Minister Numan Kurtulmus saying that such elections had polarised universities. "We know how much that harmed universities," he said, expressing hope that the new rules would not lead to hostility among academic staff.
Academics and students, however, slammed the appointment as a blow to the university's autonomy. "Am I worried? Very much. Students are also shocked and frustrated," an associate professor at the university told AFP on condition of anonymity.
Crackdown on liberal academia
The academic hailed Barbarosoglu as a dean who always advocated the university's democratic tradition and suggested that she was replaced because she defended staff who signed a January petition criticising the military campaign in the south-east.
An Istanbul court in March arrested three academics, including Esra Mungan of Bosphorus University, on charges of "terror propaganda" after the three read out the joint petition signed by over 1,000 academics urging an end to Ankara's crackdown on Kurdish rebels.
Barbarosoglu "went to the Istanbul chief prosecutor's office and demanded that Esra Mungan be set free," the academic told AFP.
Some opponents compared the president's direct appointment of rectors to the move to install government-appointed trustees in municipalities in the south-east after several mayors were removed over alleged links to the outlawed Kurdistan Workers' Party (PKK).
#KayyumRektorIstemiyoruz (We do not want a trustee rector) has become a popular hashtag on Twitter.
Full report at:
http://nation.com.pk/international/22-Nov-2016/controversy-on-campus-as-erdogan-handpicks-turkey-rectors
--------
Iran's Guards using Trump victory to claw back power
November 22, 2016
Parisa Hafezi
Donald Trump's victory and the war on Islamic State have given Iran's hard-line Islamic Revolutionary Guard Corps what it sees as a unique opportunity to claw back economic and political power it had lost.
Sidelined after a nuclear deal was reached with Iranian reformist leaders and the administration of President Barack Obama and major nations, the IRGC is determined to regain its position in Iran's complex governing structure.
Republican Trump said in the campaign that he would abandon the 2015 deal that curbed Iran's nuclear ambitions in return for the lifting of economic sanctions. His tough stance, in contrast to Obama's olive branch, is expected to empower hard-liners who would benefit from an economy that excludes foreign competition.
In addition, the Quds force, that conducts IRGC policies overseas, has played a successful and key role on the battlefields of Iraq increasing the Guards' kudos at home.
"Trump and the Islamic State militants were gifts from God to the IRGC," said a senior official within the Iranian government, speaking to Reuters on condition of anonymity like other figures contacted within Iran.
"If Trump adopts a hostile policy towards Iran or scraps the deal, hard-liners and particularly the IRGC will benefit from it," a former reformist official said.
Elected in a landslide in 2013 on a promise to end Iran's diplomatic and economic isolation, reformist President Hassan Rouhani has struggled to reconnect Iran's economy to world markets and to attract foreign investment.
Uncertainty over the nuclear deal, unilateral US sanctions, political infighting in Iran alongside complex regulations, labour issues and corruption have hampered a post-sanctions economic revival causing concern to Supreme leader Ayatollah Ali Khamenei who blames the government.
SANCTIONS BENEFITTED IRGC
Deeply loyal to Khamenei, the IRGC was created by Ayatollah Ruhollah Khomeini, leader of the 1979 Islamic revolution. The IRGC first secured a foothold in the economy after the 1980-88 Iran-Iraq War when the clerical establishment allowed them to invest in leading Iranian industries.
Involved in a wide range of businesses, from energy and tourism to car production, telecoms and construction, the IRGC's empire grew by taking billions of dollars in projects vacated by Western oil companies because of sanctions imposed to curb the nation's nuclear ambitions.
Trying to limit IRGC influence, Rouhani's government stalled or cancelled some major projects with the IRGC, including a $1.3 billion deal with National Iranian Gas Co. in March 2014.
Under the nuclear deal, international sanctions were lifted in January opening up the Iranian economy, thereby threatening the IRGC power base. Now the Guards see an opportunity to lever back their position in the Iranian hierarchy.
"The IRGC will use Trump's win to convince the clerical rulers to give them more political and economic backing. This is what they have been hoping for since the deal was reached," said the senior government official, who declined to be identified.
"If Trump's presidency scares away foreign investors from Iran, then it is the IRGC that will regain its economic power," said a former reformist official close to Rouhani.
"More economic involvement of the IRGC means a riskier market for foreign investors. It will hinder Rouhani's planned economic growth and will give more political power to the IRGC and their hard-line backers," the reformist official added.
GUARD AGAINST UNCERTAINTY
Senior members of the IRGC and its front companies remain under unilateral US sanctions for what Washington said was supporting "acts of terrorism".
Full report at:
http://nation.com.pk/international/22-Nov-2016/iran-s-guards-using-trump-victory-to-claw-back-power
--------
Rivals blame each other as Yemen ceasefire ends
November 22, 2016
SANAA - A fragile 48-hour ceasefire in Yemen ended on Monday after failing to stem violence across the country, with each side blaming the other for violating the US-backed truce.
The ceasefire, aimed at ending the chaos and bloodshed that has gripped the Arabian Peninsula country since March 2015, came into effect on Saturday following the intervention of US Secretary of State John Kerry.
Despite a lull in air strikes on the rebel-held capital during the ceasefire, residents said Saudi-led coalition warplanes hit a district in eastern Sanaa on Monday. Both parties had traded accusations about hundreds of violations throughout the short-lived ceasefire.
The coalition said it ended at midday (0900 GMT) Monday, and accused Iran-backed insurgents of repeatedly breaking it. "There is no respect (for the ceasefire), only violations," coalition spokesman Major General Ahmed Assiri told AFP.
"There have been more people killed in (the southwestern city of) Taez and more attacks with surface-to-surface missiles, so automatically the conditions are not there" for prolonging the ceasefire, he said. "At the military level, for the moment, we have no orders to extend the ceasefire. It's over."
The coalition had said the truce could be renewed if the rebels abided by the it and allowed aid deliveries into besieged cities. But violence flared as its expiration loomed. Fifteen rebels and nine loyalist troops were killed in clashes overnight in and around Taez, military and medical sources said. Four civilians were also killed and 11 wounded in rebel bombing of loyalist-held neighbourhoods, the sources said.
Early Monday, loyalist forces attacked Huthi rebels and their allies on the western outskirts of Taez, military officials said. The offensive targeted an air defence base, they said, and witnesses reported loud explosions. Four Huthis were killed in an air strike by the Saudi-led coalition. Coalition warplanes hit rebel positions in Nahm, north of rebel-held capital Sanaa, and in the Huthi heartland of Saada province, witnesses said.
"Battles have resumed across various fronts," a spokesman for pro-government forces, Brigadier Abdo Majli, said in remarks published on the loyalist sabanew.net.
Military operations will continue "until legitimacy is restored", he said, adding that the coalition-backed army has "achieved new victories in Taez province and succeeded in liberating the air defence base north of the city". The ceasefire was the latest international attempt to end Yemen's 20-month conflict, which the United Nations says has killed more than 7,000 people and wounded nearly 37,000.
The Huthis overran Sanaa and other parts of the impoverished country in September 2014, prompting the coalition to intervene six months later in support of President Abedrabbo Mansour Hadi. Pro-Hadi forces said on Monday they repelled a rebel attack on their positions in Sarwah in Marib province, east of the capital The ceasefire had appeared shaky from the outset, and Assiri accused the rebels of 563 violations in Yemen and another 163 across the border in Saudi Arabia.
Full report at:
http://nation.com.pk/international/22-Nov-2016/rivals-blame-each-other-as-yemen-ceasefire-ends
--------
Yemeni charged in US with trying to support ISIS
22 November 2016
A Yemeni man living in New York City was arrested on Monday and charged by US prosecutors with attempting to provide support to ISIS, including by expressing support for an attack in Times Square.
Mohammed Rafik Naji, who authorities say last year travelled to Turkey and Yemen in an effort to join the militant group, was charged in a criminal complaint filed in Brooklyn, where he lives.
He was arrested earlier Monday, according to a spokeswoman for the Federal Bureau of Investigation. He is expected to appear in court later in the afternoon.
A lawyer could not be immediately identified.
Naji, 37, is one of more than 100 people to face US charges since 2014 in cases related to ISIS, which has seized control of parts of Iraq and Syria.
According to the complaint, in March 2015, Naji flew to Turkey to join ISIS in Yemen, where it operated in certain parts. He returned to New York in September 2015, flying from Djibouti, the complaint said.
While abroad, he frequently emailed with his girlfriend, who he later called his wife, asking her for money and sending her a "selfie" of himself in black clothing in which a tactical vest and large knife could be seen, the complaint said.
Beginning in August 2015, a paid law enforcement informant made contact via Facebook with Naji, who the complaint said described ISIS as "spreading like a virus" that non-believers "can't stop it no matter what they do."
Full report at:
https://english.alarabiya.net/en/News/middle-east/2016/11/22/Yemeni-charged-in-US-with-trying-to-support-ISIS.html
--------
Ex-consultant to Iran's UN mission pleads guilty to US charges
21 November 2016
A former consultant to Iran's mission to the United Nations pleaded guilty on Monday to charges that he filed a false tax return substantially understating how much he was paid and conspired to violating a US sanctions law.
Ahmad Sheikhzadeh, 60, entered his plea in federal court in Brooklyn to charges that he conspired to violate the International Emergency Economic Powers Act and aided in the preparation of false individual income tax returns.
As part of a plea deal, Sheikhzadeh agreed to not appeal any sentence of 5-1/4 years in prison or less, said Steve Zissou, his attorney. Sheikhzadeh, who has also agreed to pay over $147,000, is scheduled to be sentenced on March 30.
Sheikhzadeh was arrested in March, two months after when world powers led by the United States and the European Union lifted crippling sanctions against Iran in return for curbs on Tehran's nuclear ambitions.
Full report at:
https://english.alarabiya.net/en/News/middle-east/2016/11/21/Ex-consultant-to-Iran-s-UN-mission-pleads-guilty-to-US-charges.html
--------
Yemeni army resumes military operations
21 November 2016
The Yemeni army on Monday announced the resumption of military operations against the Iran-backed Houthi militias in the country, Al Arabiya News Channel reported.
The army and resistance forces also said they had evicted the Houthi militias from an air base in northern Taiz.
Meanwhile, the Arab coalition supporting Yemen's government against the Houthis said a 48-hour ceasefire ended at midday (0900 GMT) Monday due to repeated violations by Houthi militias and their allies.
Full report at:
https://english.alarabiya.net/en/News/gulf/2016/11/21/Yemen-ceasefire-ends-without-extension.html
--------
Slovenia president arrives in Iran for talks to enhance ties
Nov 21, 2016
Slovenia's President Borut Pahor has arrived in Tehran to hold talks with senior Iranian officials on avenues to develop political and economic relations.
Heading a high-ranking politico-economic delegation, Pahor arrived in Tehran on Monday and was welcomed by Iran's Energy Minister Hamid Chitchian upon his arrival at the Imam Khomeini International Airport.
Slovenia's Minister of Foreign Affairs Karl Erjavec has said his country plans to reopen its embassy in Tehran in November.
In a meeting with Iranian Foreign Minister Mohammad Javad Zarif in Tehran earlier this month, state secretary at Slovenia's Ministry of Foreign Affairs, Darja Bavdaž Kuret, had announced the Slovenian president's visit to Tehran.
During Pahor's stay in Tehran, Slovenia's embassy would be reopened, she added.
Slovenia's Foreign Ministry announced in March 2013 that the country decided to shrink its diplomatic network as part of general austerity and close its embassy in Tehran in response to the difficult financial and economic situation in Slovenia.
Full report at:
http://www.presstv.ir/Detail/2016/11/21/494571/Iran-Slovenia-Borut-Pahor-embassy
--------
Southeast Asia
Malaysia accused of 'abuse of law' in rally crackdown
November 22, 2016
KUALA LUMPUR - Rights groups condemned Malaysia's government on Monday for a crackdown on organisers of a weekend anti-government rally, including the arrest of the protest leader under a tough law aimed at terrorism.
Tens of thousands of people flooded Kuala Lumpur with the yellow colours of the reformist movement Saturday to demand Prime Minister Najib Razak resign and face justice over a massive corruption scandal.
Authorities arrested more than a dozen people before, during and after the demonstration including Maria Chin Abdullah, the leader of the "Bersih" civil society alliance that staged the rally.
Most detainees have since been released but Chin remains in solitary confinement under a national security law that allows detention without charge for 28 days and can bring a lengthy prison sentence.
Six Asian human rights organisations in a joint statement called the crackdown a grave breach of basic rights.
"These arrests violate international human rights standards," it said, calling for all those arrested to be freed and all charges dropped.
The statement was released by the Asian Forum for Human Rights and Development, the Asia Pacific Forum on Women, Law and Development, Fortify Rights, Human Rights Watch, the International Commission of Jurists and the Southeast Asian Press Alliance.
The groups said they were especially "alarmed" at Chin's detention under a national security law introduced in 2012 by Najib's government with a promise it would not be used against political opponents.
"However, the authorities are instead using it to prevent the exercise of fundamental human rights, constituting an abuse of law," the statement said.
The protest was the second in 15 months by Bersih to highlight allegations that billions of dollars were plundered from sovereign fund 1MDB, Najib's pet investment project.
Najib, 63, and 1MDB deny wrongdoing. But the US Justice Department earlier this year detailed an audacious campaign of fraud and money-laundering by his family, associates and an unnamed "Malaysian Official 1" - an apparent thinly-veiled reference to Najib.
Najib last year abruptly fired the attorney general and shut down domestic investigations. His government has increasingly throttled the media and whistle-blowers to contain the scandal.
Bersih, in a statement Monday, said Chin was being held in a tiny windowless cell with no mattress.
Bersih is "shocked and outraged that the authorities have gone to such extreme lengths to silence their critics", it said.
It called for international pressure on authorities and said nightly vigils would be held on her behalf at central Kuala Lumpur's Independence Square.
Deputy Prime Minister Zahid Hamidi has threatened still more people could be detained.
Critics accuse Najib's government of trampling rights following a 2013 election in which his ruling coalition lost the popular vote.
Since the 1MDB scandal exploded last year, opponents accuse him of an outright lurch toward autocracy to suppress it.
Last week a leading opposition politician was convicted of releasing confidential documents on the scandal, and the chief editor of the country's leading independent news website was charged over a 1MDB-related news video.
http://nation.com.pk/international/22-Nov-2016/malaysia-accused-of-abuse-of-law-in-rally-crackdown
--------
DPM to brief all Muslim MPs on Hadi's Shariah Bill today
BY RAM ANAND
November 22, 2016
KUALA LUMPUR, Nov 22 ― Deputy Prime Minister Datuk Seri Ahmad Zahid Hamidi will be conducting a briefing to Muslim lawmakers from both sides of the political divide this evening on PAS president Datuk Seri Abdul Hadi Awang's private member's Bill to empower the Shariah courts.
The briefing, which will also involve Minister in the Prime Minister's Department Datuk Seri Jamil Khir Baharom, will take place at 5pm.
"Yes, I received the invite, but I will not be attending because I have prior commitments," PKR's Pandan MP Rafizi Ramli told Malay Mail Online.
Full report at:
http://www.themalaymailonline.com/malaysia/article/dpm-to-brief-all-muslim-mps-on-hadis-shariah-bill-today
--------
Politics complicate blasphemy investigations in Indonesia and around the world
November 22, 2016
The Indonesian police recently named the Chinese-Indonesian and Christian governor of Jakarta, Basuki Tjahaya Purnama, also known as Ahok, a suspect in a blasphemy case. This came after Muslim groups, which accuse Purnama of "insulting Islam", staged an enormous street protest (and warned that they plan another).
President Joko Widodo stepped in and ordered the police to quickly investigate the allegation against Purnama, who is running for re-election in next year's Jakarta gubernatorial election.
Muslim groups had reported Purnama for alleged blasphemy after a video went viral showing Purnama criticising his political opponents who tried to dissuade people for voting for him by referencing a verse in the Koran.
Around one-quarter of the world's countries, both in developing and developed economies, have anti-blasphemy laws. But these laws punishing speech or actions seen to be contemptuous of religion are highly controversial.
The implementation and application of these laws is politicised and prone to be influenced by public pressure. Purnama's blasphemy investigation is a clear example.
Indonesia's anti-blasphemy laws
Rights activists argue public pressure to punish those accused of blasphemy reveals a weakness in law enforcement, which comes as religious intolerance grows in Indonesia.
Such arguments cannot be dismissed. But it is important to take into account the broader context, including how blasphemy laws came to exist in Indonesia and in other countries.
The history of Indonesia's blasphemy law is very political. The 1965 blasphemy law was introduced during a tense period in Indonesian history, where the Communist Party, the army and Islamist groups were all vying for political power.
Indonesia's first president, Sukarno, released the law as a presidential decree "on the prevention of religious abuse and/or defamation". It was intended to protect the major religions recognised by the state – Islam, Buddhism, Hinduism, Catholicism, Protestanism and Confucianism – from unorthodox interpretations and blasphemy. Sukarno was succeeded in the late 1960s by Suharto, who ruled until 1998.
After a bloody purge in 1965-66, Suharto banned communism but retained the blasphemy law. In 1969, he got the parliament to promote the decree into a law. An anti-blasphemy clause was also inserted into Indonesia's penal code.
But during his rule, only ten people were prosecuted under the 1965 blasphemy law. In contrast, in the last 15 years, at least 106 people have been prosecuted and convicted of blasphemy.
The recent spike in blasphemy cases in Indonesia occurred as political Islam found space in an increasingly democratised system following the end of Suharto's authoritarian rule in 1998.
Since Suharto stepped down, blasphemy provisions have been added in various laws, such as the Electronic Information and Transaction Law and the Child Protection Law.
The strengthening of blasphemy laws have resulted in religious minorities being criminalised and discriminated against. Groups such as Ahmadiyya and Shiites have been subject to these laws for publicly practising their faiths.
As in Purnama's investigation, the cases against the two groups were also influenced by pressure from the Sunni Muslim majority in Indonesia.
Activists have requested the country's Constitutional Court review the 1965 blasphemy law. But the court decided in 2010 and again in 2013 that the law should remain.
Other countries are facing similar issues where religious majority groups exploit the state to control religious practice and expressions in their societies.
Extrajudicial killings in Pakistan
In Pakistan, vigilante groups have pressured law enforcers to investigate blasphemy cases and the judiciary to convict. Thousands of people have been accused under Pakistan's blasphemy law.
Pakistan inherited its blasphemy law from India's British colonial rule. In the 1980s, Pakistan's president at the time, General Muhammad Zia-ul Haq, added clauses introducing the death penalty for blasphemy against the Prophet Muhammad.
Full report at:
http://theconversation.com/politics-complicate-blasphemy-investigations-in-indonesia-and-around-the-world-68817
--------
Banyuwangi pledges to uphold Islamic values amid tourism boom
November 22, 2016
In the face of a booming tourism industry in its area, the Banyuwangi regional administration in East Java has pledged to ensure that management of the sector would stay in line with Islamic values to respect the majority Muslim population in the region.
Regent Abdullah Azwar Anas said that strong Islamic culture in East Java made him decide not to allow the establishment of bars and discotheques like those on the neighboring resort island of Bali in an effort to minimize alcohol consumption in the region.
Anwar also said his administration had prohibited the establishment of hotels rated with fewer than three stars. The 'cheap hotels', he added, would potentially become venues for sex transactions.
"For cheaper accommodations, we encourage tourists to stay in homestay facilities. It will be much easier to supervise such venues," Azwar said Monday during a meeting of the Indonesian Chamber of Commerce and Industry (Kadin) in Jakarta.
Islamic teachings prohibit the consumption of alcohol and sexual relations out of wedlock.
To attract more tourists to Banyuwangi, Anwar said, the administration was intensifying efforts to promote an eco-tourism concept, by which visitors can explore the region's natural beauty, food and festivals.
Full report at:
http://www.thejakartapost.com/news/2016/11/22/banyuwangi-pledges-to-uphold-islamic-values-amid-tourism-boom.html
--------
Bill aims to end unilateral conversion of kids in Malaysia
November 22, 2016
KUALA LUMPUR • When Malaysian K. Pathmanathan converted to Islam in 2009 and left his wife Indira Gandhi, he also had their children converted without her knowledge. He then won sole custody of the children by going to the syariah court and claiming that they could not be raised by a non-Muslim.
Ms Indira, a Hindu, could not get help from Malaysia's civil courts because they cannot intervene in Islamic court decisions.
To stop a repeat of this case, which raised deep concern among Malaysia's non-Muslim minorities, the government yesterday tabled a Bill in Parliament to prevent the unilateral religious conversions of minors by one parent.
Once approved, the amendments to an existing family law would also give power to the civil courts to help non-Muslim parents resolve such matters, the Malaysiakini.com news site reported.
The Law Reform (Marriage and Divorce) (Amendment) 2016 was tabled by Minister in the Prime Minister's Department Azalina Othman for its first reading in the House, with the inclusion of a new Section 88A that explicitly states that "both parties" in a civil marriage must agree before the conversion of a minor to Islam can occur.
According to The Malay Mail Online news website, the new law, if passed, will provide for the child to remain in the religion of the parents at the time of marriage until the child is 18 years old, when he may choose his own religion.
Where the parties to the marriage are of different religions before one spouse converted to Islam, "a child of the marriage shall be at liberty to remain in the religion of either one of the prior religions of the parties before the conversion to Islam".
Another important inclusion is that the proposed amendments shall be applied retrospectively in cases pending in courts.
The conversion of minors to Islam by estranged non-Muslim couples has been a source of tension in Muslim-majority Malaysia.
The country is governed by a dual legal system: a civil court system with jurisdiction over general laws, and a syariah court system that governs Muslims and Islamic matters, such as marriage and inheritance, based on enactments passed by the state legislative assemblies.
Where there is conflict, the civil courts almost always defer to the syariah court in cases regarding Islamic matters.
Full report at:
http://www.straitstimes.com/asia/se-asia/bill-aims-to-end-unilateral-conversion-of-kids-in-malaysia
--------
Barring unilateral conversions good for Islam, says Nazri
BY RAM ANAND
November 21, 2016
KUALA LUMPUR, Nov 21 — The proposed amendments to the Law Reform (Marriage and Divorce) Act that bars unilateral conversion of a minor to Islam, is good for the religion, Tourism and Culture Minister Datuk Seri Nazri Abdul Aziz said today.
According to Nazri, who had served as de facto law minister between 2004 and 2013, the proposal will prevent those who convert into Islam only to renege on their spousal responsibilities.
"As a Muslim I am very happy, this is good for Islam," Nazri told reporters at Parliament today.
"I don't want Islam to be used as a tool for people to get out of their responsibility towards their spouses. They can't convert thinking they no longer have to fulfil their responsibilities."
Putrajaya earlier today tabled amendments to the Act that states that both parents' consent is needed to convert a minor to Islam even if one of the parents have converted to Islam.
Nazri reiterated that he has always believed that both parents should decide on a child's religion and such conversions cannot just be done by one party.
Full report at:
http://www.themalaymailonline.com/malaysia/article/barring-unilateral-conversions-good-for-islam-says-nazri
--------
Indira, lawyers hail proposed law against unilateral child conversions
BY MELATI A. JALIL
November 21, 2016
KUALA LUMPUR, Nov 21 — A Hindu mother, whose interfaith custody battle became the personification of the problem, today lauded Putrajaya's proposal to legally ban unilateral child conversions that would prevent ordeals such as her own.
De facto law minister Datuk Seri Azalina Othman Said today submitted the Law Reform (Marriage and Divorce) (Amendment) Bill that proposes to prevent single spouse conversions to Islam from unilaterally affecting either civil marriages or the children born from these.
"I'm so happy that finally the much awaited Bill has been amended," M. Indira Gandhi, who has been locked in such a tussle for nearly seven years, told Malay Mail Online.
"It's a relief and citizens of Malaysia will applaud the move by our government," she said via text message.
Indira, who has been battling to get custody of her children since 2009, said the government is moving in the right direction with the proposed amendments.
"Hopefully it can be the answer in many prayers," she added.
The new Bill, which also specifically addressed the "Religion of a Child" in civil marriages where one spouse has converted to Islam, said that the child will remain in the religion of the parents at the time of marriage until the child is 18 years old, when he many choose his own religion.
Indira's lawyer, M. Kulasegaran, also welcomed the tabling of the Bill, and dubbed it as the "Indira Gandhi" amendments.
"From my reading I feel relevant controversial issues have been included," Kulasegaran, who is also a federal lawmaker, told Malay Mail Online when contacted today.
He expressed concern, however, that the Bill will only be debated in the next Dewan Rakyat's meeting next year.
Kulasegaran then proposed that Azalina "fast track" the Bill, in order to provide relief to other families who may be experiencing what Indira went through.
"Many Malaysians are suffering in silence especially those whose children have been converted to Islam by a single parent," he said later at a press conference in Parliament.
He added that he meet other lawyers involved in similar cases to dissect the Bill.
The proposed amendment also said that if the parties to the marriage professed to different religions prior to one spouses conversion to Islam, "a child of the marriage shall be at liberty to remain in the religion of either one of the prior religions of the parties before the conversion to Islam."
The issue of unilateral conversions became controversial in recent years after several cases, including Indira and S Deepa's cases, who both faced lengthy court battles to gain custody and also reverse the unilateral conversion of their children by their Muslim convert ex-husbands.
Deepa's lawyer, Joanne Leong, said reforms to family law were a necessity due to the growing changes of the society.
While she said she welcomed the current proposal, Leong said the changes may not provide sufficient clarity to prevent interfaith custody battles in all situations.
She cited an example of where a parent converts the child to Islam before his own embrace of the religion as one that may confound the proposal in its current form.
"It's a first of hopefully many further amendments to the law reform act to protect the children especially on unilateral conversion," she added.
Family law practitioner Honey Tan said the proposal would have far-reaching ramifications beyond the obvious, including fundamentally changing the futures of children who would otherwise be affected by unilateral conversions.
Such children will not be made to choose religions before they can understand the significance, Tan added when saying the amendment would heal an old schism in Malaysian society.
Full report at:
http://www.themalaymailonline.com/malaysia/article/indira-lawyers-hail-proposed-law-against-unilateral-child-conversions
--------
Malaysians seeking asylum in Australia 'more than doubled' this year – report
22nd November 2016
CITING rising political instability, racial tensions and Islamic fundamentalism, more Malaysians are fleeing their homeland to seek asylum in Australia, a government report has revealed.
According to public broadcaster SBS, Malaysians now form staggering 43 percent of all claims for asylum in Australia. It said of the total 4,622 applications for protection visas lodged between 2015 and 2016 with the Migration Review Tribunal, 2,006 came from Malaysian nationals.
Drawing comparisons with the applications made in the 2014-2015 period, the report noted that this year's numbers were more than double that of the previous year's.
The bulk of the applications were made by Malaysia's ethnic Chinese community, with many claiming they have been facing increased restrictions and persecution by their country's predominantly Malay government and society, despite their community's control of the commercial sector.
A Chinese Malaysian woman was quoted as telling the tribunal that the Chinese community was often neglected and not protected by the government.
"The welfare for Malays is out of reach for the Chinese, the Malaysian political field only trusts Malays, (they do) not completely trust Chinese, the government does not care about us."
"Our family business was always disturbed by local government, our shop was searched and questioned all the time, we could not be convinced, we did not pay of the so called "fines"," she said.
The applicant claimed that her family was frequently threatened and blackmailed, forcing her family to close her business and into poverty. The woman also alleged she had been fired from her job merely because she was Chinese.
"We are living like a dog, in the past, the Malaysian government kept watch on all the Chinese, if the Chinese children want to enter public school, it would be a very difficult thing almost impossible."
Malaysia's Malay-Muslim majority make up nearly 70 percent of the country's 30 million-strong population while the ethnic Chinese form 25 percent and the ethnic Indians about 13 percent.
Under the country's Constitution and the government's affirmative action policies, the Malays enjoy special privileges and more rights compared to the other races. This has been the source of major racial tensions in the country.
Last year, a racially-driven riot broke out in the the central business district of the capital after rumours spread that a Chinese trader had conned a Malay customer in the purchase of a mobile phone. It was later determined that the Malay customer had attempted to steal the phone.
The Bersih 5 protest to call for the prime minister's resignation on Saturday, though carried out peacefully, was marred by incidences of racial taunts and chants by Malay-controlled and pro-government counter protesters with links to the ruling United Malays National Organisation (Umno) party.
According to SBS, the tribunal had also received but rejected an application for asylum of a Chinese man and wife who claimed their business was ransacked and threatened by Malays who were "protected" by police. The couple said they received the threats for refusing to sell of their business.
"The applicant claimed that he and his family had rejected the offer and that as a result his shop was broken into and ransacked and he claimed that when he reported the incident to the police, the police did nothing," a tribunal member said in the judgement.
"He claimed that his family had also received threatening letters and that he had reported that to the police and he claimed the police again did not investigate the matter. He claimed that the Malaysian authorities would not protect Chinese against Muslim people."
Dr Jean Jonathon Bogais, according to Foreign Affairs and Human Rights expert from the University of Sydney, was quoted as saying that the rise in asylum seekers among Malaysians was due to ongoing tensions between the Malay population and other minorities, particularly the Chinese minority.
Full report at:
https://asiancorrespondent.com/2016/11/malaysians-seeking-asylum-australia-doubled-year-report/
--------
Christians, Muslims meet to talk about shariah
Aedi Asri
November 22, 2016
KUALA LUMPUR: A Christian think-tank has engaged Muslim scholars in a series of dialogue sessions to gain a deeper understanding of the shariah, in the wake of the increased debate on plans to introduce Islamic laws.
In one such programme, the Kairos Dialogue Network recently organised a dialogue session with Muslim scholar Wan Ji Wan Hussin.
Kairos director Eugene Yap said the discussion centred on different interpretations within Islam on hudud, the Islamic capital punishment which PAS said it wants to introduce in Kelantan.
"For example, the punishment for theft. The majority of the ulama argue that the punishment for a thief is the cutting of the hand when several conditions are met. But Wan Ji explains different views of the ulama saying this is not the case," Yap told FMT.
"It is very enlightening to learn and understand various interpretations of the shariah, not just one. These interpretations come from various sources and from ulama through hundreds of years of Islamic history."
Last May, PAS president Abdul Hadi Awang tabled a private member's bill to amend the Syariah Courts (Criminal Jurisdiction) Act 1965, allowing shariah courts to impose heavier punishments except the death sentence.
The move is largely seen as a first step to the party's goal of introducing hudud in Kelantan.
Yap said they found that PAS's interpretation of Islamic law was only one of many interpretations in Islam.
Yap said his group would also have a similar meeting with PAS to get its perspective on Shariah.
PAS leaders had previously held dialogues with non-Muslim communities. One such event last September ended with the Federation of Hokkien Associations saying it was not convinced with the explanation by PAS leaders.
Kairos' meeting on Nov 16 with Wan Ji was also attended by Archbishop of Kuala Lumpur Julian Leow.
Wan Ji said dialogues could help overcome prejudice between Muslims and non-Muslims in Malaysia.
Full report at:
http://www.freemalaysiatoday.com/category/nation/2016/11/22/christians-muslims-meet-to-talk-about-shariah/
--------
Indonesia's police chief warns protesters against treason ahead of planned rallies
November 22, 2016
Indonesia's military and police chiefs are warning hardline Muslim groups against treason ahead of planned rallies this week and next.
The groups led a violent protest in the capital earlier this month, and have vowed to rally against Jakarta's Christian governor, Basuki "Ahok" Tjahaja Purnama, again.
The protesters, who were led by hardline groups including the Islamic Defenders Front, want Mr Purnama jailed for blasphemy for comments he made about the Koran, allegedly insulting it while campaigning in elections.
The military chief said his soldiers would be fighting unarmed in the protests, but the situation could not continue.
Now Indonesia's police chief, Tito Karnavian, has said he has information that the protesters could try to occupy the Parliament building.
"This kind of action, if it is meant to occupy the parliament, then it is against the law and if it's meant to topple or overthrow the government, that's treason," he said.
It was a clear strengthening in language and together with comments from the Indonesian military chief, General Gatot Nurmantyo, it was also a clear show of force against the instigators.
Full report at:
http://www.abc.net.au/news/2016-11-22/indonesias-police-chief-warns-protesters-against-treason/8044674
--------
Africa
Libya unity forces closing on Sirte militants
22 November 2016
Forces loyal to Libya's Government of National Accord said on Monday that they are closing in on the last ISIS group fighters in the coastal city of Sirte.
The pro-GNA forces said they managed to dislodge ISIS fighters from a fortified school in the al-Giza al-Bahriya district that the militants had fiercely defended.
Artillery pounded ISIS positions as pro-GNA fighters mainly from the western town of Misrata advanced house by house, said an AFP correspondent who reported seeing wounded.
A medical source said the fighting killed two pro-GNA fighters and wounded 17 others.
Sirte, 450 kilometres (280 miles) east of the capital Tripoli, had a population of 120,000 before ISIS seized it in June 2015 and residents began to flee.
The pro-government forces announced the launch of the battle for Sirte on May 12 and, within weeks, they recaptured large chunks of the coastal city.
But the pro-GNA forces slowed down the offensive in an effort to avoid losses among their own ranks and to protect civilians trapped in the city.
The fighting has left nearly 700 GNA fighters dead and 3,000 wounded. The death toll for the militants is not known.
https://english.alarabiya.net/en/News/north-africa/2016/11/22/Libya-unity-forces-closing-on-Sirte-militants-.html
--------
Militant attacks kill five soldiers, civilian in Mali
Nov 21, 2016
Twin attacks blamed on militants during weekend municipal elections in Mali have claimed the lives of at least five soldiers and one civilian, security sources say.
In the first incident, security sources said on Monday that five Malian troops were killed after being ambushed while transporting ballot boxes in the restive north.
"After the voting on Sunday, an army convoy taking the ballot boxes for counting was attacked in the north by jihadists. Five Malian soldiers were killed," AFP quoted a source as saying
Separately, a group of militants nabbed several vehicles and killed a civilian in the town of Dilli in southwestern Mali overnight Sunday to Monday.
"They arrived early Monday in Dilli. They attacked a council building. The jihadists then took off with two ambulances and a vehicle, after which they killed a civilian and made off for the Mauritanian border," a local official said.
This comes as Malians have voted in long-overdue local elections, which were tainted by a spate of violent attacks and opposition boycotts.
On Sunday, people in Mali cast their ballots in the first elections since 2013 to elect 12,000 municipal councilors across the troubled West African country.
Full report at:
http://www.presstv.ir/Detail/2016/11/21/494547/Mali-Dilli-CMA-Tuareg-alQaeda
--------
Three children killed in blast in east Libya's Benghazi
November 21, 2016
At least three children were killed and 20 people wounded by a car bomb in the Libyan city of Benghazi on Monday, witnesses and a medical official said.
A Reuters reporter saw billowing smoke and flames at the site of the explosion near the city's Jala hospital, which witnesses said had been caused by a car bomb. A hospital official said the bodies of three children had been received.
Benghazi has been the scene of fighting between the Libyan National Army (LNA) and Islamist-led opponents for more than two years. The LNA has made major advances in this year, but faces pockets of resistance in parts of the city.
There was no immediate claim of responsibility. Several car bombings in recent weeks targeting the LNA and its supporters have been claimed by the Benghazi Revolutionaries Shura Council (BRSC), the main group fighting the LNA, and by Islamic State.
Full report at:
http://nation.com.pk/international/21-Nov-2016/three-children-killed-in-blast-in-east-libya-s-benghazi
--------
Magal in Touba: Senegalese trek to Muslim festival
21 November 2016
Hundreds of thousands of pilgrims descended on Senegal's holy city of Touba for the annual Magal festival over the weekend.
Full report at:
http://www.bbc.com/news/world-africa-38049954
--------
Nigeria denies Sheikh Zakzaky proper medical treatment: Cleric's brother
Nov 21, 2016
A brother of Sheikh Ibrahim Zakzaky, the jailed leader of the Islamic Movement in Nigeria (IMN), has accused officials in the African country of medical negligence.
Madamasi Yaqub, Zakzaky's half-brother, told Press TV in an interview aired on Monday, that the cleric's health was currently better than the time he was brutally attacked by Nigerian army last year, but added that Nigerian officials still denied the Sheikh proper medical treatment.
He said there were still problems with Sheikh Zakzaky's eyes, adding that his left eye was not working but his right eye could be treated if the Nigerian army allowed the transfer of the cleric to a proper medical facility.
"They have many reasons to deny him medical care. Their mission was to kill him and it was God's miracle that he survived," Yaqub said, adding that the Nigerian army knew that killing the cleric could have huge repercussions.
He said Sheikh Zakzaky was actively performing his leadership roles for the Islamic Movement in Nigeria despite his poor health conditions behind the bars.
Yaqub also blamed the US, Israel and Saudi Arabia for the increasing persecution and harassment of Shias in Nigeria.
"They will continue to do everything possible to exert their hegemony over Nigeria's economy and political affairs," he said through a translator.
Yaqub said a recent attack on the followers of the IMN in Kano, which came during the Arba'een mourning rituals in the city, was a plot to annihilate the Islamic movement.
Yaqub said some elements in the army have been irked by the growing popularity of Shia movement in the country and in Africa in general.
Full report at:
http://www.presstv.ir/Detail/2016/11/21/494552/Nigeria-Zakzaki-Shias-crackdown
--------
North America
Trump's top adviser says no plans for American Muslim registry
11/21/2016
The newly appointe White House Chief-of-Staff to US President-elect Donald Trump said Sunday morning that there are no plans to set up a domestic registry list for American Muslims.
Yet, Reince Priebus, the former chairman of the Republican National Committee, noted that the administration was "not going to rule out anything" when it comes to immigration.
Be the first to know - Join our Facebook page.
"Where systematic terrorism is taking place, where countries are harboring or in places where countries are harboring and training terrorists, we're going to temporarily suspend immigration from that country, or region, until a better vetting system is put in place," he told CNN during an interview.
The question arose after a Trump policy adviser, Kansas Secretary of State Kris Kobach, said last week that the new administration may consider instituting a registry for incoming immigrants from Muslim countries.
http://www.jpost.com/Middle-East/Trumps-top-advisor-says-no-plans-American-Muslim-registry-473242
--------
Have You Heard? Canadian Lawmakers Pass Anti-Islamophobia Law
NOVEMBER 21, 2016
On October 26th, the Canadian government passed legislation that condemns acts of Islamophobia. The motion was passed as a result of an online petition sponsored by Liberal MP Frank Baylis that has gained over 70,000 signatures.
This petition was a result of the increase of police-reported hate crimes in recent years. Statistics Canada revealed that there was a total of 99 police-reported hate crimes that were religiously motivated in the year 2014, which is approximately double the number of these crimes reported in 2012. So far in 2016, there have been 55 Islamophobic reported hate crimes according to the National Council of Canadian Muslims. The most religious hate crimes took place in October, with the majority being in the week after the law was passed. These hate crimes included the burning of a Qur'an, protesting Islam, and smashing windows at a Canadian mosque. Samia, member of the Multicultural Centre at Lakehead University tells The Argus about her experience with Islamophobia. She defines the word as "a means to have prejudice against Islam and Muslims, including the people who participate in Islam, and as Muslims we know that it is our duty to protect our religion. When we see hate crimes going on all around Canada, we understand that each Muslim is affected by it. Even non-Muslims who are friends with Muslims are affected. If a hate crime happens in, say, Winnipeg, we in Thunder Bay will be affected. This is because in Islam, we are all brothers and sisters, so that's my sister getting hated on for wearing the hijab. Here I know that another Muslim who also wears the hijab will also be affected and it hurts me."
This was not the first time this motion has entered the House of Commons. On October 6, when Tom Mulcair initially introduced the motion to the House, it was denied as a result of Conservative members voting against it. "I can't see how anybody can speak out against a motion that seeks to condemn a form of hatred," said Mulcair shortly after. The second time the motion was brought to the House by Mulcair, it was unanimously voted in favour of.
The media has a huge impact on how people interpret a story. A lot of the news coverage regarding Muslims has been about acts of terrorism, war-torn countries, or stories of hate crimes. This can influence people to act unfavourably towards the Muslim community as people only see this negative representation of Muslims. Samia said, "When I used to volunteer at the Thunder Bay Regional Health Sciences Centre, I would walk from Lakehead to the hospital. When I would walk through the hospital parking lot, I would receive a lot of hateful glares. One time, I heard someone say the words 'terrorist' and 'country' as I was walking by them. Though I did not hear the whole sentence, I understood what they meant. I didn't have the courage to turn around and say something that day, so I just kept walking. It's something that affected me at that time, but when I feel this way, I keep in mind that I am not the only one feeling these things. It also makes me much stronger and pushed me to educate people that not all Muslims are like that and our religion isn't like that. It's what the media shows that gives people a different impression."
With that being said, many rely on the media they consume when it comes to their world perceptions, which is why the way the media presents current issues is so important. There has been a lot of coverage by mainstream media of the motion that failed to pass on October 6, but hardly any coverage on the same motion being passed just weeks later. Without media coverage, many Canadians may not know that this law has passed and therefore, this law may have little effect. The other question that this issue brings forth is that of mainstream media: is it displaying Islamophobia by not reporting on a new law condemning acts of Islamophobia? Many Muslim Canadians feel disappointed that there was not a significant amount of attention placed on the motion being passed, and that it gives a misrepresentation of Canada's acceptance of the Muslim community.
Full report at:
http://theargus.ca/news/2016/have-you-heard-canadian-lawmakers-pass-anti-islamophobia-law/
--------
US man abuses Muslim driver, calls him terrorist
November 22, 2016
New York, Nov 22 (PTI) A man in the US allegedly hurled verbal abuses at a Muslim cab driver calling him a "terrorist" and telling him that he will "get deported" now as Donald Trump is going to be the President.
The man was recorded on video lashing out at the Arab-American Uber driver in a neighbourhood in New York.
The man, who was not identified, was driving a white sport-utility vehicle and can be heard calling another driver in a video an "Arab", a "terrorist" and a "loser", the Washington Post reported.
"Trump is president! So you can kiss your f***ing visa goodbye, scumbag. Theyll deport you soon. Dont worry, you f***ing terrorist," he said.
The recipient of the verbal attacks was Chris Codys driver.
The incident on Crescent Street in the Astoria neighbourhood in New York happened last week, just before the driver picked up Cody in Manhattan.
Cody, a St Johns University adjunct professor who speaks Arabic, said he found out about the incident after striking up a conversation with his Uber driver, whom he knows only by his first name, Mohammed.
He said his driver was surprised to meet an American who said "hello" to him in his language and does not have anything against Muslims.
"Right before I picked you up, I had a horrible incident," Cody recalled his driver saying.
Based on Mohammeds account to Cody, he and the other driver ended up next to each other at a stop light. The man can be heard abusing after seeing Mohammed, who recorded the incident with his phone.
"Youre a loser. Youre not even from here! You and your family you terrorist!," the man said.
Cody said Mohammed told him the attack was unprovoked.
Full report at:
http://indiatoday.intoday.in/story/us-man-abuses-muslim-driver-calls-him-terrorist/1/816601.html
--------
A Tiny Minority of a Million Muslims in America
November 21, 2016
By Daniel Greenfield
The US Council of Muslim Organizations (USCMO) is boasting that its voter registration campaign "One Million Voters" across mosques and schools has doubled the number of registered Muslim voters to over a million.
The media is cheering this development even though USCMO has a history that makes the KKK look downright sunny. USCMO was in the news last year for its statement denying the Muslim genocide of Armenians and arguing that any recognition of the massacre must also recognize "Muslim suffering."
USCMO's Secretary General Oussama Jammal had engaged in 9/11 Trutherism at a rally backing a Hamas supporter. He was president of the Bridgeview Mosque which raised money for the head of Islamic Jihad. The Chicago Tribune described this as the result of a "hard line" takeover of the mosque.
The Bridgeview mosque had been interlinked with the Islamic Association for Palestine which had been set up by the Muslim Brotherhood and featured Hamas operatives such as Mousa Abu Marzook. Jammal had received a "Mosque of the Year" award from KindHearts, a terror charity that was shut down for its ties to Hamas.
Jammal had blamed the Jews for the government's actions, claiming that there was a "Zionist agenda" at work.
The US Council of Muslim Organizations includes American Muslims for Palestine; an anti-Israel hate group headed by the notorious campus bigot Hatem Bazian. AMP is openly supportive of Hamas terror. Its national campus coordinator has said that, "Hamas' rockets are an oppressed people's audible cry for help." At one of its conferences, there was a lecture on how to "navigate the fine line between legal activism and material support for terrorism." Its Vice President defended Islamic terrorism.
Along with AMP, USCMO's founding members include CAIR, an unindicted terror co-conspirator in terror finance. It also includes ICNA, whose former secretary general was convicted of Islamic war crimes by Bangladesh's International Crimes Tribunal. Some of the victims of Islamic terror had their eyes gouged out, hearts removed and their breasts cut off by of the student wing of Jamaat-e-Islami.
The monster had written in ICNA's convention program that Muslims "have a culture and civilization which once ruled the world and still has the viability to rule the world again."
The ICNA Member's Hand Book insists that Islam has to be made "a way of life for all." Under "Goal," its charter declares, "The goal of ICNA shall be to seek the pleasure of Allah through the struggle for Iqamat-ud-Deen (establishment of the Islamic system of life) as spelled out in the Qur'an and the Sunnah of Prophet Muhammad." The hand book calls for the establishment of an Islamic State.
Full report at:
http://canadafreepress.com/article/a-tiny-minority-of-a-million-muslims-in-america
--------
US Man Abuses Muslim Driver, Calls Him 'Terrorist'
November 22, 2016
NEW YORK: A man in the US allegedly hurled verbal abuses at a Muslim cab driver calling him a "terrorist" and telling him that he will "get deported" now as Donald Trump is going to be the President.
The man was recorded on video lashing out at the Arab-American Uber driver in a neighbourhood in New York.
The man, who was not identified, was driving a white sport-utility vehicle and can be heard calling another driver in a video an "Arab", a "terrorist" and a "loser", the Washington Post reported.
"Trump is president! So you can kiss your f***ing visa goodbye, scumbag. They'll deport you soon. Don't worry, you f***ing terrorist," he said.
The recipient of the verbal attacks was Chris Cody's driver.
The incident on Crescent Street in the Astoria neighbourhood in New York happened last week, just before the driver picked up Cody in Manhattan.
Cody, a St Johns University adjunct professor who speaks Arabic, said he found out about the incident after striking up a conversation with his Uber driver, whom he knows only by his first name, Mohammed.
He said his driver was surprised to meet an American who said "hello" to him in his language and does not have anything against Muslims.
"Right before I picked you up, I had a horrible incident," Cody recalled his driver saying.
Based on Mohammed's account to Cody, he and the other driver ended up next to each other at a stop light. The man can be heard abusing after seeing Mohammed, who recorded the incident with his phone.
"You're a loser. You're not even from here! You and your family you terrorist!," the man said.
Cody said Mohammed told him the attack was unprovoked. "I could tell he was upset. He didn't tell me exactly why he decided to take a video. I think he was just so shocked by what happened," he said.
"There's definitely some Islamophobic and anti-Muslim sentiment out there right now," Cody said.
"I don't blame him for being intimidated, especially with the stuff coming out of that guy's mouth."
Full report at:
http://www.ndtv.com/world-news/us-man-abuses-muslim-driver-calls-him-terrorist-1628601
--------
Anti-Muslim sentiment growing in Halifax due to Trump, say Dal students
Nov 21, 2016
This fall, while strolling down Spring Garden Road in Halifax, Amina Abawajy and Masuma Khan say they were approached by a man who pleaded with them not to bomb people.
That was before Donald Trump was elected president of the United States. Since the Nov. 8 election, they say, anti-Muslim sentiment has only worsened.
Abawajy and Khan, who are both Muslim and wear hijabs, were born and raised in Halifax and are students at Dalhousie University.
"Trump now being president has validated people's ideas of racism," Khan told CBC's Information Morning. "Because they have a man now who thinks all these things and expresses it everywhere."
They say the kind of Islamaphobia fostered by Trump in the United States has leapt the border into Canada.
During the election campaign, Trump called for a total ban on Muslims entering the U.S. and also suggested starting a database that would track Muslims.
'Feeling unsafe in our neighbourhood'
Shortly after Trump was elected, Abawajy and Khan say they ran into their first incident they could trace directly back to Trump's win.
Abawajy was getting out of Khan's car when two men rode by on bikes and yelled, "Freedom for America, support Trump."
"I was right outside my door," said Abawajy. "So to know that there are people who … hold these types of feelings so close to where I live was pretty shocking … just now feeling unsafe in our neighbourhood."
Donald Trump's election leaves Muslim activist Farrah Khan fearing violence
Numerous times Abawajy and Khan say they have even been told to go home and go back to their own country.
Full report at:
http://www.cbc.ca/news/canada/nova-scotia/islamophobia-donald-trump-1.3860183
--------
Europe
France to help ICC prosecute ISIS militants in Syria
22 November 2016
France is "ready to cooperate" with the International Criminal Court to probe ISIS militants in Syria for war crimes, Foreign Minister Jean-Marc Ayrault said on Monday.
The ICC, founded in 2002, is the world's only permanent war crimes court. But moves so far to refer Syria to The Hague-based body have been unsuccessful as Russia has blocked them with its veto in the UN Security Council.
The UN go-ahead is needed as Syria is not a member state.
Ayrault told AFP that action "can be launched it they concern (French) nationals who are engaged in the war in Syria alongside Daesh," using another name for ISIS.
"We are ready to cooperate and give our backing if there is a track to follow," he said. "Even if the margin for manoeuvre is limited, it's a chance to recall that we do not accept impunity."
Russia dealt the International Criminal Court a blow Wednesday saying it was formally withdrawing its signature to the tribunal's founding Rome Statute.
"The court did not live up to the hopes associated with it and did not become truly independent," Russia's foreign ministry said, describing its work as "one-sided and inefficient".
Ayrault said the "action is symbolic and political which I regret because it would have been preferable that Russia does the opposite" and ratifies the founding Rome Statute.
He was in The Hague for the annual meeting of the court's member states who ware discussing among other things how to bring those guilty of crimes in Syria to justice.
In May 2014, France presented a draft resolution calling for war crimes to be investigated in Syria, but the measure was defeated when Russia and China vetoed the request.
A country that has signed up to the Rome treaty or whose citizens have been the victims of crimes may refer cases to the ICC's chief prosecutor for investigation.
Cases may also be referred by the UN Security Council, and the prosecutor can initiate her own investigations with permission from the judges providing member states are involved, or a non-member state can agree to accept the court's jurisdiction.
https://english.alarabiya.net/en/News/world/2016/11/22/France-to-help-ICC-to-prosecute-ISIS-militants-.html
--------
Mosques, Muslim Brotherhood Call for Juppé Vote in French Primaries
21 Nov 2016
Islamic organisations and mosques in France are urging Muslims to vote Alain Juppé in the primary to decide the conservative candidate in next year's presidential election, according to a number of sources.
President of the Collective of Muslims in France (CMF) Nabil Ennasri, has called for Muslims to vote for Juppé, an anti-populist, in the centre-right primaries. Other Islamic organisations, and mosques, have been doing the same according to researcher and consultant on Islamic issues Romain Caillet, who writes for French newspaper Libération.
Caillet yesterday wrote on Twitter: "Apart from the call to vote Juppé [from Nabil Ennasri], several sources suggest there have been more discreet calls from Muslim organisations."
Feïza Ben Mohamed, spokesman and secretary general of the Federation of Muslims in the South [of France], agreed, writing: "Of course. There were." Caillet went on to disclose that Muslim Brotherhood-linked mosques used their Friday sermons to tell attendees they must vote for Juppé in the primaries.
Mohamed told the historian, who specialises in the global jihadist movement, that this is happening "even in the [non-Muslim Brotherhood mosques]." She added that in Nice, imams "will call for people to vote for [centre-right] Les Republicains" against Le Pen "as they have since time immemorial."
Both former prime ministers of France, Juppé along with François Fillon, yesterday qualified through to the next round in the race to decide who will likely face off against Front National leader Marine Le Pen in the country's presidential elections next year.
CMF head Ennasri, an associate of controversial Islamic preachers Tariq Ramadan and Yusuf al-Qaradawi, recently wrote a piece asserting that the centre-right primary is "critical." In the article, he said Muslims need to "massively participate," and calls for a "tactical vote" for Juppé as "the lesser of evils" to stand against Le Pen.
Full report at:
http://www.breitbart.com/london/2016/11/21/mosques-muslim-urge-juppe-vote/
--------
Nearly one million Syrians living under siege: UN aid chief
November 21, 2016,
NEW YORK: Nearly one million people are living under siege in Syria, the UN aid chief said Monday, announcing revised figures.
The new figure of 974,080 people marks a dramatic increase from 486,700 Syrians living in besieged areas just six months ago, Stephen O'Brien told the Security Council.
"Nearly one million Syrians are living tonight under siege," O'Brien said.
"Civilians are being isolated, starved, bombed, denied medical attention and humanitarian assistance in order to force them to submit or flee."
Some of the areas added to the UN's siege list are located in the Eastern Ghouta region of rural Damascus.
Condemning this "deliberate tactic of cruelty," O'Brien said the sieges were mostly perpetrated by Syrian government forces against civilians.
O'Brien, the under-secretary-general for humanitarian affairs, renewed his call for an end to besiegement.
Full report at:
http://nation.com.pk/international/21-Nov-2016/nearly-one-million-syrians-living-under-siege-un-aid-chief
--------
German court acquits 'sharia police' members
November 22, 2016
WUPPERTAL - A German court on Monday ruled that a group of Islamists did not break the law in forming "sharia police" street patrols and telling people to stop drinking, gambling and listening to music.
The Muslim group around German Salafist convert Sven Lau sparked public outrage with their vigilante patrols in the western city of Wuppertal in 2014, but prosecutors have struggled to build a case against them.
The city's district court ruled that the seven accused members of the group did not breach a ban on political uniforms when they approached people while wearing orange vests bearing the words "Sharia Police". Judges said there could only be a violation of the law - originally aimed against street movements such as the early Nazi party - if the uniforms were "suggestively militant or intimidating", a court spokesman said.
In this case, they found that the vests were not threatening and noted that one witness said he thought the men were part of a bachelor party.
The same court had already thrown out the case last year, but was overruled on appeal by a higher court which agreed with prosecutors that the ban on uniforms could be applied in this case.
Full report at:
http://nation.com.pk/international/22-Nov-2016/german-court-acquits-sharia-police-members
--------
France says it has foiled another attack, arresting seven
November 21, 2016
France said on Monday it had foiled a terrorist plot and arrested seven people, a year after a state of emergency was imposed to counter a wave of Islamist attacks.
Interior Minister Bernard Cazeneuve said the seven people of French, Moroccan and Afghan origin, aged 29 to 37, were detained on Sunday. One of the detentions followed a tip-off from a foreign government, he said.
Two were arrested in the Mediterranean port city of Marseille and four in Strasbourg in the northeast. Cazeneuve did not say where the seventh was arrested.
"Yesterday, a terrorist act on our soil that was being prepared for a long time was foiled thanks to the work of the DGSI," Cazeneuve said in a statement, referring to the internal intelligence service.
"The scale of the terrorist threat is enormous and it is not possible to ensure zero risk despite everything we are doing."
The minister gave no information on the target of the planned attack. The mayor of Strasbourg said it appeared the plot had not concerned his city but rather "the Paris region".
A source close to the inquiry told Reuters that some of those detained had spent time in the Syria-Iraq region.
Full report at:
http://nation.com.pk/international/21-Nov-2016/france-says-it-has-foiled-another-attack-arresting-seven
--------
Prevent strategy failing to rein in rise of UK's far right, says Diane Abbott
21 November 2016
The government's controversial counter-radicalisation strategy, Prevent, has failed to change the attitudes of those on the far right, the shadow home secretary has said in response to figures showing the number of referrals linked to neo-nazism is overtaking Islamic extremism cases in some parts of the UK.
Diane Abbott said the figures reflected "the alarming rise of far-right activity across the country". "It also reflects the increasing confidence of far-right groups to air their views publicly," she said on Monday.
"These figures are useful in proving what we already know, but the Prevent programme has failed to change the attitudes of those on the far right."
Ben Wallace, the security minister and MP for Wyre and Preston North, has highlighted the increase in far-right radicalisation in England and Wales. Figures show that almost 300 under-18s were referred to officials under the Prevent strategy last year. Of these, at least 16 involved children under the age of 10.
"The Prevent strategy is seeing a growth in far-right referrals," Wallace told the House of Commons recently. "In some areas of the country, these Prevent referrals outnumber those about the other parts we are worried about."
Data released by the National Police Chiefs Council (NPCC) under a freedom of information request from the Sunday Times shows that the number of far-right referrals in England and Wales has increased by 74%, from 323 cases in 2014-15 to 561 in 2015-16. About 292 cases, or 52%, involved under-18s.
"The Prevent strategy is misconceived because it limits legitimate safe spaces for discourse, places like classrooms and lecture theatres," Abbott said. "We urgently need an anti-extremism strategy that addresses the subversive and veiled far-right activity that is allowed to fester in private."
The NPCC figures come as Merseyside police investigate the appearance of stickers around Liverpool declaring that people were entering "Nazi-controlled zones".
The stickers, posted by a neo-Nazi youth movement called National Action, were timed to coincide with Armistice Day and Remembrance Sunday.
"It's the politics of hate. We're seeing the rise of this sort of thing across the country, across the western world and it's of huge importance that we all stand united against it and make sure there is no place for this sort of thing in Liverpool or anywhere," Patrick Hurley, a Mossley Hill councillor said.
Britain's Muslim communities have criticised the Prevent strategy as a toxic brand and a "big brother" security operation, but it was recently revealed that the programme is to be toughened up rather than scaled back as part of the government's wider reworking of its counter-terrorism strategy.
The chief constable of Leicestershire police, Simon Cole, who is in charge of Prevent, said earlier this year that far-right extremists made up half of all cases in Yorkshire and 30% of the caseload in the east Midlands.
Nationwide, however, Islamic extremism is still the most common referral, with 2,810 cases making up 70% of those flagged up under Prevent.
The NPCC said it was worth noting that the Prevent duty, which sets out the obligations of public-facing bodies under the strategy, was introduced in July 2015 and has resulted in a significant increase in referrals of all types.
Ibrahim Mohamoud, a spokesman for Cage, an independent advocacy organisation, said on Monday: "What these figures suggest is that Muslims are still far more likely to be referred to Prevent in England and Wales.
"There still seems to be a great deal of dissonance between the way the authorities understand the role of 'extremist ideology' or 'radical fundamentalist thought' in the case of Muslims, and the subscription to far-right ideology."
Yvette Cooper, the chair of the home affairs select committee, has said the fallout from the 23 June vote to leave the EU and Donald Trump's victory in the US presidential election should serve as a warning about the dangers of whipping up hatred and prejudice in political campaigns, as MPs prepare to examine a spike in hate crime in the UK.
Police recorded 41% more hate crimes in July 2016 than in the same month the previous year, with a peak on 1 July, records show. Several high-profile attacks occurred in the aftermath of the Brexit vote, including the vandalising of the Polish community centre in Hammersmith, west London, and the death of Arkadiusz Jóźwik, a Pole who was attacked in Harlow, Essex.
Rashad Ali, a senior fellow specialising in extremism at the Institute for Strategic Dialogue thinktank, told the Times that in some areas of Wales, the proportion of Prevent referrals from the far right were "well over" 50%.
Ali said the rise in far-right extremism could be linked to the "loss of the centre ground" in today's politics. "Whether it's on the left or the right, the fringes are now leading the debate and the discussion," he said.
Ali argued that Trump's election, with the endorsement of the KKK, and the rhetoric of Marine Le Pen, the Front National presidential candidate in France, were helping to "legitimise the world view" of fascists.
National Action is believed to have fewer than 100 members, but the group has a strong presence on social media, where it has celebrated Trump's election with images of him captioned "white power".
Matthew Feldman, the co-director of the centre for fascist, anti-fascist and post-fascist studies at Teesside University, said the radical right was "starting to mainstream its narrative following the decline of the BNP as the main party-political vehicle for radical right ideas".
"This led to a proliferation of other groups like the Defence Leagues and Britain First – both of which are much more anti-Muslim than the more developed neo-fascist policies advocated by the BNP, including antisemitism and biological racism," Feldman said.
"So it is a time of change for the far and radical right in the UK, although like the US, 2016 has been a very different year than most. The Brexit vote, like that of Trump's election, seems to have sparked, at least for some, a kind of 'celebratory racism' whereby some hate incidents are apparently legitimated by the 'trigger' event of an enormous and unexpected victory."
Full report at:
https://www.theguardian.com/uk-news/2016/nov/21/prevent-strategy-failing-to-rein-in-rise-of-uks-far-right-says-diane-abbott
--------
URL: https://www.newageislam.com/islamic-world-news/new-age-islam-news-bureau/nia-starts-removing-online-contents-of-zakir-naik's-islamic-research-foundation/d/109167
New Age Islam, Islam Online, Islamic Website, African Muslim News, Arab World News, South Asia News, Indian Muslim News, World Muslim News, Womens in Islam, Islamic Feminism, Arab Women, Womens In Arab, Islamphobia in America, Muslim Women in West, Islam Women and Feminism, Moderate Islam, Moderate Muslims, Progressive Islam, Progressive Muslims, Liberal Islam