New Age Islam News Bureau
5 March 2019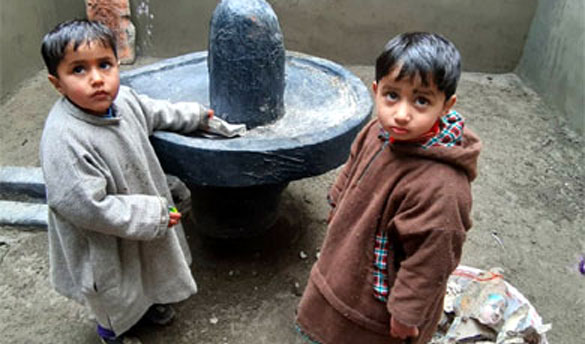 In a strong rebuff to hate mongers, the Muslim community and a sole Kashmiri Pandit family have got together to restore temple, which has not been used ever since the Hindus migrated from there due to militancy.
------
• NIA Probe: Videos of Light Series, Preachers Musa Cerantonio, Anwar Al-Awlaki Were Used To Influence IS Sympathisers
• In Message to Haters, Muslims in This Pulwama Village are Restoring 80-yr-old Temple to its Glory
• Fifty Nine Nobel Laureates Urge Imran, Modi to Defuse Tensions
• Qureshi Hints Pakistan May Not Oppose Listing of JeM Chief as Global Terrorist By UNSC
• Pakistan Govt Issues Order To Seize Assets of All Banned Outfits under UN Sanctions Regime
• Far Right 'Infiltrating Children's Charities with Anti-Islam Agenda'
• Anti-Islam Movement Targets Dutch Mosque, Insults Prophet Muhammad
• Selangor Sultan Dismayed By Insults against Prophet Muhammad, Islam
• Muslim Inmates Sue over Combined Faith Services in Arkansas Prisons
• US Lawmakers Say Trump Has Taken 'No Meaningful Action' Over China's Treatment Of Muslims
India
• NIA Probe: Videos of Light Series, Preachers Musa Cerantonio, Anwar Al-Awlaki Were Used To Influence IS Sympathisers
• In Message to Haters, Muslims in This Pulwama Village are Restoring 80-yr-old Temple to its Glory
• Fifty Nine Nobel Laureates Urge Imran, Modi to Defuse Tensions
• J&K: Two terrorists killed in encounter with security forces in Tral
• In J&K's Baramulla, 29 Pandits rely on Muslims to run their shops
• Islamic forum welcomes Abhinandan's release
• Agra Muslims support ban on Jamaat-e-Islami, condemn Mehbooba Mufti's comments
• Post Pulwama, Navy chief Admiral Lanba warns of sea-borne terror attack
• Sukhoi-30 shoots at Pakistan drone over Rajasthan, foils air-intrusion bid
• Nation won't tolerate, says Kejriwal on Amit Shah's comment on terrorists killed
• First batch of French-made Rafael jets to arrive in India in September
--------
Pakistan
• Qureshi Hints Pakistan May Not Oppose Listing of JeM Chief as Global Terrorist By UNSC
• Pakistan Govt Issues Order To Seize Assets of All Banned Outfits under UN Sanctions Regime
• OIC has endorsed Pakistan's stance on Kashmir: Qureshi
• Opposition boycotts PA session after govt refuses to make Naqvi PAC chief
• Militant positions pounded after border attack
• Over 90 Sikh pilgrims reach Pakistan to attend religious ceremonies
• Pakistani Ajmer pilgrims refused visa by Indian authorities
--------
Europe
• Far Right 'Infiltrating Children's Charities with Anti-Islam Agenda'
• Anti-Islam Movement Targets Dutch Mosque, Insults Prophet Muhammad
• UN Experts Concerned About Saudi 'Anti-Terror' Laws
• New Zealand says ISIS recruit to remain citizen, may face charges
• Muslim Parents Withdraw Kids from UK School Over 'Homosexuality' Project
• EU extends sanctions against Assad regime
• Is Islam a threat to British values? Hundreds of people to hear London Muslim Caliph's call to peace
• Germany to target dual nationals to address ISIS threat
--------
Southeast Asia
• Selangor Sultan Dismayed By Insults against Prophet Muhammad, Islam
• IGP: Four More Individuals Probed Over Anti-Islam Posting On Social Media
• BN still needs support from non-Malays, non-Muslims, Umno veep insists
• Two of three founding members of Barisan Nasional say they are 'moving on' from Umno
• Jokowi Wants Indonesians to Wear Sarong at Least Once a Month
--------
North America
• Muslim Inmates Sue over Combined Faith Services in Arkansas Prisons
• US Lawmakers Say Trump Has Taken 'No Meaningful Action' Over China's Treatment Of Muslims
• Trump Directs US to End Preferential Trade Status For India, Turkey
• Closure of American consulate in Jerusalem rapped as 'political assault'
• Democrats respond to Omar by drafting anti-Semitism resolution
• US State Department downgrades Palestinian mission and merges it with Israel embassy
--------
South Asia
• US Tries To Safeguard Afghan Peace Push From India-Pakistan Escalation
• 9 Taliban militants killed in Helmand, Uruzgan and Jawzjan provinces
• Islamic bloc approves legal action against Myanmar for Rohingya Muslims
• Two Mine Planters Killed blown up by own bomb in Herat Province
• Haqqani Network surrenders to Afghan forces in Kunduz province
--------
Arab World
• Yazidi Children in Syria Await Family Reunions
• UAE Recruiting ISIL in Southern Yemen
• Syria: Israel Conducts Fresh Missile Attacks on Syrian Army Positions in Quneitra
• Syrian Army Preparing for Cleansing ISIL from Badiyeh of Homs, Terrorists Prevent
• US, Israel Spying on Iraqi Fighter Jets
• Seven Syrian ministers added to EU sanctions list
• Bomb attacks kill dozens of Saudi mercenaries in Jizan, Najran: Report
• Syrian army attacks militant posts in Hama to avenge troops' deaths
• Saudi Arabia, UAE, Egypt oppose bids against normalization of ties with Israel: Report
• Fleeing Daesh fighters using civilians as human shields forced to surrender in Baghouz
• Hopes for missing Yazidis dim as extremists' defeat looms
--------
Mideast
• Israel Welcomes Vatican Move To Open Pius XII Archives
• Iran insists Moscow ties 'strong', shrugs off Israel-Russia coordination
• Months-old Khamenei speech reveals he doubted Europe's help against US sanctions
• US closes Jerusalem consulate, demoting Palestinian mission
• Israeli helicopters strike Hamas posts in Gaza
• Committed to Tel Aviv regime, US deploys THAAD to Israel for 1st time
• PLO slams merger of US consulate with embassy in Jerusalem al-Quds
• Scores of Houthi militia killed in clashes
--------
Africa
• 4 American tourists, Kenyan pilot killed in chopper crash
• Jordan allows airlines to resume flights over Syria after 7 years
• Explained: Who are the al-Shabaab, currently in the middle of a terror attack in Somalia?
Compiled by New Age Islam News Bureau
URL: https://www.newageislam.com/islamic-world-news/nia-probe-videos-light-series/d/117928
--------
NIA Probe: Videos of Light Series, Preachers Musa Cerantonio, Anwar Al-Awlaki Were Used To Influence IS Sympathisers
March 4, 2019
Islamic State (IS) sympathisers were using videos of Light Series on YouTube, a Yemen preacher and writer Anwar Al-Awlaki in the Al-Qaeda magazine, 'Inspire', and controversial Australian preacher Musa Cerantonio to motivate people to join them, National Investigation Agency (NIA) has said in a chargesheet filed in a Delhi court recently.
The NIA's claims are mentioned in its supplementary chargesheet filed against Abdullah Basith and Abdul Qhadeer, both from Hyderabad, who were allegedly involved in identifying, motivating, radicalizing the gullible Muslim youths to join hands with them in their attempt to carry out subversive activities in India.
The NIA arrested both of them on August 12, 2018. They are currently in judicial custody in Delhi's Tihar Jail.
The NIA had earlier filed a chargesheet on July 20, 2016 against three accused -- Sheikh Azhar-Ul-Islam alias Abdul Sattar Sheikh, Mohammed Farhan alias Mohammed Rafiq Shaikh and Adnan Hassan alias Mohammad Hussain.
Sheikh Azhar-Ul-Islam and Mohammed Farhan had pleaded guilty and were sentenced to seven years in jail while the trial against Hassan is still going on.
NIA, in the supplementary chargesheet filed in February, revealed that Basith was an associate member of Students Islamic Organisation (SIO) from 2012 to 2014. He was expelled from SIO in 2014, due to his sympathy with the IS.
As a member of SIO, he met one Adnan Ahmed who inspired Basith for watching videos of light series on YouTube viz. the Light Revelations and Light Reloaded, which were created and uploaded by Adil DX from Sri Lanka.
"Light Revelation series were against IS, whereas, Light Reloaded series run counter to Light Revelations and are in favour of IS," the NIA said in the chargesheet. But the two series have inflammatory contents, NIA said.
Basith also watched videos on the concept of caliphate and speeches of one Anwar al-Awlaki, a preacher from Yemen, a native of US and also a writer in 'Inspire', the Al-Qaeda magazine, the agency said.
Basith also watched videos of Musa Cerantonio who was arrested by the Australian authorities in May 2016 for being engaged in hostile activities.
In 2014, Basith has started joining groups who supported IS on Facebook and was inclined towards IS.
According to NIA, Basith had joined one Al-Muhajiroon, which was run by Anjum Chaudhary, a preacher in UK, Khilafa chat room and Tauheed Awakening Groups on Facebook where he came to know about the preachers and other big names worldwide.
Abdullah Basith also influenced his cousins Maaz Hassan Farooq, Omer Farooq Hussaini and one friend Abdul Abrar towards the ideology of IS and motivated them to join him to go to Syria for hijrat.
The NIA, in the report, said that Basith came in contact with Abu Zakaria, who was a native of Spain and had been working for IS in Iraq and Syria, who has advised him to come to Turkey.
He was planning to go to Turkey but was arrested in Kolkata by Telangana Police in August 2014 who counselled him and let him off by taking a lenient view of his "first offence". (Amiya Kumar Kushwaha can be reached at amiya.k@ians.in
For graphics:
Since 2016, National Investigation Agency (NIA) has registered 10 separate cases against modules of terror outfit Islamic State in various places of the country including Howrah, Jaipur, Kannur (Kerela), Ahmedabad, Kullu (Himachal Pradesh), Delhi and Coimbatore. THe cases are at various stages of investigation. Here's is 2016 case:
* January 28 2016: NIA registers case against Sheikh Azhar-ul-Islam, Mohammed Farhan and Adnan Hussain along with their other unknown aides accusing them of plotting to motivate, radicalize, recruit and train Indian citizens, both in India and abroad, for planning and executing terror attacks at home and in friendly countries
Status: Sheikh Azhar-Ul-Islam and Mohammed Farhan plead guilty, are sentenced by a Delhi court to seven years in jail. Trial against Adnan Hussain is going on.
* February 2019: NIA files supplementary chargesheet against Azhar-ul-Islam's aide Abdullah Basith and Abdul Qhadeer under charges of Unlawful Activities (Prevention) Act.
Status: Basith and Qhadeer arrested in Hyderabad on August 12, 2018
https://www.business-standard.com/article/news-ians/nia-probe-videos-of-light-series-preachers-musa-cerantonio-anwar-al-awlaki-were-used-to-influence-is-sympathisers-ians-special-with-graphic-119030400696_1.html
--------
In Message to Haters, Muslims in This Pulwama Village are Restoring 80-yr-old Temple to its Glory
March 5, 2019
Acchan, Pulwama: After more than three decades of silence, muzzein's call from a mosque and chiming temple bells will again reverberate in a village in Pulwama. The temple and the mosque at Acchan — a village on Pulwama fringe — lie side by side but while the mosque remained busy with worshippers, the temple stood in desolation. But this is now set to change.
In a strong rebuff to hate mongers, the Muslim community and a sole Kashmiri Pandit family have got together to restore the 80-year-old temple, which has not been used ever since the Hindus migrated from there due to militancy in 1990.
Barely 12 kilometres from the blast site where 40 CRPF men were killed on February 14, the village is brimming with a fresh spirit to restart the temple that brings lot of memories to the elders.
The temple in a six kanal compound is being refurbished and soon an idol would be placed at the sanctum sanctorum for worship and hymns would be chanted aloud.
"We want to revive it to its previous glory when hundreds would pour into the village to listen to chanting of hymns,'' said Bhushan Lal, who is supervising the works with local Muslim Auqaf Trust.
Lal told News18 once the restoration work is complete, they would invite the local Hindus from neighbouring villages and hold special prayers. ''It will be after many, many years that the village would come alive with prayers,'' he said with a smile.
Acchan, he added, had 40 families of Kashmiri Pandits living amid almost double the number of the Muslims in 1990. "But they all left in fear. We want to get them back," he said.
Over the past two weeks, barring a few days when they had to be stopped due to Indo-Pak tension on border, the villagers have given a facelift to the main temple building and restored a spring and drainage.
''We have our task cut out. We need to level the ground, paint the main gate and install the deity. The dome of the temple would also be redone. It will be done within weeks," said Sanjay Kumar, Lal's younger brother. Kumar works in a local ATM booth.
The Muslims wanted the family to worship at the temple on Monday - to celebrate the most popular festival of Maha Shivratri - but had to delay the function because the repairs were getting delayed due to bad weather.
Mohammad Yunus, a villager, said they want the temple to get ready at the earliest so that the Hindu families can pray like Muslims do in a nearby mosque. He is hopeful that his migrant Hindu neighbours would return to their roots. "I wish we could relive the old days. I appeal to our Pandit brothers and sisters to come back to the village," Yunus said.
He recalled that as young children they used to go to the temple once a week. "'An old pujari at the temple would give us sweets, dry fruits and jaggery. We would run to him after playing games," he said.
The local Auqaf had earlier written to the administration for the overall development of the village. ''Some four lakh rupees were set aside for the temple repairs,'' said Nazir Mir, chairman of the Auqaf.
With temple repairs likely to get over soon, the village hopes to revive the centuries-old bond between the two communities. "We hope the village becomes an example for others to follow suit. Kashmiryat will triumph eventually, despite the vagaries of the time," said Mir.
https://www.news18.com/news/india/away-from-indo-pak-tensions-muslims-in-this-pulwama-village-are-restoring-80-year-old-temple-back-to-its-glory-2055471.html
--------
Fifty nine Nobel laureates urge Imran, Modi to defuse tensions
Mar 04, 2019
Washington: Fifty nine Nobel laureates have written letters to the Prime Ministers of India and Pakistan urging them to "defuse the rising tensions" between the two countries, according to a statement.
A letter signed by the Nobel laureates, under the aegis of the Laureates and Leaders for Children — a platform founded by Nobel peace laureate Kailash Satyarthi — was submitted to India and Pakistan's Permanent Representatives to the UN on Saturday, the statement said on Sunday.
"In the best interest of our children, we, the Laureates and Leaders for Children call upon the Prime Minister of India Narendra Modi and the Pakistani Prime Minister Imran Khan to demonstrate wise leadership and exercise immediate restraint at this critical juncture, to avoid any escalation into a full-fledged war," the letter read.
"There is no place for violence, extremism and terrorism in a civilised world. This epidemic has to be uprooted through concrete and time-bound actions.
"We reiterate that children never create wars but are the worst sufferers. Therefore, we appeal to the two Prime Ministers, faith institutions, media, youth and the citizens of both India and Pakistan to work towards the restoration of peace in the region with utmost urgency," the letter stated.
The Nobel laureates who signed the appeal included Malala Yousafzai, Leyma Gbowee, Shirin Ebadi, Tawakkol Karman, Muhammad Yunus, José Ramos-Horta, Edvard Ingjald Moser and May-Britt Mose among others.
https://www.siasat.com/news/fifty-nine-nobel-laureates-urge-imran-modi-defuse-tensions-1474066/
--------
Qureshi hints Pakistan may not oppose listing of JeM chief as global terrorist by UNSC
Mar 4, 2019
ISLAMABAD: Pakistan's foreign minister Shah Mahmood Qureshi on Monday hinted that his country may not oppose a joint move by France, Britain and the US in the UN Security Council to list Jaish-e-Mohammed terror group's chief Masood Azhar as a global terrorist.
"Time has come for Pakistan to decide in its own interests. We will do what's in Pakistan's interests," Qureshi told Geo TV in an interview.
Last week, the US, the UK and France moved a fresh proposal in the UN Security Council to designate Azhar as a global terrorist, a listing that will subject him to global travel ban, asset freeze and arms embargo.
The Security Council Sanctions Committee has 10 working days to consider the fresh proposal submitted by the three members. It is the fourth such bid at the UN in the last 10 years to list Azhar as a global terrorist.
When asked whether Pakistan will request its close ally China to veto the resolution once again in the UNSC, Qureshi said his government will try to build a consensus among all parties and do what's in Pakistan's interests.
"We have some global commitments ... We will have to take action which doesn't harm our global reputation," he said, without elaborating.
Describing the situation following the Pulwama terror attack as a "defining moment" for Pakistan, he said Pakistan doesn't want to go for a war with India.
"We want peace. Our people want jobs, they want reforms in institutions, they want us to crackdown on corruption ...," he added.
In 2009, India moved a proposal to designate Azhar, whose UN-proscribed Jaish-e-Mohammed (JeM) claimed responsibility for the suicide attack against Indian security forces in Pulwama on February 14 in which 40 Central Reserve Police Force (CRPF)
personnel were killed.
In 2016 again, India moved the proposal with the P3 - the US, the UK and France in the UN's 1267 Sanctions Committee to ban Azhar, also the mastermind of the attack on the air base in Pathankot in January, 2016.
In 2017, the P3 nations moved a similar proposal again. However, on all occasions, China, a veto-wielding permanent member of the Security Council, blocked India's proposal from being adopted by the Sanctions Committee.
It remains to be seen how China will vote on the proposal this time.
India has strongly reiterated its appeal to all members of the international community to support the proposal to list terrorists, including Azhar, as designated terrorists under the 1267 Sanctions Committee of the UN Security Council, and to ban terrorist organisations operating on territories controlled by Pakistan.
Tensions between India and Pakistan flared up after a suicide bomber of Pakistan-based JeM killed 40 CRPF personnel in Kashmir on February 14. India on Wednesday handed over to Pakistan a dossier on "specific details" of involvement of JeM in the attack.
When asked about the dossier on JeM handed over by India, Qureshi said, "We are examining it and we will respond accordingly."
According to a top government source here, Pakistan has decided to launch a crackdown on terror outfits, including JeM and its chief Azhar, in order to de-escalate the tensions with India and the action is "expected any time soon".
Pakistan on Monday promulgated a law to streamline the procedure for the implementation of the UN sanctions against individuals and organisations, amid mounting pressure from the global community to rein in the terror groups operating on its soil and curb their financing.
https://timesofindia.indiatimes.com/world/pakistan/qureshi-hints-pakistan-may-not-oppose-listing-of-jem-chief-as-global-terrorist-by-unsc/articleshow/68259639.cms
--------
Pakistan govt issues order to seize assets of all banned outfits under UN sanctions regime
Mar 4, 2019
ISLAMABAD: Pakistan on Monday promulgated a law to streamline the procedure for the implementation of the UN sanctions against individuals and organisations, amid mounting pressure from the global community to rein in the terror groups operating on its soil and curb their financing.
The Foreign Office said that the government issued the UN Security Council (Freezing and Seizure) Order, 2019 in accordance with the provisions of Pakistan's United Nations Security Council (UNSC) Act, 1948.
"The objective of the UNSC (Freezing and Seizure) Order 2019 is to streamline the procedure for implementation of Security Council Sanctions against designated individuals and entities," it said in a statement.
Interpreting the order, Foreign Office spokesperson Mohammad Faisal said it means that the government has taken over the control of assets and properties of all banned outfits operating in the country, Dawn reported.
"(From now onwards), all kinds of assets and properties of all (banned) organisations will be in the government's control," he said.
He added that the government will now also seize the charity wings and ambulances of such banned outfits.
The crackdown on banned groups came amid tensions with India following a suicide attack in Jammu and Kashmir's Pulwama district on February 14 by Pakistan-based Jaish-e-Muhammed terror group that killed 40 CRPF soldiers.
India handed over a dossier to Pakistan to take action against the JeM, as pressure mounted on Islamabad to take action against individual and organisation listed by the UN Security Council as terrorists.
On Sunday, Information Minister Fawad Chaudhry said the government has taken action against the proscribed organisations including JeM in the past and any future action against them will be taken in the light of the National Action Plan (NAP) and Pakistan's commitments in connection with the Financial Action Task Force (FATF).
However, a top government source said that the Pakistan government has decided to launch a crackdown on terror outfits, including Jaish-e-Muhammed (JeM) chief Masood Azhar, in order to de-escalate tensions with India.
The official had said the action against JeM is "expected any time soon".
The new law is expected to help Pakistan government to fulfill its obligations towards the UNSC by expediting seizure of properties of banned groups and individuals.
The US last month asked Pakistan to "freeze without delay" the funds and other financial assets of the UNSC-designated terrorist networks and their leaders.
Pakistan is also under pressure from the Paris-based Financial Action Task Force (FATF) to deliver on its commitments to curb terror financing.
The FATF in June last year placed Pakistan onto its watch list in a bid to push the country to halt support for militant groups.
In June 2018, Pakistan made a high-level political commitment to work with the FATF and APG to strengthen its AML/CFT regime and to address its strategic counter-terrorism financing-related deficiencies by implementing a 10-point action plan to accomplish these objectives.
The successful implementation of the action plan and its physical verification by the APG will lead the FATF to clear Pakistan out of its grey list or else move into the black list by September 2019.
In its statement, the Foreign Office said that it may be recalled that the Chapter VII of the United Nations Charter authorises the (UNSC), acting under Article 41, to decide measures, not involving the use of armed force, to give effect to its decisions for the maintenance of international peace and security.
In Pakistan, such decisions of the Security Council are implemented through the UN Security Council Act (UNSC), 1948, it said.
The FO said over the years the sanctions regime of the United Nations Security Council have evolved.
"A key measure of these sanctions regimes is 'assets freeze' under which States are required to freeze/seize the assets of designated entities and individuals as soon as they are designated by the relevant UNSC Sanctions Committee," it said.
The UN Security Council (Freezing and Seizure) Order, 2019 has been formulated in line with UNSC and the FATF standards, according to FO.
https://timesofindia.indiatimes.com/world/pakistan/pakistan-govt-issues-order-to-seize-assets-of-all-banned-outfits-under-un-sanctions-regime/articleshow/68261080.cms
--------
Far right 'infiltrating children's charities with anti-Islam agenda'
5 Mar 2019
Rightwing groups including Ukip are attempting to "infiltrate" child protection charities to further an anti-Islam agenda, officials from the government's counter-extremism programme believe.
Officers from Prevent said far-right figures were using voluntary groups to stir up tension in towns with historical problems of child sexual exploitation.
In Rochdale, a community group for child sexual abuse survivors, Shatter Boys, said it had been approached repeatedly by senior Ukip figures including Lord Pearson, who offered to introduce them to millionaire donors and fund an open-top bus to raise the alarm about grooming gangs.
Daniel Wolstencroft, the founder of Shatter Boys, said: "What they're doing basically is grooming survivor groups and survivors of abuse. I think their fight is about Islam."
Wolstencroft, who is an adviser to the independent inquiry into child sexual abuse, said Ukip in particular had attempted to "jump on the child abuse bandwagon" to further its own anti-Islam agenda.
Pearson's offer of funding, made during a private lunch at the House of Lords, followed months of courting by the Ukip families spokesman, Alan Craig, who last year said Muslim grooming gangs had committed a "Holocaust of our children".
Craig, who said paedophilia could be traced back "to Muhammad himself", approached the Rochdale-based group on social media before attending one of its street patrols with a leading member of the Democratic Football Lads Alliance (DFLA).
The Ukip leader, Gerard Batten, spoke at a rally in Rochdale organised by the DFLA last April. The DFLA has described the Greater Manchester town as being on its "hit list" for anti-grooming demonstrations.
The issue of child sexual exploitation by men of Pakistani heritage has become a key focus of Ukip under the leadership of Batten, who triggered a wave of senior resignations when he appointed the anti-Islam activist Tommy Robinson as an adviser on grooming gangs.
Nazir Afzal, the Crown Prosecution Service's former lead on child sexual abuse, said established charities were being "infiltrated by the far right who wish them to pursue a different agenda".
Figures linked to the far right have also launched or promoted their own anti-grooming campaign groups in the past year, the Guardian has learned.
One of Robinson's allies, Shazia Hobbs, launched an anti-grooming helpline at an event hosted by Pearson in parliament in December, which was attended by the For Britain leader, Anne Marie Waters.
Pearson was quoted after the event as saying: "If you touch this case, you immediately become an Islamophobe. Islam lies at the heart of this problem and most of this is a problem within Islam. We need to start talking about this openly." Pearson and Ukip have not responded to requests for comment.
Another group, the National Anti Grooming Alliance & Helpline (NAGAH), was jointly set up by a member of the DFLA, John Clynch, last year after reports of a mass grooming gang in Telford, Shropshire.
Afzal, who prosecuted grooming gangs in Rochdale in 2012, described the NAGAH as "an alleged far-right front" that had been "created by the extreme right to further their own agenda".
The NAGAH has attracted moral and financial support from Daniel Thomas, a close ally of Robinson, who is trying to raise £150,000 for the group with a charity boxing event.
The NAGAH's co-founder Anthony Wood has described "Pakistani rape gangs" as "probably the biggest crime in this country's history".
Contacted by the Guardian, Wood said Clynch no longer worked for the NAGAH and that he had left the DFLA. Clynch has not returned a request for comment.
Wood said: "We are not far right at all, we are a community group … We have helped historic survivors, online cases, male survivors. It does not just focus on one area and we have stated this since day one."
Thomas, who organises Robinson's rallies, said there was "not a racist bone in the bodies" of those involved in the NAGAH and accused the media of "attempting to destroy a working class charity".
Frontline Prevent workers said the issue of far-right groups infiltrating charities was "increasingly a concern" that had been raised with intervention providers across England.
Abdul Ahad, a Prevent officer in north-east England, said rightwing groups were using the grooming gangs issue to "appeal to people's emotions".
"It is a tactic they are trying to pursue. They can build up the relationship and trust and slowly but surely sink their claws in and then they've got them hook, line and sinker," he said. "They then start spewing their [far-right] narrative before you know it. I know some charities have refused to have anything to do with the far right but it will be done very covertly and subtly."
The number of people referred to Prevent over concerns about far-right activity rose by more than a third in the year to March 2018, accounting for nearly one in five of all cases.
https://www.theguardian.com/world/2019/mar/05/far-right-infiltrating-childrens-charities-with-anti-islam-agenda
--------
Anti-Islam Movement Targets Dutch Mosque, Insults Prophet Muhammad
By Ahlam Ben Saga
Mar 4, 2019
Rabar – The German Patriotic Europeans Against the Islamization of the West (Pegida) group has placed a satirical figurine of Prophet Muhammad (PBUH) at the entrance of As-Sunnah Mosque in the Hague, the Netherlands.
On Sunday, Pegida—notorious for targeting mosques in the Netherlands with Islamophobic acts—hung a banner with an obscene message insulting the prophet next to a mannequin dressed in traditional Arab male dress with a bearded face covered in dark paint.
CCTV footage of the incident, which has circulated social media, shows three hooded individuals pulling the banners and mannequin from a vehicle parked in front of the mosque late at night.
Abdelhamid Taheri, the head of the mosque, told Dutch news outlet Omroep West that worshippers found the insulting messages when they arrived at the mosque to perform the morning prayer and immediately called the police.
To Taheri, "It is not an attack against the mosque alone, but an attack against the whole Muslim world." He added that he has reported similar attacks on the mosque several times but they have continued.
As-Sunnah Mosque and other mosques in the region have been targeted by Pegida on several occasions.
Last year during Ramadan, Pegida took advantage of Islam's restriction on the consumption of pork, regarded as "impure," to provoke Muslims by roasting pigs in front of Laleli Mosque in Rotterdam, the Netherlands, at the time of breaking the fast.
At the same time, Pegida had shared a series of posts on Facebook, encouraging its followers to participate in pig barbeques in front of many mosques, including As-Sunnah Mosque.
The Pegida followed in the steps of previous offensive drawings and caricatures insulting Prophet Muhammad.
Some of the most notorious satirical caricatures of Muhammad (PBUH) were published in Denmark in 2005, triggering outrage among Muslims across the world.
https://www.moroccoworldnews.com/2019/03/267177/anti-islam-mosque-prophet-muhammad/
--------
Selangor Sultan dismayed by insults against Prophet Muhammad, Islam
04 March 2019
SHAH ALAM, March 4 — The Sultan of Selangor Sultan Sharafuddin Idris Shah today expressed his disappointment over insults made against Prophet Muhammad by a few non-Muslims lately.
Selangor Council of the Royal Court secretary Hanafisah Jais in a statement said that the Sultan of Selangor expressed his disappointment after discussing the issues with members of the council today.
Hence, Sultan Sharafuddin also reminded the people, especially the non-Muslims, to stop insulting Prophet Muhammad and tarnishing the sanctity of Islam.
This was because, His Highness said, the irresponsible act would not only jeopardise the harmony and unity among the people, but could also cause racial and religious tension that would lead to prolonged animosity between the different races in the country.
"Incidents of individuals throwing insults to Prophet Muhammad and tarnishing the sanctity of Islam occur quite often and have come to the point of testing the Muslims' patience. Islam, as the country's official religion and enshrined in the Federal Constitution should always be respected by every citizen in the country," he said.
According to Hanafisah, despite the fact that insulting Prophet Muhammad and tarnishing the sanctity of Islam were offences under the law and the legal action and punishment had been imposed on those who committed them, the irresponsible act still occurred, as if the legal punishment bore no effect on the group.
"History has shown that a country can end up in chaos if the people are hostile and show disrespect towards the religion of other races.
"As the Ruler who is also the head of Islam in Selangor, Sultan Sharafuddin stressed that preserving the sanctity of Islam and safeguarding the honour of Prophet Muhammad are among the main requirements of the Maqasid Syariah (objective of Islamic principles) and it is also the responsibility of the Muslims to safeguard it at all time," she said.
Hence, she said, Sultan Sharafuddin's reminder should be taken seriously by everyone, especially the non-Muslims, to preserve the harmony and unity among the races and religions in the country.
She said it also applied to the Muslims and they should always be cautious before issuing any statements or views related to other religions.
She further said that the Selangor Council of the Royal Court members upheld the decree of the Sultan of Selangor and also shared the disappointment expressed by His Highness over the insults against Prophet Muhammad and Islam.
"Members of the council also urged the authorities such as the Royal Malaysia Police and the Attorney General's Chambers to heed the Sultan of Selangor's call by implementing effective measures to address this problem.
"Detailed investigation of those suspected of committing such offences should be immediately carried out and prosecution to be taken against those responsible if there is sufficient evidence," she said. — Bernama
https://www.malaymail.com/news/malaysia/2019/03/04/selangor-sultan-dismayed-by-insults-against-prophet-muhammad-islam/1728949
--------
Muslim inmates sue over combined faith services in Arkansas prisons
March 4, 2019
Aysha Khan
(RNS) — Muslim prisoners in Arkansas have sued the state's prison system for requiring them to attend a combined Friday prayer service with members of the Nation of Islam and Nation of Gods and Earths.
The Council on American-Islamic Relations, a Muslim civil rights advocacy group, filed the lawsuit Mar. 1 against the Arkansas Department of Correction on behalf of Tucker Maximum Security Unit inmates Gregory Houston Holt, Rodney Martin and Wayde Stewart.
Though the three groups, which overlap in their histories and theology, follow distinct religious teachings, the Arkansas Department of Correction requires followers of Islam, the Nation of Islam, and the Nation of Gods and Earths who want to worship to attend a single prayer service.
"Religious freedom protects everyone's ability to worship with those who share their faith," CAIR National Litigation Director Lena Masri said in a statement. "Followers of Islam, Nation of Islam and the Nation of Gods and Earths should be permitted to worship separately in a manner of their choice, just as Arkansas currently offers such accommodations for Catholic, Baptist, Jewish and Buddhist worship services."
The Nation of Islam, founded as an African-American Muslim movement by Wallace Fard Muhammad in 1930, combines elements of traditional Islamic teachings with black nationalist ideas and is now led by Louis Farrakhan. It's estimated to have about 100,000 U.S. adherents. The Nation of Gods and Earths, also known as the Five-Percent Nation or the Five Percenters, split from the Nation of Islam in 1963 and has fewer than 50,000 followers.
Muslim inmates say that attending Friday prayer services with other Muslims is a mandate of their faith. The Arkansas prison system policy requires that Muslims attend the combined Friday prayer services or risk losing their designation as Muslims — which could cause them to lose religious accommodations such as a specialized Ramadan meal program.
CAIR claims that when Holt stopped going to the prison's combined Friday services in protest, his other Islamic accommodations were taken away.
The suit, filed in federal court in Little Rock, claims that Arkansas has violated the First Amendment to the U.S. Constitution and the Religious Land Use and Institutionalized Persons Act.
"It is unacceptable that Arkansas thinks it may define who is a Muslim based on whether or not they attend Friday services, all while refusing to provide spiritually valid Friday services," said Carolyn Homer, CAIR's national trial attorney. "No one checks how often Christians in the facilities attend Sunday services before letting them celebrate Christmas."
She also noted that Arkansas' prisons currently recognize seven different Christian denominations and offer separate prayer services for those who identify as Catholic, Jehovah's Witness, Baptist, Seventh-Day Adventist, Pentecostal, and Protestant and offers general Christian services.
The Federal Bureau of Prisons lists Islam and the Nation of Islam as separate faith groups. CAIR's lawsuit asks for Arkansas to do the same and to recognize the Nation of Gods and Earths as a separate faith group.
The lawsuit follows other recent high-profile cases of Muslim inmates being denied religious accommodations, including a Supreme Court decision last month to greenlight the execution of an Alabama man without allowing his imam to be present in the death chamber with him.
Another lawsuit filed last month by the group Muslim Advocates on behalf of five detained Somali refugees alleges that Immigration and Customs Enforcement denied them halal meals, ability to perform daily prayers, access to prayer rugs and other accommodations. And a Muslim man detained by Customs and Border Protection claimed last month that the only food offered him was a pork sandwich. Muslim dietary laws rule out pork.
Holt, known as Abdul Maalik Muhammad after his conversion to Islam, has sued Arkansas' prison system successfully before. In 2015, the U.S. Supreme Court unanimously ruled that the prison's no-beard policy was unconstitutional.
A 2008 report from the U.S. Commission on Civil Rights on Religious Freedom in U.S. prisons found that from 2005 to 2007 Muslim inmates submitted the largest number of religious discrimination complaints of any religious group and initiated almost 30 percent of federal lawsuits under the Religious Land Use Institutionalized Persons Act from 2001 to 2006.
https://religionnews.com/2019/03/04/muslim-inmates-sue-over-combined-faith-services-in-arkansas-prisons/
--------
US lawmakers say Trump has taken 'no meaningful action' over China's treatment of Muslims
March 5, 2019
(CNN)A bipartisan group of US lawmakers said the Trump administration's response to China's alleged abuses of the largest Muslim Uyghur ethnic minority in Xinjiang was inadequate and urged it to hold Beijing to account.
"The administration has taken no meaningful action in response to the situation in (Xinjiang)," lawmakers wrote in a letter to Secretary of State Mike Pompeo, four months after they originally called on him to take action on this issue.
CNN has reached out to the State Department for comment.
As many as two million Uyghurs are estimated to have been imprisoned in huge detention centers in China's far west, according to a US government report.
The human rights crisis in Xinjiang has drawn increasingly harsh criticism from across the world. At a UN hearing in November, more than a dozen countries called on Beijing to end its "arbitrary detention" of Uyghurs.
A former detainee told CNN she witnessed abuse and torture, and lost one of her sons during her time in the camps.
Beijing has repeatedly denied it is detaining Uyghurs against their will, calling the camps "vocational training centers" and suggesting they are providing education.
In their letter Monday, the US lawmakers, led by House Committee on Foreign Affairs Chairman Eliot Engel, said that "over a million Uyghurs and other Muslim ethnic minorities have been interned in 'political re-education camps' without due process as part of a broader attempt to wipe out their separate identity, language, and history."
"Global responses to these abuses have been insufficient. Of particular concern are reports of US companies that may be contributing to Beijing's persecution of Uyghurs through their support or commercial ties to Hikvision and Dahua -- two Chinese tech giants that have profited from the surge of security spending in Xinjiang," the letter added.
It also pointed to plans by Frontier Services Group, a Hong Kong-based company that counts former Blackwater CEO Erik Prince among its investors, to build a "training center" in Xinjiang.
"These examples demonstrate not just the need to increase public awareness of human rights issues in (Xinjiang), but also impose consequences on PRC officials responsible and those who enable their abuses," the letter said. "Rhetoric without action will only embolden Beijing."
Lawmakers requested information on whether the US monitors the use of American technology in facilitating the surveillance and detention of Muslim minorities in Xinjiang, and details of "any US companies that are allegedly providing technology transfers, sales, or security training for Chinese government officials or closely associated entities that operate in the Xinjiang Uyghur Autonomous Region."
They also called on the Trump administration to reveal its plans, either unilaterally or with allies, for "holding Beijing accountable."
The letter comes as Beijing is facing a growing global backlash over the situation in Xinjiang, as reports of alleged abuses their stack up. Last month, Turkey -- which has a large Uyghur population -- said the detention camps were a "great shame for humanity."
In a strongly-worded statement, Foreign Ministry spokesman Hami Aksoy said hundreds of thousands of prisoners were subject to "torture and political brainwashing" in China's camps, and called on the UN and the international community "to take effective measures in order to bring to an end this human tragedy in Xinjiang."
Lawmakers in Indonesia and Malaysia have also expressed alarm over the alleged abuses in Xinjiang, and called for a full accounting of the "re-education camp" system.
https://edition.cnn.com/2019/03/04/politics/china-us-xinjiang-muslims-intl/index.html
--------
India
J&K: Two terrorists killed in encounter with security forces in Tral
Mar 5, 2019
SRINAGAR: Two terrorists were killed in an encounter between militants and security forces in Jammu and Kashmir's Pulwama district, Army sources said Tuesday.
The encounter broke out at Tral area on Monday. The security forces had cordoned off the area and launched an operation to flush out the terrorists, a police spokesperson had said. The security forces began a search operation in Mir Mohalla on Monday evening.
"As the operation continued on Tuesday morning, the terrorists fired at the security forces triggering the gunfight," the police added "A brief exchange of fire took place between security forces and terrorists in Tral area," the spokesperson had said.
Authorities have suspended mobile internet services in the town.
https://timesofindia.indiatimes.com/india/encounter-under-way-between-security-forces-and-terrorists-in-tral/articleshow/68263934.cms
--------
In J&K's Baramulla, 29 Pandits rely on Muslims to run their shops
Mar 4, 2019
BARAMULLA: With idols of several Hindu gods and goddesses — Lakshmi, Durga, Ganesha — resting on a shelf near the cash counter, 27-year-old Ishfaq Ahmad Malik, a salesman, is fastidious in entering sale records at a textile shop in Baramulla's crowded city market, nestled against the backdrop of the snow-clad Ghosal Tank hills.
His employer Hridyanath Ganjoo, a Kashmiri Pandit, is away for the Shivratri celebrations in Jammu.
"I have been at his shop since 11 years. Each time Hindu festivals come, he leaves for his other home in Jammu. He has been away for the last one month during this season and will come back after Holi. They trust us and we look after their business during this season," says Malik.
Ganjoo's family is among the 29 Kashmiri Pandits who stay in Baramulla and run their shops with the help of Muslims – both Shias and Sunnis.
The colony near Veerwan, where Pandits live, wears a deserted look as all Pandits celebrate their biggest religious festival, Shivratri, in Jammu where the majority of the Pandits moved to when terrorism erupted in the valley and targeted them in 1990.
Residents, shopkeepers and local industry associations, however, reassure that the Pandits who stayed back in Baramulla are safe. "We celebrate each other's joys, festivals and everything from birth to marriage," says Mohammad Ashraf, 65, president, Baramulla Traders Association.
"We Muslims felt very bad about migration in 1989. Look at that shop across mine. This one's owned by Sohan Lal Bindroo and Sons. He is a hakeem (local doctor). He and his family have been running this business for 70 years. In 1989, they left, but came back later. We want that Hindus should come back. We will welcome them back," he adds.
The Ayurvedic store owned by Bindroo is indeed one of the most popular shops of Baramulla. "Most of our customers are Muslims. In fact, I have even learnt the art of medicine from my owner, Hakeem Saab. I am glad that he has put his trust in me ever since I was 17 when I joined him," says Wasim, 36, who works a salesman at Bindroo's shop.
Full report at:
https://timesofindia.indiatimes.com/india/in-baramulla-29-pandits-rely-on-muslims-to-run-their-shops/articleshow/68261312.cms
--------
Islamic forum welcomes Abhinandan's release
Mar 5, 2019
MUMBAI: Chennai-based Islamic Forum for the Promotion of Moderate Thought has welcomed the safe return of Wing Commander Abhinandan.
In a statement, the forum's secretary general A. Faizur Rahman complimented Indian diplomacy for securing the release of one of India's bravest sons who won universal acclaim by displaying unflinching courage and equanimity in the face of extreme danger during and after his unfortunate capture by Pakistan. Rahman also lauded External Affairs Minister Sushma Swaraj at the OIC saying: "Ms. Swaraj has correctly quoted the Quran to point out that God created 'nations and tribes' not to hate one another but to get mutually acquainted through positive collaboration. Unfortunately, Pakistan seems to have forgotten this Quranic teaching despite having Islam as its state religion."
Full report at:
https://timesofindia.indiatimes.com/city/mumbai/islamic-forum-welcomes-abhinandans-release/articleshow/68265989.cms
--------
Agra Muslims support ban on Jamaat-e-Islami, condemn Mehbooba Mufti's comments
Siraj Qureshi
March 5, 2019
Intellectuals and social organizations of Agra have welcomed the ban on Jamaat-e-Islami in Kashmir by the government as the organization was supporting "anti-national" and "pro-Pakistan" elements.
Chairing a meeting of the Hindustani Biradari on this subject, Sr Vice-Chairman Vishal Sharma vehemently opposed the statement made by former J&K Chief Minister Mehbooba Mufti and said that Jamaat-e-Islami ban was in the country's interest and Mehbooba Mufti's statement "reeked of sedition and pro-Pakistani sentiments".
Former Jammu and Kashmir chief minister Mehbooba Mufti had termed the ban on Jamaat-e-Islami an act of "vengeance" by the Centre, saying it would have "dangerous consequences".
Rafeeq Khan, a member of the Hindustani Biradari said that that Jamaat-e-Islami was responsible for "radicalising the local population in Kashmir" and to call them engaged in social and religious activities was "totally false". He said that Islam dictates believers "to love the country they were born in, and to be faithful to their motherland", but Jamaat-e-Islami was "promoting pro-Pakistanism".
He said that the students studying in the schools operated by Jamaat-e-Islami should be transferred to government schools as the government also provides Islamic education, but it was combined with the teachings of national pride.
Social activist Amir Qureshi said that Mehbooba Mufti had been made the chief minister of Jammu and Kashmir by the BJP and it is shameful that someone who has held a constitutional post is "supporting anti-nationals".
He said that if Mehbooba's father Mufti Mohammed Saeed had been alive, he "would not have supported Pakistan". "Mufti Mohammed Saeed would have shown Pakistan its place. Mehbooba should walk in her father's footsteps," said Amir Qureshi.
The Centre on February 28 banned the Jamaat-e-Islami Jammu and Kashmir for five years under anti-terror law on grounds that it was "in close touch" with militant outfits and is expected to "escalate secessionist movement" in the state.
A notification, banning the group under the Unlawful Activities (Prevention) Act, was issued by the Ministry of Home Affairs after a high-level meeting on security, chaired by Prime Minister Narendra Modi.
Full report at:
https://www.indiatoday.in/india/story/agra-muslims-support-ban-on-jamaat-e-islami-condemn-mehbooba-mufti-s-comments-1470390-2019-03-05
--------
Post Pulwama, Navy chief Admiral Lanba warns of sea-borne terror attack
Mar 05, 2019
Three weeks after the Pulwama terror attack, Indian Navy chief Admiral Sunil Lanba has warned that terrorists are being trained to carry out sea-borne attacks on India.
"We also have reports of terrorists being trained to carry out operations in various modus operandi including through the medium of the sea," Admiral Lanba said in Delhi on Tuesday at the Indo-Pacific Regional Dialogue, ANI reported.
The 26/11 terror attack was carried out by ten sea-borne terrorists of the Lashkar-e-Taiba who hijacked an Indian fishing trawler to reach Mumbai and unleash mayhem.
The Navy chief did not name Pakistan as he said, "India, however, faces a far more serious version of this state-sponsored terrorism. We have all witnessed the horrific scale of extremists attack on Indian state of J&K, just 3 weeks ago. This violence was perpetuated by extremists, aided by a state which seeks to destabilise India."
Admiral Lanba said the Indo-Pacific region now faces a major terror threat.
"The Indo-Pacific region has witnessed multiple forms of terrorism in recent years and few countries in this part of world have been spared by this cause. Global nature which terrorism has acquired in recent times has further enhanced the scope of this threat."
Relations between India and Pakistan have plunged following the Pulwama suicide bombing which killed 40 CRPF troopers. India retaliated with an air strike on February 26 on a Jaish-e-Mohammad camp in Balakot in Pakistan. On February 27, Pakistan responded by sending its warplanes that were engaged by Indian Air Force fighter jets.
Wing Commander Abhinandan Varthaman who shot down a Pakistan Air Force F-16 plane had to bail out after his MiG 21 was brought down. He was captured by Pakistani troops and spent almost 60 hours in captivity before being released Friday night.
Full report at:
https://www.hindustantimes.com/india-news/post-pulwama-navy-chief-admiral-lanba-warns-of-sea-borne-terror-attack/story-r6moBvgn0crpbqWfZShVjM.html
--------
Sukhoi-30 shoots at Pakistan drone over Rajasthan, foils air-intrusion bid
Mar 04, 2019
Indian fighter jets were scrambled front a frontline base in the Rajasthan sector on Monday morning to engage an incoming threat from Pakistan, a senior official in the security establishment said on condition of anonymity.
Russian made Su-30Mki — a twin-engine air dominance fighter — scrambled from a base along the international border at about 11.30 am after air-defense radars picked up an incoming unmanned aerial vehicle or drone. Indian fighters engaged it with "air-to-air missiles," the official added. Besides the Su-30MKi, there were other fighters in the package as well, this person said without elaborating.
India and Pakistan have been on the edge following an attack against Indian troopers by a terrorist of the Pakistan-based Jaish-e-Mohammed on February 14. On February 26, Indian fighter jets struck a Jaish facility at Balakot in Pakistan. Pakistan responded with a strike by its own fighters that was repulsed on February 27.
Monday's attempted air-intrusion was over Anupgarh that is located along the International Border a few kilometers east of Bahawalpur , the base of the banned terror group Jaish-e-Mohammed.
The Indian Air Force, however, refused to comment on the drone intrusion.
The incident comes after a Pakistani drone was shot down on February 26 in the Gujarat sector. Earlier on Monday Chief of Air Staff, Air Chief Marshal B S Dhanoa said "operations" against Pakistan were "ongoing".
All three services — Indian Army, Air Force, and Navy — are in a heightened state of alert. All ground formations especially those along the Line-of-Control (LoC) — the disputed de-facto border between India and Pakistan — and the settled border — International Border — are in a state of alert.
Full report at:
https://www.hindustantimes.com/india-news/sukhoi-30-shoots-at-pakistan-drone-over-rajasthan-foils-air-intrusion-bid/story-JzrqWXo2uWyG6mHB07P9EL.html
--------
Nation won't tolerate, says Kejriwal on Amit Shah's comment on terrorists killed
Mar 04, 2019
Delhi Chief Minister Arvind Kejriwal Monday said BJP president Amit Shah took a stand contradictory to that of the armed forces over the number of terrorists killed in the pre-dawn air strikes on terror group Jaish-e-Mohammed's training camps in Pakistan. On Sunday, Shah said the air strikes killed more than 250 terrorists, while the armed forces have not put out any official figure.
"The armed forces are also saying this. Amit Shah is saying that the armed forces are lying, 250 (terrorists) were killed. Amit Shah is calling the armed forces a liar. The country will not tolerate this under any circumstances," Kejriwal tweeted in Hindi, referring to a news report which quotes Union minister SS Ahluwalia as saying that the purpose of the strike was to send a message and not to kill.
In another tweet, the Delhi chief minister said the whole country stands with the armed forces while the BJP stands against them.
"The armed forces cannot lie but the BJP is lying. The whole country stands with the armed forces but BJP stands against them," Kejriwal said.
At an event in Ahmedabad, Shah had said: "After Pulwama attack, everyone was thinking that we can't do surgical strike so what will happen...But Narendra Modi government, on the 13th day (after the attack), conducted air strikes and killed more than 250 terrorists."
At a press conference this morning, IAF chief B S Dhanoa declined to comment on the death toll in the Balakot strike, saying it was for the government to provide details on the number of terrorists killed. "We don't count human casualties. We count what targets we have hit or not hit," he said.
Full report at:
https://www.hindustantimes.com/india-news/nation-won-t-tolerate-says-kejriwal-on-amit-shah-s-comment-on-terrorists-killed/story-mLaJ9NtlE738St5mEXkOVO.html
--------
First batch of French-made Rafael jets to arrive in India in September
Mar 4, 2019
India says it will induct French-made Rafale fighter jets into its air force later this year, amid heightened military tensions with Pakistan, which saw the two nuclear-armed neighbors target each other's warplanes last week.
The chief of Indian Air Force B.S. Dhanoa said on Monday that the first batch of Rafael fighter jets will be delivered in September.
New Delhi ordered 36 Rafale fighter planes from the Dassault Aviation of France back in 2016.
The acquisition of the jets, however, has been delayed so far due to the opposition by the Congress, which accuses Prime Minister Narendra Modi of benefiting his "friends" and not the country by the purchase.
Modi, in return, accused the Congress on Tuesday of inflicting "deep damage to our armed forces" by causing the delay.
The prime minster, who seeks a second term, said at a rally last week that the country would have been better placed to handle escalating tensions with Pakistan if it had acquired the fighter jets earlier.
Last week, India conducted "preemptive" airstrikes inside Pakistan against what was said to be a militant training camp belonging to the Pakistan-based Jaish-e-Mohammad (JeM) militant group, which claimed responsibility for an attack on an Indian security convoy in Pulwama, in Indian-administered Kashmir, on February 14. That attack killed more than 40 Indian troops..
India claimed the airstrikes killed some 300 militants. Pakistan, however, denied that the Indian raids had left any casualties or material damage.
Pakistan retaliated last Wednesday, saying it had shot down two Indian fighter jets that violated its airspace. Two days later, however, it released an Indian pilot it had captured as a "peace gesture."
India also said it had shot down a Pakistani fighter jet in the "aerial encounter."
Modi further said the Indian airstrike on the militant target could have had a different outcome if the air force had more modern fighter jets.
The country has "felt the shortage of Rafale jets," said Modi, "India is asking in one voice what could have happened if we had Rafale. First selfish policies and then politics over the Rafale deal have harmed the nation."
His remarks sparked anger among opposition figures, who asked Modi to explain about the delay in the delivery of the jets if they could have been so crucial in the fighting.
"Dear PM, have you no shame at all?" said Congress leader Rahul Gandhi in a Twitter post. "You are solely responsible for the delay in the arrival of the Rafale jets."
The chief of the Bahujan Samaj Party (BSP) Mayawati also blamed Modi to for the delay, saying, "Rafale fighter could have prove useful in fight against Pakistan, claims PM Modi in his rallies."
"Even then not a single Rafale inducted into IAF fleet during his government. Better explain people why this kind of lapse and neglect even by the BJP on the issue of country's safety and security?" she said in a tweet.
India has long been engaged in a conflict with Pakistan over the disputed region of Jammu and Kashmir. The two have fought four wars since their partition in 1947, three of them over Kashmir.
Pakistan is widely accused of arming and training militants.
India, Pakistan trade fire at border in Kashmir
After two days of relative calm on Line of Control (LoC) which divides Kashmir, troops from both sides of the border have reportedly exchanged heavy shelling and targeted each other's positions on Monday, local sources reported.
According to Indian defense officials, Pakistan initiated the "unprovoked ceasefire violation" by firing mortar shells and small arms on forward posts and villages.
"Pakistan forces again resorted to heavy mortar shelling along LoC on Indian positions and civilian areas in Jammu district today, which was retaliated strongly and effectively," said an official.
"Indian Army retaliated strongly and effectively," the spokesman said, adding there was no report of any casualty on the Indian side.
On Sunday, more residents from near the LoC arrived at a camp for internally displaced people at Hattian Bala in Pakistan-administered Kashmir, according to Reuters.
Pakistan to open airspace on Tuesday
In the meantime, Pakistan said it resumed flights at more airports on Monday, but it postponed until Tuesday the reopening of its airspace nationwide.
The closure of the airspace has left thousands of people stranded at the airports since last week.
Full report at:
https://www.presstv.com/Detail/2019/03/04/590117/India-Rafael-jet-Kashmir-tensions
--------
Pakistan
OIC has endorsed Pakistan's stance on Kashmir: Qureshi
Syed Irfan Raza
March 05, 2019
ISLAMABAD: Foreign Minister Shah Mehmood Qureshi has said that a resolution passed by the Organisation of Islamic Cooperation (OIC) in its recent meeting at Abu Dhabi has endorsed Pakistan's stance on Kashmir and caused humiliation to India.
Speaking in the National Assembly on Monday, the minister lauded the role of the opposition and the unity displayed in parliament and said Pakistan would oppose if any move was made to give OIC's permanent membership to India.
"The one who was invited [India's External Affairs Minister Sushma Swaraj] in the session could not get the objective we achieved without attending the event," he said.
Mr Qureshi said the OIC had endorsed Pakistan's stance about India's aggression and cruelty in occupied Kashmir and now people of India were questioning what Sushma Swaraj had attained in the OIC meeting.
He said New Delhi had been trying for a long time to get the OIC membership with the plea that a large number of Muslims were living in India, but the whole Muslim Ummah staged a protest against brutalities committed to the helpless Kashmiris who were fighting for their freedom for decades.
"Muslims are also living in Israel and Myanmar, but the OIC's permanent membership cannot be given to them," he added.
Khawaja Mohammad Asif of the Pakistan Muslim League-Nawaz (PML-N) told the assembly that it was because of Pakistan's decision to boycott the OIC meeting and the unity showed by the opposition and the government over the Indian attack in Balakot on Feb 26 the OIC passed the resolution that endorsed Pakistan's stance.
"The OIC resolution has further strengthened our position," he added.
Meanwhile, the opposition dema­nd­ed resignation of Minister for Water Resources Faisal Vawda for allegedly committing 'blasphemy' of Holy Prophet Muhammad (Peace Be Upon Him) by calling Prime Minister Imran Khan the 'biggest' personality on earth.
Members of religious parties and the PML-N wanted to table a resolution against Mr Vawda.
However, Pakistan Peoples Party (PPP) chairman Bilawal Bhutto-Zardari refused to sign the resolution, saying "he could not declare any Muslim a non-Muslim". Later, Deputy Speaker Qasim Khan Suri, who was presiding over the session, said if Mr Vawda was in the capital he should come to the assembly and clarify his position and if the minister was away he must turn up in the house on Tuesday.
He suspended the session for 20 minutes for Maghrib prayers. The house will meet again on Tuesday.
https://www.dawn.com/news/1467662
--------
Opposition boycotts PA session after govt refuses to make Naqvi PAC chief
Hasan Mansoor
March 05, 2019
KARACHI: Two minor parties in the opposition ranks on Monday openly announced that they were not part of the combined opposition in the Sindh Assembly, which boycotted the day's session after a minister declared that the government would not make the leader of the opposition head of the Public Accounts Committee (PAC).
After boycotting the session, members belonging to the Pakistan Tehreek-i-Insaf, Muttahida Qaumi Movement-Pakistan and Grand Democratic Alliance gathered on the stairs of the Old Sindh Assembly Building and staged a sit-in for a while. They chanted slogans against the government and the ruling Pakistan Peoples Party's leadership.
Everything was going smooth until the conclusion of the calling-attention notices' segment, when Leader of the Opposition Firdous Shamim Naqvi rose on a point of order, expressing his disappointment over the fact that despite a lapse of more than six months the house had failed to form the PAC and standing committees.
He referred to a recent statement of Chief Minister Syed Murad Ali Shah in which he had said his government would not offer the PAC chief slot to the opposition leader.
Mr Naqvi said the opposition would have been even stronger and offering a greater contribution to the democratic order had the PAC chief's slot been given to the opposition.
Referring to slain former prime minister Benazir Bhutto who had inked the Charter of Democracy with Pakistan Muslim League-Nawaz's leader Nawaz Sharif, he said that she had not just agreed in the CoD to hand over PAC slot to opposition in the National Assembly, but the same also applied to the federating units.
PTI, MQM-P, GDA boycott proceedings
He claimed that the joint opposition in the Sindh Assembly had decided that they would "for the time being" boycott the assembly's session if the government did not agree to allow the opposition to head the PAC.
Speaker Agha Siraj Durrani said it was not the proper manner to resolve an issue. Besides, the opposition could not get whatever it wanted by making demands.
"The assembly's rules say members on each of the house committees are to be elected and those members would then vote to decide who will head a committee," said the chair.
While the chair was trying to settle the matter, PTI's parliamentary party leader Haleem Adil Shaikh rose without the chair's consent and spoke angrily without a microphone. Subsequently, members belonging to the PTI stood and started thumping desks while the chair was in conversation.
Speaker Durrani asked the opposition parties to show, if any such rules existed in the Rules of Procedure of the provincial legislature, that made it mandatory that the PAC would be headed by the opposition.
Pointing at the opposition members who were shouting loudly, thumping desks and tearing up copies of the day's agenda, he said: "They shout and by this want to force me to do what pleases them, but I cannot be forced by anyone."
Local Government Minister Saeed Ghani said it was the PPP that pioneered a tradition to get the opposition's share in heading the committees since 2008.
"Our party started to accommodate the opposition by allowing its members to head committees in the house. We do it in accordance with the ratio and number of the opposition members in the house. At present, we decided to offer them to head 14 such committees. But their demands only grew when they asked us to give chairmanship of eight of those committees of their choice, which too we did agree to.
"But, then they said that their members should be more than the treasury members in those committees, which is not possible, because these committees are formed through elections; and since we have majority in the house, how can they [opposition] get majority on the committees," he said.
Mr Ghani said the treasury benches were not bound to agree to what the opposition wanted as it was not the right of the opposition. "We can agree on some matters; and we cannot agree on others."
While the minister was speaking, Mr Naqvi led the opposition members towards the speaker's rostrum where they chanted slogans against the government and tore copies of the order of the day.
Mohammad Qasim and Sarwat Fatima of the Tehreek-i-Labbaik Pakistan (TLP) and Abdul Rasheed of the Muttahida Majlis-i-Amal (MMA), however, conveniently sat on their seats.
The rest of the opposition members marched out of the house and gathered on the stairs of the assembly building.
Speaker Durrani said he had "guided" the leader of the opposition about the issues concerning the committees when the latter had come to him and got his meeting with the chief minister, yet, "his words are like no-confidence against me".
He said because of the situation in the country, the PPP had accorded unconditional support to the federal government and same should be applied everywhere.
Mr Ghani said again: "We will not give PAC to the opposition. First, they must sign on the Charter of Democracy and accept it in full, then we'll give the PAC to them. They boycott the session, we'll go to them to get them back to the house, but we'll not give them PAC; and we'll give them the 14 committees but not what they want."
TLP, MMA distance themselves from combined opposition
TLP's Mohammad Qasim condemned the major opposition parties in the house for ignoring the TLP and MMA in awarding chairmanship of committees.
He said his party was on the opposition benches but was not part of the combined opposition.
MMA's sole member, Abdul Rasheed, called the boycotting members as the "incomplete opposition" and condemned some opposition members for humiliating the smaller groups in the house.
"We are not part of the puppet show that they [main opposition parties] have created. We are the real opposition, which plays its constructive part and not just fights for petty interests."
"We have never been invited to attend meetings of the combined opposition," he said.
Full report at:
https://www.dawn.com/news/1467625/opposition-boycotts-pa-session-after-govt-refuses-to-make-naqvi-pac-chief
--------
Militant positions pounded after border attack
March 05, 2019
LANDI KOTAL: The Pakistani border security forces targeted militant positions with heavy artillery after a border post came under attack from across the Afghan border late on Monday.
Security officials said at least three hideouts of the suspected militants were damaged in the retaliatory fire from the border security guards.
They said some militants were also killed in the retaliatory fire.
The officials said suspected militants targeted a border post from Rainai area of Afghanistan situated across the Kabul River near the Pakistani border town of Loe Shalman.
Full report at:
https://www.dawn.com/news/1467683/militant-positions-pounded-after-border-attack
--------
Over 90 Sikh pilgrims reach Pakistan to attend religious ceremonies
March 5, 2019
LAHORE: A group of around 96 Sikh pilgrims reached Pakistan via Wagah border to attend their religious ceremonies.
As per details, Sikh pilgrims hailing from Canada, US and England reached Lahore from New Dehli on Monday.
The pilgrims asserted that they are not frightened at all after coming to Pakistan in the wake of recent Pak-India escalation. "We feel like we have come to our second home," pilgrims said after arriving in Lahore.
After visiting their religious places in Lahore, the group of pilgrims will depart for Nankana Sahib.
The visit will be concluded after five days, after which the Sikh pilgrims will leave for India via Wagha border.
Moreover, the government of Pakistan has also accorded approval to Sikh pilgrims from India for their visit to the country and approved the schedule of Baisakhi festival 2019 due in April.
According to Evacuee Trust Property Board (ETPB), Pakistan will issue visas to 3,000 Indian Yatris for pilgrimage for 10 days. Prime Minister Imran Khan has issued special directives for the arrangements of Baisakhi Festival.
It is worth mentioning that recently a US-based Sikh advocacy group denounced India's violations of Pakistani airspace and assured Pakistan of full support against Indian aggression.
Full report at:
https://www.pakistantoday.com.pk/2019/03/05/over-90-sikh-pilgrims-reach-pakistan-to-attend-religious-ceremonies/
--------
Pakistani Ajmer pilgrims refused visa by Indian authorities
March 5, 2019
Minister for religious affairs said on Monday that India had refused to grant visas to Pakistani pilgrims intending to attend the Urs of Sufi saint Khawaja Moinuddin Chishti at Dargah Ajmer Sharif in Rajasthan.
In a statement, Pir Noorul Haq Qadri said five hundred Pakistani devotees were to leave for the neighbouring country on March 7, Radio Pakistan reported.
The statement comes between rising tensions between the two nuclear-arch rivals following the Pulwama attack, breach of Pakistani airspace by the Indian Air Force (IAF) and Pakistan Air Force's (PAF) subsequent capturing of an Indian pilot.
Qadri said the ministry had informed the devotees via SMS after it received information of the cancellation of visas from the Indian embassy. "The embassy is yet to return their passports," he added.
The religious minister argued that the step was a manifestation of the extremist face of India, which had become a hostage in the hands of radicals.
Despite New Delhi's warmongering, Islamabad on February 25 approved ten-day visit visas for around 3,000 Sikh pilgrims who wished to take part in the Vaisakhi Mela.
Full report at:
https://www.pakistantoday.com.pk/2019/03/04/pakistani-ajmer-pilgrims-refused-visa-by-indian-authorities/
--------
Europe
UN experts concerned about Saudi 'anti-terror' laws
Mar 5, 2019
The United Nations human rights experts have voiced alarm at Saudi Arabia's application of its so-called anti-terrorism laws to target activists.
The experts raised the warning during a panel event titled "Saudi Arabia - Time for Accountability," held on the sidelines of a UN Human Rights Council gathering in Geneva on Monday, Reuters reported.
They said those being targeted with the laws -- which the kingdom has redefined, notably expanding the remit of its security forces and judicial system -- included woman. The practice by the kingdom violated the international law guaranteeing freedom of speech, they added.
The kingdom has attracted international opprobrium for its intolerance of dissent. It has nabbed, detained, and reportedly tortured hundreds of dissenters, including civil rights activists, religious rights defenders, and dissident clerics.
Last year, it famously apprehended and incarcerated prominent female activists campaigning in favor of the Saudi women's right to drive.
The Saudi counter-terrorism law and other regulations are "unacceptably wide and unacceptably vague," Fionnuala Ni Aolain, UN special rapporteur on protecting human rights while countering terrorism, told the event.
"It includes people who are engaged in promoting or inciting sit-ins, protests, meetings or group statements. Anyone who harms the unity or stability of the kingdom by any means. These are notoriously slippery terms," she said.
"These laws are used to directly attack and limit the rights of prominent human rights defenders, religious figures, writers, journalists, academics, civil activists, and all of these groups have been targeted by this law," Ni Aolain said.
"Worrisome for me is the targeting of women human rights defenders," said Michel Forst, UN special rapporteur on the situation of human rights defenders.
These concerned not just women involved in the right to drive movement, "but also all kinds of women," "All arrests involved incommunicado detention at undisclosed locations," he added.
Zaynab al-Khawaja of the Beirut-based Persian Gulf Center for Human Rights independent charity, meanwhile, verified reports of the Saudi authorities' use of torture against detained activists.
"We highlight some of the torture methods that are being used in Saudi Arabia - electrocution, flogging, sometimes whipping, on the thighs for example, sexual assault where some women human rights defenders have been stripped, have been groped, have been photographed naked, some while handcuffed, and others while blindfolded," she said.
https://www.presstv.com/Detail/2019/03/05/590176/Saudi-Arabia-antiterror-laws-human-rights-activists-United-Nations-experts-warning
--------
New Zealand says ISIS recruit to remain citizen, may face charges
4 March 2019
A New Zealand man detained in Syria after joining ISIS will not be stripped of citizenship but could face criminal charges if he returns, Prime Minister Jacinda Ardern said on Monday.
New Zealand is the latest of a number of countries, from Australia and Britain to the United States, forced to grapple with legal and security challenges in dealing with former members of a hardline group that had sworn to destroy the West.
Mark Taylor, who travelled to Syria in 2014, told Australian broadcaster ABC from a prison in the Kurdish-run north that he expected to face time in prison if he returned to New Zealand.
Taylor's joining the group was illegal and could have legal ramifications, Ardern said, but added that her government would provide him with a travel document to return, if possible.
"We have long had plans in place in the event that a New Zealand citizen supporting ISIS in Syria were to return," Ardern told reporters.
"Mr. Taylor only holds New Zealand citizenship and the government has an obligation not to make people stateless."
Ardern said officials had identified that a small number of New Zealanders had joined ISIS, but declined to give an exact number.
New Zealand law allows revocation of citizenship only in limited situations, Ardern said, adding that the government could not render stateless anyone who did not have dual citizenship.
Officials had told Taylor he would need to travel to a country where New Zealand has a diplomatic presence, such as Turkey, to receive an emergency travel document to return, said Ardern, adding that would be difficult as he is in detention.
In an interview aired on Monday, Taylor told the ABC that he had worked as a guard for the group for five years and had been detained in its prisons a number of times, such as after he accidentally leaked location details in a tweet in 2015.
He also appeared in an ISIS promotional video that year, calling for attacks on ANZAC Day celebrations in Australia and New Zealand.
Taylor told ABC he had witnessed executions while with the group and was sorry.
"I don't know if I can go back to New Zealand, but at the end of the day it's really something I have to live with for the rest of my life," he said.
Full report at:
https://english.alarabiya.net/en/News/world/2019/03/04/New-Zealand-says-ISIS-recruit-to-remain-citizen-may-face-charges-.html
--------
Muslim parents withdraw kids from UK school over 'homosexuality' project
Mar 4, 2019
British Muslim parents have withdrawn their primary-level children from a Birmingham school en masse, protesting the school authorities' forcible "promotion of homosexuality."
The parents took their 600 primary pupils from Parkfield Community School after their weekly protests failed to persuade the authorities to pull a program featuring lessons about homosexuality, Daily Mail reported on Monday.
The mass exodus has drained the school of 80 percent of its students.
'Brainwashing'
The parents said the school was "brainwashing" their kids about gay rights through the "No Outsiders" program, the paper wrote.
The Alum Community Rock Forum, which gathers members of the local community in Birmingham's Alum Rock suburb, protested that the school was "undermining parental rights and aggressively promoting homosexuality."
"Dialog, petitioning, and protests by parents have been repeated and arrogantly ignored," the forum said, adding, "Our children, our choice - work with parents not against them."
The school was the first place in the country where the program was launched in 2014 to teach children about the Equality Act. The act also covers such areas as age, disability, marriage, pregnancy or maternity, race, and religion or belief.
Mariam Ahmed, whose four-year-old daughter attends the school, organized a petition against the project.
She said, "What they are teaching is not right, they are too young. There are nine parts of the Act and they only seem to be focusing on one, homosexuality, and that is wrong. They need to have an ethos which reflects the area."
Muslims across the UK have, time and again, risen in protest against measures infringing on their religious and ideological freedoms.
Late last year, the Muslim Council of Britain said it was campaigning along other groups to persuade Prime Minister Theresa May, who lead the ruling Conservative Party, as well as leader of the opposition Labour Party Jeremy Corbyn, to adopt a working definition of Islamophobia.
Hate attacks against Muslims have also been on rise since a series of terror attacks by Daesh sympathizers across the UK in 2017. Islamic communities in the UK have always condemned such acts of terror.
Full report at:
https://www.presstv.com/Detail/2019/03/04/590112/UK-Muslims-homosexuality-school-parents-children-Birmingham
--------
EU extends sanctions against Assad regime
04.03.2019
The EU on Monday added seven ministers to a list of sanctions as part of restrictive measures against Bashar al-Assad regime in Syrian and its supporters.
The European Commission said the sanctions list now includes 277 people and 72 entities that are targeted by a travel ban and an asset freeze.
The sanctions currently in place against the Assad regime include an oil embargo, restrictions on certain investments, a freeze of the assets of the Syrian central bank in the EU, and export restrictions on equipment and technology that might be used for internal repression.
Full report at:
https://www.aa.com.tr/en/europe/eu-extends-sanctions-against-assad-regime/1409006
--------
Is Islam a threat to British values? Hundreds of people to hear London Muslim Caliph's call to peace
March 4, 2019
Hundreds of people including high profile lawmakers, diplomats, religious leaders and foreign representatives will hear a global Muslim leader's message on curbing the rising racial and religious intolerance in the world.
The event, hosted by the Ahmadiyya Muslim Community, is to be held at the largest Mosque in Britain, Baitul Futuh, London, on Saturday 9th March 2019, where more than 800 guests will attend the unique event from over 20 countries.
Islamophobia in the UK is at record highs and one in three Britons are reported to feel Islam is incompatible with British way of life, according to a survey by Hope Not Hate.
The keynote speaker and worldwide head and Caliph of the Ahmadiyya Muslim Community, His Holiness Hazrat Mirza Masroor Ahmad, will explain how authentic Islamic teachings can help defeat the scourge of religious intolerance, terrorism and extremism.
With a potentially disastrous Brexit also looming and xenophobic tensions flaring, the Caliph, who has previously spoken at the House of Commons, Capitol Hill, the EU Parliament and other international forums, will speak on the critical need for peace by reference to Islam's position on current issues.
Other speakers, which will include politicians and faith leaders, are expected to outline steps to mitigate and prevent the rise of extremism, racism, and inequality in the world.
A 'peace prize' of a certificate and £10,000 will also be presented by the Caliph to Dr Fred Mednick, the founder of 'Teachers Without Borders' for efforts to advance education in the world.
Explaining the fear that exists in the West regarding Islam, Hazrat Mirza Masroor Ahmad recently said: "Many local people are afraid that their societies are changing beyond comprehension and they feel that their nation's resources are being disproportionately utilised in favour of immigrants. Whilst the term 'immigrant' is used, the real issue for most people is 'Islam' and the fact that the vast majority of immigrants to Europe are Muslims fleeing from war-torn countries in the Middle East."
Allaying the fears surrounding Islam, Hazrat Mirza Masroor Ahmad said: "Islam condemns in the strongest possible terms any attempts to violate freedom of belief and freedom of conscience. Under no circumstances does Islam permit coercion or force in the matter of religion. Rather, Islam teaches that religion is a matter of the heart. Thus, I firmly believe that the widespread and common perceptions of Islam amongst non-Muslims, are actually misconceptions."
Full report at:
https://www.thelondoneconomic.com/news/is-islam-a-threat-to-british-values-hundreds-of-people-to-hear-london-muslim-caliphs-call-to-peace/04/03/
--------
Germany to target dual nationals to address ISIS threat
Federica Marsi
March 4, 2019
Germany's government has become the latest in Europe to exploit a provision in a 1961 UN convention to strip its ISIS suspects of their citizenship where rights to a second nationality are established.
European countries are increasingly toughening administrative measures to prevent the return of an estimated 800 ISIS-affiliated nationals currently detained in Syria, amid concerns that these legal initiatives may be making and bending international rules.
Following a dispute between conservative Interior Minister Horst Seehofer and SPD Justice Minister Katarina Barley, a compromise measure allows for German citizenship to be revoked if the individual is an adult who is in possess of a second citizenship and has taken up arms with the Islamic State but only after the new rules go into effect.
The measure expands the current legislation to include affiliation to terrorist groups abroad as grounds for the withdrawal of citizenship, but cannot be retroactively applied to those German nationals who fled to Syria and Iraq. It is estimated that around one third of the 1,000 German fighters who travelled to the Middle East since 2013 may now be holed up in ISIS last stronghold in Baghouz or held in refugee camps in northern Syria.
In a statement on Sunday, the German interior ministry said it would only take back fighters if the suspects have consular access. As the German government cannot guarantee legal and consular services for jailed German citizens in the Middle East, it is unlikely this concession will lead to any repatriations.
Until now, German law did not allow for the deprivation of citizenship of German "foreign fighters". But recent discussions on the fate of ISIS fighters and their families have prompted states to strengthen their legal armour.
Britain stripped Shamima Begum, a 19-year-old mother who left the country at the age of 15, of her citizenship. The decision was pushed forward on the grounds that she would be entitled to claim citizenship in Bangladesh, where her parents are originally from, but the South Asian state had said it would reject her application.
Ms Begum's family has appealed the decision on the basis it violates under the 1961 UN Convention on the Reduction of Statelessness.
The legal basis upon which citizenship can be withdrawn varies significantly across Europe. While in Belgium, Denmark, and France criminal conviction is an essential prerequisite, the Netherlands and the United Kingdom do not impose such preconditions.
Legally, the Belgian, Danish, and French authorities would first have to conduct a criminal investigation and successfully prosecute the suspect in absentia if they wish to prevent them from returning. Practically, however, their evacuation from Syria would necessarily require the respective government's cooperation.
So far, governments' willingness to cooperate has been confined to the children of ISIS fighters. Belgium is currently establishing a legal basis that would enable it to bring back children below 10 years of age but not their mothers.
On Thursday last week, a Belgian court overturned an initial ruling that has made the repatriation of six children from Syria conditional to the repatriation of their two ISIS-affiliated Belgian mothers.
The justice ministry has since vowed to bring back all children under 10 years old, and deal with older children on a case-by-case basis, while leaving the mothers behind.
"The Belgian government will continue to work … to bring children under the age of 10 back to Belgium. Children must not be punished for the deeds of their parents," Justice minister Koen Geens said.
Benoit Van Keirsbilck, director of the Belgian NGO Défense des Enfants, told The National that civil society and the Children's Ombudsman are firmly opposed to this decision.
"The State has to do everything possible to ensure the repatriation of all Belgian children and their families that are in conflict zones," he said, citing a joint statement.
The decision to "discriminate on the base of age" is also disputed.
While a few hundred EU nationals may still be scattered across Syria, the vast majority of Europe's returnees has already found a way back. One first wave took place between 2013 and 2014 – prior to the June 2014 declaration of a 'caliphate' by ISIS militants – while a second one kicked off in early 2015.
Belgian authorities estimated 125 Belgian citizens returned between 2013 and 2015, out of the 498 it had identified. Approximately 300 of Germany's estimated 960 foreign fighters were thought to have returned by January 2018.
Full report at:
https://www.thenational.ae/world/europe/germany-to-target-dual-nationals-to-address-isis-threat-1.833112
--------
Southeast Asia
IGP: Four more individuals probed over anti-Islam posting on social media
05 March 2019
By Kenneth Tee
KUALA LUMPUR, March 5 — The police today said it has taken further action against four more individuals who have been accused of insulting Islam as well as Prophet Muhammad via social media.
Inspector-General of Police Tan Sri Mohamad Fuzi Harun said the first arrest involved postings by a 29-year-old identified as Mohd Sharulnizam Stanley Sigan who went by the name of 'Bakakuk' on Facebook after 15 police reports were lodged against him.
"The suspect was arrested in Labuan on March 3 and has been remanded for four days until March 7," he said in a statement today.
Mohamad Fuzi said another suspect, 22-year-old Alister Cogia was also subsequently detained in Bau, Sarawak on March 4 after comments insulting Prophet Muhammad and Islam were made under the suspect's account, 'Ayea Yea'.
"As of March 5, 10 police reports have been lodged against Alister and the suspect will be remanded until March 7," he said.
He said police would be applying for a remand today for another suspect named Mohd Yazid Abdullah that went by the name 'Yazid Kong' on Facebook after the 52-year-old was picked up by police in Petaling Jaya, Selangor yesterday.
Meanwhile police are currently tracking down another suspect identified as 43-year-old Alvin Chow Mun Fai who was currently believed to be in Kuala Lumpur after the suspect made inconsiderate comments against Prophet Muhammad through his Twitter account.
All four cases are being probed under the Penal Code and the Communications and Multimedia Act 1998.
The top cop said the authorities would not hesitate to take stern action against those who refused to oblige by misusing social media or communication networks to upload provocative remarks.
"The police would like to urge the public to be wary of making false and malicious statements online as such acts may jeopardise public order and affect the country's national unity," he said.
https://www.malaymail.com/news/malaysia/2019/03/05/igp-four-more-individuals-probed-over-anti-islam-posting-on-social-media/1729164
--------
BN still needs support from non-Malays, non-Muslims, Umno veep insists
04 March 2019
By Azril Annuar
KUALA LUMPUR, March 4 — Umno vice-president Datuk Seri Mohamed Khaled Nordin has clarified his statement on the Semenyih by-election result, insisting that Barisan Nasional (BN) still requires the support of the non-Malay and non-Muslim community.
He explained that he was only speaking in the context of the by-election when he said the Malay-Muslim community had sent a strong message to the Pakatan Harapan (PH) administration over its disappointment on how the nation was being managed.
"Despite BN not obtaining the support of the Chinese and only 40 per cent votes from the Indian community, the Malay-Muslim community has sent a clear signal to PH voicing their disappointment by voting the BN candidate.
"This momentum will continue if they remain united with a goal and clear mission to defend their race and religion. At the same time I've sternly said that we must be serious in returning the support of the Chinese and Indian voters to BN because each vote is important," said Mohamed Khaled in a statement.
He stressed that he had never said BN does not need the support of ethnic Chinese and Indian voters in any election and that the coalition requires the support of everyone to create a successful Malaysia.
Previously, the Umno vice-president said the result of the election, which saw an increase of Malay voter support for BN to 59 per cent yesterday from 35.33 per cent in the 14th general election, clearly shows who the Malays are backing now.
In the first statement yesterday, Mohamed Khaled also observed that BN does not need the support of the non-Malays in order to secure victory there as long as it has the backing from the Malay community and added that the community has shown how disappointed it was with PH.
"Semenyih bore witness to the rise of Malay political influence which is increasingly being marginalised in PH's strategy. The Malays have sent a clear message that without the support of the Indians and Chinese, the Malays can achieve victory as long as they are united.
"It is important that all parties do not take Malay Islamic politics for granted.
Full report at:
https://www.malaymail.com/news/malaysia/2019/03/04/bn-still-needs-support-from-non-malays-non-muslims-umno-veep-insists/1728972
--------
Two of three founding members of Barisan Nasional say they are 'moving on' from Umno
MAR 4, 2019
KUALA LUMPUR - Two of the three founding member parties of Malaysia's former ruling coalition Barisan Nasional (BN) said they are looking at forming a new alliance and are "moving on" from Umno.
Leaders of the Malaysian Chinese Association (MCA) and the Malaysian Indian Congress (MIC) said after a meeting on Monday (March 4) that they were left with no choice but to move on after recent "racial" remarks by an Umno leader, The Star newspaper reported.
MCA president Wee Ka Siong and MIC president S. A. Vigneswaran said in a joint statement that the MCA, on Dec 2 at its annual general assembly, had resolved to push for the dissolution of BN and forge a new alliance.
"We urged the Barisan supreme council to hold a meeting immediately to decide on the fate of the coalition," said the two leaders.
The United Malays National Organisation (Umno), MCA and MIC formed Parti Perikatan or Alliance Party in 1957.
In 1973, this morphed into BN, which had 13 member parties at its height.
Perikatan, and later BN, ruled Malaysia from independence, for 61 years, until last May when it was toppled from power by the Pakatan Harapan alliance.
BN today is left with only the three original founding members after 10 other component parties defected.
The alliance is wracked with tensions over its direction.
Umno leaders are keen to work closely with fellow Malay Muslim opposition Parti Islam SeMalaysia (PAS).
But PAS' vision to turn Malaysia into a strict Islamic state have alienated the MCA and MIC, which protect the rights of ethnic Chinese and Indian minorities, respectively.
The victory of the loose Umno-PAS alliance in two recent by-elections - in Cameron Highlands, Pahang, and Semenyih, Selangor - have made the bond between these parties stronger.
Furthermore, leaders of the MCA and MIC said recent "racial" comments by senior Umno leader Nazri Aziz, who is also secretary-general of BN, have further damaged ties within BN.
During the Semenyih by-election campaign, Datuk Seri Nazri said non-Malays should not question Malay privileges, as the non-Malays also enjoyed special privileges such as vernacular schools.
Mr Nazri also questioned the appointments of non-Malays as the PH government's Attorney-General, Chief Justice and Finance Minister, adding that Malay rights should be defended at all costs, local media reported.
Mr Nazri, asked about the MCA and MIC announcement on Monday, told The Star: "They are free to find new alliances and move on with the other parties that have left Barisan after the 14th General Election. "I do not think it is a loss."
Umno has 38 MPs in the federal Parliament, according to the institution's website. The MCA and MIC each has one seat.
But there is a twist in the BN infighting - instead of leaving BN, the MCA and MIC are plotting to sack Umno from the coalition.
Full report at:
https://www.straitstimes.com/asia/se-asia/two-of-three-founding-members-of-barisan-nasional-says-moving-on-from-umno
--------
Jokowi Wants Indonesians to Wear Sarong at Least Once a Month
MARCH 05, 2019
Jakarta. Fancy wearing sarong going to the office this year?
President Joko "Jokowi" Widodo thinks you should and now he wants Indonesians to wear the traditional unisex tubular skirt at least once a month.
Since 2010 the Indonesian government has already required staff in government offices to wear some form of batik, helping to make the ornately printed cloth cool again.
Jokowi said the sarong is a significant element of Indonesian culture and that wearing it will be a sign of appreciation for sarong craftsmen. He hopes soon Indonesians will wear sarong on a specific date every month.
"This [sarong] is a cultural heritage that no other country has. Let's wear sarong on a specific date every month," Jokowi said at the 2019 Indonesian Sarong Festival on Sunday.
The festival was held at the Gelora Bung Karno sports complex in Senayan, South Jakarta. The president was accompanied by his wife Iriana and a number of ministers from his cabinet. He was wearing a sarong from the Donggala region of Central Sulawesi along with his signature white long-sleeve shirt.
Almost all Indonesian ethnic groups have their own version of the sarong, decorated in colorful geometric or animal and plant patterns.
However, since the introduction of fast fashion, Indonesians rarely wear sarong as everyday wear.
Fancy sarong is reserved for traditional ceremonies or special occasions like wedding, while cheap sarongs are often worn as pajamas.
The sarong is also the traditional attire of santri, students at Islamic boarding schools or pesantren.
Ma'ruf Amin, a kyai (senior santri) and Jokowi's running mate in April's presidential election, is rarely seen without his sarong.
The controversial Muslim cleric is famous for matching up his sarong with a blazer, a scarf and a peci, the traditional black velvet cap commonly worn by Muslim men.
On a visit to a pesantren in Bandung earlier this year, Ma'ruf promised to continue wearing the sarong if he becomes vice president.
Leading up to the presidential election, both Jokowi and Ma'ruf and their rivals Prabowo Subianto and Sandiaga Uno have been trying to woo Muslim voters, especially the santri, who make up a significant percentage of Muslim youths.
Jokowi's administration has already implemented an entrepreneurial training program for santri in 16 pesantrens throughout Indonesia.
Not wanting to be outdone, Sandiaga last year stated that if he and Prabowo win the election, they will develop a program to support the creation of more santripreneurs, or santri enterpreneurs.
Full report at:
https://jakartaglobe.id/context/jokowi-wants-indonesians-to-wear-sarong-at-least-once-a-month
--------
North America
Trump directs US to end preferential trade status for India, Turkey
Mar 5, 2019
United States President Donald Trump has decided to scrap preferential treatment programs for India and Turkey.
The US "intends to terminate India's and Turkey's designations as beneficiary developing countries under the Generalized System of Preferences (GSP) program because they no longer comply with the statutory eligibility criteria," the US Trade Representative's Office (USTR) said in statement on Monday.
The GSP program allows "certain products" to enter the US without facing any tariffs, given that countries meet eligibility criteria such as "providing the US with equitable and reasonable market access."
Established in 1974 and having covered 120 countries, the GSP is the largest and oldest US trade preference program.
The Monday statement claimed India had failed to provide guarantees that it would allow the amount of market access required for by the program. The USTR also claimed that the country had "implemented a wide array of trade barriers that create serious negative effects on US commerce."
India is known to be the world's main GSP program beneficiary. Ending the program for the country may be the strongest punitive action taken against Delhi during Trump's presidency.
Regarding Turkey, the statement claimed that the country had "graduated" from the program, describing that Ankara had become "sufficiently economically developed" and that it no longer qualified for the treatment.
Back in August, the USTR said that it was reviewing Turkey's eligibility for the program due to the country's imposed retaliatory tariffs on US goods in response to American steel and aluminum tariffs.
The new policy will be enacted by a presidential proclamation and will take effect after at least 60 days following the notification of the US Congress and the Turkish and Indian governments.
https://www.presstv.com/Detail/2019/03/05/590183/US-to-end-preferential-trade-status
--------
Closure of American consulate in Jerusalem rapped as 'political assault'
March 04, 2019
AMMAN: The controversial closure of the US diplomatic mission which has served Jerusalem for more than 175 years was on Monday branded a "political assault" on the Palestinian people.
US Ambassador to Israel David Friedman officially shuttered the consulate by thanking its Consul General Karen Sasahara for her "service and professionalism" and wishing her well representing America in her next posting.
"This decision was driven by our global efforts to increase the efficiency and effectiveness of our diplomatic engagements and operations," a US State Department spokesman said in a statement.
The three-story Jerusalem mansion, with its arched windows and bougainvillea-covered walls, was where the unofficial US envoy to the Palestinians lived and hosted Palestinian guests for Fourth of July parties.
The estate will now become the domain of the US ambassador to Israel, a move which has been criticized in many quarters.
Hanna Issa, secretary-general of the Islamic-Christian Commission to Support Jerusalem and the Holy Sites, told Arab News that the lowering of American diplomatic representation to Palestine was a continuation of discriminatory US policy.
"The attempts to merge the US consulate with the embassy is a contradiction of international law and specifically UN Security Council resolution 478 (one of several UN resolutions condemning Israel's attempted annexation of East Jerusalem) of 1980," said Issa.
Issa said the real purpose behind the US decision was to obliterate the idea of a Palestinian state alongside Israel.
In a statement issued on behalf of the Palestine Liberation Organization (PLO), executive committee member Hanan Ashrawi said that the merging of the consulate with the embassy "is not an administrative decision. It is an act of political assault on Palestinian rights and identity, and a negation of the consulate's historic status and function, dating back nearly 200 years."
Speaking to National Public Radio former US diplomat Ed Abington, who served in Jerusalem, noted that historically the position of Washington had been that the embassy in Tel Aviv and the consulate in Jerusalem "should not be merged."
Abington said that "the effect on our ability to deal with the Palestinians is being greatly damaged."
Jerusalem-based Israeli lawyer Daniel Seidemann told Arab News that the closure of the consulate was no mere merger.
"The consulate will not merge, but it will be subsumed into the embassy to Israel," Seidemann said. "This is no mere technicality, it precisely reflects current US policies: All things Palestinian are subservient to Israeli interests."
The US decision has been met with a storm of opposition from a wide spectrum of American diplomats.
Former US Under Secretary of State Nicholas Burns called it "a mistake," and said that all US presidents prior to Donald Trump had "understood its importance as our bridge to the Palestinian people. I was proud to serve there in the 1980s."
Dennis Ross, chief US negotiator with both Republican and Democratic administrations, criticized the move as "unfortunate" noting that the Palestinian public would read it "as a sign of indifference to them."
Ross said that the US administration needed to take steps "to reach out to Palestinians if it is to have any hope for its plan."
Hady Amr, a US researcher who worked in the Jerusalem consulate, said in a personal tweet that he was pained by the decision. "My heart is heavy. America should be playing the taps. A place I was honored to work out of during many trips in support of Secretary John Kerry (former US Secretary of State)."
Amr and security expert Ilan Goldenberg prepared a study for the Washington-based research group Brookings Institution which concluded that "merging units sounds efficient. But this merger does major harm to the US ability to act as a mediator in the conflict and serves as a severe blow to the prospects of Israeli-Palestinian peace through a two-state solution."
Jake Walles, a former consul general in Jerusalem, called the closure "a sad end to an important US diplomatic mission."
Israeli journalist Noa Landau tweeted that shutting the US consulate would have a negative effect on reporting about Jewish settlements.
"Reports about construction in new settlements will now be overseen by Ambassador Friedman, a longtime supporter of the settlement enterprise."
US President John Tyler was the first consul general in Jerusalem in 1844.
The first physical presence of a US mission there was inside Jaffa Gate in the old city of Jerusalem, a building that is now being used for Christian Swedes.
The mission then moved to Prophet Street outside the old city, and in 1912 it was moved to its current location on 18 Agron Street in a building that was established in 1868 by the German Lutheran missionary Ferdinand Vester, whose family would later build what became the American Colony.
Full report at:
http://www.arabnews.com/node/1461416/middle-east
--------
Democrats respond to Omar by drafting anti-Semitism resolution
March 05, 2019
WASHINGTON: Leading House Democrats will offer a resolution Wednesday condemning anti-Semitism in response to Rep. Ilhan Omar's latest remarks on Israel, a senior Democratic aide said.
The declaration, written by Speaker Nancy Pelosi and other Democrats, comes after Omar's new remarks suggesting American supporters of Israel are pushing people to have "allegiance to a foreign country." It's at least the third time the Minnesota Democrat's words have put her colleagues in a more delicate spot than usual on the US-Israel relationship, and the second time in two months that she's drawn a stern backlash from party leaders.
A draft of the resolution does not rebuke Omar, a Somali-American and one of two Muslim women in Congress. But it sets out the history of anti-Semitism and bigotry in America, including anti-Jewish tropes about divided loyalties. The document also rejects bigotry directed against Muslims after the Sept. 11, 2001, attacks.
It says the House "rejects anti-Semitism as hateful expressions of intolerance that are contradictory to the values that define the people of the United States."
The document is the written embodiment of the bind in which Omar has repeatedly put Democrats who have celebrated her election as part of the history-making class that helped flip control of the House in the November elections. The March edition of Rolling Stone magazine is covered by a photo of Pelosi and the next generation of House women, including Omar.
Omar didn't start the internal Democratic chafing over Israel, and she's not unfamiliar with bigotry. The FBI and other law enforcement agencies are looking into a report of a threatening graffiti message directed at her. She also was the target of an anti-Muslim poster that appeared last week at the West Virginia Capitol in Charleston, with her picture over an image of the World Trade Center's burning towers.
Omar says she's questioning the US relationship with Israel and the influence game in Washington.
Still, senior Democrats were unmistakably wary of dealing with Omar's habit of inflaming a divide in the party over US-Israel relations. Some demanded a retraction and apology from Omar, with one House chairman saying she invoked a "vile, anti-Semitic slur" and another congressional veteran tweeting that Omar "continues to mischaracterize support for Israel."
"I should not be expected to have allegiance/pledge support to a foreign country in order to serve my country in Congress or serve on committee," Omar tweeted back.
Last month, Omar ignited a bipartisan uproar in Washington and Minnesota when she suggested on Twitter that members of Congress are paid by the American Israel Public Affairs Committee to support Israel. AIPAC is a nonprofit organization that works to influence US policy.
Many Jewish leaders denounced her remarks as reviving old stereotypes about Jews, money and power. She soon apologized and said, "Anti-Semitism is real and I am grateful for Jewish allies and colleagues who are educating me on the painful history of anti-Semitic tropes."
Many progressive Jews rushed to her defense, however, saying it's not inherently anti-Semitic to criticize Israeli government policies or AIPAC. Omar's spokesman, Jeremy Slevin, said she is not criticizing American Jews or their faith, only offering a "fair critique" of Israel's powerful lobby.
That episode came after Omar apologized for a 2012 tweet in which she said, "Israel has hypnotized the world."
Some have suggested that Omar be stripped of her seat on the House Foreign Affairs Committee, a move Pelosi and Chairman Eliot Engel, D-N.Y. have so far resisted. But Engel's statement on Friday mentioned his panel and conduct becoming a member of the House.
"It's unacceptable and deeply offensive to call into question the loyalty of fellow American citizens because of their political views, including support for the US-Israel relationship," Engel said in a statement that also suggested she apologize.
Unlike the previous two incidents, Omar did not apologize this time.
Full report at:
http://www.arabnews.com/node/1461581/world
--------
US State Department downgrades Palestinian mission and merges it with Israel embassy
March 4, 2019
The United States downgraded its mission to the Palestinian people and merged it with its Israeli embassy on Monday.
A US State Department statement says the move will improve the efficiency of American diplomatic operations, but Palestinian officials say it will harm Washington's relationships in the region.
Both the missions and teams of US Consulate General in Jerusalem and the US Embassy in Jerusalem – which moved from Tel Aviv last year, leading to international criticism and protests across Palestine – will be merged, leaving US Ambassador to Israel David Friedman in charge of missions to both countries.
The United States diplomatic office for Palestine will now be the US Embassy Palestinian Affairs Unit, not a consulate as it was.
US Secretary of State Mike Pompeo said the move first announced in October will not constitute a change in policy and is intended to improve "efficiency and effectiveness".
"The Administration remains fully committed to efforts to achieve a lasting and comprehensive peace that offers a brighter future to Israel and the Palestinians," the State Department statement said, adding that the move does not represent a change in United States policy on Middle East peace.
The move comes amid a trend of defunding, delegitimising and disengaging with Palestinians by the Trump administration.
"The Trump administration is intent on leaving no room for doubt about its hostility towards the Palestinian people and their inalienable rights as well as its abject disregard for international law and its obligations under the law," senior Palestinian official Hanan Ashrawi said in a statement.
Under President Donald Trump, the United States has cut more than $500 million in Palestinian aid, moved the US embassy in Israel to Jerusalem, closed the Palestinian mission in Washington and now downgraded their Palestinian mission.
Full report at:
https://www.thenational.ae/world/mena/us-state-department-downgrades-palestinian-mission-and-merges-it-with-israel-embassy-1.832792
--------
South Asia
US tries to safeguard Afghan peace push from India-Pakistan escalation
MARCH 4, 2019
WASHINGTON: The United States is trying to prevent simmering tensions between India and Pakistan from impacting a third country: Afghanistan, where a fragile peace push is underway to try to end more than 17 years of war with Taliban insurgents.
US President Donald Trump's administration has been publicly focused on lowering tensions between the nuclear-armed rivals since Feb 14 suicide car bombing in Indian-held Kashmir.
Senior US officials say as the United States spoke with senior Pakistani officials, emphasizing the need to lower the risk of conflict with India, Islamabad privately offered warnings on Afghanistan. Pakistani officials said their ability to support Afghan peace talks could be in jeopardy in the event of a full-blown crisis, US officials said, speaking on condition of anonymity. "They'll stop being a facilitator, they will stop the pressure they are applying on the Taliban," one U.S. official said, recounting Pakistani warnings conveyed to Washington.
Pakistan has publicly denied any role in the suicide bombing. But the Jaish-e-Mohammad (JeM) militant group claimed responsibility for it, and India has long accused Islamabad of supporting them.
The United States has likewise accused Pakistan of ties to Taliban militants who are fighting in neighboring Afghanistan against American and US-backed Afghan government forces. However, the US officials have recently seen a positive shift in Pakistan's behaviour.
Pakistan, long at odds with the United States over the war in Afghanistan, has played a behind-the-scenes role in supporting US peace talks with the Afghan Taliban, including by facilitating travel to negotiations.
Current and former US officials caution that Islamabad could again choose to act as a spoiler. "I don't believe that Pakistan has the capability to straight out make peace happen in Afghanistan, but they definitely have the capability to make peace not (happen)," said Laurel Miller, a former senior State Department official.
In the past several days, India and Pakistan have appeared to dial down hostilities that brought the arch enemies to the brink of another war. But it's unclear whether the calm will hold.
A Pakistani official in Washington, speaking on the condition of anonymity, cautioned that unless the tensions are reduced, there is a 'very strong likelihood' that Pakistani troops will be moved from the border with Afghanistan to reinforce positions near India.
Pakistan's UN Ambassador Maleeha Lodhi said Islamabad's focus could completely shift to its eastern border with India. "If the crisis with India continues, Pakistan will be obliged to keep our entire focus on our Eastern border. That may affect our efforts on our Western front," Lodhi said.
The Pakistani official in Washington said Pakistan had not been focused on Afghanistan since tensions with India increased last month, and it would have implications for peace talks.
Some current and former US officials say Islamabad may be over-stating the risks of fallout on Afghan peace talks, which resumed over the weekend in Doha. Speaking on condition of anonymity, they noted that Islamabad has its own self-interests in mind as it seeks to influence the peace process in neighbouring Afghanistan.
But other US officials acknowledge a major crisis involving India would be all-consuming for Islamabad, and say it's another reason why lowering tensions is so important.
In Afghanistan, which fears its country is being used as a proxy for tension between India and Pakistan, the foreign ministry summoned Pakistan's envoy to Kabul after he made similar warnings.
Veteran diplomats say that if the United States pushes Pakistan too hard on combating militants, Islamabad could diminish its support for the peace process.
Dan Feldman, a former US special representative for Afghanistan and Pakistan, said many of the Pakistani officials who dealt with India were also responsible for Afghanistan, and that tensions could impact peace talks. He said a lack of US focus on South Asia was problematic. "We need much more focus and strategic thinking from the Trump Administration on this region, and an effective way of implementing that strategy," he said.
https://dailytimes.com.pk/361284/us-tries-to-safeguard-afghan-peace-push-from-india-pakistan-escalation/
--------
9 Taliban militants killed in Helmand, Uruzgan and Jawzjan provinces
05 Mar 2019
At least nine Taliban militants were killed during the airstrikes which were conducted in Helmand, Uruzgan, and Jazjan provinces.
The informed military sources announced Monday that a strike in Nahr-e Saraj district of Helmand killed two Taliban fighters and destroyed one weapons cache.
The sources further added that a similar strike was carried out in Tarin Kot, the provincial capital of Uruzgan province leaving one Taliban fighter dead.
The security forces carried out a similar strike in Faizabad district of Jawzjan province killing 6 Taliban fighters, the source said.
Full report at:
https://www.khaama.com/9-taliban-militants-killed-in-helmand-uruzgan-and-jawzjan-provinces-03422/
--------
Islamic bloc approves legal action against Myanmar for Rohingya Muslims
March 05, 2019
In a major diplomatic breakthrough, the Organisation of Islamic Cooperation (OIC) unanimously adopted a resolution to move the International Court of Justice (ICJ) for establishing the legal rights of Rohingya Muslims, the Bangladesh Foreign Ministry said Monday.
"The resolution to pursue a legal recourse through the ICJ came after a long series of negotiations to seek accountability for crimes committed against humanity and gross violation of human rights in the case of the Rohingya in Myanmar," the minister said in a statement.
The Rohingya, described by the UN as the world's most persecuted people, have faced heightened fears of attack since dozens were killed in communal violence in 2012.
According to Amnesty International, more than 750,000 Rohingya refugees, mostly women and children, have fled Myanmar and crossed into Bangladesh after Myanmar forces launched a crackdown on the minority Muslim community in August 2017.
The resolution was adopted in the final session of the OIC Council of Foreign Ministers in Abu Dhabi which concluded on Sunday.
Since Aug. 25, 2017, nearly 24,000 Rohingya Muslims have been killed by Myanmar's state forces, according to a report by the Ontario International Development Agency (OIDA).
More than 34,000 Rohingya were also thrown into fires, while over 114,000 others were beaten, said the OIDA report, titled "Forced Migration of Rohingya: The Untold Experience."
Some 18,000 Rohingya women and girls were raped by Myanmar's army and police and over 115,000 Rohingya homes were burned down and 113,000 others vandalized, it added.
The UN has also documented mass gang rapes, killings – including of infants and young children – brutal beatings and disappearances committed by Myanmar state forces.
Full report at:
https://www.yenisafak.com/en/world/islamic-bloc-approves-legal-action-against-myanmar-for-rohingya-muslims-3475957
--------
Two Mine Planters Killed blown up by own bomb in Herat Province
04 Mar 2019
The Ministry of Interior has announced that two Taliban mine planters were killed an explosion in western Herat province of Afghanistan on Sunday.
According to a statement released by the Ministry of Interior, the two mine planters were killed in Guzara district.
"Today morning, two mine planters were killed by own bomb blast while they were planting a roadside bomb in Khowaja Shahab village, Guzara district, western Herat province," the statement added.
The anti-government armed militants including Taliban have not commented regarding the incident so far.
Full report at:
https://www.khaama.com/two-mine-planters-killed-blown-up-by-own-bomb-in-herat-province-03416/
--------
Haqqani Network surrenders to Afghan forces in Kunduz province
05 Mar 2019
A member of the notorious Haqqani Network has surrendered to the Afghan National Defense and Security Forces in northern Kunduz province of Afghanistan, the Afghan Military said Monday.
According to 209th Shaheen Corps of the Afghan Military in the North, the Haqqani Network member surrendered to Afghan forces in Imam Sahib district.
The 209th Shaheen Corps in a statement said the Haqqani Network mmeber, Mullah Mansoor renounced violence and surrendered to Afghan forces in Imam Sahib district of Kunduz.
The statement further added that Mullah Mansoor also handed overe three Ak-47 assault rifles to armed forces.
Full report at:
https://www.khaama.com/haqqani-network-surrenders-to-afghan-forces-in-kunduz-province-03421/
--------
Arab World
Yazidi Children in Syria Await Family Reunions
March 04, 2019
U.S.-backed Syrian forces fighting Islamic State militants said they freed more than 12 Yazidi children from IS last week. The children were released when the Syrian Democratic Forces evacuated civilians from the town of Baghuz. The children had been held by the militant group for years.
Mustafa Bali is a spokesman for the Kurdish-led alliance. He wrote in a social media tweet, "Among many children saved from [IS] territory today, a group of Yazidi children also arrived to safe areas."
Yazidis are a Kurdish-speaking religious minority who live mostly in northern Iraq. They are viewed as infidels by IS extremists.
Sex slaves, soldiers
In August 2014, IS militants attacked Sinjar in northern Iraq, then home to the largest Yazidi community in the world. At least 5,000 Yazidis were killed during the attack, mostly men and boys. IS militants then kidnapped thousands of Yazidi children and women and made them work as child soldiers or sex slaves.
The 12 children recently freed in Baghuz are now in a special home near Hasaka, a Kurdish-held area in northeast Syria.
"I was held for more than four years," said Mazin Salim, 14, a former captive.
"Along with many other Yazidi children, I was then taken to a location in Syria. I believe it was Aleppo. After staying there for a few months, they (moved) us to Raqqa," he added.
Islamic State made Raqqa its capital. The city was taken from IS by the SDF with support from the U.S.-led coalition in October 2017.
The Yazidi teenager said that while he was held, IS brainwashed him with its extremist ideology.
"In the beginning, they would beat me every day because I didn't know Arabic and didn't know anything about Islam," Salim explained. "But slowly, they taught me how to read… from the Quran."
Brainwashed children
While it controlled parts of Syria and Iraq, IS forced brainwashed and abused children to carry out suicide attacks, kill civilians and perform other cruel acts.
"I checked up on all of these children," said Shahin Hossein, a Kurdish doctor. He has been providing medical care to the Yazidi children since their arrival. "All of them have … psychological problems."
Hossein also said some of the children have been suffering from physical illnesses for a long time without receiving any treatment.
Since the battle to capture Baghuz began, SDF fighters have been better able to find Yazidi children and women.
"Since all civilians are leaving Baghuz, it is easier to identify Yazidis as they come out of the town," SDF spokesman Mustafa Bali told VOA.
Yazidi children and women are taken to a location that is separate from refugee camps for the other civilians fleeing IS.
"Our job is to receive them, give them medical treatment and then…. return to Sinjar," said Mahmoud Resho. He is part of Yazidi House Council, a local organization that supports Yazidi refugees and captives.
"So far, we have a total of 25 children and a woman who are waiting to go to their families in Sinjar," Resho told VOA.
Resho said the Iraqi government has recently closed its border with Syria. "That's why these people have been waiting for a while," he added.
Uncertainty about families
The Yazidi children rescued from IS in Syria have other problems as well. Many do not know where their families are now, Resho said.
"These kids have been kidnapped for almost five years. Some of their families are either killed or have migrated to Europe," he said.
Fourteen-year-old Salim says he does not know what he will find when he returns to Sinjar. "I miss my family so much," he said. But he does not know whether they are alive or dead.
https://learningenglish.voanews.com/a/yazidi-children-in-syria-await-family-reunions/4808237.html
--------
UAE Recruiting ISIL in Southern Yemen
Mar 04, 2019
"The UAE has recently transferred an ISIL commander namely Abu Bakr al-Zokhri (with Sudanese nationality), nom de guerre Khaibar al-Sumali, from Iraq to Aden in Yemen to recruit and strengthen the ISIL in Yemen," Ali Abdullah al-Bujairi said in an interview with Qatar's Arabic-language al-Sharq newspaper on Monday.
He added that the UAE is now organizing the ISIL in Southern Yemen and supporting al-Qaeda in the country under the pretext of fighting against them.
An investigation by the Associated Press last August found a military coalition battling Ansarullah forces' secured secret deals with al-Qaeda in Yemen and recruited hundreds of the group's fighters.
It added that the coalition had been paying some al-Qaeda commanders to leave key cities and towns while letting others retreat with weapons, equipment and wads of looted cash.
For more than two years, a Saudi-led alliance - backed by US logistical and weapons support - claimed it crushed al-Qaeda's ability to carry out attacks from Yemen.
Full report at:
http://en.farsnews.com/newstext.aspx?nn=13971213000855
--------
Syria: Israel Conducts Fresh Missile Attacks on Syrian Army Positions in Quneitra
Mar 04, 2019
"The Israeli Army units hit West of the town of Hadar in Northern part of Quneitra province on Sunday night," SANA news agency reported.
Meantime, the Arabic-language service of Sputnik news agency reported that the Israeli Army has fired several rockets at the Northern farms of Quneitra City East of buffer line between Israel and Syria from its positions in the Occupied Golan.
The source pointed to Israel's missile attacks on the former headquarters of the UNDOF West of Bravo line which detaches the freed section of the Golan from the section that is still under Israel's occupation, and said three Israeli missiles have hit the farms West of the town of Hadar in buffer line, but caused no damage.
Meantime, the Israeli fighter jets have been conducting numerous flights on Asba al-Jalil region in Syria-Lebanon-Golan Heights.
Israel's new aggression against Syria came as Tahrir al-Sham al-Hay'at (the Levant Liberation Board or the Al-Nusra Front), Haras ul-Din and Turkistani party terrorists have attacked the Syrian Army's positions in de-militarized zone stretching from Northern Hama to Northwestern Lattakia.
In a relevant development in late January, Damascus threatened to exercise its legitimate right for self-defense against Israeli aggression and target Tel Aviv airport in a mirror response, unless the Security Council puts an end to IDF intrusions into Syrian airspace.
Apparently fed up with years of Israeli impunity in the Syrian skies and regular strikes carried out in the vicinity of Damascus International Airport, Syria has threatened to retaliate in explicit terms, RT reported.
"Isn't time now for the UN Security Council to stop the Israeli repeated aggressions on the Syrian Arab Republic territories?" Syria's permanent representative to the UN, Dr. Bashar al-Jaafari wondered.
Full report at:
http://en.farsnews.com/newstext.aspx?nn=13971213000682
--------
Syrian Army Preparing for Cleansing ISIL from Badiyeh of Homs, Terrorists Prevent Civilians' Evacuation from Al-Rukban
Mar 04, 2019
The Arabic-language al-Watan newspaper reported on Monday that the Syrian army is preparing for purging operations against the ISIL in Badiyeh of al-Sukhneh in Eastern Homs between the two regions of Hamimeh and Station 3 as well as the Southeastern parts of Badiyeh al-Sukhneh.
It added that the Syrian army's air unit has pounded the ISIL's mobile targets near Waze'e dam and the border between Homs and Deir Ezzur in Eastern Badiyeh of Homs, leaving heavy damage on the militants.
The newspaper quoted special sources as saying that the terrorists stationed in al-Tanf region at the border with Iraq have prevented evacuation of civilians from al-Rukban camp, upon the American forces' order, blocking any efforts by the Syrian government to return them to their homes or sending humanitarian aid to the region.
The head of the Russian Defense Ministry's Center for Reconciliation of Opposing Sides in Syria, Col. Gen. Viktor Kupchishin, said earlier that Washington has refused to provide security guarantees for humanitarian convoy movements within the 55-kilometer (34-mile) zone around the US military base in Syria's al-Tanf.
Kupchishin noted that on Friday, Russia and Syria sent humanitarian bus convoys to the Rukban camp, located within the US-controlled territory in al-Tanf, to evacuate refugees.
He stressed that the Syrian government guaranteed security for the internally-displaced persons living in Rukban.
Full report at:
http://en.farsnews.com/newstext.aspx?nn=13971213000814
--------
US, Israel Spying on Iraqi Fighter Jets
Mar 04, 2019
"The US Army and Israel are monitoring the communications and targets of all Iraqi army planes," Iraqi military expert Safa al-A'asam told the Arabic-language al-Maloumeh news website.
He said that all the US military bases in Iraq have installed spying sensors inside the Iraqi fighter jets, adding that they provide Israel with precise intel of military movements in Iraq on a rotational basis.
In relevant remarks in early February, Iraqi security expert Kazim al-Haaj disclosed that the US Army was training the ISIL terrorists in Al-Anbar province.
"The US Army troops are preparing and training the ISIL militants in al-Qadaf and Wadi al-Houran regions of Al-Anbar province with the aim of carrying out terrorist attacks and restarting insecurity in Iraq," al-Ma'aloumeh quoted al-Haaj as saying.
He noted that according to the intel obtained from Iraqi security forces in Al-Anbar province, the US had transferred the ISIL terrorists on Apache and Chinook helicopters to Iraq.
Full report at:
http://en.farsnews.com/newstext.aspx?nn=13971213000403
--------
Seven Syrian ministers added to EU sanctions list
4 March 2019
European Union countries on Monday added Syria's interior minister and six other new ministers to a sanctions blacklist for their role in President Bashar al-Assad's "violent repression" of civilians.
The European Council grouping the 28 member countries said the ministers who were appointed to Assad's government in November have been barred from travelling to Europe and will see their assets frozen.
"The Council today added seven ministers of the government of Syria to the list of persons and entities subject to restrictive measures against the Syrian regime and its supporters," the Council said in a statement.
With the additions, there are now 277 people under EU sanctions for their role in the "violent repression" of civilians in Syria and for their links to the Assad regime.
The EU said the seven new people on the list are Major General Mohammad Khaled al-Rahmoun, the interior minister, and Mohammad Rami Radwan Martini, the tourism minister.
The five others are education minister Imad Muwaffaq al-Azab, higher education minister Bassam Bashir Ibrahim, public works and housing minister Suhail Mohammad Abdullatif, communications and technology minister Iyad Mohammad al-Khatib, and industry minister Mohammad Maen Zein-al-Abidin Jazba.
The EU has also frozen the assets of some 72 entities.
EU sanctions have been in force since December 1, 2011, and are subjected to annual review, with the next one due on June 1.
Other bloc sanctions include an embargo on Syrian oil, investment restrictions, and a freeze on Syrian central bank assets within the European Union.
They also cover export restrictions on equipment and technology that Damascus could use to repress its people as well as those it could use to monitor or intercept Internet or telephone calls.
Full report at:
https://english.alarabiya.net/en/News/middle-east/2019/03/04/Seven-Syrian-ministers-added-to-EU-sanctions-list-.html
--------
Bomb attacks kill dozens of Saudi mercenaries in Jizan, Najran: Report
Mar 4, 2019
Dozens of Saudi-sponsored militiamen loyal to Yemen's former president Abd Rabbuh Mansur Hadi have lost their lives when Yemeni army soldiers and fighters from allied Popular Committees launched a series of separate bomb attacks against their positions in the kingdom's border regions.
The media bureau of the Houthi Ansarullah movement, citing an unnamed Yemeni military source, reported on Monday that Yemeni troops and their allies detonated a number of explosive devices in the Jabal al-Qais mountainous area of Jizan, killing 24 Saudi mercenaries in the process.
Elsewhere in Najran region, located 844 kilometers south of the Saudi capital Riyadh, dozens of Saudi-paid militiamen were killed by Yemeni forces' attack on their positions.
Yemeni soldiers and their soldiers infiltrated militia-controlled areas on the outskirts of al-Sadis military base, setting off several bombs that killed dozens of Saudi mercenaries as a result.
Separately, a number of Saudi mercenaries were killed or injured when Yemeni forces launched a barrage of artillery rounds at their gatherings in Asir region in Saudi Arabia.
Saudi Arabia and a number of its regional allies launched a devastating campaign against Yemen in March 2015, with the goal of bringing the government of former Yemeni president Abd Rabbuh Mansur Hadi back to power and crushing Ansarullah.
According to a new report by the Armed Conflict Location and Event Data Project (ACLED), a nonprofit conflict-research organization, the Saudi-led war has so far claimed the lives of around 56,000 Yemenis.
The Saudi-led war has also taken a heavy toll on the country's infrastructure, destroying hospitals, schools, and factories. The UN has already said that a record 22.2 million Yemenis are in dire need of food, including 8.4 million threatened by severe hunger. According to the world body, Yemen is suffering from the most severe famine in more than 100 years.
Full report at:
https://www.presstv.com/Detail/2019/03/04/590158/Bomb-attacks-kill-dozens-of-Saudi-mercenaries-in-Jizan-Najran-Report
--------
Syrian army attacks militant posts in Hama to avenge troops' deaths
Mar 4, 2019
Syrian government forces, backed by allied fighters from popular defense groups, have carried out a major mop-up operation against foreign-backed Takfiri militants in the country's west-central province of Hama to avenge troop casualties during a recent ambush by the extremists.
Syria's official news agency SANA reported on Monday that Syrian soldiers and their allies pounded the positions of Kata'ib al-Ezza (Brigades of Glory) terrorists in al-Lataminah town, located 39 kilometers northwest of the provincial capital city of Hama, killing a large number of the Takfiris.
Earlier, the so-called Syrian Observatory for Human Rights reported that at least 20 Syrian soldiers had been killed on Sunday morning, when foreign-sponsored militants attacked their positions in Hama.
The Britain-based group added that the al-Qaeda-linked Ansar al-Tawhid terror group was behind the attack.
Later in the day, an unnamed official at the Syrian Ministry of Foreign Affairs and Expatriates strongly condemned the terror attack, saying it came "as a new episode in a series of the terrorist groups' violations of the de-escalation zone agreement."
Under a deal reached following a meeting between Turkish President Recep Tayyip Erdogan and his Russian counterpart, Vladimir Putin, in the Black Sea resort city of Sochi on September 17, 2018, all militants in a demilitarized zone that surrounds Idlib and also parts of the adjacent provinces of Aleppo and Hama were supposed to pull out heavy arms by October 17 last year, and Takfiri groups had to withdraw by October 15.
The new attack is regarded as a flagrant violation of the demilitarized zone by terrorists.
Syria "will not stand idly by while such crimes continue to take place, as it will not allow the terrorists and those behind them to persist in their attacks against innocent citizens and the forces of the Syrian Arab Army," the Syrian official stressed.
The official also reaffirmed the preparedness of the Syrian army in confronting such crimes, stressing Damascus's right "to defend its sovereignty and the territorial integrity of the Syrian Arab Republic and the safety of its citizens all over Syrian territory."
Syrian army foils militant attack in Latakia
Meanwhile, Syrian army soldiers have thwarted a militant attack in the country's western coastal province of Latakia.
SANA reported that the extremists sought to attack military positions in the northern countryside of the province, which prompted the Syrian army to respond.
Two Syrian soldiers were wounded and many terrorists killed during the hour-long gun battle.
Full report at:
https://www.presstv.com/Detail/2019/03/04/590145/Syrian-army-attacks-militant-posts-in-Hama-to-avenge-troops-deaths
--------
Saudi Arabia, UAE, Egypt oppose bids against normalization of ties with Israel: Report
Mar 4, 2019
Delegates from Saudi Arabia, the United Arab Emirates (UAE) and Egypt at a meeting of Arab states have reportedly opposed bids condemning the normalization of relations with the Israeli regime.
Russia's RT Arabic television news network reported on Monday that Abdullah ibn Muhammad Al ash-Sheikh, the speaker of Saudi Arabia's Consultative Assembly, together with his Emirati and Egyptian counterparts opposed a paragraph in the final communiqué of the 29th Conference of the Arab Inter-Parliamentary Union in the Jordanian capital city of Amman, which demands an end to efforts aimed at normalizing ties with Israel and condemns all forms of rapprochement with the occupying regime.
Lebanese Parliament Speaker Nabih Berri, Speaker of the People's Council of Syria Hammouda Youssef Sabbagh and the Palestinian representative, in return, supported the decision to reject any sort of ties normalization with Israel, and stressed the need to keep the piece in the statement.
The paragraph states that "one of the most important steps to support Palestinian brethren requires the cessation of all forms of rapprochement and normalization with the Israeli occupiers. Therefore, we call for resilience and steadfastness by blocking all the doors of normalization with Israel."
The paragraph remained intact in the final communiqué of the conference, rejecting any normalization of ties with the Israeli regime.
"Arab peoples categorically reject the rapprochement and normalization with Israel, and … Arab parliaments will submit to the will of Arab peoples," Speaker of Jordan's House of Representatives Atef Tarawneh stated.
This comes amid reports that Israel and several Arab states have had secret contacts for years, and the two sides have stepped up their attempts to bring their clandestine relations out in the open.
On February 17, a report published by Israeli Channel 13 television network said Israeli Prime Minister Benjamin Netanyahu had held a "secret meeting" with Moroccan Foreign Minister Nasser Bourita last September.
French-language website Le Desk also reported in January that Israel's national security adviser, Meir Ben-Shabbat, was working to arrange a meeting between Netanyahu and King Mohammed VI of Morocco in the North African state.
Moreover, the Warsaw conference – a US-sponsored gathering that was held in the Polish capital on February 13-14 -- brought together Netanyahu and representatives from a number of Arab states, including Oman, Morocco, Saudi Arabic, the UAE, Bahrain, Jordan and Egypt.
The so-called Middle East security forum was not, however, warmly received by Washington's European allies, which had either boycotted or sent low-ranking officials to the conference.
Meanwhile, the Israeli regime also recently re-launched a "virtual embassy" in a bid to "promote dialogue" with the Persian Gulf Arab states.
In the most high-profile visit by an Israeli official to Persian Gulf kingdoms, Netanyahu in late November last year visited Oman, where he met Sultan Qaboos at the Bait al-Barakah Royal Palace in the coastal city of Seeb near the capital Muscat.
Israel's English-language daily newspaper The Jerusalem Post reported that the two sides discussed ways to advance the so-called Middle East peace process as well as a number of issues of mutual interest with regard to the region's stability.
Full report at:
https://www.presstv.com/Detail/2019/03/04/590135/Saudi-Arabia-UAE-Egypt-oppose-bids-against-normalization-of-ties-with-Israel-Report
--------
Fleeing Daesh fighters using civilians as human shields forced to surrender in Baghouz
March 04, 2019
BEIRUT: Around 150 Daesh fighters have surrendered to US-backed forces in Baghouz, the group's last enclave in eastern Syria, the Syrian Observatory for Human Rights war monitoring group said on Monday.
The Daesh fighters were among 400 people to leave the area on Monday after the US-backed Syrian Democratic Forces staged an assault in recent days, the Observatory said.
US-backed Syrian fighters said they were forced to slow their advance because the extremists were using civilians as human shields.
But despite this hindrance, spokesman for the Kurdish-led Syrian Democratic Forces Mustafa Bali tweeted that the battle to retake Baghouz, the last territory in Syria held by Daesh, was "going to be over soon."
An SDF spokeswoman said the offensive had slowed down but pressure is being kept up away from the corridor to prevent fighters from infiltrating or sabotaging the area. She spoke on condition of anonymity because she was not authorized to speak to the press.
The US-backed forces resumed their offensive on Baghouz last Friday, after a two-week pause to allow for the evacuation of civilians.
Retaking the sliver of land would be a milestone in the devastating four-year campaign to end Daesh's self-proclaimed "caliphate" that once straddled a vast territory across both Syria and Iraq.
"We're slowing down the offensive" due to a small number of civilians held as human shields, Bali said. The previous night, an SDF statement said the Kurdish-led forces would continue their military campaign "to take control of the last ISIS-held pocket in Baghouz and to liberate the remaining civilians who are being used as human shields," using an alternative acronym for the extremist group.
Full report at:
http://www.arabnews.com/node/1461191/middle-east
--------
Hopes for missing Yazidis dim as extremists' defeat looms
March 04, 2019
DAHUK: Baseh Hammo was 38 when she was enslaved by militants of Daesh. Raped and abused, she was sold 17 times among members of the so-called "caliphate," and moved from city to city across a vast stretch of territory Daesh once controlled in northern Iraq and Syria.
Her ordeal came to an end in January in the Syrian village of Baghouz, when an Daesh member took pity on her as the final battle loomed with US-led Syrian Kurdish forces.
He put her on a truck with his own family and allowed them to leave the village.
She was picked up by Syrian Kurdish forces and reunited with her two daughters in Iraq a few days later.
Yet many Yazidis are still missing, five years after Daesh militants stormed Yazidi towns and villages in Iraq's Sinjar region and abducted women and children. Women were forced into sexual slavery, and boys were taken to be indoctrinated in extremist ideology.
Hopes surged last month during a two-week pause in the US-led coalition's assault on Baghouz that some of the estimated 3,000 Yazidis still unaccounted for would emerge.
But few turned up among the thousands who streamed out of the tiny village.
Hussein Karo, who heads the Yazidi Rescue Bureau in Iraq's regional Kurdish government, said only 47 Yazidis were rescued.
Now, as US-backed forces resume their final assault on Baghouz, Hammo and Farha Farman, another rescued Yazidi woman, said they fear many may never return home and that the offensive endangers Yazidis who are still in the village.
The two said some are refusing to leave their children behind with their Daesh fathers while others are staying out of conviction, having adopted the extremist ideology. Many are simply too terrified to flee.
Hammo said her days as a slave were consumed with loneliness and violence.
She was sold 17 times. One of her owners, a Swede, would lock her in the home for days without food while he went to fight. Another man, an Albanian, stomped on her hands in his military boots, after she scolded him for buying a nine-year-old slave girl.
In the Syrian town of Raqqa, once the seat of the caliphate, her nephews, 12 and 13 years old, carried guns and served as guards to a German Daesh fighter. When she invited them to eat with her, they refused, saying she was an infidel. She snapped back at them, "You're one of us. You're infidels, too."
Hammo's final months in captivity were especially trying as hunger gripped what was left of the caliphate. Bread grew scarce, and she began making dough for herself out of chicken feed. By the time she was brought to Baghouz, she was eating grass and leaves.
"I cannot even look at anything the color green anymore," said a frail Hammo, her face gaunt, and her hands scarred from the abuse.
She had heard there were still 1,000 Yazidis inside Baghouz, including 130 boys training to become terrorists.
Farman, 21, who arrived in Iraq in early February, feared for her sister and nine young male relatives still missing after being abducted five years ago.
Both Farman and Hammo, now staying in bleak camps for the displaced in Iraq, said international airstrikes had killed some Yazidis living as slaves in the caliphate.
Hammo said she had urged a Yazidi woman married to an Uzbek Daesh fighter to leave Baghouz with her, but the woman, who has had two children with the man, refused.
"She said she'd blow herself up first," said Hammo.
Another Yazidi woman in Bahgouz was forced to give up two of her boys to be trained as Daesh fighters.
"She said she could not leave without them," Hammo said.
In 2014, when Daesh was at the height of its power and its self-styled caliphate spanned a third of both Syria and Iraq, Daesh militants stormed Yazidi communities in Iraq's Sinjar region.
The extremists, who consider the Kurdish-speaking religious minority to be heretics, enslaved, raped and killed thousands of Yazidis. Close to 200,000 members of the minority fled their homes.
Farman was 17 when she was abducted by Daesh from Sinjar. She was sold to a Syrian man who went on to carry out a suicide operation for Daesh. His family then sold her to a man who beat her savagely for trying to escape — twice.
The first time she tried to flee, she slipped out with a group of other Yazidi women to the countryside.
"But we couldn't get anywhere, so we gave ourselves up," she said, speaking to the AP in a tent she is staying in with her aunt. She said she is haunted by nightmares that keep her from sleeping.
Daesh jailed her for a week after her first escape attempt, then turned her over to her captor who beat her savagely with cables and hoses.
The second time she tried to escape, her parents sent a paid smuggler to bring her to safety, but he was caught and gave up her name under Daesh interrogation. The man again punished Farman.
All the while, the militants were losing territory against advancing Syrian regime and Syrian Kurdish forces, and she moved from city to city with her abuser along the Euphrates River, until they were finally trapped in Baghouz.
"I got to see half of Syria," she said, ironically.
Finally, the man asked if she would flee with him to Turkey.
She refused, so he sold her to a smuggler for $10,000, money arranged by the Yazidi community in exile, to help her leave on her own.
Farman made it out, but the man did not.
Full report at:
http://www.arabnews.com/node/1461466/middle-east
--------
Mideast
Israel welcomes Vatican move to open Pius XII archives
4 March 2019
Israel welcomed the Vatican's announcement Monday that it will open the archives of Pius XII next year, a move that could shed light on the church during World War II.
"We are pleased by the decision and hope it will enable free access to all relevant archives," foreign ministry spokesman Emmanuel Nahshon said on Twitter.
Yad Vashem, the Israeli Holocaust memorial and research center, commended the Vatican's decision, saying it expected researchers to "be granted full access to all documents stored in the archives".
Opening the archives "will enable objective and open research as well as comprehensive discourse on issues related to the conduct of the Vatican in particular, and the Catholic Church in general, during the Holocaust," Yad Vashem said in a statement.
Pope Francis said on Monday that "the Church is not afraid of history" as he announced the archives of Pius XII would be opened in March 2020.
Researchers have long sought to examine the archives over why Pius XII did not intervene more against the Holocaust perpetrated by the German Nazis, an attitude denounced as a form of passive complicity.
Historians say six million Jews died in the Holocaust.
https://english.alarabiya.net/en/News/middle-east/2019/03/04/Israel-welcomes-Vatican-move-to-open-Pius-XII-archives.html
--------
Iran insists Moscow ties 'strong', shrugs off Israel-Russia coordination
4 March 2019
Iran's foreign ministry insisted Monday that Tehran's ties with Moscow are "strong" and shrugged off reported Israeli-Russian coordination on a withdrawal of foreign forces from Syria.
"Iran's ties with Moscow are strong and we are always in touch and consult with each other," ministry spokesman Bahram Ghasemi told reporters in Tehran.
On a visit last week to Moscow where he met Russian President Vladimir Putin, Israeli Prime Minister Benjamin Netanyahu stressed the Jewish state would "not allow the military entrenchment of Iran in Syria".
"President Putin and I also agreed on a common goal: the withdrawal of foreign forces that arrived in Syria after the outbreak of the civil war. We agreed to establish a joint team to advance this goal, together with other elements," Netanyahu said.
Russia, which like Iran has sided with the government in the Syrian conflict, has not officially reacted to his statement.
But for Ghasemi, it was just another example of Israeli "psychological" warfare.
Israeli officials "have a habit they cannot quit, and that is lying. (They are) creating a psychological atmosphere to affect Iran's relations with its neighbors and Russia," he said.
Thousands of pro-Iranian forces have been deployed to Syria over the course of the war which broke out in 2011, officially to confront "terrorism".
They include members of the Revolutionary Guard, Iran's ideological army.
But Tehran denies sending regular troops to fight in Syria, saying the Guards are serving as "military advisors" and that the brigades sent are made up of "volunteers" from Iran, Afghanistan and Pakistan.
"As long as the government of Syria wants us there, we will be there," Ghasemi said.
Full report at:
https://english.alarabiya.net/en/News/middle-east/2019/03/04/Iran-insists-Moscow-ties-strong-shrugs-off-Israel-Russia-coordination.html
--------
Months-old Khamenei speech reveals he doubted Europe's help against US sanctions
4 March 2019
Iran's Supreme Leader Ayatollah Ali Khamenei advised the government last July not to rely on European efforts to protect Tehran against US sanctions, months after Washington withdrew from a nuclear deal with Iran and reimposed penalties.
The release of Khamenei's speech nine months after his meeting with the cabinet, showed while President Hassan Rouhani was trying to save the nuclear deal with European powers, who remained committed despite the US exit in May 2018, Khamenei was not optimistic about the efforts.
The Europeans would naturally say they are protecting Iranian interests with their package "but (the Iranian government) should not make this a main issue," Khamenei was quoted as saying by his official website on Monday.
Khamenei's comments were published a week after Rouhani rejected the resignation of Foreign Minister Mohammad Javad Zarif, a US-educated veteran diplomat who championed the nuclear deal.
The skepticism from Khamenei casts doubt on efficiency of Zarif's past and present efforts to keep the agreement alive.
Iran and six major world powers reached a nuclear deal in 2015 after more than a decade of negotiations. Under the deal, sanctions imposed by the United States, European Union and United Nations were lifted in return for Iran agreeing long-term curbs on a nuclear program that the West suspected was aimed at creating a nuclear bomb.
Khamenei said that the deal did not resolve "any economic problems" of Iran, and predicted that the mechanism proposed by Europeans to shield business with Iran against the US sanctions would also not be a solution to economic hardship.
"(The Europeans) are bad. They are really bad. I have a lot to say about the Europeans; not because of their current policies, but their mischievous nature in the last few centuries."
France, Germany and Britain opened a new channel for non-dollar trade with Iran in January, although diplomats say it is unlikely to allow for the big transactions that Tehran says it needs to keep a nuclear deal afloat.
Iran has threatened to pull out of the deal unless the European powers enable it to receive economic benefits. The Europeans have promised to help companies do business with Iran as long as it abides by the deal.
Washington says that, although Iran has met the terms, the accord was too generous, failing to rein in Iran's ballistic missile program or curb its regional meddling.
Full report at:
https://english.alarabiya.net/en/News/middle-east/2019/03/04/Iran-s-Khamenei-doubted-Europe-could-help-Tehran-against-US-sanctions.html
--------
US closes Jerusalem consulate, demoting Palestinian mission
4 March 2019
The US consulate in Jerusalem, which serves Palestinians, will be absorbed into the new US Embassy to Israel on Monday, the State Department said, a planned merger that has angered Palestinian leadership.
The symbolic shift hands authority over US diplomatic channels with the West Bank and Gaza to ambassador David Friedman, a longtime supporter and fundraiser for the West Bank settler movement and fierce critic of the Palestinian leadership.
The decision to create a single diplomatic mission in Jerusalem was announced last October by Secretary of State Mike Pompeo and had been widely expected for early March. The State Department announcement on Sunday gave the official date for the move.
The planned merger has raised Palestinians' fears that the Trump administration is downgrading the handling of their concerns in the disputed city of Jerusalem, home to sites holy to Judaism, Islam and Christianity.
US President Donald Trump outraged the Arab world and stoked international criticism by recognizing Jerusalem as Israel's capital in December 2017 and moving the US Embassy to Jerusalem from Tel Aviv last May.
Palestinian leaders suspended diplomatic contacts with the US administration after the embassy move and have since boycotted US efforts to craft a long-awaited Israeli-Palestinian peace plan, accusing Washington of pro-Israel bias.
The US Consulate General in Jerusalem is the top mission for Palestinians, who with broad international backing seek East Jerusalem as the capital of a state they want to establish in the occupied West Bank and the Gaza Strip.
State Department spokesman Robert Palladino said the decision was driven by operational efficiency and there would be "complete continuity of US diplomatic activity and consular services."
"It does not signal a change of US policy on Jerusalem, the West Bank or the Gaza Strip," he said in a statement. "The specific boundaries of Israeli sovereignty in Jerusalem are subject to final status negotiations between the parties."
When Pompeo announced the merger plan last autumn, senior Palestinian leader Saeb Erekat denounced the decision to eliminate the consulate as the latest evidence the Trump administration was working with Israel to impose a "Greater Israel" rather than a two-state solution.
The status of Jerusalem is one of the thorniest disputes between Israel and the Palestinians.
Full report at:
https://english.alarabiya.net/en/News/middle-east/2019/03/04/US-closes-Jerusalem-consulate-demoting-Palestinian-mission.html
--------
Israeli helicopters strike Hamas posts in Gaza
Mar 4, 2019
Israeli helicopters have struck posts of the Palestinian resistance movement Hamas in the besieged Gaza Strip.
The Tel Aviv regime's military said in a statement on Monday that two Hamas posts were targeted in response to the latest launch of a "balloon-borne device" from Gaza.
"A cluster of balloons carrying an explosive device was launched from the southern Gaza Strip" towards Israel, the statement said.
A Palestinian official, however, said three military observation posts were hit.
Hours before the helicopter assault, Israeli warplanes launched a fresh airstrike against one of the positions of Hamas in the east of Beit Hanoun, a city in the northeast of Gaza.
Hamas says Israel must be held fully accountable for the crimes it has committed in the besieged enclave.
Full report at:
https://www.presstv.com/Detail/2019/03/04/590160/israel-helicopters-hamas-gaza
--------
Committed to Tel Aviv regime, US deploys THAAD to Israel for 1st time
Mar 4, 2019
The Pentagon has for the first time deployed its most advanced missile system in Israel, hailing the move as Washington's "continued commitment" to the security of the regime in Tel Aviv.
The US European Command (EUCOM) said in a statement on Monday that the deployment of the Terminal High Altitude Area Defense (THAAD) system was ordered by acting Defense Secretary Patrick Shanahan in March last year and was intended "as a demonstration of the United States' continued commitment to Israel's regional security."
The statement added that US military forces would be stationed in a number of locations during THAAD's deployment to "practice operational procedures for augmenting Israel's existing" systems.
"THAAD is the most advanced integrated air and missile defense system in the world, and this deployment readiness exercise demonstrates that US forces are agile, and can respond quickly and unpredictably to any threat, anywhere, at any time," EUCOM said.
THAAD is a ground-based missile defense system designed to shoot down short-, medium- and intermediate-range ballistic missiles.
Israeli Prime Minister Benjamin Netanyahu welcomed the arrival of THAAD and said the deployment was "further evidence" of the United States' commitment to Tel Aviv. "The American THAAD system is considered among the most advanced systems in the world, and together with our defense systems, we are stronger in dealing with threats, close or distant, emanating from all areas of the Middle East."
The deployment comes a week after Israeli and US militaries wrapped up a week-long drill in Israel, simulating the deployment of American troops to aid in missile defense operations.
The US has already supplied the advanced missile system to Saudi Arabia, Qatar and the United Arab Emirates.
In November, Saudi Arabia agreed to buy 44 THAAD launchers, missiles and related equipment from the United States in a deal valued at $15 billion.
The administration of US President Donald Trump has been seeking to loosen restrictions on American arms sales to boost the country's weapons industry.
Full report at:
https://www.presstv.com/Detail/2019/03/04/590159/US-military-EUCOM-Israeli-security-THAAD
--------
PLO slams merger of US consulate with embassy in Jerusalem al-Quds
Mar 4, 2019
The Palestine Liberation Organization (PLO) has slammed Washington's move to merge the US consulate with its embassy in the occupied Jerusalem al-Quds, denouncing the decision as "the last nail in the coffin of the US administration" with regard to its role in sponsoring the so-called Israeli-Palestinian peace process.
Saeb Erekat, secretary general of the PLO Executive Committee, made the remarks on Sunday after the United States merged the activities of the consulate into the embassy building in al-Quds, claiming that the move was to increase the "efficiency and effectiveness" of diplomatic operations.
The controversial decision means that the consulate will no longer serve as an independent diplomatic mission and the Palestinians will be forced to work with an entity that is subordinate to US Ambassador to Israel David Friedman.
The US decision "has nothing to do with efficiency, but a lot with the desire to please the ideologized American team, which is primed to dismantle the foundations of the international system and the US foreign policy in order to reward Israel for its violations and crimes," Erekat said in a statement.
Going ahead with the merger, he added, would be "the last nail in the coffin of the US administration role in peacemaking."
US diplomatic merger, assault on Palestinians' rights
In a related development, Hanan Ashrawi, a member of the PLO Executive Committee, also slammed the merger as "an act of political assault on Palestinian rights," and in violation of UN principles.
"The Trump administration is intent on leaving no room for doubt about its hostility towards the Palestinian people and their inalienable rights as well as its abject disregard for international law and its obligations under the law," Ashrawi said, referring to President Donald Trump of the United States.
The merger is "not an administrative decision. It is an act of political assault on Palestinian rights and identity and a negation of the consulate's historic status and function, dating back nearly two hundred years," she said.
US Secretary of State Mike Pompeo made the initial announcement about the merger in October 2018, some five months after President Trump moved the embassy from Tel Aviv to Jerusalem al-Quds.
The relocation triggered demonstrations in the occupied Palestinian territories, Iran, Turkey, Egypt, Jordan, Tunisia, Algeria, Iraq, Morocco and other Muslim countries.
Full report at:
https://www.presstv.com/Detail/2019/03/04/590142/PLO-US-embassy-Jerusalem-alQuds
--------
Scores of Houthi militia killed in clashes
March 05, 2019
Members of Yemen's national army killed 70 Houthi militants and injured several others during clashes in Saada province, national military website "September Net" reported on Monday.
Among the dead was a Houthi leader who was killed in the clashes, Brigadier Saleh Al-Majeedi told "September Net."
Yemeni troops liberated several areas, including villages from Houthi militants in Razih district in Saada.
Full report at:
http://www.arabnews.com/node/1461651/middle-east
--------
Africa
4 American tourists, Kenyan pilot killed in chopper crash
Mar 4, 2019
Four American tourists and a Kenyan pilot were killed when their helicopter crashed on an island in a lake in northwest Kenya, police said Monday.
The accident occurred in the Central Island National Park in Lake Turkana at around 8pm (1700 GMT) on Sunday, police said in a statement.
All five on board the chopper were killed.
"Security personnel dispatched to the scene confirmed that among the five were four Americans and the Kenyan pilot," the statement added.
The cause of the crash was not immediately known, and the identities of the victims would be released once their next of kin have been informed, the statement said.
Known as the Jade Sea, Lake Turkana, which is popular with tourists, is the most saline lake in East Africa and the largest desert lake in the world.
It is also a candidate site for the birthplace of mankind.
Its islands are breeding grounds for the Nile crocodile, hippopotamus and several snake species while the lake itself is important to migratory birds.
Last year, UNESCO placed it on its list of endangered World Heritage Sites, in part because it is threatened by Ethiopia's construction of a hydroelectric dam on the Omo River, which replenishes the lake seasonally.
https://www.presstv.com/Detail/2019/03/04/590109/Kenya-American-Tourists-Crash
--------
Jordan allows airlines to resume flights over Syria after 7 years
Mar 5, 2019
Jordan allows airlines to resume flights in Syrian air space after a seven-year suspension as the Damascus government edges closer to ridding the entire country of foreign-backed terrorists.
In a statement carried by Jordan News Agency (Petra) on Monday, Jordan Civil Aviation Regulatory Commission announced that the permission was issued following a series of safety assessments.
National airline companies wishing to operate via the Syrian airspace are required to submit an assessment of air safety risks in addition to using a specific route and cruising at a set altitude, read the statement.
The regulatory commission further noted that it was still evaluating the conditions of Syrian airports, especially the Damascus International Airport.
Royal Jordanian, the flag carrier airline of the kingdom, confirmed that it was aware of the commission's permission, adding, however, that the airline would assess the situation before taking any decision in this regard.
Back in 2012, Royal Jordanian halted flights over Syria and re-routed them.
Amman had recalled its ambassador from Damascus a year earlier, when foreign-backed militancy broke out in Syria.
Jordan also began providing support to some of the militant groups fighting to topple the government of Syrian President Bashar al-Assad.
Damascus-Amman relations were completely suspended in 2014 after Jordan expelled Damascus' ambassador.
In recent months, however, Jordan – among other Arab countries – has been moving to mend its ties with Damascus as the Syrian government, backed by Iran and Russia, has managed to defeat the militant outfits on the battlefield and wrest back control of almost all areas of the Arab country.
In October 2018, Jordan reopened a key border crossing with Syria that had been shut for three years. The route once carried billions of dollars of trade each year.
A delegation of Jordanian lawmakers also traveled to Damascus and met with President Assad for talks on ways to improve relations.
Jordan then raised its diplomatic representation in Damascus to the level of chargé d'affaires in January.
Full report at:
https://www.presstv.com/Detail/2019/03/05/590190/Syria-Jordan-airspace
--------
Explained: Who are the al-Shabaab, currently in the middle of a terror attack in Somalia?
March 1, 2019
A fierce gunbattle that began after Islamist militants bombed a hotel in the heart of Somalia's capital Thursday night was raging as dusk neared Friday, and the number of confirmed deaths rose to 29. Somali special forces were engaging al-Shabaab terrorists holed up in a building adjacent to the bombed Hotel Maka Al-Mukarama in central Mogadishu. A second bomb had later exploded about a kilometre from the hotel, the death toll from the bombings was expected to rise.
Who are the al-Shabaab, and what do they want?
Al-Shabaab, which translates as 'The Youth' in Arabic, started as the extremist youth wing of the now-defunct Islamic Courts Union, a grouping of sharia courts that seized control of a large portion of Somalia, including the capital Mogadishu, for some months in 2006. When the ICU retreated in the face of a pushback by Somali and Ethiopian troops, the hardline Islamists banded together in groups such as al-Shabaab and Hizbul Islam to keep fighting. Over the years, foreign jihadists, including those from Western countries, have travelled to East Africa to join the al-Shabaab. The group, which was estimated at the end of 2017 to have 7,000-9,000 fighters, has been banned by the United States and United Kingdom.
Al-Shabaab has imposed a strict Wahhabi version of Islam in the areas under its control, and its fighters have stoned to death women accused of adultery, and punished alleged thieves by cut off their limbs. In a video message released in February 2012, al-Shabaab leader Ahmed Abdi Godane had "pledged obedience" to Ayman al-Zawahiri, the emir of al-Qaeda. The group is believed to have also established links with Boko Haram in Nigeria and al-Qaeda in the Islamic Maghreb, which is active in the Sahara. Al-Shabaab had considered offering allegiance to the Islamic State at the height of the terrorist group's power in 2014-15, but only a small splinter group ultimately took the plunge. Al-Shabaab is currently led by Ahmed Umar alias Abu Ubaidah, on whom the US has put a bounty of $6 million.
Somalia has blamed al-Shabaab for the massive truck bombing that killed at least 500 in Mogadishu in October 2017. The group claimed responsibility for the attack on a Kenyan military base in January 2016, in which close to 200 soldiers are thought to have been killed. In 2015, al-Shabaab terrorists stormed a university campus in Kenya and targeted Christians, killing nearly 150. In 2013, it killed almost 70 people in a Nairobi shopping mall, and about the same number in an attack in the Ugandan capital Kampala in 2010.
The attack on the Mogadishu hotel on Thursday was in line with the al-Shabaab tactic of assaulting high-profile targets in East African countries. Days earlier, US forces in Somalia had intensified airstrikes against al-Shabaab, which is trying to take back control of the capital from a Western-backed government.
Full report at:
https://indianexpress.com/article/explained/explained-who-are-the-al-shabaab-currently-in-the-middle-of-a-terror-attack-in-somalia-5607397/
--------
URL: https://www.newageislam.com/islamic-world-news/nia-probe-videos-light-series/d/117928
New Age Islam, Islam Online, Islamic Website, African Muslim News, Arab World News, South Asia News, Indian Muslim News, World Muslim News, Women in Islam, Islamic Feminism, Arab Women, Women In Arab, Islamophobia in America, Muslim Women in West, Islam Women and Feminism