New Age Islam News Bureau
27 May 2015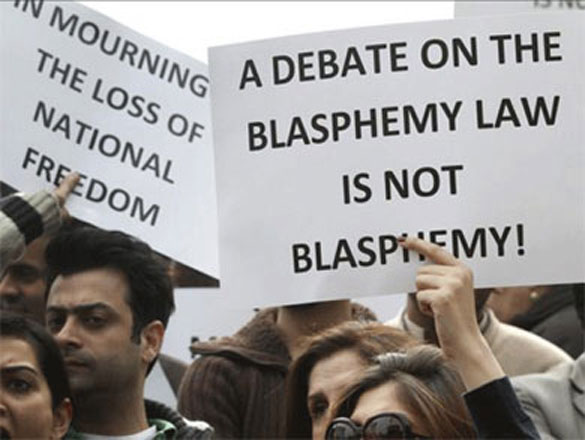 Government finalises draft bill to stop abuse of law, ( Penalties proposed for false accusers of blasphemy)
-------------
Arab World
• New ISIS Atrocities in Syria and Iraq Reported, 81% of Arabs Support Islamic State Victory
• Syrian Airstrikes Kill over 140 ISIL Terrorists in Raqqa
• Multiple IS suicide attacks in Iraq's Anbar kill 17 troops
• Iraqi Army Captures Hundreds of ISIL Terrorists in Anbar
• Syria in Last 24 Hours: Army Kills Tens of Takfiri Terrorists in Sweida Province
• Saudi FM: Terrorism divides Muslim world
• Expats in Saudi Arabia banned from street trading
• Egypt sentences eight militants to death
• Kurds oust IS from Christian villages in Syria: monitor
• Egypt summons Pakistan's charge d'affaires over comments on Morsi death sentence
India
• Madrasas Dens of Gays, Ban Them: AMU Professor
• Haryana: 500 People Flee Homes after Riots near Faridabad
• 'I Eat Beef, Can Somebody Stop Me?' MoS Home Hits Back At MoS Minority
• Deobandis, Barelvi Sects Clash Over Appointment of Imam in Lucknow
• Stop Meddling In India's Affairs: Home Minister Warns Pakistan
Pakistan
• Blasphemy Law: Penalties Proposed For False Accusers
• MYC to Monitor Friday Sermons in Mosques
• Gunmen Kill Three Cops in Karachi
• Daska killings: Govt has given police a licence to kill, says Tahir ul Qadri
• PTI young guns may surprise seasoned politicians in Swabi
• Pakistan says plight of Rohingyas 'worrisome'
• Seven murder convicts executed across the country
• Religious parties eyeing alliances in Rawalpindi
Mideast
• Turkey, Saudi Arabia Supply Terrorist Groups with Arms, Funds in Syria's Idlib
• 9 Dead in Fresh Saudi Attacks in Hajjah
• Nuclear Iran 1,000 Times Worse Than ISIS: Netanyahu
• Arab forces strike Houthi-held Yemen military port: Local official
• Muslim televangelist warns masturbating men 'will find their hands pregnant in the afterlife'
• No Turkish-US agreement on no-fly zone, but Ankara in line with Gulf: Erdogan
• Israeli air force unleashes strikes on Gaza Strip
Africa
• Suspected Fulani Herdsmen Kill At Least 23 in Central Nigeria
• Libya Prime Minister Abdullah Al-Thinni Survives Assassination Attempt
• Despite small numbers, Burundi Muslims still influential
• CAR needs more money to end 'massive displacement' - aid group
North America
• Obama Says Working with NATO Allies On Islamic State, Libya
• Montreal Father Says Daughter Arrested At Airport an 'Innocent Victim'
• Yemen man pleads guilty to al-Qaeda scheme to kill U.S. military
• Pentagon chief's take on Iraqis undercuts Obama's strategy
• Hero or extremist: Tables turn on man who helped Canadian government with would-be jihadists
• Iraqi forces can retake Ramadi, says US
Europe
• Isis Expected To Carry Out 'More Violence as One Year Anniversary of IS Declaration Approaches
• UN: 25,000 Fighters from 100 Countries Fighting for Terrorist Groups in Mideast
• UN: Boko Haram increasingly uses children for suicide attacks
• Iran nuclear deal unlikely by June 30: French envoy
• Amnesty International: Hamas committed war crimes during 2014 war with Israel
• Man facing jail for bid to join IS
• 2015 is 'year of fear' for children worldwide, warns Gordon Brown
South Asia
• China Touts 'Success' Of Crackdown in Muslim Region
• Five Soldiers Martyred, 63 Militants Killed In Military Operations
• Afghan Taliban gunmen killed after attack on Kabul guesthouse
• PM Sheikh Hasina asks UN to tackle terror attacks on peacekeepers
• China: Malaysia has its own right to carry out immigration rules
Southeast Asia
• Mass Graves in Perlis: Villagers Say Putrajaya Missed Clues On Human Trafficking
• Rohingya Crisis a Test Case for Asean — and Indonesia
• Hadi wanted unity government without opposition, says Nik Abduh
Compiled by New Age Islam News Bureau
URL: https://www.newageislam.com/islamic-world-news/new-age-islam-news-bureau/new-isis-atrocities-in-syria-and-iraq-reported,-81-percent-of-arabs-support-islamic-state-victory/d/103191
----------
Arab World
New ISIS Atrocities in Syria and Iraq Reported, 81% of Arabs Support Islamic State Victory
27 May 2015
34 Syrian civilians have been beheaded by Islamic State in the Syrian Province Deir ez-Zor since Thursday, the independent Syrian News Agency Ara News reported.
ISIS executed a man from the village of Hatla, east of Deir ez-Zor, after accusing him of "being Shiite and belonging to the militia of NDF (Assad's army)." ISIS also beheaded a man in the city of al-Mayadin east of Deir ez-Zor. Sources in the area confirmed that the man was a commander of "rebel battalions." He was executed by Islamic State in al-Jaradeq Square in front of the public for "fighting ISIS and not handing over his weapons."
The organization later executed eight men in the city of Deir ez-Zor. One of them was beheaded for being "an agent for the Alawite regime and belonging to NDF (Assad's army)" while the others were shot for drug-related activities.
In the ancient Syrian city of Palmyra that was captured by Islamic State last week 300 civilians were executed over the weekend, Ara News reported.
Speaking to ARA News from Palmyra, a media activist said (on condition of anonymity) that dozens of corpses were seen across the city after two days of IS control.
"The absolute majority of victims are children and women, while the group says those have been punished for their loyalty to the government," the source reported.
Syrian state television also reported that the city of Palmyra saw mass executions by the radical group over the weekend. It stressed that at least 400 civilians were killed by the IS.
A Catholic News Site reported that Islamic State terrorists destroyed a large number of churches in northern Syria when the group withdrew its forces from a region in northeastern Syria.
The Times of Israel wrote on Monday that a UN Envoy who visited Syria and Iraq reported systematic sexual violence against women and even young girls by Islamic State terrorists.
TOI reported:
Zainab Bangura, who had set out for the region in April to address the rampant cases of rape, sex slavery and other sexual violence in the areas under IS control, said the extremists were "institutionalizing sexual violence" as a tactic to terrorize the local populations.
In an interview this week with the Middle East Eye, a UK-based news site, Bangura recounted chilling tales she had heard from refugees.
"After attacking a village, IS splits women from men and executes boys and men aged 14 and over. The women and mothers are separated; girls are stripped naked, tested for virginity and examined for breast size and prettiness. The youngest, and those considered the prettiest virgins fetch higher prices and are sent to Raqqa, the IS stronghold," she said.
"There is a hierarchy: sheikhs get first choice, then emirs, then fighters. They often take three or four girls each and keep them for a month or so, until they grow tired of a girl, when she goes back to market. At slave auctions, buyers haggle fiercely, driving down prices by disparaging girls as flat-chested or unattractive.
"We heard one case of a 20-year-old girl who was burned alive because she refused to perform an extreme sex act," she said.
The plight of women and girls from Iraq's Yazidi minority has raised alarm after hundreds captured by Islamic State fighters were sold in open markets as sex slaves last year.
Bangura explained that the atrocities were not being committed randomly by individual militants but were a key tactic used by the group "to advance key strategic priorities, such as recruitment, fundraising, to enforce discipline and order — through the punishment of dissenters or family members — and to advance their radical ideology."
"The countries I have worked on include Bosnia, Congo, South Sudan, Somalia and Central African Republic; I never saw anything like this. I cannot understand such inhumanity. I was sick, I couldn't understand," she said.
If you think that ISIS' barbarism and atrocities will lead to a decline in support for the organization among Arabs, one might easily say you are wrong.
A poll conducted by Al-Jazeera's Arabic News Desk revealed that a staggering 81% of Al Jazeera Arabic viewers support Islamic State victories in Syria and Iraq.
As of the time of this writing, the poll had attracted more than 36,000 votes. Most of Al Jazeera Arabic's audience comes from the Sunni Muslim world, with high viewership in Egypt and Saudi Arabia.
Support for Islamic State among Muslims in western countries remains high too. In 2014, the UN published a report that said 20,000 foreign recruits had joined ISIS and Al Qaeda since Islamic State seized the city of Mosul in Iraq.
Today, media reported that in Austria, a 14-year-old boy was convicted of terrorism and sent to jail for eight months. The defendant, named only as Mertkan G., was arrested in October 2014 and allegedly had contact with supporters of the Islamic State in Iraq and Syria, the court in his hometown Sankt-Poelten said.
In Australia, a mother who had been converted to Islam abandoned her two young children to join Islamic State in Syria. She told a babysitter caring for her children that she was going to pick up a new car but never returned to her western Sydney home. She later posted a message on her Facebook page that she had arrived in "Sham," which is Arabic for The Levant (Syria and Lebanon).
http://www.westernjournalism.com/new-isis-atrocities-in-syria-and-iraq-reported-but-81-of-arabs-say-they-support-islamic-state-victory/
----------
Syrian Airstrikes Kill over 140 ISIL Terrorists in Raqqa
27 May 2015
Syrian fighter jets hit the ISIL positions in Raqqa province and managed to kill at least 140 ISIL terrorists, a military source said.
A senior Syrian military commander, speaking on condition of anonymity, said that more than 140 ISIL terrorists were killed in Raqqa, after the Syrian warplanes heavily targeted their sites.
"The Syrian air force has killed at least 140 ISIL elements in an air raid that targeted Tabaqa airbase in the province of Raqqa, located North of Syria," the source said.
The ISIL Takfiri terrorists currently control shrinking swathes of Syria and Iraq. They have threatened all communities, including Shiites, Sunnis, Kurds, Christians, Ezadi Kurds and others, as they continue their atrocities in Iraq.
Senior Iraqi officials have blamed Saudi Arabia, Qatar, and some Persian Gulf Arab states for the growing terrorism in their country.
The ISIL has links with Saudi intelligence and is believed to be indirectly supported by the Israeli regime.
http://english.farsnews.com/newstext.aspx?nn=13940306000379
----------
Multiple IS suicide attacks in Iraq's Anbar kill 17 troops
27 May 2015
An Iraqi military spokesman says Islamic State militants have carried out multiple suicide attacks targeting the army in western Anbar province, killing at least 17 troops.
Brig. Gen Saad Maan Ibrahim, the spokesman for the Joint Military Command, told The Associated Press on Wednesday that the attacks took place outside the Islamic State-held city of Fallujah late the previous night.
Ibrahim says the Islamic State extremists used a sandstorm that engulfed most of Iraq on Tuesday night to launch the deadly wave of bombings. He said he doesn't have more details for the moment.
The attacks were unleashed just hours after the Iraqi government announced the start of a wide-scale operation to recapture areas under the control of the IS group in western Anbar province.
http://english.ahram.org.eg/NewsContent/2/8/131270/World/Region/Multiple-IS-suicide-attacks-in-Iraqs-Anbar-kill--t.aspx
----------
Iraqi Army Captures Hundreds of ISIL Terrorists in Anbar
27 May 2015
New footage suggests that the Iraqi army has captured more than 100 ISIL terrorists in the Western province of Anbar.
Arabic-language al-Akhbar TV channel released footage on Wednesday showing Iraqi forces, backed by volunteer forces, have succeeded in apprehending hundreds of ISIL Takfiri militants in the country's Western province of Anbar.
The development came after the Iraqi army launched a major operation to recapture Anbar from the grip of the terrorists.
The army soldiers, backed by Shiite and Sunni volunteer forces, began Anbar's operations early on Tuesday after a zero hour set by the country's Ministry of Defense reached its end.
The second phase of the Iraqi popular forces' operations codenamed Labaik Ya Rasoulollah 2 was kicked off on Monday to win back Northern Tikrit, capital of Salahuddin province, Southwest Samarra and Ramadi, capital of Anbar province.
"The second operation stretches towards Northern Tikrit to win back control of the remaining regions of the city and Southwest of Samarra; then the forces will head towards Ramadi," Ain al-Araq News website quoted a statement by Iraqi popular forces as saying.
On March 1, about 27,000 popular and security forces started the first phase of Labaik Ya Rasoulollah military operations from several angles to take control of Tikrit and its suburban regions. They purged 97 regions and villages of ISIL terrorists and then continued to take control of main district of Tikrit and the rest of Salahuddin province.
In late March, the Iraqi army, backed by Shiite and Sunni volunteer forces, made a final push against the ISIL terrorists in Tikrit, and managed to fully liberate the Northern city from the control of the Takfiri group.
Some 30,000 Iraqi troops and thousands of allied Shiite and Sunni militias have been involved in a month-long operation to recapture Tikrit and other key towns and villages in the Northern part of Salahuddin province from the ISIL militants.
On Sunday, Iraqi popular forces announced that they were working on a detailed plan to take back the city of Ramadi.
"This plan has two phases; first adopting a special tactic to prevent ISIL's sudden raid on specified areas, and secondly preparing for a massive attack to take back regions currently under ISIL's control," Iraqi Popular Forces Spokesman Karim al-Nouri told FNA.
Al-Nouri noted that the Iraqi popular forces are preparing for fresh military operations in Ramadi.
"The operations for regaining control of Al-Anbar is very similar to Salahuddin and Diyala mop-up operations, but with less complexity," he said.
On Saturday, the Iraqi army dispatched five regiments of its rapid reaction forces to Al-Habaniyah military base in Eastern al-Ramadi in Anbar province to intensify the attack on the ISIL.
"The rapid reaction forces will join other army units and popular forces from al-Habaniyah to Khalediya in the campaign against the ISIL terrorists," member of al-Anbar Governor's Office Azal al-Fahdavi said.
ISIL Takfiris have recently taken over parts of Ramadi.
Popular Mobilization forces have been deployed to the city to fight the Takfiris. The volunteer groups who have joined the Iraqi army, were dispatched to Anbar after Iraq's Prime Minister Haider al-Abadi called on them to join the fight to drive Takfiri militants out of Ramadi.
The ISIL Takfiri terrorists currently control shrinking swathes of Syria and Iraq. They have threatened all communities, including Shiites, Sunnis, Kurds, Christians, Ezadi Kurds and others, as they continue their atrocities in Iraq.
Senior Iraqi officials have blamed Saudi Arabia, Qatar, and some Persian Gulf Arab states for the growing terrorism in their country.
The ISIL has links with Saudi intelligence and is believed to be indirectly supported by the Israeli regime.
http://english.farsnews.com/newstext.aspx?nn=13940306000850
----------
Syria in Last 24 Hours: Army Kills Tens of Takfiri Terrorists in Sweida Province
27 May 2015
The Syrian army in a series of fresh operations in the province of Sweida in Southern Syria inflicted heavy losses on the Takfiri terrorists.
Tens of the Islamic State of Iraq and the Levant (ISIL) were killed in heavy clashes with the army units in Sweida province.
Also in the past 24 hours, the Syrian army launched major attacks on the Al-Nusra Front terrorists in the province of Daraa.
Many terrorists, who attempted to infiltrate from al-Naziheen Camp towards Abdul-Aziz Abazid Mosque, were killed and others were injured, as army units also targeted terrorists' gatherings in the surrounding areas of Ber Um al-Dorj in Daraa al-Balad according to the source.
Military sources, meantime, pointed out that the Syrian army destroyed a mortar launcher pad and a terrorist den, killing all the terrorists inside.
n Northern Daraa, many terrorists were killed and others were injured and their vehicles and weapons in al-Faqie village and East of Ibta'a town were destroyed.
Meantime, Syrian researcher underlined that the new coalition of dissidents in his country will not last long because it lacks a plan.
"The new so-called coalition of Syria's nationalist opposition that declared its formation in Cairo comprises the leaders of the militant groups in Syria," Political and military researcher Mohammad Ali Hossein told FNA.
He noted that the new coalition is trying to gather the foreign opposition groups who have not had a political plan for Syria.
Hossein, meantime, said that the Geneva talks which are held under the auspices of the UN will not yield any result because the countries that are supporting terrorist groups in Syria have not halted supplying the terrorists with weapons and ammunition.
Also, the Syrian army launched a major offensive to fully recapture the ancient city of Palmyra, Homs, from the grip of the ISIL terrorists.
"The air force struck more than 160 Daesh (ISIL) targets, killing and wounding terrorists and destroying weapons and vehicles equipped with machine-guns on the outskirts of Palmyra and elsewhere in the province," a military source said on condition of anonymity.
The source added that mop-up operations are also underway in nearby areas of Palmyra including al-Suknah, the Arak, and al-Hail gas field.
Syrian state TV also reported that more than 50 Takfiri terrorists have been killed since the start of the operation.
The ISIL terrorists recently overran Palmyra in central Homs in an attempt to take full control of the ancient city, but were pushed back by the Syrian troops.
http://english.farsnews.com/newstext.aspx?nn=13940306000347
-------
Saudi FM: Terrorism divides Muslim world
27 May 2015
Acts of terrorism and the practice of Islamic extremism aim to divide Muslim world, Saudi Foreign Minister Adel al-Jubeir said on Wednesday at a meeting of Organization of Islamic Cooperation countries (OIC) in Kuwait.
"We have been committed in confronting the challenges of extremism and violence," Jubeir said in one of the meeting's opening statements.
"Terrorism, extremism and sectarianism aim to divide the Muslim world," he added, citing the current conflict in Yemen as a "reflection of the suffering of the global Muslim community."
Saudi Arabia is leading an Arab air campaign against Houthi militias in Yemen who are fighting to seize parts of the country and overthrow Yemeni President Abdrabbu Mansour Hadi.
In his opening statements, Kuwaiti Emir Sheikh Sabah Al-Ahmad Al-Jaber Al-Sabah said the Arab coalition had "responded to the Yemeni president's request to restore legitimacy."
On the Syrian crisis, Sheikh Sabah said the four-year-long war could "only be solved through diplomatic channels" as the humanitarian crisis escalates.
Full report at:
http://english.alarabiya.net/en/News/middle-east/2015/05/27/Islamic-body-convenes-anti-terror-meet-in-Kuwait.html
----------
Expats in Saudi Arabia banned from street trading
27 May 2015
The Ministry of Municipal and Rural Affairs has banned non-Saudis from participating in street markets.
A source from the ministry said Saudis have the right and priority to work and make a living in their country.
He said: "Street vendors have become a widely spread phenomenon in Saudi society. Unfortunately, most of them are expatriates selling without a license.
"Municipalities across the Kingdom should regulate this as even Saudi street vendors can only sell where they are allowed to by their respective municipalities."
The source also said that street vendors who operate without a license face prosecution.
"Street trading licenses are given to Saudis over 15 years of age, who have their national identity card and a medical report proving that they are free of diseases," said the source.
http://english.alarabiya.net/en/News/middle-east/2015/05/27/Expats-banned-from-street-trading.html
----------
Egypt sentences eight militants to death
27 May 2015
An Egyptian court Tuesday sentenced to death eight militants found guilty of acts of violence against the security forces and belonging to groups that incite "terrorism," a judicial official said.
"The criminal court in Zagazig condemned eight jihadists to hang after they were found guilty of belonging to takfiri (Sunni extremist) groups," the official said.
The city of Zagazig is in the Nile Delta north of the capital.
They were also sentenced for "incitement to terrorism and violence and... incitement to kill members of the army and police," he said.
Five of the eight condemned men were sentenced in absentia.
Militants in Egypt, primarily in the Sinai Peninsula, have staged regular attacks on the security forces since the then army chief and now President Abdel Fattah el-Sisi ousted Islamist president Mohammad Mursi after a single year in power.
Hundreds of Mursi supporters have been killed and thousands jailed in a crackdown. Dozens more, including Mursi himself, have been sentenced to death after mass trials.
http://english.alarabiya.net/en/News/africa/2015/05/27/Egypt-sentences-eight-militants-to-death-.html
----------
Kurds oust IS from Christian villages in Syria: monitor
27 May 2015
Kurdish forces have driven the Islamic State group from more than a dozen Assyrian Christian villages that the jihadists had captured in Syria, a monitor said Wednesday.
"Following a 10-day offensive, Kurdish fighters took control early this week of 14 Assyrian villages that IS had controlled since February," said Rami Abdel Rahman, director of the Syrian Observatory for Human Rights.
http://english.ahram.org.eg/NewsContent/2/8/131275/World/Region/Kurds-oust-IS-from-Christian-villages-in-Syria-mon.aspx
----------
Egypt summons Pakistan's charge d'affaires over comments on Morsi death sentence
27 May 2015
Egypt's foreign ministry said on Tuesday that it had summoned Pakistan's charge d'affaires to protest comments made by Islamabad condemning Cairo's decision to sentence ousted Islamist president Mohamed Morsi to death.
Islamabad last week expressed "considerable concern" over Morsi's sentencing.
Pakistan hoped that "the government of Egypt would take steps to meet the requirements of justice under law and would show compassion in the case of political prisoners," according to a statement by the country's foreign ministry.
Egypt slammed the comments as "unacceptable" and as an "interference in [its] internal affairs," according to a statement by the Egyptian foreign ministry.
Full report at:
http://english.ahram.org.eg/NewsContent/1/64/131211/Egypt/Politics-/Egypt-summons-Pakistans-charge-daffaires-over-comm.aspx
----------
India
Madrasas Dens of Gays, Ban Them: AMU Professor
TNN | May 27, 2015
ALIGARH: An Aligarh Muslim University professor's alleged comments on madrassas that they are "dens of vice and homosexuality" has triggered a storm of protest in the campus.
The professor, Waseem Raja of the university's history department, has been accused of saying in a WhatsApp message that he sent to a TV channel that "maulanas are involved in such activities" and that the fortunes of Muslim youth will only change for the better if madrassas in the country are banned.
Chat grabs show Raja saying, "We want removal of madarsa... Where homo sexuality is rampant...Maulanas are part of it".
The professor, who has been teaching in AMU for the past three decades, has, however, denied he said any such thing. "I did not say anything like that," he told TOI on Tuesday. "I have been part of SAARC conferences in the past and I have always spoken about reformation of the community. Are madarsas not part of the community? That does not mean I said such things, my phone was hacked and I have blocked the chat group now."
Full report at:
http://timesofindia.indiatimes.com/india/Madrassas-dens-of-gays-ban-them-AMU-professor/articleshow/47436261.cms
----------
Haryana: 500 Muslims Flee Homes after Riots near Faridabad
27 May 2015
More than 500 Muslim men, women and children have been taking refuge at Faridabad's Balabgarh police station since Monday evening after being forced to flee from their homes in Attari village of the district in midst of violent attacks. The attacks were allegedly carried out by the majority Jat community following a dispute over the construction of a mosque.
The village has a population of about 10,000 of which about 550 are Muslim.
While close to 25 people were left injured, a dozen houses, shops and as many as 15 vehicles were gutted in the ensuing violence perpetrated by a mob of more than 2,000 people. The situation was brought under control by 1,500 armed police officials, nearly four hours after it had started. Muslim villagers were escorted out of the area in police vehicles and taken to a police station 15km away.
Deputy Commissioner of police Vijay Partab said that 20 people have been identified as the main perpetrators of the violence but no arrests were made till late evening on Tuesday as all of the men have been absconding.
Full report at:
http://www.dnaindia.com/india/report-haryana-500-people-flee-homes-after-riots-in-village-2089455
----------
'I Eat Beef, Can Somebody Stop Me?' MoS Home Hits Back At MoS Minority
May 27, 2015
Days after Minister of State for Minority Affairs Mukhtar Abbas Naqvi said that those who eat beef should go to Pakistan; Minister of State for Home Kiren Rijiju said his colleague's statements were "unpalatable".
"I eat beef, I'm from Arunachal Pradesh, can somebody stop me? So let us not be touchy about somebody's practices," Rijiju said during a visit to Aizawl on Tuesday. "This is a democratic country. Sometimes, some statements are made which are not palatable."
"If a Mizo Christian says that this is the land of Jesus, why should someone have a problem in Punjab or Haryana? We have to honour the sentiments of each place and each location," he said.
"If Maharashtra is Hindu majority, or if Gujarat is Hindu majority, Madhya Pradesh is Hindu majority, if they are to make laws which are conducive to the Hindu faith, let them be. But in our place, in our state where we are majority, where we feel whatever steps we take, you know, laws which are conducive to our beliefs, it should be. So they also should not have a problem with the way we live, and we also should not have a problem with the way they live," he added.
Full report at:
http://indianexpress.com/article/india/politics/kiren-rijiju-gives-it-back-to-naqvi-i-eat-beef-can-somebody-stop-me/99/#sthash.AAD4QypE.dpuf
----------
Deobandis, Barelvi sects clash over appointment of Imam in Lucknow
May 27, 2015
Tension prevailed in Bareilly after Barelvi and Deobandi sects of Sunni Muslims clashed over the appointment of an Imam in a local mosque, Masjid Qutubkhana, in Lucknow. The appointment was necessary as the Imam of the mosque was arrested on sodomy charges Monday night.
While the jailed Imam belonged to Deobandi sect, Barelvis tried to take over the mosque after he was arrested. Following this, the mosque was locked by the district administration. No namaz will be offered there for the next two days till the matter is resolved.
Masjid Qutubkhana — locals claimed it is registered with Sunni Central Board of Waqfs in Lucknow — is nearly 80 years old and has a sprawling courtyard with at least eight commercial shops on its premises. Located on a prime spot, the locality is known as Qutubkhana after the mosque.
Full report at:
http://indianexpress.com/article/india/india-others/deobandis-barelvi-sects-clash-over-appointment-of-imam-in-lucknow/#sthash.zVp8Tupb.dpuf
----------
Stop meddling in India's affairs, Rajnath warns Pakistan
PTI | May 27, 2015
JAMMU: Sending a clear message to Pakistan to stop meddling in India's affairs, home minister Rajnath Singh on Wednesday said the neighbouring country must stop its nefarious activities if it wants its "own welfare".
"If Pakistan wants its own welfare, then it must stop meddling in the affairs of other countries. It must stop all its nefarious activities aimed towards India," Rajnath said addressing a Jan Kalyan Parv in Jammu.
Giving a strong warning to those who want to harm India's pride, integrity and sovereignty, he said that the country would give a befitting reply to such people.
"Those who want to harm the pride, integrity and sovereignty of the country will be given a befitting reply. We trust our army, our paramilitary and our forces. No question can be raised on their integrity and love for the country," he said.
Full report at:
http://timesofindia.indiatimes.com/india/Stop-meddling-in-Indias-affairs-Rajnath-warns-Pakistan/articleshow/47441874.cms
----------
Pakistan
Blasphemy law: penalties proposed for false accusers
May 27 2015
ISLAMABAD: Pakistan is set to introduce a new piece of legislation to stop the misuse of blasphemy laws in the country.
The government has finalised a draft bill, which will now be presented in parliament for approval, to combat the abuse of the existing laws.
The proposal, prepared by the interior ministry and vetted by the law ministry, aims to ensure that no one takes the law into their own hands, as only the state (police and courts) are responsible for punishing anyone found guilty.
According to officials, some harsh penalties have also been introduced against false accusations of blasphemy.
A senior official at the interior ministry told The Express Tribune that procedural loopholes in Pakistan Penal Code's Section 295-C, a criminal offence punishable with death, have been identified and some new clauses incorporated in the new draft.
The main reason for the new legislation is said to be the European countries' concern over the rising tide of abuse of the blasphemy law.
Full report at:
http://tribune.com.pk/story/892895/blasphemy-law-penalties-proposed-for-false-accusers/
----------
MYC to monitor Friday sermons in mosques
May 27 2015
LAHORE: The Milli Yakjehti Council (MYC) has decided to monitor Friday sermons in mosques to limit clerics or prayer leaders to deliver speeches on the subject of morality and humanity alone as explained in the religion of Islam.
The MYC is an alliance of various religio-political parties, including the Jamaat-i-Islami and the JUI-F. The decision to observe Friday sermons was taken at an important MYC meeting held here on Tuesday.
According to plan, the participants of the meeting constituted four committees namely Jumma (Friday) Commission, Masalehti (Reconciliation) Commi­ssion, Ilmi wa Tehqeeqi (Educational and Research) Commission and Islami Nazriati (Islamic Ideology) Council Commission.
Full report at:
http://www.dawn.com/news/1184519/myc-to-monitor-friday-sermons-in-mosques
----------
Gunmen kill three cops in Karachi
May 27 2015
KARACHI: At least three policemen, including a sub-inspector and two constables, were killed and another wounded early on Wednesday when unidentified attackers opened fire on a police mobile van in Karachi's Bhangoria Goth area, a shanty-town in the limits of the Azizabad police.
The assailants managed to escape from the scene after the attack.
Security and rescue teams reached the spot. Security personnel cordoned off the area as a probe into the incident went underway.
The director-general of Rangers, Major General Bilal Akbar, also visited the attack site.
Sindh's newly-appointed Home Minister Suhail Anwar Siyal also took notice of the incident and sought a report from DIG west Feroz Shah within two days.
Rescue sources said that the policemen were performing their routine night duties when they were attacked. They added that the victims were shifted to a nearby hospital.
http://www.dawn.com/news/1184522/gunmen-kill-three-cops-in-karachi
----------
Daska killings: Govt has given police a licence to kill, says Tahirul Qadri
May 27 2015
LAHORE: Had the elements behind the Model Town killings been punished, the Daska incident would not have occurred, Pakistan Awami Tehreek (PAT) chairman Dr Tahirul Qadri said on Monday.
Addressing the 26th Foundation Day of the party, Qadri said: "The Punjab government has been using police for political purposes, giving them a licence to kill civilians."
He said that the government had failed to maintain the law and order. "Rangers have now been ordered to bring the situation under control," Qadri said. The PAT chief praised the Lahore High Court chief justice for taking notice of the Daska incident. "Had the higher judiciary taken similar action following the Model Town incident, the people responsible for it would have been behind bars by now," he said.
He said that PAT and Minajul Quran workers would participate in the events planned to be held on the day of mourning announced by lawyers.
http://tribune.com.pk/story/892341/daska-killings-govt-has-given-police-a-licence-to-kill-tahirul-qadri/
----------
PTI young guns may surprise seasoned politicians in Swabi
May 27 2015
SWABI: Pakistan Tehreek-i-Insaf's young candidates could pose a serious threat to survival of seasoned politicians in the Saturday's local body elections in Swabi district.
The most interesting contest is expected in Saleem Khan union council where young Shahzada Fahad, district president of Insaf Students Federation, is contesting election for the district councillor against seasoned politicians, Gulzar Hussain, Akhtar Hussain, Mukharram Taj and Mukhtiar Khan.
The family of Mr Gulzar has remained prominent in the past and his late father, Said Arab Khan, dominated the Saleem Khan union council landscape for years.
His brother, Muqarab Khan, also remained nazim from the area.
However, now Mr Fahad has poses a threat to them as he is an educated fellow, is outspoken and has a strong support of youngsters.
Full report at:
http://www.dawn.com/news/1184478/pti-young-guns-may-surprise-seasoned-politicians-in-swabi
----------
Pakistan says plight of Rohingyas 'worrisome'
May 27 2015
ISLAMABAD: Pakistan on Tuesday expressed deep concern at the plight of Rohingya Muslims, who are adrift on boats in the India Ocean without access to food and drinking water.
"The Government of Pakistan has been consistently expressing deep concern at the plight of minority Muslim community in Myanmar.
"The current displacement of a large number of Muslims, who are adrift on boats in the Indian Ocean, without access to food and drinking water, is worrisome," said the foreign ministry in a statement.
The foreign office pointed out that at the session of Human Rights Council in March, Pakistan – in its capacity as Organisation of Islamic Cooperation (OIC) Group Coordinator for Human Rights and Humanitarian Issues in UN, Geneva – stressed the need for Myanmar government to grant citizenship and other rights to Rohingya Muslims.
Full report at:
http://tribune.com.pk/story/892896/pakistan-says-plight-of-rohingyas-worrisome/
----------
Seven murder convicts executed across the country
May 27 2015
PUNJAB / BALOCHISTAN: Seven murder convicts were hanged in a series of executions conducted across jails in Punjab and Balochistan on Wednesday while two hangings were stayed, Express News reported.
In Lahore's Kot Lakhpat Jail, Abdul Khaliq and Shezad were hanged. Khaliq had killed a woman near a factory. Shezad had shot a person dead. A mercy plea submitted to President Mamnoon Hussain for their hanging was rejected.
Read: Eleven murder convicts hanged across country
In Gujrat District Jail, two murder convicts were hanged. Nasir, in 1999 had killed a friend while the other murder convict had killed a man for unknown reasons in 2002. Both convicts were handed the death sentence in 2003.
Meanwhile in a Vihari jail, two convicts were also hanged, of which one had killed a 13-year-old child.
Read: Two murder convicts hanged in jails across Pubjab
Khan Muhammed was hanged in Machh jail as he was handed the death sentence for the murder of his brother and nephew in 2004.
On the other hand, the execution of two brothers in Multan Central Jail was stayed.
http://tribune.com.pk/story/893031/seven-murder-convicts-executed-across-the-country/
----------
Religious parties eyeing alliances in Rawalpindi
May 27 2015
RAWALPINDI: With the province's local bodies' polls due in September, religio-political parties in Rawalpindi, sectarian outfits among them, are weighing their options to ensure they get a slice of the local government pie.
Besides garnering votes from those belonging to their specific schools of thought, the parties are trying to convince the general public through election agendas that claim of improvement in provision of health, education and sanitation services once their candidates are in office.
Meetings have begun; agendas are being set and future courses of action regarding alliances and disassociation with others are being discussed at all forums.
To make their existence felt, all the non-mainstream parties, including Sunni Tehreek (ST), Ahle-Sunnat-Wal-Jamaat (ASWJ) and Majlis-e-Wahdatul Muslimeen (MWM), are trying to reach alliance with major political parties like the Pakistan Tehreek-e-Insaf (PTI), Pakistan Peoples Party (PPP) and Pakistan Muslim League-Nawaz (PML-N). The smaller parties are vying for their 'elder cousins' to award tickets to their representatives in specific localities.
Full report at:
http://tribune.com.pk/story/892704/religious-parties-eyeing-alliances-in-rawalpindi/
----------
Mideast
Turkey, Saudi Arabia Supply Terrorist Groups with Arms, Funds in Syria's Idlib
27 May 2015
Turkish Prime Minister Recep Tayyip Erdogan, during his recent visit to Saudi Arabia, held coordination meetings with the country's senior officials to jointly supply the terrorist groups in the Syrian province of Idlib with arms and fund, the Syrian sources said.
The sources said that Saudi Arabia has funded and armed the terrorists, who belong to the al-Qaeda-affiliated al-Nusra Front and other militant groups.
The terrorist groups also gained the logistical support from the Turkish side.
In Turkey, a command room was established in order to lead the terrorist attack against the Syrian army, according to the same sources which also assert that Saudi Arabia purchases satellite photos for the benefit of the room itself.
Battlefield sources confirmed the given reports, noting that Turkey provided the terrorists during the battles with an Internet supply that links their computers and smart phones to a Turkish drone that gives them all the needed data.
http://english.farsnews.com/newstext.aspx?nn=13940306000478
----------
9 Dead in Fresh Saudi Attacks in Hajjah
27 May 2015
At least 9 people were killed and 21 others suffered serious injuries after Saudi warplanes targeted Hajjah province on Wednesday.
The Saudi fighter jets bombed residential areas in the Eastern province of Hajjah and claimed the lives of more than 9 civilians. The attacks also left over 21 people wounded.
Saudi Arabia has been bombing Yemen in the last 63 days to bring its ally, fugitive president Mansour Hadi, back to power.
The airstrikes have killed, at least, 3,921 Yemenis, according to FNA's independent tally.
According to a recent report by Freedom House Foundation, most of the victims of the deadly Al Saud campaign are civilians, including a large number of women and children.
Thousands of residential buildings have been destroyed, and hundreds of civil and public facilities were reduced to rubble as a result of the bombardments by Saudi warplanes on the Yemeni cities and towns, the group said.
http://english.farsnews.com/newstext.aspx?nn=13940306000806
----------
Nuclear Iran 1,000 times worse than ISIS: Netanyahu
27 May 2015
Israeli Prime Minister Benjamin Netanyahu warned on Tuesday that a nuclear-armed Iran would be "a thousand times more dangerous and more destructive" than the Islamic State of Iraq and Syria (ISIS) group, his office said.
"As horrific as ISIS is, once Iran, the preeminent terrorist state of our time, acquires nuclear weapons, it will be a hundred times more dangerous, a thousand times more dangerous and more destructive than ISIS," Netanyahu said, referring to ISIS.
His remarks came as political and technical experts representing Iran and world powers were to convene in Vienna ahead of a June 30 deadline for a deal over Tehran's nuclear program.
"As we are meeting, the P5+1 talks are reconvening, and I'm afraid they're rushing to what I consider is a very bad deal," Netanyahu told U.S. Senator Bill Cassidy, in remarks relayed by the Israeli premier's office.
Full report at:
http://english.alarabiya.net/en/News/middle-east/2015/05/26/Nuclear-Iran-1-000-times-worse-than-ISIS-Netanyahu.html
----------
Arab forces strike Houthi-held Yemen military port: Local official
27 May 2015
Arab warplanes and ships bombed Yemen's largest military port in the Red Sea city of Hodaida on Wednesday, a local official said, heavily damaging the facility and partly destroying two warships.
"The naval base was bombed by aircraft and ships. Large parts of it were destroyed and two warships were hit, and one of them, named Bilqis, was destroyed and sank onto its side, and five gunboats shelled the administrative buildings of the base," the official told Reuters by telephone from the city.
The city and its military bases are aligned with the Iran-allied Houthi militia, Yemen's dominant force, which has been bombed by a Saudi-led coalition for over two months.
http://english.ahram.org.eg/NewsContent/2/8/131263/World/Region/Arab-forces-strike-Houthiheld-Yemen-military-port-.aspx
----------
Muslim televangelist warns masturbating men 'will find their hands pregnant in the afterlife'
27 May 2015
A MUSLIM televangelist has advised male followers to stop masturbating — because it will leave their hands pregnant in the afterlife.
Turkish preacher Mücahid Cihad Han told viewers that masturbation was forbidden ("haram") in Islam.
"One hadith states that those who have sexual intercourse with their hands will find their hands pregnant in the afterlife, complaining against them to God over its rights," he said during his program on private television station 2000 TV, according to The Hurriyet Daily News.
Full report at:
http://www.news.com.au/entertainment/tv/muslim-televangelist-warns-masturbating-men-will-find-their-hands-pregnant-in-the-afterlife/story-e6frfmyi-1227370529810
----------
No Turkish-US agreement on no-fly zone, but Ankara in line with Gulf: Erdogan
May 27 2015
Turkey, Saudi Arabia and Qatar have agreed on the necessity to enforce a safe zone and a no-fly zone in Syria despite the absence of such an agreement with the US administration, Turkish President Recep Tayyip Erdogan has said.
However, Turkey and the United States "have not reached a mutual agreement on a no-fly zone and safe haven," Erdogan said in a televised interview late on May 26, noting that steps should be taken to rectify the matter.
"The agreement between Turkey and the US on training and equipping the moderate Syrian opposition has started," the president said but added that differences still remained between Ankara and Washington about Syria.
Full report at:
http://www.hurriyetdailynews.com/no-turkish-us-agreement-on-no-fly-zone-but-ankara-in-line-with-gulf-erdogan.aspx?pageID=238&nID=83030&NewsCatID=510
----------
Israeli air force unleashes strikes on Gaza Strip
27 May 2015
Israeli jets unleashed four strikes across the Gaza Strip early on Wednesday, hours after a cross-border rocket attack.
Eyewitnesses said the planes targeted training camps belonging to the Islamic Jihad in Rafah, Khan Yunis and Gaza City.
Meanwhile, the Israeli military said it struck four "terror infrastructures" in the southern Gaza Strip and that hits were confirmed.
There were no immediate reports of casualties.
Late Tuesday a rocket fired from the Palestinian enclave struck southern Israel, causing no casualties or damage.
Full report at:
http://english.alarabiya.net/en/News/middle-east/2015/05/27/Israel-launches-air-strikes-in-Gaza-Strip.html
----------
Africa
Suspected Fulani herdsmen kill at least 23 in central Nigeria
27 May 2015
Suspected Fulani herdsmen killed at least 23 people in central Nigeria, the latest clash in a long-running battle with farming communities in the restive region, police said Tuesday.
"There was an attack by unknown gunmen suspected to be Fulani herdsmen on three villages in Logo local government area, (Benue) state," said police spokesman Austin Ezeani, referring to Saturday's violence.
"As at yesterday, 23 people were (confirmed) killed," he told AFP.
Benue is part of Nigeria's so-called Middle Belt, where the mainly Christian south meets the predominately Muslim north.
The Fulani, who are mostly Muslim, have been blamed for waves of attacks on largely Christian agrarian groups, with tensions high over access to land and other basic rights.
Fulani groups have accused farmers in Benue of stealing their cattle.
Ezeani said the motive for the latest attack had not yet been established and that officers had been deployed to the targeted villages.
Full report at:
http://www.dailymail.co.uk/wires/afp/article-3097701/Suspected-Fulani-herdsmen-kill-23-central-Nigeria.html
----------
Libya Prime Minister Abdullah al-Thinni survives assassination attempt
May 27 2015
Libya's internationally-recognized prime minister, Abdullah al-Thinni survived an assassination attempt reportedly carried out shortly after he left a session of his nation's parliament, officials said.
Al-Thinni told broadcaster al-Arabiya shortly after he left parliament in the town of Tobruk and drove away, gunmen in several cars followed his motorcade and opened fire.
"We were surprised by a lot of bullets...Thank god, we managed to escape," al-Thinni said.
"The prime minister's car was hit by bullets when armed men opened fire as it was leaving an area where a session of parliament was held," Hatem el-Ouraybi, spokesman for Libya's internationally recognized government told news agency AFP.
Ouraybi said that al-Thinni had not been harmed, but one of his bodyguards was wounded in the assault.
Full report at:
http://www.dw.de/libya-prime-minister-abdullah-al-thinni-survives-assassination-attempt/a-18477700
----------
CAR needs more money to end 'massive displacement' - aid group
27 May 2015
NEW YORK (Thomson Reuters Foundation) - Donors need to step up funding efforts for Central African Republic (CAR) where massive displacement, killings and attacks on civilians and humanitarian workers continue, the head of the Norwegian Refugee Council (NRC) said on Tuesday.
More than 37,000 people have been displaced in the first three months of 2015 alone, said a report by the NRC, while 426,200 people - or nearly 10 percent of the 4.6 million population - remain displaced within the country more than two years after violence erupted in the landlocked nation.
"It is not a good sign that only about 20 percent of the strategic repose plan for the Central African Republic is funded," Jan Egeland, secretary general of NRC said at a conference in Brussels. "Much more money is needed from the donors to this country."
Violence broke out in the historically unstable country in March 2013 when mostly Muslim Seleka rebels seized power.
Full report at:
http://www.reuters.com/article/2015/05/26/us-centralafrica-aid-displacement-idUSKBN0OB2JV20150526
----------
Despite small numbers, Burundi Muslims still influential
27 May 2015
BUJUMBURA – This week's assassination of opposition leader Zedi Feruzi has underscored the influence of Muslim figures in Burundi – despite the small size of the country's Muslim minority, which accounts for less than five percent of the national population.
Burundian Muslims played a major role in Hutu-Tutsi reconciliation during the civil war that ravaged the country – and left hundreds of thousands dead – throughout much of the 1990s.
Following the war, many Muslims in Burundi decided to pursue careers in politics.
Zedi Feruzi, head of the opposition Union for Peace and Democracy Party, was killed – along with a bodyguard – in a drive-by shooting on Saturday.
Full report at:
http://news.videonews.us/despite-small-numbers-burundi-muslims-still-influential-2719469.html
--------
North America
Obama says working with NATO allies on Islamic State, Libya
27 May 2015
President Barack Obama said on Tuesday the United States was working closely with its NATO allies to partner with other countries in the fight against Islamic State militants and addressing challenges in Libya.
"NATO is necessarily recognizing a whole range of global challenges, particularly on what we call the Southern Front... making sure that we continue to coordinate effectively in the fight against ISIL," Obama said, noting that all 28 members of the alliance were part of the coalition to support the Iraqi government against the group, also known as ISIL or ISIS.
Obama made the remarks during a meeting at the White House with NATO Secretary-General Jens Stoltenberg.
http://english.ahram.org.eg/NewsContent/2/8/131242/World/Region/Obama-says-working-with-NATO-allies-on-Islamic-Sta.aspx
----------
Montreal father says daughter arrested at airport an 'innocent victim'
27 May 2015
MONTREAL—The father of a Montreal girl targeted in one of several police terror raids conducted Tuesday said his daughter was an "innocent victim" whose mind has been poisoned by radical religious teachings over the last three years.
The man told the Star that the fate of 19-year-old Maha Zibara — arrested May 15 at the Montreal airport while allegedly bound for the ranks of a Syrian terror group such as the Islamic State — is the responsibility of Muslim preacher Adil Charkaoui, a former terror suspect, or those in his entourage at the Assahaba Islamic Community Centre.
"They are responsible," said Maha's father, Jad Zibara. "They are manipulating young people who are 16, 17, 18, 19. They are putting dark ideas in their head."
"I don't know if he is at that point of sending people to Syria or in Iraq, but what I know is that the teachings he gives are extremist and radical."
Reached by telephone Tuesday evening, Charkaoui said he did not know and had never met Zibara.
"At the community centre there is a separation between the men and the women. I don't see the women. I don't meet them," he said.
Full report at:
http://www.thestar.com/news/canada/2015/05/26/montreal-rcmp-raids-believed-linked-to-radicalization-probe.html
----------
Yemen man pleads guilty to al-Qaeda scheme to kill U.S. military
27 May 2015
A Yemeni man who prosecutors said was a member of al-Qaeda and engaged in attacks against U.S. military forces stationed in Iraq and Afghanistan pleaded guilty on Tuesday to conspiring to kill Americans overseas.
Saddiq al-Abbadi, 40, pleaded guilty in federal court in Brooklyn, New York, to four counts including conspiracy to murder U.S. nationals abroad and conspiracy to provide material support to a foreign terrorist organization.
The plea came after prosecutors in January unveiled charges against al-Abbadi and another Yemeni man, Ali Alvi al-Hamidi. Both men had been arrested in Saudi Arabia and subsequently expelled.
Al-Abbadi faces up to life in prison. U.S. District Judge Nicholas Garaufis scheduled sentencing for September 25.
Full report at:
http://english.alarabiya.net/en/News/middle-east/2015/05/27/Yemen-man-pleads-guilty-to-al-Qaeda-scheme-to-kill-U-S-military.html
----------
Hero or extremist?: Tables turn on man who helped Canadian government with would-be jihadists
27 May 2015
MONTREAL — Three months ago, Hussein Hamdani was widely hailed as a hero on the front lines of Canada's war against homegrown terrorism, regularly pulling teenagers back from the brink of radicalization before they boarded a plane to Syria or Iraq.
He has been the federal government's bridge to the Muslim community and, at a counter-terrorism summit in Washington in February, Public Safety Minister Steven Blaney praised the efforts of Hamilton's Muslim Community – of which Hamdani is an integral part.
Following recent reports on a Quebec blog, then a news network, however, Hamdani now stands accused of being a radical Islamist – and the federal government has stopped returning his emails.
Full report at:
http://news.nationalpost.com/news/canada/hero-or-extremist-tables-turn-on-man-who-helped-ottawa-with-would-be-jihadists
----------
Pentagon chief's take on Iraqis undercuts Obama's strategy
27 May 2015
Defense Secretary Ash Carter's blunt assessment that Iraqi forces lack the "will to fight" undermines a central premise of President Barack Obama's strategy for defeating the Islamic State: that Iraq's military can effectively handle ground operations so Americans don't have to.
Carter's comments in a weekend interview reflect deep concern within some quarters of the administration about the capabilities of Iraq's security forces. Despite outnumbering Islamic State forces, the military suffered a major defeat this month in the city of Ramadi. And some officials question whether it can overcome the same sectarian divisions between Sunnis and the Shiite-dominated government that gave the Islamic State space to thrive.
"The failure, it's not one of courage," Marina Ottaway, a Middle East analyst at the Wilson Center, said of the Iraqi military. "It's one of politics."
Full report at:
http://english.alarabiya.net/en/perspective/analysis/2015/05/27/Pentagon-chief-s-take-on-Iraqis-undercuts-Obama-s-strategy.html
----------
Iraqi forces can retake Ramadi, says US
May 27 2015
WASHINGTON: The United States encouraged the Iraqi forces on Tuesday to expel the rebels from Ramadi as the country's deputy prime minister also questioned his troops sudden collapse in the rebel enclave.
On Sunday, US Secretary of Defence Ashton Carter criticised the Iraqi forces for their failure to defend Ramadi, noting that "they vastly outnumbered the opposing force. And yet they failed to fight; they withdrew from the site".
Iraq's Deputy Prime Minister Saleh al Mutlaq told CNN on Monday evening that the army's willingness to let Ramadi fall had surprised him too.
"It's not clear for us why such a unit, which was supposed to be trained by the Americans for years, and supposed to be one of the best units in the army, would withdraw from Ramadi in such a way?" he asked.
Full report at:
http://www.dawn.com/news/1184437/iraqi-forces-can-retake-ramadi-says-us
---------
Europe
Isis Expected To Carry Out 'More Violence as One Year Anniversary of IS Declaration Approaches
27 May 2015
As the one year anniversary of the so-called "caliphate" declared by Isis approaches, the group will be seeking to make itself appear "stronger and more defiant than ever", an expert has said.
In his address marking the start of the Muslim holy month of Ramadan last year, leader Abu Bakr al-Baghdadi appeared in public for the first time to proclaim himself caliph of the "Islamic State" and urge supporters to "take up arms" around the world.
Since then, the group has continued to seize territory across swathes of Iraq and Syria and made deals with Islamist terrorist groups in several countries.
As well as the group's broadcast of gory beheadings and executions of captives, including Western journalists and aid workers, it has claimed responsibility for international in terror attacks in Saudi Arabia, Tunisia, Libya, Afghanistan and Pakistan.
Atrocities in France, Australia and the US have also been carried out by gunmen pledging allegiance to the group.
Charlie Winter, a researcher London-based counter extremism think tank the Quilliam Foundation, said Isis will be "more active than ever" over the coming month as the one-year anniversary of the Islamic State approaches.
Full report at:
http://www.independent.co.uk/news/world/middle-east/isis-expected-to-carry-out-more-violence-more-advances-more-attacks-as-one-year-anniversary-of-islamic-state-declaration-approaches-10277072.html
---------
UN: 25,000 Fighters from 100 Countries Fighting for Terrorist Groups in Mideast
27 May 2015
The UN Security Council (UNSC) released a report outlining the flow of foreign fighters into the ranks of extremist groups around the world, and warns of the risk of returning the fighters launching terrorist operations in their home countries.
Over 25,000 "foreign terrorist fighters" from more than 100 countries have travelled to join groups such as the ISIL, al-Nusra Front and al-Qaeda in conflicts around the world, Basnews reported.
Iraq and Syria are the countries most affected by the flow of terrorists, with significant numbers also travelling to Libya, the report said.
Full report at:
http://english.farsnews.com/newstext.aspx?nn=13940306000781
---------
UN: Boko Haram increasingly uses children for suicide attacks
May 27 2015
During the first five months of this year, Nigerian Islamist group Boko Haram used more women and children as suicide bombers than in all of 2014, UN children's agency UNICEF said Tuesday.
"Children are not instigating these suicide attacks; they are used intentionally by adults in the most horrific way," said Jean Gough, UNICEF Representative in Nigeria.
"They are first and foremost victims – not perpetrators," she added.
There were 26 reported suicide attacks through the course of 2014 in northeastern Nigeria, according to the UN officials. By contrast, 27 instances have been recorded this year, as of May 2015. In at least three-quarters of the blasts, the bombers were women or children.
Boko Haram would send them to crowded areas, such as market places and bus stations. Girls, aged seven to 17 according to eyewitness accounts, carried out nine suicide bombings in the past 11 months, UN officials said.
Full report at:
http://www.dw.de/un-boko-haram-increasingly-uses-children-for-suicide-attacks/a-18477640
---------
Iran nuclear deal unlikely by June 30: French envoy
27 May 2015
An Iran nuclear deal is not likely by June 30 because technical details will remain to defined and Iran will not get sanctions relief before the end of the year in the best of cases, western ambassadors said on Tuesday.
Six major powers are seeking to negotiate an agreement under which Iran would limit its nuclear program in exchange for the easing of economic sanctions that have crippled its economy.
Envoys from Britain, France and Germany, three of the so-called P5+1 group that includes China, Russia and the United States, sketched out their expectations for the end game as a self-imposed June 30 approaches.
Full report at:
http://english.alarabiya.net/en/News/middle-east/2015/05/27/Iran-nuclear-deal-unlikely-by-June-30-French-envoy.html
---------
Amnesty International : Hamas committed war crimes during 2014 war with Israel
May 27 2015
Rights group Amnesty International on Wednesday accused Islamist group Hamas of potential war crimes, using its 2014 Gaza war with Israel to "settle scores" with rival Palestinians through murder, abductions and torture.
The London-based group issued a report detailing a "brutal campaign of abductions, torture and unlawful killings against Palestinians accused of 'collaborating' with Israel." Amnesty claims Hamas killed at least 23 Palestinians and tortured dozens of others.
"It is absolutely appalling that, while Israeli forces were inflicting massive death and destruction upon the people in Gaza, Hamas forces took the opportunity to ruthlessly settle scores, carrying out a series of unlawful killings and other grave abuses," Amnesty's Middle East and North Africa director Phillip Luther said.
Full report at:
http://www.dw.de/report-hamas-committed-war-crimes-during-2014-war-with-israel/a-18477738
---------
Man facing jail for bid to join IS
27 May 2015
A young Muslim is facing jail after being found guilty of trying to join Islamic State in Syria to fulfil his ambition of becoming a martyr.
Zakariya Ashiq, 20, left the UK on November 6 last year on a bus from Victoria Station in London and made his way via Amsterdam, Frankfurt and Bulgaria to Jordan, his Old Bailey trial heard.
But when he failed to cross the border to reach his intended destination of Syria, he flew back to Heathrow where he was arrested on November 20.
In his defence, Ashiq, of Station Road, Coventry, admitted trying to get to Syria but claimed he had to leave the UK because he was being "pestered" by MI5 and "tortured" by unidentified shadowy figures.
Full report at:
http://www.wimbledonguardian.co.uk/news/national/12972356.Man_facing_jail_for_bid_to_join_IS/
---------
2015 is 'year of fear' for children worldwide, warns Gordon Brown
27 May 2015
Children are bearing the brunt of escalating worldwide refugee crises, armed conflicts and natural emergencies with 2015 – dubbed "the year of fear" – already the most dangerous since 1945 for the youngest and most vulnerable in society, according to Gordon Brown, UN special envoy for global education.
Delivering an impassioned call for urgent international action in a briefing in New York, the former British prime minister and Labour party leader said more than half the world's record numbers of 38 million internally displaced persons (IDPs) and 16.7 million refugees are children.
Full report at:
http://www.theguardian.com/global-development/2015/may/26/2015-is-year-of-fear-for-children-worldwide-warns-gordon-brown
---------
South Asia
China touts 'success' of crackdown in Muslim region
27 May 2015
China said it has foiled 181 terror plots in the year since it started a crackdown on Islamic separatists in the northwestern region of Xinjiang that was prompted by a surge of violence that reached as far as the capital Beijing.
Touting the crackdown's success, state broadcaster CCTV on Wednesday showed paramilitary troops conducting drills featuring fleets of helicopters, simulated building assaults and heavy weapons including anti-tank guns and flamethrowers.
The report did not detail how authorities define a terror plot. It said 96 percent of the oiled plots were still in the planning stages. According to the report, 112 suspects have turned themselves in, but no figures were given on those captured or killed by police.
Authorities also have targeted the distribution of video and audio recordings promoting extremism, along with outward signs of religious conservatism among the native Muslim Uighur population such as the wearing of long beards by men and veils by women. Authorities also have tightened controls on both legal and illegal border crossings into neighboring Central Asian states.
Full report at:
http://english.alarabiya.net/en/News/asia/2015/05/27/China-touts-success-of-crackdown-in-Muslim-region.html
----------
Five soldiers martyred, 63 militants killed in military operations
May 27 2015
Five soldiers have embraced martyrdom while 63 insurgents killed in separate military operations across the country, ministries of defense and interior announced on Wednesday.
A statement issued by the Ministry of Defense states that the five soldiers embraced martyrdom in security operations.
In the meantime, a statement issued by the Ministry of Interior states that 63 militants were killed and 61 others wounded in separate military operations in eleven provinces in past 24 hours.
The operations were jointly conducted by Afghan National Police, Afghan National Army and personnel from NDS in Badakhshan, Sar-e-Pul, Kunduz, Baghlan, Herat, Kandahar, Zabul, Ghazni, Khost, Paktika and Paktiya provinces.
An unspecified number of ammunition and weapons were also seized by the security forces during these operations, interior ministry statement adds.
http://www.khaama.com/five-soldiers-martyred-63-militants-killed-in-military-operations-3377
----------
Afghan Taliban gunmen killed after attack on Kabul guesthouse
May 27 2015
KABUL: Four Taliban insurgents armed with assault rifles and a grenade launcher stormed a guesthouse in the diplomatic quarter of the Afghan capital overnight and held out for hours until they were killed by government forces early on Wednesday, officials said.
No casualties other than the attackers were reported, Afghanistan's deputy interior minister General Ayoub Salangi said. Kabul police chief Abdul Rahman Rahimi said the guesthouse was owned by a prominent Afghan political family that includes Foreign Minister Salahuddin Rabbani.
The Afghan Taliban claimed responsibility for the attack after it ended and said numerous "invaders" had been killed, although it often makes exaggerated claims about casualties in attacks against Afghan government and foreign targets.
Full report at:
http://www.dawn.com/news/1184458/afghan-taliban-gunmen-killed-after-attack-on-kabul-guesthouse
----------
PM Sheikh Hasina asks UN to tackle terror attacks on peacekeepers
May 27 2015
Prime Minister Sheikh Hasina yesterday strongly denounced the killing of a Bangladeshi UN peacekeeper in Mali and urged the United Nations to play a more effective role in tackling such terrorist and militant acts.
In a condolence message, the prime minister also expressed profound shock at the death of the peacekeeper, Nilkanto
Hajong of Bangladesh Army, who was shot dead by terrorists in Bamako, the capital of Mali.
She said Bangladesh has always stood against terrorism and militancy both at national and international levels.
The prime minister also prayed for the eternal peace of the departed soul and conveyed her deep sympathy to his family members.
She also wished early recovery of another Bangladeshi peacekeeper, Shirajul Islam, who was injured in the same incident.
http://www.dhakatribune.com/bangladesh/2015/may/27/pm-asks-un-tackle-terror-attacks-peacekeepers#sthash.eD0B1qCi.dpuf
----------
China: Malaysia has its own right to carry out immigration rules
May 27 2015
BEIJING, May 27 ? China respects Malaysia's move to implement its immigration rules based on its own rule of law, indicating that the world's second largest economy has nothing to do with the barring of Hong Kong student activist Joshua Wong from entering Malaysia.
Chinese Foreign Ministry spokesman Hua Chunying said she did not understand the details of the issue despite coming across the news report.
"Malaysia has its own right to carry out its immigration rules," she told a press briefing here today without further elaboration.
She made the comment in relation to some media suspecting Beijing's involvement over the issue.
Full report at:
http://www.themalaymailonline.com/malaysia/article/china-malaysia-has-its-own-right-to-carry-out-immigration-rules#sthash.elc9JSMD.dpuf
-----------
Southeast Asia
Mass graves in Perlis: Villagers say Putrajaya missed clues on human trafficking
May 27 2015
WANG KELIAN, May 27 ? Malaysia's government has expressed shock at finding human-trafficking camps and graves near the Thai border, but for local villagers like Sani Hashim the human clues were right there in plain sight.
Sani is one of many residents of the remote area in Perlis state who say that starving illegal migrants ? some bearing signs of mistreatment ? have for years staggered from nearby thickly jungled hills, where a network of graves and camps was recently found.
Their accounts stand in stark contrast to those of Malaysian authorities ? long accused by activists of tolerating an abusive and deadly regional human-trafficking trade ? who claim the grisly discovery came as a surprise.
"I have lived here for 30 years and I have seen many Rohingya, and they are always in bad shape," said Sani, 80, referring to the Muslim Rohingya minority which flees persecution in Myanmar.
Full report at:
http://www.themalaymailonline.com/malaysia/article/mass-graves-in-perlis-villagers-say-putrajaya-missed-clues-on-human-traffic#sthash.qfD6UUHw.dpuf
----------
Rohingya Crisis a Test Case for Asean — And Indonesia
May 27 2015
The plight of Myanmar's pariah Rohingya community has become a major headache for several countries in Southeast Asia. Persecuted by their own government and harassed by the majority Burmese, the Rohingya have taken to the sea in rickety boats in the hope of finding a safe haven.
Indonesia and Malaysia recently agreed to provide temporary shelter to the refugees, but a permanent solution is needed. The Association of Southeast Asian Nations, the organization to which all the countries affected by this crisis except Bangladesh belong, is conspicuous by its absence.
Instead of trying to solve the Rohingya problem within an Asean framework, Indonesia, Malaysia and Thailand have consulted one another and agreed to hold a meeting on Friday in Thailand, to which Myanmar has been pressured to send a representative.
Full report at:
http://thejakartaglobe.beritasatu.com/opinion/johannes-nugroho-rohingya-crisis-test-case-asean-indonesia/
----------
Hadi wanted unity government without opposition, says Nik Abduh
May 27 2015
Datuk Seri Abdul Hadi Awang wanted a government without an opposition and that was what he had in mind when he mooted the unity government proposal with Umno, said PAS's central committee member Nik Mohamad Abduh Nik Aziz.
A staunch supporter of the PAS president, Nik Abduh said the unity government does not consist of only the Islamist party but included ruling coalition Barisan Nasional as well.
"What the PAS president suggested was a government with no opposition, it is not about a BN-PAS government. This has been stressed several times.
"However, this should be left to the top leadership to discuss," he told reporters outside the Parliament lobby today.
The unity government was first mooted after the 2008 general election in which ruling Barisan Nasional (BN) lost its customary two-thirds majority. But the move did not take off as the party's late spiritual leader Datuk Nik Aziz Nik Mat was adamant against working with rival Umno.
Full report at:
http://www.themalaysianinsider.com/malaysia/article/hadi-wanted-unity-government-without-opposition-says-nik-abduh#sthash.FOJTkmTx.dpuf
----------
URL: https://www.newageislam.com/islamic-world-news/new-age-islam-news-bureau/new-isis-atrocities-in-syria-and-iraq-reported,-81-percent-of-arabs-support-islamic-state-victory/d/103191