New Age Islam News Bureau
19 Oct 2017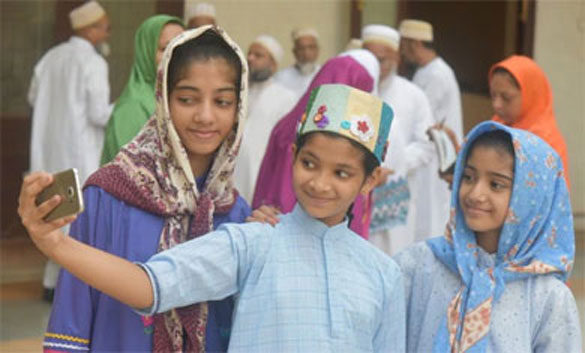 The Darul Uloom Deoband, one of the Islamic seminaries in India has through a fatwa banned Muslims from posting their selfies on social media. BCCL/ REPRESENTATIONAL IMAGE
-----
• New Fatwa Bans Muslims from Posting Pictures on Social Media, Calls it 'Un-Islamic'
• There Are No Muslim or Christian Terrorists: Tibetan Spiritual Leader Dalai Lama
• 'Saudi Arabia, Home Of Islam, Will Start Policing Prophet Muhammad's Teachings To Stop Terrorism
• Lawmakers Urge US to Craft Targeted Sanctions on Myanmar Military
• 'No Country Can Make Progress without Granting Religious Freedom to Citizens': Interfaith Harmony Conference
• Qaddafi Family Forms Legal Team To Sue Qatari Figures
India
• New Fatwa Bans Muslims from Posting Pictures on Social Media, Calls it 'Un-Islamic'
• There Are No Muslim or Christian Terrorists: Tibetan Spiritual Leader Dalai Lama
• Indian Bishop Asks Govt to Protect Rohingya Refugees
• Five Muslim Brothers Lead Ayodhya 'Shobha Yatra'
• Tillerson Seeks Stronger Ties with India
• Muslim family keeps Hukka culture alive
• This was Sushma Swaraj's generous gesture for Pakistanis on Diwali
• New security headache in J&K: 3-ft-tall Jaish-e-Mohammed militant
--------
Arab World
• 'Saudi Arabia, Home Of Islam, Will Start Policing Prophet Muhammad's Teachings To Stop Terrorism
• Vicious attack on Azhar suggests conspiracy on Islam, says Grand Sheikh
• Abadi orders the withdrawal of all military forces from Kirkuk
• Iraqi army retakes almost all disputed areas from Kurds
• Iraqi Forces Impose Full Control over Kirkuk
• Over 100 Gunmen Receive Gov't Amnesty in Homs Province
• Iraqi Kurdistan Region Parliament Speaker Calls for Barzani's Resignation
• SDF: Campaign against ISIS in eastern Syria to speed up
• Syrian Army Soldiers Inflict Heavy Losses on Daesh in Dayr Al-Zawr
--------
North America
• Lawmakers Urge US to Craft Targeted Sanctions on Myanmar Military
• US Man Plotted To Behead Anti-Muslim Cartoon Contest Organiser
• Group protests Toronto District School Board's Islamic Heritage Month guide
• Report: Facebook, Google helped group run anti-Islam ads
• Durbin answers Islamic school students' letter with in-person visit
--------
Pakistan
• 'No Country Can Make Progress without Granting Religious Freedom to Citizens': Interfaith Harmony Conference
• UK Mulling Hate Speech Charges against Altaf Hussain
• Afghan, Pakistani militant groups in disarray after recent US drone strikes
• Clerics, politicians come down hard on govt
• Arabic Can Play Role in Muslim Unity: Envoy
• 2 security personnel killed in North Wazristan IED blast
• 8 killed, 24 others wounded in blast targeting police vehicle in Quetta
• Jamaat-ul-Ahrar chief 'dead' in US drone strike
• Clerics, politicians come down hard on govt
--------
Africa
• Qaddafi Family Forms Legal Team To Sue Qatari Figures
• EU Aims To Boost Anti-Terror Info Sharing With Tunisia
• Somali president pledges war on Shabab after fatal attack
• Mozambique: Why Islamist Attack Demands a Careful Response from Mozambique
• Africa: Trump Critics Cite Double Standards After Somali Attack
--------
Southeast Asia
• Political Islam Navigates and Changes Indonesia's Democratic Landscape
• Anti-Birthday Muslim Preacher Visits Hospital Patients on Deepavali Day
• DAP MP wants Putrajaya to explain how Malaysia lost bid for UN Human Rights Counci
• Now, PAS wants Shariah Bill back on Parliament agenda
• Muhammadiyah plays down report of its alleged complicity in 1965 massacre
• Philippines Arrests Militant Widow for Trying to Recruit Fighters
• Indonesia Braces for Stragglers after Battle in Marawi City
--------
Europe
• Black and Muslim Prisoners Suffer Worse Treatment in UK, Study Finds
• Britain Facing Most Serious Threat Ever: MI5 Chief
• G7 to focus on foreign fighter fallout from rout of Daesh
• EU backs redesign of public spaces to curb terror attacks
--------
Mideast
• Yemen: Saleh's Party Threatens to Break Partnership with Houthis
• Saudi Forces Kill 20 Houthis in Special Operation off Najran
• Israel raids eight Palestinian media firms
• Kuwaiti lawmaker tells Israeli delegation to leave IPU conference
• Iran's UN envoy: Israeli occupation of Palestine source of Middle East conflicts
• Ankara supports united Iraq, Turkish prime minister says
• Iran: Israel cannot be allowed to target Syria at will
--------
South Asia
• Another Suicide Bomber Arrested Before Carrying Out Attack In Kabul
• HIA led by Hekmatyar warns regarding troops surge and increased airstrikes
• Pak army chief quietly visits Saudi and UAE as QCG talks on Afghan peace kicks off
• Karzai condemns Gardez city attack as death toll rises to 41 people
Compiled by New Age Islam News Bureau
URL: https://www.newageislam.com/islamic-world-news/new-fatwa-bans-muslims-posting/d/112943
--------
New fatwa bans Muslims from posting pictures on social media, calls it 'un-Islamic'
October 19, 2017
The Darul Uloom Deoband in Uttar Pradesh's Saharanpur, one of the largest Islamic seminaries in India, has issued a fatwa that bans Muslims from posting pictures on social media sites.
Yes, that's correct. No Facebook, no Instagram, no SnapChat.
Darul Iftaa, which issues edicts for the Darul Uloom Deoband, is said to have announced that Muslims, men and women alike, should not post pictures of themselves or their family members on social media. They counted this act as 'un-Islamic'.
WHY THE FATWA?
A few days back, a person submitted a written question to the Fatwa department at Darul Iftaa, asking whether posting pictures of himself or his wife on Facebook and Whatsapp was un-Islamic or not.
In the wake of this query came the fatwa saying that Islam doesn't allow the act.
Reports have it that earlier this month, the Darul Uloom Deoband also issued a fatwa calling ban on women plucking, trimming, shaping their eyebrows and cutting hair.
http://indiatoday.intoday.in/story/fatwa-ban-muslims-posting-pictures-social-media-darul-uloom-deoband/1/1071390.html
--------
There Are No Muslim Or Christian Terrorists: Tibetan Spiritual Leader Dalai Lama
October 18, 2017
IMPHAL: There are no Muslim or Christian terrorists because terrorists are no more religious once they embrace terror, Tibetan spiritual leader the Dalai Lama said on Wednesday on his first visit to Manipur capital Imphal. People cease to be Muslim, Christian or any group the moment they became terrorists," the Dalai Lama, 82, said at a public reception here on the second day of a three-day visit to Manipur.
The spiritual leader, who has a string of public engagements in the northeastern state, also frowned at religious intolerance and called the continuing violence against the Muslims in Myanmar "unfortunate".
He made a distinction between preserving or practising religion and propagating it. The latter, he said, "is not good".
"India is historically a multi-religion nation. So different people, different communities have a different belief and they must preserve that. But no one religious group has the right to convert or propagate. That is wrong," the exiled spiritual leader said.
The Dalai Lama has lived in India since fleeing his homeland in 1959 and is hated by the Chinese Communist regime that has tried to prop up his successor.
Asked about the recent standoff between India and China over the Doklam issue, he said while such incidents may continue to happen, the two countries were unlikely to go to war because there would be no clear winners.
"India and China are great nations, none have the ability to defeat the other, both have to live beside each other, in border areas some problem, but I do not think this will ever become anything serious" he added.
Earlier in the day, the leader also said that he hoped to see an Asian Union, comprising India, Japan and China, some day. "I am an admirer of European Union, African Union and Malaysia Union. I dream of an Asian Union with India, Japan and China as members," he said.
https://www.ndtv.com/india-news/there-are-no-muslim-or-christian-terrorists-tibetan-spiritual-leader-dalai-lama-1764636
--------
'Saudi Arabia, Home Of Islam, Will Start Policing Prophet Muhammad's Teachings To Stop Terrorism
By Greg Price
10/18/17
Saudi Arabia, which has long been linked to global terrorism, now says it will police the teachings of the Prophet Muhammad to make sure followers of Islam do not use twisted and radical interpretations of Islamic traditions to foment violence and terrorism.
King Salman announced the formation of an "authority" that would focus on the "hadith," passed-down records of what Muhammad said and did while alive that are used by clerics to teach Islam, Reuters reported Wednesday.
While lacking specifics on how it would be implemented, Saudi Arabia's Culture and Information Ministry said the new group would strive to "eliminate fake and extremist texts and any texts that contradict the teachings of Islam and justify the committing of crimes, murders and terrorist acts."
Radical organizations such as the Islamic State militant group (ISIS) and others employ extreme interpretations of Muhammad's teachings and sayings to wage war and terror attacks, and the United States has long sought Saudi Arabian help in combating such extremism.
Saudi Arabia and its Al Saud royal family have long railed against radical Islam, but the kingdom has often found itself at the heart of immense division between more conservative, older clerics and younger generations.
One example of Saudi attempts to crack down on terrorism came in January 2016, when a major Shi'ite minority cleric was executed along with 46 others—mostly Sunnis—who were convicted of conducting attacks for Al-Qaeda in Saudi Arabia years ago. The cleric, Nimr al-Nimr, was viewed as a leader of younger Saudis who criticized older leaders and their inability to find equality with the majority Sunnis.
Saudi Arabia has worked with the U.S. coalition to combat ISIS in the Middle East, particularly in the war in Yemen against Al-Qaeda in the Arabian Peninsula (AQAP), but conversely, its government faces accusations of funding the spread of its highly conservative sect of Islam, Wahhabism.
In July, a United Kingdom-based think tank published a report that said Saudi Arabia "sponsored a multimillion-dollar effort to export Wahhabi Islam across the Islamic world, including to Muslim communities in the west."
Furthermore, a June 2017 congressional research report that detailed U.S. and Saudi relations stated financial support from Saudi nationals "remains a threat" to Salman's government and the world at large.
Conspicuously, President Donald Trump left Saudi Arabia off his travel bans this year even though it has served as by far the biggest exporter of terrorism to the U.S. Fifteen of the 19 terrorists involved in the September 11, 2001 attacks in New York and Washington hailed from Saudi Arabia.
And between 1975 and 2015, the Cato Institute found Saudi Arabia led all other countries with 19 total terrorists calling its soil home, with Pakistan next at 14, according to The Atlantic.
http://www.newsweek.com/saudi-arabia-terrorism-mohammad-policing-687816
--------
Lawmakers Urge US to Craft Targeted Sanctions on Myanmar Military
October 19, 2017
More than 40 lawmakers urged the Trump administration on Wednesday to reimpose U.S. travel bans on Myanmar's military leaders and prepare targeted sanctions against those responsible for a crackdown on the country's Rohingya Muslim minority. In a letter sent to U.S. Secretary of State Rex Tillerson, a group of Republican and Democratic members of the House of Representatives called for "meaningful steps" against Myanmar's military and others who have committed human rights abuses in an offensive that has driven more than 500,000 Rohingya Muslims out of the Southeast Asian nation.
"Burma's authorities appear to be in denial of what has happened," stated the letter. "We urge you to do everything possible to ensure protection and security for those trapped inside Burma or willing to return, as well as oppose forcible returns from neighboring countries."
http://indianexpress.com/article/world/lawmakers-urge-us-to-craft-targeted-sanctions-on-myanmar-military-4897650/
--------
'No Country Can Make Progress without Granting Religious Freedom to Citizens': Interfaith Harmony Conference
Oct 19, 2017
ISLAMABAD: Speakers at a conference, titled 'Promotion of Interfaith Harmony and Coexistence in the light of Paigham-e-Pakistan', on Wednesday unanimously decided that no country in the world can make progress without granting religious freedom to its citizens.
The seminar, organised by the International Islamic University Islamabad (IIUI), was presided over by IIUI Rector Professor Dr Masoom Yasinzai. The event was also attended by Members of National Assembly (MNA) Dr Ramesh Kumar Vankwani, Asiya Nasir, Robina Khurshid Alam and prominent scholars belonging to the Hindu, Christian, Bhai, and Sikh communities.
Speaking at the seminar, the parliamentarians, representatives of civil society, academicians and policy makers unanimously stressed the need for reviewing the country's educational policy and ensuring training of teachers and scholars to respect other religions and their sacred places, on the basis that Islam did not allow extremist practices.
Most speakers said that common faith centres should be established in different areas of the country to enable people to practice their religion with freedom.
Addressing the participants, MNA Rubina Khursheed Alam read out a joint declaration saying that it was a continuation of the Paigham-e-Pakistan resolution, adopted on May 26 this year during a national seminar on 'Reconstruction of Pakistani Society in the Light of Mithaq-e-Madinah', under the chairmanship of the president of Pakistan.
The joint declaration said that all citizens, irrespective of their faith should be ensured protection under the law and their rights, including right to property, education, family, faith, right to profess and freedom of religious practice, should be safeguarded.
The declaration further stated that every citizen had the right to employment sans discrimination. The religious sentiments of all the communities were important and should be supportive of each other, it added.
According to clause 16 of Mithaq-e-Madinah, all Muslim and non-Muslim citizens, should be treated with absolute equality. The declaration also mentioned that interfaith religious and theological differences should not be debated without strictly following the ethics of disagreement.
Meanwhile, speakers at the event said that interfaith dialogue was a legitimate tool for advancing harmony and co-existence, hence, it should be promoted as a policy for maintaining peace, harmony and co-existence in the society. Participants also said that lectures, seminars, speeches and conferences encouraging love mutual respect, harmony and cooperation with other religious communities should be promoted in the country.
Further, they demanded that religion based hate speeches should be discouraged and offenders should be penalised under the Anti-Terrorism Act 1997 by considering them crimes against state.
Speakers and participants at the seminar unanimously decided that the subject of interfaith harmony, tolerance and peaceful co-existence should be introduced as a compulsory subject in all primary and higher secondary schools of the country.
Moreover, they said there was a need to stress on religious scholars of all the faiths to promote nationalism, humanism, social cohesion and inter faith harmony in their respective religious gatherings on a weekly basis.
The above-mentioned declaration also stated that a corps of volunteers of peace should be raised by all religious communities to promote and protect social cohesion. It further stated that forceful conversion was not permitted in Islam and coercion in change of faith had no place in Shariah as well.
https://www.pakistantoday.com.pk/2017/10/18/no-country-can-make-progress-without-granting-religious-freedom-to-citizens/
--------
Qaddafi family forms legal team to sue Qatari figures
18 October 2017
A lawyer representing the family of former Libyan leader Muammar Qaddafi has announced the formation of a team of five international lawyers to prosecute Qatari figures before the International Criminal Court.
In a press conference held in Tunis, the lawyer Khaled al-Zaidi confirmed that the lawsuit against the Qatari figures relate to charges of supporting terrorism and causing the displacement of Libyans.
Al-Zaidi said that Qatar could be sued under Law No. 1970, which Qatar itself was the reason behind, and that no new Security Council resolution was required to file the case.
Al-Zaidi vowed to pursue and prosecute all those responsible for rumors and fabrications against the Gaddafi family, stressing that he has begun investigating a large number of cases in and outside Libya.
https://english.alarabiya.net/en/News/north-africa/2017/10/18/Qaddafi-family-forms-legal-team-to-sue-Qatari-figures.html
--------
India
Indian bishop asks govt to protect Rohingya refugees
October 18, 2017
Bishop Ivan Pereira of Jammu–Srinagar in northern India has asked the national government to ensure the safety of Muslim Rohingya refugees threatened by right-wing Hindu groups.
Death threats have caused more than 1,200 Rohingya to flee from the Jammu region where they have been sheltering since 2012 when ethnic violence flared in Buddhist-majority Myanmar.
Jammu and Kashmir, the only Muslim-majority state in India, has long endured a violent secessionist conflict involving local Muslims who want the region to become fully independent or join with Pakistan. Jammu–Srinagar Diocese covers the entire state of Jammu and Kashmir.
Some Hindu groups fear the presence of Rohingya could exacerbate the internal violence.
Bishop Pereira stressed that it was strife in Myanmar's Rakhine State that forced them to leave their homes.
Since late August this year, hundreds of thousands more Rohingya have fled Myanmar, mainly to Bangladesh.
Bishop Pereira says members of the group that have come to India since 2012 are also victims of violence and uncertainty.
The state should meet their "immediate needs" and only then initiate a process of deportation if it considers them to be illegal migrants, the bishop said.
The Indian federal government has announced plans to deport roughly 40,000 "illegal" Rohingya from India.
A government representative told India's Supreme Court that Islamic militants working against India could misuse the ethnic Muslim minority Rohingya.
The Rohingya in India were already facing threats from Hindu groups such as Vishwa Hindu Parishad (world Hindu council) who described their arrival as a conspiracy to change the demography of the Hindu-majority Jammu region in the state.
Of the state's 12.5 million people, the Jammu region has roughly 6 million people, 62 percent of them Hindus and the rest nearly all Muslims.
Life threatened
Rakesh Gupta, president of the Jammu Chamber of Commerce and Industry, in a statement last month described Rohingya as "criminals and drug traffickers" disowned by their own country.
He said if the government did not proceed with their deportation, his association would have no option but to launch an 'identify and kill' movement against them.
Among those fleeing the Jammu region is 43-year-old Rahim Sheikh.
He complained about having to run way from danger in Myanmar only to now again come under threat.
"Who wants to endanger the life of his family?" he said.
Showkat Ahmad, who heads the Sakhawat Centre, a Kashmir based volunteer group working among the refugees, told ucanews.com that Rohingya people settled in the Hindu-majority Jammu area to avoid the colder climate of the Muslim-majority Kashmir valley.
Government figures indicate that Jammu and Kashmir State houses 1,219 Rohingya families comprising 5,107 people and that only about 4,000 of them have United Nations High Commissioner for Refugees identity cards.
Unofficial figures put the number of Rohingya in the state at more than 10,000.
Rahim Sheikh, a father of two daughters, said it was not possible to live in the Jammu region under suspicion.
"The government and political parties were after us and we decided to leave the place forever," Sheikh said.
More than 250 families had already left.
"I have no idea where I will go with my family," Sheikh said.
"But one thing is certain, I will leave this place within a day or two."
Rohingya refugees in India have already been subjected to violence.
Three people were killed and six injured on Nov. 26 last year when an mob of Hindus set fire to 150 Rohingya shanties in Jammu.
https://www.ucanews.com/news/indian-bishop-asks-govt-to-protect-rohingya-refugees/80570
--------
Five Muslim brothers lead Ayodhya 'shobha yatra'
Yusra Husain
Oct 19, 2017
AYODHYA: Shamshad had been painting his face and body since 8am on Wednesday and it took him two hours to complete the make-up. When he was done, Shamshad looked no less than a member of the 'vanar sena' he aimed to ape.
From Bandiki village in Rajasthan's Dausa district, Shamshad and his four brothers, who belong to the Behrupiya community, were in the forefront of the 'shobha yatra' which was taken out in Ayodhya to mark the Treta Yug celebrations. The yatra covered around 3 km from Saket College to Ram Katha park.
While Shamshad was a member of the 'vanar sena', his brother Fareed essayed the role of Lord Shiva, Saleem was decked up as Hanuman and the youngest sibling Akram as Lord Krishna. The eldest brother Feroz masqueraded as a djinn, who was among several others in the troupe gathered to receive Lord Ram on his arrival in Ayodhya.
"Our family has been part of Ram Lila for generations but this is the first time we were invited to Ayodhya. We are sure we can revive our lost sanskriti (culture) if the tradition of our country is always celebrated like this," said Fareed.
As they walked barefoot for 3 km, the five Muslim brothers were showered with flowers. Devotees touched their feet and locals took their pictures.
Full report at:
https://timesofindia.indiatimes.com/city/lucknow/five-muslim-brothers-lead-ayodhya-shobha-yatra/articleshow/61138893.cms
--------
Tillerson seeks stronger ties with India
OCTOBER 18, 2017
U.S. Secretary of State characterises China a destabilising force.
India and America are "two bookends of stability – on either side of the globe" and the "emerging Delhi-Washington strategic partnership" has the potential to anchor the rules based world order for the next hundred years, U.S. Secretary of State Rex Tillerson has said.
Mr. Tillerson, who will be travelling to India and Pakistan next week, said both countries are "important elements" in the U.S. policy for stabilising South Asia and characterised China a destabilising force. "China's provocative actions in the South China Sea directly challenge the international law and norms that the United State and India both stand for," he said, speaking at the Centre for Strategic and International Studies (CSIS) on 'U.S.-India Partnership of the next 100 years: The foundations of a free and open Indo-Pacific.'
The Secretary of State said the new "regional approach" on Afghanistan involved seeking a resolution to tensions between India and Pakistan also. "We intent to work closely with India and Pakistan and we hope to ease tensions along their borders as well..Pakistan has two very troubled borders. We would like to help take the tensions down on both of those," Mr. Tillerson said.
"We see it as a regional issue. We solve Afghanistan by addressing the regional challenges. Pakistan is important element in that India is important element in that. Of how we achieve the ultimate the objective, which is a stable Afghanistan, which no longer serves as a launch pad for terrorism," he said, adding that such an improvement in Afghanistan will benefit Pakistan and Afghanistan. "India's significant role is in giving development assistance to Afghanistan…" he said. Mr. Tillerson said the new South Asia policy of the U.S. was a message to the Taliban and others that "we are not going anywhere and we are going to be here as long as it takes…"
"…We don't see it as one issue, and (it is) about stabilising the entire region… (A stable Afghanistan) will create a better condition for India Pakistan relationship," he said.
The top diplomat said America's "relationships in the region stand on their own merits", a position that is in line with the position of the previous Obama administration. "We expect Pakistan to take decisive action against terrorist groups based there that threaten its own people and the broader region. In doing so, Pakistan furthers stability and peace for itself and its neighbours, and improves its own international standing," he said.
Mr. Tillerson's explanation of the new South Asia policy of the U.S. calls into question the interpretation of it as an acceptance of the Indian line, and a rejection of Pakistan's position. Pakistan maintains that terrorism and insurgencies in Jammu and Kashmir and Afghanistan are all part of the same problem. Mr. Tillerson's views also echoed President Donald Trump who said last week that he was developing better relations with Pakistan.
Convergence on China
Mr. Tillerson was categorical in his support for the Indian position on China and its aid and financing support for other countries in the region, terming it "predatory economics."
"We have watched activities and actions in this region, particularly of China, that brings financing mechanisms that saddle countries in debt… they don't often create the jobs that they should… too often foreign workers are brought in… financing that are structured in such a way that it is very difficult for them to obtain future financing… often there are triggers that often turn debt into equity," he said, distinguishing India's approach to world order from China's.
"China is rising. India is rising. If you watch out these two taking their rightful place in the world, they have gone about it in different ways… We have an important relationship with China but we will never have the same relationship with them as we have with India, a big democracy," Mr. Tillerson said, underscoring the dramatic increase in defence partnership between the two countries. He said the high levels of technology sharing with India that the U.S. has been doing is a reflection of the trust between the countries and the strength of the partnership.
Repeatedly referring to India's democratic politics, Mr. Tillerson also referred to India's Muslim minority. "India's diverse population includes more than 170 million Muslims — the third-largest Muslim population in the world. Yet we do not encounter significant numbers of Indian Muslims among foreign fighters in the ranks of ISIS or other terror groups, which speaks to the strengths of Indian society," he said, adding that India "can also serve as a clear example of a diverse, dynamic, and pluralistic country to others."
Experts laud
Several India watchers who listened to the Secretary of State's first full fledged foreign policy speech lauded it.
"This is an excellent approach from India's perspective. He has touched upon all issues that bring our countries closer, and underscored the importance of the partnership," said Mukesh Aghi, president of the U.S.-India Strategic Partnership Forum. Nisha Biswal, former Assistant Secretary of State and President-designate of the U.S.-India Business Council, said: "The speech mapped out what is at stake for both countries, not only for the new few years, but the next century. It is not by accident that the first major foreign policy speech by the secretary is on U.S.-India relations.
Full report at:
http://www.thehindu.com/news/national/tillerson-seeks-stronger-ties-with-india/article19881045.ece
--------
Muslim family keeps Hukka culture alive
Oct 18, 2017
Kota: A Muslim family in Bundi has been for over three to four generations engaged in adding sparkling hues of lights with Hukkas, also called Anaars (small ball shaped earthen pot containing gunpowder) for Diwali and barring caste and creed line, the family's traditionally made fireworks have been in great demand in Rajasthan as well as in Uttar Pradesh (UP), Madhya Pradesh (MP), Gujarat and Maharashtra.
Known as 'shorgar' family, the great grandfather was the chief fireworks maker during erstwhile times and the same traditional fireworks have now come down to the third and fourth generation, however the manufacturing of these crackers and fireworks runs under strict legal restrictions where supply always legs behind the demand.
"We receive orders for Hukka or Anars from across India for Diwali', told 61 years old Jameel Ahamed, the elder son of the family adding we always fail to meet the demands. Hukka or Anaar is a firework which on putting on with fire sprinkles out twinkling lights and sparkling hues. Besides Hooka, 'Jwala Mukhi' another popular firework of the family that lights up for minutes and coasts around Rs. 300 to 400 per piece. Hath Phool, Juhai and Jalgota are the other traditional fireworks of the Soarger family but now these items are no longer manufactured, told Jameel. We continue to receive orders for fireworks supply for marriage ceremonies, social and culture programmes throughout the years but the demand for the same fireworks, particularly Hukka, Annaar and JwalaMukhi rises extremely high before Diwali, Jameel Ahamed said.
This year firework manufacturing has been greatly hit by GST as the prices of material and chemical substances used for manufacturing fireworks has shot up high following the implementation of GST tax slab, Jameel said adding we have this year lowered our fireworks production to fifty percent and bound to send a large number of customers without traditional fireworks. Most of the material and chemical substance for manufacturing fireworks items fall into 28 % GST tax slab, he added. The shortage of soil used to shape up earthen pot for Hookas has also adversely hit the fireworks production, however the demand for the same same is high as ever, he added. 'A bureaucrat, who once happens to be posted in Bundi, never forgets to order for Hookas for Diwali from Bundi even after his transfer to any city of the state or country, he proudly claimed.
Full report at:
https://timesofindia.indiatimes.com/city/jaipur/muslim-family-keeps-hukka-culture-alive/articleshow/61137562.cms
--------
This was Sushma Swaraj's generous gesture for Pakistanis on Diwali
Oct 19, 2017
NEW DELHI: On the occasion of Diwali, much-admired Union minister Sushma Swaraj said that all those who have pending medical visa applications will be granted the required documentation so they can come to India for treatment.
The external affairs minister did add though that visas will be granted to the truly "deserving" applicants.
Of late, a lot of people from Pakistan have been tweeting Swaraj directly requesting medical visas, even as relations between India and her neighbour remain strained.
Swaraj has not let these tensions come in the way of India's humanitarian spirit. As long as these Pakistani applicants have the requisite documentation needed from their country - a letter from their foreign affairs chief - Swaraj unhesitatingly grants them visas to come to India for medical purposes.
Along the way, she also ensures she conveys certain messages to the belligerent neighbour.
Most notably, in July, she took the opportunity to blast the then foreign affairs chief of Pakistan, Sartaj Aziz. While explaining why some Pakistanis weren't granted medical visas - Aziz hadn't written them the required letter - Swaraj pretty much put the blame on Aziz.
Swaraj said she feels sympathy for those Pakistanis needing medical treatment, and then reminded Aziz that an Indian's visa application to visit Pakistan was pending with him.
She was talking about the application of Indian national Kulbhushan Jadhav's mother's. Jadhav has been sentenced to death by Pakistan for being a "spy".
Swaraj said just like the letters Aziz must write for the medical visas, she, too, wrote a "personal letter" to him for the grant of Avantika Jadhav's visa.
Full report at:
https://timesofindia.indiatimes.com/india/this-was-sushma-swarajs-generous-gesture-for-pakistanis-on-diwali/articleshow/61140544.cms
--------
New security headache in J&K: 3-ft-tall Jaish-e-Mohammed militant
by Bashaarat Masood
October 19, 2017
A 47-YEAR-OLD militant, who is only three feet tall, is reported to be behind the recent attacks by the Jaish-e-Mohammed in Kashmir. According to police sources, Noor Mohammad Tantray, a resident of Tral in Pulwama district, has taken over command of the JeM in South Kashmir and is engineering the outfit's bid to regroup in the Valley.
Tantray, who was arrested in Delhi in 2003 and sentenced to life by a POTA court in 2011, is reported to have jumped parole a few months ago and rejoined militancy.
"Yes, he has joined JeM," Awantipora SP Muhammad Zahid told The Indian Express.
"Our investigations into the recent attacks have revealed that he (Tantray) is playing a pivotal role in the Jaish," a senior police officer told The Indian Express. "He and another Jaish commander, Mufti Waqas, have been playing a major role in the recent attacks carried out by the outfit."
According to police sources, Tantray provided logistical support to JeM militants who stormed the District Police Lines in Pulwama in August. Eight security personnel and three militants were killed in that attack. Tantray is also reported to have been involved in the JeM attack on the BSF camp, outside the Srinagar International Airport, on October 3, in which one BSF officer and three militants were killed.
Sources said Tantray was also found to be involved in the grenade attack on State PWD Minister Naeem Akhtar's cavalcade in Tral on September 21.
Police sources said Tantray was earlier a close aide of Jaish commander Ghazi Baba, who masterminded the 2001 attack on Parliament. After Ghazi Baba was killed, Tantray was arrested from Delhi's Sadar Bazar on August 31, 2003. The Delhi Police claimed to have recover Rs 19.2 lakh from his possession and accused him of being in touch with JeM militants.
In January 2011, Tantray and four others, including two from Kashmir, were sentenced to life imprisonment by a POTA court in Delhi. After being lodged in Delhi's Tihar Jail for some time, he was shifted to Srinagar. Tantray was released on parole in 2015, after which the Jammu and Kashmir High Court extended his parole several times.
However, three months ago, Tantray is reported to have gone underground and rejoined militancy. Police sources said he had rejoined JeM, and was closely coordinating the outfit's operations with Waqas, a resident of Bahawalpur in Pakistan.
"He has a good military mind. He is like Qayoom Najar of South Kashmir," said a police officer, referring to former Hizbul Mujahideen commander Abdul Qayoom Najar, who was killed in Uri last month. "He also knows the Jaish's old militant and sympathiser network, and will try to revive that network".
Full report at:
http://indianexpress.com/article/india/new-security-headache-in-jk-3-ft-tall-jaish-e-mohammed-militant-noor-mohammad-tantray-4897465/
--------
Arab World
Vicious attack on Azhar suggests conspiracy on Islam, says Grand Sheikh
October 18, 2017
Al-Azhar's Grand Sheikh Ahmed al-Tayyeb said Tuesday that there have been vicious and systematic attacks against the institution and that it is a big conspiracy against Islamic civilization.
Tayyeb's statements came during Egypt's 3rd international Dar al-Ifta conference titled The Role of Fatwa in Creating a Stable Society, which is being held in Cairo with the participation of representatives from 60 countries.
Tayyeb added that it is not accidental that this attack coincides with the destruction of Arab and Islamic countries over the last few years, and dubious calls from now and then to destruct the prestige and respect of Azhar. He also said that the attacks are parallel to dubious plans to destroy the heritage of Muslims and ridicule its Sheikhs and renowned figures.
The Grand Sheikh said it is now common to see the condemnation of Azhar and its methods after any incident of terrorism, in a failed attempt to distort its history in the minds of Muslims.
"We now know the timing of this attack after we closely monitored it, and found that it occurs in two cases: the first after incidents of terrorism and the second whenever Azhar achieves success in delivering its message at home or abroad. And the plan in this case is to silence and hide its good deeds, or the search for the mistakes it makes and to broadcast and exaggerate them," Tayyeb said.
He claimed that the attack on Islamic civilization and Azhar coincides with collective demands to allow homosexuality to be considered as a human right, in disregard to the youth of the East, who know their "manhood."
The sheikh also expressed his innate disgust with what he considers the "deviant" and "fatal ethical disease of homosexuality."
This attack, according to Tayyeb, coincided with calls in the West for equality between women and men in inheritance, and the permission of Muslim women to marry non-Muslims. He says this is a new chapter of the Convention on the Elimination of all Forms of Discrimination Against Women — and that now the Arabs and Muslims are expected to abide by it and cancel their previous objections to equality.
He pointed out that the right scholars and the people of Fatwa these days have been plagued by a kind of pressure and harassment that they haven't faced before — an attack on the heritage of Muslims, followed by confusion among people who are not able to know or understand, and with no respect for over 1.5 billion people who cherish this heritage.
"It is now usual (for anyone) to take the words from Sheikhs out of context… and then broadcast it on talk shows, and to attack Islam's Sharia through a dialogue filled with sophistry, exaggeration and confusion," Tayyeb said.
The Grand Sheikh proposed to the conference the establishment of specialized scientific departments in the faculties of Islamic law or faculties of Islamic sciences in the name of Department of Fatwa and Sciences next year.
The Minister of Religious Endowments Mohamed Mokhtar Gomaa said in his speech that the intrusion of non-specialists into the Fatwa field has opened the doors wide to the strife in the world. "Terrorism has no religion and no homeland, and poses a constant danger to societies and it needs the efforts of scientists to confront abnormal ideas that destroy societies," Gomaa said.
Gomaa added that accurate Fatwa contributes to the security of nations and countries, and renewing the religious discourse is not an easy job and needs determination. He also pointed out that humanity must cooperate among all countries of the world to confront terrorism, and that scientists especially have to refute the opinions and ideas of militants.
It is imperative for Muftis to lay the foundations for the control of the Fatwa, Al Gomaa explained.
"The growing phenomenon of terrorism and extremism is the result of the issuance of these misguided Fatwas that deviate from the correct and moderate approach. This has had the worst effect of the spread of violence and chaos, the destruction of security and peace and the threat of stability and tranquility, which are the rights of communities and individuals," the Mufti of Egypt Shawki Allam, and president of the conference, said in his speech.
http://www.egyptindependent.com/vicious-attack-azhar-suggests-conspiracy-islam-says-grand-sheikh/
--------
Abadi orders the withdrawal of all military forces from Kirkuk
18 October 2017
Iraqi Prime Minister Haidar al-Abadi on Wednesday ordered the withdrawal of all armed groups in Kirkuk, including the Popular Mobilization Militias, and the handover of security to local police and counter-terrorism units only.
Al-Abadi confirmed in a statement that "security in Kirkuk is under the control of the local police with the support of counter-terrorism units".
In his statement, Abadi, ordered the prevention of any armed group presence in the province and to pursue elements that spread hatred and racism amongst the people.
Popular militia groups have been widely deployed in the city over the past two days, raising concerns among the Kurds.
https://english.alarabiya.net/en/News/middle-east/2017/10/18/Abdadi-orders-the-withdrawal-of-all-military-forces-from-Kirkuk.html
--------
Iraqi army retakes almost all disputed areas from Kurds
Oct 19, 2017
BAGHDAD - Iraqi government forces said Wednesday they had retaken almost all the areas disputed between Baghdad and the autonomous Kurdistan region following a sweeping advance into oil-rich Kirkuk province in response to an independence vote. The retreat of Kurdish forces, almost without a fight, triggered recriminations amongst Kurdish politicians and prompted the regional parliament to postpone elections set for November 1. On Monday and Tuesday, federal troops and allied militias retook the northern province and its lucrative oil fields, as well as formerly Kurdish-held areas of Nineveh and Diyala provinces.
The largely bloodless operation restored to Baghdad's control swathes of territory held by Kurdish forces since 2003, leaving Kurds stunned just weeks after the nationalist fervour of the referendum they held in defiance of the central government.
It also dealt a severe blow to the autonomous region's finances, which had relied heavily on revenues from exports of Kirkuk oil.
Kurdish forces are now largely confined to their longstanding three-province autonomous region in the north.
They have lost nearly all of the territory they had taken since the US-led invasion of 2003, some of it during the chaos of the Islamic State (IS) group's charge across northern Iraq in 2014.
The band of territory, stretching for over 1,000 kilometres (600 miles) from the Syrian border in the west to the Iranian frontier in the east, was the subject of a rancourous dispute with Baghdad.
Prime Minister Haider al-Abadi said on Tuesday that the September 25 vote in which Kurds overwhelmingly backed independence was now "a thing of the past".
"Central authority must be imposed everywhere in Iraq," he said.
French geographer and Kurdistan specialist Cyril Roussel said that in the space of 48 hours the Kurds had lost virtually all of the 23,000 square kilometres (8,900 square miles) that they had acquired since 2003.
"That's virtually a return to the Green Line - that is the three provinces of autonomous Kurdistan," he said.
The autonomous region's vice-president Kosrat Rasul called the setback "a new Anfal for Kurdistan", a reference to the widespread deaths and destruction wrought by operations in 1987-1988 by Saddam Hussein's regime.
Brigadier General Yahya Rasool, spokesman of the government's Joint Operations Command (JOC), hinted that federal forces could yet be deployed to the remaining pockets of disputed territory still in Kurdish hands.
"It's not a military operation but the redeployment of forces to all areas to enforce the law," Rasool told AFP. "Further communiques will follow."
The JOC said Wednesday that "security (had) been restored in parts of Kirkuk including the key Khabbaz and Bai Hassan North and South oil fields".
The lost fields accounted for more than 400,000 of the 650,000 barrels per day that the autonomous Kurdish region used to export in defiance of Baghdad.
Their loss deals a huge blow to the region's already dire finances and dreams of economic self-sufficiency.
Kurdish forces now hold just a single oil field in Kirkuk province: the Khurmala field, which produces barely 10,000 barrels per day of low quality heavy crude.
The field had been in Kurdish hands since 2008 and was not a target of this week's operation.
But all five of the fields that the Kurds had taken since 2014, the source of most of the autonomous region's oil exports, are back in federal government hands.
Baghdad was quick to capitalise on its gains.
Oil Minister Jabbar Luaybi appealed to British energy giant BP to "quickly make plans to develop the Kirkuk oil fields".
Baghdad signed a consultancy contract with BP in 2013 to help develop the Havana and Baba Gurgur fields.
But it was never implemented as Baghdad lost control of the fields the following year during the chaos of the IS offensive through northern and western Iraq.
Ordinary Kurds on Wednesday voiced dismay at the loss of the iconic city of Kirkuk, long a nationalist prize.
"Kirkuk is Kurdistan's Jerusalem," said 48-year-old businessman Hayo Babker.
The advance by government forces had prompted tens of thousands of people to flee, but on Tuesday, as it became clear that the feared bloodshed was not going to materialise, hundreds of families returned.
Kirkuk's police chief Brigadier General Khattab Omar said government forces would "conduct patrols in Kurdish neighbourhoods to prevent people leaving because of rumours that there is going to be violence against them".
The withdrawal of Kurdish peshmerga fighters sparked recriminations between the Kurdistan Democratic Party (KDP) of president Massud Barzani and the rival Patriotic Union of Kurdistan (PUK).
Barzani, who has dominated the autonomous Kurdish region since the US-led invasion, was the driving force behind the ballot, while the PUK supported a UN-backed plan for negotiations with Baghdad.
Full report at:
http://nation.com.pk/international/19-Oct-2017/iraqi-army-retakes-almost-all-disputed-areas-from-kurds
--------
Iraqi Forces Impose Full Control over Kirkuk
Oct 18, 2017
The statement said that the Iraqi forces seized control over the remaining regions, including the town of Debs and al-Moltaqi area in their operation in last 48 hours and took full control over the city.
The statement further said that the government forces have deployed to Khanqin and Jalawla cities in Diyala province and the towns of Makhmour, Ba'ashiqeh, Mosul dam, al-Oweinat region, the town of Sinjar and Rabi'eh region in Nineveh province.
Spokesman for Iraqi Oil Ministry Asem Jihad announced on Tuesday that the Iraqi military troops took control over the entire oilfields in Kirkuk.
Asem Jihad said that all the oilfields in Kirkuk came under the control of the Iraqi security forces, adding that management control over the oilfields was handed over to the oil ministry.
In relevant developments the global oil markets reacted to the escalation of the conflict with a surge in oil prices.
http://en.farsnews.com/newstext.aspx?nn=13960726000975
--------
Over 100 Gunmen Receive Gov't Amnesty in Homs Province
Oct 18, 2017
105 militants, who had endorsed the peace agreement with the Syrian Army in al-Rastan and Talbiseh regions, received government amnesty from the peace committee and returned to normal life.
The Russian Defense Ministry announced in its latest report last week that almost 2,250 regions, towns and villages have joined peace with the Syrian Army nationwide.
The ministry said that militants in more regions handed over their weapons to the Syrian Army and applied for government amnesty, adding the total number of the towns, villages and regions that endorsed the peace plan stands at 2,248.
http://en.farsnews.com/newstext.aspx?nn=13960726001090
--------
Iraqi Kurdistan Region Parliament Speaker Calls for Barzani's Resignation
Oct 18, 2017
"You should acknowledge defeat and leave our people to their own to decide about their fate and you shouldn't decide the path based on your tendencies," Mohammed was quoted by the Arabic-language Soumeriyeh news website addressing Barzani.
"Barzani who has legally and illegally grabbed power since 12 years ago will do a great favor to the Kurdistan people by his resignation," he added.
In defiance of Iraq's stiff opposition, the Kurdistan Regional Government (KRG) held a non-binding referendum on September 25 on secession from the central government in Baghdad.
While much of the international community, including the United Nations, the European Union and Iraq's neighbors, has opposed the referendum, only Israel has openly supported an independent Kurdish state.
Regional players Iran and Turkey have opposed the Kurdish referendum in Iraq, warning that the controversial vote could lead to further instability in the entire Middle East.
The regional media blamed US and Israel for coaxing the Barzani into holding the referendum
A Syrian newspaper wrote earlier this month that the terrorist groups' defeats in the region have made the US and its allies use all their means, including disintegration of the regional states, to compensate for their failures.
The Arabic-language al-Watan daily underlined that after two years of Russia's military assistance to Syria and its success in targeting the logistic infrastructures of the terrorist groups, which are supported by the US and the Persian Gulf Arab littoral states, the military and political situation in Syria and the region has changed.
"The Syrian government's position has strengthened and it has now gained a major weight and a major say in any regional and international equations," it added.
Full report at:
http://en.farsnews.com/newstext.aspx?nn=13960726000756
--------
SDF: Campaign against ISIS in eastern Syria to speed up
18 October 2017
A US-backed campaign against ISIS in eastern Syria will accelerate now the extremist group has been defeated in its former capital Raqqa, a spokesman for US-allied Syrian militias said on Wednesday.
The Syrian Democratic Forces (SDF), which announced the defeat at Raqqa on Tuesday, will redeploy fighters from the city to frontlines with ISIS in the eastern province of Deir al-Zor, Talal Silo told Reuters by telephone.
The SDF is fighting ISIS in Deir al-Zor in areas to the east of the Euphrates River. The Syrian government, supported by the Russian air force and Iran-backed militias, is waging a separate campaign against extremists in the province, focused mostly in areas to the west of the river.
ISIS has lost ground rapidly there in recent weeks. The Syrian army and its allies are battling for control of the last remaining ISIS-held areas of Deir al-Zor city, and have also captured the town of al-Mayadin from ISIS.
Silo said the Raqqa victory would have a "positive impact" on the SDF's campaign in Deir al-Zor because it meant fighters could be redeployed as internal security forces take control of Raqqa.
"Most of the military forces will head towards these areas to continue the participation in the campaign with the Deir al-Zor Military Council," he said. The Council is a militia leading the SDF's campaign in the province.
Full report at:
https://english.alarabiya.net/en/News/middle-east/2017/10/18/SDF-US-backed-campaign-against-ISIS-in-eastern-Syria-to-speed-up.html
--------
Syrian army soldiers inflict heavy losses on Daesh in Dayr al-Zawr
Oct 18, 2017
Syrian government forces have carried out fresh operations against Daesh Takfiri militants in the war-ravaged Arab country's eastern province of Dayr al-Zawr, inflicting substantial losses on them.
Syria's official news agency SANA reported that Syrian units had established full control over al-Husseiniyah village north of the provincial capital city of Dayr al-Zawr, as part of a major operation to purge villages and towns between Mayadin and al-Mariah of Daesh presence.
The offensive has reportedly resulted in the elimination of scores of Daesh terrorists, and destroyed their fortifications, arms depots, pickup trucks equipped with heavy machineguns as well as their military hardware.
SANA added that the Syrian army continued to hunt down more Daesh terrorists in the eastern countryside of Dayr al-Zawr, and managed to liberate al-Muhasan town and the villages of al-Abd, Albu Amr and al-Boleel on Wednesday afternoon.
Syrian government forces are now heading towards the villages of al-Shaqra and al-Junaynah.
Daesh roadside bomb kills Syrian general in Dayr al-Zawr
Meanwhile, a high-ranking Syrian military commander has been killed in the Saqr district of Dayr al-Zawr province, when his vehicle was struck by a roadside bomb planted by Daesh extremists.
Pro-government and Arabic-language al-Masdar news agency reported that Major General Issam Zahreddine, the head of the 104th Brigade of the Syrian Republican Guard, had been on a special operation in the area.
Daesh overran large parts of Dayr al-Zawr province, including its many oil fields, in mid-2014 as it seized swathes of land in Syria and neighboring Iraq.
By early 2015, the Takfiri terrorists were in control of some parts of the city of Dayr al-Zawr and besieged the remaining parts, which were under government control. It is estimated that 100,000 people remain in the government-held parts of the city.
Full report at:
http://www.presstv.com/Detail/2017/10/18/539059/Syrian-army-soldiers-inflict-heavy-losses-on-Daesh-in-Dayr-alZawr
--------
North America
US man plotted to behead anti-Muslim cartoon contest organiser
19 Oct 2017
BOSTON: A Massachusetts man who authorities say fell under the influence of the Islamic State group was convicted Wednesday of plotting to behead a conservative American blogger for organising a Prophet Muhammad cartoon contest.
Jurors found David Wright guilty of all charges, including conspiracy to provide material support to a designated foreign terrorist organisation and conspiracy to commit acts of terrorism transcending national boundaries.
The 28-year-old faces up to life in prison.
Prosecutors said Wright, his uncle and a third man conspired to kill blogger Pamela Geller because they were upset she organised Prophet Muhammad cartoon contest in Texas in 2015. During the contest, two other men opened fire outside and wounded a security guard before they were killed in a shootout with law enforcement assigned to guard the event.
Wright's uncle, Ussamah Rahim, told Wright on a recorded phone call later that month that he couldn't wait to attack Geller and decided instead to go after "those boys in blue," referring to police. Wright told his uncle that was "beautiful" and encouraged him to delete all the data from his computer before carrying out his attack.
Hours later, Rahim was shot and killed by authorities after he lunged at them with a knife when they approached him in Boston. The attack on Geller, who has spearheaded scores of events across the nation to decry Islamic extremism, was never carried out. She didn't testify at the trial.
Wright cried on the stand when he spoke of his uncle, insisting that he didn't think Rahim was serious about the attack. Wright, who was more than 227kg and spent much of his time playing video games in 2015, testified that he used Islamic State group propaganda to get attention but was just playing a role and never wanted to commit violence.
"I didn't want my uncle to get hurt. I didn't want law enforcement to get hurt," Wright said. "I lost someone who was very close to me because I was so deluded and self-centred that I couldn't see beyond my own need for attention."
Prosecutors said Wright was the leader of the conspiracy and recruited his uncle and others to help him wage war on the U.S. Wright's uncle received directions about the plan to kill Geller from Junaid Hussain, an Islamic State group member and hacker who was later killed in an airstrike in Syria, prosecutors said.
Wright conducted online research for guns, swords and tranquilisers that put people to sleep instantly. He created a Twitter page seeking recruits for their "martyrdom operation cell," collected a trove of horrific Islamic State group documents and videos and created a manifesto warning that America's "days are numbered," prosecutors said. Wright's uncle bought three large knives - one for each of them - for their attack on Geller, authorities say.
Wright "was committed to ISIS, and knew exactly what he was doing," Assistant U.S. Attorney Stephanie Siegmann told jurors, using an acronym for the Islamic State group.
The third man accused in the plot, Nicholas Rovinski, pleaded guilty last year to conspiracy charges and faces 15 to 22 years in prison. Rovinski, of Warwick, Rhode Island, testified against Wright, telling jurors that Wright said Geller "deserved to be beheaded" because she insulted Muhammad.
https://www.bangkokpost.com/news/world/1344851/us-man-plotted-to-behead-anti-muslim-cartoon-contest-organiser
--------
Group protests Toronto District School Board's Islamic Heritage Month guide
OCTOBER 18, 2017
It was a beautiful day for a protest.
However, only a few dozen people turned up to the Toronto District School Board (TDSB) headquarters Wednesday afternoon to express their concerns about the controversial 170-page Islamic Heritage Month guide.
While a handful of counter-protesters (in favour of the guide) looked on, Jewish Defence League (JDL) head Meir Weinstein said after they exposed that the manual had links to articles about radical Islam — one in particular from the Islamophobic Research and Documentation Project (IRDP) that compared Zionism to Nazi-like atrocities — TDSB officials agreed to remove them.
"That chapter provides incitement and is extremely disturbing," he said, calling for the entire guidebook to be trashed.
Weinstein said the guide also features speakers which call for an Intifada in North America.
The online guide, which cost $6,000 to design and produce, according to TDSB spokesman Ryan Bird, has not been "distributed within the system."
Bird assured me Wednesday the electronic copy is being "updated" to remove the offensive link.
He said the cast of teachers identified in the manual worked "during evenings, weekend and during the summer" to produce the guide — including equity and anti-oppression superintendent Jeewan Chanicka, who was one of the organizers of Sunday's Rally against White Supremacy.
(According to Bird, many TDSB staff members have causes, organizations and social justice issues they "invest their personal time in" and Chanicka was not at the rally as a TDSB representative).
Counter-protester Andrea Vasquez-Jimenez, co-chairman of the LAEN, Latinx, Afro-Latin-American, Abya Yala Education Network, said they definitely support both Jewish and Muslim heritages — that they are not "mutually exclusive."
She said there's lots of collaboration between Jewish and Muslim organizations here in Toronto.
"We're just trying to show it's not one or another ... the TDSB is not anti-Semitic," she said, noting they're putting together their own resource guide in honour of Latin-American history month next April for teachers and youth.
Avi Benlolo, CEO of the Friends of Simon Wiesenthal Centre (FWSC), issued a statement Wednesday saying that following in-depth conversations, school board officials agreed not just to remove the link to anti-Semitic material but continue to review the guidebook to ensure compliance with the TDSB's principles of equity.
Full report at:
http://www.torontosun.com/2017/10/18/group-protests-toronto-district-school-boards-islamic-heritage-month-guide
--------
Report: Facebook, Google helped group run anti-Islam ads
BY HARPER NEIDIG
10/18/17
Facebook and Google worked closely with a right-wing advocacy group to help it push ads promoting anti-Islam and anti-immigrant messages in swing states during the 2016 election cycle, Bloomberg reported on Wednesday.
A group called Secure America Now spent millions of dollars on ads during the election cycle that linked Democratic candidates to terrorism or warned about the spread of Islamic Sharia law, according to Bloomberg.
Bloomberg's sources said that Google representatives met with the group on June 16, 2016, to discuss ways to improve the ad campaign.
And Facebook used the group's video ads to test out new video formats. After running different formats, Facebook would survey the viewers to find out which was the most popular.
The video that Facebook used was a Secure America Now clip called "Are we safe?" that showed black-and-white images of Muslims who have carried out attacks next to colorful images of the U.S.
A Google spokesperson told Bloomberg that the company later blocked some of the group's ads. The spokesperson said in a statement that if the company finds ads that violate its policies "we immediately disapprove them and stop showing them."
One of the ads that Secure America Now ran was a fake tourism video that said Sharia law was dominant in France.
Full report at:
http://thehill.com/policy/technology/356039-report-facebook-google-helped-group-run-anti-islam-ads
--------
Durbin answers Islamic school students' letter with in-person visit
Oct 19, 2017
When students at a Morton Grove Islamic school wrote letters recently to Sen. Dick Durbin, D-Ill., he responded in person, visiting the school to talk face-to-face with the youngsters about the concerns they expressed.
Durbin visited the Muslim Community Center Academy Oct. 12 and talked to some of the elementary school's students about their letter, which was specifically about the crisis facing Muslims in Rohingya, Myanmar but also about violence against those in the U.S. who practice the faith, according to a school news release announcing the senator's visit.
In the letter, the students said they were grateful that Durbin seemed to show compassion for those who have been targets of such violence, according to the release.
Durbin talked with the students about violence in Myanmar and other political and cultural issues Muslims in America currently face, school officials said.
"Senator Durbin's visit to MCC Academy showed our students the power of their voice as American Muslims," said MCC Academy Principal Habeeb Quadri. "The fact that a United States senator cared to visit them and hear their concerns on issues they care about was a perfect lesson in American democracy at its best."
Full report at:
http://www.chicagotribune.com/suburbs/morton-grove/news/ct-mgc-durbin-at-muslim-community-center-tl-1019-20171018-story.html
--------
Pakistan
UK mulling hate speech charges against Altaf Hussain
Owen Bennett-Jones
October 19, 2017
LONDON: Britain's Home Secretary Amber Rudd has told the House of Commons Home Affairs Committee that she is providing support to state prosecutors as they consider whether or not to bring hate speech charges against the London-based Muttahida Qaumi Movement (MQM) leader Altaf Hussain.
After being questioned by Bradford MP Naz Shah, the home secretary said: "I get lobbied quite a lot if I go to Pakistan or to other countries about this. I am making sure that the Crown Prosecution Service and the Metropolitan Police have the support they need in order to make sure that they can, where appropriate, bring prosecutions."
Speaking after the committee session, Naz Shah said: "It's important to be asking these questions."
About the alleged hate speech, she said: "We cannot allow this to happen and I will continue to raise the issue."
The charges being considered by the British authorities range from encouraging violent disorder, inciting others to commit terrorism outside England and Wales to encouragement of terrorism.
Asked about Ms Shah's question and the home secretary's remarks, the MQM declined to comment.
In August, Britain's Crown Prosecution Service (CPS) asked for Pakistan's help to bring charges against Altaf Hussain in relation to speeches he gave on March 11, 2015 and Aug 22, 2016. In the Aug speech, Mr Hussain said: "So you are moving to ARY and Samaa from here...right?"
According to the CPS, protesters then attacked the ARY News office which led to one man's death.
The British inquiry into the MQM leader's speeches is called 'Operation Demerit'. It is running alongside a separate money laundering investigation. Having closed the inquiry into money laundering last year it seems Scotland Yard may have reopened it.
Last week, a London-based international lawyer, Toby Cadman, who is working with the former MQM ally Sarfraz Merchant, handed the UK police fresh documents said to be relating to the money laundering case.
Mr Cadman told reporters that he had been assured by the police that they were still working on the issue.
Mr Merchant was himself suspect of involvement in MQM money laundering before the case against him was dropped in 2016.
While the hate speech and money laundering investigations are still active, the British authorities have dropped their inquiry into the 2010 murder of MQM leader Imran Farooq.
The MQM has consistently denied any wrongdoing in relation to all the cases and says the decision to close down the murder investigation was a vindication of insistence on its innocence.
Senior military officials in Pakistan say they have no faith in the British commitment to any of the investigations. They say the UK is protecting Altaf Hussain because they consider him an asset for the UK.
https://www.dawn.com/news/1364767/uk-mulling-hate-speech-charges-against-altaf-hussain
--------
Afghan, Pakistani militant groups in disarray after recent US drone strikes
BY SHAMIM SHAHID
Oct 19, 2017
PESHAWAR: Afghan and Pakistani militants have been thrown into disarray after the United States (US) recently conducted three drone strikes targeting specific areas near the Pak-Afghan border and killing at least 31 militants. Key militant commanders are also reported to be dead in the US strikes.
The latest US drone strikes targeted Pakistani militant hideouts in Nazyan district located in Afghanistan's Nangarhar province near the Pak-Afghan border. As a result, around 11 persons were reported dead in the strikes and many were also injured.
It merits mention here that the banned militant outfit, namely Laskar-e-Islam, headed by Mangal Bagh Afridi from Khyber Agency, had taken refuge along with his loyalists in the Nazyan and Deh Bala districts of Nangarhar.
According to reports, another top militant commander Khalid Khurasani, chief of the banned Tehreek-e-Taliban Pakistan (TTP) splinter group Jamaat-ul-Ahrar (JuA), was critically injured in the US drone attack conducted in Afghanistan's border province of Paktya. It was believed that top commanders belonging to JuA were taking shelter in Nangarhar province on the Afghan side and Khyber Agency, Mohmand Agency and Bajaur Agency on the Pakistani side.
However, the JuA were driven away from their strongholds on the Pakistani side after TTP Spokesman Qari Ehsanullah Ehsan surrendered to security forces earlier in the year. The TTP splinter group also suffered casualties after Afghan special forces launched an operation on September 30 in Lalpura district on the west side of the Kabul River, and killed seven militants including two commanders of JuA.
Though reports of Khurasani being critically injured in the recent US drone strikes had been circulating around different media channels since Tuesday noon, but the news had neither been confirmed nor denied by his loyalists. Journalists from Mohmand Agency, the native area of Khurasani, have for the time being termed the reports as rumours.
According to sources, militants representing the Islamic State (IS) had approached JuA commanders in Kunar province a couple of days ago and requested access to Mohmand and Bajaur Agencies, but their request was rejected by JuA.
On the other hand, four Pakistani nationals belonging to Bannu district of Khyber Pakhtunkhwa province in Pakistan were also reported killed in the US drone strikes that allegedly targeted militant hideouts in Ghauz Garhi area of Kurram Agency on Monday night. Around 26 militants, including two top commanders from Pakistan and Afghanistan, were killed in the attack. The dead bodies of the four Pakistani nationals reached Bannu on Tuesday and were buried later in the evening.
According to reports from local media channels, the four deceased persons were identified as Abid s/o Abdul Rehman from Sada Khel village, Samiullah s/o Dil Raaz from Patool Khel village, Irfanullah s/o of Shah Qeyaz belonging to Said Khel village, and Ibrahim s/o of Omarzai belonging to Bannu city. The funeral of the deceased was attended by a large number of people in their native villages.
Though no concrete evidence suggesting the involvement of the four deceased persons in militant activities have surfaced so far, but the people attending their funerals believed that the young men were innocent and chanted slogans in support of jihad, while also blaming the US for targeting innocent civilians through drone strikes.
Full report at:
https://www.pakistantoday.com.pk/2017/10/18/afghan-pakistani-militants-groups-in-disarray-after-recent-us-drone-strikes/
--------
Clerics, politicians come down hard on govt
October 19, 2017
Bahawalpur-Various political and religious parties came down hard on the government for making an unsuccessful bid to amend the Khatme Nubuwwat oath the lawmakers are required.
Addressing all parties Khatme Nubuwwat press conference at Press Club Bahawalpur, they said, "Amending the Khatme Nubuwwat declaration from the Election Bill 2017 was not a clerical mistake but part of a conspiracy while the rulers are covering the conspirators. They hold prejudice towards the religion and are serpents which are more dangerous than the real enemies like the US and India."
They added, "Sharif family especially Nawaz Sharif got various chances to rule the country but he did not show sincerity. They kept working on an agenda to make the constitution disputed to eliminate the Islamic identity of Pakistan and kept paving the way for secularism. Pakistan was created in the name of Islam and no one can snatch its Islamic identity, Rana Sanaullah who declared Qadiyanis as Muslims should be fired as law minister because one who calls someone Muslim who does not believe in Khatme Nubuwwat could not be sincere to Pakistan."
Jamaat-e-Islami's Parliamentary Leader in Punjab Assembly Syed Wasim Akhtar said that the current government has employed a Qadiani as the officer of Federal Service Commission who adjusted 298 Qadianis out of 306 candidates in the past two years at higher posts.
Jamiat Ulma-e-Islam (S) District Ameer Mufti Irshad Ahmad said that it was very disappointing that the law minister was unaware of his country's constitution and law. Sanaullah should apologise to the nation and renew his faith and if he refuses to do so, cases be made against him for treason, he demanded.
People's Party Southern Punjab's Deputy Secretary Information Saleem Bhatti said that the credit of historic decision to declare Qadianis non-Muslim went to his party. While signing on the law, then prime minister Zulfiqar Ali Bhutto had said that he was signing his death warrant and later the people saw that his judicial murder was done.
Jamiat Ulma-e-Islam (F) District General Secretary Allama Shafqatur Rehman said that Sanaullah's statement in that regard was disappointing and the act to be condemn; such statement shows his mental instability. Khatme Nubuwwat is part of our faith, whoever refuses to accept it does not have the right to be called a Muslim, he said. Sanaullah should name those scholars who do not consider Qadianis non-Muslim, he said and demanded the Punjab chief minister immediately fire the law minister.
He further said that Mufti Ahmad Mehmood has declared the Constitution of Pakistan as the protector of Khatme Nubuwwat. Now, Qadianiyat has only two ways either leave Pakistan or accept Khatme Nubuwwat law; whoever interrupts the clauses of Khatm e Nabuwat will not be spared by the Muslims, he said.
In another Press Conference, Mufti Mazhar Asadi said that the law minister not only rebelled against the country but also sold his faith. The government should not invite the wrath of Almighty, and purge itself of such persons, he said. He added it will be better for them because it is not possible that they can remain safe from wrath of Allah after such acts. The JUI will not let international powers play such games as the whole nation considers it an honour to sacrifice their lives to protect the "Khatme Nubuwwat" law, he said.
Mushtaq Ahmad Warraich Advocate said that according to the Constitution, Qadiyanis are non-Muslims and they have no link with Islam. He said Rana Sanaullah violated the Constitution and a case be registered against him in accordance with Article 6.
Aun Muhammad Saeedi said, "We can go to any length to protect Khatme Nubuwwat law. The government is trying to cover up the matter through district governments."
Full report at:
http://nation.com.pk/national/19-Oct-2017/clerics-politicians-come-down-hard-on-govt
--------
Arabic can play role in Muslim unity: Envoy
October 19, 2017
ISLAMABAD - Saudi Ambassador Nawaf Saeed Ahmed Al-Malkiy said that Arabic language can play an effective role for the unity among Muslim Ummah.
He was addressing the inaugural session of the two-day international conference on 'Development of Arabic Prose in the 2nd half of 20th Century' as a chief guest organised by the Arabic Department of the National University of Modern Languages (NUML) here on Wednesday. Pakistan and Saudi Arabia have deep bilateral relations and Saudi Arabia will further increase relations with Pakistan in every field especially in the education sector.
He said every effort will be taken to bring Muslim Ummah at one platform. Director General NUML Brig Muhammad Ibrahim, Dean Languages Dr Safeer Awan, Registrar, Directors, national and international scholars, HoDs, faculty and a large number of students attended the inaugural session. The ambassador said that the topic of the conference is the development of Arabic prose is a very rich area for research and NUML must be appreciated for organising an international conference on the said topic. He said people of both countries have strong cordial and spiritual relations with each other and his country will take every possible step to further enhance the relations between two countries.
Earlier, Director General NUML Brig Muhammad Ibrahim welcomed the honourable guest and said that every Muslim has a strong connection with Arabic is the language of the Holy Book Quran and the Hadiths that's why they have a special interest in this language.
He said literature has no boundaries and it keeps travelling from place to place and Arabic prose in the 20th century went through many transformations.
Full report at:
http://nation.com.pk/islamabad/19-Oct-2017/arabic-can-play-role-in-muslim-unity-envoy
--------
2 security personnel killed in North Wazristan IED blast
Ali Akbar
October 18, 2017
'Two security personnel were martyred as a security forces vehicle hit an IED in North Waziristan's Miramshah on Wednesday, security forces said.
According to sources, the forces vehicle was on its way from the Khajuri check-post to Khwar check-post when the blast occurred. Security forces sealed the area and started a search operation following the incident.
The attack occurred soon after at least seven policemen were killed in a blast on police vehicle in Quetta today.
In an attack last week, three Frontier Corps men had been martyred in the area.
Full report at:
https://www.dawn.com/news/1364627/2-security-personnel-killed-in-north-wazristan-ied-blast
--------
8 killed, 24 others wounded in blast targeting police vehicle in Quetta
October 18, 2017
At least eight people, including seven policemen, were killed and 24 others injured in an explosion targeting a truck carrying police officials in the Sariab Mill area of Quetta on Wednesday.
Deputy Inspector General of Police (DIG) Abdul Razzaq Cheema said an investigation is underway to determine whether the blast was a suicide bombing or whether an explosives-laden vehicle was detonated remotely when the police truck was passing by, adding that the death toll could increase.
The 35-strong contingent of elite policemen had been recently assigned patrol of various sensitive areas and were on their way to work on the Quetta-Sibi road when the explosion took place, Balochistan Home Minister Mir Sarfraz Bugti told DawnNews.
Bugti told AFP that a car rammed the police vehicle before catching fire, adding it was "apparently a suicide attack", in an account confirmed by.
"Police were targeted in this attack," Bugti said.
DIG Cheema confirmed the death toll, saying that 24 people were wounded, several critically.
The Tehreek-i-Taliban Pakistan claimed responsibility for the attack, but the claim has not been independently verified by Dawn.com.
Chief Minister Sanaullah Zehri, while speaking to reporters, said the bomb contained 80 kilograms of explosive material.
Following the attack, an emergency was imposed in hospitals in Quetta. Some of the injured were admitted to Civil Hospital Quetta, while the rest were being treated at Combined Military Hospital.
A forensic team and the Bomb Disposal Squad had reached the site of the attack to investigate the nature of the blast, Bugti said, adding that a forensic team from Lahore would arrive in Quetta tomorrow to aid in the probe.
"The war against terrorism is not over. Balochistan is on the forefront of this fight and we will not stop until every single terrorist has left the area," the home minister said.
He added: "These cowardly attacks will not hinder our security forces in executing their duties."
In a separate incident, Police Inspector Abdul Salam was shot dead on Quetta's Qambrani Road, in what security sources claim was a target killing.
Balochistan has experienced incidents of violence and targeted killings for over a decade. In recent months, the province has faced a number of security challenges, with security personnel in the province often being targeted in roadside explosions and suicide attacks.
Fifteen people, including eight soldiers, were martyred when a suicide bomber targeted a military truck near the Pishin bus stop in Quetta on August 13.
Full report at:
https://www.dawn.com/news/1364600/8-killed-24-others-wounded-in-blast-targeting-police-vehicle-in-quetta
--------
Jamaat-ul-Ahrar chief 'dead' in US drone strike
OCTOBER 19, 2017
ISLAMABAD: Omar Khalid Khorasani, chief of the dreaded Tehrik-i-Taliban Pakistan Jamaat-ul-Ahrar (TTP JuA) is believed to have been killed in a recent air strike on the Afghan side of the border, militant sources said late Wednesday.
However, JuA spokesman Asad Mansoor did not reply to a query sent to him on the group's official email address. The military's media wing ISPR also preferred avoiding any comment when question was posted in one of its WhatsApp groups.
If confirmed, the death of Khorasani, whose real name was Abdul Wali, would be a serious setback for the group at a time when it faces rift and has lost dozens of fighters in US drone strikes on the Afghan side of the border.
Sources close to JuA said Khorasani was thought to be in the area that had been the focus of air strikes by the US military in Afghanistan's eastern Khost and Paktiya provinces. Pakistani militants, mostly from South and North Waziristan, have sanctuaries in the two provinces, however, militants from other areas routinely move in parts of Afghanistan, officials believe.
Khorasani led almost all TTP militants from Mohmand tribal region when he launched JuA in 2014 over serious differences, as they were unwilling to accept the leadership of Maulvi Fazalullah, who was elected after the killing of Hakimullah Mehsud. Hakimullah was killed in a US drone strike in North Waziristan in November 2013. Fazalullah, who was the first non-Mehsud Taliban chief since its launch in 2007, was also not recognised by many Mehsud Taliban.
Khorasani was one of the founding members of the TTP, launched by Baitullah Mehsud in 2007. Baitullah was killed in a US drone strike along with his wife in August 2009. He had been associated with Harkat-ul-Mujahideen group and also took part in armed resistance in Indian-held Kashmir, according to militant sources.
The US has stepped up drone strikes in Afghanistan after President Donald Trump announced strategy for Afghanistan and South Asia and the strikes in eastern Afghanistan over the past few days could be seen in that context.
There could be a possibility of Pakistan's intelligence sharing in the latest operations to target TTP militants.
The Pakistan Army confirmed late Tuesday that military operations were conducted in Khost and Paktiya provinces over the past few days by the Resolute Support Mission (RSM) and Afghan forces, opposite to Kurram Agency, with reports of "heavy losses to terrorists".
The army did not identify those killed in the operations, but said "coordination between the forces of Pakistan and Afghanistan has enhanced" after the visit to Kabul by army chief General Qamar Javed Bajwa on October 1.
All Pakistani TV channels quoted unnamed sources as saying that Khorasani was injured in the operations on the Afghan side of the border on Tuesday and died on Wednesday.
Reports of Khorasani's death came at a time when the group is under pressure and on September 30 JuA spokesman Asad Mansoor confirmed the death of seven of its members, including two known commanders, in an operation by the foreign and Afghan forces.
Pakistani security officials insist that JuA has set up bases in Lalpura district of Afghanistan's Nangarhar province.
Ahrar is blamed for many deadliest terrorist attacks in Pakistan in recent year that killed many people, including security personnel. In July, the Security Council's Sanctions Committee approved the addition of JuA in the list of entities and individuals subject to the assets freeze, travel ban and arms embargo.
"Pakistan had proposed this listing," the Foreign Ministry had stated after the UN slapped curbs on the outfit.
In April, Ehsanullah Ehsan, the former spokesman for the JuA, who surrendered to the security forces, had claimed in a video that Khorasani "had contacts with the Afghan and Indian intelligence agencies".
Ahrar sources had earlier stated that Ehsan was among several JuA commanders who had opposed policies of Khorasani because of his harsh behaviour.
Militant sources say JuA could push the group to further crisis and some commanders could join other groups.
In June the group expelled four leaders over their "activities against Islamic sharia and violating the group's principles", said the JuA spokesman.
The TTP Mohmand chapter, under Khorasani, had worked as "state within a state" during their association with the TTP.
When the TTP leadership agreed to start peace dialogue with the PML-N government in early 2014, the Mohmand faction brutally slaughtered 23 FC men in February 2014, who were taken captive earlier from the Shongrai checkpost in June 2010. It was the same faction that attacked the Islamabad courts on March 3, 2014, killing 11 people and injuring over 20 others.
A little known "Ahrar-ul-Hind" had claimed responsibility but it was in fact TTP JuA which was behind the attack.
A TTP JuA source had earlier told Daily Times that nearly 50 Ahrar supporters had joined Daesh or the Islamic State Khorasan, whose leaders are believed to be based in Afghanistan. Omar Khitab, one of the TTP JuA senior commanders, Dr Islam Abid, who headed the group's medical unit and senior commander Sajid are among those who switched loyalties to Abu Bakar Baghdadi's Islamic State.
The group spokesman, however, rejects reports of JuA's links with Daesh.
In February, the Islamabad "Lal Masjid" or Red Mosque described JuA as and anti-Islam and anti-state entity, a day after it claimed responsibility for the suicide bombing in Lahore, killing 13 people and injuring nearly 70 others.
Full report at:
https://dailytimes.com.pk/127278/jamaat-ul-ahrar-chief-dead-us-drone-strike/
--------
Clerics, politicians come down hard on govt
October 19, 2017
Bahawalpur-Various political and religious parties came down hard on the government for making an unsuccessful bid to amend the Khatme Nubuwwat oath the lawmakers are required.
Addressing all parties Khatme Nubuwwat press conference at Press Club Bahawalpur, they said, "Amending the Khatme Nubuwwat declaration from the Election Bill 2017 was not a clerical mistake but part of a conspiracy while the rulers are covering the conspirators. They hold prejudice towards the religion and are serpents which are more dangerous than the real enemies like the US and India."
They added, "Sharif family especially Nawaz Sharif got various chances to rule the country but he did not show sincerity. They kept working on an agenda to make the constitution disputed to eliminate the Islamic identity of Pakistan and kept paving the way for secularism. Pakistan was created in the name of Islam and no one can snatch its Islamic identity, Rana Sanaullah who declared Qadiyanis as Muslims should be fired as law minister because one who calls someone Muslim who does not believe in Khatme Nubuwwat could not be sincere to Pakistan."
Jamaat-e-Islami's Parliamentary Leader in Punjab Assembly Syed Wasim Akhtar said that the current government has employed a Qadiani as the officer of Federal Service Commission who adjusted 298 Qadianis out of 306 candidates in the past two years at higher posts.
Jamiat Ulma-e-Islam (S) District Ameer Mufti Irshad Ahmad said that it was very disappointing that the law minister was unaware of his country's constitution and law. Sanaullah should apologise to the nation and renew his faith and if he refuses to do so, cases be made against him for treason, he demanded.
People's Party Southern Punjab's Deputy Secretary Information Saleem Bhatti said that the credit of historic decision to declare Qadianis non-Muslim went to his party. While signing on the law, then prime minister Zulfiqar Ali Bhutto had said that he was signing his death warrant and later the people saw that his judicial murder was done.
Jamiat Ulma-e-Islam (F) District General Secretary Allama Shafqatur Rehman said that Sanaullah's statement in that regard was disappointing and the act to be condemn; such statement shows his mental instability. Khatme Nubuwwat is part of our faith, whoever refuses to accept it does not have the right to be called a Muslim, he said. Sanaullah should name those scholars who do not consider Qadianis non-Muslim, he said and demanded the Punjab chief minister immediately fire the law minister.
He further said that Mufti Ahmad Mehmood has declared the Constitution of Pakistan as the protector of Khatme Nubuwwat. Now, Qadianiyat has only two ways either leave Pakistan or accept Khatme Nubuwwat law; whoever interrupts the clauses of Khatm e Nabuwat will not be spared by the Muslims, he said.
In another Press Conference, Mufti Mazhar Asadi said that the law minister not only rebelled against the country but also sold his faith. The government should not invite the wrath of Almighty, and purge itself of such persons, he said. He added it will be better for them because it is not possible that they can remain safe from wrath of Allah after such acts. The JUI will not let international powers play such games as the whole nation considers it an honour to sacrifice their lives to protect the "Khatme Nubuwwat" law, he said.
Mushtaq Ahmad Warraich Advocate said that according to the Constitution, Qadiyanis are non-Muslims and they have no link with Islam. He said Rana Sanaullah violated the Constitution and a case be registered against him in accordance with Article 6.
Aun Muhammad Saeedi said, "We can go to any length to protect Khatme Nubuwwat law. The government is trying to cover up the matter through district governments."
Full report at:
http://nation.com.pk/national/19-Oct-2017/clerics-politicians-come-down-hard-on-govt
--------
Africa
EU aims to boost anti-terror info sharing with Tunisia
18 October 2017
EU anti-terror chief Gilles de Kerchove on Tuesday called for a boosted exchange of information with Tunisia, which has seen its nationals involved in deadly attacks abroad and on its soil.
During a visit to Tunis, for talks with Tunisian ministers, the EU official said that the flow of information across the Mediterranean "is functioning well" but could be improved.
"We are looking to see how to help Tunisia in the area of data protection... to increase the exchange of information," between the Tunisian authorities and organisations such as Europol and Eurojust, he added.
He argued such improvements could be useful for ongoing cases like the trial of the suspects in the 2015 attack on a beach resort near Sousse that killed nearly 40 foreign holidaymakers, most of them British.
Families of French and British victims of that attack and one at the National Bardo Museum in Tunis the same year, in which 22 people died, have complained they were not informed of the legal proceedings which followed.
Tunisians have also carried out deadly attacks in Europe, including Berlin and the French towns of Nice and Marseille.
Asked about the arrival in Europe of Ahmed Hanachi, a Tunisian national who killed two women in the southern French city of Marseille on October 1, de Kerchove underlined the difficulty in "identifying the point of changeover from radicalism to violent radicalism".
Hanachi, 29, fatally stabbed the two women at Marseille's Saint-Charles train station before being shot dead by police.
The attack was claimed by the Islamic State group, but French investigators have not found any evidence linking it to the jihadists.
But Hanachi was known to the police for drug as well as alcohol problems and had a history of petty crime, using seven aliases.
"One of the main subjects is to become more and more precise in the detection of the tipping point," the EU commissioner told a press conference in Tunis.
https://english.alarabiya.net/en/News/north-africa/2017/10/17/Fighting-in-Libyan-capital-closes-airport.html
--------
Somali president pledges war on Shabab after fatal attack
Oct 18, 2017
Somalia's President Mohamed Abdullahi Mohamed has vowed to step up the fight against the al-Shabab Takfiri terrorist group following the weekend truck bombing that claimed the lives of over 300 people in the capital Mogadishu.
Mohamed, better known by his nickname Farmajo, made the remarks during an address to thousands of angry protesters at a rally in Mogadishu. The people had taken to the streets in solidarity with the victims of the Saturday bombing.
The outraged protesters marched through the scene of the attack wearing red bands around their heads before gathering at a stadium where they chanted, "We are ready to fight."
No group has claimed responsibility for the attack. However, al-Shabab, a Takfiri militant group linked to al-Qaeda, is often behind similar deadly terrorist attacks in the conflict-stricken country.
Farmajo said the explosion "shows that we have not done enough to stop Shabab."
"If we don't respond to this now, the time will surely come when pieces of flesh from all of us are being picked up off the ground. We need to stand up together and fight al-Shabab, who continue massacring our people," the president said.
It was unclear what Farmajo planned to do to stop the Takfiri militants from conducting such assaults.
The attack also prompted similar protests in large towns in southern and central Somalia.
"This attack seems to have united the people because everyone is angry now and needs to fight violence, there are thousands of young men, women and children out there protesting," said a protester.
Ibrahim Mamud, another demonstrator, said, "I think the ones who have masterminded this attack will not spare anyone ... we need to stop these guys before they kill all of us."
The Takfiri group has in the past carried out terrorist attacks in Mogadishu and other parts of Somalia in a bid to intimidate the country's vulnerable government and drive out African Union (AU) peacekeeping troops deployed there for support.
Government forces have been battling al-Shabab militants since 2006. The militants controlled Mogadishu between 2007 and 2011, when they were driven out of the capital with help from the AU troops. A period of relative calm started in Mogadishu afterward. However, since last month, the group seems to have started to resume its attacks in Mogadishu.
Full report at:
http://www.presstv.com/Detail/2017/10/18/539085/Somali-president-war-Shabaab
--------
Mozambique: Why Islamist Attack Demands a Careful Response From Mozambique
18 OCTOBER 2017
By Eric Morier-Genoud, Queen's University Belfast
In the early hours of 5 October 2017 a group of 30 men attacked three police stations in Mocimboa da Praia, a small town of 30,000 inhabitants in Northern Mozambique. They killed two policemen, stole arms and ammunition, and occupied the town.
They told local people they would not hurt them, that their fight was with the state and the police. They explained that they rejected state health and education and refused to pay taxes. The local population calls these men "Al-Shabaabs".
Mozambique's government's response was swift. It fought back with forces from other districts and special forces from the provincial capital. The battle lasted several hours and left 16 dead, including two policemen and a community leader.
The attack came as a shock to a country already grappling with major economic and political problems. The incident is the first confirmed Islamist armed attack in Mozambique.
Information is still sparse and confused. But for now, we can say with some degree of certainty that what happened on 5 October 2017 was not a Somali Al-Shabaab attack nor an externally driven international Jihadi plot. Nor was it a state conspiracy as some had suggested.
Rather, the attack appears to have been carried out by a group of local young Muslims who formed a sect in 2014 in Mocimboa da Praia which is known as "Al-Shabaab". The group controls two mosques in the town and have told their followers to stop sending their children to secular institutions such as state schools and hospitals. It wants Sharia law applied in their area.
The fact that this first Islamist attack was carried out by Mozambicans makes the event no less shocking, particularly in a country proud of its sound and relaxed inter-religious relations. Until we get more information on the group and what triggered it to attack the state, it's worth setting the incident within a historical context.
Islam in Mozambique
Islam has a very old presence in Mozambique, particularly on the coast and in the Northern parts of the country. Various Sultanates and Sheikdom existed before Portugal occupied the territory in the late 19th Century .
The Portuguese colonialists openly and officially favoured Catholicism, at a time repressing Islam and other religions. But Islam gained converts and nonetheless grew. By the time of independence in 1975 Muslims officially accounted for 13% of the population. The 1997 census gave the figure of 17.8%. Both figures are contested by Muslims who believe them to be higher.
After independence the Liberation Front of Mozambique (Frelimo) adopted Marxist-Leninism. It attacked all faiths, but Islam was particularly affected. It was a faith most state leaders didn't understand. This was evident in incidents such as President Samora Machel keeping his shoes when he walked into the main mosque in the country. Another example was the government insisting on pigsties being built in Muslim areas in the name of "development". Memories such as these are still raw and were raised yet again after the Mocimboa da Praia attack.
After Frelimo abandoned Marxism-Leninism and shifted to multiparty democracy, the party began courting all religions to gain electoral support. But tensions still arose from time to time. One involved the government taking steps to officially recognise Islamic holidays. This sparked a crisis in parliament in 1996 and the Frelimo governing party backtracked, adopting a more secular approach from then on.
The incident served to remind Muslims that they still felt marginalised.
Islam is overwhelmingly Sufi in Mozambique, with a majority of Muslims belonging to different Turuq (brotherhoods). Sufism represents the more mystical side of Islam - opposed by scripturalist Muslims, such as the Wahhabi, who accuse them of deviating from the Koran.
The return of African graduates from Saudi Arabia in the 1970s gave political clout to the reformist and scripturalist movements in Mozambique. They gained control of some mosques and, in collaboration with the Portuguese, expanded their presence.
Today the main national organisation is the reformist Islamic Council which was created after independence by Wahhabi elements and grew in the in 1980s and 1990s in partnership with the authorities.
Splinter organisations appeared in the late 1990s and 2000s, particularly in Northern Mozambique. As reformism gained firmer ground in the north, tensions and conflict increased. Controversies emerged in relation to sufi practices, alcohol, education and dress code. There was, however, never any violence against the state.
Powder keg
Although no international terror group has been linked to Mocimba da Praia, the incident is very serious. Cabo Delgado is a Muslim-majority province where discoveries of giant oil and gas reserves have brought international conglomerates and their private security, making the area a potential powder-keg.
On top of this, the area is desperately poor. Northern areas of Mozambique have gained little from the economic boom of the 2000s. Mocimboa da Praia is a case in point: little development has been seen even as expectations exploded following the discovery of massive gas and oil reserves in the province. Billions of dollars have been invested in offshore drilling, with little benefit to local communities.
The government must devise a careful and well-thought response to this new Islamist threat. Downplaying the affair as "banditry" and dealing only with the sect when it's clear that there are broader religious and social dynamics at play risks seeing the problem reemerge elsewhere.
In turn, going for an all-out repression to eradicate the "Islamist threat" could radicalise other Muslims and root the problem deeper and more widely - think only of Boko Haram in West Africa in 2009.
So far state officials have been careful and moderate in their statements. But practice on the ground needs to follow the same line and some changes in social and religious policy will need to follow.
Disclosure statement
Full report at:
http://allafrica.com/stories/201710190108.html
--------
Africa: Trump Critics Cite Double Standards After Somali Attack
18 OCTOBER 2017
By Saad Muse
Mogadishu — Critics have alleged double standards by the United States Donald Trump on the subject of terrorism after the al-Shabaab attack left hundreds dead in Somalia. The double suicide bomb attack on Saturday killed more than 300 people, including at least one American.
The Council on American-Islamic Relations (CAIR), the nation's largest Muslim civil rights and advocacy organization, is investigating reports of other Americans being killed or injured in the attack in Mogadishu. CAIR meanwhile questioned Trump's alleged silence on the terror attack in Somalia while he was vocal on attacks Islamic militants carried out in his country and the West.
"We condemn this horrific and cowardly attack on innocent civilians in Mogadishu going about their daily lives, and offer condolences to the loved ones of the victims," said CAIR National Executive Director Nihad Awad.
He alleged double standards by Trump. "If this attack had targeted people of other faiths or races, we believe there would have been an immediate response from the president in a statement or on Twitter." However, on Monday, the US mission to Somalia issued a condemnation of the attack.
Heather Nauert, the US Department of State spokesperson, also denounced the terror act. The allegations against Trump have revived concerns by critics who accuse the West of being only taking action against terrorists when they struck against Europeans and disregard when the developing world was attacked. Fellow Africans are also accused of complicity.
Full report at:
http://allafrica.com/stories/201710180318.html
--------
Southeast Asia
Political Islam navigates and changes Indonesia's democratic landscape
October 18, 2017
Indonesia's political Islam utilises democracy to promote its conservative aspirations, thus changing the country's democratic landscape.
Indonesian groups considered as political Islam include the Islam Defenders Front (FPI), the National Movement to Safeguard the Indonesian Ulema Councils Fatwa (GNPF-MUI), Hizbut Tahrir Indonesia and factions in the country's largest Muslim organisations, the Nahdlatul Ulama and Muhammadiyah. They all have the desire to rule the society with ideals derived from interpretations of Islam. This has prompted political Islam to put forth its aspirations, generally perceived as undemocratic, through democratic ways.
Previously, political Islam had little participation in Indonesian democracy. On several occasions, these groups even campaigned for ideas opposing democracy. For example, in 2013, FPI leader Rizieq Shihab rejected the idea of general elections, telling Muslims that supporting democracy was as bad as eating pork.
Breaking through exclusion
Political Islam had almost always been on the fringe of Indonesia's politics. Its inability to build a coalition of Muslims from all walks of life and persistent internal fragmentation had rendered political Islam incapable of mobilising significant influence.
After the fall of Indonesia's New Order, or Reformasi, researchers have observed the rise of the conservative turn. The aspiration to expand the influence of Islamic law in the public sphere has been voiced more frequently and gradually garnered more support.
However, the rise of the conservatives does not necessarily end the exclusion altogether. Even after Reformasi, political Islam in Indonesia still experiences political exclusion. Political Islam has often been portrayed by the media, pro-democracy activists, analysts and political rivals as a group that harms democracy and pluralism.
Research has found the group attracted stigma because of its beliefs. The state, scholars and civil society often treat followers of political Islam as citizens whose behaviours and ideas are problematic, thus needing correction. Moreover, it is not easy for political Islam to get access to formal political institutions.
Amid the prevailing democracy and diversity narratives post-Reformasi, these portrayals have made political Islam look like a bunch of deviant people with unreasonable demands. On the other hand, political Islam harbours great suspicion of the narratives of democracy, tolerance and nationalism.
Last year and this year signified a new turn. Indonesia saw a string of large demonstrations called Defend Islam Action (Aksi Bela Islam), where political Islam gained momentum and huge public sympathy. This has pushed more established actors in the democracy arena — legislators, political parties, elected politicians, bureaucrats and businesspeople — to take them into account and regard their demands seriously.
Changing tack
To overcome the exclusion, political Islam utilised democratic claims. When its supporters rallied to voice their demands, political Islam expanded its repertoire to include freedom of expression. Another is "everyone is equal before law", which gives justification for political Islam to pursue its interests using legal avenues.
Political Islam has also appropriated the state ideology, Pancasila, and nationalist jargon to defend itself from rivals' accusations of harming Indonesia's unity.
These manoeuvres allow political Islam to pursue greater participation in Indonesia's political arena. Its members acknowledge the rules of the democratic system in the hope of getting recognition as legitimate political actors in the country.
Nonetheless, their compromise in embracing democracy contains ambiguity. The decision to abide fully by democracy requires them to forget about some of their conservative ideas. But without entering the democratic arena, political Islam's aspirations would not get much support.
Consequently, political Islam tries to construct specific interpretations to connect democracy, tolerance and nationalism with conservative aspirations.
For example, they interpret the campaign against Shiites as an attempt to protect Indonesia's unity. And the campaign against gays and lesbians is seen as protecting the society's morality.
Formulating counter strategy
Amid this changing political landscape, attempts to counteract the conservative turn need a new formula. But it seems the government and other democratic powers have failed to respond intelligently to this development.
They are doing what they have been doing: controlling political Islam by excluding them. They do this by reproducing negative depictions of political Islam: anti-democracy, favouring violence, and threatening the national ideology.
These portrayals provide justification for the government to limit political Islam movements. It disbanded Hizbut Tahrir Indonesia without trial using a government regulation that could also affect other mass organisations.
Limiting political Islam is understandable because many see its involvement in democracy as a mere strategy to infiltrate democracy. But such exclusion risks a failure to see political Islam's willingness to compromise with democratic rules. How far will this compromise go? We must wait and see.
Pro-democracy agents need to learn more to develop a better strategy in this new landscape. It is clear that moves to treat political Islam as a fringe actor tend to be counterproductive.
It would likely harden political Islam's feelings of exclusion despite having shown willingness to follow democratic rules. This could stunt political Islam's commitment to get involved in democracy, and in turn might open more paths to radicalisation.
Negative labelling of political Islam, therefore, should be ended. This is not only because it fails to delegitimise political Islam in the eyes of society, but it also gives followers reason to unite and harden their identity.
Instead of treating political Islam's followers as people who do not have any place in democracy, the government, democracy activists and researchers should think about how to encourage political Islam to compromise further and accept democratic ideals.
Make democracy the sole domain where political decisions are deliberated, so political Islam does not have any choice except to enter and compromise. Or instil democracy deeper in the society so citizens are not easily lured by actors that promote undemocratic ideas.
https://theconversation.com/political-islam-navigates-and-changes-indonesias-democratic-landscape-84918
--------
Anti-birthday Muslim preacher visits hospital patients on Deepavali day
Michael Murty
October 18, 2017
PETALING JAYA: Penang-based Muslim preacher Shahul Hamid, who recently provoked a controversy by advising Muslims not to patronise non-Muslim hairdressers, raised eyebrows today with a poster on his Facebook page.
The poster features Shahul, Pertiga Malaysia president Sabaruddin Ahmad and the NGO's deputy president Ahmad Azhar Othman, better known as Awie, informing people that the three of them were visiting Hospital Pulau Pinang.
The poster was accompanied by Shahul's statement, "Jom beramai-ramai kita ziarah pesakit-pesakit di Hospital Pulau Pinang" (Let us all visit the patients of Hospital Pulau Pinang).
A staff at the hospital said the group was at the hospital as early as 1.30pm today, but declined to reveal more.
"Usually any group intending to visit patients or give them gifts would have to write a memo to the hospital director," the woman staff said.
Popular rock singer and actor Awie, said he did not have the details of what Pertiga intended to do at the hospital.
"They usually hold these visits for a charitable purpose, like helping the homeless each week, helping flood victims and if there was a natural disaster they will also help out.
"The group has about 100,000 registered members," he said, adding that he did not take part in the visit as he was in Kuala Lumpur.
Full report at:
http://www.freemalaysiatoday.com/category/nation/2017/10/18/anti-birthday-muslim-preacher-visits-hospital-patients-on-deepavali-day/
--------
DAP MP wants Putrajaya to explain how Malaysia lost bid for UN Human Rights Counci
October 19, 2017
KUALA LUMPUR, Oct 19 ― The government must explain how Malaysia was the only bidder among 16 countries to lose the election for the 15-seat United Nations Human Rights Council, Opposition lawmaker Liew Chin Tong said today.
The DAP MP for Kluang said he will submit his question to Parliament next Tuesday for Foreign Minister Datuk Seri Anifah Aman to answer during Question Time.
"It is shocking that Malaysia failed in its diplomatic effort and Parliament deserves to know what had happened.
"Anifah should also disclose in Parliament how much it costs Malaysia to lobby and campaign for the position, Liew said in a statement.
He noted that Malaysia had submitted its candidacy in January and was vying with Afghanistan, Nepal, Pakistan and Qatar for the four vacant Asia-Pacific seats and lost out.
In the secret ballot conducted during the UN General Assembly, Nepal topped the Asia-Pacific list with 165 votes followed by Qatar with 155 while Pakistan got 151 and Afghanistan, 130, edging out Malaysia's 129 votes.
Liew pointed out that Malaysia had been an active member of the UN Human Rights Commission from 1993 to 2006 when it was dissolved and replaced by the UN Human Rights Council.
Full report at:
http://www.themalaymailonline.com/malaysia/article/dap-mp-wants-putrajaya-to-explain-how-malaysia-lost-bid-for-un-human-rights#DlA4lP8LESHAG14P.97
--------
Now, PAS wants Shariah Bill back on Parliament agenda
October 19, 2017
KUALA LUMPUR, Oct 19 — PAS today insisted Datuk Seri Abdul Hadi Awang's private member's Bill to raise Shariah punishments be debated when Parliament reconvenes next week.
PAS secretary-general Datuk Takiyuddin Hassan said it was improper for Hadi's Bill to be deferred further, saying that it had already been postponed in April without reason.
"Debate should continue to the end, according to procedure, even if it could not be completed in the current session," he said, adding that a trial would not be stopped without conclusion.
He then repeated his party's insistence that the bid to raise Shariah punishments was an exclusively Muslim matter.
PAS Ulama chief Datuk Dr Mahfodz Mohamed said earlier this week that the Islamist party may defer Hadi's Bill to after the general election.
He claimed that PAS would be better poised to push the agenda once it wins additional parliamentary seats in the poll.
Full report at:
http://www.themalaymailonline.com/malaysia/article/now-pas-wants-shariah-bill-back-on-parliament-agenda#i2BVsVfVp09rGCbP.97
--------
Muhammadiyah plays down report of its alleged complicity in 1965 massacre
October 18, 2017
Muhammadiyah, the second largest Muslim organization in the country, has played down newly declassified US diplomatic cables that indicate the organization's involvement in the mass killing of members and alleged sympathizers of the now-defunct Indonesian Communist Party (PKI) in 1965.
Among some 30,000 pages of files from the US embassy in Jakarta — declassified on Tuesday — it was revealed that Nahdlatul Ulama, its youth wing Ansor and Muhammadiyah organized the executions under the direction of the Army.
According to the documents, the Muslim organizations assisted in the killings that occurred in many parts of the country, including in East Java, Medan, South Sumatra and Makassar. The Army was also said to have recruited Catholics to help with its mass killing campaign in Central Java.
A Dec. 6, 1965 cable from the US Consulate in Medan to the US Embassy in Jakarta reported that preachers in Muhammadiyah mosques were telling congregations that all who consciously joined the PKI must be killed, saying they "are classified as the lowest order of infidel, the shedding of whose blood is comparable to killing chicken."
"This appears to give Muhammadiah Muslims wide license for killing. Policy of reformist Muhammadiah very similar to 'Final Interpretation" issues by conservative NU, suggesting Muslim opinion here practically unanimous on disposal of PKI members," the cable said.
Muhammadiyah secretary-general Abdul Mu'ti said the US files should be further verified to ensure their reliability. He added that even if it was true that Muhammadiyah preachers called for the killing of PKI members, "personal statements could not be considered as the stance of the organization."
Full report at:
http://www.thejakartapost.com/news/2017/10/18/muhammadiyah-plays-down-report-of-its-alleged-complicity-in-1965-massacre.html
--------
Philippines Arrests Militant Widow for Trying to Recruit Fighters
Oct 19, 2017
Manila. Philippine law enforcement agents have arrested a woman who tried to spread radical ideas and recruit hundreds of foreigners to reinforce pro-Islamic State rebels occupying a southern city, the justice minister said on Wednesday (18/10).
Karen Aizha Hamidon, the widow of a former leader of a small extremist group in Mindanao, was arrested by special agents at her home in a Manila suburb a week ago and has been charged with inciting to rebellion, Vitaliano Aguirre told a news conference.
Hamidon is accused of using social media and messaging apps to call on foreigners to join the siege by an alliance of Islamic State loyalists in Marawi City, a battle that has lasted nearly five months.
The military says the conflict, the biggest security crisis in years in the Philippines, is now in its final stages and has killed more than 1,000 people, mostly rebels.
"This is a welcome development in the fight against terrorism," Aguirre said.
Agents found she had made 296 posts in chatrooms on Telegram and WhatsApp "calling on Muslims in the Philippines, India and Singapore to come to Marawi to establish a province of the Islamic State of Iraq and Syria", he said.
There were also about 250 names, mostly foreigners, in her phonebook who were suspected of being Islamic State sympathizers.
Dressed in a black burqa, Hamidon was paraded before the media but was not allowed to speak. Her laptop, mobile phones and electronic gadgets were being looked at by experts for forensic investigation.
Hamidon, a Muslim convert, was married to Mohammad Jaafar Maguid, alias Tokboy, the former leader of radical group Ansar Al-Khilafa. He was killed in a gunfight with police in January.
Aguirre said she was also linked to Singaporean and Australian extremists, both of whom are in detention in their countries.
Full report at:
http://jakartaglobe.id/international/philippines-arrests-militant-widow-trying-recruit-fighters/
--------
Indonesia Braces for Stragglers After Battle in Marawi City
Oct 19, 2017
Jakarta. Indonesia is bracing for a "spillover" from what appears to be an end to a battle between security forces and Islamist militants in southern Philippines, a ministry spokesman said on Wednesday (18/10).
Philippine President Rodrigo Duterte on Tuesday said militants sympathetic to the Islamic State have finally been ousted from Marawi city, after nearly five months of battle, according to media reports.
The Philippine military said up to 30 fighters remained after the battle that reportedly drew militants from neighboring countries.
According to Foreign Ministry spokesman Arrmanatha Nasir, Indonesian police and counterterrorism officials are coordinating with Philippine authorities to prevent the spill of militants into the country.
"Indonesia welcomes the result, which also couldn't be separated from our trilateral cooperation," Arrmanatha said, referring to Duterte's announcement.
Indonesia, Malaysia and the Philippines launched joint air patrols last week and maritime patrols earlier in June and this month, seeking to curb the movement of Islamist militants in the region.
More than 1,000 people, mostly militants, were killed in the battle in Marawi, and Arrmanatha said the Philippine military had suggested that among them were Indonesian fighters.
Full report at:
http://jakartaglobe.id/news/indonesia-braces-stragglers-battle-marawi-city/
--------
Europe
Black And Muslim Prisoners Suffer Worse Treatment In UK, Study Finds
Oct 19, 2017
Black and Muslim offenders are more likely to be badly treated in prison, leading to poorer outcomes and mental health concerns, research has found.
The Runnymede Trust, a race equality thinktank, and the University of Greenwich investigated the treatment of male black and minority ethnic (BAME) prisoners, surveying over 340 inmates across four prisons.
Those surveyed, of which 100 gave face-to-face interviews, felt discriminated against based on the basis of their race and religion, and were subject to cultural and racial stereotypes by prison officers.
The researchers found that being black or Muslim doubles a prisoner's chances (40%) of having worse prison experiences – which includes having restraints used against them and being put into segregation in past six months – compared with white prisoners (21%).
They were also more likely to be on the lowest rung of the prison rewards and punishment scheme, more likely to be put into segregation and more likely to have restraint used against them. Almost a third of Muslim prisoners (29%) did not have prison jobs or attend education courses, compared with 17% of Christian prisoners. This issue particularly affects rehabilitation, Runnymede said.
Zubaida Haque, a research associate of the Runnymede Trust, said that offenders lose their right to liberty but should not lose their human rights, "especially in relation to personal safety".
She said "far-reaching staff cuts" were having an impact on the treatment of prisoners. "If the government quickly reverses staff cuts this will have a positive impact on mental health, suicides and disproportionality in prisons," she said. "But cultural awareness and unconscious bias training for prison officers is also critical to address the negative stereotypes and everyday racism that BAME prisoners experience."
The subjects of the study are part of a growing group in prisons. People from BAME backgrounds make up 25% of the prison population in England and Wales and 41% of the youth justice system, despite these groups making up 14% of the general population, a recent review by Labour MP David Lammy found. The Muslim prison population has more than doubled since 2002.
Last week the government pledged to increase numbers of BAME officers in response to their race disparity audit. There is a significant racial diversity gap as BAME prison staff makes up just 6% of all prison officers.
The charity has calculated that the government will need to hire four times as many BAME prison officers to reflect the prison population.
Darrick Jolliffe of the centre for criminology at the University of Greenwich raised concerns about the link between poor treatment and self-harm and suicide.
"Our research in prison has shown a worrying trend, with the policies to prevent self-harm and suicide based on a staffing level that no longer exists," he said. "Prison officers rarely have the time to develop the relationships with those in prison needed to truly provide support to help prevent self-harm and self-inflicted deaths, and the prison officer training on the complex area of mental health is essentially absent."
He said that austerity measures continue to widen the gap between policy and practice so "those most at risk in prison are quite literally falling through the gaps".
He added: "Trained and confident staff who are provided with the time to be true agents of support and rehabilitation are desperately needed."
https://www.theguardian.com/society/2017/oct/19/black-and-muslim-prisoners-suffer-worse-treatment-study-finds
--------
Britain Facing Most Serious Threat Ever: MI5 Chief
Oct 18, 2017
The UK is experiencing an unrelenting and unprecedented terrorist threat, the head of MI5 warns, saying new attacks are inevitable.
Britain had seen "a dramatic upshift in the threat" from terrorism, according to Andrew Parker, who is the head of Britain's normally secretive domestic intelligence service.
"That threat is multi-dimensional, evolving rapidly and operating at a scale and pace we've not seen before," Parker told specialist security journalists on Tuesday.
"It's at the highest tempo I have seen in my 34-year career. Today there is more terrorist activity, coming at us more quickly, and it can be harder to detect."
Elaborating on the scale of the problem, Parker said his agency along with police have prevented seven attacks by terrorists over the course of the past seven months.
Twenty major acts have been stopped in the past four years and 379 suspects have been identified and arrested in the first six months of this year, he added.
Extremist "terrorism is an acute and enduring challenge that requires a sustained and comprehensive approach," Parker noted.
He also blamed the internet for the increase in the number of terrorists, saying, "They can go online to get explosives and learn how to build a bomb."
Terrorist attacks so far this year have killed 36 people and hurt 200 in Westminster, Manchester, London Bridge and Finsbury Park. They were all carried out by people radicalized within the UK.
British Prime Minister Theresa May has been on many occasions criticized over her disproportionate attention to what she calls the threat from "Islamic extremism" while failing to notice the rise in the far-right terrorism threat.
Full report at:
http://www.presstv.com/Detail/2017/10/18/539007/UK-Terrorist-threat-extremist
--------
G7 to focus on foreign fighter fallout from rout of Daesh
19 October 2017
ISCHIA, Italy: The threat of fresh attacks on the West by foreign fighters fleeing the fallen Daesh stronghold of Raqqa is set to dominate a G7 meeting of interior ministers in Italy.
The two-day gathering, which kicks off Thursday on the Italian island of Ischia, comes just days after US-backed forces took full control of the terrorists' de facto Syrian capital.
Most foreign fighters are believed to have fled over the past few months. Experts say those who stayed are now likely to head for Turkey in the hope of traveling on to Europe to seek revenge for the destruction of the "caliphate."
Tens of thousands of citizens from Western countries traveled to Syria and Iraq to fight for the group between 2014 and 2016, including extremists who then returned home and staged attacks that claimed dozens of lives.
France, whose some 1,000 nationals were among the biggest contingent of overseas recruits to join Daesh, stated frankly this weekend that it would be "for the best" if terrorists die fighting.
While border crossings have since tightened making it more difficult for fighters to return, security experts have warned of renewed possibilities of strikes as the pressure on Daesh intensifies.
"With an Islamic military defeat in Iraq and Syria we could find ourselves facing a return diaspora of foreign fighters," Italy's Interior Minister Marco Minniti told a parliamentary committee last week.
"There are an estimated 25,000 to 30,000 foreign fighters from 100 countries. Some of them have been killed of course, but... it's possible some of the others will try to return home, to northern Africa and Europe," he said.
The Syrian Observatory for Human Rights, a Britain-based monitor of the war, said a group of 130-150 foreign fighters, including Europeans, had turned themselves in before the end of the battle in Raqqa.
Other reports suggested a convoy of foreign fighters had been able to escape the city toward Daesh-held territory, a claim denied categorically by Syrian Democratic Forces (SDF) officials.
The SDF is expected to contact the home countries of any foreign fighters it holds, to discuss the possibility of turning them over to face prosecution.
But captured fighters could prove a legal headache, with questions raised over what evidence, collected by whom, would be used in a domestic court. Terrorists also become security risks in jails for their potential to radicalize.
French European lawmaker Arnaud Danjean said Wednesday there would be "negotiations with the countries concerned" over what to do with returners.
Minniti warned fighters could take advantage of the confusion and "use the human trafficking routes" to return home — raising the specter of extremists embarking on the migrant boats which regularly head to Italy.
It meant controversial efforts currently spearheaded by Italy to close the land and sea trafficking routes which cross Africa into Libya and on across the central Mediterranean sea to Europe were "essential," he added.
The Seven, from Britain, Canada, France, Germany, Italy, Japan and the US, will also tackle the hot issue of terrorism online, with analysts warning Daesh's loss of territory will turn street-to-street fighting into an intelligence war.
The ministers are due to arrive Thursday afternoon at a medieval castle on the volcanic island off Naples, before retiring for an informal dinner and knuckling down to working sessions on Friday.
They are set to be joined by the EU commissioner for migration Dimitris Avramopoulos, European safety commissioner Julian King, and Juergen Stock, secretary general of the international police body Interpol.
Full report at:
http://www.arabnews.com/node/1179996/world
--------
EU backs redesign of public spaces to curb terror attacks
18 October 2017
The EU unveiled on Wednesday plans to help redesign European public spaces to make it harder to carry out low-tech terror attacks like those in Barcelona and Nice.
The European Commission pledged more than 100 million euros ($117 million) to help towns and cities, many of them historic tourist magnets, adapt their public spaces after a two-year wave of attacks that have killed hundreds of people in crowded areas.
"We can't stop all attacks," EU Security Commissioner Julian King told a press conference. "But we can make it harder and harder for the terrorists and others who wish us ill to carry out the attacks."
"We believe we can make public spaces less vulnerable without completely changing their nature as fundamentally open spaces where we gather to live our lives," King said.
He referred to a recent wave of "low-tech terrorism" where extremists have used vehicles to kill and maim civilians, most recently in August in the Spanish port of Barcelona and a nearby resort, in which 16 people were killed
A truck attack on the Bastille Day celebrations in the French city of Nice in 2016 killed 86 people, and there have been similar vehicle attacks in London, Stockholm and Berlin.
In addition to vehicles, recent attacks have sometimes involved knives, in contrast to the suicide bombs and automatic weapons used in previous attacks.
The plans unveiled by the European Commission, the executive arm of the 28-nation bloc, also calls for restricting access to substances used to make home-made bombs such as those used in the 2016 Brussels airport and metro attacks.
The commission also proposed a "new toolbox" of techniques and training to tackle the problem of encrypted messages used by extremists to plot attacks.
It also urged member states to support opening negotiations with Algeria, Egypt, Israel, Jordan, Lebanon, Morocco, Tunisia and Turkey on the transfer of personal data between Europol and these countries to prevent and combat terrorism and serious crimes.
It also recommended that Brussels open talks on a revised deal with Canada to share air passenger data that was ruled illegal by a top court in July.
Full report at:
http://www.worldbulletin.net/europe/195116/eu-backs-redesign-of-public-spaces-to-curb-terror-attacks
--------
Mideast
Yemen: Saleh's party threatens to break partnership with Houthis
19 October 2017
Deposed Yemeni president Ali Abdullah Saleh's political party has formally warned that they will end their partnership with the Houthi militias after they released a statement on Wednesday.
In their statement, the General People's Congress party in Sanaa accused their Houthi partners of persecuting and insulting their leaders and members.
The letter, authored by the party's Secretary-General Aref al-Zouka, was sent to the Houthi political council and described that they are being de facto ruled by their coup detat partners.
Al-Zouka added that journalists and politicians loyal to them are being harassed by Houthi militiamen describing the actions as "terrorist acts" and "irresponsible".
The letter further added that there is a clear indication of a lack of desire from the Houthi's to continue the partnership.
The Secretary-General enclosed a list of 44 members of the Houthi militia and its journalists who were attacking Saleh and the leaders of his party. He stressed that these elements can not dare to write and publish without the approval of their supreme leadership.
Members of the deposed party expressed their rejection of a sham or decorative partnership with the Houthis, in their first official threat to withdraw from the alliance since conflict between the two allies erupted with armed clashes in central Sanaa in August.
Sources in the General People's Congress, said that there is strong pressure on Saleh from party leaders to break the alliance with the Houthis after the increasing attacks and violations.
https://english.alarabiya.net/en/News/gulf/2017/10/19/In-an-official-statement-Saleh-threatens-to-break-partnership-with-Houthis.html
--------
Saudi forces kill 20 Houthis in special operation off Najran
18 October 2017
Saudi forces launched a special operation off the Najran area, killing 20 Houthi militia and ousted Saleh loyalists on Wednesday.
Al Arabiya's correspondent reported that Saudi forces earlier spotted an attempt by the militia to move towards the border between Saudi Arabia and Yemen to carry out an attack on the Saudi military control sites. The Saudi forces engaged in a military tactic to stop the progress of the elements through an ambush made up of infantry and support teams from Apache helicopters.
Saudi forces succeeded in executing the ambush and killed more than 20 militia elements and targeted a number of military vehicles.
https://english.alarabiya.net/en/News/gulf/2017/10/18/Saudi-forces-kill-20-Houthis-in-special-operation-off-Najran-.html
--------
Israel raids eight Palestinian media firms
Oct 19, 2017
HEBRON - Israeli forces raided Palestinian media offices across the occupied West Bank overnight in what a military spokeswoman on Wednesday called a "large-scale operation" against incitement.
The raids on eight companies came hours after the Israeli government declared that it would not deal with an emerging Palestinian unity government that includes Hamas unless the Islamist group made radical changes.
Israeli officials said the raids targeted companies that provide services to Hamas television stations. Notices were posted saying the companies were to be closed for six months.
"Israeli army forces last night raided eight Palestinian production and media companies that provide services to Al-Aqsa and Al-Quds TV channels," the head of an Israeli defence ministry unit known as COGAT, Yoav Mordechai, wrote on Facebook, referring to Hamas channels.
"These two channels broadcast constant incitement against the state of Israel. It is no secret that these two channels inspired, several times, terrorists to go out and commit terrorist attacks against innocents."
Israeli officials provided no specific examples of the alleged incitement. At least one of the companies targeted says it provides various services to a range of local and international news media.
The Palestinian Authority said it condemned the raids "in the strongest terms".
"Occupation forces committed a blatant aggression and gross violation of all international laws when they stormed Palestinian cities and raided media offices," PA government spokesman Yusef al-Mahmoud said in a statement.
He said the measures were a "clear challenge to the international efforts, especially the American efforts, to seek an opportunity for compromise and lay the foundations for peace and security with the agreement of all sides".
US President Donald Trump has been seeking ways to restart long-stalled Israeli-Palestinian peace efforts.
A Palestinian journalists' union official in the southern West Bank city of Hebron said the offices of three companies providing production services to Hamas television channels were closed and equipment and documents seized.
They were named as Palmedia, Ramsat and Transmedia, a satellite broadcasting facility where two members of staff were arrested, the union official said.
An official with Palmedia told AFP that three of its five offices in the West Bank were closed, including its headquarters in Ramallah as well as in Hebron and Nablus.
Some 50 people were out of work due to the Palmedia closures, he said. The company provides services to a range of local and international media.
"This act threatens Palmedia's ability to continue its work to provide its services for satellite channels and produce a number of TV shows for several local, Arab and international media outlets," it said in a statement.
Transmedia executive director Ibrahim al-Hossari told AFP "production companies in Palestine and all over the world provide production services that are more technical than news".
"We are not a news agency," he said. "Our work is purely technical and we are not responsible for the content provided by these channels."
A military spokeswoman told AFP that security forces "searched a number of media and production offices suspected of broadcasting inciting content, encouraging, celebrating and promoting violence and terrorism against Israelis".
"During the large-scale operation, media stations such as Ramsat and Transmedia were closed."
"In addition. forces seized equipment and documents from media companies that provided services to Al-Aqsa and Al-Quds - TV channels that are illegal organisations."
Last week, rival Palestinian movements Fatah and Hamas signed a landmark unity deal aimed at ending a decade-long split.
Israel said Tuesday it would not negotiate with a Palestinian unity government that includes Hamas if the Islamist movement does not disarm, recognise the country and renounce violence.
The government statement also demanded that president Mahmud Abbas's Palestinian Authority "continue to act against Hamas terror infrastructures" in the West Bank.
Hamas has run the Israeli-blockaded Gaza Strip for a decade, but also has a presence in the West Bank, where Abbas's Fatah is based.
Israel and Hamas have fought three wars since 2008 and the Islamist group is considered a terrorist organisation by the United States and European Union.
Full report at:
http://nation.com.pk/international/19-Oct-2017/israel-raids-eight-palestinian-media-firms
--------
Kuwaiti lawmaker tells Israeli delegation to leave IPU conference
Oct 19, 2017
A high-ranking Kuwaiti lawmaker has furiously told an Israeli delegation to immediately leave a conference in Russia.
During an Inter-Parliamentary Union (IPU) conference held in Russia on Wednesday, Kuwaiti National Assembly Speaker Marzouq al-Ghanim responded to an Israeli parliament representative's comments about imprisoned Palestinian lawmakers by telling the regime's delegation to leave.
"The saying 'if you have no shame do as you please' applies to the comments made by this rapist (Israeli) parliament," Ghanim said.
"You should grab your bags and leave this hall as you have witnessed the reaction of every honorable parliament around the world," he added.
"Leave now if you have one ounce of dignity, you occupier, you murderer of children," he added.
Following his remarks, the Israeli delegation left the talks amidst the applause of those present at the assembly.
The head of the delegation of the Palestinian National Council at the IPU, Azzam al-Ahmad, said Ghanim's remarks voiced the thoughts of all the Arab nations.
Full report at:
http://www.presstv.com/Detail/2017/10/19/539097/kuwait-israel-palestine-russia-marzouq-alghanim
--------
Iran's UN envoy: Israeli occupation of Palestine source of Middle East conflicts
Oct 18, 2017
Iran's Ambassador to the United Nations Gholamali Khoshroo says Israel's occupation of the Palestinian territories is the origin of all problems in the Middle East.
"The Israeli occupation of the Palestinian lands is the core... of all conflicts in the Middle East. The injustice has been continuing for more than seven decades, exacerbated through Israeli expansionist and aggressive policies towards Palestinians and the whole region," said Khoshroo on Wednesday while addressing a UN Security Council debate.
He added that Tel Aviv "arrogantly and flagrantly" violates at least 86 resolutions, adopted by the UN Security Council.
"These violations happen under the total impunity this regime is enjoying," he stressed.
Khoshroo also stressed policies such as occupation and ensuing instabilities and the manipulation of societies in the region have paved the way for the emergence of terrorist and extremist groups.
"These groups, which initially received support from the US and its allies, eventually turned into monsters threatening their supporters and creators," he added.
Full report at:
http://www.presstv.com/Detail/2017/10/18/539093/Iran-Israel-Palestine-Middle-East
--------
Ankara supports united Iraq, Turkish prime minister says
Oct 18, 2017
Turkish Prime Minister Binali Yildirim has reiterated his country's unwavering support for united Iraq amid spiraling tensions between the Baghdad government and the Kurdistan Regional Government (KRG) in the wake of last month's Kurdish independence referendum.
Speaking in an exclusive interview with English-language TRT World television news network on Wednesday, Yildirim stated that all Iraqi ethnic groups should live side-by-side under the principle of territorial integrity.
"The Iraqi government's steps towards establishing its constitutional sovereignty inside the country's borders are valid and we support it," he said.
Separately, Turkish Foreign Minister Mevlut Cavusoglu (pictured below) said the KRG failed to follow Turkey's advice before holding the independence referendum.
"The KRG made a wrong calculation and did not listen to our advice," Cavusoglu told a televised news conference in Ankara. "We told them that there might be problems [like those] they are facing right now.
"It thought that it would unite Kurds, but on the contrary, it has divided the Kurds in Iraq," the Turkish foreign minister noted.
Cavusoglu underlined that the Kurdish secession vote has led to "a big chaos" across the Middle East region.
The referendum on secession of the Iraqi Kurdistan Region was held on September 25 despite strong opposition from the central government in Baghdad, the international community, and Iraq's neighboring countries, especially Turkey and Iran.
The Turkish officials' remarks came as Kurdish Peshmerga forces had withdrawn to the positions they held in northern Iraq before the rise of the Daesh Takfiri terrorist group in June 2014.
The Iraqi military announced in a statement that government forces had taken control of Kurdish-held areas of Nineveh province, which includes the strategic city of Mosul, after Peshmerga fighters pulled back.
Full report at:
http://www.presstv.com/Detail/2017/10/18/539043/Ankara-supports-united-Iraq-Turkish-prime-minister-says
--------
Iran: Israel cannot be allowed to target Syria at will
Oct 18, 2017
The chairman of the Chiefs of Staff of the Iranian Armed Forces says Israel cannot be allowed to violate Syrian territory at will.
"It is not acceptable for the Zionist regime (Israel) to violate Syria via land or air whenever it pleases," Major General Mohammad Baqeri said in the Syrian capital of Damascus on Wednesday.
He was speaking alongside Chief of the General Staff of the Syrian Arab Army General Ali Abdullah Ayyoub.
The Israeli military conducts strikes against Syria-based targets on a regular basis, most of the time claiming that it hits convoys destined for the Lebanese resistance movement of Hezbollah. Hezbollah fighters have been assisting the Syrian army in its fight against Takfiri militants.
Israel has been offering medical treatment to the extremist militants wounded on the battlefields in Syria in field hospitals in the Israeli-occupied Golan Heights.
On a request from Damascus, Iran has been offering the Syrian government advisory military support against the foreign-backed militancy that started in the country in 2011.
In his Wednesday remarks, Major General Baqeri said he was in Syria to declare that Tehran is by Damascus' side in the fight against terror.
"The Islamic Republic considers respect for the regional countries' territorial integrity to be a principle," Baqeri said. "We believe that whenever a country should seek to conduct military operations inside another one, it should do so while respecting that country's territorial integrity and at its invitation."
'Turkish forces unwelcome'
General Ali Abdullah Ayyoub said for his part that the contingents of Turkish forces deployed to Syria are there illegally. He said the Turkish forces are not in Syria according to a deal reached on de-escalation zones in a peace process in the Kazakh capital of Astana — unlike what Ankara has said.
He said the Turkish military presence in Syria was also against international law and norms and Syria was "entitled to confront the Turkish forces on our soil in whatever fashion [that we deem necessary]."
Iran and Russia — which is another Damascus ally — have been mediating talks between the Syrian government and opposition, alongside Turkey in the Kazakh capital since early this year.
The talks have led to the designation of four de-escalation zones across Syria. Turkish troops recently marched into the Idlib Province in northwestern Syria, where one of the zones is located.
Turkey has said the deployment is warranted under the agreements in Astana.
Full report at:
http://www.presstv.com/Detail/2017/10/18/539029/Iran-Major-General-Baqeri-Syria-Israel-military-attacks
--------
South Asia
Another suicide bomber arrested before carrying out attack in Kabul
Oct 18 2017
The Afghan security forces have arrested another suicide bomber before he manage to carry out a suicide attack in capital Kabul.
"Yesterday, Afghan National Police arrested a suicide bomber with an explosives-rigged bicycle before he could reach to a target in Chahar Asyab district, Kabul province," the Ministry of Interior (MoI) said in a statement.
The statement further added that the timely discovery of the explosives has foiled terror attack and saved the city from an expected tragedy.
"Discoveries like this demonstrate the ever-increasing capability of Afghan National Security Forces to protect the civilians from indiscriminate IED attacks," the statement added.
The anti-government armed militant groups have not commented regarding the report so far.
This comes as the anti-government armed militant groups have stepped up their efforts to carry out attacks in the key provinces and cities of the country, including capital Kabul.
The Afghan intelligence, national directorate of security, said late on Monday that two suicide bombers were arrested before they manage to carry out a car bomb attack in the city.
Meanwhile, the security forces confiscated a mini-truck packed with explosives from the vicinity of the 5th police district of the city a day earlier.
http://www.khaama.com/another-suicide-bomber-arrested-before-carrying-out-attack-in-kabul-03670
--------
HIA led by Hekmatyar warns regarding troops surge and increased airstrikes
Oct 18 2017
Hezb-e-Islami led by Gulbuddin Hekmatyar has warned regarding a surge in foreign troops number as well as the airstrikes as new wave of violence leaves scores of people dead across the country during the past few days.
The party issued a statement in reaction to the latest deadly attacks across the country, specifically the deadly attack in Gardez city that left nearly 200 people dead or wounded.
The statement further added that the party strongly condemns the recent attacks that left several civilians dead or wounded, including the civilian casualties in US air and ground operations.
According to Hezb-e-Islami, at least fourteen civilians were killed in an airstrike in Kunar province last week while a Madrasa student was killed and another one was wounded in Nangarhar province by the US forces on Monday.
The party also added that a surge in troops number and airstrikes will not have a positive ending, warning that none of the party involved in the war will achieve victory through military means.
Hezb-e-Islami also insisted that the only solution to the ongoing violence in the country is through negotiations and talks.
This comes as at least 41 people including civilians were killed and more than 150 others were wounded in a coordinated attack in Gardez city on Tuesday.
Full report at:
http://www.khaama.com/hia-led-by-hekmatyar-warns-regarding-troops-surge-and-increased-airstrikes-03671
--------
Pak army chief quietly visits Saudi and UAE as QCG talks on Afghan peace kicks off
Oct 18 2017
The Pakistani army chief Gen. Qamar Bajwa has quietly visited Saudi Arabia and United Arab Emirates as the Quadrilateral Coordination Group (QCG) talks on Afghan peace kicked off in Muscat of Oman.
According to the Pakistani media reports, the quiet visits by Gen. Bajwa coincided with the launch of the QCG talks by Afghanistan, China, Pakistan, and United States.
No further details have been given regarding the visit of Gen. Bajwa to the two countries.
However, Pakistan's Dawn News reported that Gen Bajwa on Saturday met Sheikh Mohammad bin Rashid Al Maktoum, the ruler of Dubai and prime minister of the UAE, as well as other key Emirati leaders.
The paper further added that the army chief thanked the UAE government for extending "humanitarian assistance" to Pakistanis residing in the country, according to Arab News.
According to the report, he later flew to Saudi Arabia to attend the inaugural session of the second International Conference on C4I Solutions at the King Saud University, Riyadh. Organised by the Saudi defence ministry, the theme of this year's conference was "Alliance Against Terrorism: Strategies and Capabilities".
Gen Bajwa met Saudi Crown Prince Mohammed bin Salman on the sidelines of the conference, the report said.
Pakistan is believed to be having a critical role in the Afghan peace process as the observers believe the country has considerable influence on the Taliban group who are believed to having leadership councils in the country.
Full report at:
http://www.khaama.com/pak-army-chief-quietly-visits-saudi-and-uae-as-qcg-talks-on-afghan-peace-kicks-off-03668
--------
Karzai condemns Gardez city attack as death toll rises to 41 people
Oct 18 2017
The former Afghan President Hamid Karzai strongly condemned the coordinated attack in Gardez city, the provincial capital of Paktia province, as the death toll has further increased to at least 41 people.
The office of the former president in a statement said the former president Hamid Karzai strongly condemns the attack in Gardez city.
The statement further added that the former president has called the attack and casualties to civilians, a move against the humanity and all principles and values of Islam.
The Taliban insurgents group claimed responsibility behind the attack.
The ministry of interior of Afghanistan in a statement said the attack was carried out by group of at five heavily armed insurgents.
The statement by the ministry of interior further added that the insurgents detonated vehicle-borne improvised explosive devices near the police commandment and police training center.
The ministry confirmed that the police chief of Paktia province Gen. Toryalai was among those killed but did not provide further information regarding the exact number of casualties.
Full report at:
http://www.khaama.com/karzai-condemns-gardez-city-attack-as-death-toll-rises-to-41-people-03667
--------
URL: https://www.newageislam.com/islamic-world-news/new-fatwa-bans-muslims-posting/d/112943
New Age Islam, Islam Online, Islamic Website, African Muslim News, Arab World News, South Asia News, Indian Muslim News, World Muslim News, Women in Islam, Islamic Feminism, Arab Women, Women In Arab, Islamophobia in America, Muslim Women in West, Islam Women and Feminism