New Age Islam News Bureau
20 Jun 2013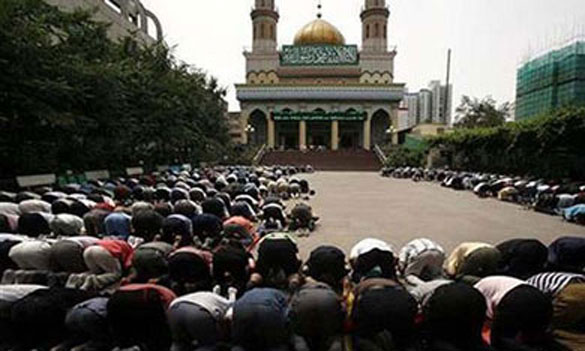 China jails 19 Uighurs for religious extremism — Reuters File Photo
-----------
Pakistan
• Naya Pakistan? PTI's Member of National Assembly calls for Mumtaz Qadri's release
• Pakistan defends allocation of funds to JuD
• Balochistan crisis: Tussle clouds probe into twin attacks
• PTI's K-P Govt. announces All Parties Conference to strategise Taliban talks
• Senators want Pakistan role in Afghan peace talks
• US preconditions may scuttle talks, says Fazl
• Militants kill 6 soldiers in northwest Pakistan
• Home Minister keen to make counter-terror body functional
• Imran Khan urges action against drone attacks as he becomes Pakistan MP
• Army to stay in Waziristan till peace restored: Kayani
• Pakistan government using Netsweeper for internet filtering: Report
• PPP invitation to join Sindh govt: MQM holds referendum today
Europe
• WUC Honours Extradited Uyghur Refugee Victims on UN International Refugee Day
• Mysterious 'Taliban' Video Unleashes Political Storm In Georgia
• West 'not sure' it can bring Syria rebels to peace meet: Russia
• UK defence ministry loses legal challenge over soldier deaths in Iraq
• UNESCO lists 6 Syrian heritage sites as 'endangered'
• UN condemns 'despicable' al-Shabab attack in Somalia
Arab World
• Taliban office not for 'Islamic Emirate': Qatar
• Shiite Enclaves North of Aleppo Becoming Staging Grounds for Hezbollah's Next Offensive
• Sunni-Shiite conflict would spread to the whole region and eventually lead to a global war: Chomsky
• How Syria's Islamists govern with guile and guns
• UAE charges 30 Egyptians, Emiratis over clandestine cell
• Riyadh conference to tackle cyber security challenges
• Lebanese cleric threatens 'military' action against Hezbollah
• Bahrain jails 6 for 10 years for bombing
• Islamic Information Centre of the Dubai government run Society helps 1,100 embrace Islam
• Egypt court orders release of Mubarak era PM Nazif
• Saudi to expel Hezbollah supporters over Syria war
• Dubai sets sights on Quran-themed Park
India
• Gujarat riots bad example of governance, says BJP CM
• On Assam's River Islands, Family Planning Clashes Against Muslim Religious Tradition
• 'Attempt' to shoot Ishrat Jahan's mother, complain registered
• Pak mission denies allocation just for JuD, says it's for educational bodies
• Ethnic Indian Hindu children converted to Islam by their father in Malaysia
• Afghan peace talks should not cross 'red lines': India
• Iraqi prime minister may visit India later this year
• Four 26/11 witnesses ready for Pak grilling
• India, Pakistan granted more time to file submissions on Kishanganga
• IT major on Kashmiri students' itinerary
• 5,000 Indians find new jobs in Saudi Arabia
• Saudi decision stumps Haj pilgrims
• 3 Indians abducted from ship in Nigeria
North America
• `Jihad' graffiti sparks fight in Florida
• No US-Taliban talks scheduled: State Department
• No change in position on Kashmir: US
• Kerry calls Karzai to ease anger on Taliban office
• New York men in court accused of 'X-ray terror plot'
Southeast Asia
• Aceh Court Sentences Teen to 9.5 Years for Raping, Murdering 6-Year-Old
• Anwar: Vernacular schools should not be abolished, focus on national unity instead
• Indonesia Says Singapore 'Behaving Like a Child' Over Haze
• Sampang Shiites Removed as Thousands Appear Outside Refuge
• Komnas HAM Calls for Open Trial in Deadly Prison Attack
• Three friends to be hanged for drug trafficking in Malaysia
• What good service to Islam means — RISEAP president
South Asia
• China jails 19 Uighurs for religious extremism
• Afghan Taliban offer to free captive US soldier
• Afghans say US assures Taliban office is not recognition
• 10 Islamist militants get death penalty in Bangladesh
• Maldives Broadcasting Corporation schedules presidential debate for September 1
• Riyadh urged to extend amnesty time for Bangladeshi workers
• PM Sheikh Hasina for public-private role to reduce maternal mortality
• 'Abducted' Jamaat man returns secretly, again goes into hiding!
• Nobel winner says Bangladesh 'snatching' bank from poor
Mideast
• Hamas Police Crack Down On Beach Cafe 'Vices'
• Iran says appeals for 'jihad' in Syria fuel radicalism
• Displaced Yemenis face humanitarian crisis
• Sharia Thirsty Iranian 'Greens' Elected Their Sharia Supremacist President, Rowhani
Africa
• Free Expression Still Threatened In Post-Revolutionary Tunisia
• Attack on U.N. compound in Somalia called 'barbaric'
Compiled by New Age Islam News Bureau
URL: https://newageislam.com/islamic-world-news/new-age-islam-news-bureau/naya-pakistan?-pti's-member-of-national-assembly-calls-for-mumtaz-qadri-s-release/d/12184
-------------
Pakistan
Naya Pakistan? PTI's Member of National Assembly calls for Mumtaz Qadri's release
June 20, 2013
ISLAMABAD: A Pakistan Tehreek-e-Insaf (PTI) MNA called for the release of Malik Mumtaz Qadri, the man who gunned down Punjab Governor Salmaan Taseer in 2011.
PTI MNA from Mardan, Mujahid Ali Khan made the demand during a debate on the budget in the National Assembly.
Khan had won the NA-11 seat in the May 11 elections.
Another PTI MNA Arif Alvi clarified that Khan had made this demand in his personal capacity, and this had nothing to do with the party.
Earlier in 2011, PTI chairman Imran Khan had condemned Qadri's reception as a hero on the premises of the Anti Terrorism Court, Rawalpindi.
"Extremism and radicalism have penetrated our society deeply," he had said, adding that it is especially harmful for the youth.
Qadri never argued that he had not killed Taseer – shortly after he shot him dead, Qadri said his motive was Taseer's apparent opposition to the country's blasphemy law. But if the murder wasn't shocking enough, it was the stringent defence put up by religious parties, whose activists showered rose petals on Qadri at his court hearing, brought him flowers on Valentine's Day and set up Facebook pages glorifying him.
http://tribune.com.pk/story/565893/naya-pakistan-pti-mna-calls-for-mumtaz-qadris-release/
-------------
Pakistan defends allocation of funds to JuD
June 20, 2013
The government of Pakistan's Punjab province has justified its allocation of over Rs. 61 million to the largest centre of the Jamaat-ud-Dawah, saying the funds are needed to continue the services being provided to people by the facility. A spokesman of the Punjab government said the Punjab
government had taken "administrative control of the welfare institutions being run by (the JuD) in compliance with Security Council resolutions of the United Nations".
"There were two purposes behind taking control of these institutions: one, no one from the (JuD) could continue its activities, and two, to ensure that local people might not be deprived of the facilities like dispensary, hospital and schools etc," the spokesman said in a statement.
The spokesman further said the Punjab government had appointed an official as an administrator to ?ensure the provision of basic facilities to the local people?.
The Punjab government has been making these arrangements for these institutions since the end of 2008, he said.
The PML-N government in Punjab announced a grant-in-aid of Rs. 61.35 million for the administrator of the JuD's Markaz-e-Taiba at Muridkey in its budget for fiscal 2013-14.
The allocation is listed on page 31 of the Punjab government's annual budget statement that has also been posted online.
The budget also includes another allocation of Rs. 350 million for a knowledge park at Muridkey and various other development initiatives across Punjab.
The spokesman clarified that the proposed knowledge park spread over 88 kanals has "nothing to do" with the JuD.
"The proposed knowledge park has been planned as an independent developmental initiative and has no relevance with the (JuD)," he said.
Though the spokesman referred to the JuD as a "banned organisation", an assistant advocate general of the Punjab government told the Lahore High Court as far back as October 2009 that there was no notification to establish that the JuD was a banned group.
The assistant advocate general said the JuD was put under some restrictions after the UN Security Council passed a resolution but the organisation was not on the list of proscribed groups.
A recent report in the Pakistani daily The News said that the entrance of the Markaz-e-Taiba in Muridkey is still guarded by stick-wielding activists of the JuD.
Sources told PTI that the Markaz-e-Taiba is practically in the control of the JuD despite the appointment of an administrator.
Even Pakistani or foreign journalists cannot go inside the centre with taking permission from the media cell of the JuD.
The sources said a few months ago, JuD chief Hafiz Mohammad Saeed held a convention at Markaz-e-Taiba that was largely attended by JuD activists.
http://www.hindustantimes.com/world-news/pakistan/Pakistan-defends-allocation-of-funds-to-JuD/Article1-1079555.aspx
-------------
Balochistan crisis: Tussle clouds probe into twin attacks
June 20, 2013
ISLAMABAD: The alleged tussle between intelligence agencies and provincial authorities of Balochistan is said to have marred investigations into the twin incidents of terrorism and sabotage in Quetta and Ziarat on June 15.
Highly informed sources told The Express Tribune that a prolonged tug of war between secret agencies and law enforcement departments have hampered the probe into these blasts. Thus there has been no breakthrough in the investigations.
Sources privy to the matter revealed that the continuing blame game between the two state entities alarmed the authorities in Islamabad, prompting them to convene a high powered meeting of civil and military authorities expected to take place today (Thursday) in the federal capital.
The provincial bureaucracy headed by the chief secretary considered the intelligence agencies answerable for the tragedies, while the intelligence officials have declared it a security lapse on part of the provincial security management, including the police, Levies forces and the district administration.
Intelligence agencies maintain that they had conveyed the threats posed by Lashkare- Jhangvi (LeJ) and the Balochistan Liberation Army.
Earlier this month, intelligence reports led to three successful operations against militants in Quetta, Kalat and Mastung areas. A security team in a pre-dawn operation on June 6 had killed three high-profile targets from LeJ.
At least 17 security officials were also injured during the three hour exchange of fire.
Following the incident LeJ had threatened to avenge the Kharotabad operation. Two other operations against BLA in the Kalat and Kabu areas inflicted damage to the militants of the BLA.
An official in the Provincial Home Department who wished to stay anonymous admitted that the intelligence reports had predicted that both the LeJ and BLA would retaliate over the operations against them.
"However, a misjudgement by the provincial security management caused the damage," the official conceded, adding "we suspected that they would target the Shia community.
"We had never imagined the LeJ would use a female suicide bomber and that too against the ethnic Pashtuns and Baloch Sunni female students," he further conceded. Ransacking of Quaid-e-Azam's residency in Ziarat by BLA too, took the provincial administration off guard. Ziarat, one of the most peaceful districts of the province, was the first assault in a Pushtun dominated area as previously only the Baloch belt of the province had been targeted by BLA, the official confessed.
Intelligence agencies reportedly blame police high command and the home department for their miscalculations.
The Secretary General of the ruling National Party (NP) Tahir Bizenjo told The Express Tribune that a continuous negligence on part of the relevant authorities played a key role in the tragic incidents.
"It is an unfortunate fact that the relevant authorities in the province had never conducted any inquiry for the terrorist incident in the past," he said.
"There must be a fair and impartial inquiry to fix the responsibility for the failure of the authorities," he demanded, adding "at least we should know whose negligence caused the loss in Quetta and Ziarat. People should also know whether it was a breakdown of the intelligence agencies or the provincial law enforcement department," he said.
http://tribune.com.pk/story/565840/balochistan-crisis-tussle-clouds-probe-into-twin-attacks/
-------------
PTI's K-P Govt. announces All Parties Conference to strategise Taliban talks
June 20, 2013
PESHAWAR: The Pakistan Tehreek-e-Insaf led Khyber-Pakhtunkhwa government announced on Wednesday the convening of an All Parties Conference in Peshawar in the coming days to chalk out a strategy to begin peace talks with the Pakistani Taliban.
The announcement comes a day after a suicide attack in Mardan that killed 35 people, including provincial MPA Imran Khan Mohmand, and injuring over 60 people.
Speaking to reporters at Lady Reading Hospital, PTI Deputy Parliamentary Leader in K-P and provincial Health and Information Minister, Shaukat Yousafzai, reiterated that the war on terror was not Pakistan's war and dialogue, rather than force, was the key to lasting peace in the region.
"If the United States has started negotiations with the Afghan Taliban in Qatar, despite the former fighting the latter for the last 12 years, and recognised that talks are the only solution, then we should also start talks to bring peace in our region," Yousafzai said.
The health minister added that the KP government would convene the APC in the coming days and political parties, members of civil society, intellectuals and professors will be invited to chalk out a comprehensive strategy.
"When we agree on a one point agenda during our upcoming provincial APC, then a jirga will meet the federal government to inform them about our grievances and demands. The federal government needs to come into the front because PML-N has also promised restoration of peace during electioneering," said the PTI leader.
He stated that before the general elections, the PTI had planned to review Pakistan's foreign policy and the American drone programme if it came into power at the Centre. But since the party could only win in KP, it was now the PML-N government's jurisdiction to take practical steps to stop the violation of Pakistan's sovereignty.
http://tribune.com.pk/story/565819/words-before-weapons-k-p-announces-apc-to-strategise-taliban-talks/
---------
Senators want Pakistan role in Afghan peace talks
AMIR WASIM
Jun 20, 2013
ISLAMABAD: Members of the Senate on Wednesday welcomed the planned peace talks between the US and Afghan Taliban in Qatar but wondered whether Pakistan, which is deeply affected by the Afghan conflict, would have any role in it.
Describing the opening of a Taliban office in Doha as a significant development, the members belonging to the Pakistan Muslim League-Q (PML-Q), Jamiat Ulema-i-Islam (JUI-F) and Pakistan Peoples Party (PPP) asked the PML-N government to tell the parliament whether Pakistan was consulted before initiation of the peace process.
Full report at:
http://dawn.com/news/1019397/senators-want-pakistan-role-in-afghan-peace-talks
-------------
US preconditions may scuttle talks, says Fazl
KALBE ALI
Jun 20, 2013
ISLAMABAD, June 19: JUI-F chief Maulana Fazlur Rehman has criticised the US and said that stringent preconditions could put Afghan reconciliation process in jeopardy.
"Such preconditions can even scuttle the prospects of talks before any meaningful negotiations kick off," he said. "Instead, the US should take confidence-building measures that will lead to positive sentiments on both sides and will also have positive impacts on the talks' result." The Maulana said the US had committed the same mistake when the first Obama administration asked the Taliban to take some measures before any engagement on the pressure of the Congress and other domestic lobbies.
Full report at:
http://dawn.com/news/1019422/us-preconditions-may-scuttle-talks-says-fazl
-------------
Militants kill 6 soldiers in northwest Pakistan
Jun 20 2013
Peshawar : Six soldiers were killed and two more injured when militants ambushed an army patrol on the outskirts of Peshawar city of northwest Pakistan, security sources said today.
The patrol was passing through Mattani area on the outskirts of the Khyber-Pakhtunkhwa capital when it was attacked by a group of militants at 10 pm last night.
"During an exchange of fire with the terrorists, six soldiers were killed while two were injured," a security source said. The sources claimed five militants were killed in the gun battle though this could not be independently confirmed.
Full report at:
http://www.indianexpress.com/news/militants-kill-6-soldiers-in-northwest-pakistan/1131507/
-------------
Home Minister keen to make counter-terror body functional
KHAWAR GHUMMAN
Jun 20 2013
ISLAMABAD, June 19: Interior Minister Chaudhry Nisar Ali Khan has initiated in-house brainstorming to make the National Counter-Terrorism Authority (Nacta) an effective body of his ministry, a government official privy to the development told Dawn.
A fully operational Nacta will be the cornerstone of the new national security plan, the contours of which will be shared with members of the parliament in the coming days, according to the minister.
The official said the focus of the reformed Nacta would be effective intelligence-sharing between civil and military agencies to prevent terrorist attacks.
Following the recent terrorist attacks in Quetta, Chaudhry Nisar hit out at intelligence agencies for their lack of coordination, which he believed had been the main reason for their failure.
Full report at:
http://beta.dawn.com/news/1019421/nisar-keen-to-make-counter-terror-body-functional
-------------
Imran Khan urges action against drone attacks as he becomes Pakistan MP
Jun 20 2013
Islamabad : Pakistani politician Imran Khan urged the government and military leaders to build a strategy to halt US drone attacks in the country's northwest as he was sworn into parliament. Khan, the head of the Pakistan Tehreek-e-Insaaf party which made a major breakthrough at the May 11 general election, is a vocal opponent of the missile attacks targeting Taliban and Al-Qaeda militants.
The 60-year-old was unable to take the oath with other lawmakers on June 1 as he was undergoing treatment for serious back injuries suffered in a fall at an election rally shortly before polling day. But today he delivered a wide-ranging speech in parliament, setting out his policies and intention of holding the new government to account from the opposition benches.
Full report at:
http://www.indianexpress.com/news/imran-khan-urges-action-against-drone-attacks-as-he-becomes-pakistan-mp/1131547/
-------------
Army to stay in Waziristan till peace restored: Kayani
June 20, 2013
SOUTH WAZIRISTAN: Pakistan Army will stay in Waziristan till complete peace is restored, said Chief of Army Staff General Ashfaq Pervez Kayani on Thursday.
According to a Radio Pakistan report, Kayani said "the army is engaged in the area to bring peace and provide protection to the people so that they could live peacefully."
Kayani was speaking during the inauguration ceremony of 50-kilometre-long road from Wana to Angoor Aadda.
Full report at:
http://tribune.com.pk/story/565878/army-to-stay-in-waziristan-till-peace-restored-kayani/
-------------
Pakistan government using Netsweeper for internet filtering: Report
June 20, 2013
"Netsweeper technology is being implemented in Pakistan for purposes of political and social filtering."
The Citizen Lab, an interdisciplinary laboratory based at the Munk Centre for International Studies at the University of Toronto has uncovered that Canada-based Netsweeper internet filtering products have been installed to function at the national level in Pakistan.
According to the new report, "Netsweeper technology is being implemented in Pakistan for purposes of political and social filtering, including websites of secessionist movements, sensitive religious topics, and independent media."
Full report at:
http://tribune.com.pk/story/565879/pakistan-government-using-netsweeper-for-internet-filtering-report/
-------------
PPP invitation to join Sindh govt: MQM holds referendum today
Jun 20, 2013
KARACHI: The Muttahida Qaumi Movement (MQM) is holding a country-wide referendum today to seek the opinion of its workers and the general public whether the party should accept Pakistan Peoples Party's (PPP) invitation to join the Sindh government.
In view of the referendum, several polling camps have been set up in different areas of Karachi where MQM workers and the public will render their opinions.
After completion of the referendum, the party will decide its future course of action whether to join the provincial government or not.
Full report at:
http://dawn.com/news/1019520/ppp-invitation-to-join-sindh-govt-mqm-holds-referendum-today
-------------
Europe
WUC Honours Extradited Uyghur Refugee Victims on UN International Refugee Day
Press Release
19 June 2013
As one of the most important commemorative days in the year, the UN International Refugee Day (20 June) is an opportune day for the international community to be reminded of the everyday difficulties that refugees face in their pursuit for refuge. It is vital that each year we not only remember the victims of illegal extraditions of Uyghurs, but also the conditions which force Uyghurs to feel no other alternative than to flee the egregious human rights violations that they have endured in the People's Republic of China (PRC), and the conditions to which they are forcefully returned.
At a time when the pressures of the global economic crisis are continuing to take their toll, it is as important as ever that the international community steadfastly uphold its obligation to protect those in recognised danger of being persecuted, tortured or executed upon their return. Yet all too often the World Uyghur Congress (WUC) is witness to illegal extraditions from countries to the PRC, where they have gone on to be disappeared, tortured, and kept in cruel and degrading situations in contravention of fundamental international human rights norms.
Two of the most high profile cases are those of Ershidin Israel, extradited from Kazakhstan on 30 May 2011, and that of 20 Uyghurs (including children) from Cambodia on 19 December 2009, both of whom were illegally deported to the PRC. Mr Israel remains imprisoned and his whereabouts unknown, with reports suggesting that he has been tortured.
The PRC has repeatedly failed to disclose full information about his condition and whereabouts, nor cooperate fully with the UN Working Group on Enforced or Involuntary Disappearances (WGEID) who, along with Special Rapporteur on the situation of human rights defenders, issued an urgent action on 29 July 2011 concerning his forced deportation.
Likewise, Cambodia illegally extradited 20 Uyghurs to the PRC amid an international outcry against the move. After 3 of the original 20 Uyghurs were released, the remaining 17 are either detained under lengthy and harsh prison sentences or disappeared. At the time, UN Special Rapporteur on Torture Dr. Nowak stated that their forcible return, "is a blatant violation of Cambodia's obligations under the principle of non-refoulement as stipulated in article 3 of the UN Convention against torture."
"The situation is aggravated by the fact that I had reminded the Government of Cambodia beforehand by means of an urgent communication of their international obligations," Dr Nowak continued. The Cambodia Daily news agency recently attempted to obtain information on the case from Mak Sambath, Deputy Chairman of the Cambodian Human Rights Commission, though their calls went unanswered.
But there remain many other concerning cases. As recently as this year, it was revealed that 6 Uyghur men had been forcibly returned to the PRC from Malaysia under the cover of the night on 31 December 2012, in spite of having their refugee status being reviewed by the UN Office of the High Commissioner on Refugees. Their whereabouts, condition and fate remain unknown.
WUC President Ms Rebiya Kadeer said on the International Refugee Day that, "Uyghurs, and Uyghur refugees, are at increasing risk of egregious human rights violations, including the use of torture, enforced disappearances, detention of political prisoners and the use of the death sentence. The international community must ensure that it protects Uyghur refugees in view of these well documented human rights violations."
The situation facing the Uyghur diaspora and those seeking political asylum also needs to be addressed, as cracks in the safety of Uyghur refugees have been severely compromised by espionage both within the community and the asylum procedures. In the past few years, two people have been arrested and sentenced in Sweden and at the Chinese consulate in Munich respectively, where the largest Uyghur exile community lives, for espionage. It was also revealed recently that two Uyghur language interpreters (link in Dutch) had been passing on information on Uyghur asylum cases to the Chinese authorities in The Netherlands, where there have been several reports over the years of espionage activity. "In no place in the world are Uyghurs safe from the scope of the Chinese authorities, and the international community must take stock of this," Ms Kadeer added.
Protections of refugees via the principle of non-refoulement have a longstanding and well established tradition within international law, and are considered non-derogable. Article 14 of the 1948 Universal Declaration of Human Rights clearly affirms that, "Everyone has the right to seek and to enjoy in other countries asylum from persecution". This sets the guiding principle for the adoption of the 1951 Convention relating to the Status of Refugees and the 1984 Torture Convention, which clearly outlined states' responsibilities to ensure that refugees are not returned to states where they risk facing death, persecution, torture or other cruel, inhuman or degrading treatment upon their return.
Further Information
For further information on Ershidin Israel's situation, please see here.
For further information on the deportation of 20 Uyghurs from Cambodia, see here and here.
About the WUC
The World Uyghur Congress (WUC) is an international umbrella organization that represents the collective interest of the Uyghur people both in East Turkestan and abroad and promotes Uyghur human rights and a peaceful and non-violent solution based on rule of law for the conflict in East Turkestan.
-------------
Mysterious 'Taliban' Video Unleashes Political Storm In Georgia
By Robert Coalson and Luka Kalandarishvili
June 20, 2013
You might expect a Taliban video threatening a country's leaders and warning of impending terrorist attacks to bring a nation together. But in Georgia, the appearance of such a video, purporting to come from the Afghan Taliban, has instead exacerbated political divisions and intensified political conflict.
It has been a brutal month for Georgian forces contributing to the NATO-led international coalition in Afghanistan. A total of 10 Georgian troops were killed in insurgent suicide-bomb attacks on May 13 and June 6.
But as the grim parade of coffins made its way back to Georgia, politicians in the country were at odds, accusing one another of using the tragedies to score political points in the ongoing struggle between President Mikheil Saakashvili and Prime Minister Bidzina Ivanishvili.
Full report at:
http://www.rferl.org/content/georgia-taliban-saakashvili-threat-terrorism-politics/25020506.html
-------------
West 'not sure' it can bring Syria rebels to peace meet: Russia
AFP | Jun 20, 2013
In May, Russia and the United States proposed putting together a peace conference in a bid to try to find an end to the civil war in Syria but the date for the talks has repeatedly been pushed back.
At a Group of Eight summit in Northern Ireland earlier this week, the leaders adopted a noncommital statement calling for the peace conference to be held "as soon as possible."
Russian foreign minister Sergei Lavrov said Russia pushed for a concrete time frame to be spelled out in the final statement but that its Western partners refused to do so.
Full report at:
http://timesofindia.indiatimes.com/world/europe/West-not-sure-it-can-bring-Syria-rebels-to-peace-meet-Russia/articleshow/20680615.cms
-------------
UK defense ministry loses legal challenge over soldier deaths in Iraq
By Laura Smith-Spark, CNN
June 19, 2013
London (CNN) -- The families of three British soldiers killed in Iraq can sue the Ministry of Defence for negligence over their deaths, the UK's highest court ruled Wednesday.
The Supreme Court ruling represents a defeat for the Ministry of Defence, which had filed a challenge to an earlier Appeal Court judgment.
The legal firm representing some of the claimants, Leigh Day, said the ruling would force the ministry to recognize "that it owes a duty of care to provide adequate equipment to service personnel engaged in military operations."
Full report at:
http://edition.cnn.com/2013/06/19/world/europe/uk-iraq-defense-ruling/index.html?hpt=ieu_c2
-------------
UNESCO lists 6 Syrian heritage sites as 'endangered'
AFP | Jun 20, 2013
PHNOM PENH: Unesco on Thursday added six ancient sites in Syria including a fortress of Saladin and a Crusader castle to the endangered world heritage list, warning that more than two years of civil war had inflicted heavy damage.
"Due to the armed conflict situation in Syria, the conditions are no longer present to ensure the conservation and protection of the outstanding universal value of the six world heritage properties," Unesco said.
Syria has six World Heritage Sites: the ancient cities of Damascus, Bosra and Aleppo, the oasis of Palmyra, the castles of Crac des Chevaliers and Qal'at Salah El-Din — which counts as one site — and the ancient villages of northern Syria.
Full report at:
http://timesofindia.indiatimes.com/world/middle-east/Unesco-lists-6-Syrian-heritage-sites-as-endangered/articleshow/20679847.cms
---------
UN condemns 'despicable' al-Shabab attack in Somalia
20 June 2013
UN Secretary-General Ban Ki-moon has expressed outrage over a "despicable" attack by Islamists on a UN office in Somalia which killed 15 people.
He also stressed the UN "would not be deterred from delivering its mandate" in Somalia, Mr Ban's spokesman said.
The attackers detonated a car bomb outside the UN mission in the capital Mogadishu, then engaged security forces in a fierce gun-battle.
The al-Qaeda-linked group al-Shabab later said it was behind the attack.
It had targeted the UN because of its "long, inglorious record of spreading nothing but poverty, dependency and disbelief", al-Shabab said on its Twitter account.
Full report at:
http://www.bbc.co.uk/news/world-africa-22979551
--------------
Arab World
Taliban office not for 'Islamic Emirate': Qatar
June 19, 2013
The Taliban office opened in Doha to facilitate peace talks does not carry the name of the "Islamic Emirate of Afghanistan," as it appeared earlier, Qatar said on Wednesday.
Afghan President Hamid Karzai denounced as a provocation the use of the formal name of the Islamist movement's government from 1996 until it was toppled in 2001.
"The office that was opened in Doha yesterday is the political office of the Taliban in Afghanistan, and is not the political office of the Islamic Emirate of Afghanistan," Qatar's foreign ministry said, quoted by QNA state news agency.
Full report at:
http://www.hindustantimes.com/world-news/restofasia/Taliban-office-not-for-Islamic-Emirate-Qatar/Article1-1079167.aspx
-------------
Shiite Enclaves North of Aleppo Becoming Staging Grounds for Hezbollah's Next Offensive
June 19, 2013
By: Nicholas A. Heras
The question of Hezbollah's involvement in the Syrian civil war has become more intense following the recent capture of the strategic, central-western Syrian border city of al-Qusayr in Homs governorate to Syrian military and Hezbollah forces. After al-Qusayr fell, mass media reports emerged that Hezbollah is set to deploy, or has already deployed, 2,000-4,000 fighters to the northwestern Syrian governorate of Aleppo, at the Aleppo Military Academy of Military Engineering and in the enclave of the large, Shiite Syrian villages of Nubul and al-Zahraa' northeast of the strategic, contested city of Aleppo (al-Sharq al-Awsat, June 4).
Full report at:
http://www.jamestown.org/single/?tx_ttnews%5Btt_news%5D=41037&tx_ttnews%5BbackPid%5D=7#.UcKWq9LfDSs
-------------
Sunni-Shiite conflict would spread to the whole region and eventually lead to a global war: Chomsky
June 20, 2013
BEIRUT (Ahlul Bayt News Agency) - "Human beings are destroying themselves," said luminary Noam Chomsky, warning that unrest in Syria could turn into a Sunni-Shiite conflict that would spread to the whole region and eventually lead to a global war.
"I aspire for a world in which my grandchildren can live in peace and I do not see that happening anytime soon. I think that if someone is watching us from Mars right now, he would be thinking that human beings are destroying themselves just like Syria is destroying itself," Chomsky, a world-renowned linguist and anti-war activist, told The Daily Star.
Although he admitted that the demands of the Syrian people for a better life at the beginning of their uprising in March 2011 were "justified," Chomsky said that the war-torn country is now heading towards "suicide."
Full report at:
http://abna.ir/data.asp?lang=3&Id=431591
-------------
How Syria's Islamists govern with guile and guns
By Oliver Holmes and Alexander Dziadosz
Jun 20, 2013
(Reuters) - The Syrian boys looked edgy and awkward. Three months ago their town, the eastern desert city of Raqqa, had fallen to rebel fighters trying to overthrow President Bashar al-Assad's government. Now the four boys - clad in tight jeans and bright T-shirts - were whitewashing a wall to prepare it for revolutionary graffiti.
"We'll make this painting about the role of children in the revolution," one of the boys told two journalists.
A white Mitsubishi pulled up and a man in camouflage trousers and a black balaclava jumped out and demanded that the journalists identify themselves. He was from the Islamic State of Iraq, he said, the Iraqi wing of al Qaeda linked to an Islamist group fighting in Syria called Jabhat al-Nusra.
Full report at:
http://www.reuters.com/article/2013/06/20/us-syria-rebels-governance-specialreport-idUSBRE95J05R20130620
-------------
UAE charges 30 Egyptians, Emiratis over clandestine cell
20 June 2013
ABU DHABI: A group of 30 Egyptians and Emiratis have been charged by the UAE authorities for allegedly setting up an illegal branch of Egypt's Muslim Brotherhood, a prosecutor said yesterday.
The suspects have been referred to the Gulf nation's State Security Court, prosecutor Ahmed Al-Dhanhani said.
He accused the group of having "established and managed a branch for ... the international organization of Egypt's Muslim Brotherhood, without a permit."
The founders of the branch set up an administrative structure aimed at recruiting members for the Muslim Brotherhood, strengthening its presence in the UAE and maintaining allegiance to the main party, he said.
Full report at:
http://www.arabnews.com/news/455529
-------------
Riyadh conference to tackle cyber security challenges
20 June 2013
An international conference in the field of fighting cyber crime is to be held at the beginning of November in Riyadh, said Director of the National Center for Electronic Security (NCES) Saleh Al-Mutairi.
The conference is to provide proposals and ideas that will contribute to the advancement of cyber information security.
During the opening of the first national security Forum in Riyadh on Monday, Al-Mutairi said it was held in light of the growing escalation of cyber attacks targeting government and private establishments in the Kingdom. These aim to damage national interests and sabotage the information infrastructure, disrupt communications networks and services and hack websites to steal data.
Full report at:
http://www.arabnews.com/news/455590
-------------
Lebanese cleric threatens 'military' action against Hezbollah
19 June 2013
AFP, Lebanon
A controversial Salafist sheikh threatened on Wednesday to find a "military" solution to alleged Hezbollah safe houses in a southern Lebanese town, a day after clashes involving his supporters left one person dead.
Sheikh Ahmed al-Assir is known for his vocal opposition to the powerful Shiite group Hezbollah and has accused it of using apartments in a suburb of the town of Saida to house fighters and weapons.
On Tuesday, clashes broke out between his supporters, who opened fire on the buildings in the Abra district of Sidon.
Local sources said supporters of Hezbollah responded to the gunfire, and clashes ensued.
The fighting left one man dead and others wounded, the source and the military said, and prompted the army to deploy forces to restore the peace.
Full report at:
http://english.alarabiya.net/en/News/middle-east/2013/06/19/Lebanese-cleric-threatens-military-action-against-Hezbollah-.html
-----------
Bahrain jails 6 for 10 years for bombing
20 June 2013
DUBAI: A Bahraini court sentenced six people to 10 years in prison yesterday after they were convicted of carrying out a bombing that wounded two people, the official BNA news agency reported.
The group were accused of "setting tires ablaze using a gas cylinder to create as much damage as possible to public and private property," public prosecution chief Muhanna Al-Shayji was quoted as saying.
They are also charged with "intentionally causing a fire for terrorist aims that wounded" a woman and her son.
http://www.arabnews.com/news/455530
-------------
Islamic Information Centre of the Dubai government run Society helps 1,100 embrace Islam
Ahmed Shaaban / 19 June 2013
Over 20,000 residents of 200 nationalities have converted to Islam at the Islamic Information Centre of the Dubai government-run Dar Al Ber Society since its inception in 1993.
Rashid Aljunaibi, Director of the centre located on December 2 Road by Al Satwa Roundabout in Bur Dubai, said more than 1,100 of them became Muslims this year.
"Seventy of these converted to Islam at the centre in May, and these were from the Philippines, China, Russia, India, Sri Lanka, Spain, Australia, South Africa, Uganda, Ethiopia, Nigeria, and Lebanon."
Full report at:
http://www.khaleejtimes.com/kt-article-display-1.asp?xfile=data/nationgeneral/2013/June/nationgeneral_
-------------
Egypt court orders release of Mubarak era PM Nazif
Reuters | Jun 20, 2013,
CAIRO: An Egyptian court ordered the release of former Prime Minister Ahmed Nazif on Thursday, because of a limit on pretrial detention, in a corruption case for which he had been held since the revolution that toppled Hosni Mubarak.
The court accepted an appeal lodged by Nazif, who was prime minister from 2004 until Mubarak replaced him during the uprising in January 2011. He still faces trial for corruption.
It was not clear when Nazif, the highest profile Mubarak-era official to be freed in recent months, would leave prison.
http://timesofindia.indiatimes.com/world/middle-east/Egypt-court-orders-release-of-Mubarak-era-PM-Nazif/articleshow/20682136.cms
-------------
Saudi to expel Hezbollah supporters over Syria war
AP | Jun 20, 2013
BEIRUT: The Saudi envoy to Lebanon says the kingdom will deport Lebanese citizens who support the militant Hezbollah group because of its role in the Syrian civil war.
Ambassador Ali Awad Assiri told Lebanon's Future TV, late on Wednesday, that Saudi Arabia will deport "those who financially support this party".
He didn't say when such deportations would begin.
Saudi Arabia is a strong backer of the mostly-Sunni Syrian opposition trying to remove Syria's President Bashar Assad from power.
Full report at:
http://timesofindia.indiatimes.com/world/middle-east/Saudi-to-expel-Hezbollah-supporters-over-Syria-war/articleshow/20680891.cms
-------------
Dubai sets sights on Quran-themed park
20 June 2013
The Associated Press, Dubai
Dubai has added a new item to its top ambitions such as building the world's largest Ferris wheel and bidding for an Angry Birds theme park - a site honoring the Quran.
The estimated $7.3 million project will include a garden with plants mentioned in the Islamic holy book and an air-conditioned tunnel depicting events from the Quran.
Dubai media quoted the city's director of projects, Mohammed Noor Mashroom, as saying Thursday the park should be ready in September 2014.
Full report at:
http://english.alarabiya.net/en/life-style/travel-and-tourism/2013/06/20/Dubai-sets-sights-on-Quran-themed-park.html
-----------
India
Gujarat riots bad example of governance, says BJP CM
Shekhar Gupta
Jun 20 2013
New Delhi : Days after Gujarat Chief Minister Narendra Modi was named the BJP's 2014 poll campaign panel chief, the party's Goa Chief Minister Manohar Parikkar has said the 2002 post-Godhra riots in Gujarat were a "clear-cut" case of "administrative failure" and "bad example of governance".
But he sought to shield Modi saying he "may not have had that kind of grip on the administration as he has now".
In an interview to The Indian Express Editor-in-Chief Shekhar Gupta for NDTV's Walk the Talk programme, Parikkar cited the Gujarat chief minister's governance record and argued he was the best bet for the BJP now.
Full report at:
http://www.indianexpress.com/news/gujarat-riots-bad-example-of-governance-says-manohar-parikkar/1131484/?india_top
-------------
On Assam's River Islands, Family Planning Clashes Against Muslim Religious Tradition
By NIDA NAJAR
June 20, 2013
MAZERCHAR CHALAKURA, Assam — On the banks of the Brahmaputra River, off the coast of Dhubri town in the north-eastern state of Assam, lie a few hundred villages that seem stuck in time, difficult to reach from the mainland and undeveloped for decades.
These "char," the name given to the more than 2,000 riverbank villages and river islands in Assam, are home to hundreds of thousands of Bengali-speaking Muslims who use the fertile lands to cultivate paddy. They live in huts fashioned from dried jute, get around without roads and have few schools.
Full report at:
http://india.blogs.nytimes.com/2013/06/19/on-assams-river-islands-family-planning-clashes-against-religious-tradition/?pagewanted=print
-------------
'Attempt' to shoot Ishrat Jahan's mother, complain registered
Jun 20 2013
Mumbai: Two unidentified men allegedly tried to shoot at Ishrat Jahan's mother Shamima Kauser, who was returning from Ahmedabad by a late-night flight.
The men, who were on a motorcycle, followed her car, claimed hotelier Mohiddin Sayyad who was accompanying Shamima. He said they were approaching Amrut Nagar in Mumbra around 12.45 am, when they realised they were being followed.
"I saw a gun in the hand of the pillion rider," Sayyad said. While they caught one and handed him over to police, the other escaped. A complaint was registered with the Mumbra police.
http://www.indianexpress.com/news/attempt-to-shoot-ishrat-jahans-mother/1131365/
----------
Pak mission denies allocation just for JuD, says its for educational bodies
TNN | Jun 20, 2013
NEW DELHI: As the Indian government reacted cautiously to reports that Jamaat-ud-Dawa (JuD) had been allocated Rs 61 million by the Punjab government, the Pakistani mission here described these as speculative and based on "preposterous assumptions".
The budget provisions of the Punjab government were for government educational institutions, it said in a statement.
Earlier in the day, foreign minister Salman Khurshid suggested India could take up the issue with Pakistan even as he warned about the pitfalls of jumping to conclusions.
Full report at:
http://timesofindia.indiatimes.com/india/Pak-mission-denies-allocation-just-for-JuD-says-its-for-educational-bodies/articleshow/20673375.cms
-------------
Ethnic Indian Hindu children converted to Islam by their father in Malaysia
Hindustan Times
June 19, 2013
Two minor ethnic Indian Hindu children in Malaysia have been converted to Islam without their mother's consent, triggering protests from the country's Bar Council which called unilateral conversion as illegal. According to a media report, ethnic Indian Hindu woman identified as S Deepa, 29, from Jelebu, discovered that her husband, who left her 16 months ago, had converted their two children without her knowledge.
The husband alleged that Deepa had been having an affair with another man and could not take care of their children.
Full report at:
http://www.hindustantimes.com/world-news/restofasia/Ethnic-Indian-Hindu-children-converted-in-Malaysia/Article1-1078925.aspx
-------------
Afghan peace talks should not cross 'red lines': India
PTI | Jun 20, 2013
BAGHDAD: India has cautioned Afghanistan over peace talks with the Taliban, saying the new initiative should not violate the "red lines" drawn up by the international community.
"We have from time to time reminded all stakeholders about the red lines that was drawn by the world community and certainly by the participants should not be touched, should not be erased and should not be violated," external affairs minister Salman Khurshid told reporters.
Khurshid's comments came a day after the Afghan Taliban announced opening of its political office in Qatari capital Doha and expressed willingness to hold peace talks with Afghan President Hamid Karzai's government and other stakeholders.
Full report at:
http://timesofindia.indiatimes.com/world/middle-east/Afghan-peace-talks-should-not-cross-red-lines-India/articleshow/20678553.cms
-------------
Iraqi prime minister may visit India later this year
TNN | Jun 20, 2013
NEW DELHI: Iraqi Prime Minister Nouri Maliki may make his first visit to India later this year, as the government lays out the red carpet for its newest oil supplier in the Middle East.
Foreign minister Salman Khurshid will kick off a spate of high level interactions between the two countries as he travels to Baghdad on Wednesday, the first in over 20 years.
India's stepped up engagement with Iraq comes after it overtook Iran as India's second largest oil supplier. In 2011-12, India imported 25 million tonnes of oil from Iraq, as sanctions against Iran choked off that supply route for India.
Full report at:
http://timesofindia.indiatimes.com/india/Iraqi-prime-minister-may-visit-India-later-this-year/articleshow/20673640.cms
-------------
Four 26/11 witnesses ready for Pak grilling
Mateen Hafeez, Sumitra Deb Roy & Rebecca Samervel, TNN | Jun 20, 2013
MUMBAI: Expectations of the 26/11 attacks trial in Pakistan moving forward grew in the city after Delhi forwarded a Bombay high court order allowing a Pakistani judicial commission to cross-examine four witnesses.
India has also sent certified copies of statements of all the four witnesses — investigating officer Ramesh Mahale, magistrate R V Sawant Waghule, doctors Shailesh Mohite and Ganesh Nithurkar — to Islamabad. Pakistan will produce these documents before its anti-terror court in Rawalpindi and decide on the date of visit of its judicial commission.
Mahale had filed the chargesheet in the terror case, Waghule recorded the confessional statement of Ajmal Kasab and the doctors had conducted autopsies of the nine other terrorists.
Full report at:
http://timesofindia.indiatimes.com/india/Four-26/11-witnesses-ready-for-Pak-grilling/articleshow/20672433.cms
-------------
India, Pakistan granted more time to file submissions on Kishanganga
GARGI PARSAI
Jun 20, 2013
India and Pakistan have been granted a two-day extension for filing their submissions on the additional information sought by the Court of Arbitration in The Hague on the dispute between them over the 330 MW Kishanganga hydroelectric project, which is under construction in Baramullah district North Kashmir.
The extension was sought by Pakistan, highly placed sources told The Hindu. Both the countries were supposed to file their submissions by Wednesday.
Pakistan had objected to India diverting waters of a tributary of the Jhelum for the Rs. 3600-crore project, saying that water-flows to their downstream Neelam-Jhelum Hydroelectric Project would be affected. The Court had asked them to provide power generation and agriculture data on their project.
Full report at:
http://www.thehindu.com/news/national/india-pakistan-granted-more-time-to-file-submissions-on-kishanganga/article4831256.ece
-------------
IT major on Kashmiri students' itinerary
Jun 20, 2013
Infosys has been a sure stop on the itinerary of several heads of state visiting the city. On Tuesday, it was the turn of young girls from Kashmir to visit the Infosys campus at Electronics City and interact with employees of the IT major.
Software engineers explained to the eager students, who are visiting as part of 'Operation Sadbhavana', a programme of the Indian Army, about the technology and their work.
"People at Infosys told us to work hard and achieve our dreams," said Shaheena Akhtar, a student of Army Public School in Reasi district, describing her experience as "awe-inspiring".
Full report at:
http://www.thehindu.com/news/national/karnataka/it-major-on-kashmiri-students-itinerary/article4831261.ece
-------------
5,000 Indians find new jobs in Saudi Arabia
PTI | Jun 19, 2013
DUBAI: Nearly 5,000 Indians in Saudi Arabia have found new jobs after the Indian consulate in Jeddah took up proactive measures to help the expatriates affected by the Gulf Kingdom's new labour law.
Consul general Faiz Ahmed Kidwai said yesterday that since the announcement of the three-month grace period which ends on July 3, the consulate had vigorously taken up a drive to help eligible Indians find employment, Arab News reported today.
The consul general said everyday hundreds of candidates were being interviewed by potential employers in the consulate premises and hoped to far exceed the 5,000-mark by the end of the grace period.
Full report at:
http://timesofindia.indiatimes.com/india/5000-Indians-find-new-jobs-in-Saudi-Arabia/articleshow/20668342.cms
-------------
Saudi decision stumps Haj pilgrims
J. S. IFTHEKHAR
Jun 20, 2013
After 'Nitaqat', the restrictive labour law, hit hundreds of migrant workers, another Saudi Arabian decision is going to impact a large number of Indians. This time, it is the Haj pilgrims at the receiving end. The Saudi government has decided to cut down the number of Indian pilgrims by 20 per cent this year causing unrest among the aspiring Hajis.
The Saudi decision is aimed at preventing congestion and stampedes in the grand mosque at Makkah during the annual pilgrimage in view of the ongoing expansion work there.
Authorities in the desert kingdom also plan to reduce domestic pilgrims by 50 per cent this year.
This has caused dismay among them as they have already gone through the process of selection through 'qurrah' (draw of lots). A total of 1.70 lakh pilgrims are slated to perform Haj this year – 1.24 lakh through the Haj Committees and the rest through private tour operators.
Full report at:
http://www.thehindu.com/news/national/andhra-pradesh/saudi-decision-stumps-haj-pilgrims/article4831247.ece
-------------
3 Indians abducted from ship in Nigeria
Jun 20 2013
Abuja : Three Indian crew members- the captain, chief officer and a bosun; and a Russian engineer were abducted by armed pirates who boarded an offshore fuel supply vessel in Nigeria's oil-rich delta region, officials said on Wednesday. The pirates were not detected prior to their boarding the vessel, Singapore-flagged MDPL Continental One, on June 13, 7 nautical miles off the Offon oil field, according to a security source. The 14 unmasked pirates, armed with AK-37 rifles, came via two speedboats and wore casual dresses.
http://www.indianexpress.com/news/3-indians-abducted-from-ship-in-nigeria/1131269/
-------------
North America
`Jihad' graffiti sparks fight in Florida
June 20, 2013
Delray Beach, Fla (CNN) It was hard to miss, a nearly 20-foot piece of graffiti that simply read: "jihad."
Thousands of drivers saw the large message last weekend while travelling northbound on I-95 in Delray Beach, Florida.
For two passers-by, the graffiti led to a heated verbal altercation about the word's meaning and the threat of terrorism in the United States.
After the altercation Florida Department of Transportation arrived to paint over the word. It was gone by Saturday night.
http://religion.blogs.cnn.com/2013/06/18/jihad-graffiti-sparks-fight/comment-page-1/
-------------
No US-Taliban talks scheduled: State Department
Jun 20, 2013
WASHINGTON: The United States has not scheduled talks with the Taliban, the State Department said Wednesday, after reports that discussions with the Afghan insurgent group could begin this week in Qatar.
"Reports of a meeting being scheduled or on the books aren't accurate," spokeswoman Jen Psaki told reporters, saying Washington had "never confirmed"the date and place of any specific meeting.
"We are now in consultations with the Afghan leadership and the High Peace Council on how to move forward."
Several reports had said US-Taliban talks would be held on Thursday in the Qatari capital of Doha, where the Islamist militant group driven from power in Kabul in 2001 had opened a political office.
Full report at:
http://beta.dawn.com/news/1019341/no-us-taliban-talks-scheduled-state-department
-------------
No change in position on Kashmir: US
PTI | Jun 20, 2013
WASHINGTON: The United States has said there has been no change in its position on Kashmir and encourages India and Pakistan to resolve its differences bilaterally.
"As always, we encourage cooperation and consultation and discussion between the governments of India and Pakistan," the state department spokeswoman, Jen Psaki, told reporters at her daily news conference.
She was responding to questions on the ceasefire violations by Pakistan along the line of control.
"Our position has not changed on Kashmir. And those discussions are up to the governments of India and Pakistan," Psaki said.
http://timesofindia.indiatimes.com/india/No-change-in-position-on-Kashmir-US/articleshow/20676252.cms
-------------
Kerry calls Karzai to ease anger on Taliban office
June 20, 2013
Secretary of State John Kerry called the Afghan president twice in the past 24 hours to ease Hamid Karzai's anger over the way the Taliban announced the opening of their political office in Qatar.
The rift delayed the announced visit to the region this week by the US special representative for Afghanistan and Pakistan.
Karzai was upset that the Taliban used its formal name - the Islamic Emirate of Afghanistan - making it look like a parallel institution to his government. Karzai also halted negotiations with the US on a future bilateral security agreement.
Full report at:
http://www.hindustantimes.com/world-news/northamerica/Kerry-calls-Karzai-to-ease-anger-on-Taliban-office/Article1-1079288.aspx
---------
New York men in court accused of 'X-ray terror plot'
20 June 2013
Two US men have appeared in court accused of plotting to build an X-ray weapon to kill enemies of Israel and the US with lethal rays of radiation.
Glendon Scott Crawford, 49, and Eric Feight, 54, allegedly sought funding to assemble the truck-mounted machine.
But a synagogue, a Jewish organisation and the Ku Klux Klan alerted police after Mr Crawford approached them.
The men are charged with conspiracy to provide support to terrorists.
They face up to 15 years in prison if convicted.
The authorities say they monitored the defendants, who are from New York state, to ensure they could not obtain a radiation source or harm members of the public.
Full report at:
http://www.bbc.co.uk/news/world-us-canada-22980589
-----------
Southeast Asia
Aceh Court Sentences Teen to 9.5 Years for Raping, Murdering 6-Year-Old
By Nurdin Hasan
June 19, 2013
An Aceh court sentenced a teenager to 9.5 years in prison on Wednesday for raping and murdering a six-year-old girl.
The panel of judges decided that Hasbi Lara, 17, was convincingly guilty of the rape and murder of his own niece in March in Peulanggahan village, Banda Aceh.
"The defendant is proven to be guilty. He is sentenced to 9.5 years in prison and is ordered to pay a Rp 60 million [$6,060] fine," Judge Ainal Mardhiah told the court.
Prosecutors previously sought 10 years in prison and a Rp 100 million fine for Hasbi.
The judges added that Hasbi was uncooperative during his trial.
The case was revealed in March when the family of the six-year-old girl reported the girl missing to the police.
Full report at:
http://www.thejakartaglobe.com/news/aceh-court-sentences-teen-to-9-5-years-for-raping-murdering-6-year-old/
-------------
Anwar: Vernacular schools should not be abolished, focus on national unity instead
BY RITA JONG
JUNE 20, 2013
Malaysia should not abolish the vernacular school system but instead focus on national unity due to racial issues that flared in Election 2013, Opposition leader Datuk Seri Anwar Ibrahim said today.
"The vernacular school system developed since the 1960s and has been accepted as the education policy," he said in a press conference in Kuala Lumpur today.
"Parents should be allowed to choose the type of schools they want their children to go to."
The PKR de facto leader said the government should focus on unity and the quality of education instead of abolishing vernacular schools.
He also said the Bahasa Malaysia language could be strengthened at these schools.
The Federal Constitution allows for vernacular education in Malay, Mandarin and Tamil for primary schools. There are a number of independent Chinese schools which have proven to be popular for its strict teaching methods and discipline.
Full report at:
http://www.themalaysianinsider.com/malaysia/article/anwar-vernacular-schools-should-not-be-abolished-focus-on-national-unity-instead1/
-------------
Indonesia Says Singapore 'Behaving Like a Child' Over Haze
June 20, 2013
Indonesia on Thursday accused Singapore of "behaving like a child" by complaining about severe haze from raging forest fires on Sumatra island that has cloaked the city-state.
"Singapore should not be behaving like a child and making all this noise," Agung Laksono, the minister who is coordinating Indonesia's response to the haze crisis, told reporters in Jakarta.
"This is not what the Indonesian nation wants, it is because of nature."
The minister for people's welfare also said Jakarta would reject any offer of financial aid from Singapore unless it was a large amount.
Full report at:
http://www.thejakartaglobe.com/news/indonesia-says-singapore-behaving-like-a-child-over-haze/
-------------
Sampang Shiites Removed as Thousands Appear Outside Refuge
By Camelia Pasandaran & Arientha Primanita
June 20, 2013
A fatal mob attack on a community in East Java that displaced 160 Shiite Muslims took another turn today when authorities began their forcible resettlement after more than 1,000 people appeared outside their refuge under the direction of the Indonesia Ulema Council (MUI).
"[Wednesday] afternoon at 3 p.m., Sampang deputy district head Fadhilah Budiono, Sampang police chief and East Java Political and National Unity Office came to the sports center and asked [the Shiites] to leave Sampang sport center and live in Sidoarjo," Herstaning Ikhlas, a lawyer representing the affected group, said on Thursday.
Full report at:
http://www.thejakartaglobe.com/news/sampang-shiites-removed-as-thousands-appear-outside-refuge/
-------------
Komnas HAM Calls for Open Trial in Deadly Prison Attack
By Ethan Harfenist
June 20, 2013
The national human rights body has called on judges in the court martial of 12 soldiers charged with the summary execution of four men in police custody to ensure transparency in the proceedings.
The National Commission on Human Rights (Komnas HAM) said on Wednesday that the tribunal that begins today must be open in order to establish the truth, bring a sense of justice and uphold the supremacy of the law.
"We are recommending the panel of judges at the Yogyakarta military tribunal hold a transparent trial," Komnas HAM chairwoman Siti Noor Laila said at a press conference in Jakarta to announce the commission's findings on the March 23 attack on the Cebongan jail in Yogyakarta's Sleman district.
Full report at:
http://www.thejakartaglobe.com/news/komnas-ham-calls-for-open-trial-in-deadly-prison-attack-2/
-------------
Three friends to be hanged for drug trafficking in Malaysia
JUNE 20, 2013
The High Court in Kelantan sentenced three friends to death by hanging after finding them guilty of trafficking in 4.8kg of cannabis at the parking area of a hospital in Kota Baru in 2007.
Judge Datuk Azman Abdullah made the decision after finding that the defence by Abdullah Mahmood, 48, Wan Kamaruddin Wan Ahmad, 53, and Saharun Muhamad, 42, failed to raise reasonable doubts against the prosecution's case.
Full report at:
http://www.themalaysianinsider.com/malaysia/article/three-friends-to-be-hanged-for-drug-trafficking/
--------
What good service to Islam means — RISEAP president
Johnson K Saai
June 19, 2013
KUCHING: Muslims must always remember that good service to Islam means contributing towards peace, harmony and progress in building a new society.
Chief Minister Pehin Sri Abdul Taib Mahmud said this was the true doctrine of Islam where tolerance and desires to deal freely with all people, whether Muslims or non-Muslims, had always been encouraged.
"The case of 911 and the extreme terrorist movements is not an Islamic doctrine. It is based on frustrations of people who could not achieve what they want by the normal ways," he said at the opening of the 15th Regional Islamic Dakwah Council of Southeast Asia and the Pacific (Riseap) general assembly here yesterday.
Full report at:
http://www.theborneopost.com/2013/06/19/what-good-service-to-islam-means-taib/#ixzz2WjTDXKL6
-------------
South Asia
China jails 19 Uighurs for religious extremism
REUTERS
Jun 20 2013
BEIJING: Courts in China's far western region of Xinjiang have sentenced 19 ethnic Uighurs to up to six years in jail for promoting racial hatred and religious extremism online, in the latest crackdown on what China sees as violent separatists.
All but one of those jailed were from the heavily Uighur southern part of Xinjiang, including eight from the old Silk Road city of Kashgar, the official Legal Daily reported on its website.
Many Uighurs, a Turkic-speaking Muslim people who call energy-rich Xinjiang home, chafe at Chinese government restrictions on their culture, language and religion. China says it grants them wide-ranging freedoms.
Full report at:
http://beta.dawn.com/news/1019519/china-jails-19-uighurs-for-religious-extremism
--------------
Afghan Taliban offer to free captive US soldier
Jun 20, 2013
ISLAMABAD: The Afghan Taliban say they are ready to hand over a US soldier held captive since 2009 in exchange for five of their senior operatives being held at the Guantanamo Bay prison.
A Taliban spokesman, Shaheen Suhail, says US Army Sgt Bowe Bergdahl ''is as far as I know in good condition.''
Suhail spoke in an exclusive telephone interview with The Associated Press from the newly opened Taliban offices in Doha, Qatar.
Bergdahl disappeared in eastern Afghanistan on June 30, 2009.
Shaheen says ''first has to be the release of detainees,'' and after that, the Taliban ''want to build bridges of confidence.''
He offered no details on Bergdahl's current whereabouts.
He spoke as the US is scrambling to s
http://dawn.com/news/1019522/afghan-taliban-offer-to-free-captive-us-soldier
-------------
Afghans say US assures Taliban office is not recognition
June 19, 2013
KABUL / WASHINGTON: The United States has given Afghanistan written assurance that the new Taliban office in Qatar does not constitute political recognition for the extremist group, senior Afghan officials told Reuters on Wednesday.
Afghan President Hamid Karzai phoned US Secretary of State John Kerry on Wednesday to express his concerns over the Taliban office, the officials said.
"Before the opening of the office the United States gave us written guarantees and they were violated," one of two officials who spoke to Reuters on condition of anonymity said.
Full report at:
http://tribune.com.pk/story/565622/afghans-say-us-assures-taliban-office-is-not-recognition/
-------------
10 Islamist militants get death penalty in Bangladesh
PTI | Jun 20, 2013
DHAKA: Ten militants of a banned Bangladeshi Islamist outfit were sentenced to death on Thursday by a fast-track court here after they were found guilty of involvement in a deadly suicide bombing in 2005 that claimed eight lives.
The court handed down death penalty to 10 operatives of the banned Islamist outfit Jamaatul Mujahideen Bangladesh (JMB) for the 2005 suicide bomb attack that killed eight people, including lawyers, at suburban Gazipur.
Full report at:
http://timesofindia.indiatimes.com/world/south-asia/10-Islamist-militants-get-death-penalty-in-Bangladesh/articleshow/20682845.cms
-------------
Maldives Broadcasting Corporation schedules presidential debate for September 1
By Minivan News | June 19th, 2013
The Maldives Broadcasting Corporation (MBC) has announced that a debate between rival presidential candidates will be broadcast via state media on September 1 this year.
MBC Managing Director Mohamed Shafeeq Mahmoud told local media that efforts were underway to secure the participation of the four key candidates presently expected to contest the presidential election, which has been scheduled for September 7.
Full report at:
http://minivannews.com/category/news-in-brief
-------------
Riyadh urged to extend amnesty time for Bangladeshi workers
Jun 20, 2013
Bangladesh has requested Saudi Arabia to extend the July 3 amnesty deadline for Bangladeshi workers allowing them to rectify their status in the Kingdom.
The amnesty, declared on May 10, allows irregular foreign workers to have their status legalised or return home without facing any penalty.
Officials of Bangladesh embassy in Riyadh earlier told The Daily Star that there are around 12 lakh Bangladeshi workers in the Arab country, and four lakh of them could take advantage of the 3-month amnesty.
However, until now only around 2 lakh workers have completed their paperwork.
Foreign Minister Dipu Moni made the appeal at a meeting with Saudi State Minister for Foreign Affairs Dr Nizar Obaid Madani in Jeddah on Wednesday, reported Riyadh-based newspaper Arab News on Thursday.
Full report at:
http://www.thedailystar.net/beta2/news/riyadh-urged-to-extend-amnesty-time/
-------------
PM Sheikh Hasina for public-private role to reduce maternal mortality
Jun 20, 2013
Prime Minister Sheikh Hasina yesterday emphasised bringing down maternal and infant mortality rate to the desired level through participation and coordinated efforts of the government and private entrepreneurs.
She expressed her firm belief that Bangladesh will certainly achieve the Millennium Development Goals (MDGs), including reduction of maternal mortality to 134 per one lakh while child mortality to 20 per thousand by 2015.
The prime minister was addressing a prize distribution ceremony, marking the Safe Motherhood Day 2013, at Osmani Memorial Auditorium in the capital.
Full report at:
http://www.thedailystar.net/beta2/news/pm-for-public-private-role-to-reduce-maternal-mortality/
-------------
'Abducted' Jamaat man returns secretly, again goes into hiding!
Jun 20, 2013
A Jamaat-e-Islami leader, said to have been abducted by the plainclothes police from his Joypurhat residence on April 8, secretly returned to his ancestral home in Ishwardi upazila of Pabna early yesterday and went into hiding again.
Following Nazrul Islam's 'disappearance', the Jamaat raised a hue and cry claiming he was abducted. They called two hartals in the district followed by a Rajshahi division hartal demanding his release.
Full report at:
http://www.thedailystar.net/beta2/news/abducted-jamaat-man-returns-secretly-again-goes-into-hiding/
-------------
Nobel winner says Bangladesh 'snatching' bank from poor
AFP | Jun 20, 2013
DHAKA: Nobel laureate Muhammad Yunus on Thursday accused the Bangladesh government of "snatching" control of the Grameen Bank from the poor after it raised its stake in the pioneering micro-lender.
In an opinion piece published in all major Bangladeshi dailies, the 2006 Nobel peace prize winner said a proposal by a government commission to break up the bank into smaller units, or wrest majority control, would be disastrous.
Full report at:
http://timesofindia.indiatimes.com/world/south-asia/Nobel-winner-says-Bangladesh-snatching-bank-from-poor/articleshow/20679273.cms
----------
Mideast
Hamas Police Crack Down On Beach Cafe 'Vices'
By: Abeer Ayyoub
June 20, 2013
When W., 21, went to the beach with her friend, the last thing she expected was Hamas policemen rushing into the beach cafe where she was sitting and forcing the waiter to remove the argileh — the Middle East water pipe — she was smoking from her table.
W., who wished to remain anonymous, expressed her annoyance at what happened, adding that she just had wanted to take a seaside break from her exam preparation.
The owner of the cafe, who preferred to go under the alias Khaled, told Al-Monitor that this was only one case out of dozens that regularly happen.
"The police jeeps never leave the area around the beach, just looking for a girl smoking argileh or a couple sitting together there," Khaled said.
Full report at:
http://www.al-monitor.com/pulse/originals/2013/06/hamas-beach-women-argileh-islamization.html#ixzz2WkUgmEVC
-------------
Iran says appeals for 'jihad' in Syria fuel radicalism
By Reuters
June 20, 2013
KUWAIT: Calls by Sunni clerics for a war against the Syrian government and its Shias allies are fuelling radicalism in the region, a senior Iranian official said on Wednesday.
Earlier this month, prominent cleric Sheikh Youssef al Qaradawi called for war in Syria after fighters from Shia Lebanese group Hezbollah intervened to help President Bashar al Assad, in a move which stoked sectarian tensions.
Full report at:
http://tribune.com.pk/story/565882/iran-says-appeals-for-jihad-in-syria-fuel-radicalism/
-------------
Displaced Yemenis face humanitarian crisis
19 Jun 2013
Yemen is facing a crippling humanitarian crisis that aid groups say could affect recent political progress.
More than 500,000 people displaced by war are living in camps, and as much as half of the population doesn't have enough to eat.
Al Jazeera's Mohammed Adow reports from Mazraq in northern Yemen.
http://www.aljazeera.com/video/middleeast/2013/06/2013619201150542440.html
-------------
Sharia Thirsty Iranian 'Greens' Elected Their Sharia Supremacist President, Rowhani
Andrew Bostom
June 20, 2013
During the summer of 2009, much ink was spilled over the "secular" revolution allegedly taking place in Iran. Indeed, President Obama has been excoriated ever since by conservatives for his failure to unabashedly support the so-called "Green revolution," which I argued at the time (here, here, here, and here)--and still maintain--was not a mass movement of true Western freedom aspirants against Sharia totalitarians (i.e., in their Shiite incarnation), but merely a power struggle between rival Sharia supremacist factions.
Full report at:
http://www.americanthinker.com/blog/2013/06/sharia_thirsty_iranian_greens_elected_their_sharia_supremacist_president_rowhani.html
-------------
Africa
Free Expression Still Threatened In Post-Revolutionary Tunisia
By: Marouen Achouri
June 20, 2013
Everyone, or almost everyone, agrees that freedom of expression is the Tunisian revolution's only real achievement. The media have never been this free: The government and the presidency are criticized left and right. However, this fact does not seem to please everyone and, yet again, freedom of expression stands threatened.
On June 13, 2013, Weld el 15, a 20-year-old rapper was sentenced to two years in prison without parole for having released a song titled The Police Are Dogs. Meanwhile, 19-year-old Amina was held in custody because she posted pictures of herself flashing her breasts on Facebook. Ghazi Beji and Jabeur Mejri, two 20-year-olds, have each been sentenced to seven and a half years in prison for making cartoons offending the Prophet. Nizar Bahloul and Sahbi Amri have both been sentenced in absentia to four and eight months in prison without parole, respectively, for writing certain articles. This is an anthology of sentences and proceedings in progress against individuals who have expressed views that are different from those of the majority, thus stirring the latter's discontent.
Full report at:
http://www.al-monitor.com/pulse/politics/2013/06/freedom-of-speech-lags-in-tunisia.html#ixzz2WkVC3mrw
-------------
Attack on U.N. compound in Somalia called 'barbaric'
By Omar Nor, for CNN
June 19, 2013
Mogadishu, Somalia (CNN) -- At least 14 people died and 15 others were wounded in an attack on the U.N. headquarters in the Somali capital of Mogadishu on Wednesday.
Seven militants, four U.N. employees and three female civilians were killed, said Abdikarim Hussein Guled, the country's interior and national security minister. The other victims were rushed to a hospital.
Al-Shabaab, the militant group linked to al Qaeda, claimed responsibility, the group said on Twitter.
Prime Minister Abdi Farah Shirdon deplored the "senseless and despicable" assault against an agency that has been a friend and partner.
"I and all Somalis are appalled that they should be the target and victims of such barbaric violence," Shirdon said.
Full report at:
http://edition.cnn.com/2013/06/19/world/africa/somalia-violence/index.html
-------------
URL: https://newageislam.com/islamic-world-news/new-age-islam-news-bureau/naya-pakistan?-pti's-member-of-national-assembly-calls-for-mumtaz-qadri-s-release/d/12184