New Age Islam News Bureau
8 Sept 2019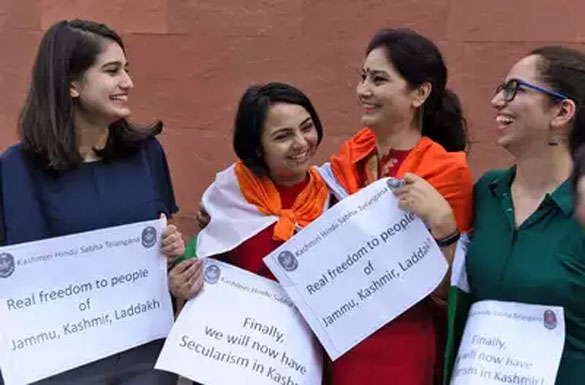 Kashmiri Pandits across the country celebrated the abrogation of Article 370 (File Photo)
-----
•
'Nankana Sahib Sikh Jagjeet Kaur Was Impressed By Islamic Scholar's Teachings' And Had Wilfully Embraced The Religion, Human Rights Activist Tells Times of India
• Kashmiri Pandits Stage Protest Demonstration against Washington Post
• Alaska Agrees to Accommodate Muslim Inmates' Religious Needs
• Trump Backs Out Of Peace Talks with Taliban over Kabul Attack
• In Sarawak, Pakatan Backs Practice Of Muslims and Non-Muslims Praying Together
• In Melaka, Thousands Throng Mosque to Pray Alongside Dr Zakir Naik
• As Ghani Nixes Trip, US Assures Afghans It Would Sign 'Good Deal'
• All Stakeholders Need to Exercise Prudence and Foresight In Deciding Afghanistan's Fate
• Iran Says It Can Now Take Enrichment Past 20pc Mark
• Sudan Invites Jewish Emigrants to Return to the 'Pluralistic' Country
India
• 'Nankana Sahib Sikh Jagjeet Kaur Was Impressed By Islamic Scholar's Teachings' And Had Wilfully Embraced The Religion, Human Rights Activist Tells Times of India
• Kashmiri Pandits Stage Protest Demonstration against Washington Post
• Pakistan Refuses To Let President Of India Plane Use Its Airspace
• Pakistan violates truce along LoC in Poonch
• India Backs New Sub-Regional Economic Bloc, Excluding Pakistan
• On Pak orders, jihadis storm trader's home, injure 2-year-old
• NC MPs move HC seeking meeting with Abdullahs, court seeks J&K reply
• Fully convinced that most Kashmiris support Article 370 dilution: NSA Ajit Doval
--------
North America
• Alaska Agrees to Accommodate Muslim Inmates' Religious Needs
• Trump Backs Out Of Peace Talks with Taliban over Kabul Attack
• US Stresses Need for Direct Talks between Pakistan, India
• Syrians arrive in Venezuela to guard minister wanted by the US: Report
• US judge reduces jail terms of Blackwater guards involved in Iraq massacre
• US support for Saudi war in Yemen has become political liability: Analyst
• The end of white America and Israel lobby
• Bolton: No sanctions relief until Iran stops lying and spreading terror
• Argentina's crisis window of opportunity for Turkey
• US welcomes Denmark's military assistance in Syria
--------
Southeast Asia
• In Sarawak, Pakatan Backs Practice Of Muslims and Non-Muslims Praying Together
• In Melaka, Thousands Throng Mosque to Pray Alongside Dr Zakir Naik
• Islamic State-Affiliated Group Calls for Jihad in Papua: Defense Minister
• 'Buy Muslim-Made First' Campaign Kicks Off In Penang
• Muslim rebels hand over guns in Philippines peace deal
• Mahathir tells Malaysia's Malay-Muslims to 'work harder'
• Daesh bombing wounds eight people in southern Philippines
--------
South Asia
• As Ghani Nixes Trip, US Assures Afghans It Would Sign 'Good Deal'
• Afghan Forces Recapture Wardoj, 100 Taliban Terrorists Killed
• 34 Taliban militants killed, detained in Special Forces raids in 6 provinces
• Militants kidnap 6 journalists in Paktiya province of Afghanistan
• Afghan government says real peace will come when Taliban stop violence
• Kabul welcomes US assurances on Taliban deal
--------
Pakistan
• All Stakeholders Need to Exercise Prudence and Foresight In Deciding Afghanistan's Fate
• Trilateral Dialogue: Pakistan, China, Afghanistan Agree On 'Enhancing Counterterrorism Cooperation'
• Pak foreign minister Shah Mahmood Qureshi holds talks with Chinese foreign minister; discusses Kashmir
• India preparing grounds for false-flag operation by projecting 2 Pakistani civilians as terrorists: ISPR
• Pakistan science minister, army PRO Asif Ghafoor troll India on Chandrayaan-2 setback
• Portraits of Ghalib, Faiz back on display at PAL building
• FO summons Indian envoy, condemns LoC ceasefire violations
• Terrorism plot foiled as four 'LJ hitmen' held in Karachi
• Afghanistan acknowledges Pakistan's efforts for peace
• Top US military commander arrives in Pakistan
--------
Mideast
• Iran Says It Can Now Take Enrichment Past 20pc Mark
• Iran's Army Chief: Day of Israel's 'Demise' Not Far Away
• UN Nuclear Official in Iran As Atomic Accord Unravels
• Iranian Cleric Says People In Kashmir Must Stand For Their Right
• Turkey calls on US to lift barriers to boost trade
• Israel bombs Gaza position for an entire hour: Palestinian sources
• US sent 30,000 trucks of arms to Kurds in northern Syria: Erdogan
• Saudi Arabia blocks fuel shipment from entering Yemen's Hudaydah
• Palestinians bury teen killed by Israeli troops during Gaza protests
--------
Africa
• Sudan Invites Jewish Emigrants to Return to the 'Pluralistic' Country
• Sudan's al-Bashir kept key to room with millions of euros, court hears
• African Union lifts suspension of Sudan
• Nigeria soldier killed in Kamuya convoy ambush
--------
Arab World
• Qatari Paper: Over 4,000 Civilians Killed in Iraq's Mosul in One Month of US Airstrikes
• Tahrir Al-Sham Starts Forced Recruitment of Soldiers for Battle with Syrian Army Despite Ankara's Pledges
• Egypt court sentences 11 extremists to life for prison breaks
• Syrian army says it foiled drone attack on military location
• Prince Abdulaziz bin Salman appointed Saudi Minister of Energy
• Saudi Crown Prince speaks with France's Macron on regional security
• Four, including a civilian, killed across Iraq in day of militant attacks
• Syrian air defenses target three explosives-laden drones in Hama
--------
Europe
• New Islamophobia Definition Shuts down Criticism of Radical Islam, German Female Imam, Seyran Ateş, Says
• UK calls Iran's starting of centrifuges 'particularly disappointing'
• Italy police detains 10 for alleged terrorism financing
• Italy seeks imam and 10 other suspects in crackdown on terrorism financing
• Bulgaria hands terror suspect over to Turkey
Compiled by New Age Islam News Bureau
URL: https://www.newageislam.com/islamic-world-news/nankana-sahib-sikh-girl-jagjeet/d/119686
--------
'Nankana Sahib Sikh Jagjeet Kaur Was Impressed By Islamic Scholar's Teachings' And Had Wilfully Embraced The Religion, Human Rights Activist Tells Times of India
Sep 8, 2019
AMRITSAR: In a twist that belies the assertions of the Pakistani authorities, especially its Sikh leadership that claimed to have "resolved" the issue of Nankana Sahib Sikh girl Jagjeet Kaur who had embraced Islam and married a local Muslim man, the girl has reportedly told her parents that she was impressed with the teachings of Islamic scholar Molana Ilyas Qadri and had wilfully embraced the religion.
While talking to TOI over phone from Nankana Sahib, human rights activist and advocate Mian Sadi Abbas Deoka said, "The girl's parents had gone to meet her in Darul Uloom in Lahore on Friday and she explicitly told them that she didn't embrace Islam for her husband Muhammad Hassan alone, but was impressed with the teachings of Islam."
Sadi claimed that the girl had also reportedly told her parents that she used to watch a religious TV channel and was impressed with the teachings of its founder and preacher Molana Ilyas Qadri.
Jagjeet had on August 28 embraced Islam at Darul Uloom Jamia Naemia in Lahore and on August 30 she had recorded her statement in a local court that she had wilfully adopted Islam and her new name was Ayesha. On the same day she had reportedly married Muhammad Hassan of Nankana Sahib.
After her parents objected to the said marriage, they registered a complaint with police claiming that Jagjeet was kidnapped, forcibly converted to Islam and married to a Muslim man that brought the Sikhs and Muslims of Nankana Sahib on the brink of a scuffle.
As the situation got tense, the Pakistan government and Sikh leadership intervened in the wake of ensuring 550 birth anniversary of Guru Nanak Dev and opening of Kartarpur corridor. On September 4, governor of Pakistan Punjab Muhammad Sarwar and the local Sikh leadership claimed to have resolved the issue.
But the fact remains that Jagjeet alias Ayesha continued to stay in Darul Uloom where she has been leafing teachings of Islam.
Sadi claimed that the girl was still living in Darul Uloom and would be produced in the court after Muharram holidays. "Hopefully she will be produced in the court on Wednesday," he added.
When contacted Pakistan's Sikh member of provincial assembly Mohinderpal Singh admitted that the girl was still in Darul Uloom.
"Jagjeet Kaur is in the shelter home. She is safe and is meeting with her parents, but the major issue is that she is depressed and is undergoing rounds of counselling," he said, adding that after counselling session were over, she might be sent to her parents' house depending on whatever decision was taken then.
https://timesofindia.indiatimes.com/city/amritsar/jagjeet-kaur-was-impressed-by-islamic-scholars-teachings/articleshow/71030404.cms
--------
Kashmiri Pandits Stage Protest Demonstration against Washington Post
Sep 8, 2019
WASHINGTON: A group of Kashmiri Pandits staged a demonstration in front of The Washington Post office here on Saturday, protesting against "one-sided coverage" of the recent developments in Jammu and Kashmir.
The newspaper has defended its coverage in Kashmir as "fair, accurate and comprehensive".
The demonstration was organised by the Global Kashmiri Pandit Diaspora.
The protesters alleged that the prominent US daily has been giving "one-sided and biased coverage" after the Indian government withdrew Jammu and Kashmir's special status under Article 370 of the Constitution and divided the state into two Union Territories last month.
"Your coverage has not addressed the dejure lawlessness that existed in the State of J&K due to Article 370 accompanied by Article 35A which supposedly granted special status to the State," the Global Kashmiri Pandit Diaspora said in a memorandum submitted to the Washington Post.
Kashmiri Pandits, who had gathered in Washington DC from various parts of the United States, raised slogans in support of Prime Minister Narendra Modi for taking the "bold and historic step".
"Nowhere in the Washington Post media narratives is their mention that in this lawless state the most heinous genocide was committed against the aboriginal people, the Kashmiri Pandits, resulting in their virtual exile," the organiser said.
"Washington Post's biased reporting ignores the inconvenient truth that Article 370 and Article 35A...have denied democratic rights to minorities, women and weaker sections of the society while throttling Kashmir's economy...(and) Kashmir Valley became breeding ground for rampant corruption, separatism," said Mohan Sapru, the chief coordinator of the rally.
Across the road where the protest was staged by Kashmiri Pandits, a group of Pakistani Americans, separatist Kashmiri and separatist Khalistani held a silent demonstration in support of The Washington Post.
Some of the pro-Pakistani protesters tried to stop Indian journalists from covering their demonstration, including taking pictures, before the intervention of local police.
Justifying its coverage, Washington Post Foreign Editor Douglas Jehl said, "The Post's coverage of India's actions in Kashmir since the Aug. 5 crackdown has been fair, accurate and comprehensive- at a time when India has imposed tight restrictions on the flow of information and has severely limited access by our journalists trying to cover this important story."
Meanwhile, a group of US Muslims held a protest demonstration in front of the Indian Embassy in Washington DC.
https://timesofindia.indiatimes.com/india/kashmiri-pandits-stage-protest-demonstration-against-washington-post/articleshow/71031968.cms
--------
Alaska Agrees to Accommodate Muslim Inmates' Religious Needs
September 7, 2019
JUNEAU, ALASKA - The Alaska Department of Corrections has agreed to policy changes to accommodate Muslim inmates who wish to practice their religion, settling a lawsuit brought last year.
A federal judge Friday signed the agreement in a case brought on behalf of two Muslim inmates by the Council on American-Islamic Relations, which argued that meals provided to the men during the holy month of Ramadan did not meet caloric requirements under federal health guidelines. They also said the meals were cold when others received hot meals and sometimes contained pork, which is at odds with their faith.
The lawsuit also said the department had not allowed Muslims to perform Friday religious services or hold study groups.
Details of agreement
Terms of the agreement call for the department to provide inmates fasting during Ramadan at least 3,000 average daily calories and at least two hot meals without pork. Officials are not allowed to remove inmates on the list for a Ramadan diet for disciplinary or other reasons.
Ramadan is marked by daily fasting from dawn to sunset. The settlement calls for meals to be provided between sunset and dawn.
Muslim inmates also will be allowed to participate in religious services, prayers and religious study groups.
The department agreed to pay $102,500 in damages, costs and attorneys' fees.
The agreement states the department has adopted some of the provisions and will take steps to formally adopt others they have moved to implement, primarily related to religious gatherings.
A model for others
The Council on American-Islamic Relations also will provide free videoconference religious sensitivity training for department superintendents, chaplains and grievance officers.
Plaintiffs' attorney Gadeir Abbas said that with these policies, Alaska would be a model for how prisons and jails should accommodate Muslims in their facilities.
"That's to be commended, it really is," he said.
"It's a positive development for the state of Alaska and for the Muslims that are incarcerated. There's few places where a person's faith is more important than when their freedom is taken away," he said.
One of the men named as a plaintiff is no longer an inmate, Abbas said.
The Department of Corrections said by email that it was accommodating some of the settlement requirements before the lawsuit.
"The settlement agreement ensures that policy will not change in the future," the department said.
It said it accommodates more than 30 different religious groups inside its facilities, including Muslims, and is committed "to providing religious as well as cultural opportunities for offenders within available resources, while maintaining facility security, safety, health and orderly operations."
https://www.voanews.com/usa/alaska-agrees-accommodate-muslim-inmates-religious-needs
--------
Trump backs out of peace talks with Taliban over Kabul attack
September 8, 2019
President Donald Trump said on Saturday that he had canceled a secret meeting at Camp David with Taliban leaders and the president of Afghanistan and was calling off monthslong negotiations that had appeared to be nearing a peace agreement.
"Unbeknownst to almost everyone," Trump wrote in a series of tweets, Taliban leaders and the Afghan president, Ashraf Ghani, were headed to the United States on Saturday for what would have been a politically electrified meeting at the president's official Camp David retreat in Maryland.
But Trump said that "in order to build false leverage," the Taliban had admitted to a suicide car bomb attack Thursday that had killed a U.S. soldier and 11 others in the capital of Kabul. "I immediately cancelled the meeting and called off peace negotiations," he wrote.
"If they cannot agree to a ceasefire during these very important peace talks, and would even kill 12 innocent people, then they probably don't have the power to negotiate a meaningful agreement anyway," Trump added. "How many more decades are they willing to fight?"
Trump's announcement was startling for multiple reasons. A surprise summit at Camp David with leaders of an insurgent group that has killed thousands of Americans since the October 2001 invasion of Afghanistan would have been a sensational diplomatic gambit, on par with Trump's meetings with the once-reclusive North Korean leader, Kim Jong Un. A senior administration official said the meeting had been planned for Monday, just two days before the anniversary of the Sept. 11, 2001, attacks, which were plotted from Afghanistan and led to the United States' invasion of the country.
Donald J. Trump
✔
@realDonaldTrump
Unbeknownst to almost everyone, the major Taliban leaders and, separately, the President of Afghanistan, were going to secretly meet with me at Camp David on Sunday. They were coming to the United States tonight. Unfortunately, in order to build false leverage, they admitted to..
53.5K
4:21 AM - Sep 8, 2019
Twitter Ads info and privacy
33.8K people are talking about this
Donald J. Trump
✔
@realDonaldTrump
• 7h
Replying to @realDonaldTrump
....an attack in Kabul that killed one of our great great soldiers, and 11 other people. I immediately cancelled the meeting and called off peace negotiations. What kind of people would kill so many in order to seemingly strengthen their bargaining position? They didn't, they....
Donald J. Trump
✔
@realDonaldTrump
....only made it worse! If they cannot agree to a ceasefire during these very important peace talks, and would even kill 12 innocent people, then they probably don't have the power to negotiate a meaningful agreement anyway. How many more decades are they willing to fight?
54.7K
4:21 AM - Sep 8, 2019
Twitter Ads info and privacy
25K people are talking about this
The move also appears to scuttle — for now — Trump's long-standing hope to deliver on a campaign promise to withdraw U.S. troops from an 18-year conflict that he has called an aimless boondoggle. It comes amid stubborn resistance within Afghanistan's government about the emerging agreement, not only for security reasons but because Ghani has been determined to preserve a planned Sept. 28 election, which he is favored to win. The Taliban have insisted on postponing the election before proceeding with negotiations with the Afghan government.
Several people familiar with the diplomacy between the Trump administration and the Taliban puzzled over Trump's stated decision to cancel peace negotiations entirely in response to one U.S. casualty, however tragic. The Taliban had not agreed to halt their attacks on Americans in advance of a formal agreement. That raised the question of whether Trump might have been looking for a pretext because the talks had run into trouble.
Many other details of the scrapped Camp David meeting were unclear Saturday night. The senior Trump administration official said that the decision to cancel the meeting had been made Thursday but that Trump had delayed his announcement. On Friday, Afghan officials confirmed that Ghani postponed a planned meeting in Washington. One person familiar with the diplomacy said that the plan for a Taliban visit to Washington had not been under discussion until about a week ago.
It was also unclear whether Trump's halt to the peace negotiations would be permanent. The president has reversed such decisions in short order before. In May 2018, for instance, he abruptly canceled his second summit with Kim, only to reschedule it days later. But several people familiar with the Afghan talks said Saturday that it could be difficult to restart them.
The negotiations have been underway since last winter, when Trump's special envoy for Afghanistan, Zalmay Khalilzad, began regular trips to Doha, Qatar, for grueling sessions with Taliban representatives. U.S. and foreign officials said that the talks had reached an advanced stage and that, until Saturday night, an agreement with the Pashtun insurgent group that once harbored al-Qaida mastermind Osama bin Laden was close at hand.
In nine rounds of negotiations, Khalilzad painstakingly worked toward what would be a phased peace agreement — initially a deal between the United States and the Taliban that would open the door for direct negotiations between the Afghan sides, before all of it comes together in a final Afghan peace deal.
Khalilzad has pledged to draw down U.S. military troops in exchange for a partial cease-fire by the Taliban. In a recent interview with the Afghan channel ToloNews, he said 5,400 U.S. forces would leave Afghanistan within 135 days after the agreement is signed.
That agreement would initially only reduce the number of U.S. troops to about what it was when Trump took office in 2017.
As for the remaining 8,600 U.S. forces, they would leave according to a gradual timeline that officials said could be within 16 months.
That would allow Trump, who has been routinely critical of expensive U.S. interventions in the Muslim world, to declare that he had ended a long conflict that has grown unpopular and obscure with the American public and to boast that he had achieved an outcome his predecessor, President Barack Obama, had sought in vain.
The reality could be more complicated. Trump has hinted that the United States would retain "strong intelligence" in the country, language that some experts believe to describe plans for a robust presence of armed CIA operatives. And even if an initial deal with the Taliban were to be reached, its enforcement could face numerous pitfalls.
Critics of the nascent agreement — including the former U.S. commander in Afghanistan, retired Army Gen. David Petraeus — have warned that it could lead to the return of al-Qaida. Several have invoked the cautionary example of Obama's troop withdrawal from Iraq, which many national security experts blame for the 2014 emergence of the Islamic State in that country.
And in a Sept. 3 statement published by the Atlantic Council, nine former senior U.S. diplomats with extensive experience in Afghanistan warned that a "major withdrawal of U.S. forces should follow, not come in advance of real peace agreement." Anarchy in Afghanistan after a premature U.S. exit "could prove catastrophic for U.S. national security" and would "underscore to potential enemies that the United States and its allies are not reliable," the statement said.
Such critics have pointed to a recent wave of Taliban attacks as a sign that the insurgent group cannot set aside violence. The attack cited by the president involved a car bomb detonated at a checkpoint near the U.S. Embassy in Kabul.
Afghan government officials who have been briefed on the negotiations privately said Khalilzad did not force enough concessions from the Taliban to ensure stability as the U.S. military leaves Afghanistan.
One official said the agreement between Khalilzad and the Taliban will not ensure that national elections take place Sept. 28, as Ghani has demanded. Rather than requiring a nationwide cease-fire, it calls for a reduction of violence in Kabul and Parwan. And, the Afghan government official said, it may allow the Taliban to continue referring to itself in official conduct as the "Islamic Emirate" — as it did when the extremist group was ruling Afghanistan with fear.
If anything, said one Afghan official, the negotiations appear to have only emboldened the Taliban. The official spoke on the condition of anonymity to more frankly discuss the closed-door briefings.
"They are much more emboldened and they have a chance to take over," the Afghan official said on Wednesday.
Hours after the Thursday bombing, Khalilzad and the top commander in Kabul arrived for a surprise meeting with the Taliban in Doha. They went straight into unexpected and unannounced talks that lasted into the early morning.
At the time, it was unclear what they were negotiating when the special envoy had declared the agreement was final "in principle." Officials refused to confirm that it was related to the uptick in violence, but now it seems to have been a last-minute effort to salvage the process.
One Western official said a deal had been nearly at hand but appeared to have been jeopardized by showmanship. Now it has created an environment where the Taliban, as well as a skeptical region that includes Iran and Russia, will conclude that no process with the Americans can be trusted, the official said.
"So what comes next in terms of strategic policy options? The two main ones seem to be either keeping the current troop footprint in Afghanistan for the foreseeable future, which Trump clearly doesn't want to do, or start to draw down anyway, but thus without getting any concessions for it," said Dan Feldman, who served as special representative for Afghanistan and Pakistan in the Obama administration. "That seems like the worst possible result — withdrawing immediately and irresponsibly, leaving both a security and political vacuum."
https://indianexpress.com/article/world/trump-backs-out-of-peace-talks-with-taliban-over-kabul-attack-5976278/
--------
In Sarawak, Pakatan backs practice of Muslims and non-Muslims praying together
07 September 2019
BY SULOK TAWIE
KUCHING, Sept 7 — Sarawak Pakatan Harapan (PH) said it supports the state government's decision to ignore any purported directive barring Muslims and non-Muslims from praying or reciting prayers together in a function.
Its chairman Chong Chieng Jen said such a directive will only bring about more racial and religious segregation and is not conducive to racial harmony in Sarawak.
He said Sarawak must maintain its current practices of allowing Muslims and non-Muslims to pray or recite prayers together at any function.
"The directive must not be followed in Sarawak," Chong, who is also the Deputy Minister of Domestic Trade and Consumer Affairs, said when welcoming Assistant Minister (Islamic Affairs) Datuk Dr Abdul Rahman Junaidi's statement that the state government would not follow the directive.
Chong said interfaith gathering has never been an issue in Sarawak and that followers of different religions reciting their prayers together in any function, adding that it is a hallmark of the state's religious harmony.
Commenting on the same issue, Sarawak Reform Party (STAR) president Lina Soo said the call to prohibit interfaith prayers is not applicable to Sarawak.
She said Islam is under State List II — State List (1) of the Ninth Schedule (Part III) of the Federal Constitution where Islamic affairs come under the jurisdiction of the state.
"As a state matter, Sarawak has its own religious institutions and organisations to govern the constitution, organisation and procedures for Islamic law and doctrine for Muslims in Sarawak," she said, adding Sarawak has its own legitimate rights which federal government must respect.
"Sarawak's multi-religious and multi-cultural communities have always practised their religious faiths peacefully and harmoniously without issue.
"We respect and uphold unity in diversity, and we do not welcome futile attempts to export race and religion politics to divide the people of Sarawak," she said.
The Malaysian Islamic Development Department (Jakim) said yesterday that Muslims are not obligated to join mass prayer sessions, whether together silently or in succession, with other religions in any organised events.
The federal Islamic body referred to a decision made during a national fatwa committee meeting in 2006, and a similar Federal Territories-level meeting.
However, Jakim said non-Muslims are not restricted from organising or joining such mass prayers.
Jakim said it made the decision following an inquiry by the Department of National Unity and Integration under the Prime Minister's Department on August 6 of instances involving Muslims participating in such prayers.
https://www.malaymail.com/news/malaysia/2019/09/07/in-sarawak-pakatan-backs-practice-of-muslims-and-non-muslims-praying-togeth/1788323
--------
In Melaka, thousands throng mosque to pray alongside Dr Zakir Naik
07 September 2019
BY SYED JAYMAL ZAHIID
KRUBONG, Sept 7 — Around 2,000 people turned up to pray alongside controversial preacher Dr Zakir Naik at the iconic Chinese Mosque here in Melaka, where he has been officially barred from making public speeches.
Dr Zakir, dressed in a simple blue shirt, black pants and a kupiah, arrived with a fairly large entourage at around 7.20pm greeted enthusiastically by avid supporters, who rushed to shake his hand and take photos.
"I'm from Penang but have a friend who lives here so I came to pray and see him," said one young attendee in his early 20s.
"The number of those turning up shows he still has strong support."
Still, supporters turn up in moderate numbers when compared to the monster crowd the evangelist typically attracts at his talk, just nearly enough to fill the 2,000 capacity mosque.
Just outside its main entrance, prayer mats lined up outward leading to the road were mostly half empty, although scores of people were sparsely seated along the curbs and pavements east and west of the building, where two screens were erected.
On the screen, a live feed broadcast Dr Zakir praying next to some of his closest allies in a row just before the imam, space often reserved for Sultans and top government leaders.
Supporters — a mixture of old, women and youths — that were unable to join the prayers from inside the mosque watched as he perform the Maghrib and Isyak prayers in awe.
This was Dr Zakir's first public appearance since he gave a controversial talk before a massive crowd in Kelantan last month, where he reportedly questioned the loyalty of ethnic Indians.
His action sparked strong backlash from minority communities and calls for the Pakatan Harapan administration to deport the Indian national. Dr Zakir is wanted by the Indian government on terrorism and money laundering charges.
But for many conservative Malay Muslims, the episode lent credence to claims that "anti-Islam" elements are gaining a foothold in a liberal government headed by Chinese and Indian politicians who have long hated Dr Zakir.
"He is oppressed," said the supporter from Penang.
"Even so, he is still very popular. I don't think the mosque would be this full if not for Dr Zakir."
Tonight's event, said to be organised by the Melaka Chinese Mosque committee, were attended by state assemblymen from all sides of the political divide, testament Dr Zakir's clout among Muslim voters.
Parti Pribumi Bersatu Malaysia politician and Melaka state government executive councillor Datuk Mohd Rafiq Naizamohideen, however, was said to have helped ensure the prayers took place amid protest from a fellow PH colleague.
Bersatu leaders, including Prime Minister Tun Dr Mahathir Mohamad had initially supported calls for the preacher to be deported but appeared to have made a turnabout shortly after, likely over concerns of alienating its Malay base.
"Thank you for your willingness and time to attend this event called Malam Islam Bersatu," Mohd Rafiq said in speech delivered after the final prayers.
"I am grateful that this event is a success in light of the forces that tried to prevent this from happening."
Mohd Rafiq stopped short of naming the quarters he alleged had wanted tonight's event stopped.
It is believed the leader had referred to Ayer Keroh assemblyman from the DAP, Kerk Chee Yee, who reportedly questioned the organisers' motive.
"Have we ever asked any priests from attending a temple or a church?" Mohd Rafiq asked at a press conference held just after Dr Zakir left the mosque.
"So I hope our non-Muslim peers can understand...we respect their right to religious freedom, respect ours."
Dr Zakir, barred from speaking in all PH-controlled states including Melaka, did not address the crowd.
https://www.malaymail.com/news/malaysia/2019/09/07/in-melaka-thousands-throng-mosque-to-pray-alongside-dr-zakir-naik/1788349
--------
As Ghani nixes trip, US assures Afghans it would sign 'good deal'
Sep 8, 2019
PARIS: US defence secretary Mark Esper said on Saturday that while it was seeking a political agreement with the Taliban, Washington would not accept just any deal after a wave of violence cast a shadow over its talks with the insurgent group.
Afghan leaders, including President Ashraf Ghani, have been increasingly critical of the apparent draft deal reached between US special envoy Zalmay Khalilzad and Taliban representatives in Doha this week as the violence has escalated. Esper's remark came as Ghani reportedly cancelled a planned visit to Washington early next week to discuss the US-Taliban talks with President Trump.
"The US' view is that the best way forward is a political agreement and that (is what) we're working diligently on right now, that doesn't mean we'll take any deal," Esper said. "We will make sure we have a good deal, a good enough deal that guarantees at least the security of our countries going forward and a brighter path ahead for the Afghan people."
Esper's remarks were greeted warmly in Afghanistan. "We echo the need for sustainable peace, end of violence and a meaningful peace," presidential spokesman Sediq Sediqqi tweeted.
Under the draft accord with the Taliban, US troops would be withdrawn over the coming months in exchange for guarantees that Afghanistan would not be used as a base for militant attacks on the US and allies.
Meanwhile, Pakistan, China and Afghanistan called for withdrawal of US troops in an orderly manner. The three nations held trilateral dialogue in Islamabad on Saturday.
https://timesofindia.indiatimes.com/world/south-asia/as-ghani-nixes-trip-us-assures-afghans-it-would-sign-good-deal/articleshow/71030832.cms
--------
All stakeholders need to exercise prudence and foresight in deciding Afghanistan's fate
September 08, 2019
DEADLY bombings against the backdrop of peace talks paint an uneasy picture for the future of Afghanistan, on the brink of witnessing a dramatic withdrawal of US troops even as the spectre of violence looms.
On Thursday, 10 people were killed — including two Nato troops — when a powerful car bomb exploded in a heavily fortified zone in Kabul, just days after Zalmay Khalilzad, US special envoy and America's chief negotiator in the peace talks, concluded the ninth round of meetings with the Taliban leadership in Qatar and announced the two sides had reached an agreement which only awaited the Trump administration's approval.
Following the bombing, Khalilzad returned to Qatar for unscheduled talks with the Taliban that reportedly went on well past midnight. Afghan President Ashraf Ghani has been left out of these high-powered discussions in Qatar on the insistence of the Taliban, and appears to be deeply unhappy with some aspects of the impending peace agreement.
From the press conference that followed the trilateral dialogue held in Islamabad yesterday, with Foreign Minister Shah Mehmood Qureshi hosting his Chinese and Afghan counterparts, it was clear the focus of the talks had been on ensuring that the battle-scarred country does not once again descend into internecine warfare.
At this critical juncture, all stakeholders need to exercise prudence and foresight. As the Chinese foreign minister stated during the press conference, what transpires now must take place in an orderly and responsible manner. US Secretary of State Mike Pompeo has reportedly refused to sign the deal, indicating that Washington's conscience may be troubled. Anxiety about the post-accord situation is clearly at an all-time high. The Taliban are banking on violence to strengthen their bargaining power and get the most out of the deal as the now decentralised leadership gears up to battle the militant Islamic State group. At the same time, the US is in a hurry to get out of Afghanistan — a key promise of President Trump during the 2016 presidential election. With another election around the corner, it appears that Mr Trump is keen to bill Afghanistan as a victory and cross it off his to-do list.
While the people with power deliberate, the people of Afghanistan watch with bated breath, anxious and fearful about what the transition will bring. They hope for peace and a viable path to power-sharing, that will allow them to have a say in who governs them. As a group of nine former ambassadors to Afghanistan have poignantly said in an open letter critical of the US approach to negotiating the troop withdrawal, "[The US] must not yank so much support from our Afghan friends that they are unable to protect themselves".
A rushed decision on the US withdrawal will have regional and global consequences and spawn more violence and insecurity for a people who have suffered for decades.
https://www.dawn.com/news/1504165/deciding-afghanistans-fate
--------
Iran says it can now take enrichment past 20pc mark
September 08, 2019
DUBAI: Iran said on Sat­u­rday it was now capable of raising uranium enrichment past the 20 per cent level and had launched adv­anced centrifuge mach­ines in further breaches of commitments to limit its nuclear activity under a crumbling deal with world powers.
"We have started lifting limitations on our research and development imposed by the deal ... It will include development of more rapid and advanced centrifuges," Iranian nuclear agency spo­k­esman Behrouz Kamalva­ndi told a televised news conference.
The 2015 pact curbed Iran's nuclear programme in exchange for relief from sanctions, but has unravelled since the United States pulled out of it last year and acted to strangle Iran's oil trade to push it into wider security concessions.
Since May, Iran has begun to exceed limits on its nuclear capacity set by the pact in retaliation for US pressure on Iran to negotiate restrictions on its ballistic missile programme and support for proxy forces around the Middle East.
Iran says its measures are reversible if European signatories to the accord manage to restore its access to foreign trade promised under the nuclear deal but blocked by the re-imposition of US sanctions.
The deal capped the level of purity to which Iran can enrich uranium at 3.67pc — suitable for civilian power generation and far below the 90pc threshold of nuclear weapons grade.
UN nuclear inspectors reported in July that Iran had cranked up enrichment to 4.5pc purity.
Kamalvandi said Tehran could now exceed the 20pc level, a significant leap towards the critical 90pc, "but right now there is no need for that".
The deal capped the number of machines that enrich uranium installed in Iran at some 6,000, down from around 19,000 before 2015. It allowed Iran to refine uranium only with slow, first-generation IR-1 centrifuges and to use small numbers of more advanced centrifuges solely for research, but without stockpiling enriched ura­nium, for a period of 10 years. But Kamalvandi said Iran had started using an array of more advanced centrifuges as part of its gradual steps to downgrade its nuc­lear commitments. "This inc­l­udes IR-6 machines wh­ich have now been fed (uranium) gas. A chain of 20 IR-4 centrifuges has also been started. The IR-6 has also started as a chain of 20 since yesterday," he said.
https://www.dawn.com/news/1504149/iran-says-it-can-now-take-enrichment-past-20pc-mark
--------
Sudan invites Jewish emigrants to return to the 'pluralistic' country
7 September 2019
The newly appointed Sudanese minister of religious affairs called on Jewish people previously living in Sudan to return to the country.
Nasr-Eddin Mofarah stressed that citizenship in Sudan is not based on religion.
"Sudan is pluralistic in its thought, pluralistic in its culture, in its ideologies and Islamic religious sects, and even religions. There is Islam, Christianity, and a minority that follow the Jewish faith. It is possible that they [the minority] have left the country and from here we would like to call on them through their right of citizenship and nationality to come back to this country because this country, Sudan, as long as there is a civilian government, the basis of nationality is rights and obligations," said Mofarah in an interview with Al Arabiya on Friday.
The pronouncement follows Sudanese Prime Minister Abdalla Hamdok's announcement of his cabinet, the first since former President Omar Bashir was ousted in April.
https://english.alarabiya.net/en/News/middle-east/2019/09/07/Sudanese-religious-minister-Sudan-welcomes-Jewish-emigrants-back-to-the-country.html
--------
India
Pakistan Refuses To Let President Of India Plane Use Its Airspace
Sep 8, 2019
NEW DELHI/ISLAMABAD: Pakistan has denied Air India One the use of its airspace to fly President Ram Nath Kovind to Europe next week. AI's Boeing 747 will now take the longer route when the President leaves on Monday (September 9) for Iceland, Switzerland and Slovenia. He will take the same longer route on his return from the three-nation tour on September 17.
The country's foreign minister Shah Mehmood Qureshi told state broadcaster PTV on Saturday that the decision to deny President Kovind's flight use of Pak airspace "was approved by PM Imran Khan".
"The Indian President had sought permission to use Pakistan's airspace to travel to Iceland but we decided not to permit him," Qureshi said, adding the decision was taken in view of India's "behaviour".
Responding to questions, the MEA spokesperson said, "We regret the decision of the government of Pakistan to deny overflight clearance for the VVIP special flight which is otherwise granted routinely by any normal country." The MEA spokesperson said, "We call upon Pakistan to recognise the futility of such unilateral actions." Now, the President's flying time to and from Europe will increase by 50 minutes as it will tentatively take this route - Delhi-near Mumbai-Arabian Sea (steering clear of Pakistan airspace around Karachi) - Muscat - and then to Europe. The straight route would have entailed flying from Delhi to Pakistan-Afghanistan-Iran to Europe.
https://timesofindia.indiatimes.com/india/pakistan-refuses-to-let-president-plane-use-its-airspace/articleshow/71030006.cms
--------
Pakistan violates truce along LoC in Poonch
Sep 8, 2019
"Around 7.45am, Pakistan initiated firing of small arms and mortar shelling along the LoC in Poonch's Krishna Ghati sector, to which Indian troops retaliated effectively," said defence spokesperson Lt Col Devender Anand. No injury or damage was sustained by the Indian side, he added.
On September 2, an Army jawan was killed in a similar breach of truce in Poonch. This was the fifth fatality suffered by Indian Army after the scrapping of the state's special status. Official data released by the government states that Pakistan has violated ceasefire 1,900 times this year alone, with 222 incidents reported in just 25 days post-revocation of Article 370 on August 5.
https://timesofindia.indiatimes.com/india/pakistan-violates-truce-along-loc-in-poonch/articleshow/71030273.cms
--------
India backs new sub-regional economic bloc, excluding Pakistan
Sep 8, 2019
NEW DELHI: India is backing the revival of a new regional economic bloc, excluding Pakistan as New Delhi presses ahead to deepen ties and push regional integration under the South Asia sub-regional Economic Cooperation (Sasec).
Given the political hostilities between the two nuclear-armed neighbours and the frustration with the slow progress over the South Asian Association for Regional Cooperation (Saarc), policymakers have decided to forge ahead with the new bloc of fast growing south Asian countries such as Bangladesh and Myanmar.
"India is also very keen about SASEC including Myanmar, Bangladesh, Nepal, Bhutan, Sri Lanka, Maldives and India. There will be a meeting of finance ministers for the first time next spring in New Delhi. Regional integration and cooperation is very important. Bangladesh is doing very well," Takehiko Nakao, president of the Asian Development Bank, told TOI.
Nakao said finance ministers from the new sub-regional economic block will meet in New Delhi next spring to thrash out the strategy for the way ahead.
Full report at:
https://timesofindia.indiatimes.com/india/india-backs-new-sub-regional-economic-bloc-excluding-pakistan/articleshow/71030222.cms
--------
On Pak orders, jihadis storm trader's home, injure 2-year-old
Sep 8, 2019
SRINAGAR: Four persons, including a 30-month-old girl, were injured when two terrorists barged into the house of a fruit trader in Dangerpora area of Sopore in north Kashmir's Baramulla district and opened indiscriminate fire on Saturday morning.
Baby Asma Jan, who was critically injured in the firing, was flown to AIIMS in New Delhi for specialised treatment on the instructions of national security adviser Ajit Doval, police said. The other three injured have been identified as Mohammad Ashraf, Mohammad Ramzan and Arshid Hussain.
Talking to reporters in Delhi, Doval said electronic intercepts showed that terrorists were angry with Hamudullah Rather, an officebearer of Sopore Fruit Traders's Association, because he had defied their diktats to suspend business. "Security forces have intercepted conversations where a Pakistan-based caller admonished terrorists for failing to stop the movement of apples from J&K to rest of the country," said the NSA.
"We should send you bangles instead of guns if you cannot stop movement of apples," Doval said quoting from the intercepts of the conversation between terrorists and their Pakistan-based handlers. He said that the two terrorists who carried out the attack were speaking in "Punjabi Urdu".
The J&K administration has been persuading the association to restart normal trading activities. Just a day before, over 750 apple-laden trucks had moved from the mandi.
Terror groups like Lashkar-e-Taiba, Jaish-e-Muhammed and Hizbul Mujahedeen have been threatening shopkeepers and traders to not open their establishments. They have been issuing these diktats by putting up posters, police sources said.
On August 29, three motorbike-borne terrorists killed 65-year-old Ghulam Mohammad for keeping his grocery shop open at Parimpora on Srinagar's outskirts. Though Ghulam and his wife, who was present when the assailants opened fire, pleaded for "pardon", the terrorists killed him, sources said.
Full report at:
https://timesofindia.indiatimes.com/india/on-pak-orders-jihadis-storm-traders-home-injure-2-year-old/articleshow/71030069.cms
--------
NC MPs move HC seeking meeting with Abdullahs, court seeks J&K reply
September 8, 2019
The J&K High Court has directed the Senior Additional Advocate General to seek instructions from state authorities and inform the court after National Conference MPs Hasnain Masoodi and Mohammad Akbar Lone filed a petition seeking a meeting with party president Farooq Abdullah and his son and former chief minister Omar Abdullah.
The single bench of Justice Sanjeev Kumar observed that before proceeding further in the matter, "it is necessary to first ascertain as to whether the petitioners have actually been prevented by the authorities from meeting their party president Dr Farooq Abdullah and Omar Abdullah, and if it is true, for what reasons".
Justice Kumar asked Senior Additional Advocate General Javid Iqbal to seek instructions from the state authorities and listed the matter for September 11.
Masoodi, a former judge, represents Anantnag constituency while Lone is the Baramulla MP.
Full report at:
https://indianexpress.com/article/india/nc-mps-move-hc-seeking-meeting-with-abdullahs-court-seeks-jk-reply-5976097/
--------
Fully convinced that most Kashmiris support Article 370 dilution: NSA Ajit Doval
September 7, 2019
National Security Advisor (NSA) Ajit Doval Saturday said that he is "fully convinced" that a majority of Kashmiris support the abrogation of Article 370, and affirmed that restrictions in Kashmir are aimed at preventing Pakistan from creating more mischief through proxies and terrorists, reported PTI. He also said that at least 92.5 per cent of the geographical area of Jammu and Kashmir is free of restrictions.
In a wide-ranging interaction with a select group of journalists, Doval said, "In the removal of Article 370, announced on August 5, "they (Kashmiris) see greater opportunities, a better future, more jobs for youths. There is a vocal minority that opposes it. It appears to people that that is the voice of the people. That is not necessarily true."
Doval added that "Article 370 "was not a special status. It was special discrimination. With its abrogation, we have brought Kashmiris at par with Indians."
On the situation in the Valley, Doval said landline connections are fully operational in the state and restrictions eased. "Restrictions have anyway been eased progressively, and only 10 of the 199 police districts in Kashmir, Jammu and Ladakh now still have prohibitory orders, while land-line telephones have been restored fully in all three areas."
Talking about the detention of political leaders in the state, Doval said that none of them have been charged with criminal offence or sedition. "Everything is done according to the framework of law, they can challenge their detention in Court. They are in preventive custody till environment is created for democracy to function, which I believe may happen soon," Doval said, adding that there could have been problems in maintaining law and order in case there were gatherings and terrorists would have used the situation.
He blamed Pakistan for fomenting unrest in Kashmir, and said that in a bid to achieve that aim, Pakistan has sent many terrorists into Kashmir with the intent of causing trouble, and to ensure that normalcy is not restored.
"If anybody is interested in restoring normalcy in Jammu and Kashmir it is India," he said. "We will not allow people to become victims of Pakistan's machinations and its bullets sent across the border. We will do everything in power to protect the people," he added.
Asked what India will do if Pakistan continues with its ways, Doval said, "There is a solution to every problem." He did not elaborate.
Questioned about the alleged human rights abuses by the Army, Doval pointed out that it is only the local police and central paramilitary forces that are deployed to maintain law and order. So, there is no question of atrocities by the Army, whose job is only to fight terrorists.
Accusing Pakistan of trying to create trouble in the Valley, Doval said, "230 Pakistani terrorists were spotted, some of them have infiltrated, some arrested. We are determined to protect the life of Kashmiris from Pakistani terrorists even if we have to impose restrictions. Terror is the only instrument Pakistan uses to create unrest."
He cited the case of two Punjabi-speaking terrorists whose conversations with their Pakistani handlers were intercepted in which they were reprimanded for not doing their job properly, and warned that Pakistan would send them bangles if they didn't do something quickly.
Full report at:
https://indianexpress.com/article/india/ajit-doval-jk-leaders-are-in-preventive-custody-till-environment-is-created-for-democracy-to-function-5974834/
--------
North America
US stresses need for direct talks between Pakistan, India
Anwar Iqbal
September 08, 2019
WASHINGTON: The United States has informed a group of Muslim organisations that it continues to support direct talks between India and Pakistan on Kashmir and other issues.
A delegation of the US Council of Muslim Organisations (USCMO) met US State Department's Deputy Assistant Secretary for Pakistan Affairs Ervin Massinga in Washington this week and conveyed their concern on the situation caused by India's Aug 5 decision to annex held Kashmir.
They are also believed to have urged the United States to play a role in easing tensions between South Asia's two nuclear-armed neighbours, India and Pakistan.
In a tweet posted on Friday afternoon, US Acting Assistant Secretary of State Alice G. Wells said that Mr Massinga conveyed the US position to the Muslim delegate, stating that Washington would continue to stress the need for India and Pakistan to peacefully resolve this issue.
"The US continues to support direct dialogue between India and Pakistan on Kashmir and other issues of concern — a message stressed in Deputy Assistant Secretary Massinga's recent meeting with the USCMO leadership," Ms Wells wrote.
Relations between India and Pakistan deteriorated rapidly after Aug 5 when Mr Modi withdrew special autonomy for occupied Jammu and Kashmir.
Pakistan strongly condemned the Indian action and pledged to continue to provide moral and political support to the Kashmiri people.
The US support for bilateral talks, however, is unlikely to resolve the issue because of India's stubborn attitude on its disputes with Pakistan.
At a recent joint news briefing with US President Donald Trump in France, Indian Prime Minister Narendra Modi acknowledged that there were "many bilateral issues between India and Pakistan". But when asked to comment on President Trump's offer to help resolve the Kashmir dispute, Modi said that "we don't want to trouble any third country as we can discuss and resolve these issues bilaterally".
He said India and Pakistan were together before 1947 and he was "confident that we can discuss our problems and solve them, together".
But India refuses to hold bilateral discussions with Pakistan, saying that there could be no talks as along as terrorist attacks inside India continued.
New Delhi also rejects Pakistan's assurance that it will not allow any terrorist groups to use its territory for carrying out attacks in or outside the country. Islamabad says the last attack in the Indian occupied Kashmir was locally motivated, but India disagrees, without sharing any evidence to support its claim of Pakistan's involvement.
Recently, Prime Minister Imran Khan and other senior Pakistan officials have warned that India may use false terrorism accusation to further aggravate the situation.
https://www.dawn.com/news/1504152
--------
Syrians arrive in Venezuela to guard minister wanted by the US: Report
7 September 2019
A group of guards from Syria reportedly arrived in Venezuela to operate as a security team for a Venezuela politician, who is among the most wanted in the US for drug trafficking.
Tareck El Aissami currently serves as Minister of Industries and National Production under Venezuelan dictator Nicolas Maduro. El Aissami and his family have helped sneak Lebanese Hezbollah militants into the country, gone into business with a drug lord and shielded 140 tons of chemicals believed to be used for cocaine production, according to a secret dossier reported by The New York Times.
The information about the Syrian guards was revealed by Simon Novis, Special Security Commissioner for Venezuela's opposition leader Juan Guaido, in an interview reported by Guaido's communications website. Guaido is recognized as Venezuela's interim ruler by many nations including the US and UK.
"A group of Syrians arrived to take care of the first security ring of El Aissami and his family," said Novis. He said foreign security staff were brought in because El Aissami and his party do not trust the Venezuelan officials who were assigned to their security ring.
Venezuela en UK
@EmbajadaVE_UK
Special Commissioner for Security, @Simonovis revealed yesterday that a group of Sirians arrived in #Venezuela to join the security team of Tarek El Aissami, member of Maduro's cabinet and one of the most wanted criminals by @ICEgov for drug trafficking crimes. https://twitter.com/Presidencia_VE/status/1170149366209941509 …
Centro de Comunicación Nacional
✔
@Presidencia_VE
.@Simonovis reveló que grupo de sirios llegó a Venezuela para custodiar a Tareck El Aissami https://bit.ly/2kybKOC
5
1:15 PM - Sep 7, 2019
Twitter Ads info and privacy
17 people are talking about this
The United States blacklisted El Aissami for drug trafficking in 2017. The US Treasury said El Aissami oversaw or partially owned narcotics shipments of more than 1,000 kilograms from Venezuela on multiple occasions, including shipments to Mexico and the United States.
Full report at:
https://english.alarabiya.net/en/News/world/2019/09/07/Syrians-arrive-in-Venezuela-to-guard-minister-wanted-by-the-US-Report.html
--------
US judge reduces jail terms of Blackwater guards involved in Iraq massacre
Sep 8, 2019
A US federal judge has drastically reduced prison terms of three American guards involved in massacring unarmed Iraqi civilians – including women and children -- in Baghdad in 2007 while working for the notorious Blackwater security firm, praising the killers as "fine young men."
US District Judge Royce Lamberth reduced the 30-year sentences of former Blackwater guards Paul Slough, Evan Liberty and Dustin Heard to only 15 years, 14 years and 12 years and seven months, respectively, AP reported on Friday.
Judge praised killer guards as 'fine young men'
In an earlier statement leading up to his Thursday's ruling, Lamberth had expressed sympathy for the guards that indiscriminately gunned down the Iraqi civilians, insisting that it was clear to him that "these fine young men just panicked."
The three had already received 30-year terms in a 2015 trial – a mandatory sentence for the commission of a felony while using a military firearm. A fourth Blackwater guard in the same trial, identified as Nicholas Slatten, was sentenced to life in prison for initiating the brutal carnage. All four expressed no remorse for the mass killings and justified it as "honorable service" to their country under stressful "fog of war."
"I cannot say in all honesty to the court that I did anything wrong," Heard told the judge.
"I feel utterly betrayed by the same government I served honorably," Slough said.
The case stemmed from a chaotic 2007 incident -- during the US-led military invasion of Iraq -- when the men's Blackwater unit opened fire at a Baghdad traffic circle, killing 14 unarmed Iraqis and wounding 17. The men all essentially blamed the fog of war, claiming they mistakenly believed they were under attack.
The carnage strained US-Iraqi relations and focused intense international scrutiny at the time on the extensive use of private military contractors in Iraq by the Americans and other Western forces.
The original convictions of the three guards were all overturned on appeal in 2017. The three-judge panel ruled that the 30-year mandatory sentence was unjust and excessive, saying the rule was intended for drug traffickers and gang members and had never before been applied to military contractors who had essentially be deputized by the US government.
'Unprovoked ambush of Iraqi civilians'
Prosecutors had described the shooting as an unprovoked ambush of Iraqi civilians and said the Blackwater guards haven't shown remorse or taken responsibility.
"These four men have refused to accept virtually any responsibility for their crimes and the blood they shed that day," said Assistant US Attorney Patrick Martin as quoted in an earlier AP report on the case.
Video monitors in the courtroom showed photos of the dead and wounded, as well as images of cars that were riddled with bullets or blown up with grenade launchers fired by the Blackwater guards.
Full report at:
https://www.presstv.com/Detail/2019/09/08/605608/US-Blackwater-guards-Iraq-massacre-District-Judge-Royce-Lamberth
--------
US support for Saudi war in Yemen has become political liability: Analyst
Sep 7, 2019
The administration of US President Donald Trump is likely to reduce support for Saudi Arabia's deadly military aggression in Yemen due to the political disadvantages for the US, both domestically and globally, says an American political analyst in Virginia.
"It appears that the Trump administration is trying to rein in the Saudi aggression in Yemen somewhat because it has become an international political liability; it has also become a domestic political liability" said Keith Preston, chief editor of AttacktheSystem.com.
The shift in policy is also partly due to Trump's 2020 re-election campaign, Preston told Press TV on Friday.
"Plus, there's the fact that the destabilization of Saudi Arabia threatens a lot of American holdings in that particular region, I think that an important motivating factor as well," he added.
A group of Republican and Democratic lawmakers in the US Congress are making a new effort to end Saudi Arabia's deadly war against the people of Yemen, amid international outrage over the Saudi regime's bombing of a Yemeni prison that killed over 100 people.
The lawmakers are seeking to protect an amendment to the annual US defense policy bill, which prohibits the Pentagon from providing the spare parts that Saudi Arabia needs to keep its warplanes, which are mostly US-made, in operational status.
The measure also ends certain forms of intelligence-sharing between Washington and Riyadh.
Trump has pledged to veto any bills that seek to undermine ties with Saudi Arabia as he did one earlier this year which banned a massive $8 billion arms sale to the kingdom.
Trump and his team have time and again touted Saudi Arabia as an important regional partner, which plays a vital role in keeping Israel secure while being considered a counterweight to Iran.
However, the war on Yemen, which has killed tens of thousands of people and caused near-famine conditions in the impoverished country, is drawing international attention.
A United Nations report released Tuesday said the US, UK and France may be complicit in war crimes in Yemen by arming and providing intelligence and logistics support to the Saudi-led coalition that starves civilians as a war tactic.
Full report at:
https://www.presstv.com/Detail/2019/09/07/605576/US-Saudi-Arabia-Yemen-Keith-Preston
--------
The end of white America and Israel lobby
Sep 7, 2019
By Paul Craig Roberts
The end of white America is now assured. The only question is the fate of the remnants.
The lack of response by white Americans to their demonization as they decline as a percent of the population demonstrates their lack of concern with their fate.
It seems as if the West is dead in every way. The rule of law is dead throughout the West. Democracy is a scam. There is oligarchic rule. Everything is done for organized interest groups. Nothing is done for the people. Putin just declared: "West's leading role is ending." How right he is.
The Brookings Institution is not a racist white supremacist outfit. It is a neoliberal/neoconservative "think tank." One of its members, William H. Frey, has authored a report, "Less than Half of US Children Under 15 Are White, Census Shows," based on the recently released 2018 US Census Bureau report. The information in Frey's article is fascinating. It shows a disappearing white population.
The number of white children, that is, the group of the next generation of parents, is not only declining relative to the populations of non-whites but also absolutely. During 2010-2018 the number of white children shrank by 2.2 million. Overall, the white population of America has declined from 80 percent of the US population in 1980 to 60 percent in 2018.
The American middle class, which is largely white, bears the brunt of income taxation which means that white Americans bear the brunt of the cost of the welfare support systems. The white middle class also bears the brunt through property taxes of the public school systems. Many middle class members pay again in private school tuition for the education of their children in safer and more ordered environments. The cost of university education is exorbitant. All of these costs are rising faster than middle class incomes, and this limits white procreation.
The decline of people of European descent as a percentage of the US population can only accelerate as the child-bearing ability of the white population evaporates. The median age of Americans of European descent is 43.6 years. The median age of Hispanics is 29.5 years, and the median age of multiracial residents of the US is 20.7 years. Over the past seven years, Americans of European descent experienced an excess of deaths over births.
Frey concludes his article:
"These demographic trends make plain that, as racially diverse younger generations become part of the labor force, tax base, and consumer base, the nation will need to balance these groups' distinct interests and needs in areas such as education, family services, and affordable housing with the health and social support requirements of a large and faster growing older population that will be entering its post retirement years. Indeed, the youthful 'minority white' tipping point shown in the new census statistics needs to be duly noted. It has important implications for America's future."
This is the question that Frey quietly raises: "In Identity Politics America, where white people are demonized as victimizers and everyone else receives sympathy as their victims, where the Mexican-American head of New York City public schools has announced his campaign to remove 'toxic white values' from the school curriculum, where the New York Times has committed to 'reframing' the United States as a racist white slave state, will the new majority composed of white people's victims consent to giving up resources to provide Social Security and Medicare for people they have been brought up to believe victimized them?"
The chances of such support are further negated by the diminishing numbers of the white voting population and by the decline of the US economy that is forcing the US labor force into lowly paid domestic service jobs which are themselves threatened by robotics. Will a non-European population struggling to make ends meet accept the taxation necessary for Social Security and Medicare for a demonized group of the population that they have been taught to hate? Identity Politics does not permit social cohesion. Decades of unbroken massive inflows of third world immigrants have destroyed the "melting pot" and produced in its place a tower of babel. Multicultural populations lack a common interest. They are the antithesis of a nation. Everywhere in the Western world the nations are expiring.
In 1973 John Raspail predicted the fate of European peoples in his novel, The Camp of the Saints. White people are now living his novel.
It will be interesting to see if the growing Hispanic population displaces the shrinking white population as the group against which blacks will make claims for slavery reparations. Hispanics consist in part of Spanish and Portuguese ancestry, and the Spanish and Portuguese were colonial powers in the New World who enslaved people. In a world of Identity Politics, will Hispanics replace white people as the victimizer?
It will also be interesting to see if the Israel lobby can put the same ring through the nose of the rising Hispanic/Asian majority as they have through the nose of the declining white majority. Can Hispanics and Asians be made to feel guilty about the holocaust and persecution of Jews? Can their leaders, like white leaders, be bought into Israel's service?
Or will people accustomed to the privilege of victim status themselves have the confidence to reject that they owe obligations to other victims?
Full report at:
https://www.presstv.com/Detail/2019/09/07/605570/The-end-of-white-America-and-Israel-lobby
--------
Bolton: No sanctions relief until Iran stops lying and spreading terror
September 07, 2019
RIYADH: Iran will not receive any sanctions relief until the regime stops lying and spreading terror, a top US administration official said.
US National Security Advisor John Bolton said, "We can talk, but #Iran's not getting any sanctions relief until it stops lying and spreading terror!"
Bolton tweeted a picture showing what appears to be a satellite image of the Iranian ship, the Adrian Darya.
"Anyone who said the Adrian Darya-1 wasn't headed to #Syria is in denial," President Donald Trump security advisor wrote on Friday.
"Tehran thinks it's more important to fund the murderous Assad regime than provide for its own people," Bolton said.
The Adrian Darya, which carries 2.1 million barrels of Iranian crude worth some $130 million, switched off its AIS beacon just before 1600 GMT Monday, according to the ship-tracking website MarineTraffic.com. The ship was some 45 nautical miles (83 kilometers) off the coast of Lebanon and Syria, heading north at its last report.
The tanker, which was pursued by the US across the Mediterranean Sea, slowed to a near-stop on Sunday off the coast of Syria.
The US has sanctioned the Adrian Darya's captain and has sought to impound the vessel.
Full report at:
https://www.arabnews.com/node/1550841/middle-east
--------
Argentina's crisis window of opportunity for Turkey
Aysu Biçer
08.09.2019
Argentina's economic turmoil has raised some concerns for future emerging economies, revealing some facts about the role of the International Monetary Fund (IMF) in global development and providing opportunities for Turkey, experts say.
The South American nation has faced massive financial turmoil in recent weeks due to uncertainty stemming from the upcoming presidential election, which has shaken off business-friendly President Mauricio Macri's power.
When he became the president in 2015, Macri pledged to revitalize Argentina's economy yet less than three years later, he had to opt for the IMF.
A stand-by agreement with the IMF in mid-2018 for $57 billion aimed at convincing foreign investors to invest in the country as well as supporting the government in fighting against ever-increasing fiscal deficit and skyrocketing inflation.
But the fund has not been helpful, as expected, and austerity measures have caused Argentinians -- who accuse IMF policies of destroying the economy in the early 2000s -- to protest Macri's government amid rising tensions over higher consumer prices.
Also, foreign investors have rushed to sell pesos as the local currency grapples with upheavals.
Investors eye Turkey
"Although the crisis in Argentina has a negative impact on emerging economies, this would also bring some opportunities for Turkey that relatively seems better compared to others," said a source, from JP Morgan who asked not to be named due to restriction on speaking to media.
He added not only Argentina faces these problems but also other emerging countries such as Russia, Brazil and Mexico, having led foreign investors to return to Turkey.
Recalling the sanctions imposed on Russia over the Crimea crisis, he noted financial institutions such as European Bank for Reconstruction and Development (EBRD) and International Financial Cooperation (IFC) have turned their eyes to Turkey.
"Financial markets are not black and white," he said, adding that Argentina's economic turmoil could have both negative and positive impacts on Turkey's economy.
Comparing Argentina and Turkey
Erhan Aslanoglu, a professor from Istanbul-based Piri Reis University, said Turkey and Argentina have different dynamics in terms of their economic fundamentals.
"The former has private sector debt while the latter struggles with government debt, credit-based economic growth and current balance deficit," he said.
He added that Argentina could not rebalance its economy since last year despite an IMF loan and higher interest rates on its money.
"Turkey has a different story. Aftermath of the currency crisis broke out last year, it has managed to get in the rebalancing process," he said, citing the economy grew at a slower rate in the second quarter of 2019 than in the previous three months.
Turkey's latest official figures showed that the economy has been doing better than many expectations, with the help of household consumption, export, tourism and fiscal stimulus.
Polls by Anadolu Agency predicted the economy to contract by more than 1.5%, forecasting the figure at 1.8%.
'Argentina has potential'
Necati Kutlu, the director of the Center for Latin America Studies at Ankara University, warned that one should be quite careful in evaluating the two countries' economic outlook since there are big differences in terms of demographic features.
"The two countries differ in demographic characteristics, for instance Turkey's population reaches 82 million while Argentina has almost half of it, " he said.
Pointing to another difference, Kutlu noted that Turkey is a touristic country and thanks to that it has periodic revenues which Argentina does not.
"This is an important difference. We can not ignore the fact that this aspect helped Turkey in rebalancing its economy during the currency shock," he said.
He also suggests that Argentina will overcome this crisis with the help of its demographic features.
"Argentina is a very sizable country, with 2,780,400 square kilometers of fertile land, making it have a low population density as well as great potential for agriculture," he said.
He added the upcoming elections are likely to alter power yet there will not be radical changes in Argentina's politics, suggesting the country will not turn into Venezuela.
IMF programs in spotlight
The IMF has been at the heart of the global economic crisis management, drawing both criticism and praise for its attempts in promoting financial stability.
The latest developments in Argentinian economy have brought the issue on the table again and there seems to be some lessons from which some developing countries can benefit.
Some economists claim that the fundamentals of IMF programs need some adjustments, citing that those programs are mainly focused on reducing government deficits.
According to Aslanoglu, the main approach of IMF programs is problematic, focusing on only reducing government deficit.
"We have seen this from its [IMF's] Greek experience, adjustment programs force reductions in social spending from which the poor particularly benefit," he said.
Austerity measures handed down by the EU and the IMF in 2010 -- in exchange for massive bailout aid -- has drawn criticism across Greece.
He added despite many critics have offered the IMF option since the currency crisis broke out last year, Turkey does not need to seek IMF assistance.
"If right fiscal policies are implemented, Turkey could easily find the cash it needs for its private sector debt," he said.
Full report at:
https://www.aa.com.tr/en/americas/argentinas-crisis-window-of-opportunity-for-turkey/1575854
--------
US welcomes Denmark's military assistance in Syria
Servet Günerigök
07.09.2019
WASHINGTON
The U.S. on Friday hailed Denmark's decision to deploy troops in Syria to assist the global coalition fight against Daesh.
"The United States welcomes the announcement by the Danish Government to make a military deployment to Syria in support of Operation Inherent Resolve and to continue to share the burden and responsibilities of this important mission," said Pentagon spokesman Jonathan Hoffman.
The statement was made hours after Denmark Prime Minister Mette Frederiksen announced the country would send a 14-member medical team, combat battalion, warship and four fighter aircraft with support personnel.
"Our Danish partners will work with the residual U.S. military force in northeast Syria to support stability and security," said Hoffman.
"We look forward to working with our Danish ally to continue our shared mission of achieving ISIS's enduring defeat-in Syria and wherever else the group may operate," he said, using an alternate name for Daesh.
Full report at:
https://www.aa.com.tr/en/americas/us-welcomes-denmarks-military-assistance-in-syria/1575223
--------
Southeast Asia
Islamic State-Affiliated Group Calls for Jihad in Papua: Defense Minister
BY: TELLY NATHALIA
SEPTEMBER 06, 2019
Jakarta. Defense Minister Ryamizard Ryacudu told members of the House of Representatives on Thursday that an Islamic State-affiliated militant group has called for jihad in Indonesia's part of Papua Island.
The minister made the statement during a hearing with Commission I of the House – that oversees foreign affairs, security and intelligence issues – on the current security situation in Papua and West Papua.
"There is a group affiliated with the Islamic State [operating] in Papua that has called for a jihad there," Ryamizard said as quoted by kompas.com.
He did not say whether the group was involved in a series of violent protests in Papua and West Papua since Aug. 19.
According to the retired Army general, three groups had fomented tension in Indonesia's two easternmost provinces: armed rebels, political rebels and clandestine groups.
Police have confirmed Ryamizard's statement about the presence of an IS-affiliated group in Papua.
National Police spokesman Brig. Gen. Dedi Prasetyo said the group is Jamaah Ansharut Daulah (JAD).
In July last year, the South Jakarta District Court declared JAD a forbidden organization for its involvement in high-profile terrorist attacks in Indonesia.
"I have confirmed with [police anti-terror unit] Detachment 88 that there is a strong indication an IS group is in Papua. That has been confirmed, it is there," Dedi told Jakarta Globe on Friday.
Police said JAD's presence has been detected in Papua since two years ago and its members have been increasingly active since last year.
"They planned to bomb the Manokwari police headquarters [in West Papua] last year but Detachment 88 managed to capture them before it happened," Dedi said.
The spokesman said JAD members are now thought to be active in Jayapura, Wamena, FakFak, Manokwari and Merauke.
"Their [possible] involvement in the riots [in Papua and West Papua] is still being investigated," he said.
During a series of raids in Bekasi, West Java, and in several cities in East Java this year, Detachment 88 had arrested some JAD members who had gone to Papua, Dedi said.
https://jakartaglobe.id/context/islamic-stateaffiliated-group-calls-for-jihad-in-papua-defense-minister
--------
'Buy Muslim-made first' campaign kicks off in Penang
Sep 8, 2019
BAYAN LEPAS: The "buy Muslim-made first" campaign, championed by NGO group Gerakan Pembela Ummah (Ummah), has kicked off in Penang on Sunday (Sept 8).
The launch of the campaign saw about fifty Muslim entrepreneurs gather at the Hotel Pen-Mutiara here Sunday.
Ummah national deputy chairman Mohd Zai Mustafa said Penang was chosen because the state has a good business ecosystem and is one of the biggest cities in the northern region.
"Penang can provide opportunities for Muslim products, so I think we can help Muslim businessman promote their products here," he said at a press conference during the launch of the campaign.
He also stressed that the campaign was not a boycott campaign but to empower the economy and create a healthy environment between the Muslim community and others.
Full report at:
https://www.thestar.com.my/news/nation/2019/09/08/039buy-muslim-made-first039-campaign-kicks-off-in-penang
--------
Muslim rebels hand over guns in Philippines peace deal
September 7, 2019
SULTAN KUDARAT: Muslim rebels in the mainly Catholic Philippines began handing over their guns to independent foreign monitors Saturday, as part of a peace treaty aimed at ending a decades-long separatist insurgency that has left about 150,000 people dead.
Just over a thousand guerrillas in the country's restive south are turning in 940 weapons in a single day, in a graduated decommissioning process that aims to turn the Moro Islamic Liberation Front (MILF), the country's largest rebel force, into a regular political party.
The fighters demobilised on Saturday represent a symbolic first step towards retiring what MILF says is a force of 40,000 fighters in the coming years.
"The war is over… I have no firearms left," Paisal Abdullah Bagundang, 56, a self-described veteran of more than 100 firefights with government security forces since the 1970s, told AFP.
But the disarmament will take time to make an impact in a place where violence is an almost daily threat.
A bomb hidden in a parked motorcycle exploded near a public market in Isulan town early on Saturday, just hours before President Rodrigo Duterte was to witness the decommissioning ceremony some 40km away in Sultan Kudarat.
Police said eight people were injured in the attack that was later claimed by the Islamic State (IS) group, according to the SITE Intelligence Group.
The decommissioning process "should not lead to expectations that it is going to result in a major deceleration in attacks", said Francisco Lara, senior conflict adviser for Asia at watchdog group International Alert, noting that the general public in the region are also armed.
Acquiring a gun is "like buying fish in the market" in the southwestern provinces where most of the Philippines' Muslim minority live, MILF commander Murad Ebrahim told reporters.
Out "if people no longer feel they need firearms to survive then they will easily give them up", added Ebrahim, who is also chief minister of the area that has its own regional parliament, but no separate police force or military.
We are civilians now
About a third of MILF combatants and their weapons are to be retired over the coming eight months in the first phase of the decommissioning process.
Each retired fighter will receive a million pesos' (about US$19,000) worth of cash, scholarships, health insurance, and training to become productive civilians.
Rebels facing criminal cases related to the insurgency will be granted amnesty, while those qualified can train to become a soldier or a police officer, Duterte's peace adviser Carlito Galvez told reporters.
"In order to have an enduring peace, we have to change the mindset of the people," he said.
Suharto Abdullah, 36, told AFP he had joined the MILF when he was 10 years old, but now plans to sell rice.
"We are civilians now and won't be carrying guns anymore," Abdullah said.
Saida Limgas, who took up arms 50 years ago, warned the weapons handover will not prevent her and others from picking up guns again if poverty continues to hound their communities.
"The war will resume if the government reneges on what it promised us," said the 66-year-old, who said she dropped out of a Catholic-run high school and became a rebel courier and cook in 1969 after soldiers killed several of her cousins.
Full report at:
https://www.freemalaysiatoday.com/category/highlight/2019/09/07/muslim-rebels-hand-over-guns-in-philippines-peace-deal/
--------
Mahathir tells Malaysia's Malay-Muslims to 'work harder'
07 SEPTEMBER, 2019
KUALA LUMPUR — Just days before a mega-rally organised by Malaysia's race- and religion-based opposition parties, Prime Minister Mahathir Mohamad has launched a blistering salvo against the ethnic Malay-Muslim community, calling on them to "work harder" to achieve success rather than merely getting angry at others.
In a blog post on Friday (Sept 6), Dr Mahathir said Malays — who form the bulk of Malaysia's multi-ethnic electorate — "still refuse to work".
"Malays should realise what is happening to them. Unfortunately, they have not realised. They still refuse to work. The Malays would surrender all jobs to foreigners," he wrote.
"Foreigners have flooded our country. Seven million foreigners are still here. They work. What will happen to the Malays?"
Malaysia's population is around 31 million.
Dr Mahathir, who also served as prime minister from 1981 to 2003, has long railed against what he perceives as the Malay community's lack of drive. During his first stint as prime minister, he pushed for the country's industrialisation and fiercely promoted race-based affirmative action policies aimed at reducing socioeconomic inequality between the Malays and other races in Malaysia, which include ethnic Chinese and Indians.
"Our fate is in our own hands. Getting angry with other people will not solve our problems … Because [Malays] were not willing to work hard, to do business seriously, they remained poor," wrote Dr Mahathir, who returned to power in last year's general election.
Dr Mahathir's remarks come amid rising racial tensions over issues such a perceived pro-Islamic bias in public education, the presence of a controversial Indian Muslim preacher, and a campaign to boycott 'non-Muslim' products by social media groups that have garnered hundreds of thousands of members.
While non-Malays accuse the government of pandering to Malay voters, Malays question whether it can continue to safeguard their privileges, which are enshrined in the constitution.
"His statement was made to give the ethnic Chinese a better understanding of the Malays' weak position in the economy, and to send the message that Malays' ability to boycott others is still limited as they are reliant on other ethnicities when it comes to the economy," said political scientist Awang Azman of University Malaya's Institute of Malay Studies.
Government leaders – including Dr Mahathir and deputy prime minister Wan Azizah Wan Ismail — have urged Malaysians to ignore all calls for a race-based boycott and instead focus on supporting local businesses.
As Dr Mahathir's Pakatan Harapan coalition struggles to secure the Malay community's support — it won the last election with less than 30 per cent of the Malay vote — right-wing race and religion-based opposition parties have capitalised. The United Malays National Organisation (Umno), which led Malaysia for over 60 years, and Parti Islam Se-Malaysia (PAS) are teaming up, and making their partnership official with a two-day mega-rally slated to end on September 14, just two days before Malaysia Day.
Already, opposition members have latched onto Dr Mahathir's remarks as proof of his inability to defend the community, accusing him of "ridiculing" Malays.
"To make a nation prosper comes down to good policy formulation, good education, and effective implementation," said Umno leader Razlan Rafii.
But political risk analyst Amir Fareed Rahim of KRA Group said Dr Mahathir's remarks were nothing new. He said they were in line with themes Dr Mahathir has returned to throughout his public career, specifically that Malays, who make up over 60 per cent of Malaysia's demographic, need to lift themselves economically through hard work.
"The prime minister has been travelling abroad extensively over the past few weeks. He has been seeing and listening to the experiences, issues and challenges facing them," said Mr Amir.
"Therefore, he must have had time to reflect on Malaysia's own economic problems and how, to his mind, it is lagging behind its neighbours. His frustrations with what he sees as the behavioural problems of the community may also be coming to the fore as he seeks to push through as much reform as he can in the time he has left."
But while Dr Mahathir's message — and staunch credentials as a Malay nationalist — remains consistent, it may not resonate the way it did in the 1980s and 1990s.
Full report at:
https://www.todayonline.com/world/mahathir-tells-malaysias-malay-muslims-work-harder
--------
Daesh bombing wounds eight people in southern Philippines
Sep 8, 2019
The Daesh terrorist group has carried out a bombing attack in a public market in the southern Philippines, wounding at least seven people there.
Authorities said the incident took place in front of a public market in the city of Isulan in the province of Sultan Kudarat early on Saturday.
Major Arvin Encinas, the Philippines army spokesperson, said the injuries occurred following the explosion of an improvised explosive device (IED) that had been placed beside a parked motorcycle in the vicinity of the public market.
Reports said the victims were transferred to the Sultan Kudarat provincial hospital for treatment.
There was initially no claim of responsibility for the bombing, but Daesh said in a statement later in the day that the group was behind the blast.
Condemning the attack in the southern province, the Philippines army also announced that it would launch a joint investigation into the incident with the police.
"I enjoin everyone to offer their prayers for the speedy recovery of the victims and for the enlightenment of the perpetrators who aim to undermine the stability of Sultan Kudarat," Lieutenant General Cirilito Sobejana, regional army chief, said in a statement.
"Let us be more vigilant and immediately report any suspicious person or things in your vicinity to avoid such occurrence," he added.
The explosion comes at a time of heightened tensions in the volatile southern Philippines after three incidents in the past year were bombings by pro-Daesh militants.
In April, a bombing attack carried out by suspected members of a pro-Daesh militant group injured at least 18 people in front of a business establishment in Sultan Kudarat.
Full report at:
https://www.presstv.com/Detail/2019/09/08/605624/Philippines-Daesh-Takfiri-terrorists-bombing-attack-Isulan-Sultan-Kudarat
--------
South Asia
Afghan forces recapture Wardoj, 100 Taliban terrorists killed
Sep 7, 2019
WARDOJ (AFGANISTAN): Afghan forces recaptured the Wardoj district in north-eastern Badakhshan. Nearly 100 Taliban terrorists were killed in the clashes.
The Ministry of Defence, said in a statement, that the security forces launched a major offensive and recaptured the district earlier today, Khaama News Agency reported.
The slain militants include the shadow governor of the Taliban, Qari Fasiuddin and many foreigner fighters, the statement further added.
Additionally, the Ministry of Defence said the security forces also killed Qari Hafiz, the shadow military chief of Taliban from Badakhshan.
The defence ministry added that the security forces also injured scores of Taliban militants during the large scale operation.
Meanwhile, the ministry said the security forces did not suffer casualties during the operation.
https://timesofindia.indiatimes.com/world/south-asia/afghan-forces-recapture-wardoj-100-taliban-terrorists-killed/articleshow/71023266.cms
--------
34 Taliban militants killed, detained in Special Forces raids in 6 provinces
07 Sep 2019
The Afghan Special Forces conducted multiple operations in six provinces killing at least 9 Taliban militants.
The military sources said Saturday that the Special Forces also detained 25 Taliban militants during the same operations.
The sources further added that the Special Forces detained 17 Taliban militants during a patrol in Dzadran district of Paktiya.
The Special Forces killed 5 Taliban militants during an operation in Pusht-e Rod district of Farah.
Furthermore, the Special Force killed 4 Taliban militants, detained 1 militant and destroyed a small cache of weapons in Kunduz city.
In another operation in Tarin Kot district of Uruzgan, the Special Forces detained 2 Taliban militants and destroyed a small cache of weapons.
Meanwhile, the military officials said the Special Forces detained 5 Taliban militants and destroyed a small cache of weapons during an operation in Chahar Bolak district of Balkh.
Full report at:
https://www.khaama.com/34-taliban-militants-killed-detained-in-special-forces-raids-in-6-provinces-03983/
--------
Militants kidnap 6 journalists in Paktiya province of Afghanistan
07 Sep 2019
The anti-government armed militants have kidnapped a group of six journalists in South-eastern Paktiya province of Afghanistan.
The informed sources said the militants kidnapped the journalists from the vicinity of Zurmat district Market on Friday.
The sources further added that the journalists were on their way to cover a event when the militants stopped and abducted them.
According to reports, the militants have abducted the reports of Radi Killid, Radio Milma, Pashtun Voice and Yaran Radio.
No individual or group has so far claimed responsibility for the kidnapping of the journalists so far.
Full report at:
https://www.khaama.com/militants-kidnap-6-journalists-in-paktiya-province-of-afghanistan-03982/
--------
Afghan government says real peace will come when Taliban stop violence
8 September 2019
Afghanistan's President Ashraf Ghani's office on Sunday said real peace was only possible when the Taliban stopped their violence and held direct talks with the government.
"Real peace will come when Taliban agree to a ceasefire," Ghani's officials said in response to US President Donald Trump's cancelling peace talks with Taliban's "major leaders" at a presidential compound in Camp David, Maryland.
Trump on Saturday said he cancelled peace talks after the insurgent group claimed responsibility last week for an attack in Kabul that killed an American soldier and 11 other people.
Full report at:
https://english.alarabiya.net/en/News/world/2019/09/08/Afghan-government-says-real-peace-will-come-when-Taliban-stop-violence.html
--------
Kabul welcomes US assurances on Taliban deal
7 September 2019
The Afghan government welcomed on Saturday a pledge by the Pentagon that the US would only accept a "good deal" from the Taliban after a wave of insurgent attacks sparked concerns of a hasty US withdrawal.
During a wide ranging press conference in Paris earlier Saturday US Defense Secretary Mark Esper sought to allay fears that Washington was looking for a quick exit from Afghanistan as it inches closer to a potential deal with the Taliban.
"My view, the US view is that the best way forward is a political agreement and that's what we're working diligently on right now," Esper told reporters.
"That doesn't mean we'll take any deal, but we want to make sure we have a good deal, a good enough deal that guarantees at least the security of our countries going forward and a brighter future for the Afghan people."
The remarks were greeted warmly in Afghanistan where the Taliban in the past week have attacked several provincial capitals and targeted Kabul with suicide bombers.
"The Afghan Government welcomes the latest remarks made by the Pentagon Chief on AFG peace process," presidential spokesman Sediq Sediqqi wrote on Twitter.
"We echo the need for sustainable peace, end of violence and a meaningful peace that would guarantee the security of Afghanistan and its allies."
Kabul has been gripped by a surge in deadly violence even after the US and the insurgents reached an agreement "in principle" that would see the US pull thousands of troops from Afghanistan in return for various Taliban security promises.
But there is increasing unease about the deal, which Afghans fear will lead to a return of the hardline Islamist Taliban to power.
A growing chorus of US lawmakers and officials have also expressed doubts as US negotiator Zalmay Khalilzad returned to Qatar this week for further talks with the insurgents.
Any deal would need final approval from President Trump, who has said that he wants to end American involvement in Afghanistan, launched after the September 11, 2001 attacks.
According to parts of the deal made public so far, the Pentagon would pull about 5,000 of its roughly 13,000 or so troops from five bases across Afghanistan by early next year.
The insurgents, in turn, will renounce al-Qaeda, promise to fight ISIS, a terrorist group, and stop extremists using Afghanistan as a safe haven.
Full report at:
https://english.alarabiya.net/en/News/world/2019/09/07/Kabul-welcomes-US-assurances-on-Taliban-deal.html
--------
Pakistan
Trilateral dialogue: Pakistan, China, Afghanistan agree on 'enhancing counterterrorism cooperation'
Naveed Siddiqui
September 07, 2019
Islamabad hosted the third round of China-Afghanistan-Pakistan Trilateral Foreign Ministers' Dialogue on Saturday during which the three sides "agreed on a list of initial projects of enhancing counterterrorism cooperation", according to a joint statement released by the Foreign Office.
The decision came after it was decided by all three sides to work towards the implementation of the trilateral MoU on Cooperation in Counterterrorism, signed at the 2nd round of Trilateral Foreign Ministers' Dialogue held in Kabul last year.
After a detailed round of discussions in this year's meet, all three countries reiterated their "strong resolve to fight terrorism in all its forms and manifestations and without any distinction". It was reaffirmed by all sides that no terrorist organisation, element or individual would not be allowed the use of their soils against any country.
According to the joint statement, the three sides "condemned the recent terrorist attacks in Kabul, Konduz, Baghlan and Farah, which have taken many innocent civilian lives including women and children".
The need to continue the joint fight against East Turkestan Islamic Movement (ETIM) and its supporters and facilitators was also acknowledged.
"The three sides committed to promote measures to counter terrorists' logistical capabilities including terror-financing, recruitment and training," according to the joint press release.
The trilateral forum was established two years ago, and the earlier meetings were held in Beijing and Kabul in 2017 and 2018. The next round of talks will be held in Beijing in 2020.
In today's dialogue, the three countries agreed to "continue their joint efforts for building political mutual trust and supporting reconciliation, regional peace and stability, development cooperation and connectivity, security cooperation and counter-terrorism as key areas of the trilateral cooperation".
Hope for intra-Afghan negotiations
China, Afghanistan and Pakistan, "reiterated their support for a politically negotiated settlement of the conflict in Afghanistan", according to the joint statement released.
The three sides taking stock of the talks between US and the Taliban, expressed hope that intra-Afghan negotiations including direct negotiations between Kabul and the Taliban begin soon. It was further hoped that this would lead to an eventual end of violence and bring lasting peace for the people of Afghanistan.
"They particularly underlined the need for an inclusive, Afghan-led and Afghan-owned peace process leading to a comprehensive agreement for durable peace and stability in Afghanistan," read the statement.
It further states that keeping in mind and respecting the will of the Afghan people and appreciating the Afghan government's efforts, China and Pakistan extended their continued support for peace in Afghanistan and the process for its reconciliation, reconstruction and economic development.
Key moment
Earlier in the day, Foreign Minister Shah Mahmood Qureshi received his Afghan and Chinese counterparts, Salahuddin Rabbani and Wang Yi, respectively, at Noor Khan Airbase in Islamabad.
Qureshi, while speaking on the occasion, said that the talks are happening at a key moment in the United States-led effort to negotiate peace in Afghanistan. He added that regional and domestic security will rely on ending the war in Afghanistan.
He termed the trilateral forum as a significant one and said that its importance will further increase with the improvement in peace and security in Afghanistan as it will open doors of economic activity and trade in the region.
The foreign minister said Afghanistan can also benefit from the multi-billion dollar China-Pakistan Economic Corridor (CPEC) and Gwadar port. He said peace and development in Afghanistan is important for overall regional development.
Talking about China-Pakistan relations, he said that the friendship between the two countries is time-tested. He thanked his Chinese counterpart for Beijing's support to Pakistan in the UN Security Council after India unilaterally withdrew occupied Kashmir's autonomous status.
Pakistan, China sign MoU for educational cooperation
Before the trilateral dialogue, FM Qureshi and his Chinese counterpart held discussions on bilateral relations and cooperation in diverse fields.
The two sides also signed a memorandum of understanding for educational cooperation between the two countries.
Under the agreement, Beijing will provide e-learning facility and aid the establishment of smart schools in Pakistan.
The signing ceremony was held at the Foreign Office. The Higher Education Commission's executive director and vice chairman of the Chinese International Development Cooperation Agency signed the MoU.
https://www.dawn.com/news/1504054/trilateral-dialogue-pakistan-china-afghanistan-agree-on-enhancing-counterterrorism-cooperation
--------
Pak foreign minister Shah Mahmood Qureshi holds talks with Chinese foreign minister; discusses Kashmir
Sep 7, 2019
ISLAMABAD: Pakistan and China on Saturday said the "unilateral" actions by India in Kashmir would further "complicate" the situation, as foreign minister Shah Mahmood Qureshi held bilateral talks with his Chinese counterpart Wang Yi.
Qureshi and Wang held delegation-level talks after the Chinese foreign minister arrived here to participate in the China-Afghanistan-Pakistan Trilateral Foreign Ministers' Dialogue.
The Foreign Office in a statement said the two sides had an in-depth exchange of views on the entire spectrum of bilateral relations and regional matters, particularly the situation in Kashmir.
Tensions between India and Pakistan have spiked after New Delhi withdrew Jammu and Kashmir's special status and bifurcated it into two union territories on August 5.
Asserting that abrogation of Article 370 was its internal matter, India has strongly criticised Pakistan for making "irresponsible statements" and provocative anti-India rhetoric over issues internal to it.
During the meeting, Qureshi and Wang also underscored commonality of views on Afghan peace process.
Qureshi said that Pakistan and China will continue their close coordination and consultation to ensure that peace and stability in the region is maintained.
"Wang reaffirmed China's support and reiterated opposition to any unilateral action as well as the measures that could further complicate the situation," the statement said.
Qureshi emphasised that friendship with China is the cornerstone of Pakistan's foreign policy and highlighted that "all-weather strategic cooperative partnership between the two countries is deeply rooted in mutual trust and respect and is an anchor of peace and stability in the region and beyond."
Qureshi said Pakistan will continue to support China on all issues of its core interest, including Taiwan, Tibet, Xinjiang and Hong Kong.
He also highlighted that China-Pakistan Economic Corridor (CPEC) has added a new dimension to bilateral ties and contributed immensely to the revitalisation of Pakistan's economy. He reiterated Pakistan's commitment to the timely completion of CPEC projects, especially those in Gwadar.
Wang highlighted that Pakistan-China relationship is based on mutual respect, trust and strong bonds of friendship.
The two sides also noted with satisfaction the bilateral cooperation at multilateral fora and reaffirmed their commitment to the purposes and principles of the UN Charter and support for multilateralism, free trade and win-win cooperation, the statement said.
Full report at:
https://timesofindia.indiatimes.com/world/pakistan/pak-foreign-minister-shah-mahmood-qureshi-holds-talks-with-chinese-foreign-minister-discusses-kashmir/articleshow/71027004.cms
--------
India preparing grounds for false-flag operation by projecting 2 Pakistani civilians as terrorists: ISPR
September 07, 2019
The military's media wing on Saturday cautioned that the Indian army and media were projecting two Pakistani civilians who had inadvertently crossed the Line of Control (LoC) last month as terrorists in "yet another attempt to fabricate facts".
On August 21, two farmers in Azad Jammu and Kashmir, identified as Muhammad Nazeem, 21, and 30-year-old Khalil Ahmed, had unintentionally crossed the LoC near Hajipir while they were out for cutting grass, a press release issued by the Inter-Services Public Relations (ISPR) said.
The incident was discussed by Pakistani and Indian military authorities during their weekly hotline contact on August 27. Indian authorities had at the time informed Pakistan that routine legal formalities were taking place and that they would get back on that account, according to the ISPR.
Also read: Pakistan won't leave Kashmiris alone: Bajwa
ARTICLE CONTINUES AFTER AD
However, on September 2 some Indian media outlets "fabricated the facts" and portrayed the two Pakistani individuals as members of a proscribed organisation.
As per the press release, the false Indian story was communicated to Indian authorities during the next weekly hotline contact on Sept 3.
It was then "assured by Indian side that due legal process was in place and outcome will be shared with Pakistani authorities", the military's media wing said.
In complete disregard to formal information-sharing mechanisms, however, "a false and fabricated story was presented by Indian Army during a presser on September 4 portraying the individuals as terrorists," the statement added.
It said the apprehended Pakistani civilians were also forced to give a confessional statement under duress of the Indian military that they were trained in Pakistan and belonged to Rawalpindi.
"The attempt is another Indian effort to prepare grounds for a false-flag operation," the ISPR said, adding that Pakistan was taking up a formal case regarding the development based on evidence to "expose Indian lies".
Full report at:
https://www.dawn.com/news/1504051/india-preparing-grounds-for-false-flag-operation-by-projecting-2-pakistani-civilians-as-terrorists-ispr
--------
Pakistan science minister, army PRO Asif Ghafoor troll India on Chandrayaan-2 setback
REMYA NAIR
Sep 7, 2019
New Delhi: Pakistan Science and Technology Minister Fawad Hussain mocked India Saturday after ISRO lost contact with the Chandrayaan-2 lander minutes before its scheduled touchdown. He wasn't the only one. The hashtag "#IndiaFailed" was trending on Twitter with many Pakistanis seeking to make fun of India even as uncertainty prevailed on the fate of the lander.
In a series of late-night tweets, Hussain questioned the wisdom of Prime Minister Narendra Modi government spending Rs 900 crore on the mission and said it was unwise to venture into unknown territory.
Ch Fawad Hussain
✔
@fawadchaudhry
Surprised on Indian trolls reaction, they are abusing me as I was the one who failed their moon mission, bhai hum ne kaha tha 900 crore lagao in nalaiqoon per? Ab sabr kero aur sonah ki koshish kero #IndiaFailed
27.7K
2:31 AM - Sep 7, 2019
Twitter Ads info and privacy
23.1K people are talking about this
Ch Fawad Hussain
✔
@fawadchaudhry
Modi g is giving Bhashan on Sattelite communication as he is actually an astronaut and not politician, Lok Sabha shld ask him QS on wasting 900 crore Rs of a poor nation... https://twitter.com/ndtv/status/1170078074290860032 …
NDTV
✔
@ndtv
"This is not a small achievement. Nation is proud of you. Hope for the best": PM Modi to ISRO Scientists #Chandrayaan2
Live Updates: https://www.ndtv.com/india-news/chandrayaan-2-live-updates-moon-mission-to-land-on-lunar-surface-tonight-2096457 …
Embedded video
8,169
2:34 AM - Sep 7, 2019
Twitter Ads info and privacy
16.8K people are talking about this
Ch Fawad Hussain
✔
@fawadchaudhry
Awwwww..... Jo kaam ata nai panga nai leitay na..... Dear "Endia" https://twitter.com/cgbassa/status/1170070679250714624 …
Cees Bassa
@cgbassa
Replying to @cgbassa and 5 others
It looks like the @isro #Chandrayaan2 Vikram lander has crashed. After the rough braking phase the Doppler curve from @radiotelescoop shows some wiggles, and then, at 20:20:01UTC the signals disappeared...
13.7K
2:06 AM - Sep 7, 2019
Twitter Ads info and privacy
23.9K people are talking about this
Hussain was joined by others from the ruling party, Imran Khan's Pakistan Tehreek-e-Insaf (PTI), and the Pakistan army.
Faisal Javed Khan, a member of the Pakistan Senate, the upper house of the country's legislature, called it a huge waste of money and suggested the money be used to build toilets. He likened the efforts for the Moon mission to India's "futile" attempts at "aggression, killings, genocide and violence in Kashmir because Kashmiris will get freedom".
In another tweet, he also equated it to the outcome of the Indo-Pakistan war of 1965 — the exact result of the war, which ended with a UN-mandated ceasefire, is a matter of much debate between India and Pakistan.
Faisal Javed Khan
✔
@FaisalJavedKhan
SmallMen in BigOffices-endia has failed big time.They don't ve to work on the moon-They ve to work on thr Toilets 1st. Waste of huge money same as waste of Endia's #aggression, #killings, #Genocide & #Violence in Kashmir because Kashmiris will get FREEDOM insha'ALLAH #IndiaFailed
3,586
4:44 AM - Sep 7, 2019
Twitter Ads info and privacy
1,161 people are talking about this
Faisal Javed Khan
✔
@FaisalJavedKhan
Onboard equipment malfunctioned, communications equipment failed and the Chandrayaan-2 mission ended in failure on September 6, 2019. History repeats itself - Recalling September 6, 1965. #IndiaFailed #VikramLander
3,298
7:05 AM - Sep 7, 2019
Twitter Ads info and privacy
1,286 people are talking about this
Pakistan armed forces spokesperson Asif Ghafoor tweeted from his personal handle and questioned whether the failure will be blamed on "innocent Kashimiris of "IOJK (India- occupied Jammu and Kashmir)" or on Muslim minorities in India or on "sane anti-Hindutva voices" or on the ISI, the country's notorious spying agency. He went on to say that the policy of Hindutva will "take u nowhere let alone the moon".
Asif Ghafoor
✔
@peaceforchange
Well done @isro
Who to blame:
1. Under siege innocent Kashmiris of IOJ&K?
2. Muslims & minorities of endia?
4. Sane anti hindituva voices of endia?
4. ISI?
hindituva will take you nowhere, let alone moon.
For another stream of lies & fake claims see replies!#AnotherVirChakar
26.7K
4:05 AM - Sep 7, 2019
Twitter Ads info and privacy
15.7K people are talking about this
However, some Pakistanis questioned the progress of Pakistan's space programme.
Naila Inayat नायला इनायत
✔
@nailainayat
A glimpse into Pakistan's space program, as designed by the Science and Technology minister. Riveting.
View image on Twitter
2,105
6:27 AM - Sep 7, 2019
Twitter Ads info and privacy
802 people are talking about this
At the last minute
In a heartbreaking moment for Indians, India lost communication with the Chandrayaan-2 lander just moments before the landing, with ISRO chief K. Sivan making the announcement early Saturday to the millions tuned in to the live telecast from the space agency's mission centre.
"Vikram lander descent was as planned and normal performance was observed upto an altitude of 2.1 km. Subsequently, the communications from the lander to ground station was lost. The data is being analysed," Sivan announced.
Chandrayaan-2 was India's first attempt at landing a spacecraft on the Moon. It had hoped to follow in the footsteps of the United States, China and the erstwhile USSR — who are, so far, the only other countries to have managed the feat.
Prime Minister Narendra Modi had joined ISRO scientists at the agency's Bengaluru headquarters ahead of the landing. Following the communication breakdown, he consoled the scientists saying India was proud of their achievements.
Narendra Modi
✔
@narendramodi
India is proud of our scientists! They've given their best and have always made India proud. These are moments to be courageous, and courageous we will be!
Chairman @isro gave updates on Chandrayaan-2. We remain hopeful and will continue working hard on our space programme.
194K
2:33 AM - Sep 7, 2019
Twitter Ads info and privacy
58K people are talking about this
https://theprint.in/diplomacy/pakistan-science-minister-army-pro-asif-ghafoor-troll-india-on-chandrayaan-2-setback/288163/
--------
Portraits of Ghalib, Faiz back on display at PAL building
Ikram Junaidi
September 08, 2019
ISLAMABAD: After a strong reaction from writers and poets, portraits of legendary poets Mirza Asadullah Khan Ghalib and Faiz Ahmad Faiz have once again been displayed in a gallery in the building of the Pakistan Academy of Letters (PAL) in the federal capital.
The portraits of Ghalib and Faiz, which had been on display in the gallery alongside a portrait of national poet Allama Muhammad Iqbal for years, were reportedly removed on the verbal directives of Ministry of National History and Literary Heritage secretary Nadeem Shafique Malik.
A PAL spokesperson, however, reje­cted such reports, claiming that the two portraits had not been removed from the gallery.
According to sources, Mr Malik during a visit to the PAL building recently directed its officials to remove the portraits of Ghalib and Faiz from the gallery and said only the portrait of Allama Iqbal should be displayed in it.
The move earned severe criticism from writers and scholars who termed it "disrespect to the legendary poets".
Criticising the step, poet Kishwar Naheed demanded removal of the secretary from his position. She said members of the country's literary community were shocked by the move.
Ms Naheed also expressed surprise over statements issued by some leaders of the ruling Pakistan Tehreek-i-Insaf over the issue. The statement of Education Minister Shafqat Mehmood that the portraits had once again been put on display in the gallery could not remove the anger among literary figures over such disrespect to the great poets.
She called for all literary figures of the country to come on roads to register their protest over the issue.
In a statement former chairman of Senate and Pakistan Peoples Party leader Mian Raza Rabbani severely criticised the step and demanded initiation of an inquiry into it.
He said: "The writing and poetry of these men of letters had a deep imprint on the creation and political development of a progressive Pakistan."
"I am writing a letter to the Chairman, Standing Committee on National Heritage, Senate of Pakistan, to take immediate suo motu notice and inform the people of Pakistan as to why they are being robbed of their cultural heritage," Mr Rabbani's statement said.
PAL statement
In a statement issued on Saturday, the PAL simply rejected the reports about removal of the portraits of Ghalib and Faiz from its gallery.
The PAL spokesperson claimed that it was a fake campaign that the great poets' portraits had been removed from the gallery.
Full report at:
https://www.dawn.com/news/1504157/portraits-of-ghalib-faiz-back-on-display-at-pal-building
--------
FO summons Indian envoy, condemns LoC ceasefire violations
Naveed Siddiqui
September 08, 2019
The Foreign Office (FO) on Saturday summoned Indian Charge d` Affairs Gaurav Ahluwalia to lodge a protest against "unprovoked ceasefire violations" by the Indian army.
According to a statement issued by the FO, "Director General (SA & SAARC) Dr Mohammad Faisal summoned Indian Charge d` Affairs Gaurav Ahluwalia today and condemned the unprovoked ceasefire violations by the Indian occupation forces along the Line of Control (LoC)."
The director general urged the Indian side to respect the 2003 ceasefire arrangement. He said that the Indian side should permit UNMOGIP to play its mandated role as per the UN Security Council resolutions.
According to the statement, in the most recent ceasefire violations on September 6 in Khuiratta sector of the LoC, the Indian forces deliberately targeted innocent civilian participants of peaceful rallies organised to show solidarity with the people of India-occupied Jammu and Kashmir.
"Four innocent civilians, Iftikhar, 35, son of Feroz, Raheel, 20, son of Zameer, Farhan, 20, son of Mehmood and Adeel, son of Mehmood, sustained serious injuries," said the FO statement.
"The Indian occupation forces along the LoC and Working Boundary have continuously been targeting civilian populated areas with artillery fire, heavy-caliber mortars, and automatic weapons, which still continues," it added.
According to the FO, unprecedented escalation in ceasefire violations by India has been continuing since 2017.
"The deliberate targeting of civilian populated areas is indeed deplorable and contrary to human dignity, international human rights and humanitarian laws."
Full report at:
https://www.dawn.com/news/1504068/fo-summons-indian-envoy-condemns-loc-ceasefire-violations
--------
Terrorism plot foiled as four 'LJ hitmen' held in Karachi
Imtiaz Ali
September 08, 2019
KARACHI: Police on Saturday claimed to have arrested four suspected hitmen belonging to the banned Lashkar-i-Jhangvi who were involved in targeted killing of policemen, members of the Shia and Bohra communities and a deadly attack on a DSN of Samaa TV, said Central SSP Arif Aslam Rao.
They also killed traders over non-payment of extortion and also worked as hired assassins, added the senior officer. The police claimed that the suspects were planning "heinous crime" to sabotage the peace and their nefarious designs had been foiled.
Speaking at a press conference at his office, SSP Rao flanked by SSP for investigation, Central, Mohammed Tariq Nawaz said that on July 17 a man identified as Ajoli Khan was shot dead by a gunman riding a motorcycle within the remit of FB Industrial Area. During investigation of the murder case, police arrested the victim's wife, Shagufta, and her alleged lover Zar Wali with the help of modern technology.
They 'confessed' to having orchestrated the murder and on the basis of information provided by them, the police detained two more suspects — Gora Khan, alias Garhan, and Shahid Humayun, members of the banned outfit.
During preliminary investigation, the both suspects revealed that they killed Ajoli Khan. They also provided information about their other accomplices.
Acting on a tip-off, the police apprehended two more suspects — Mohammed Hashim and Mohammed Fahim, alias Moavia.
The Central SSP disclosed that Gora Khan, Fahim and Hashim were "active" members of the banned sectarian outfit while Shahid was an accomplice of Gora, alias Gurhan.
Fahim, alias Moavia, "confessed" to his involvement in targeted killing of two policemen, three members of the Shia and Bohra communities and a deadly attack on Samaa TV's vehicle, killing a cameraman, and committing other heinous crimes.
Sharing details of the incident, the SSP said that the held suspect, Fahim Moavia, had admitted that he and his other accomplices were involved in the following heinous crimes:
Grenade attacks on police mobile and police officers near the Powerhouse Chowrangi whose case was registered at Khwaja Ajmair Nagri police station in year 2016; murder of police constable Munawwar at Landi Kotal Chowrangi in 2016; the killing of traffic police constable Mohammed Rashid at Five Star Chowrangi in 2016; the murder of Bohra community trader Hatim Feroz in North Nazimabad over non-payment of extortion in 2016 and killing of another trader near Erum Bakery over non-payment of extortion at Liaquatabad-4; the murders of two young men belonging to the Shia community near the Abbasi Shaheed Hospital and Taiser Town in 2016 and 2013 on sectarian grounds; a deadly attack on a DSN belonging to Samaa TV in North Nazimabad in which the channel's assistant cameraman Mohammed Taimur was killed.
Apart from these targeted killings, the held suspects had also made "startling revelations" and the investigators were working on it.
Full report at:
https://www.dawn.com/news/1504114/terrorism-plot-foiled-as-four-lj-hitmen-held-in-karachi
--------
Afghanistan acknowledges Pakistan's efforts for peace
Sep 8, 2019
ISLAMABAD: Afghan Foreign Minister Salahuddin Rabbani on Saturday acknowledged Pakistan's efforts in the ongoing peace talks between the United States and Afghan Taliban, saying due to Islamabad's intervention "violence in the country has dropped significantly".
He was addressing a joint press conference with his Chinese and Pakistani counterparts following the third round of China-Afghanistan-Pakistan Trilateral Foreign Ministers' Dialogue held in here in the federal capital.
The moot, initiated by Beijing in 2017 amid rising tensions between Islamabad and Kabul with an objective to help normalise relations and start joint development projects in Afghanistan, is the third since its inception.
It came at a time when the United States and Taliban are about to reach a deal for the withdrawal of US troops from the war-torn country. However, the Afghan government is not included in the process much to the chagrin of the Ashraf Ghani-led administration.
The Afghan FM said the Taliban needed to comply with the content of the deal if they were serious in bringing the peace back to the country. He said the trilateral dialogue was important for the region.
During the moot, Pakistan, China and Afghanistan agreed to expedite the Afghan-owned peace process for the greater interests of the region.
According to the statement, the three sides "condemned the recent terrorist attacks in Kabul, Konduz, Baghlan and Farah, which have taken many innocent civilian lives including women and children".
The need to continue the joint fight against East Turkestan Islamic Movement (ETIM) and its supporters and facilitators was also acknowledged.
"The three sides committed to promote measures to counter terrorists' logistical capabilities including terror-financing, recruitment and training," according to the joint press release.
The trilateral forum was established two years ago, and the earlier meetings were held in Beijing and Kabul in 2017 and 2018. The next round of talks will be held in Beijing in 2020.
In today's dialogue, the three countries agreed to "continue their joint efforts for building political mutual trust and supporting reconciliation, regional peace and stability, development cooperation and connectivity, security cooperation and counter-terrorism as key areas of the trilateral cooperation".
Foreign Minister Shah Mahmood Qureshi said the moot discussed the Afghan peace process and regional situation in the light of the current regional scenario. He said Afghanistan and Pakistan need each other for regional interests. He said the three countries were satisfied with the third round of the dialogue and have agreed to take it further.
Chinese Foreign Minister Wang Yi said that the trio agreed to enhance cooperation on counter-terrorism and security issues. He said Pakistan and Afghanistan need comprehensive efforts for peace in the region.
He expressed concerns over the situation in Afghanistan, saying lasting solutions were needed to maintain regional peace. He said China supported inter-Afghan dialogue between Kabul and Taliban.
The foreign minister said Afghanistan can also benefit from multi-billion dollar China Pakistan Economic Corridor and Gwadar Port. He said peace and development in Afghanistan are important for overall regional development.
Talking about China-Pakistan relations, he said that the friendship between the two countries is time-tested.
He thanked his Chinese counterpart for Beijing's support to Pakistan in the UN Security Council after India unilaterally withdrew occupied Kashmir's autonomous status.
CHINA SUPPORTS PAKISTAN ON KASHMIR:
China also reaffirmed its support to Pakistan and reiterated opposition to any unilateral action as well as the measures that could further complicate the situation following India's unilateral and illegal actions in Occupied Jammu and Kashmir.
The support was expressed by Chinese Foreign Minister Wang Yi during delegation-level talks between Pakistan and China in Islamabad on Saturday.
The Pakistan delegation was led by Foreign Minister Shah Mahmood Qureshi.
Wang Yi highlighted that the Pakistan-China relationship is based on mutual respect, trust and strong bonds of friendship.
He appreciated Pakistan's efforts to achieve goals of national development and extended China's utmost support in this regard.
The Chinese FM emphasised that CPEC is a demonstration project of high-quality BRI projects and is being implemented jointly by Pakistan and China.
Both countries have complete consensus on the future direction of CPEC to advance high-quality development in Pakistan.
He underscored that Pakistan's economic and financial situation was improving and the central banks of both countries must deepen their cooperation to reap dividends at a larger level. FM Qureshi briefed the Chinese side on the evolving situation in the occupied Kashmir.
He stressed that the ongoing curfew for over four weeks, the continued lockdown and communications blockade, and the massive human rights violations had created a dire humanitarian situation in the occupied region which needed to be urgently addressed.
FM Qureshi informed the Chinese side of the intensification of ceasefire violations across the Line of Control and emphasised that India could attempt a false-flag operation in order to divert attention from its crimes in Kashmir.
He conveyed that Pakistan is grateful for China's support in the aftermath of India's illegal and unilateral actions. He asserted that friendship with China is the cornerstone of Pakistan's foreign policy.
He said that Pakistan will continue to support China on all issues of its core interest, including Taiwan, Tibet, Xinjiang, and Hong Kong.
He reiterated Pakistan's commitment to the timely completion of CPEC projects, especially those in Gwadar.
The two delegations had an in-depth exchange of views on the entire spectrum of bilateral relations and regional matters, particularly the current situation in Occupied Kashmir.
Both sides also noted with satisfaction the bilateral cooperation at multilateral fora and reaffirmed their commitment to the purposes and principles of the UN Charter and support for multilateralism, free trade, and win-win cooperation.
Both sides also signed a memorandum of understanding for educational cooperation between the two countries. Under the agreement, Beijing will provide e-learning facility and aid the establishment of smart schools in Pakistan.
Full report at:
https://www.pakistantoday.com.pk/2019/09/07/afghanistan-acknowledges-pakistans-role-in-peace-talks/
--------
Top US military commander arrives in Pakistan
Sep 8, 2019
United States Central Command (US CENTCOM) commander General Kenneth McKenzie Jr arrived in Islamabad on Saturday along with a 17-member delegation.
According to reports, Gen McKenzie will hold important meetings with civil and military leadership.
McKenzie and US Ambassador to Pakistan Paul Jones also visited the Tarbela Dam on Saturday.
During the visit, he had a round of various components of the project including the Main Dam, Spillways, the Reservoir and the Power House, said a press release.
Welcoming the US delegation, WAPDA Chairman Lt Gen (r) Muzammil Hussain said that Tarbela Dam has been playing a vital role for economic stability and social development of Pakistan since its completion in 1974 by providing water for agriculture, mitigating floods, and injecting a sizeable quantum of low-cost and environment-friendly hydel electricity to the National Grid.
Despite being in the fifth decade of its life, Tarbela Reservoir can still store more than 6 million acre feet (MAF) of water.
Earlier this year, McKenzie met with Prime Minister Imran Khan where the two dignitaries discussed the Pak-US relations and the ongoing Afghan peace talks, among other matters.
General McKenzie Jr, who took over as head of the US CENTCOM in May after General Joseph Votel's retirement, also met with Chief of Army Staff (COAS) General Qamar Javed Bajwa.
Full report at:
https://www.pakistantoday.com.pk/2019/09/07/top-us-military-commander-arrives-in-pakistan/
--------
Mideast
Iran's army chief: Day of Israel's 'demise' not far away
7 September 2019
Israel's "demise" will soon be witnessed, said the commander of the Iranian army, Maj. Gen. Abdolrahim Mousavi, warning that any tension in the region will place the "enemies" in the most insecure situation, the semi-official Tasnim news agency reported.
"Everyone will witness the demise of the Zionist regime. That day is not far away," said Mousavi.
"The resistance front will overthrow America and the imperialist regime," he added.
"Resistance front" is a term used by Iran to refer to allies of the Islamic Republic and its proxies across the world.
"The enemies are well aware that any tension and insecurity in the region will place them in the most insecure situation," said Mousavi.
The US will only support a country as long as that country serves its interests, he said.
The US sought to "break" Iran through its maximum pressure policy but failed, said Mousavi, adding that Washington today is "confused."
https://english.alarabiya.net/en/News/middle-east/2019/09/07/Iran-s-army-chief-Day-of-Israel-s-demise-not-far-away.html
--------
UN nuclear official in Iran as atomic accord unravels
8 September 2019
The acting director-general of the United Nations nuclear watchdog is in Tehran for meetings after Iran announced it would begin using advanced centrifuges prohibited by its 2015 atomic deal with world powers.
Iranian state television aired Sunday video of Cornel Feruta in the capital, Tehran.
Feruta is to meet Mohammad Javad Zarif, Iran's Foreign Minister, and Ali Akbar Salehi, the head of the Atomic Energy Organization of Iran.
Iran on Saturday announced it would begin using two types of advanced centrifuges.
Iran already has crept past limits the deal imposed on nuclear enrichment and its uranium stockpile. It is trying to pressure Europe to offer a way to sell crude oil abroad despite US sanctions.
Full report at:
https://english.alarabiya.net/en/News/middle-east/2019/09/08/UN-nuclear-official-in-Iran-as-atomic-accord-unravels.html
--------
Iranian cleric says people in Kashmir must stand for their right
Sep 7, 2019
Iranian cleric Grand Ayatollah Hossein Nouri-Hamedani has urged Kashmiri people to firmly stand for their right, assuring them that the Islamic Republic will support them in this regard.
The Indian-controlled Kashmir has been the scene of protests and military crackdown and restrictions since early June, when Indian Prime Minister Narendra Modi, in a surprise move, revoked Article 370 in the Indian constitution that had granted Kashmir special autonomy, the most far-reaching political move on the disputed region in nearly 70 years.
The controversial move not only infuriated India's nuclear-armed Pakistan, which controls parts of Kashmir, but also sparked strong anger among the local population, who want their Muslim-majority region to merge with Pakistan, prompting protest rallies that faced a brutal police response.
"If you want to secure your right, you must be prepared for martyrdom and fight," said Ayatollah Nouri-Hamedani on Saturday, during his meeting with a group of Kashmiri students studying at seminary schools.
"Our government, the Leader [Ayatollah Seyyed Ali Khamenei], all of us will help you," the top cleric vowed, stressing that Kashmiri clerics, in particular, must be prepared to sacrifice their lives if they want to obtain the people's right, reminding them of Iranian clerics who were marching in the front lines of protests during Iran's 1979 Islamic Revolution.
Ayatollah Nouri-Hamedani also urged the student to set Imam Hossein (peace be upon him), the Third Shia Imam and the grandson of Prophet Muhammad (peace be upon him), as an example for their cause.
Imam Hossein and his companions were martyred in the Battle of Karbala, in southern Iraq, in 680 AD after fighting courageously for justice against the much larger army of the Umayyad caliph, Yazid I, which some historians estimate to have been 100,000-strong.
The Shia Imam and his companions were martyred in Ashura, the 10th day of the lunar month of Muharram.
Full report at:
https://www.presstv.com/Detail/2019/09/07/605567/Iran-Kashmir-
--------
Turkey calls on US to lift barriers to boost trade
7 September 2019
Turkey asked the United States to lift trade barriers between the two countries during talks on Saturday aimed at sharply increasing bilateral commerce, Turkey's trade minister said.
Washington and Ankara have set an ambitious goal of quadrupling their trade to $100 billion a year, despite the prospect of US sanctions over Turkey's recent purchase of Russian missile defense systems.
Trade Minister Ruhsar Pekcan said she expressed Turkey's "clear expectation" to US Secretary of Commerce Wilbur Ross over the removal of "certain barriers and policies as implemented by the US administration that constitute (an) obstacle to enhancing our bilateral trade."
The White House said in May it was ending a preferential trade agreement with Turkey, saying Turkey's level of economic development meant it was no longer eligible for the support.
Turkey could also face sanctions from its NATO ally over the delivery in July of Russian S-400 missile defense equipment.
Pekcan said she discussed increasing Turkish exports in the civil aviation, automotive, jewelry, furniture, textiles and clothing sectors.
The US embassy said Ross and Pekcan had agreed that raising trade to $100 billion would require hard work on both sides.
Full report at:
https://english.alarabiya.net/en/business/economy/2019/09/07/Turkey-calls-on-US-to-lift-barriers-to-boost-trade.html
--------
Israel bombs Gaza position for an entire hour: Palestinian sources
Sep 7, 2019
Israel has launched a lengthy bombardment of positions in the Gaza Strip, sources inside the besieged enclave say.
Palestinian news agencies said late on Saturday that Israeli airstrikes targeted positions allegedly held by the Palestinian resistance movement Hamas north of the Gaza and deep inside the enclave.
Health officials said there were no casualties from the attacks that lasted close to an hour.
Israeli regime sources said the attacks hit Hamas naval facilities on the Mediterranean and two military compounds run by the group in central Gaza.
There was no confirmation from Hamas and its affiliated groups.
The relentless Israeli bombardment came after Hamas launched a drone operation targeting an Israeli military equipment stationed along the border with the occupied Palestinian territories.
It also came a day after Israelis launched attacks on five positions inside Gaza.
Regime sources have claimed the attacks were in response to Hamas operations targeting Israeli settlers and military forces.
However, attacks by Hamas have come in response to regime's killing of people marching along the border to protest the Israeli occupation.
Two Palestinian teenagers were killed in such attacks by Israeli troops earlier on Friday in clashes that erupted east of the Gaza City.
Some 66 other Palestinians were wounded in Israeli gunfire and other attacks during the anti-occupation protest held the same day.
Hamas has launched two rounds of retaliatory attacks on Israeli positions over the past 48 hours. The group fired five rockets into the occupied territories on Friday night, setting off sirens in Israeli settlements along the Gaza border as well as in the city of Sderot.
The group also responded to Israeli attacks by launching a successful drone operation earlier on Saturday.
Full report at:
https://www.presstv.com/Detail/2019/09/07/605604/Gaza-attacks-Israel-Hamas-response
--------
US sent 30,000 trucks of arms to Kurds in northern Syria: Erdogan
Sep 7, 2019
Turkish President Tayyip Erdogan has again lambasted the United States for its offering of unwavering support to Kurds in northern Syria, saying Washington has been overgenerous to the Kurdish militants in the region.
In a speech on Saturday, Erdogan said that his country would not remain silent to over 30,000 weapon, equipment and ammunition-laden trucks sent by the US to northern Syria, where Kurds are operating.
The remarks covered on the website of the Turkish presidency came during a speech by Erdogan to members of his ruling AK Party in the city of Eskisehir.
The Turkish president further criticized the US for its lack of commitment to pledges about setting a safe zone in Syria along the Turkish border, adding that he would "sort out" the issue with the Americans during a meeting with US President Donald Trump in New York later this month.
"We must resolve this ... There are differences between what is said and what has been done," Erdogan said.
Turkey and the US have been at odds over the situation in northeast Syria, where an alliance of Kurdish and Arab militants have enjoyed Washington's support in their alleged fight against terrorism.
Turkey views the Syrian YPG Kurdish fighters as an extension of its own Kurdish militancy, insisting the US should end its support for the group.
In his speech, Erdogan also criticize the meagerness of international and European efforts meant to support Turkey in its efforts to accommodate millions of Syrian refugees.
He said he would go ahead with a plan, announced on Thursday. to resettle a million refugees in northern Syria, adding that his country has already spent $40 billion hosting what he said was a population of four million Syrian refugees.
Full report at:
https://www.presstv.com/Detail/2019/09/07/605601/Turkey-US-Syria-problem-Kurds-Erdogan
--------
Saudi Arabia blocks fuel shipment from entering Yemen's Hudaydah
Sep 7, 2019
Saudi Arabia has stopped a desperately-needed fuel shipment from entering the Yemeni port city of Hudaydah, a lifeline for millions of people in the impoverished war-torn country.
The Saudi-led military coalition, which has imposed a brutal war on Yemen since March 2015, seized a Hudaydah-bound fuel tanker on Saturday, reports said, adding that the fuel in the tanker was expected to be used in the port city's power plant as well as cement factories.
The Saudi coalition has been enforcing a tight naval blockade on Yemen, particularly on Hudaydah, which acts as a lifeline for the impoverished nation, since August 2015, five months after it started the war.
The war has also taken a heavy toll on the country's infrastructure, destroying hospitals, schools, and factories. The UN says over 24 million Yemenis are in dire need of humanitarian aid, including 10 million suffering from extreme levels of hunger as the invaders keep obstructing inflow of direly-need supplies.
The US-based Armed Conflict Location and Event Data Project (ACLED), a nonprofit conflict-research organization, estimates that the war has claimed more than 91,000 lives over the past four and a half years.
Saudi Arabia strives to reinstall ex-president of Yemen Abd Rabbu Mansur Hadi, a staunch ally of Riyadh, who resigned from presidency and fled to the Arab kingdom in January 2015 amid popular outcry over corruption and mismanagement of the economy.
The coalition also tries to crush the Houthi Ansarullah movement, which has taken over state matters to prevent the country from descending into chaos and has been helping the Yemeni army in defending the country against invaders.
Full report at:
https://www.presstv.com/Detail/2019/09/07/605599/Yemen-Saudi-Arabia-fuel-shipment-Hudaydah
--------
Palestinians bury teen killed by Israeli troops during Gaza protests
Sep 7, 2019
Palestinians have held a funeral procession for a 14-year old shot and killed by Israeli forces during protests along the border with Israel.
Israeli forces shot and killed two Palestinian teenagers during protests along the Gaza-Israel border on Friday, Palestinian health officials said.
They named the dead as Khaled Al-Rabai, 14, and Ali Al-Ashqar, 17. Seventy protesters were wounded, 38 of them by live fire, medical officials said.
Protesters have staged 18 months of weekly demonstrations dubbed the "Great March of Return," calling for an end to a blockade imposed on Gaza by Israel, and for Palestinians to have the right to return to land from which their families fled or were forced to flee during Israel's creation in 1948.
An Israeli military spokesman said troops guarding the border on Friday were faced with more than 6,000 demonstrators at several points along the fence, some hurling explosive devices and firebombs and that Israeli forces responded with riot dispersal measures.
Full report at:
https://www.presstv.com/Detail/2019/09/07/605555/Palestinian-funeral-Gaza-protest-Israel-Great-March-of-Return
--------
Africa
Sudan's al-Bashir kept key to room with millions of euros, court hears
7 September 2019
Sudan's toppled former leader Omar al-Bashir was the only person with a key to a room at the presidential palace holding millions of euros, his last office manager testified on Saturday.
Speaking at al-Bashir's trial on charges of possessing illicit foreign currency and corruption, Yasser Basheer said that the former president gave him more than 10 million euros' ($11 million) cash in his final months of rule for delivery to different parties.
Sudan's military ousted al-Bashir in April after months of protests. His prosecution is a test of how far power-sharing military and civilian authorities will tackle the legacy of his 30-year authoritarian rule.
The former manager, who worked for al-Bashir from September 2018 and was speaking as a defense witness, said the president once gave him 5 million euros for Abdelrahim Hamdan Dagalo, deputy head of the feared paramilitary Rapid Support Forces (RSF).
The money, Basheer said, was delivered in the presence of Abdelrahim's brother Mohamed Hamdan Dagalo, head of the RSF and deputy head of the Transitional Military Council that ruled after al-Bashir's ouster. He is now a member of the Sovereign Council formed in a military-civilian power-sharing deal.
Other recipients of cash included the Defense Ministry, plus military personnel and civilians for medical treatment, Basheer said, adding that he did not know the source of the cash and was only following orders.
Abdelmoneim Mohamed, an accountant at the International University of Africa, a private institution with links to Islamists, also testified in al-Bashir's defense. He said the university's director and deputy director received 4 million euros in cash from al-Bashir.
Al-Bashir sat in a metal cage in the courtroom wearing traditional white robes and turban.
Though he did not speak at Saturday's hearing, he denied the charges when formally indicted a week ago.
https://english.alarabiya.net/en/News/middle-east/2019/09/07/Sudan-s-al-Bashir-kept-key-to-room-with-millions-of-euros-court-hears.html
--------
African Union lifts suspension of Sudan
7 September 2019
The African Union (AU) has lifted its suspension of Sudan three months after freezing its membership following Khartoum's bloody crackdown on pro-democracy protesters.
The AU's Peace and Security Council said Friday that the decision followed the announcement of Sudan's first cabinet since the ousting of veteran leader Omar al-Bashir.
Handing down its suspension in June, the AU's conflict-resolution body had said transferring power to a civilian-led authority was "the only way to allow the Sudan to exit the current crisis."
Sudan's new premier Abdalla Hamdok on Thursday unveiled a new 18-member cabinet, a major step in the transition toward civilian rule after decades of authoritarianism.
The move was hailed by AU Commission Chairperson Moussa Faki as "the beginning of a new era" for Sudan.
The cabinet formation followed the signing of a power-sharing deal last month between the movement that led the months-long protests against Bashir, and the generals who seized power after ousting him.
A joint civilian-military ruling body was sworn in and tasked with overseeing the transition. Part of the deal was that legislative body be formed within 90 days.
The AU's Peace and Security Council said in a tweet Friday it had decided "to lift the suspension of the participation of #Sudan in the activities of the #AU, now that #Sudan established a civilian-led Government."
Demonstrations over a worsening economic crisis in Sudan escalated into a months-long nationwide protest movement against Bashir's three-decade rule, which ended in April.
Bashir was later arrested and is on trial on charges of illegal acquisition and use of foreign funds.
In early June, security forces broke up a protest-sit in outside military headquarters in Khartoum. Doctors linked to the protest movement said at least 127 people died in the violence.
Sudan's membership from the AU was suspended on June 6 pending a transition to civilian rule.
Full report at:
https://english.alarabiya.net/en/News/middle-east/2019/09/07/African-Union-lifts-suspension-of-Sudan-.html
--------
Nigeria soldier killed in Kamuya convoy ambush
SEPTEMBER 7, 2019
At least one soldier was killed and three others injured when insurgents ambushed a military convoy in northeast Nigeria's Borno state, according to security sources.
Militants believed to be from the Islamic State West Africa Province faction of Boko Haram on Friday, September 6 opened fire on the convoy in Kamuya village, a military officer and a vigilante told AFP.
"The convoy came under fire from the terrorists near Kamuya at around 11:30 am, killing one soldier and injuring three others," said the military officer who spoke on condition of anonymity.
A military pickup truck was "burnt in the attack," said civilian militia leader Mustapha Karimbe who confirmed the casualties. Karimbe is based in Biu.
Kamuya is around 145 km (90 miles) southwest of Borno state capital Maiduguri, on the road between Biu and Yobe state capital Damaturu.
The home village Chief of Army Staff Lieutenant General Tukur Yusuf Buratai's mother according to AFP, Kamuya was hit twice in December 2015, not long after he was appointed.
In January, six soldiers were killed and 14 were injured when ISWAP fighters attacked a base in Kamuya, and in March, militants killed a police officer and a local resident at military base outside Miringa, around 20 km to the south towards Biu.
Attacks in the Maiduguri-Biu-Damuturu triangle
Although ISWAP's main area of operations is further east in the Lake Chad area, the group has attacked a number of military locations in the Maiduguri-Biu-Damuturu triangle in recent months. In late July, ISIS claimed ISWAP fighters killed 25 Nigerian troops in Benisheikh, northeast of Kamuya and earlier that month claimed ISWAP fighters fought off a Nigerian military assault in the Damboa area.
The Nigerian military seldom comments on the ongoing counter-insurgency operations, and has downplayed the insurgents' effectiveness in the area. In one case, after ISWAP fighters in April attacked a military base in Sabon Gari, between Damboa and Biu, the Nigerian Army described reporting on the incident as "unsubstantiated" and "fake," saying it was the work of "Boko Haram sympathizers."
ISWAP fighters ambushed a convoy that was transporting civilians from Sabon Gari to Damboa a month later. Media reported that between five and 25 Nigerian soldiers died in that attack, but again the Nigerian Army described those reports as "fake news" and denied there had been any attacks on military personnel in Borno state.
Uptick in ISWAP ambushes
Insurgent ambushes have recently become more frequent, perhaps as roadside vegetation has grown during the rainy season, offering cover for attacks on vehicles.
On August 30, at least three Nigerian soldiers were killed in an ISWAP ambush near Monguno in the Lake Chad area. ISIS propaganda agency Amaq later released a video that it said showed the ambush.
On August 24 and 25, ISIS claimed ISWAP fighters had targeted soldiers in Niger in two IED attacks in the Lake Chad area.
ISIS claimed ISWAP fighters killed five Nigerian soldiers in an ambush in the Dikwa area on August 20.
On August 17, ISWAP fighters killed four soldiers in an ambush on a Nigerian military patrol in Mogula, close to the border with Cameroon.
A decade of Islamist insurgency
The jihadist group known as Boko Haram began its bloody insurgency in northeastern Nigeria in 2009, but it has since spread into neighboring Niger, Chad and Cameroon, prompting a regional military response.
Boko Haram split into two factions in mid-2016. One, led by long-time leader Abubakar Shekau, is notorious for suicide bombings and indiscriminate killings of civilians. Shekau pledged allegiance to ISIS leader Abu Bakr Al-Baghdadi in March 2015, but ISIS central only gives formal backing to the other faction, which it calls Islamic State West Africa Province.
Full report at:
https://thedefensepost.com/2019/09/07/nigerian-soldier-killed-ambush-kamuya-borno-iswap/
--------
Arab World
Qatari Paper: Over 4,000 Civilians Killed in Iraq's Mosul in One Month of US Airstrikes
Sep 07, 2019
The Doha-based al-Arabi al-Jadid in a report said that over 4,000 civilians have been killed in only one month of US air raids on Mosul city, dismissing the US-led coalition's allegations that no civilian has been killed in the US air raids.
It noted that the US air raids on the old city of Mosul has been an instance of massacre.
The daily pointed to the devastating role of the US attacks on Iraq, and said that it has been reckoned that tens of thousands of Iraqis have been killed in the US air and missile attacks on different parts of Iraq.
The al-Arabi al-Jadid noted that the operations to pull out corpses of the Iraqi families from Mosul debris are still underway, and said that tens of houses have been destroyed and all people inside them have been killed in the US airstrikes on the Iraqi cities, including Falluja, al-Ramadi and al-Hawija.
In a relevant development in late July, a senior member of the Iraqi parliament disclosed Washington's plot to drive Hashd al-Shaabi (popular mobilization forces) away from the Nineveh plain in Northern Mosul in a bid to establish a safe zone for the ISIL terrorists in the region.
Karim al-Mohammadawi, a senior member of the Iraqi parliament's Security and Defense Committee, told the Arabic-language al-Ma'aloumeh news website that Washington is attempting to pressure the Iraqi government and security apparatus to transfer the family members of the ISIL terrorists from al-Houl camp in Syria to certain regions in Nineveh plain in Northern and Northeastern Mosul.
He added that Washington wants to create a safe region for ISIL's return to Mosul and drive away Hashd al-Shaabi from Nineveh plain.
Al-Mohammadawi warned that return of the ISIL terrorists' family members is a serious threat to Iraq's security.
https://en.farsnews.com/newstext.aspx?nn=13980616000426
--------
Tahrir Al-Sham Starts Forced Recruitment of Soldiers for Battle with Syrian Army Despite Ankara's Pledges
Sep 07, 2019
The pro-militant Anab Baladi news website reported that Tahrir al-Sham has taken new measures to enroll new members with the aim of confronting the Syrian Army in Idlib province.
It pointed to the release of communiques by commanders and Muftis of Tahrir al-Sham that call for enrollment of elite militants for affiliated terrorist groups such as Abi Bekr al-Sediq and Omar bin Khattab, and said that the recruited elite militants will have to launch special operations against the Syrian Army in the surrounding areas of Idlib province.
Military experts also reiterated that the measure by Tahrir al-Sham comes against Ankara's pledges to dissolve the terrorist groups and their retreat from Aleppo-Hama and Aleppo-Lattakia highways.
In a relevant development on Wednesday, the Arabic-language media outlets said that the Syrian Army was fully preparing itself for resuming large-scale military operation in the demilitarized zone as terrorist groups continued to violate the ceasefire.
The Arabic-language al-Watan newspaper quoted local sources in the city of Ma'aret al-Numan in Southern Idlib as saying that Tahrir al-Sham has reinforced its military positions in the city, specially its Southern and Southeastern sections and in al-Tamane'ah with the aim of preventing the Syrian Army advance.
The newspaper noted that the terrorist groups have not retreated from Aleppo-Damascus and Aleppo-Lattakia highways, and said that the Syrian Army is at its highest level of preparedness to resume military operations after the ceasefire comes to an end in the demilitarized zone.
Meantime, the Syrian Army's battlefield sources pointed to the dispatch of massive military convoys comprising tanks and military equipment to Tal-e al-Zawiqat in Northeastern Lattakia near the strategic Kabaneh region to carry out military operations against the Turkistani Party and Uigurs.
Full report at:
https://en.farsnews.com/newstext.aspx?nn=13980616000573
--------
Egypt court sentences 11 extremists to life for prison breaks
7 September 2019
An Egyptian court has sentenced 11 people including the head of the outlawed Muslim Brotherhood, Mohammed Badie, to life in prison after a retrial on charges related to mass prison breaks at the height of the 2011 uprising.
The Cairo criminal court on Saturday also sentenced eight others to 15-year imprisonment, on the same national security charges.
This is the latest of several life sentences for Badie.
The court also acquitted eight others. It dropped the charges against former President Mohammed Morsi, who collapsed and died while appearing in a separate trial in June.
Previous sentences against the defendants were annulled in 2016 by the Court of Cassation which ordered their retrial.
Extremists in the country have launched several attacks including killing six Copts and an Anglican after they left the Saint Samuel monastery west of the Nile in Minya province in November 2018.
ISIS carried out another attack nearby in May 2017, killing 29 Coptic pilgrims, many of them children.
Tourists have also been killed in attacks, but the violence has mostly targeted police and soldiers.
Full report at:
https://english.alarabiya.net/en/News/middle-east/2019/09/07/Egypt-court-sentences-11-extremists-to-life-for-prison-breaks.html
--------
Syrian army says it foiled drone attack on military location
7 September 2019
The Syrian army said on Saturday that its air defenses foiled a drone attack on a military location northwest of the country, adding that all three drones were destroyed.
https://english.alarabiya.net/en/News/middle-east/2019/09/07/Syrian-army-says-it-foiled-drone-attack-on-military-location.html
--------
Prince Abdulaziz bin Salman appointed Saudi Minister of Energy
8 September 2019
On Sunday, Saudi Arabia announced that Prince Abdulaziz bin Salman bin Abdulaziz al-Saud would take on the role as Minister of Energy, replacing Khalid al-Falih. The appointment was announced by the Kingdom's state news agency, SPA, citing a royal decree. Prince Abdulaziz has extensive history with the oil industry and has spent more than three decades working in the Kingdom's oil ministry. In 1995 he was announced as the Kingdom's deputy oil minister, and since 2017 he has worked as the Minister of State for Energy Affairs.
The announcement comes days after news that al-Falih would also be replaced as chairman of energy giant Aramco, a position he held since 2015, with Public Investment Fund chief Yasir al-Rumayyan taking upon the role.
The appointment of al-Rumayyan was likely a move to prepare the oil giant for its IPO by establishing Aramco and the Ministry of Energy as two discrete entities.
On Twitter, al-Falih congratulated Prince Abdulaziz on his appointment, wishing him "all the best and success in leading this important sector." He added that his position had been a "great honor" and thanked those that he had worked with.
At the end of August, it was also announced that the Kingdom's Ministry of Energy, Industry and Mineral Resources, then led by al-Falih, would be split into two bodies. Bandar Alkhorayef, a private sector investor and executive was named the chief of the new Ministry of Industry and Mineral Resources. The new ministry will become fully independent from January 1, 2020.
In another decree, Prince Sultan bin Ahmed bin Abdulaziz al-Saud was appointed as Saudi Arabia's Ambassador to the Kingdom of Bahrain.
Full report at:
https://english.alarabiya.net/en/News/gulf/2019/09/08/Prince-Abdulaziz-bin-Salman-appointed-Saudi-Minister-of-Energy.html
--------
Saudi Crown Prince speaks with France's Macron on regional security
8 September 2019
Saudi Arabia's Crown Prince Mohammed bin Salman received a phone call from French president Emmanuel Macron on Saturday and they tackled the latest developments in the Middle East, state news agency SPA reported.
During the call, they reviewed Saudi-French relations, stressed the strategic partnership between the two countries and discussed the latest developments in the Middle East and efforts exerted for the security and stability of the region, SPA said.
https://english.alarabiya.net/en/News/gulf/2019/09/08/Saudi-Crown-Prince-speaks-with-France-s-Macron-on-regional-security.html
--------
Four, including a civilian, killed across Iraq in day of militant attacks
Sep 7, 2019
At least three members of Iraq's security forces and one civilian have been killed in separate attacks by militants across various parts of the Arab country.
Security sources said on Saturday that an army officer and soldier were killed when an explosive went off inside a house they were de-mining in Sinjar district west of Mosul. Another soldier was injured as well.
In Diyala province, a sniper shot dead an intelligence official in an area northeast of provincial capital Baqubah.
Separately, a civilian was killed when a bomb went off inside his car in an area west of the city of Samara in Salahuddin province.
The Daesh Takfiri terrorist group or any other group has not claimed responsibility for any of the attacks, but militants are active in all three areas.
Daesh unleashed a campaign of death and destruction in Iraq in 2014, overrunning vast swathes of territory in lightning attacks. Iraqi government forces and allied fighters then launched operations to eliminate the terror outfit and retake lost territory. In December 2017, Iraq declared the end of the anti-Daesh campaign. The group's remnants, though, keep staging sporadic attacks across Iraq.
Iraqi army soldiers, backed by fighters from pro-government Popular Mobilization Units (PMU), have launched a major operation to hunt down the remnants of Daesh in an area of the country's western province of Anbar and the central and northern regions of Salahuddin and Nineveh.
Full report at:
https://www.presstv.com/Detail/2019/09/07/605598/Iraq-Sinjar-Diyala--Samara-Daesh
--------
Syrian air defenses target three explosives-laden drones in Hama
Sep 7, 2019
Syrian air defense systems have intercepted three drones launched by "terrorists" in the west-central province of Hama.
Syria's official news agency SANA, citing an unnamed military official, reported on Saturday that air defense units foiled an aerial aggression after they detected and intercepted three explosives-laden hostile drones as they were approaching a main military post in al-Ghab valley on Friday night.
The report added that two drones were shot down and the "third was dropped and its ammunition dismantled without causing any casualties among personnel of the Syrian Arab Army."
Large parts of the northwestern province of Idlib and parts of neighboring Hama constitute the last major militant stronghold in Syria. Foreign-backed militants in these regions regularly conduct attacks against Syrian army troops and positions, Russia's bases and civilian districts.
Back on June 22, Syrian army said that it had detected and shot down a hostile drone sent by the Jabhat Fateh al-Sham Takfiri terrorist group, formerly known as al-Nusra Front, before it was able to strike Hama Military Airport.
Earlier in June, that Syrian army units had detected a number of drones as they were approaching a helipad of a government military site in Jubb Ramlah village, located about 189 kilometers north of capital Damascus.
On Thursday, Russian Deputy Foreign Minister Oleg Syromolotov said expert estimates demonstrated that terrorists in Syria were employing Western-designed drones to launch attacks against Russian facilities in the Arab country.
His comments came two days after Russian troops foiled a drone attack by foreign-sponsored Takfiri militants against the strategic Hmeimim air base in Syria's western coastal province of Latakia.
Russia has been helping Syrian government troops and their allied fighters in ongoing battles against terrorists across the conflict-plagued Arab country.
Full report at:
https://www.presstv.com/Detail/2019/09/07/605556/Syria-Hama-drone-alGhab-Russia-Idlib
--------
Europe
New Islamophobia Definition Shuts down Criticism of Radical Islam, German Female Imam, Seyran Ateş, Says
Edward Malnick
8 SEPTEMBER 2019
A female imam has claimed that "reasonable" criticism of Islam would be banned under MPs' proposals for a new definition of Islamophobia.
Seyran Ateş is urging ministers to reject calls for a legally binding description of anti-Muslim prejudice that could be used to prosecute those found guilty of Islamophobia or impose sanctions on workers or members of political parties.
Ms Ates, who was the first female imam to open a mosque in Germany, claimed the proposals would "capture many moderate and liberal Muslims' criticism of the 'Muslimness' followed by their brothers and sisters in other denominations and movements" and encourage he "radicalising doctrines" of Islamist groups such as the Muslim...
https://www.telegraph.co.uk/politics/2019/09/08/new-islamophobia-definition-shuts-downcriticism-radical-islam/
--------
UK calls Iran's starting of centrifuges 'particularly disappointing'
7 September 2019
The UK called Iran's starting of centrifuges "particularly disappointing" on Saturday, following an announcement from Iran that it will start up advanced centrifuges to boost the country's stockpile of enriched uranium.
"This third step away from its commitments under the nuclear deal is particularly disappointing at a time when we and our European and international partners are working hard to de-escalate tensions with Iran," the Foreign Office said in a statement.
Iran's atomic energy organization spokesman Behrouz Kamalvandi stated earlier on Saturday that Iran is injecting uranium gas into advanced centrifuges, breaking a new atomic deal term. He stated that in next two months, 164 chain machines of IR4 centrifuges will become operational, adding that 20 are already operational.
https://english.alarabiya.net/en/News/middle-east/2019/09/07/UK-calls-Iran-s-starting-of-centrifuges-particularly-disappointing-.html
--------
Italy police detains 10 for alleged terrorism financing
7 September 2019
Italian police have detained 10 people in the central Abruzzo region for alleged tax crimes and money laundering aimed at financing Islamic extremist groups.
Investigators said at a news conference Saturday that the eight Tunisians and two Italians are suspected of financing with "enormous sums of money" activities linked to the radical Islamic organization Al-Nusra.
According to prosecutors, the people detained, including the imam of the Dar Assalam mosque close to the city of Teramo, and an Italian accountant, used the money obtained through tax evasion to finance militant groups in Syria and some radical imams based in Italy.
Full report at:
https://english.alarabiya.net/en/News/world/2019/09/07/Italy-police-detains-10-for-alleged-terrorism-financing.html
--------
Italy seeks imam and 10 other suspects in crackdown on terrorism financing
September 07, 2019
ROME: Italian prosecutors said Saturday they had issued arrest warrants for 10 people, including an imam, suspected of being part of a network financing terrorism.
The eight Tunisians and two Italians are suspected of having set up false bank accounts and businesses to move large sums of money and avoid taxes, said the prosecutors' office in Aquila in the central Abruzzo region.
The iman being sought was based in the city of Teramo in the same region, the statement added.
The money "also financed activities linked to the radical Al-Nusra organization" formerly the Syrian branch of Al-Qaeda, prosecutors said.
And some of the money was earmarked for imams in Italy, "including one convicted for association with a group linked to international terrorism."
Prosecutors have already seized more than a million euros ($1.1 million) in money, property and other assets belonging to one of the 10 suspects, an Italian accountant, said prosecutors.
Investigators later told journalists that a Tunisian living in Turin, northern Italy, was believed to be the ringleader. He owned companies involved in construction and the carpet trade.
"We have reasonable cause to believe that the group... created secret funds that were transferred to Turkey, where they financed the departure of aspiring terrorists to Syria," Aquila prosecutor Michele Ranzo told journalists.
Full report at:
https://www.arabnews.com/node/1551041/world
--------
Bulgaria hands terror suspect over to Turkey
Cihan Demirci |
07.09.2019
Bulgaria on Saturday handed a terror suspect over to Turkey after arresting the individual who tried to illegally cross into the country.
The suspect, identified by the initials B.G., 40, was arrested by Bulgarian security forces while illegally crossing the border, according to a security source, who asked not to be named due to restrictions on speaking to the media.
An international travel ban has been imposed on the individual for making PKK terrorist group propaganda and committing various crimes, the source said.
The suspect was handed over to Turkish security forces in northwestern border province of Edirne where he was remanded pending trial after being referred to a provincial magistracy.
Full report at:
https://www.aa.com.tr/en/europe/bulgaria-hands-terror-suspect-over-to-turkey/1575358
--------
URL: https://www.newageislam.com/islamic-world-news/nankana-sahib-sikh-girl-jagjeet/d/119686
New Age Islam, Islam Online, Islamic Website, African Muslim News, Arab World News, South Asia News, Indian Muslim News, World Muslim News, Women in Islam, Islamic Feminism, Arab Women, Women In Arab, Islamophobia in America, Muslim Women in West, Islam Women and Feminism