New Age Islam News Bureau
26 Jul 2014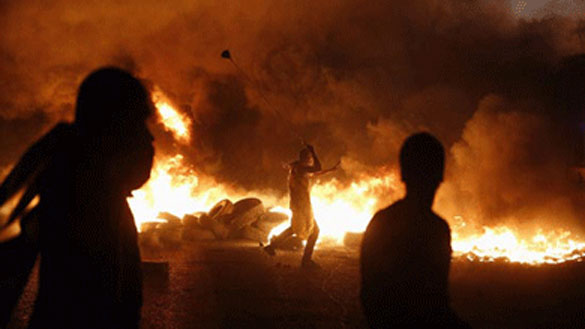 A Palestinian protester uses a slingshot to hurl stones toward Israeli troops during clashes, near the West Bank city of Ramallah July 24, 2014. (Reuters)
-----------
India
• Nadwa Cleric Asks Saudi Govt to Prepare an Army of Sunni Youth for Iraq
• Indian Educationist Calls For More Efforts to Uplift Muslim Community
• India's flip-flop on Israel raises brows
• Pakistan rakes up Samjhauta Express blast as India protests 26/11 trial delay
Mideast
• Muslims pray in Gaza church as bombs fall ahead of Eid
• Al-Qaeda militants kill four Yemeni soldiers
• Israeli shells kill 18 Gazans of a single family
• Israeli strikes push Gaza death toll near 900
• Israel rejects Kerry Gaza ceasefire proposal, state TV says
• 12-hour Gaza humanitarian ceasefire to start: Israel
• Turkish FM to meet Hamas leader in bid to secure week-long humanitarian cease-fire
Arab World
• 85 Syria troops killed in jihadist advance
• Iraqi Air Force kills 17 ISIL terrorists in Tikrit
• ISIL Blow Up More Holy Shrines in Nineveh
• ISIL terrorists destroy Sheikh Salih Shrine in southern Kirkuk
• Egyptian militants say Israeli drone kills three terrorists in Sinai
• More Saudis return from Syria fight
• ISIL bans photos, poetry verses from cars in Diyala
• Syrian rebels execute two blindfolded men charged with detonating car bombs
• Al-Qaeda releases video of US suicide bomber in Syria
• 23 young Protest leaders flogged by ISIL
• Iraqi shelling forces thousands of Arabs to flee to Kirkuk
• 'Iraq de facto split, poll on table,' says senior Kurdish official
• Saudi king orders $26 million more in medical aid to Gaza
• Jordan introduces Islamic bond rules
South Asia
• 24 militants killed during Afghan army operations
• Mullah Omar warns Afghans against pact with US
• China imposes airline-like restrictions on bus passengers in Xinjiang
Pakistan
• Ahrar ul Hind claims support of senior TTP commanders
• US, Afghanistan failed to stop militants: Pakistan
• Four Ahmadis booked for 'preaching'
• PTI chief asks UN to stop Israeli aggression
• Jirga elders back govt's move to restore peace in N. Waziristan
• Suspected militant killed, another arrested in Bannu: sources
• Musharraf's policies still prevailing in the country, Siraj
• PPP lashes out at govt for invoking Article 245
• Altaf criticizes Nawaz for leaving Pakistan during Zarb-e-Azb
• Karachi: Three alleged terrorists killed in Manghopir
Europe
• 'Islamists Planning Attack In West Have Left Syria'
• WHO seeks humanitarian corridor to evacuate victims of Zionist barbarity
• U.N. rights inquiry says more Syrians joining ISIS
• UN's Ban urges Gaza 'humanitarian pause' for Muslim holiday
• Georgia says seized heroin belongs to Taliban
• Kyrgyzstan sentences ex-president to life imprisonment
Africa
• Libya seeks cease-fire as south Tripoli a militia "war zone"
• Violence in Nigeria has 'no boundaries' now, archbishop says
• Somali 'Shebab commanders' killed
• Buhari's bomber dressed like woman, nabbed
• Cleric's son feared killed as police, Shi'ites clash in Zaria
• Pedalling solutions As Dar es Salaam battles mega-city woes
North America
• Thousands take to NY streets to protest Israeli offensive in Gaza
• U.S. Congress prohibits Obama from sending troops to Iraq
• Canadian Company Unveils New Ergonomic Muslim Prayer Mat
• US Congress hears bill to outlaw Muslim Brotherhood
• Do not let Haqqani fighters resettle, US tell Pakistan
• Talks on comprehensive truce continue as Israel, Gaza observe temporary cease-fire
Southeast Asia
• President-Elect Jokowi Calls on Public to Pick Cabinet
• Perkasa demands Penang to reveal funds for non-Muslims
• Leave Penang alone to enjoy its religious harmony, says Guan Eng
• New Religious Affairs Minister Supports State Recognition of Baha'i Religion
Compiled by New Age Islam News Bureau
URL: https://www.newageislam.com/islamic-world-news/new-age-islam-news-bureau/nadwa-cleric-asks-saudi-govt-to-prepare-an-army-of-sunni-youth-for-iraq/d/98312
----------
India
Nadwa cleric asks Saudi govt to prepare an army of Sunni youth for Iraq
TNN | Jul 26, 2014
LUCKNOW/MUMBAI: After hitting the headlines for greeting Abu Bakr al-Baghdadi, the self-appointed caliph and head of Islamic State of Iraq and Syria (ISIS), Sunni theologian Maulana Salman Nadvi of Darul Uloom Nadwatul Ulama, in an open letter, has asked the Saudi government to prepare an army of five lakh Indian Sunni Muslim youth to fight against the Shia militias in Iraq and elsewhere.
The letter has generated strong reaction within the Muslim community across the country. Although Maulana Salman could not be contacted despite repeated efforts for his comments about his letter to the Saudi government, he has in the recent past admitted to have accepted Bagdhadi's "caliphate".
Maulana Mahmood Daryabadi of All-India Ulema Council, the umbrella organization of clerics, refused to believe that Maulana Nadvi could have written such a letter. "If this is true, it's unfortunate. Indian Muslims share the pain of their brothers elsewhere but it's futile to see the crisis in Iraq and Syria from the Shia-Sunni prism. Some forces are bent on dividing the Muslims. Such letters will only widen the gulf between the two sects," said Maulana Daryabadi.
Maulana Athar Ali, executive committee member of the All India Muslim Personal Law Board, said instead of writing to the Saudi government, Nadvi should appeal to the Union government to try and impress upon the world community to find a diplomatic solution to the crisis in Iraq.
"What will the Saudi government do in this crisis? There's no point trying to create an army of youth. This will only worsen the situation and lead to further radicalization," said Maulana Athar Ali.
In his earlier letter, Nadvi expressed confidence that Iraqi Sunnis were with ISIS and that Bagdhadi's "clean and pious character is worth praise". He also criticized Iraqi prime minister Nouri Maliki, and hoped that under al-Baghdadi's leadership, justice would prevail. The grandson of well-known Nadwa rector and late president of AIMPLB Abul Hasan Ali Nadvi (popularly Ali Miyan), Maulana Salman's stance has left other Muslim clerics uneasy, more so because of the influence he wields among the faithful.
Imam of Eidgah Lucknow Khalid Rashid Firangi Maheli refused to comment. It is learnt that senior clerics of Nadwa too are unhappy by his observations. Senior executive member of AIMPLB and additional advocate general Zafaryab Jilani condemned the letter in which Salman had praised Baghdadi. "Such a letter was not in the interest of the country as it would unnecessarily cause Shia-Sunni tension," Jilani had said.
http://timesofindia.indiatimes.com/india/Nadwa-cleric-asks-Saudi-govt-to-prepare-an-army-of-Sunni-youth-for-Iraq/articleshow/39012903.cms
----------
Indian Educationist Calls For More Efforts to Uplift Muslim Community
Jul 26, 2014
Very few people have the vision and the will to reverse the tides of an adverse situation.
When India's radical Hindu leader, L.K. Advani, launched a "Rath Yatra" (Indian for "rally") that left much death and destruction in its trail, ultimately leading to the destruction of the historic Babri Masjid in 1992, Muslims rose up to face the challenge and pull the community from a state of depression onto a better way forward.
Amanullah Khan, chairman of the Muslim Education Trust, held the tide by its horn and launched the same year his education project to campaign for an awareness program to wake up the Muslim community from the slumber of ignorance and illiteracy.
"In reply to Advani's Rath Yatra, we took out a National Talimi Caravan (an educational countrywide campaign) that same year that crossed the length and breadth of the country to stress the importance of education in the community," said Khan, who recently visited the Kingdom for a meeting with the Islamic Development Bank (IDB) officials.
According to Khan, the Taalimi Caravan since then has led to the opening of thousands of schools in many of the provinces, mainly the Uttar Pradesh, Bihar and the West Bengal.
The caravan, which is still ongoing, has been highly successful since many Muslim leaders, scholars and even politicians joined the call, which strengthened its significance.
"The Muslims were feeling low and dejected and hence to counter the effect of Advani's rally, we launched this educational movement," the likes of which is hardly to find in India after Sir Syed had launched a similar program by the end of the 19th century.
In fact, to revive that Sir Syed Movement, Khan has now initiated an All India Muslim Educational Conference and on the same line of Sir Syed, is holding educational conferences every year.
He said the first such conference was held in Delhi in 2010, followed by West Bengal (2012) Azamgarh, UP (2012), Cuttack (2013) and Delhi (2014). The 2015 conference will be held between March 1 and 28 in Jodhpur, Rajasthan.
Amanullah's efforts were recognized, as the IDB has run a scholarship program in India through his Muslim Education Trust (MET) since 1989 to work for the upliftment of minorities by giving top priority to education.
Khan launched the "Aligarh Bachchon ka Ghar" (Aligarh orphanage), which, over the years, has become a model orphan care center that has its own hostel, playground and other logistic facilities in its own premises.
Orphans, whether girls or boys, are fully adopted and taken care of to the same standard of children in secure families. They also attend good local schools. There are also 400 destitute children admitted as day boarders.
http://www.arabnews.com/news/saudi-arabia/607726
----------
India's flip-flop on Israel raises brows
Indrani Bagchi,TNN | Jul 26, 2014
NEW DELHI: Should India have abstained in the UNHRC resolution against Israel? The government's stand on the ongoing Israel-Hamas conflict in Gaza has swung so wildly that it has attracted criticism of being confused and directionless.
Prime Minister Narendra Modi has clearly indicated a change in foreign policy where in West Asian context, India would be more even-handed, leaning more towards Israel, given New Delhi's growing convergence with Tel Aviv. It was clear even before he formed the government when Modi spoke to Israeli leader Benjamin Netanyahu on the day of his victory. The point was buttressed when the government refused to slam Israel for the ongoing conflict in its official statement on July 10.
Last week in Parliament, external affairs minister Sushma Swaraj tried to prevent a debate because with her well-honed political instincts she knew the policy had changed. Unfortunately, the memo did not land on the desk of foreign office mandarins. The UNHRC statement and vote as well as the UN Security Council statement showed continuity of the West Asia policy. It would have been fine had been the same. But the fact that the policy had changed somehow escaped notice.
Even in the Fortaleza Declaration of BRICS, India stuck to the old language which made it confusing for observers wondering whether the MEA statement and the government stand on Parliament debate was an exception.
The UNHRC statement incorporated some language from the MEA statement, but the overall sentiment was virulently anti-Israel. The UN Security Council statement went even further. Questioned about the swing in the government stand, some officials stressed there was "no change" in India's position on the West Asian conflict. India's UN statements certainly reflected that it was the same stand India has taken for decades.
Others said the government had leaned too far towards Israel in the MEA statement and it was time for course correction at the UN. But India's flip-flop ignored a couple of things.
First, with the change in bilateral relations with Israel, it's natural for India to introduce a more nuanced approach to the issue. Most important, the new government under Modi wants a very different relationship with Israel than what MEA has been used to.
Second, India could have finessed its position on the current crisis. Nobody should condone killing of children and innocent civilians but equally New Delhi should not shy away from naming Hamas as a terror outfit that dislikes India intensely and has a position on Kashmir that it cannot possibly approve.
Third, if India did not want to show a sharp change in policy, it could have abstained. After all, it was only a few months ago that India abstained on a UNHRC vote against Sri Lanka. More recently, India has refused visas to UN investigation teams which want to investigate Sri Lanka's activities. Abstention is a legitimate choice, and actually, an Indian favourite. India stuck to the old policy on West Asia, but it's not clear whether the Indian political leadership had endorsed it.
http://timesofindia.indiatimes.com/india/Indias-flip-flop-on-Israel-raises-brows/articleshow/39015771.cms
----------
Pakistan rakes up Samjhauta Express blast as India protests 26/11 trial delay
MAHIM PRATAP SINGH
Jul 26, 2014
Can't push judiciary on 26/11 trial: Pakistan tells India
Pakistan has told India that the 26/11 Mumbai terror attacks trial was a judicial matter and there was nothing the government could do over the adjournment of the trial, The Hindu has learnt.
Along with that, Pakistan also expressed its concern over the delay in the Samjhauta Express blasts trial in India.
Earlier in the day, India summoned Pakistan's Deputy High Commissioner in New Delhi, two days after the ongoing trial of the 2008 Mumbai terror attacks was adjourned in Pakistan on Wednesday.
In an exclusive conversation with The Hindu, the Pakistan High Commission said it had conveyed its inability to "do anything" in the matter to the Indian government.
"Like everywhere else in the developed world, the judiciary (in Pakistan) is independent… the executive has nothing to do with it," Manzoor Ali Memon, spokesperson for the Pakistan High Commission told The Hindu.
"Our job is to present evidence and prosecute the accused…we cannot push the judiciary…it is an independent institution and takes its own time," said Mr. Memon.
Pakistan also expressed concern over the delay in the 2007 Samjhauta Express bombing case, in which 68 people were killed, most of them Pakistanis.
"Families of the Samjhauta Express (blast) victims are waiting to see the perpetrators of that heinous incident brought to justice," said Mr. Memon.
The same was reiterated to Indian deputy commissioner in Islamabad Gopal Baglay by the Pakistan Foreign Office.
Riffat Masood, Director-General (South Asia and SAARC) at Pakistan's Ministry of Foreign Affairs told the Indian Deputy High Commissioner that the 26/11 trial was taking its legal course and efforts were being made for its early conclusion.
Ms. Masood said it was "necessary that the outcome of (Samjhauta Express case) investigations be shared with Pakistan at the earliest".
The trial of the seven Pakistani accused, going on in a Pakistan anti-terrorism court, was adjourned for the seventh time on Wednesday, leading India's "strong diplomatic protest" with Pakistan on Friday.
"The Pakistani Deputy High Commissioner in New Delhi was summoned to the Foreign Office today. Also the Indian Deputy High Commissioner went to the Pakistan Foreign Office and has lodged a similar protest," official sources told The Hindu.
In the meetings — in New Delhi as well as in Islamabad — Indian officials sought regular briefings on the progress of the trial and the investigation being conducted by Pakistani authorities.
Indian officials also reiterated the "high importance India attaches to bring to justice all those responsible in Pakistan for the Mumbai terrorist attacks", the sources said.
The last two hearings in the trial could not take place because of the presiding judge being on leave. Earlier, on four occasions, trial could not be held owing to the prosecution lawyers being absent over security reasons.
In June, the trial, which was going on in an anti-terrorism court in Rawalpindi, was transferred to another recently set up ATC in Islamabad.
The seven Pakistani nationals being tried for planning and executing the 26/11 attacks are: Lashkar-e-Taiba operations commander Zakiur Rehman Lakhvi, Abdul Wajid, Mazhar Iqbal, Hamad Amin Sadiq, Shahid Jameel Riaz, Jamil Ahmed and Anjum.
http://www.thehindu.com/news/national/pakistan-rakes-up-2007-samjhauta-express-blast-as-india-protests-2611-mumbai-terror-attacks-case-delay/article6249444.ece
----------
Mideast
Muslims pray in Gaza church as bombs fall ahead of Eid
Jul 26, 2014
GAZA CITY: For Gaza resident Mahmud Khalaf, it was a bizarre new experience, prostrating himself for his daily Muslim prayers beneath the gaze of an icon of Jesus Christ.
But since the war in Gaza began, he has had no choice but to worship in a Christian house of God, where he took refuge after Israeli air strikes pummelled his neighbourhood in the north of the Palestinian territory.
"They let us pray. It's changed my view of Christians — I didn't really know any before, but they've become our brothers," said Khalaf, 27, who admitted he never expected to perform his evening prayers in a church.
"We (Muslims) prayed all together last night," he said. "Here, the love between Muslims and Christians has grown."
"Walking into the Saint Porphyrius Church courtyard in Gaza City, visitors are greeted with a "marhaban" by Christian helpers, but with a decidedly more Islamic "peace be upon you" (Arabic: al-salamu aleikum) by most of its current residents — displaced Gazans who have made it their shelter for almost two weeks.
Full report at:
http://www.dawn.com/news/1121757/muslims-pray-in-gaza-church-as-bombs-fall-ahead-of-eid
----------
Al-Qaeda militants kill four Yemeni soldiers
26 July 2014
Al-Qaeda militants killed four soldiers from an elite Yemeni unit in an overnight attack on their post near the central town of Baida, a security official said Saturday.
The attack also wounded two other soldiers, before the al-Qaeda militants set fire to an army vehicle and fled the scene, the official said.
The army sent reinforcements and launched a hunt for the assailants in the surrounding mountains, said the official, cited by the official Saba news agency.
The province of Baida is a stronghold of Al-Qaeda in the Arabian Peninsula, which is considered by Washington as the most dangerous affiliate of the jihadist network.
AQAP is active across several parts of Yemen, having taken advantage of a collapse of central authority during a 2011 uprising that ousted veteran president Ali Abdullah Saleh.
http://english.alarabiya.net/en/News/middle-east/2014/07/26/Al-Qaeda-militants-kill-four-Yemeni-soldiers.html
----------
Israeli shells kills 18 Gazans of a single family
Jul 26, 2014
Israeli tank shelling killed 18 Palestinians from a single family in the southern Gaza Strip today, the Gaza health ministry said, shortly before a 12-hour humanitarian truce agreed by Israel and Hamas went into effect.
Gaza Health Ministry spokesman Ashraf Al-Qidra said that the 18 members of the Al-Najar family had been trapped inside their house in Khuzaa village east of Khan Younis since Thursday and that many others were wounded in Israeli tank shelling.
The fatalities brought up to 881 the number of Palestinians, most of them civilians, killed since the Israeli Gaza offensive began on July 8.
http://www.themalaysianinsider.com/world/article/israeli-shells-kills-18-gazans-of-a-single-family#sthash.5Vi3gow2.dpuf
----------
Israeli strikes push Gaza death toll near 900
26 July 2014
Eight Palestinians were killed in an Israeli air strike on the southern Gaza town of Khan Yunis Saturday, four of them children, emergency services said, according to Agence France-Presse.
About 20 people were wounded in the strike, hours before a ceasefire was due to take effect.
The deaths brought the overall toll of Palestinian dead to 879.
Israel Defense Forces
Meanwhile, the Israel Defense Forces (IDF) called on Palestinians who were asked to vacate their homes to "refrain from returning"
"Gaza civilians who have been requested to vacate from their residence are to refrain from returning," the IDF spokesperson's said in a statement.
"The IDF shall respond if terrorists choose to exploit this time to attack IDF personnel or fire at Israeli civilians," the statement read.
Full report at:
http://english.alarabiya.net/en/News/middle-east/2014/07/26/Israeli-air-strike-kills-eight-in-Gaza-.html
----------
Israel rejects Kerry Gaza ceasefire proposal, state TV says
Jul 26, 2014
Israel on Friday rejected a Gaza ceasefire proposal presented by U.S. Secretary of State John Kerry, Israeli public television said.
"The security cabinet has unanimously rejected the ceasefire proposal of Kerry, as it stands," Channel 1 said, adding ministers would keep discussing it.
Kerry met U.N. chief Ban Ki-moon and Egypt's foreign minister on Friday as pressure mounted for a ceasefire to end an 18-day conflict that has killed more than 800 Palestinians and 37 people on the Israeli side, 34 of them soldiers.
Israeli media reported Prime Minister Benjamin Netanyahu's government demanded the army be allowed to continue destroying tunnels used by the Palestinian group Hamas to carry out attacks inside Israel.
Full report at:
http://english.alarabiya.net/en/News/world/2014/07/25/Israel-rejects-Kerry-Gaza-ceasefire-proposal-state-TV-says.html
----------
12-hour Gaza humanitarian ceasefire to start: Israel
Jul 26, 2014
The Israeli military says a 12-hour humanitarian ceasefire in Gaza will start on Saturday morning.
The military says in a statement that the lull will start at 8 a.m. local time on Saturday and end at 8 p.m. local time. The statement warns that the military "shall respond if terrorists choose to exploit" the lull to attack Israeli troops "or fire at Israeli civilians." It also says that "operational activities to locate and neutralize tunnels in the Gaza Strip will continue."
A Hamas spokesman, Sami Abu Zuhri, said earlier on Friday that the group had agreed to a 12-hour lull, starting at 8 a.m. local time on Saturday.
Full report at:
http://www.thehindu.com/news/international/world/gaza-humanitarian-ceasefire-to-start-israel/article6251873.ece
--------
Turkish FM to meet Hamas leader in bid to secure week-long humanitarian cease-fire
Jul 26, 2014
Turkish Foreign Minister Ahmet Davutoğlu is visiting Qatar to meet Hamas leader Khaled Mashaal and Qatari Foreign Minister Khalid bin Muhammad al-Atiyah, in a bid to push forward a truce plan outlining a week-long humanitarian cease-fire and seek terms for a durable truce.
A recent truce plan, jointly built by efforts from the U.S., Qatar and Turkey, proposes a week-long humanitarian cease-fire and immediate session of negotiations to set the terms for a lasting truce.
The cease-fire would allow people in Gaza access to humanitarian aid through the Rafah border and crossings in Israel, as well as will clarify some parameters for lifting the embargo on the enclave, a Turkish official told the Hürriyet Daily News.
Immediately after the cease-fire, these terms could be negotiated in Cairo with indirect talks through representatives from Palestinian groups in Gaza and from Israel.
Full report at:
http://www.hurriyetdailynews.com/turkish-fm-to-meet-hamas-leader-in-bid-to-secure-week-long-humanitarian-cease-fire.aspx?pageID=238&nID=69602&NewsCatID=510
----------
Arab World
85 Syria troops killed in jihadist advance
Jul 26, 2014
At least 85 Syrian army troops were killed as the jihadist Islamic State advanced on a regime position in the Northern Province of Raqa, a monitoring group said Saturday.
The Syrian Observatory for Human Rights said the fate of around 200 other soldiers remained unknown, as the IS assault forced the army to pull back late on Friday.
The Division 17 base has fallen from army control but "the jihadists have not moved into the site for fear of air strikes", said the Britain-based group's director, Rami Abdel Rahman.
The IS lost at least 28 jihadist fighters, he said.
The Observatory said more than 50 troops were summarily executed, 19 more were killed in a double suicide attack and at least 16 others had died in the IS assault launched early Thursday.
"Hundreds of troops surviving withdrew on Friday to safe places -- either to nearby villages whose residents oppose IS or to nearby Brigade 93 -- but the fate of some 200 remains unknown," said Abdel Rahman.
Full report at:
http://english.ahram.org.eg/NewsContent/2/8/107087/World/Region/-Syria-troops-killed-in-jihadist-advance-Monitor.aspx
----------
Iraqi Air Force kills 17 ISIL terrorists in Tikrit
Jul 26, 2014
Salah il-Din (IraqiNews.com) An informed source stated that the Iraqi Air Force bombarded an ISIL convoy to kill 17 of them of southern Tikrit.
The source stated to IraqiNews.com "The Iraqi Air Force bombarded an ISIL convoy in Shurqat district and killed 25 terrorists and destroyed five of their vehicles."
http://www.iraqinews.com/iraq-war/iraqi-air-force-kills-1-isil-terrorists-in-tikrit/
----------
ISIL Blow Up More Holy Shrines In Nineveh
Jul 26, 2014
Nineveh (IraqiNews.com) The terrorist gangs of the Islamic State in Iraq and the Levant blew up on Friday the holy shrine and the mosque of Prophet Seth (PBUH) of central Mosul city. Eyewitnesses mentioned to Iraqi News (IraqiNews.com) "The terrorists set explosives inside the holy shrine and blew it up causing material damage for the tomb." They added "The tomb, which is located at a popular area in central Mosul, has been closed for months for rehabilitation." The mosque of the Prophet Seth has been built in 1057. Yesterday, Thursday, the terrorists of the ISIL detonated the holy shrine of Prophet Jonas (PBUH)
http://www.iraqinews.com/iraq-war/isil-blow-up-more-holy-shrines-in-nineveh/
----------
ISIL terrorists destroy Sheikh Salih Shrine in southern Kirkuk
Jul 26, 2014
Kirkuk (IraqiNews.com) The ISIL terrorists detonated Sheikh Salih Shrine of southern Kirkuk.
Security source stated to IraqiNews.com "The ISIL terrorists detonated Sheikh Salih Shrine of southern Kirkuk where no human casualties were registered."
http://www.iraqinews.com/iraq-war/isil-terrorists-detonate-sheikh-salih-shrine-southern-kirkuk/
----------
Egyptian militants say Israeli drone kills three terrorists in Sinai
Jul 26, 2014
CAIRO - Three fighters from the Egyptian militant group Ansar Bayt al-Maqdis were killed when their car was hit by an Israeli drone in the Sinai region, the group said on Friday.
An Egyptian Defense Ministry source denied the incident, however.
"There has been no violation of Egyptian airspace by any kind of aircraft, whether Israeli or others," the source said.
Ansar Bayt al-Maqdis made the announcement on Friday morning on a website on which it regularly posts its statements.
"A number of Ansar Bayt al-Maqdis Jihadists were martyred as their car was hit by an Israeli drone on Wednesday evening," the group said in the statement, listing three.
Full report at:
http://www.jpost.com/Middle-East/Egyptian-militants-say-Israeli-drone-kills-three-terrorists-in-Sinai-368928
-------
More Saudis return from Syria fight
26 July 2014
Saudi men who went to fight in Syria are still coming back to the Kingdom, confirmed the Saudi Embassy in Turkey.
The embassy also confirmed that it treated a citizen in Syria before sending him back to the Kingdom.
Adel Mirdad, Saudi ambassador to Turkey, said the embassy's efforts came on directives issued by Custodian of the Two Holy Mosques King Abdullah and Crown Prince Salman, deputy prime minister and minister of defence, and the follow-up of the foreign affairs minister and his deputy.
These directives stress the fact that Saudi embassies should provide aid and assistance to Saudi citizens abroad.
Mirdad said citizens between the ages of 22 and 25 who were involved in fighting in Syria have been repatriated this week. These young adults came to terms with the reality of the group they had joined and gave up their stance, said sources.
The Saudi ambassador called on all Saudis in areas of conflict, whether in Syria or other places, to return to their country and families.
He confirmed that the embassy in Ankara and the consulate general in Istanbul will exert efforts to offer assistance to its citizens.
http://www.arabnews.com/news/saudi-arabia/607741
----------
ISIL bans photos, poetry verses from cars in Diyala
Jul 26, 2014
Diyala (IraqiNews.com) According to a local source in Diyali province, on Tuesday, the organization of the Islamic State in Iraq and the Levant distributed leaflets to residents of the neighborhoods of Saadia in the northeast of Baquba, prevent pasting images and verses of poetry on the glass of vehicles, pointing out that the organization warned the violators of "severe punishment".
The source said, in an interview for IraqiNews.com, that "the militants of terrorist organization of ISIL distributed a number of publications in three neighborhoods of Saadia district, (60 km north-east of Baquba), which prevented pasting photos of artists and poetry verses on the glass of vehicles."
Full report at:
http://www.iraqinews.com/features/isil-bans-photos-poetry-verses-cars-diyala/
----------
Syrian rebels execute two blindfolded men charged with detonating car bombs
Jul 26, 2014
Two men charged with detonating car bombs have been blindfolded and executed by rebel fighters in Syria.
The men, reportedly charged by an Islamic religious court over setting off the explosives in the Idlib province, were killed in nearby Binnish in front of crowds of onlookers.
Photos from the scene show the men kneeling on the ground as gun-toting rebels aim their rifles at them and discuss their fate.
The men are then lined up next to a wall and half-a-dozen rebels fire at them with pistols and rifles - one even appears to film the executions on his mobile phone.
The flurry of bullets stir up dust clouds which obscure their bloody bodies.
The executions come amid news that Jihadists have killed at least 50 Syrian soldiers in ambush attacks.
Full report at:
http://www.dailymail.co.uk/news/article-2706061/Harrowing-moment-Syrian-rebels-execute-two-blindfolded-men-charged-detonating-car-bombs.html#ixzz38bmeHphB
----------
Al-Qaeda releases video of US suicide bomber in Syria
Jul 26, 2014
Syria's al-Qaeda affiliate has released a video of a US suicide bomber who blew himself up at an army post in the northwest of the country.
Moner Mohammad Abu Salha, alias Abu Hurayra al-Amriki, was believed to be the first American national to carry out such an attack in Syria's more than three-year-old war.
"I want to rest in the afterlife, not in this world... My heart is not at peace here. Hopefully it will be in heaven," Abu Hurayra says in broken Arabic in the 17-minute video posted on YouTube on Friday by Al-Nusra Front.
The footage, released via Al-Nusra's official channel Al-Manara Al-Baydaa, also shows Abu Hurayra saying: "I came to Syria without money to buy a rifle or a pouch.
"God gave me a rifle and a pouch and everything, and... (then) he gave me even more."
The American jihadist carried out a May 25 truck bomb attack on an army base in Jabal al-Arbaeen area of northwest Syria's Idlib province.
Full report at:
http://www.themalaysianinsider.com/world/article/al-qaeda-releases-video-of-us-suicide-bomber-in-syria#sthash.3L3kKkAg.dpuf
----------
23 young Protest leaders flogged by ISIL
Jul 26, 2014
Mosul (IraqiNews.com) The Imam of Arahma mosque in Mosul, Sheikh Riad Wasif Ghurairy, said that the terrorist gangs from the Islamic State in Iraq and the Levant flogged 23 young men who lead demonstrators who criticized the bombing of the shrine of the Prophet Yunus which IraqiNews.com reported yesterday:
Ghurairy said in an interview with IraqiNews.com that "after the crime of exploding the shrine of Prophet Yunus ISIL's popularity has fallen dramatically and a big demonstration formed after Friday prayers criticizing this action, but the gangs ISIL arrested its leadership and flogged everyone of them a hundred lashes."
Ghurairy added that "the terrorist gangs of ISIL carried out a strange procedure after Friday prayers. They searched residential buildings in the neighborhood of the Yonus shrine under the pretext that they were looking for government informants who are leaking information and images of ISIL's crimes."
Full report at:
http://www.iraqinews.com/features/urgent-destruction-yonus-shrine-biblical-jonah-protested-mosul-residents-protest-leaders-flogged-isil/
----------
Iraqi shelling forces thousands of Arabs to flee to Kirkuk
Jul 26, 2014
Iraqi military planes have started a brutal campaign bombing Islamic State in Iraq and Sham (ISIS) controlled areas in northern Iraq, causing thousands to flee to Kirkuk.
Ahmed Askari, head of the security committee in Kirkuk, told BasNews the the recent attacks on ISIS controlled areas have forced about 35, 000 Arab families to flee their homes and settle in Kirkuk.
Askari also revealed that so far Kirkuk authorities has not given any support to the new wave of refugees. Abdul-Karim Hassan, head of the Kirkuk Municipality, told BasNews that they are trying to build a makeshift refugee camp between Kirkuk and Chamchamal for the new refugees, as well provide basic needs such as blankets, food and clean water.
http://basnews.com/en/News/Details/Iraqi-shelling-force-thousands-of-Arabs-to-flee-to-Kirkuk/28192
----------
'Iraq de facto split, poll on table,' says senior Kurdish official
Jul 26, 2014
Iraq is essentially divided already, a senior Kurdish official has said, noting that if the people of Iraqi Kurdistan give their leaders a mandate for an independent state, it will be a country for all citizens living in Kurdistan, regardless of their ethnic origin.
"Our message is this: Please, if you are not supporting these peaceful, democratic, God-given natural rights, don't stand in front of them," Hemin Hawrami, the head of foreign relations for President Masoud Barzani's Kurdistan Democratic Party (KDP), which is leading the coalition government in Iraqi Kurdistan, told daily Hürriyet in a recent interview at his office in Arbil, referring to a planned referendum for an independent state.
Full report at:
http://www.hurriyetdailynews.com/iraq-de-facto-split-poll-on-table-says-senior-kurdish-official.aspx?pageID=238&nID=69631&NewsCatID=352
----------
Saudi king orders $26 million more in medical aid to Gaza
Jul 26, 2014
Saudi King Abdullah bin Abdulaziz ordered on Friday 100 million riyals ($26.6 million) in medical aid to the Gaza Strip, the Saudi Health Ministry said.
Health Minister Adel Faqih said the aid would address the emergency needs of the growing number of injured civilians in the Israeli offensive, which has so far killed more than 800 Palestinians.
The move came a week after the king ordered 200 million riyals ($53.3 million) in humanitarian aid.
Those funds were directed to paying for medicine and medical equipment to treat "victims of the brutal Israeli aggression and bombing of the Gaza Strip," said Finance Minister Ibrahim al-Assaf.
Full report at:
http://english.alarabiya.net/en/News/middle-east/2014/07/25/Saudi-king-orders-26-million-more-in-medical-aid-to-Gaza.html
----------
Jordan introduces Islamic bond rules
Jul 26, 2014
Regulators in Jordan have introduced a set of long-awaited rules for the issuance of sukuk, or Islamic bonds, paving the way for both the public and private sectors to tap into growing demand for sharia-compliant investments.
Jordan is one of several Muslim-majority countries keen to develop their domestic Islamic finance sector and the government is studying a proposal to issue a sovereign sukuk, mirroring efforts by Egypt and Tunisia.
In June, both Senegal and Britain issued sukuk, while Luxembourg and Hong Kong have issuance plans.
Jordan's new rules cover the structuring, issuance and trading of sukuk, according to a statement from its Securities Commission late on Thursday.
The regulator held a seminar last month with banks and underwriters to help them identify potential issuers.
Full report at:
http://english.alarabiya.net/en/business/2014/07/25/Jordan-introduces-Islamic-bond-rules.html
----------
South Asia
24 militants killed during Afghan army operations
Jul 26, 2014
At least 24 militants were killed during military operations by Afghan national army (ANA) soldiers during the past 48 hours.
The Ministry of Defense (MoD) following a statement said Saturday that the operations were conducted in Zabul, Helmand, Wardak, Kandahar, Paktia and Uruzgan provinces.
The statement further added that 11 militants were injured and 5 others were arrested during the operations.
Afghan national army soldiers also neutralized 27 rounds of improvised explosive device (IED) during the operations, the statement added.
In the meantime, the Ministry of Interior (MoI) said at least 14 Taliban militants were killed during the operations in the past 24 hours.
Full report at:
http://www.khaama.com/24-militants-killed-during-afghan-army-operations-8368
----------
Mullah Omar warns Afghans against pact with US
Jul 26, 2014
KABUL: In a blow to hopes for peace talks, the Afghan Taliban's reclusive leader warned Friday that a bilateral security pact allowing thousands of US troops to stay in Afghanistan beyond the end of this year will mean more fighting.
The Americans and Nato allies are winding down combat operations but want to leave a residual force to help train Afghan security forces and conduct counterterrorism operations amid fears government troops are ill-prepared to face a relentless insurgency and the security vacuum could pave the way for an al Qaeda resurgence in the country.
US President Barack Obama has announced he wants to leave nearly 10,000 Americans in Afghanistan for two more years. The Afghan government has agreed in principle to a security agreement that would allow them to stay but the deal has yet to be signed. Both candidates vying to replace outgoing President Hamid Karzai have promised to sign it, but they are locked in a dispute over election results.
Full report at:
http://www.dawn.com/news/1121747/mullah-omar-warns-afghans-against-pact-with-us
----------
China imposes airline-like restrictions on bus passengers in Xinjiang
July 26, 2014
BEIJING : China has banned bus passengers in the capital of western Xinjiang region from carrying items ranging from cigarette lighters to yogurt, state media said on Friday, in the latest effort by authorities to prevent violent attacks.
The new rules in the capital Urumqi, similar to restrictions usually imposed by airlines, reflect how nervous officials are about trying to contain outbreaks of violence in the region, home to the Muslim Uighur minority.
Xinjiang has been beset by violence for years, blamed by the government on militants and separatists it says are bent on establishing an independent state called East Turkestan. Fires have erupted on buses in various parts of China, including in two eastern cities, Hangzhou and Guangzhou. Authorities have blamed those incidents on arsonists, not militants.
Banned substances include gasoline and firecrackers, but also drinking water, cooking oil and yogurt.
Full report at:
http://www.nation.com.pk/international/26-Jul-2014/china-imposes-airline-like-restrictions-on-bus-passengers-in-xinjiang
----------
Pakistan
Ahrar ul Hind claims support of senior TTP commanders
Jul 26, 2014
PESHAWAR: Little known militant group Ahrarul Hind, which had defected from the Tehreek-i-Taliban Pakistan (TTP) during its efforts to pursue peace talks with the government earlier this year, announced on Friday that senior TTP leaders have joined its ranks.
The claim could not be verified from the TTP.
In a statement issued to this correspondent, Ahrarul Hind spokesperson Asad Mansoor said, the group has "a well organised structure now and some founder TTP commanders and close aides of Amir Baitullah Mehsud are its members."
He said Maulana Umar Qasimi will be the amir of Ahrarul Hind.
Mansoor claimed that the outfit has the support of key commanders like Maulana Habibul Haq of Malakand, who was a TTP Nazim, key TTP commander Maulana Abdullah of Bajaur Agency, Shura member Mualana Hamza from Mohmand Agency, Mualana Amir Salam, the former TTP top man in Orakzai, Kurram and Khyber agencies, the Taliban Darul Qaza Chief Mufti Musbahuddin Sayad of Mohmand Agency, Commander Abu Ibrahim of the Punjabi Taliban and Mualana Sadiq and Maulana Yasin of Malakand Division.
Full report at:
http://www.dawn.com/news/1121608/ahrarul-hind-claims-support-of-senior-ttp-commanders
----------
US, Afghanistan failed to stop militants: Pakistan
July 26, 2014
WASHINGTON - A senior Pakistan official has said that US forces in Afghanistan and their Afghans partners have failed to intercept Taliban and other militants fleeing across the border from an ongoing Pakistani military offensive.
"Please do not permit these people to disappear," the official, in Washington for talks with the Obama administration, was quoted as saying by The Washington Post. "Take them out. Eliminate them. There should be a hammer and anvil," the official said, but the "Pakistan hammer saw no evidence of the anvil on the other side."
The complaint came as US forces have been withdrawn from positions near the border in eastern Afghanistan and Afghan troops in eastern Afghanistan are still solidifying their positions there, the newspaper said in a dispatch.
Full report at:
http://www.nation.com.pk/national/26-Jul-2014/us-afghanistan-failed-to-stop-militants-pakistan
----------
Four Ahmadis booked for 'preaching'
Jul 26, 2014
BADIN: The Tando Bago police have registered a criminal case against four men belonging to the Ahmadi community for allegedly preaching their faith.
Mohammad Ramazan Rustmani, a local cleric, who is also an office-bearer of the Jamiat Ulema-i-Islam (Fazl), lodged an FIR (96/2014) against the four men — Abbas Gurgez, Idrees Gurgez , Mushtaque Ahmed Gurgez and Mohammad Khan Gurgez — under Sections 298-B (misuse of epithets, descriptions and titles, etc., reserved for certain holy personages or places) and 298-C (person of Quadiani group, etc., calling himself a Muslim or preaching or propagating his faith) of the Pakistan Penal Code.
Tando Bago SHO Khuda Bux Panhwar told Dawn on Friday that the FIR was registered on the insistence of local religious leaders.
He said raids were being carried to arrest the nominated men but they had fled the village to avoid arrest.
Since the people nominated in the FIR had gone into hiding, it was not possible to obtain their version on the allegations.
http://www.dawn.com/news/1121598/four-ahmadis-booked-for-preaching
----------
PTI chief asks UN to stop Israeli aggression
Jul 26, 2014
ISLAMABAD: Pakistan Tehrik-i-Insaf chief Imran Khan on Friday wrote to United Nations (UN) General Secretary Ban Ki-moon highlighting what he called state terrorism being perpetrated by Israel on the innocent residents of Gaza in Palestine.
"I write to you as the chairman of the second largest political party in Pakistan and on behalf of the Pakistani nation that has always been the lead nation in UN peacekeeping across the globe. We have been watching in shock and horror as the state of Israel has unleashed the massacre of Palestinians in Gaza during the Muslim holy month of Ramazan and the UN has stood by as a silent spectator. The death toll of the Palestinians in Gaza has risen above 800 and the Israeli aggression continues," the PTI chief stated.
Under its charter, the UN has a duty to ensure that people are not persecuted and states do not aggress against other states and territories.
"You have a duty to ensure that the plan of genocide of the Palestinians by the Israeli state is thwarted. It is time for you as the UNSG to fulfill this critical duty," Mr Khan added.
http://www.dawn.com/news/1121650/pti-chief-asks-un-to-stop-israeli-aggression
----------
Jirga elders back govt's move to restore peace in N. Waziristan
Jul 26, 2014
ISLAMABAD: Minister for States and Frontier Regions (Safron) retired Lt Gen Abdul Qadir Baloch held a meeting with a tribal jirga of North Waziristan here on Friday.
The jirga was led by Maulana Sher Mohammad Torikhel Wazir, grand nephew and spiritual successor of Haji Mirza Ali Khan (Faqir of lpi), said a press statement.
Talking to the jirga, the minister said the government's first priority was to take care of the internally displaced persons (IDPs) and ensure their return to their homes at the earliest.
Maulana Sher Mohammad informed the minister that local tribesmen were fully supportive of the government's action and wanted to rid the area of the Taliban.
He said people of North Waziristan were ready to bear any hardship for the cause of peace in the country and requested the government to take all measures to clear the area of insurgents and stop their re-emergence.
http://www.dawn.com/news/1121701/jirga-elders-back-govts-move-to-restore-peace-in-n-waziristan
----------
Suspected militant killed, another arrested in Bannu: sources
Jul 26, 2014
PESHAWAR: Security forces said they have gunned down a militant and arrested another in the Jannikhel area of Bannu district on Saturday.
Official sources said that security forces were attacked while conducting a search operation in Frontier Region in Jannikhel.
Security personnel subsequently responded to the assault with retaliatory firing. Sources added that one militant was killed in the gun battle that took place between the two sides whereas another, who was identified as Waliullah, was arrested.
Sources said the arrested suspect was wanted by law enforcement agencies in various cases of terrorism.
Full report at:
http://www.dawn.com/news/1121751/suspected-militant-killed-another-arrested-in-bannu-sources
----------
Musharraf's policies still prevailing in the country, Siraj
Jul 26, 2014
PESHAWAR: Jamaat-i-Islami (JI) emir Sirajul Haq on Saturday said the policies of former military ruler Pervez Musharraf's time are still applied in the country.
The JI chief said the state of instability in the tribal belt was a repercussion of Musharraf's erroneous policies which were still prevalent in the country and requested that Prime Minister Nawaz Sharif root out such policies and assess the foreign and domestic outlook of the country.
Siraj was distributing Eid packages in Peshawar among the displaced civilian population of the North Waziristan military operation, when he said inhabitants of the tribal areas are more patriotic than the ruling elite of the country.
The JI chief said that instead of making the displaced people wait in long queues for aid the officials concerned should ensure there speedy return home.
Siraj said that his party shows solidarity with the people of Palestine and Waziristan in their crucial time.
Full report at:
http://www.dawn.com/news/1121769/musharrafs-policies-still-prevailing-in-the-country-siraj
----------
PPP lashes out at govt for invoking Article 245
Jul 26, 2014
ISLAMABAD: The main opposition, Pakistan Peoples Party (PPP) on Friday strongly opposed the government's decision of handing over the federal capital to the army under Article 245 of the Constitution to handle the law and order situation.
The reaction came hours after Interior Minister Chaudhry Nisar Ali Khan told the media that his ministry under Article 245 of the Constitution has sought the Army's services for maintaining law and order in Islamabad for a period of three months.
"The decision is pregnant with serious consequences for the people and the country as it means not only failure of the civil administration but also total suspension of the jurisdiction of the high courts. Worst still, in practical terms it also means setting up of military courts which cannot be permitted," PPP spokesperson Senator Farhatullah Babar said in a statement.
Full report at:
http://www.dawn.com/news/1121560/ppp-lashes-out-at-govt-for-invoking-article-245
----------
Altaf criticizes Nawaz for leaving Pakistan during Zarb-e-Azb
July 26, 2014
Karachi- Muttahida Qaumi Movement (MQM) chief Altaf Hussain has called on the authorities to take measures to put an end to targeted killing in Karachi. Hussain also criticized the prime minister saying he was staying abroad when the operation against terrorists was underway in the country.
He also lamented that the United Nations and Muslim Umah's silence over the Palestine issue. He said the massacre of Muslim will continue if they remained silent. He said that the army was fighting against terrorists with bravery, adding that it was necessary to raise voice against cruelties. He condemned Israeli cruelties against Palestinians.
http://www.nation.com.pk/national/26-Jul-2014/altaf-criticizes-nawaz-for-leaving-pakistan-during-zarb-e-azb
----------
Karachi: Three alleged terrorists killed in Manghopir
July 26, 2014
Karachi- Rangers and police, in a joint action, killed three alleged terrorists in Manghopir area today.
According to police, the action was taken at Ijtamagah road. Two terrorists, who were injured during the encounter, were also killed.
Police recovered suicide jackets, hand grenade, explosive material and arms from the possession of terrorists.
http://www.nation.com.pk/karachi/26-Jul-2014/karachi-three-alleged-terrorists-killed-in-manghopir
--------
Europe
'Islamists Planning Attack in West Have Left Syria'
Jul 26, 2014
OSLO: A group of militant Islamists planning to carry out attacks in the West is on its way from Syria, possibly heading towards Norway, police said.
Norwegian armed police were deployed for a second day at high-risk locations including airports and train stations, after the police's intelligence unit said on Thursday it received credible information that an attack might take place in the country in coming days.
"We have received information that a group of fighters have left Syria with the aim of carrying out terror attack in the West, and Norway was specifically mentioned among their targets," Jon Fitje Hoffmann, the chief analyst for the Police Security Service told TV2 in an interview on Friday.
A small group of Norway-based militants who have gained combat experience in conflicts around the globe have become the biggest threat to the Nordic nation and up to 50 have travelled to Syria in recent years, police said earlier.
http://www.dawn.com/news/1121657/islamists-planning-attack-in-west-have-left-syria
----------
WHO seeks humanitarian corridor to evacuate victims of Zionist barbarity
Jul 26, 2014
GENEVA: The World Health Organization (WHO) called for a humanitarian corridor to be set up in Gaza to allow aid workers to evacuate the wounded and bring in life-saving medicines.
Even during wartime, belligerents are obligated under international humanitarian law to ensure that people are able to reach medical care in safety, the WHO and Red Cross said.
Yet some sick and injured in Gaza are dying because of a lack of access to ambulances or health facilities, or the inability to leave the enclave for specialized treatment, the agencies said.
As casualties mount daily, WHO officials have discussed the humanitarian corridor proposal with both Israeli and Egyptian officials, but there has been no response yet, WHO spokesman Paul Garwood said. "It's needed as an urgency," Garwood told a news briefing.
Full report at:
http://www.arabnews.com/news/middle-east/607711
----------
U.N. rights inquiry says more Syrians joining ISIS
26 July 2014
More and more Syrian rebels are defecting to join the ultra-hardline Islamic State of Iraq and Syria insurgency, said U.N. human rights investigators on Friday, in what they described as a "Syrian-ization" of the al Qaeda offshoot.
Members of the independent Commission of Inquiry on Syria, set up by the U.N. Human Rights Council in September 2011, informally briefed the United Nations Security Council on Friday ahead of submitting their latest report next week.
Brazilian chief investigator Paulo Pinheiro said the ISIS was undergoing a "Syrian-ization."
"What began with a lot of foreign fighters, now you have authentic Syrian citizens," Pinheiro told reporters. "We are seeing more Syrians coming to ISIS than before."
He said there was an estimated 10,000 to 15,000 foreign fighters with various groups battling Syrian President Bashar al-Assad's troops.
Full report at:
http://english.alarabiya.net/en/perspective/analysis/2014/07/26/U-N-rights-inquiry-says-more-Syrians-joining-ISIS.html
----------
UN's Ban urges Gaza 'humanitarian pause' for Muslim holiday
Jul 26, 2014
UN chief Ban Ki-moon on Friday called for an immediate "humanitarian pause" in the fighting in Gaza and Israel lasting through the Muslim holiday of Eid al-Fitr.
Ban's call came after several meetings with US Secretary of State John Kerry and Egyptian officials aimed at ending the 18-day conflict that has killed more than 845 people, most of them Palestinian civilians.
"On this, the last Friday of Ramadan, I call for an immediate, unconditional humanitarian pause in the fighting in Gaza and Israel. This pause would last through the Eid al-Fitr holiday period," Ban said in a statement released by his office.
Full report at:
http://english.ahram.org.eg/NewsContent/2/8/107051/World/Region/UNs-Ban-urges-Gaza-humanitarian-pause-for-Muslim-h.aspx
----------
Georgia says seized heroin belongs to Taliban
Jul 26, 2014
TBILISI: Georgia's interior minister said on Friday that $400 million of heroin seized earlier this month, in the country's biggest ever drugs haul, belonged to the Taliban and was headed for Europe.
Ex-Soviet Georgia is on a drug trafficking route between Asia and Europe, often originating in Afghanistan and moving westward via Iran and the South Caucasus to Russia, Turkey or Western Europe, according to a recent US State Department report.
Georgian police arrested two Georgian citizens after finding 2.79 tonnes of liquid heroin in a truck that had entered Georgia from neighbouring Azerbaijan.
The truck was carrying 93 30-litre plastic barrels filled with an illegal substance that was 80 percent heroin, the police said.
Full report at:
http://www.dawn.com/news/1121754/georgia-says-seized-heroin-belongs-to-taliban
----------
Kyrgyzstan sentences ex-president to life imprisonment
World Bulletin / News Desk
Jul 26, 2014
Former Kyrgyzstan president Kurmanbek Bakiyev and his brother have been sentenced to life imprisonment and property confiscation over the murder of anti-gvoernment protesters in 2010.
A military tribunal in found Bakiyev and his brother Janybek, who was the former head of the Kyrgyz state guard service, guilty of masterminding murder, attempted murder and abuse of power on Friday.
The former Prime Minister of Kyrgyzstan, Daniyar Usenov, was also sentenced in absentia to life imprisonment and property confiscation for plotting murder.
A total of 77 people were killed and over 300 injured in April 2010 when thousands of anti-government protesters staged a rally in the capital Bishkek and attempted to break into the government headquarters.
The protests forced the Bakiyev brothers to flee and seek political asylum in Belarus.
http://www.worldbulletin.net/headlines/141374/kyrgyzstan-sentences-ex-president-to-life-imprisonment
----------
Africa
Libya seeks cease-fire as south Tripoli a militia "war zone"
Jul 26, 2014
TRIPOLI: Black plumes of smoke marked shell blasts and bulldozed earthen barricades mapped out the frontlines around Tripoli's largest airport, now at the heart of a standoff between the country's powerful militias.
With barrages of Grad rockets, anti-aircraft guns and artillery fired at their rival enclaves just kilometers apart, brigades of former rebels have turned parts of southern Tripoli in a battleground for nearly a fortnight.
The clash over Tripoli International Airport is the latest eruption in a deepening rivalry among bands of ex-fighters who once battled side by side against Muammar Qaddafi, but have since turned against each other in the scramble for control.
Since the 2011 fall of Tripoli, fighters from the western town of Zintan and allies have controlled the area including the international airport, while rivals loyal to the port city of Misrata had entrenched themselves in other parts of the capital.
Heavily armed, they have refused to hand over their guns and sided with competing political forces trying to shape the future of Libya in the messy transition since Qaddafi's four-decade rule over the North African state.
Full report at:
http://www.arabnews.com/news/middle-east/607831
----------
Violence in Nigeria has 'no boundaries' now, archbishop says
Jul 26, 2014
(CNA/EWTN News).- In wake of two bombings this week in Nigeria, targeting both an Islamic scholar and a senior politician, Archbishop Ignatius Kaigama has called for greater proactive efforts to identify all violent groups.
"The two separate bombings in Kaduna is a further indication that there is progression rather than retrogression of violence in the northern part of Nigeria," Archbishop Kaigama said in comments made to CNA July 23.
"That the attacks were allegedly aimed at a prominent Islamic scholar and preacher, and a senior politician shows that the violence has no boundaries now."
Archbishop Kaigama, head of Nigeria's Jos archdiocese and spokesman for the country's Catholic Bishops Conference, gave his comments following two June 23 bomb blasts in the northern Nigerian city of Kaduna.
Full report at:
http://www.dfwcatholic.org/violence-in-nigeria-has-no-boundaries-now-archbishop-says-73979/.html
----------
Somali 'Shebab commanders' killed
July 26, 2014
MOGADISHU : African Union troops in Somalia said Friday they had killed two "senior" commanders of the Qaeda-linked Shebab insurgents, in the latest push of an offensive against the extremist fighters.
Witnesses reported that fighter jets also pounded the town of Jilib in southern Somalia's Middle Juba region on Thursday, part of the offensive by the 22,000-strong UN-backed AU mission in Somalia, who launched in March a fresh bid to wrest remaining towns from the Islamists. AMISOM confirmed they had attacked an insurgent base near Jilib on Thursday, "destroying an Al-Shebab logistical base" and wounding "several militants."
The force, which fights alongside Somali government troops, boasted of capturing "a strategic militant training and planning camp in the village of Khadija Haji in Gedo region" in the far southwest, close to the border with Kenya.
Full report at:
http://www.nation.com.pk/international/26-Jul-2014/somali-shebab-commanders-killed
----------
Buhari's bomber dressed like woman, nabbed
Jul 26, 2014
A man suspected to be connected with the Wednesday explosion targeted at former Head of State, General Muhammadu Buhari, has been arrested by soldiers. He was arrested disguised as a woman, even wearing a brassiere.
The defence headquarters confirmed the arrest on Friday in a statement posted on its website, defenceinfo.mil.ng.
The statement said that the young man, in his early 20s, was apprehended by a military patrol team that swooped on the area immediately after the explosion.
According to the Defence headquarters, the suspect " disguised as a woman clad in a female garb to exude femininity with a brassiere affixed to his chest.
"The suspect was arrested while trying to disappear into a crowd of onlookers when the patrol team arrived the scene.
Full report at:
http://www.tribune.com.ng/news/top-stories/item/11677-buhari-s-bomber-dressed-like-woman-nabbed-police-ig-probes-attack
----------
Cleric's son feared killed as police, Shi'ites clash in Zaria
Jul 26, 2014
A bloody clash between adherents of the Sheihk Ibrahim Zakzaky led Shi'a sect and security agents reportedly led to the death of five people in Zaria on Friday.
A son of a prominent muslim cleric (names withheld) was feared killed during the disturbance.
Trouble reportedly ensued as the Shi'ites organised a procession in the city in support of Palestnians and denouncing Israel's alleged atrocities against the people of Gaza.
As of time of filing this report, there was no reaction from the authorities on the clash which eye an witness said left many injured from both sides. Also, efforts to get the police to comment on the incident did not yield any positive results.
http://www.tribune.com.ng/news/news-headlines/item/11678-cleric-s-son-feared-killed-as-police-shi-ites-clash-in-zaria
----------
Pedaling solutions As Dar es Salaam battles mega-city woes
Jul 26, 2014
FATMA rides on the shoulder of the road, her infant daughter secured to her back with a length of brightly colored kanga fabric. Arms outstretched, she grasps the handles that function as pedals and rotates the chain around a gear, propelling herself through Dar es Salaam's heavy traffic.
On roads that claim upwards of 10,000 lives every year, people who cannot walk take on the traffic in hand-pedaled tricycles. "If I don't use my bike, it would be very hard for my family to survive," she says.
The roads are not just dangerous for those with disabilities. With five million inhabitants, Tanzania's commercial and administrative capital is growing beyond the capacity of its infrastructure. Trucks, buses and private vehicles share the road with mini-buses known as daladalas, which are sometimes so crammed that passengers have to disembark through rear windows.
Full report at:
http://www.saudigazette.com.sa/index.cfm?method=home.regcon&contentid=20140726212719
-----------
North America
Thousands take to NY streets to protest Israeli offensive in Gaza
26 July 2014
Thousands of people took to the streets of New York City on Friday evening to protest Israel's offensive in the Gaza Strip and demand an end to the violence that has already killed nearly 850 Palestinians.
Police scrambled to corral the demonstrators, which officers estimated numbered between 2,000 and 3,000, as they flooded into the busy streets around Times Square.
Waving Palestinian flags and signs condemning Israel for the offensive, many called for an end to U.S. aid to the country.
"We're trying to break the siege and end the killing in Palestine. We just want them to live like human beings," said Ramsey Jamal, 37, a Palestinian-American from Montgomery, New York.
Full report at:
http://english.alarabiya.net/en/News/world/2014/07/26/Thousands-take-to-N-Y-streets-to-protest-Israeli-offensive-in-Gaza.html
----------
U.S. Congress prohibits Obama from sending troops to Iraq
Jul 26, 2014
(IraqiNews.com) On Friday, the U.S. House of Representatives voted by a large majority in favor of the decision to prevent U.S. President Barack Obama from sending American troops "to play any combat role continuously" in Iraq without the approval of the Congress. Congress adopted the resolution by 370 members and 40 opposing. This embodies the strong desire on the part of Republicans and Democrats that the White House should not move alone in the Iraqi issue without the support of the Congress. This vote is largely symbolic.
This decision stated by a proposal from Democratic Rep. Jim McGovern and a member of the Democratic Barbara Lee and Rep. Walter Jones.
Full report at:
http://www.iraqinews.com/baghdad-politics/u-s-congress-prohibits-obama-sending-troops-iraq/
----------
Canadian Company Unveils New Ergonomic Muslim Prayer Mat
Jul 26, 2014
LONDON: As the end of Ramadan approaches, many worshippers who have spent the holy month at Taraweeh prayers will most likely be feeling the physical strain. Now, Canadian company Timez5 claims to have come up with a solution with the world's first physiological prayer mat.
The Timez5 prayer mat, made of five different layers and retailing at $300, claims to be kinder on the knees and joints by enabling weight distribution and support, so that worshippers can be more comfortable doing their prayer rituals.
"We have conducted five years of intensive research and development in the areas of ergonomics, physiology and biomechanics that are specific to the Muslim lifestyle," said Nader Sabri, the chief executive officer at Timez5.
Full report at:
http://rudaw.net/english/world/26072014
----------
US Congress hears bill to outlaw Muslim Brotherhood
World Bulletin / News Desk
Jul 26, 2014
United States lawmakers have heard a bill that could label the Muslim Brotherhood a terrorist organization.
A proposal – the Muslim Brotherhood Terrorist Designation Act of 2014 – was submitted late on Thursday to the House of Representatives' committees on foreign affairs, finance, and the judiciary.
In Egypt, the Muslim Brotherhood, which supported the government of President Mohammed Morsi, was ousted from power last year. Since then hundreds of its members have been sentenced to death after President Abdul Fattah al-Sisi declared it a terrorist organization.
Founded in 1928, the brotherhood has affiliates around the Arab world, including Hamas in Gaza.
Full report at:
http://www.worldbulletin.net/headlines/141366/us-congress-hears-bill-to-outlaw-muslim-brotherhood
----------
Do not let Haqqani fighters resettle, US tells Pakistan
Jul 26, 2014
The US government urged Pakistan on Friday to prevent displaced Haqqani militants from returning to their traditional sanctuary after a Pakistani military offensive near the Afghanistan border.
The Haqqani network, which mainly operates out of Pakistan's border areas, has been blamed for some of the deadliest and most sophisticated attacks on NATO and Afghan troops in Afghanistan.
"What we've asked for is that the Haqqanis, yes they've been displaced, yes they've been disrupted, but that they not be allowed to regroup and resettle back into those historical areas," said Jeffrey Eggers from the White House's National Security Council, speaking at a security forum in Colorado.
Full report at:
http://www.dawn.com/news/1121753/do-not-let-haqqani-fighters-resettle-us-tells-pakistan
----------
Talks on comprehensive truce continue as Israel, Gaza observe temporary cease-fire
Jul 26, 2014
US Secretary of State John Kerry arrived in Paris on Saturday for talks with several international diplomats as efforts continued to forge a comprehensive cease-fire deal between Israel and Hamas as the sides were due to hold fire during a temporary halt in fighting until 8 p.m.
France was hosting several foreign ministers in Paris on Saturday to coordinate efforts to try and reach an agreement to end the so-far 19 days of fighting between Israel and Hamas in the Gaza Strip, a French diplomatic source said.
"In support of initiatives currently under way, most notably Egypt's initiative, our objective is to converge all international efforts so that the conditions of a ceasefire can emerge as quickly as possible," the source said.
Full report at:
http://www.jpost.com/Operation-Protective-Edge/Talks-on-comprehensive-truce-continue-as-Israel-Gaza-observe-temporary-cease-fire-368964
---------
Southeast Asia
President-Elect Jokowi Calls on Public to Pick Cabinet
Jul 26, 2014
Jakarta. President-elect Joko Widodo has again come up with an innovative idea; one that is unheard of in the history of Indonesian politics. Indonesia's future leader is asking the public to add its two cents in filling out his cabinet, and in the process, revealing the potential nominees.
Jokowi Center, a team of volunteers helping Joko gather suggestions and examine candidates for his cabinet lineup, launched a poll on its website jokowicenter.com on Thursday, allowing Indonesians nationwide to cast their votes for names provided by the site, or nominate their own favorites.
More than 18,000 online participants raced to the site as of Thursday evening, causing it to crash less than 24 hours after its official launch.
The Center's Facebook page and Twitter account — @Jokowi_Ina — also provided a link to a Google document inviting citizens to fill out a similar questionnaire.
A total of 102 names have been nominated for 34 ministerial posts, with each position receiving three candidates. If respondents remain unsatisfied with the suggestions, they may nominate their own choice with the "other" option.
Full report at:
http://www.thejakartaglobe.com/news/president-elect-jokowi-calls-public-pick-cabinet/
----------
Perkasa demands Penang to reveal funds for non-Muslims
Jul 26, 2014
The president of a Malay rights group is unsatisfied with Penang's allocation for Muslims, and is demanding for a list of how much the state has given to other religions.
"Give a list of the contributions for other religions," said Datuk Ibrahim Ali of Perkasa (pic).
He said Penang needed to prove that Islam has been prioritised despite the Pakatan Rakyat-led state government showing data that its allocation for Muslims has increased, compared with what the Barisan Nasional gave previously.
State executive councillor Datuk Abdul Malik Abul Kassim said on Wednesday that the Pakatan had allocated RM51.7 million for Islamic affairs in 2014, while Barisan had set aside RM25.49 million in 2008.
The new Pakatan budget is an increase from the RM35.78 million it gave in 2009.
Malik said this in reaction to former chief justice Tun Abdul Hamid Mohamad's remark that Islam is under threat in Penang, with non-Muslims wanting more funds for their religious activities.
Full report at:
http://www.themalaysianinsider.com/malaysia/article/perkasa-demands-penang-to-reveal-funds-for-non-muslims#sthash.WccdxiEE.dpuf
----------
Leave Penang alone to enjoy its religious harmony, says Guan Eng
Jul 26, 2014
With Hari Raya Aidilfitri just two days away, Penang is telling detractors not to ruin the religious harmony currently enjoyed in the Pakatan Rakyat-led state.
Chief Minister Lim Guan Eng said the state has always been proud of how its people could work together to make Penang a peaceful, fair and vibrant state.
"In our journey to become an international and intelligent city that is clean, green, healthy and safe, we must remember that the prerequisite is a united society.
"Not only must we be tolerant. We must also respect each other to maintain our good relations. Therefore, it is regrettable that some irresponsible quarters have questioned the welfare of Islam in Penang," he said, in his written Hari Raya Aidilfitri address today.
It was reported that former chief justice Tun Abdul Hamid Mohamad had earlier this week alleged that Islam was under threat in DAP-led Penang.
Full report at:
http://www.themalaysianinsider.com/malaysia/article/leave-penang-alone-to-enjoy-its-religious-harmony-says-guan-eng#sthash.aNPXJEAj.dpuf
----------
New Religious Affairs Minister Supports State Recognition of Baha'i Religion
Jul 26, 2014
Jakarta. The new religious affairs minister has indicated that the Baha'i religion should be the seventh religion to be recognized by Indonesia as an official faith.
"Baha'i is a religion, not a sect," Lukman Saifuddin tweeted from his Twitter account @lukmansaifuddin on Thursday. "There are 220 believers in Banyuwangi, 100 in Jakarta, 100 in Medan, 98 in Surabaya, 80 in Palopo, 50 in Bandung, 30 in Malang and in other regions."
Lukman said he made the comment as a result of a letter sent by the Home Affairs Ministry requesting clarification about the religion.
"I told [the Home Affairs Ministry] that Baha'i is a religion protected by articles 28E and 29 in the Constitution," Lukman said.
He added that adherents of the faith should be entitled to identify themselves as such on their national identity cards — and that recognition would make it easier to obtain necessary documentation, such as driver licenses, birth certificates, marriage certificates and land deeds.
Full report at:
http://www.thejakartaglobe.com/news/new-religious-affairs-minister-supports-state-recognition-bahai-religion/
----------
URL: https://www.newageislam.com/islamic-world-news/new-age-islam-news-bureau/nadwa-cleric-asks-saudi-govt-to-prepare-an-army-of-sunni-youth-for-iraq/d/98312