New Age Islam News Bureau
28 Aug 2018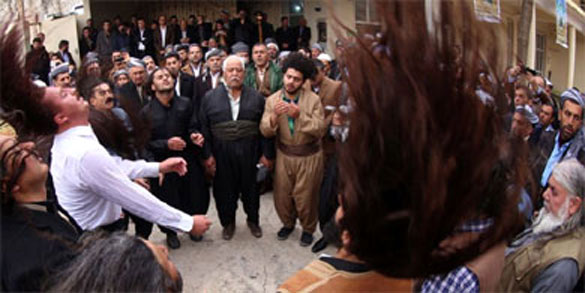 FILE - Iraqi Sufis take part in a ritual ceremony in the town of Akra, north of Baghdad, Jan. 1, 2015.
-------
• Mystical Sufi Dancing Rituals Return to Mosul after IS
• Girl Says No To Muslim Man Who Converted For Her in Supreme Court
• Muslim States Failed To Act against Blasphemy, Says Prime Minister Imran Khan
• US Olympic Medallist Ibtihaj Muhammad Reflects On Her Hajj Journey
• Myanmar Generals Must Be Tried For Genocide against Rohingya Muslims, UN Says
Arab World
• Mystical Sufi Dancing Rituals Return to Mosul after IS
• Sexual Harassment Can't Be Justified, Prohibited In Islam: Egypt's Al-Azhar
• Syria: Tens of Children Kidnapped for False-Flag Chemical Attack Videos
• ISIL Retreats from More Positions under Syrian Army Attacks in Sweida Deserts
• Turkey Calls on Syrian Army to Delay Operation against Terrorists in Idlib
• US seeking to use fake chemical weapons attack to strike Syria: Russian MoD
• Houthis 'putting pressure' on UN aid organizations in Yemen
--------
India
• Girl Says No To Muslim Man Who Converted For Her in Supreme Court
• Muslim Man in Surat Carves Out Idols of Hindu God
• Lucknow court blast case: Two HuJI suspects get life term
• India, US to push for global terrorist tag on Masood Azhar's brother
--------
Pakistan
• Muslim States Failed To Act against Blasphemy, Says Prime Minister Imran Khan
• HRW Asks Imran to Make Human Rights Govt's Top Priority
• DG ISPR denies giving Miramshah protesters assurances to court-martial army personnel
• Nawaz appears before accountability court again today
• PPP under fire as opposition alliance unravels
• Qatari letter was discussed during day-to-day meetings of JIT, court told
• PPP meeting today to consider JUI-F Presidential candidate
• China hails participation of India, Pakistan in SCO anti-terror drill
--------
North America
• US Olympic Medallist Ibtihaj Muhammad Reflects On Her Hajj Journey
• Pompeo: US Will 'Vigorously Defend' Against Iran Court Challenge
• US seeks to 'severely' damage Iran economy, top UN court hears
• US warns Saudi over Yemen civilian casualties: Report
• US policy toward Iran reflects Saudi, Israeli influence
--------
South Asia
• Myanmar Generals Must Be Tried For Genocide against Rohingya Muslims, UN Says
• UAE's Sheikha Fatima Humanitarian Campaign Brings Hope to Rohingya Refugees
• Facebook Bans Myanmar Military Chief, Others to Stop Hate
• UN Investigation Condemns Aung San Suu Kyi for Indifference as Myanmar Military Massacred Rohingya Muslims
• Expatriate Bangladeshis remembers Father of the Nation 'Bangabandhu' in Riyadh
• Militants, security personnel among 115 dead, wounded in Faryab clash
• Abdullah refutes Russian claims of 'unidentified helicopters arming ISIS'
--------
Mideast
• Erdogan Says His Critics Want to Eliminate Muslims and the Middle East
• Turkish Armed Forces 'Neutralize' Over Two Dozen Kurdish PKK Militants In One Week
• Arab MPs in Israel push UN resolution on 'apartheid' law
• Arab coalition strikes Houthi training camp southeast of Sanaa
• Turkey reiterates support for Rohingya Muslims
• Iran president to host Russian, Turkish counterpart for Syria talks
• Israel reopens pedestrian crossing with besieged Gaza Strip
--------
Australia
• Muslims Pray For Rain for Australian Farmers during Religious Holiday Eid Al-Adha
--------
Southeast Asia
• Why the Muslim World Isn't Saying Anything about China's Repression and 'Cultural Cleansing' Of Its Downtrodden Muslim Minority
• Raise Floor Marriage Age Strictly To 18, Urges Former Sharie Judge
• Indonesia, Senegal Agree To Promote Moderate Islam
• Islamist politician says Malaysian govt. should 'take action' against LGBTI community
• Sarawak CM reminded about promise to amend Shariah laws on apostasy
--------
Africa
• Africa, Home to Growing Number of Christians and Muslims, Contends With Atheists, Too
• Cameroon to Set Up Vocational Training Centre For Ex-Boko Haram Fighters
• Daughter: Sheikh Zakzaky Deprived of Medical Care
• Troops kill three Boko Haram members in battle – Official
• Leah Sharibu reportedly speaks from Boko Haram captivity, begs Buhari
--------
Europe
• 'Allah Forbids It': Hizb ut-Tahrir Urges Swedish Muslims Not to Vote
• EU Allergic To Muslim Women, Says Algerian Millionaire Paying Danish Niqab Fines
• Macron says keeping Assad in power would be a 'disastrous mistake'
• Inside Birmingham neighbourhood that's produced tenth of UK's convicted Islamic terrorists
Compiled by New Age Islam News Bureau
URL: https://www.newageislam.com/islamic-world-news/mystical-sufi-dancing-rituals-return/d/116220
-----
Mystical Sufi Dancing Rituals Return to Mosul After IS
August 27, 2018
Drums pounded hard as a circle of men, their shoulder-length hair whirling through the air, spun their heads in a trance.
In the middle of the circle, other men pierced their heads with knives and drove skewers in their mouths as hundreds of others chanted, "Muhammad the savior will wash off the heart's stain and show the righteous path."
They were members of the Sufi branch of Islam, celebrating their return to the Iraqi city of Mosul after the overthrow of Islamic State. They were performing their rituals in Ali Kasnazani Takya — a new convent to hold Sufi ceremonies after most of their places of worship were destroyed during the brutal 6-month-old campaign to oust IS from Mosul.
Sufism is a mystical strain of Islam characterized by an inward search for God and the rejection of materialism. The group is divided into many different orders and has followers around the world.
In Iraq, followers of the Kasnazani order believe they have established a spiritual lineage through their leader and founder, Shaikh Muhammad Abdul Kareem al-Kasnazani al-Qadiri al-Hussaini, to the prophet of Islam.
Criticism
Sufism often comes under criticism by non-Sufi Muslims and faces heavy government control due to its adherents, locally known as dervishes, inflicting wounds upon themselves. But followers say their rituals and practices help them attain the ecstatic trance to reach God.
"Our method is peaceful and is only to help us come closer to God," Madullah Farhan, a Sufi member from Mosul, told VOA. "Our remembrance of Allah purifies our hearts."
Farhan said remembrance and meditation, which included headbanging and the recitation of the 99 names of God in Islam, helped them perform supernatural wonders and establish communion with God.
The sect has been targeted by Islamist militant groups since 2003 due to the claim that they practice a heterodox form of Islam.
IS persecution
When IS controlled Mosul in 2014, it declared the Sufis as legitimate targets, confiscated their convents, known as Takya, and gave them the option to either abandon their practices or face death.
Waled Jabr, head of Mosul's Takyas, recounted to VOA how IS purged followers of the sect. He said most Sufis fled Mosul, and those who stayed had to hide their beliefs. The Islamist group burned their religious texts, turned their convents into training camps for new recruits and exploded the burial sites of Sufi spiritual leaders.
Jabr was imprisoned by IS and sentenced to death by hanging in 2017. He was later freed on the condition he abandons all Sufi practices.
"IS tried to destroy everything that we considered sacred," he said. "They started destroying our Takyas as soon as they entered Mosul."
Of the nearly 100 Sufi convents in Mosul, the majority now lie in ruins. The followers are pained particularly at the destruction of their main places of worship known as Rafai Takya and Naqishbandi Takya in the Old City district.
Rami al-Abadi, a member of the Mosul Sufis Committee, said IS turned the Naqishbandi Takya into a mosque before it was destroyed by airstrikes during the war for Mosul. The famous convent, which once hosted hundreds of Sufi students from across Iraq, is now a hulk of shattered concrete and twisted metal.
"Generations of Sufis were being prepared here to spread the philosophy of modesty, tolerance, love and peace," al-Abadi said, adding that the convent also attracted other religious minorities such as Christians to settle in the vicinity.
But IS took over the convent in mid-2014 and changed it to a mosque named after Muhammad ibn Abd al-Wahhab — an Islamic theologian from Saudi Arabia who founded the movement now called Wahhabism. Many radical Islamists are said to have taken inspiration from the movement.
"IS changed the name to Muhammad ibn Abd al-Wahhab to justify their takifri ideologies and their thirst for killing," al-Abadi said.
"Takfiri" is an Arabic term used to criticize jihadists who accuse other Muslims of apostasy.
Sufis say they are trying to provide a parallel pathway against radical Islamist ideology. They say the attacks on their convents, particularly from IS, are to scare away more Muslims around the world from joining their ranks.
A group of about 40 Islamist militants last November attacked the Sufi mosque of al-Rawdah in Egypt's northern Sinai and killed more than 300 worshipers, including children. The attack triggered world condemnation and resurfaced debates over the need to end decades of targeting and discrimination against the Sufis across the Middle East.
New hope
For followers of the Kasnazani order who have resumed their rituals in Mosul, the removal of IS gives birth to a new hope that they can finally practice their beliefs without the fear of persecution.
Abdullah Muhammad, one of the leading Sufis in headbanging meditations at Ali Kasnazani Takya, charged that the defeat of IS has helped many Sufis return to their homes, but militant threats and social shaming are far from over.
"We sacrificed a lot under IS. We hope our sacrifice brings peace and tolerance to Mosul," he told VOA.
https://www.voanews.com/a/mystical-sufi-dancing-rituals-return-mosul-islamic-state/4546955.html
--------
Girl says no to Muslim man who converted for her in Supreme Court
Aug 28, 2018
NEW DELHI: An unusual love story, in which a Muslim man converted to Hinduism to marry a Hindu girl, came unstuck with the woman telling the Supreme Court on Monday that though she had married of her own will, she would prefer to stay with her parents.
The 33-year-old man, Mohammad Ibrahim Siddhiqui, converted to Hinduism and assumed the name Aryan Arya to marry a 23-year-old Hindu 'Jain' girl in Raipur in February. He knocked the SC doors on August 17 with a habeas corpus petition alleging that the girl's parents and a Hindu group were forcibly separating them.
A bench of Chief Justice Dipak Misra and Justices A M Khanwilkar and D Y Chandrachud had taken note of Arya's counsel Nikhil Nayyar's allegations and ordered the superintendent of police, Dhamtari, to produce the girl in court on August 27. The Chhattisgarh police brought the girl to the court on Monday. She was accompanied by her father and a relative.
Before the judges could interact with her, state advocate general Jugal Kishore Gilda told the bench that it was a sham marriage as the man had been divorced twice and had concealed this from the girl. The CJI brushed aside the submission and asked the girl to come forward. Finding that she was accompanied by her father and a relative, the CJI asked them to vacate the court to facilitate uninfluenced interaction.
The girl stood firm and repeatedly told the bench that though she had married the man, she prefers to stay with her parents.
She also told the bench that she was not talking under parental pressure.
https://timesofindia.indiatimes.com/city/delhi/in-sc-girl-says-no-to-muslim-man-who-converted-for-her/articleshow/65570529.cms
--------
Muslim States Failed To Act against Blasphemy, Says Prime Minister Imran Khan
Aug 28, 2018
ISLAMABAD: Prime Minister Imran Khan on Monday said that his government will raise the issue of blasphemous caricatures in the United Nations General Assembly (UNGA) while putting the blame of such incidents on lack of unity among the Muslim countries.
In his maiden address to the Senate, PM Imran called it a "collective failure" of Muslim countries for the absence of an international policy against blasphemous content.
The prime minister said that though the government will raise the issue with the UN, he didn't think it would be of much use, adding that his government will raise the matter in the Organisation of Islamic Cooperation (OIC) and formulate a collective policy which could then be presented at international forums.
Imran lamented that this should have been done years ago while giving the example of the Holocaust and how four European countries have jail sentences for anyone who misquotes the figures of Holocaust. "That is because they realise that this is something that hurts the sentiments of the Jewish community," he explained.
The premier emphasised on the need to have a similar policy for this matter so that people do not repeatedly hurt the sentiments of Muslims.
PM Khan also said that he and his ministers would continue to raise the importance of the Senate and the National Assembly by making sure that government representation is present in all sessions.
"I have told the speaker to devise the rules for this and this practice will begin soon," the prime minister said.
Speaking about his government's efforts to minimise overall spending, Imran expressed his desire for the senators to be a part of his austerity drive to minimise all government expenses.
"This will only bring in minimal saving, but it will send out the message to taxpayers that we care about where their money is spent," he added.
PM Khan said that Pakistan is amongst the top five most charitable countries but it is also among countries that pay the least amount of tax.
"It is because people have not trusted past governments," he said, adding that the austerity drive is an effort to change that. "The ruling elite should show by example that peoples' tax money is being spent on them," the prime minister said.
The government is also looking to increase revenue, besides cost cutting, including reforming the Federal Board of Revenue (FBR), he said, adding that other such measures will be discussed in the parliament soon.
SENATE PASSES RESOLUTION:
Earlier, the Senate passed a resolution to bring the UN's attention to the matter regarding the announcement by the leader of Dutch Freedom Party and parliamentarian Geert Wilders to hold a competition of blasphemous caricatures.
"This House strongly condemns the venomous, vicious and contemptuous decision of Geert Wilders, the notorious Islamophobe, belonging to the Dutch Party of Freedom, to hold a 'Draw Muhammad Cartoon Competition' to be held later this year in Netherlands," read the resolution.
"The House considers that the proposed competition tantamount to inciting hatred, racial prejudice, unrest, conflict and insecurity in a world that has already seen much bloodshed, racism, extremism, intolerance and Islamophobia and badly needs peace, interfaith harmony, mutual respect and tolerance."
"The Senate of Pakistan reaffirms that the love for our beloved Prophet (SAW) is beyond any doubt a part of our faith and no Muslim can tolerate any such vicious, contemptuous and calculated insult of our beloved Prophet (SAW)," the resolution added.
The Senate also agreed to lodge a formal protest with the Dutch government through its embassy in the country. A special session of the Organisation of Islamic Cooperation (OIC) may also be convened to formally engage the European Union, the UN and individual states to chalk out limits of freedom of expression to maintain global peace, the Upper House decided.
Lawmakers also urged the Ministry of Religious Affairs and Inter-Faith Harmony to constitute a committee of Muslim intellectuals and experts to deliberate on the issue and frame workable proposals for preventing such blasphemous movies, cartoons, books and other such content.
https://www.pakistantoday.com.pk/2018/08/27/pakistan-to-move-oic-for-policy-against-blasphemous-content/
--------
US Olympic Medallist Ibtihaj Muhammad Reflects On Her Hajj Journey
August 28, 2018
MINA: Muslim American Olympian Ibtihajj Muhammad, who performed Hajj this year, told Arab News that during her pilmgrimage one of the best experiences was seeing people from different parts of the world unite in devotion to their faith.
"It is something as a Muslim growing up and living in the US that you don't get the opportunity to see. I feel I get that sense when I travel to the Middle East, particularly this trip to Saudi Arabia to perform Hajj — it is something I will never forget," she said.
Ibtihajj did not know she was coming to Saudi Arabia for Hajj until about three weeks before it began. She was invited by Dar Al Islam travel agency. "I felt like it was something Allah called on me to perform Hajj and I was very excited. I was also very apprehensive and did not know what to expect; as you read and try to prepare for the journey it is more than anything you can anticipate. It feels like a blessing and I am really excited," she said.
Ibtihajj said her visa process was easy and fast; it took one day to obtain. Her journey was long due to the fact that she traveled from Los Angeles, California and had a few flights before arriving to Saudi Arabia.
The American Olympian lauded the Kingdom's efforts for the organization of Hajj this year. "To the Kingdom of Saudi Arabia I thank you for having me; it has been a really transformative experience." In her opinion Saudi Arabia had done a really good job to accommodate millions of people; she said that she can only imagine how difficult it is.
Ibtihajj felt that Madinah was one of the most peaceful places that she has been to during her trip to Saudi Arabia and said it was a great starting point to prepare and acclimatize to "Saudi Arabia and to prepare for Hajj itself."
"Once I had arrived to see the Kaaba for the first time — it is something that you read about it and hear about from your parents — but to see it for the first time for yourself and to see so many pilgrims walking around it was one of the greatest sights I have ever seen. It is something that you dream of and you pray that Allah invites you, so to have the opportunity to do that was very exciting," she said.
Ibtihajj Muhammad is a member of the US fencing team. She is best known for being the first Muslim American woman to wear a hijab while competing for the US in the Olympics. She earned bronze at the Games, becoming the first female Muslim-American athlete to earn a medal at the Olympics.
https://www.arabnews.com/node/1362936/saudi-arabia
--------
Myanmar generals must be tried for genocide against Rohingya Muslims, UN says
August 27, 2018
Myanmar's military carried out mass killings and gang rapes of Muslim Rohingya with "genocidal intent" and the commander-in-chief and five generals should be prosecuted for orchestrating the gravest crimes under law, U.N. investigators said on Monday.
The civilian government led by Aung San Suu Kyi has allowed hate speech to thrive, destroyed documents and failed to protect minorities from crimes against humanity and war crimes by the army in Rakhine, Kachin and Shan states, they said in a report.
In doing so, it "contributed to the commission of atrocity crimes," the report said.
A year ago, government troops led a brutal crackdown in Myanmar's Rakhine state in response to attacks by the Arakan Rohingya Salvation Army (ARSA) on 30 Myanmar police posts and a military base.
Some 700,000 Rohingya fled the crackdown and most are now living in refugee camps in neighboring Bangladesh.
The U.N. report said the military action, which included the scorching of villages, was "grossly disproportionate to actual security threats."
The United Nations defines genocide as acts meant to destroy a national, ethnic, racial or religious group in whole or in part. Such a designation is rare under international law, but has been used in countries including Bosnia and Sudan and in the Islamic State campaign against the Yazidi communities in Iraq and Syria.
"The crimes in Rakhine State, and the manner in which they were perpetrated, are similar in nature, gravity and scope to those that have allowed genocidal intent to be established in other contexts," said the U.N. Independent International Fact-Finding Mission on Myanmar.
In the final 20-page report, it said: "There is sufficient information to warrant the investigation and prosecution of senior officials in the Tatmadaw (army) chain of command, so that a competent court can determine their liability for genocide in relation to the situation in Rakhine state."
The Myanmar government, which was sent an advance copy of the U.N. report in line with standard practice, has not commented.
Contacted by phone, Myanmar military spokesman Major General Tun Tun Nyi said he could not immediately comment.
The U.N. panel, led by former Indonesian attorney-general Marzuki Darusman, named the Myanmar army's commander-in-chief, Senior General Min Aung Hlaing, and five other generalswho should face justice.
They included Brigadier-General Aung Aung, commander of the 33rd Light Infantry Division, which oversaw operations in the coastal village of Inn Din where 10 Rohingya captive boys and men were killed.
Reuters was unable to contact Min Aung Hlaing or Aung Aung on Monday.
The massacre was uncovered by two Reuters journalists – Wa Lone, 32, and Kyaw Soe Oo, 28 – who were arrested as a result last December and are being tried on charges of violating the country's Official Secrets Act. The court had been due to deliver its verdict on Monday, but at a brief hearing earlier the proceedings were postponed until Sept. 3.
In April, seven soldiers were sentenced to 10 years in prison with hard labor for participating in the massacre.
The report said Suu Kyi, a Nobel Peace Prize laureate, "has not used her de facto position as Head of Government, nor her moral authority, to stem or prevent the unfolding events, or seek alternative avenues to meet a responsibility to protect the civilian population."
Suu Kyi's spokesman, Zaw Htay, could not immediately be reached for comment on Monday.
The top U.N. human rights official Zeid Ra'ad al-Hussein has called the crackdown against theRohingya a "textbook example of ethnic cleansing."
Suu Kyi's government has rejected most allegations of atrocities made against the security forces by refugees. It has built transit centers to receive Rohingya returnees to western Rakhine state, but U.N. aid agencies say that it is not yet safe for them to return.
Call for individual sanctions
The U.N. Security Council should ensure all perpetrators are held to account, preferably by referring Myanmar to the International Criminal Court (ICC) or by creating an ad hoc tribunal, the investigators said.
The four other generals the U.N. panel said should be prosecuted were named as the army deputy commander-in-chief, Vice Senior-General Soe Win; the commander of the Bureau of Special Operations-3, Lieutenant-General Aung Kyaw Zaw; the commander of Western Regional Military Command, Major-General Maung Maung Soe; and the commander of 99th Light Infantry Division, Brigadier-General Than Oo.
The panel, set up last year, interviewed 875 victims and witnesses in Bangladesh and other countries, and analyzed documents, videos, photographs and satellite images.
Decades of state-sponsored stigmatization against Rohingya had resulted in "institutionalized oppression from birth to death," the report said.
The Rohingya, who regard themselves as native to Rakhine state, are widely considered as interlopers by Myanmar's Buddhist majority and are denied citizenship.
"The Tatmadaw acts with complete impunity and has never been held accountable. Its standard response is to deny, dismiss and obstruct," the U.N. report said.
The report also criticized Facebook's response to allegations, including by members of the same U.N. panel in March, that the social media giant had been used to incite violence and hatred against the Rohingyas.
"Although improved in recent months, Facebook's response has been slow and ineffective. The extent to which Facebook posts and messages have led to real-world discrimination and violencemust be independently and thoroughly examined," it said.
Facebook declined to comment in an emailed statement, saying it had not yet seen the report.
Facebook said in a statement issued 10 days ago following a Reuters investigative report into its failure to combat hate speech against the Rohingya and other Muslims that it had been "too slow" to address the problem in Myanmar and was acting to remedy the situation by hiring more Burmese speakers and investing in technology to identify problematic content.
International courts have a mixed record on prosecutions for genocide.
In 2008, a U.N. court sentenced former army colonel Theoneste Bagosora, accused of masterminding the slaughter of 800,000 people in Rwanda in 1994, to life in prison on charges of genocide and crimes against humanity. His sentence was later cut to 35 years on appeal.
In 2016, former Bosnian Serb leader Radovan Karadzic was convicted by U.N. judges of genocide for the 1995 Srebrenica massacre. He is appealing against the conviction.
The ICC issued arrest warrants for Sudan President Omar al-Bashir in 2009 and 2010 over his alleged role in war crimes including genocide in Sudan's breakaway Darfur province in 2003. He remains in office.
https://globalnews.ca/news/4410974/myanmar-generals-genocide-rohingya-un/
--------
Arab World
Sexual harassment can't be justified, prohibited in Islam: Egypt's Al-Azhar
27 Aug 2018
Egypt's Al Azhar Institution said on Monday that sexual harassment was prohibited in Islam and can't be justified under any circumstance.
"Al-Azhar stresses that sexual harassment, whether a sign, verbal or physical, is a prohibited and perverted action," Egypt's biggest Islamic religious institution said.
Al-Azhar added that it followed recent incidents of sexual harassment in the media and social media, condemning how some may blame the clothes of female sexual harassment victims.
"Criminalizing sexual harassment should be absolute with no condition that justifies sexual harassment in regards to the actions or clothing choices of girls, which represents a misunderstanding of the nature of harassment as an attack on a woman's privacy, freedom, and dignity" the statement read.
Using examples from the Holy Quran and Prophet Mohamed (peace be upon Him) about how women should feel safe whether in their life or travel in Islam, Al-Azhar attempted to raise social awareness of how harmful sexual harassment is.
Al-Azhar also called on media to avoid publishing any material that promotes or encourages sexual harassment.
The statement comes following a series of sexual harassment incidents recently in Egyptian society where some claimed the women and their attire were the reason behind sexual harassment.
http://english.ahram.org.eg/NewsContent/1/64/310375/Egypt/Politics-/Sexual-harassment-cant-be-justified,-prohibited-in.aspx
--------
Syria: Tens of Children Kidnapped for False-Flag Chemical Attack Videos
Aug 27, 2018
Syria's al-Watan daily quoted local sources as reporting that more than 40 children have recently been kidnapped in different regions across Idlib and Aleppo provinces.
It further said that clues show Tahrir al-Sham Hay'at (the Levant Liberation Board or the Al-Nusra Front) has been in the abductions, adding that most of the children have been taken away from the small towns of al-Zarabah and Khan Touman in Southern Aleppo, Khan al-Asal, Tarmanin and al-Artan in Western Aleppo and the refugee camps in Qah and Atmah in Northwestern Idlib at the border with Turkey as well as the small towns of Basamas, Jozeph, Mar'ayan and al-Ramin in Jabal al-Zawiyeh in Southern Idlib that are among Tahrir al-Sham's most crucial strongholds.
The daily further pointed to the movements and preparations made Tahrir al-Sham and the White Helmets to stage a chemical attack in Idlib and relevant warnings by Russia, and warned that the kidnapped children are most likely to play role in the fake chemical operation.
The daily went on to say that Tahrir al-Sham has recently captured over 1,000 civilians in villages and towns in Western and Southern Idlib, accusing them of promoting peace plan with Damascus, adding that Tahrir al-Sham also seems to plan to use the captured civilians in the same fake chemical attack.
Earlier today, the Arabic-language website of Sputnik quoted well-informed sources as disclosing that the White Helmets transferred a consignment of chemicals from chlorine-producing company in Atmah at border with Turkey to Northern Hama on Sunday night. It further said that the chemical consignment that was hidden in five trucks for carrying sands was transferred from Northern Idlib to Northern Hama under tight security measures.
Full report at:
http://en.farsnews.com/newstext.aspx?nn=13970605000898
--------
ISIL Retreats from More Positions under Syrian Army Attacks in Sweida Deserts
Aug 27, 2018
The army units engaged in fierce clashes with ISIL in the rocks in Tal Abu Qanem region in Toloul al-Safa in the Eastern desert of Sweida, inflicting heavy casualties on them.
In the meantime, the army's artillery and missile units and aircraft pounded ISIL's positions and movements in the rocky areas in Toloul al-Safa.
Other units of the army attacked ISIL's defense lines near Khirbet al-Hawi in Toloul al-Safa, damaging a main base and a military vehicle and killing a number of terrorists.
A field sources reported that the army has reinvigorated its positions all around Toloul al-Safa, and tightened the noose on the terrorists, adding that the army units have, thus far, repelled several offensives of the ISIL aimed at breaking government forces' siege on Toloul al-Safa.
On Sunday, the army soldiers, backed up by artillery units and Air Force, engaged in heavy fighting with ISIL in Toloul al-Safa in Eastern Deserts of Sweida and seized control over Qabr Sheikh Hossein and Torbet al-Hawi.
The army men further advanced 2km towards Hawa Hossein West of Toloul al-Safa from their positions in newly-captured Qabr Sheikh Hossein.
Full report at:
http://en.farsnews.com/newstext.aspx?nn=13970605000947
--------
Turkey Calls on Syrian Army to Delay Operation against Terrorists in Idlib
Aug 27, 2018
The Arabic-language Sputnik quoted a Russian military source as disclosing that Turkish officials have called on their Syrian counterparts via Russian channels to delay military operation in Idlib until September 4.
It further said that Ankara is trying hard to dissolve Tahrir al-Sham Hay'at (the Levant Liberation Board or the Al-Nusra Front), adding that Russia has informed the Syrian government of the Turkish officials' commitment to the dissolution of Tahrir al-Sham and other militant groups or a reconciliation deal between the terrorists and Damascus.
The report further said that the Syrian Army has continued dispatching more forces and equipment to Idlib, Hama and Northeastern Lattakia in spite of Turkey's attempts to delay the upcoming operation.
In the meantime, militant-affiliated sources reported that Tahrir al-Sham and the National Liberation Front, which was recently formed by Turkey, held several meetings to form a joint operation room to counter the Syrian Army's major operation in Idlib.
The sources said that the operation room that aims to include the entire militant groups in Northern Syria has reinvigorated its defense capabilities in Lattakia, Hama, Idlib and Aleppo.
On Sunday, the army sent a convoy, including thirty military vehicles, tanks and other equipment to Northern Hama.
The newly-arrived army forces deployed to Jabal al-Turkmen and Salman regions in Northern Lattakia, Abu Dali and Abu Omar regions in Hama and Abu al-Dhohour base in Eastern Idlib.
A military convoy was also forwarded to Jourin in al-Ghaab Plain in Western Idlib.
The army also opened several humanitarian safe corridors to evacuate civilians as the zero hour is arriving for the government forces' operation.
Full report at:
http://en.farsnews.com/newstext.aspx?nn=13970605000770
--------
US seeking to use fake chemical weapons attack to strike Syria: Russian MoD
Aug 27, 2018
The Russian Defense Ministry has warned that the United States may use a fake chemical attack carried out by foreign-sponsored Takfiri militants in Syria's northwestern province of Idlib as a pretext to launch possible airstrikes on Syrian government forces.
"The United States keeps building up the group of cruise missile carriers in the Middle East region, connected with the preparation of a regular provocation with alleged 'use of chemical weapons' in the province of Idlib," Russian Defense Ministry Spokesman Major General Igor Konashenkov told reporters on Monday.
Konashenkov added that the destroyer USS The Sullivans armed with 56 cruise missiles had arrived in the Persian Gulf several days ago, while a US В-1В bomber carrying 24 air-to-surface AGM-158 JASSM cruise missiles has been deployed at al-Udeid airbase in Qatar for this purpose.
Additionally, guided-missile destroyer USS Ross armed with 28 Tomahawk cruise missiles entered the Mediterranean on August 25, and the vessel is capable of hitting any target in Syria.
The warning came only a day after Konashenkov said foreign special agents are preparing to commit major provocations in Syria by means of chemical weapons.
"According to the information that the Russian Reconciliation Center for Syria received today from the residents of the Idlib, English-speaking foreign experts have arrived in the Hbit settlement south of Idlib de-escalation zone to stage a 'chemical attack' using chlorine-loaded missiles," the senior Russian military official said on Sunday.
Konashenkov highlighted that militant rocket launchers will strike Kafr Zayta settlement within the next two days.
"The interested trans-regional forces are once again preparing major provocations in Syria using poisonous substances to severely destabilize the situation and disrupt the steady dynamics of the ongoing peace process," he pointed out.
Meanwhile, the Russian Defense Ministry's press service announced in a statement on Monday that the Admiral Grigorovich and the Admiral Essen, two frigates of the Russian Black Sea Fleet, are heading to the Mediterranean Sea in order to bolster Russia's military presence in the region amid reports that the US is preparing to strike Syria.
The US has warned it would respond to a chemical weapons attack by Syrian government forces with retaliatory strikes, stressing that the attacks would be stronger than those conducted by American, British and French forces back in April.
Early on April 14, the US, Britain and France carried out a string of airstrikes against Syria over a suspected chemical weapons attack against the city of Douma, located about 10 kilometers northeast of the capital Damascus.
Washington and its allies blamed Damascus for the Douma attack, an allegation rejected by the Syrian government.
Pentagon said in a statement that at least 58 missiles had struck Shayrat airbase in the western Syrian city of Homs. An unnamed US official said Tomahawk missiles were used in the strikes.
The United Kingdom's Royal Air Force said four Tornado GR4s fighter jets joined in the operation, while France said it had deployed Mirage and Rafale fighter jets.
Full report at:
https://www.presstv.com/Detail/2018/08/27/572398/US-seeking-to-use-fake-chemical-weapons-attack-to-strike-Syria-Russian-MoD-says
--------
Houthis 'putting pressure' on UN aid organizations in Yemen
August 27, 2018
JEDDAH: The Arab coalition on Monday accused the Houthi militia of putting "pressures" on UN humanitarian organizations operating in Yemen.
Spokesman Col Turki Al-Maliki called on them not to remain silent on abuses committed by the the Iran-backed militants.
"We call on UN organizations in Yemen to be neutral and not tolerate violations," he said, at e news conference in Riyadh.
The coalition is fighting in support of forces loyal to the internationally recognized government against the Houthis, which seized the capital Sanaa in 2014.
The UN, which has several of its aid agencies operating in the country, has called peace talks for next month.
But Al-Maliki said the coalition was surprised by some of the statements made by UN officials, who he said have taken wrong stances based on "false allegations."
He referred to an attack on a fish market and hospital in Hodeidah earlier this month, which the coalition said was carried out by the Houthis. At least 55 civilians were killed and 170 injured.
Al-Maliki also said the UN failed to respond to accusations that the Houthis had seized control of warehouses used by an international aid organization.
He said Yemen's humanitarian ports are operating at full capacity and that air, land and sea permits are granted continuously, especially to aid relief vessels.
The Houthis have fired eight ballistic missiles toward Saudi Arabia in recent days, five of which were during the Hajj pilgrimage.
On Monday, another ballistic missile was launched by the Houthis from Saada province in Yemen toward Jazan, in Saudi Arabia. The Royal Saudi Air Defense managed to intercept the missile and no injuries were reported, Al Maliki said.
Al-Maliki said the Houthis are using prisons to train militants and schools and hospitals for military purposes.
"We continue to neutralize ballistic missile launchpads belonging to the militias," Al-Maliki said.
Last week the coalition destroyed a SAM-6 air defense system operated by the Houthi militias in Sanaa.
Full report at:
https://www.arabnews.com/node/1362591/middle-east
--------
India
Muslim man in Surat carves out idols of Hindu God
Aug 28, 2018
Surat (Gujurat), Aug 27 (ANI): The preparations for one of the grand festivals of India, 'Ganesha Chaturthi', are in full swing. People in Gujarat and Maharashtra make special arrangements to welcome their beloved lord Ganesha in their homes and societies.
They keep idols of Lord Ganesha at their homes and set up a stage in their colonies to enshrine the large idol of Ganesha before immersing it into a nearby water body after ten or eleven days of continuous worship. Behind some of these beautiful Ganesh idols, is the dexterity possessed by a Muslim youth, Iqbal Qureshi from Surat who has been working overtime to shape up the perfect idols for the festival.
Qureshi's interest in this work peaked at a small age and now it has been almost two decades that he has been doing it. Iqbal does not find much difference between various faiths practiced in India.
For this young artisan, work has become his worship. Blessed with immense talent, Iqbal has made a mark above all communal hatred and
https://www.business-standard.com/multimedia/video-gallery/general/muslim-man-in-surat-carves-out-idols-of-hindu-god-69938.htm
--------
Lucknow court blast case: Two HuJI suspects get life term
by Manish Sahu
August 28, 2018
A Lucknow special court on Monday sentenced two suspected Harkat-ul-Jihad al-Islami (HuJI) operatives to life imprisonment in the Lucknow court blast case.
On August 23, the court had held Mohammad Tariq Qasmi and Mohammad Akhtar, alias Tariq Hussain, guilty. Tariq, who is lodged in Barabanki jail, was brought to Lucknow jail on Monday amid tight security.
A series of blasts were triggered at courts in Lucknow, Faizabad and Varanasi on November 23, 2007. Nine people were killed in Varanasi and four in Faizabad. No one was injured in Lucknow. In Lucknow, police had recovered a bicycle planted with RDX in the court premises. The police had said that blasts were a joint operation by HuJI and Indian Mujahideen.
"Special Judge Babita Rani on Monday sentenced Tariq Qasmi and Mohammad Akhtar to life imprisonment in the Lucknow court blast case. The court pronounced the judgment through video-conferencing. The trial was going on inside Lucknow jail. The court also imposed a fine of Rs 5.21 lakh on them," government counsel Praveen Srivastava said.
Defence lawyer Mohammad Shoaib said, "We will file an appeal in High Court against today's judgment. There is a threat to Tariq's life. I have sent a letter to the state DGP and the National Human Rights Commission in this regard."
Full report at:
https://indianexpress.com/article/india/lucknow-court-blast-case-two-huji-suspects-get-life-term-5328032/
--------
India, US to push for global terrorist tag on Masood Azhar's brother
Aug 28, 2018
After being stalled twice by China in its effort to have the United Nations Security Council designate Jaish-e-Mohammed chief Masood Azhar as a global terrorist, India and the US have decided to push instead for the same tag for his younger brother and 2016 Pathankot attack mastermind Mufti Abdul Rauf Asghar under the al-Qaeda Sanctions Committee, one of the UNSC committees dealing with counter-terrorism.
Born after the 1999 hijack of IC-814 to Kandahar, JeM has close links with Taliban on a common Deobandi ideological platform and has repeatedly targeted India within and outside Jammu and Kashmir.
Two South Block officials confirmed to Hindustan Times that after the move to designate Masood Azhar was blocked by China, last on November 2, India and US counter-terrorism officials agreed to collect and evaluate evidence against 43-year-old Rauf Asghar, who is currently the operational chief of the proscribed group, before moving the committee for global tagging of the terrorist. The matter was taken up in the 15th meeting of the India-US Working Group on Counter-terrorism on March 27 this year.
"Three names were discussed for UN designation of terrorists. First was Masood Azhar, second was his brother and IC-814 hijacking mastermind Mohammed Ibrahim Athar and, finally, the currently most active (member), and another brother Rauf Asghar. It was decided that material evidence against Rauf Asghar should be collected for moving the UN Committee. This way, the Chinese posture would also become clear on whether the veto was limited only to Azhar or is for UN designation of other Pakistan-based terrorists too," said one of the South Block officials.
Action on Pakistan-based terrorist groups targeting both India and Afghanistan as well as designation of individuals as global terrorists will be one focus of the September 6 two-plus-two talks between India and US foreign and defence ministers. Already, the Jammu and Kashmir police has forwarded a dossier of JeM terrorist groups involvement in attacks in the Valley and South of Pir Panjal ranges to the Centre for action.
According to top NIA officials who investigated January 2, 2016 Pathankot airbase attack, Rauf Asghar was involved in recruiting, planning and executing the terror attack. The decision to attack Pathankot was taken on December 26, 2015 — the day Prime Minister Narendra Modi landed in Lahore to extend a hand of friendship to then Pakistan PM Nawaz Sharif. This is evident from a note left by the attackers in the jeep commandeered by them. The JeM was also responsible for attack on Nagrota Army base on November 29, 2016.
Full report at:
https://www.hindustantimes.com/india-news/india-us-to-push-for-global-terrorist-tag-on-masood-azhar-s-brother/story-BSj5ggrXfgYxfzET1Rw6vL.html
--------
Pakistan
HRW asks Imran to make human rights govt's top priority
Amin Ahmed
August 28, 2018
ISLAMABAD: The Human Rights Watch has asked Prime Minister Imran Khan to make human rights a key focus of his government since Pakistan faces serious human rights challenges, and addressing them should be one of the new government's top priorities.
In a letter to PM Khan made public on Monday, the Asia Director of the Human Rights Watch, Brad Adams, urged the government to begin by reversing abusive laws and policies and demonstrating genuine commitment to the rule of law and equal justice.
In the letter, the Human Rights Watch urged the Pakistan government to take concrete steps to protect fundamental civil, political, economic, social, and cultural rights in six key areas. "These are freedom of expression and attacks on civil society; freedom of religion and belief; violence against women and girls; access to education; restoring moratorium on death penalty; and terrorism and counterterrorism abuses.
"Imran Khan has an important opportunity to create a rights-respecting government that abides by the rule of law and restores the public faith in democratic institutions. It is crucial for Pakistan's development for the government to actively carry out human rights agenda," the rights watchdog said.
It said that a climate of fear impeded media coverage of abuses both by government security forces and militant groups. Journalists increasingly practice self-censorship after numerous attacks by militant groups, including the Taliban, in retaliation for criticism, particularly around their extremist diktats. Media outlets remain under pressure from the authorities to avoid reporting on several issues, including criticism of government institutions and the judiciary.
"The PTI has been a strong proponent of free expression, including on social media, to criticise state policy and press for change. An independent media is key to robust dialogue that reflects public concerns. Human Rights Watch hopes that the PTI government will foster a culture of political tolerance for media criticism," the HRW said.
It urged the Pakistan government to amend the blasphemy law, as a first step towards its repeal. In the past two years, it said, Pakistan had witnessed an increase in blasphemy-related violence while the government continued to encourage discriminatory persecution and other forms of discrimination against vulnerable groups by failing to repeal discriminatory laws and using religious rhetoric, inciting hatred against minorities.
The rights watchdog urged the prime minister to take steps to implement legislation against domestic violence, create and implement a comprehensive national action plan to end child marriages, and take measures to improve investigation and prosecution of cases of "honour" killing and acid attack.
https://www.dawn.com/news/1429390/hrw-asks-imran-to-make-human-rights-govts-top-priority
--------
DG ISPR denies giving Miramshah protesters assurances to court-martial army personnel
August 27, 2018
Director General of Inter-Services Public Relations (ISPR) Maj Gen Asif Ghafoor on Sunday rejected a media report claiming that the armed forces had assured protesters in North Waziristan tribal district that the army personnel responsible for the alleged killing of a man would be court-martialed.
On Friday, during a protest against the arrests made in connection with a remote-controlled bomb blast a day earlier, security forces had allegedly opened fire, killing one and injuring 10 others.
The death had sparked a sit-in in Miramshah, which, according to newly elected MNA from North Waziristan Mohsin Dawar, was called off after their demands were accepted.
According to VOA (Voice of America) DEEWA, one of the demands of the protesters was to court-martial "Captain Zarar, who allegedly killed a boy during a protest".
However, the DG ISPR contested that claim on Twitter hours later, saying that "while an inquiry has been ordered to ascertain facts, no assurance [has been] given for any court martial."
Maj Gen Ghafoor denied that the forces had killed or injured anyone, and accused the media outlet of keeping up "its tradition of false reporting.
Full report at:
https://www.dawn.com/news/1429080/dg-ispr-denies-giving-miramshah-protesters-assurances-to-court-martial-army-personnel
--------
Nawaz appears before accountability court again today
Aug 28, 2018
ISLAMABAD: Convicted former prime minister (PM) and Pakistan Muslim League-Nawaz (PML-N) supremo Nawaz Sharif on Tuesday appeared before an accountability court in the capital in light of the two remaining corruption references against him and his family. Accountability court II Judge Mohammad Arshad Malik resumed hearing of the Flagship Investment and Al-Azizia references.
Earlier on Saturday, the accountability court had sought another extension from the Supreme Court (SC) to conclude the trials in the Al-Azizia and Flagship Investments cases.
The deadline for the conclusion of proceedings in the graft references had expired without a fresh extension from the apex court. Therefore, the court had sought its fifth extension from the apex court to conclude the trials.
Judge Muhammad Arshad Malik had written a letter to the top court requesting more time in the trial of Nawaz Sharif, who is currently imprisoned at the Adiala Jail, and his two absconding sons, Hassan and Hussain Nawaz.
It should be noted that the anti-graft body had filed three references against the Sharif family in line with the top court's verdict in Panama Papers case.
Earlier on July 6, the Accountability Court Judge Muhammad Bashir, who was earlier hearing the references, concluded the Avenfield Apartments reference and awarded Pakistan Muslim League-Nawaz (PML-N) supremo 10 years' imprisonment, seven years to his daughter Maryam Nawaz and two years to his son-in-law Captain (r) Safdar.
Following the sentence, the jailed ex-PM requested the Islamabad High Court (IHC) to transfer the pending references against him to any other court as Judge Bashir has already disclosed his mind on the common questions of law in the three references. The request was allowed and references – Al-Aziziz & Hill Metal Establishment and Flagship and other companies – were recently transferred to Judge Malik. The NAB has named Sharif and his sons in all three references while Maryam and Captain (retd) Safdar were named only in the Avenfield Apartments reference.
The top court had initially granted a two-month extension to the AC to wrap up the proceedings. When the references could not be completed in the stipulated time, the apex court had granted one more month to decide the references but it could not happen despite day-to-day marathon hearings.
Subsequently, Chief Justice of Pakistan (CJP) Mian Saqib Nisar had granted one more month's extension with directions to concluded "reference/references" by July 10. In compliance, the trial court concluded London flats reference on July 6.
Later, the apex court had granted six weeks' time to conclude the remaining references but once again the stipulated time has lapsed and the court has asked for more time.
In July 2017, the Supreme Court disqualified ex-PM Nawaz Sharif from holding public office over failure to disclose his 'un-withdrawn receivables, constituting assets' in his nomination papers filed ahead of the 2013 general elections.
Full report at:
https://www.pakistantoday.com.pk/2018/08/28/nawaz-appears-before-accountability-court-again-today/
--------
PPP under fire as opposition alliance unravels
Amir Wasim
August 28, 2018
ISLAMABAD: The grand opposition alliance formed after the July 25 general elections crumbled within a month as its component parties failed to reach a consensus on a joint nominee for presidential election and fielded two candidates Chaudhry Aitzaz Ahsan of the Pakistan Peoples Party and Jamiat Ulema-i-Islam (Fazl) chief Maulana Fazlur Rehman, making the Sept 4 election a one-sided affair.
The JUI-F chief, who had been playing the role of a mediator between the Pakistan Muslim League-Nawaz (PML-N) and the PPP, has the backing of all component parties of now defunct Pakistan Alliance for Free and Fair Elections (PAFFE), whereas the PPP is now facing isolation.
Besides the Muttahida Majlis-i-Amal and the PML-N, Maulana Fazlur Rehman, who had faced defeat in two constituencies in the last month general election, is also being supported by the Awami National Party, Pakhtunkhwa Milli Awami Party and National Party. PML-N's Amir Muqam also submitted his nomination papers as a covering candidate for the JUI-F chief.
The candidate of the ruling alliance, headed by Pakistan Tehreek-i-Insaf, Dr Arif Alvi, also submitted his nomination papers on Monday, which was the last day for submission of the documents, according to the schedule announced by the Election Commission of Pakistan.
Talking to reporters after submitting his papers, the JUI chief expressed the hope that he would finally emerge as the single candidate of the opposition parties as there were still days to go before the presidential election.
"If I can be a mediator, then why not the candidate," the JUI-F chief remarked with a meaningful smile. He also told the reporters that despite his efforts, both the PPP and the PML-N refused to budge from their stated positions over Mr Ahsan's nomination.
Later in the evening, the JUI-F called on former president Asif Zardari and sought his cooperation. Sources in the PPP told Dawn that Mr Zardari had informed the Maulana that the party had already convened a meeting on Tuesday (today) in which he would put up the Maulana's proposal before the party leaders.
The PPP claimed the media leaked a decision of the party's internal meeting to propose Mr Ahsan as the presidential candidate even before they could consult other opposition parties, causing mistrust among them.
Speaking at a news conference, PPP leaders Qamar Zaman Kaira and Chaudhry Manzoor Ahmed said the media "wrongly" reported that the PPP had "nominated" Mr Ahsan as candidate. "It was not the case," Mr Kaira said.
He said none of the opposition parties had raised any objection over Mr Ahsan's candidature, but they justifiably objected to the "unilateral decision". He said a party delegation comprising Khursheed Shah and Raza Rabbani visited the Sharifs residence in Lahore to explain the situation and then tried to make their position clear during the multiparty conference in Murree.
Mr Kaira said the statement of PML-N Senator Pervez Rashid asking Mr Ahsan to apologise to Nawaz Sharif over his remarks about Mr Sharif and his wife Kulsoom Nawaz further aggravated the situation. He said that if such a statement had not been given, they might have managed to find a middle way. However, he reminded the PML-N that it had committed great excesses against former prime minister Benazir Bhutto in the past.
About the move of other opposition parties to field Maulana Fazlur Rehman as their presidential candidate, Mr Kaira said: "We have made him a mediator and he became a candidate."
Chaudhry Manzoor dispelled the impression that the opposition parties had formed any formal alliance.
"It was not an alliance like ARD (Alliance for the Restoration of Democracy) or the PNA (Pakistan National Alliance). Had there been such an alliance, there should have been a president and a general secretary. This was an arrangement and not an alliance," the PPP leader explained.
Mr Kaira also said: "It will be a wrong impression that we had formed an alliance and we have now broken it."
The PPP leaders also criticised the PML-N over its allegation that the PPP was doing all this because of some "compulsions" or under pressure due to the ongoing investigations against Mr Zardari and his sister Faryal Talpur by the Federal Investigation Agency (FIA).
"Don't tell us about our compulsions. We know about everyone's compulsions," Mr Manzoor said, adding that Mr Zardari and his sister had appeared before the FIA in the case that had been prepared in 2014-15 when the PML-N at the helm of affairs.
After submitting his nomination papers, Aitzaz Ahsan told the media that he had been nominated by the PPP and he would have no objection even if the party later decided to withdraw his candidature.
Commenting on PML-N Senator Pervez Rashid's statement, Mr Ahsan said he was not expecting such a statement from "a progressive and respectable intellectual". He said the PML-N leaders claimed that the demand put forward by Mr Rashid to seek an apology from Mr Sharif was an individual's act and not the party position. He said the PML-N told other opposition parties that it was ready "to deny the statement publicly".
Mr Ahsan acknowledged that the ruling PTI would benefit from the split within the opposition. He added that he would ask the PML-N to review its decision and decide "if the PTI candidate suits them or Aitzaz".
PML-N's acting secretary general Ahsan Iqbal said it had been decided at the Murree meeting that a consensus candidate would be nominated for the presidential polls. He said all the parties had repeatedly requested the PPP to propose a panel of three names, one of whom would be nominated by the alliance through consensus, but the PPP leadership refused to nominate anyone other than Mr Ahsan. He said they had no personal grudge against Mr Ahsan but his controversial statement in which he had "politicized" Kulsoom Nawaz's illness had hurt the feelings of PML-N workers.
Mr Iqbal expressed the hope that instead of providing a walkover to the PTI, the PPP would review its decision and support the Maulana for the sake of opposition's unity and democracy.
Speaking on this occasion, PML-N chairman Raja Zafarul Haq declared that the opposition parties would continue their efforts to field a joint candidate and the party leaders had a plan to meet Mr Zardari also.
The PML-N leader said they would again appeal to the PPP to review its decision and support the JUI-F chief for the sake of opposition unity.
After submitting his nomination papers, PTI MNA Dr Arif Alvi expressed the hope that he would win the presidential election with a "clear majority".
Full report at:
https://www.dawn.com/news/1429379/ppp-under-fire-as-opposition-alliance-unravels
--------
Qatari letter was discussed during day-to-day meetings of JIT, court told
Malik Asad
August 28, 2018
ISLAMABAD: The National Accountability Bureau's (NAB) star prosecution witness in references against former prime minister Nawaz Sharif said on Monday that the Joint Investigation Team (JIT) did not convene a formal meeting to deliberate on the Qatari letter.
During cross-examination in the Al-Azizia reference, Wajid Zia, who headed the JIT constituted by the Supreme Court in the Panama Papers case, said the investigation team did not convene any exclusive or formal meeting to discuss the letter written by Qatari Prince Sheikh Hamad bin Jassim bin Jaber Al-Thani.
In his letter to the JIT on June 11 last year, the Qatari prince offered that the investigation team might meet him at his Doha palace or a questionnaire be sent to get the required information.
"Did the JIT take that letter seriously?" asked Khawaja Haris, the counsel for Mr Sharif.
"Of course, the JIT took it seriously," Mr Zia said. However, when Mr Haris asked why the JIT did not convene any meeting to discuss the Qatari prince's offer, Mr Zia said that since the JIT members used to meet every day at the secretariat at the Federal Judicial Academy, they discussed the letter as a routine matter. He said the JIT in principle decided against sending any questionnaire to any of the witnesses. He, however, said the JIT did not annex this decision in any of the 10 volumes of its report.
When Mr Haris asked if there was any provision in the Police Rules that barred sending a questionnaire to any witness, Mr Zia expressed his ignorance about the rules. However, he said the FIA and NAB used to send questionnaire to witnesses in selected cases.
The defence counsel reminded Mr Zia that the JIT had sent a questionnaire to UK-based solicitor Jeremy Freeman, seeking his opinion on the veracity of two trust deeds related to offshore companies Coomber, Nelson and Nescol.
Mr Zia told the court that in his entire 29-year police service, he had never sent an advance questionnaire to either an accused or a prosecution witness.
Contrary to this, Mr Zia had on Friday admitted before the court that Jeremy Freeman of the UK-based law firm Freeman Box, who had certified the Coomber, Nelson and Nescol trust deeds in 2006, was sent a questionnaire in advance to know about the veracity of the trust deeds. Mr Freeman had on Feb 4, 2006 signed the two documents as witness.
The proceedings in the Al-Azizia reference were adjourned till Tuesday.
Full report at:
https://www.dawn.com/news/1429394/qatari-letter-was-discussed-during-day-to-day-meetings-of-jit-court-told
--------
PPP meeting today to consider JUI-F Presidential candidate
AUGUST 28, 2018
ISLAMABAD: Pakistan People's Party's Asif Ali Zardari called a party meeting today to consider the request for endorsement of Fazlur-Rehman's nomination as a presidential candidate.
The meeting is scheduled for 5 PM today. It was scheduled after Jamiat-e-Ulema-Islam's leader Maulana Fazlur-Rehman sought PPP's support, claiming that Pakistan Tehrik-e-Insaf's Arif Alvi will become President if the opposition remained divided.
These developments are sufaceing after PPP nominated presidential candidate Aitezaz Ahsan was rejected by Pakistan Muslim League-Nawaz (PML-N).
https://dailytimes.com.pk/289388/ppp-meeting-today-to-consider-jui-f-presidential-candidate/
--------
China hails participation of India, Pakistan in SCO anti-terror drill
AUGUST 28, 2018
BEIJING: China has welcomed the first-time participation of Pakistan and India in an ongoing counter-terrorism exercise under the Shanghai Cooperation Organisation (SCO) framework in Russia.
Chinese Foreign Ministry Spokesperson Hua Chunying at a regular news briefing on Monday called India and Pakistan important countries in South Asia and said that stability in their ties was the key to peace and development in the region and the world.
"We sincerely hope that they can enhance their dialogue and cooperation both bilaterally and within multilateral mechanisms like the SCO, work together to improve their ties and jointly maintain regional peace and stability," the spokesperson added.
Indian and Pakistani defence officials said that they believed that the two sides could learn from each other.
The counter-terrorism drill by SCO countries, began last Wednesday, is the largest under the SCO charter with the participation of India and Pakistan for the first time, and Chinese experts say the drill will greatly contribute to stability in Central and South Asia.
The joint drill, which will continue until August 29, sees the participation of at least 3,000 soldiers from China, Russia, Kazakhstan, Tajikistan, Kyrgyzstan, India and Pakistan.
The drill plays a positive role in deepening defence and security cooperation among member countries, enhancing capacity in tackling new threats and challenges and safeguarding regional peace and stability, China's Ministry of National Defence spokesperson Ren Guoqiang said.
The previous SCO counter-terrorism drills were mainly limited to Central Asia. But because of the entry of India and Pakistan, the SCO's counter-terrorism mission had expanded to South Asia, Li Wei, a counter-terrorism expert at the China Institute of Contemporary International Relations in Beijing, said. "The effective counter-terrorism cooperation among SCO countries has greatly undermined terrorist groups in Central Asia in recent years and it's expected that this cooperation will also boost stability in South Asia, a region facing a more complicated counter-terrorism situation with a variety of active terrorist groups," Li said.
Sun Zhuangzhi, a professor at the Chinese Academy of social sciences told the local media that Peace Mission 2018 would also greatly improve military and political mutual trust among SCO countries, especially between India and Pakistan.
Full report at:
https://dailytimes.com.pk/289143/china-hails-participation-of-india-pakistan-in-sco-anti-terror-drill/
--------
North America
Pompeo: US will 'vigorously defend' against Iran court challenge
27 August 2018
The United States will "vigorously defend" itself in the International Court of Justice against Iran's challenge to the reimposition of US sanctions, Secretary of State Mike Pompeo said Monday.
Iran demanded in The Hague that the top UN court suspend the unilateral US sanctions, which were slapped back on three weeks ago following the US withdrawal from a landmark 2015 nuclear accord with Tehran.
"We will vigorously defend against Iran's meritless claims this week in The Hague," Pompeo said.
He said Iran's filing with the International Court of Justice was "an attempt to interfere with the sovereign rights of the United States to take lawful actions, including re-imposition of sanctions, which are necessary to protect our national security.
"The proceedings instituted by Iran are a misuse of the court," he contended.
In oral arguments in The Hague, Iran's representative Mohsen Mohebi accused Washington of plotting his country's "economic strangulation."
Pompeo countered: "President Trump withdrew from the JCPOA for a simple reason: it failed to guarantee the safety of the American people from the risk created by Iran's leaders."
The Joint Comprehensive Plan of Action (JCPOA) is the name given to the 2015 international agreement under which sanctions on Iran were lifted in return for curbs on its nuclear program.
The reimposition of US sanctions has added to Iran's economic woes, fueling strikes and protests across the country and political spectrum.
The sanctions target financial transactions and imports of raw materials, cars and aircraft among other things.
https://english.alarabiya.net/en/News/middle-east/2018/08/27/Pompeo-US-will-vigorously-defend-against-Iran-court-challenge.html
--------
US seeks to 'severely' damage Iran economy, top UN court hears
27 August 2018
Renewed sanctions imposed by the United States on Iran aim to damage Tehran's economy "as severely as possible", the UN's top court heard Monday.
"The United States is publicly propagating a policy intending to damage as severely as possible Iran's economy and Iranian nationals and companies," Iran's lawyer Mohsen Mohebi told the International Court of Justice in The Hague.
Washington has slapped renewed sanctions on Tehran. It said they aimed to curb ISIS's nuclear ambitions.
Meanwhile, Secretary of State Mike Pompeo said Monday that the US will "vigorously defend" itself in the International Court of Justice against Iran's challenge to the re-imposition of US sanctions.
Iran is set to make opening arguments in The Hague this week against the unilateral sanctions, which were slapped back on three weeks ago following the US withdrawal from a landmark 2015 nuclear accord with Tehran.
Full report at:
https://english.alarabiya.net/en/News/world/2018/08/27/US-seeks-to-severely-damage-Iran-economy-top-UN-court-hears-.html
--------
US warns Saudi over Yemen civilian casualties: Report
Aug 28, 2018
After selling Saudi Arabia billion of dollars in weapons and intelligence to attack Yemen, the United States has reportedly warned Riyadh that it will reduce intelligence and military support for the kingdom unless necessary action is taken to limit civilian casualties.
US Defense Secretary James Mattis and General Joseph Votel, who oversees US military operations in the Middle East, are concerned that the US is helping Saudis and their allies, including the United Arab Emirates, with killing civilians, unnamed officials familiar with the Pentagon's view told CNN on Monday.
"At what point is enough enough?" one official said.
The Pentagon and the US State Department issued the warning following a Saudi-led airstrike on a school bus earlier this month, which killed 40 children and prompted widespread condemnations around the world.
Democratic members of the US Congress have since written three separate letters to President Donald Trump, asking him to justify Washington's continued support for Riyadh in the face of its many atrocities.
It was reported in the days following the attack that an American-made 500-pound (227 kilogram) laser-guided bomb was used to hit the bus.
The US has refused to publicly condemn the attack but, according to reports, Mattis has sent a top US general to talk to the Saudis about it.
"Lt. Gen. Garrett delivered a message of concern regarding the recent civilian casualty incident, and on behalf of the US government continued to urge for a thorough and expedited investigation as well as continued emphasis on the reduction of civilian casualties in the Yemeni campaign," Rebecca Rebarich, a Pentagon spokeswoman told CNN.
It is not yet clear whether Trump, who has been very supportive of the Saudis after inking a hefty $110 billion arms deals with the oil-rich kingdom last year, would allow a reduction of support for the Riyadh regime.
Former US President Barack Obama had banned the sale of American precision-guided military weapons to Saudi Arabia over "human rights concerns" but the ban only lasted until March 2017, when then-Secretary of State Rex Tillerson overturned it.
Full report at:
https://www.presstv.com/Detail/2018/08/28/572463/US-support-Saudi-war-Yemen-Trump-warning
--------
US policy toward Iran reflects Saudi, Israeli influence
Aug 27, 2018
By Keith Preston
The newest sanctions to be imposed against the Islamic Republic of Iran that have been announced by the United States represent the ongoing efforts of the Trump administration to escalate hostilities with Iran.
During his campaign in 2016, then-candidate Donald Trump expressed opposition to the Joint Comprehensive Plan of Action (JCPOA), which was an eight party agreement between Iran, the United States, England, France, Russia, China, Germany and the European Union that had been formulated in Switzerland in 2015 during the administration of former President Obama. The core provisions of the "Iran nuclear deal," as it has been called, were the lifting of international sanctions against Iran by the United Nations, the United States and the European Union in exchange for a range of concessions from Iran concerning uranium development. While the agreement received nearly universal praise from the international community, a notable exception was Israel's staunch opposition to the deal.
In 2005, the United States, under the administration of former President George W. Bush, began to accuse Iran of developing the capacity for nuclear weapons by means of a uranium enrichment program. The US used its influence in the International Atomic Energy Agency to pressure the agency to declare Iran to be in violation of the Non-Proliferation Treaty standards agreement. It should be noted that only two years earlier the United States had initiated war against Iraq over allegations that Iraq was in violation of the disarmament agreement that had been developed following the Persian Gulf War in 1991.
The claims of the Bush administration that Iraq had continued to possess so-called "weapons of mass destruction" in violation of the agreement were never substantiated prior to the initiation of the 2003 attack on Iraq by the United States, and these claims were subsequently demonstrated to have been false. Two years later, the administration of President Bush began making comparable allegations against Iran as well.
No credible source has claimed that Iran is presently attempting to develop nuclear weapons, and the intelligence services of the United States have rejected claims that Iran is developing nuclear weapons as well. The 2007 National Intelligence Estimate, issued by the United States intelligence community, stated that Iran was not working to develop nuclear weapons. In 2012, each of America's sixteen intelligence agencies concluded that Iran was not involved in the development of nuclear weapons. The evidence is overwhelming that ongoing accusations by the United States against Iran concerning Iran's alleged violations of the Non-Proliferation Treaty are rooted in motivations and objectives that are not related to nuclear weapons development.
A longstanding objective of the foreign policy establishment of the United States has been so-called "regime change" in Iran. The hostility of the United States to Iran is rooted in the overthrow of the former American puppet regime of Mohammad Reza Pahlavi as a result of the revolution which occurred in 1979. The central thrust of American foreign policy in the Middle East is to eliminate governments that refuse to be incorporated into the Washington Consensus that was developed at the end of the Cold War, which involves the creation of a world order based on neoliberal economic principles under the domination of the United States.
The governments that have been targeted by the United States for elimination in the Middle East and elsewhere are those governments which reject the Washington Consensus, and refuse to comply with its objectives. The American invasion of Iraq in 2003, the American-led NATO war against Libya in 2011, and America support for insurgent forces in Syria against the Assad government are examples of the application of the American position concerning the future of the Middle East.
At present, Iran is the primary obstacle to the domination of the Middle East by the United States and its regional allies. In particular, Israel and Saudi Arabia both regard Iran as their principal rival in the Middle East. While Saudi Arabia has never formally recognized Israel, the two nations have moved closer together in recent years as their interests and objectives have converged. Israel is continuing to pursue an expansionist agenda which is demonstrated by the proliferation of the settlements in the West Bank, and the ongoing assaults on Gaza and Lebanon. Saudi Arabia is spreading its own Wahhabi state ideology throughout the region, and its allies in the (Persian) Gulf Cooperation Council are likewise seeking to assert their own influence in the Middle East.
The most obvious example of Saudi Arabia's ambitions is the present war that Saudi Arabia and its allies are waging in Yemen, and in Saudi Arabia's own Eastern Province. The objective of the war effort by the Saudi-led coalition is to defeat the Houthi rebellion in Yemen, and eliminate sympathy for Iran in both Saudi Arabia and Yemen by means of the genocide of the Shiite populations in those countries.
Under the Trump administration, the United States has sought to strengthen its own relationship with both Israel and Saudi Arabia as evidenced by the increase in military and economic aid that has been provided to both countries since President Trump has assumed office. The objective of the Trump administration is to oppose efforts by Russia and China to gain influence in the Middle East, to do so by strengthening American allies in the region, and undermining the opponents of Israel and Saudi Arabia.
The Middle East is a focal point of the international rivalry between the major powers concerning control over valuable resources in the region such as petroleum, natural gas, and minerals. Additionally, both Israel and Saudi Arabia remain an influential force in domestic American politics by means of their domestic sympathizers and political lobbies. The principal foreign policy ambition of Israel and Saudi Arabia is to eliminate the coalition of anti-Zionist and anti-Wahhabi forces that has been called the "resistance block," of which Iran is the most powerful member, but which also includes Syria, Lebanon/Hezbollah, Yemen's Houthi, and various Palestinian, Iraqi, and Afghan Shiite groups. The geopolitical objectives of the United States and the expansionist objectives of Israel and Saudi Arabia have converged on the question of Iran, and for this reason the escalation of hostility toward Iran is developing.
Full report at:
https://www.presstv.com/Detail/2018/08/27/572405/US-policy-toward-Iran-reflects-Saudi-Israeli-influence
--------
South Asia
UAE's Sheikha Fatima Humanitarian Campaign brings hope to Rohingya refugees
August 27, 2018
DHAKA: The Sheikha Fatima Global Humanitarian Campaign has successfully engaged young doctors from Bangladesh and UAE, enabling them to provide quality diagnostic, therapeutic and preventive services to women and children living in the squalid Rohingya refugee camps of Bangladesh.
The campaign in Cox's Bazar district, under the directives of Sheikha Fatima bint Mubarak — chairwoman of the General Women's Union (GWU), president of the Supreme Council for Motherhood and Childhood and supreme chairwoman of the Family Development Foundation — uses mobile clinics and field hospitals to organize humanitarian volunteer programs to treat women and children.
Arjumand Banu, 36, brought her two-year-old daughter to the Hope UAE Clinic in Zamtoli, Ukia subdistrict of Cox's Bazar.
"My little daughter Salma is suffering from diarrhea for the past two days. Every time she eats something, she throws up," said Banu, a Rohingya refugee living in Kutupalang refugee camp.
"The lady doctor examined my daughter very carefully and prescribed medicine for her. I got the medicines for free," she said as she left for her makeshift house in the nearby camp.
Like Banu, hundreds of Rohingya refugees are now receiving free medical treatment from Hope UAE Clinic, funded by the Sheikha Fatima Humanitarian Campaign of the UAE. The clinic offers quality medical and therapeutic services while the campaign organizes a youth forum to establish a culture of volunteer and humanitarian work with the help of young UAE and Bangladeshi volunteers.
It is a joint initiative of the Zayed Giving Initiative and the General Women's Union (GWU) of UAE, in partnership with the Hope Foundation for Women and Children of Bangladesh, Dar Al-Ber Society, Sharjah Charity House, the Saudi-German Hospitals Group, Zayed Humanitarian Work Academy.
Sheikha Fatima Humanitarian Campaign has collaborated with the Bangladeshi nonprofit organization, Hope Foundation for Women and Children, and facilitated free medical services for the Rohingya refugees since December 2017.
"The number of patients in this health center is increasing with every passing day. Sometimes, we have to treat around 100 patients a day," K.M. Zahiduzzaman, chief operating officer of Hope Foundation for Women and Children, told Arab News.
The Sheikha Fatima Humanitarian Campaign donates $10,000 a month to the health center to offer free medical care to Rohingya women and children.
"According to our contract with Sheikha Fatima Humanitarian Campaign, in the second phase we will receive an increased amount of $15,000 per month and we are expecting to receive this amount very soon," Zahiduzzaman said.
With the support of two female doctors, another two nurse, and three midwives, a pharmacist and nine field personnel, the Hope UAE Clinic has already served more than 6,000 Rohingya patients in the past eight months.
To cope with the increasing pressure of Rohingya patients, a volunteer team of doctors from the UAE often assists the regular medical staff of the clinic.
To promote a culture of volunteering and humanitarian-giving among the youth, the UAE has launched a popular campaign under the slogan "Following the Footsteps of Zayed," and the humanitarian initiative for Rohingya refugees in Cox's Bazar is part of this campaign.
https://www.arabnews.com/node/1362736/world
--------
Facebook bans Myanmar military chief, others to stop hate
Aug 28, 2018
YANGON: Facebook said Monday that it is banning Myanmar's powerful military chief and 19 other individuals and organizations from its site to prevent the spread of hate and misinformation.
The social media giant was heavily criticized for permitting itself to be used to inflame ethnic and religious conflict in the country, particularly against minority Rohingya Muslims. It has been accused of being lax in fighting online misinformation and manipulation in many countries, but Myanmar is one where it has been most closely tied to deadly violence.
Some 700,000 Rohingya have fled from Myanmar's western state of Rakhine over the past year in response to a brutal counterinsurgency campaign by the military, which has been accused of massive human rights violations. Critics accuse the military of carrying out ethnic cleansing, or even genocide, an allegation denied by the government, which says it was responding to attacks on security forces.
Facebook said it also targeted pages and accounts that pretended to provide independent news and opinion, while covertly promoting messages of Myanmar's military. It said it was deleting 18 Facebook accounts, one Instagram account and 52 Facebook pages.
A separate report by investigators working for the UN's top human rights body, released Monday, charged that "Facebook has been a useful instrument for those seeking to spread hate, in a context where for most users Facebook is the internet."
"Although improved in recent months, Facebook's response has been slow and ineffective," said the report by the Fact-Finding Mission on Myanmar, authorized by the UN Human Rights Council. "The extent to which Facebook posts and messages have led to real-world discrimination and violence must be independently and thoroughly examined."
Four high-ranking officers and two military units targeted by Facebook were also put on a US government blacklist earlier this month for human rights abuses. The sanctions block any property they own within the US and prohibit US citizens from engaging in transactions with them. The US already maintains restrictions on visas, arms sales and assistance to Myanmar's military. In June, the EU imposed similar sanctions on seven senior army and police officers, all of whom are on Facebook's blacklist.
Six officers on Facebook's list were also named in the UN human rights report, which said Myanmar's top leaders should be prosecuted for genocide. Those it recommended as "priority subjects for investigation and prosecution" included top commander Senior Gen. Min Aung Hlaing.
In a statement, Facebook referred to the UN report, which it said "found evidence that many of these individuals and organizations committed or enabled serious human rights abuses in the country. And we want to prevent them from using our service to further inflame ethnic and religious tensions." Discrimination against the Rohingya ran deep and wide even before the spread of Facebook.
Facebook has been under pressure for several months to take action on the problem, especially after civic and rights groups in Myanmar said in April that it had failed to adequately act against online hate speech that incited violence against the country's Muslim minorities, neglecting to effectively enforce its own rules.
"The ethnic violence in Myanmar has been truly horrific," Facebook said in its statement. "While we were too slow to act, we're now making progress — with better technology to identify hate speech, improved reporting tools, and more people to review content."
"We continue to work to prevent the misuse of Facebook in Myanmar — including through the independent human rights impact assessment we commissioned earlier in the year. This is a huge responsibility given so many people there rely on Facebook for information — more so than in almost any other country given the nascent state of the news media and the recent rapid adoption of mobile phones. It's why we're so determined to do better in the future."
Yangon-based political analyst David Mathieson said that Facebook's action, together with the damning UN report, force Myanmar's military brass "into an isolation they're not going to like."
Full report at:
https://timesofindia.indiatimes.com/world/rest-of-world/facebook-bans-myanmar-military-chief-others-to-stop-hate/articleshow/65570620.cms
--------
UN investigation condemns Aung San Suu Kyi for indifference as Myanmar military massacred Rohingya Muslims
August 28, 2018
DHAKA: Myanmar's civilian leader Aung San Suu Kyi failed to protect Rohingya Muslims from mass murder orchestrated by the country's military commander-in-chief and five generals, who should be prosecuted for genocide, a damning UN report said on Monday.
Suu Kyi, a Nobel Peace laureate, had "not used her de facto position as head of government, nor her moral authority, to stem or prevent the unfolding events," UN investigators said.
Her government "through their acts and omissions ... have contributed to the commission of atrocity crimes," their report said.
About 700,000 Rohingya fled Rakhine state to Bangladesh after Myanmar launched a brutal crackdown in August 2017. The refugees described arson, murder and rape at the hands of soldiers and vigilante mobs.
A UN investigation panel interviewed 875 victims and witnesses in Bangladesh and other countries, and analyzed documents, videos, photographs and satellite images.
Their report detailed a horrifying list of atrocities including murder, enforced disappearance, torture, and sexual violence "on a massive scale." The investigators said an estimate that up to 10,000 Rohingya had been killed was "conservative."
They also found that soldiers had carried out "large-scale gang rape," sometimes of as many as 40 girls and women at once, in at least 10 Rakhine villages.
"The scale, brutality and systematic nature of these violations indicate that rape and sexual violence are part of a deliberate strategy to intimidate, terrorize or punish a civilian population, and are used as a tactic of war," the report said.
The report named the military commander-in-chief Min Aung Hlaing and five senior generals as having orchestrated the crackdown. Panel member Christopher Sidoti said all six generals should be prosecuted for genocide, even in the absence of a "smoking gun" to prove who had ordered the crimes.
Rohingya refugees in Cox's Bazar told Arab News on Monday they had expected more of Aung San Suu Kyi.
"We were happy when she won the election and formed the government, but the level of our sufferings and torture from the state authority were doubled when she took over power," said Abul Hashem, 47.
Nurul Islam, 55, said: "During her regime our women were abused and raped. How can she compensate for this crime against humanity?"
Karim Mollah, 42, said: "If she can't protect us she should have stepped down. She has snatched our present days and stolen the future of our next generation."
Full report at:
https://www.arabnews.com/node/1362881/world
--------
Expatriate Bangladeshis remembers Father of the Nation 'Bangabandhu' in Riyadh
Aug 28, 2018
RIYADH — Bangladesh Embassy in Riyadh observed National Mourning Day-2018 by paying homage to the Father of the Nation Bangabandhu Sheikh Mujibur Rahman recently. It was the 43rd anniversary of the assassination of the Father of the Nation and most of his family members, who was brutally killed on Aug. 15, 1975.
Different programs were chalked out to observe the day in a befitting manner and solemnity. Ambassador Golam Moshi raised the flag half-mast at the embassy premises in the morning. All embassy officials and a large number of expatriate Bangladeshis including doctors, engineers, businessmen and other professionals living in Riyadh were also present during the occasion.
Later Ambassador Moshi laid a floral wreath at the portrait of Bangabandhu with embassy officials and community leaders.
Messages issued on the occasion by President Md. Abdul Hamid, Prime Minister Sheikh Hasina, Foreign Minister A.H. Mahmood Ali, MP and State Minister for Foreign affairs Md. Shariar Alam MP were also read out.
Marking the National Mourning Day a discussion meeting was arranged at Embassy premises. Ambassador Moshi highlighted the unforgettable contribution of Bangabandhu's sacrifice, ideals and leadership for the independence of Bangladesh and said, 'If Bangabandhu was not born, we would not have been able to get an independent country'.
"Bangabandhu Sheikh Mujibur Rahman led the 1952 language movement and led almost every movement of the country up to 1971. He gave direction to War of Liberation in his historic speech on March 7, 1971. We have acquired independent Bangladesh through the nine-month bloody liberation war, responding to his call for independence," Moshi said.
Moshi condemned the heinous killing of the Father of the Nation on Aug. 15 and termed it as 'one of the most shameful and inhumane assassination in world history'.
He assured that Bangladesh Foreign Ministry and Embassies abroad is working hard to bring back the absconding killers to the country to implement the verdict of Bangabandhu's assassination. Although Bangabandhu was killed but his dreams, ideals and values spread from generation to generation.
He said to implement the Bangabandhu's Golden Bengal dream, Prime Minister Sheikh Hasina is working relentlessly to make Bangladesh a middle-income country by 2021 and a developed country by 2041. He urged all expatriate Bangladeshis to come forward to implement the Prime Minister vision.
Deputy Chief of Mission Dr. Nazrul Islam said Prime Minister Sheikh Hasina has been working unremittingly to build a technologically advanced and modern country to fulfil the Bangabandhu's dream.
Full report at:
http://saudigazette.com.sa/article/542044/SAUDI-ARABIA/Expatriate-Bangladeshis-remembers-Father-of-the-Nation-Bangabandhu-in-Riyadh
--------
Militants, security personnel among 115 dead, wounded in Faryab clash
Aug 28 2018
At least one hundred and fifteen people including militants and security personnel were killed or wounded during a clash in northern Faryab province of Afghanistan.
The 209th Shaheen Corps of the Afghan Military in the North said a large convoy of the security forces was ambushed by the Taliban militants between Ghormach and Qaisar districts at around 9:30am local time on Monday.
The source further added that ambush by the Taliban militants sparked heavy clashes that lasted for two hours, leaving at least 73 militants dead and 31 others wounded.
According to Shaheen Corps, a shadow district chief of the Taliban for Qaisar Mullah Shirin and six other Taliban commanders identified as Mullah Qayoum, Qari Sur Gul, Mawlavi Jan Mohammad, and Mawlavi Noor Mohammad were among those killed.
The Shaheen Corps also added that four security personnel also lost their lives in the attack and seven others sustained injuries.
A Humvee armored personnel carrier and a Ranger vehicle were destroyed while three armored personnel carrier were damaged, the Shaheen Corps added.
Full report at:
https://www.khaama.com/militants-security-personnel-among-115-dead-wounded-in-faryab-clash-05843/
--------
Abdullah refutes Russian claims of 'unidentified helicopters arming ISIS'
Aug 27 2018
The Chief Executive of the Unity Government Abdullah Abdullah rejected the claims by Russia regarding the unidentified helicopters arming the Islamic State of Iraq and Syria (ISIS) militants.
Speaking during a meeting of the cabinet of ministers, Abdullah said such claims are baseless that unidentified helicopters are arming and supplying the ISIS militants in Afghanistan.
"We again draw attention to flights by 'unidentified' helicopter in northern Afghanistan to deliver arms and munitions to the local ISIS militants and the Taliban cooperation with this terrorist group. Superficially, Afghan media and local residents claim that these flights have been recorded in the Sar-e-Pol province," the Ministry of Foreign Affairs of Russia said in a statement last week.
The statement further added "We note that this is happening in the direct vicinity of Central Asia states' borders and many ISIS militants in Afghanistan hail from these countries. There is no reaction to these events either from Afghan security defense and law-enforcement agencies or the command of the US/NATO contingent deployed there."
In the meantime, deputy presidential spokesman Shah Hussain Murtazwi in a statement said Sunday that the killing of ISIS Khurasan emir, Abu Syed Orakzai, demonstrates the Afghan government's resolve in the fight against terrorism.
Informed sources in the National Directorate of Security said the ISIS Khurasan emir, identified as Saad Arhabi, was killed in Khogyani district on Saturday night.
Full report at:
https://www.khaama.com/abdullah-refutes-russian-claims-of-unidentified-helicopters-arming-isis-05836/
--------
Mideast
Erdogan Says His Critics Want to Eliminate Muslims and the Middle East
27 Aug 2018
Turkish President Recep Tayyip Erdoğan told an audience at a speech commemorating the defeat of the Byzantine empire on Sunday that, for those who take issue with him, "the issue is Islam," and that Turkey under his leadership has a responsibility to protect Islam from Western influences.
Erdoğan told the audience that, should any divisions be clear among the Turkish people, "they will come onto us like hooded crows" and the Middle East will cease to exist. He did not specify who "they" was. He added that "being a Turk means being a Muslim," dismissing the nationality of religious minorities.
The remarks follow a turbulent month for Turkish-American relations. President Donald Trump's administration has ordered sanctions on the Turkish government in response to Ankara's refusal to release American citizen and Christian pastor Andrew Brunson from imprisonment. Brunson was arrested for allegedly conspiring with the U.S.-based Islamic cleric Fethullah Gülen, a claim Brunson denies and Washington says Turkey has provided no evidence for. While Turkish officials finally ceded to move Brunson to house arrest for medical reasons, they have refused calls to let him return to his native North Carolina.
"Do not forget, Anatolia is a wall and if this wall collapses, there will no longer be a Middle East, Africa, Central Asia, Balkans or Caucasus," Erdoğan told the audience on Sunday, using an ancient name for a territory that encompasses most of modern Turkey. "If we show even a small sign of weakness, you will see they will come onto us like hooded crows."
Erdoğan went on to add that "some unwary people" believe that those who oppose his presidency do so because they dislike his hardline Islamist beliefs. "No, their issue is Turkey. The issue is Islam," he insisted:
The issue is not the AKP [the ruling Justice and Development Party], it is Turkey; it is Islam, which they have symbolized in the name of our nation. Those who know the West, know being a Turk means being a Muslim. Turkey means all Muslims' hope. We are the only country and nation who has direct contact with the West but is still able to protect its identity and freedom. This is why oppressed societies care so much about Turkey that they have a place for us in their hearts and prayers.
The president went on to warn that "they will not be able to divide us, break us up, and if we are 'one,' great and alive, with the help of Allah, we will walk toward [the goals of] 2023, 2053 and 2071 in very different ways."
According to the remarks published by both the Turkish newspaper Hurriyet and the state-run Anadolu news agency, Erdoğan never defined who "they" are, though the context of conflict with the United States made it clear he appeared to be referencing the Christian West. In declaring that "being a Turk means being a Muslim," Erdoğan did not add any reference the religious minorities that make their home in the country, mostly Christians and Jews.
Turkish Parliament Speaker Binali Yildirim also delivered remarks against "those who try to destroy Turkey's unity," according to Anadolu, at the event commemorating the defeat of the Byzantine empire at Battle of Malazgirt in 1071.
"In Turkey, economic coup attempts or coup attempts such as the one on July 15 carried out by traitors have never borne fruit, nor will they [in the future]," he asserted, expressing hope that the United States will negotiate an end to sanctions.
While Ankara has attempted to set a conciliary tone with Washington through its Foreign Minister Mevlüt Çavuşoğlu—who wrote in a USA Today editorial that both sides "should address our disagreements with diplomacy, rather than threats and provocation"—Erdoğan's supporters have embraced his call to arms. The editor-in-chief of Yeni Safak, one of Turkey's most belligerent pro-Erdoğan publications, reprinted an article on Monday published on last year's anniversary of the same battle that echoes many of the themes in the president's speech.
"But they wanted to remove us from Anatolia. They wanted to avenge the Byzantines. They wanted to avenge Manzikert. They wanted to exile us beyond the Caucasus, to wipe out a thousand-year-old history from memories. They pillaged almost the entire Islamic territory," Ibrahim Karagül wrote, again without specifying here who he means by "they." "We will know that multinational alliances, axes, the West's protection, the political road maps formed by seeking refuge in the West … their political and economic projects will not benefit us, that the time has come to be rid of these."
Instead, Karagül wrote, "We are going to return to … the Ottoman Empire." To do so, "we have to eliminate the organizations that have become tools of intervention for the West during the last two centuries, and that tradition."
Karagül once again claimed that "the U.S. is partnering with terrorist organizations to break Turkey."
Karagül and hardline Turkish Islamists have become even more stridently anti-American since Washington announced sanctioned on high-level Turkish officials on August 1. In response to Brunson's arrest, the U.S. Treasury sanctioned Minister of Justice Abdulhamit Gul and Minister of Interior Suleyman Soylu, then soon announced increased tariffs on some Turkish exports.
At the time, Erdoğan said, "An attack on our economy is no different from a direct strike against our flag and call to prayer."
Turkey has since also increased tariffs on American rice, tobacco products, and alcohol, among other items.
https://www.breitbart.com/national-security/2018/08/27/erdogan-says-critics-eliminate-muslims-middle-east/
--------
Turkish armed forces 'neutralize' over two dozen Kurdish PKK militants in one week
Aug 27, 2018
Turkish ground forces have killed more than two dozen members of the Kurdistan Workers' Party (PKK) militant group when they carried out a string of counter-terrorism operations in the country's southeastern provinces near the border with Iraq's northern semi-autonomous Kurdistan region in the past week.
The Interior Ministry, in a statement released on Monday, said 2,156 operations were conducted between August 20 and 27, during which a total of 12 PKK terrorists were killed. Nine Kurdish militants were captured alive, while five others surrendered to authorities as well.
The statement further noted that five high-ranking commanders were among the "neutralized" PKK militants.
The Turkish military generally uses the term "neutralize" to signify that the militants were killed, captured or surrendered.
Moreover, 62 people were also arrested for allegedly aiding and abetting the PKK terrorist group.
On Sunday, the Turkish General Staff stated that high-profile PKK militant Fecri Demir, better known by the nom de guerre Tolhildan, had been killed on August 24 during an offensive backed by military aircraft in the rural Dogubayazit area of Turkey's eastern province of Agri.
PKK militants regularly clash with Turkish forces in the Kurdish-dominated southeast of Turkey attached to northern Iraq.
Turkey, along with the European Union and the United States, has declared the PKK a terrorist group and banned it. The militant group has been seeking an autonomous Kurdish region since 1984.
A shaky ceasefire between the PKK and the Turkish government collapsed in July 2015. Attacks on Turkish security forces have soared ever since.
Over the past few months, Turkish ground and air forces have been carrying out operations against PKK positions in the country as well as in northern Iraq and neighboring Syria.
Full report at:
https://www.presstv.com/Detail/2018/08/27/572390/Turkish-armed-forces-neutralize-over-two-dozen-Kurdish-PKK-militants-in-one-week
--------
Arab MPs in Israel push UN resolution on 'apartheid' law
Aug 27, 2018
Arab lawmakers at the Israeli parliament are working with the Palestinian Authority to push for a UN resolution condemning Israel over its controversial "Jewish state" law, a report says.
Several Arab members of the Knesset from the Joint List, Palestinian Ambassador to the UN Riyad Mansour, and other senior Palestinian officials are trying to persuade the UN to pass a resolution that likens the "nation-state" law to apartheid laws.
Arab lawmakers, including Aida Touma-Sliman and Yousef Jabareen, met recently with senior UN officials, including UN Under-Secretary-General for Political Affairs Rosemary DiCarlo, to discuss the legislation.
Israeli Ambassador Danny Danon cried foul, writing to Knesset speaker Yuli Edelstein in which he slammed Arab lawmakers for the initiative and accused them of "causing great damage" to Israel.
"Over the past two years we have witnessed a close partnership between the MKs and Palestinian representatives in the UN working with the goal of inciting against and defaming" Israel and its military on the UN stage, Danon wrote.
The new law adopted by the Knesset in July declares Israel exclusively for Jews, in what has been denounced as an "apartheid" and "racist" measure by many activists and political leaders around the world.
The legislation defines occupied Jerusalem al-Quds as the "capital" of Israel, downgrades the status of the Arabic language and encourages expansion of Israeli settlements.
Arabs make up roughly a fifth of Israel's population of close to nine million. They have long complained of inequality and discrimination in their former homeland where they are treated as second-class citizens.
Full report at:
https://www.presstv.com/Detail/2018/08/27/572374/Arab-MKs-PA-UN-resolution-Israel-law
--------
Arab coalition strikes Houthi training camp southeast of Sanaa
27 August 2018
The Arab coalition's fighter jets launched several airstrikes on a Houthi camp southeast of Sanaa.
According to local sources, the coalition targeted a training camp where the Rapid Intervention Battalion is stationed in the Khwlan District.
The sources added that the Houthis were seen transferring dozens of injured and killed militiamen to hospitals following the strikes.
Members of the Rapid Intervention Battalion, who had received intensive training for the past three months, were about to graduate from the camp and be sent to fight in the west coast front.
Full report at:
https://english.alarabiya.net/en/News/gulf/2018/08/27/Arab-coalition-strikes-Houthi-training-camp-southeast-of-Sanaa.html
--------
Turkey reiterates support for Rohingya Muslims
By Can Erozden
ANKARA
Turkey on Monday urged the Myanmar government to take steps to end crimes against Rohingya Muslims.
The Foreign Ministry said on its website that the humanitarian crisis started after the Aug. 25, 2017 attacks in the north of Myanmar's Rakhine State against Rohingya Muslims.
On Aug. 25, 2017, Myanmar launched a major military crackdown on the Muslim ethnic minority, killing almost 24,000 civilians and forcing 750,000 others to flee to Bangladesh, according to the Ontario International Development Agency (OIDA).
In the statement, the ministry said the Rohingya faced human rights violations which correspond to heaviest crimes as part of the international law.
The Foreign Ministry called on the Myanmar government to take steps to find a permanent solution to the problem by cooperating with the international community; it also urged Myanmar to ensure the return of the displaced Rohingya in a safe, honorable and permanent way.
Turkey has from the start made great efforts on the Rohingya, prompting the international community to show necessary sensitiveness to the crisis.
The ministry added Turkey will continue to voice the humanitarian crisis affecting the Rohingya and it would also support efforts for a permanent solution with dialogue between Myanmar and Bangladeshi governments.
Earlier on Monday, the UN Independent International Fact-Finding Mission on Myanmar, released a report and said human rights violations and abuses committed in Kachin, Rakhine and Shan States need to be probed at the International Criminal Court. It also called for an investigation and prosecution of Myanmar's top military officials for genocide, crimes against humanity and war crimes against Rohingya Muslims.
"Military necessity would never justify killing indiscriminately, gang raping women, assaulting children, and burning entire villages.The Tatmadaw's [Myanmar's armed forces] tactics are consistently and grossly disproportionate to actual security threats, especially in Rakhine State, but also in northern Myanmar," the report reads.
The report added that crimes against humanity committed on Rohingya Muslims include murder, rape, sexual slavery and other forms of sexual violence.
"The crimes in Rakhine State, and the manner in which they were perpetrated, are similar in nature, gravity and scope to those that have allowed genocidal intent to be established in other contexts," the report said.
More than 24,000 Rohingya Muslims have been killed by Myanmar's state forces, according to the Ontario International Development Agency (OIDA).
In its recent report, Forced Migration of Rohingya: The Untold Experience, the OIDA increased the estimated number of murdered Rohingya to 23,962 (±881) from an earlier Doctors Without Borders figure of 9,400.
Full report at:
https://www.aa.com.tr/en/asia-pacific/turkey-reiterates-support-for-rohingya-muslims/1240403
--------
Iran president to host Russian, Turkish counterpart for Syria talks
Aug 27, 2018
The presidents of Iran, Russia, and Turkey will hold their third round of tripartite summit in Iran next week in an attempt to find ways to end the ongoing crisis in Syria, Turkish state television says.
Iranian President Hassan Rouhani will host his Turkish and Russian counterparts Recep Tayyip Erdogan and Vladimir Putin, respectively, on September 7, state-run TRT Haber television said on Monday.
Private NTV television also said the summit would be held in the northwestern Iranian city of Tabriz as Iran, Russia and Turkey are acting as guarantor states for a peace process in Syria.
The three presidents have previously held summits in the Russian resort city of Sochi in November 2017 and in the Turkish capital Ankara in April.
At the end of their meeting in Ankara on April 4, the Iranian, Russian and Turkish presidents reaffirmed their commitment to work toward achieving a sustainable ceasefire between warring sides in Syria and bringing peace and stability to the war-torn Arab country.
Rouhani, Putin and Erdogan, "reaffirmed their determination to continue their active cooperation on Syria for the achievement of lasting ceasefire between the conflicting parties and advancement of the political process envisaged by UN Security Council Resolution 2254," said a joint statement issued at the end of the summit.
Addressing their summit in Sochi on November 22, Rouhani lauded the defeat of the Daesh terror group in Iraq and Syria, but underlined the need for continued battle against terrorism until the eradication of all Takfiri terrorist outfits in Syria.
He blamed foreign interference for the conflict in Syria, saying certain countries claiming to be advocates of democracy wreaked havoc in the Arab country to achieve their goals in the region.
Erdogan had previously said that he planned to host a summit in Istanbul on September 7 on the crisis in Syria with Putin, French President Emmanuel Macron and German Chancellor Angela Merkel.
However, press reports over the last weeks have indicated that such a meeting was increasingly unlikely and was set to be replaced by the latest three-way summit in Iran.
A UN spokeswoman said on Friday that United Nations Special Envoy Staffan de Mistura had invited Iran, Russia and Turkey to talks due to be held in Geneva next month on forming Syria's Constitutional Committee.
"Special Envoy de Mistura continues his consultation on the establishment of a Syrian-led, Syrian-owned and UN facilitated Constitutional Committee within the framework of the Geneva process and in accordance with Security Council Resolution 2254 (2015)," Alessandra Vellucci said at a news conference.
In a meeting with Syrian President Bashar al-Assad in Damascus on Sunday, Iran's Defense Minister Brigadier General Amir Hatami hailed the steadfastness of the Syrian people and government forces in their battle against terrorism, expressing confidence that they will achieve a final victory in this path.
Full report at:
https://www.presstv.com/Detail/2018/08/27/572394/Rouhani-Putin-Erdogan-Syria-Tabriz-summit
--------
Israel reopens pedestrian crossing with besieged Gaza Strip
Aug 27, 2018
The Israeli military says it has reopened the Erez crossing, the only pedestrian crossing into the besieged Gaza Strip, days after shutting it over Palestinian protests.
A spokeswoman for the Israeli ministry of military affairs unit that oversees the crossing said it was opened as planned on Monday morning.
On Sunday night, the Israeli minister of military affairs, Avigdor Lieberman, said the crossing was being reopened due to "calm that has been maintained over the past week."
On August 19, Israel tightened its years-long blockade of the coastal strip by closing the crossing. The measure was taken in response to weekly Palestinian protests.
The crossing, situated along the northern part of Gaza, is used for the movement of humanitarian aid into the territory.
The Israeli regime has routinely closed the crossing, banning the entry of humanitarian supplies and other goods into Gaza.
Egypt, one of the only two Arab countries that have open relations with Israel, has blockaded the rest of the strip, including by closing the Rafah border crossing.
Tensions have been running high near the Gaza fence since March 30, which marked the start of a series of protests demanding the right to return for the Palestinians driven out of their homeland.
The Gaza clashes reached their peak on May 14, on the 70th anniversary of Nakba Day (Day of Catastrophe), which this year coincided with the US embassy relocation from Tel Aviv to occupied Jerusalem al-Quds.
More than 170 Palestinians have been killed and over 18,000 others wounded in the fresh wave of violence, according to the latest figures released by the Palestinian Health Ministry.
Gaza has been under Israeli siege since June 2007, which has caused a decline in living standards as well as unprecedented unemployment and poverty.
Full report at:
https://www.presstv.com/Detail/2018/08/27/572429/Palestine-Gaza-Israel--Avigdor-Lieberman-Erez
--------
Australia
Muslims pray for rain for Australian farmers during religious holiday Eid al-Adha
22 Aug 2018
Tens of thousands of Muslims across Australia simultaneously prayed for rain yesterday to help drought-affected Australian farmers.
Sixteen mosques dedicated their celebrations during the holy celebration of Eid al-Adha — one of Islam's holiest festival — which was observed on Tuesday.
The biggest gathering was at Lakemba Mosque in Sydney which was attended by some 30,000 Muslims.
Many braced the cold winter morning to conduct a special 'rain prayer' for the worst affected areas.
"Let God will send down rainfall," Sheikh Yahya Safi, an Imam of Lakemba mosque, said to his congregation.
NSW Farmers spokesperson Kathleen Curry told the ABC they really appreciated the support and thoughts from everyone in the community.
"I think it really touched the heart of our farmers during this period," Ms Curry said.
Eid al-Adha is one of the two main religious holidays for the Muslim community.
The holiday is referred to as the Festival of Sacrifice which is celebrated by sharing food with family, neighbours, as well as the poor and needy.
Speaking to Australian Muslim community media outlet OnePath Network today, the grand Mufti of Australia — Ibrahim Abu Muhammad — said he encouraged the Australian Muslim community to work together in partnership with farmers.
"For they are our fellow human being and our brothers, they are our partners in this country.
The ABC understands many mosque and Islamic centres across Australia have also used the holy festivities to raise funds for affected farmers and their families.
http://www.abc.net.au/news/2018-08-22/muslim-rain-prayer-call-to-end-the-drought-for-farmers/10152076
--------
Southeast Asia
Why The Muslim World Isn't Saying Anything About China's Repression And 'Cultural Cleansing' Of Its Downtrodden Muslim Minority
AUG 27, 2018
China's crackdown on its Uighur citizens, a mostly-Muslim ethnic minority group, has faced heavy international scrutiny in recent months.
In August the United Nations said it was "deeply concerned" by reports that China had forced as many as 1 million Uighurs into internment camps in Xinjiang, western China. In April, the US State Department said it had heard of Uighurs who had "disappeared" or were unexpectedly detained.
Meanwhile, Muslim countries have been deafeningly silent.
Over the past year alone, activists have found evidence of Chinese authorities tracking Uighurs' cellphone activity and forcing them to cut off their beards and dresses. Others say China has demanded the Uighur diaspora hand over personal information - and threatened their families if they do not.
Chinese officials have denied the the camps exist, though have acknowledged a program of "resettlement" for people it refers to as extremists. Business Insider has contacted the Chinese government for further comment.
It's not as if Muslim countries haven't spoken out about human rights in the past. As Myanmar's military ramped up its violence against Rohingya Muslims late last year, citizens in Jordan and Iran staged multiple protests in solidarity with the Rohingya.
Saudi Arabia's mission to the UN also condemned the situation online.
The Organisation of Islamic Cooperation, an international consortium which calls itself "the collective voice of the Muslim world," also pledged this May to set up a "proper investigation" into the Rohingya crisis.
So why hasn't anyone said anything about China's Uighur issue?
Many Muslim-majority countries aren't speaking out because they don't want to jeopardize their economic relationships in China, experts say.
Several states in Central Asia and the Middle East are part of China's Belt and Road Initiative (BRI), a massive project launched in 2013 linking 78 countries across Asia, Africa, Europe, and Oceania through a network of railroads, shipping lanes, and other infrastructure projects.
Many of these deals entail China giving hefty loans to economies with a bad credit rating, which countries such as Pakistan are already finding difficult to repay. And it appears that these economic partnerships are stopping these countries from speaking out about Xinjiang.
Simone van Nieuwenhuizen, a Chinese politics researcher at University of Technology Sydney, told Business Insider: "Like most states, many Muslim-majority countries have increasingly close economic relations with China.
"There is a general consensus that speaking out about the situation in Xinjiang might jeopardize the development of economic ties, and it is therefore not in their interests to do so."
Alip Erkin, an activist in Australia who runs the Uyghur Bulletin network, specifically cited BRI as a hindrance. He told BI: "Enormous trade and investment opportunities, as well as debt burden from China, through the BRI not only result in the tight lips of Muslim states but also an active cooperation with China in Uighur crackdown."
Egypt, a BRI partner country, has even appeared to help China with its Uighur crackdown.
Last summer, Egypt detained dozens of Uighur students in the country without giving a reason, denied them access to lawyers and their families, Human Rights Watch reported.
Cairo also deported at least 12 Chinese Uighurs back to China around the same time, according to The New York Times.
Peter Irwin, the program manager at the World Uyghur Congress, told BI: "There is a certain expectation that Muslim-majority countries would naturally lend support to Uighurs and criticize China, but we just haven't seen this, and I don't expect we'll see this given China's economic ambitions with the Belt and Road Initiative, however successful the plan may or may not be."
China's Uighur treatment may not offend Arab states
It may be too simplistic to cite economic dependence on China as the only reason why Muslim countries aren't standing up to China over the Uighurs.
Many Middle Eastern states also have a poor human rights record, and prioritize social stability over individual rights, much like China does, van Nieuwenhuizen said.
China justifies its crackdown on Xinjiang as protecting the peace and preventing terrorism. Militant Uighurs have been accused of starting deadly ethnic riots in Xinjiang and terrorist attacks across the country from 2009 to 2014.
Many Arab countries "exhibit a similar understanding" of prioritizing social stability over human rights, van Nieuwenhuizen said.
She told BI: "Many Middle Eastern states have a poor human rights record themselves - including when it comes to the treatment of religious minorities. Many exhibit a similar understanding of human rights to China's - that is, that social stability trumps individual rights.
"This is how the Chinese government has framed the presence of re-education camps and other repressive measures."
Erkin also told BI that although many Gulf states can afford to make a political stand against China, they "are mostly ultra-authoritarian states that advocate non-interference in other states' internal affairs to avoid the same interference in theirs."
He added: "The silence of the Muslim majority countries over the horrific treatment of Uighurs, especially the recent cultural cleansing drive in East Turkestan, is both frustrating and unsurprising."
East Turkestan is the Uighur term for Xinjiang.
He continued: "It is frustrating because the principle of Muslim brotherhood has become a selective foreign policy tool that has more to do with the international politics of Muslim countries and less to do with its true message of solidarity."
Business Insider has contacted the Organisation of Islamic Cooperation for comment, but received no reply.
What happened when Turkey tried to stand up to China
Turkey, which is majority-Muslim, has spoken out against China's treatment of its Uighurs in the past - and China has not forgotten.
In 2009 then-prime minister Recep Tayyip Erdogan (who is now president) described ethnic violence in Xinjiang as "a kind of genocide" and said: "We have difficulty understanding how China's leadership can remain a spectator in the face of these events."
Shortly after the comments were made, the state-run China Daily newspaper ran an editorial warning Erdogan to take back his remarks, with the headline: "Don't twist facts."
In 2015 Turkey also offered shelter to Uighur refugees fleeing China, which China Daily again warned "may poison ties and derail cooperation."
Although Erdogan has not spoken out recently, Chinese state media has continued to threaten Turkey.
As the country witnessed a dramatic economic crisis this month, the state-run tabloid Global Times published an unsparing editorial offering Chinese economic support, but warned it against making any more "irresponsible remarks on the ethnic policy in Xinjiang."
What Uighurs are saying
It's hard to gauge what Uighurs in Xinjiang think about the issue, because the Chinese government severely restricts information flow out of the region, Maya Wang, a senior researcher at Human Rights Watch, told BI.
But many other activists with ties to the region say that, although many Uighurs and diaspora feel helpless, they are still holding out hope for change.
Erkin, the Uyghur Bulletin publisher, told BI: "There is no doubt that Uighurs in East Turkestan as well as in the diaspora feel extremely helpless in the face of the current cultural cleansing campaign in their homeland, and hope that the UN and other powerful countries of the world call China out and defend their basic religious and cultural rights as humans.
"But still, given the past political solidarity and migration support from Turkey, many Uighurs would like to keep their hopes alive about it being the defender of Uighurs when its international relations are stabilized and economic woes are tackled."
Irwin of World Uyghur Congress added: "The Uighur community is obviously disheartened by the lack of support, but it is certainly not something that has been given up on.
"The United States, European Union and others need to remain vocal on human rights and bring on larger contingents of like-minded countries to collectively stand against these policies," he added.
"Although China seemingly flouts international norms of behavior, the country's leadership still remains particularly concerned about how they are perceived internationally."
https://www.businessinsider.in/Why-the-Muslim-world-isnt-saying-anything-about-Chinas-repression-and-cultural-cleansing-of-its-downtrodden-Muslim-minority/articleshow/65559376.cms
--------
Raise floor marriage age strictly to 18, urges former Sharie judge
27 August 2018
SHAH ALAM, Aug 27 — Lawmakers need to amend laws strictly not to allow marriage under the age of 18 years old, former Sharie Chief Judge of Terengganu Datuk Ismail Yahya stressed today.
Speaking during a forum on child brides hosted by the Selangor Bar Committee today, Ismail explained that the current legal marrying age for Muslim girls — which is 16 years old — is irrelevant and should be amended to reflect the times.
"Among the key reasons why the marriage age should be raised for women is education and earning a profitable income. Women nowadays prefer to work and are active competitively in education. Being married at the age of 16 will likely affect these two factors for women.
"Furthermore, at the age of 18, both parties can legally work and find a means to support one another. Income sources are a very important factor in household life," he said at the forum held at the Selangor Bar here.
Subsequently, citing a hadith in the Al-Manaqib Fi Bab Fadl A'ishah book, Ismail explained that the Prophet Muhammad's marriage to his youngest wife Aishah, widely believed to have taken place when she was just six or seven years old, was his "special right".
"The marriage of the Prophet Muhammad was his special right and cannot be used as the right argument that Shariah law allows child marriage," he said, but did not elaborate further.
Ismail also said that child marriage can be damaging on a large scale if not curtailed.
"It can harm the child herself, even the family institution and nation-building. Children are seen as state assets that need to be given space to enhance themselves through education and make their own choices about life when they are older.
"Children, who are forced to get married at an early age, no longer have the opportunity to make a choice about their life and submit to the situation surrounding them without any intellectual ability to challenge and alter the situation," he said.
Speaking at the forum was also Sharie lawyer Farhan Haziq Mohamed, who agreed with Ismail's proposal that the minimum age of marriage be raised.
"However, I cannot agree to a complete ban of not allowing people below the age of 18 to marry. There are cultural aspects to evaluate, for example, indigenous communities who might have a different definition of the right age to marry," he said.
Another speaker, Lilianne Fan, the co-founder of Geutanyoe Foundation, which deals in refugee and human rights issues, said child marriage does not mainly occur in Muslims communities.
"In South-east Asia, Laos and Cambodia are among the countries with the highest recorded case of child marriages. People tend to think child marriage is confined to the Muslim community only, but it occurs in these communities as well," she said, citing the main driver of child marriage as poverty.
Earlier today, Deputy Prime Minister Datuk Seri Dr Wan Azizah Wan Ismail told the Dewan Negara that the decision to impose a total ban on child marriage has not been finalised yet.
Full report at:
https://www.malaymail.com/s/1666531/raise-floor-marriage-age-strictly-to-18-urges-former-sharie-judge
--------
Indonesia, Senegal agree to promote moderate Islam
Aug 28, 2018
Jakarta, (ANTARA News) - Indonesian Foreign Minister Retno L.P. Marsudi and Senegalese National Development Planning Minister Syeikh Kante agreed to encourage economic cooperation and promote moderate Islam during their meeting here on Monday.
"Indonesia warmly welcomes the first Islamic international conference on Islamic economic policies to be held in Senegal and is ready to share its experiences during the conference," Marsudi said at the Pancasila Building in the Foreign Ministry compounds.
The conference will be held in Senegal on Sept 13, 2018. Some two thousand ulemas from Senegal and neighboring countries are expected to take part in the conference aimed at promoting moderate Islamic values.
Indonesian is invited to take part in the conference in the capacity as the world`s largest Muslim country which promotes moderate Islamic values, protects women`s rights, has full tolerance, and encourages cooperation to support state development.
At the meeting, Marsudi warmly welcomed Senegal`s plan to reopen its embassy in Jakarta to enhance relations between the two nations.
Full report at:
https://en.antaranews.com/news/117908/indonesia-senegal-agree-to-promote-moderate-islam
--------
Islamist politician says Malaysian govt. should 'take action' against LGBTI community
27 August 2018
A politician from an Islamist party in Malaysia has defended a sermon which said the government should take 'stern action' against the country's LGBTI community.
Nasrudin Hassan also hit out at the religious affairs minister for meeting with a transgender rights activist.
Nasrudin is the information chief for the Malaysian Islamic Party, or PAS as they are commonly known.
He rebutted criticism which suggested that the sermon, held by a regional council, was provoking discord and defended anti-LGBT laws.
'In the sermon, it was merely pointed out that illegal sexual activities involving the LGBT community are against Islam, and that the government should take stern action against them instead of catering to the LGBT community's requests,' Nasrudin said.
'How can this be considered as inciting hatred against the government and causing disharmony? We merely want the government to take action.'
Nasrudin also attacked religious affairs minister Mujahid Yusof Rawa for 'saying that religion should be free from politics.'
He was referencing Mujahid's meeting with transgender woman and LGBTI rights activist, Nisha Ayub, earlier this month, the New Straits Times reported.
'Why is there no action being taken against the LGBT community, which is now so outspoken?
'Islam and politics cannot be separated in Islam, (as religion) should be the guide for leaders on how to manage a country,' he said.
PAS is an Islamist political party known for their hardline conservative values, and has support and influence in the northern states of Peninsular Malaysia.
PAS also controls the north-eastern state of Terengganu, which made headlines earlier this month for sentencing two women to be caned for same-sex relations.
An escalating war of words
Nasrudin's comments come at a time where vocal disagreements between LGBTI rights groups and Islamic leaders continue to intensify in the Muslim-majority country.
Disputes between the two sides came to a head earlier this month, after minister Mujahid ordered the removal of portraits of two LGBTI activists holding the Malaysian national flag from a photography exhibition at a popular arts festival.
Rights groups were quick to condemn the move, which they said was akin to censoring Malaysia's LGBTI community. In turn, Islamic leaders began affirming their stance against homosexuality, which in some cases have essentially amounted to abuse.
This took a startling turn earlier this month when two women were sentenced to caning for same-sex sexual activity in Terengganu, which came as a shock to many both in and outside of Malaysia.
This month also saw Malaysian police raid an iconic Kuala Lumpur gay club for the first time in its 30-year history.
In the midst of this, the new government, Pakatan Harapan, has been sending out a 'series of mixed messages' with regards to LGBTI rights, thereby appeasing neither side and possibly prolonging the dispute.
Full report at:
https://www.gaystarnews.com/article/islamist-politician-says-malaysian-govt-should-take-action-against-lgbti-community/#gs.EhDJ8Rs
--------
Sarawak CM reminded about promise to amend Shariah laws on apostasy
27 August 2018
KUCHING, Aug 27 — Parti Bansa Dayak Sarawak (PBDS Baru) today reminded Chief Minister Datuk Abang Johari Openg about the state government's plans to amend the Sarawak Syariah Court Ordinance 2001 to deal with issues involving converts who wish to leave Islam and return to their original religions.
Its president Cobbold John Lusoi said the chief minister had promised six months ago that he would find solutions to deal with apostasy cases, including amendments to the Ordinance.
He hoped that the state government had found solutions and are now ready to table a Bill to amend the Ordinance in the sitting of the Sarawak State Legislative Assembly in November.
"I hope that the chief minister remembers his promise, that he would find solutions to the problems faced by Muslim converts within six months.
"One way or another, the state government has to make decisions, as it is not fair to leave apostasy cases hanging," he said.
In March this year, Abang Johari said the amendments would include a standard operating procedure (SOP) of what is needed to be done when a convert decides to leave Islam.
He made the comments after a ruling by the Federal Court on February 27 that only the state Shariah Court, and not the civil court, had jurisdiction over apostasy cases after four Sarawakians applied to leave Islam.
The apex court had dismissed their appeals to have their apostasy cases heard in the civil court.
A five-member panel of judges chaired by Court of Appeal president Tan Sri Zulkefli Ahmad Makinudin unanimously ruled that the Shariah Court in Sarawak had jurisdiction to hear apostasy cases.
Zulkefli said although the Ordinance had no provisions on conversion, there were provisions in the Majlis Islam Sarawak Ordinance that could be used by the Shariah Court to hear apostasy cases.
Mohd Syafiq Abdullah @ Tiong Choo Ting, Jenny Peter @ Nur Muzdhalifah Abdullah and Salina Jau Abdullah returned to Christianity after divorcing or the death of their spouses.
The fourth individual, Islam-born Syarifah Nooraffyza Wan Hosen, converted to Christianity after marrying a Christian.
They had named the directors of the Sarawak Islamic Department, Sarawak Islamic Council, director-general of the National Registration Department (NRD) and state government as respondents.
The Shariah Court, in 2015, had written to the four stating that the court could not give them a letter of release from Islam as required by the NRD due to the matter of jurisdiction.
The same year, they applied to the High Court for a declaration that they were Christians, for orders seeking letters of release from Islam and for the religion in their identity cards to be changed but it was unsuccessful.
Full report at:
https://www.malaymail.com/s/1666422/sarawak-cm-reminded-about-promise-to-amend-shariah-laws-on-apostasy
--------
Africa
Africa, home to growing number of Christians and Muslims, contends with atheists, too
August 27, 2018
NAIROBI, Kenya (RNS) — When the doors swing open every Sunday morning, churches in Africa welcome thousands of new followers.
On this deeply religious continent, both Christianity and Islam are on the rise. But small groups of determined atheists are challenging Africa's grip on faith while seeking recognition and more followers.
Across Africa, groups have emerged stressing science and critical thinking as a better way of understanding the natural world.
One such group, Atheists in Kenya, has gained prominence and is now campaigning for a public holiday, Atheist Day, on February 17.
"We are asking the government to declare a public holiday as a way of raising awareness of atheism in Kenya," said Harrison Mumia, the group's president.
On the holiday, the group would convene "godless" parades while promoting freedom of religion and human rights in the East African country where more than 80 percent are Christians and about 10 percent are Muslims.
"We want to promote science and skepticism, and have an approach to morality that is rational and humanistic," Mumia said.
Atheists in Nigeria are also becoming more vocal, pushing for public policies that are not influenced by religious belief but by critical thinking and science-based evidence.
"We have formed a legal body — the Atheist Society of Nigeria — to push for the vision of secular Nigeria," said Calistus Igwilo, the group's president.
Atheists have organized in most sub-Saharan African countries, including Ghana, South Africa, Zimbabwe and Uganda.
The groups say their numbers are on the rise, but membership is still relatively small.
Atheists in Kenya estimates it has 650 members in 2018, up from 60 in 2014, and boasts a social media following of more than 10,000. The Atheist Society of Nigeria counts about 5,000 members.
"This is quite remarkable, considering that very few atheists are willing to come out due to the stigma associated with being an atheist," said Mumia.
Clerics and scholars are confident atheists will face an uphill battle in attracting a wider following. The future of Christianity lies in Africa, and by 2060, more than 4 in 10 Christians will call sub-Saharan Africa home, up from 26 percent in 2015, according to Pew Research Center.
In addition, 27 percent of all Muslims will live in sub-Saharan Africa by 2060, according to Pew. By contrast, atheists compose about 2 percent of the continent's population.
Jesse Mugambi, professor of philosophy and religious studies at the University of Nairobi, said atheism and agnosticism are shunned in traditional African thought.
"Many Kenyans consider Kenya to be a God-fearing country," added Mumia. "Atheists are therefore considered devil worshippers."
Some atheists have been laid off from work for refusing to participate in religious practices. Others are disowned by their families.
"They look quite strange (on) the continent where the concept of God spreads wide, even to the heart of African traditional communities," said Wilybard Lagho, vicar general of the Catholic Archdiocese of Mombasa, in Kenya. "It is a very difficult task."
https://religionnews.com/2018/08/27/africa-home-to-growing-number-of-christians-and-muslims-contends-with-atheists-too/
--------
Cameroon to set up vocational training centre for ex-Boko Haram fighters
August 28, 2018
Cameroon is going to establish a vocational training centre in the Far North region of the country to rehabilitate ex-fighters from the terror group Boko Haram, the country's Territorial Administration Minister, Paul Atanga Nji announced.
Nji made the announcement at the base of the multinational task force in Mora in the Far North region of Cameroon while meeting with some 100 ex-Boko Haram fighters. The training centre will provide them with better means of livelihood, he said. President Paul Biya has provided facilities that the younger ones can go to a training centre where they can learn something. Some are interested in farming, carpentry and mechanics. So everyone can learn the stills and becomes responsible, Atanga Nji said.
According to the minister, the good treatment accorded the former fighters was testament of the humanitarian role the Cameroonian military plays in the management of war victims and enemies.
Full report at:
https://www.newtimes.co.rw/africa/cameroon-set-vocational-training-centre-ex-boko-haram-fighters
--------
Daughter: Sheikh Zakzaky Deprived of Medical Care
Aug 27, 2018
"The health conditions of the Sheikh have not improved compared with the past. He is blind in one eye now and his other eye does not see well, but he has not been provided with treatment. He has been sufferring toothache for all his 8-month-long imprisonment, but he has not been allowed to visit a dentist," Badi'ah told FNA on Monday.
She also voiced concern about the health conditions of her mother who is under house arrest like Sheikh Zakzaky, and said that a bullet has remained in her abdomen which makes sleeping difficult for her.
"She needs surgery but is not allowed to visit a physician, not even a doctor approved by the government," Badi'ah said.
She revealed that the Nigerian government is influenced by Saudi Arabia, US, the Zionist regime and Wahhabis, saying that the Wahhabis are supported by Saudi Arabia and they sometimes advise the Nigerian government to act against the Shiites.
The top cleric lost his left eyesight in a raid which was carried out by the Nigerian army on his residence in the Northern town of Zaria in December 2015.
During the raid, Zakzaky's wife sustained serious wounds too and more than 300 of his followers and three of his sons were killed. Zakzaky, his wife, and a large number of the cleric's followers have since been in custody.
Full report at:
http://en.farsnews.com/newstext.aspx?nn=13970605000556
--------
Troops kill three Boko Haram members in battle – Official
August 27, 2018
The Nigerian Army says its troops killed three Boko Haram insurgents while on fighting patrol in Kukawa in Baga Local Government Area in Borno on Sunday.
The Director, Army Public Relations, Texas Chukwu, disclosed this in a statement released in Maiduguri on Monday.
Mr Chukwu said the terrorists were intercepted by troops of 82 Division Task Force Brigade Deployed in the area.
He said that the troops, while on fighting patrol at Kukawa general area, got information on the terrorists' activities in Kalamari village, 30 kilometres to Kukawa town.
He said the insurgents who were on a looting and extortion spree in the village were intercepted by troops of Operation Lafiya Dole.
"During the encounter following a superior fire power of the troops, three members of the Boko Haram terrorists were neutralised," he said.
The director listed items recovered from the terrorist to include, three AK 47 rifles; two magazines and four rounds of 7.62mm ammunition.
"Meanwhile, the gallant troops have continued with aggressive fighting patrol, as efforts are ongoing by the troops to track down other fleeing members of the Boko Haram Terrorists from any hideouts.
Full report at:
https://www.premiumtimesng.com/regional/nnorth-east/281477-troops-kill-three-boko-haram-members-in-battle-official.html
--------
Leah Sharibu reportedly speaks from Boko Haram captivity, begs Buhari
August 27, 2018
By Seun Opejobi
The only Christian girl among the students Boko Haram abducted from Government Girls Secondary School in Dapchi, Yobe State, Leah Sharibu has reportedly spoken from the den of the terrorists.
Sharibu appealed to President Muhammadu Buhari to save her from the terrorists.
Following the public outcry that followed the abduction of the students, Boko Haram had released the girls but refused to set Sharibu free over her refusal to renounce Christianity.
However, in a 35 seconds audio obtained by TheCable, the abducted student said, "I am Leah Sharibu, the girl that was abducted in GGSS Dapchi. I am calling on the government and people of goodwill to intervene to get me out of my current situation.
"I also plead to the members of the public to help my mother, my father, my younger brother and relatives.
"Kindly help me out of my predicament. I am begging you to treat me with compassion, I am calling on the government, particularly, the president to pity me and get me out of this serious situation. Thank you."
It's not certain the voice is that of Leah as DAILY POST cannot confirm its source at the moment.
Full report at:
http://dailypost.ng/2018/08/27/leah-sharibu-reportedly-speaks-boko-haram-captivity-begs-buhari/
--------
Europe
'Allah Forbids It': Hizb ut-Tahrir Urges Swedish Muslims Not to Vote
28.08.2018
The radical Islamist group, which has been forbidden in a number of countries but remains active in Scandinavia, has appealed to Swedish Muslims that participating in non-Islamic elections is sinful.
The Swedish branch of Hizb ut-Tahrir* has urged local Muslims to boycott the upcoming general election in September within the framework of a campaign billed "Use your voice, but not for elections," Swedish Radio reported.
In a video published on the organization's Facebook page, the Islamist organization enlightened "brothers" that voting is "haram," that is forbidden according to Islam's teachings. According to the video, any legislation not based on Allah's teachings is prohibited.
The organization also resorted to street activism, handing out leaflets in various parts of Sweden. The leaflets includes catchphrases such as "Western policy — No, thanks," the tabloid daily Aftonbladet reported. The leaflets also inform that voting for anyone who represents "kufr" (unbelief) is forbidden.
In a comment to Aftonbladet, Hizb ut-Tahrir claimed its goal was to "maintain Muslims' Islamic identity" and to "protect them from Western and non-Islamic values." According to the comment, the message of the ongoing campaign is that Muslims should be engaged in society through methods other than voting.
According to Kirstine Sinclair, an associate professor of Middle Eastern Studies at the University of Southern Denmark and the author of a book on Hizb ut-Tahrir, the campaign is fully in line with the group's ideology and working methods applied throughout the world.
Hizb ut-Tahrir is an international pan-Islamist organization that aims to establish a Muslim state and enforce an Islamic way of life through Sharia law. While banned in the majority of Arab countries (with only a few exceptions), as well as in Russia, Germany and China, the organization remains active in vast parts of Europe, including Scandinavia. Hizb ut-Tahrir's Scandinavian headquarters is in Denmark, with smaller branches existing in Norway and Sweden. Its membership in Scandinavia remains undisclosed.
According to Kirstine Sinclair, the group isn't violent, but holds an anti-Semitic and a homophobic set of beliefs.
The number of Muslims in Sweden has been estimated at 800,000, or 8 percent of the country's population of about 10 million. In previous elections, Sweden's Muslims have been voting overwhelmingly left-wing, with the Social Democrats, the Greens and the Left being their parties of choice.
https://sputniknews.com/europe/201808281067523878-sweden-islam-voting/
--------
EU allergic to Muslim women, says Algerian millionaire paying Danish niqab fines
August 27, 2018
European countries are following an "Islamophobic trend" through their support for laws that are "inherently" discriminatory to Muslim women by targeting their freedom to wear what they want, says Algerian businessman and political activist Rachid Nekkaz who was thrust into the spotlight after vowing to pay the fines of women wearing the niqab in Denmark.
Nekkaz is determined to support women's right to wear what they want, and has publically supported their choice to not wear the veil in countries such as Sudan and Iran.
France as well as Belgium, the Netherlands, Bulgaria, Switzerland, Austria, Denmark and the German state of Bavaria have all imposed some curbs on face veils in public. Women wearing full-face veils in Denmark are subject to fines and can face up to seven days in jail in the country.
Supporting human rights in 18 countries through his organization, Nekkaz, whose American wife does not wear the veil, has so far paid 1552 fines totaling 315,000 euros in several European countries.
Hello, Mr. Nekkaz. First of all, we want to know more about you. What activities are you a part of?
I am the president of the "Hassiba Human Rights League", which defends civil liberties in Algeria and all over the world. Thanks to my financial independence, I have the means to pay the fines of human rights activists accused by the Algerian justice system, the fines against women freely wearing a niqab in Europe, and the fines against women refusing to wear the veil in Iran.
You are an Algerian businessman and politician. What's it like to be successful in a country like France when you have migrant background?
I renounced my French nationality in 2013 because I could no longer stand for the French government's divisive, discriminatory and freedom-killing policies which systematically single out Muslim women with their unjust laws. France does not appreciate the success of those who oppose its laws. It doesn't like being ridiculed by a modern and legalist Muslim citizen like me. It fights them (me) in any legal or tendentious way possible. France has done everything possible to discredit me in the eyes of national and international public opinion: unfair tax audits, outright defamation campaigns through the press, a media boycott, a series of accusations and trials in courts, and even my registration onto their "S-file," the terrorist watch-list. In France, this "S-File" lists all persons who may "disrupt the security of the state". But, thanks to God, I have always resisted against these French pressures and intimidation campaigns worthy of a dictatorship.
Why do you feel the need to support the burqa and the veil? What incident spurred you to take action?
I am neither an imam nor a theologist. I am a universal human rights activist, who takes the philosophy and history courses that I followed at the Sorbonne University in Paris very seriously. Loyal to the teachings of the great philosopher Voltaire, I am a supporter of the freedom to wear a niqab in Europe, even if I am personally opposed to it. But I also defend the freedom not to wear the veil in Sudan and in Iran. I was in Tehran, Iran on March 8th, 2018 to facilitate the release of 29 women who were jailed for removing their veil in a public space. I thank the Iranian authorities for having released them during my stay, which was on International Women's Day.
'Islamophobia has become the religion of state in France'
What do you think about Islamophobia especially in France and Europe? Is it possible to turn the tide back? What should be done for that to happen?
France today is no longer that of the 1980s. It has become allergic to Islam and to Muslim women. Islamophobia has become the religion of State of France. Unfortunately, since 2010, other European countries have followed this Islamophobic trend, by voting in turn for these laws which are inherently discriminatory against Muslim women: Belgium, Switzerland, the Netherlands, Austria, Bulgaria, Germany and Denmark. I've had to intervene personally in all these countries to communicate clearly to them that I will always assist these Muslim women in order to neutralize these unjust laws and to guarantee the freedom of clothing of these harmless women by paying all the fines that they receive while wearing their niqab on the street.
How many Muslim women who suffered from this prohibition have you helped so far and how much have you spent on supporting them?
Since 2010, I have paid 1552 fines totaling 315,000 euros including legal expenses in these European countries. This concerns 817 European women of whom 66 percent are native, white Europeans converted to Islam.
Europe yearning to 17th century massacres
Do you think freedom can be restricted through penalties? Doesn't it run counter to Europe -land of freedoms-?
I believe that the governments of Europe are starting to renew their 17th century totalitarian attitudes, when the Catholic states slaughtered the Protestants because of their "dissident" religion. Today, these same states are making true mistakes, believing that we can reduce or limit public freedoms by simply imposing fines. With the fund that I set up in 2010, I demonstrated that one single, determined individual could effectively, pacifically and legally combat the freedom-killing laws made by eight European countries. In reaction, France had voted a law against me personally in order to throw me in prison for 6 months with a €45,000 fine, if I continued to pay the fines. I therefore adapted my strategy by granting these women 181€ no-interest, 20-year loans, in order to continue to pay the fines for women who choose to wear a niqab in the streets. Even Belgium, who has planned for €127 fines and a 7-day prison sentence, has ceased to fine women who wear a niqab, because of the bad publicity that my payment of the fines has brought to their country. Denmark, who threatened two-week prison terms for women who wear the niqab in the streets, also risks being ridiculed around the world. Worst, on my trip to Copenhagen next September 11th to pay the fines, the whole world will discover that Denmark has become a totalitarian state, like Saudi Arabia. These two monarchies share a common factor: they imprison women because of their clothing choices.
'Algerian administration refuses to give formal approval to my party'
You are the founder of the Youth and Change Movement. Can you give us some information about this movement?
I created a political party, called the youth and change movement (MJC) in 2014, during my candidacy for the Algerian presidential elections. Since this date, I have become the most popular opponent and politician in Algeria. After a total of 3124 kilometers walked across the desert and the mountains of Algeria (2014/2016) against the exploitation of shale gas and against corruption, I was "hit" with the challenges thrown at me by President Bouteflika's dictatorship, who has refused to give my party a formal approval in Algeria and allow us to hold meetings there. From June 2016 to May 2018, I was illegally placed on house arrest in my village, which is constantly encircled by 15 police officers in unmarked and official police cars. No contact with the population has been allowed. Only travel between my village and the airport has been allowed until recently. Since 2014, my driver's license has not been renewed. And since February 2018, the authorities refuse to renew my (still valid) passport, but in which there are almost no more available pages for visa, entry and exit stamps. I am also the subject of a two-year boycott of the part of the Algerian media. Dictator Bouteflika is obviously very angry about the global campaign I started in 2015 in front of Algerian embassies abroad, demonstrating against the corruption of Algerian politicians (95 demonstrations in total).
If you have any other freedom-related activities, could you tell us about them?
Full report at:
https://www.yenisafak.com/en/world/eu-allergic-to-muslim-women-says-algerian-millionaire-paying-danish-niqab-fines-3439634
--------
Macron says keeping Assad in power would be a 'disastrous mistake'
August 28th, 2018
Macron said on Monday (August 27) keeping Bashar al-Assad in power in Syria would be a "disastrous mistake," although it was not France's duty to assign the country's future leader.
"Who provoked the flow of these millions of refugees?" Macron said during a speech at a Paris conference of ambassadors. "Who massacred his own people? It is not for France to designate Syria's future leader, no more than any other country. But it is our task and in our interest to make sure that the Syrian people are well in a position to do it."
The Syrian conflict, which has killed 300,000 people and pushed 5.6 million Syrian refugees towards neighboring countries and Europe, has turned into a war of attrition as the regime tries to contain rebels and extremists.
Assad's regime has taken back control of most of the territory except for the province of Idlib, the remaining refuge of rebels and the Islamic State.
On Libya, Macron said it was France's role to move forward a Paris accord to secure reunification in the country, which he said was an "essential factor for the stability of the region."
Full report at:
https://www.untvweb.com/news/macron-says-keeping-assad-in-power-would-be-a-disastrous-mistake/
--------
Inside Birmingham neighbourhood that's produced tenth of UK's convicted Islamic terrorists
27 AUG 2018
There is a sign that welcomes visitors to Sparkbrook.
It reads: "If my mind can conceive it and my heart can believe it, then I can achieve it."
It's a quote from the legendary boxer Muhammed Ali, whose legacy has a special resonance in the district he visited 35 years ago and where 70 percent of its 32,000 residents share the former heavyweight champion's Islamic faith.
It is a vibrant community that last week found itself at the centre of unwanted international media attention, after one of its own was charged with attempted murder after driving his car into cyclists before smashing into a security barrier outside the Houses of Parliament.
Salih Khater was arrested by armed police immediately after the incident on Tuesday morning, which left three people injured and Westminster on lockdown for several hours. He was charged with attempted murder on Saturday, and police say they are treating the case as terrorism. He is due to appear in court on Monday, reports the Huffpost .
Khater, 29, a Sudanese immigrant, frequented the myriad Arabic coffee houses that line the main Stratford Road as it snakes through Sparkbrook and neighbouring Sparkhill.
Islamic prayers echo from speakers, filling the air on any given Saturday on this particular stretch of the bustling thoroughfare – a Muslim enclave sitting just a couple of miles outside the city centre.
The melodious calls serve as a serene backdrop to a busy high street packed with shoppers visiting halal butchers and Middle-Eastern sweet shops, or sipping coffee sat at the ubiquitous African coffee shops and shisha lounges.
It's a veritable UN assembly of muslim communities from across the globe, but locals here are getting too used to screaming headlines labelling them as inhabitants of "Britain's terror hotspot" or the country's equivalent of the ISIS hotbed of Molenbeek in Belgium.
Local MP Roger Godsiff has served the area for more than 25 years and is proud to represent such an ethnically diverse community.
"From the Somali coffee shops to Eritrean eateries this area is probably the most multicultural region in the country," he said.
"The community here is very resilient and united. It has had to be because of the negative press we get but people here are tough. You've got to remember many settled here after fleeing for their lives from oppressive regimes."
There is deep sadness at the fact that Tuesday's Westminster incident happened, coupled with growing frustration at the resulting media coverage.
Abdul Saatin, 43, arrived from Sudan 12 years ago and knew Salih Khater, who he described as a "peaceful, funny man."
He said: "Sparkbrook is like being at home away from home and the Sudanese community here is very integrated and thankful to be here.
"It is not in our nature to be radicals and Salih is just an ordinary Sudanese man who troubled nobody.
"It's very hard to see my community at the centre of a so-called terrorism scare. We are largely ignored otherwise and I fear Islamaphobia is to blame."
A manager at the Bunna Internet cafe, where Khater rented a room, said locals were "sick, frustrated and angry" at the negative media coverage of their neighbourhood.
"It's the same old story... the country cries terrorism before the facts have come out," said the Eritrean worker, who did not want to give his name.
"I knew Salih and the fact is he was a quiet peaceful man who just couldn't drive a car properly. He's a short man and we'd always be laughing at the way he'd have his driver's seat pushed all the way up to the windscreen. He drove like an old woman."
But the notion that Sparkbrook and its adjoining districts have been linked to violent Islamism does carry some weight in a post 9-11 world.
According to one oft-quoted report by the Henry Jackson Society, it's been home to one in 10 convicted Islamic terrorists in the UK, including Britain's first suicide bomber Asif Sadiq in 2000 and Moinul Abedin, who is widely acknowledged as Britain's first Al Qaeda-inspired terrorist.
Two years after Sadiq blew himself up at an Indian army barrack in the Kashmiri capital of Srinagar on Christmas Day, Abedin was was jailed for 20 years for turning a terraced house in Sparkbrook into a bomb-making factory.
Among the deadly haul was an industrial quantity of the chemical required for the high explosive HMTD, which was used in the July 7 attacks on London's Tube and bus network in 2005.
Another factor linking the area to Islamist extremists is the fact that many Muslims living here trace their origins to the divided state of Kashmir, which has been the centre of a long-running territorial dispute between Pakistan and India.
The Kashmir connection is significant – indeed Birmingham has the largest Kashmiri expat population in the world and throughout the 1990s armed militants fighting for an independent Kashmir travelled to areas like Sparkbrook openly, to raise funds for the cause and inspire young local Muslims to join the fight.
Many of the 26 jihadists featured in the Henry Jackson Society report used Kashmiri militant groups as 'stepping stones' to join Al Qaeda including men like Irfan Khalid.
Khalid lived mostly with his maternal grandparents on a 1970s housing estate at Timbers Way, Sparkbrook, and was jailed for 18 years in 2013.
He was a member of an Al Qaeda cell that plotted bomb attacks on a scale larger than the July 7 bombings that 'could kill 2,000 people'.
More recently, a group of extremists from the area who called themselves the 'Three Musketeers' were jailed for life in 2016.
Sparkhill neighbours Naweed Ali, 29, Khobaib Hussain, 25 and Mohibur Rahman, 33, planned to murder using a car before attacking people with meat cleavers etched with 'Kafir' and setting off a pipe bomb.
Tired of the extremist accusations and veiled hints of complicity, the community here is determined to come together to deliver peace and safety.
Mohammed Ashfaq, a coordinator for anti-extremism organisation Kikit, blames deprivation for driving youths to radicalism along with a toxic combination of substance abuse, poverty and proactive hate preachers, usually operating online from afar.
He told HuffPost: "The people getting involved with extremism have a range of vulnerabilities. They see jihad as a shortcut to redemption for their past wrongs and are being lied to about the Koran and getting roped into something way above their mental capacity.
"They trust these people, but they're being lied to."
The United Kingdom Islamic Mission (UKIM) runs Sparkbrook Mosque in Anderton Road where new programmes of education are the focus.
Imam Mohammad Khalid is among a group of Islamic scholars attempting to combat the terror message by reaching out to young Muslims.
Full report at:
https://www.birminghammail.co.uk/news/midlands-news/inside-birmingham-neighbourhood-thats-produced-15058575
--------
URL: https://www.newageislam.com/islamic-world-news/mystical-sufi-dancing-rituals-return/d/116220
New Age Islam, Islam Online, Islamic Website, African Muslim News, Arab World News, South Asia News, Indian Muslim News, World Muslim News, Women in Islam, Islamic Feminism, Arab Women, Women In Arab, Islamophobia in America, Muslim Women in West, Islam Women and Feminism