New Age Islam News Bureau
14 Jan 2017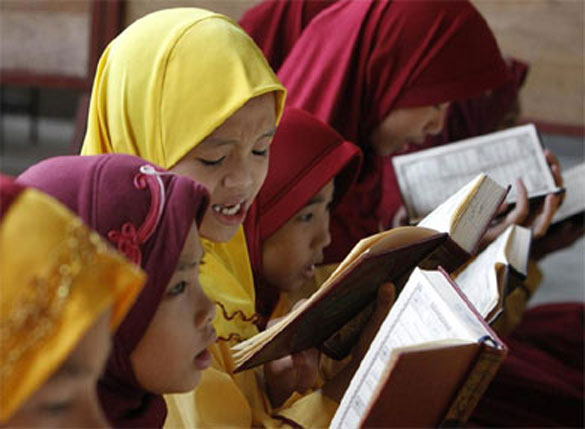 Lau reportedly told a press conference yesterday that Islamic religious schools pose a bigger threat to unity than vernacular schools. — Reuters pic
----
• Muslims 'Tolerant' Of Others Due To Islamic School Upbringing, PAS Tells Gerakan
• China's 'War On Terror' Is Fracturing Uighur Society
• It's Time For Action,Indian Islamic State Leader Tells Followers
• Major Islamic Powers Won't Let 'Muslim NATO' Dent Their Sovereignty - Expert
• Afghan High Peace Council Official Under Fire For Calling Taliban 'Angels, Holy Group'
Southeast Asia
• Muslims 'Tolerant' Of Others Due To Islamic School Upbringing, PAS Tells Gerakan
• China's 'War On Terror' Is Fracturing Uighur Society
• Wahabism Spreading Among Malaysia's Elite
• Malaysia maps out plan to pull in more Muslim wealth
• Non-Malay apathy blamed for rise of extremism
• Rohingya refugees can finally leave the shadows
• Son of Moro leader nabbed in Malaysia over deadly Davao City blast
--------
India
• It's Time For Action,Indian Islamic State Leader Tells Followers
• Muslim Clerics In Fight Over Fatwas Issued Against PM Modi
• These Men Born In India Went On To Become Leaders Of Pakistan
• Muzaffarnagar riots: Two years on, SIT yet to get govt's nod to chargesheet 602 accused
• Court puts LeT terrorist Abu Jundal on trial
• Sushma Swaraj asks Indian students in Bangladesh to be in touch with mission
• Defence expert rubbishes Hafiz Saeed's claim on Akhnoor attack
• India: 50 Islamic State supporters arrested in 2016
--------
Arab World
• Major Islamic Powers Won't Let 'Muslim NATO' Dent Their Sovereignty - Expert
• Iraqi Forces Enter Mosul University In Battling ISIS For City
• Egypt Kills 14 Daesh-Linked Terrorists In Sinai
• Syrian Gov't Grants Amnesty to Hundreds of Militants in Northwestern Damascus
• ISIL's Security Chief in Homs Killed in Syrian Army Attack
• Terrorist Commander Confirms Syrian Army's Advances in Wadi Al-Bardi Region
• Russian Fighter Jets Bomb Heavily Terrorists' Bases in Western, Southern Aleppo
• Syrian Armed Forces Hit Hard Terrorists' Centers in Damascus, Quneitra Provinces
• Syrian Air Force Pounds Terrorist Centers in Idlib to Retaliate Jeish Al-Fatah's Truce Breach
• Jeish Al-Fatah Centers in Idlib Receive Severe Blow in Russian Air Raids
• Damascus says Israel missiles caused airbase explosions
• Iraqi forces continue to make gains against Daesh in eastern Mosul
--------
South Asia
• Afghan High Peace Council Official Under Fire For Calling Taliban 'Angels, Holy Group'
• Ethnic Rakhine MPs refuse to meet UN envoy probing Rohingya abuse
• Taliban, associated militant networks still using Pakistani soil: Gen. Mattis
• Pakistan reacts at Afghan, US officials remarks on terrorism safe havens
• ISIS loyalists torch 65 houses in East of Afghanistan
• UAE may rethink ties with Pakistan, launch probe into Kandahar bombing
--------
Mideast
• Turkey Detains Erdogan's Former Security Chief In Post-Coup Crackdown
• Turkish Lawmakers Trade Fists As Parliament Bolsters Erdogan Powers
• Erdogan says Turks, Greeks still at odds on Cyprus
• US embassy Jerusalem move 'assault' on Muslims: cleric
• U.S. says it killed three members of al Qaeda affiliate in Yemen strikes
• Abbas 'may reverse' Israel recognition
• Turkish court arrests 2 Uighurs in relation to Istanbul attack
• US: Al-Qaeda in the Arabian Peninsula leader killed in Yemen air strike
• 2 Saudi soldiers killed in Yemen retaliatory attack on Najran
• Israeli attack on Syrian airport declaration of war: Analyst
--------
Pakistan
• Christian Leadership Conference Demands Voting Rights To Elect Their Parliamentarians
• Punjab Warned About 'IS Militants Returning From Syria'
• US to incentivise Pakistan's cooperation, says Mattis
• Pakistan rejects allegations of terrorist safe havens in Fata
• Large protest outside Pakistan embassy in Kabul
• Mamnoon stresses need to crush terrorist mindset
• PBC launches Islamic radio in Dera Ismail Khan
• JUI-F to organise Islamic doctors' conventions
• Journalist shot dead in Pakistan's Balochistan
--------
Africa
• Don't link Boko Haram with Islam, Ex-GrandKhadi advises Nigerians
• Sudan Churches Complain About Anti-Christian Posters
• Boko Haram suspected after 3 suicide bombers kill 2 at Nigerian market
• Suicide bombers kill six in Nigeria
--------
North America
• Muslims In North America And The Issue Of Representation
• Ted Cruz vs. The Muslim Brotherhood Boogeyman
• George Takei: We must stand up for Muslims in the U.S.
• In Legal Fight Against U.S. Towns, Muslims May Lose Major Ally
• Global Technology Industry Unites Against US Muslim Registry
--------
Europe
• Russian, Syrian Muslim Communities Maintain Ties Despite Regional Crises - Mufti
• The Muslims Detained In Crimea Are Charged With "Violent Upheaval In Russia"
• Spain Hopes To Sell Warships To Saudi Arabia
• 'I'm not ashamed' says Paris attacks suspect: report
• Cypriot president emphasizes withdrawal of Turkish troops
• Five Daesh-linked suspects detained in Spain, Hungary
• UK's most northernly mosque to open its doors to the public next month
• Police officer tells Muslim motorist he's 'full of s***' after religious motivated quiz
Compiled by New Age Islam News Bureau
URL: https://www.newageislam.com/islamic-world-news/new-age-islam-news-bureau/muslims-'tolerant'-of-others-due-to-islamic-school-upbringing,-pas-tells-gerakan/d/109724
--------
Muslims 'Tolerant' Of Others Due To Islamic School Upbringing, PAS Tells Gerakan
January 13, 2017
KUALA LUMPUR, Jan 13 — State-backed Islamic schools in Malaysia helped create a Muslim community tolerant of those from other creeds and races, PAS asserted today after criticism from a non-Muslim Barisan Nasional (BN) component party.
The chief of the Islamist Opposition party's scholar wing said religious or "agama" schools were agents of unity, rubbishing a Gerakan leader's claim that they were the cause of division between Muslims and non-Muslims.
"Agama schools have acted as agents that unified our society through Islamic teachings that values unity and justice among humans," Datuk Mohd Khairuddin Aman Razali said in a statement.
"The contribution of religious education at the Agama schools contributed largely to the creation of a Muslim community that is tolerant that they accept the presence of other nationalities, races and followers of other faiths.
"This is proven throughout the country's history," he added.
Gerakan vice-president Dominic Lau reportedly told a press conference yesterday that Islamic religious schools pose a bigger threat to unity than vernacular schools.
Lau based his claim on his reading of the new education blueprint, which he argued implied that only Bumiputera could be enrolled in government-funded religious schools.
The Bumiputera refers to Malaysia's Malay community who are also Muslim going by the Federal Constitution's definition, but also include the natives of Sabah and Sarawak, who are free to embrace other religions.
Mohd Khairuddin in his response called the Gerakan leader's assertion "emotional, racist, and prejudicial".
"It could be the cause of disunity… in fact it is not far off if we say it sounds seditious and capable of dividing us," he said of Lau's statement.
Lau's disapproval of Agama schools also drew condemnation from Amanah, the PAS splinter party.
One of its vice-presidents Mujahid Yusof Rawa, in an interview with online news portal FMT, said the deep racial division within Malaysia was the product of a failed central education system.
He argued that the government lacked political will to produce a progressive school curricula that would inculcate genuine integration.
http://www.themalaymailonline.com/malaysia/article/muslims-tolerant-of-others-due-to-islamic-school-upbringing-pas-tells-gerak
--------
China's 'War On Terror' Is Fracturing Uighur Society
14th January 2017
FOR centuries, acts of terror have been employed to instill fear in the populace, however today the world is witnessing an unprecedented amount of attacks.
Most of the terrorist attacks striking European capitals are a result of marginalised communities challenging the status quo, only indirectly influenced by events across the Middle East.
But Europe is not the only part of the world facing homegrown terrorism.
For decades, the Muslim Uighur population have challenged Beijing's authority in the Xinjiang Uighur Autonomous Region in far west China, resorting to terrorist attacks that attempt to undermine the central authorities.
The Uighurs are native to Xinjiang, also known as East Turkestan, and are culturally and linguistically related to Turkey, defying the influence of the Han Chinese in the region.
(File) In this 2014 photo, Uighur residents gather at a road side stall in the city of Aksu in western China's Xinjiang province. Source: AP/Ng Han Guan
In the same way that many second-generation immigrants in Europe live on the fringe of society, the Uighur have been marginalised to such an extent that a growing amount of young men and women are being radicalised. Ostracised within their own home, many find acceptance among extremism.
The process of marginalisation, therefore, plays a role in igniting homegrown terror. Almost every attack in Europe is linked through this tragic phenomenon of predominantly young Muslim men feeling ostracised in society, but nobody is attempting to fix this societal problem.
Rather than orchestrating a 'war of terror', China and Europe, among other governments facing homegrown terror, must attempt to fix the underlying causes of marginalisation that lead to radicalised violence.
The most recent attack in Xinjiang occurred on Dec 28, 2016. Three people in a vehicle entered the courtyard of the Moyo County Committee of the Communist Party of China (CPC), detonating an explosive device and attacking workers with knives. Two people were killed and another three injured before the attackers were shot dead on site.
Almost immediately, official news agency Xinhua referred to the incident as an act of terror without providing further information. Similar reactions are commonplace across Europe. After the attack on a Christmas market in Berlin, it was quickly denounced as Islamic before the Islamic State had time to think of a response.
Labelling of an attack as terrorism allows for the 'war of terror' to indoctrinate society, influencing people into believing the government's response is justified. Every attack gives further impetus to the government to continue its crackdown and restrict the civil liberties of, in most cases, a minority of the population.
In the case of Europe, refugees have been targeted despite there being no causal link between immigration and terrorism.
In China, the Uighur population as a whole suffers as a result of a few extremists.
In December 2015, China's Counterterrorism Law was passed. A subsequent local counterterrorism law was also passed in Xinjiang in August last year, supplementing the national law and becoming the first of its kind in China. Spread across 61 items in 10 chapters, the law defines terrorism and terrorists, details security precaution and countermeasures, lists intelligence and investigative powers, and details necessary punishments.
The most troubling aspect of the new measures is the emphasis on religious extremism being the ideological basis for terrorism. Most of Xinjiang's native population are Muslim, but Beijing's restrictive policy towards the region is far more influential in radicalising the Uighur than Islamic doctrine.
(File) An Uighur man prepares to get his beard massaged at a barber shop in the city of Aksu in western China's Xinjiang province. Source: AP Photo/Ng Han Guan
During Ramadan in 2016, where Muslims are required to fast throughout the day, China banned teachers, students and civil servants from fasting and forced restaurants to remain open. The CPC views Xinjiang separatist claims as a threat to national unity and therefore religious freedom, an integral aspect of many Uighur's lives, has been targeted in the province. Among other religious restrictions in Xinjiang, the government banned men from growing long beards and women from wearing veils and headscarves.
Uighurs have been pushed into the hands of extremists by the central authorities. After experiencing decades of oppression at the hands of Beijing, the only way out is perceived as an armed struggle against the authorities. Neither Beijing, Paris or Istanbul have yet formed a cohesive strategy to combat terrorism, rather mimicking Washington after Sept 11, 2001.
Governments are quick to mobilise a 'war on terror', but fail to build the bridges necessary for a society to move forward after an attack.
In the past, terrorism brought society together in unexpected ways, but today, the effect is the opposite. The way to fight extremism is through tolerance, acceptance and education, not placing further restrictions on a minority group already living on the periphery of society.
Beijing's restrictive policies towards Xinjiang have only radicalised the population, creating yet another narrative of Muslims resisting the government after being oppressed.
If China wants to end the terrorist attacks, it needs to change its course and rebuild the fractured society in Xinjiang.
** This is the personal opinion of the writer and does not reflect the views of Asian Correspondent
https://asiancorrespondent.com/2017/01/chinas-war-terror-fracturing-uighur-society/
--------
It's Time For Action,Indian Islamic State Leader Tells Followers
Jan 14, 2017
KOZHIKODE: Shajeer Mangalasseri Abdulla alias Sameer Ali, the amir of the Kerala module of the Islamic State, has shared tips on making Molotov cocktails (petrol bombs) with those who are willing to start a jihad in Kerala.
In a recent Facebook post Shajeer said 'Jabras' (rationalists like E A Jabbar who are vocal in criticising Islam) and the Sangh Parivar leaders could be initial targets of the jihad. He suggests that some media men who are writing against the IS could also be targeted.
"Action speaks louder than words. Do something on the field and prove you sincerity rather than showing enthusiasm in the inbox. I am posting these materials for those who give the excuse that they don't have training (to join jihad). If you respond positively to this post more tips will follow," Shajeer said in a post on January 10.
The IS leader says that petrol bombs are the best weapon if your intention is not killing the targets. He then proceeds to explain in detail the making of Molotov cocktails using soda bottle and petrol. Shajeer advises that if you want to make it more effective add some amount of polystyrene or liquid dish wash in the mixture. Putting ball bearings or iron nail in the bottle will make it a lethal weapon, he said.
Expressing the doubt that some of those who appear in his inbox on Facebook could be intelligence agents, Shajeer said his posts are meant for people who are genuinely interested in jihad.
"Do not heed to the fatwas of the munafiq (hypocrite) and murtad (apostate) scholars who discourage jihad," he said.
Unlike in the past, many people have come forward to join the friend list of Shajeer, who hails from Moozhikkal near here. "I have randomly sent friend request to many and some of them have accepted my request. And I had accepted all the friend requests sent to me," he said.
"I know many of the 'Jabras' who are in the friend list actually want me dead with the bullets of the NIA, ATS or the Indian Army. I expand my friend list to reach out to as many people as possible to spread the message of jihad," Shajeer said.
Intelligence agencies believe that Shajeer is operating from the Islamic State strongholds in Afghanistan along with other youths who have disappeared from Kerala a few months ago.
http://timesofindia.indiatimes.com/city/kozhikode/its-time-for-action-is-leader-tells-followers/articleshow/56528716.cms
--------
Major Islamic Powers Won't Let 'Muslim NATO' Dent Their Sovereignty - Expert
13.01.2017
The plan for a new international Islamic army with its command center based in Riyadh, Saudi Arabia, is going ahead. However, it's unlikely to make "any dent in violence in any major Islamic country," an analyst told Sputnik.
The Saudi-led Islamic Military Alliance to Fight Terrorism (IMAFT), dubbed the Muslim NATO, will be made up of 39 Sunni Muslim states under the command of Raheel Sharif, Pakistan's retired army chief. According to media reports, the announcement that Raheel Sharif would lead the so-called new Muslim NATO came from Pakistani defense minister Khawaja Asif, who revealed the appointment on television. The IMAFT was created in 2015 to fight Daesh (also known as Islamic State) terrorists, but is not supported by Iran. And it's also unlikely that other "major Islamic" countries in the region will "support its activities," Dr. Amalendu Misra, politics expert at University of Lancaster told Sputnik.
"I think it's unlikely, that this particular force is going to make any dent in violence in any major Islamic country," Dr. Misra told Sputnik.
"All the Islamic countries are fiercely protective of their sovereignty. Are they really going to allow them [IMAFT] to undermine their sovereignty and intervene in their country, how credible is that going to be?" Dr Misra asks.
Dr. Misra also doesn't think it's likely that IMAFT will be allowed in by Egypt or Afghanistan either. "When it comes to big powers in the region, like Afghanistan, they're not going to allow more military intervention after having seen a quarter of a century of military intervention from other forces." The recent announcement that Pakistan's former army chief is to command IMAFT has led to criticism on social media.
Some Shia political groups have expressed concern meanwhile Sunni groups have come out in support of Sharif.
Meanwhile Dr. Misra remains cautious, as he told Sputnik:
"I would wait and see as to how far they are going to succeed in terms of brokering peace and in undermining the terrorist outfits."
https://sputniknews.com/middleeast/201701131049572738-muslim-nato-pakistan-sharif/
--------
Afghan High Peace Council Official Under Fire For Calling Taliban 'Angels, Holy Group'
Jan 13 2017
An official of the Afghan High Peace Council (AHPC) official is under fire for calling the Taliban militants 'Angels and a Holy Group'.
The acting provincial governor of northern Balkh province and Chief Executive of Jamiat-e-Islami Ata Mohammad Noor reacted towards the remarks by Abdul Hakim Mujahid, an adviser to the High Peace Council of Afghanistan.
Calling the remarks by Mujahid as illogical, Noor emphasized on the need to ascertain the enemies inside the system before going to face them in the battleground.
Noor further added that such individuals should be put behind the bars for insulting the national martyrs and killing the innocent Afghan people on daily basis. killing the innocent Afghan people on daily basis.
Noor specifically pointed towards the recent attacks in Kabul, Kandahar, and Helmand and slammed the official for his irresponsible remarks.
In his remarks last week, Mujahid called the Taliban militants angels of peace and endorsed their position in the ongoing violence of remaining in a holy level.
Mujahid offered the group's fight against Russia as a justification for his claim and called the former Afghan President Dr. Najibullah a traitor besides calling ex-President Burhanuddin Rabbani as the main factor in the devastating civil war.
http://www.khaama.com/ahpc-official-under-fire-for-calling-taliban-angels-holy-group-02665
--------
Southeast Asia
Wahabism spreading among Malaysia's elite
Adam Abu Bakar
January 14, 2017
RAWANG: A Selangor religious official has alleged that Wahabism is gaining a foothold with the elite of Malaysian society.
Mahfuz Mohamad, a committee member of the Selangor Islamic Religious Council (Mais), told FMT that areas in the Klang Valley that were considered elite had become nests for the spread of Wahabism, a school of thought that the Saudi royal family subscribes to and is often linked to the Islamic State (IS) terror organisation.
He said propagation was focused on the rich and powerful as well as students in tertiary institutions.
"The rich can provide funds and the powerful can use their positions to spread this school of thought, while students are their future replacements," Mahfuz added.
Wahabism as a movement was founded in the Arabian Peninsula in the late 1700s by Muhammad Abdul Wahhab, a scholar who believed Islam needed to be rejuvenated. Many Wahabis call themselves "Salafis" in recognition of the "Salaf", which refers to the first generation of Muslims.
According to Mahfuz, Wahabism is not popular among rural folk because its activists don't believe that propagating it in the rural areas would yield long term benefits.
In March 2015, the National Fatwa Council decided that Wahabism was not suitable for the country.
The Negeri Sembilan Fatwa Committee has declared it as "haram (unlawful)".
Mahfuz, who is also the principal of a Quran-teaching institution, said IS militants and supporters had deviated from Islam because of their adherence to Wahabism. The deviation, he said, could be seen in their "hard and harsh" manner.
"Wahabis reject tasawwuf (sufi) teachings, considering them abhorrent, and they are stern and harsh against people who they think don't put akhlak (moral) teachings into practice."
He spoke of instances of mosque officials being abused by Wahabi disciples.
He also said it was often difficult to identify Wahabis because they would not come out publicly.
"Sometimes Wahabis themselves don't realise they are Wahabis. This is because the ones teaching them would not admit to being one, claiming instead to hold to mainstream Sunni teachings.
"Many who don't have much knowledge about Sunni teachings are influenced by Wahabism, thinking its teachings are true Sunni teachings.
"They say they are guided by the Quran and the prophetic traditions, but the fact is they are following teachings that are contrary to the Prophet's teachings and practices."
http://www.freemalaysiatoday.com/category/nation/2017/01/14/wahabism-spreading-among-malaysias-elite/
--------
Malaysia maps out plan to pull in more Muslim wealth
January 13, 2017
KUALA LUMPUR -- Malaysia has introduced a new five-year financial plan designed to draw more of the Muslim world's growing wealth away from conventional banks.
The Islamic Fund and Wealth Management Blueprint aims to leverage the Southeast Asian country's well-established Islamic market infrastructure to strengthen its position as a hub for Shariah-compliant sustainable and responsible investment, or SRI, funds. The Muslim-majority country's Islamic capital market has more than tripled in the past decade, thanks to the government's aggressive efforts to attract Middle Eastern oil money prior to the crude rout that began in the second half of 2014.
The Islamic capital market has been growing at a compound annual rate of 12%, reaching 1.7 trillion ringgit ($381 billion) as of November 2016. That is the equivalent of roughly 60% of Malaysia's total capital market.
The 52-page blueprint revealed on Thursday by the Securities Commission spells out several initiatives, including the formulation of a framework for SRI funds, the setting up of a global center for the Islamic capital market and the introduction of a digital investment services structure.
Prime Minister Najib Razak said in a speech that the blueprint lays the foundation for Malaysia to become a "leading international center" for Islamic funds and wealth management by 2021.
Overall, there were 75 licensed fund management companies in Malaysia as of the end of 2015, handling 667.9 billion ringgit in assets. Of those, 20 were full-fledged Islamic fund managers, with 132.4 billion ringgit in assets under management. Their asset tally grew at a compound annual rate of 23% from 2009 to 2015.
The government's push to establish Malaysia as a hub for Islamic finance has attracted a number of foreign players, including Franklin Templeton GSC Asset Management and Nomura Islamic Asset Management.
Deepening pool
Globally, the growth of private financial wealth nudged assets under management to $71 trillion in 2015, after compound annual growth of 7.5% since 2008, according to data from Boston Consulting Group. Nearly two-thirds of this wealth was concentrated in North America and Europe.
Goal is to create Shariah finance hub for world's growing Islamic population
CK TAN, Nikkei staff writer
In contrast, Islamic funds worldwide had $71 billion in assets under management as of October 2015, based on data from the Islamic Financial Services Board. But while this figure is a fraction of the money in the conventional banking system, demand for Shariah-compliant investment products is expected to expand in line with the growth of the world's Muslim population.
Full report at:
http://asia.nikkei.com/Politics-Economy/Policy-Politics/Malaysia-launches-blueprint-on-Islamic-wealth-management
--------
Non-Malay apathy blamed for rise of extremism
January 14, 2017
KUALA LUMPUR: Hindraf Makkal Sakthi chairman P Waythamoorthy has denounced non-Malays who refuse to stand up for their rights, saying their apathy partly explains the rise of extremism in Malaysia.
In a WhatsApp message that he said represented the first time he was publicly expressing his frustration with non-Malays, he also mentioned "political expediency, selfishness" and "fear" among the non-Malays as reasons for "rising extremism and encroachments into non-Malay rights".
He told his WhatsApp group to read his full message in Facebook.
He asked whether non-Malays were willing to let Umno and PAS join hands and "entrench their extremist agenda".
"Are we going to live in a state of denial?" he said.
He also criticised moderate Muslims, saying "They hardly speak up for non-Malays and non-Muslims."
He said non-Malays tended to explain their inaction with "lame excuses" such as, "We are not in power yet; so we can't speak out" and "We will lose Malay support" by speaking up.
He noted that many non-Malays would encourage their children to settle down overseas, indicating that they might have "given up" on Malaysia.
"Malaysia, according to this mindset, would not be a beautiful place in 20 years' time," he said.
Full report at:
http://www.freemalaysiatoday.com/category/nation/2017/01/14/non-malay-apathy-blamed-for-rise-of-extremism/
--------
Rohingya refugees can finally leave the shadows
Jan 14, 2017
KUALA LUMPUR, Malaysia -- Arif carefully sprinkles tobacco onto betel leaves at a tea shop popular with fellow Rohingya refugees from Myanmar. Like tens of thousands before him he risked a treacherous journey by sea, at the mercy of smugglers, to seek sanctuary in Malaysia. The 27-year-old escaped the oppression still ravaging the Muslim minority in his homeland. But now he is one of a vast, unwanted diaspora scraping a precarious living in the shadows of Kuala Lumpur, Malaysia's capital.
The stateless Rohingya, often called the world's most persecuted minority, have long flocked to Muslim-majority Malaysia in misguided hopes of a warmer welcome. In Myanmar, they are regularly persecuted by the Buddhist majority, denied citizenship, forced to face apartheid-like restrictions on movement, and stigmatized as "illegal immigrants" from Bangladesh despite their deep roots in the country. But the reality for some 55,000 Rohingya refugees registered with the U.N in Malaysia alone, and for tens of thousands more believed to be in the country without the stamp of official recognition, is a state of limbo.
"People here don't oppress us. We have no problem with locals. But if the police come, we have to run," says Arif, pausing from folding small parcels of betel leaves, a stimulant widely chewed in Myanmar and other parts of Asia.
Like most Southeast Asian nations, Malaysia is not a signatory to the U.N. Refugee Convention, although it has allowed the U.N.'s refugee agency (UNHCR) to register refugees on the basis that most will be resettled elsewhere. While registered refugees are not held in camps, they are left to live in urban environments without crucial legal protections. Denied residency or work rights and given little aid, they take on low-paying jobs in unregulated sectors, living in constant fear of arrest, abuse, or extortion. Those with the coveted refugee status then wait for the creakingly slow process of resettlement to a third country.
But now, after years of stalled talks, the government is working on a potentially game-changing pilot plan long advocated by the UNHCR - granting 300 Rohingya legal permits to work in the plantation and manufacturing sectors for a three-year period, starting early this year.
At the agency's hub in Kuala Lumpur, Richard Towle, the UNHCR representative in Malaysia, says the plan is a "win-win" situation if everybody works together. "We know that the refugees want to work. Most of them are working. And industries and business would really like to engage with them. What's missing is the lawfulness of it," he said.
Towle adds that the work permits will offer vital protections for refugees who are vulnerable to exploitation in a "largely invisible economy," as well as grant Malaysia, which has long relied on foreign labor for low-skilled jobs, an "affordable workforce."
"If this is a success and all parties are comfortable with it, we would like to see all UNHCR refugees have the right to work," he said.
The plan comes at a time when new ideas on how to tackle the global refugee crisis are desperately needed. It's not just that more people are displaced than ever before - it's that fewer countries are willing to receive them as official residents.
Shifting geopolitics are especially worrisome for Malaysia, which has long been on the receiving end of regional refugees. Malaysia was a beneficiary of one of the largest UNHCR resettlement programs in the past decade, when more than 100,000 refugees who arrived there were resettled to other countries, most of them going to the United States. But the majority of those refugees came from Myanmar's Christian Chin minority, victims of the long-running clashes between ethnic militias and the government rather than the Rohingya, who form the bulk of Malaysia's refugees. Now, the incoming administration of President-elect Donald Trump, who has voiced strong opposition to refugees and Muslims in recent months, plunges future Rohingya resettlement into deeper uncertainty.
That's why rights advocates emphasize finding the best ways to help refugees caught in limbo, harnessing the contributions they already make to the societies that have become their de facto homes. Amy Smith, executive director of the Southeast Asia-focused advocacy group Fortify Rights, hopes Malaysia's new work plan will take off and inspire others. "This is definitely a step in the right direction for Malaysia. More countries in the region need to think of strategies to integrate refugees into their population," she said.
But as full details of the pilot are yet to be disclosed, Smith voiced concerns about refugees entering a labor rights landscape in Malaysia that is "very exploitative for migrant workers." Any new plans should offer such protections as the ability to change employers and report workplace abuse, she said.
Other experts have questioned the scope of the pilot, which is open to only a tiny fraction of Malaysia's U.N.-registered Rohingya refugees.
"I'm not sure it's sufficient to tease out the real benefits" of a work plan, said Caitlin Wake of the Overseas Development Institute (ODI), a London think tank.
"It will have little to no impact for the vast majority of refugees for that time. In a context like Malaysia, this is a very small step," said Wake, the author of two recentreports exploring the working lives of Rohingya in Malaysia.
She also cautioned against expecting too much from work plans. "Globally we're seeing more progress on refugees' labor rights. But while work permits have been lauded by policymakers, the response from refugees themselves has been more tepid. For example, in Jordan, conditions associated with obtaining and having a work permit can be a disincentive."
Full report at:
http://www.chicagotribune.com/news/sns-wp-myanmar-analysis-48c7858a-d9cd-11e6-b8b2-cb5164beba6b-20170113-story.html
--------
Son of Moro leader nabbed in Malaysia over deadly Davao City blast
BY ASHLEY TANG
14 January 2017
PETALING JAYA: The son of a Moro National Liberation Front (MNLF) leader is currently being detained in Malaysia in connection with the Davao City bombing in Sept 2016.
According to a report from VERA Files, Datu Mohammad Abduljabbar Sema, 26, was arrested on Nov 24, 2016 at the Kuala Lumpur International Airport upon his arrival from Bangkok.
Datu Mohammad is the son of Muslimin Sema, chairman of the largest group in the MNLF, and Bai Sandra Sema, congresswoman of the first district of Maguindanao.
VERA Files, founded in March 2008 is published by Filipino journalists taking a deeper look into current Philippine issues.
Datu Mohammad, an Islamic scholar had been travelling to and from Bangkok, while exiting to Cambodia. However, when his 30-day visa free entry was about to expire, he travelled to Malaysia, with the intention of returning to Thailand after three days.
He was then arrested upon arrival in Kuala Lumpur, where he was placed under Malaysian custody in an undisclosed location.
Muslimin Sema was a former Cotabato City mayor and is considered to be a member of the Bangsamoro Transition Commission. His mother belongs to the influential Sinsuat clan of Maguindanao.
VERA Files said Datu Mohammad's mother is currently seeking for the release of her son through a pardon from Philippines president Rodrigo Duterte while his father has sought the assistance of Peace Process presidential adviser Jesus Dureza.
The Philippines government last month sent law enforcement representatives to Malaysia to record his statement.
Meanwhile, Philippines defense secretary Lorenzana said the Philippines will request custody of Datu Mohammad.
"Of course, of course, we will request so that we can bring him back to the country," Lorenzana said.
Full report at:
http://www.thestar.com.my/news/nation/2017/01/14/son-of-moro-leader-nabbed-in-malaysia-over-deadly-davao-city-blast/
--------
India
Muslim Clerics In Fight Over Fatwas Issued Against PM Modi
Mohammed Wajihuddin
Jan 14, 2017
MUMBAI: A week after the shahi imam of Kolkata's Tipu Sultan Mosque, maulana Nurur Rehman Barkati, issued a fatwa against PM Modi, the controversial cleric faces a fatwa from a Mumbai-based mufti (one qualified to issue fatwas).
In his fatwa, mufti Manzar Hasan Khan Ashrafi Misbahi, chief mufti of Madrassa Darul Uloom Ali Hasan Ahle Sunnat, has not only dismissed Barkati's "fatwa" against Modi as an outrageous and condemnable political statement, he has also questioned the controversial imam's credentials to lead namaz or prayers.
"Such statement cannot be called a fatwa at all since the statement poses danger to the peace of society. This is his personal and political statement and Shariah doesn't back such statements. ...such a person cannot be an imam," reads Misbahi's fatwa, originally penned in Urdu. Misbahi claimed that Barkati is not a mufti (one who has been trained in ifta or a course in fatwa) and should not devalue the sanctity of fatwa by passing off his political statement as fatwas.
Barkati disparaged the fatwa, saying, "Who is Misbahi? I have never heard his name. I don't think one has to pay any heed to such statements. I will stick to all the statements I have made recently as they are for the betterment of society." Last week, Barkati outraged many when he issued a fatwa offering a reward of Rs 25 lakh to anyone who was willing to "cut off Modi's beard, shave his head and smear him with black ink". The meeting where he issued the fatwa was chaired by Trinamool Congress MP Idris Ali at the Kolkata Press Club.
Misbahi has slammed Barkati also because the latter had "embarrassed" Muslims by leading funeral prayers in absentia of the liquidated al-Qaida chief Osama bin Laden on May 6, 2011. Misbahi said on Friday, "Laden was a known terrorist and a confirmed terrorist cannot be a Muslim. So he didn't deserve an Islamic funeral prayer.
Yet Barkati led a prayer, creating schism among Muslims and bringing a bad name to the community. Muslims should stop offering namaz in his leadership."
http://timesofindia.indiatimes.com/india/muslim-clerics-in-fight-over-fatwas/articleshow/56530189.cms
--------
These men born in India went on to become leaders of Pakistan
January 13, 2017
When two nations were born from a single entity in mid-August of 1947, a large number of people migrated to either side of the border. Many among those later rose to the highest positions in their country. There is a long list of personalities who were born in India but represented Pakistan at various high positions.
Here we list some prominent Pakistani leaders born in India
1. Liaquat Ali Khan
The first Prime Minister of Pakistan, Liaquat Ali Khan was also among the leading founding fathers of Pakistan. He was born on 1 October 1895 in Karnal, eastern Punjab of British India (a district in present day Haryana). Ali Khan studied at the Aligarh Muslim University in India, and then Oxford University in the United Kingdom. He was assassinated during a public meeting in Rawalpindi on October 16, 1951.
2. Iskander Mirza
Born on 14th December 1898 in Murshidabad (present day West Bengal), Iskander Mirza was elected as first President of Pakistan in 1956. He grew up in erstwhile Bombay, now Mumbai, receiving his early education at Elphinstone College, part of the then University of Bombay. During his presidency, Pakistan suffered a lot of instability. He is criticized for facilitating the first Martial Law in the history of Pakistan.
3. Chaudhary Mohammad Ali
The fourth Prime Minister of Pakistan Mohammad Ali was born in Jalandhar, Punjab on July 15, 1905. Though he served as a Prime Minister for a very short period - that of a year - he was widely regarded to have promulgated the 1956 Constitution of Pakistan with wide scale public approval.
4. Huseyn Shaheed Suhrawardy
Suhrawardy was born on 8 September, 1892 in a Bengali Muslim family in Midnapore, West Bengal. He served as fifith Prime Minister of Pakistan from 12 September 1956 – 17 October 1957. He has also served as Mayor of Calcutta and Prime Minister of Bengal during British rule.
He was forced to resign on 10 October 1957 under threat of dismissal by President Iskandar Mirza. He was banned from public life by the military junta of General Ayub Khan. Suhrawardy died in 1963 in Lebanon from a heart attack.
5. Ibrahim Ismail Chundrigar
Ibrahim Ismail Chundrigar belonged to the Muslim Chundrigar community and was born in 1897 in Ahmedabad city of Gujarat. He studied from Bombay University.
He was elected as Prime Minister of Pakistan on 7 October 1957. His tenure lasted for less than two months and he was forced to resign on December 11, 1957. Chundrigar was more of a lawyer than a politician. He gained a lot of popularity as a constitutional lawyer when he pleaded the case of Maulvi Tamiz-ud-din for the restoration of the first Constituent Assembly of Pakistan.
Full report at:
http://zeenews.india.com/india/these-men-born-in-india-went-on-to-become-leaders-of-pakistan_1966941.html
--------
Muzaffarnagar riots: Two years on, SIT yet to get govt's nod to chargesheet 602 accused
by Manish Sahu
January 14, 2017
Two years after it requested the state government's sanction to file chargesheets in 57 cases against 602 accused including leaders from the BJP, Congress and BSP, a Special Investigation Team (SIT) formed by the state government itself to investigate the 2013 Muzaffarnagar riots is yet to get a nod for the same. On Wednesday, a meeting was held in the home department where SIT officers placed evidence against the accused before a four-member committee. "We are examining the evidence produced by the IOs to take a final decision," Joint Secretary Chhedi Lal Gupta, who heads the committee, told The Indian Express.
Those facing charges include BJP MP from Bijnor Kunwar Bhartendra Singh and his party MLAs Suresh Rana and Sangeet Singh Som, former BSP MP Kadir Rana, BSP MLAs Noor Saleem Rana and Maulana Jameel from Muzaffarnagar and Congress leader Saeed-uz-Zama. While Som and Rana are MLAs from Sardhana in Meerut and Thana Bhawan in Shamli respectively, Noor Saleem represents the Charthawal seat and Maulana Jameel represents Meerapur.
The chargesheets are to be filed under IPC sections 153-A (promoting enmity between different groups on grounds of religion and doing acts prejudicial to maintenance of harmony) and 295-A (deliberate and malicious acts, intended to outrage religious feelings by insulting religion or religious beliefs). While the SIT has already filed chargesheets under other IPC sections in these cases, it requires the state government's nod to do the same under sections 153-A and 295-A. Its application seeking prosecution sanction has been gathering dust since 2014.
The team has regularly been sending reminders to the home department regarding the application, but the department took cognisance only a week ago as the state government formed the committee led by Gupta to decide on the SIT's application.
Kadir Rana, Noor Saleem Rana, Maulana Jameel and Saeed-uz-Zama are accused of making inflammatory speeches at a panchayat organised at Shaheed Chowk in Muzaffarnagar on August 30, 2013, during a protest over the murder of a youth, Shahnawaz, in Kawal village.
Full report at:
http://indianexpress.com/article/india/muzaffarnagar-riots-two-years-on-sit-yet-to-get-govts-nod-to-chargesheet-602-accused-4473393/
--------
Court puts LeT terrorist Abu Jundal on trial
January 13, 2017
A special court has put Lashkar-e-Taiba terrorist Abu Jundal on trial for allegedly conspiring to commit terror acts in India, promoting enmity among different communities and other offences in a case related to post-2008 Mumbai attacks.
District Judge Amar Nath framed charges against Jundal for offences committed under section 153 A (1) (promoting enmity between different communities) of IPC and several sections of Unlawful Activities Prevention Act including 18 (punishment for conspiracy) and 20 (punishment for being member of terror organisation). The court has now fixed January 31 for further proceedings in the case.
Earlier, while advancing arguments on framing of charges, the National Investigation Agency (NIA) had claimed that "sometime in 2010, Jundal, along with his associates, entered into a conspiracy to commit terror attacks in the country".
"He used Facebook accounts with the use of fake IDs and sent emails to contact several persons. Three among them were examined by the NIA. The confession given by Jundal in November 26, 2008, Mumbai blasts case also corroborates this case," the NIA had said.
Full report at:
http://indianexpress.com/article/india/court-puts-let-terrorist-abu-jundal-on-trial-4472920/
--------
Sushma Swaraj asks Indian students in Bangladesh to be in touch with mission
Jan 13, 2017
Amid protests by Indian medical students in Bangladesh, external affairs minister Sushma Swaraj said on Friday that the government is in contact with authorities there and advised students to remain in touch with the mission in Dhaka to reach a solution.
"I have received the report from Harsh Shringla, Indian high commissioner in Bangladesh. The University has admitted more students than permissible. He is in touch with the university and Bangladesh Medical and Dental Council (BMDC).
"To find a satisfactory solution. Indian students should remain in touch with our mission in Dhaka," she said in a series of tweets.
Full report at:
http://www.hindustantimes.com/india-news/sushma-swaraj-asks-indian-students-in-bangladesh-to-be-in-touch-with-mission/story-PEKlU5zhJiDBtYAX4aVGMI.html
--------
Defence expert rubbishes Hafiz Saeed's claim on Akhnoor attack
January 13, 2017
New delhi:Defence Expert S.R. Sinho on Friday rubbished Jamaat-ud-Dawa (JuD) chief Hafiz Saeed's claims that four 'mujahideen' terrorists attacked an Indian military camp in the Jammu region earlier this week, saying it is an attempt to befool the Indian security forces.
Asserting that Akhnoor area of Jammu and Kashmir is highly secured, Sinho said there is no possibility of intruding and escaping, adding there are high chances that the terrorists could be still hiding inside the Indian boundaries.
"I think he (Hafiz Saeed) should not thump his chest because I have a feeling these the terrorists who came to Akhnoor and carried out the operation on the Border Security Force are insiders and I don't think they have gone back and probably they may be still hiding," said Sinho.
"The security forces should not take his word, this statement is being made to mislead the security forces. Akhnoor is a very heavily guarded area by the Army and other security forces. So, there is no question of them crossing the border, coming and going back," he added.
Full report at:
http://www.siasat.com/news/defence-expert-rubbishes-hafiz-saeeds-claim-akhnoor-attack-2-1108577/
--------
India: 50 Islamic State supporters arrested in 2016
Jan 13, 2017
In November 2016, India's Ministry of Home Affairs informed the country's Parliament that as many as 68 supporters and sympathisers of the so-called Islamic State (IS) had been arrested by either the National Investigation Agency (NIA) or the state security agencies. Of these, as many as 50 were arrested by the state police forces during 2016 itself.
The number of arrests may not be very big but they have surely set alarm bells ringing within India's security establishment. While the Indian government maintains that IS has no real ground presence in India, it is not yet dismissing the IS threat to radicalise Indian youth completely.
The MHA has acknowledged that while some persons have been reported missing from some parts of Kerala and are suspected to have joined terrorist outfits like the IS, their links with IS have not yet been established conclusively. The Kerala police, though, has registered as many as nine cases in this connection.
But more than the numbers, it is the profiles and backgrounds of some of those arrested that have the security agencies intrigued.
Consider these:
Twenty-three-year-old Mohamed Naser alias Naser Mohamed alias Khalid was known to those around him as a web and graphics designer until his arrest in December 2015. He was charged with conspiring to recruit Muslim youth in India to join IS, transfer them to Iraq and Syria to commit terror attacks and wage war in the middle-eastern countries, as well as in India. Naser had also done a course on certified ethical hacking.
Then there is the case of Md Mosiuddin, a grocery shop owner, who went around with several aliases. It was in 2016 that Mosiuddin was nabbed from a passenger train at the Burdwan railway station in West Bengal following a tip-off. During the investigation, the NIA stumbled upon a piece of evidence that took them by surprise. In one of his chats on the "Telegram", Mosiuddin said that he hoisted the ISIS flag in Kashmir and that the local media had the footage of him with the IS flag even though he was masked while doing it. He even asked his IS handlers to watch a video titled "Protesters to wave ISIS flag in Srinagar" on Youtube.
In 2016, Mosiuddin was nabbed from a passenger train at the Burdwan railway station in West Bengal following a tip-off. (Image source: NIA) (Others)
Profiles of several others arrested for links with IS have made security agencies sit up and take note.
Twenty-nine-year-old Mohammed Ibrahim Yazdani alias Abu Abdurrahman worked as an electrical and electronic engineering in various companies of Saudi Arabia before he was arrested from Hyderabad in 2016. His interrogation revealed a plot to prepare improvised explosive devices under the guidance of an online handler based either in Iraq or Syria.
For those around him, 31-year-old Mohd Ataullah Rahman was an English language trainer in Hyderabad. Post his arrest in July 2016, it emerged that Rahman was the religious motivator of a group which, under instructions of IS, had plans to carry out terror strikes in Hyderabad.
Full report at:
https://www.wionews.com/south-asia/india-50-islamic-state-supporters-arrested-in-2016-11226
--------
Arab World
Iraqi forces enter Mosul University in battling ISIS for city
Jan 14, 2017
IRBIL: Iraqi special forces entered the Mosul University on Friday, a tactical achievement and an incremental step in in battling Islamic State militants for control of the city, according to senior Iraqi officers.
The troops entered the university grounds in the morning hours and managed to secure parts of the compound, which is located in eastern half of Mosul, said two officers, speaking on condition of anonymity because they were not authorized to talk to reporters.
Brig. Gen. Haider Fadhil confirmed the account and added that Iraqi forces were now fighting fierce battles with IS fighters inside the complex.
The development comes a day after Iraqi army forces north of the city linked up with troops pushing in from the city's eastern edge.
The sprawling university compound, a symbolic landmark in Iraq's second-largest city, was once used by IS militants as a base. Iraqi officials had said that the militants also used the school's chemistry labs to produce chemical weapons.
Iraqi special forces Lt. Gen. Abdul-Wahab al-Saadi told The Associated Press that it is unclear if the complex was still being used as an IS base.
Under heavy bombardment from US-led coalition airstrikes, IS has repeatedly moved bases under cover of civilians. Earlier this month Iraqi forces retook a hospital that had been converted into an IS base.
Meanwhile, south of Mosul, the United Nations warned of an oil spill, near the town of Qayara that was retaken from IS militants in August.
The fight against IS over the past two years in Iraq has left large swaths of destruction in its wake, destroying key buildings and infrastructure.
The warnings came in a report released this week on environmental damages caused by oil fires intentionally started by retreating IS militants.
U.N. satellite images published on Tuesday show environmental damage from the fires. The world body says 11 of the fires have been extinguished, but 29 continue to burn, sending thick black smoke into the air.
The report warns the spill, described as new, is close to a tributary of the Tigris River, which in turn could mean an oil leak into the key artery, and that parts of the spill are on fire.
As the Mosul operation enters its fourth month Iraqi forces have retaken about a third of the city that has been under tight IS control for more than two years. While Iraqi officials initially pledged the city would be "liberated" this year, the fight is likely last many more months.
http://nation.com.pk/international/13-Jan-2017/iraqi-forces-enter-mosul-university-in-battling-isis-for-city
--------
Egypt kills 14 Daesh-linked terrorists in Sinai
Jan 13, 2017
Egypt says 14 militants linked to the Daesh Takfiri terrorist group have been killed during a raid on one of their hideouts in the Sinai Peninsula.
The Egyptian Interior Ministry said in a statement that the militants opened fire on security forces as they drew nearer to their hideout in a deserted house in the city of el-Arish, the provincial capital and the largest city of North Sinai, on Friday.
According to the statement, the militants were linked to a militant leader from Ansar Beit al-Maqdis who formed groups to attack security forces.
Ansar Beit al-Maqdis is the former name of Daesh's local affiliate Velayat Sinai Takfiri terrorist group. In 2014, the outfit pledged allegiance to Daesh, which is mainly active in Iraq and Syria.
On January 9, a car bombing targeted a checkpoint in el-Arish, killing nearly a dozen policemen. Daesh claimed responsibility for the assault, during which, the interior ministry said, police killed five militants.
The Sinai Peninsula has been under a state of emergency since October 2014, following a deadly terrorist attack that left 33 Egyptian soldiers dead. Over the past years, militants have been carrying out anti-government activities and fatal attacks, taking advantage of the turmoil caused in Egypt after the democratically-elected president, Mohamed Morsi, was ousted by the military in July 2013.
Full report at:
http://www.presstv.ir/Detail/2017/01/13/506069/Egypt-Daesh-terrorists-Sinai
--------
Syrian Gov't Grants Amnesty to Hundreds of Militants in Northwestern Damascus
Jan 13, 2017
Darwish disclosed that the delegation reviewed application forms of 1,700 militants that had previously laid down arms, and granted them amnesty in the town of Deir Qanoun.
He further added that the Syrian Army has hoisted the country's flag in Kafr al-Zeit and several other villages, encouraging militants in other villages of Wadi al-Bardi to join the nationwide reconciliation plan.
News websites affiliated to the dissidents reported on Thursday that al-Nusra Front (recently renamed to Fatah al-Sham Front) rejected the ceasefire agreement after other militants in Wadi al-Bardi of Damascus reached an agreement with the army, and the government granted amnesty to many of them in the region.
Field sources reported that the groups affiliated to al-Nusra launched offensive against the Syrian army's outposts in Wadi al-Bardi and received harsh responses from the Syrian soldiers.
In response to these attacks, the terrorists' gathering centers and moves in the two towns of Kafar al-Zait and Deir Qanoun were attacked by missile and artillery fire which killed at least 7 militants.
Full report at:
http://en.farsnews.com/newstext.aspx?nn=13951024000343
--------
ISIL's Security Chief in Homs Killed in Syrian Army Attack
Jan 13, 2017
At least four ISIL militants were killed and over a dozen more were wounded under the heavy fire of the Syria army's artillery units in Eastern Homs.
Abu Hafs al-Mashrifi, the ISIL chief of security in Homs, who used to lead the terrorist group's security operations in Homs province, was killed along with other terrorists under the Syrian army fire in the village of Huweises East of Homs.
A source close to the ISIL also confirmed al-Mashrifi's death. The attack also destroyed two ISIL vehicles and a tactical unit.
Also, the Syrian ground and air forces pounded the command centers and hideouts of the ISIL and al-Nusra Front (recently renamed to Fatah al-Sham Front) in the Northern and Eastern parts of Homs on Thursday, inflicting heavy damages and casualties on them.
The Syrian army forces targeted the ISIL terrorists in the Northern parts of Katiba al-Mahjoura, Be'r al-Fawa'er, and Jahar in West of Palmyra (Tadmur) in Eastern Homs, killing a number of terrorists and destroying 10 military vehicles.
Also, the Syrian soldiers attacked the militants' positions in al-Rastan, Talbiseh, and several villages in Northern Homs which smashed their bases and killed tens of them.
Full report at:
http://en.farsnews.com/newstext.aspx?nn=13951024000546
--------
Terrorist Commander Confirms Syrian Army's Advances in Wadi Al-Bardi Region
Jan 13, 2017
Fatah al-Sham's field Commander nom de guerre Abu Abdul al-Rahman acknowledged more advances of the army soldiers in areas surrounding the newly-captured village of Basimeh.
Websites affiliated to the terrorists also confirmed the army's advances against militants in regions near Basimeh, saying that a large number of rebels have been killed or injured in the clashes.
A group of terrorists attacked the Syrian army's positions in Wadi al-Bardi region on Thursday, forcing them to continue military operations in the region simultaneous with peace talks with other groups of militants.
The Syrian troops could advance in Basimeh village and liberate al-Shai'iri building and the nearby blocks after heavy clashes with al-Nusra Front terrorists in the morning, a field source said, adding that the army is now 100 meters away from al-Barka square in the center of the village.
According to the source, the engineering and protection teams of the Syrian army reached Ra'as al-Amoud town in Wadi al-Bardi region and would enter Ein al-Fijeh water reservoir station after adopting necessary measures.
Full report at:
http://en.farsnews.com/newstext.aspx?nn=13951024000309
--------
Russian Fighter Jets Bomb Heavily Terrorists' Bases in Western, Southern Aleppo
Jan 13, 2017
A large squadron of Russian Air Force jets took off from the Humeimim Airport in Southern Lattakia on Thursday night, and carried out several airstrikes over the terrorists' positions in Western and Southern Aleppo.
The warplanes specifically targeted the terrorists' defense lines at the Rashedeen 4 suburb, Dahret 'Izza, Al-Mansour, and Khan Al-'Assal South and West of Aleppo city.
The fighter jets also targeted Jeish Al-Fatah's positions in the Southern part of the province, hitting a number of sites along the main road from Idlib city to Khan Touman town.
Terrorist groups suffered a heavy death toll in the raids.
Media activists reported on Thursday that the Syrian and Russian fighter jets launched 60 airstrikes against ISIL positions in the Southern parts of al-Bab city in Northeast of Aleppo, while others said large number of people were killed in Turkish airstrikes.
The Syrian and Russian air forces also targeted the ISIL moves and concentration centers in Arran, al-Baira and Tadaf villages in Aleppo, inflicting large casualties on the terrorists.
Media sources also reported that the Turkish army and its allies' artillery attacks and airstrikes on al-Bab city and the two towns of Baza'a and Tadaf in Northeastern Aleppo killed 9 civilians and injured 57 others.
The development came after the Syrian army aircraft targeted ISIL's bases and gatherings South of the strategic town of al-Bab on Wednesday, killing and wounding a number of militants.
Full report at:
http://en.farsnews.com/newstext.aspx?nn=13951024000498
--------
Syrian Armed Forces Hit Hard Terrorists' Centers in Damascus, Quneitra Provinces
Jan 13, 201
The army aircraft bombed terrorists' gatherings in the village of Ein al-Fijeh al-Qous in Wadi al-Bardi region in Northwestern Damascus, killing and wounding a number of militants.
The army soldiers meantime opened heavy machinegun fire at terrorists' movements near the village of al-Hamidiyeh in Quneitra countryside, killing or wounding several militants.
Reports said earlier today that the army launched another powerful assault on the positions of Fatah al-Sham Front (previously known as the al-Nusra Front) in the Wadi al-Bardi, taking control over a key village in Western Ghouta.
The army soldiers broke-through Fatah al-Sham's defense lines on Thursday, seizing the villages of Basimeh after a violent battle with the militants.
With Basimeh under their control, the army reached the gates of the al-Fijah Springs, marking the first time in several years that the government has had any presence at the site.
Full report at:
http://en.farsnews.com/newstext.aspx?nn=13951024000582
--------
Syrian Air Force Pounds Terrorist Centers in Idlib to Retaliate Jeish Al-Fatah's Truce Breach
Jan 13, 2017
The warplanes bombed heavily several times Jeish al-Fatah's bases near the village of Banish after the terrorist groups targeted residential areas in the besieged towns of Foua'a and Kafraya.
Also the air force attacked a meeting of terrorist leaders in the Northwestern city of Saraqib in Idlib province on Thursday, killing 32 militants, including 11 commanders.
The Syrian fighter jets launched airstrikes on a meeting of al-Nusra Front (recently renamed to Fatah al-Sham Front), Jeish al-Islam, Ajnad al-Sham, Soqour al-Sham, al-Jibhat al-Shamiya and Faylaq al-Sham commanders which killed 32 terrorists and wounded 21 others and destroyed several of their military vehicles.
The attack against the meeting which hosted a number of Turkish officers and Saudi Sheikhs too, also killed 11 terrorist commanders, including the Egyptian commander of Jeish al-Fatah, namely Abu Soleiman al-Mesri.
Full report at:
http://en.farsnews.com/newstext.aspx?nn=13951024000245
--------
Jeish Al-Fatah Centers in Idlib Receive Severe Blow in Russian Air Raids
Jan 13, 2017
Russian Su-24 and Su-25 fighter jets struck Jeish al-Fatah's positions at the villages of Binish and Ariha, killing and wounding scores of militants.
According to opposition sources, at least 20 Turkistani militants that are part of the Turkistan Islamic Party (TIP) were killed in the Russian airstrikes, with many more buried under the rubble.
Russian fighter jets also attacked the Arbaeen Mountain in Western Idlib, targeting a number of Jeish al-Fatah bases.
The warplanes carried out more airstrikes on terrorists' points near the Lattakia provincial border.
Media activists reported on Thursday that the Syrian and Russian fighter jets launched 60 airstrikes against ISIL positions in the Southern parts of al-Bab city in Northeast of Aleppo, while others said large number of people were killed in Turkish airstrikes.
The Syrian and Russian air forces also targeted the ISIL moves and concentration centers in Arran, al-Baira and Tadaf villages in Aleppo, inflicting large casualties on the terrorists.
Media sources also reported that the Turkish army and its allies' artillery attacks and airstrikes on al-Bab city and the two towns of Baza'a and Tadaf in Northeastern Aleppo killed 9 civilians and injured 57 others.
The development came after the Syrian army aircraft targeted ISIL's bases and gatherings South of the strategic town of al-Bab on Wednesday, killing and wounding a number of militants.
Full report at:
http://en.farsnews.com/newstext.aspx?nn=13951024000189
--------
Damascus says Israel missiles caused airbase explosions
Jan 14, 2017
The Syrian army said on Friday that Israeli missile strikes caused a series of explosions at an airbase outside Damascus before dawn.
"In a desperate attempt to support terrorist organisations, Israeli enemy aircraft launched missiles from the north of Lake Tiberias (the Sea of Galilee) at 00:25 am (22:25 GMT Thursday)," a military source told the state SANA news agency.
"The Syrian armed forces warns the Israeli enemy of the repercussions of this blatant aggression, and insists on continuing the war on terrorism to eliminate it," the source added.
The Israeli army had no comment on the strikes when contacted by AFP earlier on Friday.
An AFP correspondent heard several explosions and saw a large fire inside the Mazzeh airbase on the western outskirts of Damascus, with smoke visible across the capital.
The Syrian Observatory for Human Rights, a British-based monitoring group, said there had been eight blasts around the base as missiles hit ammunition warehouses.
Since the Syrian civil war erupted in 2011, the government has accused Israel of carrying multiple strikes on its territory, including in the Mazzeh area.
Full report at:
http://nation.com.pk/international/13-Jan-2017/damascus-says-israel-missiles-caused-airbase-explosions
--------
Iraqi forces continue to make gains against Daesh in eastern Mosul
Jan 13, 2017
Members of the Iraqi Counter Terrorism Service (CTS) have made further advances against the Takfiri Daesh terrorist group in Mosul, pushing the militants out of several districts in the eastern quarter of the strategic northern city.
The commander of Nineveh Liberation Operation, Lieutenant General Abdul Amir Yarallah, said on Friday that special forces had retaken the Technical Institute, Technical College and a number of buildings inside the University of Mosul following clashes with Daesh extremists.
The high-ranking Iraqi military figure said government forces inflicted heavy losses on militant ranks and military equipment during the offensive, and hoisted the national flag over several buildings there.
Yarallah went on to say that counter-terrorism forces are now purging the area of the last remaining pockets of Takfiris as well.
The 15th and 16th divisions of the Iraqi Army wrested control of the northern outskirts of al-Hudaba in eastern Mosul.
Moreover, Iraqi Special Forces liberated Mosul's eastern neighborhoods of al-Nasr and al-Faisaliyah from the clutches of Daesh terrorists, and established control over a bridge across the Tigris river.
Iraqi Special Operations Forces shout slogans during battle with Takfiri Daesh militants east of Mosul, Iraq, on January 13, 2017. (Photo by Reuters)
The commander of Nineveh Liberation Operation also announced that counter-terrorism forces regained control of al-Kefa'at al-Oula neighborhood in the eastern part of Mosul on Friday noon.
Full report at:
http://www.presstv.ir/Detail/2017/01/13/506068/Iraqi-special-forces-eastern-Mosul-Takfiri-Daesh-militants
--------
South Asia
Ethnic Rakhine MPs refuse to meet UN envoy probing Rohingya abuse
January 13, 2017
The ruling party in Myanmar's Rakhine state government Friday said it refused to meet a UN envoy who is probing allegations of horrific abuse of Rohingya Muslims by security forces in the region.
Yanghee Lee, the UN special rapporteur on Myanmar, was expected to hold talks with members of the Arakan National Party in the state capital Sittwe, before travelling north to an area under military lockdown today.
Lee has faced threats and been branded a "whore" by Buddhist hardliners on previous visits for her criticism of how Myanmar treats the Rohingya, a stateless group that has suffered years of poverty and repression.
They have been targeted by security forces during a three-month crackdown in northern Rakhine that the UN said has seen at least 65,000 Rohingya flee across the border to Bangladesh.
"They offered to meet with us from their side but we have no plans to meet them," the vice-president of ANP, Khine Pyi Soe, said of Lee's arrival. "I don't think that meeting with them is very important," he added.
Lee's spokesman could not be immediately reached for comment.
Parts of northern Rakhine have been under military control since October as the army launches "clearance operations" to find Rohingya insurgents allegedly behind deadly raids on police border posts. The crisis has drawn a storm of international criticism for the elected government of Aung San Suu Kyi, which took power in March.
Lee has slammed the lockdown as "unacceptable" and called for an international investigation into claims troops have raped, murdered and tortured civilians from the Muslim minority. Ahead of her trip, she said violence in Rakhine had contributed to "disquiet regarding the direction that the new government is taking in its first year."
Muslim-majority Malaysia has lashed out at Nobel laureate Suu Kyi for not stopping the violence, and next week will host foreign ministers from the Organisation of Islamic Cooperation for talks on the crisis.
Bangladesh has urged Myanmar's government to end the violence and take back the thousands of refugees that have entered already overcrowded camps along the border.
"Bangladesh has demanded the quick restoration of a normal situation in Rakhine state so that Myanmar nationals … can quickly go back home," Foreign Minister AH Mahmood Ali said after meeting Myanmar's special envoy in Dhaka this week.
Myanmar's foreign ministry said the two sides had "agreed to commence consultations for verification and repatriation" of those who had fled the lockdown.
http://www.dhakatribune.com/world/2017/01/13/ethnic-rakhine-mps-refuse-meet-un-envoy-probing-rohingya-abuse/
--------
Taliban, associated militant networks still using Pakistani soil: Gen. Mattis
Jan 14 2017
The US defense secretary-designate General James Mattis has said the Taliban group is still using the Pakistani soil for insurgency in Afghanistan and the sanctuaries of the group along with the associated militant networks in the country is a key operational issue faced by Afghan forces.
At his confirmation hearing at the Senate Armed Forces Committee on Thursday afternoon, Gen. Mattis said "Sanctuaries and freedom of movement for the Afghan Taliban and associated militant networks inside Pakistani territory is a key operational issue faced by the Afghan security forces."
Gen. Mattis further added that he would "examine efforts to deny sanctuary to the extremist forces" undermining the stability and security of Afghanistan, if confirmed as the defense secretary.
He also underlined the need to stay engaged with Pakistan while asking it to do more to eradicate terrorism from the region.
"If confirmed, I will work with the State Department and the Congress to incentivise Pakistan's cooperation on issues critical to our national interests and the region's security, with focus on Pakistan's need to expel or neutralise externally-focused militant groups that operate within its borders," Gen. Mattis said in response to a question.
This comes as the US Department of State said Tuesday that problem regarding the safe havens of the terrorist groups in Pakistan still persists.
State Department spokesperson Mark Toner made the remarks in response to a question regarding Afghan officials concerns about the attacks being carried out in Afghanistan using the Pakistani soil.
Full report at:
http://www.khaama.com/taliban-associated-militant-networks-still-using-pakistani-soil-gen-mattis-02669
--------
Pakistan reacts at Afghan, US officials remarks on terrorism safe havens
Jan 14 2017
The Pakistani officials have reacted at the remarks of the Afghan and US officials regarding the terrorism safe havens in Pakistan, saying Pakistan does not allow its territory to be used for attacks in any other country.
Pakistan's Foreign Office spokesman Nafees Zakaria has strongly rejected the claims of terrorist safe havens existence in the Federally Administered Tribal Areas.
Speaking during a press conference, Zakaria said Pakistan has lost thousands of its citizens and suffered economic losses of over $100 billion due to terrorism.
This comes as the US Department of State said Tuesday that problem regarding the safe havens of the terrorist groups in Pakistan still persists.
State Department spokesperson Mark Toner made the remarks in response to a question regarding Afghan officials concerns about the attacks being carried out in Afghanistan using the Pakistani soil.
Endorsing Afghanistan's view that terrorists are able to strike at whenever they want to because of the existence of safe havens, terrorist safe havens inside Pakistan, Toner said "Well, it continues – so the short answer to your first question is yes, and I think we've been very frank and very open about publicly saying to – to Pakistan that it needs to not provide any safe haven to groups that will or are intent on carrying out attacks on Afghanistan."
Full report at:
http://www.khaama.com/pakistan-reacts-at-afghan-us-officials-remarks-on-terrorism-safe-havens-02668
--------
ISIS loyalists torch 65 houses in East of Afghanistan
Jan 14 2017
The loyalists of the Islamic State of Iraq and Syria (ISIS) terrorist group have torched at least 65 houses in eastern Nangarhar province of Afghanistan.
According to the local officials, the houses were torched in Kot district late on Friday night.
Provincial governor's spokesman Ataullah Khogyani confirmed the incident and said at least 65 houses were set on fire but no loss of life has been reported.
Khogyani further added that the houses were abandoned when the loyalist of the terror group stormed into them in Baba Ghonda and Bar Sepai areas.
In the meantime, local officials in Kot district are saying that the ISISI loyalists have torched the houses after the residents of the area rejected to pledged allegiance to them.
The loyalists of the terror group have not commented regarding the report so far.
This comes as ISIS loyalists suffered heavy losses and casualties in the counter-terrorism operations in this province.
Full report at:
http://www.khaama.com/isis-loyalists-torch-60-houses-in-east-of-afghanistan-02667
--------
UAE may rethink ties with Pakistan, launch probe into Kandahar bombing
Jan 14 2017
The United Arab Emirates (UAE) may rethink about its ties with Pakistan after a deadly explosion left at least five diplomats of the country dead in southern Kandahar province of Afghanistan.
Reports regarding UAE's decision to reconsider ties come as a delegation of the UAE officials have arrived in Kandahar to investigate the incident.
Provincial governor's spokesman Samim Khpolwak confirmed the arrival of the delegation and said investigations will kick off soon.
The investigation will be launched as the Taliban group rejected hand in the attack but the Afghan officials are saying that the attack was planned in Pakistan by the Haqqani terrorist network with the support of Pakistan's Inter Services Intelligence.
Provincial police chief General Abdul Raziq first blamed the network for the attack.
The National Security Adviser Mohammad Hanif Atmar also visited the province and said the foreign hands are likely involved in the attack.
Full report at:
http://www.khaama.com/uae-may-rethink-ties-with-pakistan-launch-probe-into-kandahar-bombing-02666
--------
Mideast
Turkey detains Erdogan's former security chief in post-coup crackdown
Jan 13, 2017
Turkish authorities have arrested the former chief of President Recep Tayyip Erdogan's security staff over his alleged affiliation to the network of US-based opposition cleric Fethullah Gulen, whom the Ankara government accuses of having orchestrated the failed July 15 coup attempt last year.
Maksut Karal was detained on Wednesday, and charged with being a member of a "terrorist organization" in addition to having backed the botched putsch, Turkish-language CNN Turk television news network reported on Friday.
Karal was relieved from his post under the presidential decree No. 675 issued on October 29, 2016.
He was first arrested last month as part of police investigations into illegal gold mining in the mountainous and seaside Kemer district, situated 40 kilometers west of the southwest coastal city of Antalya. He was taken into custody along with three other suspects but was later released.
Turkish officials say over 240 people were killed and more than 2,100 others injured in the coup attempt.
A detained Turkish soldier, who allegedly took part in the failed July 15 military coup, arrives with his hands bound behind his back at the Istanbul Justice Palace on July 20, 2016. (Photo by AFP)
Tens of thousands of people, including military personnel, judges and teachers, have been suspended, dismissed or detained as part of the post-coup crackdown.
According to a survey conducted by the official Anadolu news agency, a total of 40,832 suspects have been arrested since the mid-July botched putsch. A total of 2,279 administrative and judicial judges, 104 members of the Appeals Court, 41 members of the Council of State, two members of the Supreme Court, and three members of the Supreme Council of Judges and Prosecutors have been arrested as part of the ongoing investigations.
Additionally, 168 army generals, 7,596 Security Directorate police officers, 17 governors, 74 deputy governors, and 69 district governors under the Interior Ministry have been detained.
International rights groups argue that Ankara's crackdown has gone far beyond the so-called Gulenists and targeted Kurds as well as government critics in general.
On November 24, the European Parliament decided to temporarily halt accession negotiations with Turkey over the large-scale crackdown.
http://www.presstv.ir/Detail/2017/01/13/506028/Turkey-arrest-President-Erdogan-security-chief-Maksut-Karal-crackdown-failed-July-15-coup-attempt
--------
Turkish lawmakers trade fists as parliament bolsters Erdogan powers
Jan 14, 2017
ISTANBUL: Turkish lawmakers on Thursday brawled and threw chairs as parliament approved three more articles in a hugely controversial bill bolstering the powers of President Recep Tayyip Erdogan.
Lawmakers have since the start of the week been debating the first reading of the 18-article bill to change the constitution to create an executive presidency.
The articles approved covered lowering the minimum age limit of members of parliament from 25 to 18, stipulating parliamentary elections be held every five years, instead of four, and on the parliament's own powers.
Five of the 18 articles have now been approved with the three-fifths majority required for the new constitution to be submitted to a referendum expected in April.
The ruling Justice and Development Party (AKP) has mustered sufficient votes in an alliance with the Nationalist Movement Party (MHP).
But the changes are vehemently opposed by the main opposition Republican People's Party (CHP), whose lawmakers boycotted the vote.
A brawl erupted in the chamber as the voting took place in an overnight session, with lawmakers punching each another and chairs being thrown, television pictures showed.
Dozens of lawmakers crowded around the speaker's rostrum with one MP held in a chokehold and another kicked in the shins.
Another was seen being led away, apparently bleeding from the head, while the lectern from which MPs deliver speeches was also badly damaged in the fracas.
Female MPs meanwhile shook their heads and waved their hands in despair.
- Erdogan confident -
Despite the tensions, all articles have mustered sufficient support so far and Erdogan on Thursday voiced confidence that the draft constitution would be approved by parliament and sent to a referendum.
"Nothing is gained from hindering and delaying the works in the parliament," he said during a meeting with local officials in Ankara.
"No matter what you do... I believe (the draft constitution) will be handed to the people," he said.
Some commentators had suggested that dissent from within the AKP could give the draft bill a rocky ride in the days to come when votes are made on the most contentious articles.
Other key changes will include giving the president the power to name and fire ministers as well as abolishing the post of premier but creating vice presidents.
The two readings are expected to take two weeks, with parliament working without a break. Three more articles will be voted overnight Thursday.
- Snap poll? -
The CHP blamed the AKP for the fighting and said it would stand its ground by maintaining the boycott.
Full report at:
http://nation.com.pk/international/13-Jan-2017/turkish-lawmakers-trade-fists-as-parliament-bolsters-erdogan-powers
--------
Erdogan says Turks, Greeks still at odds on Cyprus
Jan 14, 2017
ISTANBUL - Turkish President Recep Tayyip Erdogan said on Friday that Athens and Greek Cypriots still have "different expectations" on resolving the Cyprus problem from their Turkish counterparts, after crunch talks this week in Geneva.
Erdogan said Turkish Cypriots "are working intensely and bring sincerity", but that the Greek Cypriot Republic of Cyprus and Athens "still have different expectations".
He added in televised comments that a full withdrawal of Turkish troops from northern Cyprus was "out of the question". "This is what we had previously discussed," he added.
Erdogan indicated there were also major differences on the issue of a rotating presidency for any future bizonal united Cyprus divided between Turkish Cypriot and Greek Cypriot entities.
He said it was "unacceptable" that Turkish Cypriots could hold the presidency for just one term while Greek Cypriots had it for four.
He has said previously that there had been discussions on the Greek Cypriots having two terms for every term granted to the Turkish Cypriots.
"That is fair. If we want a fair and comprehensive peace then this is the way to do it," he said.
Full report at:
http://nation.com.pk/international/14-Jan-2017/erdogan-says-turks-greeks-still-at-odds-on-cyprus
--------
US embassy Jerusalem move 'assault' on Muslims: cleric
Jan 14, 2017
Jerusalem's Grand Mufti on Friday branded plans by President-elect Donald Trump to move the US embassy in Israel from Tel Aviv to Jerusalem an "assault" on Muslims across the globe.
"The pledge to move the embassy is not just an assault against Palestinians but against Arabs and Muslims, who will not remain silent," Muhammad Hussein said in a sermon at Al-Aqsa mosque in Jerusalem's Old City.
On Tuesday, Palestinian leaders called for Friday prayers at mosques across the Middle East this week to protest Trump's campaign pledge.
There have been warnings that the move would constitute recognising Jerusalem as Israel's capital and could inflame tensions in the Middle East and possibly sink what remains of peace efforts.
"The transfer of the embassy violates international charters and norms which recognise Jerusalem as an occupied city," Hussein said in his sermon, avoiding mentioning Trump by name.
The Palestinians regard east Jerusalem as the capital of their future state, while Israel proclaims the entire city as its capital. The city's status is one of the thorniest issues of the decades-long Israeli-Palestinian conflict.
Israel occupied the West Bank and east Jerusalem in 1967. It later annexed east Jerusalem in a move never recognised by the international community.
Full report at:
http://nation.com.pk/international/13-Jan-2017/us-embassy-jerusalem-move-assault-on-muslims-cleric
--------
U.S. says it killed three members of al Qaeda affiliate in Yemen strikes
Jan 14, 2017
The U.S. military said on Thursday it killed three members of al Qaeda in the Arabian Peninsula in two strikes in central Yemen last week and in late December.
Full report at:
http://nation.com.pk/international/13-Jan-2017/u-s-says-it-killed-three-members-of-al-qaeda-affiliate-in-yemen-strikes
--------
Abbas 'may reverse' Israel recognition
14 January 2017
The Palestinians may consider "reversing recognition" of Israel if Donald Trump moves the US embassy to Jerusalem, Palestinian President Mahmud Abbas said in an interview released by the French daily Le Figaro on Friday.
"I wrote to president(-elect) Trump to ask him not to do it. Not only would this move deprive the United States of all legitimacy in playing a role in conflict resolution, it would also destroy the two-state solution," Abbas was quoted as saying.
Trump -- who takes office next Friday -- has said he plans to acknowledge Jerusalem as the capital of Israel and relocate the US embassy there from Tel Aviv.
The move is bitterly opposed by Palestinians, who see it as a destructive and unilateral action as the status of the city is still contested.
The United States and most UN member states do not recognize Jerusalem as Israel's capital, and the city's status is one of the thorniest issues of the decades-long Israeli-Palestinian conflict.
Israel supports Trump's plan and has encouraged previous US presidents to take similar steps but to no avail.
If the embassy transfer takes place, "there would be several options for us, and we would discuss them with Arab countries," Abbas said.
"Reversing our recognition of the State of Israel is one of them. But we hope that it doesn't reach that point, and that, on the contrary, we will be able to work with the next American administration," he added.
Israel and the Palestine Liberation Organization (PLO) recognized each other under the 1993 Oslo agreements. But the process which was supposed to deliver a lasting peace is moribund.
Full report at:
https://english.alarabiya.net/en/News/middle-east/2017/01/14/Abbas-may-reverse-recognition-of-Israel-.html
--------
Turkish court arrests 2 Uighurs in relation to Istanbul attack
14 January 2017
Two Chinese nationals of Uighur origin were arrested on Friday for suspected links to the mass shooting in an Istanbul lounge on New Year's Eve, state-run Anadolu agency said.
Two suspects, Omar Asim and Abuliezi Abuduhamiti, who are Chinese citizens, were remanded in custody on charges of being members of an armed terrorist organization, and aiding in 39 counts of murder.
Turkish authorities last week said the man who killed 39 people in an attack on an Istanbul lounge was probably an ethnic Uighur.
ISIS has claimed responsibility for the attack, saying it was revenge for Turkish military involvement in Syria.
Anadolu news agency also said 35 people had been detained so far in relation to the attack. Uighurs were among those detained, local media reports said.
The Uighurs are a largely Muslim, Turkic-speaking minority in far western China with significant diaspora communities across Central Asia and Turkey.
Full report at:
https://english.alarabiya.net/en/News/middle-east/2017/01/14/Turkish-court-arrests-2-Uighurs-in-relation-to-Istanbul-attack.html
--------
US: Al-Qaeda in the Arabian Peninsula leader killed in Yemen air strike
14 January 2017
A senior leader of al-Qaeda in the Arabian Peninsula was killed in a US air strike on Sunday in Yemen, the Pentagon said in a statement on Friday.
Full report at:
https://english.alarabiya.net/en/News/gulf/2017/01/14/US-Al-Qaeda-in-the-Arabian-Peninsula-leader-killed-in-Yemen-air-strike.html
--------
2 Saudi soldiers killed in Yemen retaliatory attack on Najran
Jan 13, 2017
Yemen's army and popular committees have killed at least two Saudi troops in the kingdom's southern province of Najran, in retaliation for Riyadh's ongoing aggression against the impoverished country.
Yemen's Arabic language al-Masirah news channel said the soldiers were killed in firing by Yemeni forces at al-Sudais military site on Friday.
In another retaliatory rocket attack, Yemeni forces destroyed at least one Saudi army tank at al-Ash military base in the same province.
Yemeni forces also targeted several Saudi military bases and strategic positions in the southern province of Jizan.
Meanwhile, Saudi warplanes carried out multiple airstrikes on Yemen's provinces of Sana'a and Hudaydah.
In the southern port city of Mokha, one Yemeni civilian was killed and three others were injured when Saudi jets struck a residential area.
Full report at:
http://www.presstv.ir/Detail/2017/01/13/506071/Yemen-Saudi-soldiers-Najran
--------
Israeli attack on Syrian airport declaration of war: Analyst
Jan 13, 2017
A huge explosion rocked a Syrian Air Force installation southwest of the capital Damascus, after the Israeli regime launched a rocket attack against a designated target at the site in the early hours of Friday morning.
Scott Bennett, a former US army psychological warfare officer, believes Israel's attack on the Mezzeh airbase is "a declaration of war," and the Tel Aviv regime is trying to provoke a response from Damascus in order to create a conflict.
"The Zionist fanatics under the [Benjamin] Netanyahu regime are trying to trigger a response by Syria so that these Zionist fanatics in the United States Congress can rush America into again another inflated conflict on the side of the Israeli Zionists, and they are trying to do it before [US President-elect] Donald Trump becomes president," the analyst told Press TV in an interview on Friday.
However, he said, the Israeli plot "is not going to work" because the Syrians and Russians "are far more intelligent not to take that bait".
Bennett further argued that the Israeli assault is a violation of a Syrian ceasefire brokered by Russia and Turkey and endorsed by the UN Security Council.
He also stated that the attack is another sign of Israel's "schizophrenic criminal regime" that has tried to kill innocent Syrians who are fighting for their homeland.
The analyst went on to say that the Friday attack demonstrates that the Israelis have been "funding and financing terrorism," and that they are on the side of "chaos, bloodshed, secret assaults and murders," rather than freedom and stability.
Full report at:
http://www.presstv.ir/Detail/2017/01/13/506054/Syria-Israel-military-airport-declaration-of-war
--------
Pakistan
Christian leadership conference demands voting rights to elect their parliamentarians
Jan 14, 2017
Lahore: January 13, 2017. (PCP) The leaders participating in Christian Leadership Conference held in Caritas Hall Lahore condemned Joint Electorate system imposed on religious minorities on reserved seats in National Assembly and four Provincial Assemblies and demanded voting rights to elect their parliamentarians.
The Christian Leadership Conference hosts Catholic Church of Pakistan and Implementation of Minorities Right Forum in press release signed by Archbishop of Catholic Church Lahore Dioceses Sebastian Shaw and Mr. Samuel Piara who is Chairman of Implementation of Minorities Rights Forum said that unity is way ahead to success.
Mr. J Salik, former Federal Minister for Population government of Pakistan Presided The Leadership Conference while Ch. Tahir Naveed Advocate and former Member Punjab Assembly also participated in conference.
Professor Anjum James Paul and Professor Robin Daud were among speakers whilr Latif Bhatti from Belgium and Pervez Masih from Canada were also among guests.
The Christians, Hindus, Parsi, Sikhs and other religious communities in Pakistan were allocated 10 seats in National Assembly of Pakistan and in four provincial assemblies in constitution of Islamic Republic of Pakistan of 1973 under joint electorate by Zulfiqar Ali Bhutto in which Muslim political groups were selecting minorities' parliamentarians which was strongly opposed by Christians.
In 1985 national general elections, Separate Electorate was introduced on reserved seats for minorities on their outstanding demands which was practiced till 1998 elections.
In 2000, some Church leaders along with Martyr Shahbaz Bhatti met with Dictator Pervez Musharraf and requested him to abolish Separate Electorate and implement Joint Electorate which snatched voting right from minorities to elect parliamentarians on reserved seats.
Pakistan Christian Congress PCC opposed imposition of Joint Electorate by General Pervez Musharraf and PCC Chief Dr. Nazir S Bhatti raised voice against it on every forum.
PCC also opposed 18th Amendment in constitution which inducted Joint Electorate system as part of constitution under which national general elections of 2013 were held.
When amendments in constitution were challenged in Supreme Court of Pakistan by Muslim political parties then J Salik became party in it and prayed to repeal Joint Electorate and revive Separate Electorate that minorities may elect their leaders by their votes instead of selection by Muslim groups.
The Christian Leadership adopted resolution demanding formation of Minorities Rights Commissions in four provinces and implementations of recommendations of Supreme Court of Pakistan rulings of 2014.
The Conference also resolved to end hate speeches which damage harmony and interfaith activities.
http://www.pakistanchristianpost.com/detail.php?hnewsid=6265
--------
Punjab warned about 'IS militants returning from Syria'
MOHAMMAD ASGHAR
Jan 14, 2017
RAWALPINDI: Elem­e­n­ts linked with the militant Islamic State (IS) group who are returning to Pakis­tan from Syria could pose a serious threat to the security situation in Punjab, intelligence sources have warned.
The IS-linked militants, who ostensibly went from Pakistan to fight in Syria, are likely to return via Afghanistan. In the past, there have been reports of a number of Pakistanis joining the ranks of the IS to fight in the ongoing battle between the Syrian government and militants.
Amir Rana of the Pakistan Institute of Peace Studies said it was not certain weather the militants attempting to return were Pakistanis or expatriates.
Full report at:
Published in Dawn January 14th, 2017
http://www.dawn.com/news/1308370/punjab-warned-about-is-militants-returning-from-syria
--------
US to incentivise Pakistan's cooperation, says Mattis
ANWAR IQBAL
Jan 14, 2017
WASHINGTON: US defence secretary-designate James Mattis has said that the Trump administration would offer incentives to Pakistan to cooperate with the United States on critical issues.
At his confirmation hearing at the Senate Armed Forces Committee on Thursday afternoon, Mr Mattis underlined the need to stay engaged with Pakistan while asking it to do more to eradicate terrorism from the region.
"If confirmed, I will work with the State Department and the Congress to incentivise Pakistan's cooperation on issues critical to our national interests and the region's security, with focus on Pakistan's need to expel or neutralise externally-focused militant groups that operate within its borders," Mr Mattis told the committee while responding to a question.
Mr Mattis, a general who retired from the US Marine Corps in 2013, has long experience of dealing with both Afghanistan and Pakistan, first as a combat officer and then as commander of the US Central Command.
See: Trump pick for defence secy Gen James Mattis ─ a 'Mad Dog' with a big library
He was known in the armed forces as "Mad Dog Mattis" for his aggressive style but was widely respected as a courageous officer.
The general's comments on Pakistan indicate that the incoming Trump administration will continue with the existing US policy towards the country.
Mr Mattis complimented Pakistan for its action against terror groups in the country, but said that he would push for more effective targeting of groups that were aimed at neighbouring countries.
As often expressed by the Obama administration officials, the incoming defence secretary also complained that some Afghan Taliban groups were still allegedly using Pakistan's tribal areas for stirring troubles in Afghanistan.
"Sanctuaries and freedom of movement for the Afghan Taliban and associated militant networks inside Pakistani territory is a key operational issue faced by the Afghan security forces," he pointed out.
Mr Mattis said that if confirmed, he would "examine efforts to deny sanctuary to the extremist forces" undermining the stability and security of Afghanistan.
He noted that the US and Pakistani militaries had a long relationship, which needed to be rebuilt.
"Our relationship with Pakistan, including our military-to-military relationship, has had highs and lows. We have long faced a lack of trust within the Pakistani military and government about our goals in the region. If confirmed, I will work to build the trust that we need for an effective partnership," he told the Senate Committee. The United States has conducted military exercises with Pakistan in an effort to increase thrust and interoperability, he added.
Full report at:
http://www.dawn.com/news/1308372/us-to-incentivise-pakistans-cooperation-says-mattis
--------
Pakistan rejects allegations of terrorist safe havens in Fata
Jan 14, 2017
The Foreign Office (FO) on Friday reiterated that Pakistan does not allow its territory to be used for attacks in any other country, Radio Pakistan reported.
The FO Spokesman Nafees Zakaria strongly rejected claims regarding allegations of terrorist safe havens in the Federally Administered Tribal Areas while responding to media queries, adding that Pakistan has lost thousands of its citizens and suffered economic losses of over $100 billion due to terrorism.
The United States (US) endorsed Kabul's claim that the existence of safe havens in Fata allowed terrorists to carry out attacks inside Afghanistan whenever they want following twin suicide blasts near the Afghan parliament earlier this week.
The blasts killed scores of people. A separate blast in Kandahar wounded the UAE Ambassador Juma Mohammed Abdullah Al Kaabi and some other diplomats.
Soon after the blasts, a government spokesman in Kabul said the terrorists were able to strike targets inside Afghanistan whenever they wanted because Pakistan had allowed them to maintain safe havens in Fata, a charge Islamabad rejects as baseless.
US State Department Spokesman Mark Toner had said that Pakistan had made "some progress" and had taken "some steps to address these safe havens, but clearly the problem persists".
Full report at:
http://www.dawn.com/news/1308203/pakistan-rejects-allegations-of-terrorist-safe-havens-in-fata
--------
Large protest outside Pakistan embassy in Kabul
Jan 14, 2017
Scores of protesters gathered outside the Pakistan embassy in Kabul on Friday to demonstrate against Pakistan's alleged support for insurgents, DawnNews reported.
The demonstrators also raised slogans against Pakistan Army's intelligence arm, Inter-Services Intelligence (ISI), Afghan media reported.
A number of Afghanistan Green Trend (AGT) members held a demonstration outside the Pakistani embassy in Kabul in protest over Islamabad's perceived role in terrorism, according to Tolo News.
The protesters accused the Pakistan embassy of being a "nest of spies in Afghanistan" and said the "ISI supports insurgents and had a hand in recent terrorist attacks in the country".
"ISI is responsible for the attacks. We know it and we have witnessed it," Fahim Kohdamani, a member of AGT was quoted as saying.
AGT calls itself a social, pro-democracy, anti-corruption, anti-radicalism, youth empowerment organisation. It is led by Amrullah Saleh, a former Afghan intelligence chief.
A video uploaded by the organisation on Twitter shows a mob burning an effigy during the protest.
Full report at:
http://www.dawn.com/news/1308208/large-protest-outside-pakistan-embassy-in-kabul
--------
Mamnoon stresses need to crush terrorist mindset
14-Jan-17
ISLAMABAD: President Mamnoon Hussain on Friday said that after defeating terrorists in the battlefield, there was a need to crush the terrorist mindset as well.
Addressing the graduates of the National Security and War Course at the National Defence College, the president said that terrorism and extremism could be eliminated by promoting education. He said following the success of Operation Zarb-e-Azb, another national objective needed to be determined to ensure peace in the country. He said civil and military officials, the media and educationists could contribute their input to devise a national policy to eliminate terrorism. He said the state was fully conscious of the challenging tasks ahead. He expressed confidence that a bright and prosperous future was awaiting the country. Mamnoon also suggested benefiting from the expertise of friendly countries in curbing militancy and extremism. He said there was a paradigm shift in the concept and understanding of national security - from state-centric to societal levels. He mentioned that the country's geo-strategic location and events in the region had a direct impact on domestic situation. He stressed that it was the time to take stock of the situation and work in collaboration as a team to ensure that national interests took primacy.
http://dailytimes.com.pk/islamabad/14-Jan-17/mamnoon-stresses-need-to-crush-terrorist-mindset
--------
PBC launches Islamic radio in Dera Ismail Khan
14-Jan-17
DERA ISMAIL KHAN: Pakistan Broadcasting Corporation (PBC) on Friday launched the Sautul Quran FM channel at Dera Ismail Khan Station as part of its countrywide network to widely spread Islam's message of peace and brotherhood.
The launching of the much-needed service coincided with 36th birth anniversary of the Dera Ismail Khan station, which was founded in 1981. On auspicious occasion, the district radio station also witnessed ground-breaking ceremony of its broadcasting house building which was performed by Radio Pakistan Director General Khurshid Ahmed Malik.
The director general said performing launch of a dedicated channel for broadcasting recitation of the Holy Quran gave him a sense of pride because it was a great service and would get its reward hereafter as well. He also expressed gratitude to Minister for Planning and Development Ahsan Iqbal for extending cooperation for launching of Sautul Quran network of the Radio Pakistan.
He said such initiatives of the present government would be written with golden words in the country's history. He said that such channels had already been inaugurated in 16 cities and 24 more transmitters of the network would be installed in next phase to spread Islam's true message to every nook and corner of the world.
He said that PBC was taking concrete measures for putting Dera Ismail Khan Station on modern line, adding installation of 100KW powerful transmitter was part of such efforts. He also appreciated the station's staff for performing excellently in cramped conditions and despite limited resources, adding with construction of the new broadcasting house, which was being completed at a cost of Rs 10 million, would resolve such problems.
He announced to provide Rs 500,000 to the station director for utilization on those works which needed immediate attention. He also directed the concerned officials of the station to provide a set of separate summaries, reflecting requirements of the station to fulfill them, adding periodic inspection of those initiatives would be carried out for their timely completion.
Full report at:
http://dailytimes.com.pk/pakistan/14-Jan-17/pbc-launches-islamic-radio-in-dera-ismail-khan
--------
JUI-F to organise Islamic doctors' conventions
January 14, 2017
PESHAWAR - Khyber-Pakhtunkhwa (KP) Jamiat Ulama Islam-Fazl (JUI-F) will organize provincial lawyer and Islamic doctors' conventions on February 12 and 19 respectively.
The party also scheduled three days long grand centenary celebrations congregation being held on April 7, 8 and 9, 2017. This big event will take place in the provincial metropolis for which all the arrangements are in full swing, the JUI-F KP Secretary Information Abdul Jalil Jan said on Friday. It would be an historic event as prominent religious figures from Jamiat Ulamai Hind, Darul Uloom Deoband, Imam-e-Kaaba, ambassadors of various countries would attend the conventions.
He said, to ensure maximum participation in the congregation, the JUI-F has been arranging different programs across the country, adding that in this regard provincial lawyers and provincial Islamic doctors conventions would be held on February 12 and 19 respectively in Peshawar. Moreover, the JUI-F would also organize provincial women and traders conventions soon. Social media can play a vital role in mobilizing people and that's why it would hold social media seminars in Peshawar on January 26 and in Charsadda on January 27 respectively, he informed.
Full report at:
http://nation.com.pk/national/14-Jan-2017/jui-f-to-organise-islamic-doctors-conventions
--------
Journalist shot dead in Pakistan's Balochistan
Jan 13, 2017
A journalist has been killed by gunmen in Pakistan's southwestern province of Balochistan.
The attackers shot Muhammad Jan, who worked for local Urdu language daily newspaper Qudrat, while he was heading home on a motorcycle in Qalat district, some 160 kilometers south of the provincial capital, Quetta, late Thursday.
"Two attackers on motorcycle opened fire on him, using a pistol and killing him on the spot," said senior police officer Muhammad Ali. He added that the assailants fled the scene.
The 37-year-old journalist, who was also working as a press secretary for the Balochistan media council as well as a teacher in a government school, had not received any threats from militant groups or mentioned any family or tribal dispute, Ali said.
He added that authorities were investigating the attack. No group has so far claimed responsibility for the assault.
Pakistan is ranked as one of the most dangerous countries for journalists in the world with reporting critical of the military being considered a major red flag.
Full report at:
http://www.presstv.ir/Detail/2017/01/13/506045/Journalist-Pakistan-Balochistan
--------
Africa
Don't link Boko Haram with Islam, Ex-GrandKhadi advises Nigerians
Jan 13 2017
A former GrandKhadi of the Kwara Sharia Court of Appeal, retired Justice Salihu Olountoyin-Mohammed, on Friday, urged the people not to link Boko Haram insurgency with lslam.
The Jurist made the clarification in llorin during an interview with the News Agency of Nigeria,(NAN).
According to him, lslam as a religion that makes peace its cornerstone, adding that perpetrators of negative acts such as Boko Haram insurgents are not Muslims.
Salihu-Olountoyin, however, advised Muslims to always allow peace, unity, love, and goodness to fellow human being their guiding principle, regardless of religious or tribe or other inclinations.
"The activities of Boko Haram insurgency are purely anti-Islam and unconstitutional, they are not part of lslamic law", the ex-Grandkhadi said.
He further advised Muslims to shun destructive tendencies, stating that no meaningful development could take place in an atmosphere of rancour, acrimony and hatred.
The Jurist, however, advised Nigerians to be conscious of their security by reporting negative activities or suspicious movement in their domains to security operatives.
Salihu-Olountoyin called on residents in the rural communities not to harbour unknown persons in their areas as part of measures to curb insurgency in the country to the barest minimum. (NAN)
http://www.dailytrust.com.ng/news/general/don-t-link-boko-haram-with-islam-ex-grandkhadi-advises-nigerians/180571.html
--------
Sudan Churches Complain About Anti-Christian Posters
12 JANUARY 2017
Khartoum — The Sudanese Minister of Guidance and Endowments has received a formal complaint from the Christian clergy in the country after Islamists called for a boycott of Christians feasts.
Radical Muslim groups covered the walls of churches of the capital Khartoum with thousands of posters calling for the boycott of Christian feasts last December.
In a statement on Wednesday, Minister Ammar Mirghani Hussein responded by saying that the Islam "does not forbid Muslims from congratulating people of other religions, especially Christians".
The Minister pointed to the existence of fatwas [religious decrees] by Muslim scholars stressing the importance "to communicate with all religions, cultures, and groups.
Full report at:
http://allafrica.com/stories/201701130489.html
--------
Boko Haram suspected after 3 suicide bombers kill 2 at Nigerian market
By IBRAHIM ABDULAZIZ
Jan. 13, 2017
YOLA, NIGERIA—Three women suicide bombers detonated explosions at a checkpoint where scores of people were being searched for a bustling weekly market Friday in Nigeria's northeastern town of Madagali, witnesses said. The blasts killed two self-defence fighters who wanted to search the bombers.
Their challenge likely saved many lives. In December, two women suicide bombers killed 57 people and wounded 177, including 120 children, at Madagali market. Last week, three girl suicide bombers were killed on the outskirts of the same town.
Residents blamed Boko Haram Islamic extremists for the attacks. Madagali is about 150 kilometres southeast of Maiduguri, the largest city in the northeast and birthplace of Boko Haram's insurgency.
"They blew up themselves after they were intercepted by local vigilantes stationed at the checkpoint at the entry to town," resident David Abawu said by telephone. "Two vigilantes lost their lives in the process." Army spokesman Maj. Akintoye Badere and police Superintendent Othman Abubakar confirmed the deaths of three suicide bombers and two civilians.
Nigeria's military and civilian self-defence fighters who work with them have intercepted many suicide bombers in recent months, preventing much higher death tolls.
President Muhammadu Buhari last month declared that Boko Haram had been crushed, but it is unlikely there will be a swift end to the suicide bombings and attacks on remote villages and army outposts.
Full report at:
https://www.thestar.com/news/world/2017/01/13/boko-haram-suspected-after-3-suicide-bombers-kill-2-at-nigerian-market.html
--------
Suicide bombers kill six in Nigeria
Jan 14, 2017
YOLA/BAUCHI - Suicide bombers killed at least six people and injured 14 in a crowded market in the northeastern Nigerian town of Madagali on Friday, the National Emergency Management Agency (NEMA) said.
A police spokesman had earlier said 15 were killed, and did not identify any suspects. Suicide bombings are common in Nigeria's northeast, the centre of a bloody campaign by jihadist group Boko Haram to create an Islamic state.
Friday's attacks, which bore the hallmark of Islamist militant group Boko Haram, followed a pair of bombings last week in Borno state, where the Boko Haram insurgency began, undermining a presidential announcement last month that the militants had been pushed out of their last stronghold in the northeast.
A man claiming to be Boko Haram leader Abubakar Shekau has appeared in a video denying President Muhammadu Buhari's statement that the group had been ousted from the region.
Boko Haram's seven-year-old insurgency, aimed at establishing a medieval-style caliphate in the northeast of Africa's most populous nation, has killed about 15,000 people and displaced more than 2 million people.
Aid groups and international organisations now warn of a looming humanitarian crisis as people displaced by the insurgency are becoming vulnerable to disease and famine, even within camps set up to shelter them.
In early 2015, Boko Haram controlled an area about the size of Belgium, but has been driven out of much of it over the past year by Nigeria's army and troops from neighbouring countries.
Boko Haram insurgents have since retreated to a base in the Sambisa forest, a vast former game reserve in Borno state.
Full report at:
http://nation.com.pk/international/14-Jan-2017/suicide-bombers-kill-six-in-nigeria
--------
North America
Muslims in North America and the Issue of Representation
By Hadeer Nagah
January 13, 2017
Some names of Muslim representatives came to the surface during the last few days. Ilhan Omar is the first Somali – American woman legislator representative in the state of Minnesota USA. Somali-born Ahmed Hussein was appointed as the Canadian Minster of Immigration.
Omar who came to the US as a refugee after living in refugee camp in Kenya upon she fled the civil was in Somali made history as she is the first Somali-American woman to reach this level of people's representation.
Hussein was also the first Somali to be a member of parliament; his appointment was part of Canadian Prime Minster Mr. Justin Trudeau's extensive cabinet shuffle. He intends to bring his experience as an immigrant and as an immigration lawyer to help other immigrants as he emphasized after his appointment.
These appointments bring to the table the issue of Muslim representation in non-Muslim societies, especially in North America. It brings to my memory what Barbra Nemri Aziz said about the representation of Muslim women in the field of writing and literature "write or be written," if you don't write your own story don't get upset if someone else writes it on your behalf. The Same concept can be applied here; if you don't fight for your own causes, don't exert the required effort to qualify yourself to reach the level of representation; don't complain about not being represented. These spots as people's representatives are earned not given, and it sure takes a lot of efforts and stamina to get there. Definitely, these prominent names will not only represent Muslims as their positions entail representing all people but at least they know the hard way what does it mean to be a person of color in North America.
Especially Ilhan, she sure knows what it means to be 1- a woman, 2- colored, 3- covered (wearing hijab) and 4- a Muslim and to be constantly reminded with these differences. Though many Americans and Canadians, I am positive, have exerted effort and showed spirit of openness, fairness and impartiality in dealing with people from different cultural backgrounds in their day to day living, yet more efforts are needed not only from the side of the members of the societies but also from the side of Muslims living in these societies as well. They need to equip themselves with better education and social services if they intend to be justly represented. Instead of continued complaining about misrepresentation in the media, it is time to get to work and create your own representatives, support them and help them to draw a better image.
http://blog.timesunion.com/muslimwomen/muslims-in-north-america-and-the-issue-of-representation/7007/
--------
Ted Cruz vs. The Muslim Brotherhood Boogeyman
14/01/2017
A bill introduced this week by Sen. Ted Cruz (R-Texas) calls on the U.S. State Department to determine whether the Muslim Brotherhood is a foreign terrorist organization. Advocates for American Muslims suspect a darker purpose ― to smear and potentially prosecute American Muslim advocacy groups, a move that could prove disastrous for the civil rights of Muslims in this country.
Cruz and Rep. Mario Diaz-Balart (R-Fla.) introduced the Muslim Brotherhood Terrorist Designation Act in both chambers of Congress on Tuesday. In a press release, Cruz said that the brotherhood espouses "a violent Islamist ideology with a mission of destroying the West" and that formally designating them a terror group would "enable the U.S. to take action that could stifle the funding they receive to promote their terrorist activities."
It's the fifth time members of the Senate and House, urged on by a multimillion-dollar network of anti-Muslim groups, have attempted to label the Muslim Brotherhood a terror organization.
But American foreign policy and counterterrorism experts, while highly critical of the brotherhood's brand of Islamism, have generally not viewed the organization as a threat to U.S. national security. They have argued that a terror designation might needlessly complicate U.S. relations with Middle Eastern countries where the brotherhood or its offshoots hold some level of influence.
Additionally, a British government investigation last year determined that while the Muslim Brotherhood had ties to extremism, it was not a terrorist group.
American Muslim advocates contend that the real intent of Cruz's bill has little to do with foreign policy. Rather, they argue, the legislation would enable the U.S. government to target domestic Muslim groups that Cruz and others earnestly believe are part of a massive, covert conspiracy to destroy the U.S. from within.
A 2001 executive order issued by President George W. Bush gave the State and Treasury departments broad powers to investigate organizations that the government alleges have provided material support to, or are "otherwise associated with," a designated terror group. Those being investigated can have their funds frozen and be subject to warrantless searches and asset seizures. The investigations can drag on for years, effectively shutting down the organization.
A 2009 American Civil Liberties Union review of Muslim charities in the crosshairs found that Bush's executive order "effectively allows the government to shut down an organization without notice or hearing and on the basis of classified evidence, and without any judicial review."
Now Cruz's legislation looks like another step along that road.
"The bill is about domestic control of Muslims," Corey Saylor, director of the department to monitor and combat Islamophobia at the Council on American-Islamic Relations (CAIR), told The Huffington Post. "It has everything to do with a widely debunked conspiracy theory that Muslim organizations are nefarious."
"Let me be extremely clear," J.M. Berger, a counterterrorism analyst at George Washington University's Program on Extremism, told BuzzFeed last fall, speaking of the broader idea of a terrorist designation for the Muslim Brotherhood. "This initiative is concerned with controlling American Muslims, not with any issue pertaining to the Muslim Brotherhood in any practical or realistic sense."
For years, anti-Muslim groups have claimed that CAIR, the country's largest Muslim civil rights organization, and other pro-Islam groups in the U.S. are, in fact, fronts for the brotherhood.
Saylor vehemently denied that allegation on Wednesday. "The Muslim Brotherhood affects CAIR the way a dust storm on Mars affects the weather in Washington, D.C.," he said, adding that CAIR has never received funding from the brotherhood.
Yet with the election of Donald Trump, who has surrounded himself with anti-Muslim conspiracy theorists, and with Republicans in control of the Senate and House, the proposed Muslim Brotherhood Terrorist Designation Act has a chance of passing and being signed into law.
CAIR's Corey Saylor speaks at a press conference about Islamophobia in Washington on June 20, 2016.
Lana Safah, a spokeswoman for the Muslim American Society, another high-profile Muslim advocacy group, told HuffPost that her group has "no affiliation with any foreign or international organization."
Yet, she said, "in the Trump era, and in the most Islamophobic atmosphere the American Muslim community has ever experienced, it seems we should expect the unexpected, such as this unprecedented designation, which no former administration has made. It would cripple the operations of any Muslim organizations linked, however circumstantially, to the Brotherhood."
"Demonizing these organizations," she added, "will only hinder national security efforts to eradicate the roots of violent extremism."
Nathan Lean, author of the 2012 book The Islamophobia Industry, agrees. He said designating the Muslim Brotherhood a terrorist group could give government officials cover to effectively dismantle U.S. Muslim groups. And that, he fears, would lead to "the wanton violation of American Muslim civil rights."
The 'Civilization Jihad' Conspiracy Theory
The allegations that the Muslim Brotherhood has ties to CAIR ― as well as to groups like the Muslim American Society, the Islamic Society of North America (ISNA) and the International Institute of Islamic Thought ― stem largely from a single discredited document titled "An Explanatory Memorandum on the General Strategic Goal for the Brotherhood in North America." The memorandum, found during a 2004 FBI raid of a Virginia home, was written by a Muslim Brotherhood member named Mohamed Akram Adlouni in 1991.
In horrifying language, Adlouni called for the Muslim Brotherhood to engage in a "Civilization-Jihad" wherein Muslims would work at "eliminating and destroying the Western civilization from within and 'sabotaging' its miserable house." He listed a number of American Muslim organizations, including CAIR, in an appendix to the memo.
"Imagine if they all march according to one plan!!!" Adlouni wrote ― a seeming admission that these organizations were not, in fact, engaged in any "civilization jihad."
Adlouni does not appear to have been a significant player in the Muslim Brotherhood, so his letter can't be interpreted as a set of orders. Rather, he sounds like a subordinate trying to persuade higher-ups, at one point asking that the brotherhood "not rush to throw these papers away."
In 2011 testimony before the House Select Intelligence Committee, Tarek Masoud, a professor of international relations at Harvard University, said that Adlouni's list of Muslim organizations appeared "aspirational."
"It seemed to me upon reading the memorandum that the Muslim Brotherhood member who wrote it believed that his organization was not working with American Muslim organizations and should be," Masoud recounted to HuffPost this week.
A 2016 report by the Bridge Initiative at Georgetown University dismissed the memorandum as "one man's utopian vision." Adlouni's call for "civilization jihad" was never adopted by the brotherhood, the report concluded, and his phrasing almost never turns up in "mainstream Islamic literature" over the two decades since he wrote the document.
But among anti-Muslim groups like the Center for Security Policy, which has close ties to Cruz, this document is still held up as definitive proof that peaceful Muslim groups in the U.S. are hellbent on committing "civilization jihad."
The Muslim Brotherhood Has Landed!
Cruz cited the "civilization jihad" memorandum in his press release this week. In the previous version of the Muslim Brotherhood bill he introduced last year, he named CAIR and two other groups ― ISNA and the North American Islamic Trust ― as "affiliates" of the Muslim Brotherhood.
And during his 2016 presidential campaign, his national security advisers included the Center for Security Policy's founder and president, Frank Gaffney, and its vice president, Clare Lopez.
Under the helm of Gaffney, the Center for Security Policy has arguably done more than any other group to push the "civilization jihad" conspiracy theory. It is listed as a hate group by the Southern Poverty Law Center, whose website describes Gaffney as "gripped by paranoid fantasies about Muslims destroying the West from within, suspicious that Barack Obama was actually born in Kenya, and a proponent of a new version of the infamous House Un-American Activities Committee to root out suspected Muslim subversives."
Gaffney has also baselessly accused multiple political figures ― including Hillary Clinton aide Huma Abedin and conservative activists Grover Norquist and Suhail Khan ― of infiltrating the U.S. government on behalf of the Muslim Brotherhood.
"The Muslim Brotherhood has become a boogeyman for these people and it's just become the dirty word you can connect these groups to," said Eli Clifton, a fellow at the Nation Institute and co-author of the Center for American Progress' 2011 report "Fear Inc.: The Roots of the Islamophobia Network in America."
"I think there's very limited evidence, if any, that [the Muslim Brotherhood] have gained an active role in the U.S., or that it influences in a direct way the policies or advocacy positions of groups representing Muslim Americans," Clifton said.
The alleged connections being drawn between groups like CAIR and the Muslim Brotherhood are "very shoddy," according to Lean, the author of The Islamophobia Industry.
Full report at:
http://www.huffingtonpost.in/entry/muslim-brotherhood-ted-cruz_us_58764d44e4b092a6cae42666
--------
George Takei: We must stand up for Muslims in the U.S.
January 13, 2017
Actor and activist George Takei hopes his own story of being sent to a Japanese internment camp as a child will motivate others to stand up for Muslim Americans in an era of Donald Trump.
The Japanese-American actor, best known for his role in "Star Trek," was 5 years old when he and his family were taken from their Los Angeles home at gunpoint to an internment camp. He recalled gazing out the front window with his brother as their parents packed their belongings in another room, and spotting two soldiers marching up the driveway with rifles in tow.
When the soldiers banged on the front door, the "sound reverberated through the house," Takei, now 79 years old, told Yahoo News and Finance Anchor Bianna Golodryga on Thursday.
"I will never be able to forget that moment. It was terrifying for me," he added.
Four years later, when the war ended, the terrors of internment continued to haunt Takei and his family, as they'd been left impoverished and were forced to find a home in downtown Los Angeles' notoriously crime-ridden Skid Row.
"Coming home was horrific. They took everything from us," said Takei. "We thought behind those barbed wire fences was better than life on Skid Row."
Actor and activist George Takei hopes his own story of being sent to a Japanese internment camp as a child will motivate others to stand up for Muslim Americans in an era of Donald Trump.
The Japanese-American actor, best known for his role in "Star Trek," was 5 years old when he and his family were taken from their Los Angeles home at gunpoint to an internment camp. He recalled gazing out the front window with his brother as their parents packed their belongings in another room, and spotting two soldiers marching up the driveway with rifles in tow.
When the soldiers banged on the front door, the "sound reverberated through the house," Takei, now 79 years old, told Yahoo News and Finance Anchor Bianna Golodryga on Thursday.
"I will never be able to forget that moment. It was terrifying for me," he added.
Four years later, when the war ended, the terrors of internment continued to haunt Takei and his family, as they'd been left impoverished and were forced to find a home in downtown Los Angeles' notoriously crime-ridden Skid Row.
"Coming home was horrific. They took everything from us," said Takei. "We thought behind those barbed wire fences was better than life on Skid Row."
George Takei on life in an internment camp during World War II
George Takei, known for his role as Mr. Sulu in "Star Trek," tells Yahoo News and Finance Anchor Bianna Golodryga about the experience of his family being rounded up at gunpoint in California during World War II and sent to an internment camp. His story is the basis for the Broadway musical "Allegiance." A film of the performance will be shown in a limited cinematic release on Feb. 19.
As an adult, Takei became determined to prevent anything like the internment of Japanese-Americans during World War II from happening in the United States again. His story became the subject of the musical "Allegiance," which will soon be making its way from Broadway to movie theaters. So when he first heard then-presidential candidate Trump call for a ban on Muslims to the United States, he said, "It was chilling."
"That was what happened to us," Takei told Golodryga. "Overnight after Pearl Harbor, we were characterized as the enemy. We were looked at with fear and suspicion and outright hatred."
By suggesting that Muslims "are all potential terrorists," Takei argued, Trump had done the same thing "with an entire faith group."
Recently, Takei created an online petition, calling for people to stand up in support of Muslim Americans in the face of President-elect Trump, who appears to be standing by his plans to impose a temporary ban on immigrants from "certain" Muslim countries and to create some sort of database of Muslims.
Full report at:
https://www.yahoo.com/news/george-takei-we-must-stand-up-for-muslims-in-the-u-s-143210654.html
--------
In Legal Fight Against U.S. Towns, Muslims May Lose Major Ally
JANUARY 13, 2017
Back in 2010, plans for the so-called Ground Zero mosque, an Islamic cultural center a couple of blocks from the World Trade Center site in New York City, triggered a nationwide furor. In the face of controversy, condos went up instead of a cultural center.
Today, controversies over building mosques and other Muslim centers continue around the country. They aren't getting much national attention, but debates at the local level have led to expensive lawsuits -- some from the U.S. Department of Justice -- against cities for alleged religious discrimination.
On New Year's Eve, federal District Court Judge Michael Shipp ruled that the township of Bernards, N.J., had discriminated against a local Islamic society that has been seeking to build a mosque. The township "unambiguously treated [the] application to build a Muslim mosque differently than applications for Christian churches and Jewish synagogues," wrote Shipp. That, he concluded, "reflects sufficient intent to discriminate on the basis of religion."
Christian groups, including the Ethics & Religious Liberty Commission of the Southern Baptist Convention and the National Association of Evangelicals, signed an amicus brief in support of the Islamic group's position.
But the main legal ally for Muslims in this case, and some others like it, has been the Justice Department. Outside of New Jersey, the feds have also brought their own lawsuits against two cities in Michigan -- Sterling Heights and Pittsfield Township -- that refused permission for mosques or Islamic schools.
Islamic groups, however, are concerned that the new administration will no longer be a sympathetic ally. President-elect Donald Trump -- who campaigned on pledges to create a Muslim registry and ban them from entering the country -- enters the White House next Friday.
"As far as the impact of a new attorney general at the Justice Department, it could make a big difference in the way things are handled," said Jim Sues, executive director of the New Jersey chapter of the Council on American-Islamic Relations. "It's not a difference I would look forward to at all."
Confirmation hearings for Trump's nominee for U.S. attorney general, U.S. Sen. Jeff Sessions, ended Wednesday. During the two days of questioning, Sessions said he "[does] not support the idea that Muslims, as a religious group, should be denied admission to the United States." But he also said he supports "extreme vetting" of immigrants that may take a person's religious beliefs into account. According to the Southern Poverty Law Center, Sessions is a "champion of anti-Muslim and anti-immigrant extremists."
The lawsuits from the Obama Justice Department and Islamic groups allege that municipalities stand in violation of the Religious Land Use and Institutionalized Persons Act, a federal law enacted in 2000 that bars discrimination against individuals and religious organizations in zoning and land-use laws.
Full report at:
http://www.governing.com/topics/public-justice-safety/gov-mosque-ban-lawsuits.html
--------
Global Technology Industry Unites Against US Muslim Registry
January 13, 2017
Islamophobia has increased significantly in the 21st century and, ever since the 2016 presidential election in the United States, Muslims are at the forefront of discrimination and finding themselves victims of hate crimes in their own country.
In November 2016, Donald Trump proposed a temporary ban on all Muslim immigration to the U.S. and, although he has ultimately backed down from this, he still recommended the creation of a registered database of Muslims in the U.S. Trump claims this is a strategy to strengthening "National Security."
Global tech companies such as Facebook, Google, Apple, IBM, Uber and Microsoft have all issued statements against the creation of such a database.
A meeting was held at Trump Tower last December with Silicon Valley executives, including Apple Inc. CEO Tim Cook, PayPal co-founder Peter Thiel and Oracle CEO Safra Catz. It was not clear if the Muslim registry was a part of the discussion, however, Buzzfeed put questions to these heavyweight companies as to whether they would participate by providing data if the registry becomes a reality.
A spokesperson for Google says "In relation to the hypothetical of whether we would ever help build a Muslim registry, we haven't been asked, of course we wouldn't do this and we are glad from all that we've read that the proposal doesn't seem to be on the table."
As reported on mvslim.com, around 1,300 workers in the tech industry signed the neveragain.tech pledge as a promise to never participate in the creation of such a database because Trump's proposal acts as a surveillance tool specifically targeting Muslims.
Full report at:
https://www.moroccoworldnews.com/2017/01/205781/global-technology-industry-unites-us-muslim-registry/
--------
Europe
Russian, Syrian Muslim Communities Maintain Ties Despite Regional Crises - Mufti
13.01.2017
Chief mufti of the Tatarstan republic Kamil Samigullin said that Muslim communities of Russia and Syria continue cooperation despite crises in the Middle East and civil war in Syria.
MOSCOW (Sputnik) – The Muslim communities of Russia and Syria continue cooperation despite crises in the Middle East and civil war in Syria, chief mufti of the Tatarstan republic Kamil Samigullin told Sputnik on Friday.
"Of course, beside the official channels there is the so-called public diplomacy. In this sense, the Russian Muslims are constantly actively communicating with the Syrian coreligionists… Our spiritual administrations have not interrupted contacts with the Syrian muftis, leaders of Islamic centers in Syria and religious universities despite the tragic events in the Middle East in recent years," Samigullin said. According to Samigullin, such cooperation should continue in "these difficult times" and despite the opinion of terrorists, who oppose this. Since 2011, Syria has been engulfed in a civil war, with government forces fighting against numerous opposition and terrorist groups, including the Daesh, which is banned in a range of countries, including Russia. Russian President Vladimir Putin announced in December that the Syrian government and armed opposition groups had reached an agreement on a nationwide ceasefire in Syria and on readiness to start peace talks. The terrorists who are waging war in Syria and claiming to support Islam are in no way related to the religion and are, in fact, its enemies, Chief Mufti of Russia's region of Tatarstan said. "We, Muslims, think of terrorists not as of Islam followers, but as of actual terrorists, who sow death and discord… They are in no way related to our religion… In fact, they are enemies of Islam," Kamil Samigullin said, following a visit to Syria. The mufti said that Muslim leaders around the world were against the Daesh, one of the most prominent terrorist groups in the world, outlawed in Russia and many other countries. According to Samigullin, Russian Muslims were among the first to denounce the Daesh and underscored the importance of educating people about the organization's nefarious activities. "Last year, a very large Islamic conference took place in Kazan, with the participation of leading Muslim scholars from around the world. We raised the issue of countering Daesh [Arabic acronym for IS] again," Samigullin said. The mufti also said that a new forum for scholars from Russia, Middle East, Asia would be held in Kazan in February and the situation in Syria as well as the actions of terrorists would be discussed there. The Islamic State terrorists, who follow an ultra-hardline interpretation of Sunni Islam doctrine, have been able to seize large territories in Iraq and Syria in the last few year. The group has been extremely aggressive to the representatives of other religions and to Muslims who do not share their extremist views.
https://sputniknews.com/world/201701131049567322-russian-syrian-muslims/
--------
The Muslims Detained In Crimea Are Charged With "Violent Upheaval In Russia"
January 13, 2017
Lawyer Emile Kurbedinov says the Crimean defendants on the so-called "case of Hizb ut-Tahrir" are accused of "violent upheaval in Russia" (article 278 of the Criminal Code of the Russian Federation).
"The violent seizure of power in Russia is the very crime which will be incriminated since tomorrow all the Muslim Crimean Tatars, who are accused of participating in Hizb-ut Tahrir," the lawyer said.
According to him, the article provides 12 to 20 years of imprisonment.
"Imagine Crimean Muslims living in great comfort in Ukraine, and suddenly bang! They are Russians-terrorists. Moreover, they are accused of grabbing power in Russia! And accused by those who, masked and armed to the teeth, were grabbing the administrative buildings of Crimea in February 2014, by those who invaded the peninsula in armoured vehicles and then announced that we started living in a different country!" added Kurbedinov.
Full report at:
http://en.sobytiya.info/the-muslims-detained-in-crimea-are-charged-with-violent-upheaval-in-russia.html
--------
Spain hopes to sell warships to Saudi Arabia
Jan 14, 2017
Laurence BOUTREUX
Close ties between the royal families of Spain and Saudi Arabia could help Madrid conclude a lucrative deal to sell warships to Riyadh, much to the alarm of rights groups.
They claim the sale would be illegal under international law and accuse the oil-rich kingdom of carrying out war crimes in its military campaign in Yemen, which has killed thousands of civilians.
Spain's King Felipe VI will on Saturday begin a three-day official visit to the Middle Eastern country at the invitation of Saudi Arabia's King Salman.
Spanish media has linked this visit to a much anticipated deal to sell Avante 2200 corvettes for an estimated two billion euros ($2.1 billion).
"We can only confirm that negotiations are very advanced to build five warships which would be sold to the Saudi navy," a spokesman for state-owned Spanish ship builder Navantia told AFP.
Spain is currently the seventh largest arms exporter in the world.
Its arms exports jumped by 55 percent in 2011-15 over the previous five years, according to the Brussels-based Group for Research and Information on Peace and Security. And its sales to Saudi Arabia, the country with the highest military expenditure per capita, are on the rise.
Friend of Saudi royals
Felipe's father, Juan Carlos, who reigned from 1975 to 2014, "had and still has an exceptional personal relationship with the Saudi royal family, which has boosted economic ties", said Ana Romero, who was written several books about the former king.
Juan Carlos was a close friend of Saudi Arabia's late King Fahd, who reigned from 1982 to 2005, and is close to his brother King Salman.
Fahd offered Juan Carlos a yacht and the two would meet frequently, in private, in France and at the Saudi monarch's luxurious palace in the upmarket beach resort of Marbella on Spain's southern coast.
Juan Carlos was credited with playing a decisive role in 2011 in helping a Spanish consortium win a contract worth 6.7 billion euros ($7 billion) to build a high-speed railway linking the holy cities of Mecca and Medina.
"There has always been a suspicion that Juan Carlos was a great lobbyist not only for Spain but also to aid his friends, close businessmen and maybe even himself," said Romero. "Everything is different with Felipe VI: nobody thinks he can do something like that, Spanish entrepreneurs do not travel with him and his trips are much more controlled by the state."
If the deal for the five corvettes goes ahead, it would provide jobs for over 2,000 people for several years, said Jose Antonio Fernandez Vidal, a representative of Spain's biggest union, Comisiones Obreras, in the northwestern region of Galicia, which is home to a major shipyard. "We are awaiting this like rain in summer to create jobs in shipyards," he said.
Spain's jobless rate of 18.9 percent is the second highest in the European Union after Greece.
The contract is not a done deal yet as Saudi Arabia is slashing spending with falling oil prices having led to a drop in revenues. And Spain faces stiff competition.
France hopes to sell another type of navy ship to the Saudis, said a source at French defence contractor DCNS.
During 2014-15 Spain was the fourth biggest exporter of weapons to Saudi Arabia after the United States, Britain and France, according to the Stockholm International Peace Research Institute.
Full report at:
http://nation.com.pk/international/14-Jan-2017/spain-hopes-to-sell-warships-to-saudi-arabia
--------
'I'm not ashamed' says Paris attacks suspect: report
Jan 14, 2017
The main suspect in the Paris attacks said he was "not ashamed" in a letter to a woman who has been writing to him in prison, according to extracts published in the French press Friday.
Salah Abdeslam has refused to respond to questions from French judges about the November 13, 2015 attacks in which 130 people died at the hands of Islamic State group jihadists.
But in correspondence with an anonymous woman published by the daily newspaper Liberation he appeared "talkative for the first time," the paper said.
"First of all, I'm not afraid of letting anything slip because I'm not ashamed of what I am -- and then what worse could be said than what's already been said," Abdeslam wrote, according to the extract from his investigation file.
"I'm writing to you without knowing how to start, I got all your letters and I don't know whether I've enjoyed them or not, they definitely let me spend a bit of time in the outside world," he continued.
"Since you've been straightforward I will be too, if I ask you what your intentions are it's to reassure myself that you don't love me like a 'star' or an 'idol' because I get messages like that and I don't endorse that because the only person who deserves to be adored is Allah," he wrote.
Abdeslam received messages from a number of correspondents but only replied to one woman, the newspaper wrote.
The 27-year-old was transferred to France from Belgium in April following his arrest in a police raid in Brussels during which he was shot in the leg.
His two lawyers said in October they would no longer defend him given his refusal to answer questions.
The Belgian-born French national is believed to be the only jihadist survivor of the attacks in the French capital.
Full report at:
http://nation.com.pk/international/13-Jan-2017/i-m-not-ashamed-says-paris-attacks-suspect-report
--------
Cypriot president emphasizes withdrawal of Turkish troops
Jan 13, 2017
The Greek Cypriot president says the withdrawal of about 30,000 Turkish troops from Cyprus serves as a precondition for any agreement to reunify the Mediterranean island.
Nicos Anastasiades said there "must" be an agreement "on the withdrawal of the Turkish army."
He made the remarks at a press conference in Geneva on Friday.
Leaders of Cyprus' ethnic Greek and Turkish communities have been engaged in reunification talks in the Swiss city since January 9.
Turkish President Recep Tayyip Erdogan, however, ruled out a complete withdrawal of the troops.
Erdogan said such a move was "out of the question." He added, in televised comments, that the Greek Cypriot Republic of Cyprus and Athens "still have different expectations" on resolving the decades-long dispute. Turkish Cypriots "are working intensely and bring sincerity," he added.
The Turkish president also stated that there were major differences on the issue of a rotating presidency for any future united two-zone federation.
Erdogan said it was "unacceptable" that Turks could hold the presidency for only one term, while Greeks were allowed to do so for four terms. He said it was "fair" that Greek Cypriots have two terms for every term granted to Turkish Cypriots. "Apart from this, we told them (in Geneva) that 'no one should expect anything from us.'"
Erdogan's comments come a day after UN-brokered talks between rival Cypriot delegations broke up.
The new session of the talks for Cyprus ended with merely an agreement for the sides to meet again at a later time to make another attempt at finding a political solution to the dispute.
Full report at:
http://www.presstv.ir/Detail/2017/01/13/506032/Cypriot-president-Turkish-troops
--------
Five Daesh-linked suspects detained in Spain, Hungary
Jan 14, 2017
A total of five people suspected of having ties to the Takfiri Daesh terrorist group have been taken into custody in Spain and Hungary.
In a statement released on Friday, Spain's Interior Ministry said police arrested a Moroccan man with Dutch identity documents in the northwestern town of Figueras, situated in the country's semi-autonomous Catalonia region, on suspicion of being a Daesh element.
An investigation is currently underway into whether the suspect's recent return to Spain from Turkey "was motivated by a desire to carry out some sort of action in Europe," the statement added.
It further said Dutch authorities and the intelligence services of a number of other countries helped the Spanish police locate the man.
"Investigators are currently trying to determine the degree of radicalization of the detainee, his possible links in Europe, the activities he has been carrying out for Daesh and what his purpose was since his arrival in Spain," it went on to say.
In a separate statement published on Friday, the Spanish ministry said police had arrested two other nationals, who were part of a group highly determined to "carry out terrorist activities" and "fully aligned with … Daesh."
Meanwhile, a gun and three knives were confiscated during police searches in Spain's North African enclave of Ceuta.
The Spanish police have arrested 181 Daesh-linked people since 2015, when the country's terror alert level was raised to four on a scale of five.
Hungarian police officers stand guard at Nyugati Railway Station in central Budapest, Hungary, December 20, 2016. (Photo by AP)
Elsewhere in the EU, Hungarian authorities said they had nabbed two foreign women allegedly seeking to join Daesh in Syria.
The unnamed 18-year-old Belgian and the 19-year-old French nationals were trying to cross into Serbia, a police spokesperson told Hungary's MTI news agency.
Gyorgy Bakondi, Hungarian premier's chief security advisor, said the young women were subject to warrants for previous "acts in connection with terrorism."
The EU member states are concerned about the threat posed by foreign Daesh militants upon their return to home countries from Syria and Iraq, where the terrorist outfit is mainly active.
Full report at:
http://www.presstv.ir/Detail/2017/01/14/506104/Spain-Daesh-Hungary
--------
UK's most northernly mosque to open its doors to the public next month
January 14, 2017
The UK's most northerly mosque will open its doors to the public next month as part of an event offering outsiders an insight into Islam.
"VisitMyMosque Day", promoted by the Muslim Council of Britain, aims to make mosques more accessible and to highlight their charitable work.
The idea has been welcomed by the local MP as a positive step.
City mosque founder Waheed Khan is optimistic the event will demonstrate "transparency."
He said: "This is a national celebration aimed at helping integrate mosques into society.
"We're not a ghetto or an inclusive group. It's also an opportunity for people to see what good work the mosque is doing.
"The city has a heritage of friendliness so we've been lucky. Most of our people have mainline businesses like Asian restaurants and jobs in the NHS so they've integrated very well. This is a day for them to invite their friends and other people."
The doors will open between 10am and 6pm on February 5 to welcome people "of all faiths and none" to explore the architecture and history of the building and the beliefs and practices of those who worship there.
It will feature tours, information stands, henna tattoos, free refreshments, children's activities and a chance to observe prayer.
Representatives from religious groups, the police, schools and community groups have been invited.
Inverness, Nairn, Badenoch and Strathspey MP Drew Hendry said: "Having been present at the opening and having seen how the mosque is engaging with the community, I'm delighted they're holding this event.
"I hope many people will head along to have a look and, hopefully, make some new friends."
Full report at:
https://www.pressandjournal.co.uk/fp/news/highlands/1140487/uks-most-northernly-mosque-to-open-its-doors-to-the-public-next-month/
--------
Police officer tells Muslim motorist he's 'full of s***' after religious motivated quiz
Jan 13, 2017
Estate agent Shafiq Siddiq secretly recorded the heated exchange after he was pulled over by police in the early hours of New Year's day in Birmingham.
The footage, shows the officer criticising him over his religion and a previous offence.
The cop has now been removed from front line duties after the video appeared of him telling the Muslim that he "was full of s***".
The 35-year-old was pulled over at 4am and said that he began filming exchanges in the back of the police car when the cop started making remarks about his religion.
In the clip the officer is told over the radio that Mr Siddiq has a previous conviction for being drunk and disorderly, in which the cop turns to him and asks "is this you?"
The driver responds: "Yes, it was years ago."
However then the police officer begins with his digs, by saying: "It's against your religion to drink, what did you get drunk on?"
When Mr Siddiq replies by saying "alcohol", the cops snaps back that it couldn't have been alcohol because "it's against your religion."
The cop then fumes at the man by saying: "You're full of s*** aren't you. You say it's against your religion to drink and yet you have a previous for drunken and disorderly.
"Did you find religion after? Have you just turned to religion?"
The Birmingham Mail report that Mr Siddiq was free to go after the interrogation, and he then handed the footage to the Independent Police Complaints Commission.
Mr Siddiq said: "I only started recording because of the way he was behaving. There was nobody around and I was concerned about what was happening.
"He was making judgements about me and it was discriminatory and unpleasant from the very start.
Full report at:
http://www.express.co.uk/news/uk/754074/Birmingham-police-officer-muslim-motorist-insulted-over-religion
--------
URL: https://www.newageislam.com/islamic-world-news/new-age-islam-news-bureau/muslims-'tolerant'-of-others-due-to-islamic-school-upbringing,-pas-tells-gerakan/d/109724
New Age Islam, Islam Online, Islamic Website, African Muslim News, Arab World News, South Asia News, Indian Muslim News, World Muslim News, Womens in Islam, Islamic Feminism, Arab Women, Womens In Arab, Islamphobia in America, Muslim Women in West, Islam Women and Feminism, Moderate Islam, Moderate Muslims, Progressive Islam, Progressive Muslims, Liberal Islam