New Age Islam News Bureau
3 Jun 2017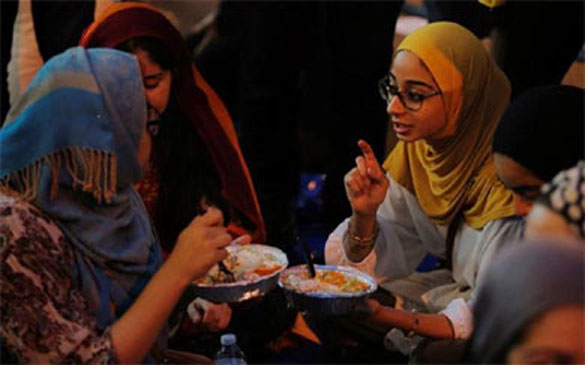 Muslim women eat during a demonstration and Iftar celebration during Ramadan outside of Trump Tower in New York, U.S., June 1, 2017. (REUTERS Photo)
----
• Muslims Pray, Break Fast In a Protest Outside Trump Tower in Ramadan
• Taliban Chief Talks about Reforms Including Women's Rights in His Eid Message
• Kerala: Temple Throws Vegetarian Iftar for Muslims Who Helped Restore Premises
• Gunman Torches Manila Casino, Killing 36
• Palestinians Pour into Jerusalem for Ramadan Prayers
North America
• Muslims Pray, Break Fast In a Protest Outside Trump Tower in Ramadan
• Muslim-American Activist Linda Sarsour Speech at NYC College Draws Barbs From Right
• Pentagon: 484 civilians killed in US-led fight against ISIS
• Calls to release US, Australian hostages after Taliban threat
• Number of Refugees Admitted into U.S. Increased by Nineteen Percent in May, Slightly Fewer Are Muslim
• Canadian Muslim Community Donates $25,000 To Hospital Foundation in British Columbia
--------
South Asia
• Taliban Chief Talks about Reforms Including Women's Rights in His Eid Message
• Myanmar: Yangon Authorities Sue Muslims for Praying In Street
• Explosion in a house leaves 5 militants dead in Ghazni
• Buddhist Monastery in Bangladesh Hosts Iftar Meals for Muslims
• Hefazat Demands Arrest of Rights Activist Sultana Kamal Within 24 Hours
• Five killed as Kabul protesters clash with police
• High level Afghan-US security pact talks expected amid deteriorating security
• Senate House deputy speaker's son killed during Kabul protests
--------
India
• Kerala: Temple Throws Vegetarian Iftar for Muslims Who Helped Restore Premises
• A New Record: Fifty Muslim Candidates Clear Civil Services Exam This Year
• NIA Raids Places in Kashmir, Delhi over Funding From Pakistan, Files FIR against Hafiz Saeed, Separatists
• Pakistan violates ceasefire along LoC in Poonch
• Jammu and Kashmir: Despite low attendance Khir Bhawani festival witnesses Hindu-Muslim amity
• Questions Surround J&K Government's Move to Ban Pakistani, Saudi TV Channels
--------
Southeast Asia
• Gunman Torches Manila Casino, Killing 36
• Dr Zakir Naik's Presence Puts Malaysia in a Bind
• Speak all you want, but never inside mosques, Sultan tells Sivarasa
• Malaysia: 2 Non-Muslims Who Fast In Ramadan Talk Of Finding Peace
• Mixing Islam And Terrorism: A Blunder Too Far for Malaysia's Star?
• Muslim scholar to head Pancasila body
--------
Mideast
• Palestinians Pour into Jerusalem for Ramadan Prayers
• Turkish Embassy Hosts Banned Islamic Movement Chief at Iftar Dinner
• Tested on All Fronts, Iran's Rouhani May Struggle on Reforms
• Saleh's party threatens to withdraw from Yemeni rebel government
• Yemen army gains control of strategic camp in Taiz
• Iran vows full support for Afghanistan's anti-terror fight
• Israel to unveil 'multiple' settlement plans: Paper
• Turkey opens mosque, Muslim center in Philippines
--------
Europe
• Charges Mulled Against Wilders Over Anti-Islam Tirade Implying Quran Incites Terrorism
• ISIS, AQIM, and Polisario: How Do Terrorist Threats in the Sahel Affect Morocco?
• Putin: External interference aggravates situation in Syria
• Police: German rock festival evacuated over 'terrorist threat'
--------
Pakistan
• Sikhs, Hindus in Pakistan Host Iftar Parties to Promote Religious Harmony during Ramzan
• Pakistan Prime Minister's Son Probed In Panama Paper's Case
• Haqqani network has moved to Afghanistan
• 11 Chinese on way home shifted to Karachi from Quetta
• Four held for violating Ramazan ordinance in Rawalpindi
• Jadhav case: Three-member Pakistani team to appear before ICJ
• Jamaat thinks govt left South Punjab in the lurch
• Huge terrorist bid foiled in Charsadda
--------
Arab World
• Iraqi Forces Kill Daesh 'Religious' Police Chief in Western Mosul
• ISIL's Centers in Deir Ezzur Receive Severe Blow in Syrian Armed Forces' Attacks
• Several Terrorists, Including Commanders, Killed in Roadside Blasts in Dara'a
• Syrian Army Opens New Front to Hit ISIL's Defense Lines in Aleppo
• Syrian Army Seizes US-Made Military Vehicles in Captured ISIL Base in Homs
• Syrian Air Force Continues to Bomb ISIL's Positions Heavily in Deir Ezzur
• Kurdish-Led SDF on Verge of Cutting off Last ISIL's Supply Line to Raqqa
• Iraqi forces take one of four districts in Mosul's ISIS-held enclave
• Iraq's PMU enters Syrian villages in spite of Kurdish warning
• UN rights chief urges Bahrain to investigate Diraz violence
--------
Africa
• A Group of Mayfair Youth Teaching Non-Muslim about Islam
• 7 Killed In Twin Suicide Attack in Northern Cameroon
• Gambia: UNICEF's D3.2 Million Maintenance Project at Muslim SSS to Complete Soon
Compiled by New Age Islam News Bureau
URL: https://www.newageislam.com/islamic-world-news/muslims-pray-break-fast-protest/d/111402
--------
Muslims Pray, Break Fast In A Protest Outside Trump Tower In Ramadan
Jun 02, 2017
A crowd of Muslims kneeled to pray before breaking their Ramadan fast outside the Trump Tower in a protest against what they say is the US president's Islamophobic rhetoric.
About 100 Muslims showed up for the Iftar event late Thursday, organized by immigrant defense groups. A similar number of non-Muslim supporters also attended.
Participants sat on the edge of the avenue after prayers and shared a meal that included rice, chicken and pizza.
Police monitored the group closely, as they do with all groups near the building.
Trump Tower in Manhattan is home to the Trump Organization, the heart of President Donald Trump's business empire. First Lady Melania Trump lives there with the couple's youngest son, Baron.
Fatoumata Waggeh, a 26 year-old Muslim-American woman with Gambian roots, said she had come to denounce the negative "rhetoric they are spreading around Muslims," and to show solidarity.
Maggie Glass, a 31 year-old New Yorker active with a Jewish refugee association, said she was there "to support all our Muslim neighbors and friends.
"I just thought it was an opportunity for us to come together as a community, to show that we are united."
Event organizer Linda Sarsour told AFP she was satisfied with the turnout.
She didn't mind that unlike previous US presidents, Trump had not invited Muslims to the White House to mark Iftar.
"To be honest with you, even if they did, I would ask Muslims not to endorse an administration that is acting so divisively," she said.
"So they are not inviting us, but we don't want to go anyway."
During their protest, a small group of Trump supporters on the other side of the street chanted "USA, USA!" and "We don't want sharia law!"
http://www.hindustantimes.com/world-news/new-york-muslims-pray-break-fast-in-a-protest-outside-trump-tower-in-ramadan/story-umxcEg7Kc3fmDLZzvXTRcI.html
--------
Taliban chief talks about reforms including women's rights in his Eid message
Jul 02 2016
The newly-appointed supreme leader of the Taliban group Mawlavi Haibatullah Akhundzada has promised to bring reforms under his leadership including the women's rights.
Akhundzada made the commitment in his message released on the eve of Eid-ul-Fitr, saying "I will try for better reform of courts and efficient conduct of affairs, including release of the prisoners, treatment of the injured, the rights of the women as per Sharia, to help orphans and miserable people, education and moral training of the emerging generation, and procurement of equipment for endeverouring Mujahideen."
The latest commitment by Akhundzada vowing reforms in women's rights comes as the Afghan women suffered the most during the rule of the Taliban regime.
The women and girls were deprived of most of their basic rights including accesss to education due to the strict interpretation of Sharia by the Taliban group.
In other parts of his message, Akhundzada called on US to withdraw from the country claiming that the US-led forces are engaged in a war with the Afghan nation.
Akhundzada also called on other Muslim nations to support the group's insurgency and ruled out that the group is waging violence in the country with the support of the neighboring countries, including Iran and Pakistan.
"We say to those who attribute the Jihadic valor of the Islamic Emirate to Pakistan and Iran and to others that the Mujahideen and the conscious people could not be derailed from their course of actions as a result of such distorted interpretations," Akhundzada said.
The remarks by Akhundzada comes as the Afghan officials have long been criticizing Pakistan for allowing the Taliban group and Haqqani netowrk to use its soil as safe havens from where they conduct attacks in Afghanistan.
The Afghan officials are saying that the leadership councils of the Taliban and Haqqani terrorist network are based in Quetta and Peshawar cities of Pakistan, arguing that the killing of Mullah Akhtar Mansoor in Balochistan proves their claims that the Taliban are using Pakistani soil for waging violence in Afghanistan.
http://www.khaama.com/taliban-chief-talks-about-reforms-including-womens-rights-in-his-eid-message-01394
--------
Kerala: Temple throws vegetarian iftar for Muslims who helped restore premises
Jun 02, 2017
A temple in Kerala's Muslim-dominated Malappuram district held an iftar party for Muslims fasting during the month of Ramzan, amid a row over a central notification regulating cattle sale and slaughter across the country, which is being seen as an attempt to target minorities.
The Shree Narasimhamoorthy Temple in Punnathala had enough reasons to hold such the event on its premises after Muslims loosened their wallet generously for the restoration work that was recently carried out on its premises.
Initially, the temple was planning a mass banquet but later changed its plan and decided to host an iftar - the meal with which Muslims break their fast during Ramzan. At least 500 people thronged the temple hall on Wednesday for the feast and, of course, there was no non-vegetarian dish.
"For us, it is the festival of the area not of a particular community," T Asainar, a teacher, said summing up the bonhomie.
The neglected temple was in ruins when the shrine committee took up the renovation and deity restoration work and Muslims wholeheartedly supported the move. The centuries old idol of the presiding deity, Lord Vishnu in the Narasimha avatar, will be reinstalled on Sunday.
"Here we live like a single family. We consult each other on important occasions. In fact, the suggestion to renovate the age-old temple came from some Muslim families of the area," temple committee secretary PT Mohanan said, adding that a major chunk of expense (around Rs 20 lakh) was borne by Muslims.
Youngsters from both the communities lined up in large numbers during the temple renovation work as well as the iftar party during Ramzan, the ninth month of the Islamic calendar when Muslims abstain from food and water from sunrise to sunset and join mass prayers at mosques.
Mohanan said the tiny village was a classic example of religious unity and that people who always think and work on communal lines should take a lesson from it.
In a notification announced last week, the government said cows and buffaloes cannot be sold for slaughter at animal markets across India, allowing only farmland owners to trade at animal markets.
The notification, which banned the sale of cows, bulls, bullocks, buffaloes, steers, heifers, calves, and camels, has triggered a political storm in India. Slaughter of milch cows is banned in all states except in Kerala and in parts of north-east India.
Cows, considered holy by many Hindus, are a sensitive political topic and have gained importance since Prime Minister Narendra Modi stormed to power in 2014 and several BJP-ruled states enacted strict laws to punish cow slaughter.
But many say the expanding protection for bovines is a proxy war against Dalits and Muslims – as exemplified by the lynching of dairy farmer Pehlu Khan in Rajasthan in April or the flogging of Dalit men in Gujarat's Una last year.
http://www.hindustantimes.com/india-news/kerala-temple-organises-iftar-party-for-fasting-muslims/story-NXhBU5awNkZLHUJ7MLWB3K.html
--------
Gunman torches Manila casino, killing 36
June 03, 2017
MANILA - A gunman burst into a casino in the Philippine capital on Friday, setting gaming tables alight and killing at least 36 people who suffocated in thick smoke, in an attack claimed by Islamic State but which officials believe was a botched robbery.
The gunman killed himself in a hotel room after being shot and wounded by security officers at the Resorts World Manila entertainment complex, police said. A second "person of interest" who was in the casino at the time was cooperating with the investigation, police said.
Most of the dead suffocated in the chaos. Many guests and staff had tried to hide from the gunfire rather than get out of the building when attack began shortly after midnight (1600 GMT) and fell victim to the smoke, the fire bureau said.
"Islamic State fighters carried out the Manila attack in the Philippines," the militant group's Amaq news agency said.
But that was quickly rejected by National Security Adviser Hermogenes Esperon, who said all the evidence pointed to an attempt to steal casino chips. Police said they were not looking at other motives. "This is plain and simple propaganda," Esperon told Reuters.
"If the lone gunman was really an IS terrorist, why did he not shot and kill people in the casino? He only went for the casino chips."
The IS claim, which came nearly 24 hours after the attack, also contradicted a statement from Ernesto Abella, a spokesman for President Rodrigo Duterte, who said there was no evidence linking it to fighting between government troops and Islamist militants in the country's south.
"All indications point to a criminal act by an apparently emotionally disturbed individual," Abella told a news conference. "Although the perpetrator gave warning shots, there apparently was no indication that he wanted to do harm or shoot anyone." Oscar Albayalde, chief of the capital's police office, said those who died were in the casino's main gaming area.
"What caused their deaths is the thick smoke," he told reporters. "The room was carpeted and of course the tables, highly combustible." A Resorts World official said the dead included 22 guests.
At dawn, the body of the suspected gunman was found in a hotel room in the smoldering complex, which is close to Manila's airport and an air force base, police said.
"He burned himself inside the hotel room 510," national police chief Ronald dela Rosa told a news conference. "He lay down on the bed, covered himself in a thick blanket and apparently doused himself in gasoline."
Resorts World Chief Operating Officer Stephen Reilly said casino guards had shot and wounded the gunman - armed with what authorities described as a "baby armalite" - during the attack.
"Severe loss of blood from the gunshot wound significantly slowed down the assailant and resulted to his holing up in the room where he took his own life," Reilly said.
Officials said at least 54 people were hurt, some seriously, as they rushed to escape what was at first was believed to have been a militant attack.
Survivor Magdalena Ramos, who was a guest at the hotel, said people began shouting "ISIS! ISIS!" when the gunfire began. The 57-year-old said she hid in a kitchen and then fled when the smoke became too thick.
But police quickly said they did not believe the attacker had any militant connections.
"We cannot attribute this to terrorism," national police chief dela Rosa told DZMM radio.
"We are looking into a robbery angle because he did not hurt any people and went straight to the casino chips storage room. He parked at the second floor and barged into the casino, shooting large TV screens and poured gasoline on a table setting it on fire," he said.
Earlier reports said the gunman may have been white, but police later said he appeared to be Filipino, although they were still establishing his nationality.
Kimberly Molitas, a spokeswoman for the capital's police office, said 113 million pesos ($2.27 million) worth of casino chips stolen during the raid had been recovered.
Videos posted on social media showed people fleeing as several loud bangs went off.
"Even the security personnel panicked," casino guest Jeff Santos told a radio station. "Definitely us patrons we did not expect that, everyone ran away."
Jeri Ann Santiago, who works in the emergency room at the San Juan de Dios hospital, said patients were suffering from smoke inhalation and some had fractures. None had gunshot wounds, she said. The Philippines has been on heightened alert amid a crisis in the south of the country, where troops have been battling Islamist rebels since May 23.
Duterte declared martial law on the southern island of Mindanao last week and has warned it could become a haven for Islamic State supporters fleeing Iraq and Syria. Security was tightened around the presidential palace on Friday, with armored personal carriers stationed on approach roads and river ferries barred from passing close by.
Taiwan's foreign ministry said four people from Taiwan were among those killed and South Korea said one of its citizens had died, apparently after a heart attack.
Shares in resort owner Travellers International Hotel Group Inc, a joint venture of the Philippines' Alliance Global Group Inc and Genting Hong Kong Ltd, fell 7 percent.
http://nation.com.pk/international/03-Jun-2017/gunman-torches-manila-casino-killing-36
--------
Palestinians pour into Jerusalem for Ramadan prayers
2 June 2017
Thousands of Palestinians poured into Jerusalem to attend the first Friday prayers of the Muslim fasting month of Ramadan at the Al-Aqsa mosque compound, Islam's third-holiest site, AFP correspondents reported.
Many had queued from before dawn at the Israeli checkpoints that control access to annexed east Jerusalem from the rest of the occupied West Bank.
Police reinforcements were deployed across Jerusalem's Old City to provide security around the ultra-sensitive mosque compound, which is also Judaism's holiest site.
Abdeljawad Najjar, 61, from the northern West Bank city of Nablus, was among those queueing at the Qalandia checkpoint, north of Jerusalem.
"It is a religious obligation to pray at Al-Aqsa, regardless of the difficulties and obstacles," he said.
Kefaya Shrideh, 40, also from Nablus, voiced the concern, shared by many Palestinians, that far-right members of Israel's governing coalition might seek to change the longstanding rules governing the mosque compound, under which Jews can visit but not pray.
"It is important for us to pray at Al-Aqsa and not to forsake it, because we are afraid the Jews will take it," she said.
Israel seized east Jerusalem in the Six-Day War, which began 50 years ago on Monday, and later annexed it in a move never recognized by the international community.
Known to Jews as the Temple Mount, the mosque compound is one of the most sensitive flashpoints of the Israeli-Palestinian conflict and is the scene of frequent disturbances.
Israel claims Jerusalem as its united capital, while the Palestinians claim the city's eastern sector as the capital of their future state.
https://english.alarabiya.net/en/News/middle-east/2017/06/02/Palestinians-pour-into-Jerusalem-for-Ramadan-prayers-.html
--------
North America
Muslim-American activist Linda Sarsour speech at NYC college draws barbs from right
Jun 03, 2017
A Muslim-American activist who was one of the lead organizers of the Women's March on Washington was scheduled to speak at a college commencement ceremony in New York City on Thursday, despite protests from critics who don't like her views on Israel.
Palestinian-American civil rights activist Linda Sarsour was expected to give the keynote address at the graduation for just over 100 students at City University of New York's Graduate School of Public Health and Health Policy. But the choice of the Brooklyn-born, hijab-wearing Sarsour as speaker has sparked opposition from pro-Israel critics, including some who have spread false internet reports claiming she supports Islamic State militants and Sharia law.
Sarsour has been critical of Israel's policies in the occupied territories and supports the movement to boycott, divest from and sanction the country. She got her start as an activist defending the civil rights of American Muslims after Sept. 11 and in recent years, protested against police surveillance of Muslim communities. She also has put her activism toward other causes, including the Black Lives Matter movement, and was one of four national chairs for the Women's March that led to massive turnouts in Washington D.C., and around the world.
But a higher profile has also brought out more opposition. There have been false claims that she's a supporter of the Islamic State group, with critics sending around a photo of her with one finger up and saying it was her making a gesture in support of ISIS, when she has called it a global cancer. Other false accusations include that she supports Islamic law being put in place of the U.S. legal system, based on a sarcastic tweet from 2015 that actually was about ridiculing conspiracy theories around Muslims and the Sharia system.
Sarsour says those accusations are ludicrous. CUNY has stood behind its decision to invite her to speak.
http://www.hindustantimes.com/world-news/muslim-american-activist-linda-sarsour-speech-at-nyc-college-draws-barbs-from-right/story-nv5GAUoTFjjODrmA5djk6K.html
--------
Pentagon: 484 civilians killed in US-led fight against ISIS
3 June 2017
Attacks on ISIS targets by US-led coalition forces have killed 484 civilians since mid-2014, the US military reported Friday.
The Operation Inherent Resolve coalition added 132 civilians to the total in its April report, including 105 who died when a US aircraft dropped a bomb on an ISIS sniper target in west Mosul on March 17.
The bomb inadvertently set off a large cache of explosives, collapsing a building on top of civilians sheltering below.
The Inherent Resolve task force "takes all reports of civilian casualties seriously and assesses all reports as thoroughly as possible," the US-led task force said in a monthly statement.
It stressed only 0.27 percent of its 21,035 strikes since the operation began had produced "credible" civilian death reports.
The total reported Friday was still far short of what non-governmental organizations estimate for civilian deaths in the conflict in Iraq and Syria.
Airwars, a journalist collective based in London that compiles data from public sources, estimated more than 3,800 non-combatants were killed since the operations began in August 2014.
Full report at:
https://english.alarabiya.net/en/News/middle-east/2017/06/03/Pentagon-484-civilians-killed-in-US-led-fight-against-ISIS-.html
--------
Calls to release US, Australian hostages after Taliban threat
2 June 2017
A university in Afghanistan appealed to the Taliban on Friday to release an American and an Australian abducted last year, after the insurgents threatened to kill foreign hostages if Kabul executes their prisoners.
The two professors of the American University of Afghanistan were kidnapped last August and appeared in a Taliban hostage video in January, the first proof that they were alive.
"The American University of Afghanistan appeals for the immediate and unconditional release of our friends and colleagues, Kevin King (American) and Timothy Weeks (Australian)," the university said.
"Kevin and Tim are innocents. Both came here to teach young Afghans, helping them to contribute to the rebuilding efforts of Afghanistan."
Executions planned
President Ashraf Ghani is expected to approve the execution of 11 Taliban and Haqqani Network prisoners, a government source told AFP, in apparent retaliation to a catastrophic truck bombing on Wednesday.
Afghanistan's intelligence agency has blamed the Taliban-allied Haqqani Network for the attack in Kabul's diplomatic quarter that left 90 people dead and more than 400 wounded.
The Taliban -- currently in the midst of their annual "spring offensive" -- have denied that they were involved.
The Taliban have threatened "harsh exemplary attacks" in a statement on their website, including the killing of foreign hostages it holds if the government executed the 11 prisoners.
The Taliban also hold Canadian Joshua Boyle and his American wife Caitlan Coleman, who had two sons in captivity after being kidnapped in Afghanistan in 2012 during a backpacking trip.
The Haqqani Network, long thought to have ties to neighboring Pakistan's shadowy military establishment, is led by Sirajuddin Haqqani -- who is also the Taliban's deputy leader.
It has carried out numerous attacks in Kabul, including the 2008 Indian embassy bombing that killed almost 60 people.
Public anger has mounted in Kabul after Wednesday's attack, the deadliest in the city since 2001, which was launched from an explosives-laden sewage tanker that tore a massive crater in the ground.
Full report at:
https://english.alarabiya.net/en/News/world/2017/06/02/Calls-to-release-US-Australian-hostages-after-Taliban-threat.html
--------
Number of Refugees Admitted into U.S. Increased by Nineteen Percent in May, Slightly Fewer Are Muslim
2 Jun 2017
The number of refugees admitted into the United States increased 19 percent in the month of May to 3,969, which was 653 more than the 3,316 admitted in April, according to the Department of State's interactive website.
Slightly fewer of these refugees were Muslim.
One thousand one hundred and ten Muslims were admitted to the United States as refugees in May, 19 fewer than the 1,129 admitted as refugees in April.
Muslims as a percentage of all refugees admitted declined from 34 percent in April to 28 percent in May.
During the 4 months and 11 days of the Trump administration, 38 percent, or 6,243 out of 16,261 total refugees admitted, were Muslim.
During FY 2016, the last full year of the Obama administration, 45 percent, or 38,555 out of 89,994 total refugees admitted, were Muslim.
The percentage of all refugees admitted from the seven Middle Eastern countries whose residents were temporarily banned from obtaining travel visas to the United States under President Trump's first travel ban executive order (EO 13769) has declined slightly from 43 percent (36,722 out of 84,994 total refugees) in FY 2016 to 38 percent (6,181 out of 16,261 total refugees) during the first 4 months and 11 days of the Trump administration. (Those seven countries were Syria, Somalia, Sudan, Iran, Iraq, Libya, and Yemen.)
Most of the decline in refugees from these seven countries is due to a significant drop off in Syrian refugees, from 14.8 percent of total refugees in FY 2016 (12,587 out of 84,994) to 9.8 percent (1,603 out of 16,261) in the first four months and 11 days of the Trump administration.
That drop off in Syrian refugees is accelerating in each successive month of the Trump administration.
"The number of Syrian refugees admitted to the United States under the federal refugee resettlement program has declined for the fourth consecutive month," Breitbart News reported earlier this week.
In February, the first full month of the Trump administration, 673 Syrian refugees were admitted into the country. In March, that number fell to 282. The decline continued into April, when 226 were admitted and the number admitted so far in May has declined further to 156.
All told, since January 21, President Trump's first full day in office, a total of 1,603 Syrian refugees have been admitted into the United States, according to the State Department's interactive website.
News of the increase in total refugees in May, a fact not changed by the decline in Syrian refugees, appears to confirm the report last week in the New York Times that officials in the State Department have told the voluntary agencies that the number of refugees admitted to the United States will nearly double from the rate of 830 per week to about 1,500 per week for the last four months of FY 2017.
The Times report was further confirmed by The Huffington Post, which reported on Monday that "The United States appears to be resuming its longstanding efforts to resettle refugees after the program was derailed and almost completely upended abroad for several months."
U.S. Citizenship and Immigration Services "has begun to expand its interview schedule in the 3rd quarter of the fiscal year," public affairs officer Marilu Cabrera told HuffPost in a statement on Friday. The Department of Homeland Security is working with the State Department to plan for a "further expansion" through the end of fiscal year 2017, she added.
The upsurge in refugees has perplexed critics of the federal refugee resettlement program, most of whom strongly supported Trump during the presidential campaign on the basis of his campaign promises to suspend the Syrian refugee program and tighten refugee vetting procedures.
"[I]t does appear that the resettlement contractors are getting excited that it will flow with gusto soon since they are rehiring staff they let go shortly after Trump put out his first Executive Order," Ann Corcoran wrote at Refugee Resettlement Watch on Wednesday.
"The Republicans in Congress funded the US Refugee Admissions Program [in the budget passed in May for the balance of FY 2017] at a level for 75,000 refugees to be admitted by September 30th (the last day of this fiscal year), and Trump signed it! . . . [T]he President has the power to set the ceiling in "consultation" with Congress. If Trump wanted to take them on he could ask for a rescission of those funds to admit the numbers he wants—which he said would be under 50,000!" Corcoran continued.
"Every day that the White House is silent on the stunning news we heard last week says to me that the White House agrees with the 75,000 admissions this year," she said:
Why do the Republicans in Congress want to keep the pipeline going?
It is because most of them work for their big business donors and the Chamber of Commerce to guarantee a steady supply of cheap immigrant labor! Adding insult to injury, your tax dollars support refugee families through the welfare system because wages are too low! You pay for the importation of the labor and for the laborers' support once here!
It is really quite a difficult obstacle for us (who wish to see the USRAP reformed) to overcome—big businesses and global corporations pushing cheap labor in conjunction with so-called 'religious' charities (paid by taxpayers!) claiming this is all about humanitarianism while essentially acting as 'head hunters' for big business.
As Breitbart News reported previously, "It is unclear if the State Department made this upward adjustment with the knowledge and approval of President Trump."
One possible explanation is that Obama holdovers in the State Department and at USCIS at DHS, in combination with a recent State Department appointee who was, prior to the election, a Trump critic, have joined forces to undermine Trump's refugee policies. In March, for instance, the Daily Caller reported that "Brian Hook, a Trump critic and former Bush administration official, is currently serving as the State Department's director of policy planning."
Foreign Policy magazine previously reported that Hook was Secretary of State Rex Tillerson's favorite for the role and a department spokeswoman confirmed to TheDC Thursday that Hook got the job. The director of policy planning is a key position responsible for running the department's internal think tank, which is home to the secretary of state's speechwriters.
Hook previously served in the Bush administration in several roles, including as assistant secretary of state for international organizations, and later served as a foreign policy adviser for Mitt Romney's 2012 campaign.
Full report at:
http://www.breitbart.com/big-government/2017/06/02/number-of-refugees-admitted-into-the-u-s-increased-by-nineteen-percent-in-may-slightly-fewer-are-muslim/
--------
Canadian Muslim Community Donates $25,000 To Hospital Foundation in British Columbia
June 3rd, 2017
SHUSWAP – Hundreds gathered on May 21, 2017 in Salmon Arm, British Columbia to attend the annual "Run for Salmon Arm" organized by the Ahmadiyya Elders Association, an auxiliary organization of the Ahmadiyya Muslim Jama`at Canada. More than 500 people participated in the charity walk, jog and run to raise funds for the Shuswap Hospital Foundation.
Her worship Nancy Cooper, Mayor of Salmon Arm, welcomed community members and expressed her gratitude to the Ahmadiyya Elders Association for organizing this humanitarian initiative. A cheque of $25,000 was presented to her for the Shuswap Hospital Foundation.
Lal Khan Malik, National President of Ahmadiyya Muslim Jama`at Canada, said "Islam teaches us that we must strive for the betterment of humanity and vie with one another in good works. Through its various charity events throughout the country, including here in Salmon Arm, the Ahmadiyya Muslim Jama`at Canada is committed to raising funds for hospitals and other various community initiatives.
The run attracted more than 500 people from various parts of Canada, from Toronto to British Columbia, to raise funds for the Shuswap Lake General Hospital. Full details can be found at www.runforsalmonarm.ca
About the Ahmadiyya Muslim Jama`at
Full report at:
http://thelinkpaper.ca/?p=63364
--------
South Asia
Myanmar: Yangon Authorities Sue Muslims For Praying In Street
June 03, 2017
Yangon - Yangon authorities on Friday sued three Muslim men for holding Ramadan prayers in the street, after the local school where they used to worship was shut down by a nationalist mob.
Police brought the charges after around 50 Muslims gathered to pray on Wednesday on a road in Thaketa Township, the site of one of a growing number of raids by Buddhist hardliners on Islamic events.
Two nearby Islamic schools were shuttered in late April after ultra-nationalists complained local Muslims were illegally using them to conduct prayers.
Authorities have said the closure is temporary, but given no timeline for when they may be reopened.
"We feel sorry. This month is important for us," local Muslim leader Zaw Min Latt told AFP, referring to the holy month of Ramadan which began last week.
"We used those schools for prayer for decades. These restrictions have been brought in after more than 60 years."
Local authorities issued a statement saying the prayer session threatened "stability and the rule of law" in the mainly Muslim neighbourhood in the east of Myanmar's commercial capital.
A policeman who asked not to be named confirmed the charges.
Two officers tried to stop AFP journalists from filming when they visited one of the madrassas on Friday.
"It's our mosque as well as our school. We don't know when it will be reopened," Khin Soe, a local resident in his 50s, said as he set off to pray in another part of town.
The case comes as Myanmar's government has been seeking to clamp down on hate speech after a spike in anti-Muslim actions by hardliners from the country's Buddhist majority.
Religious tensions have soared since a group of Rohingya Muslims attacked police posts in Rakhine State in October, sparking a bloody military crackdown that has drawn widespread international condemnation.
Last week Myanmar's top Buddhist authority officially banned the Ma Ba Tha, an ultra-nationalist movement affiliated with firebrand cleric Wirathu, which responded by simply changing its name.
The move came after nationalists this month clashed with Muslims in another Muslim neighbourhood in Yangon, after pushing police to raid a house there in search of illegal Rohingya Muslim hideouts.
http://nation.com.pk/international/03-Jun-2017/yangon-authorities-sue-muslims-for-praying-in-street
--------
Explosion in a house leaves 5 militants dead in Ghazni
Jun 02 2017
At least five insurgents were killed in a premature bomb explosion in southeastern Ghazni province of Afghanistan.
The Ministry of Defense (MoD) said the incident has taken place recently in a remote part of the restive Andar district.
A statement by MoD said the militants were busy manufacturing Improvised Explosive Device (IED) in a house belonging to an individual identified as Abdullah when the incident took place.
The statement further added that the house is located in Kansif area of Andar district and the militants were looking to place the IEDs on a roadside when it went off, leaving five of them dead.
The anti-government armed militant groups including the Taliban insurgents have not commented regarding the incident so far.
The Taliban insurgents frequently use IEDs as the weapon of their choice to target the security forces and government officials but in majority of such incidents the ordinary civilians are targeted.
The United Nations Assistance Mission in Afghanistan (UANAMA) released its latest civilian casualties report last month, covering a period of three months since the start of 2017.
According to the report, the Anti-Government Elements caused 62 per cent of civilian casualties – 1,353 civilian casualties (447 dead and 906 injured), reflecting a five per cent increase compared to the same period in 2016.
Full report at:
http://www.khaama.com/explosion-in-a-house-leaves-5-militants-dead-in-ghazni-02850
--------
Buddhist monastery in Bangladesh hosts iftar meals for Muslims
June 03, 2017
The Buddhist temple Dhammarajika Monastery provides iftar to the poor and hungry Muslims during the holy month of Ramadan
As a token of interfaith amity and compassion, the Dharmarajika Monastery in Dhaka's Basabo area has been providing iftar meals for the poor and hungry of the community during every month of Ramadan since 2013.
This outstanding initiative is a rare example which reaffirms the eternally secular spirit of Bangladesh, after the country has recently witnessed some inter-religious turmoil.
This initiative was taken by the abbot Venerable Suddhananda Mahathero. He told the thedailystar.net that "Actually, we do it from the very perspective of communal harmony and humanity."
"We want to help the poor anyhow, and offering Iftari is one of the ways," he added
During every evening of the holy month of fasting, a long queue of poor people can be seen in front of the gate of the temple waiting to collect iftar, the food with which Muslims break their fast.
Full report at:
http://www.dhakatribune.com/bangladesh/2017/06/02/buddhist-monastery-in-bangladesh-hosts-iftar-meals-for-muslims/
--------
Hefazat Demands Arrest of Rights Activist Sultana Kamal Within 24 Hours
Manik Miazee
Hefazat Vice-President Junayed demanded that the government remove the Lady Justice statue from its new location immediately
Hefazat's Dhaka city unit leaders on Friday demanded the arrest of rights activist Sultana Kamal within 24 hours, after the committee took offence to hypothetical arguments she made on a News24 talk show.
Vice-President of the Qawmi madrasa-based platform Junayed Al-Habib voiced the demand at a protest programme on the relocation of the Lady Justice statue held at Baitul Mukkaram National Mosque.
The Hefazat leader demanded that Sultana Kamal either be arrested within a day or be exiled from the country like Taslima Nasreen.
Junayed said: "How dare Sultana Kamal! She said that if the statue is not in the country then mosques should not be in the country. If you [Sultana Kamal] come out to the streets, we will break every bone in your body."
Also Read- Lady Justice statue re-erected on Supreme Court premises
However, at the talk show in question, in response to Hefazat leader Mufti Shakawat Hossain's statement that no religious structures should be on the Supreme Court premises, Sultana Kamal said: "Then no mosques should be on the premises either."
When contacted on the phone, Sultana Kamal told the Dhaka Tribune that she had meant no harm to any other religious sentiments.
Meanwhile, Junayed also demanded that the government remove the Lady Justice statue from in front of the apex court's annex building.
Addressing the prime minister and the chief justice, he said: "You will remove the idol from the annex building or we will come to remove it ourselves. If we have to remove the idol, we will remove all idols from Bangladesh."
Hefazat leaders at the programme also claimed that the idol was installed to satisfy the whims of foreign groups.
Hefazat Vice-President Mujibur Rahman Peshwari said: "Prime Minister [Sheikh Hasina], you are losing votes for the actions of just three or four people. Indian Prime Minister Modi will not keep you in power. This election will not be like the one on January 5, 2014."
Hefazat leaders also claimed that Chief Justice SK Sinha had lost his credibility and they called for his resignation.
Full report at:
http://www.dhakatribune.com/bangladesh/nation/2017/06/02/hefazat-arrest-sultana-kamal/
--------
Five killed as Kabul protesters clash with police
June 03, 2017
Kabul - At least five Afghans were killed Friday when police fired live rounds to disperse stone-throwing protesters seeking to march on the presidential palace to demand the government's resignation following a catastrophic truck bombing.
Public anger has mounted after an explosives-laden sewage tanker detonated in Kabul's diplomatic quarter on Wednesday, killing 90 people and wounding more than 400 others in the deadliest attack in the Afghan capital since 2001.
Hundreds of demonstrators calling for President Ashraf Ghani to step down and chanting "Death to the Taliban" clashed with police near the bombing site, prompting officials to respond with live rounds, tear gas and water cannon as the protesters tried to overrun a security cordon.
"In today's protest five people died and eight others were wounded," health ministry spokesman Waheed Majrooh told reporters. Kabul has been on edge since the bombing, which highlighted the ability of militants to strike even in the capital's most secure district, home to the presidential palace and foreign embassies that are enveloped in a maze of concrete blast walls. Angry citizens have demanded answers from the government over the perceived intelligence failure leading to the assault, which underscores spiralling insecurity in Afghanistan.
"Our brothers and sisters were martyred in the bloody attack on Wednesday, and our leaders are doing nothing to stop this carnage," Rahila Jafari, a civil society activist, said during the protest. "We want justice, we want the perpetrators of the attack to be hanged to death."
Another enraged Afghan said the protests would continue until Ghani and Chief Executive Abdullah Abdullah resign.
"Day after day, innocent civilians are being killed by terrorists. If our leaders cannot restore security they should step down," he said.
Afghanistan's intelligence agency has blamed the Taliban-allied Haqqani Network for the attack.
Ghani is expected to approve the execution of 11 Taliban and Haqqani prisoners, a government source told AFP, in apparent retaliation to the assault.
The Taliban - currently in the midst of their annual "spring offensive" - denied they were involved.
The Haqqani Network, long thought to have ties to neighbouring Pakistan's shadowy military establishment, is led by Sirajuddin Haqqani - who is also the Taliban's deputy leader.
Full report at:
http://nation.com.pk/national/03-Jun-2017/five-killed-as-kabul-protesters-clash-with-police
--------
High level Afghan-US security pact talks expected amid deteriorating security
Jun 02 2017
The Afghan and US officials expect to hold high level talks and consultations within the framework of the Bilateral Security Agreement amid deteriorating security situation in the country.
The Office of the National Security Council (ONSC) in a statement said the National Security Adviser of Afghanistan Mohammad Hanif Atmar and his US counterpart Gen. Herbert McMaster agreed to start high level talks and consultations considering the deteriorating security situation of the country, particularly the recent deadly bombing in Kabul.
The statement further added that Atmar informed his US counterpart regarding the need for the high level talks and consultations during a telephone conversation.
Gen. McMaster reaffirmed the support of the United States government and people to the Afghan government and people, particularly to the Afghan security forces.
The phone was made after Kabul was shocked by a deadly explosion that left nearly 90 people dead and hundreds more wounded.
Thanking his US counterpart for the phone call and reaffirming Washington's support to Afghanistan, Atmar said high level talks and consultations are needed in the framework of the Bilateral Security Agreement, insisting that the attack in Kabul was planned on the side of the border, calling it a major conspiracy against the Afghans.
He also emphasized that talks and consultations between the two nations must continue in a bid to eliminate terrorism and those supporting the terrorists, the Office of the National Security Council said.
Full report at:
http://www.khaama.com/high-level-afghan-us-security-pact-talks-expected-amid-deteriorating-security-02851
--------
Senate House deputy speaker's son killed during Kabul protests
Jun 02 2017
The son of the deputy speaker of the Upper House of the Parliament, Meshrano Jirga, Senate House, has been killed during the protests in Kabul.
According to reports, Mohammad Salim Ezadyar, the son of Mohammad Alam Ezadyar, initially sustained injuries during the protest and succumbed to it after he was taken to hospital.
He had reportedly wounded after receiving a bullet in his face.
The protest in Kabul turned violent in some parts of the city as hundreds and thousands of people started rally against the deadly Wednesday bombing in the city.
The protest started earlier today as thousands of people are heading towards Zambaq square, located close to the area where a massive vehicle-borne bomb was detonated on Wednesday morning.
The security forces initially resorted to aerial firing in a bid to disperse the angry protesters who are believed to be aiming to move towards the Presidential Palace.
Over 90 people were killed and more than 400 others sustained injuries after a vehicle believed to be a water tanker packed with explosives was detonated near the Embassy of Germany on Wednesday morning.
The Afghan intelligence said the attack was plotted and carried out by the Haqqani terrorist network based in Pakistan.
Full report at:
http://www.khaama.com/senate-house-deputy-speakers-son-killed-during-kabul-protests-02849
--------
India
A new record: Fifty Muslim candidates clear civil services exam this year
Jun 02, 2017
Fifty of the 1,099 candidates who cleared the civil services examination this year were Muslims, the highest since Independence.
"This is the first time so many Muslims have cleared the Union Public Service Commission examination," said Zafar Mahmood, chairman and founder of the Zakat Foundation. "It seems the community is progressing."
The NGO runs a civil service coaching centre for Muslim youth in Delhi's Jamia Nagar.
A panel headed by retired judge Rajender Sachar had noted in 2006 that Muslims enjoyed just 3% representation in the civil services and 4% in the police service. About 4.5% of the students who cleared the civil service examination this year are Muslim.
About 10% of the top 100 candidates also hailed from the community, which is considered the most deprived among all religious groups. In fact, candidates from strife-ridden Jammu and Kashmir took the lead – with Bilal Mohiud Din Bhat bagging the tenth rank and 13 others emerging successful.
"If you are determined to push your limits, nothing is impossible. My feat will mean a lot to Kashmir, and inspire its youth to seek a career in civil services," Bhat told HT.
Abdul Jabbar (28) made history by becoming the first Meo Muslim to clear the civil services examination. He hails from Bharatpur in Rajasthan's Mewat region, which hit the news in April over the killing of dairy owner Pehlu Khan by gau rakshaks.
"I want this image of Mewat to change," said Jabbar, who ranked 822nd in the other backward class category. "It is synonymous with criminal activities and backwardness. Children either stay away from school or drop out early to enter the world of crime."
The number of Muslims clearing the civil services examination is steadily rising. While 30 candidates from the community cleared it in 2013, the number rose to 34 in 2014 and 36 in 2016.
Although Muslims comprise 13.4% of India's population, they find dismal representation in top government services due to lack of educational facilities and resources.
"On an average, only 3% Muslims cleared the civil services examination in the last few years. This is not a very encouraging figure, if you note that nearly 14% of India's population hails from this community," said Agha Pervez Masih, administrator of the Lucknow Guidance Centre, which provides free coaching to Muslim students.
Mahmood, a former Income Tax commissioner and member of the Sachar panel, said the report's finding came as a wake-up call for the community. However, experts feel that the community still has a long way to go before a fair representation of Muslim candidates (about 170 to 180, going by the population share) make it in the civil examination.
http://www.hindustantimes.com/india-news/a-new-record-fifty-muslim-candidates-clear-civil-services-exam-this-year/story-XcA7UyilYqjaXESaxWpCnM.html
--------
NIA raids places in Kashmir, Delhi over funding from Pakistan, files FIR against Hafiz Saeed, separatists
Jun 03, 2017
The National Investigation Agency carried out raids in Kashmir and Delhi early on Saturday after registering an FIR against separatists such as Syed Ali Shah Geelani, and Lashkar founder Hafiz Saeed over funds routed to fund terror and violence in the Valley. Geelani, one of the most senior separatist figures, will be summoned for questioning.
NIA chief Sharad Kumar said the raids were carried out at 14 places in Kashmir and 8 in the national capital.
Sources said the locations in Delhi belonged to suspected hawala traders, who helped channel funds from Pakistan-based sources such as Lashkar-e-Tayyeba and other individuals to separatists. The money was allegedly used to trigger violent protests and arson in Kashmir.
In addition to Saeed and Geelani, the agency has named in its FIR separatists Farooq Ahmed Dar — also known by his nom de guerre Bitta Karate — Naeem Khan and Javed Ahmed Baba.
The sources said Geelani will be brought face to face with the other accused and questioned.
They are among important leaders in the Kashmiri separatist movement that India has long believed received support from Pakistan to fan tension in the Valley.
They were named in a preliminary enquiry on May 19 after NIA began investigating an alleged operation to increase of stone pelting on security forces and arson largely targeting the region's schools and government buildings.
Funds for the operation is believed to have been transferred through hawala — a way of moving money outlawed in India —from Pakistan to agents in Old Delhi's Ballimaran and Chandni Chowk area before it was taken to the Valley.
Violence in the Kashmir valley peaked after the killing of Hizbul Mujahideen commander Burhan Wani in July.
Full report at:
http://www.hindustantimes.com/india-news/nia-raids-14-places-in-kashmir-8-in-delhi-over-terror-funding-from-pakistan-files-fir-against-lashkar-founder-hafiz-saeed-separatist-geelani/story-flUrFleQ2esT2RY10mhDKK.html
--------
Pakistan violates ceasefire along LoC in Poonch
Jun 3, 2017
JAMMU: In yet another ceasefire violation, Pakistan on Saturday resorted to heavy firing and mortar shelling on forward posts and civilian areas along LoC in Poonch district of Jammu and Kashmir, prompting Indian troops to retaliate.
"Pakistani army initiated indiscriminate firing of small arms, automatics, 82mm and 120mm mortars from 11:00pm yesterday along the Line of Control (LC) in Poonch sector", a defence spokesperson said.
Full report at:
http://timesofindia.indiatimes.com/india/pakistan-violates-ceasefire-along-loc-in-poonch/articleshow/58971447.cms
--------
Jammu and Kashmir: Despite low attendance Khir Bhawani festival witnesses Hindu-Muslim amity
Jun, 02 2017
Srinagar: Despite dismally low attendance, the popular Khir Bhawani festival in Jammu and Kashmir witnessed the usual communal amity as local Muslims welcomed the Kashmiri Pandit devotees with milk when they reached the Tullamulla shrine.
Not more than 300 devotees on Friday visited north Kashmir's Tullamulla town to celebrate the Khir Bhawani Mela, the holiest religious festival of the Kashmiri Pandits.
The Tullamulla temple and the shrine are dedicated to the Hindu goddess Mata Ragnya, who legend says flew from Sri Lanka during Ravana's reign to Kashmir and established her seat beside a spring in the Tullamulla village.
Kashmiri Pandits believe that the colour of the spring inside the shrine annually predicts Kashmir's future.
Local Muslims have been traditionally welcoming their Pandit brothers with milk during the festival at Tullamulla village, 29 kilometres from Srinagar in Ganderbal district.
his year, too, despite the record low number of devotees, local Muslims served milk to the devotees, an encouraging evidence of the fact that whatever be the security and political situation in the state, the basic fabric of Hindu-Muslim amity remains intact.
Chief Minister Mehbooba Mufti visited the shrine on Friday to interact with the devotees and oversee the arrangements made for them.
Authorities believe that malicious propaganda spread by miscreants through social networking sites was responsible for the minimal number of migrant Pandits attending the festival this year.
Full report at:
http://www.firstpost.com/india/jammu-and-kashmir-despite-low-attendance-khir-bhawani-festival-witnesses-hindu-muslim-amity-3510001.html
--------
Questions Surround J&K Government's Move to Ban Pakistani, Saudi TV Channels
BY MAJID MAQBOOL
03/06/2017
Srinagar: Close on the heels of the recent month-long social media ban in Kashmir, the Jammu and Kashmir government earlier last month also banned at least 34 allegedly unauthorised TV channels, including some religious and entertainment channels from Pakistan, Saudi Arabia and Iraq, for their "potential to encourage violence and disturbing the law and order situation in Kashmir".
The banned channels include Peace TV English, Peace TV Urdu, ARY QTV, Madni Channel, Noor TV, Hadi TV, Paigam, Hidayat, Saudi Al-Sunnah Al-Nabawiyah, Saudi-Al-Quran Al-Karim, Sehar, Karbala TV, Ahli-biat TV, Message TV, Hum TV, ARY Digital Asia, Hum Sitaray, ARY Zindagi, ARY Musik, TV One, ARY Masala, ARY Zauq, A TV, Geo News, ARY News Asia, Abb Takk News, Waseb TV, 92 News, Duniya News, Samna News, Geo Tez, Express News and ARY News.
Surprisingly, the list also includes a sports channel, two culinary channels and one music channel.
In a letter directing the deputy commissioners to act against the transmission of the channels, the state home ministry argued that the channels have the "potential to encourage violence and can disturb law and order situation in Kashmir, and are not permitted for transmission".
"You are aware that transmission of non-permitted TV channels by the cable operators attracts the violation of sub-rule 6(6) of the Cable TV Networks Regulation Rules," the letter read. "Further it has been reported in a section of media that a number of non-permitted TV channels are being transmitted by certain cable TV operators in J&K."
The letter goes on to add that "as per section 11 of the Cable Television Network Act, the DC has the power to seize equipment in case of a violation".
When asked about the reasons for the ban, Kashmir's former inspector general of police Syed Javaid Mujtaba Gilani, who is current the director of the state vigilance organisation, said that some Pakistan-based religious channels were banned as there were reports that these channels "promote radicalism".
"After banning social networking sites, we decided to ban Pakistan based religious channels after reports that they promote radicalisation under the garb of religion," Gilani said.
"The decision has been taken at the highest level after considering lot of inputs and intelligence," said PDP general secretary Nizamuddin Bhat. When asked why religious channels were banned, he said: "We should not link Islam with the banning of these channels. These Pakistani channels aren't solely propagating the medium of Islam. Even Doordarshan has been propagating it for years now."
But then why ban food channels?
"The decision has been taken at the highest level after considering lot of things. There must be certain valid reason," Bhat said.
Terming the blocking of these channels as cultural aggression, Hurriyat leader Mirwaiz Umer Farooq, in a conversation with mediapersons soon after the ban was imposed, said that the move is "part of a psychological operation by the Indian government".
"Kashmir has religious and cultural links with Pakistan and it is unethical to ban all Pakistan TV channels," he said
According to the description on its website, ARY Zauq, a Pakistani cooking channel that has also been banned, "develops your cooking skills in a way that makes it easier and fun to cook local and international cuisines, while also teaching you to present it in the most beautiful way." The channel, as per its website, airs "expert cooking shows from 11am till 07 pm and showcases entertainment programs from 7 pm to 12 pm holding its viewers complete attention daily."
Pakistan's HUM TV, another channel that is on the ban list, airs only popular drama serials. According to its website, its dramas have "innovatively changed the Pakistani drama industry while maintaining its elegance, the cultural & traditional values of Pakistan."
Al-Sunnah Al-Nabawiyah, a religious channel from Saudi Arabia, broadcasts live transmission from Medina for viewers to hear live recitations of the Quran.
None of these channels even remotely cover politics, leave alone "encouraging violence" or "disturb(ing) law and order," as the state authorities have alleged.
The directive to ban these channels came two days after Union minister of information and broadcasting M. Venkaih Naidu spoke with J&K chief secretary, seeking a report of the action taken on the matter. The Indian government had earlier asked the state government to take immediate steps to stop the unauthorised broadcast of some channels aired from Pakistani and Saudi Arabia.
Political analysts say such knee-jerk reactions from the central and state authorities are far removed from the ground realities. Many people in Kashmir believe that stopping transmission of purely religious channels is tantamount to hurting the religious sentiments of the majority of Muslims in the Valley. Many of these banned religious channels are keenly watched by people, especially elders, during Ramadan.
"Some of these banned channels air programs about Mecca and Medina, the two holy places of Muslims that telecast only prayers," says Zahid G Muhammad, political analyst and a regular columnist in the leading Kashmir daily Greater Kashmir. "People just draw spiritual solace out of these channels. It makes no sense to ban these channels as they have nothing to do with Kashmir situation."
He says most of the young viewers in Kashmir are also unaware of many of these channels and rarely find time to watch them. "It is mostly the elder generation and those who have performed Hajj pilgrimage who watch prayers telecast on these channels which helps them in reviving memories of their spiritual journey," he says.
Zahid said even the banned Pakistan news channels are not popular in Kashmir as they generally do not cover the Kashmir situation in detail. "Some Pakistani journalists for their anti-Kashmir stance are even disliked by people in Kashmir," he said.
Zahid believes the ban is a cosmetic measure that has been tried in the past as well, without much impact on ground. For instance, he said, as early as the 1950s, even radio sets were seized and 'arrested' in Kashmir if found tuned into Azad Kashmir Radio. In 1990, he said, when satellite channels showed up on TV, the government of India banned only Pakistan Television in Kashmir.
"It meant nothing for the people here," he says. "And the ban did not even then change the political situation on ground."
Many people see the ban, especially on religious channels, as an attempt to directly interfere in the religious matters of majority of Kashmiris. "How can, for example, the recitation of the Quran, propagation of Hadith and lectures (bayaan) of Ulama, which are faith-centric and focus on socio-moral issues, instigate violence?" asks Tauseef Ahmad, an Islamic Studies researcher and teacher. "How can the government declare that these channels are responsible for creating a law and order problem?"
Umar Sultan, who heads Islami Jamiat-e-Talàba J&K, the oldest state-wide students' organisation, says the PDP-BJP government assertion that the 34 TV channels were blocked because they were "inciting violence" is simply not true.
"There is no evidence that any of these news, entertainment or Islamic channels were found inciting or even glorifying violence in Kashmir," argued Sultan, adding that if there was any such specific incident, it should have been cited as evidence. "Is it possible that all 34 TV channels would telecast anything that would disrupt public harmony and peace?" he asked, adding that some of these TV channels would broadcast "simple monotonous religious content without touching on any political discourse."
The timing of the ban has also raised many eyebrows since it was enforced just a few weeks before the start of Ramadan. The decision of the government to pull down channels that impart Islamic teachings to common Muslims in Kashmir "shows their intent and mindset very clearly," said Sultan.
For instance, he said, the banned channels like Paigam TV, Hidayat, Noor TV, Hadi TV, Madani Channel, Al-Quran Karim TV and Ahli-Bait TV, broadcast from different parts of the world, air purely religious content. "If New Delhi had issues with the news channels broadcast from Pakistan, what was the issue with other channels?" he asks. "Even Mumbai-based Peace TV, which broadcasts only religious content, has been blocked."
By blocking even the TV channels aired from Iran and Saudi Arabia, he said, New Delhi has "unwittingly invoked international attention towards the violence in Kashmir".
He said New Delhi used to earlier blame only Pakistan, but now with this ban, "major powers in the Muslim world too have been accused of inciting violence in Kashmir".
Local cable operators in Kashmir, while criticising the government's ban, said that the ban will result in the loss of livelihood for about 2,000 people associated with the industry in Valley. "I don't find any logic behind banning these channels," a member of Kashmir Cable Operators Association told a local newspaper.
Full report at:
https://thewire.in/142899/jammu-and-kashmir-tv-channel-ban/
--------
Southeast Asia
Dr Zakir Naik's presence puts Malaysia in a bind
3 Jun 2017
The controversial Islamic preacher, Dr Zakir Naik, who is reportedly seeking Malaysian citizenship, has not only deeply polarised the Malaysian society but also put the government of ruling coalition Barisan Nasional or the National Front in a bind.
Dr Naik, who is wanted in India on money-laundering and terror-related charges, has created fissures in the ruling Barisan Nasional which comprises three major ethnic political parties - United Malays National Organisation (UMNO), Malaysian Chinese Association (MCA), and Malaysian Indian Congress (MIC).
Although the Malaysian government has denied reports of granting citizenship, Deputy Prime Minister Datuk Seri Dr Ahmad Zahid Hamidi confirmed on April 18 that Dr Naik was granted permanent resident (PR) status in Malaysia about five years ago.
Fort the first time, two senior of leaders of MCA and MIC, components of the ruling coalition, have raised questions regarding granting him the permanent residence status.
Dr Naik issue hit the headlines when a right wing group Perkasa or Pertubuhan Pribumi Perkasa (Malay for 'Mighty Native Organisation') honoured him with its warrior award for his contributions towards the struggle of Islam.
The Health Minister and MIC president, Dr S Subramaniam, was the first one to express his disagreement over Naik's stay in Malaysia.
Dr Subramaniam said that Zakir Naik's activities "are outside the Malaysian context".
"I don't think Malaysia needs Zakir Naik," he added.
"Is he going to contribute to the advancement of Islam in the country? The answer is no," said Dr Subramaniam.
Dr Subramaniam's remarks provoked sharp a response from PAS (Pan-Malaysian Islamic Party) when its information chief Nasrudin Hassan reprimanded Health Minister and suggested that his cabinet portfolio did not warrant his interference into the matter.
Perkasa also equally took offence at what it deemed to be non-Muslim meddling in the residency status awarded to Dr Naik by the Malaysian government.
But the issue took a serious turn when ruling coalition partner, MCA, also questioned the PR granted to Dr Naik, pointing to his ability to cause uneasiness and discomfort among the multi-religious and multiracial communities.
MCA's Religious Bureau chairman Datuk Ti Lian Ker asked the Home Ministry to explain the award, especially when an Indian court has issued a non-bailable warrant him.
Many commentators in media fear that Dr Naik's presence in Malaysia may further fray racial tensions in the society.
In an article titled "Is Zakir Naik worth the trouble?" in Free Malaysia Today, senior columnist Scot Ng said the controversial preacher has become a national dilemma.
Ng said: "Naik is a controversial figure, to say the least, and while his defenders may argue that the preacher calls for harmony, there is a distinct waft of cultural and religious imperialism in his recorded comments, among which is the infamous statement to the effect that an Islamic country should not allow churches to be built because Christianity is a religion that is 'wrong'."
Ng concluded: " Is Naik truly worth the rift he is causing in our society? One look at the headlines would tell us that 'no' would be a reasonable answer. His continued presence appears to be a disruption to the Malaysian way of life."
http://www.dnaindia.com/world/report-dr-zakir-naik-s-presence-puts-malaysia-in-a-bind-2460037
--------
Speak all you want, but never inside mosques, Sultan tells Sivarasa
June 2, 2017
KUALA LUMPUR, June 2 — Subang MP R. Sivarasa was today personally criticised by the Sultan of Selangor for giving a speech at a state mosque last month.
According to Malaysiakini, Sultan Sharafuddin Idris Shah specifically mentioned the PKR lawmaker when criticising politicians for giving speeches at state mosques despite the ruler's decree forbidding such acts.
"I am saddened by the recent incident at Masjid An-Nur, Kampung Melayu Subang, where Sivarasa had given a speech in the prayer hall, despite my repeated reminders not to allocate mosques to be used for politics, be it by Muslims or non-Muslims," he was quoted as saying by the news portal.
The Sultan explained that he prohibited politicians from making speeches in mosques as he did not want Muslims to be divided.
The ruler said politicians such as Sivarasa were free to deliver as many speeches as they want as long as they did not do so in mosques and prayer halls.
He said these speeches could even be made directly outside mosques.
"I have no objections, it is up to the people whether they want to listen or not, but never speak in the mosque or mosque compound," he said later in the report.
Sivarasa was shown speaking at the mosque in Kampung Melayu Subang on May 24.
The Sultan subsequently directed Selangor religious authorities to take action against the mosque for defying his decree.
Full report at:
http://www.themalaymailonline.com/malaysia/article/speak-all-you-want-but-never-inside-mosques-sultan-tells-sivarasa
--------
Malaysia: 2 Non-Muslims Who Fast In Ramadan Talk Of Finding Peace
June 3, 2017
PETALING JAYA: Joseph Germani didn't know what to expect when he decided to try fasting for the first time, about three Ramadans ago.
All he knew was that he had a plan: To fast, record it, and share it with his social media friends.
Asked what inspired this idea, Germani told FMT it was the tension he had noticed between those of different races.
He said it was his hope that through observing the fasting month himself, he could in some way soothe racial tensions and proves that there were still those who respected Malaysians of all races.
"I feel that in this day and age, racism should be non-existent because there's so much more that we need to focus on rather than hatred.
"So, I made the video in the hope that it would eliminate such hatred from those who still have issues against people of other ethnicities," Germani said.
Germani's two videos that record his fasting experience were uploaded in 2015 and 2016 on YouTube and shared on his Facebook page.
The 2016 video titled "Chinese guy fasts with his girlfriend" has been viewed over 62,000 times.
"I am definitely not the only one who fasts, and I know some people who fast more (often) than me. So, this video was merely a representation of a forward Malaysia," he said.
And Germani was right, he isn't the only one.
Kumaran Rajamoney, a correspondent with a local news agency, has been fasting for 16 Ramadans now, with the aim to complete at least 20 days each time.
He started back in 2001, when he was working part-time at a bridal boutique during school holidays.
"The first time I fasted, I kind of forced myself to do it," he told FMT, adding that he initially did it to respect his Muslim colleagues who were fasting.
Even when his heart was not in it, Kumaran successfully fasted for a whole week.
"But the excitement of fasting eventually made me set a target. I increased the number of days I fasted the next year and now, my annual target is not less than 20 days."
Asked what it was that excited him about fasting, Kumaran said it was the support and encouragement he received from his friends as well as their family members.
"It's a celebration for me when I would be invited to break fast with them every year."
Unlike Kumaran, Germani was breaking fast alone. Despite this, he told FMT that being a part of a culture that "makes Malaysia, Malaysia", made him feel a sense of togetherness.
"After my video was posted, there seemed to be a lot of support and nice words from everyone. This tells me that there's enough love and positive vibes in the world, especially in Malaysia.
"So, I am happy to be able to do that, even if it's (breaking fast) by myself."
And his favourite part of the experience is – the Ramadan bazaar.
"Roti Jala! Murtabak! Awesome!"
For Kumaran, fasting during Ramadan has helped him better understand his Muslim friends.
"(I enjoy) the buka puasa (break fast) time. All the variety of food, and the warm welcome by my friends who have always been supportive.
"Some even wake me up for sahur."
Kumaran said the biggest challenge he faced now was achieving his ultimate target of fasting for one whole month.
That is why for now, he is happy just fasting for 20 days at the very least.
"Sometimes I have to attend family functions and reunions that require me to join them for lunch. It will be awkward for others if I did not join them in eating during the function.
"As much as I respect my Malay-Muslim friends, I believe I should also do the same when it comes to my family," Kumaran said.
For Germani, the biggest challenge was the inability to drink water from sunrise to sunset.
"I am a person where when I eat out, I order two drinks because I tend to drink a lot. So to not be able to drink was the biggest challenge for me."
The Ramadan month this year began last Saturday, and both Germani and Kumaran have a message for those fasting, as well as non-Muslims planning to do so.
"I wish everyone who is fasting would take this time to slow down and enjoy life. I think fasting helps to clear one's mind. And for those who would love to join, please feel free (to do so)," Germani said.
"If you have a friend who's fasting, just ask if you can join them. I'm sure you'll be a changed person after experiencing it, especially with your peers.
"And yes, remember to set the alarm to eat during sahur, don't be like me, always wake up late. Let's do this."
Full report at:
http://www.freemalaysiatoday.com/category/nation/2017/06/03/2-non-muslims-who-fast-in-ramadan-talk-of-finding-peace/
--------
Mixing Islam And Terrorism: A Blunder Too Far For Malaysia's Star?
BY RADZI RAZAK
3 JUN 2017
The Malaysian government's threat to suspend a leading newspaper unless it explains a controversial front page that juxtaposed a headline about a terrorist leader with a picture of Muslims praying is the latest sign Prime Minister Najib Razak is unafraid of taking on the media, observers say.
The interior ministry issued a "show cause" order to The Star after the English daily's front page on May 27 caused uproar on social media.
The top half of the page had featured the headline "Malaysian terrorist leader", referring to the emergence of a Malaysian, Mahmud Ahmad, as a top regional Islamic State leader. Beneath it, separated by a thin line, was a picture of Muslims praying at the beginning of Ramadan, the Islamic holy month.
The newspaper apologised for its "error of judgment" a day later but that was not enough to forestall the interior ministry's demand.
The government said the newspaper had seven days to "respond to the show cause letter on why action should not be taken...including having its printing permit suspended".
It said the front page could inadvertently lead people to link Muslims with terrorism. The Star had said it published the picture as part of an annual tradition of featuring the first evening prayers of the fasting month on its front page.
After the government order, the newspaper suspended its chief editor Leanne Goh Lee Yen and executive editor Dorairaj Nadason.
Media observers said the interior ministry's action was not surprising – even though it was aimed at what is considered a "friendly" news outlet. The Star is owned by the Malaysian Chinese Association, a key member of the ruling coalition led by Najib.
"In the past they have done it quite a number of times to many friendly papers when religious sensitivity is allegedly touched upon," said Malaysian politics researcher Oh Ei Sun.
Why Malaysian PM Najib Razak is playing the race card
In a Facebook post, veteran Malaysian journalist Jahabar Sadiq said it was a "matter of perception and perhaps sensitivity" on whether the newspaper had blundered. "Was it clear that the headline and article had nothing to do with the photograph on the front page? YES if you read newspapers regularly and don't think Muslims are generally terrorists," Sadiq said. "NO if you don't read newspapers and rely on a snapshot."
NOT THE FIRST TIME
This is not the first time the Najib administration has used a heavy approach with the media. In 2015, the government suspended The Edge and The Edge Financial Daily for three months over what it claimed was "prejudicial" reporting on the long-running financial scandal at the 1MDB state investment arm. The fund remains at the centre of multiple money laundering investigations around the world, including a civil suit launched last year by the US Justice Department involving a "Malaysian Official 1", widely believed to be Najib.
Both the premier and 1MDB deny any wrongdoing. The premier also threatened to take legal action against the Wall Street Journal but did not follow through, citing the US daily's protection under the First Amendment. And in February last year, the media regulator blocked access to the now-defunct Malaysian Insider news portal – helmed at the time by Sadiq – for its coverage of the scandal. Sadiq this year launched a new website called Malaysian Insight . The Britain-based Sarawak Report website remains inaccessible in Malaysia after it was blocked in 2015, also for its coverage of the scandal.
Is Malaysian support for Rohingya an election ploy by Najib Razak?
However, observers said the latest episode was different because of its religious dimension. Malaysian journalist Fathi Aris Omar said it was "normal" for authorities to get involved in such cases.
The Star had drawn flak previously for its coverage of terrorism, said Omar, who used to work for it as an editor. In 2011, The Star incurred the wrath of authorities by running an advertisement for a "pork fest" in a supplement for Ramadan. It was let off with a warning.
Zin Mahmud, a veteran journalist and former editor of the Sunday edition of the Malay language Utusan Malaysia – one of the country's highest circulating broadsheets – said navigating political controls was part of the job description for Malaysian journalists.
Mahmud cited three key hurdles to journalism in the country: overt political control by UMNO, the Malay-based party that leads the ruling coalition; laws such as the Sedition Act; as well as commercial pressures. Major newspapers and broadcasters have close links with the government. Utusan Malaysia is majority-owned by UMNO, while Media Prima, the holding company for the country's biggest TV channels and The New Straits Times newspaper, is controlled by government-linked entities including the state pension fund.
Malaysian journalists said they hoped the government would not suspend The Star for its latest transgression. "Such a move would be yet another nail in the coffin of press freedom in Malaysia, which is already severely curtailed by archaic laws and hostile treatment by many who hold positions of power," the Institute of Journalists Malaysia said.
Full report at:
http://www.scmp.com/week-asia/opinion/article/2094867/muslim-split-deepens-indonesia-creaks-under-weight-intolerance
--------
Muslim scholar to head Pancasila body
June 3 2017
President Joko "Jokowi" Widodo has assigned Muslim scholar Yudi Latif to lead the newly established presidential working unit on the implementation of the state ideology of Pancasila.
The working unit has been tasked with combating growing extremist ideologies in the country.
Full report at:
http://www.thejakartapost.com/news/2017/06/03/muslim-scholar-head-pancasila-body.html
--------
Mideast
Turkish Embassy Hosts Banned Islamic Movement Chief at Iftar Dinner
BYHERB KEINON
JUNE 2, 2017
Turkish ambassador Kemal Okem hosted Sheikh Raed Salah, an Islamist leader who has spent time in Israeli jails for incitement and violence, to an Iftar dinner Thursday night, angering and raising eyebrows in Jerusalem.
A picture of Salah at the dinner appeared on the the Turkish embassy's Twitter feed under the caption: "Amb Okem hosted an iftar dinner with the participation of the Arab and Muslim community leaders. #Ramadan Kareem!"
Amb Ökem hosted an iftar dinner with the participation of the Arab and Muslim community leaders. #Ramadan Kareem! pic.twitter.com/EJ6wiPqwfk
— Turkish Embassy TA (@TelAvivBE) June 1, 2017
One senior Israeli official characterized the participation of Salah as "astonishing."
Salah is the leader of of the outlawed northern branch of the Islamic Movement. He was released from prison in January after serving a nine month sentence for incitement to violence resulting from an inflammatory sermon he delivered in Jerusalem in 2007. That was not the first time he served jail time for similar offenses.
Israel outlawed Salah's group in November 2015, with a government statement explaining that the group has for years "been waging a campaign of deceitful incitement under the banner of 'al-Aksa is in danger,' which blames Israel by falsely accusing it of intending to harm the al-Aksa mosque and to violate the status quo there."
And in the spring of 2016 Prime Minister Benjamin Netanyahu told the cabinet that Salah was behind efforts to "heat up the Temple Mount area before Passover."
"This man is a one-man explosive," the prime minister said.
Calling for the security forces and the judiciary to "remove him," Netanyahu said Salah should have long ago been behind bars.
The northern branch of the Islamic Movement, which is an offshoot of the Muslim Brotherhood, has been at the forefront of espousing the "defense" of al-Aqsa Mosque.
Salah's participation at the dinner comes a month after Turkish President Recep Tayyip Erdogan infuriated Jerusalem by calling on Turks and Muslims to visit the al-Aksa Mosque and said that "each day that Jerusalem is under occupation is an insult to us." Okem told The Jerusalem Post that the Iftar dinner was a private affair, "not a political event," and that it "was not intended to give any kind of message. It is just just an Iftar dinner that marks unity."
Okem said that he did not send out individual invitations, and that Salah came as part of a general invitation he sent to various Muslim communities in the country.
"It's an Iftar dinner, like the Shabbat dinners you have, just a private, casual dinner with all different kinds of different groups of people, who come, eat their dinner and go – to mark Ramadan," he said. "That was the whole message, Ramadan Kareem. Peace and well-being for the people, that was the message."
He said that among others at the dinner were MKs, the head of the Shariah courts in Israel, and community leaders from different localities.
Full report at:
http://www.jpost.com/Israel-News/Turkish-embassy-angers-Israel-by-inviting-Islamist-group-leader-to-dinner-494621
--------
Tested on all fronts, Iran's Rouhani may struggle on reforms
June 03, 2017
Parisa Hafezi, - Growing strains with the United States and political infighting at home threaten Iranian President Hassan Rouhani's plans to expand social freedoms, create jobs and draw in foreign investment, officials and analysts say.
Anti-Western hardliners defeated by Rouhani in the presidential election in May appear determined to take revenge by denying the pragmatic cleric an economic dividend, they believe.
The hardliners' strategy is to stoke already-simmering tension with Washington and its Gulf Arab allies, injecting fresh political risk into a country that had been seen as a safer bet since its 2015 nuclear deal with world powers.
"To weaken Rouhani, they will try all possible ways, from provoking hawks in Washington to imposing more political limitations at home ... and isolating Iran economically," said a senior official who asked not to be named. "Rouhani will have very challenging months ahead."
US President Donald Trump, during a May 20-21 visit to Saudi Arabia, called Iran a threat to countries across the Middle East.
Rouhani later urged "moderation and rationality" in international relations. But Iran's hardline Supreme Leader Ayatollah Ali Khamenei struck a more combative note, saying Saudi Arabia's leaders faced "certain downfall" due to their alliance with Washington.
A week later the Islamic Revolutionary Guard Corps (IRGC), the country's most powerful military force, upped the ante, disclosing it had built a third underground ballistic missile production factory and would keep developing its missile program - a project strongly opposed by Washington and its Gulf allies like Saudi Arabia.
TURMOIL ACROSS MIDDLE EAST
In recent months, the Guards have stepped up support for the rebel Houthi movement in Yemen, where they are waging a proxy war with Saudi Arabia. They have increased funding and arming of militia groups in Syria and Iraq, while continuing to back traditional ally Hezbollah of Lebanon.
IRGC naval vessels have repeatedly been intense encounters with US warships in the Gulf and Strait of Hormuz, through which a third of all oil shipping passes. The escalating regional tensions will increase the nervousness of potential foreign investors, many of whom were already keeping Iranian ambitions on hold due to worries about red tape or a possible restoration of sanctions if Iran violates the nuclear deal.
"Rouhani will continue to solicit the return of foreign businesses ... to Iran without providing them with a much-needed change in behaviour to boost their confidence," said senior Iran analyst Behnam Ben Taleblu of the Washington-based Foundation for Defense of Democracies.
Karim Sadjadpour, a senior fellow at the Carnegie Endowment, said that with the anti-Iran Trump in the White House there was less pressure on Iran's hardliners to justify their animosity toward the US
"Iran's regional strategy has been consistent for four decades, regardless of who is president of the country. Opposition to the US and Israel hasn't changed, and opposition to Saudi Arabia has intensified," he said.
The lifting of sanctions in 2016 partly reconnected Iran with the international financial system crucial to trade, but lingering unilateral US sanctions tied to human rights and terrorism have spooked many potential investors.
"Large international banks won't (get involved) because of the US exposure, the size of the past penalties and their ongoing US business and assets," said Andreas Schweitzer, senior managing partner of London-based Arjan Capital. Then there are the domestic tensions.
First elected in 2013 on a pledge to ease Iran's diplomatic isolation, Rouhani spent much of his political capital on the nuclear deal, which resulted in a lifting of most sanctions in return for curbs on Tehran's nuclear program.In that effort, he enjoyed the guarded support of Khamenei. But now, under heightened pressure in his second term to widen economic opportunities for Iran's youth, Rouhani can no longer be sure of the supreme leader's backing.
After a campaign featuring outspoken attacks on security and judicial hardliners and calling for a speedier opening to the world, Rouhani trounced Khamenei's perceived favorite in the election, irking the IRGC, Khamenei's ally.
COLLISION PATH
Andrine Skjelland, MENA country risk analyst, BMI Research, said the president's rhetoric had deepened "divisions between himself and the hardline elite".
Sidelined by the nuclear deal, the Guards are trying to claw back economic clout by accusing Rouhani of favoring foreign firms over domestic ones, praising Khamenei's vision of a self-reliant economy that avoids foreign investment.
"Domestic political instability will impact foreign investors ... It will deter the investors from returning to Iran," said Meir Javdanfar, an Iranian-born expert on Iran at the Interdisciplinary Center Herzliya in Israel. Under US and EU sanctions, the Guards took over billion-dollar projects vacated by Western oil companies.
Their influence can be felt across Iran's economy - from port operations to oil. They are estimated to have a presence in 80 percent of business interests in the country.
"Rouhani's re-election will put the IRGC on a bigger collision path with him," Javdanfar said. "His voters wanted moderation, while the IRGC wants to expand its reach abroad and to become more confrontational with the West."
Senior members of the IRGC and its front companies remain under US sanctions. Most IRGC front companies, however, are not formally owned by the Corps, but by firms linked to it.
Foreign companies need an Iranian partner to do business in Iran, which for big projects often means IRGC-controlled firms.
Full report at:
http://nation.com.pk/international/03-Jun-2017/tested-on-all-fronts-iran-s-rouhani-may-struggle-on-reforms
--------
Saleh's party threatens to withdraw from Yemeni rebel government
3 June 2017
The Yemeni General People's Congress Party affiliated with ousted President Ali Abdullah Saleh threatened to withdraw from the coup government and end its alliance with the Houthi militias if the so-called Revolutionary Committees are not disintegrated, reported Al Arabiya News Channel.
The General Secretariat of the party demanded the implementation of all agreements between the two parties. It stressed the dissolution of the revolutionary committees and their withdrawal from all institutions and the handover of all possessions in their custody.
The Secretariat considered that failure to implement these demands would lead to the cancelation of the conference and its transformation into the opposition, while the Houthi militia over power the revolutionary committees for one party to dominate.
On the ground, the Yemeni National Army took control of the camp of Taiz in the middle of a mass escape of the Houthi and Saleh militias.
Full report at:
https://english.alarabiya.net/en/News/middle-east/2017/06/03/Saleh-s-Party-threatens-to-withdraw-from-the-coup-government.html
--------
Yemen army gains control of strategic camp in Taiz
2 June 2017
Yemen's National Army on Monday took control of al-Tashrifat military camp in Taiz after days of fighting with Houthi militias.
The advancement comes after dozens of Houthi militias were killed and dozens arrested in continuing fierce battles with government forces inside a presidential palace in Yemen's city of Taiz.
Government forces seized control of the western side of the presidential palace and other buildings nearby.
A week ago, government forces backed by air support from the Arab Coalition staged an attack against Houthi miltitas stationed inside the presidential palace.
Pro-government army commanders said that the Houthis used the palace's hilly location to shell residential areas in the city's downtown.
Full report at:
https://english.alarabiya.net/en/News/gulf/2017/06/02/Yemen-army-gains-control-of-strategic-camp-in-Taiz.html
--------
Iran vows full support for Afghanistan's anti-terror fight
Jun 2, 2017
Iranian Parliament Speaker Ali Larijani has censured the recent bloody terrorist attack in the Afghan capital of Kabul, pledging full support for Afghanistan's fight against terrorism.
In separate messages to the Afghan Speaker of Wolesi Jirga (House of the People), Abdul Rauf Ibrahimi, and the Speaker of Mesherano Jirga (House of Elders), Fazel Hadi Muslimyar, on Friday, Larijani expressed his sympathy with the country's government, nation and the bereaved families of the victims of the Wednesday terror attack.
"The Islamic Republic of Iran stands by the government and nation of the friendly and neighboring country of Afghanistan in the fight against terrorism and the establishment of peace and security in this country and will spare no efforts in this regard," the top Iranian parliamentarian said.
He added that terrorism and extremism pose a threat to the international community.
At least 90 people were killed and 400 others injured after an explosives-laden sewage tanker detonated in Kabul's diplomatic quarter on Wednesday.
The attack, the deadliest in Kabul since 2001, hit the city's most secure district, which is home to the presidential palace and foreign embassies.
The Daesh Takfiri terrorist group claimed responsibility for the attack.
However, the Afghan intelligence said on Thursday the bombing was plotted and carried out by the Haqqani network, which is a militant group allied with the Taliban. The officials said that the attack was aimed at the Embassy of Germany.
However, the Taliban, which is currently in the midst of its annual "spring offensive," has denied any involvement in the bombing.
Two days after the huge truck bomb in the heart of Kabul, Afghan riot police reportedly shot dead eight protesters amid clashes during an anti-government demonstration in the capital.
Some 1,000 demonstrators marched on Friday towards the site of Wednesday's bombing at Zanbaq Square, close to the German Embassy, calling on the Afghan president to step down.
Full report at:
http://www.presstv.ir/Detail/2017/06/02/523980/Iran-Afghanistan-Kabul-Ali-Larijani-Wolesi-Jirga-Abdul-Rauf-Ibrahimi-Mesherano-Jirga
--------
Israel to unveil 'multiple' settlement plans: Paper
Jun 3, 2017
Israel's top settlement construction committee is about to meet next week to advance "multiple" expansion projects in the occupied West Bank, a Tel Aviv-based newspaper says.
The so-called Civil Administration's High Planning Committee will meet on Tuesday and Wednesday to push through various projects, including construction of 2,600 settler units, The Times of Israel reported.
The fresh expansion plans come shortly after Donald Trump visited Israel. An Israeli official said Tel Aviv does not expect the building approvals to cause diplomatic trouble with Washington, having already discussed the issue with the US president.
Prime Minister Benjamin Netanyahu on Thursday ordered a comprehensive review of all the new plans up for approval, but a settler leader said they were not enough.
Har Hevron Regional Council head Yohai Damari urged cabinet ministers "to strengthen the settlement movement and release all the plans that were frozen in the eight-year-long Obama dry spell," referring to ex-president Barack Obama.
Shortly after Trump came to office, the White House insisted that Israeli settlements were not "an impediment to peace". Encouraged by the new US administration, Israel unveiled plans in April to build 25,000 settler units in Jerusalem al-Quds.
The settlement construction is seen as an attempt by Israel at gradual annexation of the Palestinian lands.
Successive Israeli regimes have invested billions of dollars over the past 50 years on settlements in the occupied West Bank, making any withdrawal from the Palestinian territory a costly venture.
There is no official figure for Israel's overall spending on settlements since the June 1967 Six-Day War, which has seen more than 600,000 settlers planted among 2.9 million Palestinians in the West Bank and East Jerusalem al-Quds.
According to the Macro Center for Political Economics which publishes reports on settlements, the total surface area of settlements expansion in the West Bank has doubled in 18 years.
As a financial incentive for the expansion of settlements, the average settler receives three times more in public subsidies than a resident of Israel.
"This burden has contributed to deepening social inequality in as much as the money goes to settlements and their defense at the expense of social budgets," AFP said on Saturday, quoting Shlomo Swirski of the Adva Center.
Full report at:
http://www.presstv.ir/Detail/2017/06/03/524032/Israel-West-Bank-Trump
--------
Turkey opens mosque, Muslim center in Philippines
02.06.2017
By Tevfik Durul
TACLOBAN, Philippines
A mosque and Islamic center built in the eastern Philippines by the charity group of Turkey's religious authority got its grand opening on Friday.
Friday prayers at the opening ceremony were followed by Filipino officials in the eastern city of Tacloban thanking Turkey's Diyanet Foundation (TDV) and the Turkish people for not forsaking their brothers.
"Turkey was one of the first countries to lend a hand to our country after the typhoon [Yolanda] in 2013. Turkey has given Tacloban a very valuable present and this will strengthen bonds of communion between the two countries," Tacloban Vice Governor Sambo Yaokasin told the opening ceremony.
Ahmet Ozturk from the TDV, the charity arm of Turkey's Religious Affairs Directorate, said, "The TDV initially came here to help those affected by Typhoon Yolanda. Since then we have been working on repairing and restoring places of worship damaged by the disaster. Turkish people stand together with their Filipino brothers."
Aisha Flores-Malayang of the National Commission on Muslim Filipinos (NCMF) praised Turkey's "boundless generosity" towards the Philippines.
Full report at:
http://aa.com.tr/en/asia-pacific/turkey-opens-mosque-muslim-center-in-philippines/833278
--------
Europe
Charges mulled against Wilders over anti-Islam tirade implying Quran incites terrorism
3 Jun, 2017
Dutch prosecutors are looking into the speech delivered by far-right Party for Freedom (PVV) leader Geert Wilders, in which he slammed Islam as an "ideology of war and hatred." Wilders says he's being targeted for "speaking the truth."
Wilders, whose PPV came second in Dutch parliamentary elections in March, faces charges of incitement in the complaint filed by the human rights advocacy group back in March 2015, when he claimed that Islam "calls on people to be terrorists" and "be violent" and that the "Quran leaves no doubt about it."
The provocative statements made by Wilders during a speech at the conference of PPV's Austrian ally Freedom Party (FPO) drew ire of the local Austrian Muslim Initiative (AMI) group. Its chairman, Tarafa Baghajati, lodged a criminal complaint against Wilders, accusing him of resorting to "Nazi rhetoric of the 1930s," Dutch News.nl reported.
"They (Austrian prosecutors) must now investigate whether Wilders has committed nation incitement and whether he insulted Islam as a religion," Baghajati told Der Telegraaf at the time.
Acting on the complaint, Austria investigators opened a probe into Wilders' remarks. On Friday, Dutch public prosecutor's spokesman revealed that Austrian authorities appealed to their Dutch colleagues to take over the case. Confirming that the prosecutors in the Hague have been "busy studying" the request, he said it is not clear yet if the formal investigation is to be launched into the controversial statements.
Explaining their decision to ditch the dragged-on probe, Austrian prosecutors said it was a result of "practical consideration."
Meanwhile, Wilders hit back at the Dutch prosecutors, saying that instead of tackling crime and fighting terrorism, they focus on hunting "a politician for speaking the truth about Islam," he wrote on Twitter, accompanying the message with #legaljihad hashtag.
In his March 2015 speech, which has now become subject to scrutiny, Wilders already called out the authorities for clamping down on him while turning a blind eye on a threat arising from Islamic extremism.
"When we warn against Islam, the authorities call it hate speech and bring us to court. But when the grim forces of hatred march down our streets, the police look on and do not interfere," he said, calling the approach "a disgrace" and "a scandal."
Wilders, a far-right politician who has repeatedly courted controversy inside and outside his country by calling freedom and Islam "not compatible," has also likened the Quran to Hitler's Mein Kampf.
In December last year, he was found guilty of discrimination against Moroccans in the Netherlands. In 2014, he asked his supporters at a rally, if they want fewer or more Moroccans on the streets, provoking a chant: "Fewer! Fewer! Fewer!"
Wilders denouncing the ruling, which however does not impose any punishment on him, as politically motivated, calling it "madness" carried out by "three PVV hating judges."
https://www.rt.com/news/390684-wilders-charges-Quran-speech/
--------
ISIS, AQIM, and Polisario: How Do Terrorist Threats in the Sahel Affect Morocco?
By Saad Eddine Lamzouwaq
June 2, 2017
Morocco has been successful in countering domestic terrorism threats, yet the situation in the Sahel presents a different set of challenges.
An Alarming Situation
In the beginning of March, 2017, five leaders of four radical groups operating in the Sahel region appeared in a video announcing the merger of their organizations.
Led by veteran Tuareg militant Iyad Ag Ghaly, Ansar Dine, the Sahara branch of Al Qaeda in the Islamic Maghreb, Al Mourabitoun, and Katibat Macina merged to form Jama'at Nusrat al-Islam wal-Muslimin (the "Group for the Support of Islam and Muslims").
The merger has signaled the increasing threat of extremist armed organizations in North Africa and the Sahel.
"The region has become very dangerous today because it is an area where both ISIS and al Qaeda are making their presence felt," El Moussaoui El Ajlaoui, a researcher at the Institute for Africa and Middle East Studies (IAMES), told MWN.
He explained that the region is caught between expansion attempts by radical groups. Al Qaeda operates in Northern Mali, seeking to infiltrate the middle and the south of the country as well as the northwest Burkina Faso, while Boko Haram is seeking control over the Chad Basin.
In addition, an axis has been established between Ghat in southern Libya and Kidal in northern Mali.
"This axis is the hardcore of jihadist groups and transnational crime organizations active in cocaine, arms and human smuggling," said Ajlaoui.
The presence of ISIS along the Libyan coast, where it formerly held control of the city of Sirte and other minor territories, in addition to its ties with loyal splinter groups in Tunisia, add to the fears of established terrorist networks in North Africa and the Sahel.
The danger of the situation in the region is highlighted by the number of terrorist attacks carried out by radical groups. According to the Long War Journal, al Qaeda and other allies and affiliated groups launched at least 257 attacks in Mali and the wider West Africa region in 2016.
The creation of the Group for the Support of Islam and Muslims will only give impetus to these extremist organizations to carry out other attacks, larger in number and scale.
"The threat is big," warned Abdelfattah El Fatihi, a Western Sahara and Sahel specialist, in conversation with MWN. "These groups have the potential to grow even more and enhance their capabilities, exploiting the safe haven the vast and uncontrolled desert provides."
In addition to this geographical safe haven, these groups benefit from their ties with local ethnic communities and tribes, as well as the weakness of some central governments.
"We have before us a very complicated and constantly changing radical map, where these groups have ties with ethnic groups and operate in complete absence of regional states," said El Ajlaoui.
The Polisario Connection
In a newly published book, "Sahara, deserto di mafie e Jihad" (Sahara: A Desert of Mafia and Jihad), Italian journalists and researchers Massimiliano Boccolini and Alessio Postiglione shed light on the deteriorating security situation in North African and Sahel desert, including the Polisario-run Tindouf camps.
The authors state that the zone that extends from South Tindouf to northern Mali has turned into a "new Afghanistan," threatening the security of foreigners while falling "under the control of al Qaeda and smugglers."
The book confirms what several reports have said concerning the danger of the Polisario-run area in Algeria, pointing to the group's crossover into radical and criminal activities.
"Because there is no hope on the horizon, because of the instrumentalization of the misery of the Tindouf camps residents for personal interests, young people in the camps are turning to smuggling and cross-border crimes," said El Ajlaoui. "Jihadist movements have connections with these activities."
In April, Abdelhak El Khiam, the head of Morocco's anti-terrorism Central Bureau of Judicial Investigations (BCIJ), revealed that 100 Polisario members joined the ranks of ISIS. The news points to the connections between Polisario, ISIS and other radical groups in the area.
El Fatihi explained that Polisario is seeking to diversify its sources of financing, which until now have come largely from Algeria.
"Polisario is facing a shortage of money so it had to look for it elsewhere. The only way to do so was to establish links with these groups which operate in a large unsecured area in the Algerian desert, Mali and Mauritania."
The links between Polisario and radical groups are not recent. A report by European Strategic Intelligence and Security Center (ESISC) published in 2010 cited Mustapha Bouh, a former member of the group's political bureau, who said that Polisario's connections with the radical organizations dates back to the 1980s, when members of the group made contacts with the Islamic Salvation Front (FIS) in Algeria.
Later on, the group maintained relationships with militant and terrorist groups emanating from Algeria, such as the Islamic Armed Group (GIA), and the Salafist Group for Preaching and Combat (GSPC), which would form the basis of AQIM in 2007.
The connection between Polisario and these organizations suggest the group may have taken part in terrorist activities. In 2003 members of Polisario carried an attack on the headquarters of la Societé nationale mauritaniene de l'industrie minière (SNIM), Mauritania's national mining company, stealing 153 bottles of inflammable products and 12 km long of detonating cord, suspected of being destined for use in terrorist activities.
Two years later, Polisario armed vehicles were used by GSPC armed men in a deadly attack against a military barrack in Lamghiti, northern eastern Mauritania. Fifteen soldiers were killed, 17 others injured, and two went missing.
Polisario's links with radical organizations are also furthered by the fact that some notorious jihadists in the Sahel are former members of the group.
In 2009, Omar Ould Sid Ahmed Ould Hamma, known as Omar Al Sahraoui, was hired by veteran AQIM terrorist Mokhtar Belmokhtar to kidnap three Spanish aid workers from the NGO Barcelona Accio Solidaria.
Adnane Abou Walid Al-Sahraoui, another former Polisario member, made himself known between 2011 and 2015 as a leading member of Movement for Oneness and Jihad in West Africa (MOJWA) and Al-Mourabitoun before joining ISIS.
In 2016 Abou Walid Al Sahraoui appeared on a video on Al Jazeera making threats against Morocco, calling for terrorist attacks to be carried against tourist attractions and security buildings in the kingdom.
Full report at:
https://www.moroccoworldnews.com/2017/06/218501/isis-aqim-and-polisario-terrorist-threats-sahel-affect-morocco/
--------
Putin: External interference aggravates situation in Syria
2 June 2017
Russian President Vladimir Putin said on Friday that the situation in Syria has been aggravated due to the external interference.
"It is easy to separate the moderate opposition from terrorist groups," Putin said in his speech at the St. Petersburg Economic Forum.
He stressed that many Russians are fighting with terrorist militants in Syria.
Putin also insisted that the Syrian leader didn't use chemical weapons against his people, saying the recent attack that killed scores of civilians was a "provocation" against President Bashar Assad.
Earlier, Putin expressed his concern about the possibility of the division on the Syrian land, stressing the necessity to make the conflict- free areas as a model for the future political discussions, to maintain the territorial integrity of Syria, as per what he said.
Putin added that there is a specific fear of the possibility of those areas to turn into models to divide the country in the future.
Putin stressed that Moscow hopes to start a discussion or interaction between those regions and the regime in Damascus.
Putin expresses his confidence that it is possible to have discussion between the regime in Damascus and the armed opposition, as a realistic practice in the conflict-free areas too.
Putin stressed the compatibility of the positions of Russia and Turkey on many issues related to the Syrian file, indicating that "without the Turkish-Russian understanding, the ceasefire and the agreement to establish conflict-free areas would not be achieved."
Full report at:
https://english.alarabiya.net/en/News/middle-east/2017/06/02/Putin-External-interference-aggravate-situation-in-Syria.html
--------
Police: German rock festival evacuated over 'terrorist threat'
3 June 2017
One of Germany's biggest music festivals was interrupted Friday over a "possible terrorist threat," police said.
Organizers asked fans at the three-day event to leave calmly "in order to help police investigations" but said they were hopeful the festival would resume on Saturday.
The three-day "Rock am Ring," held at the famous Nuerburgring sports complex near the western city of Nuerburg, is scheduled to run until Sunday. It draws tens of thousands of people annually.
In a statement, police in the city of Coblenz said they were in possession of "concrete elements, in the light of which a possible terrorist threat cannot be ruled out."
"As safety is the key priority and any danger to festivalgoers has to be avoided as much as possible, a decision has been taken to suspend the festival for today," the statement said. There were no further details.
Security for the festival had already been stepped up, with an additional 1,200 staff, in response to the May 22 Manchester bombing which occurred after a concert by US singer Ariana Grande.
Last year's Rock am Ring program was curtailed by violent storms in which dozens of people were injured by lightning.
The country remains on high alert after a militant attack on a Christmas market in Berlin on December 19.
Full report at:
https://english.alarabiya.net/en/News/world/2017/06/03/Police-German-rock-festival-evacuated-over-terrorist-threat-.html
--------
Pakistan
Sikhs, Hindus in Pakistan host Iftar parties to promote religious harmony during Ramzan
June 3, 2017
Peshawar, June 3: This is the holy month of Ramzan and Muslims across the world are fasting. Sikhs and Hindus residing in Pakistan--an Islamic state--thought that this is the right time to promote religious harmony and tolerance in the country ravaged by terrorism and persecution of minorities (Hindus, Sikhs and Christians). Thus is Peshawar--around 190-km away from the capital city of Islamabad--Sikhs and Hindus are hosting Iftar parties--offering mouth-watering dishes to their Muslim brethren as they break their dawn-to-dusk fast every evening.
A Sikh businessman, Sahib Singh, has set up a stall outside his medicine store at Aasia Gate in the city to offer sweet-drinks, 'lassi', and food to fasting Muslims.
"The objective behind distributing iftari (the sunset meal) items is to promote the concept of inter-faith harmony in our country," Singh told PTI. A lot of needy people are visiting and enjoying Iftar meals at the food stall wich is open for all. A former councillor, Singh said he wanted to apprise Muslims that his community accorded full reverence to their religious rituals. "This is the spirit of interfaith harmony," he said. Singh said he also wanted to tell the world that religious tolerance exists in Pakistan where people from different faiths and beliefs respect each other and accord reverence to religious festivals.
"The Hindu community has also decided to start the practice of bringing people of different faiths nearer to each other," Founding Member Council of Pakistan World of Religion, Haroon Sarbdial, said. Sarbdial said Hindus are planning to hold iftari at different places in Peshawar and waiting for Maulana Qureshi, the Imam of the Masjid Mohabat Khan, who is in Saudi Arabia for performance of Umra, to arrive. He said because of this spirit, people in this region reside together in harmony. The Hindu community has made iftari arrangements, like in Peshawar, for Muslims in Sindh province, Sarbdial said.
"This is the real face of Pakistan and its people who have great regard and reverence for each other, regardless of difference of faith and believes," he said.
http://www.oneindia.com/international/sikhs-hindus-pakistan-host-iftar-parties-promote-religious-2452987.html
--------
Pakistan Prime Minister's son probed in Panama Paper's case
June 2, 2017
He was asked to defend the money trail of the Sharifs' London properties.
Nawaz Sharif's younger son, Hassan Nawaz, on Friday made his first appearance before the Joint Investigation Team (JIT) constituted by the Supreme Court to probe the Panama Papers case.
Hassan arrived at the Federal Judicial Academy accompanied by leaders of the Pakistan Muslim League (Nawaz) to record his statement before the JIT, Dawn reported.
A day earlier, Sharif's elder son, Hussain Nawaz, appeared before the JIT for the third time over the past five days to defend the money trail of the Sharifs' London properties.
As he emerged from the JIT secretariat, Hussain claimed that there was not an iota of evidence of any wrongdoing or illegality committed by him, his father, brother and sister.
Hussain was summoned by the JIT for the fourth round of questioning but it was not specified when he will make his next appearance.
The six-member JIT was constituted by the Supreme Court to examine the financial transactions of the Sharif family to buy four apartments in Park Lane, London.
The JIT had also summoned Qatari royal Hamad Bin Jassim Bin Jaber Al-Thani. Two letters signed by the Qatari royal had been presented before the top court by representatives of the Prime Minister's children's during the Supreme Court's hearing of the Panamagate case.
In his first appearance before the JIT, Hussain had refused to answer questions put forth by the investigative body, saying that the JIT's status was "sub judice" as he had already filed a petition before the apex court regarding two of its constituents.
Full report at:
http://www.khaleejtimes.com/international/pakistan/pakistan-prime-ministers-son-probed-in-panama-papers-case
--------
Haqqani network has moved to Afghanistan
Anwar Iqbal
Jun 3, 2017
WASHINGTON: The Haqqani network has moved to Afghanistan and Afghan officials should focus on tackling them within their territory instead of blaming Pakistan, said Ambassador Aizaz Ahmed Chaudhary while rejecting Kabul's claim that a Pakistan-based terrorist group was responsible for Wednesday's massive bombing in the Afghan capital.
Immediately after the attack, Afghan intelligence officials claimed that a suicide bomber from the Haqqani network drove an explosives-laden sewage tanker into Kabul's diplomatic enclave and detonated it near the German embassy. The blast, one of the worst in Kabul's recent history, killed 90 people and injured more than 400.
The Afghan National Directorate of Security also claimed that the Haqqani network enjoyed Pakistan's support and was still operating from its hideouts in Federally Administered Tribal Areas (Fata). The US media also carried these allegations.
But in an interview with editors and reporters at The Washington Times, the Pakistani ambassador to the US rejected these accusations as baseless.
He said Pakistan had carried out large-scale counterterrorism offensive in North Waziristan and other tribal areas, uprooting all terrorist groups hiding there.
The Haqqani network "is on the run, as far as we are concerned", Mr Chaudhry said. "They have moved into Afghanistan and need to be taken care of there."
The ambassador also said that "scapegoating Pakistan for failures in Afghanistan will not help" improve the security situation in either country. "It is too simplistic to say all of these [problems] are because of Pakistan…," he added.
"It is outright barbaric terrorism, and we should condemn it with all the might that we have," he said. The attack should serve to "strengthen our resolve" to work with Kabul on counterterrorism operations, he added.
Mr Chaudhry pointed out that only Afghan intelligence officials had linked the Haqqanis to Wednesday's blast, and the government of Afghan President Ashraf Ghani had yet to endorse the findings.
He also questioned how Afghan intelligence officials were able to determine responsibility for the strike so quickly. "If you were so good, that within seconds [of the attack] you can know who did it, then you should have also known when they were coming," he said.
Soon after the bombing, the Trump administration assured the Afghan government that such attacks could not deter Washington's "unwavering support" to Kabul.
Full report at:
https://www.dawn.com/news/1337079/haqqani-network-has-moved-to-afghanistan
--------
11 Chinese on way home shifted to Karachi from Quetta
Saleem Shahid
Jun 3, 2017
QUETTA: As whereabouts of two Chinese nationals kidnapped in Quetta's Jinnah Town on May 24 are still unknown, 11 Chinese nationals living in the same vicinity of the city have been shifted to Karachi for their departure to China.
The abducted duo — a man and a woman — were teachers at a Chinese-language centre. Three armed men took them away forcibly when they came out of the centre. They also tried to overpower another Chinese woman but she ran away. A man present at the site attempted to resist the kidnapping but he was shot by a kidnapper.
Since the kidnapping the 11 Chinese nationals — three men and eight women — had been living in the Jinnah town under tight security.
Sources said that officials of the Chinese consulate in Karachi met these 11 people earlier this week and after discussion it was decided that they would return to their country.
Abdul Razzaq Cheema, Quetta's Regional Police Of­ficer, told Dawn that these Chinese nationals had been living in Quetta for almost a year.
He said after kidnapping of the two Chinese nationals police had increased security of Chinese and other foreign nationals working on different projects of the China-Pakistan Economic Corridor, NGOs and United Nations' organisations in Quetta and other parts of Balochistan.
He said two families of South Korean nationals also lived in Jinnah Town, adding that after the kidnapping they were being provided security by the police. He said the South Korean nationals had been living in Quetta for four years.
Full report at:
https://www.dawn.com/news/1337083/11-chinese-on-way-home-shifted-to-karachi-from-quetta
--------
Four held for violating Ramazan ordinance in Rawalpindi
Jun 3, 2017
RAWALPINDI: Four people were arrested on charges of violating Ehtram-i-Ramazan ordinance in Pirwadhai area on Thursday, police said.
The ordinance bars people from eating, drinking and smoking in public places during the fasting hours.
Under the ordinance, the restaurants and hotels are not allowed to serve or sell food during fasting hours.
Police said during patrolling they noticed Al-Madina Birney shop in Pirwadhai area was selling food.
The IO said the shop owner was selling food to four people who were booked under section 4 of the ordinance.
Full report at:
https://www.dawn.com/news/1337139/four-held-for-violating-ramazan-ordinance-in-rawalpindi
--------
Jadhav case: Three-member Pakistani team to appear before ICJ
June 03, 2017
Three-member team led by Attorney General Pakistan will appear before International Court of Justice on June 8 in Indian spy Kulbhushan Jadhav's case, reported Nawa-e-Waqt.
According to media reports, the team will also meet ICJ President.
Pakistan team consists of Attorney General Ashraf Ausaf, Foreign Office Director General Dr. Faisal and Pakistani lawyer Khawar Qureshi.
On May 18th, The UN's top court ordered Pakistan to stay the execution of an Indian national convicted of spying and running a terrorist network, in a decision hailed by New Delhi.
Pakistan, on the other hand, said the decision of the International Court of Justice (ICJ) has not changed the status of Kulbhushan Sudhir Jadhav's case in any manner, and India has no substance in the case.
Judges at the ICJ ruled in a unanimous and binding decision that Jadhav must not be put to death by Islamabad until they have had time to pass final judgment in the case.
The court stopped short of ruling on the issue of consular access to Indian embassy officials in Pakistan for Jadhav. Indian Attorney General Mukul Rohatgi admitted to journalists at The Hague that no consular access would be given to Jadhav, pending a final verdict.
The ruling did not favour the arguments of either side but was meant to prevent Pakistan from taking any irrevocable steps before the court can decide whether it has jurisdiction in the case and, later, which side is right or wrong.
Three-member team led by Attorney General Pakistan will appear before International Court of Justice on June 8 in Indian spy Kulbhushan Jadhav's case, reported Nawa-e-Waqt.
According to media reports, the team will also meet ICJ President.
Pakistan team consists of Attorney General Ashraf Ausaf, Foreign Office Director General Dr. Faisal and Pakistani lawyer Khawar Qureshi.
On May 18th, The UN's top court ordered Pakistan to stay the execution of an Indian national convicted of spying and running a terrorist network, in a decision hailed by New Delhi.
Pakistan, on the other hand, said the decision of the International Court of Justice (ICJ) has not changed the status of Kulbhushan Sudhir Jadhav's case in any manner, and India has no substance in the case.
Judges at the ICJ ruled in a unanimous and binding decision that Jadhav must not be put to death by Islamabad until they have had time to pass final judgment in the case.
The court stopped short of ruling on the issue of consular access to Indian embassy officials in Pakistan for Jadhav. Indian Attorney General Mukul Rohatgi admitted to journalists at The Hague that no consular access would be given to Jadhav, pending a final verdict.
Full report at:
http://nation.com.pk/national/03-Jun-2017/jadhav-case-three-member-pakistani-team-to-appear-before-icj-on-june-8th
--------
Jamaat thinks govt left South Punjab in the lurch
June 03, 2017
BAHAWALPUR: Jamaat-e-Islami's Parliamentary Leader in Punjab Assembly Dr Wasim Akhtar said that 40% of the development funds allocated in the previous budget of 2016-17 could not be spent thus it is not good governance but bad governance.
Addressing an Iftar dinner organised by Jamaat-e-Islami in the honour of journalists, he said that its main reason is the decision of one person, whole Punjab Assembly is not aware of the spending of funds allocated in the budget; the funds of South Punjab have been spent on the projects like metro bus and orange train. He demanded funds for the construction of flyovers in front of Bahawal Victoria Hospital and One Unit Chowk and to eliminate unemployment, Industrial Zone in Bahawalpur to be made tax free at least for 20 years.
He said that Rawalpindi and Faisalabad's medical colleges be upgraded to the universities, Quaid-i-Azam Medical College Bahawalpur is older than these colleges it should also be upgraded to university level. "Joint resolution which was passed in Punjab Assembly for restoring the Bahawalpur province and Southern Punjab province creation but implementation has not been made until now. Funds for the restoration of Bahawalpur province and making the South Punjab province be allocated," he said. He further said that funds for the announced Journalist Colony and Ashiana Housing Scheme in Bahawalpur be allocated and the Civil Hospital Jhangiwala be named after Mohsin-e-Pakistan Nawab Sir Sadiq Khan Abbasi.
Full report at:
http://nation.com.pk/national/03-Jun-2017/jamaat-thinks-govt-left-south-punjab-in-the-lurch
--------
Huge terrorist bid foiled in Charsadda
June 02, 2017
CHARSADDA: A terrorism bid was foiled when Khyber Pakhtunkhawa police raided the hideout of terrorists. They captured a huge cache of explosives and weapons in Charsadda.
During a press conference today, Charsadda DPO Sohail Khalid said that the KP police recovered two suicide vests, nine missiles and 100 hand grenades from the hideout in Khanjar Kalay.
Full report at:
http://nation.com.pk/national/02-Jun-2017/huge-terrorist-bid-foiled-in-charsada
--------
Arab World
Iraqi forces kill Daesh 'religious' police chief in western Mosul
Jun 2, 2017
Iraqi security forces have killed the so-called religious police chief of the Takfiri Daesh terrorist group in the western part of Mosul as government troops and allied fighters from Popular Mobilization Units are battling to drive the extremist out of their last urban stronghold in the country.
Iraq's Federal Police, in a statement released on Friday, announced that security personnel had killed Abu Abdul Rahman and his military aide Yusuf Ali Humaidan during a military operation in the Zanjili neighborhood of the city, located some 400 kilometers (250 miles) north of the capital Baghdad, Arabic-language al-Sumaria television network reported.
The statement added that police forces had wrested control over 40 percent of the district, cleared four booby-trapped houses and defused six car bombs.
The troops also established safe corridors for the evacuation of civilians from the terrorist-held region.
Meanwhile, the media bureau of the Popular Mobilization Units stated that the pro-government volunteer fighters, commonly known by the Arabic name Hashd al-Sha'abi, had liberated the border village of Chair Qalfas from the grip of Daesh Takfiris, and raised national Iraqi flags over several buildings there.
500 Daesh terrorists trapped in Mosul's Old City
Separately, Lieutenant Captain Abdulah Taha of the Federal Police said on Friday that the number of Daesh militants remaining in western Mosul's Old City now stands at 500.
Taha said Daesh extremists are shifting locations swiftly across the district's narrow streets and inside residential buildings in an attempt to create an impression that their numbers are much higher.
2,000 Daesh members slain amid west Mosul battle
Moreover, Hisham al-Hashemi, an Iraqi security analyst, said Daesh terror group has lost at least 2,000 members, nearly 300 bombers and 350 snipers ever since the military operation to liberate western Mosul started more than three months ago.
He added that the Takfiris have also lost control over 93 percent of the territories they once held in western Mosul.
Hashemi further noted that Iraqi government forces and their allies have also destroyed seven Daesh arms depots and two chemical plants during the mentioned period, and shot down 75 unmanned aerial vehicles.
Iraqi army soldiers and volunteer fighters from the Popular Mobilization Units have made sweeping gains against the Takfiri elements since launching the Mosul operation on October 17, 2016.
The Iraqi forces took control of eastern Mosul in January after 100 days of fighting, and launched the battle in the west on February 19.
http://www.presstv.ir/Detail/2017/06/02/523986/Daesh-religious-police-chief-killed-Mosul-Zanjili-neighborhood
--------
ISIL's Centers in Deir Ezzur Receive Severe Blow in Syrian Armed Forces' Attacks
Jun 02, 2017
The artillery and missile units shelled heavily ISIL's positions in the neighborhoods of Old Airport, al-Huweiqa, al-Roshdiyeh, al-Hamidiyeh, Huweiqa Sakar, Gas hill and in areas surrounding al-Tayem oilfield, West of Tal (hill) al-Sonouf, near Panorama base and in the village of al-Baqaliyeh, killing and wounding a large number of terrorists and destroying their military equipment.
In the meantime, the army aircraft carried out repeated combat sorties over ISIL's strongholds in al-Roshdiyeh, around airport and in the village of al-Jafrah in Southern countryside of Deir Ezzur city, killing and wounding a large number of terrorists and destroying their military hardware.
In relevant developments in the province on Wednesday, the army's artillery and missile units along with the country's Air Force pounded ISIL's movement and positions South and South-West of Deir Ezzur city and managed to repel the terrorists' heavy attacks on pro-government forces' positions.
The artillery and missile units opened heavy fire at the movements of a group of ISIL terrorists that had attacked the army positions in areas surrounding the Gas Company West of Regiment 137 base in the Southern outskirts of Deir Ezzur, repelling their attack and killing 11 of the militants.
In the meantime, the army soldiers, backed up by the army aircraft, engaged in fierce clashes with ISIL in al-Maqaber (cemetery) region, near Panorama base and Regiment 137 base.
Full report at:
http://en.farsnews.com/newstext.aspx?nn=13960312000281
--------
Several Terrorists, Including Commanders, Killed in Roadside Blasts in Dara'a
Jun 02, 2017
Mohammad Yasin al-Nasre and 12 more terrorists of FSA were killed and several more were wounded in the explosion of two bombs along a road that connects the town of Kafr Shams and Aqraba, the sources said.
The sources added that Field Commander of FSA's division 46 Ahmad Nayef al-Hossein from Qabaqeb region, Abdullah Hamzeh al-Sawah from Kafar Shams, Jahad Ayad al-Shahir from Kafr Shams, Ahmad Mohammad al-Zarqawi form Kafr Shams, Tamam Basem al-Qousani form Qiteh region, Talal Nabil al-Qousani from Qiteh, Mohamamd Ramadhan Qasam al-Qafari form Qiteh, Jebran Ahmad al-Mahawash from Quneitra, Ibrahim Anad al-Hamdan from Quneitra, Qasim Mohammad al-A'ar from Qunietra and Homam Yusif al-Rahil from Damascus were the FSA terrorists killed in the blasts.
No group has thus far claimed the responsibility for the blasts.
Relevant reports said on Thursday that another convoy of the Syrian army forces arrived in Dara'a province along with a large cargo of weapons and military equipment.
The fresh forces joined their comrades on Wednesday as the Syrian army had earlier dispatched two other convoys of soldiers to Dara'a.
Hundreds of Syrian forces and a large batch of military supplies were sent to Dara'a province as it seems that pro-gov't forces were preparing to start a new anti-terrorism operation in the region.
Full report at:
http://en.farsnews.com/newstext.aspx?nn=13960312000258
--------
Syrian Army Opens New Front to Hit ISIL's Defense Lines in Aleppo
Jun 02, 2017
The sources said that the army soldiers began targeting ISIL's positions along the entire frontier East of the Aleppo supply road, adding that following fresh gains by the Tiger Forces in the Maskana Plains, the forces of the 30th Division of the Republican Guard headed from the provincial capital to the Khanasser Plains, looking to slice adrift ISIL's territory in Southeastern Aleppo.
The Republican Guard is yet to begin large-scale storming operations and is currently gathering information and intel on ISIL positions.
Relevant reports said on Thursday that the army continued military operations in Eastern Aleppo to drive terrorists out of the province, blitzing in three fronts to recapture the town of Maskana as the ISIL last bastion.
The Syrian soldiers could retake control of the village of al-Far in the Southwestern parts of Maskana after clashes with the ISIL terrorists.
Based on field reports, Maskana was encircled by pro-gov't forces via the Northern, Western and Eastern directions.
Also, the Syrian army's front line positions overlook Maskana-Tabaqa-Raqqa road which was the only remaining way for the ISIL militants to withdraw from the strategic town.
Full report at:
http://en.farsnews.com/newstext.aspx?nn=13960312000197
--------
Syrian Army Seizes US-Made Military Vehicles in Captured ISIL Base in Homs
Jun 02, 2017
The army men were carrying out cleansing operation in the newly-captured regions in Badiyeh when they discovered several High Mobility Multipurpose Wheeled Vehicle (HMMWV), commonly known as the Humvee, at the ISIL base.
The Humvee vehicles were equipped with communication devices and a number of bombs.
In the meantime, the army forces seized maquettes of armored vehicles, cannons and missile launchers used by ISIL to fool reconissance planes imaging the region.
In relevant developments but in Northern Syria in March, the army troops discovered several ISIL hideouts stashed with a large volume of US-manufactured weapons and ammunition in the Northern province of Aleppo.
Full report at:
http://en.farsnews.com/newstext.aspx?nn=13960312000333
--------
Syrian Air Force Continues to Bomb ISIL's Positions Heavily in Deir Ezzur
Jun 02, 2017
ISIL lost a number of forces and its military hardware sustained major damage in the army air raids on terrorists' positions and movements in al-Maqaber (cemetery) region, Tal (hill) Aloush, Tal 17 and Tamin Brigade baes.
The army forces, meantime, repelled an attack of ISIL on the pro-government forces' positons in al-Huweiqa neighborhood, killing a number of terrorists.
Also, the army's artillery and missile units opened fire at ISIL's centers in al-Maqaber, Panorama base, Tal Borouk, Tal Alounsh and the city's old airport.
Also, at least 17 people were killed and 40 more wounded in an ISIL terrorist attack on Syria's Eastern province of Deir Ezzur on Tuesday.
According to the so-called Syrian Observatory for Human Rights, three children were among those killed in the mortar attack which targeted the town of al-Joura in the province.
"The shelling hit just before families were gathering to break the Ramadan fast," the UK-based monitoring group's director Rami Abdel Rahman said.
Local sources said that at least six shells fell on the city during the attack which also wounded at least 40 people.
"Some of them are in critical condition, but the health situation in the neighborhood is deteriorating because of the lack of staff, medicine, and medical equipment," a local activist added.
Full report at:
http://en.farsnews.com/newstext.aspx?nn=13960312000459
--------
Kurdish-Led SDF on Verge of Cutting off Last ISIL's Supply Line to Raqqa
Jun 02, 2017
The sources said that following the liberation of a dozen villages in the last 48 hours, the SDF managed to impose full control over the village of al-Thadyayn Southwest of Raqqa, thus cementing its siege of a tiny ISIL pocket around the junction town of al-Mansoureh.
At least 19 ISIL militants were killed during the clashes while dozens of RPG rocket launchers and tons of ammunition were seized, Kurdish sources said.
In relevant developments in the province on Tuesday, the SDF fighters launched fresh attacks to cut off ISIL's supply lines between Raqqa province and other cities in Syria and managed to take full control over the villages of al-Houreh, Baroudeh and Matyoureh 20km East of the newly-liberated town of al-Tabaqa.
Full report at:
http://en.farsnews.com/newstext.aspx?nn=13960312000554
--------
Iraqi forces take one of four districts in Mosul's ISIS-held enclave
3 June 2017
US-backed Iraqi forces on Friday captured one of the four districts making up the ISIS-held enclave in Mosul, a military statement said.
The elite Counter Terrorism Service (CTS) units took the Sihha district, about one week after the start of operations to dislodge the militants from the enclave and finish off the offensive to capture Mosul, now in its eighth month.
With the loss of Sihha, the enclave has shrunk to three districts alongside the western bank of the Tigris river -- the densely populated Old City center, Zanjili and the Medical City.
Iraqi government forces retook eastern Mosul in January and began a new push on May 27 to capture the enclave where about 200,000 people are trapped in harrowing conditions.
The Mosul offensive started in October with air and ground support from a US-led international coalition. It has taken much longer than expected as ISIS is fighting in the middle of civilians, slowing the advance of the assailants.
At least seven civilians were killed and 23 wounded by ISIS mortar shells as they tried to flee Zanjili on Thursday, Iraqi police said.
The fall of Mosul would, in effect, mark the end of the Iraqi half of the ''caliphate'' declared in 2014 over parts of Iraq and Syria by ISIS leader Abu Bakr al-Baghdadi, in a speech from a historic mosque in the old city.
In Syria, Kurdish forces backed by US-air strikes are besieging ISIS forces in the city of Raqqa, the militants' de facto capital in that country.
Full report at:
https://english.alarabiya.net/en/News/middle-east/2017/06/03/Iraqi-forces-take-one-of-four-districts-in-Mosul-s-ISIS-held-enclave.html
--------
Iraq's PMU enters Syrian villages in spite of Kurdish warning
3 June 2017
Iraq's mostly Iran-backed Shiite paramilitary forces known as Popular Mobilization Units (PMU) have entered Syrian villages, leading to the flight of hundreds of local families, who feared possible retaliation from Syrian militias on ground, Al Arabiya.net, the Arabic language website for Al Arabiya News Channel, reported on Friday.
The US-backed Syrian Democratic Forces (SDF), which has mainly Kurdish fighters, said it will never accept the presence of Iranian affiliates and they will never under any circumstances act as a bridge between PMU and the Tehran-backed Syrian regime.
PMU had made it clear previously that it wanted to enter Syria. This has led to the warning by SDF to the Iraqi paramilitary forces if the latter enters areas under its control, a Kurdish leader recently told the London-based Asharq Al-Awsat in an interview.
Al Arabiya.net reported that PMU moved into the villages of Al-Bawardi and Qusayba Al-Souritin in the countryside of the far northeastern Syrian Al-Hasakah governorate.
In January, ISIS attacked the southern countryside of Hasakah in a bid to regain positions that were taken by the Kurdish forces in February 2016.
While these villages are now free from ISIS control after the militant group's withdrawal, PMU entering Kurdish-controlled areas might escalate conflict again.
PMU advancing into Syrian territory comes after its recent stationing at the Iraqi side of Umm Ghrais village, which is seen as an extension of Iran's strategy linking both Iraq and Syria.
Full report at:
https://english.alarabiya.net/en/News/middle-east/2017/06/03/Iraq-s-PMU-enters-Syrian-villages-in-spite-of-Kurdish-warning-.html
--------
UN rights chief urges Bahrain to investigate Diraz violence
Jun 3, 2017
A UN human rights chief has called on Bahrain to probe a raid by regime forces on the house of Sheikh Isa Qassim which left five people dead last month.
"I urge the government to investigate the events of 23 May, in particular the loss of lives, to ensure that the findings are made public and that those responsible are held accountable," UN High Commissioner for Human Rights Zeid Ra'ad al-Hussein said Friday.
Dozens of people were also injured when regime forces attacked Sheikh Qassim's supporters in the northwestern village of Diraz. The clergyman's fate remains unknown, with some reports saying he is under house arrest.
The scuffles came two days after Sheikh Qassim was handed a suspended one-year prison term and ordered to pay a fine over accusations that he had used his position to serve foreign interests and promote sectarianism and violence.
Qassim, the spiritual leader of Bahrain's main Shia opposition group al-Wefaq National Islamic Society, was stripped of his nationality last June despite denying the allegations.
In a statement, Hussein urged Bahrain "to choose a different path – one of engagement and dialog, as well as accountability for violence, regardless of the perpetrator."
On Wednesday, Wefaq Deputy Secretary General Sheikh Hussein al-Daihi, called on the UN to conduct an investigation into rights violations in Bahrain.
"After all these crimes and violations and after the Diraz massacre, is it not high time for the United Nations secretary general to send a special representative to Bahrain?" he told the Middle East Eye news portal.
Daihi also accused the international community of being complicit in the regime's killings and measures against Sheikh Qassim.
"We believe that this latest escalation and the attack against Diraz … have taken place based on American and British approval, and are a result of the international community's silence and complicity in the crimes committed against the political majority as well as the majority of the population in Bahrain," he said.
The Diraz bloodshed came less than 48 hours after Bahraini King Hamad bin Isa Al Khalifah met with US President Donald Trump on the sidelines of a summit in the Saudi capital, Riyadh.
Analysts believe Manama's fresh crackdown on political dissent and King Hamad's meeting with Trump were no coincidence.
Since the Diraz attack, people have held several protests across Bahrain to denounce the incident and express solidarity with its victims.
On Friday, Bahraini demonstrators took to the streets of the city of Jidhafs to demand the removal of the US Navy Fifth Fleet from the tiny Persian Gulf country.
There was another protest in the village of Sanabis, where participants called for the overthrow of the Al Khalifah monarchy.
Full report at:
http://www.presstv.ir/Detail/2017/06/03/524028/Bahrain-Diraz-Sheikh-Isa-Qassim
--------
Africa
A group of Mayfair youth teaching non-Muslim about Islam
June 03, 2017
A group of Muslim youth in Mayfair, Uplift Daawah South Africa, has embarked on a journey to teach non-Muslims about Islam. They want to unite Christians and Muslims. The group is going around the province, rubbishing the notion that most terrorists groups are affiliated with Muslims.
The group said Muslims have nothing against Christians as a lot of people describe it. They are also planning to expand their program to other provinces. Going around wearing t-shirts branded 'I love Jesus because I am Muslim' the group is adamant that their journey will assist a lot of people who think Christians and Muslims are enemies.
Yahya Albanna, chairman of Uplift Daawah, said "the communities have received them with warm hands, "A lot of non- Muslims had no idea about Islam. We love and respect other religions. Remember Islam is the way of life. There are some similarities between Islam and African tradition. We strongly believe that Islam originated in Africa".
He adds, "In our Quran the name of Jesus is written more than 15 times, we understand that a lot of people will have their objections but we are willing to clarify any confusion".
Full report at:
http://risingsunlenasia.co.za/39944/__trashed-2/
--------
7 killed in twin suicide attack in northern Cameroon
02 June 2017
Seven people were killed Friday in a double suicide bomb attack in Cameroon's Far North region, officials said.
The two attackers also died in the blasts, which injured 30 others at around 5.30 a.m. local time (0430GMT) in Bourvare, a village near the Nigerian border.
Regional Governor Midjiyawa Bakari blamed the attack on Boko Haram, the militant group that has carried out attacks and kidnappings in Cameroon as it has widened its insurgency to the area around Lake Chad.
"The two explosions took place around 5.30 a.m. when the Muslim faithful went to pray," local imam Saidou Hassan said.
"On the spot, we counted nine dead, including two suicide bombers of Nigerian nationality. Some 30 wounded were taken to the Mora and Maroua hospital."
On Thursday, two suicide bombers injured two people in the same border region and last week three suicide bombers were killed near a market as they attempted to set off explosives.
Around 26 million people in the Lake Chad region have been affected by Boko Haram violence and more than 2.6 million displaced, according to the UN.
Full report at:
http://www.worldbulletin.net/africa/190332/7-killed-in-twin-suicide-attack-in-northern-cameroon
--------
Gambia: UNICEF's D3.2 Million Maintenance Project at Muslim SSS to Complete Soon
2 JUNE 2017
By Lamin B. Darboe
The principal of Gambia Muslim Senior Secondary School (GMSSS) in Banjul has revealed that UNICEF's D3.2 million maintenance project in his school is nearly in completion.
Lamin Kambai Marong made this revelation during the school's 37th Speech and Prize Giving ceremony held recently at the school premises.
According to him, UNICEF is renovating main classroom buildings and four science labs in the school that were destroyed by a heavy rainstorm in August 2015, thus informing parents that it was MoBSE who secured the funds from UNICEF.
He informed parents that the contract for the maintenance work was awarded to Future In Our Hands (FIOH) and the work is nearly in completion thus BADEA also provided some funds to the tune of US$14500 for the rehabilitation of the science labs through MoBSE.
"The contract for the rehabilitation was awarded to Bouvis Construction Company but the said funds was not sufficient for all the four labs destroyed by the heavy rainstorm in August 2015," Marong revealed.
Since the advent of the School Improvement Grant (SIG) in September 2015, Marong went on, there has been a sign of relief by the school management and parents for the free education introduced by The Gambia government.
He said it is free in the eyes of parents and the students but government is actually paying on their behalf through the Ministry of Basic and Secondary Education.
Mr. Marong affirmed that these payments have not only relieved the parents of financial burden, reduced absenteeism, dropout, but also helped the school to fulfill its responsibilities to its clientele.
Principal Marong on behalf of his staff also acknowledged the ex-students associations, especially The Gambia College Chapter for their love and support to their alma-mater.
He informed parents that this was their first graduation ceremony after the demise of the founding father, honorary life chairman and a regular visitor and sponsor of the Muslim SSS and its student late Dr. Ebrahim Malick Samba.
Full report at:
http://allafrica.com/stories/201706020954.html
--------
URL: https://www.newageislam.com/islamic-world-news/muslims-pray-break-fast-protest/d/111402
New Age Islam, Islam Online, Islamic Website, African Muslim News, Arab World News, South Asia News, Indian Muslim News, World Muslim News, Women in Islam, Islamic Feminism, Arab Women, Women In Arab, Islamophobia in America, Muslim Women in West, Islam Women and Feminism