New Age Islam News Bureau
2 Jun 2013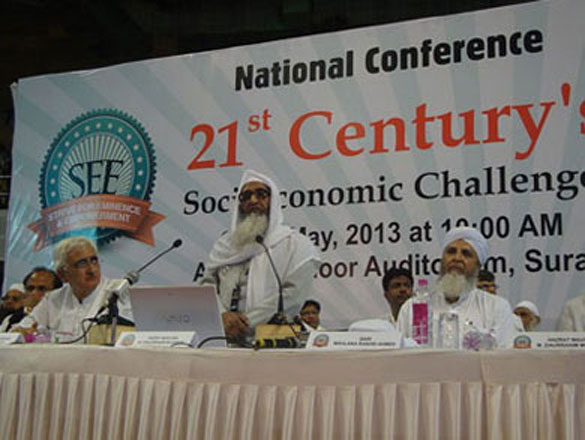 Photo: Hazrat Maulana Mohammed Fazlur Rahim Mujaddidi, Chairman of SEE, (Strive for Eminence and Empowerment), while delivering key-note address in the National Conference entitled "21st Century's Socio-economic Challenges" at Surat
---------
South Asia
• Maldivian Terrorist Was Brainwashed In Pakistan
• Afghan Taliban on fence-mending tour of Iran
• Ahle Sunnat urges govt to arrest Hefazat leaders
• Trial delayed for US citizen accused of funding Maldivian terrorist in 2009
• Dhaka Court accepts charges against 4 bloggers
Africa
• Polio Vaccines Rejected Over Rumours of Aid and Infertility Spread by Islamic Extremists
• Suspected Islamist militants attack Niger prison
• South Africa investigates Libyan claims on stashed Gaddafi assets
• Mauritania Says U.S. Sent Prisoner from Afghan Base
Mideast
• Qaida chief warns attacks on US in 'everyone's reach'
• Iranian presidential candidate's staff arrested after 'inflammatory' speech: report
• Police Retreat as Protests Expand Through Turkey
• Netanyahu slams anti-Arab racism, 'price tag' attacks
Pakistan
• First Sikh MPA since partition takes oath
• Taliban kill school principal in FR Peshawar
• Zardari not to seek another presidential term
• PML-N nominates NP's Abdul Malik Baloch as Balochistan CM
• Two NATO containers torched in Mastung by militants
• Stalemate: Balochistan coalition to take shape after Nawaz's oath
• Wali killed on a tip-off by Hakimullah supporter
• Governor Rule possible if Sindh govt fails: Mumtaz Bhutto
Arab World
• Eight Syrian security forces killed in Damascus car bomb: NGO
• Iraq uncovers al-Qaeda 'chemical weapons plot'
• Egypt's top court: Shura Council and constitution panel 'invalid'
• Over 7,000 Syrian refugees return from Iraq as security improves
• Grand Mosque complex Library at Mecca enriches Haram glory
• As Syrians Fight, Sectarian Strife Infects Mideast
• Lebanon: Israeli warplanes violate airspace
• Saudis need extra training 'to replace expats'
• Gunmen kill 3 Syrian truck drivers on highway in western Iraq
• 100,000 Egyptian Shias sign anti-Morsi Rebel campaign: spokesman
• Syrian rebels, Hezbollah in deadly fight in Lebanon: Sources
• Aid agencies alarmed over civilians trapped in Syria town of Qusair
Europe
• Russia blocks UN declaration on Qusair: Diplomat
• Russian Force Arrests Mayor Tied to Killing in Dagestan
• France offers to help Libya secure borders from Islamists
• Fighting in Syria's Qusair, UN says world watching
• Wave of Grief and Political Reverberations Grip Britain after Soldier's Killing
• British Muslim man admits to Prince Harry death threats
Southeast Asia
• Myanmar Embassy Bomb Plot Involved Use of Chemical Explosives
• Presidency Beckons for Jakarta's Rags-to-Riches Governor
• Indonesian School Combats Illiteracy with Mom, Child Classes
• Another Indonesian church sealed off after 22 years of peaceful coexistence
• Nurul Izzah calls Musa's allegation a fabrication
• Malaysian exchangers helped hide paper trail for world's largest cyber money-launderer
India
• Muslims Must Be Part of Inclusive Growth, for India to Become Super Power: Noted Cleric
• Jamiat to challenge CBI charge sheet
• Pak grabs PM's olive branch, seeks talks
• Indian Bilal Habib among UNESCO's young scientist award winners
• Fake soul healer shocks Sufi oriented Valley
• India tells US to hand over David Headley 'temporarily' for a year
• Families demand release of Muslim youths implicated in terror charge
North America
• US denies handing two ex-Guantanamo detainees to Mauritania
• Canadian MPs decry Iran human rights violations
Compiled by New Age Islam News Bureau
URL: https://newageislam.com/islamic-world-news/muslims-be-part-inclusive-growth,/d/11854
---------------
Muslims Must Be Part of Inclusive Growth, for India to Become Super Power: Noted Cleric
June 1, 2013
Pervez Bari, ummid.com
Bhopal: The Indian Government's dream to become super power can never fructify until and unless Muslims are made part and parcel of inclusive growth and equal partners in the country's all round development.
This was declared by Hazrat Maulana Mohammed Fazlur Rahim Mujaddidi, Chairman of SEE, (Strive for Eminence and Empowerment), while delivering key-note address in the National Conference entitled "21st Century's Socio-economic Challenges" at Surat the other day.
Maulana Mujaddidi, a noted Muslim cleric and also member of the steering committee of Planning Commission of India, said in the 20th century the basic need of all Indians was "Roti, Kapda Aur Makaan". While in the 21st Century these needs have transformed into decent meals (nutritious); "Pukka Makaan" with electricity, safe drinking water, Quality Education, Health Care & Economic participation.
Maulana Mujaddidi opined Muslims don't enjoy much social status in the state of Gujarat. At least 50 per cent of Muslim population is backward and lives below poverty line (BPL) in the state. Here Muslims are denied pre-Matric scholarships which is their right.
Lambasting the rightist Bharatiya Janata Party, (BJP) ruled Gujarat, Maulana Mujaddidi said, "Modi's claim of Gujarat shining is a hoax."
He questioned if he (Modi) talks about 60 millions Gujaratis then why is it that he ignores Muslim community?
"Every state provides pre-Matric scholarships of Federal Indian Government to Muslims, except Gujarat. Implementation of welfare schemes in Gujarat, compared to other states is very poor. If Gujarat has to become a vibrant state, it has to focus on inclusive growth and include Muslims too in its plan", he added.
Maulana Mujaddidi said that the 12th Plan which has been signed by chief ministers of all states belonging to Congress, BJP, BSP, SP etc. is not a document of all these political parties but it is "Bharatvarsh Ka Plan". Planning Commission has accepted Muslims as most backward then why Gujarat Chief Minister Narendra Modi after signing the 12th Plan document has not been giving pre-Matric scholarships to Muslim children and the courts had to intervene in the matter, he pointed out.
"China will overtake US to become the world super power. India is the fastest growing economy of the world after China. During the year 2011-12, GDP growth rate was 6.5 per cent adding approx. Rs.50, 00,000/- crores to the exchequer. This rapid growth in India is likely to slow down after 2020. Those having an eye upon the economic matters are familiar with the variance in the growth rate of an economy", he said.
"According to expert economists it is not a steady phenomenon, but has a trend of inconsistency in it. When infrastructural critical gaps are outsized, it has a propensity to increase, and with the filling of these gaps, it tends to slow down. It is anticipated that in our country these spaces will be filled up after 2020", he said.
As a consequence, he said, the government will accordingly spend lesser amount in social sphere, and eventually it will be moved in the private hands. This trend is to some extent is manifested in the 12th Plan. Briefly it can be said that in 12th and 13th Plans there will be huge expenditure in the educational and health like sectors, which is not likely to be further replicated, he opined.
Continuing Maulana Mujaddidi in his about 90 minute address exhorted Muslims to keep themselves ready and be in a combative mode to face the 21st Century challenges, problems and ideas in favour of qualitative change from the previous century.
He urged the Muslims to remain vigilant and keep an eye on the various government schemes for minorities, to make sure that Muslims could achieve the maximum benefit.
He made a fervent appeal to Muslims to acquire modern education and while expressing satisfaction with minority chapter of 12th Five Year Plan he said that proper implementation of welfare schemes can bring dramatic changes in due course.
He exhorted Muslims to remain alert and make it a political demand/agenda and ask their members of Parliament (MP), members of legislative assemblies and Corporators about their welfare.
"You should act as a Millat and not as individual/group/Bradaries. You should look at the deliveries and not commitments made by the people's representatives or government of the day", he added.
Maulana Mujaddidi, however, lamented that one year has elapsed in the implementation of 12th Plan but he Ministry of Minority Affairs has not made road map for development of infrastructure for minorities dominated areas.
Speaking as chief guest on the occasion Indian External Affairs Minister Salman Khurshid endorsed Maulana Mujaddidi's mission in favour of Muslims upliftment by suggesting them not to fell prey to emotional issues.
He compared Surat Conference with Wardha Scheme of Mahatma Gandhi's era and expressed hope that proper implementations of various welfare schemes as suggested in 12th Plan can bring dramatic changes in due course.
Khurshid said only education has the power to bring about change in the socio-economic status of the community. Reservation should be given on the basis of backwardness and not religion, he added.
Mrs. Luis Khurshid wife of Salman Khurshid offered a piece of land to Mr. Mujaddidi to establish a secondary school in Farrukhabad (UP).
http://www.ummid.com/news/2013/June/01.06.2013/ujaddidi_to_muslims.html#sthash.200N3UsF.dpuf
---------------
South Asia
Maldivian Terrorist Was Brainwashed In Pakistan
By Minivan News | June 2nd, 2013
The Maldivian citizen who conducted a terrorist attack against Pakistan's Inter-Services Intelligence (ISI) headquarters in 2009, was brainwashed during his madrasa education in Pakistan, claims his brother.
On May 27, 2009, Ali Jaleel – along with two other men – stormed Pakistan's Inter-Services Intelligence (ISI) headquarters in Lahore and detonated a car bomb that killed about 30 people and injured 300.
Jaleel allegedly received funding from a US citizen, Reaz Qadir Khan – currently charged in the US with conspiracy to provide material support to a terrorist – to pay for admission into a terrorist training camp in Pakistan.
Jaleel was brainwashed while studying at the Pakistani madrasa Jamia Salafia seminary, his brother Jalla claimed in an investigative feature story, conducted by US publication The Oregonian.
"He had been brainwashed," Jalla told the US publication. "He thought jihad was the best way to meet God."
Jaleel began his studies at the Jamia Salafia seminary in Faisalabad, Pakistan, in 1995. When Jaleel returned to the Maldives a year after beginning his studies at the Pakistani madrassa, he was "different", according to The Oregonian.
Jalla explained that in addition to the changes in Jaleel's appearance – he grew a beard and wore salwars, a popular form of Pakistani dress – "Ali was righteous and distant".
Although the brothers previously had a very close relationship, a rift began to develop due to Jaleel's new-found ideology and behaviour.
By 2001, jihad became the only thing that mattered to 22 year-old Jaleel, who spoke of immigrating to Yemen and "being a messenger for Allah" and had abandoned his previous dreams of becoming a "sports here", according to Jalla.
Madrasa drive
In the late 1970's, former President Maumoon Abdul Gayoom wanted to westernise the islands to prepare Maldivians for the introduction of international luxury tourism and believed education was "the key", according to The Oregonian.
However, few educational options were available in the Maldives beyond a 10th grade education, with opportunities to study abroad limited to "well connected" Maldivian families.
India and Pakistan responded by offering inexpensive postsecondary education opportunities to Maldivian citizens at religious schools, beginning in the late 1970's and early 1980's.
"It was very cheap. Pakistan said, 'Give us your kids, we will teach them the Quran,'" President's Office Spokesperson Masood Imad told The Oregonian, in regard to the "madrasa drive."
Maldivian government officials began expressing their concern in 2006 that Maldivians were returning from their madrasa studies in Pakistan with radical beliefs, according to the US publication.
Imad claimed that the Maldivian government is no longer sending students to study in Pakistan, because "the risk is perceived to be too great".
"When people say, 'Jihadis,' we're scared, damn scared," Imad said. "It's going to hurt our economy."
Unclear government policy
Whether Maldivian students are still travelling to Pakistan for their postsecondary studies, or if there is a monitoring policy in place for the madrasas they are attending, remains unclear.
Islamic Affairs Minister Sheikh Mohamed Shaheem Ali Saeed told Minivan News to ask the Education Minister.
The Education Minister Asim Ahmed and Foreign Affairs Minister Dr Abdul Samad Abdullah were not responding to calls at time of press.
Religious conservatism and extremist violence have been increasing in the Maldives over the past decade, while incidents of Maldivians joining overseas jihadist groups are becoming more common, according to a 2013 report published in the Combating Terrorism Centre (CTC) Sentinel, a publication based out of the West Point military academy in the US.
The report found that education in foreign madrasas has also contributed to growing extremism within the Maldives, with students "unwittingly attending more radical madrasas" and preaching these views upon their return.
"The offer of free education in madrasas in Pakistan and Saudi Arabia is widely acknowledged as a core means of radicalising Maldivians locally, with well-meaning parents sending their children off on scholarships to 'study Islam'," the report states.
Following the 2007 terrorist attack in Male's Sultan Park, "Gayoom himself warned of this problem".
"Maldivians are influenced by what is happening in the world. They go to Pakistan, study in madrasas and come back with extreme religious ideas," the report quoted Gayoom as saying.
However, in August 2012, the Maldivian government said there was no truth in claims Maldivian citizens were being radicalised at Pakistan-based madrasas, following the publication of the US State Department's 2011 terrorism report.
Active steps had been taken against permitting clearance for local students to study in any madrasas in Pakistan, President's Office spokesperson Abbas Adil Riza said at the time.
"No Maldivians right now are being trained in Pakistani madrasas. Steps are being taken to ensure this with the Ministry of Foreign Affairs and authorities in Pakistan," he said. "We will not issue visas to go there in this regard. So to say that such a threat exists is definitely not true."
However, the following month, former State Minister of Education Aminath Ali highlighted the need to simplify the Pakistani visa procedure for Maldivian students hoping to enter the country's higher-learning institutions.
In early 2010, then-Vice President Mohamed Waheed Hassan Manik told Indian media that young Maldivians are being recruited by militant groups in Pakistan and Afghanistan to wage 'jihad'.
Waheed claimed an increasing number of young Maldivians "are embracing a version of Islam which is stricter than the traditional Islamic values [of the Maldives]."
In late 2010, a diplomatic cable was leaked that highlighted United States diplomats expressed concern back in October 2008 regarding the activities of "al-Qaida associates" in the Maldives.
"While many Maldivian participants of extremist online forums aimed to ultimately fight Coalition forces in Iraq and Afghanistan, mid-October 2007 debrief information following the September 29 bombing in Male' that targeted tourists indicates at least two of the operatives participated in the attack in exchange for travel from the islands after the operation and arranged study at a madrasa in Pakistan."
http://minivannews.com/society/maldivian-terrorist-was-brainwashed-in-pakistan-claims-brother-58857
---------------
Afghan Taliban on fence-mending tour of Iran
June 2, 2013
ISLAMABAD: Three Afghan Taliban interlocutors have embarked on a fence-mending mission to Iran, the militia confirmed to The Express Tribune late Saturday through two of its officials.
The Taliban mediators — believed to be drawn from the group's negotiating team in Qatar — are holding talks with the Iranian officials in an effort to remove misunderstandings between the two sides, the Taliban officials said on condition of anonymity.
"The Taliban will explain their policies and will allay the fears of Iran as it always had concerns about Taliban being Sunnis," one of the Taliban officials said.
Syed Tayyeb Agha, Maulvi Shahabuddin Dilawar and Sher Muhammad Abbas Stanakzai are all part of the delegation.
Taliban officials said that Tehran had invited the Taliban leaders for talks for future cooperation.
They started the visit on Friday after approval by the top leadership. This is the first high level and formal interaction between the two sides, the Taliban officials said.
It is believed that Iran extended an invitation to the Taliban to have its role in any future process ahead of the 2014 endgame.
http://tribune.com.pk/story/557767/future-cooperation-afghan-taliban-on-fence-mending-tour-of-iran/
---------------
Ahle Sunnat urges govt to arrest Hefajat leaders
Jun 2, 2013
Ahle Sunnat Wal Jama'at yesterday demanded that the government arrest all leaders of Hefajat-e Islam who were masterminds behind the destructive activities in the capital on May 5.
Leaders of the sunni ideology based Islamist organisation were addressing a rally at Hathazari Bus Stand in Chittagong.
Criticising the Awami League-led government, they said although Hefajat activists defamed the holy Quran and mosques by setting those ablaze, the government was not taking any stern action against the culprits.
Full report at:
http://www.thedailystar.net/beta2/news/ahle-sunnat-urges-govt-to-arrest-hefajat-leaders/
---------------
Trial delayed for US citizen accused of funding Maldivian terrorist in 2009 Lahore bombing
By Minivan News | June 1st, 2013
The trial of a US citizen who has been charged in the United States with conspiracy to provide material support to a terrorist who helped carry out a deadly attack in Pakistan in 2009 has been postponed.
Reaz Qadir Khan, a 49 year-old waste water treatment plant operator for the city of Portland, US, was arrested on March 5 on charges of providing advice and funds to Maldivian national Ali Jaleel.
On May 27, 2009, Jaleel – along with two other men – stormed Pakistan's Inter-Services Intelligence (ISI) headquarters in Lahore and detonated a car bomb that left around 23 people dead and a further 300 injured.
Full report at:
http://minivannews.com/society/trial-delayed-for-us-citizen-accused-of-funding-maldivian-terrorist-in-lahore-bombing-58788
---------------
Dhaka Court accepts charges against 4 bloggers
Jun 2, 2013
A Dhaka court on Sunday accepted charges against four bloggers in two cases filed for posting "derogatory comments about Islam and Prophet Muhammad (pbuh)" on the internet.
The bloggers are Asif Mohiuddin, Moshiur Rahman Biplob, Subrata Adhikari Shuvo and Russel Parvez.
Judge Md Zahirul Haque of the Court of Metropolitan Sessions Judge passed the order in presence of the four bloggers and fixed June 27 for starting hearing on charge framing against them.
Full report at:
http://www.thedailystar.net/beta2/news/court-accepts-charges-against-4-bloggers/
---------------
Africa
Polio Vaccines Rejected Over Rumours of Aid and Infertility Spread by Islamic Extremists
Abdi Guled, The Associated Press
June 1, 2013
MOGADISHU, Somalia -- Islamic extremist rebels are fighting a campaign in Somalia to administer a polio vaccine, charging that it contains the virus that causes AIDS or could make children sterile, a battle of words that is frustrating health workers.
Al-Shabab, the rebels linked to al Qaeda, have discouraged many parents from getting their children inoculated against polio, a disease that is an incipient problem in this Horn of Africa nation long plagued by armed conflict and disease, according to health workers who spoke to The Associated Press.
The al-Shabab extremists have been pushed out of virtually all of Somalia's cities and face continued military pressure from African Union and government troops. Health workers are gaining access to more children to give the life-saving polio vaccine. But some mothers and fathers are refusing the inoculation, apparently heeding the advice of the Islamic militants who warn that the vaccination exercise is part of a foreign conspiracy to kill or weaken Somali children.
Full report at:
http://www.ctvnews.ca/health/in-somalia-polio-vaccines-rejected-over-rumours-spread-by-islamic-extremists-1.1306774#ixzz2V3lEasqi
---------------
Suspected Islamist militants attack Niger prison
Jun 2, 2013
Gunmen have attacked the main prison in Niger's capital, Niamey, killing at least two guards, officials say.
They are thought to be members of the Islamist militant group, Movement for Unity and Jihad in West Africa (Mujao).
Officials said several inmates were overpowered and detained after what appeared to be an attempted breakout.
The attack comes days after Mujao said it was behind suicide bombings at a military base and a French-operated uranium mine which killed 25 people.
Full report at:
http://www.bbc.co.uk/news/world-africa-22742652
----------
South Africa investigates Libyan claims on stashed Gaddafi assets
JUN 02, 2013
JOHANNESBURG (Reuters) - South Africa's Treasury is looking into Libyan assertions that slain leader Muammar Gaddafi and his family stashed money and other assets in the country, a spokesman said on Sunday.
"There was a group that approached Treasury claiming to represent the Libyan government and we are in the process of verifying their claims about assets that are in South Africa," Finance Minister Pravin Gordhan's spokesman Jabulani Sikhakhane said.
Full report at:
http://www.nytimes.com/reuters/2013/06/02/world/africa/02reuters-safrica-libya.html?ref=africa
---------------
Mauritania Says U.S. Sent Prisoner From Afghan Base
Jun 2, 2013
NOUAKCHOTT, Mauritania — Officials in Mauritania said Saturday that American officials had transferred to their country a prisoner suspected of being a senior member of Al Qaeda who was previously held in Afghanistan.
The prisoner, Younis al-Mauritani, was arrested in Pakistan in September 2011, Pakistani officials said at the time. Mr. Mauritani, better known in his native Mauritania as Youssouf al-Mauritani, was seized during a joint operation with American intelligence services, Pakistan said.
Witnesses at the airport in Mauritania's capital, Nouakchott, saw a United States military plane deliver a prisoner late on Friday.
Mauritanian authorities confirmed Mr. Mauritani's identity, adding that he had been transferred from the United States military base in Bagram, Afghanistan.
"It's indeed Youssouf al-Mauritani — real name Abderhamane Ould Mohamed al-Hussein," said a senior security official, who asked not to be quoted by name.
Full report at:
http://www.nytimes.com/2013/06/02/world/africa/mauritania-says-us-sent-prisoner-from-afghan-base.html?pagewanted=print
---------------
Mideast
Qaida chief warns attacks on US in 'everyone's reach'
AFP | Jun 2, 2013
DUBAI: Al-Qaida's military chief in Yemen warned Americans in an audio message posted online on Sunday that the Boston bombings revealed fragile security as he urged Muslims to defend their religion.
Qassim al-Rimi, the military chief of Al-Qaida in the Arabian Peninsula, said making bombs such as the ones used in the twin blasts in Boston in April, is within "everyone's reach".
"The Boston events... and the poisoned letters (sent to the White House), regardless of who is behind them, show that your security is no longer under control, and that attacks on you have taken off and cannot be stopped," he said, in the message entitled: "A letter to the American people".
"Every day you will be hit by the unexpected, and your leaders will not be able to defend you," warned the man whose organization is considered by Washington as the world's most dangerous Al-Qaida branch.
Full report at:
http://timesofindia.indiatimes.com/world/middle-east/Qaida-chief-warns-attacks-on-US-in-everyones-reach/articleshow/20394765.cms
---------------
Iranian presidential candidate's staff arrested after 'inflamatory' speech: report
Reuters
June 02, 2013
Members of a moderate Iranian presidential candidate's campaign team were arrested on Saturday, an opposition website said, after a rally in which he criticised heightened security measures in the country.
Supporters of Hassan Rohani also shouted slogans in support of detained opposition leader Mirhossein Mousavi at the rally in Tehran, according to a video of the event posted on YouTube.
Rohani's criticism could be seen as potentially inflammatory before the June 14 election which authorities hope to tightly control, eager to prevent a repeat of the mass protests after the 2009 poll.
Full report at:
http://www.hindustantimes.com/world-news/restofasia/Iranian-presidential-candidate-s-staff-arrested-after-inflamatory-speech-report/Article1-1069749.aspx
---------------
Police Retreat as Protests Expand Through Turkey
By TIM ARANGO
Jun 2, 2013
ISTANBUL — Violent protests against the government of Prime Minister Recep Tayyip Erdogan engulfed Istanbul, Turkey's largest city, on Saturday and spread to other cities, including the capital, Ankara, as tens of thousands of demonstrators took to the streets in a second day of civil unrest and faced the tear gas and water cannons of a harsh police crackdown.
By late afternoon, the police withdrew from Istanbul's central Taksim Square, allowing the demonstrators to gather unimpeded in the place that set off the protests last week with government plans to turn a park into a replica Ottoman-era army barracks and mall. The departure of the police, who had been widely criticized for violent tactics on Friday, set off scenes of jubilation and destruction, as some drank and partied while others destroyed police vehicles and bulldozers.
Full report at:
http://www.nytimes.com/2013/06/02/world/europe/despite-protests-turkey-vows-to-push-ahead-with-plans-for-square.html?pagewanted=print
--------------
Netanyahu slams anti-Arab racism, 'price tag' attacks
2 June 2013
Israeli Prime Minister Benjamin Netanyahu on Sunday condemned acts of racism against the country's Arab population after an outcry over an amusement park which segregated Jewish and Arab children.
And he also pledged to bring to justice Israeli extremists behind the wave of so-called "price tag" hate crimes against Palestinians.
"I would like to strongly condemn recent phenomena of racism against Israeli Arabs and hooliganism against Palestinians, which were without any provocation or justification whatsoever," Netanyahu said at the start of the weekly cabinet meeting.
Full report at:
http://english.alarabiya.net/en/News/middle-east/2013/06/02/Netanyahu-slams-anti-Arab-racism-price-tag-attacks-.html
----------
Pakistan
First Sikh MPA since partition takes oath
June 2, 2013
LAHORE: Saturday marked a historic milestone for the Sikh community in the province. A Sikh representative, for the first time since 1947, took oath as a member of the provincial assembly in Punjab at its first session.
He was nominated on a seat reserved for minorities on a Pakistan Muslim League-Nawaz (PML-N) ticket.
Sardar Ramesh Singh Arora walked into the assembly hall wearing a traditional white shalwar kamees and an orange turban. Several parliamentarians and assembly officials shook hands with him and welcomed him. Several of his family and friends were there to support him as well.
Full report at:
http://tribune.com.pk/story/557678/stand-out-parliamentarians-first-sikh-mpa-since-partition-takes-oath/
---------------
Taliban kill school principal in FR Peshawar
June 2, 2013
PESHAWAR: Taliban militants killed the principal of a government high school in Pastawana, Frontier Region Peshawar Saturday night.
Local residents told The Express Tribune that dozens of heavily armed militants entered the house of headmaster Haji Rehman and opened fire at him, killing him on the spot.
It was not clear why the man was targeted but locals said that he had developed differences with the militants which eventually led to his death. "Probably he was considered pro-government by the militants and that was why he was killed in cold blood," said a local elder on condition of anonymity.
Full report at:
http://tribune.com.pk/story/557812/taliban-kill-school-principal-in-fr-peshawar/
---------------
Zardari not to seek another presidential term
Jun 2, 2013
ISLAMABAD: President Asif Ali Zardari said he will not see another presidential term after his present five-year term expires in September, DawnNews reported.
Speaking to media personnel on Saturday night in Islamabad, Zardari said Pakistan Peoples Party (PPP) would play a positive role in the incoming Pakistan Muslim League-Nawaz (PML-N) government.
The president said his party would unanimously support PML-N chief Nawaz Sharif to be elected as prime minister as was done in the case of former premier Yousuf Raza Gilani..
Moreover, Zardari said Nawaz Sharif would have to decide how to handle the cases of former military ruler General (retd) Pervez Musharraf.
Full report at:
http://beta.dawn.com/news/1015524/zardari-not-to-seek-another-presidential-term
---------------
PML-N nominates NP's Abdul Malik Baloch as Balochistan CM
Jun 2, 2013
MURREE: After consultation with other party leaders, Pakistan Muslim League-N (PML-N) chief Nawaz Sharif announced the nomination of National Party's (NP) Abdul Malik Baloch for the post of Balochistan Chief Minister.
In post-meeting press conference on Sunday, June 2, Nawaz Sharif also said that the next Balochistan governor would be appointed from Pashtoonkhwa Milli Awami Party. Sanaullah Zehri and Mir Hasil Bizenjo were also present on the occasion.
http://dawn.com/2013/06/02/pml-n-nominates-nps-abdul-malik-baloch-as-balochistan-cm/
---------------
Two NATO containers torched in Mastung by militants
Jun 2, 2013
QUETTA: Militants torched two NATO containers in Mastung district of Balochistan, levies said Sunday, June 2.
Munir Ahmed, a levies official told Dawn.com that two containers were attacked on their way back to Karachi after supplying fuel to US and NATO troops in Afghanistan.
He said initially that the militants opened fire on the trucks and then set them on fire.
Ahmed said that the drivers of the convoy survived the attack and managed to escape from the spot. "Both containers were completely burnt", Ahmed said.
Full report at:
http://dawn.com/2013/06/02/two-NATO-containers-torched-in-mastung-by-militants/
---------------
Stalemate: Balochistan coalition to take shape after Nawaz's oath
June 2, 2013
ISLAMABAD: The coalition government in Balochistan is likely to remain unformed until Nawaz Sharif takes oath as prime minister, a well-placed source in the Pakistan Muslim League-Nawaz said.
The ongoing deadlock over the joint selection of a suitable candidate as the next provincial chief minister is the main sticking point between PML-N and its junior partners Pashtunkhwa Milli Awami Party and the National Party.
Though the latter two have not directly opposed PML-N's Balochistan chapter president Sardar Sanaullah Zehri bid for the post, they have specifically told Nawaz's party officials that those leaders 'known for their corrupt practices should not be nominated as the future chief minister'.
Full report at:
http://tribune.com.pk/story/557714/stalemate-drags-on-balochistan-coalition-to-take-shape-after-nawazs-oath/
---------------
Wali killed on a tip-off by Hakimullah supporter
June 2, 2013
The US State Department has disclosed that Tehreek-e-Taliban Pakistan's deputy chief Waliur Rehman was targeted and killed by a drone attack on a tip-off provided by a member of the Hakimullah Mehsud-led Taliban group.
Sparking fresh controversy by the statement, it said the US will award the informer $5 million.
Full report at:
http://tribune.com.pk/story/557769/wali-killed-on-a-tip-off-by-hakimullah-supporter/
---------------
Governor Rule possible if Sindh govt fails: Mumtaz Bhutto
Jun 2, 2013
KARACHI: Central leader of Pakistan Muslim League-Nawaz (PML-N) Sardar Mumtaz Ali Bhutto said on Saturday that federal government has the authority under the constitution to impose Governor Rule if any provincial government fails to deliver.
Talking to the newsmen at his residence here, Bhutto contended that the people of Sindh have once again been defrauded and alleged that the mandate of the people has been snatched by force. "The people, who welcomed Pakistan People's Party (PPP) candidates with eggs and tomatoes, are surprised at its 'victory'."
Full report at:
http://www.dailytimes.com.pk/default.asp?page=2013\06\02\story_2-6-2013_pg12_6
---------------
Arab World
Eight Syrian security forces killed in Damascus car bomb: NGO
Jun 2, 2013
BEIRUT: A car bomb exploded near a police station in the Jubar district of Damascus Sunday killing at least eight Syrian security forces as fighting raged between rebels and regime forces, a watchdog said.
The Syrian Observatory for Human Rights said the explosion, in the east of the capital, appeared to have been carried out by the extremist Al-Nusra Front, which is allied with Al-Qaeda, although there was no immediate confirmation.
Full report at:
http://beta.dawn.com/news/1015589/eight-syrian-security-forces-killed-in-damascus-car-bomb-ngo
---------------
Iraq uncovers al-Qaeda 'chemical weapons plot'
Jun 2, 2013
he authorities in Iraq say they have uncovered an al-Qaeda plot to use chemical weapons, as well as to smuggle them to Europe and North America.
Defence ministry spokesman Mohammed al-Askari said five men had been arrested after military intelligence monitored their activities for three months.
Three workshops for manufacturing the chemical agents, including sarin and mustard gas, were uncovered, he added.
Remote-controlled toy planes were also seized at the workshops.
Mr Askari said they were to have been used to release the chemical agents over the target from a "safe" distance of 1.5km (1 mile), reports the BBC's Rami Ruhayem in Baghdad.
Full report at:
http://www.bbc.co.uk/news/world-middle-east-22742201
---------------
Egypt's top court: Shura Council and constitution panel 'invalid'
Jun 2, 2013
Egypt's top court has ruled that the upper house, or Shura Council, and a panel that drafted the new constitution are invalid.
The Supreme Constitutional Court ruled that the laws governing the election of members of the Islamist-dominated Shura Council and the constitutional panel were illegal.
But the court said the Shura would only be dissolved after new elections.
Egypt has faced a string of court cases challenging official institutions.
High security
Islamist President Mohammed Morsi had established the 100-member constitutional panel to draw up the new document.
Full report at:
http://www.bbc.co.uk/news/world-middle-east-22745568
---------------
Over 7,000 Syrian refugees return from Iraq as security improves
Reuters | Jun 2, 2013
BAGHDAD: More than 7,000 Syrian refugees in Iraq have crossed back to the rebel-held Syrian border town of AlbuKamal in recent weeks due to better security there, an Iraqi official said on Sunday.
The reverse flow coincides with a lull in battles and air raids by Syrian President Bashar al-Assad's military, which has been on the offensive elsewhere in Syria, especially in the western town of Qusair, around Damascus and in the south.
The mayor of the Iraqi border town of al-Qaim said 7,000 out of 11,000 Syrian refugees hosted there had returned home.
Full report at:
http://timesofindia.indiatimes.com/world/middle-east/Over-7000-Syrian-refugees-return-from-Iraq-as-security-improves/articleshow/20395672.cms
---------------
Grand Mosque complex Library at Mecca enriches Haram glory
2 June 2013
A library, opened inside the Grand Mosque complex yesterday, contains a large number of reference books authored by prominent scholars. It offers a good opportunity for pilgrims to enhance their knowledge.
It also contains rare manuscripts and a digital library.
Speaking to reporters after opening the library, Makkah Gov. Prince Khaled Al-Faisal said studies are being conducted on the Makkah tram project. He added that it would be part of the public transport system. He said the ongoing development projects in Makkah and holy sites, including the Haram Mosque expansion, would improve the services being extended to the guests of God.
http://www.arabnews.com/news/453732
---------------
As Syrians Fight, Sectarian Strife Infects Mideast
By TIM ARANGO, ANNE BARNARD and DURAID ADNAN
Jun 2, 2013
BAGHDAD — Renewed sectarian killing has brought the highest death toll in Iraq in five years. Young Iraqi scholars at a Shiite Muslim seminary volunteer to fight Sunnis in Syria. Far to the west, in Lebanon, clashes have worsened between opposing sects in the northern city of Tripoli.
In Syria itself, "Shiites have become a main target," said Malek, an opposition activist who did not want his last name published because of safety concerns. He was visiting Lebanon from a rebel-held Syrian town, Qusayr, where his brother died Tuesday battling Shiite guerrillas from the Lebanese militia Hezbollah. "People lost brothers, sons, and they're angry," he said.
Full report at:
http://www.nytimes.com/2013/06/02/world/middleeast/sunni-shiite-violence-flares-in-mideast-in-wake-of-syria-war.html?pagewanted=print
---------------
Lebanon: Israeli warplanes violate airspace
2 June 2013
BEIRUT: Lebanese security officials and the state-run news agency say low-flying Israeli warplanes are violating Lebanese airspace, overflying territory including the capital Beirut.
The National News Agency says the warplanes flew over southern Lebanon, Beirut, the eastern Bekaa Valley and the city of Baalbek.
Israeli warplanes regularly enter Lebanese airspace. A security official confirmed the Sunday overflights and said they were among the most intense recently. He spoke on condition of anonymity in line with military regulations.
Full report at:
http://www.arabnews.com/news/453749
---------------
Saudis need extra training 'to replace expats'
2 June 2013
The Labor Ministry has made it mandatory for any organization, whether schools, companies or offices, to reserve vacancies in 19 job categories for only Saudis.
These are: Executive HR manager, HR manager, labor affairs manager, staff relations manager, staff relations specialist, staff relations clerk, recruitment clerk, staff affairs clerk, attendance control clerk, receptionist (general), hotel receptionist, health receptionist, claims clerk, treasury secretary, security, broker, key specialist, customs broker and female sales specialists (women only).
Full report at:
http://www.arabnews.com/news/453731
---------------
Gunmen kill 3 Syrian truck drivers on highway in western Iraq
Jun 2, 2013
BAGHDAD — Iraqi authorities say gunmen have killed three Syrian truck drivers on a main highway linking Baghdad to Syria and Jordan.
Police officials said that the gunmen stopped the trucks, killed the drivers, and burned the vehicles during the Sunday morning attack near Rutba town in far western Iraq.
The gunmen kidnapped also four Iraqis in the same area, according to the police.
A medical official in Rutba hospital confirmed receiving the three bodies. All officials spoke anonymously because they are not authorized to talk to media.
Full report at:
http://www.washingtonpost.com/world/middle_east/gunmen-kill-3-syrian-truck-drivers-on-highway-in-western-iraq/2013/06/02/0c61eee2-cb7f-11e2-8573-3baeea6a2647_story.html
------------
100,000 Egyptian Shias sign anti-Morsi Rebel campaign: spokesman
Bahaa Anwar, spokesman for Egypt's Shia citizenship, says that over 100,000 have signed the Rebel campaign that aims to depose President Morsi in early elections
1 Jun 2013
Over 100,000 Egyptian Shias, according to Bahaa Anwar, spokesman of Egypt's Shias, have signed the Rebel campaign that aims to withdraw confidence from Mohamed Morsi and force early presidential elections.
In a statement released Saturday, Anwar said that exactly 100,253 Egyptian Shia signed the petition — some who live in Egypt and others who live abroad.
Full report at:
http://english.ahram.org.eg/NewsContent/1/64/72891/Egypt/Politics-/,-Egyptian-Shias-sign-antiMorsi-Rebel-campaign-spo.aspx
-----------
Syrian rebels, Hezbollah in deadly fight in Lebanon: Sources
Reuters | Jun 2, 2013
BEIRUT: Several fighters were killed in an overnight clash between Hezbollah fighters and Syrian rebel forces in Lebanon's eastern border region with Syria, Lebanese security sources said on Sunday.
One source said 15 rebels were killed in the fighting east of the Bekaa Valley town of Baalbek, but the exact toll would not be clear until bodies could be retrieved from the remote and rugged border area. One Hezbollah fighter also died, he said.
Syria's two-year-old conflict has increasingly sucked in its smaller neighbour, with deadly fighting shaking the northern Lebanese city of Tripoli and rockets hitting the Bekaa Valley and southern Beirut.
Full report at:
http://timesofindia.indiatimes.com/world/middle-east/Syrian-rebels-Hezbollah-in-deadly-fight-in-Lebanon-Sources/articleshow/20396844.cms
-------------
Aid agencies alarmed over civilians trapped in Syria town of Qusair
AFP | Jun 2, 2013
DAMASCUS: Aid organizations stepped up calls for civilians trapped in the flashpoint Syrian town of Qusair to be evacuated, as rebel fighters braced for a fresh assault from regime forces Sunday.
UN agencies and the International Red Cross appealed to both sides in the fighting to let the civilians, including 1,500 wounded according to UN figures, to leave the embattled town.
Saturday saw fierce fighting in the north of the town between rebel fighters and government troops backed by its Hezbollah allies, said a watchdog.
Full report at:
http://timesofindia.indiatimes.com/world/middle-east/Aid-agencies-alarmed-over-civilians-trapped-in-Syria-town-of-Qusair/articleshow/20394214.cms
---------------
Europe
Russia blocks UN declaration on Qusair: Diplomat
June 02, 2013
A UN diplomat says Russia has blocked a Security Council declaration that would have criticized the Syrian regime's offensive against the rebel-held town of Qusair.
The Security Council diplomat says Russia blocked the declaration because the council made no statement when rebels seized the town.
The diplomat spoke on condition of anonymity because the discussions on Saturday were private.
Qusair has become a flashpoint in Syria's civil war, with the Lebanese militant group Hizbollah joining the regime's offensive.
Full report at:
http://www.hindustantimes.com/world-news/northamerica/Russia-blocks-UN-declaration-on-Qusair-Diplomat/Article1-1069664.aspx
---------------
Russian Force Arrests Mayor Tied to Killing in Dagestan
Jun 2, 2013
MOSCOW — Commandos in armored vehicles surrounded the residence of the mayor of Makhachkala, the capital of Dagestan, and arrested him Saturday, bringing a swift end to his 15-year rule of one of Russia's most violent cities and to his ambition to eventually lead the region.
The mayor, Said D. Amirov, 59, was detained in connection with the 2011 killing of a senior state investigator and will probably be charged under a statute that could send him to prison for life if he is convicted. Vladimir Markin, a spokesman for Russia's powerful Investigative Committee, said investigators were looking into whether Amirov and a group of associates were behind a series of other high-profile crimes.
Full report at:
http://www.nytimes.com/2013/06/02/world/europe/russian-forces-detain-mayor-in-dagestan.html?ref=europe&gwh=C0D5040A668E9BF27340C0B1762A9949
---------------
France offers to help Libya secure borders from Islamists
2 June 2013
France is willing help Libya secure its borders from militant Islamist groups fleeing Mali, Defense Minister Jean-Yves Le Drian said Sunday.
Security officials say the vast deserts of southern Libya are becoming the latest safe havens for Al-Qaeda linked fighters who fled neighboring Mali after France sent troops there in January to prevent a Islamist coup.
"France is available to bring contributions to the sovereign tools of the Libyan state, especially on securing the borders," Le Drian told a press conference after attending a security conference in Singapore.
Full report at:
http://english.alarabiya.net/en/News/2013/06/02/France-offers-to-help-Libya-secure-borders-from-Islamists-.html
------------
Fighting in Syria's Qusair, UN says world watching
June 01, 2013
Syrian troops and Hezbollah guerrillas besieging the border town of Qusair fought with rebels on Saturday as the United Nations warned all sides they would be held accountable for the suffering of trapped civilians.
The Britain-based Syrian Observatory for Human Rights said fighting was taking place inside Qusair and in villages around it, largely controlled by President Bashar al-Assad's forces who have cut off access to the town.
Rebels have pleaded for military help and medical aid for the hundreds of people wounded in the onslaught by government forces, who are also fighting back fiercely around the capital Damascus and the south and centre of the country.
Full report at:
http://www.hindustantimes.com/world-news/restofasia/Fighting-in-Syria-s-Qusair-UN-says-world-watching/Article1-1069518.aspx
-----------
Wave of Grief and Political Reverberations Grip Britain After Soldier's Killing
By JOHN F. BURNS
Jun 2, 2013
LONDON — The sidewalk where 25-year-old Lee Rigby died, beneath a cascade of blows from bladed weapons, has become a place of popular pilgrimage like none other in Britain since the death of Diana, Princess of Wales, in 1997 in a Paris car crash.
Thousands of bouquets with handwritten expressions of sympathy rise waist-high along a stretch of green steel fencing topped by razor wire, extending the length of two football fields. For much of the past week, the mourning has gone on regardless of drizzling rain and winds.
Full report at:
http://www.nytimes.com/2013/06/02/world/europe/grief-and-political-reverberations-after-british-soldiers-killing.html?pagewanted=all&pagewanted=print&_r=0
---------------
British Muslim man admits to Prince Harry death threats
PTI | Jun 2, 2013
LONDON: A homeless British Muslim man walked into a police station and admitted to making threats to kill Prince Harry, the day after a soldier was hacked to death on a busy London street, Scotland Yard has said.
Scotland Yard said 30-year-old Ashraf Islam pleaded guilty to the offence at Uxbridge Magistrates' Court on May 25 and is being held in custody awaiting sentencing.
He was arrested after he walked into the Hounslow police station in west London on May 23, a day after the murder of soldier Drummer Lee Rigby on the streets of Woolwich.
Full report at:
http://timesofindia.indiatimes.com/world/uk/British-Muslim-man-admits-to-Prince-Harry-death-threats/articleshow/20396456.cms
---------------
Southeast Asia
Myanmar Embassy Bomb Plot Involved Use of Chemical Explosives
By Farouk Arnaz
June 2, 2013
The terrorist cell allegedly behind a plot to bomb the Myanmar Embassy in Jakarta were planning to detonate a sophisticated chemical explosive in what a bomb expert at the National Police called a first in Indonesia.
Bombs seized in raids on alleged leader Sigit Indrajit's terrorist organization uncovered evidence that the plotters were assembling bombs with hexamine (hexamethylene triperoxide diamine), a highly explosive organic compound.
"Our chemical analysis proved that they were trying to mix hexamine in their homemade bomb," the source said. "If successfully mixed, it is certain they would have highly explosive bombs."
Full report at:
http://www.thejakartaglobe.com/news/myanmar-embassy-bomb-plot-involved-use-of-chemical-explosives/
---------------
Presidency Beckons for Jakarta's Rags-to-Riches Governor
By Kanupriya Kapoor & Andrew R.C. Marshall
June 2, 2013
Joko "Jokowi" Widodo, the governor of Jakarta, might well be the future of Indonesian democracy. Here's why.
On a recent afternoon he visited Tambora, a densely populated area of west Jakarta, to inspect the aftermath of a slum fire. Within minutes, the narrow streets were a moshpit of jostling well-wishers. Women embraced him. Men kissed his hand. School children chanted "Long live Jokowi!"
Unattended by bodyguards, Widodo edged through the scrum wearing a spotless white shirt and the sort of unfaltering grin that makes a normal man's face ache.
Full report at:
http://www.thejakartaglobe.com/news/jakarta/presidency-beckons-for-jakartas-rags-to-riches-governor/
---------------
Indonesian School Combats Illiteracy With Mom, Child Classes
By Yuli Krisna
June 2, 2013
Pasir Angling, West Java. It takes great tenacity to get to the Sekolah Hijau Lestari (Green Sustainability School) in West Java.
The informal school, which opened in February, is located in a remote area in the foothills of one of West Java's tallest mountains, making it only accessible by traveling on a motorcycle.
"I can only take you to the foot of the mountain. The road afterwards has potholes and are beaten. You must ride with an ojek [motorcycle taxi] driver from the area," said an ojek driver, who took me from the nearest town Lembang, 15 kilometers north of West Java's capital Bandung.
The ojek driver only agreed to take me about 2 kilometers away from my destination, the village of Pasir Angling, which is up on the slopes of Mount Bukit Tunggul more than 2,200 meters above sea level.
Full report at:
http://www.thejakartaglobe.com/news/moms-join-kids-in-the-classroom-to-learn/
---------------
Another Indonesian church sealed off after 22 years of peaceful coexistence
June 01 2013
A protestant church in Cipinang Muara, East Jakarta, was sealed off by the Building Supervision and Regulation Agency (P2B) on Monday for not having a renovation permit.
"The church was built in 1991; there have been no protests from local residents. So why did [the administration] tell [us] there have been residents protesting this church amid it being renovated," said A Sinaga, a church official, on Friday, as quoted by tempo.co.
Jatinegara district head Sofian Taher confirmed the closure. "It [the church] has been sealed off because [the building] doesn't have a building permit (IMB)," said Sofian.
According to Sofian, a church official said that its permit was being processed. "If they obtain a permit, we will lift the seal and allow them to continue with renovations," he said.(nai/dic)
http://www.thejakartapost.com/news/2013/06/01/another-church-sealed-after-22-years-peaceful-coexistence.html
---------------
Nurul Izzah calls Musa's allegation a fabrication
Jun 2, 2013
KUALA LUMPUR, June 2 -- PKR's Nurul Izzah Anwar accused Datuk Seri Musa Aman of fabrication today, after the latter claimed she was trying to incite hatred and mistrust among the people against the Barisan Nasional (BN) government.
Nurul (picture) was barred from entering Sabah on Thursday which according to Musa, who is the chief minister of the east Malaysia state, was not politically motivated.
"Clearly the allegations are fabrications, whatever he's trying to paint against me," said Nurul Izzah to reporters during a thanksgiving open house in Lucky Garden here.
Musa was reported saying that those who pose a threat to the Sabah ideals of peace harmony will not be welcomed to the state.
Full report at:
http://www.themalaysianinsider.com/malaysia/article/nurul-izzah-calls-musas-allegation-a-fabrication/
---------------
Malaysian exchangers helped hide paper trail for world's largest cyber money-launderer
Jun 2, 2013
KUALA LUMPUR, June 2 — Money exchangers based in Malaysia played a key role in hiding the paper trail for Liberty Reserve, the global, virtual "bank of choice" for identity thieves, drug traffickers, computer hackers and child pornographers, whose founders and workers were indicted this week by US authorities for being the world's largest cyber money laundering operation.
Citing US authorities, The Financial Times (FT) has reported that exchangers, located in less regulated countries including Malaysia, Russia and Nigeria, had converted real dollars into LR, the virtual currency of Liberty Reserve that helped to erase its digital footprint and made it practically impossible to trace back to the user — a fact that won the Costa Rica-based currency exchanger over one million subscribers worldwide.
Full report at:
http://www.themalaysianinsider.com/malaysia/article/malaysian-exchangers-helped-hide-paper-trail-for-worlds-largest-cyber-money-launderer/
---------------
India
Jamiat to challenge CBI chargesheet
TNN | Jun 2, 2013
GUWAHATI: The state unit of Jamiat-Ulama-i-Hind would challenge the Central Bureau of Investigation's (CBI's) chargesheet against eight people, arrested on charges of killing four Bodo youths and for starting the ethnic violence in lower Assam last year.
State secretary of Jamiat Hafiz Bashir Ahmed said, "The legal cell of Jamiat is filing the case in Gauhati high court soon. We will demand a comprehensive investigation into last year's riots."
Full report at:
http://timesofindia.indiatimes.com/india/Jamiat-to-challenge-CBI-chargesheet/articleshow/20388229.cms
---------------
Pak grabs PM's olive branch, seeks talks
Sachin Parashar, TNN | Jun 2, 2013
NEW DELHI: Responding to PM Manmohan Singh's "positive" gesture towards Islamabad, including the decision to send his special envoy Satinder Lambah to the country, the Pakistan high commission said on Saturday that the neighbours have historic opportunity to bring about a "qualitative" improvement in relations.
"It is indeed heartening that Prime Minister Manmohan Singh, who is widely respected in Pakistan, has responded positively to the initiatives of Mr Nawaz Sharif and sent a Special Envoy to meet the Prime Minister-designate," said high commission spokesperson Manzoor Ali Memon.
Full report at:
http://timesofindia.indiatimes.com/india/Pak-grabs-PMs-olive-branch-seeks-talks/articleshow/20387595.cms
---------------
Indian Bilal Habib among Unesco's young scientist award winners
May 30, 2013
Paris: Bilal Habib from India was Thursday named as one of the six winners of the Young Scientist Awards instituted by the Unesco.
The announcement was made by the International Co-coordinating Council of the Man and the Biosphere (MAB) Programme, which met at the Unesco headquarters May 27 to 30, Xinhua reported.
The 2013 laureates of Young Scientist Awards in the MAB programme were selected from all over the world.
Full report at:
http://www.ummid.com/news/2013/May/30.05.2013/bilal_habib_winner.html#sthash.2tP0ppj9.dpuf
---------------
Fake soul healer shocks Sufi oriented Valley
May 31, 2013
Sheikh Qayoom, IANS
Srinagar: A fake soul healer who allegedly sexually abused four minor girls in a seminary in Jammu and Kashmir's Badgam district and used the religious centre as a centre for other sordid escapades has pushed politics in the Valley to the backburner, at least for the present.
Public discourse in Srinagar and other parts of the Valley, where Sufism has a large following, has moved to Gulzar Ahmad Bhat, who was arrested last week from Shamasabad village of Badgam district.
Bhat, who claims to heal the souls of people through spiritual powers, was nabbed after four minor girls from the seminary run by him deposed before a local magistrate that he had been sexually exploiting them.
Full report at:
http://www.ummid.com/news/2013/May/31.05.2013/kashmir_soul_healers.html#sthash.MV3vk9tQ.dpuf
---------------
India tells US to hand over David Headley 'temporarily' for a year
PTI | Jun 2, 2013
NEW DELHI: India has asked the US to "temporarily" hand over LeT terrorist David Headley for a year and extradite his accomplice Tahawwur Hussain Rana to get more information about the conspiracy hatched to carry out Mumbai terror attacks.
In its fresh efforts to get access to the Pakistani American terrorist, India has conveyed to the American interlocutors to "temporarily" hand over Headley for a year after the US expressed its inability to extradite him.
The request was made during the Indo-US Homeland Security Dialogue held in Washington between May 20-22.
"The US interlocutors assured us to actively consider the request," a top Indian official, who participated in the meeting, said.
Full report at:
http://timesofindia.indiatimes.com/india/India-tells-US-to-hand-over-David-Headley-temporarily-for-a-year/articleshow/20391656.cms
---------------
Families demand release of Muslim youths implicated in terror charge
Ashish Tripathi, TNN | Jun 1, 2013
LUCKNOW: Demanding release of 'innocent' Muslim youth 'falsely' implicated in terror charges, family members of the 2007 serial blasts accused Tariq Qasmi and Khalid Mujahid staged demonstration in the city on Saturday. They also asked the state government to make Nimesh Commission report, which found discrepancies in arrest of the two accused, public and take action against cops responsible for their arrest and Mujahid's death.
Full report at:
http://timesofindia.indiatimes.com/india/Families-demand-release-of-Muslim-youths-implicated-in-terror-charge/articleshow/20383977.cms
---------------
North America
US denies handing two ex-Guantanamo detainees to Mauritania
AFP | Jun 2, 2013
NOUAKCHOTT: The Pentagon on Saturday denied reports that two former Guantanamo detainees have been returned to their native Mauritania after being cleared of suspected terror-related activities.
amoud Ould Nebagha, the head of a group that works for the liberation of Mauritanians held at Guantanamo Bay told AFP on Saturday that the two men — Mohamedou Ould Slahi and Ahmed Ould Abdel Aziz — had arrived in Nouakchott late Friday "after having been cleared by American tribunals".
He said they had both been held at the US prison camp in southern Cuba for several years. It was not immediately clear when the court decision was made.
Full report at:
http://timesofindia.indiatimes.com/world/us/US-denies-handing-two-ex-Guantanamo-detainees-to-Mauritania/articleshow/20387313.cms
---------------
Canadian MPs decry Iran human rights violations
By MICHAEL WILNER , BENJAMIN WEINTHAL
06/02/2013
House of Commons hosts Iran Accountability Week, with MP Cotler calling rights violations "crimes against humanity."'
Canada's Parliament hosted Iran Accountability Week last week, documenting the Islamic Republic's human rights violations, particularly its clerical leadership's use of domestic and international terrorism to stymie dissent.
Irwin Cotler, a former Canadian justice minister and current Liberal MP, spearheaded the week of events in Ottawa. He and his fellow parliamentarians from a broad range of parties in the House of Commons condemned the assault on the human rights of the Iranian people.
Full report at:
http://www.jpost.com/International/Canadian-govt-features-Iran-human-rights-violations-315120
-----------
URL: https://newageislam.com/islamic-world-news/muslims-be-part-inclusive-growth,/d/11854