New Age Islam News Bureau
04 April 2022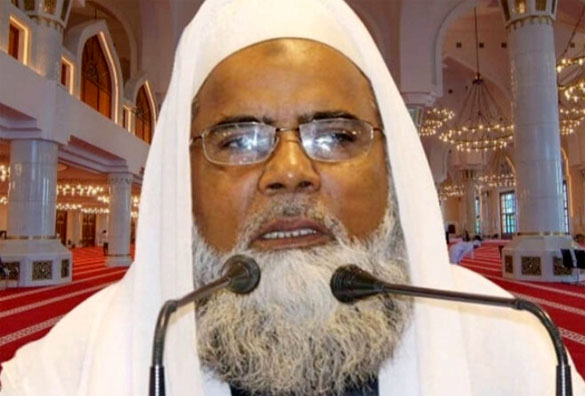 Maulana Khalid Saifullah Rahmani/Muslim Mirror
-----
• Fifty Percent Hindus Will Convert To Islam If A Muslim Becomes PM, Says Yati Narsinghanand Addressing a 'Hindu Mahapanchayat' in Delhi
• Conspiracies, Threats To Pakistan From US, India, Israel Not Secret: Jamaat-e-Islami
• High Court Declares Selangor-Born Woman 'Not A Muslim', Says Her Unilateral Conversion To Islam At Age Four Invalid
• Israeli Forces Brutalize Palestinian Worshipers In Al-Quds On 2nd Night Of Ramadan
India
• On Bail Yati Narsinghanand Booked For Hate Speech Again; Asks Hindus To Be A Man And Take Up Arms, In Hindu Mahapanchayat In Delhi
• With Call for Violence Against Muslims at Burari, Yati Narsinghanand Violates Bail Conditions
• After MNS chief's warning to mosques, partymen play Hanuman Chalisa on loudspeaker outside office
• Terrorist hideout busted near LoC in Jammu and Kashmir's Poonch, huge cache of arms seized
• Terrorists attack 2 non-locals in Pulwama
• Five Lashkar men arrested in north Kashmir's Bandipora
• Bajrang Dal activists held for attacking Muslim meat sellers
• Move over UP, Karnataka is India's new anti-Muslim hate factory
• With no restrictions, cheers return during Ramzan in Hyderabad
--------
Pakistan
• Detailed ruling alleges opposition 'nexus' with foreign powers
• Pakistan PM Imran Khan names US official who sent 'threat' message
• Imran Khan thrusts country into constitutional crisis: Pakistan media
• Imran to continue as prime minister till appointment of caretaker premier
• MQM-Altaf resumes activities in Karachi after years
• PTI defends NA dissolution, advises opposition to prepare for new polls
• Imran acted like a dictator to wrap up democracy: Fazl
• Military distances itself from no-confidence motion
• Pakistani peacekeepers martyred in Congo chopper crash 'valiant heroes': Akram
--------
Southeast Asia
• Muslim Insurgents In Thailand To Cease Attacks During Ramadan
• Klang Valley Ramadan bazaars roar back to life, even as visitors and vendors remain Covid cautious
• Debate with Najib on Sapura? Any time, says Anwar
--------
Mideast
• Iran blames US for the halt in Vienna nuclear talks with world powers
• FM: Iran Backs Resolution to Yemeni Crisis
• Deputy Judiciary Chief: Iran Discussing Extradition of Prisoners with Turkey
• President Rayeesi Felicitates Muslim Heads of States on Advent of Holy Month of Ramadan
--------
South Asia
• Taliban Has Begun To Show Its True Colours: European Foundation for South Asian Studies
• Casualties Of Kabul Blast Rise To 60: Health Officials
• Blast in Afghan capital kills one, wounds several
• Taliban committed to Iran's water rights: Iran's special representative
• Karzai, Thomas West discuss girls' schools and national consultative process
--------
Africa
• Jordan's Prince Hamzah Relinquishes Royal Title
• Libyan Artisans Restore Old Qurans for Ramadan
• Somali military claims killing 7 al-Shabaab terrorists
• Sudan army chief says to hand over power 'only' to elected gov't
• Tunisia's Saied says building 'new republic' amid political crisis
--------
North America
• US Special Envoy Says Yemen Truce Paves Way To End Conflict
• US concerned by 'extremely disturbing' Mali massacre reports
• Turkish defence giants to showcase products in Latin America
• America should go back into Afghanistan and reclaim property: Trump
--------
Europe
• Results Of North Macedonia Census Face Backlash From Turkish Political Parties
• How Ukraine War Is Making The Arab Region's Food Security Crisis Worse
• Turkiye is significant regional power: Kremlin
• Another Algerian ministry bans French in official correspondence
--------
Arab World
• Unexploded Landmines Continue To Kill And Maim Indiscriminately In Syria's Northeast
• Advisor of US-sanctioned former Lebanese FM to be named UN envoy
• UAE welcomes two-month truce in Yemen
• Saudi Arabia welcomes UN announcement of ceasefire agreement in Yemen
• Iraq completes measures for electric linkage with Turkiye
• Turkish ship carrying humanitarian aid arrives in Lebanon
Compiled by New Age Islam News Bureau
URL: https://www.newageislam.com/islamic-world-news/muslims-1857-1947-maulana-aimplb/d/126722
--------
Muslims In More Pressing Times Than 1857, 1947: Maulana Khalid Saifullah Rahmani, AIMPLB Cleric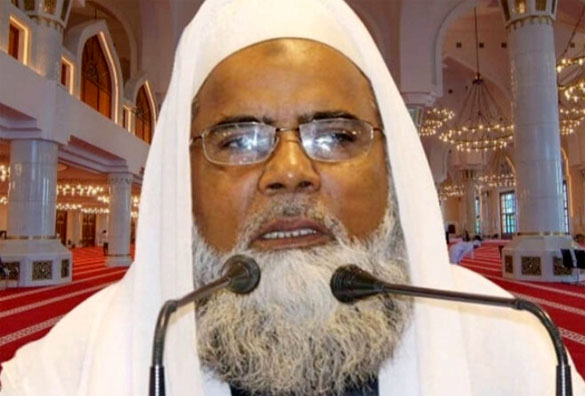 Maulana Khalid Saifullah Rahmani/Muslim Mirror
-----
Apr 4, 2022
Lucknow: All India Muslim Personal Law Board (AIMPLB) general secretary Maulana Khalid Saifullah Rahmani said on Sunday that Muslims today were in a more pressing situation than 1857 and 1947.
In a video message addressing the community, he asked Muslims not to fall prey to communal forces who are trying to engulf the country in hate and inciting Muslims to react and engage in strife.
"We are all well aware that Muslims today are going through a more difficult period with respect to their religion and religious freedom than 1857 -- the first war of independence and 1947 -- the Indian independence," said Maulana Rahmani.
"Different tactics are being used to attack Islam and Shariat and Muslims are being target in isolation. Communal forces want to incite us and bring our youth to the streets. One such issue is the hijab row in Karnataka which has shown up as a challenge for Muslims," he added.
He further said that AIMPLB has redirected its energies to the issue since the first day and is also legally taking stock of it. "AIMPLB has appealed in the Supreme Court (SC) recently and the board is not ignorant of any such issue which is eyeing the Islamic Shariat for even a second," he said.
"It is my request to Muslims, especially Muslim sisters, to stay away from propaganda against the board and such agencies which are acting against Islam. Do not let them win over us. Pray for Muslims, the safeguarding of their freedom for beliefs and religion, nurture children within Islamic beliefs, establish as many schools for girls as possible, establish institutions with modern education along with religious ones so we are independent of other communities and that we are unharmed by the government if it intrudes in the practicing of our Shariat," he added.
Source: Times Of India
Please click the following URL to read the text of the original story:
https://timesofindia.indiatimes.com/city/lucknow/muslims-in-more-pressing-times-than-1857-1947-aimplb-cleric/articleshow/90630269.cms
--------
Fifty Percent Hindus Will Convert To Islam If A Muslim Becomes PM, Says Yati Narsinghanand Addressing a 'Hindu Mahapanchayat' in Delhi
Yati Narsinghanand | PTI
----
Apr 3, 2022
NEW DELHI: Notorious for making intemperate remarks against Muslims, Yati Narsinghanand, the head priest of the Dasna Devi temple, stoked yet another controversy on Sunday with his comment that "50 per cent of Hindus will convert" in 20 years if a Muslim became the prime minister of India. Addressing a 'Hindu Mahapanchayat' for which the Delhi administration had not granted permission, he also exhorted Hindus to take up arms to fight for their existence.
The Mahapanchayat was organised at Burari grounds here by the same group which had earlier held similar controversial events in Haridwar and at Jantar Mantar in the national capital, where anti-Muslim slogans were raised.
Several other Hindu supremacist leaders also attended the Sunday event.
Narsinghanand is currently on bail in connection with the Haridwar hate speech case.
"Only in 2029 or in 2034 or in 2039 a Muslim will become the prime minister. Once a Muslim will become the PM, 50 per cent Hindus will convert, 40 per cent will be killed and the remaining 10 per cent will either live in refugee camps or in other countries in the next 20 years.
"This will be the future of the Hindus. If you want to avoid this future, then become a man and take up arms," Narsinghanand is seen saying in a video of the Mahapanchayat which is being circulated on social media.
PTI could not independently check the veracity of the video.
Meanwhile, a few Delhi based journalists, who had gone to cover the event, were allegedly manhandled there. Police, however, denied the claim that they were detained.
Sharing a tweet by one of the journalists who alleged that two young Muslim men from the media were assaulted by a Hindu mob at the Mahapanchayat and were also taken into custody, the Deputy Commissioner of Police (Northwest) Usha Rangnani took to Twitter to say nobody was detained.
"Some of the reporters, willingly, on their own free will, to evade the crowd which was getting agitated by their presence, sat in PCR Van stationed at the venue and opted to proceed to Police Stn for security reasons. No one was detained. Due police protection was provided," she stated in the tweet.
"For spreading misinformation, due necessary action shall be initiated against such persons," she tweeted.
Source: Times Of India
Please click the following URL to read the text of the original story:
https://timesofindia.indiatimes.com/india/50-hindus-will-convert-to-islam-if-a-muslim-becomes-pm-says-rabble-rouser-priest/articleshow/90627185.cms
--------
Conspiracies, Threats To Pakistan From US, India, Israel Not Secret: Jamaat-e-Islami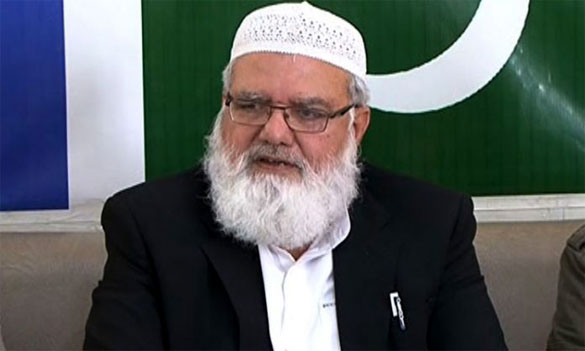 Deputy Chief of Jamaat-e-Islami, President of the Political and National Affairs Standing Committee, Liaqat Baloch
----
April 2, 2022
RAWALPINDI: Deputy Chief of Jamaat-e-Islami, President of the Political and National Affairs Standing Committee, Liaqat Baloch has said that intimidation, conspiracies and threats to Pakistan from the United States, India and Israel are not secret.
Speaking to public gatherings and journalists in Mianwali, Rawalpindi, he said that enemy forces of Pakistan have always been trying to create threats for instability and security. Incompetence of the rulers, cowardice and waving of letters is just to save the seat and inciting the nation.
Liaqat Baloch said that Prime Minister Imran Khan must answer the nation on Modi's fascist decision of August 05, 2019 for the state of Jammu and Kashmir; after the defeat of US and NATO forces in Afghanistan, and the victory of Afghan people and Taliban, why could a national strategy not be formulated?
Why was a controversial and unilateral national security policy was devised, he questioned adding when the Prime Minister is not ready for dialogue with the national leadership and instead of deterring the threat to the country and the nation through devising a protective national security policy, it is dealt with abusive language and a superficial chair-saving strategy.
The JI Deputy Chief said that now, the game of fooling people is not going to work. Jamaat-e-Islami is constantly fighting for the protection of cultural, ideological and geographical borders against the United States and anti-Islam and anti-Muslim forces. At the turning point, all the so-called national leaders surrendered to the United States.
Responding to a question from media persons, he said that in the political, democratic and parliamentary constitutional crisis of the country, there is a clear, unequivocal position that the government and the opposition parties are factions of Bhan Mati (unholy alliance) and interest groups. The post-2018 engineered system has failed.
Liaqat Baloch said the success or failure of the no-confidence motion will not solve the country's problems. Imran Khan has lost the majority of the parliamentarians. He has inflicted deep wounds on everyone with his bad language, slander and his incompetence and even if the brigade of his kittenish colleagues beg before the state institutions for taming the dissidents, the system will not run. The only solution to the crisis is electoral reforms and early elections. A sensational act of delaying early elections will open the door to extra-constitutional measures, he added.
Source: Pakistan Today
Please click the following URL to read the text of the original story:
https://www.pakistantoday.com.pk/2022/04/02/conspiracies-threats-to-pakistan-from-us-india-israel-not-secret-baloch/
--------
High Court Declares Selangor-Born Woman 'Not A Muslim', Says Her Unilateral Conversion To Islam At Age Four Invalid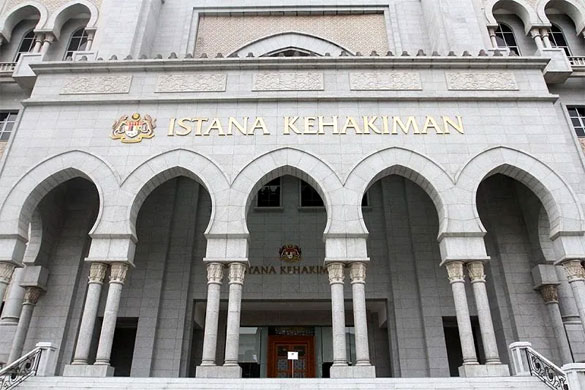 The High Court— Picture by Miera Zulyana
----
04 Apr 2022
BY IDA LIM
KUALA LUMPUR, April 4 — The High Court has declared a 35-year-old woman — born in Selangor to a Hindu father and an initially Buddhist mother — to be not a person professing the religion of Islam, ruling that her unilateral conversion to Islam at the age of four by her Muslim convert mother was invalid from the start.
The Selangor-born woman had said her case is not about apostasy or leaving the faith of Islam, but was instead about her never being a Muslim in the first place.
This woman, identified only as D to protect her privacy, was born in November 1986 to a non-Muslim couple married under civil laws via the Law Reform (Marriage and Divorce) Act 1976. Her late father was of Indian ethnicity, while her mother is of Chinese ethnicity.
D will be turning 36 this year. She has spent the last eight years going to the courts to seek a declaration that she is not a Muslim, in order to have the National Registration Department (NRD) remove the word "Islam" from her identity card.
The facts in this case
Based on court documents sighted by Malay Mail, the mother in an affidavit said D was raised as a Hindu, with D continuing to live with the mother after the latter separated from the Hindu husband in around 1991.
The initially Buddhist mother said she decided to convert to Islam while waiting for the divorce proceedings with her initial husband to be concluded, as she intended to marry a Muslim man after the divorce.
On May 17, 1991 which was when D was months away from turning five, the mother went to the Selangor Islamic Religious Department (Jais) with the child.
The mother said she was told by a Jais officer that D would have to be converted to Islam to ensure that she has continued custody of the child, adding that the officer had also said D would be able to choose her religion once she turned 18.
The mother said she uttered the Kalimah Syahadah twice — or the declaration of belief for Islam — adding that her child D did not utter this and was unaware and did not understand what was happening.
In that same year, the mother received her conversion card that recorded her as having converted to Islam.
Jais on August 28, 1993 issued to D — who was just months away from turning seven years old — a conversion card, which recorded her as having been converted on May 17, 1991. This conversion card retained D's original name but replaced her father's name with the words "binti Abdullah" (commonly given in Malaysia for situations such as converted Muslims).
The mother's divorce with D's father was finalised in 1992, and the High Court also granted the mother care and custody of the child. D then continued living with her mother, including after the mother married a Muslim man in 1993.
The mother said she did not inform D's father about the child's purported conversion and that he died in 1996, also telling the court in the affidavit that D continued to practise the Hindu religion and did not practise or profess the religion of Islam while staying with the mother.
In her affidavit, D herself said her mother and her stepfather allowed her to continue to practise and profess the Hindu religion, saying she frequently visited her father's family and prayed in Hindu temples and celebrated Hindu festivals with them, and that she never professed the religion of Islam or adopted Islamic beliefs such as only eating halal food or pray according to the Muslim faith.
D explained that she wanted to remove the label "Islam" on her identity card as she never professed the religion of Islam, and around 2011 (which was when she was already an adult) decided to do so but said her application was rejected by the NRD.
Having read news reports of the Federal Court's 2007 decision in the case of Lina Joy who was also seeking to remove the word "Islam" from her identity card, D said she then decided to go to the Shariah courts. D said she did not know then that the Shariah courts have no jurisdiction over her.
[In the Lina Joy case, a Malay woman named Azlina Jailani who had renounced Islam succeeded — on her second attempt — in getting the NRD to change her name on the identity card, but found that the new identity card carried the word "Islam" and her original name on the reverse side.
This came after a change in government regulations in 2000 — without her knowledge — that was made to apply retrospectively to her October 1999 application for a new identity card, with the new rule requiring Muslims to have their religion printed on their identity cards. In her application form, she had stated her religion to be Christianity.
Forced to make a third application in January 2000 to seek the removal of the word "Islam" and her original name from the identity card, the NRD rejected this by saying Lina had to provide a Shariah court order that stated her as having renounced Islam.
Lina challenged this via a lawsuit filed in the civil courts, but the High Court in 2001 and the Court of Appeal in 2005 in a majority decision rejected her bids.
The Federal Court in a majority decision by two judges on May 30, 2007 also rejected Lina's challenge by saying that the NRD was entitled to impose the requirement of having a Shariah court order of apostasy in order to delete the word "Islam" from an identity card and that the NRD had correctly construed its powers under government regulations when imposing this requirement. The other judge on the panel had disagreed and said Lina should be entitled to have an identity card without the word "Islam".]
As for D, she had on December 12, 2013 filed a lawsuit in the Shariah High Court in Kuala Lumpur — as she was living there then — to seek a declaration that she is not a Muslim. The Federal Territories Islamic Religious Council (Maiwp), which was named as respondent in D's lawsuit, then filed a counterclaim for her to be sent for counselling.
The Shariah High Court on April 7, 2014 ordered her to attend "counselling" by the Federal Territories Islamic Religious Department (Jawi) twice a week for a four-month period (as it adopted the procedure in Negri Sembilan laws of having a person intending to renounce Islam to undergo counselling first to reconsider Islam as their religion before the Shariah court decides on their renunciation application, if that person does not "repent" as advised). D said she had maintained at the end of several counselling sessions that she was not a person professing Islam.
The Shariah High Court on July 20, 2017 rejected D's application to be declared a non-Muslim, with the Shariah judge giving the opinion that she is clearly a Muslim as her identity documents show her religion to be Islam and as her name is a name commonly used by Muslims.
D then filed an appeal on August 1, 2017 to the Shariah Court of Appeal — which dismissed her appeal more than three years later on January 12, 2021. A three-judge panel in this case also concluded D is a Muslim, after having highlighted various points such as D's identity card containing the word "Islam" and asserting that the records showed that she was allegedly validly converted to Muslim and with her conversion card officially registered (in the year when she was aged seven).
The legal struggle continues
Having started her journey at the age of 25 in 2011 to have her identity card reflect her religious identity to be non-Muslim, D had gone through a fruitless seven-year-long process from age 27 to 34 in her bid to obtain a confirmation from the Shariah courts that she is not a Muslim.
D then turned to the civil courts, saying in court papers that the Shariah courts actually did not have any jurisdiction over her to begin with, as her purported conversion without both parents' consent was illegal and invalid and as she was never a person professing the religion of Islam. She also explained that she did not know which courts' jurisdiction applied to her when she filed her initial case in the Shariah courts.
On May 10, 2021, D filed a lawsuit via originating summons in the civil High Court in Shah Alam, naming the Selangor Islamic Religious Council (Mais) and the Selangor state government as the two respondents.
In this lawsuit filed in the civil High Court, D sought for a court declaration that she is "not a person professing the religion of Islam", listing the reasons as including the consent of her father never being obtained for her conversion to Islam as a child and having never uttered the kalimah syahadah.
The other reasons she listed were that the consent of both her father and mother were required for any conversion to take place, and her assertion that she was born a Hindu and had only professed and practised the Hindu religion at all times.
What the High Court decided
The High Court in Shah Alam on October 12, 2021 heard D's lawsuit where she was represented by lawyers Surendra Ananth and Nurul Hidayah Mohd Azmi, while Mais was represented by Majdah Muda and the Selangor state government represented by assistant state legal adviser Nur Irmawatie Daud and Husna Abdul Halim.
On December 21, 2021, the High Court granted D's application for a declaration that she is not a person professing the religion of Islam, and dismissed Mais' counterclaim which had sought to declare D a vexatious litigant.
Below is a summary by Malay Mail of the 29-page written judgment dated February 12, 2022 by High Court judge Choo Kah Sing, where he examined key issues such as whether the civil court can decide on D's religious status and whether her conversion to Islam at age four in May 1991 was even valid in the first place:
1. 'No longer a Muslim' vs 'never was a Muslim'
Mais had argued that it is solely for the Shariah courts to decide whether a person is Muslim or not.
The Selangor state government argued that D's identity card stating her to be Muslim and using her Muslim name for decades allegedly meant that D's challenge is about her saying she no longer wanted to be a Muslim and that this should then be for the Shariah courts to decide.
In response to these arguments, the High Court cited the most recent Federal Court decision in February 2021 in the case of Rosliza Ibrahim, who successfully obtained court orders declaring that she was born illegitimate to her late Buddhist mother and her Muslim father and that she is not a person professing the religion of Islam.
The High Court pointed out that the Federal Court had made a clear distinction between cases involving those who say they are "no longer a Muslim" and want to leave Islam which would then fall under the Shariah courts' jurisdiction, and those who say they "never was a Muslim" or not a Muslim ab initio (from the start) which would then fall under the civil courts' jurisdiction as it involves the interpretation of the constitutional term "persons professing the religion of Islam" in the Federal Constitution.
Based on the facts in D's case, the High Court said it was satisfied that her case involved her assertion that she was never a Muslim as she had never professed Islam and her conversion was not valid, while also noting it involved her constitutional right under the Federal Constitution's Article 11(1) to profess and practise her religion.
As for Mais' argument that D's lawsuit in the civil court was res judicata or a matter that had already been decided upon and cannot be reheard, the High Court disagreed, noting that the Federal Court's decision in Rosliza's case meant that the Shariah court proceedings have been nullified as the Shariah courts have no jurisdiction to determine D's assertion that she was never a Muslim.
2. Legal standing
While Mais argued that D had no locus standi or legal standing to file her lawsuit in the civil courts as it argued that the decision of the Shariah court which said she is a Muslim is binding on her, the High Court stressed that she has legal standing as her case involving the issue of "never was a Muslim" would fall under the civil courts' jurisdiction in line with the Federal Court's 2021 decision in Rosliza's case.
The High Court said D had initially filed her case in the Shariah courts in 2013 "out of necessity", as the law on the courts' jurisdiction — for situations of "never was a Muslim" and "no longer a Muslim" — had yet to be made clear until the Federal Court's 2021 decision in Rosliza's case.
Responding to Mais' claim that it was an afterthought by D to ask the civil courts for a declaration that she is "not a person professing the religion of Islam" when her initial lawsuit in the Shariah courts sought for a declaration that she was "no longer a Muslim", the High Court said it was not an afterthought as it noted that D has maintained her stand at both the Shariah court and civil court proceedings that she does not profess the religion of Islam.
With the law currently allowing D to exercise her constitutional right in a civil court which was not available before the Federal Court's decision, the High Court concluded that she still has legal standing to pursue her lawsuit in the civil courts despite having gone through the futile process of going to the Shariah courts.
"As such, although the plaintiff had gone through the motion in the Syariah High Court to assert her right, but failed, that whole exercise has become a futility in law. The plaintiff could not be precluded from having locus standi before the civil court to call upon the determination of a right enshrined in the Federal Constitution," the judge said, referring to D as the plaintiff.
3. Was D's conversion to Islam in 1991 even valid?
In D's case, what was most crucial was actually what Selangor state law was in force when she was allegedly converted to Islam in May 1991 at the age of slightly over four years old.
Mais argued that the 1989 Selangor state law known as the Administration of Islamic Law Enactment 1989 was in force then, and cited its Section 70 (which said that the moment when any man or woman converts to Islam, their child who has not attained the age of majority becomes converted to Islam at the same moment) to argue that D was automatically converted when her mother converted to Islam.
In using the 1989 state law to argue that D's conversion to Islam was valid and done according to Selangor's laws, Mais had also cited the 1989 law's Section 74(3) which says that a certificate of conversion to Islam shall be conclusive proof of what is stated in the certificate.
But the High Court highlighted that the 1989 state law only came into force on September 1, 1991, questioning how it could apply to D's situation where her mother converted several months earlier.
"The plaintiff's mother's conversion was on May 17, 1951, which was before the Enactment 1989 came into force. Therefore, how could the Enactment 1989, particularly Section 70, apply to the plaintiff?" the judge asked.
As for the 2003 Selangor state law (Administration of the Religion of Islam (State of Selangor) Enactment 2003) which came into force on September 1, 2003 and replaced and repealed the 1989 law, the High Court said this too was not relevant.
Instead, the High Court looked at the old Selangor state law known as the Administration of Muslim Law Enactment 1952 (which was in force from October 1952 to August 31, 1991), and specifically at its Section 146 and Section 147.
Section 147 carried the heading "no conversion of children", and states "No person who has not attained the age of puberty shall be converted to the Muslim religion". This law was in force when D was allegedly converted.
"Hence, the plaintiff's purported conversion to Islam by the JAIS on May 17, 1991 was against the state law of conversion at that material time".
The High Court also went on to say that the conversion card issued in 1993 to D could not be valid and could not be taken as conclusive proof that she had converted to Islam.
"This is because the plaintiff's conversion to Islam was against the law at that time and unlawful in the first place, a fortiori the issuance of a conversion card to the plaintiff based on an unlawful conversion on 17 May 1991 would be invalid and unlawful as well," the judge said.
"Hence this court finds the plaintiff was not validly converted to Islam, and therefore, she could not be a person professing the religion of Islam despite being erroneously identified as a convert-Muslim for so many years," the judge concluded.
What about the fact that D was unilaterally converted by her mother without the father's consent?
The High Court had considered the Federal Court's January 2018 unanimous decision in Hindu mother M. Indira Gandhi's case (which ruled that the consent of both parents are needed for a child born in a civil marriage to be converted to Islam), but said the unilateral conversion of D to Islam is not a relevant issue in this case, as it was illegal to convert her as a child under the law then.
"This is because from the onset the conversion that took place on May 17, 1991 was an unlawful one under the applicable state law at that material time," the judge said.
4. Why Mais' counterclaim was rejected
Mais claimed that D was a vexatious litigant or someone who sues repeatedly, but the High Court rejected this as it said the civil court would not shut its door to a person who has a legitimate claim based on their constitutional right.
Noting that D's right to freedom of religion was in question and that her case was within the civil court's jurisdiction as it involved the issue of never being a Muslim, the judge also said it had been demonstrated that the Shariah court had acted out of bounds in exercising its jurisdiction over D.
The judge concluded that D could not be a vexatious litigant, saying "this is not a case of repeated litigations relying on the same cause of action".
Too long, didn't read?
In short, the High Court decided that the civil courts was the right place for D to go to as it has the powers to decide on cases involving those who were never a Muslim, and decided that D had the legal standing to file this lawsuit and was not someone who filed repeated lawsuits without merit.
And while her mother had sought to convert her to Islam as a child without asking the father's consent, the High Court's decided that D's May 1991 conversion to Islam was invalid as it goes against a Selangor state law at that time (which said children cannot be converted to Islam).
What's next?
On January 17, 2022, Mais filed an appeal against the High Court's decision which declared D to be not a person professing the religion of Islam, while the Selangor state government also filed an appeal later that same month.
The Court of Appeal is scheduled to hear the two appeals by Mais and the Selangor government on September 13.
D's lawyer Surendra confirmed his client has tried to ask for a new identity card after the High Court declared her to be not a Muslim, but said this has been turned down by the NRD.
"In the meantime, the Plaintiff has asked the NRD to reissue her IC without Islam and the word 'Binti' following the court decision. The DG of NRD responded saying that they will not do so as there is a pending appeal," he told Malay Mail, referring to the director-general of the NRD by the initials.
Mais on March 17 also filed a stay application at the High Court in Shah Alam, and this application is scheduled to be heard on May 30.
In the stay application, Mais is seeking to have the High Court's December 2021 decision stayed — or temporarily suspended from taking effect — until the Court of Appeal decides on the appeal.
Source: Malay Mail
Please click the following URL to read the text of the original story:
https://www.malaymail.com/news/malaysia/2022/04/04/high-court-declares-selangor-born-woman-not-a-muslim-says-her-unilateral-co/2051427
--------
Israeli Forces Brutalize Palestinian Worshipers In Al-Quds On 2nd Night Of Ramadan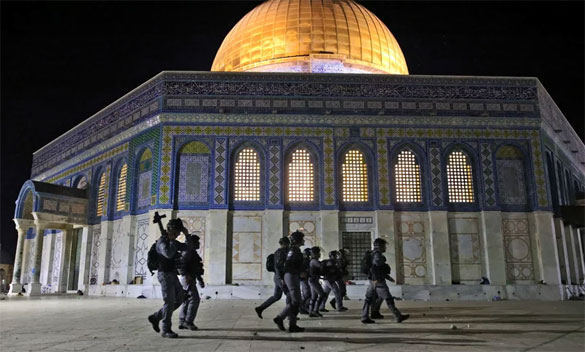 Israeli security forces deploy next to the Dome of the Rock mosque amid clashes with Palestinian protesters at the Al-Aqsa Mosque compound in Jerusalem on Friday.
Ahmad Gharabli/AFP via Getty Images
------
April 4, 2022
Israeli regime forces have attacked Palestinians at the Damascus Gate of the occupied Jerusalem al-Quds, severely beating worshipers and carrying out arrests on the second night of the holy month of Ramadan.
It is customary for Israeli forces to exhibit increased levels of violence against Palestinians gathering in the area during the fasting month of Ramadan.
On Saturday, Israeli police arrested four Palestinians during a night of tensions in the Old City of al-Quds.
But regime forces resorted to more violent means of crackdown on Sunday, hurling stun grenades and gas canisters and severely beating worshipers returning from evening prayers at the al-Aqsa Mosque compound.
At least 20 Palestinians were injured in the clashes and 10 were detained, mostly by plain-clothed officers who embedded themselves into the crowd.
Palestinians in return threw rocks and other projectiles toward the Israeli forces.
Early in the day, dozens of illegal Jewish settlers -- escorted by Israeli forces-- stormed al-Aqsa Mosque in the occupied al-Quds. This happened as the Israeli police imposed movement restrictions on Muslim worshipers at the mosque's entrances and gates on the second day of Ramadan.
Tensions are boiling across the occupied territories after Israeli forces shot dead three Palestinians in the West Bank city of Jenin on Saturday.
The Al-Quds Brigades, the military wing of the Islamic Jihad said the victims were its members, identifying them as Saeb Abhera, 30, Khalil Tawalbeh, 24, and Saif Abu Libdeh, 25.
The Palestinian resistance movement described the killings as an aggression against all Palestinians and an assault on the sanctity of the holy month of Ramadan. It vowed that the blood of the martyrs will not have been in vain.
Palestinians have ramped up their retaliatory attacks against Israeli forces in recent weeks, carrying out a series of operations that have killed at least 11 Israelis since March 22. Eight Palestinians have also been killed during the same period.
On Tuesday night, a Palestinian man identified as Diaa Hamarsheh killed five Israelis, including a policeman, before being shot dead in the ultra-orthodox town of Bnei Brak east of Tel Aviv.
The operation came days after two Palestinian gunmen killed two Israeli forces and wounded four others in a shooting attack in the northern Israeli city of Hadera before being shot dead.
Source: ABNA24
Please click the following URL to read the text of the original story:
https://en.abna24.com/news//israeli-forces-brutalize-palestinian-worshipers-in-al-quds-on-2nd-night-of-ramadan_1244521.html
--------
India
On Bail Yati Narsinghanand Booked For Hate Speech Again; Asks Hindus To Be A Man And Take Up Arms, In Hindu Mahapanchayat In Delhi
April 4, 2022
Addressing a Hindu Mahapanchayat in Delhi on Sunday, religious leader Yati Narsinghanand purportedly said that 50 per cent of Hindus would be converted, 40 per cent killed and ten per cent exiled if a Muslim was to become the prime minister of India.
Following his controversial speech, an FIR under sections 153A [Promoting enmity between different groups on grounds of religion, race, place of birth, residence, language...] and 188 of the Indian Penal Code was filed by the Delhi Police.
Earlier, Yati Narsinghanand was arrested for making a provocative speech against Muslims at a Dharam Sansad in Haridwar in December 2021. He was later granted bail.
What Did He Say?
A video of Yati Narsinghanand speaking at the event on Sunday has emerged on social media. India Today has not yet verified the veracity of the video.
In the unverified video, he can be heard saying:
Only in 2029 or in 2034 or in 2039, a Muslim will become the prime minister. Once a Muslim becomes the prime minister, 50 per cent Hindus will convert, 40 per cent will be killed and the remaining 10 per cent will either live in refugee camps or in other countries in the next 20 years.
He reportedly added:
This will be the future of Hindus. If you want to avoid this future, then be a man and take up arms.
Source: India Today
Please click the following URL to read the full text of the original story:
https://www.indiatoday.in/india/story/muslim-pm-yati-narsinghanand-hate-speech-fir-hindu-mahasabha-1933143-2022-04-04
--------
With Call for Violence Against Muslims at Burari, Yati Narsinghanand Violates Bail Conditions
Alishan Jafri and Naomi Barton
New Delhi: On April 3, 2022, a Hindu Mahapanchayat was held at North Delhi's Burari grounds, where at least five journalists were allegedly assaulted in the process of covering the event. The organisers of the event, Preet Singh and Pinky Chaudhary, have both previously been arrested for hate speech for an event organised in August 2021 at Jantar Mantar, where slogans calling for violence against Muslims were raised.
In the same vein as both the Jantar Mantar event and the more recent Haridwar 'Dharma Sansad' in December 2021, the participants featured well-known personalities of the militant Hindutva ecosystem as well as high-profile mainstream priests, and the presence of hate speech amounting to calls for genocide. The event also featured Yati Narsinghanand and Suresh Chavankhe, both of whom have recently been in the news for administering oaths to their respective congregations for a call to arms in 'protection' of the Hindu religion, which has been seen as a genocidal cry for violence against Muslims.
While the organisers were arrested for the hate speech raised last year, Preet Singh, president of the 'Save India Foundation', was granted bail on September 24. Pinky Chaudhary alias Bhupendar Tomar, a Hindu Raksha Dal leader, was granted bail on September 30.
While The Quint reported that the event was denied permission by the police, the organisers had communicated to the publication that they intended to continue with the event regardless, and videos show an absence of police intervention when the event's expected hate speech and calls to violence began.
Yati Narsinghanand, the organiser of the Haridwar Dharma Sansad, repeated the message for which he was arrested at the time, and made calls for violence against Muslims.
He said, "If a Muslim becomes the prime minister of India, in the next 20 years, 50% of all of you will change your religion…40% of Hindus will be murdered. Ten percent of Hindus will give their sisters and daughters to Muslims, will live in refugee camps or abroad. This is the future. If you want to change this future, then become men. Become men. Who is a man? He who has a weapon in his hand…The amount of man a woman bears for her husband and mangalsutra is the love a man bears for his weapons."
He was also among a number of speakers who used The Kashmir Files as a communal tool. Narsinghanand said, "For those who don't want Hindus and Muslims to fight, did you watch The Kashmir Files…they [Muslims] should leave their women and properties behind and drown in the Indian Ocean. You [Muslims] have only this path left."
One of the cases for which Yati Narsinghanand was arrested pertained to a hate speech he made during the Haridwar assembly. When he was granted bail on February 9 (a little under two months ago), it was under certain conditions. The court asked him not to deliver any speech which can disrupt social harmony, and restrained Narsinghanand from becoming part of any group or event with an aim to create discord among different communities.
Sunday's event, organised by a group previously under legal fire for hate speech, was organised to advocate for issues including "ghuspet niyantran" (intruder control), "dharmantran niyantran" (religious conversion control) and "devsthan mandir mukti" (freedom of Hindu temples). All of these operate as dogwhistles against Muslims.
The term 'ghuspetia' was used by Amit Shah while referring to 'infiltrators' left out of the Assam National Register of Citizens and presumed to be Muslim migrants from across the Bangladesh border. There has been recent violence against Muslims for 'forced conversions' on false pretexts, and Muslim traders have recently been expelled from Hindu temple events in Karnataka.
Narsinghanand's participation in this event also violates the order condition of not attending an event with the aim of creating discord among different communities. The fact that Muslim journalists were assaulted is also a testament to the disruption of 'social harmony' at the event.
No action has been taken again Narsinghanand thus far for violating his bail condition. However, according to PTI, an FIR has been registered against him and other speakers at the event for hate speech at the Mukherjee Nagar police station.
Narsinghanand has been linked with the BJP machinery in the past, saying on the record that Yogi Adityanath had intervened when he was to be booked under the Goonda Act, and 'saved him'. Ghaziabad SSP Pawan Kumar who had recommended that he be booked under the Goonda Act has, as of April 2, 2022, been suspended; according to the additional chief secretary (information) Navneet Sehgal, this was done on Adityanath's direction.
Source: The Wire
Please click the following URL to read the full text of the original story:
https://thewire.in/communalism/yati-narsinghanand-burari-hate-speech-bail-conditions
--------
After MNS chief's warning to mosques, partymen play Hanuman Chalisa on loudspeaker outside office
April 04, 2022
Thane: A day after MNS chief Raj Thackeray warned mosques not to use loudspeakers, his party workers played Hanuman Chalisa in front its office in Kalyan town of Maharashtra's Thane district on 3 April, 2022.
While addressing the Gudhi Padwa rally of the Maharashtra Navnirman Sena (MNS) in Mumbai on 2 April, 2022, Thackeray had said, "Why loudspeakers in mosques are played at such high volume? If this is not stopped, there will be speakers outside mosques playing Hanuman Chalisa at higher volume."
On 3 April, 2022, the local MNS workers assembled outside the party's office at Sai Chowk in Kalyan and played Hanuman Chalisa on loudspeakers and chanted it loudly. They also raised the slogan of 'Jai Shri Ram'.
Source: Firstpost
Please click the following URL to read the full text of the original story:
https://www.firstpost.com/india/after-mns-chiefs-warning-to-mosques-partymen-play-hanuman-chalisa-on-loudspeaker-outside-office-10514331.html
--------
Terrorist hideout busted near LoC in Jammu and Kashmir's Poonch, huge cache of arms seized
Apr 4, 2022
JAMMU: Security forces busted a terrorist hideout in a village near the Line of Control (LoC) in Jammu and Kashmir's Poonch district and seized a large quantity of arms and ammunition, officials said on Monday.
The hideout was unearthed during a joint search operation by the army and police in Noorkote village, the officials said.
They said the arms and ammunition seized from the hideout included two AK-47 assault rifles with two magazines and 63 rounds, one 223 bore AK shape gun with handgrip, its two magazines and 20 rounds and one Chinese pistol with a magazine and four rounds.
Source: Times Of India
Please click the following URL to read the full text of the original story:
https://timesofindia.indiatimes.com/india/terrorist-hideout-busted-near-loc-in-jammu-and-kashmirs-poonch-huge-cache-of-arms-seized/articleshow/90632453.cms
--------
Terrorists attack 2 non-locals in Pulwama
Apr 4, 2022
SRINAGAR: Suspected terrorists shot at and injured a truck driver and helper, both non-locals, in Litter area of South Kashmir's Pulwama district on Sunday, the first day of the holy month of Ramadan.
Police said the victims, identified as Surinder and Dheraj, are both residents of Pathankot in Punjab. They were bringing in a consignment of chicken for the consumption of devotees during the holy month when they were fired at.
Both the injured were immediately shifted to Pulwama sub-district hospital, from where Surinder was referred to Srinagar's SMHS Hospital. According to SMHS Hospital medical superintendent Dr Kawaljeet Singh, the patient is stable as the bullet had not touched his heart. Dherajhas injuries in one of his legs.
Source: Times Of India
Please click the following URL to read the full text of the original story:
https://timesofindia.indiatimes.com/india/terrorists-attack-2-non-locals-in-pulwama/articleshow/90629186.cms
--------
Five Lashkar men arrested in north Kashmir's Bandipora
Apr 4, 2022
SRINAGAR: Jammu and Kashmir Police on Sunday claimed to have arrested five Lashkar-e-Taiba (LeT) affiliates from north Kashmir's Bandipora district and seized two Chinese grenades from them.
"Security forces manning a check-post at Rakh Hajin area arrested LeT affiliate Irfan Aziz Bhat with a Chinese grenade. During questioning, he revealed he was in touch with Pakistan-based terrorist Umer Lala. He was earlier also in contact with terrorist Saleem Parray of Hajin, who was slain in an encounter," said a police spokesperson, adding: "Bhat, along with other Pakistan-based terrorists, were planning to carry out a terror attack in Hajin area."
Based on Bhat's statement, police arrested four other LeT affiliates identified as Irfan Ahmad Bhat of Ashtango; Sajad Ahmad Mir and Shariq Ahmad Mir, both from Arin; and Irfan Ahmad Jan of Qazipora, Bandipora. "They were providing SIM cards and logistic support to active terrorists," said the spokesperson.
Source: Times Of India
Please click the following URL to read the full text of the original story:
https://timesofindia.indiatimes.com/india/five-lashkar-men-arrested-in-north-kashmirs-bandipora/articleshow/90628839.cms
--------
Bajrang Dal activists held for attacking Muslim meat sellers
Apr 03, 2022
Five Bajrang Dal activists were arrested in Shivamogga district in Karnataka for allegedly attacking a Muslim trader for selling halal meat, even as the 'Boycott halal products' campaign by Vishwa Hindu Parishad and Bajrang Dal intensified in the state. Chief Minister Basavaraj Bommai appealed to people to celebrate Hindu new year Ugadi and 'Hosa Tadaku' festivals peacefully without disturbing law and order.
During Hosa Tadaku, which is celebrated a day after Ugadi, Hindus who prefer non-vegetarian food, cook meat and chicken. The right wing activists have appealed to the Hindus not to buy halal meat as it is already offered to Allah by the Muslims and offering such 'stale meal' would be a disrespect to Hindu Gods and Goddesses.
On Thursday, two incidents were reported in Bhadrawati town one in Hosamane Police Station limits and another in old town police station limits, Shivamogga Superintendent of Police B M Lakshmi Prasad told reporters on Friday. In Hosamane police station limits, five people went to the shop and demanded non-halal meat. When it was not provided, the shop was shut. They assaulted one boy in the shop on his head with their hands, he added. Similarly, a case was registered in old town police station where some people went to Janata Hotel and told the owner not to sell halal meat. When a customer questioned, he was assaulted, the officer said. "In both the cases, the same accused have been named.
A case has been registered against them and they have been arrested. They are Vadivelu, Srikanth, Krishna, Sawai Singh and Gunda," Prasad said. In Bengaluru, the Chief Minister said he has given directions to the district authorities. "I have asked all the deputy commissioners and superintendents of police of all the districts that people have to celebrate their festivals without disturbing the law and order. Directions given should be followed strictly," Bommai told reporters. He also said peace meetings have been convened with all the people concerned where they were told to ensure peaceful celebration of the festival.
Intensifying their drive, Hindu outfits on Saturday too got down on the streets appealing to the Hindus to use only 'jhatka meat', which means killing any animal by stunning it so that the sacrificed animal does not undergo the much sufferings. The campaigners have tied up with Hindu meat vendors and have put up signboards of '100% jhatka certified' on the outlets. Hindu activists have even offered 10 per cent concession on the purchase of meat of ₹200 and above and free home delivery within eight kms of the outlet.
Source: Hindustan Times
Please click the following URL to read the full text of the original story:
https://www.hindustantimes.com/cities/bengaluru-news/bajrang-dal-activists-held-for-attacking-muslim-meat-sellers-101648964902608.html
--------
Move over UP, Karnataka is India's new anti-Muslim hate factory
3rd April 2022
Since the Hijab row started in January this year, Karnataka has been witnessing instances of blatant Islamophobia non-stop. The state is now being called 'the Uttar Pradesh of south India' after rising cases of anti-Muslim Hindutva aggression are being reported on an almost every-day basis from different districts of the state.
Karnataka is also home to the second highest population of Muslims in Southern India after Kerala, with almost 13 per cent of its population comprising Muslims. Earlier, instances of Islamophobia would primarily be concentrated in South coastal Karnataka, where several right-wing vigilante groups operate, more often than not unlawfully.
While South coastal Karnataka is considered to be a stronghold of the Rashtriya Swayamsevak Sangh (RSS) and other right-wing groups (communal violence has been rife in the area from the 1970s and 80s), communalism has now evidently become an everyday affair across the state. The latest issue pertaining to Halal meat has also led to violence.
MS Education Academy
Bajrang Dal members thrashed a worker at a meat shop owned by a Muslim man, after the former demanded that they be sold non-halal meat.
From the Hijab ban to the various other direct and indirect attacks on minority communities, the last few months show that there is now an aggressive and hateful mob hell-bent on making daily life difficult for Muslims in Karnataka. More importantly, this has started after a major political change took place, after former chief minister and Lingayat leader Yediyurappa was asked to step down as chief minister.
He was replaced by current Karnataka chief minister BS Bommai.
A Karnataka-based observer, who did not want to be named, said that politics plays a major hand in what is happening. "The larger agenda is political gain after the recent change in chief ministers. For that, a fear of 'minorities taking over' is being propagated to consolidate the Hindu vote bank. But this communal divide has now crept past being an election tactic, and is now a seemingly permanent state of affairs," he told this newspaper.
To give a better understanding of the situation, Siasat.com compiled a list of hate crimes that have been reported since February, when the hijab row began in Karnataka. Here is a map marking where the incidents have taken place (scroll down to read about all of the reported hate crimes):
8 February: Muskaan Khan, an 18-year-old student, went to Karnataka Mandya pre-University college to submit an assignment. She wasn't allowed to enter because she was wearing a burqa. A mob of goons dressed in saffron started harassing her and chanting Jai Shree Ram.
10 February: Several Muslim students of Udupi's Government Pre-University College for Girls received threat calls. They had their phone numbers, addresses and parents' contacts allegedly leaked by the college. The girls were the face of the protests against the college's rule of hijab not being allowed in educational institutes.
15 February: A video emerged of a hijabi student being chased by a reporter. It quickly went viral, and sparked outrage online.
19 February: At least 58 female students from the Government Pre-University College of Shiralakoppa in Karnataka's Shivamogga district were suspended on Saturday for wearing the hijab and staging an agitation. Similar situations took plac ein Belagavi, Yadgir, Bellary, Chitradurgam and Shimoga also saw hijab-clad students not being allowed into classrooms.
22 February: A reporter barged into a hijabi student's house under the guise of a sting operation. Aliya Assadi, the student, filed an FIR under IPC section 448 against a reporter of Asianet Suvarna News. Several other Muslim women were followed, and harassed by members of select media houses since the start of the high court proceedings vis-à-vis the hijab row.
3 March: An 18-year-old hijab-wearing Muslim student alleged a conspiracy against her. She was booked by Karnataka police alongside six other Muslim students over allegations of harassment of ABVP members. The incident happened at Dayanand Pai-Satish Pai Government First Grade College in North Mangaluru. In a tweet, she questioned the authenticity of the FIR.
5 March: A muslim collective trying to protect a dargah, which also happens to be a state-protected monument, was assaulted by police officers. Members of BJP/RSS wanted to "purify" a Shivalinga at the Hazrat Ladle Mashaikh Ansari Shareef dargah in Aland Taluk of Gulbarga district. Acting on an "Aland chalo" call by Siddalinga Swami of the Karuneshwar Mutt, goons aimed to usurp power from the community and claim it was the home of a Shivalinga.
8 March: Hindutva goons entered a government college in Mugtahalli, Chickmanglur without permission and forced Hijab-clad students to leave college if they wouldn't remove their headscarves.
22 March: Characters in a Yakshagana play during the Karkala Utsav in Karnataka's Udupi passed derogatory comments on Muslim women who wear hijabs. The characters said that Muslim women "cannot be considered humans" as they wear a "black cloak", referring to the hijab.
https://twitter.com/safaperaje/status/1505962161138388995?s=20&t=UZmlru-Zhfy3O3oePip_ww
Karnataka chief minister BS Bommai said that the applicability of the rules has to be examined.
23 March: Karnataka Law Minister JC Madhuswamy referred to The Hindu Religious Institutions And Charitable Endowments Act and Rules (2002), saying, "As per the rule number 12 of Act, leasing out space near a Hindu religious institution to a person of another faith is prohibited. If the instances of Muslims being banned from doing business have taken place outside the temples' premises, we can examine. However, within the premises, the rules don't permit people from other communities to set up shop."
23 March: Kuthma Sheikh, a 25-year-old student from Mudhol, was remanded in judicial custody after she shared a WhatsApp status wishing people on Pakistan's Republic day. She captioned the picture in Urdu, "Allah Har Mulk me Ittihaad…Aman…Sukoon…Ata Farma Maula" (may Allah grant unity, peace and harmony in every country).
24 March:
Banners announcing that Muslims cannot pitch their stalls at the annual fair of Bappanaadu Durgaparameshwari Temple near Mangaluru district in Karnataka appeared around the temple.
However, the temple authority denied authorizing any such banner and said that they were put up without being brought to their notice. The local police said that they are aware of such banners and will take action after taking legal opinion.
The same banner has been reportedly seen at other temples including Mangaladevi Temple, Polali Rajarajeshwari Temple and Mahalingeshwara Temple in Puttur.
24 March:
A man created a fake Muslim account to post hate speech online. Siddharoodha Srikant Nirale, a resident of Bagalkot, had created a fake profile on Facebook in the name of Mushtaq Ali after downloading pictures of a random person. Using Facebook, he spread hatred. After the murder of a Bajrang Dal activist Harsha in Shivamogga, he had posted many communal comments. Bagalkot Police arrested him for threatening Karnataka BJP MLC D.S. Arun.
25 March:
Hindutva goons in Kodagu district forced Muslim vendors to shut down fruit and juice stalls set up in the premises of the venue where a state-level agricultural programme was scheduled to take place. Manehalli village in Shaniwarpet, Kodagu district saw saffron-clad Bajrang Dal goons forced Muslim traders to empty the premises of the venue of an agricultural program.
27 March:
A cycle rally organised by BJP MP Tejaswi Surya stopped in between their journey- right outside the Masjid E-Hussaini Makan and Shahbaz Shah Khalander Dargah at Kolar. They proceeded to dance to loud music that said "Shivaji Maharaj ki jai" while waving saffron flags.
28 March:
A member of right-wing organisation Hindu Jana Jagruti (HJJ) called for a nationwide boycott of halal products. Mohan Gowda of the HJJ all Hindus to boycott all halal products, and use only 'Jhatka' meat. "We will protect the country by boycotting the economy of the anti-nationals."
30 March:
Seven teachers at the CS Patil girls high school in Gadag, were suspended for allowing Hijab-clad girls to appear for an exam. The teachers were invigilators.
Another invigilator, Noor Fatima, was suspended earlier after she refused to take off her hijab while conducting the SSLC (Class 10) exams at KSTV High School.
March 30:
Bajrang Dal members patrolled streets in Nelamangala Ugadi fair in Bengaluru asking Hindus vendors not to buy meat from Muslim shopkeepers. There were also posters printed asking for the same.
March 30:
A chicken shop owner was reportedly assaulted by right-wing goons in Bhadravathi city of Shivamogga District. The attackers, who were regular customers of the shop, demanded non-halal meat. When the shop owner, Syed Ansar refused to sell non-halal meat, the goons started assaulting him and his cousin Tausif.
Source: Siasat Daily
Please click the following URL to read the full text of the original story:
https://www.siasat.com/move-over-up-karnataka-is-indias-new-anti-muslim-hate-factory-2298366/
--------
With no restrictions, cheers return during Ramzan in Hyderabad
3rd April 2022
Hyderabad: After a gap of two years, the Muslim holy month of Ramzan began on a cheerful note on Sunday with the usual hustle-bustle returning to the markets in this historic city.
With Covid-related restrictions no longer in place, the excitement was in the air with the sighting of a new moon on Saturday. The fasting began on Sunday.
As the sirens blared announcing the sighting of moon Saturday night, Muslims headed to the mosques in the twin cities of Hyderabad and Secunderabad and other towns in Telangana and neighbouring Andhra Pradesh for prayers.
After 'Isha' (daily night prayers), the devouts offered special namaaz called 'Taraweeh' during which the entire holy Quran is recited by 'Huffaz' (those who have memorised the Quran).
The biggest gathering was seen in the historic Mecca Masjid near Charminar. The mosques were spruced up and illuminated. Big gatherings were also witnessed in historic mosque at Public Gardens in the heart of the city, Darulshifa mosque in the old city, Azizia Masjid in Mehdipatnam and scores of other mosques.
Hectic activity was seen in markets and neighbourhoods as people purchased the essentials to prepare for the first day of fasting. The fasting began with 'Sahr' or pre-dawn meals followed by 'Namaz-e-Fajr' or first prayer of the day.
The holy month in 2020 was completely overshadowed by Covid-19 pandemic. The mosques were closed due to ban on congregations while the markets were shut due to lockdown.
Last year, the celebrations were low-key due to various Covid-related restrictions. The spirits were dampened in the last week with the Telangana government imposing a lockdown to check the spread of the pandemic.
Now, with no restrictions in place this year, the dazzle has returned to festivities.
"I thank the Almighty for blessing me with another Ramzan in my lifetime. It's a great feeling to offer the prayers in congregation and also move around friends without any restrictions like wearing of mask and social distancing," said Syed Mohsin, a student.
Fasting, the third of the five tenets of Islam, is obligatory for all adults except those who are ill and travelling. During the fast from dawn to sunset, they refrain from consuming food or water.
Hyderabad, with a large Muslim population and a distinct culture, comes alive during the holy month every year. Shopping continues till late in the night with people tasting lip-smacking dishes including the season's favourite 'Haleem'.
Source: Siasat Daily
Please click the following URL to read the full text of the original story:
https://www.siasat.com/with-no-restrictions-cheers-return-during-ramzan-in-hyderabad-2301955/
--------
Pakistan
Detailed ruling alleges opposition 'nexus' with foreign powers
Jamal Shahid
April 4, 2022
ISLAMABAD: Only a day after Fawad Chaudhry as the law minister issued directives for formation of a commission to investigate the alleged foreign conspiracy behind the no-confidence resolution against Prime Minister Imran Khan, Qasim Suri in his controversial ruling declared that "circumstances show that there is a nexus between the no-confidence motion, foreign intervention and the activities of the state's representatives deputed to Pakistan".
Mr Suri, in his detailed four-page ruling issued by the National Assembly Secretariat on Sunday evening, declared a "foreign state was interfering in the internal affairs of Pakistan and Prime Minister Imran Khan was its primary target". He did not mention the foreign state despite the fact that PM Khan had already named the US in a slip of the tongue during an address to the nation.
He said he could not give details about the foreign intentions and its links to the no-confidence motion, but they could be provided in an in-camera session. Mr Suri also based his ruling on the recent meetings of the National Security Committee, federal cabinet and Parliamentary Committee on National Security that were briefed on the 'threat'.
He stated a PCNS meeting was arranged for briefing on the issue on March 31, but the opposition chose to boycott or ignore it. However, as a speaker and custodian of the House, he asked the government functionaries to provide him the facts and information subject to the applicable laws, the ruling stated.
Suri claimed "there existed a campaign to oust and remove the democratically elected government headed by Imran Khan through different means, including the motion for no-confidence". He said as the custodian of the House he could not "remain indifferent or act as an unconcerned spectator let alone be instrumental in this unconstitutional act of change of government and the prime minister orchestrated by a foreign state". The no-confidence motion could not be entertained in these circumstances and had to be rejected, he explained.
Legal fraternity chips in
Deputy Attorney General Raja Khalid Mehmood Khan, who announced his resignation on Sunday, told a TV channel that "something like this can be expected by a dictator, but this has never happened in Pakistan's history under a democratically elected leader". He claimed was not consulted and in his opinion neither was the attorney general.
He termed the deputy speaker's ruling unconstitutional. "I am of the considered view that the case against Imran Khan falls under Article 6 (treason)."
Lawyer Faisal Chaudhry, a brother of former information minister Fawad Chaudhry, defended the ruling, saying certain judgements of the Supreme Court put Article 5 of the Constitution "above all other matters", and that the apex court would have to take a deeper look into 'Lettergate'.
Legal wizard and PPP leader Aitzaz Ahsan was of the view that if the no-trust motion was against the rules the speaker's office should have rejected it without bringing it on the assembly's agenda. Once the resolution had been placed on the agenda, it became property of the House.
Supreme Court Bar Association President Ahsan Bhoon told reporters outside the apex court Mr Suri had no option but to put the resolution to vote. The president, prime minister, law minister and the deputy speaker could be tried under Article 6 for treason, he believed.
Meanwhile, the Insaf Lawyers Forum, the lawyers' wing of the PTI, condemned Mr Bhoon's statement, and asked the SCBA not to become a party in the political battle.
Senior lawyer Akram Sheikh regretted this was the first government that had bulldozed the Constitution and the rule of law under the guise of democracy. He explained Article 5 could not be invoked at this stage since the assembly session was called for counting of votes on the no-trust motion.
PM's stay in office
Later in the evening, the Cabinet Division issued a notification, declaring that Imran Khan ceased to hold the prime minister's office with immediate effect.
"Consequent upon dissolution of the National Assembly by the president of Pakistan, in terms of Article 58(1) read with Article 48(1) of the Constitution of the Islamic Republic of Pakistan… Mr Imran Ahmad Khan Niazi ceases to hold the office of prime minister of Pakistan, with immediate effect," the notification read.
However, Dr Shahbaz Gill claimed the notification was a requirement even after which Mr Khan will continue to hold the office under Article 224(4) of the Constitution until the appointment of a caretaker PM.
Source: Dawn
Please click the following URL to read the full text of the original story:
https://www.dawn.com/news/1683369/detailed-ruling-alleges-opposition-nexus-with-foreign-powers
--------
Pakistan PM Imran Khan names US official who sent 'threat' message
Apr 4, 2022
ISLAMABAD: Pakistan Prime Minister Imran Khan has revealed that Assistant Secretary of State for South and Central Asian Affairs Donald Lu had sent a threatening message to him through Pakistan's envoy Ambassador Asad Majeed.
"US had sent a threatening message through Pakistan's envoy," Dawn quoting Imran Khan reported.
During his remarks that were televised, Imran Khan told them that when the National Security Council (NSC) had condemned the involvement of an external force in no-trust resolution, counting (of votes on the motion) had become "irrelevant".
He said that US Assistant Secretary of State for South and Central Asian Affairs Donald Lu had reportedly in a meeting with Ambassador Asad Majeed warned there could be implications if he survived the opposition's no-confidence motion in the National Assembly.
According to Dawn, the Prime Minister said he had reports that Pakistan Tehreek-e-Insaf (PTI) dissidents had frequented the [US] embassy. "What were the reasons that the people, who have left us, met people of the embassy frequently in the last few days," he said.
In an address to the nation last week, Imran Khan had raised a "foreign conspiracy" charge amid the opposition's growing confidence about the no-trust motion against his government.
Imran Khan mentioned "United States" in this context and then immediately changed tack to say "foreign country".
"On March 8 or before that on March 7, the US sent us a...not the US but a foreign country sent us a message. The reason why I talking about this...for an independent country to receive such a message... this is against me and the country," he had said.
The United States has rejected Imran Khan's allegations regarding Washington's role in the alleged "foreign conspiracy" to oust him from power.
Source: Times Of India
Please click the following URL to read the full text of the original story:
https://timesofindia.indiatimes.com/world/pakistan/pakistan-pm-imran-khan-names-us-official-who-sent-threat-message/articleshow/90634628.cms
--------
Imran Khan thrusts country into constitutional crisis: Pakistan media
Apr 4, 2022
ISLAMABAD: Pakistan media has criticised the dissolution of the National Assembly in the country, saying that whatever happened on Sunday violated all rules governing proceedings in the House, particularly those dealing with the motion of no-confidence.
Pakistan National Assembly Deputy Speaker Qasim Suri on Sunday dismissed the no-trust motion against the Pakistan Tehreek-e-Insaf (PTI) government, terming it a contradiction of Article 5 of the country's Constitution. Moreover, Pakistan President Arif Alvi dissolved the National Assembly on the proposal of Imran Khan.
In an editorial published on Monday, the Dawn newspaper said that Imran Khan could have played the political game like a true sportsperson and still emerged stronger from the loss given the sharp narrative he had spun leading up to the vote.
"Instead, he chose to thrust the country into a constitutional crisis. The president, too, failed to act with wisdom: instead of looking into the constitutionality of the entire process, he acted as an Imran Khan loyalist and sullied his office with his partisan decision," the Dawn editorial said.
The Pakistani newspaper argued that with the parliamentary process pulverised on the orders of a leader who continues to hold it in deep contempt, Pakistan has been thrown into the dark abyss of a constitutional crisis.
"It came as a rude shock: it takes quite the fall for a self-proclaimed 'fighter' to display such unsportsmanlike behaviour. By tearing up the rules of the game instead of 'playing till the last ball', Mr Khan has dealt a fatal blow to constitutionalism and given rise to the strongest concerns yet that he may not be suited to hold public office within a democratic order," the editorial said.
After the dismissal of a no-confidence motion against the Imran Khan-led government, Pakistan Peoples Party (PPP) chairman Bilawal Bhutto Zardari said that "Imran's coup" forces the country into yet another compromised election.
Pakistan National Assembly Deputy Speaker Qasim Suri on Sunday had dismissed the no-trust motion against the Pakistan Tehreek-e-Insaf (PTI) government, terming it a contradiction of Article 5 of the country's Constitution. Moreover, Pakistan President Arif Alvi dissolved the National Assembly on the proposal of Imran Khan.
"We set out on mission to force-free and fair election. Through a vote of no confidence, electoral reforms & early elections. Were all set to achieve that. Imran's coup undermines NCM, electoral reforms but forces yet another compromised election. Silver lining Selected is GONE!" Bilawal Bhutto tweeted.
The PPP chairman said that Pakistan cannot under any circumstances compromise on the constitution. He urged the Supreme court of Pakistan to rise to the challenge and prove that country's constitution is "more than a piece of paper."
Pakistan Chief Justice Umar Ata Bandial said that all orders and actions initiated by Imran Khan and the president regarding the dissolution of the National Assembly will be subject to the court's order.
Source: Times Of India
Please click the following URL to read the full text of the original story:
https://timesofindia.indiatimes.com/world/pakistan/imran-khan-thrusts-country-into-constitutional-crisis-pakistan-media/articleshow/90634535.cms
--------
Imran to continue as prime minister till appointment of caretaker premier
April 4, 2022
Imran Khan will continue to serve as the prime minister of Pakistan till the appointment of a caretaker premier under Article 224-A(4) of the Constitution, according to a notification issued by President Dr Arif Alvi 's office.
Article 224(A) deals with the procedure of the appointment of the caretaker prime minister in case the leader of the house and leader of the opposition do not agree on the name of a caretaker prime minister, while 224(A) says:
"The incumbent Prime Minister and the incumbent Chief Minister shall continue to hold office till appointment of the care-taker Prime Minister and the care-taker Chief Minister, as the case may be."
Earlier in the day, the Cabinet Secretariat had issued a notification stating that Imran Khan had "ceased to hold the office of the prime minister of Pakistan with immediate effect".
However, under Article 94 of the Constitution, the president "may ask the Prime Minister to continue to hold office until his successor enters upon the office of Prime Minister".
These development came after the National Assembly Deputy Speaker Qasim Suri disallowed the no-trust vote against PM Imran by ruling it to be part of a "foreign conspiracy" and in violation of Article 5 of the Constitution, which demands loyalty to the state.
As the opposition reeled in the face of the government's move, PM Imran appeared on television moments later to announce that he had advised the president to dissolve the NA and called on the country's citizens to prepare for fresh elections.
Shortly after, the president dissolved the lower house of Parliament under Article 58 of the Constitution, which says:
Source: Dawn
Please click the following URL to read the full text of the original story:
https://www.dawn.com/news/1683401/imran-to-continue-as-prime-minister-till-appointment-of-caretaker-premier
--------
MQM-Altaf resumes activities in Karachi after years
April 4, 2022
KARACHI: In a surprising development, the Altaf Hussain-led Muttahida Qaumi Movement (MQM), commonly known as MQM-London, resumed its organisational activities in Karachi after a lapse of over five years and named two senior leaders as members of its coordination committee, party's top decision-making forum.
The development coincides with a petition filed in the Sindh High Court seeking lifting of a ban imposed in 2015 on the broadcast of speeches of London-based Mr Hussain by the Pakistan Electronic Media Regulatory Authority (Pemra).
According to a statement sent to Dawn by London-based MQM leader Mustafa Azizabadi, former MNA Kunwar Khalid Yunus and veteran leftist leader Momin Khan Momin, both based in Pakistan, have been made senior deputy convener and deputy convener of the coordination committee, respectively.
The statement said the two would pursue cases of interned MQM workers and also work for the recovery of "missing" activists.
It said that further organisational set-up would be announced in the days to come and asked what it described as party's "wafa parast" workers to keep in touch with Mr Yunus and Mr Khan.
Source: Dawn
Please click the following URL to read the full text of the original story:
https://www.dawn.com/news/1683255/mqm-altaf-resumes-activities-in-karachi-after-years
--------
PTI defends NA dissolution, advises opposition to prepare for new polls
April 4, 2022
ISLAMABAD: A number of Pakistan Tehreek-i-Insaf (PTI) members and former ministers on Sunday defended Prime Minister Imran Khan's action of dissolving the National Assembly and claimed that the ruling of the deputy speaker could not be challenged in any court of the country.
Talking to reporters outside the Supreme Court, former information minister Fawad Chaudhry said the parliament was a separate institution and the judiciary had a separate standing and, therefore, the deputy speaker's decision could not be challenged in any court of the country.
"Why are you running from elections? Have political parties ever run from elections?" Mr Chaudhry asked while criticising the opposition parties' reaction to the prime minister's dissolution of the National Assembly.
He taunted the opposition by stating that it was the PTI which had lost the government "but look at their (the opposition leaders') drawn faces." He said he was seeing it for the first time that the government was celebrating its ouster and the opposition was shedding tears.
Fawad claims deputy speaker's ruling cannot be challenged in any court
Mr Chaudhry said that the president had dissolved the National Assembly on the prime minister's advice and elections would now be held within 90 days.
He said that within two to three days, Mr Khan would write a letter to Shehbaz Sharif to ask him to suggest names for the caretaker government to hold new elections.
He also objected to the hearing of the Supreme Court on Sunday, saying that "courts shouldn't be set up on Sunday". He said political decisions shouldn't be taken in court rooms.
"Political decisions are made by the people and not by courts. People have the right to make these decisions," he said.
Mr Chaudhry ruled out the possibility of imposition of martial law in the country, asserting that "the army has nothing to do with political developments in the country".
According to the state-run Associated Press of Pakistan, Mr Chaudhry said under Article 69, the Supreme Court did not have the jurisdiction to give a judgment on the ruling of the parliament.
He said the PTI's lawyers and legal team would reach the Supreme Court on Monday to put forward their point of view on the issue.
He said the PTI was challenging the opposition to face it in the elections.
Meanwhile, speaking at a separate news conference, former interior minister Sheikh Rashid Ahmed said it was his desire that the provincial assemblies of Punjab and Khyber Pakhtunkhwa might also be dissolved along with the National Assembly.
Mr Ahmed said Mr Khan would remain the prime minister for the next 15 days and the general elections would be held within 90 days.
He expressed the hope that Mr Khan would win the next general elections with a two-thirds majority.
Source: Dawn
Please click the following URL to read the full text of the original story:
https://www.dawn.com/news/1683363/pti-defends-na-dissolution-advises-opposition-to-prepare-for-new-polls
--------
Imran acted like a dictator to wrap up democracy: Fazl
April 3, 2022
ISLAMABAD: Chief of Jamiat Ulema-e-Islam (JUI-F) and head of alliance of the opposition parties, Pakistan Democratic Movement (PDM), Maulana Fazl ur Rehman has said that Imran Khan has acted like a dictator to wrap up the democratic system in the country.
Talking to a private TV channel on Sunday, the PDM chief said that the self-fabricated letter with claims of dispatched by a foreign country containing threats was an attempt to flee of being held accountable.
Fazlur Rehman said that Balochistan Assembly was dissolved in 1988 and we moved High Court very next day after which court restored the assembly.
He termed the National Assembly scenario unconstitutional, saying Deputy Speaker was not authorized to give the said ruling. Whether it was the said rule, Imran Khan was telling the nation about, he questioned.
The PDM Chief declared rejecting of the No-Trust Motion as unconstitutional. They came into power via unconstitutional means and no using unconstitutional tactics instead of facing the defeat, he added.
Fazlur Rehman said that after PTI's defeat during first step of local government elections in Khyber Pakhtunkhwa (KP), the government utilized all public resources.
Free and fair election was our demand and goal from day first and democracy can't be run by creating crisis, he added.
Imran Khan following Pervez Musharraf's footsteps: Musadiq Malik
Meanwhile, leader of Pakistan Muslim League-Nawaz (PML-N), Musadiq Malik has said that Imran Khan is following the footsteps of military dictator General (Retd) Pervez Musharraf.
In a statement issued on Sunday, he said that both Imran Khan and Pervez Musharraf violated the constitution of the country.
Musadiq Malik said that Governor Punjab was asked to dissolve assemblies and was removed over refusal.
Today the national assembly removed PM Imran Khan and Speaker NA alleged the assembly members, he added.
The PML-N leader further stated that Imran Khan was trying to create constitutional crisis in the country.
Source: Pakistan Today
Please click the following URL to read the full text of the original story:
https://www.pakistantoday.com.pk/2022/04/03/imran-acted-like-a-dictator-to-wrap-up-democracy-fazl/
--------
Military distances itself from no-confidence motion
April 3, 2022
ISLAMABAD: The institution of the military has nothing to do with the vote of no-confidence against the prime minister and how Deputy Speaker Qasim Suri declined to hear the motion into his rule, observing there had been unacceptable interference in Pakistan's democratic institutions.
When asked by Geo News if the military was on board with the government in its move to block the motion, Inter-Services Public Relations (ISPR) Director-General Maj. Gen. Babar Iftikhar "denied any sort of involvement" in the process.
No prime minister of Pakistan has ever completed a full term, and Imran Khan has been facing the biggest challenge to his rule since being elected in 2018, with opponents accusing him of economic mismanagement and bungling foreign policy.
On Sunday, parliament was due to debate a no-confidence motion on Khan, but the deputy speaker refused to accept it, causing uproar in the chamber.
Source: Pakistan Today
Please click the following URL to read the full text of the original story:
https://www.pakistantoday.com.pk/2022/04/03/military-distances-itself-from-no-confidence-motion/
--------
Pakistani peacekeepers martyred in Congo chopper crash 'valiant heroes': Akram
April 3, 2022
UNITED NATIONS: Pakistan's permanent representative to the United Nations, Munir Akram, paid high tributes to the six "valiant" peacekeepers from Pakistan who made the ultimate sacrifice for the cause of peace in Congo as their bodies were repatriated from Goma, the capital of North Kivu province, on Saturday.
"I salute the commitment of our brave sons — the fallen peacekeepers from Pakistan in DR Congo," he tweeted.
"They made the supreme sacrifice in the service of peace and to support the Congolese people. They are Pakistan's valiant heroes and will stay forever in the nation's thoughts and prayers," Akram added.
Two Russian and Serbian peacekeepers also died in the crash, which took place on Tuesday.
Source: Pakistan Today
Please click the following URL to read the full text of the original story:
https://www.pakistantoday.com.pk/2022/04/03/pakistani-peacekeepers-dead-in-congo-chopper-crash-valiant-heroes-akram/
--------
Southeast Asia
Muslim insurgents in Thailand to cease attacks during Ramadan
April 04, 2022
Islamist separatists in Thailand's restive southernmost region have agreed to cease attacks on state security forces during the Muslim month of Ramadan, according to the main separatist group.
Representatives of Barisan Revolusi Nasional (BRN), who met last week with a Thai delegation during the latest round of peace talks in Malaysia, said in a statement that insurgents in Thailand's three Muslim-majority southernmost provinces will stop violence from April 3 to May 14.
The decision, which was made in collaboration with Thai negotiators, aims to "create a safe and prosperous atmosphere" for Muslims for the duration of the holy month, a highly significant period in the Muslim religious calendar.
Simultaneously, Thailand's government, which has hailed the agreement as "significant progress," has said in another statement that this month-long "environment conducive to peace" will enable people to "safely perform their religious practices."
The cessation of violence will also boost public confidence in the ongoing peace negotiations between the two sides, it said.
It remains to be seen, however, if this agreement will lead to longer-lasting peace in the troubled region where well over 7,300 people have lost their lives in violence perpetrated by the two sides since 2004.
In recent weeks, shadowy insurgent groups in the provinces of Pattani, Yala and Narathiwat have launched bombing attacks against security personnel, dampening hopes for a peaceful resolution to the long-running conflict.
Hardline insurgents have repeatedly indicated over the years that they would accept no political solution short of full independence for the southern Muslim-majority provinces, which are inhabited predominantly by ethnic Malays and were once part of a sultanate that was annexed in 1909 by what was then the Kingdom of Siam.
Many locals have never resigned themselves to being part of a Buddhist-majority state, according to some analysts, and persistent violence in the region bordering Malaysia has been part of daily life for nearly two decades.
Thailand's military-allied government, which seized power in a coup in 2014, has pledged repeatedly to pacify the restive region by finding a political solution, but it has made little progress in stopping regular attacks perpetrated by suspected insurgents, including hit-and-run attacks with assault weapons and bombings with homemade explosive devises.
Rights groups have said that heavy-handed state security measures such as extrajudicial killings, summary arrests and the alleged torture of suspects have alienated a large segment of the local Muslim population.
Source: UCA News
Please click the following URL to read the full text of the original story:
https://www.ucanews.com/news/muslim-insurgents-in-thailand-to-cease-attacks-during-ramadan/96749
--------
Klang Valley Ramadan bazaars roar back to life, even as visitors and vendors remain Covid cautious
04 Apr 2022
BY R. LOHESWAR & KENNETH TEE
KUALA LUMPUR, April 4 — The large crowds expected at Ramadan bazaars throughout April are a cause for concern if Covid-19 standard operating procedures (SOPs) are disregarded, said visitors and vendors alike when approached by Malay Mail yesterday.
The Ramadan bazaars at Seksyen 13 in Shah Alam and Pandan Indah in Ampang saw people coming out in droves to buy their favourite buka puasa goodies, some from stalls that were opening for the first time in two years due to the pandemic.
Eager crowds
"It is the first day so you kind of expect it to be chaotic," said 17-year-old Rizq Aqeef who Malay Mail spoke to in Shah Alam.
"For two years, people couldn't experience the bazaar so they all wanted to release some tension. Despite things still being under control, I feel the SOPs could be tighter."
Meanwhile, Suhaimi, whose favourite dishes are anything cooked in the percik style, added: "Right now, you assume that everyone who feels feverish has Covid-19. So you must be careful and look after yourself. Be honest with yourself and stay at home if you have symptoms."
Puteri Siti Zulaika, who was with her family, told Malay Mail that she felt the Shah Alam Ramadan bazaar was too crowded and they couldn't buy most of the snacks that they wanted as the queues were too long.
She said they were a bit disappointed and felt others would be too, if they came by, only to be greeted by hordes of people, with the realisation quickly dawning on them that they might come away empty-handed.
"As for the SOPs, they are not strict enough here as the place was too crowded. Probably because people miss coming to the bazaar after the two-year hiatus," said the 20-year-old.
"It is a cause for concern as there are still a lot of daily cases. But it is the first day of puasa. Who wouldn't want to go to the bazaar to buka? So we just go with the flow and hope for the best," she said, adding that she couldn't get her hands on her favourite Roti John due to the crowds.
Siti's sentiments were shared by electrician Lokman Nor Hakim who said the location of the Shah Alam bazaar had caused some chaos.
It is now at Stadium Shah Alam, much to the consternation of some members of the public who view the location as far from accessible.
"It is upsetting to see so many people. Parking is far away. It makes you wonder who decided to have the bazaar here.
"For the vendors, I am sure they are overjoyed. I mean look at the crowds. I feel prices are still reasonable. But the ones queueing, good luck lah," he quipped.
Brisk business
Meanwhile, at the Pasar Juadah Padang Perbandaran MPAJ in Pandan Indah, Ampang similar scenes were observed.
Chicken rice seller, Nizar Azmi, sold out by 6.45pm.
"Business last year was not very encouraging since patrons were limited. This year, I don't even have time to buy my own dinner due to the constant flow of customers," he joked.
Despite the increase in patrons and with it, the possible risk of infection, Nizar conceded that he was not worried about contracting Covid-19 as almost everyone was vaccinated and boosted.
Manning her beverage stall, first-time trader Afiqah Fadzil said the crowd at today's Ramadan bazaar exceeded expectations.
Within two hours of her stall opening, she had managed to sell most of her stock — pressed fruit juice — thanks to the crowd upsurge, which numbered almost in the hundreds at one point.
"Definitely exceeded my expectations. I have never done business at a Ramadan bazaar.
"Our sales were very encouraging as well and our drinks have sold out," she said enthusiastically.
Asked about the potential risk of contracting Covid-19, she expressed her reservations and slight concern since most of the transactions performed were non-contactless.
Nevertheless, she was optimistic that sales will pick up even further as more people patronise the bazaar in the coming weeks based on her first-day observations.
Hankering for a 'normal' Raya
The global pandemic, Russia-Ukraine war and festive season are causing the price of goods to go up. All the vendors Malay Mail spoke to said they had seen a hike in costs and expected this to continue.
"Every single thing you can name has gone up in price and this is due to a lack of price controls," said ikan bakar seller Suhaimi.
"Not just the raw materials but other things such as plastic bags, cups and dry items. As vendors, we still have to earn so we try our best.
"We hope the customers understand the price hike as we too cannot do anything about it.
"As for getting infected, I already caught Covid once. That's why we have to remind ourselves we are not totally off the hook.
"The main thing I want to see is that we have a normal Hari Raya celebration and for the economy to stabilise."
In Bangsar, the Jalan Telawi Ramadan bazaar was more subdued. Putu piring seller Myza said she still preferred being outdoors due to the threat of Omicron.
Myza had been selling her goods online and was doing well but still said the bazaar setting was something to cherish and many people missed that atmosphere.
"Being cooped up at home for so many years is difficult so we still enjoy being outdoors," she said when met.
"The main thing is to keep the mask on, maintain a distance and practise good hygiene because if we don't, then we can't earn."
Seventy-two Ramadan bazaar locations involving 5,000 stalls are expected to open around the federal capital during the fasting month, which started yesterday.
Source: Malay Mail
Please click the following URL to read the full text of the original story:
https://www.malaymail.com/news/malaysia/2022/04/04/klang-valley-ramadan-bazaars-roar-back-to-life-even-as-visitors-and-vendors/2051374
--------
Debate with Najib on Sapura? Any time, says Anwar
April 4, 2022
PETALING JAYA: Opposition leader Anwar Ibrahim has taken up Najib Razak's challenge to debate the issue of bailing out Sapura Energy Bhd, saying he is ready to face off with the former prime minister "any time".
The PKR president pointed out that he made a similar challenge to Najib to debate the economy a decade ago, but he did not take it up then.
"I'm ready for a debate with Najib any time for the sake of the country and the people," said Anwar in a statement.
Yesterday, Najib accepted Rafizi Ramli's invitation for a debate on Sapura, and told the PKR vice-president to invite Anwar to join too.
"Two versus one, no problem," Najib had said in a Facebook post.
Sapura, a government-linked company (GLC), had announced a loss of RM8.9 billion last year, which Najib said was the largest for any Malaysian GLC in history.
Najib and Rafizi have been going back and forth over Sapura, after Najib had initially called on the government to intervene by providing easy interest loans or loan guarantees to Sapura to solve its cash flow problems.
Alternatively, Najib said, Putrajaya could direct Petronas or Khazanah Nasional Bhd to take over ownership of Sapura, citing how Petronas still required Sapura's services for its projects and had a better understanding of the sector.
Source: Free Malaysia Today
Please click the following URL to read the full text of the original story:
https://www.freemalaysiatoday.com/category/nation/2022/04/04/debate-with-najib-on-sapura-any-time-says-anwar/
--------
Mideast
Iran blames US for the halt in Vienna nuclear talks with world powers
04 April ,2022
The US is responsible for the pause in talks between Tehran and world powers in Vienna aimed at reviving their 2015 nuclear deal, an Iranian foreign ministry spokesperson said on Monday.
"America is responsible for the halt of these talks ... a deal is very much within reach," Saeed Khatibzadeh told a weekly news conference.
"Washington should make political decision for the deal's revival," he said, adding that Tehran would "not wait forever."
The US State Department said on Thursday that a small number of outstanding issues remain in the nuclear talks, adding that the onus was on Tehran to make those decisions.
Iran has said that there are still outstanding issues, including Washington removing a foreign terrorist organization (FTO) designation against Iran's Islamic Revolutionary Guard Corps (IRGC).
Also Tehran has been pushing for guarantees that any future US president would not withdraw from the agreement. The extent to which sanctions would be rolled back is another unresolved issue.
Source: Al Arabiya
Please click the following URL to read the full text of the original story:
https://english.alarabiya.net/News/middle-east/2022/04/04/Iran-blames-US-for-the-halt-in-Vienna-nuclear-talks-with-world-powers
--------
FM: Iran Backs Resolution to Yemeni Crisis
2022-April-3
Amir Abdollahian made the remarks in a Sunday phone conversation with Secretary General of the United Nations Antonio Guterres.
During the phone talk, Amir Abdollahian and Guterres discussed the latest developments in Yemen, including a ceasefire to halt the Saudi-led raids on the impoverished country and the Yemeni armed forces' retaliatory attacks.
The Iranian foreign minister welcomed the establishment of the ceasefire in Yemen and thanked the secretary general for the role he played in this regard.
"The time has come for taking key steps towards the establishment of peace and stability in Yemen, specially toward the full removal of humanitarian sanctions on the country," he said.
Amir Abdollahian further said Iran would continue to support a settlement to the Yemeni crisis and end the war in the country, adding, "We hope, in time with the establishment of truce, the full blockade on the people of Yemen is also halted, so that this important opportunity does not go to waste."
He also underlined the need for dispatching humanitarian aid to the people of Yemen.
Guterres, for his part, expressed his congratulations on the establishment of the ceasefire, calling it a "joint success and victory" that was achieved through the efforts of all sides.
UN special envoy for Yemen Hans Grundberg announced on Friday that the two warring sides had agreed to a ceasefire that went into effect on Saturday.
Source: Fars News Agency
Please click the following URL to read the full text of the original story:
https://www.farsnews.ir/en/news/14010114000818/FM-Iran-Backs-Reslin-Yemeni-Crisis
--------
Deputy Judiciary Chief: Iran Discussing Extradition of Prisoners with Turkey
2022-April-3
"There is no problem concerning the transfer of Iranian prisoners from Turkey," Qaribabadi told reporters.
"But the requirements for the transfer of convicts should be fulfilled. Among these are negotiations, consent of the host country and consent of the prisoners," he added.
Qaribabadi added that the transfer and extradition of Iranian nationals held in other countries are now "more seriously pursued".
Source: Fars News Agency
Please click the following URL to read the full text of the original story:
https://www.farsnews.ir/en/news/14010114000535/Depy-Jdiciary-Chief-Iran-Discssing-Exradiin-f-Prisners-wih-Trkey
--------
President Rayeesi Felicitates Muslim Heads of States on Advent of Holy Month of Ramadan
2022-April-3
In separate messages to Muslim countries' leaders on Saturday, President Rayeei expressed the hope that effective steps would be taken to strengthen unity and integrity among the Islamic Ummah, particularly against divisive movements and Takfiri terrorism.
He added that such a goal could be achieved with the blessings of Ramadan which is marked by mercy and forgiveness and through joint efforts of Islamic leaders and intellectuals while emphasizing growing cohesion and solidarity among Muslim nations.
The Iranian president also hoped that the world and Palestine in particular would witness the elimination of oppression and injustice and the establishment of peace and security.
The office of Supreme Leader of the Islamic Revolution Ayatollah Seyed Ali Khamenei has declared Sunday, April 3, as the first day of the Muslim holy month of Ramadan in Iran.
The beginning of the fasting month of Ramadan is determined by both lunar calculations and physical sightings of a new moon.
Source: Fars News Agency
Please click the following URL to read the full text of the original story:
https://www.farsnews.ir/en/news/14010114000393/Presiden-Rayeesi-Feliciaes-Mslim-Heads-f-Saes-n-Adven-f-Hly-Mnh-f
--------
South Asia
Taliban Has Begun To Show Its True Colours: European Foundation for South Asian Studies
4 April, 2022
Amsterdam [Netherlands], April 4 (ANI): Amid the continuing concern over human rights violations in Afghanistan, a European think tank said that the Taliban has in recent weeks "begun to show its true colours."
In a commentary published last week, the Netherland-based think tank stressed that the international community must redirect its attention to Afghanistan, where the situation has become dire.
"Whether the hardening of the Taliban's attitude towards the legitimate and basic rights of the Afghan people, especially the women, is aimed at forcing the attention of the West towards it, or whether it is in reaction to the realization that it would never be acceptable to the world in its present avatar is, however, not yet clear," said European Foundation for South Asian Studies (EFSAS).
According to the European think tank, people are being forced to sell their kidneys for as little as a couple of thousand dollars just to feed their starving children, and in which women are literally being reduced to right less adjuncts.
"Over the past few days, girls have been banned from going to school beyond the sixth grade, women have been barred from travelling by air unaccompanied by a male relative, and men and women have been ordered to visit public parks only on separate days of the week that have been earmarked for each," EFSAS said.
This is in addition to the slew of restrictions imposed on women earlier, whereby they had been banned from many government jobs that they were otherwise fully qualified to do, told what they can and cannot wear, and prevented from travelling alone by road to other cities, the think tank said.
Several women's rights activists have been detained. In effect, within a year of seizing Kabul, the Taliban has totally reversed two decades of gains made by Afghanistan's women.
Afghan activists told Human Rights Watch (HRW) that the Taliban have increased their surveillance of individuals and groups they accuse of being "opposed to the Islamic Emirate." The threats follow a spate of attacks in which Taliban members have been abducted or killed.
The Taliban have previously carried out revenge killings of former government officials and have been responsible for forcibly disappearances or summarily executing former members of the security forces and others they accuse of being their enemies.
Source: The Print
Please click the following URL to read the full text of the original story:
https://theprint.in/world/taliban-has-begun-to-show-its-true-colours-european-think-tank/901195/
--------
Casualties of Kabul blast rise to 60: health officials
04 Apr 2022
Emergency Hospital in Kabul announced that the casualties of Kabul Stock Market rose to 59 wounded and one dead.
An explosion that targeted money exchangers in Afghanistan's largest money exchanging market-Sarai Shahzada- in central Kabul had injured only ten but the number rose as the victims were taken to a nearby hospital.
"One dead and 59 wounded have been taken to hospital from Sarai Shahzada. 33 of those wounded are still under treatment while the remainder has been discharged." Reads a Twitter post of Emergency Hospital.
Earlier, the Ministry of Interior of the Islamic Emirate of Afghanistan had said that only ten people have been wounded in the blast adding a thief who threw a grenade at a crowd of people and then manage to flee the scene.
Source: Khaama Press
Please click the following URL to read the full text of the original story:
https://www.khaama.com/causualties-of-kabul-blast-rise-to-60-health-officials-6587567/
--------
Blast in Afghan capital kills one, wounds several
April 4, 2022
KABUL: An explosion in the centre of the Afghan capital of Kabul on Sunday killed one person and wounded at least 59 others, hospital officials said.
In a tweet, Kabul's Emergency Hospital said one body was received at the hospital and 59 people were treated, with 30 of the wounded being admitted for further treatment. It did not specify the injuries.
A spokesman for the Taliban's Kabul police, Khalid Zadran, said the explosion was caused by a hand grenade thrown by a would-be thief who wanted to rob the money changers in the area. He said 10 people were injured. There was no immediate explanation for the discrepancy in the number of wounded.
Zadran said police have launched an investigation.
Video shot by this news agency showed wounded being removed from the site, carried by passersby.
Wais Ahmad, a money changer, said the explosion happened inside a market where money changers operate. The market was closed immediately after the explosion and Taliban security surrounded the area.
The blast was the first in the Afghan capital in months. Afghanistan's Taliban rulers have stepped up security throughout most of the country since sweeping to power in August.
Taliban troops man dozens of checkpoints throughout the city.
The greatest threat facing the Taliban comes from the militant Islamic State group affiliate known as "Islamic State in Khorasan Province, or IS-K". The Taliban have cracked down on the affiliate in its stronghold in eastern Afghanistan.
In a statement, IS-K said they targeted a Taliban vehicle in Kabul, killing everyone inside the vehicle. However, there was no confirmation from the Taliban rulers or signs of an explosion on Saturday.
Source: Dawn
Please click the following URL to read the full text of the original story:
https://www.dawn.com/news/1683344/blast-in-afghan-capital-kills-one-wounds-several
--------
Taliban committed to Iran's water rights: Iran's special representative
04 Apr 2022
Iran's special representative for Afghanistan Hassan Kazemi Qomi said that talks with Taliban officials were positive and that the Afghan side is committed to Iran's water rights in accordance with the existing agreement, Tehran News reported.
He added that the Afghan delegation insisted on Iran's water rights be part of government plans after returning to Kabul.
Hassan Kazemi Qomi met with Afghan delegation in China during a conference of Foreign Ministers of Afghanistan on the latter last week.
Qomi further added that border security, stability in Afghanistan, and Afghan soil not threatening other countries were other topics discussed during the meeting.
Earlier, Deputy Minister of Information and Culture and Chief spokesperson of the IEA Zabiullah Mujahid had said that they are committed to the existing agreement with Iran and the country will receive water from the Helmand Sea once the issue of drought in Afghanistan is resolved.
Source: Khaama Press
Please click the following URL to read the full text of the original story:
https://www.khaama.com/taliban-committed-to-irans-water-rights-irans-special-representative-76586587/
--------
Karzai, Thomas West discuss girls' schools and national consultative process
04 Apr 2022
US special representative for Afghanistan Thomas West and former Afghan President Hamid Karzai discussed people's desire for the reopening of secondary schools for Afghan girls.
Thomas West took to his Twitter and wrote that he spoke with Hamid Karzai on Sunday, April 3, and discussed girls' education and the need for a national consultative process in Afghanistan.
"A pleasure to speak yesterday with @KarzaiH We exchanged views re: the Afghan people's desire to see girls return to secondary school soonest, and the need for a nat'l consultative process to determine country's future." Reads the Twitter post.
Earlier, Thomas West refused to carry out a meeting with the Taliban delegation in Doha in reaction to the closure of schools for girls upper than grade 6th.
Source: Khaama Press
Please click the following URL to read the full text of the original story:
https://www.khaama.com/karzai-thomas-west-discuss-girls-schools-and-national-consultative-process-86578786/
--------
Africa
Jordan's Prince Hamzah relinquishes royal title
03 April ,2022
Jordan's Prince Hamzah Bin al-Hussein is relinquishing his title of prince, he said in a statement.
Prince Hamza, a former heir to the throne, was accused last year of conspiring to destabilize the monarchy in a foreign-inspired plot.
For the latest headlines, follow our Google News channel online or via the app.
Prince Hamzah posted the statement on his official Twitter account, saying he gave up his title because his values "are not in line with the approaches, trends, and modern methods of our institutions."
King Abdullah II and Hamzah are both sons of King Hussein, who ruled Jordan for nearly a half-century before his death in 1999.
Abdullah had appointed Hamzah as crown prince upon his succession but stripped him of the title in 2004.
The prince apologized last month for his role in an alleged plot, the Royal Palace said. He was accused last year of involvement in a plot to destabilize the kingdom and was placed under house arrest last April.
Source: Al Arabiya
Please click the following URL to read the full text of the original story:
https://english.alarabiya.net/News/middle-east/2022/04/03/Jordan-s-Prince-Hamza-relinquishes-royal-title
--------
Libyan Artisans Restore Old Qurans for Ramadan
April 04, 2022
TRIPOLI — With the arrival of the Muslim holy month of Ramadan in war-scarred Libya, a group of volunteers work around the clock to restore old or damaged copies of the Quran.
Khaled al-Drebi, one of Libya's best-known restorers of Islam's holy book, is among the artisans who arrive at a Tripoli workshop daily to meet the needs of the influx of customers during Ramadan.
For Muslims, Ramadan is a month of spirituality, where a daily dawn-to-dusk fast is accompanied with prayer and acts of charity — often translating into a surge in sales of Qurans.
"The purchase of new Qurans traditionally increases before the month of Ramadan, but this has recently changed in Libya," Drebi told AFP.
For many, tradition has been interrupted by an increase in the cost of Qurans, especially "since the state stopped printing" them in Libya, he added.
The North African nation has endured more than a decade of conflict, leaving many of its institutions in disarray and dealing a major blow to the oil-rich country's economy.
"The cost of buying (Qurans) has increased, and so the turnout for restoring old Qurans has gained unprecedented popularity," Drebi said.
Compared to the cost of a new Quran — at more than $20 depending on the binding — Drebi's workshop charges just a few dollars to restore one.
'Indescribable joy'
But cost is not the only factor — for many, the older copies also have a sentimental value.
"There is a spiritual connection for some customers," Drebi said, adding that many choose to preserve Qurans passed on from relatives. "Some say this Quran has the smell of my grandfather or parents."
At the back of the room, Abdel Razzaq al-Aroussi works on sorting through thousands of Qurans based on their level of deterioration.
"The restoration of Qurans with limited damage takes no more than an hour, but for those that are very damaged, they could require two or more hours," Aroussi said.
They "must be undone, restored and then bound," he said — a meticulous process that requires a great deal of "time and concentration."
Mabrouk al-Amin, a supervisor at the workshop, said the restoration process "requires a good number of artisans."
"Working with the book of God is very enjoyable and we don't get bored... there is an indescribable joy in this work," he said.
Restorers say they have repaired a staggering half a million Qurans since the workshop opened in 2008, and more than 1,500 trainees have graduated from 150 restoration workshops.
Women restorers
In recent years, more and more women have been joining the ranks of the volunteer restorers.
"A large number of women were trained on restoring the holy Quran and today they have their own workshops," Drebi said.
One female restorer, Khadija Mahmoud, has even held training sessions for blind women.
"We would not have been able to think of doing this... were it not for this capable woman," Drebi added.
For Mahmoud, who trains women at a workshop in Zawiya, 45 kilometers west of Tripoli, restoring Qurans in a women's workshop allows them to work comfortably and at a faster pace.
She added that the restoration work has given many women a meaningful way to fill their "spare time."
Source: VOA News
Please click the following URL to read the full text of the original story:
https://www.voanews.com/a/libyan-artisans-restore-old-qurans-for-ramadan-/6513997.html
--------
Somali military claims killing 7 al-Shabaab terrorists
Mohammed Dhaysane
03.04.2022
MOGADISHU, Somalia
At least seven al-Shabaab terrorists were killed in central Somalia on Sunday, while several others were wounded after a military operation, according to the country's army.
National army chief Brig. Gen. Odawa Yusuf Rageh said that during the military operation near the town of Wasil, the army also captured two wounded al-Shabaab terrorists and recovered four improvised explosive devices, along with four rifles and vehicles, Somali state television SNTV reported.
Residents of the area told Anadolu Agency over the phone that they heard heavy gunfire near Wasil, which is located in the central region of Mudug.
There was no immediate comment from the al-Shabaab terrorist group.
Source: Anadolu Agency
Please click the following URL to read the full text of the original story:
https://www.aa.com.tr/en/africa/somali-military-claims-killing-7-al-shabaab-terrorists/2554141
--------
Sudan army chief says to hand over power 'only' to elected gov't
Buhram Abdel-Men'em
03.04.2022
KHARTOUM, Sudan
Sudan's army chief Gen. Abdel-Fattah al-Burhan said the military will only hand over power to an elected government.
"The armed forces are united and are not afraid of any party," al-Burhan said during a military graduation ceremony late Saturday.
"The army will continue to serve the country and maintain its security and stability," he added.
Al-Burhan, the head of the ruling Sovereign Council, is facing criticism from Sudanese politicians, who accuse the general of weakening the army to serve tribal militias and the Rapid Support Forces under his deputy Mohamed Hamdan Dagalo.
Sudan has been in turmoil since Oct. 25, 2021, when the military dismissed Prime Minister Abdalla Hamdok's transitional government and declared a state of emergency, in a move decried by political groups as a "military coup."
Source: Anadolu Agency
Please click the following URL to read the full text of the original story:
https://www.aa.com.tr/en/africa/sudan-army-chief-says-to-hand-over-power-only-to-elected-gov-t/2553898
--------
Tunisia's Saied says building 'new republic' amid political crisis
Amna El Yafrany
02.04.2022
TUNIS, Tunisia
Tunisian President Kais Saied has announced plans to build a "new republic", amid a political crisis in the North African country.
We are determined "to cleanse the country and move forward in building a new republic according to the results of electronic consultations," Saied said in a televised speech late Friday.
He said the "new Tunisia" will be built with the help of "honest and sincere" citizens and will herald a "new dawn" for the country.
In January, Saied launched an online survey with the aim of "enhancing citizens' participation in the democratic transition process". The poll closed on March 20.
The Tunisian government said nearly half a million people took part in the survey, with 86.4% preferring a switch to a presidential system.
The system of government in Tunisia is a modified presidential system (semi-presidential or dual system), which includes the distribution of powers between the presidency, the government and parliament.
Opposition forces called for a boycott of the online survey, accusing Saied of seeking to consolidate all powers in his hand.
Tunisia has been in the throes of a deep political crisis since July 25, 2021 when Saied dismissed the government, suspended parliament, and assumed executive authority, in a move decried by opponents as a "coup."
On Wednesday, Saied dissolved the suspended parliament, hours after lawmakers held a plenary session to revoke his measures taken since July 25.
Source: Anadolu Agency
Please click the following URL to read the full text of the original story:
https://www.aa.com.tr/en/middle-east/tunisia-s-saied-says-building-new-republic-amid-political-crisis/2553353
--------
North America
US special envoy says Yemen truce paves way to end conflict
02 April ,2022
A United Nations-led truce in Yemen is a "decisive moment" in the near seven-year conflict and offers hope the warring parties and international community can bring a lasting peace to the devastated country, a senior US official told Reuters.
US Special Envoy for Yemen Tim Lenderking said the UN-brokered two-month truce between the Arab Coalition and Yemen's Iran-backed Houthi militia, which comes into effect on Saturday, was a "first step" to a permanent ceasefire.
"If the international community and parties can work together, this could be built into a lasting ceasefire and inclusive political process that ultimately gives shape to a new Yemen," Lenderking said in an interview in Amman.
"We want to build on a decisive moment that helps Yemen turn the corner."
The conflict has killed tens of thousands and pushed millions into hunger. The last coordinated cessation of hostilities nationwide was during peace talks in 2016.
Lenderking said the deal was a culmination of stepped up US diplomacy and the Houthis' realization there could be no outright military victory.
"The battlefield dynamics have changed, all of these things have combined to create what is a decisive moment," he said.
The coalition was able to prevent the fall of Yemen's gas rich Marib region, where the Houthis last year advanced on most districts barring the main city and nearby hydrocarbon sites.
The Houthis had responded by stepping up attacks on Saudi Arabia and its ally the United Arab Emirates.
However, they have now put aside the "notion of military victory," Lenderking said.
The truce is an opportunity for Iran, which Washington says provides significant support for the Houthis, to show its goodwill in backing the UN-led drive for peace, he added.
Source: Al Arabiya
Please click the following URL to read the full text of the original story:
https://english.alarabiya.net/News/gulf/2022/04/02/US-special-envoy-says-Yemen-truce-paves-way-to-end-conflict
--------
US concerned by 'extremely disturbing' Mali massacre reports
03 April ,2022
The US State Department said Sunday it was following "extremely disturbing" accounts of killings in central Mali, after the Sahel state's military said it killed over 200 militants in the volatile region.
On Friday, the Malian military said that between March 21-31 it had killed 203 combatants in an operation in the Moura area of extremist-ridden central Mali.
However, the announcement followed social media reports this week alleging that large numbers of civilians had been killed in Moura.
AFP was unable to verify the Malian army's claimed death toll or the social media reports about civilian deaths.
Poor access to Mali's conflict areas and a relative lack of independent information sources means that figures provided by both the government and armed groups are difficult to confirm.
For the latest headlines, follow our Google News channel online or via the app.
On Sunday, the US State Department said that it was following the "extremely disturbing accounts of large numbers of people killed" in Moura and offered its condolences to the families of "all civilians who died".
It noted in a statement that many reports suggested that operatives from Russian private military contractor Wagner had committed the killings, while others said that Malian armed forces had killed militants.
"These conflicting reports illustrate the urgent need for the Malian transition authorities to give impartial investigators free, unfettered, and safe access to the area where these tragic events unfolded".
The State Department called on Mali's army-dominated interim government to allow the UN peacekeeping mission in Mali, known as Minusma, to investigate.
Failure to investigate will sow divisions, undermine the army's credibility, and "drive communities into the hands of violent extremist groups," it added.
An impoverished nation of around 21 million people, Mali has struggled to contain an extremist insurgency that emerged in 2012, before spreading to neighbouring Burkina Faso and Niger.
Vast swathes of the country are home to myriad rebel groups and militias, and thousands of soldiers and civilians have been killed in the conflict.
Mali's under-equipped army has often been accused of committing abuses. The United States and others also say that Russian private security firm Wagner has deployed hundreds of fighters to Mali.
Mali's interim government has repeatedly denied the claims, however, and regularly defends the record of its armed forces.
For instance, the Malian army stated Friday that it was guided by human rights and international law, calling for "restraint against defamatory speculations".
Source: Al Arabiya
Please click the following URL to read the full text of the original story:
https://english.alarabiya.net/News/world/2022/04/04/US-concerned-by-extremely-disturbing-Mali-massacre-reports-
--------
Turkish defense giants to showcase products in Latin America
Göksel Yıldırım
02.04.2022
Turkish defense industry firms are set to showcase their latest products at FIDAE, one of Latin America's leading defense fairs, in Santiago, the capital of Chile, on April 5-10.
A total of 10 major companies in the Turkish defense industry are on their way to Latin America for new cooperation and export opportunities.
During the fair, they will promote and present armored vehicle platforms, different kinds of manned and unmanned aerial vehicles, ammunition, simulators, logistics support products, and defense services, along with naval, weapons, and electronics systems.
Held every two years, FIDAE has been one of the most important defense fairs in the region since 1980, when it made its debut.
Turkish companies will seek to seize opportunities for cooperation and marketing with regional countries such as Argentina, Brazil, Colombia, Peru, and especially Chile.
The firms will participate under a "Turkish National Pavilion" together with the Defense Industry Exporters' Association and led by the Presidency of Defense Industries.
Representatives of ASELSAN, ASPILSAN, Canik, HAVELSAN, Nurol Makina, OTOKAR, REPKON, ROKETSAN, TISAS, and the Turkish Aerospace Industries will meet with decision makers and companies of the participating countries during the fair.
Source: Anadolu Agency
Please click the following URL to read the full text of the original story:
https://www.aa.com.tr/en/americas/turkish-defense-giants-to-showcase-products-in-latin-america/2553495
--------
America should go back into Afghanistan and reclaim property: Trump
03 Apr 2022
US former President Donald Trump has attacked Joe Biden questioning him he left behind billions of dollars in equipment in Afghanistan, not the country itself.
Donald Trump added that America should get back into Afghanistan to reclaim property.
"We're living through the most dangerous generation of our lifetime, and we have a president who has no idea what's going on. He has no idea what he's doing and he has no idea what he's saying," Trump said of Biden.
Trump was speaking about the situation in Afghanistan on Saturday night at a rally in Washington, Michigan.
Trump added that Joe Biden has committed a mistake by pulling out troops from Afghanistan and the finest military equipment in the world, from goggles to 700,000 machine guns.
The former president said Bide surrendered Afghanistan and now he has given the American people the Ukraine disaster.
Source: Khaama Press
Please click the following URL to read the full text of the original story:
https://www.khaama.com/america-should-go-back-into-afghanistan-and-reclaim-property-trump-455876567/
--------
Europe
Results of North Macedonia census face backlash from Turkish political parties
Dzihat Aliju
02.04.2022
SKOPJE, North Macedonia
Turkish political parties in North Macedonia on Friday criticized the results of last September's census, which were announced Thursday.
Turkish Democratic Party (TDP) said the results were not accepted in very clear and precise language.
"The results are a complete discrepancy and carry the elements of political operation," it said in a statement. "The fact that there is an increase in the Turkish population in 31 municipalities, the proportion of Turks in six municipalities is over 20%, and the presence of a 7% increase in the last decimals according to the results of the 2002 census does not mean that we will ignore this political operation," it said.
"It is impossible to accept these results, which are far from reality, both by our party and by our people," it added.
The statement said the increase of the total Turkish population by 5,484 in 19 years meant the rejection of all statistical data, as well as the non-disclosure of the ethnicity data of 132,260 people made the whole process suspicious.
"The State Statistical Agency must urgently and as soon as possible disclose the data of these people," it said.
"In addition, it is also necessary to explain which municipalities our 12,482 descendants living abroad reside in our country.
"This activity will not go beyond being a political operation unless the doubts over the counting process are resolved with clear and official data," the statement emphasized.
'Neither successful nor European' census
The census was "neither successful nor European," the Turkish National Unity Movement (TMBH) said in a separate statement.
The census was described as an operation with post-communist characteristics. "Our confidence in the government and institutions of North Macedonia has been completely shaken," it said.
It underscored that the results described by the data that was received by the TMBH from the field do not coincide in a serious sense, so it is clear that "manipulation has been carried out."
It is unacceptable that the number of Turks has increased by only 5,000 in 19 years, according to the population growth data released by the State Statistical Agency every year, the population of Turks should increase by 2.4% every year, it stressed.
Underlining that the party does not recognize or accept the results, instead it said it completely rejects what the census pointed out.
'Good faith for official use of Turkish language'
In a statement by the Turkish Action Party (THP), it said Turkish citizens increased by more than 20% in the municipalities of Karbintsi, Konche and Vasilevo, which allows the Turkish language to be used as an official one in local governments under the Law on the Use of Languages.
The THP called on those municipalities to comply with legal obligations without delay.
It said the party expects "good faith for the official use of Turkish language" in communities, where the Turkish population significantly rose.
Census
The country finally conducted a census last September after many delays.
The official results of the national headcount show the population has shrunk 9.2% in two decades since the last census, local media outlets reported
The population stands at 1,836,713, which is 185,834 people less than the number recorded in 2002.
The results show that of the resident population, 58.44% are ethnic Macedonians and 24.3% are ethnic Albanians.
Of the rest, 3.86% are ethnic Turks, 2.53% Roma, 1.3% Serbs, 0.87% Bosnians and 0.47% are Vlachs.
Source: Anadolu Agency
Please click the following URL to read the full text of the original story:
https://www.aa.com.tr/en/europe/results-of-north-macedonia-census-face-backlash-from-turkish-political-parties/2553110
--------
How Ukraine war is making the Arab region's food security crisis worse
April 03, 2022
NEW YORK CITY: As the breadbasket of the world remains engulfed in conflict, households in vulnerable and poor countries, as well as refugee camps around the world, are getting burned.
The Russia-Ukraine conflict is threatening to cause a global food crisis that could drive up hunger and undernourishment levels in the Middle East, Central Asia and beyond. The three Fs — food, fuel and fertilizers — could become rare commodities enjoyed by the few if the fighting in Ukraine continues.
The war erupted after two painful years of a pandemic that destroyed livelihoods around the world, strained financial resources and emptied wallets, especially in poor countries.
Fiscal difficulties and inflation were joined by extreme weather in the form of floods and droughts that added to the already considerable stress on the world economy, hampering recovery.
The war in Ukraine created a perfect storm because the two countries involved in it controlled 30 percent of wheat exports of the global market in 2021, according to the UN's Food and Agriculture Organization.
Russia, the largest exporter of wheat in the world, and Ukraine, the fifth largest, have between them 50 countries around the world that depend on them for 30 percent, some up to 60 percent, of wheat imports. Russia and Ukraine also account for 75 percent of global sunflower seed oil production.
Wheat prices rose 55 percent a week before the war started, coming on the heels of a year that saw wheat prices surge 69 percent. It was also at a time when hunger was on the rise in many parts of the world, especially in the Asia Pacific region, according to the FAO. The pandemic led to an 18 percent rise in hunger, bringing the number of malnourished people to 811 million around the world.
Arab countries, notably Egypt, Lebanon, Syria, Libya and Tunisia, rely heavily on Black Sea grain imported from Russia and Ukraine. They buy more than 60 percent of their wheat from the two countries.
These countries, themselves beset by economic problems or conflict, are now facing a difficult situation. In Lebanon for example, half of wheat in 2020 came from Ukraine. The corresponding figures for Libya, Yemen and Egypt were 43 percent, 22 percent and 14 percent, respectively.
The Arab Gulf region, according to IMF officials, will be less affected than other countries in the region because of the fiscal cushion provided by the windfall from high oil prices.
Countries are looking for solutions. But even if importers seek to replace Russia and Ukraine, they will face multiple challenges in looking for an alternative source of wheat supply.
The rise in energy prices is adding to the problem and leading to drastic increases in the price of food and wheat products. The new high price of oil is making importing wheat from distant producers, either in North and South America like the US, Canada and Argentina, or in Australia, very costly. Shipping costs have also increased along with insurance fees because of the conflict, adding to the ballooning price of wheat and food products.
Many wheat producers have resorted to protective policies and restrictions on wheat exports, to ensure enough domestic reserves for their populations. The immorality of vaccine inequality could pale in comparison to that of wheat hoarding by countries that have the financial means to do so. Competition will be fierce and poor countries will be pushed out of the market, causing shortages and tragedies.
One UN agency that feeds the poor and hungry is already feeling the financial pinch. The World Food Program buys almost half of its global wheat supply from Ukraine and the surge in price is affecting its ability to feed the hungry around the world.
According to one WFP official, its expenditure has "already increased by $71 million a month, enough to cut the daily rations for 3.8 million people."
David Beasley, head of the World Food Program, was quoted as saying "we will be taking food from the hungry to give to the starving."
Climate change and extreme weather are compounding the problem, with floods and droughts in places such China and Brazil leading to shrinking crops and creating a need to import wheat from outside to satisfy domestic demand. This will ramp up the pressure on global supply and lead to a wheat rush.
The other factor fueling the crisis is a surge in the price of fertilizers. Russia is the world's largest fertilizer exporter, with 15 percent of the world's supply. Reports suggest it has asked its producers to halt fertilizer exports.
The sanctions slapped by the West on Russian entities are making payments difficult for exporters and importers alike, leading to a freeze in the fertilizer market. With less fertilizer available because of shortages and high prices, there will be less crop yield and more demand, potentially pushing up food prices further.
Importers of Russian wheat and fertilizers are frustrated and concerned about their ability to meet their needs, and have begun assigning blame.
Noorudin Zafer Ahmadi, An Afghan merchant who imports cooking oil from Russia to Afghanistan, told The New York Times that he found it difficult to buy what he needs in Russia and complained about the surge in prices. But he did not blame Russia; rather, he pointed the finger at those imposing the sanctions. "The US thinks it has only sanctioned Russia and its banks. But the US has sanctioned the whole world," he told the newspaper.
In the worst-case scenario, food shortages can trigger protests and instability in already volatile countries, or those that are facing financial difficulties.
Surging food prices, especially those of bread, are historically associated with riots and unrest in many countries in the Middle East and North Africa, especially poorer ones. Asked about the potential regional impact of the deteriorating situation, Dr. Jihad Azour, director of the Middle East and Central Asia Department at the IMF, said: "Rising food and energy prices would further fuel inflation and social tensions in both regions (the Middle East and North Africa).
"The increase of food prices will have an impact on overall inflation and put additional pressure on low-income groups, particularly in the least developed countries with a high share of food in their consumption basket, and may trigger a rise in subsidies to counter these pressures, worsening fiscal accounts further," he told Arab News.
Discussing the measures that the IMF is taking to help soften the blow to affected countries, Azour said: "The crisis adds to the policy trade-offs which have already become increasingly complex for many countries in the region with rising inflation, limited fiscal space and a fragile recovery.
"The IMF stands ready to help the MENA countries and others as was done during the COVID-19 crisis, where the IMF provided more than $20 billion in financial assistance to several MENA countries, in addition to about $45 billion of special drawing rights distributed last year that constitute an important liquidity line to deal with the various shocks."
Antonio Guterres, the UN secretary-general, has announced new plans and measures for the organization to help mitigate the situation in countries most affected by soaring grain prices owing to the Ukraine war. He has said he is in touch with the heads of the IMF and the World Bank to coordinate their efforts in handling the crisis.
However, with Russian and Ukrainian forces seemingly locked in a standoff and the conflict showing no sign of ending, the food crisis could be just the beginning.
Source: Arab News
Please click the following URL to read the full text of the original story:
https://www.arabnews.com/node/2056081/world
--------
Turkiye is significant regional power: Kremlin
Ali Cura
03.04.2022
MOSCOW
Kremlin spokesman Dmitriy Peskov praised Russia's relations with Turkiye on Saturday, emphasizing that Ankara is a significant regional power and the most dominant among all NATO member states.
Peskov, in an interview with the Belarusian state television, touched on relations with Turkiye as part of negotiations between Russia and Ukraine to be held in northwestern Istanbul province.
He pointed out that Turkish President Recep Tayyip Erdogan is a great and strong political leader and said: "Turkiye is a very significant regional power and country. Our relations with Turkiye are excellent."
He noted that there are different views on relations between the two countries and at some points the sides do not fully understand each other.
"But the relationship based on mutual interests is dominant, so the two countries are developing big economic projects."
"Turkiye has always been a sufficiently large regional power, and Turkiye has been a member of NATO for many years," he said. "However, despite this, it became the most dominant state among the NATO member sovereign states, especially during the presidency of Erdogan. And this country is a country that has the luxury of defending its interests."
'Good perspective'
Citing that Turkish authorities told NATO and the US that Ankara was not interested in participating in sanctions against Russia, Peskov said it also carries severe economic importance that Turkiye and Russia continue to dialogue.
"This is very valuable. We attribute a lot of value to it," he said.
Referring to cooperation between Turkiye and Russia in tourism and energy have improved, he noted: "We have a good perspective with Turkiye."
"We are pleased that Erdogan has found the strength to defend and follow his interests, the interests of his country, and is not in the mainstream (like Europe).
"As you know, now all Europeans are in the mainstream, but on their own account," he said.
"They spend, Washington makes money. Because of its anger at Russia, Europe is shooting itself in the foot," he said.
The Russian war against Ukraine, which started Feb. 24, has been met with international outrage, with the EU, US, and Britain, among others, implementing tough financial sanctions on Moscow.
At least 1,325 civilians have been killed in Ukraine and 2,017 injured, according to UN estimates, with the true figure feared to be far higher.
Source: Anadolu Agency
Please click the following URL to read the full text of the original story:
https://www.aa.com.tr/en/europe/turkiye-is-significant-regional-power-kremlin/2553670
--------
Another Algerian ministry bans French in official correspondence
Ebu Bekir Aşkın
02.04.2022
ALGIERS, Algeria
Algeria's Culture and Arts Ministry joined three other ministries in the north African country to end the use of the French language in official correspondence due to increasing tensions between Algiers and Paris.
In a statement, Culture and Arts Minister Soraya Mouloudji instructed the ministry officials to use the Arabic language in internal correspondence and events.
Last October, the Youth and Sports Ministry, Vocational Education and Training Ministry, and Labor, Employment, and Social Security Ministry banned the use of French in their official correspondence.
With the exception of the Defense Ministry, most Algerian ministries use French in their correspondence and statements, though the country's constitution stipulates that Arabic be the first national and official language, followed by Amazigh/Berber.
The decision was taken in light of the last year's crisis between Algeria and France following remarks by French President Emmanuel Macron that were viewed by many Algerians as insulting.
Algeria responded by recalling its ambassador to Paris and banning French military aircraft from using Algerian airspace on Oct. 3.
Later, the French president accused Algerian authorities of stoking hatred against France.
Source: Anadolu Agency
Please click the following URL to read the full text of the original story:
https://www.aa.com.tr/en/europe/another-algerian-ministry-bans-french-in-official-correspondence/2553539
--------
Arab World
Unexploded landmines continue to kill and maim indiscriminately in Syria's northeast
April 03, 2022
QAMISHLI, Syria: Three years ago, the world watched as the Syrian Democratic Forces and the Global Coalition to Defeat ISIS battled the remnants of Daesh in the extremist group's last territorial holdout of Baghouz.
Having once controlled an area the size of England, the terror group had been forced to retreat into an area covering just a few hundred square meters, where they dug in behind razor wire, earthworks and fields laid with thousands of landmines.
When the fighting was finally over and the last Daesh positions had been cleared, SDF morale skyrocketed and there were days of celebrations across the Autonomous Administration of North and East Syria.
But after the guns had fallen silent, the SDF and its international allies were left with the daunting task of clearing landmines and other unexploded ordnance from the battlefield so that families could return to their land.
Years later, the work continues, hampered by security threats posed by Daesh holdouts, a lack of funding from international aid agencies, and the political complexities of the region.
On Dec. 8, 2005, the UN General Assembly declared that an International Day for Mine Awareness and Assistance in Mine Action would be observed on April 4 each year.
Since the Anti-Personnel Mine Ban Convention, also known as the Ottawa Treaty, opened for signatures in 1997, 164 countries have ratified or acceded to it. In 2014, the signatories agreed to the complete the clearance of all landmines by 2025. However, these indiscriminate weapons continue to be used by state and non-state actors alike in conflict zones.
From Daesh's final strongholds in Deir ez-Zor and its former de-facto capital of Raqqa, to areas such as Kobane, which was liberated as long ago as 2015, roads, fields and even residential buildings are still dotted with landmines that continue to claim lives and limbs.
The task of clearing these explosive remnants of war has fallen to the Roj Mine Control Organization, a non-governmental humanitarian organization working in coordination with the Northeast Syria Mine Action Center, the de-facto umbrella group for mine-clearing efforts in Syria's autonomous northeast.
Local and international agencies say they have collectively removed about 35,000 anti-personnel and anti-vehicle landmines throughout the region but thousands more remain.
At every checkpoint on the main highways between Raqqa, Hasakah and Deir ez-Zor, signs are posted that show pictures of various types of mines and explosive ordnance alongside a message in giant red letters that warns: "Danger! Stay away! Don't touch! Report quickly! Spread awareness! Protect yourself from the threat of mines, remnants of war, and suspicious and dangerous areas. Don't go exploring. If you see something suspicious, tell the concerned authorities."
From all accounts, such warnings are amply justified.
"I was 9 or 10 years old," Omar Al-Omar, who is now 13, told Arab News at his home in Raqqa. "I was playing in front of our house when a mine exploded. I was in the hospital for two months and 10 days. I was unable to move around."
Both of Omar's legs had to be amputated. He has regained some mobility thanks to prosthetic limbs that were provided by the Hope Makers Center in Raqqa, a charitable organization that has since had to suspend many of its services as a result of lack of funding. Someday, he said, he hopes to become a doctor.
The Social Affairs and Labor Committee of Raqqa Civil Council has documented about 2,500 individuals who, like Omar, were maimed by landmines in the city alone. Council worker Amira Hussein believes the true figure is much higher.
"If you look around Raqqa, on every street you will see a man, woman or child with a missing limb," she told Arab News, scrolling through photos on her laptop of local children with missing limbs and scars from burns.
"Even in 2022, the issue of mines is still relevant. People thought that once Raqqa was liberated their lives would return to normal. But when they went back, mines went off in their homes."
Much of the work carried out by local and international mine-disposal agencies has been focused on Raqqa, as the city was heavily mined during the years from 2014 to 2017 when it was under Daesh control.
Although crude improvised explosive devices left behind by retreating Daesh militants are still frequently discovered in the city, the bulk of the mine-disposal work is taking place in the countryside.
"There were a lot of mine explosions in the beginning but now there are far fewer," Yusuf, a team administrator at the Raqqa Internal Security Forces' Explosives Ordnance Disposal Unit, told Arab News.
"We maybe see mines only 1 percent of the time. Our team has cleared 80 percent of the city of Raqqa of mines."
However, not all of the explosive devices cleared by the Raqqa EODU are remnants of the battle to liberate the city. Daesh sleeper cells continue to operate here, planting explosives along roadsides and in buildings.
The 60-member Raqqa EODU team can respond to a report of an explosive device in less than 10 minutes, said Yusuf. This efficiency and dedication comes at a cost, however: 19 of its members have been killed in the line of duty.
While clearly highly dangerous, mine-disposal work can also be tedious and time-consuming. An international aid agency operating in Raqqa, which asked not to be identified for security reasons, has been systematically clearing the Tal Othman to Jurniya road for months now, often progressing just a few meters each day.
Locals said they watched Daesh militants lay mines along the road for seven months before the area was finally liberated in 2017. After three weeks of painstaking work, mine-disposal experts were able to locate and destroy two anti-tank mines.
Rocks painted red, marking the boundaries of safe areas, line the edge of the road where the disposal crews work, while rocks painted white denote safe paths. Once the road has been made completely safe and repaved, communities in Raqqa's western countryside will once again have access to markets in Manbij city.
"We are making a sacrifice for the future," one foreign mine-disposal expert working at the site told Arab News, his face obscured by a protective visor. He cannot be named for security reasons.
"The last time I went on holiday, two children died in Raqqa. This stays with you."
As is the case in Raqqa, parts of Deir ez-Zor in the east of the country are also plagued by the explosive remnants of Daesh's last stand. Here the group's sleeper cells, operating close to the border with Iraq, continue to pose a threat to landmine-disposal teams.
The Monitoring and Observation Desk, an independent conflict observatory in northeastern Syria, documented 15 attacks on local security forces by Daesh remnants in the Deir ez-Zor region in February alone, two of which were carried out using landmines.
Besides the difficult task of removing and destroying mines, local and international agencies operating in Deir ez-Zor also work to raise community awareness of the threat, erect warning signs, and distribute literature about the threats posed by explosive remnants and how people can stay safe.
Agencies such as the Roj Mine Control Organization work directly with farming communities and schools to teach agricultural workers and children — two of the groups most at risk — how to recognize explosive devices and what to do if they stumble upon one.
The RMCO said it has conducted more than 1,400 mine-awareness sessions, during which it has spoken to about 17,700 people across northern and eastern Syria. Meanwhile, its mine-clearance teams claim to have removed more than 19,000 devices.
Although the RMCO operatives work to established international standards, they often lack the heavy armored machinery and personal protective equipment used by better-funded foreign agencies, making their work slower and at times much more dangerous.
The same is true in the far north of Syria, close to the border with Turkey, where the countryside is still littered with landmines and other explosives left over from the battle to liberate Kobane in 2015.
In a small village to the west of the city, a pair of Russian helicopters buzz overhead. On the brow of a nearby hill, a Turkish military post looks down from the imposing border wall.
Mohammed Sheikhmous, a farmer who lives just 50 meters from the border, lost one of his sons to a landmine.
"My son went out with the sheep and stepped on a mine," Sheikhmous told Arab News. "There was nothing left of him. We had to gather his body parts."
Before that incident, another of his sons had suffered serious injuries from a landmine blast, he said, which put the boy in hospital for two months and left him with permanent scars on his arms and legs.
In 2021 alone, 12 people in villages around Kobane lost their lives to mines, half of them children.
Because of the political complexities in this part of Syria, it is difficult for landmine-clearance teams to get permission to gain access and work. Agencies must somehow find a way to coordinate with local militias, Syrian regime forces, and the Russian and Turkish forces that have jointly patrolled the countryside around Kobane since October 2019 as part of a "de-escalation" agreement.
Until such complexities are resolved, farming communities straddling the border wil be compelled to live with this invisible, yet lethal threat.
"This is a burden that will never end, even with the end of the war," said Hussein, the Raqqa Civil Council worker. "The mines that were planted are still there.
Source: Arab News
Please click the following URL to read the full text of the original story:
https://www.arabnews.com/node/2056106/middle-east
--------
Advisor of US-sanctioned former Lebanese FM to be named UN envoy
02 April ,2022
Lebanon is expected to appoint Gebran Bassil's former top advisor to be the country's next ambassador to the United Nations, sources familiar with the matter said, with outgoing President Michel Aoun looking to fill diplomatic posts with figures loyal to him.
Hadi Hachem will replace Amal Mudallali, according to the sources who spoke on condition of anonymity because they were not authorized to discuss the matter.
Hachem was previously the Foreign Ministry chief of cabinet during Bassil's time as Lebanon's top diplomat.
Bassil, the Lebanese president's son-in-law, was sanctioned by the United States in 2020 for corruption and his ties to the Iran-backed Hezbollah and is banned from traveling to the US.
Washington accused Bassil of being at the "forefront of corruption in Lebanon" and sanctioned him under the Magnitsky Act, intended to target human rights abuses and corruption.
After nationwide anti-government protests, Bassil was replaced, but Hachem remained.
But he was appointed as Lebanon's chargé d'affaires to Kuwait in 2020. His time in Kuwait ended abruptly after Gulf countries expelled the top Lebanese diplomats from their respective countries.
Critical comments by then-Information Minister George Kordahi on the war in Yemen led to a rift between Beirut and its Gulf allies.
Hezbollah's growing grip on Lebanon and its control over consecutive governments have almost severed ties between Beirut and the Gulf.
It's also worth noting that based on Lebanon's sectarian makeup, the ambassador to the UN has been a Sunni Muslim, while the envoy to Washington has been a Maronite Christian since the early 2000s.
Hachem would flip this if his appointment goes through. It remains unclear who the next Lebanese envoy to the US will be after longtime Aoun supporter Gaby Issa's time ended last year.
Source: Al Arabiya
Please click the following URL to read the full text of the original story:
https://english.alarabiya.net/News/middle-east/2022/04/02/Advisor-of-US-sanctioned-former-Lebanese-FM-to-be-named-UN-envoy
--------
UAE welcomes two-month truce in Yemen
02 April ,2022
The UAE welcomed the announcement of a two-month truce in Yemen and voiced its support of all efforts aimed at achieving peace and stability in Yemen and the region, state news agency (WAM) reported on Saturday.
In a statement issued by the UAE's Ministry of Foreign Affairs, the UAE reaffirmed its commitment to stand by the Yemeni people and support their "legitimate ambitions toward development and prosperity."
UN Special Envoy for Yemen Hans Grundberg announced on Friday that warring parties in Yemen have agreed to a two-month ceasefire starting Saturday.
For the latest headlines, follow our Google News channel online or via the app.
The ceasefire is expected to halt all military operation in Yemen and on the Saudi-Yemen border.
Bahrain and Oman also welcomed the announcement, according to the official state news agency (SPA).
In a statement issued by the Ministry of Foreign Affairs, Bahrain voiced hope that the truce constitutes an opportunity to end the war in Yemen and achieve a comprehensive political settlement among all Yemeni parties.
Meanwhile, Oman said in a statement issued by the Ministry of Foreign Affairs that it will continue to work with the UN and relevant parties to help end the war.
UN Secretary-General Antonio Guterres also welcomed the truce saying it "must be a first step to ending Yemen's devastating war.
Source: Al Arabiya
Please click the following URL to read the full text of the original story:
https://english.alarabiya.net/News/gulf/2022/04/02/UAE-welcomes-two-month-truce-in-Yemen
--------
Saudi Arabia welcomes UN announcement of ceasefire agreement in Yemen
02 April ,2022
Saudi Arabia has welcomed the announcement made by UN special envoy to Yemen of a truce between Yemen's warring parties during the holy month of Ramadan, the official Saudi Press Agency reported on Saturday.
The statement of support was attributed to the Kingdom's Ministry of Foreign Affairs which also "appreciated the efforts" of Yemen's UN Special Envoy Hans Grundberg for facilitating the truce.
The ceasefire is expected to halt all military operation in Yemen and on the Saudi-Yemen border.
The move "comes in the content of the Saudi initiative to put an end to the Yemeni crisis and reach a comprehensive political solution, announced in March 2021," said the ministry's statement as reported by SPA.
In a statement shared with the media, Grundberg was quoted as saying, "they also agreed for fuel ships to enter into Hodeidah ports and commercial flights to operate in and out of Sanaa airport to predetermined destinations in the region."
"The Truce can be renewed beyond the two-month period with the consent of the parties," Grundberg added. "The aim of this Truce is to give Yemenis a necessary break from violence, relief from the humanitarian suffering and most importantly, hope that an end to this conflict is possible."
Grundberg thanked regional and international stakeholders for their support in helping reach the ceasefire.
Source: Al Arabiya
Please click the following URL to read the full text of the original story:
https://english.alarabiya.net/News/gulf/2022/04/02/Saudi-Arabia-welcomes-UN-announcement-of-ceasefire-agreement-in-Yemen
--------
Iraq completes measures for electric linkage with Turkiye
Ibrahim Saleh
03.04.2022
BAGHDAD
Iraq said Sunday it has finalized technical measures for electric linkage with Turkiye to address the country's power shortages.
Electricity Minister Adel Karim told the state news agency INA that Iraq will have better electricity supplies this summer in case "gas and fuel are available" to his ministry.
The Electricity Ministry has a plan "to complete projects, address shortcomings, establish lines and stations and purchase transformers," he said, noting that his ministry has "completed all maintenance work."
According to Iraqi authorities, Turkiye will provide Iraq with 500 megawatts of electricity.
The electricity minister also said works are underway to complete the electric linkage with neighboring Jordan.
Negotiations on electricity linkage with the Gulf countries are also ongoing to reach "a mutually satisfactory solution," he added.
For years, Baghdad has imported 1,200 megawatts of electricity from neighboring Iran to feed its local electric power plants.
Source: Anadolu Agency
Please click the following URL to read the full text of the original story:
https://www.aa.com.tr/en/middle-east/iraq-completes-measures-for-electric-linkage-with-turkiye/2554065
--------
Turkish ship carrying humanitarian aid arrives in Lebanon
Mehmet Nuri Uçar, Turgut Alp Boyraz
02.04.2022
BEIRUT, Lebanon
A Turkish ship carrying 58 truckloads of humanitarian aid arrived in Lebanon on Saturday.
A total of 19 nongovernmental organizations, under the coordination of the Turkish Disaster and Emergency Management Presidency (AFAD), prepared 58 trucks with 960 tons of foodstuffs, sending them from the port of Turkiye's Mediterranean province of Mersin on Friday.
The aid was received in a ceremony attended by Turkish Ambassador Ali Baris Ulusoy, head of Lebanon's High Relief Committee Maj. Gen. Muhammad al-Khayr, Tripoli Port manager Ahmet Tamir, and representatives of AFAD and Turkish NGOs.
"On this meaningful and special day, which coincides with the beginning of the blessed month of (Muslim holy month) Ramadan, I'm very happy to be here for the third time in the last two weeks, at Tripoli Port," Ulusoy said, speaking at the event.
"Turkiye doesn't leave its Lebanese brothers alone in difficult times," said Ulusoy, underlining that both the Turkish state and nonprofits are also working to provide relief.
Ulusoy said that 524 tons of food aid had been delivered to Lebanese security bodies at the same place last week, while 80 tons of food and in-kind aid were delivered to the Lebanese Armed Forces at the Port of Beirut on Friday.
For his part, al-Khayr thanked Turkiye for the assistance provided to the Lebanese people.
Since late 2019, Lebanon has been grappling with a severe economic crisis, including a massive currency depreciation as well as fuel and medical shortages.
The Lebanese currency has lost 90% of its value, eroding people's ability to access basic goods, including food, water, health care, and education, while widespread power outages are common due to fuel shortages.
Source: Anadolu Agency
Please click the following URL to read the full text of the original story:
https://www.aa.com.tr/en/middle-east/turkish-ship-carrying-humanitarian-aid-arrives-in-lebanon/2553497
--------
URL: https://www.newageislam.com/islamic-world-news/muslims-1857-1947-maulana-aimplb/d/126722
New Age Islam Islam Online, Islamic Website, African Muslim News, Arab World News, South Asia News, Indian Muslim News, World Muslim News, Women in Islam, Islamic Feminism, Arab Women, Women In Arab, Islamophobia in America, Muslim Women in West, Islam Women and Feminism