New Age Islam News Bureau
30 May 2020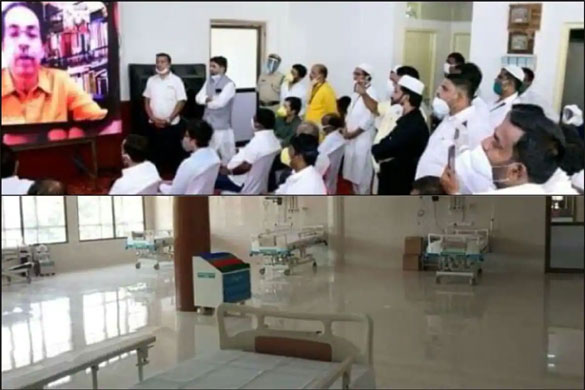 Uddhav Thackeray lauds Muslims for funding a 10-bed ICU with Zakat money (Photo Courtesy: Twitter/@gazi_sohail)
----------
• Two Muslim, Mangaluru Businessmen in Saudi Arabia To Fly 167 Indians Home
• Indonesian Minister Slammed For 'Coronavirus Is Like Your Wife' Remarks
• ISIS Calls Iraq Prime Minister 'American Agent,' Calls for More Attacks
• Turkey Goes Back to The Future as Hagia Sophia Set for Islamic Prayers, To Celebrate The 567th Anniversary of The Ottoman Conquest of Istanbul
• London Mosque: Is the Alt-Right Hijacking the Issue to Inflame Tensions?
• U. S. State Department Announces $3m Reward for Info on Senior Isis Leader, Muhammad Khadir Musa Ramadan
• People's Trust in Judicial System Has Been Shaken: Imran
• Why Are the Taliban Wooing a Persecuted Afghanistan Minority Group?
• Somalia: Army Kills Seven Al-Shabaab Militants in Operation
India
• 'Muslims Have Shown the Way': Maharashtra CM After Muslims in Maharashtra Fund 10-Bed ICU Facility with Zakat Money
• Two Muslim, Mangaluru Businessmen in Saudi Arabia To Fly 167 Indians Home
• CBI Begins Preliminary Inquiry into Tablighi Jamaat Financial Affairs
• Rift between Hizb and ISI? Flutter in J&K over 'attempt' on Salahuddin's life
• Pak terrorist behind foiled Pulwama attack rerun is Jaish chief's nephew
• 2 terrorists gunned down by security forces in J-K's Kulgam
• Hizbul Mujahideen terrorist owned explosive-laden car: Cops
• Pakistan Army claims to shoot down 'Indian quadcopter' along LoC
--------
Southeast Asia
• Indonesian Minister Slammed For 'Coronavirus Is Like Your Wife' Remarks
• Malaysia's Law Minister: Govt Not Denying Non-Muslims' Right to Drink Alcohol If Legal Limits Complied
• Drink Driving A Racial, Religious Weapon in Malaysian Politics
• Malaysia: Ex-Malaysian premier Mahathir expelled from party
• Indonesians return to mosques, at a distance
--------
Arab World
• ISIS Calls Iraq Prime Minister 'American Agent,' Calls for More Attacks
• Saudi Arabia Opens Prophet's Mosque in Medina To The Public From May 31
• Saudi Arabia confirms virtual donors conference for Yemen in partnership with UN
• Coronavirus: Saudi Arabia records more recoveries than new cases
• Reforms to Judiciary, Electricity Remain Major Hurdles for Lebanon To Receive IMF Aid
• Caught in between: Syrians seeking to return from Lebanon stuck in buffer zone
• From the coronavirus frontlines: Lebanon's hotline volunteers work around the clock
• Air travel amid COVID-19: Emirates warns of coronavirus-related phishing email, scams
• Coronavirus: India's passport centres in Saudi Arabia resume services from June 3
• Qatar rejects rumours of departure from regional union amid diplomatic row
--------
Mideast
• Turkey Goes Back to The Future as Hagia Sophia Set for Islamic Prayers, To Celebrate The 567th Anniversary of The Ottoman Conquest of Istanbul
• Israel stops call to Muslim prayer at Hebron's Ibrahimi Mosque
• Iran Official Informs of Reduction of Coronavirus Figures, Hopes Uprooting Virus
• Iran's 4th Tanker Anchors at Venezuelan Port
• AEOI Blasts US' Decision to Blacklist Iran's Nuclear Scientists
• Russia's energy minister discusses trade, investment with Iranian counterpart
• Clashes erupt in occupied West Bank after Israelis kill Palestinian
• Iran promises 'good nuclear news' in reaction to recent US bans
• Survey: Young Syrians plagued by social and economic discrimination in Turkey
--------
Europe
• London Mosque: Is the Alt-Right Hijacking the Issue to Inflame Tensions?
• Berlin Plans to Ban Pro-Iran, Antisemitic Al-Quds Rally In 2021
• Germany swears in watchdog to root out extremism in forces
• Turkish coast guard rescues 60 asylum seekers
• Racism still big threat in Germany: Turkish envoy
• UK carries out airstrikes on Daesh in Iraq
--------
North America
• U. S. State Department Announces $3m Reward for Info on Senior Isis Leader, Muhammad Khadir Musa Ramadan
• In Minneapolis, Faith Groups Rush to Aid Demonstrators As They Decry Racism
• Americans should know that Persian Gulf is not American lake: Former US diplomat
• Who are the secret puppet-masters behind Trump's war on Iran?
• New USAID adviser sparks furore over past anti-Islam comments
• Florida Man Accused of Planning ISIS Terrorist Attack In Tampa Area
• Turkey's president condoles with George Floyd's family
--------
Pakistan
• People's Trust in Judicial System Has Been Shaken: Imran
• Pharma Firm Plans to Import Covid-19 Treatment Drug from Bangladesh
• Legislators, police officers involved in high-profile cases in Sindh: minister
• Lockdown hinders arrival of patients from interior Sindh, Balochistan at city hospitals
• Govt Reopens Non-Muslim Places of Worship
• Religious Education Board Hints at Resuming Teaching Activities from June 12
• Gen Bajwa reiterates commitment to global peace
• Accountability court issues bailable warrants for Nawaz
• Rs20bn allocated for anti-locust operation, says Imam
--------
South Asia
• Why Are the Taliban Wooing a Persecuted Afghanistan Minority Group?
• Taliban Leaders Catch Coronavirus, Mullah Omar's Son Takes Over As Interim Chief: Foreign Policy
• Killing Of 26 Bangladeshis In Libya: Dhaka For Quick Probe, Punishment of Killers
• 7 Afghan Local Army soldiers lose lives in Taliban attack in Parwan province
• Afghanistan records 625 new positive cases of coronavirus in past 24 hours
• 14 Afghan forces killed in Taliban attack
--------
Africa
• Somalia: Army Kills Seven Al-Shabaab Militants in Operation
• Somalia: Two Killed in Mogadishu Car Bomb Blast
• Many killed in central Mali ethnic attacks: Officials
• State of emergency extended in Tunisia by 6 months
• Jordan pools $131m in COVID-19 donation fund
• Haftar in Libya not flexible for cease-fire talks: US
• Nigeria fire leaves thousands of IDPs without shelter
• Nigerian army rescues 241 hostages from Boko Haram
Compiled by New Age Islam News Bureau
URL: https://www.newageislam.com/islamic-world-news/muslims-shown-way-maharashtra-cm/d/121991
--------
'Muslims Have Shown The Way': Maharashtra CM After Muslims in Maharashtra Fund 10-Bed ICU Facility With Zakat Money
May 29, 2020
Located 380km from Mumbai, the Ichalkaranji town of Maharashtra celebrated Eid 2020 is true spirit of peace and brotherhood as the Muslim community there donated Rs 36 lakh collected as Zakaat this Ramadana, to fund a 10-bed ICU at a local hospital. As the third pillar of Islam, Zakaat makes it obligatory for Muslims to give 2.5% of their annual savings in charity. Also Read - Coronavirus in Maharashtra: Taking 4th Place on Global Charts, Mumbai COVID-19 Cases Rise by 1,437 on Friday
Ichalkaranji town bears a population of three lakh out of which Muslims comprise of 15%. Since patients needing ICU facility were earlier sent to towns like Kolhapur and Solapur, a Muslim organisation in Ichalkaranji, Samast Muslim Samaj (SMS), decided to fund a 10-bed ICU facility at the town's only government hospital during the holy month of Ramadan. Also Read - Maharashtra Latest News Today: CM Uddhav Thackeray Announces Pay Hike For Doctors Amid COVID-19 Crisis
Inaugurating the ICU section of Indira Gandhi Memorial (IGM) Civil Hospital on Eid this year, Chief Minister Uddhav Thackeray lauded the community's efforts. Addressing them through a video conference, Thackeray said, "Muslims in Ichalkaranji have shown the way for everyone in the country. The Muslim community has set an example on how to celebrate a festival." Also Read - 'Recovery Rate at 42.89%,' Says Govt as India Climbs to 9th Position in Global COVID-19 Tally
In an interview with TOI, Dr Javed Bagwan, a surgeon associated with IGM Civil Hospital shared, "This is a great gesture by the Muslims of this town. I don't think anywhere else in India Muslims of an entire town have used the Zakaat money to fund such a facility in critical care. This will help us fight the coronavirus."
As per the latest reports, Maharashtra remains the worst-affected state by coronavirus pandemic. Over 2,500 people tested positive for the disease on Thursday, contributing towards the highest number of new cases. 59,546 people in Maharashtra have so far contracted COVID-19 while the death toll in the state rose to 1,982.
Not only is Maharashtra burdened with the responsibility of checking the COVID-19 crisis, being the worst-hit in the country, but also countering the Bharatiya Janata Party (BJP) that is seeking to corner the government over the pandemic. Recently, Mumbai Police Commissionerate issued a new gag order, along with regulations on social media usage, that prohibits people from speaking against the state government's functioning amid COVID-19 times.
https://www.india.com/viral/muslims-have-shown-the-way-uddhav-thackeray-after-muslims-in-maharashtra-fund-10-bed-icu-facility-with-zakat-money-4043032/
--------
Two Muslim, Mangaluru Businessmen In Saudi Arabia To Fly 167 Indians Home
May 30, 2020
MANGALURU: With no Vande Bharat mission to Karnataka from Saudi Arabia, two Mangalurean businessmen there have hired a chartered flight to send home 167 people — including stranded visit visa holders and laid-off workers — free of cost.
Althaf Ullal, managing director of Saad Al Qahtani Contracting, and company CEO Basheer Sagar are awaiting permission from the Indian government for the flight, which will bring the passengers to Mangaluru International Airport.
The flight is estimated to cost Rs 45 lakh. Trip coordinators said an evacuation flight home would cost at least Rs 20,000 per ticket and many of those stranded could not afford it.
"We have identified needy passengers and are awaiting the government's nod to fly," said Asif, founder of Team B- Human, who is coordinating the operation from Mangaluru. "After the Covid-19 outbreak, NRIs suffered a lot and helping them is our utmost responsibility. When they were running businesses successfully or had jobs, they used to contribute wholeheartedly to development activities back home and actively participated in them too. The support extended by Althaf Ullal and Basheer Sagar is not just timely help but a moral responsibility and gesture of gratitude," he added.
https://timesofindia.indiatimes.com/india/mangaluru-businessmen-in-saudi-arabia-to-fly-167-indians-home/articleshow/76101181.cms
--------
Indonesian minister slammed for 'coronavirus is like your wife' remarks
May 29, 2020
JAKARTA: An Indonesian minister is under fire after he compared coronavirus to rebellious wives, in remarks aimed at soothing public fears about easing Covid-19 restrictions across the Southeast Asian archipelago.
Women's groups and social media users slammed the apparent joke by security minister Mohammad Mahfud MD, who made the comments during an online address to a local university earlier this week.
"Are we going to be holed up forever? We can adjust to the situation while still paying attention to our health," the minister said on Tuesday.
"The other day I got a meme from my colleague… that says: Corona is like your wife. Initially you tried to control it, then you realise that you can't. Then you learn to live with it."
Critics panned the remarks as sexist and said it underscored Jakarta's weak response to the virus outbreak.
"This statement not only reflects the superficial power of the government to solve the Covid-19 pandemic problem, but also shows the sexist and misogynistic mindset of public officials," Women's Solidarity group chief executive Dinda Nisa Yura said in a statement.
Mahfud's office did not respond to a request for comment Friday.
Indonesia is deploying some 340,000 troops to clamp down on rampant social distancing violations as coronavirus infections surge in the world's fourth-most populous country.
The move comes as the government eyes the reopening of shuttered businesses next week, fearing a collapse in Southeast Asia's biggest economy.
Indonesia has confirmed around 24,000 cases of Covid-19 and 1,496 deaths, but the country of more than 260 million has some of the lowest testing rates in the world.
Researchers estimate the true number of virus fatalities is several times the official toll.
https://www.freemalaysiatoday.com/category/world/2020/05/29/indonesian-minister-slammed-for-coronavirus-is-like-your-wife-remarks/
--------
ISIS calls Iraq prime minister 'American agent,' calls for more attacks
29 May 2020
ISIS in an audio message blasted Iraq's new prime minister, calling him an "American agent," and criticized the closure of Islam's holiest shrine in the Saudi Arabian holy city of Mecca to limit the spread of coronavirus.
In the message allegedly read by the group's chief spokesman Abu Hamza al-Qurayshi, released late Thursday, al-Qurayshi asked why mosques are being closed and people being prevented from praying at the Grand Mosque in Mecca, hinting that Muslims are immune to the coronavirus.
The virus outbreak disrupted Islamic worship in the Middle East as Saudi Arabia in late March banned its citizens and other residents of the kingdom from performing the minor pilgrimage to Mecca. In other countries in the Middle East, Friday prayers were also suspended to limit the spread of the virus.
Iraq's new Prime Minister Mustafa al-Kadhimi, a former intelligence chief backed by Washington, took office earlier this month after he played a part for years in the war against ISIS. The group was declared defeated in Iraq in 2017.
Al-Kadhimi remains the "intelligence's pointed sword" on the heads of Muslims, al-Qurayshi said, urging ISIS fighters to launch daily attacks in Syria, Iraq and other countries.
In recent weeks, the extremists have taken advantage of the pandemic to launch deadly attacks in their former self-declared caliphate in parts of Iraq and Syria.
On Wednesday, ISIS fighters attacked a Syrian government post in northern Syria killing eight soldiers. Russian airstrikes followed killing 11 ISIS gunmen, according to opposition activists.
A day later, three members of the US-backed Kurdish-led Syria Democratic Forces were found with their throats slit in the eastern province of Deir el-Zour near the Iraqi border, where ISIS sleeper cells are active, according to the Britain-based Syrian Observatory for Human Rights, an opposition war monitor.
After the death of ISIS leader Abu Bakr al-Baghdadi in a US raid in northwest Syria late last year, the group named Abu Ibrahim al-Hashimi al-Qurayshi as his successor in October.
The new spokesman, Abu Hamza al-Qurayshi, replaced Abu al-Hassan al-Muhajer who was killed the same month.
Abu Ibrahim al-Hashimi al-Qurayshi has not released any audio messages since assuming his position as ISIS leader.
Thursday's audio was apparently the third released by ISIS spokesman al-Qurayashi since he took office. In January, he said the extremists will start a new phase of attacks that will focus on Israel and blasted the US administration's plan for resolving the decades-old Israeli-Palestinian conflict.
https://english.alarabiya.net/en/News/middle-east/2020/05/29/ISIS-calls-Iraq-prime-minister-American-agent-calls-for-more-attacks.html
--------
Turkey Goes Back to The Future as Hagia Sophia Set for Islamic Prayers, To Celebrate The 567th Anniversary of The Ottoman Conquest of Istanbul
29 May 2020
Turkey's government is set to celebrate the 567th anniversary of the Ottoman conquest of Istanbul with an Islamic prayer at the city's contested Hagia Sophia building.
Hagia Sophia, a Unesco world heritage site, was originally built as a Greek Orthodox church, but was converted into a mosque after the conquest of Istanbul by Mehmet the Conquerer in 1453.
In 1935, it was converted into a museum by Mustafa Kemal Ataturk, as part of his secularist reforms.
Religious conservatives have long called for the conversion of the building back into a mosque, a move increasingly hinted at by Turkish President Recep Tayyip Erdogan in recent years.
"Al-Fath surah will be recited and prayers will be done at Hagia Sophia as part of conquest festival," Erdogan said on Thursday night during a televised broadcast.
The announcement dominated Turkish Twitter, alongside discussion about 1453 more broadly, with the issue continuing to prove popular among his base.
Hagia Sophia was originally built as a cathedral by the Byzantine Emperor Justinian 1, but it was converted into a mosque after the Ottoman conquest of Istanbul in the 15th century, celebrated on 29 May every year.
Erdogan has in the past rejected calls to convert the museum into a mosque, but since 2016 he has endorsed symbolic steps to reintroduce Islamic practices into the building.
In 2016, the government allowed the first ever recitation of Islamic call for prayers inside the building and later assigned an imam to a small chamber where people have been allowed to pray since 1991.
In 2017, Turkey's Directorate of Religious Affairs, known as Diyanet, held a religious ceremony to celebrate Laylat al-Qadr inside the museum, one of the holiest days in Islam.
'Return it to its original state'
Erdogan previously told supporters that he was planning to convert the Hagia Sophia into a mosque as a response to US President Donald Trump's recognition of Israel's claims to occupied East Jerusalem and the Golan Heights.
Speaking at a campaign event in Istanbul, he said: "We said we would lift Hagia Sophia's museum status and return it to its original state and call it a mosque."
Then, early in May, Erdogan's communication director Fahrettin Altun tweeted: "We've been longing for it! But a bit more patience. We'll make it together," attaching a picture of the Hagia Sophia Museum in Istanbul.
Greek officials have in the past accused Erdogan of using Hagia Sophia as something to lure voters to his party.
Ekathimerini, a popular Greek daily, published an article on Friday calling the move as a stunt.
"Erdogan and his aides' latest Hagia Sophia stunt will prove to be yet another piece of theatrics to divert the electorate's attention away from the AKP's mismanagement of the economy and the Covid-19 pandemic," the article said.
The Greek Orthodox church traces its history to the Byzantine empire and its Patriarch is still based in Istanbul, which was formerly known as Constantinople.
https://www.middleeasteye.net/news/quran-recitation-conquest-hagia-sophia-istanbul
--------
London Mosque: Is The Alt-Right Hijacking The Issue To Inflame Tensions?
MAY 29, 2020
A mosque proposal in the heart of London sparks controversy fuelled by fear-mongering.
A proposed plan to convert a building at the heart of London's famous Piccadilly Circus into a mosque, has resulted in objections - in particular from members of the far-right.
News outlets such as Breitbart, known for their right-wing opinions, have attempted to frame the proposed plans to convert the well-known Trocadero, as an attempt to build a "mega-mosque."
"The word 'mega-mosque' is used to scare people," said Heena Khaled, a co-founder of the UK-based organisation, Advancing Voices of Women Against Islamophobia.
"What do people think there will be a loud call to prayer? Britain is already a divided society and setting up petitions against planning permission and using language like 'mega' and saying that central London will have a mosque is being used to show there is a 'takeover'," added Khaled speaking to TRT World.
The proposals have also galvanised rightwing networks as far as the US who have used the issue to drum up images of a Muslim takeover.
"The opposition towards the mosque is coming from the same group of right-wing mobilisers like David Vance and Pamela Gellar (who isn't even in the UK). The thing is they're an organised network who make use of their social media platform to galvanise fear," said Khaled.
Serving the community
Built in 1896, London's Trocadero, as it has come to be known, was originally a restaurant. By the late 1990s, it had become a hideout for youngsters skipping school, attracted by the neon lights of arcade machines and the cacophony of music emanating from its various storeys.
With its heyday long over, the building closed in 2014, even though Piccadilly Circus became even more of a hotspot for tourists.
The Trocadero building is part of a multi-billion pound portfolio owned by Asif Aziz, the chief executive of Criterion Capital. The Aziz Foundation, a charity set up by the same owner, which offers scholarships to Muslim students, has brought forward a plan to turn the basement and ground floor into a mosque.
In a statement, the Aziz Foundation said that the aim of turning parts of London's iconic Trocadero building into a mosque was to "serve the Muslim community who live and work in the West End and to provide a community space to those of all faiths and none."
Not everyone, however, has welcomed the plans.
A petition opposing the mosque garnered almost 5,000 signatures, with one supporter claiming that "our country is being overun [sic] with mosques while our historic churches are in a state of disrepair, and since when was this an islamic [sic] country?"
The London district of Westminster is overseeing the consultation process, and feedback on the mosque proposal closed on Thursday 28th May.
Almost 6,000 comments have been left on the Westminister district website, an overwhelming majority of which showed support towards the mosque with some drawing attention to the fact that almost one-fifth of the population in the area is Muslim and prayer space is in short supply.
Others who left objections said they were worried that it would add additional congestion to the area.
Another member of the public, however, was less concerned about the everyday practicalities, instead suggesting a mosque would result in Muslims asking for "an alcohol-free zone", despite no such thing existing in the UK. He went on to say that this would "negatively impact on the surrounding businesses and homes where alcohol is consumed and needed for business [sic]."
Many other comments on the website simply stated a one-line objection or had been deleted by the district council due to offensive content.
Another case of anti-Muslim sentiment?
"We can see from the comments against the planning permission being granted, that a significant number are from those individuals who espouse a hatred from Islam and Muslims," said Aman Ali the Head of Community Development & Engagement at MEND a UK based NGO focusing on media monitoring and political advocacy for British Muslims.
"Unfortunately, such examples of Islamophobia are not uncommon in such cases of Mosque applications. It is imperative that the local authorities understand and weigh up such hate speech in its proper context and reflect on the true motivations of those making such comments," added Ali, speaking to TRT World.
The proposed area in which the mosque would be built is also known for its lively entertainment scene, theatres, shopping space, clubs and the city's red-light district.
The area's service economy also employs a significant number of Muslims and brings in tourists from across the world, including Muslim countries.
For Aman Ali, protests against the mosque are about creating a polarised atmosphere: "Suggestions that a mega-mosque will be built in Piccadilly Circus, an iconic tourist destination, further perpetuates the myth that somehow Muslims are taking over the country. Let's be clear here, the prayer space will take up the two basement floors of the building, the rest of which will fulfil other purposes."
A white nationalist vlogger posted a video on the 22 May to their Youtube channel - which boasts more than 226,000 subscribers - about the dangers the mosque would pose to the "native people of this country."
"It's an easy opportunity to stoke up fear and hatred towards Muslims," says Ali, adding that "followers of any faith group should be allowed to establish a place of worship wherever they deem fit and as long as the local authorities allow for it."
"The area has a significant number of Muslims who work nearby who would benefit immensely from this prayer space."
https://www.trtworld.com/magazine/london-mosque-is-the-alt-right-hijacking-the-issue-to-inflame-tensions-36749
-------
U. S. State Department Announces $3m Reward For Info On Senior Isis Leader, Muhammad Khadir Musa Ramadan
May 30, 2020
The State Department Thursday announced a $3 million reward for any information on Muhammad Khadir Musa Ramadan, a senior leader in the Islamic State (ISIS).
Ramadan, also known as Abu Bakr al-Gharib, is one of the group's leading propagandists.
"Muhammad Khadir Musa Ramadan is one of ISIS's longest-serving senior media officials," a State Department spokesperson told Fox News. "Ramadan oversees the group's daily media operations, including the management of content from ISIS's dispersed global network of supporters."
Intelligence officials said he has also played a key role in the gruesome videos for which ISIS has become notorious.
"He has overseen the planning, coordination and production of numerous propaganda videos, publications and online platforms that included brutal and cruel scenes of torture and mass execution of innocent civilians," the spokesperson told Fox News. "His interpretation of Islam is so extreme that he led an effort to purge ISIS of moderate opinions, imprisoning members of ISIS's propaganda teams who he felt did not match his level of fanaticism."
ISIS extremists have enslaved non-Muslims, carried out mass killings, and beheaded and tortured people on camera as recruiting tactics.
U.S. Special Forces killed ISIS leader Abu Bakr al-Baghdadi in October 2019, but ISIS remains a threat in Syria and Iraq.
Security officials further believe that ISIS has been using the coronavirus as an excuse to up their attacks.
ISIS propaganda magazine Al-Naba, has reportedly told their fighters that Western nations will be deterred by the virus.
According to the International Crisis Group, the magazine's March edition said, "Fear of this contagion has affected them more than the contagion itself."
The group has expanded across the Middle East and throughout parts of northern Africa.
The State Department is relying on the Rewards for Justice program to help them obtain information about Ramadan and his whereabouts.
The program has reportedly assisted in preventing terrorist acts or finding those involved in terrorism, since 1984, and has paid over 100 people more than $150 million.
"We are determined to identify and find the group's leaders so that the Global Coalition to Defeat ISIS and our partners on the ground in Iraq and Syria can continue to target ISIS remnants and thwart its global ambitions," the spokesperson told Fox News.
https://www.foxnews.com/politics/state-department-announces-3m-reward-for-info-on-senior-isis-leader?utm_source=iterable&utm_medium=email&utm_campaign=1252850_
--------
People's trust in judicial system has been shaken: Imran
May 30, 2020
ISLAMABAD: Prime Minister Imran Khan has said that people's confidence in the country's judicial system has almost been shaken, and constituted two committees to suggest constitutional reforms and look into the plight of women prisoners and recommend remedial steps for the purpose.
The committee comprising PM's Adviser on Parliamentary Affairs Dr Babar Awan and Law Minister Farogh Naseem will suggest constitutional reforms and devise a roadmap for implementation of these reforms.
It will meet next week and important decisions will be taken in the light of its recommendations.
The decision to form the two committees was taken at a meeting presided over by the prime minister on Friday.
The prime minister directed the committee on constitutional reforms to devise a roadmap for prompt implementation of reforms in the criminal justice system, police culture, registration of cases, investigation and prison system.
Mr Khan said that it was the manifesto of the Pakistan Tehreek-i-Insaf (PTI) to ensure provision of easy justice to the people, specially the weak segments of society.
"The confidence of people has almost been shaken in the country's judicial system and now they are looking towards the PTI government for improvement in the system," an official press release quoted the prime minister as saying.
Earlier, the law minister gave a briefing on reforms to the prime minister and said that a timeframe had been set for disposal of cases after implementing reforms in the system.
He also apprised the meeting on reforms being made for improving conditions of women prisoners and issues of their inheritance.
The other committee, according to the Prime Minister Office (PMO), would look at the plight of women prisoners, whether convicted or awaiting trials, in the overall context of gender bias prevalent in society at large.
"Therefore, there is a genuine need to put in place institutional arrangements to address the issue in a comprehensive manner," said an official press release issued by the PMO.
The committee comprising seven members is headed by federal minister for human rights (as chairperson); secretary, Ministry of Human Rights (as secretary of the committee); secretary, Ministry of Interior; home secretaries of governments of Punjab, Sindh, Khyber Pakhtunkhwa, Balochistan and Gilgit-Baltistan; inspectors general of police of prisons, Punjab, Sindh, Khyber Pakhtunkhwa, Balochistan, and Gilgit-Baltistan; Sarah Belal and Haya Zahid.
The chairperson may co-opt any person as member of the committee.
Terms of Reference (ToRs) of the committee are: To assess whether prison rules, Code of Criminal Procedure-1898 and international best practices are being adhered to with respect to women prisoners, especially their protection, rights, health, security, and wellbeing;
To ensure that gender-specific services are available for women prisoners addressing their physical, psychological, emotional, and sociological needs;
To review prison rules and other relevant laws with a view to suggesting gender-specific changes in order to bring improvements in these rules for women inmates;
To review the overall governance, legal aid and management systems/processes in prison administration, especially with regard to women prisoners and to suggest improvements;
To review individual cases of human rights violations and victimisation of women inmates and suggest measures for institutional accountability;
To review the situation of children accompanying women in jails and work to help mainstream such children, especially with regard to their education and social integration;
To suggest comprehensive and workable system of governance of prisons in the country with a view to ameliorating the plight of women in prison; and To review post-release programmes to ensure that women prisoners are able to adjust in society after they leave the prison.
The press release said that besides TORs, the chairperson could assign any other task to the committee which will be in the interest of the welfare and protection of women prisoners.
The committee will submit its report to the prime minister in four months.
https://www.dawn.com/news/1560336/peoples-trust-in-judicial-system-has-been-shaken-imran
--------
Why Are the Taliban Wooing a Persecuted Afghanistan Minority Group?
By Yatharth Kachiar
May 28, 2020
Afghanistan's most persecuted religious and ethnic minority, Shiite Hazaras, are being wooed by their most oppressive tyrant, the Taliban. According to reports, the Taliban has recruited one of its local leader from the Hazara minority community. The new governor of the Taliban's shadow government in Balkhab district, Sar-e-Pul province in northern Afghanistan is Mawlawi Mahdi, a Shiite cleric militia leader. Previously, there have been reports indicating a few instances of cooperation between the Hazaras and the Taliban, and the presence of a small number of Hazaras in the Taliban rank and file. For instance, in 2012, reports emerged of around a dozen Shia Hazara men fighting alongside the Taliban in Qarabaghi, Ghazni province. However, such instances are an exception, and there has been no indication of widespread recruitment of Hazaras by the Taliban.
Nevertheless, by recruiting a Shiite Hazara as a new governor of Balkhab district at this particular point, the Taliban aims to achieve three objectives. First, by accommodating Hazaras, the insurgent group wants to improve its image and international legitimacy as an inclusive group and a countrywide movement ahead of the intra-Afghan dialogue. Second, by increasing its influence among the disgruntled sections of minority ethnic groups in Afghanistan, the Taliban are challenging the already fragile legitimacy of the Afghan government. Third, the olive branch to Hazaras in Afghanistan is also an attempt by the Taliban to diversify its support base beyond Pakistan and bolster its ties with Shiite-majority Iran despite the previously held ideological differences.
Predominantly a Sunni Pashtun group, the Taliban regime ruled Afghanistan from 1996 to 2001 under a radical ideology based on the combination of Salafi Islam and Pashtunwali. Trained in the Deobandi madrassas of Pakistan, Taliban leaders aimed at establishing an Islamic state in Afghanistan along Salafist lines. The Taliban regime was infamous for its inhumane laws, its ill treatment of women and ethnic minorities, especially Shiite Hazaras, and harboring terrorist organizations such as al-Qaeda. The fundamentalist ideology of the Taliban considers the Shias as infidels who should "become Sunnis, leave Afghanistan, or risk being killed."
In 1998, after taking control of Mazar-e-Sharif, the Taliban systematically massacred thousands of Shiite Hazaras. According to one report, the Taliban methodically "searched house to house for males of fighting age who belonged to the Hazara ethnic minority. Hazaras were gunned down in front of their families or had their throats slit in the same way Muslims slaughter goats for holiday feasts." The international community heavily criticized the state-sponsored massacre of Hazaras by the Taliban regime. Due to its poor human rights record, the Taliban regime was recognized only by Pakistan, UAE, and Saudi Arabia.
At present, the Taliban insurgency in Afghanistan is eager to change global perception, which views the group as a violent, radical outfit with no regard for human rights. In order to establish itself as a legitimate power in Kabul, the Taliban regime must offer something beyond its narrative of fighting the "foreign infidel powers" and their "puppet regime." By presenting itself as a moderate group with support among all the major ethnicities in Afghanistan, the Taliban aim to quell the narrative that brands it as a fundamentalist, pro-Pashtun movement.
The Taliban have frequently recruited other communities in Afghanistan, such as Uzbeks and Tajiks, in its rank and file. The absence of Hazaras in the Taliban has frustrated the radical group's efforts to recast itself as a moderate and nationwide movement. Therefore, by reaching out to the Hazara community, the Taliban regime aims to dissociate itself from its tainted past, when it committed the worst forms of human rights abuses against the Hazara minority in Afghanistan.
At the same time, if the Taliban can win the support of other ethnic minorities such as Hazaras, then it will indicate the eroded legitimacy of the fragile Afghan government. Prevalent corruption combined with a lack of governance, rising unemployment, and failure to provide security are some of the critical issues that have battered support for the Ghani government across all ethnic communities. As Afghan officials indicate, unemployment, poverty, and the government's indifferent attitude are the major drivers for young men to join the insurgents.
Further, in 2016, President Ashraf Ghani antagonized the Hazara community when he decided to re-route a 500 KV line for a regional electricity project, initially proposed to pass through Hazarajat. The government's apathy toward the socioeconomic demands of the historically marginalized Hazara community gave birth to the "enlightenment movement" or "Jombesh-e-Roshnayi." Young activists from the community organized a series of protests against the government's decision to re-route the electricity project. In one such rally in Kabul on July 23, 2016, Islamic State-linked suicide bombers killed 86 protesters and injured 413 others. Since then, the relationship between the Hazaras and the Ghani administration in Afghanistan has never been smooth.
Most importantly, by wooing the Shiite Hazaras in Afghanistan, the Taliban are sending an olive branch to its former ideological foe in the region, the Islamic Republic of Iran. During the 1990s, Shiite Iran was one of the leading supporters of the erstwhile Northern Alliance fighting against the Taliban in Afghanistan. In 1998, while capturing the northern town of Mazar-e-Sharif, the Taliban killed nine Iranian diplomats. After the incident, Iran conducted extensive military exercises and posted 70,000 troops near Afghanistan's border. Iran's grave misgivings about the Taliban regime stemmed from the puritanical version of Sunni Islam propagated by the militant group, which considers Shias as heretics.
At present, when the Taliban are finding a way to gain back power in Kabul, support of the neighboring countries such as Iran will prove crucial for the radical group in strengthening its legitimacy and claim to power in Kabul. By relinquishing its past enmity, the Iranian regime welcomed the overtures by the Taliban. For Tehran, the Taliban are a safer bet against the rise of the Islamic State on its eastern border in Afghanistan.
The bonhomie between the Taliban and Iran came to the forefront recently after the incident in which Iranian border guards allegedly drowned 20 Afghan nationals. After the incident, the special envoy of the Islamic Republic of Iran requested a meeting with Mullah Baradar to discuss the incident on the Iranian border. At the same time, the incident of the drowning of Afghan migrants resulted in a "tense meeting" between Iranian officials and Mohammed Hanif Atmar, foreign minister of Afghanistan. The proactive approach adopted by the Iranian regime in involving the Taliban to discuss the drowning of Afghan migrants — overstepping the government in Kabul — indicates the strengthening of relations between the Iranian regime and the radical group.
The Taliban's overtures toward the Shiite Hazara minority community of Afghanistan are mainly due to the group's strategic interests in rebranding itself as a moderate and nationalist force and strengthening its relations with Iran. It is a calculated move and does not indicate any change in the ideology of the radical group or its deep-rooted hostility toward the Shiite Hazaras.
In 2018, the Taliban launched coordinated attacks in the Hazara dominated areas of Khas Uruzgan, Malestan, and Jaghori, which killed and displaced a large number of civilians from the minority community. Further, in 2019 the abduction and killing of Abdul Samad Amiri, a Hazara and the provincial director of Afghanistan Independent Human Rights Commission (AIHRC), by the Taliban indicate the threat faced by the minority group in the country if the radical group becomes the dominant power in Kabul.
The reluctance of the Taliban to be a part of the democratic process in the country is due to its puritanical radical ideology, which does not respect diversity and pluralism. Unless the Taliban agree to be a part of the democratic political structure in Kabul, any overtures shown by the radical group toward the Hazara minority community will be hollow.
https://thediplomat.com/2020/05/why-are-the-taliban-wooing-a-persecuted-afghanistan-minority-group/?utm_source=iterable&utm_medium=email&utm_campaign=1252850_
--------
Somalia: Army Kills Seven Al-Shabaab Militants in Operation
27 MAY 2020
Somali National Army (SNA) on Tuesday killed seven Al-Shabaab extremists in an operation in the central region of Hiran, a military commander said.
Mohamud Hassan Ibrahim, commander of SNA's 22 Unit section 27, told reporters that government forces conducted an operation inflicting casualties on the militants.
The commander said the operation was a planned one, aiming at destroying the terrorist group.
The last incident came barely a day after Jubaland forces killed four Al-Shabaab extremists in an intense clash in Dhobley town in the country's southern region of Lower Juba.
The Somali forces backed by African Union Mission in Somalia have intensified operations against Al-Shabaab extremists in central and southern regions, but the militants still hold swathes of rural areas in those regions conducting ambushes and planting land mines.
https://allafrica.com/stories/202005280209.html?utm_source=iterable&utm_medium=email&utm_campaign=1252850_
--------
India
CBI begins preliminary inquiry into Tablighi Jamaat financial affairs
by Deeptiman Tiwary
May 30, 2020
The Central Bureau of Investigation (CBI) has initiated a preliminary inquiry into the financial affairs of the religious organisation Tablighi Jamaat and is being probed for "dubious cash transactions" and for concealing foreign funding from the government.
Sources said a case has been registered on the basis of a complaint from the Foreigners Division of the Ministry of Home Affairs alleging that the organisation has violated Foreign Contribution Regulation Act (FCRA).
"The CBI has registered a PE against the organisers of Tablighi Jamaat and other unknown persons. On a complaint alleging that the organisers and trustees were indulging into dubious cash transactions by using illegal and unfair means and also in non-disclosure of receipt of foreign funds to competent authority," CBI spokesperson RK Gaur said.
The development comes days after the Delhi police filed multiple chargesheets against the Tablighi Jamaat, its members and its chief Maulana Saad Kandhalvi. In March, authorities had raided the Alami Markaz of the organisation in Delhi's Nizamuddin area and evacuated more than 3,000 people staying there for a religious congregation.
Multiple members of the Jamaat were found positive for Covid-19 and several others who had fanned out across the country were alleged to have spread the virus. The Jamaat was accused of organising the event in violation of government orders to avoid gatherings in the wake of Covid outbreak, an allegation the Jamaat has denied.
Sources said the CBI has already taken all chargesheets filed by the Delhi Police in the case and also copies of case papers and other related details which include Delhi Police's probe into Jamaat's financial dealings through multiple bank accounts.
CBI is the third agency after the Delhi Police and the Enforcement Directorate (ED) to register a case in the matter.
On April 16, ED had registered a case of money laundering against the Jamaat. Following raids at the Jamaat Markaz in Nizamuddin in March, where it was found that over 2,000 Tablighi foreigners had come to India on tourist visas and over 800 had fanned out across the country engaging in proselytising activities, the Ministry of Home Affairs had blacklisted over 1,700 overseas members of the outfit for visa violations.
The first FIR in the matter was filed by the SHO of Nizamuddin Police Station with the Delhi Police Crime Branch early April. It had named seven people, including Maulana Saad, associated with the management committee of the Alami Markaz Banglewali Masjid, headquarters of the Tablighi Jamaat outfit, for allegedly going ahead with a gathering of around 2,000 people at the mosque in Nizamuddin West despite warnings from agencies.
https://indianexpress.com/article/india/cbi-initiates-inquiry-into-financial-affairs-of-tablighi-jamaat-over-dubious-cash-transactions-6433216/
--------
Rift between Hizb and ISI? Flutter in J&K over 'attempt' on Salahuddin's life
May 30, 2020
SRINAGAR: Pakistan-based Hizbul Mujahideen chief Syed Salahuddin escaped a rumoured assassination attempt in Islamabad last Monday with injuries and has been holed up in a safe house since, fuelling speculation in J&K that all's not well between the terror outfit and ISI.
According to unconfirmed reports, the attack on Salahuddin's convoy took place around 12.30pm on May 25 near Street No. 8 of Pakistan's capital city. Intelligence agencies here have yet to confirm the veracity of reports about the attack on Hizbul's supreme commander by "unidentified elements" and whether it had anything to do with the outfit's lately strained relationship with ISI.
Sources said Salahuddin, who lost his most trusted commander in J&K – Riyaz Naikoo – in an encounter with security forces early this month, was cross with ISI over several issues, including the creation of an outfit called The Resistance Front (TRF) to give terrorism in the Valley an "indigenous" face.
J&K-born Salahuddin's primary grouse is the fledgling TRF getting preference over Hizbul Mujahideen in terror funding from Pakistan, the sources said.
In a video purportedly recorded on May 7 in Pakistan, the Hizbul chief is heard telling cadres at a condolence meet for Naikoo that Indian security forces had killed about 80 of the outfit's members and supporters since January. He also claims responsibility for the Handwara attack in which two senior Army officers and three others in their team were killed.
Full report at:
https://timesofindia.indiatimes.com/india/rift-between-hizb-and-isi-flutter-in-jk-over-attempt-on-salahuddins-life/articleshow/76101068.cms
--------
Pak terrorist behind foiled Pulwama attack rerun is Jaish chief's nephew
May 29, 2020
SRINAGAR: The mastermind of the foiled car bomb attack targeting security forces in south Kashmir's Pulwama was on Friday identified as a nephew of Pakistan-based Jaish-e-Mohammad chief Masood Azhar, whose banned terror outfit had used the same modus operandi to kill 40 CRPF personnel in the district in February 2019.
Abdul Rehman alias Fauji Bhai, who is suspected to have infiltrated into Kashmir from Pakistan in 2018, collaborated with the Valley's terror modules over several months to plan the attack before intelligence agencies got wind of it, IGP (Kashmir range) Vijay Kumar told TOI.
The explosives-laden Santro that was intercepted by security forces at a checkpoint on Wednesday night and later blown up in a controlled explosion belonged to Hidayatullah Malik, a former Hizbul Mujahideen terrorist from Sharatpora in Shopian district, the IGP said. "Two other local Jaish-e-Mohammad terrorists – Adil and Zahid – were involved in the plot to carry out the suicide attack on security forces in Pulwama."
While Malik, 24, joined the Hizbul Mujahideen ranks in July 2019, Adil and Zahid were recruited by Jaish-e-Mohammad this March. All of them reported to Fauji Bhai, who also operates under the aliases Ismail, Jameel and Akram, sources said.
A top intelligence official said Malik dropped out of a nursing course in Kerala and returned to Kashmir in 2018 after being allegedly assaulted by some fellow students there. The son of an orchard owner, he is suspected to have crossed over from Hizbul to Jaish this year.
In Adil's case, his family desperately tried to keep him from joining the terrorist ranks, the intelligence officer said. A video clip that was shared on social media soon after the youth went missing shows his brother purportedly pleading with him to give up the gun and return home.
It wasn't immediately clear if any of Fauji Bhai's direct collaborators were in the Santro packed with 40-50kg of RDX when a joint team of the police, Army and CRPF intercepted it on Wednesday night at Ayegund in the Rajpora area of Pulwama. The two men in the car abandoned the vehicle after being fired upon.
The terrorists had possibly planned to ram the Santro against a convoy of security forces passing through the national highway or crash into any key security installation, intelligence sources said.
Full report at:
https://timesofindia.indiatimes.com/india/pak-terrorist-behind-foiled-pulwama-attack-rerun-is-jaish-chiefs-nephew/articleshow/76098456.cms
--------
2 terrorists gunned down by security forces in J-K's Kulgam
May 30, 2020
Security forces killed two terrorists after a gun battle in Jammu and Kashmir's Kulgam district on Saturday, officials said.
They added that a joint team of Rashtriya Rifles, state police and Central Reserve Police Force (CRPF) personnel were involved in the operation against the terrorists in Wanpora area of south Kashmir's Kulgam.
Officials said the search operation is still underway and that internet services have been snapped in the district.
The encounter in Kulgam comes days after two terrorists were killed in Manzgam area of the district.
https://www.hindustantimes.com/india-news/encounter-between-security-forces-terrorists-underway-in-j-k-s-kulgam/story-mi40VAmJ1JVlXfFUhCxJQI.html
--------
Hizbul Mujahideen terrorist owned explosive-laden car: Cops
May 30, 2020
A Hizbul Mujahideen militant active in south Kashmir is the owner of the explosive-laden vehicle that security forces intercepted on Thursday, foiling a planned car bombing similar to the 2019 Pulwama attack, J&K police said on Friday.
The vehicle, a white Santro, was laden with at least 40 kilograms of explosives and found in a village near Rajpora in Pulwama district, where a suicide car bombing on February 14, 2019, left 40 Central Reserve Police Force (CRPF) troopers dead. The car was not registered in the Kashmir valley, but in the Jammu division of the J&K Union territory, the police said.
A police officer privy to the investigations said the Hizbul militant, who is active in south Kashmir over the last two years and is the owner of the car, is at large, but efforts are on to catch him. The car belongs to Hidayatullah Malik of Sharat Pora village in Shopian district; Malik has been an active militant of the Hizbul since July 2019, said the officer, who requested anonymity.
Vijay Kumar, the inspector general of police, (IGP), Kashmir zone, said that security forces received both intelligence inputs last week that the Jaish-e-Mohammed (JeM), which had claimed responsibility for the 2019 Pulwama attack, and the Hizbul Mujahideen were planning a major suicide attack using a car bomb.
"On Wednesday, [J&K] police, Army and the CRPF established multiple barricades after the leads about the attack emerged. In the evening, a naka party directed a car to stop, but it sped away. At another naka, warning shots were fired on the vehicle. The car's driver fled towards a forest under the darkness of the night,'' Kumar had said.
The police are seeking expert opinion on the nature of the explosives, which were destroyed through a controlled explosion.
Full report at:
https://www.hindustantimes.com/india-news/hizbul-mujahideen-terrorist-owned-explosive-laden-car-cops/story-r7S2pz0z0zpzIecR0AKzuM.html
--------
Pakistan Army claims to shoot down 'Indian quadcopter' along LoC
May 30, 2020
The Pakistan Army on Friday claimed to have shot down an "Indian quadcopter" allegedly intruding across the Line of Control (LoC).
Military spokesperson Major General Babar Iftikhar said that the copter intruded 700 meters from Kanzalwan sector.
"Pakistan Army troops shot down an Indian spying quadcopter which came from Kanzalwan Sector, intruded 700 Meters on Pakistan side of the LOC in Nekrun Sector," according to a tweet by the spokesman.
India has dismissed previous such claims by the Pakistan Army.
It was the second quadcopter which the Pakistani Army has claimed to have shot down in three days. On Wednesday, it said that it has downed an Indian "spying quadcopter" for allegedly violating the airspace along the LoC.
In April, the Pakistan Army claimed to have shot down an Indian drone.
The ties between the two nations strained following the Balakot strike when the Indian Air Force jets bombed a Jaish-e-Mohammed training camp in Pakistan on February 26 last year to avenge the killing of 40 Central Reserve Police Force personnel in the Pulwama terror attack on February 14.
Pakistan retaliated on February 27 by attempting to target Indian military installations.
Full report at:
https://www.hindustantimes.com/india-news/pakistan-army-claims-to-shoot-down-indian-quadcopter-along-loc/story-RiUQmwFmutAN1M6H4ZN6VL.html
--------
Southeast Asia
Malaysia's law minister: Govt not denying non-Muslims' right to drink alcohol if legal limits complied
29 May 2020
BY IDA LIM
KUALA LUMPUR, May 29 — The Malaysian government's stern position against drunk driving that cause deaths in road accidents does not mean that non-Muslims in the country would not be allowed to drink alcohol, minister in charge of parliament and law Datuk Takiyuddin Hassan clarified today.
Takiyuddin however said non-Muslims would have to obey the relevant laws when drinking alcohol.
"Although the government is firm in the issue of fatal accidents involving drunk drivers, it does not mean the government is denying the right of non-Muslims to drink alcohol. They are free to do so, as long as they comply with all related legal provisions," the Kota Bharu MP and PAS secretary-general concluded in a statement today.
Earlier in the same statement in his capacity as the minister in charge of law, Takiyuddin said the government was paying serious attention to and would be taking firm action on cases of fatal road accidents involving drunk drivers, which he said had recently been on the rise.
Takiyuddin explained that an immediate step that would be taken is to ensure that the proposal for an amendment of the Road Transport Act 1987 as finalised by the Transport Ministry would be brought to the next Parliament meeting.
The proposed amendments are expected to be related to Section 44 of the same law regarding driving while being drunk and causing injuries or deaths, as well as Section 45 which relates to those driving under the influence even though they are not involved in any road accidents, Takiyuddin said.
Takiyuddin said the government also backs the proposal of changing the law to make it compulsory for a jail term to be given to those convicted under Section 45, instead of leaving it to the courts' discretion.
"The government is also very supportive of the Transport Ministry's proposal to set a mandatory jail term on drivers who are arrested for driving while intoxicated (Section 45), which according to the existing provisions are still under the discretionary power of the courts," he said.
"By increasing the rate of fine and jail term, the Attorney-General, after the amendment is carried out, can prosecute offenders at the Sessions Court that has a higher jurisdiction," he added.
Checks show that the Road Transport Act's Section 44 covers the offence of driving — while being unable to have proper control of the vehicle due to the influence of alcohol or drugs, or whose alcohol levels in the body exceeds the prescribed limit — and causing a person to be injured or to die.
The penalty for the Section 44 offence is a jail term of between three to 10 years and a fine of between RM8,000 to RM20,000. Section 44 also disqualifies a person convicted of this offence from having a driving licence for at least five years, or for 10 years if they repeat the offence.
The Road Transport Act's Section 45 covers the offence of being in charge of a vehicle and being incapable of having proper control of it due to the influence of alcohol or drugs, despite not driving the vehicle. This is punishable by a maximum fine of RM1,000 and maximum three-month jail term for first-term offenders, with higher penalties of a fine of RM2,000 to RM6,000 and a maximum 12-month jail term for repeat offenders with provisions for disqualification from holding a driving licence for a certain period.
In the same statement, Takiyuddin said the government would discuss with the Attorney-General's Chambers for a deterrent step to be taken by having cases involving deaths caused by drunk drivers to also be investigated and prosecuted under the Penal Code, including under Section 302 for causing death intentionally or Section 307 for attempt to murder intentionally.
A check of the Penal Code shows Section 302 stating that the penalty for murder is a death sentence, while Section 307 covers the offence of attempt to murder which comes with various penalties including jail sentences.
"Besides that, the police also have to help the families of victims of fatal road accidents caused by drunk drivers, especially to enable them to make civil claims in court which is their right under the law," he added.
https://www.malaymail.com/news/malaysia/2020/05/29/malaysias-law-minister-govt-not-denying-non-muslims-right-to-drink-alcohol/1870601
--------
Drink driving a racial, religious weapon in Malaysian politics
Hazlin Hassan
May 30, 2020
KUALA LUMPUR - A spate of drink driving incidents, including three recent fatal ones, has made the issue a powerful political weapon pitting the Malay-led Perikatan Nasional (PN) government of Muhyiddin Yassin's against the Democratic Action Party (DAP), the Chinese-based faction with the biggest number of lawmakers in the opposition.
The Islamist Parti Islam SeMalaysia (PAS) has called for the sale of alcohol to be halted until the issue is resolved, and there are accusations on social media blaming the former Pakatan Harapan government for not banning alcohol sales in neighbourhood stores, a sensitive issue in Muslim-majority Malaysia.
"Drink driving should not be viewed lightly. It stems from weak laws and enforcement apart from the selfish and stubborn nature of drunkards," the party's information chief Kamaruzaman Mohamad said in a statement on Tuesday (May 26).
He said the PN government, which PAS is a part of, must set up a special Cabinet committee comprising several ministries to combat the scourge.
He cited World Health Organisation statistics which ranked Malaysia as tenth in the world in alcohol consumption, with over RM2 billion (S$650 million) spent on alcoholic beverages in 2016, and said that beer consumption was at a "worrying level."
However, de facto law minister Takiyuddin Hassan, who is also from PAS, on Friday said that the government would not deny non-Muslims their right to drink alcohol.
"They are free to do so, as long as they abide by the laws relating to it," he said in a statement, adding that the government backed the proposal of a mandatory jail term for drink driving, and will also seek to raise the fine and increase the jail term for drunken drivers.
A series of accidents have raised tensions on the Internet, with some Malaysians urging harsher punishments, including the death penalty, against drunken drivers.
On May 3, a policeman was killed after a suspected drunk driver rammed into him at a roadblock on the Kajang-Seremban Highway.
On May 25, a man was killed after a driver, believed to be drunk, drove against traffic and collided into him in Kuantan.
On Friday, a courier died after his motorcycle was hit by a drunk driver in Kuala Lumpur.
Reactions by netizens have been racially-charged, while the issue has also been turned into a religious one by some.
With alcohol consumption commonly associated with non-Muslims, the issue often ignites a racial backlash in Malaysia, leading to a blame game against the non-Malays, particularly when the victims were Malay.
Law student Ming Yao wrote on Twitter on May 23: "I'm really sick of seeing the same posts every week making drunk-driving a racial/religious issue. Literally nobody supports drunk drivers, you can ask any non-Muslim. Everyone rational supports heavier penalties. Nobody hates drunk drivers more than those who drink responsibly."
DAP MP Kelvin Yii Lee Wuen said he had received over 900 death threats for opposing PAS' call to ban alcohol.
"Such solutions should take a different holistic approach without infringing on or taking away the rights of others especially in a plural and multicultural country like Malaysia," Mr Yii said in a Facebook post in response to the death threats.
Both sides of the political divide have accused each other of not tackling drunken drivers effectively.
Now the pressure is on PN's Malaysian Chinese Association (MCA), a Chinese-based party in the ruling coalition.
Transport Minister Wee Ka Siong, who is from MCA, said mandatory jail sentences are being mooted, even though legal provisions for it already exist.
"If we introduce mandatory prison time, that might give some awareness to those who choose to drive under the influence," he told reporters.
Under current laws, drunken drivers who cause injury or death can be jailed for a maximum 10 years and fined up to RM20,000 (S$6,500).
DAP on Wednesday said that former transport minister Anthony Loke had planned to amend the laws to impose stricter punishments for drunken drivers, and that this would have been brought to Parliament this year.
"The issue of drink driving, which used to be a major issue for the opposition BN and PAS, is no longer a priority now that they are in government," it said in a statement, referring to the Barisan Nasional coalition.
DAP member and political secretary to party veteran Lim Kit Siang, Syahredzan Johan cited statistics from an oral reply to Parliament during former premier Najib Razak's tenure that there were 1,035 road accidents recorded between 2010 and April 2015 caused by drink driving, resulting in 618 deaths.
"I just want to ask Najib one question, why did his government not amend the laws during his nine years of rule?"
But despite the concern over drink driving, police statistics show that the number of accidents involving drink driving have actually gone down over the last few years.
In 2018, there were 54 deaths due to drunk driving, or 0.85 per cent of overall road crash casualties, and in 2017, 58 or 0.86 per cent.
This compared to 229 in 2015, which made up 3.41 per cent of overall casualties.
Professor James Chin, director of the Asia Institute at University of Tasmania, said the moves to politicise the issue come as PN attempts to find its footing, ahead of a July parliamentary sitting.
"PN is using this issue to put DAP and PH on the defensive as DAP and PKR (Parti Keadilan Rakyat) are not against drinking by non-Muslims."
Full report at:
https://www.straitstimes.com/asia/se-asia/drink-driving-a-racial-religious-weapon-in-malaysian-politics
--------
Malaysia: Ex-Malaysian premier Mahathir expelled from party
29th May 2020
By Burak Dag
(AA): Former Malaysian Prime Minister Mahathir Mohamad, with four other MPs, on Thursday was expelled from the political party which he co-founded, according to local media.
In a statement, the ruling Bersatu Party (United Indigenous Party) of Malaysia said that his membership was terminated.
Allegedly, Mahathir rejected the leadership of the current Prime Minister Muhyiddin Yassin as party president and prime minister.
"The unilateral action by Bersatu's president to sack us without valid reason is due to his own fears in facing party elections as well as his unsafe position as the most unstable prime minister in the history of the country's administration," a joint statement by Mahathir and the four others read.
The expulsion came after Mahathir sat on the opposition benches on May 18 during a Parliamentary session, publicly showing his disagreement with the country's present leadership.
Mahathir was himself ousted from power in February after a coalition he helped put together to win the 2018 election fell apart.
His opposition to Muhyiddin stems from the latter's decision to bring Bersatu into a coalition with the Barisan Nasional (BN) and Parti Islam Se-Malaysia (PAS) parties. Mahathir opposed going into an alliance with the United Malays National Organisation, which had been accused of graft in the run-up to the 2018 election.
Mahathir, 94, was the world's oldest leader until he quit in February sparking a power struggle.
The crisis ended after Muhyiddin took office after joining a new coalition, supported by the United Malays National Organisation, the party once led by former Prime Minister Najib Razak, who is on trial over corruption charges.
Full report at:
http://muslimnews.co.uk/news/south-east-asia/malaysia-ex-malaysian-premier-mahathir-expelled-party/
--------
Indonesians return to mosques, at a distance
May 30, 2020
JAKARTA, Indonesia (AP) — Muslims in some parts of Indonesia attended Friday prayers as mosques closed by the coronavirus for weeks were allowed to start reopening in the world's most populous Muslim nation.
The guidelines for worship facilities released by religious affairs minister Fachrul Razi on Friday change many traditions in mosques. Worshippers usually pray shoulder to shoulder, and they huddle, hug and shake hands once the prayer ends, with cheek-to-cheek kisses common.
Muslims in the Jakarta satellite city of Bekasi were expected to stay at least one meter (yard) apart with no handshaking, and heard shorter sermons. No children were allowed to join the prayers, and police and soldiers ensured health protocols such as social distancing and mask wearing were observed.
Similar scenes were seen in another satellite city of Bogor, and in Makassar, a big city on Sulawesi island.
President Joko Widodo said his administration wants Indonesia to remain productive economically but also safe from the virus.
The government is gradually deploying 340,000 security personnel to enforce health rules as the country prepares to reopen its economy.
Indonesia has recorded more than 25,200 coronavirus cases and more than 1,500 deaths, the highest number of fatalities in Southeast Asia.
In other developments in the Asia-Pacific region:
— MANILA LOCKDOWN EASING: Philippine President Rodrigo Duterte is relaxing a lockdown in the capital as the economy weakens and the government helps feed millions restricted to their homes. Metropolitan Manila will move to a more relaxed quarantine on Monday after more than two months of police- and military-enforced lockdown. More work and business operations, along with public transport, will be allowed to resume, but physical distancing and other safeguards will be required. Duterte made the announcement hours after the Department of Health reported a single-day spike of 539 infections, more than 60% of them in the congested capital. That brought the total number of infections to 15,588, including 921 deaths.
— ANOTHER RECORD JUMP IN INDIA: India registered another record daily increase with 7,466 new coronavirus cases. The Health Ministry's new figures on Friday show India now has 165,799 confirmed cases with 4,706 deaths, which both now exceed China. India's two-month lockdown is set to end on Sunday. Prime Minister Narendra Modi's government is expected to issue new guidelines this weekend, possibly extending the lockdown in worst-hit areas as it promotes economic activity. Most cases are concentrated in states with densely populated cities, but cases have been increasing in some of India's poorest eastern states after migrant workers who lost jobs in the cities returned to their native villages.
— THAI RULES EASING: Thai authorities are further relaxing restrictions imposed two months ago to contain the coronavirus. Cinemas, theaters, zoos and aquariums can reopen Monday but must limit the number of admissions. Cinemas can sit a maximum of 200 people at a time, seated at a safe distance from each other with the exceptions of couples. Other establishments allowed to reopen include massage parlors, gyms, bowling alleys and sports venues. Thailand has had only single-digit increases in cases for most of May. On Friday it announced 11 new cases, bringing the total to 3,076 including 57 deaths.
— RULES RELAXED FOR CHURCHES: Australia's New South Wales state will allow larger religious gatherings starting Monday. Australia's largest state changed its guidance after Sydney Archbishop Anthony Fisher noted the rules were unfairly more strict on churches than pubs. Their capacity limits will increase from 10 to 50 people from Monday. "It is crucial that worshipers remember to follow health advice," especially people vulnerable to the virus, state Premier Gladys Berejiklian said. The state's chief health officer, Kerry Chant, advised finding alternatives to church practices that might spread the virus, like singing, sharing books and passing around collection plates.
— ONE ACTIVE CASE: New Zealand is down to just one person in the entire nation of 5 million people who is known to be infected with the coronavirus after no new cases have been detected for the past week. In total, 1,504 people were found to have contracted the virus. Of those, 1,481 have recovered and 22 died. About 275,000 people have been tested. The country has set a goal to eliminate the virus altogether, an ambition aided by a strict lockdown in late March that has been gradually eased in recent weeks.
— NO NEW CASES IN CHINA: China on Friday again reported no new cases of the coronavirus and no new deaths. Just 70 people remain in hospitals and another 414 are being isolated and monitored for possibly having the disease or for having tested positive without showing any symptoms. China has reported a total of 4,634 deaths from the disease among 82,995 cases.
— THANKS TO MEDICAL WORKERS: A Japanese Air Self-Defense Force's aerobatics team performed a demonstration flight to express gratitude to medical workers. The six Blue Impulse aircraft flew for about 20 minutes over Tokyo to thank medical personnel, who have faced discrimination from those who fear being infected. Japan ended a seven-week state of emergency on Monday. It had 16,719 cases and 874 deaths as of Thursday, according to the health ministry. The governor of Tokyo, Yuriko Koike, said Friday the city is ready to move to step 2 of a three-phase road map to gradually reopen businesses. As of June, theaters, cinemas, gyms and retailers will be allowed to open.
Full report at:
https://apnews.com/f21e41e7c7c587eb710ee11862db3bb0
--------
Arab World
Saudi Arabia Opens Prophet's Mosque In Medina To The Public From May 31
30 May 2020
Saudi Arabia's King Salman bin Abdulaziz approved on Friday opening the Prophet's Mosque in Medina to the public starting from Sunday, May 31, as part of the government's plan to ease coronavirus restrictions and re-open the Kingdom.
Worshippers will be able to enter the Prophet's Mosque for group prayers, with a limit of 40 percent capacity, starting from Fajr prayers on Sunday, state-run television Saudia TV reported.
Visit our dedicated coronavirus site here for all the latest updates.
The General Presidency for the Affairs of the Two Holy Mosques implemented several coronavirus precautionary measures including: removing all carpets from the Prophet's Mosque grounds, so that worshipers pray on the marble floors.
The authority also issued COVID-19 safety guidelines for praying in mosques: worshippers should wear face masks, worshipers should practice social distancing while praying with others in congregational prayers (Jamaa'a), and worshippers should bring their own prayer mats to pray on.
The Kingdom had announced on Tuesday the details of its phased plan to ease coronavirus restrictions and eventually restore "normal" conditions.
It started implementing the first phase on Thursday, by shortening curfew and allowing for some economic activities to resume operations.
The second phase, which starts on Sunday, includes reduced curfew hours and allowing Friday prayers and all congregational (Jamaa'a) daily prayers in all mosques across the Kingdom, except in Mecca.
https://english.alarabiya.net/en/coronavirus/2020/05/30/Coronavirus-Saudi-Arabia-opens-Prophet-s-Mosque-in-Medina-to-the-public-from-May-31.html
--------
Saudi Arabia confirms virtual donors conference for Yemen in partnership with UN
29 May 2020
Saudi Arabia confirmed that it will organize a virtual donors conference for Yemen on Tuesday in partnership with the United Nations.
The state-run Saudi Press Agency on Friday cited a directive from King Salman, announcing the pledging conference.
The United Nations on Thursday announced the conference in partnership with Riyadh, saying the aim is to raise some $2.4 billion to pay for the world's biggest aid operation.
Around 80 percent of Yemen's population - 24 million people - need aid. The country has been mired in conflict since the Iran-backed Houthi group ousted Yemen's government from the capital Sanaa in 2014. An Arab-led military coalition intervened in 2015 in a bid to restore the government.
https://english.alarabiya.net/en/News/gulf/2020/05/29/Saudi-Arabia-confirms-virtual-donors-conference-for-Yemen-in-partnership-with-UN.html
--------
Coronavirus: Saudi Arabia records more recoveries than new cases
29 May 2020
Saudi Arabia's recovery numbers continued to increase as it saw a downward trend with its decreasing daily new cases.
The Kingdom recorded 2,460 new recoveries while it detected only 1,581 new coronavirus cases over the past 24 hours, according to the health ministry on Friday.
A total of 57,013 individuals have recovered so far in Saudi Arabia, while the death toll remained relatively low at 458 fatalities, the health ministry confirmed in a statement.
Saudi Arabia confirmed 81,766 total infection cases so far, however, only 24,295 – about 30 percent –are active cases.
Saudi Arabia has lifted some restrictions on movement for residents within the country and is now allowing travel between its provinces in a partial easing of its coronavirus lockdown, the Ministry of Interior announced on Thursday.
More shops, including wholesale, retail and malls, will also be allowed to reopen in a further lifting of the lockdown restrictions, as long as all precautionary measures are adhered to.
All activities that don't allow social distancing remain banned until further notice.
The Kingdom also set mandatory guidelines for mosques as they reopen for daily prayers as well as Friday prayer.
Saudi authorities said mosques will open for the daily prayers and the weekly Friday prayers during the second stage of the easing of restrictions starting next Sunday, May 31, until Saturday, June 20.
Full report at:
https://english.alarabiya.net/en/coronavirus/2020/05/29/-Coronavirus-Saudi-Arabia-records-more-recoveries-than-new-cases.html
--------
Reforms to judiciary, electricity remain major hurdles for Lebanon to receive IMF aid
29 May 2020
Currently in the throngs of an unprecedented economic crisis, Lebanon again is faced with a choice – make reforms or likely receive no international aid.
But for years, the country has failed to make reforms across the board – including in its ailing electricity sector that still leaves some Lebanese with just six hours of power a day and its judicial system that is rife with corruption.
This time, like the last time Lebanon asked for help, aid is unlikely to come to fruition without serious reform.
In 2018, $11 billion was pledged by international donors at the French-organized CEDRE conference on the condition of major reforms that are yet to be implemented.
Now, as inflation continues to rise and the economy sinks deeper into recession after defaulting on its Eurobond debt in March, Lebanon has asked the International Monetary Fund for $10 billion, and it intends to cash in on the billions pledged in France as well.
The government, led by Prime Minister Hassan Diab endorsed a rescue plan in late April designed to attract foreign aid to pull the country out of its financial and economic crisis.
Opposition political figure Samir Geagea on Friday said Lebanon has scant chance of securing IMF aid as the government fails to enact required reforms.
From the IMF's perspective, failure to make progress has hindered Lebanon's position in talks.
"Different numbers of losses presented by the government and the Banque Du Liban, lack of progress on judicial and other appointments or stalled electricity sector reform only weaken Lebanon's position in talks with the IMF. The country and the people cannot afford that any more," said Jan Kubis, United Nations' special coordinator for Lebanon in a tweet.
Jan Kubis
@UNJanKubis
Different numbers of losses presented by the government and the Banque du Liban, lack of progress on judicial & other appointments or stalled electricity sector reform only weaken #Lebanon's position in talks with the IMF. The country and the people cannot afford that any more.
303
1:34 PM - May 27, 2020
Twitter Ads info and privacy
153 people are talking about this
An old problem
The electricity sector in Lebanon has long been beset by challenges. While much of the country's public infrastructure was destroyed during its 15-year Civil War that ended in 1990, subsequent reconstruction efforts often focused on high-end property developments in the capital Beirut.
Residents of Beirut contend with three-hour daily power cuts, while some rural areas have just face 18-hours with no electricity. These daily blackouts force many inhabitants to rely on private generators, and costs are often more expensive than state utility bills.
"When we observe the electricity sector in Lebanon in comparison with other countries, it is outrageous that after 30 years we haven't advanced," Jamal Saghir, a former director of sustainable development at the World Bank, said in an online discussion organized by the Beirut community space the Hub.
The state-run Électricité du Liban (EDL) generates an annual deficit of up to $2 billion, costs the country around 4.5 percent of its yearly GDP, and still only manages to generate around 50 percent of the electricity Lebanese receive, Saghir explained.
"We cannot solve the financial crisis in Lebanon without tackling the electricity sector, and I am sure that this will be the core element of the IMF program in Lebanon," Saghir added. This is also one of the peak symbols of corruption in Lebanon."
For years, EDL has contributed to Lebanon's massive public debt of $90 billion, and the country's debt-to-GDP ratio stood around 170 percent as of March.
Since 1993, political parties have generated revenue from EDL, Monir Yehya, former member of the Board of Directors of EDL, told Al Arabiya English. High-value contracts made investing in the sector attractive which led to "political parties favoring their own interests over the benefit of the sector," Yehya explained, meaning there has been little incentive to reform.
Yehya said where problem is four-pronged – technical, financial, institutional, and legal – politicians deliberately focus on the technical-production and ignore other problems, a key reason the sector has crumbled.
Political will needed
"A deadly mistake that we have done since 1993 is that we have enacted electrical factories that function on diesel," Yehya added. "The solutions which include sustainable energy are there, what you need is not technicalities, but a political will."
Underlying structural and technical problems though, is the issue of political will, which has bedeviled another area of government reform: the judicial system.
A fair and independent judiciary was among the main demands of the nationwide protests that started October 17. But despite protests in favor of a law to curb judicial corruption, parliament in recent sessions declined to consider the law.
Like all institutions in Lebanon, the judiciary system is riddled with corruption sectarian complexities.
"When a judge is chosen based on his sect and the seats are divided under the typical sectarian divisions, any judge wouldn't be able to take independent decisions that are not influenced from religious authorities that in turn affect the religious political leaders and vice versa," Azzah Soleiman, professor of law at the Lebanese University told Al Arabiya English.
Lebanon's public sector jobs are often distributed by sectarian political leaders on the basis of party loyalty rather than merit, reinforcing the clientelist patronage networks upon which most government and parliament members rely.
"All politicians call for the independence of the judiciary and simultaneously criticize the judge's decision when they don't like it," Soleiman added.
Earlier this month, leader of the Christian Marada Movement Sleiman Frangieh refused to extradite fellow party member Sarkis Hliess after charges of corruption were leveled against him. Frangieh accused Judge Ghada Aoun of being biased in favor of the Free Patriotic Movement, after she ordered the arrest of several employees at the energy ministry.
"In my opinion with all due respect to the efforts of the few judges, the only serious attempt that pushes for judiciary reforms came from the October 17 protests as the trust between people and the judiciary system became weak," Soleiman said.
The Lebanese Supreme Judicial Council presented judicial reforms in early March that sought to improve the judiciary, but because of political disputes, the legislation has not passed.
"To be able to have an independent judiciary you have to have an independent government, not like the one we have," said Yehya. "In the absence of that, you will never achieve any serious reforms."
Full report at:
https://english.alarabiya.net/en/News/middle-east/2020/05/29/Reforms-to-judiciary-electricity-remain-major-hurdles-for-Lebanon-to-receive-IMF-aid.html
--------
Caught in between: Syrians seeking to return from Lebanon stuck in buffer zone
29 May 2020
As the economy in Lebanon continues to plummet, an increasing number of Syrian refugees have opted to chance returning to Syria, but with the border closed due to coronavirus, some have gotten stuck in the buffer zone between the countries.
According to a rights monitoring group and officials, in recent weeks, dozens of Syrians have gotten stuck at the border at the Masnaa crossing. Although the border has been officially closed since mid-March, Lebanese citizens have been allowed to return from Syria and some Syrians have been allowed to cross in the other direction.
A report released Tuesday expressed concerns that deteriorating conditions in Lebanon are pushing Syrians to unsafe returns.
"At the beginning of this month, dozens of Syrian families gathered for long days at the Syrian-Lebanese border, desiring to return to Syria because of the bad conditions they are suffering in Lebanon," the monitoring group Syrian Association for Citizens' Dignity (SACD) wrote.
Refugees seeking to return to Syria had arrived at the border in different groups over the past several weeks, Haya Atassi, a spokeswoman for SACD, told Al Arabiya English.
The Syrians had passed the last checkpoint marking the end of Lebanese territory and entered into a buffer zone with shared authority between the two countries, which extends for several kilometers before the Syrian border, but they were denied entry at the Syrian border, she said.
No man's land
"They thought they would be allowed to enter into their country, but they were not, so they got stuck in no man's land, in this area between the Syrian and the Lebanese border," she said.
From time to time, she said, the Syrian authorities would allow a group to come through and go into quarantine, but said it seemed to be "arbitrary" which citizens were allowed to cross.
Read more: Link between Lebanon and Syria's economies spells disaster for both
While returning Lebanese citizens are told to quarantine at home for two weeks, returning Syrians are required to go into government-run quarantine facilities.
A spokesman for Lebanese General Security confirmed that Syrians had gotten stuck at the border but said he did not know how many. The Syrians, he said, had "left Lebanon via an illegal crossing without passing by General Security, and they are stuck with the Syrian (authorities) who will not let them in before they do a coronavirus test."
Syrian authorities did not respond to requests for comment.
At the Lebanese General Security office ahead of the border crossing Thursday, a few groups of Syrians approached with suitcases in hand but were turned back by General Security officers who said they needed a negative COVID-19 test and permission from the Syrian embassy in Beirut in order to cross.
Al Arabiya English was not granted permission to enter the buffer area at the border to speak to the Syrians stuck there.
Alternative routes
Shortly after being turned away from the official crossing, one group of men could be seen making their way through the barren hills facing the crossing on foot, hauling their suitcases.
Another group – two men and a woman along with a baby and small child – told Al Arabiya English that they had applied at the Syrian embassy for repatriation two months ago but had gotten tired of waiting. One of the young men, who declined to give his name, said they had no work and had run out of money.
"We don't have enough money left to eat," he said. The young man said they had heard that "the people who are there at the border, every week or ten days they're letting them across. We said we'll come and sit until they let us in, because otherwise, we don't have anything."
Atassi said that some refugees who had legal residency in Lebanon had been able to return back to Lebanese territory, while others had managed to cross into Syria, in some cases by paying smugglers or bribing border guards. But several dozen others remain stuck, she said.
Watch: Coronavirus: Syrian refugees in Lebanon fear outbreak in crowded camps
Aid organizations had not been allowed access and that the Syrians had been buying food and drinks from the border guards, she said. UNHCR officials declined to comment on the situation.
Lebanese officials have been vocal in pushing for the Syrian refugees – of whom there are currently about 910,000 registered and potentially hundreds of thousands more unregistered in the country – to go back to Syria.
Before the coronavirus hit, Lebanese General Security had been organizing "voluntary return" trips for Syrians willing to repatriate every month or two. In the last trip in February, General Security reported that 1,093 Syrians had gone back. UN officials, who interview the returnees before they go, have said that economic issues and the rising cost of living have been among the major reasons cited for going.
With the economic situation now deteriorating even further in the face of the COVID-19 crisis, the SACD report raised concerns that failure by the international community to provide adequate support to the refugees would amount to a "de facto forced return" into potentially unsafe conditions.
Full report at:
https://english.alarabiya.net/en/features/2020/05/29/Caught-in-between-Syrians-seeking-to-return-from-Lebanon-stuck-in-buffer-zone.html
--------
From the coronavirus frontlines: Lebanon's hotline volunteers work around the clock
29 May 2020
For 13 of the 15 years of Lebanon's civil war, Maher al-Kharrat drove ambulances and treated the injured with the Lebanese Red Cross under the constant threat of being caught in crossfire. Now he is on the frontlines of a new battle – the one against the novel coronavirus.
"There is no fighting now, but we are still at war," the 54-year-old told Al Arabiya English.
Kharrat is one of a team of around 50 volunteers who work around the clock to man the phones of the COVID-19 hotline at Rafik Hariri Hospital – Lebanon's largest public hospital and the hub of the country's coronavirus response.
The basement call center in southern Beirut, housed in the headquarters of state-run telecoms company Ogero, receives an average of 100 calls per day, spiking to 500 on the busiest days.
Operators were trained on how to answer questions on the novel coronavirus, guide patients on quarantine procedures, follow up on suspected cases and coordinate with doctors and ambulance services to transport patients with severe symptoms to hospital.
When an operator receives a call, they can search key terms into the network's COVID-19 database, updated regularly in coordination with medical staff at the hospital, to make sure the caller gets accurate advice and information.
"This is essential for this disease that in one way or another came out of the blue," said Dr. Firas Abiad, the hospital's director. "People have a lot of anxieties about COVID-19, because we still don't really know much about it."
A huge responsibility
With the volunteers taking a new call around every five minutes, the work can be stressful, tiring and emotionally draining.
"When I get home I am exhausted," said 22-year-old public health graduate Tracy Israel, who signed up to volunteer at the call center after struggling to find full-time employment.
"There's this weight of a huge responsibility to make sure people get what they need and feel at ease."
Despite the efforts of the team to allay the fears of anxious callers by calmly and reassuringly giving detailed advice or guidance, there are times when they just cannot get through.
"People under stress can get aggressive, and sometimes they scream down the phones at us and make threats," Kharrat said.
In late May, the Red Cross veteran suffered a heart attack and had to undergo surgery. But just four days later, he was back in his chair, answering calls and directing less experienced volunteers.
"I had to come back to help, I know many people out there are suffering," he said.
Ola Bazzi, a 23-year-old volunteer who describes herself as naturally shy, was nervous about handling different personalities over the phone when she first joined the team in April, but said she has learned to empathize.
"The aggressive people make up a tiny minority of callers, but I understand them in one way or another – it's a stressful time."
In April, the Lebanese Health Ministry began conducting random coronavirus tests across the country to gain a better idea of the virus' spread.
For the last two weeks, the Rafik Hariri Hospital hotline has been responsible for giving out the results to those who have been tested.
"This is when the pressure really started," Bazzi said. "People call and expect the result straight away, even though we tell them the test takes 48 hours to be processed."
Smart software
The call center is run by the National Council for Entrepreneurship and Innovation (NCEI), which provided software to forecast busy periods, analyze calls in real-time and provide recommended responses to common queries.
"This means that operators can always give the same answers to the same questions," Maan Barazy, NCEI's president said. "We don't leave anything to chance."
The specialized algorithm prompts operators to follow up with patients who have suspected symptoms, ensuring they can quickly get the care they need should their condition deteriorate. It also allows staff to trace everyone a patient has been in close contact with should they test positive for COVID-19.
When a patient needs to be admitted to hospital, their symptoms and medical history collected by operators at the call center are then shared with the staff at the hospital's coronavirus unit.
"This way, the ER team knows exactly what to expect when the patient arrives," Barazy said.
The system also helps monitor patients who have been discharged from the hospital that no longer need urgent care but are still contagious.
For Dr. Mahmoud Hassoun, who heads the hospital's dedicated coronavirus unit, the smart software is where the call center really comes into its own.
"The algorithm does not make mistakes," he said. "It's a real added value for our hospital to help us curb the spread of the virus."
The hospital at the heart of the battle
The Rafik Hariri University Hospital has become the reference center for the country's COVID-19 response as it was the first hospital to receive coronavirus patients when the first case was confirmed on February 21.
The hospital has long suffered from chronic underfunding and under-resourcing and staff staged protests earlier this year to demand unpaid salaries and better living conditions.
Full report at:
https://english.alarabiya.net/en/coronavirus/2020/05/29/From-the-coronavirus-front-lines-Lebanon-s-hotline-volunteers-work-around-the-clock.html
--------
Air travel amid COVID-19: Emirates warns of coronavirus-related phishing email, scams
29 May 2020
Emirates airline warned the public against phishing email attacks that claim previously booked air tickets were cancelled due to the coronavirus pandemic and offer a fake link for a "refund."
The Dubai-based airline said: "We've been alerted to recent email phishing attacks that contain the subject 'Your flight is cancelled: collect your refund.' These are not emails sent from Emirates."
It added: "Please be careful to protect your personal information and don't respond or click on links in such emails. The easiest way to detect a fake email is to look at the email address it was sent from."
Visit our dedicated coronavirus site here for all the latest updates.
"All official emails from Emirates are sent from one of these two email addresses: emirates@e.emirates.email or do-not-reply@emirates.email."
According to the US Cybersecurity and Infrastructure Security Agency: "Phishing emails are crafted to look as if they've been sent from a legitimate organization. These emails attempt to fool you into visiting a bogus web site to either download malware (viruses and other software intended to compromise your computer) or reveal sensitive personal information. The perpetrators of phishing scams carefully craft the bogus web site to look like the real thing."
There have been several attempts to scam people for money, utilizing the current uncertainty surrounding and restrictions on air travel due to the COVID-19 pandemic.
Earlier this week, the Consulate General of India in Dubai warned Indian nationals in the UAE of people running scams, collecting money and claiming to operate repatriation flights.
Also, Pakistan's Consul-General in Dubai warned Pakistani nationals against buying tickets online for repatriation flights as there are fraudsters who run scams targeting Pakistanis seeking repatriation flights out of Dubai.
Flight operations
Emirates airlines website recently enabled the option to book flights out of Dubai to 16 destinations in 12 Arab countries, starting from July 1.
The airline's website allowed booking flights to destinations in Egypt, Saudi Arabia, Kuwait, Oman, Bahrain, Iraq, Tunisia, Morocco, Algeria, Lebanon, Jordan and Sudan.
However, the airline was keen to emphasize that while it is allowing bookings, the situation remains dynamic and could be subject to change.
"Currently some of our flights are available for booking starting 1 July, however the situation still remains dynamic and these flight services could be subject to change. We aim to provide our customers with as much notice as possible should there be any changes," said Emirates in a statement.
"COVID-19 flight and travel restrictions remain in place across many countries around the world. We are closely monitoring the situation as it evolves, and we hope to resume services as soon as conditions allow. This includes receiving government approvals, the easing of travel restrictions, and commercial demand. We will announce any service resumption when we are in a position to do so," it added.
The airline had also announced earlier in the month, operating flights to the UK, Germany, France, Italy, Spain, the US, Canada, and Australia until June 30.
Full report at:
https://english.alarabiya.net/en/coronavirus/2020/05/29/Air-travel-amid-COVID-19-Emirates-warns-of-coronavirus-related-phishing-email-scams.html
--------
Coronavirus: India's passport centers in Saudi Arabia resume services from June 3
29 May 2020
India's passport and visa application centers in various locations in Saudi Arabia will resume passport services starting from June 3, while applying strict coronavirus precautionary measures.
The Indian consular services offered in Riyadh and Jeddah centers had been suspended since March 13 as part of the Kingdom's measures to contain the spread of COVID-19.
However, after Saudi Arabia shortened curfew and eased coronavirus restrictions, a few centers will resume operations.
"Priority in appointments will be given to those whose passports have already expired or are due to expire soon and who need to travel or renew iqamas (residency visa)," the Embassy of India in Riyadh said in an advisory on Thursday.
"Only those who genuinely need to have their passports reissued should seek appointment. Please understand that every request for appointment cannot be accommodated immediately under the given circumstance," it added.
The centers will operate between 8:30 a.m. and 5 p.m. in a staggered manner. Here are the days operation:
Riyadh, Um al-Hammam: June 3 onwards.
Riyadh, Batha: June 3-15.
Al-Khobar: June 3-15.
Dammam: June 7 onwards.
Jubail: June 7 onwards.
Buraidah: June 7 onwards.
Hail: June 7 onwards.
India in SaudiArabia
✔
@IndianEmbRiyadh
Embassy Notice on delivery of Passport Services
View image on Twitter
256
1:28 PM - May 29, 2020
Twitter Ads info and privacy
137 people are talking about this
The centers set strict coronavirus precautionary measures to avoid crowding and maintain social distancing, including:
Prior appointment for submission of application for passport-related or attestation services is mandatory. Applicants without a confirmed appointment will not be allowed.
People can make an appointment by sending an email to info.inriyadh@vfshelpline.com or calling (920006139).
Only the applicant with a confirmed appointment will be allowed to enter at the center at the assigned time.
All applicants must wear a face mask to enter the center. No applicant without a mask will be allowed to enter.
Temperature of each applicant will be checked before entry.
https://english.alarabiya.net/en/coronavirus/2020/05/29/Coronavirus-India-s-passport-centers-in-Saudi-Arabia-resume-services-from-June-3.html
--------
Qatar rejects rumours of departure from regional union amid diplomatic row
29 May 2020
A high-raking Qatari official has dismissed reports that the gas-rich country is intending to leave the Persian Gulf Cooperation Council (GCC) amid a diplomatic standoff with Saudi Arabia and a number of its regional allies.
"Reports claiming that Qatar is considering leaving the GCC are wholly incorrect and baseless," Lolwah Rashid al-Khater, the spokesperson for the Qatari Foreign Ministry, told AFP on Thursday.
She added, "Such rumors must have originated from people's despair and disappointment with a fractured GCC, which used to be a source of hope and aspiration for the people of the six member countries."
"As we are reaching the third year of the illegal blockade on Qatar by Saudi, UAE (the United Arab Emirates) and Bahrain, there is no wonder why the people of the GCC are doubting and questioning the GCC as an institution."
"Qatar hopes the GCC will once again be a platform of cooperation and coordination. An effective GCC is needed now more than ever, given the challenges facing our region," Khater pointed out.
In recent weeks, there have been talks of Qatar's imminent departure from the Arab council in some Arabic-language media outlets, with pundits and diplomats terming it as fairly likely.
'Qatar blockade threatens region's security, stability'
Separately on Thursday, Permanent Representative of Qatar to the United Nations, Sheikha Alya Ahmed bin Saif Al Thani, said the land, air and sea blockade, which Saudi Arabia and some of its regional allies imposed on Doha nearly three years ago, threatens the security and stability of the Middle East, and violates international law.
Speaking during a virtual meeting held by the UN Security Council on the 'Protection of civilians in armed conflict', she said the blockade was imposed under false pretexts without regard for the dire consequences for the security and stability of the region.
"The Arab region is witnessing many crises and conflicts that cause tremendous suffering. Instead of seeking to settle these crises, the blockading countries have chosen a path that violates the provisions of international law," Al Thani pointed out.
Saudi Arabia, the UAE, Bahrain and Egypt severed diplomatic and trade ties with Qatar on June 5, 2017, after the quartet officially accused Doha of meddling in regional affairs and supporting terrorism.
Qatar's Foreign Ministry condemned the decision to cut diplomatic ties as unjustified and based on false claims and assumptions.
On June 9, 2017, Saudi Arabia and its allies issued a 13-point list of demands, including the closure of al-Jazeera television news network and downgrade of relations with Iran, in return for the reconciliation.
Full report at:
https://www.presstv.com/Detail/2020/05/29/626342/Qatar-rejects-rumors-of-departure-from-regional-union-amid-diplomatic-row
--------
Mideast
Israel stops call to Muslim prayer at Hebron's Ibrahimi Mosque
May 29, 2020
Israeli forces today prevented the call for dawn prayer at the Ibrahimi Mosque in the occupied city of Hebron, denying Muslim worshippers access to the site, according to the Wafa news agency.
The Palestinian Authority condemned occupation forces for deliberately infringing on religious freedoms by applying such restrictions.
The Ibrahimi Mosque was closed from early March whilst the occupied West Bank was dealing with the outbreak of the coronavirus, it reopened on Tuesday, along with the Church of Nativity in Bethlehem.
Slamming Israel's latest violations, Director and Head of the Ibrahimi Mosque, Sheikh Hafthi Abu Esnaina, said: "The Israelis strive to keep Muslim worshippers away from the site by closing the electronic gates and blocking residents' paths at military checkpoints."
He added that "an attack on the holy places of Islam" contravenes international treaties on religious freedom.
Occupation forces also prevented the Hebron Rehabilitation Committee (HRC) from continuing restoration works at the holy site yesterday under the pretext that they did not have the necessary permissions to do so.
Sheikh Hafthi, however, explained that work at the mosque falls within the authority of the Palestinian Ministry of Waqf.
The Old City of Hebron, Al-Khalil in Arabic, includes the Ibrahimi Mosque which is known to Jews as the Cave of the Patriarchs. It was listed as a UNESCO World Heritage site in 2017.
https://www.middleeastmonitor.com/20200529-israel-stops-call-to-muslim-prayer-at-hebrons-ibrahimi-mosque/
--------
Iran Official Informs of Reduction of Coronavirus Figures, Hopes Uprooting Virus
May 29, 2020
Alireza Zali said the numbers of COVID-19 infections and fatalities are promising.
"The figures indicate the virus is being weeded out as the number of infections is falling," Zali added.
He noted that over 88% of those infected with COVID-19 in Tehran have recovered, adding that they are recovered after 5.17 days on average, which is an unprecedented record.
The Iranian health ministry announced on Friday that 2,819 new cases of infection with coronavirus have been identified in the country in the past 24 hours, adding that more than 114,931 patients have recovered.
"2,819 more patients infected with COVID-19 virus have been identified in the country in the past 24 hours based on confirmed diagnosis criteria," Health Ministry Spokesman Kianoush Jahanpour said on Friday.
He explained that 547 new patients were hospitalized and 2,272 others were identified as outpatients.
Jahanpour noted that the total number of coronavirus patients in the country has increased to 146,668 people.
He expressed pleasure that 114,931 patients have been recovered and been discharged from hospitals.
Jahanpour said that 7,677 people have lost their lives due to infection to the virus, including 50 in the past 24 hours.
The ministry's spokesman, meantime, expressed concern that 2,547 patients infected with COVID-19 virus are in critical conditions.
He went on to say that there have been no reports of death in 15 provinces during the past 24 hours, and that 5 provinces have reported just one dead each.
Expressing concern over the red condition of Khuzestan province, Jahanpour added that there are concerns about Khorasan Razavi and East and West Azarbaijan provinces, as well.
Iranian Health Minister Saeed Namaki stressed on April 7 effective measures to control coronavirus epidemic, expressing the hope that the disease would be controlled in Iran by late May.
"At present, the country is in the phase of disease management and we should not imagine that we have reached the harness and control phase. Today is the time for full-fledged combat against the virus. God willing, we will control coronavirus by late May. The virus should be controlled in the minimum possible time," Namaki said, addressing the Iranian legislators in an open session of the parliament in Tehran.
He noted that at least 30% to 50% of hospital beds are still vacant across Iran and nearly 15,000 beds are ready to keep the patients who are recovering from coronavirus disease.
"We have now moved down to tank 6th in terms of deaths," Namaki said, adding that the country's situation in treatment of patients will improve in the next few days.
The coronavirus COVID-19 is affecting approximately all countries and territories around the world. The virus was first reported in the central Chinese city of Wuhan late last year. It has so far killed more than 362,000 people and infected over 5.92 million others globally.
The Iranian foreign ministry declared that despite Washington's claims of cooperation to transfer drugs to Iran via the new Swiss-launched payment mechanism, the US is troubling the process amid the coronavirus outbreak in the country.
Although US claims that medicines and medical equipment are not under sanctions, they have practically blocked the transfer of Iran's financial resources in other countries into the Swiss Humanitarian Trade Arrangement (SHTA), Iranian Foreign Ministry Spokesman Seyed Abbas Mousavi said.
As the death toll from the virus surges, Iran intensifies its preventive safety measures. Closures of schools and most universities have been extended until further notice.
The government also imposed travel restrictions, specially on Iran's North, which is among the red zones. The country has also adopted strict digital health control procedures at airports to spot possible infections.
Namaki announced last month that a new national mobilization plan would be implemented across the country to fight against the coronavirus epidemic and more effectively treat patients.
Namaki said that the plan will include all the 17,000 health centers and the 9,000 medical and clinical centers in all cities, suburban areas and villages.
He added that the plan will include home quarantine, noting that infected people will receive the necessary medicines and advice, but they are asked to stay at home.
Namaki said that people with a more serious condition will stay at the hospitals, adding that the public places will be disinfected, the entries of infected towns and cities will be controlled to diagnose and quarantine the infected cases.
He added that the necessary equipment and facilities have been provided, expressing the hope that the epidemic would be curbed.
According to the latest statistics of Health Ministry, the number of medical laboratories to test coronavirus infection has reached over 90 across the country.
The World Health Organization (WHO) says Iran's response to the virus has so far been up to the mark. Still, it says the US sanctions are a big challenge, and Washington would be complicit in the rising death toll in Iran if it would not remove its sanctions.
Full report at:
https://en.farsnews.ir/newstext.aspx?nn=13990309000345
--------
Iran's 4th Tanker Anchors at Venezuelan Port
May 29, 2020
The fourth of the Iranian flotilla, carrying gasoline and related products to Venezuela, has successfully anchored in a Venezuelan port in the morning of May 29.
Iran's fourth tanker carrying fuel to Venezuela had entered the Latin American country's special economic zone on May 28.
According to a report by Marine Traffic website which tracks the traffic of tankers in the international water, Faxon tanker entered Venezuela's special economic zone on Thursday morning.
Iran has sent five tankers loaded with 1.53 million barrels of gasoline and alkylate to Venezuela to help jump start the oil refineries in the Latin American state amid a fuel crisis.
Three of the vessels, Fortune, Forest and Petunia, have already reached Venezuela under military escort.
The fourth tanker Faxon arrived in the Caribbean Sea on Wednesday and in Venezuela's special economic zone on Thursday while the last ship, Clavel, is en route to Venezuela.
Iran's fuel supply to Venezuela has sharply irked the US as the oil sectors of both countries are subject to draconian American sanctions.
A US official said earlier this month that President Donald Trump's administration was considering responses, prompting Tehran to warn of retaliatory measures if Washington causes any problem for the tankers.
On Friday, President Rouhani said his country is always entitled to defend its sovereignty and territorial integrity, and warned that if his country's oil tankers in the Caribbean or anywhere in the world get into trouble by the Americans, Tehran will definitely retaliate.
"Although some of the US measures have created unacceptable conditions in different parts of the world, we will not be the initiator of tension and clash," Rouhani said in a phone call with the Qatari Emir, Sheikh Tamim bin Hamad Al Thani.
Referring to the American moves in the Caribbean, he reiterated, "If our oil tankers face problems in the Caribbean Sea or anywhere in the world by the Americans, they will face problems reciprocally."
We see the conditions today more apt for cooperation, especially given the outbreak of this disease; but the US continues its incorrect decisions and inhumane behaviors, the president noted.
He made it clear, "As before, we stress that the security of our region, particularly the marine security, is maintained by the regional countries and we have always announced that we are ready for cooperation with the neighboring countries."
The Qatari Emir, for his part, underlined that the regional security should be maintained by the countries in the region and they should cooperate with each other to secure waterways in the region.
Hamad Al Thani also added that his country will try to deescalate tension.
Also, Chief of Staff of the Iranian Armed Forces Major General Mohammad Hossein Bagheri on Friday warned Washington of the dire repercussions of any hostile move against Iran's interests, vowing that Tehran would not hesitate to strike back in case it is targeted by the US.
Bagheri noted Iran's right to free shipment in the high seas, and stressed that the armed forces are constantly monitoring every small move of the enemies, including the adventurous, terrorist and antihuman American army in the region and faraway lands.
"We stand firm and decided to give the US an appropriate response for any miscalculation against the national interests of Iran," the top commander stressed, in a stern warning to the US to avoid any hostile move aganst five Iranian tankers carrying fuel to Venezuela.
Venezuela's defense minister said last Wednesday that planes and ships from the nation's armed forces will escort Iranian tankers arriving with fuel to the gasoline-starved country to prevent any US aggression.
Defense Minister Vladimir Padrino López said Venezuela's navy and air force will welcome the five Iranian tankers, seeing them through the nation's maritime territory and into port.
He compared the fuel tankers to humanitarian aid that China and Russia have sent to help Venezuela combat the new coronavirus pandemic.
Meantime, Iranian Defense Minister Brigadier General Amir Hatami warned the US against any hostile move or trouble-making for the country's oil tankers in international waters.
"Troubling the oil tankers is a violation of international laws and security. Both international organizations and countries which are sensitive to the laws and waterways' security should certainly show reaction to such an act," General Hatami told reporters after a cabinet meeting in Tehran last Wednesday.
He described any possible US trouble-making for the Iranian tankers in the free waters as "piracy".
Full report at:
https://en.farsnews.ir/newstext.aspx?nn=13990309000368
--------
AEOI Blasts US' Decision to Blacklist Iran's Nuclear Scientists
May 29, 2020
"The desperate attempts and unwise measures taken by White House decision-makers to sanction two Iranian nuclear scientists indicates continuation of US Administration's hostile approach in facing illogically with honorable Iranian scientists who are trying to bring dignity for the Islamic Republic of Iran," the AEOI's statement reads.
It noted that such measures will not disturb Iranian scientists' determination to promote Iran's objectives.
The AEOI warned the ill-wishers of the Islamic Republic of Iran that the only result of standing against Iranian nation's principles and international regulations will be to reinforce the morale of Iranian researchers and weakening the position and prestige of Iran's enemies in the world.
It said that Iran's hardworking researchers, specially those in nuclear industry, consider such indecisive moves as sign of enemies' failure.
US Secretary of State Mike Pompeo in a message had earlier said "today, I am ending the sanctions waiver for JCPOA-related projects in Iran, effective in 60 days. Iran's continued nuclear escalation makes clear this cooperation must end".
He also blacklisted two more Iranian nuclear officials, and said, "Iran's scientists need to make a choice: pursue peaceful work outside of the proliferation realm, or risk being sanctioned."
Full report at:
https://en.farsnews.ir/newstext.aspx?nn=13990309000126
--------
Russia's energy minister discusses trade, investment with Iranian counterpart
29 May 2020
Russian Energy Minister Alexander Novak discussed trade ties and investment cooperation with his Iranian counterpart Reza Ardakanian by telephone on Friday, Russia's energy ministry said.
The ministry added that they had discussed cooperation in the energy, agricultural and transport sectors.
On Wednesday, the United States has decided to end sanctions waivers allowing Russian, Chinese and European firms to continue work at certain Iranian nuclear sites, a US official and another source familiar with the matter said on Wednesday.
For all the latest headlines follow our Google News channel online or via the app.
The sources, who spoke on condition of anonymity, said the move applied to Iran's Arak heavy water research reactor, the provision of enriched uranium for its Tehran Research Reactor and the transfer of spent and scrap reactor fuel abroad.
Full report at:
https://english.alarabiya.net/en/business/economy/2020/05/29/Russia-s-energy-minister-discusses-trade-investment-with-Iranian-counterpart.html
--------
Clashes erupt in occupied West Bank after Israelis kill Palestinian
29 May 2020
Palestinian media reports said on Friday that Israeli forces had opened fire and killed a young Palestinian man who was driving his car in the vicinity of a settlement near the village of Nabi Saleh, located to the northwest of the Palestinian administrative capital Ramallah.
Israeli sources claimed that the young man had been shot because he was seeking to enter the Halamish settlement. Others said the young man had attempted to run over several Israeli soldiers guarding the settlements.
The incident caused an uproar among the Palestinian villagers living in the area. Israeli soldiers then opened fire at the angry protesters.
Palestine's Wafa news agency said a protester was injured during the clashes that erupted in Nabi Saleh.
It said Israeli soldiers had used live shots to disperse the crowd.
Clashes in the occupied West Bank come as Israeli regime plans to roll out a highly controversial plan to annex territories it occupied against the international will after the 1997 war with Arab countries.
The Palestinian administrative government has repeatedly warned that the implementation of the plan, which has gained the approval of the Israeli cabinet and parliament, would spark huge unrest in the West Bank and other Palestinian territories.
The plan also faces growing international criticism as governments around the world continue to condemn it as a violation of United Nations resolutions on the status of Palestine.
Full report at:
https://www.presstv.com/Detail/2020/05/29/626369/West-Bank-Palestinian-Nabi-Saleh
--------
Iran promises 'good nuclear news' in reaction to recent US bans
29 May 2020
Iran says its nuclear progress will not be hindered by recent US sanctions against two of its nuclear scientists.
In a series of tweets on Friday, the Atomic Energy Organization of Iran (AEOI) condemned the White House decision makers' move to place the names of two Iranian nuclear scientists in the list of the new US sanctions.
The decision depicts the "hostile approach" of the US government, the AEOI said.
Such moves "will not interrupt the will and determination" of the Iranian nation to achieve the country's far-reaching objectives, it added.
It warned that such moves will result in further progress of Iranian researchers and further weakening of Iran's adversaries in the global arena.
"Good news regarding the Islamic Republic of Iran's nuclear industry is on the way," the AEOI added.
The comments came in reaction to US Secretary of State Mike Pompeo's tweet about new sanctions against Iranian nuclear scientists.
Secretary Pompeo
✔
@SecPompeo
• May 28, 2020
Today, I am ending the sanctions waiver for JCPOA-related projects in Iran, effective in 60 days. Iran's continued nuclear escalation makes clear this cooperation must end. Further attempts at nuclear extortion will only bring greater pressure on the regime.
Secretary Pompeo
✔
@SecPompeo
I am also sanctioning two leaders of Iran's nuclear enrichment program - Majid Agha'i and Amjad Sazgar. Iran's scientists need to make a choice: pursue peaceful work outside of the proliferation realm, or risk being sanctioned.
7,453
1:19 AM - May 28, 2020
Twitter Ads info and privacy
2,708 people are talking about this
On Thursday night, the AEOI described the new sanctions as a "futile attempt" that would by no means undermine the Islamic Republic's nuclear progress and programs.
The Iranian hardworking researchers, especially those involved in the nuclear industry, consider such futile attempts as a sign of the enemy's failure, the AEOI said in a statement.
The United States this week also ended sanctions waivers for nuclear cooperation between Iran and the signatories of the landmark nuclear deal, from which the US President Donald Trump withdrew in 2018.
Tehran said the desperate US move to end the sanctions waivers pulled final plug on the nuclear deal, also known as the Joint Comprehensive Plan of Action (JCPOA).
Majid Takht Ravanchi
@TakhtRavanchi
Two yrs ago @realDonaldTrump ceased participation in #JCPOA. Now, in further violation of JCPOA & UNSCR 2231 @SecPompeo pulls final plug, imposing penalties for compliance EVEN w/nuclear provisions of 2231.
Claiming US is STILL "Participant" is not just preposterous; it's FALSE.
119
5:33 PM - May 28, 2020
Twitter Ads info and privacy
54 people are talking about this
Iran maintains that its nuclear program is merely peaceful as asserted by other signatories of the nuclear deal.
Full report at:
https://www.presstv.com/Detail/2020/05/29/626343/Iran-AEOI-nuclear-US-bans-sanctions-Trump-JCPOA
--------
Survey: Young Syrians plagued by social and economic discrimination in Turkey
May 29, 2020
ANKARA: On Friday, Bahcesehir University's Center of Migration and Urban Studies in Istanbul released a report highlighting the longstanding socio-economic challenges Syrian refugees face in Turkey.
As in many countries with large refugee populations, there has been ongoing tension between residents and immigrants for years, and life is increasingly difficult for the refugees. In Hatay, which hosts around 439,000 Syrians — around a third of the city's total population — already-scarce resources are often stretched to breaking point, resulting in further ill feeling towards the refugees.
The university's report includes a survey of 808 Syrians aged 18-25 in two Turkish cities with large numbers of Syrian refugees — Hatay and Izmir, on the Aegean coast, which is home to around 146,000 Syrians — in October and November last year.
According to official figures there are around 1.2 million Syrian refugees between the ages of 18 and 25 currently living in Turkey — a third of the country's total population of Syrian refugees.
Half of those surveyed by the university said they wanted to return home, or move away from Turkey, because of their living conditions and the discrimination they face. However, the university noted, most of those who said they wanted to leave were in the low-income bracket.
Omar Kadkoy, a migration policy analyst at Ankara-based think tank TEPAV, said the report highlights the structural shortcomings of Turkey's "harmonization policy."
"Bureaucracy is marginalizing skilled Syrians and preventing them from fulfilling their potential, hence depriving Turkey of needed, but underutilized, capabilities," he told Arab News.
According to the survey, 45 percent of Syrian youth in Turkey neither work nor go to school. As 86.6 percent cannot get a certificate of equivalence for their diploma, they cannot attend university or apply for certain jobs for which they may be qualified.
Only 4.6 percent of those surveyed held a Turkish work permit, so most work in the 'informal sector,' without any social insurance, and are often exploited by their employers. Respondents cited the lengthy bureaucratic procedures involved in applying for a work permit as the main reason for staying in the informal sector.
According to Kadkoy, that same bureaucracy is exposing young Syrians to greater risks, especially in the age of COVID-19.
"Under normal circumstances, working informally already means being subject to various forms of exploitation. During the pandemic, working informally turns Syrians into a disposable workforce with only a fragile financial safety net to survive the economic consequences of COVID-19," he said.
Young Syrians are mainly employed in the textile, construction and catering sectors in Turkey. According to the survey, 78.8 percent do not receive their full salary each month. One fifth of respondents complained about low wages, while 16 percent said their working conditions were unsuitable.
About half of young Syrians reportedly work 9-10 hours per day, with one third working for at least 11 hours — which is against Turkey's employment rules. Half the respondents claimed they could not access public services or rent a house because of their nationality.
At least three-quarters of young Syrians live below Turkey's official minimum subsistence level, while only four percent receive financial support from the state.
One third of respondents said they have faced xenophobia and racism, while one fifth cited the language barrier as a major obstacle for their integration into Turkish society. Eleven percent of the respondents said their contact with the local community was at a "very bad level."
According to Kadkoy, the fact that so many young Syrians are having a difficult time in Turkey and wish to leave will serve the government in two ways.
Full report at:
https://www.arabnews.com/node/1681841/middle-east
--------
Europe
Berlin Plans to Ban Pro-Iran, Antisemitic Al-Quds Rally In 2021
By BENJAMIN WEINTHAL
MAY 28, 2020
BERLIN - The State Minister of the Interior for the city-state of Berlin Andreas Geisel on Thursday said he will initiate a legal process to ban the annual Iranian regime-sponsored al-Quds rally in Berlin that calls for the destruction of Israel.
According to a report in the Berlin Tagesspiegel paper, Geisel told Berlin's parliament that he will invoke the new German law that outlawed Hezbollah's activities to ban an attempt by Hezbollah and Iranian regime supporters to hold the al-Quds march in 2021.
After the German federal government classified Hezbollah a terrorist organization in April, the organizers of al-Quds cancelled the May rally that has taken place each year in Berlin since 1996.
Berlin has permitted the Iranian regime-sponsored demonstration to proceed each year since 1996. The current Berlin government and its Social Democratic party Mayor Michael Müller have faced criticism over the years for not seeking to legally ban the al-Quds march. Müller's administration said it would lose a legal battle to outlaw al-Quds. Critics say Müller should have tested the law to ban the rally.
Al-Quds Day calls for the obliteration of the Jewish state and is attended by neo-Nazis, Hezbollah members and supporters, left-wing activists for the Palestinian terrorist organization the Popular Front for the Liberation of Palestine. Boycott, Divestment, Sanctions activists are also present at the protest.
The al-Quds Day rally was called into global action in 1979 by the late Ayatollah Khomeini, the founder of the Islamic Republic of Iran.
https://www.jpost.com/international/berlin-plans-to-ban-pro-iran-anitsemitic-al-quds-rally-in-2021-629625?utm_source=iterable&utm_medium=email&utm_campaign=1252850_
--------
Germany swears in watchdog to root out extremism in forces
28.05.2020
Germany's parliament on Thursday inaugurated Eva Högl as its Bundeswehr overseer, who will head up a new defense ministry task force.
Högl said the group must make a "really quite thorough" probe into extremist tendencies in the German military.
Two weeks ago, police raided a KSK soldier's property in eastern Saxony state, allegedly finding a cache of weapons and explosives.
Högl told parliament she was not leveling "general suspicion" at the 1,100-person KSK (Kommando Spezialkräfte) brigade based at Calw in southwestern Baden-Württemberg state, and that she was not targeting the Bundeswehr as a whole.
"It is however not only a cluster of individual cases," she told parliament Thursday.
"We must also look at what we have to do to change the structures so that such attitudes do not spread and to strengthen those soldiers who oppose them," said Högl.
On Wednesday, a spokeswoman for Defense Minister Annegret Kramp-Karrenbauer said the ministerial group probing the KSK would report to parliament.
Already, the ministry was considering "psychological screening" of potential KSK recruits coupled with special training to deter extremism.
Commander tells extremists to leave
The KSK's leading general Markus Kreitmayr told KSK members in a letter on May 18 that disclosures about far-right cases — since 2017 — had thrust his brigade into "the most difficult phase of its history."
"In the midst of our community, there were and obviously still are individuals who have been and still are part of the so-called right spectrum," said Kreitmayr, warning they would be removed, but should leave of their own accord.
The KSK established in 1996 currently comprises 1,100 personal spread across six units, including counterterrorism, hostage-rescue and intelligence gathering.
Under Article 45b of Germany's Basic Law constitution, the commissioner helps parliament oversee the Bundeswehr and is also regarded as an advocate for Germany's soldiers, currently numbering 184,000.
Assuming the post on Thursday, Högl relinquished her mandate as Bundestag member being replaced by the SPD's leftist-oriented Mechthild Rawert.
Read more: Germany: 14 Bundeswehr members deemed extremist
Högl replaces Hans-Peter Bartels, another SPD figure, as Bundeswehr commissioner under the precept that parliament controls Germany's military.
Bartels had sought reappointment but lost out to Högl, alongside another SPD aspirant Johannes Kahrs, amid critique that Högl had no prior military experience.
Elected with Merkel support
Högl's election by parliament in early May with 389 votes hinged on support from Chancellor Angela Merkel's conservatives, including Kramp-Karrenbauer, currently in coalition with the Social Democrats.
Full report at:
https://www.dw.com/en/germany-swears-in-watchdog-to-root-out-extremism-in-forces/a-53604454?utm_source=iterable&utm_medium=email&utm_campaign=1252850_
--------
Turkish coast guard rescues 60 asylum seekers
Halil Fidan
30.05.2020
The Turkish Coast Guard rescued 60 asylum seekers Friday in the Aegean Sea.
Acting on a tip, rescue teams reached asylum seekers who were on a rubber boat that was forced into Turkish territorial waters by the Greek Coast Guard.
The asylum seekers, including 28 Congolese, 23 Afghans, five Eritreans, two Malians, one Nigerian and one Somalian, were rescued off the coast of Dikili in the Aegean province of Izmir.
Women and children were among the asylum seekers, according to Turkish officials.
They were taken to the provincial migration office.
Turkey has been one of the main routes for asylum seekers wanting to reach Europe, especially since Syria's civil war started in 2011.
Full report at:
https://www.aa.com.tr/en/europe/turkish-coast-guard-rescues-60-asylum-seekers-/1858499
--------
Racism still big threat in Germany: Turkish envoy
Cuneyt Karadag
29.05.2020
BERLIN
Turkish envoy to Germany said racism is still a big threat in Germany on the 27th anniversary of a racist attack in Solingen which saw the killing of five members of a Turkish family.
Speaking to Anadolu Agency, Ali Kemal Aydin said the pain caused by the racist attack that ultimately killed five Turks including three children is still alive in the hearts of Turkish community.
"After all those years racism still is a big and heavy threat in Germany," said Ambassador Aydin adding the Turkish community has been the most affected by racism in German society.
Aydin also reminded the Hanau attack that killed nine migrants including four Turks in February.
Aydin said German society and authorities should strengthen the fight against racism, xenophobia and anti-Islam, which has become more pronounced in the recent period.
Referring to the statements made after the Hanau attack, Aydin said they expect swift implementation of what was said in those statements.
"There will be a memorial service in Solingen tonight. Our hope is that attacks like these will not happen again in Germany and Europe," said Aydin.
Aydin also called Mevlude Genc and her husband Durmus Genc to offer condolences for their children and grandchildren killed in Solingen arson attack.
Full report at:
https://www.aa.com.tr/en/europe/racism-still-big-threat-in-germany-turkish-envoy/1858119
--------
UK carries out airstrikes on Daesh in Iraq
May 29, 2020
LONDON: The UK's Royal Air Force (RAF) carried out four airstrikes in May against targets belonging to the terrorist group Daesh in Iraq.
The first, carried out on May 8, targeted a Daesh stronghold west of Tuz Khurmatu in the north of the country.
The second assault, on May 10, targeted a cave system that militants were using to shelter in. Two more attacks were launched on May 13 and May 26.
Two operations were conducted in April, marking the first such airstrikes by UK forces against Daesh in seven months. The UK Ministry of Defence (MoD) said the airstrikes came in response to an increase in Daesh activity in Iraq.
Multiple attacks by the group in Salahuddin, Kirkuk and Diyala provinces in early May left multiple people dead and wounded, as militants tried to capitalize on uncertainty in Iraq following the coronavirus outbreak.
The MoD said all the operations conducted by the RAF had been successful, and it had flown daily patrols across the region since Daesh lost control of its territory in Iraq and neighboring Syria in March 2019.
Full report at:
https://www.arabnews.com/node/1681796/middle-east
--------
North America
In Minneapolis, Faith Groups Rush To Aid Demonstrators As They Decry Racism
May 29, 2020
Jack Jenkins
(RNS) — Faith leaders in Minneapolis, Minnesota, are offering aid to demonstrators who have taken to the streets to decry racism and police brutality, working to balance religious calls for justice with an aversion to violence and a desire to prevent the spread of infection during the ongoing novel coronavirus pandemic.
The city has been rocked by unrest this week following the death of George Floyd on Monday (May 25). His final moments were recorded in a widely shared video: Floyd, a black man, is seen writhing underneath Derek Chauvin, a white police officer, begging the official to remove his knee from his neck while gasping, "I can't breathe."
Three other officers are seen standing nearby keeping the crowd at bay until Floyd eventually falls silent.
The video sparked demonstrations decrying racism and police brutality, drawing out faith leaders hoping to muster a religious response.
Billy G. Russell, the pastor of Greater Friendship Missionary Baptist Church, a predominately African American congregation situated roughly a mile from where Floyd died, has attended several protests in an effort to offer a ministerial presence and "keep the peace."
His message was amplified on Thursday when the Rev. Jesse Jackson spoke at Missionary Baptist. Russell said the famed civil rights activist called for "protest and peace" while addressing nearly 100 people and community leaders — all of whom were spread apart to maintain social distancing amid the novel coronavirus pandemic.
Jackson urged the crowd to continue demonstrating until the officers involved are charged with murder, adding: "don't do it in a way that hurts you."
But when city officials held a press conference that same day and did not announce charges against the officers, the resulting fury among demonstrators left Russell turning to God.
"We pray, and again I say: if God can't do it, it can't be done," he said.
Chauvin was arrested Friday (May 29) by investigators and charged with murder, but protests persist.
So do religious efforts to help demonstrators.
Holy Trinity Lutheran Church in Minneapolis has opened its doors to offer sanctuary to demonstrators and provide medics use of their space as a makeshift emergency clinic. Positioned around the corner from the Third Precinct police station — the epicenter of many demonstrations — Holy Trinity lead pastor Ingrid Arneson Rasmussen said the congregation was eager to offer some form of assistance to the wounded.
"We have our front doors wide open," Rasmussen said. "We have an intake area out on the front lawn, and then immediately inside those doors is the sanctuary and the community room. People have been resting on the pews in the sanctuary."
The protest clinic previously operated out of a facility run by Interfaith Power and Light, a religious environmental group, but had to suspend operations after a nearby building was set ablaze.
When IPL officials asked Holy Trinity to pick up where they left off, the church had the clinic up and running out of their sanctuary within an hour.
Medics are now living and working out of the church, featuring a mixture of outsiders who have come into the city to assist, local residents from the neighborhood, and members of the congregation.
Some volunteers are now offering trauma-informed counseling to demonstrators.
Holy Trinity — which is led by Rasmussen, who is white, and associate pastor the Rev. Angela T. Khabeb, who is black — reacted rapidly because the congregation has spent the past few years focusing on issues of race, said Rasmussen.
"We, as a church body, believe that all lives are sacred and that black lives have been denied their sacred life — not in the eyes of God, but in the eyes of a society that has been built on social, economic, and racial inequities," she said.
Rasmussen said the effort to open up the church was led by a family of congregants that included a woman who participated in similar work during the 2014 demonstrations in Ferguson, Missouri. When protests broke out there after the killing of Michael Brown, a young African American man, by a white police officer, some churches also offered themselves as "sanctuaries" for demonstrators.
Rasmussen is one of several faith leaders from across the religious spectrum who have signed a letter calling on the city government to arrest the officer "who killed George Floyd and those (officers) who stood by and passively watched a murder."
"We urge you to immediately charge and arrest (Officer Derek) Chauvin and his accomplices, and declare unequivocally that the murder of Black people by police is despicable and utterly unacceptable," reads the letter, obtained by RNS. "There cannot be peace until there is justice."
Jaylani Hussein, executive director of the Minnesota chapter of the Council on American-Islamic Relations, said his group teamed up with other civil rights organizations to host a rally and march in downtown Minnesota on Thursday. Hussein gave a speech to the thousands of demonstrators who attended the peaceful protest, urging authorities to arrest the officers involved and assign a special prosecutor to the case.
"We didn't just lose George Floyd, we lost his grandchildren, his great-grandchildren — we lost his descendants," he told RNS. "When you lose a life like this, you lose humanity, and when you save a life, you are saving humanity. This is the teaching of Islam."
Carin Mrotz, executive director of Jewish Community Action, said Hussein's argument echoes her own group's reasoning for participating in demonstrations.
"Mishnah tells us that when you take a life, you destroy humanity, and what we saw as a community on Monday night was a murder," Mrotz said. "It is the destruction of humanity, and we are absolutely compelled to fight for humanity."
JCA plans to resume organizing this weekend after the conclusion of the Jewish festival of Shavuot. They hope to convene a call centering the voices of black Jews as well as organize a food drive for people destabilized by the unrest.
"There are folks who are, as of today, living in a food desert," she said.
Imam Asad Zaman, director at the Muslim American Society of Minnesota, said members of his community took part in the demonstrations in an effort to model "compassion and outrage."
He referenced a passage from the 16th chapter of the Quran, Al-Nahl, arguing that God's command for "justice, the doing of good and maintaining good relations with your relatives" applies to the situation in Minneapolis, which he described as "a question of fundamental justice."
The focus on violence perpetrated by some demonstrators, he said, does not take into account the tragedy of police brutality.
"The burning of stores and arson is unfair and wrong," said Zaman, who also helps lead the congregation-based interfaith advocacy group Faith in Minnesota. "However, there cannot be a false equivalency: A man's life was snuffed out under the knee of a person who was given a badge by us, the taxpayers … It is structural and there should not be a false equivalence made between dollars lost and human lives being extinguished."
Zaman also published an opinion piece in the Minneapolis Star Tribune on Thursday in which he proposed a slate of policy changes, such as requiring law enforcement to adopt a use-of-force policy consistent with the "minimum force" standard and require that all police officers intercede or prevent excessive use of force.
Doug Pagitt, founder of the church Solomon's Porch in Minneapolis and head of the liberal religious advocacy group Vote Common Good, said he was organizing a group of clergy to stand near the demonstrations Thursday evening to help deescalate tensions between police and protesters.
"There's a kind of thing that we know happens: police and other agitators will act differently with religious leaders around," he said, adding that he was concerned about outside actors attempting to influence the protests.
Pagitt's call for clergy participants singled out white clergy in particular, urging them to make use of "whatever level of social privilege" they have.
The pastor and activist said he was inspired by the biblical passage from Jeremiah 6:14, which reads, "They have treated the wound of my people carelessly, saying, 'Peace, peace,' when there is no peace."
"When there is no peace and you're telling people to feign peace, you take it in vain — you mock it," he said. "As someone who is a faith leader who is called to collective cultural peace, what we can't allow is for people to use a faux version of it."
The frenetic demonstrations are further complicated by the ongoing novel coronavirus pandemic, which has killed more than 100,000 people in the United States. Nearly 1,000 of those deaths occurred in Minnesota, where recorded cases of the virus are currently increasing, according to The New York Times.
Rasmussen said workers at Holy Trinity are striving to maintain social distancing and are providing masks to those who need them. But there are limits: when protesters arrive requesting treatment for injuries, physical touch is required.
Paggit said he remains "extremely concerned" about the pandemic. He requested that all participants in the clergy demonstration wear masks and observe social distancing whenever possible.
Russell is urging people to wear masks as well, and his church is stepping up efforts to provide resources to those currently unable to travel to grocery stores and pharmacies — either because of the pandemic or because of the unrest.
And when it comes to the protests, the pastor says he will continue to insist on peace even as he identifies with the fury exhibited by demonstrators.
"We tried to be out last night to stop the violence, but we just kind of got pushed aside," he said.
https://religionnews.com/2020/05/29/in-minneapolis-faith-groups-rush-to-aid-demonstrators-as-they-decry-racism-protest-floyd/
--------
Americans should know that Persian Gulf is not American lake: Former US diplomat
Friday, 29 May 2020
Americans should leave the Middle East region as soon as possible and "they should not think that the Persian Gulf is really an American lake," a former American diplomat has said.
J. Michael Springmann, former US diplomat in Saudi Arabia, made the remakrs in an interview with Press TV on Friday while commenting on a statement by a senior commander of Iran's Islamic Revolution Guards Corps (IRGC) who has censured the United States for conducting military drills in the Persian Gulf, saying the era of US military presence in the region is coming to an end.
The IRGC deputy commander for political affairs, Brigadier General Yadollah Javani, said in an interview with Tasnim News Agency in Tehran on Monday that what the US is doing under the guise of "military exercises to enhance security in the Persian Gulf and assisting its allies," is, in fact, part of efforts aimed at consolidating its presence in the region.
Springmann said that "Javani is entirely correct when he says that 'the United States is a major source of instability in the region and that American warships and soldiers and missiles, and aircraft, and so forth are major causes for the instability in the area.'"
"I might be inclined to say that the general is a bit optimistic in saying that the Americans will withdraw. I think the Americans are going to stay there as long as they possibly can, and as long as they believe that they can work to disrupt the region and ensure that Iran is not a functioning country anymore just as they've done to Iraq and Libya and Syria," he added.
"I believe that he is entirely correct though in saying that if the Americans attack Iran, they will in fact get a bloody nose that the Iranian forces are ready to retaliate for any attack on the country. And I think the Americans are desperate to have one," he stated.
"But I think that the wiser heads in the political and military departments of the American government realize that this is a bridge too far, a war too far and that the recent shipment of oil from Iran to Venezuela including gasoline components in parts, I think, shows that the Americans are unable to control the entire world, to the extent that they want to and that in the past they've done so," he said.
Full report at:
https://www.presstv.com/Detail/2020/05/29/626356/%E2%80%98Americans-should-know-Persian-Gulf-is-not-American-lake%E2%80%99
--------
Who are the secret puppet-masters behind Trump's war on Iran?
29 May 2020
On May 6th, President Trump vetoed a war powers bill specifying that he must ask Congress for authorization to use military force against Iran. Trump's "maximum pressure" campaign of deadly sanctions and threats of war against Iran has seen no let-up, even as the US, Iran and the whole world desperately need to set aside our conflicts to face down the common danger of the Covid-19 pandemic.
So what is it about Iran that makes it such a target of hostility for Trump and the neocons? There are many repressive regimes in the world, and many of them are close US allies, so this policy is clearly not based on an objective assessment that Iran is more repressive than Egypt, Saudi Arabia or other monarchies in the Persian Gulf.
The Trump administration claims that its "maximum pressure" sanctions and threats of war against Iran are based on the danger that Iran will develop nuclear weapons. But after decades of inspections by the International Atomic Energy Agency (IAEA) and despite the US's politicization of the IAEA, the Agency has repeatedly confirmed that Iran does not have a nuclear weapons program.
If Iran ever did any preliminary research on nuclear weapons, it was probably during the Iran-Iraq War in the 1980s, when the US and its allies helped Iraq make and use chemical weapons that killed up to 100,000 Iranians. A 2007 US National Intelligence Estimate, the IAEA's 2015 "Final Assessment on Past and Present Outstanding Issues" and decades of IAEA inspections have examined and resolved every scrap of false evidence of a nuclear weapons program presented or fabricated by the CIA and its allies.
If, despite all the evidence, US policymakers still fear that Iran could develop nuclear weapons, then adhering to the Iran Nuclear Deal (JCPOA), keeping Iran inside the Non-Proliferation Treaty, and ensuring ongoing access by IAEA inspectors would provide greater security than abandoning the deal.
As with George W. Bush's false WMD claims about Iraq in 2003, Trump's real goal is not nuclear non-proliferation but regime change. After 40 years of failed sanctions and hostility, Trump and a cabal of US war hawks still cling to the vain hope that a tanking economy and widespread suffering in Iran will lead to a popular uprising or make it vulnerable to another US-backed coup or invasion.
United Against a Nuclear Iran and the Counter Extremism Project
One of the key organizations promoting and pushing hostility towards Iran is a shadowy group called United Against a Nuclear Iran (UANI). Founded in 2008, it was expanded and reorganized in 2014 under the umbrella of the Counter Extremism Project United (CEPU) to broaden its attacks on Iran and divert US policymakers' attention away from the role of Israel, Saudi Arabia, the United Arab Emirates and other US allies in spreading violence, extremism and chaos in the greater Middle East.
UANI acts as a private enforcer of US sanctions by keeping a "business registry" of hundreds of companies all over the world—from Adidas to Zurich Financial Services—that trade with or are considering trading with Iran. UANI hounds these companies by naming and shaming them, issuing reports for the media, and urging the Office of Foreign Assets Control to impose fines and sanctions. It also keeps a checklist of companies that have signed a declaration certifying they do not conduct business in or with Iran.
Proving how little they care about the Iranian people, UANI even targets pharmaceutical, biotechnology, and medical-device corporations—including Bayer, Merck, Pfizer, Eli Lilly, and Abbott Laboratories—that have been granted special US humanitarian aid licenses.
Where does UANI get its funds?
UANI was founded by three former US officials, Dennis Ross, Richard Holbrooke, and Mark Wallace. In 2013, it still had a modest budget of $1.7 million, nearly 80% coming from two Jewish-American billionaires with strong ties to Israel and the Republican Party: $843,000 from precious metals investor Thomas Kaplan and $500,000 from casino owner Sheldon Adelson. Wallace and other UANI staff have also worked for Kaplan's investment firms, and he remains a key funder and advocate for UANI and its affiliated groups.
In 2014, UANI split into two entities: the original UANI and the Green Light Project, which does business as the Counter Extremism Project. Both entities are under the umbrella of and funded by a third, Counter Extremism Project United (CEPU). This permits the organization to brand its fundraising as being for the Counter Extremism Project, even though it still re-grants a third of its funds to UANI.
CEO Mark Wallace, executive director David Ibsen and other staff work for all three groups in their shared offices in Grand Central Tower in New York. In 2018, Wallace drew a combined salary of $750,000 from all three entities, while Ibsen's combined salary was $512,126.
In recent years, the revenues for the umbrella group, CEPU, have mushroomed, reaching $22 million in 2017. CEPU is secretive about the sources of this money. But investigative journalist Eli Clifton, who starting looking into UANI in 2014 when it was sued for defamation by a Greek ship owner it accused of violating sanctions on Iran, has found evidence suggesting financial ties with Saudi Arabia and the United Arab Emirates.
That is certainly what hacked emails between CEPU staff, an Emirati official and a Saudi lobbyist imply. In September 2014, CEPU's president Frances Townsend emailed the UAE Ambassador to the US to solicit the UAE's support and propose that it host and fund a CEPU forum in Abu Dhabi.
Four months later, Townsend emailed again to thank him, writing, "And many thanks for your and Richard Mintz' (UAE lobbyist) ongoing support of the CEP effort!" UANI fundraiser Thomas Kaplan has formed a close relationship with Emirati ruler Bin Zayed, and visited the UAE at least 24 times. In 2019, he gushed to an interviewer that the UAE and its despotic rulers "are my closest partners in more parts of my life than anyone else other than my wife."
Another email from Saudi lobbyist and former Senator Norm Coleman to the Emirati Ambassador about CEPU's tax status implied that the Saudis and Emiratis were both involved in its funding, which would mean that CEPU may be violating the Foreign Agents Registration Act by failing to register as a Saudi or Emirati agent in the US.
Ben Freeman of the Center for International Policy has documented the dangerously unaccountable and covert expansion of the influence of foreign governments and military-industrial interests over US foreign policy in recent years, in which registered lobbyists are only the "tip of the iceberg" when it comes to foreign influence. Eli Clifton calls UANI, "a fantastic case study and maybe a microcosm of the ways in which American foreign policy is actually influenced and implemented."
CEPU and UANI's staff and advisory boards are stocked with Republicans, neoconservatives and war hawks, many of whom earn lavish salaries and consulting fees. In the two years before President Trump appointed John Bolton as his National Security Advisor, CEPU paid Bolton $240,000 in consulting fees. Bolton, who openly advocates war with Iran, was instrumental in getting the Trump administration to withdraw from the nuclear deal.
UANI also enlists Democrats to try to give the group broader, bipartisan credibility. The chair of UANI's board is former Democratic Senator Joe Lieberman, who was known as the most pro-Zionist member of the Senate. A more moderate Democrat on UANI's board is former New Mexico governor and UN ambassador Bill Richardson.
Norman Roule, a CIA veteran who was the National Intelligence Manager for Iran throughout the Obama administration was paid $366,000 in consulting fees by CEPU in 2018. Soon after the brutal Saudi assassination of journalist Jamal Khassoghi, Roule and UANI fundraiser Thomas Kaplan met with Crown Prince Mohammed Bin Salman in Saudi Arabia, and Roule then played a leading role in articles and on the talk-show circuit whitewashing Bin Salman's repression and talking up his superficial "reforms" of Saudi society.
More recently, amid a growing outcry from Congress, the UN and the European Union to ease US sanctions on Iran during the pandemic, UANI chairman Joe Lieberman, CEPU president Frances Townsend and CEO Mark Wallace signed a letter to Trump that falsely claimed, "US sanctions neither prevent nor target the supply of food, medicine or medical devices to Iran," and begged him not to relax his murderous sanctions because of COVID-19. This was too much for Norman Roule, who tossed out his UANI script and told the Nation, "the international community should do everything it can to enable the Iranian people to obtain access to medical supplies and equipment."
Two Israeli shell companies to whom CEPU and UANI have paid millions of dollars in "consulting fees" raise even more troubling questions. CEPU has paid over $500,000 to Darlink, located near Tel Aviv, while UANI paid at least $1.5 million to Grove Business Consulting in Hod Hasharon, about 10% of its revenues from 2016 to 2018. Neither firm seems to really exist, but Grove's address on UANI's IRS filings appears in the Panama Papers as that of Dr. Gideon Ginossar, an officer of an offshore company registered in the British Virgin Islands that defaulted on its creditors in 2010.
Selling a corrupted picture to US policymakers
UANI's parent group, Counter Extremism Project United, presents itself as dedicated to countering all forms of extremism. But in practice, it is predictably selective in its targets, demonizing Iran and its allies while turning a blind eye to other countries with more credible links to extremism and terrorism.
UANI supports accusations by Trump and US war hawks that Iran is "the world's worst state sponsor of terrorism," based mainly on its support for the Lebanese Shia political party Hezbollah, whose militia defends southern Lebanon against Israel and fights in Syria as an ally of the government.
But Iran placed UANI on its own list of terrorist groups in 2019 after Mark Wallace and UANI hosted a meeting at the Roosevelt Hotel in New York that was mainly attended by supporters of the Mujahedin-e-Kalqh (MEK). The MEK is a group that the US government itself listed as a terrorist organization until 2012 and which is still committed to the violent overthrow of the government in Iran - preferably by persuading the US and its allies to do it for them. UANI tried to distance itself from the meeting after the fact, but the published program listed UANI as the event organizer.
On the other hand, there are two countries where CEPU and UANI seem strangely unable to find any links to extremism or terrorism at all, and they are the very countries that appear to be funding their operations, lavish salaries and shadowy "consulting fees": Saudi Arabia and the United Arab Emirates.
Many Americans are still demanding a public investigation into Saudi Arabia's role in the crimes of September 11th. In a court case against Saudi Arabia brought by 9/11 victims' families, the FBI recently revealed that a Saudi Embassy official, Mussaed Ahmed al-Jarrah, provided crucial support to two of the hijackers. Brett Eagleson, a spokesman for the families whose father was killed on September 11th, told Yahoo News, "(This) demonstrates there was a hierarchy of command that's coming from the Saudi Embassy to the Ministry of Islamic Affairs [in Los Angeles] to the hijackers."
The global spread of the Wahhabi version of Islam that unleashed and fueled al-Qaeda, Daesh and other violent extremist groups has been driven primarily by Saudi Arabia, which has built and funded Wahhabi schools and mosques all over the world. That includes the King Fahd Mosque in Los Angeles that the two 9/11 hijackers attended.
It is also well documented that Saudi Arabia has been the largest funder and arms supplier for the al-Qaeda-led forces that have destroyed Syria since 2011, including CIA-brokered shipments of thousands of tons of weapons from Benghazi in Libya and at least eight countries in Eastern Europe. The UAE also supplied arms funding to al-Qaeda-allied rebels in Syria between 2012 and 2016, and the Saudi and UAE roles have now been reversed in Libya, where the UAE is the main supplier of thousands of tons of weapons to General Haftar's rebel forces. In Yemen, both the Saudis and Emiratis have committed war crimes. The Saudi and Emirati air forces have bombed schools, clinics, weddings and school buses, while the Emiratis tortured detainees in 18 secret prisons in Yemen.
But United Against a Nuclear Iran and Counter Extremism Project have redacted all of this from the one-sided worldview they offer to US policymakers and the American corporate media. While they demonize Iran, Qatar, Hezbollah and the Muslim Brotherhood as extremists and terrorists, they depict Saudi Arabia and the UAE exclusively as victims of terrorism and allies in US-led "counter-terrorism" campaigns, never as sponsors of extremism and terrorism or perpetrators of war crimes.
The message of these groups dedicated to "countering extremism" is clear and none too subtle: Saudi Arabia and the UAE are always US allies and victims of extremism, never a problem or a source of danger, violence or chaos. The country we should all be worrying about is—you guessed it—Iran. You couldn't pay for propaganda like this! But on the other hand, if you're Saudi Arabia or the United Arab Emirates and you have greedy, corrupt Americans knocking on your door eager to sell their loyalty, maybe you can.
Medea Benjamin, co-founder of Global Exchange and CODEPINK: Women for Peace, is the author of the new book, Inside Iran: The Real History and Politics of the Islamic Republic of Iran. Her previous books include: Kingdom of the Unjust: Behind the US-Saudi Connection; Drone Warfare: Killing by Remote Control; Don't Be Afraid Gringo: A Honduran Woman Speaks from the Heart, and (with Jodie Evans) Stop the Next War Now (Inner Ocean Action Guide). Follow her on Twitter: @medeabenjamin
Full report at:
https://www.presstv.com/Detail/2020/05/29/626337/US-President-Donald-Trump-Iran-sanctions-regime-change-coronavirus-pandemic
--------
New USAID adviser sparks furore over past anti-Islam comments
May 29, 2020
NEW YORK: Some Muslim American groups are calling for the dismissal of a newly appointed religious freedom adviser for the US Agency for International Development, citing past online posts that disparage Islam on his social media.
The Anti-Defamation League also has decried the appointment of Mark Kevin Lloyd. He started with the agency this week, according to The Washington Post, which first reported the hiring of the Virginia field director for President Donald Trump's 2016 campaign.
Lloyd shared a post calling Islam "a barbaric cult" that year, The Associated Press reported at the time, and shared a meme - days after a mass shooting in Orlando by a Muslim pledging allegiance to the Islamic State - saying people should be forced to eat bacon before they can purchase firearms.
"How could one properly serve as USAID's Religious Freedom Advisor while espousing a horrifyingly Islamophobic track record?" said Wa'el Alzayat, CEO of Emgage Action, a Muslim American advocacy organization, in a statement. "We are calling for Lloyd's resignation -- because Islam cannot be the exception when assessing one's ability to advise on religious freedoms for a government agency."
In response to questions from the AP seeking a confirmation of Lloyd's hiring and comment on the concerns it sparked, a USAID spokesperson said: "Mark Lloyd is a consummate professional who served his country honorably in the Navy. The comments he made four years ago were in reference to radical Islam, not Islam."
The spokesperson said Lloyd also has experience working for a faith-based provider of medical equipment and relief assistance globally. "During this current COVID-19 pandemic, his experience will be important as we work with faith-based organizations and others in our global response."
Jonathan Greenblatt, the ADL's CEO, said Lloyd's appointment was "particularly offensive and inappropriate" in light of his past anti-Islam comments and urged him to "apologize immediately."
"Yet even with an apology, it is not clear how somebody with such views about one of (the) world's main faiths and its adherents can serve as a fair arbiter on crafting US development assistance programs protecting religious freedom for all," Greenblatt said.
For the initial AP report in 2016, Lloyd declined to talk without the Trump campaign's permission, citing his nondisclosure agreement with the campaign.
Other Muslim organizations have also demanded Lloyd be removed from the position.
"There is no room in any government position - let alone a position meant to protect religious freedoms - for those who promote bigotry," said Robert McCaw, government affairs director at The Council on American-Islamic Relations (CAIR), a Muslim civil rights and advocacy organization. "Lloyd is clearly unfit to serve a diverse, multi-faith society," he added in a statement on the group's website.
Madihha Ahussain, special counsel for anti-Muslim bigotry at civil rights group Muslim Advocates said in a statement: "Someone who has broadcast this kind of hateful and dangerous rhetoric should have no place in our government and certainly should not be advising a federal agency on religious freedom."
Full report at:
https://timesofindia.indiatimes.com/world/us/new-usaid-adviser-sparks-furor-over-past-anti-islam-comments/articleshow/76093868.cms
--------
Florida Man Accused Of Planning ISIS Terrorist Attack In Tampa Area
May 28, 2020
TAMPA (CBSMiami) — A Florida man, accused of planning to carry out a terrorist attack in Tampa Bay on behalf of the Islamic State of Iraq, has now been officially charged by federal prosecutors.
On Wednesday, the U.S. Department of Justice announced the filing of a criminal complaint charging Muhammed Momtaz Al-Azhari, 23, with "attempting to provide material support or resources to a designated foreign terrorist organization," namely ISIS.
Investigators say Al-Azhari has a criminal history that includes previous terrorism charges in Saudi Arabia. They say he tried to buy multiple guns before acquiring a Glock pistol and a silencer.
Prosecutors say he expressed "admiration" for the deceased Pulse nightclub shooter Omar Mateen and even drove there to scope out the location. In a conversation with a confidential informant, the FBI says, Al-Azhari said "that's how I want to die, to be honest."
The informant then asked how many people Al-Azhari wanted to kill.
"I don't want to take four or five, no. I want to take at least 50," Al-Azhari replied on the recording, according to the affidavit. "You know like, brother Omar Mateen in Orlando did. He took 49 with him."
According to law enforcement, the 23-year-old couted potential targets around Tampa. He traveled to Honeymoon Island and the FBI's Tampa Field Office, but also researched Clearwater Beach and Bellaire Beach.
He also rehearsed parts of an attack and the public statements he planned to make about it, said authorities.
Without going into detail, Maria Chapa Lopez, U.S. attorney for the Middle District of Florida, said swift action by law enforcement officers and "concerned citizens" allowed investigators to interrupt a "serious threat" without anyone getting hurt.
The Department of Justice charged Al-Azhari with attempting to provide material support or resources to a designated foreign terrorist organization.
"I commend the 18 federal, state, and local member agencies who comprise FBI Tampa's Joint Terrorism Task Force (JTTF) for working day and night to prevent the loss of life in the Tampa Bay community," said Special Agent in Charge of the FBI Tampa Division, Michael F. McPherson.
A public defender listed in court records for Al-Azhari said the government's charges in the case unfairly attempt to portray him as a terrorist.
"The allegations misunderstand both the law and the evidence," said the public defender, Samuel Landes, in an emailed statement. "I'm thankful that in this country everyone enjoys a presumption of innocence, and I look forward to Mr. Al-Azhari's day in court before a jury of his peers."
The affidavit also details how Al-Azhari negotiated with an undercover FBI employee to purchase a variety of guns and silencers, including an AK-47-style rifle.
He was arrested May 24 after taking possession of weapons allegedly to be used in an attack. If convicted, he faces up to 20 years in federal prison.
Full report at:
https://miami.cbslocal.com/2020/05/28/florida-man-charged-planning-isis-terrorist-attack-tampa/?utm_source=iterable&utm_medium=email&utm_campaign=1252850_
--------
Turkey's president condoles with George Floyd's family
Sena Güler
29.05.2020
Turkey's president offered condolences Thursday to the family of George Floyd over his death.
"I believe that the perpetrators of this inhumane act shall receive the punishment they deserve. We will be monitoring the issue," Recep Tayyip Erdogan said on Twitter.
"I remember with respect George Floyd and extend my condolences to his family and loved ones," he added.
Floyd, 46, was arrested Monday in Minneapolis, Minnesota after reportedly attempting to use a counterfeit $20 bill at a local store.
Recep Tayyip Erdoğan
✔
@RTErdogan
The racist and fascist approach that led to the death of George Floyd in the US city of Minneapolis as a result of torture has not only deeply saddened all of us, but it has also become one of the most painful manifestations of the unjust order we stand against across the world.
53.5K
3:24 AM - May 29, 2020
Twitter Ads info and privacy
14.7K people are talking about this
Video footage on Facebook showed him handcuffed and cooperating.
But police claim he resisted arrest. One of the officers kneeled on his neck, despite Floyd's repeated pleas of "I can't breathe."
Shortly after, Floyd appeared to lose consciousness, but the officer maintained his position on the victim. He died soon after being taken to a hospital.
Four officers have been fired over the killing, which sparked mass protests and an outcry against police brutality.
Racist, fascist approach caused Floyd's death
Erdogan said "the racist and fascist approach" that caused Floyd's death by torture deeply saddened everyone, "but it has also become one of the most painful manifestations of the unjust order we stand against across the world."
Recep Tayyip Erdoğan
✔
@RTErdogan
As a member of Islamic civilization, which teaches us to love humankind because of the Creator, I condemn this inhumane mentality. Turkey always stands against all attacks targeting humanity, no matter where, under what pretext or in what form they are committed.
31.1K
3:29 AM - May 29, 2020
Twitter Ads info and privacy
8,124 people are talking about this
"As a member of the Islamic civilization, which teaches us to love humankind because of the Creator, I condemn this inhumane mentality," Erdogan said, adding Turkey always takes a stand against all attacks targeting humanity, regardless of where, the cause or form in which they are committed.
Mentioning Prophet Muhammad's principle, Erdogan noted: "A white man has no superiority over a black [man], nor does a black [man] have any superiority over a white [man].
Recep Tayyip Erdoğan
✔
@RTErdogan
We will continue to fight to protect the rights of all of humanity without any discrimination based on race, color, religion, language or faith in line with our Prophet's principle, "A white has no superiority over a black, nor a black has any superiority over a white."
35.3K
3:32 AM - May 29, 2020
Twitter Ads info and privacy
9,627 people are talking about this
He added that Turkey will continue to fight to protect the rights of all humanity without any discrimination based on any differences.
Recep Tayyip Erdoğan
✔
@RTErdogan
I believe that the perpetrators of this inhumane act shall receive the punishment they deserve. We will be monitoring the issue. I remember with respect George Floyd and extend my condolences to his family and loved ones.
38.5K
3:35 AM - May 29, 2020
Twitter Ads info and privacy
9,160 people are talking about this
https://www.aa.com.tr/en/americas/turkey-s-president-condoles-with-george-floyds-family/1857091
--------
Pakistan
Pharma firm plans to import Covid-19 treatment drug from Bangladesh
Faiza Ilyas
May 30, 2020
KARACHI: A local pharmaceutical company plans to import a generic version of remdesivir — a broad spectrum antiviral medication that has shown to reduce recovery time in Covid-19 patients — from a Bangladesh-based manufacturer.
The drug has been granted emergency use authorisation by the US Food and Drug Administration (FDA) and authorities in Japan and the UK to treat hospitalised patients with severe manifestations of coronavirus.
According to a statement released by Searle Company Limited on Friday, the firm has entered into an exclusive licensing and marketing agreement with Beximco Pharmaceuticals, Bangladesh.
"It's the first company in the world to introduce the generic variant of the drug. Our partnership will provide an immediate supply of the finished product at an affordable price and will help healthcare providers of Pakistan to treat their hospitalised Covid-19 patients without any delay," said Mohammad Sajid, business development director at Searle.
The company decided not to make any commercial profit from the import (till the time the pandemic is over) and also to donate it to the government and Covid-19-designated hospitals, he added.
Asked about drug price in Bangladesh and its dosage, Mr Sajid said it cost around $70 per vial and six to a dozen vials were administered to a patient depending upon disease's severity.
"Remdesivir is a direct-acting viral drug that inhibits viral RNA (Ribonucleic acid) synthesis. It is administrated intravenously and is authorized for the treatment of hospitalized patients with severe Covid-19 infection."
Searle, he said, was actively taking the matter to the relevant authorities of Pakistan for necessary regulatory approval and was confident that in the existing pandemic, the relevant authorities would consider the matter on an urgent basis to support the product availability.
"Meanwhile, the drug would be imported under the patient access programme, which allows import when hospitals make a demand."
Bangladesh, according to experts, has made remarkable progress in the pharmaceutical sector in recent years.
Some Bangladesh-based pharmaceutical companies, they said, were approved by the FDA and exported their products to the US. The global trade rules allow nations defined by the United Nations as least-developed countries (LDCs) to manufacturer patented drugs to make them more affordable in their markets. Bangladesh is one of 47 countries that fall in this category while Pakistan is not.
Remdesivir is currently undergoing clinical trials around the world, including in the UK. Early data suggests it can cut recovery time by about four days, but so far there has been no evidence that it will save more lives.
Earlier this month, Ferozsons Laboratories Limited, a subsidiary of BF Biosciences Ltd, said it would make the drug in Pakistan after signing a non-exclusive licensing pact with the US-based Gilead, which manufactured the drug, to make and sell the drug to 127 nations. However, the pharmaceutical company had announced that its production could take weeks.
https://www.dawn.com/news/1560334/pharma-firm-plans-to-import-covid-19-treatment-drug-from-bangladesh
--------
Legislators, police officers involved in high-profile cases in Sindh: minister
Imran Ayub
May 30, 2020
KARACHI: Federal Minister for Ports and Shipping Ali Zaidi on Friday claimed that the findings of investigations into cases against Uzair Baloch, the alleged head of one of the criminal gangs operating in Lyari, and Nisar Morai carried names of political leaders, members of parliament and senior police officers, but still they had not been made public.
Talking to reporters after filing a contempt of court petition in the Sindh High Court for not making Joint Investigation Team (JIT) reports of high-profile cases public, he said the Pakistan Peoples Party's government in Sindh was protecting criminals by misusing its powers and authority.
"The court had directed the Sindh authorities to make public JIT reports on Lyari gang war kingpin Uzair Baloch, Baldia factory fire tragedy and former Fishermen's Cooperative Society chairman Nisar Morai in January this year," he said.
"But the chief secretary of Sindh has not made these reports public so far. I, therefore, have filed a contempt of court petition requesting the court to proceed against the Sindh chief secretary. Everyone knows why the Sindh government is not making them public. These reports put direct blame on those leaders who are now part of the parliament and police officers, who are their blue-eyed boys and still getting promotions."
Ali Zaidi files contempt of court petition in SHC for not making JIT reports public by Sindh govt
He said that important revelations were made by the suspects arrested in the Baldia factory case and that report should also be made public so that people could know facts. He said that he had written to the Sindh chief secretary referring the SHC directives for the government to make public reports of JITs against Uzair Baloch, former chairman of Fishermen Cooperative Society Nisar Morai and the Baldia factory fire incident.
"But my request went unheard. Why is the Sindh government so much worried about these reports? Over 200 people were killed in Baldia factory fire and Uzair Baloch had turned Lyari into a war zone. The Sindh government only in a bid to hide the truth pertaining to the involvement of police and government officials in these crimes is hesitating to make them public," he added.
Mr Zaidi also criticised the Sindh government for poor arrangements of health system in the wake of coronavirus pandemic. He accused the PPP government of failing in implementing the lockdown.
"One cannot even imagine the state of health and other services in public sector in rural parts of Sindh," he said. "They [Sindh government] couldn't save people from dog bites and dozens lost their lives in past two years. How one can expect them to show any efficiency in this global challenge?"
Regarding locust attacks in different parts of the country, he said the federal government was well aware of the challenge and making all due arrangements.
Full report at:
https://www.dawn.com/news/1560306/legislators-police-officers-involved-in-high-profile-cases-in-sindh-minister
--------
Lockdown hinders arrival of patients from interior Sindh, Balochistan at city hospitals
Imran Ayub
May 30, 2020
KARACHI: The arrival of patients from different parts of Sindh and Balochistan to Karachi's three major public hospitals has dropped to almost zero due to the lockdown and precautionary measures to contain the spread of coronavirus, triggering concerns for the health of hundreds of thousands of critically ill patients, including children.
The plight of such patients, who mainly belong to the rural parts of the two provinces, has largely been ignored and their issue was seldom discussed on the media.
The number of patients from rural and urban parts of Sindh, excluding Karachi, and remote towns of Balochistan to the city's Jinnah Postgraduate Medical Centre (JPMC), National Institute of Child Health (NICH) and Dr Ruth Pfau Civil Hospital Karachi (CHK) has drastically dropped and since the last week of March only a few patients from the two areas managed to reach any of the three health facilities for their treatment.
The trend raises pertinent questions about the fate of such patients who visit the metropolis to avail medical facilities their hometowns lack.
Patients from other districts cannot reach JPMC, NICH and CHK because of lack of public transport
With lockdown and a ban on all kind of commercial and passenger transport in the province in place, doctors and officials of the three health facilities say the number of patients from cities and towns other than Karachi had almost come to zero.
"More than 50 per cent of our OPD [outpatient department] patients include the children brought from different towns, cities and rural areas of Sindh," said NICH director Dr Jamal Raza. "Similarly, they also had a major share in bed occupancy as many of these children are referred from all over Sindh for different kind of surgeries or medicine therapy. They are not coming here due to non-availability of transport after the lockdown."
The hospital record says hundreds of children are admitted every month mainly with general paediatric problems which includes diarrhoea, malnutrition, pneumonia, tuberculosis, asthma, chronic liver disease, diabetes mellitus and haematological disorders.
The facility also provides paediatric surgical services in almost all surgical conditions and includes general surgery, neonatal surgery, urology, orthopaedics, thoracic surgery, plastic surgery and burns, minimally invasive surgery including laparoscopy, thoracoscopy, selective neurosurgery and endoscopic procedures.
The question remains about the health of those children who used to visit the facility regularly and those who are referred to the city's major hospital for immediate medical intervention or treatment.
Same is the case with the JPMC and CHK.
The 2,000-bed JPMC caters to a large number of cases from all over Sindh and finding a space for any patient has always been a challenge due to pressure from all over the province. Currently it has just a little more than 350 admitted patients.
"We treat more than 7,000 people in our OPDs every day but that number has gone down by more than 50 per cent," said Dr Seemin Jamali, the JPMC's executive director. "Patients from towns, cities and rural areas of Sindh other than Karachi are not coming at all. We are a public-sector hospital and we don't refuse anyone but the fact is that we are not receiving patients from Sindh other than Karachi. On an average we treat hundreds of people from different parts of Sindh and Balochistan every day even in our emergency."
The common fear and question among the health experts and doctors is where all these patients are going if they are not coming to Karachi. The most obvious answer is they are not going anywhere but waiting helplessly without any treatment at home in their towns, cities and villages.
The absence of an organised public sector ambulance network is further adding to the woes of the already fragile health system.
Full report at:
https://www.dawn.com/news/1560258/lockdown-hinders-arrival-of-patients-from-interior-sindh-balochistan-at-city-hospitals
--------
Govt reopens non-Muslim places of worship
Ali Hazrat Bacha
May 30, 2020
PESHAWAR: The Khyber Pakhtunkhwa government has lifted a ban on prayers and congregations in non-Muslim places of worships.
However, worshippers will have to follow safety guidelines in churches, temples and gurdwaras to prevent virus.
The relief rehabilitation and settlement department notified the lifting of the ban saying it is subject to revision in light of the Covid-19 situation and advice of health experts.
It said under the standard operating procedures, the floors of worship areas won't be covered with carpets, while worshippers would offer prayers on bare floors.
According to the department, if worship places have mud floors, personal mats will be used and if carpets cannot be removed, they will be covered by plastic sheets, which should be cleaned regularly.
Worshippers bound to follow safety guidelines to prevent virus
The formation of assembly will be avoided before and after prayers and will be discouraged by the managements of individual non-Muslim worship places.
If these worship places have courtyards, prayers will be performed there instead of closed or covered areas and not beyond premises.
The children, elderly people and those with co-morbidity or Covid-19 symptoms will not be allowed to visit churches and temples.
Floors, benches and chairs in worship areas will be cleaned with disinfectant.
The department said six feet distance among worshipers would be ensured in non-Muslim worship places and that such places would be marked if it was possible and didn't violate the sanctity of the premises.
It added that shaking of hands and hugging by worshippers won't be allowed.
"Every worshiper will wear a face mask before entering the worship areas. The managements of the minority worship areas will keep a close liaison with the relevant district administration and police," it said.
The department said the quantity of the holy water in the baptismal at vestibules and other points of churches would be kept at such a level that it would be used according the one time, one person principle.
It added that railings, altar, tabernacle and pulpits would be cleaned with disinfectant, while crockery used in rites would also be sanitised and would be used exclusively.
The department said a committee would be formed for every non-Muslim worship area to ensure the implementation of SOPs to stem the spread of Covid-19.
It said there would be a ban on processions at such places.
Meanwhile, minority MPA Wazirzada told Dawn that non-Muslims were stopped from offering prayers and holding congregations in places of worship to contain Covid-19 but the restriction had been relaxed allowing them to offer prayers there under SOPs.
He said during the closure of worship places, non-Muslims offered prayers from home along with religious leaders online.
The lawmaker said clergymen were bound to enforce SOPs on the premises.
He said large congregations would continue to be banned, while the SOP violators would be dealt with strictly.
Full report at:
https://www.dawn.com/news/1560285/govt-reopens-non-muslim-places-of-worship
--------
Religious education board hints at resuming teaching activities from June 12
May 30, 2020
While all the educational institutions have been closed till July 15 to contain the coronavirus pandemic, the Wafaq-ul-Madaris Al-Arabia Pakistan, the country's largest religious education board, has hinted at resuming on-campus curriculum activities from June 12, according to a news report.
The board, which belongs to the Deobandi school of thought, in its meeting held on Thursday also decided that an official announcement for the reopening of the seminaries would be made after a meeting of the Ittehad-e-Tanzeemate-Madaris Pakistan (ITMP).
However, the date of the ITMP's meeting was not mentioned in the press statement issued by the board.
According to the board, in the first phase, religious scholars will highlight the importance of religious education in Friday sermons and will communicate their point of view to the leaders and representatives of private schools, political parties, tuition centres and business communities.
"Due to the discriminatory policies and dual standards, we are not demanding anything from the government. But recommendations for the reopening of the seminaries will be discussed with top religious scholars, leaders of the religious political parties, and administrators of seminaries," the statement reads.
The meeting also raised questions over the reopening of the business activities, asking that if the government could allow markets to open, why authorities insisted on "us keeping the seminaries closed".
"For the reopening of the seminaries, the scholars on the same pattern have developed SOPs which were earlier followed when the government allowed imams to open mosques," it said.
The participants of the meeting said all the precautionary measures would be followed to avoid the spread of coronavirus, and students would be asked to follow SOPs.
Meanwhile, the spokesperson of the Jamia Binoria Al-Aalmia in a press statement said the institute would provide online admission applications on June 3, while the decision for the commencement of regular classes would be made after a decision was made by Wafaq-ul Madaris Al-Arabia Pakistan.
According to the spokesperson, in a meeting chaired by Mufti Muhammad Naeem, matters related to the new academic year and admissions were discussed.
On the occasion, Naeem said that by keeping the seminaries closed, the authorities were just wasting the precious time of students.
Full report at:
https://www.pakistantoday.com.pk/2020/05/29/religious-education-board-hints-at-resuming-teaching-activities-from-june-12/
--------
Gen Bajwa reiterates commitment to global peace
May 30, 2020
ISLAMABAD: Chief of Army Staff General Qamar Javed Bajwa on Friday said the sense of purpose and commitment of Pakistan towards the global peace under the United Nations Charter remained unflinching.
"Pakistan commemorates 'Spirit of Sacrifice' of our valiant peacekeepers, who continue serving humanity in challenging and restive regions of the world," the army chief said in his message in connection with the International Day of UN Peacekeepers.
The Day was observed to pay tribute to the uniformed and civilian personnel's invaluable contribution to maintaining peace across the world. The theme for this year's Day is "Women in Peacekeeping: A Key to Peace".
UN Secretary General António Guterres said, "As we commemorate the 20th anniversary of Security Council Resolution 1325 on Women, Peace, and Security, we must do more to achieve women's equal representation in all areas of peace and security."
"Together let us continue to wage peace, defeat the pandemic and build a better future," he added.
Meanwhile, Pakistan's Ministry of Foreign Affairs said in statement that "Pakistan joins the international community in celebrating 'International Day of United Nations Peacekeepers'. As a consistent leading troop-contributing country, Pakistan is cognisant of the important role played by UN peacekeepers in maintaining security and stability in so many of the world's conflict zones".
FO Spokesperson Aisha Farooqui saluted the services and sacrifices rendered by peacekeepers from around the world and reiterated the country's solemn commitment to continue working with the United Nations for the ideals of peace, stability and cooperation espoused by the 'blue helmets'.
Pakistan is proud of its long-standing contributions to UN peacekeeping spanning over six decades, she said.
Full report at:
https://www.pakistantoday.com.pk/2020/05/29/gen-bajwa-reiterates-commitment-to-global-peace/
--------
Accountability court issues bailable warrants for Nawaz
Malik Asad
May 30, 2020
ISLAMABAD: The Accountability Court of Islamabad on Friday issued bailable arrest warrants for former prime minister and Pakistan Muslim League-Nawaz (PML-N) supreme leader Nawaz Sharif because of his absence in the proceedings of a reference that accused him, Pakistan Peoples Party (PPP) co-chairperson Asif Ali Zardari and ex-PM Syed Yousaf Raza Gillani of receiving luxury vehicles and gifts from Toshakhana.
The reference was filed before the court on March 2. Accountability Judge Syed Asghar Ali on May 15 issued summons for Mr Sharif, Mr Zardari, Mr Gillani, Khawaja Anwar Majeed and Abdul Ghani Majeed, owners of the Omni Group, nominated as accused in the reference.
According to the National Accountability Bureau (NAB) reference, Mr Gillani had been accused of illegally allotting cars to Mr Zardari and Mr Sharif.
During Friday's hearing, Mr Gillani and Ghani Majeed appeared before the court, while Mr Sharif and Mr Zardari were absent.
NAB's deputy prosecutor general Sardar Muzaffar Abbasi requested the court to issue arrest warrants for Mr Gillani and Mr Majeed although they had joined the court's proceedings.
The bureau also requested the court to issue non-bailable arrest warrants for Mr Sharif and Mr Zardari for being absent during the proceedings.
The counsel for Mr Zardari informed the court that he was admitted to a hospital. The counsel also filed an application seeking exemption of Mr Zardari for Friday's proceeding.
Since Mr Sharif has already gone abroad and no one appeared on his behalf to seek exemption from personal attendance, the judge issued bailable warrants for his arrest.
The court was told that Anwar Majeed was also admitted to a hospital and he did not receive summons issued on May 15. His counsel told the court that because of his ailment Mr Majeed could not travel to Islamabad to attend the proceedings.
The court directed all the accused persons, including Mr Sharif and Mr Zardari, to ensure attendance on the next date of proceedings, June 11.
The defence counsel said that since the NAB chairman did not invoke his power to issue warrants, the NAB prosecutor could not request the court to issue warrants for the accused persons.
The reference states that Mr Zardari and Mr Sharif obtained cars from Tosha­khana by paying 15 per cent of the price of the cars. The bureau further alleged that Mr Gillani facilitated Mr Zardari and Mr Nawaz in this regard. He dishonestly and illegally relaxed the procedure for the acceptance and disposal of gifts, issued by the government of Pakistan vide Cabinet Division's Memorandum No.9/8/2004-TK dated June 25, 2007, which expressly stipulates that vehicles shall not be allowed to be purchased by the recipients and be given to the central pool care of the Cabinet Division.
Full report at:
https://www.dawn.com/news/1560348/accountability-court-issues-bailable-warrants-for-nawaz
--------
Rs20bn allocated for anti-locust operation, says Imam
Amin Ahmed
May 30, 2020
ISLAMABAD: Minister for National Food Security and Research Syed Fakhr Imam announced on Friday that Rs20 billion had been allocated under the Annual Development Plan to control locusts that had created problems for farmers in almost half the districts of the country.
Talking to media personnel on Friday after presiding over the second meeting of the National Locust Control Centre, Mr Imam said the federal government would contribute Rs9.7bn, while the rest of the amount would be shared by the provinces.
He said that since Balochistan had been severely affected by locusts, Rs4bn would be allocated to the province.
He said that Rs1bn had already been released to the National Disaster Management Authority (NDMA), which is carrying out anti-locust operations in the country, and by next month another Rs1bn would be released to the authority to speed up the operations.
NDMA, plant protection dept will be informed about locusts ahead of their movement
The minister for national food security claimed that the government would be able to control locusts in the next two to three months.
"In June and July, swarms of locusts will come from the whole of Africa, and we have to be on our toes as we are expecting swarms of locusts on a very large scale," he warned. This is a freak incident and a quantum of swarms of locusts from East Africa in very large numbers are attacking crops," he said.
About preparations at the level of federal and provincial governments to face off the challenge, Mr Imam said that coordination between them was by and large good.
He said the newly established National Locust Control Centre would issue weather forecasts and would give advance information to NDMA and the plant protection department ahead of the movement of locusts in order to launch the operation.
He said the government wanted to set up such centres in each province so that forecast on the locust movements could be passed on at district and tehsil levels.
Mr Imam said that the capacity of the plant protection department was being augmented with the hiring on emergency basis of 100 technical experts. The department is currently operating with only 31 technical staff.
The minister disclosed that the government has placed an order for ultra-low volume (ULV) micronair sprayers with a firm in the United Kingdom. According to NDMA, the amount for the purchase of 83 micronair sprayers has been transferred to the Pakistan High Commission in London. Fourteen sprayers will arrive in Pakistan by end of June, while the remaining will be delivered in July.
Mr Imam explained that the micronair had the capacity of spraying 300 acres of land in one day.
The meeting was attended by all chief secretaries of the provinces through a video link, besides officials of the agriculture departments.
According to details released by the Centre, joint teams of provincial agricultural departments, ministry of national food security, and Pakistan Army were carrying out survey and control operations in various affected districts. In 61 affected districts, 1,150 joint teams were carrying out the operation.
So far, a survey of 227,610 square kilometres has been completed and operation on 481,400 hectares has been concluded. During the last 24 hours, survey of 3,129 square kilometers has been completed and operation on 44 square kilometres was carried out.
Full report at:
https://www.dawn.com/news/1560346/rs20bn-allocated-for-anti-locust-operation-says-imam
--------
South Asia
Taliban leaders catch coronavirus, Mullah Omar's son takes over as interim chief: Foreign Policy
2020-05-30
Senior Taliban leaders have contracted coronavirus and currently son of the group's founder, Mullah Mohammad Omar, is acting as interim chief, Foreign Policy reported on Friday.
Taliban supreme leader, Hebatullah Akhundzada, has been absent from meetings for some weeks. His place was taken by Sirajuddin Haqqani, his deputy and scion of the brutal Haqqani network, which has links with al Qaeda, said Antonio Giustozzi, a leading expert on the Taliban at the Royal United Services Institute in London, FP reported.
But Haqqani has now contracted the coronavirus and is also absent from the leadership mix, Giustozzi said. "When Sirajuddin got sick he probably infected everyone else as he was deputizing at meetings for Haibatullah," he said.
An identified Afghan intelligence official was quoted as saying that members of Taliban leadership had contracted the coronavirus, but it was unclear if Akhundzada had been among them.
A Taliban commander confirmed that Mullah Omar's son had assumed the role of "chief of operations."
"Our hero, the son of our great leader, Mullah Yaqoob, is running the entire Taliban operation in Haibatullah's absence," an influential senior Taliban commander, Maulama Muhammad Ali Jan Ahmad, told Foreign Policy.
The illness of senior Taliban leaders and their absence from decision-making come at a critical time for Afghanistan as a peace process is underway. Any hint of disunity at the top of the Taliban—and the possibility that it could spill into a violent rivalry—could affect the next phase direct talks between the Taliban and the Afghan government, Foreign Policy said.
Mullah Yaqoob has been consolidating his power since losing a bid to succeed his father when Mullah Omar's death, kept secret by a coterie of close aids for more than two years, was revealed in July 2015.
He was appointed to lead the Taliban's military commission for 15 of Afghanistan's 34 provinces. In recent weeks, he has extended his military control to 28 provinces.
"Yaqoob is popular among the battlefield commanders and so they are willing to accept his leadership," an unnamed Taliban official in Quetta was quoted as saying.
Mullah Yaqoob is known to have links to Saudi Arabia, which supports the peace deal, Giustozzi said. Riyadh is believed to be funneling money to him to help him consolidate power. He also has close connections with the Afghan government and intelligence service— seen as useful in ensuring the peace deal is not derailed, he said.
http://www.1tvnews.af/en/news/afghanistan/42171-taliban-leaders-catch-coronavirus-mullah-omars-son-takes-over-as-interim-chief-foreign-policy-
--------
Killing of 26 Bangladeshis in Libya: Dhaka for quick probe, punishment of killers
May 30, 2020
Foreign Minister AK Abdul Momen yesterday said the government demanded the Libyan authorities quickly investigate and punish those who killed 26 Bangladeshis and four Africans in a "revenge attack".
Dhaka also demanded compensations for the families of those killed and injured, he said in a statement.
Momen said the Libyan interior ministry has already ordered an investigation and arrest of the killers.
Meanwhile, officials at the Bangladesh mission in Tripoli said the Bangladeshi migrants, who were killed at the hands of suspected human traffickers in a Libyan city on Thursday, were taken to the North African country en route to Italy via the Mediterranean Sea.
They landed in Libya early this year prior to the Covid-19 outbreak.The country was being used as a transit point to reach Italy, said officials.
According to Bangladesh foreign ministry sources, 24 of the deceased have been identified so far. They are Zakir Hossain, Syadul, Jewel, Feruj, Jewel, Manik, Asadul, Ainal Mollah and Monir from Madaripur, Rajon, Shakil, Shakib, Shohag and Rahim from Kishoreganj, Sujan and Kamrul from Gopalganj, Rakibul from Jashore, Arfan from Dhaka, Lal Chand from Tangail, and Shamim, Akash, Mohammad Ali, Sajib, and Shahin.
The injured are Firoz Bepari, Shamrat Khalashi and Mohammad Ali from Madaripur, Sajid from Faridpur, Janu Mia, Sajal Mia, and Shohag Ahmed from Kishoreganj, Omar Sheikh from Gopalganj, Tariqul Islam from Tangail, and Bakul Hossain and Bappi from Chuadanga.
The bodies were kept at a mortuary in the Libyan city of Mizdah and the injured were admitted to Tripoli Medical College Hospital, said ASM Ashraful Islam, labour counsellor at the Bangladesh mission in Tripoli.
Reuters, quoting Libya's internationally recognised Government of National Accord, reported on Thursday that the family of a Libyan human trafficker killed 30 migrants, including 26 Bangladeshis, in revenge for his death.
Libya has long been a destination for migrants because of its oil-funded economy, but is also an important way-station for people attempting to reach Europe across the Mediterranean, said the report.
Labour Counsellor Ashraful said the incident took place between 4:00am and 5:00am on Thursday (Libyan time) near Mizdah, some 200 kilometers away from the capital.
He said those wounded and tortured were newcomers to Libya. The victims were taken to the spot after being blindfolded, he added.
Ashraful said the injured Bangladeshis were abandoned on a road. Seeing them, some locals sought help from law enforcers to rescue and send them to hospital.
In the statement yesterday, the Bangladesh foreign minister said the government also contacted the International Organisation for Migration (IOM) for providing assistance in whatever way it could be done.
The foreign ministry said the Bangladesh mission in Tripoli confirmed that 38 Bangladeshis and some Africans were held hostage by the Libyan criminals, who could be human traffickers.
They were being brought to Tripoli on Thursday. On the way, the traffickers demanded high amount of money, although the victims had earlier paid up to $10,000 each. There were hot negotiation between the traffickers and the victims.
At one stage, the main trafficker was killed by an African. In return, other members of the trafficking gang fired shots abruptly at the Bangladeshis and Africans.
However, one Bangladeshi managed to flee and take shelter at the house of a Libyan family. He contacted the Bangladesh mission and informed it about the incident.
ENSURE PUNISHMENT
National Human Rights Commission (NHRC) yesterday expressed deep concern over the killing of the Bangladeshi migrants in Libya.
The commission in a statement called upon Bangladesh foreign ministry to take required measures to communicate with the Libyan government for ensuring exemplary punishment of the perpetrators and compensations for the victims' families.
The NHRC also urged the authorities to ensure treatment of the injured.
In separate statements, Brac and Ain O Salish Kendra (ASK) also expressed deep concern and shock over the deaths of the Bangladeshi migrants and demanded the perpetrators be brought to book.
If required, the Bangladesh government has to take assistance from different international organisations to this end, Brac said in its statement.
Shariful Hasan, head of Brac Migration Programme, said taking advantage of Libya's civil war, human traffickers have been active there for a decade.
The traffickers in the name of sending people to Europe take money equivalent to Tk 3 to 4 lakh from each person. Later, they hold the migrants hostage in different bordering areas and send them in small boats on perilous sea journeys to reach Europe, Shariful said.
Full report at:
https://www.thedailystar.net/frontpage/news/killing-26-bangladeshis-libya-dhaka-quick-probe-punishment-killers-1906477
--------
7 Afghan Local Army soldiers lose lives in Taliban attack in Parwan province
28 May 2020
At least seven soldiers of the Afghan Local Army forces lost their lives in an attack by Taliban militants in northern Parwan province.
Wahida Shahkar, a spokesperson for the provincial government, confirmed that the incident took place late on Wednesday night in Siagerd district.
Shahkar further added that the Taliban militants attacked a security post of the Afghan Local Army forces in Aantan area of the district, killing at least seven soldiers.
According to Shahkar, another soldier of the Afghan Local Army also sustained injuries during the attack.
Full report at:
https://www.khaama.com/7-afghan-local-army-soldiers-lose-lives-in-taliban-attack-in-parwan-province-08869/
--------
Afghanistan records 625 new positive cases of coronavirus in past 24 hours
27 May 2020
Microscopic illustration of the spreading 2019 corona virus that was discovered in Wuhan, China. The image is an artisic but scientific interpretation, with all relevant surface details of this particular virus in place, including Spike Glycoproteins, Hemagglutinin-esterase, E- and M-Proteins and Envelope.
The authorities in Afghanistan recorded 625 new positive cases of the novel coronavirus (COVID-19) across the country in the past 24 hours.
Deputy public health minister Wahid Majroh said the authorities tested 994 people in the past 24 hours out of the results of 525 people returned as positive.
Majroh further added that the total number of COVID-19 cases rose to 12,456 with the confirmation of the new positive cases.
He also added that the majority of the new cases were recorded in capital Kabul, western Herat, southern Kandahar, northern Balkh and eastern Nangarhar provinces.
Full report at:
https://www.khaama.com/afghanistan-records-625-new-positive-cases-of-coronavirus-in-past-24-hours-08868/
--------
14 Afghan forces killed in Taliban attack
29 May 2020
At least 14 Afghan forces have been killed in an attack by the Taliban militant group on a border post in Afghanistan, the latest since the end of a temporary ceasefire.
The attack took place in the eastern province of Paktia in the early hours of Friday.
Taliban spokesman Zabihullah Mujahid said on Twitter that the militant group had conducted the attack against "the newly established posts of the enemy in Dande Patan district of Paktia province" and had killed 14 soldiers.
He said the Afghan government "has been recently trying to expand its rule" in territories held by the Taliban, adding that two militants were also killed.
Afghan security officials confirmed that the attack had killed 14 security forces.
But Dande Patan District Governor Eid Mohammad Ahmadzai told AFP that 15 security forces and 20 Taliban militants had been killed in the attack.
Some 14 Afghan security forces were killed in two other attacks on separate checkpoints blamed by officials on the Taliban on Thursday.
The attacks came shortly after a three-day ceasefire offered by the militant group ended late on Tuesday.
Despite the renewed violence, Afghan authorities are pressing on with efforts to have the ceasefire extended.
"The détente that started during Eid al-Fitr continues despite reports of scattered incidents to the contrary," Afghanistan's National Security Council spokesman Javid Faisal tweeted.
"A ceasefire is a complex operational undertaking that requires significant and ongoing coordination to avoid incidents. Those efforts will continue," he added.
The unexpected ceasefire offer by the Taliban and a consequent, brief lull in violence had raised hopes that peace talks between the militants and the Afghan government could begin soon.
Kabul responded to the ceasefire by initiating a process to release up to 2,000 imprisoned Taliban militants as a goodwill gesture.
Some 900 Taliban inmates were released on Tuesday.
And the militant group released 80 Afghan policemen and soldiers it had been holding captive on Thursday.
The exchange of prisoners kicked off under a deal between the Taliban and the United States, which was signed in the Qatari capital, Doha, on February 29.
Under the deal, the Taliban agreed to halt their attacks on international forces in return for the US military's phased withdrawal from Afghanistan and the prisoner exchange with the government in Kabul.
The Afghan government, which was not a signatory to the accord, was required to release up to 5,000 Taliban prisoners. The militants, for their part, were obliged to free 1,000 government captives.
Full report at:
https://www.presstv.com/Detail/2020/05/29/626352/Afghanistan-Taliban-attack
--------
Africa
Somalia: Two Killed in Mogadishu Car Bomb Blast
28 MAY 2020
A senior official with Somali police force was among two killed in a car bomb attack in Mogadishu, the Somali capital on Thursday morning, local authorities said.
Abdishakur Hussein, the police officer, and another occupant lost their lives after an improvised explosive device concealed in their car went off around Muna hotel.
Al-Shabaab has immediately claimed responsibility for the attack, which becomes the third of its kind in the capital within this month. Gen Ali Gaab escaped two similar attacks.
Mogadishu has been relatively calm in the past as the police stepped up measures to avert the frequent Al-Shabaab car bombs in the seaside capital that hosts the government.
https://allafrica.com/stories/202005290356.html?utm_source=iterable&utm_medium=email&utm_campaign=1252850_
--------
Many killed in central Mali ethnic attacks: Officials
28 May 2020
Armed men on motorcycles have killed at least 27 civilians in central Mali in three attacks on ethnic Dogon farming villages in less than 24 hours, local officials said on Thursday.
Central Mali has been ravaged in recent years by ethnic reprisal killings, as recriminations between Fulani herding and Dogon farming communities over violence compound long-standing grievances.
Local officials told Reuters news agency they believed the three attacks, between Tuesday night and Wednesday evening, were carried out by people claiming to be defending Fulani against rival Dogon.
"We were surprised by the attack on the village of Tille. Seven were killed, all Dogons, some of them burned alive," said Yacouba Kassogue, the deputy mayor of Doucombo, the municipality in which Tille is located.
Attacks on villages in the neighbouring areas of Bankass and Koro killed another 20 civilians, most of them shot or burned to death, local officials said.
A spokesman for Mali's army was not immediately available for comment. The army has been criticised by rights groups and residents for failing to protect civilians in central Mali.
Increasing violence
Violence between the Dogon and Fulani has compounded an already dire security situation in Mali's semi-arid and desert regions, which are used as a base by armed groups with ties to al-Qaeda and the ISIL (ISIS) group.
The Fulani are primarily cattle breeders and traders, while the Dogon are traditionally sedentary farmers.
Last year, the United Nations mission in Mali (MINUSMA) announced it recorded "at least 488 deaths" in attacks on Fulanis in the central regions of Mopti and Segou.
In the bloodiest raid, about 160 Fulani villagers were slaughtered in March last year at Ogossagou, near the border with Burkina Faso, by suspected Dogon hunters.
MINUSMA said since January 2018, armed Fulanis had "caused 63 deaths" among the civilians in the Mopti region.
MINUSMA has been operating in Mali since 2013, which ranks as the most dangerous UN mission, with 125 peacekeepers killed in attacks since deployment.
Full report at:
https://www.aljazeera.com/news/2020/05/killed-central-mali-ethnic-attacks-officials-200528143331973.html?utm_source=iterable&utm_medium=email&utm_campaign=1252850_
--------
State of emergency extended in Tunisia by 6 months
May 29, 2020
LONDON: Tunisian President Kais Saied announced an extension to the state of emergency in the country by six months starting from Saturday.
A state of emergency has been in effect in Tunisia since a suicide attack on a police bus in November 2015. It has been extended a number of times.
On Thursday, hundreds of Tunisians protested in at least seven cities to demand jobs, which has heaped pressure on a government facing the worse economic crisis in more than 60 years due to the coronavirus pandemic.
Even before the outbreak hammered Tunisia's tourism sector, which accounts for nearly 10% of gross domestic product, successive governments since the uprising of 2011 have failed to resolve stubbornly high inflation and unemployment that has bred discontent, especially among young people.
https://www.arabnews.com/node/1681846/middle-east
--------
Jordan pools $131m in COVID-19 donation fund
May 30, 2020
DUBAI: Jordan's national fund – Himmat Watan – has gathered a total of $131.1 million (93.5 million Jordanian Dinars) since its launch on March, the state news agency has reported.
The fund was established in the wake of the COVID-19 outbreak, and the contributions were distributed to several charity organizations.
Jamal Sarayrah, the deputy chairman of the committee assigned to oversee the fund, said the distribution of assistance "is being robustly monitored," adding more than 250,000 households have already been given aid.
Global accounting firm EY has been hired to audit the accounts, Sarayrah said.
The fund continues to receive contributions at a Central Bank of Jordan account.
https://www.arabnews.com/node/1682046/middle-east
--------
Haftar in Libya not flexible for cease-fire talks: US
By Vakkas Dogantekin
29.05.2020
After over a year of attacks on Libya's government, warlord Khalifa Haftar is not showing any flexibility towards reaching a cease-fire, according to a senior US diplomat.
In an interview with France 24 on Thursday, David Schenker, the US assistant secretary of state for Near Eastern affairs, said the Libyan government has demonstrated some flexibility toward returning to the negotiating table, but Haftar's side has not.
Saying that the US supports an immediate cease-fire, Schenker added that Secretary of State Mike Pompeo spoke last Friday with Fayez al-Sarraj, the prime minister of Libya's government, also known as the Government of National Accord (GNA).
Pompeo "expressed to him the need to return to negotiations as quickly as possible to accept the cease-fire. We believe that the GNA is demonstrating some flexibility, but not so for the LNA [so-called Libyan National Army] and Haftar," Schenker said.
He added that what is going on in Libya is a regional conflict far beyond a proxy war and that an arms embargo should be implemented to restart the negotiation process.
Schenker warned that the Libyan conflict "could spin out of control if the Russians choose to escalate further," adding that the US is extremely concerned with the deployment of advanced Russian jets to the country.
Similar dynamics in Libya, Syria
Comparing developments in Libya to Syria's decade-long civil war which has killed, injured, or displaced millions of civilians, Schenker said what Russia and the Syrian regime have done in Syria "resembles a genocide" and "similar dynamics are playing out" now in Libya.
He said the US has adopted the Berlin plan for Libya and is still committed, despite its poor implementation to date. He added that the US is helping Libya by sending it funds for battling COVID-19 and engaging in diplomacy among regional actors.
The Berlin plan, reached at a conference this January in the German capital, agreed to new steps to support the cease-fire and observe the arms embargo.
Speaking at the end of the conference that brought together world powers and regional actors, including Turkish President Recep Tayyip Erdogan, German Chancellor Angela Merkel said all the participants agreed that there could be no military solution to the Libyan conflict.
The Libyan government has been under attack by Haftar's forces since April 2019.
While France, Egypt, Russia, and UAE support Haftar, directly or indirectly, Turkey has shown solidarity with the UN-recognized, legitimate government representing the will of the Libyan people.
Following the ouster of late ruler Muammar Gaddafi in 2011, Libya's new government was founded in 2015 under a UN-led political agreement.
Haftar's illegal forces in eastern Libya have launched numerous attacks to capture Tripoli, the nation's capital, with more than 1,000 killed in the violence.
The United Nations' Libya mission has frequently expressed concern over the civilian causalities caused by Haftar's forces.
Full report at:
https://www.aa.com.tr/en/africa/haftar-in-libya-not-flexible-for-cease-fire-talks-us/1858218
--------
Nigeria fire leaves thousands of IDPs without shelter
Felix Tih
29.05.2020
Thousands of Internally Displaced Persons (IDPs) were left without shelter after a fire swept through a refugee camp in Nigeria's northeastern city of Maiduguri, the UN Refugee Agency said on Friday.
The fire broke out on the eve of the Muslim festival of Eid-al-Fitr at the makeshift camp that hosts about 40,000 IDPs in Maiduguri, according to a statement.
''It began after sparks from a cooking fireplace spread out and ignited a fire which soon engulfed shelters all around the camp. Houses were razed to the ground and damaged other facilities,'' it added.
The agency said they are working with all humanitarian partners to assist the refugees left without shelter and who lost all their belongings. ''The majority of those affected people were women.''
Some 2.5 million people are displaced across the Lake Chad region, including some 1.8 million inside Nigeria and the rest in Cameroon and Chad.
With the ongoing violence, thousands of people have to run for their lives each day. ''Young girls, old women and aid workers continue to bear the brunt of this escalating violence,'' UNHCR said.
Since the early 2010s, Boko Haram has wielded power and influence in northeastern Nigeria, Niger, Chad, and Cameroon.
For the past three years, the Islamic State in West Africa Province (ISWAP), a splinter of Boko Haram, has been growing in power and influence in north-eastern Nigeria.
Full report at:
https://www.aa.com.tr/en/africa/nigeria-fire-leaves-thousands-of-idps-without-shelter/1857910
--------
Nigerian army rescues 241 hostages from Boko Haram
Adam Abu-bashal
29.05.2020
ABUJA, Nigeria
Nigerian troops have rescued 241 hostages abducted by the Boko Haram terrorist group in the country's northeast, an official said Thursday.
Defense Ministry spokesman John Enenche told reporters that a clash took place between the army and Boko Haram in the Gamboru region of Borno State.
Enenche said that following the clash, the army rescued 136 children and 105 women in an operation against the terror group.
Fourteen Boko Haram members were neutralized during the operation, he said, adding a remarkable amount of ammunition was also seized.
He stressed that the army suffered no losses or injuries during the operation.
No information about when the hostages were abducted was disclosed.
Boko Haram launched a bloody insurgency in 2009 in northeastern Nigeria but later spread its atrocities to neighboring Niger, Chad and Cameroon, prompting a military response.
More than 30,000 people have been killed and nearly 3 million displaced in a decade of Boko Haram's terrorist activities in Nigeria, according to the UN Office for the Coordination of Humanitarian Affairs.
Full report at:
https://www.aa.com.tr/en/africa/nigerian-army-rescues-241-hostages-from-boko-haram/1857125
--------
URL: https://www.newageislam.com/islamic-world-news/muslims-shown-way-maharashtra-cm/d/121991
New Age Islam, Islam Online, Islamic Website, African Muslim News, Arab World News, South Asia News, Indian Muslim News, World Muslim News, Women in Islam, Islamic Feminism, Arab Women, Women In Arab, Islamophobia in America, Muslim Women in West, Islam Women and Feminism