New Age Islam News Bureau
31 Jul 2015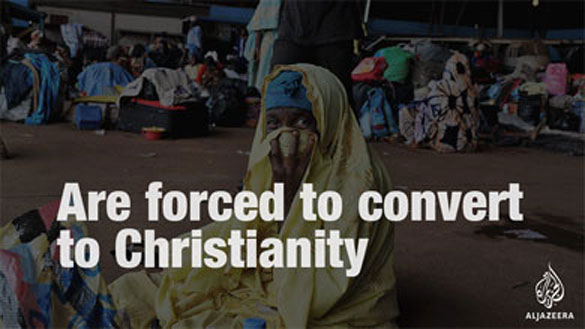 Muslims Being 'Erased' From CAR: Amnesty International
----------
Africa
• Muslims Being 'Erased' From Central African Republic: Amnesty International
• Boko Haram 'Slits Throats of 10 Fishermen' Near Lake Chad
• Over 100 militants killed in anti-Boko Haram operation on Lake Chad: Chad Army
• Bomb Blast Hits Market in Nigeria's Maiduguri
• Chad Parliament Mulling Anti-Terrorism Bill
• A Nigerian general is leading a multi-national army against Boko Haram
• Only military can defeat Boko Haram
• "Some security agents leak plans to Boko Haram" – Badeh reveals at pull-out ceremony
-----------
North America
• Zionist Chief: Obama Has 'Shocking Sympathy to Radical Islam'
• It's Official: US Terror Threat not Islamist, Only 'Extremist'
• Abductions Hurt U.S. Bid to Train Anti-ISIS Rebels in Syria
• U.S. Islamic Cleric Criticizes Ban On Halal And Kosher Animal Slaughter By Denmark
• Despite bombing, Islamic State is no weaker than a year ago
• US urges Taliban to stay engaged with Kabul
-----------
Arab World
• Al-Saud's Mismanagement Root Cause of Poverty, Terrorism Tendencies in S. Arabia
• Sisi: Egypt and Saudi Are Leaders of Arab Security
• Iraqi Volunteer Forces Purge Anbar's District of Terrorists
• Syria Dismisses Turkish Attempts to Show Ankara as Victim
• Egypt, S. Arabia sign accord to boost military, economic ties
• US beginning delivery of F-16s to Egypt ahead of Kerry's visit
• Saudi humanitarian aid plane arrives in Aden
• U.S. airstrikes hit Nusra Front in Syria
• Syria army, Hezbollah make major advances in Zabadani
• Nusra Abducts Rival Terrorist Group Leader
• Saudi Air Raids Hit Yemen
------------
Mideast
• Yemeni Commander: Over 100 Terrorists Killed in Aden
• Erdogan Taking Turkey to War to Avenge Kurdish Gains: Opposition
• 30 Turkish Warplanes in New Strikes against PKK in Northern Iraq
• Yemeni forces seize Houthi positions in Aden
• Several people stabbed at Jerusalem gay pride parade
• Arab-led coalition: Restore Yemeni govt in Aden first, Sanaa later
• Russia prepping S-300 missiles for Iran: report
• Leader's Top Aide: Iran Firmly Standing against US Meddling
• Iranian Negotiator: Nuclear Agreement Contains No Secret Document
• Iran Advises Bahraini FM to Stop Inciting Religious Strife, Sedition
• AEOI Official: Iran to Build 2 N. Power Plants on Persian Gulf Coasts
------------
South Asia
• Mullah Akhtar Mohammad Mansoor Appointed As New Supreme Leader of Taliban in Afghanistan
• Taliban Power Transition Raises Hopes for Afghan Peace Talks
• Mullah Omar's death: the beginning of a new phase in Afghan conflict
• Taliban postpones second round of peace talks due to Mullah Omar's death
------------
Southeast Asia
• Nahdlat Ul Ulema (NU) and Muhammadiyah to Promote Moderate View of Islam in Indonesia
• Amid 1MDB scandal, Muslims warned against vilifying country's leadership
• Don't let foreign spin decide Malaysia's leaders, Najib says as rumours flood Internet
----------
India
• Four Indian Teachers 'Detained' In Islamic State Stronghold in Libya
• Shiv Sena Backs Asaduddin Owaisi; Punishment Should Be Given Irrespective Of Religion, Writes Saamna
• Terrorists made five bids to cross border in J&K in last one month: Rajnath Singh
• PM Narendra Modi 'spending too much capital' on bilateral talks with Pakistan: RSS
• Bangladesh, India exchange land in historic deal
• Wedding bells ring in communal harmony in Kashmir
---------
Pakistan
• 'Won't Include Pakistan Muslim League -Q Leader, Ex-Intel Chiefs In Bhutto Case'
• Report On State Of Madressahs in Pakistan Launched
• Two Soldiers, 3 Militants Killed In Bannu Clash
• Govt mulling option to highlight RAW involvement in Pakistan with UN: Aziz
• Ishaq's killing: Officials don't see any serious implications
• Govt brings bill to promote Halal food trade
• Pakistan's population to exceed 300m by 2050: UN
• China expresses understanding on postponement of talks between Afghan Govt, Taliban
------------
Europe
• Italians Frown at Muslim Prayer Rug Removal
• David Cameron's Muslim Muddle
• Greece's divided Syriza party agrees to emergency meet
Compiled by New Age Islam News Bureau
URL: https://www.newageislam.com/islamic-world-news/new-age-islam-news-bureau/muslims-being--erased--from-central-african-republic--amnesty-international/d/104109
------------
Africa
Muslims Being 'Erased' From Central African Republic: Amnesty International
31 Jul 2015
Militias have taken advantage of the political vacuum in Central African Republic (CAR), engaging in ethnic cleansing towards Muslims in a bid to erase the community from the country, human rights group Amnesty International has said.
Discussing Friday's report, entitled "Erased identity: Muslims in ethnically cleansed areas of the Central African Republic," Joanne Mariner, a senior crisis response adviser at the UK-based organisation, told Al Jazeera that Muslims in the western half of the country were being repressed and forced to abandon their religion.
More than 30,000 Muslims are living in seven enclaves guarded by UN troops across the country, but for those living outside, especially in rural areas, they are being targeted with impunity, the report found.
"They not allowed to express themselves as Muslims; if they are outside the enclaves, they cannot pray, dress in any way that identifies them as Muslim," Mariner said.
"Their survival depends on a daily routine of negotiation with anti-Balaka fighters."
Mariner said that many had been forced convert to Christianity or face persecution from the community
'Failed state'
More than one million people have been displaced since Muslim-led Seleka rebels took control of Bangui, the capital, in March 2013.
Following a spate of abuses by the Seleka rebels, vigilante groups known as anti-Balaka (anti-machete) emerged to fight off the new leadership.
But the anti-Balaka, made up of animist and Christian fighters, also targeted the country's Muslim minority, seen as sympathetic to the Seleka.
Amnesty's report, based on a series of interviews with residents across CAR, says militias "unleashed a violent wave of ethnic cleansing aimed at forcing Muslims to leave the country".
"The continued insecurity and threat from the anti-Balaka comes from there being an absence of a state," Marina said.
Though violence in CAR has tapered off since late 2014, the country remains largely insecure.
The collapse of the state apparatus and the fragility of the transitional government have left parts of the country to the mercy of militia groups in the hinterlands.
Concerns remain that despite the perceived calm, the root causes of the crisis have yet to be addressed.
Amnesty's report comes just days after the International Rescue Committee said CAR "needs a new start, or it will become the case study of a failed state".
Destruction of mosques
In April, a US envoy said that almost all of the 436 mosques in CAR have been destroyed in the violence. Samantha Power, US ambassador to the UN, called the devastation "kind of crazy, chilling".
Amnesty said in Friday's report that none of the mosques outside Bangui, and the town of Carnot, have been repaired or rebuilt.
One of the "clearest signs of the intensity of sectarian animus was the destruction of the country's mosques," the organisation said.
More than 6,000 people have been killed since the crisis began in March 2013.
"The key challenge is a lack of security. The government understands they have a long way to go [but] they need to be able to assert control over these far flung areas," Mariner said.
The International Committee of the Red Cross (ICRC) said this week that more than 1,000 people were still looking for their loved ones, a year after after being separated from them during the wave of violence.
"In this part of the country, very few families have been spared the pain and uncertainty of being separated from loved ones," Scott Doucet, head of the ICRC sub-delegation for the west of the country, said.
The UN says that that 2.7 million people, more than half the population, are still in need of aid, while 1.5 million people were affected by food insecurity.
The global body's Office for the Coordination of Humanitarian Affairs says humanitarian needs continue to exceed resources available.
Meanwhile Doctors without Borders (MSF) has previously described the country to be in a state of a protracted chronic health emergency.
CAR has been led by a transitional government since January 2014. The country is schedule to hold presidential and parliamentary vote scheduled on October 18.
Follow Azad Essa on Twitter: @azadessa
http://www.aljazeera.com/news/2015/07/amnesty-muslims-erased-central-african-republic-150731083248166.html
------------
Boko Haram 'slits throats of 10 fishermen' near Lake Chad
July 30, 2015
KANO, Nigeria, Jul 30 – Boko Haram Islamists slit the throats of 10 fishermen in villages near Baga on the shores of the Lake Chad in northeastern Nigeria, a leading fisherman and a resident said Thursday.
"On Monday around 4 pm (1500 GMT), Boko Haram attacked three villages on the shores of Lake Chad where they slaughtered 10 people, all of them fishermen," Abubakar Gamandi, head of the fishermen's union in Borno State, told AFP.
The account was confirmed by a local fisherman, Buhari Dan-Malam, who lives in Doron Baga.
"The Boko Haram gunmen came around 4:00 pm and they attacked three villages (that are five kilometres/three miles from Doron Baga). They slit the throats of 10 people," he also told AFP.
The villages attacked were Bundaram, where they killed four people, Fishdam, where they killed two people, and Kwatar Mali, where they killed four people," Gamandi said.
"Boko Haram decided not to use guns so as not to attract the attention of soldiers from Baga. This is why they used knives to slaughter their victims," he said.
The fishing villages around Baga were abandoned in January after some of the most deadly attacks by the sect.
But "in the last one month, residents in the Baga area displaced by the Boko Haram takeover of the area in January have been returning to some villages secured by the military to continue their fishing business," Gamandi said.
"They take their (fish) catch back to Maiduguri (the state capital) to sell and make a living because living in the IDP (Internally Displaced People) camps has become difficult due to lack of food."
The army had authorised the displaced people to go back to fish in the villages, he added.
http://www.capitalfm.co.ke/news/2015/07/boko-haram-slits-throats-of-10-fishermen-near-lake-chad/
------------
Over 100 militants killed in anti-Boko Haram operation on Lake Chad: Chad Army
July 31, 2015
N`Djamena: At least 100 militants have been killed in an operation launched a fortnight ago against Boko Haram jihadists holed up in the islands of Lake Chad, the Chadian Army said in a statement Friday.
"117 terrorists have been killed, two Chadian soldiers died and two others were wounded" in the operation, said Army spokesman Colonel Azem Bermendoa Agouna, adding the operation was ongoing.
There was no immediate confirmation of the toll by an independent source.
http://zeenews.india.com/news/world/over-100-militants-killed-in-anti-boko-haram-operation-on-lake-chad-chad-army_1639600.html
-----------
Bomb blast hits market in Nigeria's Maiduguri
Jul 31, 2015
A bomb blast rocks a big market in Nigeria's city of Maiduguri in the north-eastern Borno State, amid a string of recent similar attacks targeting the country.
A female assailant blew herself up at a taxi rank at the crowded Gamboru wholesale vegetable market on Friday, witnesses said.
"There had been a suicide attack on Gamboru market this morning. It was a female suicide bomber. The attack happened around 6:30 am (0530 GMT) as the grocers were arriving in the market which starts early," a vigilante, Babakura Kolo, added.
Trader Bukar Shettima says he saw "nauseating corpses and battered bodies littering the ground" before he ran away.
There is no immediate information on the number of casualties as rescuers are still recovering bodies; however, the bomb blast bears the hallmarks of those carried out by the Takfiri Boko Haram militants.
Since just over a week ago, bombings by the militants killed at least 47 people in attacks on crowded places in towns in both Nigeria and neighboring Cameroon.
The attack comes a day after Nigerian Defense Ministry appointed Major General Iliyasu Isah Abbah to command an 8,700-strong regional army to curb the Takfiri militancy that has spilled across Nigeria's borders.
Boko Haram, whose name means "Western education is forbidden," controls large parts of north-eastern Nigeria. Cameroon, Chad, Niger and Nigeria are the four African countries which have been directly affected by the growing threat of Boko Haram in recent months.
Troops from Nigeria, Chad, Cameroon and Niger have been battling Boko Haram terrorists in recent months.
Full Report at:
http://www.presstv.in/Detail/2015/07/31/422649/Nigeria-Boko-Haram-Borno--
------------
Chad parliament mulling anti-terrorism bill
Jul 31, 2015
Chadian lawmakers have been discussing a controversial bill to counter terrorism after attacks by the Boko Haram Takfiri group.
The lawmakers, which were debating the anti-terror bill for hours, could not come to a decision by Thursday evening.
The anti-terror legislation has already been approved by the government, but it needs parliamentary approval to become law.
Opponents and rights activists say the approval of the bill could be used to limit freedom because "terrorism" has been loosely defined in the bill.
Three Chadian unions said in a joint statement on Thursday that the vague definition of "terrorism" in the bill "opens civil society organisations and political parties to repression under the cover of (fighting) terrorism."
"When pensioners occupy the streets ... to demand their pensions, they risk being branded terrorists. Even a simple speech can be seen as an apology for terrorism," Saleh Kebzabo, an opposition MP, said.
The Chadian government's decision to pass the law and beef up security came after a number of bomb attacks in the country, including one in the capital N'Djamena.
On July 11, at least 14 people were killed in a bombing attack at a busy market in Chad's capital city after an attacker, who had been stopped for security checks, detonated his explosives.
Full Report at:
http://www.presstv.in/Detail/2015/07/31/422603/Chad-Boko-Haram-Nigeria-Camaroon-
------------
A Nigerian general is leading a multi-national army against Boko Haram
Jul. 30, 2015
LAGOS, Nigeria (AP) — Nigeria's Defense Ministry has appointed a new general to head the multinational army it is hoped can defeat the Boko Haram Islamic uprising that has killed 20,000 people and driven nearly 2 million from their homes.
Thursday's appointment comes as the West African nation's new president promised deeper collaboration with neighboring states in the fight against Islamic extremism.
President Muhammadu Buhari headed home Thursday after two days of talks in Cameroon focused on Boko Haram.
Its attacks have spread across Nigeria's borders and forced tens of thousands of refugees to flee to neighboring states.
Chad announced Thursday that its troops killed 13 Boko Haram fighters in attacks this week near Lake Chad, where militants slit the throats of three villagers.
It said the extremists had kidnapped about 30 people, and spirited them away on speed boats.
Nigeria's Defense Ministry said Maj. Gen. Iliyasu Isah Abbah will command the 8,700-strong four-nation army based in N'Djamena, Chad's capital.
Buhari has said it is a disgrace that Nigeria needs foreign troops on its soil. But he noted before leaving Cameroon that "none of us can succeed alone."
Relations with Cameroon have been strained by a long-simmering border dispute over the oil-rich Bakassi peninsula, but the two leaders agreed Thursday that demarcation of their border under U.N. auspices should be completed by year's end.
Nigeria's military, poorly equipped with soldiers reporting going into battle without rations and just 30 bullets, last year allowed Boko Haram to take control of a large swath of the northeast.
Full Report at:
http://www.businessinsider.com/a-nigerian-general-is-leading-a-multi-national-army-against-boko-haram-2015-7?IR=T
------------
Only military can defeat Boko Haram
July 30, 2015
President Mohammadu Buhari has been urged to equip the military for a fierce battle against terrorists if his administration hopes to put the menace in the past.
Briefing journalists, Thursday, at the launching of a book, titled Sects & Social Disorder: Muslim Identities and Conflict in northern Nigeria, the author of the book, Abdul Raufu Mustapha, an associate professor in African Politics, with the Queen Elizabeth House, University of Oxford, said a well-equipped Nigerian military has the capacity to subdue insurgents in the country.
Mr. Mustapha, however, added that terrorism has multiple causes that will take other processes to eradicate in the long run.
He said religious fragmentation, intolerance, government's irresponsibility, as well as a product of high rate of poverty and inequality in the north, are some of the contributory factors responsible for the emergence of present day terrorism.
"The northern parts of the country are more hierarchically unequal than other parts of the country," Mr. Mustapha stated.
He said in all societies with such tendencies, conflicts prevail and Nigeria would not be an exception
Mr. Mustapha added that the state has the responsibility of protecting the citizens from those who want to infringe their believes on others
He said the fragmentation of the Muslim society due to differences of perceptions of Islamic guidelines has further heightened the problem of insurgency in the northern Nigeria.
"The book seeks to look at the tensions in Muslims communities and how the intra-Muslim tensions have led to complex dynamics which has resulted in a wide range of instability", Mr. Mustapha stated.
According to Mr. Mustapha, religion is a highly emotional matter, especially in Nigeria.
He said most of the discussions in Nigeria about religion are wrapped in shrouds of might, fears and prejudices, adding that the book provides rational evidence based approach towards dialogue on how to manage the problem.
He said the book is a product of the partnership between Nigerian Research Network and the Dutch government focused on producing empirical solutions to certain problems of Northern Nigeria.
Full Report at:
http://www.premiumtimesng.com/news/more-news/187540-only-military-can-defeat-boko-haram.html
------------
"Some security agents leak plans to Boko Haram" – Badeh reveals at pull-out ceremony
July 31, 2015
Former Chief of Defence Staff, Alex Badeh has disclosed that activities of fifth columnists in the military and other security agencies who leaked operational plans and other sensitive military information to Boko Haram sect was a major challenge he faced while in office.
Badeh said this in his Valedictory Speech at his pulling-out ceremony from Nigerian Armed Forces on Thursday July 30, 2015.
He called for equipment for the military, improved welfare as well as unity among security agencies as the country continue to battle Boko Haram.
1. It is with deep sense of gratitude to the Almighty God that I make this valedictory speech today, on the occasion of my pulling out from the Nigerian Armed Forces. When I commenced my career in the Nigerian Air Force as a cadet in the Nigerian Defence Academy about 38 years ago, little did I know that destiny will take me not only to the pinnacle of my Service as the 18th Chief of Air Staff, but also to the position of the 15th Chief of Defence Staff of the Armed Forces of Nigeria.
Looking back at how God lifted me from my very humble beginnings, through the various ranks and appointments to the pinnacle of my career, I can only say a very big thank you to the Almighty God who directed my steps, protected and empowered me to serve my beloved country. Like the saying goes, "whatever has a beginning must surely have an end". My journey in the Service of my fatherland as a member of the Armed Forces of Nigeria which began on the 3rd of January 1977 in the Nigerian Defence Academy has finally come to an end. Accordingly as I bow out today, I look forward to a deserved and happy retirement.
2. When I joined the Armed Forces of Nigeria, I resolved to put in my very best in whatever assignment I was given, in the service of my fatherland. Furthermore, I purposed within me to be dedicated, loyal and committed to making a difference in whatever task I was given to undertake. That resolve had remained with me throughout my years in Service such that as I reflect on the past, I rest in the firm conviction that I have given my best in the service of my fatherland. That to me, is the least one could do in appreciation to God and to a nation that has invested heavily in my development as a military officer and as a human being.
3. Occasions such as this, usually affords one the opportunity to reflect on the past, share experiences, as well as project into the future. Looking back at the years I spent in Service, I can only say I've had the most exciting life anyone could wish for. My life in the Service has been full of excitement, opportunities as well as challenges. The opportunities I had to be trained as a pilot and to have flown to all the continents of the world as well as working in various capacities with some of the best and most patriotic members of the Armed Forces of Nigeria, are memories that I will always cherish for the rest of my life.
As an Instructor Pilot, I had the awesome privilege of contributing to the production of numerous pilots for the Nigerian Air Force, some of whom are today occupying very important positions in the Nigerian military. Also, the opportunity I had to serve as a Directing Staff and ultimately as the Director National Military Strategy in the National Defence College, afforded me the opportunity to contribute to the development of strategic leaders for the Nigerian Armed Forces.
Full Report at:
http://dailypost.ng/2015/07/31/some-security-agents-leak-plans-to-boko-haram-badeh-reveals-at-pull-out-ceremony/
------------
North America
Zionist Chief: Obama Has 'Shocking Sympathy to Radical Islam'
30 Jul 2015
President Barack Obama has "a painful, unpleasant, shocking sympathy to radical Islam," Morton Klein, president of Zionist Organization of America and former economist for Presidents Richard Nixon, Gerald Ford and Jimmy Carter, tells Newsmax TV.
"This is a man who refuses to use the term Islamic terrorism, a man who refused to go to the Paris march to fight against Islamic terrorism, a man who fought to get rid of [Hosni] Mubarak in Egypt, an ally," Klein said Thursday on "The Steve Malzberg Show."
"[With] Guantanamo, he's released dozens of extremely high risk terrorists, virtually for nothing and when the Palestine Authority joined with Hamas, [he] said nothing and kept giving money to the Palestine Authority.
"This is painful to say … the evidence requires me to believe that he has a painful, unpleasant, shocking sympathy to radical Islam."
Klein is also disturbed with what he believes is the commander in chief's lack of criticism toward Iran. Despite protests from Israel, the U.S. and other world powers hammered out a deal limiting the Middle East nation's ability to build nuclear bombs in exchange for economic sanctions being lifted.
"He has never criticized Iran even once. He's never said, 'Stop saying death to America,'" Klein said.
"When [Iran President] Hassan Rouhani last week said 'death to America to say is easy, what we need is death to America with action,' and Obama doesn't criticize him, I'm worried about where he stands on these issues."
Despite protests from Israel, the U.S. and other world powers hammered out a deal limiting the Middle East nation's ability to build nuclear bombs in exchange for economic sanctions being lifted.
Full Report at:
http://www.newsmax.com/Newsmax-Tv/Morton-Klein-Zionist-Israel-Iran/2015/07/30/id/659712/
------------
It's Official: US Terror Threat not Islamist, Only 'Extremist'
7/31/2015
Homeland Security chief Jeh Johnson announced the policy this past Friday at Aspen Institute's annual security forum in Washington, D.C. He explained that though it was a Muslim terrorist who shot to death four unarmed Marines in Tennessee two weeks ago, the government will call the attack, and other similar ones, "violent extremism" and not "Islamic terrorism" - out of respect for the Muslim community.
Johnson said it is "critical" to refrain from the "Islamic" label in order to "build trust" among Muslims.
The Tennessee murderer, Mohammad Abdulazeez, is officially a "homegrown violent extremist," according to the government – even though he blogged about his Islamic religious motivations for the attack. He and his family also attended a local mosque controlled by a terror-tied Islamic trust.
Johnson explained that if officials called Islamic terrorism "Islamic," they'd "get nowhere" in gaining the "cooperation" of the Muslim community.
The moderator of the panel tried to protest: "Isn't [the] government denying the fundamental religious component of this kind of extremism by not using the word Islamic?"
"I could not disagree more," Johnson responded, and explained that Islam "is about peace."
Responses to Johnson's remarks were fast and furious. The Clarion Project advanced two quick objections: "Putting aside the argument that to be able to fight the phenomenon of Islamic terror, one has to be able to name it," wrote Meira Svirsky, editor of ClarionProject.org, "it is plainly a strategy that has failed - primarily because the Muslims whom the government is trying to appease are the very ones supporting the same extremist ideology – Islamism -- that drives the terrorists."
Full Report at:
http://www.israelnationalnews.com/News/News.aspx/198858
------------
Abductions Hurt U.S. Bid to Train Anti-ISIS Rebels in Syria
By KARAM SHOUMALI, ANNE BARNARD and ERIC SCHMITT
JULY 30, 2015
ANTAKYA, Turkey — A Pentagon program to train moderate Syrian insurgents to fight the Islamic State has been vexed by problems of recruitment, screening, dismissals and desertions that have left only a tiny band of fighters ready to do battle.
Those fighters — 54 in all — suffered perhaps their most embarrassing setback yet on Thursday. One of their leaders, a Syrian Army defector who recruited them, was abducted in Syria near the Turkish border, along with his deputy who commands the trainees. They were seized not by the Islamic State but by its rival the Nusra Front, an affiliate of Al Qaeda that is another Islamist extremist byproduct of the four-year-old Syrian civil war.
The abductions illustrate the challenges confronting the Obama administration as it seeks to marshal local insurgents to fight the Islamic State, which it views as the region's biggest threat.
After a year of trying, the Pentagon still struggles to find recruits to fight the Islamic State without also battling the forces of President Bashar al-Assad of Syria, their original foe. The willing few face vetting meant to weed out extremists, so stringent that only dozens have been approved, and they are bit players in the rebellion. The program has not engaged with the biggest, most powerful groups, Islamist factions that are better funded, better equipped and more motivated.
The setback for the American effort in Syria comes just as the United States and Turkey have undertaken a joint plan to create an "Islamic State free-zone" in northern Syria, using warplanes flown from Turkish air bases to take the area with a ground force of Syrian insurgents, presumably including trainees of the Pentagon's program.
The biggest kidnapping prize on Thursday was a leader of the trainees, Nadeem Hassan. When the Pentagon announced the program last year, Mr. Hassan helped to gather several groups totaling 1,200 insurgents, who were already fighting in Syria and willing to join the training. They began fighting together as a unit called Division 30. Also abducted were at least six other fighters from Division 30, but an American official said they were not among the graduates.
In an interview just two days earlier, Mr. Hassan spoke about the troubles he had faced.
After screening, just 125 of his recruits were invited to the first course. Of those, more than half were thrown out or quit.
The rest, he said, had deployed back to Syria, but had not been told whether American warplanes would defend them if Syrian forces attacked.
Mr. Hassan said the Americans, worried about the lack of recruits, were recalling men they had once rejected. Some, expelled on suspicion of embracing "Islamic State doctrine," are unavailable: They have since died in Syria, he said — battling the Islamic State.
Pentagon training courses in Turkey and Jordan have graduated only about 60 fighters, American officials say, an apparent reference to Mr. Hassan's men.
The training is often at cross-purposes with a covert C.I.A. training program for fighters battling Syrian security forces. Toppling Mr. Assad was the original goal of the Syrian revolt, before the Islamic State sprang from its most extreme Islamist wing. Both programs have a common problem: Working with Americans makes recruits a target, not just of the Islamic State but also of the Nusra Front.
Full Report at:
http://www.nytimes.com/2015/07/31/world/middleeast/us-trained-islamic-state-opponents-reported-kidnapped-in-syria.html?_r=0
------------
U.S. Islamic Cleric Criticizes Ban On Halal And Kosher Animal Slaughter By Denmark
July 30, 2015
Imam Khalid Latif, an Islamic cleric who is a university Chaplain for New York University and a Chaplain for the NYPD, has criticized the sweeping ban imposed on halal and kosher religious slaughter procedures by the Danish government. Latif said the ban singles out the slaughtering methods used by Jews and Muslims while failing to address the many issues of how animals are treated at every stage of the production process before slaughter.
In an opinion piece published by Time Magazine, Latif insisted that the halal slaughter procedure is humane, and the explicit regulations under Islamic law ensure that animals suffer minimally. He argued that the claim that stunning is more humane than slitting the throat of the animal was questionable, saying that many Muslims find the "process of stunning… to be religiously problematic."
Regulations to ensure humane slaughter under Islamic law, according to Latif, prohibit the use of a dull blade. Latif explained that the halal procedure requires use of a sharp blade that cuts quickly through the major veins in the throat so that blood can be drained from the animal before eating.
In 2014, Denmark extended to the religious Jewish and Muslim communities the European law banning religious halal and kosher slaughter procedures unless animals are stunned before slaughtering.
Prior to 2014, religious groups could apply for an exemption from stunning before slaughter on religious grounds.
Slaughter of animals under the Jewish kosher and Muslim halal systems requires that animals for consumption be killed with a single cut across the throat while the animal is still alive and conscious and then bled before the meat is consumed.
Jews and Muslims consider any procedure in which the animal is stunned or rendered unconscious before slaughtering a violation of religious regulations. Members of both religious communities are prohibited from eating meat killed in any manner besides the manner prescribed by their religious laws.
Full Report at:
http://www.inquisitr.com/2295486/u-s-islamic-cleric-criticizes-ban-on-kosher-and-halal-animal-slaughter-by-denmark/
-----------
Despite bombing, Islamic State is no weaker than a year ago
July 31 2015
WASHINGTON: After billions of dollars spent and more than 10,000 extremist fighters killed, Daesh or the self-styled Islamic State (IS) group is fundamentally no weaker than it was when the United States led bombing campaign began a year ago, American intelligence agencies have concluded.
The military campaign has prevented Iraq's collapse and put IS under increasing pressure in northern Syria, particularly squeezing its self-proclaimed capital in Raqqa.
But intelligence analysts see the overall situation as a strategic stalemate: IS remains a well-funded extremist army able to replenish its ranks with foreign jihadis as quickly as the US can eliminate them.
Meanwhile, the group has expanded to other countries, including Libya, Egypt's Sinai Peninsula and Afghanistan.
Read: IS in Afghanistan
The assessments by the Central Intelligence Agency, the Defence Intelligence Agency and others appear to contradict the optimistic line taken by the Obama administration's special envoy, retired General John Allen, who told a forum in Aspen, Colorado, last week that "ISIS is losing" in Iraq and Syria.
The intelligence was described by officials who would not be named because they were not authorised to discuss it publicly.
"We've seen no meaningful degradation in their numbers," a defence official said, citing intelligence estimates that put the group's total strength at between 20,000 and 30,000 ─ the same estimate as last August when the airstrikes began.
The Islamic State's staying power also raises questions about the administration's approach to the threat that the group poses to the US and its allies.
Although officials do not believe it is planning complex attacks on the West from its territory, the group's call to Western Muslims to kill at home has become a serious problem, Federal Bureau of Investigation Director James Comey and other officials say.
Yet under the Obama administration's campaign of bombing and training, which prohibits American troops from accompanying fighters into combat or directing air strikes from the ground, it could take a decade to drive the Islamic State from its safe havens, analysts say.
The administration is adamant that it will commit no US ground troops to the fight despite calls from some in Congress to do so.
The US-led coalition and its Syrian and Kurdish allies on the ground have made some inroads.
The Islamic State has lost 9.4 per cent of its territory in the first six months of 2015, according to an analysis by the conflict monitoring group IHS.
And the military campaign has arrested the sense of momentum and inevitability created by the group's stunning advances last year, leaving the combination of Sunni religious extremists and former Saddam Hussein loyalists unable to grow its forces or continue its surge.
"In Raqqa, they are being slowly strangled," said an activist who fled Raqqa earlier this year and spoke on condition of anonymity to protect relatives and friends who remain there.
"There is no longer a feeling that Raqqa is a safe haven for the group."
A Delta Force raid in Syria that killed Islamic State financier Abu Sayyaf in May also has resulted in a well of intelligence about the group's structure and finances, US officials say.
His wife, held in Iraq, has been cooperating with interrogators. Syrian Kurdish fighters and their allies have wrested most of the northern Syria border from the Islamic State group.
In June, the US-backed alliance captured the border town of Tal Abyad, which for more than a year had been the militants' most vital direct supply route from Turkey.
The Kurds also took the town of Ein Issa, a hub for IS movements and supply lines only 35 miles (56 kilometers) north of Raqqa.
As a result, the militants have had to take a more circuitous smuggling path through a stretch of about 60 miles (96 kilometers) they still control along the Turkish border.
A plan announced this week for a US-Turkish "safe zone" envisages driving the Islamic State group out of those areas as well, using Syrian rebels backed by airstrikes.
In Raqqa, US coalition bombs pound the group's positions and target its leaders with increasing regularity.
Full Report at:
http://www.dawn.com/news/1197558/despite-bombing-islamic-state-is-no-weaker-than-a-year-ago
------------
US urges Taliban to stay engaged with Kabul
July 31 2015
WASHINGTON: The US administration, while describing reports of Mullah Omar's death as credible, has urged the Taliban to stay engaged with the Afghan government.
"We encourage the Taliban to use this time of transition to make genuine peace with the Afghan government and rebuild their lives in peace in Afghanistan," Deputy State Department Spokesperson Mark Toner told Dawn on Thursday.
He said that the reported departure of the rebel leader had created a new opportunity for the Taliban to join the process of restoring peace and stability to their war-torn country.
"They can accept the government of Afghanistan's invitation to join a peace process and ultimately become part of the legitimate political system of a sovereign, united Afghanistan, supported by the international community. Or, they can choose to continue fighting Afghans and destabilising their own country," the US official said.
"The United States continues to support an Afghan-led and Afghan-owned peace process as the surest way to end violence and ensure lasting stability in Afghanistan and the region," he added.
Full Report at:
http://www.dawn.com/news/1197496/us-urges-taliban-to-stay-engaged-with-kabul
------------
Arab World
Al-Saud's Mismanagement Root Cause of Poverty, Terrorism Tendencies in S. Arabia
Jul 30, 2015
"The joblessness in Saudi Arabia, the Saudi officials' mismanagement of the crisis created by the economic shock of decreased oil prices and their lack of planning for confronting social dangers, have increased poverty and are the reason behind the Saudi youths' tendency for Takfiri terrorism," Tallah Akram told FNA on Thursday.
"The Saudi officials have not yet been able to manage the economic shock of the falling oil prices and while Saudi Arabia is strongly dependent on oil revenues, it is now entangled in a bottleneck," he added.
Akram said that the poor Saudi families cannot afford a living for their children and sometimes have no way but to leave them on their own and they then are attracted by different terrorist groups.
Earlier, sources in Riyadh disclosed that the kingdom's people have grown increasingly poor since the start of the Saudi-led aggression against Yemen four months ago.
"The Saudi economy ministry has recently issued a statement according to which the poverty rate in Saudi Arabia has increased to 20 percent from the previous 14 percent margin," an informed source in the Saudi economy ministry told FNA last Wednesday.
The source noted that the Saudi officials have not taken any measure to alleviate poverty in the Arab country, and said, "The UNICEF has announced in its annual report that at least 4,000 Saudi children have abandoned their schools as the rising poverty level has affected their families' economic power."
In June, a Saudi political activist disclosed that a large number of Saudi nationals are on the verge of starvation as a result of the Riyadh government's lack of attention.
Tala Ahmed told FNA that a large number of families in the border regions of Saudi Arabia cannot meet their daily needs, and complained that "the Saudi army has looted the houses of these people".
In August 2013, a Saudi intellectual warned more than 10 million Saudi civilians lived below poverty line.
Full Report at:
http://english.farsnews.com/newstext.aspx?nn=13940508000737
------------
Sisi: Egypt and Saudi are leaders of Arab security
30 July 2015
Egypt and Saudi Arabia signed a pact in Cairo Thursday aimed at boosting military and economic ties between the two Arab allies.
On Thursday, a Saudi delegation led by Deputy Crown Prince Mohammed bin Salman visited Cairo and signed the "Cairo Declaration," also attending a military parade with President Abdel Fattah al-Sisi.
"The two sides stressed the need to exert all efforts to boost security and stability in the region, and to work together to protect Arab national security," Sisi's office said after the signing.
The "Cairo Declaration" backs building a new joint Arab military force to fight terrorism in the region, according to the Saudi Press Agency.
The leaders have also expressed their keenness to further develop relations between the two countries, dubbed key to regional security.
Speaking at the ceremony, Sisi said Egypt and Saudi Arabia are vital for the security in the Arab region.
The two allies, who are partners in the kingdom-led coalition striking Houthi militias in Yemen, are the "wings of Arab security," Sisi told graduates of the military academy.
Sisi added that the deputy crown prince's presence at the ceremony sent a "strong message" of cooperation to their people. "You will not see us but together," state-owned paper al-Ahram reported him as saying.
The "highly difficult regional circumstances," would require "security vigilance and extra effort."
Full Report at:
https://english.alarabiya.net/en/News/middle-east/2015/07/30/FM-Egypt-Saudi-solidarity-key-to-protect-regional-security-.html
------------
Iraqi Volunteer Forces Purge Anbar's District of Terrorists
Jul 30, 2015
The Iraqi security forces and al-Hashid al-Shabi forces regained control of al-Tamim district in Anbar province.
The ISIL Takfiri terrorists currently control a shrinking part of Syria and Iraq. They have threatened all communities, including Shiites, Sunnis, Kurds, Christians, Ezadi Kurds and others, as they continue their atrocities in Iraq.
Full Report at:
http://english.farsnews.com/newstext.aspx?nn=13940508000522
------------
Syria Dismisses Turkish Attempts to Show Ankara as Victim
Jul 30, 2015
In two identical letters sent to the UN Secretary General Ban Ki-moon and President of the UN Security Council Gerard van Bohemen, Damascus slammed Turkey for conspiring against Syria by "supporting terrorists that came from more than 100 countries through Turkey to join" militant groups such as the ISIL and al-Nusra Front.
The Syrian government further dismissed Ankara's attempts "to depict itself as the victim and that it is defending itself while everyone is aware of what this regime has done in terms of providing all forms of support to terrorist organizations, violating relevant Security Council resolutions," the letter added.
The ministry stated that ISIL steals goods and archaeological artifacts from Syria and sells them in Turkey with the full knowledge of the Turkish government in exchange for weapons, ammunition, and logistic support for its Takfiri elements operating in Syria.
Turkey trains and arms Al-Qaeda-linked militants fighting in Syria, the letter said, holding Ankara "responsible for the shedding of Syrian blood and the humanitarian suffering of millions of Syrians inside and outside Syria" due to its backing for terrorism.
"Syria had often warned that terrorism knows no homeland or religion or borders, and warned its supporters that it will eventually backfire on them," the letter read.
Referring to Turkey's claims that it is hitting ISIL position in Syria, the ministry questioned Ankara's intentions and said they might be "pretexts to attack Kurds in Syria and Iraq" or pursue "ulterior internal goals".
Turkey launched the strikes in the wake of a terrorist bomb attack in the border town of Suruc, which claimed the lives of 32 people. Ankara blamed the Takfiri ISIL terrorist group for the blast.
Full Report at:
http://english.farsnews.com/newstext.aspx?nn=13940508000453
------------
Egypt, S. Arabia sign accord to boost military, economic ties
July 31 2015
CAIRO: Egypt and Saudi Arabia signed a pact in Cairo on Thursday aimed at boosting military and economic ties between the two Arab allies.
Relations have warmed since the 2013 ouster of Islamist president Mohamed Morsi, with Saudi Arabia offering billions in aid to Egypt and Cairo participating in a Saudi-led bombing campaign against Iran-backed rebels in Yemen.
On Thursday, a Saudi delegation led by Deputy Crown Prince Mohammed bin Salman visited Cairo and signed the "Cairo Declaration," also attending a military parade with President Abdel Fattah al-Sisi.
"The two sides stressed the need to exert all efforts to boost security and stability in the region, and to work together to protect Arab national security," Sisi's office said after the signing.
Full Report at:
http://www.dawn.com/news/1197446/egypt-s-arabia-sign-accord-to-boost-military-economic-ties
------------
US beginning delivery of F-16s to Egypt ahead of Kerry's visit
July 31 2015
CAIRO: The United States began on Thursday delivery of eight F-16 fighter jets to Egypt, according to its embassy in Cairo, the first since Washington fully lifted in March a freeze on arms delivery.
The operation comes as Secretary of State John Kerry prepares to visit Cairo for a "strategic dialogue" on Sunday amid a warming in ties that were strained after the army ousted president Mohamed Morsi in 2013.
Following the overthrow of Morsi, Egypt's first freely elected leader, Washington froze $1.3 billion in annual military aid to Egypt. It fully resumed assistance in March, and Cairo took delivery of two US fast missile boats last month. Washington had already delivered 10 Apache helicopters in December.
The eight F-16 Block 52 jets "are being flown in directly from the United States, and will be immediately integrated into the Egyptian air force, joining its existing fleet of F-16 aircraft," the embassy said.
All eight from this first batch will arrive by Friday, with four more to be delivered later this year.
Full Report at:
http://www.dawn.com/news/1197443/us-beginning-delivery-of-f-16s-to-egypt-ahead-of-kerrys-visit
------------
Saudi humanitarian aid plane arrives in Aden
31 July 2015
A Saudi military plane loaded with humanitarian relief landed at Aden airport on Friday, Al Arabiya's correspondent reported.
The plane was carrying 10 tons of aid, the correspondent reported.
Several aid planes arrived at city's international airport this month after it reopened following four months of fighting between government loyalists and Houthi rebels.
https://english.alarabiya.net/en/News/middle-east/2015/07/31/Saudi-humanitarian-aid-plane-arrives-in-Aden.html
------------
U.S. airstrikes hit Nusra Front in Syria
31 July 2015
Warplanes believed to be part of a U.S.-led alliance struck Nusra Front positions in northern Syria on Friday following an attack by the al Qaeda-linked group on Western-backed rebels in the area, a group tracking the war
said.
The Syrian Observatory for Human Rights, a UK-based group that reports on the war, said the air strikes hit Nusra Front positions near the town of Azaz, north of Aleppo.
Overnight, the Nusra Front had launched an attack in the area targeting rebels including a group said by opposition sources to have been trained under a U.S.-led program to build a force to fight Islamic State of Iraq and Syria (ISIS), the Observatory reported.
The rebel group, known as Division 30, said Nusra Front fighters attacked its headquarters at 4.30 am. Five members of Division 30 were killed as they held off the attackers, it said.
The group has accused the Nusra Front of abducting its leader and several other members earlier this week.
Full Report at:
https://english.alarabiya.net/en/News/middle-east/2015/07/31/Syria-air-strikes-hit-Nusra-Front.html
------------
Syria army, Hezbollah make major advances in Zabadani
Jul 31, 2015
The Syrian armed forces backed by fighters of Lebanon's resistance movement Hezbollah have gained more ground on the battlefield against Takfiri militants in the strategic border city of Zabadani.
According to Hezbollah's al-Manar TV, the Syrian army and allied Hezbollah resistance fighters managed to take control of Barada Mosque and the neighboring buildings in southwestern part of Zabadani on Thursday.
The report added that the forces also made more advances toward the western neighborhood of the city, killing and injuring scores of terrorists.
Takfiri elements have reportedly dug several underground tunnels in Zabadani and use them in battle against Syrian army and Hezbollah fighters.
The Syrian military is said to have destroyed four of the tunnels, through which ISIL terrorist imported arms to the town.
The advance in the flash-point city came amid reports that some militant groups have decided to surrender due to the tightening siege on their positions. The allied forces have already established full control over major entrances of Zabadani as well as key plains south of the city.
Full Report at:
http://www.presstv.in/Detail/2015/07/31/422636/Syria-Hezbollah-Zabadani-Lebanon
------------
Nusra Abducts Rival Terrorist Group Leader
Jul 30, 2015
A statement issued in the name of the group, "Division 30", accused the al-Nusra Front of abducting Nadim al-Hassan and a number of his companions in a rural area North of Aleppo. It urged al-Nusra to release them, World Bulletin reported.
Two opposition sources said most of the 54 fighters who have so far completed a US-led train and equip programmed in neighboring Turkey were from Division 30.
Full Report at:
http://english.farsnews.com/newstext.aspx?nn=13940508000490
------------
Saudi Air Raids Hit Yemen
Jul 30, 2015
Saudi warplanes pounded Harad district in the province of Hajja and a government building in the province of Ad Dali', reports said early on Thursday.
Saudi air strikes also hit several regions in the province of Ma'rib.
There were no immediate reports on the extent of damage or the number of casualties.
Saudi Arabia has been striking Yemen for 127 days now to restore power to fugitive president Mansour Hadi, a close ally of Riyadh.
Full Report at:
http://english.farsnews.com/newstext.aspx?nn=13940508000264
------------
Mideast
Yemeni Commander: Over 100 Terrorists Killed in Aden
Jul 30, 2015
"The popular raid on terrorists' positions in Aden led to fierce clashes, resulting in the death of tens of Saudi mercenaries," Brigadier General Abdullah al-Saqri told FNA today.
He said that the popular and tribal forces have advanced in areas close to the University of Aden and are about to lay siege on the center.
Saqri underscored coordination between the popular forces, including Ansarullah, and the army in the clashes in Aden, and said over 100 terrorists and mercenaries of the fugitive President Mansour Hadi have been killed.
The clashes between the Ansarullah fighters and the Saudi-backed al-Qaeda terrorists as well as the pro-Hadi militias continue in the Southern parts of the country as Saudi Arabia has been striking Yemen for 127 days now to restore power to fugitive president Mansour Hadi, a close ally of Riyadh. The Saudi-led aggression has so far killed at least 5,313 Yemenis, including hundreds of women and children.
Full Report at:
http://english.farsnews.com/newstext.aspx?nn=13940508000838
------------
Erdogan taking Turkey to war to avenge Kurdish gains: Opposition
30 July 2015
The leader of Turkey's pro-Kurdish opposition accused President Tayyip Erdogan on Thursday of launching air strikes in Syria and Iraq to prevent Kurdish territorial and political gains, and of using the war against Islamic State of Iraq and Syria (ISIS) as a cover.
Turkey launched near-simultaneous air strikes on Kurdistan Workers Party (PKK) camps in northern Iraq and ISIS fighters in Syria last Friday, in what Prime Minister Ahmet Davutoglu has called a "synchronized fight against terror".
Western allies, including NATO and the United States, have voiced political support for Turkey's actions but several nations have also urged it not to use excessive force or to let years of peace efforts with Kurdish militants collapse.
Military action
In an interview with Reuters, Selahattin Demirtas, leader of Turkey's pro-Kurdish Peoples' Democratic Party (HDP), said the main aim of the military action was not to combat Islamist jihadists but to prevent Kurds from unifying areas they control in Syria.
"Turkey carried out a couple of air strikes against ISIS just for show, without causing serious damage to it, nor is ISIS feeling serious pressure from Turkey," he said.
"Turkey's operations do not aim at taking measures against ISIS. The main objective is to prevent the formation of a Kurdish entity in northern Syria."
Demirtas, a charismatic former human rights lawyer, led the HDP into a parliamentary election in June at which it seized enough seats to deprive the AK Party, founded by Erdogan, of a working majority for the first time in more than a decade.
The left-wing HDP gained traction after Demirtas campaigned on a progressive platform that took the party beyond its origins in Kurdish nationalism, appealing to a broader range of minorities and opponents of the Islamist-rooted AKP.
Fresh vote
Erdogan was taking Turkey to war in revenge, Demirtas said, seeking to discredit the Kurdish movement ahead of a possible repeat election. The AKP is in talks to find a junior coalition partner, but should it fail, Erdogan could call a fresh vote at which he hopes the AKP would win back its majority.
Full Report at:
https://english.alarabiya.net/en/News/middle-east/2015/07/30/Erdogan-taking-Turkey-to-war-to-avenge-Kurdish-gains-opposition.html
------------
30 Turkish warplanes in new strikes against PKK in northern Iraq
30 July 2015
Thirty Turkish war planes on Thursday carried out a new wave of bombings against targets of the Kurdistan Workers Party (PKK) in northern Iraq, the NTV and CNN-Turk channels reported.
Full Report at:
https://english.alarabiya.net/en/News/middle-east/2015/07/30/30-Turkish-warplanes-in-new-strikes-against-PKK-in-northern-Iraq.html
------------
Yemeni forces seize Houthi positions in Aden
30 July 2015
Yemeni forces backed up by Saudi-led coalition airstrikes have recaptured positions on the outskirts of Aden used by the Houthi group to fire rockets into the southern port city, local officials said on Thursday.
Forces loyal to exiled President Abd-Rabbu Mansour Hadi, which retook Aden from the Iran-allied Houthis on July 17, seized the town of Muthalath al-Ilm, at Aden's eastern entrance.
The fighters, who call themselves the Southern Resistance forces, also recaptured neighborhoods to the north of Aden from the Houthis, including Ya'wala, Al-Basateen and Qariat al-Falahi, the officials said.
They said the two sides were still fighting in al-Houta, the capital of the southern province of Lahj, 30 km (20 miles) from Aden, where clashes have persisted for several days.
Saudi air raids also targetted locations across the south, including Dhalea and Aland airbase, Houthi media Saba News reported quoting a security source at Yemen's interior ministry.
An Arab coalition led by Saudi Arabia has been carrying out air strikes in Yemen since March in an effort to drive back the Houthis, who are aligned with former president Ali Abdullah Saleh and fight alongside his forces.
Full Report at:
https://english.alarabiya.net/en/News/middle-east/2015/07/30/Fierce-clashes-rage-at-air-base-near-Yemen-s-Aden.html
------------
Several people stabbed at Jerusalem gay pride parade
31 July 2015
Revelers dancing and singing through the streets of Jerusalem during the holy city's annual gay pride parade were left shrieking in pain and panic Thursday night, as an anti-gay extremist lunged into a group leading the march and stabbed six people, Israeli police and witnesses said.
Police said the attacker, Yishai Schlissel, who was arrested at the scene for Thursday's attack, had been released from prison just three weeks ago, after serving a sentence for stabbing several people at the parade in 2005.
Six people were wounded in the attack, two of them seriously, Eli Bin of Israel's emergency service said.
The Gay Pride Parade was proceeding as planned with party music, Israeli flags and rainbow-clad marchers wending their way through central Jerusalem's barricaded streets, under a heavy police presence.
An Associated Press photographer witnessed the attacker enter the throng of people with his hand in his coat and within seconds raise a knife and begin stabbing people in the back. Police pounced on him and arrested him.
The crowd's carefree cheers suddenly gave way to screams. Panic ensued, and a bloody woman fell to the ground, an Associated Press photographer at the scene said.
A man with blood seeping from his back wandered around with a dazed look before collapsing. Another man with his shirt off also had blood dripping down his back. Medics quickly surrounded them both and applied pressure to stop the bleeding.
Shocked revelers, some in tears, gathered along the sidewalk and hugged and comforted each other as ambulances and police on horses quickly arrived.
While the attack caused shock, it was not unprecedented: Schlissel was convicted of a similar stabbing attack that wounded several people at a gay pride parade in Jerusalem a decade ago.
Full Report at:
https://english.alarabiya.net/en/News/middle-east/2015/07/31/Man-stabs-several-people-at-Jerusalem-gay-pride-parade.html
------------
Arab-led coalition: Restore Yemeni govt in Aden first, Sanaa later
30 July 2015
The Saudi led-coalition fighting to reinstate Yemen's exiled government aims first to set it up in the mostly recaptured port city of Aden and then return it to Sanaa if possible via peace talks with Houthi foes, a coalition spokesman said on Thursday.
But if the Iranian-allied Houthis did not eventually agree to quit Sanaa, the government would have the right to "get them out" by force, Brigadier General Ahmed Assiri said in an interview.
A Saudi-led Arab coalition allied with southern Yemeni secessionist fighters retook much of Aden last week in the first significant ground victory of their campaign to end Houthi militia control over much of the Arabian Peninsula country and restore the exiled president, Abd-Rabbu Mansour Hadi.
Yemeni forces backed up by Saudi-led air strikes have recaptured positions on Aden's outskirts used by Houthis to fire rockets into the city, local officials said on Thursday.
Senior members of Yemen's exiled administration flew into Aden on July 16 to make preparations for the government's return to the major southern port, four months after it was pushed out by Houthi forces, the dominant armed faction in the conflict.
Assiri, whose side has been conducting air raids on Houthis since March 26, said the first task was to secure Aden so the government could operate from there for the moment.
First step
"Aden was the first step. Now the government will start rebuilding their military capability, their security capability, the stability in cities," he said, and this would need time.
"We believe that going surely, step by step, if the Houthis get out of Sanaa through peace talks, then this is important.
"But if they keep controlling (Sanaa), I think the legitimate government has the right to get them out of Sanaa."
Sanaa is in northern Yemen and has been frequently bombed by Saudi-led warplanes over the past four months.
Rights abuses
Assiri said the Houthis ought to implement U.N. Security Council Resolution 2216, which calls for the Zaydi Shi'ite movement to withdraw from cities under their control, return seized arms and allow Hadi to return from his Riyadh exile.
The Houthis have rejected that resolution, arguing they are pursuing a revolution against a corrupt government and Sunni Islamist militants, and they deny having any military or economic links to Shi'ite Iran, the Saudis' main regional foe.
Assiri said the coalition welcomed investigators to Yemen to look into rights abuses by any side in the four-month-old war.
Full Report at:
https://english.alarabiya.net/en/News/middle-east/2015/07/30/Arab-led-bloc-First-aim-to-restore-Yemeni-govt-in-Aden-Sanaa-later.html
------------
Russia prepping S-300 missiles for Iran: report
30 July 2015
Russia is modernizing its S-300 missile system to supply to Iran, an adviser to Russian President Vladimir Putin said on Thursday, RIA news agency reported.
"It has partially been updated, separate elements are still being updated," said Vladimir Kozhin, a presidential adviser on military matters, referring to the S-300 system. "It will be that very S-300 complex that Iran wanted to receive."
Russia says it cancelled a contract to deliver the advanced missile system to Iran in 2010 under pressure from the West. But Putin lifted that self-imposed ban in April following an interim nuclear deal between Iran and world powers.
Full Report at:
https://english.alarabiya.net/en/News/middle-east/2015/07/30/Russia-modernizing-S-300-missile-system-for-Iran-report.html
------------
Leader's Top Aide: Iran Firmly Standing against US Meddling
Jul 30, 2015
"Today, the Islamic Iran helps Syria, Iraq, Yemen, Lebanon and Palestine and we will not allow the US to meddle in our affairs," Velayati said, addressing a forum in the Northeastern city of Mashhad on Thursday.
He said that Iran's assistance to the regional countries, specially Iraq, prevented the ISIL terrorists from stretching their outreach and march towards Baghdad.
Velayati stressed that the world should now accept Iran as a country equipped with peaceful nuclear technology, and said, "Today, we can say that we have powerfully stood on our feet and we are independent."
In relevant remarks in June, Velayati said that Syria has always been one of the most important components of the anti-Zionism resistance movement in the region, and stressed that Tehran will not leave Damascus alone in its hard days of war on terrorism.
"The US, the Zionists and the region's reactionaries have joined forces" to undermine the resistance movement in the region and provide a safe haven for the Israeli regime, Velayati said in a meeting with Syrian Parliament Speaker Mohammad Jihad al-Laham in Tehran.
Full Report at:
http://english.farsnews.com/newstext.aspx?nn=13940508000776
------------
Iranian Negotiator: Nuclear Agreement Contains No Secret Document
Jul 30, 2015
"There is no secret documents in the JCPOA and its annexes," Araqchi said in a recent meeting with members of the Iranian parliament's National Security and Foreign Policy Commission on Thursday.
Asked by legislators about the methods used by the International Atomic Energy Agency (IAEA) to inspect Iran's nuclear sites and concerns about access to Iran's military centers, he said, "I think that these concerns have been obviated in the JCPOA and we fortunately could prevent the western side's excessive demands and didn't accept anything beyond the international laws."
Araqchi expressed confidence that the IAEA inspectors will not have access to Iran's military and sensitive documents.
Full Report at:
http://english.farsnews.com/newstext.aspx?nn=13940508000746
------------
Iran Advises Bahraini FM to Stop Inciting Religious Strife, Sedition
Jul 30, 2015
On Tuesday, a bombing outside a school in Bahrain's Sitra killed two policemen and wounded six others. Bahraini authorities arrested several people in connection with the incident and said the attack was a "foreign attempt" to harm the Persian Gulf country's stability. Later, Bahrain's foreign minister claimed that there was no difference between Sunni or Shiite extremist militants and "their goal is the same, and their reference point is Iran".
Amir Abdollahian strongly condemned the terrorist attack, and rejected the Bahraini officials' claims on Iran's role.
"Tehran merely pursues a political solution in Bahrain," he said.
"Unfortunately, the sectarian attitude of certain extremist elements in the Bahraini government and their intentional insult to the religious beliefs of Muslims have created a deep gap between the government and people," Amir Abdollahian told FNA on Thursday.
He advised the Bahraini foreign minister to think about playing a positive and constructive role in establishing collective security in the region and national reconciliation between the Bahraini government and people instead of inciting religious sedition in Bahrain and the region.
Full Report at:
http://english.farsnews.com/newstext.aspx?nn=13940508000355
------------
AEOI Official: Iran to Build 2 N. Power Plants on Persian Gulf Coasts
Jul 30, 2015
"Two 100MW nuclear reactors will be constructed on Makran coastline of the Sea of Oman to generate electricity," Ahmadian said on Thursday.
"At present, necessary studies to build the two power plants are being carried out through cooperation with 17 research institutes and consulting engineers companies," he added.
In relevant remarks on Sunday night, Head of the AEOI Ali Akbar Salehi announced that two new nuclear power plans are to be constructed in the Southern province of Bushehr.
"The new plants will cost around 300 trillion rials (more than $10 billion) and about 15,000 technicians will be hired to have the projects completed in the upcoming three or four years," Salehi said in a televised interview.
Full Report at:
http://english.farsnews.com/newstext.aspx?nn=13940508000656
------------
South Asia
Mullah Akhtar Mohammad Mansoor Appointed As New Supreme Leader of Taliban in Afghanistan
By KHAAMA PRESS - Thu Jul 30 2015
As usual reports have emerged from Pakistan suggesting the Taliban group in Afghanistan has appointed the successor of the former Taliban supreme leader Mullah Mohammad Omar.
The reports citing well-informed sources added that a meeting of the Taliban supreme council (Shura) was called on Wednesday to appoint successor of Mullah Omar.
The report further added that Mullah Akhtar Mohammad Mansoor was unanimously appointed as the new supreme leader of the Taliban group in Afghanistan to succeed Mullah Mohammad Omar.
The Taliban group in Afghanistan has not confirmed or rejected reports regarding the death of group's supreme leader so far, although the reports have been independently confirmed by ARG presidential palace and White House.
Reports regarding the death of Mullah Omar emerged earlier yesterday suggesting Pakistan have confirmed the death of Mullah Mohammad Omar to the Afghan government.
The issue was reportedly discussed during the cabinet meeting following the confirmation by Pakistani authorities, it has been reported.
Full Report at:
http://www.khaama.com/mullah-akhtar-appointed-as-new-supreme-leader-of-taliban-in-afghanistan-9552
------------
Taliban power transition raises hopes for Afghan peace talks
Jul 31, 2015
KABUL: The Taliban named Mullah Akhtar Mansour as their new leader on Friday, a historic power transition that raises hopes the relative moderate's leadership will pave the way for an end to Afghanistan's bloody war.
The Taliban also announced his deputies — Sirajuddin Haqqani, who leads the Taliban-allied Haqqani network and has a $10 million US bounty on his head, and Haibatullah Akhundzada, former head of the Taliban courts.
The appointment of Mansour, seen as a pragmatist and a proponent of peace talks, comes a day after the Taliban confirmed the death of their near-mythical leader Mullah Omar, who led the fractious group for some 20 years.
The Taliban's first handover of power comes at a time when the US-led Afghan government has been trying to jumpstart peace negotiations as it struggles to contain the intensifying insurgency.
Mansour, a longtime trusted deputy of Omar, takes charge as the movement faces growing internal divisions and is threatened by the rise of the Islamic State group, the Middle East jihadist outfit that is making inroads in Afghanistan.
"After (Omar's) death the leadership council and Islamic scholars of the country, after long consultations, appointed his close and trusted friend and his former deputy Mullah Akhtar Mansour as the leader," the Taliban said in a Pashto-language statement posted on their website.
"When Mullah Omar was alive, Mullah Mansour was considered a trustworthy and appropriate person to take this heavy responsibility."
A Taliban official said that after the group's ruling council had chosen a successor for Omar, the decision was supposed to be ratified by a college of religious clerics.
Omar's son Mullah Yakoub was favoured to take over by some commanders, sources said, but at 26 was considered too young and inexperienced for such a key role.
Mansour's appointment faced staunch internal resistance from some members of the Taliban's ruling council, the Quetta Shura, who accuse Pakistan of hijacking the movement, sources said.
"Mansour is considered as a man of Pakistan — that is why severe differences are going on among the Taliban leadership," a mid-level Taliban official told AFP.
But the internal opposition is unlikely to prevent Mansour from proceeding with peace talks launched in the Pakistani hill station of Murree earlier this month.
'Moderate, pro-peace, pro-talks'
"Mullah Mansour is one of the founders of the Taliban movement and he is a moderate, pro-peace, pro-talks person," Abdul Hakim Mujahid, a former Taliban official and a member of the Afghan High Peace Council, told AFP.
Full Report at:
http://www.dawn.com/news/1197567/taliban-power-transition-raises-hopes-for-afghan-peace-talks
------------
Mullah Omar's death: the beginning of a new phase in Afghan conflict
By KHAAMA PRESS - Fri Jul 31 2015
Author: Ahmad Waheed
Since my childhood, I have encountered Mullah Omar two times: for the first time, his convoy of Arab donated luxurious vehicles was leaving right after he obtained the Amir-ul-Momineen religious title back in 1996 in a special gathering of over 1000 Islamic clerics at Kandahar vocational school where I was a student at the time. Some of his followers ran after his slow moving vehicle to have a glimpse of his face and get a chance of kissing his hands sticking out of his car window. The second time I saw Mullah Omar was when we were forcefully taken out of high school to join a huge gathering where he showed the cloak of the Prophet Mohammad to the thousands of people in Kandahar.
Unlike other militant leaders, Mullah Omar was a shy and reclusive leader who hardly appeared in public even when the Taliban regime had control over 90% of Afghanistan territory. It may be true that Mullah Omar had no operational role since he went into hiding after the collapse of his regime; however, he played a uniting role in the background among the loose network of the Taliban insurgents. Although the US administration and Taliban official sources confirmed his death and the Afghan government further claims that his death occurred a few years ago, this official confirmation of his death could mark the end of the Taliban insurgents' operational moral and influence across the country.
Traditionally, it is a big morale loss when the leader of a group dies and there is no replacement to Mullah Omar among the current rank of Taliban who could effectively keep the movement united. Mullah Omar's death could bring both hope and a new phase of conflict to Afghanistan. It could bring potential peace to the country or it could escalate conflict in the form of a new group or potentially splinter groups joining ISIS.
Full Report at:
http://www.khaama.com/mullah-omars-death-the-beginning-of-a-new-phase-in-afghan-conflict-1345
------------
Taliban postpones second round of peace talks due to Mullah Omar's death
By KHAAMA PRESS - Thu Jul 30 2015
The second round of peace talks between the Afghan officials and the Taliban group has reportedly been postponed amid Mullah Mohammad Omar's death.
The second round of talks on Afghan reconciliation process was due to be held in Pakistan at the end of this week.
However, the foreign office of Pakistan said Thursday that the talks were postponed due to Mullah Omar's death report.
"In view of the reports regarding the death of Mullah Omar and the resulting uncertainty, and at the request of the Afghan Taliban leadership, the second round of Afghan peace talks, which was scheduled to be held in Pakistan on 31 July 2015, is being postponed," according to Reuters news agency citing a statement by the foreign office of Pakistan.
The Taliban group in Afghanistan has not confirmed or rejected reports regarding the death of group's supreme leader so far, although the reports have been independently confirmed by ARG presidential palace and White House.
Full Report at:
http://www.khaama.com/taliban-postpones-second-round-of-peace-talks-due-to-mullah-omars-death-9553
------------
Southeast Asia
Nahdlat Ul Ulema (NU) and Muhammadiyah to Promote Moderate View of Islam in Indonesia
Haeril Halim
July 31 2015
Indonesia's two largest Islamic organizations, Nahdlatul Ulama (NU) and Muhammadiyah, are preparing to become beacons of moderate Islam as they discuss their programs for the next five years.
With their respective national congresses (muktamar) coming up in early August, both groups are bracing for a change of leadership that will mark a new era in their history as the country's mainstream Muslim groups for the past century.
The larger of the two, with around 90 million members across the country, NU, will hold its 33rd national congress on Aug. 1 to 5 in Jombang, East Java, with the theme "Reinforcing Islam Nusantara for Indonesia and for international civilization".
"The real spirit of this 'Islam Nusantara' [Islam of the Archipelago] is to reinforce an Islam which is adaptable to cultures and tolerant to differences in this archipelago," Nahdlatul Ulema executive Mohammad Imam Aziz, told The Jakarta Post on Thursday.
The concept of Islam Nusantara, according to Imam, refers to the empirical, historical reality that Islam has been embedded in the culture, economy, politics and technology of the archipelago for a long time.
The idea is to bring forward tolerance among Muslims amid the strong influence of conservative and radical groups from Middle Eastern countries.
"We will develop programs [...] in line with Islam Nusantara at the upcoming muktamar. We want to strengthen the spirit of Islam Nusantara to protect minority groups that are often subject to violent attacks," Imam said.
Imam said the congress in Jombang is seeking to step up efforts to protect Ahmadiyah and Shia groups "politically, culturally, and religiously".
Muhammadiyah, which has 35 million members across the country, will hold its 47th muktamar from Aug. 3 to 8 in Makassar, South Sulawesi, with the theme "Enlightenment for a Progressive Indonesia."
Full Report at:
http://www.thejakartapost.com/news/2015/07/31/congresses-promote-moderate-view-islam.html
----------
Amid 1MDB scandal, Muslims warned against vilifying country's leadership
July 31, 2015
KUALA LUMPUR, July 31 ― Malaysia's federal Islamic authority warned Muslims nationwide today against maligning and insulting the country and its leaders, amid swirling conspiracy theories involving the 1Malaysia Development Bhd (1MDB) scandal.
In its Friday sermon commemorating Warriors' Day, the Malaysian Islamic Development Department (Jakim) claimed that those who commit such acts are allegedly victims of foreign powers that are trying to tarnish the dignity and prestige of Malaysia's leadership.
"Lately, there are some who are irresponsible and do not love their country, until they try to sow chaos, light the fire of enmity, slandering, willing to insult the leadership and country, uttering impolite words and so on," said the sermon which was distributed to mosques nationwide.
According to Jakim, such acts reflect the "uncivilised" group's low morals and lack of integrity, which it said can endanger the safety of the country and its citizens.
"This effort to topple the country and commit treason against the leaders and peace is not an act of those who love Islam," it added.
The sermon also urged Muslims to stop fanning the fires of disunity to prevent a split in the country.
Full Report at:
http://www.themalaymailonline.com/malaysia/article/amid-1mdb-scandal-muslims-warned-against-vilifying-countrys-leadership
------------
Don't let foreign spin decide Malaysia's leaders, Najib says as rumours flood Internet
BY AIZYL AZLEE
July 31, 2015
PUTRAJAYA, July 31 — Prime Minister Datuk Seri Najib Razak urged Malaysians today not to put their faith in Internet rumours that may have been manipulated by "foreigners" in an attempt to influence the direction of the country's leadership.
Najib did not make any specific reference but Malaysia's social media scape has been awash this week with rumours of a conspiracy by some senior government officials plotting to topple the current Barisan Nasional (BN) administration through the 1Malaysia Development Berhad (1MDB) controversy.
"[While you are there] pray that the leadership of our country's government is determined by us. Not outsiders. Not foreigners who manipulate to determine who makes up the government or who they choose to topple," he said in his speech at a mosque here to Muslim pilgrims who were offered the chance to perform their obligatory haj pilgrimage that will be sponsored by Yayasan 1Malaysia Development Berhad.
Full Report at:
http://www.themalaymailonline.com/malaysia/article/dont-let-foreign-spin-decide-malaysias-leaders-najib-says-as-rumours-flood
------------
India
Four Indian teachers 'detained' in Islamic State stronghold in Libya
Jul 31, 2015
Four Indian teachers have been detained in Sirte, a stronghold town of the Islamic State in Libya, the Ministry of External Affairs said today. The town is about 500 kilometres from the capital city of Tripoli. Of the 4 Indians 'detained', two are from Hyderabad, one from Raichur and one from Bengaluru, MEA spokesperson Vikas Swarup confirmed. On July 29 at 11 pm, while returning to India via Tripoli and Tunis, they were detained at a checkpoint approximate 50 kilometres from Sirte. All of them were later brought back to Sirte. Three of the four Indians are faculty members at the Sirte University and the fourth person works at the university branch in Jufra. The spokesperson added that the ministry is in regular touch with the families and will ensure all efforts to bring them back to India. Large swathes in Iraq and Syria are currently under the control of the Islamic State, which aims to create a Muslim caliphate across the region. Conflict rages in both countries with US, UK and several other countries engaged in air strikes to stop the march of the Islamic State. - See more at: http://indianexpress.com/article/india/four-indians-reportedly-abducted-in-isis-stronghold-town-in-libya/#sthash.eowplcn4.dpuf
http://indianexpress.com/article/india/four-indians-reportedly-abducted-in-isis-stronghold-town-in-libya/
------------
Shiv Sena backs Asaduddin Owaisi; punishment should be given irrespective of religion, writes Saamana
July 31, 2015
Mumbai, July 31: In a shocking move, Shiv Sena backed its political rival and All India Majlis-e-Itttehadul Muslimeen (AIMIM) chief Asaduddin Owaisi on his demand for punishment for the killers of Rajiv Gandhi and Beant Singh. Shiv Sena in its mouthpiece Saamana said that the issue of punishment for the culprits of Rajiv Gandhi and Beant Singh murder raised by Asaduddin Owaisi must be considered.
"The capital punishment of Rajiv Gandhi's killers have turned into life imprisonment. Punjab government passed the resolution against the hanging of killer of former Punjab Chief Minister Beant Singh. These issue must be addressed. Punishment should be given irrespective of religion," Shiv Sena wrote in Saamana while expressing its view on Yakub Memon's hanging. (ALSO READ: Yakub Memon hanged: Asaduddin Owaisi demands same punishment for Maya Kodnani, Babu Bajrangi)
Full Report at:
http://www.india.com/news/india/shiv-sena-backs-asaduddin-owaisi-punishment-should-be-given-irrespective-of-religion-writes-saamana-484828/
------------
Terrorists made five bids to cross border in J&K in last one month: Rajnath Singh
Jul 31, 2015
NEW DELHI: Amid disruptions and sloganeering by Congress members, home minister Rajnath Singh on Thursday told Rajya Sabha that the three heavily armed terrorists, who attacked Dinanagar police station, had infiltrated from Pakistan through an area near Tash in Gurdaspur district, where the Ravi river enters Pakistan.
The proceedings had to be adjourned in the second half after repeated disruptions. Opposition members trooped to the well of the House shouting "Narendra Modi jawab do".
The belligerence belied the government's hopes that the opposition would allow a debate on the Gurdaspur attacks, giving an opening to foreign minister Sushma Swaraj to make a statement, thus ending her boycott over the 'Lalitgate' controversy.
Referring to preliminary analyses of the GPS data, Singh said, "It is also suspected that the same terrorists planted five IEDs on the railway track near village Talwandi between Dinanagar and Jhakoladi which were subsequently defused by the bomb disposal squad. One night vision device was also recovered from this spot."
Singh also said that the during the last one month, there were five attempts at cross-border infiltration in Jammu and Kashmir, out of which four were foiled and eight terrorists neutralized. In the remaining one instance, the terrorists went back after effective retaliation by the Indian forces. "The security forces in the border are alert but the difficult terrain coupled with recent heavy rains, resulting in excess flow in the rivers and canals along the border, could have been a factor, in this particular group sneaking into Punjab," he said in reference to the terrorists who attacked Dinanagar.
Full Report at:
http://timesofindia.indiatimes.com/india/Terrorists-made-five-bids-to-cross-border-in-JK-in-last-one-month-Rajnath-Singh/articleshow/48289473.cms
------------
PM Narendra Modi 'spending too much capital' on bilateral talks with Pakistan: RSS
BHAVNA VIJ AURORA,ET Bureau
Jul 31, 2015
NEW DELHI: The Centre's move to resume dialogues with Pakistan hasn't gone well with the Rashtriya Swayamsevak Sangh (RSS), which feels that PM Modi is "spending too much capital" on bilateral talks that would not yield anything.
The BJP's ideological parent is clearly not in favour of pursuing talks with Pakistan, particularly after Monday's terror attack in Gurdaspur where preliminary investigations have suggested that the gunmen came from across the border.
Top government sources told ET that the RSS wants New Delhi to take an aggressive retaliatory approach and bring down terrorist training camps allegedly run by Pakistan's Inter-Services Intelligence in Pakistan-occupied Kashmir. Caught between pressure from the RSS and international expectations, the government has decided to proceed with the National Security Advisor-level talks with Pakistan, but will keep its options to strike back open, they said.
Full Report at:
http://timesofindia.indiatimes.com/india/PM-Narendra-Modi-spending-too-much-capital-on-bilateral-talks-with-Pakistan-RSS/articleshow/48292049.cms
------------
Bangladesh, India exchange land in historic deal
Jul 31, 2015
DAHALA-KHAGRABARI, BANGLADESH: Bangladesh and India prepared on Friday to swap tiny areas of land, ending one of the world's most intractable border disputes that has kept thousands of people in stateless limbo for nearly 70 years.
Officials of two nations will hoist their respective national flags in 162 enclaves - 111 in Bangladesh and 51 in India - at one minute past midnight (1801 GMT Friday) to assume sovereignty over the territories following a historic border pact in June.
READ ALSO: India, Bangladesh to notify border settlement today
Following the flag hoisting, the enclaves - pockets of one country's territory surrounded by the other - will cease to exist and more than 50,000 people who have been living there can now access citizenship benefits such as schools, power and healthcare that they have lacked since 1947.
In the final hours before the handover, villagers have been holding feasts and rehearsing their new national anthems.
Plans for more lavish festivities have been scaled back as India is currently observing a period of national mourning for former President APJ Kalam, who died earlier this week.
But there will be a ceremony on the stroke of midnight to light 68 candles to mark the years of stateless limbo since the end of British colonial rule of the whole of the sub-continent.
"This is the biggest celebration of my life. I can't describe how I feel today," said Parul Khatun, 35, a resident of the Indian enclave of Kot Bajni.
"I'll be a Bangladeshi citizen who can enjoy all the benefits," she said, recalling how she was kicked out of a Bangladeshi hospital when she was about to give birth as she lacked a national identification card.
The enclaves date back to ownership arrangements made centuries ago between local princes.
Full Report at:
http://timesofindia.indiatimes.com/india/Bangladesh-India-exchange-land-in-historic-deal/articleshow/48292032.cms?
------------
Wedding bells ring in communal harmony in Kashmir
by Bashaarat Masood
Jul 31, 2015
Muslim men and women lined up along both sides of the street leading to the house of Pyaray Lal Bhat. Inside the house, women — mostly Muslim — sing songs of marriage to welcome the groom. These heartwarming scenes of communal harmony took the groom, his family and friends by surprise as the wedding procession rolled into Ichigam village in central Kashmir.
Ichigam in Budgam district houses seven Kashmiri Pandit families, who did not migrate from the Valley when militancy erupted in Kashmir in 1990. There are around 1,400 Muslim households. On the wedding day, hundreds of Muslim neighbours poured in to greet the Hindu family.
Full Report at:
http://indianexpress.com/article/india/india-others/wedding-bells-ring-in-communal-harmony-in-kashmir/
------------
Pakistan
'Won't include Pakistan Muslim League -Q leader, ex-intel chiefs in Bhutto case'
Jul 30, 2015
The Supreme Court (SC) of Pakistan on Thursday rejected a plea seeking inclusion of names of Pakistan Muslim League (Quaid-e-Azam) leader Chaudhry Pervez Elahi, former Inter-Services Intelligence chief Hamid Gul and former director general Intelligence Bure-au Ijaz Shah in Benazir Bhutto murder case.
A plea was filed in the top court by advocate Kulsoom Khaliq requesting the court to take an action on the UN investigative report in Benazir Bhutto's murder. The petition urged the SC to mention Mr Elahi, Mr Gul and Mr Shah in the case. The registrar office of the top court has made an objection on Mr Khaliq's plea saying that it is not a case of public interest and she should approach the forum concerned.
Full Report at:
http://www.asianage.com/international/won-t-include-pakistan-muslim-league-q-leader-ex-intel-chiefs-bhutto-case-105
------------
Report on state of madressahs in Pakistan launched
HASAN MANSOOR
Jul 31, 2015
KARACHI: A report outlining reasons behind cultivation of a culture of intolerance in madressahs and phenomenal rise in their numbers, especially since Gen Ziaul Haq's military dictatorship, was launched here on Thursday.
Eminent historian Dr Mubarak Ali spoke on the contents of the report through Skype from Lahore while two teachers from Shaheed Zulfikar Ali Bhutto Institute of Science and Technology (SZABIST) formed a panel to share their views on the report which was launched at the office of the Now-communities.
Titled 'The Madrasa Conundrum — The state of religious education in Pakistan', the report was authored by Umair Khalil, lead researcher of the non-governmental research organisation, HIVE.
The panellists agreed that though the report did not answer all questions about the issue but it did raise several questions, which needed to be answered through further investigations and research.
Dr Ali spoke about the history of madressahs and said they were inherently sectarian in their nature from the outset. He saw economic and social disparity as the root cause of the problem and called for a uniform educational policy, which, according to him was the only panacea for settling the problem.
Dr Riaz Shaikh said the report showed that students of cadet colleges after the madressah students were prone to intolerance, which was a result of the curriculum chosen to develop their mindset in accordance with the aspirations of the ruling establishment.
Dr Tayyaba Tamim said that madressahs were nurturing a mindset which was inherently intolerant towards other sects and faiths.
The report said the number of madressahs in the country had crossed 35,000 from fewer than 300 since the inception of Pakistan.
However, she said, their numbers saw phenomenal rise after the Soviet invasion of Afghanistan during Gen Zia's regime. "After 11 years of Zia's rule, the madressah total ballooned to 2,801 with Deobandis accounting for 64 per cent of the total and the Barelvis only 25pc," said the report.
It said after the downfall of the Zia regime, the state continued to have an interest in supporting a particular religious group to play a role in the ongoing proxy war with India for Kashmir.
Full Report at:
http://www.dawn.com/news/1197466/report-on-state-of-madressahs-in-pakistan-launched
------------
Two soldiers, 3 militants killed in Bannu clash
July 31, 2015
PESHAWAR - Two security men were martyred while three terrorists killed in clashes at Frontier Region Bannu, on Thursday morning.
A group of terrorists, armed with sophisticated weapons, attacked Khadim Shaheed check post in Daryoba area of FR Bannu, adjacent to North Waziristan. The militants opened indiscriminate fire on security forces. The forces retaliated with full force and killed three terrorists while two security men also martyred in the gunbattle which lasted an hour. Sources said early in the morning a group of more than 10 armed militants, taking advantage of darkness, attacked the security check-post. They said the forces responded effectively and killed three attackers. Two soldiers also embraced Shahadat in the shootout. Bodies of martyred security men were shifted to the Combined Military Hospital (CMH). Following the incident, an additional contingent of security personnel arrived at the scene and launched search operation in the area.
Full Report at:
http://nation.com.pk/national/31-Jul-2015/two-soldiers-3-militants-killed-in-bannu-clash
------------
Govt mulling option to highlight RAW involvement in Pakistan with UN: Aziz
IRFAN HAIDER
Jul 31, 2015
ISLAMABAD: Senior Advisor to Prime Minister on National Security Sartaj Aziz said on Friday that the government is considering to highlight the issue of Indian spy agency Research and Analysis Wing's (RAW) involvement in Pakistan with the United Nations and other international forums.
Responding to question during the question hour session of the National Assembly, the Advisor said that Pakistan has taken up the issue of RAW's activities in Pakistan with various foreign leaders.
"The Prime Minister will also raise the issue of RAW's involvement in Pakistan at the UN General Assembly," he added.
He said that the foreign secretary had raised the issue with his Indian counterpart during the foreign secretary level talks held in March this year.
Full Report at:
http://www.dawn.com/news/1197565/govt-mulling-option-to-highlight-raw-involvement-in-pakistan-with-un-aziz
------------
Ishaq's killing: Officials don't see any serious implications
INTIKHAB HANIF
Jul 31, 2015
LAHORE: Authorities in Punjab do not foresee any serious implications of the killing of the Lashkar-i-Jhangvi leadership on Wednesday but fear that anyone else can exploit the situation and unleash any act of terrorism.
They say that the entire LeJ leadership has been killed and the headless outfit has no capacity left with to create any major problem at the moment. However, anyone else can take advantage of the situation and strike in the name of LeJ.
Assessing the situation, officials who requested anonymity, said no doubt Malik Ishaq was the head of the outfit but actual player was Ghulam Rasool Shah whose schemes would breach any security arrangement in the country. And the sons of these two leaders were heading other sections of the group including handling its finances and logistics.
A single dangerous leader of the outfit, Akram Lahori, is jailed in Karachi and awaiting death sentence.
Full Report at:
http://www.dawn.com/news/1197472/ishaqs-killing-officials-dont-see-any-serious-implications
------------
Govt brings bill to promote halal food trade
RAJA ASGHAR
Jul 31, 2015
ISLAMABAD: The government introduced a bill in the National Assembly on Thursday to set up an authority to help Pakistan take a due share in what a minister put at trillions of dollars worth of world trade in halal food and other products.
The Pakistan Halal Authority Bill envisions the establishment of an Islamabad-based authority, with a high-powered board of governors, headed by the minister for science and technology, to develop and implement policies and programmes for the promotion of both international and domestic trade in halal products permissible by the laws of Islam.
Take a look-Editorial: Halal food authority?
The Punjab government already has a Halal Development Agency, but the new federal law will apply to whole of Pakistan for what it called "purposes of imports and exports with foreign countries and inter-provincial trade and commerce in all such articles and processes which are described or represented as being halal".
A statement of objects and reasons from Science and Technology Minister Rana Tanveer Hussain, accompanying the bill, estimated the existence of "a huge international market of halal business worth trillions of dollars", bulk of which, he said, was taken away by non-Muslim countries.
Noting that the scope of halal sector covers a wide range of items such as food, pharmaceuticals, health, food supplements and toiletries, the statement said: "Pakistan, being a Muslim country, is taking only a nominal share of this huge export potential due to non-existence of a legal and recognised entity/authority at the national level dealing with the halal sector."
The proposed Pakistan Halal Authority will be tasked to recommend "halal standards for government-notified articles and processes for adoption by a National Standards Body in accordance with comprehensive guidelines of Organisation of Islamic Cooperation (OIC), provide for certification of halal products and authorise a halal logo".
Contravention of the new law will be punishable with imprisonment of up to six months, or with the fine of up to Rs500,000, but not less than Rs50,000, or with both.
The OIC guidelines, developed by what is described in the document as a Standardisation Expert Group, devote a substantial portion to defining halal and non-halal animals and manual or mechanical slaughtering of halal animals by an adult Muslim.
HALAL, NON-HALAL ANIMALS: Among halal animals are listed domestic animals such as cattle, buffaloes, sheep, goats, camels, chickens, geese, ducks, turkeys; non-predatory animals such as deer, antelope, chamois, wild cattle; and non-predatory birds such as pigeons, sparrows, quails, starlings, and ostriches.
Full Report at:
http://www.dawn.com/news/1197494/govt-brings-bill-to-promote-halal-food-trade
------------
Pakistan's population to exceed 300m by 2050: UN
Jul 31, 2015
ISLAMABAD: New projections released by the United Nations say Pakistan is among six of the 10 largest countries in the world whose population has been projected to exceed 300 million by 2050.
At present, the country's population has been estimated to be around 190m. By the year 2030 the population would be 244m, and by 2100, Pakistan's population could be 364m, according to the revised projections made in the report.
Key findings of the 'World Population Prospects 2015' released by the UN on Wednesday listed China, India, Indonesia, Nigeria and the United States the other five countries to have 300m population by 2050.
Know more: India set to become world's most populous country by 2022
Among the 10 largest countries, five are in Asia and Pakistan is among them. Other countries are Bangladesh, China, India and Indonesia.
Full Report at:
http://www.dawn.com/news/1197488/pakistans-population-to-exceed-300m-by-2050-un
------------
China expresses understanding on postponement of talks between Afghan Govt, Taliban
July 31, 2015
ISLAMABAD: China has expressed understanding on the postponement of the second round of talks between the Afghanistan government and Taliban representatives amid revelations about the death of Taliban leader Mullah Omar.
The peace talks, originally scheduled for July 31 in Pakistan, have been postponed at the request of the Taliban leadership, citing uncertainty caused by the confirmation of Omar's death
According to Chinese media's reports, the Afghan Taliban on Thursday confirmed the death of Omar, one day after the Afghan government announced the Taliban leader died mysteriously in a hospital in Pakistan's Karachi in summer 2013.
China called on all parties to focus on national unity and lasting peace in Afghanistan and continue to push forward the peace and reconciliation process, Foreign Ministry spokesman Lu Kang said.
Full Report at:
http://nation.com.pk/national/31-Jul-2015/china-expresses-understanding-on-postponement-of-talks-between-afghan-govt-taliban
------------
Europe
Italians Frown at Muslim Prayer Rug Removal
30 July 2015
CAIRO – Amid increasing anti-Muslim sentiments, Italian politicians have blasted the provocative action of two right-wing councilmen who removed prayer rugs from Turin city hall shortly before a Muslim conference.
The incident was "an arbitrary and violent act," said Michele Paolino of the Democratic Party, The Local.it reported on Wednesday, July 29.
Paolino condemnations were echoed by many other democratic leaders who rallied to the sides of Muslims in the community, condemning the actions of these two men.
Controversy erupted after councilmen, Roberto Carbonero and Fabrizio Ricca, members of the anti-immigrant party Northern League, or Lega Nord, removed prayer rugs from Turin city hall before a Muslim conference.
"If someone wants to pray, there are lots of religious centers they can go to," La Stampa reported the councillors as saying.
"It's not as if people build a chapel whenever there's a Christian conference."
Building a reputation for xenophobia, the Northern League has been gaining ground since its victory in last June 1 elections.
The councilmen's move was seen as indicator of a growing influence of a growing far-right, xenophobic movement countrywide and across Europe.
Italy has a Muslim population of some 1.7 million, including 20,000 reverts, according to the figures released by Istat, the national statistics agency.
Since the early 1980s, Italy has given taxpayer revenue to religious faiths the government recognizes.
Full Report at:
http://www.onislam.net/english/news/europe/490767-italians-frown-at-muslim-prayer-rug-removal.html
------------
David Cameron's Muslim Muddle
July 30, 2015
Listening to and reading Prime Minister David Cameron's recent speech about Islamic extremism in Britain, I realized why I could never be a practicing politician. Its mixture of good sense, half-truths, evasions, political correctness, and electioneering was anathema to me. It was the stock-in-trade of a man obliged by his position to balance a hundred considerations at once, an obligation that precludes intellectual honesty, even if the latter is desired.
In some ways, Cameron's speech was welcome. He (or his speechwriter) has been "converted" from his previous view that Islamic terrorism has nothing to do with Islam, and now admits that such a view violates common sense, which was obvious all along. He also suggested that Internet providers and universities should be less complaisant toward Islamic extremists, and that the conspiracy theories the Islamists peddle should be vigorously countered and mocked. He also was right to say that Islamic terrorism is not caused by poverty or any other reason for complaint that supposedly justifies it.
On the other hand, he evaded some difficult though obvious questions. Extolling his own country, he said, "It is here in Britain where in one or two generations people can come with nothing and rise as high as their talent allows," which is certainly true: but this correct assertion has a troubling corollary. For if, in aggregate, certain groups do not rise, this reflects more on their group characteristics than upon the host country. For example, the Sikhs, who came to Britain from the Punjab with nothing, are now the second-wealthiest group by household, as classified by religious affiliation; notwithstanding individual successes, Muslims who came from the Punjab at the same time remain relatively poor. The explanation for this difference may not be religious, but it's an important question that no politician such as Cameron would dare to ask, let alone try to answer.
Similarly, the prime minister, who championed such "basic" values as democracy, freedom, sexual equality, and non-discrimination, did not pause to consider whether these were compatible with Islam. Certainly, they do not appear at first sight to be so, though no doubt some Muslim reformists would like to make them so; and Bangladesh, from which a large group of immigrants to Britain have come, is one of the few countries to have witnessed an explicitly anti-democratic mass demonstration. In most Muslim countries, it remains dangerous to be explicitly atheist. Criticism of Muhammad, even if reasoned and scholarly, would be even more dangerous.
When Cameron said that he wanted to build a more cohesive society, he didn't pause to consider whether cohesiveness can be built, as if societies were made of Lego. When he said that many immigrants to Britain didn't feel British, he deliberately missed the point that it's not how immigrants feel that matters, but how they behave. No one has any idea how British the Polish, Brazilian, Chinese, Vietnamese, and other immigrants (of whom there are hundreds of thousands, if not millions in total) feel, but nobody cares, because none of them is intent upon the destruction of British institutions. This is not true of some unknown and probably unknowable—but possibly not negligible—proportion of Muslims, no matter which part of the Islamic world they come from.
Full Report at:
http://www.city-journal.org/2015/eon0730td.html
------------
Greece's divided Syriza party agrees to emergency meet
30 Jul 2015
Greece's ruling Syriza party, deeply divided over the reforms needed to secure a new international bailout, has agreed to hold an emergency congress in September as requested by Prime Minister Alexis Tsipras.
A majority of the party's 201-strong central committee voted in favour of holding the extraordinary congress at a late evening meeting in Athens on Thursday, central committee member Costas Zachariades told the AFP news agency.
More than a dozen central committee members resigned after the meeting, he added, in the latest sign of a deepening rift within the party's far-left camp.
An exact date has yet to be set for the September gathering, which is meant to determine the government's strategy and preserve party unity after the bailout talks prompted a rebellion among some Syriza lawmakers.
Tsipras has come under pressure from a sizeable minority of Syriza members, who say the tough agreement he signed with international creditors on July 13 goes against the government's anti-austerity promises.
Over 30 Syriza lawmakers this month refused to vote for reforms needed for a new three-year bailout in two separate votes, forcing Tsipras to rely on the backing of opposition MPs to get the measures through parliament.
The Greek prime minister on Wednesday warned early elections would have to be called if the resistance from Syriza hardliners continued.
Addressing the central committee meeting ahead of the vote, the 41-year-old premier earlier on Thursday urged members "to share the political responsibility for the unity of Syriza".
RELATED: Al Jazeera's comprehensive coverage of the Greek economic crisis
"In our party, there are no lesser and greater leftists, lesser and greater revolutionaries," he said.
Full Report at:
http://www.aljazeera.com/news/2015/07/greece-divided-syriza-party-agrees-emergency-meet-150730233831017.html
------------
URL: https://www.newageislam.com/islamic-world-news/new-age-islam-news-bureau/muslims-being--erased--from-central-african-republic--amnesty-international/d/104109