New Age Islam News Bureau
28 October 2020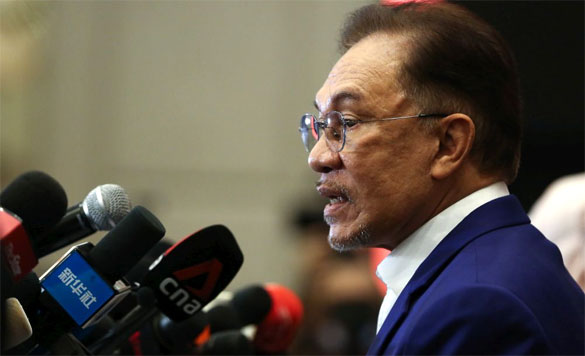 Malaysian Opposition Leader, Datuk Seri Anwar Ibrahim
------
• Saudi Arabia's Cabinet Condemns Cartoons Offending Prophet Mohammed: Statement
• Turkey's Erdogan Sues Extremist Dutch Politician Over Insulting Cartoon
• Kashi And Mathura Shrines Being Dragged Into Fresh Legal Dispute, Sunni Central Waqf Board Voices Concern
• Facing Muslim Anger, France Warns Citizens Abroad To Take Caution, Avoid Gatherings
• Tens Of Thousands Stage Anti-France Rally In Bangladesh Capital, Calls For Boycott Of French Products
• UAE Lavishes 'Aid' On Sudan After Normalization With Israel
• Canada Needs A Plan To Bring Home The Children Of Jihadists
Southeast Asia
• Muslim World Needs No Lecture From You About Free Speech, Malaysian Opposition Leader Tells France's Macron
• Malaysian Religious Affairs Minister Writes, Gifts Book On Prophet Muhammad To French Ambassador
• Indonesian groups denounce normalization with Israel
--------
Arab World
• Saudi Arabia's Cabinet Condemns Cartoons Offending Prophet Mohammed: Statement
• Syria: Turkey-backed fighters retaliate against regime-allied forces
• Syria: 30 fighters dead in a battle between Russia-backed regime forces and ISIS
• Dubai ruler, Sudanese prime minister discuss common issues between UAE, Sudan
• US, EU continue economic terrorism against Syria: UN ambassador
• Saudi Arabia Plans To Abolish Sponsorship System, Known As Kafala,
-------
Mideast
• Turkey's Erdogan Sues Extremist Dutch Politician Over Insulting Cartoon
• FM: Iran Not to Tolerate Presence of Terrorists at Northwestern Borders
• Iran's Human Rights Headquarters Blasts UN Special Rapporteur for Biased Report
• Iranian Ambassador: Pakistan Attack Displays Violent Face of Terrorism Against Islam
• Israel to approve new settler units in al-Khalil: Peace Now
• Yemeni minister of youth, sports assassinated in Sana'a
• Future US president must first compensate Iran for damage before rejoining nuclear deal: Govt. spokesman
--------
India
• Kashi And Mathura Shrines Being Dragged Into Fresh Legal Dispute, Sunni Central Waqf Board Voices Concern
• Pulwama kingpin and Hizbul chief among 18 based in Pakistan listed as 'designated terrorist'
• India, US call on Pakistan to take immediate and irreversible action against terrorism
• Afghanistan battles Pak 'hurdles' to export onions to India
• NIA raids several locations across Kashmir in terror-funding case
• Two terrorists killed in Badgam in encounter with security forces: Police
--------
Europe
• Facing Muslim Anger, France Warns Citizens Abroad To Take Caution, Avoid Gatherings
• Macron's Islamophobia unleashes waves of protest, boycott, diplomatic rebuke in Muslim world
• Two Swiss Muslim Leaders Convicted Of Spreading Propaganda Supporting Al-Qaeda
• Four civilians killed in Armenian missile attack: Azerbaijan
• France pushes tougher EU rules for social media in wake of terror attack
--------
South Asia
• Tens Of Thousands Stage Anti-France Rally In Bangladesh Capital, Calls For Boycott Of French Products
• International Donors Pledge Nearly $600 Million To Support Rohingya Muslims
• Officials Nab 'Alleged Facilitator of Taliban Terrorist' in Paghman
• Deadly militant attack hits Afghanistan's Khost amid faltering 'peace' talks
--------
Africa
• UAE Lavishes 'Aid' On Sudan After Normalization With Israel
• Boko Haram Jihadists Kill Eight Farmers in Nigeria's Borno State
• Somalia conflict: Al-Shabab 'collects more revenue than government'
--------
North America
• Canada Needs A Plan To Bring Home The Children Of Jihadists
• Even if Biden wins, all sanctions against Iran won't be lifted: US envoy
• U.S. slams Iran with another round of sanctions over support for 'terrorist entities'
--------
Pakistan
• US Move To Share Military Data With India Alarms Pakistan Foreign Office
• Pakistan summons Indian Chargé d' Affaires over Kashmir issue
• Terrorism section deleted against cleric in Justice Isa case
• Iran slams fatal blast in Pakistan, urges collective fight against terror in region
Compiled by New Age Islam News Bureau
URL: https://www.newageislam.com/islamic-world-news/muslim-world-needs-no-lecture/d/123296
--------
Muslim World Needs No Lecture From You About Free Speech, Malaysian Opposition Leader Tells France's Macron
27 Oct 2020
BY JERRY CHOONG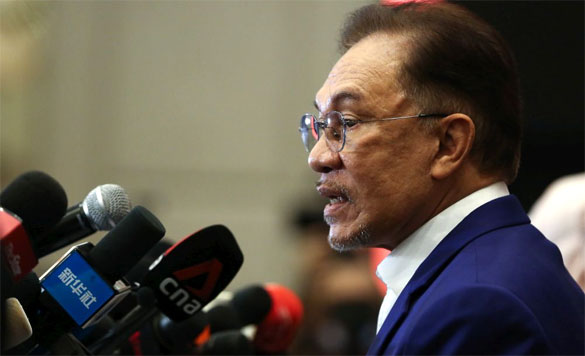 Malaysian Opposition Leader, Datuk Seri Anwar Ibrahim
------
KUALA LUMPUR, Oct 27 — Freedom of speech is an essential value of Islam and the Muslim world does not need any more lectures about its significance, least of all from those who suffer from Islamophobia, Datuk Seri Anwar Ibrahim said today.
The Malaysian Opposition leader is the latest Muslim leader to censure French president Emmanuel Macron for his October 2 speech claiming Islam in crisis worldwide while defending France's secularism and push for the removal of religious influences from education and its public sector.
"Monsieur Macron needs to be aware that freedom of speech is an essential value of Islam," Anwar said in a strongly-worded statement.
He said Macron's defence of "laïcité" — French for secularism — by claiming that Islam is in crisis globally is "offensive" and "unreasonable" because it tars an entire religion and its followers for the "evils" committed by a minority.
He said that in arguing for secularism, Macron had resorted to demonising and dehumanising Islam rather than engage in discussion, pointing out the dangers of such sweeping misrepresentations lead to a cycle of violence.
"No society, ideology or religion is immune from spawning single minded brutality and plunging into barbarism.
"The Muslim World does not need lectures any more than it can tolerate libellous smears and Islamophobic rhetoric from the French President," Anwar added.
He urged Macron to take responsibility for his "rabblerousing smears" against Islam, pointing to the October 6 killing of French teacher Samuel Paty after the latter showed some students in class caricatures of Prophet Muhammad published by satirical magazine Charlie Hebdo.
Anwar acknowledged that Macron is not alone in his skewed view of linking Islam to terrorism even as he said Muslims worldwide too need "to recover and reconnect with a higher vision of Islam".
However, he said making slurs "does nothing to advance open debate, mutual understanding and common cause against the evil of terrorism".
The secularism and Islam debate in France has deepened tensions domestically. International relations with some Muslim countries have also been affected.
France recalled its ambassador to Turkey after Turkish president Recep Tayyip Erdogan suggested Macron undergo "mental checks" for his thoughts about Islam and its followers.
https://www.malaymail.com/news/malaysia/2020/10/27/muslim-world-needs-no-lecture-from-you-about-free-speech-anwar-tells-france/1916914
--------
Saudi Arabia's Cabinet Condemns Cartoons Offending Prophet Mohammed: Statement
28 October 2020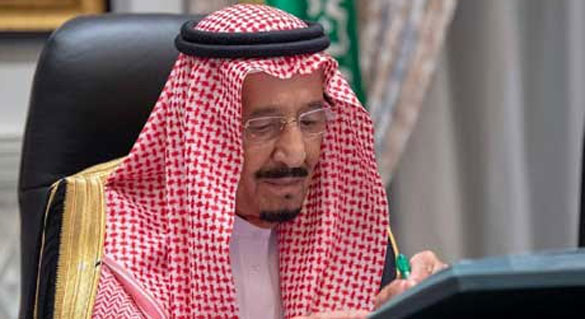 King Salman bin Abdulaziz
-----
Saudi Arabia's cabinet renewed on Tuesday its refusal of any attempt to link Islam and terrorism, it said in a statement.
The cabinet also condemned cartoons offending the Prophet Mohammed.
For all the latest headlines follow our Google News channel online or via the app.
The statement did not refer to calls in some Muslim countries for a boycott of French products over images being displayed in France of the Prophet.
The statement added that the cabinet also renewed "its condemnation and rejection of every terrorist act or practices and actions that generate hatred, violence, and extremism," while affirming that intellectual freedom is a means of respect, tolerance, and peace.
https://english.alarabiya.net/en/News/gulf/2020/10/28/Saudi-Arabia-s-cabinet-condemns-cartoons-offending-prophet-Mohammed-Statement
--------
Turkey's Erdogan Sues Extremist Dutch Politician Over Insulting Cartoon
27 October 2020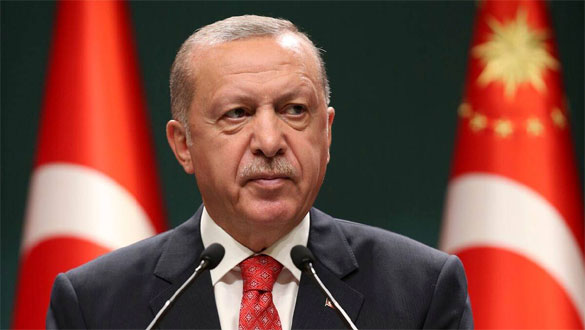 Turkish President Recep Tayyip Erdogan (AP)
------
Turkish President Recep Tayyip Erdogan has filed a criminal lawsuit against a far-right Dutch politician for posting an insulting cartoon of him on Twitter.
Turkey's state-run Anadolu news agency reported on Tuesday that Erdogan's lawyer had filed the complaint against Geert Wilders with the Ankara prosecutor's office for "insulting the president," which constitutes a crime under Turkish law.
Invoking the 104th article of Turkey's constitution, the complaint said that Erdogan represented the Turkish people and the country and any offense against him would be considered an offense against his office and not just himself.
Wilders, whose far-right Freedom party (PVV) is the biggest opposition force in the Dutch parliament, on Saturday shared a cartoon of Erdogan wearing a bomb-shaped hat that featured the logo of his ruling Justice and Development Party (AKP), along with the headline "terrorist."
Reacting to the insult at the weekend, Erdogan said, "There is this so-called Dutch deputy who speaks ill of us. Unlike him, we don't condone racism, and fascists have no place in Turkey."
"Fascism is not in our book, it's in your book. Social justice is in our book," the Turkish president said. "The forces that make the world uninhabitable have put us on the target board because we disrupt their games and reveal their true faces."
Turkish Foreign Minister Mevlut Cavusoglu also condemned the cartoon, saying, "The racist losers of Europe have shown their true colors when faced with reality."
Separately, the Turkish president lashed out at his French counterpart this weekend for supporting blasphemous cartoons of Islam's Prophet Muhammad (PBUH) in France and making anti-Islam comments.
President Erdogan questioned Emmanuel Macron's mental health and expressed support for a boycott of French goods.
Macron's backing of the sacrilegious cartoons has sparked widespread backlash from Muslims across the world.
Europe reacts to Erdogan's call for boycott of French goods
Meanwhile, the European Commission said Tuesday that Erdogan's support for a boycott of French goods was a further setback to his country's bid to join the European Union (EU).
"Calls for boycott of products of any member state are contrary to the spirit of these obligations and will take Turkey even further away from the European Union," a commission spokesman said.
The European Commission, which oversees the EU application process, also warned that an official boycott would breach the terms of Turkey's trade relationship with the bloc.
"EU agreements with Turkey foresee free trade of goods," the spokesman said. "The bilateral obligations that Turkey has committed to under these agreements, as expressed in the Association Agreement, the Customs Union and the agricultural and coal and steel FTAs (free trade agreements), should be fully respected."
Turkey applied to join the then-European Economic Community in 1987 and began formal accession talks to the EU in 2005, but the bid has long been stalled amid disagreements over a number of issues.
https://www.presstv.com/Detail/2020/10/27/637354/Turkey-Erdogan-sues-extremist-Dutch-politician-over-insulting-cartoon
--------
Kashi And Mathura Shrines Being Dragged Into Fresh Legal Dispute, Sunni Central Waqf Board Voices Concern
Oct 28, 2020
Ayodhya: Amidst the Kashi and Mathura shrines being dragged into fresh legal dispute, just months after the apex court's Ayodhya verdict, Sunni Central Waqf Board expressed concern over moves to reclaim religious structures and sought strict implementation of Places of Worship Act, 1991, which was reiterated by Supreme Court in its November-2019 verdict on the Ayodhya title suit.
In an exclusive chat with TOI, chairman of Sunni Central Waqf Board, Zufar Farooqui, who is also president of the Indo Islamic Cultural Foundation, said, "The Places of Worship Act aims to freeze the status of any place of worship as it existed on August 15, 1947."
"The Supreme Court too invoked this law in its Ayodhya verdict while mandating construction of temple at Ramjanmabhoomi premises to preempt new claims by any group," he added.
Talking about recent litigation to reclaim the Gyanvapi masjid in Varanasi and Shahi Eidgah in Mathura, Farooqui said, "The Sunni Waqf Board will be dealing with the court cases, but since the Places of Worship Act is in place, the law must be implemented to stop attempts to change status of mosques in India."
Farooqui, who's also president of the Trust mandated to construct a mosque in Ayodhya in lieu of the Babri mosque, said: "We are working on a war footing to begin construction of the mosque and other public facilities in the 5acre land in Dhannipur village in Ayodhya. The blueprint has been finalized and will be presented next month. We are seeking advice from international experts to make the facility world class."
The new mosque will be bigger than Babri masjid, but won't be a lookalike of the structure which once stood in Ramjanmabhoomi premises. The hospital of course will hold centrestage and will serve people in the true spirit of Islam as taught by the prophet.
"The hospital won't be a usual concrete structure, but will be in sync with the architecture of the mosque, replete with calligraphy and Islamic symbols," said Farooqui.
"It will house a 300-bed speciality unit, where doctors will work with missionary zeal to provide free treatment to the ailing," he added.
The master plan will be designed to house an archive, museum and community kitchen. The archive and museum will exhibit contributions of Muslims to nation building, Indian culture and freedom struggle and of course Sufi saints who spread love and harmony.
https://timesofindia.indiatimes.com/city/lucknow/sunni-board-voices-concern-over-moves-to-reclaim-kashi-mathura/articleshow/78901654.cms
--------
Facing Muslim anger, France warns citizens abroad to take caution, avoid gatherings
27 October 2020
France urged its citizens Tuesday to be cautious and avoid mass gatherings in countries that have announced boycotts of French products in a fast-spreading protest against perceived anti-Muslim bias from Paris.
Muslims have reacted angrily to President Emmanuel Macron's staunch defense of the right to mock religion following the beheading of a history teacher who had shown his pupils cartoons of the Prophet Mohamed during a class discussion on free speech.
For all the latest headlines follow our Google News channel online or via the app.
Tens of thousands marched Tuesday in the Bangladesh capital Dhaka, while in Syria protesters have burnt pictures of Macron and in Libya they torched French flags.
"In several countries in recent days, there have been calls for a boycott of French products, particularly foodstuff, and more generally calls to protest against France," the French foreign ministry said on its website.
"It is advisable to avoid areas where demonstrations are held, to stay away from gatherings, and to follow the guidance of the relevant French embassy or consulate," it added.
"It is recommended to be most vigilant, especially when traveling, and in places frequented by tourists and expatriate communities."
Turkish President Recep Tayyip Erdogan has led the charge against Macron, backing calls in the Islamic world to boycott French goods.
Depictions of the Prophet Mohammed are considered offensive by many Muslims, but in France such cartoons have become synonymous with freedom of expression and a proud secular tradition dating back to the Revolution.
In the aftermath of teacher Samuel Paty's murder, Macron vowed the country "will not give up cartoons."
Publication of the same drawings had sparked the 2015 massacre of cartoonists and others at the satirical magazine Charlie Hebdo, the beginning of a spate of deadly terror attacks on French soil.
Earlier this month, Macron had unveiled a plan to defend France's secular values against a trend of "Islamist separatism," and described Islam as a religion "in crisis".
https://english.alarabiya.net/en/News/world/2020/10/27/Facing-Muslim-anger-France-warns-citizens-abroad-to-take-caution-avoid-gatherings
--------
Tens Of Thousands Stage Anti-France Rally In Bangladesh Capital, Calls For Boycott Of French Products
Oct 27, 2020
DHAKA: Tens of thousands of protesters marched through the Bangladesh capital on Tuesday calling for a boycott of French products and burning an effigy of President Emmanuel Macron after he defended cartoons depicting the Prophet Mohammed.
Police estimated that more than 40,000 people took part in the march organised by an Islamist party which was halted before it could get close to the French embassy in Dhaka.
Hundreds of officers used a barbed-wire barricade to stop the protesters who broke up without violence.
The French leader has been the target of protests in several countries over his comments, made after a teacher was decapitated for showing the cartoons to his pupils.
The rally was organised by Islami Andolon Bangladesh (IAB), one of the country's largest Islamist parties, and started at Bangladesh's biggest mosque.
Protesters chanted "Boycott French products" and called for Macron to be punished.
"Macron is one of the few leaders who worship Satan," Ataur Rahman, a senior Islami Andolon told the rally at the Baitul Mukarram national mosque.
Rahman called on the Bangladesh government to "kick out" the French ambassador while another leader, Hasan Jamal, said activists would "tear down every brick of that building" if the envoy was not ordered out.
"France is the enemy of Muslims. Those who represent them are also our enemies," said Nesar Uddin, a young leader of the group.
Even after the rally was halted, demonstrators marched down other streets chanting "Boycott France" and "Macron will pay a high price".
The French president's comments on Islam have already led to a diplomatic showdown with Turkey. Macron said the school teacher "was killed because Islamists want our future".
https://timesofindia.indiatimes.com/world/south-asia/tens-of-thousands-stage-anti-france-rally-in-bangladesh-capital/articleshow/78888890.cms
--------
UAE lavishes 'aid' on Sudan after normalization with Israel
27 October 2020
The United Arab Emirates has given more than half a billion dollars in "financial aid" to Sudan since the latter normalized relations with Israel.
The sum of $556.5 million was given by the so-called Abu Dhabi Fund for Development (ADFD) to allegedly buttress Sudan's financial, economic, health, education, nutrition, and agriculture sectors, the Emirates' official WAM news agency reported.
"The aid was part of an overall Emirati grant worth 1.5 billion dollars to fulfill the basic needs of the Sudanese people," ADFD Director-General Mohammed Saif Al Suwaidi alleged in remarks to WAM.
The administration of US President Donald Trump — whose tenure has been marked by favors to the Israeli regime in absolute disregard for Palestinians' age-old demands — has over the past months launched a campaign of pressing for normalization agreements between some regional countries and the occupying regime.
The UAE and Bahrain signed such deals with Israel at the White House on September 15, when Trump claimed more states were next in line.
Sudan signed its normalization deal on Friday following a meeting between US and Sudanese officials in the Emirates last month and subsequent Emirati pressure on Khartoum to yield.
Similarly reporting on the Sudan-bound Emirati "aid," the London-based New Arab news and opinion website referred to the UAE as "a staunch backer" of the current junta in Sudan, which has been sharing power with civilian entities.
The "aid" comes as that ruling structure is in a fragile state and as popular rage simmers both over the military's reported killing of some 130 people during a crackdown on protests last year and the normalization agreement with Israel.
https://www.presstv.com/Detail/2020/10/27/637385/UAE-lavishes-aid-on-Sudan-after-normalization-with-Israel
--------
Canada needs a plan to bring home the children of jihadists
Oct 26, 2020
The children live in overcrowded refugee camps, in unsanitary conditions, without education and sometimes without basic health care. And although they were born to Canadian parents, the children's repatriation is neither popular nor considered a priority because they were born to jihadists.
The Canadian government recently announced the repatriation of Amira, a five-year-old Canadian orphan. Her parents, who had joined the Islamic State, were killed in 2019 in an airstrike on Baghouz, Syria.
This "exfiltration" came after a bitter fight led by her Toronto family, which filed a lawsuit against the Canadian government to obtain Amira's repatriation. The federal government has been reluctant to welcome these nationals, as they are considered to be Canadian Extremist Travellers (CETs).
How should Canada deal with these children and Canadian minors returning from areas considered to be hotbeds and training grounds for terrorism?
The Canadian government has been repeatedly criticized for its lack of action and questioned about facilitating the return of children from extremist parents.
I am interested in the supervision of escapes from violence as part of my doctoral research. By studying the trajectories of individuals who have joined terrorist organizations, I have come to think about how states should supervise the return of these citizens. What are the main issues raised by these delicate and controversial situations?
Mass or case-by-case repatriation
Unlike France or the United States, Canada has very few CETs in the Syrian-Iraqi zone: eight men, 13 women and 25 children. However, public opinion is divided between international obligations regarding children's rights on the one hand and security imperatives on the other.
The Canadian government has always justified its reservations about repatriation because of the lack of diplomatic representation in these sensitive areas and the complexity of rescue operations, which require significant logistical planning. In addition, there is a lack of international consensus on the approach to be taken by states to deal with these returns.
This is difficult to justify in light of the principles of equality and non-discrimination: states have legal and international obligations towards their nationals. This selective empathy also hinders policy development and the implementation of strategies that would be appropriate to manage these repatriations.
On Aug. 31, the United Nations Security Council once again failed to adopt a resolution on the fate of foreign jihadi fighters — this reflects the crystallization of the two opposing trends on the international scene.
The U.S. and Russia support the systematic repatriation of all nationals who have joined the Islamic State.
Several European countries are campaigning for the prosecution of CETs to occur "as close as possible" to the place where their crimes were committed, and for repatriation to be considered on a case-by-case basis. This position is also shared by the Canadian government, which so far only repatriates "exceptional cases."
This reluctance is due in part to the many obstacles facing the judiciary in trying CETs in Canada for crimes committed in Iraq or Syria. Indeed, it should be recalled that individuals who have joined the Islamic State are presumed to have participated in serious abuses and may pose a grave threat upon their return. However, the security issue deserves to be questioned here with regard to the children of CETs.
Between moral panic and the reality of the threat
The return of CETs and their children has remained highly controversial due to security reasons and the risk of indoctrination. Research has highlighted the Islamic State's methods of training Caliphate soldiers through the use of textbooks as propaganda tools.
There is an increased tendency in the media to systematically present these children as a new generation of "minor terrorists," "time bombs" or "folk devils." This can be linked to moral panic, a theory developed by sociologist Stanley Cohen, which points to the definition of a group of people as a danger to society. This in turn guides the implementation of stricter policies and social controls.
The very stereotypical portrayal of the children of jihadists makes them scapegoats for a situation which they have not chosen. The average age of CET children is six years old, which puts into perspective the risks that they are supposed to represent for society and shows the need of integrating them quickly into a normal life. The fear of welcoming these children because they have had presumed close ties with the Islamic State should certainly not hide the fact that they are held in detention camps in Syria where they live in degrading conditions.
A recent study showed the impact of the traumatic experiences of children returning from territories formerly controlled by the Islamic State. In the same vein, initiatives aimed at humanizing these children and shaping public opinion regarding their fate clearly illustrate the distress of families and the complexity of these issues.
Synergy in interventions
Until international practices and regulations are harmonized through diplomatic co-operation, the Canadian government must address the issue of children who are at risk of statelessness because they were born in Islamic State-controlled territories.
Possible difficulties in the placement of siblings should also be considered, while special support should be provided for the reunification of these children with their families. It is also necessary to ensure synergy in the interventions. A multi-sectoral approach must be co-ordinated, particularly between the Royal Canadian Mounted Police, child and youth protection services and mental health services.
Finally, at the risk of burying one's head in the sand, we must reflect on what penalties adult CETs should face when they are repatriated. It would indeed be questionable for a country that respects human rights to organize only the return of orphans or to take children away from their parents on the grounds that they are CETs.
Canada must also develop a relevant strategy for the mothers who accompany these children and who have sometimes lost their husbands in these areas. They need to figure out how to facilitate their reintegration or their standing under the law.
These reflections are necessary, given that the Kurdish authorities have just announced the release of thousands of prisoners and families of jihadists from Al-Hol, Syria's largest refugee camp. They are, for the most part, western citizens whose repatriation is still the subject of debate.
Lydie C. Belporo receives funding from Fonds de recherche du Quebec — Societe et culture (FRQSC).
https://nationalpost.com/pmn/news-pmn/canada-needs-a-plan-to-bring-home-the-children-of-jihadists?utm_source=iterable&utm_medium=email&utm_campaign=1657492_
--------
Southeast Asia
Malaysian Religious Affairs Minister Writes, Gifts Book On Prophet Muhammad To French Ambassador
By Teh Athira Yusof
October 27, 2020
KUALA LUMPUR: Minister in the Prime Minister's Department (Religious Affairs) Datuk Seri Dr Zulkifli Mohamad al-Bakri has expressed disappointment over the publication of Prophet Muhammad's caricature by French satirical magazine Charlie Hebdo.
In a letter addressed to the French Ambassador in Malaysia, Zulkifli said on behalf of Malaysian Muslims, he was against extremism and terrorism as they were not representation of any religion in the world.
"Referring to the latest issue of Charlie Hebdo's cartoon regarding Prophet Muhammad, we are also disconsolate and disheartened about the incident.
"We as leaders of the community must discourage such action, in particular by persuading the youth who are vulnerable to such acts to refrain from committing them and express their disagreements in peaceful ways," he said in the letter which has been uploaded on Facebook.
Zulkifli said the letter would be accompanied by a book titled The Sublime Qualities of the Prophet Muhammad gifted personally to the French Ambassador in Malaysia, saying it was a suitable gift to learn about the Prophet Muhammad's history seeing the month of Rabiulawal according to the Muslim calendar starting on Oct 18 to Nov 17, also coincides with the Prophet's birth month.
"We as Muslims will not avenge the provocative cartoon the same way or express discourtesy to the public.
"We strongly hold on to the saying of the Prophet, 'The best among you is the one who doesn't harm others with his tongue and hands.'
"With gratitude from our part, please accept this modest gift of a book entitled al-Shama'il al-Muhammadiyyah (The Sublime Qualities of Muhammad). May God bless Your Excellency," he wrote.
Zulkifli also noted that France was the first European country to have diplomatic tie with Malaysia after the latter achieved Merdeka in 1957.
"Hopefully, this event will bring a meaningful impact for strengthening the ties between France and Malaysia," he wrote on his Facebook post.
The former federal territories mufti's issued the statement following the controversial statement by the French Prime Minister Emmanuel Macron who criticised Islamists and vowed not to "give up cartoons" depicting the Prophet Mohammed.
Macron's comment came in light to the beheading of a teacher, Samuel Paty, outside his school in a suburb outside Paris earlier this month, after he had shown cartoons of the Prophet Mohammed during a class he was leading on free speech.
Several Muslim leaders have criticised the French premier and had called for a boycott over French products.
https://www.nst.com.my/news/nation/2020/10/635716/religious-affairs-minister-writes-gifts-book-prophet-muhammad-french
--------
Indonesian groups denounce normalization with Israel
Pizaro Gozali Idrus
27.10.2020
JAKARTA, Indonesia
Indonesian Islamic groups and pro-Palestinian NGOs Tuesday condemned Israel's recent normalization of relations with several Arab states, including the United Arab Emirates (UAE).
The Indonesian Committee for Palestinian Solidarity (KISPA) stressed that Israel is an occupying state and should not be trusted to bring peace to the region.
"Any form of support or normalization with Israel means supporting the occupation," KISPA Chair Muhendri Muchtar told Anadolu Agency on Tuesday.
Muchtar said normalization betrays the Palestinian struggle and the Indonesian people firmly reject it as their Constitution opposes all forms of colonialism.
Justifying crime
The Hidayatullah Islamic Organization also denounced the normalization of UEA-Israel relations, saying it aims to justify Israeli violations of Palestine.
"Israeli occupation of Palestinian lands is a crime, and normalizing relations with Israel means validating a crime," said Dzikrullah Pramudya, Hidayatullah's foreign policy head, on Tuesday.
"What if the Indonesian people were fighting for their independence, but at the same time, their neighbors such as Malaysia, Brunei, or Singapore normalized their relations with the Dutch [colonizers]? How would we feel about that?" he added.
Dzikrullah said the UAE was founded in 1971 and it was never colonized.
"So the UAE can't empathize with their Palestinian brothers, even though they are only 1,000 kilometers away," he told Anadolu Agency.
As a country that won its independence through struggles, Indonesia must tell the UAE how to act towards Israel, not the other way around, he said.
He also stressed that Indonesia does not need to normalize its relations with Israel.
"We have a lot of natural resources. If we need technology, there are many other friendly countries that can provide it," said Dzikrullah.
'Normalization is a betrayal'
Persatuan Islam, one of the oldest mass organizations in the country, urged the international community not to follow in the UAE's footsteps.
Jeje Zaenuddin, the group's deputy chair, said it would continue to press the Indonesian government to maintain its support for the Palestinian cause.
"Normalization is a betrayal for Muslims in general and Palestine in particular," said Jeje.
On Sept. 15, Bahrain and the UAE agreed to establish full diplomatic, cultural, and commercial relations with Israel after signing controversial agreements at the White House.
The deals have drawn widespread condemnation from Palestinians, who say the accords ignore their rights and do not serve the Palestinian cause.
https://www.aa.com.tr/en/latest-on-coronavirus-outbreak/indonesian-groups-denounce-normalization-with-israel/2021401
--------
Arab World
Syria: Turkey-backed fighters retaliate against regime-allied forces
27 October 2020
Syrian opposition groups lobbed hundreds of missiles and artillery rockets at government posts in northwestern Syria on Tuesday, in retaliation for a deadly attack that killed dozens of their fighters a day earlier.
The renewed violence has undermined an already shaky cease-fire in place since March that aimed to quell military operations and government troop advances in the overcrowded opposition enclave.
For all the latest headlines follow our Google News channel online or via the app.
The escalation also comes as relations between Russia and Turkey, who negotiated the cease-fire, show signs of strain over Ankara's increased military involvement in a region stretching from Syria to the Caucasus and the Mediterranean.
U.N Special Envoy for Syria Geir Pederson appealed to Russia and Turkey to "contain the situation." Meanwhile, Turkish Foreign Minister Mevlut Cavusoglu and his Russian counterpart, Sergey Lavrov, discussed the attack in Idlib as well as the situation in Nagorno-Karabakh and Libya in a telephone call on Tuesday, the Turkish Foreign Ministry said. It did not provide details.
Monday's strike was the deadliest in Idlib since the Turkish-Russian-brokered truce there came into effect, raising fears that the truce could further fray. Some 1 million people were displaced by the last offensive inside the already packed enclave, home to over 3 million.
In retaliation, the Turkey-backed groups, operating under the umbrella of the National Front for Liberation, fired hundreds of artillery rounds and missiles since late Monday at government posts in territories adjacent to areas they control in Idlib and Aleppo provinces.
A spokesman for the NFL, Naji al-Mustafa, said the opposition's military retaliation targeted and killed Russian officers in southern Idlib, as well as Syrian soldiers working in the area.
The report could not be independently verified and there was no immediate comment from Russia or Syria.
The Britain-based Syrian Observatory for Human Rights recorded hundreds of projectiles lobbed by opposition fighters at nearly 30 government posts in different locations in southern Idlib, western Aleppo and the coastal province of Latakia. The Observatory said 12 Syrian soldiers and allied fighters were killed in the barrage.
The Monday airstrike on an opposition training camp near the border with Turkey killed more than 50 Turkish-backed fighters, according to one opposition spokesman, and wounded nearly as many, in one of the heaviest blows to the opposition's strongest groups. The Observatory for Human Rights, which monitors the war in Syria, put the toll at 78 fighters dead and nearly 90 wounded. Videos circulating online showed the bodies of about a dozen men spread on the ground of an open space, wrapped in blankets.
The camp, operated by Faylaq al-Sham, an NFL faction, was hosting training sessions for new recruits. The NFL said a "large number" of fighters were killed, but declined to give details. It vowed retaliation and blamed Russia for the attack.
U.S. Special Representative for Syria James Jeffrey said the escalation in Idlib in violation of the March cease-fire deal is "dangerous" and threatens to prolong the conflict and deepen the Syrian people's suffering. Jeffrey said the UN-led political process is the only way to peace and stability in Syria.
"By continuing their quest for a military victory, the Assad regime and its Russian and Iranian allies are threatening the stability of the surrounding region," he said in a statement Tuesday. "It is time for the Assad regime and its allies to end their needless, brutal war against the Syrian people."
Russia and Turkey, although they support opposite sides in Syria's nine-year conflict, have worked together to maintain a cease-fire in the last enclave of Syria's opposition.
In the first official comment following the violence, the Turkish state-run Anadolu Agency said top Turkish presidential aide Ibrahim Kalin discussed the situation in Idlib with U.S. President Donald Trump's National Security Adviser Robert O'Brien late Monday. The two men expressed concern over "recently increased attacks by the regime and its supporters," according to Anadolu.
https://english.alarabiya.net/en/News/middle-east/2020/10/27/Syria-Turkey-backed-fighters-retaliate-against-regime-allied-forces
--------
Syria: 30 fighters dead in a battle between Russia-backed regime forces and ISIS
27 October 2020
Clashes Tuesday in the Syrian desert between Russia-backed regime forces and ISIS have killed almost 30 fighters, a Britain-based war monitor said.
For all the latest headlines follow our Google News channel online or via the app.
Battles have been ongoing in Syria's vast Badia desert since the start of the month, with regime forces supported by Russian aircraft.
On Tuesday, clashes and Russian air strikes killed 13 fighters, while 16 regime fighters died in fighting, the Syrian Observatory for Human Rights said.
The battles centred around Ithriya, in Hama province, and further east, near where the provincial borders of Hama, Aleppo and Raqa meet.
Mobile ISIS units have remained active in the Syrian desert since the groups lost the last shred of their self-proclaimed caliphate in March last year.
Intermittent fighting, mostly in the Badia, has killed more than 900 regime fighters and 140 allied Iran-backed combatants since March, as well as almost 500 ISIS fighters, the Observatory said.
ISIS overran large parts of Syria and Iraq in 2014, declaring a proto-state there, before several campaigns in both countries led to its territorial defeat.
In August, IS claimed an attack that killed a Russian general near the Euphrates valley city of Deir Ezzor.
https://english.alarabiya.net/en/News/middle-east/2020/10/27/Syria-30-fighters-dead-in-a-battle-between-Russia-backed-regime-forces-and-ISIS
--------
Dubai ruler, Sudanese prime minister discuss common issues between UAE, Sudan
Emily Judd
27 October 2020
Dubai's ruler Sheikh Mohammed bin Rashid Al Maktoum received a phone call from Sudanese Prime Minister Abdalla Hamdok on Tuesday, and discussed "several common issues" between their two countries, according to Dubai Media Office.
Sheikh Mohammed, who is also Vice President and Prime Minister of the United Arab Emirates, heads the United Arab Emirates' Council of Ministers, which recently adopted the country's peace agreement with Israel, known as the Abraham Accords.
"The Council of Ministers headed by Mohammed bin Rashid adopts a resolution ratifying the Abraham Accords… and orders the initiation of constitutional procedures to issue a federal decree ratifying the agreement," the UAE government announced last week.
Sudan and Israel announced Friday they would normalize relations, marking Israel's third peace agreement with an Arab country in six weeks, following the UAE and Bahrain.
US President Donald Trump held a three-way phone call with the leaders of Sudan and Israel to announce the deal.
Netanyahu thanked Trump on Sunday, as well as Hamdok and Chairman of the Sudanese Sovereignty Council Abd al-Fattah al-Burhan for their "historic decisions."
An Israeli delegation will visit Sudan in the coming days to finalize normalization between the two countries, according to the office of Israel's Prime Minister Benjamin Netanyahu.
https://english.alarabiya.net/en/News/gulf/2020/10/27/Sudanese-prime-minister-Dubai-ruler-discuss-common-issues-between-UAE-Sudan
--------
US, EU continue economic terrorism against Syria: UN ambassador
28 October 2020
Syria's Permanent Representative to the United Nations, Bashar al-Ja'afari, has censured the US and the European Union for their economic terrorism against the people of the Arab country.
Ja'afri made the remarks during a UN Security Council session via video conference on Tuesday, saying that the Western restrictions come in clear disregard for international law and the UN charter.
The Syrian diplomat also underlined that the US and its allies have defied calls from the UN chief and the UN human rights council for the lifting of such restrictive measures, particularly at the time of the covid-19 pandemic.
"The US administration and the European Union continue their economic terrorism against Syria through imposing unilateral coercive measures aiming to tightening the noose around the civilians and depriving them from food, medicine and essential medical supplies along with preventing reconstruction process and the return of the displaced," Ja'afri was quoted as saying by Syria's official SANA news agency.
The United States recently imposed a round of sanctions against Syria known as the Caesar Syria Civilian Protection Act.
The sanctions came into effect on June 17 -- six months after being signed into law by US President Donald Trump -- targeting individuals and businesses anywhere in the world that operate directly or indirectly within the sphere of Syria's economy. This includes entities that help the Arab country produce oil or fight terrorism in any way.
The US economic measures have effectively blocked imports of essential goods, impacting the Syrian people's access to medical equipment, food, fuel, natural gas, and electricity.
Syria blasts Turkey's occupation
On Tuesday, the Syrian diplomat also lashed out at Turkey for occupying Syrian territories and supporting terrorism, and accused Ankara of "war crimes."
"Crimes of the Turkish regime will never change the legal situation of Syrian territories it occupies , won't they hurt Syria's sovereignty or its legal rights," he underlined.
Ja'afri accused Turkey of forced displacement of Syrians and plundering the country's wealth and natural resources, also renewing his country's demand for an end to the foreign military presence in Syria.
Since last October, Turkish military forces and Ankara-backed militants have launched a long-threatened cross-border invasion of northeast Syria in a declared attempt to push Kurdish militants from the People's Protection Units (YPG) away from border areas.
Ankara views the US-backed YPG as a terrorist organization tied to the homegrown Kurdistan Workers' Party (PKK), which has been seeking an autonomous Kurdish region in Turkey since 1984. The YPG constitutes the backbone of the so-called Syrian Democratic Forces (SDF).
The Turkish government calls all these militant groups the so-called armed opposition groups and distinguishes them with Takfiri terrorist groups like Daesh and the like. However, rebranding these militant groups does not alter their terrorist nature and their use of ordinary people as human shields against advancing army forces.
https://www.presstv.com/Detail/2020/10/28/637399/Syria-Bashar-al-Ja%E2%80%99afari-US-EU-sanctions
--------
Saudi Arabia Plans To Abolish Sponsorship System, Known As Kafala,
28 Oct 2020
KARACHI: Saudi Arabia plans to cancel a foreign worker sponsorship system, known as kafala, and replace it with a new form of contract between employers and employees, a Reuters report said on Tuesday.
Quoting Maaal, the Arabic language online economic newspaper, the report said that the kafala system — that generally binds an expatriate worker to one employer — had been in place for seven decades in the kingdom.
Rights groups criticise the system and say it leaves workers vulnerable to exploitation. However, Saudi media had said the abrogation of the sponsorship law would lead to limiting the relationship between the employer and the expatriate worker to the employment contract that defines the rights and duties of both the parties.
A report says the end to the kafala system is also aimed at promoting economic growth and expanding commercial activities
In February, a Saudi Gazette report had said that the decision to end the sponsorship system was part of economic reforms that Riyadh is witnessing after the launch of Vision 2030 by Crown Prince Mohammed bin Salman, also known as MBS.
Under the plan, the abolition of the sponsorship system will give expatriate workers freedom to secure their exit and re-entry visas while also getting their final exit stamped on their own as well as taking up employment without any restriction or approval of the employer.
The expatriate workers will have complete freedom of movement according to what is stipulated in the employment contract.
The sponsorship system, which has been in force in Saudi Arabia for seven decades, governs the relationship between the expatriate worker and the employer. Under the system, the worker, upon his arrival in the kingdom, becomes obligated to work for his sponsor in accordance with the terms of the contract, and he is not entitled to work with others without transferring his sponsorship.
The sponsorship system went through several changes aimed at protecting human rights as well as behavioural and financial rights of both parties, the newspaper said, adding that a sizable number of employers misused many provisions of the system, which led to calls from international organisations to abolish the system.
The sponsorship system carries much negativity that adversely impacted on unemployment rates as well as on the image of the kingdom externally due to its misuse by some sponsors for individual gains at the expense of the country's interest. One of the disadvantages of the sponsorship system is that it opened the way for flourishing black market for visa trade.
On the other hand, the abolition of the sponsorship system is expected to bring about many advantages to the Saudi labour market while supporting the competitiveness of citizens to that of expatriate workers. Another advantage would be to attract highly competent and specialised expatriates from different countries, besides improving working environment for talented workforce.
In 2019, Saudi Arabia had launched its first permanent residency programme — Premium Residency Card (PRC) — for certain expatriates, allowing them to reside in the country with their families without a Saudi sponsor. The idea was first announced in 2016 by MBS but approved by the Shura Council in May 2019.
The report said the end to the sponsorship system is also aimed at providing further push to the wheel of the robust economic growth and expanding commercial activities as the new residency system gives expatriates freedom of movement, rights for issuance of residence and visit visas for their relatives and thus attracting more capitals into the kingdom.
https://www.dawn.com/news/1587323/saudi-arabia-plans-to-abolish-sponsorship-system
--------
Mideast
FM: Iran Not to Tolerate Presence of Terrorists at Northwestern Borders
Oct 27, 2020
"The Islamic Republic has an active diplomacy on Karabakh issue and acts based on respect for Azerbaijan's territorial integrity, settlement of the dispute through peaceful means and the fact that the international borders cannot be changed," Zarif said on Tuesday.
He said that Iran is concerned about the presence of Takfiri terrorists and other terrorists in the region.
"We have clearly declared our positions to both sides and said that it (presence of terrorists in the region) is intolerable to the Islamic Republic," Zarif said.
Iranian Deputy Foreign Minister Abbas Araqchi is due to visit Baku, Yerevan, Moscow, and Ankara to confer with the relevant officials on Iran's initiative for ending the Karabakh conflict.
Iran's Foreign Ministry Spokesman Saeed Khatibzadeh said on Tuesday that Araqchi will act as Tehran's special representative to follow up Iran's initiative for solving the disputes between Azerbaijan and Armenia over the Karabakh region.
He is making a trip to the Northwestern provinces to visit the Iranian regions bordering the conflict zone.
Araqchi himself stressed that security is Iran's red line and it should not be harmed during the conflict between Armenia and the Republic of Azerbaijan.
He also said that Iran attaches great importance to the security of electricity facilities and they should not be harmed under any circumstances.
The conflict between Armenia and Azerbaijan over the highland region of Nagorno-Karabakh, a disputed territory that had been part of Azerbaijan before the Soviet Union break-up, but primarily populated by ethnic Armenians, broke out in February 1988 after the Nagorno-Karabakh Autonomous Region announced its withdrawal from the Azerbaijan Soviet Socialist Republic.
Islamic Revolution Ground Force Commander Brigadier General Mohammad Pakpour said last week that any threat that harms people's security and calm will receive Iran's countermeasure, but further warned that his country would not tolerate any change in the geopolitical borders in regions close to Iran.
"Any insecurity and threat that damages the security and psychological calm of our dear people will face our countermeasures," Brigadier General Pakpour said during his third visit on Saturday to the Northwestern borders of Iran with the neighboring Azerbaijan Republic and Armenia, and added, "Basically, people's security and national interests of our country are our redline."
https://en.farsnews.ir/newstext.aspx?nn=13990806000971
--------
Iran's Human Rights Headquarters Blasts UN Special Rapporteur for Biased Report
Oct 27, 2020
"This report, from a logical perspective, should have covered, both positive and negative aspects of the human rights situation, and along raising allegations of human rights violations, to mention cases of protection and promotion of human rights. Unfortunately, the report focuses entirely on the negative cases and ignores the efforts, measures and actions which resulted in the promotion of the human rights situation in Iran. Referring to False information from terrorist sects and hostile governments The report is based on false information received from some terrorist sects and groups that have a dark history of killing thousands of innocent Iranians, and presently try every possible course of animosity against the Iranian people and alliance with the enemies, leaves no room for the Special Rapporteur to claim neutrality," the statement said.
"Also, the bold role of information received from some organizations affiliated with the governments hostile to the Iranian nation, including the British regime, which has a heavy history of crimes against the Iranian people, over the past few decades, as well as supporting the enemies of the Iranian nation, especially the former Ba'athist regime in Iraq, the terrorist regime in the United States, the occupying Zionist regime, and the invading Saudi regime, have been a proof and indication of lack of honesty and lack of good will by the Special Rapporteur," it added.
It also criticized ignorance of the US assassination of former IRGC Quds Force Commander Lieutenant General Qassem Soleimani in the rapporteur's report, noting, "The assassination of the greatest defender of the rights of the nations of the region and the most powerful commander in the fight against terrorism, General Qassem Soleimani, which, according to the report of the Special Rapporteur on extrajudicial, summary or arbitrary executions, to the forty-fifth session of the Human Rights Council, was considered as the violation of the three thematic areas of international law, namely right to use of force, humanitarian law and human rights law, was deliberately ignored."
"This crime had such an impact on the Iranian nation that tens of millions of Iranians came to streets, in tens of cities, for a week and mourned for the greatest savior of the people of the region, including Sunni and Shi'ite Muslims and followers of other religions Christians. The absence of this greatest human rights phenomenon of Iran in the Special Rapporteur's report leaves no doubt that he is not neutral and neither fair," the statement underlined.
Iran had also in November complained to the UN human rights body about the unprofessional behavior of Javaid Rehman, the UN Special Rapporteur on the human rights situation in Iran.
Former Secretary of Iran's Human Rights Council Mohammad Javad Larijani made the remarks in Geneva at the time, addressing a meeting on the sidelines of the UN Human Rights Council conference.
He added that Iran has cooperated with the Office of the United Nations High Commissioner for Human Rights and invited three rapporteurs to visit the country.
Larijani referred to the unprofessional measures adopted by Rehman, and said he has conducted several interviews with anti-Iran opposition TV channels in breach of his mandate.
Tehran had also in March 2019, rapped Rehman for his propaganda against Iran, and stressed once again that designation of a special rapporteur for the country is not justified legally and rationally.
Iran's Human Rights Headquarters in a statement lashed out at Javaid for his hostility, propaganda and lies against Iran in interviews with different media, including the BBC, stressing that he should only report to the UN and is not allowed to involve in media and propaganda issues.
It added that Javaid Rehman's behavior indicates again that designation of a special rapporteur for Iran "is not justified legally and rationally and only shows the double-standards and political deception of the Human Rights Council".
The statement warned that if the high commissioner for human rights fails to stop Javaid's attitude "the extensive cooperation of the Islamic Republic of Iran with the Human Rights Council on this rapporteur will no doubt be reviewed".
https://en.farsnews.ir/newstext.aspx?nn=13990806000292
--------
Iranian Ambassador: Pakistan Attack Displays Violent Face of Terrorism Against Islam
Oct 27, 2020
"It is the duty of every awakened conscience to condemn this violence," Hosseini said in a tweet post on Tuesday.
"Terrorist crime of martyring children learning the Holy Quran at a school in Peshawar shows the violent face of terrorism against Islam. Muslims are oppressed victims of terrorism in the world," the Iranian ambassador added.
An explosion at a religious seminary in Pakistan's Northern city of Peshawar killed at least eight people and injured 110 others.
The deadly blast took place at about 8.30am at the Jamia Zuberia religious school in Dir Colony, where about 500 students were gathered to hear a lecture by influential cleric Rahimullah Haqqani. Most of them were between 20 and 30 years old and from the Khyber Pakthunkwa and Balochistan regions of Pakistan, as well as some from Afghanistan.
A police superintendent, Waqar Azeem Kharal, said the explosion had been caused by high-quality explosives brought into the lecture hall in a bag. Kharal said that ball bearings were also used in the explosives. "It shows the attackers planned for mass casualties," he said.
Earlier on Tuesday, the Iranian foreign ministry deplored the Tuesday terrorist attack at a seminary in Peshawar in Northern Pakistan which killed and wounded several people, including children.
Foreign Ministry Spokesman Saeed Khatibzadeh described massacre of innocent people, including defenseless children, as an indication of non-commitment of perpetrators of the attack to the moral and humanity principles.
He also warned that the recent targeted terrorist attacks in a number of neighboring states are aimed at exacerbating the ethnic and religious differences in the region, stressing that fighting such plots needs vigilance, synergy in efforts and all-out assistance by all regional governments.
https://en.farsnews.ir/newstext.aspx?nn=13990806000975
--------
Israel to approve new settler units in al-Khalil: Peace Now
27 October 2020
Israel is set to approve construction of settler units in the southern West Bank city of al-Khalil (Hebron) for the first time since 2002, an anti-occupation group says.
Peace Now, which tracks settlement construction in the occupied territory, said Tuesday that Israeli military authorities had given the green light to the construction of 31 settler housing units "in the heart of Hebron."
The anti-settlement monitoring group condemned the Israeli plan as an attempt to "squeeze in" the approvals before the US presidential election next week.
"The attempt to squeeze in this construction of 31 settlement units before the US election is an unscrupulous act that threatens Israel's national interest and relations on the world stage," Peace Now said.
COGAT, an Israeli military body, took steps to approve new settler units in central al-Khalil in 2017.
Peace Now and the city's municipality challenged that project in court.
According to Peace Now, Israel allocated more than 21 million shekels ($6.2 million) to the project in 2018.
The Jerusalem al-Quds District Court had told Tel Aviv that the project cannot go ahead until the legal challenge is resolved, with a hearing set for January 31, Peace Now said.
However, Israeli authorities told the court on Sunday that they would issue the permits within a week, the settlement watchdog said in a statement.
Israel "was quick to issue the building permit even though the court has explicitly ruled that work should not start until the... hearing takes place," said the NGO's statement.
The statement added that the Tel Aviv regime "explains to the court that although the court order prohibits the commencement of the works, it does not prohibit the issuance of the permit itself."
Al-Khalil (Hebron) is a flashpoint of clashes between Palestinians and Israeli settlers.
Despite being home to about 200,000 Palestinians, significant parts of the city's center are already occupied by about 800 Israeli settlers.
The city includes the site known to Muslims as the Ibrahimi Mosque and to Jews as the Cave of the Patriarchs, which is revered by both faiths.
The holy site complex is believed to mark the burial sites of Prophets Abraham, Isaac, and Jacob.
About 600,000 Israelis live in over 230 illegal settlements built since the 1967 Israeli occupation of the Palestinian territories of the West Bank and East Jerusalem al-Quds.
Much of the international community regards the Israeli settlements as illegal because the territories were captured by Israel in the 1967 war and are hence subject to the Geneva Conventions, which forbids construction on the occupied lands.
The Israeli regime has faced widespread global condemnation over settlement constructions in the occupied Palestinian lands.
The United Nations Security Council has condemned Israel's settlement activities in the occupied territories in several resolutions.
Less than a month before US President Donald Trump took office, in December 2016, the United Nations Security Council adopted Resolution 2334 , calling on Israel to "immediately and completely cease all settlement activities in the occupied Palestinian territories, including East Jerusalem" al-Quds.
Palestinians want the West Bank as part of a future independent Palestinian state with East Jerusalem al-Quds as its capital.
https://www.presstv.com/Detail/2020/10/27/637349/Israel-West-Bank-al-Khalil-settlement-Peace-Now
--------
Yemeni minister of youth, sports assassinated in Sana'a
27 October 2020
Yemen says Minister of Youth and Sports Hassan Zaid has been killed in an assassination operation carried out by criminal elements affiliated with Saudi-led aggressors.
In a statement carried by al-Masirah television network, the Yemeni Interior Ministry announced that Zaid was shot while driving with his daughter in the Yemeni capital, Sana'a, on Tuesday.
The assassination operation claimed the minister's life and injured his daughter, it added.
The targeted killing of Zaid is a criminal act, which is part of the aggressors' schemes to remove Yemeni national figures, the ministry said, noting that an investigation was underway to bring criminals to justice.
Saudi-owned Al Arabiya TV channel described Zaid as an important leader of Yemen's Houthi Ansaruallh movement.
So far, no group has claimed the responsibility for the attack.
Saudi Arabia launched a devastating military aggression against its southern neighbor in March 2015 in collaboration with a number of its allied states, and with arms support from the US and several Western countries.
The aim was to return to power a Riyadh-backed former regime and defeat the Houthi movement that has taken control of state matters since the resignation of the then president and his government.
The war, however, has failed to achieve its goals, but killed tens of thousands of innocent Yemenis and destroyed the impoverished country's infrastructure. The UN refers to the situation in Yemen as the world's worst humanitarian crisis.
https://www.presstv.com/Detail/2020/10/27/637342/Yemen-minister-assassinated-Sana-a
--------
Future US president must first compensate Iran for damage before rejoining nuclear deal: Govt. spokesman
27 October 2020
Tehran says the future American president will first have to compensate Iran for the damage the US has done to the nation with its unilateral departure from the 2015 nuclear deal if he wants to rejoin the multilateral accord.
Ali Rabiei, the spokesman of Iran's administration, made the remarks on Tuesday when asked if the United States might return to the nuclear deal, officially called the Joint Comprehensive Plan of Action (JCPOA), following the upcoming presidential election.
American voters will decide on November 3 whether Republican President Donald Trump remains at the White House for another four years or his Democratic rival, Joe Biden, will take office.
The US under Trump unleashed a so-called maximum pressure campaign against Iran in 2018, when it left the nuclear deal.
Following its withdrawal, Washington targeted the Iranian nation with the "toughest ever" economic sanctions in order to bring it to its knees, but the country's economy keeps humming and is getting back on its feet.
"It makes no difference to us who becomes the president of the United States, and it does not matter who decides to return to the JCPOA. We act according to our principles," Rabiei said.
The Iranian official went on to say that Tehran would welcome a decision to return to the JCPOA by any US president.
At the same time, he said, "the United States must be held accountable for the damage [it has] done to the Iranian people by its unilateral withdrawal from the JCPOA, and the US must be prepared to make other commitments to ensure that such violations will not be repeated."
"Our policy on the JCPOA has been and is transparent. We did not leave the JCPOA when Trump left, while they thought we would do so, but we did not leave in line with our clear policy, and today we are seeing its effects," he said.
Rabiei further defended the country's move to suspend some of its commitments under JCPOA as a proper reaction to the US withdrawal from the nuclear accord and schemes to prevent other parties from fulfilling their commitments.
Under the JCPOA, signed between Iran and the five permanent members of the United Nations Security Council, Tehran undertook to put limits on its nuclear program in exchange for the removal of nuclear-related sanctions imposed against Tehran.
However, Trump pulled his country out of the JCPOA in May 2018 and re-imposed harsh sanctions against the Islamic Republic in defiance of global criticisms, leaving the future of the historic deal in limbo.
Critical of Washington's move, the European parties to the JCPOA vowed efforts to keep the deal in place by protecting Tehran against the US sanctions, but did little in practice.
In May2019, a year after the US's exit, Tehran began reducing its commitments under the JCPOA on a stage-by-stage basis in response to Washington's pullout and the ensuing European failure to make up for America's absence.
'Claims of Iran meddling in US vote unfounded'
Elsewhere in his Tuesday remarks, Rabiei dismissed as "unfounded" claims by US national security officials that Iran is attempting to influence American voters, saying that Tehran has no motive for or belief in meddling with other countries' internal affairs.
"We believe that nations should be free to determine their own destiny and act without the interference of other countries," he said.
He reiterated Iran's neutrality in the US election, saying, "What matters to us are the policies that the winner of the election will pursue and his will to restore the rights of the Iranian people."
Last week, Director of US National Intelligence John Ratcliffe alleged that Iran and Russia had obtained voter registration information in an attempt to undermine confidence in the 2020 polls, an accusation categorically rejected by Tehran and Moscow.
Iran summoned the Swiss envoy who represents US interests in the Islamic Republic over the issue.
https://www.presstv.com/Detail/2020/10/27/637370/Iran-US-elections-JCPOA-Ali-Rabiei
--------
India
Pulwama kingpin and Hizbul chief among 18 based in Pakistan listed as 'designated terrorist'
Oct 28, 2020
NEW DELHI: The home ministry on Tuesday listed 18 terrorists based in Pakistan – including key 26/11 attack conspirators, Indian Mujahideen brass, Dawood Ibrahim aides wanted for 1993 Mumbai blasts, besides Hizbul Mujahideen chief Syed Salahudeen and Jaish e Mohammad No. 2 Abdul Rauf Asghar – as "designated terrorists" under Schedule 4 of the Unlawful Activities (Prevention) Act.
Among the key names added to Schedule 4 of UAPA are key conspirator behind 2001 Parliament attack and more recently the Pulwama terror attack Rauf Asghar; Hizbul Mujahideen chief and head of United Jihad Council Syed Salahuddin; Dawood aide Chhota Shakeel, wanted in 104 criminal cases; and founder of Indian Mujahideen Riyaz Bhatkal wanted for a series of bomb blasts across the country between 2008 and 2010.
Schedule 4 was added to UAPA in August 2019 as part of Narendra Modi government's 'zero tolerance' approach to terror. Home minister Amit Shah, guided by "iron-willed" leadership of PM Modi, has unequivocally reaffirmed the nation's resolve to fight terrorism, the home ministry said on Tuesday.
Key 26/11 accused and Lashker e Toiba operatives based in Pakistan – Sajid Mir, one of the main planners behind the 2008 Mumbai siege; commander of LeT operations in J&K Yousuf Muzammil Butt; and LeT chief Hafiz Saeed's brother-in-law and head of LeT political affairs Abdur Rehman Makki – now stand designated as "terrorists" under UAPA. Both Mir and Makki were earlier designated as 'Specially Designated Global Terrorists' by the US. Another LeT name in the updated Schedule 4 is Shahid Mehmood Rehmatullah, deputy chief of proscribed LeT arm Falah-i-Insaniyat Foundation (FIF).
Key accused in Kandahar hijack case of 1999 – in which Maulana Masood Azhar was freed as part of a hostage-swap deal, followed by his founding Jaish e Mohammad – designated as terrorists on Tuesday include Rauf Asghar, who is also brother of Masood. Rauf, involved in setting up of training camps in Pakistan for recruitment and militant training, was the key conspirator in 2001 Parliament attack and, more recently, the Pulwama attack that killed 40 CRPF personnel.
Ibrahim Athar and Yusuf Azhar, both involved in the Kandahar hijacking, have also been enlisted as individual terrorists.
Apart from Hizbul chief Syed Salahudeen, his deputy Ghulam Nabi Khan alias Saifullah Khalid and the outfit's finance head Zaffar Hussain Bhat alias Khursheed, were named as designated terrorists. Zafar was last week chargesheeted by NIA in the Hizbul Mujahideen narco-terror case.
Top Indian Mujahideen terrorists based in Pakistan Riyaz Bhatkal, who as per an NIA chargesheet had escaped to Pakistan in March 2009 with ISI's help, and Shabandri Mohammad Iqbal alias Iqbal Bhatkal, are also now designated as terrorists.
Four aides of Dawood Ibrahim -- Chhota Shakeel who looks after all criminal and underworld operations of D-Company; Mohammad Anis Shaikh who supplied arms, ammunition and hand grenades and was involved in 1993 blasts; Tiger Memon who hatched the 1993 blasts conspiracy; and Javed Chikna – figure in the updated list of designated terrorists .
Others in the list are 2002 Akshardham temple attack accused Farhatullah Ghori and Shahid Latif, JeM's Commander of Sialkot sector involved in launching of JeM terrorists into India including those behind 2016 Pathankot attack.
With 18 new additions, Schedule 4 of UAPA now has 31 designated terrorists.
https://timesofindia.indiatimes.com/india/pulwama-kingpin-and-hizbul-chief-among-18-based-in-pakistan-listed-as-designated-terrorist/articleshow/78901977.cms
--------
India, US call on Pakistan to take immediate and irreversible action against terrorism
Edited by Sohini Sarkar
Oct 27, 2020
India and the US on Tuesday reiterated their call for Pakistan to take irreversible action to ensure its territory isn't used for terror attacks and to speedily prosecute the perpetrators and planners of the attacks in Mumbai, Uri and Pathankot.
The demand for action by Pakistan to counter terrorism, which figured in a joint statement issued after the 2+2 ministerial dialogue, was similar to calls made by India and the US in recent years. The joint statement also called for "concerted action" against terrorist networks such as al-Qaeda, Islamic State and Lashkar-e-Taiba (LeT).
Besides China's aggressive actions across the region and beyond, counter-terrorism was part of the discussions between external affairs minister S Jaishankar and defence minister Rajnath Singh and their US counterparts Mike Pompeo and Mark Esper. Jaishankar told a media interaction after the meeting that the Indian side made it "clear that cross-border terrorism is completely unacceptable".
The joint statement noted the ministers had "denounced the use of terrorist proxies and strongly condemned cross-border terrorism in all its forms", and said: "They emphasised the need for concerted action against all terrorist networks, including al-Qaeda, ISIS/Daesh, Lashkar-e- Taiba (LeT), Jaish-e-Mohammad (JeM) and Hizb-ul-Mujahideen."
The statement added, "The ministers called on Pakistan to take immediate, sustained and irreversible action to ensure that no territory under its control is used for terrorist attacks, and to expeditiously bring to justice the perpetrators and planners of all such attacks, including 26/11 Mumbai, Uri, and Pathankot."
Six American citizens were among the 166 people killed in the 2008 Mumbai attacks carried out by a 10-member LeT team from Pakistan. The 2016 Uri attack and the Pathankot attack in 2016 were blamed on Pakistan-based JeM.
The joint statement said the two sides are committed to continued exchange of information about sanctions and designations of terror groups and individuals, particularly in light of recent legislative changes in India, and countering the financing and operations of terror organisations, countering radicalism and terrorist use of the internet.
People familiar with developments said on condition of anonymity that India-US counter-terrorism cooperation has made considerable progress with enhanced information-sharing and operational cooperation. The joint working groups on counter-terrorism and designation dialogue meet regularly to enable cooperation in pursuing sanctions and designations of terror groups and individuals, the people said.
The joint statement further said the two sides are committed to countering "cross-border movement of terrorists, and prosecuting, rehabilitating, and reintegrating returning terrorist fighters and family members".
While enhancing cooperation in multilateral forums such as the UN, the two sides reaffirmed their support for early adoption of a UN Comprehensive Convention on International Terrorism to strengthen global cooperation.
The ongoing Afghan peace process also figured in the 2+2 meeting, with the joint statement saying the ministers had discussed their "shared interest in promoting a sovereign, peaceful, united, democratic, inclusive, stable and secure Afghanistan, including support for an Afghan-led and Afghan-owned peace process".
The US side "applauded India's development assistance and efforts to build trade linkages and multi-modal connectivity infrastructure for Afghanistan to enhance its regional connectivity to sustain growth and development".
Jaishankar told the media interaction: "On Afghanistan, India's stakes in its security and stability are evident, as is our willingness to contribute to international efforts to that end." Pompeo said the "US values India as a multilateral partner, whether it's through the Quad [or] making the Afghan peace negotiations successful..."
https://www.hindustantimes.com/india-news/india-us-call-on-pakistan-to-take-immediate-and-irreversible-action-against-terrorism/story-KqlOXxZpUoInRcOaVjmWSN.html
--------
Afghanistan battles Pak 'hurdles' to export onions to India
Oct 27, 2020
NEW DELHI: Afghanistan is looking to circumvent hurdles allegedly created by Pakistan agencies at the Wagah-Attari border to export onions to India. It has raised with Pakistan authorities the need for officials to not delay the export to India.
The Indian government has been keen to import onions from Afghanistan via the land border with Pakistan to meet the shortage here of the kitchen staple.
Pakistan had in June resumed Afghan exports through Wagah border crossing, after implementing Covid-19 protocols, in keeping with its transit trade agreement with Afghanistan. Afghanistan's exports to India via Wagah had been disrupted in March because of Covid.
Pakistan claims it remains fully committed to further strengthening its bilateral relations with Afghanistan in all areas including trade, and to facilitate Afghanistan's transit trade. However, the Afghanistan Chamber of Commerce and Investment (ACCI) has received complaints from traders in Kabul alleging that almost 70 percent of the onions meant for India was rotting away at the Wagah border because of the delay in processing.
Sources said only 30 percent of the trucks arriving at the border were being processed daily. Then there were other problems like, as a source said, not enough scanners and Pakistan authorities insisting on repackaging the consignment in bags of smaller sizes leading to an increase in cost for traders and also delay in processing. The ACCI had warned that these conditions could hurt bilateral trade.
Under its 2010 transit trade agreement with Afghanistan, Pakistan allows Afghanistan to export to India via the border but not to import from India. Pakistani authorities have so far opposed any proposal to allow India to use the border for two-way trade with Afghanistan, claiming it will hurt their agreement with Afghanistan.
According to the Indian government, while there is immense potential to expand bilateral trade with Afghanistan, the difficulties in transit via Pakistan remained a major hurdle in expanding trade ties. In order to expand trade, Afghanistan and India had launched a dedicated Air Freight Corridor in 2017.
The Corridor is said to have already witnessed
close to a 1000 flights, carrying goods valued at more than $ 216 million. "This has provided a boost to Afghan exports to India and has directly benefited Afghan farmers and small traders and exporters," says an official.
The operationalisation of the Chabahar Port in Iran in 2017 and the subsequent agreement to manage port operations also helped India strengthen bilateral trade, bypassing Pakistan. According to Indian authorities, the Port has so far handled over 5,000 containers ferrying over 110,000 tons of wheat and over 2,000 tons of pulses sent by India as assistance to Afghanistan via Chabahar.
https://timesofindia.indiatimes.com/india/afghanistan-battles-pak-hurdles-to-export-onion-to-india/articleshow/78897944.cms
--------
NIA raids several locations across Kashmir in terror-funding case
Edited by Poulomi Ghosh
Oct 28, 2020
The National Investigation Agency (NIA) on Wednesday conducted raids at multiple locations in Srinagar, including the office of Greater Kashmir newspaper and the residence of human rights activist Khurram Parvaiz in Sonwar in connection with 'unaccounted funding'. The offices of NGO Athrout are also being raided.
The NIA has registered a new case to probe into the fund-raising activities of the NGO — who are funding them and where the funds are being channelised to. Hawala racket, misappropriation of funds and terror funding are some of the allegations against these NGOs, officials said.
In 2016, Khurram Parvez was arrested from his home in Srinagar which stoked a controversy as it was alleged that he was detained without any formal arrest warrant. He was detained for 76 days even after a sessions court ordered his release as he was re-arrested under Public Safety Act.
In 2019, NIA interrogated Greater Kashmir editor-in-chief Fayaz Kaloo over a few articles that appeared on the paper after Burhan Wani was killed.
https://www.hindustantimes.com/india-news/nia-raids-several-locations-across-kashmir-in-terror-funding-case/story-oxZsathzc7XmLBMUIT5quJ.html
--------
Two terrorists killed in Badgam in encounter with security forces: Police
Oct 28, 2020
SRINAGAR: Two unidentified terrorists were killed by security forces in an encounter that broke out on Tuesday night in Budgam district of Jammu and Kashmir, police said.
Security forces launched a cordon-and-search operation at Moachwah in Chadoora area of Budgam district around 7pm on Tuesday following information about the presence of terrorists there, a police official said.
He said the search operation turned into an encounter around 9pm after terrorists opened fire at security forces positions.
Two terrorists were killed in the gunbattle, which lasted nearly four hours.
The identity and group affiliation of the slain terrorists was being ascertained, the official said, adding preliminary investigation suggests that one of the slain ultras was a foreigner.
https://timesofindia.indiatimes.com/india/two-terrorists-killed-in-badgam-in-encounter-with-security-forces-police/articleshow/78902946.cms
--------
Europe
Macron's Islamophobia unleashes waves of protest, boycott, diplomatic rebuke in Muslim world
27 October 2020
Anger continues to grow across the Muslim world after French President Emmanuel Macron publicly attacked Islam in defense of the publication of derogatory cartoons of Prophet Muhammad (PBUH).
Earlier in October, France led a national tribute to a teacher, who was recently beheaded by a Chechen teenager after showing his class the offensive caricatures.
The president said he would not "renounce the caricatures." He described Islam as a religion "in crisis" and declared war on "Islamist separatism," which he claimed was taking over France's estimated six-million-strong Muslim population.
The comments have angered not only the Muslim community in France, but all Islamic nations, leading to protests, boycott calls and diplomatic condemnations in the Middle East and the broader Muslim world.
Tens of thousands stage anti-France rally in Bangladesh
On Tuesday, tens of thousands of people took to the streets in the Bangladeshi capital Dhaka to express their anger at French President Emmanuel Macron's comments.
More than 40,000 people took part in the march organized by Islami Andolon Bangladesh (IAB), one of the largest Islamic parties in the South Asian country.
During the march, which started from the Baitul Mukarram national mosque, the protesters called for a boycott of French products and burnt an effigy of the French leader.
They chanted "Boycott French products" and called for Macron to be punished.
"Macron is one of the few leaders who worship Satan," Ataur Rahman, a senior IAB leader addressed the rally at Bangladesh's biggest mosque.
Rahman also called on the Bangladesh government to "kick out" the French ambassador, Jean-Marin Schuh.
Another Islami Andolon Bangladesh leader, Hasan Jamal, said activists would "tear down every brick of that building" if the envoy was not ordered out.
"France is the enemy of Muslims. Those who represent them are also our enemies," Nesar Uddin, a young leader of the group, said.
Hundreds of police officers used a barbed-wire barricade to stop the protesters from getting close to the French embassy.
Demonstrators marched down other streets after police intervened, chanting "Boycott France" and "Macron will pay a high price."
Iraqis demand apology, boycott
On Monday, hundreds of people staged rallies outside the French embassy in Iraq to condemn the move. The protesters burned France's national flag near the country's diplomatic mission in the capital Baghdad, in the latest display of anger in the Muslim world over the images and Macron's comments.
The demonstrators also held up posters showing caricatures of the European leader and chanted slogans in support of the Prophet.
"These ( Macron's) statements jeopardize global security and harmony since they damage the coexistence between different religions. We condemn these statements and we ask the French president to apologize to all Muslims," Abu Ayman, a protester, said.
Aqil al-Kadhemi, a cleric at the rally, also demanded an "apology to all Muslims because the Prophet is a symbol of Islam and Muslims."
"We are demonstrating to denounce and strongly disapprove" of Macron's comments, Kadhemi told AFP at the protest.
Other protesters called for a boycott of French products, like those already underway in supermarkets in the Persian Gulf kingdoms of Qatar and Kuwait, and demanded in Jordan and Turkey.
Moreover, Iraq's Islamic Dawa Party strongly condemned Macron's comments against Islam and demanded that he apologize.
In a provocative move that hurt the feelings of Muslims, Macron "has defended publication of caricatures offending Prophet Muhammad and said France would not give them up under the pretext that the country adheres to 'secularism' and 'freedom of expression.' The free speech has, however, been abused for repeated and deliberate insults to the Prophet, Islam and religions," the political party said in a statement.
It added, "Such aggressive viewpoints reflect his (Macron's) psychological complexes, his internal defeat and his tendency to insult dignitaries in the hopes that he would look great. These positions come within a deliberate approach aimed at undermining Islam and targeting its sanctities. Accordingly, they should not be tolerated."
The Islamic Dawa Party then called on all Muslim institutions, states and nations to "express their outrage and condemnation, and voice their support for the Prophet."
It also demanded an apology from the French leader, stating that his recent Islamophobic comments have hurt the feelings of nearly two billion Muslims across the globe, who make up more than a quarter of the world's population and whose religion is currently the world's second-largest after Christianity.
Separately, the Fatah (Conquest) Alliance has called for a boycott French goods in Iraq in protest at Macron's anti-Islam stance.
"Muslim and Arab world besides friends of the French nation were astonished by Macron's offensive statements against Islam and its honorable Prophet. We denounce Macron's comments as we see them as a grave affront to humanitarian and cultural values," it stated.
"Macron's offensive remarks indicate his ignorance of Islam. He is living in a country, where Orientalism was born and flourished and a great deal of research has been conducted on the knowledge of Islam and its philosophical advantage over the Western civilization," the statement added.
"The smallest response to this blatant insult of the Prophet (PBUH) is to boycott French products. The [Iraqi] government must summon the French ambassador [Bruno Aubert] and send a note of strong protest to the French government," the Fatah Alliance pointed out.
Turkey: Macron after leadership in Europe
Furthermore, Turkey's Presidential Spokesman Fahrettin Altun slammed the French president on Monday over his controversial remarks about Islam.
"President Macron's recent anti-Islam rhetoric is yet another example of a desperate European politician vying for relevance," Altun wrote in a series of posts published on his official Twitter page.
"His flailing attempt to assume leadership in Europe is driving his promotion of Islamophobia, xenophobia, and his attacks on our President [Recep Tayyip] Erdogan," he added.
Altun stressed that Macron is discriminating against Muslims in France and in Europe for a political purpose.
"We need to call out such irresponsible figures whose statements and actions are not simply the effect but the cause of hostility against Islam. Politicians like Macron are savoring opportunities to condemn a whole religion in order to cover their failings at the home front," the senior Turkish official pointed out.
Pakistan blasts France's campaign of Islamophobia
Pakistan's upper and lower houses of parliament also adopted resolutions on Monday, condemning France over a "systematic" Islamophobic campaign under the pretext of freedom of expression.
The lawmakers unanimously voted for two separate resolutions, which strongly condemned the "illegal" and "Islamophobic" publication of insulting caricatures of Prophet Muhammad in France.
The resolution, introduced in the National Assembly by Foreign Minister Shah Mahmood Qureshi, urged the Islamabad government to recall its ambassador from France in protest against the sacrilegious moves.
The resolution also called on Secretary General of the Organization of Islamic Cooperation (OIC)Yousef al-Othaimeen to closely monitor the ongoing campaign of Islamophobia and take necessary actions, which represent the Muslim countries' common position on the matter.
It urged the UN as well to immediately arrange an international dialog for inter-faith harmony and combat the rising trend of Islamophobia.
Muslim rights group 'no longer feels safe in France'
Additionally, the Collective Against Islamophobia in France (CCIF) announced in a statement on Monday that it plans to expand its activities outside the European country amid concerns for its safety in the wake of Macron's remarks.
"As an organization, we no longer feel we can conduct our work in a safe environment, as our lives are threatened and the government designates us as an enemy," it said.
The French Muslim human rights group highlighted that it had been targeted by hate messages, death threats and insults over the past week after the French government announced it wanted to dissolve the organization.
"Using fake news from the far right, some political figures in the entourage of president Macron have even tried to pin last Friday's attack on organizations who denounce Islamophobia, as if it was conceptually impossible to address both terrorism and contemporary forms of racism, including Islamophobia," the statement read.
"For these reasons, whatever the outcome of the government's attempt to dissolve CCIF, we have decided to extend our activities internationally, to ensure continuity of our operations and protect our teams," the group pointed out.
Jordan summons French ambassador
Meanwhile, Jordan's Foreign Minister Ayman Safadi summoned French Ambassador Véronique Vouland-Aneini to express his country's strong dissatisfaction with publication of the cartoons offending Prophet Muhammad and Macron's anti-Islam comments.
"Insulting religious symbols and sanctities fuels the culture of abhorrence, violence, extremist and terrorism that the Kindom condemns in all its forms," Safadi said.
He underlined that the affront to Prophet Muhammad and other divine prophets cannot be accepted under freedom of expression.
The top Jordanian diplomat said the European Court of Human Rights (ECHR) ruled on October 25, 2018 that insulting Islam's Prophet Muhammad is not covered by freedom of expression.
Oman Mufti: Muslims should boycott French firms
Meanwhile, the Grand Mufti of the Sultanate of Oman, Sheikh Ahmad bin Hamad al-Khalili, expressed his support for the boycott of French products in protest at the insult to Prophet Muhammad (PBUH).
He called on Muslims worldwide to withdraw their money from French businesses, and work towards the creation of an independent international economic system.
Saudi Arabia condemns cartoons disparaging Prophet Muhammad
In a belated reaction, Saudi Arabia on Tuesday also condemned the cartoons and any attempts to link Islam with terrorism.
An unnamed foreign ministry official said in a statement that the Persian Gulf state condemned all acts of terrorism, in an apparent reference to the French teacher's murder.
"Freedom of expression and culture should be a beacon of respect, tolerance and peace that rejects practices and acts which generate hatred, violence and extremism and are contrary to coexistence," the statement carried by state media said.
Even though calls for a boycott of French supermarket chain Carrefour are trending on social media in Saudi Arabia, the corporation continues to operate in the kingdom and two main stores Reuters visited in the capital Riyadh on Monday seemed as busy as normal.
https://www.presstv.com/Detail/2020/10/27/637326/Outrage-boils-across-Muslim-world-after-Macron-backs-Prophet-Mohammed-cartoons
--------
Two Swiss Muslim leaders convicted of spreading propaganda supporting al-Qaeda
27 October 2020
A Swiss court handed suspended jail terms on Tuesday to two senior officials from a Swiss Islamic group for spreading propaganda supporting al-Qaeda, in a retrial which followed their earlier acquittal.
Nicolas Blancho, president of the Islamic Central Council of Switzerland (ICCS), and media spokesman Abdel Azziz Qaasim Illi were sentenced by the Federal Criminal Court to 15 months and 18 months in prison respectively, both suspended for three years.
For all the latest headlines follow our Google News channel online or via the app.
Prosecutors originally charged the two men and one other ICCS official in 2017 over videos posted online two years earlier that included interviews with leaders of Jabhat al-Nusra, at the time al-Qaeda's Syrian branch.
The ICCS did not respond to requests for comment on Tuesday's ruling. It has previously said the footage was intended to shed light on a troubled region, not glorify extremists.
Films of the interview were subsequently used online as propaganda for al-Qaeda, according to the indictment. Prosecutors said the filmmakers failed to explicitly distance themselves from al-Qaeda activities in Syria in the 2015 videos.
The charges were made under a Swiss law that bans al-Qaeda and ISIS.
Blancho and Illi were found not guilty in the earlier trial because the court held that prosecutors had failed to provide sufficient detail about the allegations. The third ICCS official was convicted at the time.
The Federal Court overturned Blancho and Illi's acquittals in March and ordered a new hearing.
The Office of the Attorney General, which brought the prosecution, said it noted the court's decision on Tuesday with satisfaction.
https://english.alarabiya.net/en/News/world/2020/10/27/Two-Swiss-Muslim-leaders-convicted-of-spreading-propaganda-supporting-al-Qaeda
--------
Four civilians killed in Armenian missile attack: Azerbaijan
27 October 2020
Azerbaijan on Tuesday accused Armenia of carrying out a missile attack on its town of Barda near the frontline with Nagorno-Karabakh that killed four people.
Azerbaijani presidential aide Hikmet Hajiyev said on Twitter that a toddler was among the dead and that 10 people were wounded, accusing Armenia of an "indiscriminate and targeted attack against civilians".
https://english.alarabiya.net/en/News/world/2020/10/27/Four-civilians-killed-in-Armenian-missile-attack-Azerbaijan
--------
France pushes tougher EU rules for social media in wake of terror attack
October 26, 2020
France is pushing the EU to harden upcoming rules for social media platforms after a schoolteacher was beheaded in France, arguing that "harmful content" such as hate speech needs to be reined in.
The push, which comes as Brussels is drafting a new rulebook for platforms like Facebook and Twitter, includes urging the EU to go beyond its current focus on illegal content, according to an EU official with firsthand knowledge of France's position.
Ministers in French President Emmanuel Macron's government are also lining up to criticize platforms' content moderation efforts after Samuel Paty, the slain schoolteacher, faced a wave of online harassment.
"Today, we don't have the information or the capacity to force the large social media platforms to implement [content] moderation worthy of what they represent … A text pushed by France will be presented in early December at European level," Junior Digital Minister Cédric O said over the weekend.
Paris has long been a driving force behind the EU's effort to rein in tech companies. But the harassment of Paty, who was killed for showing caricatures of the Prophet Muhammad in a classroom, has prompted the government to ramp up pressure on the European Commission.
The push comes as the Commission is due to present on December 2 a legislative proposal known as the Digital Services Act that will lay out content moderation rules for platforms such as Google, Facebook, Twitter and TikTok. New rules could include harmonization of notice-and-take down procedures across the bloc.
The stakes are high for France. A national law on hate speech was struck down before the summer by the Constitutional Council for threatening freedom of expression. Since then, the law's author Laetitia Avia has taken the fight to Brussels.
"Platform regulation has been a priority for the French government, and not only in the past few days. There has been an acceleration in the sense that the prime minister himself has taken up the issue," said Avia, an MP from Macron's La République En Marche party who's in regular contact with Internal Market Commissioner Thierry Breton and his team about platform regulation.
France's Plan B
Prime Minister Jean Castex conveyed a message of urgency during his inaugural visit to Brussels last week.
"It's important for France to make progress — and to do so very quickly — on strong regulation of those networks," Castex said after meeting with Commission President Ursula von der Leyen and Breton. A French official added that Paris is hoping for swift negotiations in Brussels in 2021.
However, if the EU legislation doesn't go far enough on hate speech, the French government is ready to add measures in an upcoming national bill that aims to fight radical Islam, according to the Journal du Dimanche.
The French draft legislation is expected on December 9 — one week after the Digital Services Act, though it's currently unclear what kind of new obligations would be included if Paris is not satisfied by the EU proposal.
The French government could also decide to integrate the DSA's obligations in its own bill to ensure they are applicable in France faster, Avia said.
O's office did not immediately reply to a request for comment.
Go beyond illegal content
Behind the scenes, France has been pushing for a far-reaching piece of legislation that would cover a wide range of content.
Paris recently circulated a document arguing the Digital Services Act should go beyond illegal content to tackle material that is harmful but legal, such as disinformation, an EU official with firsthand knowledge of the document told POLITICO. The document was drafted before the terror attack, French officials said.
The French authorities also wrote that the future legislation should not only set rules for content removals after notification, but also impose transparency and supervision obligations on the platforms' content moderation algorithms and filtering tools, the EU official said.
When it comes to disinformation, measures to reduce the content's virality — such as downgrading its visibility or limiting sharing — would be more appropriate than removals and blocking, according to the French.
France also wants regulators and civil society to be able to audit moderation algorithms, which implies having access to data, and have more information about human moderation. Regulators should also have the power to issue injunctions and, in the case of systemic failure to remove content, sanctions.
Economy Minister Bruno Le Maire recently pitched fines that could go up to 4 percent of the company's turnover.
"Whether the Commission decides on 3 or 5 percent [fines] is irrelevant, what matters is that it's efficient," O said over the weekend.
https://www.politico.eu/article/france-renews-social-media-regulation-push-at-eu-level-in-wake-of-terror-attack/?utm_source=iterable&utm_medium=email&utm_campaign=1657492_
--------
South Asia
International donors pledge nearly $600 million to support Rohingya Muslims
OCT 23, 2020
International donors pledged nearly $600 million to support displaced Rohingya Muslims on Thursday, succeeding in bridging a huge gap in funding for hundreds of thousands of refugees.
Britain, the United States and European Union organized the virtual conference along with the United Nations refugee agency, aiming to meet a target of $1 billion in funding for 2020, less than half of which had been raised.
The United States, the largest single donor, announced nearly $200 million in new funds while the EU pledged about $113 million and Britain about $60 million. A number of other countries also contributed.
"The international community has demonstrated its strong commitment to the humanitarian response with its announcement of funding today totaling $597 million," U.N High Commissioner for Refugees (UNHCR) Filippo Grandi said.
More than 730,000 Rohingya, members of a persecuted Muslim minority, fled Myanmar in 2017 for neighboring Bangladesh following a military crackdown the United Nations has said was carried out with genocidal intent.
Myanmar denies the allegations, saying it was conducting legitimate security operations against insurgents who attacked police posts.
Close to a million Rohingya Muslims now live in crowded Bangladesh camps that comprise the world's largest refugee settlement.
Hundreds of thousands remain in Myanmar's Rakhine state, where they are widely regarded as illegal immigrants from Bangladesh and are confined in camps and villages, mostly denied citizenship, free movement and access to health care.
Dozens have died this year while embarking on perilous journeys by boat to Malaysia seeking better lives.
UNHCR's Grandi said growing numbers undertaking sea voyages – 2,400 this year – showed the growing despair in the camps.
"We need...not to lose ground on the gains that we have achieved and to make further progress both for refugees and the host communities," he said.
Shahriar Alam, Bangladesh's Minister of State for Foreign Affairs, said the country was tired of hosting so many refugees, saying the situation was "untenable."
"Bangladesh is not in a position to continue to take the burden anymore," he said, adding that Rohingya must return to Myanmar as soon as possible.
Bangladesh plans to move 100,000 refugees to Bhasan Char, a flood-prone island where it has built housing, he said.
Attempts to kickstart repatriation have ended in failure, amid refugee protests. Many Rohingya say they will not return without a guarantee of basic rights.
https://www.dailysabah.com/world/asia-pacific/international-donors-pledge-nearly-600-million-to-support-rohingya-muslims
--------
Officials Nab 'Alleged Facilitator of Taliban Terrorist' in Paghman
By Mohammad Arif Sheva
27 Oct 2020
KABUL, Afghanistan – General Command of Police Special Unit (GCPSU) has arrested an "alleged facilitator of the Taliban terrorist" in operation carried in Paghman district of Afghan capital Kabul, the Ministry of Interior Affairs said in a statement Tuesday.
According to the statement, security officials seized at least two AK-47 assault rifles and a number of ammunition during the operation.
"An alleged facilitator of Taliban terrorists arrested during an operation carried out by GCPSU in Paghman district of Kabul," said MoIA in a tweet. "GCPSU seized two AK-47 assault rifles, one pistol & some amount of ammunition & military equipment."
The Taliban did not immediately comment on the incident.
Meanwhile, in a news from Mazar-e-Sharif, the special unit forces nabbed at least one suspect charged with arm trafficking in Balkh city, seizing at least one PK machine gun and three kilograms of hashish.
"GCPSU detained a gun trafficker in Mazar-e-Sharif City of Balkh," MoIA said. "Two rockets, three AK-47 assault rifles, one PK machine gun, one rifle, one pistol & 3kg of hashish were also seized."
https://www.khaama.com/officials-nab-alleged-facilitator-of-taliban-terrorist-in-paghman-345344/
--------
Deadly militant attack hits Afghanistan's Khost amid faltering 'peace' talks
27 October 2020
A car bomb attack has killed at least seven people and wounded 33, including police forces and civilians, in Afghanistan's eastern Khost Province, as a new UN report says the ongoing 'peace' talks have failed to slow the civilian casualty toll.
The car bombing targeted a police special forces compound in the city of Khost, near the border with Pakistan, on Tuesday morning.
Gunmen then entered the building and engaged security officers in gun battles, according to local authorities.
"The security forces destroyed another car bomb before it reached its target," Provincial Police Chief Daoud Tarakhel said, adding that "several security forces have been wounded in the attack."
He said that the attackers had been confined to one building and that other parts of the police special unit compound had been cleared of the assailants.
No group has yet claimed responsibility for the attack.
Afghan Interior Ministry spokesman Tariq Arian announced that at least four assailants had been killed during the clashes and that efforts were underway to neutralize the remaining militants.
"This morning, terrorists blew up a vehicle loaded with explosives near a special police unit in the area of the former governor office of Khost Province. Four terrorists were killed and efforts are underway to eliminate the other two terrorists," the Afghan Interior Ministry said in a statement.
"In this incident, 16 soldiers and nine civilians were injured, and two people were martyred," it said.
Khost Civil Hospital's chief physician Sakhi Sardar said that the medical center had received 32 wounded soldiers and civilians — including women and children — as well as the bodies of three people.
The development came a day after US forces conducted yet another airstrike against a Taliban outpost in central Afghanistan despite a "peace" deal that Washington and the militants signed in February.
Under the deal, the militants agreed to stop their attacks on foreign forces in return for the US military's withdrawal from Afghanistan.
Official data shows, however, that bombings and other assaults have increased by 70 percent in Afghanistan.
More than 20 civilians, including women, were killed in bomb attacks carried out in the capital Kabul on Saturday.
Afghanistan deadliest place in world to be a civilian: UN report
A new report released by the UN Assistance Mission in Afghanistan (UNAMA) on Monday expressed serious concern about the continuing rise in the number of civilian casualties across the country despite intra-Afghan peace talks, now underway following the deal between the United States and the Taliban.
In its latest quarterly report, the mission documented 5,939 civilian casualties (2,117 deaths and 3,822 injuries) from January 1 to September 30, 2020, insisting that high levels of violence continued throughout the country with a devastating impact on civilians, "with Afghanistan remaining among the deadliest places in the world to be a civilian."
The report said that "the harm done to civilians remains inordinate and shocking" and reiterated that all parties to the conflict can and must do more to protect civilians from harm by urgently reviewing practices and strengthening mitigation measures.
The mission raised "increasing concern over the intensification of the fighting in Helmand, as well as several indiscriminate attacks in Nangarhar, Laghman, and Ghor along with an airstrike in Takhar and a suicide attack targeting civilians in Kabul that taken together killed and injured more than 400 civilians."
"The peace talks will need some time to help deliver peace. But all parties can immediately prioritize discussions and take urgent, and frankly overdue, additional steps to stem the terrible harm to civilians," said Deborah Lyons, the UN secretary-general's special representative for Afghanistan.
"New thinking and concrete action towards safeguarding civilian life will not only save thousands of families from suffering and grief but it can also help lessen recriminations and, instead, bolster confidence and trust among negotiators," added Lyons, who also serves as UNAMA's chief.
https://www.presstv.com/Detail/2020/10/27/637335/Car-bomb-attack-kills-7-wounds-33-in-Afghanistan
--------


Africa
Boko Haram Jihadists Kill Eight Farmers in Nigeria's Borno State
OCTOBER 26, 2020
Eight farmers have been killed by Boko Haram jihadists in northeastern Nigeria, security sources said Monday.
The insurgents attacked the farmers on Sunday as they were harvesting crops in Moranti outside Maiduguri, the capital of Borno state, two sources said.
"The attackers used knives, not guns, to kill all eight farmers, so as not to attract attention," militia leader Babakura Kolo said.
Local communities have resorted to armed vigilantes or militias, who work alongside the army, as self-defense.
"They (Boko Haram) hacked the farmers and slit their throats," said a second militia leader, Umar Ari, who was involved in evacuating the bodies.
Boko Haram militants slaughtered 14 farmers earlier this month as they worked on fields in Ngwom village near Maiduguri.
Meanwhile, a Boko Haram rival group, the Islamic State West Africa Province (ISWAP), launched attacks at the weekend on three military bases in Borno and neighboring Yobe state that were thwarted by troops, according to security sources and residents.
ISWAP claimed to have killed a dozen soldiers, but this could not be independently verified.
At least 36,000 people have been killed and around two million people have fled their homes since Boko Haram launched its insurgency in 2009.
The violence has spread into neighboring Niger, Chad, and Cameroon and prompted the creation of a regional military coalition to fight the militants.
https://www.thedefensepost.com/2020/10/26/boko-haram-kill-eight-nigeria/?utm_source=iterable&utm_medium=email&utm_campaign=1657492_
--------
Somalia conflict: Al-Shabab 'collects more revenue than government'
By Mary Harper
OCTOBER 26, 2020
Using intimidation and violence, Somalia-based Islamist militant group al-Shabab raises as much revenue as the country's authorities, a report says.
The militants collect at least $15m (£11m) a month, with more than half the amount coming from the capital, Mogadishu, the Hiraal Institute said.
Some businesses pay both the jihadists and the internationally recognised government.
Al-Shabab has been fighting that government for more than a decade.
The group controls much of southern and central Somalia but has been able to extend its influence into areas controlled by the government based in Mogadishu.
The report describes as "brutal" the way the group extracts money from the rural population.
"Fear and a credible threat to their lives is the only motivation that drives al-Shabab taxpayers," the report says.
According to the Hiraal Institute, unlike the Somali government, al-Shabab is "running a major financial surplus" as the amount of money it collects increases yearly, whilst its operational costs remain fairly static.
All major companies in Somalia give the jihadists money, both in the form of monthly payments and a yearly "zakat" (obligatory alms) of 2.5% of annual profits, says the report, which is based on interviews with al-Shabab members, Somali businesspeople, government officials and others.
Businesspeople in government-controlled areas complain they have to pay both the militants and the government.
These include those in the Villa Somalia neighbourhood of Mogadishu, where the government is based, and those in the cities of Bossasso and Jowhar, and to a lesser extent Kismayo and Baidoa, all of which are officially outside militant control.
The seaport in Mogadishu is a major source of revenue for the Somali government. However, imports are also "taxed" by the jihadists who get the cargo ships' manifests from port officials.
The Hiraal Institute says many government employees give a part of their salaries to al-Shabab in the hope that the group will leave them alone despite considering them legitimate targets.
State employees and other people working in government-controlled areas also explain how the insurgents contact them by mobile phone to demand money.
Army commander pays al-Shabab
In areas controlled by al-Shabab, jihadist revenue collectors go directly to the businesses and demand payment.
A commander in the Somali army described how he "sent money to al-Shabab despite being at war with the group".
The soldier explained how a man who was building a house for him stopped the construction work and left after the commander refused to pay a fee to the militants.
The vehicles transporting building materials also stopped coming to the site after they too were asked to pay.
"Finally I was forced to either drop the construction work or pay al-Shabab," said the commander.
"Regrettably, I paid them $3,600 (£2,750) and my house was completed," he said.
The report says the jihadists keep almost as close an eye on the booming real estate sector as they do on imports.
An estate agent in the southern port city of Kismayo explained how colleague are called up by the militants, "given details of the transactions they conducted and ordered to pay a non-negotiable amount - and they pay exactly what al-Shabab demanded".
Acting as a quasi-government, al-Shabab is the only entity in the country which collects revenue in rural areas. It sets levies on livestock, on crops, even on the use of water resources.
The militant group explained how, in the areas it controls, only farmers who pay money for irrigation can use rivers and canals to water their fields.
"A farmer complained that he was forced to pay 'operations taxes' for his tractor even when it was out of operation due to technical issues."
'Payments not voluntary'
Most businesspeople, government employees and others who pay money to al-Shabab told the Hiraal researchers they only do so out of fear.
"The paying of al-Shabab taxes is not a voluntary venture."
Those who refuse are either killed, forced to shut down their businesses or flee the country.
Some feel it is worth their while paying money to al-Shabab as they receive services in return. Unlike the government, the militants are able to provide a degree of security.
"Taxes paid at al-Shabab checkpoints ensure safe passage through the whole of al-Shabab territory and in government-held areas where the militants are active."
The report details how the jihadists solve disputes between businesspeople and regulate the production of certain export items such as lemons.
Hiraal says the only way to stop the militants from raising revenue in this way is to improve the security situation, so members of the business community and others can operate without interference from al-Shabab.
Given that the group has been in existence for more than a decade and continues to stage attacks in government-controlled areas, it would appear that the militants will be able to keep on getting money, no matter where they are in Somalia, for some time to come.
https://www.bbc.com/news/world-africa-54690561?utm_source=iterable&utm_medium=email&utm_campaign=1657492_
--------
North America
Even if Biden wins, all sanctions against Iran won't be lifted: US envoy
27 October 2020
If Joe Biden won the US presidential election he would have a tough time lifting economic sanctions against Iran imposed by President Donald Trump, a Trump envoy has claimed.
US Special Representative for Iran and Venezuela Elliott Abrams said that Washington "now has a comprehensive sanctions structure in place that will stay for a while."
"Those who believe that a President Biden could come to office in January and by the second or third day all sanctions will be gone, will find out that it's not feasible even if they wanted to do it," he said in a recent interview with The National, which is a English-language newspaper published in Abu Dhabi, the United Arab Emirates.
Biden has promised to return the US to the Iran nuclear deal — left by the Trump administration two years ago — if he wins the November 3 election.
Biden said that Washington will rejoin the 2015 deal if Iran returns to what he called "strict compliance" with the nuclear accord, known as the Joint Comprehensive Plan of Action (JCPOA).
"I will also take steps to make sure US sanctions do not hinder Iran's fight against COVID-19," Biden Claimed.
Abrams, however, said anti-Iran sanctions, especially those imposed by the Trump administration outside the Iran 2015 nuclear deal, will not be lifted anytime soon.
"Every sanction action that the Trump administration took until the official withdrawal from the JCPOA, could have been done under the agreement," he said.
Some of the sanctions have been imposed on Tehran since 1979 and have nothing to do with Iran's nuclear program, according to Abrams.
The Washington envoy declined to comment on what Biden would do with the nuclear deal.
The Democratic presidential nominee has formerly signaled that he wants to renegotiate the international deal with Tehran.
Tehran, however, has repeatedly said that its ties with Washington does not depend on the result of the November election in the US.
It asserted on several occasions that there will be no positive development in the relations between the Islamic Republic and the US, unless Washington abandons its unlawful sanctions and corrects the wrong path it has chosen.
The Tehran government also said it will not renegotiate the existing accord or make a new one with the US as long as sanctions remain in place.
Since scrapping the deal, the Trump administration has unleashed its "toughest ever" sanctions to bring Iran's economy to its knees.
The economic bans have obstructed Iran's access to medicines amid the coronavirus pandemic.
https://www.presstv.com/Detail/2020/10/27/637359/US-Iran-sanctions-JCPOA-Donald-Trump-Joe-Biden--Elliott-Abrams
--------
U.S. slams Iran with another round of sanctions over support for 'terrorist entities'
Amanda Macias
OCT 26 2020
WASHINGTON — The Trump administration on Monday announced a slew of fresh sanctions and additional measures targeting Iran's petroleum sector as Washington continues to up the ante in its maximum pressure campaign against Tehran.
The Treasury Department imposed sanctions on Iran's Ministry of Petroleum, the National Iranian Oil Company and the National Iranian Tanker Company for providing financial support to Iran's Islamic Revolutionary Guard Corps and the Assad regime in Syria, according to a release Monday.
Treasury also designated multiple entities and individuals associated with the petroleum ministry, the oil company and the tanker company, including front companies, subsidiaries and senior executives. In addition, Treasury designated four persons involved in the recent sale of Iranian gasoline to the Maduro regime in Venezuela.
According to Treasury, the cooperation and coordination of these entities to sell oil resulted in the collection of tens of millions of dollars in proceeds that benefited Iran's Islamic Revolutionary Guard Corps.
"The regime in Iran uses the petroleum sector to fund the destabilizing activities of the IRGC-QF," said Secretary Steven Mnuchin in a statement. "The Iranian regime continues to prioritize its support for terrorist entities and its nuclear program over the needs of the Iranian people," Mnuchin added.
The latest revelation comes a little over a week until Election Day and one month after the United States unilaterally reimposed U.N. sanctions on Tehran through a snapback process, which other U.N. Security Council members have previously said Washington does not have the authority to execute because it withdrew from the nuclear deal in 2018.
The same week that the U.S. reimposed the U.N. sanctions the Trump administration upped the ante even more. Secretary of State Mike Pompeo, flanked by Defense Secretary Mark Esper, Mnuchin and Commerce Secretary Wilbur Ross, said the administration would sanction Iran's entire Ministry of Defense.
"No matter who you are, if you violate the U.N. arms embargo on Iran, you risk sanctions," Pompeo said in an address on Sept. 21. "Our actions today are a warning that should be heard worldwide," he added.
Esper followed on Pompeo's remarks and said the Pentagon was "ready to respond to future Iranian aggression" and called on Tehran to "act like a normal country."
"We continue to stand shoulder to shoulder with our allies and partners to counter Iran's destabilizing behavior. In doing so, we will protect our people and our interests and maintain the security of like-minded nations across the region," Esper added.
Tensions between Washington and Tehran have mounted after President Donald Trump's withdrawal from the landmark Iran nuclear agreement in 2018, calling it "the worst deal ever."
The 2015 accord lifted sanctions on Iran that crippled its economy and cut its oil exports roughly in half. In exchange for sanctions relief, Iran accepted limits on its nuclear program until the terms expire in 2025.
Trump has previously said that the U.S. wants to reach a broader deal with Iran that puts stricter limits on its nuclear and ballistic missile work and suppresses the regime's role in regional proxy wars. Tehran has refused to negotiate while U.S. sanctions remain in place.
https://www.cnbc.com/2020/10/26/us-slams-iran-with-sanctions-over-support-for-terrorist-entities.html?utm_source=iterable&utm_medium=email&utm_campaign=1657492_
--------
Pakistan
US Move To Share Military Data With India Alarms Pakistan Foreign Office
28 Oct 2020
ISLAMABAD: Pakistan on Tuesday repeated its fears about regional strategic stability being disturbed by the advanced military hardware and technologies shared with India by the West as Washington signed a major pact with Delhi allowing sharing of top-secret satellite data.
The agreement called Basic Exchange and Cooperation Agreement (BECA) was signed at the third edition of India-US 2+2 talks held in Delhi. The accord will enable India to access precision topographical, nautical and aeronautical data and topographical images from US military satellites on a real time basis. The data could be used for missiles and armed drones.
It is the eighth agreement signed by the United States and India since they embarked on a strategic partnership in 2005. Pakistani strategists believe that the agreement would increase Pakistan's strategic dilemma, even though it is being presented as part of efforts to contain China.
The Foreign Office, in its reaction to the signing of the agreement, said: "Pakistan has taken note of the signing of the Basic Exchange and Cooperation Agreement. Pakistan has been consistently highlighting the threats posed to strategic stability in South Asia as a result of provision of advanced military hardware, technologies and knowledge to India."
It added: "India's massive acquisition of armaments and expansion of its nuclear forces, including introduction of new destabilising weapon systems, are developments with serious repercussions for peace and stability in South Asia."
Defence analysts say BECA would provide an American overlay to India's indigenous intelligence, surveillance and reconnaissance capabilities.
The data made available to India under BECA, they say, would help it increase its missile accuracy and precision. It would also allow the US to provide advanced navigational aids and avionics to India in future military aircraft deals.
The US secretary of state referred to Chinese threat after the 2+2 talks with Indian external affairs and defence ministers.
The US State Department, meanwhile, hailed growing cooperation with India, saying it was "critical to the security and prosperity of both countries, the Indo-Pacific region, and the world".
But it is feared in Islamabad that the agreement would affect Pakistan the most.
"The recent unprecedented rate of missile tests conducted by India is yet another manifestation of dangerous Indian conventional and nuclear military build-ups," the FO said.
It observed that the developments have corroborated concerns about the military spin-offs of conducting high technology trade with India, which has not only eroded international norms, but also resulted in negatively affecting the strategic stability in South Asia.
"These developments clearly negate the argument that India's mainstreaming in the international export control regimes will further the non-proliferation objectives of these regimes," the FO maintained.
https://www.dawn.com/news/1587335/us-move-to-share-military-data-with-india-alarms-fo
--------
Pakistan summons Indian Chargé d' Affaires over Kashmir issue
Oct 27, 2020
ISLAMABAD: Pakistan on Tuesday summoned the Indian Chargé d' Affaires to protest over the Kashmir issue.
The Foreign Office in a statement said the Indian diplomat was summoned to register "strong protest" on the "Kashmir Black Day".
It demanded that India rescind its "unilateral" action" of withdrawing Jammu and Kashmir's special status and bifurcating it into two union territories -- Jammu and Kashmir and Ladakh.
Pakistan has been unsuccessfully trying to drum up international support against India for withdrawing Jammu and Kashmir's special status on August 5 last year and bifurcating it into two union territories.
India has categorically told the international community that the scrapping of Article 370 of the Constitution was its internal matter. It also advised Pakistan to accept the reality and stop all anti-India propaganda.
Prime Minister Imran Khan in his message said that Pakistan will continue to raise his voice in support of Kashmiris.
India has firmly told Pakistan that the Union Territory of Jammu and Kashmir has been, is, and shall continue to be an integral part of India. New Delhi has maintained that issues related to Jammu and Kashmir are internal matters to India.
https://timesofindia.indiatimes.com/world/pakistan/pakistan-summons-indian-charg-d-affaires-over-kashmir-issue/articleshow/78896524.cms
--------
Terrorism section deleted against cleric in Justice Isa case
Malik Asad
28 Oct 2020
ISLAMABAD: An Anti-Terrorism Court (ATC) on Tuesday deleted sections of Anti-Terrorism Act (ATA) invoked against the Rawalpindi-based cleric Agha Iftikharuddin Mirza who had hurled threats and abuses at Justice Qazi Faez Isa and other judges of the Supreme Court.
The threats were made in a video lecture that went viral on social media in June this year.
Following the incident, Chief Justice Gulzar Ahmed took suo motu notice of this incident.
ATC Judge Shahrukh Arjumand deciding petition filed by the cleric ruled that the offence did not fall under the ambit of ATA. Subsequently, he referred the case back to the sessions court.
The cleric was facing proceedings under the Prevention of Electronic Crime Act 2016 (PECA) and section 500 of the Pakistan Penal Code (PPC) besides section 6 of the ATA.
However, after the deletion of the section 6 of ATA, the accused would be tried under the PECA and PPC.
Section 500 of the PPC suggests punishment that may extend to two years with fine for defamation.
During the hearing of the suo motu case, Mirza submitted an affidavit to the Supreme Court which stated: "In a private meeting during conversation [he] unintentionally uttered some words against judiciary, honourable judges. [He] has lots of regrets, and feels sorry for those words; he seeks unconditional apology and surrenders himself at mercy of the honourable Supreme Court."
https://www.dawn.com/news/1587399/terrorism-section-deleted-against-cleric-in-justice-isa-case
--------
Iran slams fatal blast in Pakistan, urges collective fight against terror in region
27 October 2020
Iran's Foreign Ministry has censured a deadly attack on a religious school in Pakistan's northwestern city of Peshawar, saying the fight against acts of terror in the region requires vigilance and collective cooperation among all regional countries.
Saeed Khatibzadeh, the ministry's spokesman, said on Tuesday that systematic acts of terror in some neighboring countries in recent weeks are part of sinister plots to escalate ethnic and religious discord in the region.
He added that the killing of innocent people, including defenseless children, showed that the perpetrators are not bound by any moral and human principles.
At least seven people were killed and over 80 wounded, including children, after an explosion targeted a Holy Qur'an study class at a religious school in Peshawar on Tuesday.
No group has yet claimed responsibility for the attack. But the Pakistani Taliban have formerly staged assaults in the area.
Peshawar is the provincial capital of Pakistan's Khyber Pakhtunkhwa Province bordering Afghanistan. The province has been the scene of attacks by pro-Taliban militants in recent years.
Meanwhile, Iran's Ambassador to Pakistan Mohammad Ali Hosseini also condemned the bloody attack in Peshawar and said the killing of children learning the Holy Qur'an "shows violent face of terrorism against Islam."
"It is the duty of every awakened conscience to condemn this violence. #Muslims are oppressed victims of terrorism in world," the Iranian diplomat wrote in a post to his Twitter.
The #terrorist crime of martyring children learning Quran at a madresah in PٍEW shows violent face of #terrorism against ISLM
It is the duty of every awakened conscience to condemn this violence.#Muslims are oppressed victims of terrorism in world.#Peshawar #Peshawarblast pic.twitter.com/DpjfIEKZWC
— Seyed Mohammad Ali Hosseini (@HossainiSma) October 27, 2020
Pakistan has been battling the scourge of militancy for years. Even though there has been a relative decline in deadly attacks in the country, extremist groups launch sporadic attacks that target both security forces and civilians.
Since 2014, the army has been targeting militant hideouts especially in northern and northwestern regions that are a hotbed of radicalism.
https://www.presstv.com/Detail/2020/10/27/637344/Peshawar-Khatibzadeh-Hosseini-Iran-Pakistan-terrorism-Ambassador
--------
URL: https://www.newageislam.com/islamic-world-news/muslim-world-needs-no-lecture/d/123296
New Age Islam, Islam Online, Islamic Website, African Muslim News, Arab World News, South Asia News, Indian Muslim News, World Muslim News, Women in Islam, Islamic Feminism, Arab Women, Women In Arab, Islamophobia in America, Muslim Women in West, Islam Women and Feminism