New Age Islam News Bureau
26 Jul 2017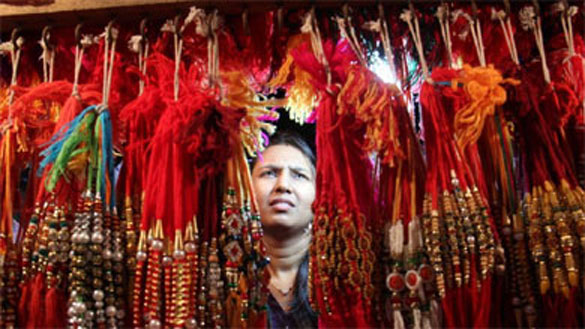 Rakhis on display at a shop in Mumbai.(HT FILE PHOTO)
-----
• Muslim Wing of RSS Eyes 'Rakshabandhan' To Promote Unity, Brotherhood
• New TTP Wing of Trained Suicide Commandos behind Lahore Attack
• Indonesian Maids Working In Hong Kong Lured By Islamic State Recruiters: Report
• Erdogan Urges All Muslims to 'Visit' and 'Protect' Jerusalem
• British Newlyweds Spend 26 Hours in Airport Detention 'Because the Groom Is Muslim'
India
• Muslim Wing of RSS Eyes 'Rakshabandhan' To Promote Unity, Brotherhood
• SGPC Installs Picture of Muslim Chief Museum Shown Receiving Ganga Sagar
• Pakistan-based JuD Using Whatsapp to Foment Trouble in Kashmir
• Now, separatist leader Shabir Shah arrested for funding terror
• 104 terrorists killed in J&K till July 16, govt tells House
• Slain IS man's cousin held by NIA
• Samjhauta blast: UNSC still blames Lashkar-e-Taiba operative Arif Qasmani
• Jharkhand Muslim Man Arrested For Speaking Against Modi, Cows in Whatsapp Video
--------
Pakistan
• New TTP Wing of Trained Suicide Commandos behind Lahore Attack
• Muhajir Congress Urges US Congress: Eliminate Terror Safe Havens in Pakistan
• Victims call for Lahore blast masterminds to hang
• Pakistan asks Israel to stop rights violations
• Governor lauds Christians' role in progress
• ANP for ruthless action against terror groups
• COAS offers Kabul help in eliminating terror havens
• Ruling party's 'assurance' to Nisar
• No victory in Afghanistan without Pakistan's support: US military chief
--------
Southeast Asia
• Indonesian Maids Working In Hong Kong Lured By Islamic State Recruiters: Report
• Ignore Anti-Vaccine Preachers, Muslims Told
• How Daesh-linked terror group in Philippines made its millions
• South Korea opens more Muslim-friendly restaurants
• Jais Launches Programme for Muslim Couples to Legally Register Marriages
• Former DPM's son warns Malay Rulers of crisis arising from Shariah Bill
--------
Mideast
• Erdogan Urges All Muslims to 'Visit' and 'Protect' Jerusalem
• Muslim Cleric: Protest To Go On Despite Israeli Concession
• Thousands Join Muslim Prayer Protests Over Jerusalem Shrine
• Palestinians demand all measures be lifted at al-Aqsa Mosque compound
• Hamas calls for urgent intervention to stop Israel's Judaization
• Iranian students protest Israel's restrictive measure at al-Aqsa compound
• Israel bars five US Jewish, Christian and Muslim leaders backing boycott effort
• Amnesty calls on EU to urge Turkey into reversing human rights crackdown
• Israeli settlers occupy historical building in al-Khalil
• Palestinian ambassador to UN urges action against destructive Israeli agenda
--------
Europe
• British Newlyweds Spend 26 Hours in Airport Detention 'Because the Groom Is Muslim'
• Man Shouting 'Allahu Akbar' In Spain Knife Attack
• Germany 'turning blind eye' to Turkey's concerns
• Barbara Kay: France finally admits to its history of Jew hatred. What about the present?
• Morocco Well Positioned to Mediate the Gulf Crisis
--------
South Asia
• Afghan Forces Retake Control of Kohistan from Taliban in Faryab
• Karzai Calls On Pakistan to Abandon Support to Terrorism after Deadly Lahore Bombing
• Afghans hold funeral for Shia Muslims killed in Kabul
• Dhaka protests blocking access to al-Aqsa Mosque
• US purchases five new ScanEagle drones for the Afghan forces
• New deadly clashes reported among ISIS militants and Afghan forces
--------
Arab World
• S Arabia, Allies Unveil Qatar 'Terrorist' Blacklist
• Egypt Military Says 40 Militants Killed In Campaign
• Syria: Hundreds of Ahrar Terrorists Retreat from Idlib towards Aleppo Province
• Syria: Saudi Commander of ISIL Killed in Popular Uprising in Deir Ezzur
• Syrian Army's Rapid Advances against Terrorists Thwart US Plot in Raqqa
• Hezbollah Troops Score More Victories against Terrorists at Lebanon-Syria Border
• Russian Warplanes Bomb Heavily ISIL's Defense Lines in Syria's Hama
• Gov't Troops on Verge of Full Liberation of Southeastern Raqqa
• Syria: US Army Provides Kurdish SDF with Several Modern Drones
• Video shows Egyptian soldier foiling car bomb using army tank in Sinai
• UAE-linked channel to release documentary on Qatar's role behind 9/11
--------
Africa
• Kenya Steps up the War against al Shabaab before Its Elections
• Islamic Extremists Kill 5 in Burkina Faso's North
• South Africa: Timol Would Never Have Committed Suicide, Pahad Tells Inquest
• Abdulsalami Abubakar urges islamic scholars to proffer solutions to Nigeria's problems
--------
North America
• American Muslims Growing More Liberal, Survey Shows
• Front-Rrunner for U.S. Senate Seat In Alabama Calls Islam A 'False Religion'
• Mixed reports over Tillerson's resignation as US secretary of state
• Trump appears to back ending covert CIA program in Syria
• Trump warns 'emboldened' Iran to comply with nuclear deal
• US House decisively passes sanctions against Russia, Iran and North Korea
• Iran to face 'big problems' if it does not adhere to nuclear deal: Trump
Compiled by New Age Islam News Bureau
URL: https://www.newageislam.com/islamic-world-news/muslim-wing-rsseyes-rakshabandhan-promote/d/111973
--------
Muslim Wing of RSS Eyes 'Rakshabandhan' To Promote Unity, Brotherhood
Jul 25, 2017
The Muslim wing of Rashtriya Swayamsevak Sangh (RSS) said on Tuesday it will run a 'rakhi campaign' across the country in which Muslim girls will tie rakhis to Hindu boys and Hindu girls to Muslim boys.
According to the Muslim Rashtriya Manch (MRM), the RSS' Muslim wing, the campaign will be launched on August 3 from Rajasthan capital Jaipur. On August 5 and 6, it will be held in New Delhi and Lucknow in which the Manch's patron Indresh Kumar will also be present.
"Muslim sisters will tie rakhi to him (Indresh) also. In Lucknow, there will be two programmes, one of which will be exclusively for divyangs. The only objective of the programme is to promote brotherhood among Hindus and Muslims and preserve our Ganga-Jamuni culture," MRM convener Mohammad Afzal told PTI.
He said his organisation has decided to run this campaign in 12 states.
"As part of it, Muslim girls will tie rakhis to Hindu boys and Hindu girls to Muslim boys and promise each other's protection," Afzal said.
'Rakshabandhan' is on August 7.
"In the entire month of August, we will run this campaign across the country. We used to celebrate festivals together irrespective of castes. In past there were many occasions, where Muslim brothers have protected Hindu sisters," he said.
The RSS' Muslim wing convener said on Bakrid (on September 2), it will appeal to Muslims not to slaughter cows as it was matter of faith for Hindus.
"Muhammad Sahab had said that cow milk is medicine and its meat is harmful. His preachings say that feelings of other's religion should not be hurt and this should be considered by everyone," Afzal said.
MRM had earlier organised cow milk parties in the month of Ramzan across 25 states during 'Iftar', which is the meal with which Muslims break their fast.
"Cow milk is healthier than beef. That was why we had served cow milk for breaking the fast during Iftar. The highest number of Iftar parties with cow milk was organised in Uttar Pradesh," he said.
MRM was set up in 2002 by former RSS chief K Sudarshan with the objective of reaching out to Muslims.
http://www.hindustantimes.com/india-news/muslim-wing-of-rss-eyes-rakshabandhan-to-promote-unity-brotherhood/story-VyU3UWLl2o1rnBqgZIbDmL.html
--------
New TTP wing of trained suicide commandos behind Lahore attack
Asif Chaudhry
July 26, 2017
LAHORE: Law enforcement agencies have identified a new militant network, an offshoot of the banned Tehreek-i-Taliban Pakistan (TTP), as the group responsible for Monday's attack on Lahore's Ferozepur Road.
The suicide attack near the Arfa Karim IT Tower was the first deadly assault by the Taliban Special Group (TSG), which comprised highly trained suicide attackers (fidayeen commandos), a senior police officer told Dawn on Tuesday.
Earlier attacks in the provincial capital, including the one on The Mall, had been claimed by Jamaatul Ahrar (JuA), a splinter group of the TTP based in Afghanistan, he said. The United States had placed the JuA on its list of specially designated global terrorists last year for staging multiple attacks targeting civilians, religious minorities, military personnel and law enforcement agencies.
The police officer said the emergence of the TSG had raised concerns among law enforcement agencies, who were viewing it as an emerging new challenge. The TSG commandos have been trained to carry out massive and deadly attacks, he said.
Contrary to earlier reports, the police officer said preliminary investigation revealed that the attack had not been carried out using a motorcycle. Law enforcement agencies have examined registration documents of the 10 motorcycles at the site of the attack and learned that they had all belonged to the victims, he stressed. It was more likely that the suicide bomber was brought to the site of the attack by one or more facilitators on a rickshaw or another vehicle, he said.
The identity of the facilitator(s) would be hard to establish considering that the only CCTV camera installed near the site was not functional at the time of the attack. However, the dismembered remains of the suicide attacker had been sent for forensic analysis, the police officer said.
Monday's attack claimed 26 lives, including nine policemen, and left 54 others injured. No more casualties were reported on Tuesday while 11 of the injured were discharged from hospitals after receiving treatment.
Jinnah Hospital's Medical Superintendent Dr Sohail Saqlain told Dawn that post-mortem of 23 victims had been conducted. The post-mortem examination of the remaining three victims had not been carried out because their identity was yet to be established.
According to the information obtained from public hospitals, nine of the 54 injured were being treated for major injuries. Most victims had been brought to hospitals with multiple fractures, Dr Saqlain said. The blades, spring and other sharp, jagged objects used in the explosive material had critically damaged the soft tissues of most victims, he said.
Punjab Chief Minister Shahbaz Sharif has announced financial assistance of Rs2 million for the families of those who had lost their lives in the attack.
Those seriously injured in the blast will be given Rs1m, while those with minor injuries will be given Rs300,000 each.
https://www.dawn.com/news/1347712/new-ttp-wing-of-trained-suicide-commandos-behind-lahore-attack
--------
Indonesian maids working in Hong Kong lured by Islamic State recruiters: Report
Jul 26, 2017
Indonesian maids working in Hong Kong are being radicalised by extremists from the Islamic State group, a security think-tank said in a report Wednesday.
Around 150,000 of the city's army of domestic helpers are from Indonesia, the world's most populous Muslim-majority country.
Against a backdrop of growing religious conservatism at home, a small number of militant maids has emerged, according to a report from the Jakarta-based Institute for Policy Analysis of Conflict (IPAC).
But rights activists and the Indonesian Muslim community in Hong Kong said they were unaware of radicals and fear that reported links with IS would breed unfair suspicion.
The IPAC investigation described a "radical fringe" of around 45 Indonesian domestic helpers, who may have been attracted to militant circles by "the search for a sense of community in an unfamiliar environment."
"Some of these women were drawn by jihadi boyfriends they met online," says IPAC analyst Nava Nuraniyah. "But some joined ISIS as a path to empowerment."
A string of abuse cases has highlighted the exploitation of maids in Hong Kong by unscrupulous employment agencies which confiscate their passports, claim their wages and keep them in the dark about their rights.
But the IPAC report said ill-treatment did not seem to have played a direct role in radicalisation, although it had led to the establishment of an Islamic advocacy group to act as a kind of union.
The war in Syria has fuelled interest in militant groups as jihadi social media stoked sympathy for Sunni victims, the report said.
It told the story of one woman who turned to radicalism after years of turmoil in her personal life and became a key player in helping Indonesian jihadis get to Syria, sometimes via Hong Kong.
A handful of maids ended up going to Syria themselves, said IPAC, a leading think-tank which has published numerous reports on conflicts in Southeast Asia.
Rising 'Islamisation' at home
Hong Kong media has previously reported about IS supporters leafleting Indonesian domestic helpers as they gathered in public spaces across the city on Sundays, their day off.
One heavily pregnant maid who went missing in 2015 was said to have told friends she was planning to link up with Islamic State militants in Syria alongside her husband, according to the South China Morning Post.
The Indonesian community in Hong Kong has tripled in the past 17 years due to the demand for domestic helpers, and religious teaching and prayer groups have grown alongside it.
But Indonesian migrant rights activist and former domestic helper Eni Lestari said while the threat of extremism was always a possibility, she was unaware of IS supporters among them.
"We are Muslim by religion and we organise a lot of Muslim activities... we don't do radicalisation," Lestari told AFP.
"I think it's really unfair for the Indonesian domestic worker community to be labelled."
Prayer groups and visits from clerics have become more common in Hong Kong due to rising "Islamisation" in Indonesia, which has also seen more women wearing veils, Lestari said.
But helpers were now fearful about organising religious events as police regularly question them, she added.
Domestic helper Romlah Rosyidah, chairwoman of the Indonesian Migrant Muslim Alliance in Hong Kong, said she worried about the impact reported IS links would have.
Her employer had recently asked her if she knew about the radical group, she told AFP.
Police also came to watch activities held by members of her group, which include teaching how to pray and read the Koran, she said.
"Islam is not extreme," she added, saying she did not know any IS supporters.
Indonesia has long struggled with Islamic militancy and hundreds of radicals from the Southeast Asian state have flocked to fight with IS.
http://www.hindustantimes.com/world-news/indonesian-maids-working-in-hong-kong-lured-by-islamic-state-recruiters-report/story-97Znv43PQYGGEkBHQnVFNN.html
--------
Erdogan urges all Muslims to 'visit' and 'protect' Jerusalem
July 25, 2017
Turkish President Recep Tayyip Erdogan on Tuesday urged all Muslims to visit and protect Jerusalem after violence broke out over metal detectors that Israel installed and later removed from a sensitive holy site in the city. "From here I make a call to all Muslims. Anyone who has the opportunity should visit Jerusalem, Al-Aqsa mosque," Erdogan said in Ankara. "Come, let's all protect Jerusalem." He was referring to the site, known to Jews as the Temple Mount, which is central to the Israeli-Palestinian conflict.
Israel installed metal detectors at entrances to the site, which also includes the Dome of the Rock, following an attack on July 14 that killed two Israeli police officers. Palestinians viewed the security measures as Israel asserting further control over the site and deadly clashes erupted during protests. "They are attempting to take the mosque from Muslim hands on the pretext of fighting terrorism. There is no other explanation," Erdogan said in a speech to ruling Justice and Development Party (AKP) lawmakers in parliament.
He said Israel's legitimacy rested on the extent of the respect it showed to Palestinians and their rights. Erdogan also denounced attacks on synagogues in Turkey, referring to reports that an ultra-nationalist group threw stones at a synagogue in Istanbul last week. "It does not make sense to attack synagogues here because something has happened at Al-Aqsa mosque. This does not suit our religion and it is not allowed," he said.
http://indianexpress.com/article/world/erdogan-urges-all-muslims-to-visit-and-protect-jerusalem/
--------
British newlyweds spend 26 hours in airport detention 'because the groom is Muslim'
JULY 26, 2017
A BRITISH newlywed couple arriving in the United States for their dream honeymoon claim they spent 26 hours in airport detention before being put on a plane back to London "because the groom is Muslim".
Natasha Politakis, 29, and Ali Gul, 32, forked out $15,000 for a two-week trip to Los Angeles, Hawaii and Las Vegas, The Sun reports.
But the newlyweds of Enfield, North London, claim they were locked up inside an immigration detention at Los Angeles' LAX airport for 26 hours upon touchdown in the US.
The couple, who said they were treated "like criminals", say they were never told why they were refused entry but suspect it is because of Ali's Turkish origin.
When they arrived in Los Angeles for the first day of their trip, which included later stops in Hawaii and Las Vegas, they were told they would need to be interviewed for five minutes — but were detained for more than a day before being flown back to England.
"I am in utter shock that this has happened," Natasha said.
"We had just got married, we were on our way to our honeymoon as excited as anything and never expected that we would be deported.
"We were treated like criminals and we had all the relevant documentation and answered all their questions.
"It's not okay to treat people like that.
"As far as we knew before we left everything was fine, but as soon as we got there they wouldn't let us in.
"We believe since Trump was elected, they took one look at his name, thought he was Muslim and didn't let him in."
The couple claim they were refused a shower and had their possessions confiscated for the entire period of their detention and were only given their phones back once they were on UK soil.
They allege that when they tried to find out why they were detained, authorities handcuffed them before escorting them onto a flight back to London.
"As we were going through immigration in LA, they looked at our passports and asked us to go into a side room to answer some questions," Natasha said.
"They stuck us in this detention centre in the airport, stripped us of all our possessions and didn't let us shower, get a coffee or change our clothes for 26 hours.
"We had absolutely no idea what was going on. When I tried to find out they put handcuffs on us.
"After 26 hours they refused us entry into the country and escorted us onto the next flight home.
"They even told the air stewardess we weren't allowed our phones back until we landed in the UK.
"Finally when we landed back in the UK on the May 24 we were allowed to speak to our families and they were in absolute hysterics having not heard from us in two days."
The couple had two weddings earlier this year, a registrar wedding in April for Ali's Turkish family and then a big church wedding with a reception at the Marriott on May 6.
Two weeks later they jetted off on their honeymoon and now have stamps in their visa stating they were "refused in accordance with INA [Immigration and Nationality Act] section 217".
Ali, an estate agent, holds a British passport but his business partner attempted to apply for eight ESTAs — American tourist visas — for his bucks' trip but all were rejected.
The pair have been left £7000 ($15,000) out of pocket for a honeymoon they were never allowed on and were told if they wanted to complain they would have to contact the US Embassy, but have struggled to get an appointment.
Natasha, who managed to book a last minute holiday to Mexico, said: "We're trying to get the money back through our insurance but it never should have happened in the first place.
"All we want is answers as to why our entire trip was ruined."
A US embassy spokesman told Sun Online: "US Customs and Border Protection welcomes more than a million passengers arriving to the United States every day.
"The religion, faith, or spiritual beliefs of an international traveller are not determining factors about his/her admissibility into the US.
"Under US immigration law applicants for admission bear the burden of proof to establish that they are clearly eligible to enter the United States.
"In order to demonstrate that they are admissible, the applicant must overcome ALL grounds of inadmissibility.
"Specific grounds of inadmissibility can be found in INA section 212(a) and list more than 60 grounds of inadmissibility divided into several major categories, including health-related, prior criminal convictions, security reasons, public charge, labour certification, illegal entrants and immigration violations, documentation requirements, and miscellaneous grounds."
http://www.news.com.au/travel/travel-updates/incidents/british-newlyweds-spend-26-hours-in-airport-detention-because-the-groom-is-muslim/news-story/7aa4143a1ad842dd27d36d25d55daec4
--------
India
SGPC Installs Picture of Muslim Chief Museum Shown Receiving Ganga Sagar
Jul 25, 2017
AMRITSAR: Shiromani Gurdwara Parbandhak Committee (SGPC) on Monday installed picture of Muslim chief Rai Kalha, shown receiving Ganga Sagar (pitcher) from 10th Sikh master Guru Gobind Singh at the Central Sikh Museum.
The unveiling ceremony was performed by Akal Takht jathedar Giani Gurbachan Singh and Golden Temple head granthi Giani Jagtar Singh.
The ninth descendent of Rai Kahla, Rai Azizullah Khan, who is the custodian of Ganga Sagar didn't attend the ceremony. In a letter written to SGPC president Kirpal Singh Badungar from Vancouver, Azizullah said since he was in Canada it was not possible for him to attend the function.
Later talking to media, Gurbachan Singh said Guru Gobind Singh had honoured Rai Kalha by gifting him a sword, Ganga Sagar and Rehal.
http://timesofindia.indiatimes.com/city/chandigarh/sgpc-installs-picture-of-muslim-chief-museum/articleshow/59752903.cms
--------
Pakistan-based JuD Using Whatsapp to Foment Trouble in Kashmir
July 26, 2017
Srinagar: The National Investigating Agency (NIA), which is probing the terror funding cases in Jammu and Kashmir, has found at least 28 WhatsApp groups that are being administered by members residing in Pakistan, a report said on Wednesday.
A report published in 'The Times of India' states some cadres of terror outfit Jamaat-ud-Dawaa are also involved in creating such WhatsApp groups.
The sources in the country's top anti-terror agency have told the newspaper that though the majority of the members are Kashmiris but a significant number are linked to Pakistani mobile numbers.
The sources have revealed that the phone numbers in the WhatsApp groups show up in the posters of JuD, which confirm that the terrorist group headed by Hafiz Saeed, is involved in fomenting trouble in the Valley.
These WhatsApp groups are used to instigate the Kashmiri youth to indulge in stone-pelting.
Seven people including Altaf Ahmed Shah, the son-in-law of hardline separatist leader Syed Ali Shah Geelani, were arrested on July 24 by the NIA in connection with its probe into the funding of terror and subversive activities in the Kashmir Valley.
A Delhi court on Tuesday remanded the seven Kashmiri separatists in NIA custody for 10 days.
Six of the separatist leaders were arrested from Srinagar on Monday and later flown to Delhi. Farooq Ahmad Dar was held in Delhi. They have been booked on charges of criminal conspiracy and waging war against India.
Altaf Ahmad Shah is the son-in-law of hardline Hurriyat leader Syed Ali Shah Geelani, who advocates Jammu and Kashmir's merger with Pakistan. Islam is a close aide of moderate Hurriyat leader Mirwaiz Umar Farooq. Ayaz Akbar is the spokesperson of Geelani-led Hurriyat.
Full report at:
http://zeenews.india.com/jammu-and-kashmir/jud-members-fomenting-trouble-in-kashmir-through-whatsapp-2026978.html
--------
Now, separatist leader Shabir Shah arrested for funding terror
Jul 26, 2017
SRINAGAR: In a late evening development, Jammu & Kashmir police on Tuesday arrested another separatist leader Shabir Ahmad Shah in connection with the alleged terror financing case on the instruction of the Enforcement Directorate, the official sources said.
Presently heading separatist outfit called Democratic Freedom Party (DFP) Shabir Ahmad Shah is also part of Geelani' Hurriyat conference and has reportedly accumulated huge wealth over period of 29 years of militancy in Jammu and Kashmir through various sources, including the Hawala channels, the official sources alleged.
A police team led by the DSP Saddar picked up Shah from his Sanat Nagar (Srinagar) palatial house at about 8.30 pm on Tuesday evening and handed over to Budgam police, the official sources said.
Earlier, the Enforcement Directorate had issued fresh summons to the Kashmiri separatist leader in connection with an over a decade-old case of money laundering registered against him for alleged terror financing.
The central probe agency has issued several summons to Shah+ over the last few years in pursuance of the August 2005 case wherein the Delhi Police special cell had arrested Mohammed Aslam Wani (35), an alleged hawala dealer, who had claimed that he had passed on Rs 2.25 crore to Shah. The ED had registered a criminal case under the Prevention of Money Laundering Act (PMLA) against Shah and Wani.
Full report at:
http://timesofindia.indiatimes.com/india/now-separatist-shabir-shah-arrested-for-funding-terror/articleshow/59765157.cms
--------
104 terrorists killed in J&K till July 16, govt tells House
Jul 26, 2017
NEW DELHI: As many as 104 terrorists were neutralised in Jammu & Kashmir till July 16 this year, the government informed the Lok Sabha on Tuesday. Referring to a recent statement by Hizbul Mujahideen supreme commander Syed Salahuddin that the outfit has the ability to hit targets anywhere in India, minister of state for home Hansraj Ahir said the central and state security agencies had taken note of the same and "are fully prepared to meet the challenge".
Stating that Hizbul Mujahideen had claimed responsibility for some of the terror attacks in Jammu & Kashmir, Ahir said some weapons and other items recovered from the encounter sites had markings of foreign countries.
"Also, the militant group has been getting logistic support including arms and ammunition from Pakistan," he added.
http://timesofindia.indiatimes.com/india/104-terrorists-killed-in-jk-till-july-16-govt-tells-house/articleshow/59764606.cms
--------
Slain IS man's cousin held by NIA
Pravin Kumar
Jul 25, 2017
The National Investigation Agency (NIA) on Tuesday arrested two youths from Kanpur district allegedly for planning terrorist activities.
Believed to be members of the Islamic State-related module active in Kanpur, the 26-year-old youth Asif Iqbal is the cousin of Saifullah, the alleged IS-inspired terror operative who was gunned down in Kakori area of Lucknow, on March 7. The other youth, aged 27, was identified as Mohammad Atif. Both of them stayed at Jajmau locality under the jurisdiction of Chakeri police station in Kanpur and were known to each other.
The family said the two had been framed as they were not willing to turn approvers before the court on NIA's insistence. Atif's elder brother Aquib said, "On May 3, we called advocate Mohammad Shoaib from NGO Rihai Manch to help us. We had called media and told them that my brother Atif was under duress."
A team led by NIA SP Deepak Kumar arrested the duo from Chakeri area at 4.15pm on Tuesday on charges of waging war against the country.
The duo was booked under the IPC sections 121, 121A, 123, 124A and sections 16, 18, 23 and 38 under Unlawful Activities Prevention Act and would be produced at the designated court in Lucknow on Wednesday.
The two youths came under the lens of intelligence agencies soon after Saifullah was killed in an encounter that lasted for more than 11 hours. Saifullah was part of the nine-member 'Khorasan module' which said to have roots in Kanpur. The same module was accused of orchestrating blast in Bhopal-Ujjain passenger train on the same day (March 7).
Later, the MP Police, anti-terrorist squad (ATS) of UP police and the NIA arrested eight others, including a retired Indian Air Force employee Ghaus Mohammad, besides Mohammad Faizal and Mohammad Azhar. The trio, along with Saifiullah, stayed in Jajmau locality and came in contact while visiting mosques.
Full report at:
http://timesofindia.indiatimes.com/india/slain-is-mans-cousin-held-by-nia/articleshow/59761800.cms
--------
Samjhauta blast: UNSC still blames Lashkar-e-Taiba operative Arif Qasmani
by Praveen Swami
July 26, 2017
Five years after it filed criminal charges against eight Hindu extremists who allegedly carried out the bombing of the Samjhauta Express in February 2007, the Government of India is yet to move the United Nations Security Council to amend sanctions documents assigning blame for the attack to Lashkar-e-Taiba operative Arif Qasmani, an investigation by The Indian Express has found.
The decision, sources said, was taken to avoid the embarrassment that would have been caused by admitting that dossiers prepared by the Intelligence Bureau (IB), and provided to Pakistan and the US in 2007, were based on a testimony investigators disproved.
In 2009, when Qasmani was sanctioned, the IB knew that the theory that Lashkar was responsible for the attack was legless. Yet, two successive governments chose not to make public the error, allowing lawyers for the accused to point to the UNSC sanctions as evidence for the alleged perpetrators.
The Ministry of External Affairs spokesperson did not comment on the matter. Former Home Minister P Chidambaram said the matter of the UNSC listing of Qasmani "had not been brought to my attention" even as he monitored the Samjhauta prosecution.
In June 2009, the UNSC sanctioned Karachi-based Qasmani under Resolution 1267, dealing with al-Qaeda and affiliated terror entities. The Lashkar-affiliated terrorist, it said, had facilitated operations "including the July 2006 train bombing in Mumbai, India, and the February 2007 Samjota (sic.) Express bombing in Panipat, India".
"Between 2004 and 2005", the UNSC summary of charges reads, "Qasmani provided al-Qaida with supplies and weapons and facilitated the movement of Al-Qaida leaders in and out of Afghanistan".
"In return for Qasmani's support, al-Qaida provided him with operatives to support the July 2006 train bombing in Mumbai, India, and the February 2007 Samjota Express bombing."
The UNSC sanctions were soon followed by a statement from the US Treasury Department, also sanctioning Qasmani. The language of the Treasury Department press release is identical to that of the UNSC summary, down to the misspelling of "Samjota".
In September 2010, when the Samjhauta investigation was handed over to the NIA, officers wrote to Haryana Police — which until then had charge of the probe — seeking information on Qasmani. The Haryana Police's case diaries did not even contain Qasmani's name. This was, one investigator told The Indian Express, "a major red flag".
NIA authorities then wrote to the IB and Research and Analysis Wing in October, again seeking intelligence on Qasmani. The letters got no response. It wasn't until 2011, a note recording an informal meeting between the NIA probe team and FBI officials states, that some clarity emerged. The FBI, the note records, said the Treasury Department's statement on Qasmani's guilt was based on a classified dossier provided by India, not US intelligence.
The dossier was shared with Pakistan, diplomatic sources said, in June 2008, at a meeting of the now-defunct Joint Anti-Terror Mechanism, and passed on to the US. India's intelligence on Qasmani's purported involvement, routed into the dossier through the IB, had begun when the Gujarat Police probed SIMI leader Safdar Nagori. Nagori, under induced hypnosis, said the attack had been carried out by his friend Abdul Razzak Masood. Hyderabad-based Razzak, though, had been in prison since August 2005, deported from Iran. During his interrogation, Razzak first brought Qasmani to the attention of the IB, identifying him as a Lashkar financier.
Though Madhya Pradesh and Haryana Police questioned Razzak on the Samjhata case, they found no evidence of his involvement. Razzak was released on bail in 2009, when the UNSC documents sanctioning Qasmani on the basis of his own custodial revelations were being prepared. He passed away in 2012.
Barred by courts in the US and Europe, narcoanalysis has been known to an unreliable tool. Indian police officers were also sceptical of it: in one paper, Andhra Pradesh's M Sivananda Reddy pointed to a "baffling mixture of truth and fantasy in drug-induced output" in many cases.
Full report at:
http://indianexpress.com/article/india/samjhauta-blast-unsc-still-blames-lashkar-e-taiba-operative-arif-qasmani-4767235/
--------
Jharkhand Muslim Man Arrested For Speaking Against Modi, Cows in Whatsapp Video
Jul 26, 2017
Police in Jharkhand's Hazaribag arrested a 25-year-old Muslim man late Monday night for allegedly abusing Prime Minister Narendra Modi and cows in a video that recently went viral on WhatsApp, Hazaribag superintendent of police Anup Birthare said on Tuesday.
Later Tuesday, a judicial magistrate remanded Mohammad Arif to 14 days of police custody.
This is the second incidence in a month when a Muslim man has been sent to jail for speaking explicitly against Modi in BJP-ruled Jharkhand. On June 23, the Sahibganj police arrested 20-year-old Sameer Ansari for allegedly raising anti-Modi and anti-India slogans in a video which was largely shared on social media.
Arif, who was arrested from Keredari block in Hazaribag, about 95 kilometers from the state capital Ranchi, is a motorcycle mechanic, police said.
"The content in the video was explicitly provocative. Any person found spreading communally sensitive content in social media will not be spared," Birthare said.
In the video, Arif had allegedly disrespected cows and also threatened to slaughter cows openly, police sources said. He had shot the video and was also the first person to share it on WhatsApp, they said.
He added that at least 11 such people, including Hindus and Muslims, have been jailed in Hazaribag alone this year for fanning communal hatred on social media.
The government has prohibited sharing communally sensitive content of social media across all the 24 districts of the state.
Earlier this month, the Hazaribag administration had issued externment orders against 20 people for spreading communal hatred.
At least five incidents of communal clashes have rocked Jharkhand in the past one month.
On July 14, a Shiva temple was vandalized in Hazaribag by a deranged Muslim man, resulting in communal clashes. Giridih district witnessed communal clashes after a Muslim man allegedly vandalized a Durga idol at a village temple on July 18.
Full report at:
http://www.hindustantimes.com/india-news/jharkhand-muslim-man-s-abusive-video-against-pm-and-cows-lands-him-in-jail/story-tL7qfYOmnEmBlY3a7FmzZL.html
--------
Pakistan
Muhajir Congress urges US Congress: Eliminate terror safe havens in Pakistan
Jul, 26 2017
Washington: The Trump administration should use "all possible means" to eliminate terrorist safe havens in Pakistan, which are supported by its spy agency ISI, a group claiming to speak for the refugees in that country has said.nn
The World Muhajir Congress (WMC) in a memorandum to members of the US Congress urged them to "employ all possible means to support their true and natural allies in Pakistan". The memorandum was submitted during a congressional hearing Tuesday.
Muhajir is an Arabic-origin term used in Pakistan to describe Muslim immigrants, of multi-ethnic origin, and their descendants, who migrated from India after the Partition. According to WMC, about 50 million Muhajirs live in Karachi, Hyderabad and other urban areas of Sindh province. Its memorandum said that Pakistan's military establishment has been "systematically turning" the country into a "safe haven" for religiously motivated jihadists.
"On the other hand, all secular, educated and democracy loving forces in Pakistan are being obliterated. Secular and pro-western Urdu-speaking Muhajirs and Balochs are the prime target of Pakistan's military establishment," it said.
The memorandum alleged Pakistan's northwest tribal areas have been transformed by the Inter-Services Intelligence (ISI)into "jihadist sanctuaries" where several terrorist outfits, including the Haqqani network, have set up their base.
The US blames the Haqqani network for attacks on its forces in Afghanistan and has been asking Pakistan to help it tame the terrorist group. The WMC urged the Trump administration and the US Congress to employ "all possible means" to eliminate terrorist safe havens in Pakistan.
http://www.firstpost.com/world/muhajir-congress-urges-us-congress-eliminate-terror-safe-havens-in-pakistan-3856769.html
--------
Victims call for Lahore blast masterminds to hang
July 26, 2017
LAHORE - Most of the victims of Monday's suicide blast were separately buried in different parts of Lahore on Tuesday amid growing anger as the grief-stricken relatives demanded the government publicly hang the masterminds of the attack.
Twenty-six people died and over 70 others wounded as a bomber struck a group of policemen in the old vegetable market in Kot Lakhpat area. Police had yet to ascertain identity of several of the dead.
Constable Ali Raza and his brother Constable Ghulam Murtaza were among the eight policemen who died in the attack.
The funeral prayers of both the brothers were offered at Punj Peer Darbar graveyar in Shadipura area on Bund Road. Hundreds of people, including colleagues of the victims, attended the funeral prayers.
Just three years ago, Raza, 24, and Murtaza, 22, had joined the city police department as constables. Following their training, both the young men were sent to the newly-raised anti-riot units of the Lahore police. They were standing at their duty point when the bomber blew up his explosive vest.
Moving scenes were witnessed as bodies of both the brothers were brought back home. Women and children were seen in tears close to the bodies. The relatives and family friends of the victims were visibly dejected over the sudden death.
A relative of the victims told this reporter that both the brothers were "heroes of their family".
"They (Raza and Murtaza) played together in their childhood. They joined the police department on the same date and they died and were buried on the same day, next to each other," said Ghulam Ali amid sobs and tears. He said the tragedy shook the whole family all of a sudden.
The friends and classmates of the deceased brothers were also weeping bitterly as the bodies were shifted to the graveyard. "They were very happy after joining the police service. The whole family was happy. But, everything changed in a few minutes. We will never forget their love and kindness," said 25-year-old Afzal Ali, a friend of Constable Murtaza.
"We demand from the government that those who are involved in this incident and those who are the facilitators should be hanged in public," Hafiz Naseerul Din, uncle of a policeman killed in the blast, told AFP.
"We came here in great grief," added Shaikh Rizwan, a local resident who attended the funeral prayers for some of the victims.
"Twenty-six people were martyred here yesterday, I request my government that please uproot these terrorists fully so our country can progress," he said.
Police Sub Inspector Riaz Ahmed was buried at a local graveyard in Nishtar Colony. A large number of people, including notables of the area, attended his funeral. Some police officers were seen consoling and comforting the eldest son of the deceased.
Five other policemen, including Assistant Sub Inspector Fayyaz Ahmed, Constable Sajid, Moazzam, Abid Ali, and Omair Ghani were also buried in their native towns following the funeral prayers. Heavy police contingents were deployed at the funeral sites to avert any further untoward incident.
The city police threw a massive security blanket across the provincial metropolis on Tuesday morning. Police on gun-fitted vehicles continued patrolling around their headquarters and other key government installations.
Acting Inspector General of Police Muhammad Usman Khattak vowed that the criminals involved in the blast would be brought to justice. The police chief said subversive activities by the anti-state elements and terrorists cannot undermine the morale and passion of the brave jawans of the Punjab police.
The acting police chief stated this while visiting General Hospital where he inquired after injured policemen. He also presented flowers to the policemen and prayed for their early recovery.
Full report at:
http://nation.com.pk/national/26-Jul-2017/victims-call-for-lahore-blast-masterminds-to-hang
--------
Pakistan asks Israel to stop rights violations
July 26, 2017
ISLAMABAD - Pakistan Tuesday expressed concern over continuing wave of violence against Palestinians and violation of Muslims' right to perform their religious obligation following the closure of Al-Aqsa Mosque.
A foreign ministry statement said the practices and policies being pursued against the Palestinian demonstrators were a flagrant violation of international humanitarian law, international norms and practices and must stop. "The government of Pakistan stands in solidarity with the people and government of the State of Palestine in their just demand for basic rights and dignity," it said.
Pakistan, it added, reaffirms support to the Palestinian cause and establishment of an independent, sovereign, viable and contiguous State of Palestine with Al-Quds Al-Sharif as its capital.
http://nation.com.pk/national/26-Jul-2017/pakistan-asks-israel-to-stop-rights-violations
--------
Governor lauds Christians' role in progress
July 26, 2017
KARACHI - Sindh Governor Muhammad Zubair Tuesday hailed the contribution made by members of Christian community for promotion of education and health sectors in the country.
Talking to a 13-member delegation of New Apostolic Church, led by Rev. John Qadir, he said services rendered by citizens belonging to different communities, including Christians, has paved the way for social development in the country.
"Our country owes its development and progress to the committed citizens with different religious backgrounds and from varied walks of life," said the Governor of Sindh.
He on the occasion also extensively discussed measures being adopted for social, political and economic empowerment of minority communities.
Special attention is also being paid for development work in the areas inhabited by people with limited resources and assured that problems shared by the delegation regarding Christian community will be duly addressed.
"The federal government is particularly working on a road-map focussed on economic development," said the provincial governor.
Mentioning that a special development package is being envisaged for Karachi, he said Prime Minister Muhammad Nawaz Sharif has taken upon himself to ensure meaningful development across the Sindh.
Full report at:
http://nation.com.pk/karachi/26-Jul-2017/governor-lauds-christians-role-in-progress
--------
ANP for ruthless action against terror groups
July 26, 2017
PESHAWAR - Awami National Party (ANP) President Asfandyar Wali Khan has said that in order to ensure peace and stability in the country, there is need to take indiscriminate action against all terrorists' organisations.
Lahore and other cities could be protected from violent acts of terrorism, if operations against terrorists were carried out in Punjab, instead of showing flexibility, he said this in a statement issued here on Tuesday
The recent terrorist attacks have raised again questions over the security situation in the country, saying National Action Plan (NAP) was not fully implemented. If it had, there would have been peace now in Pakistan, he added.
Condemning Lahore suicide blast, Asfandyar Wali expressed solidarity with the victim's families and said that ANP has been demanding from day one that each point of the NAP should be implemented, but unfortunately, the government was not looking serious in this regard. Punjab is a base of terrorists and there could be no peace in Pakistan until eliminating their hideouts and bases from Punjab.
Certain elements, he said, were in the favour of showing flexibility towards terrorists which was not in the favour of no-one. No full pledged action has so far been taken against militants and their organisations, based in Punjab.
The situation would have been more different if action against militants was taken without any discrimination, he said.
Full report at:
http://nation.com.pk/national/26-Jul-2017/anp-for-ruthless-action-against-terror-groups
--------
COAS offers Kabul help in eliminating terror havens
July 26, 2017
ISLAMABAD - Chief of Army Staff General Qamar Javed Bajwa on Tuesday offered help to Afghanistan in eliminating terrorist safe havens in their border areas as Pakistan had done on its side.
Chairing a security meeting at Headquarters Lahore Corps, the army chief said that the concurrent blasts at Kabul and Lahore were testimony of our stance that both Pakistan and Afghanistan were victims of terrorism and would continue to suffer if those actors were able to use Afghanistan territory with impunity.
He said that regional actors and hostile intelligence agencies were fully involved to use terror as policy tool, and reiterated that Pakistan was ready to help Afghanistan to eliminate terrorist safe havens in their border areas as Pakistan had done on its side.
According to a release issued by the ISPR, the army chief was given detailed update on Operation Raddul Fasaad and Monday's blast.
Expressing his sympathies with the victims and their families, the COAS said that such incidents could not lower army's resolve to eliminate terrorism from its roots.
"We are making gains in breaking connectivity between terror masterminds and their facilitators/ executors," he said, and added that the army fully supports and stands with the police and other law enforcement agencies in their role as first responders.
The COAS said, "We have fought against terrorism as a nation and the key to success is national participation by reporting every suspicious activity to the security forces."
Later, the army chief visited injured of the blast at the general hospital.
Full report at:
http://nation.com.pk/national/26-Jul-2017/coas-offers-kabul-help-in-eliminating-terror-havens
--------
Ruling party's 'assurance' to Nisar
Amjad Mahmood
July 26, 2017
LAHORE: Interior Minister Chaudhry Nisar is unlikely to make public his political differences with the ruling Pakistan Muslim League-Nawaz leadership as he has been assured that no change in the chain of command of the federal government will be made against his wishes.
A senior official of the PML-N told Dawn on Tuesday that the change of heart came when Finance Minister Ishaq Dar called on Chaudhry Nisar and assured him that no minister "junior to" him (the interior minister) would be nominated as prime minister in case Nawaz Sharif is disqualified by the Supreme Court in the Panama Papers case.
The official, privy to the development, said that Chaudhry Nisar had differed with the prime minister over plan of appointing any other minister than the interior minister as the "stopgap arrangement" if he (Mr Sharif) was disqualified.
He quoted Ch Nisar as saying that being opposition leader in the previous tenure of the National Assembly and being senior than his cabinet colleagues (for he has been in the federal cabinet since 1990) he has the first right to replace PM Nawaz.
He said the politician from Chakri was ready to forgo his right only for Punjab Chief Minister Shahbaz Sharif and threatened to resign from the cabinet otherwise.
Full report at:
https://www.dawn.com/news/1347733/ruling-partys-assurance-to-nisar
--------
No victory in Afghanistan without Pakistan's support: US military chief
July 26, 2017
WASHINGTON: Recent experiences indicate that the United States cannot win the war in Afghanistan without Pakistan's support, says US military chief Gen Joseph Dunford.
And US Defence Secretary James Mattis has said that a recent decision to stop reimbursements to the Pakistani military was not part of a tougher new US policy for Pakistan but it did reflect ground realities.
Chairman of the US Joint Chiefs of Staff General Joseph Dunford underlined Pakistan's role in bringing peace to Afghanistan at the Aspen Security Forum in California on Sunday, when he was asked if the ongoing review of the US Afghan policy included Pakistan.
"Absolutely. I mean this is from New Delhi to Tehran when we talk about South Asia and a critical element of our strategy in the region has to be Pakistan," said Gen Dunford while explaining that the Trump administration was reviewing its policies for the entire South Asian region and not just Afghanistan.
"And we cannot be successful in Afghanistan — we've seen that over the last several years — unless we have a higher degree of cooperation from Pakistan. So Pakistan is absolutely an integral part of the strategic review that's ongoing," said the US general, stressing Pakistan's key role in the region as well as in Afghanistan.
At a news briefing on Friday, Secretary Mattis was asked if his recent refusal to certify Pakistan's cooperation in eliminating the Haqqani network was part of the new strategy that the White House and Pentagon experts were working on.
"No. This is simply an assessment of the current state of play. It's not a — it's not a policy. It is a reality. You know, we're just defining the realities," Mr Mattis said in his response.
The refusal blocked about $50 million of reimbursement to the Pakistani military and may affect future reimbursements and military assistance, until the secretary certifies that Islamabad has taken sufficient steps against the Haqqani network.
At the Aspen seminar, Gen Dunford also warned against placing artificial timelines on operations in Afghanistan, as the Obama administration did when it announced its intent to withdraw all US troops from there by 2014.
Putting a timeline was not good for the confidence of the Afghan people, and it caused hedging behaviour in the region as well, he said. "It undermines our cooperation with Pakistan if they don't believe we will be there long enough to establish security and stability," he added.
Full report at:
https://www.dawn.com/news/1347693/no-victory-in-afghanistan-without-pakistans-support-us-military-chief
--------
Southeast Asia
Ignore anti-vaccine preachers, Muslims told
Nur Khairah Alegria Suner
July 26, 2017
PETALING JAYA: Perak mufti Harussani Zakaria has urged Muslims to ignore preachers who speak against inoculation against diseases.
Speaking to FMT, he said parents had a religious obligation to get their children inoculated even if the vaccines were tainted with impurities, as some preachers have claimed.
"People should listen to what we the religious authorities have decided," he said.
"We have even issued a fatwa on this matter.
"We have stated previously that it is necessary for children to be vaccinated regardless of whether the vaccines contain impurities."
He added that people should ignore dubious information shared on social media against immunisation.
He said parents must ensure that their children are given the necessary injections to prevent them from contracting tuberculosis, measles, diphtheria and other diseases.
In a statement in April last year, Harussani said those who rejected the vaccinations were going against God's injunctions.
Early this week, the health ministry said that the majority of parents who refused vaccination for their children in 2016 were from Perak, Terengganu and Pahang.
"They are unsure if the vaccines are halal or haram," said Rozita Rahma, the assistant director of the ministry's family health development division.
"Other than questioning whether there is porcine DNA in the vaccines, they fear that they contain prohibited substances or chemicals such as mercury."
A study by the ministry found that Perak topped the list with 285 objections, followed by Terengganu (233), Pahang (178), Kedah (172) and Selangor (151).
It found that parents cited either religious reasons or fear of the risk of autism.
Some of the apprehension stemmed from information disseminated over the internet by groups associated with the anti-vaccine movement, often referred to as anti-vaxxers.
During the first six months of this year, the ministry recorded more than 800 cases of parents refusing vaccinations for their children.
Meanwhile, Selangor mufti Tamyes Abdul Wahid urged the health ministry to educate the public on the contents of the vaccines to curb irrational fears.
"The ministry should explain to the public what the contents of the vaccines are, as well as what the consequences would be if they refused to get their children immunised," he said.
He said his religious position was that Muslims had the option to accept or reject vaccination.
http://www.freemalaysiatoday.com/category/nation/2017/07/26/ignore-anti-vaccine-preachers-muslims-told/
--------
How Daesh-linked terror group in Philippines made its millions
26 July 2017
KUALA LUMPUR/MANILA: The Daesh-linked Maute group operating in the Philippines has amassed an estimated 1.2 billion pesos ($23.7 million) in cash through looting, drug deals and other illegal activity, Arab News has learned.
The terror group launched an assault on Marawi, the only predominately Muslim city in the mainly Catholic Philippines, in May.
A high-ranking government official in the Philippines told Arab News that Maute has amassed a vast fortune through looting banks and houses, stealing gold and jewelry, as well as from drug deals. This information, he said, was confirmed by a military general who is serving in Western Mindanao Command.
The official, who asked not to be named because he is not allowed to speak to media, said the military has drone footage that shows several sacks of money being loaded into a pickup truck. In this footage, he said, you can see one of the sacks falling down from the truck and paper bills scattered. The 1.2 billion pesos estimate was made based on the footage.
The military earlier quoted residents who were held hostage but managed to escape from the Maute group, as saying that they were forced to loot houses and government buildings in Marawi.
Full report at:
http://www.arabnews.com/node/1134816/world
--------
South Korea opens more Muslim-friendly restaurants
July 26, 2017
The Korea Tourism Organization (KTO) has encouraged the opening of 117 new Muslim-friendly restaurants across South Korea.
There are now a total of 252 spots that Muslim tourists can feel comfortable dining at.
"The Muslim-friendly restaurant classification system is a project that the KTO has been working on so that Muslim tourists in Korea will be able to enjoy their meals without any worry," stated the organization as quoted by kompas.com.
There are four different certifications for restaurants: "halal certified", "self-certified", "Muslim-friendly" and "pork free". Restaurants that are "halal certified" are those that only serve halal food and have earned certification from an external certification organization, after an evaluation process. Restaurants that are "self-certified" are those where the owners themselves declare that their menu only serves halal food. Meanwhile, "Muslim-friendly" restaurants offer a selection of halal meals on their menus, as well as non-halal meals, while "pork free" restaurants do not contain pork in their products.
Out of the 117 restaurants that are being developed, 75 percent are located in rural areas to ensure accessibility for halal foods in more areas, thereby offering further convenience for Muslim tourists. Moreover, of these restaurants, 71 are regular restaurants, while one is a franchise.
Full report at:
http://www.thejakartapost.com/travel/2017/07/25/south-korea-opens-more-muslim-friendly-restaurants.html
--------
Jais launches programme for Muslim couples to legally register marriages
July 26, 2017
SHAH ALAM, July 26 — The Selangor Islamic Religious Department (Jais) will launch a special programme, 'Jom Daftar Nikah', which is open to all Muslim couples who married before Jan 1, 2017, but have yet to register their marriage.
Its director Datuk Haris Kassim said the three-month programme which begins on Aug 1 is especially for couples residing in Selangor who failed to register their marriage according to provisions under the Selangor Islamic Family Law Enactment 2003.
The marriage registration of the programme participants is expected to be completed within a period of 120 days, he told reporters here yesterday.
According to Haris, the special programme was organised following an increase in cases of couples getting married without legally registering their marriage according to the enactment.
"These couples marry secretly due to family opposition, marriages that forgo application or approval from the registrar and marriages outside of Selangor by a dubious guardian judge," he said, adding that these illegal marriages resulted in numerous negative implications.
Full report at:
http://www.themalaymailonline.com/malaysia/article/jais-launches-programme-for-muslim-couples-to-legally-register-marriages
--------
Former DPM's son warns Malay Rulers of crisis arising from Shariah Bill
July 26, 2017
KUALA LUMPUR, July 26 — The son of the late Tun Dr Ismail Abdul Rahman has written to the Conference of Malay Rulers to highlight the Speaker of Parliament's alleged disregard of their authority over religious matters.
In a letter to Dewan Rakyat Speaker Tan Sri Pandikar Amin Mulia to convey the contents of his earlier writings to the royals, Mohamed Tawfik Ismail reiterated his insistence that PAS president Datuk Seri Abdul Hadi Awang's so-called Shariah Bill must be approved by the Malay Rulers before it may be tabled in Parliament.
Tawfik told Pandikar that he notified the Conference that the Speaker refused to acknowledge this, which was among reasons he was suing to block the progress of the private member's Bill to amend the Syariah Courts (Criminal Jurisdiction) Act 1965 or Act 355.
"The letter was also meant to draw the attention of the Rulers to the serious constitutional crisis arising from the Speaker's refusal to take cognisance of the provisions of the Federal Constitution, particularly Articles 38 and 62, together with his refusal to consider whether Hadi's Motion and RUU 355 have fulfilled the conditions of Order 49(1) of the Standing Orders of the Dewan Rakyat.
"It should be remembered that Hadi's Motion and RUU 355 are within the jurisdiction of the Rulers as Heads of religion in their respective states as guaranteed by Article 71 of the Federal Constitution," Tawfik wrote.
Tawfik said he sent the letter to the Conference on July 20 via the Keeper of the Rulers' Seal, and wrote to inform Pandikar of this the next day.
Among others, he insisted that the Speaker must not allow Hadi's Bill, which is back in the current Order Papers, to be debated in Parliament out of respect for the Malay Rulers who are the final authority over Islamic affairs.
Tawfik filed the lawsuit in March and sought for the courts to declare the proposal to increase Shariah sentencing to be in breach of the Federal Constitution and parliamentary procedure.
He is also seeking 10 declarations and orders that would effectively stop Hadi from tabling his private member's Bill to amend the Syariah Courts (Criminal Jurisdiction) Act.
Hadi is proposing to increase the Shariah courts' sentencing limits from the current three years' jail, RM5,000 fine and six lashes to a new maximum of 30 years' jail, RM100,000 fine and 100 lashes.
Tawfik named Pandikar and Dewan Rakyat secretary Datuk Roosme Hamzah as respondents in his lawsuit.
Full report at:
http://www.themalaymailonline.com/malaysia/article/former-dpms-son-warns-malay-rulers-of-crisis-arising-from-shariah-bill
--------
Mideast
Muslim Cleric: Protest to Go on Despite Israeli Concession
July 26, 2017
JERUSALEM (AP) — A senior Muslim official in Jerusalem said Wednesday that worshippers would not return to a contested shrine until Israel removes the new railings and cameras it installed after a deadly attack there.
Ikrema Sabri, the head of the Supreme Islamic Committee, said that even after Israel removed metal detectors at the site more steps were required. He said mass prayer protests would continue until the gates of the compound were opened, metal railings and an iron bridge removed and newly installed cameras taken down. He said a lawyer working on behalf of the Muslim administration of the holy site will be in touch with Israeli police to make the demands.
"We will not enter the mosque until these things are implemented," he told The Associated Press. "Now we are awaiting the response of the police."
The demand sets off the prospect of a renewed showdown ahead of Friday prayers at the site, when a large number of worshippers arrive for the centerpiece of the Muslim prayer week, and extends a crisis Israel was eager to resolve.
Israel installed the new security measures earlier this month after Arab gunmen shot and killed two police officers from within the site. Under intense pressure, it removed the metal detectors and said it planned to install sophisticated security cameras instead.
Israel says the measures were a natural response and necessary to prevent further attacks while Palestinians claim Israel is trying to expand its control over the site.
The continued standoff highlighted the deep distrust between Israel and the Palestinians when it comes to the shrine — the third-holiest in Islam and the most sacred in Judaism.
The 37-acre (15-hectare) esplanade, known to Muslims as the Noble Sanctuary and to Jews as the Temple Mount, has been a lightning rod for the rival religious and national narratives of the two sides. It has triggered major confrontations in the past.
The latest development could put Israeli Prime Minister Benjamin Netanyahu in a tough spot, as he tries to tamp out a wave of unrest that has triggered international pressure while not appearing to his hard-line base as capitulating.
His government has faced a growing backlash at home for what critics said was hasty decision-making and embarrassing policy reversals.
In a face-saving compromise, and after Netanyahu spoke to Jordan's King Abdullah II and others, Israel's security Cabinet announced Monday that in place of the metal detectors it would employ nonintrusive "advanced technologies," reportedly smart cameras that can detect hidden objects. The new security system is said to be set up in the next six months at a cost of $28 million.
Palestinian politicians and Muslim clerics say that isn't enough and are demanding Israel restore the situation at the shrine in Jerusalem's Old City to what it was before the July 14 deadly attack.
In response to that attack, Israel closed the shrine for two days for weapons searches and installed the metal detectors. The decision quickly triggered Muslim protests amid rumors that Israel was trying to expand its control at the site under the guise of security — a claim Israel strongly denied.
https://www.usnews.com/news/world/articles/2017-07-26/muslims-pray-outside-holy-site-despite-israeli-concessions
--------
Thousands join Muslim prayer protests over Jerusalem shrine
Jul 26, 2017
JERUSALEM: Thousands of Palestinian Muslims prayed in the streets near Jerusalem's most contested holy site Tuesday, heeding a call by clergy to not enter the shrine despite Israel's seeming capitulation when it removed metal detectors it installed there a week earlier.
Muslim leaders said they would only call off the protests once they made sure Israel had restored the situation to what it was before the latest crisis.
Some Muslim officials alleged that Israel used the absence of Muslim clerics from the walled compound in the past week of protests to install new security cameras.
The continued standoff highlighted the deep distrust between Israel and the Palestinians when it comes to the shrine — the third-holiest in Islam and the most sacred in Judaism.
The 37-acre esplanade, known to Muslims as the Noble Sanctuary and to Jews as the Temple Mount, has been a lightning rod for rival religious and national narratives of the two sides. It has triggered major confrontations in the past.
Israel seemed eager to put the crisis behind it and restore calm after a week of prayer protests, street clashes and several incidents of deadly violence.
Israel's Prime Minister Benjamin Netanyahu and his government also faced a growing backlash at home for what critics said was hasty decision-making and embarrassing policy zigzags.
In a face-saving compromise, Israel's security Cabinet announced that in place of the metal detectors, it would employ nonintrusive "advanced technologies," reportedly smart cameras that can detect hidden objects. The new security system is to be set up in the next six months at a cost of $28 million.
Meanwhile, Palestinian politicians and Muslim clerics demanded that Israel restore the situation at the shrine in Jerusalem's Old City to what it was before July 14. On that day, three Arab gunmen opened fire from the shrine at Israeli police guards, killing two before being shot dead.
In response, Israel closed the shrine for two days for weapons searches and installed the metal detectors. The decision quickly triggered Muslim protests amid allegations that Israel was trying to expand its control at the site under the guise of security — a claim Israel has denied.
On Tuesday, hours after Israel removed the metal detectors, Muslim leaders said a technical committee would check the area in and around the compound carefully to see if Israel had made any unilateral changes during the time the shrine stood empty.
Protests would continue until the check was completed, they said.
By Tuesday evening, thousands of worshippers prayed at the Old City's Lion's Gate, one of the main flashpoints in recent days. They knelt on prayer rugs arranged in neat rows on the asphalt as Israeli riot police lined up nearby.
After the prayers, many in the crowd chanted, "Oh God, oh God, oh God," as they raised their right index finger to the sky in a sign of religious fervor.
Khalil Abu Arafeh, a 67-year-old retiree, said he and the others would follow the lead of the Muslim clergy. "We will not go. We will keep praying here," he said, alleging Israel hadn't removed all of the new security measures.
Israeli police spokesman Micky Rosenfeld said some cameras remained "as part of the security measures to prevent terror attacks" in and around the Old City.
The Israeli daily Haaretz said the security Cabinet had decided to remove the metal detectors but leave in place the newly installed cameras.
Palestinian President Mahmoud Abbas said security coordination between his forces and Israeli troops in the West Bank would remain on hold until Israel has restored the situation at the shrine to what it was before July 14.
He had announced last week that he was freezing all ties with Israel until the metal detectors were down.
In the past two days, the crisis over the shrine had been closely linked to a parallel drama — a deadly shooting at the Israeli Embassy in Jordan.
The Sunday shooting, in which an Israeli guard killed two Jordanians after one attacked him with a screwdriver, had briefly led to a diplomatic standoff.
Jordan initially said the guard could only leave after an investigation, but eventually let him go. Embassy staff, including the guard, returned to Israel late Monday, after a phone call between Netanyahu and Jordan's King Abdullah II.
Jordan also is Muslim custodian of the Jerusalem shrine, and the sequence of events — return of the embassy staff followed by the removal of the metal detectors — suggested a broader deal had been struck.
Jordanian Foreign Minister Ayman Safadi denied this, saying that "there's no bargain here." Safadi defended the government's handling of the embassy shooting, saying it had followed routine procedures as in any criminal case.
There was widespread anger in Jordan over the shooting, given the unpopularity of its peace deal with Israel.
An acrimonious session of Jordan's parliament was cut short as lawmakers walked out in protest after the interior minister presented the initial findings of the incident at the embassy.
Full report at:
http://timesofindia.indiatimes.com/world/middle-east/thousands-join-muslim-prayer-protests-over-jerusalem-shrine/articleshow/59766293.cms
--------
Palestinians demand all measures be lifted at al-Aqsa Mosque compound
25 July 2017
The Palestinian ambassador to the United Nations on Tuesday demanded that all Israeli security measures at a Jerusalem holy site be removed after Israel lifted some obstructions that had triggered violent protests.
"De-escalation is urgent," Riyad Mansour, the Palestinian representative, told a UN Security Council debate on the Middle East.
Mansour appealed for a "continuation of all efforts to restore the historic status quo at Al-Aqsa mosque compound" and said "this requires the lifting of all measures in violation of the status quo."
Five Palestinians have been killed in clashes sparked by the new Israeli security measures at the al-Aqsa Mosque compound.
The compound houses the revered Al-Aqsa mosque, Islam's third holiest site, and Dome of the Rock.
Earlier Tuesday, Israel removed metal detectors and cameras from the entrances to the compound and said it would carry out "security inspections with advanced technologies and other means."
The metal detectors were put in place following an attack on July 14 that killed two Israeli police officers.
Israel maintained that the equipment was needed to prevent weapons smuggling into the compound.
UN envoy Nickolay Mladenov welcomed the decision to remove the metal detectors and said Palestinian president Mahmud Abbas will convene a meeting later Tuesday to discuss the developments.
Mladenov on Monday told the council that a solution to the crisis must be found before Friday prayers to avoid an escalation of the violence.
Full report at:
https://english.alarabiya.net/en/News/middle-east/2017/07/25/Palestinians-demand-all-measures-be-lifted-at-Jerusalem-holy-site.html
--------
Hamas calls for urgent intervention to stop Israel's Judaization
Jul 25, 2017
The Palestinian Hamas resistance movement has called for the immediate intervention of Muslim states as well as international bodies to stop the Tel Aviv regime's Judaization policies at al-Aqsa Mosque compound in the occupied Old City of Jerusalem al-Quds.
Hamas spokesman Husam Badran warned in a statement on Tuesday that Israel is seeking to impose a new status quo in the holy site.
The statement was issued in condemnation of Israel's cutting down several trees and removal of historical stones near the Lions' Gate – commonly known by the Arabic name Bab al-Asbat in Arabic – earlier in the day.
Badran highlighted that young Palestinian men have made considerable residences in Jerusalem al-Quds in their struggle to defend their nation's holy sites and dignity.
Time has come to safeguard these sacrifices through all possible means, he stated.
On Tuesday morning, Israeli authorities removed metal detectors installed at the Bab al-Asbat and Bab al-Nather entrances of al-Aqsa Mosque compound, but kept surveillance cameras to monitor Muslim worshipers..
Israeli authorities installed metal detectors, turnstiles, and additional security cameras in the compound following a deadly shooting attack more than a week ago.
On July 14, three Palestinians opened fire on Israeli forces at the al-Aqsa Mosque compound, killing two of them before being shot dead.
Palestinian worshipers have strongly condemned Israel's new restrictive measures at al-Aqsa Mosque, engaging in bitter clashes with Israeli military forces.
#savealaqsa hashtag on Twitter
On Jul 21 @PressTV tweeted: "At least one Palestinian killed, dozens .." - read what others are saying and join the conversation.
The occupied Palestinian territories have witnessed new tensions ever since Israeli forces introduced restrictions on the entry of Palestinian worshipers into the al-Aqsa Mosque compound in East Jerusalem al-Quds in August 2015.
More than 300 Palestinians have lost their lives at the hands of Israeli forces in the ongoing tensions since the beginning of October 2015.
The Tel Aviv regime has tried to change the demographic makeup of Jerusalem al-Quds over the past decades by constructing settlements, destroying historical sites and expelling the local Palestinian population. Palestinians say the Israeli measures are aimed at paving the way for the Judaization of the city.
Full report at:
http://www.presstv.ir/Detail/2017/07/25/529655/Palestine-Hamas-resistance-movement-urges-intervention-stop-Israel-Judaization-Asqa-Mosque
--------
Iranian students protest Israel's restrictive measure at al-Aqsa compound
Jul 25, 2017
Iranian students have held a protest outside Tehran University against Israel's restrictive measures implemented at the al-Aqsa Mosque compound in the Old City of the occupied Jerusalem al-Quds.
The students called for an end to the new restrictive measures at al-Aqsa Mosque.
Earlier on Tuesday, the Israeli regime removed metal detectors that had been installed in and around al-Aqsa Mosque only to replace them with smart cameras at the holy site.
Meanwhile, Muslim clerics who oversee the holy site told Palestinians to keep away from the mosque as long as the cameras remain in place.
http://www.presstv.ir/Detail/2017/07/25/529666/Iran-Palestine-Israeli-regime-alAqsa
--------
Israel bars five US Jewish, Christian and Muslim leaders backing boycott effort
25 July 2017
Five US Jewish, Christian and Muslim leaders have been barred from Israel under a new law that prohibits entry to the Jewish state by foreign activists who advocate a boycott of the country.
The Israeli interior minister, Aryeh Deri, said in a statement on Tuesday that the five had a long record of advocacy for the BDS movement, which seeks to ostracize Israel by lobbying corporations, artists and academic institutions to sever ties with the Jewish state.
It is the first time the Israeli government has implemented the policy, which won approval in March, allowing authorities to keep out non-citizens who publicly support a boycott of Israel or work for an organization that does.
Supporters of BDS – which stands for boycott, divestment and sanctions – say they are using nonviolent means to promote Palestinian independence efforts. The movement has grown into a global network of thousands of volunteers, from campus activists to church groups and some Jewish groups.
Israel says the campaign goes beyond fighting its occupation of territory Palestinians claim for a state and often masks a more far-reaching aim to delegitimize or destroy the Jewish state.
The five American leaders who were barred from entry were members of the advocacy groups Jewish Voice for Peace, American Muslims for Palestine and the Presbyterian Peace Fellowship, which is active within the Presbyterian church (USA), a Protestant denomination that voted three years ago to divest from some companies in protest of Israeli treatment of Palestinians.
Rabbi Alissa Wise, deputy director of Jewish voice for Peace, which has chapters around the country, said she and four other leaders were scheduled to join a larger interfaith delegation that planned visits with human rights activists in Israel and the West Bank. She said they went to check into a Lufthansa flight last Sunday night at Washington Dulles international airport when they were told that the airline had an order not to allow them to fly all the way to Israel. They were told they could fly as far as Frankfurt, Wise said.
Tal Muscal, a spokesman for Lufthansa, said each country set its own entry requirements. "Lufthansa has no influence regarding the implementation or enforcement of such regulations," Muscal said.
Tzahi Gavrieli, an official at Israel's ministry of strategic affairs, said the entry ban was strictly for those who are "undertaking ongoing consistent and significant actions to promote and advance a boycott of Israel". He said the ban was aimed at "individual activists who are major players, senior leadership in the BDS movement worldwide".
Full report at:
https://www.theguardian.com/world/2017/jul/25/israel-boycott-bds-movement-law-leaders-barred
--------
Amnesty calls on EU to urge Turkey into reversing human rights crackdown
Jul 25, 2017
Amnesty International has called on the EU to pressure members to get Turkey "back in line" and halt its human rights crackdown.
"We believe the arrest of both the (local) chairman and director of Amnesty International signifies a step change in the human rights crisis in Turkey," said Amnesty head Salil Shetty following a meeting with EU foreign policy chief Federica Mogherini in Brussels on Tuesday.
Shetty was referring to Ankara's detention of Idil Eser, the Amnesty International Turkey's director, and nine other activists, including a German and a Swedish national earlier in the month, as well as the last month detention of Amnesty International's Turkey chair Taner Kilic over suspicion of links to an anti-Ankara movement led by US-based Muslim preacher Fethullah Gulen blamed by Ankara for the 2016 failed coup.
"The EU has to make it clear that they have definitely crossed a red line and that it requires a resetting of the relationship with the EU," he added.
He added that the coup "has become an excuse to lock up anybody asking a question, starting a debate."
Turkey witnessed a coup attempt on July 15, 2016, when a faction of the Turkish military declared that the government of President Recep Tayyip Erdogan was no more in charge of the country.
Over the course of some two days, however, the coup was suppressed. Almost 250 people were killed and nearly 2,200 others wounded in the abortive coup.
Since then, Ankara has been engaged in suppressing perceived putschists and sympathizers.
"This is totally beyond the pale; for the sake of the Turkish people, for Europe, Turkey has to be brought back in line and this is the moment to do it," he added.
Full report at:
http://presstv.ir/Detail/2017/07/25/529688/turkey-eu-crackdown-coup
--------
Israeli settlers occupy historical building in al-Khalil
Jul 25, 2017
A large group of Israeli settlers have occupied a historical building in the West Bank city of al-Khalil (Hebron).
"Tens of Israelis entered a restricted building adjacent to the Cave of the Patriarchs in Hebron and security forces are currently on the spot," said an Israeli military spokeswoman on Tuesday.
Local residents said that after forcefully entering the building, the settlers proceeded to rise an Israeli flag above it. They also noted the Israeli forces had arrived at the scene, but were not approaching the occupied building.
The occupied structure is next to Ibrahimi Mosque, which is believed to be the burial site of various biblical figures such as Abraham.
The Anti-settlement Israeli NGO Peace Now has called on local authorities to evacuate the settlers, which it said were comprised of a group of 15 families.
"After their claims of ownership had been denied, the settlers have decided to take the law into their own hands and establish an illegal settlement that might ignite the region," said a statement released by the NGO.
Israeli settlers were ejected from the same building after occupying it in 2012, after failing to obtain the necessary permits to acquire it.
Israeli settlers, mostly armed, regularly commit actions such as occupying Palestinian lands or engaging in arson attacks against Palestinians and setting fire to their mosques, olive groves, and other properties.
Full report at:
http://www.presstv.ir/Detail/2017/07/25/529685/israeli-hebron-settlers-occupy
--------
Palestinian ambassador to UN urges action against destructive Israeli agenda
Jul 25, 2017
Palestinian ambassador to the United Nations Riyad Mansour has urged UN action against Israel's "reckless and destructive agenda" across the occupied Palestinian lands.
The envoy told the Security Council on Tuesday that the al-Aqsa Mosque compound crisis was at a "tipping point," urging the council members to help protect Palestinians and their holy sites from Israel's agenda.
"We are clearly at the tipping point," Mansour said in his speech to the 15-member council, adding, "We must therefore again warn against the dangers of such provocations and incitement, and fuelling of yet another cycle of violence which will surely have far-reaching consequences."
Mansour also warned that "the stoking of a religious conflict is rapidly unfolding as Israel persists its illegal actions in occupied East Jerusalem (al-Quds)."
Elsewhere in his remarks, the Palestinian envoy also accused Israel of "aggressive behavior and provocative violation" of the historic status quo at the Muslim-administered al-Aqsa Mosque compound.
Earlier on Tuesday, Israeli officials removed metal detectors that had been installed in and around al-Aqsa Mosque only to replace them with smart cameras at the holy site.
Palestinian officials have rejected Israel's moves in the occupied East Jerusalem al-Quds, saying Tel Aviv should lift all restrictions on the compound.
The Israeli security cabinet made the decision following talks between Prime Minister Benjamin Netanyahu and Jordan's King Abdullah, who is the official custodian of the Haram al-Sharif mosque.
Meanwhile, Muslim clerics who oversee the holy site told Palestinians to keep away from the mosque as long as the cameras remain in place.
Israel's decision to install the metal detectors triggered a fresh wave of violence in East Jerusalem al-Quds.
The unrest took the lives of four Palestinians and three Israelis on Friday and Saturday.
In reaction to the events, the clerical body that runs the Islamic sites in the compound decided to boycott daily prayers at the mosque and told worshippers to pray in nearby streets.
The occupied Palestinian territories have witnessed new tensions ever since Israeli forces introduced restrictions on the entry of Palestinian worshipers into the al-Aqsa Mosque compound in East Jerusalem al-Quds in August 2015.
More than 300 Palestinians have lost their lives at the hands of Israeli forces in tensions since the beginning of October 2015.
Full report at:
http://www.presstv.ir/Detail/2017/07/25/529672/UN-Israel-Palestine-Riyad-Mansour-alAqsa
--------
Europe
Man shouting 'Allahu Akbar' in Spain knife attack
Jul 26, 2017
A knife-wielding man shouting "Allahu Akbar" entered the border post between Morocco and the Spanish territory of Melilla on Tuesday, threatening police who wrestled him to the ground.
The man is in custody, Spanish Interior Minister Juan Ignacio Zoido tweeted, without indicating whether the incident was an attempted terror attack.
Zoido posted security camera footage of the drama -- which took place on Spanish soil -- showing the man in a blue top walking slowly through the border post holding a knife, police closing in on him.
One of the officers hurled a portable road barricade at him, throwing him to the ground as other agents pounced to remove the knife.
"A man entered the border post and once inside, pulled out a large knife and confronted (police) shouting 'Allahu Akbar' (God is Greater), slightly injuring a policeman," Irene Flores, spokeswoman for the central government's representative office in Melilla, told AFP.
Flores said an initial investigation indicated the man was Moroccan, but this has yet to be confirmed.
A police spokesman had earlier said the man ran into the border post, but that is not visible on the footage.
Restive border
Melilla and its sister Spanish city Ceuta, both Spanish territories on Morocco's northern coast, are the only two land borders between Africa and the European Union.
Many Moroccans live there or go there daily to buy tax-free products.
They are also a strong draw for migrants desperate to reach Europe, many of them from sub-Saharan Africa.
These regularly storm the border fences or try and smuggle themselves in.
The Melilla border has been hit by three car-ramming incidents this year, with people driving vehicles with migrants hidden inside into the border post at high speed.
But this is believed to be the first incident of this type.
Spain has so far been spared the kind of extremist violence that has occurred in nearby France, Belgium and Germany.
But it was hit by what is still Europe's deadliest jihadist attack in March 2004, when bombs exploded on commuter trains in Madrid, killing 191 people in an attack claimed by Al Qaeda-inspired extremists.
Since 2016, Spain has emerged as a potential target for jihadists, with extremist websites mentioning it for historical reasons, since much of its territory was once under Muslim rule.
Third tourism destination
Generally, authorities in Spain -- the world's third largest tourism destination -- remain discreet on the terror threat.
But they publicise every arrest of alleged jihadists, most of them detained for propaganda, recruitment for extremist groups or "glorifying terrorism."
According to the interior ministry, more than 180 "jihadist terrorists" have been arrested since June 2015 when Spain raised the terror alert level to four out of a maximum of five, in domestic and foreign operations.
In Ceuta and Melilla, where poverty and unemployment are rife, such arrests are frequent.
The last in Melilla dates back to June 23 when a man suspected of having tried to recruit fighters for the Islamic State group (IS) was detained.
"Radicalisation in Spain isn't uniform over all the national territory but appears to be concentrated around clusters or pockets of radicalisation," said Clara Garcia Calvo from the Real Instituto Elcano think tank, who researches global extremism.
She told AFP that these "clusters" were in Madrid, Barcelona, Ceuta and Melilla.
http://nation.com.pk/international/25-Jul-2017/man-shouting-allahu-akbar-in-spain-knife-attack
--------
Germany 'turning blind eye' to Turkey's concerns
25 July 2017
A relationship based on trust, mutual interest, equality and respect is necessary between Turkey and Europe, presidential spokesman Ibrahim Kalin wrote on Tuesday.
"Turks, Germans and Europeans have to work hard to avoid irrational attitudes and irresponsible policies that end up hurting everyone," Kalin, a top aide to President Recep Tayyip Erdogan, wrote in a column for Turkey's Daily Sabah newspaper, headlined "Turkey, Germany, Europe quo vadis?"
He said German Foreign Minister Sigmar Gabriel announced a major policy change on Turkey instead of a positive climate to emerge last week. "Where did this come from? What lies behind it?"
German Foreign Minister Sigmar Gabriel announced in a news conference last Thursday it would not encourage German businesses to invest in Turkey, in an apparent attempt to increase pressure on Ankara to release German citizen Peter Steudtner.
Germany also issued new travel warnings for its citizens wishing to visit Turkey.
"Two recent incidents are mentioned as a possible cause for this policy shift," Kalin said.
"The first is the detention of a German citizen in Turkey for allegedly being involved in unlawful acts. The second is the claim that Turkey is investigating German companies in Turkey as part of the ongoing Gulenist Terror Group [FETO] investigation.
"The German government went so far as to claim that German citizens and companies are not safe in Turkey. Both charges are baseless."
Steudtner was among 10 people arrested in a police raid during a meeting in Buyukada, one of the Princes' Islands near Istanbul, for allegedly planning provocative events that would fuel unrest across Turkey similar to the Gezi Park incidents in 2013.
A Turkish court on Tuesday remanded in custody Steudtner on charges of aiding an armed terrorist organization.
German Foreign Ministry on Wednesday called on Turkish authorities to release Steudtner, calling his detention "unjustified" and charges against the group "absurd".
"There is no threat to German or other foreign citizens in Turkey while visiting or doing business," the presidential aide said.
"The cited case of the detention of a German citizen is a judicial process and only the courts will give the final verdict.
"There is also no blacklist of German companies being investigated or targeted in any way. There are around 7,000 German companies in Turkey, and some have been doing business in Turkey for almost a century. No foreign company has been shut down or investigated after the July 15 coup attempt. The companies that have been shut down or confiscated are solely those of the FETO network."
The presidential spokesman also said German government's next move will be to take its case to the rest of Europe, "meaning that it will use its power to mobilize other European countries against Turkey".
"How much longer will Germany turn a blind eye to Turkey's legitimate security concerns over the presence of the PKK, FETO and other groups whose primary trait is open animosity toward Turkey, a NATO ally and an EU candidate country?" Kalin asked.
He also highlighted that "this state of affairs must be rejected at a time when such global problems as inequality, injustice, terrorism, alienation and mistrust require global partnership and understanding".
Full report at:
http://www.worldbulletin.net/europe/192222/eu-extends-migrant-rescue-operation-sophia-to-end-2018
--------
Barbara Kay: France finally admits to its history of Jew hatred. What about the present?
July 25, 2017
July 16 marked the 75th anniversary of the infamous 1942 mass roundup of French Jews in Paris's Velodrome d'Hiver ("Vel d'Hiv"), when 13,152 Jews were deported to Nazi death camps. Benjamin Netanyahu's motorcade arrival at the commemoration ceremony, his limousine sporting gold-fringed Israeli flags, was an electric moment for French Jews, representing the first inclusion of an Israeli head of state in the event's annual commemorative history.
In a moving address to the 1,200 (mostly) Jews in attendance, including Holocaust survivors in their 90s, France's President Macron did not mince his words, assigning full blame for Vel d'Hiv to the Vichy government ("not a single German participated"), another first, and therefore rebuking previous leaders who have accepted only partial blame. The depth of Macron's feeling, evident in the cathartic physical embrace he and Netanyahu shared following his speech, brought the audience to a pitch of passionate applause. This was a moment of genuine reconciliation unlike any that had gone before.
In a work of fiction, the hug between the French and Israeli heads of state would have signified triumph over a long history of French anti-Semitism. Real life is rarely so obliging.
Macron understood he had to address the painful reality of the new French anti-Semitism. He therefore referred in his speech to the murder, 12 days earlier, of Sarah Halimi, a 65-year old Orthodox Jewish doctor, battered to death by her Mali-born neighbour Kobili Traoré. Traoré had reportedly referred to Halimi as a "dirty Jew," and shouted "Allahu Akbar" as he threw her off her apartment balcony.
The indictment filed against Trahoré did not categorize the killing as a hate crime, let alone an act of terrorism, as many believe it should be. It became a political hot potato. Macron announced that "the judiciary must as soon as possible provide maximum clarity on the death of Sarah Halimi."
Second-guessing clarity would be welcome, but irrelevant to the larger problem: the entrenched pathology of Jew hatred in France's Muslim community. The Vichy government is gone, but its Jew-loathing spirit has returned in, as Macron put it, "the cancerous spread of militant Islam."
In a 2015 interview with Times of Israel journalist David Horovitz, former Paris policeman Sammy Ghozlan paints a bleak picture of the situation for Jews in France. As an Algerian Jew, Ghozlan was a natural liaison between the Jewish communities and law enforcement. He grew concerned by the tendency he saw in his colleagues of managing the growing social problem of Muslim anti-Semitism by minimizing its root causes. ("The cops would say, if a synagogue went up in flames but nobody was hurt, 'it's a criminal act, not a hate crime.'")
Hate incidents ramped up with the Second Intifada in 2000. It was then that Ghozlan created the National Bureau for Vigilance Against Anti- Semitism (BNVCA French acronym) to record anti-Semitic attacks on synagogues, schools and public transportation (851 in 2014), which he distributed to reporters, police and concerned citizens.
Murders make the news, but pervasive low-level Muslim violence against Jews is barely registered. "If people leave religious objects — a kippa, tefillin — in a car, the car will be attacked," Ghozlan says. "Jewish homes find swastikas on their mailbox. White powder sent in envelopes." Hamas and Islamic State flags have been tolerated in demonstrations, where the cry of "kill the Jews" rings out without consequence. Jewish children in France believe it is normal for soldiers to guard their parochial schools, never having known it to be otherwise.
Ghozlan sees a "direct connection" with anti-Semitic violence and the left's obsessive anti-Zionism. Arabs and Africans would not be as bold in their anti-Semitism, he says, "if they didn't have the sense that they were encouraged by political movements and opinions in France that incited them to behave in this way." In the media, Israel and Israelis are portrayed as detestable, as Nazis. Consequently, Ghozlan asserts, "the French public doesn't care when the Jews get attacked," claiming that if in January, 2015, the Hyper-Cacher (kosher) market massacre of Jews had not been linked to the Charlie Hebdo massacre, it "would not have been a big deal in France."
Full report at:
http://nationalpost.com/opinion/barbara-kay-france-finally-admits-its-past-jew-hatred-what-about-the-present/wcm/90093a70-b7ae-49aa-9a45-1f548c8dc695
--------
Morocco Well Positioned to Mediate the Gulf Crisis
By Samir Bennis
July 25, 2017
Washington – King Salman's visit to Morocco beginning July 24 comes amid an unprecedented diplomatic crisis gripping the Gulf Cooperation Council (GCC). On June 5, Saudi Arabia, the United Arab Emirates, Bahrain, and Egypt decided to cut their diplomatic ties with Qatar. After a week of silence, Morocco announced it would remain neutral in the conflict and King Mohammed VI offered to mediate among the countries to ease tension and put an end to the crisis.
Shortly after declaring its neutrality, Morocco sent plane-loads of food supplies to Qatar to help it cope with the sea, land, and air blockade imposed by the Saudi-led alliance.
In the midst of this serious diplomatic rift affecting the region, many feared Morocco's move would strain its relations with Saudi Arabia and the United Arab Emirates (UAE). However, as noted in my earlier article analyzing Morocco's decision, relations between Morocco and its Gulf counterparts have historically been strong enough to weather Morocco's neutrality amid the crisis.
With King Salman's choice of Tangier as his favorite summer vacation spot in recent years, the Saudi King's decision to holiday in Morocco again this summer is a sign that relations between the two monarchies remain relatively unaffected by Morocco's position regarding the ongoing Gulf crisis.
Notwithstanding the negative reaction of some Saudi media that disparaged Morocco's decision not to side with Saudi Arabia in its feud with Qatar and aired reports questioning Morocco's sovereignty over the Western Sahara, relations between the two countries are solid.
Indeed, the bonds of fraternity between the two monarchies have evidently reached a level of maturity that resists misunderstandings or differences of political views.
By deciding not to side with Saudi Arabia, Morocco has positioned itself to be the means of last resort for the feuding members of the GCC in the event other ongoing mediation efforts to end their diplomatic crisis fail.
The mediation efforts undertaken thus far by the U.S. administration, Kuwait, and Turkey have fallen short of commencing negotiations and bringing to an end the blockade against Qatar.
By deciding not to side with any party in the ongoing crisis, Morocco has created space and credibility for itself vis-à-vis all the parties should they decide to use its good offices. While Morocco is not currently playing an active role in bringing the parties to the negotiating table, King Mohammed VI is certainly better positioned than Turkey's President Recep Tayeb Erdogan to help to ease tension and restore trust between the GCC leaders.
The strong fraternal relationship between King Mohammed VI and the leaders of Saudi Arabia, the United Arab Emirates, Qatar and Bahrain is one factor that places Morocco in a strategic position to act as a mediator. In the last sixty years since Morocco's independence in 1956, the monarchy have sought to cultivate and strengthen relations with Gulf monarchies, especially Saudi Arabia and the United Arab Emirates.
A unique characteristic of relations between Morocco and its GCC partners is that they are not dependent on the particular king or ruler leading each country. Relations have withstood the test of time and have outlived the reigns of several Saudi Kings, including King Faissal, King Fahd, and King Abdullah, as well as the reigns of Morocco's King Hassan II, and of Sheikh Zayed bin Sultan Al-Nahyan, the first ruler of the UAE.
The existence of personal relationships between Moroccan monarchs and their Gulf counterparts and the compatibility of their views on a range of regional and international issues have also rendered diplomatic relations among the countries virtually immune to any major diplomatic crisis. Such strong ties place King Mohammed VI in a better position than any other world leader to mediate the ongoing Gulf crisis.
A second factor that puts Morocco in a key position to mediate is its stance of neutrality since the breakout of the crisis. By remaining neutral, Morocco has maintained an equidistant approach to all the players, avoiding any claim that is has vested interests in siding with one camp to the detriment of the other. Instead, Morocco has demonstrated the importance to the region of settling grievances and opposing views through dialogue, consistent with Morocco's traditional approach to foreign policy of using mediation as a tool for conflict resolution. For example, in 2012 Morocco in cooperation with Spain launched an initiative for the "Promotion of Mediation in the region of Mediterranean," in the United Nations in New York, and hosted the UN-sponsored talks to end the military conflict in Libya.
By contrast, Turkey's President has since the beginning of the crisis supported Qatar in the dispute urging the parliament to ratify a military agreement with Qatar signed in 2015 and deploying more troops to the Turkish base in Doha. Having sided with one party in the crisis, Turkey's President does not have the requisite impartiality to engage in a mediation effort. Erdogan's visit to Saudi Arabia, Kuwait, and Qatar on July 23-24 therefore has only small chance of success, as it is unlikely that the Saudi-led bloc could regard him as a trusted and impartial mediator.
In addition, mediation efforts undertaken by Turkey are likely to be hampered by two other factors: Turkey's support for the Muslim Brotherhood and deterioration of Turkey's relations with Egypt, and strained relations between Turkey and the UAE, which has been accused by Turkish officials and media of being behind the failed military coup that sought to topple Erdogan in July 2016.
Although it is still too early to tell whether Morocco will play a significant role in resolving the Gulf crisis, King Salman's decision not to change his plans to spend the summer holiday in Tangier for the third year in a row, indicates that Morocco's neutrality has not dampened trust between the leaders of the two countries. King Salman's stay in Morocco might also offer a glimmer of hope that the Saudis could open the door to a full-fledged Moroccan mediation in the crisis. It would not be surprising also to see some of the leaders of the Saudi-led bloc visit King Salman during his stay in Tangier.
Full report at:
https://www.moroccoworldnews.com/2017/07/224360/morocco-well-positioned-to-mediate-the-gulf-crisis/
--------
South Asia
Afghan forces retake control of Kohistan from Taliban in Faryab
Jul 26 2017
The Afghan national defense and security forces have retaken the control of the district center of Kohistan in northern Faryab province.
According to the Afghan army officials in the North, the Afghan forces have also cleared at least seven villages located along the district from the presence of the Taliban insurgents.
A spokesman for the 209th Shaheen Corps of the Afghan national army Nasratullah Jamshedi said at least seventy personnel of the Afghan security forces who were caught in the siege were also rescued during the operation.
He said the Afghan commando forces were also deployed to the district to assist with the operation retaking Kohistan besides the security forces from the other districts were deployed to participate in the operation.
The Office of the Chief Executive confirmed the fall of the district into the hands of the Afghan security forces.
The anti-government armed militant groups have not commented regarding the report so far.
There are no reports regarding the possible casualties of the security personnel during the operation.
The Taliban militants captured the control of the district center of Kohistan on Monday after launching a coordinated attack, following days of heavy gun battle with the security forces.
http://www.khaama.com/afghan-forces-retake-control-of-kohistan-from-taliban-in-faryab-03228
--------
Karzai calls on Pakistan to abandon support to terrorism after deadly Lahore bombing
Jul 26 2017
The former Afghan President Hamid Karzai has called on Pakistan to abandon nurturing and supporting the terrorist groups after the deadly bombing Lahore city.
The Office of the former Afghan President in a statement said Karzai has expressed deep concerns regarding the casualties of the civilians and the terrorist attack in Lahore.
Calling the attack against the values of humanity and Islam, Karzai said Pakistan must abandon support to terrorist groups so that the region can live peacefully and specifically help Afghanistan and Pakistan to get rid of the menace of the terror.
He called on Pakistan to support Afghanistan and take honest steps to eliminate the menace of terrorism as he insisted on further improving relations with Pakistan.
Karzai further added that Pakistanis are the brothers of the Afghan people and the Afghan nation shares the grief and sorrows of the people of Pakistan.
The attack in Lahore city, the provincial capital of Lahore province of Pakistan left at least 26 dead and more than 50 others wounded.
The incident took place on Monday afternoon after a suicide bomber detonated his explosives near the security personnel.
The Taliban group in Pakistan, Tehrik-e-Taliban Pakistan claimed responsibility behind the deadly attack.
Full report at:
http://www.khaama.com/karzai-calls-on-pakistan-to-abandon-support-to-terrorism-after-deadly-lahore-bombing-03226
--------
Afghans hold funeral for Shia Muslims killed in Kabul
Jul 25, 2017
Mourners have held a mass funeral for dozens of victims from Shia Hazara Muslim community who were killed in a deadly car bomb attack a day earlier in the Afghan capital, Kabul.
A large number of people gathered for the funeral event in a Kabul neighborhood on Tuesday.
Over two dozen people were killed and more than 40 wounded on Monday after a Taliban-claimed car bomb attack struck a bus transporting government employees through a Shia neighborhood in Kabul.
The bus was struck as it passed through a busy area of the capital that is home to many Shia Hazara, a persecuted ethnic community.
Multiple bodies and wounded people in the street, surrounded by shattered glass as security forces cordoned off the area.
The bus's charred remains were left smoking in the middle of the road as the wounded were rushed to hospitals in ambulances as well as private cars and taxis.
"It was a huge explosion, my house nearly collapsed," AFP quoted a neighborhood resident who gave his name as Mostafa, adding that the street was "filled with human flesh and blood."
"It was horrible," said shopkeeper Momin, adding, "It is a crowded area, many of my friends and other shopkeepers are either killed or wounded."
Taliban claimed responsibility for the blast.
Monday's attack in Kabul came as the Hazara community had planned to hold a protest in the same neighborhood to mark the one-year anniversary of twin bombings that killed over 80 people in an attack claimed by the Takfiri Daesh terrorist group against the Shia community.
One year ago, a massive bomb blast killed at least 84 people, most of them Shia Hazaras, as they were holding a rally to demand better life conditions.
Also in mid-June, Takfiri terrorists killed several people and wounded several others in a bomb attack on a Shia mosque in Kabul. The casualties were caused after an assailant detonated his explosives when he was prevented from entering al-Zahra mosque in western Kabul. Daesh claimed responsibility for the attack.
In November, 2016, a bomber had blown himself up inside a Shia mosque in Kabul, killing at least 27 people and wounding dozens of others. The explosion happened at the Baqir-ul-uloom mosque in the Darul Aman area as people gathered for a religious ceremony.
Afghanistan is still suffering from insecurity and violence years after the US and its allies invaded the country in 2001 as part of Washington's so-called war on terror. The military invasion removed the Taliban from power, but militancy still rages on in the country.
Hazara Shia community remains constant target in Pakistan
Dozens of members of Hazara Shia Muslim community have been massacred by outlawed militants across Afghanistan and Pakistan over the past few days.
The latest attack on Shia Hazara community in the Afghan capital came days after heavily-armed gunmen riding on motorcycles shot dead at least four members of a Shia family and their driver in southwestern Pakistan.
The casualties were caused after gunmen sprayed bullets at the vehicle of the Hazara Shia family travelling to the southern port city of Karachi as they passed through Choto, a town about 40 kilometers (25 miles) south of the Balochistan provincial capital, Quetta.
Quetta, the largest city of Balochistan, has seen several bombings and shooting attacks over the past years. A large number of Shia Muslims have been killed in the attacks there.
Two militant attacks against the Shia Hazara community in Quetta killed nearly 200 people in early 2013.
It is believed that since the early 1990s until 2012, over 4,000 Pakistani Shias had been murdered in attacks, and at a pace which has rapidly accelerated in recent years.
Shias make up about one third of Pakistan's population of nearly 200 million.
Critics blame the Pakistani government and some elements within intelligence services for unwillingness to protect Shia Muslims and moderate Sunnis across the violence-wracked country.
International organizations and rights groups have urged the Pakistani government to take decisive action against the forces involved in the targeted killings.
Security has been a main issue for Shias since thousands of them have been killed as a result of militancy and hate attacks over the past decade.
Full report at:
http://www.presstv.ir/Detail/2017/07/25/529644/Shia-Muslims-Afghanistan-Pakistan-Hazara-Kabul-Quetta
--------
Dhaka protests blocking access to al-Aqsa Mosque
July 25, 2017
In the message, the Foreign Minister reiterated Bangladesh's commitment in realizing the inalienable rights of the brotherly people of Palestine for an independent homeland
Bangladesh has denounced the blocking of access to the al-Aqsa Mosque by the Israeli authorities.
Israel made the move on July 14 following a gun battle in the mosque compound that left three Palestinians and two Israeli police officer dead.
This was the first time Muslims could not hold the Friday prayer at the mosque, revered by both Muslims and Jews, in the last 50 years.
In a message to his Palestinian counterpart, Foreign Minister AH Mahmood Ali criticised the closure of the al-Aqsa Mosque, the banning of Friday prayer and imposition of other restrictions around al-Haram-al-Sharif by the Israeli authorities.
He also expressed deep condolences and sympathies to the victims.
In the message, the Bangladeshi minister reiterated Bangladesh's commitment in realising the inalienable rights of the brotherly people of Palestine for an independent homeland.
Full report at:
http://www.dhakatribune.com/bangladesh/foreign-affairs/2017/07/25/dhaka-protests-blocking-access-al-aqsa-mosque/
--------
US purchases five new ScanEagle drones for the Afghan forces
Jul 26 2017
The United States has awarded a Washington-based firm for the purchase and delivery of five new ScanleEagle drones for the Afghan national defense and security forces.
The Department of Defense in a statement said "Insitu Inc., Bingen, Washington, is being awarded $19,611,424 for firm-fixed-price delivery order N6833517F0079 against a previously issued basic ordering agreement (N68335-16-G-0046) in support of the government of the Islamic Republic of Afghanistan."
The statement further added that the order provides for the procurement of five ScanEagle Unmanned Aircraft Systems (UASs), spares, support equipment, field service representatives, operators to provide technical services, site surveys, site activations teams, and program management to sustain and operate the ScanEagle UASs within Afghanistan.
"Work will be performed in Afghanistan (95 percent); and Bingen, Washington (5 percent), and is expected to be completed in April 2018. Afghan Security Forces funding in the amount of $19,611,424 is being obligated on this award, none of which will expire at the end of the current fiscal year," the statement added.
This comes as efforts are underway by the Afghan government and the international allies of Afghanistan to increase the air power of the Afghan security forces.
The commander of the United States Central Command General Joseph L. Votel requested the US Congress to approve the budget for the Afghan forces Blackhawk program.
Full report at:
http://www.khaama.com/us-purchases-five-new-scaneagle-drones-for-the-afghan-forces-03227
--------
New deadly clashes reported among ISIS militants and Afghan forces
Jul 25 2017
New deadly clashes have been reported among the ISIS militants and Afghan security forces a day after scores of militants were killed along with the civilians during the similar clashes.
According to the local officials in Nangarhar, the new clashes took place in the vicinity of Haska Mina district on Monday afternoon, a day after the ISIS militants ambushed the security personnel in the same area using civilians and funeral participants as human shield.
The provincial government media office in a statement also confirmed the latest clashes and said at least 23 ISIS militants were killed as a result.
The statement further added that the latest clashes took place in Gagari and Camp Payeen areas of Haska Mina.
At least two ISIS militants were also arrested during the operations, the provincial government said, adding that the operations were conducted with the support of the airpower.
The provincial government also added that two personnel of the special security forces also lost their lives and four others were wounded.
Full report at:
http://www.khaama.com/new-deadly-clashes-reported-among-isis-militants-and-afghan-forces-03225
--------
Arab World
S Arabia, allies unveil Qatar 'terrorist' blacklist
Jul 26, 2017
RIYADH - Saudi Arabia and its allies unveiled a "terrorist" blacklist on Tuesday of 18 organisations and individuals suspected of links with extremism that they said had ties with regional rival Qatar.
The move by the four Arab governments came despite mounting international pressure to compromise in their weeks-old boycott of their fellow US ally.
Saudi Arabia, the United Arab Emirates, Bahrain and Egypt last month released a list of 59 people and 12 groups they alleged had links to Qatar, accused by the four states of ties to extremist groups in the region. Qatar has denied the allegations. Tuesday's list blacklisted nine charity and media organisations and nine individuals "directly or indirectly linked to Qatari authorities" as "terrorist", read a joint statement released by the four states. "We expect Qatari authorities to take the next step and prosecute the terrorist groups and people," the statement said. "The four countries and their international partners will ensure that Qatar has ceased its support and funding of terrorism, has stopped welcoming terrorists and has stopped spreading extremist and hate speech," it added. The Saudi-led bloc, which now blacklists 89 persons and organisations accused of ties to Islamist groups they say are backed by Qatar, also dismissed an amendment last week to Doha's counter-terrorism law as "insufficient".
Saudi Arabia and its allies have been boycotting Qatar since June 5 in the region's worst diplomatic crisis in years.
They sealed the emirate's only land border, ordered its citizens to leave and closed their airspace and waters to Qatari flights and shipping.
They demanded that Qatar break its longstanding ties with the Muslim Brotherhood, blacklisted as a "terror group" by the four governments although not by the international community.
They also demanded that it close broadcasting giant Al-Jazeera and a Turkish military base, and fall in line with Saudi-led policy in the region, particularly towards Iran.
Qatar has dismissed the demands as a violation of its sovereignty and has received significant support from its ally Turkey.
US Secretary of State Rex Tillerson, who last week spent four days in the region trying to broker a settlement of the crisis, has voiced satisfaction with Qatar's efforts to address any suspicion of terror funding.
The four governments on Tuesday blacklisted three organisations based in Yemen and six based in Libya accusing them of ties to Al-Qaeda.
Meanwhile, Turkish President Tayyip Erdogan on Tuesday described his trip to the Gulf to deal with the Qatar crisis as "productive and successful", following two days of talks that appeared to yield no immediate progress towards healing the rift.
"The visits on the Gulf tour were productive and successful," Erdogan told lawmakers from his ruling AK Party at a parliamentary meeting.
"The contacts we have made during this visit have been useful, and we will continue our efforts for the stability and peace of the region with increasing determination."
Erdogan left Qatar on Monday after two days in the Gulf trying to mediate in the worst row among Arab states for years but there was no sign he had made any progress. Turkey has been Qatar's most powerful ally in the dispute.
A senior Turkish official said the results of the trip would take time to become apparent. "The role Saudi Arabia will take in resolving the issue is vital," said the official, who spoke on condition of anonymity.
"We will see that there have been advancements in some critical issues," he said. "We may see more concrete developments on these in the coming period.
http://nation.com.pk/international/26-Jul-2017/s-arabia-allies-unveil-qatar-terrorist-blacklist
--------
Egypt military says 40 militants killed in campaign
25 July 2017
Egypt's military said on Tuesday it has killed more than 40 extremists in a wide-ranging campaign in the Sinai Peninsula where ISIS has been waging a deadly insurgency.
The announcement came a day after seven civilians were killed in a foiled attack on a checkpoint with an explosives-laden car.
An army tank had intercepted the vehicle and driven over it, almost flattening it, before the explosives went off, according to a video released by the army.
ISIS has waged deadly attacks on the military and police, most recently on a checkpoint in Sinai on July 7 that killed at least 21 soldiers.
But the military, which killed the leader of the group's affiliate in Egypt last year, says it is closing in on the extremists.
It said in a statement on Tuesday that "40 extremists" have been killed in the week-long campaign against the militants.
A military source told AFP that soldiers were staying put in locations they cleared of the militants, rather than withdrawing as in past campaigns.
"After storming terrorist hideouts, the soldiers are staying there," the source, who requested anonymity, told AFP.
"The terrorist elements are fleeing and leaving their weapons behind," he added.
Extremists launched an insurgency in Sinai after the military overthrew the divisive Islamist president Mohamed Morsi in 2013.
They have maintained a steady war of attrition with sniper attacks and roadside bombings.
Full report at:
https://english.alarabiya.net/en/News/middle-east/2017/07/25/Egypt-military-says-40-militants-killed-in-campaign.html
--------
Syria: Hundreds of Ahrar Terrorists Retreat from Idlib towards Aleppo Province
Jul 25, 2017
The Arabic-Language Anab al-Baladi news network reported that 400 members of Ahrar al-Sham have thus far arrived in the border town of Jarabulus in Northeastern Aleppo after retreating from their positions in Idlib.
In the meantime, Spokesman for Ahrar al-Sham Omar al-Khatab pointed to the arrival of a number of Ahrar militants in Jarabulus and said that more militants will be relocated to al-Ghab plain and Jabal al-Zaviyeh regions in Hama province.
Reports said the Al-Nusra Front (Tahrir al-Sham Hay'at or the Levant Liberation Board) has managed to impose control over most border regions with Turkey from Atmah to Bab al-Hawa border passage, Harm and from Salqin to Khirbet al-Jowz passageway and al-Za'einiyeh region.
Relevant reports said on Monday that Al-Nusra Front ultimately pushed Ahrar al-Sham back from Idlib city after weeks of bloody clashes in Northwestern Syria.
The Arabic-language al-Mayadeen news network quoted informed sources affiliated to the terrorist groups as saying that Tahrir al-Sham gained full control over Idlib city and has driven the entire members of Ahrar al-Sham out of the city.
The network added that regardless of the ceasefire, fierce clashes between Al-Nusra and Ahrar al-Sham are underway to take control of passageways and command centers.
Full report at:
http://en.farsnews.com/newstext.aspx?nn=13960503001153
--------
Syria: Saudi Commander of ISIL Killed in Popular Uprising in Deir Ezzur
Jul 25, 2017
The sources said a group of residents in the towns of Hajin and al-Ba'akan stormed ISIL terrorists' vehicles in the towns' passageways.
At least nine terrorists were killed in bomb attack by people on three ISIL vehicles, the sources added.
The sources also said that Jeihan Abu Hamzeh, one of the emirs of ISIL that was responsible for procurement of arms and ammunition in Deir Ezzur's airbase, was killed in the attack.
In relevant developments in the province on Monday, the army units stormed ISIL's defense lines in the village of Bu Omar in the Eastern countryside of Deir Ezzur, killing a number of terrorists, including Khaled Nasser, a senior field commander.
The army men also hit ISIL's concentration centers hard in the Southern and Southwestern outskirts of the city and in areas around Deir Ezzur airbase, inflicting major damage on the militants' equipment.
Full report at:
http://en.farsnews.com/newstext.aspx?nn=13960503001397
--------
Syrian Army's Rapid Advances against Terrorists Thwart US Plot in Raqqa
Jul 25, 2017
The sources said that the army soldiers imposed control over the villages of Shenan and al-Akereshi after seizing back the village of Dalheh South-East of Raqqa province.
The sources further said that the army will soon take control over Wadi al-Forat region near Raqqa and underscored that the town of Ma'aden at the Raqqa-Deir Ezzur border is the main objective of the army men that are moving from the town of al-Rasafeh towards Ma'aden region.
The sources underscored that Ma'adan is the last ISIL bastion in Raqqa province, adding that capturing Ma'aden will pave the way for the liberation of all the villages on the Southern bank of the Euphrates River in Western Deir Ezzur and will ultimately kill any chance for the US-backed Kurdish-led Syrian Democratic Forces in the region.
Relevant reports said on Monday that the army men deployed in al-Sabkhawi region stormed ISIL's positions and drove them out of the village of al-Salam al-Alaykom and its surrounding regions.
The ISIL suffered heavy casualties and its military hardware sustained major damage in the attack.
The army men are to end ISIL's presence in Raqqa and move towards Deir Ezzur.
http://en.farsnews.com/newstext.aspx?nn=13960503001071
--------
Hezbollah Troops Score More Victories against Terrorists at Lebanon-Syria Border
Jul 25, 2017
The resistance forces clashed fiercely with Al-Nusr and took control over the heights and positons of Wadi Komeil, Wadi Hamoudi, Maka'ah al-Feran, al-Bider, Sho'abat al-Nahleh and Wadi Zalil al-Barak.
The Hezbollah forces also fortified their positions in areas surrounding al-Malahi region.
According to some field reports, negotiations are underway for the surrender of Al-Nusra's Commander in Arsal heights Abu Malik al-Tali.
The General Command of the Resistance Operation in Lebanon confirmed earlier today that the Lebanese Hezbollah fighters' war on Al-Nusra Front (Tahrir al-Sham Hay'at or the Levant Liberation Board) in Arsal heights is on verge of ending after inflicting major losses on the terrorists in the last couple of days.
The General Command said that the Hezbollah combatants continued their operation in Arsal heights at Lebanon-Syria border on the fourth day of operation and drove Al-Nusra out of 80 percent of the heights.
The general command further said that his forces have seized control of Al-Nusra's operation room in Haqab al-Kheil height that was under the command of Abu Malik al-Tali, adding that Hezbollah fighters destroyed the telecommunication system of Al-Nusra in Arsal.
Full report at:
http://en.farsnews.com/newstext.aspx?nn=13960503001014
--------
Russian Warplanes Bomb Heavily ISIL's Defense Lines in Syria's Hama
Jul 25, 2017
The fighter jets targeted ISIL's movements in Qastal gas field in Eastern Hama, destroying a missile Launchpad and killing a number of terrorists.
In the meantime, the Syrian Army troops, backed up by the Syrian and Russian fighter jets, clashed fiercely with terrorists in several areas in Aqayrabat region, killing or wounding a number of terrorists.
Relevant reports said on Monday that the Russian and Syrian fighter jets carried out several combat flights over ISIL's defense lines and movements in Eastern Hama to provide aerial back up for the Syrian government troops that are moving towards Deir Ezzur.
The warplanes launched heavy airstrikes on ISIL's positions in the villages of Qalib al-Thor, Abu Hanaya, Salba, Mas'oud, Abu Habibat and al-Hardaneh, killing tens of terrorists and destroying their military equipment.
In the meantime, the Syrian Army soldiers engaged in fierce clashes with ISIL near the town of Aqayrabat.
Full report at:
http://en.farsnews.com/newstext.aspx?nn=13960503001179
--------
Gov't Troops on Verge of Full Liberation of Southeastern Raqqa
Jul 25, 2017
The army soldiers deployed in al-Boshra mountain engaged in fierce clashes with ISIL in the Southern part of Badiyeh (desert) al-Sham and imposed control over most heights along the banks of the Euphrates River.
In the meantime, the army units entered the village of Shanan in a region between the towns of al-Akireshi and Ma'adan along the Raqqa-Deir Ezzur.
The army men also laid siege on the town of Ma'adan that is the last ISIL stronghold South-East of Raqqa province.
The army units also pushed ISIL back from the village of al-Dalheh after hours of non-stop clashes with ISIL.
In the meantime, the Syrian Air Force pounded ISIL's positions in Ma'adan, Zour Shemr and al-Khamissiyeh regions to open way for the ground forces towards Deri Ezzur.
Relevant reports said on Monday that the army men deployed in al-Sabkhawi region stormed ISIL's positions and drove them out of the village of al-Salam al-Alaykom and its surrounding regions.
Full report at:
The army men are to end ISIL's presence in Raqqa and move towards Deir Ezzur.
http://en.farsnews.com/newstext.aspx?nn=13960503000923
--------
Syria: US Army Provides Kurdish SDF with Several Modern Drones
Jul 25, 2017
"The US-led Coalition has supplied commercial drones to the SDF," the spokesperson wrote in an email.
"These types of systems are effective in local reconnaissance and aide in the targeting of ISIL fighters and the protection of non-combatants," the Coalition spokesperson went on to say.
The Kurdish forces have used reconnaissance drones in the past, including at the battle of Kobani in early 2015; however, this is the first time that the US has supplied their forces with high-tech equipment like the quadcopter.
Footage Saturday surfaced online depicting flatbed tracks laden with American armored military vehicles passing through Syria, with conflicting commentary claiming that the materiel was bound for use by either US-backed Syrian militant groups or US troops themselves fighting ISIL in Raqqa city.
The photos and videos were uploaded by Syrian Kurdish activists who are known affiliates of the SDF .
The vehicles included Mine-Resistant Ambush Protected (MRAP) vehicles, Mine-Resistant All Terrain Vehicles (M-ATVs) and armored bulldozers, the report said.
The weapons were mounted on the backs of flatbed trucks and were filmed passing through Qamishli, 170 miles Northeast of Raqqa city, it added.
All three vehicle types were previously mentioned in Pentagon reports as assets being supplied to SDF fighters.
"Up-armored vehicles have been delivered to the SDF and (Syrian Arab Coalition) as part of our existing authorities to enable them," a spokesperson for US operations in Syria told Task & Purpose.
"Specifically, these vehicles will help them contend with the ISIL terrorists' IED threat in their current operation, and as they move to isolate (Raqqa)."
Mine-resistant vehicles are deployed against areas known to hide improvised explosive devices, which are a major danger to American soldiers riding in armored vehicles. At least half of all US casualties in Iraq and Afghanistan have been attributed to IEDs.
However, the spokesperson went on to tell Task & Purpose that MRAPs and M-ATVs were "not part of the package that is divested to the SDF." The Military Times noted that the M-ATVs were mounted with Common Remotely Operated Weapon Station (CROWs) systems, which allow for operators to fire the M-ATV's mounted.50 cal machine gun without exposing themselves to enemy fire. CROWS systems also weren't provided to SDF fighters.
Instead, the vehicles "are for use by the Coalition to protect our forces from IEDs." In other words, the Pentagon claims these armored vehicles are for use by Western operators, not SDF militants.
Under the Trump administration, there has been an uptick in American support for the SDF, a coalition of various militias.
Since June, the SDF have besieged Raqqa, ISIL's final stronghold in Syria. Although ISIL has mounted intense resistance, the SDF has encircled the city and is slowly but surely gaining ground. The deeper the SDF go into the city, however, the stiffer the defenses they find awaiting them.
"The SDF has reportedly encountered intensified resistance and 'better-emplaced defenses' over the past four weeks following initial rapid gains in districts on the outskirts of (Raqqa)," read a new report from the Institute for the Study of War.
Although the US support for SDF operations is common knowledge, the Pentagon has been very cagey about providing details of American operations. They only directly confirmed the presence of US advisers in Raqqa five weeks into the siege, for instance.
Full report at:
http://en.farsnews.com/newstext.aspx?nn=13960503000825
--------
Video shows Egyptian soldier foiling car bomb using army tank in Sinai
25 July 2017
Seven civilians were killed when a vehicle laden with explosives detonated near an army checkpoint in Egypt's North Sinai after it was run over by an army tank aiming to stop the attack.
Video footage posted by the Egyptian army showed a 4x4 car suspiciously stop near an army check point. An Egyptian soldier who noted the car's presence drove his army tank over the vehicle to foil the imminent attack.
The laden vehicle later exploded near the army base killing seven victims including three men, two women and two children, who "happened to be in the area in front of the ambush during the blast," the statement added, without saying when the incident happened.
Civilian cars and commercial trucks were lined up to pass the checkpoint at the time of the foiled attack.
"The explosion was large, carrying about 100 kilograms of high explosives," an army spokesman said in the statement.
Full report at:
https://english.alarabiya.net/en/News/middle-east/2017/07/25/Seven-killed-by-car-bomb-in-north-Sinai-Egypt-army-.html
--------
UAE-linked channel to release documentary on Qatar's role behind 9/11
Jul 25, 2017
A media outlet linked to the Emirati ruling Dynasty reportedly plans to release a documentary which claims that Qatar was behind the 9/11 attacks, amid the widening rift among the Persian Gulf Arab kingdoms.
According to a report by Gulf News, Sky News Arabia, owned by Abu Dhabi royal family member Mansour bin Zayed Al Nahyan, is scheduled to air the documentary titled "Qatar… The Road to Manhattan" on Wednesday.
The documentary focuses on a visit by 9/11 mastermind Khalid Sheikh Mohammad to Qatar in 1996 as well as "Qatar's long-term support for him, including protection and financial assistance, to achieve his terrorist goals and plans," the report said.
In a June 18 Wall Street Journal opinion piece, Qatari Ambassador to the United States Sheikh Meshal bin Hamad Al Thani made the same accusation against the UAE.
"Emiratis, not Qataris, were among the hijackers who flew planes into the Twin Towers,'' he wrote.
"The UAE was singled out in the 9/11 Commission's report for its role in laundering money to terrorists," the Qatari diplomat added.
Out of the 19 hijackers in 9/11 attacks, none were Qatari nationals. Two of them were from the UAE and 15 were Saudis. Osama bin Laden was born and raised in Saudi Arabia and Khalid Sheikh Mohammad is Pakistani.
The reports that a high-ranking Qatari minister shielded Khalid Sheikh Mohammad from the CIA in 1996 are not new. However, they are being repeated amid widening disputes between leading Arab states and Qatar after Saudi Arabia, the United Arab Emirates (UAE), Bahrain, and Egypt broke off diplomatic ties with Qatar on June 5, accusing Doha of supporting terrorism.
The four Arab countries also suspended all land, air, and sea traffic with Qatar. Doha has denied the accusations and has refused to meet a list of demands forwarded to it by the boycotting countries. The list, among other things, asked Qatar to close down Al Jazeera television, curb ties with Iran and shut down a Turkish military base.
Apart from the Kuwaiti Emir and Turkish president, US Secretary of State Rex Tillerson and representatives from Europe have toured the region in recent weeks in a bid to soothe the tensions between the Arab states in the Persian Gulf, all to no avail.
Full report at:
http://www.presstv.ir/Detail/2017/07/25/529661/Qatar-UAE-911
--------
Africa
Kenya Steps Up the War Against al Shabaab Before Its Elections
MUHAMMAD FRASER-RAHIM
07.26.17
SHELA, Kenya—Against the backdrop of untainted white beaches on the Indian Ocean and the regal beach houses here that mix Omani, Indian, and Swahili architecture, live mortars arched across the Kenyan night skies. Unsuspecting tourists could have mistaken them for shooting stars. But they kept on coming. One after another, like fireworks.
This was another naval exercise by the Kenyan Defense Forces (KDF) conducted earlier this month, on the night of July 9, at the start of the tourist season on Lamu Island—and just weeks before Kenya's elections.
The show of force went on for an hour, alternating between live mortars and storms of gunshots as a response to the brutal and indiscriminate beheadings and killings of innocent civilians by al Shabaab, an al Qaeda affiliate in nearby Somalia, just a few days earlier.
Lamu and neighboring islands are a part of the Swahili Coast facing the Indian Ocean in eastern Kenya. Culturally, the region is distinct from the rest of Kenya, influenced by trade with the Arabian Peninsula, the Indian subcontinent, and even China. The population descends from five or six original families who have been on the islands for the past 400 years. Most practice Sunni Islam with centuries of Sufi spirituality, historically mainstream Kenyan Islam, with an emphasis on peaceful coexistence with all members of Kenyan society.
Modern-day Lamu County is comprised of two parts: Mainland and the Islands. The major islands are Shela, Lamu Island ("Lamu Town"), and Manda. Tourism, primarily from Europe, makes up most of the economy. A new port in Lamu Town is projected to surpass Mombasa as Kenya's largest, which may not help tourism but ought to bring jobs and a much-needed lifeline to citizens affected by al Shabaab's merciless attacks near the border.
The KDF Navy base where the live exercises took place is on Shela, which is a popular destination with tourists and long-term expatriates. Our time in Lamu was part of an original field study looking at how Muslim populations in the Horn of Africa themselves perceive the threat of al Shabaab.
To our surprise, local Swahili communities and tourist managers were notified of the exercise merely three hours ahead of time, leaving little time to know whether this was a live battle with al Shabaab militants or an exercise. The result was not only to heighten fear of the militants, but to deepen mistrust of the government, making the job of those trying to push back against extremism all the more difficult.
The July 9 live exercise came at a key moment. A couple of days earlier, al Shabaab had attacked a police station on the Mainland and planted an IED underground. The next day, al Shabaab followed up the violence with the beheading of nine civilians in the little village of Jima on the Mainland, a gruesome tactic that surprised even the locals, who have been living with the al Shabaab threat and subsequent military actions for the past four years.
Al-Shabaab, "the Youth" in Arabic, was formed in 2006 and has since held and governed territories in various parts of Somalia. The group has connections to both al Qaeda and the so-called Islamic State. Al Shabaab's goal is to form a utopian Islamist society reminiscent of various East African Islamic Sultanates, such as the 10th century Kilwa Sultanate in the Horn of Africa. Al Shabaab began attacking Kenya in 2011 after the KDF went into Somalia to fight against al Shabaab on its home turf. The KDF also gives support to the African Union Mission to Somalia (AMISOM), which has been in the country since 2007 with limited success.
Many in Lamu have been against al Shabaab from the start. They see it as a collection of violent extremists who believe in a narrow, rigid, and legalistic interpretation of Islam, but also an organization with which some resonance among the younger generation who see al Shabaab as stating plainly their own concerns in the modern age.
Al Shabaab's version of Islam and its extremist allies globally have proselytized over the past half century with generous financial resources and unchecked ideological campaigning, making it a formidable force against which governments and local communities find it difficult to marshal countermeasures.
Overall, the people of the Swahili coast are religious, with most children attending Quranic schools in Arabic in addition to formal public schools. The island is home to a diverse array of mosques, ranging from Shia to Sufi and everything in between, and to an annual festival celebrating the birthday of the Prophet Muhammad. The festival, considered blasphemous by al Shabaab, brings thousands to Lamu. Yet it remains a fertile recruiting ground for extremists, lying only 174 miles away from the porous Somali border, and with the lawless Boni Forest in-between.
The appeal of al Shabaab is growing, especially in light of the KDF human rights violations , and the precipitous decline in tourism for the entire Lamu County. KDF allegedly carries out extrajudicial killings, many of which appear to be well documented, and subsequently labels them as the work of al Shabaab fighters. The KDF also stands accused of labeling petty crime as al Shabaab attacks to get more resources and funding from the United States. Rumors of disappearances, whether real or not, of suspected "al Shabaab fighters and supporters" are rampant. Some were well-known political activists and opponents.
In the midst of clashes between al Shabaab and the KDF, civilians are caught in the middle and have suffered the economic consequences. While attacks have been limited to the mainland and have not affected the islands, the optics have discouraged visitors. For four years in a row, tourism has been hit hard by travel warnings issued by the European Union and British governments. Hotel occupancy rates have plummeted, according to Swahili tourism managers.
When the travel warning was finally lifted in 2017, the locals breathed a sigh of relief, as tourists started to trickle back. They were looking forward to the peak season from late July to early September. But with the recent beheadings committed by al Shabaab, the locals fear that the travel warning will be reinstated. Already, the Kenyan government put in place a 6:30 PM curfew starting July 10th, effective for 90 days for all of Lamu County except the islands.
"Most tourists can't distinguish between Lamu Mainland and Islands. They hear Lamu and think that it is all dangerous, even if we have not had a single attack on the islands," lamented a Swahili tourism manager on Shela.
A commonly held belief is that the Kenyan government unnecessarily puts in these measures to collectively punish Lamu, as it sees all Muslims as enemies. Locals point to the lack of Muslims within the ranks of the national security apparatus and military. All the local grievances have taken their toll. Among the Swahili communities, there are rumors that since the beginning of 2017, a few Swahilis have joined al-Shabaab, but there has not been any official confirmation from authorities. Al Shabaab itself has exploited the growing rift between the locals and the government.
Rather than presenting itself as a strictly ideological group, it has re-branded in these parts as a rebel group fighting against the resented and corrupt Kenyan government. It has taken advantage of the local perception that the Kenyan government and politicians can be bought, even when it harms the interest of the people and the country. Al Shabaab also portrays the U.S. as a cash cow for the KDF, easily manipulated and blindly zealous in its global war on terrorism. Local confidence in the U.S. and Kenyan response to this security threat has decreased dramatically.
"It's like we have to choose between security and livelihoods," said one local, reflecting a very common view. "We don't want al Shabaab to be here, but at the same time, the other option is the Kenyan government, who hates all Muslims, even if we are moderate. We are caught in between two equally bad options."
The security of Lamu and the coast is increasingly significant in the broader context. The Horn of Africa could be key for Salafist-jihadist terrorist groups like al Shabaab and the Islamic State. As they are squeezed out of the spaces they have occupied in the Middle East and some parts of North Africa, they are eying countries such as Somalia, Djibouti—and Kenya—as their next havens.
Already, Kenya has seen more than its fair share of al Shabaab related terrorism. The assault on Nairobi's Westgate shopping mall in 2013 slaughtered at least 67 innocent people; in 2015, 147 people died in a massacre at Garissa University.
Already, Kenyans have traveled to Libya to join the so-called Islamic State, and some 900 Kenyans currently serve in the the ranks of al Shabaab, according to senior Kenyan intelligence officials. For the first time ever this year a bomb that was used in an attack in Kenya reportedly was constructed within the country, rather than smuggled in from Somalia.
As the draw of extremism grows and battle-hardened fighters return to Kenya, the danger will increase. And while Kenya has thus far been spared the kind of "lone wolf" attacks that have wrought so much carnage in European cities like Manchester and Nice, Kenyan authorities say they are preparing for those as well.
"The security situation is becoming more precarious," says a senior-level security official. "Kenya could turn into a terrorist haven if we do not start preventing violent extremism and inoculating Kenyans against violent ideologies."
As the world has learned, that is much easier said than done.
http://www.thedailybeast.com/kenya-steps-up-the-war-against-al-shabaab-before-its-elections
--------
Islamic extremists kill 5 in Burkina Faso's north
July 25, 2017
OUAGADOUGOU, Burkina Faso — Burkina Faso's government says suspected jihadis have killed at least five people in three different villages in the country's volatile north.
Residents of Sibe, Neyda and Ndidja said Tuesday that armed members of local Islamic extremist group Ansaroul Islam attacked Monday on motorbikes.
The military says it has deployed troops to secure the area.
Landlocked Burkina Faso's remote northern Sahel region bordering Niger and Mali has recently become the target of increased Islamic extremist attacks. The area is home to Islamic preacher Ibrahim Malam Dicko, whose Ansarul Islam group is now considered a terrorist group by Burkina Faso's government.
The military says it is withdrawing its battalion from Sudan to redeploy along its border with Mali to fight extremists. The first group of the soldiers arrived last week.
Full report at:
https://www.washingtonpost.com/world/africa/islamic-extremists-kill-5-in-burkina-fasos-north/2017/07/25/8d18f7b6-715b-11e7-8c17-533c52b2f014_story.html?utm_term=.6fbeaf2e1836
--------
South Africa: Timol Would Never Have Committed Suicide, Pahad Tells Inquest
25 JULY 2017
Anti-apartheid activist Ahmed Timol would never have committed suicide, former minister in the presidency Essop Pahad told the North Gauteng High Court in Pretoria on Tuesday.
Pahad was testifying at the second sitting of the Ahmed Timol inquest, before Judge Billy Mothle.
"Committing suicide was not, and has never been, the policy of the SACP [South African Communist Party] or the ANC. In our last discussion, we agreed that Ahmed should not commit suicide," Pahad told the inquest.
Timol's death, on October 27, 1971, was ruled a suicide in 1972.
However, a private investigation commissioned by his family uncovered new evidence which was presented to the National Prosecuting Authority, and the inquest was reopened.
His loved ones refuse to believe that he had jumped from the 10th floor of John Vorster Square (now called Johannesburg Central Police Station) while being interrogated by security police.
Pahad said Timol was one of his best friends. He added that Timol was recruited into the SACP's underground unit in London by Dr Yusuf Dadoo.
He was later sent back to SA where he was involved in the reproduction and distribution of material that was sent to him from London.
'Breaking under torture not an act to treachery'
Pahad said that Islam prohibited suicide, and that Timol was a Muslim.
"It is my understanding that if Muslim people commit suicide they cannot be buried in a Muslim burial ground. In my view, Ahmed would not have committed suicide for this reason..."
Pahad said he told Timol that, should he be arrested, breaking under torture was not an "act to treachery and may be unavoidable. It is likely to happen, but he should try his best not to give away the names of others."
Since the inquest began, several witnesses have told the court that they believe Timol was pushed out of the building.
Earlier on Tuesday, trauma surgeon Professor Kenneth Bofford, who studied the post mortem, said nothing could have been done to prevent Timol from dying.
Bofford said Timol had sustained serious injuries to his neck and spine.
Full report at:
http://allafrica.com/stories/201707251079.html
--------
Abdulsalami Abubakar urges islamic scholars to proffer solutions to Nigeria's problems
By Seun Opejobi
July 25, 2017
Former Head of State, Gen. Abdulsalami Abubakar, has called on Islamic scholars to provide workable solutions to the several problems confronting Nigeria.
He gave the call while declaring open the 2nd Annual International Conference with the theme, "Islam, Social Justice and Sustainable Development in Nigeria" organised by the faculty of Islamic Studies, Nasarawa State University in Keffi area of Nasarawa state.
Represented by the onetime Minister of Finance, Alhaji Ismail Usman, Abubakar also called for collective efforts and public engagement of religion and theology in order to address the nation's social injustice.
According to Abubakar, "Religion should be one of the vehicles to be used in entrenching unity in diversity as it launches man in to wide horizons of truth and goodness acquainting him with God and the rest of the universe.
"We should struggle to keep Nigeria one and to a large extent, promote its unity and oneness regardless of our ethno-cultural and religious diversity.
"Therefore whatever is morally justified to keep Nigeria together as one indivisible and indissoluble nation such as the theme of this significant conference is cherished and embraced.
"This conference should, therefore, ensure that that issues on social justice and sustainable development as enunciated in the glorious Qur'an and Sunnah that will move Nigeria forward are brought to lime light.
Full report at:
http://dailypost.ng/2017/07/25/abdulsalami-abubakar-urges-islamic-scholars-proffer-solutions-nigerias-problems/
--------
North America
American Muslims growing more liberal, survey shows
By Daniel Burke
July 26, 2017
American Muslims are growing more religiously and socially liberal, with the number who say society should accept homosexuality nearly doubling during the past decade, according to a major new survey.
American Muslims are also more likely to identify as political liberals and believe there are multiple ways to interpret the teachings of Islam, the survey found.
Conducted by the Pew Research Center, the survey of 1,001 American Muslims depicts a community in tumult, with the vast majority disapproving of President Donald Trump and worrying about the direction of the country. Even so, many remain hopeful about their future in the United States, the survey found, despite persistent anxiety about Islamic extremism and religious discrimination.
The wide-ranging survey, which was released on Wednesday, uncovers a range of opinions on everything from religious practices and politics to terrorism and social values. In addition, Pew found that the American Muslim population has been rising steadily for a decade, adding about 100,000 people per year. An estimated 3.35 million Muslims now live in the United States, just 1% of the overall population.
The survey interviews were conducted in English, as well as Arabic, Farsi and Urdu, between January 23 and May 2, 2017. The average margin of error is plus or minus 5.8 percentage points.
Some of the study's findings won't surprise people paying attention during the acrimonious 2016 presidential election, in which Trump repeatedly cast suspicion on American Muslims. Of the 44% of American Muslims who voted in the election, nearly 8 in 10 voted for Democrat Hillary Clinton. Just 8% voted for Trump.
The survey, conducted in the days and months following Trump's inauguration, potrays a Muslim community still largely wary of the President. Nearly 7 in 10 say Trump makes them feel worried, and 45% say he makes them angry. Nearly three in four Muslims say Trump is "unfriendly" toward members of their faith, and nearly two-thirds are dissatisfied with the direction of the country.
That's a stark contrast from 2011, when Barack Obama was President. Then, 64% of Muslim-Americans told Pew researchers that Obama was friendly toward Muslims and more than half were satisfied with the direction of the country.
Attitudes toward homosexuality
But the study's most significant findings may be religious and social, not political.
In 2007, just 27% of American Muslims said society should approve of homosexuality. This year, more than half (52%) said the same, a leap that surprised even scholars who study Islam in America. Likewise, 10 years ago, 57% of American Muslims said there is more than one way to interpret Islamic teachings. In 2017, 64% agreed.
American Muslims were also slightly more likely to identify as politically liberal (30% now vs. 24% in 2007). Nearly two-thirds identify as Democrats and a similar number believe in a bigger government that provides a host of services.
Asked about the essentials of the faith, an overwhelming percentage of Muslims, like Christians, said believing in God was most important. But issues like working for social justice (69%) and protecting the environment (62%) also scored high in the list of essentials for American Muslims.
There's some debate among scholars about whether American Muslims' increasing liberalism on issues like homosexuality is the result of recent immigrants' assimilation to mainstream American values or the rise of native-born millennials, who, like their non-Muslim peers, are more tolerant of the LGBT community.
But while millennial Muslims are more likely than foreign-born Muslims to say homosexuality should be accepted (60% vs. 49%), both groups saw an increase of more than 20 percentage points in the last decade, Pew found.
After a Muslim-American shot and killed 49 people at a gay nightclub in Orlando last year, American Muslims were forced to come to terms with gays and lesbians in their mosques and families, prompting conversations about homosexuality and Islamic teachings, said Zareena Grewal, who studies the American Muslim experience at Yale University.
"After the Pulse shooting, Muslims were coming out of the closet across the United States, and the Muslim community, in public and private, was grappling with the issue in a much more honest way," Grewal said.
But Ihsan Bagby, a professor of Islamic history at the University of Kentucky, cautioned about over-interpreting Muslim attitudes on homosexuality, saying many Muslims may be simply signaling support for another group often maligned in America.
"The struggle of the LGBT community has been very similar to the struggle of Muslims, and in fact the LGBT community has been very supportive of Muslims," Bagby said. But even while aligning politically, many Muslim organizations would not accept homosexualtity as an "acceptable lifestyle for Muslims," the scholar said.
A gender gap
The study uncovered a significant gender gap in the way Muslim-American men and women perceive discrimination and the country's direction.
Muslim women are more likely than men to say it is harder to be a Muslim in the United States today (57% vs. 43%); much more likely to say Trump angers them (54% to 37%); and significantly less likely to believe that Americans are friendly towards Muslims (44% vs. 65%).
That's probably because American Muslim women, particularly those who wear a hijab, are more readily recognized as Muslims and thus potentially subject to discrimination, experts said.
According to the Pew study, two-thirds of Muslim-Americans whose appearance is identifiably Muslim report experiences of discrimination, from a generalized sense of being treated with suspicion to being singled out by airport security to being attacked and called offensive names.
More likely to condemn extremism
Since the 9/11 attacks, a number of conservative commentators have condemned American Muslims for not denouncing terrorism strongly enough. In fact, Pew found that not only are Muslim-Americans increasingly anxious about Islamic extremism, they are also more likely than other Americans to say that violence can never be justified.
More than 8 in 10 American Muslims said they were at least somewhat concerned about global extremism in the name of Islam, a 10 percentage point increase from 2011, when Pew conducted a similar study.
Nearly 3 in 4 said there is little if any support for extremism among American Muslims. Just 6% said there is a great deal of support for it, and 11% said there is a "fair amount."
Likewise, more than 75% of American Muslims say violence can never be justified to further a religious, social or political cause. That's compared to 59% of Americans overall who said the same.
Silver linings
Despite the widespread belief that their community faces widespread discrimination, nearly half of American Muslims (49%) said someone had expressed support for them because of their religion during the past year. And more than half said Americans in general are friendly toward Muslims, even if many Americans, according to surveys, consider Islam outside of the American mainstream.
Nearly 9 in 10 said they were proud to be both American and Muslim, and a large percentage believe that if they work hard they can succeed in the United States, the study found.
The vast majority said they were satisfied with the way their life is going, and 82% are American citizens, including 4 in 10 who were born abroad.
"Muslim Americans express a persistent streak of optimism and positive feelings," the study's authors said. "Overwhelmingly, they say they are proud to be Americans, believe that hard work generally brings success in this country and are satisfied with the way things are going in their own lives -- even if they are not satisfied with the direction of the country as a whole."
http://edition.cnn.com/2017/07/26/us/pew-muslim-american-survey/index.html
--------
Front-Rrunner For U.S. Senate Seat In Alabama Calls Islam A 'False Religion'
26/07/2017
Christopher Mathias
A U.S. Senate candidate and former Alabama Supreme Court chief justice told voters this week that Islam is a "false religion."
Republican Roy Moore — the front-runner in Alabama's Aug. 15 special election to fill the Senate seat vacated by Jeff Sessions' appointment as U.S. attorney general — made the comment Monday during a meeting of the North Jefferson County Republican Club at Jim 'N Nick's BBQ in Gardendale, Alabama.
His remark came in response to a question about Sharia law from a woman at the meeting, as heard in a video posted to Moore's campaign page on Facebook.
"I've seen a lot in the news about Sharia law, and Muslims demanding break times to do their prayers and wanting to have their laws oversee our laws, and I just wonder how you plan to deal with that," the woman said, repeating the debunked conspiracy theory that Sharia, or Islamic law, is a threat to the U.S. judicial system.
"False religions like Islam," Moore said during his response, "who teach that you must worship this way, are completely opposite with what our First Amendment stands for."
The First Amendment states, in part, that "Congress shall make no law respecting an establishment of religion, or prohibiting the free exercise thereof."
You can hear the woman's question and Moore's response at the 20:00 mark in the video below.
Corey Saylor, a spokesman for the Council on American-Islamic Relations (CAIR), told HuffPost that Moore "has a long history of extremist attitudes."
"It is more disappointing that his statement went unchallenged in the room," Saylor said.
Khaula Hadeed, the executive director of CAIR's Alabama chapter, said Moore's comment suggested he doesn't believe Muslims in Alabama should "have the same rights under the law" as non-Muslims.
Still, she extended Moore an olive branch.
"We invite him to come out and visit a mosque and learn about the Islamic faith," Hadeed said. "This is the best time for Roy Moore to visit mosque and meet fellow Alabamans and the Muslim constituents he intends to serve as a representative.
"Muslims are a thriving community across Alabama. We wake up every morning to work hard and raise families. We give back in numerous ways. We watch football.
"We're not ashamed to be Muslims and to share our faith."
Moore's campaign didn't respond to a request for comment. The campaign, however, did share an AL.com story about his remarks to its Facebook page.
Moore is best known nationally for the two times he was removed from the bench as an Alabama state judge: once for enforcing a ban on same-sex marriage despite a U.S. Supreme Court ruling legalizing it and once for refusing to remove a Ten Commandments monument recently installed in an Alabama courthouse.
A poll earlier this month showed Moore with an 8-percentage-point lead over his GOP primary opponents.
Moore's rivals for the GOP nomination include Rep. Mo Brooks and Luther Strange, who in February was appointed by Alabama's governor to fill Sessions' seat on an interim basis. The general election for the Senate set will be Dec. 12.
Full report at:
http://www.huffingtonpost.in/entry/roy-moore-islam-false-relgion-alabama-senate_us_5977853fe4b0c95f375f2222
--------
Mixed reports over Tillerson's resignation as US secretary of state
Essam Al-Ghalib
26 July 2017
JEDDAH: Several US media reports are insinuating that Secretary of State Rex Tillerson intends to resign.
Citing two anonymous sources close to America's top diplomat, an earlier CNN report stated that friends of Tillerson have seen that he is becoming increasingly frustrated with the administration of US President Donald Trump.
The two sources, who are privy to Tillerson's conversations with friends, stated over the weekend that they would not be surprised if there was a "Rexit" before the end of the year.
However, the US State Department told Arab News in an email response that "the secretary is committed to staying."
Tillerson is a former chairman and CEO of ExxonMobil, and once said he only took the government job because his wife thought it was a good idea. Whether he stays or goes remains to be seen — but what is abundantly clear is that not everything has been smooth for him at the White House.
Part of Tillerson's frustration is believed to be the result of a recent White House shake-up, in which top advisers were overruled over the hiring of Anthony Scaramucci as communications director after former White House press secretary Sean Spicer resigned.
Adding to the 65-year-old Texan's alleged disenchantment with his job was the blocking of a number of people he had wished to appoint, most notably Elliott Abrams, whom the secretary of state wanted to be second-in-command.
The US president and his secretary of state have also shown a lack of cohesion over some policy matters, notably over the Qatar crisis.
Tillerson pushed for remaining neutral in the measures taken against Qatar in early June.
Full report at:
http://www.arabnews.com/node/1134806/world
--------
Trump appears to back ending covert CIA program in Syria
Jul 25, 2017
US President Donald Trump has seemingly backed a decision to halt support for foreign-backed militants in Syria, inadvertently confirming the existence of a covert CIA program to oust Syrian President Bashar al-Assad.
In a series of tweets on Tuesday, Trump attacked The Washington Post in connection with a story about the termination of US efforts to aid so-called moderate rebels fighting Assad.
Trump said the newspaper had "fabricated the facts" about his decision to end the "massive, dangerous, and wasteful" CIA program.
"The Amazon Washington Post fabricated the facts on my ending massive, dangerous, and wasteful payments to Syrian rebels fighting Assad," Trump wrote on Twitter.
Trump accused The Post of reporting "fake news" and suggested that the newspaper was being used as a "lobbyist weapon" to help Amazon avoid taxes. Amazon founder Jeffrey Bezos purchased The Post in 2013.
The newspaper reported last week that Trump had decided to end a covert CIA program that has been arming, training and funding anti-Damascus militants since 2013.
US officials said that ending the CIA operation reflects Trump's interest in finding ways to work with Russia. Moscow had long pushed Washington to end the program, which was started by the administration of former President Barack Obama to overthrow Assad.
However, the CIA effort had failed to achieve its goals and some US lawmakers had proposed cutting its budget. By some estimates, the CIA trained some 10,000 militants.
Some reports suggest that the US switched off the aid program amid Syrian army advances, which have effectively dashed any hopes of foreign-backed militants managing to depose President Assad.
Full report at:
http://www.presstv.ir/Detail/2017/07/25/529656/Trump-Syria-CIA
--------
Trump warns 'emboldened' Iran to comply with nuclear deal
26 July 2017
US President Donald Trump issued a veiled threat against Iran on Tuesday, warning Tehran to adhere to the terms of a nuclear deal with world powers or else face "big, big problems."
A week after certifying Iran as complying with the 2015 agreement negotiated by Democratic President Barack Obama, Trump made clear to thousands of raucous supporters that he remains extremely wary of Tehran.
Trump administration officials, briefing reporters last week, said new economic sanctions against Iran were being prepared over its ballistic missile program and for contributing to regional tensions. Trump devoted part of his speech in Youngstown, Ohio, to Iran.
"If that deal doesn't conform to what it's supposed to conform to, it's going to be big, big problems for them. That I can tell you. Believe me," Trump said.
"You would have thought they would have said 'thank you United States. We really love you very much.' Instead, they've become emboldened. That won't take place much longer," he said.
Trump told the Wall Street Journal on Tuesday he would be surprised if Iran is in compliance with the nuclear deal when recertification comes up again in three months. "We'll talk about the subject in 90 days but I would be surprised if they were in compliance," he told the Journal in an interview.
Fresh from a rare legislative victory in Washington when the Senate voted to start a debate on repealing Obamacare, Trump called on Democrats to end their opposition to his efforts but doubted they would.
Stop resisting
"It's time for Democrats to stop resisting. That's their term, resist, resist. They have to do finally what's right for the American people, but probably we'll do it ourselves," he said. Trump used his speech to revisit some of the themes that helped him to his improbable victory in the presidential election in November.
He railed against "radical Islamic terrorists" and vowed he wanted to keep them from entering the United States after the "total devastation" he said they had caused in Europe. "We only want to admit those into our country who share our values," Trump said.
Trump came to Ohio amid a simmering feud with his attorney general, Jeff Sessions, and facing a prolonged investigation into Russian meddling in the presidential election. He cast himself as an anti-establishment figure fighting entrenched special interests in Washington, a point that his wife, Melania Trump, stressed when she introduced him on stage.
"Washington has fought him every step of the way, but I know my husband and he will never give up," she said. Throughout the crowd were reminders of the campaign from chants of "drain the swamp" to "CNN sucks." Several protesters were ejected, including a youth waving a Soviet-style flag. "Boy, he's a young one," Trump said. "He's going back home to mommy. And I bet mommy voted for us."
Trump rejected criticism that he has a style as president that is not politically correct. He routinely draws criticism for his tweets.
Full report at:
https://english.alarabiya.net/en/News/middle-east/2017/07/26/Trump-warns-emboldened-Iran-to-comply-with-nuclear-deal.html
--------
US House decisively passes sanctions against Russia, Iran and North Korea
26 July 2017
Eager to punish Russia for meddling in the 2016 election, the House on Tuesday overwhelmingly backed a new package of sanctions against Moscow that prohibits President Donald Trump from waiving the penalties without first getting permission from Congress. Lawmakers passed the legislation, 419-3, clearing the far-reaching measure for action by the Senate. If senators move quickly, the bill could be ready for Trump's signature before Congress exits Washington for its regular August recess. The Senate, like the House, is expected to pass the legislation by a veto-proof margin. The bill also slaps Iran and North Korea with sanctions.
The 184-page measure serves as a rebuke of the Kremlin's military aggression in Ukraine and Syria, where Russian President Vladimir Putin has backed President Bashar Assad. It aims to hit Putin and the oligarchs close to him by targeting Russian corruption, human rights abusers, and crucial sectors of the Russian economy, including weapons sales and energy exports.
"It is well past time that we forcibly respond," said Rep. Ed Royce, R-Calif., chairman of the House Foreign Affairs Committee.
Trump hasn't threatened to reject the bill even though Secretary of State Rex Tillerson and other senior administration officials had objected to a mandated congressional review should the president attempt to ease or lift the sanctions on Russia. They've argued it would infringe on the president's executive authority and tie his hands as he explores avenues of communication and cooperation between the two former Cold War foes.
But Trump's persistent overtures to Russia are what pushed lawmakers to include the sanctions review. Many lawmakers view Russia as the nation's top strategic adversary and believe more sanctions, not less, put the USin a position of strength in any negotiations with Moscow.
Trump's "rhetoric toward the Russians has been far too accommodating and conciliatory, up to this point," said Rep. Charlie Dent, R-Pa.
"Russian behavior has been atrocious," Dent said. "They deserve these enhanced sanctions. Relations with Russia will improve when Russian behavior changes and they start to fall back into the family of nations."
Rep. Adam Kinzinger, R-Ill., said Congress "is uncomfortable with any rapprochement with Moscow without getting some things for it." But he said the legislation isn't intended to be a message to Trump.
"We're sending a message to Moscow," Kinzinger said. "But if the president had any intention of trying to give Vladimir Putin what he wants on certain areas, I think he'll think twice about it."
Heavy support for the bill from Republicans and Democrats in the House and Senate has effectively scuttled the potential for Trump to derail the legislation. White House Press Secretary Sarah Huckabee Sanders indicated Sunday the president would sign the sanctions bill. But on Monday, Sanders said
Trump is "going to study that legislation and see what the final product looks like."
Signing a bill that penalizes Russia's election interference would mark a significant shift for Trump. He's repeatedly cast doubt on the conclusion of US intelligence agencies that Russia sought to tip the election in his favor. He's blasted as a "witch hunt" investigations into the extent of Russia's interference and whether the Trump campaign colluded with Moscow.
According to the bill, Trump is required to send Congress a report explaining why he wants to suspend or terminate a particular set of the sanctions on Russia. Lawmakers would then have 30 days to decide whether to allow the move or reject it.
"There'll be no side deals or turning a blind eye to (Russia's) actions," said Rep. Steny Hoyer of Maryland, the No. 2 House Democrat.
The North Korea-related sanctions bar ships owned by the reclusive nation or by countries that refuse to comply with UN resolutions against Pyongyang from operating in American waters or docking at US ports. Goods produced by North Korea's forced labor would be prohibited from entering the United States.
The sanctions package also imposes mandatory penalties on people involved in Iran's ballistic missile program and anyone who does business with them. The measure would apply terrorism sanctions to the country's Revolutionary Guards and enforce an arms embargo. Democrats said the new sanctions on Iran don't conflict with the Iran nuclear deal
A version of the sanctions legislation that only addressed Russia and Iran cleared the Senate nearly six weeks ago with 98 votes. Lawmakers have questioned whether the bill may hit a hurdle in the Senate, which hasn't yet fully considered the North Korea section of the bill. But Royce said he made specific procedural tweaks to get the bill passed and to Trump before Congress leaves town for a month.
"We cannot afford any more delay," he said.
Full report at:
https://english.alarabiya.net/en/News/world/2017/07/26/US-House-decisively-passes-sanctions-against-Russia-Iran-and-North-Korea.html
--------
Iran to face 'big problems' if it does not adhere to nuclear deal: Trump
Jul 26, 2017
US President Donald Trump has threatened Iran with "big, big problems" if Tehran fails to comply with the 2015 nuclear agreement.
His veiled warning comes a week after the White House certified to Congress that the Islamic Republic was complying with the agreement it signed with the P5+1 group of countries -- the US, Britain, France, China and Russia plus Germany.
"If that deal doesn't conform to what it's supposed to conform to, it's going to be big, big problems for them. That I can tell you. Believe me," Trump said during a speech in Youngstown, Ohio, on Tuesday.
"You would have thought they would have said 'thank you United States. We really love you very much.' Instead, they've become emboldened. That won't take place much longer," he added.
Meanwhile, the Republican president told The Wall Street Journal on the same day that he would be surprised if Iran is in compliance with the nuclear deal when he should re-certify it in three months.
"We'll talk about the subject in 90 days but I would be surprised if they were in compliance," he told the Journal in an interview.
The Trump administration notified Congress of Iran's compliance for the first time in April. The certification that Iran is technically complying with the nuclear agreement clears the way for sanctions to remain lifted.
Under the agreement, limits were put on Iran's nuclear activities in exchange for, among other things, the removal of all nuclear-related bans against the Islamic Republic.
The UN Security Council later unanimously endorsed a resolution that effectively turned the accord known as the JCPOA into international law.
On Tuesday, the Republican-controlled House of Representatives voted to impose new sanctions against Iran, Russia and North Korea. In a 419 to 3 vote, the lower chamber of the US Congress passed the sanctions package.
The bill includes sanctions against Iran and the Islamic Revolution Guards Corps (IRGC) for allegedly supporting terrorism, which it vehemently denies, and North Korea, for its missile tests.
The legislation also aims to punish Moscow for its alleged meddling in the 2016 presidential election and annexation of Crimea.
Elsewhere in his remarks, Trump, who is routinely criticized for his tweets, rejected the notion that he still lacks a presidential style.
Full report at:
http://www.presstv.ir/Detail/2017/07/26/529703/US-iRAN-Trump-nuclear-deal
--------
URL: https://www.newageislam.com/islamic-world-news/muslim-wing-rsseyes-rakshabandhan-promote/d/111973
New Age Islam, Islam Online, Islamic Website, African Muslim News, Arab World News, South Asia News, Indian Muslim News, World Muslim News, Women in Islam, Islamic Feminism, Arab Women, Women In Arab, Islamophobia in America, Muslim Women in West, Islam Women and Feminism