New Age Islam News Bureau
21 Jan 2015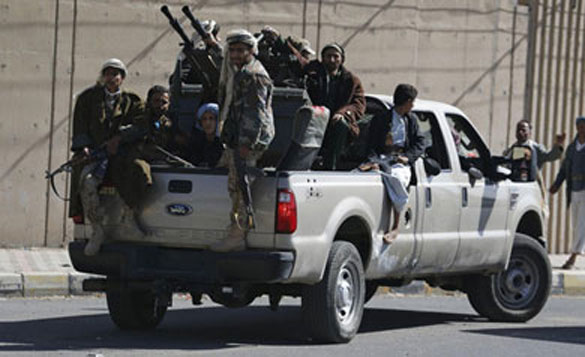 Houthi fighters ride a military truck outside the Presidential Palace in Sanaa Jan. 21, 2015. (Reuters)
-----------
Arab World
• Muslim Scholars Urge UN to Outlaw 'Contempt' Of Religions
• 43 Civilians Killed In Syria Regime Raid on ISIL: New Toll
• Iraq: ISIL Terrorists Blow up 30 Schools in Diyala
• Syrian Group Hacks French Newspaper's Twitter Account
• Official: 26 Bodies Found in Northern Iraq
• Balkans combat human trafficking, source of ISIL funding
• British ISIS Militant with Severed Head 'Faked His Own Death'
• Suicide rates increase: Reflection of new realities in Egypt
• Expat hopes dashed as nationality rumour quashed
Pakistan
• Saying 'Divorce' Three Times Consecutively Should Be Punishable, Rules CII
• Pakistan Asks OIC to Take French Magazine to Court
• Govt is willing to do everything to implement National Action Plan: PM
• Interfaith-harmony: Qadri writes to US, UK leaders, UN chief
• Punjab bans glorification of terrorists
• India training terrorists in Afghanistan for terrorism in Pakistan: Lord Nazir
North America
• Limiting 'Allah' To Muslims Degrades God, Says US Imam
• Louisiana's Indian-Origin Governor Insists Muslims Have Established 'No-Go Zones' In West
• Paris to Sue Fox News for Reports on Muslim 'No-Go Zones'
• US stands with terror victims 'from Pakistan to Paris': Obama
• New Yorker gets 15 years for supporting Al-Qaeda
Southeast Asia
• Understand the Quran before Thinking of Jihad, Indonesian-American Imam Tells Muslims
• At least 300 Chinese nationals in Islamic State via Malaysia, says Zahid
• End of the road for Catholic Church as court dismisses 'Allah' review
Africa
• Somalia's Shebab Urge More Jihadi Attacks In Europe
• Nigeria's Boko Haram leader claims deadly Baga massacre
• Hundreds flee Nigeria villages 'after Boko Haram warning'
India
• Call for Car Bomb Attack during Obama Visit, NIA Blames Thane 'IS Man'
• Masroor tweet to help IS fighter enter Syria to be used as proof
• Muzaffarpur Violence: They Came With Petrol Cans and Axes, Hindu Families Saved Many Lives
• India, Pakistan had a solution for Kashmir in 2007: Kasuri
South Asia
• Explosion in Ghazni Leaves 8 Civilians Dead
• 2 Insurgents Killed By Own Bomb in Kandahar
• 5 Shibir men held with 130 hand bombs
• Japan weighs ransom in Islamic State threat to kill hostages
• Attacks on journalists threaten media freedom in Afghanistan
• Taliban bomber arrested in women dress in Helmand
• PM Sheikh Hasina: Khaleda will face trial for killing
• Dangerous weapons found in Nazim's house during raid, say Police
• "I want to join IS", missing Korean teen tweeted
Mideast
• 5 Yemeni Soldiers Killed in Al-Qaeda Ambush
• Turkish president says he is aware of 'plot' in Cizre
• Yemen Shias say ready to face 'any measures' by Security Council
• 12 wounded in Palestinian knife attack on Tel Aviv bus
• Golan attack 'colossal failure' for Hezbollah, analysts say
Europe
• France Suffers 'Social and Ethnic Apartheid:' PM
• German Rights Chief Says Israel Must Work With ICC
• France charges four men with helping Paris gunman
• Belgium jihad suspect agrees to be extradited: Greek justice source
• Houthis 'use others to promote violence' in Yemen: UK minister
Compiled by New Age Islam News Bureau
URL: https://www.newageislam.com/islamic-world-news/new-age-islam-news-bureau/muslim-scholars-urge-un-to-outlaw--contempt--of-religions/d/101142
----------
Arab World
Muslim Scholars Urge UN to Outlaw 'Contempt' Of Religions
January 21, 2015
DOHA: A leading Islamic organisation has called on the United Nations to make "contempt of religions" illegal and urged the West to protect Muslim communities following the attack on French magazine Charlie Hebdo.
The Qatar-based International Union of Muslim Scholars, headed by influential preacher Yusuf al-Qaradawi, appealed to Muslims to continue peaceful protests against images of the Prophet Mohammed (pbuh) but "not to resort to any violence".
The latest cartoon of the prophet in Charlie Hebdo has angered many Muslims and triggered protests in Asia, Africa and the Middle East.
In a statement released Tuesday, the union said there should be protection for "prophets" and urged Islamic countries to submit a draft law to the UN calling for defamation of religions to be outlawed.
The union said the UN should then issue a "law criminalising contempt of religions and the prophets and all the holy sites".
It also called for the West "to protect Muslim communities from attacks, whether they are citizens or residents or visitors".
The union has condemned the publication of a cartoon of the Prophet Mohammed (pbuh) holding a "Je suis Charlie" sign under the headline "All is forgiven" in the first Charlie Hebdo edition since gunmen killed 12 people in an attack on its offices.
It said that the new drawing would give "credibility" to the idea that "the West is against Islam" and warned the image would incite further hatred.
Qaradawi, 88, is seen as a spiritual guide of Egypt's banned Muslim Brotherhood, the movement of ousted former president Mohamed Morsi.
http://tribune.com.pk/story/825128/muslim-scholars-urge-un-to-outlaw-contempt-of-religions/
-----------
43 civilians killed in Syria regime raid on ISIL: new toll
21 January 2015
At least 43 civilians were killed and 150 wounded in a Syrian regime air raid targeting the Islamic State of Iraq and the Levant (ISIL) in the northeast, a monitoring group said on Jan. 21, updating an earlier toll.
"The strikes hit a cattle market in the Tal Hamis area, which is controlled by ISIL," said the Britain-based Syrian Observatory for Human Rights, which has a wide network of sources inside Syria.
Previously it had said 27 people were killed in the Tuesday raid.
Tal Hamis lies in Hasakeh province which is mainly controlled by Kurdish militia or regime troops, but where the jihadists hold some areas.
The pro-government newspaper Al-Watan said dozens of ISIL members were killed in the operation south of Tal Hamis.
The jihadists "have been using the cattle market as a base for trafficking illegally pumped oil," it said.
ISIL controls a number of oil fields in eastern Syria and Washington says they provide the group with significant revenue.
The jihadists' black market oil infrastructure has been repeatedly targeted by US-led air strikes.
http://www.hurriyetdailynews.com/43-civilians-killed-in-syria-regime-raid-on-isil-new-toll.aspx?pageID=238&nID=77228&NewsCatID=352
----------
Iraq: ISIL Terrorists Blow up 30 Schools in Diyala
21 January 2015
The ISIL Takfiri terrorists blew up 30 schools in various areas in Diyala province, a local official said.
"The ISIL (terrorist group) blew up 30 primary and secondary schools in the last four days using explosives planted around school buildings," said Chairman of Diyala's Education Committee, Ahmed al-Rubaie, al-Shorfa reported.
Al-Rubaie added that the schools were located in al-Muqdadiyah, al-Salloum, al-Sad and al-Azeem areas, and the group blew them up after looting them.
http://english.farsnews.com/newstext.aspx?nn=13931101000540
----------
Syrian Group Hacks French Newspaper's Twitter Account
21 January 2015
A group of pro-Syrian regime hackers briefly took over the Twitter account of France's Le Monde newspaper early Jan. 21, tweeting several messages including one reading "Je ne suis pas Charlie".
The tweet was a negative reference to the "Je Suis Charlie" (I am Charlie) hashtag that became a popular way of showing solidarity in the wake of this month's Islamist attack on Paris magazine Charlie Hebdo that left 12 people dead.
The Syrian Electronic Army (SEA) also managed to tweet in support of Palestine and against the bombing of Syria before the account was suspended.
Le Monde's account was back up Wednesday morning with a tweet reading: "Our account was hacked, but we have it back under control. We apologise for the fake messages posted in our name."
The paper said Tuesday that the group had tried and failed to hack its website on Sunday and Monday. The hackers had attempted to get into its Twitter account by sending false emails to its editors.
SEA aims to spread counter-revolutionary propaganda and hit back at news outlets it says slant their reporting of the Syria conflict.
Their most notorious hack was of The Associated Press's Twitter stream, resulting in a false tweet saying President Barack Obama had been injured after two blasts at the White House. The message saw the Dow Jones Industrial Average suffer a "flash crash" before traders realised the tweet was false.
Other victims of SEA hacks include the AFP photo department's Twitter account, the BBC, Al Jazeera, the Financial Times and the Guardian.
http://www.hurriyetdailynews.com/syrian-group-hacks-french-newspapers-twitter-account-.aspx?pageID=238&nID=77224&NewsCatID=351
----------
Official: 26 Bodies Found in Northern Iraq
21 January 2015
A total of 26 bodies, including 15 civilians and 11 members of Kurdish Peshmarga forces, were found in Northern Iraq, an Iraqi official said.
A local official of Diyala province said that search teams from the Kurdistan regional government and Iraqi human rights ministry found these bodies in the rural area of Saadiya district, 120 km Northeast of Baghdad, Xinhua reported.
These bodies of civilians and soldiers were buried in two graves, and the victims were most likely to be captured and executed in early days of the ISIL presence in Saadiya district, the official added.
http://english.farsnews.com/newstext.aspx?nn=13931101000327
----------
British ISIS militant with severed head 'faked his own death'
21 January 2015
A British jihadist identified by police as a "trained terrorist" who is believed to have faked his own death while fighting in Syria in an attempt to return home undetected, has admitted terror charges.
Imran Khawaja, 27, admitted preparing for acts of terrorism, attending a training camp and possessing firearms in a hearing last year, but reporting restrictions were in place until Tuesday.
Khawaja, from Southall in west London, spent the first half of last year fighting alongside jihadists in Syria's civil war and at one point posted an image of himself holding a severed human head on social media.
He left from Heathrow Airport in January last year, travelling to a training camp in Syria.
Once there, he joined Rayat Al-Tawheed (Banner of God) -- a group which became aligned with the Islamic State group, according to Britain's Metropolitan Police.
"Khawaja is also seen in a disturbing video posted on social media which includes a bag of severed heads," said the Scotland Yard statement.
"The description posted with the video is 'British ISIS fighter Abu Daigham al-Britani with government soldier's head'."
He also appeared in one of the group's promotional videos, 'Five Star Jihad', which portrays daily life at the training camp.
Full report at:
http://english.alarabiya.net/en/News/middle-east/2015/01/21/British-ISIS-militant-with-severed-head-faked-his-own-death-.html
----------
Balkans combat human trafficking, source of ISIL funding
21 January 2015
Human trafficking is one of the most lucrative illegal businesses of terrorist organisations like the Islamic State of Iraq and the Levant (ISIL), and they practice it in the Balkans to finance their activities, experts said.
The illicit trade brings in more money than the drug trade or the weapons trade, according Ivan Babanovski, professor at the Security Faculty in Skopje.
"This way, Islamic extremists finance their activities in Iraq, Syria, Somalia, Eritrea and in other hotspots. In the Balkans, money from human trafficking is used to propagate radical Islam and to recruit and train fighters in addition to other funding that their local activists obtain," Babanovski told SETimes.
Babanovski said authorities should view the illegal immigrants that pass through the Balkans as potential victims of trafficking by terrorist organisations.
"To come to Europe, the traffickers must past the Turkey-Greece-Macedonia route which so far is the most developed one. They belong to ISIL or the 150 other terrorist organisations formed in Iraq and Syria. Under the veil of being migrants, they infiltrate as jihad fighters throughout the EU and get tasks to carry out terrorist or supporting activities," Babanovski said.
Full report at:
http://www.turkishweekly.net/news/178922/balkans-combat-human-trafficking-source-of-isil-funding.html
----------
Suicide rates increase: Reflection of new realities in Egypt
21 January 2015
Hanaa, a middle-class pharmacist who lives in Cairo, has considered the idea of committing suicide quite a few times, but tried to end her life only once, a year ago. Her father saved her.
She has been drawn to the idea of suicide for years. Apart from therapy, religion is what has been keeping her alive.
"Because it's forbidden, suicide means the person would die an apostate," said Hanaa, who asked that her real name be concealed because of the stigma related to her story.
"I was once lured to think that God would be more gentle to me than all those around me and wouldn't send me to hell, but that's a wrong way of thinking. Suicide means you lose your afterlife," she said.
"I'm a pharmacist and I know quite well how to kill myself painlessly. If it wasn't a major sin, I would commit suicide immediately, right now," she said, forcefully.
In Egypt, religion may be a restraint for many of those who are experiencing suicidal tendencies, with both Islam and Christianity categorically forbidding suicide.
In 2012, the World Health Organisation listed Egypt as among the countries with the lowest suicide rate, at less than five suicides per 100,000 people.
Full report at:
http://english.ahram.org.eg/NewsContent/1/151/120751/Egypt/Features/Suicide-rates-increase-Reflection-of-new-realities.aspx
----------
Expat hopes dashed as nationality rumor quashed
21 January 2015
The Ministry of Interior's civil affairs department on Tuesday dashed the hopes of thousands of expats when it denied a report that had gone viral on social media sites that children born in the Kingdom to Saudi mothers and foreign fathers would be given citizenship.
"There is no truth to the report," said Mohammed Al-Jasser, spokesman of the department that processes citizenship applications. He also denied reports that the Council of Ministers had amended the citizenship law to this effect. "All these reports are totally false," the spokesman said.
This would disappoint many expats, especially Arabs, who were overjoyed by the report, thinking it would end their family problems.
Al-Jasser urged the public not to follow rumors and ensure the authenticity of reports before circulating them.
Full report at:
http://www.arabnews.com/featured/news/692646
----------
Pakistan
Saying 'Divorce' Three Times Consecutively Should Be Punishable, Rules CII
January 21, 2015
The Council of Islamic Ideology recommended on Wednesday punishment for individuals who say 'divorce' three times consecutively in a bid to finalise the finality of their marriage.
Citing increasing divorce rates, Islamic Ideology Council's chairman Maulana Muhammad Khan Sherani said repeating the word Talaq (divorce) 'thrice' is unlawful and rather a spouse should say the words over a period of time.
"Saying the word Talaq thrice consecutively is against the Sunnah," the chairman said.
Islam requires the divorcee to pronounce 'Talaq' thrice for it to be legalised. However, the council has upheld it should not be said consecutively.
Maulana Sherani said people get divorced without any hesitation nowadays and much more care should be taken while ending such a 'sacred' relationship.
Islam takes distinction over other religions when it comes to women's rights, going as far as allowing a woman to seek divorce from her husband if he fails to fulfil his obligations. However, despite laws concerning litigation over matrimonial disputes Pakistani women, face great humiliation and hardships when it comes to safeguarding their rights.
Further, last year several rights activists condemned a report of the CII declaring the law requiring consent from first (second or third) wife for another marriage un-Islamic. The CII had said that Sharia did not bind a husband to seek permission from any of his wives before contracting another marriage.
Aurat Foundation manager Mumtaz Mughal said, "The CII is acting as a supra-state body it has nullified the little constitutional and legal gains working classes, women and non-Muslims had made so far. It nullified land reforms of the 1970s, it dismissed tests as evidence of criminal violence against women and now it is attacking the civil rights of women in Pakistan."
http://tribune.com.pk/story/825143/saying-divorce-consecutively-should-be-punishable-rules-cii/
-----------
Pakistan asks OIC to take French magazine to court
Jan 21 2015
ISLAMABAD: Adviser on Foreign Affairs and National Security Sartaj Aziz has asked the Organisation of Islamic Cooperation (OIC) to take French satirical magazine Charlie Hebdo to court over publication of offensive caricatures.
"The Adviser to the Prime Minister on National Security and Foreign Affairs has written a letter to the OIC Secretary General, recommending a legal action to seek an apology from the French magazine," the Foreign Office said in a statement, condemning the blasphemous caricatures published last week.
OIC Secretary General Iyad Madani is already thinking about initiating a legal action against the magazine. He had tweeted over the weekend that "the OIC is studying European and French laws and other available procedures to be able to take legal action against Charlie Hebdo... If French laws allow us to take legal procedures against Charlie Hebdo, the OIC will not hesitate to prosecute the French magazine".
Mr Aziz further proposed a joint action by Islamic countries for getting Islamophobia criminalised in Europe.
Full report at:
http://www.dawn.com/news/1158433/pakistan-asks-oic-to-take-french-magazine-to-court
----------
Govt is willing to do everything to implement National Action Plan: PM
January 21, 2015
ISLAMABAD: Prime Minister Nawaz Sharif said the implementation of the National Action Plan is the key objective, and the government is willing to do everything to achieve it — even if it involves a special allocation of funds.
Addressing the three-hour long meeting which was underway at the PM house on Wednesday, the prime minister said, "military courts are soon to be constituted and the cases to be tried in these courts are being selected through a process."
He went on to add that all stakeholders would have to work hand in hand to implement NAP. "The government will lend its support to the provinces. All resources should be utilised to implement the NAP," he added.
Full report at:
http://tribune.com.pk/story/825072/national-action-plan-high-level-meeting-commences-in-pm-house/
-----------
Interfaith-harmony: Qadri writes to US, UK leaders, UN chief
January 21, 2015
LAHORE: Pakistan Awami Tehreek (PAT) chief Dr Muhammad Tahirul Qadri has written to the US, British heads of state, the UN general-secretary and the Organisation of the Islamic Conference (OIC) over the publication of blasphemous caricatures.
Qadri said that the situation threatened the concept of peaceful co-existence and could lead to a potential clash of civilisations.
"This is a case of abuse of the right of 'freedom of expression'. The most sacred elements of Islam have been deliberately insulted. It has created great unrest among Muslims around the world. Insulting religious personalities cannot be justified as free speech," he said.
Full report at:
http://tribune.com.pk/story/824923/interfaith-harmony-qadri-writes-to-us-uk-leaders-un-chief/
-----------
Punjab bans glorification of terrorists
Jan 21 2015
LAHORE: The Punjab government has promulgated an ordinance which bans glorification of terrorists and their outfits at any forum and in the media. It regulates manufacture or sale of uniforms of law-enforcement agencies.
The Punjab Maintenance of Public Order (Amendment) Ordinance, 2015, which amends the identical law of 1960, is part of the legal reform measures the government is taking to curb terrorism.
The ordinance promulgated on Tuesday says: "A person shall not, by words spoken or written, use any formal forum to support terrorism or terrorists, or attempt to create sympathy for any terrorist or terrorist organisation, or to oppose action of Pakistan army, air or naval force, police or Rangers against any terrorist or terrorist organisation.
"The organiser of a formal assembly shall electronically record audio and video of unedited speech or speeches made there, and submit a copy of such record to the officer in-charge of the police station (concerned)."
Full report at:
http://www.dawn.com/news/1158400/punjab-bans-glorification-of-terrorists
----------
India training terrorists in Afghanistan for terrorism in Pakistan: Lord Nazir
Jan 21 2015
LONDON - British House of Lords member Lord Nazir Ahmad has said that Indian intelligence agencies are training terrorists in Afghanistan for carrying out terrorism activities in Pakistan.
Addressing participants of the ceremony on the occasion of Chehlum of Peshawar Army Public School (APS) martyrs in east London, Lord Nazir said that Pakistan Army is combating terrorists to eliminate terrorisms from the region through Zarb-e-Azb operation but neighbouring country India is providing weapons and support to terrorists. He condemned blasphemous caricatures published in French weekly satirical magazine Charlie Hebdo and said that Muslims living across the Europe are being targeted by discriminatory attitude under the pretext of freedom of expression. He called upon the Muslims living in Britain not to vote in next elections to those political parties who are acting as biased to Muslims.
http://www.dailytimes.com.pk/national/21-Jan-2015/india-training-terrorists-in-afghanistan-for-terrorism-in-pakistan-lord-nazir
----------
North America
Limiting 'Allah' to Muslims degrades God, says US imam
Jan 21 2015
KUALA LUMPUR, Jan 21 — Amid an ongoing interfaith tussle over "Allah" here, an American-Indonesian mosque leader, or imam, today defended the use of the Arabic word for God by non-Muslims, saying to deny them so is "wrong and unacceptable".
Dr Shamsi Ali, the chairman of Al-Hikmah Mosque in Queens, New York, said to restrict the worship of God by any faith would be "degrading His greatness".
"I do believe Allah is God and God is Allah. And God belongs to every single human being, either that human believes in him or not," Shamsi told reporters after a forum by the Zarith Sofiah Center for Global Islamic Studies.
Limiting "Allah" to Muslims would also reduce the number of worshippers worldwide to just 1.6 billion from a global population of 7 billion, he asserted.
"That is wrong, unacceptable. And who gives us the right, that only we have the right to use that word?" he added.
Shamsi is a scholar known for promoting interfaith dialogues among those professing Abrahamic religions, especially between Muslims and Jews.
He was among the few religious leaders who had been invited to visit Ground Zero days after the September 11, 2001 attacks in New York, and represented the Muslim community to recite a prayer at the memorial service for its victims.
Shamsi was the keynote speaker for a forum titled "Islam beyond media-driven narratives: Muslims and non-Muslims in search of common ground" in the Universiti Teknologi Malaysia (UTM) campus here.
Full report at:
http://www.themalaymailonline.com/malaysia/article/limiting-allah-to-muslims-degrades-god-says-us-imam#sthash.C76vGATg.dpuf
----------
Louisiana's Indian-Origin Governor Insists Muslims Have Established 'No-Go Zones' In West
Chidanand Rajghatta,TNN | Jan 21, 2015
WASHINGTON: Louisiana's Indian-origin governor Bobby Jindal is insisting that there are Muslim-dominated "no-go zones" in Europe even though ultra conservative pundits and media figures in the US have been forced to reel back similar comments after being ridiculed in moderate circles.
Jindal went through with his remarks on so-called Muslim enclaves in a speech at a conservative think tank in London, an advance copy of which was released by his office last week, even though Fox News apologized for its commentator Steve Emerson declaring that Britain's Birmingham city was Muslim-only city where non-Muslims don't go. The comment, and other anti-Muslim tirades on Fox, has invited widespread scorn, with even Britain's Prime Minister David Cameron calling the Fox pundit a "complete idiot."
But undeterred by the hoopla, Jindal delivered a slightly more tempered diatribe on Monday, saying "in the West, non-assimilationist Muslims establish enclaves and carry out as much of Sharia law as they can without regard for the laws of the democratic countries which provided them a new home."
Full report at:
http://timesofindia.indiatimes.com/world/us/Jindal-insists-Muslims-have-established-no-go-zones-in-west/articleshow/45960009.cms
----------
Paris to sue Fox News for reports on Muslim 'no-go zones'
Jan 21 2015
The city of Paris said Jan. 20 it plans to sue US chain Fox News for reports that there were "no-go zones" in the French capital that police and non-Muslims avoid.
The reports in the wake of the Islamist attacks in Paris two weeks ago have been widely derided and prompted Fox to issue an on-air apology for suggesting parts of Paris and the English city of Birmingham were run under Islamic Shariah law.
"A complaint will be filed in the coming days," despite the apology, said a source at Paris city hall.
The news channel broadcast a map outlining the so-called no-go zones, which an expert, Nolan Peterson said felt like Afghanistan or Iraq.
On Saturday a Fox news anchor apologised for "some regrettable errors on air regarding the Muslim population in Europe, particularly with regard to England and France.
"Now this applies especially to discussions of so-called no-go zones, areas where non-Muslims allegedly are not allowed in and police supposedly won't go," the anchor said.
The Fox reports spawned much derision online and saw local news show Le Petit Journal send fake correspondents Mike and John to report on these so-called dangerous areas.
"Oh my God it's an Islamist, he has a beard," one of the jittery reporters cries as a taxi pulls up.
Full report at:
http://www.hurriyetdailynews.com/paris-to-sue-fox-news-for-reports-on-muslim-no-go-zones-.aspx?pageID=238&nID=77226&NewsCatID=351
----------
US stands with terror victims 'from Pakistan to Paris': Obama
Jan 21 2015
WASHINGTON: The United States stands side by side with the victims of terror around the world, President Barack Obama said Tuesday, as he also deplored what he called a rise in anti-Semitism.
"We stand united with people around the world who've been targeted by terrorists – from a school in Pakistan to the streets of Paris," Obama said in his State of the Union address, just days after attacks in the French capital left 17 dead.
As he asked US lawmakers to give him updated war powers to use American military might to go after the Islamic State group, Obama vowed: "We will continue to hunt down terrorists and dismantle their networks." But he stressed US officials "reserve the right to act unilaterally, as we've done relentlessly since I took office, to take out terrorists who pose a direct threat to us and our allies".
Full report at:
http://www.dawn.com/news/1158446/us-stands-with-terror-victims-from-pakistan-to-paris-obama
----------
New Yorker gets 15 years for supporting Al-Qaeda
21 January 2015
A New York man was sentenced to 15 years in jail Tuesday for funneling $67,000 to Al-Qaeda and helping to scout out the city's Stock Exchange for attack.
US Judge Kimba Wood jailed 39-year-old Wesam el-Hanafi after he admitted two counts of supporting the terror network from 2007 to late 2009.
The 39-year-old Brooklyn resident received his sentence in a Manhattan court room close to where Al-Qaeda hijackers brought down the Twin Towers on September 11, 2001.
Manhattan Attorney Preet Bharara said it was "fitting punishment" for the crime of being "deeply involved" for nearly three years in supporting Al-Qaeda.
In February 2008, Hanafi traveled to Yemen to swear an oath of allegiance to Al-Qaeda, deliver cash, a laptop and other items to members of the terror network.
Hanafi admitted to teaching covert Internet techniques and supplying encryption tools to the operatives.
Full report at:
http://english.alarabiya.net/en/News/world/2015/01/21/New-Yorker-gets-15-years-for-supporting-Al-Qaeda-.html
---------
Southeast Asia
Understand the Quran before Thinking of Jihad, Indonesian-American Imam Tells Muslims
Jan 21 2015
The Islamic State of Iraq and Syria (Isis) was formed to misrepresent and ruin the image of Islam, an Indonesian-American imam said today, adding that Muslims should learn to understand the Quran properly instead of rushing to take up the struggle in the Middle East.
Imam Shamsi Ali said Isis is damaging Islam and destroying the beautiful image of the religion in the West.
He earlier delivered the keynote address during a forum held at the University Technology Malaysia along Jalan Semarak in Kuala Lumpur today.
"Jihad is one of the most misunderstood and misrepresented concepts in Islam," Shamsi told reporters later, adding that it had been frequently misconstrued.
He cited an example, saying that the Quran taught Muslims to return with peace, to turn the other cheek and avoid conflict at all costs.
"If a person is threatening you, just turn away. Only if you are pushed into a corner where there is no other alternative should you resort to violence."
Shamsi said in cases such as this, if a Muslim was killed defending himself, then only was it a genuine case of "mati syahid" or martyrdom.
Full report at:
http://www.themalaysianinsider.com/malaysia/article/understand-the-quran-before-thinking-of-jihad-imam-tells-muslims#sthash.aZla315i.dpuf
----------
At least 300 Chinese nationals in Islamic State via Malaysia, says Zahid
Jan 21 2015
Malaysia is being used as a transit point by Muslims from China who are headed to Syria and Iraq to join the Islamic State militant group, Datuk Seri Ahmad Zahid Hamidi said today.
The Home Minister said he was informed of this update from China's vice-minister of Public Security Meng Hongwei during a meeting at the home ministry in Putrajaya today, Bernama reported.
Meng disclosed to Zahid that more than 300 Chinese nationals have used Malaysia as a transit point on their way to join Islamic State. They moved to a third country from Malaysia prior to entering Syria and Iraq.
According to Bernama, Zahid said both Kuala Lumpur and Beijing view seriously this security threat and were committed to curbing it in a more comprehensive manner.
"Although there exists an arrangement between Malaysia and China to combat terrorism through counter-terrorism measures, this problem is serious.
"This is because ties exist at the international level between terrorists in China and those in other countries in the Southeast Asian region," the national news agency quoted Zahid as saying.
http://www.themalaysianinsider.com/malaysia/article/at-least-300-chinese-nationals-in-islamic-state-via-malaysia-says-zahid#sthash.SKKeszNG.dpuf
----------
End of the road for Catholic Church as court dismisses 'Allah' review
Jan 21 2015
The Catholic Church's long battle to use the word Allah in newsweekly Herald came to an end today after the dismissal of its review application.
A five-man bench led by Tan Sri Abdull Hamid Embong unanimously held that here had been no procedural unfairness in the Federal Court's earlier decision not to grant leave.
He added that the threshold for the review had not been met. The court did not give any order on costs.
A seven-member panel of federal court judges on June 23, 2014, dismissed the church's application for leave to appeal the Court of Appeal's decision to ban Herald from using the Arabic word for "God" in its Bahasa content.
Chief Justice Tun Arifin Zakaria was among the four on the panel who dismissed the church's application, in a 4-3 "skin of our teeth" judgment, as the church's lawyers have called it, that saw three other judges dissenting.
The other judges in the majority decision were Tan Sri Raus Shariff, Tan Sri Zulkefli Ahmad Makinuddin and Tan Sri Suriyadi Halim Omar.
The dissenting judges were Tan Sri Richard Malanjum, Tan Sri Jeffrey Tan Kok Hwa and Datuk Zainun Ali.
Full report at:
http://www.themalaysianinsider.com/malaysia/article/end-of-the-road-for-catholic-church-as-court-dismisses-allah-review#sthash.9F7zsT70.dpuf
----------
Africa
Somalia's Shebab urge more jihadi attacks in Europe
21 January 2015
Somalia's Shebab militants, Al-Qaeda's main affiliate in Africa, on Wednesday urged supporters in Europe to follow the example of Islamist gunmen who carried out attacks in Paris.
The Shebab, who called the attack on the Charlie Hebdo satirical weekly in Paris a "heroic operation" against a "lair of evil and centre of disbelief", offered specific warnings to France.
"We warn France and those who tread her course about the implications of their hostility towards Islam and the consequences of their oppression and belligerence against Muslims," the statement read.
The Islamists said the attacks, in which 17 people died in three days of bloodshed, were "worthy of being emulated".
"We also take this opportunity to thank our brothers, Al-Qaeda in the Arabian Peninsula, who have been -- and continue to be -- the pioneers of external operations that target the heart of the Crusader enemies," the statement added.
The Shebab, who control large areas of rural Somalia, are reported to have close links with Al-Qaeda fighters in neighbouring Yemen, where one of the two brothers who carried out the attack is believed to have trained.
The Shebab were also linked to Mohamed Geele, a Somali man who was convicted of a 2010 axe attack against Danish cartoonist Kurt Westergaard, who had faced numerous death threats since his caricature of the Muslim prophet Mohammed appeared in the Danish daily Jyllands Posten in 2005.
http://english.ahram.org.eg/NewsContent/2/9/120878/World/International/Somalias-Shebab-urge-more-jihadi-attacks-in-Europe.aspx
----------
Nigeria's Boko Haram leader claims deadly Baga massacre
Jan 21 2015
JOHANNESBURG: Boko Haram leader Abubakar Shekau has claimed responsibility for the mass killings in the Northeast Nigerian town of Baga and has threatened more violence.
The acknowledgement from the leader of Nigeria's Islamic extremists comes in a video posted on YouTube Tuesday, the same day International Criminal Court prosecutor Fatou Bensouda said she is examining the allegations and will prosecute those most responsible for war crimes.
According to a translation from Arabic provided by SITE Intelligence Group, Shekau says: "We are the ones who fought the people of Baga, and we have killed them with such a killing".
Amnesty International had said as many as 2,000 civilians were killed and 3,700 homes and business were destroyed in the Jan 3 attack. Baga and a key military base remain under Boko Haram's control.
"This marks a disturbing and bloody escalation of Boko Haram's ongoing onslaught," said Daniel Eyre, Nigeria researcher for Amnesty International.
In Washington, US State Department Spokesman Jen Psaki had condemned the attacks.
"We urge Nigeria and its neighbours to take all possible steps to address the urgent threat of Boko Haram. Even in the face of these horrifying attacks, terrorist organisations like Boko Haram must not distract Nigeria from carrying out credible and peaceful elections that reflect the will of the Nigerian people," Psaki had said in a statement.
http://www.dawn.com/news/1158459/nigerias-boko-haram-leader-claims-deadly-baga-massacre
----------
Hundreds flee Nigeria villages 'after Boko Haram warning'
21 January 2015
Hundreds of people from four villages near the devastated Nigerian town of Baga have been forced to flee after a warning from Boko Haram militants, witnesses and community leaders said Jan. 20.
News of the exodus from Kekenu, Budur, Yoyo and Mile 90 villages came as Niger hosted a meeting on how to fight the rebels as concern mounted at the threat to regional security.
Boko Haram fighters attacked Baga on January 3, looting and burning down homes and businesses in the town and at least 16 surrounding villages on the shores of Lake Chad.
Hundreds of people, if not more, are feared to have been killed, although there is no official confirmation of the toll as the town is still in rebel hands, residents said.
Security analysts said the attack, in which a regional military base was captured, potentially puts the group in a strong strategic position to strike southwards and launch cross-border attacks.
Lake Chad forms the border between Nigeria, Niger, Chad and Cameroon and tens of thousands of people have streamed across the frontiers seeking sanctuary from the relentless violence.
Abubakar Gamandi, head of the Borno State fishermen's union, said residents from the affected villages told him Boko Haram fighters had visited "and asked people to leave -- or else".
Full report at:
http://www.hurriyetdailynews.com/hundreds-flee-nigeria-villages-after-boko-haram-warning-.aspx?pageID=238&nID=77217&NewsCatID=357
----------
India
Call for car bomb attack during Obama visit, NIA blames Thane 'IS man'
Jan 21, 2015
Days ahead of Barack Obama's visit to India, one of the youths from Thane who went to Iraq to join the Islamic State (IS) has reportedly called for a car bomb attack targeting the US President.
Late on Monday night, a tweet from a pro-IS Twitter handle stated, "Heard that enemy of Allah, Obama is coming to India soon. And Indian Muslims are good in chemicals, so a chemical car bomb will be a good idea."
NIA sources confirmed to The Indian Express that the agency suspects the Twitter handle is being operated by one of the youths from Thane who went to Iraq.
"A close watch is being kept on the Twitter handle as it is believed to be operated by one of the youths from Thane who joined the IS. The latest tweet on the Obama visit has been taken note of and appropriate action will be taken. The US authorities will be approached for details of the handle under an emergency disclosure request," said a source.
When contacted, Delhi Police Commissioner D S Bassi said, "All necessary precautions are being taken ahead of the US President's visit."
Full report at:
http://indianexpress.com/article/india/india-others/call-for-car-bomb-attack-during-obama-visit-nia-blames-thane-is-man/#sthash.k7yhaqxr.dpuf
----------
Masroor tweet to help IS fighter enter Syria to be used as proof
Jan 21, 2015
Guidance given to a foreign fighter on how to cross from Turkey to Syria to join the Islamic State's (IS) war in Syria and Iraq via Twitter has emerged as key evidence against West Bengal youth Mehdi Masroor Biswas (24), who was arrested by the Bangalore police last month for operating pro-IS Twitter account @ShamiWitness.
Investigations since his arrest on December 13 have revealed that he was consulted about possible routes to entry Syria from Turkey by an IS fighter based in Syria. The query was posed by the IS fighter on behalf of a French and English speaking fighter with the Twitter handle @TalabAlHaqq, who according to his tweet trail had been waiting on the border since June 19, 2014 for information on how to enter Syria.
On June 23, @shamiwitness tweeted to @TalabAlHaqq stating "Tal Abyad crossing open now" while also marking the tweet to a Twitter handle @onthatpath3 and @AbuUmar8246. This tweet from @shamiwitness at the instance of an IS fighter @onthatpath3 — suspected to be an American of Somali origin with the nom de guerre Ibn Zubayr — is set to be placed in court as key evidence against Biswas.
Full report at:
http://indianexpress.com/article/india/india-others/masroor-tweet-to-help-is-fighter-enter-syria-to-be-used-as-proof/#sthash.eRxwqfkV.dpuf
----------
Muzaffarpur Violence: They Came With Petrol Cans and Axes, Hindu Families Saved Many Lives
Jan 21, 2015
Two days after a mob set fire to around 40 houses of Muslims, killing five, in an alleged revenge attack following the discovery of the body of a Hindu boy in Azizpur, residents of the village have returned to find their houses looted and at least three more villagers still missing.
Local police, meanwhile, arrested 13 people for their suspected role in the violence, most of them belonging to Bahilwara village from where 19-year-old Bhartendu Sahni, who was allegedly kidnapped and killed, hailed from.
Police had on Monday arrested Azizpur resident Sadat, alias Vicky, for his alleged role in Sahni's death because they believe he suspected the teenager of having a "love affair" with his sister.
Over 50 villagers, who had taken refuge in neighbouring villages, returned to Azizpur on Tuesday, with some of them alleging "a deep-rooted conspiracy" behind the violence and the involvement of "outsiders who looted jewellery and goats".
They also said that many of those who helped them escape were Hindus from the neighbouring villages.
Apart from the five confirmed dead, the three who are still missing have been identified as Mohammed Mustafa, Mohammed Salim and Zafir Ansari. Police have also identified one of the five bodies, which was charred beyond recognition, as that of Mohammed Shamim, 19.
Salma Khatoon, the mother of Shamim, was one of the worst-affected as her husband Mohammed Akhtar (55), too, was beaten to death and her grandson, Mustafa, is among the missing. Relatives of the other two missing echoed Salma's fears that the three may have been killed.
Full report at:
http://indianexpress.com/article/india/india-others/they-came-with-petrol-cans-and-axes/99/
----------
India, Pakistan had a solution for Kashmir in 2007: Kasuri
Jan 21, 2015
India, Pakistan can't reinvent the wheel, says General's Foreign Minister
"Are you a hawk or a dove on India, Kasuri saheb?" Those were General Pervez Musharraf first words to the man he was going to appoint as his foreign minister in 2002 after that year's general election in Pakistan cemented the military ruler's 1999 coup and a controversially won presidency.
Khurshid Mahmud Kasuri held the foreign affairs portfolio to the end of the Musharraf government in 2008, playing a leading role in the India-Pakistan peace process that formally began in 2003 with the ceasefire along the Line of Control (LoC).
In a book to be published next month, the former minister is set to provide an insider account of those years, one of the most secretive and fascinating periods of India-Pakistan diplomacy, and also the best time in recent decades for bilateral relations.
As the title of the book suggests, Neither Hawk Nor Dove was Mr. Kasuri's response to the military ruler's question. More exactly, the former foreign minister told The Hindu in an interview from Lahore, he has been "a great believer" in peaceful relations between the two countries "for decades, from even before the time I became a foreign minister."
Declining to divulge any specifics from the book as that would violate his contract with the publishers, Mr. Kasuri nonetheless said it would contain details that are "true" even if "it is going to make people angry."
Full report at:
http://www.thehindu.com/news/national/india-pakistan-had-a-solution-for-kashmir-in-2001-kasuri/article6805890.ece
---------
South Asia
Explosion in Ghazni leaves 8 civilians dead
Jan 21 2015
At least eight civilians were killed following an explosion southeastern Ghazni province of Afghanistan on Tuesday, local officials said.
The incident took place in the vicinity of Jaghori-Gilan highway after an Improvised Explosive Device (IED) targeted a civilian vehicle.
Deputy provincial governor Mohammad Ali Ahmadi said four women, three men and a child were among those killed.
Ahmadi further added that the civilians were all travelling inside the vehicle which struck with the roadside bomb.
No group including the Taliban militants has so far claimed responsibility behind the incident.
Taliban militants frequently use improvised explosive device as the weapon of their choice to target the security forces which normally leads to civilian casualties.
Ghazni is among the volatile provinces in southeastern Afghanistan where anti-government armed militants are actively operating in its various districts.
http://www.khaama.com/explosion-in-ghazni-leaves-8-civilians-dead-9270
----------
2 Insurgents killed by own bomb in Kandahar
Jan 21 2015
Two insurgents have been killed by own bomb in southern Kandahar province.
Security Officials say the incident took place in Maruf district last night where a landmine insurgents were planting exploded and killed both of them on the spot.
Also, a dead body of a young boy has been found by police in Kandahar city yesterday.
Police say the body was recovered from a ruined house in Sya Chap are belonging to police district seven.
The identity of the person is not verified yet but police have started investigation into the incident.
http://www.khaama.com/2-killed-by-own-bomb-in-kandahar-28044
----------
5 Shibir men held with 130 hand bombs
Jan 21 2015
Police have detained five suspected Islami Chhatra Shibir members in possession with 130 hand bombs from a residence in the capital's TV Gate area in Mohakhali.
One of the detainees has been identified as Mostafizur Rahman.
Banani police station Officer-in-Charge Bhuiyan Mahbub said: "The suspected Shibir members were held in the drive conducted around 4am on Wednesday."
He said the detainees are bomb experts.
http://www.dhakatribune.com/crime/2015/jan/21/5-held-130-hand-bombs#sthash.Rcvs36fa.dpuf
----------
Japan weighs ransom in Islamic State threat to kill hostages
By: Associated Press
January 21, 2015
The Islamic State group threatened to kill two Japanese hostages within 72 hours, demanding a $200 million ransom in a video posted online Tuesday that showed a knife-brandishing masked militant standing over the two kneeling captives.
Prime Minister Shinzo Abe, who was traveling in the Middle East, vowed to save the men. But with his military only operating in a self-defense capacity at home, Abe faces a hard choice: openly pay the extremists or ask an ally like the United States to attempt a risky rescue inside Syria.
Tuesday's video, released via militant websites associated with the Islamic State group, mirrored other hostage threats the extremists have made. In it, the captives, 47-year-old Kenji Goto and 42-year-old Haruna Yukawa, were shown in orange jumpsuits with a rocky hill in the background, a black-clad militant standing between them. The scene resembles others featuring five hostages previously beheaded by the Islamic State group, which controls a third of Iraq and Syria.
Full report at:
http://indianexpress.com/article/world/asia/japan-weighs-ransom-in-islamic-state-threat-to-kill-hostages/99/
----------
Attacks on journalists threaten media freedom in Afghanistan
Jan 21, 2015
When Afghan journalist Hussain Sirat's car disappeared in late December, he assumed it was simply theft, until a man called to say that he had the vehicle, and a gun with which he planned to kill him.
In the weeks since then, Sirat, an editor at Afghanistan's biggest daily newspaper 8AM who also works for Deutsche Welle, has been attacked in the street and received death threats in text messages that accuse him of being an "infidel" — which he assumes is related to his work for the German broadcaster.
"I don't feel safe," he said. The 33-year-old has moved to a safe house away from his wife and five children, who are afraid to go outside. Neither the police nor security services have been able to find the people who threatened him. "They can't make me feel any safer," he said.
Full report at:
http://indianexpress.com/article/world/asia/attacks-on-journalists-threaten-media-freedom-in-afghanistan/99/
----------
Taliban bomber arrested in women dress in Helmand
Jan 21 2015
A Taliban insurgent was arrested by the Afghan national security forces while he was busy in insurgency activities by disguising himself in women dress.
The Afghan Intelligence – National Directorate of Security (NDS) said Wednesday that the deteained militant was identified as Taza Gul who was involved in terrorist activities in Khanshin district.
A statement by NDS said the militant was arrested while he was plotting an attack by planting an improvised explosive device.
The statement further added that the militant had disguised himself in women dress and was collecting information regarding the area where the Afghan forces are routinely commuting.
The anti-government armed militants are frequently using improvised explosive device as the weapn of their choice to target the security forces which normally lead to civilian casualties.
At least eight civilians were killed following an improvised explosive device attack in southeastern Ghazni province on Tuesday.
http://www.khaama.com/taliban-bomber-arrested-in-women-dress-in-helmand-9271
----------
PM Sheikh Hasina: Khaleda will face trial for killing
Jan 21 2015
Holding her arch rival responsible for the death of violence victims, Prime Minister Sheikh Hasina yesterday said in parliament that Khaleda Zia will have to face trial in a murder case as the main accused.
"What Khaleda Zia is doing cannot be called a movement, rather militant activities, or acts of terrorism...None of those who are involved in the killings, will be spared," the PM warned.
She made the remarks while delivering her unscheduled speech in the Jatiya Sangsad (JS) yesterday.
Senior leaders from the ruling Awami League and main opposition Jatiya Party also spoke on the same issue; all of them said Khaleda Zia should face the music.
Questioning BNP Chairperson Khaleda Zia's integrity, Hasina inquired: "How will she protect democracy by killing innocent people?"
The prime minister also called upon people to form committees in each neighborhood to combat terrorism and militancy.
Full report at:
http://www.dhakatribune.com/politics/2015/jan/21/pm-khaleda-will-face-trial-killing#sthash.Onaw9zvz.dpuf
----------
Dangerous weapons found in Nazim's house during raid, say Police
Jan 21 2015
Police have revealed that dangerous weapons were found at the house of former defence minister Colonel (retired) Mohamed Nazim on Sunday morning (January 18).
"We found dangerous weapons at his house," said Spokesman for Commissioner of Police Ahmed Shifan at a press conference held this afternoon. "Nazim and some of his family members were questioned regarding the weapons but they failed to adequately respond to the questions."
The details of the raid – previously withheld – came just hours after Nazim's dismissal and subsequent replacement by Major General (retired) Moosa Ali Jaleel.
Following President Abdulla Yameen's decision to remove him from the cabinet, Nazim said the raid showed that no Maldivian could be considered safe or secure based on recent events.
"This gives an alarming signal that entering any house, at any time and to do anything is possible. The defence minister is the most senior official standing beside the president," he said during a press conference held at the studios of DhiTV.
Full report at:
http://minivannews.com/politics/dangerous-weapons-found-in-nazims-house-during-raid-say-police-92257
----------
"I want to join IS", missing Korean teen tweeted
21 January 2015
A missing South Korean teenager suspected of joining the Islamic State group had a twitter account, "Sunni Mujahideen", on which he tweeted his desire to enrol with the militant group, police said Wednesday.
The 18-year-old middle school dropout, identified only by his surname Kim, went missing in Turkey earlier this month, and there is speculation that he crossed into Syria.
"Many materials suggest that he was greatly interested in IS, but we cannot confirm whether he has joined them", Chung Jae-Il, a senior Seoul police officer told journalists.
If confirmed, it would be the first known case of a South Korean national joining any radical Islamist group.
The teen was last seen leaving his hotel in the southern Turkish city of Kilis -- not far from the border -- on January 10.
A South Korean foreign ministry official said Tuesday that CCTV footage obtained by Turkish police showed Kim taking an unlicensed taxi, together with an unidentified man, outside a mosque near his hotel.
They got out near a refugee camp in Besiriye, about 18 kilometres (11.25 miles) southeast from Kilis, the official said.
Police said Kim posted a series of messages on his Twitter account in October last year, asking for help in approaching the Islamic State group.
"How to join IS? Does anyone know? I want to join IS", he tweeted.
Kim's parents allowed him to travel to Turkey, along with a family friend, after he pleaded for the chance to meet with a friend there he had met online.
http://english.ahram.org.eg/NewsContent/2/9/120856/World/International/I-want-to-join-IS,-missing-Korean-teen-tweeted.aspx
----------
Mideast
5 Yemeni Soldiers Killed in Al-Qaeda Ambush
21 January 2015
Al-Qaeda terrorists ambushed the convoy of Yemen's brigade commander in the restive Southeastern province of Hadramawt, leaving five soldiers dead.
Five Yemeni soldiers were killed and seven others wounded in an attack by the al-Qaeda militants firing automatic rifles and rocket-propelled grenades, AFP reported.
General Yahya Awja, commander of the 135th brigade, escaped unharmed. The convoy was hit on the outskirts of Qatan, a village in the Hadramawt valley in the mountainous interior which hosts an army base.
Al-Qaeda-linked violence against Yemeni security forces has been growing since February 2012, when President Abd Rabbuh Mansur Hadi came to power in a one-man election backed by Saudi Arabia and the United States.
http://english.farsnews.com/newstext.aspx?nn=13931101000308
----------
Turkish president says he is aware of 'plot' in Cizre
21 January 2015
Turkish President Recep Tayyip Erdogan has suggested there is a plot behind the ongoing unrest in Cizre, a town near the border with Syria and Iraq, where tension peaked after a 12-year-old boy was shot last week, the sixth person to be killed in the town in the last three weeks.
"Today, we are aware of the incident that is being attempted to be carried out in Cizre and we are taking our measures accordingly," Erdogan said on Jan. 20 in a speech that was dominated by references to alleged dark plots carried out by the Gülen movement.
"Can you imagine those who are wearing formal dresses of this state and those who place bombs in the street using the state's armored vehicles?" Erdogan added, in reference to three police officers who have been suspended after being charged with placing explosives on the roads in the southeastern Anatolian province of Hakkari on Jan. 15.
The government and Erdogan, who was prime minister at the time, accuse the Gülen movement of organizing a plot through a graft probe that began on Dec. 17, 2013. Wiretappings, which include alleged voice recordings of Erdogan, his family members, cabinet members and a number of businesspeople, were leaked online simultaneously with the probe last year.
Full report at:
http://www.hurriyetdailynews.com/turkish-president-says-he-is-aware-of-plot-in-cizre.aspx?pageID=238&nID=77181&NewsCatID=338
----------
Yemen Shias say ready to face 'any measures' by Security Council
21 January 2015
Shia militiamen who seized control of Yemen's presidential palace on Tuesday are ready to face "any measures" by the UN Security Council, their chief Abdulmalik al-Huthi said.
"I advise the UN Security Council... (that) you will not benefit from any measures you wish to take" against the Huthis, he said.
"We are ready to face the consequences, regardless of what they are."
The Security Council in November slapped sanctions against two of the Shiite militia's military commanders but not on Huthi himself.
http://english.ahram.org.eg/NewsContent/2/8/120845/World/Region/Yemen-Shias-say-ready-to-face-any-measures-by-Secu.aspx
----------
12 wounded in Palestinian knife attack on Tel Aviv bus
21 January 2015
A knife-wielding Palestinian attacked passengers on a bus in Tel Aviv on Jan. 21 wounding at least 12 people before being shot by a passing prison officer, Israeli police said.
It was the first attack in Tel Aviv since mid-November when a young Israeli soldier was stabbed to death by a Palestinian.
The attacker struck in the morning rush hour in the heart of Israel's commercial capital, police spokeswoman Luba Samri said, describing him as a "terrorist."
Twelve people were wounded in the attack, including three who were in serious condition, four in moderate condition and five who sustained light injuries, hospital sources said.
Another seven people were treated for shock.
"The terrorist stabbed the bus driver several times but the driver fought back until he fled on foot and was neutralised by a guard from the prisons' service," a police statement said.
He was shot in the leg then taken to hospital for further investigation. Witnesses told army radio the driver apparently used pepper spray or tear gas to try to stop the attack.
Police identified the attacker as a 23-year-old Palestinian from Tulkarem in the northern West Bank, who was staying in Israel illegally.
Full report at:
http://www.hurriyetdailynews.com/12-wounded-in-palestinian-knife-attack-on-tel-aviv-bus.aspx?pageID=238&nID=77227&NewsCatID=352
----------
Golan attack 'colossal failure' for Hezbollah, analysts say
21 January 2015
An Israeli helicopter attack killed five members of Hezbollah operating out of Syria over the weekend. Among the dead were senior Hezbollah figures and an Iranian general, raising tensions in Lebanon of a potential return to hostilities between the two neighboring countries.
The attack – which killed Hezbollah military chief Imad Mughniyeh's son, Jihad, a high ranking member by the name of Mohammad Ahmad Issa – took place near the Golan Heights and is the latest in a string of escalating attacks by Israel on Hezbollah targets in Syria.
It is also one of the biggest losses inflicted on Hezbollah by Israel in recent years.
To date, Israel has not claimed responsibility for the attack. Nonetheless, international as well as local Lebanese media, including the Hezbollah affiliated Al-Manar, seem certain the attack bears the hallmark of the Israeli military.
Analysts, speaking to Al-Arabiya News, said the attack represented a major breach to Hezbollah's security and a tactical misjudgment on the part of the Iranian-backed militant group.
Full report at:
http://english.alarabiya.net/en/perspective/analysis/2015/01/21/Golan-attack-colossal-failure-for-Hezbollah-analysts-say.html
------------
Europe
France suffers 'social and ethnic apartheid:' PM
21 January 2015
Deadly shootings by homegrown Islamists have cast a light on France's "geographical, social and ethnic apartheid," Prime Minister Manuel Valls said on Tuesday in one of the starkest indictments of French society by a government figure.
The Jan. 7-9 attacks on satirical weekly Charlie Hebdo and a Jewish supermarket in Paris have plunged France into a soul- searching debate to assess how the three gunmen were radicalized and how to prevent a repeat of violence that claimed 17 victims.
"These last few days have underscored a lot of evil that is gnawing at our country and challenges we must be equal to," Valls said at a New Year's address to the media.
"We have to look at all the divisions, the tensions that have been going on for years ... the neglect of the suburbs, the ghettos, the social misery," he said. "A geographical, social and ethnic apartheid has established itself in our country."
Run-down neighborhoods ring many French cities, often populated by poor whites, blacks and people of North African descent who feel marginalized from mainstream society. Yet it is rare for a French leader, even from the ruling Socialists, to paint a picture of inequality in such strong terms.
Full report at:
http://english.alarabiya.net/en/News/world/2015/01/20/PM-France-must-tackle-social-and-ethnic-apartheid-.html
----------
German rights chief says Israel must work with ICC
21 January 2015
BERLIN: Germany's top human rights official has urged Israel to cooperate with the International Criminal Court probe into possible war crimes in the Palestinian territories.
After the investigation was announced last week, Israel's government immediately said it would not work with The Hague-based court and called for its funding to be cut.
The government's human rights commissioner, Christoph Straesser, said in an interview published Tuesday that Israel's reaction was counter-productive.
Straesser said: "Israel has launched its own investigations and should in my view cooperate with the International Criminal Court." He added that "as far as the effort to suspend funding for the court goes, I can only warn against adopting this proposal."
Meanwhile, Israeli Arabs have gone on strike across the country following the death of a Bedouin man at a protest this week. Israeli police said shops closed in protest on Tuesday in Arab areas.
Full report at:
http://www.arabnews.com/middle-east/news/692451
----------
France charges four men with helping Paris gunman
21 January 2015
France has formally charged four suspects with assisting one of the Islamist gunmen who carried out the Paris attacks, a prosecutor said Wednesday.
Four men aged between 22 and 28 were charged and remanded in custody on Tuesday night, three of whom are suspected of having bought "equipment" for Amedy Coulibaly, who gunned down a policewoman and killed four people in a hostage drama at a Jewish supermarket two weeks ago.
Coulibaly claimed to have acted in concert with Cherif and Said Kouachi, brothers who began the three days of Paris attacks on January 7 when they burst into the offices of the Charlie Hebdo satirical weekly, mowing down 12 people in revenge for cartoons lampooning the Prophet Mohammed.
The Paris attacks deeply shocked the country, prompting several million to pour onto the streets for rallies, and sparked an outpouring of international support for France.
http://english.alarabiya.net/en/News/2015/01/21/Prosecutor-Four-under-investigation-after-Paris-attacks-.html
----------
Belgium jihad suspect agrees to be extradited: Greek justice source
21 January 2015
A 33-year-old Algerian man with suspected links to the jihadist cell dismantled by Belgian security forces last week agreed on Tuesday to be extradited from Greece, a justice source said.
The suspect "wants to prove his innocence" and a Greek prosecutor has also agreed to meet Belgium's request for the extradition, the source said.
A judge is expected to finalize the procedure by Wednesday.
According to police, the suspect -- who was arrested on Saturday -- had previously served jail time in Greece on a robbery conviction but was released nearly a year ago.
The jihadist cell, which the authorities in Belgium said was plotting to kill police, was dismantled last week with a raid in the east of the country in which two suspects were killed.
According to the justice source, the suspect arrested in Greece drew the attention of Belgian authorities after making "three or four calls" from Athens to another suspected militant imprisoned in Belgium.
In his defense, the Algerian said he knew the man held in Belgium, whose alleged link to the plotters is still to be confirmed.
Belgian media have named Abdelhamid Abaaoud, a 27-year-old Belgian of Moroccan descent who remains at large, as the presumed mastermind of the cell.
The foiled attacks in Belgium have led to arrests in several European countries.
http://english.alarabiya.net/en/News/middle-east/2015/01/20/Belgium-jihad-suspect-agrees-to-be-extradited-Greek-justice-source-.html
----------
Houthis 'use others to promote violence' in Yemen: UK minister
21 January 2015
The UK has accused Shia Houthis rebels of "using others to promote violence" in Yemen.
It expressed its strong support for the Yemeni presidency in its conflict with Houthis.
On Tuesday, Houthi militants shelled President Abdrabbuh Mansour Hadi's home, despite a ceasefire.
President Hadi was reported to be inside the house but an official has confirmed he was safe.
Three days earlier, armed Houthis abducted Hadi's chief of staff, Ahmed Awad Bin Mubarak, at a checkpoint south the capital Sanaa.
The UN Security Council condemned the attack on the Yemeni President's residence and urged the Houthis to respect the country's legitimate leaders.
In a clear indication to Houthis rebels, the UK Middle East Minister Tobias Ellwood said: "Those who use violence and the threat of violence and use others to promote violence to dictate Yemen's future are undermining the security of all Yemen's citizens and eroding the progress made since 2011 to set Yemen on a new course."
Full report at:
http://english.ahram.org.eg/NewsContent/2/8/120850/World/Region/Houthis-%E2%80%98use-others-to-promote-violence%E2%80%99-in-Yemen-.aspx
----------
URL: https://www.newageislam.com/islamic-world-news/new-age-islam-news-bureau/muslim-scholars-urge-un-to-outlaw--contempt--of-religions/d/101142