JUI-F chief urges Pakistan, India to resolve Kashmir issue via dialogue

Canada, US imams issue fatwa declaring honour killings, domestic violence 'un-Islamic'

Syria: UN veto gives Assad licence to kill - opposition

Kashmir reverberates with prayers on Eid-e-Milad

Killing of Brahumdagh Bugti's sister and Mehran Baluch's sister in law

Islam advocates complete freedom for all to practise their faiths

Nigeria: Muslim Ummah warns religious leaders against provocative comments Christians under growing pressure in Arab world

After rash of Islamic terror plots in US, Director of National Intelligence lauds Muslim community

US free speech faces Islamic blasphemy law pressure, analyst says

7 dead in attack on Afghan PHQ

Chinese to be taught in Pakistani schools

Pakistan actively engaged with other countries on emerging situation in Afghanistan

Afghan forces should not enter Pakistan: CIA chief

Pak: Rival 'Islamic' social media site calls for Facebook boycott

Pakistan's trade with India can multiply five times: Pak official news

Pakistan to expand cooperation with Azerbaijani Navy

Turkey, an imperfect example for the region

Muslim group rallies against NYC police commissioner

Islam and Government: How It Can Be

Portrait of a Kenyan jihadist

Poetry of Islamic Awakening to perpetuate: Velayati

Indonesia/OIC: Indonesia to host OIC human rights commission meeting

Rights groups urge international community to press Iran to end violations

Afghanistan: Driven away by a War, Now Stalked by winter's Cold

India: Rahul Gandhi scours India's largest state for votes among Muslims and outcast
Complied by New Age Islam News Bureau
Photo: Muslim scholars seek triple Talaq ban, tab on polygamy
URL: https://newageislam.com/islamic-world-news/muslim-scholars-seek-triple-talaq/d/6555
----------
Indian Muslim Scholars Seek Triple Talaq Ban, Tab on Polygamy
Mohammed Wajihuddin, TNN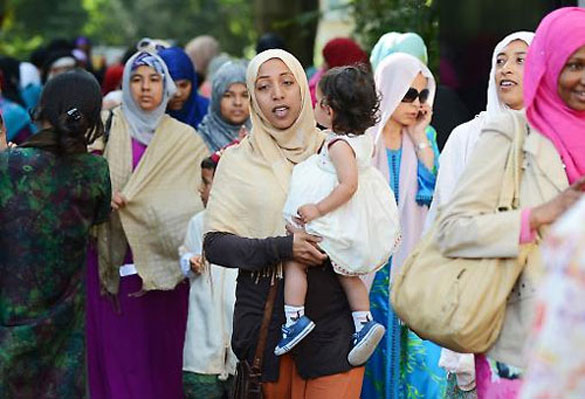 NEW DELHI: Feb 5, 2012, A group of Muslim scholars and activists just got a step closer to the codification of Muslim Personal Law in India on Saturday. The national consultation on the codification has prepared a revolutionary draft which, among other things, bans triple talaq and restricts polygamy. After codification of the personal law, it will be sent to Parliament for amendments into the law and the Muslim masses will be made aware of what Islam gives and what some Mullahs have denied to them over the centuries.
"Codification of the personal law is the need of the hour. We are not bringing any new law but only reiterating the provisions which the Quran makes for Muslim men and women," said reformist scholar Asghar Ali Engineer, whose Centre for Study of Society and Secularism along with Bhartiya Muslim Mahila Andolan and Institute of Islamic Studies organized the meet in Delhi.
"There is no place for triple talaq in one seating. It must be abolished," said Qutub Jehan Kidwai of the Mumbai-based Institute of Islamic Studies. The group concluded that polygamy was a restrictive provision. "The spirit of Islam is monogamy. A lot of men were killed in the battle of Ouhad and there were an overwhelming number of widows and orphans in Arabia. The Quranic verses, while allowing men to take up to four wives, clearly says that men cannot do justice to all of them and, therefore, should marry just one woman," said Justice Shamsuddin, a retired judge of Kerala HC.
The draft document also makes registration of all Muslim marriages with the state governments mandatory. It appeals to the governments to appoint Nikah registrars who will maintain nikahnamas. The consent of the bride will be made mandatory and the minimum age of the bride will be 18 and that of the groom 21.
http://timesofindia.indiatimes.com/india/Muslim-scholars-seek-triple-talaq-ban-tab-on-polygamy/articleshow/11761892.cms
---------
JUI-F chief urges Pakistan, India to resolve Kashmir issue via dialogue
By Zahid Gishkori
ISLAMABAD: February 4, 2012, Jamiat Ulema-e-Islam (Fazl) chief Maulana Fazlur Rehman has urged India to withdraw its 'unfinished agenda' in Kashmir, and to renew talks with Pakistan afresh to resolve the decades long dispute.
Rehman, who is the chairman of the special parliamentary committee on Kashmir, on Saturday asked the Pakistani leadership to review its Kashmir policy and to pave the way for fresh dialogue on Indian Kashmir.
"New Delhi should fulfil its promise for the effective exercise of Kashmiri's rights, as envisaged in the relevant United Nations' resolutions," observed Fazl during a meeting of the Kashmir committee. "Concepts of talks, mediation and military strategies should be defined on the dialogue table," he outlined, adding that the "Kashmir valley can play a role of bridge for endorsing peace between two South Asian nuclear neighbours."
He said that the Pakistan Peoples Party could not boost Kashmir's cause since efforts had suffered a major blow following Americas' war on terrorism in 2001. "It [PPP] should convey its message on Kashmir day to the Indian Congress regarding the reservations of the Kashmiri people," he said.
The people from the valley, Rehman asserted, had always safeguarded Pakistan's interests and that they never wanted the country to sacrifice its interests for their sake.
The JUI-F chief, who was once part of the Muttahida Majlis-e-Amal, a platform that united major religious parties of Pakistan under one banner, said that all religious political parties wanted good relations with India, and that all issues be addressed through meaningful dialogues. These parties, Rehman explained, had renewed their unwavering support for the just struggle of the Kashmiri's for their fundamental and inalienable rights.
"We support the Kashmiri's cause but don't support terrorism in the region," he noted.
The JUI-F chief also criticised Indian Army on violating human rights in war-torn Kashmir valley, adding that the fundamental human rights of the people of Jammu and Kashmir are being denied since 1947.
http://tribune.com.pk/story/331877/jui-f-chief-urges-pakistan-india-to-resolve-kashmir-issue-via-dialogue/
--------
Canada, US imams issue fatwa declaring honour killings, domestic violence 'un-Islamic'
ANI
Ottawa, Feb 5(ANI): Imams across Canada and the United States have issued a moral ruling condemning honour killings, domestic violence and misogyny as "un-Islamic."
Thirty-four imams belonging to the Islamic Supreme Council of Canada, including a handful of American members, signed the fatwa to counter misinterpretations of the Koran.
While it has no legal teeth, the fatwa is "morally binding" for all Muslims, a Calgary-based imam who founded the council, Syed Soharwardy said.
"So if anybody is thinking that honour killing is allowed in Islam, or domestic violence is okay or misogyny is okay, we are saying no, you are dead wrong," The Globe and the Mail quoted Soharwardy, as saying.
The rare ruling comes after the delivery of the verdict in the Shafia murder trial, in which a Montreal couple and their son were convicted of killing four female relatives.
Mohammad Shafia, his son Hamed and his wife Tooba Yahya were each found guilty of four counts of first-degree murder in the deaths of sisters Zainab, 19, Sahar, 17, and Geeti, 13, and Rona Amir Mohammad, 52.
The trial captured worldwide attention and cast a shadow over Canada's Muslim community, prompting many religious and community leaders to oppose domestic violence.
"What happened in the Shafia home ... The crime was not committed because Islam says so. The crime was committed because that is the way they understood what they think is right," he said. (ANI)
http://www.newstrackindia.com/newsdetails/2012/02/05/265808-Canada-US-imams-issue-fatwa-declaring-honour-killings-domestic-violence-un-Islamic-.html
----------
Syria: UN veto gives Assad licence to kill - opposition
5 February 2012
Russia and China have handed Syria's government a "licence to kill", say opposition activists, after the two countries vetoed a UN resolution.
The Syrian National Council, an opposition umbrella group, urged Moscow and Beijing to change their minds.
The veto caused anger among Western diplomats. Activists earlier attacked Syrian embassies across the world.
In Syria, dozens were reported killed on Saturday in one of the bloodiest days since protests began last March.
Rebel groups and opposition activists said the regime launched an assault on the city of Homs on Friday night using mortar and tanks to bombard civilian areas.
One opposition group said it had confirmed 62 deaths in Homs, while other organisations gave death tolls in excess of 200.
Activists said mass protests in solidarity with Homs residents had continued overnight in cities around the country.
Violence was also continuing, particularly in the north, where nine security personnel were reported killed in clashes in Idlib province.
US anger
In a statement, the Syrian National Council condemned Moscow and Beijing for obstructing the passage of the draft resolution.
"The SNC holds both governments accountable for the escalation of killings and genocide, and considers this irresponsible step a licence for the Syrian regime to kill without being held accountable," the statement said.
The resolution, which called for a "Syrian-led political transition to a democratic, plural political system", was backed by the 13 other members of the Security Council.
The veto drew an angry response from American UN envoy Susan Rice, who said that she was "disgusted" and said Russia and China would have blood on their hands.
UK Foreign Secretary William Hague said the two countries were making a "great mistake", accusing them of "turning their backs on the Arab world".
Tunisia, which had already indicated its intention to break diplomatic ties with Damascus, called on Sunday for all Arab states to follow their lead.
But Russia's Deputy Foreign Minister Gennady Gatilov defended Moscow's position.
"The authors of the draft Syria resolution, unfortunately, did not want to undertake an extra effort and come to a consensus," he wrote in a Twitter message.
China's state news agency Xinhua ran a commentary piece saying the two countries believed more time and patience was needed to solve the crisis.
The double veto "aimed at further seeking peaceful settlement of the chronic Syrian crisis and preventing possible drastic and risky solutions", said the commentary by Yu Zhixia.
Russia's Foreign Minister Sergei Lavrov is due to visit Damascus on Tuesday, to encourage democratic reform, Russian officials say.
Syria has been gripped by nationwide protests against President Bashar al-Assad's government for almost a year.
Opposition groups say more than 7,000 civilians have died in the struggle.
The government characterises the unrest as a conflict with armed gangs and terrorists, and says several thousand security personnel have been killed.
http://www.bbc.co.uk/news/world-middle-east-16893609
---------
Kashmir reverberates with prayers on Eid-e-Milad
Srinagar, Feb 5: Despite rain and snow, thousands of Kashmiris Sunday celebrated the birthday of the founder of Islam, Prophet Muhammad, spending the night in mosques and shrines of the Kashmir Valley.
Hundreds of devotees offered "Durud" (Praises of the Prophet) and spent the night in prayer and penance at the Hazratbal Shrine, the holiest Muslim shrine in Jammu and Kashmir.
Situated on the banks of the Dal Lake in Srinagar city, the shrine houses the Holy Relic, the "Moi-e-Muqaddas" (A hair of the Prophet's beard).
Before and after every "Namaz", people joined in chorus to offer the Durud.
The administration had made special arrangements for the convenience of devotees. Uninterrupted electric power, safe drinking water, regulating the streams of the devotees and guiding lost children in the crowd to their parents were some of the highlights of these arrangements.
Chief Minister Omar Abdullah visited the Hazratbal Shrine Saturday to supervise the arrangements. Omar also prayed for peace and development at the shrine.
The main markets in Srinagar city and other parts of the valley have been decorated with electric lightings and buntings on the occasion.
Even larger congregations of devotees are expected to offer namaz at the Hazratbal Shrine during the day.
The devotees would also have glimpses of the Holy Relic after every namaz during the day.
The celebrations will continue till Friday ("Jumatul Vida") and during all the intervening days, the "Deedar" (Glimpse of the Holy Relic) will continue after each namaz.
Specially decorated sweetmeat shops have come up around the shrine and these are doing brisk business.
"Faith knows no snow or rain. It moves the wheel of life. The great thing about such congregations is that the rich and the poor, the weak and the mighty all line up seeking the divine blessings. Islam is a great leveler," said Nazir Ahmad Mir, 43, who came to offer namaz at the shrine from north Kashmir's Ganderbal district.
http://www.ianslive.in/index.php?param=news/383439/NATION/
--------
Killing of Brahumdagh Bugti's sister and Mehran Baluch's sister in law
Brahamdagh Bugti's sister, and Mehran Baluch's sister-in-law Zamur Bugti (34), and 13-year old daughter, Jaana Domki were visiting the house of Zamur's maternal uncle after attending a wedding ceremony of a cousin at Carlton Hotel in D.H.A, Karachi. They were accompanied by their driver (Barkat Baloch) and a helper's 12 year old daughter. They were travelling in a black Toyota sedan (Registration: ANR-353). The car also had an MPA Balochistan plate on it.
Between 1 and 1:30 AM on the 31st of January, shortly after leaving the uncle's house, a black coloured car intercepted Bugti's car near Gizri bridge, Clifton. A man dressed in black shalwar kameez and wearing a black face mask jumped out of the car and shot the driver, Barkat Baloch, as they tried to get away. The driver was killed on the spot as a result of multiple bullet wounds to the head. Then the assailant opened the rear door at which point two bikes arrived at the scene and parked on the left and right side of the car. Upon opening the door, Zamur Bugti offered her jewellery, phone and valuables to the man, thinking that he was a robber. In response the killer told Zamur that he didn't need her valuables and that he was there to kill her and her daughter, in urdu. Zamur Bugti told him to spare her daughter and that he could kill her. At this point the killer went to the daughter who was sitting on the front passenger seat and fired multiple shots at her, hitting her in the chest and neck.
Zamur Bugti was made to witness the brutal killing of her daughter. Zamur Bugti was then shot over a dozen times in the head, face and neck at point blank range and was left in a pool of blood. During this incident, the police were spectating from a distance.
We have gathered all this information from a first hand witness who was a helper's daughter. She was deliberately spared by the killer. The girl ran back to the house which they had just left and informed the family there of what had happened. The family members immediately rushed to the scene where they found the previously spectating policemen close to the victims bodies, trying to steal jewellery the victims were wearing. A family member who just arrived at the scene from the uncle's house witnessed this and yelled at them and told them to get away, so they stepped back. No personal belongings were taken.
The victims were then taken to the hospital.
Zamur Bugti was the grandaughter of Nawab Akbar Khan Bugti and daughter of the late Rehan Bugti. She was the older sister of Brahamdagh Bugti and wife of Balochistan MPA Bakhtiar Domki, who is part of the opposition in the Balochistan assembly. Domki is also a maternal grandson of Nawab Akbar Bugti.
Bakhtiar Domki has held the state's intelligence agencies responsible for what he has called a targeted killing.
Zamur Bugti had received threats previously. A number of Baloch women related to leading Baloch nationalist figures have also have received threats in the past.
PS- Its pertinent to mention that the Pakistani agencies in particular the ISI have relentlessly tried to suppress Mehran Baluch's voice in the international forums there tactics range from extradition from the UK, presentation of false interpol documents to the international community and the killing of his brother Balach Marri in 2007 and now stooping down to the killing of his sister in law Zamur Bugti
-------
Islam advocates complete freedom for all to practise their faiths
Feb 4, 2012
January 23, 2012
Dear Sir:
We read with much concern the three articles relating to the persecution of Christians in Iran and the stories of 'Pouya and Tarsa' published in The Royal Gazette on January 21, 2012.
Islam advocates complete freedom for all to practise their faiths without violence, intolerance or restrictions.
The Holy Qur'an categorically forbids all religious compulsion:
There should be no compulsion in religion… (Ch.2:V.257)
It categorically declares that people of the whole world are totally free to choose their faith, whichever they like, to which they are happy to subscribe. The Holy Qur'an declares that freedom of belief is the basic right of all human beings.
Islam does not advocate the persecution and killing of those who do not subscribe to the teachings of Islam. According to Islam, religion is a matter of choice. Nobody has the right to dispense any kind of punishment for apostasy. No mention of any kind of punishment is found in the whole of the Holy Qur'an for apostasy.
Islam gives clear guidelines on how to behave with non-Muslims in a Muslim state. Islam requires complete separation of religion and state. The Holy Qur'an does not endorse any particular government philosophy, but instead requires that justice, not religion, be the determinative factor when governing (Holy Qur'an Ch 5:V.9). Islam teaches that all dealings should be based on justice and enjoins its true followers to always behave justly regardless of the one's religious beliefs.
Regarding the places of worship of other faiths, the Holy Qur'an states:
And if Allah had not repelled some people by means of others, cloisters and churches and synagogues and mosques, wherein the name of Allah is oft remembered, would surely have been destroyed. And Allah will, surely, help him who helps Him. Allah is, indeed, Powerful, Mighty." ( Ch 22:41)
This verse upholds the honor and sanctity of all places of worship. The verse further proves that Islam does not try to impose itself on people but rather upholds the freedom of worship and enjoins its followers to protect all religious places.
Practical application of the injunctions in the Holy Quran can be seen in the life of the Holy Prophet Muhammad (pbuh).
In 622 A., while the Holy Prophet Mohammad (pbuh) was the Head of Medina, the Charter of Medina was written. It was a formal agreement between the Holy Prophet Muhammad (pbuh) and the tribes and families in Medina including Jews, and non-Muslim Arabs. Scholars refer to this Charter as the first ever written constitution of a nation-state. It was applied to the 10, 000 citizens in Medina of whom only 15 percent were Muslims. The Charter guaranteed fundamental human rights for all citizens including equality, co-operation, freedom of conscience and freedom of religion. The Charter of Medina was the first document in history to establish religious freedom as a fundamental constitutional right.
In 628 AD, the Holy Prophet Muhammad (pbuh) granted a Charter of Privileges to the monks of St Catherine Monastery in Mt Sinai. It consisted of clauses covering all aspects of human rights including such topics as the protection of Christians, freedom of worship and movement, freedom to appoint their own judges and property, exemption from military service, and the right of protection in war. It also states that their churches should be protected and that they should be given help in repairing their churches, if needed. The original version of the letter can be found at the Royal Treasury at Constantinople, Turkey and the official website of St Catherine's monastery proudly commemorates this letter of protection:
http://www.sinaimonastery.com/en/index.php?lid=68
The Supreme Head of the worldwide Ahmadiyya Muslim Community, Hadhrat Mirza Masroor Ahmad , in accordance with the practice of the Holy Prophet Muhammad (pbuh), has been tirelessly encouraging interfaith dialogue, tolerance and respect among faiths. In a recent message to Pope Benedict XVI, he has reiterated the need for tolerance and the establishment of human values. He stated:
'If a person does not follow a particular teaching properly while claiming to subscribe to it, it is he who is in error not the teaching. From cover to cover, the Holy Quran teaches love, affection, peace, reconciliation and the spirit of sacrifice. Hence, if and the spirit of sacrifice. Hence, if anybody portrays Islam as an extreme and violent religion filled with teachings of bloodshed, then such a portrayal has no link with the real Islam…..If any church or place of worship stands in need of protection, then they will find us standing shoulder to shoulder with them.' (Press release, 11.12.11, http://www.alislam.org/press-release/Message-to-Pope-Benedict.Dec.11.pdf)
It is our prayer that people judge Islam based on its teachings and that we all understand the Islamic injunction that freedom of religion is a fundamental human right. The families of 'Pouya and Tarsa' and all religious minorities who are being persecuted for their faith will be in our prayers.
Peace be upon you
AHMADIYYA MUSLIM COMMUNITY
http://www.royalgazette.com/article/20120204/ISLAND08/702049969/-1
----------
Nigeria: Muslim Ummah warns religious leaders against provocative comments
Stephen Gbadamosi
05 February 2012
An Islamic group, the Muslim Coalition on National Unity, Peace and Security (MCNUPS), has warned religious leaders in the country to be careful of their utterances over the violent activities in parts of the country so as not to further fan the embers of discord among the various ethnic and religious groups in the nation.
The MCNUPC, comprising Conference of Islamic Organisations (CIO), the Lagos State Muslim Council and other notable Islamic organisations, central mosques, Arabic schools and eminent Islamic scholars, gave the warning in a communiqué released after its members met on Friday at the Lagos Central Mosque over the state of the nation.
According to the communiqué, the meeting, presided over by the Chief Imam of Lagos, Alhaji Garuba Akinola (OON), also charged the Federal Government to compensate families of those who lost their lives in the major bombing incidents that occurred in the country.
Signed by the head of the Communiqué Drafting Committee of the MCNUPC, Luqman AbdurRaheem, the communiqué noted that, "The congregation prayed for the nation in general and Lagos State in particular."
Thereafter, the stakeholders reviewed the series of killings of innocent Muslims and Christians by insurgent groups, especially Boko Haram, in Nigeria.
At the end of the strategic brainstorming, the stakeholders were unanimous on the following:
"That fervent prayers and sincere repentance by the leaders and followers are potent tools for curbing the criminal insurgency threatening peace and unity in Nigeria. Today's special Jumat and prayers are reflection of these commitments. This is part of our support for the Federal Government of Nigeria. That the Muslim Ummah in Nigeria is sincerely and patriotically committed to the unity and continued corporate existence of Nigeria.
"The current violence in Nigeria is fueled by poverty, unemployment, bad governance, moral cum economic corruption, frustration and political maneuverings of selfish elites, not Islam or Christianity. Enemies of peace use religion as a tool to cause rift, raise emotion and recruit foot soldiers among hopeless and pauperised masses.
"That the series of bombings of people, properties, mosques, churches, markets, police stations, UN office and other places linked to the Boko Haram sect are actions that are inhuman, wicked, satanic, condemnable and totally antithetical to the principles of peace, tolerance and decorum preached by Islam and other divine religions.
"The current tit-for-tat; burning of churches and mosques, reprisal attacks on other ethnic nationalities in different parts of Nigeria; call on Yoruba, Igbo and Hausa to leave their duty posts/locations and the misguided threat by overzealous religious associations constitute serious threat to the continued corporate existence of Nigeria."
http://www.tribune.com.ng/sun/news/6327-muslim-ummah-warns-religious-leaders-against-provocative-comments-wants-fg-to-compensate-families-of-boko-haram-victims
--------
Christians under growing pressure in Arab world
February 4, 2012
PanARMENIAN.Net - The Arab Spring uprisings that have toppled secular dictatorships in the Middle East and North Africa have unleashed long-suppressed freedoms that have allowed Islamic parties to gain a share of political power they have been denied for decades. Their rise is creating near-panic among ancient Christian communities that dot the Muslim world and predate Islam by centuries, says an article by Oren Dorell and Sarah Lynch.
In Tunisia, where the regime of President Zine El Abidine Ben Ali was ousted last year after 32 years in power, the dominant political party, Ennahda, has worried some of Tunis' 22,000 Catholics by vowing to tilt the country's yet-to-be-written constitution toward sharia, or the detailed and often harsh system of Muslim theocratic laws, the authors say in the opinion titled "Christians fear losing freedoms in Arab Spring movement" published by Business Mirror.
In Afghanistan, no new building permits have been issued for churches, and the last church open to the public was demolished over the summer. In Iraq, the Christian community has decreased by two-thirds since 2003 amid bombings of churches and assassinations of priests, they remind.
The authors go on to say: "Christians in Syria, where Muslims have risen up against President Bashar Assad, have been subjected to murder, rape and kidnappings in Damascus and rebellious towns, according to Christian rights groups,
"Nowhere is the irony more profound than in Egypt, where an estimated 8 million Christians live with more than 70 million Muslims.
"Christians demonstrated alongside Muslims early last year to oust Hosni Mubarak. Before Mubarak's overthrow, Christians had suffered from years of church burnings and murders at the hands of radical Muslims who want an Islamic state free of religious minorities. And after the ouster, the military regime that has been running the country has refused to make any arrests in attacks on Christians."
Some Middle Eastern countries remain relatively safe for Christians, says Carl Moeller, president of Open Doors. Jordan accepted thousands of Iraqi refugees, including Christians, who are allowed to practice their faith. Armenian Christians in Iran, while monitored by the government, can worship unhindered, though conversion is illegal, Moeller says.
"But Christians in Tunisia, where the Arab Spring movement began, have faced a growing number of restrictions since the dictatorship fell, he says.
Historian Habib Malik of Lebanese American University in Byblos, Lebanon, says Western nations can improve the situation by shifting from promoting democratic rule to emphasizing "minority rights, checks and balances, freedoms and the substance side of democracy."
He says Western nations must stand up for the rights of Christians, who he says may be cleansed from lands where democratic elections are used to oppress minorities rather than empower them.
http://www.panarmenian.net/eng/news/91773/
--------
After rash of Islamic terror plots in US, Director of National Intelligence lauds Muslim community
February 4, 2012
by creepingvia Council on Foreign Relations » You Might Have Missed: 2012 National Security Threat Assessment, Drone Strikes, and More.
Selections from the Hearing of the Senate Select Intelligence Committee, "World Wide Threats," January 31, 2012.
Senator Fienstein: Closer to home, since our hearing last year there were at least 20 individuals arrested in the United States on terrorism-related charges in 17 different investigations, which stopped them from carrying out or assisting in attacks on the homeland.
…
Director Mueller: Most of the [terror-plot related] arrests that we've made over the last year, year and a half, have been lone wolves — those individuals who have been radicalized, trained on the Internet, have the capability of developing IEDs and other mechanisms on the Internet.
General Clapper: I particularly want to single out the Muslim community for its recognizing a threat and bringing it to the authorities. And I will tell you, over a period of time, many of our cases, if not most of our cases, have come with individuals from the Muslim community or the neighborhood who have brought to our attention concerns about the potential threat which we have run and ultimately have resulted in a disruption of a plot.
This is the same Clapper who believes that the Muslim Brotherhood is a secular organization but can't pinpoint their specific agenda (ie, sharia/jihad) and believes they will be a bulwark against al Qaeda. He has been literally clueless when asked about large-scale terror attacks.
At least 17 terror investigations with 20 plus Muslims arrested and Clapper is singling out the Muslim community? Why not dole out some awards, make these good citizens names known so we can applaud them? Either they don't really exist or the threat of Islam is so great that everyone involved is too scared to put their names out there. Irrational? Islamophobic?
http://creepingsharia.wordpress.com/2012/02/04/after-rash-of-islamic-terror-plots-in-us-director-of-national-intelligence-lauds-muslim-community/
---------
US free speech faces Islamic blasphemy law pressure, analyst says
Washington D.C., Feb 4, 2012 / 07:05 am (CNA).- Paul Marshall, a religious liberty expert, says that attempts to "export" Islamic anti-blasphemy laws to the West could pose a threat to freedom of speech in the U.S.
Marshall, senior fellow at the Hudson Institute's Center for Religious Freedom, said that many governments deliberately manipulate alleged instances of blasphemy by provoking popular outrage, enabling them to advance "particular policy goals."
Marshall made his remarks Feb. 3 at Hillsdale College's Allan P. Kirby, Jr. Center for Constitutional Studies and Citizenship in Washington, D.C.
He argued that blasphemy codes in the Muslim world are used to stifle religious minorities, as well as Muslim reformers who support religious liberty, freedom of speech and democracy.
In the U.S., Marshall observed, courts generally uphold the First Amendment's free speech protections. But he said that America is still threatened by blasphemy laws, and cited efforts by the Organisation of Islamic Cooperation to promote international laws that ban insults to Islam, through the United Nations.
Marshall also cautioned against a growing tendency towards "extra-legal intimidation," which involves private individuals pre-emptively censoring themselves -- often under the guise of religious sensitivity -- because they realize that it is "too dangerous" to insult Islam.
To illustrate the effectiveness of this intimidation, he gave multiple examples of books, newspapers and television shows that refused to publish content that could be deemed offensive to Islam, although they chose to carry similar material that mocked Christianity and other religions.
He also recounted the 2010 story of Molly Norris, a Seattle cartoonist, who called for an "Everybody Draw Mohammed Day" in response to such self-censorship. She received death threats for the suggestion and, under the advice of the FBI, changed her name and went into hiding.
Marshall also warned of the potential for government policies that seek to restrict speech. He observed that the Obama administration has vocalized a commitment to fighting "negative stereotypes of Islam," although it has not done the same for other religions.
Secretary of State Hillary Clinton, he noted, invited the Organisation of Islamic Cooperation to a meeting in Washington, D.C. to discuss how the U.S. could carry out this commitment.
According to Marshall, the December 2011 meeting featured presentations on how
America should fix its treatment of Muslims. It was also suggested that the U.S. should learn from countries in the organization, which use the death penalty to fight blasphemy within their borders, he said.
Although Clinton claimed to be simply pursuing tolerance, Marshall said it was concerning that she was partnering with an organization that has been aggressively lobbying to restrict free speech through legal controls.
He urged the Obama administration to end this partnership and instead promote the idea that "in open, boisterous, free societies" all religions will likely be subject to criticism.
The American founders considered freedom of speech to be critical, Marshall concluded, adding that "their example is always needed, but never more so than in a time such as this."
http://www.catholicnewsagency.com/news/us-free-speech-faces-islamic-blasphemy-law-pressure-analyst-says/
---------
7 dead in attack on Afghan PHQ
AFP
KANDAHAR (Afghanistan), Feb 5, 2012: Seven people were killed on Sunday in a suicide car bomb attack on police headquarters in the southern Afghan city of Kandahar, a bastion of Taliban militancy, the interior ministry said.
Three policemen and four civilians died in the blast in the car park, the ministry said in a statement, while nine other people were injured.
Kandahar is the largest city in southern Afghanistan and the birthplace of the Taliban, who have been waging a bloody insurgency since being ousted from power by the US-led invasion in late 2001 that followed the 9/11 attacks.
"At around noon today (0730 GMT), a suicide car bomber detonated his explosive-packed car in district one of Kandahar that killed seven, including three police and four civilians and wounded nine others", the ministry statement said.
Kandahar governor Tooryalai Weesa also said there were seven deaths, but said five of those were police and gave a wounded toll of 19, including 13 women and children.
Blood-splattered items from nearby market stalls lay scattered on the ground after the attack, which destroyed four police cars and damaged nearby buildings, according to an AFP correspondent.
Militants frequently target Afghan police and military, who are due to assume responsibility for the country's security from NATO's International Security Assistance Force (ISAF) troops by the end of 2014.
NATO defence ministers on Thursday voiced hope that Afghan forces would take the lead by the end of next year, with foreign troops moving to a backup role until their combat mission ends.
Seven Afghan civilians were killed on January 19 when a suicide attacker targeting ISAF vehicles blew up his car at Kandahar airport -- an attack claimed by the Taliban.
A UN report on Saturday said civilian deaths in Afghanistan reached a record high in 2011 -- the fifth straight year the death toll has gone up.
A total of 3,021 civilians died -- mostly at the hands of insurgents -- up eight percent from 2,790 in 2010, the UN mission in Afghanistan (UNAMA) said.
The record loss of life was blamed mainly on changes in the insurgents' tactics, which saw an increased use of homemade bombs and deadlier suicide attacks.
Taliban negotiators have begun holding preliminary talks with US officials in Qatar on plans for peace negotiations aimed at ending the decade-long Afghan war.
Pakistani Prime Minister Yousuf Raza Gilani is to discuss Afghan peace efforts with the Qatari leadership when he travels to the Gulf state for a visit on Monda
http://timesofindia.indiatimes.com/world/middle-east/7-dead-in-attack-on-Afghan-PHQ/articleshow/11767030.cms
--------
Chinese to be taught in Pakistani schools
IANS
ISLAMABAD: Feb 5, 2012, Chinese will soon be taught in schools across Pakistan, said a minister.
Federal minister for information and broadcasting Firdous Ashiq Awan said arrangements were being made for introducing Chinese language at school level across the country and this programme would soon be initiated.
She added that steps were being taken to promote Chinese language among the people, reported Associated Press of Pakistan.
"China is our trustworthy friend and always supports Pakistan on various international issues and Chinese language at this juncture has become more imperative for enhancing bilateral trade between Pakistan and China," she said in Sialkot city.
Language was a hurdle between the two friendly countries to increase bilateral trade, the minister said.
http://timesofindia.indiatimes.com/world/pakistan/Chinese-to-be-taught-in-Pakistani-schools/articleshow/11764594.cms
--------
Madrasas groom 'social reformers'
Syed Mohammed, TNN
HYDERABAD: Jan 24, 2012, It wasn't a degree in law that helped Fatima Begum (name changed) win her battle for mehr (dower or gift money for the bride).
Armed with an exhaustive knowledge of Islamic scriptures, the madrassa-educated Fatima instinctively browsed through each clause of the talaq document her husband had handed her, only to find that he had replaced 'talaq' with 'qula' (woman seeking divorce from husband in which she is not entitled to mehr and other rights). She dragged her ex-husband and the document to Darul Qaza that settles civil disputes and pointed out the mischief. A year and a half later, she won the case.
Known for its religious orthodoxy, the madrassa education of girls, which has picked up in the recent past, is having an empowering side effect. More and more women are quietly putting up a determined fight for their rights and against social evils such as dowry harassment and the misuse of the provision of talaq, or even corruption.
There are about 30 madrassas for women in the city and hundreds of girls pass out of these every year, with each madrassa reporting a high enrolment rate. And in the corridors of madrassas, mingling with the sound of recitation of the holy text, are the stories such as those of Fatima. Another woman similarly hauled her husband to court after he threatened to divorce her at the behest of his first wife, a separation that would strip her of her mehr and house. After months of battling it out in court, not only did the women get the mehr but also the possession of the house promised to her by her former husband.
And then there have been many occasions when madrassa educated women have broken engagements due to unreasonable demands of dowry. Shama Parveen, a graduate of the madrassa for girls Jamiatul Wadood in Hakimpet says, "Almost every madrassa has a dedicated group of students and graduates who have been working against social evils. All social evils are a result of poverty and illiteracy. Our group works primarily among the lower income groups in Toli Chowki where battering of women and mental agony due to misuse of talaq and prostitution are rampant. Since they do not question religious authority, we simplify the texts for them and explain that treating women shabbily is wrong. There definitely is some progress."
Pointing out the reason for more girls walking into madrassas, A Suneetha of Anveshi Research Centre for Women's Studies says, "It was after the Shah Bano incident that Muslim women slowly started to look into their own community and scriptures. Also, the September 11 attacks and the war on terror fuelled their curiosity to know more about their religion. What started as introspection, turned out to be attempts to combat social injustice and domestic violence."
This has led to some progressive changes in families of daughters enrolled in madrassas, note observers. There have been many instances when women have demanded their lawful share in property. Islamic scholar Maulana Khalid Saifullah Rahmani from the Deeni Madrassa at Board says, "This is a welcome move and will help women in empowering themselves."
http://timesofindia.indiatimes.com/city/hyderabad/Madrassas-groom-social-reformers/articleshow/11609090.cms
--------
Pakistan actively engaged with other countries on emerging situation in Afghanistan
Feb 05, 12
Islamabad, Pakistan is "actively engaged with other countries diplomatically on emerging situation in Afghanistan" and Foreign Minister Ms Hina Rabbani Khar will visit Russia next week for talks on bilateral relations and regional situation.
This was stated by Foreign Office spokesman Abdul Basit on Saturday while speaking in Radio Pakistan's program Naey Ufaq. He said Prime Minister Yusuf Raza Gilani during his three-day official visit to Qatar from February 6 will have talks with Qatari leadership which among other things would include the on-going process of reconciliation in Afghanistan.
Basit said during recent visit to Kabul Ms Hina Khar had exchanged views with Afghan leadership on how to strengthen the process of reconciliation and dialogue. Pakistan wants a peaceful Afghanistan when coalition forces withdraw from that neighboring country in year 2014.
The spokesman said Foreign Minister also conveyed to Afghan leadership that "blame game would benefit only those forces that do not want peace in Afghanistan."
http://pakistan.onepakistan.com/news/pakistan/47021-pakistan-actively-engaged-with-other-countries-on-emerging-situation-in-afghanistan-foreign-minister-visit-russia-next-week.html
----------
Afghan forces should not enter Pakistan: CIA chief
Anwar Iqbal
WASHINGTON:Feb. 04, 12, CIA Director General David Petraeus has told a congressional committee that he believes Afghan forces should not enter Pakistan to destroy the sanctuaries that the Taliban leaders allegedly enjoyed in that country.
"With respect should the Afghan forces be allowed to go, well, I think that's obviously a question for Afghanistan, but I think they probably have sufficient fights on their hands without invading the soil of another country, even as significant as is the threat that is posed by some of these safe havens across the border," he said.
Gen Petraeus also told the committee that the United States should further develop a northern transit route to supply US and Nato troops in Afghanistan.
He told the House Permanent Select Committee on Intelligence that the United States and Russia were already cooperating with each other on this issue.
"Another example actually of cooperative endeavour is the northern distribution network that supplies Afghanistan through the north — one of the ways of that transits Russian soil. It's very important, especially as Pakistan has closed the Nato groundlines of communication that run through Pakistan," he said.
During a discussion on Pakistan's role in the Afghan dispute, Director of National Intelligence Gen James Clapper claimed that senior Taliban leaders continued to enjoy a safe haven in Pakistan.
"And the support of Afghanistan's neighbours — notably and particularly Pakistan — will reign essential to sustain the gains" that the US-led forces had made in that country.
Congresswoman Jan Shakowsky, who probed the possibility of allowing Afghan forces to enter Pakistan to destroy alleged safe havens, asked Gen Petraeus if he anticipated any change in the status of the sanctuary that the insurgency found in Pakistan.
"Can we reasonably expect that the Afghan forces will be able to defend against an insurgency that enjoys its safe haven once we draw down our troops?" she asked.
"Well, first of all, there's no question that there are elements in Pakistan that have enjoyed sanctuary and that cause major problems for Afghanistan and for the Afghan and coalition forces that are seeking to provide security to enable the
development of the new Afghanistan," Gen Petraeus responded.
"Having said that, there's also no question but that our Pakistani partners have confronted a number of the extremist organisations there, foremost among those Al Qaeda — and that cooperation does continue in various form — but also the Tehrik-i-Taliban Pakistan and, again, a number of its affiliates," he added.
He pointed out that Pakistan had recently arrested some prominent Taliban and Al Qaeda operatives.
"But I think we should be cautious in what we anticipate in terms of the ability of our Pakistani partners and in some cases the willingness to go after again the Haqqani network in the Federally Administered Tribal Areas and the Afghan Taliban down in Balochistan," he said. "The thought that they will go in and go after them is probably overly optimistic."
http://www.dawn.com/2012/02/04/afghan-forces-should-not-enter-pakistan-cia-chief.html
--------
Pak: Rival 'Islamic' social media site calls for Facebook boycott
By Rana Tanveer
LAHORE: February 5, 2012, The creators of a locally-based, 'Islamic' social networking website launched in 2010 have called on Muslims to delete their accounts on the "blasphemous" Facebook and switch to Millat Facebook.
Speaking at a conference on the topic 'Blasphemy by Facebook and Role of Muslim Youth in Social Media', MFB founder and CEO Umar Zaheer Mir said that world's biggest social networking website had hurt millions of Muslims when it hosted a competition of blasphemous drawings in 2010.
Mir said that all Muslims should delete their Facebook accounts and switch to MFB to strengthen Islam and guard the Holy Prophet's (peace be upon him) honour. This suggestion was later endorsed by the participants at the conference in the form of a resolution, which also demanded that the government ban all websites that offended religious sentiments.
Mir said Muslims were not against the use of modern technology, but against its misuse. He said liberty did not mean having the freedom to hurt others' feelings. He said they had launched MFP just two days after the Lahore High Court had temporarily banned Facebook in 2010.
Asked why he was accusing Facebook of blasphemy now when the site had not hosted blasphemous caricatures and almost two years after the competition, Mir told The Express Tribune that their opposition to the website would continue.
"First, it is almost Eid Miladun Nabi. Secondly, Facebook is about to launch its initial public offering (IPO) soon and we want to send them a message, that we will be there at every step to counter it," he said.
He said MFB had registered 300,000 users within 10 days of launching and now had 500,000 users. "MFB has more features than Facebook. All Muslims should not only use it but also delete their accounts on Facebook," he said, adding that MFB was a non-commercial website dedicated to Islam. "We are spending about Rs3.5 million per annum running the site but we are not taking donations or hosting ads," he said.
He said MFB was being supported by Global IT Vision, a software house and IT consultancy. Global IT Vision was behind recent advertisement campaigns for Tehreek-i-Insaf in which residents of Lahore and Karachi received voice messages from Imran Khan inviting them to party rallies.
Other prominent participants in the conference included Advocate Waleed Iqbal, grandson of Dr Javed Iqbal, PTI Secretary General Ijaz Chaudhry, Mufti Muhammad Khan Qadri, Vice Admiral (r) Javed Iqbal and Advocate Muhammad Azhar Siddique.
Mufti Qadri said the linking of Islam with terrorism and extremism was a conspiracy against a peaceful religion. He said Facebook had deliberately provoked Muslims by hosting the blasphemous caricatures competition. He said the United Nations should take action against Facebook.
Advocate Iqbal said he was in favour of the use of modern technology, but within limits.
Ijaz Chaudhry said Muslims should play their role to protect the Holy Prophet's (pbuh) honour. He said all political parties should contribute in this regard. He appreciated MFB and its team.
Siddique said Facebook had hurt millions of Muslims by declaring blasphemy as allowed under the right to freedom of expression.
On May 19, 2010, the LHC banned Facebook from being accessed in Pakistan, after Siddique filed a petition accusing it of hosting the blasphemous caricatures competition. MFB was launched on May 25, 2010. Five days later, the ban on Facebook was lifted. The site had over six million registered users in Pakistan as of February 2012.
Published in The Express Tribune, February 5th, 2012
---------
Pakistan's trade with India can multiply five times: Pak official news
04 February 2012
Pakistan's trade with India can multiply five times if it can capture even a one per cent share of the 300 million-strong Indian middle-class market, according to Dr Ishrat Hussain, the dean and director of the Institute of Business Administration (IBA).
Addressing a seminar at the Institute of Regional Studies (IRS) in Islamabad, Hussain, a former governor of the Pakistan's State Bank, said even the Army was on board regarding strengthening trade with India. ''Weak industries in Pakistan can be protected through a negative list,'' he said.
Trade ties between the two South Asian neighbours are expected to improve in 2012, especially with Anand Sharma, the Indian commerce minister, visiting Pakistan from February 13. He is expected to sign an agreement with his Pakistani counterpart to liberalise trade.
The agreement covers customs issues and offers a mechanism for expeditious clearance of cargo, sharing of trade laws, customs valuation, setting up of joint border liaison committees and removing non-tariff barriers. India is also expected to start issuing one-year multiple visas to Pakistani businessmen.
However, Pakistan will not be giving the full, Most Favoured Nation status as yet to India, as it will maintain a negative list of items that cannot be imported.
Last year, Pakistan had in principle agreed to grant MFN status to India, after Prime Minister Yousuf Raza Gilani agreed in November to do so at a cabinet meeting. However, recently, Pakistan's commerce minister Amin Fahim indicated that the decision was still under process and had not been implemented.
Sharma said recently he was confident that Pakistan would go ahead and grant India the MFN status. India has already given Pakistan the MFN status.
Sharma will be leading a high-level business delegation comprising top executives of about 100 Indian companies, to Pakistan later this month.
http://www.domain-b.com/economy/trade/20120204_multiply.html
---------
Pakistan to expand cooperation with Azerbaijani Navy
Islamabad, 04 February 2012 – Pakistan plans to develop cooperation with the Naval Force of Azerbaijan, Admiral Asif Shamdani, Chief Commander of Pakistani Navy, told Azerbaijani Ambassador to Pakistan Dashgyn Shikarov at a meeting.
Having appreciated highly the level of cooperation between Pakistan and Azerbaijan, Admiral Shamdani thanked Azerbaijan for the support to issues of key importance for Pakistan, including the Cashmere problem.
Having congratulated Azerbaijan on the occasion of being elected a non-permanent member of the UN Security Council, Shamdani voiced his gratitude to the Azerbaijani side for its backing to the candidature of Pakistan during elections to the UN Security Council.
Azerbaijan and Pakistan are elected non-permanent members of the UN Security Council for 2012-2013.
The Pakistani military chief said he had already visited Azerbaijan in 2003 and that he would like to visit it once again.
The Azerbaijani Ambassador congratulated the Admiral with his being appointed to this post and wished him every success in his further activity.
The diplomat thanked the Government of Pakistan for the support rendered to Azerbaijan's being elected a member of the UN Security Council, and voiced his gratitude for Pakistan's backing to the position of Azerbaijan in the conflict with Armenia over Nagorno Karabakh.
In addition, the Ambassador highly appreciated Pakistan's assistance to organization of training courses for Azerbaijani naval officers in Pakistani naval schools.
http://pak1stanfirst.com/201202043828/pakistan/defence/pakistan-to-expand-cooperation-with-azerbaijani-navy.html
---------
Turkey, an imperfect example for the region
By CHRISTOPHER TORCHIA
The Associated Press, February 5, 2012, The skirmish began when Paul Auster told a Turkish newspaper that he would not visit Turkey because it has jailed dozens of journalists, drawing a caustic retort from Prime Minister Recep Tayyip Erdogan. "Who cares?" was the essence.
In the swagger stakes, Erdogan won hands-down. But his reply points to the conundrum of a rising power that urges a region in upheaval to reform, but struggles to reform itself. Just as Auster's characters search for their identities, so Turkey wrestles with its own.
To exhaust the metaphor, Turkey has multiple personalities. This diversity has, for the most part, served it well. As a NATO ally, it has leverage in the West. As a nation with a mostly Muslim population, it seems like a beacon of prosperity and democratic politics to Muslims in countries that are emerging from authoritarian rule, or still, as in Syria, in its bloody grip.
Turkey shone in a new poll of perceptions in 16 countries in the Middle East and North Africa. Some 78 percent of respondents gave it a favorable rating. The United Arab Emirates was second with 70 percent. Saudi Arabia and China were at 64 percent, and Egypt was rated favorably by 62 percent. The United States and Israel were last, with 33 percent and 10 percent respectively.
Respondents said Turkey was a regional model because of its democratic system, economic development and Muslim identity. The survey of 2,323 people was conducted late last year by the Turkish Economic and Social Studies Foundation, an Istanbul-based research center that describes itself as independent. The regional results had a margin of error of 2 percent.
One admirer is the Malaysian opposition leader Anwar Ibrahim, who said during a visit to Istanbul last week that Turkey's role as a voice for Muslims was critical to regional change.
By some indicators, however, Turkey has a long way to go before it is reliably democratic, and its flaws strip sparkle from its lead-by-example approach. Paris-based Reporters Without Borders places it at 148 out of 179 countries on its press freedom index. That puts it just ahead of Afghanistan and Pakistan, but well behind Morocco (138), Jordan (128) and Lebanon (93).
Auster, whose works have been translated and published in Turkey, also said he wouldn't go to China because of free-speech concerns. The fact that a writer who is barely known in Turkey riled up a leader with outsized ambitions for his country of 75 million people shows how sensitive Turkey is to criticism, especially when it comes from a Western source.
Auster's argument rankles Turkish officials, who note most jailed reporters in Turkey are accused of involvement in alleged conspiracies to topple the government, or suspected of links to Kurdish rebels. It's more complicated than critics think, they say.
But the arrests have tainted the reputation of a country that, on balance, has taken significant steps toward full democracy over the past decade. Erdogan pushed the military out of politics, and some analysts wonder whether the Turkish playbook might apply in Egypt, where the military still rules a year after the uprising that ousted President Hosni Mubarak.
Additionally, last week, the European Court of Human Rights identified Turkey as a leading violator among the 47 signatory states of the continent's rights convention. Its report said Turkey had the second highest number of complaints lodged against it, with 11 percent of all 119,300 court applications pending as of Jan. 1, 2010. Russia was first with 28.1 percent.
Full Report at:
http://www.ajc.com/news/nation-world/turkey-an-imperfect-example-1332690.html
--------
Muslim group rallies against NYC police commissioner
By the CNN Wire Staff
New York (CNN), February 3, 2012 -- A prominent Muslim civil liberties group held a small rally Friday outside New York police headquarters, continuing its call for the resignation of Police Commissioner Ray Kelly and other reforms within the department.
The Council on American-Islamic Relations wants Kelly to step down because of his participation in a film that they say paints all Muslims as terrorists.
"Due to the fact that the police commissioner and Mayor (Michael) Bloomberg both refuse to accept the severity of their actions, or meet with local Islamic leaders in an attempt to mend the situation, we as a community with full force must stand up to the mistreatment and dismissal of our community at large," the group's website said.
"Silence and lack of reaction to this pressing issue will only allow this type systematic persecution of a minority community to continue and escalate without any reprimand."
Muslim activists say "The Third Jihad," a documentary about radical Islam, vilifies the American-Muslim community and teaches police officers to suspect Muslims as terrorists.
Muslim activists have also called for Deputy Police Commissioner Paul Browne to resign, saying he first denied and only later admitted that Kelly was interviewed for the film.
"They were not telling the truth about their involvement in the propaganda film against Muslims," said Nihad Awad, executive director of the Council on American-Islamic Relations, adding that New York "deserves people they trust who do not discriminate against people."
The film's producer, Raphael Shore, said in a statement that the film accurately portrays radical Islam:
"Those that have blasted the film are attempting to stifle an important debate about the internal state of the Muslim community in America, and whether politicized Islam and indoctrination pose tangible security threats," Shore said.
According to documents obtained by New York University's Brennan Center for Justice, the film was screened during a New York Police Department terrorism training course that more than 1,000 officers attended.
In a statement released last week, Kelly acknowledged that he had been interviewed for the film five years ago by a filmmaker and, "while it never became part of the department's curriculum, and was not authorized for any training," the film had been screened "for an extended period in 2010" in a room where officers were on break from training.
According to the statement, the screening stopped after an officer who was offended by it brought it to department officials' attention.
"I offer my apologies to members of the Muslim community, in particular, who would find the film inflammatory and its airing on Department property, though unauthorized, to be inappropriate," Kelly said.
Awad said the police commissioner's apology was not enough.
"It's not personal, but from our standpoint, our trust in the police chief has been eroded," he said. "He needs to resign."
http://edition.cnn.com/2012/02/03/us/new-york-muslims-nypd/
---------
Islam and Government: How It Can Be
by Ed Husain
February 4, 2012 Last week, King Abdullah of Jordan met a prominent Muslim scholar from Yemen, al-Habib Umar bin Hafez, alongside another renowned Muslim leader, al-Habib Ali al-Jifry. All three men are descendants of the Prophet Mohammed. Their meeting had a special significance for ordinary Muslims, and reminded Jordan and young Arabs that Islam and secular government need not be at odds.
Islam is a religion—not a protest movement. I was always struck by far-left activists in Europe who became Muslim in order to join a "resistance community" against "global capitalism." Until recently, in the modern Middle East, Islamist political parties that claim to be organized and motivated by religion wallowed in victimhood and blamed the West for most of their ills. For decades, their raison d'être was to oppose governments. Now, several Islamist movements find themselves in government and seem unsure how to respond to traditional Muslim scholarship that accepted secular rule. Egypt's Muslim Brotherhood has had a fractured relationship with the Sunni al-Azhar seminary for more than five decades. What will happen now?
Traditionally, Muslim scholars of sharia were close advisers to a caliph or monarch. While the theologian's advice was rarely binding, Muslim ulema were in the patronage and care of the sultan. The relationship between organized religion and the state was not one that was based on inherent animosity and constant friction. The Abbasid, Ottoman, and Moghul courts were a home for scholars. Following in that tradition, after the end of the Turkish caliphate, al-Azhar and traditional Muslim Sunni theologians such as those who visited King Adbullah did not oppose secular governments as "non-Muslim rule," or kufr—the accusation levied by extreme Islamists.
Contemporary Muslim leaders such as Habib Umar and others have an important pastoral and spiritual role to play. Politics and the temporal is not their realm. The king's meetings with them are a model for others in the region. Muslim scholarly support for secular governments is one option. There is no fixed, rigid "Islamic politics" that young Arabs must chase.
http://blogs.cfr.org/husain/2012/02/04/islam-and-government-how-it-can-be/
---------
Portrait of a Kenyan jihadist
By NYAMBEGA GISESA
February 5 2012 at 00:00
On a hot afternoon sometimes in 2007, an executive meeting at one of Nairobi's oldest mosques, Masjid Pumwani Riyadha, was violently cut short by hundreds of youth who threw out five executive officials accusing them of corruption and mismanagement of the mosque's development programmes.
The leader of those rowdy youth was a slightly built man by the name Sheikh Ahmed Iman Ali, and his religious fundamentalism caught the eye of Somali terror organisation Al-Shabaab which appointed him the de facto leader of its Kenyan cell.
That appointment, however, was not published to the world and only became apparent recently when Sheikh Iman called for a jihad against Kenya over the country's recent incursion into Somalia.
So how did a relatively quiet boy who grew up under the watchful eyes of Imams end up in the rank and file of a global terror network? How could a man who was accorded the best education opportunities his parents could afford (he studied at Kenya's Jomo Kenyatta University of Agriculture and Technology (JKUAT) turn so radically?
Attracted attention
After university in 1998, Sheikh Iman worked for oil multinationals Shell and Mobil as an engineer, but it was his exemplary performance as a community mobiliser that attracted the attention of many in Pumwani, a sprawling Nairobi suburb.
"All of a sudden, he was offering bursaries, waiving and subsidising fees for the sick at our clinic and taking responsibility for burying the dead," Amina Hussein, whose son followed Sheikh Iman to Somalia, told us.
The man had, in the blink of an eye gained access to big money, but his followers say he never cared much about money. He lived in a rented flat in Pumwani's Highrise section with his wife and two children, and in the modest sitting room lay large pillows arranged against the walls in place of couches.
Whenever he had time, he would join the local youth for a football match at a nearby dusty pitch. "He was a decidedly unimpressive striker," recalls an official with Maratib Islamic Centre in Pumwani.
Such was his down-to-earth mien that he begged for lunch three days after he received $820 from a friend in Europe. Instead of using the money for his upkeep, the official recalls, Sheikh Iman made a long list of those who wanted financial assistance and distributed the money to them.
Full Report at:
http://www.monitor.co.ug/News/World/-/688340/1320240/-/121dn0d/-/
--------
Poetry of Islamic Awakening to perpetuate: Velayati
5 Feb 2012 11:58
In a press conference held on the International Islamic Awakening Poetry Congress, Ali Akbar Velayati termed the composed pieces as invaluable heritage which will be immortalized in the psalms of Islamic Awakening.
IBNA: A press conference was held yesterday, February 4, 2012 to discuss issues about the International Congress of Islamic Awakening in the presence of Ali Akbar Velayati, secretary general of the World Assembly of Islamic Awakening, Mohsen Momeni Sharif, head of Howzeh Honari, Basem Shariat Madar, secretary of the congress and a number of journalists and reporters at Howzeh Honari.
In his opening address, Velayati marked poetry as the most vivid mode of communication. "Given the fact that the epicenter of the new wave of Islamic awakening has been in Arabic countries, therefore, the two-day congress will be focused on the Arab world," he said.
He further pinned down the significance of the issue of Islamic Awakening as a cultural mater and said more work should be exerted in cultural grounds and bonds should be established among the relevant scholars and artists so far as the language of art is the most fluid mode of communication.
"A whole book can sometimes be related in one sonnet just as a long poetry piece can be communicated in one single verse," he added. "For example, every versified piece by Hafiz is a book by itself; poetry is the best way to communicate."
He further highlighted the role poetry has played in the history of Islamic Awakening and said, "Undoubtedly, in over-150-year-old history of Islamic Awakening, compositions by poets have played a crucial role instigating movement in the public to form revolutions and Islamic campaigns. By and large, the part poets have played in historical events can never be forgotten just like Ferdowsi is still remembered."
"This is why we need such gatherings and conferences to form spiritual integrity in the world of Islam and the Arab world, in particular," he further added. "We shall not neglect the potentials of poetry in starting off social movements."
Later in the conference, Shariat Madar delivered a report on the invited guests in the congress and said as many as 150 poets were considered to be invited to the congress among which 90 were invited and 84 announced their readiness to submit their pieces to the secretariat of the congress. Finally, 81 poets from 12 countries are registered as fix participants, he said.
As he said, the participants comprise 17 poets from Yemen, 2 from Syria, 11 from Sudan, 9 from Lebanon, 5 poets from Bahrain, 8 poets from Tunisia, 8 Iraqis, 9 Egyptians, 1 from Kuwait, 1 from Saudi Arabia and 10 poets from Iran.
http://www.ibna.ir/vdccpoqse2bqix8.-ya2.html
--------
Indonesia/OIC: Indonesia to host OIC human rights commission meeting
BY IINA
JAKARTA, 12 Rabi Al-Awwal/4 Feb (IINA)-Indonesia will host a meeting of the Organization of the Islamic Cooperation (OIC) Permanent Independent Human Rights Commission on February 20-24, 2012, Foreign Affairs Ministry spokesman Michael Tene said here recently.
"The meeting will be attended by 18 human rights commissions from various Islamic countries and OIC Secretary General Ekmeleddin Ihsanoglu," Tene said.
He said various issues related to respect for human rights and internal matters such as working system and the commission`s future priorities would be discussed in the meeting.
Tene said other participants of the meeting would be among others Siti Ruhaini Dzuhayatin of Indonesia, Wael Attiya of Egypt, Mohammed Raisouni of Morocco, Saleh bin Mohammed al-Khatlan of Saudi Arabia, Mahmoud al-Aker of Palestine, Elham Ibrahim Ahmed Mohamed of Sudan, Adel Issa Al-Mahry of the United Arab Emirates, Ousman Diallo Balde of Guinea, Mohamed Kawu Ibrahim of Nigeria, Med. S.K. Kaggwa of Uganda, Mohammed Lamine Timbo of Sierra Leone, and Mohammad al-Bashir Ibrahim of Chad.
The Organization of the Islamic Conference was established on September 25, 1969 on the occasion of the first Conference of the Muslim World which was held in Rabat – capital of Kingdom of Morocco.
The 57-member Organization of the Islamic Conference is the body representing the world`s 1.2 billion Muslims.
OIC was formed in 1969 after the burning of al-Aqsa Mosque in Jerusalem to enable Islamic governments to "consult together with a view to promoting close cooperation and mutual assistance in the economic, scientific, cultural and spiritual fields, inspired by the teachings of Islam."
The Independent Permanent Human Rights Commission of OIC was established in June 2011 in Kazakhstan as the world`s first Muslim human rights commission.
http://iina.me/wp_en/?p=1006581
---------
Rights groups urge international community to press Iran to end violations
Reporters Without Borders, the International Federation for Human Rights (FIDH), and the Iranian League for the Defence of Human Rights urge the international community to take a much firmer stance on respect for human rights in Iran by raising this essential issue in the talks currently under way with the country's authorities.
Paris, 3 February 2012 - Reporters Without Borders, the International Federation for Human Rights (FIDH), and the Iranian League for the Defence of Human Rights urge the international community to take a much firmer stance on respect for human rights in Iran by raising this essential issue in the talks currently under way with the country's authorities.
These three human rights organizations also urge the EU and the international community to publicly condemn the unacceptable treatment that imprisoned journalists and netizens receive at the hands of the Revolutionary Guards.
Farsnews, an Iranian news agency that is close to the Revolutionary Guards, reported on 29 January that the Supreme Court had upheld the death sentence that was passed on Saeed Malekpour, a computer specialist and Canadian resident. Farsnews also published a communique by the Centre for the Surveillance of Organized Crime expressing "satisfaction" with the Supreme Court's decision. Malekpour's execution is believed to be imminent.
Two other netizens, information technology student Vahid Asghari and website administratorAhmadreza Hashempour have also had their death sentences confirmed by the Supreme Court in the past few days.
A fourth netizen, Mehdi Alizadeh, a website developer and humorist who was arrested for the second time in March 2011 in connection with his satirical posts, has just learned that he has been sentenced to death by Abolghasem Salevati, the head of a revolutionary court.
"We call on the international community to intercede directly with the Iranian authorities on behalf of these four netizens and to request the acquittal and release of all imprisoned journalists and bloggers," the three human rights organizations said. "The issue of respect for fundamental rights must at the same time be raised during the ongoing economic and scientific discussions."
These four netizens, aged from 25 to 40, are the victims of machinations by the Centre for the Surveillance of Organized Crime, an entity that was created illegally by the Revolutionary Guards in 2008. In March 2009, this centre announced the dismantling of a "malevolent" Internet network and the arrests of several website moderators, whose photos and "confessions" were published a few days later by the Gerdab website and other outlets.
Under torture, they admitted to having links with websites that criticize Islam and the Iranian government and to having intended to "mislead" Iranian youth by distributing pornographic content. They were also forced to confess to participating in a plot backed by the United States and Israel.
The detainees were placed in solitary confinement for long periods - more than a year in some cases - and the confessions obtained under torture were used against them at their trials. Malekpour and Asghari described how they were tortured during interrogations in letters to the judges in charge of their cases. At the same time, their defence lawyers were unable to meet with them or have access to their case files.
The three human rights organizations support the appeal that 39 political prisoners, journalists and intellectuals issued on 25 January, calling for the release of all prisoners of conscience including the leaders of the protests against President Mahmoud Ahmadinejad's disputed re-election.
Mir Hossein Mousavi, the former Prime minister and owner of the closed newspaper Kalameh Sabaz, his wife, writer and intellectual Zahra Rahnavard, and Mehdi Karoubi, the former Speaker of Parliament and owner of the closed newspaper Etemad Melli, have been under house arrest since 24 February 2011. Karoubi's wife, Fatemeh Karoubi (the editor of the magazine Iran Dokhte), who was arrested at the same time as him, was finally released in September.
Mousavi, Rahnavard and Mehdi Karoubi have been deprived of all their rights for nearly a year. Their relatives have not been able to visit them for months and are very worried about their state of health.
"The Islamic Republic must bring this unacceptable state of affairs to an end. Arbitrary arrest and the holding of political prisoners incommunicado violate international law. Such practices are tantamount to enforced disappearance, yet are widely and frequently practised by the authorities."
http://www.payvand.com/news/12/feb/1039.html
---------
Afghanistan: Driven Away by a War, Now Stalked by Winter's Cold
By ROD NORDLAND
February 3, 2012
¶ Mirwais, son of Hayatullah Haideri. He was 1 ½ years old and had just started to learn how to walk, holding unsteadily to the poles of the family tent before flopping onto the frozen ridges of the muddy floor.
¶ Abdul Hadi, son of Abdul Ghani. He was not even a year old and was already trying to stand, although his father said that during those last few days he seemed more shaky than normal.
¶ Naghma and Nazia, the twin daughters of Musa Jan. They were only 3 months old and just starting to roll over.
¶ Ismail, the son of Juma Gul. "He was never warm in his entire life," Mr. Gul said. "Not once."
It was a short life, 30 days long.
These children are among at least 22 who have died in the past month, a time of unseasonably fierce cold and snowstorms. The latest two victims died on Thursday.
The deaths, which government officials have sought to suppress or play down, have prompted some soul-searching among aid workers here.
After 10 years of a large international presence, comprising about 2,000 aid groups, at least $3.5 billion of humanitarian aid and $58 billion of development assistance, how could children be dying of something as predictable — and manageable — as the cold?
"The fact that every year there's winter shouldn't come as a surprise," said Federico Motka, whose German aid group, Welthungerhilfe, is one of the few at work in these camps, which aid workers call the Kabul informal settlements — since describing what they actually are, camps for displaced persons or war refugees, is politically sensitive. The Afghan government insists that the residents should and could return to their original homes; the residents say it is too dangerous for them to do so.
The deaths occurred at two of the largest camps, Charahi Qambar (8 cold-related deaths), and Nasaji Bagrami (14 such deaths). Both camps are populated largely with refugees who fled the fighting in areas like Helmand Province in the south. Some people have been in the camps for as long as seven years; others arrived in the past year.
"There are 35,000 people in those camps in the middle of Kabul, with no heat or electricity in the middle of winter; that's a humanitarian crisis," said Michael Keating, the United Nations humanitarian coordinator in Afghanistan. "I just don't think the humanitarian story is sufficiently understood here. You've got a lot of people who really are in dire straits."
The United Nations and major relief groups last Saturday started what is called the Consolidated Humanitarian Appeal, asking donor groups and governments for $452 million in aid for the coming year, a 22 percent decrease from last year's appeal of $582 million.
Far larger funds are separately available for development aid — nonemergency assistance to do things like build schools and infrastructure.
For many of the displaced people in Kabul's camps, however, international humanitarian policy subjects them to a pitiless Catch-22.
The camps do not qualify for development aid because they are viewed as temporary facilities — and many Afghan officials oppose their presence. On a practical level, pouring aid into the camps would encourage people to stay in them, and perhaps draw more people there as well.
Full Report at:
http://www.nytimes.com/2012/02/04/world/asia/cold-weather-kills-children-in-afghan-refugee-camps.html?_r=2&nl=todaysheadlines&emc=tha22&pagewanted=all
---------
India: Rahul Gandhi scours India's largest state for votes among Muslims and outcast
The Congress party of Nehru and Indira Gandhi is accused of sacrificing free speech to make a comeback in India's most populous state
Jason Burke in Lucknow, Uttar Pradesh
5 February 2012
Voters in Uttar Pradesh take part in elections for the state assembly over the next three weeks. Photograph: Saurabh Das/AP
You can find the Islamic Centre of India in the Aishbagh neighbourhood of the north-eastern city of Lucknow, flanked by a Hindu temple and a wedding hall. Most evenings the call to prayer competes – or coexists – with the thumping bass of Bollywood dance tunes that accompany the nuptial celebrations of the city's middle classes. Often it is the centre itself that is the source of music, although the couples that hire its lawns for their wedding parties choose classical melodies that Muslim musicians have played in the city for centuries.
Lucknow, the capital of the state of Uttar Pradesh, has long been an important centre of south Asian Islamic culture. These days the music in the city – whether from films or mystic masters of Sufism – is being drowned out by the discordant tunes blaring from the tinny speakers on the campaign vehicles of political parties.
It is election time in the northern state of more than 200 million people, India's most populous, which if independent would be the world's fifth largest country.
Polling for the legislative assembly begins this week, and will last for three weeks because the state is so vast. Though politics in Uttar Pradesh rarely attracts much attention outside India, last month the battle for votes here hit global headlines.
A key constituency are the state's many Muslims, who account for about 18% of the population. This group could eventually swing some power in the state back to Congress, the party of the Gandhi dynasty, after a gap of more than 20 years. Congress will not win outright, but even a small improvement from its low level of support would be a victory. Critics claim that the Congress-led national government in Delhi was pursuing this Muslim vote when it very publicly failed to intervene to support Salman Rushdie, after ultra-conservative Islamic groups called for him to be stopped from speaking at a recent literary festival in India. According to the organisers of the event, this was a "defeat for free speech" and thus a "tragedy".
Rushdie, born in India, spoke of his disappointment at finding the country no longer committed to secularism and liberty, but a place where "religious extremists can prevent free expression of ideas at a literary festival [and where] the politicians are too … in bed with those groups to wish to oppose them for narrow electoral reasons".
For a few days, the dispute continued. Muslim groups said it was right that the author of The Satanic Verses, the 1988 book considered insulting to the prophet Muhammad, was prevented from talking. Liberals castigated the government for putting votes in Uttar Pradesh before principles. Few bothered to talk to Muslims in the state. For Khalid Rasheed, the cleric and scholar who directs the Islamic Centre in Aishbagh, the Muslim groups that had called for Rushdie to be denied entry to India were speaking for the community. "All Muslims are united. The words used by Salman Rushdie cannot be tolerated by any Muslims," Rasheed said.
Certainly, if Muslims in Lucknow and elsewhere are asked what they think of Rushdie the answer is uniform. "If anyone writes that against any religion, it is not tolerable," said Misba Khan, 31, a social worker. "Of course he should not be allowed to come and talk. He is out to create hatred."
But push a little further and a slightly different picture emerges, particularly in terms of how the state's Muslims might vote and why. Uttar Pradesh has poverty levels worse than most of sub-Saharan Africa. More than half of the children are chronically malnourished and nearly half of women cannot read or write.
About 100 miles north of Lucknow, and 40 miles south of the Nepal border, is the scruffy town of Gonda. It lies in one of the poorest parts of Uttar Pradesh. The roads that exist are so pitted and holed that the short distance from the state capital takes more than three hours.
It is a desolate drive, even in winter, when temperatures are bearable. In summer, crows fall dead from the sky in temperatures of 45C or higher. Most villages are without power; almost none have proper sanitation; many comprise little more than a miserable huddle of mud and straw huts.
About half the population are either Dalits, the caste at the bottom of India's ancient but still tenacious social hierarchy, or Muslims who, repeated surveys have shown, are among the most disadvantaged people in India. Even in the towns, life is little better.
"The government says there is electricity 14 hours every day, but if we get two or three we are lucky," said Dinesh Shukla, a journalist in Gonda. "There are no jobs. There is nothing."
Five years ago, Dalit and Muslim votes carried the firebrand populist Mayawati Kumari to power in Uttar Pradesh. She is hoping that the support of the same communities will, despite the rampant corruption and broad lack of development during her reign, bring her another five-year term. A second caste-based party is her biggest challenger. The Congress party comes a weak third or even fourth behind the Hindu nationalist BJP.
Last week, as Mayawati addressed a rally in Gonda, only a hundred yards away Muslim barbers cut and shaved their customers without even lifting their heads when the chief minister's helicopter circled and landed.
"If Congress had helped Rushdie come, then we would have been angry. No Muslim likes him. But that doesn't mean we are going to vote for them. We will vote for people who make our lives better," said Kaleem. "No one listens to the poor people anyway."
Uttar Pradesh was long the fief of India's foremost political dynasty. Jawaharlal Nehru, the country's first prime minister, and his daughter Indira Gandhi, perhaps its most controversial leader, both held parliamentary seats in the state. Now it is the turn of Indira Gandhi's grandchildren, Rahul and Priyanka Gandhi, to campaign in the dusty lanes and villages of the dynastic seats near Lucknow. This adds a personal dimension to the fight for the Muslim vote in the state.
Full Report at:
http://www.guardian.co.uk/world/2012/feb/05/rushdie-banning-overshadows-indian-election
URL: https://newageislam.com/islamic-world-news/muslim-scholars-seek-triple-talaq/d/6555