Age Islam News Bureau
17 Jan 2018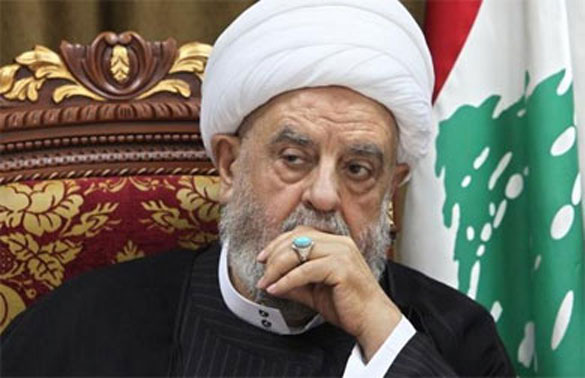 "Takfiri terrorists backed by Israel carried out their vicious attacks simultaneously with the recent developments in the Occupied Palestine. The Zionists are making new settlements in Palestinian territories to Judaize their lands even more. They want to make Palestinians leave their homes and continue their unjust actions against the innocent people of Palestine. "Sheikh Qabalan said in his statement.
-----
• Muslim Minister of Pakistani-Origin Takes Oath of Office on Holy Quran in US
• Council of Islamic Ideology to Contemplate Meaning and Religious Connotations of 'Black Friday' Sales
• Iran's Leader Accuses Saudis of 'Treason' Against Muslims
• Lebanese Shia Cleric Invites Muslim, Christian Leaders to Unite Against Takfiri Terrorism
• UNICEF: Over 5,000 Kids Killed By Saudi War on Yemen
• The Only Hebrew Language Teacher in Indian Academia: A Devout Muslim
North America
• Muslim Minister of Pakistani-Origin Takes Oath of Office on Holy Quran in US
• US Withholds $65 Million from UN Agency for Palestinian Refugees
• US Renews Call for Steps against 'Externally Focused Terrorists'
• A phony Islamophobia panic is ruining Canadian politics
• The Pentagon's smart plan for preventing an Islamic State comeback
• Uruguay Probing Whether Ex-Guantanamo Detainee Has IS Ties
-------
Pakistan
• Council of Islamic Ideology to Contemplate Meaning and Religious Connotations of 'Black Friday' Sales
• Pakistan Alarms U.S. With Harsh Blasphemy Laws Allowing Rise of Radical Islam
• NA speaker addresses Parliamentary Union of Islamic Countries in Tehran
• Hafiz Saeed endorses fatwa against terrorism
• PUC terms decree against suicide bombings a good omen
• Terrorists of all hue and colour defeated: Bajwa
-------
Mideast
• Iran's Leader Accuses Saudis of 'Treason' Against Muslims
• Palestinian Central Council Calls for Struggle against Israel 'In All Forms'
• Yazidis in Turkey camp wish for IS captives to return home
• Turkey begins first wave of artillery fire on Kurds in Afrin
• US interventionist, destructive policy fuels Syria crisis: Iran
• Hard-liners win the day at Palestinian crisis meeting on Jerusalem
-------
Arab World
• Lebanese Shia Cleric Invites Muslim, Christian Leaders to Unite Against Takfiri Terrorism
• U.S.-Backed Force Could Cement a Kurdish Enclave in Syria
• Four years and one caliphate later, Daesh claims Idlib comeback
• Minorities in north Iraq look to post-jihadist future
• Why are doctors in the Middle East cosying up to foreign armies?
• Turkey-Backed Militants Launch Heavy Attacks on Kurds in Northern Syria
• Five Senior Commanders of Al-Nusra Killed in Syrian Army Attacks in Idlib
• Syrian forces deal devastating blows to terrorists in Aleppo
• Saudi Arabia intercepts Houthi ballistic missile targeting Jazan
• Saudi Arabia intercepts ballistic missile launched by Houthi militia from Yemen
-------
Europe
• UNICEF: Over 5,000 kids killed by Saudi war on Yemen
• German Defence Minister Warns Against IS 'Safe Havens
• Islamic State group terror plotter 'tried to radicalise 11-year-old pupils'
• Rights groups ask May to cancel Saudi prince's visit to UK
• French prison guards hurt in two new attacks by radicalized inmates
• Several Ukrainians accused of terrorist activity in occupied Crimea illegally taken to Russia
-------
India
• The Only Hebrew Language Teacher in Indian Academia: A Devout Muslim
• Pune: Muslim Organisations, Scholars Welcome Centre's Decision to Abolish Haj Subsidy
• Muslim Outfit Places Rs 10 Lakh Bounty on Shia Waqf Board Chief's Head
• Israel PM Hails 'Alliance' With India, Targets 'Radical Islam'
• Pak troops fire at LoC posts in Poonch; Army Captain injured
• 'We're not seeking reform in Islam, Shariat, but there must be reform of evil social practices,' says Mukhtar Abbas Naqvi
• Nuclear, chemical weapons falling into hands of terrorists could spell disaster: Army Chief Bipin Rawat
• Muslims Were Cheated In Name of Haj Subsidy: AIMPLB
-------
South Asia
• Bangladesh, Myanmar Aim to Finish Rohingya Return In 2 Years
• Afghan Special Forces Continue Pursuit of Taliban in the North
• 23 militants killed in separate US drone strikes in Afghanistan
• 15 Tajikistani militants killed in Afghan Air Force raids in Badakhshan
• Noor claims Gen. Dostum and Gen. Raziq are under immense pressure of govt
-------
Southeast Asia
• Priest Forges Close Ties With Indonesian Leader
• Mahathir challenges PAS to state its choice for PM
• Self-censorship among non-Muslims 'unhealthy', say academics
• Unfair and wrong to say only Malays fought for Malaysia: Zahid
-------
Africa
• Somalia's Al Shabaab Denounces Ex-Spokesman as Apostate Who Could Be Killed
• Nigeria plays with fire in its handling of Shia sect
• Nigerian army releases 244 suspects who denounced Boko Haram
• Kenya: Court to Rule On Fate of Detained Marsabit Sheikh
Compiled by New Age Islam News Bureau
URL: https://www.newageislam.com/islamic-world-news/muslim-minister-pakistani-origin-takes/d/113966
-------
Muslim minister of Pakistani-origin takes oath of office on Holy Quran in US
January 16, 2018
The State of Virginia in the United States (US) has decided to appoint the first Muslim minister of Pakistani descent to take over the state's education portfolio.
Atif Qarni took oath of office on the Holy Quran to become the secretary of education, according to reports.
A video on social media shows the new minister performing the constitutional oath to office on the Holy Quran in front of the governor of Virginia, Ralph Northam, on Monday.
Qarni is set to oversee an educational policy which supports state schools as well as higher education institutions.
According to the Richmond Times, the Muslim American is the first Muslim to receive a ministerial post.
"It's important that we have a state education secretary who understands the curriculum and classes from kindergarten to high school and has a vision of how to develop education," Northam State Governor said on the occasion.
Born in Karachi in 1978, Qarni immigrated to the US with his family at age 10 and grew up in Parkville, Maryland, before moving to Manassas, Virginia in 2005.
https://tribune.com.pk/story/1610153/3-muslim-minister-pakistani-origin-takes-oath-office-holy-quran-us/
-------
Council of Islamic Ideology to contemplate meaning and religious connotations of 'Black Friday' sales
Javed Hussain
January 16, 2018
The Council Of Islamic Ideology (CII) will convene on Wednesday to discuss the core meaning of the term 'Black Friday' and look at it from an Islamic point of view, DawnNews reported on Tuesday.
CII Chairman Professor Dr Qibla Ayaz will chair the meeting.
The term 'Black Friday' has come under much criticism from religious quarters as various brands and stores began offering massive Black Friday discounts in keeping with retail and consumer trends in the United States.
According to the Oxford English Dictionary, "the day after the (American holiday of) Thanksgiving has been called Black Friday since at least the early 1960s."
"The explanation typically given for the day's name is that it is the first day of the year that retailers are in the black as opposed to being in the red. In other words, the day is the first of the year that retailers have turned a profit," says an article on the Oxford English Dictionary website.
The article adds: "The use of colours here refers back to the bookkeeping practice of recording the credit side of an account in a ledger in black ink and the debit side in red ink."
The term 'Black Friday' became controversial and widely criticised on social media in Pakistan when certain quarters put forward the idea that Friday, the day of the weekly congregation, could not be associated with the colour black, which archetypically corresponds with negative omens.
However, observations on the criticism note the underlying racism evident in associating the colour black with negativity. Others point out that associating a colour with a specific day does not undermine the religious significance of that day.
In addition to debating the meaning of 'Black Friday', the CII is set to pass a resolution protesting US President Donald Trump's decision to shift the American embassy in Tel Aviv to Jerusalem.
The December 6 announcement incited severe global criticism and warnings that the move would jeopardise regional peace and create unrest among Muslim nations, as Jerusalem is claimed by Christians, Jews and Muslims alike.
The CII will also debate a bill that looks to provide members of the transgender community more rights.
The Constitutional Amendment Bill 2017 which looked to make changes to the oath taken by non-Muslims when being sworn in to office will also be discussed in the meeting.
https://www.dawn.com/news/1383311
-------
Iran's leader accuses Saudis of 'treason' against Muslims
January 16, 2018
TEHRAN, Iran — Iran's supreme leader has accused Saudi Arabia of "treason" against Muslims because of its alleged ties to Israel.
Addressing representatives from the Muslim-majority countries in Tehran on Tuesday, Ayatollah Ali Khamenei said "governments that help the United States and cooperate with the Zionist regime to fight Muslim brothers are committing treason, like what Saudis are doing."
However, he also said Iran is ready to adopt a "brotherly attitude" toward countries that have been hostile toward it, and called for Muslim unity.
Iran and Saudi Arabia severed diplomatic ties in 2016 and support opposing sides in the wars in Syria and Yemen.
Iran has seized on media reports that Saudi Arabia is seeking closer ties with Israel in order to join forces against it, something the Saudis deny.
https://www.washingtonpost.com/world/middle_east/irans-leader-accuses-saudis-of-treason-against-muslims/2018/01/16/ded16578-fad8-11e7-9b5d-bbf0da31214d_story.html?utm_term=.d9d1ec6da327
-------
Lebanese Shia cleric invites Muslim, Christian leaders to unite against Takfiri terrorism
January 16, 2018
The head of the Supreme Shia Islamic Council of Lebanon Ayatollah Abdul Amir Qabalan issued a message on Monday in which he condemned the recent terrorist attacks which took place in Baghdad and Sidon causing death of innocent people and initiating riots within the Islamic world.
"Such inhumane crimes indicate the evil nature of takfiri terrorists backed by Israel. The takfiri terrorists and the Zionist regime are two sides of the same coin whose aim is to intimidate and slaughter people. They are out to pose threats and create insecurity in the Islamic countries." The message read.
"Takfiri terrorists backed by Israel carried out their vicious attacks simultaneously with the recent developments in the Occupied Palestine. The Zionists are making new settlements in Palestinian territories to Judaize their lands even more. They want to make Palestinians leave their homes and continue their unjust actions against the innocent people of Palestine. "Sheikh Qabalan said in his statement.
The Lebanese scholar asked Arab, Muslim and Christian leaders to step in and from an alliance against takfiri terrorists backed by Israel in order to uproot the terrorists' ideological and financial sources and help Palestinian people gain their legitimate rights to establish their independent country with Jerusalem al-Quds as its capital. It's only then that the Palestinian refugees can return to their homes.
http://en.abna24.com/news/middle-east/lebanese-shia-cleric-invites-muslim-christian-leaders-to-unite-against-takfiri-terrorism_877669.html
-------
UNICEF: Over 5,000 kids killed by Saudi war on Yemen
Jan 17, 2018
Over 5,000 children have been killed by Saudi Arabia's war on Yemen since it began in March 2015, says a report by the UN children's agency.
The report published by UNICEF on Tuesday, noted that the Saudi war had killed "an average of five children every day since March 2015."
It added that at least two million Yemeni children were also out of school, and that 400,000 were facing malnourishment.
Over three million children were born since the onslaught began, all of them "scarred by years of violence, displacement, disease, poverty, under-nutrition and a lack of access to basic services."
"An entire generation of children in Yemen is growing up knowing nothing but violence... Children in Yemen are suffering the devastating consequences of a war that is not of their making," said UNICEF's representative in Yemen, Meritxell Relano.
"Malnutrition and disease are rampant as basic services collapse...Those who survive are likely to carry the physical and psychological scars of conflict for the rest of their lives," she added.
Earlier in the day, The UN announced that the number of the Yemenis who are dependent on assistance has risen to 22.2 million.
More than 13,600 people have been killed since the onset of the Saudi-led war on Yemen in 2015. Much of the Arabian Peninsula country's infrastructure, including hospitals, schools, and factories, has been reduced to rubble in military strikes.
The Saudi-led war has also triggered a deadly cholera epidemic across Yemen.
According to the World Health Organization's latest count, the cholera outbreak has killed 2,167 people since the end of April and is suspected to have infected more than one million people.
http://www.presstv.com/Detail/2018/01/17/549176/yemen-saudi-arabia-children-killed
-------
The Only Hebrew Language Teacher in Indian Academia: A Devout Muslim
January 16, 2018
The only Hebrew language teacher who holds a position in Indian academia, Dr. Khurshid Imam, Assistant Professor, School of Language, Literature and Culture Studies, Jawaharlal Nehru University, in his conversation with Dr. Navras Jaat Aafreedi discloses the secret of Ben Gurion Mosque and tells us about a hadīth according to which Prophet Muhammad encouraged Muslims to learn Hebrew.
Navras Jaat Aafreedi: Please correct me if I am wrong in understanding that you are the only person teaching Hebrew at any Indian university?
Khurshid Imam: I am not only the only person teaching Hebrew at any Indian university, I was instrumental in getting Hebrew introduced at the Jawaharlal Nehru University. Although officially speaking it was introduced at the university only as a result of a bilateral agreement between India and Israel, yet had I not made efforts for it, I doubt if this would have happened when it happened. (The interview was conducted in 2011. Since then Dr Imam has been joined by Achia Anzi in teaching Hebrew at JNU, but Anzi teaches on a contractual basis. Hence, Imam still remains the only Hebrew teacher to hold a tenure-track position in Indian academia.)
NJA: There are two divisions in any religious community, one of the observant followers and the other of the non-observant ones. You clearly belong to the observant section of Muslims. Considering this and given the tensions between Jews and Muslims today, it is surprising to come to you, an observant Muslim, as the only Hebrew teacher in India. Although Islam does not forbid learning any language, yet given the tensions between Jews and Muslims today, it is hard to find somebody like you.
KI: It is only because of the stereotyping of Muslims that people are surprised when they find me teaching Hebrew. Stereotyping can have very dangerous ramifications as witnessed in the post-9/11 fatal attacks on Sikhs in the US when they were mistaken for Muslims because of their beards and turbans. Also, generally Muslims know their religion not as a result of self-study but as a consequence of how it is interpreted to them by the clerics, which shapes their understanding of how a Muslim should conduct himself. Hence, they are often suspicious of those among them who study the Torah or have Jewish friends. Similarly, instead of appreciating a Muslim studying the Hebrew language in which one of the most important sacred texts, the Torah, was received, it is seen with suspicion and even condemned. There was a time when the Indian Muslims had a similar attitude towards English, then seen by them as a language of the imperialists and enemies of Islam which would distance the Muslims from their religion, Islam. But today not only is English taught even in the Islamic seminaries, its importance is realised by one and all across the Indian Muslim community. My family, friends and wider community were all surprised when I decided to learn Hebrew. Even in Israel, everybody seemed to be surprised to find a visibly observant Muslim like me with a beard and Islamic skull cap desirous of learning Hebrew. For the Israelis, it was their first ever interaction with a non-Arab Muslim, and that too an observant one and on top of that interested in learning their language, which took them by surprise. So, among both, Muslims as well as Jews, there were people who felt I had gone crazy. And I was met with this response only because of the stereotype of a Muslim that these people had. As for me, my interest in Hebrew was driven by my desire to learn about the Jewish version of the Middle East conflict, as my Jewish brethren expressed it in their language Hebrew. I could already access the Arab version in their language because of my knowledge of Arabic. I did not want to know about the conflict between the Jew and the Muslim through a third person.
NJA: During the time you spent in Israel for your studies, the consciousness that the people there would form their perception of Indian Muslims on the basis of their impression of you must have been quite a pressure on you?
KI: It was after my MPhil at the Jawaharlal Nehru University that I went to the Hebrew University of Jerusalem for some time for specialising in the Modern Middle East. Initially, I went to Israel on a Government of Israel Scholarship, but after that, I was supported by Golda Meir scholarship to continue my studies there. The various courses that I took under these two scholarships were cumulatively considered at par with MA. Although lessons in the Hebrew language are not a part of MA in Middle Eastern Studies, yet knowledge of Hebrew is considered mandatory for it. Hence, I learnt Hebrew along with my MA and attained knowledge equivalent to seven levels. I was in Israel from 1998 to 2000. I registered for PhD in 2002 and was awarded the degree of PhD in 2009. I was the first non-Arab Muslim that the Israelis had any interaction with. And they started trusting me so much that some of my Jewish friends even visited the Palestinian Authority-administered Bethlehem with me for the first time in spite of all apprehensions. I got invited to their homes on Jewish festivals just as I was invited by my Palestinian friends on Muslim festivals. My having relations with both parties sometimes made people suspicious of me. Palestinians would think of me as a Yemenite Jew while the Ashkenazim would consider me an Arab. Hence, I was under threat from both sides. In this respect, mere glares would say a lot to me even if the people did not utter a word. When I trod to areas beyond the university neighbourhood, people would look at me with suspicion. Muslims would look at me in the same manner if I visited a mosque not accompanied by any local Arab Muslim friend. The very atmosphere is such that people get easily suspicious of strangers and fear them of being suicide bombers or fanatic attackers. Later I started empathizing with them. I used to offer namāz (Islamic prayers) in the balcony of my flat in Israel. The door to the balcony had a picture of Ben Gurion. I never thought of removing the picture, and as a result, my flatmates started calling it Ben Gurion mosque.
Without exaggeration, at least twenty to twenty-five Jews wept when I left Israel. Relations are still such that whenever anybody from this university goes to Israel he is asked about my wellbeing. I see it as an achievement that I left behind weeping Jewish friends when I returned to India, given the fact that I had gone to Israel all alone, despite discouragement from family and friends and their warnings that according to them, I, a devout Muslim, was risking my safety by heading to an enemy country. Later, Israeli TV channel, Channel 8 Avutz Shimoni, invited me to Israel for two weeks for an interview for a six or seven-episode documentary series on identity.
NJA: How and when did you develop an interest in the Hebrew language?
KI: Conscious as I was that there was more to the animosity and the tensions between Jews and Muslims than just the Arab-Israel conflict, I decided to interact with Jews in their own language to get to the very roots of the problem. It was an attempt on my part to understand their outlook, their point of view, right from the horse's mouth, instead of being informed through the press, predominantly by the third party, which is neither Jewish nor Muslim. Secondly, there is a hadith according to which Prophet Muhammad asked his followers to learn Hebrew. It is said that two of the sahābā attained command of Hebrew, one in thirteen days and the other in fifteen days. Hebrew of those times was very close to Arabic. By learning Hebrew, I also followed a Sunnat, according to which one should learn as much as possible. My knowledge of Hebrew has also enabled me to bridge the communication gap between me as a Muslim and Jews. I also felt that with the increasing strengthening of relations between India and Israel, knowledge of Hebrew would brighten my career prospects. The first organisation to employ me upon my return to India was the Indian Defence School where I taught Hebrew. Even today when I do not teach there anymore I am still requested to come from time to time whenever there is anything involving the Indo-Israel defence deals. Hence I have served my religion as well as my country by learning the Hebrew language.
NJA: What did you propose to study when you applied for the Government of Israel Scholarship?
KI: I proposed to research the Role of Extremist Writers in the Peace Process.
NJA: After your return from Israel on the completion of your studies, did you face any opposition or resistance to your academic endeavours in India?
KI: I am often called a Mossad agent who has been planted among Indian Muslims. Jawaharlal Nehru University is politically a very sensitive place given the dominance of the Left at the campus. It is the Left which is considered secular and it is anti-Israel. Hence, I could not expect any support from them. And as far as the Right is considered, even if they were sympathetic towards the cause of Hebrew, they were suspicious of me because of my religious Islamic demeanour. Therefore, of the two main political factions active at the university campus, I could not get support from either. In this situation, it was not easy to introduce and promote Hebrew in the university and all I could do was to keep a low profile. Conscious of the fact that Muslims and Jews are seen as political adversaries, I urged the people to see my attempt to introduce Hebrew as a purely academic act, rather than driven by any political agenda. JNU is particularly known for the study of modern foreign languages. I tried to draw attention to the need for the introduction of classical languages and projected Hebrew as one. Introducing Hebrew in the garb of a classical language was the only strategy I could think of for countering the forces resisting it. Today what I teach is actually Modern Hebrew. I neither find myself qualified to teach the classical form nor is there any demand for it as the students are largely market-oriented and not research oriented. It is the knowledge of Modern Hebrew which would serve them better. As of now, only the modern language is taught for two semesters, but as the demand for it increases there would also be needed for experts in Classical Hebrew and in Hebrew Literature.
NJA: Could you, please, narrate a few interesting anecdotes or experiences of Israel.
KI: When I got off the taxi at the Hebrew University in Jerusalem after my arrival in Israel, a heavy suitcase of mine, which did not even have wheels, was lifted for me for a long distance, until I reached my destination, by a stranger. It is interesting to note here that I had been cautioned against going to Israel by friends and family, and now my very first experience there was so pleasant.
Once a bomb explosion took place in the university library and the old librarian got injured. I also happened to be there. The librarian was so impressed with my gesture of immediately getting him water to drink and also with my washing his wounds, that after that incident he always introduced me to the people as the gentleman who came to his rescue immediately after the explosion. As a result of this and many other incidents, I got the happy feeling that I was positively contributing to Jewish-Muslim relations by leaving behind a positive image of Muslims, unlike the one the Jews had before. There were even articles on me in the Israeli press after this incident.
Before I went to Israel I did not use to allow anyone to take pictures of me, but in Israel, I was photographed so much that I stopped resisting.
One day I was on my way to see a filmmaker who had interviewed me for a documentary he was making on Jihad. I had with me a book for him, titled Killing in the Name of God. Just when the bus arrived at the stop a police car stopped right in front of it after overtaking it and the policemen signalled to the driver not to open the door. With the pistols pointed at me, I was asked to raise my hands. After which I was asked to lift my shirt and then to open the bag. Upon my opening, the bag came out that book, which made them all the more suspicious. However, I was let off when I showed them my University Identity Card. They explained that they did so because they had some input about a suicide bomber.
I would admit that I did have the same perception of Jews as common among the common Muslims, that they are a people guilty of the falsification of religious texts. It was after going there that I realised that the Jews were not any different and were regular, ordinary people like us, with good as well as bad among them. The Indian Muslims do not seem to be prepared as yet for greater interaction with Jews, for many among them have cancelled their visits to Israel out of fear of being ostracised by their community or instead of going there directly have gone there secretly via some other country. The Urdu press does play a negative role in shaping the Muslim perceptions of Jews and Israel. I do not know where this misconception came from that the Muslims are not free to pray in the Al Aqsa mosque, but it is very widespread among them. It is silly of the Muslim countries to not grant visas to those who have been to Israel. Just as we Muslims resent being stereotyped, the same way, we Muslims too, should not stereotype the other communities.The Hebrew University of Jerusalem has a Department devoted to Islamic Studies. When the Jews can study about Islam and its history why cannotDre Muslims study about Jewish theology and history and culture. It is necessary to understand the Jews in order to understand the Qur'an, which is full of references to Abraham, Moses, David and Solomon.
https://www.siasat.com/news/hebrew-language-teacher-indian-academia-devout-muslim-1301396/
-------
North America
US withholds $65 million from UN agency for Palestinian refugees
Jan 17, 2018
The United States has withheld tens of millions of dollars in money for a United Nations agency tasked with providing services for Palestinian refugees.
The administration of US President Donald Trump held back 65 million dollars of a planned 125-million-dollar funding installment meant for the United Nations Relief and Works Agency for Palestine Refugees (UNRWA) on Tuesday, two weeks after US President Donald Trump warned to cut off future payments if Palestinians rejected negotiations with Israel.
The US State Department claimed that the decision was not taken to pressure Palestinian leaders and served as a call on other countries to step forward and do more to help the Palestinian refugees.
"This is not aimed at punishing anyone," US State Department spokesperson Heather Nauert told reporters. "The United States government and the Trump administration believe that there should be more so-called burden-sharing to go around."
The department also sent a letter to UNRWA, demanding that the agency undergo major changes and describing the reforms as a condition of releasing more money.
Earlier in the day, the UNRWA had announced a forced lay-off of more than 100 employees in Jordan because of the US's refusal to allow the transfer of financial aid to the agency.
Wasel Abu Youssef, a senior Palestine Liberation Organization (PLO) official, immediately denounced the Tuesday move as a deliberate US effort to deny the Palestinians their rights.
Israel created a wave of Palestinian refugees numbering in the hundreds of thousands after it overran huge swathes of Arab territories in the Middle East to proclaim existence in 1948. Ever since, many refugees have been scattered across densely-crowded camps in the Palestinian territories of the West Bank and the Gaza Strip, as well as in Jordan and Lebanon.
Relations between the US and Palestine have also been stained over the past weeks since Washington recognized Jerusalem al-Quds as Israel's capital and vowed to relocate the US embassy in Israel from Tel Aviv to the occupied city.
The entire Jerusalem al-Quds is currently under Israel's control, while the regime also claims the city's eastern part, which hosts the third holiest Muslim site.
http://www.presstv.com/Detail/2018/01/17/549172/US-Palestinian-refugees-UNRWA-Heather-Nauert
-------
US renews call for steps against 'externally focused terrorists'
January 17, 2018
ISLAMABAD: The first diplomatic engagement between Pakistan and the United States after the mini-crisis created by President Donald Trump's tweet ended with Washington renewing its demand for Islamabad to clear its territory of "externally focused terrorists".
"Ambassador [Alice] Wells urged the government of Pakistan to address the continuing presence of the Haqqani network and other terrorist groups within its territory," said a US embassy statement at the conclusion of a two-day visit by Deputy Assistant Secretary of State Alice Wells.
Her visit followed the US military's outreach to Army Chief Gen Qamar Bajwa to contain the damage caused by the Trump tweet which accused Pakistan of "lies and deceit".
During her meetings in Islamabad, she conveyed to her Pakistani interlocutors that the US wanted to shift to a "new relationship with Pakistan" based on "mutual interest".
Pakistanis too expressed their desire for a continuation of the relationship, but at the same time conveyed a message that the ties could progress towards normalisation only if there were mutual trust and respect.
Ms Wells had suggested to Pakistani leaders that enhanced intelligence cooperation could provide the basis for improvement in ties, especially in counterterrorism cooperation, which is at the heart of the problems in their relations.
Media interaction
"There can be no good or bad terrorists," said Ambassador Wells during a brief chat with a small group of journalists at the US embassy on Tuesday.
At a pre-arranged meeting with the journalists on a cold morning, she tried to tone down the shrillness prevalent in US-Pakistan relations by speaking in a gentle tone about the long and shared history of the two states. She spoke of projects the US funds in Pakistan, how the Coalition Support Fund (CSF) was deeply in the US' interest, of effective partnerships and "professional and constructive meetings" that she held a day earlier.
Her calm tone was a world apart from the Twitter diplomacy that has dominated headlines so far this year.
The US diplomat emphasised that Washington opposed any effort to foment separatism inside Pakistan. "We do not support Balochi (sic) separatism," she added. Later she also stated that the US would not support the use of Afghan soil as a base for hostile acts against Pakistan.
While her tone may have been gentle and calm, there were enough hints about the reasons for the shrillness that has dominated the relationship for some time. She spoke of the "moment of concern" in bilateral relations, of frustration and "our unhappiness that we have not been able to forge an effective partnership in terrorism".
All of it simply linked back to what appeared to be her firm message that the US was against countries distinguishing between good and bad terrorists.
"All terrorist forces must be fought against," she said in response to a question — she made it clear that her message in the meetings she held in Islamabad was that "we are seeking to deny any terrorist ability to use terrorism, including groups like the Taliban or Haqqani network… we oppose the use of terrorist proxies by any country…"
The US embassy would only confirm Ambassador Wells's meetings with the foreign secretary, Miftah Ismail, the adviser on finance, and National Security Adviser retired Lt Gen Nasser Khan Janjua. It was perhaps one of the rare visits during which a US official did not visit the General Headquarters for a meeting with the military leadership — at least there was no publicly known interaction during the trip.
While praising Islamabad's "extraordinary" fight against the Tehreek-i-Taliban Pakistan and Jamaatul Arhar, she said the US wanted similar efforts against groups trying to destabilise Afghanistan.
By carefully using her words, she explained that Washington's aim was to find a negotiated political settlement to Afghanistan. And that this was where the US expected Pakistan to play its role.
Making it clear that the US had set no preconditions for talks, the expectation, she said, was that at the end of the process there should be no terrorism and there should be an end to the violence.
The objective, she explained, was to stop the Taliban from winning. This aim does not mean denying that the Afghan Taliban, like other parties, have legitimate political interests — she even said that the Taliban were part of the social and political fabric of society.
She added that the US wanted these interests to be brought to and settled on the negotiating table.
Full report at:
https://www.dawn.com/news/1383416/us-renews-call-for-steps-against-externally-focused-terrorists
-------
A phony Islamophobia panic is ruining Canadian politics
By J.J. McCullough
January 16, 2018
During the lead-up to the 2003 Iraq War, back when invading that country was a more popular idea among Canadians than many care to remember, I recall observing an encounter at the bus stop near my house between a group of middle-aged white folks, perhaps three or four of them, and a hijab-wearing Muslim woman. I didn't see how it began, but everyone was arguing about the war, with the Muslim woman against and everyone else for. No one was making particularly good points, but it was nevertheless obvious, through the white folks' sneering, dismissive tone, that they regarded the logic of the Muslim woman with far more suspicion than was warranted simply because of who she was. There were no "go-back-to-where-you-came-froms" or anything like that, but it was a visibly tense conversation made all the tenser by one obvious variable.
Was what I witnessed Islamophobia? It was certainly an unpleasant swirl of politics and culture in which many divisive sources of social discord — violence, patriotism, religion, race and immigration — were present, either explicitly or just below the surface. Without being too presumptuous, when Muslim Canadians experience episodes of social anxiety, I imagine the triggers often resemble what I witnessed: awkward encounters with representatives of the majority that leave the Muslim feeling devalued or marginalized and hyper-aware of their "otherness."
The world being what it is, however, most of us would prefer Islamophobia to manifest in a more sensationalistic, even cartoonish way. The Canadian Parliament certainly resorted to fairly cartoonish language of its own when it passed a motion last March describing the scourge of Canadian Islamophobia as an "increasing public climate of hate and fear," which only heroic government action at the highest levels could redress.
When, last week, an 11-year-old Muslim girl from Ontario claimed she was attacked out of the blue by a bigoted monster who literally tried to cut the hijab off her head with scissors, this desire for cartoonish Islamophobia was satiated. Politicians from the prime minister on down tumbled over each other to tweet messages of sadness and remorse — on behalf of the whole country, naturally — that such wickedness had been allowed to transpire (though a barely hidden subtext was that they all pretty much expected it).
After a couple days as the cause celebre of Canadian woke-Twitter, the hijab-chopping story was declared false by the Toronto police. It "did not happen," the news release bluntly stated. It thus joined the ranks of such other scandalous nonevents as the grocery store Islamophobe in London, Ontario (who wound up being a Farsi-speaker in treatment for mental illness) or the Muslim man who got beat up by a slur-yelling assailant in a Whitby park bathroom (only to be later deemed unreliable by police and prosecutors).
There is something unmistakably perverse about the bizarre appetite many Canadians, particularly those on the left or in elite positions, seem to have for tales of outlandish Islamophobia, an appetite that causes otherwise sensible people to turn off their faculties for caution and skepticism and adopt the credulity of a supermarket tabloid reader. At best, they gobble up such anecdotes as a variant of so-called "decay porn," in which weird cravings for tales of a hellish world can be satisfied only by increasingly outlandish stories cooked up by fabulists. At worst, these are mini-Gulf of Tonkins of the mind, emotional pretexts that rationalize backing politicians or legislation that erode free speech, due process or national security in the name of fighting some unprecedented enemy.
As the Toronto Sun's Anthony Furey observed, Prime Minister Justin Trudeau has a long track record of erring on the side of radical Islam, a pattern seemingly born from a larger tendency to frame Muslims as creatures without agency and deserving reverence for all claims of persecution, no matter how dubious or ambiguous. This, in turn, animates many of the man's marquee political promises, from a generous intake of Syrian refugees to eliminating judgmental language from the Canadian citizenship guide to ending bombing raids against the Islamic State, all of which have, at their core, an implied need to redeem the Islam-skeptical character of Canadian society.
Phony or exaggerated charges of Islamophobia, in other words, are not merely victimless non-crimes. They inflate the resolve of a certain flavor of progressive whose political agenda aims to sacrifice much of traditional liberalism in the name of a bigotry course correction, as well as the denialist ignorance of the reactionary right, like those who peddled conspiracy theories about last year's mosque shooting in Quebec City. The end result is a society whose politics have been agitated to polarize around the Muslim issue in a deeply inaccurate, unserious way.
Full report at:
https://www.washingtonpost.com/news/global-opinions/wp/2018/01/16/a-phony-islamophobia-panic-is-ruining-canadian-politics/?utm_term=.d443d29d035f
-------
The Pentagon's smart plan for preventing an Islamic State comeback
Jan 17, 2018
Raqqa in northern Syria is a broken city in the midst of a long, arduous rebuild. But it's no longer the nerve center for the Islamic State's mission of carnage. Syrians, the U.S., Europe and the rest of the world can thank Syrian Kurdish fighters for that.
Syrian Kurdish forces led offensive to retake Raqqa, and were instrumental in routing Islamic State militants from much of the rest of northern Syria. Now, the U.S. has a new assignment for Kurdish fighters: Police Syria's borders with Turkey and Iraq, to ensure that remnants of Islamic State don't coalesce into any kind of comeback.
The Pentagon was right to train and arm Syrian Kurds ahead of the offensive to retake Raqqa. Syrian Kurdish fighters had amassed an admirable track record against Islamic State across northern Syria. Their deployment as a border security presence makes just as much sense.
As a builder of Sharia-ruled strongholds, Islamic State is absent. But the group isn't entirely gone: Its militants continue to inspire, through their online capabilities and through attacks on Western targets with knives and trucks. And while they no longer maintain a hold on urban centers, pockets of Islamic State fighters remain along the Euphrates River Valley, near the border of Iraq and Syria, as well as in desert stretches of both countries.
A Syrian Kurdish-led force would stabilize the porous, no-man's land along the Syrian border. The U.S. has begun training Syrian Kurds for their new task, and the goal is to, over the next few years, build up a force of up to 30,000 fighters.
That has incensed Turkey, which regards the Kurdish force in Syria as an extension of the Kurdistan Workers Party (PKK), a separatist group in Turkey that Ankara labels as a terror organization.
Turkey, a NATO member and an increasingly difficult Western ally, is talking tough about Syrian Kurds as border troops. "Our duty is to drown this army of terror before it is born," Turkish President Recep Tayyip Erdogan said this week. Turkish troops along the border have begun shelling Syrian Kurdish fighters in the Syrian town of Afrin, and Ankara says it's beginning preparations for an assault on the Kurdish contingent there.
This isn't the first time Turkey has been rankled by America's reliance on Syrian Kurd fighters in Syria. Turkey angrily denounced the U.S. bid to train and arm the Syrian Kurd-led offensive on Raqqa, the Islamic State's self-proclaimed capital. Nevertheless, the Trump administration should stand its ground. The Euphrates River Valley is an expanse of nearly 4,000 square miles that Islamic State still controls. The militant group's top leaders are believed to be hiding there. Neither the U.S. nor any other country with a stake in the Middle East can afford to ignore that.
There's another reason why keeping Kurdish forces engaged in Syria is the right tack to take. They serve as an important counterpoint to the influence imposed by Russia and Iran — two governments that back Syrian strongman Bashar Assad and his bid to eventually retake territory Damascus lost after years of civil war. Like Turkey, Russia and Iran oppose a Syrian Kurdish border force.
Full report at:
http://www.chicagotribune.com/news/opinion/editorials/ct-edit-syrian-kurds-islamic-state-20180116-story.html
-------
Uruguay Probing Whether Ex-Guantanamo Detainee Has IS Ties
January 16, 2018
MONTEVIDEO, URUGUAY —
Police in Uruguay are investigating whether a former Guantanamo detainee who was granted refuge there is a member of the extremist Islamic State group.
The alleged militant is a Syrian national named Abu Wa'el Dhiab, also known as Jihad Diyab, released in 2014 from the controversial U.S. prison at Guantanamo Bay, Cuba. His accuser — who Dhiab claims owes him thousands of dollars — is Omar Khader Attalla, a Palestinian-born merchant. Both men live in Rivera, a department in northern Uruguay near Brazil.
Authorities began investigating last month, after the men filed complaints against each other.
Dhiab was among six detainees transferred from Guantanamo to Uruguay for resettlement in 2014. The six — mostly Syrians like Dhiab, plus a Tunisian and a Palestinian — had been held since 2002 for suspected ties to the jihadi group al-Qaida but never were charged.
Oversight responsibilities?
Dhiab, who was force-fed to break a hunger strike while at Guantanamo, repeatedly has sought transfer to an Arab country. Since his release in Montevideo, he has traveled to neighboring Argentina and Brazil, as well as Venezuela and Morocco, raising questions about oversight.
Last July, Dhiab was apprehended at Morocco's airport and deported for carrying a fake Tunisian passport, as the Associated Press reported then. In 2016, he turned up at the Syrian consulate in the Venezuelan capital, Caracas, before he was sent back to Uruguay. Uruguay's foreign ministry said at the time that Dhiab's refugee status allowed him to leave the country.
The United States won't transfer a Guantanamo detainee without "appropriate security measures," Pentagon spokeswoman Sarah Higgins told VOA.
"The United States coordinates with the receiving country regarding appropriate security measures and to ensure that these transfers are consistent with our humane treatment policy," Higgins, a Navy commander, said Friday from Guantanamo, where she was visiting.
"It is a different arrangement depending on the receiving country; there are no standard guidelines. Until a country agrees to provide appropriate security measures and to treat the detainee humanely, we will not transfer the detainee to that country," she said.
But a former U.S. State Department security official told VOA last week that the hundreds of released Guantanamo detainees receive minimal oversight. "Their supervision is largely left at the discretion of local authorities," said the official, who asked to remain anonymous because he still conducts sensitive work for the department.
Guantanamo detainees sue
Of 714 detainees released or transferred from Guantanamo, beginning with President George W. Bush's administration, almost 17 percent — or 121 individuals — were "confirmed of re-engaging" in terrorist activities, the National Intelligence director's office reported last March. Another 12 percent — or 87 — were suspected of doing so.
Forty-one inmates remain at Guantanamo. Last Thursday, on the 16th anniversary of the prison's opening, 11 of them sued the Trump administration in U.S. District Court in Washington. Their lawyers claim that holding the men in "perpetual detention" without charging them violates U.S. law.
IS affiliation alleged
The new investigation into Dhiab began after Khader Attalla spoke with police on December 13, claiming that Dhiab had threatened him and claimed to be a member of IS. Uruguayan federal officials are investigating the possible affiliation, Rivera's government prosecutor, Bettina Ramos, told Montevideo's Radio Carve.
Ramos said investigators also were looking into how Dhiab could have acquired the $30,000 that he alleged merchant Khader Attalla owed or stole from him. The former Guantanamo inmates in Uruguay have struggled financially and received government aid.
Dhiab's attorney, Juan Segura, told El Pais news that his client denied Khader Attalla's allegations. Seguro also said that Dhiab had gotten the $30,000, in money transfers over several months, from relatives in Syria and Turkey to "help him in a venture ... to sell merchandise."
Khader Attalla's lawyer, Mariano Camacho, said Dhiab had owed her client the money for various services, Uruguay's El Pais newspaper reported.
Jon B. Eisenberg, a California-based attorney who had represented Dhiab at Guantanamo, questioned the new allegation of terrorist ties.
Full report at:
https://www.voanews.com/a/uruguay-ex-guantanamo-detainee-alleged-islamic-state-ties/4210446.html
-------
Pakistan
Pakistan alarms U.S. with harsh blasphemy laws allowing rise of radical Islam
January 16, 2018
LAHORE, Pakistan — Harsh laws forbidding blasphemy against Islam are dividing Pakistani society and driving a deeper wedge between Islamabad and Washington during a bitter feud over the war in neighboring Afghanistan.
The State Department announced this month that it was adding Pakistan to its watch list for severe violations of religious freedom. It cited abuses of Christians, Hindus, Ahmadi Muslims and other religious minorities in the heavily Sunni Muslim country.
Central to that abuse are the country's blasphemy laws, said Daniel Mark, chairman of the U.S. Commission on International Religious Freedom. "Pakistan continues to harass its religious minorities, has state-sanctioned discrimination against groups such as the Ahmadis, and tolerates extra-judicial violence in the guise of opposing blasphemy," Mr. Mark said in a statement.
The State Department announced the designation on Jan. 4, the same day President Trump froze over $200 million in security aid to Pakistan. The administration said Islamabad had failed to crack down on Islamist terrorist networks operating in the country and was supporting, among others, the Taliban movement battling the U.S.-backed government in Afghanistan.
Critics also say the draconian blasphemy laws reflect how Pakistani leaders have permitted radical Islamic beliefs to infiltrate the judiciary.
"Why is Pakistan's establishment mainstreaming jihadists?" asked Pervez Hoodbhoy, a political analyst based in Islamabad. "For three decades, Pakistan's military establishment has stoutly denied supporting violent religious groups, but today the military's attitude is more ambivalent."
Controversies over blasphemy laws boiled over in November when protesters, led by firebrand cleric Khadim Hussain Rizvi, brought the Pakistani capital to a standstill after lawmakers altered their parliamentary oath in a manner that Mr. Rizvi said undermined the sanctity of the Prophet Muhammad and would undermine the power of the blasphemy statutes.
Lawmakers restored the original wording of the oath, but the protesters demanded the resignation of Law Minister Zahid Hamid. He resigned, and the Pakistani military negotiated an end to the blockade of the main highway into Islamabad. Six died in the protests.
Now Mr. Rizvi's political party Tehreek-e-Labbaik Ya Rasool Allah, which advocates for strict Islam-based Shariah law, is widely expected to gain seats in parliament in July's general election.
His party has been growing since 2016, when authorities executed Mumtaz Qadri, a former police officer who assassinated Punjab Governor Salmaan Taseer in 2011 for his opposition to the country's blasphemy laws. Qadri and Mr. Rizvi are both adherents of the Barelvi movement, which holds mystical beliefs about Mohammad.
"The execution of Mumtaz Qadri has revived the blasphemy issue and reinvigorated Barelvi activism," said Mr. Hoodbhoy.
As Islamist parties gain strength in the legislature, the government is increasingly reluctant to challenge them on the issue directly.
Pressed about the blasphemy laws in September at a Council on Foreign Relations event in New York, Pakistani Prime Minister Shahid Khaqan Abbasi suggested that the issue was out of his hands.
"[I]t's only up to the parliament to amend the laws," said Mr. Abbasi, who was attending the U.N. General Assembly. "The job of the government is to make sure that the laws are not abused and innocent people are not prosecuted or persecuted."
Introduced under British rule, the blasphemy laws originally carried a maximum sentence of two years in prison. But in the mid-1980s, Gen. Zia ul-Haq, a military dictator who pushed a national campaign of Islamization, revised the legislation to include strict punishments for an array of infringements, including desecration of the Quran.
The issue has particular resonance given Pakistan's founding as a modern nation in 1947, specifically as a homeland for hundreds of millions of Muslims in the chaotic separation from India following the end of British colonial rule on the subcontinent.
"Pakistan was made in the name of Islam and its prophet, and we should uphold a law like blasphemy which protects our religion," said Khadim Hussain Rizvi, leader of the Pakistani Taliban. "Why should Muslims be apologetic about it?"
Mr. Rizvi noted that Muhammad Ali Jinnah, the founder of modern Pakistan, was a lawyer who defended Ilm-ud-din, a 19-year-old Muslim man who stabbed Hindu publisher Mahashe Rajpal for publishing a book that the young man felt was offensive to Muslims.
Doomed for life
Today, the National Commission for Justice and Peace, a Catholic group, said 633 Muslims, 494 Ahmadis, 187 Christians and 21 Hindus have been charged under the blasphemy rules since 1987. No one has been executed, but 40 people are on death row or serving life sentences for blasphemy, according to the U.S. Commission on International Religious Freedom.
The most prominent death row convict is Asia Bibi, a Christian woman found guilty in 2010 after having an argument a year earlier about drinking Muslim women's water as she was harvesting berries.
"Once someone is even accused of blasphemy, they are doomed," said Farzana Bari, a Pakistani human rights activist and director of the gender studies department at Quaid-e-Azam University in Islamabad. "Violence against minorities is on the rise, and people are now encouraged to commit such acts with impunity."
At least 10 high-profile blasphemy cases garnered headlines in Pakistan last year. Many of the cases suggested that blasphemy laws were being abused or employed as retaliation in nonreligious disputes, often in the form of vigilante killings.
"Blasphemy has become the tool of choice for Pakistan's resurgent Islamists, one that rarely fails," said Mr. Hoodbhoy. "Point your finger at someone — possibly someone whose business you covet or a political opponent — and scream that he defiled Prophet Muhammad. Before you know it, a lynch crowd will have assembled."
In September, a judge in the eastern city of Gujrat sentenced Nadeem James, 35, to death after a friend accused him of sharing anti-Islamic material on the internet message service WhatsApp.
In June, police charged 28-year-old mechanic Ashfaq Masih, a Christian, with blasphemy after he became engaged in a verbal spat for asking a customer for 36 cents as payment for a car repair. He was booked under the blasphemy law and is awaiting trial.
In May, a mentally disabled man accused of uttering blasphemous remarks following Friday prayers was beat brutally by a mob inside a mosque in Chitral in northern Pakistan. No one was charged in the incident, but prosecutors filed blasphemy and terrorism charges against the man.
In spite of occasional talk about rescinding blasphemy rules, Pakistani officials have used them for their own ends. A year ago, authorities apprehended five bloggers who had been critical of Pakistan's military and intelligence agencies. They were released but charged with blasphemy.
The Federal Investigation Agency later told a judge in Islamabad that it had found no evidence against the bloggers. However, their lives will never be the same.
"Blasphemy accusations against us were never about prosecution," said Ahmad Waqass Goraya, 35, one of the activists who was abducted last year. "The purpose was to disgrace us and our families in public and set examples for others. They wanted to suppress our voices."
The bloggers either have moved or kept a low-profile in their communities.
"The counterintelligence agency's statement doesn't change anything for us," said Mr. Goraya. "The fear of being lynched … remains the same. Our families live under constant fear from Islamic extremists and the state alike."
https://www.washingtontimes.com/news/2018/jan/16/pakistans-islam-blasphemy-laws-hurt-us-relations/
-------
NA speaker addresses Parliamentary Union of Islamic Countries in Tehran
January 17, 2018
ISLAMABAD: Speaker National Assembly Sardar Ayaz Sadiq has said that 13th meeting of the Parliamentary Union of Islamic Countries was opened at a time when Muslim communities across the globe are passing through a saga of pain and prosecution.
"The Muslim world has remained the global theatre of wars, violence and worries," he expressed his views in a speech delivered at the General Assembly of Parliamentary Union of Islamic Countries (PUIC) held at Tehran, Iran on Tuesday.
The Speaker said that war in Syria, fighting in Yemen, terrorist surge in Iraq, Afghanistan and Pakistan and the bleeding wounds of the Palestinians, Kashmiris and the Rohingiya Muslims are a constant reminder for us.
He said in recent years the Ummah has divided and discarded more than ever before that has not only harmed peace in our respective countries but has also hampered the growth and development of our people.
Sardar Ayaz Sadiq said that our people languish in hunger, disease, illiteracy and lack of opportunities to a better future despite owning the riches of the world. Illiteracy is the main reason that our people are discriminated and forced to take a back seat in the global affairs, he added.
The Speaker said that despite braving the global wave of terrorism and sacrificing the maximum number of precious lives, we are being blamed for this menace. He said that world has failed to appreciate Muslims who were instrumental in the defeat of Al-Qaeda and Daish and are being asked to "do more". He stressed the need for unity among the Muslim countries for peace and prosperity of the Muslim Ummah.
He said the continued spate of tweets by the US President Donald Trump, attacking religions and coloured nations, equating Islam with terrorism and branding the poor African and Caribbean nations as "Shit Hole States" is not only demeaning but also not befitting to the stature of the president of the United States of America. "The Pakistan delegation strongly denounces this mindset", he added.
He said that malicious effort to alter status of the Holy City of Jerusalem is not only a move to violate the International Law and the related UN resolutions but also a deliberate attempt to undermine the peace efforts in the Middle East.
Sardar Ayaz Sadiq said that ethnic cleansing of the poor Rohingiya Muslims and the continued persecution of innocent men, women and children of Kashmir needed immediate attention. He said that right to self-determination has been continuously denied to Kashmiris by India for the last seven decades. The Speaker said the Indian occupation forces have martyred more than one hundred thousand Muslim Kashmiris, about one hundred and thirty thousand have been arrested and over twenty thousand men are missing with their fate unknown. He said that a new phenomenon of pallet guns has resulted in the loss of partial or complete eyesight of more than 500 Kashmiris.
The Speaker said that firing by Indian troops on the Line of Control in Kashmir, which is resulting in loss of precious lives and property on Pakistan's side of the LOC, is deliberate attempt to divert the global attention from the gross human rights violations in the occupied Valley of Jammu and Kashmir", he added. He said that Pakistan has persistently called for an end to this madness and advocates a negotiated settlement of Kashmir dispute.
The Speaker said the Parliamentary Union of Islamic Countries is best placed to address all such pressing issues, confronting the Ummah today. "As parliamentarians, it is our duty to push our respective governments towards a policy of integration and not disharmony", he added. Later on in a meeting with his Iranian counterpart Dr. Ali Larijani, Sardar Ayaz Sadiq stressed the need for a greater cooperation among the countries of the region for common prosperity.
He drew attention of the Iranian Speaker over the growing Indo-Israeli nexus and visit of Israeli Prime Minister Benjamin Netanyahu to New Delhi. "The Israeli prime minister has brought over 130 strong military and business delegation to India and the two countries are forging a military alliance, which is surely targeted towards the Muslims of the region," said Sardar Ayaz Sadiq, terming it a threat to the regional peace.
He especially mentioned the continued brutalities of Indian occupying forces against innocent Kashmiri people and lamented the silence of the Muslim world. "It is ironic that while Modi's government unleashes a reign of terror against Kashmiri Muslims, Muslim governments are busy promoting business ties with India," Sardar Ayaz Sadiq observed.
Iranian Speaker Dr. Ali Larijani expressed complete solidarity with Sardar Ayaz Sadiq and assured his complete support to the issue once it was raised formally by the Pakistani Speaker at the Conference.
Speaker Ayaz Sadiq also called for forging regional understanding and in this regard thanked his Iranian counterpart for the latter's meaningful participation in the 1st Speakers Conference to counter challenges of terrorism, drug trade and inter-regional connectivity, which was hosted by Pakistan in December last year.
Full report at:
https://www.thenews.com.pk/print/269418-na-speaker-addresses-parliamentary-union-of-islamic-countries-in-tehran
-------
Hafiz Saeed endorses fatwa against terrorism
Jan 17, 2018
LAHORE: Jamaatud Dawa (JuD) chief Hafiz Muhammad Saeed has completely endorsed the fatwa issued by scholars against terrorism.
In a statement issued on Tuesday, he said, "Joint fatwa of countrywide scholars would help to end terrorism. Killing of Muslims by applying fatwa of infidels is discord rather than Jihad. Only the state can declare the war against the enemy. Scholars from all schools of thoughts have complete consensus on this issue."
He said that 'Fitna Takfeer' (mischief charging of infidelity) and externality have damaged Muslim community severely. JuD firstly condemned suicide bombings, and launched a countrywide campaign against this issue, he added.
"Due to Fitna Takfeer, the character of Muslims has been damaged badly and sectarian massacre has grown," Hafiz Saeed said.
Terming unanimous fatwa named "Paigham-e-Pakistan" an important necessity of time, he urged scholars to guide Muslim Ummah by keeping in mind modern issues and mischiefs.
He said that Paigham-e-Pakistan supports what he has stood for, adding that whole nation is familiar with the role of JuD and its efforts against Fitna Takfeer.
Full report at:
https://www.pakistantoday.com.pk/2018/01/16/hafiz-saeed-endorses-fatwa-against-terrorism/
-------
PUC terms decree against suicide bombings a good omen
JANUARY 17, 2018
LAHORE: National narrative and unanimous decree for elimination of terrorism, extremism and suicide blasts is good omen to annihilate the menace of terrorism and extremism from Pakistan. Ulema's, clerics and religious scholars has always made responsible and positive decisions in the wider interests of the country, said a joint statement of Pakistan Ulema Council.
Expressing hope on the outcome of "Paigham-e-Pakistan", Hafiz Tahir Ashrafi stated that "Paigham e Pakistan" will prove to be positive outcome and good omen to annihilate the menace of extremism and terrorism from Pakistan.
Hafiz Tahir Ashrafi in a joint statement asserted that the Pakistan Ulema Council in 2000 had issued a unanimous decree against extremism, terrorism and sectarian violence.
Pakistan Ulema Council welcomes the inaugural ceremony in connection of Paigham e Pakistan. He expressed hope that joint endeavors on part of Pakistan Ulema Council, Idara e Tehqeeqat e Islami and International Islamic University IIUI will further strengthen this struggle.
It is responsibility of each and every Muslim of the world to take moderate message of Islam in every corner of the world. It is responsibility of religious scholars to distinguish in concept of Jehad and terrorism.
Full report at:
https://dailytimes.com.pk/182630/puc-terms-decree-suicide-bombings-good-omen/
-------
Terrorists of all hue and colour defeated: Bajwa
January 17, 2018
ISLAMABAD - As the United States presses Pakistan to dismantle the terror networks allegedly hiding in the tribal belt, army chief Gen Qamar Javed Bajwa on Tuesday said that the forces had defeated the "terrorists of all hues and colours" in the troubled areas.
Pakistan, he said, was now going after their "disorganised residual presence under Operation Raddul Fasaad [elimination of discord]."
A military statement issued here quoted the army chief as saying that Pakistan and Sri Lanka were "probably the only two countries, which understand what it takes to defeat the menace of terrorism."
Bajwa's words come after Pakistan and the US resumed talks this week.
The US Acting Assistant Secretary of State Ambassador Alice Wells was in Islamabad on January 15 and 16 to hold talks with Foreign Secretary Tehmina Janjua in a bid to discuss the bilateral cooperation, – mainly in the anti-terror war, —- after a lengthy war of words between the uneasy allies.
Wells said Pakistan's support was critical to the success of the US strategy for Afghanistan. A US embassy statement on Tuesday said Alice Wells urged Pakistan to address the continuing presence of the Haqqani network and other terrorist groups within its territory.
She underlined that the "US seeks to move toward[s] a new relationship with Pakistan, based on our mutual interest in realising a stable and prosperous region."
Wells emphasised the US south Asia strategy represented an opportunity to work together for the establishment of a stable, peaceful Afghanistan, the defeat of the ISIS in south Asia, and the elimination of terrorist groups that threaten both Pakistan and the US, the statement said.
Last week, Bajwa had told the US Central Command chief General Joseph Votel that Pakistan would not seek resumption of the US security aid, suspended by President Donald Trump in December. The army chief said Pakistan expected recognition of "our contributions, sacrifices and unwavering resolve in fight against terrorism for peace and stability in the region." The army chief said the US must stop making Pakistan "scapegoat."
Earlier, US Chairman Joint Chiefs of Staff General Joseph Dunford said that military-to-military dialogue between the two countries was the right approach to improve the Pak-US ties. The top US general said that he was not "giving up" on improving ties with Pakistan.
He said: "Do we agree on everything right now? No, we don't. But are we committed to more effective relationship with Pakistan? We are, and I am not giving up on that."
Speaking to journalists in Brussels, General Dunford said: "I am committed to try to improve the relationship, and I do believe a military-to-military dialogue led by [General Joseph Votel, commander of US Central Command] with occasional reinforcement by [Secretary of Defense Jim] Mattis, myself and others, is the right approach."
The Pakistan military statement said General Bajwa had arrived in Sri Lanka on Tuesday on a two-day official visit on the invitation from his counterpart. The army chief held meetings with the Sri Lankan military leadership including the chief of defence staff, and the chiefs of all the three services.
It said Gen Bajwa was given guards of honour in all three service headquarters. General Bajwa also visited the Command and Staff College Sri Lanka and interacted with the faculty and the staff.
"The Sri Lankan leadership expressed their gratitude and appreciation for Pakistan's unequivocal moral and material support during Sri Lanka's successful war on terror. They also appreciated successes of [the] Pakistan Army in [the] ongoing war on terror," the statement added.
During the meetings, it said, "various new initiatives and ongoing projects were discussed to improve the existing defence ties between the two brotherly countries."
Meanwhile, on Tuesday, Pakistan welcomed the talks between the Republic of Korea and the Democratic Peoples' Republic of Korea. A foreign ministry statement said Pakistan hoped that "this new phase of talks between the two sides would help to ease tensions in the Korean Peninsula and the goodwill generated by the Pyeongchang Winter Olympics would lead to lasting peace, prosperity, stability, reconciliation and cooperation in the region."
The statement said Pakistan had always encouraged the RoK and DPRK to resume "meaningful negotiations and supported all efforts for smooth reunification of the Korean Peninsula including the two summits between [the] North and [the] South Korea in June 2000 and 2007."
Full report at:
https://nation.com.pk/17-Jan-2018/terrorists-of-all-hue-and-colour-defeated-bajwa
-------
Mideast
Palestinian Central Council calls for struggle against Israel 'in all forms'
16 January 2018
The Palestinian Central Council instructed the Executive Committee of the Palestinian Administration to suspend the recognition of Israel on Monday.
The Council furthermore announced its support for the popular struggle against the Israeli occupation "in all forms" as it described in its statement without elaborating more.
The Central Council also announced that it has decided to stop security coordination between Ramallah and Israel adding that it refuses to recognize the Judaism of the Israeli State.
https://english.alarabiya.net/en/News/middle-east/2018/01/16/Palestinian-Central-Council-calls-for-struggle-against-Israel-in-all-forms-.html
-------
Yazidis in Turkey camp wish for IS captives to return home
Sibel Hurtas
January 16, 2018
New Year's celebrations this year were hardly a joyful occasion for the nearly 1,000 Yazidis who are living in the refugee camp of the Disaster and Emergency Affairs Department (AFAD) in Midyat, near Mardin in southeastern Turkey. Their wish for the new year: that the Yazidi women and children, who have been kidnapped by Islamic State (IS) fighters, come back alive.
The Yazidis, who speak Kurdish and most of whom live in northern Iraq, have faced genocide in the past, including during the Ottoman Empire. Considered heretical devil worshipping by many Muslims, Yazidism dates back to the 12th century and integrates some Islamic beliefs with elements of Zoroastrianism, the ancient Persian religion, and Mithraism, a mystery religion originating in the Eastern Mediterranean.
Isolated geographically and accustomed to discrimination, the Yazidis are a closed community that struggles to keep its traditions alive. When IS forces captured Sinjar in 2014, many Yazidis were forced to escape to Turkey or Europe.
Those living in the AFAD camp try to preserve their heritage. The cornerstone of their culture is Cejna Roji Ezi, or Feast of Ezi, where they celebrate the birth of "Ezi," one of the names of God. The Yazidis celebrate this tradition by fasting between sunrise and sunset during three days for three weeks. Their fast in the first week is for the sun; the second week is for relatives, dead or alive; and the third week is for God. The fasting ceremony ends with a large meal with guests on the Friday afternoon of the third week.
The Cejna Roja Ezi ceremony in the last month of 2017 was no different at the AFAD camp.
Ali Atalan, a pro-Kurdish Peoples' Democratic Party (HDP) deputy from Batman, who is also Yazidi, came to see the Yazidis in the camp. Accompanied by a Yazidi delegation, his aim was to celebrate the meal together. Yet the camp authorities did not allow him access into the camp, with no explanation given, he told Al-Monitor. The two Yazidi groups, one outside the fence and one inside, simply greeted each other from a distance.
"It was a very touching moment," Atalan said. "Yazidis have a different interpretation of religion as they have a deep attachment to the land and to nature and they celebrate their feasts in nature. Families come together; they wear their folkloric clothing and play games. The circumstances in the camp hardly make their lifestyle possible."
Atalan noted that the Yazidis in the camp had been through genocide and that they have to be treated well, particularly on important holidays that they should be allowed to celebrate with others.
When Atalan could not celebrate the feast in the camp, he went to his own village, Bacin, which in Turkish is called "Guven," literally meaning "trust." It is a village with only two residents left: his father Abuzet and his mother Zero. "It is just the three of us in the family," he said.
Atalan said that his mother's wish is for the new year to witness the return of the Yazidi women and children who are in the hands of IS. He added, "I hope that the Yazidis can create an autonomous administration in Sinjar, with their own governing structures and economy. This would be the Renaissance for the Yazidis. My hope is that the Yazidis and the Yazidi culture will continue to survive."
The Turkish government, which celebrates the feasts of most religious minorities, issued no celebratory message for Cejna Roja Ezi. However, another Yazidi deputy from the HDP, Feleknas Uca, extended a goodwill message from the rostrum in the Turkish parliament, saying, "I hope that the Yazidi women and children in the hands of IS will return."
Full report at:
https://www.al-monitor.com/pulse/originals/2018/01/turkey-yazidis-holiday-is-kidnapping-women-children.html
-------
Turkey begins first wave of artillery fire on Kurds in Afrin
17 January 2018
Turkey began its first wave of artillery fire targeting Kurdish fighters in Afrin, Syria on Tuesday night, said an Al Arabiya reporter.
This comes as a retaliation to the Peoples' Protection Units (YPG) firing a large number of missiles targeting settlements in the Azaz region bordering Turkey and Syria, which is controlled by the Turkish-backed opposition Free Syrian Army, media reports said.
Turkish forces began a military fortification plan on their border with Syria on Monday, sending a convoy, including armed vehicles and soldiers.
Turkey's President Erdogan had vowed on Sunday to "purge terrorism" from the country's southern borders, adding that he plans to launch an assault against the YPG in Syria's Kurdish Afrin enclave "in the coming days."
The Afrin district has been a topic of debate recently, especially after the US announced its intention to arm Kurdish border guards on the Syrian-Turkish border, which merited a reaction from Ankara.
Turkey reacted sharply to the US-led international coalition to fight ISIS announcing that they are working on forming a border security force made up of 30,000 men in eastern Syria.
The international coalition said that the goal of this force is to prevent the return of ISIS, but Erdogan threatened to "destroy this terrorist army in its infancy", fearing that it will become a permanent force stationed at the Turkish border.
Full report at:
https://english.alarabiya.net/en/News/middle-east/2018/01/17/Turkey-begins-first-wave-of-artillery-fire-on-Kurds-in-Afrin.html
-------
US interventionist, destructive policy fuels Syria crisis: Iran
Jan 16, 2018
Iran has denounced a US plan to set up a militant force near Syria's border with Turkey as "blatant interference" in the Arab country's domestic affairs, urging Washington to reverse its "destructive" policies in the Middle East.
Foreign Ministry spokesman Bahram Qassemi said on Tuesday that the US's plan is a "clear example" of interference in Syria's internal affairs, which complicates the crisis, leads to instability and fans the flames of the conflict there.
The US announced Sunday that it will work, along with a coalition of its allies purportedly fighting Daesh, with US-backed militants of the so-called Syrian Democratic Forces (SDF) to set up a new 30,000-strong "border security" force.
The force would operate along the Turkish border with Iraq and within Syria along the Euphrates River.
Qassemi further said the announcement comes at a time when the Syrian army and its allies have made sweeping gains in their fight against the terrorist groups of Daesh and al-Nusra Front."
"The Islamic Republic of Iran, together with the Russian Federation and the Republic of Turkey, is making efforts to contain the flames of the crisis through the Astana peace talks and the creation of de-escalation zones," Qassemi said, noting that the trio has so far made significant achievements.
The Iranian official further stressed the time is ripe for the US to change its "interventionist and destructive" policy in the region, withdraw its forces from Syria as soon as possible and let the Syrian people decide their own fate.
Washington's plan has drawn angry reactions from Syria, Turkey and Russia. Syria views the formation of such a border force as an assault on its sovereignty.
The US and its allies back militants fighting to topple the Syrian government. American warplanes have also been bombing Syria since September 2014 without any authorization from Damascus or a UN mandate.
Full report at:
http://www.presstv.com/Detail/2018/01/16/549095/Iran-SyriaBahram-Qassemi
-------
Hard-liners win the day at Palestinian crisis meeting on Jerusalem
16 January 2018
AMMAN: Hard-liners have emerged in the ascendant after a two-day special meeting in Ramallah of the Palestine Central Council (PCC).
The meeting was called to formulate the Palestinian response to the US decision last month to recognize Jerusalem as the capital of Israel.
Moderates who wanted a more measured response were outvoted by those who demanded an end to security cooperation with Israel in the occupied West Bank, although Palestinian President Mahmoud Abbas still has some room for maneuver, analysts told Arab News. "At the council I felt there was a clear vision for the future and a holistic approach toward a new strategy, but it is hard to determine how far these issues will be translated during the implementation phase," said Asaad Abdel Rahman, a PCC member and also an independent member of the Palestinian Liberation Organization's executive committee.
"As is often the case, the key will be in the implementation."
Abbas's fiery two-hour speech at the PCC meeting included demands for escalated action against Israel, but he did not specifically call for an end to security cooperation. However, after a heated closed session, the PCC did so — and also resolved to suspend recognition of the state of Israel.
The only concession Abbas was able to extract was that the two new policies should be implemented by the PLO's executive committee, where he has a stronger grip than on the 80-member PCC.
The concession weakens the two resolutions, Abdel Rahman said. "There was no need to add that qualifier since all PCC decisions have to be implemented by the executive committee anyway, but in the end the leadership wanted a little bit of wiggle room during the implementation period."
Palestinians both inside and outside Palestine have staged daily protests urging a total change in strategy, including an end to security coordination and revisiting mutual recognition of Israel and the PLO. In an online survey in the largest Palestinian daily, Al Quds, 92 percent supported the withdrawal of recognition of Israel and suspending security coordination.
Ziad Khalil Abu Zayyad, Fatah spokesman for international affairs, reflected the views of many of the younger generation by calling on the leadership to make serious changes. He told Al-Monitor in Washington that the PCC should call for withdrawing recognition of Israel as a tangible way to show indignation at the US-Israel collusion.
Nasser Laham, a television commentator and editor of the independent online Ma'an News Agency, also wanted escalation. "Palestinians should end security coordination with the Israelis and Arab states should withdraw their ambassadors from Washington," he wrote.
Nabil Amer, a Fatah leader and representative of the older PLO generation, said such action would be a mistake. "I don't add my voice to the calls for escalation," he said. "Any such escalation would be costly. We have boycotted meetings with the US, that was a good decision and that was enough."
US Vice President Mike Pence begins a visit to Jordan, Israel and Egypt on Saturday. He has no plans to meet Palestinians, who have in any case declared a boycott of meetings over the US decision on Jerusalem.
Full report at:
http://www.arabnews.com/node/1227161/middle-east
-------
Arab World
U.S.-Backed Force Could Cement a Kurdish Enclave in Syria
By ANNE BARNARD
JAN. 16, 2018
BEIRUT, Lebanon — A plan to create a new American-backed, Kurdish-led border force in northeastern Syria has raised alarms in the region that the United States may be helping to cement an autonomous Kurdish enclave that could further divide the country.
The 30,000-strong force, vehemently opposed by Russia, Turkey, Iran and the Syrian government, could also ignite a new phase in the war that could pit American allies against one another and draw the United States deeper into the conflict.
While Kurdish and American officials sought to tamp down the controversy on Tuesday, insisting that the force was really nothing new, they confirmed some of the fears.
They said the border force will help defend and preserve the section of northeastern Syria controlled by the Kurdish-led, United States-backed militia known as the Syrian Democratic Forces, an area that has become a de facto semiautonomous zone. And they said that the United States was committed to backing the force for at least two years.
The force will be essentially a restructured version of the Syrian Democratic Forces, or S.D.F., its spokesman, Mostafa Bali, said Tuesday. He said the fighters would be "professionally well trained as border guards," and would deploy along parts of Syria's borders with Turkey and Iraq to prevent an Islamic State resurgence, which he called "a moral duty."
It would also, he said, hold the line between S.D.F.-held territory and areas held by Syrian government forces, roughly along the Euphrates River.
The territory includes large swaths of land captured from the Islamic State by the S.D.F., the Kurdish and Arab militia that has been the United States' main partner in Syria against the militant group. But there has never been agreement on what would happen to that territory once the Islamic State was vanquished.
The Kurdish party that dominates the S.D.F. has always said the territory would remain as a self-governing part of a federalized Syria. American officials have said the United States would continue to support its allies in Syria, but they have been vague about how and for how long.
The new force suggested a possible answer to that question.
But the Syrian government and its allies Russia and Iran object to any division of the country. So do most Syrian opposition groups. The government led by President Bashar al-Assad wants to re-establish control over all of Syria and objects to American tinkering outside of a negotiated peace deal.
Perhaps the angriest protests have come from Turkey, an American ally and NATO member. Turkey opposes the Syrian government, but considers the Kurds a dangerous enemy and fervently objects to a semiautonomous Syrian Kurdish entity bordering its own Kurdish areas, where it is fighting Kurdish insurgents.
Turkey has threatened to invade another Syrian Kurdish enclave, called Afrin, as soon as Wednesday.
American analysts offered sharply diverging views on the significance of the new force, its impact on any potential peace plan, and how it fits into broader American policy on Syria.
"This is about making sure that ISIS is truly defeated and the conditions for its regeneration are eliminated," said Andrew J. Tabler, a Syria specialist at the Washington Institute for Near East Policy. "This isn't to create a Kurdistan or an enclave in the long term."
But Joshua M. Landis, a Syria specialist at the University of Oklahoma, said in an email that the United States was effectively "backing an independent state north of the Euphrates River," one that controls a large portion of Syria's oil and gas reserves and its main electric dam and that has its own army and Kurdish-language school curriculum.
"It will become a de facto Kurdish-run state should the U.S. continue to protect and fund it," he said.
Although the Americans have committed to protecting the area for two years, it remains to be seen if they will, or what would happen after that. Russia, Iran, Turkey and the government in Damascus have all demonstrated that they are more invested, militarily and politically, to shaping the outcome in Syria than is the United States.
Mr. Landis said the force could be less about a long-term commitment to the Kurds than a fig leaf for a continued American presence to counter Iran's forces there.
Given those uncertainties, the Kurds are hedging their bets. They have worked not only with Americans but also, increasingly openly, with the Russians. By keeping channels open to the Russians, analysts and officials say, they gain leverage over the United States and Turkey, and an escape hatch to reconcile with the Syrian government if all else fails.
On Tuesday, American and Kurdish officials sought to calm worries, saying that the troops will not be entirely Kurdish but their ethnic makeup will reflect the areas where they are stationed.
"These forces are not a threat against anybody," including Turkey, Mr. Bali, the S.D.F. spokesman said.
He said the enclave would not break Syria apart but would be part of a new, more decentralized or federalized Syria. He said it would not be based on Kurdish ethnicity but would be a government for an area of northeastern Syria that includes Arabs, Armenians, and Syriacs.
"Syria should be a united federation, like those of the United States and Russia," said Abdelkareem Omar, a Syrian Kurdish official. "The vision we have of Syria does not in any way threaten the unity of Syria, nor the safety and security of countries in the vicinity."
Col. Ryan Dillon, the American military spokesman in Baghdad, said the United States could have explained the plan more clearly to avoid alarming allies, but that it was simply a logical next step from the local security forces that S.D.F. has created in areas taken from the Islamic State.
"We've established internal security forces," Colonel Dillon said. "This is the same for border areas."
But Turkey considers the new force a terrorist army and has promised to destroy it, risking a new round of fighting.
Such a conflict could pit American allies — Turkey, some Syrian Arab rebels, and the Kurdish-led force — against one another, further muddling an already murky American policy in Syria.
Kurdish forces have not fought the Syrian government much, mainly policing their territory and fighting the Islamic State, although they may later have to choose between fighting government forces and losing their de facto autonomy.
Several Syrian rebel groups, including some once backed by the United States, now work directly with Turkey. Last year, they seized an area along the Turkish border that separates the main Kurdish-held area from the smaller enclave, Afrin, which is now threatened with a similar incursion.
The dispute is creating new bumps in the already rocky road to a negotiated settlement for the war.
Preparations are underway for a new United Nations-led round of talks next week and a Russian-hosted Syrian dialogue conference in February in Sochi. But there is no agreement in any of the ongoing talks about the future of the Kurdish areas.
Denied a separate Kurdish delegation at the United Nations-sponsored Geneva talks, Kurdish groups have been trying to get one in Sochi. But Turkey says it will pull out if Russia grants that request.
Kurdish officials say that in a compromise, they will send 40 delegates to Sochi representing not the Kurdish ethnic group but the S.D.F.-held locally governed area.
Meanwhile, the government led by Mr. Assad has shown no interest in decentralization, or in any reforms at all.
But Kurdish officials say they are determined.
"It won't go back to how it was before 2011 after all this," Mr. Omar, the Kurdish official, said.
Another Kurdish official, who asked not to be identified because he was not authorized to comment on the matter, said the Kurds would not bow to Turkey or to the Syrian government.
With rebel groups divided, he said, the S.D.F. is the last coherent force left to push for change.
Reporting was contributed by Nada Homsi and Hwaida Saad from Beirut, Eric Schmitt from Washington and Carlotta Gall from Istanbul.
https://www.nytimes.com/2018/01/16/world/middleeast/syria-kurds-force.html?mtrref=www.google.co.in&gwh=746FD3904B4DC32EDDBEF9E7D11D53CF&gwt=pay
-------
Four years and one caliphate later, Daesh claims Idlib comeback
16 January 2018
BEIRUT: Daesh has been roundly defeated across much of Syria — which made it all the more surprising when it announced an official comeback in the country's northwest last week.
Syrian regime troops are currently waging a fierce assault against other terrorists and rebels in Idlib province, and in the chaos, Daesh appears to have gained a foothold.
On January 10, Daesh media channels began claiming hit-and-run attacks against Syrian government forces in Idlib, from which the group was ousted in 2014.
Two days later, Daesh officially declared Idlib one of its Islamic "governorates" and has published news of raids against Syrian troops there with increasing pace every day.
Most notably, the organization claims to have killed around two dozen soldiers and taken nearly 20 hostage from an area near the key Abu Duhur military airport in Idlib.
"There are probably hundreds, maybe over 1,000 (Daesh fighters) at most. A number of Daesh guys who fled territory elsewhere made it to this enclave via smuggling," said Aymenn Al-Tamimi, an academic and expert on the group.
Tamimi told AFP the new Idlib presence was an "extension" of Daesh's small but established bastion in neighboring Hama province.
More than four years ago, Daesh operated an Islamic "governorate" in Idlib, but it was kicked out of the province in early 2014 by Islamist fighters and allied rebels.
Those fighters went on to oust the regime from the province too, as Daesh extended its Islamic "caliphate" across swathes of Iraq and Syria — but not Idlib.
In Syria, Daesh has since lost almost all that territory to Turkey-backed rebels, US-backed forces, or Syrian army troops.
In December, it made a brief incursion into Idlib for the first time since 2014, but last week's announcement could signal something more.
So far, it seems Daesh's territorial grip on Idlib remains limited, with the Syrian Observatory for Human Rights saying it only holds about five villages there.
The Britain-based monitor challenged Daesh's claims of kidnapping government forces, saying most of the 31 troops captured during the past week in Idlib were held by rival terrorists.
But six were unaccounted for, and Observatory head Rami Abdel Rahman said it was possible, though not confirmed, Daesh was holding them.
"They came out of nowhere, but Daesh was long suspected to have sleeper cells in Idlib," said Hassan Hassan, a senior fellow at the Tahrir Institute for Middle East Policy.
"I doubt Daesh can get significantly bigger in that area, but this is a big moment for it to build influence and revitalize its cells, some of which will probably remain clandestine," he said.
A key factor in Daesh's now-public presence in Idlib, analysts agreed, was the ongoing government offensive against rebels dominated by Hayat Tahrir Al-Sham (HTS) in Idlib.
HTS is led by Al-Qaeda's one-time franchise in Syria and now rules over a vast majority of Idlib, but the regime's Russian-backed assault has been chipping away at territory there for several weeks.
Daesh could hardly resist stealing the spotlight, Hassan said.
"Idlib is now a big rebel cause. Everyone is trying to gain popular relevance through their role in defending the area," he told AFP.
"Such moments are perfect for Daesh to make some noise," and the group "used the publicity around the offensive to play up its role there."
Nawar Oliver, an analyst at the Turkey-based Omran Center, suspected Daesh was also trying to take advantage of infighting among Idlib's rival jihadists to poach hard-liners keen on establishing an Islamic entity.
"With this announcement, extremists in other groups will find a place where they belong," Oliver said.
"Daesh played this right — they're saying, I set myself up in Idlib, in the right place at the right time," he told AFP.
Since war broke out in 2011, Syria has been carved up into complex zones of control held by rebels, Kurdish fighters, pro-regime forces, and competing jihadists including Daesh.
For Charlie Winter, a researcher at King's College London, it remains "too early" to predict whether IS could make a full-scale comeback across Syria.
"It is battered without manpower, resources, weapons, or the networks to do any strategic offensives like they were able to do in 2014, 2015, and first half of 2016," he told AFP.
Full report at:
"It can't have propaganda be about nothing."
http://www.arabnews.com/node/1227226/middle-east
-------
Minorities in north Iraq look to post-jihadist future
By SARAH BENHAIDA
16 January 2018
BARTALLA, Iraq (AFP) — A Christmas tree stands on a roundabout in Bartalla in northern Iraq, its base adorned by posters of Shabak martyrs killed in the fight against the Islamic State group.
Now that victory has been declared against the jihadists, Iraq's ethnic and religious minorities are taking the future into their own hands.
In Baz Gerkan village, where fighting damaged or destroyed most of the houses, Shabak residents have rebuilt their school themselves.
A few miles away, they have restored the shrine of Imam Rida, the eighth of Shiite Islam's 12 imams, which was blown up by the Sunni Muslim jihadists who consider Shiites to be heretics.
Shabaks, who number around 60,000 in Iraq, have their own language and say they first settled in the Arab country several centuries ago from northern Iran.
Their places of worship, such as those of Christians, Yazidis and other minorities, were targeted by IS, and many fled their homes during the three years of jihadist occupation.
There are now only 400,000 Christians in Iraq against more than one million before the US-led invasion of 2003, making up three percent of the country's population along with Yazidis, Sabeans and Shabaks.
Today, several months after the entire northern province of Nineveh was retaken from the jihadists, churches and monasteries have been restored.
And for the first time in four years last December, Christmas carols were heard.
Yazidis rebuild their temples
The Kurdish-speaking Yazidi minority has also managed to rebuild 20 of 23 temples destroyed by the jihadists in the Bashiqa area, east of Iraq's second city Mosul.
"All this was done thanks to donations from Yazidis and other inhabitants of the region," said Hilal Ali, who is in charge of the Yazidi sites of worship.
Mutassem Abed, 47, is a Shiite who joined the Hashed al-Shaabi coalition of paramilitary units following a call to arms in 2004 by Grand Ayatollah Ali Sistani, Iraq's most senior Shiite cleric.
The Hashed was formed specifically to counter the rise of IS in the country, and played a key role in the jihadists' defeat in 2017.
Now that the fighting has ended, Abed is looking to his future.
"We must rebuild a sanctuary that is even more beautiful and even bigger, to say to IS that it did not win," the Shabak fighter told AFP, wearing a parka over his uniform.
Life may slowly be returning to normal, but many checkpoints have been set up, usually manned by members of Hashed units from the Shabak, Turkmen, Christian or Yazidi minorities.
Iraq is relying on local forces to maintain security on the ground, after declaring in December that the war against IS had been won.
Such fighters know the local people, speak their languages and can easily spot any intruders, commanders say.
Fighters with local knowledge
"Even before IS, other terrorist groups like Al-Qaeda tried to chase out minorities," said Zein al-Abidine Jamil, a Shabak commander with the Hashed.
Another Bartalla Shabak, a policeman manning a checkpoint in the old part of Mosul, recalled the days when he could only enter the city under escort.
"Mosul? I went there on patrol. But never in a personal capacity. A lone Shiite? That would have been madness!" he said, speaking on condition of anonymity.
Sunni Muslims are a minority in Iraq, but in Mosul they form the majority and also have a presence in villages around the city.
The Shabak minority has a small Sunni community within it. But, residents say, many of them joined IS and were killed. Others fled with their families, joining the ranks of the displaced.
Today, several months after Nineveh province was rid of IS, "we are directly responsible for the security of citizens", said Jamil.
Because of their local knowledge, such fighters were a major asset to the armed forces in their fightback against IS. But human rights groups have charged that some minorities targeted by the jihadists were themselves guilty of abuses.
In December, the New York-based Human Rights Watch accused Yazidi fighters of executing 52 civilians in apparent revenge killings after capturing territory from the jihadists.
Full report at:
https://www.timesofisrael.com/minorities-in-north-iraq-look-to-post-jihadist-future/
-------
Why are doctors in the Middle East cosying up to foreign armies?
January 17, 2018
Robert Fisk - Foreign doctors in war zones have to talk to the bad guys. Always. NGOs need protection, they have to negotiate checkpoints, they sometimes have to bribe gunmen with food – think Darfour. Sometimes – remember Afghanistan and the ICRC – they are murdered. But the sieges of cities and towns in the Middle East these past two years have produced a new and more profoundly disturbing challenge: medical aid groups who embed themselves in armies and militias and thus align themselves with one side in the conflict.
Jonathan Whittall of Medecins Sans Frontieres (MSF) first raised the alarm during and after the siege of Mosul when doctors and medical personnel sometimes allowed local security forces to check the identity of patients entering their hospitals or aid centres. "Sometimes they gave the names of patients to the local secret services," Whittall told The Independent. "Horrific compromises were made to work hand-in-hand with the international military coalition. The wounded were often not treated as patients but as suspects. This fundamentally compromises the trust patients have in medics. And this makes our work less effective".
Based in Beirut, Whittall is director of MSF's analysis department and spent the first four weeks of the Mosul siege – as US-supported Iraqi troops and militias surrounded Isis forces amid tens of thousands of civilians – on the edge of the fighting as a project coordinator, receiving an influx of wounded as the front lines moved forward. He was so appalled at the "compromises" which he witnessed that he later wrote to the British Medical Journal.
Sixteen years after the "War on Terror" began, Whittall gave an angry description of the Mosul siege: "most humanitarian actors behave in line with how [ex-US Secretary of State] Colin Powell described their role in 2001: 'NGOs are such a force multiplier for us, such an important part of our combat team.'"
The majority of wounded patients, Whittall wrote, "first arrive in trauma stabilisation points [TSPs] located close to the front line and embedded within different divisions of the Iraqi national security forces. Some TSPs are run by armed medical personnel, some of whom wear patches on their uniforms that say 'Make Mosul Great Again' – a clear reference to the US military campaign." MSF is entirely funded by private donations in Iraq. MSF's hospitals, Whittall said, "are gun-free zones... we negotiate with all authorities not to use our hospitals for law enforcement".
Early last year, the US network PBS Newshour published a photograph of what it called "a Norwegian volunteer medic" writing "Make Mosul Great Again" on the base of a destroyed Isis billboard in western Mosul. The most extraordinary part of the illustration – unmentioned in the caption – is that the Norwegian was wearing full military camouflage combat uniform and a flak jacket. The phrase "Make Mosul Great Again" has been advertised by the US military "Soldier Systems" blog which last year showed photographs of shoulder patches with the same logo – for sale, alongside Iraqi military insignia, "in order to donate 100 per cent of the proceeds towards medical aid and equipment for civilians currently escaping Isis".
The insignia belongs to ISOF, the Iraqi Special Operations Forces, the so-called "Golden Division", created with the help of the Americans in 2003 and which includes a unit called in Arabic "jihaz mukafahat al-irhab" – it can be translated as "counter-terrorism office" – and is funded by the Iraqi defence ministry.
The same Soldier Systems blog boasted 10 months ago that "we have been going over to Kurdistan and Iraq for the last two years supporting [Kurdish] Peshmerga and now recently ISOF in [a] certain (sic) capacity. We met and worked together with an organisation called 'The Academy of Emergency Medicine' on our last couple of trips, assisting them in rendering aid to civilians and soldiers on the battlefield. These guys are the real deal. Based out of the Slovak Republic, they are currently embedded with ISOF and are doing a lot of good on the medical front."
The Academy of Emergency Medicine describes itself as an "international NGO based in Slovakia", that operated "in war-torn Iraq" where "as the fight against the so-called Islamic [sic] State continues, our certified paramedics and doctors are working to save human lives...". But the "academy" also states that "we are closely cooperating with [the] international humanitarian community, civilian and military medical personnel and coalition security and armed forces". It does not describe the nature of its "cooperation" with the "security and armed forces".
But Jonathan Whittall remains deeply troubled. He says that in an MSF hospital south of Mosul during the fighting, he heard his medical unit described as "the American hospital", illustrating the risk that anything "foreign" was associated with the US military campaign. MSF's difficulties were caused by decisions "by other medical actors" to align with one side in the conflict.
In his BMJ article, Whittall scathingly attacked what he called "stethoscopes for hire", contractors for a commercial medical company who operated "as contractors driven by profit rather than the principles that guide humanitarian action in conflict. Other patients are referred to a hospital managed by a Christian organisation. At these hospitals, patients are officially screened by security forces against a list of potential suspected Islamic State members or sympathisers. Using health facilities in this way for law enforcement purposes makes health facilities places to be feared and further aligns healthcare to one side of this conflict."
The World Health Organisation adheres to the medical profession's ethical duties, Whittall says. "Yet it is this same WHO that has subcontracted its emergency health programme to these hospitals including the screening practice."
Would, for example, the WHO have funded Russian medical posts to be embedded with Syrian army units on the front lines of east Aleppo? They did not do so. But no one questioned the decision to make the same political compromise in Iraq. In Yemen, Egypt, Libya, Mali and Nigeria, similar sieges may soon develop. Whose side will the doctors be on then?
Full report at:
https://nation.com.pk/17-Jan-2018/why-are-doctors-in-the-middle-east-cosying-up-to-foreign-armies
-------
Turkey-Backed Militants Launch Heavy Attacks on Kurds in Northern Syria
Jan 16, 2018
The Kurdish-language Hawar news reported that the Turkey-affiliated militant groups' artillery units deployed on Mount Sheikh Barakat in Western Aleppo have targeted Afrin.
The militants' mortar units affiliated to the Turkish army pounded Kurdish forces' positions in Bani, Badr Khan and Baker hills in Jandariseh region and in the villages of Bafloun, Qastal Jandu, Qatma and Ma'araska, Hawar news added.
It further said that four spy planes of the Turkish army have also been carrying out reconnaissance operations over Kurdish fighters' positions in Afrin and its countryside.
Turkey's Anadolu news agency reported on Sunday that the Turkish forces deployed in Hatay province have increased attacks against the Kurds in Afrin.
The forces and militants affiliated to the Turkish army targeted the Kurds' positions in regions near Afrin with 40 artillery attacks.
Full report at:
http://en.farsnews.com/newstext.aspx?nn=13961026001203
-------
Five Senior Commanders of Al-Nusra Killed in Syrian Army Attacks in Idlib
Jan 16, 2018
The news websites reported that Commander of Jund al-Haramein of Jeish al-Nuskhba (special forces) Ali Mamdouh Khalil, Commander of Al-Nusra's Jund al-Nukhba Ayad Abu Hamza and Field Commander of Jund al-Nukhba Adbul Karim Abu Ahmad together with a large number of their forces were killed in clashes with the army.
Also, Al-Nusra Commander in Badiyeh (desert) Abu Mohammad Sha'aban and Commander of Idlib Free Army Mohammad al-Dani nom de guerre Abu Mohammad were also killed in the army attacks in Southeastern Idlib.
Field sources confirmed on Monday that thousand of terrorists retreated from their positions in Southern Aleppo and Northern Hama and moved to Southeastern Idlib to back the Al-Nusra Front against the Syrian Army troops that were rapidly advancing towards Abu al-Dhohour airbase.
The sources said that thousands of gunmen from the Al-Nusra, the Islamic al-Turkistani Party and Ahrar al-Sham have retreated from their positions in Southern Aleppo and Northern Hama in the last seven days.
Full report at:
http://en.farsnews.com/newstext.aspx?nn=13961026000876
-------
Syrian forces deal devastating blows to terrorists in Aleppo
Jan 16, 2018
Syrian government forces have dealt severe blows to the Jabhat Fatah al-Sham terrorist group in the country's northern province of Aleppo.
During the Tuesday operations carried out in the province's southern countryside, several towns and villages were liberated from the Takfiri terrorists.
Earlier in the day, Syrian troops also took control of a strategic road and al-Shaheed hilltop located some 60 kilometers outside of the province.
The move effectively cut off a main supply route to the Takfiris in the province and its vicinity.
Army engineering units are currently engaged in sweeping the freshly-liberated areas for mines and others explosive devises left by the terrorists.
Elsewhere in the country, Syrian forces retook a strategic hill in the country's western-central province of Hama.
In the operation, a large number of terrorists were killed and equipment was destroyed.
The gains come just two days after, Syrian army forces and their allies managed to recapture the villages of Jabal al-Modawar, Wadi al-Sanou'a, al-Na'amaniyeh, Boweizeh Saqireh, Moshrefeh al-Boweizetain, Boweizeh Kabireha and al-Wajed after storming militant positions there and engaging in heavy fighting with the Takfiris in Aleppo.
Full report at:
http://www.presstv.com/Detail/2018/01/16/549166/syria-aleppo-gains-takfiri
-------
Saudi Arabia intercepts Houthi ballistic missile targeting Jazan
16 January 2018
Saudi Arabia has said that its forces intercepted and destroyed a ballistic missile fired by Houthi militias targeting the southern province of Jazan on Tuesday.
Reporting from Jazan, Al Arabiya's Hani al-Sufayan said that air forces were able to intercept the missile at around 8:20 pm local time.
"The attack has not impacted daily life in Jazan, with ground and air traffic being normal throughout the day and night," al-Sufayan reported.
The attack on Tuesday comes just days after UN experts said Iran violated a UN arms embargo by directly or indirectly providing missiles and drones to the Houthis in Yemen.
Saudi Foreign Minister Adel al-Jubeir has said that Iran is the biggest source of danger in the region because of its role in Lebanon, Yemen and Syria.
Full report at:
https://english.alarabiya.net/en/News/gulf/2018/01/16/Saudi-Arabia-intercepts-Houthi-ballistic-missile-targeting-Jazan.html
-------
Saudi Arabia intercepts ballistic missile launched by Houthi militia from Yemen
Jan 17, 2018
JEDDAH/BRUSSELS: Saudi air defense forces announced on Tuesday that they intercepted a ballistic missile, launched by Yemen's Houthi militias, over Jazan at around 8:20 p.m.
It comes after Saudi forces intercepted another ballistic missile fired by the Houthis over the southern province of Najran, bordering Yemen last week.
Meanwhile, Saudi Foreign Minister Adel Al-Jubeir said Tuesday that Iran was the biggest source of danger in the region because of its role in Lebanon, Yemen and Syria.
Iran supplied the Houthi militias with missiles that targeted Saudi Arabia, he told the media alongside his Belgian counterpart Didier Renders at a press conference in the Belgian capital, Brussels.
"The nuclear deal with Iran needs improvement to prevent Tehran from enriching uranium," Al-Jubeir added.
Commenting on Al-Jubeir's statement, Renders said: "the nuclear agreement with Iran is still optimal and its implementation is important," adding that "we will discuss with Iran the issue of ballistic missiles and wars in the region."
Full report at:
http://www.arabnews.com/node/1227406/saudi-arabia
-------
Europe
German defence minister warns against IS 'safe havens
JANUARY 16, 2018
Germany's Defence Minister Ursula von der Leyen said on Sunday the war against the Islamic State group is not over, even if the jihadists have been "largely defeated militarily".
Von der Leyen was speaking to reporters on her first visit to Jordan where Germany has 280 members of its forces as part of the US-led coalition's battle against IS in Syria and Iraq.
The jihadist group "has been largely defeated militarily", the German minister said, adding however that the ultra-radical Islamist fighters "are not to be underestimated".
The battle must continue and IS must not be allowed "to retreat into safe havens", she said.
In October, Germany redeployed to Jordan military personnel and Tornado surveillance jets after withdrawing them from Turkey amid a dispute with Ankara.
Von der Leyen said Germany was now considering reducing the number of its troops in the region.
The IS self-proclaimed "caliphate" that spanned territory the size of Britain in Syria and Iraq was largely defeated last year.
Iraq announced the end of the three-year war against IS in December, and across the border in Syria the jihadists have been ousted from most of their strongholds, with only isolated pockets left.
Jordan, a key US ally, has used its own air force and allowed US-led coalition forces to use its bases to battle IS in Iraq and Syria.
A Jordanian military band plays in front of a German GROB G 120TP training aircraft at a ceremony in Jordan on January 14, 2018 during a visit by the German defence minister
The German defence minister also met Jordan's King Abdullah II and army chief of staff Mahmud Abdel Halim Freihat, and handed over two training aircraft and other military vehicles worth around 18 million euros.
"Germany and Europe… have a strong interest in Jordan's stability," she said.
The royal court said King Abdullah discussed with von der Leyen the "importance of intensifying cooperation and coordination among all concerned parties, regionally and internationally… to address the threat of terrorism".
Germany spent some 130 million euros on defence aid for Jordan last year. This included weapons, equipment and infrastructure, according to the German news agency DPA.
German Defence Minister Ursula von der Leyen meets Jordan's King Abdullah II at the Royal Palace in Amman on January 14, 2018
http://en.brinkwire.com/96592/german-defence-minister-warns-against-is-safe-havens/
-------
Islamic State group terror plotter 'tried to radicalise 11-year-old pupils'
16 JANUARY 2018
An Islamic State group follower accused of plotting terrorist attacks at London landmarks also showed beheading videos to children worshipping at a mosque where he taught, a court has heard.
Umar Haque hoped to radicalise the youngsters and allegedly encouraged them to carry out violent role play against the police.
The 25-year-old is accused of planning an attack in the capital and having considered potential, targets including Big Ben, the Queen's guards, Heathrow, the City of London, Westfield shopping centre, Transport for London and Parliament.
Haque was allegedly helped with his planning by Abuthaher Mamun, 19, while Nadeem Patel, 26, agreed to provide Haque with a firearm, their trial at the Old Bailey was told.
Muhammad Abid, 27, is accused of failing to tell the authorities of Haque's plans.
Mark Heywood QC, prosecuting, said Haque had resolved in 2016 and early 2017 "to carry out one or more violent attacks in this country, with others if he could".
"His motivation, says the prosecution, was just that same motivation that drives the banned Islamic State group. And it was, at its heart, religious, political, perhaps other motivations as well.
"He hoped, Mr Haque, in due to course to be able to inspire others to join him in one or more than one significant violent attacks on targets in this country - including on both civilian, police and other targets."
Haque was said to have developed "an extreme mindset" and "was then prepared to contemplate and certainly capable of justifying acts of extreme violence in pursuit of the cause".
"He had clearly begun to turn his mind to the commission of violent terrorist acts in the United Kingdom.
"In doing so, he set out to involve those he knew, people around him he came to trust and rely upon."
Haque knew Mamun and Abid from the Ripple Road Mosque in Barking, east London, while he knew Patel from the local area.
The prosecutor said: "Mr Haque was fascinated by the warped and extreme ideology of the Islamic State. As he later told the police after his arrest, he was their loyal follower.
"He is a man who agrees with the thinking and aims of that organisation. He is a man who has spent a very great deal of time considering how to further those aims, including by violence."
Audio records showed that Haque had spent a "great deal of time" planning an attack and had "identified methods and targets", the trial heard.
Mamun set about raising money to help fund Haque's plans, while Patel became involved when Haque decided he needed weapons, the court heard.
Mr Heywood said Haque's plans "extended to the recruitment of yet others to the causes. Those others were not grown men, but youngsters. Youngsters aged about 11 to 14."
He set out "to persuade them in due course to take part in action", the court was told.
Mr Heywood said: "His methods were to expose them to information and video recordings and then to have them, in instances, enact scenarios of violent action against the police in this country and others.
"Taking his inspiration from events that were current at the time."
Haque denies showing YouTube videos, featuring guns, burning passports and beheadings, at the Lantern of Knowledge school in Leyton, east London, where he taught.
But he admits doing so later at the Riddle Road Mosque where he taught classes, jurors heard.
Haque, of Manor Park, and Mamun, of Barking, deny preparation of terrorist acts between March 25 and May 18 last year.
Haque denies a further count of preparation of terrorist acts, for allegedly leading exercises in physical training and role play at the Ripple Road Mosque.
He also denies one count of dissemination of terrorist publications, for showing videos at the school between July 2015 and February 2016.
Abid, of Newham, east London, denies one count of failing to disclose information about acts of terrorism.
Haque and Patel, of Forest Gate, both deny one count of conspiracy to possess a firearm.
Full report at:
http://www.telegraph.co.uk/news/2018/01/16/islamic-state-group-terror-plotter-tried-radicalise-11-year/
-------
Rights groups ask May to cancel Saudi prince's visit to UK
Jan 16, 2018
A coalition of human rights group have asked UK Prime Minister Theresa May to withdraw an invitation extended to Saudi Arabia's Crown Prince Mohammed bin Salman to visit the UK.
The coalition, including the Campaign Against Arms Trade (CAAT) and Arab Organization for Human Rights in the UK (AOHR UK), sent a letter on Monday to the prime minister saying the visit was not in the UK's interest, nor in the interest of the peoples suffering from the Crown Prince's adventurism.
"The Saudi regime … has one of the worst human rights records in the world. Torture, arbitrary detention, and other appalling abuses are widely documented," the letter said.
"It shames us as a nation to support and associate with a brutal dictator who uses hunger as a weapon, and has allowed the largest cholera epidemic in history to develop in Yemen," it added.
May had invited the crown prince and Saudi King Salman in December to visit the UK in 2018 amid the international outcry over Riyadh's ongoing war crimes in Yemen.
Britain is a major supporter of the Saudi war on Yemen. The May government has been under fire at home and abroad for refusing to suspend British arms sales to Saudi Arabia amid its ongoing war on Yemen.
London, however, has turned a deaf ear to critics as it sees Saudi Arabia as a trading partner that Britain would need after exit from the European Union (EU).
According to CAAT, the UK government has licensed more than £4.6 billion ($6.3 billion ) worth of arms sales to Saudi Arabia since the bombing began in 2015.
The Saudi-led war has so far killed more than 12,000 people and led to a humanitarian crisis as well as a deadly cholera outbreak in Yemen.
"British-made jets and bombs have played a major role in destroying civilian targets and the poor nation's [Yemen's] infrastructure," the rights groups' letter said.
"UK personnel, from the armed forces and BAE Systems, are present in the Saudi operations centre, aiding this catastrophe."
The letter which also signed by the Bahrain Institute for Human Rights, Sheba for Democracy and Human Rights, Human Rights for Yemen, Iraqi Democrats, and Stop the War Coalition states that Saudi officials have 'supported repression in other states' such as in Bahrain in 2011, during a military crackdown against anti-regime protesters.
Full report at:
http://www.presstv.com/Detail/2018/01/16/549143/Rights-groups-ask-May-to-cancel-Saudi-princes-visit-to-UK
-------
French prison guards hurt in two new attacks by radicalized inmates
16 January 2018
Prison guards in France suffered two new attacks by radicalized Islamist convicts at separate jails on Tuesday just days after a blade attack by an Al Qaeda inmate left three officers injured.
The latest attack on French prison guards occurred on Tuesday at Tarascon prison in the south of France.
An inmate known to have become radicalized to extremist Islam punched a prison guard in the face, leaving her needing hospital treatment.
While the attack was "not of a terrorist nature", according to reports it will worry prison authorities and guards alike as they continue to protest to demand tighter security at prisons.
The violent attack comes a day after seven officers were injured - three of whom seriously at a jail in Mont-de-Marsan, south west France.
Violence broke out when the inmate, also described as having been radicalized, was being searched by officers after a bag he was carrying set off the alert as he passed through a security gate.
The situation degenerated and the inmate attacked the officers by kicking and punching them. Three guards suffered serious injuries and were taken to hospital.
One suffered a broken nose and another a broken finger. Other officers suffered facial injuries after being punched.
The justice ministry, which put the number of wounded at five, said the inmate, known for being "very violent", was under surveillance "because he was radicalised in prison".
The attack came after guards blocked access to several jails around the country on Monday to demand tighter security after three officers were injured in an attack by a German terror convict last week.
The officers' unions say the blade attack by Christian Ganczarski, who is serving an 18-year sentence over the 2002 bombing of a Tunisian synagogue, illustrated the lax approach of prison authorities to violent convicts.
An anti-terror judge has charged Ganczarski with attempted murder for the attack on the officers, judicial sources told AFP late Monday.
At their protest prison guards used washing machines and a pile of burning tyres to block access to the high-security prison in Vendin-le-Vieil on the border with Belgium where he is being held.
Around 100 officers took part in the protest, an AFP journalist at the scene said.
In an apparent attempt to defuse the situation, the prisons service announced that the director of the facility had asked to be "relieved of his command" following calls by wardens for him to go.
The attacks come as French officials test a range of preventive measures after a string of jihadist attacks over the past two years that have left more
than 240 people dead.
Some of those responsible were involved in Islamist networks in jail. They include Cherif Kouachi, one of the gunmen who attacked satirical magazine
Charlie Hebdo in January 2015, and his friend Amedy Coulibaly, who killed four at a Jewish supermarket two days later.
Dealing with radicalised prisoners and stopping them from converting fellow inmates has been a priority, but the results so far have been mixed.
Full report at:
https://www.thelocal.fr/20180116/seven-french-prison-guards-attacked-by-radicalized-inmate
-------
Several Ukrainians accused of terrorist activity in occupied Crimea illegally taken to Russia
16.01.2018
Ukraine's Foreign Affairs Ministry has lodged a protest about the illegal transfer to Russia of several Ukrainian citizens arrested in Russia-occupied Crimea on trumped up terrorism charges in 2016. The ministry demands the immediate return of the detainees to Ukrainian territory.
"Ukraine's Foreign Ministry expresses its outrage in connection with the illegal transfer to Russia of Ukrainian citizens Muslim Aliyev, Emir-Usein Kuku, Vadym Siruk, Enver Bekirov, Refat Alymov, Arsen Dzhepparov who were detained in Russia-occupied Crimea on trumped up terrorism charges," the ministry said on Tuesday.
The ministry said international humanitarian law forbids occupying countries from carrying out forceful transfers of citizens of the occupied state to the territory of the state-occupier. Committing such an act is a punishable offense, according to international law.
Ukraine's Foreign Minister demands Russia cease the practice of illegal transfers of Ukrainian citizens to Russia from Russia-occupied Crimea and Sevastopol and demands the return of Ukrainian citizens to the territory of Ukraine.
Full report at:
http://en.interfax.com.ua/news/general/477259.html
-------
India
Pune: Muslim organisations, scholars welcome Centre's decision to abolish Haj subsidy
by Sajid Inamdar
January 17, 2018
The Centre's decision to abolish the Haj subsidy, announced on Tuesday, has been welcomed by Muslim scholars and organisations in the city, who said the move was a "much-awaited" one.
In the past, a section of the Muslim community had called the subsidy, worth almost Rs 700 crore every year, a 'blot', as the Quran states that members of the community should perform Haj only if they can afford to do so.
Anees Chishti, educationist and Islamic scholar, and a special invitee on the board of the All India Muslim Personal Law Board, said, "The decision to abolish the Haj subsidy is a good thing. While it was called a Haj subsidy, the pilgrims performing Haj didn't get anything in hand. It was an arrangement to prevent Air India from suffering losses. The money went from one government organisation to another… since the money was being offered to the government-run airlines to offer discounted rates for flights operated by the national carrier."
Riyaz Qazi, chief of Pune Haj Committee and a former member of the Maharashtra Haj Committee, said, "There was nothing in terms of a subsidy which came directly to a Haj pilgrim. It was a subsidy for Air India and was serving as a lifeline for it. Had the government followed the process of open global tender for air travel, it would have made the process more economical."
Shamshuddin Tamboli, president of the Muslim Satyashodhak Mandal, said the government was following the Supreme Court's instructions in 2012, when the apex court had ordered that the Haj subsidy should be phased out over a 10-year period.
"Even in 2012, Muslims had welcomed the decision because it is part of the religious duties of a Muslim to perform the pilgrimage, only if they can afford it. So, a subsidy was not desirable. I believe that in a secular country like India, there should be no place for religious subsidies and any other subsidy for pilgrimages should also be stopped. Instead, the money should go towards the development of the community, by spending it on education or health projects," he said.
http://indianexpress.com/article/cities/pune/pune-muslim-organisations-scholars-welcome-centres-decision-to-abolish-haj-subsidy-5027928/
-------
Muslim Outfit Places Rs 10 Lakh Bounty on Shia Waqf Board Chief's Head
Jan 16, 2018
Two days after Shia Waqf Board president Waseem Rizvi said that he got death threats on his cellphone, a Bareilly-based religious outfit All India Faizan-e-Madina Council (AIFMC) announced a bounty of Rs 10,00,786 and a free Haj trip for anyone who brings them his (Rizvi's) head.
The organisation said Rizvi had hurt religious sentiments of the Muslims by his 'some madarsas acting as breeding ground for terrorists' remarks.
Also, BJP's district unit president (minority cell) of Azamgarh Sofiyan Khan plans to give Rs 51,000 to anyone who 'spits on Rizvi's face'. Khan burnt the Shia Board chief's effigy and held demonstration against him in Sagdi Tehsil of Azamgarh here on Tuesday.
"Our organisation would pay Rs 10 lakh to anyone who beheads Waseem Rizvi and will also sponsor his Haj (trip)," said Moeen Siddiqui Noori, head of the AIFMC. Noori said Rizvi had just two days to apologise for his remarks or take back his statement on madarsa, failing which followers of his organisation would behead him.
This is not the first time that AIFMC chief has announced a cash reward for someone's head. Noori had issued a similar death threat to controversial Canadian Muslim Tarek Fateh last year. This was followed up by him in a similar announcement against Zee media group owner Subhash Chandra. Before that, he had placed a bounty on BJP leader Subramanian Swami's head, following which he was arrested.
"Soon after BJP came to power at the Centre, home minister Rajnath Singh said there were no terrorists studying in Indian madrasas and that the government wouldn't close any such institute. He made that statement in Lok Sabha and was supported by Prime Minister Narendra Modi," Noori pointed out.
Full report at:
http://www.hindustantimes.com/india-news/muslim-outfit-places-rs-10-lakh-bounty-on-shia-waqf-board-chief-s-head/story-VTq5Uqhei90I0HJDRZulUL.html
-------
Israel PM hails 'alliance' with India, targets 'radical Islam'
Jan 17, 2018
New Delhi: Speaking in the presence of Prime Minister Narendra Modi, external affairs minister Sushma Swaraj and a host of international delegates, Israeli Prime Minister Benjamin Netanyahu lashed out at "radical Islam and its terrorist options" from the podium of the Raisina Dialogue conference here on Tuesday evening, saying that the "challenge" can be overcome by strengthening India-Israeli ties. The Israeli PM also hailed the "India-Israel alliance", saying that only the "strong survive".
"Our way of life is being challenged, most notably the quest for modernity, the quest for innovation is being challenged by radical Islam and its terrorist options from a variety of corners. This can upset the international system. I think one of the ways to overcome such a challenge is to strengthen the relationship between our two great democracies. The alliance of democracies, I think, is important to secure our common future," Mr Netanyahu said, as Mr Modi listened in the audience.
"The weak don't survive. The strong survive. You make peace and alliances with the strong," he said, adding: "We believe in India as you believe in Israel. May God bless the India-Israel alliance." He further said: "We have discussed in the visit how we can strengthen our two nations in civilian areas, in security areas."
Israel has had a turbulent relationship with the Islamic world for decades due to the Palestinian issue, but the reference to "radical Islam" may be calculated to strike a resonance among many in India, which is battling the terrorism of Pakistan-based terror outfits like the Jaish-e-Mohammed and Lashkar-e-Tayyaba. Interestingly, however, while Israel considers Iran to be the epicentre of terrorism, India considers Pakistan as being so. Israel is also battling radical outfits and accuses Iran of backing these.
Mr Netanyahu said the "secret of Israel" was that its roots lay in ancient traditions, while its branches and leaves reached out to the sky "like an enquiring mind". He said it was the "same with India" and that this "characterises our two people". The Israeli PM also praised Mr Modi for the rapid rise in India's ranking in the ease of doing business over the past three years.
Speaking about the public support in India for friendship with Israel, Mr Netanyahu mentioned his trip to Agra (to visit the Taj Mahal) earlier in the day. "We are naturally sympathetic to India. When I walk on the streets of India like I just did in Agra, I saw the sympathy and friendship of people. Somebody said to me, 'We are so happy that you are friends with our Prime Minister... We are friends with you, we are friends with Israel. It's a natural friendship and a natural partnership'."
Full report at:
http://www.asianage.com/india/all-india/170118/israel-pm-hails-alliance-with-india-targets-radical-islam.html
-------
Pak troops fire at LoC posts in Poonch; Army Captain injured
Jan 17, 2018
JAMMU: Pakistani troops opened fire at Indian posts along the Line of Control (LoC) in Jammu and Kashmir's Poonch district on Tuesday, injuring an Army Captain, officials said.
"There was a ceasefire violation by the Pakistan Army. They resorted to firing along the LoC in Chakan Da Bagh area in Poonch this evening," a security force official said.
The injured Army Captain has been hospitalised, they said.
The Indian troops retaliated and the exchange of fire continued till late night, they said.
The latest violation of the ceasefire came a day after seven Pakistani Army men, including a Major, were killed and four others injured in retaliatory action by the Indian Army in Poonch.
Full report at:
https://timesofindia.indiatimes.com/india/pak-troops-fire-at-loc-posts-in-poonch-army-captain-injured/articleshow/62531481.cms
-------
'We're not seeking reform in Islam, Shariat, but there must be reform of evil social practices,' says Mukhtar Abbas Naqvi
January 14, 2018
Union Minister for Minority Affairs Mukhtar Abbas Naqvi calls the Congress's argument against triple talaq "confused", dismisses appeasement allegations, claims that the government did not want to take credit for relaxing Haj rules, and says that the issue of SC judges criticising the CJI must be resolved internally.
Why Mukhtar Abbas Naqvi?
The Muslim Women (Protection of Rights on Marriage) Bill, which seeks to criminalise instant triple talaq, has been passed by the Lok Sabha and now awaits the Rajya Sabha's approval. The Bill, which came on the back of the Supreme Court's order declaring triple talaq "unconstitutional", has triggered a debate both within political circles and outside. Also, the Centre's attempt to take credit for the decision to allow Muslim women aged above 45 to perform Haj, without a male guardian, in a group of at least four — which came three years after Saudi Arabia relaxed the rules — has also raised questions. Minority Affairs Minister Mukhtar Abbas Naqvi, one of the most prominent Muslim faces in the BJP and the NDA government, insists that the Centre's focus is on "development"and "empowerment without appeasement".
MUKHTAR ABBAS NAQVI: In the past three years, I have seen that there has been development with dignity, and empowerment without appeasement. We have fulfilled all our commitments. The Narendra Modi government has worked positively and constructively towards inclusive development.
We were in Saudi Arabia recently, and the way the ministers, senior officials and people of that country praised our economy and governance, it would make any Indian proud. They said that the whole world is looking at India with a lot of confidence and trust. India is fast moving towards becoming a world leader.
As far as minorities are concerned, we have managed to break the stereotypes associated with them — that they should be appeased and not empowered.
Then there is the Haj pilgrimage. Last year, without making any announcements before hand, we got the Haj quota increased. The other important thing is that we have abolished the Haj subsidy. There wasn't much noise about this within the community or outside because first we ensured that there is no burden on the people. We have given people options. If a person from Srinagar wants to go for Haj, he can go from Delhi as well. Earlier this was not the case. Similarly, a person from Gaya can also go from Kolkata. He would have to pay Rs 1.5 lakh from Gaya, whereas from Kolkata he will have to pay only Rs 60,000. The difference is big.
ABANTIKA GHOSH: Under what circumstances did the government decide to bring in a law to criminalise instant triple talaq without consulting all the stakeholders?
Firstly, the decision on triple talaq wasn't taken in a day. The Constitutional bench of the Supreme Court heard the matter for a long time. Several religious organisations presented their arguments in court and the bench gave its judgment.
There is a positive difference between what happened in 1986 and in 2017-18. In the Shah Bano case in 1986 (under the Rajiv Gandhi government), where triple talaq was an important issue, there were protests across the country. There was a rally at Boat Club, at Ramlila Maidan, in Mumbai… The government came under pressure then and made a law to reverse the Supreme Court judgment.
When we took a decision on triple talaq after the Supreme Court's judgment, there were no voices against it either from religious organisations or the Muslim community. No one said triple talaq is legal. Everyone said triple talaq is unconstitutional, illegal and un-Islamic. This is the big difference between then and now.
A few people have said that the law should not 'criminalise' triple talaq. They argue that if the husband goes to jail, how will he give compensation to his family. But why go to jail? If you commit a crime, you will go to jail. That is why we are saying don't commit that crime and go to jail.
Secondly, murder is illegal, unconstitutional and a crime as well. If you murder someone you will go to jail. It is the same for robbery. If we don't make a law on triple talaq, the practice will not end. We have to make a law to give women their rights.
ABANTIKA GHOSH: Ghulam Nabi Azad said that if the government is ready to give compensation, we will let the Bill be passed. Are you mulling that option?
Like I said, why should the person go to jail in the first place? Don't commit the crime and don't go to jail. We are bringing in the law so that you don't go to jail.
Also, the Congress and the other parties that have reservations about the Bill, they should have brought in amendments and had discussions in Parliament. But they didn't have a debate, they didn't bring in any amendment in the Lok Sabha or Rajya Sabha. Now they are saying that send the Bill to a select committee. So you don't want to have an open discussion on the floor of the House and do it behind closed doors. The Congress is confused and it doesn't know which path to take.
ABANTIKA GHOSH: But a select committee is a standard parliamentary procedure. Why was the government resisting?
There was no resistance. We have never been against the select committee or standing committee. We sent the GST to the select committee. The Motor Vehicles Act also went to it. There are several Acts that have been referred to select committees. But before sending anything to a select committee, the reservations have to be spoken about. All that they (the Opposition) are saying is that why are you sending the husband to jail.
RAVISH TIWARI: Now that the Bill has been delayed anyway, why not send it to a select committee?
It is not late. Der hui hai, par andher nahin hogi (It has been delayed, but there will be a result).
RAVISH TIWARI: People are concerned about the law making instant triple talaq a cognisable offence. Now this means that even a third party can file a case. Had it been non-cognisable, the matter would have stayed between the couple. Wouldn't that be a better safeguard?
Have you seen the law against Sati? It has much tougher legal provisions. During that time too, people had said that this (Sati) is related to religion and faith and that the state should not interfere in it. But the move was abolished after a law was formulated in the British Parliament. It was declared illegal. It happened with child marriage too.
This is not about religion, it is about a wrong practice. When Muslim nations have abolished the practice and declared it illegal and called it a crime, then what is wrong with doing the same in India?
ABANTIKA GHOSH: You are equating killing a person with abandoning one's wife.
It is a very heinous crime. A man can very easily utter the three words, but where will the woman go after that? She has to deal with the stigma of being a divorced woman. We should not look at it through the political lens. The Constitution is the biggest religious book and Parliament is the biggest temple. We should only focus on delivering justice.
RAVISH TIWARI: But then aren't you appeasing Muslim women?
There is no appeasement. We are only giving them their Constitutional right, which they should have got much earlier.
ABANTIKA GHOSH: Are there any other social practices against which the government is planning to take action?
People should come forward and speak out against bad social practices in their community. It is much better if reform comes from within the community. The government interferes very rarely.
We are not asking for reform in Islam or the Shariat, but there needs to be reform when it comes to evil social practices. There have been many positive changes in the Muslim community. We should welcome this and encourage them to continue on the path of reform.
ABANTIKA GHOSH: While the government is bringing a law against triple talaq, what about female genital mutilation? The Women and Child Development Minister had said earlier that if the community does not introduce reforms, we will bring in a law. But now she says that there is no need for a law.
The government alone cannot bring in social reforms. The society needs to be ready for it. In the past three years, I have seen that there has been a lot of positive change in the mindset of the Muslim community. They are moving towards positive reform.
LALMANI VERMA: You said that the triple talaq law has nothing to do with appeasing Muslim women. But the BJP raised the issue right before the UP elections and reaped benefits as well, especially in western UP.
Where is the appeasement? It is a social reform, a Constitutional right. We are only speaking up for that right.
SANDEEP SINGH: Are you looking at reforms in the field of education?
Education is very important, and not just for the minorities or the Muslim community. There is a huge gap between the South and North. If you look at the education standards and literacy rates in the South — Kerala, Karnataka, Andhra Pradesh — these are above 90 per cent. In the North, these are around 40 per cent. The rates are even lesser in the minority communities.
Now (in the South), it is not just the government that has done things. The society became aware as a whole and decided to get itself educated. We need to fill this gap.
Prime Minister Narendra Modi had said, 'Ek haath mein Quran, ek haath mein computer (the Quran in one hand, computer in the other)'. This was meant to encourage those sections of society that are not a part of mainstream education.
As far as the madrasas are concerned, they have a long history. The madrasa has produced (former president) APJ Abdul Kalam and many such men. There is a long list. The madrasas have contributed to the country, starting from the freedom movement. There may be a few isolated cases, but then they can be from any institution.
How do we blend madrasas with mainstream education?… Murli Manohar Joshi had raised this. Now the HRD ministry and my ministry are working on it. We don't need to interfere in their religious education. That can be 10 per cent. The remaining 90 per cent can be maths, science, computer studies etc. The positive effect of this has been that over 90 per cent of the madrasas have joined the formal education set-up.
ABANTIKA GHOSH: Four Supreme Court judges have made allegations against the Chief Justice of India. What is the government's position?
This is an extraordinary situation. This has never happened before. The government never gets involved or interferes in the matters of the Supreme Court. The matter should be resolved within the framework of the court.
ABANTIKA GHOSH: Will a press conference like this affect the confidence of the people?
I don't think one incident can affect people's confidence in the courts.
RAVISH TIWARI: Your government took credit for relaxing the Haj rules — allowing Muslim women aged above 45 to perform Haj without a male guardian in a group of at least four. But Saudi Arabia had relaxed the rules three years ago.
We don't want any credit. A system was in place for decades, that women cannot go for Haj without a male companion. Many people gave presentations to the Prime Minister about this, many women met him too. We formed a committee to look into the matter. It was decided that since all Muslim countries are allowing it, who are we to stop women? So we lifted the ban and now over 1,300 women are going for Haj alone. We also lifted the ban on disabled people taking the pilgrimage.
LALMANI VERMA: Kapil Sibal said in the Supreme Court that the Babri Masjid case should be heard after the 2019 general elections.
We should wait for the decision of the Supreme Court and members of both the communities should accept it. The Lucknow bench of the Allahabad High Court has given its judgment. Only the Supreme Court can resolve the matter.
SANDEEP SINGH: There have been several instances where dairy farmers travelling with cattle have been attacked by cow vigilantes. Have you taken up the issue with the BJP-run state governments?
We believe that it is a heinous crime. In whichever state it takes place there should be strict investigation and judicial proceedings. Action is being taken against the accused in all such cases in Rajasthan, UP and Haryana. Such incidents definitely hurt the BJP's and Modiji's agenda of development. We will not allow such incidents to impact our development plan.
SHAILAJA BAJPAI: The Prime Minister visited Israel, and the Prime Minister of Israel will visit India soon. Do you think this will affect India's relationship with Palestine?
Earlier, all prime ministers would think twice before visiting Israel. But Modiji went and talked to several ministers and politicians there. Narendra Modi has changed perceptions. The decisions surrounding development are getting bigger and stronger. It is all for the benefit of the country. Today, not a single Islamic state has questioned Modiji's visit to Israel, or threatened to break relations with us based on that. India enjoys the confidence of most countries today. India is growing to become a superpower in the world, and the world is gradually accepting it.
Nationalism is a priority for us. We are working with a nationalistic agenda and people have confidence in us because of that. We haven't left Palestine. Palestine is on our side. All the countries in the world are with us.
RAVISH TIWARI: It has been nearly four years since you came to power. Are the Muslims voting for the BJP?
Today, people cannot say that only Hindus, or only Muslims, vote for us. The nature of politics itself has changed. For instance, we know now that in Gujarat, about 16 per cent Muslims voted for the BJP. Nowadays, we have booths and so we know the demography of the population there. We know if a particular area just has Muslims, and even in such areas we have secured 20 per cent of the votes. The political parties that only focused on Muslim votes or votes from one particular community, even they have been forced to change their path. The nature of politics is changing. The idea of reaching out to everyone is becoming popular.
LALMANI VERMA: What are you doing about the recommendations of the Sachar committee?
There were three-four important points in the recommendations. One was the inclusion and participation of Muslims in government services. That has increased in our time. Muslims only occupied 4.5 per cent seats in government services; now they occupy 10 per cent seats in Central government (jobs).
Full report at:
http://indianexpress.com/article/india/were-not-seeking-reform-in-islam-shariat-but-there-must-be-reform-of-evil-social-practices-says-mukhtar-abbas-naqvi-5023355/
-------
Nuclear, chemical weapons falling into hands of terrorists could spell disaster: Army Chief Bipin Rawat
January 17, 2018
Army Chief General Bipin Rawat on Wednesday said the threat of nuclear and chemical weapons falling into the hands of terrorists could spell disaster for humanity. General Rawat was speaking during an interaction at Raisina Dialogue, currently underway at Rashtrapati Bhavan in the national capital.
"Terrorists are using systems which are highly technology enabled and transcending international borders. We need to disrupt terrorists and their sponsors. We need to identify nations who are sponsors," the Army said, adding that there was a need to put some checks and curbs on Internet as well as social media, that terrorist organisations resort to. He said, acknowledging that in a democratic country people would not like it, but they have to take a call on whether they want a safe and secure environment and whether they were willing to accept curbs temporarily so terrorism can be dealt with.
On Kashmir, the Army Chief claimed that the people have realised that what they desired for cannot be achieved. "People of Kashmir in general are getting tired of terrorism. It has not given them what they desired for. You cannot cede away from India. People have realised that. Some have got radicalised… I feel most of them want to join the mainstream," General Rawat said, adding that the deradicalisation campaign needs to continue. "If that continues, we will soon be able to put an end to terrorism in Kashmir." Also Read: Pakistan considers proposal for DGMO-level meet: Report
Full report at:
http://indianexpress.com/article/india/threat-of-nuclear-chemical-weapons-falling-into-hands-of-terrorists-could-spell-disaster-army-chief-bipin-rawat-5028142/
-------
Muslims were cheated in name of Haj subsidy: AIMPLB
January 16, 2018
The government's decision on revoking Haj subsidy has no meaning as there was no such concession and Muslims were being cheated in its name, the All India Muslim Personal Law Board (AIMPLB) on Tuesday said.
"The subsidy was not given to those going on Haj but it was for Air India that is running in losses. It was an eyewash. Muslims were cheated in the name of the subsidy," AIMPLB General Secretary Maulana Wali Rahmani told PTI.
"In normal days, tickets for Saudi Arabia come for Rs 32,000 but during Haj, Air India used to charge Rs 65,000 to Rs 1 lakh from those going for Haj. The fare will be less without subsidy," he said.
"Haj-bound Muslims are bulk purchasers of Air India tickets and so their fare should be less. It's rule of International Air Transport Association that if anyone is going for pilgrimage, he will be given 40 per cent discount. If the fare is not less, it should at least the same as on normal days," he said.
All India Shia Personal Law Board Chairman Yasoob Abbas, on the other hand, said the board favoured subsidy on Haj.
"The government used to give subsidy to reduce loss of Air India. If the amount is now spent on education of Muslim children, it will be good but the poor who used to go to Haj will not do so now," he said.
Samajwadi Party spokesman Rajendra Chowdhury said that Haj subsidy should not be revoked completely and facilities for those going for the annual pilgrimage should be increased.
Earlier in the day, Union Minority Affairs Minister Mukhtar Abbas Naqvi announced in Delhi that there will be no subsidy for Haj from this year and said the move was part of the government's efforts to "empower minorities" without appeasement.
A record number of 1.75 lakh Muslims will undertake the pilgrimage this year from India, he said, adding the government had spent over Rs 250 crore last year on subsidising the annual pilgrimage of Muslims to Saudi Arabia.
Full report at:
http://indianexpress.com/article/india/muslims-were-cheated-in-name-of-haj-subsidy-aimplb-5027463/
-------
South Asia
Bangladesh, Myanmar aim to finish Rohingya return in 2 years
January 16, 2018
BANGKOK — Bangladesh and Myanmar have agreed that they will try to complete the repatriation of hundreds of thousands of Rohingya Muslim refugees who fled from violence in Myanmar within two years, Bangladesh's Foreign Ministry said Tuesday.
The ministry said a joint working group from the two countries finalized an agreement on Monday on the physical arrangements for the repatriation of the ethnic Rohingya. It said they agreed that the process "would be completed preferably within two years from the commencement of repatriation."
Myanmar and Bangladesh signed an initial agreement in November to repatriate the Rohingya, and the 30-member working group was set up last month to oversee the process. Many have questions whether Rohingya would return to Myanmar under the current circumstances, and whether Myanmar would accept them and allow them to live freely.
Under the November agreement, Rohingya will need to provide evidence of their residency in Myanmar in order to return — something many say they do not have.
More than 650,000 ethnic Rohingya have fled to Bangladesh since August, when Myanmar's military launched a brutal crackdown in Rakhine state after a militant group attacked police posts. Myanmar's army described it as "clearance operations" against terrorists, but the United Nations and the U.S. have called it "ethnic cleansing."
Despite having lived in predominantly Buddhist Myanmar for generations, Rohingya Muslims have been denied citizenship, freedom of movement and access to basic social rights. They are generally called "Bengalis," a reference to the belief that they migrated illegally from Bangladesh.
Arif Hossein, a former teacher in a Myanmar government school who fled to the Kutupalong Refugee Camp in Bangladesh after violence erupted in August, said he would return if the international organizations working to protect the refugees are able to go along.
"And if we get a nationality identity card in Myanmar, then we are more than willing to go back. We really wish to go back to our land. They should return our land and also rebuild our homes," he said.
Myanmar officials said the length of the repatriation will depend on how quickly Bangladesh can provide documentation of refugees' previous residency and how fast applications are submitted.
"Even though we are talking about a two-year process, it totally depends on how the two countries cooperate," Myanmar government spokesman Zaw Htay said. "Bangladesh authorities also need to proceed with the paperwork and documents for refugees and send it to us fast."
Since the November agreement, Myanmar's civilian government led by Aung San Suu Kyi has pledged to take measures to halt the outflow of Rohingya to Bangladesh and restore normalcy in the Rakhine region.
Myanmar officials plan to start the repatriation process next Tuesday. Zaw Htay said at least 500 Hindus and 500 Muslims will be in the first group to return.
State-run media in Myanmar reported Monday that a camp is being prepared that can accommodate about 30,000 people in 625 buildings, and that at least 100 buildings will be completed by the end of the month. It would be the first camp built in the repatriation process.
The international community and rights groups have stressed that the Myanmar government must guarantee the "safe and voluntary" return of the refugees, and urged that international organizations be allowed to participate.
However, the U.N. refugee agency said Tuesday that it has not been invited to take part or given full access to the areas where refugees are to return.
"UNCHR and our partners need urgent, unhindered access in Rakhine state, in order to assess the situation and provide support to those in need," UNCHR spokesman Andrej Mahecic said in Geneva.
U.S.-based Human Rights Watch said the discussions between Myanmar and Bangladesh failed to include any understanding of what the Rohingya want.
"Where are considerations for protection of the Rohingya from Myanmar security forces who months ago were raping and killing them?" said Phil Robertson, deputy director of the group's Asia Division. "Why are basic issues like citizenship, freedom of movement, and livelihoods not discussed now so refugees can make informed choices?"
https://www.washingtonpost.com/world/asia_pacific/myanmar-says-1st-camp-for-rohingya-will-be-ready-next-week/2018/01/15/7415cea2-fa58-11e7-9b5d-bbf0da31214d_story.html?utm_term=.1afe911041ba
-------
Afghan Special Forces continue pursuit of Taliban in the North
Jan 16 2018
The Special Operations Forces of the Afghan National Defense and Security Forces (ANDSF) continue to apply pressure on the Taliban through an aggressive winter campaign in the northern parts of the country.
With the new fighting season is due to kick off in coming months, the size and strength of the Afghan Special Forces are also expected to increase with addition of the new commando forces.
10th Special Operation Kandak Commandos conducted a series of weapons proficiency ranges at Camp Pamir, Kunduz province, Afghanistan, Jan. 13, 2018. Divided into three special operations light infantry companies, the 10th SOK always actively pursues the enemies of Afghanistan with at least one Commando element. The special operators fired company organic weapon systems to include rifles, light and heavy machine guns, RPGs and mortars, according to a report Maj. Tony Mayne of the NATO Special Operations Component Command-Afghanistan.
The special operators continue to apply pressure on the Taliban through an aggressive winter campaign in the country's northern region.
On Dec. 10, 2017, 10th SOK concluded a series of focused offensive operation in Kunduz province resulting in the removal of 101 Taliban fighters from Imam Sahib district. Over the course of five days, the Commandos eliminated 74 Taliban, wounded an additional 27 insurgents, and destroyed 87 defensive fortifications.
During the course of 2017, the Taliban have attempted to seize provincial capital district centers, such as Kunduz city, with no success. The combination of cooperation amongst the Afghan Nation Defense and Security Forces, and the growing capability of the Afghan Special Security Forces enabled a prolonged offensive operation through Afghanistan's harsh winter season.
Full report at:
https://www.khaama.com/afghan-special-forces-continue-pursuit-of-taliban-in-the-north-04277
-------
23 militants killed in separate US drone strikes in Afghanistan
Jan 16 2018
At least twenty three militants affiliated with the Islamic State of Iraq and Syria (ISIS) terrorist group and other insurgent groups were killed in separate drone strikes in eastern Nangarhar province of Afghanistan.
The 201st Silab Corps of the Afghan military said Tuesday that the latest airstrikes were carried out in Achin and Shirzad districts.
A statement by the Silab Corps said the US unmanned aerial vehicles targeted the hideout of the militants in Marki area of Sherzad district on Monday, leaving two militants dead.
The statement further added that the insurgents killed during the air raid have been identified as Osman and Abbas and a vehicle, a PKM machine gun, an rocket launcher and an Ak-47 rifle were also destroyed.
In another airstrike carried out in the vicinity of Mamand Daga area of Achin district, at least twenty one IS insurgents were killed, the statement added.
According to the Silab Corps of the Afghan military, the local residents and security personnel have not suffered casualties in the airstrikes.
The anti-government armed militant groups including the Taliban and IS insurgents have not commented regarding the reports so far.
Full report at:
https://www.khaama.com/23-militants-killed-in-separate-us-drone-strikes-in-afghanistan-04274
-------
15 Tajikistani militants killed in Afghan Air Force raids in Badakhshan
Jan 16 2018
At least fifteen militants hailing from Tajikistan were killed were killed in a series of airstrikes conducted in northeastern Badakhshan province of Afghanistan.
According to the 209th Shaheen Corps of the Afghan Military, the Afghan Air Force carried out a series of airstrikes against the militants hideouts in Jurm district using the A-29 planes.
A statement by the Shaheen Corps said at least fifteen militants were killed and eleven others were wounded in the airstrikes.
The anti-government armed militant groups including the Taliban insurgents have not commented regarding the report so far.
Badakhshan is among the remote provinces located in the northeastern parts of the country where the anti-government armed militants are actively operating in some of its districts.
Both the Taliban insurgents and foreign militants hailing mainly from the Central Asian states are conducting insurgency in the ranks of the foreign terror groups in this province.
Full report at:
https://www.khaama.com/15-tajikistani-militants-killed-in-afghan-air-force-raids-in-badakhshan-04278
-------
Noor claims Gen. Dostum and Gen. Raziq are under immense pressure of govt
Jan 17 2018
The chief executive of Jamiat-e-Islami Ata Mohammad Noor has claimed that the First Vice President General Abdul Rashid Dostum and the provincial police chief of Kandahar Gen. Abdul Raziq are under immense pressure of the government.
Noor made the latest claims during a gathering in Mazar-e-Sharif city late on Tuesday evening where scores of his supporters had gathered as a deadlock still persists between him and the government over the provincial leadership of Balkh province.
According to Noor, the government is attempting to force the First Vice President Gen. Dotum to abandon the membership of the newly-formed coalition.
He also went on to claim that the government has also increased pressures on Gen. Raziq to abandon support to him in a bid to maintain his post as the police chief of Kandahar.
This comes as tensions still remain high between the chief executive of Jamiat-e-Islami and the government over the leadership of Balkh province.
The US Vice President Mike Pence on Tuesday called President Mohammad Ashraf Ghani to discuss key issues of mutual interest as well as the soaring tensions between the government and the chief executive of Jamiat-e-Islami Ata Mohammad Noor.
The White House in a statement said the Vice President highlighted Kabul's continued engagement and critical progress on necessary reforms, political inclusion, and preparations for forthcoming elections.
Full report at:
https://www.khaama.com/noor-claims-gen-dostum-and-gen-raziq-are-under-immense-pressure-of-govt-04281
-------
Southeast Asia
Priest forges close ties with Indonesian leader
January 16, 2018
Catholic priest and social activist Father Antonius Benny Susetyo has a close working relationship with the leader of Muslim-majority Indonesia.
In June 2017, he was appointed by President Joko Widodo as an adviser to a loosely structured group promoting communal tolerance and understanding.
Sectarian tensions had surfaced earlier in the year during an election campaign for the governorship of capital Jakarta.
Hundreds of thousands of Muslims joined protests against then incumbent ethnic-Chinese Christian governor Basuki Tjahaja Purnama.
He was subsequently jailed for blasphemy over comments that there were no Islamic scriptural requirements for Muslims to vote fellow Muslims into leadership positions.
The advisory group that includes Father Susetyo looks for ways to implement Indonesia's national Pancasila ideology stressing belief in one
God and cultural pluralism.
Formulated by founding President Sukarno in June 1945, Pancasila also seeks to enhance national unity and protect democracy while ensuring social justice.
However, since the fall in 1998 of Sukarno's successor as president, Suharto, there have been calls by Muslim radicals for the creation of an Indonesian Islamic caliphate.
"This is dangerous for our country," Father Susetyo said.
He represented the Catholic Church when Abdurrahman Wahid, commonly known as Gus Dur, was president between 1999 and 2001.
Turning point
Father Susetyo began his involvement in social and political activities while at the Widya Sasana School of Philosophy and Theology in Malang, East Java, his hometown.
A personal turning point was anti-Christian and anti-Chinese riots in Situbondo district, East Java, on Oct. 10, 1996, a week after his ordination.
Strife erupted due to dissatisfaction with perceived leniency in a five-year prison sentence for a Muslim defendant, identified only as Saleh, on a charge of insulting Islam.
Members of a mob accused Christians of having hidden the man and torched dozens of churches, including the Catholic Church where Father Susetyo was an assistant pastor.
Several Protestant and Catholic schools, along with ethnic Chinese shops, were attacked. Five deaths were reported.
The late Bishop Herman Joseph Sahadat Pandoyoputro mandated Father Susetyo to build a "true brotherhood" with Muslim leaders in the area.
"It was a moment that made me realize that Catholics should reach out to other believers, particularly Muslims," Father Susetyo said.
Together with Protestant pastors and leaders of other religions, he joined interfaith gatherings that sought to ease tensions.
Such encounters led him into deeper relationships with many Muslim clerics.
They included Gus Dur, the grandson of Hasyim Asy'ari, founder of the mass Islamic organization Nahdlatul Ulama, and Said Aqil Siradj, who is now its president.
Father Susetyo co-founded the Setara Institute for Democracy and Peace.
The institute's main goal is to fight against discrimination and intolerance, including in relation to religion, ethnicity and gender.
Father Susetyo's humanitarian activities expanded after he was assigned as executive secretary of the Interfaith Commission of the Indonesian Bishops' Conference in 2008.
Prophetic stance
Father Susetyo's mentor, the late architect and social activist Father Yusuf Bilyarta Mangunwiajaya, encouraged him to write for newspapers.
"He told me that homilies from the pulpit are limited to Catholics," Father Susetyo said.
However, Mangunwiajaya had counseled that writing for newspapers would reach a wider audience.
Father Susetyo has written 10 books, including on the money politics and environmental abuses that followed Suharto's fall nearly 20 years ago.
"This is a prophetic mission to speak on behalf of marginalized people — the victims," he said.
The activist priest's involvement in President Widodo's team provides a platform to offer moral and ethical guidance to Indonesians in general and political elites in particular.
On many occasions, Father Susetyo has spoken out against the patronage and favor trading of transactional politics.
To sharpen his skills, after finishing his master's degree in political communications, he is now pursuing a doctoral degree in the same field.
"The Church is about networking and it needs communicators," he said.
https://www.ucanews.com/news/priest-forges-close-ties-with-indonesian-leader/81224
-------
Mahathir challenges PAS to state its choice for PM
Soo Wern Jun and Khairil Ashraf
January 16, 2018
PETALING JAYA: PPBM chairman Dr Mahathir Mohamad has challenged PAS to name its choice for prime minister ahead of the 14th general election (GE14).
The former prime minister, who is also Pakatan Harapan (PH) chairman, was responding to speculation that PAS and Prime Minister Najib Razak had formed a "secret pact" in Kelantan to help PAS win in the general election.
"We want to know, if PAS wants to contest, who is their PM candidate? Is it Najib? Or is it me?
"If they tell us who their PM candidate is, if the people like their choice, then only they will know if they can win the election.
Speculation of a PAS-Umno political alliance has been rife since the Islamist party severed ties with PKR in April last year.
PAS' refusal to work with opposition coalition PH, which could lead to three-cornered election battles, has also contributed to the speculation.
This followed PAS president Abdul Hadi Awang's appearances at several events attended by his Umno counterpart, Najib.
Full report at:
http://www.freemalaysiatoday.com/category/nation/2018/01/16/mahathir-challenges-pas-to-state-its-choice-for-pm/
-------
Self-censorship among non-Muslims 'unhealthy', say academics
13 Jan 2018
A GROWING culture of self-censorship among non-Muslims in Malaysia to avoid offending subjective Muslim sensitivity is unhealthy, said social scientists.
"It has become ingrained in non-Muslims to respect Muslim sensitivity, but what is sensitive is often subjective," Universiti Sains Malaysia political scientist Azmil Tayeb told The Malaysian Insight today.
He was commenting on the practice of non-Muslim business owners to avoid the depiction of dogs, animals considered unclean by Muslims, in shopping malls and stores as Chinese Malaysians prepare to usher in the Year of the Dog on February 16.
"It's definitely not healthy. It's ridiculous. The tolerance is one way. This is due to years of intimidation (from some authorities). It's overboard .
"Because non-Muslims have been told so many times not to offend, they think this is the best way to be safe than sorry," said the expert on Islamic politics in Southeast Asia.
Malaysian Chinese Muslim Association president Taufiq Yap Yun Hin said personally, he does not feel offended by canine images but he can understand other Muslims may not feel the same.
Wary of public backlash, businesses in Malaysia have often been careful not to offend Muslim sensitivities.
Earlier this month, the Giant Hypermarket courted controversy from netizens for selling a T-shirt of the 12 zodiac animals, but the dog and pig images were replaced with characters spelling out the animals' names.
In October 2016, pretzel chain Auntie Anne's was asked to rename its "Pretzel Dog" to "Pretzel Sausage" by the Malaysia Islamic Development Department (Jakim).
The same year, a half-man, half-pig character in the Chinese New Year blockbuster Monkey King 2 was removed from its original posters. The film distributor, Golden Screen Cinemas, said it modified the poster on its own initiative.
The book launch was jointly organised by independent book distributor Gerakbudaya and Institute of Malaysian & International Studies (Ikmas), Universiti Kebangsaan Malaysia.
In conjunction with the launch a panel discussion was held.
Azmil, Taufiq and International Islamic University Malaysia Islamic expert Maszlee Malik were part of the discussion panel on a book on Chinese Muslim cultures in Indonesia authored by Ikmas research fellow Hew Wai Weng.
Ikmas Associate Professor Helen Ting moderated the discussion.
Maszlee said the cultural dominance of Malay Muslims in Malaysia has prompted many Chinese Muslim converts to feel the need to assert their Chinese identity.
"A lot of them find Malay supremacy disturbing… The moment they become Muslims, they feel they have to show that they are still Chinese. I bet Taufiq never went around wearing a traditional Chinese shirt before he became a Muslim," he quipped.
Maszlee added that he has observed Chinese converts here finding various ways to retain their ethnic culture, including learning Mandarin.
He said Malaysians need to respect and appreciate, and not just tolerate the cultural and religious diversity in the country and around the world.
For instance, he said Chinese Muslims in northern Thailand see themselves as distinct from the Muslims in Bangkok, southern Thailand and mainland China.
"The word tolerance is very dirty. It means you could dislike something or someone but you tolerate it. In your heart, there is still disgruntlement. That's not the way forward.
Full report at:
https://www.themalaysianinsight.com/s/32324/
-------
Unfair and wrong to say only Malays fought for Malaysia: Zahid
16 JANUARY, 2018
KUALA LUMPUR — Malaysian Deputy Prime Minister Ahmad Zahid Hamidi on Tuesday (Jan 16) condemned a conservative Muslim coalition's claim that only the Malays had fought against communists, British colonialists, and Japanese occupiers.
At a press conference at the Malaysian Institute of Integrity here today, Mr Zahid, who is also the home minister, said the claim was incorrect as history had recorded many contributions from ethnic minorities.
"Even if you read our history books or speak to our great historian Tan Sri Prof Dr Khoo Kay Kim, you would know that the battles against communists involved various ethnicities, not just the Malays," said Mr Zahid.
"In this case, to say that only the Malays had fought in the name of the nation is unfair. Malaysia is made up of multi-racial groups who would come together under the name of unity to fight enemies who would want to destroy the nation's peace and harmony," he added.
Mr Zahid's comments were the first by a Malaysian government leader on the issue, which has dominated headlines in recent days.
Ismail Mina Ahmad, chairman of a coalition of conservative Muslim groups called Ummah, had claimed during a convention last Saturday that only the Malays had resisted the British colonists, Japanese occupiers and battled against Communist insurgents.
"I want to tell you now, despite other races having been in the country then, only the Malays fought against the Siamese, the British, the Japanese," Ismail said in a speech peppered with religious and racial remarks.
"And most importantly — listen to this — only the Malays were targeted by the 'three stars,'" he added.
The "three stars" refer to the emblem worn by the defunct Communist Party of Malaya.
The cleric repeatedly suggested that outspoken minorities pose a danger to the position of Islam in the country and Malay political rule, claiming the communities are aiming to usurp power even after the Malays have showed generosity by allowing them to become Malaysians.
"We gave them the opportunity to become citizens.. but now they even want to be a prime minister," Mr Ismail claimed.
"The only thing they haven't demanded for is to be King," he added.
His comments triggered a public outcry, including from the Malaysian Armed Forces Chinese Veterans Association who said some of them had scars and had received gallantry awards for their service. Leaders of other minority religious groups also condemned Mr Ismail's comments, while the Malaysian Chinese Association (MCA), which is part of the ruling Barisan Nasional coalition, called for a sedition probe on him.
"Irresponsible statements such as those from Ummah are the cause of our national divide ... not vernacular schools or others," said MCA's religious harmony bureau chairman Ti Lian Ker.
Some critics also criticised the government for not taking Mr Ismail to task.
"With all this furore, the government has surprisingly been so far so quiet. Why, I wonder? Is it because of the approaching GE (general election?" said a forum writer on the Malaysiakini news website.
Full report at:
http://www.todayonline.com/world/zahid-unfair-and-wrong-say-only-malays-fought-malaysia
-------
Africa
Somalia's al Shabaab denounces ex-spokesman as apostate who could be killed
JANUARY 16, 2018 /
MOGADISHU (Reuters) - Somali al Shabaab Islamist militants, who have carried out frequent bombings in the capital, Mogadishu, said a former leader who defected to the government side was an apostate who could be killed.
Al Shabaab fell out with its former spokesman and deputy leader, Mukhtar Robow Abu Mansur, in 2013. He defected to the U.N.-backed government in August last year.
Al Shabaab has been fighting for years to try to topple Somalia's central government and rule the Horn of Africa country according to its own interpretation of Islamic law.
"If Mukhtar Robow thinks he can destroy Islamic sharia and the mujahedeen, he is deluded. Allah will protect Islam and Jihad will not stop just because of you and your likes who joined the enemies," Ali Mohamud Rage, al Shabaab's spokesman, said in a video posted late on Monday.
It was not immediately possible to reach Robow for comment.
"No doubt, Mukhtar Robow left his religion and joined the disbelievers and the enemies are still the enemies," al shabaab's spokesman said.
"Anybody who joins the line of non-Muslims is an apostate who can be killed."
A report by rights body Human Rights Watch released on Monday said al Shabaab had threatened and abducted civilians in Somalia's Bay region to force communities to hand over their children for indoctrination and military training in recent months.
"Al Shabaab's ruthless recruitment campaign is taking rural children from their parents so they can serve this militant armed group," said Laetitia Bader, senior Africa researcher for the rights body.
The insurgents, who are allied with al Qaeda, were driven out of the capital Mogadishu in 2011. They have also since lost nearly all other territory they previously controlled after an offensive by Somali government troops and African Union-mandated AMISOM peacekeepers.
Al Shabaab, however, remains a formidable threat and has carried out bombings both in Mogadishu and other towns against military and civilian targets.
https://www.reuters.com/article/us-somalia-insurgency/somalias-al-shabaab-denounces-ex-spokesman-as-apostate-who-could-be-killed-idUSKBN1F50IH
-------
Nigeria plays with fire in its handling of Shia sect
Jan 17, 2018
In December 2015 a fracas involving followers of the radical Shia cleric Ibrahim el-Zakzaky and a convoy carrying Nigeria's chief of army staff degenerated into a bloodbath. By the end of it, soldiers had slaughtered at least 347 members of the Islamic Movement of Nigeria, including women and children, and buried them in mass graves. Mr Zakzaky and his wife, Zeenah Ibrahim, suffered multiple gunshot wounds. They survived but were detained incommunicado until a brief appearance on Saturday designed to quash rumours that they were dead.
It would be hard to devise a more self-defeating approach to the challenges posed by Mr Zakzaky's movement. It has tarnished the elected government of President Muhammadu Buhari, and heightened concerns about the conduct of the Nigerian army. This has jeopardised western military assistance in the war against the terrorist group Boko Haram.
More worryingly, the detention of Mr Zakzaky and his wife — in defiance of a 2016 high court ruling ordering their release — has fuelled fear and resentment among the Shia minority, thought to number about 3m. It is not necessary to look far into Nigeria's past to see the dangerous impact of such government behaviour. The 2009 killing by police of hundreds of Boko Haram members and execution in custody of their leader, Muhammed Yusuf, led a more violent faction taking over the group. Nigeria is still struggling to quash the insurgency that has raged since, at the cost of thousands of lives.
Mr Zakzaky does not espouse the use of violence, in his public sermons at least. Inspired by the 1979 Iranian revolution, he converted to Shia Islam in the 1980s and began proselytising and advocating the imposition of an Islamic Republic over Nigeria's multifaith population. His movement has engaged in bouts of civil disobedience, and under the rule of the military he was frequently locked up. His followers have also been involved in turf wars with Sunni groups. Some of them were armed with sticks and rocks during the 2015 confrontation that led the army to respond with excessive force.
But Mr Zakzaky has also played the role of peacemaker during religious violence. Among Muslim leaders, he has been one of the most vociferous opponents of the murderous ideology of Boko Haram.
He has gained a large following partly by distributing welfare among members of the population failed by the state. The support he has received from Iran to do this has long riled Saudi Arabia, whose Wahhabi clerics have engaged in their own battle for influence over Nigeria's 100m or so Muslims, the vast majority of whom are Sunni. In turn the poisonous sectarian rivalry afflicting the Middle East has been imported. It would be odd if the government were not preoccupied by the risks this poses to stability. That does not, however, justify the inhumane way Mr Zakzaky has been treated.
Government officials complain that he was running a state within the state, and that his followers respect neither the constitution nor the writ of federal and regional institutions. Persecuting them is unlikely to change that.
Full report at:
https://www.ft.com/content/abe33ef4-faae-11e7-a492-2c9be7f3120a
-------
Nigerian army releases 244 suspects who denounced Boko Haram
17 January 2018
MAIDUGURI, Nigeria: Nigeria's army released 244 Boko Haram suspects who have denounced their membership in the deadly extremist group, Nigerian army officials said Tuesday.
Those released Monday included 118 adult males, 56 women, 19 teens and 51 children, according to operation commander Maj. Gen. Rogers Nicholas, who said they were freed after participating in a de-radicalization program.
One of the released females said she was accused of being a cook for Boko Haram and was held by Nigerian authorities for about a year.
Nigeria is trying to show it is making progress against the extremist group that has killed more than 20,000 people during its eight-year insurgency. Nigeria has arrested thousands of suspected Boko Haram members in recent years and is holding them in overcrowded military detention facilities.
Human rights groups say most of those detained have been picked up at random and without reasonable suspicion, including women and children. Former detainees have described malnutrition, mistreatment and deaths in the facilities.
The public release Monday of the ex-Boko Haram suspects at the military barracks in Maiduguri was done to mark Nigeria's Armed Forces Remembrance Day. Young men were paraded at the event in Maiduguri, telling the state governor they have turned a new leaf and are ready to help provide the government with information.
Borno State Governor Kashim Shettima commended the military its ongoing efforts against Boko Haram.
Nigeria's government set up a de-radicalization program in 2016 for arrested Boko Haram fighters who wanted to quit the group. The program houses ex-Boko Haram insurgents in a military-controlled facility where they participate in exercises to rehabilitate them. They are granted amnesty if they denounce Boko Haram's radical ideologies.
Last year more than 800 Boko Haram fighters participated in the de-radicalization program under the Safe Corridor Initiative, said Nigeria's defense chief Gen. Gabriel Olonisakin.
The freedom granted to the 244 people came the same day Boko Haram's main leader, Abubakar Shekau, released a video in which he claimed none of the Chibok girls still held by Boko Haram would ever be found. He said his group last year "willingly" released 107 schoolgirls who refused to accept his creed, but the estimated 100 who remain are pleased to stay with Boko Haram.
He also mocked the parents of the remaining missing girls, saying they should consider his members as their sons-in-law because the girls are "happily" married to Boko Haram fighters.
The video purportedly showed some of the girls telling their parents to join them in their new faith because "our father Abubakar Shekau has married us off to our husbands and he also ensures that we are well taken care of."
The clip also showed images of military vehicles, armored tanks and a helicopter that Shekau claimed his men had destroyed during a shootout last week.
Full report at:
http://www.arabnews.com/node/1227616/world
-------
Kenya: Court to Rule On Fate of Detained Marsabit Sheikh
16 JANUARY 2018
By Maureen Kakah
A Magistrate Court will today rule on whether a Muslim cleric, whose arrest in Marsabit town over the weekend sparked protests, will be detained for a month.
Sheikh Guyo Gorsa appeared before Senior Principal Magistrate Martha Mutuku who ordered that he be detained for 30 days following a request by the Anti-Terror Police Unit (ATPU).
Through state Counsel Duncan Ondimu, court heard that the suspect was arrested on suspicion that he is involved with recruiting youths to join the Al-Shabab terror group.
"ATPU believes that the suspect has other associates who are yet to be apprehended, their arrest is being vigorously pursued by security agencies both within as well as outside the country," said Mr Ondimu.
The court heard that his mobile phone, a flash disk and a 2GB MicroSD card were seized from him and will be subjected to forensic examination.
Court was also told that the suspect is alleged to have been in constant communication with a number of well-known terrorists based in Somalia and that two of his recruits are facing terror-related charges.
Court was further told that intelligence reports indicate that his associates have been planning attacks within the country therefore police need to do more interviews with him to find out detailed information on the same.
"There is credible information and evidence to show that he is involved in recruitment of persons to participate in terrorism activities as well as joining terror groups especially the Al-Shabaab," said Mr Ondimu.
However his lawyer urged the court to have him detained for only two days utmost while arguing that the 30 days period requested is contrary to the provisions of the constitution.
The defence lawyer explained that the suspect is a religious leader, counsellor and man entrusted to teach children the word of God.
"He is loved by most residents of Marsabit for guidance and order he has brought among youths in the area. He is a stranger to the allegations," court heard.
Full report at:
http://allafrica.com/stories/201801160537.html
-------
URL: https://www.newageislam.com/islamic-world-news/muslim-minister-pakistani-origin-takes/d/113966
New Age Islam, Islam Online, Islamic Website, African Muslim News, Arab World News, South Asia News, Indian Muslim News, World Muslim News, Women in Islam, Islamic Feminism, Arab Women, Women In Arab, Islamophobia in America, Muslim Women in West, Islam Women and Feminism