New Age Islam News Bureau
2 Apr 2020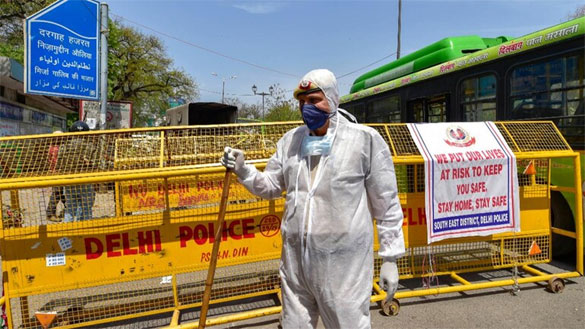 Islamic State threat to Delhi Police personnel manning pickets, barricades (PTI | File)
------
• Muslim Leaders from All Schools of Thought Came Forward and Said That the Tablighi Jamaat Issue Should Not Be Communalised
• Islamic State Threat During Coronavirus Outbreak: Delhi Police Personnel on Target, Alert Issued
• Muslim Community Critical, Cautious After Tablighi Jamaat Features as Covid-19 Hotbed in News Reports
• Video of Sufi Ritual Falsely Viral as Mass Sneezing in Nizamuddin Mosque to Spread Coronavirus Infection
• Seven from Nizamuddin mosque named in FIR for March gathering
• First J&K Resident Who Died Of COVID-19 Attended Delhi Mosque Event: Cops
• Jharkhand minister's son in home quarantine, father denies he went to Delhi mosque event
• Gujarat High Court Seeks Details Of Delhi Mosque Event Attendees From State
• 16 mosques in Delhi that hosted members of Tablighi Jamaat congregation disinfected
• Police case against two functionaries of a mosque in Ahmednagar, administration identifies 46 Tablighis who participated in Delhi meet
• Foreigners Who Attended Delhi Mosque Event Violated Visa Rules: Centre
---------
India
• Muslim Leaders from All Schools of Thought Came Forward and Said That the Tablighi Jamaat Issue Should Not Be Communalised
• Islamic State Threat During Coronavirus Outbreak: Delhi Police Personnel on Target, Alert Issued
• Muslim Community Critical, Cautious After Tablighi Jamaat Features as Covid-19 Hotbed in News Reports
• Video of Sufi Ritual Falsely Viral as Mass Sneezing in Nizamuddin Mosque to Spread Coronavirus Infection
• Seven from Nizamuddin mosque named in FIR for March gathering
• First J&K Resident Who Died Of COVID-19 Attended Delhi Mosque Event: Cops
• Jharkhand minister's son in home quarantine, father denies he went to Delhi mosque event
• Gujarat High Court Seeks Details Of Delhi Mosque Event Attendees From State
• 16 mosques in Delhi that hosted members of Tablighi Jamaat congregation disinfected
• Police case against two functionaries of a mosque in Ahmednagar, administration identifies 46 Tablighis who participated in Delhi meet
• Foreigners Who Attended Delhi Mosque Event Violated Visa Rules: Centre
------
Pakistan
• Prime Minister Imran Khan Asks Youth to Join Corona Tiger Force As 'Jihad' Against Pandemic
• Islamists Are Frustrating Pakistan's Fight Against Coronavirus
• Govt continuously monitoring Covid-19 trends: PM
• Punjab has conducted nearly 15,000 Covid-19 tests but other provinces are lagging behind
• PML-N wants parliamentary oversight of corona relief fund
• 14 More Test Positive At Raiwind Tableeghi Jamaat Headquarters
• NA, Senate panel on pandemic to meet on April 6
• Amid scarce handouts, anxiety grows among wage earners due to lockdown
• Muslim World League delivers medical supplies to Pakistan
------
Mideast
• Iranian Youths and Resistance Units: Mullahs Want Us to Despair, We Will Fight Against It
• Turkish Mosque Thanks Dutch Health Care Workers with Quran Verse
• Israel's Ongoing Arrests Of Palestinians Amid Virus Outbreak Reflect Regime's Brutality, Criminality: Hamas
• Israeli Health Minister Yaakov Litzman tests positive for coronavirus
• Death in the Holy Land - Coronavirus changes burial for Jews, Muslims
• DİTİB launches aid campaign for mosques in Germany amid pandemic
• Al-Houthi arrives in Sana'a on-board armoured personnel carrier
• Calm restored at Syrian Kurdistan jail after Islamic State riot
------
South Asia
• Taliban To Cease Fire in Areas Only Affected by Coronavirus: Mujahid
• India's NIA to launch its first investigation in a foreign soil after Kabul attack
• 18 Nepali Muslims Who Attended Nizamuddin Congregation in Delhi, Quarantined In Nepal
• 6 including 2 imams, 2 teachers fined for spreading rumours
• Kabul Police foil bid to kidnap Afghan Air Force pilot
• Pentagon announces $7.1 million to support the drone's operations of Afghan forces
------
Europe
• Muslim Doctors, Alfa Sa'adu; Amged el-Hawrani; Adil El Tayar and Habib Zaidi, First to Die on Front Line of UK Pandemic
• British Islamic Medical Association Offers Free Training for All For All Medical Students Joining The Frontline
• The Majority of Sexual Offenders Are White Men – There Is No Muslim Problem With Sexual Grooming
• Blackburn mosque's digital plan to support residents
• Birmingham mosques expand funeral service facilities
• British Muslims advised to delay bookings for Hajj pilgrimage
• Muslims advised to delay Hajj bookings
• 'We need your help' - Muslim charity feeding NHS workers and elderly running out of stock
• Muslim charities working together to respond to coronavirus crisis
------
North America
• Muslim Paramedic Shaves Beard to Protect People During Coronavirus Pandemic
• With Passover, Easter, And Ramadan Approaching, Washingtonians Will Be Keeping The Faith Creatively
• Grassroots Muslim Volunteer Effort Delivers Food to Metro Detroiters Doorsteps
• Getting An Accurate Census Count Is Vital. First, Muslim Americans Need To Trust It's Safe.
• Islamic Waqf carries out Temple Mount digs, despite coronavirus lockdown
• US believes Iran was 'directly involved' in killing of Iranian dissident in Turkey
-----
Africa
• Worshippers Attack Govt Officials, Journalists, Police at Lagos Mosque
• Coronavirus: Fighting al-Shabab propaganda in Somalia
------
Australia
• How Coronavirus Challenges Muslims' Faith and Changes Their Lives
-----
Southeast Asia
• Indonesian Religious Leaders Must Be More Active in Communicating Messages About the Pandemic
• Maybank Islamic's New Dubai Branch Sets Out To Attract Gulf Investors To Southeast Asia
• Malaysia debates whether to hold Ramadan bazaars amid Covid-19 threat
• Yala struggles to enforce ban on Friday prayer at mosques
------
Arab world
• "If You Find Me, I'm Yours.": Writer of Mystery Letters in Jeddah Revealed
• Pakistan's Consul General In Jeddah Urges Pakistani Community To Follow Saudi Virus Safety Measures
• Saudi Arabia pumps 12m barrels of oil for the first time
• Custodian of the Two Holy Mosques receives phone call from President of Tunisia
• Yemeni Ambassador to Saudi Arabia Hails Order of the Custodian of the Two Holy Mosques for Providing Free Health Care to all People Infected with Coronavirus
Compiled by New Age Islam News Bureau
URL: https://www.newageislam.com/islamic-world-news/muslim-leaders-all-schools-thought/d/121468
------

Muslim Leaders from All Schools of Thought Came Forward and Said That the Tablighi Jamaat Issue Should Not Be Communalised
Apr 2, 2020
HYDERABAD: Cutting across the ideological divide, some Muslim religious scholars have extended support to Tablighi Jamaat. Though initially many non-Tablighi groups blamed it for the spread of the virus, Muslim leaders from all schools of thought came forward and said that the issue should not be communalised.
Perhaps for the first time, religious scholars from Barelvi, Deobandi and other schools of thought, who otherwise do not see eye-to-eye with Tablighi Jamaat, supported it.
Sufi leader and Seerat-un-Nabi Academy chairman Moulana Syed Ghulam Samdani Ali Quadri said though he was ideologically opposed to Tablighi Jamaat, he would support it on principles. "The congregation in Delhi began on March 15. There was no lockdown or ban on congregations. People in Markaz could not move out due to sudden lockdown. There was no transport facility. It is wrong to blame the Jamaat," he said.
Moulana Arshad Madani of Jamiat Ulema Hind said people were stranded at the Markaz due to sudden lockdown. He also found fault with the authorities for not granting transport permission to shift people.
Moulana Khalid Saifullah Rahmani of Islamic Fiqh Academy, said the government should have given sufficient time for lockdown.
Zaid Patel, president of the Islamic Information Centre, in his message said the spike in number of Markaz visitors testing positive is due to a high percentage of testing in a targeted group. He said similar results could come out if people, who attended different political and religious congregations, were also tested.
Muslim leaders argue that though 30,955 suspects are in quarantine in AP, the government conducted tests on only 748 people. And all those, who attended the Jamaat meeting are subjected to corona tests and this explains the high number of positive percentage. All over the country only about 35,000 people were tested, the lowest in the world. In other countries it is 100 to 500 times more than those tested in India.
They also cited several instances when large gatherings were held during the period of Markaz meeting, and later during the lockdown.
https://timesofindia.indiatimes.com/city/hyderabad/dont-communalise-tj-issue-muslim-scholars/articleshowprint/74939544.cms
------
Islamic State Threat During Coronavirus Outbreak: Delhi Police Personnel On Target, Alert Issued
April 1, 2020
Delhi Police personnel stationed at police barricades and pickets to maintain the law and order during the lockdown in the national capital have come under the Islamic State threat. The terrorist organisation is planning to launch a lone-wolf attack on the security officers in Delhi during the novel coronavirus outbreak.
According to an advisory issued by the authorities, the Delhi policemen have been asked to stay alert for a possible attack by the Islamic State.
The attack could be in the form of a stabbing, firing, or running over the police picket using a big vehicle.
India Today TV has a copy of the advisory issued to the Delhi Police staff.
"As per assessment made at MAC platform by going through literature and magazines published by ISIS [Islamic State], it has been suspected that police personnel deployed upon duty at various pickets/barricades in Delhi in connection with maintaining of law and order in Delhi regarding outbreak of the novel coronavirus may be targeted by suspected ISIS [IS] operatives. Said attacks may be in form of Lone Woolf attack, stabbing, firing or hitting by vehicles etc. Field staff may please be briefed accordingly," the advisory said.
https://www.indiatoday.in/india/story/islamic-state-threat-during-coronavirus-outbreak-delhi-police-personnel-on-target-alert-issued-1662253-2020-04-01
------
Muslim Community Critical, Cautious After Tablighi Jamaat Features as Covid-19 Hotbed in News Reports
April 1, 2020
Meeqat Hashmi
New Delhi: Late on Monday evening, news broke that six people, among thousands from India and other parts of the world, who attended a meeting of the Islamic preachers' organisation Tablighi Jamaat in Delhi last month died after testing positive for the Covid-19 infection, prompting alarm across the country.
Amid the 21-day nationwide lockdown, there were murmurs among Muslims, mostly on social media, that the Nizamuddin incident would be used to target the community.
Then, through Monday night, Twitter and other sites were overrun by posts about "corona jihad", and a counter-narrative about how other instances of public gathering had not received much attention from authorities and Muslims were being scapegoated.
A resident of Delhi's Shaheen Bagh locality, who did not wish to be named, said, "The protests against the Citizenship Amendment Act had already built a particular kind of image of Muslims. Now, an esteemed Muslim organisation like the Tablighi Jamaat is being defamed."
"What the Tablighi Jamaat did was irresponsible. But the government could have at least scanned and stopped foreign delegates (through airport screening) coming from infected countries to join the congregation," said a 28-year-old, formerly associated with the organisation, who wanted to remain anonymous,
He added, "Despite Tablighi Jamaat explaining their situation to authorities at the time, it now feels like the entire community is being portrayed as those who did not understand the gravity of the situation and defied orders to gather there on purpose."
WhatsApp statuses carrying messages from Jamaat-e-Islami Hind (JIH) and Students Islamic Organisation of India (SIO) became rampant by Tuesday. They reflected similar sentiments that "polarisation" amid such a severe health crisis was not needed and the government was trying to "hide its own failures".
The Urdu Daily Inquilab, which carried a quarter-page report on the cover in its March 31 Delhi edition about the identification of positive coronavirus patients linked to the Tablighi Jamaat congregation, went all out with a full-page cover story on the subject in its Wednesday edition. It carried a statement by the union health ministry which emphasised that "it was not the time to find faults".
Hyderabad-based Urdu daily Siasat, in one of its headlines, blamed media organisations for fanning the incident as communal. While another daily, Kashmir Uzma, carried Tablighi Jamaat's clarification prominently, stating" the organisation was in regular touch with the authorities".
Another Urdu daily from Srinagar, Aftab, also carried a story where Tablighi Jamaat's "irresponsible" action was condemned by Muslim organisations.
The Jamaat focuses on educating and encouraging Muslims to practise their religion diligently. Its sermons mostly talk about how to prioritise religious activities like offering namaz, etc.
The organisation carries out missionary work in a somewhat 'pyramid sales scheme' pattern. After learning and understanding sermons from the headquarters, based in the Banglewali Masjid in Delhi's Nizamuddin area, the local leaders or imams spread out to various mosques (globally), each leading a team of 10 or more.
On reaching the ground, they further disperse into smaller groups of four or more. Their campaign is always door-to-door and is mostly about inviting people for namaz to the local mosque. Those who choose to follow them may get more sermons and teachings about Islam and later are asked to become volunteers.
https://www.news18.com/news/india/muslim-community-critical-cautious-after-tablighi-jamaat-features-as-covid-19-hotbed-in-news-reports-2560483.html
-----
Prime Minister Imran Khan Asks Youth To Join Corona Tiger Force As 'Jihad' Against Pandemic
April 1, 2020
ISLAMABAD, Apr 01 (APP): Prime Minister Imran Khan on Wednesday asked youth in the country to join Corona Tiger Force meant as a'Jihad' to help those facing the challenges of Coronavirus.
"I want youth to play their role in helping our fight against the COVID 19 by joining our Corona Tiger Force, which will be organised to do Jihad against the suffering caused by this pandemic," the prime minister wrote in a tweet.
Imran Khan urged the citizens, particularly youth, to get themselves registered for the Force via the Citizen Portal App – an integrated citizens grievance redressal system connecting all government organizations both at federal and provincial levels.
Prime Minister Imran Khan on Monday announced establishment of Corona Relief Tiger Force, which will join hands with the government and the army to aid the people of country amid the pandemic.
The responsibilities of Corona Relief Tiger Force include delivering food and essential commodities, awareness campaigns, identification of poor people, quarantine management etc.
According to Ministry of Youth Affairs, the Force will become operational under a complete lockdown or emergency. The youth will be trained to supply ration to the families in need.
https://www.app.com.pk/pm-asks-youth-to-join-corona-tiger-force-as-jihad-against-pandemic/
-----
Islamists are frustrating Pakistan's fight against coronavirus
Kunwar Khuldune Shahid
April 1, 2020
The number of confirmed COVID-19 cases in Pakistan currently sits at 2,042 alongside 26 deaths. With only limited healthcare facilities, the country is facing a perilously delayed reaction.
Most of Pakistan's initial cases were pilgrims returning from places like Iran and Saudi Arabia. But the virus quickly spread thanks to a failure to screen and quarantine.
Even so, almost a third of the infections in Pakistan are now being spread from within the community. That figure is expected to rise owing to a combination of appalling mismanagement and masochistic inaction.
Such failures can be gauged by the state's refusal to shut down the mosques. Weeks after reporting its first coronavirus cases, and over a month since Saudi Arabia and Iran banned prayers in the holiest Islamic mosques, Pakistan has continued allowing Islamic congregations to gather.
After letting the Friday prayers go ahead on March 20, allowing millions across the country to come into contact with one another, the government refused to shut down mosques across the country last Friday as well.
While local government announced the mosque closures in the provinces of Sindh and Balochistan on Thursday, Pakistan's most populous province of Punjab – with over 110 million inhabitants — allowed mosques to remain open. Official orders that the number of mosque attendants in Punjab and Islamabad be limited were issued just after noon, less than an hour before scheduled Friday prayers.
The potential pandemonium that can be caused by such congregations is revealed by the fact that a 250,000 strong gathering at one Pakistani event earlier this month led to potentially thousands of infections spreading across the Islamic world.
The annual meeting of the Islamic missionary movement Tableeghi Jamaat in Lahore, which hosts hundreds of thousands of Muslims from around the world, has led to infections spreading to Palestinians, Kyrgyzstanis and across Pakistan.
Around 550 worshipers belonging to the Tableeghi Jamaat, including members from Afghanistan, China, Indonesia, Nigeria and Tunisia, are currently in quarantine after a Chinese citizen tested positive for COVID-19.
Prime Minister Imran Khan and his government had already been criticized for allowing the vast Tableeghi Jamaat crowds to continue congregating. However, weeks after the event, the ongoing failure to unequivocally shut down mosques underlines a menace that the government considers graver than the COVID-19 pandemic: Islamist backlash.
Pakistan succumbing to Islamism isn't exactly news. Over the years, the state has allowed Islamists to take up violence over YouTube videos and cartoons. Mobs have burned down Christian neighborhoods and razed places of worship belonging to non-Muslims and the 'wrong kind' of Muslims. Even on days earmarked to show 'peace and love' they manage to kill and injure scores.
They're provided cover by the Islamism rammed into Pakistan's constitution, whose codification of Muslim supremacism, and gruesome constituents like the blasphemy law, aggravate a lynching mindset.
The all-powerful Pakistani army has found special utility in the Islamist militants over the decades. In addition to backing cross-border militancy in Afghanistan and India, the Islamist outfits and parties help the army keep check on elected governments.
And now Imran Khan, already indebted to the military establishment for his ascension to power, is the latest civilian leader to be bogged down by Islamists — with his government reeling under the pressure.
Even so, what pressure could possibly justify inaction over the greatest global crisis for at least a generation; a pandemic that could completely alter the shape of the world as we know it?
In Pakistan, Islam isn't just a way of life — it is the only way of life. Pakistan's creation owes much to the idea that believing in Islam is sufficient ground to form a nation, and by extension, the institutions of a state. The constant reaffirmation of this idea was then deemed necessary to keep this multiethnic state from disintegrating.
Since then, Islamic exhibitionism has dominated everything from education to workplaces, from film to sports. This Islamist usurpation, from originating in the separatist movement for Pakistan, to its goriest manifestation under military ruler Zia-ul-Haq, has rendered Islam and life inseparable — quite literally in some cases, where the former can only be abandoned in conjunction with the latter.
How then, in the midst of a pandemic, does the government muster the courage to say that religion isn't quite the answer to everything?
Especially a government that is led by a leader who has 'flirted' with the Taliban and whose aides include those who decide how human someone is based on faith. Little wonder then that in his latest address to the nation, Imran Khan announced that he plans to fight coronavirus 'with faith'.
Nobody quite knows what the world will look like at the other end of the COVID-19 pandemic. But for Pakistan, the rebuilding will need to be led by those who value this world — at least as much as their interpretation of the next.
https://spectator.us/islamists-frustrating-pakistan-fight-against-coronavirus/
----
Iranian youths and Resistance Units: Mullahs want us to despair, we will fight against it
4/1/2020
Mahin Horri
Iran, April 1, 2020—In recent weeks, the Iranian regime has launched a propaganda campaign against the Iranian Resistance and the People's Mojahedin Organization of Iran (PMOI/MEK) to cover up the dimension of its crimes regarding secrecy and negligence regarding coronavirus outbreak in the country.
In the latest episode of his string of despicable lies, Iranian regime president Hassan Rouhani claimed that "Iran has more than 20,000 empty hospital beds" and "I don't think any country (with regard to hospital beds) has the conditions of Iran."
The regime calls the Iranian Resistance revelations and undeniable evidence "rumors" while various groups of people, especially the medical staff, have sent true statistics and information to the MEK. The MEK announced on March 30 that according to the information obtained by its internal network more than 14,200 people in 236 cities across Iran have died of coronavirus.
Therefore, the people of Iran point out that "Coronavirus outbreak is the guilt of the Iranian regime and the mullahs."
Between March 27 and March 30, defiant and brave youths and the members of the Iranian Resistance Units, a network of People's Mojahedin Organization of Iran (PMOI/MEK) activists across the country, carried out various activities to echo the Iranian people's desire for a free and democratic Iran.
On March 30 in various cities such as Tehran, Kermanshah, Karaj, Shiraz, Gorgan, Borujerd, Urumia, Takestan, Shahsavar, Isfahan, Mashhad and Arak, many Iranians Played the forbidden National Anthem of Iran in order to protest the ruling dictatorship.
Also on March 30, the brave and rebellious Iranian youths in Isfahan, Mashhad, Arak and Tehran torched and set on fire the IRGC's Basij Bases. Basij, a subsidiary of the terrorist-designated Revolutionary Guards, is the Iranian regime's paramilitary force and the most hated suppressive group that is used to crack down on protests and demonstrations such as the November nationwide uprising.
In Tehran's University of Medical Sciences, a handwritten poster was installed quoting Maryam Rajavi "Iran is blazing. The Iranian people do not want corona nor the mullahs"
Members of the Resistance Units of Tehran, Andimeshk, Aleshtar and Arak installed posters and banners of Iranian Resistance leaders Maryam and Massoud Rajavi and emphasized that "The new year is the year of victory and freedom."
In Tehran, the Resistance Units installed a poster of Maryam Rajavi that read: "The sole solution to the coronavirus is overthrowing the mullahs' dictatorship" and "We'll build a country where the rulers are not superior to people's will."
Another poster featured the picture of Massoud Rajavi and read: "We remember the thousands of innocent lives fallen due to the coronavirus spread by the mullahs."
In Andimeshk, the Resistance Units chanted: "Down with Khamenei and hail to Massoud Rajavi." In Aleshtar and Arak they installed banners of Maryam Rajavi with the slogan: "The mullahs sow the seeds of hopelessness and passivity. We must rebel against it".
On March 28, the Resistance Units exposed the mullahs' role in the coronavirus outbreak. In Shiraz, Tehran, Karaj, Borujerd, Behbahan, Andimeshk and Isfahan the Iranian people and members of the Resistance Units installed various handwritten slogans saying "Coronavirus outbreak is the guilt of the Iranian regime & mullahs" and "We'll fight both the coronavirus and Khamenei the monster." In Andimeshk they chanted "Mullahs don't care about Iran and the Iranian people don't want them. Down with Khamenei the virus" and Shiraz and Isfahan they installed huge banners of Maryam and Massoud Rajavi with the slogan "Iranian Resistance leader Massoud Rajavi: God bless victims of mullahs' coronavirus" and "The Iranian people won't surrender to the regime that has spread the coronavirus."
On March 27, members of the MEK Resistance Units in Isfahan, Shahr-e Kord and Nahavand visited the graves of the martyrs of the November 2019 nationwide uprising.
In a video from Nahavand, the recorder says, "I salute all my compatriots, both inside and outside of Iran. I've visited today some martyrs' graves who have sacrificed their lives. They were killed by the regime of the Islamic Republic, and it is so sad that in this country people get killed by these villains. The first martyr I visited was Said Alidadi that many know. He was very young and brave. There are many like him. May all of them rest in peace."
Also various handwritten slogans, posters and banners were installed on the walls against the regime in Hamedan, Mahshahr, Fassa (Fars Province), Shiraz, Andimeshk, Tehran, Karaj, Qom and Mashhad.
In Tehran Resistance Units were Installing posters and handwritten slogans: "Maryam Rajavi: Despair is mullahs' will, we must fight against it."
https://english.mojahedin.org/i/iranian-resistance-units-activities-20200401
------
Taliban to cease fire in areas only affected by coronavirus: Mujahid
02 Apr 2020
The Taliban group has said it would cease fire in areas which would be affected by the novel coronavirus (COVID-19) in a bid to allow the medical teams provide healthcare services.
Zabiullah Mujahid, a Taliban spokesperson, said in a Twitter post that the Taliban group would cease fire in the areas which are under the control of the group, provided that those areas areas are affected by coronavirus.
Reduction in violence was among the main conditions included in the U.S.-Taliban peace deal which was signed late in the month of February.
However, the latest trend shows that the Taliban group has not only reduced violence but is attempting to carry out coordinated attacks in the remote areas of the country despite the Afghan forces are in a full defense posture.
https://www.khaama.com/taliban-to-cease-fire-in-areas-only-affected-by-coronavirus-mujahid-04595/
-----
Muslim Doctors, Alfa Sa'adu; Amged el-Hawrani; Adil El Tayar and Habib Zaidi, First to Die on Front Line of UK Pandemic
by Aina Khan
20 hours ago
London, United Kingdom - The United Kingdom is paying tribute to the first doctors on the front lines of the coronavirus pandemic who have died after contracting COVID-19.
All four men - Alfa Sa'adu; Amged el-Hawrani; Adil El Tayar and Habib Zaidi - were Muslim and had ancestry in regions including Africa, Asia and the Middle East.
Dr Salman Waqar, the general secretary of the British Islamic Medical Association, said the contribution of these doctors was "immeasurable".
"They were devoted family men, committed senior doctors, and dedicated decades of service to their communities and patients," he said.
"They gave the ultimate sacrifice while fighting this disease. We urge everyone to do their part and stop further deaths from happening - stay at home, protect the NHS, save lives."
As the country fears a shortage of medical staff amid the pandemic, which has so far killed 2,352 people and infected 29,474 according to government figures, the loss of the doctors has highlighted the vital contribution of medics from minority backgrounds to the UK's National Health Service (NHS).
The NHS is the largest employer of Black and Minority Ethnic (BME) staff in the UK with 40.1 percent of medical workers from BME backgrounds.
Priti Patel, the home secretary, announced on Tuesday that about 2,800 medical staff whose visas expire before October 1, will have their visas extended for a year "free of charge".
Born in Sudan, the second of six brothers, Amged el-Hawrani was an ear, nose, and throat consultant at university hospitals in the north of England.
His youngest brother Amal paid tribute to his sibling who selflessly "took on the burdens of others" and became a "father figure" following the deaths of their eldest brother and father.
"Amged was someone who was very strong in character, both mentally and physically, but in a calm and gentle way," he said. "His strength was one that was always used as a force for good. He was a protector, a shielder, fighting for people, fighting for his brothers."
Weeks before his death, el-Hawrani was concerned for his elderly mother who was ill again after having recovered from pneumonia. El-Hawrani finished his night shift and drove a long distance to see her in Bristol, in southwest England. At the time, he had mild flu symptoms which he put down to being overworked.
A general practitioner with Pakistani origins, Habib Zaidi moved to the UK almost 50 years ago and worked in Leigh-on-Sea in Essex, southeast England.
Christine Playle, 73, one of Zaidi's former patients on whom he performed minor surgery less than three weeks before his death, said she was "shocked and saddened".
"Dr Zaidi was a very well-liked and respected doctor and was the embodiment of what everyone looks for in their GP - kind, caring, friendly and jolly," she told Al Jazeera.
In accordance with distancing restrictions, only his immediate family attended his funeral. His widow has now gone into self-isolation.
El Tayar had been working at Hereford County Hospital in the west of England as a volunteer in the emergency department amid the pandemic, where his family believes he caught the virus.
The British ambassador to Sudan, Irfan Siddiq, paid tribute to the father of four on Twitter and thanked healthcare workers everywhere for showing "extraordinary courage".
Saddened to hear of #Sudan-ese doctor Adel Altayar's death in the UK from Covid-19. Health workers around the world have shown extraordinary courage. We cannot thank them enough. In this fight we must listen to their advice. #coronavirus #StayAtHome https://twitter.com/SUNA_AGENCY/status/1243076662360788993 …
Alfa Sa'adu, who was born in Nigeria, worked with the NHS for nearly 40 years. He died on Tuesday aged 68 after a two-week battle with the virus.
Born in Nigeria, Sa'adu began his medical career as a consultant physician in geriatric medicine when he came to London and graduated from the University College Hospital Medical School in 1976.
Inalilahi Wa Ina Ilaehi rajiun. My condolences go to the family of late Dr. Alfa Sa'adu, the people of Pategi and Kwara State on the death of the foremost medical practitioner who passed away in London this morning.
Sa'adu's son Dani told Al Jazeera: "He was a very passionate man, who cared about saving people. As soon you spoke to him about medicine his face would light up. He worked for the NHS for nearly 40 years in different hospitals across London.
"He loved to lecture people in the world of medicine, he did so in the UK and Africa. My dad retired and was working part time at the Queen Victoria Memorial Hospital in Welwyn, Hertfordshire until his passing. He was a massive family man and we did everything together, family came first. He left two sons and a wife, who is a retired doctor herself."
The former president of the Nigerian Senate, Bukola Saraki, paid tribute to Sa'adu on Twitter, saying he provided "leadership for our people in the diaspora".
https://www.aljazeera.com/news/2020/04/muslim-minority-doctors-die-front-line-uk-pandemic-200401082454308.html
------
Muslim paramedic shaves beard to protect people during coronavirus pandemic
By Sonia Sharma
2 APR 2020
A Muslim paramedic has been praised for shaving off his beard to protect people during the coronavirus pandemic.
Shumel Rahman, who works for the North East Ambulance Service (NEAS), made the difficult decision to go clean shaven to protect his patients, colleagues and family members.
The 39-year-old added: "It is not a step I have taken lightly, my beard is not just part of my identity but of my religion. I've had a beard for well over a decade and I can't remember the last time I shaved.
"I have consulted many Islamic scholars and teachers, locally and nationally, sought advice from fellow Muslim healthcare professionals and the British Islamic medical Association.
"This was not a simple yes or no answer, however these are exceptional circumstances, totally unprecedented and a unique situation.
"I've shaved off my beard to protect my patients, my colleagues and family. One of the greatest acts is to save someone's life. This simple act may help to do that."
Announcing the news on Facebook, NEAS said: "One of our Muslim colleagues, Shumel, has shaved his beard off to keep himself, his patients, his family and his colleagues safe.
One woman said: "Well done Shumel! I know that will have been a difficult decision to make. Huge respect to you."
https://www.chroniclelive.co.uk/news/north-east-news/muslim-paramedic-shaves-beard-protect-18021806
------
Worshippers attack govt officials, journalists, police at Lagos Mosque
April 1, 2020
By Tajudeen Adebanjo
Some worshippers at Agege Central Mosque (Hausa Community) in Agege attacked a combined team of Lagos State Environmental Protection Agency, (LASEPA) and Lagos State Safety Commission, journalists and police officers.
The team had earlier visited and sealed off a warehouse of Jumia, an online marketing store for contravening the lockdown order by the Federal government.
The agencies also sealed off SPN Packaging Studio Press Nigeria Plc on Plot B, Israel Adebajo Close, Ikeja and Supreme Hotel on 8, Omitola Panada, Agege.
On their way back to Alausa, the team stopped to check if the worshippers were adhering to the directive of the Lagos state government on the reduction of crowd.
They were surprised by getting to the prayer section. The big mosque, popularly known as Moshalashi Alhaja, was filled to the capacity.
As some of the mosque's leaders were trying to calm down, they became more aggressive and manhandled some of the team members.
"It was obvious that the gathering did not comply with the directive of the state government. The mosque was filled to capacity.
"The essence of social distancing is to contain the spread of Coronavirus. The people are endangering their lives and those of their neighbours. The government has a duty to protecting lives of the people," she said.
She promised to ensure that appropriate quarters take up the matter, adding that such gathering must not be allowed to continue.
https://thenationonlineng.net/worshippers-attack-govt-officials-journalists-police-at-lagos-mosque/
------
How coronavirus challenges Muslims' faith and changes their lives
April 2, 2020
As the world faces the greatest disruption of our lifetimes, Muslims throughout the world are also grappling with the repercussions of the coronavirus pandemic.
Muslims have relatively large families and tend to maintain extended family relations. Prophet Muhammad encouraged Muslims to keep strong family ties. The Quran inspires Muslims to be generous to kin (16:90) and treat the elderly with compassion (17:23).
These teachings have resulted in Muslims either living together as large families or keeping regular weekly visits and gatherings of extended family members. Many Muslims feel conflicted about the need to apply social distancing on one hand and the need to be close to family and relatives for comfort and support. Tighter restrictions on movement in some parts of Australia (NSW and Victoria) mean Muslims, like everyone else, are not allowed to visit extended family anymore.
One of the first changes brought about by social distancing has been to the Muslim custom of shaking hands followed by hugging (same gender) friends and acquaintances, especially in mosques and Muslim organisations. After a week or two of hesitation in March, the hugging completely stopped, making Muslims feel dismal.
Visiting the sick is considered a good deed in Islam. However, in the case of COVID-19, such visits are not possible. Checking up on those who are sick with phone calls, messages and social media is still possible and encouraged.
One aspect of coronavirus prevention that comes very naturally to Muslims is personal hygiene. Health organisations and experts promote personal hygiene to limit the spread of coronavirus, especially washing hands frequently for at least 20 seconds.
Islam has been encouraging personal hygiene for centuries. The Quran instructs Muslims to keep their clothes clean in one of the earliest revelations (74:4), remarking "God loves those who are clean" (2:222).
More than 14 centuries ago, Prophet Muhammad emphasised "cleanliness is half of faith" and encouraged Muslims to wash their hands before and after eating, bath at least once a week (and after marital relations), brush their teeth daily, and to groom their nails and private parts.
An interesting detail is that Muslims are required to wash their genitals after using the toilet. Even though Muslims use toilet paper, they are required to finish cleaning with water. This requirement led to some Muslims installing bidet sprayers in their bathrooms.
Congregational prayers in mosques are important for Muslims in instilling a sense of being in the presence of the sacred, and a sense of being with other believers. Accordingly, they line up in rows with shoulders touching. This arrangement is extremely risky during a pandemic. Australian mosques are now closed because of coronavirus.
Deciding to skip optional daily congregational prayers was not too difficult for Muslims, but stopping Friday prayers has been more challenging. Friday prayer is the only Muslim prayer that has to be performed in a mosque. It consists of a 30-60 minute sermon followed by a five-minute congregational prayer conducted just after noon.
Stopping Friday prayers on a global scale has not occurred since it was introduced by Prophet Muhammad in 622, after he migrated to the city of Medina from the persecution he and his followers endured in Mecca.
Iran was the first to ban Friday prayers on March 4. While countries like Turkey and Indonesia tried to continue Friday prayers with social distancing, it did not work, and soon the entire Muslim world closed mosques for prayer services.
Fortunately for Muslims, the closure of mosques does not mean they stop daily prayers altogether. In Islam, individual prayers and worship play a greater role than communal ones. Muslims can pray five times a day wherever they are, and often home is a place where most praying takes place.
Ramadan is only three weeks away. It starts in the last week of April and goes for a month. During this month, Muslims refrain from eating, drinking and marital relations from dawn to sunset on each day of the month. This part will not be affected by COVID-19.
What is affected are the evening breaking of fast dinners (iftar) and daily evening congregational prayers (tarawih). Muslims generally invite their friends and family members to these dinners. In Western countries, the invitations include non-Muslim acquaintances as well. Islamic organisations have already announced the cancellation of iftar dinners.
The minor (and optional) Islamic pilgrimage (umrah) happens throughout the year, intensifying near Ramadan. With Iran a hot spot for coronavirus, Saudi Arabia suspended entry to Iranian and all other pilgrims as early as February 27.
The main pilgrimage (hajj) season occurs in late July. Although there is the possibility of the spread of the virus slowing by July, a pilgrimage involving more than two million people from just about every country on earth would almost certainly flame the virus into a second wave. Saudi Arabia is likely to cancel the main pilgrimage for 2020.
In the 14 centuries of Islamic history, pilgrimage has not been undertaken several times because of war and roads not being safe. But this is the first time in pilgrimage may be called off due to a pandemic.
As pilgrims reserve their spot and pay the full fee months ahead, the cancellation of hajj would result in losses of savings for millions of Muslims and cause massive job losses in the pilgrimage industry.
An early debate in Muslim circles around coronavirus has been a theological one. Muslims believe God created the universe and continues to actively govern its affairs. This would mean the emergence of the virus is an active creation of God.
So like some other religious groups, some Muslims argue that coronavirus was created by God to warn and punish humanity for consumerism, destruction of the environment and personal excesses. This means fighting the pandemic is futile and people should rely (tawakkul) on God to protect the righteous.
Such thinking may help in reducing the sense of fear and panic such a large-scale pandemic poses, but it can also make people unnecessarily complacent.
The vast majority of Muslims counter this fatalistic approach by arguing that while the emergence of the virus was not in human control, the spread of disease certainly is. They remind us that Prophet Muhammad advised a man who did not tie his camel because he trusted in God: "tie the camel first and then trust in God".
Prophet Muhammad sought medical treatment and encouraged his followers to seek medical treatment, saying "God has not made a disease without appointing a remedy for it, with the exception of one disease—old age".
If you hear of an outbreak of plague in a land, do not enter it; if the plague outbreaks out in a place while you are in it, do not leave that place.
Sometimes affliction inevitably comes our way. The Quran teaches Muslims to see life's difficult circumstances as a test — they are temporary hardships to strengthen us (2:153-157). Such a perspective allows Muslims to show resilience in times of hardship and tribulation, with sufficient strength to make it to the other side intact.
In times like this, some people will inevitably lose their wealth, income and even their lives. Prophet Muhammad advised the grieving that property lost during tribulations will be considered charity, and those who die as a result of pandemics will be considered martyrs of paradise.
As Muslims continue to deal with the coronavirus pandemic, they, like everyone else, are wondering how their lives might be changed afterwards.
https://theconversation.com/how-coronavirus-challenges-muslims-faith-and-changes-their-lives-133925
------
Indonesian religious leaders must be more active in communicating messages about the pandemic
4/1/2020
(MENAFN - The Conversation) The hashtag #KamiTidakTakut ('we are not afraid') became popular on social media after a terrorist attack, involving multiple explosions and gunfire on Jalan Thamrin in Jakarta's downtown area, in January 2016.
The aim of the hashtag was to show fearlessness and counter the attackers' attempts to spread terror among Indonesians. People posted selfies of themselves at the scene of the attack, which became an attraction complete with food stalls.
Living in a country located in the Ring of Fire , Indonesians are also familiar with various natural disasters: earthquakes, tsunamis and volcanic eruptions. In contrast to their response to terrorist attacks, natural disasters usually arouse vigilance among communities.
Unfortunately, the public narrative around the COVID-19 pandemic tends to replicate the sentiments of #KamiTidakTakut, instead of those towards natural disasters.
This may be because the COVID-19 pandemic is still largely a mysterious disaster , unlike terrorist attacks which have been studied for much longer and addressed with calculated measures.
As a religious nation, Indonesia could rely on its religious leaders to be more involved in communicating messages to the public about the crisis.
Local religious leaders' role in Indonesia, for instance, proved to be critical in the rubella vaccination program between 2017 and 2018. Religious authorities, organisations and national leaders helped to promote the vaccine as many Muslims questioned whether the vaccines were halal .
One of the challenges in increasing public awareness of COVID-19 in Indonesia is the perception it is a foreign disease and is far away from the local context.
Messages on staying at home, social distancing, self-isolation and self-hygiene will be easier to grasp by people at a grass-roots level if delivered by religious leaders.
Religious activities also often involve mass gatherings . Religious leaders' decision to adapt rituals to the current pandemic will be critical in minimising the spread of COVID-19.
In Indonesia, the Indonesian Ulema Council (MUI) has released an edict calling on Muslims to pray at home and avoid congregating in areas where COVID-19 had spread. Leaders of local mosques, however, still defy this call.
The Jakarta Archdiocese has ordered the suspension of most on-site church services in the city from March 20 to April 2. The weekly and daily services will instead be offered via live-stream.
The Hindu organisation Parisada Hindu Dharma Indonesia has also published a guidance of funeral and death rites during the pandemic.
As of March 31, as many as 1,528 people tested positive for COVID-19 in Indonesia. This is double the number of people five days before – with a total death of 136.
Researchers have predicted that at the end of April, there could be up to 71,000 infected people in Indonesia . The government also estimates between 600,000 and 700,000 Indonesian are at risk of infection.
The government has failed to build a vigilant narrative. Until February, government officials still promoted the image of Indonesia as a virus-free country .
At the same time, the government's economic priorities, and lack of coordination and transparency with regional governments, have created a murky public narrative on the epidemic.
Indonesian media and communication systems are also unreliable. National television has no well-structured public agenda, while social media is rife with misinformation .
The Indonesian health system, communication system, and leadership at the national level might be wanting, but a religious narrative emphasising the balance of hope and vigilance is vital in countering the misguided ideas of the crisis.
https://menafn.com/1099953397/Indonesian-religious-leaders-must-be-more-active-in-communicating-messages-about-the-pandemic
------
"If You Find Me, I'm Yours.": Writer of Mystery Letters in Jeddah Revealed
April 02, 2020
DEEMA AL-KHUDAIR
JEDDAH: Ever wondered what it is like to find an uplifting letter from a stranger? If you are in Jeddah, then you are in luck as you might pass by and pick up a letter in a public area titled: "If you find me, I'm yours."
These random acts of kindness were devised by an initiative called Garba'at Rasayl, Hejazi slang for "a mess of letters." The group was created by 23-year-old Saudi freelance graphic designer Hadeel Felemban.
The simple white envelopes are covered in stickers and magazine cutouts. Felemban said letter-writing helps her express her thoughts and feelings while sharing it with the world, one letter at a time.
"Mess happens every time I write paper letters, a mess of words and feelings, a mess of scraps and colors used to decorate the envelope," she told Arab News.
The act of writing letters is special to her as it brings a sense of connection to her father — who worked at the Saudi Post Office more than 20 years ago — and revives the exchange of letters in a world filled with technology. The initiative holds monthly meetings in different cities, where attendees gather to write letters to strangers.
"My father passed away when I was two, and the only way I knew him was through the stories my mother and his brothers share about him. I would write to him on my phone's notepad sometimes, but I wanted something other than our names to connect us."
The discovery of her late father's stamp collection from different periods in her home two years ago prompted her to start the initiative.
"It was like finding a treasure. And ever since then, I've been looking for ways to reuse them and revive paper mail. I realized that in a period different than his, I became a mail carrier just like him."
Felemban shared her interest in sending traditional mail on Instagram. She was able to send letters to some who responded, but she did not receive any in return.
"The waiting was suffocating, I felt devastated and I blame that we are not used to the mailing system and its hardship," she said.
She decorated the envelope of the message, and left it in a cafe in Jeddah without any contact information. "Then I found myself monitoring the cafe's account on social media, and was disappointed yet again. I didn't know what had happened to the letter, was it thrown away, picked up or neglected?"
In a family gathering in early October, Felemban placed her stationery supplies and envelopes on the dining table, ready to write a new letter. Her cousins and mother were curious and joined her.
Her family members suggested creating a special tag for the letters so that strangers who received the letters could reach out to her.
"I created the Arabic hashtag for 'mess of letters' and created a post for my friends in Riyadh — where I was at the time — and asked them if they wanted to gather to write letters together. I received a lot of positive responses and then prepared for the event in one of the cafes in the city."
She hosted the first gathering on Oct. 25 and was happy to see how the simple gesture of uplifting messages had an impact on her community.
"During exam week back when I was studying, it was such a mentally exhausting time, and I used to write encouraging words and quotes for myself and the visitors of the cafe I usually go to. I noticed they had a great impact on emotional well-being. I held on to that idea by writing letters to strangers in public places."
https://www.arabnews.com/node/1651526/saudi-arabia
-----
India
Video Of Sufi Ritual Falsely Viral As Mass Sneezing In Nizamuddin Mosque To Spread Coronavirus Infection
Pooja Chaudhuri
1st April 2020
A video is massively viral on social media with the claim that people mass sneezed in Delhi's Hazrat Nizamuddin mosque to spread coronavirus infection. Below is a Facebook post by one Anita Saxena which has drawn 24,000 views and 1,700 shares.
Alt News found that the video was earlier circulating in the Pakistani social media ecosystem with the coronavirus claim. This tweet is from January 30. A YouTube channel from Pakistan uploaded it a day earlier on January 29. It's likely that the video is older because Alt News was unable to Trace the original. The first case of coronavirus in India was reported on January 30.
A further reverse-image search of keyframes of the video led us to a March 4 tweet in Urdu. The English translation of the text revealed the words "Sufi madness".
Based on this and the above tweet, we performed a Google search with the keywords 'Sufi breathing' which led us to several videos mentioning the word 'Zikr'.
The website of Sufi organisation Ansari Qadiri Rifai Tariqa defines 'zikr' as a practice where devotees remember God in unison. It can be performed in several ways including "a traditional order in which Allah's Names are mentioned in zikr, and each one is repeated several, often hundreds of times in unison by the group. Certain movements, such as swaying back and forth or turning from right to left, are incorporated into the activity during the intonations, and are likewise performed in unison. In some tariqas a prayerful rotation of the whole body, arms extended while pivoting on one foot, is traditional."
Below is a video where people can be seen bending back and forth in a similar manner as in the viral video while chanting 'Allah'.
Similarly, in the video viral on social media, people are repeatedly taking Allah's name. Readers are advised to wear earphones and listen to the audio in loops, especially post the first 40 seconds.
Speaking with Alt News, Dr Hamid Akbar, a professor of Urdu at KBN University in Karnataka's Gulbarga said, "In the main four silsila (orders) of Sufism such zikr is performed but it's more sophisticated than this [viral video]. The sound you hear, is saas ka zikr or zikr e-anfas which basically means taking Allah's name with your breath. If you listen closely, you can hear that they are chanting 'Allahu' [in the video]."
Dr Akbar added that he has never seen any ritual, as witnessed in the viral video, practised in Tablighi Jamaat congregations which focus mainly on the importance of namaz (Islamic prayers) and roja (fasting). The Tablighi Jamaat meet is organised in Nizamuddin mosque which is also known as Tablighi Markaz or Bangle Wali Masjid.
Qawwalis (Sufi devotional music) are sung in the courtyard of Nizamuddin Dargah which is about half a kilometre away from the mosque. However, the Dargah had earlier distanced itself from Tablighi Jamaat when Aaj Tak had falsely claimed that 33 people sent for quarantine attended a program at the Dargah. "It is clarified that the News is about Nizamuddin Tablighi Markaz and not of Dargah," read the tweet.
A wrong new is being circulated on AajTak that 33 corona suspects sent for quarantine who attended a programme at Dargah Hazrat Nizamuddin. It is clarified that the News is about Nizamuddin Tablighi Markaz and not of Dargah. Complaint has been made at 'Aajtak' in this regard.
Therefore, a video of people practising a ritual in Sufism was falsely shared as intentional sneezing inside Delh's Nizamuddin mosque to spread the coronavirus infection. Earlier, a video of Bohra Muslims practising the ritual of licking utensils to not waste leftover food was also shared with the same claim.
Nizamuddin has been identified as a coronavirus hotspot after several preachers of Tablighi Jamaat tested positive in three different locations across the country. The organisation led a congregation at its headquarters (Markaz) Banglewali Masjid in Delhi's Nizamuddin area in mid-March, for which the Delhi government has now filed an FIR against a mosque preacher. Tablighi Jamaat maintains that its gathering was not illegal because it was held before Prime Minister Modi announced the first lockdown (Janata curfew) on March 22. However, the Delhi government claims that its order banning large gatherings, issued on March 13, was violated. Ironically, this was the same day when the Union Health Ministry declared that COVID-19 was not a health emergency. The March 13 order, however, did not extend to religious gatherings and only a subsequent order passed on March 16 did. If reports are to be believed, the congregation was held between March 8 to 15.
Note: The number of positive cases of the novel coronavirus in India is over 1,700 and more than 50 deaths have so far been reported. The government has imposed a complete restriction on movement apart from essential services to tackle the pandemic. Globally, more than 8 lakh confirmed cases and over to 44,000 deaths have been reported. There is a growing sense of panic among citizens, causing them to fall for a variety of online misinformation – misleading images and videos rousing fear or medical misinformation promoting pseudoscience and invalid treatments. While your intentions may be pure, misinformation, spread especially during a pandemic, can take lives. We request our readers to practice caution and not forward unverified messages on WhatsApp and other social media platforms.
https://www.altnews.in/video-of-sufi-ritual-falsely-viral-as-mass-sneezing-in-nizamuddin-mosque-to-spread-coronavirus-infection/
-----
Seven from Nizamuddin mosque named in FIR for March gathering
April 2, 2020
by Mahender Singh Manral
An FIR filed by the SHO of Nizamuddin police station has named seven people associated with the management committee of the Alami Markaz Banglewali Masjid, headquarters of the Tablighi Jamaat outfit, for allegedly going ahead with a gathering of around 2,000 people at the mosque in Nizamuddin West despite warnings from agencies. The event has been linked to a spike in COVID-19 cases across the country.
The Delhi Police Crime Branch Wednesday also issued notices to agencies which had "informed the (mosque's) management about enforcement of Section 144 in the city" at the time of the gathering.
Special Commissioner of Police (Crime Branch) Praveer Ranjan told The Indian Express that they have registered an FIR naming seven people, including maulana Saad Kandhalvi.
"We have found an audio clip going viral on social media, and are now sending it to forensic experts. We are gathering evidence to substantiate that they went ahead with the event despite warnings by several agencies," he said.
In the purported clip, a man can be heard saying "there is no need for social distancing as it is not written about in our religion".
Apart from Kandhalvi, others names mentioned in the FIR are management committee members. "Police are also checking their bank accounts," said an officer.
In his complaint, SHO Mukesh Walia alleged, "We told them several times and also called them to our police station, where we again informed them about the directions. They were advised to vacate the Markaz headquarters, but they did nothing."
Advocate Shahid Ali, who represents the Tablighi Jamaat, said, "We have not received a copy of the FIR, nor have we been approached by the Delhi Police. Maulana saab is not absconding, he is at home. We are ready to join the investigation. We approached the SHO of Hazrat Nizamuddin police station for a copy of the FIR and were told to ask the Crime Branch. We have no idea about its contents."
On Tuesday, DCP (Southeast) R P Meena had said: "There are essentially two buildings — one is a mosque and the other a markaz (centre) — with five-six floors. Around 1,500-2,000 people live here. The last time a jamaat was held here was on March 20-21. Since the lockdown was implemented, we have sent two notices to them about enforcement of Section 144."
https://indianexpress.com/article/cities/delhi/seven-from-nizamuddin-mosque-named-in-fir-for-march-gathering-tablighi-jamaat-coronavirus6342885/
-----
First J&K Resident Who Died Of COVID-19 Attended Delhi Mosque Event: Cops
April 02, 2020
Jammu and Kashmir: The first person who died due to COVID-19 in Jammu and Kashmir had earlier attended the religious gathering at Markaz Nizamuddin in Delhi, Director General of Police Dilbag Singh said.
"We received a list of 855 people. We have traced many of them and have sent them to separate locations for quarantine" he said.
Earlier, ten people who had returned from Delhi after participating in a Tablighi Jamaat congregation in Delhi's Nizamuddin area were put under quarantine in Poonch district.
Tablighi Jamaat event has emerged as a hotspot for COVID-19 after several positive cases across India were linked to the gathering, including deaths in Maharashtra, Karnataka and Telangana.
The total number of novel coronavirus cases in India climbed to 1637 on Tuesday. The death toll due to the COVID-19 rose to 38 while 133 patients were cured or discharged after treatment, the Ministry of Health and Family Welfare said.
https://www.ndtv.com/india-news/coronavirus-pandemic-first-j-k-resident-who-died-of-covid-19-attended-delhi-mosque-event-cops-2204575
-----
Jharkhand minister's son in home quarantine, father denies he went to Delhi mosque event
April 1, 2020
The Special Branch reported 37 persons from Jharkhand had attended the Nizamuddin event where two of them were from Madhupur in Deoghar district.
Out of 37, 11 participants were tracked to Ranchi. They were brought Rajendra Institute of Medical Sciences (RIMS) in Ranchi.
All the people from Jharkhand who had attended the event are now being traced and contacted.
https://www.indiatoday.in/india/story/jharkhand-cabinet-minister-son-attend-delhi-mosque-event-1662344-2020-04-01
-----
Gujarat High Court Seeks Details Of Delhi Mosque Event Attendees From State
April 01, 2020
Ahmedabad: The Gujarat High Court on Wednesday asked the government to furnish details of those who arrived in the state after attending a congregation of Tabligh-e-Jamaat in Delhi, and inform about the steps taken to prevent the spread of coronavirus infection due to them.
A division bench of Chief Justice Vikram Nath and Justice Ashutosh Shastri also directed the Central and state governments to inform what corrective or punitive measures were being taken, or can be taken, if the participants in the congregation in New Delhi were found to have traveled to India and within the country in violation of visa rules.
The court passed the order, seeking replies by April 3, while hearing a "suo motu" Public Interest Litigation about coronavirus pandemic.
It observed that infections spreading from the religious congregation held in the national capital last month posed an equally big challenge to the nation "when it is already crippled with and is facing the challenge of dealing with the pandemic of coronavirus."
Earlier in the day, the Gujarat government had stated that at least 1,500 people from Gujarat were present in Nizamuddin area of Delhi when the congregation was being held.
The court took cognizance of the coronavirus outbreak "suo motu" (on its own) on March 13 and sought response from the government about the measures it was taking to check it.
The matter was listed for hearing on April 4, but the hearing was advanced on the Chief Justice's orders following media reports about the Nizamuddin event taking place despite warnings about such gatherings, and many of the attendees later traveling to other parts of India including Gujarat.
https://www.ndtv.com/india-news/coronavirus-updates-gujarat-high-court-seeks-details-of-delhi-mosque-event-attendees-from-state-2204535
-----
16 mosques in Delhi that hosted members of Tablighi Jamaat congregation disinfected
Apr 02, 2020
At least 16 mosques, which were earlier identified by Delhi Police for having housed around 150 foreign nationals and over 20 Indians who were a part of the Tablighi Jamaat congregation in Nizamuddin earlier this month, were sanitised on Wednesday.
The Tablighi Jamaat headquarters has emerged as the biggest Covid-19 hot spot in India so far, with at least 53 people from there testing positive for Covid-19 in the Capital alone, and more than 500 in hospital for showing Covid-like symptoms.
The 16 mosques are located in areas such as Pul Prahladpur, Malviya Nagar, Shastri Park, Chandni Mahal and Turkman Gate in Old Delhi. Several foreign nationals -- from countries including Indonesia, Malaysia and Kyrgyzstan — who visisted the Jammat's headquarters this month were staying in these mosques.
At one of the mosques in Old Delhi's Chandni Mahal, 15 pilgrims from the Jamaat's Markaz building — five couples from Indonesia, four men from Algeria, and an Indian national from Hyderabad — have been quarantined on the third floor of the masjid.
"They have been here since the lockdown was announced. They are in complete isolation. They cook their own food on the third floor and even offer namaz there. None of them have shown any symptoms. The health officials had come to visit them on Wednesday and gave them a form that was to be filled, if anyone fell sick," said Shakeel Ahmed, president of the masjid committee.
On Wednesday evening, the local police held a meeting with the heads (Imams) of all mosques in the Walled City area at the Jama Masjid police station to discuss measures that needed to be taken.
"The police have asked us to not let anyone come inside the mosque premises and maintain hygiene. We had already shut the masjid and nobody is allowed to come in, even for namaz. The police have also collected the passports of the pilgrims and a letter has been sent to the respective embassies," said Mohammad Ali, imam of the Chandni Mahal mosque.
Hafiz Mohammad Javed, a social worker and a representative of the masjid committee, said that he had earlier advised the Markaz authorities of taking precautions as well. "We had told them to take all precautionary measures. However, it was only later that they realised that some people were feeling unwell," said Javed.
At least 12 Indonesia nationals arrived in south Delhi's Hauz Rani and Malviya Nagar areas on March 30, said Haji Kallu, the president of the masjid committee. These people, Kallu added, have been quarantined at the mosque. "They came to the mosque on March 30; we don't know where they stayed before that. We immediately informed the area sub-divisional magistrate and the police about them. They came and checked their visa and passport details/"
Less than a kilometre away, 13 Kyrgyzstan nationals and one Indian, all members of the Tablighi Jammat, moved to another mosque in the area on March 22.
Mohd Aslam, a member of Tablighi Jammat associated with the mosque, said, "Their details were shared with the local authorities. The medical team visited the mosque on March 30. We have kept these people on two separate floors of the mosque as per directions of the medical team. We are not entering the mosque and providing them food and other stuff from outside."
In the Shastri Park area, at least 35 people were shifted to a quarantine facility from two mosques.In Wazirabad, 15 people, including 12 Indonesian nationals, were quarantined inside the area's Jama Masjid mosque, said an official.
Syed Ahmed Bukhari, the Shahi Imam of Delhi's Jama Masjid said: "I have informed people in the community, especially in mosques, that wherever members of the Jamaat are staying, they should inform the district administration and local police and get those people tested. If someone is staying in their house, even then you should get the person tested. The measures taken by the government are for the welfare of the people. We had closed Jama Masjid for prayers for the general public due to the disease on March 23, after which all other mosques in the city had followed suit."
https://www.hindustantimes.com/delhi-news/16-mosques-that-hosted-members-of-tablighi-jamaat-congregation-disinfected/story-sy8DNxn9oHpMztLAM9VTVK.html
------
Police case against two functionaries of a mosque in Ahmednagar, administration identifies 46 Tablighis who participated in Delhi meet
Apr 01, 2020
Ahmednagar police have filed a case against two functionaries of a mosque from Nevasa taluka in the district for allegedly allowing 10 foreign nationals to stay at its premises during the Covid-19 lockdown, police said on Wednesday.
According to officials, these foreign nationals were found inside the mosque when the police were on patrolling duty late on Monday. The foreign nationals, according to Newasa police, were inside Bhaldar mosque also known as Markaz Masjid even as the functionaries of the religious place failed to inform the administration, despite instructions in view of the Covid-19 outbreak.
The offence was registered against two trustees of the mosque under Section 188 (disobeying an order issued by a public servant) of the Indian Penal Code and provisions of the Epidemics Diseases Act, 1897, the official said
The action came against the background of two positive cases of Covid-19 in the last week of March in the district. Those two Covid-19 positive are nationals of Ivory Coast and France who along with 12 others had come for another religious congregation in Ahmednagar city. On Tuesday, three more persons who came in contact with the nationals of Ivory Cost and France, tested positive.
In the latest case, the foreigners, who hail from Ghana, Dakar, Djibouti and Benin, were staying at the Masjid since before the lockdown was imposed, said a senior police official.
The men were shifted to a nearby hospital and the administration and health department has now collected their swab samples for testing.
Meanwhile, the Ahmednagar district administration has traced 46 persons comprising 29 foreign preachers and 17 workers of Tablighi Jamaat who had attended the religious congregation at Nizamuddin Markaz in New Delhi which is the world headquarters of the Muslim missionary organisation.
District collector Rahul Dwivedi, said, "The administration has identified 46 persons who visited Delhi for the international meet and some of them who could be traced so far have been quarantined with samples being tested."
https://www.hindustantimes.com/pune-news/police-case-against-two-functionaries-of-a-mosque-in-ahmednagar-administration-identifies-46-tablighis-who-participated-in-delhi-meet/story-sqgtCommY8Y5NqRo5wrEyI.html
------
Foreigners Who Attended Delhi Mosque Event Violated Visa Rules: Centre
April 01, 2020
New Delhi: The Ministry of Information and Broadcasting on Wednesday said that foreigners who had participated in the Tablighi Jamaat had violated visa conditions and concerned states have been asked to initiate action against them and organizers of the event.
The Ministry informed that Cabinet Secretary held a meeting today via video-conferencing with all the Chief Secretaries/DGPs of states and they were sensitized about the intensive contact tracing of Tablighi Jamaat participants as this has increased the risk of containment efforts of COVID-19.
"It has been found that foreigners who had participated in the Tablighi Jamaat had violated visa conditions. Concerned states were asked (in the meeting) to initiate action for violation of visa condition against the foreigners and the organizers of the event," said Ministry of Information and Broadcasting in a press release.
"States were asked to implement the Prime Minister Garib Kalyan Yojana within the next week. This will involve large cash transfer to beneficiaries. It should be organized in a staggered manner to ensure social distance," it added.
It was noted that lockdown is being implemented effectively all over the country. The States were asked to ensure that intra-state movement of goods is allowed without any hindrance while maintaining social distance, the Ministry added.
The press release further read that the manufacturing of essential goods should be ensured. It should also be ensured that the supply chains of such goods are maintained.
According to the Ministry of Health and Family Welfare, the total number of COVID-19 positive cases have reached 1,637 in India, including 1,466 active cases, 133 cured/discharged/migrated people and 38 deaths
https://www.ndtv.com/india-news/coronavirus-updates-foreigners-who-attended-delhi-mosque-event-violated-visa-rules-centre-2204353
-----
Pakistan
Govt continuously monitoring Covid-19 trends: PM
Aamir Yasin
April 02, 2020
RAWALPINDI: Prime Minister Imran Khan on Wednesday said the government was continuously monitoring and analysing coronavirus (Covid-19) trends to determine accurate rate of spike in coming days.
"After controlling coronavirus challenge in its country, China immediately came to Pakistan with medical assistance. At present, we are receiving all equipment from China," he said.
The prime minister said the demand of healthcare equipments had increased worldwide after the outbreak of coronavirus pandemic.
Prime Minister Imran Khan assured doctors and paramedics that the government would provide them protective equipment. He said the Command and Control Centre for Coronavirus had set the priority to provide safety material to the front line medical staff especially in emergency and intensive care unit (ICU).
"We have already dispatched the equipment to the hospitals and where it has not reached as yet, it will be sent there in a day or two," he said.
He said there were few fatalities in Pakistan as compared to other parts of the world but the government was working to save people's lives.
He said the government had started taking preventive measures ever since first coronavirus case had surfaced in China in January, besides working on a mechanism to deal with the looming challenge.
However, he said the healthcare system had been neglected in the past. He said that before 70s, the healthcare system was the best. He said that he and his sisters were born in government hospitals because at that time they were in a better condition.
The prime minister visited different sections of the hospital along with Railways Minister Sheikh Rashid Ahmed, former health minister Amir Mehmood Kiani, Defence Secretary retired Lt-Gen Ikramul Haq, Military Lands and Cantonments Director General Major General Hasnaat Aamir Gilani.
Meanwhile, PML-N spokesperson Marriyum Aurangzeb said the project for upgradation of Cantonment General Hospital was launched during the tenure of PML-N for which an amount of Rs570 million was released.
Former prime minister Shahid Khaqan Abbasi had begun the project on the request of the then PML-N MNA Malik Abrar, she said.
https://www.dawn.com/news/1545695/govt-continuously-monitoring-covid-19-trends-pm
------
Punjab has conducted nearly 15,000 Covid-19 tests but other provinces are lagging behind
April 02, 2020
Imtiaz Ali Taj
In Pakistan, the number of coronavirus patients is rising rapidly. For a long time, Sindh had the highest number of cases and Chief Minister Murad Ali Shah repeatedly said that the province has more positive cases than any other because it is conducting more tests.
However, in the past week, Punjab surged past Sindh, not only in the number of positive cases but also in the total number of tests conducted.
Keeping Chief Minister Shah's premise in view, Punjab's higher number of positive cases can be attributed to the fact that they have conducted nearly 15,000 Covid-19 tests while Sindh, even with the second-highest number of cases, has conducted nearly 7,000 tests.
The infographic above shows the number of confirmed cases in each province and region, and the tests carried out there until March 31. The data for this information has been obtained from the National Institute of Health (NIH) for Islamabad and situation reports released by the respective provincial health departments.
While provincial officials, when contacted, generally complained about lack of testing kits and labs, federal Planning Minister Asad Umar had told a press conference on Tuesday that the number of labs that could carry out tests for coronavirus had increased from 13 to 30 and would increase to 32 in the coming days. He added that the current testing capacity was 280,000 which was expected to increase to 900,000 by April 15.
Meanwhile, Special Assistant to the Prime Minister on Health Dr Zafar Mirza had announced that the government would acquire a synthesiser in a few weeks which would enable the country to start producing testing kits on its own.
Here, we look at the status of testing across the four provinces, Islamabad, Azad Jammu and Kashmir, and Gilgit-Baltistan.
The province of Punjab receives between 500 and 1,000 testing kits on a daily basis from the NIH, according to Primary and Secondary Healthcare Department Secretary retired Capt Mohammad Usman.
Tests are mainly carried out at the Provincial Public Health Reference Lab, Shaukat Khanam Memorial Cancer Hospital (SKMCH) and Chughtai Lab. Tests are carried out for free at the provincial lab and SKMCH, which are provided kits by the NIH, while residents can pay to get tested at Chughtai Lab.
He told Dawn that the department aims to establish eight additional labs across the province by mid-April, which will increase its testing capacity to more than 3,000 per day.
Sindh, meanwhile, has the capacity to conduct 1,000 tests per day but around 350 tests are currently being carried out daily, said Atif Vighio, spokesperson for the provincial health department.
"We face no hurdles in terms of testing materials and labs; the only problem arises when people try to hide or run away rather than get tested, like in the past couple of days we have had to locate some Tableeghi Jamaat members who had gone into hiding when they found out testing was being done on all Jamaat members," he told Dawn.com.
Provincial health minister Taimur Saleem Jhagra said KP's current capacity is 250 tests per day. It was 200 tests per day yesterday and will rise to up to 400 tests per day by Thursday, he added.
"We are constantly working to increase the capacity. The procurement rules were suspended to speed up procurement, including that of testing kits and equipment," he said.
Jhagra revealed that the provincial government will now invite bids for testing from the private sector, saying four institutions with a combined capacity of 350 tests/day have already shown interest.
"We expect to achieve 1,000 tests/day capacity by next week after increasing our own capacity and including private sector labs."
Commenting on the hurdles in mass testing, the minister said the Provincial Public Health Reference Lab, the only lab in the province for testing, is "a very new lab" that came online recently. "They had a lack of kits and machinery initially but now they have been provided with both which has led to an increase in the capacity," he said.
Additionally, he noted that Pakistan does not produce testing kits indigenously. "There is a high demand for testing kits in the world and there is a shortage of supply. We are working aggressively on procurement of kits, but it is taking time due to global shortage," he said.
Asked about the relatively low number of tests conducted in Balochistan, provincial government spokesperson Liaquat Shahwani told Dawn.com: "We don't have enough kits."
The Balochistan government also plans to establish 11 labs in the provinces "but they won't be effective unless there are enough testing kits", he added.
NIH Executive Director Maj Gen Dr Aamer Ikram said they have "enough kits" for testing in the capital and their quantity will further increase in the next few days.
He said 21 labs across the country are currently carrying out Covid-19 tests. Each lab is equipped with at least one machine that can perform 200 tests per day, Dr Ikram added.
Asked whether there was a need for more aggressive testing, Dr Ikram said they have been following the standard operating procedures in this regard — people with symptoms or foreign travel history are being tested first and "no one who came from public sector hospitals has been refused testing".
Gilgit-Baltistan, on the other hand, has a capacity to carry out 20-25 tests each day but the number of samples collected from suspected Covid-19 patients is a lot higher, according to GB health department focal person Dr Shah Zaman.
Testing kits and other equipment are being provided by the GB government, however, "we also have the cooperation of the NIH", Zaman said.
He added that although the citizens are fully cooperating with authorities, the setting up of additional laboratories will help provide timely treatment to Covid-19 patients through increased testing.
AJK Health Minister Dr Najeeb Naqi told Dawn.com that as of Tuesday evening, hospitals in the region had collected 239 samples, most of which were sent to the NIH in Islamabad for screening.
According to Naqi, screening of samples had also begun at the Virology Lab of Abbas Institute of Medical Sciences (AIMS) Muzaffarabad since late last week.
"The lab in AIMS has the capacity to conduct 40-50 tests in a day but it has been conducting 8-10 tests daily because few symptomatic cases are being received.
However, now we will screen even the asymptomatic persons, mainly those who have remained in contact with the positive cases or have returned from outside [of AJK] for which lists are being prepared on a fast track basis," he said.
The minister revealed that two more testing labs in the towns of Mirpur and Rawalakot will become operational "in a day or two" while a third lab in Kotli will also be established within one week.
https://www.dawn.com/news/1545551/punjab-has-conducted-nearly-15000-covid-19-tests-but-other-provinces-are-lagging-behind
------
PML-N wants parliamentary oversight of corona relief fund
April 02, 2020
ISLAMABAD: Pakistan Muslim League-Nawaz (PML-N) president Shahbaz Sharif has written a letter to National Assembly Speaker Asad Qaiser, asking the latter to constitute a parliamentary committee to monitor public money and relief funds being used in the fight against coronavirus in the country.
"Pakistan is fighting this war against the pandemic [Covid-19] with measured resources and funds. Under such circumstances, it is imperative to ensure that these resources, especially monetary, be utilised with clinical precision and utmost transparency. The parliamentary oversight, therefore, is essential and uncompromisable in this regard. Which is why, you must set up a parliamentary monitoring committee to carry out this task," writes the leader of the opposition in the National Assembly in his letter, a copy of which was released to the media by the PML-N here on Wednesday.
Mr Sharif wrote the letter a day after Prime Minister Imran Khan announced setting up of a coronavirus relief fund for collecting money from philanthropists and overseas Pakistanis to generate resources to fight the disease that has affected the whole world. Earlier, the government had also announced a Rs1,200 billion relief package to ameliorate the sufferings of the common people and business community due to the spread of coronavirus and prolonged lockdown in the country.
The PML-N president, who had returned to the country from the UK last month, has further asked the speaker to summon the meetings of the National Assembly and Senate health committees to review the situation due to spread of Covid-19.
"In view of conflicting information being shared by the government officials on and off the record, there is a direct need of briefing the people's representatives regarding the truth," writes Mr Sharif while arguing in favour of his demand for convening the meetings of the committees on health.
In the beginning of the letter, Mr Sharif appreciated the speaker for his initiative of calling the meeting of the parliamentary leaders last week, stating that "it is unfortunate that the conduct of the prime minister did not allow that effort to bear the desired fruit".
Both Mr Sharif and Pakistan Peoples Party chairman Bilawal Bhutto-Zardari had boycotted the parliamentary meeting when Prime Minister Imran Khan abruptly left the meeting after delivering his opening speech.
Meanwhile, speaking at a news conference here on Wednesday, former prime minister Shahid Khaqan Abbasi, PML-N secretary general Ahsan Iqbal, party's information secretary Marriyum Aurangzeb and Senator Mussadiq Malik criticised the ruling Pakistan Tehreek-i-Insaf (PTI) for its alleged poor handling of the situation after the spread of coronavirus.
Terming the government's relief package "insufficient", Mr Iqbal presented a number of proposals in the form of demands to minimise the negative impact of coronavirus on the country's economy and people.
He asked the government to announce a fresh economic package after consultation with the business leadership, including the office-bearers of various chambers of commerce and industry.
Mr Iqbal, who had served as the planning and development minister in the previous PML-N government, asked the government to bring the prices of petrol and diesel to Rs70 per litre keeping in view that oil prices had almost crashed in the international market. He urged the government to immediately announce at least 33 per cent reduction in electricity and gas tariffs, besides deferring the payment of electricity and gas bills for the poor for one year. He also called for a two-fold increase in the salaries of doctors, nurses and other paramedic staff fighting coronavirus as frontline soldiers.
He asked the government to arrange funds for the payment of six-month school fees for the parents belonging to the poor and middle class families.
Moreover, the PML-N leader urged the government to pay Rs15,000 per person to all those placed in quarantines. He said that this amount would not only help the families of the affected people in meeting their daily requirements, but this step would also serve as an incentive to the people who were reluctant to undergo testing for Covid-19. He also called for expanding the Benazir Income Support Programme (BISP) and include 3.5 million more women whose data was already available with the government. In this way, he said, some 8m women would be able to get the BISP assistance.
Mr Iqbal also asked the government to divert Rs30bn development funds earmarked for the ruling party's lawmakers to the coronavirus relief fund. He alleged that the government had politicised the coronavirus relief measures through distribution of forms to the needy people only by the PTI office-bearers.
Earlier, Shahid Khaqan Abbasi alleged that the government's response to coronavirus was very slow, adding that the steps being taken now should have been taken 10 weeks before. He said the prime minister was not fully aware of the term 'lockdown'. He said there was a need for a countrywide lockdown of the same nature.
https://www.dawn.com/news/1545775/pml-n-wants-parliamentary-oversight-of-corona-relief-fund
------
14 More Test Positive At Raiwind Tableeghi Jamaat Headquarters
April 02, 2020
LAHORE: The number of confirmed coronavirus patients at the Raiwind Tableeghi Markaz rose to 41 on Wednesday, after 14 more preachers tested positive, whereas 15 positive cases were reported in other parts of the provincial capital during the last 24 hours.
According to the daily situation report on coronavirus released by the Punjab health authorities, an elderly virus patient died at the Benazir Bhutto Hospital, Rawalpindi. The 83-year-old victim had arrived from England recently.
So far total 10 patients have succumbed to the virus in Punjab, including four each in Lahore and Rawalpindi and one each in Faisalabad and Rahim Yar Khan.
Meanwhile, 64 more people were confirmed as Covid-19 patients across the province, taking the total number to 748, including 178 in Lahore.
After Lahore, Gujrat has become a flashpoint for coronavirus as 24 new patients tested positive for the virus in the district during the last 24 hours, taking the tally of confirmed cases surfacing there to 86.
A senior official said the Raiwind Tableeghi Markez was presently housing approximately 600 preachers. The health teams have so far sent samples of around 110 of them for lab analysis, he said, adding the reports later confirmed 41 preachers as Covid-19 patients.
To a question, he said, the health teams, with the support of police, carried out random tests of over 100 residents of Raiwind City which had been locked down on Tuesday to prevent outbreak of the disease. He said their reports were awaited to know the extent of the disease's impact on the locals.
So far, DG Khan has reported 207 confirmed cases, Multan 91, Rawalpindi 46, Jehlum 28, Gujranwala 12, Gujrat 86, Sargodha seven, while Faisalabad has nine Covid-19 patients.
A spokesperson for the health department said tests of total 16,061 suspected and confirmed patients had been carried out so far in Punjab. The tests were conducted at the National Institute of Health (NIHS) Islamabad, Shaukat Khanum Memorial Cancer Hospital, Lahore, Nishtar Hospital, Multan, Chughati Lab and the health department lab on Jail Road, Lahore.
Meanwhile, the city administration says as many as 900 residents of Raiwind tehsil have been quarantined at various centres for being Covid-19 suspects.
It claims the teams led by Raiwind tehsil officers have started distributing food and ration among the residents affected by complete lockdown in the area.
"As many as 900 people have been sent to quarantine centres. Minimum 10-day ration has also been distributed among 1,000 families in Raiwind where a complete lockdown is being observed strictly," Lahore DC Danish Afzaal told a press release on Wednesday.
The DC said the Rawind's exit and entry points were being monitored strictly, as the mobility of people within or outside the town had completely been restricted through deployment of police and personnel of security agencies.
https://www.dawn.com/news/1545680/14-more-test-positive-at-tableeghi-jamaat-headquarters
------
NA, Senate panel on pandemic to meet on April 6
April 02, 2020
Iftikhar A. Khan
ISLAMABAD: The parliamentary committee on the coronavirus pandemic will hold its maiden meeting on April 6.
Chaired by Speaker of the National Assembly Asad Qaiser, the meeting will be briefed by Adviser to the Prime Minister on Finance Dr Abdul Hafeez Sheikh and Adviser to the Prime Minister on Commerce and Investment Abdul Razak Dawood on economic and business plans for the revival of the economy.
Special Assistant to the Prime Minister on National Health Services Dr Zafar Mirza and National Disaster Management Authority (NDMA) Chairman Lt Gen Muhammad Afzal will brief the panel on the situation related to Covid-19, the disease caused by the new coronavirus, and measures to respond to the challenge.
The committee includes Foreign Minister Shah Mehmood Qureshi, Minister for Information Technology Dr Khalid Maqbool Siddiqui, Minister for Housing and Works Chaudhry Tariq Bashir Cheema, parliamentary leader of the Pakistan Muslim League-Nawaz (PML-N) Khawaja Asif, Pakistan Peoples Party (PPP) leader and former prime minister Raja Pervez Ashraf, Asad Mehmood of the Jamiat Ulema-i-Islam (JUI-F), Khalid Magsi of the Balochistan Awami Party (BAP), Shahzain Bugti of the Jamhoori Watan Party, Amir Haider Hoti of the Awami National Party (ANP), Akhtar Mengal of the Balochistan National Party (BNP-M) and Ghous Bux Mahar of the Grand Democratic Alliance.
Those who have been nominated for the committee representing the Senate are Leader of the House Syed Shibli Faraz, parliamentary leader of the PML-N Mushahidullah Khan, PPP's parliamentary leader Sherry Rehman, Barrister Muhammad Ali Saif of the Muttahida Qaumi Movement, Aurangzeb Khan from the erstwhile Federally Administered Tribal Areas (Fata), Mir Hasil Bizenjo of the National Party, Maulana Abdul Ghafoor Haideri of the JUI-F, Sirajul Haq (Jamaat-i-Islami), Usman Kakar (Pakhtunkhwa Milli Awami Party), Sitara Ayaz (ANP), Dr Jehanzeb Jamaldini (BNP-Mengal), Syed Muzaffar Hussain Shah (PML-F) and Anwarul Haq Kakar of the BAP.
Moreover, Defence Minister Pervez Khattak, Planning and Development Minister Asad Umar, Parliamentary Affairs Minister Azam Swati and Adviser to the Prime Minister on Finance Dr Abdul Hafeez Shaikh and Special Assistant to the PM on Health Dr Zafar Mirza are part of the committee as ex-officio members.
https://www.dawn.com/news/1545776/na-senate-panel-on-pandemic-to-meet-on-april-6
------
Amid scarce handouts, anxiety grows among wage earners due to lockdown
April 02, 2020
Sumaira Jajja
KARACHI: Day 10 of the lockdown to prevent the spread of Covid-19 saw increased anxiety and uncertainty amongst the city's poorest, who had been out of work for well over a week and with no financial backup, as they hoped to get "free ration".
The news of extension in the lockdown for another week has forced thousands of people out of homes — defying all advice on social distancing — risking their lives to get supplies.
Long queues were seen in Saddar, Kharadar, Machhar Colony, Lyari, Quaidabad, Orangi Town and other densely populated areas of Karachi as thousands of daily wage earners — mostly men and some hapless women and children huddled on footpaths — waited impatiently to receive ration supplies from camps set up by government offices, forces, welfare organisations and philanthropists.
According to estimates by government and charitable organisations, at least 2.5 million families in the city need help. The much-coveted ration bag — with a price of Rs1,200 the cost of which is borne by donors — includes 5-10 kg of flour, lentils, ghee or oil, tea and sugar.
Daily wage earners from port, aviation and textile industry — the sectors which were the earliest victims of Covid-19 slowdown — are some of the worst hit.
Another group that faces strong food insecurity are rural migrants from south Punjab and interior Sindh, many of whom worked as farm labourers, but moved to Karachi to find work as rickshaw drivers, housemaids, masons, painters, waiters, towel sellers, street vendors and car window cleaners — all currently out of work.
A group of pensive-looking women stood at a petrol pump near Teen Talwar and begged volunteers of a charity organisation for flour. "We came all the way from Baldia to get ration. We even have our CNICs," a woman said.
The volunteers — sitting on an empty pickup — urged the women to send a message to the charity's number, stressing "rations will be supplied at their doorsteps".
Most charity organisations are now demanding CNICs and list down numbers — an audit requirement — before they hand over the supplies. This means those men and women from Karachi and rural areas who do not have official IDs are left out.
"We have limited supply of goods. With each passing, more and more people are coming out and there is a lot of panic," one of the men said.
"For one bag of ration, there are 100 arms that reach out to grab it," said a visibly frustrated volunteer, who has been distributing food supplies in various parts of the city for the past week.
According to the 2017 census, Sindh has a population of around 47m and of them 10m people, or 1.4m families, are daily wage earners who are outside the ambit of any organisation such as Employees' Old-Age Benefits Institution (EOBI) or Sindh Employees Social Security Institution (Sessi).
It's unfortunate that we do not have any solid data on people. Our census data will show religion but not the work one does. Seventy to 80pc of the workforce is in the informal sector or has been informalised," said Karamat Ali, executive director of the Pakistan Institute of Labour Education & Research (Piler) who is also a member of the Tripartite Labour Standing Committee.
The bad news, according to aid workers, is there is not enough to go around. There have been reports and videos of physical attacks and heated arguments as volunteers struggled to keep themselves safe.
The much-publicised UAN and mobile numbers of over a dozen charity organisations and philanthropists in Karachi were either turned off or busy. "It is becoming impossible to meet the demand at this point," said an official of a charity organisation.
"The good thing is that people are donating like crazy. Local and international donations are coming in," said Rehan Bandukda, a Karachi-based businessman and a former general manager of the World Memon Foundation.
"The business community and average Karachiites are contributing a great deal," he said. "People have already started to give zakat and that is sustaining the current operation, just like they did during the 2005 Kashmir earthquake and 2010 floods."
But this time the disaster is bigger — a pandemic that is sweeping across the globe. For the moneyed, businesses and jobs are at risk — which means 'donor fatigue' will set in soon.
For immediate relief, Mr Ali of Piler suggested immediate activation of union committees in mazdoor bastis (localities around industrial areas). "At the UC level, everyone knows who is who and it's easier to manage things. Cash transfers can be done using banks accounts and branchless banking.
"The government should look up Nadra [National Database and Registration Authority] data and identify people. An example of a vulnerable household is where only one family member has a primary level education," he added.
Mr Bandukda said: "The government must focus on quarantining suspected and confirmed cases and ensuring 'social distancing' during relief distributions. That's the only area that NGOs and volunteers can't cover."
The Sindh Relief Initiative app — the URL for which was announced by Chief Minister Sindh Murad Ali Shah on March 29 — has been downloaded over 5,000 times till the filing of this report but remains non-responsive.
The Sindh government developed the app with the aim of "providing rations to daily wage earners and needy people on their doorsteps".
"Dear App Developer kindly clear, Is this App only for social welfare organizations and NGOs. Where is the option for needy Daily wagers to register" and "I think this app Sindh Relief Initiative is not launched officially, thats why not register anyone or its a fake app" were just a few of the comments left by frustrated users.
This reporter tried to register on the app for two consecutive days. Each attempt led to the following message: 'Login failed: Invalid username or password' or 'you are not authorised to use this app'.
When contacted, Adviser to CM Sindh, Murtaza Wahab said he was not aware of the problems with the app since the Provincial Disaster Managment Authority was handling it.
https://www.dawn.com/news/1545674/amid-scarce-handouts-anxiety-grows-among-wage-earners-due-to-lockdown
------
Muslim World League delivers medical supplies to Pakistan
02 April 2020
The regional office of the Muslim World League (MWL) in Islamabad on Wednesday delivered medical supplies to Pakistan's government to help fight the coronavirus pandemic.
The delivery was attended by Pakistani Religious Affairs Minister Noor-ul-Haq Qadri, Saudi Ambassador Nawaf bin Said Al-Malki and other officials.
Qadri expressed his appreciation for the initiative, hailing the MWL's important role in serving Islam and Muslims worldwide.
Al-Malki said the MWL is always proactive in providing aid, and has provided assistance to help fight coronavirus as part of its religious, moral and humanitarian obligation.
Dr. Raja Amjad Mehmood, director general of the National Health Emergency Preparedness and Response Network, thanked the MWL for this initiative and stressed its importance.
Saad bin Massoud Al-Harthi, the MWL's regional director in Pakistan, said this assistance package comprises protective masks and bags, detectors and sanitizing products.
He added that a large campaign has been launched across TV channels, newspapers and social media to raise awareness and provide guidance on how to prevent coronavirus.
He said these efforts come under the close guidance and supervision of MWL Secretary-General Dr. Mohammed bin Abdulkarim Al-Issa.
Al-Harthi added that this initiative is one of many implemented by the MWL in Pakistan in various relief, health and educational fields
https://www.arabnews.com/node/1651511/saudi-arabia
-----
Mideast
Turkish mosque thanks Dutch health care workers with Quran verse
APR 01, 2020
A Turkish association that runs a mosque in the Netherlands hung a poster outside a hospital in Amsterdam, thanking health care workers for their fight against the coronavirus outbreak.
The poster, which includes a verse from the Quran and expresses gratitude to doctors and nurses, was hung up at a bus stop opposite the hospital. "Whoever saves (a life), it is as if he had saved entire mankind," the verse from the Quran's al-Maidah surah or chapter reads. "Thanks, health care personnel," the poster in English and Dutch facing Meander Hospital also says.
Ramazan Yıldız, chairman of the association that runs Amersfoort Rahman Mosque, which put up the poster, told Anadolu Agency (AA) on Tuesday that they wanted to thank the health care personnel for their "efforts in these times."
"They work hard for public health and spend sleepless nights. They need motivation and we wanted to motivate them with this verse and wanted to show that Muslim community here also stands with them," he said.
The number of deaths in the Netherlands resulting from the new coronavirus has risen by 134 to 1,173, health authorities said Wednesday. Confirmed cases increased by 1,019 to 13,614, the Netherlands' National Institute for Health (RIVM) said.
https://www.dailysabah.com/turkey/turkish-mosque-thanks-dutch-health-care-workers-with-quran-verse/news
-----
Israel's ongoing arrests of Palestinians amid virus outbreak reflect regime's brutality, criminality: Hamas
01 April 2020
The Palestinian Islamic resistance movement, Hamas, has strongly condemned the incessant Israeli arrest campaign against Palestinians, arguing that the move clearly shows the brutality and criminality of the Tel Aviv regime, especially as the cases of infection with a new coronavirus in the occupied territories are on the rise.
On Wednesday, member of the Hamas political bureau, Husam Badran, held the Israeli regime fully responsible for the life of Sheikh Omar al-Barghouthi, after Israeli troopers raided his home in the northern West Bank village of Kobar near Ramallah early on Tuesday and arrested him.
Badran noted that Israeli authorities' attempts to take advantage of the emergency situation as a result of the novel coronavirus pandemic to impose new faits accomplis on the ground are doomed to failure.
"Our people, who have proven their efficiency in fighting the coronavirus with their awareness and knowledge, will eventually win the battle against the virus of Zionist occupation," he pointed out.
Secretary General of the Palestine Liberation Organization (PLO) Saeb Erekat called on the international community on Tuesday to pressure the Tel Aviv regime to immediately release Palestinian prisoners from its jails amidst the new coronavirus outbreak.
The PLO chief has called for the immediate release of Palestinian prisoners from Israeli jails amid the new coronavirus outbreak.
He stated that Palestinian detainees suffer from a lack of basic hygiene, and Israel's policy of deliberate medical neglect in the wake of the COVID-19 crisis.
The senior Palestinian official warned against the arbitrary measures recently taken by Israeli authorities against Palestinian prisoners, stating that the inmates have been deprived of cleaning materials and sanitizers.
Such practices could result in a catastrophe for more than 5,000 Palestinian prisoners, especially those who are the most susceptible. This includes elderly prisoners, those suffering from chronic diseases, inmates with weak immune systems as well as minors, Erekat highlighted.
On March 25, the Palestinian Ministry of Foreign Affairs and Expatriates called on the Israeli regime to immediately release Palestinian prisoners from its detention centers amid the novel coronavirus outbreak.
The ministry announced in a statement that the Israeli Prisons Service (IPS) is not providing proper health protection to Palestinian prisoners, as Israeli authorities have demonstrated that they have no intention of easing apartheid to make sure Palestinians are able to face the epidemic under better conditions.
https://www.presstv.com/Detail/2020/04/01/622088/Israel%E2%80%99s-ongoing-arrests-of-Palestinians-amid-virus-outbreak-reflect-regime%E2%80%99s-brutality,-criminality:-Hamas
-----
Israeli Health Minister Yaakov Litzman tests positive for coronavirus
BY MAYTAL YASUR BEIT
April 2, 2020
Israeli Health Minister Yaakov Litzman and his wife Chava have been diagnosed with coronavirus and will go into quarantine, the country's Health Ministry confirmed on Thursday. Israeli Prime Minister Benjamin Netanyahu has been informed that Litzman tested positive.
The ministry said Litzman will continue to serve as health minister from home, in accordance with medical recommendations. The 71-year-old leader of Ashkenazi ultra-Orthodox party United Torah Judaism is at high risk for developing complications from COVID-19, the disease caused by the virus, and is being closely monitored.
As per the ministry's orders, National Security Council head Meir Ben-Shabbat, Health Ministry Director Moshe Bar Siman-Tov and several other officials who have been in daily contact with Litzman will be going into self-isolation as well.
As of Wednesday, 6,092 Israelis have been diagnosed with coronavirus, which has so far claimed the lives of 26 patients. Ninety-five people are in serious condition, 81 of whom are intubated. So far, 241 Israelis have recovered from the virus.
The ministry said that 3,201 medical personnel, including 701 doctors and 1,138 nurses, are currently under quarantine. To boost ranks, the ministry has licensed 900 new nurses in an expedited process.
https://www.jns.org/israeli-health-minister-yaakov-litzman-tests-positive-for-coronavirus/
------
eath in the Holy Land - Coronavirus changes burial for Jews, Muslims
APRIL 2, 2020
JERUSALEM (Reuters) - A rising death toll in the coronavirus crisis is forcing a change in Jewish and Muslim burial and mourning traditions in the Holy Land.
In Israel, Jewish dead are normally laid to rest in a cloth smock and shroud, without a coffin. Now, the bodies of coronavirus victims are taken for ritual washing - performed in full protective gear - wrapped in impermeable plastic.
"Feelings are very much mixed," said Yakov Kurtz, who works for Chevra Kadisha, the main group overseeing Jewish burials in Israel. "We don't know what to expect, we don't know how many dead we will have to tend to. There are many fears."
New decrees for handling the coronavirus dead have been given for Muslim burials, said Sheikh Muhammad Hussein, Grand Mufti of Jerusalem and the Palestinian Territories.
"This is a rule of necessity and necessities allow for prohibitions, therefore the deceased is not washed, nor shrouded and is buried in a plastic body-bag," Hussein said.
Funerals and mourning rituals have changed for everyone since Israeli and Palestinian authorities imposed stay-at-home directives and restricted the size of public gatherings to try to halt the spread of infection.
Funerals in Israel can be attended by no more than 20 people in an open space only. Social distancing rules mean that embracing the bereaved is just not done.
That has affected the Jewish tradition of Shiva - a seven-day period that begins after a funeral, in which people come to the family home to offer condolences, bring food and reminisce about the departed.
Ihab Nasseraldin lost his brother to cancer last week. His body was taken from the hospital to the cemetery, and the family could not hold a service they had planned at Jerusalem al-Aqsa's mosque.
"We buried him and condolences were accepted at the burial site. We had already requested everybody not to shake hands, no hugging or kissing, which is custom here. This was uncomfortable," said Nasseraldin.
Few were able to attend the funeral. Friends and relatives were told not to visit the family home during the customary three-day mourning period.
"I truly feel sad that we were not able to pray at al-Aqsa over the body," said Nasseraldin. "But there is nothing we can do. May God accept this from us."
https://uk.reuters.com/article/uk-health-coronavirus-israel-palestinian/death-in-the-holy-land-coronavirus-changes-burial-for-jews-muslims-idUKKBN21K0QE?rpc=401&
-----
DİTİB launches aid campaign for mosques in Germany amid pandemic
APR 01, 2020
BY DAILY SABAH WITH AA
The Turkish-Islamic Union for Religious Affairs (DİTİB) launched an aid campaign for mosques in Germany with the call "Now It's Time to Support Our Mosques." The campaign focuses on mosques in the country under construction with a heavy debt burden and in need of help, especially during the coronavirus outbreak.
According to Anadolu Agency (AA), the campaign started in Cologne, where the DİTİB's headquarters is located. The campaign intends to provide financial aid to the mosques since their revenue stream has dried up as collective prayers have been interrupted as part of the measures to curb the spread of the coronavirus.
Speaking on the campaign, the head of the DİTİB, Kazım Türkmen, said there are approximately 50 mosques in Germany still under construction. He added that there are also about 100-150 mosques carrying significant debt.
Underlining that so far the mosques have managed to survive financially thanks to several events conducted within the mosques, Türkmen said due to the cancelation of these events, some mosques have been struggling.
"Places of worship survive under the patronage and responsibility of believers around the world. Similarly, our mosques depend on the existence of sincere, compassionate and devoted efforts of our fellow members," he emphasized.
Those interested in contributing to the campaign can send their donations via Paypal to paypal@ditib.de or through bank transfer to the IBAN number DE95 3704 0044 0121 5177 19, which has been established under the name of Turkisch-Islamische Union.
Cologne-based DİTİB is one of the biggest Islamic organizations in Germany. It was founded in 1984 as a branch of the Presidency of Religious Affairs (DİB), Turkey's top religious body.
The DİTİB currently runs 857 mosques in Germany with nearly 1,100 imams. Most of these imams are appointed from Turkey by the DİB and eventually return to Turkey after serving for four years in Germany. There are currently 110 imams who were trained in Germany, but the program aims to increase this number.
For many years, the DİTİB participated in many government-supported counter-extremism and integration projects. In September 2018, the German domestic intelligence agency, BfV, reportedly decided to scrutinize the activities of the DİTİB and question whether to put the organization under official surveillance or not.
https://www.dailysabah.com/politics/ditib-launches-aid-campaign-for-mosques-in-germany-amid-pandemic/news
------
Al-Houthi arrives in Sana'a on-board armored personnel carrier
01 April 2020
Saudi Arabia and a number of its regional allies launched a devastating campaign against Yemen in March 2015, with the goal of bringing the government of former president, Abd Rabbuh Mansur Hadi, back to power and crushing Ansarullah.
Five years after the launch of the military aggression, the Saudi-led coalition has been bogged down in the war, which it had wished to end in a matter of "months.
In a recent act of retaliation against the Saudi war, the Yemeni army last week staged drone and missile attacks over Riyadh and another Saudi city.
Saudi state media reported that at least one ballistic missile and a rocket had been intercepted over Riyadh and the southwestern city of Jazan. However, a spokesperson for Saudi Arabia's civil defense said two people were wounded in the strikes. The contradictory accounts were not explained by Saudi authorities.
The Saudi war has killed tens of thousands of Yemenis and brought the entire nation to the edge of famine
https://www.presstv.com/Detail/2020/04/01/622110/Al-Houthi-Sana'a-On-board-Armored-Personnel-Carrier
-----
Calm restored at Syrian Kurdistan jail after Islamic State riot
April 1, 2020
QAMISHLO, Syrian Kurdistan,— Kurdish-led security forces said they restored calm Monday at a prison in Syrian Kurdistan (Rojava), northeast Syria, after a riot by Islamic State group inmates.
The Syrian Observatory for Human Rights said four detainees believed to have broken out of Ghourian prison in the town of Hasaks had been tracked down within the jail.
Some 5,000 IS suspects are held in the jail run by the Kurdish-led Syrian Democratic Forces (SDF), according to the Observatory.
On Sunday, prisoners managed to dismantle cell doors and pierce through dormitory walls, overrunning the jail's ground floor, the SDF said.
Kurdish authorities called for foreign countries to repatriate their nationals accused of belonging to IS, but these have been largely reluctant.
Instead the Kurds are now urging the international community to help better secure their jails and organise trials of IS-linked detainees on their own soil.
Despite the end of their territorial control, IS fighters still maintain a presence in SDF-held areas and continue to claim frequent attacks.
The Kurdish Democratic Union Party PYD and its powerful military wing YPG/YPJ, considered the most effective fighting force against IS in Syria and U.S. has provided them with arms. The YPG, which is the backbone of the Syrian Democratic Forces SDF forces, has seized swathes of Syria from Islamic State.
The Kurdish forces expelled the Islamic State from its last patch of territory in the eastern Syrian village of Baghouz in March 2019.
11,000 Kurdish male and female fighters had been killed in five years of war to eliminate the Islamic State "caliphate" that once covered an area the size of Great Britain in Syria and Iraq.
Syria's Kurds have detained thousands of foreigners suspected of fighting for Islamic State, as well as thousands of related women and children, during the battle against IS in Syria and are being held in by Kurdish forces in Syrian Kurdistan.
https://ekurd.net/calm-restored-syrian-kurdistan-2020-04-01
------
South Asia
India's NIA to launch its first investigation in a foreign soil after Kabul attack
02 Apr 2020
The National Investigation Agency of India (NIA) has filed a case to investigate the deadly attack on Sikh in Kabul city, it has been reported.
In a bid to launch its first investigation regarding a terror attack on foreign soil, the NIA registered its case under criminal conspiracy and terror charges, according to Hindustan Times.
An NIA official, who didn't wish to be named, told The Hindustan Times "We will first seek all the documents from Afghanistan authorities through official channels to see what kind of evidence they have collected so far. A team will later visit Kabul".
According to Hindustan Times, the Narendra Modi government last year amended the NIA Act, empowering the agency to investigate terror activities against Indians and Indian interests abroad apart from cyber crimes and human trafficking.
This comes as a group of terrorists attacked the Sikh temple in Kabul city last week, killing at least 27 people including an Indian national and wounding many others.
https://www.khaama.com/indias-nia-to-launch-its-first-investigation-in-a-foreign-soil-after-kabul-attack-04596/
-----
18 Nepali Muslims who attended Nizamuddin congregation in Delhi, quarantined in Nepal
APRIL 01, 2020
Eighteen Nepali Muslims, who recently returned from India after participating in a Tablighi Jamaat congregation in Nizamuddin area in New Delhi, have been identified and kept in a quarantine facility in southern Nepal's Saptari district, authorities said on Wednesday.
Famed for the shrine of the 14h century Sufi mystic Khwaja Nizamuddin Auliya, the Nizamuddin area of New Delhi has emerged as an epicentre for the spread of coronavirus in different parts of India after thousands of people took part in a Tablighi Jamaat congregation from March 1-15.
Indian authorities have launched a nationwide search for participants of the huge religious gathering amid fears that thousands present there could have carried the infection to the length and breadth of the country.
Various nationals, particularly from Indonesia, Malaysia, Thailand, Nepal, Myanmar, Bangladesh, Sri Lanka and Kyrgyzstan come for Tabligh activities in Delhi.
Nepali authorities on Wednesday said that 18 local Muslims, who recently returned from the Indian capital after participating in the religious gathering, have been quarantined in Saptari district in Southern Nepal. According to spokesperson of Kanchanpur municipality, Raj Kumar Shah, the India-returnees have been quarantined at a newly-constructed building of Lakshmi Naryan Secondary School.
Meanwhile, around 400 Indian nationals, who gathered from different parts of Nepal to return to India, have been stranded in Birgunj area in Parsa due to the closure of the India-Nepal border.
According to Parsa's Superintendent of Police (SP) Ganga Panta, the huge mass of Indian citizens heading towards India via border in Parsa have been kept in an education faculty building.
They returned to Birgunj Tuesday morning after finding that the border was closed in the Indian side. They were provided meal by Nepal Police on Wednesday morning and necessary arrangements were being made for their temporary stay.
Meanwhile, two Indian men who travelled to Gaur of Rautahat district from Kathmandu riding on bicycles crossing a distance of more than 200 km during the lockdown reached Sitamarhi border only to find that the border was closed.
Raj Kishore Sah and Sanjaya Sah, permanent residents of Betauna in Motihari district in Bihar, left Kathmandu on Sunday and reached Gaur on Wednesday, a town in Rautahat bordering Sitamarhi of Bihar.
Out of 993 samples so far tested in the government hospitals for coronavirus, only five are found to be positive. Over 80 people have been kept in isolation in different hospitals across the country.
https://www.thehindu.com/news/national/18-nepali-muslims-who-attended-nizamuddin-congregation-in-delhi-quarantined-in-nepal/article31227593.ece
-----
6 including 2 imams, 2 teachers fined for spreading rumours
April 01, 2020
Six people, including two imams, have been fined in Gournadi upazila of Barishal for spreading rumors, said police.
They were picked up from different spots of the upazila today, said Golam Sarwar, officer-in-charge of Gournadi Police Station.
A mobile court led by Upazila Nirbahi Officer Ishrat Jahan fined each Tk 25,000 or one month's jail in default, for using loud speakers of a mosque and social media to spread rumours.
Between four hours until 3:00am today, they propagated rumours that the armed forces were about to spray medicine so people should stay home -- locking doors and windows, triggering panic in the area, said OC Golam Sarwar.
Among them, two are school teachers -- Rafiqul Islam of Gournadi Government Model Primary School and Salma Akhter of Barthi School and College -- and two are imams -- Hasan Al Mamun of North Bijoypur Moqsue and Abdul Quader of Baniajuri Mosque.
The rest have been identified as Sirajul Islam, a retired sergeant of Bangladesh Army, and Dipali Debnath, a former teacher of Gournadi Government Model Primary school.
https://www.thedailystar.net/coronavirus-rumours-spreading-in-barishal-6-including-2-imams-2-teachers-fined-1888480
-----
Kabul Police foil bid to kidnap Afghan Air Force pilot
02 Apr 2020
The Kabul Police foiled a bid to kidnap a pilot of the Afghan Air Force and arrested two people in connection with the abduction bid, the Ministry of Interior (MoI) said.
According to a statement released by MoI, the police forces arrested the suspects during a raid which they conducted in the 10th district of Kabul city.
The statement further added that the two suspects attempted to abduct the Air Force pilot from the 3rd district of the city on Tuesday evening.
However, the interior ministry said the suspects failed to kidnap the pilot and escaped from the area but the police forces later arrested the duo from 10th district of the city.
The Ministry of Interior also added that the police forces confiscated a Hummer vehicle, an Ak-47 assault rifle, 3 ammunition magazines of Ak-47 and some alcoholic beverages.
https://www.khaama.com/kabul-police-foil-bid-to-kidnap-afghan-air-force-pilot-04594/
----
Pentagon announces $7.1 million to support the drones operations of Afghan forces
02 Apr 2020
The Department of Defense, Pentagon, announced $7.1 million in fresh aid to support the operations of the unmanned aerial vehicles (drones) of the Afghan National Defense and Security Forces.
"Insitu Inc., Bingen, Washington, is awarded $7,187,794 for a modification to a firm-fixed-price delivery order N68335-19-F-0434 against previously issued basic ordering agreement N68335-16-G-0046," the defense departmetn said in a statement.
Pentagon also added "This order procures field service representatives and instructors to provide technical services, training, and program management needed to sustain and support ScanEagle unmanned aerial vehicles in Afghanistan in support of the government of the Islamic Republic of Afghanistan."
https://www.khaama.com/pentagon-announces-7-1-million-to-support-the-drones-operations-of-afghan-forces-04593/
-----
Europe
BRITISH ISLAMIC MEDICAL ASSOCIATION OFFERS FREE TRAINING FOR ALL FOR ALL MEDICAL STUDENTS JOINING THE FRONTLINE
1 April 2020
This week, the British Islamic Medical Association (BIMA) has announced a free webinar for all final year medical students that are being recruited to work in the NHS amidst the COVID-19 pandemic. Medical students are being called upon to practice, which can feel difficult and overwhelming. To play its part in the national effort during this unprecedented emergency, BIMA, an affiliate of the MCB, is offering its services and guidance to all who need, not just its members.
Support in the form of a webinar will cover practical and clinical guidance, including dealing with emergencies and ward rounds, but also spiritual and self-care advice relating to sick leave, prayer and much more. This support is being offered to all final year medical students, regardless of membership, faith or background in order to best support those working to help others in need.
"Now more than ever, medical and Muslim communities need to come together and support each in any way that we can. BIMA has a long history of supporting Muslims in healthcare professions, but in this crisis, we wish to support all medics in any way we can.
"Being called to the frontline in such unpredictable and trying circumstances is a difficult position for any one person to be in, and it takes an immense physical, emotional, and spiritual toll.
"Those we are working tirelessly to ensure the health and safety of our communities and our loved ones deserve the utmost respect and support, and we hope that we are able to provide guidance to our newest colleagues."
"In these testing times, we must all pitch in to support the national effort in combating the Coronavirus and keeping our communities safe. BIMA have a long history of supporting Muslim healthcare workers, and this initiative to support all new healthcare workers – regardless of faith – is one that I am sure will be appreciated by many for years to come.
"We have seen an outpouring of community initiatives, from raising funds for personal protective equipment, opening mosque doors to make space for hospitals, and donating food to NHS workers. It is the responsibility of each and every one of us to do whatever we can to support others, and it is collective efforts like these which will help Britain overcome this crisis."
https://mcb.org.uk/community/british-islamic-medical-association-offers-free-training-for-all-for-all-medical-students-joining-the-frontline/
-----
The Majority of Sexual Offenders Are White Men – There Is No Muslim Problem with Sexual Grooming
Faima Bakar
2 Apr 202
Our series The State of Racism has been running over the past six weeks to illuminate just how prevalent racism is in the UK. We've also been highlighting the unique dilemmas faced by certain groups, from black mums, to South Asian Muslims. But every time I have written about Muslims, I have received one recurring comment, on my Facebook, Twitter, emails and in the article comments – 'what about the grooming gangs?'.
Why is this bought up every time I mention an obstacle faced by Muslims? Do the crimes of a few speak for all Muslims?
Everyone has fallen for Lunchbox – the 24lb cat who wants to be a Cadbury bunny Obviously not, but it seems this constant bleating about 'Muslim grooming gangs' is specifically being used to shut down important discussions about islamophobia. And while it's difficult to measure the ethnicity of sexual offenders, there is clear evidence in many reports that the majority have been white men, not Asian Muslims. Almost 85 per cent of offenders found guilty of sexual activity with a minor in England and Wales in 2011 were white while four per cent were Asian. Some have reported even higher figures, claiming that the number for white male offenders is 90 per cent. To say it's an intrinsically Muslim problem is a lazy, transparent tactic – and the inaccuracies behind these claims need to be dismantled in order to move the conversation on. Grooming gangs are only depicted to be an Asian or 'Muslim' problem because of a few high-profile cases and the media's penchant to overreport certain types of stories.
The reasons people seem to be so consistently hung up on this issue is twofold; first because it reinforces already-held racist stereotypes of Muslim men as threatening and regressive. And secondly, because the most oft-cited cases of sexual grooming involve white, working-class girls and women. Stop bringing up 'Muslim' grooming gangs when discussions of islamophobia rise (Picture: Ella Byworth for Metro.co.uk) In the sexual exploitation cases of Rochdale and Rotherham in Yorskhire, there was extraordinary neglect against the, mostly white, victims aged 12-16. How they were treated was largely due to classism and misogyny. The girls were from working-class backgrounds, which is often thought to signify laziness or fecklessness. And they suffered misogyny – thought to be 'available' – a kind of oppression assigned to anyone who looks like a girl or woman and wears anything 'suggestive'.
Consider this – had the victims also been of Asian and/or Muslim descent, would the uproar be the same? There are actually Muslim victims of sexual exploitation but they're often missed because of the focus on white victims. We can also ask: if the perpetrators were also white – would their race be mentioned? In this case, one of the most reported aspects was the commonality of the gangs – in terms of their ethnic and religious background.
The fact that whiteness so often goes unchecked and becomes an invisible default is one of the reasons we launched The State of Racism. Granted, sexual abuse should always be taken seriously. But there is only one thing in common with sexual predators – the crimes they've committed. But their background is oft mentioned because there's an appetite to be fed about how backward Muslims are. We see the same thing happen in cases of terrorism where attacks by Muslims receive 357 per cent more press attention then when white people do it. These grooming gang cases are complex and there are racial elements to it – the perpetrators saw the girls as 'easy meat' because they were white and thought to be sexually loose. This is, unquestionably, appalling and discriminatory behaviour from these Asian men.
https://metro.co.uk/2020/04/02/majority-sexual-offenders-white-men-no-muslim-problem-sexual-grooming-12451053/?ITO=squid&ito=newsnow-feed
------
Blackburn mosque's digital plan to support residents
By Joe Harrigan
5 hrs ago
The volunteer committee at Masjid Norul Islam, on Audley Range, are using Whatsapp, Google Hangouts, Facebook and other online tools to get their message across to local communities.
Committee member Yusaf Patel, who runs local web design company YP solutions, has been at the forefront of the mosque's digital strategy.
He said: "We started it off a few weeks ago when things came into perspective and we realised it was going to become serious.
"As a committee as a whole we decided we'd set up a scheme to help the community so from there we created a Whatsapp group and people then forwarded it onto other groups and before you know it we had 250 members."
This digital strategy has also been key to coordinating relief measures across the Audley Range and Queens Park areas where the committee aims to provide support to any residents who are in need.
Mr Patel said: "We thought to ourselves, how are we going to get the word out? So we used a Google Hangouts to organise ourselves and we've now got 12 in the team talking to each other and making sure everything gets done."
The committee's efforts are supported by 60 active volunteers and by help from local businesses including SDP Media which supplies high-vis jackets and Audley Range based PTA Foods which has supplied food at reduced prices..
Mr Patel said: "You'll see people who are struggling to get medical advice because English isn't their first language so we'll be there to help them out."
He added: "When we're experiencing a few more weeks of lockdown people, especially elderly people, will struggle with loneliness, anxiety and depression so we've got people on hand who can help with that."
https://www.lancashiretelegraph.co.uk/news/18352320.blackburn-mosques-digital-plan-support-residents/
-----
Birmingham mosques expand funeral service facilities
1 April 2020
Green Lane Masjid has installed an additional cold storage facility and said it aims to be able to store 100 bodies.
Mr Khan, from the Green Lane mosque in Small Heath, said about 40 volunteers were based there, with dozens more on stand by, and safety standards were "the gold standard of what's required".
PPE had been donated and there had been health and safety training, with the "need to mitigate risks" over Covid-19, related to those driving two private ambulances and two hearses.
He said: "All drivers wear full hazmat suits... They all wear masks, gloves, shoe covers... We've spent a long time working on the health and safety side.
Accepted norms, including being with family members, washing them, shrouding them and putting them in a casket, had currently been "stripped away", he said.
He added: "This is the most important thing [volunteers have] ever had to do, to ensure loved ones are buried with the honour and dignity they deserve."
https://www.bbc.com/news/uk-england-birmingham-52127765
-----
British Muslims advised to delay bookings for Hajj pilgrimage
April 01 2020
By Luke Powell
British Muslims planning to take part in the Hajj pilgrimage are being advised to delay their bookings due to the Covid-19 pandemic.
The Muslim Council of Britain (MCB) said pilgrims hoping to travel to the holy cities of Mecca and Medina in Saudi Arabia should "wait and see" how the situation develops.
About two million people from across the world were expected to undertake the pilgrimage, which begins in late July.
In these unprecedented times, it is imperative that public health is put firstHarun Khan, Muslim Council of Britain secretary general
The MCB's statement comes after a Saudi official said people should "hold on to signing any agreements" to travel to the kingdom.
Harun Khan, the MCB's secretary general, said: "Going for Hajj is one of the biggest events in a Muslim's life, and there is no doubt that many will have been making plans to go this year.
"In these unprecedented times, it is imperative that public health is put first, and with millions of people from across the world coming to one place to perform the pilgrimage in close proximity to one another, it is sensible that we exercise a degree of caution and wait and see what the situation is closer to the time."
Mr Khan urged UK-based Hajj tour operators to reassure existing customers that their bookings are financially protected by the Civil Aviation Authority's Atol scheme.
It has since imposed a night-time curfew across the country and suspended all inbound and outbound flights as it grapples with more than 1,500 confirmed coronavirus cases.
On Tuesday, the kingdom's Hajj minister, Muhammad Saleh bin Taher Banten, told state television: "The kingdom of Saudi Arabia is prepared to secure the safety of all Muslims and nationals.
"That's why we have requested from all Muslims around the world to hold on to signing any agreements until we have a clear vision."
https://www.belfasttelegraph.co.uk/news/uk/british-muslims-advised-to-delay-bookings-for-hajj-pilgrimage-39094943.html
------
Muslims advised to delay Hajj bookings
By Tim Quantrill
1st April,2020
The Muslim Council of Britain (MCB) said pilgrims hoping to travel to the holy cities of Mecca and Medina in Saudi Arabia should "wait and see" how the situation develops.
The MCB's statement comes after a Saudi official said people should "hold on to signing any agreements" to travel to the kingdom.
Harun Khan, the MCB's secretary general, said: "Going for Hajj is one of the biggest events in a Muslim's life, and there is no doubt that many will have been making plans to go this year.
"In these unprecedented times, it is imperative that public health is put first, and with millions of people from across the world coming to one place to perform the pilgrimage in close proximity to one another, it is sensible that we exercise a degree of caution and wait and see what the situation is closer to the time."
Mr Khan urged UK-based Hajj tour operators to reassure existing customers that their bookings are financially protected by the Civil Aviation Authority's Atol scheme.
It has since imposed a night-time curfew across the country and suspended all inbound and outbound flights as it grapples with more than 1,500 confirmed coronavirus cases.
On Tuesday, the kingdom's Hajj minister, Muhammad Saleh bin Taher Banten, told state television: "The kingdom of Saudi Arabia is prepared to secure the safety of all Muslims and nationals.
"That's why we have requested from all Muslims around the world to hold on to signing any agreements until we have a clear vision."
https://www.thetelegraphandargus.co.uk/news/18351206.muslims-advised-delay-hajj-bookings/
------
'We need your help' - Muslim charity feeding NHS workers and elderly running out of stock
1 APR 2020
ByRakeem Hyatt
A Muslim charity which distributes food to the elderly, vulnerable and NHS workers has made an urgent appeal after fearing it will run out of much needed food.
The group has been taking food donations from generous members of the public, as well as cash donations to buy even more stock.
Even with 285 volunteers, the faith-based organisation has recently been finding it hard to maintain a steady flow of supplies.
"We are a faith-based organisation. Looking after the vulnerable members of your community is the best thing to do," says Tabraz Khan, 38, head of support services.
The organisation has put call-outs on social media for help. It is aiming to rally up more support to sustain its current outreach.
"Some stuff is being donated and some stuff we're purchasing off the money we've been donated. A quarter has been donated as normal. "
In the next few days the As-Suffa Institute is planning on running a listening service, a HR service and a legal service.
The listening service will offer the opportunity for any members of the public to talk about their concerns and pressures during the growing Coronavirus pandemic.
"We used to have a domestic violence service running for the past two years, but this general service is new," says Tabraz.
"If you're isolating, food is often a worry, especially if you're elderly and vulnerable. But at the same time that can have a negative mental health impact."
The As-Suffa Institute believes it is helping to become a vital source of help for those vulnerable and self-isolating who need access to food nearby their own homes.
The organisation has been flooded with messages on social media, calls, and even voicenotes from those who have witnessed others being helped.
https://www.birminghammail.co.uk/news/midlands-news/we-need-your-help-muslim-18014138
-----
Muslim charities working together to respond to coronavirus crisis
25 mins ago
The Campaign for National Solidarity includes an emergency fundraising appeal is being launched to assist in the delivery of a nationwide response to the COVID-19 emergency, in order to serve the vital needs of communities across the UK who have been affected.
This includes providing grants for those facing financial strife during this period, as well as supporting local organisations requiring greater resources to provide an effective response.
The funds raised will go towards helping families and individuals facing significant financial hardship as well as giving community organisations the help they need to provide essentials to their community.
This collective response aims to pool the resources, skills and expertise of leading British Muslim charities, ensuring we can effectively and efficiently reach and provide support where needed.
Fadi Itani, CEO of Muslim Charities Forum said, "We are facing an unprecedented crisis, and there has never been a more urgent time to work together for the betterment of all those in the UK facing difficulties and increased risk during this emergency. Before this is over, millions of people across the UK are wondering where they will find the money to pay their rent, their bills, and purchase the essentials for themselves and their families.
"Despite announcements by the government there is still a great immediate need amongst the British population. Through working together, we can overcome this current crisis and ensure all communities are supported throughout the coming weeks and months."
https://www.asianimage.co.uk/news/18352873.muslim-charities-working-together-respond-coronavirus-crisis/
-----
North America
With Passover, Easter, And Ramadan Approaching, Washingtonians Will Be Keeping The Faith Creatively
APR 1,2020
Passover, which begins next Wednesday night, was supposed to be an especially big holiday for Eliana Golding and Yael Shafritz. The couple have been together for three and a half years, but their parents haven't met in person, because Shafritz's parents live in London and Golding's parents are in Massachusetts. The couple planned to host the entire clan at their house for the Jewish holiday in the 16th Street Heights neighborhood.
"But then, the UK went into lockdown and Yael's family's flights got cancelled," says Golding. "And my dad works at a hospital. He's a doctor." They are bummed out, but the two of them are going to prepare their own (vegetarian) Seder and Zoom with both sets of parents. Just maybe not at the same time. "The time difference makes it a bit tricky," Golding says.
Across the city, Reverend Amanda Hendler-Voss is also dealing with best-laid plans being pushed aside due to the spread of the coronavirus pandemic. Just over two weeks ago, Hendler-Voss began her new position as the designated senior minister at First Congregational United Church of Christ on G and 10th Streets in NW. But by then, the region and the world were already in the midst of rapid-fire restrictions, escalating guidelines, and social distancing measures.
"I have not even had a chance to meet the congregation in person," she says. Over the last two Sundays, she's been preaching and conducting services to an empty sanctuary while broadcasting to congregates' homes via Zoom. For Easter, the plan is for her to broadcast from her Prince William County home where she lives with her husband and two sons.
It's been a learning curve that Hendler-Voss certainly didn't expect. "We are figuring out these technologies … that they don't teach you in theological school," she says.
Twenty five miles west in Sterling, Va., Hurunnessa Fariad wants this year's Ramadan and Eid al-Fitr to be like any other for her four daughters when it begins later this month. Fariad is the outreach director at Sterling's ADAMS Center, the second-largest mosque in the US. She says while there are somber aspects to the holiday, this year she's going to concentrate on making it joyous for her family. That means more cooking, playing games, gift-giving, and dresses.
"Every year, we buy new clothes for Ramadan," says Fariad. "This year, I'm still going to try to do that. Whatever we can do, we will do. I want to make life as normal as possible."
As the novel coronavirus continues its gradual and deadly spread, similar scenes are unfolding throughout the country and region as three of the world's major religions prepare to celebrate some of their most important holidays. Passover, commemorating the Jewish people's exodus from Egypt, begins on the evening of April 8 and continues for eight days. Easter, marking Jesus Christ's resurrection from the dead, is on April 12 this year. Ramadan, which lasts a whole month, is a holiday of self and spiritual reflection with sunrise-to-sunset fasting. It begins in the evening of April 23 and concludes with Eid al-Fitr, a celebratory feast, on May 24.
Normally, the season would be marked by family meals, religious services, and joyous gatherings. But not this year. With stay-at-home orders in place and social distancing guidelines heeded, it's requiring religious leaders, clergy, and everyone who is looking to practice their own faith rituals to adjust in a major way. In their efforts, the region's religious leaders are finding hope, gratitude, and innovation.
The National Cathedral, for example, is using newly installed technology to bring Easter services home. The cathedral expects that more than 50,000 people will attend Easter Services virtually, about 10 times as many as those who typically attend in person.
"We invested in quite a bit of money last year upgrading our video capabilities, so now we have this wonderful system of 10 cameras that one person can run," Dean Randy Hollerith tells DCist. "[I] never imagined it would serve in this sort of situation. It's a little bit of God's grace that we have it."
The current plan is for Easter week to have "a skeleton crew of clergy and musicians" in the sanctuary conducting the service, in accordance with the local regulations banning gatherings of 10 or more people. Then, with the tech set-up, they will broadcast it via YouTube, Facebook, and the cathedral's website to viewers watching at home with their families.
Of course, plans and circumstances can change rapidly, as has happened over the last month. Dean Hollerith says the National Cathedral has had discussions on making Easter services work even if no one can be in the sanctuary. "If the situation changes, we'll do something from home. We are adapting on a daily basis just like everyone else."
Though Passover is celebrated in the home, not in a synagogue, Washington Hebrew Congregation near McLean Gardens is working on resources to assist those who might want some help for the holiday. Senior Rabbi M. Bruce Lustig says that he and his colleagues have been hustling to put together a "virtual Seder guide" with spiritual guidance and music with the hope that will make people feel more connected to the community even if they can't be physically together.
"We ask the question [on Passover] 'Ma nishtana halailah hazeh'—why is this night different than any other night?" Lustig says. "Well, this Seder is going to be different than any other we've experienced."
With Governor Northam's stay-at-home orders in effect until June 10, the ADAMS Center will be closed for the entirety of Ramadan. There were to be prayer services throughout the holiday and a nightly free meal that attracted hundreds of people in years past.
While many prayers can be performed at home, Fariad says, there are several that do ask for a congregation and being in-person at the mosque. Some in the community thought the mosque should stay open, but Fariad says that it's important that it remains closed.
"Our faith teaches us that when lives are at stake, that takes precedent over the mosque," she says. Instead, sermons are being posted on the center's site every day and clergy are asking everyone to follow the stay-at-home orders. "The mosque doesn't make Ramadan," says Fariad. "[The holiday] will come regardless."
Hendler-Voss says whenever everyone is able to gather again, First UCC is going to throw a big celebration with the brass band that was originally scheduled to play on Easter Sunday. They want to call it "Resurrection Sunday."
Fariad says that while she's disappointed that no one can partake in the festive, often crowded evening meals that are typical during Ramadan, she knows this is a chance to more fully understand the nature of the holiday season. "This is bringing families together," he says. "That's the essence of Ramadan and Eid."
Similarly, Lustig of Washington Hebrew Congregation sees similarities between the message of Passover and what we are experiencing today.
"There's a better tomorrow and a new horizon. We've traveled through deserts before and made it to the promised land," says Lustig, "Imagine what the world will be like if our concern coming out of this … is that we have greater empathy and greater compassion for other human beings?
https://dcist.com/story/20/04/01/with-passover-easter-and-ramadan-approaching-washingtonians-will-be-keeping-the-faith-creatively/
------
Grassroots Muslim Volunteer Effort Delivers Food to Metro Detroiters Doorsteps
by Laura Herberg
April 1, 2020
Samuel Albaugh just picked up two boxes of chicken sandwiches and snacks from a meal pick-up site, to deliver it to a family with five children.
Albaugh has never met the family. He's helping them out because he signed up to be a volunteer for the Michigan Muslim Community Grocery Service, a grassroots project started by Riyah Basha and Sumaiya Ahmed Sheikh.
"I just started a new job and we're not able to work. A lot of good things were happening and then it kind of just stopped with the virus." — Amy Stewart, resident
"And I honestly started with just posting a Facebook status to see what was going on in the community," Sheikh says. "Very quickly, Riyah reached out and said, 'Hey, I think it would be really great to start something locally in the Troy and Rochester area at our local mosque.'"
While the project is called the Michigan Muslim Community Grocery Service, the volunteers and community members served come from a variety of faith, beliefs and backgrounds. Sheikh says in just their first week and a half of operation more than 300 volunteers signed up to be a part of the project and 40 people have received food.
Here's how it works: Anyone in the metro Detroit area who would like food delivered to their doorstep can call the Michigan Muslim Community Grocery Service hotline at (734) 210-0316.
If the client needs groceries, they can pay online or by leaving a cash envelope on their doorstep. If they can't pay there is a fund from people who've donated since the project launched. Either way there's no delivery fee.
Once an order is in, it's sent to a group on the popular messaging service What's App, where volunteers like Albaugh see it (more information on volunteering here.)
Albaugh says he decided to help out with the Michigan Muslim Community Grocery Service because he's young and healthy and can't go into the Detroit museum where he works because it's closed right now.
"I'm still fortunate enough to be able to get paid at my job. There's not much I can do at home. So, in order to get that paycheck guilt-free, I still need to put in a nine-to five-effort wherever I can."
Albaugh pulls up to the Detroit home where he'll be dropping off the chicken sandwiches. To limit the spread of the virus, he's just supposed to leave the food on the doorstep and then call the family, but there are kids out in the front yard playing with a cat.
"I just started a new job and we're not able to work. A lot of good things were happening and then it kind of just stopped with the virus going on."
"I don't have the means to get out and go, and I have all the kids with me, so it's not exactly the best time to be running out with all your children," she says. That's why Stewart is grateful for the doorstep food service. "It's just a blessing. It's very helpful and I'm so appreciative for it."
"To be Muslim, you have to serve those that need the help. And I know that's not [just] a Muslim thing… it's a Jewish thing, it's a Christian thing, it's being a human thing," she says. "It's really nice that we all, regardless of race or background, can get together and help all Michiganders that need the help."
https://wdet.org/posts/2020/04/01/89431-grassroots-muslim-volunteer-effort-delivers-food-to-metro-detroiters-doorsteps/
------
Getting An Accurate Census Count Is Vital. First, Muslim Americans Need To Trust It's Safe.
01/04/2020
By Rowaida Abdelaziz
Like many Muslim Americans, Hidaya Assaf, a 27-year-old mother of two, was initially skeptical of the census. She's Palestinian American, and many of her friends on Facebook were discussing whether it was worth filling out the 2020 survey. She could understand their reasons for concern.
"We think, OK, why do they want to know so much about us? Do they just want to spy on us or do they just want to see if we're terrorists?" Assaf told HuffPost.
Assaf did some digging online, though, and learned more about the census survey ― how it's conducted to get an accurate count of the population, why it's important for allocating government resources and how vital it is for determining congressional maps so communities can be properly represented. She felt reassured. So she went ahead and filled out the survey.
Families across the country started receiving invitations in March to respond to the census either by phone or (for the first time ever) online and will continue to do so as the country marks Census Day on April 1.
Many people are making the same calculations Assaf did. Populations that have historically been profiled or targeted by the government are understandably wary of turning over information to the government. That could be doubly true this year, given President Donald Trump's failed push to get a citizenship question added to the census and his administration's targeting of immigrant and Muslim communities.
Plus, there's a new challenge: The outbreak of the coronavirus pandemic delayed efforts to reach out to marginalized communities, which could make it even tougher to get an accurate count of minority populations. But given the importance of the census, experts are urging all people to fill out their surveys and hoping that if they learn more, they'll follow through.
By law, a respondent's personal information from the census cannot be used against them by any government agency or in court. But advocates are still up against fear and concern.
"There is a lot of mythology and confusion around what the census actually collects data-wise, and what the government does with that data," said Basem Hassan, the strategy director focused on engaging people of Middle Eastern and North African (MENA) heritage in the 2020 census campaign.
"So, combine all of these together in a pot and mix it around and that was our challenge. To educate the community and then to motivate them to participate."
Since the creation of the census in 1970, minority populations have often been undercounted, which means the places where they live wind up with fewer resources. This year, Muslims from Middle Eastern, South Asian and Black communities were already hesitant in participating in the census because of fear their information would be used to target them for deportations, kick them out of their housing or place them on or a special registry, which then-candidate Donald Trump once floated. Some immigrants from countries with authoritarian governments are particularly dubious that the U.S. won't use their info for ill.
While the U.S. Census Bureau is bound by law to protect private information, it's not unreasonable that Muslim Americans would be concerned. In 2011, the New York City Police Department used census data to place undercover informants in predominately Muslim communities under a controversial and condemned surveillance program that tracked Muslim worshippers, students and business owners.
Under the Trump administration, any remaining trust in the government was demolished amid the president's rhetoric against Muslims and minorities and the institution of the anti-Muslim travel ban.
28-year-old Haylee Goranson, a Muslim American resident of Sarasota, Florida, said that while the census is for the public good, she fears that it would be too easy for Trump to mishandle it for political purposes.
Beyond the question of whether to answer the survey at all, many Muslims and Middle Easterners who are not Muslim may struggle with a specific question: What to list as their race. Approximately 3 million people of Southwest Asian, Middle Eastern or North African descent live in the United States, according to a Los Angeles Times analysis of U.S. Census Bureau data. But for decades, Middle Eastern and North African communities have been defined as "white" in the survey.
That categorization, which has been in place since the census was created, erases Middle Easterners and North Africans and their unique challenges as a minority group, according to critics. It also contributes to the lack of funds allocated to programs and services catering to Middle Eastern and North African groups.
Everyone needs to be counted regardless of citizenship status, regardless of age and regardless of whether you trust the current administration or not, because it goes well beyond that and it really impacts how and to what extent the community is represented.
The Obama administration considered adding a Middle Eastern and North African category in the 2020 census, based on the Census Bureau's recommendation, but the Trump administration has rejected the idea, claiming more research is needed.
In 2018, the Arab American Institute initiated a lawsuit against the Office of Management and Budget ― which sets the standards for how the Census Bureau and other federal agencies collect race and ethnicity data ― for failing to disclose records relating to its decision not to include a Middle Eastern and North African category despite the Census Bureau's recommendations to do so.
The Arab American Institute also launched a YallaCountMeIn toolkit, a compilation of census-related resources and frequently asked questions in both Arabic and English to encourage Arab Americans to partake in the census.
"Adding a MENA category would make the data better and would make Arab - Americans and other Middle Eastern communities feel more included [and] represented on the census," said Ryan Suto, the policy counsel at AAI.
But for now, Suto said, "everyone needs to be counted regardless of citizenship status, regardless of age and regardless of whether you trust the current administration or not, because it goes well beyond that and it really impacts how and to what extent the community is represented."
The Census Bureau announced plans to reach out to communities, including in languages other than English, to get the most accurate count it can. The agency works with community partners and plans to spend more than $500 million in public education and outreach campaigns to reach "99 percent of all U.S. households," according to the bureau. It has released ads in 13 languages, including Arabic, Tagalog and Haitian Creole. The questionnaire can also be completed by phone in those same languages.
But many speakers of South Asian languages might not be reached. In 2010, the Census Bureau advertised in several languages including Hindi/English, Bangla and Urdu, but in 2020, the bureau dropped those options. Despite the fact there are over 5 million South Asians in the U.S., there has never been a translated form in any of the South Asian languages for any census. Asian Americans as a whole are the least likely group to fill out the census.
The Census Bureau's efforts alone aren't enough to make marginalized communities feel comfortable with the survey, said Howard Shih, the director of research and policy at the Asian American Federation, which is the only designated census information center for Asian communities in the Northeast.
"I feel that the bureau isn't necessarily the best messenger," said Shih. "I feel that if the message comes from the people that are involved from that community to other members of that community, that's the most effective way to get those hard-to-reach communities counted."
Of course, the coronavirus pandemic makes that tougher ― with so many people confined to their homes, it's difficult to ensure they can meet someone from their community or who speaks their language to assist with census questions.
There are other challenges to contend with as outreach efforts go digital, such as people who do not have access to a computer or the internet, or those who struggle to understand the online census form.
Still, with extended deadlines in place, advocates are hoping they are able to rally members of hard-to-count communities despite the onslaught of challenges. An inaccurate count would have profound effects on undercounted populations, including minorities, children and those living in poverty. The data from the 2020 census will determine where and how more than $1.5 trillion in federal funding will be spent.
In Virginia, Assaf realized the importance of the census triumphed her concerns. She checked off "white" on her census form. but wrote in "Palestinian" for herself and "Jordanian" for her husband and two kids. She hopes to have a MENA category in 2030.
Goranson, however, still has the mailer on her to-do list in her Florida home. She knows she'll do it eventually, but for now, she'll wait a bit longer, hoping to feel better about her decision to partake sooner rather than later.
https://www.huffingtonpost.in/entry/accurate-census-count-muslim-americans_n_5e83c6d9c5b6871702a6383b?ri18n=true
------
Islamic Waqf carries out Temple Mount digs, despite coronavirus lockdown
April 1, 2020
The Jerusalem Islamic Waqf on Tuesday uploaded pictures to its official Facebook page showing Waqf employees carrying out unauthorized digs on the Temple Mount.
"Despite the closure of the Al-Aqsa Mosque/Haram esh-Sharif [the Temple Mount] due to coronavirus, the staff, workers and guards of the Al-Aqsa Mosque are continuing their hard work," wrote the Jordanian-backed Waqf, which administers the Temple Mount.
The Arab Desk of the Zionist watchdog Im Tirtzu, which first reported the unauthorized dig, accused the Waqf of taking advantage of the nationwide lockdown due to the coronavirus pandemic to carry out illegal work at the site aimed at "destroying Jewish artifacts and history."
Students for the Temple Mount, a student-based organization promoting religious equality and freedom on the Temple Mount, also blasted the digs.
"The fact that the Waqf had the gall to publicly publish pictures of this illegal digging just emphasizes Israel's lack of sovereignty on the Temple Mount," said the organization.
Tom Nisani, head of Im Tirtzu's Arab Desk, said: "What is even more disturbing are the things that the Waqf doesn't make public. The time has come for Israel to once and for all assert its sovereignty over the Temple Mount. It's absurd that the Temple Mount—Judaism's holiest site—is the only place in the Western world where Jews can't pray."
Nisani added: "The longer the Temple Mount stays closed, the greater the chances are that the Waqf will destroy more Jewish history."
https://www.jns.org/islamic-waqf-carries-out-temple-mount-digs-despite-coronavirus-lockdown/
------
US believes Iran was 'directly involved' in killing of Iranian dissident in Turkey
April 02, 2020
WASHINGTON: The United States believes Iran's Ministry of Intelligence and Security was directly involved in the killing of an Iranian dissident last November in Turkey, a senior administration official told Reuters on Wednesday.
Masoud Molavi Vardanjani was shot dead on an Istanbul street on Nov. 14, 2019. Citing Turkish officials, Reuters last week reported that two intelligence officers in Iran's consulate in Istanbul had instigated his killing.
"Given Iran's history of targeted assassinations of Iranian dissidents and the methods used in Turkey, the United States government believes that Iran's Ministry of Intelligence and Security (MOIS) was directly involved in Vardanjani's killing," a senior administration official told Reuters.
The United States had not previously disclosed its assessment on who might have been behind the incident.
A week after the killing, US Secretary of State Mike Pompeo had described it as "another tragic example in a long string of suspected Iran-backed assassination attempts" of Iranian dissidents. He had not elaborated further.
Late on Wednesday, Pompeo in a tweet said he found disturbing the reports that Iranian diplomats were involved in the killing of the dissident, but that they were "fully consistent" with their assignments.
"Iran's 'diplomats' are agents of terror and have conducted multiple assassinations and bomb plots in Europe over the past decade," Pompeo said.
A police report by the Turkish authorities into the killing, published two weeks ago, said Vardanjani had an "unusual profile." It said he had worked in cybersecurity at Iran's Defense Ministry and had become a vocal critic of the Iranian authorities.
Turkish authorities did not publicly accuse the Iranian government of involvement at the time, but the Turkish officials last week told Reuters that Ankara would now raise Vardanjani's killing with Iran.
The US assessment comes amid its "maximum pressure" campaign against Tehran, through which President Donald Trump aims to force Iran to limit its missile program and curb its use of proxy forces in Iraq, Yemen and Lebanon.
Tensions between Washington and Tehran have remained high since Trump in 2018 unilaterally pulled out of a 2015 nuclear deal to limit Iran's nuclear program.
In recent weeks, the United States has repeatedly tightened sanctions on Iran, despite calls from Iranian authorities, the United Nations and China asking it to ease them as the Islamic Republic became the hardest-hit nation in the Middle East by the coronavirus pandemic.
https://www.arabnews.com/node/1651536/middle-east
------
Africa
Coronavirus: Fighting al-Shabab propaganda in Somalia
2 April 2020
The al-Qaeda-linked al-Shabab group has warned Muslims to beware of infectious diseases such as coronavirus, which it says are spread "by the crusader forces who have invaded the country and the disbelieving countries that support them".
Although there have only been a handful of confirmed cases of coronavirus in Somalia so far, the authorities are deeply worried that if the disease takes hold they will be unable to cope.
About 30 years of conflict have devastated health facilities. Hundreds of thousands of displaced people are crowded into camps, with limited access to soap and water, and no way of practising social distancing.
The message from al-Shabab only adds to the government's concerns, especially as it could oppose medical help from international aid agencies just as it resisted most food aid during the 2010-2012 famine, when more than 250,000 people were estimated to have died.
Koranic schools - known as madrassas, which nearly every child in Somalia attends - have been closed to help stop the spread of the virus.
The ministries of religious affairs, health and information have been working with Muslim leaders to transform teachers and mosque Imams into what has been dubbed as an "anti-corona army".
"They will stand with loudspeakers at every crossroads, every gathering place, to spread the word on how to prevent the spread of Covid-19," says Koshin Abdi Hashi, deputy co-ordinator for the prevention and countering of violent extremism in the office of the prime minister.
Mohamed Ali Ibrahim, a university professor and senior adviser in the ministry of religious affairs, says the messages will include religious elements.
"We will talk about hand-washing and social distancing, but also speak of how Islam encourages cleanliness, including ablutions before prayers, and how there were dangerous diseases at the time of the Prophet Muhammad."
The "anti-corona army" will monitor people, making sure they wash their hands thoroughly and regularly with soap and water, and maintain a safe distance from one another.
Hand-washing facilities have been set up in some of the camps, but as Mr Hashi says: "Social distancing is an abstract issue."
Osman Aden Dubow, deputy minister of religious affairs, says: "We have to use the sheikhs [religious leaders] and koranic teachers to fight this disease as they are the most respected community in Somalia.
Now that it has taken hold in the US, some say Americans are being punished because they oppress Muslims. Others simply believe that if one is a good Muslim, one cannot catch the disease.
Somalia's most senior sheikh, Ali Dheere, is adamant that the involvement of the religious community will help bust myths and encourage Somalis to do the right thing.
They have been encouraged to pray at home and either not attend burials or to maintain social distance during the funeral service.
"In Islam, anything that causes harm is not permissible. Prayers have even been suspended at the holy mosques in Mecca and Medina," Sheikh Dheere notes.
"If a person dies from coronavirus and it is not safe to wash the body, our religion allows someone to be buried without being washed," he adds.
They could step up their campaign to blame "infidel" foreign lands for bringing the virus to Somalia, as those initially infected with Covid-19 came from abroad.
However, some believe al-Shabab might lose support if coronavirus takes hold in the regions it controls, as it has even more basic health facilities than those in many government-controlled areas.
The warring parties in Yemen have agreed to stop fighting; separatists in mainly English-speaking Cameroon have declared a temporary ceasefire.
But diplomats doubt that al-Shabab will lay down its arms, as the group has continued to carry out attacks since the World Health Organization (WHO) declared coronavirus a global pandemic.
Low-level discussions have previously taken place during humanitarian crises to enable the delivery of some food aid and other assistance.
Optimists believe similar talks to help contain the spread of the virus could take place, and develop into more substantial negotiations, perhaps eventually leading to compromise and an end to the long years of conflict.
https://www.bbc.com/news/world-africa-52103799
------
Southeast Asia
Maybank Islamic's new Dubai branch sets out to attract Gulf investors to Southeast Asia
02 APR 2020
KUALA LUMPUR - Maybank Islamic's move into branch banking in the Middle East aims to give investors there a first taste of investment in the ten member countries of the Association of Southeast Asian Nations (ASEAN).
The Malaysian bank opened its first overseas branch at Dubai International Financial Centre (DIFC) in February with a portfolio of services including wholesale banking, sukuk, syndicated financing and trade finance.
"In a normal market situation, not what we are seeing at the moment, some people in the Gulf are looking to diversify their investor base," country manager Nik Joharris Nik Ahmad told Salaam Gateway.
"They have been enjoying the European and American markets, but market strength has been shifting to Asia, starting with Greater China. We are trying to open them up to ASEAN and other markets where Maybank Group is very strong."
This will take some effort, though. Most investors in the Gulf Cooperation Council (GCC) are not familiar with the different risks investments in ASEAN.
"We have assets over here that we want to show to them, but the problem is we don't know exactly how much appetite GCC investors have for the ASEAN region. What we know is we have to keep showing them more opportunities until they find something they want to buy into," Nik Joharris added.
Credit terms for some of the Maybank Group assets being sold to Gulf investors through the Dubai branch are "probably better than the credit they have seen before".
"That's what we are trying to sell to GCC investors. Now it is more of an education for us about their risk appetite. They haven't done a lot in ASEAN before," said Nik Joharris.
Maybank Islamic deputy chief executive Nor Shahrizan Sulaiman told Salaam Gateway that the new Dubai branch will serve as a the bank's "gateway" not just to the UAE but to the wider GCC.
It will provide Maybank Islamic's base of operations in the Middle East while the bank pursues further growth in Singapore and Indonesia, which it sees as "home markets" outside of Malaysia.
"The international business expansion is not new, as it has always been one of the focus areas of Maybank Islamic from early on," said Nor Shahrizan, who is in charge of Maybank Islamic's overseas strategy.
The strategy intensified further in 2016 when Maybank announced its ambition to become "global leader in Islamic finance by 2020" through a strategy centred partly on growing its global presence.
"In Singapore, we have been quite successful in promoting Islamic finance and will continue to offer both retail and wholesale Shariah-based solutions to our customers, with greater emphasis being given to trade finance and wealth management solutions this year."
In addition to intensifying business in these new markets, the bank will also continue to pursue opportunities in other non-core markets where it does not have a physical presence.
It is too early to reveal Maybank Islamic's plans for the Middle East, though the first target will be success for its new Dubai branch.
"We want to establish a firm foothold first before we use this outlet to move beyond, to the Middle East, Africa and CIS countries for that matter. Everybody is talking about it but we want to be a bit realistic in making sure that the branch works first over here," said Nik Joharris.
Unknown to Maybank beforehand, the timing of the branch opening has proven to be dreadful, just weeks before the onset of the COVID-19 outbreak in Dubai, which has seen curfews imposed across the city.
"It's definitely been a setback for us, and for everybody for that matter. From the borrower's side, they are not willing to pay more. On the lender's side, we are not willing to lend at a rate that was in place just two weeks ago. As long as we can't find a middle ground, nobody is lending, nobody is borrowing."
Once the crisis dies down bankers like Nik Joharris will hope the market returns to something approaching how it was just a few weeks ago. On the measure of back then, it was highly competitive, especially surrounding sukuk.
"A lot has changed in the Middle East since I first arrived there in 2007. Everybody is looking at doing sukuk currently, so bidding is very fierce," he said.
Maybank Islamic was granted a full Islamic banking licence from the Dubai Financial Services Authority last July, allowing it to open the DIFC branch. It replaces Maybank Islamic's office in Bahrain, which has closed down.
https://www.salaamgateway.com/story/maybank-islamics-new-dubai-branch-sets-out-to-attract-gulf-investors-to-southeast-asia
------
Malaysia debates whether to hold Ramadan bazaars amid Covid-19 threat
10 HOURS AGO
KUALA LUMPUR • Malaysia's medical experts are against the government allowing the popular Ramadan bazaars to be held this year, fearing a spike in new coronavirus cases, even as officials seem torn over the issue.
The annual bazaars feature makeshift stalls selling freshly cooked food that are set up on roads and open-air carparks all over the country, packed with hungry Muslims looking to break their day-long fast.
The Muslim fasting month starts on April 23 this year, nine days after the last day of Malaysia's movement control order on April 14.
Singapore, too, has announced that its Ramadan bazaars - usually held in Geylang Serai and in the void decks of Housing Board blocks in many places - will not be held this year.
Malaysia yesterday announced 142 new confirmed cases, bringing the total to 2,908 - the highest in South-east Asia. It also recorded two more deaths, reaching a total of 45.
The federal Malaysian government seems to be torn over the bazaars, which are popular among the Malay-Muslim majority. Also, tens of thousands of traders across the country's 13 states and three Federal Territories (Kuala Lumpur, Putrajaya and Labuan) depend on the makeshift stalls to make big bucks for one month.
Federal Territories Minister Annuar Musa yesterday indicated that the bazaars might be modified, and the human traffic managed, to prevent congestion.
"We have to do away with the old ways of large crowds in compact spaces," he said, as quoted in The Star newspaper. "For example, the local authorities can look into reducing the number of bazaars and designate special areas as bazaar locations. Traders can pre-pack food to ensure there is less human contact."
The Health Ministry's director-general, Dr Noor Hisham Abdullah, said proper crowd-control measures would be required if the bazaars were to proceed.
"AMM strongly disagrees with any plan to hold Ramadan bazaars this year, given the ongoing threat of Covid-19," said Professor Rosmawati Mohamed in a statement yesterday that was signed by all 11 AMM colleges, as cited by The Star.
The academy is a registered body representing all medical specialists in Malaysia, with 11 colleges focusing on various medical specialities.
"Close contact will inevitably occur in parking areas, en-route and between customers and vendors," Prof Rosmawati said. "The premature easing of social distancing may potentially lead to a third wave of infections."
https://www.straitstimes.com/asia/se-asia/malaysia-debates-whether-to-hold-ramadan-bazaars-amid-covid-19-threat
-----
Yala struggles to enforce ban on Friday prayer at mosques
1 APR 2020
Yala authorities are hard-put trying to convince local Muslim leaders of the need to obey the Chularatchamontri's order suspending Friday prayers at all mosques, amid worries that mass gatherings spread the coronavirus disease.
Provincial governor Chaiyasit Panitpong has meanwhile called on residents to contact health personnel if they suspect people in their neighbourhood are infected with the virus.
Yala is the southern border province hit hardest by the pandemic. The Centre for Covid-19 Situation Administration on Wednesday reported the number of infections at 35, one more than neighbouring Pattani.
But the Provincial Public Health Office in Yala posted on Wednesday that there were 41 cases. Officials in Yala could not be reached for comment.
There have been 12 deaths nationwide attributed to Covid-19 -- and two of them occurred in Yala during a three-day span, between Sunday and Tuesday. Both victims had visited Kelantan state in northern Malaysia on separate occasions, and developed symptoms after returning to the province.
The Chularatchamontri on March 25 announced the suspension of Friday prayers at all mosques and advised all Muslims to instead pray at home, to help curb the spread of the virus.
Friday prayer at the local mosque is the most important prayer of the week for Muslims. Authorities are worried that large gatherings could worsen the spread of the disease. They have locked down Yala province since Sunday, when infections rose suddenly, telling people to stay in their homes.
The province has 514 mosques, both big and small, and they are in all districts. And 30 of them in Betong, Yaha, Bannang Sata and Than To districts defied the Chularatchamontri call and called the faithful to prayer at the local mosque last Friday. (continues below)
Security officials check all vehicles entering Yala after the lockdown ordered on Sunday. (Photo: Yala Public Relations Office)
Deputy provincial governor Nima Makaje called a meeting with Muslim leaders on Monday, asking that they cooperate.
A copy of the order has been posted outside each of the defiant mosques, he said, and warned that authorities will shut their doors this Friday, preventing people entering the mosques for prayer.
Rusdee Bako, the deputy chairman of the Provincial Islamic Committee in Yala, said that not all mosques had received the call from the religious leader to suspend Friday prayers. The provincial panel would again tell local leaders to suspend Friday prayers, he said.
https://www.bangkokpost.com/thailand/general/1891095/
-----
Arab world
Pakistan's Consul General In Jeddah Urges Pakistani Community To Follow Saudi Virus Safety Measures
April 02, 2020
RIYADH: Pakistan's consul general in Jeddah has urged the Pakistani community in western Saudi Arabia to abide by the "proactive and effective measures" brought in to combat the spread of the killer coronavirus disease (COVID-19).
In a message, Khalid Majid also praised key frontline medical and security workers for their brave efforts to protect the public and thanked the Saudi leadership for helping to fly home almost 40,000 Pakistani Umrah pilgrims from the Kingdom.
Conveying his best wishes to Pakistanis residing in the western region of the Kingdom, the diplomat said: "I would also like to extend my deep appreciation and complete support to the Saudi government's proactive and effective measures being undertaken to ensure the safety and protection of its citizens and residents against the COVID-19 threat.
"At the same time, our sincere gratitude also goes to the doctors and paramedics, personnel of law enforcement agencies and officials of all other relevant departments who are fighting on the frontline, at the risk of their own lives, to protect the public against this deadly threat."
Majid pointed out that the special preventive measures were necessitated by special circumstances. "I therefore advise and request the Pakistani community to strictly comply with these precautionary measures and to cooperate fully with the Saudi authorities to strengthen their hands in this regard."
The consul general noted the safe and timely return of a large number of Pakistani Umrah pilgrims from the Kingdom.
"At the beginning of the current situation, there were around 40,000 Pakistani Umrah pilgrims in the Kingdom. However, with the active cooperation and close support of the Saudi authorities, in particular the Ministry of Hajj and Umrah and the General Authority of Civil Aviation (GACA), almost all of these pilgrims have successfully been flown back to Pakistan through special flight operations of Saudi Arabian Airlines (Saudia) and Pakistan International Airlines."
The Consulate General of Pakistan is to scale down its routine consular services as part of efforts to slow the spread of the virus. However, cases requiring immediate attention would continue to be dealt with in the usual way.
https://www.arabnews.com/node/1651506/saudi-arabia
------
Saudi Arabia pumps 12m barrels of oil for the first time
April 02, 2020
FRANK KANE
DUBAI: Saudi Arabia pumped more than 12 million barrels of oil on Wednesday for the first time in its history.
The Kingdom has vowed to ramp up production as an oil "price war" shakes the global energy industry following the end of a supply agreement with other producers.
Officials at Saudi Aramco, the world's biggest oil company, and the Saudi Ministry of Energy, Industry and Mineral Resources told Arab News that crude output on the first day of April — when the OPEC+ agreement to limit supply lapsed — was more than 12 million barrels. Some reports put it at 12.3 million.
Aramco had pledged to increase its maximum sustainable capacity (MSC) — the level at which it can safely maintain long-term output — to 12.3 million in the coming months; that it has already hit this level is regarded as a measure of its operational efficiency and the Kingdom's determination to win the battle for market share.
The company released a short video showing laden oil tankers sailing away from Saudi ports. It said it had loaded 18.8 million barrels onto 15 tankers, which would have taken about three days.
Reliability goes beyond performance indicators. It is a culture that ensures a sustainable delivery of energy to the world. We are proud to have loaded 15 oil tankers with 18.8 million barrels.
Aramco's strategy of large output increases and significant discounts to customers — labeled a "shock and awe" play by energy experts — has transformed the oil industry. The price of crude oil plunged as demand for energy was hit by the coronavirus pandemic. Some producers, especially in the US where extraction costs are high, are facing financial disaster.
"If Saudi Arabia sustains this, it would be an unprecedented demonstration of their MSC," said Robin Mills, chief executive of the Qamar energy consultancy. "Assuming that it is production, and not just drawing down on storage, it's an impressively quick ramp-up."
It was also notable that production was unaffected by any lingering issues from terrorist attacks last September on Aramco facilities at Abqaiq and Khurais, Mills said.
Despite the flood of oil onto global markets, the Brent crude global benchmark price rose by about 10 per cent toward $25 per barrel after US President Donald Trump said he thought the price was too low, and offered talks with Saudi Arabia and Russia about the global oil glut.
https://www.arabnews.com/node/1651401/business-economy
-------
Custodian of the Two Holy Mosques receives phone call from President of Tunisia
2020/04/02
Riyadh-Custodian of the Two Holy Mosques King Salman bin Abdulaziz Al Saud, has received a phone call from President Qais Saeed of the Republic of Tunisia.
During the call, they reviewed the current developments taking place in the world due to the outbreak of the Coronavirus pandemic, and discussed aspects of cooperation and coordination between the two brotherly countries to combat its spread.
The president praised the results of the extraordinary G20 summit chaired by the Custodian of the Two Holy Mosques, in order to coordinate global efforts to combat the Coronavirus pandemic.
The Tunisian president also expressed his country's condemnation of the Iranian-backed Houthi militia launching of two ballistic missiles on the kingdom.
https://www.spa.gov.sa/viewfullstory.php?lang=en&newsid=2053990
-----
Yemeni Ambassador to Saudi Arabia Hails Order of the Custodian of the Two Holy Mosques for Providing Free Health Care to all People Infected with Coronavirus
01 Apr, 2020
Yemeni Ambassador to the Kingdom of Saudi Arabia Dr. Shaya'e bin Mohsen Al-Zindani has hailed the order of the Custodian of the Two Holy Mosques King Salman bin Abdulaziz Al Saud to provide free health care to all citizens, residents, and violators of residency and border security regulations who are infected with novel Coronavirus in all government and private health facilities.
In a statement to the Saudi Press Agency (SPA), Ambassador Al-Zindani said: "the directives of the Custodian of the Two Holy Mosques are a generous gesture that carries humanitarian dimensions and acquires profound indications in this exceptional circumstance that all humanity is going through".
He praised the precautionary and preventive measures taken by the Government of the Kingdom of Saudi Arabia from the beginning to confront this epidemic and follow-up of all developments by the concerned sectors, expressing the Yemeni Government's appreciation for the efforts exerted by the Government of the Custodian of the Two Holy Mosques to take care of the Yemeni residents and visitors in the Kingdom of Saudi Arabia.
http://alriyadhdaily.com/article/05b3545c7b964daf9fa15b1fb65a742d
-----
URL: https://www.newageislam.com/islamic-world-news/muslim-leaders-all-schools-thought/d/121468
New Age Islam, Islam Online, Islamic Website, African Muslim News, Arab World News, South Asia News, Indian Muslim News, World Muslim News, Women in Islam, Islamic Feminism, Arab Women, Women In Arab, Islamophobia in America, Muslim Women in West, Islam Women and Feminism