New Age Islam News Bureau
16 Jul 2018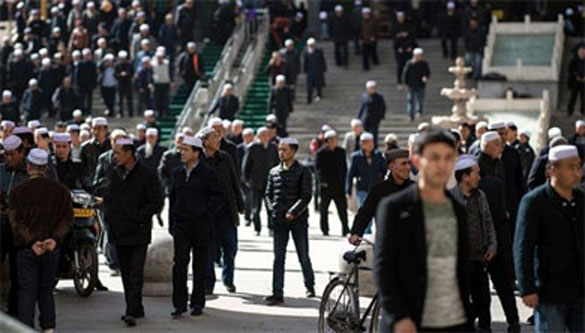 Ethnic Hui Muslims leaving Laohuasi Mosque after Friday prayers in Linxia, China's Gansu province (AFP pic)
-----
• Muslim Law Board Approves Setting Up 5 Sharia Courts
• Muslims in China's 'Little Mecca' Fear Eradication of Islam
• Facebook Disables Accounts, Pages Linked To Hafiz Saeed's Milli Muslim League Days Ahead Of Pakistan General Election
• Investigation Reveals Elaborate Technology Terror Web Around Syria and Iraq
• Erdogan on Coup Anniversary: Turkey 'Cut Off Arms of Octopus'
• Calls for France to End Xenophobia, Islamophobia as Migrant, Muslim Players Clinch World Cup Win
India
• Muslim Law Board Approves Setting Up 5 Sharia Courts
• Supreme Court Seeks Centre's Reply on Shia Waqf Board's Plea against 'Un-Islamic' Flags
• All India Muslim Personal Law Board Accuses BJP, RSS of Politicising Shariat Courts Issue
• Bidar lynching: Kin say victim left job in Qatar because he missed Hyderabad
• PM Modi obsessed with issues related to Hindu-Muslim divide, says Arvind Kejriwal
• India, Pakistan to be part of anti-terror Shanghai Cooperation Organisation drill in Russia
--------
Southeast Asia
• Muslims in China's 'Little Mecca' Fear Eradication of Islam
• Malaysia: First Non-Muslim Chief Justice Inducted
• Indonesia's Aceh Resumes Public Caning
• At ministry gathering, DPM assures civil servants of political freedom
• Zakir Naik must ease the pressure
• Third coalition at stake after Muhaimin's maneuver
• West Java governor-elect vows to regenerate hafiz
• Police Kill Three, Arrest Five Terror Suspects in Java
--------
Pakistan
• Facebook Disables Accounts, Pages Linked To Hafiz Saeed's Milli Muslim League Days Ahead Of Pakistan General Election
• Pakistan Elections 2018: Suicide Bombers Could Be Used To Target Politicians, Warns Counter-Terror Body
• MMA Leaders Lament Lack of Islamic Teachings in Pakistan
• Parties Play Religious Cards as Pakistan Poll Looms
• Pakistan opens terrorism case against ex-PM's party days before election
• Zardari slams terrorism cases against PML-N members
• Pakistan all set to submit rejoinder in ICJ tomorrow
--------
Arab World
• Investigation Reveals Elaborate Technology Terror Web Around Syria and Iraq
• Syrian Regime Intensifies Shelling Of 'Triangle of Death' Around Daraa
• Last Kurdish forces leave Syria's Manbij, allied fighters say
• Syria rebels begin evacuating 'cradle' of uprising in Daraa
• Syrian Army in Control of 90 Percent of Dara'a Province
• Israel Launches Missile Attack on Syria Again
• Military Source: Liberation of Idlib, Key to End War in Syria
• Strikes blamed on Israel killed 9 pro-regime fighters in Syria
• Syria militants begin leaving Dara'a under surrender deal
--------
Mideast
• Erdogan on Coup Anniversary: Turkey 'Cut Off Arms of Octopus'
• Israel Votes on Bill in Final Blow to Palestinian State Hopes
• Army Resolute On Terror Eradication, Syria Liberation: Assad
• Gaza truce mostly holds after heavy Israel strikes
• 3 killed as worker opens fire at KSA-Yemen border
• Houthis fire rocket on wedding killing women, children in Yemen's Jawf
• Houthi court sentences three Yemenis from Saada to death
• Israel launches drill simulating capture of Gaza City
• Israel bolsters Iron Dome, launches strikes on Syria's Aleppo
• Top PKK terrorist wanted for teenager's murder killed in northern Turkey
--------
Europe
• Calls for France to End Xenophobia, Islamophobia as Migrant, Muslim Players Clinch World Cup Win
• UK Mosque Raises £14,000 in Cryptocurrency Donations In Just 30 Days
• Forgotten history of British-Asian Muslim doctor who changed medicine
--------
North America
• US: Muslim Candidates Running In Record Numbers Face Backlash
• Iran Says Oil Producers Led Trump into 'Trap'
• Bolton: US to stay in Syria as long as Iran is there
• US general says Turkish plan to buy Russian S-400 air shield systems risk for NATO
• Canada Muslim MP Receives Death Threats after Anti-Islamophobia Motion on Twitter
--------
Africa
• Hundreds of Nigerian Troops Are Missing After Boko Haram Jihadists Overrun Base
• Cameroon: Soldiers Allegedly Murder Boko Haram Suspects
• Ethiopia, Eritrea leaders arrive at venue to open Eritrea embassy in Addis Ababa
• Boko Haram overruns Nigerian military base
--------
South Asia
• New Militant Attack in Kabul Leaves 10 Killed or Injured
• Junbish blames specific circles behind today's failed attack in Kabul
• Trump administration orders direct talks with Taliban in Afghanistan
Compiled by New Age Islam News Bureau
URL: https://www.newageislam.com/islamic-world-news/muslim-law-board-approves-setting/d/115847
--------
Muslim Law Board Approves Setting Up 5 Sharia Courts
July 16, 2018
NEW DELHI: The All India Muslim Personal Law Board has received proposals from various parts of the country to open 10 Sharia courts (Darul Qaza), out of which five have been approved and will be opened soon, board secretary Zafaryab Jilani said on Sunday.
The other five proposals are under consideration, Mr Jilani told PTI.
On the row over the board reportedly looking to set up such courts in every district of the country, Mr Jilani said it was not true and he was misquoted.
He said that at a meeting of the board in New Delhi on Sunday, the Darul Qaza Committee tabled its report which stated that from February 10 to June 30, three Sharia courts (Darul Qaza) have been set up -- two in Mumbai and one in Lucknow.
Apart from that, the report said 10 applications had come for setting up Sharia courts, out of which five have been approved, while five others were under consideration, according to Mr Jilani.
He said among those five that have been approved, one will be inaugurated in Kannauj, Uttar Pradesh, today.
On July 22, a Sharia court will be set up in Surat, Gujarat, while on September 9 one will be set up at a place in Maharashtra, one on November 20 and the fifth one will be set up by the end of this year.
He said the news about the All India Muslim Personal Law Board (AIMPLB) planning to set up such courts in every district was not correct and emphasised that the courts are set up only when a proposal comes to the board.
"Local people sponsor it and bear the financial burden. Board appoints the Qazi. We establish it when a proposal comes to us," Mr Jilani said.
"The Supreme Court has already stated that it is not a parallel judicial system. The ruling by Qazis is not binding on anybody. However, more than 90 per cent people accept it. These are more like arbitration councils," he said of the Sharia courts.
A host of other issues such as the court developments in the Ayodhya case were also discussed during the meeting, he said.
https://www.ndtv.com/india-news/sharia-courts-aimplb-all-india-muslim-personal-law-board-approves-setting-up-5-sharia-courts-1883759
--------
Muslims in China's 'Little Mecca' Fear Eradication of Islam
July 16, 2018
LINXIA: Green-domed mosques still dominate the skyline of China's "Little Mecca", but they have undergone a profound change — no longer do boys flit through their stone courtyards en route to classes and prayers.
In what locals told AFP they fear is a deliberate move to eradicate Islam, the atheist ruling Communist Party has banned minors under 16 from religious activity or study in Linxia, a deeply Islamic region in western China that had offered a haven of comparative religious freedom for the ethnic Hui Muslims there.
China governs Xinjiang, another majority Muslim region in its far west, with an iron fist to weed out what it calls "religious extremism" and "separatism" in the wake of deadly unrest, throwing ethnic Uighurs into shadowy re-education camps without due process for minor infractions such as owning a Koran or even growing a beard.
Now, Hui Muslims fear similar surveillance and repression.
"The winds have shifted" in the past year, explained a senior imam who requested anonymity, adding: "Frankly, I'm very afraid they're going to implement the Xinjiang model here."
Local authorities have severely curtailed the number of students over 16 officially allowed to study in each mosque and limited certification processes for new imams.
They have also instructed mosques to display national flags and stop sounding the call to prayer to reduce "noise pollution" — with loudspeakers removed entirely from all 355 mosques in a neighbouring county.
"They want to secularise Muslims, to cut off Islam at the roots," the imam said, shaking with barely restrained emotion. "These days, children are not allowed to believe in religion: only in Communism and the party."
'Scared, very scared'
More than 1,000 boys used to attend his mid-sized mosque to study Koranic basics during summer and winter school holidays but now they are banned from even entering the premises.
His classrooms are still full of huge Arabic books from Saudi Arabia, browned with age and bound in heavy leather. But only 20 officially registered pupils over the age of 16 are now allowed to use them.
Parents were told the ban on extracurricular Koranic study was for their children's own good, so they could rest and focus on secular coursework.
But most are utterly panicked.
"We're scared, very scared. If it goes on like this, after a generation or two, our traditions will be gone," said Ma Lan, a 45-year-old caretaker, tears dripping quietly into her uneaten bowl of beef noodle soup.
Inspectors checked her local mosque every few days during the last school holiday to ensure none of the 70 or so village boys were present.
Their imam initially tried holding lessons in secret before sunrise but soon gave up, fearing repercussions.
Instead of studying five hours a day at the mosque, her 10-year-old son stayed home watching television. He dreams of being an imam, but his schoolteachers have encouraged him to make money and become a Communist cadre, she said.
Fear for the future
The Hui number nearly 10 million, half of the country's Muslim population, according to 2012 government statistics.
In Linxia, they have historically been well integrated with the ethnic Han majority, able to openly express their devotion and centre their lives around their faith.
Women in headscarves dish out boiled lamb in mirror-panelled halal eateries while streams of white-hatted men meander into mosques for afternoon prayers, passing shops hawking rugs, incense and "eight treasure tea," a local speciality including dates and dried chrysanthemum buds.
But in January, local officials signed a decree — obtained by AFP — pledging to ensure that no individual or organisation would "support, permit, organise or guide minors towards entering mosques for Koranic study or religious activities", or push them towards religious beliefs.
Imams there were all asked to comply in writing, and just one refused, earning fury from officials and embarrassment from colleagues, who have since shunned him.
"I cannot act contrary to my beliefs. Islam requires education from cradle to grave. As soon as children are able to speak we should begin to teach them our truths," he explained to AFP.
"It feels like we are slowly moving back towards the repression of the Cultural Revolution," a nationwide purge from 1966 until 1976 when local mosques were dismantled or turned into donkey sheds, he said.
Other imams complained authorities were issuing fewer certificates required to practise or teach and now only to graduates of state-sanctioned institutions.
"For now, there are enough of us, but I fear for the future. Even if there are still students, there won't be anyone of quality to teach them," said one imam.
Local authorities failed to answer repeated calls from AFP seeking comment but Linxia's youth ban comes as China rolls out its newly revised Religious Affairs Regulations.
The rules have intensified punishments for unsanctioned religious activities across all faiths and regions.
Beijing is targeting minors "as a way to ensure that faith traditions die out while also maintaining the government's control over ideological affairs," charged William Nee, China researcher at Amnesty International.
Violent and bloodthirsty
Another imam said the tense situation in Xinjiang was at the root of changes in Linxia.
The government believes that "religious piety fosters fanaticism, which spawns extremism, which leads to terrorist acts — so they want to secularise us," he explained.
But many Hui are quick to distinguish themselves from Uighurs.
"They believe in Islam too, but they're violent and bloodthirsty. We're nothing like that," said Muslim hairdresser Ma Jiancai, 40, drawing on common stereotypes.
Sitting under the elegant eaves of a Sufi shrine complex, a young scholar from Xinjiang explained that his family had sent him alone aged five to Linxia to study the Koran with a freedom not possible in his hometown.
"Things are very different here," he said with knitted brows. "I hope to stay."
http://www.freemalaysiatoday.com/category/world/2018/07/16/muslims-in-chinas-little-mecca-fear-eradication-of-islam/
--------
Facebook disables accounts, pages linked to Hafiz Saeed's Milli Muslim League days ahead of Pakistan General Election
Jul 15, 2018
Lahore: Ahead of the general election in Pakistan, Facebook has disabled numerous accounts and pages of the Islamist Milli Muslim League (MML), in a setback to the political outfit launched by Mumbai terror attack mastermind Hafiz Saeed-led Jamaat-ud-Dawa (JuD), according to a media report on Sunday.
Facebook Chief Executive Officer Mark Zuckerberg had said that it was his priority to make sure his social networking website supports positive discourse and prevents interference in the upcoming elections in Pakistan, India, Brazil, Mexico and other countries.
Recently, Facebook officials contacted the Election Commission of Pakistan (ECP) and offered help to local authorities to identify and remove fake pages of different political parties ahead of the 25 July general election, the Express Tribune reported.
The ECP has not recognised the MML as a political party. In April 2018, the US placed the MML on its list of foreign terror organisations for its links with the Lashkar-e-Taiba (LeT) terror group, which launched the 2008 Mumbai carnage.
After the ECP denied recognition to the MML, JuD chief Saeed announced that around 200 candidates of his party would contest the polls under the banner of a little-known party, the Allah-o-Akbar Tehreek (AAT), which is already registered with the election commission.
MML spokesperson Tabish Qayyum told journalists that Facebook has removed numerous accounts of their election candidates and workers without giving any reason.
He said Facebook's act is a gross violation of its own policy and sanction on freedom of expression.
"Elections are round-the-corner and all political parties are using social media for electioneering. Deleting MML candidates and workers' accounts on a particular time is injustice," he added.
"All political parties are using social media to spread their message. Voters are being attracted by posters and video messages but the MML has been denied this facility without any reason," he said.
Zuckerberg in recent statements has said that after identification of Russian interference in the 2016 US presidential election, Facebook has successfully deployed new Artificial Intelligence tools that removed tens of thousands of fake accounts.
https://www.firstpost.com/india/facebook-disables-accounts-pages-linked-to-hafiz-saeeds-milli-muslim-league-days-ahead-of-pakistan-general-election-4744871.html
--------
Investigation Reveals Elaborate Technology Terror Web Around Syria And Iraq
July 16, 2018
In late December 2015 a uniformed Pentagon spokesman, Colonel Steve Warren, made a video announcement about "Operation Inherent Resolve", the US military's campaign against the so-called Islamic State (IS) group in Iraq and Syria.
The spokesman gave details about 10 senior IS figures who had been targeted and killed, many in drone strikes, over the course of the month.
"We are striking at the head of this snake by hunting down and killing ISIS leaders," declared the US Army spokesman.
Among those killed was Siful Sujan, a Bangladeshi national who was targeted near Raqqa in Syria on 10 December.
Sujan, said Col Warren, was an "external operations planner who had been educated as a computer systems engineer in Britain".
The American officer described Sujan as a key figure in IS's "hacking efforts, use of anti-surveillance technology and weapons development".
"Now that he's dead, ISIS has lost a key link between its networks," concluded Col Warren.
The impression given, with the demise of this computer engineer turned senior IS leader, was that an influential and damaging IS cell had lost its leader and its operations severely curtailed.
Now, after an investigation lasting several months and covering three continents, BBC Wales Investigates has been able to piece together how Sujan emerged from virtual obscurity to become a key player as IS established its caliphate in Iraq and Syria.
Moreover, we have also learnt of claims that even after his death, Sujan's sophisticated network continued to fund terror operations around the globe and we find out what happened to two other people named by the FBI as being involved in his operation.
When he came to the UK from his native Bangladesh in the early 2000s, Siful Sujan certainly did not have the appearance or demeanour of someone who, in the space of less than a decade would come to be regarded as one of IS's most senior and dangerous operatives.
He settled in Pontypridd, to the north of Cardiff, where he enrolled on a degree in computer engineering at the former Glamorgan University.
Rob Rees, who met him several times in 2005 after Sujan said he wanted to buy his house, remembers him as a quiet but hard-working person who could barely afford enough money for the deposit but was keen to make a home for his new wife who was soon due to arrive from Bangladesh.
"He was the sort of person you'd want to put your arm around and take under your wing. That's why my wife and I did a little bit for him," said Mr Rees, who still lives near Pontypridd.
"He [Sujan] looked vulnerable, unsure of what he was doing."
If he was lacking in confidence and support when he first came to Wales, within a few years Sujan appears to have turned his fortunes around. He had set up his first business, an IT company called iBacs Ltd and had joined the Wales Bangladesh Chamber of Commerce, even travelling on a high-profile trade mission back to his home country with other Bangladeshi business leaders from south Wales.
At some point towards the end of the decade, Sujan's brother - Ataul Haque - also came to live in Wales. They jointly ran the expanding business empire that specialised in software development for predominantly Asian food outlets and also imported portable payment devices from China, again largely for Cardiff's numerous South Asian restaurants.
There was a third man, not a formal partner in the business, but a young local computer expert, also of Bangladeshi origin, but who was born and educated in South Wales. His name was Abdul Samad and he became an increasingly important figure in Sujan's business dealings.
From the turn of the decade Cardiff, like many other UK cities, began to have its problems with a small but high-profile number of radical young Muslims - men from different ethnic minorities, or converts to Islam, who became disillusioned by the global war on terror and were drawn in by the twisted and fanatical rhetoric of IS.
People like Nasser Muthana and Reyaad Khan, both from Cardiff, fled to the Middle East and became poster boys for international jihad. They appeared in IS videos and proclaimed their allegiance to the newly-declared Islamic State in Iraq and Syria.
To most in the Bangladeshi community, Sujan was not particularly religiously conservative and certainly did not seem to espouse any of the radical opinions that emanated from the speeches and writings of some jihadist-supporting preachers.
"He didn't seem at all religious and was more focused on business and making money," said Cardiff restaurant owner Enam Uzzaman, who had limited business dealings in the food sector with Sujan.
Mr Uzzaman, who had been invited to Sujan's wedding party during a previous visit back home to Bangladesh, said: "It wasn't a conservative wedding... there was mingling, no separation with women on one side and men on the other… it was as if you'd gone to a wedding in this country."
Staff at the business park where iBacs rented office space recall Sujan at some point changing his clean-shaven western-style image for the more traditional bearded look of a religious Bangladeshi Muslim.
But that in itself was no sign of radicalisation and if he was indeed becoming more attracted to extreme religious teachings and the growing influence of IS propaganda, unlike the hot-headed behaviour of the Muthana brothers and Reyaad Khan, Sujan kept those feelings to himself and his very small circle.
As it happens, both brothers - Siful Sujan and Ataul Haque - were married to twin sisters, who they had brought over from Bangladesh to live with them in south Wales. The sudden and unexpected death of his brother's wife - believed to have been in mid-2012 - has been suggested by some observers as a pivotal moment in Sujan's life and it was around this time that the direction of his life may have changed, from ambitious western businessman to radical Islamist-supporting financier and equipment supplier.
Crucially, UK anti-terror officials appear to have been unaware of these developments until much later.
Earlier this year, in the depths of a cold north-eastern winter, I travelled to Baltimore to find out how and where Sujan's career as a pivotal lS leader was first uncovered.
Like the UK, America had dealt with several home-grown Islamists, some of whom travelled to the Middle East in pursuit of jihad or to live under the yoke of IS.
Others had evoked IS and other radical Islamist teachings and doctrine to commit atrocities on American soil, like 2009 Fort Hood massacre or the 2013 Boston Marathon attacks by the Tsarnaev brothers.
But thanks to high-tech forensic monitoring and increasingly effective surveillance, the FBI and its fellow intelligence agencies had been able to prevent the direct funding, from abroad, of any attempt to commit a terror attack on US soil.
That was until a newspaper deliveryman came under the FBI's microscope around the summer of 2015.
Baltimore resident Mohamed Elshinawy had been receiving relatively small but regular amounts of money from overseas via sources including Moneygram and Western Union - $1,000 (£755) here, $500 (£378) there until almost $8,000 (£6,045) had been sent and collected.
By the October of that year Federal agents decided to move, searching Elshinawy's home where they found evidence linking the deliveryman to Sujan and his Cardiff-based company.
Moreover, they soon established the money was being sent in order to fund terror attacks inside the United States.
FBI investigators also established that not only was the would-be American jihadist being sent money from the iBacs accounts in Wales but that he was also being given step-by-step instructions on how to carry out an attack.
"You had these individuals who are directing Elshinawy to commit an attack," says terrorism expert and academic Seamus Hughes, who has been following the Elshinawy case for more than a year from his office at George Washington University in Washington DC. A spider's web info graphic pinned to his wall, which includes photos of suspects - some alive and some now dead - betrays the complexity of what he is researching.
"The first communication was to go kill an individual in Texas," says Mr Hughes. "But when Elshinawy wasn't able to get all that together, they said 'why don't you focus on committing a large scale attack in Baltimore?'"
In his communications with Elshinawy, Sujan sent him at least 16 videos with instructions on how to make a bomb and FBI investigators were able to show that Elshinawy researched several potential high-profile targets, including the main federal court building in Baltimore.
Faced with the weight of evidence against him, Mohamed Elshinawy admitted a number of terrorism charges and, earlier this year, he was sentenced to 20 years in jail.
A would-be, home-grown American terrorist had been caught and was now safely behind bars, but what the FBI's two-year investigation showed, says Mr Hughes, was just how sophisticated the IS network that recruited Elshinawy was. It was a network that included an innocuous IT firm in south Wales.
"It's a level of sophistication I don't think most analysts expected from ISIS," Mr Hughes tells me. "This is using shell companies to send money across a number of different countries. This is very unique - the only known ISIS funded plot in the United States."
Mr Hughes has no doubt that the Elshinawy case opened the lid on a hitherto hidden terror network directed by Sujan and his co-conspirators.
We've spent months poring over detailed FBI files and court documents, pulled together as part of the case against Elshinawy, which throw wide open the extent of Sujan's operation to fund IS attacks, and provide material support to IS as well.
Two names come up again and again in the FBI documents; Ataul Haque, Sujan's brother and Abdul Samad, the computer expert and co-worker at iBacs.
The FBI says its evidence shows Mr Samad actively supported IS and, on the instructions of Sujan, personally facilitated payments to Elshinawy in America.
Moreover, say the US documents, he was involved in organising and acquiring technical equipment destined for IS.
What we now know is that Sujan's operation had become adept at procuring military-grade surveillance equipment, drone parts and so-called "dual use" material that was shipped to IS operatives in Syria and Iraq, often via Turkey, where it would be adapted for military purposes by IS.
In one example, the FBI papers highlight how Mr Samad was directly involved in obtaining $18,000 (£13,601) worth of surveillance equipment from suppliers in North America and, at Sujan's request, sending it on to the Middle East.
FBI investigators point out, on more than one occasion, that none of this equipment was in any way compatible with iBacs' stated business activities, that of providing IT support mainly to the catering industry.
In addition to unearthing evidence purporting to show Mr Samad's direct involvement in transferring money and moving equipment, investigators were able to trawl through his communication records and social media history.
We, too, found evidence that would appear to give credence to the FBI's claim that Mr Samad was an active supporter of IS and other Islamist ideology.
'KillObama77'
He shared IS propaganda videos in which narrators make the case for the establishment of an Islamic State. In others Muslims were encouraged to become martyrs on the battlefield.
He also describes one senior and notorious Al Qaeda figure as his "role model for the 21st Century".
The password for one of the office accounts was KillObama77.
Mr Samad was arrested by UK anti-terror police on 10 December 2015, the same day that an American drone strike killed Sujan in Syria.
By then Mr Samad was the sole occupier of the iBacs offices in Cardiff and much of the equipment was seized, as was evidence from Mr Samad's home in Newport.
Police told Mr Samad the "threshold" had not been met for him to be charged with any offences.
We wrote to Mr Samad, offering him the chance to respond to specific allegations - that he was accused of helping to transfer money to a known IS sympathiser in the United States, that he was accused of being involved in the procurement of high-grade military technology that was destined for the use of IS and that there was a large quantity of video and printed material on his computers, supporting the FBI's claim that he was a supporter of Islamic extremism.
Mr Samad responded by saying he had been told, after his initial arrest in December 2015, that he had been released without charge and no proceedings were brought against him.
He has denied any wrongdoing, or holding radical views or having any knowledge of a plot to fund attacks in the USA. And he claims to have only ordered legitimate equipment for the company.
There was one other, new accusation that we put to Mr Samad - that in September 2017 he had set up a new company here in south Wales, for Sujan's brother, Ataul Haque, who at the time was living and working in Spain.
Haque was Sujan's older brother, by a year. The two were close, they were partners in the south Wales business - iBacs.
Like Mr Samad, Haque's name featured prominently in the FBI's case against the IS supporter from Baltimore, Mohamed Elshinawy.
And like Mr Samad, it appears that despite being on the radar of intelligence agencies, no action was taken against Haque.
Indeed Ataul Haque, despite being the brother of the man described as one of IS most senior leaders and the effective director of its computer operations, was not even arrested.
By virtue of having met and married a Spanish woman in Cardiff, after the death of his first wife, Haque was able to travel to Spain.
They eventually appeared to have settled in Spain in August of 2015, intriguingly only after Haque was deported from Turkey.
But Spanish police had Haque under surveillance from the start and, on the next leg of my journey tracing this international terror network, officers in Madrid told me how they had pieced together their case that the network continued to function, even after Sujan's death in December 2015.
Speaking on the condition of anonymity because of the sensitive nature of their work, a senior officer from the national police force's investigation unit told me how Haque had replicated in Spain - albeit under a slightly different name, "Isynctel" - almost exactly the same kind of IT company his brother, Sujan, had previously run in south Wales.
"We knew his brother had been a very senior figure in ISIS," the officer told me. "On the face of it the business was legal… but the destination of the some resources was to fund ISIS technologically and financially."
In one area in particular, Spanish police believe Haque may have been even more ambitious than his brother - the adaptation of commercially available drones by IS for its own military and propaganda ends.
I saw for myself, while reporting on the battle for Mosul in Iraq last year, how IS had perfected the use of drones to drop mortars or grenades and also to direct suicide attackers.
One reason for the Americans' targeting of Sujan at the end of 2015 was his perceived senior role in the IS so-called "technological battalion".
But according to the Spanish police unit investigating Haque's activities, the other brother too, took a particular interest in obtaining and adapting drone equipment.
"Ataul made a very detailed study of what ISIS said was needed to modify such drones, with what was available in the Spanish market," said my Spanish police contact - mindful of the fact the iBacs network had already sent numerous pieces of "dual-use" and military grade equipment to the Middle East.
Peter Singer is an American military strategist who I had interviewed on my visit to Washington while researching the terror network, which had its origins in south Wales but had utilised financial expertise and easily available technology to spread its tentacles far and wide.
"We will see more use of drones by terrorists not because ISIS has lost control of Iraq or Syria," said Mr Singer, "but because the technology is becoming more commonplace."
The senior analyst at the New America think-tank says that IS operatives quickly learned to adapt drones for attacks and surveillance, "linking them to their propaganda campaigns… and weaponising them, which they began to design and make better."
Again, this takes us back to the detailed FBI evidence against the terror cell and its activities - that they perfected the purchase and use of high-grade but commercially available technology including "centre loaded mag mount scanners", "3G/4G cell-phone spying & wireless camera finders", "forward-looking-infrared-cameras" and so on.
The Spanish police claim that, like Sujan before him, Haque had his eyes firmly set on expanding IS's sphere of influence.
"He organised the sending of technological equipment to Turkey and also arranged for thousands of dollars to be sent to terrorists in Bangladesh," said the officer from the Spanish team I spoke to at length in Madrid.
"We estimate that in December of 2015 Ataul sent a total of $50,000 (£37,781) to Bangladesh. The destination of that money, according to our Bangladeshi colleagues, was specifically operational, to carry out attacks."
The Bangladeshi authorities have been reluctant to accept that IS is establishing a presence within the country, despite the growing number of terror attacks within Bangladesh itself and the disproportionately large number of Bangladeshi jihadist who went to fight with IS in Iraq and Syria.
One Bangladeshi journalist who believes that Sujan and his network were deeply influential in promoting IS in their native country is Tasneem Khalil.
He has been reporting on the brothers' influence for many years but, because of his work, he says he was tortured by the authorities in Bangladesh and now lives in exile in Sweden, where I travelled to see him.
"Siful Sujan was one of the key architects of the global money moving operations of ISIS," Mr Khalil told me in the genteel surroundings of Malmo where he now lives and works. "In Bangladesh he [Sujan] was instrumental in setting up the first phase of ISIS's operations, to recruit young men to the battle fields of Syria."
Mr Khalil estimates that the network run by Sujan, initially from the company's base in Cardiff and through a sister business in Bangladesh, recruited at least 50 jihadist fighters in south Asian countries. About half of those travelled to Iraq or Syria. The rest, says Mr Khalil, probably carried out attacks in Bangladesh itself.
"There were several operations that were carried out - murders inside Bangladesh - that could have been funded by Sujan's money," says the now exiled journalist.
Terror attack
It is also believed that money sent by the terror network established by Sujan could have been used to fund the worst terror attack in recent Bangladeshi history, when 24 people were killed in a 2016 attack on a Dhaka bakery.
The police in Bangladesh declined to comment on terrorist attacks in the country.
In September 2017, the authorities in Spain and Bangladesh decided, almost two years after Sujan's death, they had to act against that part of his terror network that they suspected had remained active and highly effective.
Haque was detained in the southern Spanish city of Merida and, in a simultaneous operation, 11 men were arrested in Bangladesh on suspicion of having links to the terror network.
Spanish investigators have no doubt that Haque, and his brother before him, were highly dangerous individuals.
"Yes they are," says the Spanish investigator. "They are possibly more dangerous than those who publically express their willingness to carry out attacks, who can be more easily dealt with… it has taken six years and the collaboration of four countries to neutralise activities."
Fighting the funders and suppliers of international terrorism has become just as much a priority for global law enforcement agencies as it is to stop the idealistic, impressionable young radicals who declare their allegiance to extremist ideologies - prepared to carry out attacks at home or abroad.
"If you can move dollars and you can get dollars into the hands of people who are going to use that money… to build bombs or carry out attacks, it is incredibly dangerous," says Dennis Lormel, who founded the FBI's 'terrorist financing section' in the wake of the 9/11 attacks.
Mr Lormel, who I interviewed in Baltimore while starting my investigation to uncover the extent of this vast network, says terrorist financiers are now just as important targets as the terrorist themselves.
"The more we can do to disrupt the flow of funds, the less likely they are to have successful attacks," he told me as we discussed why the US military chose to target Sujan in December 2015.
Siful Sujan is dead.
Ataul Haque is in a Spanish jail where police say he is likely to be charged with terror offences later in the year, although he has previously denied the allegations against him.
Abdul Samad has again denied the serious allegations that were raised in our investigation and listed in detail in FBI court documents. Mr Samad was told by police the "threshold" had not been met for him to be charged with any offences.
He did not, though, address the latest accusation - that, just days before Ataul Haque's arrest in Spain last year, Samad set up a new company for Haque, in Wales. The name of that company was "Isynctel" - the same name as the company in Spain which, say Spanish police, was a front for a vast IS financing and supply operation.
The terror network established by Sujan has perhaps finally been dismantled, albeit more than two years after an American army colonel - announcing Siful Sujan's death - perhaps prematurely declared the end of what is now suspected to have been a much more elaborate and sophisticated operation.
https://www.bbc.co.uk/news/uk-wales-44826806
--------
Erdogan on coup anniversary: Turkey 'cut off arms of octopus'
Jul 16, 2018
Turkey has marked the second anniversary of a failed coup which President Recep Tayyip Erdogan said had seen the country "cut off the arms of the octopus," referring to US-based cleric Fethullah Gulen.
Erdogan addressed tens of thousands of people who had gathered on an Istanbul bridge, renamed "July 15 Martyrs' Bridge" after those killed during the 2016 putsch.
Turkey has "cut off the arms of the octopus, the cursed in Pennsylvania that grew with hypocrisy, tricks, lies, and within big secrecy," he said of Gulen.
Elements within the Turkish military used tanks, warplanes and helicopters on July 15, 2016 to overthrow Erdogan who was in the southwestern holiday town of Marmaris.
Clashes took place in Istanbul, Ankara and Marmaris as fighter jets bombed parliament and other spots in the capital, leaving 290 people dead. The coup attempt fell flat after thousands heeded Erdogan's call to take to the to the streets.
Gulen has denied role in the coup attempt, while the United States has refused to extradite him at Ankara's request, leading to the worst cooling of relations in years between the two NATO allies.
Since the coup, the country has arrested over 75,000 people for their alleged connection to the coup, and dismissed 130,000 civil servants.
Meanwhile, Erdogan has assumed extensive powers after ordering and winning a referendum to change the country's parliamentary ruling system to a presidential one.
On Sunday, the Turkish presidency issued seven new decrees which abolished the post of the prime minister and tied all state institutions to the president.
Critics say the government has used the coup attempt to crack down on all dissent, in which opposition lawmakers, journalists and political activists have been put behind bars.
Erdogan says the defeat of the coup and his election win are a testimony to Turkey's commitment to democracy.
Political controversy aside, Turkey faces immediate economic challenges under Erdogan's new powers.
The lira has seen its worst depreciation in years over fears about Erdogan's drive for lower interest rates and by comments that he planned to take greater control of the economy.
The president, however, says a powerful presidency is vital to drive economic growth, ensure security after the failed coup and safeguard Turkey from war across its southern border in Syria and Iraq.
"We are embarking on this road by using this opportunity as best we can for a strong parliament, strong government and strong Turkey," he said during his inauguration earlier this month.
https://www.presstv.com/Detail/2018/07/16/568271/Turkey-coup-anniversary-Erdogan-Gulen
--------
Calls for France to end xenophobia, Islamophobia as migrant, Muslim players clinch World Cup win
July 16, 2018
As France clinched its second-ever World Cup win over Croatia thanks to goals by migrants and a Muslim, fans and onlookers quickly pointed out the need for the country to apply its victories on the field to life off the field.
Often in the spotlight for its xenophobic and Islamophobic social policies, France didn't seem to mind when it came to good footballers, stocking 78.3 percent of its team with immigrants, a third of whom are Muslim. That was the highest percentage among any qualifying team in this year's World Cup. Immigrants make up 6.8 of France's overall population.
Of the four goals France scored against Croatia, two were scored by the sons of African immigrants – Paul Pogba, whose parents immigrated from Guinea, and Kylian Mbappe whose mother is Algerian and father is Cameroonian.
Pogba is a practicing Muslim, along with six of his teammates including starting midfielder N'Golo Kante.
Only a third of the World Cup champion team has white-European ancestry, and less than a quarter have French ancestry.
Football fans quickly took to Twitter on Sunday evening to call on France to put an end to its "hypocrisy" and acknowledge the foundational, positive role immigrants and Muslims play in developing its society.
"With France passing all these laws against Islamic practices, let's not forget it's these same Muslims players who helped win #WorldCup2018," one Twitter user wrote.
Other Twitter users called France's hypocritical policies against migrants and Muslims "shameful" in the light of their celebrated win.
Some called on France to recognize the victory as a much-needed wake-up call for the country to adopt policies upholding the rights and dignity of migrants and Muslims.
"Africans and Muslims delivered you a second World Cup, now deliver them justice," one user wrote.
Others tweeted phrases including "Immigration makes France stronger," and "Immigrants get the job done."
France's win on Sunday was its first in 20 years, after winning on its home turf in 1998. It was the highest-scoring final since England beat West Germany 4-2 after extra-time in 1966 and the highest in normal time since Brazil beat Sweden 5-2 60 years ago.
https://www.dailysabah.com/football/2018/07/15/calls-for-france-to-end-xenophobia-islamophobia-as-migrant-muslim-players-clinch-world-cup-win
--------
India
Supreme Court Seeks Centre's Reply on Shia Waqf Board's Plea against 'Un-Islamic' Flags
July 16, 2018
The Supreme Court on Monday asked the Centre to respond to the Shia Waqf Board chairman's plea seeking a ban on hoisting green flags with a crescent and a star at buildings and religious places across the country. Shia Waqf Board chairman Syed Waseem Rizvi has claimed in his plea that green flags with a crescent and a star are "un-Islamic" and resemble the flag of a Pakistani political party.
A bench of Justices A K Sikri and Ashok Bhushan asked the counsel for Shia Waqf Board chairman Syed Waseem Rizvi to serve a copy of the petition to Additional Solicitor General Tushar Mehta to enable him to file a reply on behalf of the Centre.
The plea states that such flags are being hoisted in Muslim-dominated areas with "utmost impunity" and allegedly cause tension between the Hindu and Muslim communities. It also alleges that the flags resembled the flags of the Pakistan Muslim League, which belongs to an "enemy country".
In a separate hearing on Friday last week, the Shia Waqf Board had told the Supreme Court that it is ready to donate one-third of the land for Ram Temple in the Babri Masjid-Ram Temple dispute. The board had stated that being the joint custodian of the Babri mosque along with Sunni Waqf Board, it is ready to relinquish its claim in the national interest and settle the dispute amicably.
https://indianexpress.com/article/india/supreme-court-seeks-centres-reply-on-shia-waqf-boards-plea-against-unislamic-flags-5261658/
--------
All India Muslim Personal Law Board accuses BJP, RSS of politicising Shariat courts issue
15th July 2018
NEW DELHI: The All India Muslim Personal Law Board (AIMPLB) on Sunday refuted reports that had claimed that the Board had proposed to set up Shariat courts in all districts across the country, stating that new shariat courts will only be established at places where it is required.
Accusing the ruling BJP and its parent ideologue RSS of politicizing the issue of Sharia courts, the AIMPLB clarified that it will only set up new shariat courts where people want it because it is the local Muslim population which comes together to fund such courts. "We never talked about setting up Shariat courts in all districts across the country. Our motive is to set them up in places where it is required and where people want them," said Zafaryab Jilani, spokesperson of the AIMPLB.
In a meeting in the capital on Sunday, the Board also discussed another important issue-Nikah Halala-in the backdrop of Supreme Court's hearing on a batch of petitions filed against the practice. The AIMLB made it clear that it would tell the apex court that the practice "cannot be challenged since it is Quranic".
"Nikah Halala is a practice where you cannot marry your wife again after divorce unless she marries and consummates the marriage with someone else. It is a must that the wife is divorced again. This is what the Quran says and the board cannot have a different opinion," said Jilani.
He, however, said that the Board was against misuse of the practice and people who indulge in exploiting women in the name of Nikah Halala should be dealt by law.
Earlier this month, it was reported that the AIMLB, the highest decision making body on Muslim affairs, had announced that it plans to open Darul-Qaza (Shariat courts) in all districts of the country to resolves issues in line with Islamic laws.
The supposed announcement of AIMLB was criticized both by BJP as well as the Congress. Congress leader Rajiv Shukla had termed the idea as unconstitutional. At present, there are 40 such courts in Uttar Pradesh. The objective of Darul-Qaza, commonly known as a Sharia court, is to resolve matters in light of Shariat laws.
On Sunday, Jilani further clarified that Shariah boards were not courts. "BJP-RSS is doing politics in the name of Shariat courts," he said at a press conference in the capital. Jilani also said that the organization will hold workshops to create awareness about the Shariat courts across the country.
Full report at:
http://www.newindianexpress.com/nation/2018/jul/15/all-india-muslim-personal-law-board-accuses-bjp-rss-of-politicising-shariat-courts-issue-1843750.html
--------
Bidar lynching: Kin say victim left job in Qatar because he missed Hyderabad
by Sreenivas Janyala
July 16, 2018
Mohammed Azam, 32, who was killed in an incident of mob lynching at Bidar in Karnataka on Friday, had left a job in Qatar and returned to Hyderabad six months ago because he missed his hometown, according to his family members.
Following his return, Azam, a software engineer, joined IT major Accenture three months ago and was currently working with Google on a project, said his younger brother Mohammad Aslam. The eldest of four siblings, Azam completed his BTech from Deccan College of Engineering and went for higher studies to UK in 2012, said Aslam. After returning from the UK, he joined Tech Mahindra, but later found a job in Qatar, Aslam said.
"He was not happy there because he missed Hyderabad. He returned and joined Accenture,'' Aslam said.
Azam was killed and three others, including a Qatar national, critically injured after a mob attacked them in Bidar suspecting that they were a group of child lifters.
Azam had married four years ago and has a two-year-old son. "Thursday and Friday were his weekly off days and when our cousins Mohammed Salman and Noor Mohammed asked him to join them on a ride to Bidar, he went along. Police did not inform us about the incident. I returned from work around 2 am and started calling his cellphone. Around 3 am, a policeman answered the phone and said Azam was injured and in hospital,'' Aslam said.
Salham Eidal Kubaisi, 38, the Qatar national injured in the mob attack, is a police inspector in Doha. He was discharged from hospital Sunday evening. "He was feeling fine and he requested us to discharge him immediately,'' an official from Yashoda Hospital at Malakpet said.
Salham's wife Zaibunissa said he was flying back to Doha Sunday night.
"He is traumatised and wants to return home,'' she said.
Azam's cousin Mohammed Salman, 20, is a scrap dealer and lives in Shaheennagar in Chandrayangutta area in Hyderabad. "He is recovering, but is still in shock. He will be discharged on Monday,'' Salman's brother Sameer said.
Full report at:
https://indianexpress.com/article/india/bidar-lynching-kin-say-victim-left-job-in-qatar-because-he-missed-hyderabad-5261036/
--------
PM Modi obsessed with issues related to Hindu-Muslim divide, says Arvind Kejriwal
July 15, 2018
Delhi Chief Minister Arvind Kejriwal on Sunday said no development had taken place during the four years of BJP rule as Prime Minister Narendra Modi was busy obsessed with issues related to Hindu-Muslim divide. Addressing a rally in Indore, where he declared activist Alok Agarwal as AAP's chief ministerial candidate, Kejriwal accused Modi of ignoring pressing issues plaguing the country while raking up matters pertaining to communal divide.
"When the world is talking about technology and 5G, our Prime Minister is describing the Congress as a party of Muslims and the BJP as a party of Hindus," IANS quoted the AAP chief as saying. Kejriwal was referring to Modi's remarks on Saturday, where the PM, accusing the Congress of stalling the triple talaq Bill in Parliament, asked if the party was "only for Muslim men".
Kejriwal's tacit support to the Congress on the raging issue comes at a time when the Grand Old Party has expressed apprehensions about including AAP in the united fight against the BJP ahead of the 2019 Lok Sabha elections. The Congress leadership feels that though it wants a united front to take on the BJP-Modi might in 2019, the party must also be able to retain its own identity and position on necessary issues and it has repeatedly criticised the Delhi government over its administrative "failures".
"This proves that no development has taken place in the four years of Modi rule," Kejriwal said. Meanwhile, the moment Kejriwal reached the rally venue, the electricity connection snapped. Taking a dig at the Shivraj Singh Chouhan government, Kejriwal said, "If this place can lose power connection when another Chief Minister arrives here, I can only pity the people of this state." He further quipped that even 3G didn't work well in India.
Full report at:
https://indianexpress.com/article/india/arvind-kejriwal-narendra-modi-hindu-muslim-divide-5260824/
--------
India, Pakistan to be part of anti-terror Shanghai Cooperation Organisation drill in Russia
July 15, 2018
Militaries of India and Pakistan will be part of a mega anti-terror drill in Russia next month which is being organised by the Shanghai Cooperation Organisation (SCO) with an aim to expand cooperation among the member countries to deal with terrorism and extremism. Around 200 Army and Air Force personnel from India will be participating in the exercise scheduled from August 20-29 at Chelyabinsk city in west-central Russia, official sources said.
The exercise will be joined by all SCO member countries including Russia, China, Kyrgyz Republic, Kazakhstan, Tajikistan and Uzbekistan.
The drill, "Peace Mission", will take place nearly three months after the SCO, in its annual summit in Chinese city of Qingdao, resolved to deepen cooperation among their militaries to deal with threats of terrorism, extremism and separatism.
"The broad objective of the exercise is to boost cooperation among the SCO countries to deal with challenge of terrorism and extremism," said a military official.
On the sidelines of the exercise, military officials of the SCO countries are likely to deliberate on ways to enhance cooperation to stop spread of terrorist ideologies and eliminate factors and conditions that facilitate terrorism and extremism, the official said.
India has been pressing for global action against Pakistan for allowing terror safe havens in its territories and it will be interesting to see how New Delhi push its demand to pile up pressure on Islamabad at the SCO platform.
It will be for the first time since Independence that India and Pakistan will both be part of a military exercise, though the armies of the two nations have worked together in UN peacekeeping missions, he said.
India and Pakistan were admitted as observers of the grouping in 2005 and they were admitted as full members of the bloc last year.
The SCO, seen as a counterweight to NATO, has emerged as one of the largest transregional international organisations which accounts for almost 44 per cent of the world population stretching from the Arctic Ocean to the Indian Ocean and from the Pacific Ocean to the Baltic Sea. The aim of the SCO is to maintain peace, stability and security of the region.
Full report at:
https://indianexpress.com/article/india/india-pakistan-to-be-part-of-anti-terror-shanghai-cooperation-organisation-drill-in-russia-5260440/
--------
Southeast Asia
Malaysia: First Non-Muslim Chief Justice Inducted
July 16, 2018
By Alfian Z.M. Tahir
Malaysia has sworn in its first non-Muslim chief justice, drawing protests from opposition and Islamic groups in the majority Malay country.
Chief Justice Richard Malanjum, 65, a Christian member of the Kadazandusun tribe in Sabah, a state in Malaysian Borneo, was sworn in Wednesday night along with two other top judges approved by King Sultan Muhammad V.
Malanjum replaces Md Raus Sharif, whose resignation takes effect July 31. Also sworn in were Ahmad Maarop, chief judge of the High Court of Malaya, and David Wong Dak Wah who replaces Malanjum as chief judge of Sabah and Sarawak.
Malanjum becomes the ninth chief justice of Malaysia, but also the first non-Malay to hold the office in the 61-year history of the multi-racial and multi-religious country. He now heads the Federal Court, the highest court in Malaysia.
Despite the protests, constitutional expert Shad Saleem Faruqi said non-Muslims could hold any important post in the country short of king, sultan or joining the Malay Regiment Forces and becoming the chief minister of a state where a sultan is the head.
"Other than that, there is no stopping non-Muslims from holding any important post in the country. There is no problem at all," Shad Saleem told BenarNews.
Earlier, Pan-Malaysian Islamic Party (PAS) Information Chief Nasrudin Hassan criticized the appointments of Malanjum along with Attorney General Tommy Thomas and Law Minister Liew Vui Keong, who are already in office, saying these picks for important posts would "cause restlessness among Muslims."
None of the three are Muslim or Malay.
"Will there be hope for the people, especially Muslims, to make sure that our future will continue to be protected on Malaysian soil especially when it comes to matters involving the law?" Nasrudin said.
He claimed Malanjum's track record shows that he was not on the side of Islam in key cases.
But legal expert Shad Saleem lambasted Nasrudin's statement.
"It is shameful. Do not drag Islam into this debate as Islam has nothing to do with this matter. His view is so narrow and it brings only shame to Islam," he told BenarNews.
New government, new leaders
Meanwhile, Armand Azhar Abu Hanafiah of the United Malays National Organization (UMNO) party supported Nasrudin, saying the decision by Pakatan Harapan (PH) to appoint non-Muslims as key ministers was made even before the May 9 general election.
PH, a coalition led by Mahathir Mohamad, defeated the UMNO-led Barisan Nasional coalition to seize control of the government and appoint new leaders to the court and cabinet.
Armand, an UMNO division chief, blamed the ethnic Chinese-dominated Democratic Action Party (DAP), a member of the PH coalition, of trying to create a republic by replacing the kings and sultans.
"We knew about this all this while and perhaps PAS had just realized this today. This is what DAP is trying to do by creating a republic in Malaysia," Armand said.
PAS did not align with either coalition in the election and won 18 seats in parliament. PH won a slim majority of 113 seats in the 222-seat parliament while Barisan Nasional won 79 seats.
"Pakatan Harapan supporters have yet to realize this as they are still ecstatic about their election victory. But today we see how DAP is working clandestinely to make this country a king-less nation," Armand said.
Wan Salim Wan Mohd Noor, the mufti of Penang state, challenged the views of Armand and Nasrudin, saying there was no prohibition in Islam to appointing non-Muslims to ministerial or legal posts. The main objective is to uphold justice.
"In the Quran there is no stopping non-Muslims from ruling and there is no hadith that says non-Muslims are not allowed to lead important positions. If there is, show me the text," he said.
Muslim and non-Muslim leaders in PH had thoroughly discussed the three appointments, Wan Salim said.
"This is not a one-man show but a collective understanding by the leaders in the government," he said.
Muslims account for more than 60 percent of Malaysia's 32 million people.
https://www.eurasiareview.com/16072018-malaysia-first-non-muslim-chief-justice-inducted/
--------
Indonesia's Aceh Resumes Public Caning
July 14, 2018
Banda Aceh. Indonesia's ultra-conservative Aceh province held a public caning of 15 people on Friday (13/07), including of two men who received 87 lashes each for having gay sex, despite an earlier pledge to restrict access and only hold caning inside prisons.
Aceh is the only province in majority-Muslim Indonesia to follow Islamic law and imposes public caning for crimes such as theft, gambling and adultery. In 2014, Aceh outlawed homosexuality.
In April, Aceh Governor Irwandi Yusuf said he would issue a decree so that caning would be carried out inside prisons and the public and media allowed to witness but not record images or videos. He also said children would no longer be allowed to witness corporal punishment.
Previously, public caning has been livestreamed and uploaded on the Internet, drawing international criticism.
Erwin Desman, head of the Banda Aceh prosecutors' office, said it had not received any paperwork ordering public caning to stop and called for the issue to be reexamined.
"There are pros and cons for this in society. So we suggest we sit with the governor again [to discuss this]," he told reporters, adding that caning would continue to be held in public for now.
A crowd of around 300 to 400 people watched Friday's caning, cheering particularly hard during the caning of the two men charged with having gay sex.
Some had brought their children and took photos and video using mobile phones.
Muhammad Hidayat, the head of Aceh's Islamic religious police force, said the men found guilty of having gay sex had been turned in by members of the community.
Along with the men, nine people were caned for showing affection in public outside marriage. One woman was caned for selling alcohol and three men for drinking alcohol. Public caning was introduced in Aceh in 2005 and are supported by many Acehnese.
Full report at:
http://jakartaglobe.id/news/indonesias-aceh-resumes-public-caning/
--------
At ministry gathering, DPM assures civil servants of political freedom
16 July 2018
PUTRAJAYA, July 16 — Deputy Prime Minister Datuk Seri Wan Azizah Wan Ismail told her ministry's staff today that their political freedom is guaranteed under the new Pakatan Harapan administration.
The women, family and community development minister said no public servant will be persecuted or discriminated for their political beliefs, even if they voted against the new ruling coalition during the 14th general election.
She added that any performance evaluation will be done based entirely on merit, but stressed that public workers are required to display "neutral competence".
She added that any performance evaluation will be done based entirely on merit, but stressed that public workers are required to display "neutral competence".
"I want to stress that your future here is guaranteed no matter what your choice was," she said in a speech delivered at her ministry's monthly gathering at the ministry.
"Opportunities for promotion, performance evaluation or other self-improvement opportunities will not be based on your political leaning.
"I only ask that we remain professional at all times on duty. As civil servants, we must always adhere to the principle of efficiency and impartiality or 'neutral competence'," she said.
Previous administrations are suspected of punishing civil servants who were either publicly critical or known to support rival parties.
Detractors alleged the practice was meant to keep the country's over three million government staff beholden to BN.
PH, which defeated the coalition in a shock victory at the 14th general election, has pledged to reform the civil service and eliminate all forms of political discrimination.
This included treating political rivals equally before the law.
Today, Dr Wan Azizah said public services must be delivered impartially, including to states not under PH rule.
We must help based on their needs. Citizens of Perlis, Kelantan, Terengganu, Pahang and Sarawak must get equal treatment," she said.
"Never must we sideline them," she added.
Racial and political discrimination in public services was a contentious issue for minorities, a problem PH vowed to address if it was voted into power.
Its leaders have said the new government would implement merit-based social policies, although at the same time promised to safeguard Bumiputera privileges.
Dr Wan Azizah gave her assurance that the new government eliminate all forms of preferential treatment.
Full report at:
https://www.malaymail.com/s/1652838/at-ministry-gathering-dpm-assures-civil-servants-of-political-freedom
--------
Zakir Naik must ease the pressure
15 July 2018
OF late, the issue related to Dr Zakir Naik has come to a boil so much so it is putting additional pressure on Prime Minister Tun Dr Mahathir Mohamad.
Mahathir has just turned 93 and all Malaysians are grateful for this given that he is much needed to place Malaysia where it rightfully belongs. He has enough on his plate.
Among Muslim countries, Malaysia has even more things to do as the world watches to gauge how Islam is regarded as ad-din – a way of life, and not just "religion" of rituals, the way it is perceived to be, at times with several cross-purposes.
Therefore we stand at a point of history to explore all available opportunities to be exemplary in planning and reconstructing our way forward. Let us not squander this.
Be mindful too that there are still gaps to be filled (recall the well-received short and impactful speech by Nik Omar, son of the late Nik Aziz, at Putrajaya before the general election) that many are looking forward to.
So not everything goes any more. We have a new benchmark now. What with the many misconceptions and stereotyped thinking among certain segments of Malaysians, once again it represents an opportunity of a lifetime which is literally God-sent (think of the odds that we have overcome) without any form of violence that Islam abhors and prohibits.
It only means that there must be even more concerted effort and conscious ones to ensure that various issues are appropriately handled in the spirit of openness and mutual respect without sacrificing the ultimate outcome for justice and peaceful co-existence. This is what Islam teaches and promotes as the way of life. This is the endpoint come what may both externally, more so internally (spiritually).
Under the circumstances we need all hands on deck including that of Zakir Naik.
Foremost as a "preacher" of Islam, I do believe he has a wealth of knowledge (and expertise – although I do not subscribe to such a thing) that could be marshalled to bring out the "right" message, let alone attitude, of Islam as the way of life.
Sometimes the "message" is "right" but not the attitude which I discern would be the case. Being a multi-dimensional society, Malaysians proudly and rightly want to live up to what Islam (literally means "peace") prescribes by playing a prominent role in preserving and rooting diversity as a vital code of living that is in a sense divine.
This involves all living creatures and goes beyond mere rhetoric as observed in the many examples of the prophets, not just Muhammad (pbuh) as narrated in the hadith, but also that of Isa (Jesus) and Musa (Moses). Some would even argue of Buddha (also Confucius) who are deemed as prophets by some serious (Muslim) scholars.
In other words, Islam has so much "connectivity" (to use the current lingo) that must be revitalised for it to be fully understood, what is more lived, by connecting all the available relevant dots.
It is therefore incumbent upon Zakir to contemplate his role now that he is being put under intense spotlight internationally. It is irresponsible of him to do the same to the prime minister by forcing him into a predicament (read appearing publicly in the media especially now) if it only means to heap even more pressure on him to "solve" yet another problem when it could be easily done by Zakir himself.
Indeed this is to be expected of him, after all Malaysia has been generous enough to extend permanent residence to him (by the previous government). And like all good Muslims, returning a favour is a duty in demonstrating the true value of what Islam stands for so that others are able to comprehend and appreciate the Muslim way of life.
Short of this Zakir may have to think of other ways of easing the pressure on the prime minister by doing the right thing before the issue paints him as a "negative" poster boy for the world to see.
At least as an academic, he is compelled to come out in public to "answer" some of the pressing queries that are now fast distracting Malaysians from the task of building a unified, peace-promoting and balanced community (daulah) that Islam inspires.
Full report at:
http://www.thesundaily.my/news/2018/07/15/zakir-naik-must-ease-pressure
--------
Third coalition at stake after Muhaimin's maneuver
July 16, 2018
A plan to establish a third coalition for the 2019 presidential election by midsized political parties may now be at stake after National Awakening Party (PKB) chairman Muhaimin Iskandar announced his party's support for incumbent President Joko "Jokowi" Widodo.
Muhaimin made the statement on Saturday in Palembang, South Sumatra, while he was accompanying Jokowi, who visited a number of sports venues for the upcoming Asian Games — a rare presence since Muhaimin does not hold any position in the government.
"I hereby state, bismillah [in the name of God], that the PKB endorses Jokowi's candidacy in 2019 [the election], hoping that the second term will bring prosperity to the people," Muhaimin said while announcing support in front of Jokowi and PKB secretary-general Abdul Kadir Karding.
The PKB was among two parties in the pro-government coalition that had yet to officially endorse Jokowi. The PKB, along with midsized parties the Democratic Party and the National Mandate Party (PAN), has instead been floating the idea to form a third coalition to field an alternative candidate to challenge the presidential bids of both Jokowi and the Gerindra Party's Prabowo Subianto.
But doubt lingers about whether Muhaimin's endorsement is genuine since it was not the first time that Muhaimin declared such support for Jokowi's reelection bid. All announcements were made in less formal events, unlike what other parties did.
Muhaimin is also known to have eyed the vice presidential slot in exchange for his support in the 2019 race — which is widely seen as important to Jokowi given that his PKB is the unofficial political arm of Indonesia's largest Islamic organization, the Nahdlatul Ulama (NU).
There have been reports that the PKB may leave the pro-government coalition if Muhaimin is not selected, particularly after Jokowi revealed to the public that he had recently narrowed his potential vice presidential candidate list to five names.
But on Saturday, Muhaimin said he had told PKB members as well as NU members and clerics to be patient regarding Jokowi's vice presidential candidate, and handed over the decision on the matter to Jokowi and the coalition. "I'm optimistic that my name is among the ones currently in Jokowi's pocket."
Jokowi responded by saying, "I have to tell you as it is, that Muhaimin Iskandar is among the names [I considered]."
Hasto Kristiyanto, the secretary-general of the ruling Indonesian Democratic Party of Struggle (PDI-P), of which Jokowi is a member, was quick to laud the PKB's move, saying Muhaimin "made the decision at the right time".
He said the PKB's support was the outcome of a meeting between Muhaimin and PDI-P chairwoman Megawati Soekarnoputri on July 10. "During the meeting, Megawati did ask Muhaimin to join [the coalition] soon. She even repeatedly said Muhaimin had been seen as a relative."
Democratic Party secretary-general Hinca Panjaitan said Muhaimin's endorsement of Jokowi, however, failed to intimidate other parties that have been considering forming the third axis, saying alliances would now become more fluid as the registration period for presidential candidates draws near.
"[The third axis] will soon appear when either Prabowo or Jokowi announces his running mate," Hinca said.
Muhaimin and the PKB are known to have established communication with Gerindra.
Arya Fernandes of the Centre for Strategic and International Studies (CSIS) said the formation of the third axis for next year's presidential candidate might face an uphill battle in order to be realized, particularly after Muhaimin's maneuver.
"The third axis requires one party each from Jokowi's and Prabowo's sides to leave their respective coalition to form a new one. However, there are no indications of such a thing recently."
Full report at:
http://www.thejakartapost.com/news/2018/07/16/third-coalition-at-stake-after-muhaimins-maneuver.html
--------
West Java governor-elect vows to regenerate hafiz
July 16, 2018
West Java governor-elect Ridwan Kamil has pledged to develop a province-wide village program for nurturing hafiz, or Muslims that have memorized the Quran, during his term in office.
"[..] Then the mosques in all 6,000 villages in West Java will be led by amazing huffaz," Ridwan said on Sunday, referring to the Arabic term.
He was speaking on the occasion of the 2018 International Quran Recitation Competition (MTQ) and the fifth Congress of the Nahdlatul Ulama's Jam'iyyatul Qurrra wal-Huffazh, an organization of Quran readers and memorizers, which were held at the Asshiddqiyah Islamic boarding school in Karawang, West Java.
"I am committed to sending those huffaz across West Java, so there will be new Islamic standards in West Java," he said, as quoted by kompas.com.
Although he is yet to be inaugurated, Ridwan claimed to be preparing a draft academic bylaw on pesantren (Islamic boarding schools) to justify funding for all pesantren in West Java.
If the bylaw was passed, the West Java administration would be able to provide financial assistance annually, so the pesantren students could focus on their studies and their parents would be freed of the financial burdens from school fees. Ridwan also promised to improve the facilities at pesantren.
Full report at:
http://www.thejakartapost.com/news/2018/07/16/west-java-governor-elect-vows-to-regenerate-hafiz.html
--------
Police Kill Three, Arrest Five Terror Suspects in Java
July 15, 2018
Jakarta. The National Police's elite counterterrorism unit, Detachment 88, shot dead three suspected terrorists in Sleman, Yogyakarta, and arrested another five in Indramayu, West Java, on Saturday (14/07).
The shooting in Yogyakarta occurred when suspects armed with machetes and a firearm allegedly attacked officers while being pursued, National Police spokesman Brig. Gen. Mohammad Iqbal said.
"They were a danger to the officers and nearby civilians, so officers were forced to open fire on them," Iqbal said in a statement received by the Jakarta Globe.
He added that two officers were wounded in the attack, and that the police have seized four machetes and a revolver.
Five suspected terrorists arrested in four locations in Indramayu were found in possession of 100 kilograms of chemicals used in the production of explosives.
The suspects in Yogyakarta and Indramayu are all believed to be members of Jamaah Ansharut Daulah, a local terrorist group linked to Islamic State.
The group was responsible for a series of terrorist attacks that claimed the lives of dozens of people in Surabaya, East Java, in May this year.
Full report at:
http://jakartaglobe.id/news/police-kill-three-arrest-five-terror-suspects-in-java/
--------
Pakistan
Pakistan Elections 2018: Suicide bombers could be used to target politicians, warns counter-terror body
Jul 15, 2018
Islamabad: Pakistan's top counter-terrorism body has warned that there were serious security threats to political leaders of all major parties and suicide bombers could be used to target them, a media report said on Sunday. National Coun­ter Terrorism Authority (Nacta) chief Suleman Ahmad told the Election Commission of Pakistan (ECP) on Saturday that there were serious security threats to leaders and electoral candidates of all major parties, Dawn reported.
Briefing the Election Commission about security threats to the politicians and the overall security situation across the country, Ahmad said suicide bombers and improvised explosive devices (IEDs) might be used by terrorists, the paper said, citing its sources.
The briefing took place days after a senior official named six politicians under threat, followed by three back-to-back deadly terror attacks in four days — two in Khyber Pakhtunkhwa and one in Balochistan — that killed nearly 150 people including two top political leaders.
The leaders under threat include Pak­istan Tehreek-i-Insaf chairman Imran Khan, Awami National Party leaders Asfandyar Wali Khan and Ameer Haider Hoti, Qaumi Watan Party head Aftab Sherpao and banned outfit Jamaat-ud-Dawa (Jud) chief Hafiz Saeed's son Talha Saeed, the paper said.
Separately, the Senate's standing committee on interior affairs had also been told that the senior leadership of the Pakistan Peoples Party and the Pakistan Muslim League-Nawaz was also under threat. The national coordinator of Nacta also explained how the authority gathered information on threats and the mechanism to promptly disseminate the information to the federal and provincial governments and law enforcement agencies.
The ECP said that the electoral process will continue despite terror threats. It underlined the need to tighten security across the country and create a peaceful environment for the elections.
The provincial governments must act swiftly to provide security to political leaders and candidates, Ahmad said.
He also advised political parties and candidates to cooperate with the administration and timely share information about their activities in the interest of their own security.
Pak election logo
A senior Election Commission official told the paper that based on past experiences the ECP had already been taking up the issue of security at the highest level. He referred to a meeting held early last month where the ECP's secretary had given a briefing at a meeting held with caretaker Prime Minister Nasirul Mulk in the chair, which was also attended by all four chief ministers, chief secretaries and inspectors general of police.
https://www.firstpost.com/world/pakistan-elections-2018-suicide-bombers-could-be-used-to-target-politicians-warns-counter-terror-body-4746511.html
--------
MMA leaders lament lack of Islamic teachings in Pakistan
July 16, 2018
KARACHI ': President Muttahida Majlis-e-Amal (MMA) Maulana Fazlur Rehman on Monday lamented that the rulers of Pakistan have failed to give apt Islamic teachings to the people of the country.
"I urge all to support MMA to introduce an Islamic system in Pakistan and bring an end to using interest in this country," he maintained. The State Bank of Pakistan (SBP) has increased the interest rate by more than two per cent but the interim government is not elected and hence not accountable to people.
Sirajul Haq demands judicial inquiry into change in oath
"We defended against all moves deemed un-Islamic in the parliament. I want regional, linguistic politics to end rather than politics in the name of Islam as only an Islamic system can bring change in our country," Rehman said.
The MMA president also added that when MMA left the government in 2008, national debt was Rs80 billion and hasnow increased to Rs350 billion.
Chief of Jamaat-e-Islami (JI) Maulana Sirajul Haq during the speech reminded the audience that Pakistan has an Islamic Constitution, however, the previous rulers didn't stay loyal to it. "MMA alliance is an ideological alliance. If we win the government for even one day, we will bring back the caliphate," he added.
"Our first revolution will be economic. Votes shall be respected only if respect is given to Islam, Shariah, the Holy Quran and mosques."
Sirajul Haq reiterates demand of FATA, K-P merger
Full report at:
https://tribune.com.pk/story/1759177/1-mma-leaders-lament-lack-islamic-teachings-pakistan/
--------
Parties play religious cards as Pakistan poll looms
July 16, 2018
As Pakistan prepares for a national election at the end of July, several political parties with a religious bias are using their extremist agendas to pull in more voters.
Tehreek-e-Labbaik Pakistan (TLP), an Islamist party, said in its manifesto that it will establish a new ministry if elected to support its religious beliefs.
"A ministry called the Promotion of Virtue and Prevention of Vice will be set up … to make Islamic dress compulsory for women, ban coeducation and push for a segregated educational system," it stated in its manifesto.
"The media will be obliged to present solutions to problems pertaining to Muslims, religion and the nation in general, as well as [support the] ideological, educational and moral training of the public," it added.
The party, which adheres to the Barelvi sect of Islam, was formed by clerics who opposed the execution in 2016 of Mumtaz Qadri, a police commando who assassinated liberal Punjab governor Salman Taseer for his stance on the country's blasphemy laws.
Since November the group has conducted two anti-government sit-ins in Lahore and Islamabad, disrupting daily life in both the provincial and federal capitals.
A number of TLP candidates carry an image of Qadri on their electoral campaign banners, which promise to bring "the religion of the Prophet Muhammad" to the nation.
Hard-line Islamist activists are promoting the party's campaign bid by playing religious anthems at their Friday sermons.
Meanwhile, it is canvassing support from madrassas (Islamic seminaries) by sending them notices asking them to back the party and uploading these on its official Facebook page.
Stench of misogyny
TLP chief Khadim Hussain Rizvi, who seeks Sharia in Pakistan and believes all those found guilty of blasphemy should be put to death, has vowed to launch a so-called Amma Aisha Movement.
But some critics have expressed deep concern about what would happen to the country, especially young women, if his party were voted into power.
"All girls will be married at the age of six in line with the sayings of the Prophet Muhammad [known as hadith] and Islamic jurisprudence [fiqh]," Rizvi said at a recent rally held in the port city of Karachi.
Using a derogatory word for Christian sanitation workers, he said: "Churha will also be made to recite the Islamic proclamation of faith [kalma]."
In another sign of how women are still struggling for equal rights in patriarchal Pakistan, one candidate from the Pakistan Muslim League-Nawaz (PML-N) said it is forbidden (haram) for Muslims to vote for a female candidate in the upcoming poll.
"I will work under the command of Allah and His messenger, the Prophet Muhammad," Haroon Sultan said while addressing a corner meeting in his constituency in Muzaffargarh district.
A number of panchayat, or local village councils, bar women from casting their vote across the country. Typical punishments include social and religious boycotts.
Naumana Suleman, a human rights activist and co-founder of the Punjab-based Centre for Social Justice, said she rejected such anti-women campaigns as being discriminatory and unacceptable.
"The framework for both human rights and democracy advocates equality for all sects and religions," she said.
"Women already have fewer opportunities in our patriarchal society, but sanity must prevail. We desperately need logical religious interpretations," added the Christian researcher.
She is conducting a series of awareness seminars on national elections and the protection of minorities' rights in 17 of Pakistan's more than 150 districts.
"Community leaders are being trained to deliver short speeches while meeting the visiting candidates in their respective constituencies," she said.
"We demand proper implementation of the five percent job quota reserved for religious minorities, the formation of an independent National Commission for Minorities' Rights, and a revised curriculum and education policy free of discrimination on the basis of religion," she added.
Battle lines drawn
Ahl-e-Sunnat Wal Jamaat (ASWJ), a radical Sunni group, is taking no prisoners as it continues to provoke Shia Muslims, a minority group in Pakistan.
All factions of the ASWJ are reportedly inciting violent attacks on Shia and have outlawed the casting of ballots in favor of one of its rival parties, the PML-N.
Former prime minister Nawaz Sharif stepped down as president of the PML-N earlier this year and was handed a 10-year prison sentence in absentia on July 6 by an Islamabad court on corruption charges tied to properties his family owns in central London.
The party has come under repeated attack this year despite reversing an amendment to a clause in the Election Act regarding belief in the finality of prophethood at the end of 2017.
Religious parties claimed the constitutional amendment would have allowed members of the Ahmadi sect to vote freely as Muslims. The sect has been accused by mainstream Muslims of not recognizing Muhammad as the ultimate prophet.
The TLP has accused the PML-N of attacking the dignity of the prophet. Under the nation's controversial blasphemy laws, anyone accused of insulting God, Islam or the Prophet Muhammad can be sentenced to death.
Liberal Pakistanis have also expressed their disappointment with Imran Khan, a former star cricketer turned politician, who has defended the blasphemy laws in the run-up to the general election.
His critics say such tactics will cause more violence, citing PML-N ministers who were attacked in the wake of emotionally charged sermons and protests.
On July 4, an anti-terrorism court indicted the prime suspects in the shooting of former interior minister Ahsan Iqbal., who survived after being shot twice in the arm during a corner meeting of the party in Narowal district.
Police said in an interrogation report that the arrested gunman was a youth leader of the Islamist TLP party.
Earlier in March, a man was arrested after he threw ink at Foreign Minister Khawaja Asif during the minister's speech at a PML-N workers convention in Sialkot city of Punjab province. The accused, who had no political background, said he was reacting to an attempt made by the former ruling party to amend the clause regarding the Prophet Muhammad.
One day later, two men threw shoes at Sharif while he was about to address an event at a seminary in Lahore. In Arabic culture, hitting a person with your shoe is considered among the highest forms of insult. The three shoe throwers were also religious activists.
Anti-Ahmadi agenda
Independent candidates and those affiliated with religious parties are both playing the religious card in the run up to the poll, said Amir Mehmood, who handles communications for the Ahmadi sect, an Islamic religious movement based on the teachings of Mirza Ghulam Ahmad (1835-1908).
"The recent attacks on veteran politicians have proved that such tactics only encourage more violence," he said.
"The establishment is trying to mainstream banned extremist groups by bringing them into the political fold. Only law-abiding citizens should be permitted to contest the upcoming poll.
"Some 167,505 Ahmadi voters are being denied the right to vote, but that's not the point. We want to cast our votes as ordinary Pakistani citizens. We reject all discrimination and injustice."
Ahmadis have refused to sign a registration form which states that if a voter claims to be a Muslim, they must not be associated with the Qadiani or Lahori group nor claim to be an Ahmadi.
In fact, Ahmadis have disassociated themselves from participating in all elections since 2002 when a separate category was created for them through an executive order.
They have disassociated themselves from participating in all elections since 2002 when former ruler Pervez Musharraf created a separate category for them (amid a series of anti-Ahmadi protests) despite restoring a joint electorate for selecting members of the National Assembly and provincial assemblies.
Under the joint electorate system, 3.63 million voters belonging to religious minorities elect local representatives in the national and provincial assemblies. Muslim parties then select minority MPs through a proportional representation system.
Meanwhile, the Election Act 2017 retained a supplemental voting sheet that compels Muslim voters to sign a declaration rejecting the founder of the Ahmadi community as a false prophet.
If anyone objects to a particular voter who identifies as being non-Muslim, the election commission has the power to summon that person and ask that they declare whether or not they are Ahmadi. If they are, their name will be put on a supplementary "special voter" list.
Ever since they were declared "non-Muslims" through a constitutional amendment in 1974, Ahmadis have become the most persecuted minority in Pakistan. Some 260 have been killed in hate crimes since 1984.
The International Human Rights Committee (IHRC), a London-based organization, has called on Pakistan's government to do away with these discriminatory provisions, which effectively deny the Ahmadis the right to vote due to their religious beliefs.
Full report at:
https://www.ucanews.com/news/parties-play-religious-cards-as-pakistan-poll-looms/82770
--------
Pakistan opens terrorism case against ex-PM's party days before election
Jul 15, 2018
LAHORE, PAKISTAN/ISLAMABAD: Pakistani authorities have opened a criminal case against leaders of jailed ex-prime minister Nawaz Sharif's political party under an anti-terrorism law, 10 days before a hotly contested general election, according to a police report.
The case relates to a march staged by the Pakistan Muslim League-N on July 13 when Sharif returned to Pakistan to be arrested on a corruption conviction, which defied a ban on holding public rallies on a Friday.
A copy of the First Information Report (FIR), which marks the formal opening of a criminal investigation, names PML-N party leader Shehbaz Sharif, who is Nawaz Sharif's brother, and a number of other key figures.
The FIR cites section 7 of the Anti-Terrorism Act, which has broad provisions defining terrorism to include creating public fear, and lists 10 alleged violations of ordinary criminal law including unlawful assembly.
"We are taking action against PML-N leaders," the caretaker home minister of Punjab, Shaukat Javed, told Reuters. "But no one will be arrested before the elections."
He said including the terrorism charges was a "mistake" that would be corrected later.
Shehbaz Sharif led Friday's march across the city of Lahore, in which tens of thousands of people took part, intending to send a message to rivals that the popular vote is still with the PML-N ahead of the July 25 election.
Nawaz Sharif and his daughter Maryam were arrested minutes after landing on Friday.
National polls indicate a close race between the ruling PML-N and the Pakistan Tehreek-e-Insaf (PTI, or Pakistan Justice Movement) led by former cricket star Imran Khan, with the Pakistan Peoples Party in third place.
Sharif, who was removed from office by the Supreme Court last year and sentenced to 10 years in prison for "corrupt practices" this month, alleges the military is aiding a "judicial witch-hunt" to prevent the PML-N from winning a second term.
The party's past five years in government have been characterised by discord with the military, which has ruled Pakistan for nearly half its 71-year history.
The Sharifs' return could shake up an election riven by accusations the military is working behind the scenes to skew the contest in favour of Khan, who describes Sharif as a "criminal" deserving no support.
Musadik Malik, a senior PML-N official and member of Senate, said the FIRs are part of a pattern that included pressuring candidates to change to PTI and corruption cases against other party leaders.
"This FIR is just another attempt of intimidation and political victimisation," Malik said.
Full report at:
https://timesofindia.indiatimes.com/world/pakistan/pakistan-opens-terrorism-case-against-ex-pms-party-days-before-election/articleshow/65001371.cms
--------
Zardari slams terrorism cases against PML-N members
Amir Wasim
July 16, 2018
ISLAMABAD: Pakistan Peoples Party leader and former president Asif Ali Zardari has condemned initiation of terrorism cases against Pakistan Muslim League-Nawaz workers in Punjab, saying every citizen has the democratic right to hold rallies and public meetings.
"Political activists are the strength of democracy and democratic process," Mr Zardari said in a statement issued by his party's Central Media Office on Sunday.
The former president also expressed concerns over curbs on freedom of expression, saying his party would not tolerate such steps. He boasted that there was no political prisoner during the five years of the PPP government, from 2008 to 2013.
The top PPP leader issued the statement a day after it was reported that PML-N president Shahbaz Sharif, his son Hamza Shahbaz, former prime minister Shahid Khaqan Abbasi and 50 other leaders of the party had been booked under terrorism and other charges for "inciting" the crowd to violate law in Lahore on Friday at the time of arrival of former prime minister Nawaz Sharif and his daughter Maryam Nawaz from London.
PML-N spokesperson Marriyam Aurangzeb, former National Assembly speaker Ayaz Sadiq and senior leader Javed Hashmi are among those booked.
The FIR lodged with the Lohari police station accuses Shahbaz and former MNA Hamza of pelting the law enforcement agencies officials with stones allegedly with an intention to kill them. The main allegations against the PML-N leaders include damaging public buildings and properties, hurling threats and injuring the law enforcement agencies officials. They have also been accused of interfering in the official work, violating Section 144 of the PPC and the code of conduct issued by the Election Commission of Pakistan (ECP) for the candidates, besides holding illegal assemblies and rallies.
According to Lahore police, a total of 12 FIRs have been lodged against the suspects, including the former prime minister and former Punjab chief minister.
Mr Zardari said it was the responsibility of the ECP to provide a conducive environment to all the political parties participating in the elections.
Without naming Pakistan Tehreek-i-Insaf (PTI) chairman Imran Khan, who passed some objectionable remarks against the PML-N workers and leaders, Mr Zardari said that "bullet and bad-mouthing are the enemies of democracy".
"One should not resort to foul language in politics. The people who are always bad-mouthing others cannot serve the nation," he said.
The former president said that despite security concerns, PPP chairman and his son Bilawal Bhutto-Zardari could not be kept away from the people.
Condemning firing on rally of a PPP candidate in Dadu, he asked the Sindh government to immediately arrest the culprits.
In a separate statement, PPP spokesman Senator Moula Bakhsh Chandio criticised the caretaker government and the ECP for not taking adequate measures to provide security to election candidates in the wake of recent terrorist attacks in the country.
He said it was surprising that instead of providing security the caretaker government was asking the parties under threat to stop their election campaigns. "Those who are being attacked by the terrorists are being asked to stop campaigning," the senator said, adding: "When terrorists issue us threats, the government asks us to stay indoors."
"The caretaker governments must tell the nation, who is to decide about the elections? People of Pakistan or the terrorists?" he asked.
Without naming the PTI, Mr Chandio alleged that only one party was being allowed to run its election campaign smoothly. The other politicians were being warned against possibility of terrorist attacks.
"How it is possible that a political leader has the permission to hold public meetings wherever he wants and others are stopped? There is some nexus. It is the duty of the ECP and the caretaker government to find out this nexus," said the senator in an apparent reference to the claim of the PPP and the PML-N that the PTI was being supported by the establishment.
Full report at:
https://www.dawn.com/news/1420347/zardari-slams-terrorism-cases-against-pml-n-members
--------
Pakistan all set to submit rejoinder in ICJ tomorrow
JULY 16, 2018
Pakistan will submit its reply to the International Court of Justice (ICJ) on July 17 (tomorrow) with regards to the case of convicted Indian spy Kulbhushan Jadhav.
Following Jadhav's arrest and conviction by Pakistan in 2016, India had approached the world court to halt his execution. The reply will be submitted by Foreign Office Director India Dr Fareha Bugti, who has already arrived in The Hague for the purpose. Dr Bugti had also submitted Pakistan's counter-pleading in December last year.
Pakistan's 400-page reply – a rejoinder to India's last reply – has been prepared by a team of experts led by the attorney general and reportedly contains detailed replies to India's submissions to the international court.
Full report at:
https://dailytimes.com.pk/268361/kulbhushan-case-pakistan-all-set-to-submit-rejoinder-in-icj-tomorrow/
--------
Arab World
Syrian regime intensifies shelling of 'Triangle of Death' around Daraa
16 July 2018
The Syrian regime's air forces intensified shelling over the "Triangle of Death", which includes areas in northwest Daraa and the Quneitra's central countryside.
The Syrian Observatory for Human Rights said the regime's air forces targeted positions in Tal Al-Hara, Aqrba, Tal Mashra and others, adding that the number of raids targeting the Triangle of Death since Sunday morning increased to around 230.
The regime also used explosive barrels, the observatory added.
Evacuating opposition fighters and their families from Daraa began on Sunday. The evacuation implements the ceasefire decision reached between Russia and opposition factions on July 6. Hundreds of fighters and their family members boarded 15 buses on Sunday leaving Daraa.
Opposition factions in Daraa also began handing their heavy weapons over to the regime on Saturday.
The observatory noted that opposition factions control around 70% of Quneitra, which bears a sensitive location considering its borders with the Golan Heights occupied by Israel.
https://english.alarabiya.net/en/News/middle-east/2018/07/16/Syrian-regime-intensifies-shelling-of-Triangle-of-Death-around-Daraa.html
--------
Last Kurdish forces leave Syria's Manbij, allied fighters say
16 July 2018
The last members of a Kurdish militia pulled out on Sunday from the Syrian town of Manbij, allied Arab fighters said, under a deal reached to avoid clashes with Turkey.
The Kurdish People's Protection Units (YPG) led the victorious 2016 offensive to rid Manbij of the Islamic State group and had kept military advisers in the town to train local forces.
It announced last month it would begin withdrawing from the town as the local Manbij Military Council was capable of holding it on its own.
"The last group of military advisers from the People's Protection Units finished withdrawing on July 15, 2018 after completing their mission to train and develop our forces, under the deal with the international coalition," the MMC said.
The YPG forms the backbone of the Syrian Democratic Forces, the Kurdish-Arab alliance that has ousted IS from swathes of Syria with help from the US-led coalition.
But the militia is considered a "terrorist" group by Ankara, which sees it as the Syrian branch of the Kurdistan Workers' Party (PKK), outlawed in Turkey.
Full report at:
https://english.alarabiya.net/en/News/middle-east/2018/07/16/Last-Kurdish-forces-leave-Syria-s-Manbij-allied-fighters-say-.html
--------
Syria rebels begin evacuating 'cradle' of uprising in Daraa
July 16, 2018
DARAA - Hundreds of Syrian rebels and their relatives left the southern city of Daraa on Sunday under a deal to bring the "cradle" of the country's uprising back under government control.
The transfers came as Russian-backed government forces advanced in the neighbouring province of Quneitra, with air strikes pounding rebel positions perilously close to the Israeli-occupied Golan Heights.
After securing Damascus in May, President Bashar al-Assad turned his attention to rebels in the strategically vital south, where protests against his rule first erupted seven years ago.
Nearly three weeks of bombardment saw beleaguered rebels agree with Russia earlier this month to hand over Daraa province, before reaching a similar deal for its capital this week.
In recent days, rebels have handed heavy-duty arms and equipment to government forces who entered the city's rebel-held southern districts for the first time in years to plant the national flag.
On Sunday, rebels and civilians who did not want to live under regime control were granted safe passage to opposition-held Idlib in Syria's northwest.
Hundreds of fighters and some relatives, carrying suitcases packed with clothes, boarded around 15 buses in Daraa city, AFP's correspondent there said.
The vehicles, parked on a main thoroughfare connecting the city's government-held north with its rebel south, were searched by Russian forces before setting off just after midday for Idlib.
State television also reported the transfers, broadcasting images of white buses they said were carrying the fighters, their blue curtains drawn, surrounded by military forces.
- Buses leave, buses stay -
The official news agency SANA said on Sunday Daraa's rebels released five men they had been holding hostage into regime custody, and also surrendered more heavy and medium weaponry.
That would pave the way for the entire city to come under government control in accordance with the handover deal.
A small group of Syrian soldiers took up position in Daraa al-Balad on Sunday, a key rebel-held quarter of the city, said the Syrian Observatory for Human Rights monitor.
It said just 430 people including civilians and rebels from the city and wider province were evacuated Sunday, far less than the 1,400 expected to leave. "There are still empty buses in the city and it is unclear if there will be more evacuations," said the head of the Britain-based group, Rami Abdel Rahman.
The so-called reconciliation deal for Daraa city is the latest in a string of such agreements the regime has used to retake large parts of the country.
They usually follow ferocious military campaigns and sometimes stifling sieges that effectively force rebels to surrender.
Their terms also typically include the mass transfer of thousands of rebels and civilians to opposition-held Idlib, in what rights groups and activists say may amount to forced displacement.
Moscow has brokered many of these deals. It had reportedly insisted to southern rebels such transfers were not on the table for them, but seems to have ultimately relented.
The regime fully regaining its rule over Daraa city will be a hugely symbolic blow to the opposition.
In 2011, teenagers were arrested for scrawling anti-Assad slogans on the walls of a school in the city, sparking mass protests against the government.
A brutal crackdown saw the movement develop into a full-fledged conflict that has since killed more than 350,000 people and displaced half the country's pre-war population.
Assad has regained much of the territory he initially lost to opposition groups, now comfortably holding more than 60 percent of Syria. In the south, he holds 80 percent of Daraa province but parts of its western countryside and most of the adjacent province of Quneitra still escape his control.
On Sunday, regime forces battered Quneitra province with hundreds of missiles and seized the town of Masshara, according to the Observatory.
The clashes left 18 regime forces and 13 rebels and allied jihadists dead, the monitor said.
Air strikes also hit an opposition position in Quneitra that lies within four kilometres (less than three miles) from the sensitive buffer zone with the Israeli-annexed Golan Heights.
The Observatory said the suspected Russian strikes were the first in the area in over a year, when Russia, the US, and Jordan agreed a ceasefire deal for parts of the south.
Around 160,000 people who were displaced by the regime's offensive on Daraa are still trapped in Quneitra, near the border with the Golan.
Israel has been on high alert in recent weeks amid the spike in hostilities in the south.
It says its main priority is preventing its archfoe Iran, a key backer of Assad, from building up its military installations in Syria.
Full report at:
https://nation.com.pk/16-Jul-2018/syria-rebels-begin-evacuating-cradle-of-uprising-in-daraa
--------
Syrian Army in Control of 90 Percent of Dara'a Province
Jul 16, 2018
The army men continued to storm terrorists' positions Southwest of the village of Kafr Shams and captured the town of Um al-Awsaj after liberating the township of Zamrin in Northern Dara'a.
In the meantime, the army men captured the town of Qabaqib in Northern Dara'a after repeated popular uprisings forces the militants to hand over the region to the army men.
A well-informed source, meantime, said only a few villages and hills are still under terrorists' control in Dara'a and the army has already established rule over 90 percent of Dara'a province.
Hawz al-Yarmouk region is also under ISIL terrorists' control.
On Sunday, the army units imposed control over the town of Zalin in Northwestern Dara'a, heading towards Tal Zamlin.
In the meantime, terrorists in the town of Jasem in Northern Dara'a started surrendering their heavy weapons to the army men.
Full report at:
http://en.farsnews.com/newstext.aspx?nn=13970425000301
--------
Israel Launches Missile Attack on Syria Again
Jul 16, 2018
Syria's state news agency, SANA, quoted a field sources as reporting that Israel conducted missile attack on army position North of Nireb Airport in Eastern Aleppo, inflicting major damage on the army stronghold.
In the meantime, the Arabic-language website of Sputnik quoted a Syrian military source as saying that Israel fired eight missiles at the army position North of Nireb Airport, adding that four of the missiles were intercepted by the country's air defense units and the other four struck at areas near the army stronghold.
The fresh Israeli missile attack was conducted as the army is inflicting heavy defeats on the terrorists in the two provinces of Quneitra and Dara'a and is purging the Southwestern and Southern parts of the country of terrorists completely.
Earlier this month, an Israeli drone launched missile strike against a Syrian army positions in the Northern parts of Quneitra province.
The missile was fired against the army bases at the so-called UN hill which is linked to the Golan Heights and witnessed fierce clashes in late 2015, but the terrorists failed to capture.
The Arabic-language media sources reported at the time that the Israeli missile units opened fire at the Syrian army positions in Quneitra province after the latter inflicted a heavy defeat on al-Nusra Front (also known as Fatah al-Sham Front or the Levant Liberation Board) in the town of al-Ba'ath.
The al-Mayadeen reported at the time that the Israeli missile units deployed in occupied Golan Heights in Tal (hill) Abu al-Nadi fired three missiles at army positions near Naba'a al-Fawar, damaging the army's equipment.
The Israeli attack was done after the army soldiers repelled an al-Nusra attack in al-Ba'ath and then in a rapid counter-attack recaptured lost lands.
Relevant reports said in early July that an Israeli military helicopter targeted two positions of the Syrian Army in areas near the town of Eastern al-Samadaniyeh and another position around the town of al-Ba'ath.
Full report at:
http://en.farsnews.com/newstext.aspx?nn=13970425000209
--------
Military Source: Liberation of Idlib, Key to End War in Syria
Jul 15, 2018
The military source was quoted by the Arabic service of the Russian Sputnik news agency as saying that the top military commanders of the Syrian army are resolved to take back all Syrian territories from the terrorists, adding that liberation of Idlib is now seen as the key to end the 7-year-long war in Syria.
He also referred to the recent attack by Tahrir al-Sham Hay'at (the Levant Liberation Board or the Al-Nusra Front) and Horas al-Din on army positions in Lattakia, noting that "the terrorists will soon receive a crushing response from the Syrian army in the region".
The source also said that the Syrian army units in Southeastern Idlib and Northern Hama are fully prepared, and added that at present, the military option is on the table and the army enjoys the needed level of power to to set Idlib free.
According to the report, infighting among the terrorists and growing insecurities in Idlib province have increased the civilians' wrath and uprising against militants in the region.
In relevant remarks last Monday, a prominent Syrian analyst said the army's major success in Dara'a operation in Southern Syria means that the battle of all battles would soon start in the Northwestern province of Idlib where around 50,000 terrorists have been cornered.
Nadhal al-Saba'a told the Arabic website of Sputnik news agency that the Syrian army's control over al-Nasib passageway in Dara'a province was a major and epoch-making victory bringing the government troops much close to the end of battle in Southern Syria.
He referred to the peace agreement between the Syrian army and terrorist groups in Southern Syria, but reminded that ISIL terrorists at the borders with Golan region have been excluded from the agreement, adding that a bloody battle is expected in the region.
Al-Saba'a said that the Syrian government's control over Dara'a and the end of battle in Southern Syria will trigger the massive military operations in Idlib against over 50,000 terrorists with extremist thoughts.
Full report at:
http://en.farsnews.com/newstext.aspx?nn=13970424000870
--------
Strikes blamed on Israel killed 9 pro-regime fighters in Syria
16 July 2018
At least nine pro-regime fighters died in an overnight strike in northern Syria blamed on Israel, a monitor said Monday.
Syrian state media had accused Israel of bombing a military position in Aleppo province late Sunday, in what would be a rare Israeli attack so far north in the war-ravaged country.
The Syrian Observatory for Human Rights, a Britain-based war monitor, said that those killed included at least six Syrians and that Iranian fighters were also stationed at the base.
State news agency SANA on Sunday reported a missile strike near a strategic air base but said there were no casualties.
"The Zionist enemy... targeted with its missiles one of our military positions north of the Neirab military airport, but the damage was only material," it said, citing a military source.
There was no immediate comment from the Israeli military, which very rarely confirms strikes on targets in Syria.
Israel has repeatedly warned it will not tolerate an entrenched presence of its archfoe Iran in the neighbouring country.
The Observatory, which relies on a network of sources inside the country, said it had recorded a wave of blasts around Neirab on Sunday night.
It said that a suspected Israeli missile strike had targeted "positions held by Syria's regime and its allies at the Neirab airport" and its surroundings.
Suspected Israeli air strikes have hit Syrian army positions near Damascus and in the central provinces of Homs and Hama in the past but they rarely occur as far north as Aleppo.
Full report at:
https://english.alarabiya.net/en/News/middle-east/2018/07/16/Strikes-blamed-on-Israel-killed-9-pro-regime-fighters-in-Syria.html
--------
Syria militants begin leaving Dara'a under surrender deal
Jul 15, 2018
In Syria, militants and their relatives have begun leaving the southern city of Dara'a, in the wake of a surrender deal with the government to evacuate the region.
Groups of militants got on around 15 buses in Dara'a on Sunday. They have handed over their heavy weapons.
It has been reported that the convoy is headed for the northwestern province of Idlib.
The so-called Syrian Observatory for Human Rights said an estimated 1,400 people were expected to be evacuated in a single group on Sunday.
"Buses began moving from the gathering point towards the edge of the city to be searched," said Rami Abdel Rahman, the head of the Britain-based group.
The surrender deal was mediated by Russia.
Now that Dara'a is under the Syrian government's control again, the much reported collaboration between anti-Damascus militants and the Israeli regime would effectively be disrupted. Israel has beefed up its military presence in the Golan Heights in recent days. The Israeli regime has also been providing weapons to anti-Damascus militants as well as medical treatment to Takfiri elements wounded in Syria.
Since June 19, the Syrian army has been conducting the liberation operation in Dara'a, which borders Jordan and the Israeli-occupied side of Syria's Golan Heights.
In a bid to minimize civilian casualties, both Damascus and Moscow have been initiating talks with militants to make them hand back the areas they control to the government without fighting.
Full report at:
https://www.presstv.com/Detail/2018/07/15/568209/Syria-militants-Daraa
--------
Mideast
Israel votes on bill in final blow to Palestinian state hopes
Jul 16, 2018
Israeli lawmakers are voting on a bill that declares Israel exclusively "the nation-state of the Jewish people," with rights groups warning it would enshrine apartheid and Jewish supremacy.
The "Israel as the nation-state of the Jewish people" bill prioritizes Jewish values over democratic ones in the occupied territories and declares Jerusalem al-Quds the "capital" of Israel.
It also allows Jewish-only communities, sets Hebrew as the official language of Israel and relegates Arabic from an official language to one with "special status."
The bill, coming to a final vote Monday, has been compared to South African apartheid by Israeli lawmakers, but Prime Minister Benjamin Netanyahu has repeatedly said its passage is one of his top priorities.
Some 7,000 people, including several Israeli politicians, social activists, public figures and lawmakers, took to the streets of Tel Aviv Saturday to condemn the discriminatory nature of the measure.
The bill would also limit Palestinian access to the regime's high court, with critics saying it is the latest step toward a de-facto annexation of the West Bank.
A Knesset panel on Sunday approved the bill for second and third readings in a move seen as an attempt to hamper Palestinian petitions against Jewish settlements in the West Bank and to ban the demolition of settler units.
"This is the law of annexation. If you are brave enough to annex, then do so to the end," member of Knesset Karin Elharar said.
If the bill is passed, district courts would have jurisdiction to discuss Palestinian petitions against Israeli settlements.
"This is an attempt to prevent Palestinians from demanding rights to their land," MK Michal Rozin said, adding the bill also allows for land "theft.
Adalah – the Legal Center for Arab Minority Rights in Israel - said in a new position paper that the bill falls within the bounds of absolute prohibitions under international law and is therefore illegitimate as a colonial law with characteristics of apartheid.
"The Nation-State Basic Law is illegitimate, as it establishes a colonial regime with distinct apartheid characteristics in that it seeks to maintain a regime in which one ethnic-national group controls an indigenous-national group living in the same territory while advancing ethnic superiority by promoting racist policies in the most basic aspects of life," Adalah General Director Hassan Jabareen said.
The bill would "remove the mask so as to reveal the ugly face of ultranationalist Israel in all its repugnance," Mordechai Kremnitzer, from the faculty of law at the Hebrew University of Jerusalem, wrote in Israel's Haaretz newspaper.
https://www.presstv.com/Detail/2018/07/16/568256/Israel-Knesset-vote-bill
--------
Army resolute on terror eradication, Syria liberation: Assad
Jul 15, 2018
Syria's President Bashar al-Assad says the Syrian Arab Army and the allied forces are firmly resolved to defeat terrorism and liberate the entire Arab country's territory.
Assad made the remarks in a meeting with Iranian Foreign Minister's Special Assistant for Political Affairs Hossein Jaberi Ansari and his accompanying delegation in Damascus on Sunday.
Jaberi Ansari commended the recent achievements made by the Syrian army in the battle against terrorists in the southern city of Dara'a and its countryside.
The two sides emphasized that the elimination of terrorism in most of the Syrian territories has prepared an appropriate ground for putting an end to the seven-year war in Syria but the policies and preconditions set by countries that support terrorism have so far prevented it.
Since June 19, the Syrian army has been conducting the liberation operation in Dara'a, which borders Jordan and the Israeli-occupied side of Syria's Golan Heights.
In a bid to minimize civilian casualties, both Syria and Russia have been initiating talks with militants to make them hand back the areas they control to the government without fighting.
Dara'a was the birthplace of sedition that was born in March 2011 before morphing into a foreign-backed militancy that continues to this day.
The Syrian army on Thursday raised the national flag over the city of Dara'a as a major counter-terrorism operation nears an end, with foreign-backed militants leaving the region in negotiated surrender deals.
State television reported that the Syrian military had managed to enter the militant-held part of Dara'a and hoist the flag near the city's post office.
The Syrian president and senior Iranian official also stressed the importance of boosting bilateral strategic relationship to serve the interests of the two nations and the entire region.
They agreed to continue working to strengthen mutual ties continuously as an important factor to develop regional stability.
A senior Iranian official said in May that legitimate governments of Iraq and Syria have called for Iran's military advisory presence in their countries in order to help them fight terrorism.
Secretary of Iran's Supreme National Security Council (SNSC) Ali Shamkhani said the world confirms that Iran has played a leading role in preventing the expansion of Daesh in Iraq, Syria, Lebanon and even Europe, adding, "The ire of the US and this country's allies, who were the main creators and sponsors of Takfiri terrorism and the final losers of this battlefield, is understandable."
Jaberi Ansari also held talks with Syrian Foreign and Expatriates Minister Walid al-Moallem about the latest political developments in light of the victories achieved by the Syrian army and its allies in the fight against terrorist groups and their supporters.
Full report at:
https://www.presstv.com/Detail/2018/07/15/568222/Assad-Jaberi-Ansari-Daraa-terrorism-Walid-alMoallem-
--------
Gaza truce mostly holds after heavy Israel strikes
July 16, 2018
GAZA CITY - A ceasefire announced by Hamas largely held Sunday after the most severe exchange of fire between Israel and Palestinian militants in the Gaza Strip since a 2014 war, easing fears of a wider conflict for now.
Hamas, the Islamist movement that runs the blockaded Gaza Strip, said late Saturday a ceasefire had been reached with the help of Egypt and others, though Israel declined to comment.
The United Nations' Middle East envoy Nickolay Mladenov was in Gaza and "working with all concerned parties to de-escalate the situation," a UN official said on condition of anonymity.
Despite a few lower-level exchanges of fire overnight, relative calm returned to the Gaza Strip.
In one incident on Sunday, an Israeli aircraft fired at what it said was militants launching balloons carrying firebombs over the Gaza border fence. It was not yet clear if there were casualties.
Saturday saw dozens of Israeli air strikes, killing two Palestinians, while some 200 rockets and mortars were fired from the enclave at Israel.
Four Israelis were wounded when a rocket hit a house in the city of Sderot near the Gaza Strip, authorities said.
The two Palestinians killed were aged 15 and 16, caught in an Israeli strike on a building in the west of Gaza City, the enclave's health ministry said.
Twenty-five people were wounded across Gaza, the ministry said. Hamas said it fired at Israel in defence in response to air strikes, which came after a soldier was wounded by a grenade along the Gaza border.
Fawzi Barhoum, Hamas spokesman, said "the protection and the defence of our people is a national duty and a strategic choice."
Israel blamed Hamas for the escalation, pointing to months of protests and clashes along the border that its military argues the Islamist movement is seeking to use as cover for attacks.
There have also been hundreds of fires at Israeli farms caused by kites and balloons carrying firebombs from Gaza, leading to political pressure on the government and military to take action against Hamas.
Israeli Prime Minister Benjamin Netanyahu said that Hamas had been hit with "the hardest blow" since a 2014 war and that "we will increase the strength of our attacks as necessary."
At the start of a cabinet meeting on Sunday, he denied what he said were reports that "Israel has agreed to a ceasefire that would allow the continuation of terrorism by incendiary kites and balloons".
"This is incorrect," he said. "We are not prepared to accept any attacks against us and we will respond appropriately." Thick plumes of smoke had risen over parts of the Gaza Strip on Saturday as Israel hit dozens of targets it said belonged to militants, including a high-rise building allegedly used by Hamas as a training facility with a tunnel underneath.
The army said the strikes targeted Hamas military facilities, including a battalion headquarters, training facilities and weapons storage areas.
In Israel, air raid sirens on Saturday sent people rushing to shelters in areas surrounding the Gaza Strip as rockets and mortars were fired from the Palestinian enclave at nearby communities.
Israel said its air defences intercepted around 30 of the some 200 rockets and mortars fired.
Tensions have been building between Hamas and Israel for months over mass protests and clashes along the border fence. The two sides have already fought three wars since 2008.
The protests have called for Palestinian refugees to return to their former homes now inside Israel.
Since the protests and clashes broke out along the border on March 30, at least 141 Palestinians have been killed by Israeli fire.
The majority of those killed were involved in protests and clashes but others were seeking to breach or damage the border fence.
No Israelis have been killed.
The arson balloons and kites from Gaza have caused 750 fires and burned 2,600 hectares, leading to hundreds of thousands of dollars in damage, according to Israel's fire service.
On July 9, Israel closed its only goods crossing with the Gaza Strip in response to the fires.
Hamas called the move a "crime against humanity," with Gaza already suffering from deep poverty and worsening humanitarian conditions.
Border protests peaked on May 14, when the United States moved its Israel embassy to the disputed city of Jerusalem, but have continued at a lower level since then.
On Friday, Israeli troops shot and killed two Palestinians, including a teenager, and wounded hundreds of others in border clashes.
An Israeli soldier was also moderately wounded when a grenade was thrown at him from the northern Gaza Strip, the military said.
Full report at:
https://nation.com.pk/16-Jul-2018/gaza-truce-mostly-holds-after-heavy-israel-strikes
--------
3 killed as worker opens fire at KSA-Yemen border
July 16, 2018
RIYADH:- Three people were killed at a Yemen border crossing when a Saudi immigration worker opened fire, killing a colleague and police officer before being shot himself, Saudi authorities said Sunday. The 34-year-old employee of the Wadia crossing shot two of his colleagues at the frontier post on Saturday night, after they accused him of missing shifts, the Najran province administration said via Twitter. One died instantly while another was injured and hospitalised. The gunman went on to kill a police officer before being shot dead as he tried to flee the scene.–AFP
The Najran authority made no link between the attack and the war in Yemen, where Saudi Arabia is leading a military coalition battling Iran-backed Huthi rebels.
In June, Saudi authorities said they had killed fighters heading to the Saudi border from Yemen.
Saudi Arabia said the fighters belong to Lebanon's Hezbollah, which like Yemen's Huthis has links to Iran. Hezbollah has denied the charge.
Full report at:
https://nation.com.pk/16-Jul-2018/3-killed-as-worker-opens-fire-at-ksa-yemen-border
--------
Houthis fire rocket on wedding killing women, children in Yemen's Jawf
16 July 2018
Five Yemeni civilians were killed after a katyusha rocket was fired by the Houthis at a wedding in Al Jawf in northeast of Yemen.
The Yemeni news agency quoted a medical source as saying that Al Jawf Public Hospital said five Yemenis, women and children, were killed, adding that others were injured and some of them are in a critical condition.
A military source said the Houthis fired the rocket at a ceremony in a house in Al Hazm in Al Jawf where only women had gathered for the celebration.
https://english.alarabiya.net/en/News/middle-east/2018/07/16/Houthis-fire-rocket-on-wedding-killing-5-women-children-in-Yemen-s-Jawf.html
--------
Houthi court sentences three Yemenis from Saada to death
16 July 2018
A Houthi militia court in Sanaa has handed down execution orders of three citizens from the province of Saada on charges of collaborating with the Yemeni legitimate government and coalition countries.
According to media sources affiliated with the Houthi militias, "the Criminal Court of First Instance controlled by the militias in Sanaa handed out the death penalty to Mohammed Yahya Mohammed Hajar, Abdulrahman Rabshan Hassan Amiri and Saleh Abbas Saleh Suleiman".
The same court issued death sentences on eight other Yemeni citizens last April on charges belonging to ISIS and allegedly collaborating with the countries belonging to the coalition backing the legitimate Yemeni government.
The sentences come at a time when the Saada, currently a main stronghold of the Houthis, is witnessing wide falls among the ranks of the militias as many armed Yemeni forces advance on several fronts with the participation of the province's tribesmen in fighting alongside them against the militias.
Local and international human rights organizations accuse the Houthi militias of widespread abuses against their opponents, including the arbitrary use of the death penalty.
Full report at:
https://english.alarabiya.net/en/News/gulf/2018/07/16/Houthi-court-sentences-three-Yemenis-from-Saada-to-death.html
--------
Israel launches drill simulating capture of Gaza City
Jul 16, 2018
Israel has launched a series of war games throughout the occupied territories, including one in southern Israel that will reportedly simulate the capture of Gaza City.
The war games, which began on Sunday, are expected to continue until the end of the week, which will see "increased movement by security forces, vehicles and aircraft," the Israeli military said.
According to Israel's Walla news website, one of the war games led by the 162nd Armored Division will drill capturing Gaza City in the Gaza Strip.
The drills began a day after Tel Aviv launched its heaviest bombing of the Gaza Strip since 2014, prompting UN Special Coordinator for the Middle East Nickolay Mladenov to warn that Israel and Gaza were on the brink of war.
Israeli threats of a full-scale war on the Gaza Strip follow its efforts to stop incendiary kites and balloons being launched from the besieged territory, but to no avail. There have been hundreds of fires at Israeli farms caused by kites and balloons carrying firebombs.
A group of young Palestinians who have been launching the primitive devices into southern Israel threatened to step up their activities on Sunday.
The self-styled "Sons of Zouari" said they would conduct a "high-quality response" against Israel in light of its intensified attacks on the Gaza Strip.
Hamas leader Ismail Haniyeh also said at a funeral that the Palestinians would challenge Israel with protests near the Gaza fence until an Israeli blockade on the impoverished enclave is lifted.
At a press conference on Sunday, Mladenov said the rapid deterioration of the situation in the coastal enclave has a humanitarian factor, where "the economy has collapsed amid the crippling Israeli siege for more than a decade.
United Nations Relief and Works Agency (UNRWA) media adviser Adnan Abu Hasna said Palestinians in the Gaza Strip "have nothing to lose" as he warned of a new Israeli war.
"We hear the attacks, the drones and the F-16s. The people are talking about an escalation and these kinds of things," he said.
"The damage from the 2014 war has still not been repaired, but the central problem here in Gaza is that people have nothing to lose," Abu Hasna told Israel's Ynet news website.
Saturday saw dozens of Israeli airstrikes, killing two Palestinians. Some 200 rockets and mortars were fired from the enclave at Israel in response, leaving four Israelis injured.
The Israeli military announced that it will be deploying additional Iron Dome missile batteries in southern Israel and in the greater Tel Aviv area, following the escalation. It also called up reservists to provide additional manpower for these batteries. 'Israel killing Palestinian children'
Hanan Ashrawi, a member of the Palestine Liberation Organization's executive committee, said on Sunday Israel was "deliberately targeting and killing Palestinian children."
Her comments came after an Israeli missile hit a half-constructed high rise in Gaza, leaving two teenagers dead. Another teenager was shot and killed by Israeli forces as he attended protests along the Gaza fence on Friday.
"Israel is deliberately targeting and killing Palestinian children. Such a brutal and criminal campaign against the people of Gaza is allowed to persist by the international community's inaction and American collusion with the military occupation," Ashrawi said.
"The targeting of public places and playgrounds constitutes a war crime and violates international law and international humanitarian law," she added.
Full report at:
https://www.presstv.com/Detail/2018/07/16/568254/Israel-military-simulates-capture-Gaza-City
--------
Israel bolsters Iron Dome, launches strikes on Syria's Aleppo
Jul 16, 2018
Israel has targeted a Syrian military site in the Aleppo countryside in a missile attack causing structural damage.
"The Zionist enemy ... targets one of our military sites north of Nairab airport, causing only material damage," the Syrian state news agency SANA quoted a military source as saying on Sunday.
The source added that the latest attack was an attempt by the Tel Aviv regime to support militants who still remain in southern Syria.
The Tel Aviv regime has recently increased its airstrikes in the Arab nation. The Syrian government has on multiple occasions slammed the Israeli regimes aggression actions and also warned about the "dangerous repercussions" of Israeli assaults on its territories. Israel is widely believed to have been providing weapons to anti-Damascus militants as well as medical treatment to Takfiri elements wounded in Syria inside the occupied Golan Heights.
On Wednesday, Syrian military air defenses repelled an Israeli attack on the country's Quneitra province.
Syria's official news agency SANA reported late on Wednesday that Israeli warplanes fired several missiles at Syrian army positions located close to the Israeli-occupied Golan Heights causing only material damage.
Meanwhile, Israel has announced that it has increased the deployment of its Iron Dome missile system following a day of increased airstrikes on the Gaza Strip.
The Israeli Army also announced that it called up its reserved forces, while threatening to take severe action against the Palestinian resistance movement Hamas.
Earlier, Israeli warplanes continued to bombard the Gaza Strip shortly after Palestinian factions and the Tel Aviv regime agreed upon an Egyptian-brokered ceasefire agreement following a day of heavy clashes.
On Saturday, a Palestinian resistance movement Hamas spokesman, Fawzi Barhoum, said that the group had agreed upon a "Egyptian offer to return to a ceasefire to stop this escalation."
Separately a spokesman for the Islamic jihad movement said that his group will honor the ceasefire as long as the Tel Aviv regime follows suit. He noted that despite the ceasefire his group reserves the right to retaliate any manner of Israeli aggression. The Israeli military frequently bombs the Gaza Strip, with civilians being the main target of such attacks.
In early July 2014, Israel waged a war on the Gaza Strip. The 50-day military aggression, which ended on August 26, 2014, killed nearly 2,200 Palestinians, including 577 children. Over 11,100 others – including 3,374 children, 2,088 women and 410 elderly people – were also wounded in the war.
Full report at:
https://www.presstv.com/Detail/2018/07/16/568242/israel-syria-iron-dome-aleppo
--------
Top PKK terrorist wanted for teenager's murder killed in northern Turkey
Jul 15, 2018
Turkish security forces have killed a senior member of the Kurdistan Workers' Party (PKK) militant group accused of killing a teenager last year during an anti-terrorism operation in the country's northern province of Gumushane.
Turkey's Interior Minister Suleyman Soylu, in a statement published on his official Twitter page on Sunday, announced that Mehmet Yakisir, better known by the nom de guerre Zeynel, had been killed during an offensive in the Kurtun district of the province.
Yakisir reportedly killed 15-year-old Eren Bulbul last August as the latter was showing security forces a PKK terrorist hideout in the Macka district of the northern province of Trabzon.
The statement added that Yakisir was on the red category of the terror blacklist, adding that another PKK militant, identified as Levent Dayan, was separately killed in the same region. Dayan operated under the alias Rodi.
Turkey's Interior Ministry, in a statement released on Thursday, announced that high-ranking PKK terrorist Sefer Acar, better known by the nom de guerre Welat Gever, had been "neutralized" during an offensive in the Kocyigit village of the eastern province of Bitlis on June 28.
The Turkish military generally uses the term "neutralize" to signify that the militants were killed, captured or surrendered.
The statement added that Acar was on the red category of the terror blacklist, and wanted for a terrorist attack on a Turkish military helicopter in Iraq's northern semi-autonomous Kurdistan region, which left 15 Turkish soldiers dead.
Turkish gendarmerie forces recovered a Turkish lira banknote dated 1998 from the slain militant, which read, "Money from the helicopter pilot downed in Herko 11-27-1998." The terrorist had kept the memento of his deadly attack for 20 years.
PKK militants regularly clash with Turkish forces in the Kurdish-dominated southeast of Turkey attached to northern Iraq.
Turkey, along with the European Union and the United States, has declared the PKK a terrorist group and banned it. The militant group has been seeking an autonomous Kurdish region since 1984.
A shaky ceasefire between the PKK and the Turkish government collapsed in July 2015. Attacks on Turkish security forces have soared ever since.
Over the past few months, Turkish ground and air forces have been carrying out operations against PKK positions in the country as well as in northern Iraq and neighboring Syria.
Full report at:
https://www.presstv.com/Detail/2018/07/15/568205/Top-PKK-terrorist-wanted-for-teenagers-murder-killed-in-northern-Turkey
--------
Europe
UK mosque raises £14,000 in cryptocurrency donations in just 30 days
Jul 16th, 2018
A mosque in the UK decided to accept cryptocurrency – and it's seen dramatic results…
A little over two months since it became the first UK mosque to accept donations in the form of cryptocurrency, Masjid Ramadan in East London has raised almost £14,000 in digital payments.
During the 30 days of Ramadan, from 16 May to 14 June 2018, the mosque in Shacklewell Lane, Hackney collected the equivalent of £13,983 in Bitcoin and Ethereum, while its cash donations reached a relatively paltry £3,460.
Muslims are obliged to donate 2.5% of their wealth to charitable causes during Ramadan under what's known as 'zakat.' Zakat, or almsgiving, is one of the five pillars of Islam – alongside fasting, pilgrimage, prayer and belief in Allah and Muhammad – and it is a compulsory gift made by adults who earn over a certain threshold.
The donations were made from across the globe and collected in partnership with London-based startup Combo Innovation, which calls itself an "Islamic compliant blockchain financial solution."
"Many people at the mosque were initially sceptical about us accepting this new money," the mosque's chairman, Erkin Guney, told inews.co.uk, "but the fact we received four times more in cryptocurrency donations shows how important it is to be open to these new digital currencies." Plus, regular donations, or Sadaqah, are still flooding in, he added.
The pair announced plans to accept digital donations in May. Combo Innovation's CEO Gurmit Singh said at the time: "It came to our attention were almost no Islamic charities whereby Muslims can pay Zakat made on their cryptocurrencies. Taking into account the surge in global crypto popularity and prices, we felt there are potentially millions of dollars of potential Zakat."
Singh estimates that if Muslims were to hold just 1% of the world's Bitcoins, based on current market caps, a staggering £26 million in Zakat contributions could be due.
The Shacklewell Lane mosque is managed by registered charity The UK Turkish Islamic Trust. Its donation page accepts payments via JustGiving and PayPal as well as its own Bitcoin and Ethereum wallets, via QR code.
The money will reportedly pay for essential mosque repairs and go towards helping poor members of the local Muslim community with food, housing, and funeral costs.
Cryptocurrency is seen, by some including the Mufti of Egypt, as haram – or forbidden – in Islam due to its ties with illegal activity, namely drugs and weapons bought and sold using digital currency on the dark web. Egypt's top imam, Sheikh Shawki Allam, previously described it as carrying risks of "fraudulence, lack of knowledge, and cheating".
However, after consultation with Combo Innovation and local religious advisors, the Hackney mosque ruled cryptocurrency is halal if it is "transacted in a lawful manner," likening the concerns to those raised when communities switched from gold to fiat currency. It added that it doesn't always know the source of cash donations, but accepts them in good faith, too.
http://cryptonewsreview.com/uk-mosque-raises-14000-in-cryptocurrency-donations-in-just-30-days/
--------
Forgotten history of British-Asian Muslim doctor who changed medicine
15 July 2018
When the UK finds itself in the midst of Brexit and the Windrush crisis of forced deportation of British subjects by the Home office, a feature originally published in Scroll.in on a forgotten British-Asian Muslim who changed modern medicine seems timely. Frederick Akbar Mahomed, the 19th century doctor from Brighton, England, was the pioneer who found out that that "human life could be prolonged by reducing blood pressure", after researching nephritis (inflammation of the kidneys) and hypertension.
This led to the introduction of the British Medical Association's collective investigation record.
But in UK, Dr. Mahomed's name is in oblivion, to say the least.
Huge contribution to modern medicine
The article points out that "it is appropriate to remind ourselves of the British-Asian Muslim who made foundational contributions to modern British medicine, and whose family was forced to change their Muslim surname in Edwardian London."
Akbar Mahomed was the grandson of Bengali entrepreneur and traveler, Sake Dean Mahomed, who opened the first curry house in London.
Dr. Akbar Mahomed worked at Guy's Hospital in London which was an important center of research into hypertension and kidney diseases.
Before that in 1869, Akbar Mahomed briefly attended the Sussex County Hospital at the age of 20.
At Guy's Hospital, he won the Pupil's Physical Society Prize in 1871 for his work on modifying and improving the use of the sphygmograph—the instrument that measured pulse and blood pressure.
His new sphygmograph was better at measurements and helped diagnose between pulses symptomizing various cardiac or renal diseases.
He also began innovating clinical inquiry in late 19th century British medicine and has been recognized as a "visionary diagnostician" who could outline "characteristic features of the pressure pulse in patients with high blood pressure and in persons with arteriosclerosis consequent on ageing."
In 1871, Akbar Mahomed joined the Central London Sick Asylum, where he studied sphygmographic tracings of many of his patients with symptoms of Bright's Disease. He deduced hypertension to be a primary and separate event causing functional kidney damage, preceding discharge of albumin in urine.
While he demonstrated that high blood pressure could exist even in apparently healthy individuals, he also clarified how high arterial tension could affect the heart, kidney, and the brain without the onset of renal diseases, until at an old age.
Later, he worked as a resident medical officer at the London Fever Hospital.
Akbar Mahomed also spearheaded the development of a Collective Investigation Record, the precursor of modern collaborative clinical trials, and also pioneered blood transfusion in the haemorrhage of typhoid, and made a significant contribution to the surgical management of appendicitis.
Akbar Mahomed's efforts culminated in the Collective Investigation Committee bringing out a 76-page Record of over 2,000 patients, in 1883.
Akbar Mahomed's family lived on St Thomas' Street and later at Manchester Square.
But tragically Dr. Akbar Mahomed passed away in November 1884 when he was only 35, after suffering for 24 days from typhoid, which he contracted from a patient. His death was mourned by the Medical Press and the British Medical Journal as a national and international loss".
Racial prejudice
Even though his medical pedigree was established, Dr.Akbar Mahomed could not escape the racial prejudice that prevailed at that time, with some of his students considering his "teaching and his methods…as foreign as his name to the atmosphere of the place" and the obituaries mentioned his "dark complexion."
Full report at:
https://english.alarabiya.net/en/features/2018/07/15/Forgotten-history-of-British-Asian-Muslim-doctor-who-changed-medicine.html
--------
North America
US: Muslim candidates running in record numbers face backlash
July 16, 2018
A liberal woman of colour with zero name recognition and little funding takes down a powerful, long-serving congressman from her own political party.
When Tahirah Amatul-Wadud heard about Alexandria Ocasio-Cortez's stunning upset over US Rep. Joe Crowley in New York's Democratic primary last month, the first-time candidate saw parallels with her own longshot campaign for Congress in western Massachusetts.
The 44-year-old Muslim, African-American civil rights lawyer, who is taking on a 30-year congressman and ranking Democrat on the influential House Ways and Means Committee, says she wasn't alone, as encouragement, volunteers and donations started pouring in.
"We could barely stay on top of the residual love," says Amatul-Wadud, US Rep. Richard Neal's lone challenger in the state's Sept. 4 Democratic primary. "It sent a message to all of our volunteers, voters and supporters that winning is very possible."
From Congress to state legislatures and school boards, Muslim Americans spurred to action by the anti-Muslim policies and rhetoric of President Donald Trump and his supporters are running for elected offices in numbers not seen since before the terrorist attacks of September 11, 2001, say Muslim groups and political observers.
Many, like Amatul-Wadud, hope to ride the surge of progressive activism within the Democratic Party that delivered Ocasio-Cortez's unlikely win and could help propel the Democrats back to power in November.
Still, the path to victory can be tougher for a Muslim American. Some promising campaigns already have fizzled out while many more face strong anti-Muslim backlash.
In Michigan, Democrat candidate for governor Abdul El-Sayed continues to face unfounded claims from a GOP rival that he has ties to the controversial Muslim Brotherhood, even though Republican and Democratic politicians alike have denounced the accusations as "conspiracy theories."
In Rochester, Minnesota, mayoral candidate Regina Mustafa has notified authorities of at least two instances where anti-Muslim threats were posted on her social media accounts.
And in Arizona, US Senate candidate Deedra Abboud received a torrent of Islamophobic attacks on Facebook last July that prompted outgoing US Sen. Jeff Flake, the Republican lawmaker Abboud is hoping to replace, to come to her defense on Twitter.
"I'm a strong believer that we have to face this rhetoric," said Abboud, who has also had right-wing militant groups the Fraternal Order of Alt-Knights and the Proud Boys stage armed protests her campaign events.
"We can't ignore it or pretend like it's a fringe element anymore. We have to let the ugly face show so that we can decide if that is us." There were as many as 90 Muslim-Americans running for national or statewide offices this election cycle, a number that Muslim groups say was unprecedented, at least in the post-9/11 era.
But recent primaries have whittled the field down to around 50, a number that still far exceeds the dozen or so that ran in 2016, said Shaun Kennedy, co-founder of Jetpac, a Massachusetts nonprofit that helps train Muslim-American candidates.
Among the candidates to fall short were California physician Asif Mahmood, who placed third in last month's primary for state insurance commissioner, despite raising more than USD 1 million.
And in Texas, wealthy businessman Tahir Javed finished a distant second in his Democratic primary for Congress, despite an endorsement from Senate Minority Leader Chuck Schumer of New York.
Nine candidates for Congress are still in the running, according to Jetpac's tally. At least 18 others are campaigning for state legislature and 10 more seek major statewide and local offices, such as governor, mayor and city council. Even more are running for more modest offices like local planning board and school committee.
The next critical stretch of primaries is in August.
In Michigan, at least seven Muslim Americans are on the Aug. 7 ballot, including El-Sayed, who could become the nation's first Muslim governor.
Other Muslim-American candidates might fare better in Michigan, which has one of the nation's largest Arab-American populations, Skelley added.
There, former state Rep. Rashida Tlaib has raised more money than her Democratic rivals in the race to succeed Democratic Rep. John Conyers, who resigned last year amid allegations of sexual misconduct. Former Obama administration official Fayrouz Saad is also running as a Democrat in the wide-open race to succeed Republican Rep. David Trott, who isn't seeking re-election.
But not all Muslim candidates feel that way.
In San Diego, California, 36-year-old Republican congressional candidate Omar Qudrat declined to comment on how Islamophobia has impacted his campaign, including instances when his faith have been called into question by members of his own political party.
Instead, the 37-year old political newcomer, who is one of at least three Muslim Republicans running nationwide this year, provided a statement touting his main campaign issues as faces Democratic US Rep. Scott Peters in November: addressing San Diego's high number of homeless military veterans, improving public education and expanding economic opportunities for city residents.
"Running for public office is about advancing the interests of your constituents and the American people," Qudrat's statement reads. "Nothing else."
https://indianexpress.com/article/world/us-muslim-candidates-running-in-record-numbers-face-backlash-5261444/
--------
Iran says oil producers led Trump into 'trap'
Jul 15, 2018
Iran says US President Donald Trump's anticipation that certain oil producers can fill the market gap created as a result of cutting off Iranian supplies is based on a "miscalculation" and that he had fallen into a trap that the same producers had created.
Hossein Kazempour Ardebili, Iran's representative to the Organization of the Petroleum Exporting Countries (OPEC), was quoted by media as saying that Trump's decision to sanction Iran's oil sales to international markets could translate into serious "repercussions".
Kazempour Ardebili added that the whole global economy would eventually suffer if the flow of Iran's oil supplies to world markets would be stopped.
He further expressed doubt if other producers would really have the ability to compensate for missing Iranian barrels once the sanctions against Iran's oil sales would be put into force.
"Saudi Arabia, the UAE and Russia pretended to be able to deliver 2.5 million barrels a day of Iranian exports," Kazempour Ardebili was quoted as saying by Bloomberg.
"That was a miscalculation, Mr. President: you have fallen in their trap, and prices will go up," he was quoted as addressing President Trump.
The US administration is pressing Saudi Arabia and some other OPEC members to fill in any supply gap that will arise when US sanctions curtail Iranian crude exports, Bloomberg added in its report.
However, Reuters earlier quoted estimates by the International Energy Agency (IEA) as showing that the US could not rely on Saudi Arabia for too long to make up for the missing Iranian oil supplies once American sanctions are re-imposed against the country.
Reuters also highlighted speculations by experts that showed the kingdom could only pump more to fill Iran's gap in oil market only for a certain period.
In his earlier remarks, Kazempour Ardebili had warned that President Trump's rhetoric against Iran and his threat to cut Iran's oil supplies to markets could push up prices to as high as $100 per barrel and beyond.
He had also warned that sanctioning Iran's oil exports could eventually harm consumers in all countries – and even the US, itself.
In May, Trump announced that he would pull America out of a 2015 nuclear agreement with Iran and re-impose the sanctions that the deal had envisaged to be lifted.
He has already emphasized that the sanctions which would be imposed on Iran would be "at the highest level".
Full report at:
https://www.presstv.com/Detail/2018/07/15/568221/Iran-says-oil-producers-led-Trump-into-trap-
--------
Bolton: US to stay in Syria as long as Iran is there
Jul 16, 2018
US National Security Adviser John Bolton says Washington has no plans to end its military presence in Syria, signaling an about-face in President Donald Trump's plans to pull out troops from the Arab country.
Trump announced in April that he was going to withdraw American forces from Syria, saying their declared mission had come to an end after the defeat of the Daesh terror group.
Bolton, however, told ABC News on Sunday that the US was not going anywhere as long as Iran remained in Syria.
"I think the president has made it clear that we are there until the ISIS territorial caliphate is removed and as long as the Iranian menace continues throughout the Middle East," Bolton said, using another name for Daesh.
The former US envoy to the UN said Trump is going to discuss the matter with Russian President Vladimir Putin once they meet in the Finnish capital of Helsinki on Monday.
A US intelligence report viewed by American media, however, said Putin was expected to ask Trump to deliver on his promise and indeed pull out of Syria.
The US has established bases in eastern Syria, where they are believed to be training anti-Assad militiamen. Washington has warned Moscow and Damascus against approaching areas under its control.
Bolton's remarks come in the context of Israel's insistence that Iranian military advisers leave Syria where the army is making steady advances against foreign-backed terrorists.
Syrian troops have now turned their attention to the last province bordering the Golan Heights which is occupied by Israel. On Sunday, they took back the first village in the strategic southwestern Quneitra Province.
Israel is worried by the presence of Iranian military advisers whose help has been crucial to the Syrian army advances.
Iranian troops are in Syria at the request of the Syrian government but US troops are there illegally, with Damascus saying they did not have a benign agenda and repeatedly calling for their exit.
Ali Akbar Velayati, a senior adviser to Leader of the Islamic Revolution Ayatollah Seyyed Ali Khamenei, said in Moscow Friday that Iran coordinates its military presence in Syria with Moscow and Damascus.
Velayati said Iran and Russia's presence in Syria would continue to protect the country against terrorist groups and America's aggression.
They "will immediately leave if Iraqi and Syrian governments want it, not because of Israel and America's pressure," he added.
Israel's Ynetnews website reported on Friday Russia had rejected an Israeli demand to remove Iranian advisers to within 80 kilometers from the occupied Golan Heights.
Russia's Foreign Minister Sergei Lavrov said earlier this month that Iran was one of the key players in the region, and that it would be "absolutely unrealistic" to expect it to leave Syria.
Full report at:
https://www.presstv.com/Detail/2018/07/16/568264/US-Syria-Iran-Bolton-Trump-Russia-Putin
--------
US general says Turkish plan to buy Russian S-400 air shield systems risk for NATO
Jul 15, 2018
The Turkish government's plan to purchase the Russian S-400 systems would give the advanced air defense shield, used by "known foes" of NATO, deep insight into the US radar-evading F-35 fighter jets arriving in increasing numbers in Europe, the top American Air Force general in Europe warns.
"Anything that an S-400 can do that affords it the ability to better understand a capability like the F-35 is certainly not to the advantage of the coalition," said General Tod Wolters, who is also the NATO Allied Air Commander, on Sunday.
The US general, who was in the UK for the 2018 Chief of the Air Staff's Air Power Conference in London, further said that the issue was worrying, but added that he was working to maintain strong military ties with Turkey, a NATO member since 1952, "for now."
Washington and NATO officials strive to prevent the sophisticated Russian-built anti-aircraft weapon system from collecting information about the US-made all-weather stealth multirole warplanes, technically known as the Lockheed Martin F-35 fighters, just as they are gaining a foothold in Europe.
Turkish President Recep Tayyip Erdogan and his Russian counterpart Vladimir Putin said in the Turkish capital, Ankara, on April 3 that they had agreed to expedite the delivery of S-400 missile systems. The delivery is expected to start between late 2019 and early 2020.
Russia is currently producing the defense systems for the Anatolian country under a loan agreement concluded between the countries last December.
The S-400 system, whose full name is the Triumf Mobile Multiple Anti-Aircraft Missile System (AAMS), is an advanced Russian missile system designed to detect, track, and destroy planes, drones, or missiles as far as 402 kilometers away. It has previously been sold only to China and India.
Last month, Turkey also received the first of the six F-35 warplanes from the US, according to a contract signed between Ankara and Washington. The US senators have already opposed the fighters' delivery in light of Ankara's plan to purchase the Russian defense systems.
Experts say operating an F-35 nearby will also allow the S-400 system to accumulate key information about the range of detection and other characteristics of the aircraft, potentially undermining any element of surprise.
Turkey is striving to boost its air defense, particularly after Washington decided in 2015 to withdraw its Patriot surface-to-air missile system from Turkey's border with Syria, a move that weakened Turkey's air defense.
Before gravitating towards Russia, the Turkish military reportedly walked out of a $3.4-billion contract for a similar Chinese system. The withdrawal took place under purported pressure from Washington.
Ankara's ties with its Western allies in NATO have been strained over a range of issues. Erdogan has been critical of Washington for supporting Kurdish groups in Syria that he says are responsible for terror attacks inside Turkey.
Full report at:
https://www.presstv.com/Detail/2018/07/15/568206/Turkey-Russia-NATO-US-Tod-Wolters-S400-F35-Erdogan-Europe
--------
Canada Muslim MP Receives Death Threats after Anti-Islamophobia Motion on Twitter
July 15th, 2018
A Canadian Muslim politician who received death threats after introducing a motion condemning Islamophobia has become the target of hate via Twitter, Canadian media reported Friday.
A supposedly funny parody Twitter account of Liberal MP Iqra Khalid is one of about 50 that criticize various members of the government of Prime Minister Justin Trudeau.
Khalid asked Twitter to investigate after the account turned from humor to hate, accusing her of supporting ISIS and Sharia law.
"Everybody has the right to speak their mind, but freedoms come with responsibility and when we have the power to speak we should do it with care," she said during an interview with a Canadian wire service. "It's unfortunate that they are spreading fake news and sowing fear and division."
There was no official announcement from Twitter on the investigation, but by mid-morning Friday the account was gone.
Full report at:
https://www.albawaba.com/editorchoice/canada-muslim-mp-receives-death-threats-after-anti-islamophobia-motion-twitter-1159176
--------
Africa
Hundreds of Nigerian troops are missing after Boko Haram jihadists overrun base
16 July, 2018
Hundreds of Nigerian troops are missing after Boko Haram jihadists overran a military base in the remote northeast, security sources said Sunday, in the second major assault on the armed forces in two days.
The militants invaded a base holding more than 700 soldiers in Yobe state – where they abducted over 100 girls from a school earlier this year – in an hours-long onslaught Saturday night, a military source said on condition of anonymity.
Fewer than 100 soldiers have returned following the attack, which took place just 24 hours after Boko Haram fighters ambushed a military convoy in neighbouring Borno state on Friday.
The two assaults have highlighted the tenuous hold Nigerian forces have on the ravaged region despite claims by President Muhammadu Buhari's government that the country is in a "post-conflict stabilisation phase".
"Boko Haram terrorists attacked troops of the 81st Division Forward Brigade at Jilli village in Geidam district. The terrorists came in huge numbers around 7.30pm) and overran the base after a fierce battle that lasted until 9.10pm," said the military source.
"The base had 734 troops. Currently the commander of the base and 63 soldiers have made it to Geidam (60km away) while the remaining 670 are being expected," he said, without elaborating on their possible fate.
"We don't know if there were any casualties among the troops. That will be known later," he said, adding that the base was new and the troops had recently arrived from Lagos, Nigeria's commercial capital.
A leader of a local anti-jihadist militia said the soldiers sustained casualties, but was unable to give a toll, attributing the attack to the Abu-Mus'ab Al-Barnawi faction of Boko Haram, which is known for targeting Nigerian forces.
"We learned that they drove from Lake Chad through Gubio (in nearby Borno state) and attacked the base," he said.
Geidam resident Fannami Gana said the jihadists "overwhelmed" the troops.
"We don't know the details of what happened but we learned they were overwhelmed by hundreds of Boko Haram gunmen," said Gana.
Nigerian army spokesman Texas Chukwu said he did not know about the attack.
"I am not aware of the attack because (I) have not received information from there," Chukwu said in a text message.
On Friday, 23 Nigerian soldiers went missing after Boko Haram ambushed a convoy outside Bama, leading to the loss of several military vehicles.
According to a military officer, "around 100 terrorists" attacked the convoy.
The sophisticated attacks highlight the continued threat – and evolution – of Boko Haram, an Islamic State group ally, said Yan St-Pierre, counterterrorism adviser and head of the Berlin-based Modern Security Consulting Group.
St-Pierre suggested the attacks could be because Boko Haram fighters are vying for control of the faction led by Abubakar Shekau, the long-time jihadist leader who is reportedly ill.
"When a near-mythical leader is on his way out there's always a battle to establish who could be next," said St-Pierre.
The attacks show the persistent threat of Boko Haram in the Lake Chad region, he said.
As the jihadists exploit rampant poverty in the region, the Nigerian army, which is overstretched and under-resourced, struggles to keep the insurgency in check.
"The supply of Boko Haram fighters is always there, either through kidnapping or economic reasons, they tap into a wide pool of personnel, they find a way to replenish their strength," St-Pierre said.
Buhari, a 75-year-old former military ruler, came to power three years ago on a promise to defeat Boko Haram.
But while there have been clear military gains since a counter-insurgency was launched in 2015, suicide bombings and raids remain a constant threat, particularly to civilians.
Boko Haram's Islamist insurgency has devastated the region since 2009, leaving at least 20,000 people dead, displacing more than two million others and triggering a humanitarian crisis.
https://www.scmp.com/news/world/africa/article/2155416/hundreds-nigerian-troops-are-missing-after-boko-haram-jihadists
--------
Cameroon: Soldiers Allegedly Murder Boko Haram Suspects
16 JULY 2018
By Rosy Sadou
Yaounde — Cameroon soldiers are accused of murdering two women and a similar number of children alleged to be members of the Boko Haram terror group.
It is the latest in a series of violations battering the Central African country.
The outrage by human rights organisations comes in the wake of a video going viral, depicting some soldiers carrying out the extrajudicial executions.
Soldiers are depicted using an assortment of rifles to violate their victims.
Amnesty International has demanded a probe into the alleged murders.
"It is imperative that a proper, impartial investigation is undertaken and those responsible for these abhorrent acts are brought to justice," said Samira Daoud, Deputy Director of Amnesty International's West Africa office.
The Ministry of Communications has meanwhile dismissed the video footage of the alleged killings as "fake news."
Human rights groups have documented crimes under international law by members of the Cameroonian security forces in their fight against the armed Boko Haram group in the Far North region of the country.
This includes alleged use of torture to extract "confessions" from people accused of being affiliated with Boko Haram.
Full report at:
https://allafrica.com/stories/201807160078.html
--------
Ethiopia, Eritrea leaders arrive at venue to open Eritrea embassy in Addis Ababa
16 July 2018
Ethiopia's Prime Minister Abiy Ahmed and Eritrea's President Isaias Afwerki arrived at a ceremony on Monday to re-open Eritrea's embassy in the Ethiopian capital, a Reuters witness said.
One week ago, the leaders of the Horn of Africa nations declared their "state of war" over after two decades. They have since moved quickly to cement a rapprochement. Isaias spent the weekend in Ethiopia.
https://english.alarabiya.net/en/News/world/2018/07/16/Ethiopia-and-Eritrea-s-leaders-arrive-at-venue-to-open-Eritrea-embassy-in-Addis-Ababa.html
--------
Boko Haram overruns Nigerian military base
Jul 15, 2018
Boko Haram Takfiri terrorists have overrun a military base following a ferocious gun fight with Nigerian troops in the country's troubled northeast.
The militants invaded the base holding hundreds of soldiers in Yobe state in an hours-long onslaught Saturday night.
"Boko Haram terrorists attacked troops of the 81st Division Forward Brigade at Jilli village in Geidam district. The terrorists came in huge numbers around 7:30 pm (1830 GMT) and overran the base after a fierce battle that lasted till 9:10 pm," AFP quoted a military source as saying.
"The base had 734 troops. Currently the commander of the base and 63 soldiers have made it to Geidam (60 kilometers away) while the remaining 670 are being expected," he said.
"We don't know if there were any casualties among the troops. That will be known later."
A leader of a local anti-militant militia attributed the attack to the Abu-Mus'ab Al-Barnawi faction of Boko Haram, which is known for targeting Nigerian forces.
"We learned that they drove from Lake Chad through Gubio (in nearby Borno state) and attacked the base."
Geidam resident Fannami Gana said that Boko Haram militants "overwhelmed" the troops. "We don't know the details of what happened but we learnt they were overwhelmed by hundreds of Boko Haram gunmen."
The latest attack was carried out after Boko Haram terrorists ambushed a military convoy in neighboring Borno state. On Friday, nearly two dozen Nigerian soldiers went missing after militants ambushed a convoy outside Bama, leading to the loss of several military vehicles. According to a military officer, "around 100 terrorists" attacked the convoy.
Yan St-Pierre, the counter-terrorism advisor and head of the Berlin-based Modern Security Consulting Group, said that the militant raids showed the persistent threat of Boko Haram in the Lake Chad region.
"The supply of Boko Haram fighters is always there, either through kidnapping or economic reasons, they tap into a wide pool of personnel, they find a way to replenish their strength," St-Pierre said.
The security expert also suggested that the attacks could have been carried out due to the fact that Boko Haram was vying for the control of the faction led by Abubakar Shekau, the long-time militant leader who is reportedly ill. "When a near-mythical leader is on his way out there's always a battle to establish who could be next," said St-Pierre.
Since 2009, Boko Haram militancy has left at least 20,000 dead and made over 2.6 million others homeless.
Full report at:
https://www.presstv.com/Detail/2018/07/15/568228/Nigeria-Yobe-Boko-Haram-Borno-state-Buhari
--------
South Asia
New militant attack in Kabul leaves 10 killed or injured
Jul 15, 2018
Militants have launched a fresh attack on civilians and security forces in Afghanistan's capital of Kabul with police reporting multiple casualties.
Police would not confirm the exact death toll from the bomb attack in front of the ministry of rural rehabilitation and development on Sunday and only said that 10 had been killed or wounded in the explosion.
The attack took place around 4:30 pm local time when most of employees of the ministry would have been leaving for home.
There was no claim of responsibility for the attack although militants of the Taliban or the Daesh Takfiri terrorist group have been behind similar assaults in Kabul over the past months.
Daesh claimed responsibility for a similar attack on the rural rehabilitation and development ministry on June 11 when 13 people were killed and 31 were injured. That attack also targeted embassy workers as it happened at a time when employees queued for an early bus home during the holy month of Ramadan.
Daesh, only second to the Taliban in terms of influence and territories it holds in Afghanistan, was behind some 52 percent of deaths caused by complex militant attacks in the war-torn country this year, according to a UN report released on Sunday.
The United Nations Assistance Mission in Afghanistan (UNAMA) said militant attacks contributed to a total of 1,413 casualties in Afghanistan since the start of 2018, a sharp 22-percent rise from figures seen in the same period last year. It said the Taliban was behind 40 percent of the attacks.
Daesh gained a foothold in Afghanistan in 2014 when some key figures defected from the Taliban after a leadership crisis erupted in the group. The Afghan government fears Daesh could become a dominant force in the country now that it has been almost obliterated from its main previous bastions in Iraq and Syria.
https://www.presstv.com/Detail/2018/07/15/568210/Afghanistan-attack-Kabul-ministry
--------
Junbish blames specific circles behind today's failed attack in Kabul
Jul 16 2018
The Junbish Milli party led by the First Vice President General Abdul Rashid Dostum blames specific circles behind today's failed suicide attack on a gathering attended by the party's supporters in Kabul.
Enayatullah Babur Farahman, a member of the party and chief of staff of the First Vice President's Office, said the move by the 'conspiracist circl' will further strengthen the resolve of the people for justice.
He did not elaborate further in a short statement which was released in the aftermath of the attack in Shahr Naw area of the city.
Dozens of supporters of Gen. Abdul Rashid Dostum had participated in a demonstration in Kabul city today, demanding the return of the Vice President from Turkey.
The security officials confirmed that a suicide bomber who was looking to target the participants of a rally, was shot dead before he manages to reach to his target.
Full report at:
https://www.khaama.com/junbish-blames-specific-circles-behind-todays-failed-attack-in-kabul-05596/
--------
Trump administration orders direct talks with Taliban in Afghanistan
Jul 16 2018
The Administration of President Donald Trump has reportedly ordered its top diplomat to seek direct talks with the Taliban group in Afghanistan in a bid to help kick start Afghan negotiations.
Sources privy of the development in U.S. and Afghanistan have told The New York Times that the Trump administration is considering a strategy shift to help the launch of a broader, formal negotiations to end the long war.
No date has been set for the likely talks between the US and the Taliban group with the US State Department and the Taliban yet to formally comment regarding the latest developments.
The officials have said the United States is willing to hold direct talks with the Taliban group in a bid to break the stalemate in Afghanistan.
According to the Times, the shift to prioritize initial American talks with the Taliban over what has proved a futile "Afghan-led, Afghan-owned" process stems from a realization by both Afghan and American officials that President Trump's new Afghanistan strategy is not making a fundamental difference in rolling back Taliban gains.
Full report at:
https://www.khaama.com/trump-administration-orders-direct-talks-with-taliban-in-afghanistan-05593/
--------
URL: https://www.newageislam.com/islamic-world-news/muslim-law-board-approves-setting/d/115847
New Age Islam, Islam Online, Islamic Website, African Muslim News, Arab World News, South Asia News, Indian Muslim News, World Muslim News, Women in Islam, Islamic Feminism, Arab Women, Women In Arab, Islamophobia in America, Muslim Women in West, Islam Women and Feminism