New Age Islam News Bureau
4 Jan 2020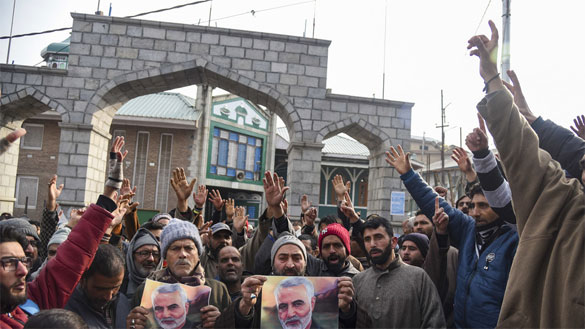 Protesters are seen marching with placards depicting Qassem Soleimani in Bughdam, India. © Global Look Press / ZUMA Press / Idrees Abbas
------
• Muslim Jamaat Mosque, Islamic Academy All Set To Host Hindu Wedding in Kayamkulam
• Shia Muslims of India's Kashmir Protest Soleimani Assassination, Vow 'Revenge' On US & Israel
• Khamenei Website Posts Illustration Of Slain General Soleimani With Imam Hussain
• View from Bangladesh: India Is Using Its Neighbours As Scare Objects To Spread The Politics Of Hate
• Malaysian Varsity Terms Fugitive Zakir Naik as 'Icon of Islamic World', Leaves Malaysians Divided
• 'This Is the Australian Way': Muslim Group Are Praised for Travelling 200kms To Donate 36,000 Bottles Of Water To Fire-fighters And Bushfire Victims
• Birmingham Muslims Giving Shelter To The Homeless Throughout The Winter
• World Reacts to US Killing Of Iran's Qassem Soleimani In Iraq
• Soleimani Should Have Been Taken Out Years Ago, Says Trump
Compiled By New Age Islam News Bureau
URL: https://www.newageislam.com/islamic-world-news/muslim-jamaat-mosque-islamic-academy/d/120708
------
India
• India Will Face International Isolation Because Of NRC-CAA: Shivshankar Menon
• Priyanka Meets Shia Cleric Allegedly Beaten Up By UP Police in Anti-CAA Crackdown
• Attacks and apathy: Two cases from Firozabad illustrate how the UP police have treated Muslims
• Mangaluru Police Have Only 3.5% Of Muslims And Christians, Despite Latter Forming 35% Of City's Population
• Reddy brother warns Muslims against anti-CAA protests
• Bengal BJP cites examples from the Arab world to counter anti-CAA sentiment among Muslims
• Tens of thousands protest against citizenship law in India
------
Mideast
• New Air Strike on Pro-Iran Convoy In Iraq Ahead Of Iranian Quds Force Commander Qasem Soleimani Funeral
• Soleimani's Murder: It Is Building Up to a Terrible Crescendo in West Asia
• 6 killed in airstrike north of Baghdad targeting convoy carrying Shia militia members – report
• U.S To Deploy 3,000 Troops to the Middle East Following an Iranian Military Leader's Death
• Kuwaiti Public, Including Shia Minority, Still Anti-Iran—but Wary of Conflict
• Iraq military says no air strike took place north of Baghdad
• What now awaits Turkey on the Libyan front?
• Tens of thousands rally in Iran capital against US 'crimes' after killing of top commander
------
South Asia
• Afghanistan's soil will not be used against any nations: Ghani
• Afghan artist and singer threatened to 'death' by religious extremists
• Nabil: Iranian Major-General Qassem Soleimani was a threat to the region
• US to Push Ahead in 2020 with Planned Troop Drawdown in Afghanistan
• Afghan Leaders Lament Soleimani's Death, Worry about Regional Escalation
• 445 Bangladeshis Returned From India in Last 2 Months: Border Chief
------
Southeast Asia
• Uyghur Dents Credibility of Pakistan, Islamic World
• China has destroyed more than 100 Uighur Muslim graveyards, satellite images show
• Indonesian capital reels after floods leave 47 dead
• China calls for calm after top Iranian military leader killed in US air strike
------
Europe
• Muslim Population of England Passes the Three Million Mark For The First Time As The Numbers Of Christians Continues To Decline, Figures Reveal
• Paris knife attacker had mental health issues, Quran ran found on him: prosecutors
• Suspected Islamic extremist in court accused of having terrorist publications
• Muslim Aid launches investigation after CEO Jehangir Malik no-confidence letter
------
Arab World
• Thousands of mourners join Soleimani funeral in Baghdad
• Iraq, US-led coalition, deny new air strike near Baghdad
• Remote work platform to change the Saudi labour market
• Saudi visa on arrival for tourists with UK, US, EU visas
------
North America
• America Orders US Citizens in Iraq to Leave 'Immediately' Amid Iran Tensions
• Muslim Community Reacts to Deadly US Airstrike That Killed Iran's Top General
• Pentagon: killing of Imam Ali Brigades leader is 'high probability'
• US delivered air strike against Shia militia cortege in Bagdad suburbs - TV
• CNN Anchor Describes Bin Laden's Death As A 'Nothing Burger' Compared To Soleimani Killing
• Trump Campaign Strikes Back At Biden Over Iran Comments: 'He Even Opposed Taking Out Osama Bin Laden'
• Military training programme for Pakistan resumed to strengthen defence cooperation: US
------
Africa
• Nigerian Government Are 'Islamic Fundamentalists Without Bombs', Says Bishop
• Libya will confront and expel foreign forces, says Khalifa Haftar
• Herdsmen don't need visa to enter Nigeria – Bodejo, Miyetti Allah Leader
• MURIC tackles CAN, says Christians enjoy more holidays in Nigeria than Muslims
• 2020: China to hijack Buhari govt, Saudi, Mali, others to turn Nigeria into Muslim state – Apostle Okikijesu releases prophecies
------
Pakistan
• IHC Frames Questions over Scope of President's Powers
• Karachi mayor's son, guards booked for hurting boy in DHA
• AC, team 'thrashed' during raid at PTI MNA's wedding over violations
• Nawaz exempted from personal appearance in sugar mills case
• Lawmakers agree to slap checks on 'luxury' lifestyle of bureaucracy
• Sanjrani asks FM to brief Senate on ME developments on Monday
------
Muslim Jamaat Mosque, Islamic Academy All Set To Host Hindu Wedding in Kayamkulam
Jan 4, 2020
Alappuzha: If at all you are in Kayamkulam on January 19 in the vicinity of Cheravally Muslim Jamaat mosque, do not be surprised to see a Hindu wedding happening at the Islamic academy near its premises. You are likely to meet Anju Ashok Kumar, her mother Bindu and the groom Sarath Sasi and some good Samaritans of the Jamaat committee, whose efforts and aid led to the wedding.
The wedding is set to happen after Bindu sought the help of Nujumudeen Alummoottil, secretary of Cheravally Muslim Jamaat Committee and owner of Alummoottil wedding centre in Kayamkulam. He is no stranger to Anju's family as he had come to their aid when Anju's father Ashok Kumar died. This was yet another act of kindness for the family.
"Kumar, a goldsmith, died of cardiac arrest aged 49 on March 14, 2018 after he dropped his son Anand at Kayamkulam Boys High School for SSLC exam. His son wrote his exam without knowing about his father's demise and I read about it in newspapers. I visited his family and extended some help," Nujumudeen said, adding that the family was facing a lot of hardships when Kumar died.
"We sold our house and land in ward 21 of Kayamkulam municipality 17 years ago. That did not end our problems on the financial front. Since then we have been living in rented houses in various parts of Kayamkulam. My daughters Anju and Amritha stopped studying after completing Plus Two. Their sibling Anand is now pursuing higher secondary education," said Bindu, adding that Ashok's demise was a shock.
"I had no idea about our future. Then, I joined a private firm as a cleaner for Rs 7,000/month. I pay Rs 2,500 as house rent. We manage to live somehow," she said. Then one day, Anju's marriage proposal came up and she knew one person who would help her family.
In the first week of October 2018, Nujumudeen received an application from Bindu seeking help for Anju's wedding. "When I shared the application with committee members, they unanimously agreed to arrange her wedding. The rituals will be led by a Hindu priest. We will give Anju 10 sovereigns of gold and Rs 2 lakh as a wedding gift," said Nujumudeen.
For Bindu, the Jamaat committee decision came as a blessing. "I did not have any other means to conduct her wedding. I met Nujumudeen and he promised to help. Words fail me, but I'm grateful to the persons who came to our aid," said Bindu.
https://timesofindia.indiatimes.com/city/Quranchi/islamic-academy-all-set-to-host-hindu-wedding-in-kayamkulam/articleshow/73091814.cms
------
Shia Muslims of India's Kashmir Protest Soleimani Assassination, Vow 'Revenge' On US & Israel
4 Jan, 2020
Protesters are seen marching with placards depicting Qassem Soleimani in Bughdam, India. © Global Look Press / © ZUMA Press / Idrees Abbas
The assassination of Iran's elite Quds Force commander Qassem Soleimani in Baghdad has sparked an angry reaction among Shia Muslims – and India's own community was no exception, taking to the streets to decry the US move.
The Quds Force chief was killed in a US airstrike alongside several other Iranian and Iraqi military commanders on the outskirts of the Iraqi capital on Thursday. While Washington – and Tel Aviv – claimed the killing was "defensive" in nature, it caused an explosive reaction across Iraq and Iran, with thousands strongly condemning the attack.
Thousands march in Tehran to mourn 'beloved' military commander Soleimani, killed by US drone strike
The assassination sparked protests in other countries as well, especially in those with sizable Shia Muslim populations. A handful of rallies were held in the Indian-controlled part of the disputed Kashmir region, where people flocked to the streets to voice their anger over the murder.
Hundreds of protesters also marched in the northern Indian town of Budgam, carrying portraits of Soleimani and chanting anti-American and anti-Israeli slogans.
"We will take revenge of their act so that they will bow down. And it is going to be a lesson for our future generations," said an Islamic cleric who led the protests, while another scholar insisted that the US and Israel "will be destroyed very soon."
A similar rally was held in the town of Kargil, where locals turned up in large numbers to mourn the death of the prominent Iranian commander. Footage from the scene shows residents carrying portraits of Soleimani and placards reading "Down with the USA." Large banners portraying Iranian leaders could also be seen hanging from several buildings in the town.
https://www.rt.com/news/477422-kashmir-soleimani-protest-muslims/
------
Khamenei Website Posts Illustration Of Slain General Soleimani With Imam Hussain
Saturday, 4 January 2020
Iran's Supreme Leader Ali Khamenei's official website has posted a photo illustration showing slain IRGC-Quds Force commander Qassem Soleimani in an embrace with Imam Hussain.
In the photo, Imam Hussain's face is not shown as he is illustrated in an embrace with Soleimani, who was killed in a US airstrike in Baghdad on Friday.
The painting was commissioned and drawn by Iranian artist Hasan Rouh al-Amin, according to the website of Iran's Young Journalists Club, a pro-government Iranian news agency.
Imam Hussain ibn Ali is one of the grandsons of Islam's Prophet Mohammad.
Iran's Supreme Leader Ali Khamenei warned that "harsh retaliation is waiting" for the US after the airstrike, calling Soleimani the "international face of resistance."
Khamenei declared three days of public mourning and appointed Maj. Gen. Esmail Ghaani, Soleimani's deputy, to replace him as head of the Quds Force.
Soleimani, a 62-year-old general who headed the overseas arm of the Revolutionary Guards, was regarded as the second most powerful figure after Supreme Leader Khamenei.
https://english.alarabiya.net/en/media/digital/2020/01/04/Khamenei-website-posts-drawing-of-slain-commander-Soleimani-with-Imam-Hussain.html
------
View from Bangladesh: India is using its neighbours as scare objects to spread the politics of hate
We, a group of Bangladeshi writers, artists, and academics collectively take the name Katatare Prajapati Collective – meaning "butterfly on barbed wire" – after the Selina Hossain novel of the same name. In our recent work around safeguarding human rights in Bangladesh, we authored articles analysing Bangladesh's draconian section 57 of Information Communication Technology Act 2006/2013, it's use to create a "Digital Jail", the Digital Security Act 2018, and the arrest of cultural workers for expressing free speech. We write in support of the on-the-ground work being done by Bangladeshi human rights organisations such as Chittagong Hill Tracts Commission, Ain o Salish Kendra, Alliance for Bangladesh Worker Safety, Bangladesh Legal Aid and Services Trust, Odhikar and many others.
We write to condemn discriminatory measures in India's National Register of Citizens, Citizenship Amendment Act, and National Population Register. As Bangladeshis, and as South Asians, we stand against the demonisation of peoples of neighboring countries for electoral politics. We express our solidarity with the conscious and concerned people of India, first and foremost the brave students. Those who have protested in India against NRC-CAA-NPR have a full understanding of the original promise of the Indian Constitution, and are willing to put their lives on the line for the reaffirmation of that secular vision, as an example to all nations.
India, with the third largest Muslim population in the world, was committed to the secular ideal of equal rights to all citizens at its birth. The students of India – starting with Jamia Millia Islamia University and Aligarh Muslim University, but now radiating outward across more than 60 universities across India – have shown us the way. Their protests have been joined in solidarity by activists in Bangladesh, including Dhaka University Central Students' Union vice president Nurul Haque Nur, Gana Samhati Andolan leader Zonayed Saki, Left Alliance Bam Jote, Revolutionary Workers Party leader Saiful Haque, and many others. These Bangladeshi activists have faced brutal police action in Bangladesh, identical to that being practiced by the police in India, reflecting the colonial legacy of both nations.
Divisive politics
In a multi-pronged set of divisive moves, the BJP and RSS have tried to demolish the post-1947 secular ideals defended by India's founding leaders, including BR Ambedkar, Pandit Jawaharlal Nehru, Maulana Abul Kalam Azad, Netaji Subhas Chandra Bose, Mahatma Gandhi, and many others. In addition to the active abetting of acts of communal violence over the last five years, including lynching of Muslims in public spaces, the BJP has enacted policies that set Indian citizen against citizen, community against community. These moves include the age-old scare tactics of presenting Pakistan and Bangladesh as landmasses seething with people who are waiting to enter India and "take away jobs", or carry out "terrorist attacks." The NRC has thrown citizens off the voter rolls, claiming they cannot "prove" their Indian origins. This exploits the language of painting residents of Bangladesh-bordering states as "Bangladeshi illegal immigrants", a tactic that has yielded fear-based voting blocs at elections. CAA has taken this further, insisting that refugees from surrounding countries – Bangladesh, Pakistan, and Afghanistan – can only be accepted if they are non-Muslim.
Meanwhile, the current CAA excludes many persecuted groups, such as the Ahmadiyas and Shias from Pakistan, Hazaras from Afghanistan, Rohingya from Myanmar, and Tamils from Sri Lanka. This has sealed people into their religious "origins" regardless of ground realities of class, economics, and employment. In a political climate of virulent nationalism and Islamophobia, rendering India's Muslim and other minorities vulnerable to police brutality and other forms of direct and institutional violence, the 2019 CAA is a sharpened form of discrimination using neighboring countries as a political scare object. Protests against CAA and NRC are now joined by a fresh controversy over questions added to the NPR. By requiring people to prove their identity and citizenship linked to religion, the current form of CAA, NRC, and NPR is in violation of the idea of a secular India.
Since Bangladesh is repeatedly invoked in hate speech by BJP politicians and TV personalities such as Sadhguru, it is necessary to comment on India-Bangladesh relationships from our side of the border. Bangladesh was created through the brutal 1971 Liberation War – a war in which India played a vital role for the Bangladesh side by giving shelter both to Bengali refugees and the Bengali war command. Bangladesh's 1972 constitution, in line with the Indian Constitution, was based on secular principles for a pluralistic multi-religious society. Despite that initial promise, religious, linguistic, and ethnic minorities in Bangladesh have faced oppression under all political administrations. In both the spirit and commitment made to the people who live on the land, the Government of Bangladesh must fulfill its responsibility to ensure that all Bangladeshi citizens are equal, irrespective of religion, language or ethnic background.
Trade flow
While the BJP government keeps presenting Bangladeshis as the source of illegal migration and job theft and Pakistanis as source of "terrorist attacks," the flows of opportunity and migration flow just as much in the opposite direction. Contrary to the BJP-led media hysteria around Bangladeshis "taking away jobs" from Indians, India gains substantial financial benefit from its neighbor through financial exchange. According to a recent World Bank study, outward financial flows from Bangladesh is the third-largest remittance source for India, with around $3.7 billion dollars sent from Bangladesh to India in 2013. The Silicon India portal predicts that the remittance from Bangladesh to India would continue to increase in the coming years. The current politics of hate has had a negative impact on the Indian economy, specifically in West Bengal, which has for years been the economic beneficiary of robust trade, "medical tourism," and "shopping tourism" with Bangladesh – attracting many Bangladeshis into the country for legal, short-term tourist and medical visits.
Fifty per cent of India's 2016 medical tourism revenue came from Bangladeshis. Patients from Bangladesh and Afghanistan continue to rank high in terms of a maximum number of medical tourist arrivals in India. It is estimated that 2.21 lakh medical tourists from Bangladesh came to India in the year 2017, 2.10 lakh in 2016, and 1.20 lakh in 2015. The highest number of medical tourists from Afghanistan was in the year 2015 – 27,505. Such figures refute discourse about "unwanted migration" that focus on an image of Bangladeshis as "illegal immigrants."
India enjoys a unique preferential and "big brother" relationship with Bangladesh. While efforts to strengthen relationships between Bangladesh and India are laudable, Bangladeshi citizens have long been concerned by the unequal relationship of exchange between the two nation-states. For instance, the undertaking of Indian projects such as the Rampal Coal Plant –adjacent to the Sunderbans, a UNESCO heritage site – and Ganges Water Sharing Treaty are projected to cause major environmental damage and economic harm to Bangladesh and its flora and fauna.
Taken together, the unequal bilateral trade and economic relationship between India and Bangladesh, as well as the invocation of "Bangladeshi illegal migration" in politics around NRC, CAA, and NRP, constitute actions by the Indian government that fosters xenophobia against all neighboring countries. Incendiary language is now an instrument of choice by even senior elected representatives of India's government, equating Bangladeshis to "termites" and "illegal infiltrators" who need to be uprooted. History reminds us that the rhetoric of dehumanisation is the first step toward violent actions that destroy the foundations of any democracy.
Common roots
Bangladesh, India, and Pakistan share an intertwined history and also multiple borders. The current turbulent political climate in the world's largest democracy is a source of concern not just for Bangladesh, but for the entire South Asia region and beyond. The international order is witnessing a rise in anti-democratic forces capitalising on xenophobia, economic anxieties, social struggles, and environmental vulnerabilities. As Bangladeshis following the events unfolding in India, we recommit to our vision of democratic and pluralistic countries in South Asia that does not turn neighbor against neighbor, and citizen against citizen by the politics of fear and hatred. The government of Bangladesh has a critical role to play in ensuring that minorities within its borders – citizens and non-citizens alike – are reassured of the fact that the developments in India will not be mirrored in our country. We urge the government of Bangladesh to unequivocally take a firm position against CAA/NRC/NPR's use of "Bangladeshi migrants" as an object of fear-mongering.
We urge all concerned citizens across Asia – especially India, Bangladesh, Pakistan, Sri Lanka, Nepal, Myanmar, and Afghanistan – to come together and stand against the politics of hate, division, violence, communalism, and exclusion.
We are all, in various ways, Midnight's Children but we do not have to keep repeating the tragedies of 1947. Another South Asia is possible.
Katatare Prajapati Collective (katatare.prajapati@gmail.com) is a group of Bengali academic scholars and activists.
https://scroll.in/article/948700/view-from-bangladesh-india-is-using-its-neighbours-as-scare-objects-to-spread-the-politics-of-hate
------
Malaysian Varsity Terms Fugitive Zakir Naik As 'Icon Of Islamic World', Leaves Malaysians Divided
by M R Subramani
Jan 04, 2020
A question paper set by Malaysia's Universiti Malaysia Perlis in an Ethnic Relations paper has termed controversial preacher and Islamic Research Foundation (IRF) founder Zakir Naik "an icon of the Islamic World".
In a multiple choice examination paper, the question on Zakir Naik, who fled to Malaysia in 2016 after India began investigations into his activities, was as follows:
The choices given to the students were: 1. Malaysians do not bother to receive information; 2. Malaysians are sensitive and feel threatened for no reason; 3. Malaysians just follow the crowd without verifying any information; or 4. Malaysians are ignorant about their own religions.
Universiti Malaysia Perlis, established in 2001, is in Malaysia's northern region and some 35 km from the country's border with Thailand in a town called Arau.
Naik is facing charges in India of provoking communal disharmony and indulging in unlawful activities that incited terror in the country. He is also under investigation in India and Bangladesh for the terror attack at the Holey Artisan Bakery in Dhaka in July 2016.
The examination paper lauding Naik has led to sharp criticism of the ruling Pakatan Harapan (Alliance of Hope) government led by Mahathir Mohamad in Malaysia.
The multi-racial centre-left Democratic Action Party, a major opposition party, has termed this as a reflection of the "pathetic state of public universities" in Malaysia.
One of its leading leaders P Ramasamy, the Deputy Chief Minister of Penang federal State, said the question on Naik reflected poorly on the state of academic knowledge, lecturers, course content, and the nature of public universities.
Ramasamy, who found fault with the staff responsible for teaching the course, wondered why no mention was made of Naik being wanted in India, especially by the National Investigation Agency, which is probing charges of inciting terror against him.
The latest controversy is seen as another incident which is dividing the Malaysians. Indian-origin citizens of Malaysia are feeling more alienated as his speeches have led to sharp divisions within that country.
In particular, his speech at Quranta Bharu on 9 August last year was construed as a "racially-charged remark" which hurt Malaysian Chinese and Indians.
Naik said Muslim nations were not speaking against Islamophobia and the persecution of Muslims. In particular, he pointed out at the Chinese treatment of Uighurs and said the Narendra Modi government in India had created Islamophobia.
In November, Naik had alleged that Hindus in Malaysia were more loyal to Indian Prime Minister Narendra Modi than his Malaysian compatriot Mahathir Mohamad.
Malaysian online portal Malaysiakini, in a commentary, said Naik has been stoking racial tension and disunity in Malaysia. In particular, it felt hurt by Naik terming Chinese and Indian Malaysians as "old guests".
The Islamic preacher is biting the hand that is feeding him, the portal commentary said and urged the Mohamad government to deport him back to India.
On the other hand, Naik has added fuel to the raging controversy by slapping a defamation notice — a second one in three months — on Ramasamy, who had alleged that the preacher had faked resurrection of Sri Lanka's Liberation Tigers of Tamil Eelam.
Swarajya reported that Malaysian police were investigating alleged LTTE links of some Malaysian citizens as a move to silence people and organisations critical of the Mohamad government's decision to protect Naik.
Malaysian of Indian and Chinese origins are also worried over the importance given to Naik. Recently, he was invited to the Kuala Lumpur Summit 2019 in which he mingled with the people of various Islamic countries and talked to them.
It was here that the Malaysian Prime Minister criticised India's Citizenship Amendment Act 2019 on the sidelines, leading to a stern rejoined by the Indian Ministry of External Affairs.
Naik has emerged as the thorn in the cordial bilateral relations between India and Malaysia, which is refusing to repatriate Naik.
The Malaysian Prime Minister has said that Naik, who has been given permanent resident status by Kuala Lumpur, has nowhere to go if he is deported.
However, Mohamad's statement does not justify why Zakir Naik is not being handed over to India.
Of the 32 million Malaysia's population, 61.5 per cent are Muslims, while Buddhists make up nearly 20 per cent. Christians comprise 9.2 per cent and Hindus make up 6.5 per cent.
Other religions, including Taoism and Confucianism, make up 2.5 per cent.
There are nearly three million Indian and Sri Lankans of Tamil origin living in Malaysia, who follow either Islam, Christianity, Buddhism or Hinduism.
Malaysian minorities, especially the Tamil Hindus, feel the presence of people such as Zakir Naik is only making life difficult for them in the country.
M.R. Subramani is Executive Editor, Swarajya. He tweets @mrsubramani
https://swarajyamag.com/news-brief/malaysian-varsity-terms-fugitive-zakir-naik-as-icon-of-islamic-world-leaves-malaysians-divided
------
'This is the Australian way': Muslim group are praised for travelling 200kms to donate 36,000 bottles of water to firefighters and bushfire victims
4 January 2020
A group of Muslims have donated 36,000 water bottles to struggling firefighters who continue to battle vicious blazes.
The 'water boys' from Synergy Scaffolding Services loaded up trucks with 20 pallets of water and headed down to NSW's Shoalhaven region on Friday from Sydney.
Synergy spokeswoman Marie told Daily Mail Australia that the idea came to boss Sam Soukie when he heard someone had travelled down with only a ute filled with water.
'Sam said, ''We've got trucks, we should do the right thing, people are suffering,' Marie explained.
'The company went out and purchased the 20 pallets of water and used two Synergy trucks to drive down bushfire affected areas.'
The water will be distributed to areas that don't have access to clean water.
A firefighter escort was also used to lead the trucks through dangerous areas to ensure everyone could get their hands on the water.
'It's so beautiful seeing the communities get together and help each other the true Australian way,' Marie said.
'There are broken communities, everyone's lost their homes, giving back just a tiny bit is worth every moment.'
NSW Rural Fire Service St Georges Basin Brigade thanked the men for their generous donation to those battling on the frontline.
'These fellas once again delivered water far above and beyond what anyone has seen to fire affected communities,' they wrote.
'This time it was 20 pallets of water - 36,000 bottles of water.
'You gents are amazing. Your generosity is next level.'
Tourists were warned to leave the area before Saturday where temperatures soared to 45C.
An emergency warning is currently in place for Shoalhaven due to an out-of-control bushfire burning across 269,282 hectares.
https://www.dailymail.co.uk/news/article-7850783/Muslims-donate-36-000-bottles-water-firefighters-battling-vicious-blazes-Shoalhaven.html
------
Birmingham Muslims giving shelter to the homeless throughout the winter
3 JAN 2020
Birmingham Muslims are providing beds for the city's homeless community throughout the coming freezing months.
From Monday (Jan 6), rough sleepers will be able to bunk down safely in a central location for as long as the cold snap lasts.
For the first time, Green Lane Masjid and Community Centre (GLMCC), Muslim Aid and the As-Suffa Institute have pooled their resources, fundraising and expertise to tackle the homeless problem blighting our streets.
A large rota of volunteers from city mosques will be spending time away from their families so they run the unit on Lionel Street for up to 25 men, until March.
Kamran Hussain, from GLMCC in Small Heath , said: "The problem of homelessness is increasing in the Midlands and the UK. We are now reaching crisis levels with people dying on the streets.
"It's important that faith and community groups do their part to help those in need. As an Islamic faith institute, we are required to take care of the poor and less fortunate.
"Many organisations don't have the capacity to run a project as large as this. This requires finances, a huge volunteer base and a lot of organisation and coordination.
"By getting together it doesn't put the hardship of running such a project onto one single organisation.
"By housing the homeless, we will create a safe space for them and give them a little relief from their harsh lives.
"We will also have people who work with the homeless, to provide advice on how they can get themselves off the streets."
Mr Hussain said the users would be provided with the help needed to get off the streets.
"We hope to get a number of the homeless into permanent accommodation. Many of the homeless find it hard to navigate through the benefits system to get access to financial support or housing.
"Last year, through our project at Green Lane, we managed to get about 10 people into housing, which was a huge achievement."
Homeless deaths in the UK
Figures first released in December 2018 showed 2,627 homeless people died between 2013 and 2017 across England and Wales.
Around 40% of the deaths seen over the last five years were deemed accidents, but one in every 10 were due to intentional self-harm.
Some 835 people died from either accidental or intentional drug overdoses - nearly a third of the total number of deaths.
Opiates such as heroin, morphine and methadone proved the most deadly - responsible for 507 deaths over the five years.
Cocaine and benzodiazepine (sleeping pills) were responsible for 70 and 85 deaths respectively.
Meanwhile, at least 282 homeless people died from alcohol poisoning between 2013 and 2017.
Other causes of death included assault (24 deaths), flu and pneumonia (49) and HIV (six).
Homeless men aged 45-49 were the most at-risk, with 340 losing their lives in the last five years.
However, 24 teenagers aged 15 to 19 also died in 2013-17 - 21 boys and
three girls.
London and the North West had by far the largest numbers of deaths of homeless people in 2017 out of the English regions, with 136 and 119 estimated deaths respectively.
London had more than one-fifth (23%) of the estimated total number of homeless deaths in England and Wales. In contrast, Wales had fewer deaths than any of the regions of England (13 in 2017).
Generally, February proved the deadliest time of year, with 253 homeless people dying during the month, followed by December (242) and March (239).
In 2018, 23 homeless people died in the city - the highest in the country and an increase of 18 deaths from the previous year.
As-Suffa has hosted a four day soup kitchen since 2012 and a night shelter during the cold weather since 2016.
Altaf Kazi, Muslim Aid's Head of UK Programmes, said: "God reminds us repeatedly to feed and look after the poor and needy. As Muslims we must fulfil our obligations.
"The Prophet Muhammad (peace & blessings of God be upon him) said 'He is not a believer whose stomach is full while the neighbour to his side goes hungry.'"
https://www.birminghammail.co.uk/news/midlands-news/birmingham-muslims-giving-shelter-homeless-17508927
------
World reacts to US killing of Iran's Qassem Soleimani in Iraq
03 Jan 2020 15:04 GMT
International leaders have called for restraint and de-escalation following the assassination of Iran's top general, ordered by US President Donald Trump, as Iran's allies warned the killing could lead to conflict.
Qassem Soleimani, head of Iran's elite Revolutionary Guard Corps (IRGC) Quds Force, was killed in a pre-dawn US air raid at Baghdad's international airport on Friday.
Regional and world leaders have largely reacted with alarm, concerned that the US assassination of Soleimani could ignite a serious escalation in the region and possibly lead to war.
Iran
Following the attack, Iran's supreme leader Ayatollah Ali Khamenei warned the US of "harsh retaliation".
Javed Zarif, Iran's foreign minister, tweeted his response, saying: "The US' act of international terrorism, targeting & assassinating General Soleimani - THE most effective force fighting Daesh (ISIS), Al Nusrah, Al Qaeda et al - is extremely dangerous & a foolish escalation.
"The US bears responsibility for all consequences of its rogue adventurism."
Iraq
Iraqi caretaker Prime Minister Adel Abdul Mahdi condemned the attack, calling it an "aggression" on Iraq that would "spark a devastating war".
"The assassination of an Iraqi military commander is an aggression on Iraq as a state, government and people," Abdul Mahdi said in a statement.
"Carrying out physical liquidation operations against leading Iraqi figures or from a brotherly country on the Iraqi lands is a flagrant violation of Iraq's sovereignty and a dangerous escalation that triggers a destructive war in Iraq, the region and the world," Abdul Mahdi said.
He added that the attack was also a "flagrant violation of the conditions authorising the presence of US troops" on Iraqi soil.
Syria
The Syrian government accused Washington of trying to fuel conflict in the Middle East.
Syria is "certain that this cowardly US aggression ... will only strengthen determination to follow in the path of the resistance's martyred leaders," a foreign ministry official was quoted as saying by the state news agency SANA.
The official described the killings as "a serious escalation of the situation" in the region and accused the US of resorting to "the methods of criminal gangs".
Turkey
The Turkish foreign ministry said the assassination of Soleimani would increase insecurity and instability in the region.
In a written statement, the ministry said it was deeply concerned by the rising tensions between the US and Iran, and that turning Iraq into an arena for conflict would harm peace and stability in the region.
"Turkey has always been against foreign interventions, assassinations and sectarian conflicts in the region," the ministry said.
Russia
Moscow warned that the assassination of Soleimani would increase tensions across the Middle East.
"The killing of Soleimani ... was an adventurist step that will increase tensions throughout the region," news agencies RIA Novosti and TASS quoted the foreign ministry as saying.
"Soleimani served the cause of protecting Iran's national interests with devotion. We express our sincere condolences to the Iranian people."
United Nations
UN Secretary-General Antonio Guterres is deeply concerned by the recent rise in tensions in the Middle East, his spokesperson said in a statement.
"The secretary-general has consistently advocated for de-escalation in the Gulf," Farhan Haq said. "This is a moment in which leaders must exercise maximum restraint. The world cannot afford another war in the Gulf."
China
China appealed for restraint from all sides, "especially the United States".
"We urge the relevant sides, especially the United States, to remain calm and exercise restraint to avoid further escalating tensions," foreign ministry spokesman Geng Shuang said at a daily news briefing.
Israel
Israeli Prime Minister Benjamin Netanyahu said the US had the right to defend itself by killing Soleimani.
"Just as Israel has the right of self-defence, the United States has exactly the same right," Netanyahu said in a statement issued by his office on Friday
"Qassem Soleimani is responsible for the death of American citizens and many other innocent people. He was planning more such attacks."
Hezbollah
Hezbollah leader Sayyed Hassan Nasrallah called for Soleimani's death to be avenged.
"Meting out the appropriate punishment to these criminal assassins ... will be the responsibility and task of all resistance fighters worldwide," Hassan Nasrallah said in a statement.
"We who stayed by his side will follow in his footsteps and strive day and night to accomplish his goals," Nasrallah said.
Hamas
Hamas, the Palestinian group that administers the besieged Gaza Strip, issued a statement saying "Soleimani was one of the leading Iranian army officials who had an important role in supporting the Palestinian resistance".
"We condemn these continued American crimes sowing tensions in the region in service of the Israeli enemy," it said.
The Palestinian Islamic Jihad (PIJ) group offered its condolences to the Iraqi people for the death of Abu Mahdi al-Muhandis, describing him as one of the symbols of Iraqi liberation from the US occupation.
"This Iraq, which will always remain disobedient to American hegemony and control, will always remain Arab with its fighters and greater than the occupation," a PIJ statement said.
NATO
The NATO military alliance said it is monitoring the situation in Iraq closely with an eye on the safety of its training mission there.
"NATO is monitoring the situation in the region very closely. We remain in close and regular contact with the US authorities," spokesman Dylan White told AFP.
"At the request of the Iraqi government, NATO's training mission in the country is helping to strengthen the Iraqi forces and prevent the return of ISIS," he said.
"The safety of our personnel in Iraq is paramount. We continue to take all precautions necessary."
Germany
Chancellor Angela Merkel's spokeswoman Ulrike Demmer urged restraint and de-escalation.
"We are at a dangerous point of escalation. It is now important through prudence and restraint to contribute to de-escalation," Demmer said.
Foreign Minister HeiQuran Maas said the aim now was to prevent further escalation across the Middle East.
"We are making use of our diplomatic channels to Iran and to other states in the region," he said. "Since this morning we have been in close contact with our British and French partners and with other European countries on how we can best work to calm the situation."
United Kingdom
British Secretary of State for Foreign Affairs Dominic Raab urged all parties to de-escalate.
"We have always recognised the aggressive threat posed by the Iranian Quds force led by Qassem Soleimani. Following his death, we urge all parties to de-escalate. Further conflict is in none of our interests," Raab said in a statement.
France
France's priority is to stabilise the Middle East, French Secretary of State for European Affairs Amelie de Montchalin told RTL radio.
"What is happening is what we feared: Tensions between the United States and Iran are increasing," Montchalin said. "The priority is to stabilise the region."
"We have woken up to a more dangerous world," Montchalin added, saying French President Emmanuel Macron would consult soon with "players in the region".
https://www.aljazeera.com/news/2020/01/world-reacts-killing-iran-qassem-soleimani-iraq-200103072643596.html
-----
Soleimani should have been taken out years ago, says Trump
January 04, 2020
JEDDAH: In his first comments since the strike against the head of Iran's elite Quds Force, US President Donald Trump said Qassem Soleimani "should have been taken out many years ago." He said the targeted killing was ordered because Soleimani was "plotting to kill" many Americans.
The UAE's Minister of State for Foreign Affairs Anwar Gargash called for "wisdom and moderation" rather than "confrontation and escalation."
Egypt's Foreign Ministry said it was following developments in Iraq with great concern and appealed against any further escalation.
French President Emmanuel Macron urged all parties to avoid any new escalation. In a telephone call with Russian President Vladimir Putin, Macron said there should be no "new dangerous escalation of tensions" and "called on all the parties to act with restraint."
Germany urged restraint and de-escalation. "We are at a dangerous point of escalation. It is now important through prudence and restraint to contribute to de-escalation," said Chancellor Angela Merkel's spokeswoman Ulrike Demmer.
China said it is "highly concerned" and called for all sides, especially the US, to exercise "calm and restraint." UN Secretary-General Antonio Guterres is deeply concerned.
"The secretary-general has consistently advocated for de-escalation in the Gulf. He is deeply concerned with the recent escalation," said his spokesman, Farhan Haq. "This is a moment in which leaders must exercise maximum restraint. The world cannot afford another war in the Gulf."
Republican lawmakers quickly spoke out in strong support of Trump's attack. "In a display of resolve and strength, we struck the leader of those attacking our sovereign US territories," top House Republican Kevin McCarthy said.
"Wow — the price of killing and injuring Americans has just gone up drastically," Senator Lindsey Graham, a close confidant of Trump, wrote on Twitter. Former US Ambassador to the UN Nikki Haley also praised the attack.
"Qassem Soleimani was an arch terrorist with American blood on his hands," Haley said on Twitter. "His demise should be applauded by all who seek peace and justice. "Proud of President Trump for doing the strong and right thing." Trump's former adviser John Bolton praised the killing of Soleimani and "congratulated" those involved.
https://www.arabnews.com/node/1607996/middle-east
------
India
India Will Face International Isolation Because Of NRC-CAA: Shivshankar Menon
Scroll Staff
03 January 2020
Former National Security Advisor Shivshankar Menon on Friday said that the Citizenship Amendment Act and the withdrawal of special status of Jammu and Kashmir under Article 370 of the Constitution had led to India being isolated from the international community, even by its traditional allies, the Hindustan Times reported.
"There has been no meaningful international support for this series of actions, apart from a few committed members of the diaspora and a ragtag bunch of Euro MPs from the extreme right," Menon said at an event in New Delhi. He said many world leaders, including French President Emmanuel Macron, German Chancellor Angela Merkel, the United Nations High Commissioner for Refugees and even King Harald V of Norway have criticised India's actions.
Merkel had on November 1, during a visit to India, said that the present situation in Kashmir is "not sustainable".
"We seem to know that we are isolated," Menon said, referring to External Affairs Minister S Jaishankar's decision to skip a meeting with the foreign affairs committee in the United States due to the presence of Congresswoman Pramila Jayapal, who has been critical of India's actions in Kashmir.
Menon added that Jayapal's resolution on Kashmir, urging India to end the communications blockade as quickly as possible, and ensure religious freedom for all, had been now has 29 co-sponsors, including Republican Party members. He said this list includes the only Indian-origin lawmaker who attended the Howdy Modi conference in September, Raja Krishnamoorthi.
Menon said that India was violating Article 21 of the International Covenant on Civil and Political Rights, which it had signed, by passing the Citizenship Amendment Act. "We seem to be in violation of our international commitments," he said. "You must consider the political and other consequences of being perceived as violators of international law."
The former national security advisor said that India, along with Pakistan, now has an image of a religiously driven and intolerant country. "We have gifted our adversaries platforms from which to attack us," he added.
The Citizenship Amendment Act, approved by Parliament on December 11, makes citizenship smoother for refugees from six minority religious communities from Bangladesh, Afghanistan and Pakistan, provided they have lived in India for six years and entered the country before December 31, 2014. The Act has been widely criticised for excluding Muslims, leading to protests against it. At least 26 people have died so far in protests against the Act, which have turned violent at times.
https://scroll.in/latest/948707/on-caa-and-article-370-former-nsa-shivshankar-menon-warns-india-of-international-isolation
----
Priyanka meets Shia cleric allegedly beaten up by UP police in anti-CAA crackdown
Saturday, January 4, 2020
Muzaffarnagar, Jan 04: Congress leader Priyanka Gandhi Vadra on Saturday made an unscheduled visit to this western Uttar Pradesh town to meet the families of those who bore the brunt of the recent violent protests against the amended Citizenship Act. The Congress general secretary visited the residences of some of those who were injured in the violence during the widespread protests against the Citizenship Amendment Act.
"I will stand with you in this hour of distress," she told one of them. Later she told mediapersons that people were beaten up mercilessly and even children and minors were not spared. A 22-year-old woman, who was seven-month pregnant, was also beaten up, she claimed.
Priyanka said she has highlighted each and every "police excess" in her lengthy memorandum to Uttar Pradesh Governor Anandiben Patel during her previous visit to the state. She had visited Lucknow last week and met the kin of those injured or killed during the violent protests against the Act. Earlier, she had gone to Bijnour and met the families of those killed in the violent clashes there. But she was not allowed to visit Meerut. Officials maintain that 19 people were killed in the state during violent clashes.
https://www.oneindia.com/india/priyanka-meets-shia-cleric-allegedly-beaten-up-by-up-police-in-anti-caa-crackdown-3008250.html
------
Attacks and apathy: Two cases from Firozabad illustrate how the UP police have treated Muslims
'They are happy to take the lives of innocents. Bullets hit feet and hands and faces. They didn't care, whether people are living or dying.'
Attacks and apathy: Two cases from Firozabad illustrate how the UP police have treated Muslims
Vakeel Nabi, brother of Ahmad Nabi, a cancer-patient with fracture wounds who is in jail in Firozabad, Uttar Pradesh, after being picked up by police. | Rohan Venkataramakrishnan
The cases of two men from Firozabad – one living, one dead – give you a clear sense of how the Uttar Pradesh police has treated Muslims in the state after large-scale protests broke out around the country over changes to the Citizenship Act.
The 27-year-old was physically disabled, unable to move his right hand and with limited movement in the other. Many young people in the city work as labourers and Rashid followed the pattern: he was employed in a glass bangle factory. But because of the trouble with his hands, the most he could do was pour water for other workers.
On December 20, he was found dead because of bullet wounds.
"The doctor at the government hospital told us that the bullets were from the police," said Noor Mohammed, Rashid's father, at their house in the Kashmere Gate area of Firozabad, where he lives with Rashid's six-year-old daughter. "How could they think he was a protester? He could barely move his hands."
Noor Mohammed, father of 27-year-old Rashid, who was killed by gunfire in Firozabad, Uttar Pradesh.
Civilian clothes
Residents say that the police were waiting outside the mosques on that day. Some claim that they were waiting with hundreds of other men in civilian clothes. Photos and videos that have emerged from the day attest to this – though the police deny these allegations.
Videos shot by locals in Firozabad #UttarPradesh show civilians pelting stones, setting ablaze Muslim-owned property with the @uppolice providing cover https://timesofindia.indiatimes.com/videos/city/lucknow/caa-violence-videos-shot-by-locals-show-civilians-pelting-stone-setting-ablaze-muslim-owned-property-before-cops-in-ups-firozabad/videoshow/73054271.cms … #UPpolice #PoliceBrutality
Days after a senior police official of Agra range in UP claimed that no bullet was fired during the anti-CAA protest in Firozabad on December 20, at least four videos have emerged in which police are...
This resulted in clashes not unlike those seen elsewhere in the state, leaving six dead allegedly due to police firing, residents said. The police claimed that the crowd got violent, pelting stones on them. Initially, a police officer denied that bullets were fired – echoing claims of other police officers in the state despite evidence, including videos, to the contrary.
In the middle of the melee, Rashid was shot dead.
"Someone saw his body there and they alerted us and we took it to the government hospital for a postmortem," Mohammed said. "Until now, [10 days after the incident], we have yet to get the postmortem report."
Around 3 am, the police handed the body over to Mohammad, saying he had to be buried within an hour. "There was lots of force present, and they only let us wash the body in the ambulance. And then, with just eight-10 people there, we had to bury him."
Reports from around Uttar Pradesh, where officials acknowledge 19 dead though reports say the number is higher, echo Mohammad's experience: death, allegedly because of police action, a lack of information from the authorities, and forcing families to conduct funerals in the early morning hours.
Mohammad says he hasn't yet seen even a First Information Report. Family members of others killed also say they have not received autopsy reports.
At the house of Armaan, aka Kallu, a 24-year-old, a labourer who was also killed by gunfire, his uncle says that the details of the FIR were dictated to them by the police.
The FIR based on a complaint by Armaan's father, which his uncle asked a fellow resident to read out and explain to him says, "Around 3 pm in the afternoon, just as Armaan reached Naini Chouraha, there was a large crowd and stone pelting and firing was taking place. In the middle of this my son was hit by a bullet. Whether the bullet belonged to the police or the crowd I don't know."
Across Uttar Pradesh, in fact, FIRs filed by the police alleging that the protesters have been violent were filled with specific details and names, while the reports filed for those killed have featured single, vague paragraphs.
Why didn't his father clearly say that it was the police that shot him, the fellow resident reading out the FIR asked? "His father didn't write it, the SP [superintendent of police] basically wrote it himself, it was dictated by him," said Armaan's uncle. "Now the only hope is that we can speak to the court."
Cancer patient
The second case is that of Ahmad Nabi. And the courts haven't been of much help to him.
Nabi, 43 was one of the many men detained by the police on December 20. He also happens to be a cancer patient, due for treatment on December 28. He was allegedly beaten so severely by the police that he suffered several fractures.
"At first they made me run around, not even telling me where he was being kept," said Vakeel Nabi, Ahmad's brother. "Then when I found out, I tried to tell them that he is a cancer patient, and that you need to do a medical, because his legs are broken."
Vakeel Nabi even managed to get an order from a Special Court, directing the police to move his brother to the hospital. He has an entire file of documents about his brother, from records of the hospital where Ahmad was getting treatment for cancer to an X-ray clearly showing a fracture from December 28, when a medical examination was carried out.
Even the police acknowledged that Ahmad Nabi needs to be moved to the hospital and that the medical ward in the jail was not sufficient. Yet, as of January 1, Nabi was still lodged in jail.
"They told me that it is because of a disagreement between the jail police and the civil police [who would have to oversee him in the hospital," said his brother. "Imagine that. Here is my brother, a cancer patient, who was brutally beaten and his legs broken, and a judge has even ordered that he be taken to the hospital, but nothing has happened."
Residents say that this is the plight of many more in jail. Vakeel Nabi says that he himself knows of two other people with fractures in the same place that his brother is kept, yet they have not managed to get even court orders because there was no one to help them legally.
"The police came here – with hundreds of men in civilian clothes from a school next to the police station that everyone says is run by the RSS – they ruined the atmosphere, and then they picked up our kids," said one resident of Rasoolpur who asked not to be named.
Running through all the stories is the feeling among residents that the police were out to send a message to the Muslim community, through both their actions and also their apathy. In the last few days it has emerged that Firozabad Police sent notices about a potential breach of peace to two men over the age of 90 and one who has been dead for six years, following the incident on December 20. All, of course, are Muslims.
"They turned this place into Jallianwala Bagh," said Mohammad Saeed, brother of Mohammad Shafeeq, who was also shot dead on December 20. "They are happy to take the lives of innocents. Bullets hit feet and hands and faces. They didn't care, whether people are living or dying."
https://scroll.in/article/947890/law-made-injustice-possible-in-ayodhya-hyderabad-encounter-cases-will-this-happen-with-caa-too
------
Mangaluru Police have only 3.5% of Muslims and Christians, despite latter forming 35% of city's population
Harsha Raj Gatty
JANUARY 04, 2020
Following the death of two Muslims in the police ring at an anti-Citizenship (Amendment) Act protests in Mangaluru on December 19, several organisations and prominent personalities have raised concerns over the abysmal representation of minority communities in the city's police force.
The People's Union for Civil Liberties (PUCL), a human rights organisation, said police stations in the communally-sensitive areas, such as Ullal and Surathkal, do not have personnel from the minority communities. "Mangaluru never had a Christian or Muslim Superintendent of Police or Police Commissioner after Independence. This despite the minority communities forming 35% of the city's population," said the organisation's vice-president Mohammad Kabir.
Data analysis
In this context, a data analysis has revealed the abysmally low representation of Muslims and Christians in Mangaluru City Police ranks.
The data, sourced from the Mangaluru City Police (MCP) website, showed that 605 personnel work in 15 police stations (Law and Order)
No Muslim or Christian gured in seven key positions – one Commissioner, two Deputy Commissioners and four Assistant Commissioners – in the force.
Of the remaining 598 positions, 575 posts, or 95.37%, have been occupied by the members of the Hindu community. These include inspectors, sub-inspectors, assistant sub-inspectors and constables.
The city police force has 14 Muslims and 9 Christians. This constitutes just 3.47% of the force's total strength. According to 2011 census, the two communities form 35% of Mangaluru's population (Muslims form 23.85%, Christians 11.14%).
Muslims constitute 13% while Christians form 1.87% of the Karnataka population.
No Christian inspectors
Of the 15 inspectors, only two belong to the Muslim community. One is attached with Mangaluru Rural and the other with Panambur. Surprisingly, no Christian has gured in the list of inspectors.
There are three assistant sub-inspectors from minority communities in the city police. Of them, one belongs to Muslim community (Bajpe) and two are from Christian community (Kankanady and Mangaluru South).
The scenario is no different either in police stations that fall under communally-sensitive areas like Ullal and Surathkal.
Ullal, which has 65.44% Muslim population, has only one Muslim constable, while Surathkal, which had
witnessed communal violence in 1998, has no police personnel either from Muslim or Christian communities. Mangalore North, which witnessed violence on December 19, has only one Christian constable.
Women's force
The city police has 66 women police personnel, but none of the inspectors or sub-inspectors belong to the
minority communities.
Muslim community's representation has been limited to two constables – one each in Mulky and
Panambur.
Of the 448-member strong constabulary, minority representation is just 3.30% (2.27% Muslims and 1.03%
Christians). This means 11 hail from Muslim community while seven come from Christian community.
Mangaluru Police's version
A senior ofcer of the Mangaluru City Police, on condition of anonymity, said the data available on the
police website might not be exactly the same on the ground. "There may be some changes because of
transfers and suspensions of the police personnel. The website is also not promptly updated," he said.
"But by large the religious composition remains the same," he added.
Signicance of the analysis
The data assumes signicance in the wake of allegations that the police used brute force against the antiCitizenship (Amendment) Act protesters on December 19.
Two Muslim men - Abdul Jaleel, 49, and Nauseen, 23 - were killed in the police ring. Relatives of the deceased had alleged that the two were not part of the protests and were gunned down while watching the
march from a distance. The police even named the two deceased in the First Information Report. The police even barged into the Highland Hospital and threatened to kill the patients, according to a
report in The Wire.
Former Karnataka Chief Minister Siddharamiah had alleged that the police ring was 'communally instigated'.
Criticism
The statistics appears to have ratied the controversial statement made by Sangh Parivar leader Ganesh Karnik in 2015.
In a sting operation carried out by Cobra-Post in 2015, Karnik, who was a Member of the Legislative Council (MLC), said that "60% of police force comprised of RSS workers and that the inltration comes
handy to the party afliates when they need to take the law into their hands." Prominent personalities have criticised the police for their allegiance to Sangh Parivar.
Dakshina Kannada (DK) President of Quranmu Sauhardha Vedike (Forum for Communal Harmony) Suresh Bhat Bakrabail is one among them. "Some of the members of the Dakshina Kannada district police are
institutionalised members of Sangh Parivar akin to Bajaranga Dal or Sreerama Sene," he said.
Concerns
1/4/2020 Mangaluru Police have only 3.5% of Muslims and Christians, despite forming 35% of city's population | India News | Manorama English
Police reform activists have been complaining lack of efforts by the police to restore condence in the minority communities and other marginalised groups, despite Mangaluru repeatedly witnessing
communal violences in the past 26 years.
Prominent lawyer Dinesh Hegde Ulepady said the government should take a balanced approach while appointing police personnel, keeping in mind the religious and cultural diversity. "It will also bridge the
trust decit that currently prevails between the police and the minority communities." Speaking to Onmanorama, a senior police ofcial who had served in Mangaluru City Police said the IPS
cadre or senior ofcials do not have control over their subordinates. He said that it is difcult to carry out a routine deployment or transfers of junior ofcials without the approval from local satraps of Sangh Parivar. "As recently as July last year, former Mangaluru City Police
Commissioner Sandeep Patil suspended Inspector of Surathkal Police Station from service alleging dereliction of duty (failing to act against cattle thefts and narcotics). But in less than 24 hours, he was reinstated. In less than three weeks, Sandeep was transferred," the ofcial said.
Content provided by StoryInnity (Subs and Scribes Media Ventures LLP)
https://english.manoramaonline.com/news/nation/2020/01/03/mangaluru-police-religious-representation-criticism.html
------
Reddy brother warns Muslims against anti-CAA protests
Jan 4, 2020
Bengaluru: G Somashekara Reddy, Ballari City BJP MLA and brother of tainted mining baron G Janardhana Reddy cautioned Muslims against participating in anti-Citizenship (Amendment) Act protests and warned them of dire consequences if they did. At a pro-CAA rally organised by the BJP and ABVP activists on Friday, he said: "We Hindus are 80% in India and if the 20% Muslim population damages our property, we cannot just stand by and watch."
A video of the speech was widely shared moments after the rally.
"BewaQuranofs (idiots) from Congress are lying to you on CAA and you are believing what they say and are coming out onto the streets. Imagine what your situation will be if we turn against you," he said.
Reddy suggested minorities need to adapt to Indian culture if they wanted to live in India. "This is our country. You have to live in our country," he said.
Quoting from a fake video of Australian Prime Minister Julia Gillard, he said: "If you want to stay in this country, you have to live as per our customs. If you don't, we may send you back to your country. Make sure you don't let such a situation come to pass." In the fake video, Gillard is heard encouraging Muslims to leave the country.
The Congress, meanwhile, lashed out at him, saying he should be booked for making a provocative speech in public. "This shows the BJP's mentality. He should be tried under law," said a senior Congress functionary.
https://timesofindia.indiatimes.com/city/bengaluru/reddy-brother-warns-muslims-against-anti-caa-protests/articleshow/73090866.cms
------
Bengal BJP cites examples from the Arab world to counter anti-CAA sentiment among Muslims
Jan 04, 2020
Tanmay Chatterjee
Talking of the Iran-Iraq war of the 1980s or, strict immigration laws in the Gulf countries, at rallies in support of the amended citizenship law, may appear outlandish. Yet, in West Bengal, such issues are being raised by the Bharatiya Janata Party (BJP) as part of a campaign tuned specifically for indigenous Muslims. Special pamphlets are being printed for the minority community, while top leaders are addressing at least three workshops every week to train party workers.
In certain areas, such as Cooch Behar district in north Bengal, the BJP's minority morcha (front) leaders are saying that Muslims in the region were originally Hindus till their forefathers were forcibly converted by the generals of Mughal emperor Aurangzeb.
"The converted Bengali Muslims are locally referred to as Narsho Sheikh. There are around 2.2 million Narsho Sheikhs in Bengal. I am one of them," said Ali Hossain, president of the BJP's Bengal minority morcha on Friday, hours before BJP state president Dilip Ghosh addressed workers at a workshop on Citizenship (Amendment) Act (CAA). Many of the foot soldiers came from distant districts.
The strategy for Bengal comes in the wake of BJP national president Amit Shah's announcement that the party will win the crucial 2021 Bengal assembly polls with a two-thirds majority. Party leaders in Bengal are aware that achieving it will not be easy without Muslim votes even though they won 18 of the state's 42 Lok Sabha seats last year.
"The minority morcha is telling local Muslims that their counterparts, who sneaked in from Bangladesh over the past decades, are eating into their share of employment and livelihood. No Muslim country would allow that for the sake of religion or brotherly feeling. We are thus referring to wars between Islamic nations to illustrate that the nation is bigger than religion," said Hossain.
Muslims are in majority in Malda, Murshidabad and North Dinajpur districts and comprise a sizeable chunk of voters in Nadia and the North and South 24 Parganas. BJP has 0.4 million Muslim workers in Bengal.
"A whisper campaign started months ago," said Hossain.
He added that a rally will be held in Quranlkata later this month where the central leadership of the party will be invited to participate.
According to the 2011 census, Muslims comprise 49.92 per cent and Hindus compromise 49.31 per cent of the population in North Dinajpur which has nine assembly segments.
In Murshidabad, which has 66.27 per cent Muslims, there are 22 assembly segments. In Malda, which has 12 assembly seats, Muslims comprise 51.21 per cent. At present, most of the 43 assembly seats in these three districts are in control of the Trinamool Congress (TMC).
Significantly, no other state in India witnessed so much destruction to public and railway property as was seen in Bengal's Malda and Murshidabad during protests against CAA. Trains and buses were set on fire.
Bengal BJP general secretary Sayantan Basu said Mamata was scaring Muslims because the infiltrators are a big vote bank for her.
"Chief Minister Mamata Banerjee is scaring all Muslims because she needs the captive vote bank of the illegal infiltrators whose number is more than 10 million in Bengal," said Basu.
Quranlkata-based political science professor Udayan Bandopadhyay, however, says the BJP's strategy may not work.
"I do not think BJP will gain from this strategy in Bengal. The Muslims are united against it. The party will gain if Left supporters back it the way they did during the 2019 Lok Sabha polls to counter the TMC," Bandopadhyay said.
https://www.hindustantimes.com/india-news/bengal-bjp-cites-examples-from-the-arab-world-to-counter-anti-caa-sentiment-among-muslims/story-oPpvXv80R8Kcqzr9apOuSI.html
------
Tens of thousands protest against citizenship law in India
January 04, 2020
BANGALORE: Tens of thousands of people protested across India on Friday against a citizenship law passed by the Hindu nationalist government that critics say discriminates against Muslims.
Some 30,000 people marched in the southern city of Bangalore, more than 20,000 in Siliguri and thousands in Chennai, while big rallies were also held in New Delhi, Guwahati and other cities.
More than 1,000 members of the LGBTQ community, rights groups and their supporters joined the protest held in the capital.
Describing themselves as Citizens Against Bigots, they carried placards and shouted slogans accusing the government of pursuing policies aimed at forcing people to prove their citizenship and putting people from marginalised communities at risk.
Imran assails world's silence over 'state terrorism'
Protests have rocked India since legislation was passed in December that eases the way for religious minorities from three Muslim-majority neighbouring nations to gain Indian citizenship, but not if they are Muslim.
Critics say the law is a precursor to a national register of citizens that many among India's 200 million Muslims fear will leave them stateless. Many poor Indians do not have documents to prove their nationality.
At least 27 people have died in the protests in recent weeks and hundreds more have been injured in clashes with police, fuelling public anger. Many prominent activists, including a television actress, have been detained.
At the Bangalore protest on Friday, businessman Nazir Ahmed said that "Hindus, Muslims and Sikhs are gathering everywhere to protest and we shall continue to protest until this law is cancelled".
In New Delhi, protesters vowed to continue their "resistance just like Hong Quranng", where a pro-democracy campaign has raged for nearly seven months.
"Police are trying to curb the protests in the most brutal way possible in a democracy but we won't back down," said Shristi, a 19-year-old student who gave only one name.
"In our own ways we will try to keep this movement alive till this law is revoked," she said.
Home Minister Amit Shah insisted that the law was not discriminatory, as he launched a campaign to dispel "misinformation" that he claimed was being spread by opposition parties.
Workers from the ruling Bharatiya Janata Party would go door-to-door to explain the new law, Shah said.
For his part, Prime Minister Imran Khan wondered for "how long the world would remain silent while the fascist, extremist Modi regime indulges in state terrorism". He shared an article of The Hindu newspaper entitled "A dangerous new low in state-sponsored hate", written by Harsh Mander in which the writer has pointed out that in Uttar Pradesh, police bias and the scale of violence against the minorities were plumbing new depths.
https://www.dawn.com/news/1526172/tens-of-thousands-protest-against-citizenship-law-in-india
------
Mideast
New air strike on pro-Iran convoy in Iraq ahead of Iranian Quds Force commander Qasem Soleimani funeral
Jan 04, 2020
Baghdad: A fresh air strike hit pro-Iran fighters in Iraq early Saturday, as fears grew of a proxy war erupting between Washington and Tehran a day after an American drone strike killed a top Iranian general.
It came hours ahead of a planned mourning march for Iranian Quds Force commander Qasem Soleimani and Iraqi paramilitary heavyweight Abu Mahdi al-Muhandis, slain in a precision drone strike by the US in Baghdad on Friday.
The assassination was the most dramatic escalation yet in spiralling tensions between Iran and the US, which pledged to send more troops to the region even as US President Donald Trump insisted he did not want war. The killing was the most dramatic escalation yet in spiralling tensions between the US and Iran, which Iraqis fear could play out in their homeland.
Almost exactly 24 hours later, a new strike targeted a convoy belonging to the Hashed al-Shaabi, an Iraqi paramilitary network whose Shiite-majority factions have close ties to Iran, the group said in a statement. It did not say who was responsible but Iraqi state television reported it was a US air strike.
A police source told AFP the bombardment north of Baghdad left "dead and wounded," without providing a specific toll. There was no immediate comment from the US.
The assassination of Soleimani, who had led the Islamic Revolutionary Guards Corps' foreign operations branch and was Iran's pointman on Iraq, rattled the region. US officials said the 62-year-old, who had been blacklisted by the US, was killed when a drone hit his vehicle near Baghdad's international airport.
A total of five Revolutionary Guards and five Hashed members were killed in the strike. Their bodies were to be taken through an elaborate mourning procession on Saturday, beginning with a state funeral in Baghdad and ending in the holy shrine city of Najaf.
The bodies of the Guards would then be sent to Iran, which had declared three days of mourning for Soleimani.
Tehran has already named Soleimani's deputy, Esmail Qaani, to succeed him.
https://www.timesnownews.com/international/article/airstrike-on-iraqi-shia-militia-in-northern-baghdad-kills-at-least-five-people/535514
------
Soleimani's Murder: It Is Building Upto A Terrible Crescendo In West Asia
By Saeed Naqvi
Jan 04, 2020
The assassination of Major General Qassem Soleimani by US airstrikes in Iraq, brings West Asia nearer the precipice. By this action, President Trump, who cannot get out of Afghanistan, has got himself deeper into the West Asian Quagmire. Americans know power and strategy. They don't understand a quantity called the people. This gap in their make up has been their undoing in every outing since Vietnam.
Soleimani was the author of growing Iranian influence in the region – Iraq, Syria, Lebanon and Yemen. In Iraq, he was supported by Hashd al Shaabi and Kataib Hezbullah. Their leaders were iconic figures too. Soleimani was a regional hero in not only helping defeat Daesh (ISIS), Al Qaeda and Jabhat al Nusra, but also placing the US, Israeli, Saudi combine on the defensive. He did this by building local forces in all the countries under his influence. He had paid special attention to Iraq, particularly after the appearance of the Islamic State in Mosul in 2014, from where it began to hurtle down towards Baghdad with the explicit purpose of affecting regime change in the Iraqi capital. This, in effect, meant the removal of Prime Minister, Nouri al Maliki whom the Americans labeled as a "fundamentalist" who was augmenting Shia influence in Iraq at the expense of Sunnis who, though a minority, wielded great influence as Saddam Hussain's Ba'athist Revolutionary Guards, Army, Intelligence and bureaucracy.
After the occupation of Iraq by the US in April 2003, a section of the Americans toyed with the idea of pampering the Ba'athists into supporting the occupation. But Iraqi "operators" (call them leaders if you must) like Ahmed Chalabi, close to the Dick Cheney-Donald Rumsfeld, neo cons, persuaded them to another course – that of disbanding the Ba'athist structure lock, stock and barrel. This was honeyed music to the clergy in Najaf. Chalabi became extremely close to the group around Grand Ayatollah Ali Sistani. Please note, Cheney's advisers becoming the eyes and ears of the Najaf clergy.
The first US representative, Paul Bremer became the succour who removed every Ba'athist from every nook and corner of the administration. The result was unspeakable chaos which neither the Americans nor the weak governments in Baghdad have been able to control to this day.
Many of the Iraqi Ba'athists moved to Syria where their Ba'athist cousins welcomed them. The CIA not only sought them out but also nursed them. When Nouri al Maliki flexed his muscles and refused to sign the Status of Forces Agreement in 2011, the US sulked out. Iraqi Ba'athists in Syria, looking for work and plotting plots, came in handy as the backbone of what came to be known as the Islamic State.
How does an outfit, which hides in trenches, war ravaged houses, produce a smart news website called Amaq. It frequently produces a glossy magazine too. A terror group, on the run, with such facilities at its command?
Hints on Daesh's origins have been available from the very beginning. When it hurtled towards Baghdad in convoys of brand new Humvees, its soldiers in new uniforms, helpers in Nike shoes, every Arab ambassador, except for those representing the GCC Sheikhdoms, was on record that Daesh was an American creation. When CNN's Christiane Amanpour asked Russian Foreign Minister Sergey Lavrov if he suspected the US hand in the terrorism till, he answered in the affirmative. President Barack Obama, in the course of a 2014 interview with the New York Time's Thomas Friedman, all but accepted that Daesh was an asset. Asked why he did not bomb Daesh when it first reared its head in Mosul, Obama replied that immediate air strikes would have taken the pressure off Nouri al Maliki. In other words, the Daesh was not bombed out of existence, because it was required to exert pressure on the Shia Prime Ministers whom the US hated.
Why, Trump himself told CNN's Jake Tapper that he was convinced that Obama and Hillary Clinton had been responsible for wasting millions of dollars in helping set up terror groups in Syria and Iraq. I can never forget the face of Defence Secretary Ashton Carter, in a distinctly lower mould, virtually in tears while being grilled by the Senate Foreign Affairs Committee on the state of play in Syria. Carter admitted that a $500 million dollar project to train militants had been withdrawn because those trained had passed on lethal equipment to other militants and left for heaven knows where.
Iran's Supreme Leader, Ayatollah Ali Khamenei's allegation cannot be easily dismissed: the US was taking revenge against Iraqi militia Hashd al Shaabi "because they played a key role in defeating Daesh". Khamenei has consistently maintained that the US had "created and nurtured Daesh".
Indeed, Khamenei told a Friday prayer congregation in Tehran in 2018 that Daesh groups were being flown to northern Afghanistan. Earlier that month Russian Deputy Minister of Foreign Affairs Morgulov Igor Vladimirovich told a high powered seminar in New Delhi that militants were being flown from Syria to Afghanistan. "Only Americans and the Afghan government controls the country's air space", he said rhetorically.
Iraq is something of an obsession with the US establishment because it has not been able to extract advantage consistent with nearly 15 year old occupation and investment in blood and treasure.
Matters have been building upto a crescendo eversince the Iraqis opened the land route to Syria which gives Iran a clear passage via Iraq to Syria and Lebanon. This adds to the way an officer like Soleimani was able to turn the tables on Washington, Tel Aviv, Riyadh who thought the Shia-Sunni faultline would work to their advantage. Quite the opposite has happened.
Déjà vu – some would say. On December 17, 1998 President Clinton had launched attacks on Iraq. That impeachment vote was delayed. Are Trump's circumstances similar?
American air strikes against bases of Iraqi militias invited a peoples' invasion of the US embassy. What will be the retaliation to Soleimani's murder? Only time will tell.
http://www.milligazette.com/news/16850-soleimanis-murder-it-is-building-upto-a-terrible-crescendo-in-west-asia
------
6 killed in airstrike north of Baghdad targeting convoy carrying Shia militia members – report
3 Jan, 2020 23:19
A convoy carrying members of Iraq's Popular Mobilization Forces (PMF), an umbrella group of Iran-backed militias, was hit by an airstrike while traveling in Baghdad, media reports say. The PMF said that medics were in the cars.
The three-car convoy was struck in the northern outskirts of the Iraqi capital in the district of al-Taji late on Friday, according to an Iraqi military source cited by Reuters. Six militiamen were reportedly killed in the attack, with three others critically injured. It remains unclear who carried out the strike.
An unconfirmed photo of the aftermath of the attack emerged on social media, showing three burning vehicles, two of them overturned.
The six killed in the strike have yet to be named, but early reports suggesting they hit two paramilitary commanders – Shibl al-Zaydi, secretary general of the Kataib al-Imam militia, as well as Qais al-Khazali, leader of Asaib Ahl al-Haq – were refuted by the PMF in a statement. Instead of senior leaders, the convoy contained medics, the group said.
"Initial sources confirm that the strike targeted a convoy of Popular Mobilisation Forces medics near Taji stadium in Baghdad," said the statement, cited by Reuters.
The bombing comes on the heels of a US air raid near Baghdad International Airport late Thursday night, which killed Iran's powerful Quds Force commander Qassem Soleimani and several top officials in the PMF. Washington argued the strike was "aimed at deterring future Iranian attack plans," while Tehran slammed the move as an act of "international terrorism" and threatened "crushing revenge."
Though US President Donald Trump insisted the decision was made "to stop a war," stressing that he didn't seek "regime change" in Tehran, that interpretation was clearly not shared by Iranian Supreme Leader Ali Khamenei, who warned "revenge awaits the criminals who have stained their hands in [Soleimani's] blood."
https://www.rt.com/news/477433-iraq-strike-shia-militia-killed/
------
U.S to deploy 3,000 troops to the Middle East following an Iranian military leader's death
Saturday, 04 Jan 2020
The United States is sending around 3,000 to 3,500 more troops to the Middle East amid tensions arising after the death of an Iranian top military leader's death in Baghdad.
The news came hours after an American airstrike killed Gen. Qassem Soleimani, the commander of Iran's secretive Quds Force and one of the country's most powerful figures, but U.S. defense officials told NBC the deployments were not in response to the strike.
The deployment of additional soldiers from a brigade of the 82nd Airborne Division, based at Fort Bragg, North Carolina, comes after thousands of people, most of them affiliated with the Iran-backed Shiite militia group Kataeb Hezbollah, descended on the embassy compound Tuesday.
The soldiers will join roughly 650 others already deployed to the region and stay there for some 60 days, the officials said. The immediate response force will be spread throughout the region, with some soldiers in Iraq and others in Kuwait.
Since March of last year, when tensions between Iran and the United States have risen in the region, the United States has on several occasions strengthened its forces in the Middle East.
https://www.khaama.com/u-s-to-deploy-3000-troops-to-the-middle-east-following-an-iranian-military-leaders-death/
------
Kuwaiti Public, Including Shia Minority, Still Anti-Iran—but Wary of Conflict
January 3, 2020
As tensions between the United States and Iran escalate, oil-rich Kuwait, sandwiched between Iran and Iraq at the mouth of the Gulf, is a key U.S. partner right in the potential line of fire. It is also the most internally politically active country of all six GCC Arab monarchies, with real contested parliamentary elections, including a Shia minority of about one-third its 1.5 million citizens. In fact, the ruling Emir recently appointed a new prime minister, partly in response to popular pressure for change. For these reasons, trends in Kuwaiti public opinion should be of considerable interest to American foreign policy calculations.
In this context, a rare Kuwaiti opinion poll completed just one month ago offers timely insights into that country's current political climate. The survey data demonstrate that the Kuwaiti public, like its government, remains both very leery of Iran, and more pro-American than any other Arab public. At the same time, however, most Kuwaitis want their country to "stay out of any wars."
More specifically, the overwhelming majority (85 percent) of Kuwaitis now voice a negative view of Iran's Ayatollah Khamenei. Nearly as many (80 percent) say it is not important for their country to have good relations with Iran. And a similarly high proportion (81 percent) express an unfavorable opinion about Iran's Shia regional ally, Hezbollah. These solidly negative attitudes are statistically unchanged in annual polls over the past three years.
And significantly, Kuwait's large Shia minority generally shares its Sunni compatriots' negative opinions of both Khamenei and Hezbollah, albeit with somewhat less intensity. Sixty-nine percent of Shia, compared with 92 percent of Sunnis, have at least a "fairly bad" view of Khamenei's policies. Around 90 percent of both sects also voice a negative opinion of Hezbollah. But among Shia, just 45 percent express a "very negative" view, compared with 74 percent of Sunnis holding that strongly negative opinion. These percentages, too, have hardly moved since 2017.
By comparison, half the overall Kuwaiti public say that good relations with the United States—which liberated Kuwait from Saddam Hussein's occupation in the 1991 Gulf War—remain important for their country. This a significantly higher percentage than in any other Arab society polled recently, and is down only marginally in the past three years. Moreover, asked what in particular they would most like the United States to do in the region, a plurality of Kuwaitis—32 percent, up ten points since 2018—now pick "increase its practical opposition to Iran's influence and activities."
Nevertheless, despite the Kuwaiti public's "tilt" toward the United States and against Iran, the majority would prefer not to get embroiled in any direct confrontation between the two. Two-thirds of Kuwaitis agree with this statement: "Right now, internal political and economic reform is more important for our country than any foreign policy issue—so we should stay out of any wars outside our borders." That proportion is now up ten points, compared to a very similar question asked in 2017.
How much internal political or economic reform, then, do Kuwaitis really want from their government? The answers are mixed, but have remained relatively unchanged over the past three years—with one interesting exception. About one-fifth of the Kuwaiti public, as in the recent past, now say their government is doing "too little" in each of the following three areas: promoting opportunity and equality for women, dealing with economic problems and daily hardships, or sharing the burden of taxes and other obligations in a fair manner.
The interesting exception to this stable picture, reflecting surprisingly well on Kuwait's government, is the sharp decline in the percentage who say it is doing too little to "reduce the level of corruption in our political and economic life." As recently as late 2018, that unfavorable figure stood at 60 percent. In the November 2019 survey, by contrast, the proportion seeing too little government action against corruption dropped by half, to just 31 percent. Apparently, a crackdown on some high-profile cases has had a noticeable effect on popular perceptions.
Concerning religious reform, however, the Kuwaiti public remains more divided. Thirty-nine percent, about the same as in the past three years, agree at least somewhat with this controversial proposition: "We should listen to those among us who are trying to interpret Islam in a more moderate, tolerant, and modern direction." That is among the highest such proportion among any Arab publics polled. On the other hand, about one-fourth of Kuwaitis—approximately the same percentage as in Egypt, Jordan, Saudi Arabia, Lebanon, or the UAE—continue to express at least a somewhat positive view of the fundamentalist Muslim Brotherhood.
On one related set of issues at the nexus of religion and foreign policy, the Arab-Israeli conflict, Kuwaitis also share the mixed views of other Arab publics today. The majority (58 percent) in Kuwait, as elsewhere, continue to agree, at least in principle, with the current U.S. position that "Arab states should play a new role in Palestinian-Israeli peace talks, offering incentives to both sides to take more moderate positions." In this respect, the relatively favorable Kuwaiti popular responses are at odds with the stereotype of Kuwaitis as still the most hostile toward Israel of all Gulf publics today.
Yet asked whether or not "we should show more respect to the world's Jews, and improve our relations with them," a minuscule 2 percent of Kuwaitis say yes. That figure is roughly in line with the latest surveys from the five other Arab countries polled. By comparison, the corresponding figure backing improved relations with Christians is much higher, at 49 percent among the Kuwaiti public—again roughly in line with results from the other five surveys.
These findings are from a survey conducted in Kuwait during November 2019 by a highly experienced, credible regional commercial research firm, with face-to-face interviews among a representative national sample of 1,000 Kuwaiti citizens. Respondents were selected according to standard geographical probability techniques, with strict quality controls and assurances of confidentiality. The author personally traveled to the region to consult with the survey project managers during the fieldwork period. The statistical margin of error for the total sample is approximately 3 percent; for the sectarian subsamples, approximately 5 percent. Additional methodological details are readily available from the author on request.
More on
IRAN
Iraqi Reactions to Soleimani's Assassination
By David Pollock
Escalation in Iraq Raises Questions About Tensions Between Saudi Arabia and Iran
By Firas Elias
The Tight Rope: Deterring Militias While Supporting Reformists in Iraq
By Michael Knights
Iran and Saudi Arabia: Imagining a Path Towards Rapprochement
By Mohammad S. Alzoubi
The Iranian Regime's Targeted Assault on Protesting Ahwazi People
By Rahim Hamid
The Decline (and Fall?) of the "Fourth Persian Empire"
By Hassan Mneimneh
More on
IRAQ
Iraqi Reactions to Soleimani's Assassination
By David Pollock
The Tight Rope: Deterring Militias While Supporting Reformists in Iraq
By Michael Knights
The U.S.-Kurdish Relationship in Iraq After Syria
By Sardar Aziz
The Decline (and Fall?) of the "Fourth Persian Empire"
By Hassan Mneimneh
U.S. Interests and the Unsustainable Status Quo in Iraq
By Michael Knights
Polling Insights on Iraq's Shia Revolt
By Munqith Dagher, Karl Kaltenthaler
More on
KUWAIT
Kuwaitis Dislike Trump, but Favor the United States over Iran Despite Sectarian Mix
By David Pollock
The Reconstruction of 'Meaning' in Post-War Kuwait
By Mariam F. Alkazemi
Cold War of the Sheikhs
By Jarrah Al Dasman
Arab Media on Bolton, Pompeo, North Quranrea
By David Pollock, Mohamed Abdelaziz
New Kuwaiti Poll Shows Mostly Positive Views On U.S. Policy Push, But Some Splits
By David Pollock
Assurances from Washington, Fears in Cairo
By Maged Atef
Fikra Forum encourages a range of voices and perspectives. Please follow these guidelines to be considered for publication:
Submit full text of article (800-1500 words) in English OR Arabic
Hyperlinks and references in-text, where necessary – please avoid footnotes
Include a brief author biography and headshot (if desired)
Submissions for publication must be original and previously unpublished
Send to submissions@fikraforum.org
Please note that while we are committed to carefully reviewing every submission we receive, submission does not guarantee publication. The language in which you submit will not impact our consideration in any way.
Fikra Forum is an initiative of the Washington Institute for Near East Policy. The views expressed by Fikra Forum contributors are the personal views of the individual authors, and are not necessarily endorsed by the Institute, its staff, Board of Directors, or Board of Advisors.
https://www.washingtoninstitute.org/fikraforum/view/kuwaiti-public-including-shia-minority-still-anti-iranbut-wary-of-conflict
------
Iraq military says no air strike took place north of Baghdad
January 04, 2020
BAGHDAD: Iraq military said no air strike took place on Satruday in Taji, north of Baghdad, in a statement.
Earlier, Iraq's Popular Mobilization Forces, Hashed Al-Shaabi, umbrella grouping of paramilitary groups said that an air strike targeting its fighters earlier hit a convoy of medics, not senior leaders as reported in some media.
"Initial sources confirm that the strike targeted a convoy of Popular Mobilization Forces medics near Taji stadium in Baghdad," it said in a statement.
The strikes killed six people and critically wounded three, an Iraqi army source told Reuters. PMF did not say who they hold responsible.
PMF statement on their official Facebook account.
Earlier, Iraq state television said a new US air strike targeted a commander in Iraq's Hashed Al-Shaabi paramilitary force early Saturday, a day after a US drone strike killed a top Iranian general Qassem Soleimani.
The US-led coalition said later that they did not conduct any air strikes near Camp Taji north of Baghdad.
The air strikes came hours ahead of a planned a mourning march for Soleimani, who was killed alongside Hashed number two Abu Mahdi al-Muhandis in the precision drone strike.
https://www.arabnews.com/node/1608051/middle-east
------
What now awaits Turkey on the Libyan front?
January 04, 2020
ANKARA: Turkish troops are expected to be sent to Libya to support the Tripoli-based Government of National Accord (GNA) against Libyan military strongman Khalifa Haftar, after Turkey's Parliament approved the motion for military deployment on Thursday evening. Insiders suggest some 200 Turkish marines will arrive in advisory, training and support roles.
However, beyond grabbing international headlines, the deployment has security risks, logistical constraints and geographic limitations compared to Turkey's previous cross-border interventions in neighboring war zones such as Syria or Iraq.
For Karol Wasilewski, an analyst at the Warsaw-based Polish Institute of International Affairs, Turkey will have to find a way to reconcile its interests and those of Russia in Libya.
"To be successful, it should probably gain broader support, because for now Turkey is isolated in its support for Fayez Al-Serraj's GNA. I also think that securing manpower for this operation may be a challenge — Turkey may send its own troops for training, but I find it unlikely that it will send soldiers for combat missions," he told Arab News.
"Thus, it will have to continue sending Syrian rebels, and it seems they are unwilling to go, especially during (Syrian President Bashar) Assad's assault on Idlib," Wasilewski added.
Experts also caution against an influx of irregular troops and mercenaries into Libya which could escalate the situation in the ground.
Overt support for the GNA could also strain Turkish relations with other regional powers supporting Haftar.
Wasilewski anticipates that a proxy war is about to accelerate across the region. Egypt has already criticized Ankara's decision to deploy troops, and called on the international community to react.
"Technically speaking, Egypt has the capacity to complicate Turkey's operation in the sea, so there is one possible source of escalation," he said.
Cairo is not the only party Ankara must contend with — Russia, too, has taken an interest in Libya. Dmitry NoviQuranv, a Russian lawmaker, told Interfax news agency that a Turkish military presence in Libya would "only deteriorate the situation," and Russian private military contractors have allegedly been drafted in to support Haftar's forces.
All eyes are now on Russian President Vladimir Putin's expected visit to Ankara on Jan. 8, with Libya ranking on the top of the bilateral agenda.
Galip Dalay, a visiting scholar at the University of Oxford, expects a sort of Astana-style deal around Tripoli after Putin's visit.
"But in return, Russia may expect some compromises from Turkey in Syria's opposition-held Idlib province, and try to get some advantages for the Assad regime in that zone," he told Arab News.
Ozgur Unluhisarcikli, Ankara office director of the German Marshall Fund of the United States, agrees.
"A significant deployment by Turkey to Libya would be contingent on tacit Russian approval based on an Astana-like process. This would not only increase Russian leverage over Turkey, but would probably come with a price tag. The price could be a new arms deal, concessions in Syria or anything that would benefit Russia," he told Arab News.
Turkish opposition members who voted against the motion have suggested Turkey should persuade the UN to deploy a peacekeeping mission to the country.
Turkish President Recep Tayyip Erdogan and his US counterpart Donald Trump discussed the unfolding events in Libya in a phone call on Jan. 2. According to the readout issued by the White House: "President Trump pointed out that foreign interference is complicating the situation in Libya," with no details added about which countries Trump was referring to.
https://www.arabnews.com/node/1608001/middle-east
------
Tens of thousands rally in Iran capital against US 'crimes' after killing of top commander
January 03, 2020
Tens of thousands of people took to the streets of Tehran and other cities to protest against American "crimes" after US strikes killed a top Iranian commander in Baghdad on Friday.
Chanting "Death to America" and holding up posters of the slain Iranian commander, Qasem Soleimani, the demonstrators filled streets for several blocks in central Tehran after Friday prayers.
The Islamic Revolutionary Guard Corps confirmed the commander of its Quds Force foreign operations arm had been killed by US forces in an air strike on Baghdad international airport.
Soleimani, who died aged 62, was one of Iran's most popular public figures.
Women and men, many of them elderly, took part in the processions, some holding aloft portraits of Iran's supreme leader Ayatollah Ali Khamenei.
"O leader of our revolution, condolences, condolences."
One group of men tore holes out of a US flag before setting it on fire.
"This was a good move, so that the whole world would realise who the terrorist is. The whole world found that out," said Ali Bakhshi, an elderly cleric.
"The dear leader of the revolution respond to them (the US) very intelligently and precisely. And the nation of Iran will resist," he told AFP.
Another group of men were seem standing on the sidelines of the proceedings, some sobbing uncontrollably.
'Loved by the people'
Among the demonstrators was Mohsen Rezai, a former chief commander of the Revolutionary Guards who currently heads the Expediency Council.
Dozens of sombre-looking members of the Guards dressed in olive-green fatigues also took part in the procession.
Iranian policemen hold pictures of the late Iranian Major-General Qassem Soleimani, during a protest in front of United Nation office in Tehran, Iran, on Friday. — Reuters
I think America has taken a big risk and will get its response as well," said a Guards member who only gave his surname as Qasemi.
"I don't think a war will break out. They are not brave enough to enter a direct conflict with us. I think we'll give them a crushing response as it is," he told AFP.
State news agency IRNA said there were similar demonstrations in the cities of Arak, Bojnourd, Hamedan, Hormozgan, Sanandaj, Semnan, Shiraz and Yazd.
Footage of rallies were also beamed on state television from other cities, including Tabriz, where some black-clad women had tears rolling down their faces.
Women react during a protest against the assassination of the Iranian Major-General Qassem Soleimani in front of the United Nation office in Tehran, Iran, on Friday. — Reuters
News of the death of Soleimani also saw people hold impromptu gatherings in his central hometown of Kerman.
After serving in the 1980-88 Iran-Iraq war, Soleimani rose through the ranks of the Guards to become commander of the Quds Force.
In recent years he became an unlikely celebrity in Iran and had a huge following on Instagram.
A student who only identified herself as Khansari said Soleimani was "loved by the people".
"What America showed was the depth of its weaknesses and defeat in the region for it to murder the general of a country... who is so loved by the people.
"It must know that all the people of Iran are Qasem Soleimani... and this actually made the country unite again so that they can take revenge from the world arrogance," she said.
https://www.dawn.com/news/1526071/tens-of-thousands-rally-in-iran-capital-against-us-crimes-after-killing-of-top-commander
------
South Asia
Afghanistan's soil will not be used against any nations: Ghani
Saturday, 04 Jan 2020
The Afghan President Mohammad Ashraf Ghani issued a statement late Friday evening, in reference to the assassination of a top Iranian military leader in Baghdad.
Ghani in reaction to the killing of Qassim Soleimani, the head of Iran's Quds forces by a US drone strike said that Afghanistan's soil will not be used against any nations as per a Bilateral Security Agreement (BSA) signed between Washington and Kabul in 2014.
Afghanistan President Mohammad Ashraf Ghani has also expressed his concerns regarding the rise of more 'tensions' in the region.
Ghani in his statement has called Iran a great neighbor with shared cultural, historical, religious and lingual values and named the US as Afghanistan's strategic partner, requesting both parties to avoid the increase of tensions in the region.
President Ghani was the last one in Afghanistan who reacted to the killing of top Iranian Major-General Qassem Solaimani.
Qassem Soleimani, Iran's top military leader and the head of Quds force was killed by a US drone strike early Friday morning in Baghdad.
https://www.khaama.com/afghanistan-soil-will-not-be-used-against-any-nations-ghani-987865/
------
Afghan artist and singer threatened to 'death' by religious extremists
Friday, 03 Jan 2020
An Afghan artist and singer claims he has been threatened to 'death' by members of some 'religious extremism' groups in Afghanistan.
A 38-year old Afghan artist and Rock singer Shekib Mosadeq has claimed in a video clip published on his official Youtube channel that he has been 'threatened to death' by some religious extremists in Afghanistan.
Shekib Mosadeq said members of the religious extremist groups insult him beneath his Facebook posts and recently they have threatened him to his physical elimination.
He said he is ready to meet and speak to those who have claimed to kill him and eliminate his voice.
Mosadeq who lives in Humburg, Germany has recently returned to Kabul to attend the 'Afghan Star' music show as a 'judge panelist'.
"I am working as a singer and artist for humanity and you should serve the community in accordance with your thoughts rather than seeking to kill someone.", Mosadeq called on his opponents through a video message.
Shakib Mosadeq has performed more than 50 street concerts in almost all European countries to defend the rights of asylum seekers who fled the country to save their lives.
Mosadeq accuses extremist groups, including Mawlawi Abdul Rahman, one of the Herat religious clerics who had previously issued fatwas on the Afghan star's program, for conspiring and threatening him.
https://www.khaama.com/afghan-artist-and-singer-threatened-to-death-by-religious-extremists-89765/
------
Nabil: Iranian Major-General Qassem Soleimani was a threat to the region
Friday, 03 Jan 2020
Afghanistan's former spy agency head and a 2019 Presidential candidate, Rahmatullah Nabil said General Qasim Soleimani was a threat to the region.
"Soelimani was an asset for Iran's national interest, while he was a threat to the region. He was one of the proxy wars master-mind in the region.', Rahmatullah Nabil tweeted.
Fatimyon, Zanabyon, Hadaryon, and Hussainyon are Soleimani's creation in recent years, Nabil has added.
Nabil has further warned that the death of Soleimani will increase tensions in the region and Afghanistan should be kept away from these tensions, otherwise, in current circumstance will add to the fragility of the situation in the country.
Iran's Major-General Qassem Soleimani, the head of Iran's Quds force unit was killed by a US drone strike early this morning in Baghdad.
The United States Department of Defense claimed the responsibility of this attack confirmed the plan was ordered by the US President Donald Trump.
Afghanistan's President Mohammad Ashraf Ghani and Chief Executive Dr. Abdullah Abdullah have not yet commented on Soleimani's assassination.
https://www.khaama.com/nabil-iranian-major-general-qassem-soleimani-was-a-threat-to-the-region-67542/
------
US to Push Ahead in 2020 With Planned Troop Drawdown in Afghanistan
January 03, 2020
The year 2020 in Afghanistan begins with the Trump administration vowing to push ahead with plans to withdraw U.S. troops and an upward trend in the number of U.S. combat casualties in the country. In December, the White House said U.S. troop reduction in Afghanistan was "not necessarily" tied to reaching a peace agreement with the Taliban. Mohammed Ahmadi of VOA's Afghan service, has more.
https://www.voanews.com/episode/us-push-ahead-2020-planned-troop-drawdown-afghanistan-4141496
------
Afghan Leaders Lament Soleimani's Death, Worry About Regional Escalation
By Mohammad Habibzada
January 03, 2020
The Afghan government said Friday that it was worried about an escalation of violence in the region after the U.S. airstrike in Iraq overnight that killed Iran Quds Force commander General Qassem Soleimani.
"We call on the Islamic Republic of Iran, our big neighbor, with whom we have extensive common language, religious, historic and cultural [values], and we call on the U.S., who is Afghanistan's strategic and fundamental partner, to prevent conflict escalations, and we hope that both sides solve their differences through negotiations," a presidential statement said.
The statement said that in a telephone conversation with U.S. Secretary of State Mike Pompeo, Afghan President Ashraf Ghani noted that his country's security agreement with the U.S. mandates that Afghan soil not be used against any foreign country.
Pentagon officials confirmed the strike on Soleimani in a statement late Thursday U.S. time, saying the action was carried out at the direction of U.S. President Donald Trump.
In a Facebook post, Afghanistan's chief executive of the National Unity Government, Abdullah Abdullah, lamented the death of Soleimani.
"We express our condolence about this occurrence to Sarda Soleimani's family, the government and people of Iran." Abdullah wrote on his official Facebook page.
He said that Iran has stood with the people of Afghanistan during times of war and strife and has been hosting millions of Afghan immigrants for many years.
At the same time, Abdullah called the U.S a "strategic partner" that has helped Afghanistan fight terrorism for almost two decades and has assisted the country with stability, reconstruction and governance.
"As a victim of terrorism and violence, Afghanistan calls for de-escalation of regional and international relations and hopes the latest incidents won't negatively affect the situation and cooperation of our friends and allies in Afghanistan," he added.
Afghan presidential candidate and former intelligence director Rahmatullah Nabil wrote in a tweet that Soleimani was a "proxy war mastermind in the region."
Nabil said Soleimani was an asset for Iran's national interests and a threat, adding that his death would increase tensions in the region.
Former Afghan President Hamid Karzai, meanwhile, condemned the fatal attack on Soleimani.
Karzai said Friday in a statement that the U.S. attack would escalate the conflict and hostility and harm efforts to bring peace and stability to the region.
Karzai extended his condolences to the Iranian government and people, calling Soleimani a "dignified man who sought peace and stability in Afghanistan."
https://www.voanews.com/middle-east/voa-news-iran/afghan-leaders-lament-soleimanis-death-worry-about-regional-escalation
------
445 Bangladeshis Returned From India In Last 2 Months: Border Chief
January 03, 2020
Dhaka: Bangladesh's paramilitary force chief said on Thursday that a total of 445 Bangladeshi nationals returned from India in last two months following the publication of the National Register of Citizens (NRC) by the Indian government.
Border Guard Bangladesh (BGB) Director General Maj Gen Md Shafeenul Islam disclosed the figure during a press briefing.
"About 1,000 people were arrested in 2019 for illegal border crossings from India to Bangladesh, with 445 of them returning home in November and December," he said.
After verifying their identities through local representatives, BGB came to know that all the intruders are Bangladeshis, Islam said, adding that 253 cases were lodged against them for illegal trespass, while initial investigations found that at least three of them were human traffickers.
The BGB Director said the trespassing did not create any tension between the border forces of Bangladesh and India.
Last week, Islam visited India where he said that the creation of the NRC is completely an "internal affair" of India and the cooperation between the border guarding forces of the two countries is very good.
He said the BGB will continue to do its work of preventing illegal border crossings as per its mandate.
A BGB delegation, led by Islam, was on a bilateral visit to India to hold DG-level border talks with its counterparts, the Border Security Force (BSF).
The talks took place from December 26-29, during which a host of issues related to cross-border smuggling and activities of criminals and others along the 4,096-km-long front were discussed.
Responding to a question, Islam said, "No discussion was held at the conference over the (NRC) issue".
He said during the five-day talks held in New Delhi, the BGB demanded that the BSF should take effective steps to prevent killings of Bangladeshis on frontiers as casualty figures sharply rose in 2019.
"The number of border killings in 2019 was highest in the last four years. As per our calculation, the number of such unexpected deaths was 35," the BGB chief said.
However, the BSF estimate of the casualty figure is much lower than our calculation, he said.
Islam said the BSF is following the policy of maintaining maximum restraint and minimal use of force even after being attacked by "armed border offenders".
A statement issued by the BSF last month in New Delhi after the conclusion of the DG-level talks said, "On the concern of the BGB regarding the death of Bangladeshi nationals on borders, it was informed to them that a non-lethal weapon policy is strictly followed by BSF personnel on borders.
"Firing is resorted to only in self-defence, when BSF patrols are gheraoed and attacked by 'dah'' (a sharp-edged weapon) etc. It was specified that the BSF does not discriminate between criminals based on nationality," it said.
https://www.ndtv.com/india-news/border-guard-bangladesh-chief-445-bangladeshis-returned-from-india-in-last-2-months-2158037
------
Southeast Asia
Uyghur Dents Credibility of Pakistan, Islamic World
January 3, 2020
Malaysia, Turkey, Iran, Pakistan …. The guardian angels of Islam are facing a credibility crisis over the persecuted Muslim community in Xinjiang province. When Malaysia and Turkey maintain their silence, Pakistan's free pass to China over latter's treatment of Uyghurs is not going to last long. It will go against Prime Minister Imran Khan's projection of him being a global defender of Islam and cautioning the world about Islamophobia …. Writes Dr Sakariya Kareem
New evidence unveiled recently has demonstrated the extent of China's repression of its Uyghur citizens in Xinjiang province. As per the leaked secret documents, discovered by the International Consortium of Investigative Journalists, China in recent years has not only intensified its crackdown against the Uyghur Muslims, but in the process it has also committed gross human rights violations.
For instance, as per a November 2017 directive from the Chinese Communist Party committee in Xinjiang, officials are asked to follow strict guidelines to maintain the internment camps. As per some of the earlier reports, there are at least 1 million residents in detention in these camps, where authorities have subjected them to political indoctrination and engage in acts contrary to Islamic beliefs, giving an impression of Islamophobia. The leaked directive details about the importance of preventing detainees' escapes, necessity of maintaining surveillance, prohibitions on contact with the outside world, and the importance of secrecy. Some of the other leaked documents also showed that Chinese policies had resulted in mass-scale separation of kids from parents. Essentially, these documents have corroborated assessments from other sources and journalists of how Beijing has sought to extend its iron grip over the Xinjiang province, in its attempt to contain separatist tendencies.
Despite the clarity which has emerged over the Chinese policies, Pakistan has maintained a stony silence over these new revelations. Last time when such reports about Xinjiang had emerged, Islamabad had in fact gone in overdrive defending Chinese actions.
In December 2018, the Pakistan Foreign Office spokesperson had defended Beijing blaming the international media for 'spreading false information' over developments in Xinjiang. The Pakistani proactive stance had in fact manifested in a letter signed by a group of United Nations ambassadors from 50 countries including Pakistan, Saudi Arabia, Russia and Nigeria supporting China's Xinjiang policy in July 2019. The letter was in response to another letter, sent earlier by a group of 22 countries including Canada, New Zealand, European Union, Australia and Japan, which had urged China to stop its policies of mass detention and forced labour in Xinjiang province.
Pakistan's free pass to Beijing in fact goes against prime minister Imran Khan's projection of him being a global defender of Islam and cautioning the world about Islamophobia. More importantly, Pakistan's free pass to Beijing stands in sharp contrast to its cacophony over the withdrawal of special status to Jammu and Kashmir and its bifurcation by India. Pakistan's hypocrisy is even more evident when one takes into account that India's policy measure in Jammu and Kashmir was essentially an internal administrative move whereas Beijing's crackdown in Xinjiang has manifested regional implications with adverse impact on Central Asian Republics and even Pakistan itself. Scores of Pakistani businessmen for months together have anxiously awaited fate of their wives after the latter were detained by the Chinese authorities as they intensified their crackdown in Xinjiang. And yet, Islamabad which often loses no time berating India for its alleged human rights violations in Jammu and Kashmir, has without qualms lost no time in defending China's repressive measures against its Muslim citizens.
It is also important to point out, that in the light of the current damning of Beijing, Islamabad has rather chosen to speak on its pet project – the China Pakistan Economic Corridor (CPEC)- a project which manifestly benefits the Pakistani Army and its commercial interests. Recently, Pakistani foreign minister responding to US' criticism of the CPEC had asserted that the American administration's views will have no impact on the CPEC. Moreover, many Pakistani media reports have highlighted defence of CPEC from a Chinese scholar, Chen Xiang, Director China Radio International Confucius Class room.
If the Pakistani establishment has its vested interests in not speaking out in favour of Uyghur Muslims, what is even more interesting is the silence of the Pakistani terrorist groups such as Lashkar-e-Taiba and Jaish-e-Muhammad, or the terrorist commanders like Hafiz Saeed, which are self-declared defenders of Muslim interests- groups which are always at the forefront of speaking out against India or Israel or the United States for their alleged mistreatment of Muslims. This doublespeak demonstrates how the radical groups are happy to peddle select narratives, which benefit the Pakistani establishment – prioritising opportunism over principles.
Pakistan's continued silence over Beijing's grave actions in Xinjiang once again demonstrates that Islamabad prioritises money over faith and hopes that this doublespeak will not be called out. However, global community has realised Islamabad's double speak and is no longer ready to indulge in its duplicitous behaviour.
https://asianlite.com/news/asia-diaspora-news/uyghur-dents-credibility-of-pakistan-islamic-world/
------
China has destroyed more than 100 Uighur Muslim graveyards, satellite images show
Samuel Osborne
China has demolished more than 100 Uighur graveyards in what human rights groups described as an escalation of the communist regime's campaign to destroy the Muslim minority's culture.
Hundreds of satellite images analysed by CNN showed burial sites in western Xinjiang province have been wiped out, with some turned into car parks and playgrounds.
The US broadcaster found the majority of the cemeteries, where generations of Uighurs had been buried, were destroyed over the last two years.
Aziz Isa Elkun, a Uighur poet who fled the region more than 20 years ago and now lives in London, said he had "visited" his father's grave on Google Earth for nearly two years after he died. But one day an updated satellite image showed the cemetery had been replaced with a field.
"I had no idea what happened," he told CNN. "I was completely in shock."
China did not deny destroying the cemeteries, and at least one official notice said one of the burial sites been relocated "to meet the demand of city planning and promote construction".
A spokesperson for Beijing told CNN: "Governments ... in Xinjiang fully respect and guarantee the freedom of all ethnic groups ... to choose cemeteries, and funeral and burial methods."
Sophie Richardson, China director at Human Rights Watch, told The Independent: "Authorities in Beijing and Urumqi don't seem content tormenting Turkic Muslims alive today – it appears their hostility to that community also extends to the dead.
"Trying to justify the destruction of cultural property on the grounds of fighting terrorism or urban planning fools no one – instead it reinforces the urgent need for an independent international investigation into gross human rights violations across the region."
Last year, AFP reporters who visited some of the destroyed burial grounds which had been identified from satellite images analysed by Earthwise Alliance described seeing unearthed bones which independent forensic experts said were human remains.
Western countries and human rights groups have expressed their concern over reports China has detained up to two million people, mostly Uighur Muslims, since a purported counterterrorism campaign began in Xinjiang in 2017.
China has insisted it is running what it calls "vocational training" centres to combat extremism in the region.
However, former detainees have alleged inmates are subjected to torture, medical experiments and gang rape.
https://www.independent.co.uk/news/world/asia/china-uighur-muslim-graveyards-burial-grounds-xinjiang-a9268956.html
------
Indonesian capital reels after floods leave 47 dead
Tens of thousands of evacuees remain crowded into emergency shelters, waiting for the floodwaters to recede in and around Indonesia's capital, Jakarta, as the death toll from massive New Year's flooding reached 47, officials said.
Monsoon rains and rising rivers submerged a dozen districts in greater Jakarta and caused landslides in the Bogor and Depok districts on the city's outskirts as well as in neighbouring Lebak, which buried a dozen people.
National Disaster Mitigation Agency spokesman Agus Wibowo said the fatalities included people who had drowned or been electrocuted since rivers broke their banks early on Wednesday after extreme torrential rains throughout New Year's Eve.
Three elderly people died of hypothermia.
It was the worst flooding since 2007, when 80 people died over 10 days.
"The waters came very fast, suddenly everything in my house was swept away," said Dian Puspitasari, a mother of two, who looked overwhelmed as she tried to sweep piles of mud out of her home.
Four days after the region of 30 million people was struck by flash floods, waters have receded in many middle-class districts, but conditions remained grim in the narrow riverside alleys where the city's poor people live.
At the peak of the flooding, about 397,000 people sought refuge in shelters across the greater metropolitan area as floodwaters reached levels of 6 metres (19 feet) in some places, Wibowo said.
Data released by his agency showed some 173,000 people were still unable to return home, mostly in the hardest-hit area of Bekasi, a satellite city of Jakarta.
More than 152,000 people remain in 98 adequately supplied emergency shelters in Bekasi, where rivers burst their banks. Much of the city was still submerged in muddy waters up to 2 metres (6.5 feet) high, according to the agency.
Electricity was restored to tens of thousands of residences and businesses as of Saturday.
Jakarta's Halim Perdanakusuma domestic airport reopened Thursday; its runway had been submerged in the flooding.
Head of the Meteorology, Climatology and Geophysics Agency DwiQuranrita Karnawati said more downpours were forecast for the capital in coming days and the potential for extreme rainfall would continue across Indonesia until next month.
The flooding has highlighted Indonesia's infrastructure problems.
Jakarta is home to 10 million people, or 30 million including those in its greater metropolitan area.
It is prone to earthquakes and flooding and is rapidly sinking due to uncontrolled extraction of groundwater. Congestion is estimated to cost the economy $6.5bn a year.
President JoQuran Widodo announced in August that the capital would move to a site in sparsely populated East Kalimantan province on Borneo island, known for its rainforests and orangutan population.
https://www.aljazeera.com/news/2020/01/indonesian-capital-reels-floods-leave-47-dead-200104035041616.html
------
China calls for calm after top Iranian military leader killed in US air strike
Wendy Wu in Beijing
3 Jan, 2020
Beijing called on all sides, especially Washington, to exercise restraint as tensions rise in the Middle East, with Iran vowing harsh revenge after its top military commander was killed in a US air strike on Friday.
The escalating tension between Iran and the United States was likely to bring Tehran, Beijing and Moscow closer as all three had disputes with Washington, observers said, but China would have limited scope as a mediator.
Chinese foreign ministry spokesman Geng Shuang said that Beijing was "highly concerned" about the growing tensions in the Middle East, and that it opposed the use of force in international relations.
"China advocates that all parties should earnestly abide by the purposes and principles of the UN Charter and the basic norms of international relations," Geng said in a press briefing on Friday. "We urge all parties concerned, especially the United States, to keep calm and exercise restraint and avoid a further escalation of tensions."
His comments came after Iranian Major General Qassem Soleimani, head of the Islamic Revolutionary Guard's elite Quds Force, was killed in a US-launched air strike near Baghdad airport early on Friday.
The air strike was approved by US President Donald Trump, and top Iraqi militia commander Abu Mahdi al-Muhandis was also killed in the attack.
US Secretary of State Mike Pompeo said he had discussed Trump's decision to "eliminate Soleimani" with Chinese Politburo member Yang Jiechi on Friday, and reiterated Washington's commitment to de-escalation.
Iran has been locked in a long conflict with the United States that escalated sharply last week with an attack on the US embassy in Iraq by pro-Iranian militiamen after a US air raid on the Kataib Hezbollah militia, founded by Muhandis.
"At the direction of the president, the US military has taken decisive defensive action to protect US personnel abroad by killing Qassem Soleimani," the Pentagon said in a statement. "This strike was aimed at deterring future Iranian attack plans," it added.
Tehran vowed to retaliate. Iran's supreme leader, Ayatollah Ali Khamenei, said harsh revenge awaited the "criminals" who killed Soleimani. His death, though bitter, would double the motivation of the resistance against the United States and Israel, he said.
Iranian Foreign Minister Mohammad Javad Zarif denounced the attack in a Twitter post, calling it an "act of international terrorism" that was "extremely dangerous and a foolish escalation".
Relations between Iran and the US have deteriorated since the Trump administration withdrew from a 2015 nuclear pact agreed between Iran and five other nations – which the US president described as a "horrible one-sided deal" – and imposed sanctions on Tehran.
Observers said Soleimani's killing had "ignited a fire" in the Middle East and could lead to a serious military conflict between Iran, or pro-Iranian forces, and the US in Iraq, with other countries potentially dragged in.
Li Shaoxian, head of the China-Arab research institute at Ningxia University, said the situation in the Middle East would be "very tense" in 2020, citing the escalation of US-Iranian tensions, Syrian pro-government military action to regain control of rebel-held Idlib province, the civil war in Libya, where Turkey was also involved, and the Israel-Palestine conflict.
"The crises across the Middle East will see cards being laid on the table by all sides," Li said. "Standing behind this is the United States' Middle East policy and the power play between the US and Iran."
Meanwhile, Iran is edging closer to China and Russia as its economy is hit hard by US sanctions. The three countries wrapped up their first four-day joint naval drill on Monday in the northern Indian Ocean and Gulf of Oman. On Tuesday, Foreign Minister Zarif visited Beijing – his fourth trip to China in 2019. His Chinese counterpart, Wang Yi, said during their talks that Beijing and Tehran should stand together against "unilateralism and bullying".
Hua Liming, a former Chinese ambassador to Iran, warned of the "grave consequences" of a military conflict between the US and Iran. He also said that given the frictions between Beijing and Washington, China would have little room to take a mediator role as it did when the 2015 nuclear deal was being negotiated.
"The Middle East is not among China's diplomatic priorities, and China has a policy of not interfering [in other countries' affairs]," Hua said. "So [Beijing] will call on both sides to be restrained and avoid a military conflict."
Moscow has also weighed in, saying the US attack would fuel tensions across the Middle East.
"The killing of Soleimani … was an adventurist step that will increase tensions throughout the region," news agencies Ria Novosti and TASS quoted the foreign ministry as saying.
Iraqi Prime Minister Adel Abdul Mahdi condemned the killings as a violation of the conditions of the US military presence in Iraq and an act of aggression that breached Iraq's sovereignty and would lead to war. "The assassination of an Iraqi military commander who holds an official position is considered aggression on Iraq … and the liquidation of leading Iraqi figures or those from a brotherly country on Iraqi soil is a massive breach of sovereignty," Abdul Mahdi said.
The US air strike came after a New Year's Eve attack by Iran-backed militias on the US embassy in Baghdad. The two-day attack, which ended on Wednesday, prompted Trump to order the deployment of about 750 US soldiers to the Middle East.
Phillip Smyth, a US-based specialist in Shiite armed groups, said the strike would have "bigger" ramifications than the 2011 US operation that killed al-Qaeda chief Osama bin Laden and the 2019 American raid that killed Islamic State group leader Abu Bakr al-Baghdadi.
"In terms of a decapitation strike, what just happened is the most major decapitation strike that the US has ever pulled off," Smyth said. "There is no comparison."
https://www.scmp.com/news/china/diplomacy/article/3044568/china-calls-calm-after-top-iranian-military-leader-killed-us
------
Europe
Muslim population of England passes the three million mark for the first time as the numbers of Christians continues to decline, figures reveal
3 January 2020
By STEVE DOUGHTY
The Muslim population of England has passed the three million mark for the first time, according to estimates prepared by Whitehall.
They said that Muslims are the fastest-growing faith group in the country – while allegiance to Christianity continues to decline.
The figures were produced by the Office for National Statistics as part of a research project to try for the first time to make regular assessments of the size of different ethnic and religious groups.
Until now religious and ethnic minority populations could be gauged only once a decade using the results of the full-scale ten-yearly national census.
According to the ONS assessment, Christians continue to decline in number, but the drop in allegiance to Christianity may be slowing.
Among other faith groups, the share of Hindus in the population has climbed slightly, while the proportion of Sikhs has fallen by a similar small amount.
The scale of the Jewish and Buddhist shares of the population have remained stable, the report said.
The share of people who say they have no religion at all or who will not discuss their faith has risen to almost a third of the English population, an increase almost certainly a result of the fall-off in Christian belief.
The ONS also estimated that the proportion of people in England who say they follow a religion other than a major faith more than trebled between 2011 and 2016.
The increase may again be a result of people searching for new beliefs after becoming disillusioned with Christianity.
The new figures suggest that in 2016 – five years after the 2011 national census – there were 3,138,000 Muslims in England and Wales, up by more than 400,000 from 2.7 million over the five years. This was an increase of roughly 16 per cent.
In England alone, the ONS estimates said, there were 3,092,000 Muslims in 2016.
As a share of the population of England, the assessment indicated that the Muslim faith group made up 5.6 per cent in 2016 against 4.7 per cent in 2011.
The research report said: 'There is a decline for the Christian group, though it remains the largest group in England.
'The lower proportion of the population in the Christian group is counteracted by higher proportions of all the other groups, with the largest increases seen for the Muslim, none or not stated, and other faith groups.'
It added that statisticians cannot yet pinpoint the reasons for the growth in the Muslim population and the decline of Christianity.
'With a breakdown by any other characteristics, for example by age or sex, we cannot draw any conclusions about what causes these differences,' the report said.
The speed of increase in the Muslim population estimated by the new research appears to match that detected by national censuses. In 2001, the census said Muslims made up 3.0 per cent of the numbers in England and Wales.
The decline in Christianity has been widely charted, not least by the churches themselves in their tallies of congregations.
The 2011 census recorded 33.2 million people in England and Wales who had declared themselves as Christian, but according to the new estimates this had fallen to 32,731,000 by 2016.
The 2016 research said Christian share of the population in England alone dropped from 59.6 per cent to 56.6 per cent.
However, since evidence from censuses said the Christian population in England and Wales fell by 12 percentage points between 2001 and 2011, the decline of Christian faith may be slowing.
The new assessment suggested that many more people are adherents of minor faiths than were reported by the 2011 census.
It said that the new methods – based on the Annual Population Survey, carried out among more than 300,000 people each year – found that 1.5 per cent of the population regard themselves as followers of small faith groups, compared to 0.4 per cent recorded by the census.
Nearly a third of the population, 32.8 per cent, either had no religion or would not discuss their faith in 2016, the report said, against 31.9 per cent who were of no faith or would not say in the 2011 census.
The report said the new assessments, which take in results from three years of the Annual Population Survey between 2014 and 2016, were not detailed enough to provide an accurate picture of the size of ethnic and religious groups in local areas.
But it said that 'at the national level it is reasonable to assume some insight can be found in comparing the 2011 census results for England and Wales to those produced by our new method.'
It said: 'This is the first time that illustrative estimates of population by religion have been produced using this method.'
The report added that there were 'a number of potential gaps in the existing evidence base, including in the availability of up-to-date estimates of the size of the different religious populations. The most recent official estimates come from the 2011 census.
'A comparison of the 2001 census with the 2011 census showed that the number of people identifying with the different religious groups changed considerably over this period, so there is a need to consider how populations may change between censuses.'
While the ONS said the new estimates could not be used to assess local populations, the 2011 census report said that 'Muslims tended to be concentrated in particular areas of England.
'In over half of local authorities the proportion of the population who were Muslim was under one per cent. In over three-quarters of areas it was under six per cent.
'The areas with the highest proportion of Muslims were in London with the boroughs of Tower Hamlets and Newham having 34.5 per cent and 32.0 per cent respectively.
'There were several areas outside London with proportions higher than 20 per cent including Blackburn with Darwen in the North West (27.0 per cent ), Bradford in Yorkshire and the Humber, Luton in East of England, Slough in South East, and Birmingham in the West Midlands.'
https://www.dailymail.co.uk/news/article-7850073/Muslim-population-England-passes-three-million-mark-time.html
------
Paris knife attacker had mental health issues, Quranran found on him: prosecutors
PARIS (Reuters) - A Quranran was found in the bag of a man shot dead by French police on Friday after he went on rampage with a knife in a park near Paris, killing one person and wounding two others.
A spokesman for the prosecutor whose office is handling the case said the attacker was under medication for mental health issues which had led him to be hospitalized in recent months.
"There is no evidence at this stage suggesting he was radicalized," the spokesman said.
https://www.reuters.com/article/us-france-security/paris-knife-attacker-had-mental-health-issues-Quranran-found-on-him-prosecutors-idUSKBN1Z2248?rpc=401&
------
Suspected Islamic extremist in court accused of having terrorist publications
3rd January
A suspected Islamic extremist has appeared in court accused of having a stash of terrorist publications, including bomb-making instructions.
Sohaib Embarek, 33, was arrested following a pre-planned operation at a residential address in the Clifton area of Bristol on December 9.
He was charged with five counts of possessing material likely to be of use to a person committing or preparing an act of terrorism, contrary to Section 58 of the Terrorism Act 2000.
The documents allegedly include instructions on making explosives, poisons and other weapons.
Embarek, of no fixed address, appeared at the Old Bailey by video link from Wandsworth jail on Friday.
He spoke to confirm his name and gave his nationality as Spanish.
Mr Justice Sweeney set a plea hearing for May 1 and a trial of up to two weeks at the Old Bailey from June 15.
https://www.asianimage.co.uk/news/18135985.suspected-islamic-extremist-court-accused-terrorist-publications/
------
Muslim Aid launches investigation after CEO Jehangir Malik no-confidence letter
Muslim Aid has commissioned an independent investigation into allegations of mismanagement and malpractice at the charity after a letter of no-confidence in CEO Jehangir Malik, which 5Pillars understands is backed by dozens of staff, was sent to the Charity Commission.
The letter, which the Commission confirms it has received, demands that Mr Malik and the Board of Trustees immediately step down for the good of the organisation.
It claims that since Mr Malik was appointed three years ago, he has overseen:
The "financial killing" of the organisation which has a growing financial deficit of over £5m.
Nepotism with a culture of unfairness and favouritism breeding a toxic office environment.
A lack of independence from trustees.
Financial wastage through "hare-brained" ideas.
A high staff turnover, including recent departures of the Chief Operating Officer and Financial Director.
The failure to implement a Zakat policy.
5Pillars understands that some Muslim Aid staff are unwilling to fundraise until the financial issues are clarified.
The letter, which was originally sent to the charity's Board of Trustees, states: "We hereby notify the Board that the staff at Muslim Aid have overwhelmingly concluded that they no longer have any faith in the CEO Jehangir Malik or his ability to lead Muslim Aid. We therefore notify the Board with this correspondence as a formal vote of no confidence in the CEO and that by this action we are in dispute with the Board over their continued misplaced trust and support of the CEO…
"For months we have been harbouring profound concerns in the stewardship of this organisation and are prepared to deal directly with the Charity Commission on the issue if necessary. Staff morale is at an all-time low and a significant body of the staff are severely aggrieved and discontented…
"We are only doing this in the interests of Muslim Aid and unanimously feel that since the appointment of this CEO things have only got worse."
The letter, which was sent by a "whistleblower" (which 5Pillars understands includes current and former staff members), goes onto say that the allegations have "the support of close to some forty staff, but this was ignored by the trustees." This includes the entire senior leadership team which the whistleblower says has been targeted.
The letter also accuses the Board of whitewashing an internal investigation into the CEO.
"Staff have repeatedly requested financial transparency and the CEO has been avoiding this since he joined. For years now we have been asking how much money is available for certain projects, what is our true overheads/admin, how is Zakat being dealt with… and for over three years all that we ever hear is that him and the team are working on it and he will get back to us…
"Then we were informed prior to the departure of the FD (Financial Director) that our financial position was precarious with the initial report from our Finance Team that our deficit (Unrestricted) had exceeded the £5m mark for 2018. Staff were extremely worried to hear of this as it only confirmed all of our fears given the lack of planning and quite maverick approach to spending…
"No one person is bigger than any organisation or institution but if anybody needs to resign it should be the CEO. His tenure has been a disaster and the number of staff that refuse to join or work under him should be a wake up call to the Board."
No Zakat policy
5Pillars has obtained phone recordings of a recent meeting between senior leaders at Muslim Aid, including Jehangir Malik, during which it was confirmed that there is no Zakat policy at the organisation. It was also implied at the meeting that if the organisation had a Zakat policy, this would have a negative effect when it comes to spending in other areas.
It is generally accepted that a Muslim charity must have a clear and detailed Zakat policy in place, which specifies how Zakat money is collected and distributed, otherwise Zakat funds could be given to general recipients which is not what Zakat is intended for.
Muslim Aid does have general Zakat guidelines on its website, which explain what Zakat means from an Islamic perspective and which focuses on how to calculate Zakat. However, it does not say how much the administration cost would be or which schools of jurisprudence Muslim Aid follows when it comes to distributing or ring-fencing Zakat funds.
In the course of research for this article, 5Pillars also spoke with several current and former Muslim Aid staff members.
One current member of staff, who spoke to 5Pillars on condition of anonymity, said that staff are very perturbed by the financial situation and the departures of key managers. The source said Muslim Aid is not being straight with donors because it is using restricted income (which has been donated for specific projects) to supplement unrestricted income (which can be used for any purpose).
Muslim Aid CEO Jehangir Malik (r)
The source also told 5Pillars there is no clarity on Muslim Aid's Zakat policy (such as which Islamic rulings on Zakat eligibility and distribution the charity follows) despite repeated requests for the leadership to implement one, and that this has made staff feel uncomfortable about soliciting donations.
The source also claimed that the amount of income Muslim Aid spends on administration is much higher than the 12-15% it tells the public that it spends on these fees.
"Jehangir is not taking responsibility for the financial mess," the staff member said. "There is lots of wastage on consultants who don't do much work and there is no due process when it comes to appointments. There is also lots of tension in the office and frankly it's tough to fundraise under these conditions and ask the Ummah for money. Jehangir needs to go, as do some of the trustees."
5Pillars spoke to another current member of staff who told us that Muslim Aid is a great organisation which serves genuinely worthy causes. But the staff member said the leadership is destroying the organisation.
The source also complained about alleged nepotism and a lack of accountability over the way money is being spent, adding that the absence of a specific Zakat policy is very troubling.
"I feel that the trustees are protecting Jehangir. 15 members of staff were interviewed in the whistleblowing case and Jehangir should have been out," the source said. "But it was not investigated properly and it was a whitewash. Over the past few years around 30 people have left the organisation and I don't feel we are being honest about how the Ummah's money is being spent. The baraka is dead in the organisation and it feels like it's a curse right now."
In addition, a former member of staff at Muslim Aid told 5Pillars that it was perplexing that there was no clear-cut Zakat policy and one can only assume this is because the leadership does not want Zakat money to be "restricted" in any way, but they would rather have the freedom to spend it how they wish.
Muslim Aid response
Prior to his appointment at Muslim Aid, Jehangir Malik served as the National Fundraising Director for several years at Islamic Relief before his promotion to UK Director for six years. He also had various other roles at the organisation including development director of Islamic Relief USA and deputy country director in Afghanistan.
Mr Malik was a founding trustee of the Muslim Charities Forum (MCF) and in 2010 was awarded an OBE in recognition of his 20 years of contribution to the humanitarian cause.
5Pillars approached Mr Malik for a comment on the allegations but he declined to do so. When 5Pillars approached Muslim Aid's Board of Trustees for a response they told us that it would be inappropriate to comment on specific allegations while an investigation is ongoing.
However, they did provide us with the following statement:
"As you will be aware MA like many organisations has a whistleblowing process which is in place to ensure members of staff have the ability to complain about issues they feel need exploring.
"We are happy to confirm that this process has indeed been instigated and that investigations relating to it have been and are currently under way.
"Some of the investigations are being undertaken by the Board and others by investigators sourced from outside.
"Clearly there is a process to be followed in investigating and dealing with complaints and the Board of MA have been following correct processes and keeping the charities commission informed at all relevant stages.
"It is not really appropriate to comment on the details and findings of the process as investigations are still ongoing. It is worth noting though that alongside the original whistleblowing complaint there have been other issues that the trustees have uncovered that have also required investigation and concrete action is being taken now and in the immediate future.
"The Board fully appreciates the concern of all about how an organisation such as MA is and should be run and everyone involved takes this responsibility seriously. It has been clear that there are issues with the organisation and that they are not recent ones but long standing concerns that The Charity Commission as well as the current Board are aware of and have been working tirelessly to resolve.
"This will not be an overnight solution and the work of the charity and it's considerable positive impact on beneficiaries has to come first whilst investigations take place. Muslim Aid is a humanitarian and development agency doing vital work in UK and around the globe and we thank the staff, volunteers and donors for their continued support and commitment to Muslim Aid's mission."
Charity Commission
When 5Pillars contacted the Charity Commission about the whistleblowing letter they told us: "We are aware of the document you refer to and we will assess the concerns as part of our ongoing monitoring case into the charity to determine whether or not there is a need for regulatory action by the Commission."
Last year the Commission found serious mismanagement on the part of the former Board of Trustees of Muslim Aid. The Commission opened a statutory inquiry into the charity in 2013 (before Jehangir Malik's appointment or that of the current Board of Trustees) over concerns of significant financial loss, serious governance failures, poor financial controls and loss or misuse of charitable funds for improper purpose.
In October 2016 it appointed an Interim Manager who worked alongside the newly appointed CEO (Jehangir Malik) to complete a full governance and infrastructure review of the charity and a new senior leadership team was recruited. In addition, a new Borad of Trustees was appointed in January 2018.
The Commission issued a new action plan to the trustees to resolve concerns about the charity's management and administration. It said it would continue to monitor the charity over the next 24 months to ensure it achieves these objectives and promised to "continue to hold the new trustees to account for putting things right."
Independent investigation
5Pillars has also seen a recent email to Muslim Aid staff in which they were told that an independent investigation into the allegations would be undertaken. This comes after an internal investigation was considered inadequate by many staff.
The investigator will be Moi Ali, a consultant based in Scotland who is currently the Independent Assessor of Complaints for the Crown Prosecution Service. Ali says she has no links to Muslim Aid and promised to have an open mind and to report her findings without fear our favour.
She wrote to Muslim Aid staff: "I am not afraid to speak truth to power. A couple of years ago The Times newspaper described me as 'the fearless Moi Ali' and another newspaper wrote 'If only every one of Scotland's secretive quangos, stuffed with obedient back-slappers and status-chasers, had a Moi Ali on board.' Why am I telling you this? First, so that you can have confidence in me if you wish to come forward and speak to me, and secondly so that you can trust in me and believe the findings of my investigation. You can be sure that I will tell it like it is…
Moi Ali
"Before accepting the commission, I told Muslim Aid that I would guard my independence fiercely, I would not allow any interference in my investigation, I would report what I find (warts and all) and I will go about my work as transparent a way as possible (while respecting confidentiality).
"My mind is completely open and I have absolutely no preconceptions. I intend to look at the allegations and investigate their validity. If I find that any are proven, that is what I will report (and I will make recommendations to address them). Equally, if I find that there is no substance, I will report that too – and make recommendations for rebuilding trust and confidence."
Ms Ali said her final report would be published in mid-February. She concluded: "My hope is that this will be the end of the matter and that everyone will be able to believe the report's findings and have confidence that they were arrived at in a fair and proportionate way. Muslim Aid will then have to lay this matter to rest, implement any recommendations and move forward positively – for everyone's sake."
When 5Pillars asked a staff member how the news about the independent review had been received, the source told us that suspicion and distrust were the overwhelming sentiments but that staff would cooperate.
https://5pillarsuk.com/2020/01/03/muslim-aid-launches-investigation-after-ceo-jehangir-malik-no-confidence-letter/
------
Arab World
Thousands of mourners join Soleimani funeral in Baghdad
by Arwa Ibrahim
04 Jan 2020 08:41 GMT
Dressed in black and raising the flags of the powerful paramilitary umbrella group Hashd al-Shaabi (Popular Mobilisation Forces or PMF), the large crowds first gathered near the Shia shrine of Kadhimiyya in Baghdad to pay their respects to the dead.
Soleimani, the head of Iran's elite Islamic Revolutionary Guard Corps' (IRGC) Quds Force and mastermind of its regional influence, was killed early on Friday near Baghdad's international airport in an air strike ordered by US President Donald Trump.
Top Iraqi PMF commander Abu Mahdi al-Muhandis, an adviser to Soleimani, was also killed in the attack.
The attack came just days after Hashd members and supporters attempted to storm the US embassy in Baghdad, angry at US air attacks against Kataib Hezbollah - a member of the umbrella organisation - positions in Iraq and Syria. Al-Muhandis had been among the crowds of PMF members and supporters.
"We are here to mourn the death of these brave fighters, Soleimani and Muhandis," 34-year-old Amjad Hamoud, who described himself as a member of the PMF, told Al Jazeera.
"Both of them sacrificed their lives for the sake of the Shia world and for the sake of Iraq," he added.
The mourners, most of whom are supporters of the PMF, will then march through the Green Zone where government offices and foreign embassies, including the US embassy, are based.
Iraq's prime minister Adel Abdul Mahdi - who stepped down in November after to mass anti-government protests that started in early October - but who remains in office in a caretaker capacity, attended the funeral processions.
Also attending were several powerful Shia leaders including former Prime Minister Nouri al-Maliki, who now leads the State of Law Coalition and has close ties with Iran. Shia scholar Ammar al-Hakim, leader of the Hikma parliamentary bloc, and Faleh Fayyad, head of the Hashd al-Shaabi, were also at the processions.
Mohannad Hussein, media representative of the PMF, which organised the funeral processions, told Al Jazeera that the crowds will end their march at Hurriya Square in central Baghdad for members of the public to pay their final respects before the bodies are taken to the holy Shia city of Karbala where funeral prayers will be held later on Saturday.
Karbala is the base of Iraq's top Shia leader Grand Ayatollah Ali al-Sistani who condemned the US attack and called on all parties to exercise restraint in a statement from his office for the Friday sermon.
Hussein said the bodies will then be taken to the holy Shia city of Najaf where al-Muhandis will be buried later on Saturday along with other Iraqis killed in the attack. The body of Soleimani will be flown to Tehran for funeral processions on Sunday.
Iran is observing three days of national mourning in honour of Soleimani who is widely believed to have been the second-most powerful figure in Iran. Supreme leader Ayatollah Khamenei promised to exact "harsh revenge" for the targeted killing.
'Ready to fight'
Some of the mourners called on Iraq and the PMF to respond to the attack, saying it violated Iraqi sovereignty and targeted their fighters.
"We want the Hashd and the Iraqi government to respond to the US attack in an appropriate manner," said Ali, 24, who described the killings as "very painful".
"If a political response isn't enough, then militarily one is necessary," he added.
"This is a very sad day for all of us. But each fighter [in the PMF] considers himself a martyr and so we are ready to give up our lives like our leaders did," said Hussein.
"The US has opened a new chapter in its relations with Iraq and made clear that it is the real enemy," said Hussein.
"As part of the military, the Hashd al-Shaabi will do what the government orders us to do. We are ready to fight," he added.
The Iran-backed PMF was integrated into Iraq's armed forces last year, but critics say that some factions continue to operate independently of Baghdad.
Iraq is poised for a tense period ahead, according to analysts, as top Shia leaders - many of whom are expected to attend the processions - warned of repercussions following the attack.
Iraq's prominent Shia leader Muqtada al-Sadr called on his militias (Army of Imam Mahdi) and "other national and disciplined" armed groups to be prepared to protect Iraq, adding that the killing of Soleimani will not weaken Iraq's resolve.
Qays al-Khazali, head of the Asaib Ahl al-Haq armed faction - part of the PMF - said "all fighters should be on high alert for upcoming battle and great victory".
"An end to Israel-US presence in the region will result from the assassination of Soleimani and Muhandis," al-Khazali said in a statement published by Iraqi media.
"This is a dangerous time for Iraq as it moves into a period of greater instability and uncertainty," Renad Mansour, head of the Iraq Initiative at Chatham House told Al Jazeera.
Mansour said Iraq would witness changes in the coming days.
"The Iraqi parliament will most likely ask US forces to leave Iraq, while the US may become antagonist vis-a-vis Baghdad," explained Mansour.
Iraq's parliament is due to sit on Sunday to discuss the US air strike after Prime Minister Adel Abdul Mahdi called on lawmakers to hold an emergency session and address the killings of Soleimani and al-Muhandis, which he called a violation of sovereignty.
https://www.aljazeera.com/news/2020/01/thousands-mourners-join-soleimani-funeral-baghdad-200104074845279.html
-----
Iraq, US-led coalition, deny new air strike near Baghdad
04 January 2020
Reports said an Iraqi paramilitary commander was targeted in the attack but a spokesman of the PMF, also known as Hashd al-Shaabi, said those who were killed included medics [File: Abdullah Dhiaa Al-Deen/Reuters]
Reports said an Iraqi paramilitary commander was targeted in the attack but a spokesman of the PMF, also known as Hashd al-Shaabi, said those who were killed included medics [File: Abdullah Dhiaa Al-Deen/Reuters]
The Iraqi military and the US-led coalition have denied that a US air strike had taken place on a medical convoy in Taji, north of Baghdad, afrer reports emerged that an attack killed at least six people.
Earlier on Saturday, Iraq's state television said an attack took place along Taji Road and that it was targeting a convoy of an Iran-backed militia, but later, Iraq's military denied the reports.
"FACT: the coalition @cjtfoir did not conduct airstrikes near Camp Taji (north of Baghdad) in recent days," a spokesman said on Twitter.
The reports came a day after a drone attack by the United States killed top Iranian general, Qassem Soleimani, at Baghdad airport, and Abu Mahdi al-Muhandis, deputy commander of Hashd al-Shaabi, also known as the Popular Mobilisation Forces (PMF).
The PMF, issued a statement saying that no medical convoys were targeted in Taji.
Earlier on Saturday, the group had said an air raid hit a convoy of its medics, and an Iraqi army source also said that six people were killed and three were wounded, according to Reuters news agency.
Taji Road, where the reported incident took place, leads to a base belonging to non-US coalition forces, including British and Italian troops, according to Al Jazeera's Osama Bin Javaid, reporting from Baghdad.
The PMF is an umbrella group of Iran-backed Iraqi militias, which was legally integrated into Iraq's state security forces. Critics say some of the militias operate independently of Baghdad.
'Stop a war'
Saturday's reports come as thousands of people have joined a funeral procession in Baghdad for Soleimani, al-Muhandis, and others who died in Friday's air strike.
The procession started in Kadhimiya and headed towards the Green Zone government and diplomatic compound.
The convoy snaked its way though a sea of black-clad mourners, some of whom carried portraits of Iran's supreme leader Ayatollah Ali Khamenei.
The bodies of the Iranians will then be flown on Saturday evening to Iran, which has declared three days of mourning for Soleimani.
His funeral is due to be held on Tuesday in his hometown of Kerman in central Iran.
Commenting on the attack, US President Donald Trump said on Friday that he ordered the killing of Soleimani to stop a war, not to start one, saying the Iranian military commander was planning imminent attacks on Americans.
"Soleimani was plotting imminent and sinister attacks on American diplomats and military personnel but we caught him in the act and terminated him," Trump told reporters at his Mar-a-Lago resort.
"We took action last night to stop a war. We did not take action to start a war," Trump said, adding that the US is not seeking to change the government in Iran.
SOURCE: AL JAZEERA AND NEWS AGENCIES
https://www.aljazeera.com/news/2020/01/air-raid-targets-hashd-commander-iraq-state-tv-200103233605393.html
-----
Remote work platform to change the Saudi labor market
HALAH ALSHATHRI
January 04, 2020
RIYADH: Technology has opened a window for job opportunities that overcome the obstacles of time and place.
The minister of labor and social development recently launched the second phase of the "remote-work" program that includes an electronic portal for self-employment that will help to achieve the Vision 2030 plan to find suitable job opportunities for Saudi citizens.
The platform brings together job seekers and business owners to offer suitable and stimulating job opportunities that guarantee stability and independence, when the number of Saudis looking for jobs during the third quarter of 2019 was 1,025,328, according to the Ministry of Civil Service and the Human Resources Development Fund.
The ministry explained that the launch of the second phase of the program came after it had set the controls governing all related procedures.
"It's a very good idea. Not all companies can provide a location suitable for males and females. It will ease the Saudization process by providing job opportunities that are in line with Saudi values, such as for women who are unable to leave their homes for eight hours. The platform will provide a workspace for many who have some challenges that prevent them from going to work," said Mohammed Al-Suwelah, the founder and CEO of Ajeek.
"Many companies depend on knowledgeable economies and e-commerce to grow their business, which makes them hire online freelancers from around the world," he said. "Now remote work will open an opportunity for Saudi citizens to work from a distance and enable them to increase their competencies, which I think will encourage us to employ them to do the job instead of hiring an international freelancer. Last but not least, it will increase the income of part-timers."
He added, "We as businessmen should support the platform by all means."
The platform is a new approach in Saudi Arabia to bring unemployment down to 7 percent by 2030, in line with the objectives of Vision 2030. According to the General Authority for Statistics labor market bulletin report, the present unemployment rate for the total Saudi population is 12 percent, compared to 12.3 percent for the second quarter of last year.
According to Khaled Al-Harthi, the owner of Bin Dubais Company for Trading and Contracting, and a member of the Makkah Chamber, "the platform will have a positive impact on economic and employment aspects, as it will broaden the hiring opportunities for both sides. (For individuals) it will minimize the transportation traffic load by working from home, and will enable companies to control spending on renting office spaces by narrowing down the number of in-office employees."
Waleed Al-Ammari, the manager of the fabric department at Salem Hasan Al-Ammari, vice president of the Jeddah Youth Business Committee and a member of the fabric committee at the Jeddah Chamber, said: "The platform is a very good initiative that should have been launched before now. It supports people who face circumstances that prevent them from leaving their homes, and it is also an additional source of income. As for business owners, it will help Saudization, and help to fulfill the services we need with applicants who have the required competencies, but can't be hired due to some challenging reasons."
https://www.arabnews.com/node/1608096/saudi-arabia
------
Saudi visa on arrival for tourists with UK, US, EU visas
January 04, 2020
RIYADH: The Saudi Commission for Tourism and National Heritage (SCTH) announced that visitors with entry visas to the US, the UK and EU can enter Saudi Arabia.
A source in the SCTH said that this development is a continuation of the launch of the tourist visa, and the Kingdom opening its doors to the world.
The source added that there is an existing committee chaired by the chairman of the board of directors of the SCTH, Ahmed Al-Khatib, working to define the goals and the mechanism for applying the structure of the visitor visas.
The source said that those who obtain a tourist or commercial visa to these countries can now enter the Kingdom via tourist visa upon arrival only.
The source said that the visitor to the Kingdom must have used his visa to visit the US, Britain, or any of the Schengen countries, before entering Saudi Arabia.
https://www.arabnews.com/node/1608026/saudi-arabia
------
North America
America orders US citizens in Iraq to leave 'immediately' amid Iran tensions
Friday, 03 Jan 2020
The United States State Department has ordered citizens who are in Iraq to 'immediately' leave the country as tensions arose following the murder of Qassem Soleimani, a top Iranian commander.
Around 5,200 American troops are based in Iraq, where they mainly train Iraqi forces and help to combat Islamic State militants.
Qassem Soleimani, a top Iranian military leader was killed early morning by a US drone strike in Baghdad's International Airport on Friday morning.
Soleimani was the head of the Quds force unit of Iran whose assassination was ordered by US President Donald Trump, US Department of Defense said in a statement following the attack.
Iran's Supreme Leader Ayatollah Ali Khamenei warned that a "harsh retaliation is waiting" for the U.S. after the airstrike, calling Soleimani the "international face of resistance." Khamenei declared three days of public mourning for the general's death.
Iran also summoned the Swiss charges d'affaires, who represents U.S. interests in Tehran, to protest the killing. Iran's Foreign Minister Mohammad Javad Zarif called the strike "an act of state terrorism and violation of Iraq's sovereignty."
https://www.khaama.com/america-orders-us-citizens-in-iraq-to-leave-immediately-amid-iran-tensions-87650/
------
Muslim Community Reacts to Deadly US Airstrike That Killed Iran's Top General
By Danica McAdam
Several Iranians at the Islamic Center of San Diego were afraid to speak on camera because they they feared retaliation against their family members who still live in Iran.
Some Muslims, who are not Iranian or part of the local San Diego Persian community, also said they were afraid their loved ones might face retaliation, even if they live in regions outside of Iran, but they were more comfortable expressing their opinions on the airstrike.
"I am worried about my country, my people, my friends," said Ismal Adiq, who is originally from Saudi Arabia but now lives in southern California and attends UCLA.
"If we have a chance to bring peace, we should take up the chance," said Pakistani Munawer Bawany, who has lived in San Diego with his family for decades.
They understand Iran's anger in response to the deadly drone strike, but also struggle with the idea of attacks on Iran's surrounding regions.
"Everyone now should worry. I think Iran will not stop here," said Adiq.
Adiq and Syrian American, Mohamad Bailony who also prays at the Clairemont Mesa mosque, do not believe a war will start between the U.S. and Iran.
"I don't think that will come because if that comes it will damage all people," said Adiq.
"This is something good our current administration did is this action (referencing the air-strike)" said Bailony, who believes the attack was long overdue. "I was very happy to hear, yes."
Though he commends the airstrike, he doesn't want to see the attack returned on the U.S. or on his homeland.
"There is a lot of anger there and I hope the anger does not last for too long," said Bailony.
https://www.nbcsandiego.com/news/local/muslim-community-reacts-to-deadly-us-airstrike-that-killed-irans-top-general/2238658/
------
Pentagon: killing of Imam Ali Brigades leader is 'high probability'
JANUARY 4, 2020
Pentagon officials confirmed that the airstrikes targeting an Iraqi militia convoy near camp Taji north of Baghdad on Saturday were carried out by the US, and said the operation was meant to target the Imam Ali Brigades.
They further claimed it is a "high probability" that the leader of the group, Shubul al-Zaidi, had been killed, Newsweek reported on Saturday.
Iraq's Popular Mobilisation Forces umbrella grouping of paramilitary groups said on Saturday that the air strike hit a convoy of medics, not senior leaders as the Pentagon claimed.
https://www.jpost.com/Breaking-News/Pentagon-We-killed-the-leader-of-the-Imam-Ali-Brigades-613056
------
US delivered air strike against Shia militia cortege in Bagdad suburbs - TV
4 JAN
CAIRO, January 4. /TASS/. An air strike was made against a cortege of Al-Hashd Al-Shaabi Shia militia vehicles in Bagdad suburbs on Saturday, Sky News Arabia TV Channel reports.
Vehicles with commanding representatives of Al-Hashd militia was attacked from the air in Taji District to the north of Baghdad, the TV Channel says.
The strike by the US Air Force hit the column with doctors of the Shia militia, Iraqi's Al Sumaria TV Channel said, citing the statement made by the militia.
Commanders of the militia were not injured as a result of the strike, Baghdad Al Youm web portal said, citing militia sources. "We can confirm that the strike was delivered in the Taji stadium area. No militia leaders are among casualties," militia sources said.
The strike targeted one of militia commanders, Al Sumaria TV Channel reported earlier. Six individuals were killed and three were wounded as a result of the strike, according to the TV channel.
https://tass.com/world/1105603
------
CNN Anchor Describes Bin Laden's Death As A 'Nothing Burger' Compared To Soleimani Killing
CNN's chief international anchor described the death of al-Qaeda leader Osama bin Laden in 2011 as a "nothing burger" compared to Thursday's killing of Iranian Gen. Qasem Soleimani.
The leader of Iran's elite Quds Force was killed during an airstrike Thursday ordered by President Donald Trump near the Baghdad, Iraq, airport, the Pentagon said in a statement.
"Qasem Soleimani was at the height of his power when he was taken out. Unlike Osama bin Laden, who was a forgotten, you know, nothing burger, sort of hiding in a villa in Pakistan," CNN's Christiane Amanpour said Friday.
Former President Barack Obama ordered the raid on bin Laden's compound in May 2011, resulting in his death. Bin Laden's death was one of the highlights of the Obama administration.
"But, it's not the person you take out, it's what they leave behind and the tentacles and who comes next," Amanpour continued. "Al-Qaeda terrorism did not end with the sidelining of Osama bin Laden. ISIS has not ended with the killing of al-Baghdadi."
"So if you're trying to end whatever is happening, this is a major escalation, and we need to see what the plan is." (RELATED: Sen. Chris Murphy: Qasem Soleimani 'Most Significant Leader The United States Has Ever Assassinated')
Soleimani was "actively developing plans" to attack American diplomats and service members in Iraq, according to the Pentagon.
https://dailycaller.com/2020/01/03/cnn-christiane-amanpour-bin-laden-nothing-burger/
------
Trump Campaign Strikes Back At Biden Over Iran Comments: 'He Even Opposed Taking Out Osama Bin Laden'
January 03, 2020
President Donald Trump's campaign hammered 2020 presidential candidate Joe Biden's foreign policy record Friday after the former vice president said that the Obama administration "solved" the Iran issue.
Biden spoke Friday morning at a campaign event in Iowa where he asserted that the Trump administration's actions have put an "extremely dangerous problem that our administration had solved and put on the back burner back on the table."
But Trump campaign deputy press secretary Sarah Matthews told the Daily Caller News Foundation that "it's a joke" to say Biden helped "solve" anything. (RELATED: Biden Says Obama Administration 'Had Solved' Iran Issue, Put It 'On The Back Burner')
"President Trump acted decisively to prevent further attacks and defend American lives and interests," Matthews told the DCNF in a statement. "The world is a safer place today because of it."
"It's a joke to say that Joe Biden helped 'solve' anything because, to use the words of Obama's former Secretary of Defense Bob Gates, Biden 'has been wrong on nearly every major foreign policy and national security issue over the past four decades.' He even opposed taking out Osama bin Laden," she added.
"His criticisms are meaningless."
Biden's comments come after the Thursday death of top Iranian General Qasem Soleimani.
The Pentagon confirmed that Trump ordered a U.S. military airstrike that killed Soleimani, the leader of Iran's elite Quds Force. The airstrike also killed Abu Mahdi al-Muhandis, who is the leader of Kata'ib Hezbollah, the group that attempted to storm the U.S. embassy in Baghdad on Dec. 31, 2019.
The Biden campaign did not respond to the DCNF's request for comment.
https://dailycaller.com/2020/01/03/trump-campaign-biden-iran-obama/
------
Military training programme for Pakistan resumed to strengthen defence cooperation: US
January 04, 2020
President Donald Trump authorised the resumption of Pakistan's participation in a US military training and educational programme in order to strengthen military-to-military cooperation on shared priorities and "advance US national security", senior US diplomat Alice Wells said on Saturday.
"The overall security assistance suspension for Pakistan remains in effect," said a tweet by Wells, the in-charge of South Asia affairs at the US State Department.
The decision to resume Islamabad's participation in the coveted International Military Education and Training Programme, or IMET — for more than a decade a pillar of US-Pakistani military ties — was first announced by the State Department last month.
However, the announcement has been reiterated by Acting Assistant Secretary Wells, a day after US Secretary of State Mike Pompeo reached out to Army Chief Gen Qamar Bajwa in the aftermath of the assassination of top Iranian general Qasem Soleimani, vowing to remain firm against Iran.
The conversation, which was part of the secretary's telephonic contacts with leaders around the world, was disclosed by Pompeo on Twitter hours after the Foreign Office expressed "concern" about peace and stability in the Middle East.
The resumption of IMET for Pakistan, more than a year after it was suspended, underscores warming relations that followed meetings last year between US President Donald Trump and Prime Minister Imran Khan.
Washington also has credited Islamabad with helping to facilitate negotiations on a US troop withdrawal from Afghanistan.
The State Department administers the IMET. It was a small facet of US security aid programmes for Pakistan worth some $2 billion that remain suspended on orders that Trump abruptly issued in January 2018 to compel the country to crack down on militants. Trump's decision, announced in a tweet, blindsided US officials.
A State Department spokeswoman had earlier said in an email that Trump's 2018 decision to suspend security assistance authorised "narrow exceptions for programmes that support vital US national security interests". The decision to restore Pakistani participation in IMET was "one such exception", she said.
The programme "provides an opportunity to increase bilateral cooperation between our countries on shared priorities", she added. "We want to continue to build on this foundation through concrete actions that advance regional security and stability."
IMET affords spaces to foreign military officers at US military education institutions, such as the US Army War College and the US Naval War College.
Pakistan's suspension from the programme in August 2018 prompted the cancellation of 66 slots set aside that year for Pakistani military officers in one of the first known impacts of Trump's decision to halt security assistance.
The US military traditionally has sought to shield such educational programmes from political tensions, arguing that the ties built by bringing foreign military officers to the US pay long-term dividends.
https://www.dawn.com/news/1526230/military-training-programme-for-pakistan-resumed-to-strengthen-defence-cooperation-us
------
Africa
Nigerian government are 'Islamic fundamentalists without bombs', says bishop
3 January, 2020
'The only difference between the government and BoQuran Haram is BoQuran Haram is holding a bomb,' Bishop Matthew Hassan Kukah claimed
The beheading of 10 Christians by Islamist militants in Nigeria has sparked a condemnation by a bishop who accuses the government of using different methods to achieve the same goal of Islamic dominance.
In the wake of the Christmas Day attack by Islamic State West Africa Province (ISWAP) and an attack by BoQuran Haram on Christmas Eve, Bishop Matthew Hassan Kukah of SoQuranto told Catholic charity Aid to the Church in Need of his disgust with the authorities.
He said: "The only difference between the government and BoQuran Haram is BoQuran Haram is holding a bomb."
He added: "They are using the levers of power to secure the supremacy of Islam, which then gives more weight to the idea that it can be achieved by violence. With the situation in Nigeria, it is hard to see the moral basis they have to defeat BoQuran Haram.
"They have created the conditions to make it possible for BoQuran Haram to behave the way they are behaving."
On Boxing Day 2019, ISWAP released a video beheading 10 Christians and shooting one Muslim, saying they were avenging the death of Abu Bakr al-Baghadi, Daesh (ISIS)'s leader, and other senior Daesh members killed during a US raid in October.
This followed a Christmas Eve attack by BoQuran Haram in which seven were killed.
The UN estimates that over 2.2 million have been displaced by BoQuran Haram's actions – between 2013 and 2015, more than 11,000 people were killed by the group.
Bishop Kukah said the Nigerian government, by packing key government positions with hardline Muslims, gives tacit approval to such groups.
"If the people in power don't do enough to integrate Christians then they give oxygen to Islamism. If they have countries where everybody is Muslim in power then you give vent to the idea that Islam should be supreme."
Bishop Kukah hit out against Western nations who he said are happy to mine the resources of Africa but not defend its people.
He said: "Western nations are not doing enough. They have shown that the resources of Africa are more important than the ordinary people. Clearly, the Western nations could have reduced the influence of BoQuran Haram by 80 or 90 percent – they have deliberately not done enough."
Bishop Kukah said that the only thing preventing Nigeria from being engulfed in civil war was the peaceful tenets of Christianity.
He said: "Christians have every reason to feel insecure and also there is a general feeling of their marginalisation from the political process. If the principles of our religion were different, there would be a civil war by now.
"It is the glory of our religion that this hasn't happened. It is difficult to preach peace in this context. Any resolution depends on how Christians decide to react. They won't use violence but what will they do?"
This article was provided by Aid to the Church in Need UK
https://catholicherald.co.uk/news/2020/01/03/nigerian-government-are-islamic-fundamentalists-without-bombs-says-bishop/
------
Libya will confront and expel foreign forces, says Khalifa Haftar
January 04, 2020
TRIPOLI: The leader of the Libyan National Army (LNA) Khalifa Haftar said on Friday his forces would "confront and expel" any foreign troops sent to the country.
His comments came after Turkey recently approved a parliamentary motion to deploy troops in Libya.
Haftar used his televised address to accuse Turkey, without naming it, of trying to "colonize" Libya, and said: "The friendly Turkish people must rise up against the adventurer who is pushing his army to death."
The LNA leader also accused Turkey's president Recep Tayip Erdogan of trying to ignite a conflict to target Middle East security and of attempts to "revive the Ottoman legacy in Libya and the region."
https://www.arabnews.com/node/1607976/middle-east
------
Herdsmen don't need visa to enter Nigeria – Bodejo, Miyetti Allah Leader
4th January 2020
National President of Miyetti Allah Kautal Hore, Abdullahi Bello Bodejo, has said that the Fulani in other countries don't need visa to come into Nigeria. In an interview with VINCENT KALU, the leader of cattle breeders association, pointed out that desperate politicians were behind the incessant herders-farmers clashes.
The clashes between herdsmen and farmers seem to have reduced drastically, what is the reason for this?
The elections are over, and winners have emerged and there are also losers. The crises were mostly engineered by desperate politi- cians, who tried to use the clashes to score political points. These clashes reached their peak during the electioneering campaigns and after the elections, they have come down drastically.
Fulani herdsmen don't have cattle colony, they don't have grazing reserve, they don't have RUGA, yet, the farmers are there and the herdsmen are also there and we are no longer hear- ing of clashes; that shows there is something to it that many people don't understand, and we should begin to ask questions. In essence, there are no real herdsmen and farmers' crises; it is purely hatred some people have for the Fulani. Some desperate politicians ignite trouble here and there so that the blame will be Fulani.
Since there are no more crises between the Fulani and the farmers, are you still insisting on RUGA in all the states as a way of ensuring peace in the country?
We need grazing reserves, and I'm urging the federal government, as well as the state governors to bring back our grazing reserves all over the country, in all the 36 states. The colonial masters, and the founding fathers of the country had already mapped out grazing reserves across the country and that should be restored. These reserves are still available in all the states; some of them are gazetted, while others are not; some of them are lying fallow, as people are not farm- ing there, there are no activities there, but out of hatred, they have refused the Fulani to settle there.
What is the position of your group in 2023, regarding where political power should re- side?
Nobody can say where political power should go, it is God that gives power and He determines where power should go. My concern is that people should stop igniting crisis in order to win election. Our group has not decided on 2023 be- cause the journey is still very far.
People are alleging that the free visa policy the federal government is proposing is a ploy to bring in Fulani from different countries, as part of the Fulanisation agenda, what is your position on this?
This is democracy, anybody can say and criticise anything. Fulani are all over Africa and they are the biggest ethnic group in the world, they don't have border; nothing concerns them with visa. With their cows, they can cross any border and go anywhere they want where there is green pasture.
What concerns Fulani with visa? The Fulani that need visa are very few, and they are the very educated ones and are in government in other countries. Free visa or no free visa, Fulani don't have any border.
Do you mean they can go in and out of the country at any time without visa?
Oh yes. They go anywhere they want from anywhere without visa all over the whole world, not only in Africa. They can migrate from Sahel, from Sudan, from Chad, from Niger, from Cameroun to here (Nigeria), nothing concerns them with visa. Even before now that bandits are trying to spoil Fulani name and image, there is nothing that concerns them with visa; the country where they just want to enter, they will enter and you can just see them.
So, those who are troubling themselves that the free visa policy that President Buhari wants to introduce was aimed at bringing in the Fulani from other countries should hold their peace as there is nothing that concerns the Fulani with visa, as they are well organized and already know how they do their movements with their cows; anywhere they see grass they start grazing in that area. They don't need visa, you can see them they just appear there and start their grazing business.
Reports have it that the meeting Fulani ethnic groups across West Africa had in Banjul, Gambia, penultimate Saturday, where you were in attendance was in furtherance of the free visa policy and how the race can flood Nigeria. Is that true?
I had an invitation from the Fulani from Africa, particularly Gambia for Fulani festival, where they were displaying various Fulani cultures. Our association, Miyetti Allah Kautal Hore is a Fulani socio-cultural organisation. Anything that concerns the cultures of the Fulani the world over, they usually invite me. There is nothing like going there to organise on how to take over Nigeria. Fulani is Fulani, whether in Chad, Niger, Cameroun, Sudan, there may be a very insignificant slight change in the language. So, they invited us to come and see the Fulani brothers all over Africa.
You said, Fulani is Fulani all over, what is the difference between Fulani and Hausa?
There is a great difference. For example, if they married your mother from Hausa, you can't say you are Fulani or Hausa; you are Hausa-Fulani, that is the little difference. Fulani are different from any other ethnic group the whole world. If we marry from them and bear children then, they are Hausa-Fulani. Everywhere, people are trying to be Fulani. Hausa are not involved in cattle rearing, but it is only the marriage between us.
However, now everybody is involved in cattle rearing – Igbo, Yoruba, Berom, Junkun, Hausa, etc, and that this why the clashes are hap- pening here and there. Some people are trying to collect the business of cattle rearing from the Fu- lani, which they have been doing for centuries, so when these other people commit crimes or clash with farmers they would accuse the Fulani herdsmen of being responsible; Fulani cannot collect people's land. Nobody can control cow if he is not a Fulani.
https://www.sunnewsonline.com/herdsmen-dont-need-visa-to-enter-nigeria-bodejo-miyetti-allah-leader/
------
MURIC tackles CAN, says Christians enjoy more holidays in Nigeria than Muslims
The Muslim Rights Concern has claimed that Christians in Nigeria enjoy more holidays than Muslims in the country. MURIC said this in a statement released on Friday, December 3, by its director, Ishaq Akintola. This was in reaction to an earlier claim by the Christian Association of Nigeria that Christians were being persecuted in the country. "CAN claims it is being persecuted but fails to substantiate its allegation in concrete terms.
"However, the last holiday of Wednesday, January 1, 2020 which is an annual event has exposed CAN. "Nigerian Christians enjoy the New Year holiday on January 1 every year even without asking for it because that was the arrangement made by the British colonial master. But CAN still claims 'persecution' even though it is placed at an advantaged position, " he said.
Going further, he said: "Christians have five out of the eight holidays enjoyed by Nigerians. Muslims have three only. Yet CAN claims persecution. Christmas Day, Boxing Day, New Year Day, Easter Monday and Good Friday are all for Christians. We dare CAN to deny it. Are these not concrete privileges enjoyed by Christians? "CAN knows that it is the Muslims who are denied certain fundamental human rights but it is determined to maintain the status quo," he added.
Meanwhile, Legit.ng had reported that following the release of Omoyele Sowore, convener of RevolutionNow protest, from detention the Muslim Rights Concern (MURIC) pleaded with President Muhammadu Buhari to also free 54 soldiers currently languishing in jail. Sowore was released on December 24, same day as Sambo Dasuki, former National Security Adviser (NSA) to ex-president, Goodluck Jonathan.
In a statement made available to Legit.ng, MURIC said while it commends Buhari for releasing the duo, it wants the president to also extend the gesture to the 54 soldiers jailed for asking for better weapons to fight BoQuran Haram. "If it is true that Dasuki was detained over the $2.1 million arms fraud case (and it is), what becomes of the poor soldiers who exposed the fraud but who, paradoxically, are still languishing in jail?
https://www.legit.ng/1289915-muric-tackles-can-christians-enjoy-holidays-nigeria-muslims.html
------
2020: China to hijack Buhari govt, Saudi, Mali, others to turn Nigeria into Muslim state – Apostle Okikijesu releases prophecies
January 4, 2020
By John Owen Nwachukwu
Apostle Paul Okikijesu of the Christ Apostolic Miracle Ministry, Lagos State, has released a series of prophecies about Nigeria for the year 2020.
According to him, China shall dominate certain sector of Nigeria in a bid to hijack the present administration of President Muhammadu Buhari.
He also claimed to have heard from God that there shall be moves by Saudi Arabia, Egypt, Mali, Niger, and Chad, to turn Nigeria into a Muslim State.
Okikijesu said there shall be plenty of food in Nigeria in 2020 but warned that other things may not be affordable.
He added, "Impact of ECO Currency, the proposed single West African currency. Invasion of terrorists from other African countries.
"Tribal and religious war. Imperfect relationship with China. Dominance of certain sector of Nigeria by China so as to hijack the present regime.
"Activities of Saudi Arabia, Egypt, Mali, Niger, and Chad, to turn Nigeria into a Muslim State.
"Certain bridges in the nation may collapse and it will lead to loss of lives. Food will be surplus, but other items/things will be scarce.
"Strange event will occur that will marvel the world and stigmatize the nation. President Buhari should give power to the legislative and the judicial arms of the government, together with the law enforcement agencies to operate without hindrance or interference.
"The President, the Governors, and those in position of authority should seek the advice of genuine men of God and not the corrupt pastors or glutton priests.
"Judgment will start from the leaders of Christianity, and then it will spread to other corrupt people. Messages to Kings, rulers, and many important dignitaries."
https://dailypost.ng/2020/01/04/2020-china-to-hijack-buhari-govt-saudi-mali-others-to-turn-nigeria-into-muslim-state-apostle-okikijesu-releases-prophecies/
------
Pakistan
IHC frames questions over scope of president's powers
Malik Asad
January 04, 2020
ISLAMABAD: The Islam­abad High Court (IHC) on Friday framed questions to determine the scope of powers vested in the president under Article 89 of the Constitution and the fate of the ordinances promulgated by Dr Arif Alvi to run routine business of the federal government, on a petition.
The court appointed senior lawyers Babar Awan, Abid Hassan Minto, Raza Rabbani and Makhdoom Ali Khan as amici curiae to seek their opinions besides asking the attorney general for assistance in the matter.
IHC Chief Justice Athar Minallah put several questions to determine the legality of the ordinances.
The court wanted to know the scope of powers vested under Article 89 of the Constitution and whether said powers can be exercised "in a routine manner to bypass the legislative procedure prescribed under Article 70 to 88?"
It also asked "whether the ordinances, passed by the president in exercise of powers under Article 89 of the Constitution…are of the nature which meet the prescribed requirements in this regard." The IHC also sought their legal opinion about the fate of the ordinances passed "in violation of the explicit conditions mentioned under Article 89 of the Constitution".
Chief Justice Minallah also directed the law and justice secretary to ensure that written comments are filed within a fortnight.
The petition, which was filed by Pakistan Muslim League-Nawaz lawmaker Barrister Mohsin Shahnawaz Ranjha, urged the court to declare the presidential ordinances issued by the incumbent regime "illegal, unconstitutional being ultra vires Article 89 of the Constitution of the Islamic Republic of Pakistan and having been promulgated in a mala fide manner".
Advocate Umer Gillani, the counsel for the petitioner, apprised the court that the presidential ordinance that could be promulgated in "emergent situation" was being promulgated to run the "routine business" of the federal government.
Accusing the president of not exercising his discretionary powers "judiciously", Barrister Ranjha said that court had already held that Dr Alvi had violated the Constitution and sought his impeachment.
According to the petition, the president under Article 89 is empowered to promulgate ordinances, which are a form of temporary legislation subject to "two expressly stipulated conditions": (a) when neither the Senate nor the National Assembly is in session; and (b) if circumstances exist which render it necessary to take immediate action.
As the president was bound to act on and in accordance with the advice of the federal government, the ultimate responsibility for the promulgation of the impugned ordinances fell upon the federal government, the petition said.
It mentioned that President Alvi promulgated as many as eight ordinances on Oct 30, 2019 including "Letter of Administration and Succession Certificates Ordinance, 2019; Enforcement of Women's Property Rights Ordinance, 2019; Benami Transactions (Prohibition) (Amendment) Ordinance, 2019; Superior Courts (Court Dress and Mode of Address) Order (Repeal) Ordinance, 2019; National Accountability (Amendment) Ordinance, 2019; Legal Aid and Justice Authority Ordinance, 2019; The Whistle-Blowers Act".
The official website of the lower house of the parliament indicates that President Alvi had promulgated at least 20 ordinances since Sept 24, 2018. It seemed the ruling Pakistan Tehreek-i-Insaf had adopted ordinances as "normal and routine method for legislation" to avoid parliamentary law-making as much as possible.
The counsel for the petitioner apprised the court that the legislative procedure prescribed under Articles 70 to 88 of the Constitution could not be bypassed in a routine manner and that too when the eventualities contemplated under Article 89 of the Constitution were not in existence.
While referring to the relevant constitutional provisions, the petition said Article 89 represented a narrow exception to the general procedure for bringing about legislation. "Bare reading of the text shows that the power to legislate conferred on President by Article 89 is meant only for dealing with emergencies and not handling routine matters," the petition added.
It said the ordinances did not represent a bona fide exercise of the power conferred by Article 89, as apparently all the impugned ordinances were meant to bring about long-term governance reform which fell squarely in the category of "routine legislation".
Subsequently, the petitioner requested the court to declare the presidential ordinances issued by the incumbent regime "illegal, unconstitutional being ultra vires Article 89 of the Constitution of the Islamic Republic of Pakistan and having been promulgated in a mala fide manner."
The court adjourned further proceedings till Jan 21.
https://www.dawn.com/news/1526169/ihc-frames-questions-over-scope-of-presidents-powers
------
Karachi mayor's son, guards booked for hurting boy in DHA
January 04, 2020
KARACHI: The son of the Karachi mayor and over half a dozen men, including his security guards, were booked for beating up a boy in Defence Housing Authority (DHA) on New Year's Eve when he questioned their act of allegedly firing into the air, officials said on Friday.
An official of the Darakshan police station said that Taimur Wasim and around eight to 10 others, including his guards, were booked for beating up the 19-year-old student, Hasnain Haider, on the night of Dec 31.
The police registered the FIR (2/2020) under Sections 337-H (hurt by rash or negligent act), 506 (criminal intimidation), 427 (mischief), 337-A (shajjah) and 34 (common intention) of Pakistan Penal Code.
Complainant alleges suspects fired into the air before chasing and hitting him
According to contents of the FIR reviewed by Dawn on Friday, the complainant said he was a resident of Clifton who along with his friend was waiting for other friends at a petrol pump in Phase-VIII of DHA when two Vigo vehicles arrived there at around 10pm on Dec 31. Around eight to 10 persons including security guards were travelling in the vehicles. They allegedly resorted to firing into the air, the complainant said, adding that when he inquired about the gunfire and abusive language, they again resorted to firing.
He said that he and his friends left the place in their car but were intercepted by the two Vigo vehicles near Hamza mosque. After stopping their car, the guards who disembarked from their vehicles along with Taimur Wasim told the complainant that he was the son of Karachi Mayor Wasim Akhtar. The complainant said he was beaten up by the guards and Taimur who allegedly used a pistol to hit him. The guards also smashed the windowpanes of the car. They attempted to force him to sit in their vehicle but on the resistance of his friends, the suspects hurled threats and abuse at them before rushing away.
While relatives and friends of the complainant on Friday staged a protest demonstration outside Karachi Press Club demanding arrest of the suspects, the official of Darakhshan police station admitted that no one had been arrested in the case so far.
https://www.dawn.com/news/1526133/karachi-mayors-son-guards-booked-for-hurting-boy-in-dha
------
AC, team 'thrashed' during raid at PTI MNA's wedding over violations
January 04, 2020
LAHORE: A scuffle broke out at the wedding of PTI MNA Farrukh Habib on Thursday night when Model Town Assistant Commissioner (AC) Zeeshan Ranjha conducted a raid at a farmhouse over one-dish rule violation.
The incident occurred at the Mian Mansion Farmhouse located at Jhulky of Kahna. The AC raided the farmhouse along with other officers on reports of violation of Marriage Act at the wedding ceremony.
An official said that owners of the farmhouse, Mian Mohsin and Mian Ahsan, were also present at the wedding besides a large number of guests. As the team entered the premises and observed violation of time limit and one-dish rule, the management offered resistance and tried to stop them from entering.
On using abusive language, the AC slapped one of the guests, which led to a brawl, the official said, adding that as the guests were "very influential" they forced the team to leave the premises and locked it from inside.
Meanwhile, the Model Town AC complained to the police and three vehicles of armed personnel reached the site. Police later arrested four of the alleged attackers, sealed the farmhouse and lodged a case against the suspects, including the farmhouse owners.
The official said that the PTI MNA escaped arrest as he had already left the venue before the arrival of police.
In the first information report, the complainant alleged that the raiding team was attacked, thrashed and threatened. The FIR was lodged on the complaint of Nishtar Zone in-charge Muhammad Ali.
https://www.dawn.com/news/1526162/ac-team-thrashed-during-raid-at-pti-mnas-wedding-over-violations
------
Nawaz exempted from personal appearance in sugar mills case
January 04, 2020
LAHORE: An accountability court on Friday allowed exemption from personal appearance to former prime minister Nawaz Sharif on medical grounds in the Chaudhry Sugar Mills case till the next hearing.
A lawyer told the court that Mr Sharif was still under treatment in London and doctors had not permitted him to travel by air so far. He submitted an application seeking one-time exemption from personal appearance for the former premier.
Presiding Judge Ameer Muhammad Khan allowed the application and adjourned hearing till Jan 17.
Nawaz's nephew Yousaf Abbas was brought to the court from jail to attend the proceedings, while PML-N Vice President Maryam Nawaz, who is on bail, had already been exempted by the court from personal appearance till filing of a reference by the National Accountability Bureau (NAB).
The judge also extended judicial remand of Abbas till the next hearing.
Meanwhile, the judge extended judicial remand of Leader of the Opposition in Punjab Assembly Hamza Shahbaz till Jan 17 in an illegal assets/money laundering case by the NAB. A prosecutor told the court that the reference will be filed soon after completion of the investigation.
In a separate hearing about freezing of assets owned by the family of PML-N President Shahbaz Sharif and his sons Hamza and Suleman, the judge summoned investigating officer on Jan 17.
The judge had previously allowed an application by the NAB to freeze assets of the Shahbaz family giving 14 days to the aggrieved party to challenge the decision.
On Friday, a counsel on behalf of the aggrieved family filed an application before the court and questioned the legality of the decision. The judge issued a notice to the IO on the application and directed him to appear in person along with the record on the next hearing.
The NAB had sought freezing of the assets owned by Shahbaz Sharif and his family members following an inquiry into money laundering.
https://www.dawn.com/news/1526165/nawaz-exempted-from-personal-appearance-in-sugar-mills-case
------
Lawmakers agree to slap checks on 'luxury' lifestyle of bureaucracy
Zulfiqar Ali
January 04, 2020
PESHAWAR: Members of the treasury and opposition benches in the Khyber Pakhtunkhwa Assembly on Friday agreed to slap checks on the 'luxury' lifestyle of the bureaucracy in the province through the house's standing committee on administration.
The two sides reached the understanding during the question hour of the house when two women members of the opposition raised the issue of the allotment of vehicles and houses to senior officers in the province.
Speaker Mushtaq Ahmad Ghani through a ruling directed the standing committee to submit its report to the assembly within a month.
The chair also directed the government to produce a list of the officers occupying more than one official house.
Awami National Party MPA Shagufta Malik through her question sought the details of the official vehicles purchased for administrative secretaries, additional secretaries, deputy secretaries, commissioners, additional commissioners, assistant commissioners and other officials between 2013 and 2019.
Speaker seeks PA panel's report on vehicles, houses allotted to senior officers
Through her question, she had asked the department concerned to furnish the details of the officers, pay scale, ranks, and place of posting and vehicles' model along with allotment letters, company name, and engine cubic centimeter and horsepower.
Ms Shagufta also sought details of the competent authority, who allotted vehicles to these officers.
The administration department produced details of only 19 vehicles purchased by the government between 2013 and 2019.
The official reply said the commissioners of Malakand, Dera Ismail Khan, Bannu, Hazara and Quranhat were provided with Toyota Fortuner (4x4 A/T 2400CC), 2018 model.
A summary moved by the administration department in 2017 had proposed the purchase of 2700cc jeeps for all seven commissioners with their cost totalling Rs38.045 million.
Pakistan Peoples Party MPA Nighat Yasmin Orakzai while supporting the mover said bureaucrats had been provided with vehicles beyond their entitlement.
She said many officers had been allotted more than two vehicles.
Ms Nighat said the elected representatives were allotted used cars, while low-rank officers were provided with branded vehicles, accommodation, medical and other facilities.
She said rules were being violated in the allotment of vehicles to officers, so the question should be referred to the committee concerned.
"Bureaucrats will have fun, while infamy will pile on politicians," she told the chair.
Minister for law and parliamentary affairs Sultan Mohammad Khan did not object to the opposition's viewpoint and said the treasury would not oppose if the matter was referred to the committee.
"This is a very important issue, so it needs serious discussion," he said.
Another question moved by MPA Nighat Orakzai regarding the unauthorised occupation of official residences by the some officers was also referred to the relevant committee.
Ms Nighat said the Peshawar High Court had ordered the cancellation of out-of-turn allotment of official houses to the government employees.
She claimed that the court order had not been implemented.
The lawmaker said the department was hiding details about the allotment of houses to officers in the province as some senior officers had occupied more than one residence.
She also claimed that the principal secretary to the prime minister did not vacate official house in Peshawar despite allotment of house in Islamabad.
The law minister opposed the contention of the mover.
On the occasion, senior minister Mohammad Atif Khan said the government would not let anybody violate the law.
He said the law did not entitle any officer to retain one official house in Peshawar and one in Islamabad at the same time.
Mr Atif said the treasury would not oppose if the question was referred to the committee.
Responding to a calling attention notice, he said the government would consider the proposal of the opposition to give subsidy on liquefied petroleum gas in mountainous areas in order to protect the local forests.
Opposition MPAs Sardar Aurangzeb Nalotha and Inayatullah Khan proposed subsidy on firewood and LPG in hilly areas of Hazara and Malakand divisions.
They said an increase in the LPG price had forced communities in hilly areas to burn woods that posed serious threat to forests.
MPA Sardar Babak said KP produced surplus natural gas and under the Constitution, it was the right of the people of the province to get gas supply and later, it should be provided to other provinces.
He said if the formula was adopted, the province would not need to levy subsidy on LPG to the consumers.
https://www.dawn.com/news/1526089/lawmakers-agree-to-slap-checks-on-luxury-lifestyle-of-bureaucracy
------
Sanjrani asks FM to brief Senate on ME developments on Monday
Iftikhar A. Khan
January 04, 2020
ISLAMABAD: Voicing concern over signs of a crisis triggered in the Middle East by the killing of top Iranian military commander Qasim Soleimani in a US airstrike in Baghdad bringing the already strained US-Iran ties to new heights, senators on Friday warned that the developments could seriously impact the oil import-dependent Pakistan.
"We are monitoring the international reactions to the incident and are in the process of internal consultation to prepare and issue a measured response to the incident. It will be shared with the Senate as soon as it is finalised," said Leader of the House in the Senate Syed Shibli Faraz while reading out a statement on behalf of Foreign Minister Shah Mehmnood Qureshi.
Govt in process of internal consultation to prepare reaction to Iranian commander's killing, upper house told
When Senate Chairman Sadiq Sanjrani asked where the foreign minister was, Mr Faraz said he was travelling and was not in the town. The chairman then sought the presence of Mr Qureshi in the house on Monday for a briefing on the developments taking place in the Middle East and the region.
Earlier, senators belonging to the opposition demanded a policy statement from the foreign minister on the issue.
Senator Mian Raza Rabbani was the first to raise the issue. He said the killing of Qasim Soleimani, the head of Iran's elite Quds Force, in Iraq had escalated tensions between the US and Iran and created a war-like situation in the Middle East and the entire region. "The situation will not only affect the national security of Pakistan but also the security of the region," he said, adding that the tense situation would also disturb oil supply in the region.
Mr Rabbani said the foreign minister should take the house into confidence on the possible repercussions of US-Iran tension for Pakistan and give a policy statement on the episode.
Alluding to Pakistan's decision to pull out of the Kuala Lumpur summit, he said the country appeared to have changed its strategic link. "The house should be told where Pakistan stands now."
Leader of the Opposition in the House Raja Zafarul Haq agreed that the circumstances required the foreign minister to listen to the opinion of members of the house and make a policy statement on the issue.
PPP's parliamentary leader in the Senate Sherry Rehman said Pakistan was facing a crisis-like situation and everybody was asking what the country's foreign policy was.
She said the killing of the Iranian military commander could trigger a crisis in the Middle East.
She also spoke about the longest ever lockdown and curfew in occupied Kashmir and the protests that have erupted across India following the passage of a controversial citizenship law that discriminates against Muslims.
Ms Rehman tried to explain that all these developments demanded from Pakistan's foreign policy to take a bold stance.
She highlighted that Pakistan could face another economic crisis because of escalation of tensions between the US and Iran as it was completely an oil-importing country.
She said that there was an ambiguity over where Pakistan stood with regard to its relations with China and the US. She said the seriousness of the government to cope with this situation could be gauged from the fact that not a single minister was sitting in the house.
"Iraq has been attacked today and it may happen to Pakistan tomorrow," Rehman Malik warned and asked the government to explain what measures had been put in place to cope with such a situation.
He said that Indian Prime Minister Narendra Modi was hurling threats at Pakistan at all fronts and in such a situation the government had to predict the situation and frame a counter-strategy while taking the opposition into confidence.
He said that PM Modi had anti-Pakistan mindset and he was suffering from war hysteria which had to be exposed before the world and countered at all fronts.
"The Indian forces along the Line of Control and the Working Boundary are continuously targeting civilian populations with artillery fire and automatic weapons, which is highly condemnable and sheer violation of international human rights and UN laws," he said.
Senator Malik urged the government to call an all-party conference and a joint sitting of parliament on all national issues and to discuss and formulate a "national action plan on Kashmir and foreign policy" and prepare a strategy on the country's "sick" economy.
The Senate will meet again on Monday at 3pm when the Army Act Amendment bill is most likely to be tabled in the houses.
https://www.dawn.com/news/1526178/sanjrani-asks-fm-to-brief-senate-on-me-developments-on-monday
------
URL: https://www.newageislam.com/islamic-world-news/muslim-jamaat-mosque-islamic-academy/d/120708
New Age Islam, Islam Online, Islamic Website, African Muslim News, Arab World News, South Asia News, Indian Muslim News, World Muslim News, Women in Islam, Islamic Feminism, Arab Women, Women In Arab, Islamophobia in America, Muslim Women in West, Islam Women and Feminism