New Age Islam News Bureau
1 March 2018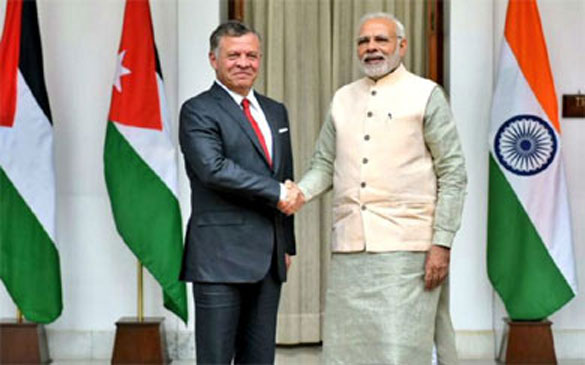 Prime Minister Narendra Modi with Jordan's King Abdullah II in New Delhi
----
• Muslim Intellectuals Divided on Islamic Heritage Conference Featuring Modi, Jordan King
• Maulana Abdul Aziz Keeps 'Martyr' Bin Laden Library, Vows Worldwide Sharia
• Bill Banning Circumcision in Iceland Alarms Religious Groups
• Ghani Offers To Recognise Taliban as Political Party
• Violence Divides CAR along Christian-Muslim Lines
• Britain Presses U.S. to Avoid Death Penalty for ISIS Suspects
India
• Muslim Intellectuals Divided on Islamic Heritage Conference Featuring Modi, Jordan King
• Syed Wasim Rizvi Asked AIMPLB to Hand Over Nine Medieval Period Mosques
• AMU Students Ask Kovind to Apologise For 2010 Remarks or Skip Convocation
• Looking for comprehensive cooperation with India: Moroccan diplomat
• Muslims hail PM Modi's foreign policy following Jordan King Abdullah's India visit
• Terrorist killed in encounter in J&K
• India, Israel discuss border security, terror threats
--------
Pakistan
• Maulana Abdul Aziz Keeps 'Martyr' Bin Laden Library, Vows Worldwide Sharia
• Fazlur Rehman Says West Trying To Eradicate Islam
• DC Swabi Bans Barbers from 'Un-Islamic' Act of Cutting Beards
• Afghan envoy, NSA Janjua discuss ongoing efforts for peace, stability in region
• Religious cleric at Madrasa allegedly raped student in Lahore
• Washington urges Delhi, Islamabad to hold talks
--------
Europe
• Bill Banning Circumcision in Iceland Alarms Religious Groups
• France's Latest Crackdown on Islamic Radicalization Marks U-turn from Previous Attempts
• Protesters rally after Iranian minister addresses UN rights body
• Protests planned next week against bin Salman's visit to UK
• Hundreds charged with online 'extremism' in Russia
• UN body terms Pakistani's detention at Gitmo illegal
--------
South Asia
• Ghani Offers To Recognise Taliban as Political Party
• Bangladesh's 'Toxic Politics' Creates Space for Militancy: New Study
• ISIS militants stone a man to death in Nangarhar province
• Ghani invites Taliban to peace talks with 7 key proposals
• Taliban abducts 19 bus passengers, policemen in Afghanistan
• Lets forget the past, start new chapter with Pakistan: Ghani
• US conduct more airstrikes on ISIS hideouts in East of Afghanistan
--------
Africa
• Violence Divides CAR along Christian-Muslim Lines
• Muslim Political Party Picks Jewish Man for Candidacy in Tunisian Municipal Election
• KDF, SNA kill 23 Al-Shabaab militants near Kenyan border in clash
• 13 dead in Christian-Muslim violence in Nigeria: Police
• Four UN troops killed in central Mali mine blast
• Civilians killed as groups clash in Libyan south
• Nigerian Christian community mourns Boko Haram kidnapping
--------
North America
• Britain Presses U.S. to Avoid Death Penalty for ISIS Suspects
• The World of the Fatimids Goes On Display in Toronto
• US civil rights groups decry 'anti-Muslim' bill in Idaho
• 17 years after 9/11, prohibitions in focus as pre-trial hearings begin
• ISIS becoming increasingly decentralized, US warns partners of threat
• Senators Sanders, Lee seek to end US role in Saudi war on Yemen
• Senator Ed Markey concerned as US mulls nuclear deal with Riyadh
--------
Southeast Asia
• Indonesia Hosts Rare 'Reconciliation' Meeting between Ex-Militants, Their Victims
• The Rise of Islamist Groups in Malaysia and Indonesia
• Baru Bian blasts death threats, insults over apostasy case
• Wounded priest in Indonesia forgives attacker
• Like Turkish Dissidents, Uighurs Too Face Deportation from Malaysia
--------
Mideast
• Turkey Wants To Walk With Africa: Erdogan
• 17 Houthis Killed, Dozens Injured In Sanaa Battles with Yemeni Army
• Amid Turkish Assault, Kurdish Forces Are Drawn Away From U.S. Fight with ISIS
• Lebanon's Hezbollah launches Syria war video game
• US, Britain, France, Germany condemn Iran, warn to stop arming Houthi militia
• Houthi prisoners reveal they were trained by Hezbollah experts
• Turkey court hands down additional 5 years in Ahmet Altan case
--------
Arab World
• Egypt Aborts Suicide Attack in Sinai, 11 Terrorists Killed
• Israeli Satellite Pictures Allegedly Show New Iranian Military Base in Syria
• Russia 'on wrong side of history' over Syria chemical weapons – US
• Popular Uprising against US Occupiers Reported in North-eastern Syria
• Militants, sponsors must act to make Syria truce work: Russia FM
• Ghouta Terrorists Continue Killing Civilians in Rocket Attacks on Damascus
• Syria: Al-Nusra Retreats Completely from Positions in Western Aleppo
• Syria denies possession of chemical weapons
Compiled by New Age Islam News Bureau
URL: https://www.newageislam.com/islamic-world-news/muslim-intellectuals-divided-islamic-heritage/d/114457
--------
Muslim Intellectuals Divided on Islamic Heritage Conference Featuring Modi, Jordan King
March 1, 2018
New Delhi: Emphasising on the Sufi-syncretic values of Islam, Prime Minister Narendra Modi on Thursday said the fight against terrorism and radicalisation was not against any religion, but against a mindset that misguides the young.
Addressing the 'Islamic Heritage: Promoting Understanding and Moderation' conference, Modi said, "Muslim youth in India had the Quran in one hand and a computer in the other. Youth are radicalized and violence is inflicted on the innocent. Together, we can fight terrorism."
The PM was speaking in the presence of Jordan's King Abdullah II who is known for his global initiative to fight radicalisation and terrorism in the name of religion and is also custodian of the Al-Aqsa mosque, the third holiest site in Islam, located in the Old City of Jerusalem. Speaking at the event, King Abdullah II said, "Ideologies of hate distort the word of God. Faith is supposed to draw humanity together."
Praising the PM's speech, Faiz ur Rahman, an independent researcher and secretary-general of the Chennai-based Islamic Forum for the Promotion of Moderate Thought, said, "Indian Islam is the best interpretation of Quranic Islam. Indian Muslims have always believed in Islam being syncretic. This conference is again the reiteration of that faith. Not long ago, the Prime Minister said that Indian Muslims are not at all radicalised."
He added that when the Modi government says there is no radicalisation among Indian Muslims, then there is also no room for talk of Love Jihad. "Islam in India is what real Islam is — syncretic and harmonious. It does not believe in compulsion or forcing religion on anyone. In fact, the whole narrative of Love Jihad falls flat on its face with no evidence to back it up with," he said.
Ali Khan Mahmudabad, Assistant Professor of political science in Ashoka University, however, said comparing Islam in India to Sufism is "divisive". To back up his claim, Mahmudabad recalled the World Sufi Forum of 2016 which brought people with a particular religious identity closer to the political power, earning them the mistrust of other members of the community.
"The way the BJP and the RSS talk about 'acceptable Islam' creates further divisions among Muslims. It brings a particular group closer to power, or at least creates the perception that they are aligned with the government. This is far removed from history as Sufis have always maintained a distance from political power. In fact, they often rose up in rebellion against imperial and tyrannical powers."
"Their views on radicalisation show their uni-dimensional understanding of terrorism. It is as much the result of socio-economic, political, geo-strategic, psychological and class factors as it is of religion. The approach of solely holding religion responsible for terrorism is reductionist and shows the shallow understanding such people have of modern-day terrorists and radical groups. Such an approach can never solve the problem and in fact will only exacerbate it," Mahmudabad added.
Disagreeing, Maulana Azad University Jodhpur V-C Akhtarul Wasey said the conference wasn't just about Sufi or Salafi Islam. "It had representatives from all streams of Islam — Barelvi, Salafi, Sunni etc. There was nothing about promoting any single philosophy of Islam. And all participants came together unanimously against terrorism, radicalisation and violence. In this global village, the only model of Islam which can be workable is that of India because Islam in India is basically operating for last one thousand years in multi-cultural set up. It is syncretic."
https://www.news18.com/news/india/muslim-intellectuals-divided-on-islamic-heritage-conference-featuring-modi-jordan-king-1676143.html
--------
Maulana Abdul Aziz keeps 'martyr' Bin Laden library, vows worldwide Sharia
Mar 1, 2018
ISLAMABAD: Maulana Mohammad Abdul Aziz is considered one of the most dangerous, yet influential, men in Pakistan.
And while his movements in the country are restricted by the government, the 57-year-old former head cleric of Islamabad's oldest mosque – Lal Masjid, better known as the Red Mosque – is still allowed to inspire new generations with his radical rhetoric.
"We don't see Pakistan anymore our destination, we will come out as a force to establish Islamic rule over the entire world," Aziz told Fox News last week in a telephone interview, from his Islamabad compound known as Jamia Hafsa, a seminary school that boasts around 1,500 girls and 2,000 boys. "You will see the change within 10 years – if you stay alive."
In the government's endeavour to root out terrorism, Aziz is banned from the mosque – which technically belongs to the state. But he and his wife continue to oversee teachings just a few miles away.
"We want Sharia within our country and I, along with my pupils, will go to any extent to implement Sharia – even at the cost of waging a war against the country coerced government," he declared.
Aziz has long been known for his inflammatory sermons, anti-American ideology, for sparking global jihadist movements and supporting designated terrorist groups. In 2014, he even named his school's library the "Martyr Usama Bin Laden Library" in honour of the former al Qaeda leader and 911 financier.
"Usama had good relations with my late father, thus we don't support the American narrative, declaring him a terrorist," Aziz said. "He did jihad, to implement Sharia around the world. So, for us, he is an Islamist warrior. We title our library after his name with audacity."
That chilling discourse may have hit close to the US homeland more than once.
Soon after the 2015 San Bernardino massacre, in which female assailant and ISIS supporter Tashfeen Malik and her American husband, Syed Rizwan Farouk, slaughtered 14 of his co-workers, reports emerged that the Pakistani-born, Saudi Arabia-raised woman had been a Red Mosque student under Aziz.
"I never met with her," Aziz claimed, before eventually acknowledging that they may have had an encounter as he has "many female followers". But if so, she would have been fully veiled, he said. "The United States is failing attempts to establish my link with that shooting."
But his links with violent movements are well documented.
Under Aziz's guidance at the Red Mosque in July 2007, scores of his baton-brandishing male and female students took to the streets outside. Video stores considered immoral were shuttered. Chinese women were abducted from a massage parlour they deemed to be a "brothel", threats were made to throw acid in the face of female university students nearby, and a government ministry building was torched.
Tensions escalated between the militant mosque devotees and Pakistani Army into a bloody 10-day standoff that left over 100 people dead, including Aziz's brother, mother and son. Aziz attempted to evade arrest by fleeing the chaotic scene disguised in a burka.
"I taught my students to stand against the corrupt system immobilising the country.
Pakistan has inherited the British system, solely non-believers," Aziz said of the incident. "I attempted to escape in a long veil with the consent of my martyred brother Abdul during the operation, and secondly, Islam supports this act to conceal oneself in a state of emergency."
After several months in custody following the siege, Aziz was released, but deposed as cleric and barred from the Red Mosque, which his nephew, Amir Siddique, now leads instead. But the firebrand cleric promptly set about building a new facility, Jamia Hafsa, close by.
The Pakistani government has – particularly in the wake of the 2014 Peshawar school slaughter – purported to squash terror-inspiring voices like Aziz. And many Pakistanis have expressed their staunch opposition to the extremist preacher.
Those actions against him come at a cost.
"Last time there was action against Mullah Aziz and his supporters at the Red Mosque, terrorism erupted in the northern parts of the country and eventually spread to other parts. So there remains a blowback in case of any severe action taken against him," explained Farrukh Khan Pitafi, an Islamabad-based columnist and television journalist. "The past few years there has been a cultural shift in the country and Aziz has struggled to find space on the national media. But it remains a work in progress. It is safe to assume that he is down but not out."
Jeff Smith, South Asia policy expert at the Heritage Foundation, pointed out further actions likely have not been taken against Aziz over concerns of retaliation.
"Aziz is highly critical of the Pakistani government but Islamabad knows he commands a sizable following and claim they have no legal grounds to arrest or convict him. Ultimately, they've decided it's best to avoid stirring the hornet's nest, even if means quietly allowing the swarm to proliferate," he said.
"Ideally, Pakistan would pass legislation or criminal justice reforms outlawing the type of hate speech espoused by Aziz and his ilk, and then deal with them through the appropriate legal mechanisms."
The Red Mosque did not respond for further comment regarding their current relationship with Aziz. But he asserted his ban comes as a result of "American and Indian influence" on Pakistan's leadership.
"As a prayer leader in the Red Mosque, people are in support of me," he insisted. "In the past, I have tried to enter but our frightened government called upon the Rangers to prevent me."
Nonetheless, Aziz's influence remains a cause for concern on an international scale. He denied being acquainted with any specific militant groups in war-ravaged Iraq and Syria, but said he "teaches a lot about jihad" to his many students who likely have gone "to join the noble in those countries".
But in his view, Afghanistan is the most noble of all.
"At present, there is no Muslim country left in the world which has a Sharia ruler – neither Saudi Arabia nor Pakistan," Aziz said. "I have found Afghanistan the only country in accordance with Sharia when the Taliban established its control over the land and I support those Taliban's to-date."
And according to Smith, Aziz still has significant influence.
"It is helpful to separate the 'bad guys' into two categories. There are those like the Haqqani Network that are actively and operationally involved in conducting terrorist targeting Afghanistan and US personnel and interests there; and then there are those espousing violent extremist ideologies, sowing the seeds of hatred and religious fundamentalism across Pakistani society," Smith added.
"Aziz very much falls into the latter camp and within the spectrum of radical Pakistani preachers remains a very prominent figure. While the first group poses the most immediate threat to the US and Afghanistan, it's arguably the latter group that's doing the most long-term damage in the all-important war of ideas."
https://www.pakistantoday.com.pk/2018/03/01/maulana-abdul-aziz-keeps-martyr-bin-laden-library-vows-worldwide-sharia/
--------
Bill Banning Circumcision in Iceland Alarms Religious Groups
By CHRISTINA CARON
FEB. 28, 2018
A bill in Iceland that could make it a crime to circumcise infant boys for nonmedical reasons is drawing strong support from hundreds of doctors and nurses there, and criticism from religious leaders.
Ahmad Seddeeq, the imam of the Islamic Cultural Center of Iceland, called it "a contravention to the religious rights of freedom" that criminalizes a centuries-old tradition.
The bill, introduced this month by four political parties, uses the same wording as a 2005 Icelandic law banning female genital mutilation, changing the word "girls" to "children," Silja Dogg Gunnarsdottir of the centrist Progressive Party, said in an email. Those who violate the ban could be imprisoned for up to six years.
While many children do not have complications from circumcision, she said, "one is too many if the procedure is unnecessary."
Religious organizations say that is a weak argument.
"I think they should also propose that parents should not take the children skiing — or pierce their ears," said Rabbi Pinchas Goldschmidt, the president of the Conference of European Rabbis.
Ms. Gunnarsdottir insisted that the bill was not "against religion." She and her colleagues chose to focus on circumcision, she said, because the United Nations Convention on the Rights of the Child states that children who are capable of forming their own views have the right to "express those views freely."It also says that countries should ban practices prejudicial to the health of children, she said.
"In my opinion, we should never ever violate the human right of a child or cause a child an unnecessary harm, doesn't matter what the intentions are," Ms. Gunnarsdottir said.
But organizations representing Muslims and Jews, which practice male circumcision as a matter of religious tradition, are questioning the lawmakers' motives. The Roman Catholic Church in the European Union has also objected that the legislation is an attack on religious freedom. Most Icelanders who profess a religious faith identify themselves as Lutherans.
The bill is perceived as an anti-immigration issue directed against Muslims, Rabbi Goldschmidt said, and "we the Jews are the collateral damage."
It is "basically saying that Jews are not anymore welcome in Iceland," he said.
At least 400 doctors — about a quarter of the practicing doctors in Iceland — have signed a petition in support of the bill and, according to news reports, more than 1,000 nurses and midwives have also endorsed it.
"Every medical intervention must be weighed against its complications," said Dr. Eyjolfur Thorkelsson, who wrote the petition. "In our opinion it's a fundamental question about what the doctor-patient relationship really means. As a doctor you must treat everybody equally, regardless of class, religion, gender, gender preference or ethnic descent."
Part of that, he added, is the first rule of medicine: Do no harm.
Circumcision is a surgical procedure, he said, and surgical procedures are never without risk.
"You have to weigh the costs," he said.
Kjartan Njalsson, an editor at the Icelandic news organization Frettabladid who wrote an editorial opposing the bill, said that while he didn't agree with circumcision, the idea of throwing people in prison was "barbaric" and "completely absurd."
"I have no confidence that this bill will be passed the way it looks right now," he said.
If a version of the bill does pass, Iceland will become the first European country to ban male circumcision.
And activists in Denmark are hoping to follow suit.
As of Wednesday, the organization Intact Denmark had gathered nearly half of the required 50,000 signatures to create a bill that would ban medically unnecessary male circumcision before the age of 18.
In Iceland, there are about 250 Jewish citizens and about 2,000 Muslims, religious leaders said.
By contrast, there are hundreds of thousands of Muslims in Denmark, according to the Danish government, and more than 20 recognized Islamic communities.
The push to curb circumcision has been brewing in parts of Europe for several years. In 2012, a regional court in Germany started an uproar after ruling that circumcising young boys represents grievous bodily harm in a case that centered on a 4-year-old who had complications from the procedure. (Later that year German lawmakers passed legislation ensuring the right to circumcision.)
In 2013, representatives from Finland, Iceland, Denmark, Sweden, Norway and Greenland released a joint resolution urging their governments to ban circumcision in young boys when there is no medical reason for it.
And more recently, the Danish Medical Association issued a recommendation in 2016 that no boy under the age of 18 should be circumcised and cited a poll indicating that as many as 87 percent of Danes agree.
Circumcision is rare in Iceland, as in much of Europe. It is difficult to find a doctor who is willing to perform one for religious reasons, said Imam Seddeeq, forcing Muslims to travel out of Iceland to uphold the tradition.
In the United States, the latest numbers from the Centers for Disease Control and Prevention show circumcision is on the decline, from about 64 percent of boys born in hospital settings in 1979 to 58 percent in 2010.
A study published in 2014 in JAMA Pediatrics, an American Medical Association journal, approximated that there were still 1.4 million circumcisions a year in medical settings.
The American Academy of Pediatrics said in a 2012 statement that the health benefits of circumcision outweighed the risks, but stopped short of recommending that the procedure be performed routinely. It was promptly criticized by a group of European doctors, who said the organization's recommendation was influenced by cultural bias.
Dr. Douglas Diekema, a pediatrician who helped draft the American academy's policy, said the data was clear. "You don't know that the individual child getting the circumcision will be the one that benefits, but some of those kids will," he said.
Clinical trials conducted in Africa have demonstrated that adult circumcision can play a role in preventing H.I.V., genital herpes and certain strains of human papilloma virus, or H.P.V., the C.D.C. reported.
Circumcision can also help prevent urinary tract infections in infants, Dr. Diekema said, avoiding hospitalizations and the use of intravenous antibiotics.
"It's a big deal in a newborn," he added.
The most common problems arising from circumcision are bleeding and infection, he said, but serious complications are "exceedingly rare."
The JAMA Pediatrics study found few adverse events if the procedure was performed during the first year of life — that number increased tenfold to twentyfold when circumcision was performed after infancy.
Circumcisions not performed in a medical setting, however, have raised concerns in the United States. New York City has tried to regulate a method of circumcision performed by the ultra-Orthodox Jewish community that has infected infants with herpes and caused deaths. The rule was challenged in court by Orthodox leaders and has seldom been followed.
The Icelandic Medical Association has yet to weigh in on the current bill. That will not happen until after the bill is debated by Parliament.
What the politicians should work on, Imam Seddeeq said, is how to make society "stronger and more cohesive" rather than making people feel that they are "not welcome."
https://www.nytimes.com/2018/02/28/world/europe/circumcision-ban-iceland.html
--------
Ghani Offers To Recognise Taliban as Political Party
March 01, 2018
KABUL - The Afghan government is willing to recognise the Taliban as a legitimate political party as part of a potential ceasefire agreement with the militant group, President Ashraf Ghani said Wednesday, days after the militia called for direct negotiations with the US.
"We're ready to restart talks about peace with Pakistan again and forget bitter experiences of the past and start a new chapter," he said at the start of an international conference in Kabul.
Ghani proposed starting talks without preconditions, opening the constitution for review and even helping the Taliban open a political office, though it's unclear if it would be located in Kabul or in another country. He also offered to reintegrate and help remove sanctions against Taliban members who engage in peace talks, denounce violence, recognise the Afghan government and respect the rule of law.
Ghani proposed a ceasefire and a release of prisoners as part of a range of options including new elections, involving the militants, and a constitutional review as part of a pact with the Taliban to end a conflict that last year alone killed or wounded more than 10,000 Afghan civilians.
"A ceasefire should be held, the Taliban should be recognised as a political party and trust-building process should be initiated," said Ghani, in remarks similar to past offers. "Now the decision is in your hands, accept peace... and let's bring stability to this country," he added.
In return, Ghani said the militants should officially recognise the Afghan government and the constitution, a perennial sticking point in past attempts to open talks.
Ghani said the Afghan government will provide passports and issue visas to Taliban members and their families and open an office for them in Kabul.
Ghani said the momentum for peace was building from neighbouring countries that increasingly saw the necessity of a stable Afghanistan. "The Taliban show awareness of these contextual shifts and seem to be engaged in a debate on the implications of acts of violence for their future," he said.
Ghani said the process would be accompanied by coordinated diplomatic support including a global effort to persuade neighbouring Pakistan, which Kabul has regularly accused of aiding the Taliban, of the advantages of a stable Afghanistan.
In a tweet last night about Wednesday's conference, Ghani had said: "I will present detailed peace offer to Taliban and Pakistan on behalf of the Afghan people. We wish to march toward a lasting peace in #Afghanistan and in the region!"
But the proposal in its current form could have trouble getting off the ground. A stipulation that women be part of the negotiations could prove to be a poison pill for a militant group whose fundamentalist interpretation of Islam has women treated as second-class citizens.
The United Nations mission in Afghanistan welcomed the offer and said it "strongly supports the vision for peace through intra-Afghan dialogue".
The Taliban have yet to respond through their official spokesman although one Taliban official, speaking on condition of anonymity, said it was being studied by senior Taliban leaders.
However the group's spokesman Zabiullah Mujahid maligned the Kabul Process, tweeting that the conference sought the Taliban's "surrender" at a time when it is "without a doubt a force that has defeated an international arrogant power like America with all its allies and tools at disposal".
The announcement could signify a growing rift between Kabul and Washington. Just last month, US President Donald Trump said the White House was not ready to talk with the Taliban, citing the terror group's continued use of violence.
Just hours after Ghani's proposal, the Taliban were accused of kidnapping 19 people, including five police officers, in the province of Kandahar, the region's police spokesperson Zia Durrani told CNN. The group did not immediately claim responsibility for the abduction.
On Monday the Taliban said they were prepared to enter direct talks with the US to find a "peaceful solution" to more than 16 years of war. Their statement however made no mention of negotiating with the Afghan government - a condition which the US has long stated was vital to any peace process.
Observers were cautious about the impact of Ghani's proposal, which includes offers previously made to the Taliban - though this is the first time they have been arranged in a "clean peace plan" and announced at a multi-national conference, noted Afghan political analyst Abdul Bari.
"The timing is important... the Taliban might reject the offer, as they have done in the past, but at least it seems the peace process (which) stopped for a while may get back on track," he told AFP.
Pakistani journalist and Taliban expert Rahimullah Yusufzai said the insurgents' leadership remained committed to the US-only position, but others in the movement were less dogmatic about talking with Kabul.
"There are some people among the Taliban who believe that they will have to negotiate with the Afghan government," said Yusufzai.
He added that the militants have suffered heavy casualties under the new US strategy of increased airstrikes and commando raids.
Despite the losses, Yusufzai said the group would continue the insurgency. "They derive their power from their ability to keep fighting," he said.
https://nation.com.pk/01-Mar-2018/ghani-offers-to-recognise-taliban-as-political-party
--------
Violence divides CAR along Christian-Muslim lines
by Catherine Wambua-Soi
Mar 1, 2018
Bria, Central African Republic - Ibrahim Alawad, a "general" in an armed group, is a portly man. He walks with a limp and carries a pistol tucked in the back of his trousers.
He has an easy smile and charisma that can easily draw you in. His limp, Alawad tells us, is from a bullet wound during fighting with a rival armed group.
Alawad sits here in Bria, a strategic territory in the eastern Central African Republic (CAR) that has the biggest diamond mines in the country.
The "general" is part of the Popular Front for the Renaissance of Central African Republic (FPRC), the largest of four armed groups that broke away from the defunct, Muslim-led Seleka rebel movement, a coalition of fighters who marched to the capital Bangui in 2013 and deposed Francois Bozize as president.
A hurriedly formed, largely Christian group called Anti-balaka countered ex-Seleka and overthrew Michel Djotodia, the man who was put in power after Bozize.
Since then, fighting has never really stopped. More than a million people have been displaced and half the population needs humanitarian aid.
Lawyer by profession
Alawad plays down his role in Bria but all his actions suggest that he is very much the man in charge.
He was educated at Cambridge University in the UK and is a lawyer by profession.
So what is a Cambridge-educated lawyer doing in this corner of CAR as a rebel?
Alawad puts it this way: He wants to save his fellow citizens from bad governance.
"CAR is rich in natural resources. You won't believe that before all this, monthly taxes from diamonds in Bria were about $12m," he told Al Jazeera.
"But look now, we have nothing. No proper schools, electricity clean water - nothing. Before marching to Bangui we had tried to talk to the government on how to help the people.
"We proposed sharing resources in a fair way. The government refused. Our problem is not to rule the country. We want to uplift Central Africans. We have a bad governance system that needs to be fixed."
Though the conflict has an element of religion, it's increasingly turning into a turf war, with armed groups splintering and fighting over mineral resources, trade, cattle and supply routes.
The groups form uneasy alliances across the ethnic and religious divides, but when they break up, civilians bear the consequences.
The worst of fighting
Bria has seen the worst of fighting in recent times. FPRC and the Anti-balaka group briefly united against a Fulani-dominated faction called Union for Peace for Central African Republic (UPC).
The UPC is another group that was once part of Seleka.
When it was defeated, members of the winning coalition turned on each other.
The United Nations Office for the Coordination of Humanitarian Affairs says at least 70,000 people have been displaced in Bria since fighting began at the end of 2016.
Most of the displaced Christians are now in a crowded camp for displaced people at the edge of town and right on the doorstep of a UN peacekeepers' base.
UN officials told us the camp is infiltrated by armed Anti-balaka men.
Alexi Zinga is among the young men in the camp suspected to be part of the group. He denied the claim and told us that, at the height of the conflict, if was not for the Anti-balaka's protection, the people in the camp would be dead.
"They protected us, but they are not here anymore."
Scared or unwilling
Other displaced people we tried to speak with were either too scared or unwilling to say anything about the allegations.
Displaced Muslims took shelter in the town centre, where the FPRC rebels have their main base.
Hundreds are still camped in the compound of the main hospital. The Fulani community also has its own enclave.
These are people who, before last year, lived side by side. Now the situation in Bria, as in so many other towns in CAR, has forced them to create their own ethnic and religious boundaries.
There was hope two years ago that the election of President Faustin-Archange Touadera would bring real change.
But Touadera has been unable to extend his authority beyond the capital, Bangui, and his government heavily relies on the UN Mission and other international partners.
The conflict is escalating and spreading to areas once considered relatively peaceful.
'Christian neighbourhood'
Since January, Bria has not seen the kind of violence witnessed last year, and some people are attempting to return to their homes.
Alawad explained to us that his fighters do not want to harm anyone, adding that those displaced should not be afraid.
Benoit Yanny took up that offer and is living in what is now a "Christian neighbourhood", very close to the camp for internally displaced people.
He told us that he is able to go to the Muslim-dominated market during the day but he must leave before nightfall. Yanny also said he does not trust the FPRC.
This is a drama that plays out in many other parts of the country: armed groups mostly fighting for control of "rich" territories; the UN peacekeeping mission and CAR national army overwhelmed; and people such as Yanny caught between the different forces. https://www.aljazeera.com/blogs/africa/2018/02/violence-divides-car-christian-muslim-lines-180228162354756.html
--------
Britain Presses U.S. to Avoid Death Penalty for ISIS Suspects
By ADAM GOLDMAN, ERIC SCHMITT and CHARLIE SAVAGE
FEB. 28, 2018
WASHINGTON — The British government wants the Trump administration to provide assurances that American prosecutors will not seek the death penalty against two British Islamic State suspects who were recently captured in Syria — and is threatening to withhold important evidence about them as leverage, according to officials familiar with the deliberations.
The British are also insisting that the United States promise to prosecute the two men in a civilian court, rather than taking them to the Guantánamo Bay wartime prison, the officials said.
The two men, Alexanda Kotey and El Shafee Elsheikh, are believed to be half of a cell of four British jihadists called the Beatles, who played a central role in torturing and killing Western hostages, including several Americans.
Mr. Kotey and Mr. Elsheikh were the last members of the group still at large until their recent capture in Syria by a Kurdish militia, which is holding them. Recently, the British defense secretary, Gavin Williamson, said his government did not want to take back the two men, who have been stripped of British citizenship, so the United States is expected to eventually take custody of them.
But the Trump administration is holding off on doing so until it figures out how it will handle them, according to several American officials. While the American military has interrogated Mr. Kotey and Mr. Elsheikh for intelligence purposes, it has not yet read them Miranda warnings and re-interviewed them in hopes of eliciting confessions that could be used as courtroom evidence.
Because the captors wore masks around hostages, some of whom survived, some courtroom evidence may consist of witnesses identifying at least one of the men by his voice, according to a former hostage and other people familiar with the F.B.I.'s long-running investigation. The British government has other information about the men's backgrounds, associations, radicalization, movements and activities that could significantly strengthen that case.
An official at the British Embassy in Washington declined to specifically address questions about Mr. Kotey and Mr. Elsheikh and whether London was seeking restrictions in the case, but said that the British government was working closely with the United States to ensure that justice is served.
"Where there is evidence that crimes have been committed, foreign fighters should be brought to justice in accordance with due legal process, regardless of their nationality," the official said. "We continue to work extremely closely with the U.S. government on this issue, sharing our views, as we do on a range of national security issues and in the context of our joint determination to tackle international terrorism and combat violent extremism."
A Justice Department spokesman declined to comment.
Britain has abolished the death penalty and, like many European countries, does not like the American policy of holding people indefinitely at Guantánamo. Its government negotiated with the Bush administration for the return of its citizens who had been taken there in the first few years of the prison operation.
President Trump recently issued an executive order to keep the Guantánamo prison open, although his administration so far has taken no new detainees there. Senator Lindsey Graham, a South Carolina Republican who is a proponent of using wartime detention for terrorism cases, has been pushing the administration to take Mr. Kotey and Mr. Elsheikh to Guantánamo.
But Defense Secretary Jim Mattis, whom Mr. Trump has tasked with leading a policy review about what to do with newly captured terrorism suspects, does not want the military to take on the headache of holding the men in long-term detention and prosecuting them in the troubled military commissions system, the officials said.
Mr. Mattis's reluctance, coupled with the British demands, means bringing Mr. Kotey and Mr. Elsheikh to American soil for civilian court prosecution is seen as far more likely. The Justice Department is now trying to decide whether the Southern District of New York or the Eastern District of Virginia would handle the prosecution, the officials said.
Some prosecutors and F.B.I. agents in New York have argued that they should get the case because their area of operations includes Western Europe, and the suspects are Londoners. But their counterparts in Virginia and the F.B.I.'s Washington Field Office have already been handling most of the casework related to the killings of American hostages in Syria, according to an official familiar with the deliberations.
In February 2016, for example, federal prosecutors in Virginia charged the wife of an Islamic State leader in the death of Kayla Mueller, an American, although the United States military transferred her to the Iraqi justice system.
Ms. Mueller was kidnapped in August 2013 and is believed to have been sexually abused by a leader of the Islamic State, which later said she died in an airstrike in early 2015. The British-accented captors tortured prisoners under their control, according to former hostages; Mr. Kotey is suspected of being a particularly brutal one whom the prisoners called George.
The parents of four Americans who were kidnapped by the Islamic State and abused in various ways before their killing — Ms. Mueller and three men who were beheaded, James Foley, Steven Sotloff and Peter Kassig — recently wrote an Op-Ed in The New York Times calling on the United States government to prosecute the suspects in civilian court and not to seek the death penalty.
"We want the world to know that we agree with the longstanding British government position that it would be a mistake to send killers like these to the military prison at Guantánamo Bay, or to seek the death penalty in court," they wrote.
"Either path would make them martyrs in the eyes of their fanatic, misled comrades in arms — the worst outcome," they added. "Instead, they should be tried in our fair and open legal system, or in a court of international justice, and then spend the rest of their lives in prison."
https://www.nytimes.com/2018/02/28/us/politics/britain-death-penalty-isis.html
--------
India
Syed Wasim Rizvi Asked AIMPLB to Hand Over Nine Medieval Period Mosques
01 March 2018
Chairman of UP Shia Central Waqf Board Syed Wasim Rizvi asked the All India Muslim Personal Law Board (AIMPLB) to hand over nine medieval period mosques constructed by Mughal kings after demolishing ancient Hindu temples.
Rizvi had earlier appealed to the AIMPLB to drop the claims of Muslims over the Babri mosque at Ayodhya and suggested that a new mosque `Masjid-e-Aman' be constructed elsewhere.
Posing a question before AIMPLB, Rizvi asked, "Does Islam permit the construction of mosques at the site of religious places of other faiths in a multi-religious country. Will such mosques be rightful places of worship as per basic tenets of Islam ?''
The Shia leader dashed off a letter to the AIMPLB wherein he gave a list of nine mosques which historians have proved, were constructed on the site of demolished temples. He also cited the Islamic Holy Scriptures saying, "It is a sin and not permissible in Islam to occupy religious places of other faiths and construct mosque over it. Prayers in such mosque are not accepted by the Allah."
In his letter, wherein the AIMPLB ws described as an `NGO' dominated by Islamic fundamentalist, Rizvi said, ``I know that you will reject my suggestion to hand over these mosques to Hindus since your organization is dominated by Islamic extremists. I wish to bring to your notice that Islam preaches that you should support truth and righteous issues.''
"I am writing to you since members (Mullahs) of your NGO are present in each state of India and they were well aware of basic tenets of Islam and they can help in building a consensus on this issue. I hope that AIMPLB will present this matter in the next meeting of its executive committee, 'said Rizvi.
In a three-page letter sent to AIMPLB chairman Maulana Rabe Hassan Nadvi on Tuesday, which was released in the media on Wednesday, Rizvi named mosques in Ayodhya, Mathura and Kashi Vishwanath temple in Varanasi where mosques were made on the land of temples. The letter said that these nine places should immediately be handed over to Hindus by the AIMPLB.
The nine places are Ram temple at Ayodhya, Keshav Dev temple at Mathura, Atala Dev temple at Jaunpur, Kashi Vishwanath temple in Varanasi, Rudra Mahalaya temple in Batana (Gujarat), Bhadrakali temple in Ahmedabad (Gujarat), Adina mosque in Pandua (West Bengal) Vijaya temple in Vidisha (Madhya Pradesh) and Kutuvul Islam mosque near Kutub Minar (Delhi).
The Shia Waqf Board chairman said Kutuvul Islam mosque and Kutub Minar were constructed from the debris of 27 Jain and Hindu temples
http://www.dailypioneer.com/state-editions/lucknow/syed-wasim-rizvi-asked-aimplb-to-hand-over-nine-medieval-period-mosques.html
--------
AMU Students Ask Kovind to Apologise For 2010 Remarks or Skip Convocation
Anuja Jaiswal
Mar 1, 2018
Agra: Controversy over the proposed visit of the President of India, Ramnath Kovind, to the convocation of Aligarh Muslim University on March 7 took a turn for the worst on Wednesday with the vice-president of the students' union, Sajad Subhan Rather, seeking an apology from Kovind for remarks he had allegedly made in the past. "If he (Kovind) fails to do that, he should stay away from the university," Rather, a Kashmiri student, said.
In a statement, Rather said either Kovind should accept his "mistake" and regret his 2010 statement that Islam and Christianity are alien to the nation or stay away from the convocation. Talking to the media, Rather said, "If something adverse happens during the visit then the VC and the President will themselves be responsible for it. Students are angry and dissatisfied with the President's visit due to his controversial statement regarding the community."
The students' leader added: "Either the President acknowledges that India belongs to all religions and everyone who lives here, Muslim, Hindu, Sikh or Christian, or he is not welcome on campus. If the BJP government really wants to maintain peace and if President Kovind is committed to peace and diversity, then he should openly retract his 2010 statement."
The AMUSU vice-president said Kovind's presence was not essential for the convocation ceremony. "There will be no benefit to the institution. The President has been invited by the VC due to his personal interests. The VC wants to send out a message that AMU has accepted the BJP government and their ideology," Rather alleged.
Full report at:
https://timesofindia.indiatimes.com/city/agra/amu-students-ask-kovind-to-apologise-for-2010-remarks-or-skip-convocation/articleshow/63116457.cms
--------
Looking for comprehensive cooperation with India: Moroccan diplomat
February 28, 2018
New Delhi, Feb 28 (PTI) Terming India a "crucial strategic partner", a top Moroccan diplomat today said the North African country is looking for comprehensive cooperation with New Delhi in a range of sectors, including security, economy and tourism.
Dr Assia Ben Salah Alaoui, the Ambassador at Large of Moroccan King Mohammed VI, said bilateral ties have strengthened since the two countries decided to elevate the ties to strategic partnership during the visit of Moroccan King Mohammed VI to India in 2015.
"India is a very crucial partner of Morocco and we are looking to have a comprehensive cooperation. India is an emerging power and the two countries have a huge potential for cooperation in many sectors like security, economy and tourism," Alaoui told PTI.
"Our ambition is to improve south-south cooperation so that we can have a common say in front of all world powers," she said on the sidelines of a seminar -- Moroccos security strategy: Preventing terrorism and countering extremism.
South?South Cooperation refers to exchange of resources, technology and knowledge between developing countries, also known as countries of the Global South.
Alaoui told envoys of Saudi Arabia, Senegal, Algeria and top Indian officials that south-south cooperation is enhancing and it can play a key role in countering terrorism.
"Moroccos innovations has enabled the Kingdom to diversify its strategic partnerships and enhance international security cooperation. It is playing an important role in fighting terrorism," she said.
Morocco and Spain have been closely associated in dismantling sleeper cells and arresting militants, Alaoui said, adding that Moroccan intelligence has been "extremely efficient" and successful in foiling certain terror attacks in Europe.
"The other international cooperation that is expanding is religious cooperation. It is probably one of the most successful cooperation," she said.
Full report at:
https://www.indiatoday.in/pti-feed/story/looking-for-comprehensive-cooperation-with-india-moroccan-diplomat-1179811-2018-02-28
--------
Muslims hail PM Modi's foreign policy following Jordan King Abdullah's India visit
Siraj Qureshi
February 28, 2018
Following the arrival of the King Abdullah of Jordan on a three-day visit to India on Tuesday, the Muslims have welcomed Modi government's "Look West" policy and said that mutual cooperation between India and the Gulf countries will go a long way towards eradicating terrorism based on radical Islam that is being exported by countries like Syria and Pakistan.
Talking to India Today, Bhartiya Muslim Vikas Parishad Chairman Sami Aghai said that Modi governments policies to involve the Gulf countries into a dialogue over radical Islam based terrorism is a major achievement for the country's foreign policy.
He said that the way the King of Jordan facilitated PM Modis Palestine visit and is now in India to continue the dialogue, it was clear that Jordan was interested in cooperating with India's government over ending the menace of international terrorism.
Aghai added that despite the apparent failure of a lot of economic policies, PM Modi excels in building relations with other nations and he has proved that during his recent Gulf visit, where he was welcomed in Jordan, Palestine, and Dubai.
Although the Muslims of India were not happy with Modi's Israel visit, he assuaged their grievances by visiting Palestine as well, Aghai added.
The King of Jordan has arrived in India where he will talk with Islamic scholars over improving understanding between religions and exercising moderation in dealing with matters of other religions, which is a major diplomatic win for the PM.
Commenting on the King of Jordan's visit, Syed Irfan Salim, Chairman of Sarvdaleey Muslim Action Committee said that it was a welcome move by the King of Jordan to visit India to further the discussion over the spread of radical terrorism as Jordan is a country that is already in a tough position, trying to prevent the spread of these terror groups into its borders.
He said that Jordan shares its borders with several troubled countries of the Gulf region, including Syria and Iraq, and without international cooperation over curbing the menace of terrorism, it will be difficult for Jordan to control the terror groups like Al-Queda and ISIS on its own.
He demanded that while he's here, the King of Jordan should also raise the issue of Israeli oppression of Palestine during his meeting with PM Modi and request India's mediation in resolving this political and humanitarian crisis in the region permanently.
Salim claimed that taking into view the excellent relations of India with both Palestine and Israel, it will not be a difficult feat for PM Modi to provide a neutral ground to the leaders of both countries to hold peace talks in India.
Hindustani Biradari Vice-Chairman Vishal Sharma said that the King of Jordan has already said in a recent meeting with Islamic scholars in Amman, which is popularly called the Amman Message, that true Islam forbids wanton aggression and terrorism, enjoins freedom of religion, peace, justice, and goodwill to non-Muslims.
Full report at:
https://www.indiatoday.in/india/story/muslims-hail-pm-modi-s-foreign-policy-following-jordan-king-abdullah-s-india-visit-1179451-2018-02-28
--------
Terrorist killed in encounter in J&K
Mar 1, 2018
SRINAGAR: A terrorist was on Thursday killed in an encounter with security forces in Hajin area of Bandipora district of Jammu and Kashmir, police said.
Security forces launched a cordon and search operation in village Shakurdin this morning following information about presence of terrorists there, a police official said.
He said the search operation turned into an encounter after terrorists opened fire towards security forces.
A terrorist has been killed in the operation.
https://timesofindia.indiatimes.com/india/terrorist-killed-in-encounter-in-jk/articleshow/63120277.cms
--------
India, Israel discuss border security, terror threats
Feb 28, 2018
NEW DELHI: Amid continuing cross-border firing and infiltration from Pakistan, India and Israel have discussed how to ensure foolproof security along the international border by using sophisticated technology, besides enhancing security cooperation, officials said.
The two-day meetings of the India-Israel joint steering committee on homeland and public security, which concluded today, also discussed how to step up cooperation to deal with the grave threat that terrorism poses, including by non-state actors, to peace and security.
India and Israel discussed threadbare how to ensure proper security along the international borders by using modern gadgets like electro-optical sensors and unmanned aerial vehicles (UAVs), a Home Ministry official said.
Following the September 2016 terror attack on an army camp in Uri, Israel had offered India its expertise for strengthening border fencing, stressing that the two countries share "similar challenges" on many fronts, including cross-border terrorism.
In a statement, the home ministry today said the objectives of the meetings were capacity building and modernisation in the police forces besides border management.
"Both sides agreed to work out the modalities to address these issues. The discussions were held in a friendly atmosphere and it was agreed to maintain sustained interactions to enhance security cooperation between the countries," it said.
The meeting follows the resolve of the prime ministers of both the countries to combat the grave threat that terrorism poses to peace and security including from non-state actors, and with an aim to enhance cooperation and boost the bilateral relations, the statement said.
Israel's Ambassador to India Daniel Carmon, who led the Israeli delegation, tweeted: "Just concluded 2successful days of #Homeland and #PublicSecurity ,#steeringcommittee, #workinggroups ,w/field trips near #Delhi.Strong participation of #MHA & #InterMinisterial teams from both countries.We can all be very proud of our respective pros & experts".
The Indian team was headed by additional secretary in the home ministry T V S N Prasad.
During a trip to Israel in 2014, Home Minister Rajnath Singh had visited one of the border out-posts in Gaza and praised that country's border management plans.
Israel is now using electro-optical sensors to collect information via UAVs, an official said.
Sensors are used to collect data and information from towers along borders. The sensors were integrated with a command and control room operated by an officer, who directs the Israeli special forces in order to mitigate incoming threats.
There were 515 infiltration incidents in Jammu and Kashmir in 2017 in which 75 militants were killed. In 2016, there were 454 cases of infiltration in which 45 militants were killed.
In January alone, eight civilians and six security personnel were killed and around 70 injured in ceasefire violations by Pakistan troops along Indo-Pak border in Jammu region.
Pakistani troops carried out intense shelling along the IB in Jammu, Kathua and Samba districts and from across the LoC in Poonch and Rajouri districts from January 18 to 22.
Full report at:
https://timesofindia.indiatimes.com/india/india-israel-discuss-border-security-terror-threats/articleshow/63114321.cms
--------
Pakistan
Fazlur Rehman says west trying to eradicate Islam
Mar 1, 2018
PESHAWAR: Jamiat Ulema-e-Islam (Fazl) chief Maulana Fazlur Rehman Wednesday said that the West is pursuing an agenda of eradicating Islam, calling for institutions to change their line of thinking.
Addressing the party's youth convention here, the JUI-F chief said that the establishment and the bureaucracy should know that the United States (US) is pursuing the agenda of eliminating Islam.
He went on to say that the influence of immoral civilizations must be halted and the Pakistani youth was not a product of a depraved society. He told the youth to be ready to take stern decisions.
"There is a reason behind our silence. The seminaries are ready to come under national ambit when the rulers come under Islamic ambit," Fazl said.
Taking a jibe at the Khyber Pakhtunkhwa (KP) government, the JUI-F leader said that the provincial government gives Rs30,000 to singers, but have promised only Rs10,000 to the mosque clerics. "The clerics have rejected their money," he said.
The JUI-F leader said that it was the US' desire to minimise the role of religious seminaries after 9/11. He criticised Darul Uloom Jamia Haqqania for taking monetary grants from the KP government.
"It is commonly known that people give money to get tickets to contest elections but it's interesting to see that the Darul Uloom Haqqania is getting both the ticket and the money," he said and added, "They are now not eligible to request for donations from the people."
https://www.pakistantoday.com.pk/2018/02/28/fazlur-rehman-says-west-trying-to-eradicate-islam/
--------
DC Swabi Bans Barbers from 'Un-Islamic' Act of Cutting Beards
BY ABDULLAH NIAZI
Mar 1, 2018
LAHORE: The office of the Deputy Commissioner Swabi has apparently issued a notification warning the district's barbers to not cut or shape beards into different designs as it is against "Islamic Sharia rules."
The notification, signed and stamped by an unnamed Additional Deputy Commissioner, reads "Barbers of district Swabi are hereby strictly warned to not make any sorts of designs on beards as this is against Islamic injunctions, because of which there is a complete ban on fashioning beards into different designs."
A picture of the notice was posted on the official Facebook page of the DC Swabi, where it gained serious traction on social media. However, after a lot of backlash, the Facebook post was taken down.
The notice also carried apparent warning ending on the lines "the disobedience of this order will result in strict action against the offenders."
Speaking to Pakistan Today, officials of the DC office in Swabi said that they were not aware of any such notice and speculated that it could only be a fake.
"We were discussing the letter today and concluded that it must be a fake, however, we have no idea why or how such a directive could be given."
Full report at:
https://www.pakistantoday.com.pk/2018/02/28/dc-swabi-bans-barbers-from-unislamic-act-of-cutting-beards/
--------
Afghan envoy, NSA Janjua discuss ongoing efforts for peace, stability in region
Mar 1, 2018
ISLAMABAD: The Ambassador of Afghanistan in Islamabad Omar Zakhilwal called on National Security Adviser Lt General (retd) Nasser Khan Janjua on Wednesday to exchange views on bilateral relations and ongoing efforts for peace and stability in the region.
The NSA received the envoy with great warmth and cordiality.
Ambassador Zakhilwal briefed NSA on today's international peace conference in Kabul. He informed that Afghan President Ashraf Ghani had given a message of peace and reconciliation to Taliban, together with a message of closer engagement and cordial relations with Pakistan, with a view to promoting peace, stability and prosperity in the region.
He hoped that being the closest neighbour of Afghanistan, Islamabad would make its due contribution to the process which would help both the countries.
NSA told that Pakistan wanted an early closure to the internecine bloodshed in brotherly Afghanistan.
"Peace in Afghanistan was essential for peace in Pakistan," he said. Pakistan believed in a vision of common and shared future with the people of Afghanistan, and that is why Pakistan had all along supported efforts for political reconciliation under international and regional peace initiatives."
He added that Islamabad welcomes Afghan president's offer of seeking peace through dialogue and understanding, and would do its best to facilitate the realisation of this noble initiative.
Full report at:
https://www.pakistantoday.com.pk/2018/02/28/afghan-envoy-nsa-janjua-discuss-ongoing-efforts-for-peace-stability-in-region/
--------
Religious cleric at Madrasa allegedly raped student in Lahore
Mar 1, 2018
LAHORE: A student from a Madrasa has levelled rape allegations against his teacher, a religious cleric in Johar Town area of Lahore, it was reported on Wednesday.
According to a first information report (FIR) filed at Nawab Town police station, a copy of which has gone viral on social media platforms, the boy approached and notified authorities that one of his religious teachers at the local seminary he studied at, had raped him twice, one year ago. The boy's age has not yet been confirmed.
The FIR has been registered under Section 377 of the Pakistan Penal Code (PPC).
The Section 377 of PPC states: "Whoever voluntarily has carnal intercourse against the order of nature with any man, woman or animal shall be punished with imprisonment for life, or with imprisonment of either description for a term which shall not be less than two years nor more than ten years, and shall also be liable to fine."
The suspected victim claims that the accused rapist had threatened him of sinister consequences in case anyone found out about the matter. He further informed the police that the accused had also attempted to abuse other children at the seminary.
The boy said that he had informed his elders including his father and a few teachers who then spoke to the accused; however, 'they either felt threatened or were convinced that the teacher was innocent'.
The FIR further mentions that the victim was fearfully sharing details of the incident given his age and the cleric's threats.
Full report at:
https://www.pakistantoday.com.pk/2018/02/28/religious-cleric-at-madrassah-allegedly-raped-student-in-lahore/
--------
Washington urges Delhi, Islamabad to hold talks
Anwar Iqbal
March 01, 2018
WASHINGTON: The United States has urged India and Pakistan to sit down and talk about the issues that increase tensions between South Asia's two nuclear-armed neighbours.
"We think that both sides would certainly have to sit down and have talks about that," said US State Department's Spokesperson Heather Nauert said when reminded at a Tuesday afternoon news briefing that cross-border shelling between India and Pakistan has continued unabated for the past several weeks.
The Indian media reported on Tuesday that Indian and Pakistani foreign secretaries may meet in Kabul this week on the sidelines of an international conference on Afghanistan, which began on Wednesday.
If it happens, this would be the first face-to-face meeting between senior officials of the two countries since December 2017, when Indian and Pakistani national security advisers met in Bangkok.
Responding to a question about the Kabul conference, Ms Nauert said the United States would participate in this meeting. "We're pretty enthusiastic about it, at least in terms of our participation and our long-term hopes for Afghanistan," she said.
Ms Nauert said although the conference was about Afghanistan, the participants would also talk about "the broader region," which included both Pakistan and India.
"We look forward to being a part of that meeting."
She noted that delegations from Afghanistan, India, and the United States met in the Afghan capital on Tuesday on the margins of the Kabul Process Conference for the fourth round of US-India-Afghanistan trilateral consultations.
Full report at:
https://www.dawn.com/news/1392449/washington-urges-delhi-islamabad-to-hold-talks
--------
Europe
France's latest crackdown on Islamic radicalization marks U-turn from previous attempts
February 28, 2018
PARIS — Rocked by a string of Islamist terror attacks capped by a deadly rampage in the heart of Paris in late 2015, French President Emmanuel Macron's administration this week set out tough new measures to crack down on Islamic radicalization in schools, prisons and online.
But hopes here that the new policies will work aren't high — it's the third such plan French officials have floated just in the past four years.
Amid fears that French-born recruits to Islamic State may be making their way home after the terror group's battlefield defeats, the state's multiple plans are seen as symbolic of France's struggles to deal with the largest Muslim population in Western Europe and to assimilate disaffected young Muslims into French society and culture. Since the first anti-radicalization plan was floated in 2014, militants have been blamed for the deaths of some 240 people in attacks in Paris, Nice and elsewhere.
This time, the authors insist, will be different.
"The new plan is much better because it addresses prevention," said Nathalie Goulet, a senator with the Centrist Union center-right parliamentary group. "Previous measures mostly focused on criminal regulation, which didn't solve the problem."
Without providing details on costs, the government will invest in training teachers to detect the early signs of radicalization among students and debunk conspiracy theories and fake news spread through social media, said Prime Minister Edouard Philippe in Lille, a city in northern France, when he announced the new policies on February 23.
"No one has a magic formula for 'de-radicalization' like you might de-install dangerous software," he said. "But in France and elsewhere there are good approaches to prevention and disengagement."
Conspiracies and false information are especially causing concern for Mr. Macron's centrist government.
Up to 30 percent of French youth between the ages of 18 and 24 don't believe that Islamist terrorists were responsible for the attack against satirical magazine Charlie Hebdo in January 2015 in Paris, according a study published in January by the Fondation Jean-Jaures and Conspiracy Watch. Twelve magazine staffers died in the attack.
The new measures will also introduce tighter regulations for private and religious schools, including Islamic schools whose number has grown rapidly in the last few years.
"While the state has to guarantee to parents the freedom to choose their children's education, it is absolutely essential that we understand that certain private schools, where there is literally very little control, have caused great damage by teaching an ideology that is in total contradiction with the values of the French Republic," said Simone Rodan Benzaquen, director of the American Jewish Committee in France. "Once these kids are 'radicalized,' it is very difficult to reverse the damage."
Prison focus
Though traditionally a Catholic country, France is a nonreligious republic where citizens are theoretically equal before the law regardless of their national origin, race or faith. An estimated 5.7 million Muslims live in the country, according to the Pew Research Center, although the strictly secular French census does not ask respondents about their religion, race or ethnicity.
For the first time, the government is also taking new steps to reform prisons that have become hotbeds of Islamist radicalization. Radicalized inmates were previously dispersed among other prisoners. Now they will be housed in separate, sealed-off areas to prevent the exchange of radical ideas.
French prisons currently hold 512 people charged with acts of terrorism, as well as over 1,100 inmates who have been identified as radicalized.
Cherif Kouachi, one of the gunmen who attacked Charlie Hebdo, and Ahmed Coulibaly, who killed four people at a Jewish supermarket four days after the Charlie Hebdo attack, first were exposed to radical Islamist ideas while serving sentences in French prisons, authorities say.
Inspired by similar initiatives in Denmark, French officials are also setting up three centers to screen jihadists and help reintegrate other French citizens who are coming back from ex-war zones in Syria and Iraq. According the U.S.-based Soufan Center, a think tank, more than 250 of the nearly 2,000 French nationals who went to the Middle East for fight for the Islamic State have made their way home, the third highest total of returnees in Europe behind Britain and Germany.
In addition, further investments are being slated for the psychological care of former fighters' children. According to government data, 68 children, most below the age of 13, have returned from former Islamic State-controlled areas. Another 500 are estimated to be still in the Middle East.
The latest measures mark a U-turn from previous security plans, which critics said lacked comprehensive strategies and failed to deal with the causes of radicalization.
The country's first and only de-radicalization center was shut down in 2017 after less than a year because it failed to attract volunteer participants. The center cost around $3 million.
Another de-radicalization program that had been outsourced to a non-governmental organization ended in failure when the group's former president received a suspended sentence for embezzlement of public funds.
The renewed anti-radicalization drive comes as Mr. Macron has proposed hardening France's immigration and asylum system.
Mr. Macron's legislation, which lawmakers will debate in the spring, aims to speed up the process for asylum requests, double to 90 days the time a person without papers can be kept in holding centers and criminalize illegal border crossings.
https://www.washingtontimes.com/news/2018/feb/28/france-cracks-down-islamic-radicalization-schools-/
--------
Protesters rally after Iranian minister addresses UN rights body
28 February 2018
As Iran's justice minister addressed the United Nations Human Rights Council on Tuesday, protesters rallied outside against the senior official who is on European Union and Swiss sanctions lists over alleged involvement in violations including arbitrary arrests and a rise in executions while he was president of the Tehran judiciary.
Alireza Avai was a senior judiciary official during the 1980s and the Mujahedin-e Khalq, an Iranian opposition group, accuses him of playing a role in the Islamic Republic's execution of thousands of political prisoners in 1988.
He said a recent reform of its drug laws should lead to fewer executions after the UN Secretary General said he remained alarmed about their high number - nearly 500 last year.
Attempts by Reuters to reach the Iranian foreign and justice ministries as well as its diplomatic mission in Geneva for comment were not successful.
About 100 demonstrators gathered outside the United Nations' European headquarters in Geneva to protest against Avai's participation in the rights council session.
Avai told the forum that in Iran, the Islamic penal code and criminal procedure code had been revised to be more efficient and safeguard the rights of the accused.
"In this context the counter-narcotics law was amended. As a result, executions related to drug crimes will decrease remarkably," he said. Iran is second only to China in its use of the death penalty, Amnesty International said last year.
UN Secretary-General Antonio Guterres voiced concern earlier on Tuesday at the high number of executions in Iran, persistent reports of the use of torture to coerce confessions, the killing of anti-government protesters last December, harassment of activists and closures of social media accounts.
Iran carried out at least 482 executions last year, including five people convicted of crimes committed under the age of 18, Guterres said in a report calling for a moratorium. The executions were mainly for drug-related offences and murder, and some for "sexual offences".
This compared with 530 executions in 2016, but Guterres said he remained "alarmed by the high number" of executions and death sentences issued by Iran's Revolutionary Courts. "Reports that drug offenders are often deprived of basic due process and fair trial rights continue to be received," his report said.
He also cited continuing reports pointing to "a pattern of physical or mental pressure applied upon prisoners to coerce confessions, some of them televised.
Full report at:
https://english.alarabiya.net/en/News/world/2018/02/28/Protesters-rally-after-Iranian-minister-addresses-UN-rights-body.html
--------
Protests planned next week against bin Salman's visit to UK
Feb 28, 2018
High-profile campaign groups plan to hold protests in London next week against a visit to Britain by the powerful Saudi crown prince to raise alarm over Riyadh's war crimes in Yemen and its human rights record.
The protesters will gather outside Downing Street next Wednesday, when Mohammed bin Salman arrives in the UK to meet with Prime Minister Theresa May.
Among the organizers are the Campaign Against Arms Trade (CAAT) and Stop the War Coalition, which counts Shadow Home Secretary Diane Abbott among their patrons, Sky News reported on Wednesday.
The activists have urged the premier to "show some backbone" over Saudi Arabia's human rights violations and end Britain's arms sales to the kingdom, which has been engaged in a deadly war against Yemen over the past three years.
The UK has increased its weapons sales by around 500 percent since the onset of the deadly Saudi military campaign that has killed some 13,600 people in Yemen so far, The Independent reported last November.
The military equipment sold to the kingdom ever since, including warplanes, precision-guided bombs, and missiles, are worth more than $6.4 billion.
CAAT's Andrew Smith said, "The Crown Prince should never have been invited to Downing Street: He leads a regime with an appalling human rights record and has overseen the destruction of Yemen."
May, he added, "is putting the interests of arms dealers above the rights of Yemeni people."
Amnesty International UK's Director, Kate Allen, also said, "Time and time again, UK ministers have turned a blind eye to Saudi Arabia's atrocious human rights record - barely mentioning the country's crackdown on peaceful opposition figures, or the alarming prevalence of torture, unfair trials and grisly executions."
"Ahead of Mohammed bin Salman's visit, Theresa May must finally do the right thing over UK arms sales - suspending all arms exports to Saudi Arabia while there's any risk they'll be used by the Saudi-led coalition to bomb civilians or enforce the crippling blockade in Yemen," she said.
Speaking about their upcoming talks, however, May did not sound critical of Riyadh's actions, and claimed that the two sides would openly address the regional situation.
"Saudi Arabia is changing," she said, referring to the "reforms" bin Salman is making at home. "Our strong relationship with Saudi Arabia enables us to talk frankly and constructively about issues where we both have concerns, such as regional security and the conflict and humanitarian situation in Yemen."
The CAAT organized a protest in front of the Saudi Embassy in London earlier in the month to shame the British authorities over their Saudi arms sales.
On February 1, the Middle East Eye (MEE) news portal said Salman's UK visit was to be delayed amid fears of negative media coverage and popular protests.
Full report at:
http://www.presstv.com/Detail/2018/02/28/553856/Saudi-Arabia-UK-Salman-May-Yemen
--------
Hundreds charged with online 'extremism' in Russia
Feb 28, 2018
More than 200 people were convicted for promoting "extremist" messages online last year, a Russian NGO said Wednesday, as it condemned the application of a law it said was infringing on free speech.
According to the yearly report by the Sova Centre, which specializes in studying xenophobia, 228 people were convicted under the "extremist propaganda" law in Russia last year -- up from 220 people in 2016 -- and 47 were given jail sentences.
Almost all convictions related to pictures, videos or messages posted online, the NGO said, adding it was possible the law was a pretext to enforce "political repression".
"The fight against extremism is growing, restricting freedom of speech. These restrictions are often applied too widely," it said in a statement.
Sova said that the list of banned "extremist" publications was updated 33 times over the course of the last year.
The list includes historical and opposition publications.
Last August a Russian court jailed an investigative journalist for three and a half years, in a case denounced by media rights activists.
Alexander Sokolov was arrested on suspicion of participating in a banned extremist group.
Full report at:
http://www.presstv.com/Detail/2018/02/28/553912/Russia-Online-Extremism
--------
UN body terms Pakistani's detention at Gitmo illegal
March 01, 2018
GENEVA: A Pakistani man held at the US Guantanamo Bay detention facility since 2006 should be released immediately and given a right to compensation, the UN Working Group on Arbitrary Detention said on Wednesday.
The detention of Ammar al-Baluchi is arbitrary, breaches international human rights law and has no legal basis, said a written opinion by the group of five independent experts, who report to the UN Human Rights Council.
Al-Baluchi, a Kuwaiti-born Pakistani citizen also known as Abdul Aziz Ali, is the nephew and an alleged co-conspirator of Khalid Sheikh Mohammed, the accused mastermind of the Sept 11, 2001, attacks.
"Mr al-Baluchi has been subject to prolonged detention on discriminatory grounds and has not been afforded equality of arms in terms of having adequate facilities for the preparation of his defence under the same conditions as the prosecution," the experts said.
The US judicial system normally affords detainees guarantees of due process and a fair trial, but he had been denied those rights, an act of discrimination based on his status as a foreign national and his religion, they said.
His detention contravened at least 13 articles of the Universal Declaration of Human Rights and International Covenant on Civil and Political Rights, the group added.
The five members of the group are Jos Antonio Gue­vara Bermdez from Mexico, Elina Steinerte from Latvia, Leigh Toomey from Aus­tralia, Seong-Phil Hong from South Korea and Stondji Roland Adjovi from Benin.
In December, another expert mandated by the UN Human Rights Council, the UN special rapporteur on torture Nils Melzer, said he had information that al-Baluchi was still being tortured, years after Washington banned "enhanced interrogation techniques".
A Pentagon spokesman said at the time that the allegation was not true, and such claims had been investigated on several occasions, and no credible evidence had been found.
The prison, which was opened by President George W. Bush to hold terrorism suspects captured overseas after the 9/11 attacks, came to symbolise harsh detention practices that opened the United States to accusations of torture. His successor Barack Obama reduced the inmate population to 41, but fell short of fulfilling his promise to close the jail.
President Donald Trump asked Congress last year for funds to upgrade the jail, having said during his electoral campaign that he wanted to "load it up with some bad dudes".
Full report at:
https://www.dawn.com/news/1392455/un-body-terms-pakistanis-detention-at-gitmo-illegal
--------
South Asia
Bangladesh's 'Toxic Politics' Creates Space for Militancy: New Study
2018-02-28
Political polarization has reached "historic highs" in Bangladesh and constant antagonism between rival parties has helped enable a resurgent militant threat with a general election looming, the International Crisis Group (ICG) said in a study released Wednesday.
The country's poisonous politics has allowed a resurgence of religious extremism led by two groups, Jamaat-ul Mujahideen Bangladesh (JMB) and Ansar al-Islam, also known as Ansarullah Bangla Team, according to Brussels-based ICG.
"While there is no direct line between toxic politics and the rise of jihadist violence, a bitterly divided polity, between those espousing secularism and those emphasizing Bangladesh's Muslim identity, and a brutal and highly partisan policing and justice system, nonetheless has opened space for jihadist groups," said ICG, a group that researches conflicts and security-related issues around the globe.
"Without a change of course – and particularly if the December elections trigger a crisis similar to that around previous polls – the country could face another jihadist resurgence," ICG said.
Bangladesh Home Minister Asaduzzaman Khan Kamal played down the report, saying his country's security forces had virtually eliminated the militant threat by launching a crackdown that killed scores of suspected militants since terrorists carried out a massacre of hostages at a café in Dhaka in July 2016.
"We have broken their backbone. They can stand no more," he told BenarNews. "We, our intelligence agencies, have been alert and vigilant. There will no place for the militants.
Indiscriminate force
The study by ICG pointed to the 2014 general election where the Awami League maintained power after main rival Bangladesh Nationalist Party (BNP) boycotted the polls, because Prime Minister Sheikh Hasina had refused to let a caretaker administration govern during election season, as required by the constitution.
Since then, it said Awami League had taken steps to marginalize the opposition through the conviction and prison sentence against BNP leader former Prime Minister Khaleda Zia and legal actions against Jamaat-e-Islami (JeI), Bangladesh's largest faith-based political party.
"To make matters worse, Awami League leaders have exploited the threat to further discredit BNP and JeI, accusing them of complicity in high-profile attacks," ICG said.
Minister Khan said there would be no boycotts this year because all legal political parties would be involved in polls.
"There will be no threat of militancy," he said.
Khan praised police, the Rapid Action Battalion and other law enforcing agencies for stopping militants from operating in Bangladesh. He blamed JeI and its student wing, Islami Chhatra Shibir, for being responsible for militant acts.
"These Jamaat-Shibir act sometimes as the JMB, sometimes as Neo-JMB, sometimes as Ansar al-Islam," he said.
But according to ICG, the government's use of blunt indiscriminate force in cracking on militancy, including carrying out enforced disappearances and extrajudicial killings that eliminated large numbers of jihadists and weakened militant groups, was counter-productive.
"[T]he government should adopt a counter-terrorism strategy anchored in reformed criminal justice and better intelligence gathering. Rather than cracking down on rivals, it should forge a broad social and political consensus on how to confront the threat," its report said.
Militants can exploit situation: Bangladeshi expert
Reacting to the ICG report, security analyst retired-Brig. Gen. Sakhawat Hossain warned that politics indeed can breed militancy if JeI is shut out of the electoral process.
"I do not want to express extreme views like the International Crisis Group, but it is true that the militants could exploit the absence of democratic system," he said.
"They command at least 4 percent of the total popular vote. If JeI cannot take part in the next general elections, they could go berserk," he said. "If 1 percent of the JeI workers turned militant, the situation would be very bad and could get out of government control."
He said pre-emptive strikes by law enforcers against militant groups brought temporary relief to Bangladesh. ICG noted in its report that there were no major militant attacks in 2017.
"But we have to guarantee good governance through a healthy democratic system to counter militancy," Hossain said. "So we hope that all political parties take part in the next general election and the country's democratic system continues."
Recommendations from ICG
ICG offered suggestions to government and opposition leaders to ensure peace in Bangladesh.
"Ending the deadlock is even more urgent today as Bangladesh confronts a new generation of potentially more dangerous jihadists with apparent links to transnational terror groups such as ISIS," ICG said, referring to the Islamic State.
"Instead, Sheikh Hasina's government has made no serious attempt to reconcile with the mainstream opposition, opting instead to waste police resources on repression of opponents," it said, adding the choice undermined democracy and security.
"Another breakdown of law and order would almost certainly play into the hands of groups like Ansar and JMB. If the government does not change course, such forces may experience another resurgence," ICG said.
https://www.benarnews.org/english/news/bengali/politics-militancy-02282018165111.html
--------
ISIS militants stone a man to death in Nangarhar province
Mar 01 2018
Militants affiliated with the Islamic State of Iraq and Syria (ISIS) terrorist group have stoned a man to death in eastern Nangarhar province of Afghanistan.
The loyalists of the terror group have released a statement online claiming that the man was executed after he was found guilty of adultery.
The group claims that the man had illicit sexual relations with another woman despite he was married.
This is not the first time the loyalists of the terror group are executing the ordinary civilians in Afghanistan.
The loyalists of the terror group beheaded two men on charges of having links with the Taliban group and spying for the government in eastern Nangarhar province nearly ten days ago.
The loyalists of the terror group also published the photographs of the two men on social media.
In online statement posted in Arabic, the group claims that the two men have been beheaded in eastern Nangarhar province.
Full report at:
https://www.khaama.com/isis-militants-stone-a-man-to-death-in-nangarhar-province-04557
--------
Ghani invites Taliban to peace talks with 7 key proposals
Feb 28 2018
President Mohammad Ashraf Ghani on Wednesday invited Taliban to peace talks as he disclosed the government's seven key proposals to the group for reconciliation.
Speaking during the Kabul Process II conference in Kabul, President Ghani said the government is prepared to hold talks with the Taliban group.
President Ghani's proposals to the Taliban group included recognition of the insurgent as a political party.
The other proposals to the Taliban included cease fire, transitional confidence building and paving the way for the widespread elections, revision of the constitution of Afghanistan, justice and review of the complaints, and implementation of the law.
He also proposed release of the prisoners and removal of the group from the sanctions list, security of the citizens of the country, economic and social development, development, and support of the international community.
Full report at:
https://www.khaama.com/ghani-invites-taliban-to-peace-talks-with-7-key-proposals-04556
--------
Taliban abducts 19 bus passengers, policemen in Afghanistan
February 28, 2018
At least 19 people including bus passengers and policemen were abducted by Taliban from a check post on the Kandahar-Uruzgan highway on Wednesday morning, local officials said, reported Tolo News.
Kandahar Police Chief Gen. Abdul Raziq said the incident took place in Chora district of Uruzgan but that efforts are being made to secure the release of the hostages.
He said among the hostages are policemen . He did not however give details on how many civilians or how many policemen were abducted.
Raziq said the policemen were captured after a clash with the Taliban .
A source from Kandahar police said the incident started when a group of Taliban wearing ANA uniforms attacked a police check post along the highway and killed five policemen and wounded four others. The Taliban then stopped the bus and pulled passengers off.
Full report at:
https://nation.com.pk/28-Feb-2018/taliban-abducts-19-bus-passengers-policemen-in-afghanistan
--------
Lets forget the past, start new chapter with Pakistan: Ghani
February 28, 2018
President Ashraf Ghani officially opened the second Kabul Process meeting in the Afghan capital on Wednesday and said peace needs to be sought with the Taliban in order for them to become a political group, reported Tolo News.
Ghani said the peace process, and a ceasefire must be agreed upon with the Taliban.
"The Afghan government must be accepting and we will also work on the list of freeing Taliban prisoners", he said.
Ghani also called on Pakistan to hold talks government to government and said: "We will be ready to starts talks with Pakistan and forget the past and start a new chapter."
Ghani sent a strong message to the Taliban however, and said today peace is in their hands. He called on the group to accept the offer and to join the peace process and together with Afghanistan "save the country".
Ghani also announced the Afghan government will provide passports to Taliban members and their families and will issue visas, open an office for them - even in Kabul - and will also work to remove sanctions against Taliban leaders.
Earlier in his speech Ghani said Afghanistan is determined to overcome the current threats and expand shared interests and grasp opportunities.
Ghani thanked delegates from all the countries in attendance for their support over peace in Afghanistan and said the threats are increasing and the enemies of Afghanistan are transnational criminals.
He went on to say the Afghan government and the international community have analyzed the scale and scope of the threat and drafted numerous resolutions and agreements to address the threat, but consensus is still needed to take coordinated action among states to counter the threat.
He told delegates: "Your presence here is a visible reminder that we are an international community united not only by shared threats, but shared interests and shared opportunities."
Ghani thanked Turkmenistan, Uzbekistan, Turkey and other countries who are cooperating in economic projects with Afghanistan. "Our economic cooperation with Russia and China is also increasing," he said.
The president said Afghanistan's sense of justice is derived from its Islamic faith, culture and civilization. As a 99.9% Muslim country, faith has always united Afghans in the face of adversities and allowed the countrymen to overcome the seemingly impossible.
He stated that every Afghan, regardless of their ethnicity, is equal among Afghans and this sense of equality is rooted in the country's past, as every major city has served as a capital of an empire or a state through history.
Ghani said Afghanistan has never threatened any country and has also not let anyone use its soil to threaten another country.
He also said that contrary to the image portrayed of a land of "endless conflict", Afghanistan's history is one of long periods of peace and prosperity, punctuated by foreign invasions and subsequent rebuilding.
He also stated that Afghanistan plays an important role in Asia. Over 2,500 years of history and archeology shows that the country functioned not merely as a crossroad of civilizations but as a cross-road civilization.
Full report at:
https://nation.com.pk/28-Feb-2018/lets-forget-the-past-start-new-chapter-with-pakistan-ghani
--------
US conduct more airstrikes on ISIS hideouts in East of Afghanistan
Feb 28 2018
The US military has carried out more airstrikes on ISIS hideouts in eastern Nangarhar province of Afghanistan.
The 201st Silab Corps of the Afghan National Army in the East said the latest airstrikes were carried in Nazian district.
The source further added that the raids were carried out in Sah-e-Bar area and as a result one member of the terror group was killed.
The anti-government armed militant groups have not commented regarding the report so far.
Nangarhar has been among the relatively calm provinces in East of Afghanistan since the fall of the Taliban regime but the anti-government armed militant groups have been attempting to expand their insurgency activities in some of the remote parts of the province during the recent years.
Both the Taliban and militants affiliated with the Islamic State terror group have presence in some districts of Nangarhar
Full report at:
https://www.khaama.com/us-conduct-more-airstrikes-on-isis-hideouts-in-east-of-afghanistan-04555
--------
Africa
Muslim political party picks Jewish man for candidacy in Tunisian municipal election
Mar 1, 2018
The Tunisian Ennahda Party has made history in this northernmost African country by nominating its first Jewish candidate for public office. But in its effort to present itself as a liberal and modern party, Ennahda has sparked controversy in the mostly Muslim Mediterranean nation.
While Simon Salama lacks political experience or public prominence of any kind up to this point, the son of a sewing machine repairman is grateful for the support from Ennahda, admitting that he would have run under any party that supported him.
As reported by Israeli newspaper Haaretz, Salama wishes only to "serve the public of Monastir," the largest city in the Monastir Governorate of Tunisia.
Ennahda first received legitimacy as a major political party when it won a majority in the Tunisian Assembly in the 2011 Arab Spring. In what is regarded as a highly volatile period in the North African/Arab region, Tunisia stands as the only country to peacefully undergo a regime change.
Some, including former Ennahda activist Sheikh Khamis al-Majari, say such an action "flies in the face of Islamic law."
It still remains unclear what support Salama will be able to garner for one of the 7,182 municipal seats that nearly 57,000 candidates will tussle over. The country's roughly 2,000 Jews, most of whom live on the island of Djerba in the Gulf of Gabès, off the Tunisian coast, still face persecution.
In January, The Associated Press reported that Tunisian authorities had detained five people suspected of throwing Molotov cocktails at two synagogues in Djerba, including one that's 2,500 years old. The same synagogue was targeted in a 2002 extremist attack.
Municipal elections will take place in May, in what could be a historic day for the Arab nation.
http://www.foxnews.com/world/2018/02/28/muslim-political-party-picks-jewish-man-for-candidacy-in-tunisian-municipal-election.html
--------
KDF, SNA kill 23 Al-Shabaab militants near Kenyan border in clash
February 28th 2018
Combined joint task force of the Somali National Army (SNA) and Kenya Defense Forces (KDF) AMISOM contingent killed 23 members of Al-Shabaab terror group in Fahfahdun town situated in the South West prefecture of Gedo Province of Somalia. KDF conducted an assault targeting the new base of the terrorists in the outskirts of Fahfahdun town, reports say.
The militants withdrew from the positions they held in the area. An exchange of heavy weaponry that lasted four hours left 23 militants dead, three tactical vehicles with mounted machine guns destroyed, and light machine guns seized by the army. The militants were planning to use the base to conduct ambushes and attacks targeting the SNA and KDF troops in pacification mission in the region
On Sunday, unknown KDF personnel were injured when an armoured personnel carrier they were travelling in ran over a roadside explosive in Gedo region region on Sunday. The victims were flown to Nairobi. Local residents said the incident happened between El Wak town and Busar village, both located near Somalia's border with Kenya. The region is an Al-Shabaab hot-spot area where security vehicles have run over explosive devices in the past. KDF, which is part of Amisom troops in Somalia has started withdrawing from there as part of plans to leave some operations to Somali troops. KDF went to Somalia in October 2011. Kenya's incursion into southern Somalia started after the kidnapping of two Spanish women, who were working for MSF at the Dadaab refugee camp.
Full report at:
https://www.standardmedia.co.ke/article/2001271459/kdf-sna-kill-23-al-shabaab-militants-near-kenyan-border-in-clash
--------
13 dead in Christian-Muslim violence in Nigeria: Police
Feb 28, 2018
LAGOS : At least 13 people have been killed in clashes between Christian and Muslim youths in central Nigeria, police said today, in the latest violence to hit the region.
Fighting broke out on Monday in Kasuwan Magani community in Kaduna state, about 45 kilometres by road from the state capital, Kaduna city.
"The mayhem led to the death of 13 people with many houses and shops burnt," Kaduna state police commissioner Austin Iwar told AFP by telephone.
Local reports gave a higher death toll. Iwar said 20 suspects have been arrested, and troops and police had been deployed to quell the violence.
"The place is now calm. I was in the village yesterday to implore the community and traditional leaders to appeal to the warring youths to sheath their swords," he added.
An investigation has been launched into the incident.
"We don't want to jump into conclusion as to what led to the mayhem. The speculation was that some Christian boys were not happy that their girls are befriending Muslim boys," Iwar said.
Central Nigeria is where the country's mainly Muslim north meets it largely Christian south, and tensions between the two communities have frequently boiled over into deadly violence.
Full report at:
https://timesofindia.indiatimes.com/world/rest-of-world/13-dead-in-christian-muslim-violence-in-nigeria-police/articleshow/63110875.cms
--------
Four UN troops killed in central Mali mine blast
March 01, 2018
BAMAKO:- Four UN peacekeepers were killed on Wednesday when a mine exploded under their vehicle in central Mali in a deliberate attack, capping a bloody week for civilians and security forces in the West African nation. Jihadists have ramped up their activities in central Mali in recent months, targeting domestic and foreign forces in violence once confined to the restive north. The UN said in a statement that the "explosion of a mine or IED against a MINUSMA vehicle on the Boni-Douentza road" in the Mopti region killed the four peacekeepers and wounded four more.–AFP
The mission, known by the acronym MINUSMA, counts almost 11,000 peacekeepers and has been deployed in Mali since 2013 to counter a jihadist insurgency and general lawlessness.
Full report at:
https://nation.com.pk/01-Mar-2018/four-un-troops-killed-in-central-mali-mine-blast
--------
Civilians killed as groups clash in Libyan south
1 March 2018
BENGHAZI: Fighting between rival armed groups in the southern Libyan city of Sabha has left at least six civilians dead and wounded others, including women and children, a medical official said on Wednesday.
Sporadic clashes between the Sixth Division, which is attached to the eastern-based Libyan National Army (LNA), and rival fighters from the Tebu ethnic group, started around Feb. 4, said Osama Al-Wafi, a spokesman at Sabha's main hospital.
The LNA is aligned with a rival government based in Libya's east.
Sabha, about 660 km south of Tripoli, has been a hub for the smuggling of African migrants and other contraband toward Libya's Mediterranean coast. It has seen occasional bouts of fighting linked to the wider conflict that developed after the country's 2011 uprising.
The Sixth Division is largely composed of fighters from the Awlad Suleiman tribe. It is loyal to LNA leader Khalifa Haftar.
One civilian was killed on Wednesday and at least four people were wounded, including two fighters and a child, said Wafi. The hospital had also been hit by shelling though this had not caused casualties, he said.
Full report at:
http://www.arabnews.com/node/1256721/middle-east
--------
Nigerian Christian community mourns Boko Haram kidnapping
Feb 28, 2018
With 110 girls still missing after terrorist group Boko Haram attacked a technical college in Nigeria last week, a priest in the region says "deep sorrow has descended on the once sleepy…town."
On Feb. 19th, Boko Haram raided a girls' technical school in Dapchi, a small town in northeastern Nigeria. Witnesses said militants stormed the school and herded students into trucks.
"Boko Haram militants have ravaged Northeast Nigeria and other strategic targets in the country in their bid to implant an Islamic state," said Father Maurice Kwairanga, who coordinates the Justice, Development and Peace Commission (JDPC) for the Nigerian Diocese of Yola.
Corresponding with Catholic Relief Services, the priest said that this has left "many in this community…frustrated with no one to offer any support or explanations" in the wake of the most recent attack.
Boko Haram, a militant Islamist group whose name means "Western education is sinful," has carried out numerous attacks, suicide bombings, and kidnappings in recent years.
Based in northeastern Nigeria, Boko Haram launched an uprising in 2009 hoping to impose strict sharia law on Nigeria. It has been responsible for tens of thousands of deaths, targeting security forces, politicians, Christian minorities, and moderate Muslims in Nigeria's predominantly Muslim north. In 2015, the group pledged allegiance to ISIS.
A national search for the Dapchi students is currently underway. "The Nigerian security forces have now launched aerial surveillance and deployed special forces to help locate the abducted Dapchi schoolgirls," explained Kwairanga.
However, confidence in the government is "waning," the priest said. He noted that many of the girls kidnapped from Chibok Government Secondary School in 2014 remain missing, despite the #Bring Back Our Girls campaign that garnered the world's attention.
Boko Haram militants abducted 276 girls in that attack, and more than 100 are still missing.
Kwairanga said that many Nigerians have been disappointed by President Muhammadu Buhari's response to Boko Haram. The president took office in 2015, pledging to eradicate the terrorist group.
"Nigeria has a long way to go in ending insurgency," continued Kwairanga. "The insurgents might have been kicked out of their base in the dreaded Sambisa Forest but they have employed new tactics like suicide bombings, kidnappings and violent abductions on soft targets."
The group's violence has expanded beyond Nigeria. Catholic Relief Services' Nigeria representative, Rebecca Hallam, told Catholic News Agency, "Although Nigeria is bearing the brunt of the crisis, Boko Haram has been launching violent attacks in Niger, Chad and Cameroon too - CRS is working in all four countries, where attacks have displaced millions of people."
"In northeast Nigeria, Catholic Relief Services is helping meet the basic needs of those who have been forced to flee violence, and we're supporting people so they can rebuild their lives and livelihoods. We're providing vulnerable families with vouchers so they can purchase local food and household items, and we're also providing shelters and improved sanitation and hygiene services," Hallam continued.
Despite the tragedy Kwairanga's community in Northeastern Nigeria has faced, the priest remains hopeful. "It is our prayer and hope that the Dapchi schoolgirls and the Chibok girls still in the hands of Boko Haram will one day return to the loving arms of their parents and loved ones."
Pope Francis has assured Nigerians of his prayers. Earlier this week, the pope met with a Boko Haram abduction survivor in a private audience.
Full report at:
https://cruxnow.com/global-church/2018/02/28/nigerian-christian-community-mourns-boko-haram-kidnapping/
--------
North America
The World of the Fatimids goes on display in Toronto
28 Feb 2018
A collection of Fatimid artefacts from Cairo arrived in Toronto on Tuesday for inclusion in a temporary exhibition at the city's Aga Khan Museum.
The exhibition, titled The World of the Fatimids, will run from 10 March to 2 July, providing North America with its first display of carefully selected Fatimid artworks, according to the museum.
Elham Salah, head of the museums sector at the Egyptian Ministry of Antiquities, told Ahram Online that the museum has received eight wooden boxes containing a collection of 37 artefacts for the show.
The artefacts were carefully selected from the collection of the Museum of Islamic Art (MIA) in the Bab Al-Khalq area of Cairo. They reflect the history of the Fatimids, who "established one of the greatest civilisations in the world, influencing knowledge and culture throughout the Mediterranean, Europe, and the Near East," according to the Aga Khan Museum website.
Salah said that the ministry had taken all the necessary legal and administrative measures to ensure the safe transportation of the artefacts from Cairo to Canada, applying the latest techniques in packaging and transportation.
An archaeologist and a conservator from the ministry accompanied the artefacts to monitor them on their long journey and inspect them on arrival, said Salah.
Mamdouh Osman, general director of the MIA, said that the artefacts include a collection of clay pots, dishes with various foliage and animal decorations, and a wooden mihrab (niche) decorated with a two-line inscription in kufic script.
There are also a number of marble tombstones inscribed with kufic script reading: "This is the tomb of Hamzah ibn Ali and his descendant Al-Imam Ali Ibn Abi Talib," referring to the cousin of Prophet Mohamed.
Also among the artefacts are marble vases, copper lamps and chandeliers with kufic script, and other objects in rock crystal, ivory and ceramic.
The exhibition features films on Fatimid Cairo, using drone video footage and 360 virtual reality technology, offering an insight into what the city was like a thousand years ago.
The Aga Khan Museum says the exhibition, "bears witness to a remarkable dynasty that built one of the world's oldest universities, compiled one of its greatest libraries, and fostered a flowering of the arts and sciences."
http://english.ahram.org.eg/NewsContent/9/43/291753/Heritage/Islamic/The-World-of-the-Fatimids-goes-on-display-in-Toron.aspx
--------
US civil rights groups decry 'anti-Muslim' bill in Idaho
Mar 1, 2018
A spate of bills in state legislatures across the United States have been decried by civil rights groups as Islamophobic.
Most recently, the Council on American-Islamic Relations (CAIR), a Washington, DC-based Muslim civil rights group, has called on Idaho's Senate to vote against a bill recently passed by the state's House of Representatives that seeks to ban the implementation of "foreign law" in the state.
According to CAIR, the bill, known as HB-419, targets Muslims and fits into a long pattern of "unconstitutional" bills that demonise Muslims by barring Sharia, or Islamic law.
HB-419 was passed by Idaho's House of Representatives at a time when similar bills are being considered in several US states, including Montana, Oregon and Wisconsin.
In an open letter to Idaho State Senator Jeff C Siddoway, Chairman of the Senate State Affairs Committee, CAIR's Government Affairs Director, Robert McCaw, described HB-419 as "contrary to our nation's values of not elevating or marginalising one faith or community".
"Legislation designed and adopted to attack a specific religion is a clear violation of the [US Constitution's] Establishment Clause, which requires that government be secular and treat all religions equally," McCaw wrote.
"It is impossible to mask the anti-Muslim discriminatory intent behind HB-419."
Collusion with anti-Muslim groups
That bill was introduced by House Representative Eric Redman, who had introduced two similar bills in the last two years.
According to the Southern Poverty Law Center (SPLC), an Alabama-based hate watchdog, at least 201 "anti-Sharia bills" have been introduced in 43 states since 2010.
Earlier this month, the SPLC revealed that it had obtained 47 pages of Redman's email correspondence with anti-Muslim groups between May 2016 and August 2017. The group obtained the emails through a Freedom of Information Act (FOIA) request.
The groups with which Redman corresponded - among them American Laws for American Courts (ALAC), ACT for America, American Public Policy Alliance (APPA) and the Center for Security Policy (CSP) - have "a lengthy history of bigotry", the SPLC said on its website.
"Anti-Muslim hate groups play an integral role in the introduction of anti-sharia bills and overhyping the nonexistent threat of 'sharia law' in the United States," the group added.
Although Redman's most recent version of the bill does not specifically reference Islamic law, the first version, which was introduced in 2016, included pictures of a severed hand and a man about to be decapitated. It also made allegations that the Muslim prophet Muhammad was a paedophile, according to the Associated Press.
Earlier this month, Redman was quoted by the Idaho Statesman newspaper as saying the bill "is not simply about Sharia and other foreign laws but also trans-nationalism, in other words, the documented creep of foreign and anti-public policy laws being recognised by state and federal courts."
In the past, Redman has also defended his bills against charges of Islamophobia.
Full report at:
https://www.aljazeera.com/news/2018/02/civil-rights-groups-decry-anti-muslim-bill-idaho-180228132324284.html
--------
17 years after 9/11, prohibitions in focus as pre-trial hearings begin
28 February 2018
Pre-trial hearings for the five Guantanamo Bay detainees alleged to be the masterminds behind the September 11th, 2001 attacks on the United States are taking place this week at the Expeditionary Legal Complex in Guantanamo.
Several pre-trial hearings have and will take place before a trial for the accused can officially begin. Khalid Shaikh Mohammed, Walid bin Attash, Ramzi bin al Shibh, Ammar al Baluchi, and Mustafa al Hawsawi are all facing allegations that directly connect them to planning and perpetration of the September 11 attacks.
The wide range of allegations include providing military training to hijackers, to planning their travel, to financing the operation. Mohammed himself is accused of conceiving and proposing the plot to Osama bin Laden.
Though the space is heavily secured and extremely regulated, the five detainees arrived in good spirits and greeted their lawyers with friendly handshakes and smiles. The accused attend court in clothing of their own choosing, some donning scarves with keffiyeh patterns and images of the Palestinian flag to show support for Palestine.
This week, one major focus of the defense teams' arguments is that restrictions placed on them by the US government's prosecution team could make defending the accused virtually impossible.
Overseas black sites
In September of 2017, the prosecution issued a memo to the defense team, prohibiting them from interviewing current or former CIA members or affiliates, and halting investigations into overseas black sites where the defendants may have been detained or tortured.
In November, the prosecution issued a second, more detailed memo which listed examples of interview and investigations that would be prohibited. Since this second guidance, defense counsel felt compelled to stop any and all of their investigations that may be prohibited by the guidance.
David Nevin, lead defense counsel for Mohammed, came before the presiding judge, Colonel James L. Pohl to argue that the restrictions must be reviewed for the defense to be able to adequately serve their clients.
Defense attorneys working on the case may face criminal sanctions or loss of security clearance if they continue with investigations prohibited by the notice. Many members of the defense have openly stated that the prohibitions are unjust.
Hindering investigations
"We can't just say 'let's go on and act like lawyers,'" said Nevin to the judge, urging that the issue must be resolved before the hearings continue.
Nevins said that not only does the guidance issued by the government hinder the defense's investigations, but it has been inconsistent and difficult to understand, putting the defense in an even more difficult position.
Judge Pohl agreed that the oral and written guidance put forth by the prosecution were inconsistent. A decision on whether or not the defense will be able to resume their investigations is expected to come this week, and will be heavily influence the defense counsel's strategy moving forward.
As the hearings carry on this week and in the coming months, advocacy organizations and the United Nations Working Group on Arbitrary Detention continue to investigate the treatment of detainees held in Guantanamo Bay awaiting trial for exceptionally long periods of time.
Full report at:
https://english.alarabiya.net/en/features/2018/02/28/17-years-after-9-11-prohibitions-in-focus-as-pre-trial-hearings-begin.html
--------
ISIS becoming increasingly decentralized, US warns partners of threat
1 March 2018
The United States warned judicial and law enforcement officials from around the world of the dangers posed by an increasingly de-centralized ISIS group spreading to new regions.
At a two-day conference in Washington that concluded Wednesday, the US State Department designated seven ISIS-linked groups as terrorist threats -- underlining the reach of the network.
The ISIS group's former stronghold in its so-called "caliphate" in eastern Syria and northern Iraq has been all but destroyed by US-backed military operations, but the militants are adapting.
And, with overt military targets harder to find, the next stage in the fight against the extremists will lean more heavily on law enforcement and civilian prosecution of suspected militants.
"I think what we're seeing is ISIS becoming increasingly decentralized," said the State Department's counterterrorism coordinator, Nathan Sales, who addressed the meeting.
"ISIS is evolving and adapting," he said, explaining the decision to blacklist the ISIS regional groups under separate designations.
Motivated by same ideology
"You're seeing groups from all corners of the world motivated by the same bloody and deadly ISIS ideology, using the same sort of techniques targeting innocent men, women and children."
In Nigeria and the Lake Chad region a group that split from the local Boko Haram armed group and led by Boko Haram founder Mohammed Yusuf's son Abu Musab al-Barnawi is now designed as ISIS-West Africa.
In the Philippines, the list now includes ISIS-Philippines and its ally the Maute Group, which triggered the siege of the city of Marawi in May 2017 and has attempted to bomb the US embassy in Manila.
The ISIS-Somalia group began as a small 20-strong splinter from the Al-Shabaab movement under Abdiqadr Mumin and his deputy Mahad Moalim, but has grown in strength and imported arms from Yemen.
Washington is also concerned about the group's growing foothold in the Indian subcontinent, where the now designated ISIS-Bangladesh launched its campaign by killing an Italian aid worker in 2015.
In Egypt, the US terror designations now list ISIS-Egypt as a separate group from ISIS-Sinai province, with both having carried out attacks and the former claiming responsibility for a deadly 2016 church bombing.
The new designations also include Jund al-Khilafa, a Tunisian armed group that has pledged allegiance to IS leader Abu Bakr al-Baghdadi.
The conference was hosted jointly by the State Department, INTERPOL and the International Institute for Justice and the Rule of Law.
Full report at:
https://english.alarabiya.net/en/News/world/2018/03/01/ISIS-becoming-increasingly-decentralized-US-warns-partners-of-threat-.html
--------
Senators Sanders, Lee seek to end US role in Saudi war on Yemen
Mar 1, 2018
Two senators are introducing a bill to end the Unites States' intervention in the Saudi war on impoverished Yemen.
Independent Senator Bernie Sanders and Republican Senator Mike Lee introduced a resolution on Wednesday afternoon to stop Washington' support for the Saudi-led war.
"This legislation is neither liberal, nor conservative," said Lee from the US state of Utah at a news conference. "It's constitutional."
The effort seeks to invoke the War Powers Resolution and end the US role in the war-ravaged country.
It, however, excludes drone strikes the US military launches against al-Qaeda terrorists in the Arab world's poorest nation.
The directive is clear: "Congress hereby directs the President to remove United States Armed Forces from hostilities in the Republic of Yemen, except United States Armed Forces engaged in operations directed at al-Qaeda in the Arabian Peninsula or associated forces."
According to Sanders, senator form the US state of Vermont, "If you look at the War Powers Act, what America is currently involved in constitutes a military action… That's pretty clear."
Lawmakers from both sides of the aisle have already voiced opposition for the US support for Riyadh, implicated in war crimes in the neighboring country, but it is still unclear whether the effort could garner enough votes.
"We have to deal with these conflict by conflict," Lee said, while Sanders asserted that "If we can establish this principle, it will be a significant departure in policy for the United States."
The resolution was introduced amid intensified Saudi airstrikes this week.
Full report at:
http://www.presstv.com/Detail/2018/03/01/553945/Senators-Sanders-Lee-seek-to-end-US-role-in-Saudi-war-on-Yemen
--------
Senator Ed Markey concerned as US mulls nuclear deal with Riyadh
Feb 28, 2018
US Senator Ed Markey has expressed concern over the Trump administration's efforts to sign a nuclear cooperation deal with Saudi Arabia for the construction of nuclear reactors.
Markey, a Democrat from Massachusetts and a member of the Senate Foreign Relations Committee, said any nuclear deal with Riyadh must require a non-proliferation accord, known as a "123 agreement," which is designed to prevent the spread of nuclear weapons.
"Previous US efforts to conclude a 123 agreement with Saudi Arabia have been unsuccessful because of its long-standing refusal to commit to foregoing any uranium enrichment or spent-fuel reprocessing on its territory -- the so-called... 'gold standard' for 123 agreements," Markey said in a letter to Secretary of State Rex Tillerson and Energy Secretary Rick Perry, AFP reported.
Perry will head to London to meet with Saudi officials on Friday.
The talks were frozen under the administration of former President Barack Obama after the Saudis refused to accept the "gold standard" for civil nuclear cooperation deals.
The Trump administration has resumed the talks and is reportedly considering a deal that would allow Riyadh to enrich and reprocess uranium and pave the way for American companies to build nuclear reactors in the kingdom.
Saudi Arabia is expected to announce early in March its list of companies which will bid to build its reactors.
Besides the American firm Westinghouse Electric Co., companies from Russia, France, China and South Korea have also shown an interest to bid.
Perry's meeting with Saudi Arabian Minister of Energy and Industry Khalid Bin Abdulaziz Al-Falih in London will be a crucial stage in the negotiations, which have reportedly been ongoing for months.
Analysts say the US may be ready to give up the "gold standard" in an attempt to prevent the profitable agreement from going to other potential contractors, including Russia and China.
Efforts to get involved in Saudi Arabia's nuclear ambitions come as President Trump has repeatedly described the 2015 nuclear deal with Iran as "the worst and most one-sided transaction Washington has ever entered into."
Trump on January 12 reluctantly agreed to waive sanctions against Iran that were lifted as part of the deal, but said it would be the last time he issued such a waiver unless conditions were met.
Full report at:
http://www.presstv.com/Detail/2018/02/28/553872/Senator-alarmed-as-US-mulls-Saudi-nuclear-deal
--------
Southeast Asia
Indonesia Hosts Rare 'Reconciliation' Meeting Between Ex-Militants, Their Victims
February 28, 2018
WASHINGTON/JAKARTA —
The government of Indonesia this week sponsored an event that included dozens of former jihadist militants and terror victims in Jakarta in what the government defends as an effort to better address the growing problem of radicalization in the country.
The controversial three-day meeting ended Wednesday. It brought together 124 former Islamist prisoners and 51 survivors of terrorism at the Borobudur Hotel.
A group of survivors boycotted the event, saying it was insulting to the victims. They also asked authorities to provide compensation to the victims.
The government's National Agency for Combating Terrorism (BNPT) defended the event, saying its initiative could help address the problem of radicalization and foster reconciliation in the country.
"We hope this gathering becomes a way to bring us closer to strengthening our resolve in interreligious and intercultural tolerance in Indonesia," Suhardi Alius, head of BNPT, told attendants during the closing ceremony.
"These events will become a model for the Indonesian people that mutual respect and understanding in building better communication is the first step towards peace," Alius added.
Indonesia, the world's largest Muslim-majority nation, has witnessed a rise in radicalization over the last several years along with occasional terrorist attacks in different parts of the country.
A string of bombings by al-Qaida-linked Jemaah Islamiah in 2002 in the tourist island of Bali killed more than 200 people.
More recently, the rise of Islamic State (IS) in Iraq and Syria and the Maute group in neighboring Philippines have led to hundreds of Indonesians leaving the country to join the terror groups.
Chief Security Minister Wiranto on Tuesday announced his government was investigating the arrest of 15 Indonesian women by Kurdish forces in Syria for alleged ties to IS.
Security approach
Speaking at the reconciliation meeting on Wednesday, Wiranto said his government did not think a security approach alone could combat terrorism.
"If we only implement the hard approach of seeking and destroying, there will be casualties," he said, addressing the victims and former IS members. "Casualties will breed new vengeance, vengeance will breed new terror, terror will breed more hard approach, and it will never end."
Wiranto hailed the victims who agreed to meet former jihadists and forgive them for their misdeeds. He also praised the former jihadists who disengaged from terrorism via the government's deradicalization programs.
The meeting Wednesday included public confessions from the former
militants and prayers for the victims. The first two days of the event were closed to the media.
Muchtar Daeng Lau was one of the militants convicted in the McDonald's bombing in Makassar, Indonesia, in 2002. He has since renounced that violence, which left two people dead and two others injured.
"Today is a new commitment for a peaceful Indonesia. With this gathering, both ex-terrorist convicts and victims want to look forward to a better future," Lau said.
Many survivors also addressed the meeting with forgiveness speeches.
Chusnul Khotimah, a victim of the Bali bombings, said she lost her printing shop in in the attack. She now sells vegetables to provide for her family.
"I was very, very vengeful ... but I turned to God, who is most merciful. So, how can I not also forgive them?" she asked.
Opposition
But not all terror victims welcomed the controversial meeting.
The Indonesian Survivors Foundation (YPI), a major group representing the victims, described the government-organized gathering as flawed.
Sucipto Hari Wibowo, the co-founder of the group, told The Associated Press that many survivors were still traumatized and not prepared to face the perpetrators.
Wibowo is himself a survivor of the 2004 suicide bombing of the Australian Embassy in Jakarta that killed nine people, including the suicide bomber.
"After a decade, perhaps we have finished reconciling with ourselves. We can accept what happened to us, but to reconcile with the attackers is a different matter. It needs a different process," he said.
https://www.voanews.com/a/indonesia-hosts-reconciliation-meeting-former-militants-their-victims/4275376.html
--------
The Rise of Islamist Groups in Malaysia and Indonesia
February 27, 2018
Malaysia and Indonesia, important U.S. partners and leaders in Southeast Asia, have been touted over the past two decades as model countries where Islam coexists with civil law. Malaysia's prime minister, Najib Razak, founded the Global Movement of Moderates in 2010, an organization that seeks to unite countries to combat extremism and proffers Muslim-majority Malaysia as a tolerant nation. Indonesia, home to the world's largest Muslim population, has been held up as a leading global example of democratization. (I echoed this view in a 2013 CFR book, Pathways to Freedom: Political and Economic Lessons from Democratic Transitions.)
Leaders in Malaysia and Indonesia, presiding over multiethnic and multireligious societies, had largely thwarted the hardest-line religious groups from exercising an assertive influence over political life. Indonesia became a consolidated democracy in the 2000s, after holding multiple free and fair elections and peacefully transferring power via the ballot box. In Malaysia, the ruling coalition, dominated by Najib's United Malays National Organisation party, has controlled politics since independence in 1957. While the country's laws do give special benefits to ethnic Malays, its constitution protects religious freedom.
But since the beginning of this decade, conservative and often Islamist groups, which slowly amassed power in the late 2000s, have gained greater influence in the two countries over the law and politics. They have done so by organizing within democratic politics in Indonesia, and to some extent Malaysia, through grassroots campaigns and local electoral victories. Still, their goals—such as implementing laws based on sharia and rolling back protections for religious minorities—are often at odds with secularism and democracy. Now, in the run-up to Malaysia's 2018 national elections and Indonesia's 2019 presidential election, these groups could play central roles in determining the countries' paths and could possibly undermine hard-won political and legal gains, making the two states less reliable U.S. security and economic partners.
Conservatives Gain Traction
Indonesia and Malaysia have long had strongholds of conservative, even Islamist ideologies. The northeast of the Malay Peninsula has been a bastion of the conservative Pan-Malaysian Islamic Party (PAS), part of the opposition alliance in the last national elections in 2013. In Indonesia, conservative and hard-line religious parties have contested many elections, and debates about the role of Islam in the state have existed since the country was founded. Meanwhile, hard-line, sometimes violent groups like the Islamic Defenders Front have been active for twenty years, participating in vigilante violence in many parts of the country against people and groups they accused of doing immoral activities.
Still, the hardest-line parties and organizations have never attained national power. Moderate leaders, such as former Indonesian President Abdurrahman Wahid, a liberal cleric turned politician, advocated for minority rights and secular law in the early 2000s. Similarly, the ruling coalition in Malaysia remained so strong—the result of its genuine appeal and simultaneous repression of opposition—that for years it did not have to win over more conservative, PAS voters.
More recently, the two countries have witnessed an upswing in harder-line Islamist sentiment. PAS's leaders have moved, with Najib's acceptance, to introduce legislation that would increase the power of some religious courts, and possibly impose sharia-type punishments for some criminal offenses such as theft.
Within Indonesia, hard-line groups have pushed national government ministers to take repressive stances toward homosexuality, religious minorities, and people who supposedly blaspheme Islam. Defense Minister Ryamizard Ryacudu called Indonesia's LGBT activists more dangerous than "a nuclear war," and in the past two years the police have stepped up attacks on people for homosexual activities. As Human Rights Watch's Andreas Harsono has noted, the number of annual blasphemy cases has increased during the current presidency of Joko Widodo, also known as Jokowi.
Hard-line Islamist groups—organizing on social media, advocating via sympathizers in government bureaucracies, and building networks in religious schools—have increasingly swayed elections in Indonesia, notably the Jakarta gubernatorial race last year. For the first time, the Islamic Defenders Front and other Islamists played a major role in deciding an outcome in the capital. In that contest, incumbent Basuki Tjahaja Purnama, known as Ahok, enjoyed high popularity ratings. But in late 2016 and early 2017, the Islamic Defenders Front and conservative organizations held massive rallies against Ahok, which sometimes focused on his Chinese ethnicity and his Christian faith. The Islamic Defenders Front and other hard-liners built an alliance with Ahok's Muslim opponent, Anies Baswedan, who won in a run-off election. Ahok was later convicted of blasphemy for comments he made on the campaign trail and sentenced to two years in jail.
Cultivating a Hard-Line Base
Hard-liners are gaining influence for several reasons. For one, top leaders have proven willing to court Islamists, or they did not take seriously enough the threat of hard-line ideology to secularism and to democracy. In Malaysia, the ruling coalition narrowly won the 2013 national elections, despite losing the national popular vote. Since then, Najib's administration has been further battered by a scandal surrounding 1Malaysia Development Berhad (1MDB), a state-owned investment firm. Najib has aggressively courted conservative voters who historically supported PAS. If he wins over a sizable number of these voters, he could make up for the ruling coalition's poor support among many urban ethnic Malays, Chinese, and Indians. In the last election, the ruling coalition won only 25 of the 97 urban and suburban seats. Najib's recent speeches have touted the idea that Malaysia should be dominated by Muslim ethnic Malays. (Malays and other indigenous groups comprise about 69 percent of the population.)
Meanwhile, in Indonesia, former President Susilo Bambang Yudhoyono and Jokowi ignored the growing power of Islamist groups, which have increasingly raised funds from Saudi Arabia. Yudhoyono took little action as vigilantes targeted Ahmadis, heterodox Muslims, and in 2008 the government issued a vague decree that seemed to even sanction their persecution. Before the massive demonstrations against Ahok, Jokowi did not focus on the rising threat of political Islam, instead devoting his energies to programs designed to boost the economy, reduce red tape, and bolster social welfare safety nets.
However, some of the developing support for political Islam is organic. Islamists have taken advantage of the weak public school systems in Indonesia and Malaysia, building decent, religiously oriented schools and, as a result, instilling young people with more conservative values. Some nine hundred new private Islamic schools reportedly opened in Malaysia between 2011 and 2017. Indonesian Islamist groups also have become skillful organizers on social media. As I note in a new Council Special Report on U.S.-Indonesia relations, the self-proclaimed Islamic State, too, has focused on recruiting Indonesians and Malaysians online and in person. According to some estimates, more than one thousand Southeast Asians, including many from Malaysia and Indonesia, traveled to fight for the Islamic State in Iraq and Syria. Some of those fighters are now returning home.
High inequality rates and rampant graft also steer more support toward conservative influencers. Although the two countries' economies have performed solidly in recent years, they remain highly unequal societies and graft is endemic. Some Islamist parties, such as PAS, portray themselves as fighting against corruption and are seen by some voters as credible, at least compared to the ruling coalition in Malaysia. (Indonesian religious parties have weathered more corruption scandals in recent years.)
In addition, in Indonesia, where the government has overseen a decentralization of political power away from Jakarta over the past twenty years, Islamists have benefited. They have built political strength in more conservative areas, such as Aceh and West Java, and in turn encouraged local and regional governments to embrace policies in favor of sharia-based laws.
The Costs of an Islamist Wave
The rise of Islamism in Malaysia and Indonesia could have severe consequences for the two states' societies, political systems, and overall stability. Already, there have been deadly attacks by Islamic State-inspired militants in Jakarta, in January 2016 and May 2017. Indonesian and Malaysian militants also mount attacks in neighboring countries. Indonesian fighters have been arrested in Marawi, the city in the southern Philippines where the army fought an Islamic State-linked group last year, and six Indonesian militants were detained in 2016 for allegedly planning a terrorist attack in Singapore.
Perhaps even more dangerous for Indonesia's future, religious hard-liners are apparently building alliances with Prabowo Subianto, a former lieutenant general who was Jokowi's opponent in the 2014 presidential election. Prabowo appears to be laying the groundwork for a populist-military-Islamist alliance for the 2019 election. This partnership was already starting to take form in 2016 and 2017. Prabowo's top allies allegedly played a major role in helping foment the mass anti-Ahok protests. In 2014, Prabowo openly disdained Indonesia's democratic progress and cast himself as a populist strongman. Since the anti-Ahok rallies, he seems to be solidifying his alliance with religious hard-liners, probably in preparation for 2019.
Next year, Prabowo could rely upon support from Islamist groups and voters who like his military background and strongman style. If he wins the presidency, he could roll back democratic freedoms—the prospect of Prabowo winning next year is sparking concern among many Indonesian moderates as well as other leaders in Southeast Asia.
In Malaysia, if Najib wins the 2018 election with help from hard-liners, he could further polarize Malaysian society and politics. Ethnic and religious minorities could continue Malaysia's serious talent and capital drain; minorities have been leaving for Singapore, Australia, and other countries. In both states, if the rise of hard-liners endangers political stability, it could threaten strategic ties with the United States. Malaysia is an important ally in the regional anti-Islamic State battle, while both countries are major regional trading partners with the United States.
Safeguarding Freedoms
The two governments can take several steps to prevent Islamist groups from undermining secular, democratic norms. Jokowi should reject the temptation to woo hard-liners in ways that sacrifice secularism. Moreover, the governments, which have generally warm ties, should increase cooperation with each other, as well as with the United States, the Philippines, and Singapore, to track militants linked to the Islamic State. They should apply rigorous scrutiny to charitable organizations from Saudi Arabia, according to Indonesia expert Margaret Scott, who has done some of the most in-depth research on Saudi donations in Indonesia.
Separately, Malaysia and Indonesia need to combat graft by strengthening the power and independence of anticorruption investigators and invest in school systems as an alternative to foreign-funded and religious schools. They also need to pursue policies more targeted at reducing income inequality.
Full report at:
https://www.cfr.org/expert-brief/rise-islamist-groups-malaysia-and-indonesia
--------
Baru Bian blasts death threats, insults over apostasy case
February 28, 2018
PETALING JAYA: Sarawak PKR chief Baru Bian has defended his role as a lawyer in a case of four Sarawakian Muslims seeking to convert out of Islam.
His response came after he received death threats aside from "insults and other abuse" from some Muslims over a case which was heard by the Federal Court in Putrajaya earlier this week.
The apex court ruled yesterday that the Sarawak Shariah Court can hear apostasy cases, in dismissing an application by the four Sarawakians for the civil court to hear their apostasy cases.
"The kneejerk reaction of some members of the Muslim community in hurling insults and abuse at me, and even calling for my death, after the Federal Court decision yesterday, clearly shows that they do not know the background of the cases.
"They don't know how the legal trials and tribulations of the four individuals have come to this.
"I was out of town attending another case when the decision was delivered.
"Upon my return last night, I was saddened and shocked to see the videos and postings, and the statement by PAS Youth against me," Baru said in a strongly-worded statement today.
He also refuted allegations that he was "Christianising" Muslims or making Muslims "murtad".
Clarifying the background to the case of the four individuals who sought to leave Islam, Baru said they had approached him only after they had run out of all options in negotiating their release from Islam via government channels.
"By the time I met them, they had long ceased to be practising Muslims.
"So to accuse me of making them 'murtad' is vicious slander.
"I am disappointed that those who profess to practise their religious faith should make these false accusations against me.
"Nevertheless, my own religious conviction compels me to forgive and love them, for they do not know what they are doing," Baru said.
He also pointed out that it is the system that has failed these four individuals.
The four were seeking a court order to nullify their status as Muslims, and compel the National Registration Department (NRD) to recognise them as Christians.
Syarifah Nooraffyzza Wan Hosen left Islam voluntarily and embraced Christianity in 2009, while Tiong Choo Ting, a Chinese-Bidayuh Christian, who converted to Islam to marry a Muslim woman, later decided to return to Christianity after the death of his wife.
Another is Salina Jau, a Kayan/Kenyah Christian, who converted to Islam to marry a Malay-Muslim man but decided to return to Christianity after her divorce.
The fourth is Jenny Peter, a Melanau Christian, who converted to Islam to marry a Muslim but also decided to return to Christianity after her divorce.
The four jointly sought the Federal Court's interpretation of the Sarawak Shariah Court Ordinance 2001, and named the Sarawak State Islamic Department director, the Sarawak Islamic Council, the National Registration Department director-general and the state government as respondents.
"They had done everything that they were asked to do. Yet, the release they wanted was never given.
"Their letters to JAIS (Jabatan Agama Islam Sarawak) were ignored. In one case, letters to the NRD and even the Sarawak chief minister's office also met with no response.
"The details of each case differ but I only took up these cases after the applicants had hit the proverbial brick wall," Baru said.
He added that after taking on the cases, he realised that the law was not clear and the issue had to be brought all the way to the Federal Court, which finally made its decision yesterday morning that the Shariah Court has the jurisdiction to hear apostasy cases.
"The legal issue is now settled."
Red tape and obstacles
Baru lamented that few lawyers were willing to take on conversion cases for fear of being branded as "menghina Islam" (insulting Islam) or simply because they did not want to come up against all sorts of red tape and obstacles facing these applicants.
"The problem arose because the Shariah Ordinance is silent on its jurisdiction to decide on apostasy matters and the Shariah Court has declined jurisdiction.
"The decision of the Federal Court allows us to move forward. The legislature should consider whether the Ordinance should be amended to make the law clear."
He again took aim at those who had accused him of having a Christian agenda and that he had provided his legal service "free of charge", saying such people are "blatant liars".
"I have been representing them in my professional capacity as a lawyer and they have paid my professional fees and court fees.
"Those who make up lies about me clearly have political motives or have deep-seated insecurity about their own religious convictions.
"If I had any Christian agenda, then the authorities should have taken action against me," he said.
Baru also expressed his gratitude to Muslims who had stood up to the threats and abuse hurled against Christian leaders and himself.
"I wish to thank them for the very rational and reasonable stands made by them, including my colleagues in Sarawak PKR.
"I believe it is time for many others to join in this chorus calling for acceptance and peace."
Police probe
Meanwhile, Sarawak police are investigating the death threat by a Facebook user against Baru, Bernama quoted Sarawak CID chief SAC Dev Kumar MM Sree Shunmugam as saying.
Sarawak PKR had earlier today lodged a police report after a Facebook user came up with a death threat against Baru, who is also state assemblyman for Ba'kelalan.
"We are investigating the report as criminal intimidation under section 507 of the Penal Code and section 233 of the Communications and Multimedia Act," said Dev.
He said efforts were being made to identify the Facebook user who posted the inflammatory comment.
The police report was lodged by Sarawak PKR vice-chairman See Chee How at the Simpang Tiga one-stop centre here today.
In the police report, See stated that he was alerted today by a comment posted under an online news article "Baru Bian hina umat Islam Sarawak" by a person using the name Helmi Bin Abdullah Mee and his message read "Baru Bian must be shot dead at all cost(s)".
See stated he was concerned for the safety of Baru.
"Furthermore, the posting is instigating violence and most likely arousing anxiety and hostility among those readers who read this article, thereby disrupting the peace and harmony among all Malaysians and Sarawakians.
Full report at:
http://www.freemalaysiatoday.com/category/nation/2018/02/28/baru-bian-blasts-death-threats-insults-over-apostasy-case/
--------
Wounded priest in Indonesia forgives attacker
February 28, 2018
A priest in Indonesia attacked and wounded in his church by a sword-wielding man says he has forgiven his attacker.
A suspected Muslim extremist called Suliyono attacked Dutch-born Jesuit Father Karl-Edmund Prier, 80, during a Mass at St. Lidwina Church in Yoyakarta on Feb. 11.
Three other Catholics were injured in the attack, which also saw the attacker decapitate Mary and Jesus statues, before being shot and wounded by police.
"I forgive Sulyono with sincerity. Every day I pray the Our Father prayer, which states that as we forgive those who trespass against us," wrote Father Prier in a letter posted on the bishops' commission on social communication website on Feb 24.
Father Prier said he could of run away during the assault but did not.
"However, my conscience said: 'Do not go. The good shepherd should not run when wolves come.' I remained standing on the altar to divert the attacker's attention to me," he said.
"Through the middle aisle of the church, with a long sword raised high, he shouted, Allahhu akbar!" he added.
He also said Muslims were very kind and helped clean up the church after the attack.
Archbishop Robertus Rubyatmoko of Semarang appealed for no acts of revenge over the attack.
Full report at:
https://www.ucanews.com/news/wounded-priest-in-indonesia-forgives-attacker/81634
--------
Like Turkish dissidents, Uighurs too face deportation from Malaysia
March 1, 2018
KUALA LUMPUR: China is using its economic clout to attempt to extradite 11 ethnic Uighur Muslims detained in Malaysia, Asia Times reported.
It seems likely, according to the report, that Putrajaya will eventually comply with China's extradition requests, as it has in the past.
The 11, among 20 Uighur migrants who escaped a jail in southern Thailand last November, are being held in an immigration detention centre without being charged. They want to be sent to Turkey as they identify themselves as Turkish citizens.
Malaysia is currently in talks with Thai authorities over the fate of the detained Uighurs, though neither party has reached a resolution.
The Asia Times report said Chinese state-owned firms had come to the rescue of 1Malaysia Development Berhad by purchasing two 1MDB-related entities last year, enabling the firm to settle a multimillion-dollar debt to Abu Dhabi's International Petroleum Investment Company.
China is Malaysia's top trading partner and biggest source of foreign direct investment, channeling billions towards Malaysian property development, port and rail infrastructure, pipelines and industrial facilities, and a string of infrastructure projects.
According to the report, many observers see China's economic largesse as a political life raft for Prime Minister Najib Razak. This meant, it said, Najib was "strongly incentivised to avoid making any political decision that could be deemed as unfavorable by Beijing".
The report noted that Deputy Prime Minister Ahmad Zahid Hamidi had told reporters last year that biometric information provided by Chinese authorities had enabled the arrest of 29 Uighur militants since 2011, all of whom were deported to China. This included six Uighurs sent back to China in 2012, despite their pending refugee status determinations, it added.
It said Zahid had also called for intensifying cooperation with China under the Mutual Legal Assistance framework, which enables both sides to request the deportation of nationals wanted for trans-border offenses.
The report noted several instances of Putrajaya tracking down and deporting opponents of its allies, including three Turkish men suspected of supporting Fethullah Gülen, an exiled preacher blamed by Turkey's President Recep Tayyip Erdoğan for a failed 2016 coup attempt, and Saudi journalist Hamza Kashgari, in 2012, who was labelled an apostate by Saudi clerics amid accusations he had insulted Prophet Muhammad in a tweet.
Oganisations such as the Malaysian Bar and Human Rights Watch have warned the Malaysia government to tread carefully and keep within the confines of international law, saying the 11 could face risks if sent back.
The Uighur are a Turkic people indigenous to the Xinjiang region of China. Following violent attacks by Uighur separatists, Beijing tightened security in the area.
The report quoted Ahmad Farouk Musa, director of the Islamic Renaissance Front, as saying: "If these Uighurs were simply escaping from the political persecution by the Chinese Communist Party, then they should be protected at any cost, even if it will upset the Chinese, whom the Malaysian government is now indebted to.
"Uighur asylum seekers are entitled to a fair hearing – they must first be proven to be involved in terrorism before the government entertains any deportation request."
If Putrajaya gave in, Farouk said it would undermine the Malaysian government's attempts to "posture as a defender of Islam ahead of an election season".
Full report at:
http://www.freemalaysiatoday.com/category/nation/2018/03/01/report-putrajaya-likely-to-send-back-11-uighurs-to-china/
--------
Mideast
Turkey wants to walk with Africa: Erdogan
01.03.2018
Turkish President Recep Tayyip Erdogan said Wednesday that Turkey wants to walk along with Africa when a new world order is being established.
Erdogan was speaking at a joint press conference with his Mauritanian counterpart Mohamed Ould Abdel Aziz in the capital Nouakchott
"We will form an alliance with Mauritania on a win-win basis," Erdogan said.
He also thanked President Aziz for Mauritania's support in the fight against the Fetullah Terrorist Organization (FETO).
Erdogan also commented on the UN Security Council's resolution in December rejecting U.S. President Donald Trump's Jerusalem declaration.
"We will never compromise where we stand on Jerusalem. Al-Quds [Jerusalem] is Palestine's capital. We declared it before."
On Dec. 6, Trump announced his decision to recognize Jerusalem as Israel's capital despite worldwide opposition. The decision sparked angry demonstrations across the Muslim world.
Following the Security Council's resolution, which would have passed unanimously but for a U.S. veto, the General Assembly passed a resolution spurning the U.S. move by 128-9 votes.
After Mauritania, Erdogan will head to Senegal and Mali.
Last December, Erdogan paid a four-day visit to Sudan, Chad and Tunisia.
Since 2004, Erdogan has paid official visits to 24 African countries and witnessed the signing of numerous bilateral pacts.
https://aa.com.tr/en/africa/turkey-wants-to-walk-with-africa-erdogan/1076692
--------
17 Houthis killed, dozens injured in Sanaa battles with Yemeni army
1 March 2018
Following fierce battles with the Yemeni Army and Arab Coalition, 17 Houthis were killed and dozens injured on Wednesday in Nahm, in Yemen's capital Sanaa.
In a statement, the Yemeni army said, "National army forces fought fierce battles with the Houthi militia in Nahm, east of the capital, and killed 17 militiamen, and wounded dozens."
They added that the militia was trying to sneak into the al-Tabab mountains in the last two days to control this vital location.
Among those killed were three Houthi field commanders. According to the army's statement, 33 militiamen were captured, including four field commanders.
The army was able to retrieve large amounts of weapons and ammunition following the battles in Nahm.
Full report at:
https://english.alarabiya.net/en/News/gulf/2018/03/01/17-Houthis-killed-dozens-injured-in-Sanaa-battles-with-Yemeni-army.html
--------
Amid Turkish Assault, Kurdish Forces Are Drawn Away From U.S. Fight With ISIS
By ERIC SCHMITT and ROD NORDLAND
FEB. 28, 2018
WASHINGTON — The United States-led campaign to hunt down the last pockets of Islamic State militants in Syria has lost its most effective battleground partner in what American military officials fear will stall a critical phase of the offensive and leave open the door for hundreds of foreign fighters to escape.
Thousands of Kurdish fighters and commanders who make up the backbone of the Syrian Democratic Forces in recent weeks have diverted to defend Afrin, in Syria's northwest, where other Kurdish militia are facing sharp attacks from Turkish troops.
The Kurdish-led S.D.F. was the driving force last fall in routing the Islamic State from its self-proclaimed headquarters in Raqqa and chasing insurgents fleeing south along the Euphrates River Valley to the Iraqi border.
That fight now is largely reliant on Syrian Arab fighters who make up a majority of the S.D.F. but lack the Kurds' military organization and logistical prowess.
In congressional testimony on Tuesday, Gen. Joseph L. Votel, head of United States Central Command, described the S.D.F. as "the most effective force on the ground in Syria against ISIS."
"And we need them to finish this — to finish this fight," General Votel told the House Armed Services Committee.
Without the Kurds, the Arab forces and their American military advisers have largely been forced to halt clearing operations and taken up mostly defensive positions, United States officials said. That has left American air power to pick up the slack.
The development is another major consequence of the fighting that has rapidly unfurled in recent weeks in Syria's tumultuous northwest.
It threatens not only to slow progress against several hundred Islamic State fighters who are hiding along the Euphrates River or in nearby deserts, but also could allow battle-hardened foreign fighters to escape deeper into western Syria and eventually into Turkey or Jordan — and possibly to return home to Europe or Africa to commit mayhem there, American commanders and analysts said.
Thousands of foreign fighters have already fled unfettered to the south and west through Syrian Army lines, these officials said.
"The campaign to defeat the Islamic State is at risk," said Jennifer Cafarella, a senior intelligence planner with the Institute for the Study of War in Washington. "The S.D.F. is unlikely to clear remaining ISIS-held areas of the Euphrates River and could even begin to take losses due to the shift in Syrian Kurds' main effort." ISIS is another name for the Islamic State.
The turn of events has the potential to upset a triumph that President Trump has held out as one of his administration's signature national security accomplishments so far.
"ISIS land has been largely recaptured — almost 100 percent," Mr. Trump said last week during a news conference with Prime Minister Malcolm Turnbull of Australia. "They are on the run."
Yet senior Trump administration officials and American commanders have been watching, with growing trepidation, as Kurdish troops and commanders divert from the fight against the Islamic State.
Initially, they sought to play down its significance. On Feb. 11, Defense Secretary Jim Mattis called the development "a distraction" and said it was "not a significant number right now."
Maj. Gen. Jamie Jarrard, the Special Operations commander for the American-led coalition in Iraq and Syria, said in an interview in early February that the elimination of the entire caliphate was "very close."
"Anything that disrupts us or takes our eye off that prize is not good," General Jarrard said.
Mr. Mattis, Secretary of State Rex W. Tillerson and Lt. Gen. H.R. McMaster, the White House national security adviser, all have met with Turkish officials in recent days to seek an end to the clashes with Kurdish militia in northwest Syria and prevent the fighting from spreading.
But by last week, Heather Nauert, the State Department's spokeswoman, acknowledged to reporters on Feb. 22 that "we can no longer fight ISIS the way that we would fully like to be able to do."
The diversion of Kurdish fighters and lower-level commanders, who play a pivotal role in directing battlefield operations against the Islamic State, has increased from a trickle to a torrent, according to five American military officials who are monitoring the situation and spoke on condition of anonymity. It is difficult to estimate precisely how many Kurdish fighters have withdrawn.
The Syrian Democratic Forces number about 50,000 Kurdish and Arab fighters throughout eastern and northern Syria, American military officials have said. Several thousand have been fighting the Islamic State in the Euphrates River Valley, with Arabs making up as much as 80 percent of that force, reflecting the demographics of the region.
But as they have elsewhere in the fight against Islamic State in Syria, the Kurds have taken on a disproportionate role in front line fighting and command skills, American officials said.
Now some of those gains against the Islamic State are in jeopardy. As of two weeks ago, Kurdish officials said more than 20,000 Kurdish defenders had rallied to Afrin to confront Turkish troops. That number includes fighters who were already there, as well as newly arrived reinforcements.
"The Turkish invasion to occupy Afrin has terribly influenced our fight against ISIS," Shahoz Hasan, co-president of the Syrian Democratic Union party, said in an interview on Monday. "After we managed to get ISIS in a choke hold," he said the Turks "are attacking our forces in that region."
For many Kurdish militia and their commanders, the call to defend family and friends in Afrin and a Kurdish enclave in the city of Manbij that is also threatened by Turkish troops has taken precedence over what many consider to be an American war against the Islamic State.
"Those fighters find it more urgent to be in their areas on the Syrian-Turkish border rather than on the front lines with ISIS," said Arin Sheikhmos, a Kurdish journalist based in Qamishli. The city is the de facto capital of Kurdish areas of northern Syria, which the Kurds call Rojava.
"To them, it is a priority to defend their land rather than liberating others' land," Mr. Sheikhmos said.
The American-led coalition appears to have intensified airstrikes on the Islamic State in areas east of the Euphrates River to fill the battlespace the Kurdish fighters had left, Mr. Sheikhmos said. The approach was not working, he said.
He said the Islamic State carried out a car bombing in Qamishli a few days ago, resulting in the deaths of four civilians, including a child. It was the first bombing in the city by ISIS in over a year, he said.
Shervan Derwish, a spokesman for the Manbij Military Council, said 250 Kurdish fighters had arrived in the ethnically mixed area in just the past few days. He said they came from Deir al-Zour, an Arab-majority city and former Islamic State stronghold in the Euphrates River Valley that is now contested by Russian-backed Syrian government soldiers and the American-backed Arab-Kurdish coalition.
"Unfortunately, our fighters who joined the rest of S.D.F. on the front lines with ISIS in Deir al-Zour had to retreat to Manbij upon hearing the Turkish threats of attacking us here, doing ISIS a favor," Mr. Derwish said. The military council is a Kurdish-led component of the Syrian Democratic Forces in Manbij.
As late as Feb. 8, there were still S.D.F. forces in Deir al-Zour, according to the coalition, which bombed pro-Syrian regime forces who had attacked an S.D.F. base and its American advisers there. The airstrikes, it later turned out, killed dozens of Russian mercenaries in the process, American officials said.
Some analysts, including Ms. Cafarella, have assessed that the Russian-backed attackers gave the Kurdish fighters safe transit to Afrin across government-controlled territory and exploited their departure to strike the less experienced Arab partners in the S.D.F.
Agid Ahmed, commander of the Northern Sun battalion of the Manbij council, said he and his fighters were ordered to return from the front lines in Deir al-Zour on Feb. 6. That, in turn, freed up other S.D.F. fighters defending Manbij to reinforce Afrin. Mr. Ahmed fought with American forces in 10 offensives in northern and eastern Syria, including retaking of Raqqa from the Islamic State.
Some of the S.D.F. and Manbij council leaders expressed disappointment with American forces for not preventing last month's Turkish attack on Afrin.
"Americans on the ground do a good job and we learned a lot from them, data sharing, GPS techniques, but politically we're not very sure about them. Especially since the situation in Afrin," said Maher Al Ony, who has four Manbij council brigades — about 2,500 fighters — under his command. "We didn't expect the coalition would allow the Turks to attack Afrin."
Muhammed Abu Adel, the Manbij council's top commander, insisted the commitment to fight the Islamic State remains strong, even as his forces have left Deir al-Zour.
Full report at:
https://www.nytimes.com/2018/02/28/world/middleeast/syrian-kurds-isis-american-offensive.html
--------
Lebanon's Hezbollah launches Syria war video game
February 28, 2018
Beirut, Feb 28 (AFP) Sidling down the mean streets of Syria with his rifle, he picks off his enemies relentlessly: Ahmed is the hero of the video game Lebanon's Hezbollah movement launched today.
The Shiite armed group held a ceremony and news conference in Beirut to unveil the latest production of its electronic media department, which it named "Sacred Defence – Protecting the Homeland And Holy Sites".
"It reflects Hezbollah's experience in Syria," Hassan Allam, one of the game's developers, told AFP.
With a life of 12 hours, the first-person shooter game is a low-cost spinoff of bestseller "Call of Duty" that glorifies the group's battles in the ongoing Syrian conflict.
The scenario's introductory sequence has Ahmed in plain clothes visiting the Sayyeda Zeinab shrine, one of the holiest sites in Shiite Islam.
The mausoleum comes under attack and Ahmed reappears wearing a military uniform in a room whose walls bearing a poster of Hezbollah leader Hassan Nasrallah.
The game allows for a series of different battles, including against the Islamic State jihadist group, in a variety of different locations, including Syria's border with Lebanon.
Hezbollah, which is backed by Iran and is often considered to have more firepower than Lebanon's own regular army, deployed fighters in Syria in 2013.
They have since fought alongside the forces of President Bashar al-Assad, an intervention widely seen as a major factor in the regime's survival.
Full report at:
http://www.india.com/news/agencies/lebanons-hezbollah-launches-syria-war-video-game-2919883/
--------
US, Britain, France, Germany condemn Iran, warn to stop arming Houthi militia
28 February 2018
The United States, Britain, France and Germany have condemned Iran on Tuesday in a joint statement for breaking UN law prohibiting supply of arms to Yemen.
Their statement comes a day after Russia vetoed a resolution put forward by Britain condemning Tehran. The resolution would also condemn Iran for arming Houthi militias.
Following the Russian veto, the Security Council unanimously adopted a technical resolution which renews the current arms embargo without any reference to Iran.
Full report at:
https://english.alarabiya.net/en/News/middle-east/2018/02/28/US-Britain-France-Germany-condemn-Iran-warn-to-stop-arming-Houthi-militia.html
--------
Houthi prisoners reveal they were trained by Hezbollah experts
28 February 2018
Houthi prisoners said the movement members were trained by Hezbollah experts before they were dispatched to the different fighting fronts.
In a video published by the Yemeni army's media center on Tuesday night, a Houthi prisoner identified as Zakaria Mohammed Awda said he and dozens others were trained in Shawaba in Sanaa by Hezbollah experts around two months ago before they were sent to fight.
Another prisoner said the Houthis deceived them using national slogans and he called on others not to believe them. In the past two months, Houthi militias recruited plenty of young men and trained them before sending them to fighting fronts.
Full report at:
https://english.alarabiya.net/en/News/gulf/2018/02/28/Houthi-prisoners-reveal-they-were-trained-by-Hezbollah-experts.html
--------
Turkey court hands down additional 5 years in Ahmet Altan case
Feb 28, 2018
Writer Ahmet Altan has been given an additional 5-year prison term by a Turkish court of law just two weeks after he was sentenced to life in prison for his alleged role in the 2016 failed coup.
The Istanbul court on Wednesday handed down a total of five years and 11 months for Altan's publishing "terror propaganda" and insulting President Recep Tayyip Erdogan, Anadolu news agency said.
Anadolu reported that the court explained that the description Altan portrayed of the Kurdish conflict in southeast Turkey attempted to justify the unlawful deeds of the outlawed Kurdistan Workers' Party (PKK).
The court also ruled the same article had insulted President Erdogan, Anadolu reported. Insulting the president is a crime in Turkey.
On February 16, Altan, his writer brother Mehmet and four other journalists were given life sentences for their alleged role in the failed coup of July 2016.
The Altan brothers were accused by court prosecutors of sending coded messages via a talk show on television a day before the coup attempt.
The verdict drew criticism from rights groups, the United Nations and other international bodies.
After the coup Ankara launched a massive crackdown on dissent with more than 50,000 people being jailed and more than 150,000 sacked or suspended from their jobs.
Meanwhile, a group of prominent writers including Nobel prize winners Svetlana Alexievich, JM Coetzee and Kazuo Ishiguro published an open letter to Erdogan in The Guardian on the Altan brothers and Nazli Ilicak's case, calling for their release.
Full report at:
http://www.presstv.com/Detail/2018/02/28/553937/Turkey-Journalist-Altan
--------
Arab World
Egypt aborts suicide attack in Sinai, 11 terrorists killed
27 February 2018
The Egyptian military forces hit and destroyed 20 targets and a number of headquarters used by terrorist elements as their base.
The forces destroyed two car bombs and attacked with artillery bombardment 185 targets aiming at the hiding places, weapons and ammunition depots belonging to the terrorist elements based on confirmed information on these targets.
The statement said that the military forces foiled a suicide attack set to target the armed forces.
Four high-risk terrorists wearing explosive belts and military uniforms, similar to those of the armed forces were arrested.
Security forces found a highly dangerous terrorist location in the city of Arish and eliminated seven armed terrorist elements during an exchange of fire.
The terrorists had three automatic rifles, two explosive devices for detonation and a means of subsistence.
The army said a cache of weapons buried underground had been found containing large quantities of weapons and ammunition and reported the destruction of 375 hideouts, a shelter, a storehouse and trenches made for terrorist elements.
The locations contained quantities of ammunition, grenades and detonators, large quantities of narcotics, rations, fuel and auto spare parts.
The Egyptian army arrested 641 criminal suspects, bringing the total number of the arrested to 2235 individuals, including 547 criminal elements, wanted and sentenced were handed over to the authorities.
The security check of 241 individuals is being inspected, 1447 individuals were released after proven innocent of performing acts of violation of the law.
According to the army statement, the Air Force discovered and destroyed two four-wheel-drive vehicles loaded with quantities of ammunition and highly explosive materials on the southern strategic route while trying to infiltrate into Egyptian territory.
On the western direction, border guards managed to seize 30 firearms, thwarted four attempts to trespass illegally and arrested 419 infiltrators of different nationalities.
The army said that an officer and two soldiers were killed, while one officer, two lieutenants and four soldiers were injured during the clashes and the clearing of terrorist posts.
https://english.alarabiya.net/en/News/middle-east/2018/02/27/Egypt-aborts-suicide-attack-in-Sinai-11-terrorists-killed.html
--------
Israeli satellite pictures allegedly show new Iranian military base in Syria
1 March 2018
According to Israeli satellite pictures, Iran has built another permanent military base in Damascus with hangars used to store short to medium range missiles, Fox News reported.
The news channel obtained the images from the Israeli company, ImageSat international, which show two white hangars, about 30 meters by 20 meters each.
According to Fox news, the base is operated by the Quds Force, an Iranian faction operating in Syria under the Islamic Revolutionary Guard Corps.
A similar Iranian base was destroyed in Syria by the Israeli military in December.
The comes amidst wide criticism of Russia and Iran's continued support for the Assad regime, and their raids of eastern Ghouta which has killed hundreds of civilians, including women and children.
The duo has received backlash from UN officials and security council members, including Kelley Currie, the US ambassador for economic and social affairs.
"Russia, Iran and the Assad regime are not even trying to hide their intentions," Currie told the council in their last meeting. "They are asking civilians to leave eastern Ghouta on the false premise that they can then attack anyone left in the area as much as they would like."
Prime Minister Benjamin Netanyahu has repeatedly stated that Israel will not tolerate an Iranian foothold on its northern border with Syria.
Full report at:
https://english.alarabiya.net/en/News/middle-east/2018/03/01/Israeli-satellite-pictures-allegedly-show-new-Iranian-military-base-in-Syria.html
--------
Russia 'on wrong side of history' over Syria chemical weapons – US
28 Feb 2018
A top US disarmament official has accused Russia of being on the wrong side of history on chemical weapon use in Syria, after reports of a chlorine attack in the besieged enclave of eastern Ghouta and the leaking of a UN reportinto the supply of related items from North Korea.
The world's chemical weapons watchdog is said to have opened an investigation into the latest reports of chemical attacks in Ghouta, where doctors said more than a dozen civilians had been treated for symptoms that matched those of exposure to chlorine gas.
The investigation also comes a day after details of a UN report were leaked, which said North Korea had sent Syria more than 40 items used in ballistic and chemical weapons programmes in the five years from 2012 to 2017.
Bashar al-Assad's government was supposed to have given up its chemical weapons arsenal under a deal brokered in 2013 between the US and Russia, but the agreement does not include chlorine because of its industrial uses.
A senior US disarmament official said on Wednesday that Russia had violated its commitments as guarantor of the destruction of Syria's chemical weapons stockpile and preventing the Assad government from using them.
Robert Wood, the US permanent representative to the Conference on Disarmament, told reporters in Geneva: "Russia is on the wrong side of history with regard to chemical weapons use in Syria."
Residents in the rebel-held enclave of eastern Ghouta endured another day of living in basements and bomb shelters after a five-hour lull gave way to renewed violence, four days after the UN security council called for an immediate month-long ceasefire.
Doctors in the enclave said 23 people had been killed in the last 24 hours, adding to a death toll of more than 500 since airstrikes and shelling by Assad's forces and their Russian allies intensified 11 days ago. One rescue worker was killed while pulling civilians from under the rubble after an apparent strike targeted paramedics and volunteers from a local civil defence group.
Ground clashes also erupted on the outskirts of eastern Ghouta as Assad's troops tested rebel defences after a week and a half of some of the most intense bombardments of the seven-year war.
Vladimir Putin ordered a daily five-hour pause in the fighting on Tuesday, effectively overriding a security council resolution that called for a 30-day ceasefire and the delivery of humanitarian aid. The Russian presidentalso called for the opening of humanitarian corridors. Residents said the pause had led to a brief respite but that airstrikes had returned with force at 2pm.
"It's like the Russian and Syrian regime pilots are waiting at the ready for 2pm and immediately the bombing and jets and strikes begin," said a local journalist in Ghouta. "Though today they're dividing it between the civilians and the frontlines – they've introduced more variety.
"People don't dare to come out of the shelters because it's not safe. Some of them haven't had a proper meal in 72 hours." The siege and bombardment have also taken a grave toll on doctors and paramedics who are struggling to keep up with the influx of wounded.
The scenario in eastern Ghouta, which is home to nearly 400,000 civilians by UN estimates, is reminiscent of previous campaigns by Assad's troops with Russian support. The government and its allies took back control of the city of Aleppo in 2016 after a crippling six-month siege followed by ground assault and a deal that led to the evacuation of civilians and rebel fighters.
The failure of the UN security council resolution and Russia's own initiative highlight the international community's inability to end the violence in Syria. The UN secretary general, António Guterres, has described Ghouta as hell on earth, the high commissioner for human rights has said the campaign against the enclave is a "monstrous annihilation", but the mounting condemnation has done little to elicit any compromises from Assad and his allies.
Full report at:
https://www.theguardian.com/world/2018/feb/28/russia-on-wrong-side-of-history-over-syria-chemical-weapons-us
--------
Popular Uprising against US Occupiers Reported in North-eastern Syria
Feb 28, 2018
A large number of people in the Northeastern city of Raqqa took to the streets in opposition to the US troops' buildup in their city, accusing the US military forces and their allied militants of destroying their city and also executing large groups of civilians.
The protestors vowed not to cooperate with the US troops, and warned that they will continue to show their disagreement with the US forces' occupation and disintegration of Syria in demonstrations and strikes.
In a relevant development earlier this month, Syrian permanent representative to the United Nations Bashar al-Jaafari told the UN Security Council that the US-led Coalition's so-called campaign against the ISIL terrorist group intentionally destroyed 90 percent of Syria's town of Raqqa.
"This coalition has deliberately destroyed 90 percent of the city of Raqqa," Jaafari said, adding that this coalition has not felt to uphold its commitment to neutralize the mines left behind by the ISIL.
The statement follows the February 12 press release by the advocacy group Human Rights Watch, saying that landmines planted by the ISIL terrorist group in Raqqa killed or wounded hundreds of civilians, including more than 150 children.
The actual number of victims was surely higher, as many people died before reaching medical assistance and those deaths were not necessarily reported, the release added.
Full report at:
http://en.farsnews.com/newstext.aspx?nn=13961209001480
--------
Militants, sponsors must act to make Syria truce work: Russia FM
Feb 28, 2018
Russia says it has done its part to usher in calm in the militant-besieged Damascus suburb of Eastern Ghouta, where it has announced a humanitarian pause, saying the ball is now in the court of militants and their supporters to make the truce in Syria work.
Speaking at the UN Human Rights Council in Geneva on Wednesday, Russian Foreign Minister Sergei Lavrov said militants in control of Eastern Ghouta are responsible for ensuring that the humanitarian pause would facilitate aid delivery to the violence-stricken residents.
Eastern Ghouta has witnessed deadly violence over the past days, with foreign-sponsored terrorists there launching mortar attacks on the city in the face of an imminent humiliating defeat.
Western powers, however, blame the violence on the Syrian government's Russian-backed airstrikes.
On Monday, Russian President Vladimir Putin ordered the implementation of a daily ceasefire in the area, effective from Tuesday, after the UN Security Council unanimously voted in favor of a resolution demanding a 30-day truce in Syria "without delay" to allow aid access and medical evacuations.
Lavrov further told the council that "Russia together with the Syrian government have already announced the establishment of humanitarian corridors in Eastern Ghouta."
He said, however, that militants entrenched there "still continue shelling Damascus, blocking aid deliveries and the evacuation of those wishing to leave," adding, "Now, it is the turn for the militants and their sponsors to act."
The Russian military says terrorists in Syria are blocking civilian evacuations from Eastern Ghouta by shelling the route out of the area in defiance of the humanitarian ceasefire.
Lavrov further urged parties to the US-led coalition purportedly fighting Daesh in Syria "to ensure same humanitarian access to areas under their control, including Rukban refugee camp and the entire territory surrounding al-Tanf."
Rukhban lies close to the Syrian border in Jordan, while the hugely-strategic al-Tanf is situated inside the Syrian territory, where Syrian, Jordanian, and Iraqi borders intersect. The coalition has suspiciously been trying to exercise full control over al-Tanf, where Moscow says terrorists operate under the US military's nose.
The top Russian diplomat also said dividing terrorists into "good" and "bad" was unacceptable, and that Moscow would fight this practice of double standards.
Moscow would continue to support the Syrian army until the total defeat of the "terrorist threat," he added.
He reminded all parties of the recent UN Security Council resolution, which introduced a 30-day ceasefire in Syria.
Full report at:
http://www.presstv.com/Detail/2018/02/28/553874/Syria-Russia-Lavrov-Eastern-Ghouta-United-States-Rukhban-Tanf
--------
Ghouta Terrorists Continue Killing Civilians in Rocket Attacks on Damascus
Feb 28, 2018
SANA reported that 12 civilians were injured when terrorists positioned in some areas in Ghouta targeted a number of areas in Damascus countryside.
SANA quoted a source at Interior Ministry as saying that three civilians were injured and material damage was caused due to terrorist rocket attack on al-Wafideen Camp, surroundings of al-Assad residential Suburb in Harasta, and Ibn Sina Hospital.
Also, a source at Damascus Countryside Police Command told SANA that terrorist groups fired three rockets at a region near Daff al-Sakhir and al-Naseem areas in the town of Jaramana, injuring 9 civilians, including a woman who is in critical situation.
Also, Terrorists open fire at population of besieged towns of Kafraya and al-Fou'aa in Idlib province.
Full report at:
http://en.farsnews.com/newstext.aspx?nn=13961209000755
--------
Syria: Al-Nusra Retreats Completely from Positions in Western Aleppo
Feb 28, 2018
The sources said that the Al-Nusra has retreated from Sheikh Ali, Kafr Halab, Kafr Karmin, al-Tawama, al-Sahara and Kafr Naha regions after recent clashes with Syria's Tahrir Front in Western Aleppo.
In the meantime, the London-based Syrian Observatory for Human Rights (SOHR) said that Tahrir al-Sham Hay'at has retreated completely from its positions in Western Aleppo and moved towards Idlib, while Southern Aleppo is also empty of Tahrir al-Sham Hay'at's presence.
In a relevant development on Tuesday, Tahrir al-Sham Hay'at retreated from a number of regions, including a key base, after clashes with the newly-formed Syria's Tahrir Terrorist Front intensified in Idlib and Aleppo.
Syria's Tahrir Front pushed Tahrir al-Sham Hay'at back from the small towns of Basratoun, Taqad and the Brigade 46th Base, one of the largest and most important bases of Tahrir al-Sham in Western Aleppo.
Also, field sources said that Syria's Tahrir Front stormed the strongholds of Tahrir al-Sham Hay'at and captured the village of Khirbet Batenteh West of Ma'arat Mesrin and Atmah passageway in Northern Idlib at Syria-Turkey border.
Full report at:
http://en.farsnews.com/newstext.aspx?nn=13961209000817
--------
Syria denies possession of chemical weapons
Feb 28, 2018
Syria has denied allegations of possessing chemical weapons, stressing that the foreign-backed Takfiri terrorist groups operating in the country, including al-Nusra and Daesh, have obtained some stocks.
Syria's Ambassador to the United Nations in Geneva Hussam Edin Aala on Wednesday refuted the "false allegations" made by some countries against his government, saying, "Syria cannot possibly be using chemical weapons because it very simply has none in its possession."
In his address to the UN-sponsored Conference on Disarmament in Geneva, Aala also denounced the use of chemical weapons anywhere.
The remarks come a day after the UK said it would start "seriously" considering joining US military strikes against the Arab country if such claims were true.
On Monday, the so-called Syrian Observatory for Human Rights, which is sympathetic to anti-Damascus militants, said 14 civilians had suffered breathing difficulties after a Syrian warplane struck a village in Eastern Ghouta region in the suburbs of the Syrian capital, Damascus.
The report came just after Russia warned that militants were planning a gas attack there to blame it on the Syrian government.
Russian Foreign Minister Sergei Lavrov, however, dismissed the report as "bogus stories," stressing that government forces had attacked foreign-sponsored Takfiri terrorists there.
Syria surrendered its stockpiles of chemical weapons in 2014 to a joint mission led by the US and the Organization for the Prohibition of Chemical Weapons (OPCW), which oversaw the destruction of the weaponry. Damascus has consistently denied using chemical weapons over the past years of conflict in the country.
Western governments and their allies, however, have never stopped pointing the finger at Damascus whenever an apparent chemical attack takes place.
Full report at:
http://www.presstv.com/Detail/2018/02/28/553897/Syria-chemical-weapons-UN
--------
URL: https://www.newageislam.com/islamic-world-news/muslim-intellectuals-divided-islamic-heritage/d/114457
New Age Islam, Islam Online, Islamic Website, African Muslim News, Arab World News, South Asia News, Indian Muslim News, World Muslim News, Women in Islam, Islamic Feminism, Arab Women, Women In Arab, Islamophobia in America, Muslim Women in West, Islam Women and Feminism