By New Age Islam News Bureau
18 November 2021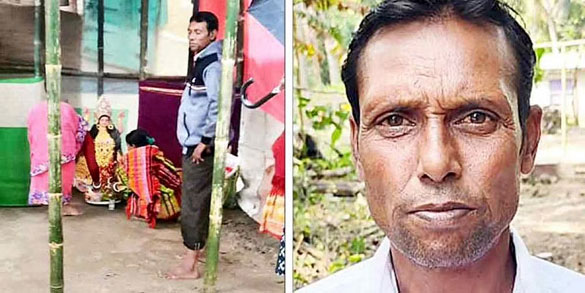 Hannan Mondal (R) and portion of his land used for Kali temple. (Photo| EPS)
----
• Muslim Donates Land for Kali Temple at Indo-Bangla Border Where Hindus Had To Take Permission from BSF to Use Their Plot for Kali Puja
• Islamic Emirate of Afghanistan Does Not Oppose Female Education, Will Change Curriculum to Islamic: Taliban
• Islamist Columnist's Defence Derogates LGBTI+ People as 'Prostitutes'
• Pakistan's Ambassador to US Has a History of Sympathising with Islamists and Jihadists
India
After A Hindu Businessman, A Gurudwara Offers Its Basement to Muslims for Friday Namaz in Gurugram
Asaduddin Owaisi Files Plaint against Ex-UP Shia Waqf Board Chief Over Remark on Prophet Mohammed
NIA special court in Kerala convicts Islamic State conspirator in Kasaragod case
Muslim divorce: Only short hearing needed for court's nod, says Kerala HC
------
South Asia
Taliban Urges U.S. Congress To Release Afghanistan's Assets
Islamic State Appears Present in Nearly All 34 Provinces of Afghanistan- UN Envoy
Anxiety in Afghanistan as Taliban struggles for legitimacy
---
Mideast
UN Says Afghanistan on Brink of 'Humanitarian Catastrophe'
Erdogan's Quest for a New Sharia-Based Alliance
Iran Urges World Community to Help Afghanistan Neighbours
----
Pakistan
Federal Shariat Court Told, Parliament, Executive Working To Make Financial Rules Conform To Islam
Fazl rejects electoral reforms, EVMs
Families in IOK seek bodies of two civilians killed in raid
------
Southeast Asia
Muslims Cannot Use Crypto, Indonesia Clerical Council Says
Mosque cleaning campaign continues
Donation for mosques, suraus
------
North America
For Fifth Time, GOP Boycotts High-Ranking Muslim Nominee Dilawar Syed
CAIR-Chicago Welcomes Resignation of Police Union Leader who Made Anti-Muslim Comments
Poll: Americans Doubts Rising About Biden's Health, Mental Fitness
US, Israel Mulling Short-Term Nuclear Deal With Iran to Extend Time for Talks, Reports Say
----
Arab World
Saudi Arabia to Launch Cervical Cancer Prevention Program for Girls Aged 9-13
Arab coalition strikes Iran Revolutionary Guard, Hezbollah experts in Yemen
UNDP Saudi Arabia launches accelerator lab
Diplomatic Quarter: UK envoy visits British Council's rebranded Riyadh centre
------
Europe
UK Reportedly Weighing Albania Asylum Centre as France Refutes '100% of Crossing' Prevention Claims
Judicial pretrial set for Dec. 15 for accused in fatal truck attack on Muslim family in London, Ont.
Hate speech trial opens for French far-right pundit
Studying Latin and Greek is an antidote to the shallow woke ideology
------
Africa
Bishops, Imams Endorse Okorocha As Buhari's Successor
Five anti-coup protesters in Sudan killed by gunfire
Tear gas fired at dozens of protesters in Sudan capital
------
Compiled By New Age Islam News Bureau
URL: https://www.newageislam.com/islamic-world-news/hindus-muslim-bsf-kali-puja-temple/d/125796
----
Muslim Donates Land for Kali Temple at Indo-Bangla Border Where Hindus Had To Take Permission from BSF to Use Their Plot for Kali Puja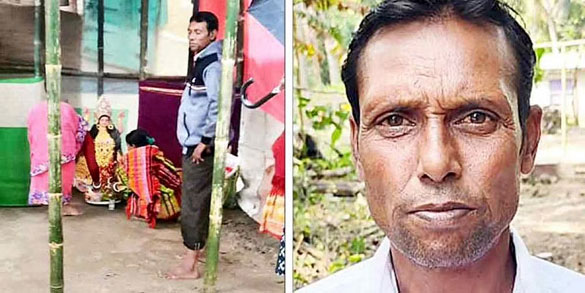 Hannan Mondal (R) and portion of his land used for Kali temple. (Photo| EPS)
----
18th November 2021
KOLKATA: Six months after West Bengal witnessed high-octane Assembly polls highlighted by a communal divide, a poor Muslim farmer has donated a portion of his land to construct a Kali temple in Nadia district.
The village of Bhimpur has 450-odd families, of which 150 are Muslims. The village is located next to a fencing of the Indo-Bangla border. Hindu villagers use a vacant plot beside the border road for Kali Puja, but they need to seek permission from BSF every year.
This year, BSF was not initially ready to give permission which touched HannanMondal and he decided to solve the issue permanently. The small farmer donated a portion of his land to villagers to construct a permanent Kali temple.
Ahead of the Assembly polls, the district was in the list of BJP's bigwigs, as it is dominated by Matuas, a Hindu religious sect that migrated from Bangladesh. During the poll campaign, BJP leaders tried to woo the Hindu refugee electorate by talking about alleged atrocities by Muslims in Bangladesh while explaining why Matuas had to migrate from the country during Partition.
"This is the real colour of India. Bengal has always been famous for its communal harmony and communal discord has no place here. We all are grateful to Hannan for setting up an example of brotherhood," said Bimal Sarkar, president of the Kali Puja committee.
Hanna donated a piece of land measuring up to around 460 square feet to the committee. "Every year, villagers used to be concerned about BSF's green signal to organise the Puja. I never thought that the Puja would not be held because of this land problem. I decided to donate the plot so that a permanent temple can be constructed there, where Kali Puja will be organised every year," said Hannan.
Welcoming Hannan's decision, Hindu villagers of Bhimpur said that the political parties, who are trying to play the religious card to bag votes earlier this year, should take a lesson from this gesture of a poor man.
"We witnessed a never-seen-before attempt to polarise the voters on the line of religion ahead of the Assembly polls. ButrHannan's sacrifice makes it clear that such line of politics will not work in Bengal," said a villager.
Fitting reply to polarisation attempts, say villagers
Earlier this year before Assembly elections in West Bengal, there were attempts to divide voters along religious lines. Villagers of Bhimpur where the Muslim farmer has donated land for the Kali temple, say that this incident shows such tactics will not work in the state.
Source: New Indian Express
Please click the following URL to read the text of the original story:
https://www.newindianexpress.com/good-news/2021/nov/18/poor-muslim-farmer-donates-land-for-kali-temple-in-west-bengalsnadia-district-2385067.html
------
Islamic Emirate of Afghanistan Does Not Oppose Female Education, Will Change Curriculum to Islamic: Taliban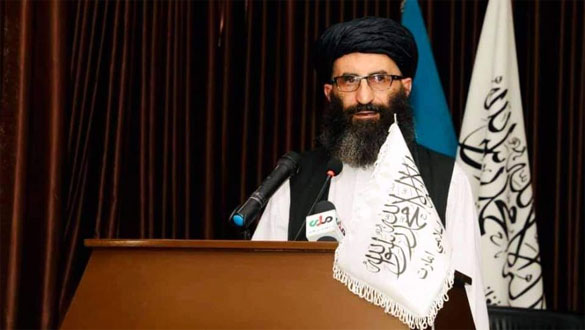 Noorullah Munir, Acting Minister of Education of Afghanistan
----
By NajibullahLalzoy
Thursday, 18 Nov 2021
Acting Minister of Education of Afghanistan NoorullahMunir has said that the Islamic Emirate of Afghanistan does not oppose female education and added that this girls' Islamic and legal right.
NoorullahMunir during his recent interview with Bakhtar News Agency-local News agency- said that they will bring changes to the current curriculum and will make it Islamic.
Though he did not elaborate on the new Islamic curriculum, said that the Islamic scholars are busy working on a mechanism to provide a safe environment for girls that will be in concurrence with Islam and the Afghan traditions.
About the salaries of teachers, the acting minister said that they are busy discussing the issue with UNICEF.
Earlier, UNICEF had announced that they will directly fund Afghan teachers and will give those salaries but IEA had said that all aids will be distributed under their surveillance.
Source: Khaama Press
Please click the following URL to read the text of the original story:
https://www.khaama.com/education-is-girls-legal-right-will-change-curriculum-to-islamic-taliban-9697/
------
Islamist Columnist's Defence Derogates LGBTI+ People as 'Prostitutes'
Wednesday November 17 2021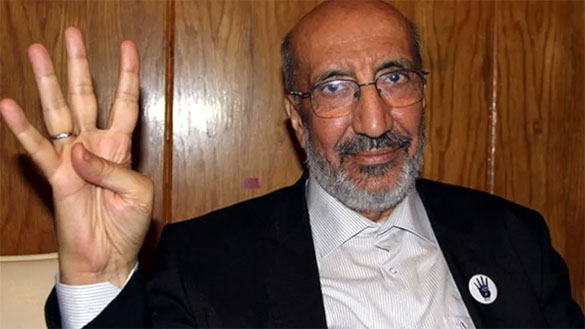 Islamist columnist Abdurrahman Dilipak
----
In a shocking defence statement at a court hearing, Islamist columnist Abdurrahman Dilipak's lawyer has defended his client by saying that Dilipak had not referred to supporters of the Istanbul Convention as "prostitutes," but rather the remark was used for LGBTI+ individuals.
"In the article [of Dilipak], there is not a single remark towards women. Instead of 'prostitutes and derivatives,' write 'gays and derivatives,' what does it matter? It [the article] has talked about the Istanbul Convention's negative effects on family life and criticized activism movement," the lawyer said.
Also, referring to the government's withdrawal from the international treaty, the lawyer said: "Turkey has gotten rid of the spoon that it was made to swallow 10 years ago."
In an article published in pro-government newspaper Yeni Akit on July 27, 2020, Dilipak insulted supporters of the Istanbul Convention within the ruling Justice and Development Party (AKP), referring to them as "prostitutes and their derivatives."
In his article named "AKP's daisies," Dilipak suggested that a group of people within the AKP had been relying on the European Union funds and various other funds, which he called the "Green Capital."
"Will our 'Green Capital' show loyalty to its cause and raise its voice against these prostitutes and their derivatives?" Dilipak wrote in his column.
The AKP's women branches across Turkey later filed a lawsuit against Dilipak for his comments. The second hearing of the case took place in Istanbul's Küçükçekmece 2nd Penal Court of First Instance on Nov. 17.
Lawyers of the Women's Platform for Equality (ESIK), an umbrella organization of over 340 women's and LGBTI+ organizations, also attended the court hearing, demanding to be involved in the case. They said that Dilipak had insulted all women defending the Istanbul Convention.
Pro-gov't rights group wants 'Istanbul Convention' mask taken off
Lawyers representing the Women and Democracy Association (KADEM), of which President Recep Tayyip Erdogan's daughter Sümeyye Erdogan Bayraktar is the deputy chair, also attended the court hearing, with a similar demand for the organization to be involved in the case.
But rather than Dilipak's insulting remarks against defenders of the Istanbul Convention, ESIK volunteer lawyers' masks became an issue at the hearing.
KADEM's lawyers demanded that ESIK lawyers take off their maks reading "Istanbul Convention is ours," arguing that the masks were a tool of "propaganda." Also, the lawyers' statement that the KADEM was "established after the Istanbul Convention was accepted" showed that the organization's stance towards the treaty had changed.
ESIK lawyers wear masks reading 'Istanbul Convention is ours' and 'We will not give up.'
There have been mixed messages from the KADEM with regards to Erdogan's move to pull the country out of the treaty earlier this year. Although having announced support for the treaty in previous remarks, the organization also stated that it considers LGBTI+s as a threat to "the family and the continuity of generations."
Meanwhile, the court said that it will consider the women groups' demand to be involved in the case, and postponed the hearing to March 9, 2022.
Source: Duvar English
Please click the following URL to read the text of the original story:
https://www.duvarenglish.com/islamist-columnist-abdurrahman-dilipaks-defense-derogates-lgbti-people-as-prostitutes-news-59575
------
Pakistan's Ambassador to US Has a History of Sympathising with Islamists and Jihadists
17 November, 2021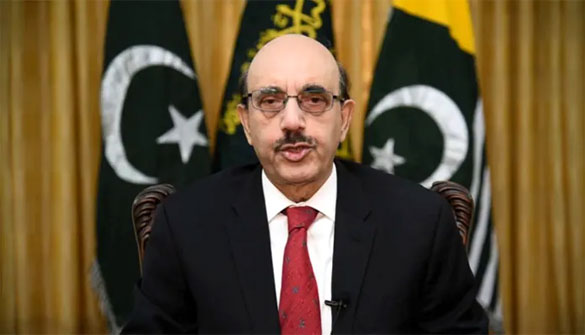 Masood Khan, the new Pakistani ambassador to US has Jihadist links (IMage: Daily Times)
-----
Pakistan has appointed a new ambassador to the United States. The former president of the Pakistan Occupied Kashmir, Masood Khan, is also the ambassador of Pakistan to China. Khan, whose appointment is raising eyebrows, has a history of sympathising with Islamists and Jihadists.
An article by Sam Westrop in Middle East Forum has highlighted Masood's open support to terrorist organisations and Jihadist elements.
Masood Khan and his links to Islamists and Jihadists
On several occasions in the past, Khan has shamelessly stood by the Jihadists. He had paid homage to the terrorist BurhanWani who was neutralized by Indian forces five years ago. In July 2021, Khan was serving as the 'president' of Pakistan Occupied Kashmir.
According to News Agency ANI, at that time, in his special message on the fifth anniversary of Wani's death, he said, "We grieve today for BurhanWani. He lives on… in our hearts. He sacrificed his life for a cause." According to Pakistani media, he further added Wani was a "role model for the freedom fighters across the globe". He also said, "the liberation of Kashmir and a defeat of India is the writing on the wall."
In June 2017, when US State Department designated HizbulMujahideen a terrorist organization, Khan extended his full support to the organization. He called US sanctions against SayedSalahuddin, leader of HizbulMujahideen, "unjustified". Khan continued to support Hizbul on several occasions.
According to a report in Geo TV, Masood claimed Hizbul had nothing to do with terrorism. In 2020, after the death of JunaidSehrai, a top commander of Hizbul, Khan issued an official statement paying homage to Sehrai and his associate, Taria Ahmed, for "offering the supreme sacrifice of their lives for the freedom of their motherland." Khan further said, "all the martyrs and their sacrifices are an asset for the liberation movement."
Furthermore, he extended support for other terrorist organizations as well. In 2019, he took part in the All Parties Kashmir Solidarity Conference that was held in Islamabad. According to a report in Catch News, he shared the stage with Fazlur Rehman Khalil, founder of Harkat-ul-Mujahideen (HuM). Khalil was designated a terrorist by the US State Department in 1997. He was named as Specially Designated Global Terrorist in 2014.
Khan is also a vocal supporter of the South Asian Islamist movement Jamaat-e-Islami. The article in meforum.org tells how the killing squads of this organization had worked hand-in-hand with the Pakistani military to carry out the genocide of Bangladeshis in 1971. In 2016, Motiur Rahman Nizami, leader of its Bangladesh chapter was hanged by the Bangladeshi government for his role in cases involving rape and genocide in 1971. On Khan's official website, experts of his speeches have been published where he gave "paid tributes to Jamaat Islami Pakistan for playing an active role in Pakistan and Azad (sic) Jammu and Kashmir."
Khan also extended support for Aafia Siddiqui, alias Lady Al-Qaeda.
Khan's name has been linked to IHH Humanitarian Relief Foundation that is a Turkish intelligence linked charity. The meforum.org article further states this organization has been accused of supplying weapons to al-Qaeda's Jihadist groups in Libya and Syria. It is also accused of holding operations in Kashmir. IHH has been designated as a terrorist organization in Germany, Israel and the Netherlands.
Another extremist charity organization that Khan has extended support to is Helping Hand for Relief and Development (HHRD). This organization is an American proxy of Jamaat-e-Islami. In 2017, HHRD partnered with the terrorist organization Lashkar-e-Taiba. HHRD is accused of providing funds to Al-Khidmat Foundation, which is linked to Kashmiri terrorist organization HizbulMujahideen.
In 2019, Pakistani PM Imran Khan called for lobbying against India during a conference organized by the Islamic Society of North America (ISNA). Notably, in 2018, ISNA's branch was suspended in Canada after the organization transferred CAD 1,36,000 to Kashmir that reportedly went in the hands of HizbulMujahideen.
Since Imran Khan's speech, US-based Pakistani-regime-linked lobbying groups and Islamist organizations have spent hundreds of thousands of dollars on lobbying against Narendra Modi-led Indian government. Masood Khan has not only extended support for these lobbying groups but also stood by terrorist operatives like Yasin Malik and Shabir Shah and Jihadist leaders like late Syed Ali Geelani.
Pakistan's overt support to Islamic terrorist organisations has been laid bare after the Taliban takeover of Afghanistan. The appointment of Masood as Pakistan's ambassador to the USA is another blatant display of the Islamic regime's attempts to mainstream Jihadist ideologies and co-opt terrorist supporters.
Also, Pakistan calls the POK as 'Azad Kashmir', but the so-called Prime Ministers and Presidents of this 'Azad Kashmir' are nothing but puppets of Pakistan who just follow Islamabad's orders. Their call for 'independence' in Jammu and Kashmir is nothing but an attempt to bring the entire region under Pakistan's control.
Source: OP India
Please click the following URL to read the text of the original story:
https://www.opindia.com/2021/11/former-president-pok-masood-khan-named-as-pakistan-ambassador-to-usa/
------
India
After A Hindu Businessman, A GurudwaraOffers Its Basement to Muslims for Friday Namaz in Gurugram
Aishwarya Iyer
First, a businessman from the Hindu community opened his shop to Muslims who did not have space to offer Friday prayers in Gurugram. Now, a Gurudwara has decided to provide its basement to them.
"We won't be mute spectators to what has been happening," said Sherdil Singh Sindhu, the president of the SonaChowkgurudwara, built in 1934 and believed to be the oldest Sikh place of worship in the Haryana district adjoining Delhi.
Singh was referring to the events of the past three months, when Hindutva groups have repeatedly blocked Muslims from gathering for Friday Namaz at public grounds that the local administration had allowed them to use.
The conflict began on September 17 when Hindu right-wing groups led by Dinesh Bharti, the founder of a local outfit called Bharat Mata Vahini, held up protest banners and shouted down Muslims who had gathered to pray in Sector 47. Over the next few weeks, the agitation spread to Sector 12 and other areas.
On October 26, members of the Sanyukt Hindu Sangharsh Samiti, a consortium of 22 right-wing groups, submitted an application to the Gurugram Deputy Commissioner, asking the administration to stop all reading of Namaz in public spaces.
A week later, they organised a Govardhan puja at the spot in Sector 12 where Muslim gathered for prayers. The next Friday morning, November 12, they reassembled there, declaring their intent to build a volleyball court. By evening, they had left cow dung cakes behind.
The cow dung cakes were left behind by Hindutva groups at the spot that Muslims used to pray every Friday. Photo: Special arrangement.
The recent confrontation has brought into public view a long-running campaign by Hindutva groups to deny public space to Muslim worshippers in the district.
In this environment of rising religious intolerance, a few residents from other communities are now stepping forward to show their solidarity by offering prayer spaces to Muslims.
A father's desire for tolerance
It started with 40-year-old Akshay Yadav, who runs a wildlife tourism business and rents out commercial space in Sector 12, where he lives with his family.
Last Friday, November 12, as Hindutva groups took over the ground where Muslims used to read Namaz, Yadav told a small group of Muslims in his neighbourhood that they could use his property – his home, the roof of a children's hospital and a shop that is currently lying vacant – for afternoon Namaz. Since they did not want to invade his personal space, and access to the roof of the hospital was not direct, the group gathered for prayers in his shop.
"I offered the place in a heartbeat," Yadav said, "and I will continue to do so today and tomorrow, again and again."
Explaining what motivated him, he said, "I read about what was happening in the news and wanted to do anything I could to reduce the ongoing conflict between right-wing groups and Muslims."
On November 16, when Scroll.in visited Yadav's house, he was preparing to leave the city for a family vacation – but not before he handed over the keys of the vacant shop to 41-year old Taufiq Ahmed, who runs an automobile repair business in a shop owned by Yadav. The men said they have known each other for 16 years and consider each other part of their families.
Yadav told Ahmed that he could even open the main door of his bungalow, if the Muslim prayer gathering needed additional space on Friday. "I may not be here but the Namaz must continue," he said, before turning to his 7-year-old son who was eagerly waiting to leave for the holiday.
For Yadav, ensuring that his son grows up in an atmosphere of tolerance and does not form prejudices against Muslims, was important. "My son is used to seeing me sitting with Muslims, inviting them home. This is his normal," he said. "Similarly, when Taufiq (Ahmed) goes home, I don't want his children to hear him talk to people on the phone and say that this Hindu group or that Hindu group didn't allow him to offer Namaz. I don't want his children to grow up disliking Hindus."
"Such attitudes in the minds of kids are dangerous," he said.
'There has to be an end to this hounding'
Barely 3 km from the Sector 12 ground where Hindutva mobilisation has been most intense, a Gurudwara has decided to offer Muslim worshippers both safety and space.
"The Muslims were provided space by the administration to pray. Now, they are hurt and angry that they can't offer prayers. That is understandable," said 49-year-old Sherdil Singh Sindhu, president of the Gurudwara at SohnaChowk.
"The doors of our Gurudwara are open to them," he emphasised, speaking in measured tones in his modest one-room office. "There has to be an end to this hounding."
Sherdil Singh Sindhu, president of the Gurudwara at SohnaChowk. Photo: Aishwarya Iyer
The gurudwara's basement can accommodate up to 450-500 people, but considering the risks associated with the Covid-19 pandemic, the management had decided to open it to smaller batches of 50-odd people at a time, Singh said.
When Scroll.in told Yadav about the gurudwara's decision, he smiled widely and said: "See I told you, I knew this would happen. There will be more [such initiatives]."
Instead of feeling intimidated by the bigotry they see around them, more Indians who support religious tolerance, he said, "need to be unafraid and follow their gut".
'Wish more people would speak up'
Local Muslims, who have felt helpless in the face of the Hindutva mobilisation, welcomed such expressions of solidarity by Hindus and Sikhs.
Mufti Mohammad Saleem, president of the local chapter of the Jamiat Ulema E-Hind, a leading organisation of Islamic scholars, said, "This means everything to us. This isn't only about giving us a place to pray, it is the way this help is being offered – in defiance of the hate."
Mufti Mohammad Saleem of the Jamiat Ulema E-Hind is part of a 21-member group that has been meeting with the local administration to resolve the crisis. Photo: Aishwarya Iyer
Altaf Ahmad, co-founder of Gurugram Nagrik Ekta Manch, an organisation that is part of local peace-building efforts, described these initiatives as an example of India's "composite culture". "Muslims truly appreciate the gesture. These actions are what India stands for," he said.
Holding on to the keys given by Yadav, Taufiq Ahmed, said: "When I tell this to other people in the community, I hope their fears will get assuaged. Not all Hindus are like the ones who show up at the protest site. I wish more people would speak up."
Source: Scroll
Please click the following URL to read the full text of the original story:
https://scroll.in/article/1010823/in-gurugram-after-hindu-businessman-a-gurudwara-steps-forward-to-offer-space-to-muslims-for-Namaz
------
Asaduddin Owaisi files plaint against ex-UP Shia Waqf Board chief over remark on Prophet Mohammed
18th November 2021
HYDERABAD: An FIR has been registered against former Uttar Pradesh Shia Waqf Board chairman Wasim Rizvi in Hyderabad for using objectionable statements on Prophet Mohammed in his book titled 'Muhammad'.
The case was lodged against Rizvi based on a complaint filed by All India Majlis-e-IttehadulMuslimee (AIMIM) chief Asaduddin Owaisi over the former's book on Prophet Mohammed. Earlier on Wednesday, Owaisi filed a complaint in Hyderabad against Wasim Rizvi over his remark.
Addressing media, the AIMIM chief said, "We met Hyderabad Police Commissioner. Former chairman of Uttar Pradesh Shia Waqf Board Wasim Rizvi wrote a book that has objectionable statements on Prophet Mohammed. We requested that he be booked. Commissioner assured us of a criminal case. We hope he will be arrested."AIMIM chief had submitted the letter to the Police Commissioner of Hyderabad Anjani Kumar.
"This is to bring to your attention a recent book authored by one Wasim Rizvi is the former chairman of Uttar Pradesh Shia Waqf Board. The book, written in Hindi, vilifies Prophet Mohammed (PBUH) and uses objectionable language against the Prophet, the religion of Islam and its followers," Owaisi said in a statement.
The letter further stated that the contents of the book and the objectionable statements have been made with a view to outrage the religious sentiments of those who follow Prophet Mohammed (PBUH) and abide by Islamic tenets. His statements are also targeted at creating a feeling of enmity against Muslims of India which is likely to result in a threat to the breach of peace.
"In light of the above, I request that action is taken against Rizvi and his associates, including (but not limited to) action in pursuance of Sections 153A, 153B, 295A, 504 and 505(1)(c) of the Indian Penal Code (IPC)," the statement added.
Source: New Indian Express
Please click the following URL to read the full text of the original story:
https://www.newindianexpress.com/nation/2021/nov/18/asaduddin-owaisi-files-plaint-against-ex-up-shia-waqf-board-chief-over-remark-on-prophet-mohammed-2385111.html
------
NIA special court in Kerala convicts Islamic State conspirator in Kasaragod case
November 18, 2021
Aspecial NIA court in Ernakulam on Wednesday convicted an Islamic State conspirator who had left India to join the ISIS terrorist organisation, an official said.
NashidulHamzafar (28) of Wayanad has been convicted under sections of the Indian Penal Code besides the Unlawful Activities (Prevention) Act, an official of the premier investigation agency said.
The case pertains to activities of 14 youth from Kasaragod district of Kerala who along with their families had exited India between May and July, 2016 and joined the ISIS, the National Investigation Agency (NIA) official said.
In pursuance to the criminal conspiracy hatched with fugitive ISIS accused Abdul Rashid Abdulla, AshfakMajeed and others, Hamzafar had exited India on October 3, 2017 and travelled to Muscat, Oman before travelling to Iran, the official said.
He then reached Kabul where he was detained by the Afghan Security Agencies in October, 2017 for illegally entering the country and attempting to join his associates in ISIS, the NIA official said.
In September 2018, the NIA arrested Hamzafar, after he was deported from Kabul. The NIA had filed a charge-sheet against him in March 2019, the official said.
Hamzafar pleaded guilty to all charges and the NIA special court convicted him, the NIA official said, adding that the quantum of punishment will be pronounced against him on November 23.
Source: India Today
Please click the following URL to read the full text of the original story:
https://www.indiatoday.in/india/story/nia-special-court-kerala-convicts-islamic-state-conspirator-kasaragod-case-1877956-2021-11-18
------
Muslim divorce: Only short hearing needed for court's nod, says Kerala HC
Nov 18, 2021
KOCHI: A family court considering a plea for endorsing out-of-court divorce, either unilateral or mutual, under Muslim personal law only need to conduct a summary hearing to allow it and need not conduct a detailed enquiry, the Kerala high court has held.
The ruling that would speed up the process of obtaining divorce and getting it endorsed in a public record through a court was issued by a division bench of Justice A MuhamedMustaque and Justice KauserEdappagath. A petition filed by Asbi KN through advocate C Dilip was considered by the court.
While a Muslim man divorcing his wife through out-of-court process is called a 'talaq', a Muslim woman doing so is called a 'khula'. If divorce is through mutual consent, it is called 'mubaarat'. It is a common practice to seek the court's endorsement, under Section 7(d) of the Family Courts Act, 1984 so as to have a public record of the divorce.
In the judgment, authored by Justice Kauser, the high court said, "The endorsement of extrajudicial divorce and consequential declaration of the status of the parties by the Family Court invoking S.7(d) of the Act is contemplated only to have a public record of the extrajudicial divorce. Hence, a detailed enquiry is neither essential nor desirable in a proceeding initiated by either of the parties to endorse an extrajudicial divorce and to declare the marital status. The Family Court has to simply ascertain whether a valid pronouncement/declaration of talaq or khula was made and it was preceded by effective attempt of conciliation."
No further enquiry as in the case of an adversarial litigation like chief examination and cross examination of the parties are not at all contemplated while endorsing extrajudicial divorce under Muslim personal law, the court said, adding that that the family court should endorse the plea if it is prima facie satisfied that a valid pronouncement of 'talaq', 'khula', or 'mubaarat' was made. The court also issued a seven-point guideline for family courts to deal with such cases. The judgment was delivered on October 12 but a copy became available only on Wednesday.
Source: Times of India
Please click the following URL to read the full text of the original story:
https://timesofindia.indiatimes.com/city/kochi/hc-only-short-hearing-needed-for-courts-nod/articleshow/87767460.cms
------
South Asia
Taliban urges U.S. Congress to release Afghanistan's assets
Wednesday, Nov. 17, 2021
ISLAMABAD (AP) — The Taliban on Wednesday urged the U.S. Congress to ease sanctions and release Afghanistan's assets as the country faces economic turmoil.
Foreign Minister Amir Khan Muttaqi said in a statement posted online that the frozen assets are harming the public, from the health sector to education and other services. His comments came a day after the World Food Program warned that millions of people in Afghanistan are facing poverty.
"American sanctions have not only played havoc with trade and business, but also with humanitarian assistance," he said in an open letter to U.S. lawmakers.
The World Food Program warned on Tuesday that of Afghanistan's nearly 40 million people, some 8.7 million people are at risk of facing "famine-like conditions." An additional 14.1 million are suffering acute food insecurity, the WFP said.
According to the group's report, 600,000 displaced people, as well as drought in the country are adding to the poverty.
The country also is struggling with the attacks mostly targeting civilians in the aftermath of the Taliban takeover in August.
An explosion hit a minivan in a Shiite neighborhood of western Kabul Wednesday, killing at least one person and wounding three others, a Taliban official said.
Zabihullah Mujahid, deputy minister for culture and information in the Taliban-led government, told The Associated Press that an investigation is continuing. He did not elaborate.
No one immediately claimed responsibility for the explosion.
The Islamic State group claimed responsibility for a blast on Saturday that killed one person and wounded five others. A roadside bomb struck a taxi in Kabul Monday, wounding two people.
Source: Las Vegas Sun
Please click the following URL to read the full text of the original story:
https://lasvegassun.com/news/2021/nov/17/taliban-urges-us-congress-to-release-afghanistans-/
------
Islamic State Appears Present in Nearly All 34 Provinces of Afghanistan- UN Envoy
NOVEMBER 17, 2021
The UN envoy to Afghanistan on Wednesday delivered a bleak assessment of the situation following the Taliban takeover, saying that an affiliate of the Islamic State group has grown and now appears present in nearly all 34 provinces.
UN Special Representative Deborah Lyons told the UN Security Council that the Taliban's response to Islamic State-Khorasan Province's (ISKP) expansion "appears to rely heavily on extrajudicial detentions and killings" of suspected ISKP fighters.
"This is an area deserving more attention from the international community," she said.
Latest articles from Jpost
Iran restarts nuke parts production at facility Mossad accused of blowing up - report
Her comments came hours after the group -- an ideological foe of the Taliban -- claimed responsibility for two blasts that killed at least one person and wounded six others in a heavily Shiite Muslim neighbourhood of Kabul.
The Taliban, she said, has been unable to stem ISKP's growth.
"Once limited to a few provinces and the capital, ISKP now seems to be present in nearly all provinces, and increasingly active," Lyons said, adding that the number of the group's attacks have increased from 60 strikes in 2020 to 334 this year.
While the Taliban is making "genuine efforts to present itself as a government" since seizing Kabul in August after a 20-year war with the United States, they continue excluding representatives of other sectors of society and curtailing the rights of women and girls.
The UN mission regularly receives credible reports of house searches and the "extrajudicial killings" of former security personnel and officials, she said.
Source: The Jerusalem Post
Please click the following URL to read the full text of the original story:
https://www.jpost.com/breaking-news/islamic-state-now-appears-present-in-all-afghan-provinces-un-envoy-685294
------
Anxiety in Afghanistan as Taliban struggles for legitimacy
17 November 2021
Despite a crisis of trust both within the country and abroad, three months after the Taliban took control of Afghanistan, it is taking halting steps to pursue international legitimacy, a senior UN official in Kabul told the Security Council on Wednesday.
Deborah Lyons, UN Special Representative and Head of the UN Assistance Mission in Afghanistan (UNAMA), said that despite an improvement in the security situation, Afghans feel abandoned by the international community and anxious about their new leadership.
"Ultimately, the Taliban must decide on whether to govern according to the needs and rights of the diverse Afghan population, or whether to rule on the basis of a narrow ideology and even narrower ethnic base", she stated.
Disengagement a 'historic mistake'
Emphasizing that the Taliban are genuinely trying to present themselves as a Government, the Special Representative said that they are constrained by a lack of resources and a political ideology that clashes with contemporary international norms of governance.
Moreover, the Taliban has neither earned the trust of most Afghans nor convinced the nationals of their capacity to govern.
Against that tenuous backdrop, Ms. Lyons stressed that the international community must remain engaged with Taliban leaders in order to shape a more positive future trajectory.
"To abandon the Afghan people now would be a historic mistake – a mistake that has been made before with tragic consequences", she warned.
Trust deficits
Outlining her team's early interactions with the de facto Taliban administration, the Special Representative said engagements have been generally useful and constructive.
The de facto authorities have indicated that they want a UN presence and value its assistance.
They continue to seek international recognition as well as ways to overcome the trust deficit that they recognize exists between them and the international community.
The Taliban continue to provide security to UN staff and allow broad humanitarian access, including for women humanitarian workers, allowing access to parts of the country that had not been visited for 15 years.
"Be assured that we have not shied away from raising difficult issues with the Taliban, particularly on women's rights, girls' education and on reports … of harassment and extra-judicial killings", underscored the UN official.
Women and girls
Ms. Lyons said that in general, the Taliban have recognized the international community's concerns – often acknowledging mistakes and trying to address them.
However, they also make clear that for now there are limits to the concessions they are willing to make on certain issues, including those relating to the rights and freedoms of women.
While the de facto authorities had initially assured the global community that they would protect women's rights within Islamic law – including the right to education – there has nevertheless been a general curtailment of their fundamental rights and freedoms.
From a woman's right to work, to their absence from major decision-making fora and senior echelons of the civil service, their limitations have become obvious.
And the Taliban authorities have indicated that they are working on a nation-wide policy to govern girls' right to education.
The best way to promote stability and future international support is for the Taliban to avoid the isolation that characterized their previous experience in power – Special Representative
Building constructive relations
Ms. Lyons told Council members that Afghans generally feel apprehensive over Taliban intentions.
Among their top concerns are the country's paralyzed economy, the inability to withdraw money and fears of not being able to feed themselves during the winter.
The UN has also received credible reports of house searches and extra-judicial killings of former Government security personnel and officials.
Meanwhile to date, the Taliban has proven its inability to stem the expansion of Islamic State in Iraq and the Levant - Khorasan Province (ISIL-KP), where terrorist attacks have increased from 60 in 2020 to 334 so far this year.
In that context, Ms. Lyons called for the gradual establishment of constructive relations between Afghanistan and the world at large.
"The best way to promote stability and future international support is for the Taliban to avoid the isolation that characterized their previous experience in power", stressed the Special Representative.
Source: UN News
Please click the following URL to read the full text of the original story:
https://news.un.org/en/story/2021/11/1106032
------
Mideast
UN Says Afghanistan on Brink of 'Humanitarian Catastrophe'
2021-November-18
TEHRAN (FNA)- The United Nations envoy for Afghanistan on Wednesday announced the war-torn country is on the brink of "humanitarian catastrophe", pointing to food scarcity and the country's crumbling economy, and warned that extremism could arise due to current conditions.
During a press conference, Deborah Lyons said she told the UN Security Council that the regional and global community must continue helping Afghanistan as it heads into the winter, where pressing issues could lead to "terrible loss of life", The Hill reported.
"Now is not the time to turn away from the Afghan people. I stressed this to the security council, stressed the need for the regional and the global community to remain engaged in helping the people of Afghanistan as they face this very difficult winter with huge problems of not just food scarcity but a crumbling economy," Lyons noted.
"The Afghan people should not feel abandoned or forgotten by the international community, or any of the regional countries for that matter, due to the Taliban takeover. We must find ways to prevent an imminent humanitarian catastrophe and the terrible loss of life that could happen over the winter, and we can prevent it," she added.
Conditions in Afghanistan have been on the decline since the Taliban's swift takeover of the country following the US withdrew in August, putting the region in danger of food insecurity and other pressing issues.
A report from the UN's World Food Program and Food Agriculture Organization published last month found that nearly 19 million Afghans, or 47 percent of the population, were seeing high levels of acute food insecurity between September and October of this year.
The group announced the main forces driving the acute food insecurity was "drought and its impacts on crops and livestock, the collapse of public services, a severe economic crisis and increasing food prices".
Circumstances are expected to worsen in the coming months. Between November 2021 and March of next year, roughly 22.8 million Afghans will be experiencing "high levels of acute food insecurity", which is equivalent to 55 percent of the total population, according to the report.
A lack of international aid has contributed to the worsening conditions in Afghanistan.
Lyons on Wednesday noted the main driver behind the impending humanitarian catastrophe is financial sanctions imposed on the Taliban, contending that such tolls have "paralyzed the banking system, affecting every aspect of the economy".
She said that additional support from the regional and international community could make a "huge, live-saving difference", while also calling on "de facto authorities" in Afghanistan to respond to the concerns of individuals in the country.
"It does not have to be this way. We all recognize what is required to prevent the economic and societal collapse. We need now to work to find ways to prevent the millions of Afghans who are suffering and to counter any destabilization in the region," she added.
The United Nations' special envoy for Afghanistan has also warned that members of the Takfiri Daesh (ISIL or ISIS) terrorist group now seem to be present in all provinces of Afghanistan.
In a bleak assessment of the situation in Afghanistan during the past three months, Lyons stated that an offshoot of Daesh known as the Daesh-Khorasan, or ISKP, had grown and now appeared to be present in nearly all the 34 provinces of the country.
"Once limited to a few provinces and the capital, ISKP now seems to be present in nearly all provinces, and increasingly active," Lyons said, adding that the number of the group's attacks had increased from 60 in 2020 to 334 this year.
She announced the Taliban had been unable to stem the ISKP's growth.
Lyons stated that the Taliban's response to the expansion of ISKP "appears to rely heavily on extrajudicial detentions and killings" of suspected militants of this affiliate of Daesh, stressing, "This is an area deserving more attention from the international community."
The Taliban, who ruled Afghanistan from 1996 to 2001, took power again on August 15 as the US was in the middle of a troop withdrawal. The group announced the formation of a caretaker government on September 7. No country has yet recognized its rule.
Daesh, an ideological foe of the Taliban, initially secured a foothold in Eastern and Northern Afghanistan, particularly in the Eastern province of Nangarhar, which is regarded as its base in the war-torn country.
Soon after the Taliban's takeover of the country, Suhail Shaheen, a spokesman for the group, announced that during a three-year-long war with Daesh, the Taliban had managed to clear the Northern and Eastern parts of Afghanistan from the presence of the Takfiri group, stressing that "there is no Daesh in Afghanistan" anymore.
However, the ISKP has expanded and increased its deadly attacks since then and killed people, mostly Shia civilians, across Afghanistan, including the capital, Kabul.
Lyons' comments on Wednesday came after the Daesh offshoot claimed responsibility for two deadly explosions on Saturday in Dasht-e Barchi, a Kabul suburb dominated by members of the mostly Shia Hazara community, that killed and wounded several people.
The UN envoy further said that the UN mission regularly received credible reports of house searches and the "extrajudicial killings" of former security personnel and officials by the Taliban.
Source: Fars News
Please click the following URL to read the full text of the original story:
https://www.farsnews.ir/en/news/14000827000227/UN-Says-Afghanisan-n-Brink-f-'Hmaniarian-Caasrphe'
------
Erdoğan's Quest for a New Sharia-Based Alliance
byBurakBekdil
November 12, 2021
Turkish President Recep Tayyip Erdoğan is forging an Islamist alliance with the Taliban, Qatar, Pakistan and Malaysia.
U.S. President Joe Biden's lamentable decision to unilaterally withdraw from Afghanistan is paving the way for the emergence of a new sharia-based alliance, including NATO member Turkey -- theoretically a Western ally. Turkish President RecepTayyipErdoğan's Islamist ambitions appear to be seeking an international role in post-U.S. Afghanistan in alliance with the Taliban, Qatar, Pakistan and Malaysia. The trouble is, Turkey, among the new sharia alliance in the making, is the only country with institutional ties to the West.
Turn now to SADAT, a Turkish military consultancy and training company, though hardly an ordinary one. There were claims that the Erdoğan government, through SADAT, sent arms shipments to Syria to help the jihadists. Critics, including opposition lawmakers, have been inquiring about SADAT's activities, after suspecting its real mission may be to train official or unofficial paramilitary forces to fight Erdoğan's multitude of wars, both inside Turkey and without.
SADAT is owned by retired general Adnan Tanrıverdi who was appointed in August 2016 as Erdoğan's chief military advisor, but quit in 2020. In 1996, Tanrıverdi was forced to resign from the military due to "suspected radical Islamist activities." In a 2009 speech, Tanrıverdi said:
To defeat Israel, the country must be forced into defensive warfare, all of its forces must be engaged and the war must be prolonged.
What should Turkey do? The resistance units in Gaza should be supported by anti-tank and low-altitude anti-aircraft weapons.
Turkey, Iran, Syria, the Iraqi Resistance Organization and Palestine should form the nucleus of a defense structure. Within this context the formation of an Islamic rapid reaction force consisting of an amphibious brigade, an armored brigade and an airborne brigade should be encouraged.
Recently, SADAT advocated the idea of Turkey supporting and helping the Taliban -- a group it has called a resistance movement -- to establish a sharia state in Afghanistan. A research piece published on September 13 by Ali Coşar, a retired colonel and board member of SADAT, advocated that Turkey help the new Afghanistan run by the Taliban in cooperation with Pakistan, Qatar and Malaysia.
Turkey's Defense Minister HulusiAkar: "If the U.S. is to be in the Middle East, it must cooperate with Turkey."
Coşar dismisses the description that the Taliban is a terrorist organization: "They [the Taliban] are members of a resistance movement that fought against colonial America for 20 years to take over the government and establish a state that practices sharia. ..." Just like Ottoman Turks who ruled conquered lands under sharia law, he reminded his listeners.
Biden has weakened himself and his country so badly that the superpower was reduced to the point of being blackmailed by NATO's only Islamist member. Turkey's Defense Minister HulusiAkar has made it clear: "If the U.S. is to be in the Middle East, it must cooperate with Turkey."
Seth J. Frantzman wrote in the Jerusalem Post in August:
The victors in Kabul will be those who benefit from the Taliban taking power. They will also be those who benefit or cheer as the U.S. appears humiliated.
Among those 'winners' are Qatar, Russia, China, Pakistan, Turkey and Iran. This can be seen in various ways. Most of these countries hosted the Taliban or tacitly backed them.
Afghanistan is not Erdoğan's only pro-sharia ambition after the U.S. withdrawal.
As the international community focused on the chaos unfolding in Afghanistan, Turkey ramped up its drone attacks on Yazidis in Iraq's Sinjar district. The most recent strikes destroyed a medical clinic. Analyst Michael Rubin warned in the Washington Examiner:
The Turkish drone strikes increasingly threaten to undercut refugee repatriation inside Iraq and create space for the Islamic State to regroup, as the most effective Kurdish groups fighting ISIS are Sinjar's grassroots Kurdish and Yazidi militias.
Biden's catastrophic miscalculation in Afghanistan will also have unwanted repercussions in Syria. In an interview with The Independent, Abu Mohammad al-Joulani, leader of the Hayat Tahrir al-Sham (HTS) terrorist group, commentedon the Afghan situation: "The aftermath of the U.S. surprise withdrawal from Kabul will also have an impact on the Kurds [or, as he put it, 'the US-backed enemies of the Syrian revolution']."
HTS is a dominant jihadist power in the Idlib "de-escalation zone" in northern Syria. HTS has never been in direct confrontation with the Kurds. Al-Joulani's words, however, highlighted his open hostility towards the Kurdish administration that, as he purports, is only able to control a huge swath of Syria and maintain relative stability thanks to the US support. As soon as the last U.S. plane takes off from the Syrian soil, according to al-Joulani, this Kurdish dream will crumble.
When combined in a simple analytical way, Erdoğan's pro-sharia ambitions and the terrorist al-Joulani's statements herald a new jihadist proxy army for Ankara fighting on Syrian soil. The unwritten deal looks too apparent: HTS fighting Turkey's regional enemies, the Kurds and the Syrian regime, in return for tacit Turkish support for international recognition as a legitimate entity rather than as a terrorist one.
Erdoğan's Islamist, neo-Ottoman ambitions are now taking a pro-sharia turn. That is bad news for the region to Turkey's south and east. Worse, it is a slow-fuse time bomb for the West.
Source: Middle East Forum
Please click the following URL to read the full text of the original story:
https://www.meforum.org/62783/erdogan-quest-for-a-new-sharia-based-alliance
------
Iran Urges World Community to Help Afghanistan Neighbors
2021-November-18
TEHRAN (FNA)- Iran's Ambassador and Permanent Representative to the UN Majid TakhtRavanchi asked the international community not to leave Afghanistan's neighbors amid the increase in the number of refugees.
"Let's be straightforward. This is not a local challenge and Afghanistan's neighboring must not be left alone and expected to address this extremely difficult challenge single-handedly," TakhtRavanchi said on Wednesday, addressing a UN Security Council meeting.
"To date, we have done whatever in our power to help Afghans entering Iran, including through provision of basic needs," he said of the country's hosting nearly four million Afghans displaced by the United States' 2001-2021 invasion of Afghanistan.
The refugees include thousands, who have entered Iran since the catastrophic and sudden American withdrawal from Afghanistan in August, the envoy said.
He cautioned that the number could, however, be added by hundreds of thousands more as the winter approaches and amid the US's refusal to hand over the Afghan central bank's assets to the Taliban government under the pretext of illegal sanctions.
"Due to unlawful and inhumane US sanctions and in the absence of sufficient new financial resources, we will be unable to help them on our own anymore," TakhtRavanchi said.
In this context, he called on the international community and in particular donor countries to live up to their responsibilities and extend new and adequate financial resources to Afghanistan's neighbors to help Afghan refugees and displaced persons.
By sanctions, he was also referring to the draconian and coercive economic measures that Washington returned against Iran in 2018 after leaving a historic nuclear agreement between the Islamic Republic and others.
Source: Fars News
Please click the following URL to read the full text of the original story:
https://www.farsnews.ir/en/news/14000827000245/Iran-Urges-Wrld-Cmmniy-Help-Afghanisan-Neighbrs
------
Pakistan
Federal Shariat Court Told, Parliament, Executive Working To Make Financial Rules Conform To Islam
November 18, 2021
ISLAMABAD: The government called upon the Federal Shariat Court (FSC) on Wednesday to exercise "judicial restraint" by leaving it to the executive and the legislature to amend laws on Riba (interest) and other financial rules in keeping with Islamic traditions.
Attorney General Khalid Jawed Khan told the FSC that parliament, the executive and other organs of the state were trying to thrash out a consensus on measures needed to make banking and financial laws conform to Islamic injunctions.
The Supreme Court had remanded the Riba case back to the Shariat Court in 2002, asking it to review its 1992 judgement which declared that interest, or riba, was repugnant to Islam.
Banks and other financial institutions brought a total of 67 appeals against the judgement before the Shariat appellate bench of the Supreme Court. The bench upheld the FSC verdict and directed the government to amend all banking laws and statutes in accordance with it.
The parties concerned then filed a review petition with the Supreme Court, which remanded the case back to the FSC in 2002 for reconsideration.
Dr Babar Awan, Adviser to the Prime Minister on Parliamentary Affairs, is expected to appear before the FSC on Thursday (today) as amicus curiae to assist it in understanding banking practices across the world. Anwar Mansoor, a former attorney general, will also assist the FSC.
Interest-free banking thriving
In his submission, the attorney general (AGP) stated that a robust interest-free banking sector had evolved over the last three decades and was providing services to clients.
He said the legislature had carried out amendments in financial laws to make the Islamic mode of banking practicable, citing changes in the State Bank of Pakistan Act of 1956 and the Banking Companies Ordinance of 1962.
The AGP argued that instruments in the Islamic mode now accounted for 17 per cent of assets with banks while in terms of deposits, the share was over 18 per cent.
At present five Islamic banks are operating in the country while 17 other banks are providing Shariah-compliant products and services through a network of 3,456 branches, the AGP informed the Shariat Court.
"Any Pakistani desirous of engaging in banking and other financial transactions in accordance with religious injunctions can do so as Islamic banking is thriving in the country," Khalid Jawed Khan said.
"The success of Islamic banking in Pakistan and other Muslim states has now convinced even some non-Muslim countries that it is practicable. After the 2008 financial crisis, the West saw for itself the resilience of the Islamic banking sector."
Since then, Islamic banking had spread to Europe, North America and Africa, Khalid Jawed claimed.
Luxembourg, Hong Kong, South Africa and the United Kingdom have issued Islamic bonds in recent years, he recalled.
The attorney general cited a study, Islamic Banking and Finance Development Report of 2020, which said the Islamic finance industry saw a double-digit growth of 14 per cent in 2019 to record a total of $2.88 trillion in assets. The amount is estimated to reach $3.69tr by 2024.
"It is a humble endeavour of the federal government to persuade the FSC that while all organs of the state are bound by, and committed to, the obligation of bringing laws in conformity with the injunctions of Islam, the most democratic, effective and sustainable means of the fulfilment of this obligation is through parliament," the AGP emphasised.
Parliament and other institutions, including the Council of Islamic Ideology, were engaged in a 'collaborative process' to bring all the laws in conformity with the injunctions of Islam, Khald Jawed Khan said.
"This will help the state honour its obligation under Article 227 of the Constitution," he added.
Source: Dawn
Please click the following URL to read the full text of the original story:
https://www.dawn.com/news/1658745/parliament-executive-working-to-make-financial-rules-conform-to-islam-fsc-told
------
Fazl rejects electoral reforms, EVMs
November 18, 2021
Pakistan Democratic Movement chairman Maulana Fazlur Rehman on Wednesday rejected the electoral reforms introduced by the government led by Prime Minister Imran Khan and Electronic Voting Machines.
Talking to media in Quetta, he said that the government has proved our claims, adding that the opposition's movement is to bring the institutions to the original side. The JUI-F chief said that everything would devastate if the country's economy is ruined, adding that people are selling their children due to rising inflation.
Previously speaking to the media, Fazlur Rehman had said that smaller parties were pressurized to attend the joint sitting of the Parliament.
He said that the government does not have a majority and the coalition is not ready to support the current government, adding that incompetent rulers are using illegal methods to prolong power.
Source: Pak Observer
Please click the following URL to read the full text of the original story:
https://pakobserver.net/fazl-rejects-electoral-reforms-evms/
------
Families in IOK seek bodies of two civilians killed in raid
November 18, 2021
Dozens of relatives of two civilians killed in a controversial gunfight in Indian-occupied Kashmir (IOK) staged a protest in the disputed region's main city on Wednesday, pleading with authorities to return the bodies so they could bury them.
Four people, including two civilians and two alleged freedom fighters, died on Monday night in the raid by government forces in Srinagar, police said.
Police said the civilians died in the crossfire between government troops and the alleged freedom fighters. However, witnesses and families of the civilians said Indian troops used them as human shields during the standoff.
Indian authorities later secretly buried the bodies in a remote northwestern village as part of a policy that started in 2020.
Since then, authorities have buried the bodies of hundreds of alleged freedom fighters and their alleged associates, including civilians, in unmarked graves in remote areas, denying their families proper funerals.
The family members of the two civilians, identified as trader Mohammad Altaf Bhat and Mudassir Ahmed, a dental surgeon and real estate dealer, assembled in an area of Srinagar where several media offices are located and demanded the return of the bodies.
On Wednesday, a video of Bhat's daughter was shared widely on social media, in which the young girl recounted the moment the family found out about his death.
They raised slogans and some of them carried leaflets that read "Stop innocent killings & atrocities" and "We want justice."
SaimaBhat, a relative of trader Bhat, said they had little hope of any justice. "Justice is a long journey. We just plead right now that the bodies of our loved ones be returned," she said. "At least respect the dead and allow us to give them a dignified burial."
Authorities say the policy of not returning freedom fighters' bodies to their families is aimed at stopping the spread of the coronavirus and avoiding potential law and order problems during funerals.
The policy has added to widespread anti-India anger in the region and some rights groups have fiercely criticised the move, calling it a grave violation of religious rights.
India and Pakistan claim the divided territory in its entirety. Freedom fighters in the Indian-administered portion of Kashmir have been fighting New Delhi's rule since 1989.Tens of thousands of civilians have been killed in the conflict.—AP
Source: Pak Observer
Please click the following URL to read the full text of the original story:
https://pakobserver.net/families-in-iok-seek-bodies-of-two-civilians-killed-in-raid/
------
Southeast Asia
Muslims cannot use crypto, Indonesia clerical council says
SHOTARO TANI, Nikkei staff writer
November 18, 2021 12:51 JST
JAKARTA -- Indonesia's top Islamic body has told Muslims in the country to steer clear of cryptocurrencies as they are not permissible under Islamic law.
The recently announced decision by Majelis Ulama Indonesia (MUI), or the Indonesian Ulema Council, has elicited mixed reactions in a country where crypto trading has started to soar alongside a wider investment boom that took off during the pandemic.
AsrorunNiam, secretary of the MUI commission responsible for issuing fatwas, or religious edicts, said that as currency, cryptocurrencies are haram, not permissible under Islamic law, as there is an element of uncertainty and a potential for loss with the blockchain-backed assets. Niam added that the decision is also in line with Indonesian law, which deems the rupiah as the only legal tender.
Cryptocurrencies can be traded as commodities by Muslims if they can show benefits and abide by Sharia law, including having an underlying asset that is compliant with Islamic teachings, the secretary added. Assets that are deemed permissible include gold and silver.
MUI's fatwa comes amid an Indonesian boom in crypto trading. There were 9.73 million traders in Indonesia as of October, according to a trade ministry official, which regulates cryptoassets. Trading value reached 717.5 trillion rupiah, a significant increase from 65 trillion rupiah for the whole of last year.
The Ulema Council has the authority to decide what is permissible under Islamic law, and while its fatwa is not legally binding, its decision has wide implications in a country that is nearly 90% Muslim.
The fatwa runs contrary to the government's support of crypto technology; Jakarta is planning to open a crypto futures exchange, while Bank Indonesia is mulling a digital rupiah that would utilize blockchain technology.
"If Bank Indonesia wants to issue central bank digital currency using blockchain or distributed ledger technology, then, unfortunately, it will be considered as haram under MUI's fatwa, because under this fatwa, crypto or blockchain token[s] cannot be used for money for transaction," said Oscar Darmawan, founder of Indonesian crypto exchange Indodax. "There may be a dialogue between Bank Indonesia and MUI itself about this when the time comes."
Darmawan added that Indonesian crypto investors have yet to change their behavior in the wake of the fatwa.
"In Indonesia, crypto is only used as an asset or commodity," he said. "Therefore, the MUI fatwa didn't have much effect. No one sees it as a currency. They use crypto to get capital gain[s]."
A Muslim cryptocurrency trader told Nikkei Asia that he "didn't care much about the fatwa" because "stock trading, which is very similar to gambling, is still considered halal [permissible under Islamic law]."
"As long as the exchanges are not closed, I will continue [to invest in crypto]," he added.
TeguhHarmanda, COO of the Tokocrypto exchange, said a lot of Indonesia's regulations around cryptocurrencies are strict, with some already in line with Islamic law.
"If we take a look at the latest regulation [on cryptoassets], all of the exchanges need to follow the FATF standard," he said, referring to the Financial Action Task Force, an intergovernmental organization to combat money laundering. He said under the regulation, identities of the buyer and seller need to be recorded. "MUI mentioned [this aspect] about shariah requirement, [there needs to be clear information on] who sends the crypto, who receives the crypto. The latest regulation ... is almost perfect.
"I hope MUI can consider, think more about the new fatwa and I also think MUI and [relevant authorities] can communicate more on their stance on crypto."
Additional reporting by IsmiDamayanti
Source: Nikkei Asia
Please click the following URL to read the full text of the original story:
https://asia.nikkei.com/Economy/Muslims-cannot-use-crypto-Indonesia-clerical-council-says
------
Mosque cleaning campaign continues
November 18, 2021
Azlan Othman
Mosques, suraus and religious halls across the four districts continue to be sanitised in accordance with the guidelines set by the Ministry of Health in preparation of the re-opening of mosques, suraus and religious halls during the Transition Phase which begins tomorrow.
Members of mosque takmir committee, mosque youth group and congregants participated in the cleaning campaign.
Thorough cleaning and the rearranging of prayer mats as well as putting up signs for social distancing is ongoing at the HassanalBolkiah Mosque, LuaganDudok Mosque, PengiranAnak Haji Mohamed Alam Mosque in Kampong Sengkarai; Kampong LubokPulau Mosque and Kampong Benutan Mosque in Tutong District and Utama Muhammad Salleh Mosque in TemburongDistric.
The cleaning campaign will continue periodically to ensure that the places of worship are safe for use including sanitising door knobs and handles, surfaces such as racks, and also pillars using disinfectant.
The cleaning of restrooms and ablution areas are also conducted. Muslims are urged to step up efforts to help curb the spread of COVID-19 in the country and pray for protection and for the nation to be free from the pandemic.
Source: Borneo Bulletin
Please click the following URL to read the full text of the original story:
https://borneobulletin.com.bn/mosque-cleaning-campaign-continues/
------
Donation for mosques, suraus
November 18, 2021
Azlan Othman
Mosque Affairs Department at the Ministry of Religious Affairs (MoRA) received 350 face masks and 240 bottles of hand sanitisers from Syarikat Wisa Enterprise yesterday.
Acting Assistant Director of Mosque Affairs Haji Asminan bin Haji Chuchu received the donation from Syarikat Wisa Enterprise Managing Director Hajah Juliana binti Haji Nawi.
Also present were Syarikat Wisa Enterprise Executive Manager Suzanabinti Haji Nawi and officers from the Mosque Affairs Department.
Source: Borneo Bulletin
Please click the following URL to read the full text of the original story:
https://borneobulletin.com.bn/donation-for-mosques-suraus/
------
North America
For Fifth Time, GOP Boycotts High-Ranking Muslim Nominee Dilawar Syed
Amanda Terkel
11/17/2021
For the fifth time, Senate Republicans blocked Dilawar Syed, the nominee for the No. 2 spot at the Small Business Administration, from advancing out of committee on Wednesday.
Every single Republican on the Senate Small Business Committee skipped the vote for Syed, depriving the committee of a quorum needed to conduct business.
The move means that Syed's chances are likely over, at least for now. Wednesday's meeting was expected to be the committee's last for the year. The White House would have to resubmit Syed's nomination again in the new year for him to be considered again, and a spokesperson did not return a request for comment on what President Joe Biden planned to do.
"I hope we can find a path forward, but I'm at a loss," said Sen. Ben Cardin (D-Md.), the chair of the committee.
Biden first nominated Syed in March. If confirmed, he would become the highest-ranking Muslim official in the administration. Syed has received wide support from faith groups, civil rights organizations and members of the business community.
Yet Republicans have boycotted committee meetings on five occasions ― twice in July, once in September and twice this month. Therefore, Syed has not even received a vote.
Syed is a Pakistani American businessman who has stepped into public service roles both in California and at the federal level, leading engagement with small businesses for President Barack Obama's administration after the passage of the 2009 stimulus package. He is also co-founder of AAPI Victory Fund, a super PAC dedicated to mobilizing Asian American voters.
Republican senators' reasons for blocking Syed have shifted over time, but at no point have they said he is not qualified. They now say they oppose filling the deputy SBA job until the Biden administration commits to taking back loans to some Planned Parenthood affiliates under the Paycheck Protection Program.
The loans, however, were handed out during President Donald Trump's administration, not Biden's. They were meant to help small businesses keep employees on their payrolls during the pandemic. Planned Parenthood's affiliates are nonprofit organizations with leadership and funding structures separate from the national group, but Republicans say they are too closely tied and should not have received the money.
The Trump administration later tried to demand that Planned Parenthood affiliates return the money. They refused to do, saying they had obtained the loans legally under the original terms of the policy.
Sen. Rand Paul (R-Ky.), the small business committee's ranking member, told HuffPost recently that he has not been satisfied with the Biden administration's response to their Planned Parenthood concerns, which is why the blockade continues.
"They haven't been forthcoming on any of this," he said. "So we're not really happy with that."
But previously, Republicans had another reason for opposing Syed that was more directly about him: They questioned his allegiances because of his Muslim faith and implied that he might be anti-Israel because of his work with Emgage Action, a Muslim advocacy group. GOP senators backed away from that line of attack, however, when Jewish and other religious and civil rights organizations came to Syed's defense.
"Dilawar has been subject to an unjust smear campaign on the basis of his Islamic faith and Pakistani heritage. We cannot let hate and bigotry win," said Wa'elAlzayat, CEO of Emgage Action.
In July, American Jewish Committee, a Jewish advocacy group, said that while it "does not normally take positions" on nominees, the "accusations around Dilawar Syed's nomination based on his national origin or involvement in a Muslim advocacy organization are so base and un-American that AJC is compelled to speak out."
Cardin said he has worked to provide Paul with information about the Planned Parenthood loans, but that ultimately, they cannot force the SBA to take back loans that were legally given.
He also noted that in June, he asked for a voice vote to approve Syed. A few Republicans registered that they were "no" votes ― other Republicans backed Syed ― and he was prepared to then move forward and send Syed to the full Senate for approval.
A GOP staffer, however, raised an objection that a roll call vote did not take place. Since then, Republicans have not shown up for committee business.
In a statement Wednesday, Paul said the answers he has received from the SBA have not been sufficient.
"We have spent months using every tool at our disposal to get the SBA to tell us the truth about what is going on and reverse course with this money," he said. "The SBA has stonewalled us at every turn, refusing to answer basic questions or provide even customary oversight information."
Supporters from a number of organizations held a press conference Wednesday outside the Capitol, urging GOP senators to stop blocking Syed.
"For far too long, civil servants from ethnic or religious minorities have been held to different standards than white civil servants," said Arielle Gingold, deputy Washington director of Bend the Arc: Jewish Action, a progressive Jewish group. Gingold added that the Republican Party "used the Jewish community as a pawn" to block Syed.
ShekarNarasimhan, co-founder of AAPI Victory Fund, is a friend of Syed's who spoke at the press conference Wednesday. He told HuffPost that Syed recognizes "he's in the fight of his life."
"The fight is now about things that are now larger than just simply the SBA deputy administrator," Narasimhan said.
Syed has also received vocal support from MunrKazmir, a Pakistani American Jew who is a major GOP donor. He has been tweeting that Senate Republicans' refusal to move forward on Syed is hurting small businesses.
The level of support and campaigning for a nominee in this sort of role is unusual. Syed's supporters from various organizations have run a grassroots campaign for months, writing op-eds and conducting a Day of Action in September to put pressure on GOP senators.
"We will not be swayed by events staged to generate press releases and speeches," Paul said in his statement Wednesday, saying he will continue to demand "accountability for the Biden Administration's lawless actions."
"They are going to dissuade business people from ever trying to serve," Narasimhan said of Republicans. "Business people start to see this and say to themselves, 'It doesn't matter what I've done ... it doesn't matter what my objectives are. Somebody somewhere's going to find something and try to nail me to the wall. I don't know why anyone in their mind who's sane would do this.' That's not good for Democrats or Republicans, and most importantly, it's not good for America."
Source: Huff Post
Please click the following URL to read the full text of the original story:
https://www.huffpost.com/entry/dilawar-syed-gop-senators-boycott-small-business-administration-muslim_n_61940af1e4b05e93cbb64454
------
CAIR-Chicago Welcomes Resignation of Police Union Leader who Made Anti-Muslim Comments
Ismail Allison
November 17, 2021
(CHICAGO, IL, 11/17/2021) – The Chicago chapter of the Council on American-Islamic Relations (CAIR-Chicago) today welcomed the resignation of a police union leader who made violent anti-Muslim statements.
John Catanzara, president of the Fraternal Order of Police Lodge 7, Chicago's largest police union, yesterday resigned from the Chicago Police Department. Cantanzara said he would rather leave the department than go through with a disciplinary hearing he called a "farce." The hearing, which started Monday, was centered on Cantanzara's alleged actions and statements. In social media posts, Cantanzara called Muslims "savages" who "all deserve a bullet." He also compared Chicago's city employee vaccine mandate to Nazi Germany, appeared in uniform to promote Trump and expressed sympathy for the January 6th Capitol insurrection. Cantanzara said he will remain president of the police union. He also expressed intentions to run for mayor of Chicago.
SEE: Controversial Chicago police union president retires as cop
https://www.bnd.com/news/nation-world/national/article255865761.html
In a statement, CAIR-Chicago Executive Director Ahmed Rehab said:
"John Cantanzara has repeatedly demonstrated that he is not fit to enforce the law. His extreme bigotry and prejudice, blatant disregard for basic human decency, and long record of violations have been a disgrace to the police force and the city of Chicago. We welcome news of his resignation, and urge the Chicago Police Department to combat Islamophobia and all forms of bigotry in its ranks."
Rehab noted that CAIR-Chicago has previously called for Cantanzara's firing.
Source: CAIR
Please click the following URL to read the full text of the original story:
https://www.cair.com/press_releases/cair-chicago-welcomes-resignation-of-police-union-leader-who-made-anti-muslim-comments/
------
Poll: Americans Doubts Rising About Biden's Health, Mental Fitness
2021-November-18
TEHRAN (FNA)- American voters have increasing doubts about the health and mental fitness of President Joe Biden, the oldest man ever sworn into the White House, according to a new POLITICO/Morning Consult poll.
Only 40 percent of voters surveyed agreed with the statement that Biden "is in good health", while 50 percent disagreed. That 10-percentage-point gap — outside the poll's margin of error — represents a massive 29-point shift since October 2020, when Morning Consult last surveyed the question and found voters believed Biden was in good health by a 19-point margin, POLITICO reported.
Asked whether Biden is mentally fit, voters are almost evenly split, with 46 percent saying he is and 48 percent disagreeing. But that negative 2-point margin stands in stark contrast to Biden's numbers last October, when voters believed he was mentally fit by a 21-point margin.
The poll questions are part of a long battery of attributes about which voters were asked to rate Biden — the same battery employed multiple times during Donald Trump's presidency, and asked about both candidates last fall, prior to the 2020 presidential election.
The new polling comes amid persistent questions about whether Biden — who turns 79 on Saturday — will run for reelection in three years and as Democrats have grown increasingly concerned with the party's gerontocracy. Biden says he will run again, but some longtime allies have raised doubts. Even "Saturday Night Live" recently ribbed Biden over whether he was "lucid".
The most intense scrutiny of Biden's age and his verbal miscues had previously been limited to conservative news outlets and social media, stated Celinda Lake, a Democratic pollster who has surveyed for Biden.
"They're running a very aggressive campaign on this, and it's bleeding over into the mainstream a little," Lake continued, adding, "By and large, the people who believe this are Trump supporters anyway or they've been exposed to the right-wing disinformation machine."
To Lake's point, the Morning Consult poll generally shows that Trump voters and Republicans generally believe Biden is neither physically nor mentally fit, and Biden voters believe the opposite. However, independents — by a margin of 23 points — don't agree that Biden is mentally fit now.
Before last year's election, independents and voters overall believed Biden was more physically and mentally fit than Trump, whose mismanagement of the pandemic damaged his campaign as the Biden camp embraced social distancing and mostly eschewed large events.
But with Trump gone as a foil for now, Biden is more in the spotlight than ever, and his overall approval rating began collapsing with the bloody withdrawal from Afghanistan. The ravages of the coronavirus Delta variant, congressional squabbling and public perceptions about the economy also contributed to Biden's troubles.
The new Morning Consult poll shows 44 percent give Biden a positive job approval rating and 53 percent disapprove. Biden's approval rating is essentially unchanged over the past two weeks — it was 46 percent last week and 45 percent the week prior — since the passage of the infrastructure bill in Congress earlier this month.
A recent Harvard-Harris poll found that 53 percent of voters said they had doubts about Biden's fitness and 47 percent did not. Asked if Biden is too old to be president, 58 percent said he was and 42 percent said he was fit enough.
The Morning Consult poll found that voters didn't find Biden a clear communicator by 20 points, they didn't find him energetic by 26 points and they did not find he was a strong leader by 17 points.
The POLITICO/Morning Consult poll was conducted Nov. 13-15, surveying 1,998 registered voters. The margin of error is plus or minus 2 percentage points.
Republican pollster Neil Newhouse said Biden's difficulties communicating clearly could be a contributing factor in keeping his approval ratings low.
"When you watch Biden, you get a sense that he's just missing a beat, that he's not what he once was," Newhouse stated, adding, "Voters are picking up on it."
Newhouse noted that Biden is losing support among the most loyal Democratic segment of the electorate: Black voters. Not only does polling show it, Newhouse said — so did a recent focus group of Black voters in a Southern state who were interviewed to discuss policy issues.
Newhouse, who polled for Mitt Romney's 2012 presidential campaign, said he was surprised by the tepid response to Biden when the moderator asked the voters about the president.
"Biden is definitely slow on a lot of things. I'm not sure if it is because of his age, or if he's still going after 30 decades ago," one respondent joked, according to a transcript.
As if she would support Biden in 2024, the woman noted, "If he's alive. I'm just saying."
Source: Fars News
Please click the following URL to read the full text of the original story:
https://www.farsnews.ir/en/news/14000827000125/Pll-Americans-Dbs-Rising-Ab-Biden%E2%80%99s-Healh-Menal-Finess
------
US, Israel Mulling Short-Term Nuclear Deal With Iran to Extend Time for Talks, Reports Say
WASHINGTON (Sputnik) - The United States and Israel are discussing the idea of a temporary nuclear deal with Iran that would extend the time for negotiations to revive the Joint Comprehensive Plan of Action (JCPOA), Axios reported on Wednesday, citing three US and Israeli sources.
US National Security Adviser Jake Sullivan and his Israeli counterpart have discussed the proposal but talks are only in a preliminary stage, the report said.
According to Axios, the preliminary US plan would propose that Iran stop uranium enrichment at the level of up to 60 percent in exchange for unfreezing some Iranian assets and lifting sanctions on the supply of humanitarian goods.
Sullivan's counterpart, EyalHulata, reportedly disagreed with the plan, stressing that a short-term deal would become a permanent agreement that allows Iran to keep its nuclear infrastructure and uranium stockpile, the report said. He told Sullivan the United States and its European allies need to push for a censure resolution against Iran in the International Atomic Energy Agency's meeting next week.
US Special Envoy for Iran Robert Malley was in Israel earlier this week to meet with Hulata, Israeli Defense Minister Benny Gantz and Israeli Foreign Minister YairLapid, who conveyed that more pressure needs to be placed on Iran to revive the JCPOA.
The Vienna talks on the Iranian nuclear deal are set to resume on November 29 after being suspended in June due to the upcoming presidential election in Iran. The negotiations, which began in April, were held in the P5+1 format comprising Russia, China, the US, the UK, France, Germany and Iran, with no direct talks between the Iranian and American delegations as of yet.
In August, the newly elected Iranian president EbrahimRaisi noted that Tehran is ready for negotiations and would support diplomatic initiatives provided that Washington lifts anti-Iranian sanctions.
Source: Sputnik News
Please click the following URL to read the full text of the original story:
https://sputniknews.com/20211117/us-israel-mulling-short-term-nuclear-deal-with-iran-to-extend-time-for-talks-reports-say-1090810480.html
------
Arab World
Saudi Arabia to launch cervical cancer prevention program for girls aged 9-13
GHADI JOUDAH
November 18, 2021
JEDDAH: "In 2018 I was diagnosed with HPV strains 16 and 18, the leading cause for cervical cancer in women," 36-year-old H.A. from Jeddah told Arab News. "My life has changed since then. I now live in a constant state of fear of a future with cervical cancer. Every year for the foreseeable future, I must go through biopsies to monitor and detect the onset of cancer."
Cervical cancer is caused by the human papillomavirus, a common group of viruses that affects the skin. Although there are more than 100 different types of HPV, most do not cause problems. But there are certain types that can cause cancers and fall within the high-risk types.
Earlier this month, Dr. Abdullah Asiri, assistant deputy minister for preventive medicine, announced that the Saudi Ministry of Health was launching a large-scale HPV vaccination program for girls aged nine to 13 to immunize them against cervical cancer.
The HPV vaccine has been available since 2006. It has been approved and recommended by the World Health Organization since 2009, and many countries have introduced vaccine programs as part of early-screening initiatives. As the vaccine is a highly effective and cost-effective preventive measure, many nations have adopted the strategy to minimize the onset of cancer.
A 2021 HPV Information Centre study showed that approximately 358 new cervical cancer cases are diagnosed annually in Saudi Arabia, where cervical cancer ranks as the eighth most common cause of female cancer in women aged 15 to 44.
Many studies have shown that the rising incidence of HPV infection and cervical cancer can be reduced by effective vaccination from the age of nine.
A 2021 study said that, as of June last year, 107 of the WHO's 194 member states had introduced HPV vaccination. There is growing evidence that HPV is the leading cause of cervical cancer in women, where 70 percent of cases are from HPV strains 16 and 18, and the Kingdom is set to protect people at risk against vaccine-preventable diseases such as cervical cancer.
But the current debate on social media concerns the early age of nine to 13 for HPV vaccination.
"Numerous studies have shown that, to get 100 percent immunogenicity, the vaccine must be administered from ages nine to 26," oncological obstetrics and gynecology consultant Dr. AbdulrahimGari told Arab News. "Women can take it beyond the age of 26, but will not get the full immunity. The ideal age being as early as nine is because the vaccine works best before exposure to the virus."
The Saudi Food and Drug Authority has previously approved the prophylactic HPV vaccine in 2010 for females aged 11 to 26.
"I encourage you, mothers and sisters, to protect your loved ones," mother-of-two H.A. said. "Educate your children from an early age with awareness and vaccination before it's too late."
Source: Arab News
Please click the following URL to read the full text of the original story:
https://www.arabnews.com/node/1970236/saudi-arabia
------
Arab coalition strikes Iran Revolutionary Guard, Hezbollah experts in Yemen
November 18, 2021
RIYADH: Airstrikes took out a secret hideout in Yemen housing experts belonging to the Iran Revolutionary Guard and Hezbollah, the Arab coalition said on Thursday.
The capital, Sanaa, as well as locations in the governorates of Dhamar, Saada, and Al-Jawf were hit in a wide-ranging coalition operation to weaken the Iran-backed Houthi militia.
Al-Dulaimi airbase and warehouses in Sanaa were struck by coalition forces, Al Arabiya TV said early on Thursday, citing sources.
Hours earlier, the coalition blew up an explosive drone targeting Abha International Airport, in Saudi Arabia's Asir province.
The Kingdom is targeted on a near daily basis by the militia in Yemen, who use explosive drones, which are scarcely effective against Saudi air defenses.
Flights were operating normally at the airport on Thursday, with no delays or cancellations reported.
A Houthi drone targeted the same airport in October, leaving four workers with minor injuries caused by falling debris.
On Wednesday, the coalition also destroyed two drones aimed at the southern Saudi city of KhamisMushayt. The force said it had carried out 29 operations targeting the militia in Marib and Al-Bayda during the previous 24 hours, resulting in the destruction of an air defense system and the death of over 90 Houthis.
Actions against civilians by the Houthis have been condemned by the Kingdom's leadership repeatedly, calling them tantamount to war crimes.
The Arab coalition has been supporting the internationally recognized Yemeni government regain full control of the country after the Houthis seized Sanaa in 2014.
The resource-rich governorate of Marib has seen intense fighting between the Houthis and the Yemeni government. The militia, seeking to strengthen their control of the north with an advance into the region, has sustained heavy losses without much gain.
On Wednesday, hundreds of Yemeni government troops were deployed to the central city of Marib to reinforce the soldiers and allied tribes fighting off the bloody Houthi offensive that is encroaching on the strategic location outside the city.
Video footage on social media showed a long convoy of pickups, buses, and military vehicles carrying hundreds of soldiers who were chanting, "with our souls and blood, we will redeem you, Yemen," while heading to Marib.
In March, Saudi Arabia announced a roadmap called the Riyadh Initiative to halt fighting in Yemen and reopen Sanaa airport, as well as continuing talks to find a solution to the conflict. The proposal was seen as a welcome step internationally, but has been rejected by Houthi leadership.
The war, which has now lasted for seven years, has cost thousands of Yemenis their lives and has forced many more to depend on humanitarian assistance.
Saudi relief agency, KSrelief, has poured billions of dollars worth of aid into Yemen and has hundreds of projects focusing on food and health.
Source: Arab News
Please click the following URL to read the full text of the original story:
https://www.arabnews.com/node/1970221/saudi-arabia
------
UNDP Saudi Arabia launches accelerator lab
18 November 2021
LOJIEN BEN GASSEM
Innovation needed to respond to government's changes, says UNDP official
RIYADH: An accelerator lab to find solutions to modern-day challenges was launched by the UN Development Programme in Riyadh on Wednesday.
Adam Bouloukos, who is the UNDP's resident representative in the Kingdom, said the accelerator lab was launched because ideas and innovation were needed to respond to the government's changes and its new agenda.
"The nature of our work here is at a quite high policy level, which is part of the reason we launched this accelerator lab, because we need better ideas, more creative ideas, and innovation to respond to the government's changes and its new agenda," he told Arab News. "We have in our team three experts. We're looking at different elements of research analysis and experimentation to help us better formulate projects and programs with the goal. All of our projects are in partnership with the government and the Kingdom of Saudi Arabia. This program is unusual in UNDP because it's a large learning network."
He said the accelerator lab initiative was in 91 locations and supported 115 countries, with the aim of finding solutions to developmental challenges and responding to them rapidly and at scale.
The Saudi Accelerator Lab has three core members: Layan Al-Saud, who is the head of solutions mapping, Saud Al-Fassam, head of exploration, and Abdulrahman Al-Ghamdi, who is head of experimentation.
Al-Saud's role is to immerse deeply in communities, identify local solutions, and bridge bottom-up solutions with policy design. Al-Fassam's responsibility is to shed light on emerging trends, use data science to identify patterns, and make a case for change. Al-Ghamdi's job is to build portfolios of social or environmental solutions, strengthen solutions, and learn through experimentation.
Al-Saud said that Saudi Arabia was still missing a sense of real community engagement. "Sometimes we tend to think that we always want to get something from a global best practice, rather than looking at what the local solutions are and how we can work on that to amplify it. So, one size does not fit all in terms of innovation.
"What we are trying to do is to hear more from our global counterparts around what they're doing and gain inspiration from that, but not copy-paste what's happening. We tried to see locally what the issues are and work on that as well."
Bouloukos said the initiative was coming to Saudi Arabia at the right time.
"Look at what's happening in Saudi Arabia, the place is booming with ideas. Some of that is politically driven in the sense that you have strong leadership, but you also have the opening of the country generally, tourism, young people with a voice, a growing civil society, nonprofit sector, and academic institutions.
"I feel like I'm here at the right moment, where the changes are becoming very tangible, and I'm happy to contribute. I can only do this and support the government if I have innovative ideas and creative opportunities."
Source: Arab News
Please click the following URL to read the full text of the original story:
https://www.arabnews.com/node/1970251/saudi-arabia
------
Diplomatic Quarter: UK envoy visits British Council's rebranded Riyadh center
November 18, 2021
RIYADH: The UK's ambassador to Saudi Arabia visited the British Council's rebranded Riyadh center to mark the resumption of face-to-face English courses in the Kingdom for the start of the new school term.
Neil Crompton met with the British Council team based in the Saudi capital for a tour of the center and spoke to teachers and students about their experiences with the organization and future ambitions.
During his visit, the envoy pointed out the importance of cultural exchange and continued professional development between the UK and Saudi Arabia.
He said: "Learning the English language and obtaining recognized certificates opens new pathways for students across the Kingdom in terms of professional and personal development.
"The British Council center enables students to undertake a wealth of academic, professional, cultural, and personal projects and I was delighted to have witnessed the resumption of face-to-face English courses and talk to students during my time at the British Council's Riyadh center."
Grant Butler, the council's director of English services, said: "We have been working hard over the last few months to ensure that our face-to-face classes can be delivered in a secure and enjoyable environment using similar health and safety measures in line with government guidance.
"We are giving as much choice as possible, so if a parent wants their child to study online, they can. And those that do return to class also know that classes can be moved online, if necessary," he added.
Classes for secondary students and adults are now available and will be combined with online guided learning that students can undertake independently at home.
The move comes on the back of local health authority and government guidance and will see teaching centers implementing health and safety precautions to protect staff, teachers, and students.
The British Council is the UK's international organization for cultural relations and educational opportunities, and builds connections, understanding, and trust between people in the UK and other countries through arts and culture, education, and the English language.
Source: Arab News
Please click the following URL to read the full text of the original story:
https://www.arabnews.com/node/1970241/saudi-arabia
------
Europe
UK Reportedly Weighing Albania Asylum Centre as France Refutes '100% of Crossing' Prevention Claims
The British government is considering opening an asylum centre in Albania, which ministers see as a deterrent to Channel-crossing migrants, The Times has cited unnamed Down Street sources as saying.
The plan reportedly stipulates that migrants entering the UK in dinghies and small boats will be transported to the centre within seven days for off-shore processing. The project would purportedly cost British taxpayers £100,000 ($134,800) per migrant for flights and accommodation.
Another source argued that "off-shore processing is our [the UK government's] best hope now, as nothing else is working" when it comes to the ongoing small boat arrivals.
France Rejects British Claims About Deal to Prevent '100%' of Channel Crossings
The sources' allegations came as the French Embassy in London rejected British claims that the UK and France had reached a deal to prevent "100 percent" of Channel crossings from France.
The statement followed UK Home Secretary Priti Patel meeting French counterpart Gerald Darmanin in Paris to discuss migrant crossing-related issues. Following the talks, the Home Office claimed that Patel and Darmanin "agreed to strengthen operational cooperation further" and that "more must be done to stop the dangerous crossings".
According to the Home Office, the two also agreed "to accelerate the delivery of the commitments made in the joint agreement of July 2021 to deliver on their joint determination to prevent 100% of crossings and make this deadly route unviable".
In September, it was reported that Patel plans to allow the country's Border Force to turn back small boats carrying migrants across the Channel.
British media outlets cited unnamed government sources as saying that Patel ordered officials to rewrite the UK's interpretation of maritime laws so that the migrant boats can be turned around and dealt with by French authorities.
The claims came after Patel threatened to halt funding promised to France in July in a deal to help Paris to tackle migration.
On 21 July, London pledged to pay Paris £54 million ($74 million) to help fund their efforts to curb migrants crossing the English Channel, including by deploying more security forces and installing surveillance equipment.
Meanwhile, 1,185 migrants crossed the Channel into the UK last week, in what was the highest number ever recorded in a single day. In total this year, there have been over 20,000 crossings, more than double the figure for all of 2020.
Reports about the UK pondering the creation of a new asylum centre in Albania come after Britain lost the right to transfer refugees and migrants to the EU nation they arrived in following the expiration of the Brexit transition period on 31 December 2020.
The asylum centre initiative is also part of the yet-to-be-passed Nationality and Borders Bill, a cornerstone of the UK government's new plan on immigration-related issues. The document envisages that "Sections 77 and 78 of the Nationality Immigration and Asylum Act 2002" will be amended "so that it is possible to move asylum seekers from the UK while their asylum claim, or appeal is pending".
"This will keep the option open, if required in the future, to develop the capacity for offshore asylum processing - in line with our international obligations", the document reads.
Source: Sputnik News
Please click the following URL to read the full text of the original story:
https://sputniknews.com/20211118/uk-reportedly-weighing-albania-asylum-centre-as-france-refutes-100-of-crossing-prevention-claims-1090819470.html
------
Judicial pretrial set for Dec. 15 for accused in fatal truck attack on Muslim family in London, Ont.
Nov 17, 2021
YumnaAfzaal, 15, left, Madiha Salman, 44, centre left, TalatAfzaal, 74, and Salman Afzaal, 46, right, were out for an evening walk in June when they were run over in a truck attack police say was motivated by anti-Muslim hate. (Submitted by Afzaal family)
A judicial pretrial has been set for Dec. 15 for the accused in the fatal truck attack on the Afzaal family in London, Ont., last June.
Five members of the Afzaal family were struck on June 6. Salman Afzaal, 46, his wife Madiha Salman, 44, their daughter YumnaAfzaal, 15, and Salman's mother, TalatAfzaal, 74, were killed. The youngest member of the family survived, and has since been released by hospital.
Nathaniel Veltman, who made a brief court appearance via video Wednesday morning, has been charged with first-degree murder, attempted murder and terror-related offences.
What we know about the accused in the fatal attack on a Muslim family in London, Ont.
9-year-old survivor of London, Ont., attack released from hospital, accused also faces terror charges
During the Zoom appearance from the Elgin Middlesex Detention Centre, the 20-year-old wore an orange T-shirt and pants, and a blue mask. He spoke only to state his name, date of birth and the name of his lawyer, Christopher Hicks.
An articling student appearing on behalf of Hicks told the court a Crown pretrial was held Tuesday.
Nathaniel Veltmen, 20, has been charged with first-degree and attempted murder, and terrorism. (Sketch by Lauren Foster-MacLeod)
In next month's judicial pretrial set, Hicks, the Crown, the police officer in charge of the case and a judge will meet to discuss issues in the case.
Muslim leaders urge Ontario to adopt Our London Family Act to immediately combat Islamophobia
Prosecutors consider the attack on the Afzaal family an act of terrorism, motivated by anti-Muslim hate.
A publication ban on evidence remains in effect.
Source: CBC
Please click the following URL to read the full text of the original story:
https://www.cbc.ca/news/canada/london/london-attack-pretrial-1.6252178
------
Hate speech trial opens for French far-right pundit
By Sylvie Corbet ()The Associated Press
Wed., Nov. 17, 2021
PARIS (AP) — A far-right TV pundit who is expected to run for the French presidency goes on trial Wednesday for allegedly inciting racial hatred with his comments on unaccompanied migrant children.
Eric Zemmour, who has two prior hate speech convictions, is being tried on charges of "public insult" and "incitement to hatred or violence" against a group of people due to their ethnic, national, racial or religious origin.
The essayist and commentator on former political talk shows is widely expected to soon announce his candidacy in France's April presidential election. Adopting an attitude much like former former U.S. President Donald Trump, Zemmour is finding fervent audiences for his anti-Islam, anti-immigration invective in the early stages of the race.
Zemmour previously was convicted of incitement to racial hatred after justifying discrimination against Black and Arab people in 2010, and of incitement to religious hatred for anti-Islam comments in 2016. He was respectively sentenced to pays court costs and a 5,000-euro ($5,660) fine.
The trial opening Wednesday focuses on September 2020 comments he made on French news broadcaster CNews about children who migrate to France without parents or guardians. If found guilty, he faces a sentence of up to one year in prison and a 45,000-euro ($51,000) fine.
"They're thieves, they're murderers, they're rapists. That's all they are. We must send them back," Zemmour said. "These people cost us money."
Zemmour was not present Wednesday at the Paris court. In a statement, he denounced "an attempt to intimidate (him)" from prosecutors and anti-racist groups. He maintained his comments and said he won't attend the trial "because the political debate doesn't take place in courts."
The verdict is expected to be delivered at a later date.
The head of the managing board of Canal +, CNews' parent company, Jean-Christophe Thiery, is also on trial in the case, as the person legally in charge of the television show. The French media watchdog, the Superior Audiovisual Council, imposed a 200,000-euro fine in March on CNews for broadcasting comments inciting hatred.
Civil plaintiffs in the case include several local councils representing divisions handling child care and anti-racism groups including SOS Racisme, the Human Rights League and the International League Against Racism and Anti-Semitism.
"We refuse for these comments to be trivialized and to target foreign non-accompanied minors who come to seek protection in France, as well as all those who work to help them," said the departmental council of Seine-Saint-Denis, north of Paris.
Zemmour's lawyer, Olivier Pardo, argued in favor of nullifying the charges and suggested the trial is politically motivated, noting that the local councils represented at the Paris court are headed by a leftist majority.
Zemmour is also set to go on trial on charges of "racial insult" after he told another TV pundit, HapsatouSy, that her first name was "an insult to France." Sy has filed a formal complaint. No trial date has been set.
Zemmour has repeatedly said he wants to ban parents from giving children foreign names, similar to an 1803 law restricting choice to typical French names, mostly of Christian origin.
Zemmour has also been tried in several other cases, where he was acquitted.
A Paris court in February acquitted Zemmour on a charge of contesting crimes against humanity — illegal in France — for arguing in a 2019 television debate that Marshal Philippe Petain, head of Vichy's collaborationist government during World War II, saved France's Jews from the Holocaust.
In its verdict, the court said Zemmour's comments negated Petain's role in the extermination. But in acquitting Zemmour, it said he'd spoken in the heat of the moment.
Yet Zemmour in recent weeks has repeated similar comments and lawyers contesting his acquittal plan to cite that point as evidence when their appeal is heard in January.
Source: The Star
Please click the following URL to read the full text of the original story:
https://www.thestar.com/news/world/europe/2021/11/17/hate-speech-trial-of-likely-french-far-right-candidate-opens.html
------
Studying Latin and Greek is an antidote to the shallow woke ideology
Ancient cultures can emancipate us – their strength is that they do not offer a pre-packaged set of values
MARIE DAOUDA
17 November 2021
The French minister for education, Jean-Michel Blanquer, has announced a European plan for the teaching of Greek and Latin. He sees this project as a response to the "abyssal absurdity of woke ideology". While Canadian students burn the Odyssey because it allegedly promotes slavery, and universities "decolonise Classics", this project aims to unite Europe around a shared cultural identity.
Yet the Classics are not about Europe. Neither are Greek and Latin limited to the transmission of a "white Western male ideology". Classics are not a distant point in the past, but a world we all still navigate.
Classics face discredit because people who know the value of Greek and Latin send the message that ancient languages are too hard for younger people – especially those from ethnic minorities. "Decolonising" is gatekeeping in disguise. When education was made free in France, if one wanted to become a lawyer, one studied Latin; and if one had a medical vocation, one studied Greek – not because it was a privilege but because it was necessary for understanding the language of the profession. Classics are still a major factor in social mobility. They are often vilified as creating an elite. The blame should not be put on Classics but on educators who deem their pupils unworthy of Greek or Latin.
In any case, classical culture is far from being "oppressive" or "heteronormative". Hermaphroditus is one of the most fascinating figures of Greek mythology. The Classics are not a world of pompous bearded men discussing abstractions. Of course, our laws would not be the same without Plato and Aristotle. Yet, look at any Classics bookshelf, and you will find tales of the creation of the world and of the women of a whole city going on a sex-strike, of Sapho mourning over her dead female pupil as Achilles mourns over Patroclus, and of Trimalchio using a silver vessel as a urinal. Not to mention passages in Ovid or Petronius that would make many a modern libertarian look like a prude.
Classics are neither about Europe, nor about dead white men, nor even just about antiquity. Seneca was from Spain, which was harder to access from Rome than Tunisia. St Paul was Jewish and a Roman citizen. St Augustine was a 4th-century North African who wrote in Latin and was notoriously bad in Greek. St John of Damascus was born in modern Syria and died in Jerusalem, and wrote a refutation of Islam in Greek in the 8th century. In the modern era, Benjamin Larnell, a Native-American student in the American colonial era, wrote poetry in Latin. The African-American poet Phillis Wheatley was taught Greek and Latin by the family who emancipated her.
Greek and Latin do emancipate us. Perhaps their strength is that they do not offer a pre-packaged set of "values" that might fall down in our collapsing ethical stock-market. Classics help us take things with a wholesome distance, as all empires must fall; and find our way through a maze of sciences, languages, and cultures to reach a more enduring understanding of humanity. Values do change: the values of Athens are not the ones of Renaissance Europe. But our theatres, medical practices, courts of justice and modern human rights, shaped by Greek and Latin, show what is universal about our needs. Even the half-Latin, half-Greek phrase "dismantle the patriarchy" pays homage to our ancient roots.
Marie KawtharDaouda is a lecturer at the University of Oxford
Source: Telegraph Uk
Please click the following URL to read the full text of the original story:
https://www.telegraph.co.uk/news/2021/11/17/studying-latin-greek-antidote-shallow-woke-ideology/
------
Africa
Bishops, Imams endorse Okorocha as Buhari's successor
On Nov 18, 2021
Ahead of the 2023 general elections, some Bishops and Imams under the aiges of College of Bishops, Council of Imams and Council of Bishops in Nigeria have declared support for the former governor Imo state, Senator RochasOkorocha.
The clerics who converged on Abuja, Tuesday dressed in their full ragelia urged all their members to mobilise human and material resources in ensuring emergence of AnayoRochasOkorocha as President of Nigeria at 2023 poll.
In a speech presented by the President of Bishops and Immams in conjunction with Leaders Alliance Network, Archbishop Dr. Joe Wealth, flanked by Dr. Paul John Paul, President of Leaders Alliance Network, the clerics said, as the 2023 presidential campaign builds up, it has endorsed Senator Okorocha as the next President of the Federal Republic of Nigeria come 2023.
According to the group, the choice of RochasOkorocha as the best candidate for the Job as the President of The Federal Republic of Nigeria is premised on his proven track records as a unifier and person with a compassionate heart for the down trodden.
"He is an epitome of equity, peace, justice and fair piay for the Nation if voted into power come 2023.
"The group further contend that going by Zoning arrangement and based on
equity and justice, OwelleRochasOkorocha, being an lgbo Man is naturaily favoured to become the next president of Nigeria.
"The group believes that due to the current wide range of agitations bordering on insecurity, |ack of proper planning and economic management of our endowed rich natural and human resources, the high rate of unemployment among the youths
that the choice of RochasOkorocha is the right candidate to fix the CHALLENGES.
"According to the group of Bishops and Immans from the different states of the country RochasOkorocha's Philanthropic disposition across the country has clearly
distinguished him as the best candidate for the plum job.
"They further stressed that Rochas Foundation have provided free Education for the less privileged Nigerians across the states and villages.
"The group therefore call on President MuhammedBuhari to consider Senator RochasOkorocha as the best parting gift in 2023, while urging all and sundry to pray and support Rochas' candidature as the next president of the Federal Republic of
Nigeria.
"From the evidence of RochasOkorochas intimidating Credentials, avalanche of Numerous Honors and Awards given to him across the country such as OWELLE NDI IGBO, DAN JEKAN SOKOTO, MAGA ALHERI HAUSA, OMORODUN OF YORUBALAND, OKALLA OF EI'CHE, JAGABAN OF LAFIA, etc. has positioned him as generally acceptable Presidential Candidate.
"Rochas is a man who believes in having strong institutions over powerfu| individuals which according to him will help in solidifying Nigeria's democracy and preserving the rule of Law which is the immediate ingredients in sustainability of our constitution.
"We are convinced Rochas will hit the ground running by finding lasting and
sustainable answers to unending questions on our unity by ensuring a country were equity, justice and fairness prevails."
Source: Champion News
Please click the following URL to read the full text of the original story:
https://championnews.com.ng/bishops-imams-endorse-okorocha-as-buharis-successor/
------
Five anti-coup protesters in Sudan killed by gunfire
November 18, 2021
Thousands of Sudanese protested against last month's coup in Khartoum and other cities on Wednesday, with security forces shooting dead at least five people and wounding dozens, medics said.
The protesters marched in scattered neighbourhoods across Khartoum and its twin cities of Bahri and Omdurman as security forces fired live bullets and tear gas after mobile phone communications were cut earlier in the day, witnesses said.
"The coup forces used live bullets heavily in different areas of the capital and there are tens of gunshot injuries, some of them in serious condition," said the Central Committee of Sudanese Doctors, a group of medics aligned with the protest movement. —AFP
Source: Pak Observer
Please click the following URL to read the full text of the original story:
https://pakobserver.net/five-anti-coup-protesters-in-sudan-killed-by-gunfire/
------
Tear gas fired at dozens of protesters in Sudan capital
November 18, 2021
KHARTOUM: Sudanese security forces fired tear gas Thursday morning at dozens of protesters manning barricades in the capital Khartoum, a witness said.
Police have remained deployed in large numbers in north Khartoum where demonstrators kept up their protests through the night, witnesses said.
Wednesday saw the deadliest crackdown on anti-coup protests since last month's military takeover.
At least 15 demonstrators were killed in Wednesday's protests, most of them in north Khartoum, medics said.
Source: Arab News
Please click the following URL to read the full text of the original story:
https://www.arabnews.com/node/1970341/middle-east
------
URL: https://www.newageislam.com/islamic-world-news/hindus-muslim-bsf-kali-puja-temple/d/125796
New Age Islam, Islam Online, Islamic Website, African Muslim News, Arab World News, South Asia News, Indian Muslim News, World Muslim News, Women in Islam, Islamic Feminism, Arab Women, Women In Arab, Islamophobia in America, Muslim Women in West, Islam Women and Feminis