New Age Islam News Bureau
5 Oct 2018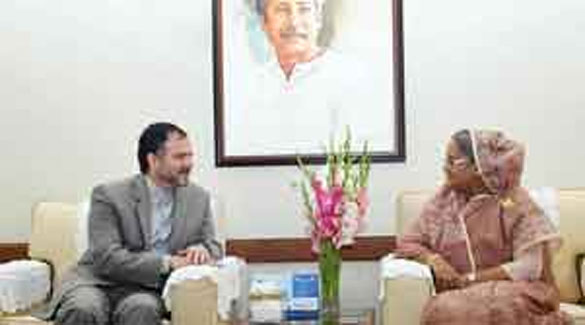 Photo: Iranian Ambassador to Bangladesh Dr Abbas Vaezi Dehnavi pays a farewell call on Prime Minister Sheikh Hasina at her official residence Ganobhaban on Thursday, October 4, 2018. Photo: PID
--------
• Turkey will not leave Syria until Syrian people have an election, Erdogan says
• Report: Boko Haram Causing Nigerians to Abandon Islam: 'People Are Boycotting the Mosques'
• Iraq officially rejects US claim of Iran role in Basra violence
South Asia
• Muslim countries should resolve disputes through dialogue: PM
• 54,000 Afghan soldiers to ensure election security
• Myanmar bishop calls for united peace effort
• Afghanistan against privatisation of war on terror, to introduce private contractors instead of foreign troops
• US service member killed in Afghanistan: NATO statement
--------
Mideast
• Turkey will not leave Syria until Syrian people have an election, Erdogan says
• Jerusalem to remove UN agency for Palestinians from city
• Dangerous US policies, not Iran, should worry NATO: Tehran
• Germany, Israel agree Iran must never have nuclear weapons
• Interfaith children's book about Jewish and Muslim boys in Jerusalem
• UN envoy to Yemen hopes to resume talks by November
• Houthi restrictions push UN to suspend crucial cash aid to 9 mln Yemenis
• Yemeni nation not to give in to aggressors' demands: Houthi leader
• Israel to construct 14,864 new settler units in occupied West Bank
• High-profile Kurdish PKK terrorist 'neutralized' in southeastern Turkey
• US Treasury imposes sanctions on Hezbollah financier and seven companies
--------
Africa
• Report: Boko Haram Causing Nigerians to Abandon Islam: 'People Are Boycotting the Mosques'
• Application for more mosques underway
• UN extends migration ship searches off Libya
• As Somalia marks horrific attack, a book explores al-Shabab
• Boko Haram has been repelled, Cameroon's leader declares
--------
North America
• Iraq officially rejects US claim of Iran role in Basra violence
• Grasso apologizes to Muslim council president, deletes 'hate-filled' posts
• John Bolton: 'Iran has been world's central banker for terrorism since 1979'
• US withdrawal from Vienna treaty protocol irks Ramallah
• Pakistani FM hopeful on rebuilding ties with US
• Trump's counter-terrorism strategy identifies LeT, TTP as potential threat to US
• Iran faces sensitive time over threat from America, economic woes, leader says
• US not on the road to war with Iran: General Joseph Votel
• US treasury takes action to disrupt Hezbollah funding channels
--------
Arab World
• Syria's new religious bill angers Assad loyalists
• Western Arms Discovered in Terrorists' Bases in Syria
• Syrian Army Drives ISIL out of More Regions in Sweida Deserts
• Turkey-Backed Terrorists Continue Plundering Afrin's Historical Artifacts
• 3 Mass-Graves of Syrian Army Forces Found in Idlib
• Tahrir Al-Sham, Ankara Disagree over Sochi Agreement
• New Tensions Reported in Manbij Provoked by US-Backed SDF
• Saudi Arabia seeks wide-ranging deals with South African arms firms amid Yemen war
• Saudi, UAE 'interfering' in UN panel's work on Yemen
--------
Pakistan
• Kartarpur border won't be opened till India responds to talks offer
• Cross-border support to terrorists threat to security: Maleeha Lodhi
• US refused to broker India talks: Pakistan
• SC hears petition seeking suspension of police officers' bail in Benazir murder case
• Peshawar University students beaten up, arrested by police
• Religious cleric, guard shot dead in Peshawar
• Eradication of terrorism must for prosperity: NA speaker
--------
India
• BSF man among two arrested for Hizb links
• India deports first Rohingya Muslims back to Myanmar despite last minute asylum plea
• After Mamata's Durga Puja sop, Muslim clerics demand hike in imam stipends
• Muslim teenager wins Bhagavad Gita contest
--------
Europe
• German intelligence warns of far-right terror threat
• French leader provokes uproar with 'teaching Arabic leads to terrorism' jibe
• Matami Juloos 2018 - Muslim procession returns to Birmingham and this is what it means
• Turkey's defense minister meets British counterpart
• Councilman's Anti-Islam Facebook Posts Prompt Call To Resign
• Merkel says Iran's presence near Syrian-Israeli border unacceptable
• Son of jailed Bahraini activist end hunger strike in London
S• audis finance Western media to demonize opponents: Expert
• Paris bomb plot claims dash Tehran's hope for EU help
• Irish troops trapped in Syria due to paperwork blunder
--------
Southeast Asia
• Guan Eng: Hadi does not treat non-Muslims with respect, dignity
• Terengganu MCA: PAS' new event guideline affects non-Muslims
• 'Weaponisation' of religious sentiment in Indonesia's cyberspace
• Arrested Syrian may be at risk if sent back, say UN and Malaysia rights groups
Compiled by New Age Islam News Bureau
URL: https://www.newageislam.com/islamic-world-news/muslim-countries-resolve-disputes-dialogue/d/116568
--------
Muslim countries should resolve disputes through dialogue: PM
October 05, 2018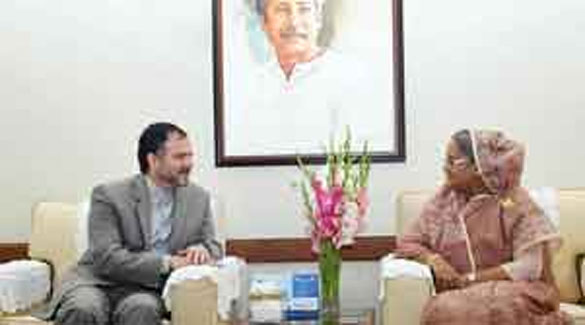 Photo: Iranian Ambassador to Bangladesh Dr Abbas Vaezi Dehnavi pays a farewell call on Prime Minister Sheikh Hasina at her official residence Ganobhaban on Thursday, October 4, 2018. Photo: PID
------------
Prime Minister Sheikh Hasina yesterday insisted that the Muslim countries should resolve their disputes through dialogue instead of fighting each other, as the outgoing Iranian ambassador called on her at Gono Bhaban.
"Any kind of dispute among the Muslim states, particularly the OIC member countries, should be settled through discussions," PM's press secretary Ihsanul Karim quoted her as saying when Iranian Ambassador Dr Abbas Vaezi Dehnavi paid a farewell call on her.
The premier also urged the Muslim countries to continue mounting pressure on Myanmar for repatriation of Rohingyas.
She explained the government initiatives for their relocation to Bhashanchar island from their makeshift shelters in Cox's Bazar -- providing them a better living condition -- and consistent efforts for their safe and dignified return to Myanmar's Rakhine state.
The envoy said Tehran also wants repatriation of Rohingyas, adding that his country is raising funds for
PM's Principal Secretary Nojibur Rahman and Military Secretary Maj Gen Miah Mohammad Zainul Abedin were present at the meeting.
them.https://www.thedailystar.net/country/news/resolve-conflicts-among-muslim-countries-pm-1642540
--------
Turkey will not leave Syria until Syrian people have an election, Erdogan says
October 04, 2018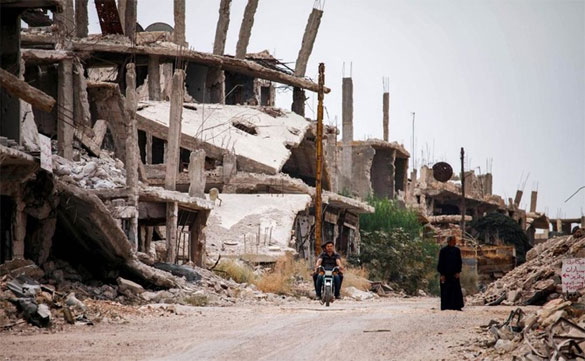 Turkey will not leave Syria until the Syrian people hold an election, Turkish President Tayyip Erdogan said on Thursday. (AFP)
--------
ISTANBUL: Turkey will not leave Syria until the Syrian people hold an election, Turkish President Tayyip Erdogan said on Thursday.
"Whenever the Syrian people hold an election, we will leave Syria to its owners after they hold their elections," Erdogan said at a forum in Istanbul.
Erdogan agreed with Russian President Vladimir Putin last month to set up a demilitarized zone between rebel and government fighters in northern Syria. It also has a presence in the northwest Afrin region and further east, around Jarablus.
Erdogan also said on Thursday that Turkey is not experiencing difficulty in conducting talks with radical groups in Idlib, the last major rebel-controlled enclave outside Syrian President Bashar Assad's control.
Hayat Tahrir Al-Sham, which includes the Al-Qaeda-linked group formerly known as Nusra Front, is the most powerful extremist alliance in Idlib. Turkey designated the group a terrorist organization in August, matching a decision by the United Nations in June.
Last month, in a summit in Sochi, Erdogan and Russian President Vladimir Putin agreed to create a demilitarized zone with a depth of 15-20 km, from which radical groups will withdraw by Oct. 15.
On Thursday, Erdogan said that in addition to 12 observation hosted by Turkey in the area, Russia has 10 observation points and Iran has six.
"Securing this corridor means securing Idlib," he said. "And we have started fortifying our observation posts."
http://www.arabnews.com/node/1382631/middle-east
--------
Report: Boko Haram Causing Nigerians to Abandon Islam: 'People Are Boycotting the Mosques'
4 Oct 2018
Brutal acts at the hands of Boko Haram jihadis are leading Muslims to abandon their faith in the capital of Nigeria's Borno State, the birthplace of the Islamic State (ISIS/ISIL)-linked terrorist group, an African media outlet reported on Wednesday.
"After a decade of fighting, many in Maiduguri are all the more horrified by the indiscriminate brutality that Boko Haram has committed in the name of Islam," the African Argument news outlet reported.
"That violence is what led me to believe they were bad for religion," Ibrahim Suleiman, a resident of the Borno capital of Maiduguri, told the media outlet. "They preached hatred and divided people … Their jihad has failed."
"People are boycotting the mosques," he added. "People are afraid of the bombs, but they also no longer trust religious leaders as before."
The Boko Haram insurgency has been raging since 2009 and has left more than 30,000 people dead, including 20,000 in Borno alone, a database compiled by the Council on Foreign Relations revealed. Boko Haram has also injured scores of others.
According to the U.S. Department of State's most recent annual assessment of worldwide terrorist activities, Boko Haram was one of the top five deadliest jihadi groups in the globe last year — responsible for 276 attacks that killed 1,287 and injured 949 others.
African Argument noted:
In the birth place of Boko Haram, religious fervor has dimmed after years of unrest. Attendance at Islamic events is down. School enrollment is up … many people seem much more ambivalent about religion than they once were … In what can be seen as a backlash against Boko Haram, which rejected the formal education system, school rates have also risen sharply in Maiduguri − at least anecdotally.
"Now people want education. Enrollment is so high," Suleiman Aliyu, the headmaster at a private Islamic school in Maiduguri, told African Argument. "They realize they were fooled."
The name Boko Haram translates to "Western education is a sin."
Aliyu pointed out that young people no longer listen to Boko Haram-linked lectures with "shaking passion" as they used to.
"People took religion so hard, they were so dogmatic," Aliyu told the African outlet. "Now they see that has resulted in the problems we have today. They understand that religion is not by force."
African Argument also noted that the sale of Islamic literature and has dropped along with attendance at religious events, including Friday prayers.
Nevertheless, the outlet conceded, "In these myriad ways, people in Maiduguri are rejecting Boko Haram's teachings. Yet the conditions that allowed the group to gain popularity in the first place remain."
Boko Haram's terrorist activities include kidnappings and forcing captives, including girls, to serve as suicide bombing. Early this year, the United Nations reported that the ISIS-affiliated jihadis have abducted more than 1,000 children in northeastern Nigeria alone since 2013.
The group's violence has spilled over into neighboring countries from Boko Haram's home base in Nigeria.
As of 2017, the group had displaced more than 2 million people and left 7 million others in need of humanitarian assistance, according to Human Rights Watch.
African Argument acknowledged that some "reform-minded clerics" have taken a stand against the jihadist group.
"Clerics now generally embrace the idea of some kind of regulation to ensure a similar movement is never allowed to take hold – overhauling the current laissez faire approach where the government has no control over the 300 mosques in Maiduguri where Friday sermons are delivered," it reported.
https://www.breitbart.com/national-security/2018/10/04/report-boko-haram-cause-nigerians-abandon-islam/
--------
Iraq officially rejects US claim of Iran role in Basra violence
Oct 4, 2018
Iraq's Foreign Ministry has dismissed accusations by the United States that Iran is to blame for recent violence — including through alleged militant groups — in the southern Iraqi city of Basra, where Washington recently closed its consulate.
"There are no forces or military groups in Iraq that receive orders from abroad, whether from Iran or from another country," said Iraq's Foreign Ministry spokesman Ahmad Mahjoub in Washington on Wednesday, according The Washington Times.
He was speaking during a round-table discussion with reporters held at the Iraqi Embassy in the US capital, where he is on a trip to hold talks with US officials.
Mahjoub said Iraqi authorities were "surprised" by Washington's recent decision to withdraw American personnel from the US consulate in Basra following an apparent rocket attack at the diplomatic perimeter.
"We were surprised that our American friends withdrew their staff from the US consulate." He said, adding that Baghdad was "committed to protecting all foreign missions in Basra."
Earlier, on Friday, US Secretary of State Mike Pompeo had blamed Iran for the violence in Basra and the emergency evacuation of US personnel from there, as well as for alleged security threats to the Americans stationed at the US Embassy in Baghdad.
"The United States will hold Iran directly responsible for any harm to Americans or to our diplomatic facilities in Iraq or elsewhere and whether perpetrated by Iranian forces directly or by associated proxy militias," he said.
Mahjoub, the Iraqi Foreign Ministry spokesman, implied that Pompeo was getting his information from unreliable sources.
"I'm not aware of the source of the information that Secretary Pompeo has regarding the Iranian role in the threats against the US consulate in Basrah," he said. "We also regret that the Iranian Consulate was attacked during these demonstrations."
He was referring to an attack on the Iranian diplomatic mission in the city last month.
Mahjoub said "it's good" that the Iranian Consulate was now "back to work" in the city.
US official seems to discount Pompeo's remarks
Meanwhile, US Army Col. Sean Ryan, the spokesman for the US-led military coalition to purportedly battle Daesh in Iraq, seemed to discount Pompeo's allegation against Iran.
"It (the attack) may have been the work of local protesters, angered over the lack of much-needed government services and rampant corruption among the city's leaders, rather than an organized paramilitary force," he told reporters on Tuesday, also according to The Washington Times.
Col. Ryan further said that American forces with the US Central Command, as well as those tied to the coalition, were planning to assist in the evacuation of US personnel from Basra.
Iran has already dismissed any role in the violence in Basra, stressing that it has been a victim of that violence itself.
"Iran was in fact the victim of activities by violent and mercenary groups, which took orders from their enablers hostile to Iran, for the attack on the Iranian Consulate [in Basra]," Iranian Foreign Ministry Spokesman Bahram Qassemi said on Monday.
Mahjoub said the Iraqi government had sent in security forces to ensure security in Basra.
https://www.presstv.com/Detail/2018/10/04/576015/Iraq-Basra-consulate-Iran-US-Pompeo
--------
South Asia
54,000 Afghan soldiers to ensure election security
October 05, 2018
KABUL - More than 54,000 Afghan security force members will be deployed to ensure security of upcoming parliamentary and district councils elections scheduled to be held later this month, an official said Thursday.
"Afghan National Security and Defense Forces are directed to take security of the parliamentary and district councils elections. Some 54,000 security force members will be deployed to provide security for 5,100 polling centers across the country and will provide security for election candidates and their campaign rallies," Nasrat Rahimi, an interior ministry spokesperson, told reporters.
Rahimi asked the election candidates to share information with the security forces, prior to holding their campaign meetings all over the country.
On Tuesday, 14 people were killed and 42 others wounded when a suicide bombing struck an election rally in the country's eastern Nangarhar province, where Rahimi said security forces would foil it if were informed prior to the meeting.
The first parliamentary election in the post-Taliban Afghanistan was held in 2005 while the second parliamentary polls took place in 2010. However, the 2015 parliamentary polls, originally set to be held in early 2015 following presidential elections, were repeatedly delayed.
https://nation.com.pk/05-Oct-2018/54-000-afghan-soldiers-to-ensure-election-security
--------
Myanmar bishop calls for united peace effort
October 5, 2018
Bishop Alexander Pyone Cho has called on all stakeholders to come together and seek a lasting solution to violent conflict in Myanmar that has caused a Rohingya Muslim refugee crisis.
His Pyay Diocese covers troubled Rakhine State, which has experienced the worst strife.
The Rakhine crisis is like an open wound that could not be instantly healed, Bishop Pyone Cho told ucanews.com.
He noted that international pressure is mounting on Myanmar, an apparent reference to calls for the prosecution of some members of the country's security forces for crimes against humanity in relation to killings and other abuses of Rohingya.
However, the 69-year-old bishop said the international community also needed to engage with stakeholders to assist in finding solutions.
He observed that while the foreign emphasis continues to be on human rights violations, local people tend to stress sovereignty issues. "We also keep in mind the international standards of human rights and human dignity," the bishop said.
Apart from the Rohingya crisis, Aung San Suu Kyi's government has inherited other unresolved ethnic conflicts as well as poor education and health services and high unemployment levels.
Suu Kyi was trying hard to walk a "tightrope" on the vexed Rakhine situation between the still politically powerful military and local as well as foreign expectations, the bishop said.
Bishop Pyone Cho also said that Myanmar is still going through a "transition to democracy" following decades of military rule. He called for people in Myanmar to unify in a spirit of nation building that would bring prosperity and peace.
More than 700,000 Rohingya fled to Bangladesh in the wake of a Myanmar military crackdown that began in August 2017 following attacks on security personnel by Rohingya insurgents.
The U.N. Fact-Finding Mission recently found that Myanmar's military committed four of the five acts constituting genocide against the Rohingya. It said military chief Min Aung Hlaing and five other senior generals must be prosecuted for genocide and war crimes against humanity.
On Sept. 30, Bishop Pyone Cho and interfaith leaders were present at a ceremony in Sittwe, the capital city of Rakhine, as Aung Ko, Myanmar's religious affairs and culture minister, transferred US$100,000 donated by Pope Francis to the Rakhine government. Bishop Pyone Cho said the government will use it for the development of Rakhine, especially to improve transport and water supplies.
"The pope's donation is for the development of all communities regardless of race and religion," Bishop Pyone Cho told ucanews.com.
Pope Francis visited Myanmar last November but did not go to conflict-torn Rakhine.
The pope avoided saying the word "Rohingya" during his four-day visit as the bishops of Myanmar urged him not to utter what they regard as a sensitive term that could have caused a backlash from nationalist groups.
Many people in Myanmar continue to view Rohinghya as illegal Bengali immigrants despite many having been in Myanmar for centuries.
According to diocese records, Catholics, mostly ethnic Chin, number only about 7,800 in Rakhine's three million population.
Full report at:
https://www.ucanews.com/news/myanmar-bishop-calls-for-united-peace-effort/83537
--------
Afghanistan against privatisation of war on terror, to introduce private contractors instead of foreign troops
Oct 5, 2018
Afghanistan has objected the proposed privatising of the war on terror in the country through the introduction of private contractors instead of foreign troops.
In this regard, the Afghan Office of the National Security Council (NSC) said on Thursday that the country will take into consideration all legal options against anyone attempting to privatise the war in the country.
This comes after the founder and former CEO of Blackwater security, Erik Prince's campaign, promoted the idea of privatisation of the war by introducing contracted troops.
"In no manner does the government of Afghanistan condone this destructive and divisive debate," a statement from the NSC said, adding that it would "add new foreign and unaccountable elements to our fight."
"This idea violates the principle that Afghans determine their own future. Afghan security and defence forces, under the framework of all applicable laws of the country, have the primary responsibility and authority for safeguarding the noble values of Islam, our national sovereignty, and the independence and territorial integrity of our beloved country and people," the statement read.
The NSC stressed and maintained their stance that the war on terrorism in the country will continue to be led by Afghan forces, with the support of foreign allies.
"Under no circumstances will the Afghan government and people allow the counterterrorism fight to become a private, for-profit business. The protection of our Islamic values, our national way of life, and our citizens are this government's most sacred responsibility," the statement added.
Meanwhile, defending his plan, Prince said that the situation in the country could be changed within six months if his forces are introduced.
Full report at:
https://www.dnaindia.com/world/report-afghanistan-against-privatisation-of-war-on-terror-to-introduce-private-contractors-instead-of-foreign-troops-2671798
--------
US service member killed in Afghanistan: NATO statement
October 04, 2018
A US service member was killed in Afghanistan, a statement from NATO military headquarters in Kabul said on Thursday.
The service member, assigned to NATO's Resolute Support training and advisory mission, was not identified. The statement said the incident was under investigation.
At least six US servicemen have been killed in Afghanistan this year in combat incidents or insider attacks by members of the Afghan forces. The Pentagon says there are about 14,000 US service members in Afghanistan.
Full report at:
https://nation.com.pk/04-Oct-2018/us-service-member-killed-in-afghanistan-nato-statement
--------
Mideast
Jerusalem to remove UN agency for Palestinians from city
October 04, 2018
JERUSALEM: Jerusalem's mayor said Thursday he plans to remove a UN agency for Palestinian refugees from the city, accusing the body of operating illegally and promoting incitement against Israel.
Nir Barkat said schools, clinics and sports centers, among other services operated by UNRWA in east Jerusalem, will be transferred to Israeli authorities. The municipality did not provide an exact timeline but it said schools serving 1,800 students would be closed by the end of the current school year.
Barkat, who is set to step down following municipal elections at the end of the month, said the US decision to cut $300 million in aid to the agency earlier this year prompted the move.
"The US decision has created a rare opportunity to replace UNRWA's services with services of the Jerusalem Municipality. We are putting an end to the lie of the 'Palestinian refugee problem' and the attempts at creating a false sovereignty within a sovereignty," Barkat said in a statement, claiming the schools and clinics were illegal and operate without an Israeli license.
Jerusalem's municipality said the move was coordinated with the Israeli government.
UNRWA did not immediately respond to a request for comment.
UNRWA was established in the wake of the 1948 Mideast war surrounding Israel's creation. An estimated 700,000 Palestinians fled or were forced from their homes in the fighting.
In the absence of a solution, the UN General Assembly has repeatedly renewed UNRWA's mandate. The agency now provides education, health care and social services to more than 5 million refugees and their descendants. It serves populations in Gaza and the West Bank, as well as Jordan, Lebanon and Syria.
Seen by the Palestinians and most of the international community as providing a valuable safety net, UNRWA is viewed far differently by Israel. It accuses the agency of perpetuating the conflict by helping promote an unrealistic Palestinian demand that refugees have the "right of return" to long-lost homes in what is now Israel. Israeli Prime Minister Benjamin Netanyahu has said UNRWA should be abolished and its responsibilities taken over by the main UN refugee agency.
Some in Israel have even tougher criticism, accusing UNRWA of teaching hatred of Israel in its classrooms and tolerating or assisting Hamas militants in Gaza.
The US meanwhile has demanded the agency carry out reforms before it restores funding.
http://www.arabnews.com/node/1382676/middle-east
--------
Dangerous US policies, not Iran, should worry NATO: Tehran
Oct 4, 2018
Iran has rejected "unwarranted" concerns voiced by NATO over the Islamic Republic's regional activities, saying the Western military alliance should rather be worried about the US's "unilateral and dangerous" policies and its breach of international commitments.
Speaking ahead of the meetings of NATO defense ministers in Brussels on Tuesday, NATO Secretary General Jens Stoltenberg expressed concerns about what he called Iran's "destabilizing activities in the wider Middle East region" and its missile program.
In response, Foreign Ministry spokesman Bahram Qassemi stressed that Iran, which is itself a major victim of terrorism, has played the most effective role in eliminating terrorist groups such as Daesh in the region.
"Contrary to the NATO secretary general's remarks, Iran's constructive role in creating stability in the Persian Gulf and Middle East region has been acknowledged by most of the international community," he said.
Qassemi added that many European countries owe their security today to Iran's "generous" fight against extremist terror groups.
European countries should be thankful for Iran's "sacred" battle aimed at containing terrorists in the region instead of questioning the country's "constructive and effective" policies, which provides them with security.
Iran "has always sought dialog and close cooperation with its neighbors, but believed, at the same time, that the Middle East's security should be preserved by the regional countries," he said.
The official voiced Tehran's objection to "any presence and intervention of foreign powers and military-security bodies in the Middle East and the Persian Gulf region under the pretext of providing security."
The Iranian spokesman further dismissed the NATO chief's concerns about Iran's conventional missile program, saying it serves defense and deterrence purposes.
"Definitely, such unwarranted expressions of concerns will have no effect on the Islamic Republic of Iran's policy in preserving, developing and strengthening its missile defense might and program," Qassemi said.
He also referred to the International Atomic Energy Agency (IAEA)'s repeated confirmation of Iran's compliance with the terms of the 2015 nuclear deal, known as the Joint Comprehensive Plan of Action (JCPOA).
"The NATO secretary general should more than ever be worried about one of its member's breach of commitments as well as its illegal and unilateral withdrawal from the JCPOA," he added.
Back in May, President Donald Trump pulled the US out of the JCPOA despite objections from the other parties.
Full report at:
https://www.presstv.com/Detail/2018/10/04/576003/Iran-NATO-Bahram-Qassemi
--------
Germany, Israel agree Iran must never have nuclear weapons
October 04, 2018
JERUSALEM: Germany and Israel agree that Iran should never be allowed to acquire nuclear weapons but they differ on how to achieve this goal, Chancellor Angela Merkel said on Thursday at a news conference with Israeli Prime Minister Benjamin Netanyahu.
"We are very convinced and strongly share Israel's position that everything must be done to prevent Iran from acquiring nuclear weapons. Where we are not always united is on the path to this goal," Merkel said.
She added that Iran's military presence in Syria and Lebanon was a threat to Israel.
http://www.arabnews.com/node/1382536/middle-east
--------
Interfaith children's book about Jewish and Muslim boys in Jerusalem
BY LAURA PAULL
OCTOBER 4, 2018
Rabbi Sheldon Lewis, rabbi emeritus of Congregation Kol Emeth in Palo Alto, has long been engaged in interfaith reconciliation efforts in the Middle East. In 2012 he published a book on peaceful conflict resolution within Jewish sources titled "The Torah of Reconciliation." On some level, however, he believes that peace must begin with children.
With the publication this year of the second in his series of kids' books about two "thumb-sized" boys in Jerusalem — one Jewish, one Palestinian Muslim — Rabbi Lewis makes his commitment to that concept clear.
"I think education is key for reconciliation to be achieved in the Middle East," he says. "We have fallen short, but as bleak as it looks right now, we are not meant to give up. We need fresh energy and commitment."
That's what gives Lewis the impetus to write children's literature, although he has always loved telling stories to children. "More Mini Adventures in Jerusalem" follows the earlier "Mini Adventures in Jerusalem," in which the two tiny boys (known as k'tonton in Hebrew) meet in a crack in the Western Wall. A chapter book, delightfully illustrated by Kim Howard, Lewis' former student, "More Mini Adventures" has the boys finding one another again at the Wall, riding a squirrel, making friends in Jerusalem and so on. In one chapter, while doing homework together they discover that their respective traditions share some commonalities. The last chapter takes place in Neve Shalom, a long-established community in Israel where Jews and Palestinians live, work and educate their children together, and a place Lewis has visited.
"I see these books as a Torah of reconciliation for kids," Lewis says.
He has four grown children and nine grandchildren as of this writing, whom he calls "my beta-testers." One of them, Sari Lewis, was 15 when she contributed two full-color illustrations to the new sequel — the first publication of her artwork.
The book's designer is a Muslim friend in Palo Alto, Regina Basari.
Full report at:
https://www.jweekly.com/2018/10/04/interfaith-childrens-book-about-jewish-and-muslim-boys-in-jerusalem/
--------
UN envoy to Yemen hopes to resume talks by November
4 October 2018
The United Nations special envoy to Yemen, Martin Griffiths, expressed on Thursday his hopes to resume talks with all parties by November.
He also said that the best way to resolve Yemen's humanitarian crisis is to fix the economy, revealing that the top international priority is to stop the slide in the riyal currency.
Martin Griffiths said the United Nations is discussing an emergency plan to stem the riyal's fall and restore economic confidence.
"There's no doubt in my mind whatsoever that this economic issue is now the overwhelmingly most important priority," envoy Martin Griffiths told Reuters.
"Within the UN we're talking about the need for such a master plan ... an immediate set of measures over weeks during which the World Bank, IMF, UN agencies, the Gulf obviously, the government of Yemen could come together to discuss," he said.
Saudi Arabia donated $200 million to Yemen's central bank this week to help shore up the riyal, following earlier deposits of nearly $3 billion, but Griffiths said a more comprehensive approach was needed.
Full report at:
https://english.alarabiya.net/en/News/gulf/2018/10/04/UN-envoy-to-Yemen-hopes-to-resume-talks-with-warring-factions-by-November.html
--------
Houthi restrictions push UN to suspend crucial cash aid to 9 mln Yemenis
4 October 2018
The UN children's agency on Wednesday suspended cash transfers to 9 million of Yemen's most impoverished citizens under pressure from the pro-Iranian Houthi militias.
The move comes at a time when Yemen's local currency has been deteriorating, prices of food and fuel are increasing, sparking fears of a worsening humanitarian crisis.
UNICEF said the decision came after it was unable to set up a call center to get feedback from beneficiaries, without providing further details.
Two individuals familiar with the program said the Houthi militias who control northern Yemen hindered the launch of the call center because they feared it might reveal their manipulation of the cash transfers. The two spoke on condition of anonymity, fearing reprisals from the rebels.
The pro-Iranian Houthi militias have been at war with the Yemeni legitimate government backed by the Arab coalition since March 2015. The militias have repeatedly been accused of diverting aid to their supporters.
Last week, Houthi security authorities banned the country director of the Adventist Development and Relief Agency (ADRA) from returning to Yemen, according to two individuals familiar with the situation.
The agency has been under pressure from Houthis to use their beneficiary lists in aid distribution and to use Houthi-linked staffers in ADRA-run health facilities. When ADRA Yemen chief Ephraim Palmero objected, he was notified that he wouldn't be allowed to return to the country, the individuals said.
ADRA is among the most active international relief agencies working in delivering aid to millions of impoverished Yemenis.
ADRA President Jonathan Duffy described working conditions in Yemen as "very disturbing" and said the withdrawal of Palmero's travel credentials is a "threat against delivery" of humanitarian needs.
"ADRA carries out emergency responses and development work on the basis of need alone, giving priority to the most urgent cases of distress making no distinctions on the basis of nationality, race, gender, religious belief, class or political opinions," he said in a statement.
The suspended UNICEF payment is the third since the project was launched in August 2017. UNICEF has said the cash transfers are a "lifeline" to a third of Yemen's people and "contribute to avert the risk of famine and allowed targeted families to buy food and medicine."
The value of the Yemeni rial has been in a steady freefall. The rial traded at 800 to the dollar earlier this week, causing immediate price rise in goods and prompting the Saudi Government to inject $200 million to shore up Yemen's Central Bank reserves.
Before the civil war erupted in 2015, the rial was around 215 to the dollar.
With 8.4 million people not knowing where their next meal will come from, the UN Office for the Coordination of Humanitarian Affairs warned last month that a further slide in the rial could result in an additional 3.5 million Yemenis becoming food insecure, and that more than 2 million are "likely to be at a heightened risk of famine." Full story
Full report at:
https://english.alarabiya.net/en/News/gulf/2018/10/04/Houthis-restrictions-push-UN-to-suspend-crucial-cash-to-9-mln-Yemenis.html
--------
Yemeni nation not to give in to aggressors' demands: Houthi leader
Oct 5, 2018
Leader of Yemen's Houthi Ansarullah movement says the Yemeni nation would not give in to the invaders' demands, but has emphasized that it is ready for a peace which would end the enemy's aggression and the occupation of the Yemeni territories.
Addressing his supporters via a televised speech broadcast live on Thursday evening, Abdul-Malik al-Houthi said the Yemenis would never surrender as their faith, dignity, and identity would not allow them to.
"Remaining silent and giving in to the enemies' demands amounts to shirking our responsibility at a time when they are trying to occupy our country," he said, ruling out any compromise with the Saudi-led coalition, which has been waging a brutal war on Yemen since March 2015.
The enemies are blatantly invading Yemen and that needs to be responded to, he said, adding that it is a humiliation and treason if the Yemenis do nothing in reaction to the aggression.
However, he said, the Yemeni nation would welcome a peace that ends the ongoing aggression and the occupation of Yemen.
Al-Houthi further blamed the Saudi side for a stalemate in peace talks and a political resolution of the crisis in Yemen, saying that "the enemies blocked all efforts to restore peace while the Sana'a negotiators [Houthis] had offered concessions."
A fresh round of UN-sponsored peace talks was supposed to be held on September 6 in Geneva, Switzerland, but the Houthi Ansarullah failed to attend the talks after Saudi Arabia allegedly refused to allow a delegation of the popular movement to fly to the Swiss city.
Saudi Arabia and some of its allies, including the United Arab Emirates, Morocco and Sudan, launched a brutal war, code-named Operation Decisive Storm, against Yemen in March 2015 in an attempt to reinstall Yemen's former President Abd Rabbuh Mansur Hadi and crush the Houthi Ansarullah movement, which plays a significant role in aiding the Yemeni army in defending the impoverished country against the invading coalition.
The former Yemeni government resigned in 2015 as the country was experiencing political turmoil. Shortly afterwards, Hadi fled to Riyadh, where he encouraged the Saudis to wage a war on Yemen in a bid to regain power.
The Houthi movement has been running state affairs in the absence of an effective administration since the onset of the war, which has so far killed some 15,000 people.
The Saudi-led war has also taken a heavy toll on the country's infrastructure, destroying many hospitals, schools, and factories. The United Nations has said that a record 22.2 million Yemenis are in dire need of food, including 8.4 million threatened by severe hunger.
Full report at:
https://www.presstv.com/Detail/2018/10/05/576096/Houthi-Saudi-aggression-peace
--------
Israel to construct 14,864 new settler units in occupied West Bank
Oct 4, 2018
Israeli officials have reportedly approved plans for the construction of 14,864 new settler units in the occupied West Bank irrespective of international outcry against the regime's land expropriation and settlement expansion policies in the Palestinian territories.
Mayor of the Gush Etzion Regional Council, Shlomo Ne'eman, said on Thursday that the construction of the new units will triple the number of settler population in the area, which lies directly south of Jerusalem al-Quds and Bethlehem in the central West Bank.
He added that the project includes 1,100 settler units in Rosh Tzurim settlement, located about 20 kilometers south of Jerusalem al-Quds, 600 units in Migdal Oz settlement, some 1,107 in Gevaot settlement, and 1,200 units between Bat Ayin and Migdal Oz settlements.
The project is estimated to cost 18.9 million shekels ($5,195,610).
Less than a month before US President Donald Trump took office, the United Nations Security Council adopted Resolution 2334, calling on Israel to "immediately and completely cease all settlement activities in the occupied Palestinian territories, including East Jerusalem" al-Quds.
About 600,000 Israelis live in over 230 illegal settlements built since the 1967 Israeli occupation of the Palestinian territories of the West Bank and East Jerusalem al-Quds.
Palestinians want the West Bank as part of a future independent Palestinian state with East Jerusalem al-Quds as its capital.
The last round of Israeli-Palestinian talks collapsed in 2014. Among the major sticking points in those negotiations was Israel's continued settlement expansion on Palestinian territories.
Trump backtracked on Washington's support for a "two-state solution" earlier this year, saying he would support any solution favored by both sides.
Full report at:
https://www.presstv.com/Detail/2018/10/04/576070/Israel-to-construct-14864-new-settler-units-in-occupied-West-Bank
--------
High-profile Kurdish PKK terrorist 'neutralized' in southeastern Turkey
Oct 4, 2018
Turkish security forces have "neutralized" a high-ranking member of the Kurdistan Workers' Party (PKK) militant group during a counter-terrorism operation in the country's southeastern province of Mardin.
Turkey's Interior Ministry said in a statement on Thursday that Mehmet Sait Sürer, better known by the nom de guerre Cuma Mardin, was neutralized during an airstrike against a militant position in the Nusaybin district of the province.
The statement added that the militant had a $647,360 bounty on his head, and was in the red category of the ministry's wanted terrorists.
The Turkish military generally uses the term "neutralize" to signify that the militants were killed, captured or surrendered.
The report came on the same day that seven Turkish soldiers were killed and two others wounded in a PKK bomb attack in Turkey's southeastern province of Batman.
The Batman Governor's Office said in a statement that four soldiers were killed on the spot, while five others sustained injuries as the explosion struck in a rural area of Gercus district.
A doctor, who asked not to be named, said three soldiers later succumbed to their wounds at the Batman Region State Hospital.
PKK militants regularly clash with Turkish forces in the Kurdish-dominated southeast of Turkey attached to northern Iraq.
Turkey, along with the European Union and the United States, has declared the PKK a terrorist group and banned it. The militant group has been seeking an autonomous Kurdish region since 1984.
A shaky ceasefire between the PKK and the Turkish government collapsed in July 2015. Attacks on Turkish security forces have soared ever since.
Over the past few months, Turkish ground and air forces have been carrying out operations against PKK positions in the country as well as in northern Iraq and neighboring Syria.
Full report at:
https://www.presstv.com/Detail/2018/10/04/576049/Highprofile-Kurdish-PKK-terrorist-neutralized-in-southeastern-Turkey
--------
US Treasury imposes sanctions on Hezbollah financier and seven companies
October 04, 2018
WASHINGTON: The US Treasury imposed sanctions on Muhammad Abdallah Al-Amin and seven of his companies on Thursday for providing financial and material support for Hezbollah.
The treasury's Office of Foreign Assets Control (OFAC) designated Al-Amin as a "Specifically Designated Global Terrorist" (SDGT).
"Hezbollah is an Iranian-proxy, and this administration is focused on exposing and disrupting its terrorist funding networks. We are exerting extraordinary pressure on Hezbollah financiers to halt their pernicious activities in Lebanon and beyond," Sigal Mandelker, Under Secretary of the Treasury for Terrorism and Financial Intelligence, said.
"Our action should serve as a warning that we will impose consequences on anyone engaging in business relationships with Al-Amin or other Hezbollah support networks. The treasury has taken more actions against Hezbollah this year than ever before, and we are fully committed to shutting down this terrorist network."

OFAC's designation of Al-Amin and his companies comes after action was taken in February targeting the Tabaja network operating in West Africa and Lebanon, owned by Adham Tabaja, who was also designated an SDGT on June 6.
Tabaja maintains direct ties to senior Hezbollah officials and Hezbollah's operational component, which is responsible for planning, coordinating, and executing Hezbollah attacks worldwide. Tabaja also holds properties in Lebanon on behalf of Hezbollah.
Al-Amin was designated for "assisting in, sponsoring, or providing financial, material, or technological support for, or financial or other services to or in support of, Tabaja," according to a treasury statement.
Al-Amin concealed funds for Tabaja, and Tabaja held a significant amount of money in Al-Amin's name at a Lebanese bank. Al-Amin has also served as a liaison between Tabaja and banking officials and has assisted Tabaja in circumventing the impact of sanctions.
In addition to his direct support to Tabaja, Al-Amin was involved in financial activities with Muhammad Fallah Kallas, whom OFAC sanctioned on October 20, 2016.
Full report at:
http://www.arabnews.com/node/1382616/middle-east
--------
Africa
Application for more mosques underway
2018-10-04
With the majority of the South Africa's Muslims residing in the Western Cape, City of Cape Town mayor Patricia de Lille has confirmed that several applications to process more places of worship are currently underway­.
The feedback comes after ongoing requests to the City's offices for the building of more mosques within the province.
The Muslim Judicial Council (MJC) leadership met with the mayor last week to discuss the delay in allocating land for the mosques.
"My meeting with the MJC was about the number of applications submitted by them that were delayed in the City. I've consulted with the City manager who has agreed to put in place a special team in the administration to process the applications," explains De Lille.
"I did say to the MJC leadership that proportionally the majority of Muslims in the country live in the Western Cape and [the number is] growing; therefore the need for places of worship for Muslim persons has increased."
The MJC thanked the mayor for acknowledging the issue and for putting processes and procedures in place to ensure an equal balance of religious places of worship is available in the future.
The MJC adds this is an ongoing project to continue to work with the City to ensure that land is made available to the Muslim community for more mosques to be erected.
A follow-up meeting between the City and the MJC will take place soon to give feedback on the applications for more mosques.
https://www.news24.com/SouthAfrica/Local/Peoples-Post/application-for-more-mosques-underway-20181004-3
--------
UN extends migration ship searches off Libya
4 October 2018
The Security Council on Wednesday renewed for a year UN member states' authorization to inspect vessels off Libya suspected of smuggling migrants between Africa and Europe.
Proposed by Britain, the resolution was approved unanimously by the 15 members of the council.
It "condemns all acts of migrant smuggling and human trafficking into, through and from the Libyan territory and off the coast of Libya, which undermine further the process of stabilization of Libya and endanger the lives of hundreds of thousands of people."
Negotiations led to friction with the United States, which wanted to water down the draft text and remove several paragraphs on migrant smuggling considered too permissive for migration, diplomats said.
Plunged into chaos following the fall of longtime dictator Muammar Qaddafi in a 2011 NATO-backed uprising, Libya has become a prime transit point for sub-Saharan African migrants making dangerous clandestine bids to reach Europe.
People smugglers have taken advantage of the turmoil, putting African migrants seeking to reach Europe at greater risk.
Full report at:
https://english.alarabiya.net/en/News/north-africa/2018/10/04/UN-extends-migration-ship-searches-off-Libya-.html
--------
As Somalia marks horrific attack, a book explores al-Shabab
Oct 4, 2018
"Inside al-Shabaab: The Secret History of al-Qaeda's Most Powerful Ally" (Indiana University Press), by Harun Maruf and Dan Joseph
The deadliest terror attack in Africa's history began with a loaded truck barreling down a busy street in Somalia's capital, seemingly bound for the international airport and the embassies sheltering there.
The truck instead detonated in Mogadishu traffic, killing well over 500 people. Somalis who had witnessed decades of chaos were horrified. In a rare protest, they marched by the thousands to defy the Islamic extremist group that is now the deadliest in sub-Saharan Africa, the al-Qaida-linked al-Shabab.
On Oct. 14, Somalia marks the anniversary of the bombing. Many around the world barely took note of the attack, though it was easily one of the worst since 9/11.
Anyone with interest in the spread of extremism, however, should read the new book "Inside al-Shabaab: The Secret History of al-Qaeda's Most Powerful Ally."
Imagine, it says, a Washington where the U.S. government controls the White House, a few adjacent buildings and the highway to the airport while insurgents hold the rest. "Every so often, the insurgents fire mortar shells toward the White House." This has been Mogadishu over the years as the extremists, some of them raised in the United States, surge and retreat.
The authors, Voice of America journalists Harun Maruf and Dan Joseph, interviewed al-Shabab members, defectors and others to tell a fluid tale of how an Islamic nation once known for its moderation, not unlike the Afghanistan of a certain age, slid into the hands of young men trained in Osama bin Laden's camps abroad.
"This was the start of the battle between al-Qaeda and America," one al-Shabab leader later said of the battle for Mogadishu in the early 1990s as bin Laden-backed local fighters attacked U.S. troops who tried to restore order after the fall of dictator Siad Barre. The "Black Hawk Down" attack in 1993 that saw U.S. soldiers dragged through the streets led the U.S. military to leave Somalia alone for two decades.
Inspired, a new generation of hard-line Islamic fighters — al-Shabab is Arabic for "the youth" — took shape. The book describes the surprising internal debates over the years as some members of a group known for harsh dictates and brazen bombings argued that only a more accepting approach would win over Somalia's people as it pursued an Islamic state.
In one of the book's more extraordinary sentences, Maruf and Joseph write that "al-Qaeda encouraged al-Shabaab to be flexible."
The world's first extremist group to use Twitter to claim a major attack, al-Shabab has been relatively organized, with financing from taxes on captive communities, piracy off the long Indian Ocean coast and, in at least one town, the yanking out of civilians' gold teeth.
For military enthusiasts, "Inside al-Shabaab" has vivid descriptions of street-by-street fighting in Mogadishu as the extremists pushed the fragile Somali government to the edge of the sea. For those wondering how Somalia has never been able to shake off the threat, the book has piercing details of what still goes wrong both among Somalis and in the international community.
"My soldiers have to offer to share their lunch," one commander of the African Union peacekeeping force said of Somali partner forces, long unpaid, who looked on hungrily.
Widespread corruption, deeply held clan rivalries, exasperation from both Western and African allies, all have affected the fight against al-Shabab. Now the country, with a Somali-American president who spent years as a bureaucrat in Buffalo, New York, faces the nervous prospect of taking over its own security from the A.U. force in the few years ahead.
Officials with the U.S. military, which under President Donald Trump has increased drone strikes in Somalia and put about 500 personnel on the ground, have warned that Somali forces are not ready. And now a new threat has emerged: "Inside al-Shabaab" devotes a chapter to the rise of fighters who have pledged allegiance to the Islamic State organization.
ISIS these days might be fading or fleeing. But "by almost any tangible measure ... al-Shabaab grew stronger throughout 2017," the new book says.
The U.S. has made gestures of confidence in Somalia, appointing its first ambassador in a quarter-century and even presenting President Mohamed Abdullahi Mohamed with a trucker cap bearing the phrase "Make Somalia great again."
Meanwhile, al-Shabab's grip on the countryside ebbs and flows. The extremists have taunted Trump as a "brainless billionaire." And every few weeks or so, they sneak into Mogadishu with bombs and, at the gates of a hotel or government compound, explode.
Full report at:
https://abcnews.go.com/Entertainment/wireStory/somalia-marks-horrific-attack-book-explores-al-shabab-58283793
--------
Boko Haram has been repelled, Cameroon's leader declares
Oct 3, 2018
YAOUNDE, Cameroon — Cameroon's president says Boko Haram has been defeated in the country, the first such announcement since he declared war on the extremist group four years ago.
President Paul Biya spoke during his first visit to the Far North region since 2012 as he campaigned last weekend ahead of the Oct. 7 election. The 85-year-old, one of Africa's longest-serving leaders, has been in power since 1982 and is likely to win again as the fractured opposition has been unable to put forward a strong candidate.
Security is a major issue in Cameroon, a U.S. and French military ally, as it also faces a bloody English-language separatist movement in the southwest and northwest.
Addressing a rally in Maroua, Biya said he would focus on rebuilding what has been destroyed in the Far North "now that terrorism has been defeated."
The region for years has been the target of suicide bombings and other attacks by Boko Haram fighters who spilled over the border from Nigeria, where the extremist group is based. Nearly a quarter-million people in Cameroon have been displaced.
Boko Haram has not carried out a major attack in Cameroon in the past year and the number of attacks has fallen. Its fighters continue to attack military targets and cities in Nigeria's northeast despite repeated government declarations that it has been "crushed."
Biya warned Far North residents to remain vigilant despite recent progress including the re-opening last month of 40 schools along the border.
Not everyone warmed to the president's comments at the rally.
Biya had abandoned the Far North and its people, said Garga Haman Adji, candidate with the Alliance for Democracy and Development opposition party.
"Biya never visited to encourage the soldiers who fought to defeat Boko Haram. He never visited people suffering from terrorism and is now here to beg for votes," Garga said.
The fight against Boko Haram has raised questions about Cameroon's security forces. Shocking videos that recently circulated online showed soldiers shooting defenseless civilians including women with young children strapped to their backs, Amnesty International said after expert analysis. Cameroon's government has announced several arrests related to one of the videos and said any alleged abuses will be investigated.
Biya has not announced any campaign visits to the troubled southwest and northwest where fighting between government forces and the Anglophone separatists has killed nearly 400 people and sent nearly 200,000 civilians fleeing.
Full report at:
http://www.phillytrib.com/news/boko-haram-has-been-repelled-cameroon-s-leader-declares/article_b7ec40c3-631e-551b-afcc-9f33adac49d7.html
--------
North America
Grasso apologizes to Muslim council president, deletes 'hate-filled' posts
Oct 5, 2018
County Councilman John Grasso issued an apology Thursday for a string of Facebook posts he shared about Muslims.
Rudwan Abu-Rumman, president of the Anne Arundel County Muslim Council, said Grasso sent him a text apologizing for posts criticized earlier this week. Grasso also deleted the posts he shared on his personal page and put a statement on the website for his state Senate campaign.
Grasso did not respond to The Capital for comment.
Tuesday, the Council on American Islamic Relations called for Grasso's resignation and for Republicans to denounce him after three "hate-filled, Islamaphobic and xenophobic" posts he shared in September.
Abu-Rumman provided a copy of the text, which misspelled his name and other words:
"Rudwam, i want to apologize for sharing the post asking if we should ban islam relegion in pubilc schools. I thought that was going on however i understand noone has requested it. I didnt know this an just stated no religion should be taught in a public school. Your friend councilman johnny grasso."
Abu-Rumman said he will present the apology to the county Muslim council after he meets with Grasso on Friday. Abu-Rumman said he was telling members of the Muslim community not to vote for Grasso in the District 32 Senate race after the posts, but that he might reconsider after their meeting. The council will discuss whether or not they support Grasso on Sunday.
Grasso's apology refers to the link to a Cambodian site he shared on Sept. 26 titled "Share if you think President Trump should ban Islam in American Schools." After Abu-Rumman commented, Grasso responded six days later, writing: "I don't think any religion should be in public schools."
Grasso did not mention the other two posts criticized by CAIR and other politicians.
On Sept. 14, Grasso shared a photo that read, "One nation under God, Not Allah. America is not a Muslim nation. America is not an Islamic nation. America is a Christian nation."
Two days later, he shared another photo that read, "Let this sink in … The same state department that found it impossible to rescue 4 Americans in Benghazi now tells us they will rescue 200,000 muslims and give them our benefits and housing free of charge. Your government no longer has your best interest in mind."
Grasso told The Capital Tuesday that he agreed with the sentiment, saying, "It's pretty amazing how we can let four Americans die, but then we can go and rescue a bunch of other people."
Grasso posted a comment on his campaign Facebook page Wednesday night, saying his post about Islam in schools was taken out of context by his opponents, who "called out the 'pc' police to shut me down."
"I won't quit. And, I won't step down," he wrote, "But I will apologize to anyone who may have taken my words out of context or was offended. I respect everyone's religion and even those that do not have a religion. As a public official, it is imperative that I am able to represent everyone. And I do. I look forward to my meeting with the Muslim Council of Anne Arundel County this Friday."
Grasso also pointed out Gov. Larry Hogan's statement, in which he said he had never endorsed the councilman and never would.
A flier distributed Wednesday put Grasso among a group of District 32 house candidates endorsed by the governor, who is also running for reelection.
Grasso wrote in his statement that he thought he had Hogan's support prior to the flier's release.
"I understand (Hogan) needs to run his race free from the ups and downs of my race, my facebook posts or just my personality," Grasso wrote. "I very much want Governor Hogan to win and he has my full support. We need Governor Hogan to win. I do not want anything I say or do to have a negative impact on his race."
Other Republican candidates and officials have spoken out against Grasso's comments.
County Executive Steve Schuh called the posts insensitive and inappropriate Wednesday but said he would not withdraw his endorsement in the District 32 Senate race. Grasso faces Del. Pam Beidle, D-Linthicum, in the bid for the open seat.
State's Attorney Wes Adams, a Republican running for reelection, was featured in the flier as endorsing Grasso and the three GOP candidates for House of Delegates.
Adams sent a statement to The Capital Thursday, saying that he cannot support Grasso's sentiments and is hopeful about his meeting with the Muslim council.
"For the past four years, I have worked to protect all citizens of Anne Arundel County. I do not support the recent comments made by Mr. Grasso, nor will I lend my name to any campaign platform that preaches divisiveness in our community," Adams wrote.
http://www.baltimoresun.com/news/breaking/ac-cn-grasso-apology-1005-story.html
--------
John Bolton: 'Iran has been world's central banker for terrorism since 1979'
October 04, 2018
WASHINGTON: President Donald Trump's national security adviser outlined the administration's long-awaited counterterrorism strategy on Thursday and offered harsh words for Iran.
John Bolton called Iran the "central banker of international terrorism." He said the strategy will rely on military and nonmilitary means to fight extremists, focusing on Daesh militants as well as those backed by Iran and other groups.
Bolton said the US wants to isolate militants from their supporters, modernize tools to counter them, protect US infrastructure and stymie recruitment efforts.
The plan that Trump has approved also calls for strengthening border control, limiting militants' ability to recruit online and sharing the burden with allies.
It is the first US strategy on counterterrorism since President Barack Obama released his approach in 2011.
Full report at:
http://www.arabnews.com/node/1382661/world
--------
US withdrawal from Vienna treaty protocol irks Ramallah
04.10.2018
RAMALLAH, Palestine
The Palestinian Foreign Ministry on Thursday blasted the U.S. administration's stated intention to withdraw from an "optional protocol" of the 1969 Vienna Convention.
"This administration is willfully disrupting and undermining the international order because of its blind support for Israel's illegal, colonialist policies," the ministry said in a statement.
"The current U.S. administration believes it is above the law and beyond accountability," it added.
On Wednesday, the U.S. ceased to recognize an amendment to the 1969 Vienna Convention on dispute resolution following a Palestinian decision to sue Washington in an international court.
U.S. National Security Advisor John Bolton said the U.S. "will not sit idly by as baseless politicized claims are brought against us".
The move comes after Palestine filed a lawsuit with the International Court of Justice against Washington's recent decision to move its embassy from Tel Aviv to Jerusalem.
According to the Palestinian Foreign Ministry statement, "Palestine has exercised its right to defend itself through legal means by resorting to the International Court of Justice on the issue of the illegal U.S. embassy move to our capital, Jerusalem".
The ministry went on to assert that the Palestinian leadership would defend the rights of the Palestinian people "against all threats posed by Israel's illegal and colonialist policies and the states that support them".
"Our actions are anchored in our commitment to -- and respect for -- international law and existing international resolutions," the statement read.
U.S. President Donald Trump's decision late last year to relocate Washington's Israel embassy from Tel Aviv to Jerusalem evoked widespread criticism.
Ever since, the Palestinian leadership in Ramallah has rejected any U.S. role in the stumbling Middle East peace process.
Full report at:
https://www.aa.com.tr/en/americas/us-withdrawal-from-vienna-treaty-protocol-irks-ramallah/1272646
--------
Pakistani FM hopeful on rebuilding ties with US
04.10.2018
By Umar Farooq
WASHINGTON
Pakistan's foreign minister said Wednesday that he held constructive talks with top U.S. officials and was hopeful the two countries would be able to rebuild relations.
Shah Mahmood Qureshi made the comments during a speech at the U.S. Institute of Peace titled Pakistan's New Government: Change or Continuity in Foreign Policy?
Qureshi discussed a number of different topics, including the government's commitment to the global Pakistani diaspora and relations between Pakistan and India.
His speech followed a round of meetings Tuesday with top U.S. officials including Secretary of State Mike Pompeo and National Security Advisor John Bolton.
The main point Qureshi stressed in his speech was the hope he had in Pakistan's ability to rebuild relations with the U.S.
"The last two years I would say were difficult. And let's acknowledge that they were difficult. And one is here to reconnect, and one is here to rebuild what, in my view, is an important relationship to achieve our collective objective, which is peace, reconciliation and stability," he said.
This is the second term as foreign minister for Qureshi, who also served under former president Gen. Pervez Musharraf in 2008.
Qureshi said he was expecting to encounter hawkish opposition during his U.S. visit but was instead met with open ears.
"I felt that Secretary Pompeo was ready to listen, which I thought was very positive," he said. "I thought that they [U.S. officials] were ready to listen."
U.S.-Pakistani relations had taken a turn for the worse in recent years, with the U.S. announcing a $300 million cut in military aid to Pakistan earlier this year.
In January, U.S. President Donald Trump attacked Pakistan on Twitter, saying it was not doing enough to stop terrorism.
"The United States has foolishly given Pakistan more than 33 billion dollars in aid over the last 15 years, and they have given us nothing but lies & deceit, thinking of our leaders as fools. They give safe haven to the terrorists we hunt in Afghanistan, with little help. No more!" Trump tweeted.
The main sticking point between the two sides has been the issue of the Taliban's presence in Afghanistan over which the U.S. has engaged in a 17-year-long military operation.
But officials of the two countries have met numerous times over the past two months. In September, Pompeo visited Pakistan and met with Qureshi and newly elected prime minister Imran Khan.
Full report at:
https://www.aa.com.tr/en/americas/pakistani-fm-hopeful-on-rebuilding-ties-with-us/1272247
--------
Trump's counter-terrorism strategy identifies LeT, TTP as potential threat to US
Oct 5, 2018
WASHINGTON: The new National Strategy for Counter-terrorism released by the White House here has identified two Pakistan-based terrorist groups, Lashkar-e-Taiba (LeT) and Tehrik-i-Taliban Pakistan (TTP), along with Boko Haram as a potential threat to the United States.
In addition to ISIS and al-Qaida, dozens of other radical Islamist terrorist groups are working to advance more locally focused insurgent or terrorist campaigns, while still posing a threat to United States persons and interests overseas, said the National Strategy for Counter-terrorism, released by the White House on Thursday.
"These groups, including Boko Haram, Tehrik-e Taliban Pakistan, and Lashkar-e Taiba, employ a range of political and terrorist tactics to undermine local governments and conduct attacks," it said.
According to the strategy, these organisations will probably prioritize regional goals over attacks against the homeland or United States interests because of resource constraints or political considerations.
"However, many of these groups are hostile to the United States, maintain networks of sympathizers around the world, and retain ties to ISIS or al-Qaida, underscoring their potential threat to United States interests," said the strategy, according to which radical Islamist terrorists remain the primary transnational terrorist threat to the US and its vital national interests.
Prominent terrorist organisations, particularly ISIS and al-Qaida, have repeatedly demonstrated the intent and capability to attack the homeland and United States interests and continue to plot new attacks and inspire susceptible people to commit acts of violence inside the United States, it said.
"These groups stoke and exploit weak governance, conflict, instability, and long-standing political and religious grievances to pursue their goal of eliminating Western influence in majority Muslim countries and remaking Islamic society," the strategy said.
Radical Islamist terrorist groups have developed and used methods that have challenged the United States counter-terrorism efforts, including establishing state-like governing institutions within their safe havens, deploying sophisticated explosive devices to defeat aviation security measures, and using high-quality media products to recruit extremists in the West, it said.
Future radical Islamist terrorists and other terrorists will continually adapt these and other tactics to their circumstances and the technological advances of the age. "It is, therefore, critical that the United States counter-terrorism posture be agile enough to adapt as well," said the strategy.
Radical Islamist terrorists have a violent extremist ideology that serves to create a common identity and sense of purpose for those susceptible to its core message, it alleged.
"This vile ideology is used to indoctrinate new recruits to accept terrorist groups' goals and directives without question, and also allows these groups to maintain cohesion, ensure conformity, and justify the use of violence to meet the ideology's goals.
"It avails terrorists of a world view that helps unify their efforts by fomenting conflict and attempts to legitimize terrorism by elevating the social status of group members and absolving individuals from culpability for their participation in violence," it said.
ISIS, the strategy, said remains the foremost radical Islamist terrorist group and the primary transnational terrorist threat to the United States, despite ongoing us and coalition civilian and military efforts that have diminished the group's footprint in Iraq and Syria, killed thousands of its members, and curtailed its global expansion.
"ISIS retains the financial and material resources and expertise to launch external attacks, including against United States interests, and its senior leaders continue to call for attacks against the United States," it said.
Meanwhile, al-Qaida's global network remains resilient and poses an enduring threat to the homeland and United States interests around the world, the strategy said.
Consistent United States-led counter-terrorism pressure has removed many of its senior leaders and reduced the group's ability to operate in South Asia, but its affiliates continue to plan and carry out terrorist attacks against the United States and our allies, as well as raise funds from individual supporters through the international financial system, it said.
"Affiliate resources are primarily focused on local and regional conflicts, but key operatives and elements within the network continue to seek out new opportunities to strike the homeland and United States interests and to inspire attacks inside the United States.
Full report at:
https://timesofindia.indiatimes.com/world/us/trumps-counter-terrorism-strategy-identifies-let-ttp-as-potential-threat-to-us/articleshow/66079312.cms
--------
Iran faces sensitive time over threat from America, economic woes, leader says
4 October 2018
The people of Iran face a sensitive time because of the pressure from America and economic problems, Supreme Leader Ayatollah Ali Khamenei said in a key address broadcast by state television on Thursday.
Khamenei was speaking to tens of thousands of members of the Basij militia and top Revolutionary Guards leaders gathered in a stadium in Tehran.
Discord between Iran and the United States has worsened since US President Donald Trump withdrew from a multilateral nuclear deal with the Islamic Republic in May and reimposed sanctions.
"The situation of the nation, region and world is sensitive, especially for us the people of Iran," Khamenei said.
"Sensitive in this respect that on one hand we have the shouting of the arrogant powers and politicians of imperialist America...on another hand the economic problems of the nation and the tightness of the livelihood of a large portion of the weak people in the country."
The Iranian rial has lost approximately 75 percent of its value since the beginning of 2018.
US officials have said new sanctions targeting Iran's oil sector will be imposed on Nov. 4.
Iran must deliver a slap and defeat America by defeating sanctions, Khamenei said in his speech.
Full report at:
https://english.alarabiya.net/en/News/world/2018/10/04/Iran-faces-sensitive-time-over-threat-from-America-economic-woes-leader-says.html
--------
US not on the road to war with Iran: General Joseph Votel
Oct 4, 2018
The general overseeing the US military's involvement in the Middle East has said the United States is not "on the road to war with Iran," despite the fact that some Trump administration officials have stepped up rhetoric against Tehran.
"I don't think we're seeking to go to war with Iran, and I don't think that's what we're focused on," General Joseph Votel, who heads the US Central Command, told Pentagon reporters on Thursday.
Trump has been clear Tehran needs to "cease its destabilizing behavior and policy that spreads violence and human misery throughout the Middle East," Votel said.
"The principle way that we are approaching that right now is through diplomatic and economic pressure. And I support that, I don't see that necessarily as being on the road to war with Iran," he added.
A warning by retired US General Wesley Clark that Iran has been a target of US intentions issued more than a decade ago appeared last month to be moving closer to realization.
Trump, in the anti-Iran remarks made at the UN General Assembly's General Debate and amplified as he chaired a meeting of the Security Council, seemed to confirm the claim made by the former chair of the Joint Chief' of Staff under President Bill Clinton that Iran was on a list of seven countries that Washington planned to invade and destroy.
The retired 4-star US Army general, Supreme Allied Commander of NATO during the 1999 War on Yugoslavia, said in the 2007 interview that the purpose of the 9/11 attack was to take out the governments of seven countries in five years. These seven countries were Iraq, Syria, Somalia, Libya, Sudan, Yemen, and Iran. All of these countries have been directly or indirectly been the object of US aggression.
Last month, several gunmen launched a deadly terrorist attack on a military parade in the Iranian city of Ahvaz, bordering Iraq where the US has still thousands of troops deployed. Some independent observers have said that the well-coordinated attack was an indication that the United States has decided to accelerate asymmetric warfare against Iran, following Trump's launching of an economic war against the Islamic Republic.
US to end Treaty of Amity with Iran
On Wednesday, Secretary of State Mike Pompeo said the United States was withdrawing from a decades-old friendship treaty with Iran that allowed Tehran to pursue legal action against Washington overseas.
In July, Iran filed a complaint with the Hague-based International Court of Justice (ICJ), also known as the World Court, asking the principal judicial organ of the United Nations to order the US to lift its recently re-imposed sanctions on the Islamic Republic.
Tehran has called on the ICJ to order the immediate lifting of the sanctions, and demanded compensation for damages incurred in their wake.
Iran believes that the re-imposed American sanctions against Iran violate the terms of the 1955 Treaty of Amity between the two countries.
On Wednesday, the ICJ ordered the US to ease some sanctions against Iran. The court ruled that Washington had to remove "any impediments" to the export of humanitarian goods, including food, medicine and aviation safety equipment.
But shortly after the ICJ ruling, Pompeo said the treaty would be terminated.
And, US National Security Adviser John Bolton said all agreements which could expose the United States to World Court rulings would be also reviewed.
The US re-imposition of sanctions against Iran came after President Donald Trump pulled out of the 2015 nuclear deal known as the Joint Comprehensive Plan of Action (JCPOA) and set forth 12 new demands in order for the US to agree to a new nuclear deal with Tehran.
America's European allies have protested against the move, but they are likely to adhere to the sanctions under the US pressure.
The ICJ was set up in 1946 to resolve international disputes. Its rulings are binding but on rare occasions they have been ignored by certain countries, chiefly the United States.
Bolton: US to stay in Syria as long as Iran is there
Last week, President Trump's national security adviser John Bolton, a longtime hawk on Iran, said the US would maintain a presence in Syria as long as Iran is there.
"We're not going to leave (Syria) as long as Iranian troops are outside Iranian borders," Bolton said.
Full report at:
https://www.presstv.com/Detail/2018/10/04/576080/US-not-on-the-road-to-war-with-Iran-General-Joseph-Votel
--------
US treasury takes action to disrupt Hezbollah funding channels
October 5, 2018
The US treasury designated Muhammad Abdallah Al-Amin as a Specially Designated Global Terrorist on Thursday in an effort to cut off funding to Hezbollah.
Al-Amin was sanctioned by the US Department of the Treasury's Office of Foreign Assets Control (OFAC) for "assisting in, sponsoring, or providing financial, material, or technological support for, or financial or other services to or in support of" Hezbollah support group Tabaja.
Not only has Al-Amin been sanctioned, Six of his companies have also been designated as Specially Designated Global Terrorist companies.
The designation by OFAC prevents US citizens from doing business with Al-Amin and the designated companies, and blocks any asset of his under US jurisdiction.
"Hezbollah is an Iranian-proxy, and this Administration is focused on exposing and disrupting its terrorist funding networks. We are exerting extraordinary pressure on Hezbollah financiers like Tabaja to halt their pernicious activities in Lebanon and beyond," said Sigal Mandelker, Under Secretary of the Treasury for Terrorism and Financial Intelligence.
"Our action should serve as a warning that we will impose consequences on anyone engaging in business relationships with al-Amin or other Hezbollah support networks. Treasury has taken more actions against Hezbollah this year than ever before, and we are fully committed to shutting down this terrorist network."
Tabaja, the network referred to by Mr Mandelker, operates in West Africa and Lebanon and was designated as supporting terrorism in 2015 by OFAC. The US government says it has links to Hezbollah officials and "the Islamic Jihad, which is responsible for planning, coordinating, and executing Hezbollah's terrorist attacks worldwide".
Full report at:
https://www.thenational.ae/world/the-americas/us-treasury-takes-action-to-disrupt-hezbollah-funding-channels-1.777397
--------
Arab World
Syria's new religious bill angers Assad loyalists
October 4, 2018
Decried as an attempt to strengthen the influence of conservative Islam on Syrian society, a decree signed by President Bashar al Assad on September 20 has caused a furore among Assad loyalists.
The 37-page-long decree known as n°16, which has been leaked online, revises the responsibilities and the internal structure of the Ministry of Religious Endowments (Awqaf), set up in 1961, to manage religious properties mostly associated with Sunni Islam.
Reactions on social media spread like wildfire, as many conflated the decree with religious extremism and the end of secularism.
"Is its purpose the Islamisation of institutions and the domination of Syrian people's lives with regards to religious diversity?" wrote the most vocal critic of the decree, Nabil Saleh, a member of the Syrian Parliament, on his Facebook page. Mr Saleh is from Latakia, an Alawite stronghold. At no point does he directly criticise Bashar al Assad, who is also Alawite.
Pictures posted on a page called "No to the Ministry of Awqaf's legislative decree n°16", created on October 2, depict a bearded man reading a Quran upside down as a black bird with "ISIS" written on it pecks into his head.
Another showed two happy young women sitting together in a field, reading the Quran and the Bible together, with "religion is for God and the nation is for all" written across it.
Rumours have spread that the decree stipulates that all Syrians must pay "Zakat," a religious tax for the rich. But the decree only mentions Zakat in a short paragraph, saying it should be "encouraged".
"These kinds of reactions are a mixture of a strong anti-Sunni feeling among Assad's Alawite base which has increased with the war and a basic misunderstanding of religious administration by the Syrian State", says Thomas Pierret, senior researcher at the French national centre for scientific research (CNRS) and author of Religion and state in Syria: The Sunni Ulama from Coup to Revolution (2013). "It's all pure fantasy".
Faced with mounting criticism, the Minister of Awqaf, Abdul Sattar al Sayyed, answered questions about the decree on Syrian TV. In a video that has circulated on Twitter, he reads a paragraph from the decree that stipulates that one of his ministry's aims is to "fight Wahabi and Muslim Brotherhood" thought. The decree is peppered with calls to religious "moderation".
The decree does have one key objective, argues Mr Pierret: to strengthen the ministry's role at the expense of the Grand Mufti. He is an Assad loyalist who has been accused of authorising tens of thousands of deaths in Syrian prisons these past few years. Two lines buried in the middle of the decree drastically reduce his power: he is to be appointed by the President for three years only, whereas he previously held his job for life. Names of candidates will be suggested by the Minister of Awqaf, which is also a novelty. The fate of the current Grand Mufti, Ahmad Badreddin Hassoun, is not mentioned.
"It's the result of a power struggle within the religious system. The influence of the Mufti and the minister used to be relatively similar", says Mr Pierret. "What's at stake here is the control of religious endowments".
In a nepotistic move, the minister's son benefits from the decree. His youth movement, created a few months ago, is mentioned, thus giving it official recognition.
On Facebook, Nabil Saleh assimilated the movement to the early days of the Muslim Brotherhood and says that it "violates the constitution". Syria has a violent past with the Muslim Brotherhood, which was brutally suppressed in the 1980s.
"People started imagining that it was an Islamic movement that was taking hold of the ministry, but it's basically a few dozen young volunteers who organise conferences in mosques to fight extremist ideas", says Mr Pierret.
The decree will be debated in Parliament in the next few days, a Syrian MP told The National, in what looks like a test of how different religious groups will co-exist in post-war Syria.
https://www.thenational.ae/world/mena/syria-s-new-religious-bill-angers-assad-loyalists-1.777378
--------
Western Arms Discovered in Terrorists' Bases in Syria
Oct 04, 2018
Field sources reported that machine-guns, Western-made missiles, sniper guns of Wall type, RPGs, missile-launchers, different types of artilleries and a large amount of ammunitions were discovered in the terrorists' former strongholds in the three provinces.
The army soldiers also found a large number of weapons, artilleries and military equipment inside the terrorists' hideouts in Dik al-Jin region in Eastern Homs, which were used for attacks on nearby areas.
A Russian daily reported on Wednesday that the US military forces continued supplying arms to the terrorists in Syria, , adding that most such shipments were arms and ammunition made in East European states.
The Russian-language Eurasia paper reported that Bulgaria is still the main source of providing weapons for terrorist groups in Syria.
The daily further said that the Bulgarian weapons have been handed over to the terrorists through third-party states, adding that the US has been involved in delivering the Bulgarian weapons to the terrorists in Syria.
The daily went on to say that the US imported $98mln Bulgaria-made arms in 2016 when terrorists in Syria found access to Grade Missiles and other unique weapons, including anti-tank cannons.
Full report at:
http://en.farsnews.com/newstext.aspx?nn=13970712000206
--------
Syrian Army Drives ISIL out of More Regions in Sweida Deserts
Oct 04, 2018
The army units continued clashes with the terrorists from several fronts in Toloul al-Safa rugged terrain in the Eastern desert of Sweida on Thursday, capturing more regions, including several caves and hideouts of the militants, and killing a number of them, including several snipers.
Meantime, the Syrian army's air force and artillery units targeted the terrorists' moves and strongholds in the rocky areas of Qabr Sheikh Hassan and in depth of Toloul al-Safa, destroying their positions and military equipment and inflicting tolls on them.
Field sources said that the terrorists' defense lines have collapsed and their supply lines were destroyed in Toloul al-Safa after the Syrian army recaptured the region's water resources.
Also, the Syrian army foiled the terrorists' attempts to flee from the region.
In a relevant development on Wednesday, the Syrian army troops stormed ISIL's strongholds in the Eastern desert of Sweida and captured more areas in Toloul al-Safa rugged terrain.
The army men engaged in fierce clashes again with the ISIL in Toloul al-Safa in the Eastern desert of Sweida, taking control over more areas in the depth of the rocks.
In the meantime, other units of the army, backed up by the artillery and missile units, managed to seize control over a number of positions and hideouts of the ISIL in the rocks, inflicting major losses on the terrorists.
The army further set up more positions in the newly-captured areas.
Full report at:
http://en.farsnews.com/newstext.aspx?nn=13970712000266
--------
Turkey-Backed Terrorists Continue Plundering Afrin's Historical Artifacts
Oct 04, 2018
The sources said that the Ankara-backed Faylaq al-Awwal militants are plundering the artifacts in Cyrrhus (a city in ancient Syria founded by Seleucus Nicator, one of Alexander the Great's generals) known among Arabs as Nebi Huri castle in Northeastern Afrin.
They added that the commander of the terrorist group also monitors extensive excavation operations in the historical sites in the region, saying that the militants sell the artifacts in local and regional markets or transfer them to other regions.
Also, other reports said that the former commander of Faylaq al-Rahman terrorist group in Eastern Ghouta of Damascus has arrived at an agreement with the local council of Afrin to take control of a large mountainous area between Bastouleh and Afrin that is home to many villages later sell their control to other terrorists.
Relevant reports in August said that Ankara-backed militants continued damaging and plundering historical artifacts in Afrin region.
The Ankara-backed militant groups conducted excavation again in Afrin region in Northwestern Aleppo, destroying Nebi Huri and other historical sites in the region.
Full report at:
http://en.farsnews.com/newstext.aspx?nn=13970712000825
--------
3 Mass-Graves of Syrian Army Forces Found in Idlib
Oct 04, 2018
The Arabic-language website of Sputnik news agency quoted a security source as saying on Thursday that the mass-graves contained the bodies of 12 army forces.
He added that the Syrian army forces had in the past few months clashed with Ajnad al-Qafqaz (most of its members from Chechnia) before liberating the region, adding that the corpses likely belong to the army forces.
Last November, the Syrian army launched massive military operations against the ISIL and Tahrir al-Sham Hay'at (the Levant Liberation Board or the Al-Nusra Front) terrorists in Southern Aleppo, Eastern Idlib and Northern Hama, regaining control of over 300 towns and villages, including Abu Zohour base, which is the second airbase in Northern Syria.
Earlier reports said that the Syrian army won back control of most of regions which had earlier been occupied by the ISIL during purging operations in the besieged areas in Hama, Idlib and Aleppo provinces.
The Syrian army forces continued advance in Northeastern Hama, taking back control of the villages of Abisan, Jabal Abisan, Rasm al-Khala, Jadidah, al-Khafiyeh, Abu Hamad, Tabarat Azbib, Job al-Safa, Ableh, Aniz, Sheikh Mazoud, Rasm al-Ward and Thaniyeh al-Sofani.
Full report at:
http://en.farsnews.com/newstext.aspx?nn=13970712000572
--------
Tahrir Al-Sham, Ankara Disagree over Sochi Agreement
Oct 04, 2018
The Arabic-language al-Watan newspaper quoted sources close to the militants as saying on Thursday that Tahrir al-Sham has demanded control over certain crossroads on M5 highway which links Aleppo to Hama and M4 highway that links Aleppo to Lattakia.
They added that the Turkish intelligence body has opposed the demand, specially about the passageways located between the Syrian army-controlled areas and those occupied by the terrorists in Idlib, Western Aleppo and Sahl al-Qab in Northwestern Hama, adding that Turkey wants to deliver their control to the National Liberation Front militants who are supported by Turkey.
The report said if Tahrir al-Sham and Ankara come into terms with each other over this issue, the terrorist group will soon start withdrawal from demilitarized zone.
Tahrir al-Sham terrorist group is attempting to maintain its positions in Syria, it said.
A Kurdish-language media outlet warned on Monday that Tahrir al-Sham Hay'at terrorists were planning to merge with Ankara-backed militants in occupied Afrin in Northwestern Aleppo.
Hawar news quoted a well-informed source in Afrin as reporting that Tahrir al-Sham had held a joint meeting with Ankara-backed National Liberation Front in Jandaris region.
It further said that the meeting was aimed at legalizing presence of Tahrir al-Sham in the region and setting up a joint group.
Other news sources had already reported on Tahrir al-Sham's presence in Deir Balout region in Jandaris.
Full report at:
http://en.farsnews.com/newstext.aspx?nn=13970712000418
--------
New Tensions Reported in Manbij Provoked by US-Backed SDF
Oct 04, 2018
Local sources in Manbij in Eastern Aleppo reported on Thursday that the Syrian Democratic Forces (SDF) have arrested over 20 young people in the village of Haj Hossein with the aim of forced recruitment, transferring them to their base in al-Sad region.
They added that the SDF has also set up several checkpoints in Manbij to increase recruitment.
Based on reports, the SDF measures against the civilians have angered and provoked them to hold daily protest rallies in Manbij.
Also, in September, local sources reported that the US-backed SDF and civilians in Manbij rejoin in Northeastern Syria engaged in heavy fighting due to continued forced recruitment by the SDF.
The sources said that al-Qashlah villagers fought against the SDF militias after a sum of 15 young men, who had been arrested by the SDF under the forced recruitment plan, managed to escape from the SDF base in Tishrin Dam region South of Manbij.
On Sunday, the SDF carried out their largest arrest operation across Hasaka and Raqqa provinces.
A local source said that the SDF has detained a sum of 800 young men in Hassan Darwish base, and sent 400 more to another base in Tal Abyadh.
Full report at:
http://en.farsnews.com/newstext.aspx?nn=13970712000486
--------
Saudi Arabia seeks wide-ranging deals with South African arms firms amid Yemen war
Oct 4, 2018
Saudi Arabia is currently in talks with major arms manufacturers of South Africa for wide-ranging deals, a state military firm says, as a Riyadh-led military coalition continues to pound the impoverished Yemeni nation in a war imposed on the Arabian Peninsula country more than three and a half years ago.
Saudi Arabian Military Industries' (SAMI) Chief Executive Andreas Schwer said on Wednesday that he expected to finalize the first partnership deals with South African arms companies by the end of the year, without mentioning the initial partners by name.
The Arab kingdom is considering an equity stake in the struggling South African state-owned military firm Denel. The African country's Department of Public Enterprises, which oversees Denel, confirmed that it was in talks with SAMI, but said it was too early to give details of any potential partnership deal.
Separately, the South Africa-based Paramount Group, a privately-held group of companies operating in military and aerospace business, has already announced that it is in talks with Saudi authorities.
"To make it clear, we are in discussions with all major South African companies, not only Paramount, not only Denel," Schwer said in a telephone interview with Reuters.
Saudi Arabia, the world's third largest military spender after the United States and China, allocated an estimated military budget of nearly $70 billion last year.
"We are in discussions with the South African government in order to identify opportunities to set up strategic partnerships which could include an equity investment from our side into Denel. It's not decided yet, but it's one option," Schwer further said.
He added that Riyadh hoped to get access to South African arms firms' technology. "They have to commit to transfer their technology to Saudi Arabia and to build up together with us local capabilities, not only manufacturing but also engineering."
Saudi Arabia and some of its allies, including the United Arab Emirates, Morocco, and Sudan, launched a brutal war against Yemen in March 2015 in an attempt to reinstall Yemen's former president Abd Rabbuh Mansur Hadi and crush the country's popular Houthi Ansarullah movement, which has played a significant role, alongside the Yemeni army, in defending the nation against the Saudi war machine.
The aggression initially consisted of a bombing campaign but was later coupled with a naval blockade and the deployment of ground forces to Yemen. Some 15,000 Yemenis have so far been killed and thousands more injured.
More than 2,200 others have also died of cholera, and the crisis has triggered what the United Nations has described as the world's worst humanitarian disaster.
The Saudi-led war has also taken a heavy toll on the country's infrastructure, destroying hospitals, schools, and factories. The UN has said that a record 22.2 million Yemenis are in dire need of food, including 8.4 million threatened by severe hunger.
Full report at:
https://www.presstv.com/Detail/2018/10/04/576076/Saudi-Arabia-South-Africa-arms-SAMI-Denel-Yemen
--------
Saudi, UAE 'interfering' in UN panel's work on Yemen
Oct 5, 2018
The head of the United Nation's investigation team on the Yemen war has accused Saudi Arabia and the United Arab Emirates (UAE) of hindering its work on documenting evidence of "possible war crimes" they have committed throughout their military aggression against the impoverished country.
Speaking to Al Jazeera on Thursday, Kamel Jendoubi said his panel had presented a list of human rights abuses to the UN, following a report in August that pointed to a "substantial number of violations of international humanitarian law" in the Saudi-led war.
Saudi Arabia and its allies have been critical of the UN panel's work.
"I did not expect such a harsh reaction, we've done a professional, neutral and objective job," Jendoubi told Al Jazeera.
"All we did was report based on allegations and actions we collected during our visits, from testimonies and reports... It's a normal process for any experts," he said.
The August report blamed airstrikes by the Saud-led military coalition as the most direct cause of civilian casualties in the war, which began in March 2015 as an attempt to overthrow the Houthi Ansarullah movement and reinstate former fugitive president Abd Rabbuh Mansour Hadi.
Jendoubi's report also mentioned a long-running blockade of Yemeni ports and airspace by the Riyadh regime and its allies as a possible violation of international humanitarian law.
Some 15,000 Yemenis have been killed and thousands more injured since the onset of the Saudi-led aggression.
More than 2,200 others have died of cholera, and the crisis has triggered what the United Nations has described as the world's worst humanitarian disaster.
This is while Riyadh and its allies have repeatedly denied allegations of war crimes, insisting that their attacks are not directed at civilians despite abundant evidence that they have targeted weddings, funerals, hospitals as well as water and electricity plants.
Full report at:
https://www.presstv.com/Detail/2018/10/05/576085/UN-Jendoubi-Yemen-war-Saudi-UAE-crimes
--------
Pakistan
Kartarpur border won't be opened till India responds to talks offer
Oct 5, 2018
ISLAMABAD: The Foreign Office (FO) on Thursday said that Pakistan will not discuss any matter with India, including the reopening of the Kartarpur border issue, if talks are not held between the two countries.
Addressing his weekly press briefing, FO Spokesperson Dr Muhammad Faisal said, "Pakistan believes in Quaid-e-Azam's principle of peaceful ties with neighbours and has made efforts to convince India to hold talks."
The FO spokesperson, however, also stated that the first initiative was, in fact, taken by India after Indian Prime Minister Narendra Modi wrote a letter to Prime Minister Imran Khan.
Furthermore, while discussing Indian aggression in Occupied Kashmir, Dr Faisal said, "The neighbouring country is using chemical weapons in the occupied territory and we strongly condemn it. We want to resolve the Kashmir issue as per the wishes of the Kashmiri people."
Moreover, he also remarked that Pakistan will present a strong case against Indian spy Kulbhushan Jadhav in the International Court of Justice (ICJ).
"Pakistan will not compromise on matters pertaining to national interest," Dr Faisal reiterated.
The FO spokesperson also confirmed that a meeting between Foreign Minister Shah Mahmood Qureshi and US President Donald Trump had taken place and a positive exchange of views took place between them.
Further, FM Qureshi also met US Secretary of State Mike Pompeo during his visit to the country, who praised Pakistan's role in promoting peace in Afghanistan.
On Shakil Afridi's issue, the FO spokesperson said Pakistan's stance remains unchanged.
In response to a journalist's question, Dr Faisal said the US should hold dialogue with the Taliban.
"We will hope that the negotiations are fruitful," he said.
"We don't want a single country to be held responsible for establishing peace in Afghanistan. All countries should play their part in this effort," the FO spokesperson said.
The foreign office also confirmed that Qureshi met with the World Bank president. In the meeting, the foreign minister discussed the Indus Waters Treaty and the disputed Kishanganga Dam issue.
Responding to a question about the China-Pakistan Economic Corridor (CPEC) plan, Dr Faisal said Pakistan and China are on the same page on the matter.
"The Planning Commission can better respond to questions pertaining to Saudi Arabia's inclusion in the CPEC plan," he added.
Slamming Indian Army chief Bipin Rawat's statement of conducting "surgical strikes on terror launch pads across the Line of Control (LoC)", he said that the chief of a professional army should refrain from making such controversial claims.
https://www.pakistantoday.com.pk/2018/10/04/pakistan-wont-discuss-kartarpur-border-issue-with-india-if-talks-not-held/
--------
Cross-border support to terrorists threat to security: Maleeha Lodhi
Oct 5, 2018
ISLAMABAD: Pakistan's permanent representative to the United Nations (UN) Dr Maleeha Lodhi has said Pakistan is severely threatened by cross-border support to terrorists.
Speaking at a Committee meeting in UN, she said Pakistan condemned terrorism in all its manifestations. Pakistan itself is a victim of terrorism for decades and it suffered heavy losses of persons and treasure in the war on terror.
"World needs to differentiate between those facing terrorism and foreign occupation. Pakistan is severely threatened with the cross-border support and backing to terrorists," she said.
The international consensus on terrorism should not be used against the freedom struggle and there is a need to differentiate between the freedom movements of victims of foreign occupation and terrorism, she added.
https://www.pakistantoday.com.pk/2018/10/04/cross-border-support-to-terrorists-threat-to-security-maleeha-lodhi/
--------
US refused to broker India talks: Pakistan
Oct 4, 2018
WASHINGTON: Any expectation that Pakistan would bring new initiatives or a fresh approach to Washington during the visit to the US by the foreign minister of the new PTI government was belied this week after he recycled the same dodgy talking points that many of his predecessors have brought over the years. Pakistan is serious in its fight against terrorism; Washington should not abandon indispensable Pakistan and it should resume the aid it has cut off; and the Trump administration should facilitate talks with a recalcitrant India or else there would be an escalation of tensions.
With no takers in a capital that is no longer credulous at such assertions and implicit threats, Shah Mohammed Qureshi returned home empty handed, evidently piqued at the state department not buying his narrative.
"When we asked the US to play facilitating role...Why do we ask? Simply because we (India and Pakistan) are not engaging bilaterally. And that bilateral disengagement is…a distraction. We want to focus, we want to move on the western side of the border, which we are not being able to because we have to watch our back from eastern side (of the border with India). That is not a healthy situation to be in," Qureshi complained in a repetition of what every other Pakistani foreign minister has told a Washington thinktank audience.
Qureshi also revealed that the US state department had told him Washington was not going to be brokering India-Pakistan talks and that it wanted a bilateral process. But not only was there no bilateral movement, the lack of facilitation (by US) was leading to an escalation, he warned, even after Washington has ridiculed the idea that India is a threat to Pakistan and has repeatedly asked Islamabad to take steps to defuse tensions by addressing the terrorism issue. "It's unfortunate. That's the way it is. What does this government want? We want normalisation. We want co-existence," he said.
Such disingenuous assertions did not go unchallenged in a city that has long wised up to Pakistan's bogus narrative of fighting terrorism. If Pakistan was really serious about fighting terrorism, how come one of his cabinet colleagues (Noor ul Qadri) was sharing a stage with Hafiz Saeed, a UN and US-designated terrorist who is still running free, an audience member asked, calling his bluff. "I will go home and certainly ask him why he did that. But what I am told it was an event to highlight the situation in Kashmir," Qureshi said, adding that his cabinet colleague should have been "more sensitive."
Although both US and Pakistan expressed intent in normalizing relations, the anodyne statement that came from the state department after Qureshi had met secretary of state Mike Pompeo, said it all - -or nothing.
Full report at:
https://timesofindia.indiatimes.com/world/pakistan/pakistan-brings-old-whine-in-new-bottle-to-washington/articleshow/66075216.cms
--------
SC hears petition seeking suspension of police officers' bail in Benazir murder case
Haseeb Bhatti
October 05, 2018
The Supreme Court on Friday resumed hearing a petition filed by the mother of Benazir Bhutto's chief security officer Tauqeer Kaira to suspend bails of police officers Saud Aziz and Khurram Shahzad.
Kaira was also killed in the attack that targeted the former prime minister in 2007.
The petition, earlier rejected by the SC registrar, argued that officers Aziz and Shahzad were granted bail and posted at important positions against the rules. It said that the then city police officer (CPO) Saud Aziz and superintendent police (SP) Khurram Shahzad were suspects in the Benazir Bhutto murder case since they had cleaned the site of Bhutto's death soon after the attack.
The counsel for the police officials told the court that since the petitioner, Rasheeda Bibi, had passed away, her petition was ineffectual.
The court, however, rejected the lawyer's request to declare the petition ineffectual, saying that Bibi's daughter had in the last hearing become party to the petition, and asked her lawyer to continue with his arguments.
Sardar Latif Khosa, the counsel for Rasheeda Bibi, said that the police officers were involved in the murder conspiracy.
When asked by Justice Asif Saeed Khosa what evidence there was to suggest their involvement, Latif Khosa said that they were involved in destroying the evidence.
Latif Khosa said that there was also an appeal against the trial court's decision pending before the high court.
The two officers were granted bail by the Islamabad High Court (IHC) after an anti-terrorism court (ATC) awarded both the officers 17 years imprisonment.
Latif Khosa maintained that one cannot get bail against an anti-terrorism court's judgement.
Full report at:
https://www.dawn.com/news/1436964/sc-hears-petition-seeking-suspension-of-police-officers-bail-in-benazir-murder-case
--------
Peshawar University students beaten up, arrested by police
October 04, 2018
University of Peshawar students protesting on the university campus against an increase in the semester fee clashed with police on Thursday, leading to injuries and several arrests.
Six students were injured and taken to the Khyber Teaching Hospital, the hospital's public relations officer, Farhat Khan, told DawnNewsTV.
A police official at the campus police station, who wished not to be named, told DawnNewsTV that 28 students had been arrested for staging the protest held in violation of Section 144 of the Criminal Procedures Code.
He added that three policemen had also received injuries during the clash.
The protest had been announced by the Muttahida Tulaba Mahaz. It was held at the university's Pearl Lawn, where students from the Pukhtoon Students Federation (PSF) — the student wing of Awami National Party (ANP) — Pakistan Peoples Party (PPP), Islami Jamiat Taleba (IJT), and Muslim Students Federation (MSF) congregated to record their opposition to the fee hike.
Peshawar University spokesperson Imran Ali Bangash told DawnNewsTV that he believed the protests were also a reaction to an operation conducted by the university administration in July during which they had vacated around 300 hostel rooms occupied by students belonging to various political organisations and movements.
"These students were trying to blackmail us [the university administration]. Two outsiders, both of whom are graduates, are leading these protests. One belongs to the IJT and the other to the PSF. Their aim is to find a way to blackmail the administration whilst using innocent students as a shield.
"We gave them five hours to register their protest. We listened to them, provided them with [campus] space. We asked them to sit down [for talks]. They staged their protest and raised slogans; the media also came to cover it," the spokesperson said while recounting the day's events.
"When the students started to move towards the administration wing, we didn't want to, but were forced to take action against them," he continued, adding that the administration could not condone the university's atmosphere being ruined, especially at a time when admissions for the Bachelors of Science programme are underway.
Strong condemnations pour in
Meanwhile, strong statements of condemnation started pouring in; prominently from Pashtun Tahaffuz Movement (PTM) leader Manzoor Pashteen and ANP leaders.
Pashteen, condemning the police crackdown on students, said: "Protests against fee increase is an expected reaction from those who can't afford to pay. We demand action against police responsible for this violence. Everyone has the right to protest."
The ANP spokesperson, Zahid Khan, also issued an emphatic condemnation, saying that the present government talks about education and change, "but then goes ahead and does something like this".
"Is this the change that they wish to bring about? To rain batons on students protesting?" the spokesperson asked.
"If this brutality against students continues, the political parties will join the students in protesting," he warned.
Later in the day, ANP leader Mian Iftikhar visited the students in custody at the campus police station.
KP govt's response
Soon after the students were arrested and police managed to disperse the crowd, Government of Khyber Pakhtunkhwa Spokesperson Shaukat Yousafzai held a press conference regarding the incident.
He expressed sorrow at the way things had escalated and asserted that he has and will always raise his voice for the rights of students.
"There is a hidden element to this story, which is in contrast with what appears on the surface," he said while addressing the media.
"According to the [university] syndicate's decision, the fee structure is revised upward every year by 10 per cent," he explained, adding that despite that decision, the fee structure had been unchanged for the past two years.
"I am against the use of force against students, but they are being used by political parties. Many hostel rooms were taken over by students not entitled to use them," he said, adding that there were around 400 rooms that were illegally occupied.
He provided assurances that talks were being held for the expeditious release of the students, and said that the government was willing to address any grievances and conduct an inquiry if the students so wish.
Full report at:
https://www.dawn.com/news/1436804/peshawar-university-students-beaten-up-arrested-by-police
--------
Religious cleric, guard shot dead in Peshawar
Oct 5, 2018
Unidentified gunmen shot dead religious cleric and the former leader of a banned outfit for district Peshawar Maulana Ismail Darwesh along with his bodyguard in Peshawar, reported a private media outlet.
Derwish was travelling in a Khyber car along with his guard Ayub when the attackers opened fire at them in Chairman Daftar area on Phandu Road.
Derwish, who was also reportedly contesting by-elections from PK-78 as ASWJ candidate, had served multiple times as the party's provincial chief. These days, the organisation had been dissolved with new elections planned. "Our teams are inspecting the site of the attack and a search operation has also been initiated in the area," the police said.
Lady Reading Hospital spokesperson confirming the killing and said Maulana Darwesh succumbed to his injuries before reaching the hospital.
https://www.pakistantoday.com.pk/2018/10/04/religious-cleric-guard-shot-dead-in-peshawar/
--------
Eradication of terrorism must for prosperity: NA speaker
Oct 5, 2018
ISLAMABAD: The Commandant Frontier Constabulary Moazzam Jah Ansari called on the Speaker National Assembly Asad Qaiser at Parliament House on Thursday.
Matters pertaining to overall law and order situation and elimination of terrorism in Khyber Pakhtunkhwa (KP) were discussed in the meeting.
The speaker expressed satisfaction over the law and order situation in Khyber Pakhtunkhwa (KP) and eulogised the role of Frontier Constabulary in the maintenance of law and orders situation in the Province as well as in the country.
He said our security forces rendered peerless sacrifices in the war against terrorism. He said that without up to mark law and order and elimination of terrorism the dream of progress and prosperity cannot be materialized.
He stressed the need for joint efforts to coup with challenges being faced by the country and internal and external threats.
He said that eradication of bane of terrorism from the country top priority of incumbent Government. He said that whole nation united against the war on terrorism and stood with it security forces.
Moazzam Jah Ansari apprised the Speaker about overall security and law and order situation in the country. He said that Frontier Constabulary has always remained ready to combat any untoward situation and will leave no stone unturned to the maintenance of law and order situation and eradication of terrorism in the country.
Full report at:
https://www.pakistantoday.com.pk/2018/10/04/eradication-of-terrorism-must-for-prosperity-na-speaker/
--------
India
BSF man among two arrested for Hizb links
Oct 4, 2018
SRINAGAR: Police on Thursday busted a Hizbul Mujahideen module by arresting two members of the terrorist outfit, including a Border Security Force (BSF) man, from north Kashmir's frontier Kupwara district.
A police official said two Hizb activists were arrested by the J&K police's Special Operations Group and Army's 28 Rashtriya Rifles during a raid at Lolab on Wednesday night. Those arrested were identified as Shakir Ahmad Wani and Ghulam Mustafa Sheikh, both residents of Tekipora in Lolab.
The official said Shakir Wani, a BSF man posted outside the state, had been on leave when he and his associate were arrested by the SOG and RR team.
Meanwhile, a police statement issued here said that the Kupwara police, acting on specific inputs, busted a module of overground workers of the Hizbul Mujahideen operating in Lolab area of Kupwara.
The two, Shakir Wani and Ghulam Mustafa Sheikh, were detained in this regard for questioning, police said, adding, "After sustained questioning, a pistol was recovered on their disclosure."
The module was engaged in providing logistical support to militants apart from luring more youth onto the path of militancy," the statement said.
A case, FIR No. 77 of 2018 under Sections 7 and 25 of the Arms Act, and under UAPA, was registered at Sogam police station in this regard. Further investigation of the module is in progress, the statement added.
https://timesofindia.indiatimes.com/india/bsf-man-among-two-arrested-for-hizb-links/articleshow/66076875.cms
--------
India deports first Rohingya Muslims back to Myanmar despite last minute asylum plea
Oct 5, 2018
India has deported the first seven Rohingya Muslims back to Myanmar after the government ruled that they should be treated as illegal immigrants rather than qualifying for asylum.
The men were handed over to Burmese officials at the border between the two countries, just hours after the Supreme Court rejected a last minute plea from their lawyer.
The men were arrested in 2012 in the eastern city of Assam, and have been held in prison since then on charges of illegal entry.
Each man carried a single bag of belongings when they were removed from prison for deportation, an officer speaking on condition of anonymity told the Associated Press. Bhaskar J Mahanta, a police official in Assam, confirmed the men had been "handed over to the authorities of Myanmar" at a border post in Manipur.
At the Supreme Court, defence lawyer Prashant Bhushan argued that the men feared reprisals if they returned to Myanmar, and called for the UN high commissioner for refugees to be allowed to intervene in the case.
Though they were arrested some five years before the brutal August 2017 military crackdown that led 700,000 Rohingya to flee Rakhine state in northern Myanmar, the men said the persecution dated to much earlier and they had fled "genocide" like the rest.
But the Supreme Court ruled in the government's favour on the basis that, unlike most Rohingya Muslims in Myanmar, the men would be accepted as citizens. A government lawyer told the judges that Myanmar had given seven certificates of identity and one-month visas to facilitate the deportation.
"We don't want to interfere with the government's decision," said chief justice Ranjan Gogoi in one of his first judgments since taking over the role on Tuesday.
An estimated 40,000 more Rohingya have taken refuge in parts of India, mostly in places with larger Muslim populations.
India's government says it has evidence there are extremists who pose a threat to the country's security among the Rohingya. The country is fighting insurgencies in northern Kashmir and in its northeastern states.
The government said in an affidavit filed in the Supreme Court on Thursday that the deportations were "an administrative decision involving diplomatic and other considerations including an overwhelming consideration of national interest".
But rights groups criticised the ruling. Human Rights Watch said that "deporting these men will place them at severe risk of torture and abuse". Amnesty International said their deportation "violates customary international law".
Full report at:
https://www.independent.co.uk/news/world/asia/india-rohingya-muslims-deport-myanmar-illegal-migrants-refugees-a8568476.html
--------
After Mamata's Durga Puja sop, Muslim clerics demand hike in imam stipends
Indrajit Kundu
October 4, 2018
Weeks after West Bengal Chief Minister Mamata Banerjee announced a grant of Rs 28 crores for Durga Puja organisers across the state, Muslim groups on Wednesday launched a massive protest in Kolkata demanding an immediate hike in the monthly stipends given to imams.
Led by the All Bengal Minority Youth Federation (ABMYF), hundreds of clerics and Muslim youth brought central Kolkata to a standstill raising slogans against the Mamata Banerjee government for "failing" to deliver on her promises.
"Before deciding to give grants to organisers of Durga Puja, the government must raise the stipend for Imams. Mamata Banerjee has taken a line similar to the Bharatiya Janata Party (BJP) in her politics," Md Quamruzzaman, Genreal Secretary of ABMYF told India Today TV.
The group is demanding that the honouriarium amount given to imams must be doubled. At present close to 56,000 imams and muezzins are given a monthly stipend of Rs 2,500 and Rs 1,000 respectively. This was part of a scheme announced by Mamata Banerjee during her first term in office.
Quamruzzaman said, "We don't support distribution of government money for any religious purpose." He said the money given to imams as stipend was not that of the government, rather it was the money of the Wakf Board. "However, the government is trying to draw political mileage out of it," he alleged.
Quamruzzaman said the minority community in West Bengal has been "fully deprived". "We had high hopes from Mamata Banerjee but we are disappointed. She has betrayed us and used us only as a vote bank," the once pro-TMC minority leader said.
Another influential cleric, Toha Siddiqui, from the revered Furfura Sharif shrine in West Bengal warned the Mamata not to take votes of the Muslims for granted. In the run-up to the 2011 assembly elections, Siddiqui had thrown his weight behind Mamata.
"We have never spoken on behalf of Mamata Banerjee, neither shall we do it. We only speak in favour of those standing for the truth. There are 4 crore Muslims in West Bengal. Mamata should not forget that we can always resurrect the Congress or the CPI(M) from their graves as the secular alternative in West Bengal," Siddiqui said.
Meanwhile, reacting to the development, state BJP president Dilip Ghosh said the Trinamol Congress supremo is "solely focused on politics of appeasement".
Full report at:
https://www.indiatoday.in/india/story/after-mamata-s-durga-puja-sop-muslim-clerics-demand-hike-in-imam-stipends-1355572-2018-10-04
--------
Muslim teenager wins Bhagavad Gita contest
Oct 5, 2018
BENGALURU: A Muslim teenager has won the first prize in the Bhagavad Gita quiz held by Iskcon at Sanjaynagar, trouncing 400 participants from 14 schools.
Fourteen-year-old Shaik Mohiuddin, a Class 9 student from Subhash Memorial English School, answered all 41 multiple choice questions related to the Gita correctly. He is the youngest son of Shaik Salahuddin and Sabihya Mohammad, residents of Balaji Layout in Hebbal. Salahuddin owns a packaging industry unit.
According to Sabihya, Mohiuddin was 11 years old when he started asking questions about the Gita and religions while going through a general knowledge book. "I bought him a copy of the Gita and he started to read it with the help of his grandmother. Within six months, he managed to read and understand the entire scripture," she said.
Full report at:
https://timesofindia.indiatimes.com/city/bengaluru/muslim-teenager-wins-bhagavad-gita-contest/articleshow/66079913.cms
--------
Europe
German intelligence warns of far-right terror threat
04.10.2018
BERLIN
Germany's domestic intelligence agency on Thursday warned of a new form of far-right terrorism in the country.
Stephan Kramer, head of domestic intelligence agency in Thuringia, said recent investigations have shown that far-right groups are becoming increasingly violent.
"There is a growing affinity with physical training, combat sports and shooting exercises. This shows that they are more inclined towards violence," he told media group Redaktionsnetzwerk Deutschland.
Police arrested 7 far-right extremists this week in the eastern city of Chemnitz on suspicion of plotting terror attacks against foreigners and political opponents.
They were suspected of founding a terror group named "Revolution Chemnitz", which according to the police, planned a sensational terror act on Oct. 3, Germany's national unity day.
Since August, far-right groups have organized rallies in the city of Chemnitz, Saxony, and hunted down people deemed "foreign-looking" people and attacked migrant-owned shops.
https://www.aa.com.tr/en/europe/german-intelligence-warns-of-far-right-terror-threat/1272817
--------
French leader provokes uproar with 'teaching Arabic leads to terrorism' jibe
October 4, 2018
A leading French politician has claimed that the teaching of Arabic in the country's schools leads to Islamist extremism and terrorism, setting the alight the country's fraught debate on the public place for the language.
The leader of Debut la France Nicolas Dupont-Aignan used a television interview to reopen the dispute, sparked by the publication of a think tank report written by a leading expert Hakim el Karoui, which made the case for offering Arabic lessons in public schools.
"When a country has an integration issue, when a country has generations who speak Arabic at home and who speak bad French, I say the priority in those quarters is to teach French," Mr Dupont-Aignan said in the interview.
Asked whether teaching Arabic would lead to Islamism or terrorism, he responded: "This is the danger. I believe so."
Mr Dupont-Aignan worked in several ministerial offices and founded his own party in 2008 following a row with the UMP, the party of former President Nicolas Sarkozy.
The exchange drew an immediate wave of criticism from political figures, including Nathalie Goulet, a member of the country's senate, who mocked Mr Dupont-Aignan chauvanism. "Eating couscous [leads to terrorism] too… it is pathetic #racism, cretinism, illiteracy… we must stop this, we are scraping the bottom of the barrel," she said.
There was contrasting support on the far-right, which seeks to capitalise on the issue. Plaza Pascal, a local representative of nationalist and hard Eurosceptic political party The Patriotes, tweeted Mr Dupont-Aignan's words followed by the question: "The far-right family grows bigger?"
Franco-Algerian lawyer and founder of the League for the Legal Defence of Muslims (LDJM) Karim Achoui weighed in saying that "the media offensive against [the Muslim community] is daily and extremely violent" and that "this is no longer freedom of speech but hate speech."
French citizens also took to Twitter with jokes on whether learning German leads to embracing Nazism or whether learning Italian makes one become a "pizzaiolo".
The debate was sparked by a report by Institut Montaigne senior fellow Mr Karoui, who proposed a wholesale overhaul of the role of the French state in its relations with Islam, including offering Arabic in public schools as an alternative to classes offered by mosques and religious centres.
A nephew of the former Tunisian prime minister Hamad El Karoui, the author told The National that the tensions seen today are a product of bitter historic struggles between different communities. "For those Muslims who are caught in the middle, the best way to deal with it is to take action," he said.
Mr El Karoui believes that teaching Arabic in schools is one way to promote understanding of the Arabic language, culture, and history, as well as to unite against Islamism.
Education Minister Jean-Michel Blanquer last month said he was open to implementing the initiative proposed by Mr El Karoui. "We have to give prestige to these languages," he said. "This is particularly true in the case of Arabic, which is a great literary language which must not only be learned by people of Arab origin."
His comments caused uproar from a number of right-wing parties including Debut la France, with Mr Dupont-Aignan saying he would oppose the "Islamisation of France."
"Under the pretext of combating fundamentalism they are preparing us for the Islamisation of France… I find this unhealthy. I am totally hostile to the Arabisation of France and the Islamisation of the country," he said.
Marine Le Pen, leader of the far-right National Rally, said "it won't take long before we'll all be wallowing in political correctness. What we want from him [Mr Blanquer] is that our children master French, which has not been achieved yet."
Former education minister Luc Ferry, of the centre-right UMP party, expressed scepticism and asked who would be holding these courses. "Public education has very little control over recruitment. Who is going to teach the classes? And how are they going to be monitored?"
Full report at:
https://www.thenational.ae/world/europe/french-leader-provokes-uproar-with-teaching-arabic-leads-to-terrorism-jibe-1.777346
--------
Matami Juloos 2018 - Muslim procession returns to Birmingham and this is what it means
4 OCT 2018
Members of the Muslim community in Birmingham will this weekend be marching through the streets to mark a key moment in the history of their religion.
The annual Matami Juloos Birmingham will take place on Sunday, October 7, in the Balsall Heath area of the city.
Also referred to as the Hussaini Procession, because it commemorates the death of Hussain ibn Ali, the grandson of Prophet Muhammad, this will be the 17th year of the event.
Matami means mourning and juloos means procession.
It starts from Edward Road, B12 9LF, at 12.05pm and ends at Mehfile Abbas, 17 Clifton Road, B12 8SX, at 5pm.
The procession comes within the 40 days of mourning following Ashura , on the 10th day of the month of Muharram , which marks the date of Hussain's great sacrifice in the Battle of Karbala in Iraq.
A spokesman said: "The procession is not a religious duty or obligation. It's always been tradition - Leicester hold a procession as well where they give out leaflets to members of the public along with speeches and poems.
"It is similar in Birmingham but we have more eulogies and poems."
The Battle of Karbala took place at Karbala in modern-day Iraq on October 10, 680 AD.
According to The Who is Hussain Foundation - a global organisation helping communities to hold charitable events 'through the timeless example of Hussain and the values he stood for' - no more than 50 years had passed since the death of Muhammad (the last Prophet of Islam) and the Muslim Empire was sliding into corruption under a tyrant from the Ummayad dynasty, Yazid.
Hussain ibn Ali, the grandson of Prophet Muhammad, took a stand against Yazid's illegitimate rule.
His life now under threat, Hussain decided to move himself and his family to Mecca in the hope that Yazid would respect the holy city.
He then left for Kufa, a city in Iraq, but en route he was intercepted by a battalion of Yazid's soldiers, who forcibly diverted him towards the desert town of Karbala.
There was a stalemate between the 30,000 soldiers of Yazid and Hussain's small band of 72 men and their families. Hussain was told he would not be allowed to leave until he had taken an oath of allegiance, which he refused.
Hussain's companions all fought valiantly before they were killed.
Eventually Hussain was alone with no one left to support him. Fatigued, thirsty, and heavily wounded, he fell to the ground as the women and children looked on.
"He too was killed mercilessly, yet he died holding on firmly to his principles," said the website, adding: "Today millions of people pay homage to Hussain ibn Ali for his stand and annually mourn the tragic Battle of Karbala in which Hussain, his family and loyal companions were brutally killed one by one."
Full report at:
https://www.birminghammail.co.uk/whats-on/whats-on-news/matami-juloos-2018-muslim-procession-15231330
--------
Turkey's defense minister meets British counterpart
04.10.2018
By Ata Ufuk Seker
BRUSSELS
Turkey's National Defense Minister on Thursday met his British counterpart at the NATO Summit in Brussels.
On the second day of Defense Ministers Summit held at NATO headquarters, Hulusi Akar attended the session on Nuclear Planning Group, and later the session of North Atlantic Council, where topics of cyber protection and hybrid threats were addressed.
"I have told our counterparts at the NATO [meeting] that our goal in Manbij is to eliminate the existence of PYD/YPG and PKK," Akar told the media in Brussels.
"I have emphasized that we will never allow a terror corridor at our border," he added.
Full report at:
https://www.aa.com.tr/en/europe/turkey-s-defense-minister-meets-british-counterpart/1272906
--------
Councilman's Anti-Islam Facebook Posts Prompt Call To Resign
Oct 4, 2018
ANNE ARUNDEL COUNTY, MD — "One nation under God, not Allah" said a meme Anne Arundel County Councilman John Grasso shared in a Facebook post. Among a wave of backlash is the Council on American-Islamic Relations' (CAIR) call for Grasso, a Republican, to resign over the controversial posts made in September.
Zainab Chaudry, representative of the Maryland branch of CAIR, said the posts were "hate-filled, Islamophobic and xenophobic" while calling for the Councilman's resignation. "There are members who live in his district who are concerned about their safety," she said, according to WJZ.
Some of Grasso's posts about Islam were unsound, as well.
For one, "Allah" is a direct translation of "God," not a separate deity. The meme continues: "America is not a Muslim nation. America is not an Islamic nation. America is a Christian nation," in a sentiment opposed to the American standard of a separation between church and state.
On Monday, Chaudry emailed Grasso asking that he remove the Islamophobic posts, she said. The next day, he called Chaudry, she said in a Facebook post.
"This morning, he called and went off on me about Islam attacking America on 9/11, sharia taking over our country and infiltrating our schools, Muslims needing to all be vetted because 'they're always blowing things up,' and Islam not belonging in America," she said. "He was emphatic in his support for Donald Trump's call for a complete and total shutdown of Muslims entering the United States."
Chaudry continued, "He could not explain the definition of sharia, simply citing a Facebook post shared by Trump."
"Share if you think President Trump should ban Islam in American schools," one Facebook post said, shared by Grasso. One commenter said "John Grasso: Thanks to Muslim Sister Urooj who helped you to build your Facebook to advertise your campaign."
"I don't think any religion should be allowed in public schools... Not sure what [you're] talking about," Grasso replied.
Grasso told WJZ that the posts did not reflect his views, but he just shared content from other people.
"I don't treat anybody different than anybody else. I see a person until proven different," Grasso said.
The anti-Islam posts aren't the only controversial topic on Grasso's Facebook page. One post he shared mocks Christine Blasey Ford for not fully remembering some details surrounding her sexual assault allegations against Supreme Court nominee Brett Kavanaugh.
See more posts at the Capital Gazette.
Grasso also shared a "Real Gossip" post by Ted Nugent, an outspoken Trump supporter, which claims Democrats are destroying Kavanaugh's career in order to control the Supreme Court and asks what they would do to control the country.
Full report at:
https://patch.com/maryland/annearundel/councilmans-anti-islam-facebook-posts-prompt-call-resign
--------
Merkel says Iran's presence near Syrian-Israeli border unacceptable
October 05, 2018
TEL AVIV - The presence of Iranian troops in Syria near its border with Israel is unacceptable, German Chancellor Angela Merkel said on Thursday, adding that the issue was discussed with Russian and Israeli authorities.
"Iran cannot be present near the border with Israel in the Golan Heights," Merkel said at a press conference during her visit to Jerusalem.
She noted that this topic had been discussed at a meeting with Israeli Prime Minister Benjamin Netanyahu, as well as previously with Russian President Vladimir Putin.
"We also talked about the fact that Iranian troops should withdraw from Syria. We also discussed this with the Russian president," she said.
Merkel and Netanyahu are holding a joint meeting of the governments of Israel and Germany in Jerusalem, the seventh such meeting in the history of the countries' relationship.
Meanwhile, Israeli Prime Minister Benjamin Netanyahu on Thursday vowed to continue fighting against forward-deployed Iranian troops in Syria.
"Israel will continue doing what it takes to defend itself ... We will continue blocking Iran's attempts to use Syria and Lebanon as its forward bases to launch attacks on Israel," he told reporters.
Netanyahu was speaking at a joint press briefing in Jerusalem with German Chancellor Angela Merkel, who is taking part in the seventh meeting of their two governments.
The top Israeli official called on the international community to exercise pressure on the Islamic republic in order to put an end to Iran's global terrorist operations and force it out of Syria.
"I think all countries should join forces in compelling Iran to fully stop its military and nuclear programs ... and its terrorist activities in Europe and around the world. Eventually, Iranian forces should fully withdraw from Syria," he said.
Full report at:
https://nation.com.pk/05-Oct-2018/merkel-says-iran-s-presence-near-syrian-israeli-border-unacceptable
--------
Son of jailed Bahraini activist end hunger strike in London
Oct 4, 2018
The son of one of Bahrain's most prominent political prisoners has ended his hunger strike outside the Bahraini embassy in London after 15 British MPs agreed to take up his father's case.
Ali Mushaima, the exiled son of Bahraini opposition leader Hassan Mushaima, said after ending his hunger strike on Thursday that he is glad to be home with his family after 64 days sleeping rough on the pavement outside the Bahraini embassy in London.
He dedicated the last night of his hunger strike to all Bahraini political prisoners.
Ali Mushaima decided to end his strike after 15 British MPs wrote a letter to Foreign Secretary Jeremy Hunt demanding that he "condemn the appalling treatment of Hassan Mushaima … a prisoner of conscience that is being denied basic human rights."
Former Bahraini MP Hassan Mushaima is languishing in one of Bahrain's most notorious prisons. He was in the United Kingdom for medical reasons when the Bahraini revolution happened in 2011. But when he returned to the country he was arrested three weeks later along with 500 others as part of a sweeping crackdown. He was accused of trying to overthrow the regime and was sentenced to life in prison.
Hassan Mushaima's family say he has been tortured in jail and has endured four surgical operations as a result. He has survived lung cancer but suffers from high blood pressure, diabetes, gout and a urinary infection, all of which he needs medication for. His supporters say he should be getting cancer scans every six months but only one has been conducted recently, the results of which are taking weeks to come through. The Bahraini regime is also being urged to return Hassan Mushaima's books which are his "mental lifeline."
Human Rights Watch has verified that medical care has been withheld from the 70-year-old. His case has also been taken up by Amnesty International.
"That anyone can bring themselves to treat people with such cruelty is unbelievable," said Lynn Maalouf, the organization's Middle East Research Director, adding, "[He] should not have been arrested, tried or imprisoned in the first place... [He] must be released immediately and unconditionally."
Ali Mushaima told Press TV that he refuses to let Bahrain's human rights abuses go unnoticed.
He went 46 days of his embassy protest without food to demand adequate medical care for his father and family visits. He added that the Bahraini regime is trying to kill his father slowly by denying him adequate care.
Ali Mushaima's latest attempt at publicizing his father's story also targeted the British government because London's arms sales to Bahrain are substantial.
Andrew Smith, a spokesperson for Campaign Against Arms Trade, confirmed this at a press conference marking Ali Muishaima's last day on hunger strike. He said Bahrain had been armed and supported every step of the way by the UK government.
Since the Bahraini uprising began in 2011, the UK has licensed over £80 million worth of arms to the regime, and has also provided a great deal of political support.
Full report at:
https://www.presstv.com/Detail/2018/10/04/576071/UK-Bahrani-activist-hunger-strike-embassy
--------
Saudis finance Western media to demonize opponents: Expert
Oct 4, 2018
The head of the UK-based Islamic Human Rights Commission says that Saudi Arabia's increasing efforts to buy shares or directly finance TV and radio channels in Britain is in line with the kingdom's efforts to demonize any entity which is opposed to its crimes and human rights violations.
"Saudis are organizing themselves and indeed opening and financing TV stations, radio station to broadcast in Farsi as a means of trying to influence their position within the Iranian community," Massoud Shadjareh said in an interview with the Press TV on Thursday.
He said Riyadh has also tried to demonize groups like Lebanon's Hezbollah and Egypt's Muslim Brotherhood as they oppose the kingdom and its policies.
Shadjareh said Saudi Arabia's investment in Farsi stations in Britain and elsewhere is only the tip of the iceberg and there has been further investment in other outlets as well.
"Saudis for a very long time have been involved in buying shares and influencing main TV stations like CNN, Sky and others," he said.
The policy has been meant to both silence the media regarding Saudi Arabia's war crimes and inhumane activities and also to publicize the kingdom's demonization of Iran and others who it sees as an obstacle to its policies.
Shadjareh said Saudi Arabia is in fact emulating Israel and other suppressive regimes in bribing the media or launching propaganda stations. "And this tactic is the sort of very similar to the tactics that Zionists are using."
The expert said the media should try to get more information about the increasing Saudi clout on the field, saying that would expose the crimes committed by the kingdom both inside the country and in other parts of the world.
Full report at:
https://www.presstv.com/Detail/2018/10/04/576075/Saudi-Arabia-media-financing-UK-Iran-interview
--------
Paris bomb plot claims dash Tehran's hope for EU help
October 05, 2018
JEDDAH: Accusations in France that Iran was behind a foiled bomb plot near Paris on June 30 seem to have put paid to any hopes President Hassan Rouhani had to use Europe to beat crippling US sanctions.
The blow to Tehran comes as European governments were working on a mechanism that would have allowed Iran to continue to reap the economic benefits of compliance with a landmark 2015 nuclear deal with the US and a number of European nations, which was jettisoned by American President Donald Trump in May.
"Such allegations, whether true or not, at this moment in time will serve only to harm both Rouhani's government and the Iranian nation," Saeed Leylaz, a lecturer at Tehran's Shahid Beheshti University, told Agence France Presse.
"I am certain this (allegation) is a source of worry for the government, because it happened while the Islamic Republic needs every single relationship and link with the West, minus the United States," said Leylaz.
Oubai Shahbandar, a Syrian-American analyst and fellow at the New America Foundation's International Security Program, said that while the threat of Daesh terrorism has haunted Europe for the past few years, "the very real threat of what very much looks to be a modern-day Iranian-directed terror network will prove to be discomfiting for European Union leaders and for the future security of the European continent."
He said the capture of Iranian diplomats implicated in the failed terror attack in Paris, along with the freezing of the assets of pro-Hezbollah Zahra Center in France, might be only the tip of the iceberg.
"Iran may have made a major miscalculation in allegedly ordering these attacks on European soil. You can certainly expect a major backlash at a time when Tehran can least afford it, given Iran's attempts to gain European support to counter the re-imposition of crippling sanctions by the Trump administration," added Shahbandar.
Separately, White House National Security Adviser John Bolton said the US faced threats from Iran, which he called "the world's central banker of international terrorism since 1979."
He said: "Radical Islamist terrorist groups represent the pre-eminent transnational terrorist threat to the United States and to the United States' interests abroad."
Rouhani, who was re-elected to a second four-year term last year on the promise of greater economic dividends from his government's opening to Washington, was already reeling from the economic fallout of Trump's abandonment of the nuclear deal.
A precipitous slide in the value of the rial against the dollar hit the purchasing power of ordinary Iranians, while an anticipated boost to Western investment failed to materialize, hitting plans to renew Iran's antiquated infrastructure.
Rouhani had counted on EU governments to work with the other parties to the deal — China and Russia — to mitigate the impact of the US policy U-turn but the French allegation has now put those hopes in jeopardy.
The allegations were swiftly seized on by the Trump administration as vindication of its hard line.
"France taking strong action against failed Iranian terrorist plot in Paris — Tehran needs to know this outrageous behavior will not be tolerated," the White House's National Security Council tweeted.
Rouhani's government sees the hand of the Trump administration behind the allegations, convinced Washington is determined to undermine European resistance to the US abandonment of the JCPOA, the official acronym for the nuclear deal.
Full report at:
http://www.arabnews.com/node/1382761/world
--------
Irish troops trapped in Syria due to paperwork blunder
October 4, 2018
More than 100 Irish soldiers have been left trapped in Syria following an administrative error.
One hundred and nineteen personnel from the Irish Defence Forces were serving in Syria as part of a UN Peace keeping mission, they had been scheduled to fly home earlier this week, but were prevented from doing so.
A source told The Irish Mirror that the soldiers had been registered on the wrong UN mission.
"The troops attached to the 57th Infantry Group coming out of Syria were placed on paperwork as being part of the Lebanese peacekeeping mission UNIFIL when in fact they were UNDOF, the Golan Heights mission," the source said.
The source added, "The troops in Ireland cannot fly out until they get clearance so then they are stuck in limbo until that happens – officials are in touch with Lebanese authorities to free this up."
"Families are not happy as they have been waiting to get these troops home."
The soldiers were due to return on Monday but Irish officials now say they hope they will be able to return home by October 16th.
The delay has also affected the new contingent scheduled to replace the group.
Nuala Walsh, the wife of one of the soldiers delayed coming home said the delay had been like "cancelling Christmas".
The Irish government said they would be given compensation of €1000 (DH 4200) each, as well as being paid for the extra time served.
Full report at:
https://www.thenational.ae/world/europe/irish-troops-trapped-in-syria-due-to-paperwork-blunder-1.777376
--------
Southeast Asia
Guan Eng: Hadi does not treat non-Muslims with respect, dignity
04 October 2018
KUALA LUMPUR, Oct 4 — DAP secretary-general Lim Guan Eng today lambasted PAS president Datuk Seri Abdul Hadi Awang and said the latter have not seen non-Muslims, Malaysians to be worthy of being treated with respect and dignity.
In response to Hadi's remarks against Datuk Seri Anwar Ibrahim, who attended events held at non-Muslim religious places of worship, Lim said the remarks, though unsurprising, was wrong and unhealthy as it encourages prejudice and discrimination.
"To brand a person as inconsistent with his Islamic practices simply based on the person's visit of religious places other than their own, is wrong and unhealthy because it encourages extremists who are prejudiced and wants to discriminate against non-Muslims.
"This is not the first time that Hadi has expressed chauvinistic sentiments against non-Muslims," he said in a statement.
Lim said Hadi's move in inciting racial and religious sentiments justifies the fear amongst the non-Malays and non-Muslims against the Islamist party.
Claiming PAS to not have any economic record in Kelantan, the Finance Minister said the PAS-led state is a failed economy with annual budget deficits and dependent on the Federal government for financial aid in paying the salaries of Kelantan civil service.
"PAS and Hadi may be desperate to win Malay/Muslim votes in the Port Dickson Parliamentary by-election, since PAS know they have minimal support amongst non-Malay or non-Muslim voters.
"They have always attempted to create negative sentiments amongst the Malay and Muslim communities against minority races and minority religious groups to gain political capital, and distract attention from their own weaknesses of not having any nation-building plans to develop the country's economy," he said.
In support of PKR's Port Dickson candidate, Lim said Anwar had not participated in any non-Muslim religious ceremony by visiting the places of worship and said such hostility towards the action is dangerous.
The Bagan MP had called for full support towards Anwar as he represents the aspirations of Pakatan Harapan by wanting to unite Malaysians regardless of race or religion, practicing good governance, and celebrate diversity.
"If a Muslim visiting or attending functions at churches, Chinese and Indian temples is wrong, then this is a setback for racial tolerance and religious harmony.
"Malaysians, regardless of race or religion, should reject such prejudice and hostility against non-Muslim places of religious worship. Instead, choose an inclusive Malaysia that unites everyone on common values of justice, freedom, democracy, integrity, equal opportunities and economic fairness," said Lim.
https://www.malaymail.com/s/1679273/guan-eng-hadi-does-not-treat-non-muslims-with-respect-dignity
--------
Terengganu MCA: PAS' new event guideline affects non-Muslims
04 October 2018
KUALA LUMPUR, Oct 4 — Terengganu MCA today said PAS' newly introduced guidelines for stage performances in the state affects non-Muslims.
MCA state liaison committee chairman Datuk Toh Chin Yaw said while special approval may be granted for non-Muslim events in the state on a case-by-case basis, the group is still heavily affected by the new ruling.
"This requirement deeply affects the non-Muslim community as there is no guarantee preventing Little Napoleon's bureaucratic practices to sabotage the applications," he said referring to leaders who are arrogant and abrasive, akin to the reign of 18th century French ruler Napoleon Bonaparte.
He said it was obvious that the guidelines were subject to individual interpretations of religious doctrines being imposed on people who do not practise the same faith by government officers.
"This strongly violates the principle of Malaysia's multi-religious, multiracial and multicultural society.
"The PAS-helmed Terengganu state government should immediately rescind the guidelines and hold to the good governance practices of multiculturalism in Terengganu to promote the growth of the state's tourism industry and state economy for the benefits of the state and people," he said.
Among the 11 rules in the guidelines are the segregation of genders on stage and in the audience.
Meanwhile, music performances are to be conducted separately with female singers and dancers only allowed to perform for female audiences behind closed doors.
Toh described the guidelines as irrelevant and a clear violation of basic human rights as they restrict personal freedoms which are enshrined in the Federal Constitution.
"These guidelines are irrelevant in the present times and clearly violate the Constitution. Federal laws do not forbid women from participating in public performances, nor forbid interaction between males and females in public.
"As long as the event organisers, the performers, and the spectators abide by the civil laws and do not create public disorder, they have the right to choose to attend and participate in any performing events," he said.
He also questioned the legality of the guidelines, introduced by the Terengganu Tourism Department on Tuesday.
Full report at:
https://www.malaymail.com/s/1679377/terengganu-mca-pas-new-event-guideline-affects-non-muslims
--------
'Weaponisation' of religious sentiment in Indonesia's cyberspace
5 Oct 2018
Thomas Paterson
The announcement that prominent Indonesia Ulema Council chairman and cleric Ma'ruf Amin will be President Joko 'Jokowi' Widodo's vice-presidential running mate for the 2019 election has stimulated fresh debate about the 'Islamisation' of Indonesian politics.
Amin is the head of Indonesia's largest Muslim organisation, the 45-million-member Nahdlatul Ulama (NU). Jokowi's preferred pick had been former Constitutional Court Chief Justice Mahfud MD, but he and his Indonesian Democratic Party of Struggle bowed to political pressure to choose a running mate with high-level Islamic credentials. The NU-linked National Awakening Party and United Development Party had threatened to leave Jokowi's governing coalition if Amin were not chosen.
Islamic conservatism has been ascendant in Indonesia ever since Saudi-sponsored theological influence began in the 1980s. Growing Islamic conservatism became even more pronounced after the fall of Indonesia's second president, Suharto, and his authoritarian 'New Order' regime.
Indonesia's post-Suharto reformasi saw the opening up of public discourse, and subsequent rise of previously suppressed conservative Islamic rhetoric and its 'hardliner' proponents. These hardliner Islamists emerged from decades of marginalisation and repression, under the regimes of both Suharto and his predecessor Sukarno, with little appetite for pluralism and tolerance.
The proliferation of social media in Indonesia has allowed greater unrestrained expression of strong religious views. This has allowed groups such as the Muslim Cyber Army, an organisation described as being without structure and similar to the 'hacktivist' group Anonymous, to reach and access a larger audience.
One way the Muslim Cyber Army targets liberal opponents is through 'doxing'. 'Doxing' refers to the theft and publishing of personal details online, which are then used by groups—such as the far-right Sunni fundamentalist group the Front Pembela Islam (Islamic Defenders Front)—to hunt down and physically attack their liberal opponents.
This 'weaponisation' of conservative Islamic sentiment and religious intolerance has involved doctored online content and disinformation, deliberately spread through social media. As more Indonesians have gained access to the internet, mainly through low-cost smartphone technology, Indonesia has developed a disinformation problem.
The most prominent example of this phenomenon was the 2017 jailing of former Jakarta governor Basuki Tjahaja Purnama (Ahok) for two years for alleged blasphemy. In a September 2016 speech, Ahok asserted that politicians shouldn't mislead voters by misinterpreting the Koran in advising Muslims against voting for non-Muslim political candidates. 'Ladies and gentlemen … you've been lied to by those using [the Koran's] Surah al-Maidah verse 51', he said. The speech was then edited to seem as though Ahok was saying that it was the Koran itself that was misleading voters. The resulting video was used by anti-Ahok forces, including Ma'ruf Amin, to mobilise mass demonstrations that forced the government to charge Ahok with blasphemy.
The Indonesian government needs to reduce the effect of disinformation, especially ahead of the 2019 general election. Indonesia's outdated legislation allows cybercriminals and botnets to thrive. The government also needs to do more to stop Indonesia from being used as a haven for these activities, which enables the spread of the doctored content that is in turn used to 'weaponise' Islamic sentiment.
While it's important that Indonesia create appropriate legislative reform that helps reduce cybercrime and botnets, it should not endanger free speech. The recent draft revision to Article 309 of the Criminal Code proposes six years' imprisonment for 'any person who broadcasts fake news or hoaxes resulting in a riot or disturbance'.
While the code needs to be updated, the proposed revision is worrying because it doesn't define or explain what constitutes a 'disturbance' or what is considered to be 'fake'. That's a problem because it opens the system up to abuse: anything not approved could be labelled as 'disturbing'. As it stands, the clause could potentially be used to prosecute journalists, threatening press freedom.
The long-awaited creation of the Badan Siber dan Sandi Negara (BSSN), Indonesia's new national cyber agency—after years of setbacks and delays—shows that Indonesia is becoming more serious about cybersecurity. In its role as manager of Indonesia's cyberspace as well as content moderator, the BSSN will play a pivotal role in the run-up to the 2019 general election.
The BSSN will have the difficult task of trying to protect Indonesian voters from disinformation without censoring political expression. One way it could do that is to allow individuals and groups open channels for expressing legitimate political opinion, without the threat of being criminalised as blasphemers. It's vital that the threat represented by doctored content and disinformation doesn't supersede the importance of BSSN remaining politically impartial.
There are plenty of opportunities for Australia and Indonesia to increase their engagement on cyber issues, which is consistent with the Australian government's international cyber engagement strategy. Dialogues and bilateral forums should certainly continue and be increased where appropriate, not just with Indonesia but also with other more open societies in the region like Japan and South Korea.
The recently announced comprehensive strategic partnership between Australia and the Republic of Indonesia and subsequent memorandum of understanding on cyber cooperation are promising engagement strategies. The MoU is a two-year non-legally-binding agreement to share information on cyber strategies and policies, build cyber capacity through training and education programs, promote business links to enable growth in the digital economy, and tackle cybercrime by sharing training opportunities to strengthen forensic and investigation capabilities.
Australia should use both the comprehensive strategic partnership and the MoU as platforms to encourage the Indonesian government to either develop clear definitions in the proposed Criminal Code revision or scrap it altogether.
Full report at:
https://www.aspistrategist.org.au/weaponisation-of-religious-sentiment-in-indonesias-cyberspace/
--------
Arrested Syrian may be at risk if sent back, say UN and Malaysia rights groups
October 04, 2018
KUALA LUMPUR: UN and Malaysia rights groups are concerned over the arrest of Hassan Al-Kontar on Tuesday, urging the government to release the Syrian man on the basis that he is a refugee.
Hassan Al-Kontar, 37, was reportedly arrested and removed from Kuala Lumpur International Airport by immigration officers on Monday.
The UN High Commissioner for Refugees (UNHCR) told Arab News that they are asking the Malaysian authorities to release Al-Kontar immediately. The UN agency has had no access to Al-Kontar yet and is unable to provide further information on his current situation.
"The UNCHR has asked the Malaysian authorities to respect international laws relating to his situation, in particular, the principle of non-refoulement," said Yante Ismail, associate external relations officer of the UNHCR Malaysia.
She added that the UNHCR is "gravely concerned" that Al-Kontar may be forcibly deported to a country where his fundamental human rights or freedom may be at risk.
Jerald Joseph, a commissioner at the Human Rights Commission of Malaysia (Suhakam), told Arab News that it had checked with the UNHCR and confirmed that Al-Kontar had refugee status and must be treated differently.
"The police arrest of Al-Kontar for whatever law he has broken, the first thing the government must do is to go through the UNHCR process," Joseph said, adding that the government should not have rushed into detaining Al-Kontar.
"The good news that Al-Kontar is still on Malaysian soil; Malaysian government should grant him the special refugee status for Syrians," said Joseph. The special refugee pass for Syrians is the Malaysian government's temporary solution to address the influx of Syrian refugees due to the war in Syria.
However, Al-Kontar turned down the pass offer in April and opted for a "third-country solution" instead. Nonprofit group Caring Society are currently helping Al-Kontar to seek asylum in Canada, for which they have created a petition.
Malaysia is often seen as a transit country and is currently not a signee to the 1951 Refugee Convention.
However, Prime Minister Mahathir Mohamad gave a recent speech at the UN General Assembly in which Malaysia vowed to ratify all remaining UN conventions, including the UN Refugee Convention.
Most of the 150,000 refugees that end up in Malaysia are on a long waiting list for resettlement to a third country.
Al-Kontar reportedly will have to wait for two years to resettle in Canada.
Al-Kontar's lawyer Andrew Brouwer did not immediately respond to an Arab News query about Al-Kontar's current situation.
Joseph will be visiting Al-Kontar on Thursday to assess his situation.
"We will investigate the situation and check with the government with the updates on their side," he said, adding that Suhakam will also get updates and a recommendation from the UNHCR.
"Suhakam will advise the government to comply with its mandate as a government that understands and supports the plights of refugees as the new government," Joseph told Arab News.
"The Pakatan Harapan government must recognize the dangers of sending him back to Syria," warned Mahi Ramakrishnan, filmmaker and refugee activist.
She told Arab News that deporting Al-Kontar to Syria would risk him being persecuted or killed.
The sentiment was echoed by told Latheefa Koya, a lawyer and politician from the People's Justice Party, who told Arab New that Al-Kontar should not be viewed as a mere illegal migrant and detained but instead should be given protection by the Malaysian government.
The arrest was made following an allegation by the Malaysian immigration director-general Mustafar Ali, that the Syrian man was detained on Monday after entering a "forbidden area" of the airport.
He told Malaysia's government news agency Bernama that the boarding area was supposed to be for passengers about to get on their flight, "but this man did not do so. He was situated in a forbidden zone, therefore the authorities had to take the necessary action."
Nonetheless, he did not specify which area was the "forbidden zone" that Al-Kontar had entered.
"His statements on social media shamed Malaysia," Mustafar told Malaysian reporters, saying that Al-Kontar had made a mockery of Malaysia to the world online.
Al-Kontar has been very active on social media, often posting to the world his daily struggle to live in an empty airport terminal. He told the media that he survived on airline meals, bathed in the disabled toilet and slept on the floor.
However, the backlash against Al-Kontar by some Malaysians started when popular social media personality Nas Daily documented Al-Kontar's life stranded in an airport. He was shown to be "complaining" and "ungrateful" over Malaysia's hospitality. Memes were created by viral Internet site MGAG mocking Al-Kontar, which sparked even more negative remarks by some Malaysians.
"I really hope Malaysians do not judge all Syrian and refugee communities by his actions," Hasan Al-Akraa told Arab News. Al-Akraa is a Syrian refugee and a founder of Al-Hassan Volunteer Network based in Malaysia. He added that many Syrian refugees who are living there are thankful to Malaysia.
Al-Kontar's situation began when his working visa was not renewed in the United Arab Emirates.
He was subsequently deported to Malaysia in January 2017, where he overstayed his three-month tourist visa.
He fled to Cambodia for asylum but was sent back to Kuala Lumpur airport on March 7. He is allegedly wanted by the Assad's regime for failing to serve in the army.
Full report at:
http://www.arabnews.com/node/1382706/world
--------
URL: https://www.newageislam.com/islamic-world-news/muslim-countries-resolve-disputes-dialogue/d/116568
New Age Islam, Islam Online, Islamic Website, African Muslim News, Arab World News, South Asia News, Indian Muslim News, World Muslim News, Women in Islam, Islamic Feminism, Arab Women, Women In Arab, Islamophobia in America, Muslim Women in West, Islam Women and Feminism